Incredible Fire Pit Ideas To Spice Up Your Backyard With
Surely, every one of you has that inexplicable passion towards bonfires. It is time you let the passion out. The thing is that fire pit in your backyard is that one way to be able to light a bonfire anytime you want it. Besides, such an addition to your backyard will make it the center of all the fun parties in the neighborhood. If you are not a fan of parties, then a cozy warm evening with your loved ones at your side is possible too. All you need to do is to choose the fire pit idea that fits your preferences most; luckily the list is quite long so that you will surely find something suitable.
Backyard Ideas With Fire Pit Area
Fire Pit Area With String Lights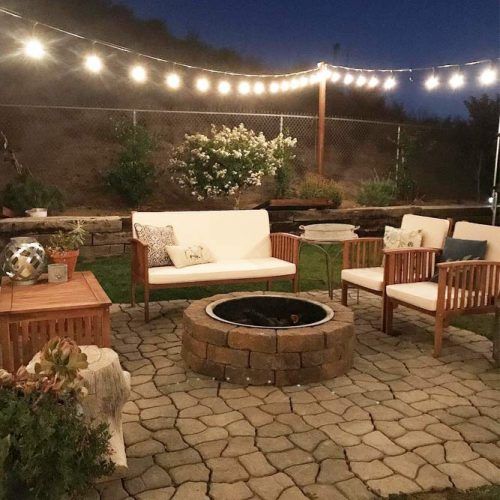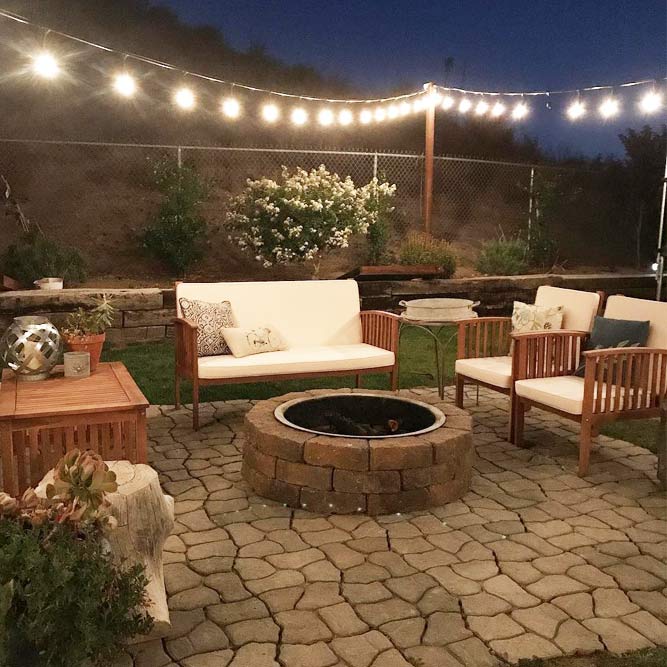 Source: hyggehomestead via Instagram
There are clearly many fire pit ideas to choose from. However, no matter which one you prefer, you need to make sure that the rest of the décor fits too. Nothing adds to your fire pit area more romance than a simple string of lights hung over the area. Try it out, and you will not regret it!
Simple Cozy Backyard Area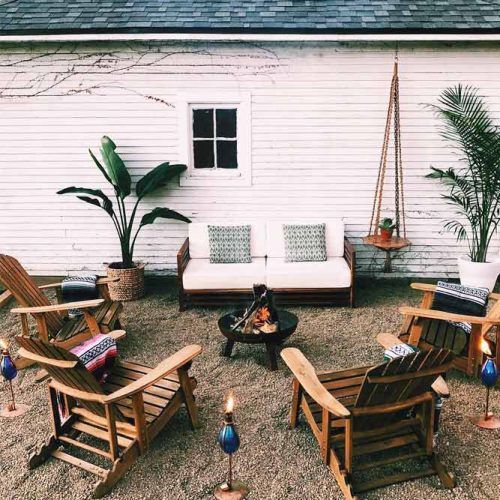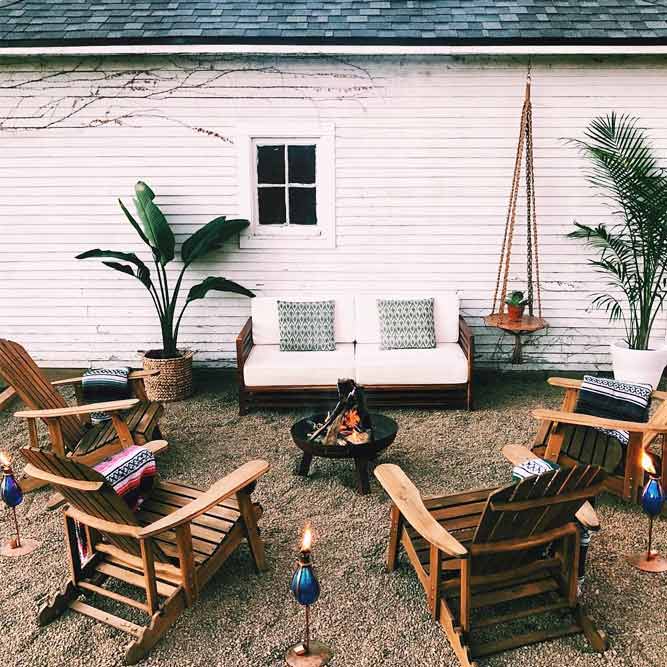 Source: becausethings_change via Instagram
There is no need to take your outdoor fire pit to the next level of fabulous for it to be comfortable and useful. Even if there is not that much room in your backyard, a simple fire pit will make it look a lot cozier. Just gather some chairs around it and a perfect hang out area is ready!
Backyard Design With Pool And Fire Area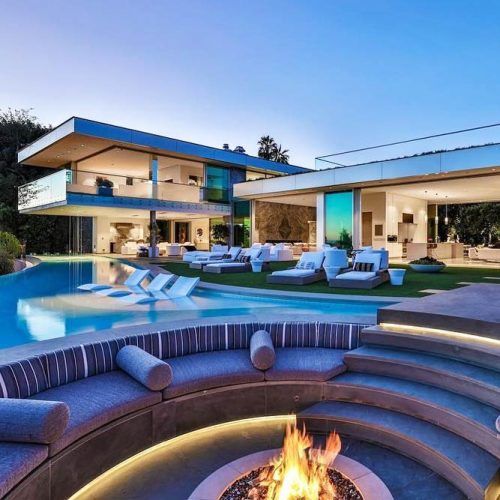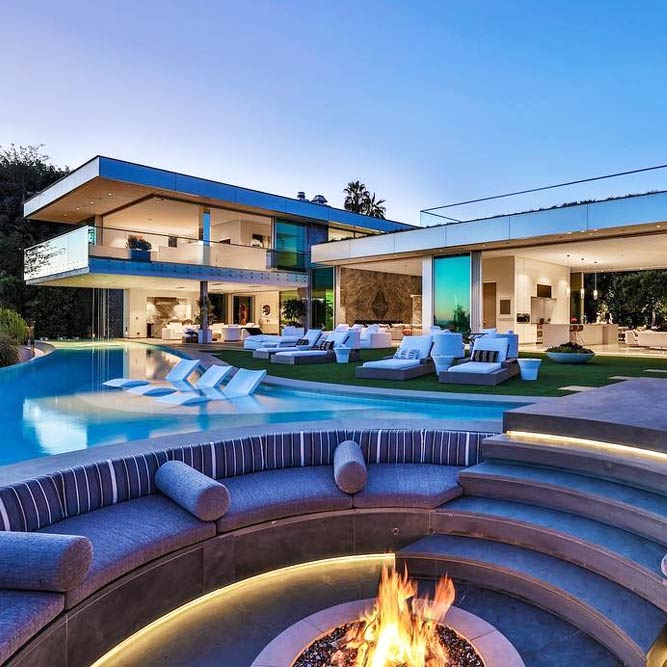 Source: mccleandesign via Instagram
If you are looking for an all-inclusive resting area in your backyard, we may have an idea in mind. Even if you already have a swimming pool at your service, one thing may still be missing. A simple fire ring is what we have in mind. As you can see, it fits in the exterior just perfectly.
Cozy Backyard Space With Seating Walls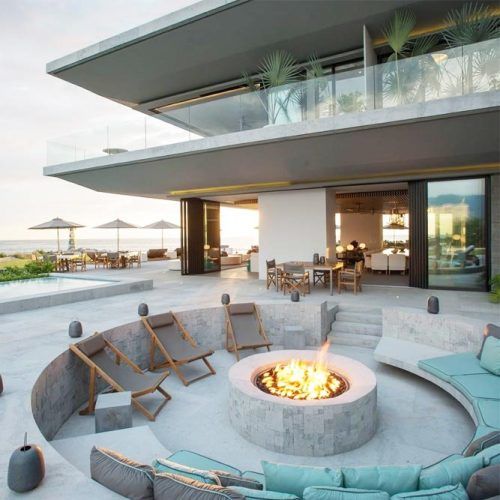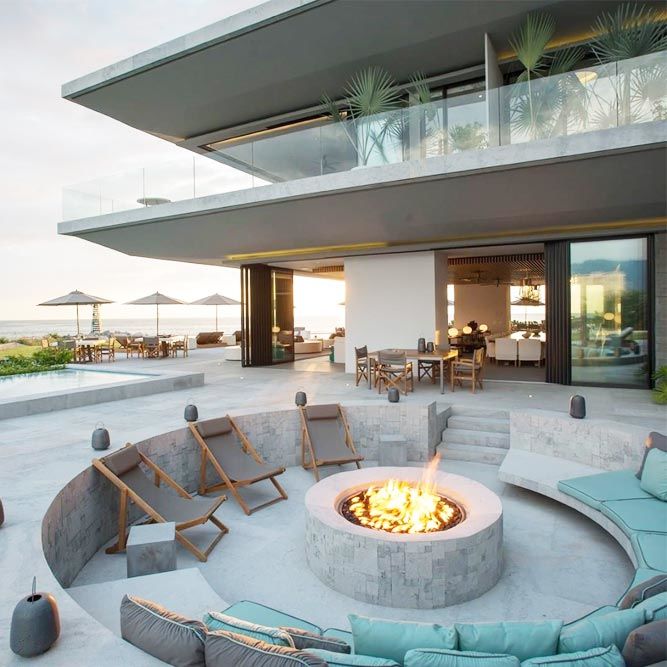 Source: farca.grappin via Instagram
The cozier your backyard fire pit area is, the more often you are going to host guest there. If that is what you are dreaming about, then we know how you can achieve it. Apart from the warmth from the fire pit, make sure that the seating area is so comfortable that once you get in there, you do not want to leave!
Minimalist Backyard Space With Steel Fire Pit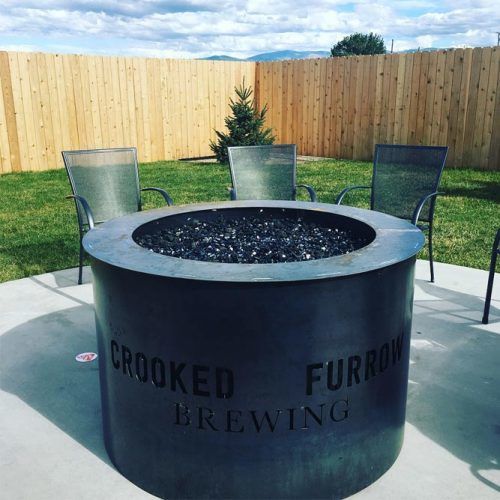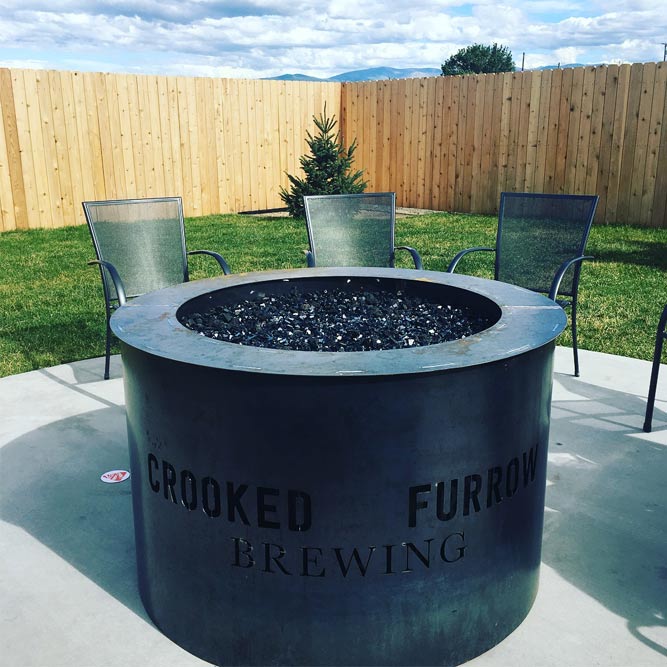 Source: montanafirepits via Instagram
You may be surprised, but the wood burning fire pit can be super minimalistic. However, the fact that your pit is minimalistic does not make it any less practical. You can still gather around it with your friends and family to spend some quality time while the simple fire pit will keep you warm.
Backyard Space With Camp Fire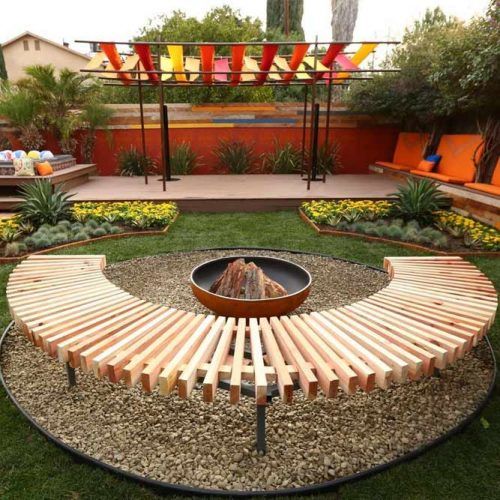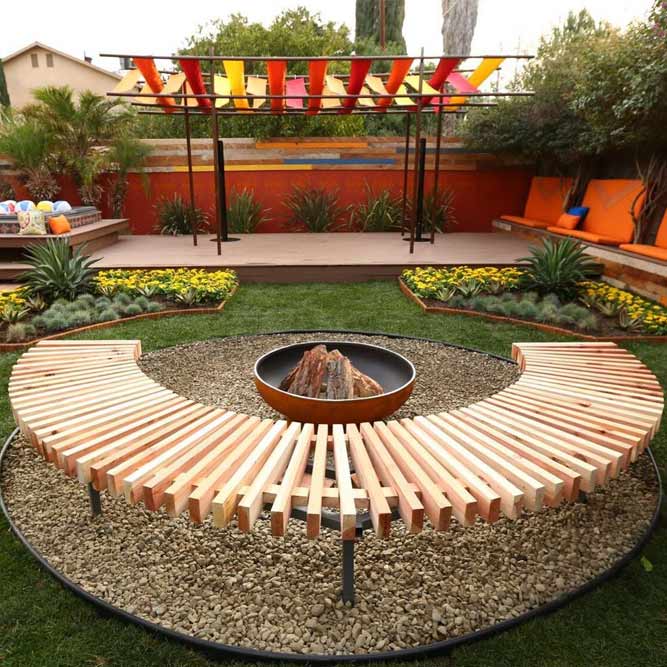 Source: sarabendrick via Instagram
The fact is that there is a vast range of portable pits to choose from. If you prefer a campfire to all the other options, why not to introduce it to your backyard. A small fire pit and a simple sitting area go well with each other. See for yourself!
The Backyard Fire Area With A Built-In L-shaped Sofa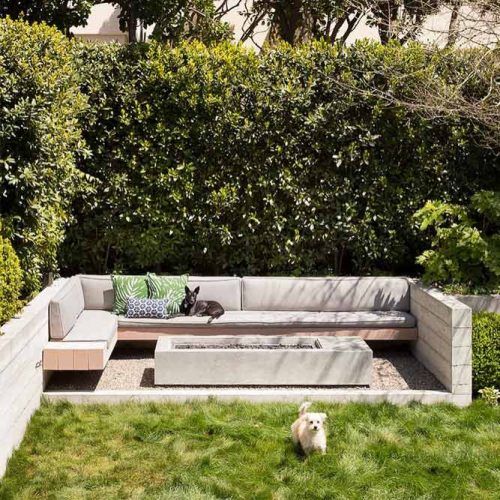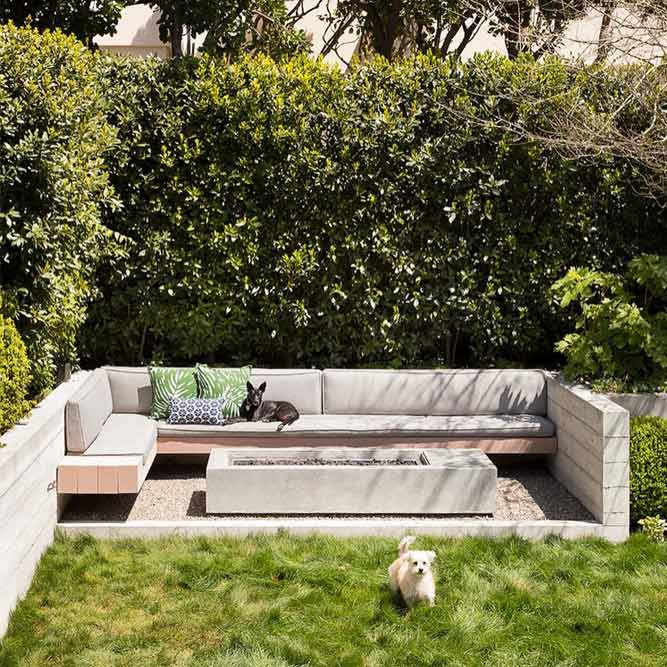 Source: jeffkingandco via Instagram
The stone fire pit is clearly not that portable so that you should come up with a permanent place for it. Once you find it, you can start with the decoration. It is best if you combine the fire pit with a built-in sofa. Aside from the fact that such a resting area looks exquisite, it is over the edge comfortable and cozy.
Rustic Backyard Fire Pit Design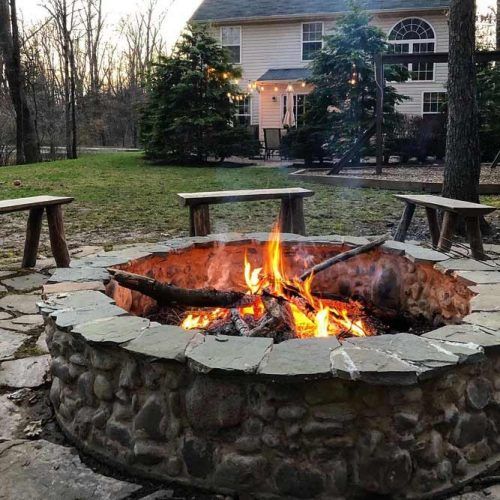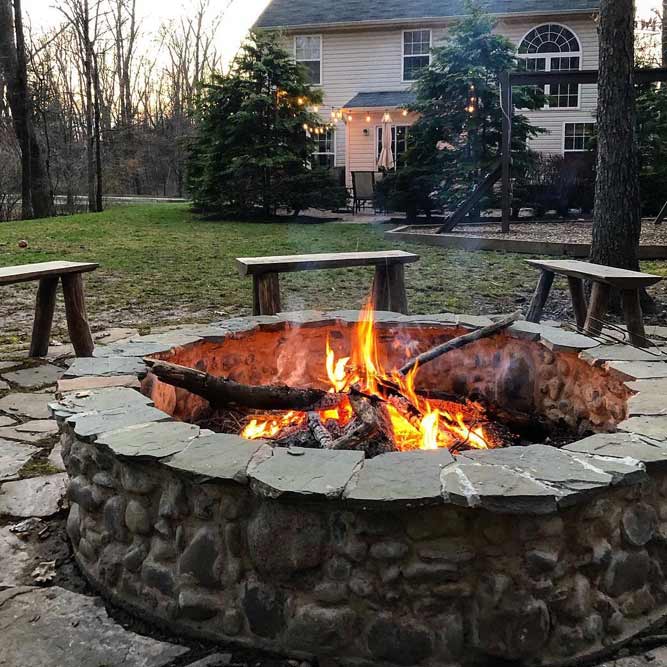 Source: ourhavenbliss via Instagram
Rustic interior, as well as exterior, is highly popular these days. That is why if you want to introduce a trendy and useful element into your backyard, we may have an idea in mind. a rustic fire pit with simple benches around it is precisely the idea we have in mind. We are more than confident that you will come to like it!
Fire Area With Wood Chairs And String Lights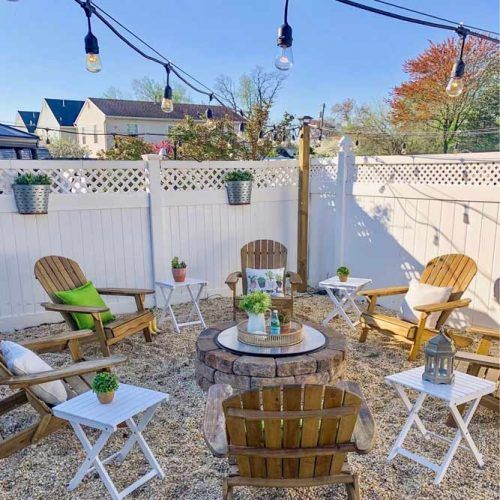 Source: ourcozycasa via Instagram
The best part about some fire pits is that you can easily transform them into a fire pit table. If you are partying outside, but there is no need for the fire yet, use the pit as a perfect table. Later on, you can switch on some lights and light the fire up.
Boho Backyard Space With Fire Places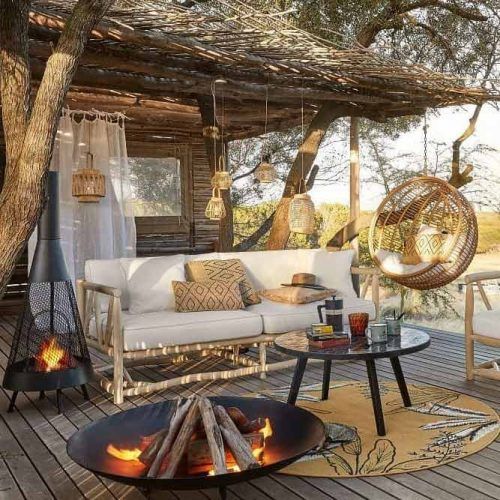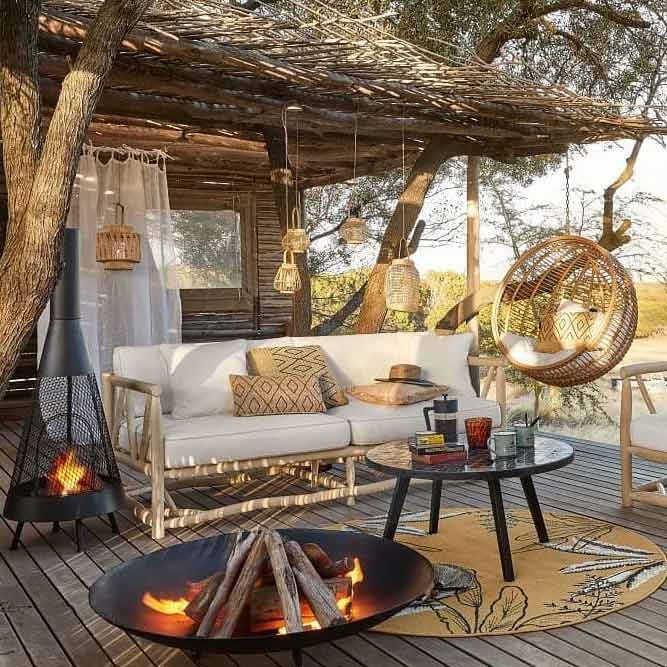 Source: maisonsdumondeuk via Instagram
A portable fire pit is a perfect option for those who do not have a large backyard or porch. You can easily fit in such a boho pit next to your comfortable sitting area. Besides, such a pit will add that perfect designer touch to your backyard.
Modern Backyard Space With Fire Pit Area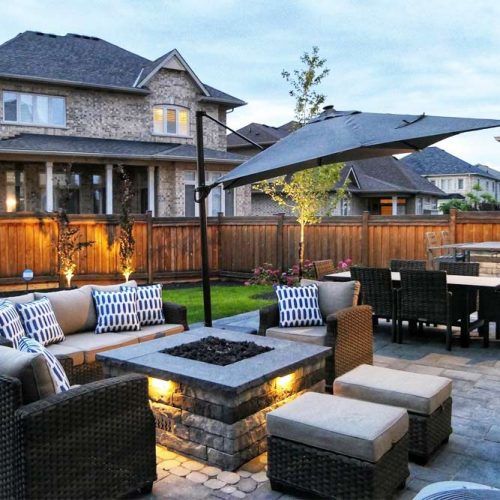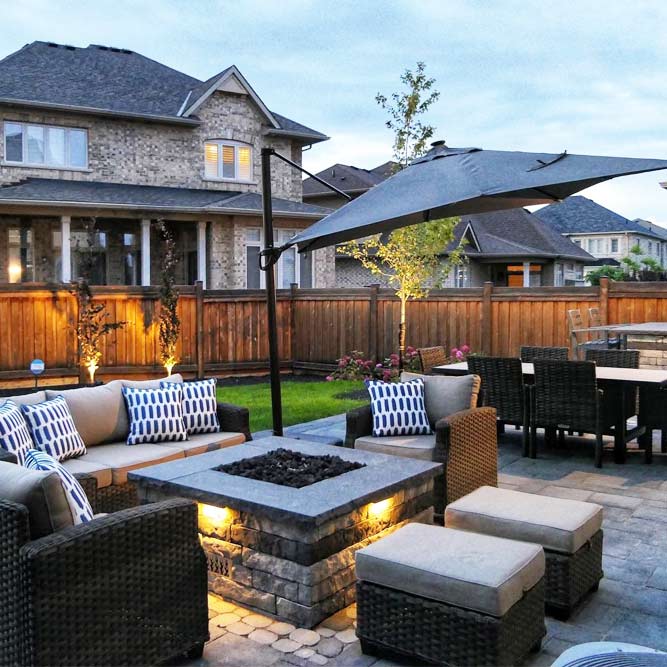 Source: duralockinterlocking via Instagram
If you are looking for a patio fire pit – we have just a proper suggestion at hand. A modern backyard requires a modern fire pit. That is why it is essential that your fire pit is as minimalistic and as simple as possible, while the rest of the area is as cozy and as comfortable as you can afford.
Beach Rest Space With Fire Pit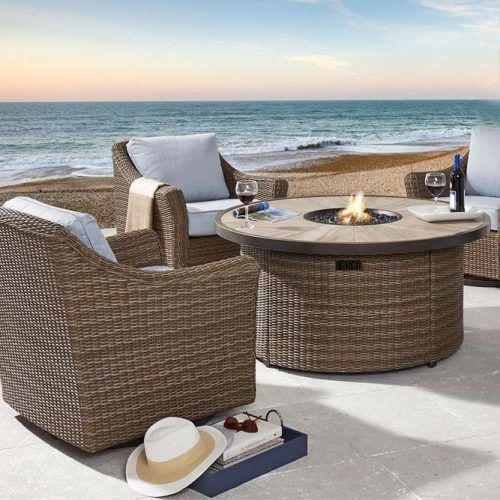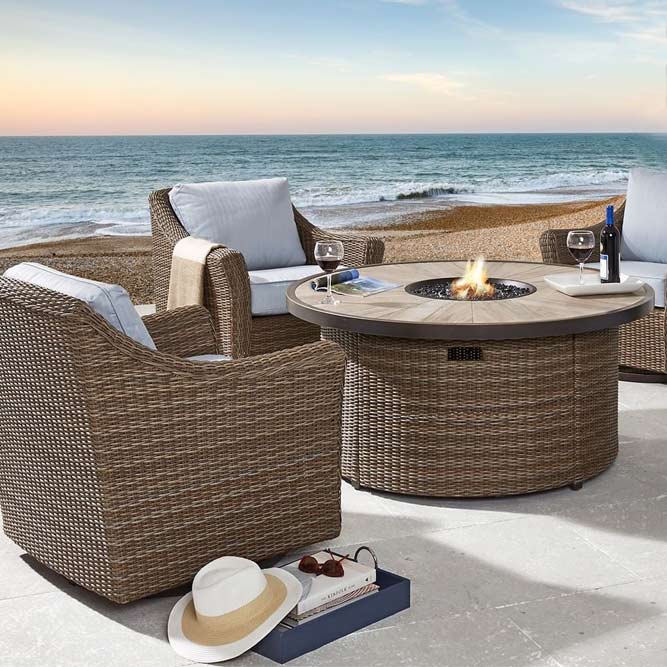 Source: roomstogooutdoor via Instagram
When your backyard faces the beach and the ocean, it seems that there is nothing else you will possibly require. However, a tiny fire pit in the middle of your resting area will add up to the unforgettable atmosphere. Besides, evening at the beach may get cold at times.
Fire Pit Designs
Metallic Fire Pit Design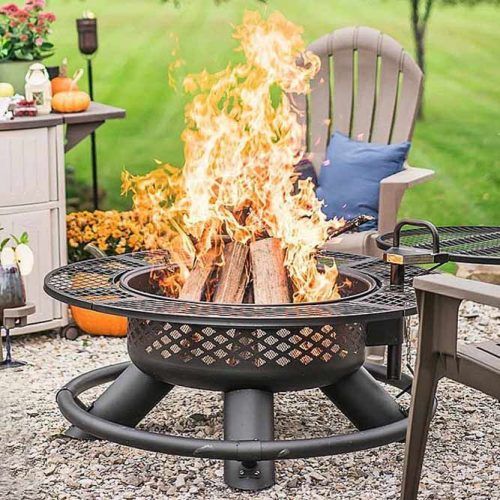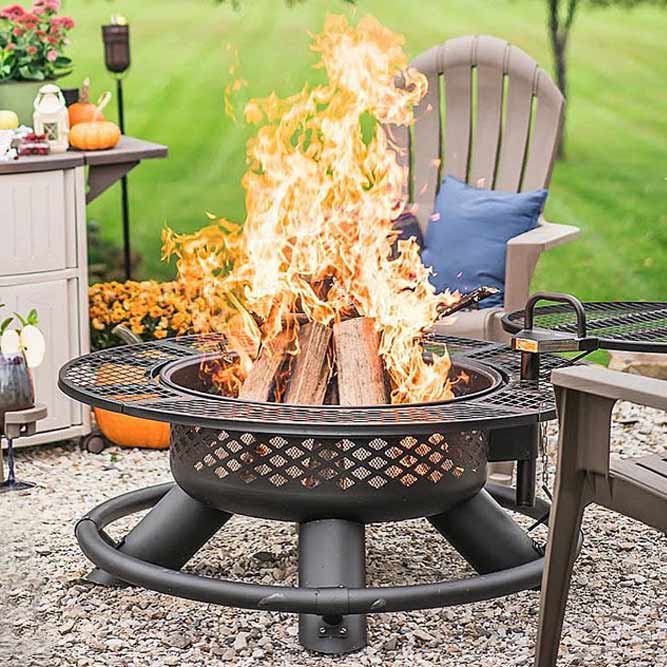 Source: healthstartsinthekitchen via Instagram
The fact is that fire pits can come in all shapes and sizes; all you need to do is to choose which one you like most. If you need an elegant and portable pit, then it is best that you consider a metallic one.
Modern Fire Pit Design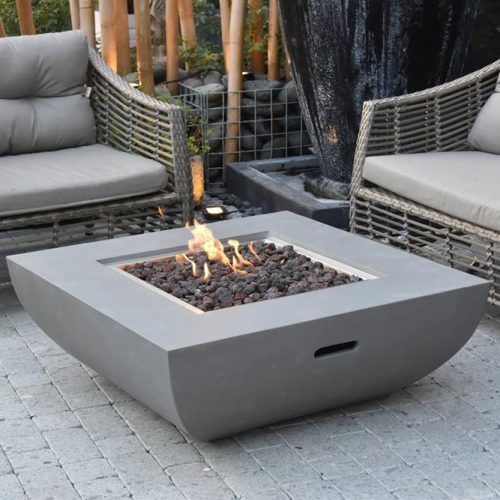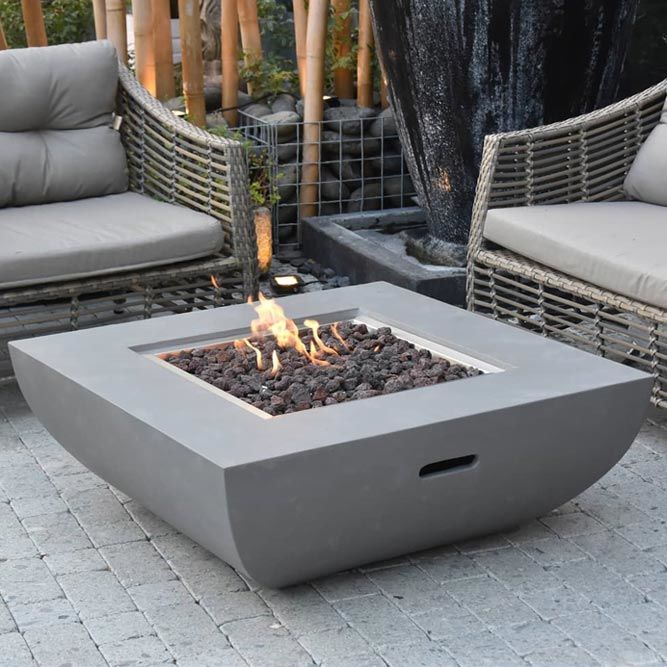 Source: splashhottubspools via Instagram
Very often, modern equal simple. That is why if such a definition suits your opinion on the matter of fire pits, then a rectangular concrete fire pit should be the one you choose to add to your backyard.
Close Metallic Fire Pit Design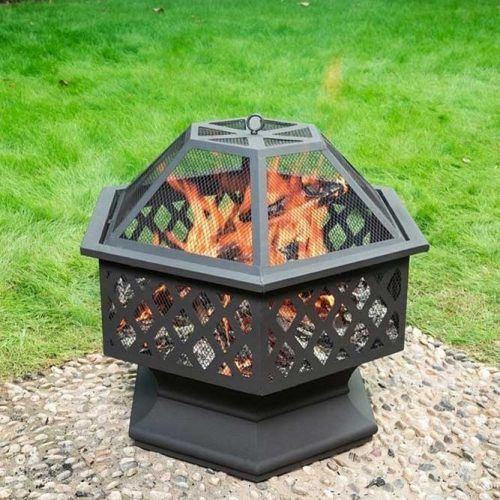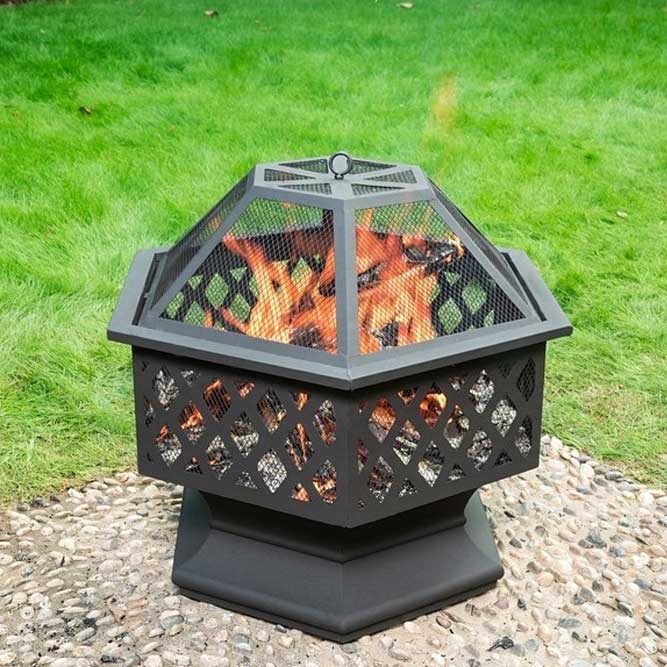 Source: raygarltd11 via Instagram
There is a false assumption that all the fire pits are about an open fire. However, that is not entirely true. In case you need a fire pit that has a lid – there is a range of metallic ones to choose from. Such a pit is not only nice-looking but also very convenient, especially if you have little kids running around.
Maya Square Fire & Water Pot Design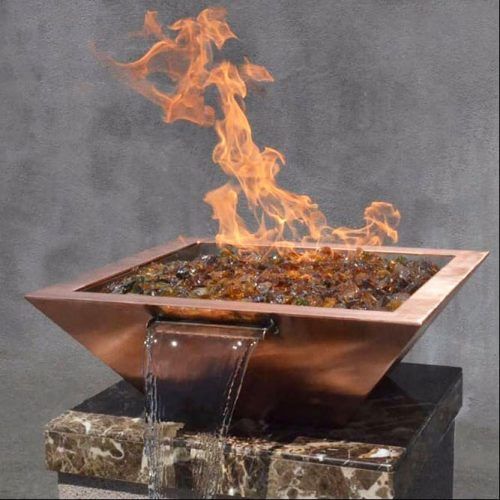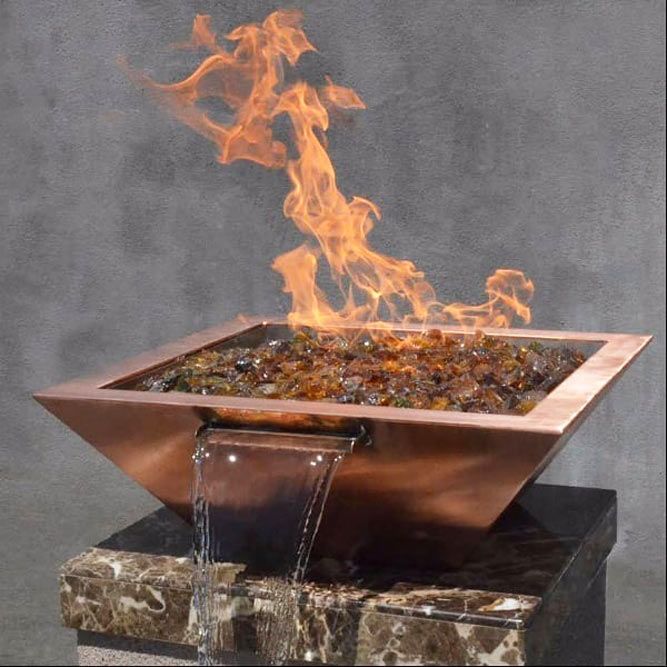 Source: thefirepitz via Instagram
Some designer fire pits have gone as far as to be combined with water. The truth is that such a pit looks very extraordinary, and that is an undeniable fact. Surely, the pit will serve to be the attraction rather than anything else.
Fire Pit With Glass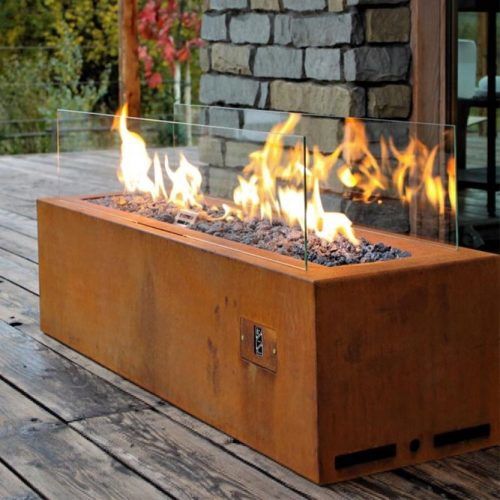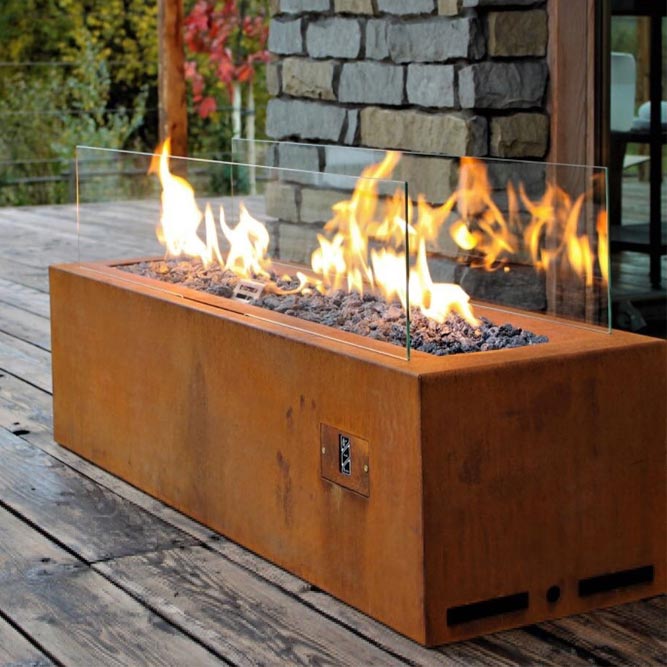 Source: bioethanolfires via Instagram
Those of you who dream about a fireplace but has no way of affording one – there is a possible way out. The thing is that a fire pit with glass walls resembles a fireplace perfectly. Aside from an exquisite look, it is very compact and portable, and that is surely a tremendous advantage.
Star Wars Theme Fire Pit Design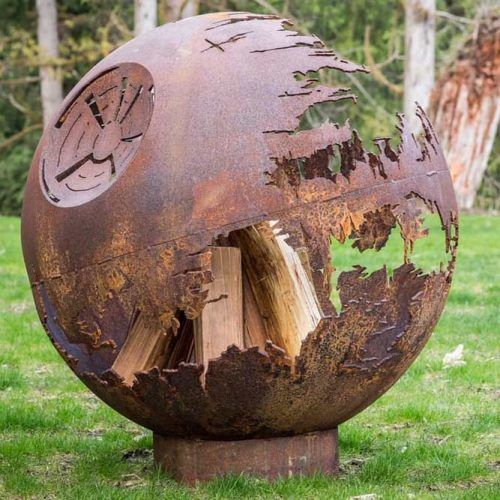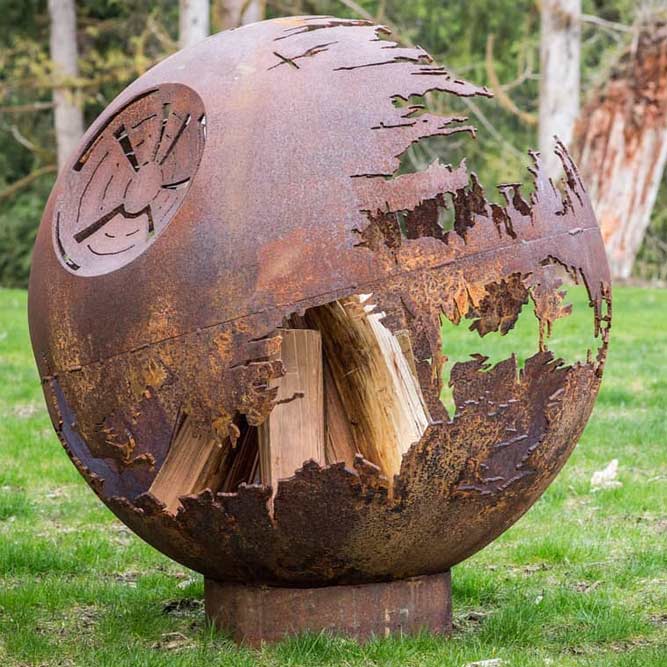 Source: thefirepitzone via Instagram
If you are a Star Wars fan, then you will fall in love with this fire pit from the first glance. Such a pit will serve two purposes – it will give you aesthetic pleasure as well as it will warm you up during cold evening spent outside.
Fire pit is a useful decorative, and not only, an element that can be introduced into any backyard. Besides, the range of ideas to choose from is close to being unlimited. However, we managed to gather only the best ideas in one place!
Rustic Wooden Fire Pit Area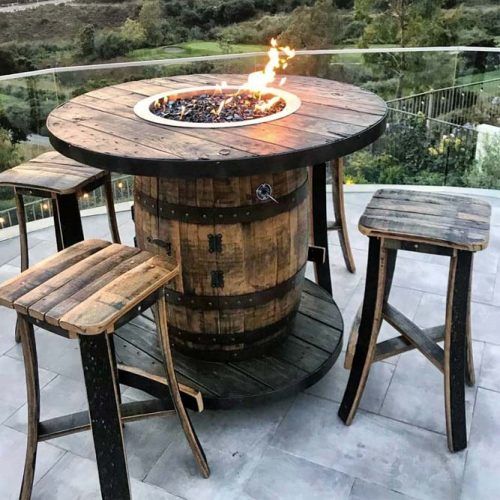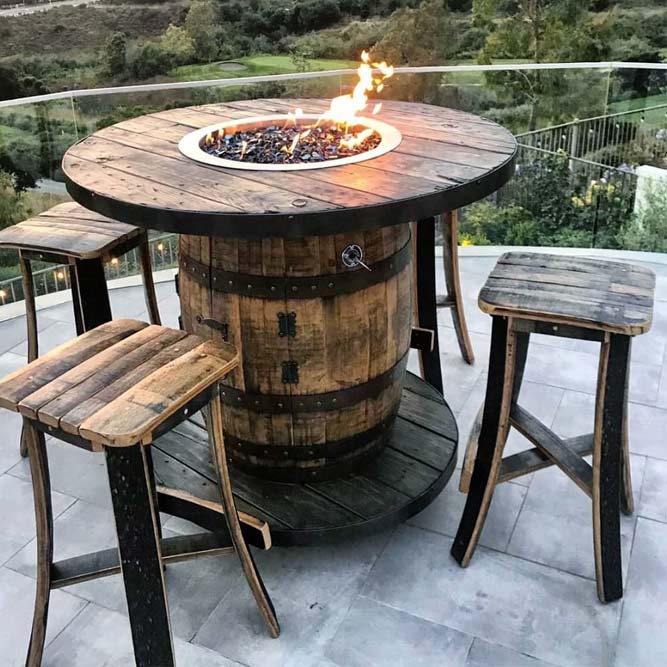 Source: kingbarrel via Instagram
Looking for some unusual fire pit idea? We have something in store for you! What can be better than to gather round with your closest ones around a warm fire pit table on a cold summer night? Use this idea to your inspiration!
Fire Pit Area With Chaise Longue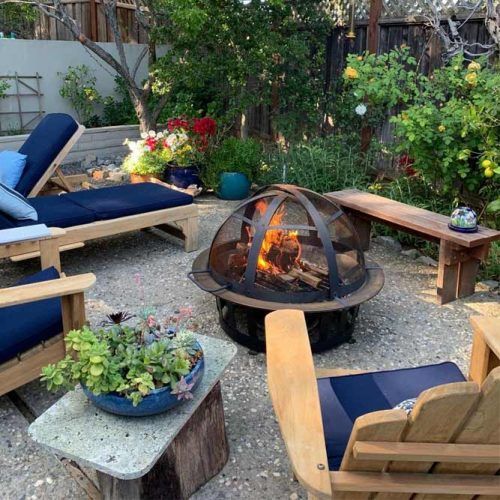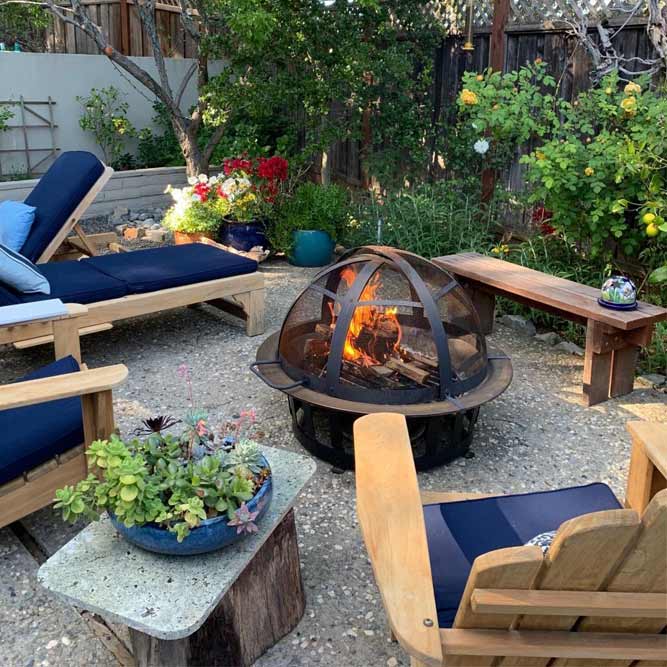 Source: ladiesorganizing via Instagram
In most cases, fire pits are all about resting areas. Complete your backyard lounge zone with a closed fire pit, chaise longues and have some rest from that hectic day you have had!
Fire Pit Area With Wicker Chairs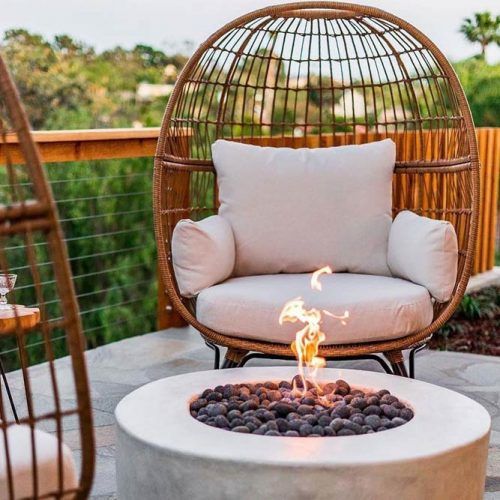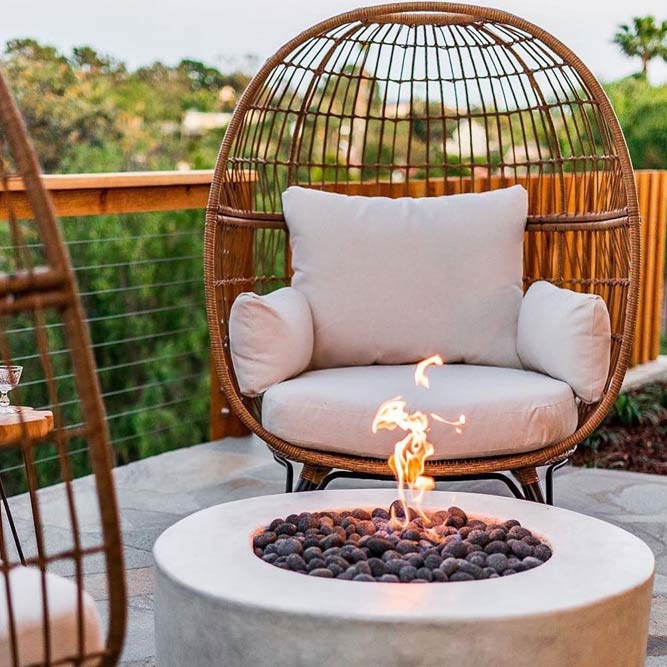 Source: taghausdesigndecor via Instagram
You may not know it yet, but you can easily introduce a fire pit to your balcony resting area. A small fire pit is not about warmth but a warm and lovely atmosphere.
FAQ: Fire Pit
Why are fire pits bad?
Burning firewood in a fireplace constantly emits smoke into the surrounding air that pollutes the air you breathe and damages nearby trees and plants. They are all greenhouse gases and are a major contributor to global climate changes.
Is it OK to have a fire pit in my backyard?
Residents of New South Wales do not need a backyard fire pit or grill permit. Only dry seasoned wood, natural gas, preparatory barbecue fuel (including a small amount of fire lighter) or liquefied petroleum gas (LPG) can be used in fireplaces and barbecues. Anything that produces excessive smoke is forbidden.
Are bonfires bad for your lungs?
Open flames release toxic molecules as gases that can easily invade the lungs and environment. Unlike hot incinerators, campfires usually produce more carbon monoxide. And carbon monoxide is harmful when inhaled and can form toxic ozone concentration.
Was this article helpful?