Are you looking for ideas how to decorate your dining room? Keep in mind that this room should be cozy enough to gather your closest friends and drink good wine or a cup of tea, eat some tasty food, and have a nice conversation. You can create the perfect atmosphere with the help of clever room designs. We know that you are searching for some inspiration, so Glaminati.com team have prepared 21 photos of exceptionally looking dining rooms. Choose one of them for your room and live in a paradise.
Modern Dining And Kitchen Room Design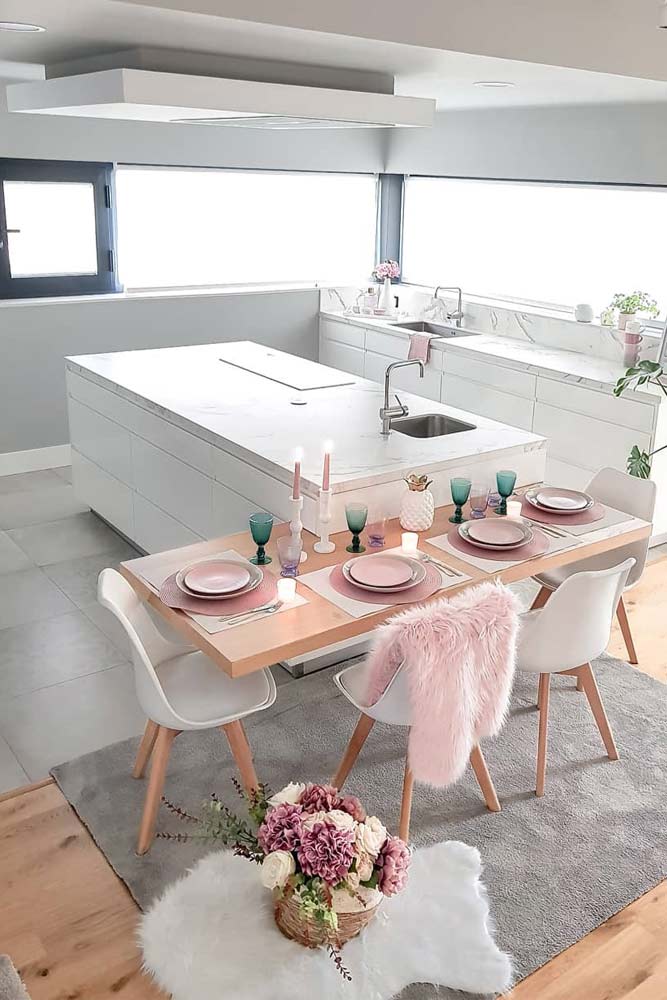 Credit photo: Instagram.com/tamishome
It is a common trend to combine the dining room and a kitchen in one. The truth is that is a worthy idea as long as your dining room lighting allows it. You should never forget about the fact that the more there is light, the better! Lighter shades in the interior will add up to it.
Retro Dining Room With Bright Wall Color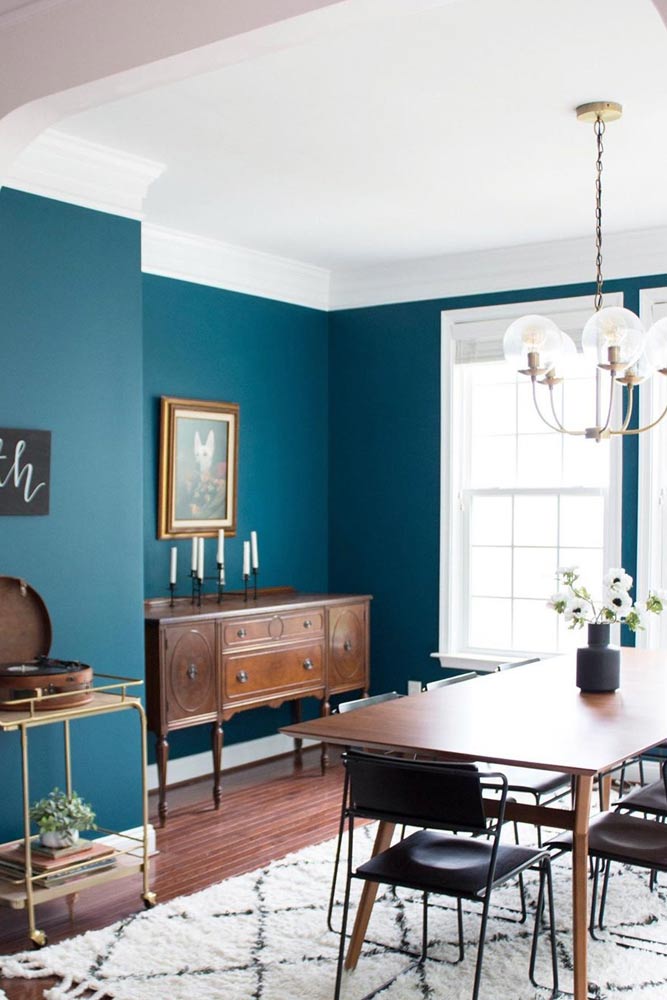 Credit photo: Instagram.com/cassmakeshome
Modern design is not always the one that some people think to be the best one. There are times when retro design is the best option ever. If you think the same, you need to consider the fact that a bright wall in the kitchen is a must. While the wall and most of the furniture will carry that vintage vibe, the dining room chairs may introduce a little bit of modernism into the interior.
Industrial Table Set With Boho Lights Accent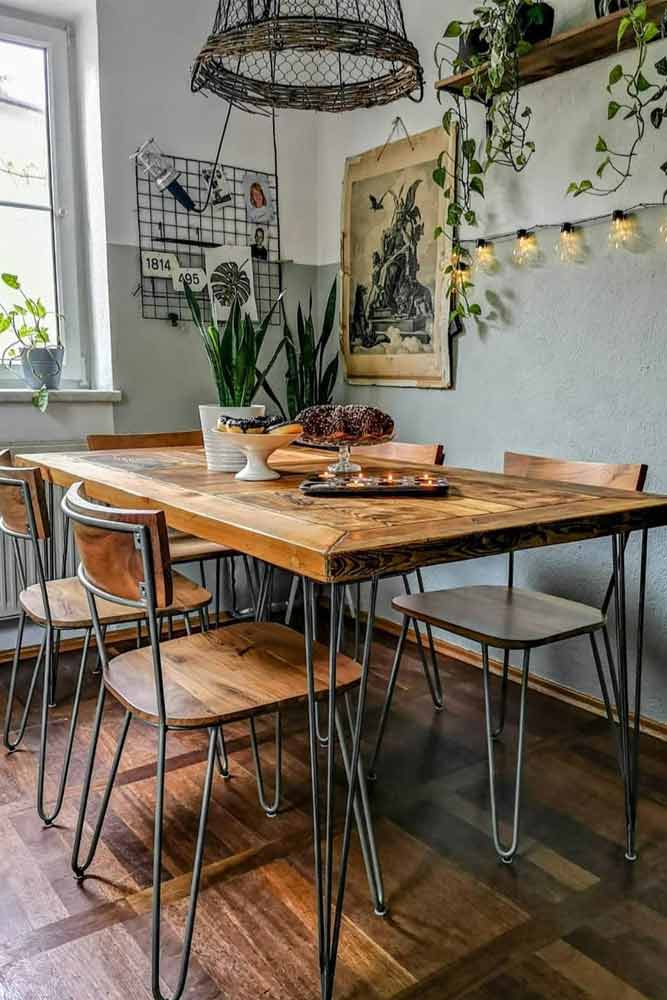 Credit photo: Instagram.com/kunis_lovely_vintage_home
You shouldn't underestimate the power of dining room tables. To tell the truth, this particular piece of furniture is not only the most use done but also the main attention attraction. A wooden table with metallic legs will fit in your industrial dining room well, besides the lights will accent the atmosphere perfectly.
Traditional Dining Table Set With Bright Pictures Wall Décor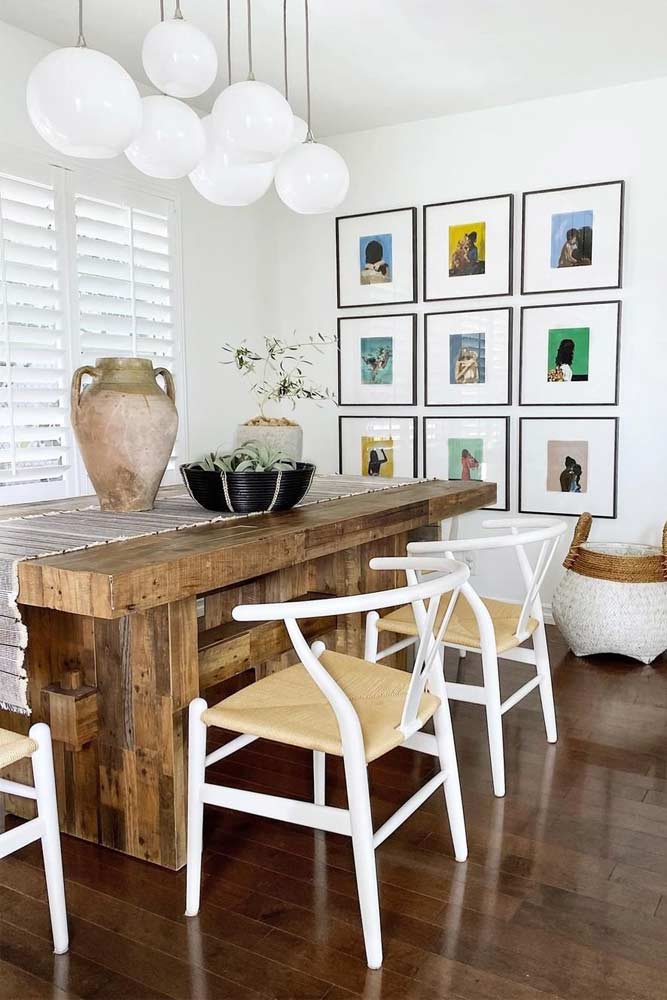 Credit photo: Instagram.com/theheartandhaven
Considering dining room sets is a great idea, but you shouldn't forget about the authenticity of the room. That is where a regular classy table set comes in more than handy while the personalized wall décor adds that necessary spice. You shouldn't be afraid of tiny elements to create the vibe you find the fittest.
Traditional Dining Room With Table Scape Accent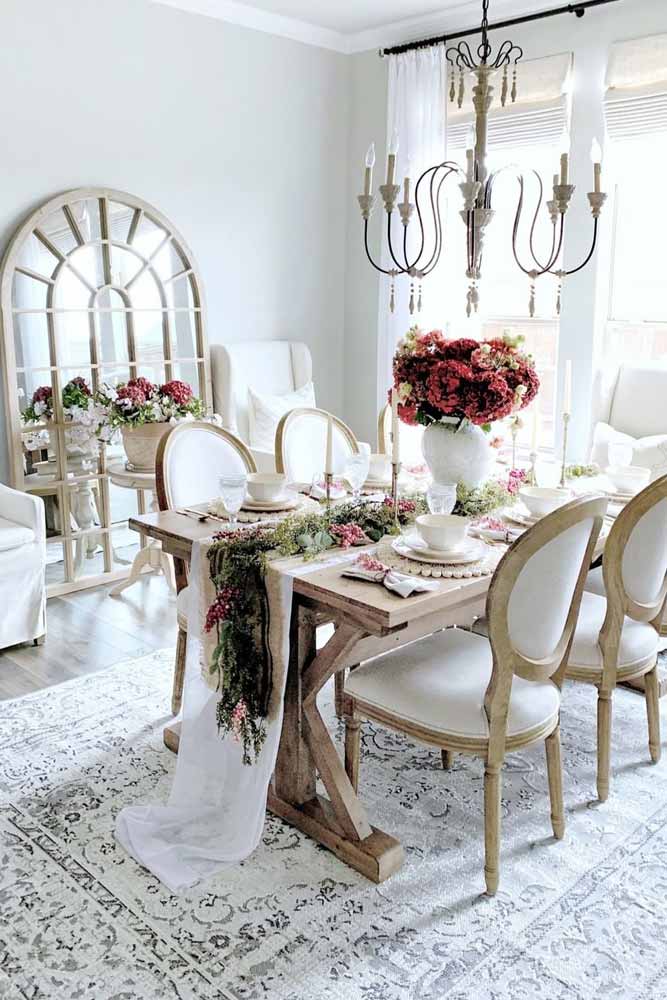 Credit photo: Instagram.com/mytexashouse
When you think traditional dining room, farmhouse table is not enough. Firstly, you need to think about hues, and white ones are the most suitable. Then comes the furniture design, it should be as classy. Also, this table will suit perfect on your sunroom. Oh, and do not leave the floral attributes out. However, one thing that can accent the whole design is the table scape. Think about it!
Rustic Table Set And Light Idea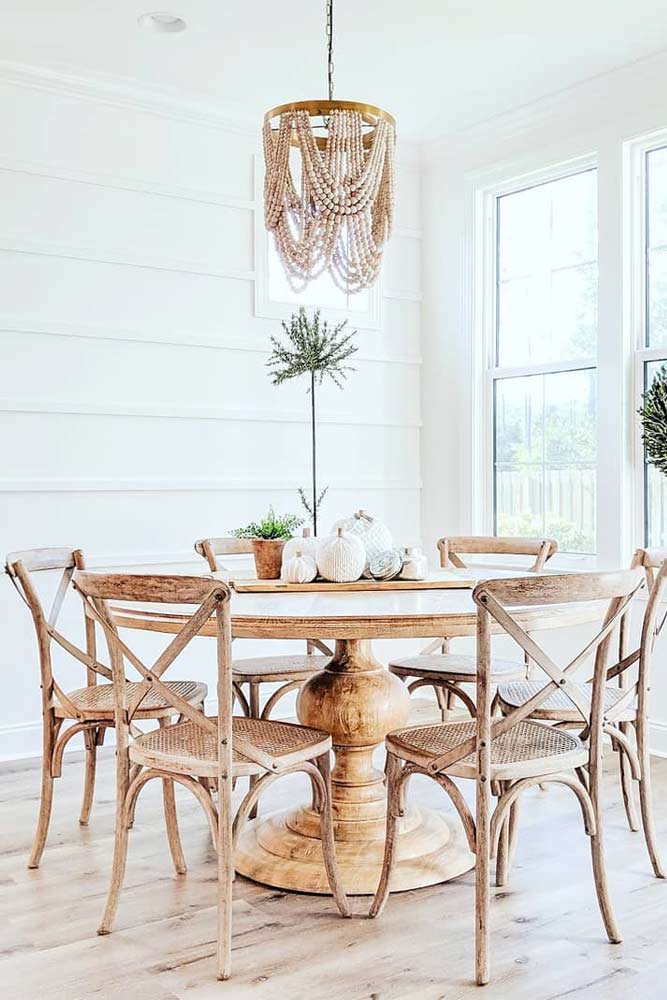 Credit photo: Instagram.com/theclevergoose
The fact is that there is no one-for-all dining room furniture definition. You can easily decorate the room according to your preferences. The truth is that your dining room may contain nothing more but a table set. While such a rustic set will clarify the idea that there are no additions necessary.
Modern Dining Room With Glam Furniture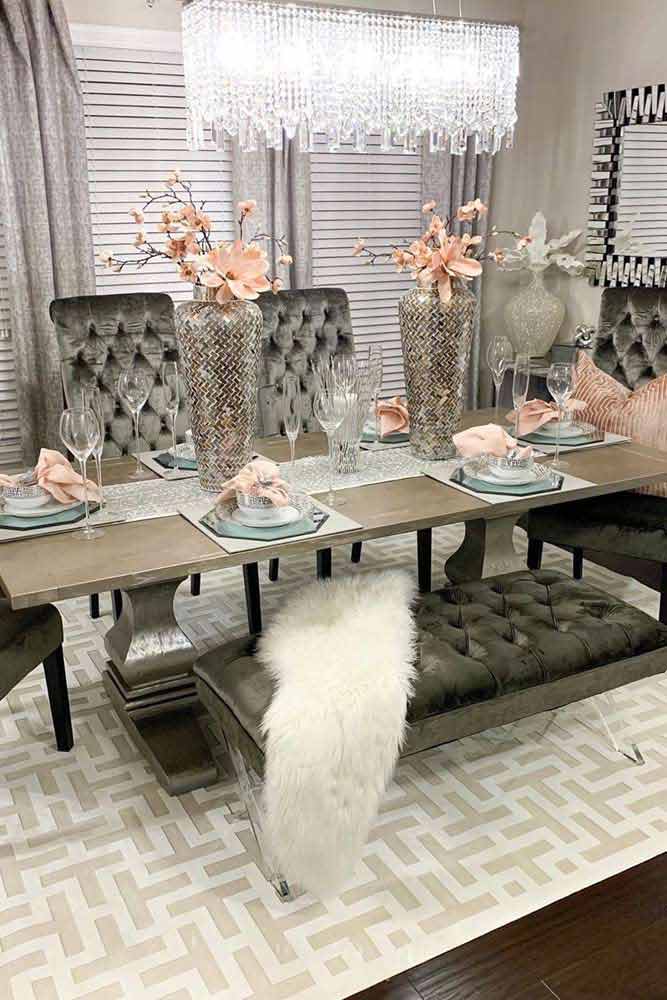 Credit photo: Instagram.com/chic_interiors_by_shante
In times when you think about glam elements to add to the décor, you think of any room but a dining one. We say that dining room ideas can and should involve charming and fluffy details too. As long as you adore the interior, you should add any glamorous piece you love to the design.
Wooden Table With White Wicker Chair And Boho Lights Idea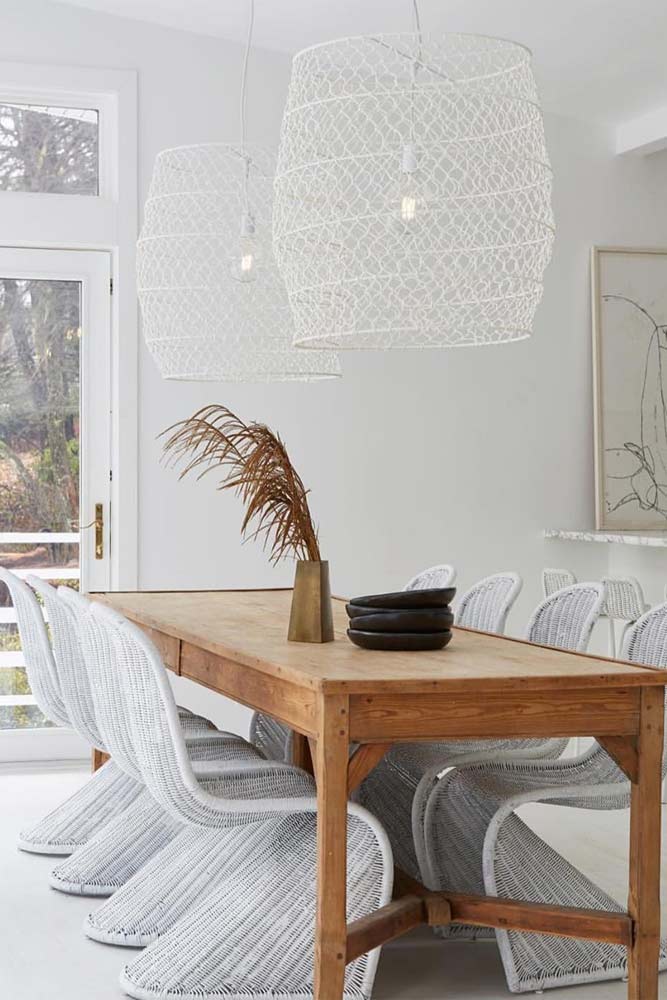 Credit photo: Instagram.com/leannefordinteriors
Often a dining room is viewed as a part of a kitchen so that you can eat and leave. However, in the majority of cases, kitchen and dining room tables can also serve as gathering centers for family. That is why you should make sure that they are as comfy as possible. Wicker chairs along with boho light will help you end up with a proper atmosphere, you can trust us on that.
Industrial Dining Room With Wooden Wall Accent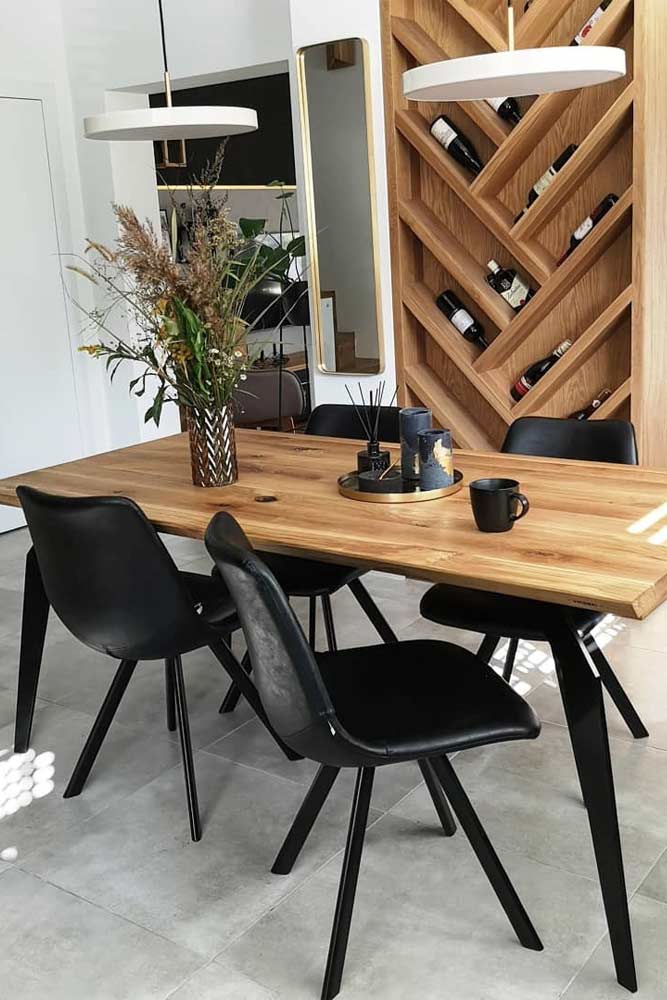 Credit photo: Instagram.com/ann.living
Fancy dining rooms are not for all. That is not because someone can't afford a room like that, it is due to the fact that some people see dining room decor differently. If you are a practical design fan then this industrial design with wooden accents will satisfy your simplicity and elegance combined craving.
Modern White Blue Dining Room Idea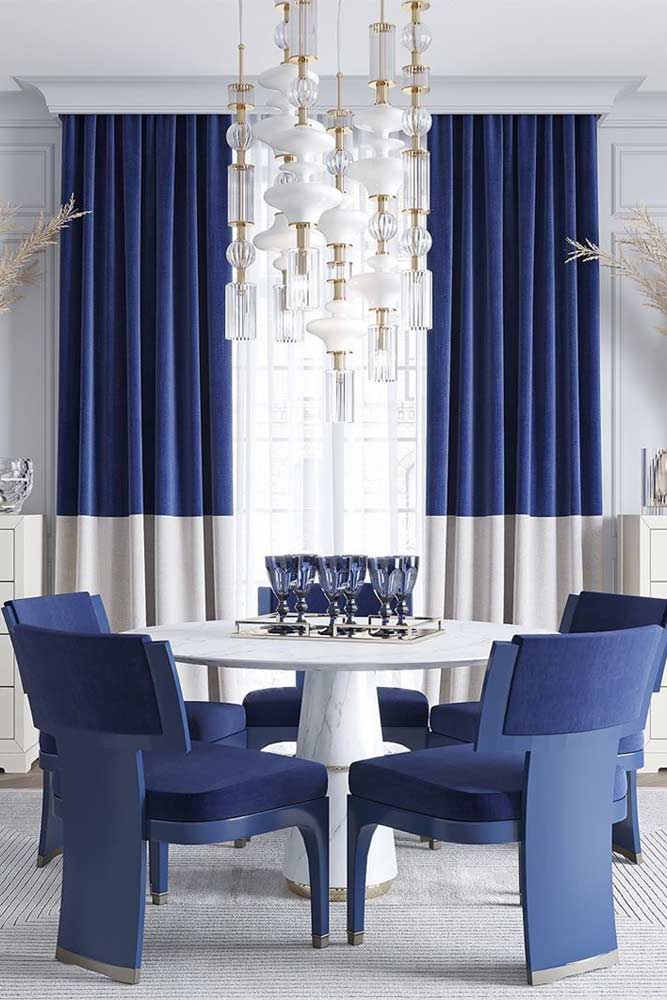 Credit photo: Instagram.com/kseniamyasnikova
In many cases, the contrasting hues make the best combo when it comes to room design. You do not necessarily need to opt for black and white hues, you can easily combine juicy blue and white instead. To add some extra authenticity to the design we advise you pay attention to dining room chandeliers too. You will be surprised at how modern and versatile they can be.
Mismatched Seating With Traditional Table Idea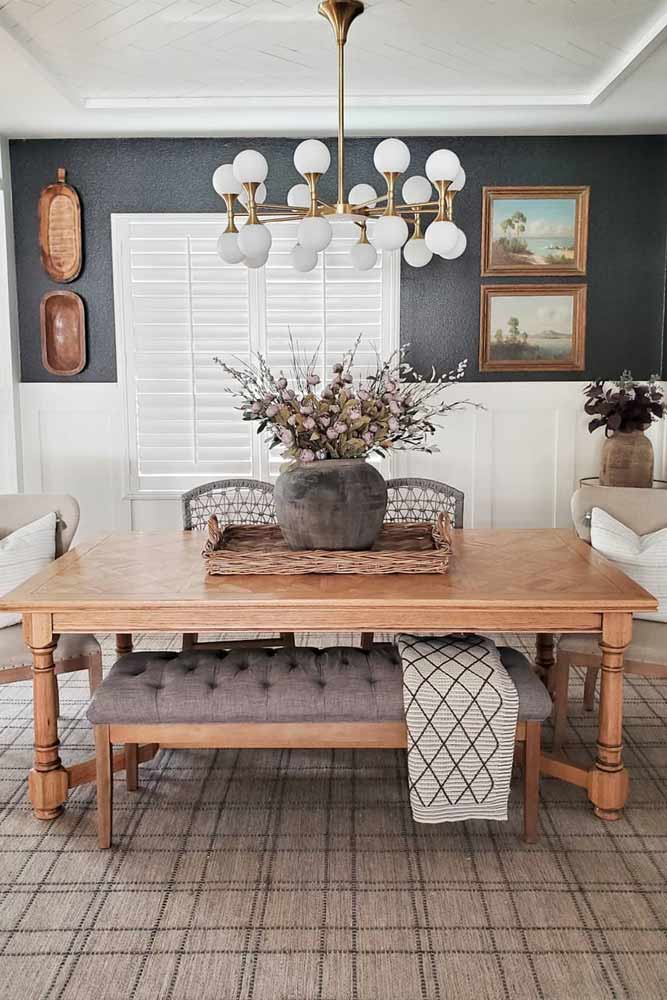 Credit photo: Instagram.com/house.becomes.home
Sticking up to the traditions is great as long as you know how to make the traditional approach turn into a unique one. There are many of them, but we recommend you take the simplest route. What does that mean? The truth is simple, just experiment a little with the seating area while keeping the table one classy. As simple as that!

Credit photo: Instagram.com/four.thirteen
Your dining area is supposed to be practical, but at the same time it needs to be cozy and unique. That is when the tiny details tend to make a difference. Something as usual as a centerpiece can change things drastically not to mention the special dining room wall décor. Just look at this plate-made pattern, isn't it just fabulous?
Classy Black And White Colors With Wall Decorations Accents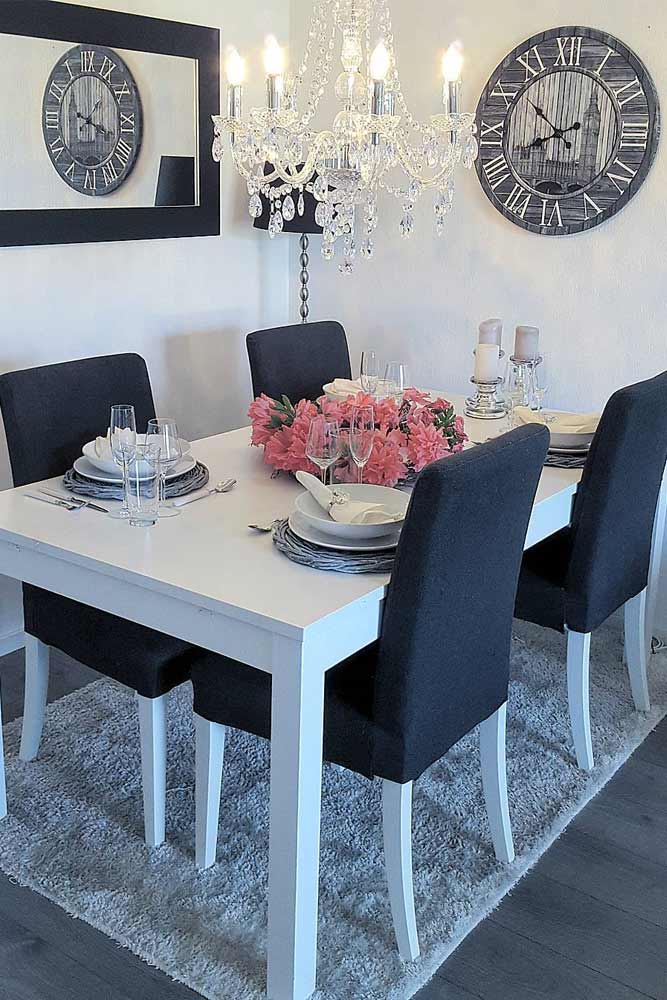 Credit photo: Instagram.com/interior.by.kathe
Surely, we are going to admit that there is nothing wrong with keeping the dining room basic. The contrast of the dining room table and chairs fits the idea well. What is more, the clock on the wall alongside a mirror are the necessary attributes of any room that make this one look special and useful at the same time!
Neutral Colors With Wall And Table Decorations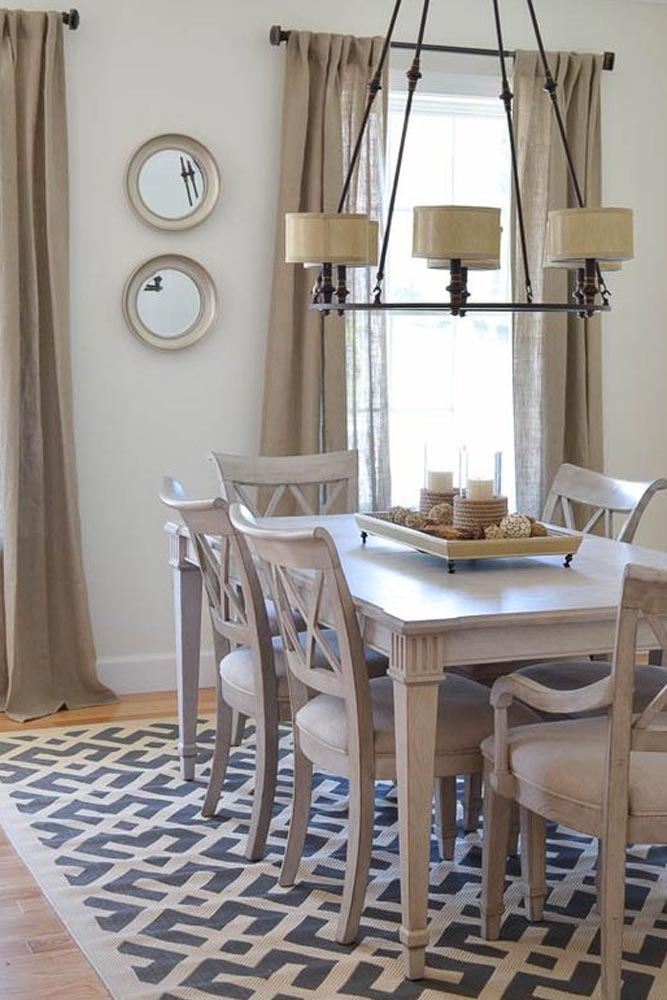 Credit photo: Instagram /fourgenerationsoneroof
Those of you who are looking for a modern dining room idea, we have something in store for you. You may be already aware of the fact that natural shades are prevailing in the décor fashion at the moment. That is why any stylish dining room should be designed in neutral shades. To get a better idea of what to look for, we offer you a cozy example to inspire from.
Traditional Dining Room With Round Table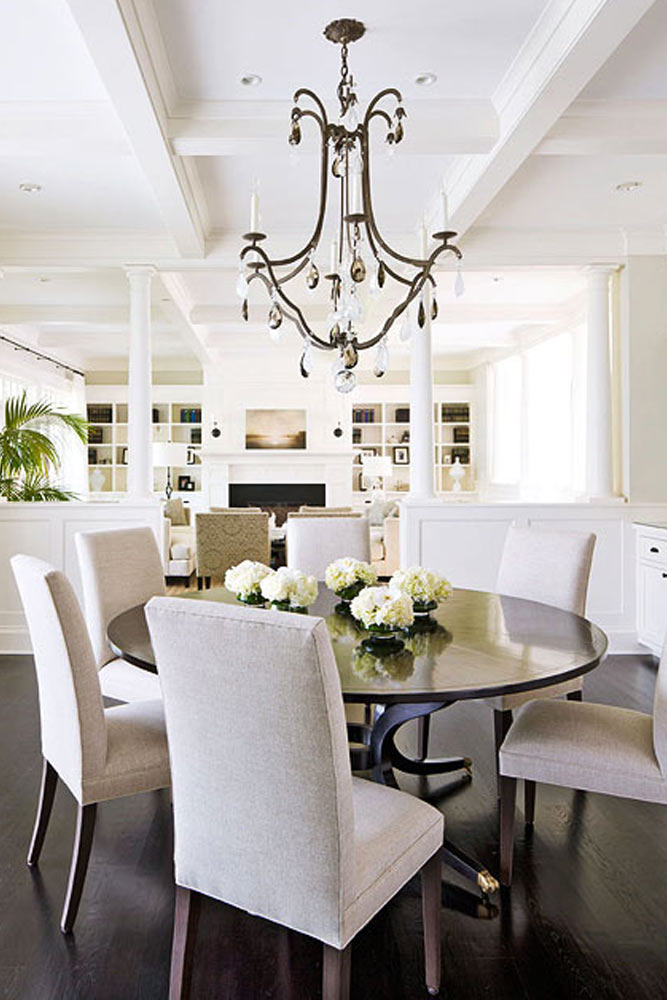 Credit photo: Instagram.com/traditionalhome
There are many stories about the round table, no matter whether you believe them or not, you can't dismiss the fact that such a table is actually very practical. What is more, if you are in search of traditional dining room decorating ideas, such a gorgeous idea will steal your heart.
Industrial Dining Space With Kitchen Shelves Accents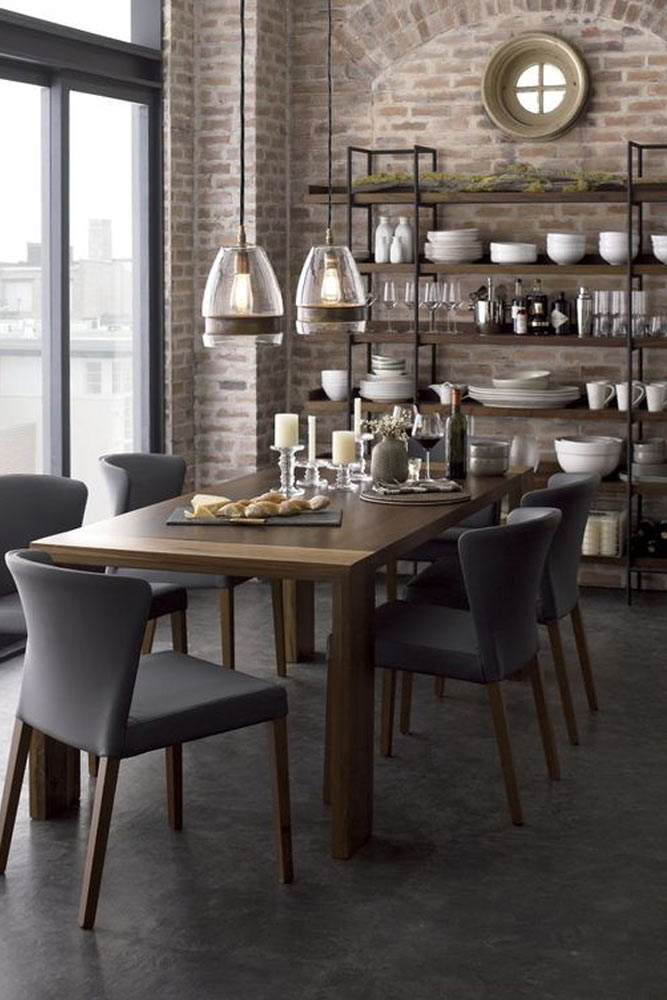 Credit photo: Instagram.com/crateandbarrel
The luxury dining room is not easy to afford, we all know that. Besides, not everyone likes such a dining room idea. No matter your case, this industrial dining room with a perfect view and not less perfect storage space may come to your taste without you even expecting it.
Rustic Table With Flowers Centerpiece Idea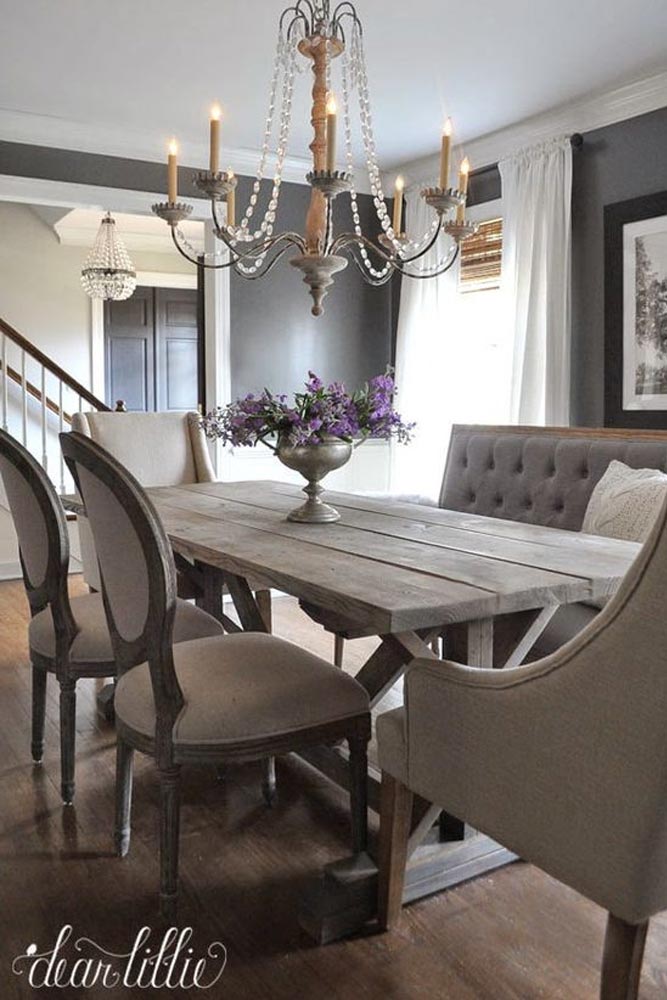 Credit photo: Instagram.com/dearlillie
There are times when we hear that opting for a rustic dining room means forgetting about all the modern elements. That is the furthest away from the truth. The fact is that combining a rustic table with a set of modern comfy chairs is not only possible but also gorgeous. Especially if you spice the table up with a cute floral centerpiece.
Add Print Accents With Pictures And Furniture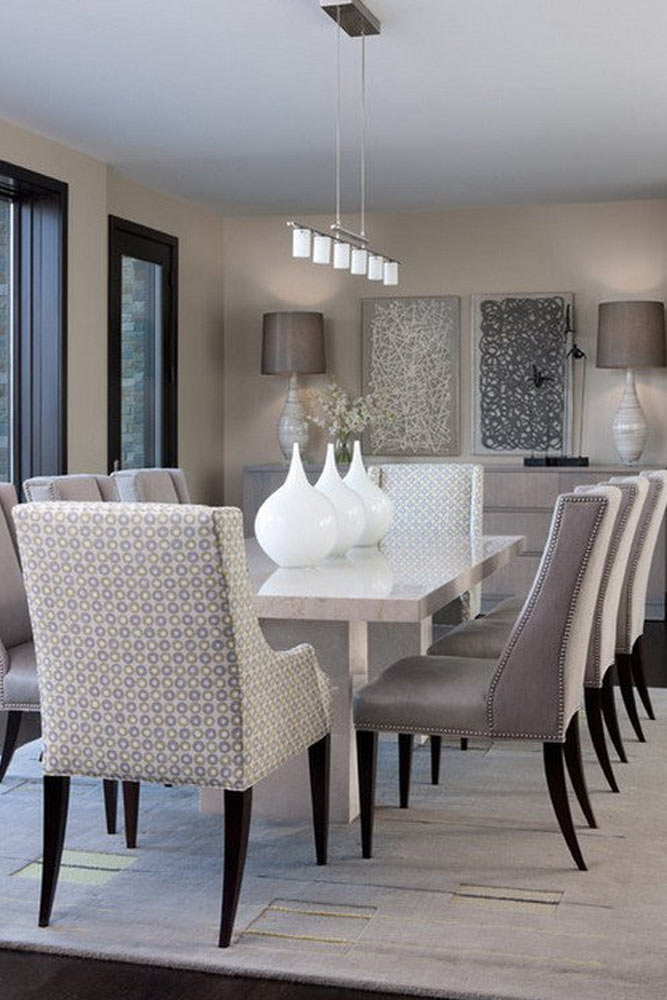 Credit photo: Instagram.com/ashleycampbellinteriordesign
In the majority of cases the colors play the main role when it comes to the décor part. You will be surprised that the hues come second after the patterns. One look at the way the patterns on the walls and the chair covers interact will help you understand what we have in mind.
Classy Dining Table Space In White Color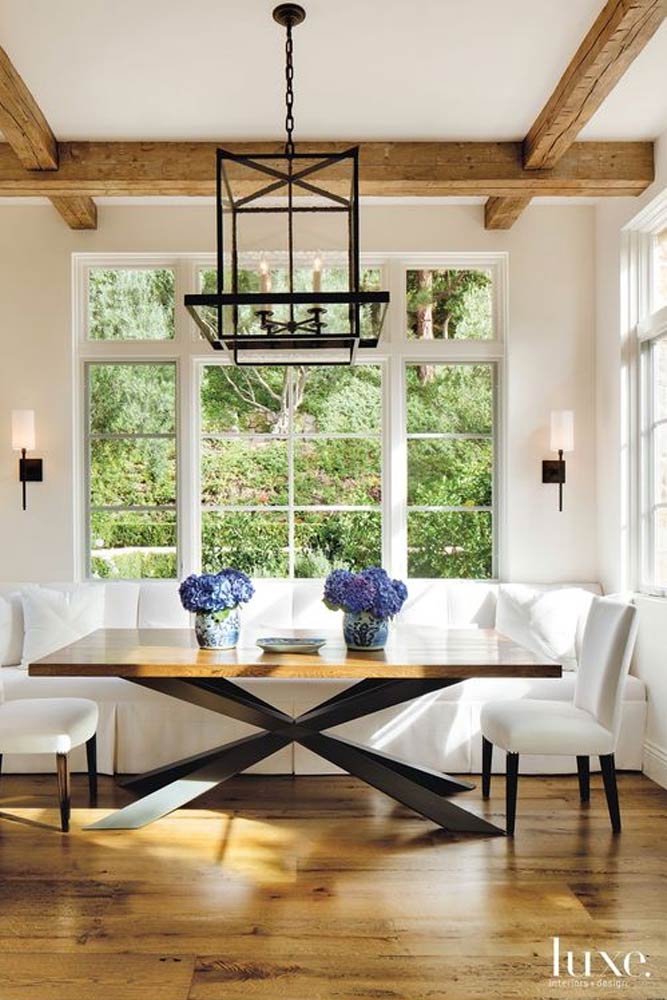 Credit photo: Instagram.com/luxemagazine
Among all the dining room colors, white is the classiest. However, that does not mean that everything in the room should be of the same color. You can easily match the white seating area with not less classy wooden table with the top matching the floor.
Traditional Dining Space With Fireplace Accent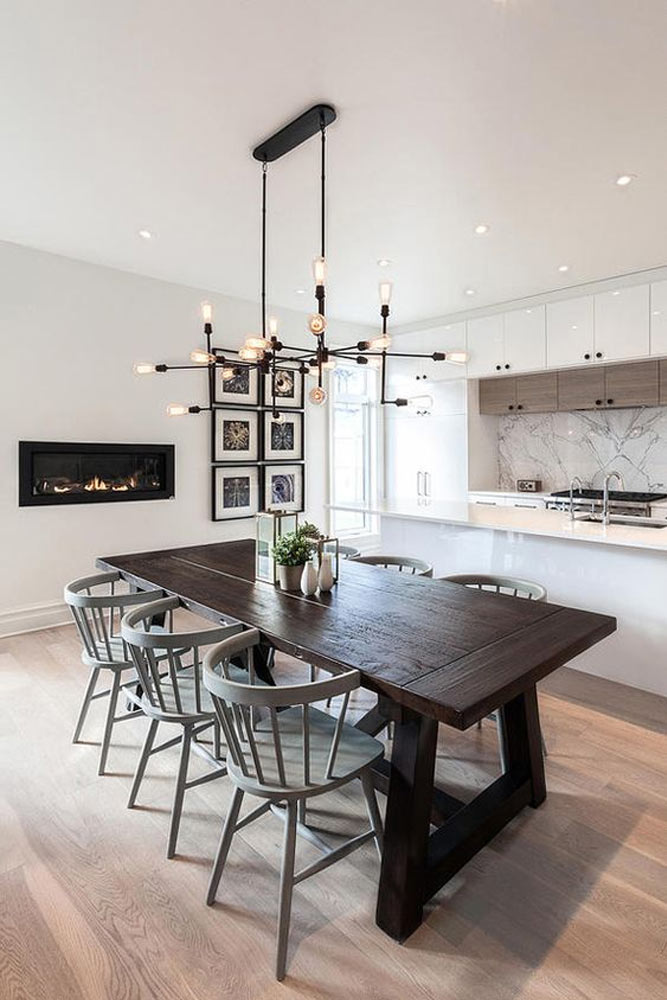 Credit photo: Instagram /kim_dt
There are many examples of when dining room rugs are merely irreplaceable. The reasons may be many. They can add up to the coziness of the room or serve the accent, whichever serves you best. However, in times when you have a fireplace at your disposal, you shouldn't disperse the attention. That is that particular case when rugs are going to look out of place.
Dinner Table Sectional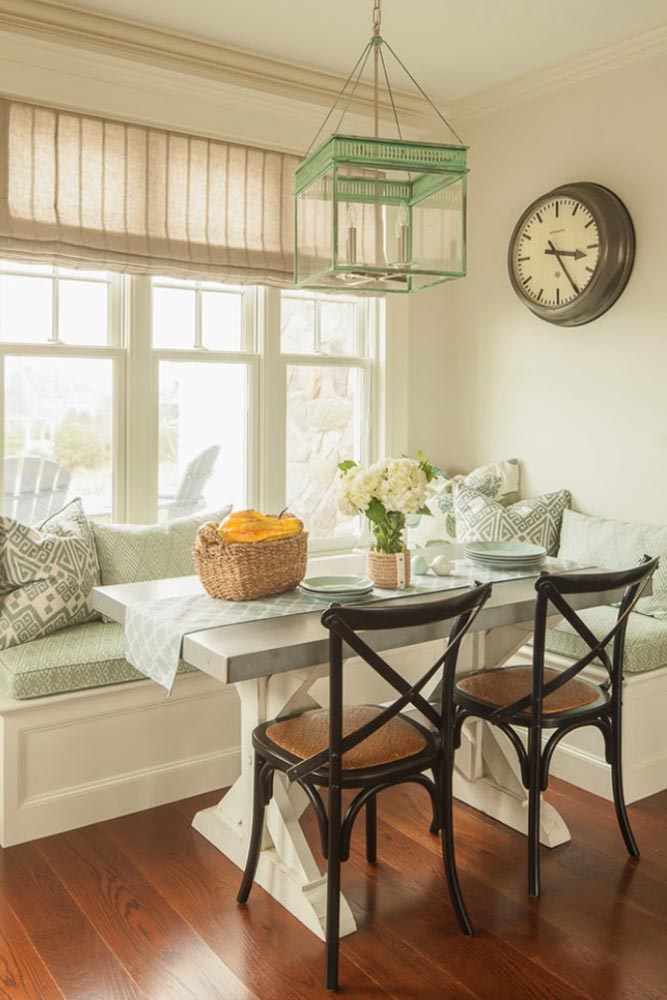 Credit photo: Instagram.com/homestoriesatoz
It is always nice to lean back and have a relaxing chat after a tasty meal. Even though it is easy to achieve that with the addition of comfy chairs to the design, a comfortable sofa would be even better. Trust us!
More Ideas of Dinner Room Decorations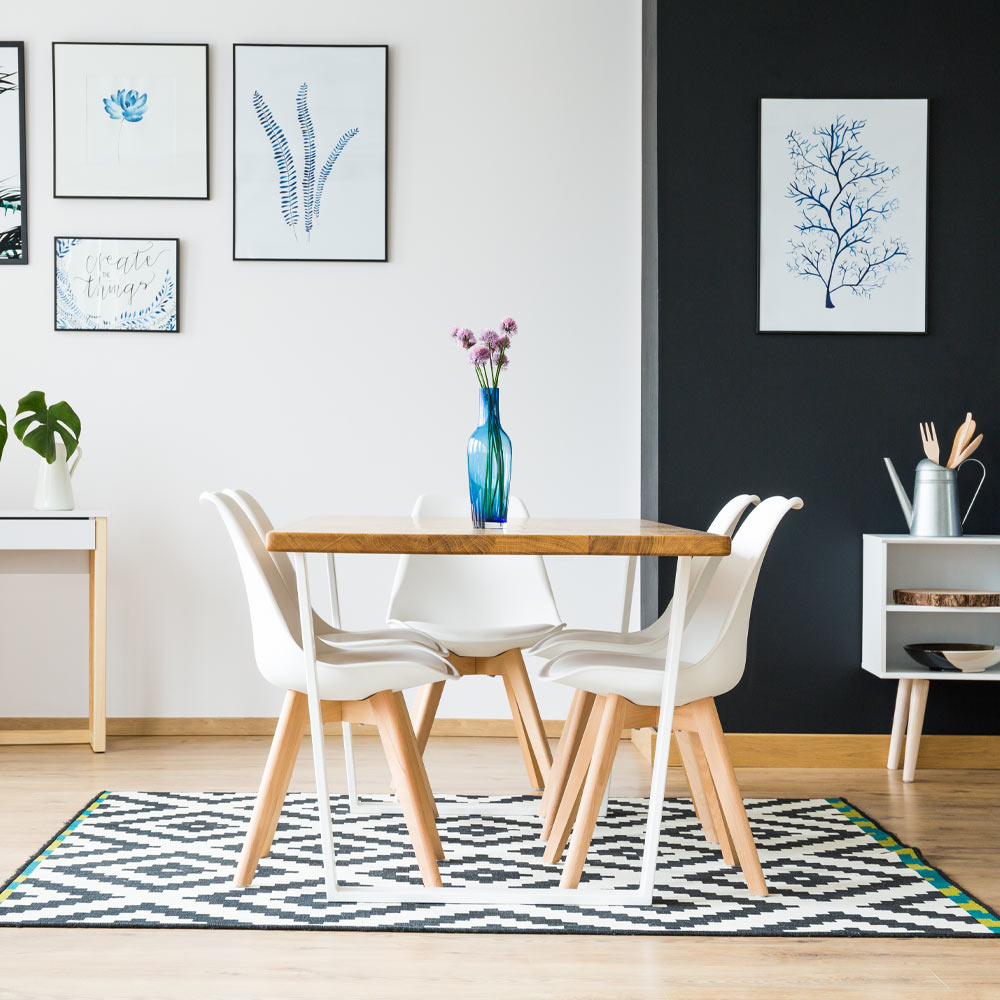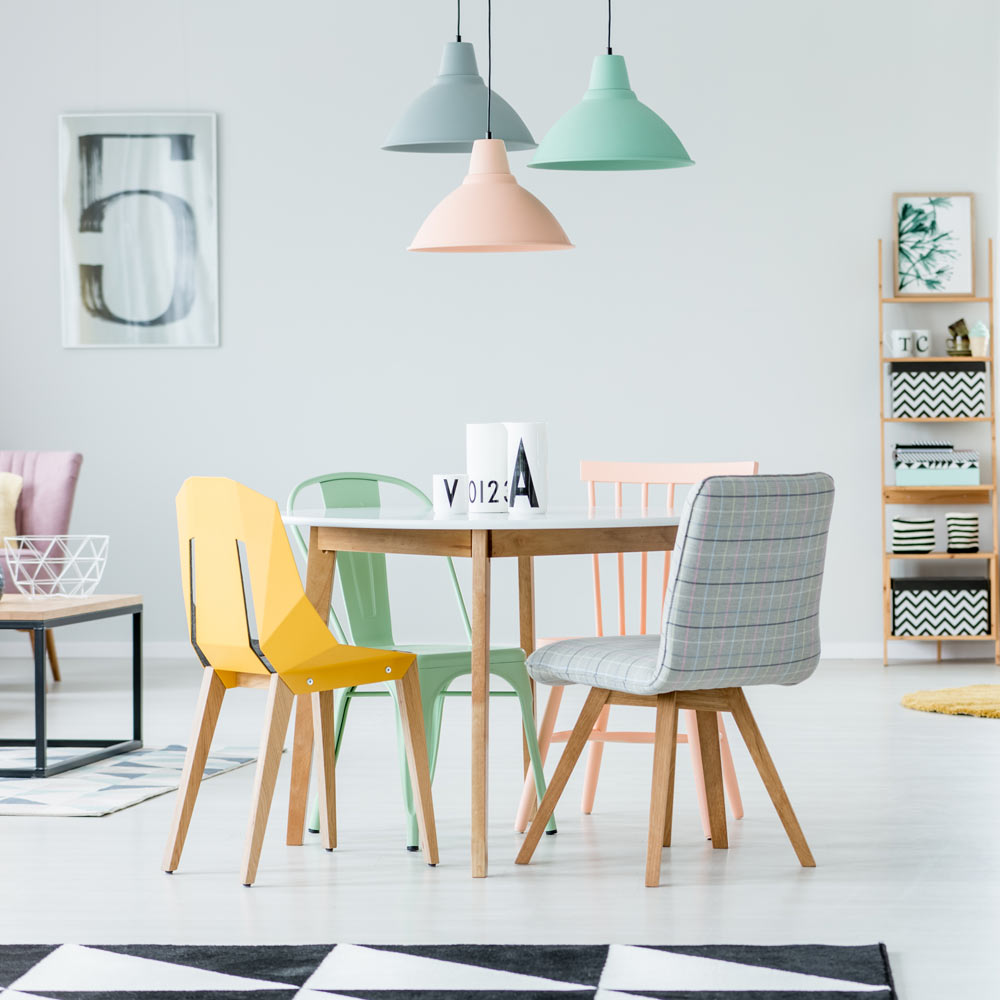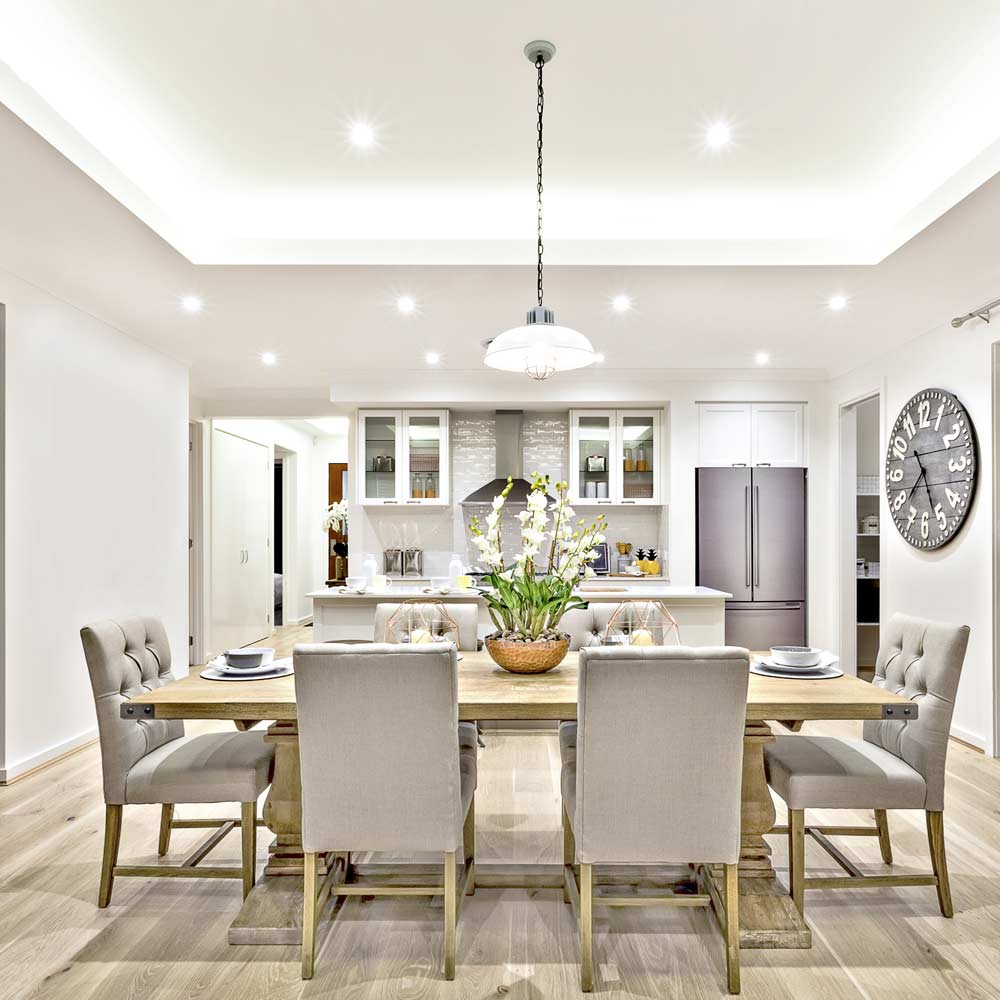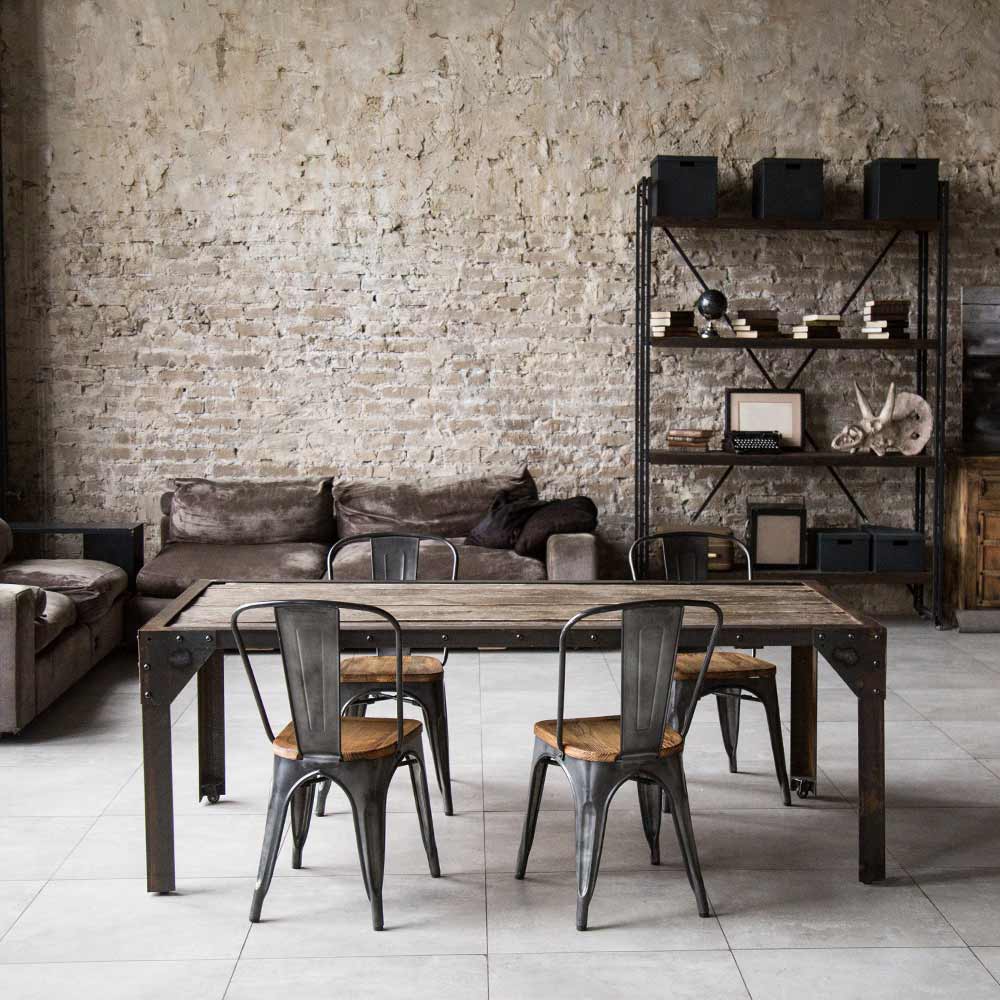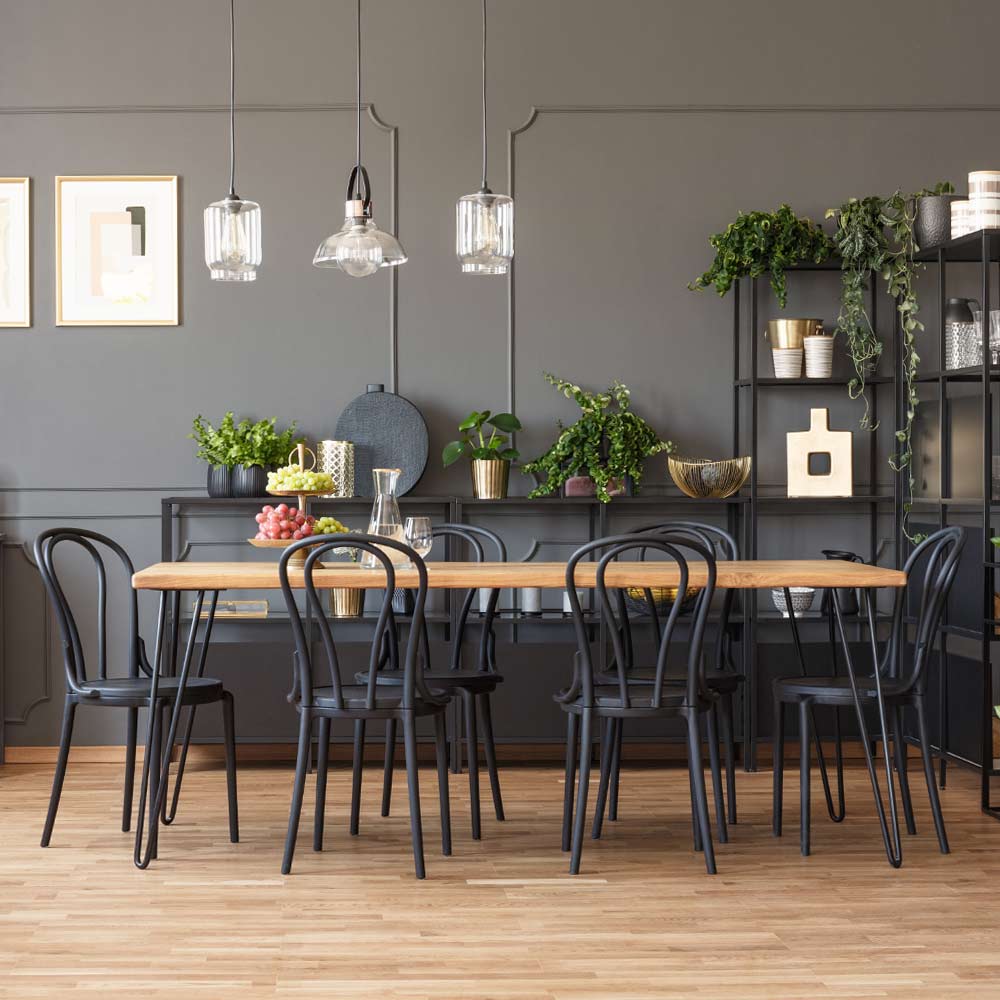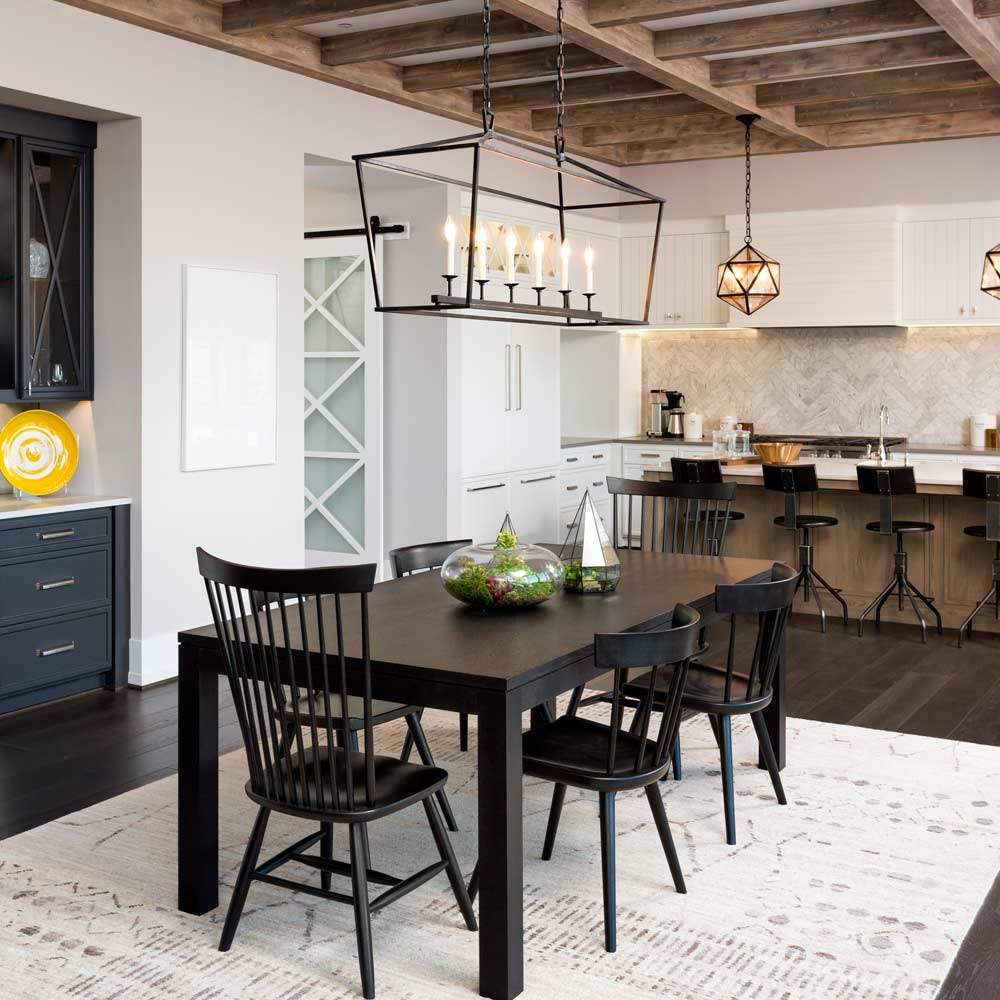 The dining room is one of the most visited ones in your house. That is why it is best if you style it accordingly. You will be surprised at how easy it is to turn something as regular as a dining room into the room of art and style with these ideas!