Starting with the ancient times, people tend to decorate their houses. Of course, in the beginning, the decorations were quite primitive but as the world developed so did the decorative elements. One of the most required décor details are all sorts of plants, and there is no wonder why since those beautiful flora elements provide us with oxygen. However, while most people put the plant on their window or plant stand, there is another way to introduce the plant into the interior. What we have in mind are wall planter pots. Once you browse through our gallery you will realize that walls are designed not only for shelves and pictures but for plant too.
Frequently Asked Questions: Wall Planter Pots
How do you hang planters on the wall?
Having your own little green corner in the house is always great. However, if there is no place to place the plants at, some difficulties may arise. That is why we have gathered a list of ideas on how you can hang your planters on the wall:
Indoor trellis on the wall will save up a lot of room on the floor;
Art installations – you will kill two birds with one stone if you opt for the idea;
Use a vertical planter on the wall;
Hang your plants from the ceiling;
Hang your plants upside down – the particular design will keep the plant in place;
Use magnets to attach the planters to the walls
All in all, you should not limit your creativity, experiment with the ideas you like, and use your imagination to the fullest!
Vertical Planter With Wooden Rings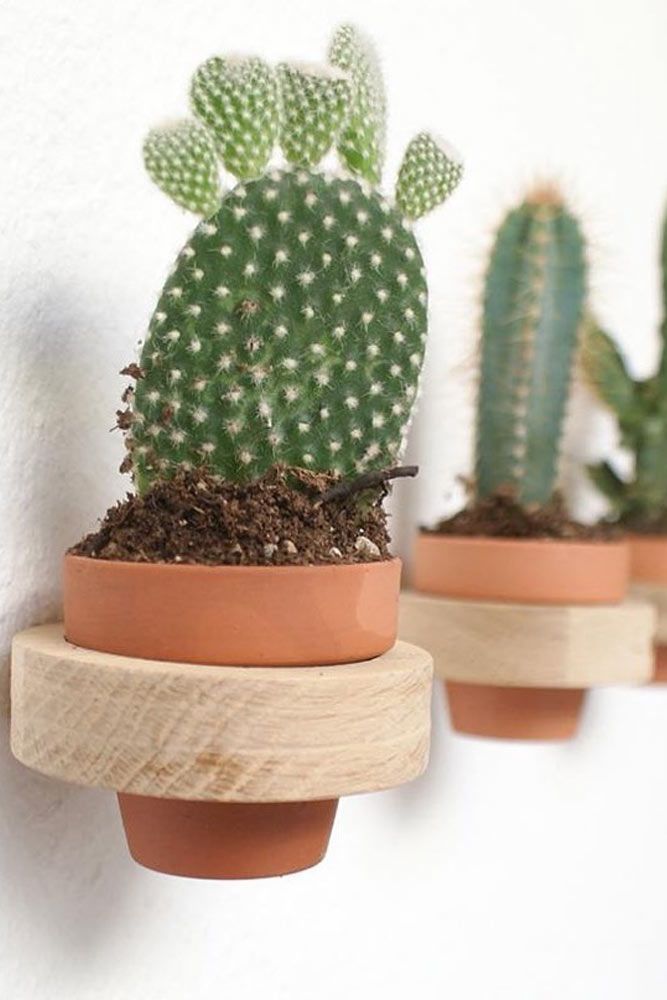 Source: Instagram/irish_woodwork
We are going to start the review with wall hung planter pots. Worry not – there is no need to hang additional shelves on the walls to achieve the goal. All you need is a set of your favorite small plants and a set of wooden rings. Just secure the rings vertically on the wall and insert the plant in. Your perfectly unique and useful wall décor is ready! Besides, if you do not like rings – use triangles or squares, if you prefer, the result will be as ravishing!
Small Ceramic Wall Planters Pots
Source: Instagram/gatheringobjects
The fact is that ceramic wall planter pots can be made on your own. You do not need to be a pro at sculpting or invest in floating shelves for flowers, but you will definitely succeed with such a set of ceramic pocket planters. What is more, to introduce some additional stylish flair into the design, try painting the pots with various patterns. You do not need to go over the edge, though.
Colorful Wall Mounted Plants Pots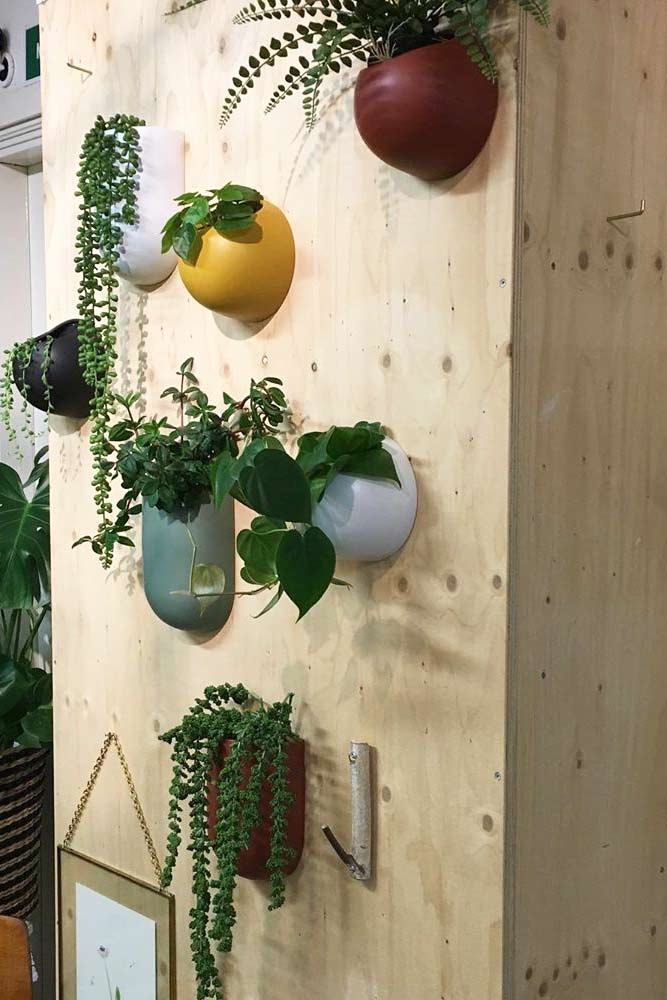 Source: Instagram/bosenheij_store
Wall-mounted planter pots do not necessarily need to be all the same. If you are into modern interior designing you may already know, that beauty come sin details, and the less connected the details are – the better. Use not only different shades but also various shapes of the pots to achieve the goal. In case, you wonder how the end result would look – see the presented image.
Terra Wall Pots Design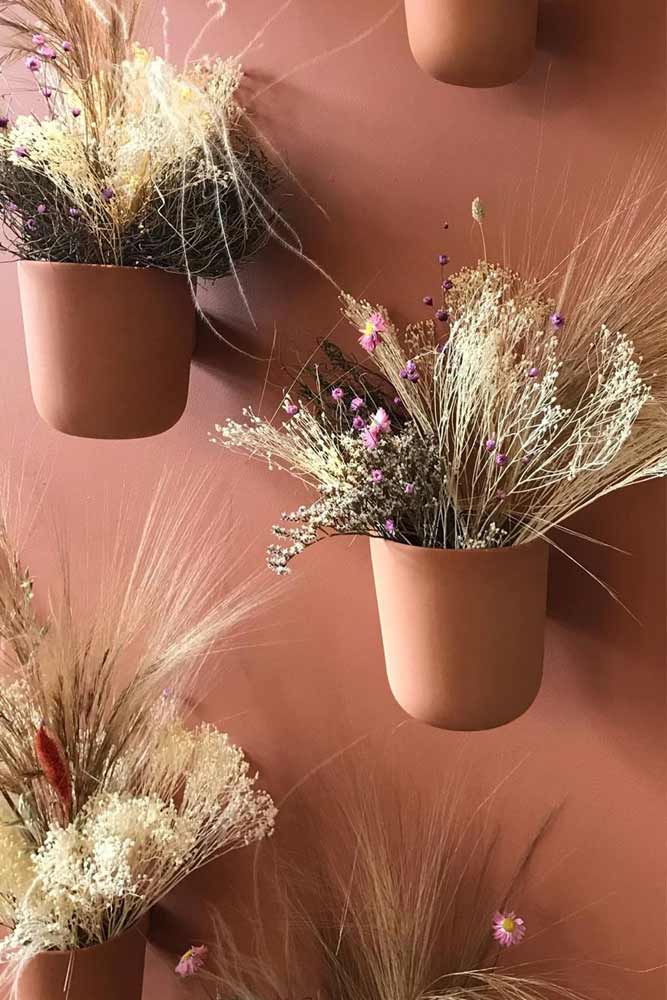 Source: Instagram/wemadecopenhagen
To tell the truth, not all of you may have enough time at your disposal to look after live plants. However, that does not mean that you can't add a wall pot decoration to your room interior. Terracotta wall planter pots will look equally charming with both fresh or dried out flowers. See for yourself!
Ceramics Wall Pots With Half Color Accent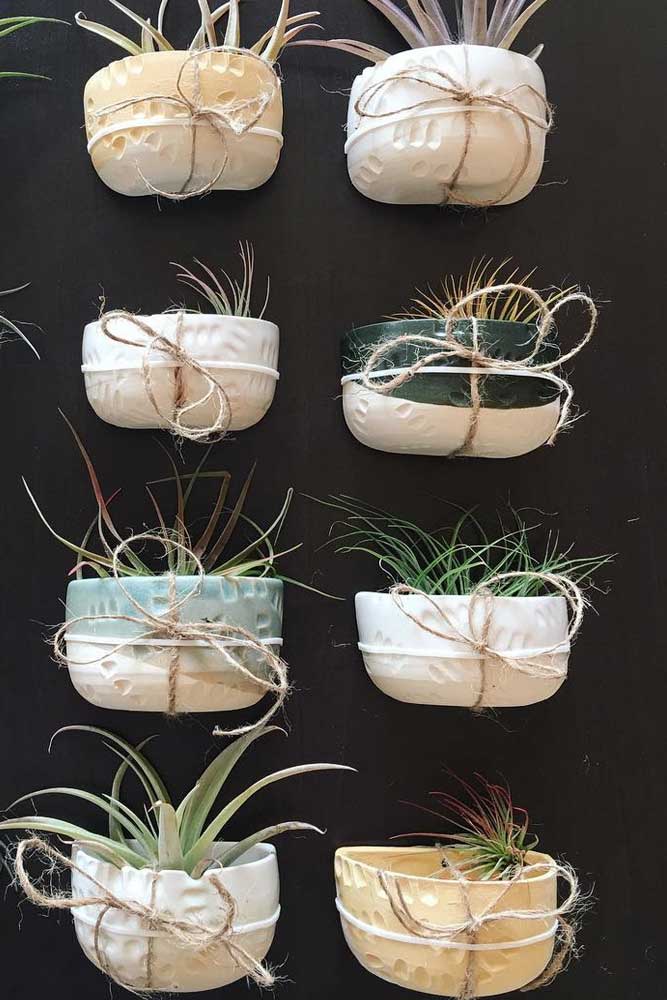 Source: Instagram/thricemarkedpottery
Some people like only particular plant types. If you belong to the category and you wish you could dissolve the monotony – we know a suitable way out. All that is required are wall planter small pots with color accents. Due to the accents that the pots have your same-family plant collection will look bright and interesting to look at.
Wall Mounted Wooden Plant Pot Design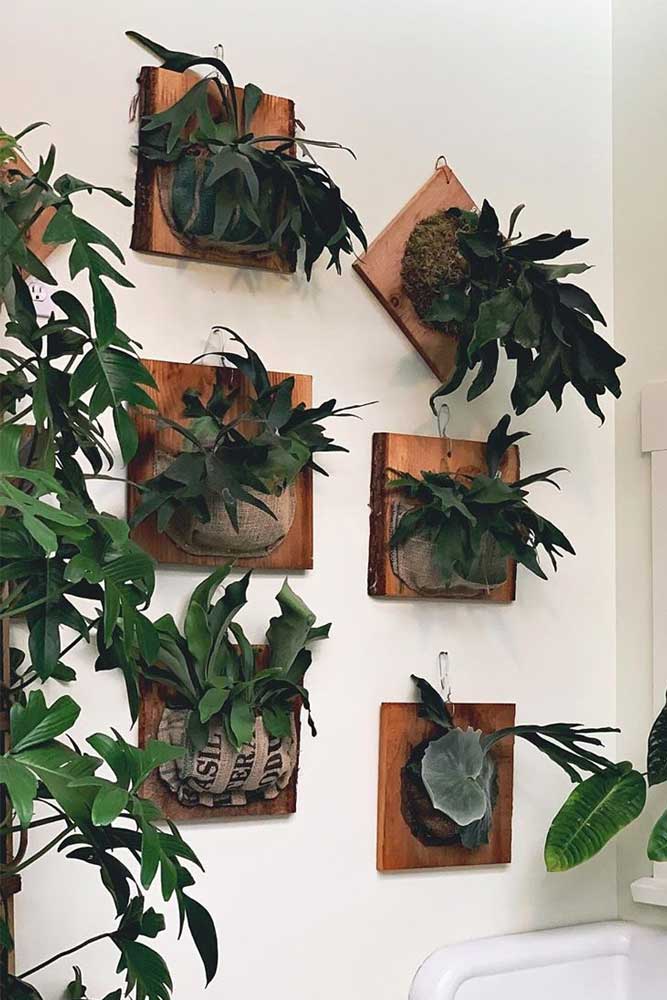 Source: Instagram/hiltoncarter
There are many exquisite wall planters that you can purchase either online or at the store these days. Nevertheless, when we are thinking about some smaller room decorations, let's say bathroom interior, there is rarely a desire to invest much into something like plant pots. That is why we are suggesting you this cheap, alternative way out. All you need is a bunch of wood plates with simple pots attached. Not only you will breath in a new life into the room but will also provide the water-loving plant with necessary moisture amount.
Wooden Baskets With Greenery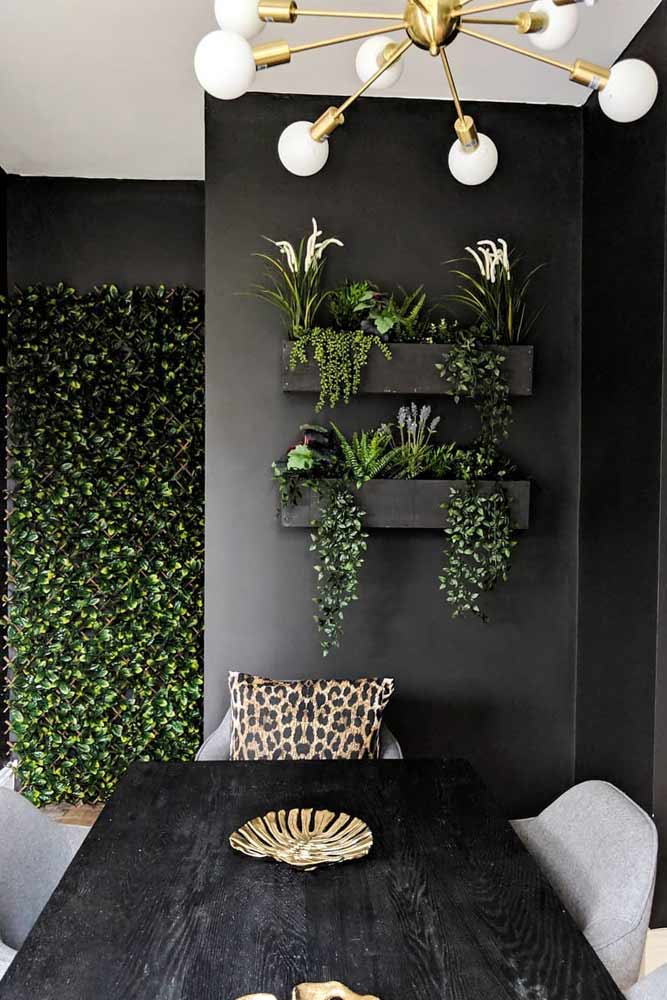 Source: Instagram/my_london_home
It happens so that you wouldn't like the plant pots to stand out while all the attention should be centered around the plants themselves. In times like this, it is best to use wooden baskets that match the wall color. While the baskets will coincide with the wall, the plants will stand out and create an unforgettable atmosphere.
Fun Painted Wall Plants Pots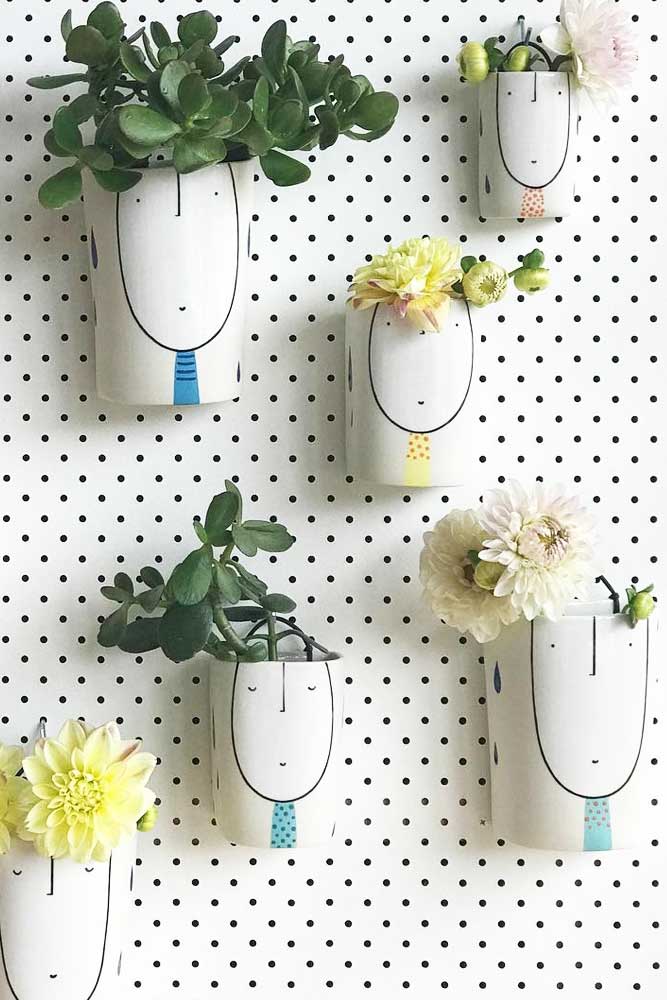 Source: Instagram/vbean
Every plant lover creates his or her wall garden according to peculiar tastes and wishes. It also matters greatly upon the room you choose to decorate with wall planter pots. If it is a kitchen we are talking about, then we would advise you to pay attention to some fun pots that can serve the purpose of pots and vases at once. With a combo like that, the atmosphere in your kitchen will always be fresh and cheerful.
Etched Ceramic Wall Pocket Planters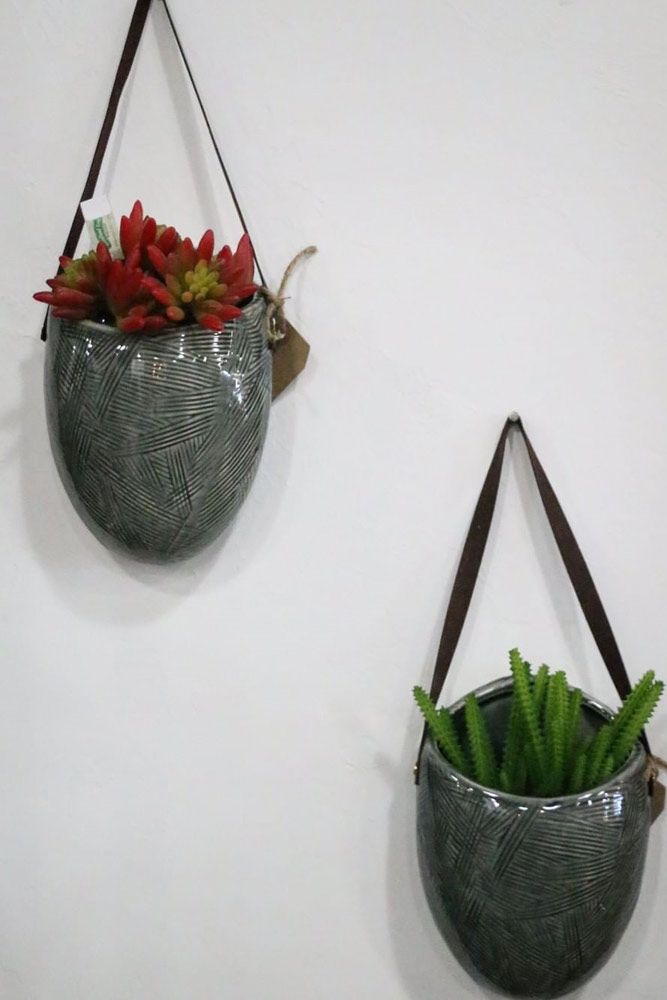 Source: Instagram/reclaimedwarehouse
It is not that difficult to realize that sometimes there are not so many plants to create a real orangery on your wall. Yet, that does not mean that you can't add a couple of etched planters to the wall. When compared to hand-made ones, these ceramic wall pocket planters are very modern and reserved looking, so that they will not stand out but will add up to the stylish atmosphere.
Black Wall Sconces For Your Plants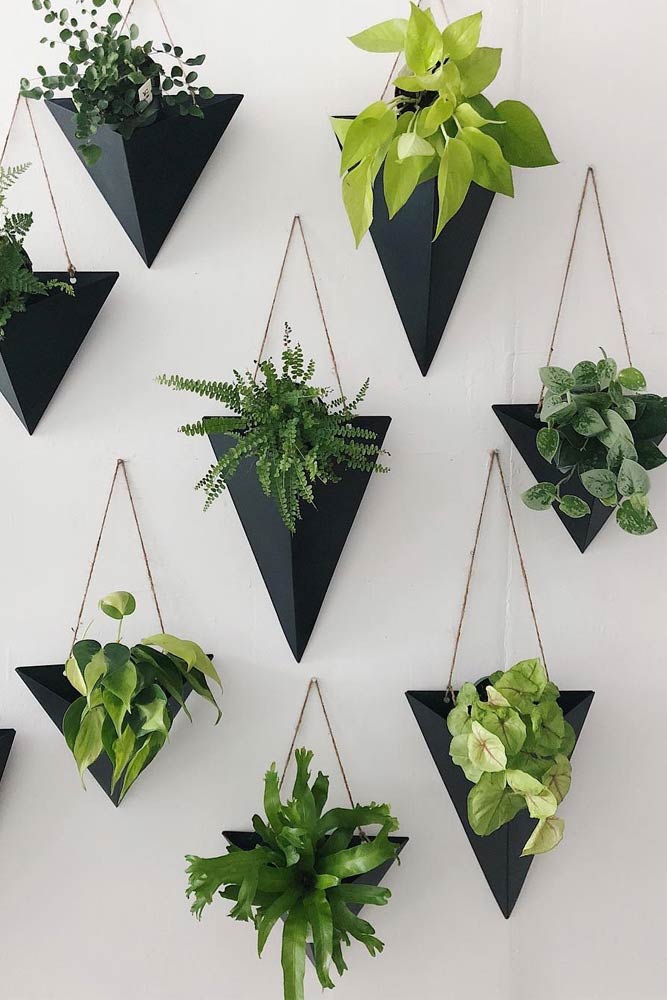 Source: Instagram/haegur
Those of you who are looking for the wall planters indoor designs that are neat but stylish, we have it covered for you. The thing is that these triangular pots that resemble ancient pyramids are not only ultra-modern but also simple. Besides, they come in various sizes and colors so that you can fit such wall scones to any room in your house.
Hexagon Metallic Wall Pots Designs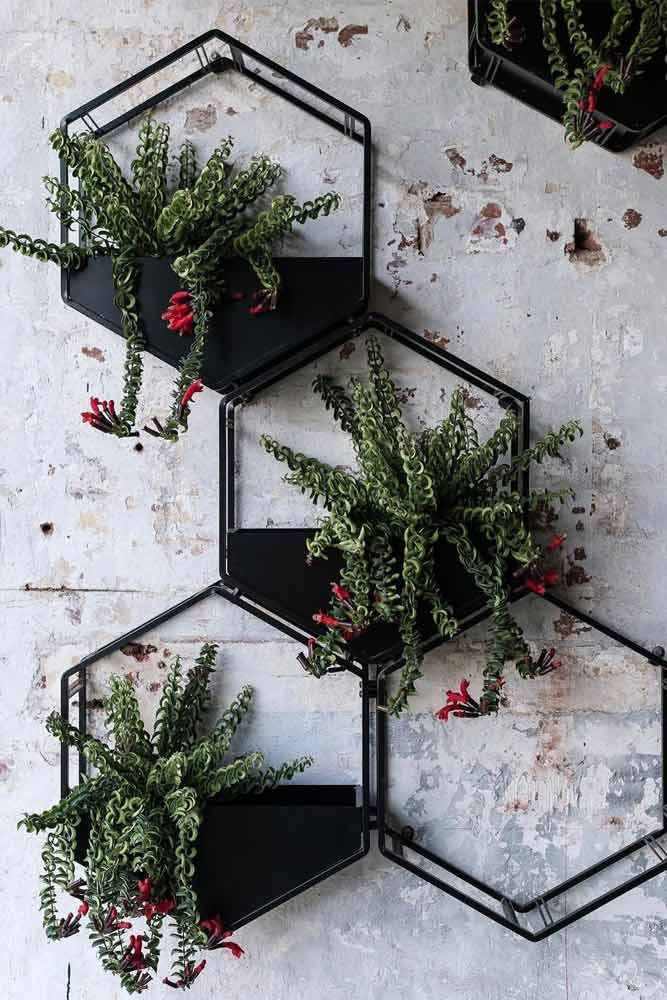 Source: Instagram/glasshausdesign
Metal wall planters will be appreciated by those of you who are into modern loft décor. No matter the state of wall you hung such hexagon metallic pots on, it will transform into something stylish and good-looking in no time, we can assure you. It needs to be pointed out that in order to achieve the special look, you can leave some hexagons empty while the others are filled with your favorite plants.
Wooden Holder For Vertical Plants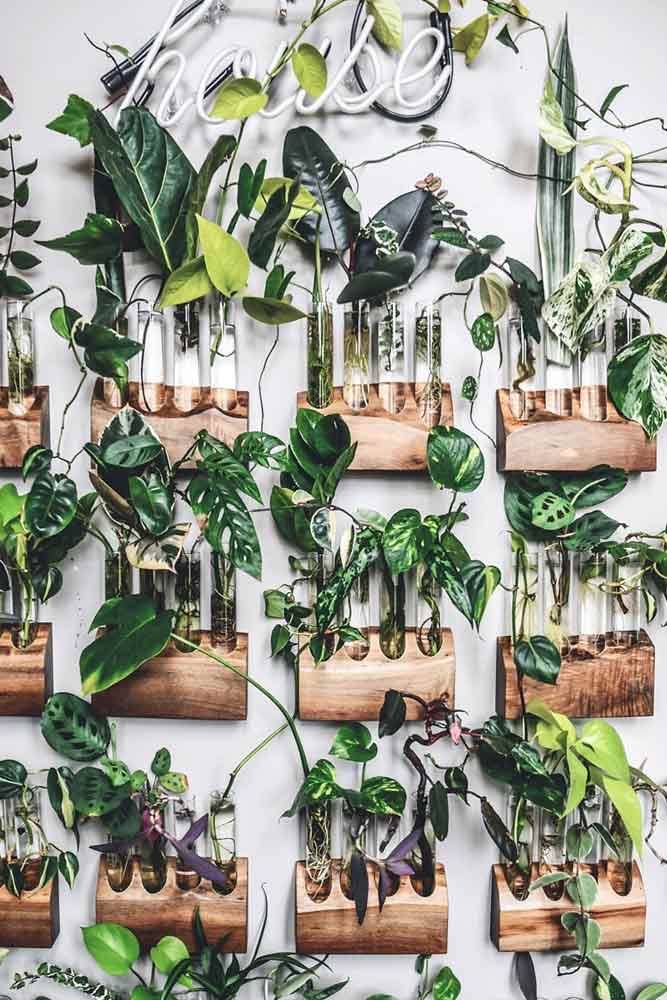 Source: Instagram/hiltoncarter
Whether you are the owner of a huge variety of water-loving plants or you are trying to increase the collection, this wooden plant holder will come in more than handy. The fact is that a holder with such unusual glass pots will add special vide to any room interior while it will also serve its purpose.
Rustic Wall Holder With Airplants Hanging Idea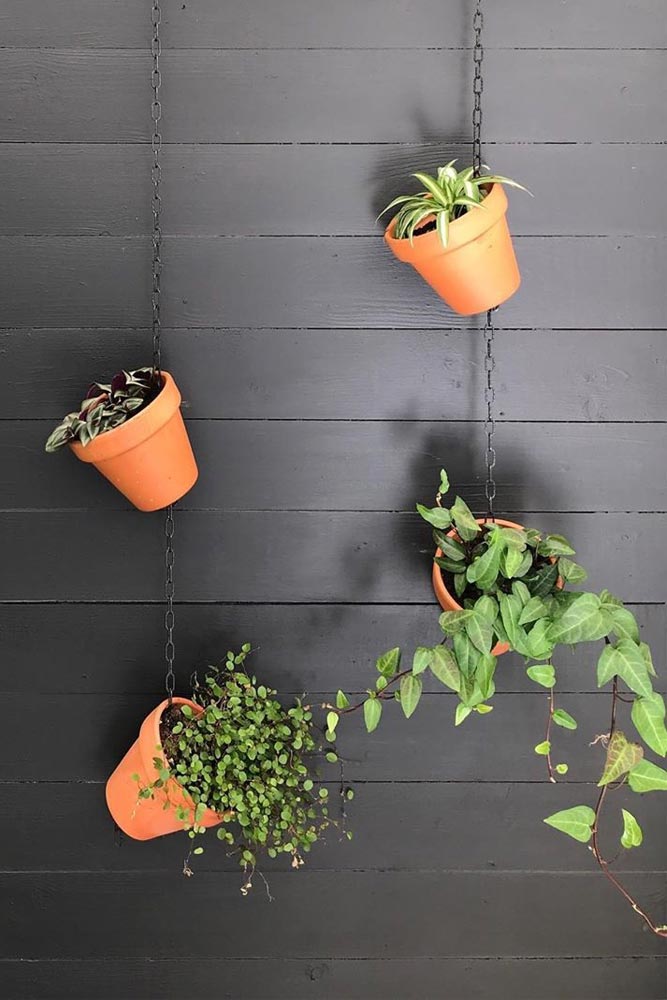 Source: Instagram/meeschmid_plantlady
In some cases, the plant lovers refuse the luxury of plant garden due to the desire to keep the wall untouched. If you look at this rustic wall planter for pots, you will see that there is not a single hole in the wall made. All you need are a few chains to hang the pots on. Arrange the pots in order or let them hang chaotically, the choice is yours!
Succulent Wall For Your Plants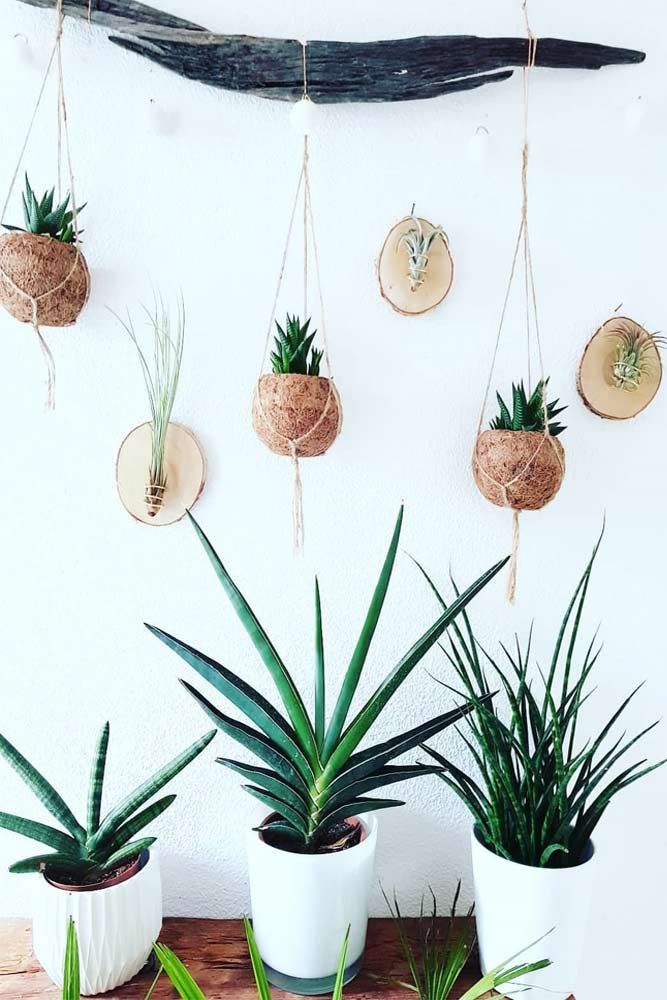 Source: Instagram/ourfauxfarmhouse
If a succulent hanging garden is your dream, then this wall planter idea will come in more than useful. The truth is that succulent plants rarely take up a lot of room, that is why hanging a bunch of different types together is a worthy idea. Besides, you can always combine the hanging plants with those that stand plant stands near the same wall.
Macramé Plant Wall Branch Hanger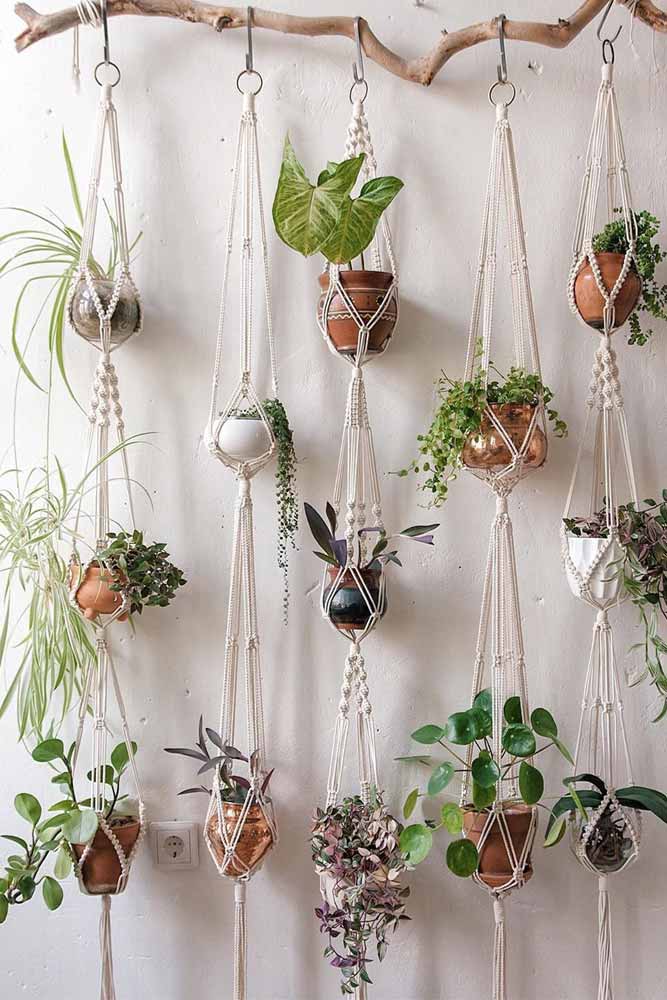 Source: Instagram/esmacrame
If you are good with macramé handcraft then creating wall plants hangers is easier than easy for you. The thing is that a mere branch that you can get in your backyard and a set of macramé hangers will create a special and unique wall planter that all of your guests will envy.
Outdoor Horizontal Chain Pots Idea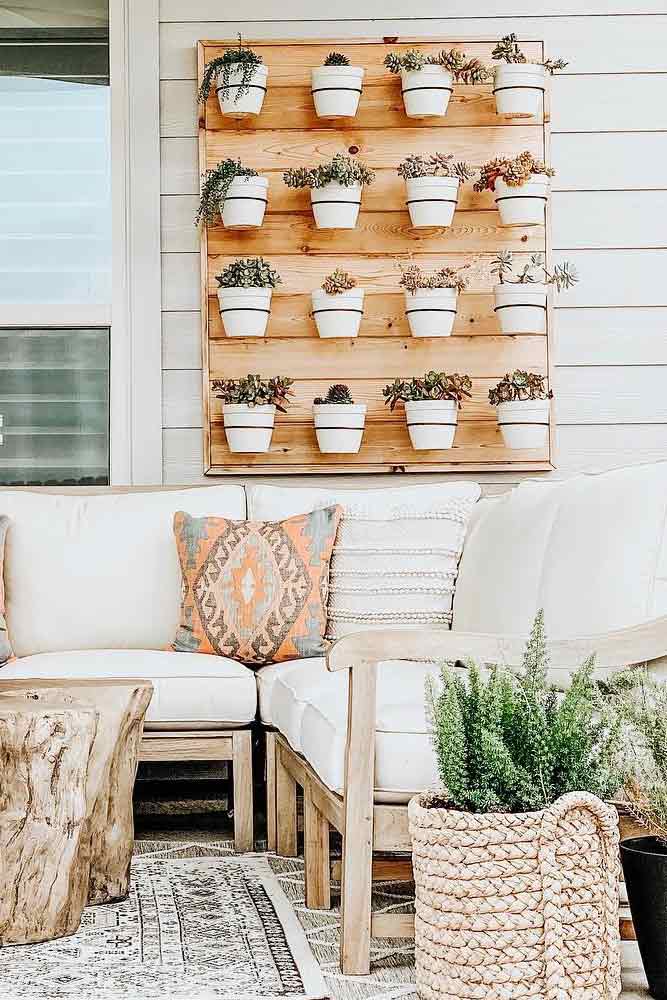 Source: Instagram/lillahusetpahornet
If there is no room to situate the living wall planter inside, you can easily take it out outside. Just add a wooden board to your porch wall and place the pots in rings. You can fit as many pots as you have on such a board, but you should come with a corresponding board size before you start the arrangements.
Ceramics Wall Rings Plants Pots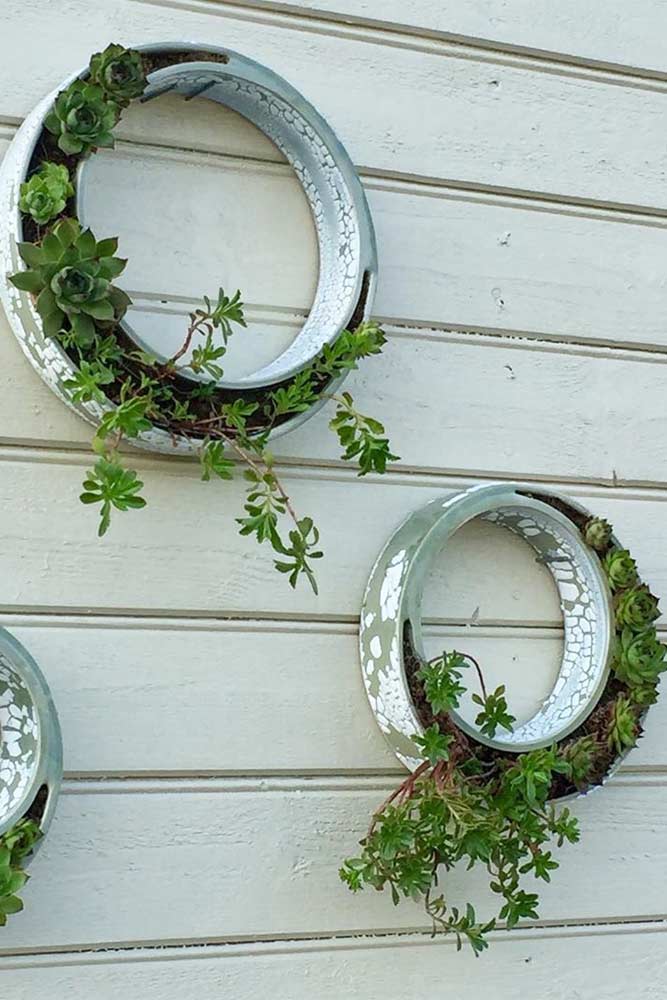 Source: Instagram/ceciliaboivie
It is easier than easy to decorate your backyard walls with unusual wall planter pots. For instance, ceramic wall rings will look irresistible with tiny succulents planted within. Such a decoration will make your neighbors beg you to reveal the secrets of flawless outdoor décor, that is for sure!
Plastic Outdoor Plant Pots Design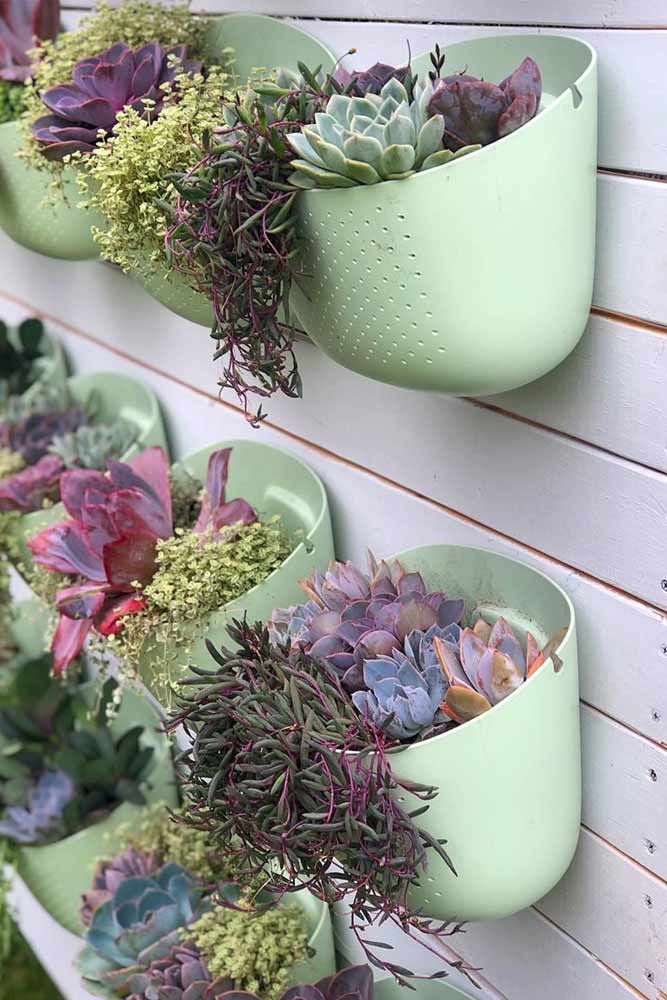 Source: Instagram/insucculentlove
In case your outdoor planter of choice consists of plastic pots, we are going to spill a little secret about them. The thing is that if you hang such pots in rows and under a small angle, you can water all the plants in one go. The truth is that the remaining water from the upper pots will travel to the lower ones due to the tiny holes in the front. It is very convenient if you are constantly in a rush.
Nodes Wall Planter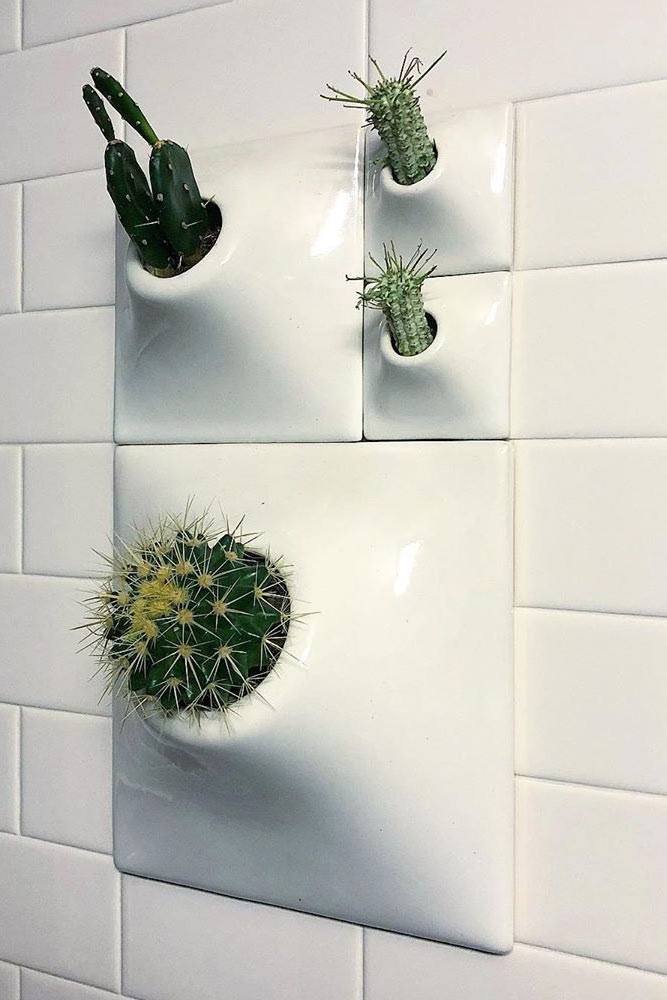 Source: Instagram/pandemicdesignstudio
There is never enough of cactuses, right? They are low maintenance and merely gorgeous. We suggest you use node wall planters to arrange your cactus collection.
Wood And Acrylic Geometric Wall Planter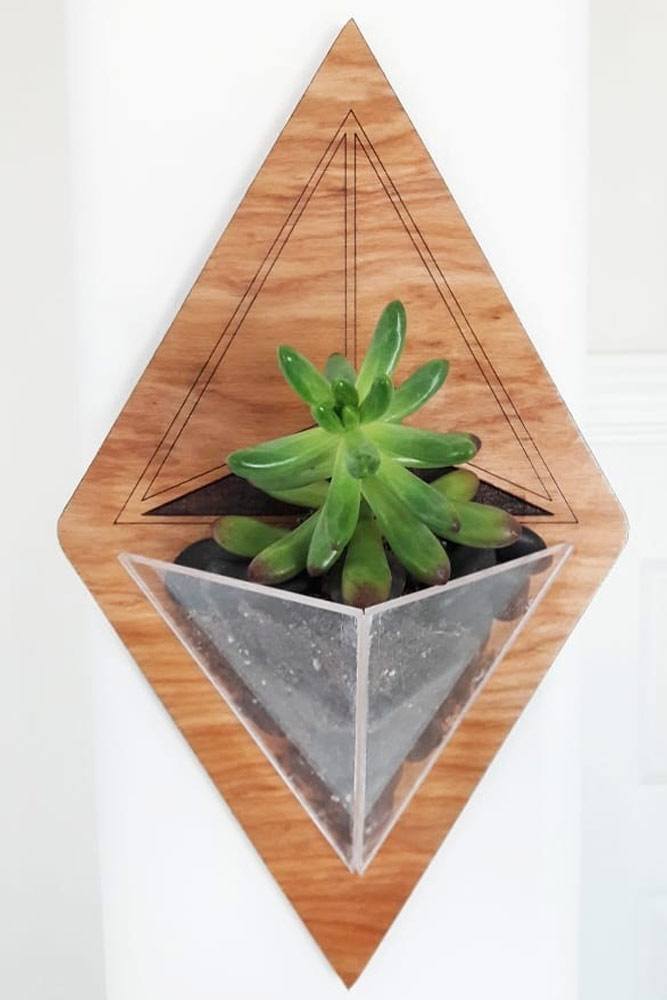 Source: Instagram/dhaus_studios
You should treat your planters as art. It is the most important rule. Taking that into consideration, we say that this wood and acrylic one is a true piece of art for one lucky succulent!
Hand Painted Wall Pot Design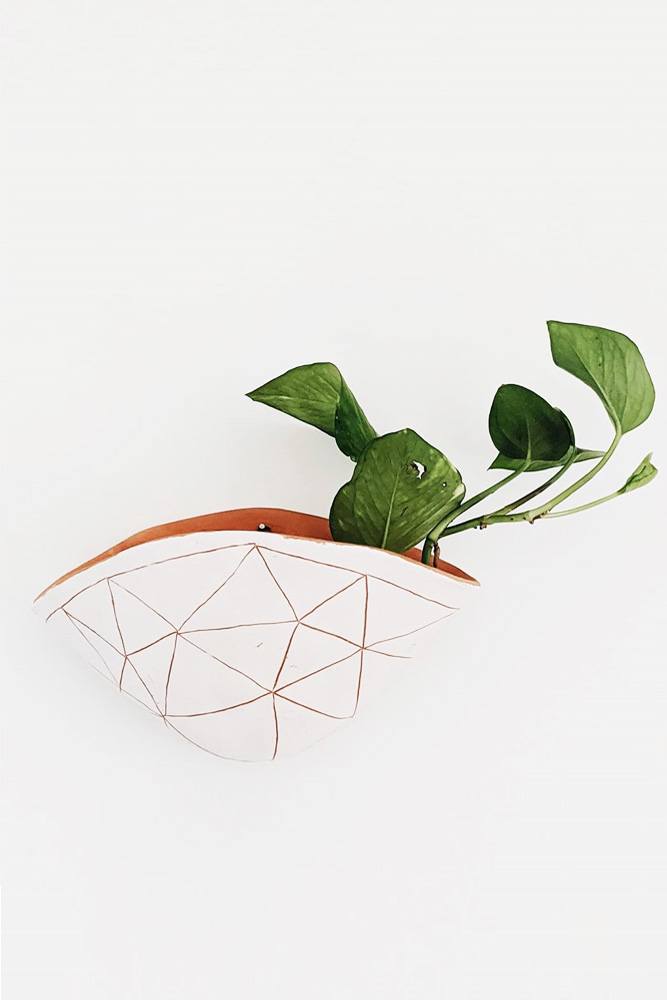 Source: Instagram/halflighthoney
One of the best pots is the one that you make on your won. If you are not that great with pottery, then at least painting your planter on your own should be considered.
Face Wall Planters
Source: Instagram/oliveinwanderland
It all depends upon the styles and preferences of the house owner. If you are into abstract art, then these face wall planters will simply steal your heart. As a matter of fact, do know why!
Striking Brass Wall Planters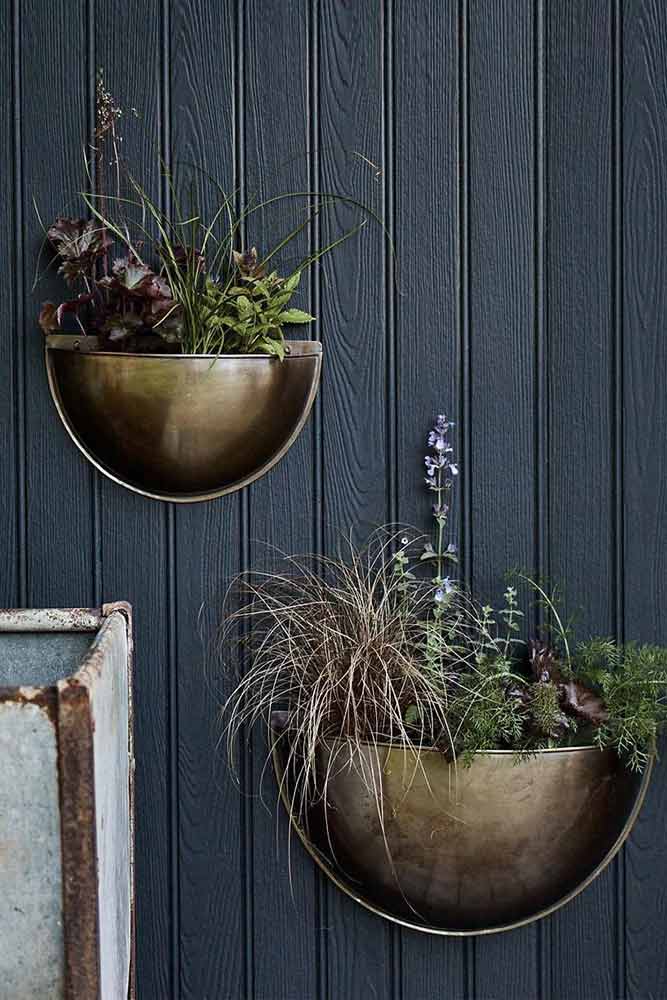 Source: Instagram/rowenandwren
They say that beauty comes in simplicity. One look at these brass planters and you will get why the saying is so true!
Vertical White Planters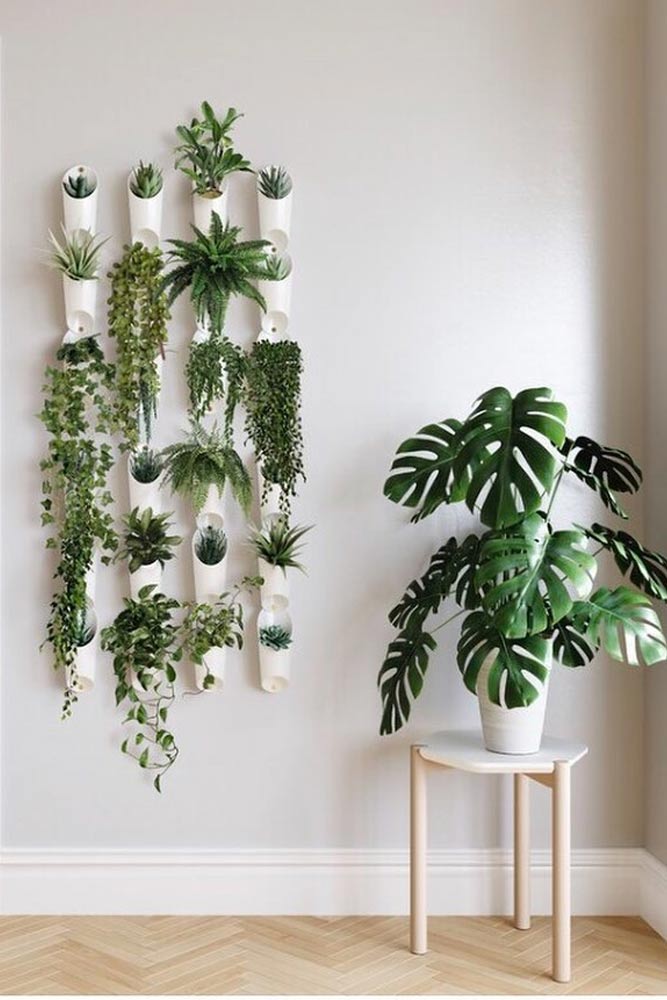 Source: Instagram/plantparentcommunity
When you wish to make your indoor plant garden as versatile as possible, you may need a lot of room to achieve that. However, there is a minimalistic way out. A set of vertical planters seems like a worthy idea, that does not take up that much space.
When you wish to make your indoor plant garden as versatile as possible, you may need a lot of room to achieve that. However, there is a minimalistic way out. A set of vertical planters seems like a worthy idea, that does not take up that much space.
Wall planter pots will always create that unforgettable atmosphere if you know which ideas to choose from. The range of ideas we have on offer are clearly the best ones. So that no matter the look you choose, you will spice up your room décor tremendously.
REFERENCES:
A flowerpot, flower pot, planter, or plant pot is a container in which flowers and other plants are cultivated and displayed. Source