Farmhouse Table Is A Proper Decorative Element For Any Room
Farmhouse style is gaining popularity with every day now and there is no wonder why. The fact is that such an intricate style with a touch of old times to it can't be anything but appealing. That is why many of you may wonder about the farmhouse table. The fact is that it may often seem that there can't be anything special about something as practical as a table. However, the farmhouse style proved that even a simple object can contain some exciting magic within. That is why today we are going to share with you a list of farmhouse tables that you can introduce into your house and rest assured that dining room is not the only room to place such a table in!
Rustic Wood Farmhouse Table With Bench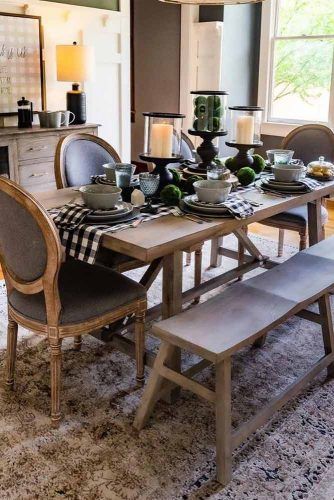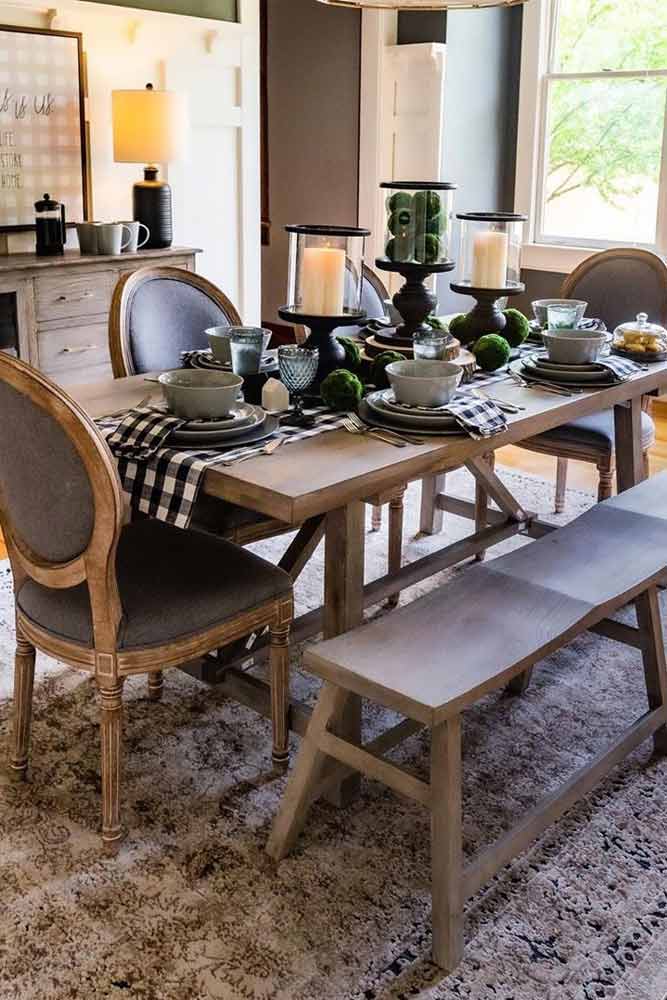 Credit: Instagram/kirklands
To begin with, it should be defined what is a farmhouse table in general, since not all of you may know it. The fact is that it is a wooden table in most cases, rough-looking and sometimes even unfinished. Despite how it may sound, such a piece of furniture is always stylish and captivating. Such a rustic wooden table will be a trendy addition to any kitchen or dining room and not only.
Vintage Wood Dinner Table And Chairs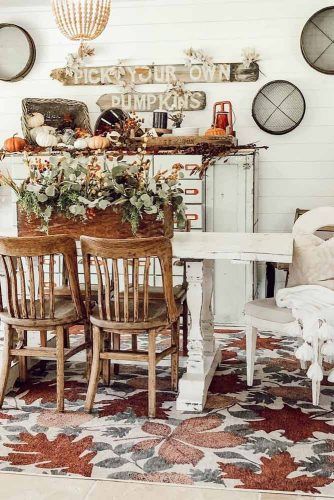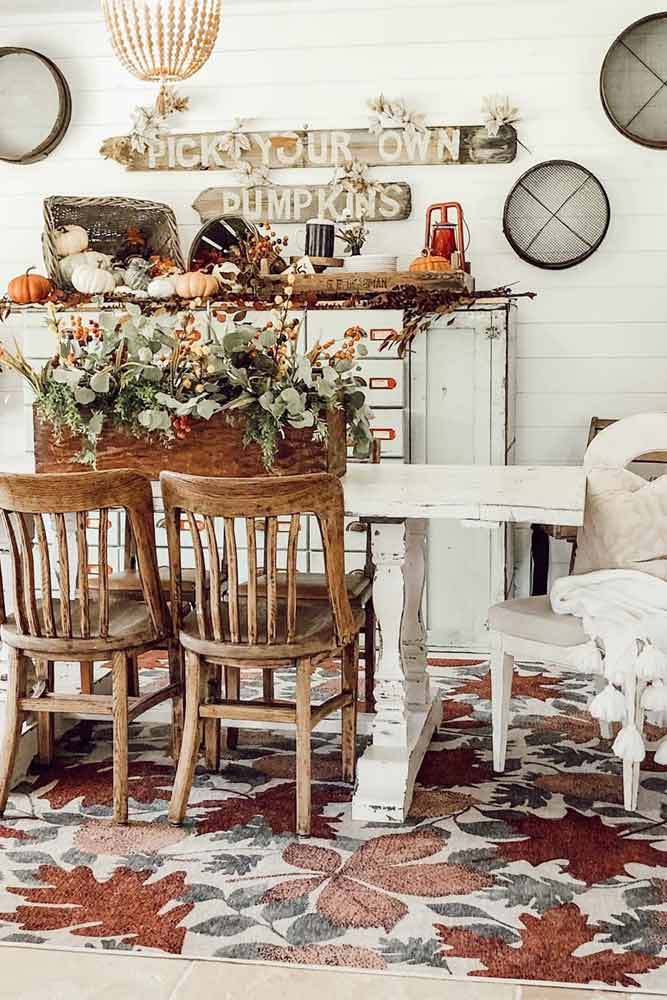 Credit: Instagram/thevintagepalm
Truth be told not all the farmhouse dinner table designs are unfinished. For instance, this elegant and vintage table looks like it has been transferred from a king's dining room into yours. The pompous chairs add up to the atmosphere. Even though the top of the table looks simple enough all the charm is left to its legs. We are sure that such a table will inspire many of you to convert to farmhouse style!
Simple Wood Table Design With Vintage Chairs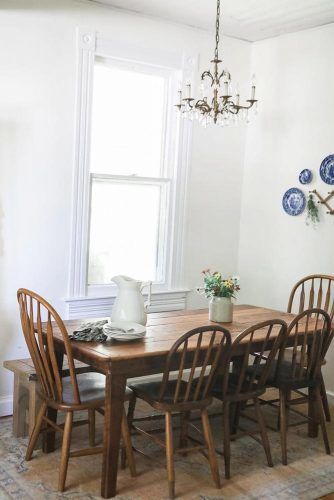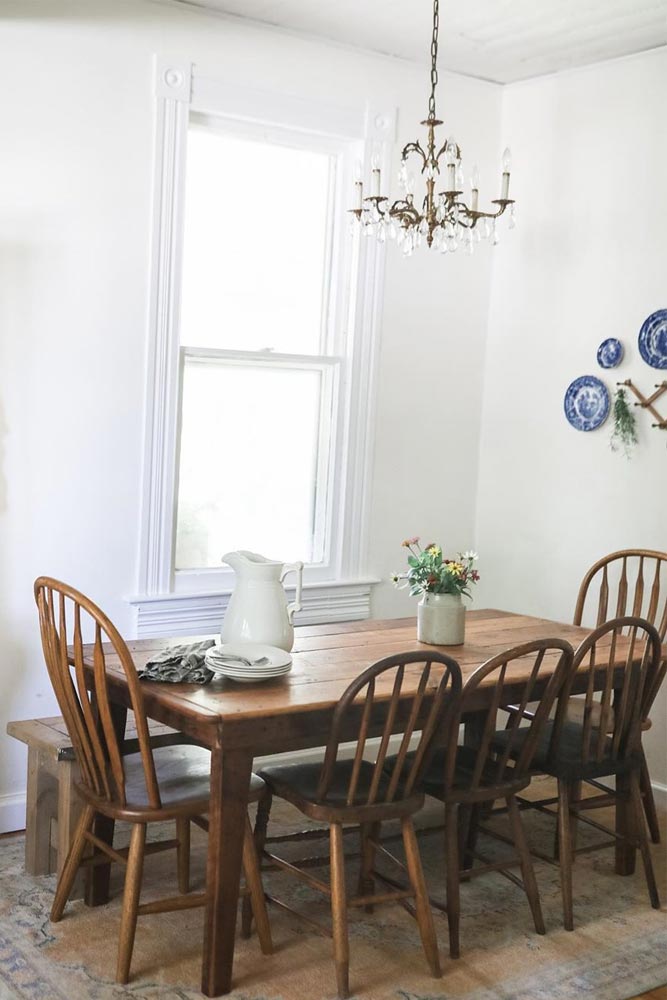 Credit: Instagram/farmhouseonboone
Devoted rustic décor fans often prefer farmhouse table with bench. It may seem quite unusual to see such a pair in someone's dining room but we can't but agree that the stylish touch is vibrating through the air. What is more, vintage chairs only spices the things up. In such a way a farmhouse table becomes not only a stylish but also beautiful décor addition that many will certainly fall for.
Wood Vintage Farmhouse Table With Metal Chairs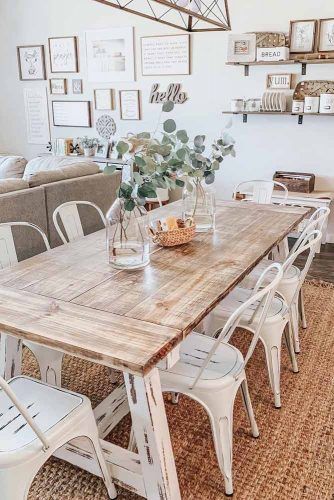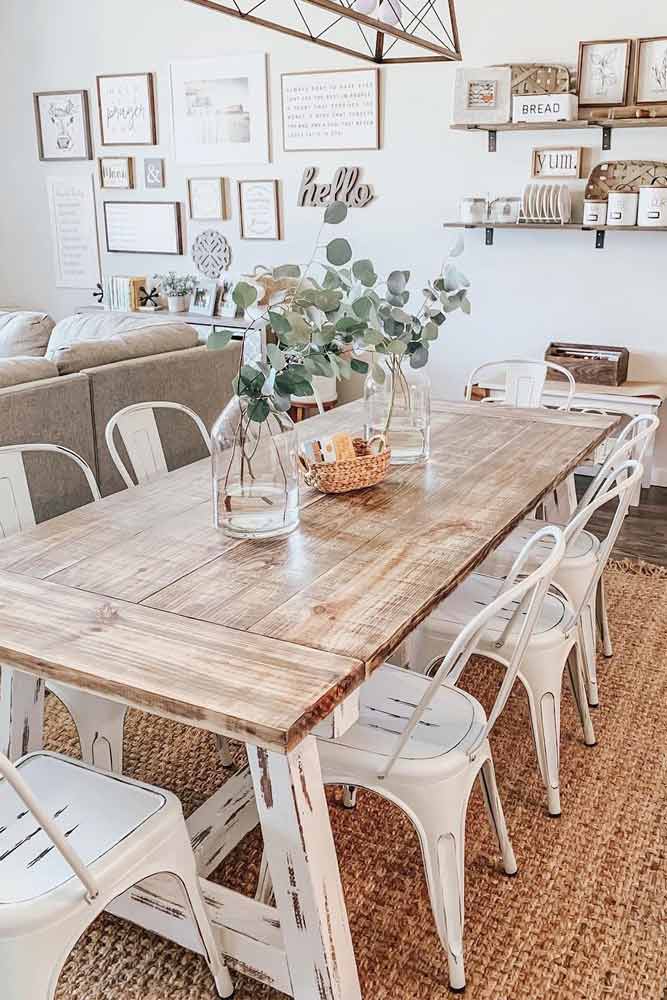 Credit: Instagram/ourfarmhousedreaming
Of course, not all of you may be as daring as to introduce a table and a bench into your dining room. That is why we rush to reassure you and point it out that a farmhouse table and chairs are a great match too. As you can see a different-shaded tabletop and the chairs look contrasting but somehow corresponding with each other. If you prefer light hues in your décor such a match will be more than a valuable contribution to the modern interior.
Wood Dinner Table With Upholstered Bench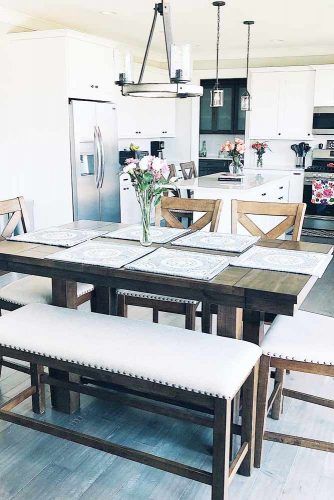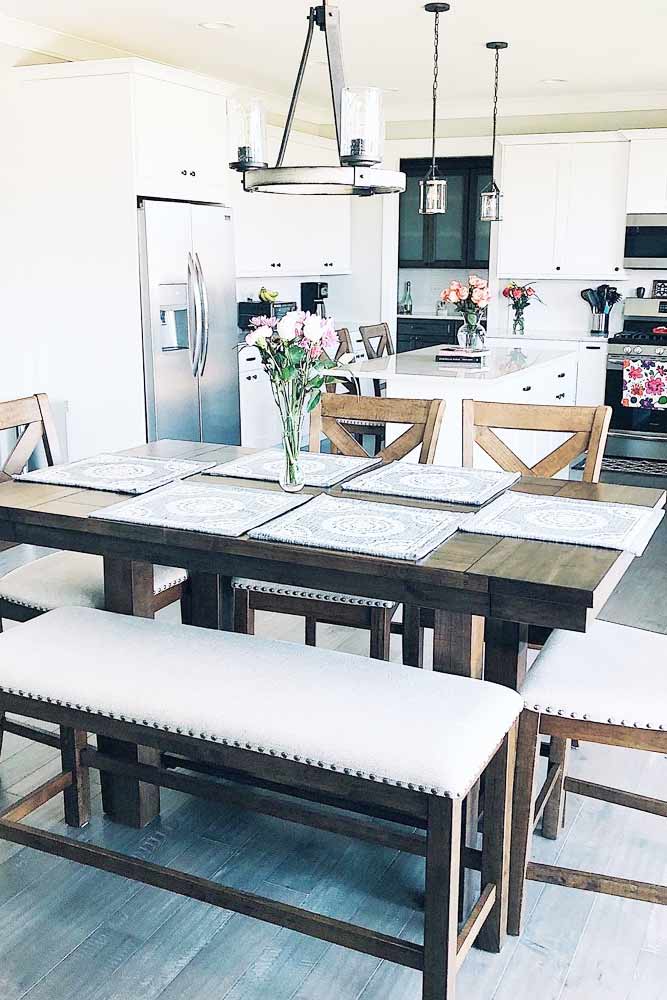 Credit: Instagram/katiebeck25
There are people who like to combine the style and comfort in one. In case you are one of them then a farmhouse dining room table with an upholstered bench may be precisely what you need. Such a table will be a lovely and stylish addition to your kitchen. Besides, no one said that the kitchen does not require a proper practical and trendy upgrade.
Antique Wood Farmhouse Table And Chairs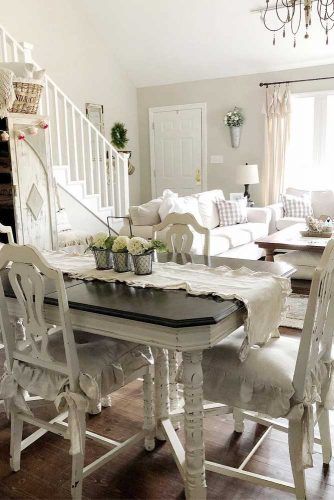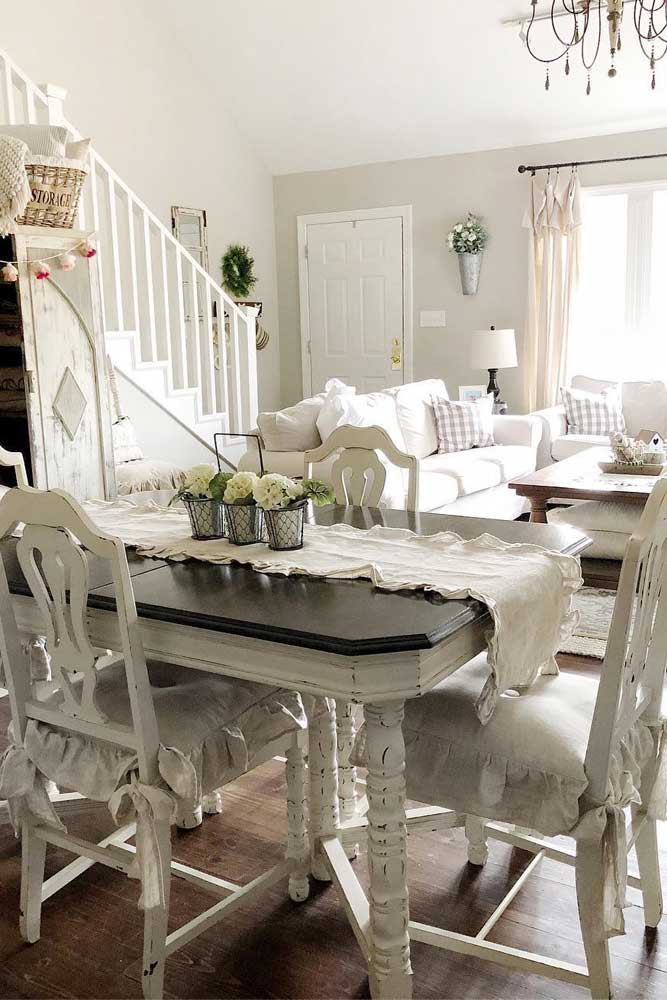 Credit: Instagram/mycottagefarmhousestyle
Pastel hues are all in these days that is why a living room in white colors is a proper choice if you wish to follow the trends. As for the table even though it coincides in color it stands out in style. The truth is that such a rustic farmhouse table is a real deal for those of you who equally value modernism as well as antique style. Despite the difference in decades, there is nothing that you can't combine if you know a few decoration tricks!
Modern Dinner Farmhouse Table In Dark Color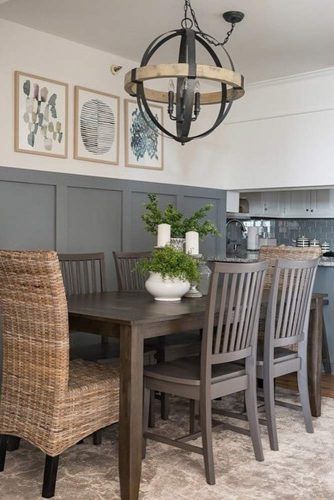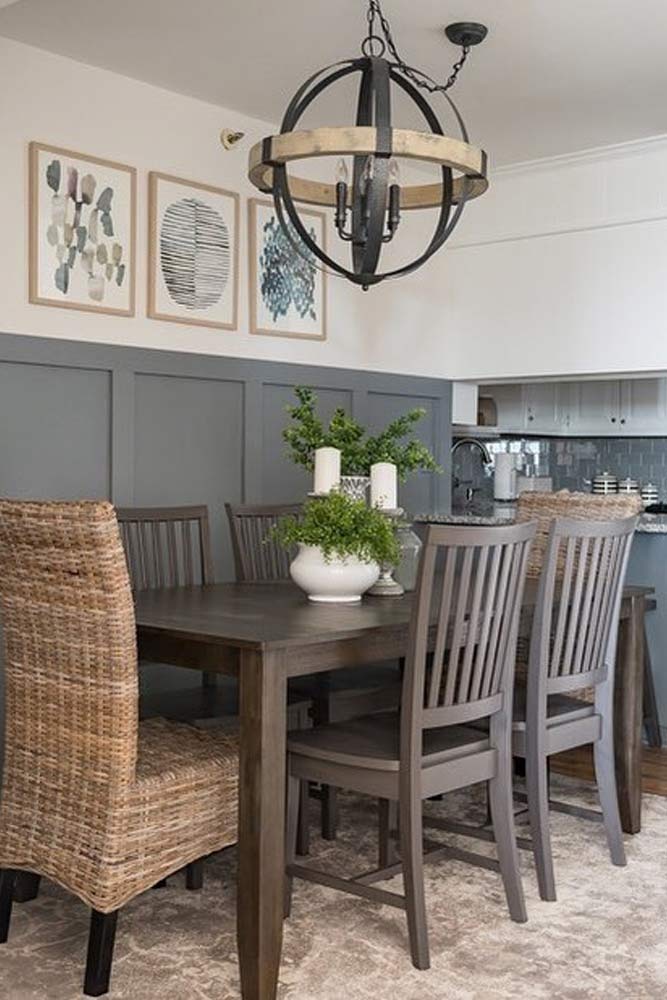 Credit: Instagram/worthingcourtblog
It has been already mentioned that when it comes to a farmhouse table most of you will connect it to the rustic style. Of course, that is a quite correct consumption but that does not mean that there are no modern variations of the style. For instance, this dark farmhouse table is perfectly up-to-date yet still, it fits in the style.
Industrial Modern Farmhouse Dinner Table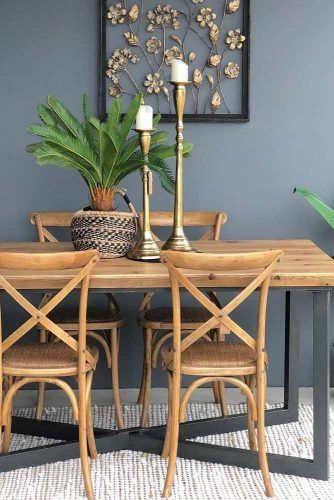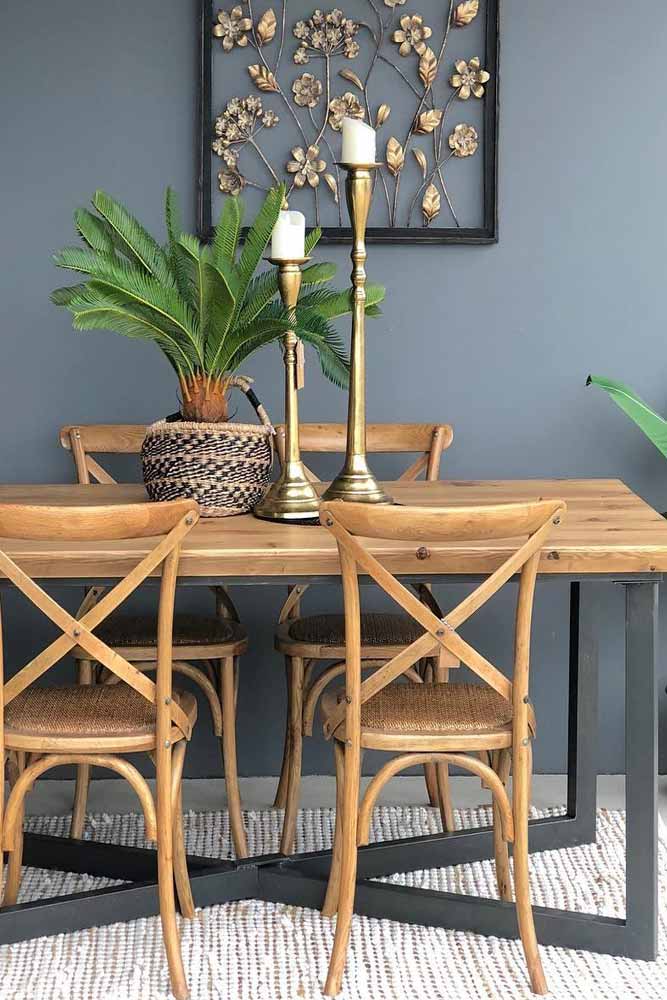 Credit: Instagram/humblehome.com.au
So far we viewed wood farmhouse tables. However, that does not mean that there are no other variations existing. The truth is that the introduction of metal pieces makes the farmhouse table look a little bit more industrial and that widens the circle of possible admirers. It is not that difficult to agree that such a farmhouse table type possesses its own charm.
Wood Table With Soft Chairs In Modern Style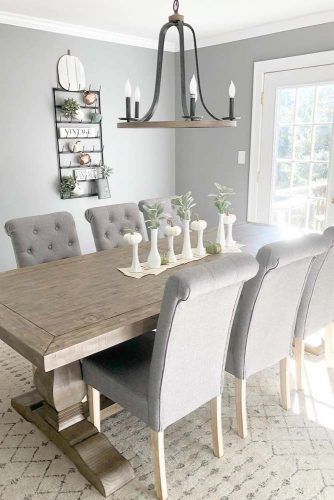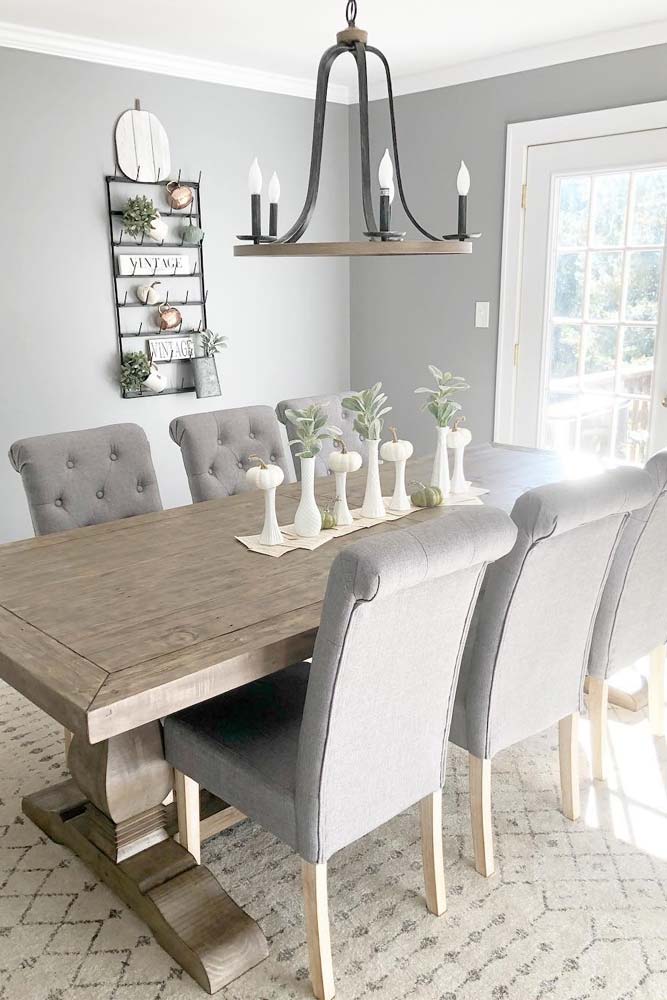 Credit: Instagram/whitepinecottage
No matter how exciting it may sound but not all of you will be as daring as to introduce a rough, unfinished table into their houses, let alone the same looking chairs or even a bench. That is why the designers had to find a compromise. If you look at the picture you will get what this compromise is. The thing is that while the table is still relatively the same the chairs are certainly modern and comfortable. We think that many will find such a match more than appealing.
Vintage Round Wood Table And Chairs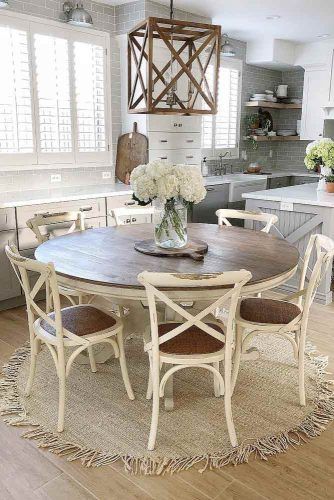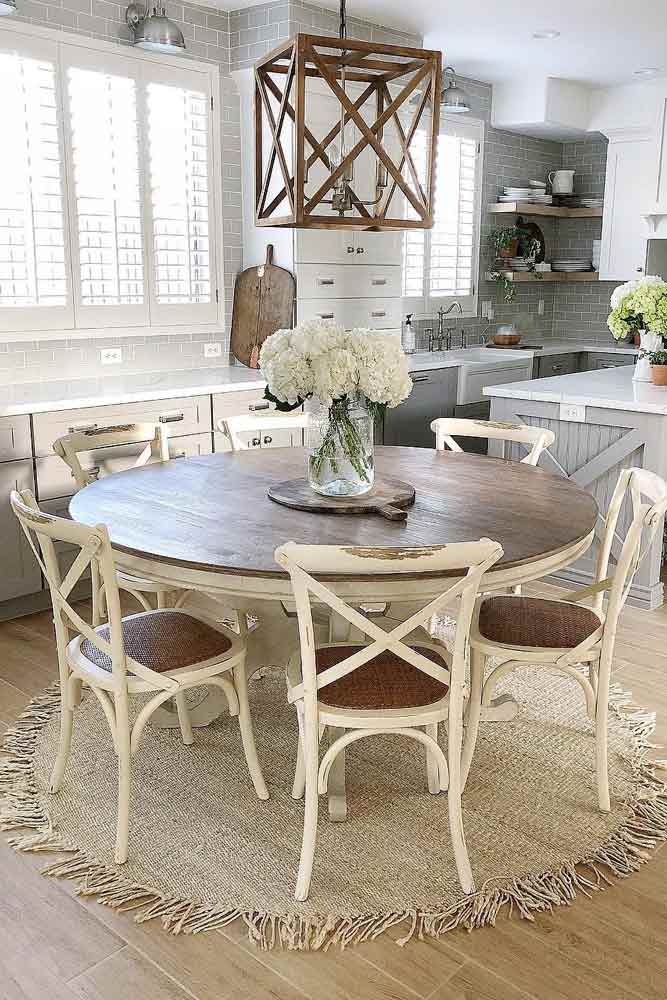 Credit: Instagram/desertdecor
Very often when you think about the farmhouse table it is either square or rectangular. However, round dining table exists as well. To tell you the truth, it is more the matter of preferences as for which one you decide to add to your décor. We think that such a round one will fit into the dining room limited in space.
Antique Round Farmhouse Table Design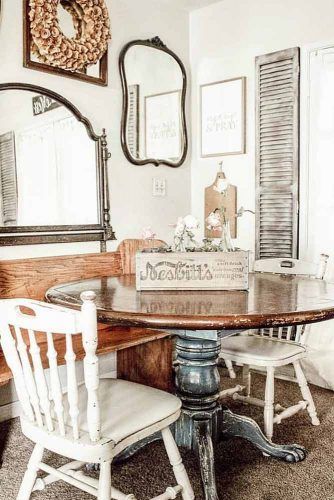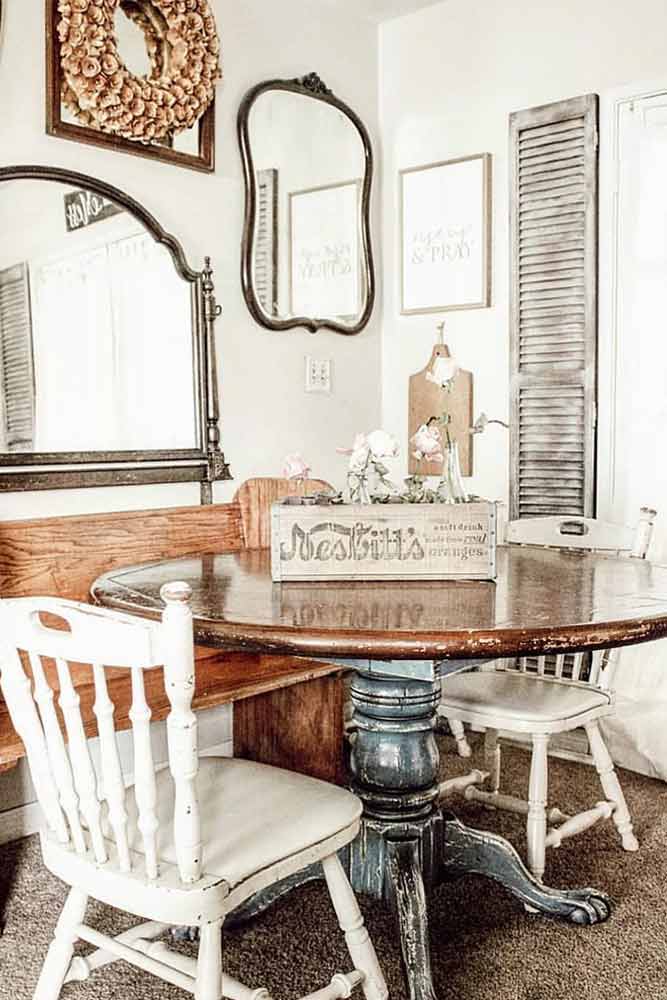 Credit: Instagram/wildflowers.and.dixie
Not everyone knows but round antique tables are very popular these days, especially among those who appreciate the farmhouse style. The fact is that aside from its undeniable charm such a table allows you to combine two types of sitting areas. As you can see, if you can't choose between a bench and a pair of chairs with such a table you can choose both.
Wood Round Table With Black Metal Chairs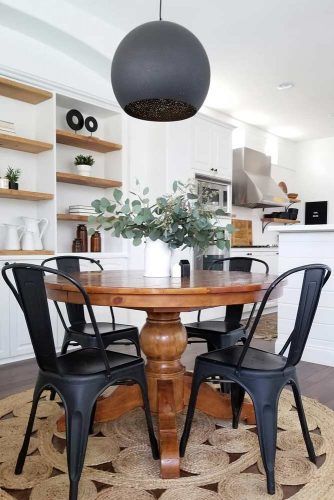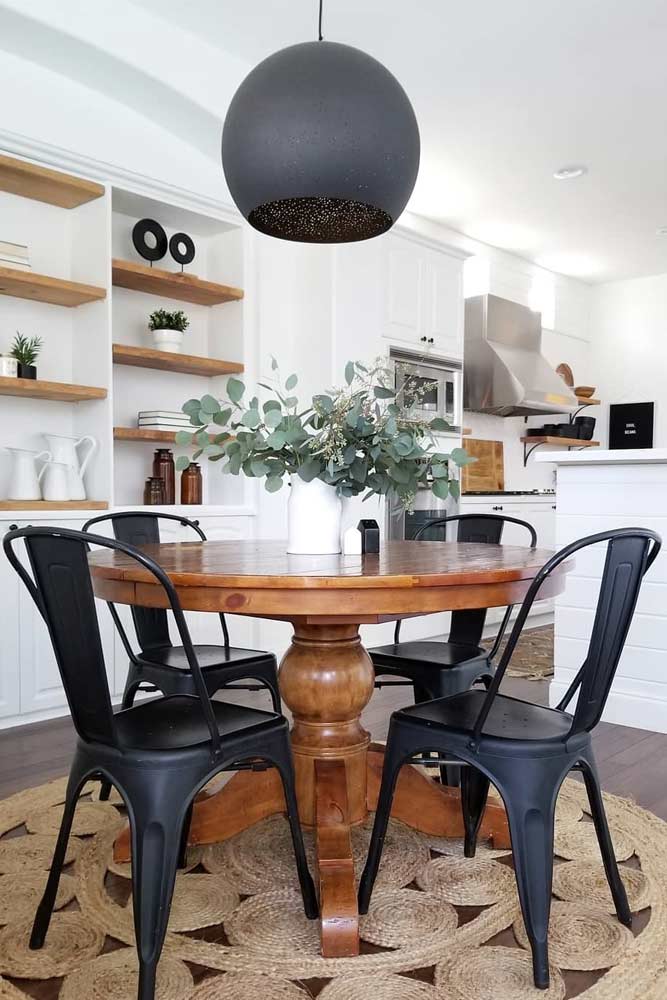 Credit: Instagram/keely.mann
It has been mentioned above that a combination of wood and metal is possible when it comes to the farmhouse table. However, that is not the only time when you can refer to the compromise. In case you want a wood table but there is a need for something metal to be added to the interior too – we say you opt for metal chairs. Such a composition will surely look interesting and unique not to mention trendy.
Small Farmhouse Table In Classic Style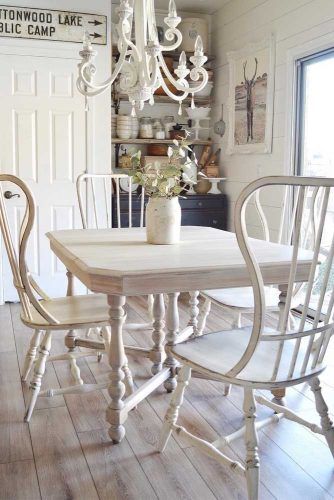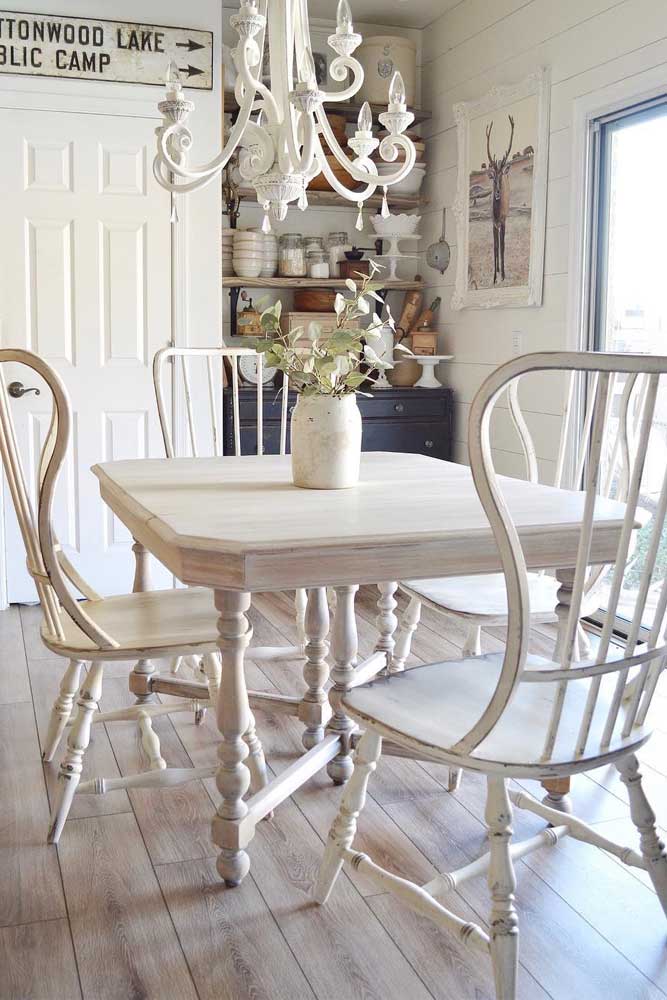 Credit: Instagram/vintageporch
To tell you the truth many people dismiss even the thought of a farmhouse table because they consider it to be too big. In fact, most of the farmhouse tables are quite spacious however not all of them. In case you need a small one - there is always a range of options to consider. For instance, this cute and small farmhouse table is also a suitable one despite the size.
Small Rustic Farmhouse Table And Chairs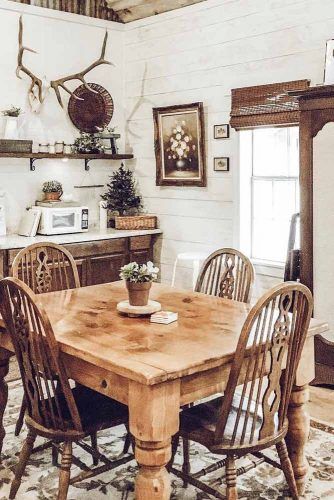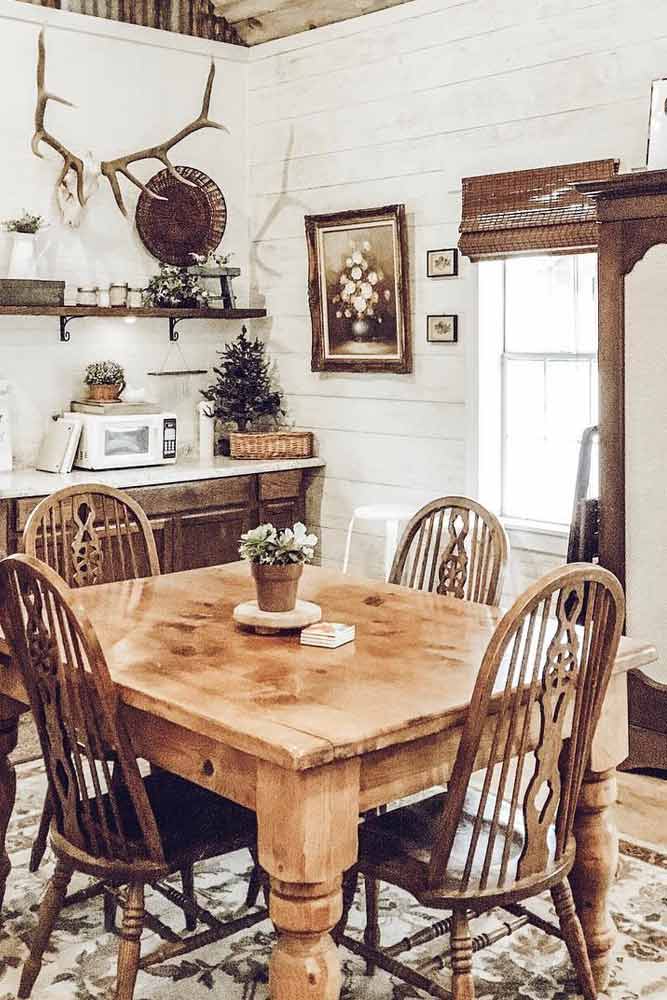 Credit: Instagram/fadedcharm_livin
There are many reasons why you may need a smaller table. Be it a small family or not enough of room for a big table there is always something to consider. If you set your mind on farmhouse tables but need a small one – this vintage table with a set of nice chairs may be your perfect way out. It does not take a lot of space but it is certainly a trendy addition to the area.
Wood White And Gray Dinner Table And Chairs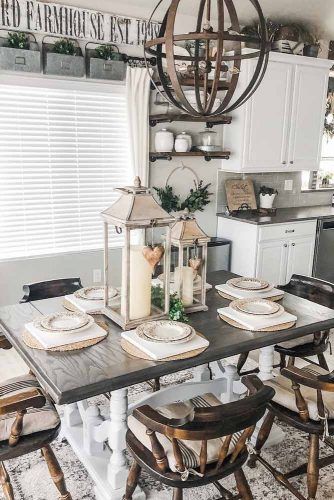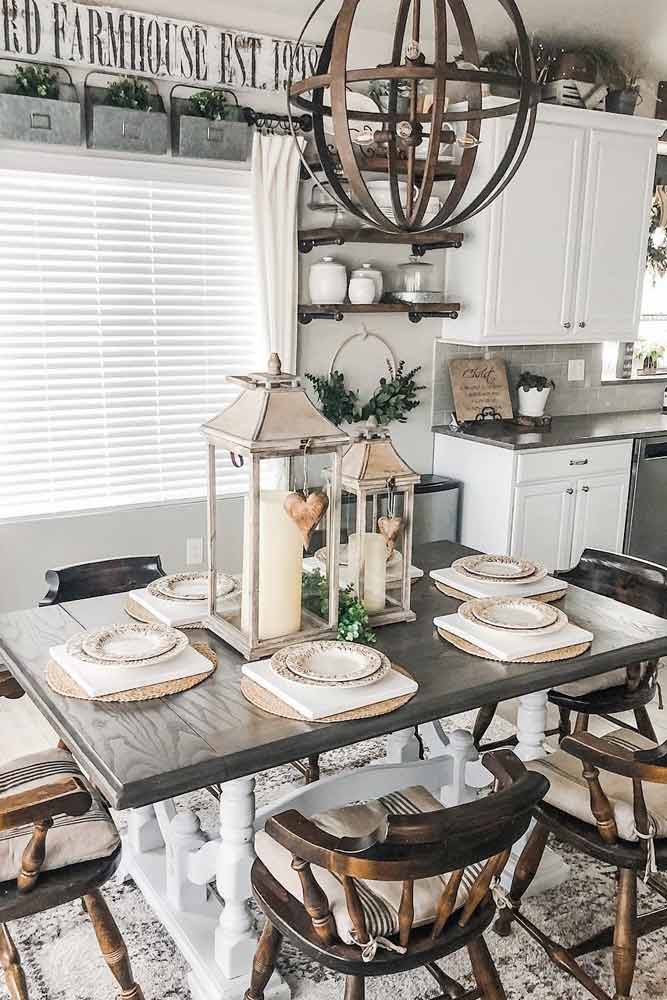 Credit: Instagram/citygirlmeetsfarmboy
There are times when the usual coloring does not fit your idea of the décor. That is when you can let your imagination free without the fear of being judged. The thing is that a white farmhouse table maybe a little bit too much. But when you combine it with contrasting hues the outcome may be breathtaking. For example, this grey and white table with interesting chairs can be the center of attention for anyone who enters your dining room!
Simple Wood Table With Vintage Chairs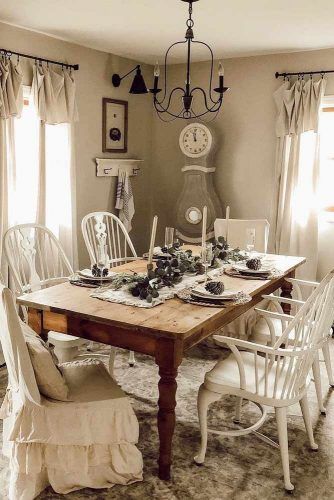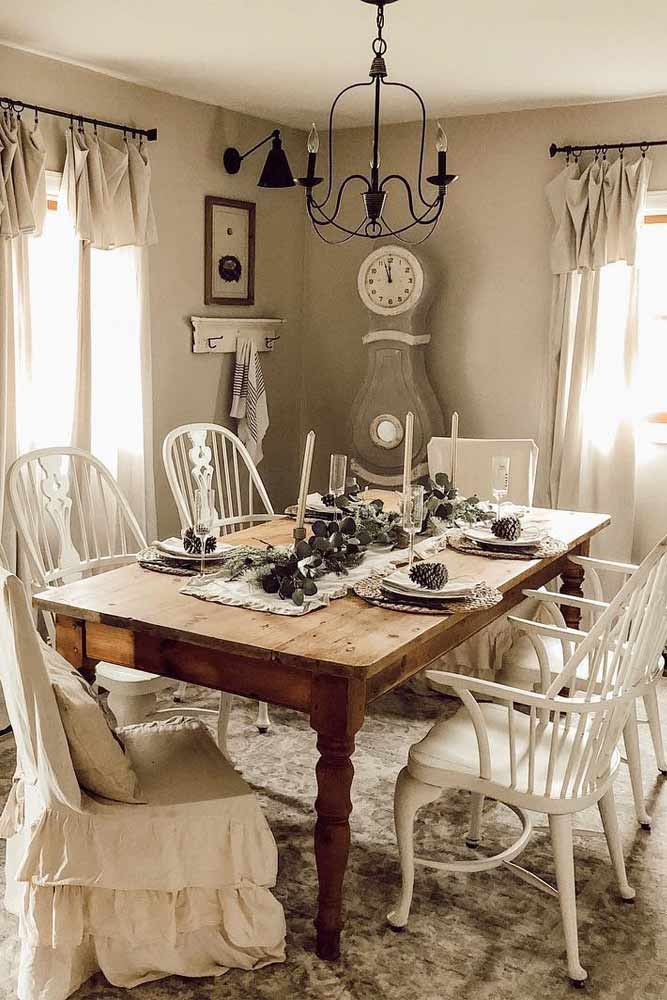 Credit: Instagram/countyline_farmhouse
When you are in need of a dinner table, we may have an idea for you. This simple farmhouse table will fit it any stylish dining room. The simplicity of the table completed with the elegance of white chairs will create an unforgettable atmosphere in any house.
Vintage Farmhouse Table And Chairs Designs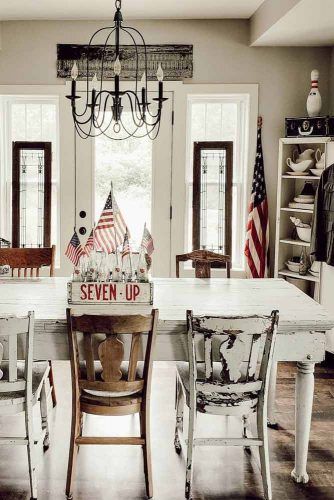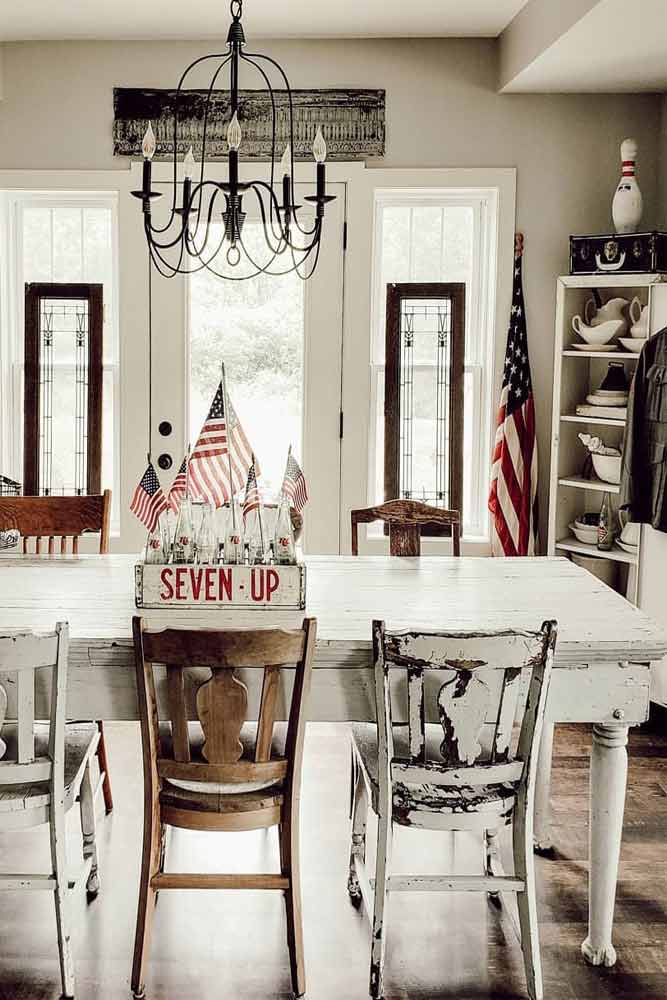 Credit: Instagram/farmhousefor8
Do you have a couple of chairs which seem to be too old to place into your dining room and too good to throw out? We know a way out! What you need to do is to simply combine the chairs with the same rustic table, and your French table décor will be complete!
Brown And White Table With Setting Furniture Set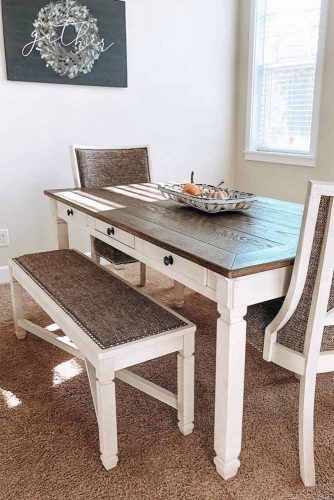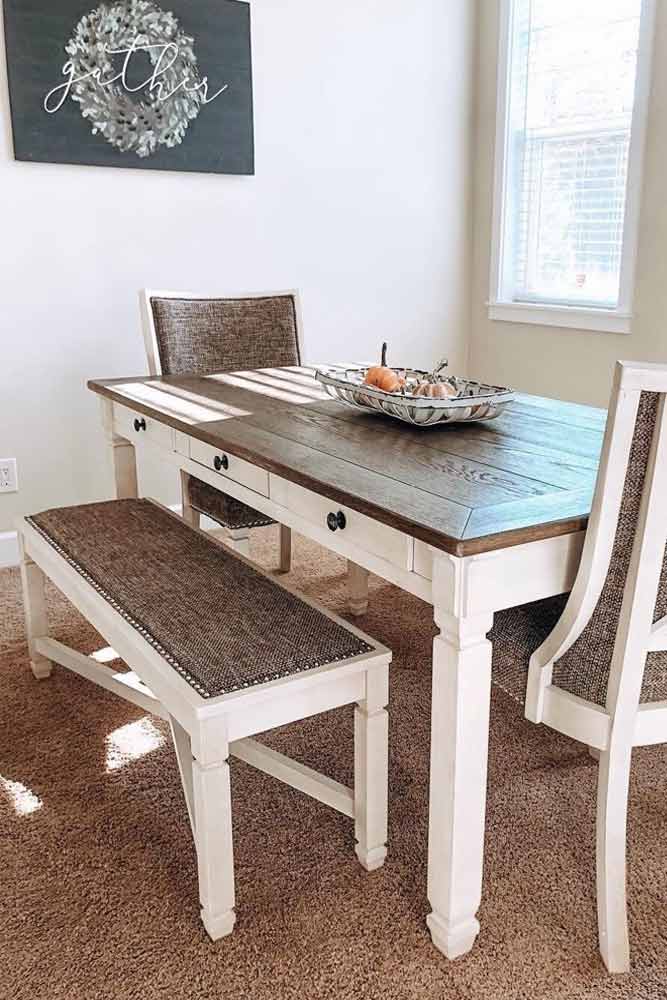 Credit: Instagram/ashleyhomestore
French table can be a set-piece too. Matching chairs and table will spice up any rustic interior. These white and brown chairs with a complementing table prove the point.
Rustic Centerpiece Organizer Décor Idea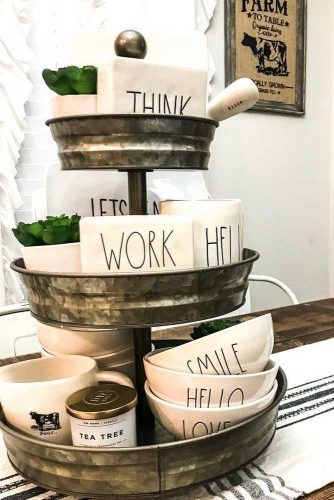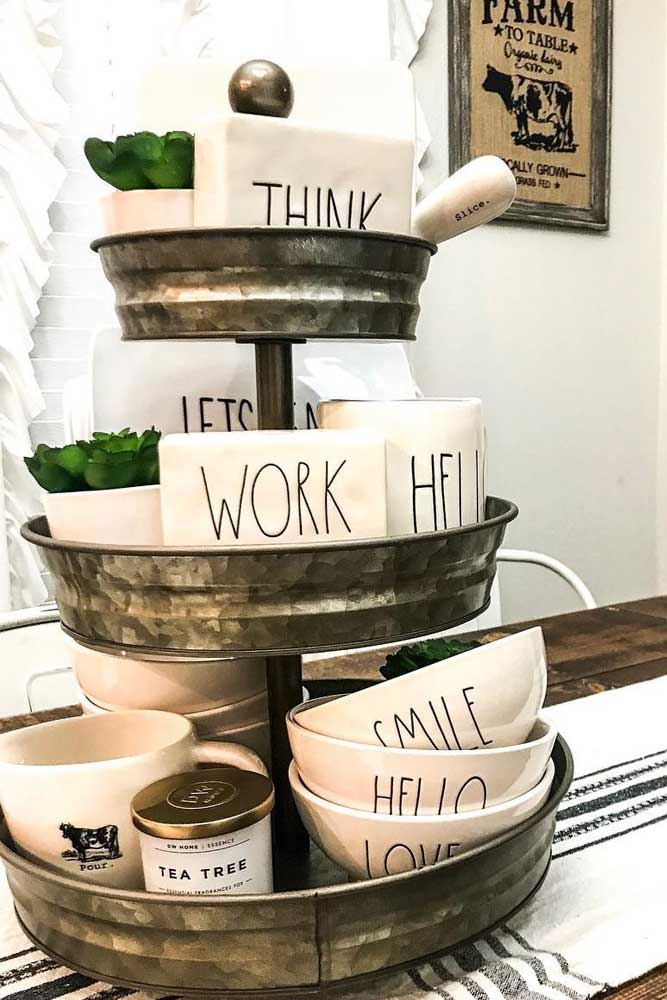 Credit: Instagram/simplyjunkin
There are times when you pick a perfect table but it feels like there is something missing. In times like these, it is essential that you find the proper decorations to put on. Such a rustic centerpiece organizer may be that key element you have been searching for!
Little Scale Table Décor Idea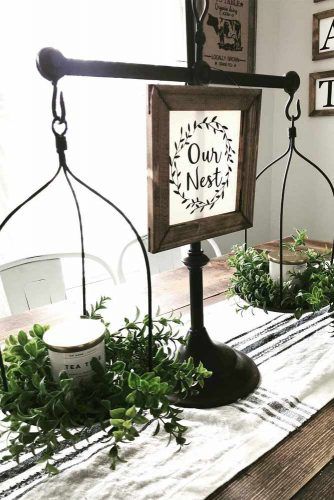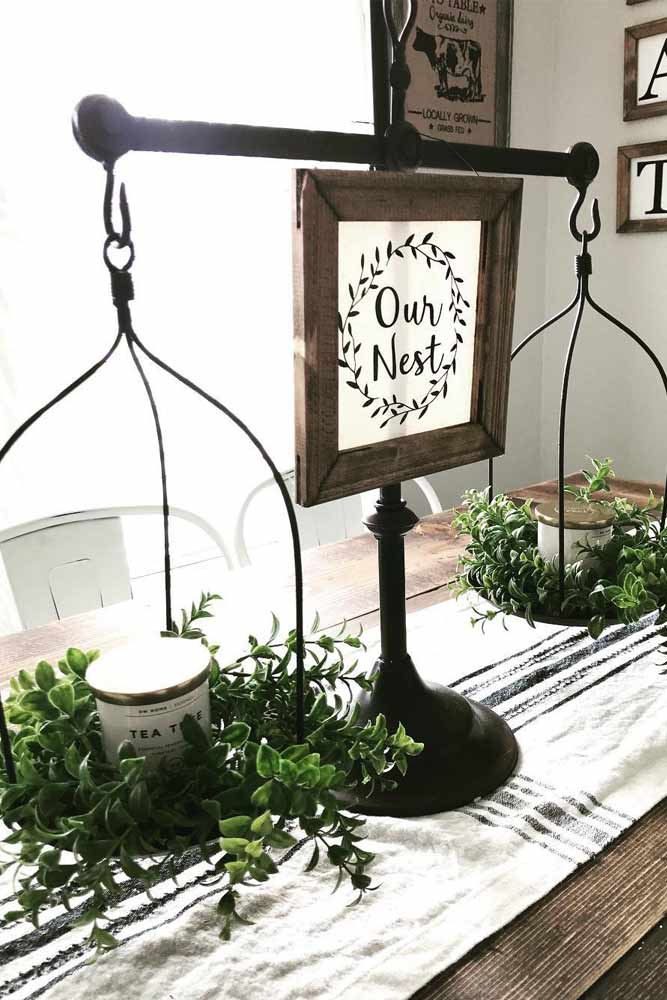 Credit: Instagram/simplyjunkin
Very often it feels like a rustic piece of furniture requires the same decoration on top. That is why if you feel like there is a need for something interesting and antique to add to your table think about old scales. Do not forget to put something on the scale to even them out.
Metallic Plate Holder Table Decor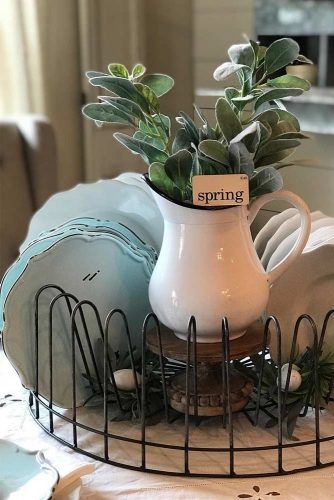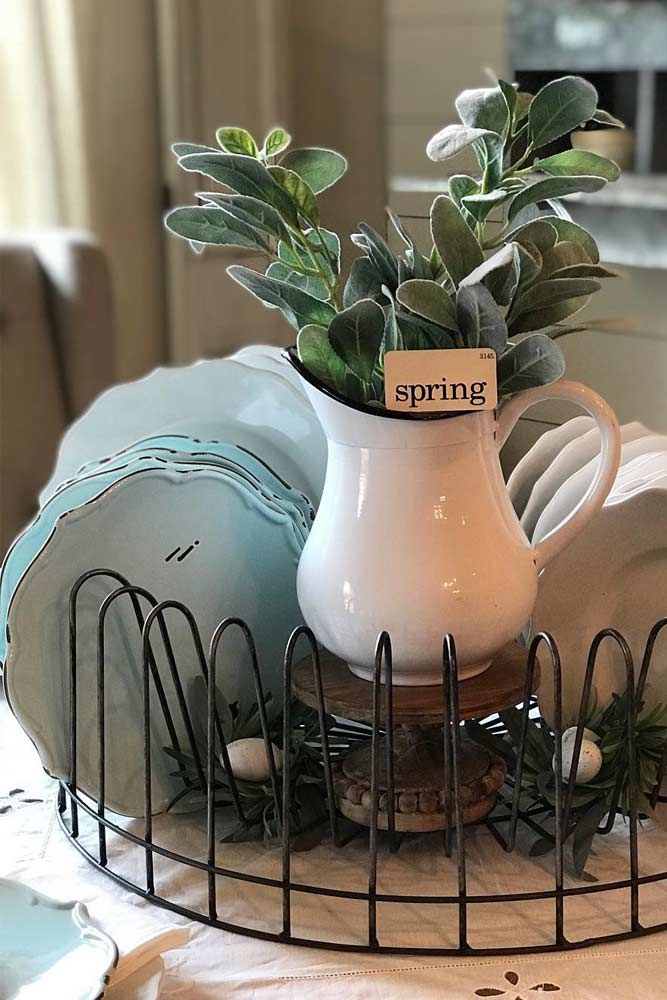 Credit: Instagram/athomeonst.croix
If you place your farmhouse table in the kitchen then you need to be able to make the most of it. Apart from being a stylish dining area, it can also be a place to store the dishes. However, make sure that the dishes are stored in a pretty metallic plate to preserve the rustic vibe.
Wooden Table With Marble Top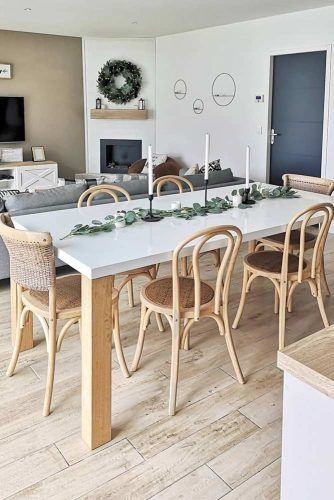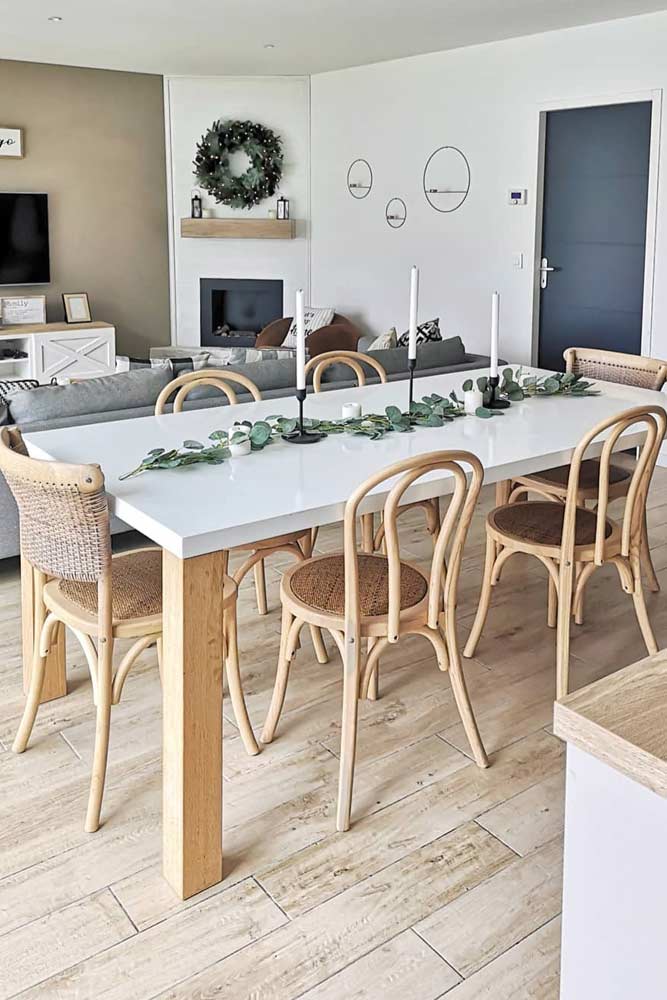 Credit: Instagram/chateau.leg0
Such a farmhouse table is in perfect balance between the vintage as well as modern style. Besides, the top adds that particular magic to the atmosphere.
Round Table With Modern Chairs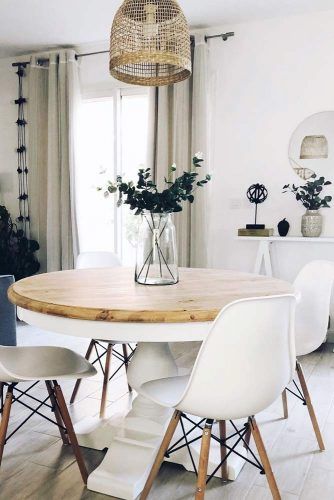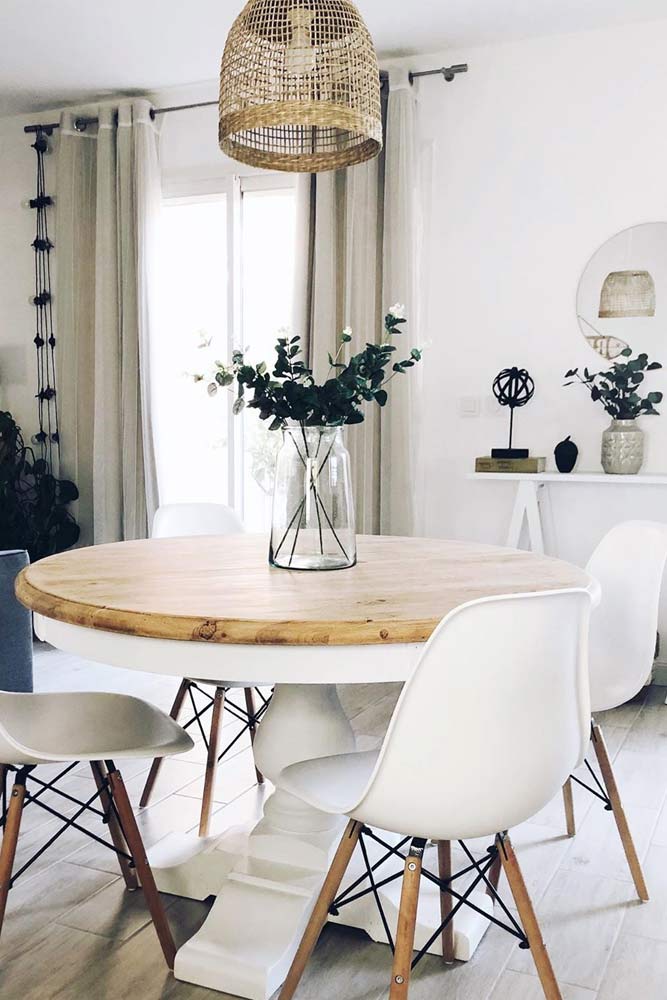 Credit: Instagram/clemence661991
Some people say that you can't combine the modern and the rustic elements in one interior. We beg to differ. One look at the combo these modern chairs and the table make will prove the point.
Wooden Rustic Table With Chairs And Bench Set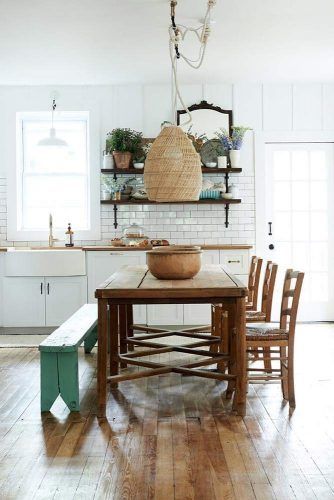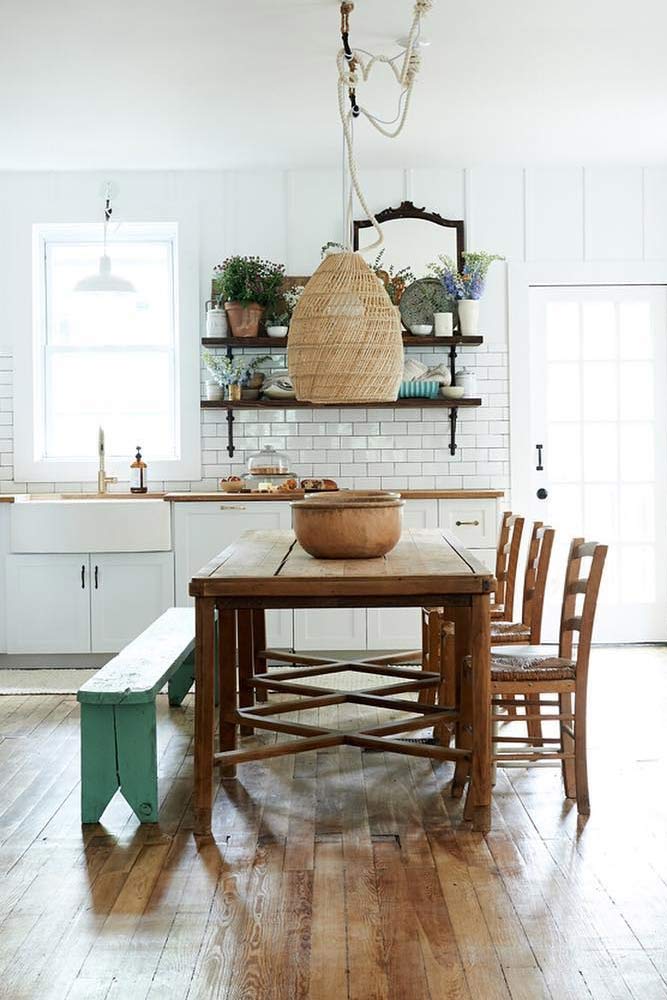 Credit: Instagram/leannefordinteriors
Running short of chairs? There is no problem as long as there is a farmhouse table in the kitchen. With a table like that, a bench would look like a perfectly matching piece.
Wooden Table With Combinated Chairs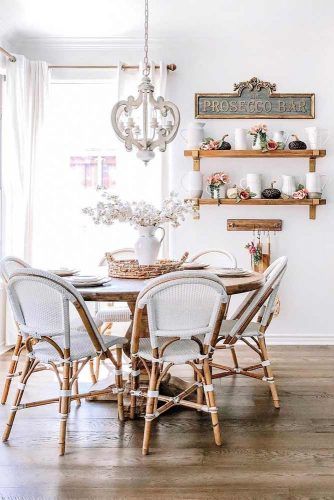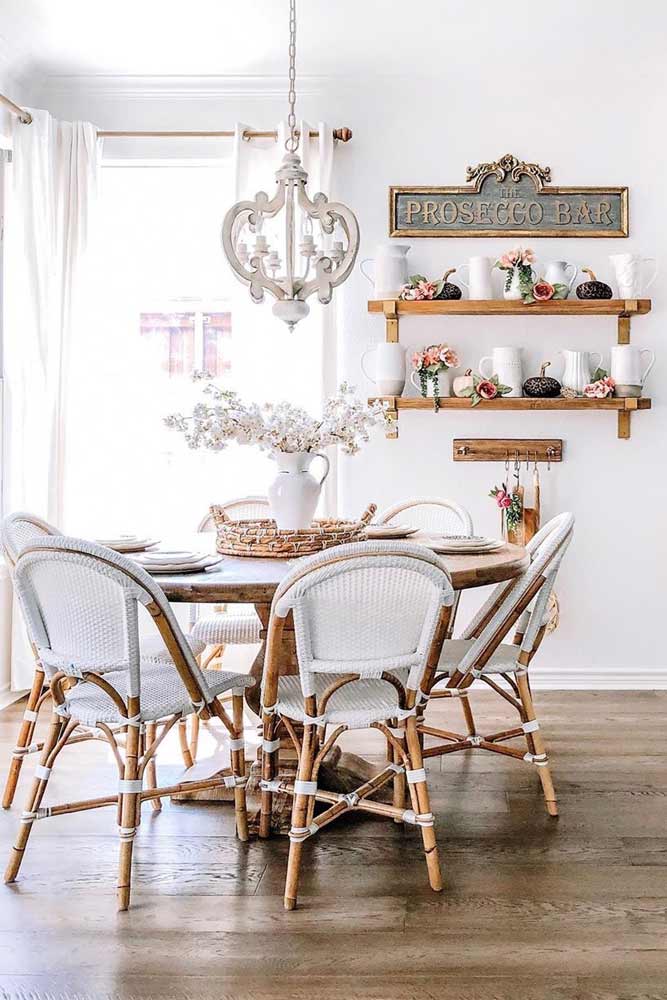 Credit: Instagram/thedowntownaly
If you are looking for a table and chairs set that will bring a particular atmosphere, we may have an idea in mind. This round farmhouse table and combined chairs fit the description just well!
Antique Table With Mix Sitting Set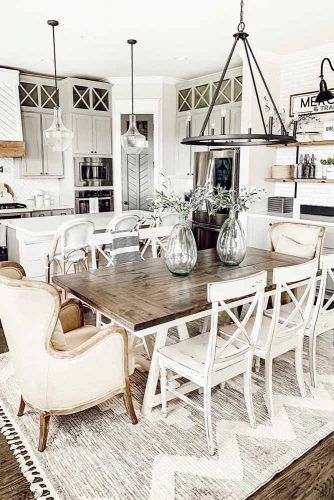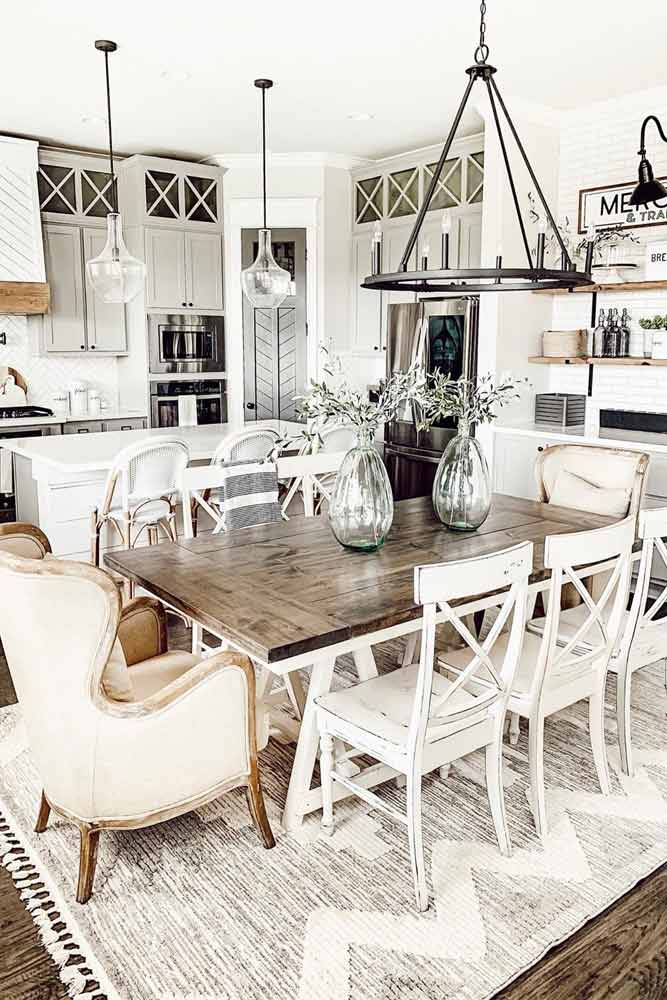 Credit: Instagram/ourfauxfarmhouse
An antique table looks gorgeous on its own. However, the mixed sitting set will bring its uniqueness to the next level of great.
Simple Rustic Wooden Table With Bench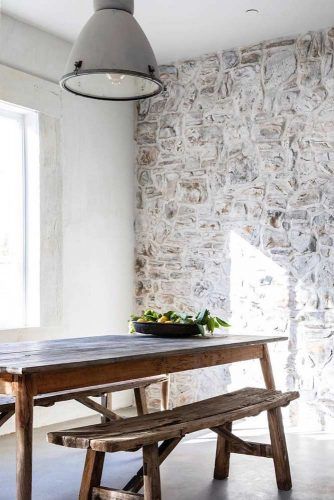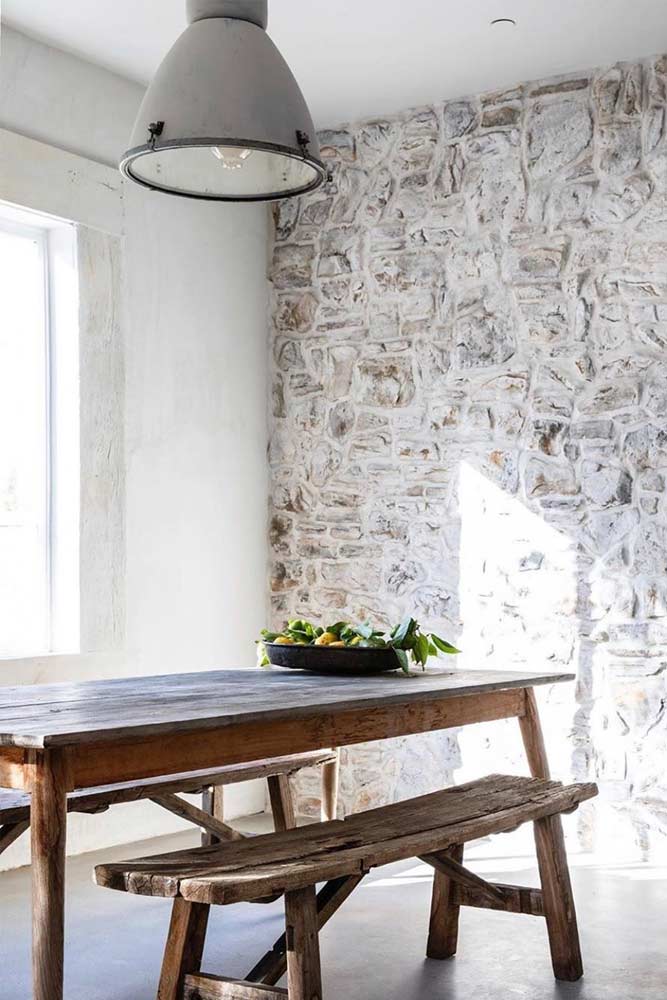 Credit: Instagram/amyneunsinger
There are times when the rule 'The simpler, the better' becomes a real-life motto. One look at this table and a bench prove that the saying is true to its core!
FAQ: Farmhouse Table
How much does a farmhouse table cost?
The cost varies from $200 and up to $3,000. Generally speaking, light, simpler tables are less expensive than heavy, designed tables. The price depends on the width (36"- 42") and material (pine, poplar, maple, oak) used.
What size is a standard farmhouse table?
The size of a farmhouse table depends on number of people you plan to use it for as well the size of your dining area. For instance, a table for 4 people has a workable size of 42″ round, a table for 6 people has a workable size of 5′ rectangular / 54″ round, a table for 8 people has a workable size of 7′ rectangular/ 66″ round.
Was this article helpful?