To tell you the truth outdoor Christmas decorations are a great tradition that most of you try to stick to every year. However, as time passes some ideas become out of date and you need to replace them with fresh ones. We know how painful it may get to come up with Christmas front porch ideas on your own that is why we have made this compilation for you. Choose what fits your taste best and make sure that your front yard looks festive and makes your neighbors drool with envy!
Front Porch Décor Ideas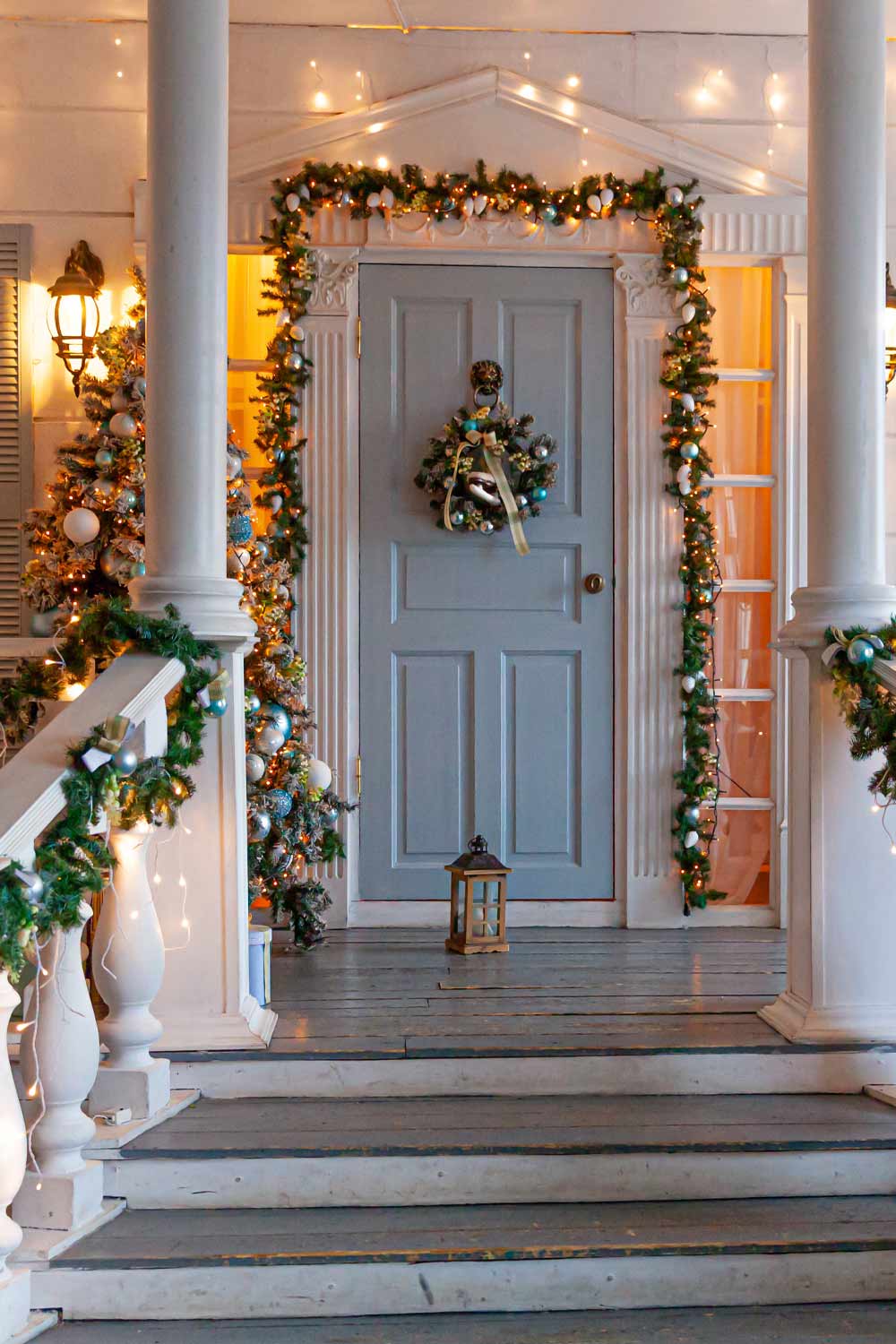 Credit photo: Shutterstock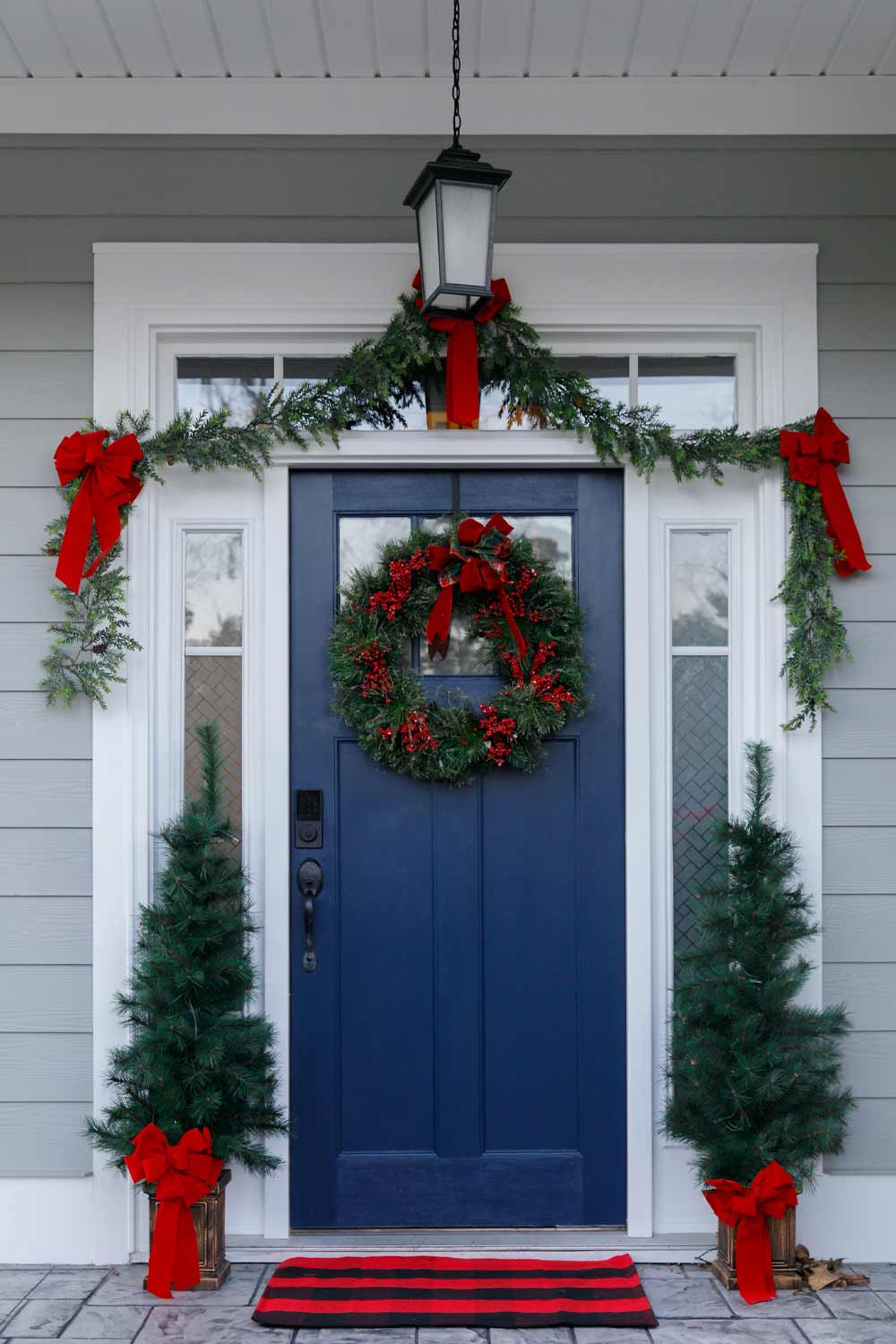 Credit photo: Shutterstock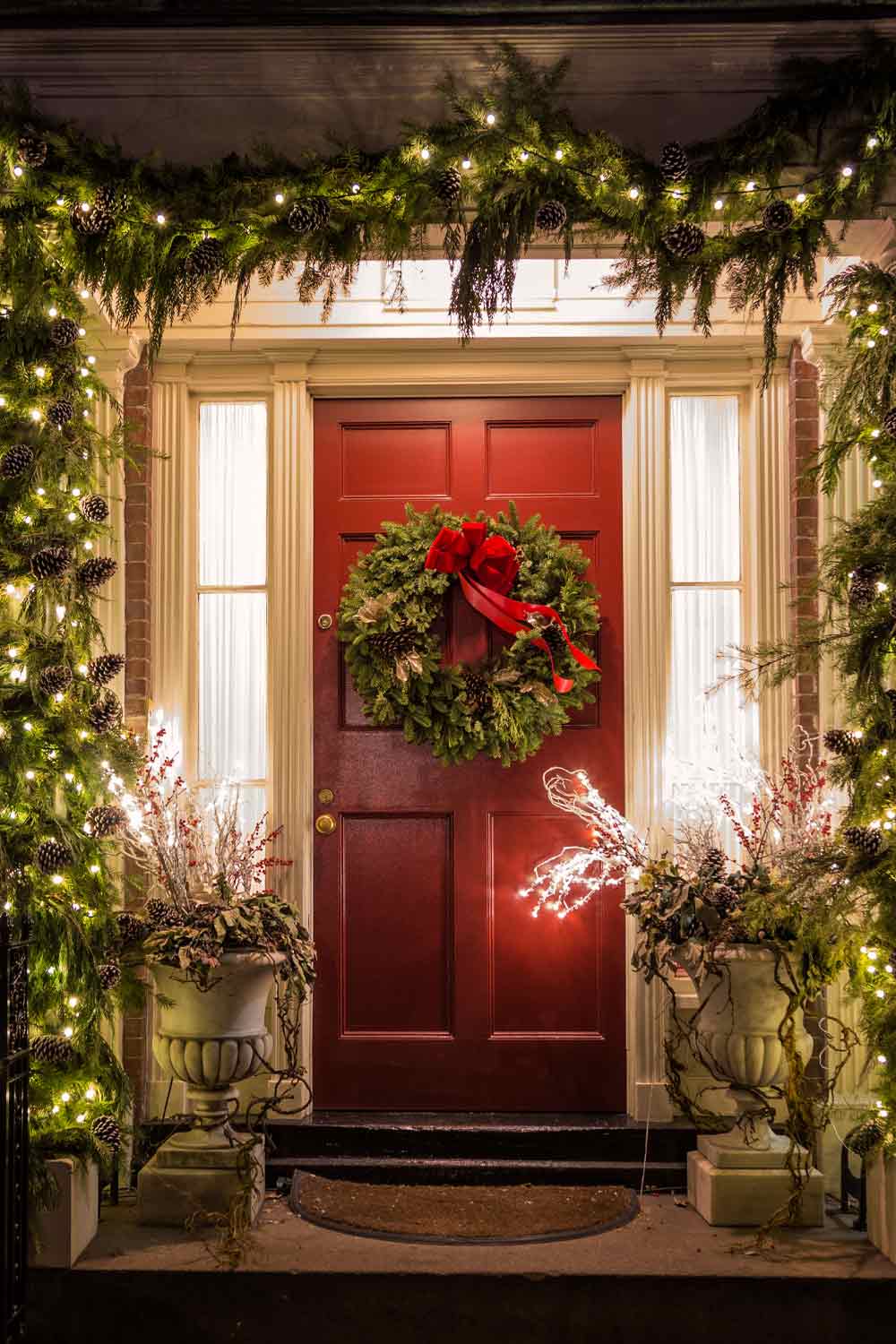 Credit photo: Shutterstock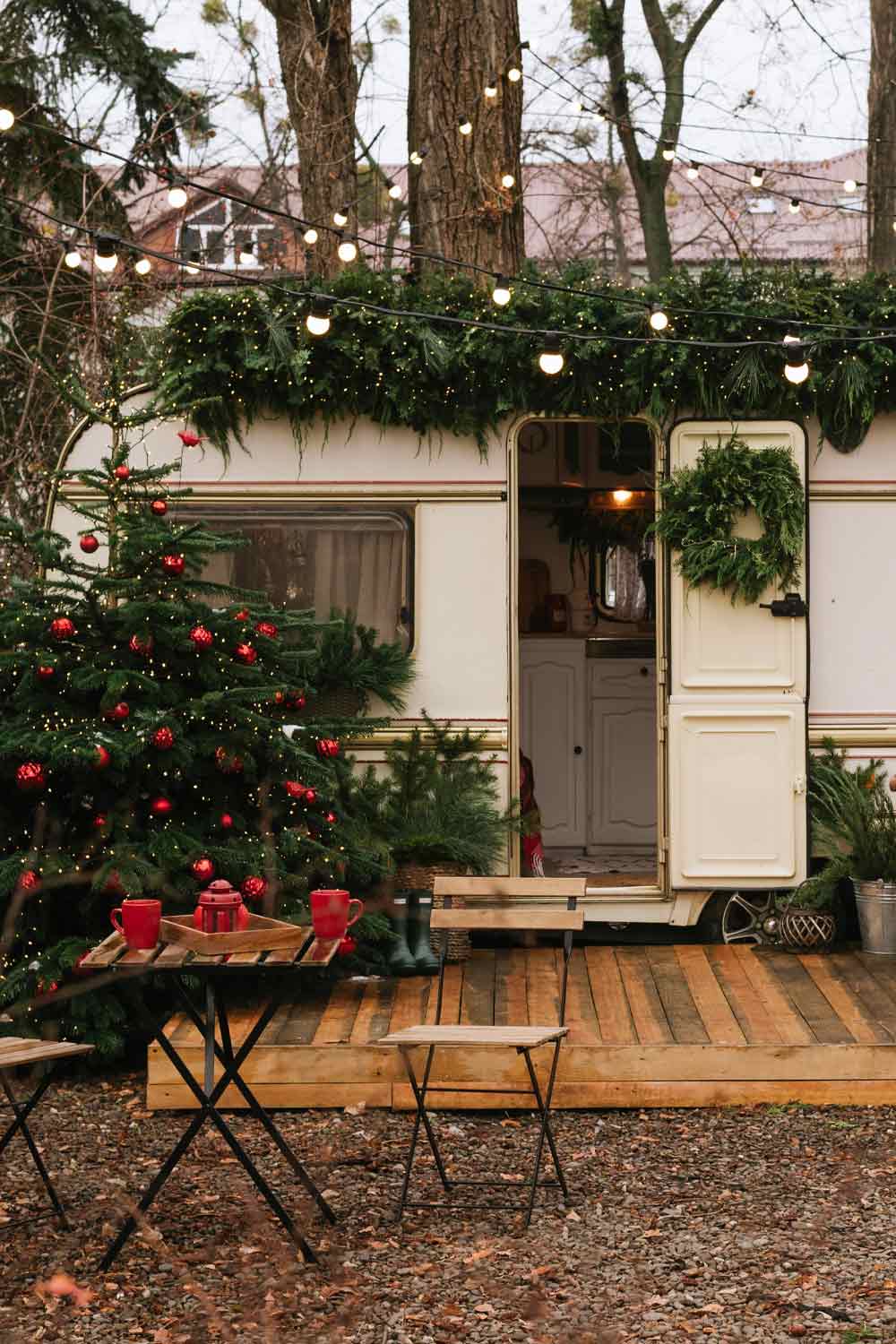 Credit photo: Shutterstock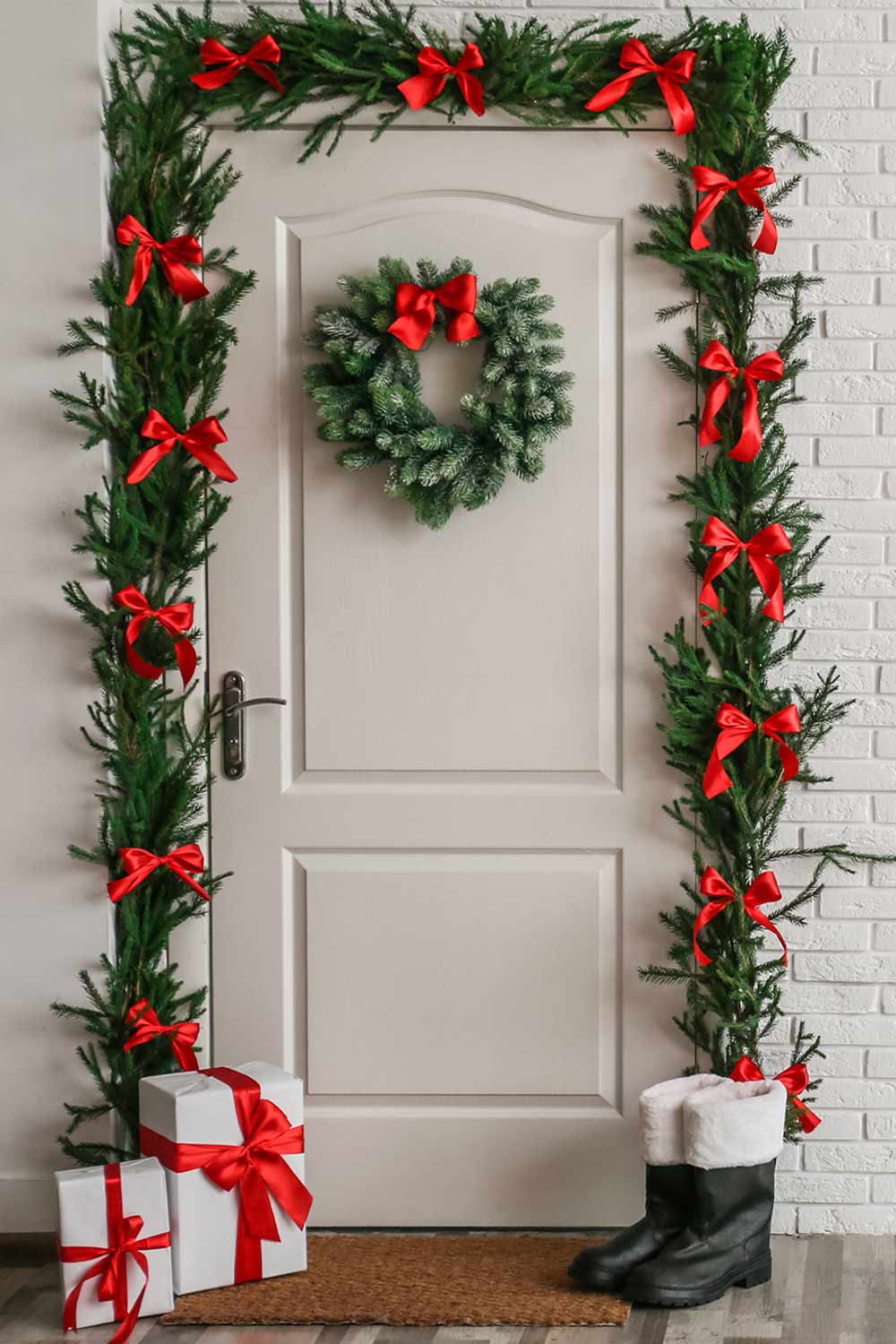 Credit photo: Shutterstock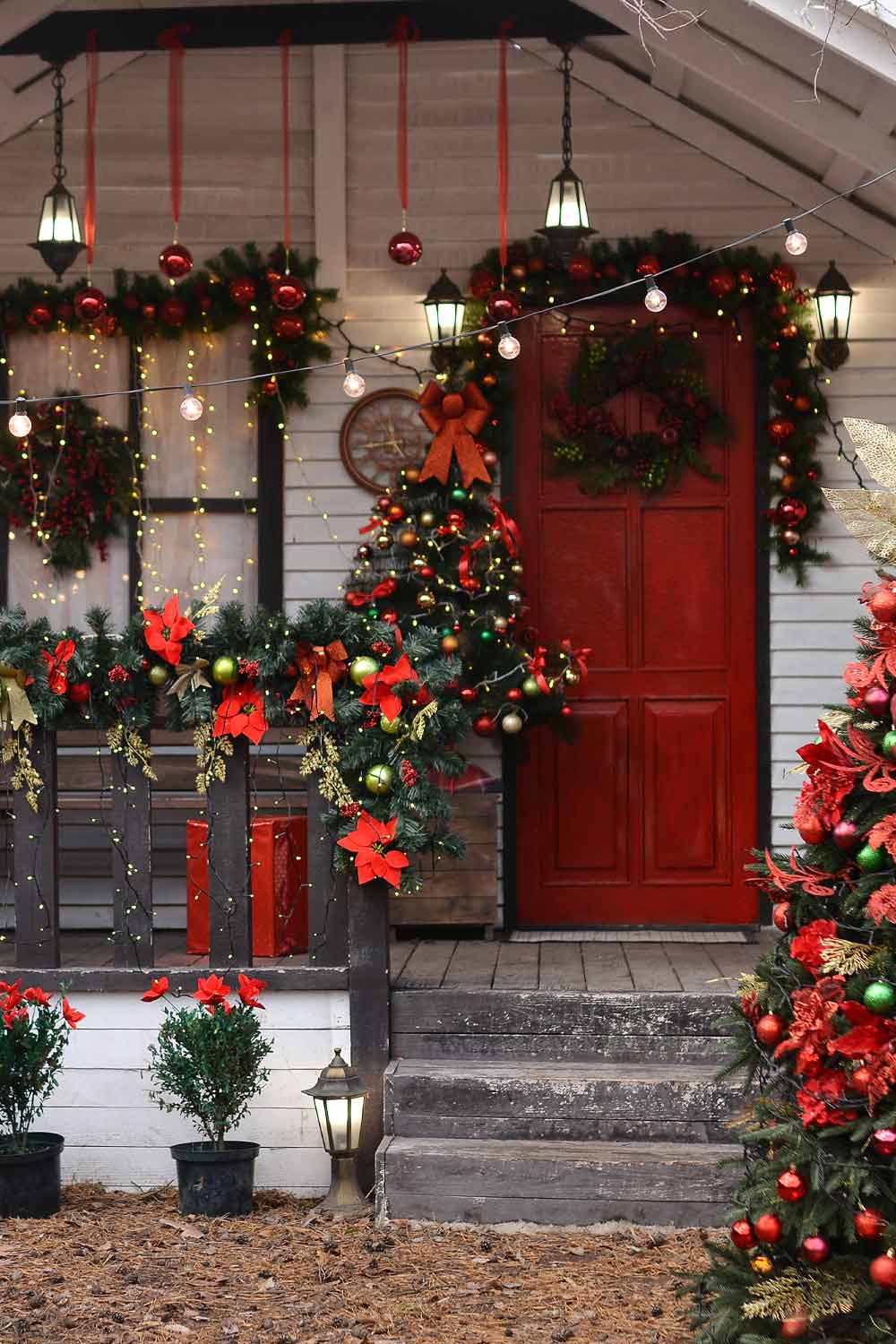 Credit photo: Shutterstock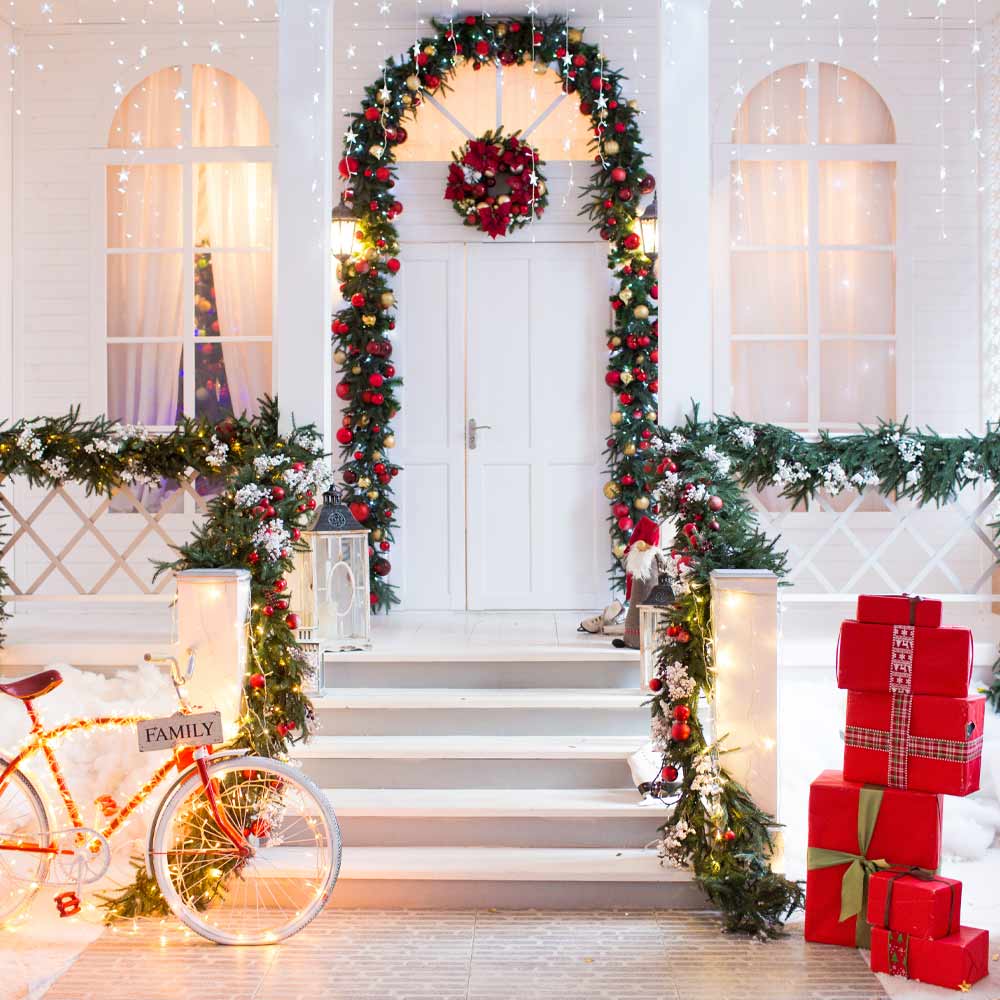 Credit photo: Shutterstock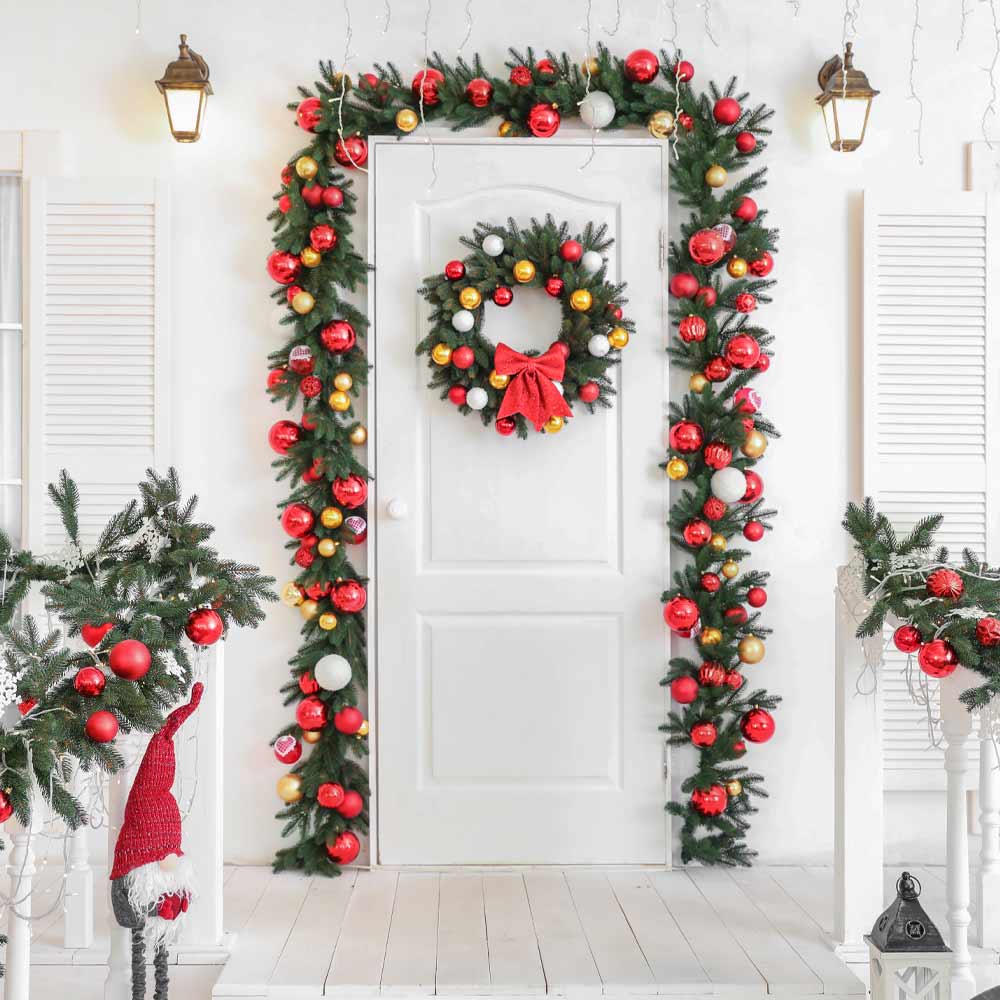 Credit photo: Shutterstock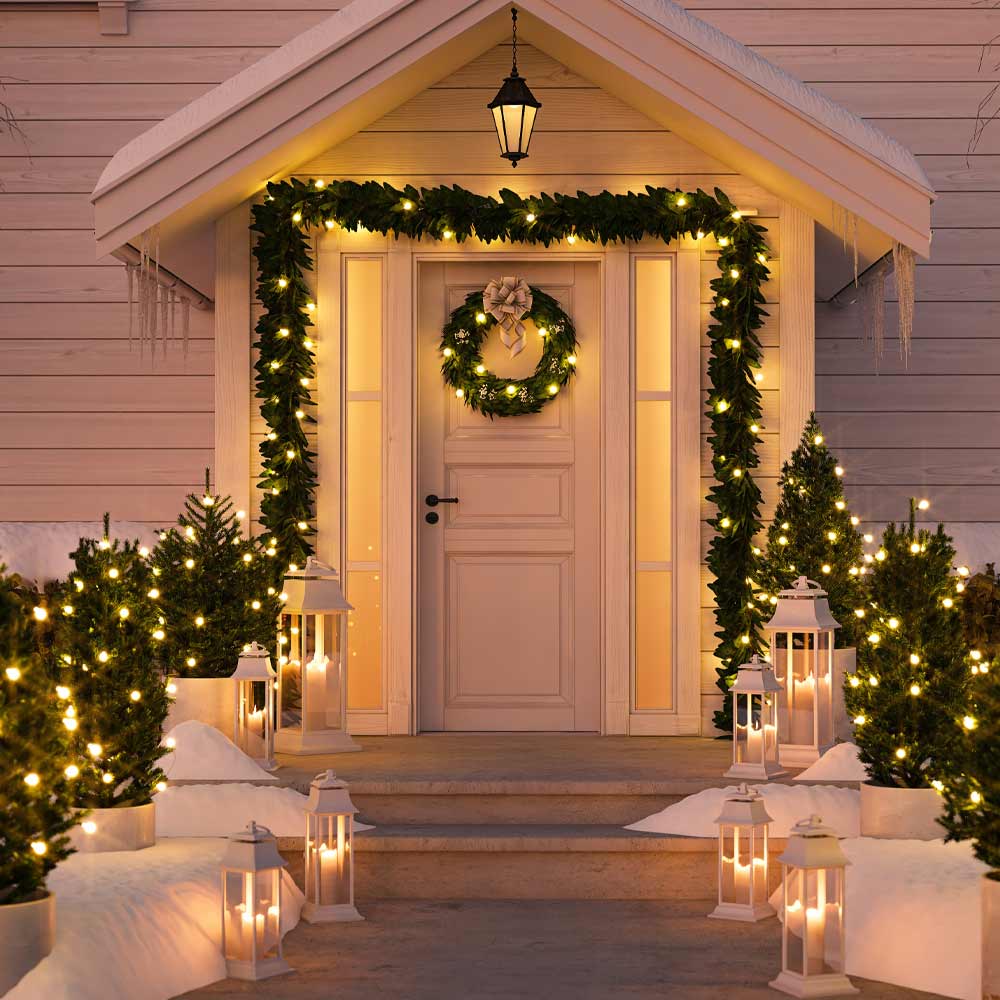 Credit photo: Shutterstock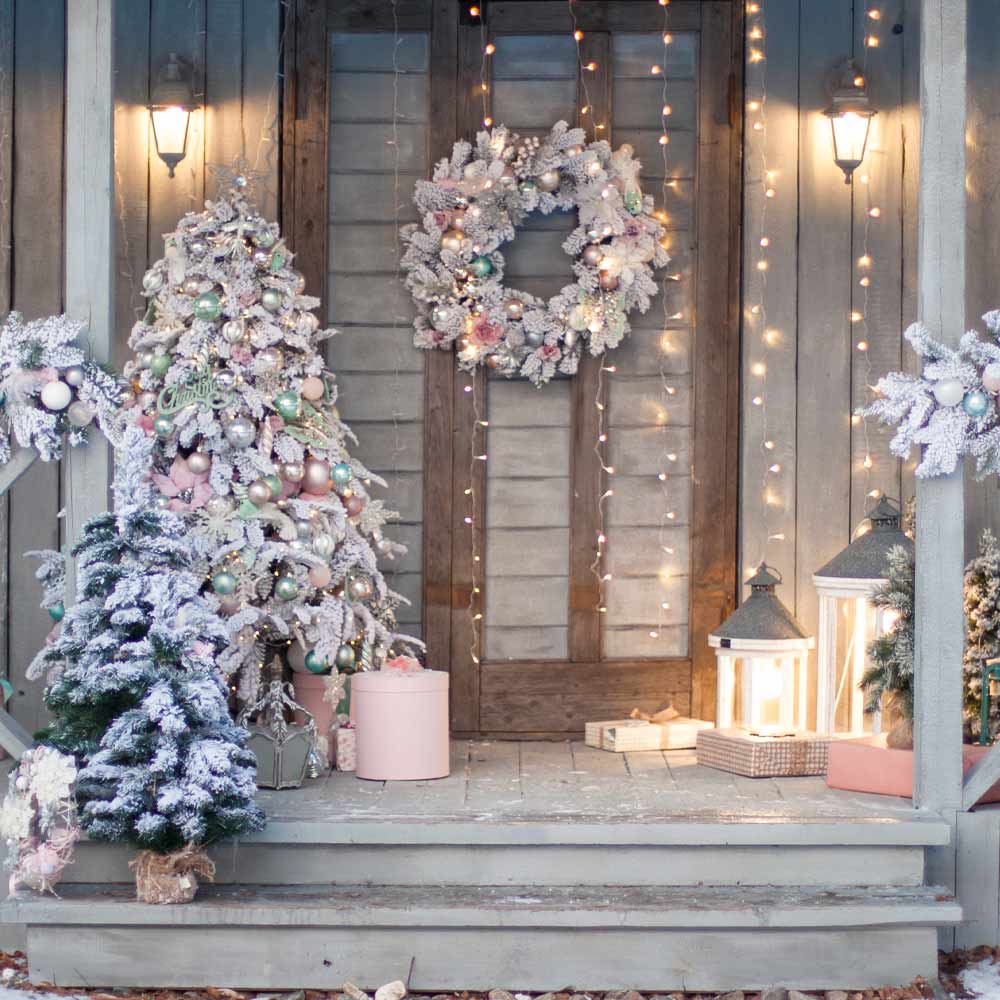 Credit photo: Shutterstock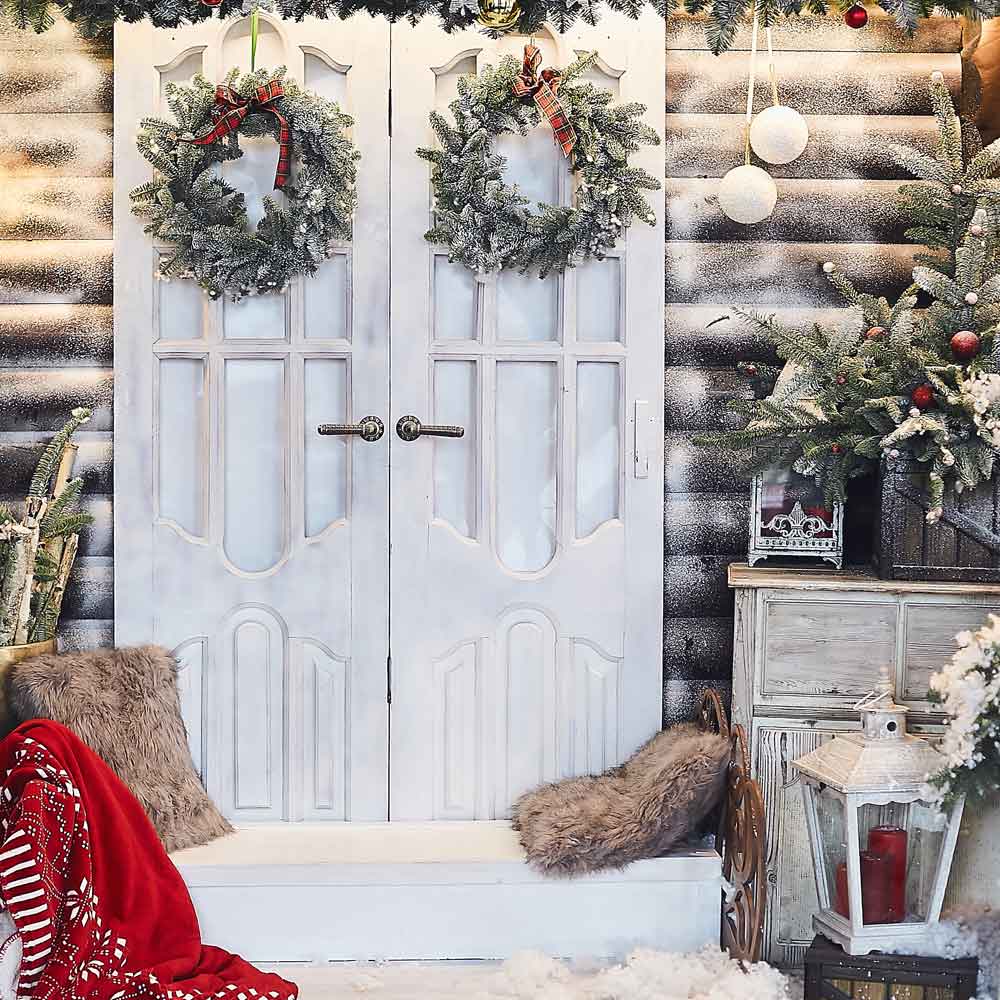 Credit photo: Shutterstock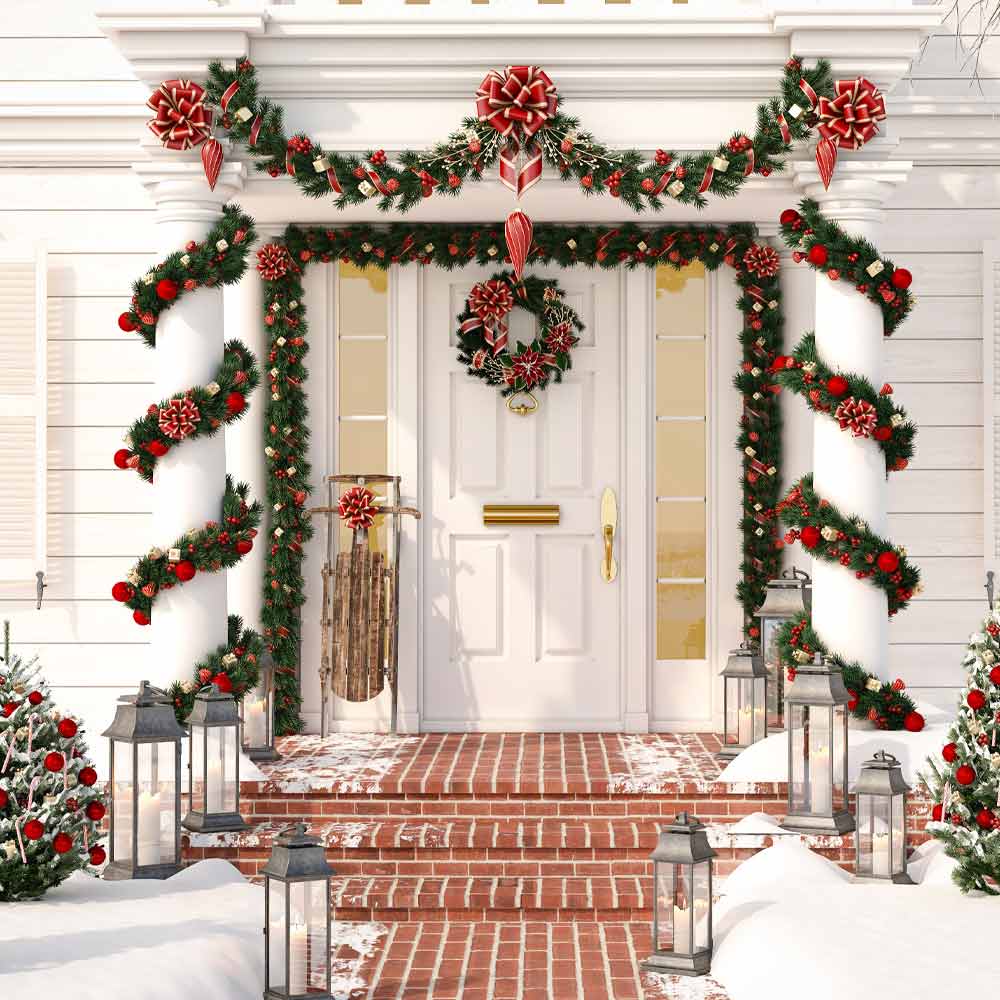 Credit photo: Shutterstock
Front Porch Décor In Plaid Pattern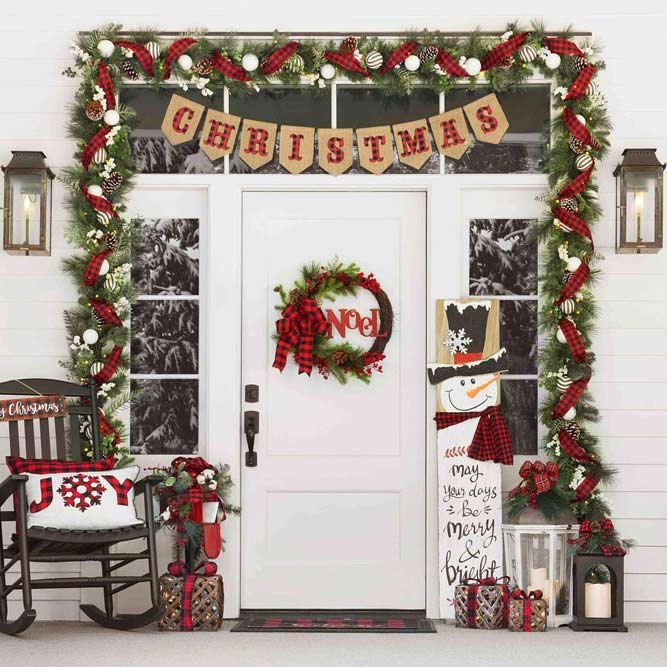 Credit photo: Instagram.com/kirklands
It happens so that there are patterns that look more festive than others when holidays come. The plaid pattern is precisely what we have in mind. That is why adding some plaid decorative elements to your front door decorations is a nice thing. Plaid string to spice up the green garland and a sweet bow is exactly what we mean. Besides, plaid Christmas sign will fit in the atmosphere quite well too.
Front Porch Decorations With Traditional And Bright Items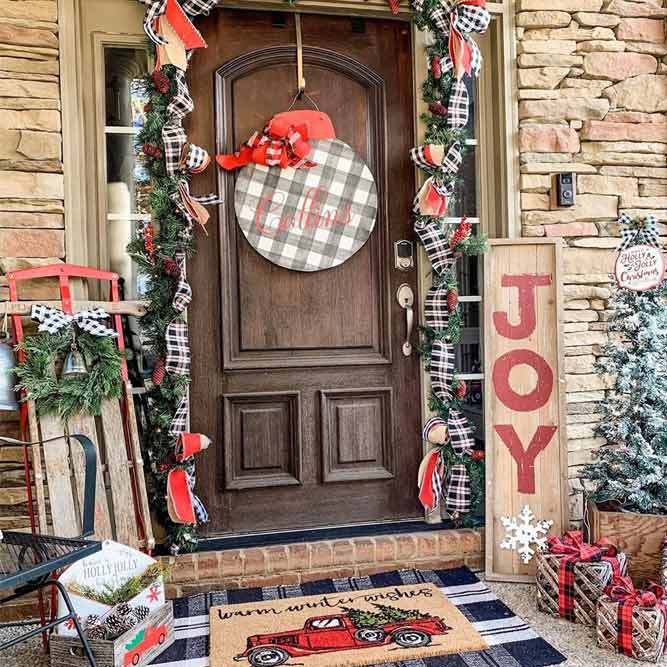 Credit photo: Instagram.com/wilshire_collections
Take your living room outside! We are not joking here. If you wish to make, your front porch look like no one else's then the more sparkling and bright elements there are – the better. Christmas ornaments, glowing gifts, Christmas lights and whatever else comes to your mind – use it all! You can even take the Christmas tree itself outside, do not limit your imagination!
Porch Sitting Place Decorations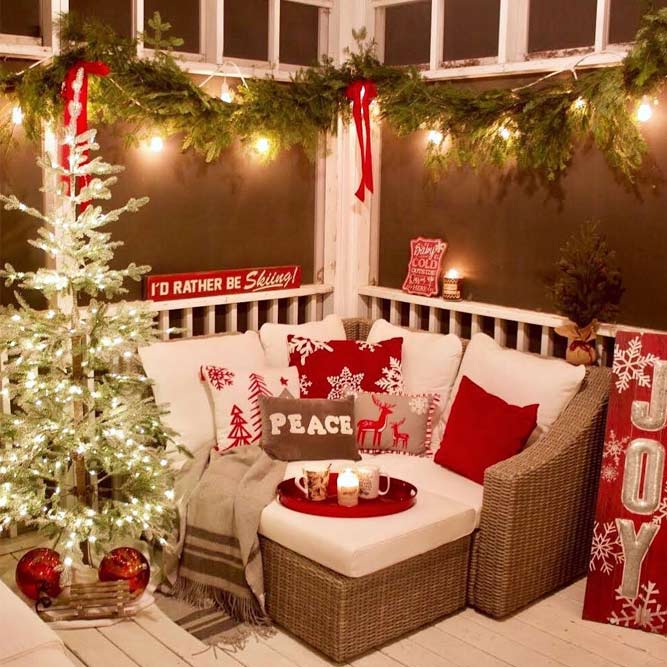 Credit photo: Instagram.com/turquoise_lifestyle
There is even a more significant list of outdoor Christmas decorations ideas to play around with when there is a sitting area. You can make this place the coziest in the house by gathering all the pillows and candles and introducing them into the decor. Needless to say, a Christmas tree and glowing lights will add up to the holiday atmosphere. An evening cup of tea on the porch will become a great ritual to add up to your festive routine.
Front Door Décor With Rustic Accents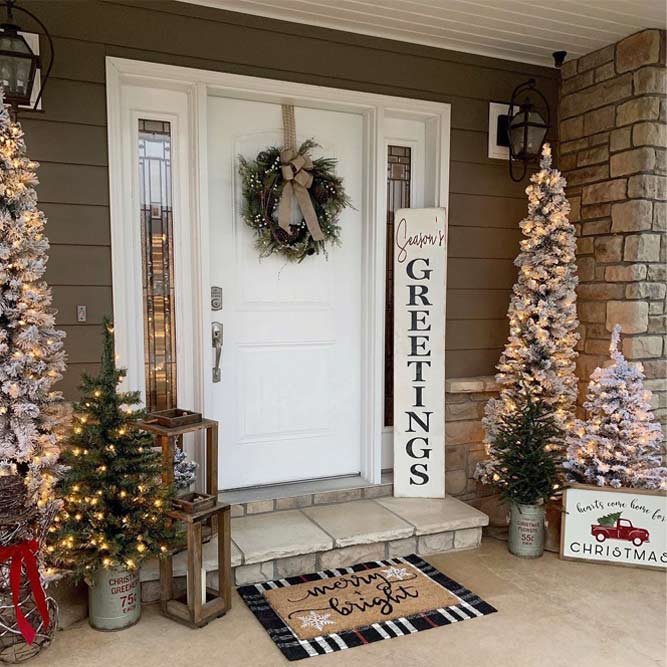 Credit photo: Instagram.com/thegatewayhome
Those of you who are in love with rustic decorations will surely appreciate this idea. The thing is that here as you can see, there is no such thing as too many Christmas trees, and they do not need to be all real – artificial ones fit in even better. It should be noted that old-fashioned lanterns with candles create that special rustic vibe that you have been looking for!
Festive Christmas Front Porch Decorations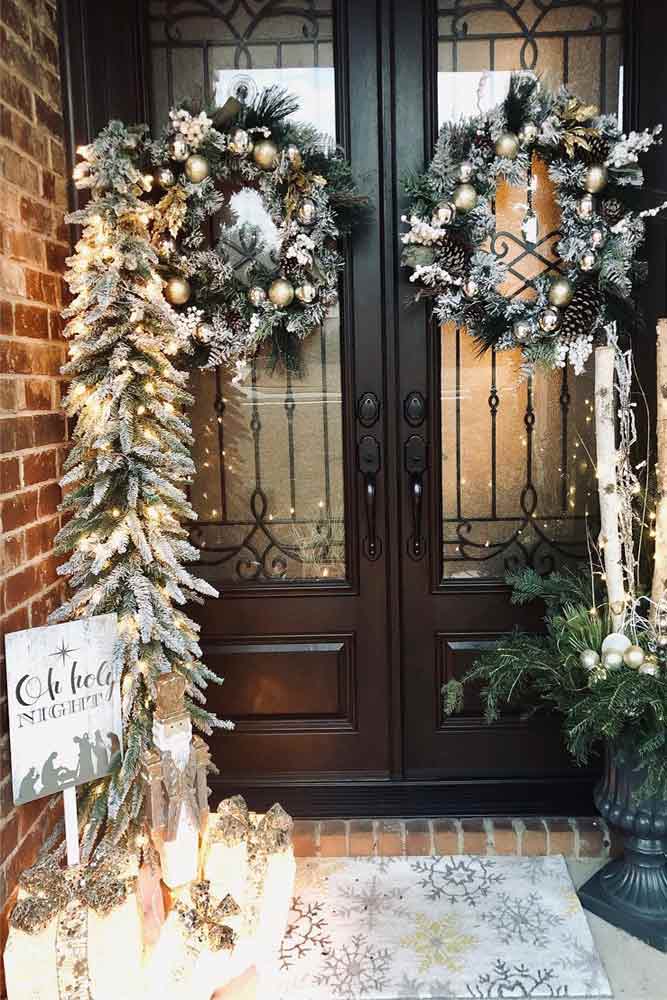 Credit photo: Instagram.com/saltgrassdecor
Your front porch is the first thing that welcomes your guests once they come closer to your house. Thus, it should instantly infuse them with holiday spirit. Decorate your porch with Christmas garlands and fairy lights, which together make up a magical combination. And do not forget about beautiful door wreaths, of course.
Yard Decoration Ideas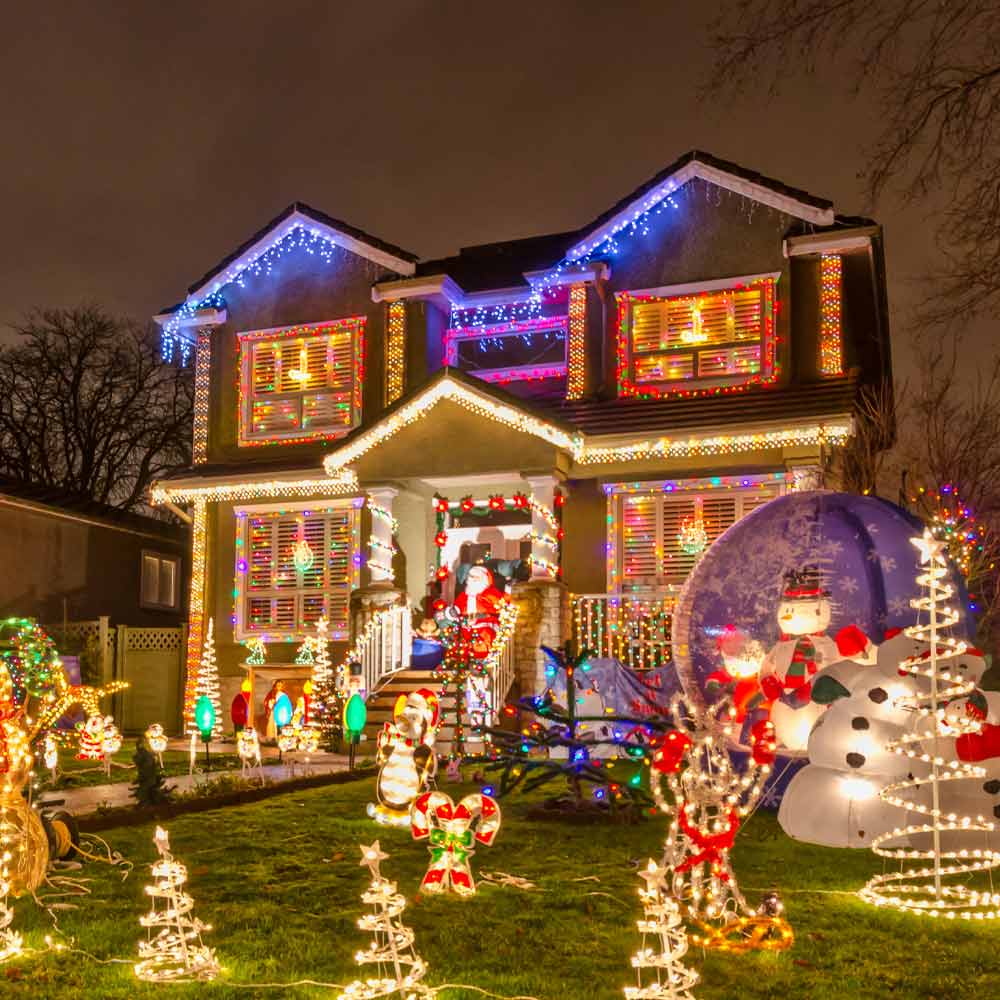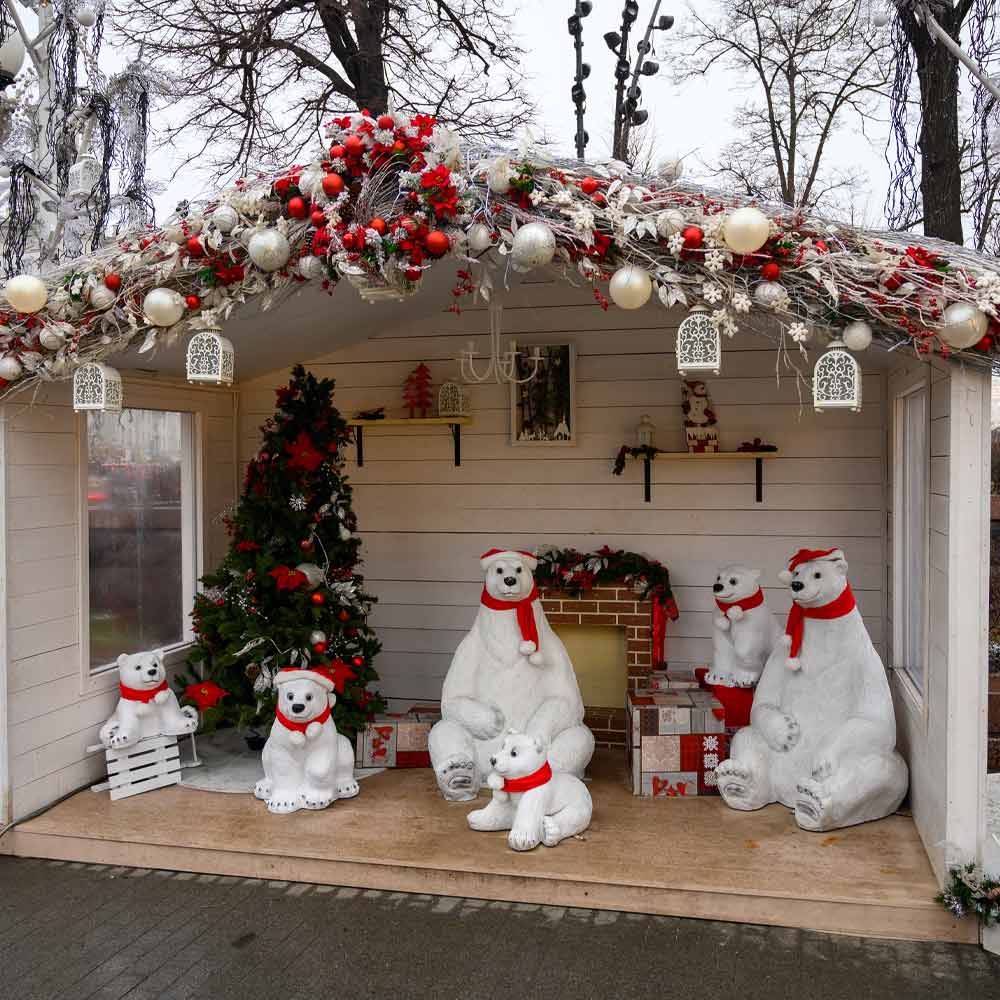 Led Deer Decorations For Your Yard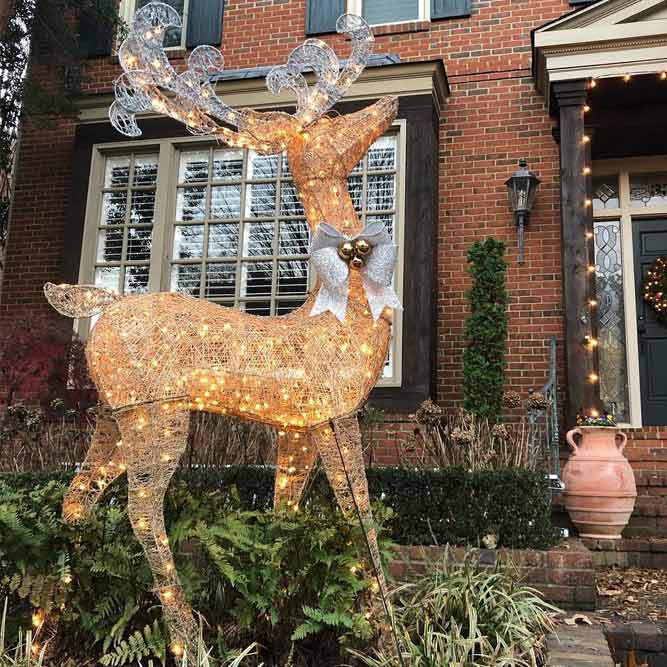 Credit photo: Instagram.com/vixxie60
Of course, not everyone is that fond of old rustic elements in their Christmas porch décor. If you are one of them, then we have a perfect modern idea in mind. These days it seems that the more lighting there is – the better. That is why these outdoor Christmas reindeer decorations lighted with led lights are precisely what will add your yard that wanted modern vibe without stepping away from the traditions.
Wooden Decorations For Your Yard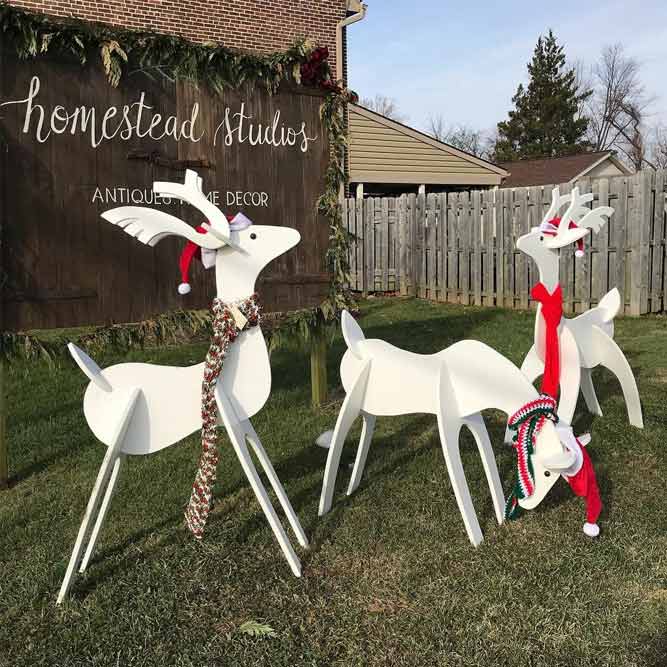 Credit photo: Instagram.com/_homesteadstudios
Outdoor wooden Christmas decorations are classic we all know that, but how about super large outdoor Christmas decorations? We are sure that not every owner would dare to place something like this on the front yard, but if you are a bold person that likes holidays and wants everyone to see that – do not thank us for the idea!
Outdoor Truck Christmas Decorations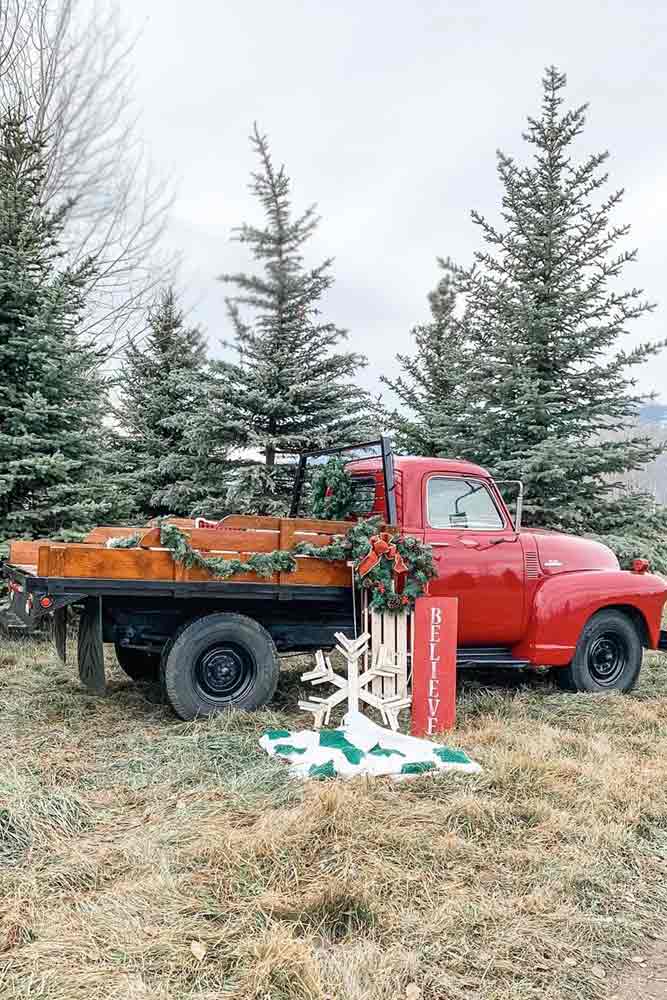 Credit photo: Instagram.com/ashcuz
Do you have an old, or not really, truck parked in the backyard? Do not just leave it staying over there for Christmas. It deserves to take part in your holiday celebration too. To make it look festive, put a couple of Christmas trees in the trunk or throw a garland over it.
Yard Decorations With Lettering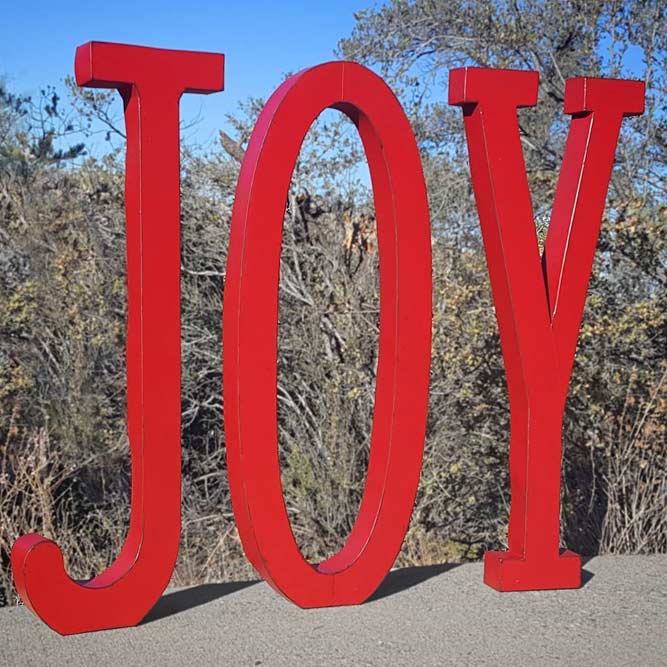 Credit photo: Instagram.com/rustalgic
Outdoor deer decorations for Christmas are pretty standard, and there is nothing wrong with it since all of us love Santa and his reindeers. However, if you are looking for some pretty unique outdoor Christmas yard decorations, then you may as well take this lettering idea into consideration. You can carve any other word you like, just use this one as your inspiration guide!
Rustic Outdoor Christmas Decorations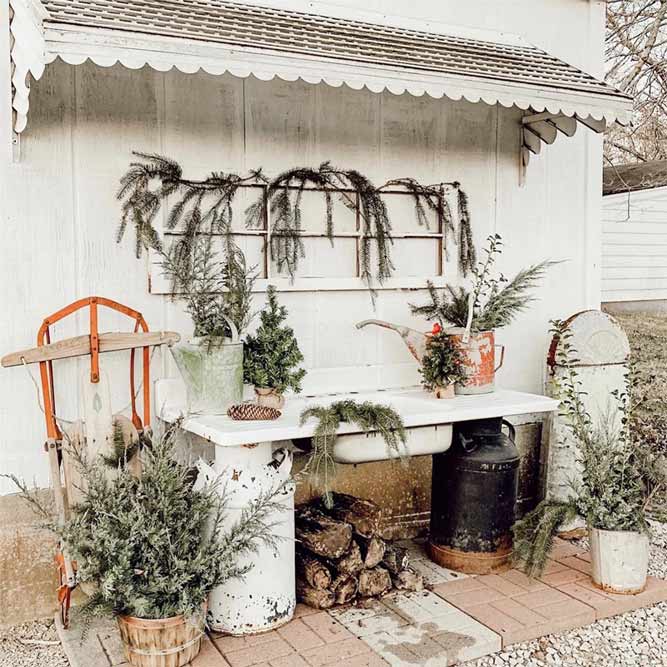 Credit photo: Instagram.com/frontgate
Rustic style décor gives your home a cozy and toasty feel, especially when you decorate your outer space with it. To make it more Christmas-y, adorn your courtyard with ornamental conifers, a pile of firewood for your potbelly stove and ceramic tiles.
Traditional Outdoor Decorations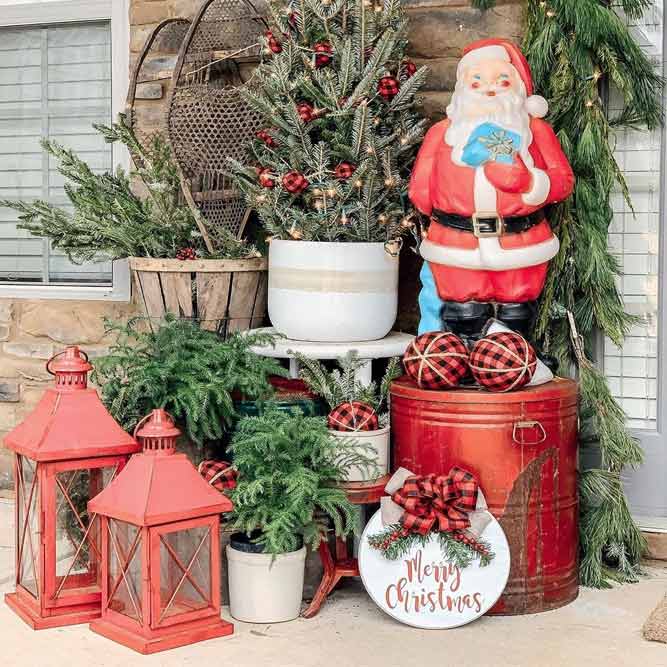 Credit photo: Instagram.com/weatheredwaresandco
You will never go wrong if you choose traditional outdoor Christmas decorations. Adorn your porch with a Santa Claus statuette and surround it with ornaments, fairy lights and a Christmas tree, of course. In case you do not have one, your evergreen plants will work too.
Christmas Garland With Cones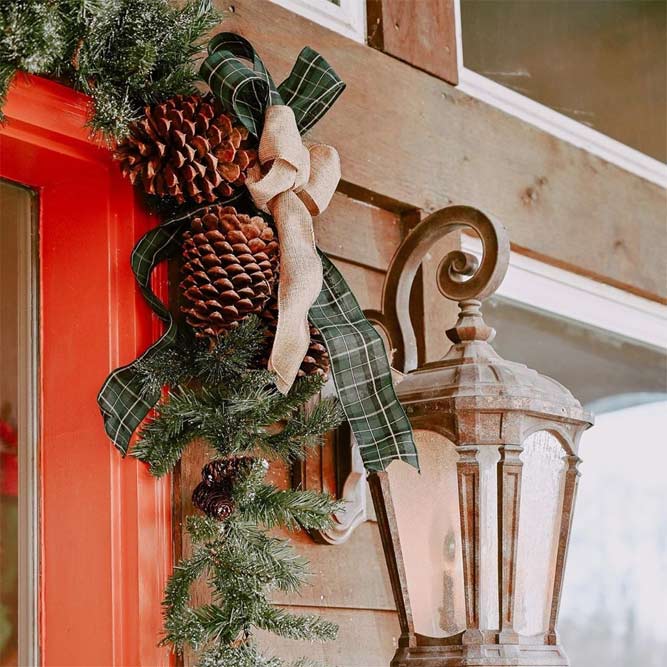 Credit photo: Instagram.com/seasonsofthelake
If you prefer a minimalistic and refined style in home décor, then you will certainly like this simple yet elegant Christmas garland embellished with cones. It will make it feel like Christmas not only because of the way it looks but also because of the incredible smell it fills all the space with.
Christmas Tree Decorations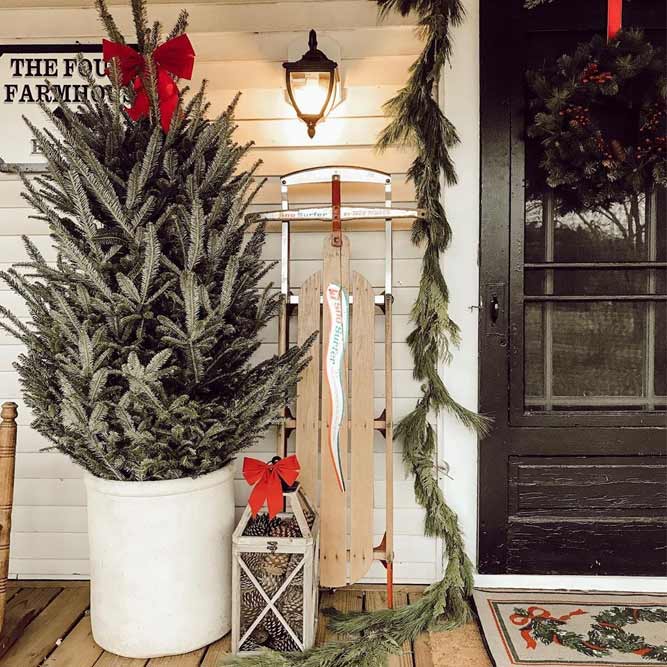 Credit photo: Instagram.com/thefound_farmhouse
In case you do not want to be overly innovative, you can decorate your porch with a Christmas tree only. Even if you are not going to garnish it with all kinds of baubles, party streamers, tinsels and lights, you can still rest assured that everyone who comes to your place will instantly dive into the holiday mood.
Christmas Wreaths Designs
Simple Christmas Wreath Idea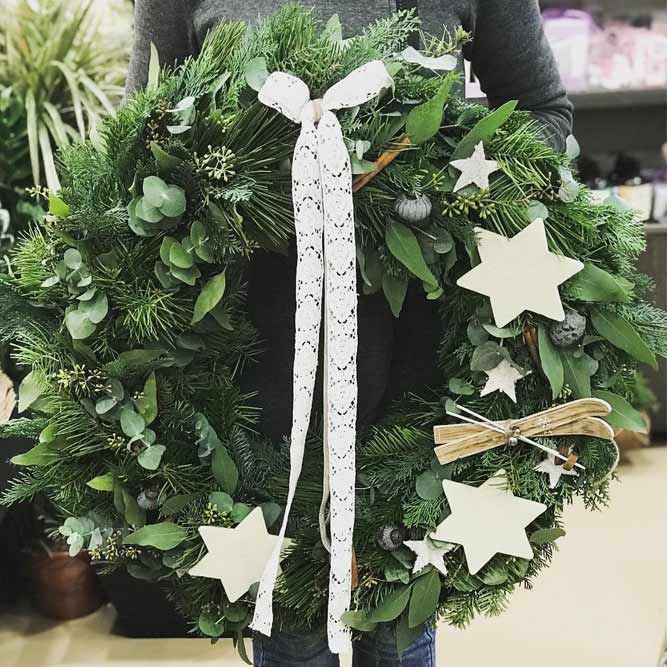 Credit photo: Instagram.com/srdcevenkova
Door wreath for Christmas is something that every house is decorated with even when the porch or yard is left out. However, there is such a variety of wreaths to choose from that it may be difficult to come up with something. That is why if you are looking for something festive and unique – we may have an idea in mind. The thing is that pine wreath is usual but wormwood one – is not that popular, especially when you decorate it with a tasty gingerbread house!
Ice Skates Door Decor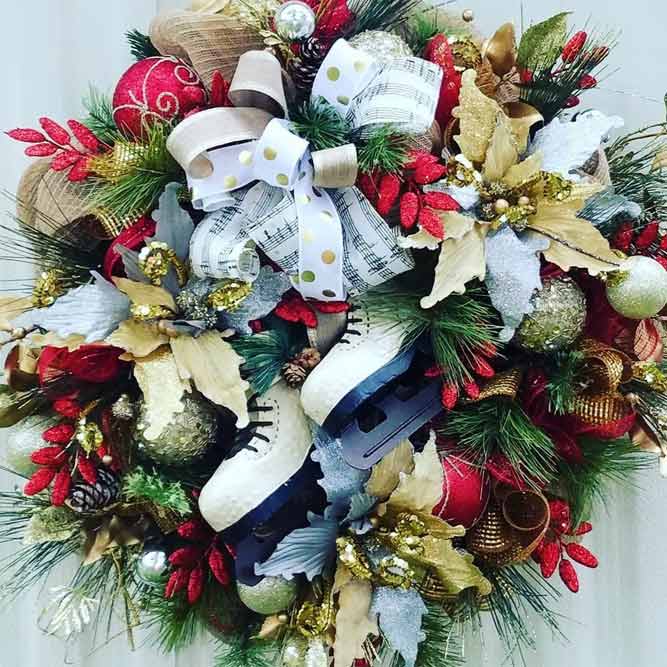 Credit photo: Instagram.com/adoorabledecowreaths
In case you are a winter sports fan – let anyone know about it. If you are all about ice-skating then placing a pair of ice skates on your door sounds right to us. What is more, such a decoration will always look unique, and one of a kind and we are sure that you will appreciate it!
Nutcracker Christmas Mesh Swag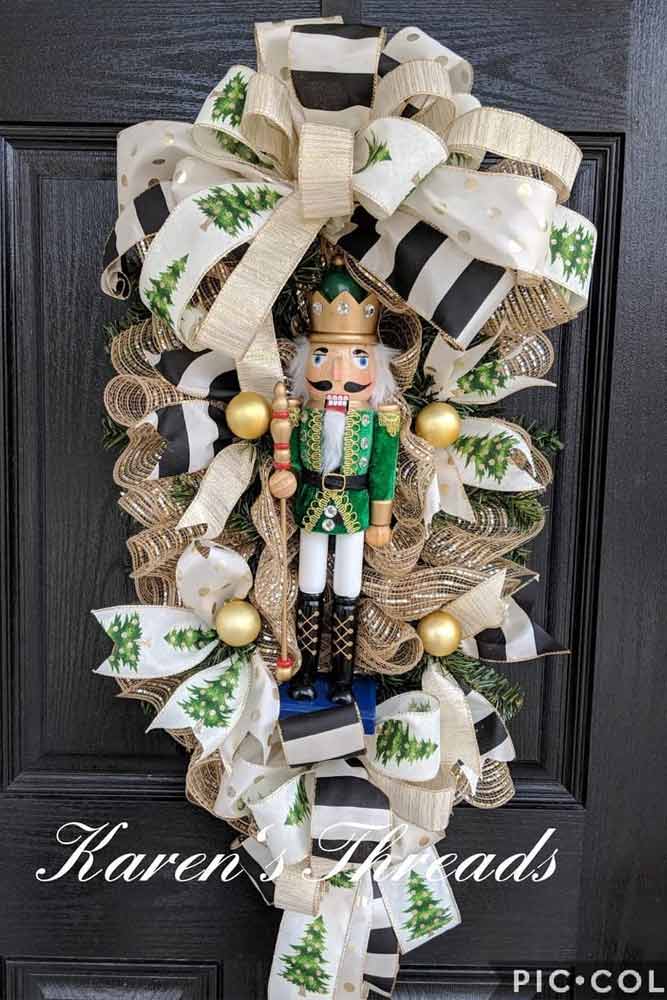 Credit photo: Instagram.com/karensthreads
In times when regular Christmas wreath is a little bit too used up for you – there are other ways of decorating your front door. How do you feel about a pretty mesh swag? Apart from being an excellent substitution for a traditional wreath, a mesh swag can be combined with your favorite toys, for instance, Nutcracker seems to fit in just perfectly.
Christmas Decor Elements
Christmas Basket Door Decor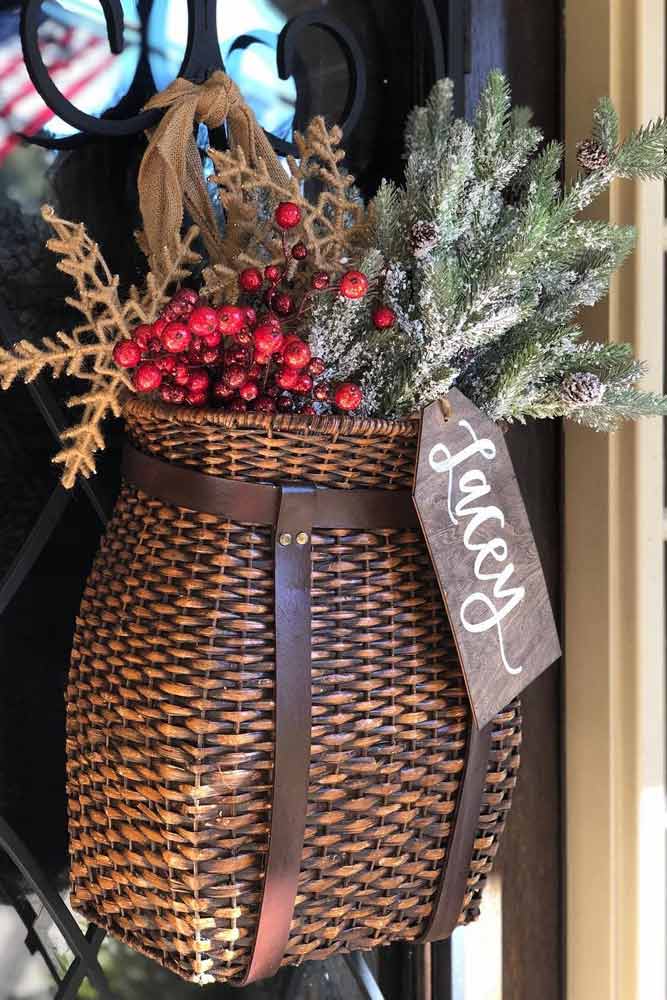 Credit photo: Instagram.com/velveteenandgracega
If you think about it when it comes to Christmas the list of ideas to decorate your house with is close to being unlimited. The thing is that everything depends on your imagination and creativity mostly. For example, if you want to place a basket instead of a regular wreath on your front door – go for it. Fill the basket in with winter herbs, twigs and what not, sprinkle all with artificial snow – the masterpiece is ready!
Bell Decoration For Front Door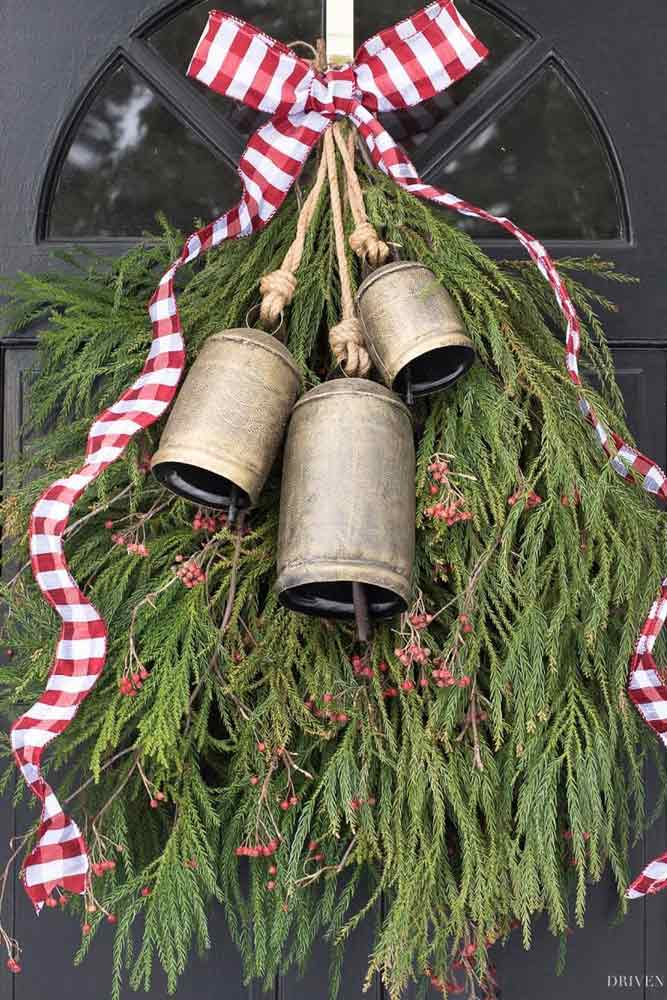 Credit photo: Instagram.com/drivenbydecor
There are times when you are out of time to go shopping for Christmas decorations, and the old ones are all worn out. Worry not! There is always an easy way out. The truth is what you can't buy you can make with your own hands. Gather up all the wintery twigs in one bouquet, tie them with a lovely plaid bow and add up some old bells to the décor – that is it, a beautiful handmade front door decoration is made!
Outdoor Signs Christmas Decorations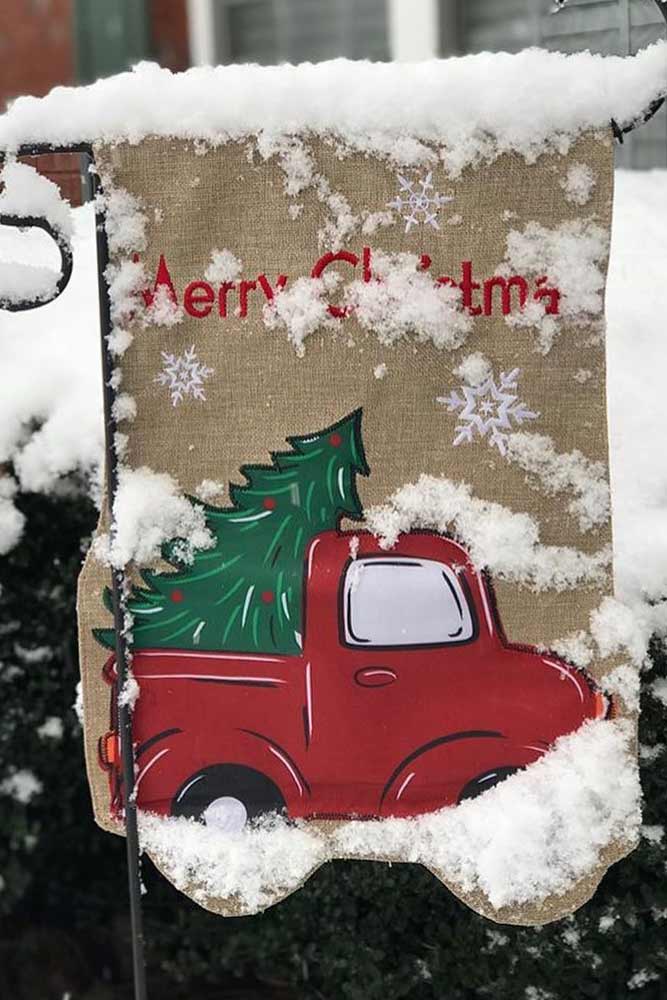 Credit photo: Instagram.com/ashboesch12
When it is holiday time everyone knows about it, but that does not mean that you can't place a notifying sign on your porch. You totally can and you most likely should since such a funny sign will add up not only to your Christmas porch décor but also to the mood of anyone who passes by it.
Rustic Sledge With Bells And Greenery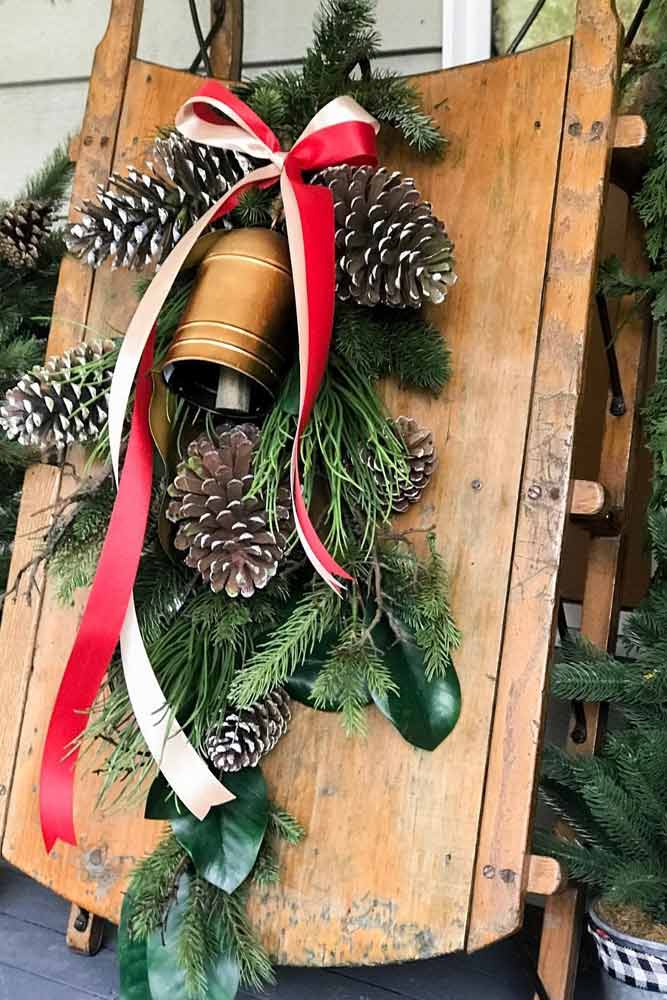 Credit photo: Instagram.com/joleeliepman
Believe it or not but there are cheap outdoor Christmas decorations. Very often, people spend tremendous amounts on Christmas decorations while all the free means are right in front of their noses. For instance, this old sled could have been in the trash but instead, it is used as a fancy rustic holiday decoration, and we must admit that it looks unique and authentic.
Holiday Set On The Step Ladder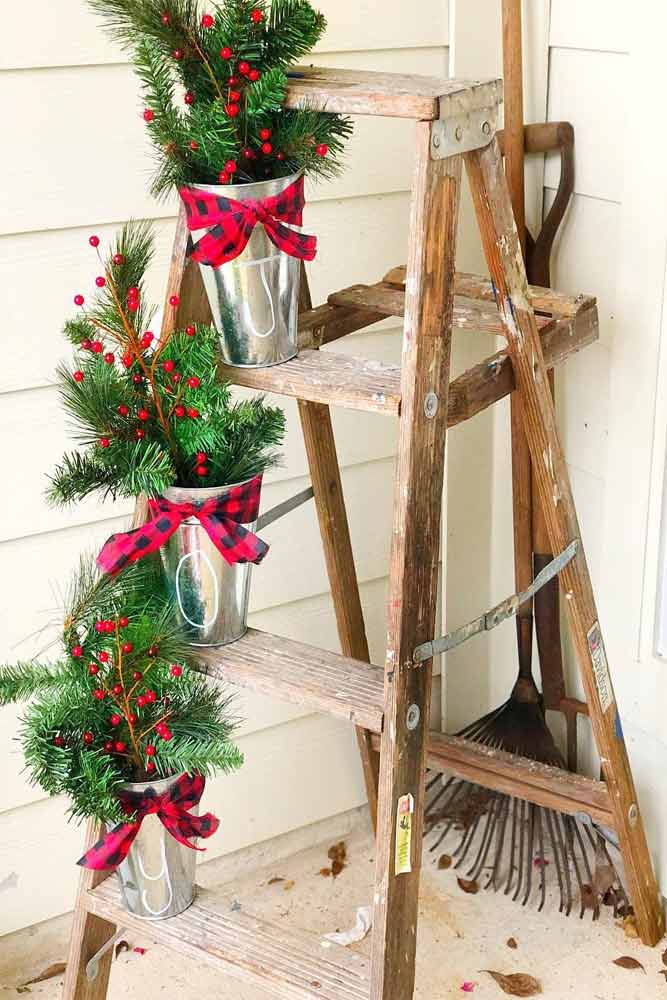 Credit photo: Instagram.com/thriftydecormama
If you spent all of your savings on holiday shopping and there is not enough left for the decoration part – do not worry. Take out your old stepladder, add a few buckets to the steps, fill the buckets out with pine and holly and the perfect decorative element for your porch is almost ready. Take out your marker, spell JOY on the buckets, and add some fancy plaid bows to them. As simple as that!
Vintage Skis With Holiday Decor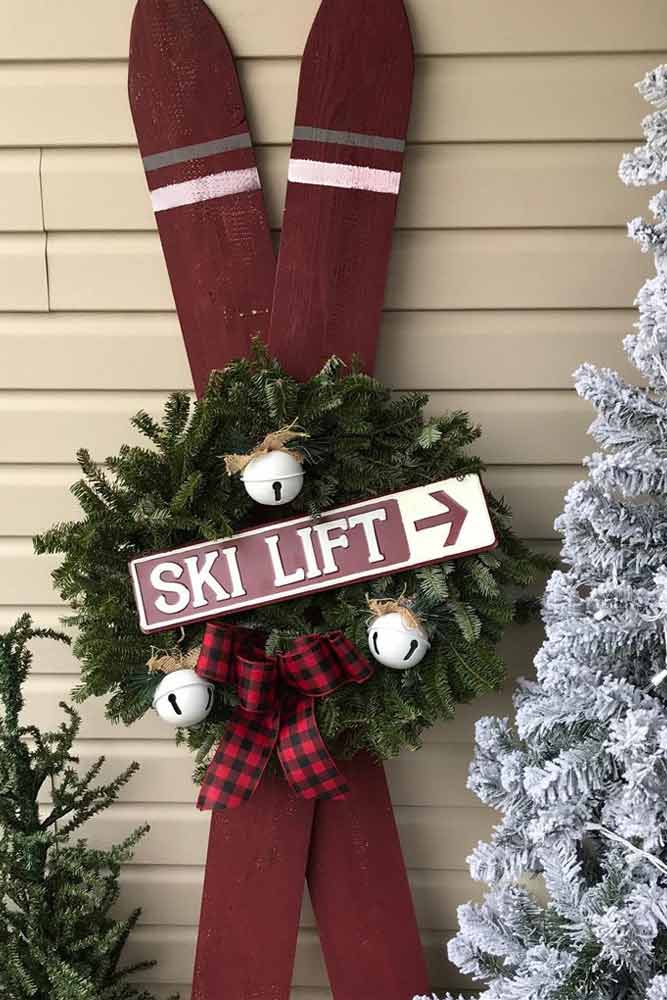 Credit photo: Instagram.com/coastaldreaming_
Diy outdoor Christmas decorations deserve special attention. The thing is that not only you transform all of your old belongings into something new and unique but also you switch on your creativity, and that is always great. A pair of old painted skis decorated with a pine wreath will beautifully add up to the rest of your porch décor. What is more, you can hang a funny sign on.
Outdoor Lantern With Candles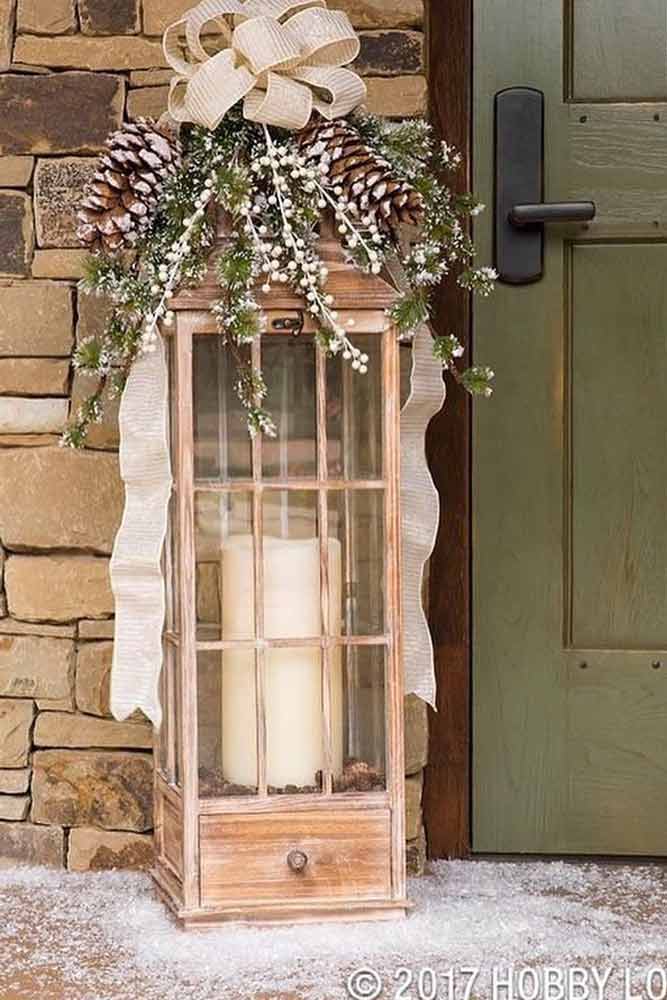 Credit photo: Instagram.com/hobbylobby
We all know that Christmas, as well as other holidays, are about the light that is why various lighting elements introduced into the decor are merely necessary. However, when Christmas lights may seem too much, candles fit in like nothing else. Besides, candles always have that unique one of the kind ability to create perfectly cozy and warm atmosphere. Place a few wooden lanterns with candles on your porch and enjoy the outcome.
Fairy Lanterns With Pine Baskets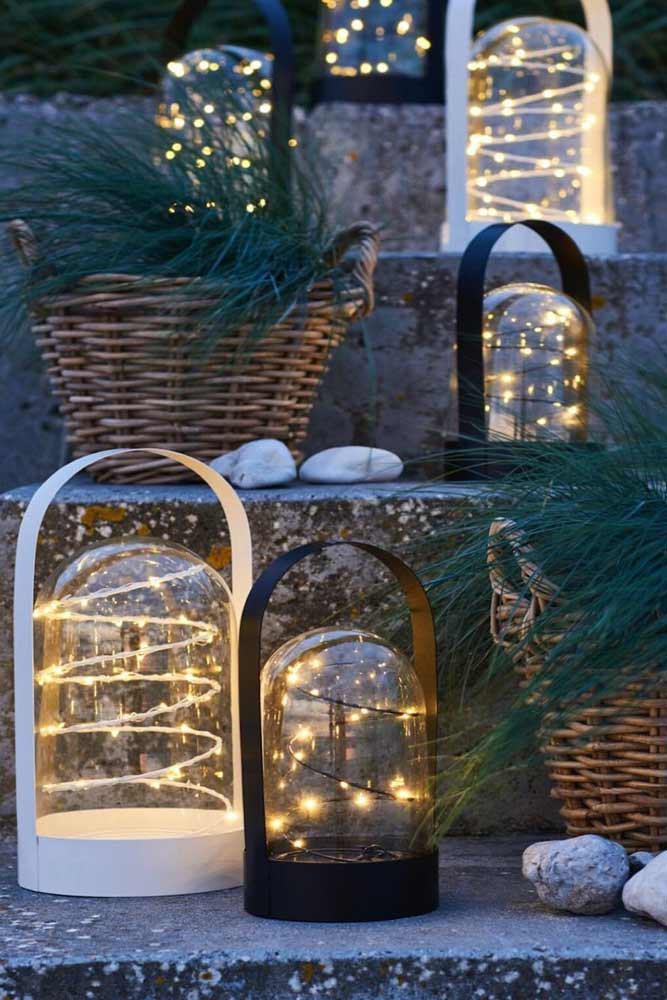 Credit photo: Instagram.com/aa.living
Truth be told that sometimes to come up with a perfect decorative element you need to spend some time and effort unless you are ready to waste lots of means on it instead of making it with your hands. We are sure that to create these fairy lanterns you are going to need some time, but the overall result will be totally worth it, you can see that for yourself! Besides, pine-filled baskets just add up to the fairy vibe!
Christmas Porch Decorations In White Color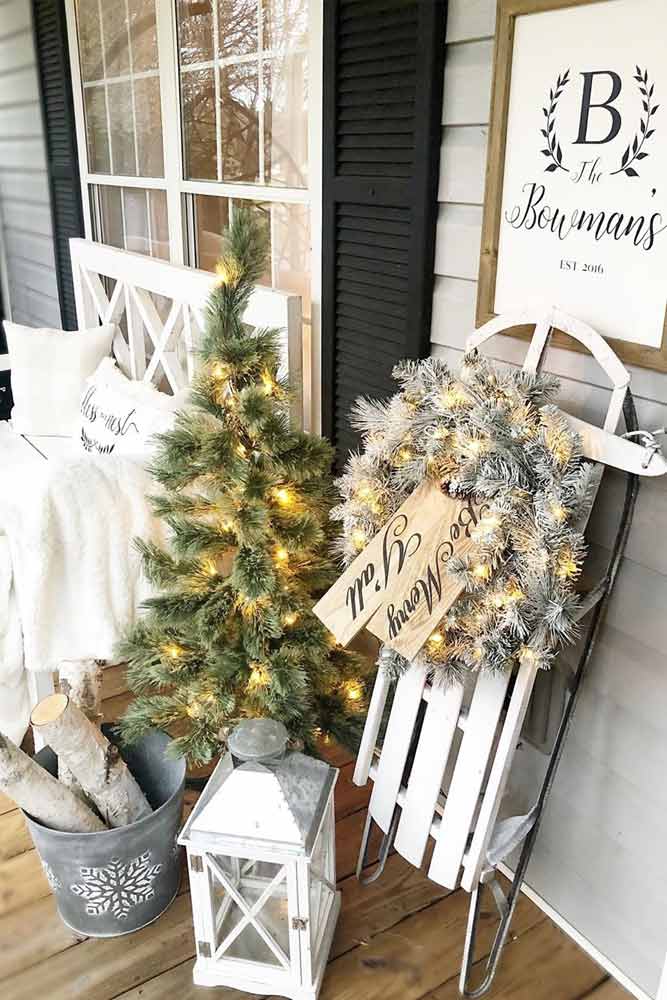 Credit photo: Instagram.com/interiors_by_danielle
If you want your front porch Christmas décor to look trendy and stylish, then try to make its color range unified. White is a perfect choice for a base color of your decorations, as it matches with all shades of the color spectrum.
Outdoor Christmas Decorations With Sledge In Red Color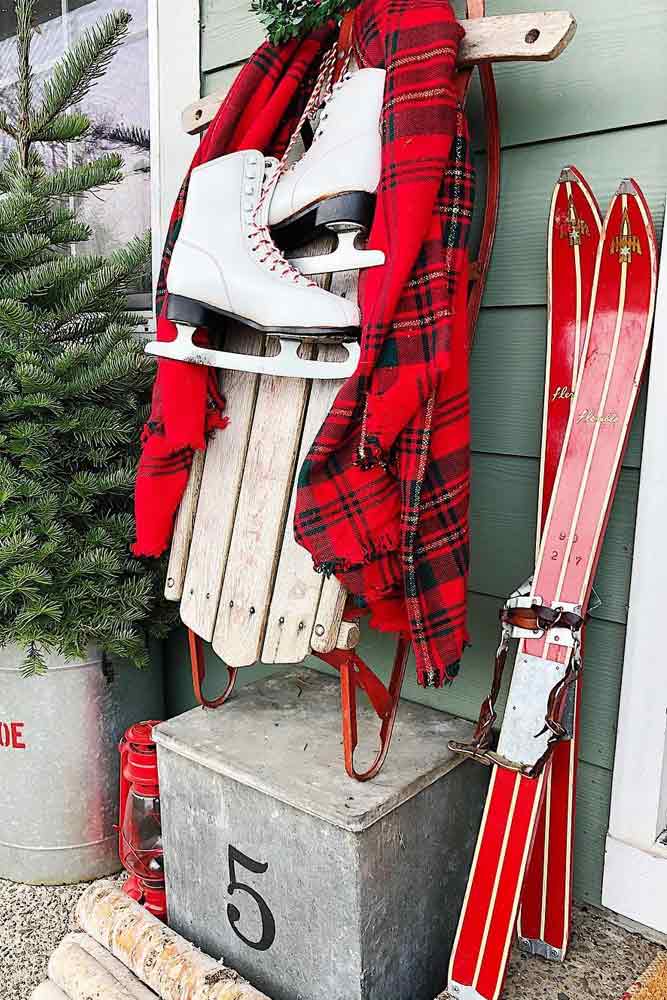 Credit photo: Instagram.com/nestingblissfullyinteriors
Opting for one of the traditional colors of Christmas is always a wise solution if you lack ideas for your holiday decorations shades. Put a red sled outside your house so that it looks striking against the color of its walls. A small Christmas tree will add contrast to your porch.
Those of you who are in search of fancy and unique outdoor Christmas decorations – you have come to the right place. We have gathered here all the best ideas that will please any exquisite taste!
FAQ: Outdoor Christmas Decorations
How to DIY Christmas wreaths?
Take a pool noodle and attach its ends with some duct tape.
Decorate to your liking, you can use some greenery, floral pieces, Christmas ornaments, etc. Use hot glue to secure them.
How to DIY lollipops?
Take a red pool noodle wrap some white duct tape around to make it look like a peppermint.
Roll it around use heat gun to glue it together.
Take any stick of a suitable size, paint it in white and thread it through the lollipop.
Take a clear cellophane and wrap it around the lollipop and use twine to tie it in place. Add bowtie and ribbons.