To tell you the truth outdoor Christmas decorations are a great tradition that most of you try to stick to every year. However, as time passes some ideas become out of date and you need to replace them with fresh ones. We know how painful it may get to come up with Christmas front porch ideas on your own that is why we have made this compilation for you. Choose what fits your taste best and make sure that your front yard looks festive and makes your neighbors drool with envy!
Front Porch Décor Ideas
Shutterstock
i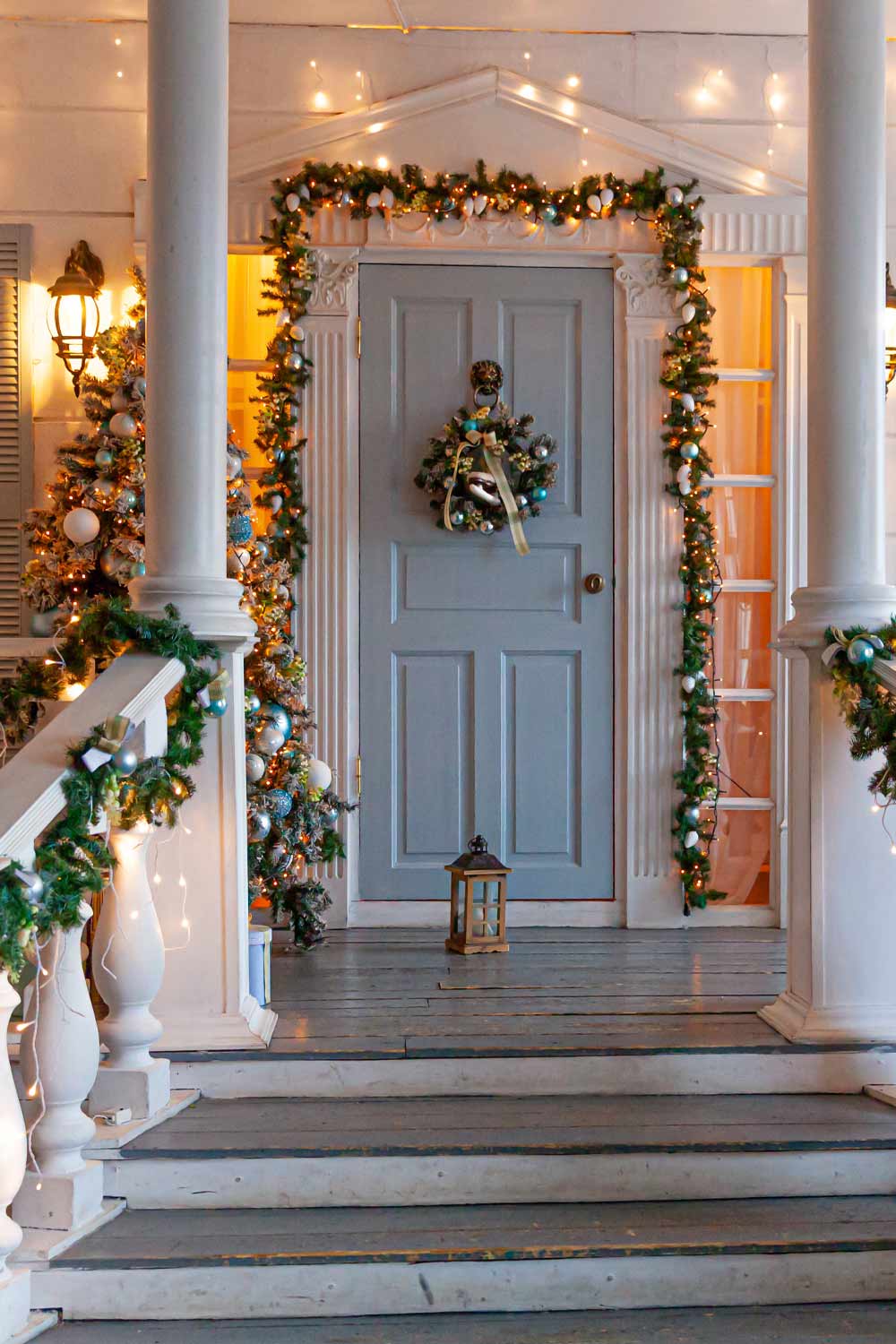 Shutterstock
i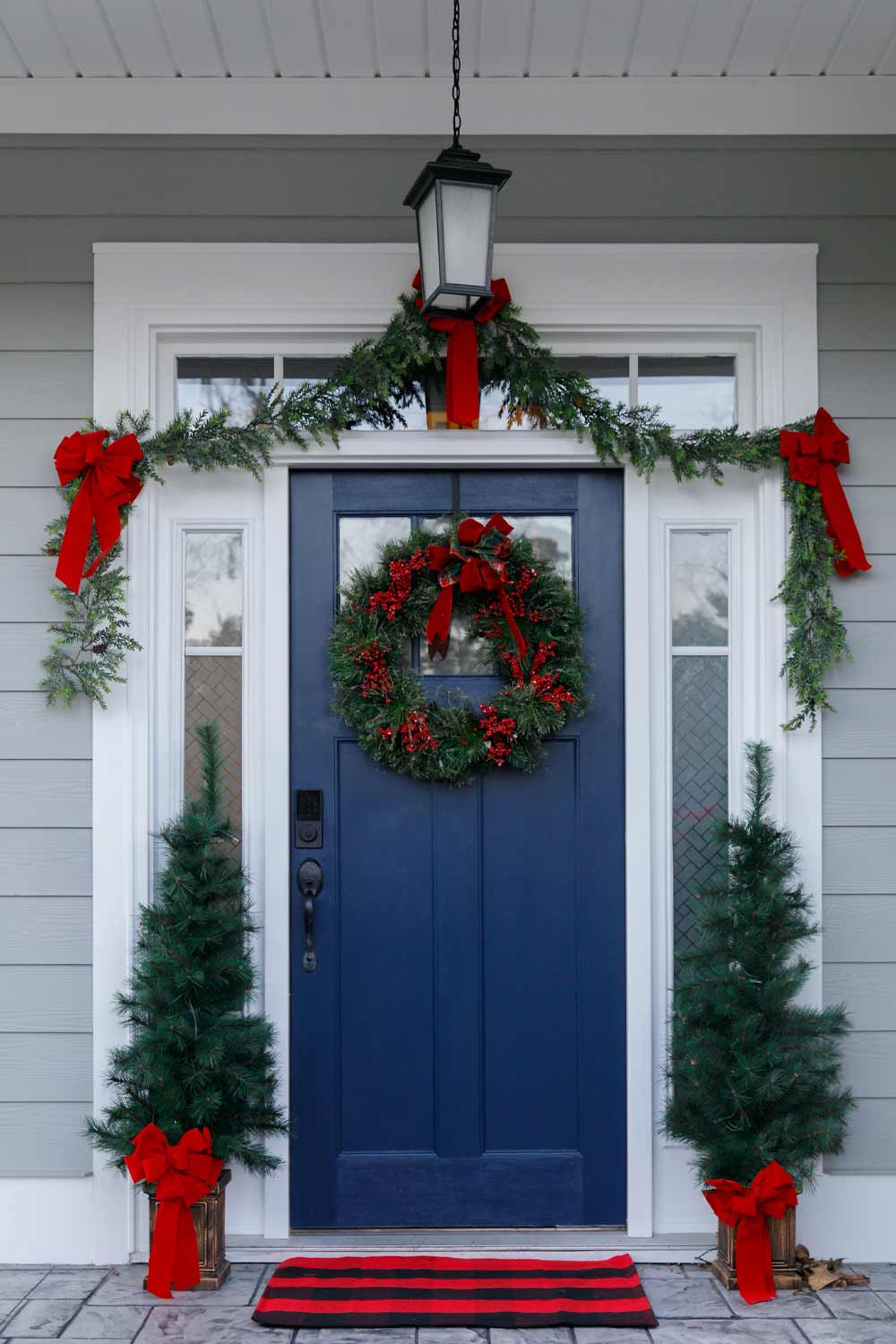 Shutterstock
i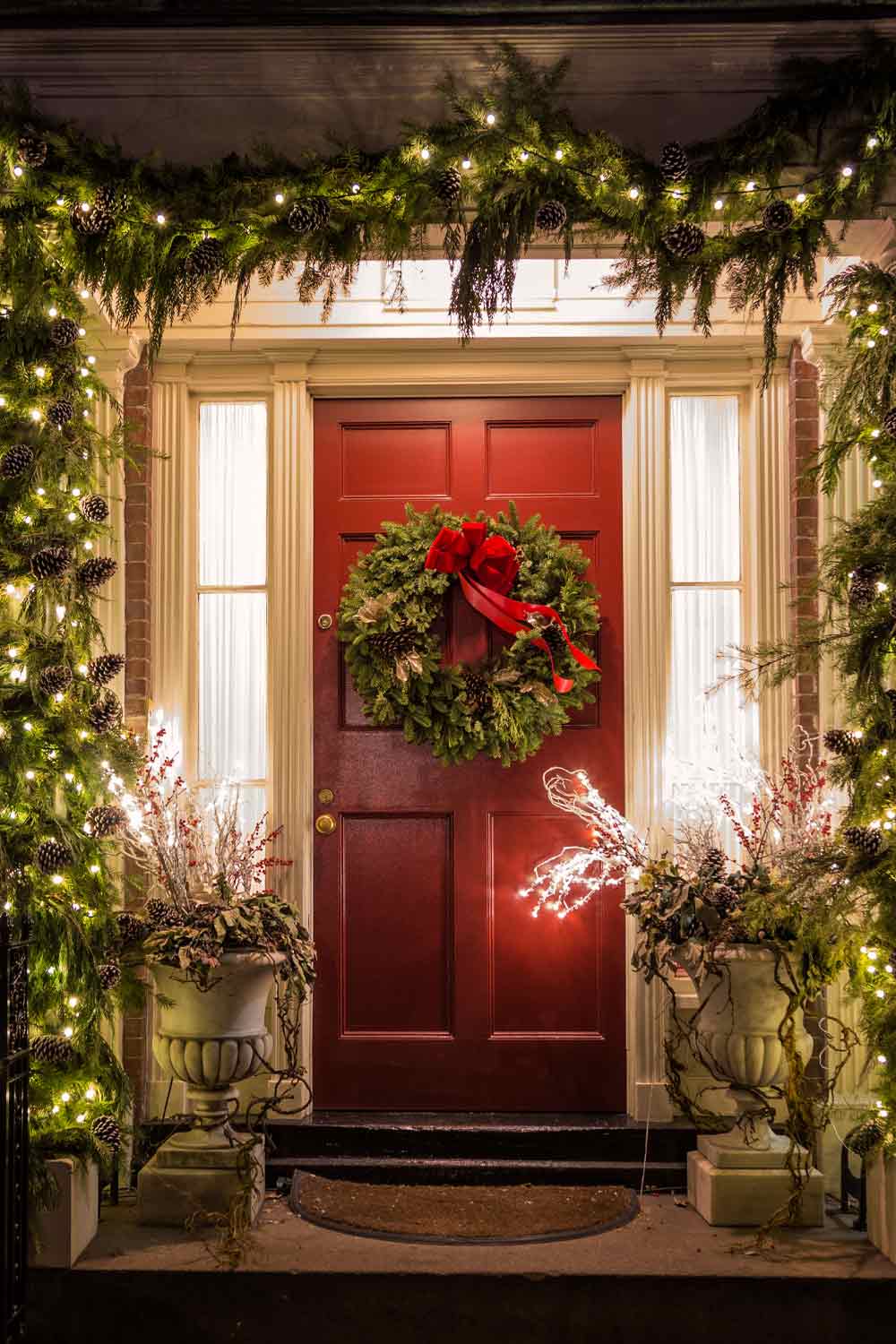 Shutterstock
i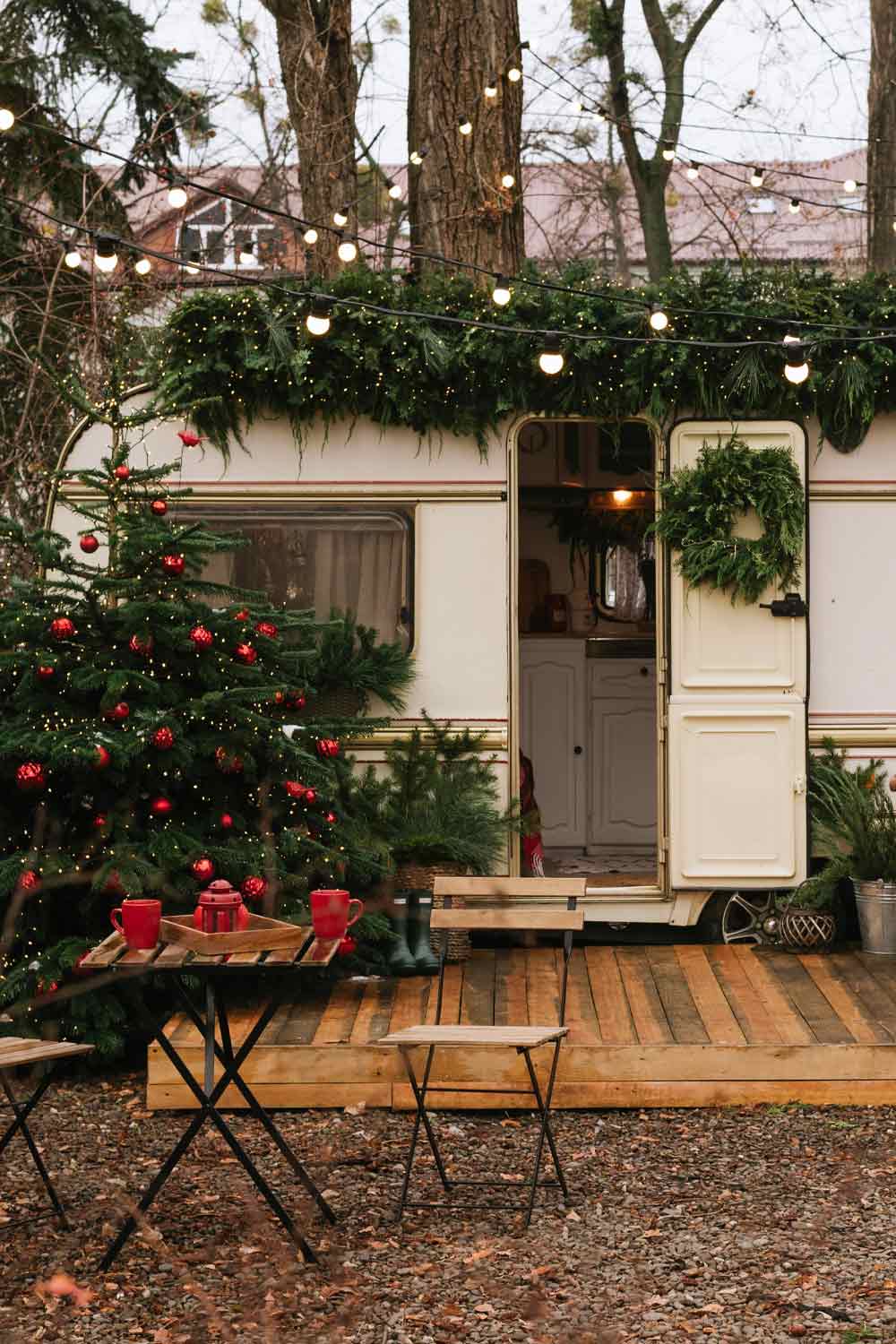 Shutterstock
i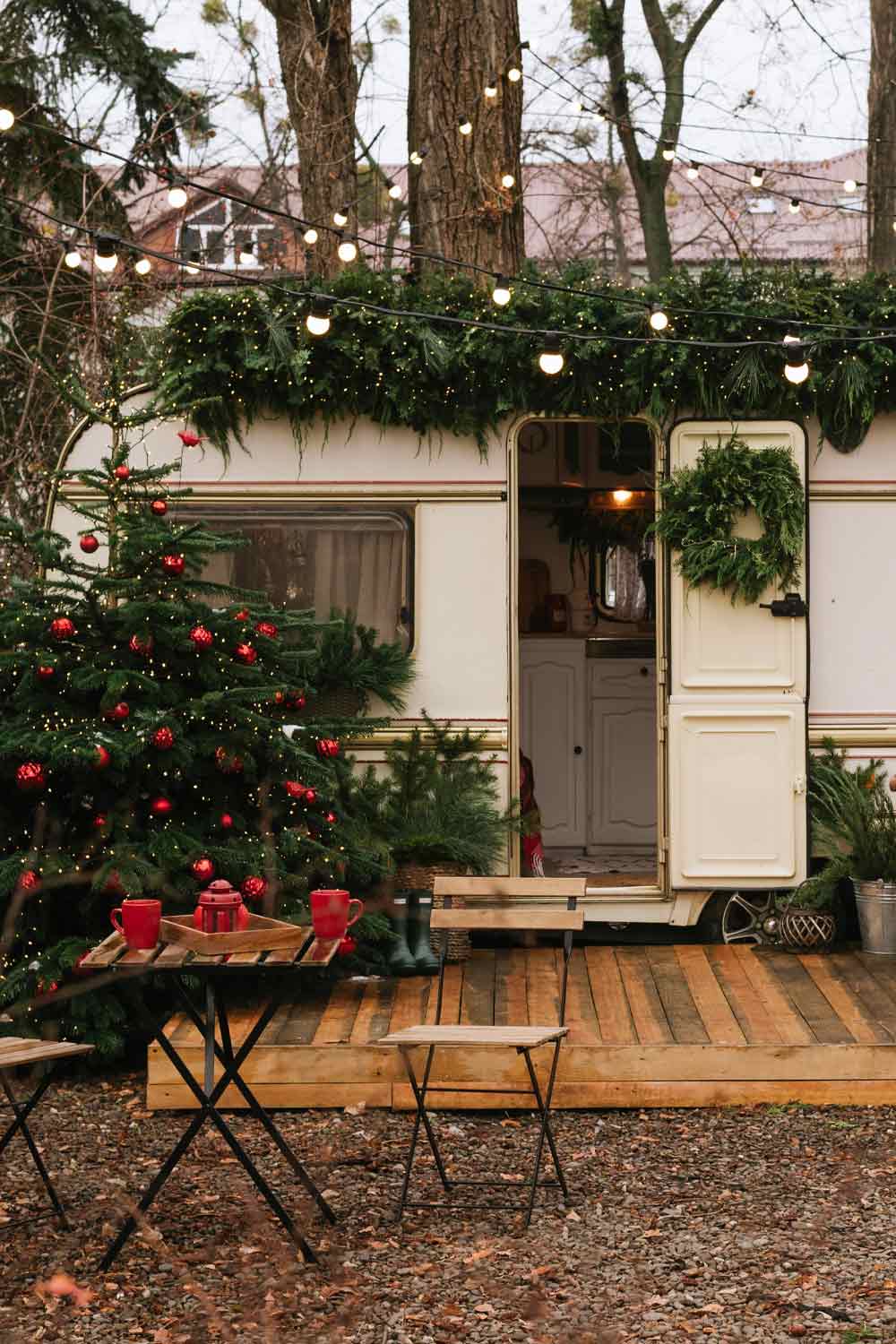 Shutterstock
i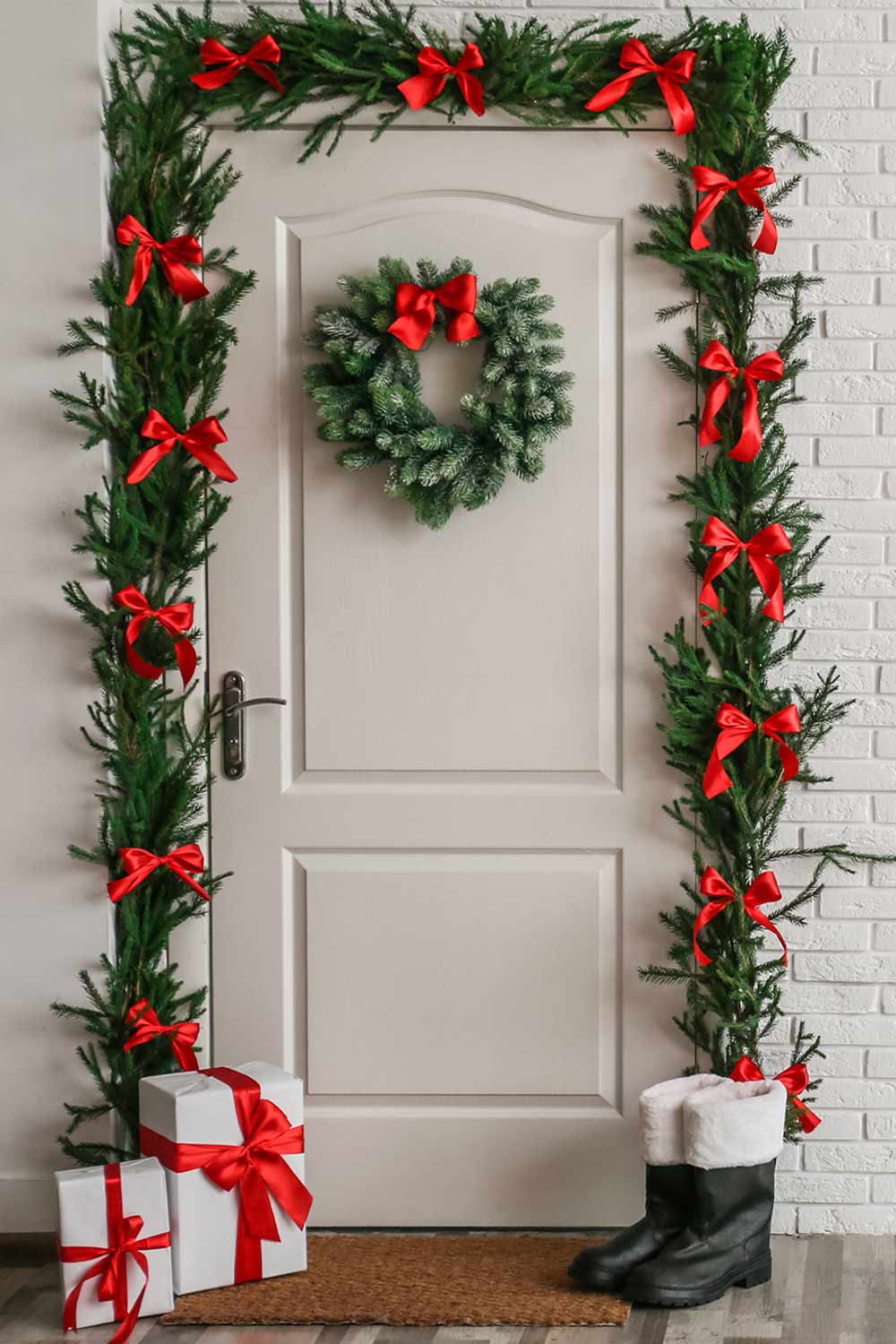 Shutterstock
i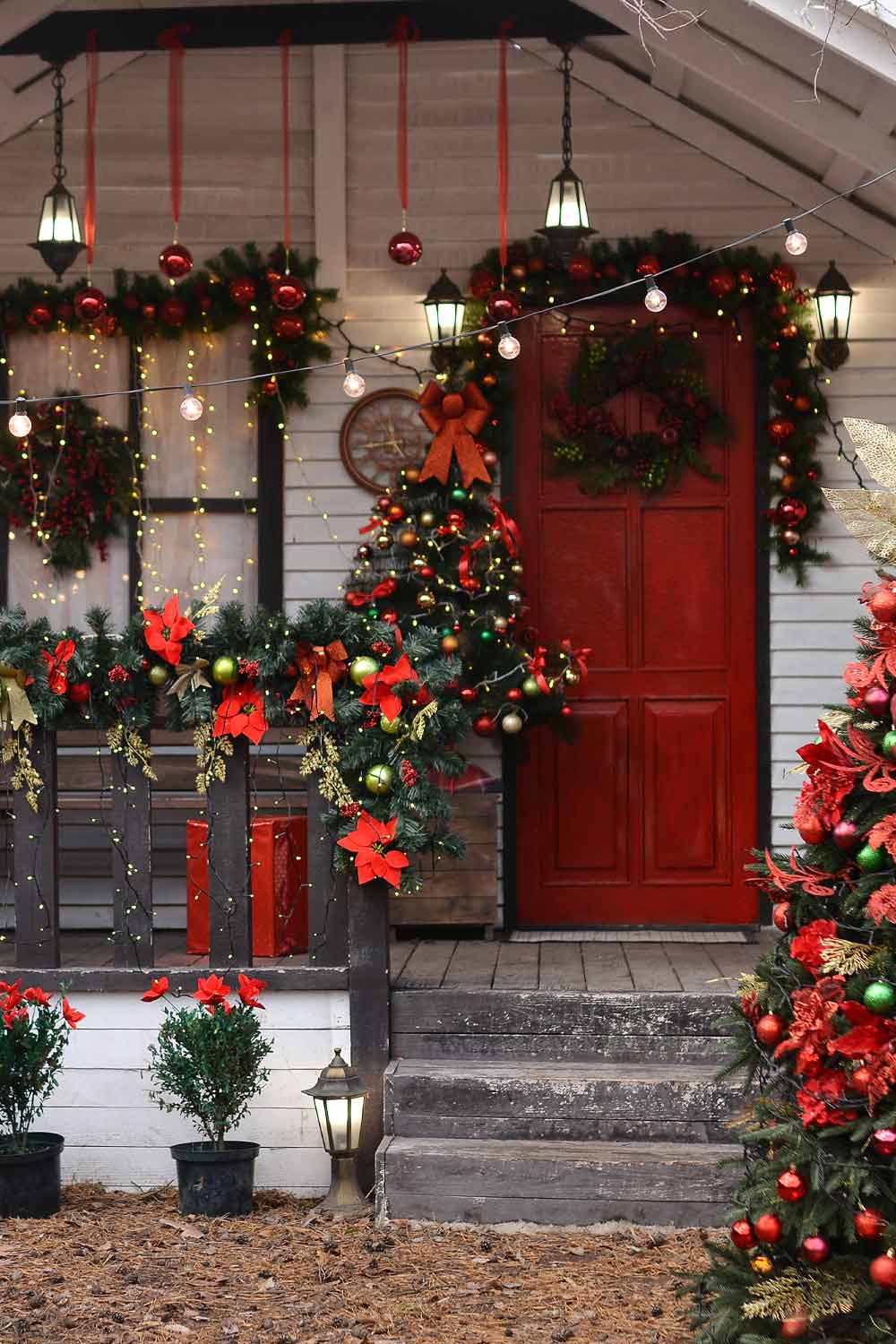 /
Your front porch can become your festive wonderland in a matter of a few decorative elements. All it takes is to hang a charming wreath on your front door – think about creating a hand-made masterpiece to intensify the vibe – play around with traditional ornaments, festive doormats, and rugs, and implement a holiday color palette. You are set for the special season!
What's your favorite outdoor Christmas decoration?
Anonymous quiz
Festive Lights
Classic Ornaments: Traditional wreaths, red bows, and classic Christmas characters
DIY Decorations
Animated Light Shows
Other
What's your favorite outdoor Christmas decoration?
Classic Ornaments: Traditional wreaths, red bows, and classic Christmas characters
33.33
Voted : 3
Generated by DALL-E
i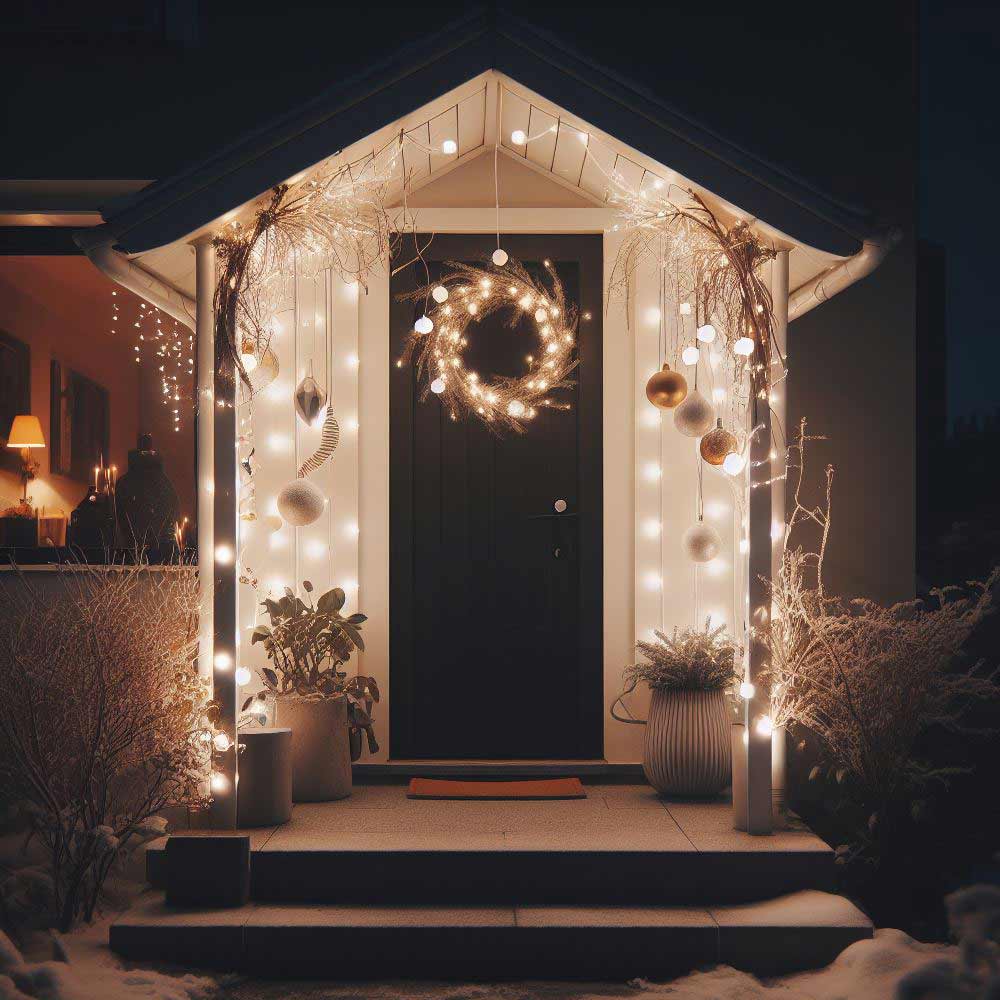 Shutterstock
i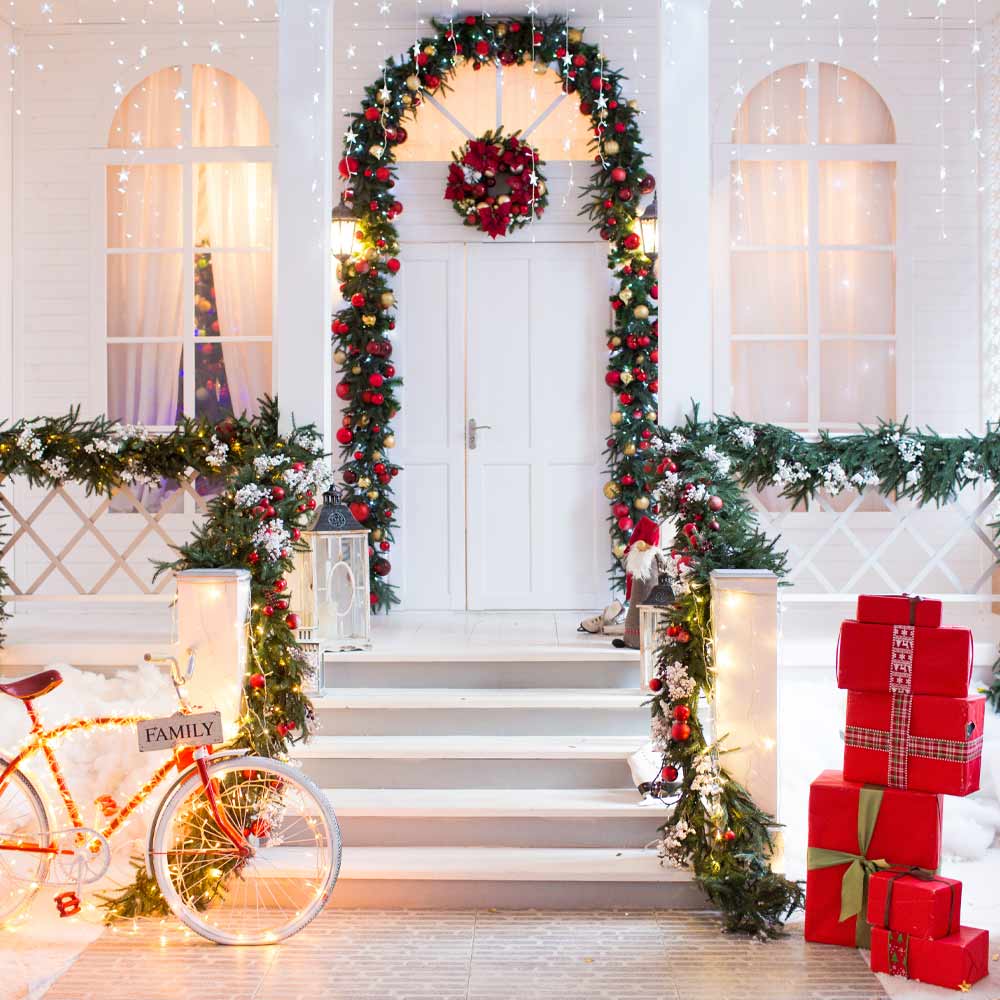 Shutterstock
i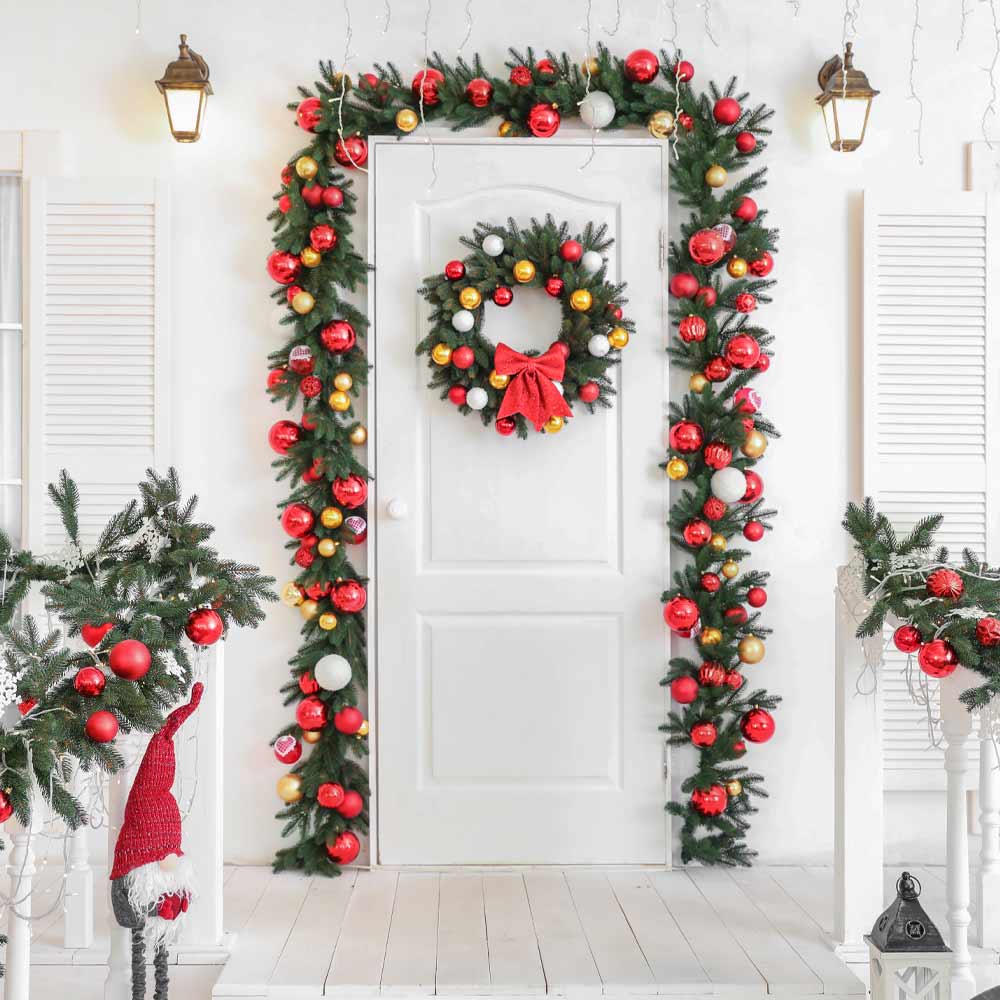 Shutterstock
i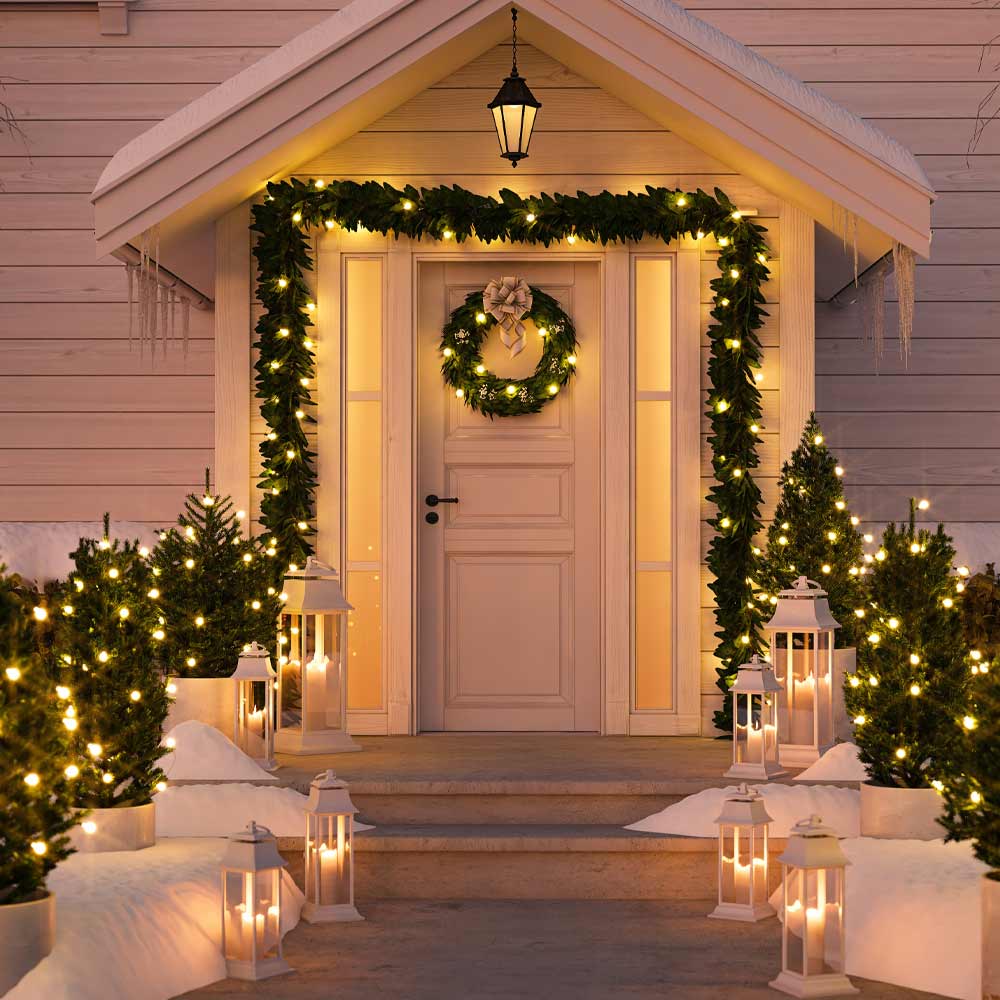 Shutterstock
i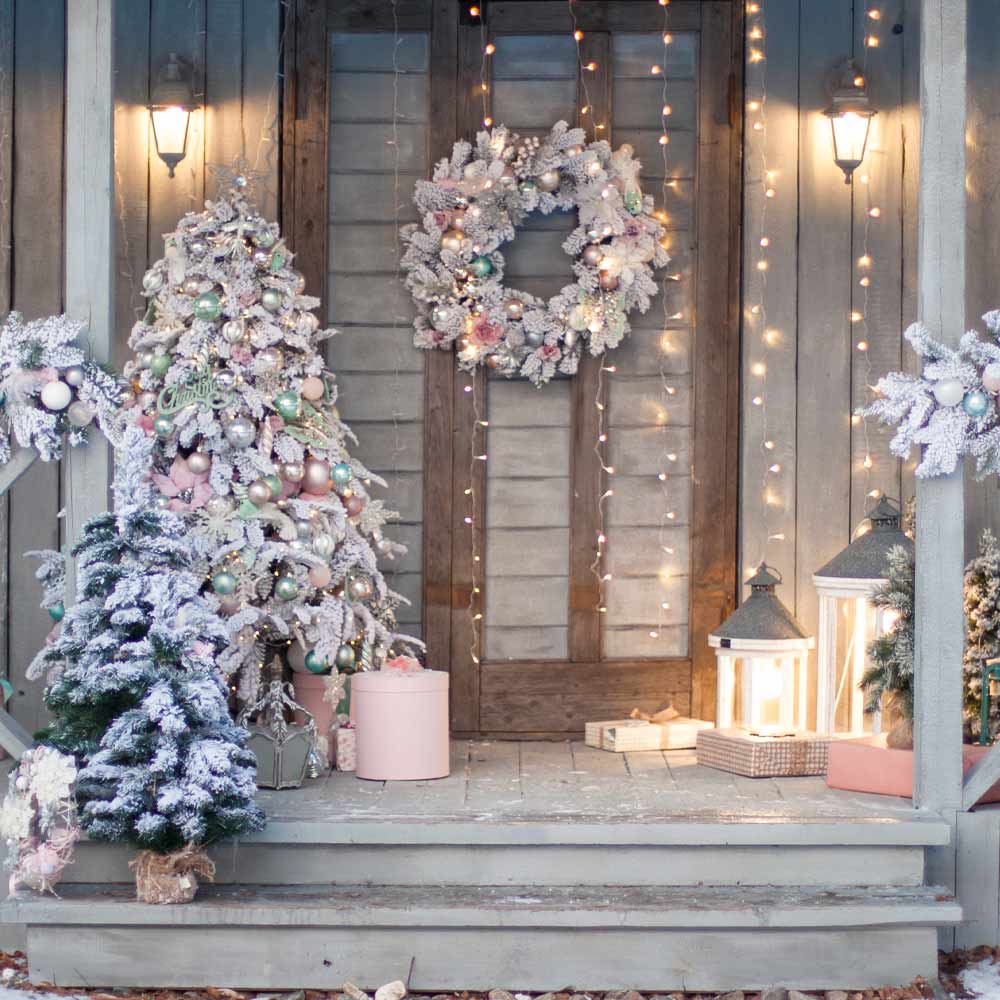 Shutterstock
i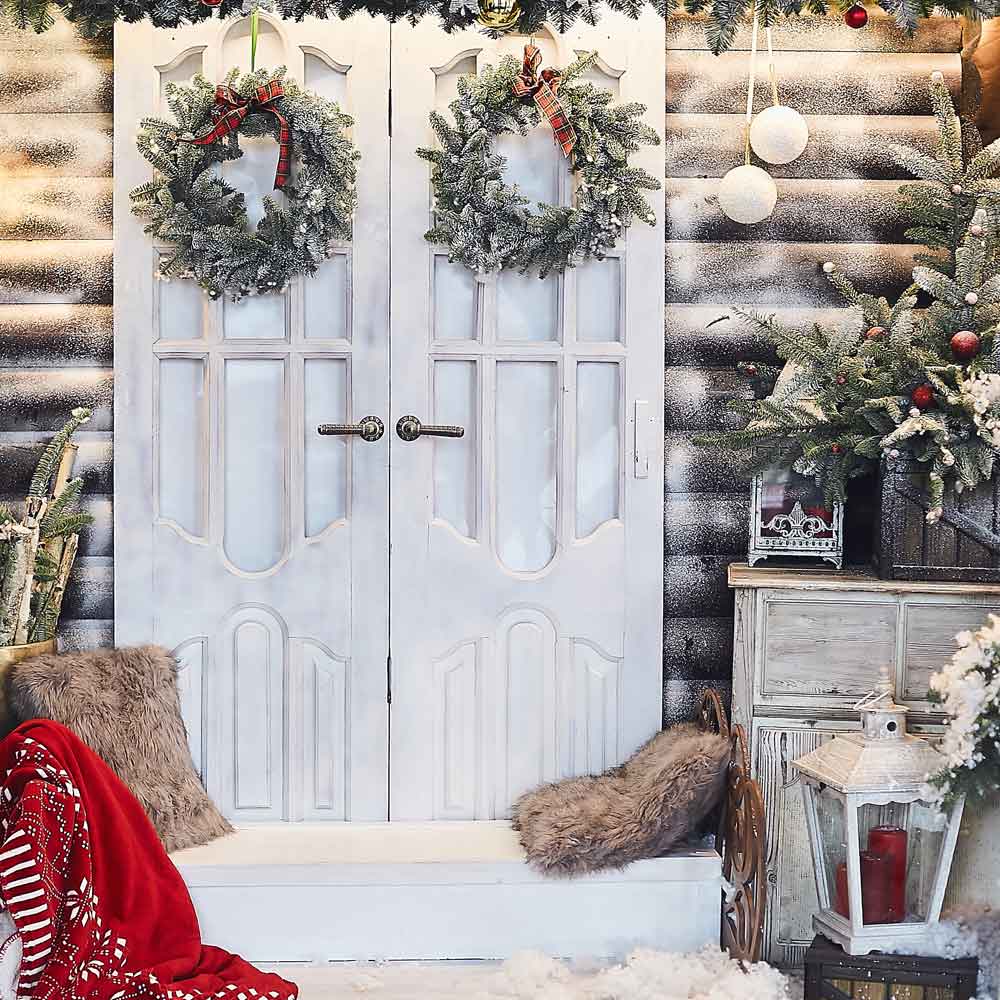 /
What is the most Christmasy plan of all? Of course, the beautiful poinsettias! Add a bunch of those to the front porch so that it radiates with bright colors and spreads the holiday vibe all over the neighborhood. Don't forget to add a few lanterns and hang string lights to create a cozy and inviting ambiance. Rustic wooden signs and min Christmas trees will emphasize the seasonal flair of your décor.
Outdoor Christmas Decorations with LED Lights Accent
Generated by DALL-E
i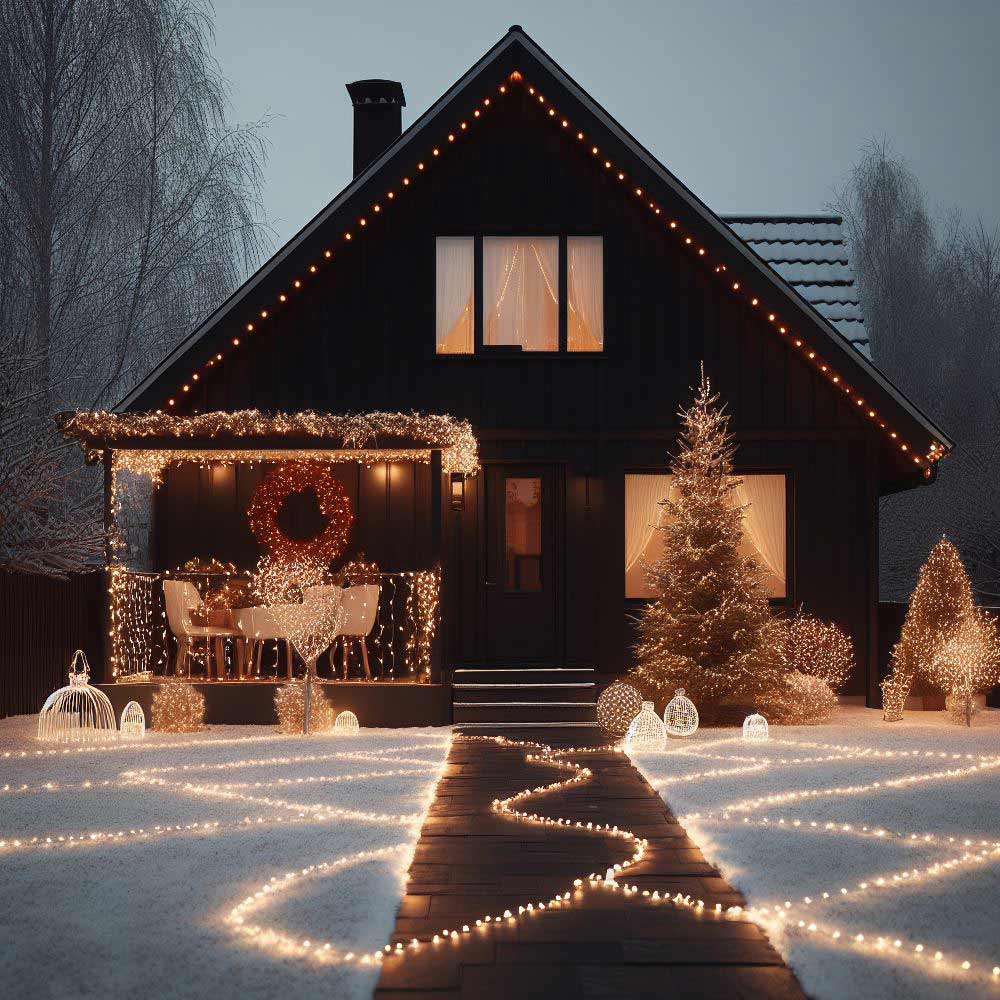 Generated by DALL-E
i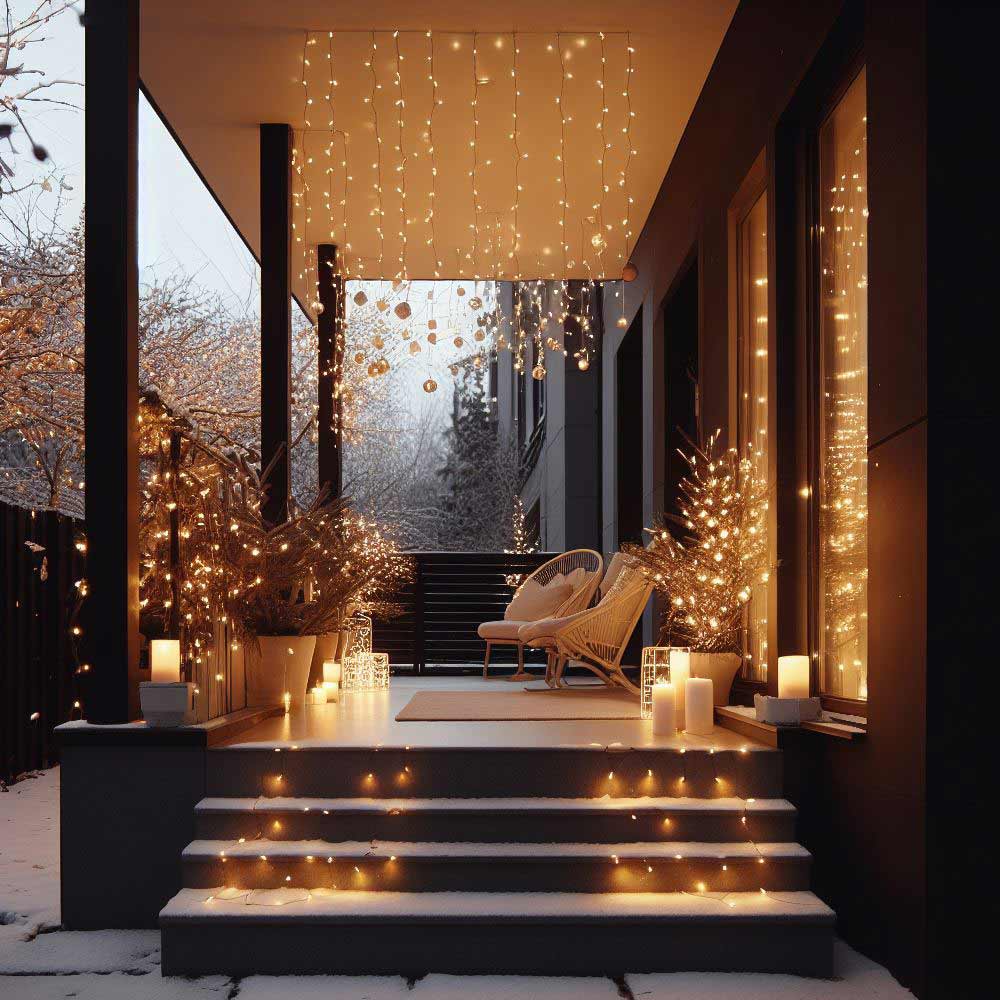 Generated by DALL-E
i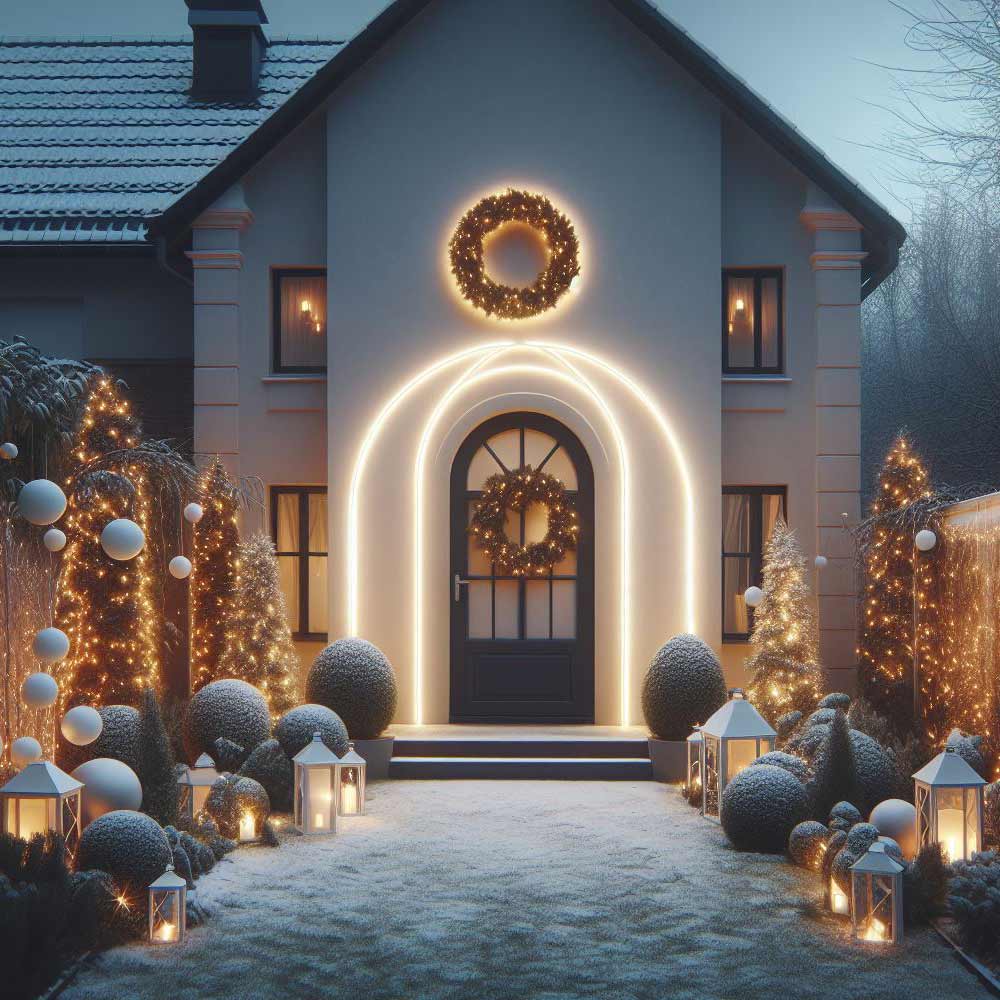 Generated by DALL-E
i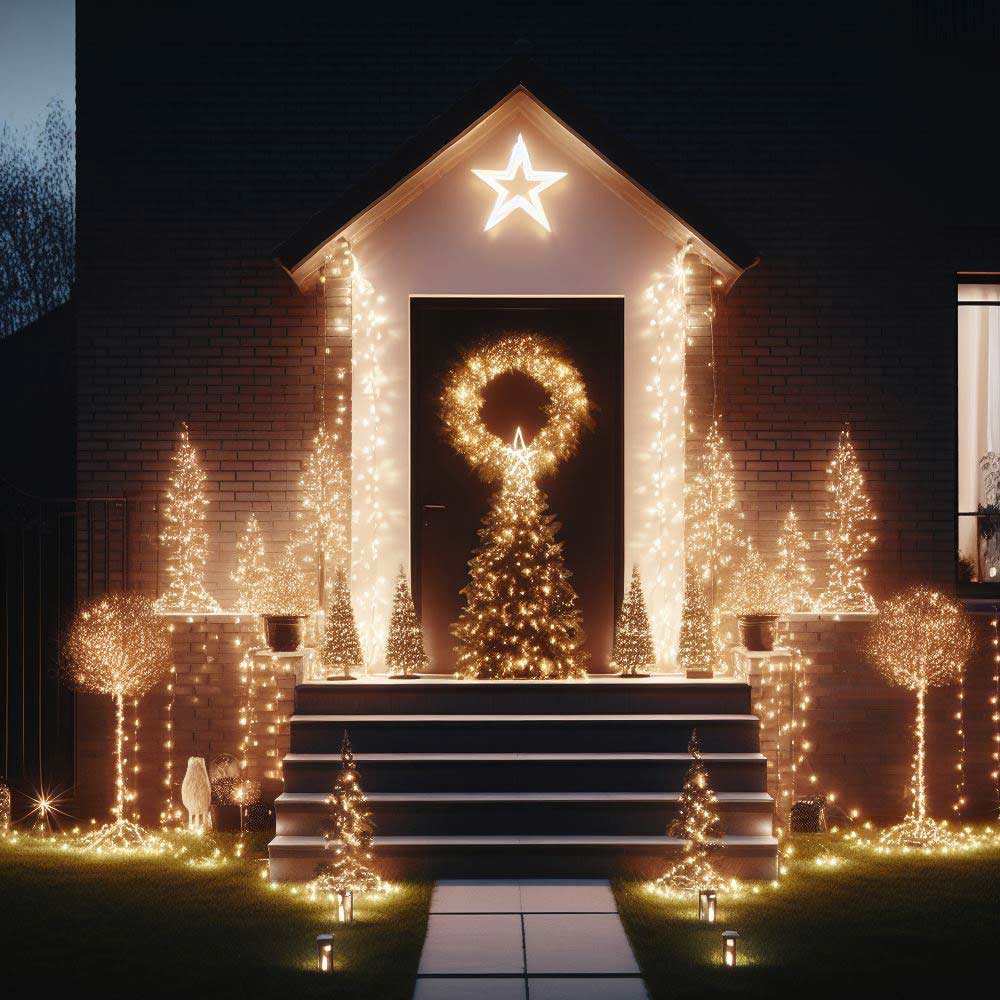 Generated by DALL-E
i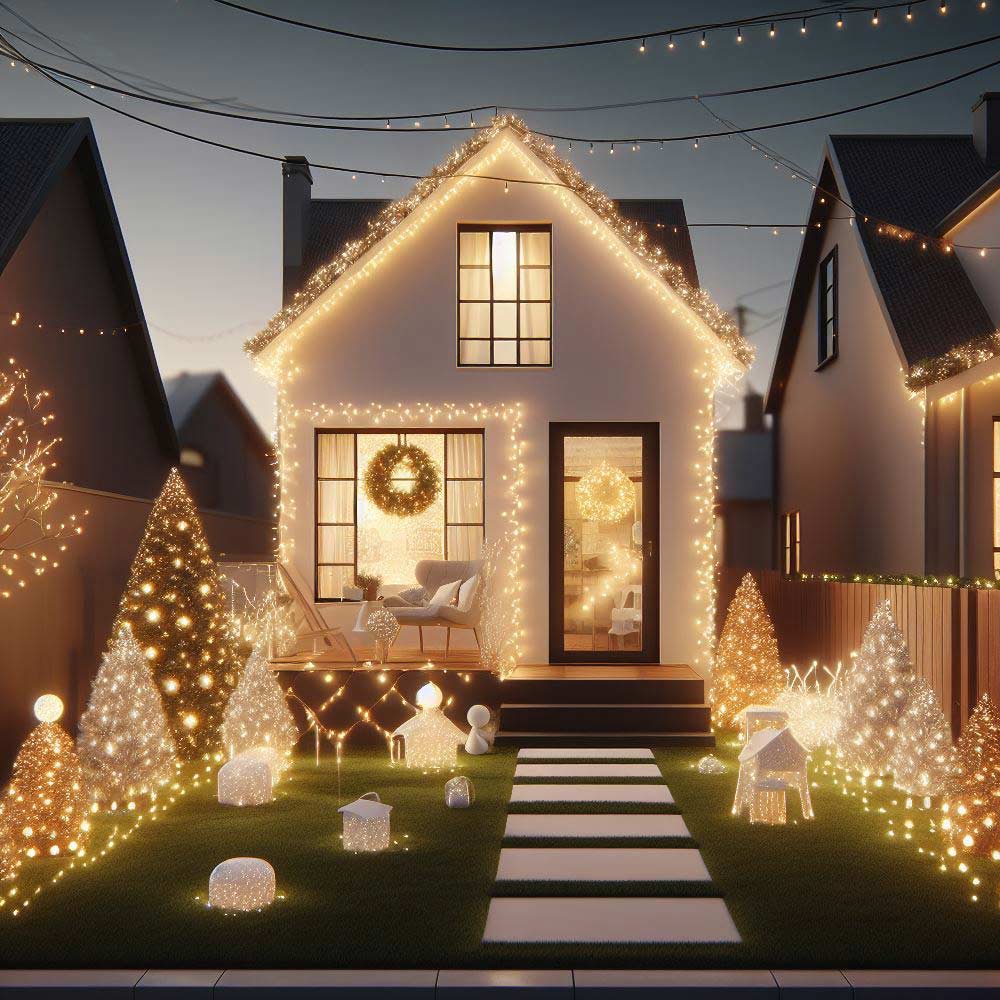 /
There's always another way to take your outdoor Christmas decorations to the next level. We suggest you use the magic of LED lighting this season to outline your house, windows, and pathways. It is possible to experiment with color-changing lights so that each feature of your front yard and home stands out from the rest. Don't forget to add some glowing flair to the trees growing in the yard. Liven up the outdoor space when the holidays knock on your door and spread the festive vibe throughout the neighborhood!
Front Porch Decoration with Garlands
Generated by DALL-E
i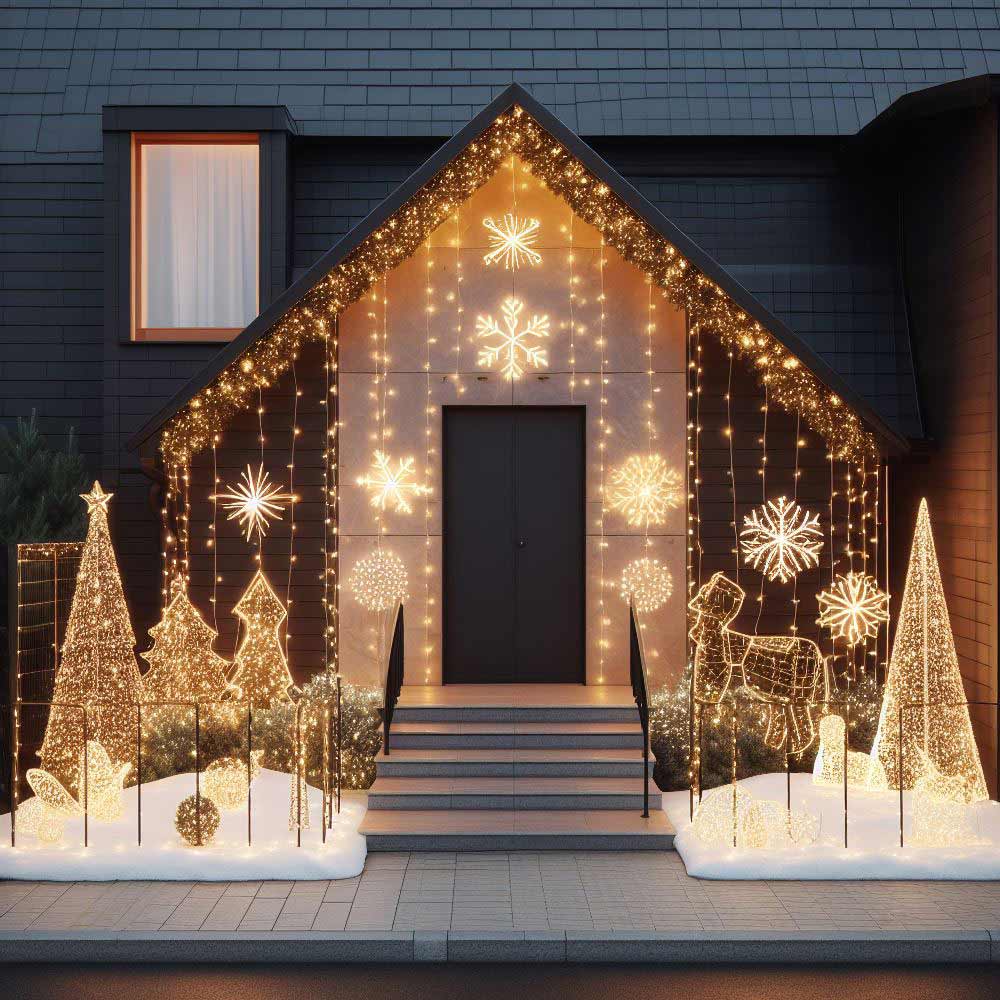 Generated by DALL-E
i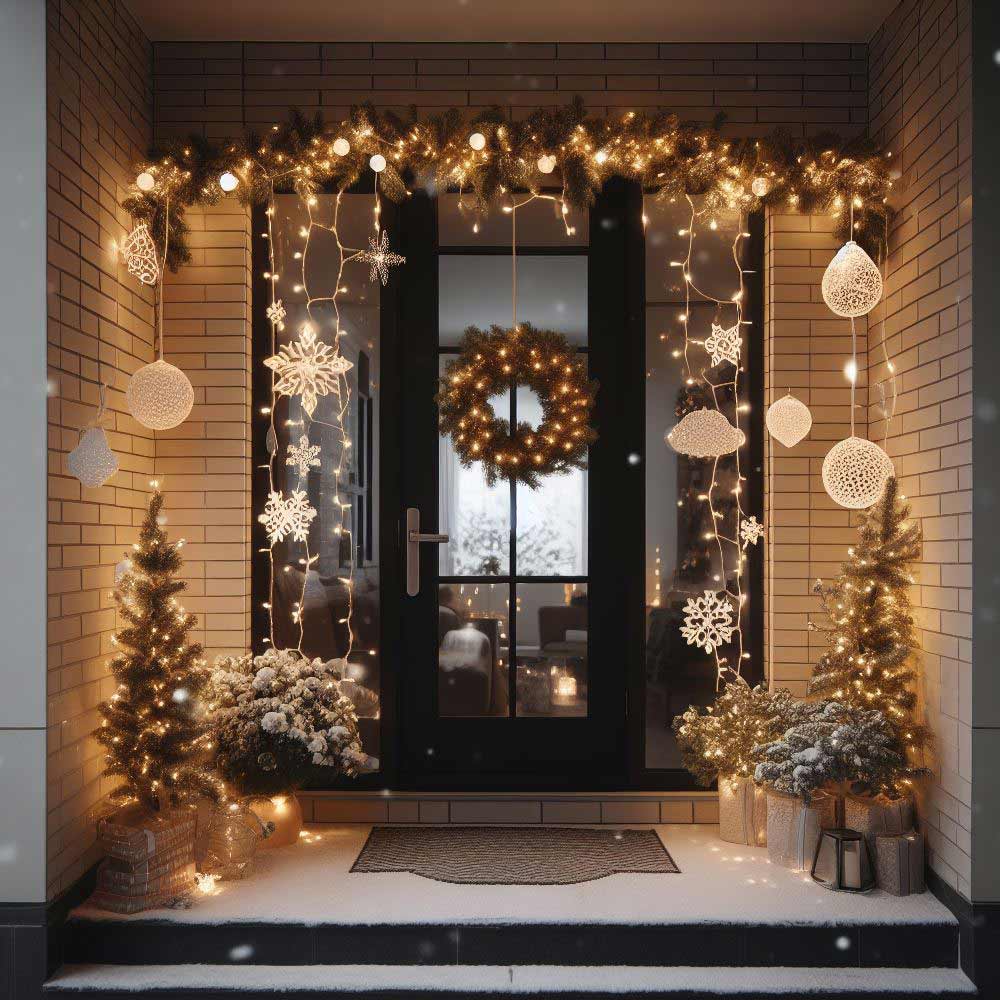 Generated by DALL-E
i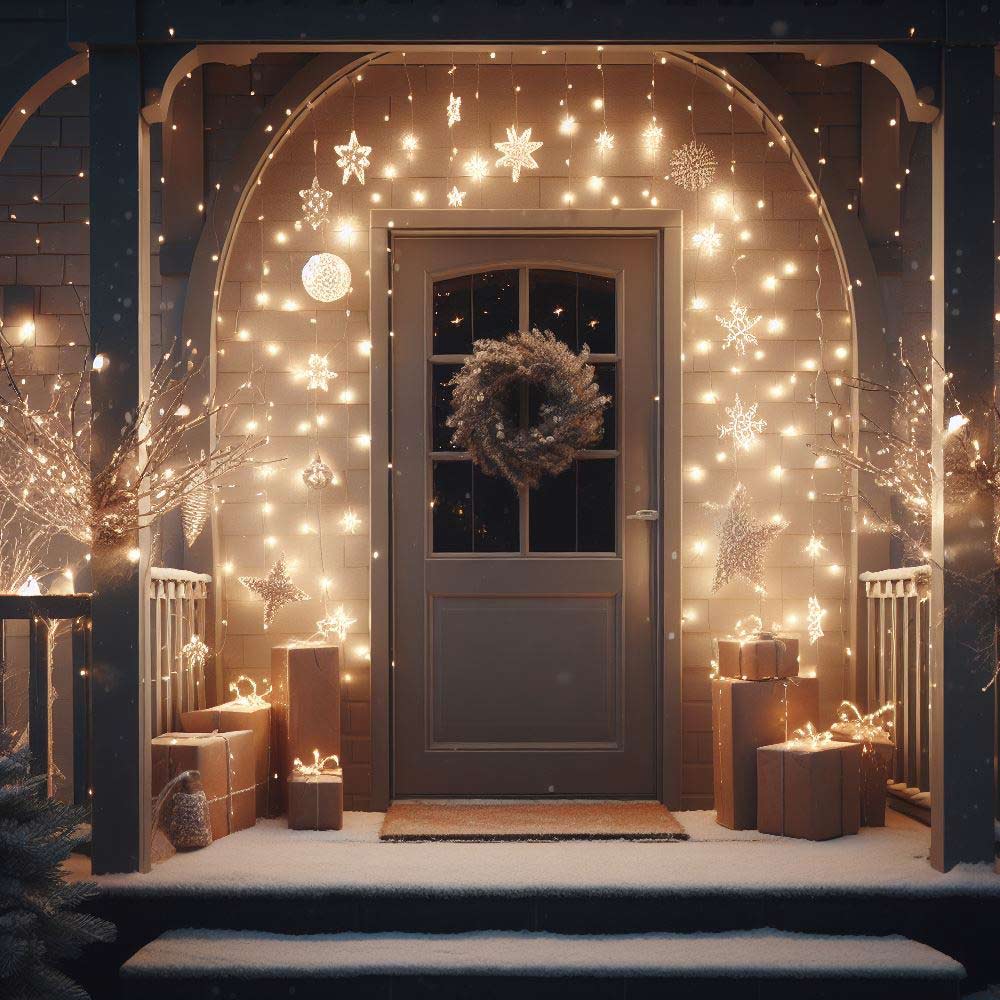 Generated by DALL-E
i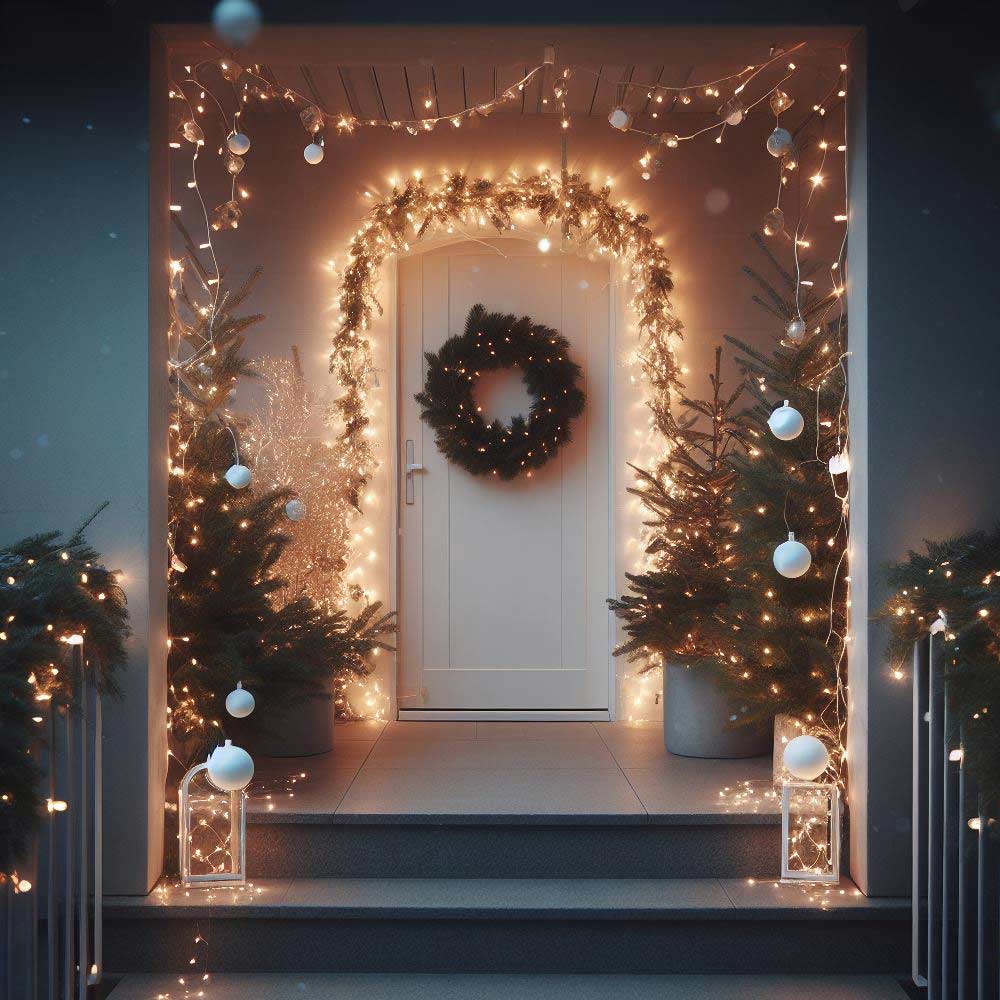 Generated by DALL-E
i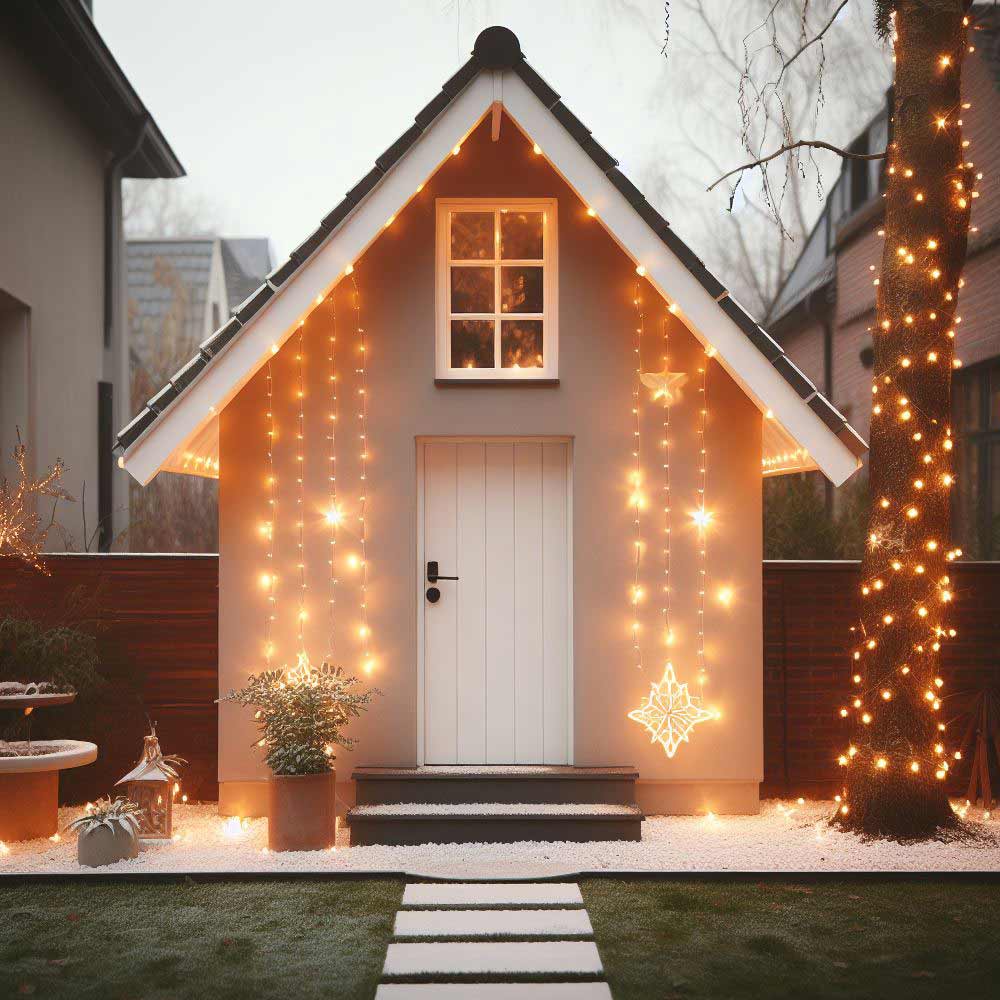 Generated by DALL-E
i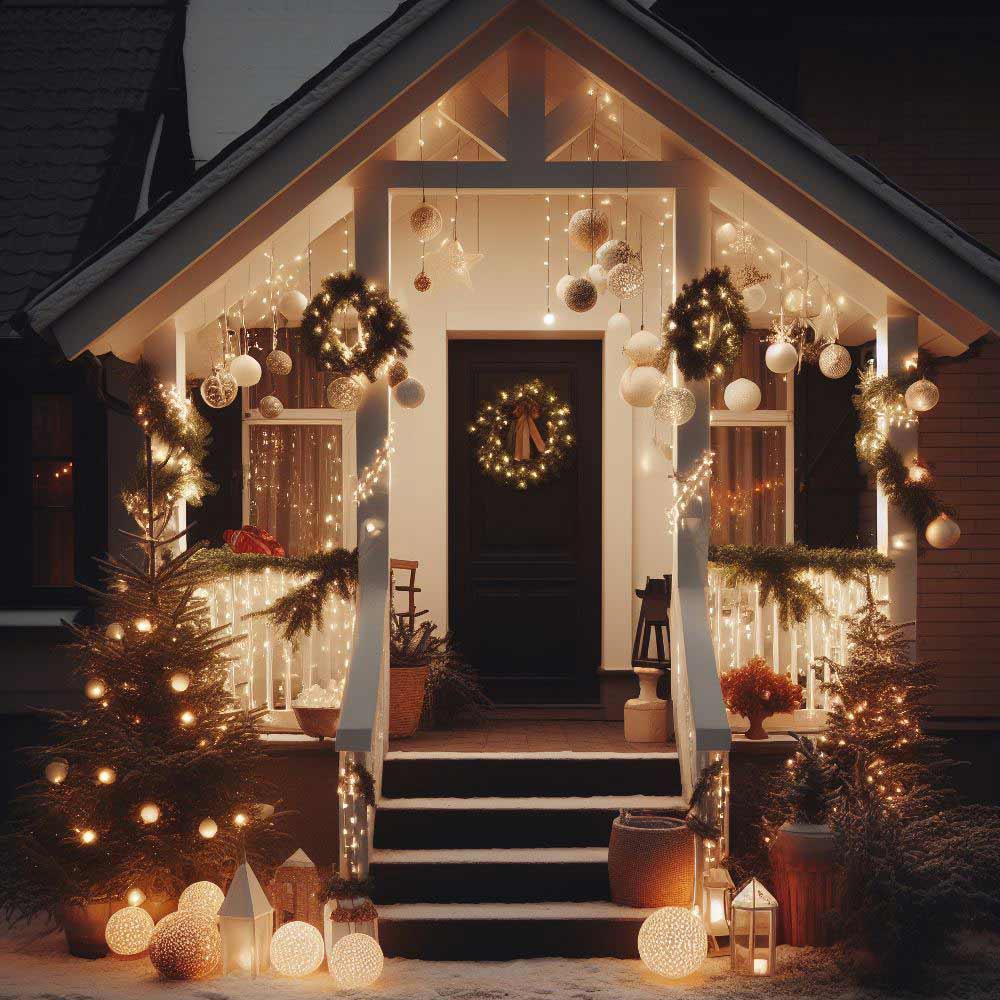 Generated by DALL-E
i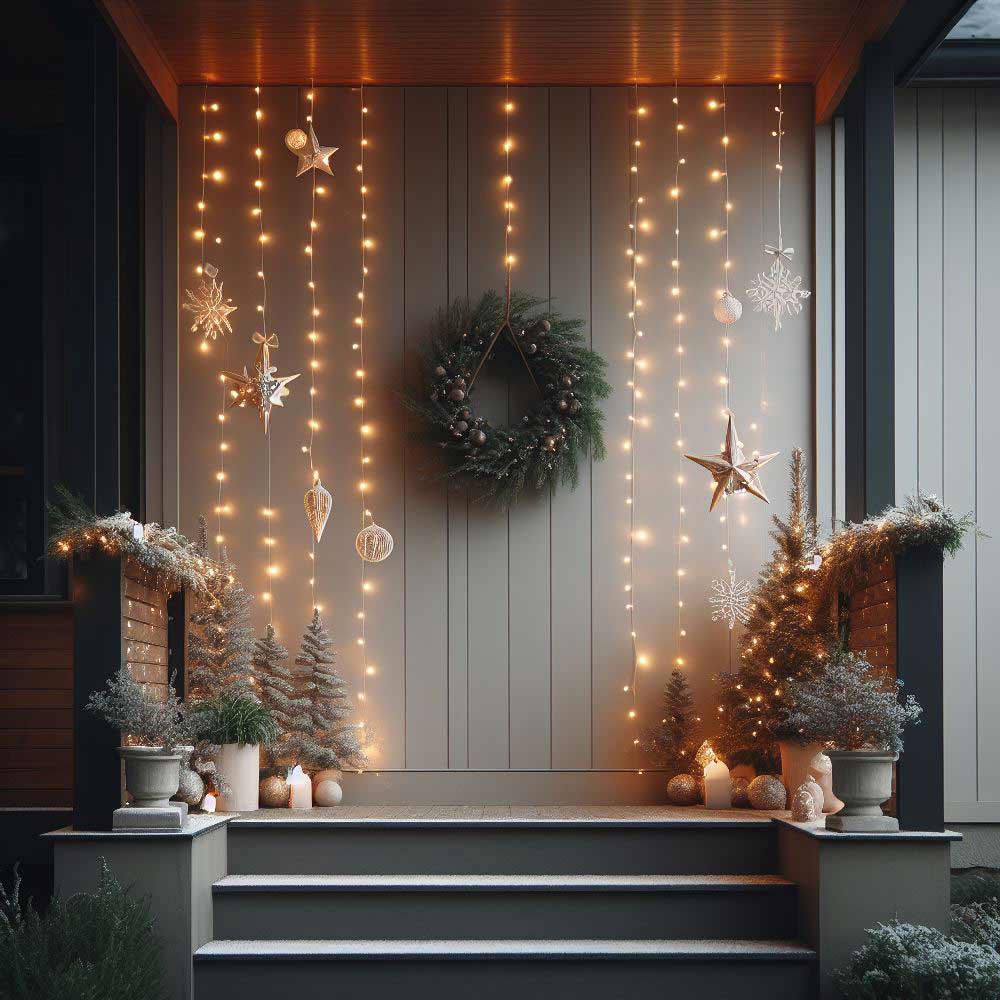 /
How do you feel about the timeless charm of festive decorations? If that sounds like your cup of tea, we can promise that holiday garlands will help you succeed in the task quickly. You can decorate the porch railings with beautiful ever-green garlands spiced with ribbons and ornaments. You can introduce pinecones and berries to the design to take things even further. Such an approach will ensure a perfectly rustic flair for your décor. A welcoming garland will make your front door look like a magic entryway into the winter wonderland, especially if you enhance it with twinkling lights. Keep in mind that your garlands can be as unique and versatile as you want.
Home Yard Decoration with Christmas Tree
Generated by DALL-E
i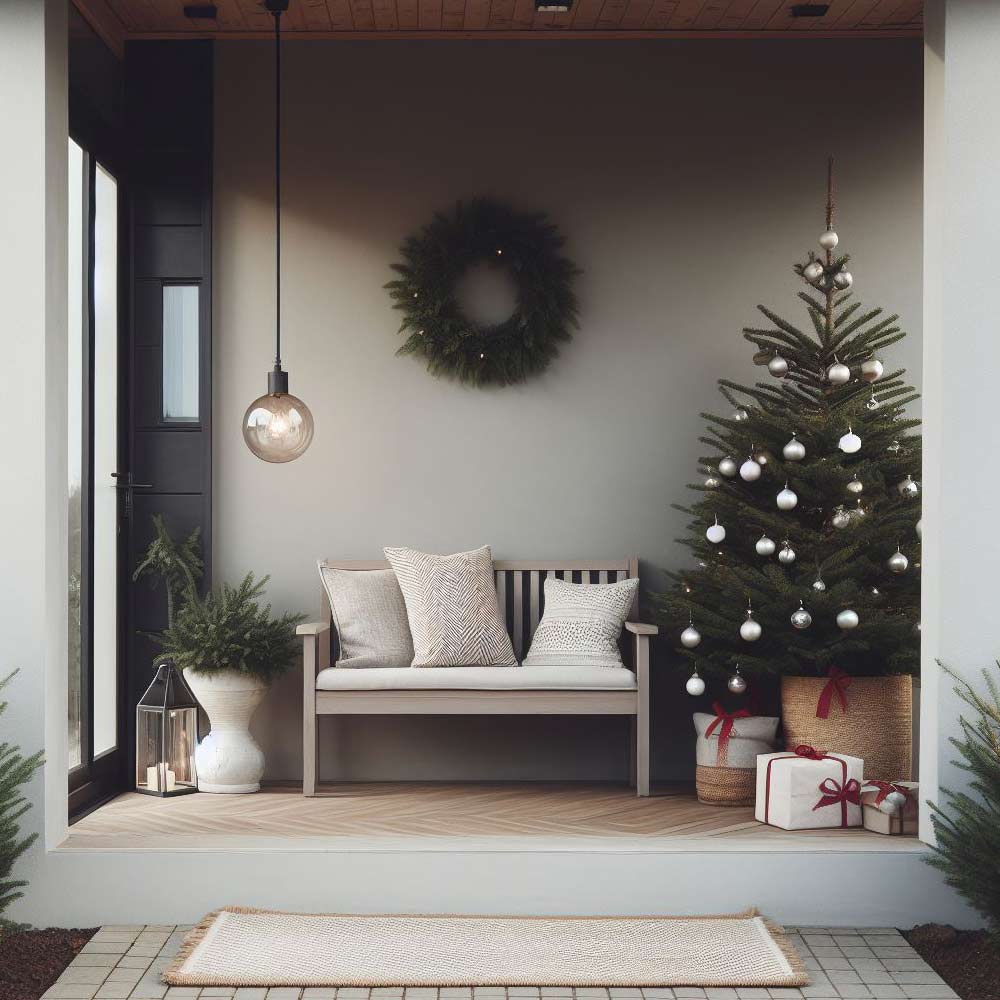 Generated by DALL-E
i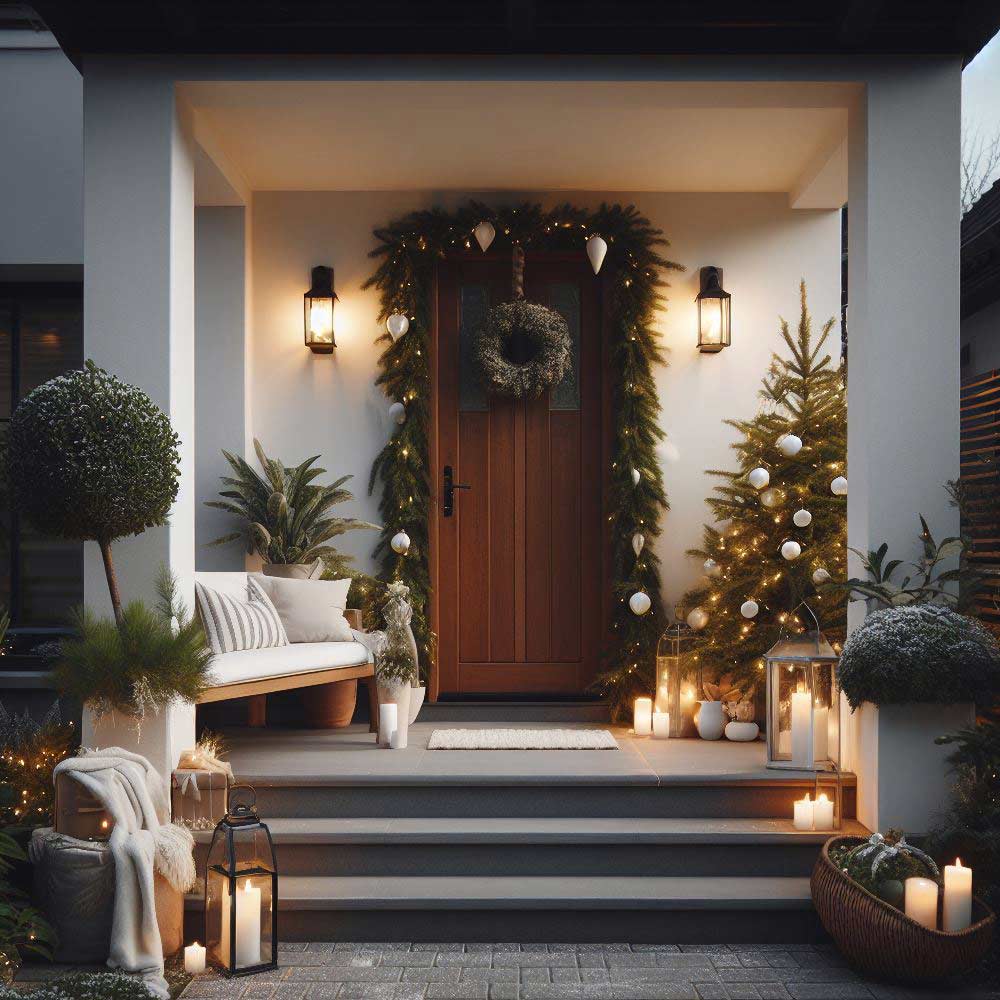 Generated by DALL-E
i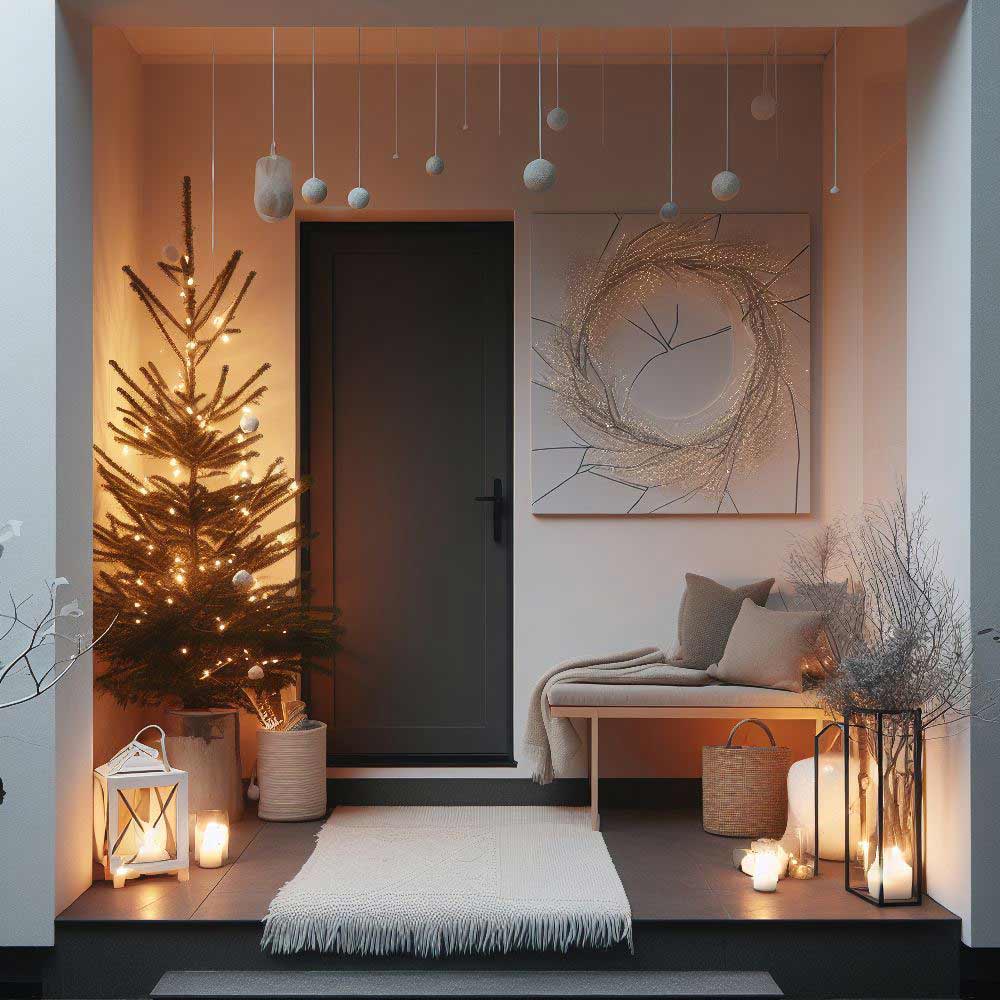 Generated by DALL-E
i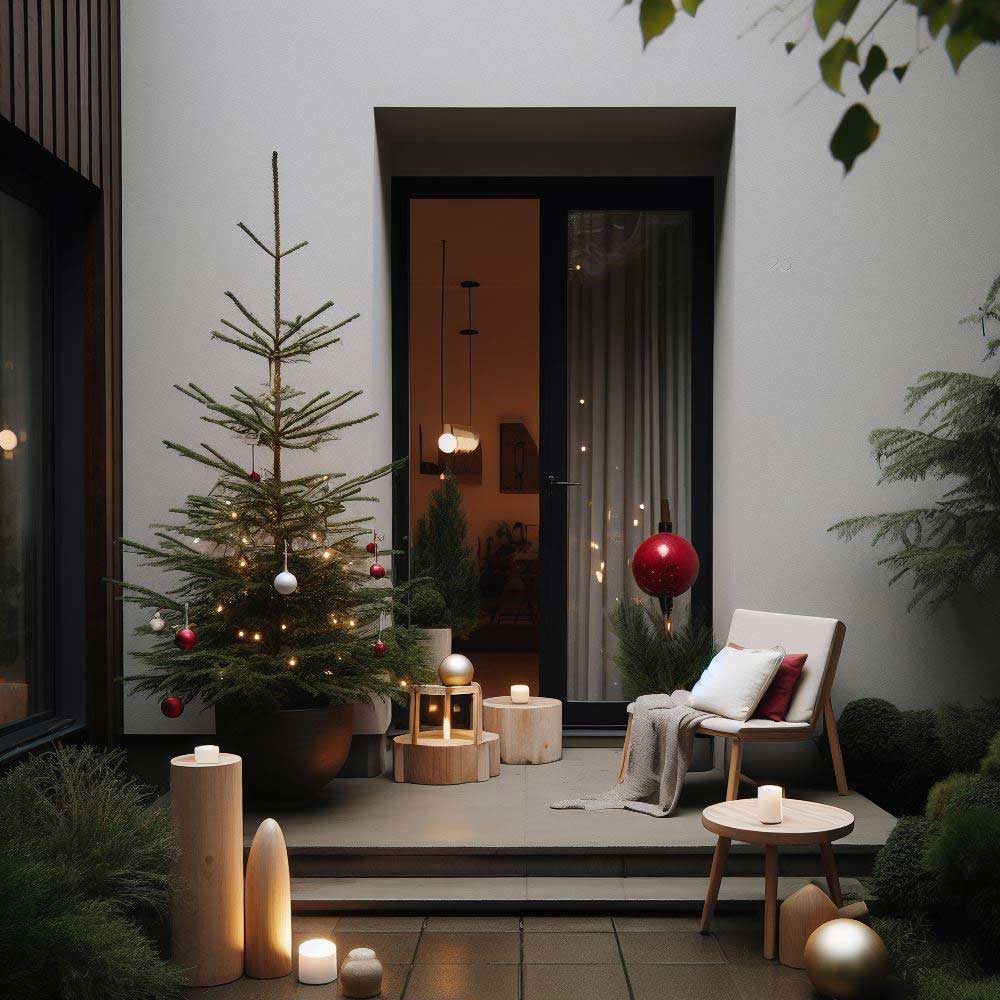 Generated by DALL-E
i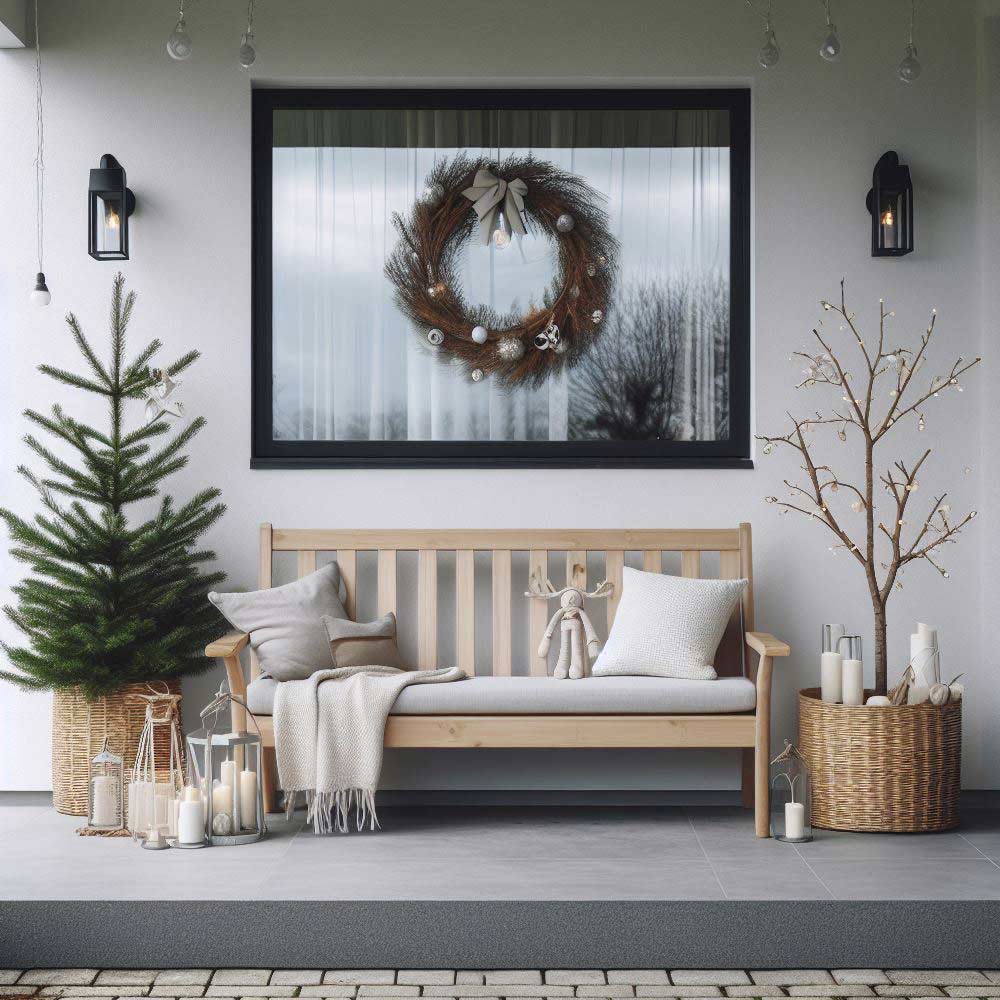 /
A Christmas tree is the most famous accent of the holiday season, and we will not deny it. However, you can use the classy element of the festive season and use it as your outdoor decoration statement. As you opt for an outdoor-friendly tree, you must also consider investing into weather-resistant décor. You can place oversized gift packages under the tree alongside the regular lights and ornaments to intensify the holiday touch. Besides, additional illumination in the form of lawn lights will ensure that your decoration efforts are seen from a mile away.
Front Door Wall Decoration Ideas
Generated by DALL-E
i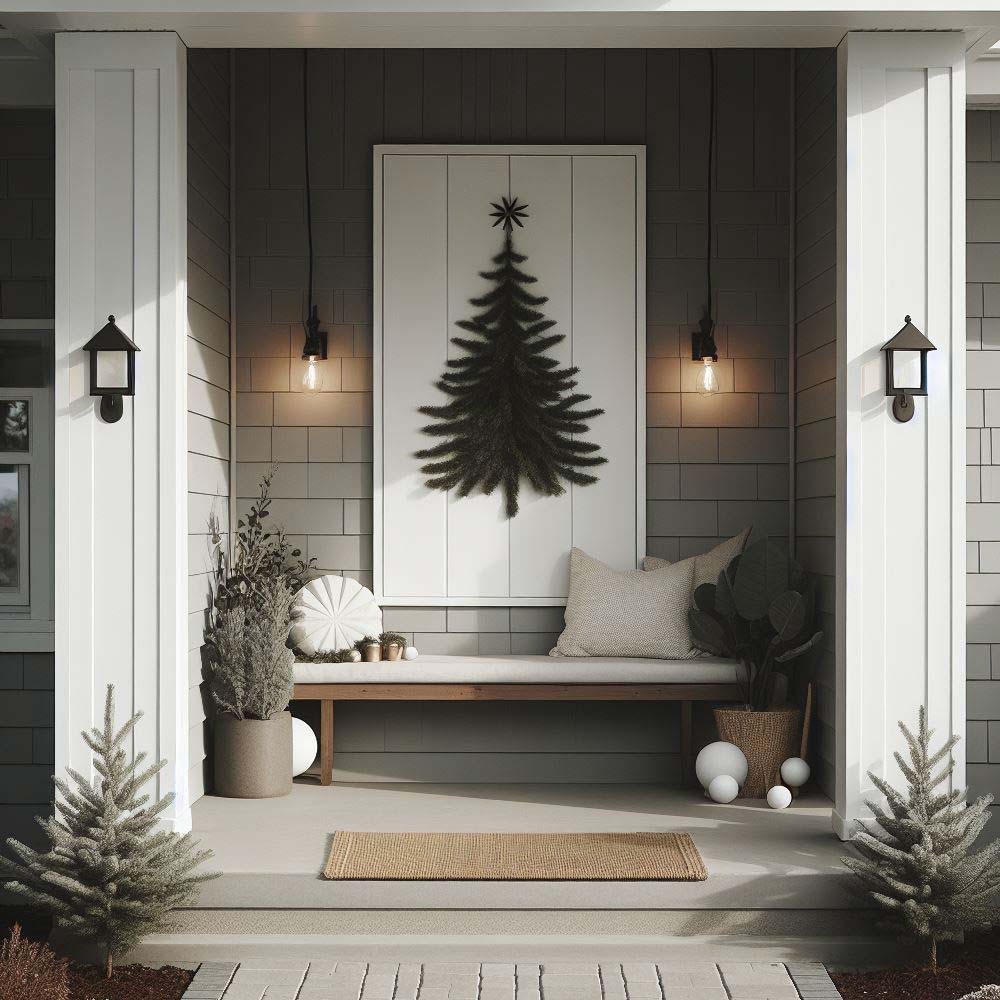 Generated by DALL-E
i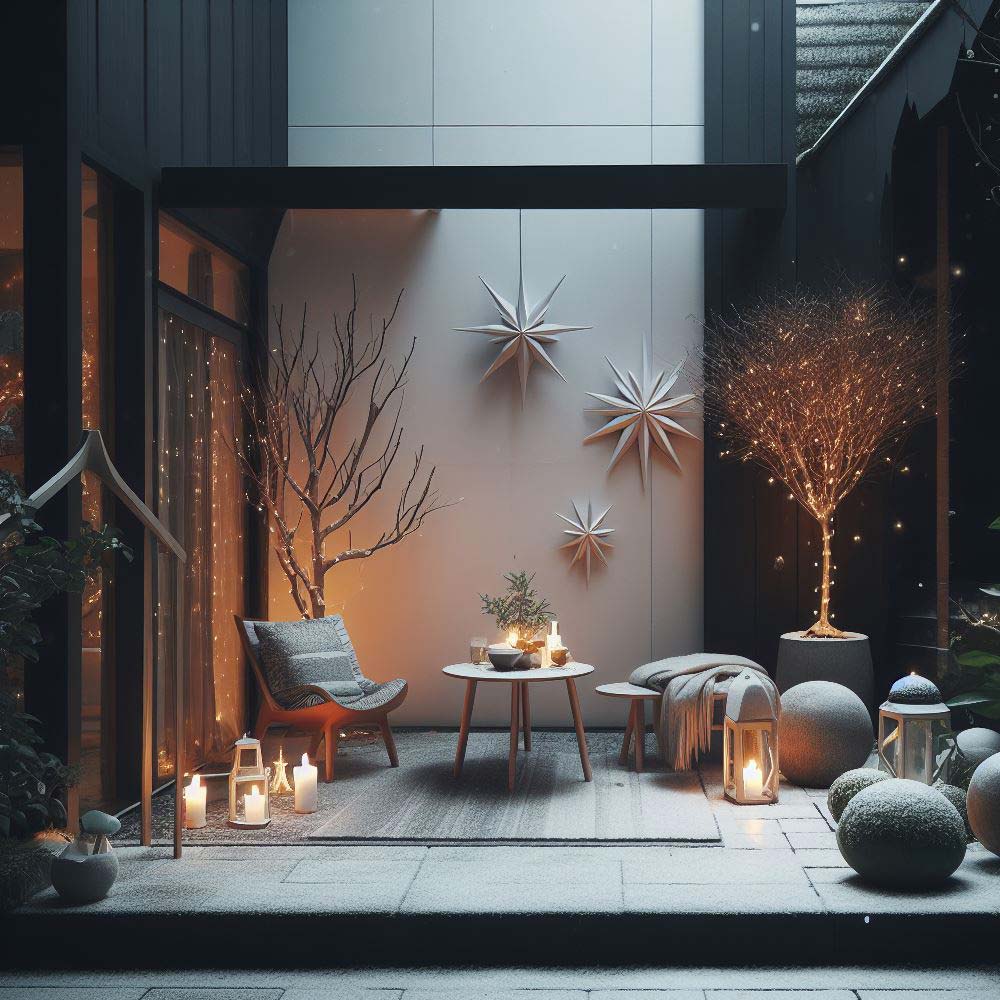 Generated by DALL-E
i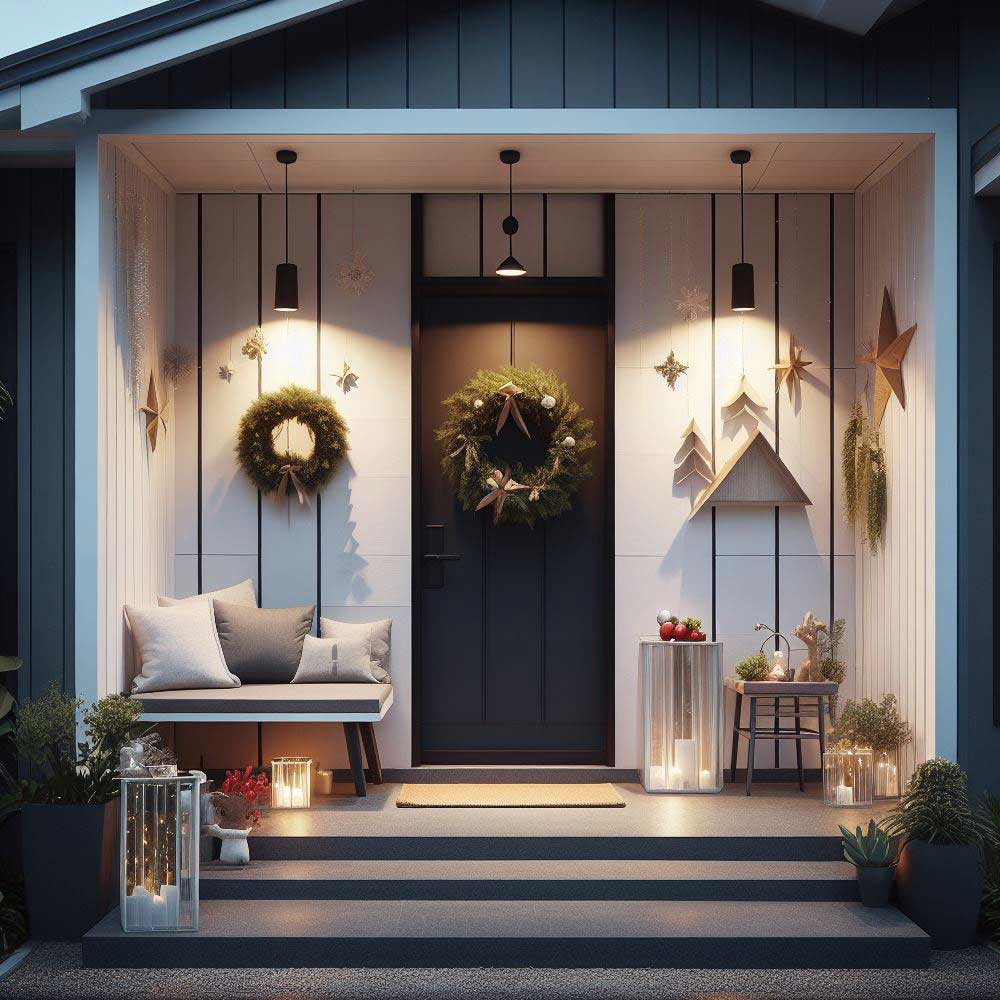 /
Outdoor Christmas decorations come in various shapes and forms. As long as you are willing to spend a little extra time and effort on the decorations, you can come up with a holiday masterpiece that will leave your guests speechless. If you've already worked on your front door, it is time to pay attention to the walls beside it. Place decorative wall scones or lanterns on each side of your door so the entrance looks welcoming and inviting. You can place different wooden signs and planters with seasonal greenery to intensify your porch's stylish and festive flair.
Modern Style Christmas Decorations
Generated by DALL-E
i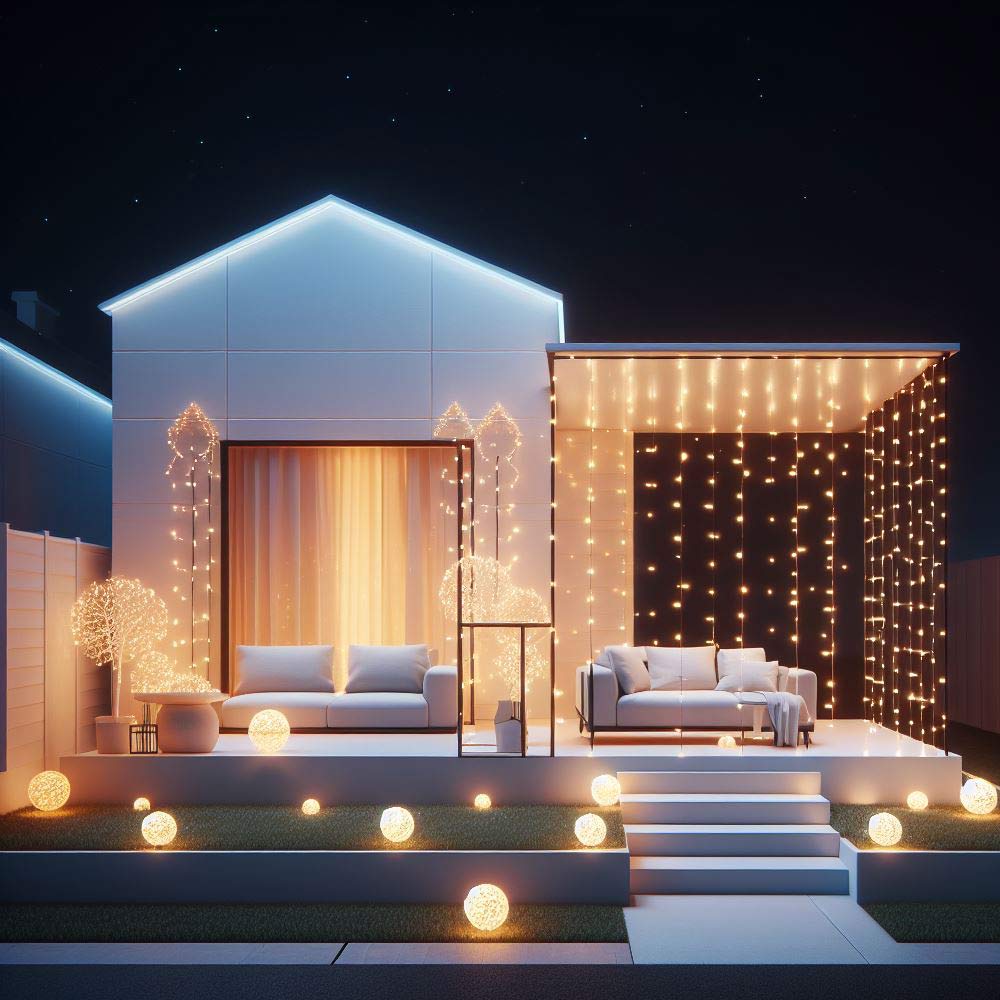 Generated by DALL-E
i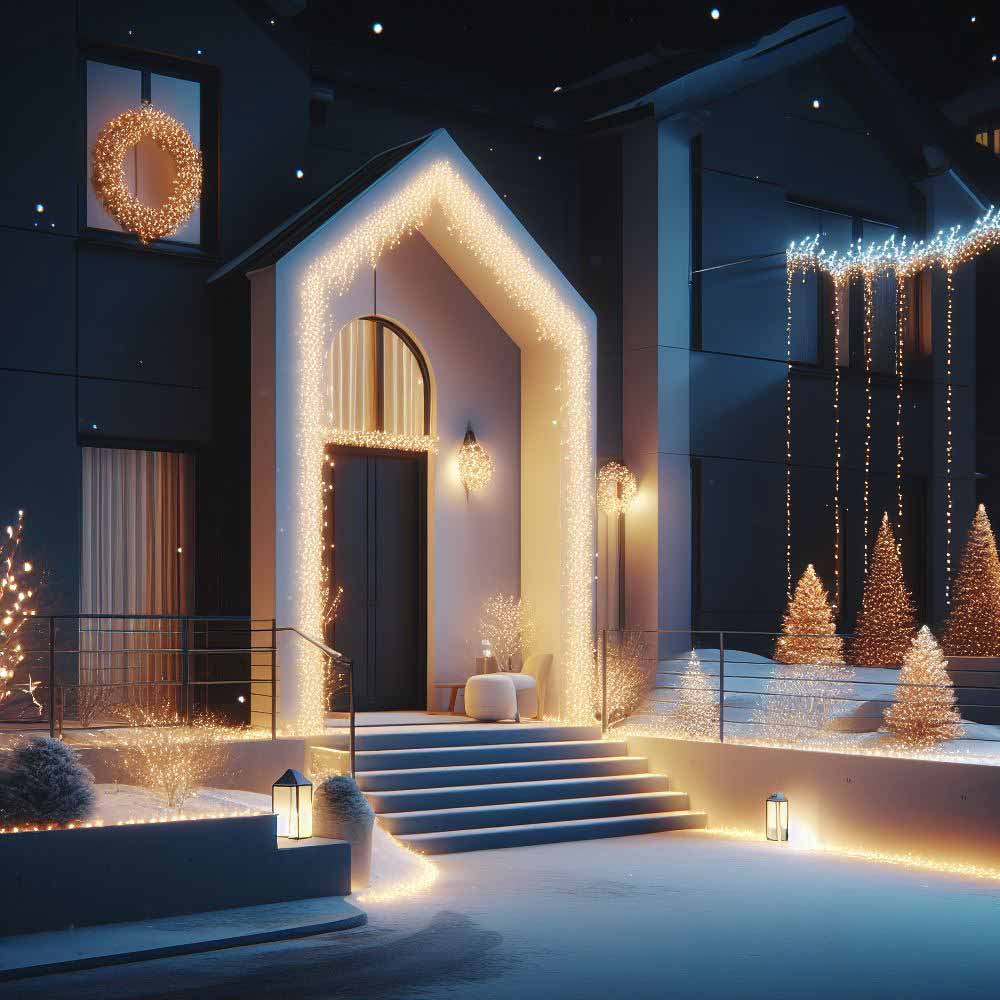 Generated by DALL-E
i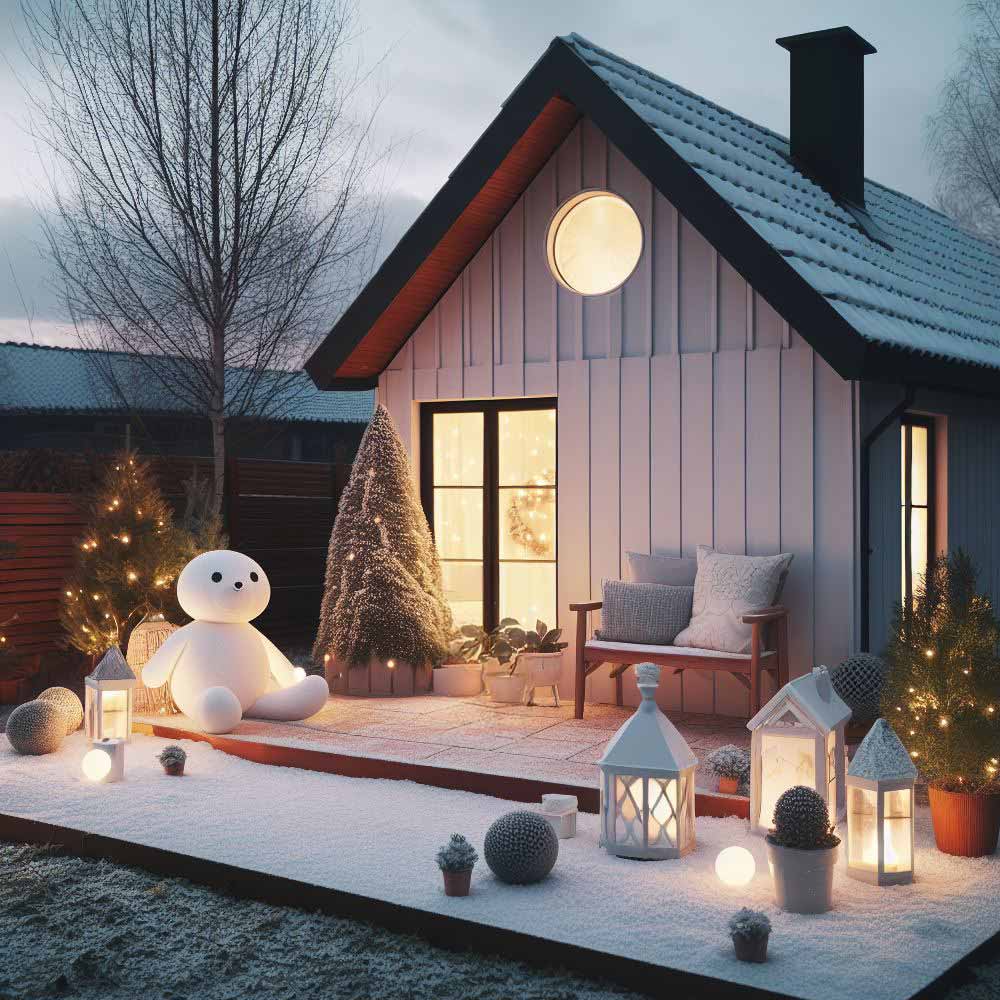 Generated by DALL-E
i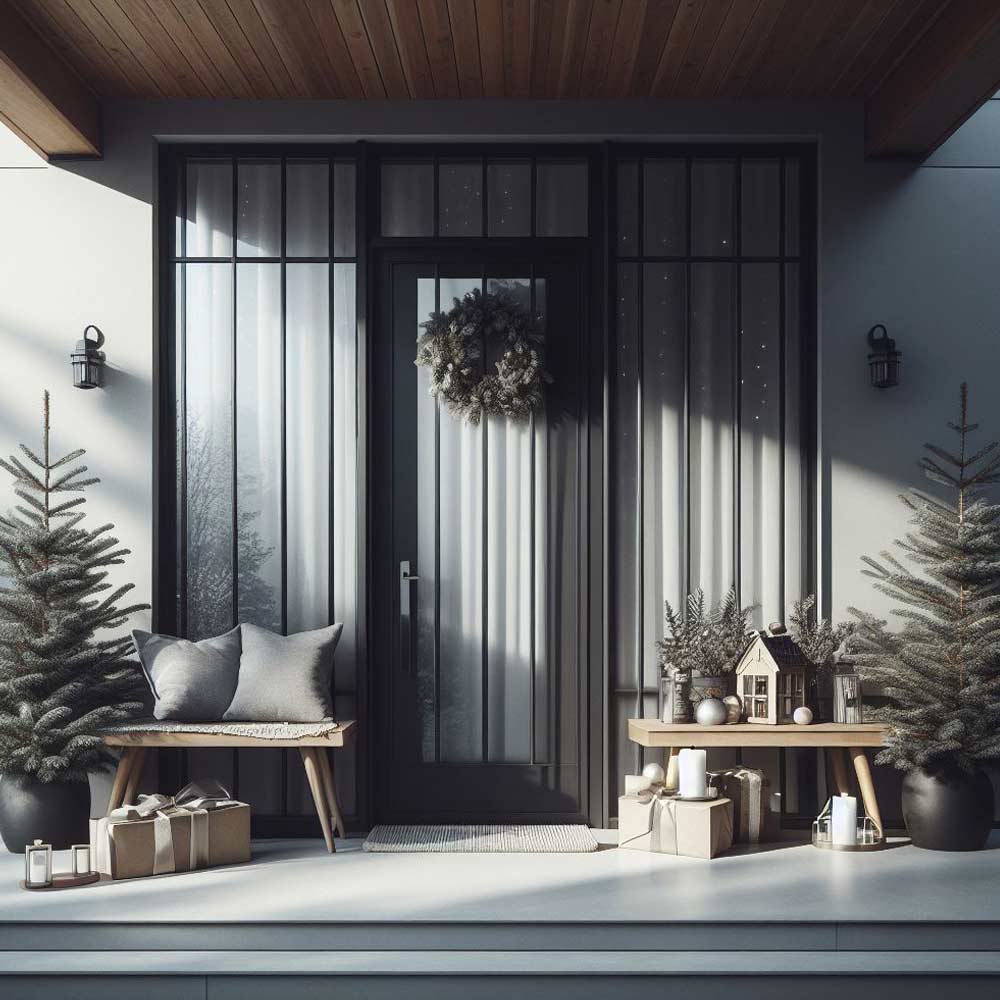 /
Modern-style Christmas décor has that sleek and sophisticated ambiance that many find appealing. If you belong to the category, we suggest you focus on a minimalistic color palette and enhance your living space with white, silver, and gold shades. Geometric shapes and abstract ornaments will fit into contemporary aesthetics as well. When experimenting with LED lighting, paying attention to cooler tones is best. All in all, the core of modern Christmas decorations lies in finding the perfect balance between elegance and minimalism.
Creative Yard Decoration Ideas
Shutterstock
i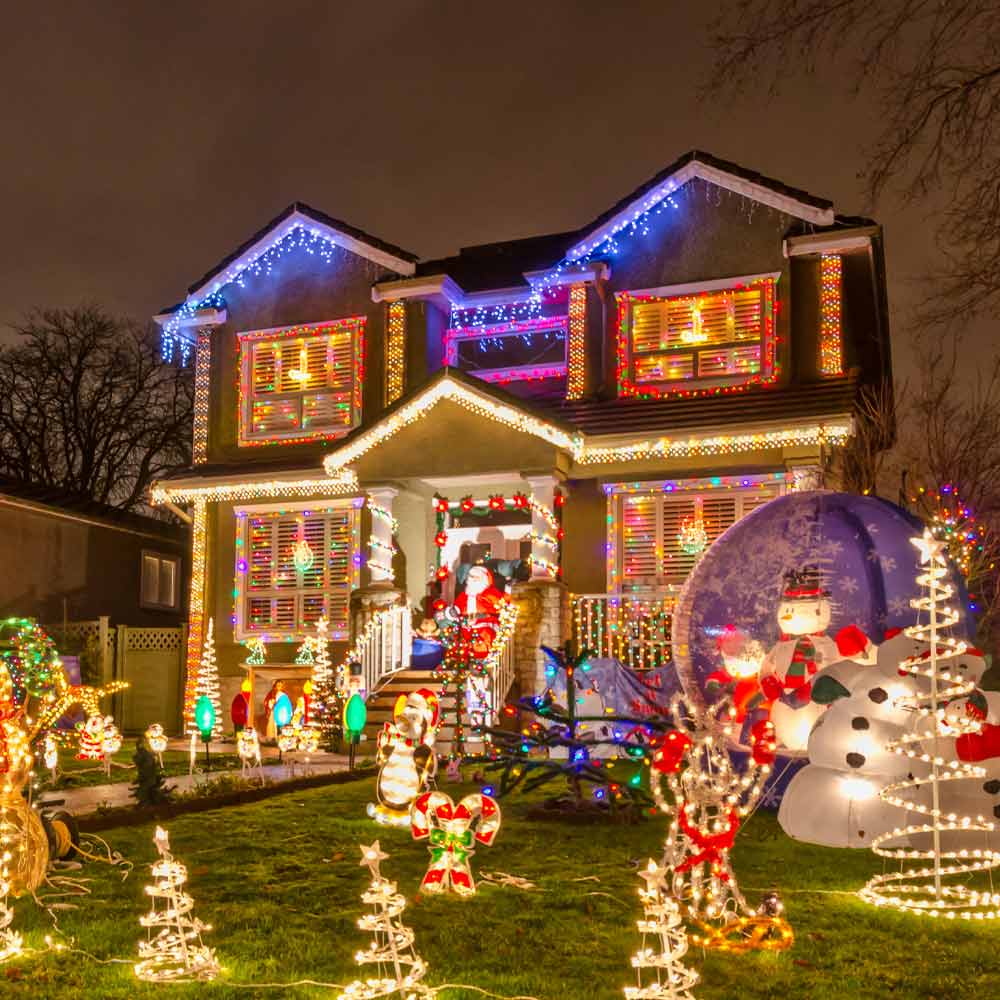 Shutterstock
i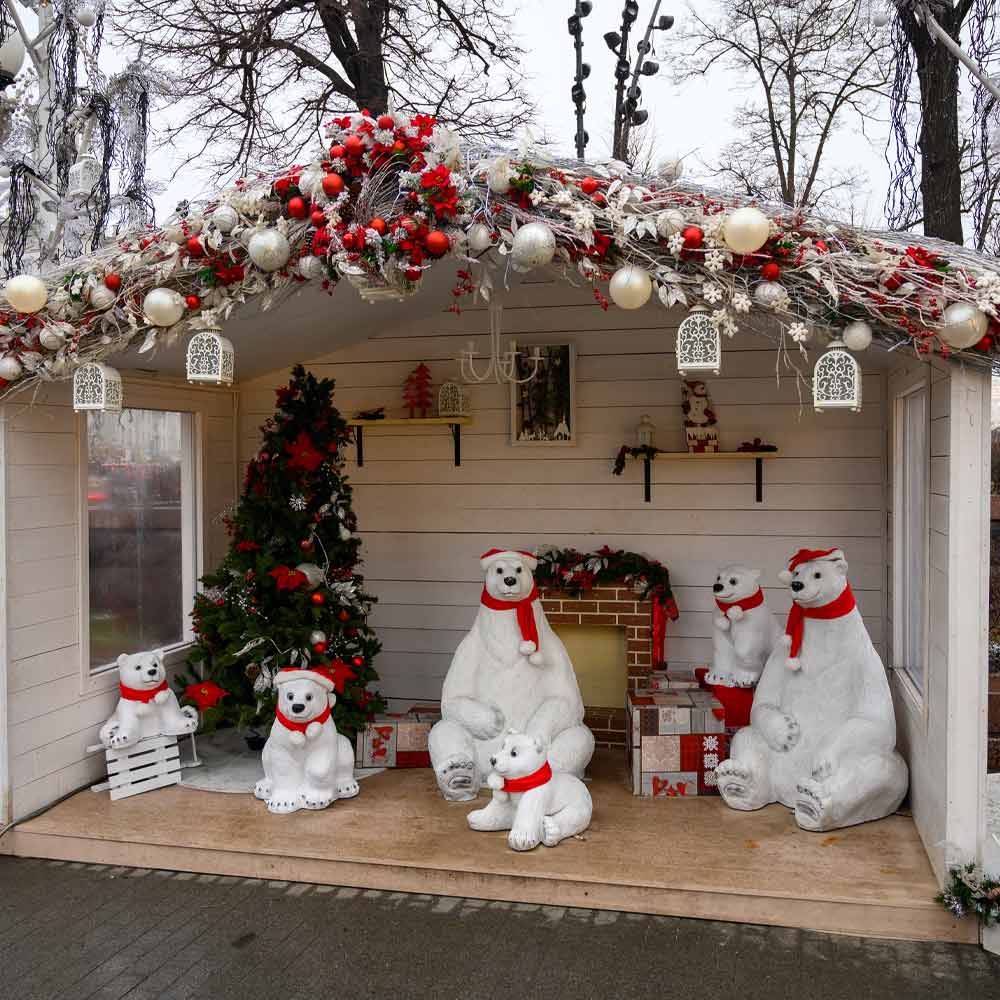 /
Did you know that you can transform your yard into literary anything you want when the holiday season strikes? Use your yard as the perfect canvas for your imagination and creativity, build a polar den installation, or make your front porch a solar-powered fairyland with gnomes, glowing lights, and blooming flowers. Showcase your identity and festive taste without a hint of doubt. No one would judge you – they will only absorb the celebration mood spread all over your property!
Led Deer Decorations For Front Porch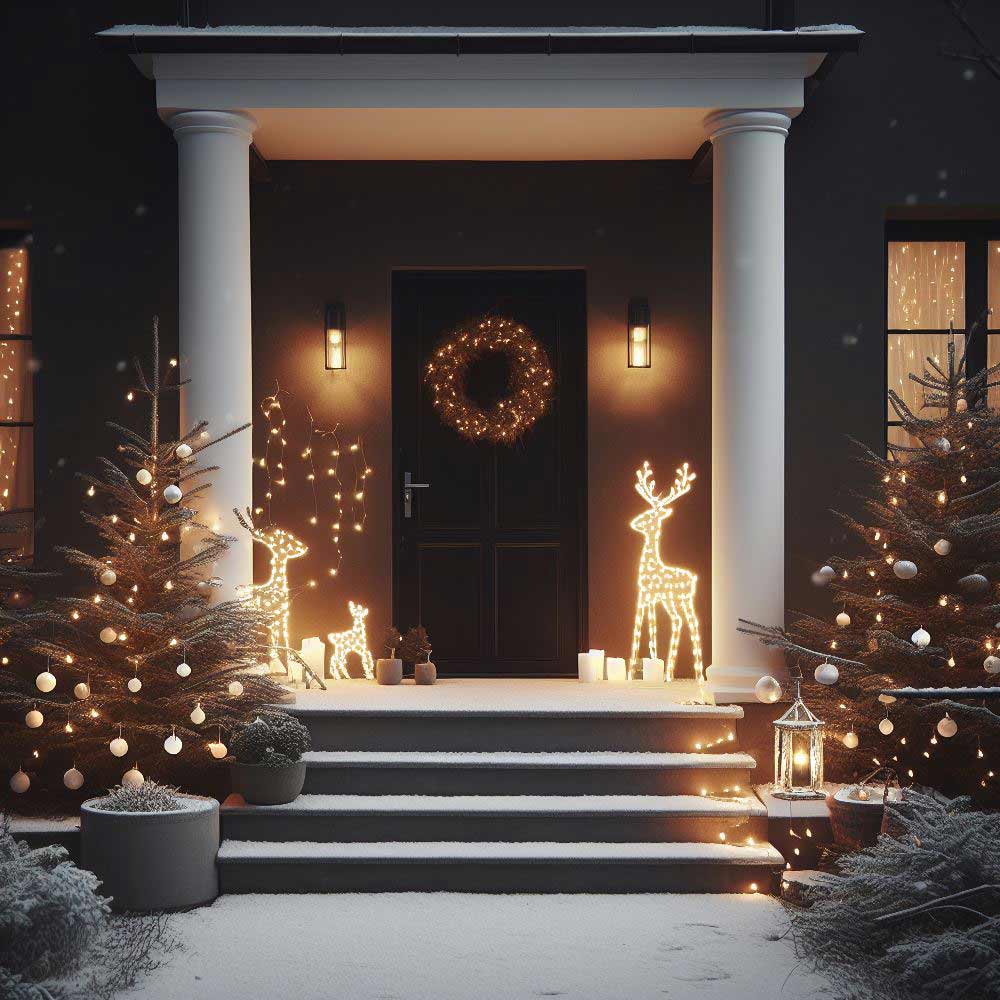 Generated by DALL-E
Of course, not everyone is that fond of old rustic elements in their Christmas porch décor. If you are one of them, then we have a perfect modern idea in mind. These days it seems that the more lighting there is – the better. That is why these outdoor Christmas reindeer decorations lighted with led lights are precisely what will add your yard that wanted modern vibe without stepping away from the traditions.
Small Space Front Porch Decorations
Generated by DALL-E
i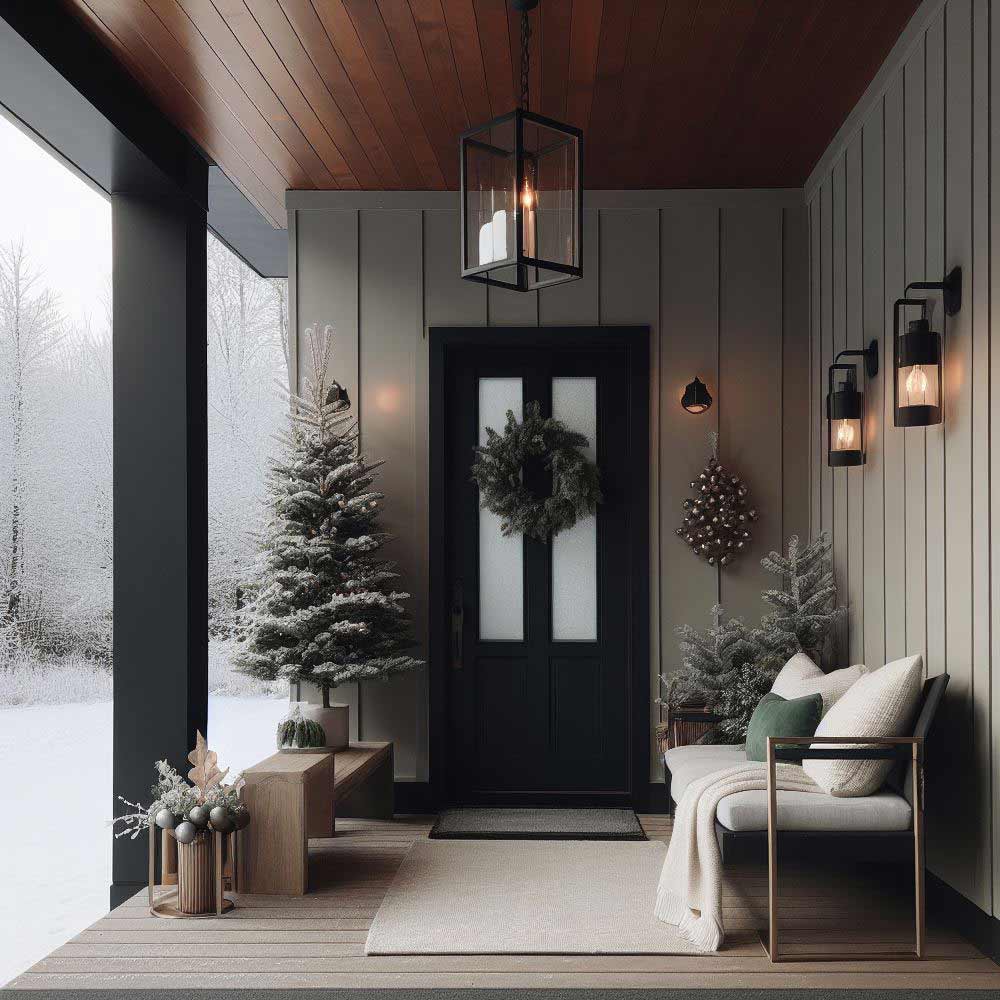 Generated by DALL-E
i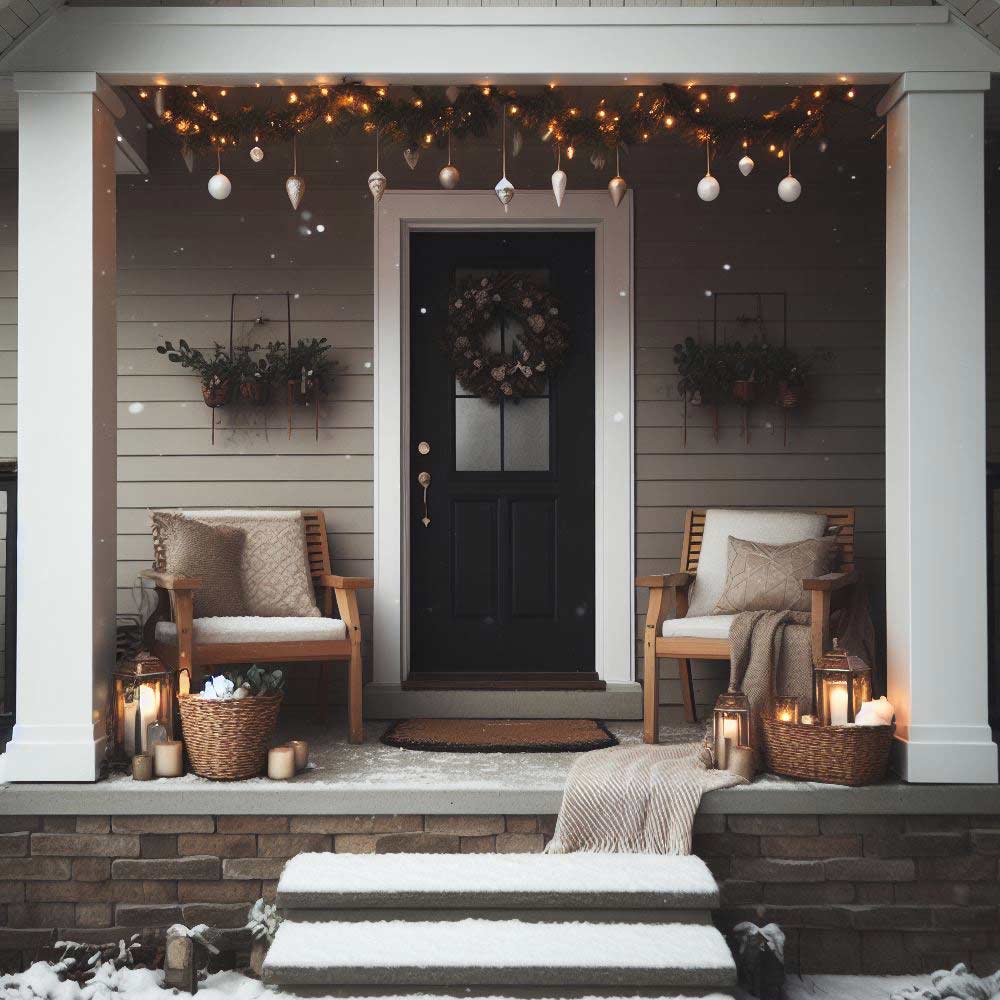 Generated by DALL-E
i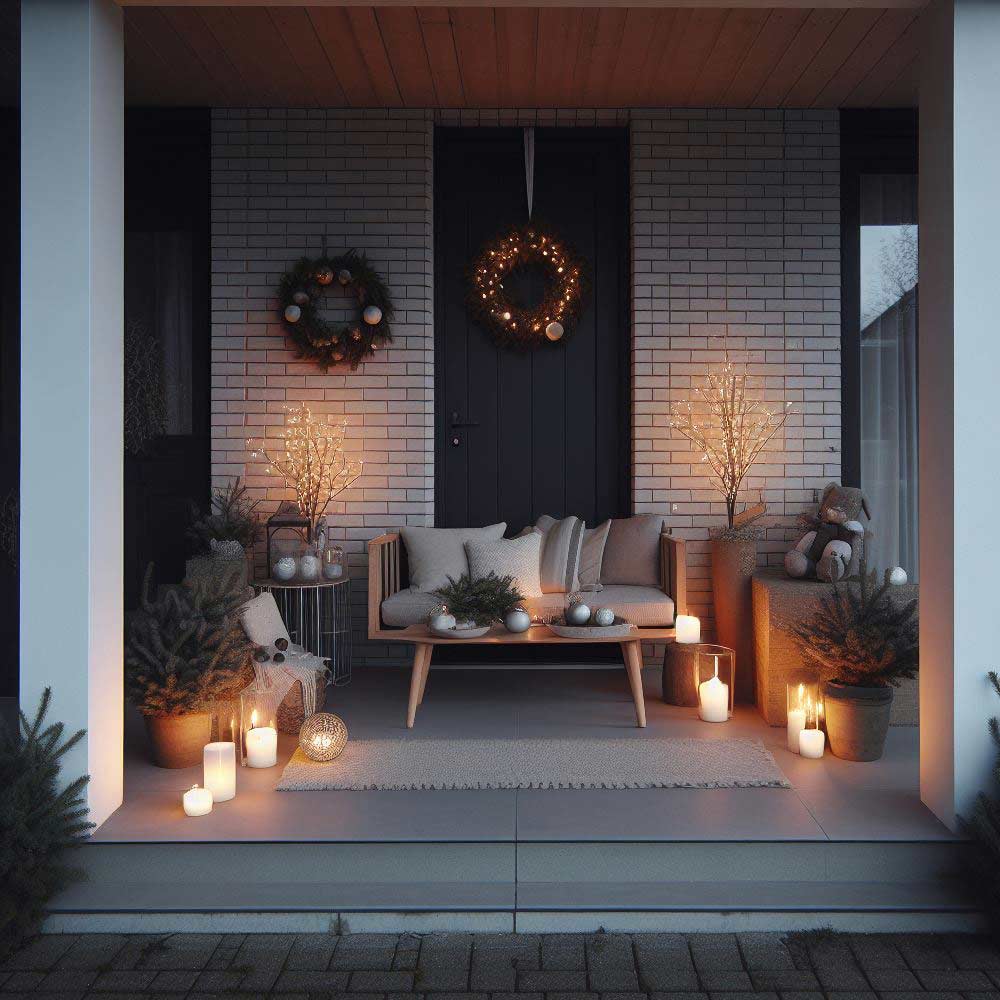 Generated by DALL-E
i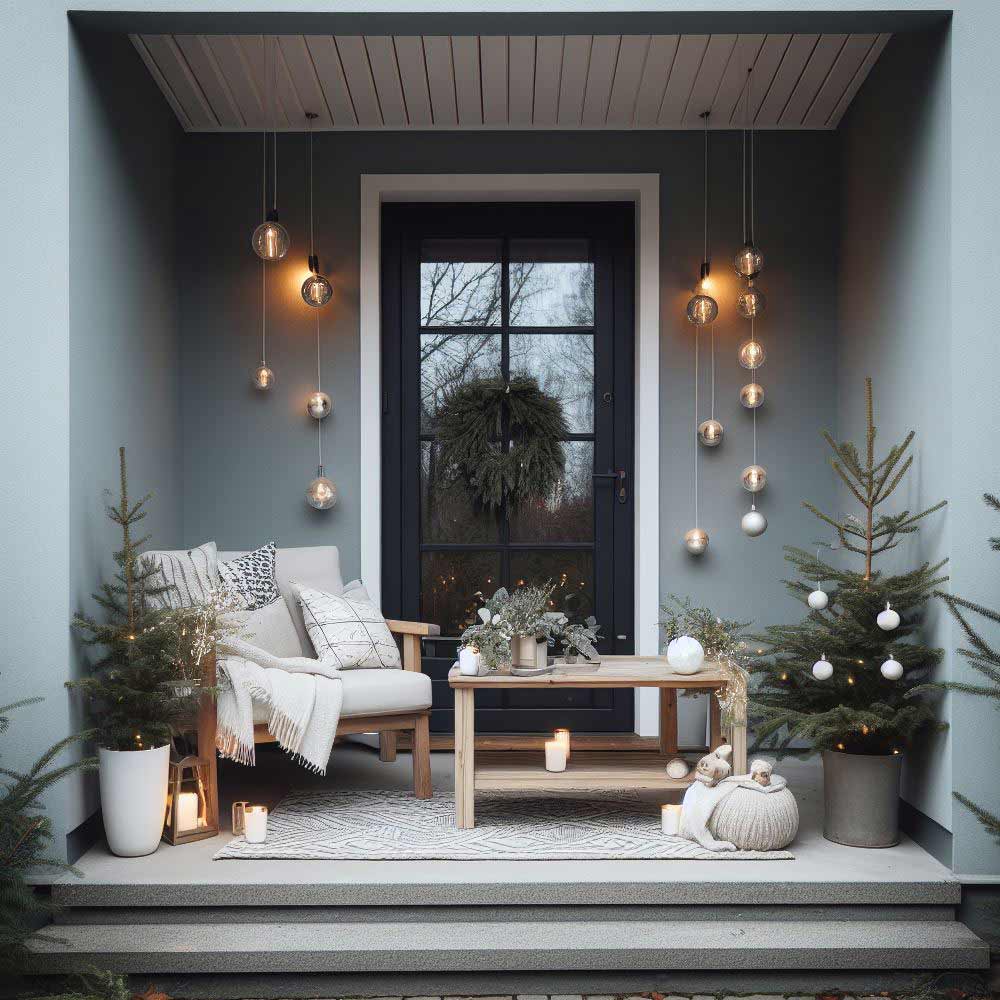 Generated by DALL-E
i
/
The fact that you have a small porch does not mean that you should skip on the Christmas decorations. On the contrary. All it takes is to opt for a space-saving Christmas tree and hang compact wreaths and garlands on the door, railings, and windows to cozy up your festive outdoor retreat. It is best to rid your porch of all the unused items so they don't clutter the area. Always remember that sometimes the largest porches look unwelcome while the tiniest spaces exude holiday charm and project a festive and inviting flair.
Big Space Decoration Ideas for Christmas
Generated by DALL-E
i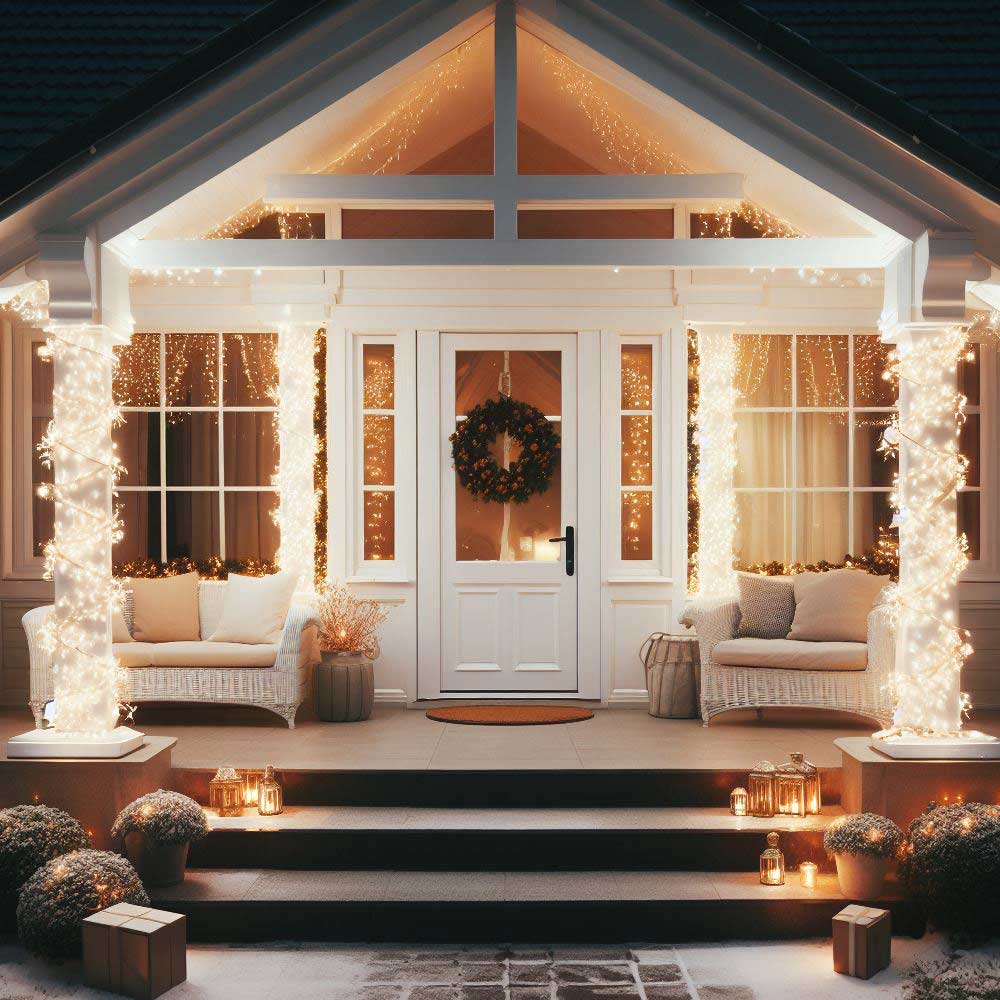 Generated by DALL-E
i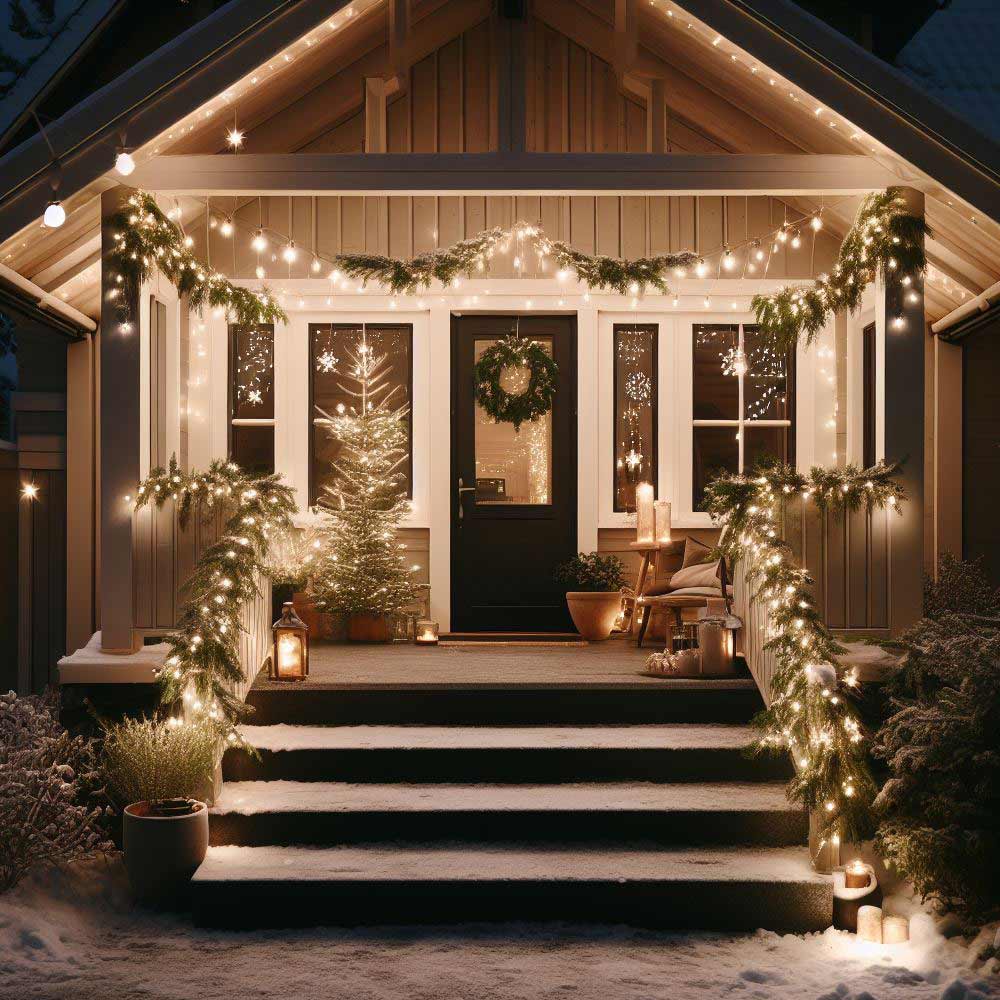 Shutterstock
i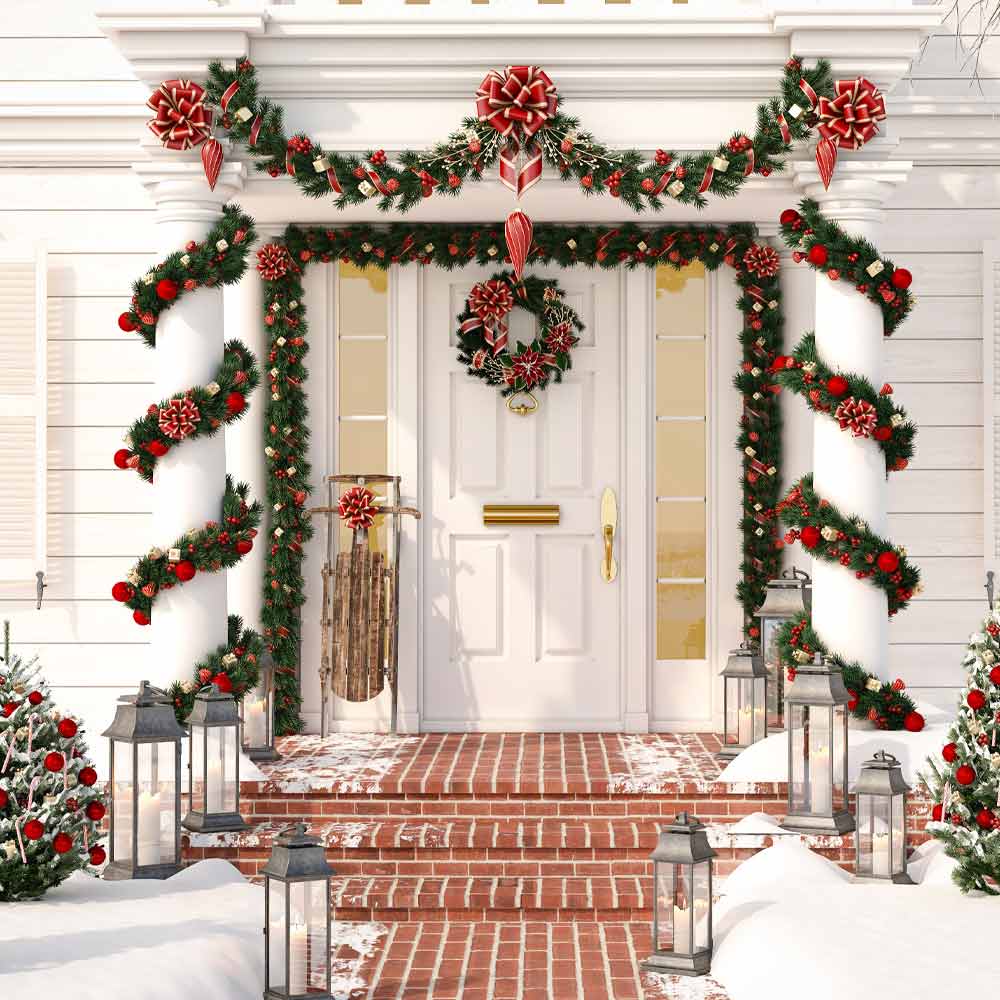 Generated by DALL-E
i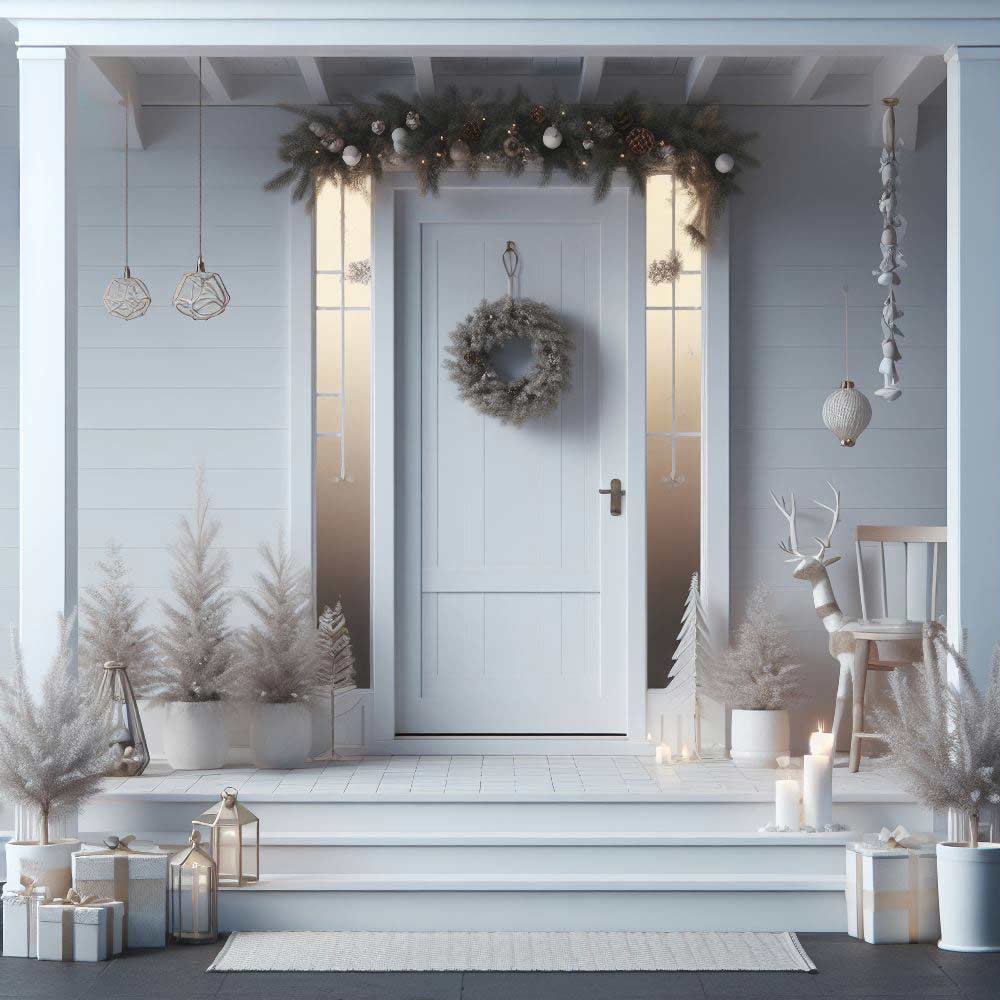 Generated by DALL-E
i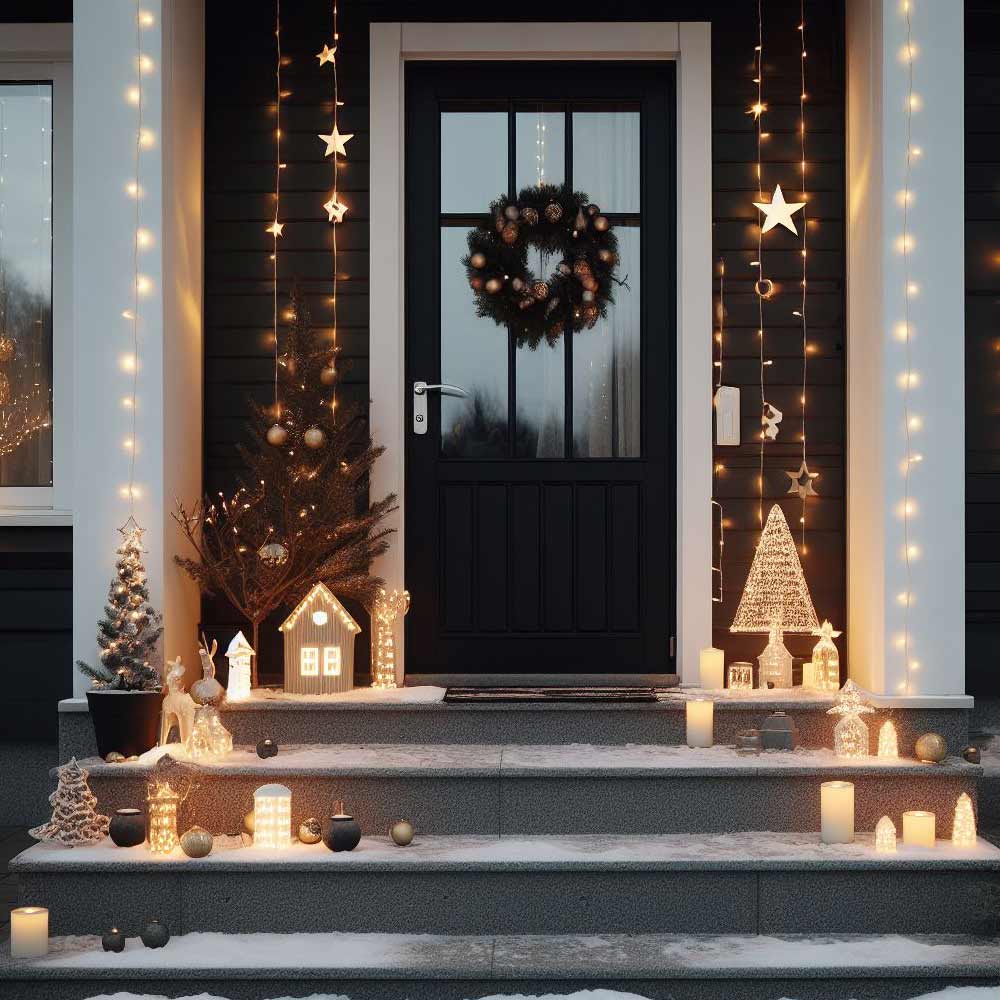 /
Most people know that outdoor Christmas decorations are there to make a statement out of your spacious front porch. However, not everyone knows how to utilize the opportunity to its full potential. We say you may want to go to such lengths as introducing oversized toy soldier guards on each side of the porch. Moreover, oversized ornaments are your perfect weapon. Hang them from the porch ceiling to capture the holiday vibe. Don't forget to add more light to your pathways and mark them with giant candy canes for a better effect. Yet, the key here is to decorate, not clutter your house's front. Keep that in mind.
Yard Decorations With Lettering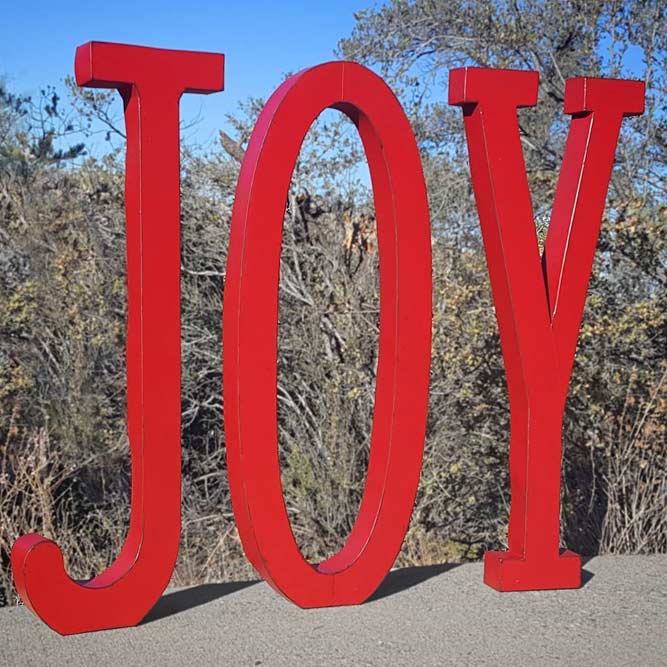 Credit photo: Instagram.com/rustalgic
Outdoor deer decorations for Christmas are pretty standard, and there is nothing wrong with it since all of us love Santa and his reindeers. However, if you are looking for some pretty unique outdoor Christmas yard decorations, then you may as well take this lettering idea into consideration. You can carve any other word you like, just use this one as your inspiration guide!
Rustic Outdoor Christmas Decorations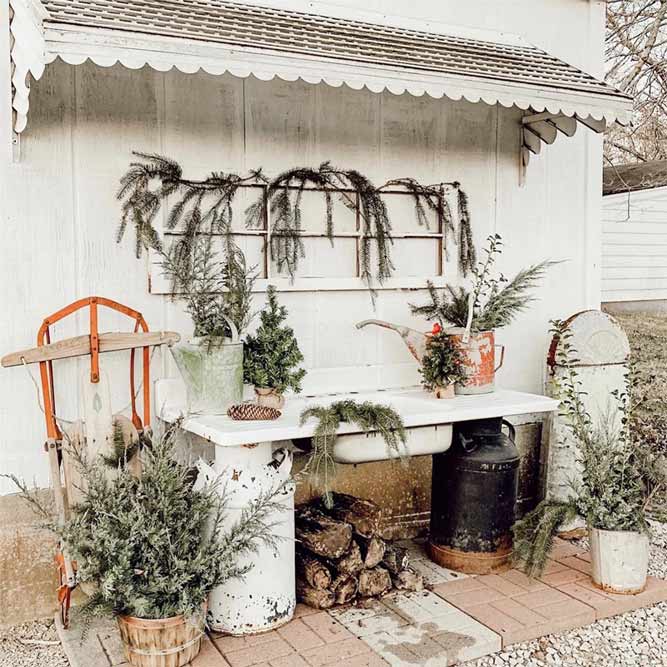 Credit photo: Instagram.com/frontgate
Rustic style décor gives your home a cozy and toasty feel, especially when you decorate your outer space with it. To make it more Christmas-y, adorn your courtyard with ornamental conifers, a pile of firewood for your potbelly stove and ceramic tiles.
Traditional Outdoor Decorations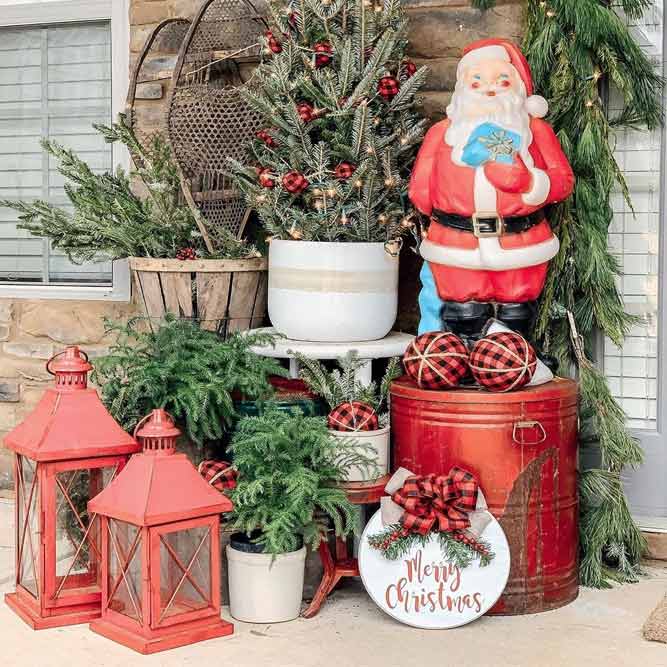 Credit photo: Instagram.com/weatheredwaresandco
You will never go wrong if you choose traditional outdoor Christmas decorations. Adorn your porch with a Santa Claus statuette and surround it with ornaments, fairy lights and a Christmas tree, of course. In case you do not have one, your evergreen plants will work too.
Christmas Garland With Cones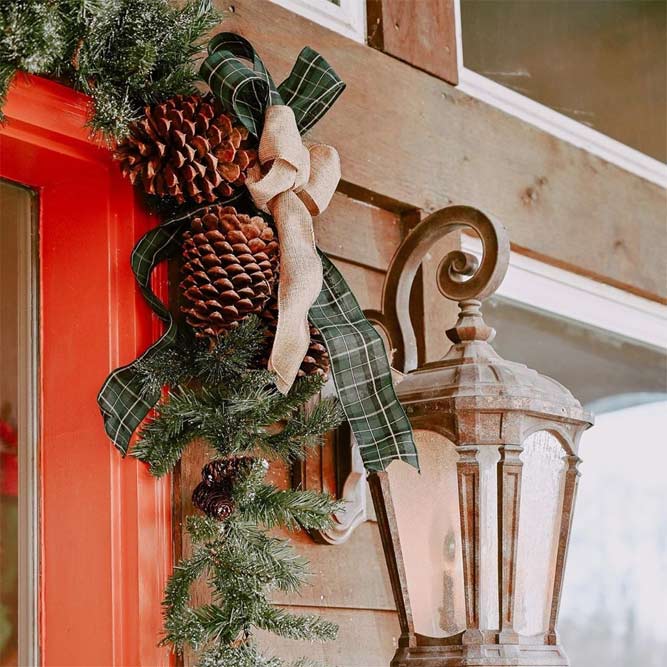 Credit photo: Instagram.com/seasonsofthelake
If you prefer a minimalistic and refined style in home décor, then you will certainly like this simple yet elegant Christmas garland embellished with cones. It will make it feel like Christmas not only because of the way it looks but also because of the incredible smell it fills all the space with.
Christmas Tree Decorations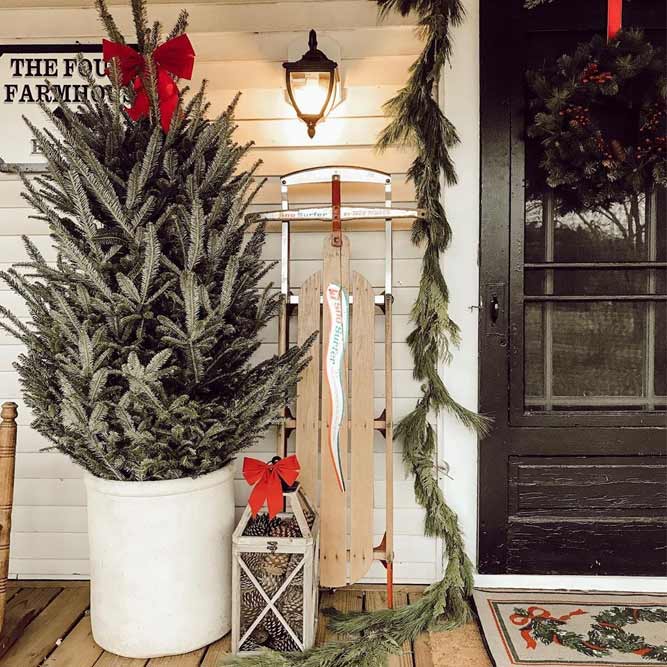 Credit photo: Instagram.com/thefound_farmhouse
In case you do not want to be overly innovative, you can decorate your porch with a Christmas tree only. Even if you are not going to garnish it with all kinds of baubles, party streamers, tinsels and lights, you can still rest assured that everyone who comes to your place will instantly dive into the holiday mood.
Christmas Wreaths Designs
Simple Christmas Wreath Idea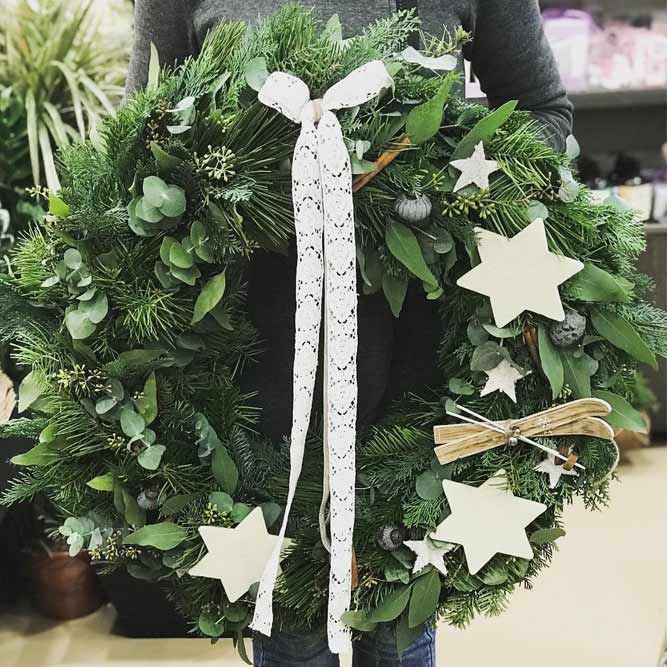 Credit photo: Instagram.com/srdcevenkova
Door wreath for Christmas is something that every house is decorated with even when the porch or yard is left out. However, there is such a variety of wreaths to choose from that it may be difficult to come up with something. That is why if you are looking for something festive and unique – we may have an idea in mind. The thing is that pine wreath is usual but wormwood one – is not that popular, especially when you decorate it with a tasty gingerbread house!
Ice Skates Door Decor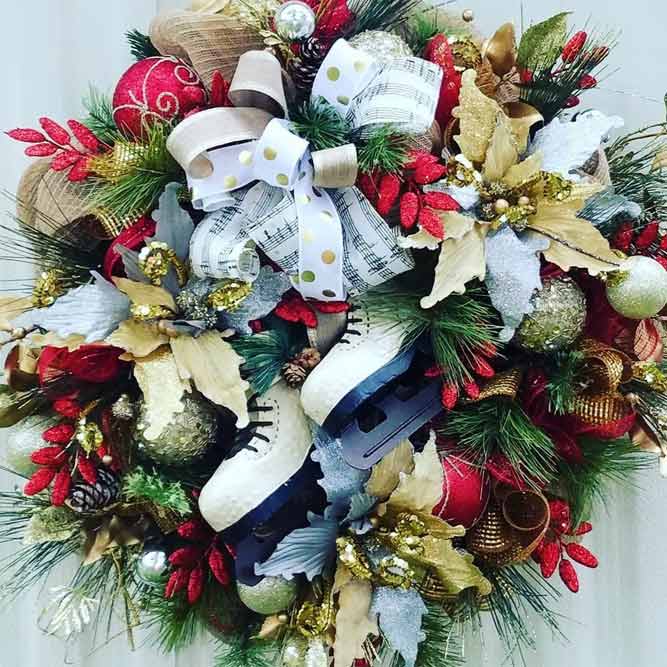 Credit photo: Instagram.com/adoorabledecowreaths
In case you are a winter sports fan – let anyone know about it. If you are all about ice-skating then placing a pair of ice skates on your door sounds right to us. What is more, such a decoration will always look unique, and one of a kind and we are sure that you will appreciate it!
Nutcracker Christmas Mesh Swag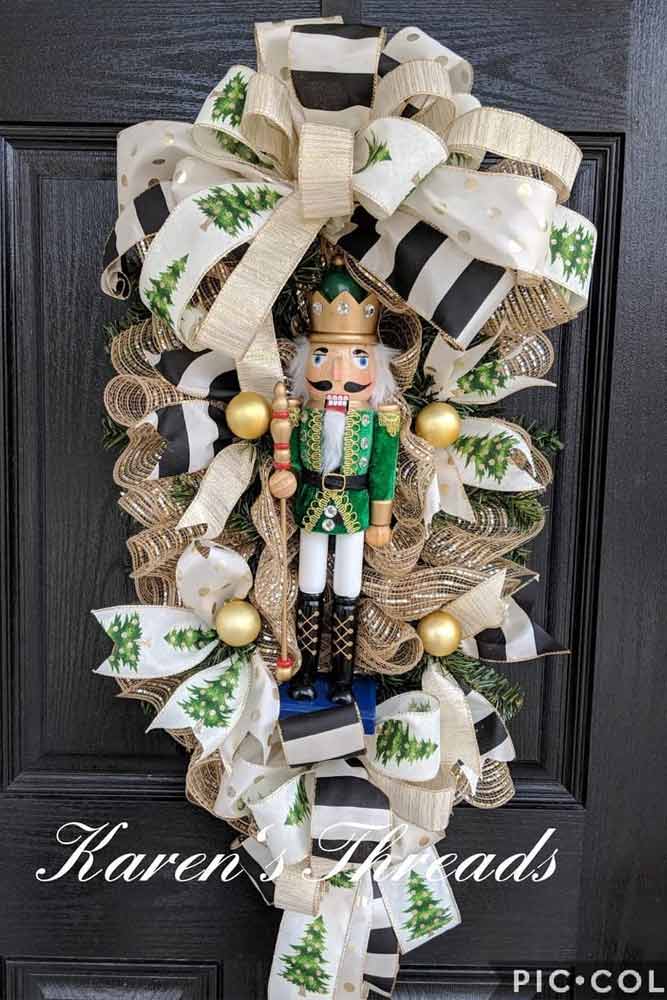 Credit photo: Instagram.com/karensthreads
In times when regular Christmas wreath is a little bit too used up for you – there are other ways of decorating your front door. How do you feel about a pretty mesh swag? Apart from being an excellent substitution for a traditional wreath, a mesh swag can be combined with your favorite toys, for instance, Nutcracker seems to fit in just perfectly.
Christmas Basket Door Decor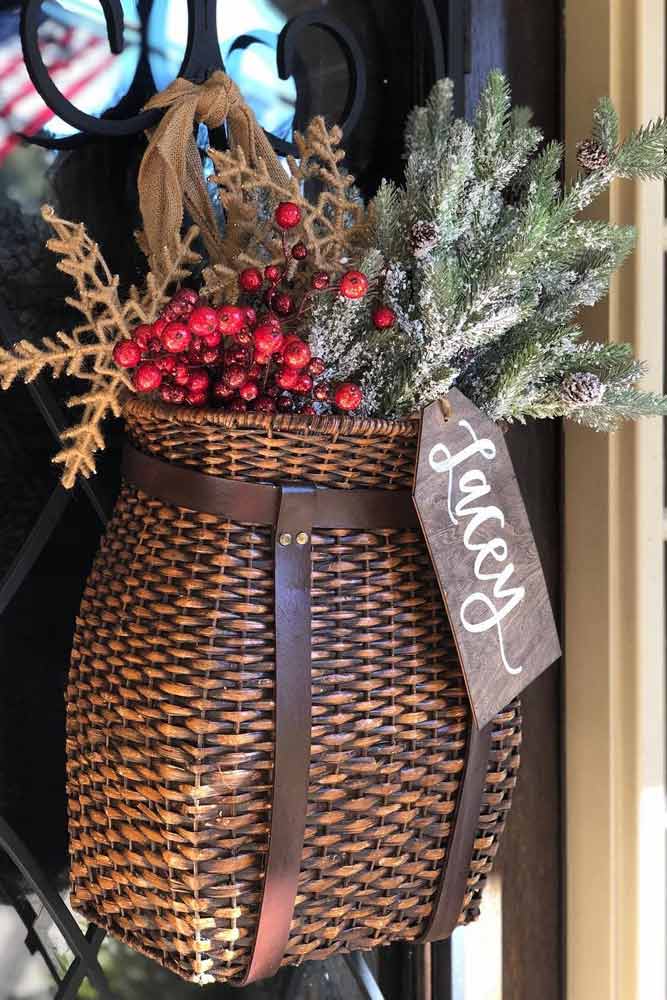 Credit photo: Instagram.com/velveteenandgracega
If you think about it when it comes to Christmas the list of ideas to decorate your house with is close to being unlimited. The thing is that everything depends on your imagination and creativity mostly. For example, if you want to place a basket instead of a regular wreath on your front door – go for it. Fill the basket in with winter herbs, twigs and what not, sprinkle all with artificial snow – the masterpiece is ready!
Bell Decoration For Front Door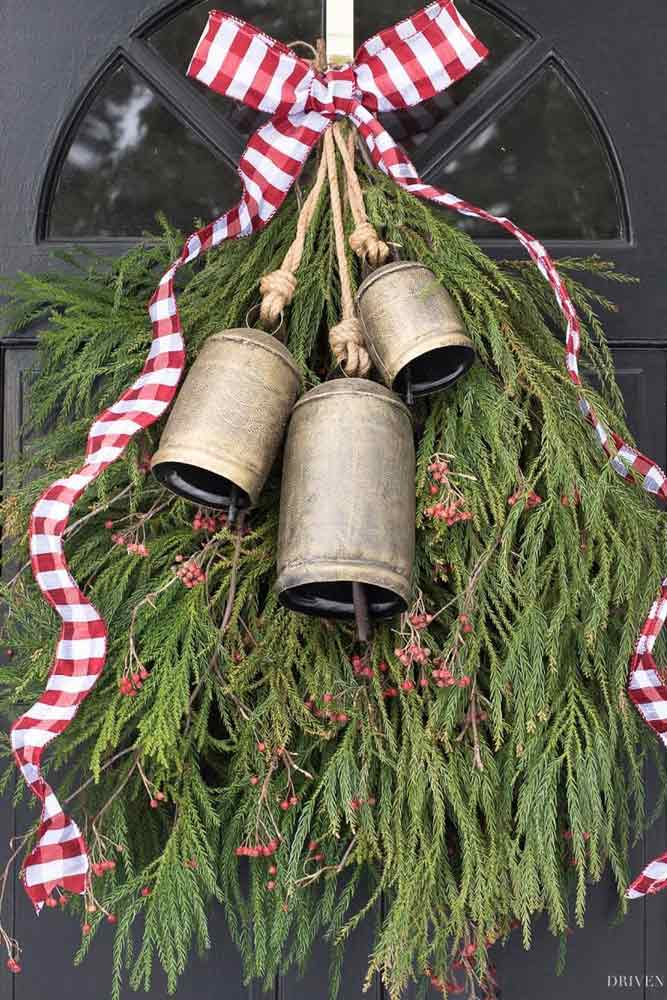 Credit photo: Instagram.com/drivenbydecor
There are times when you are out of time to go shopping for Christmas decorations, and the old ones are all worn out. Worry not! There is always an easy way out. The truth is what you can't buy you can make with your own hands. Gather up all the wintery twigs in one bouquet, tie them with a lovely plaid bow and add up some old bells to the décor – that is it, a beautiful handmade front door decoration is made!
Outdoor Signs Christmas Decorations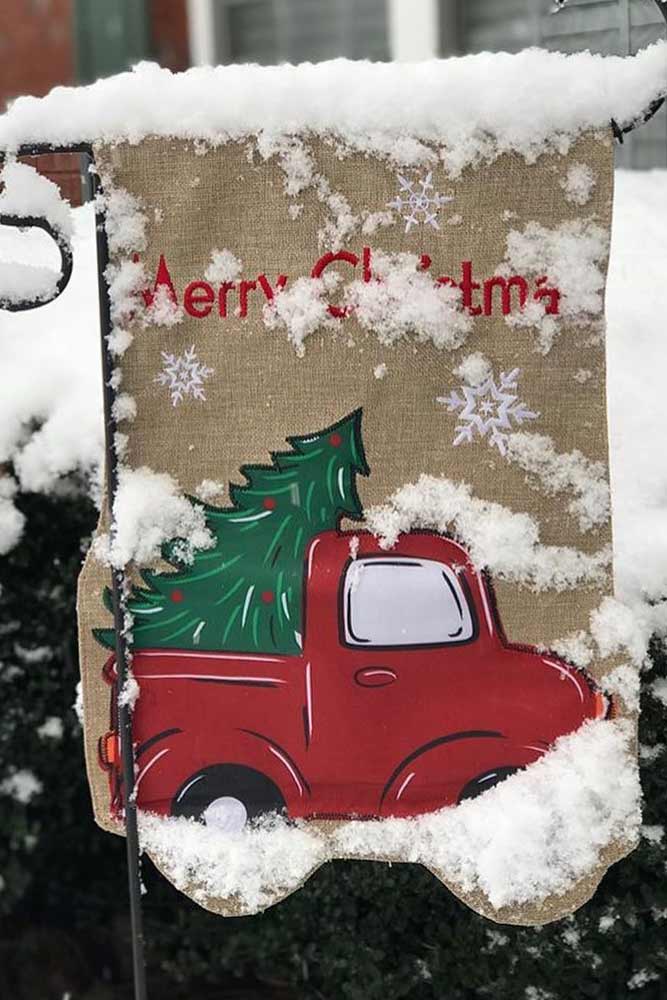 Credit photo: Instagram.com/ashboesch12
When it is holiday time everyone knows about it, but that does not mean that you can't place a notifying sign on your porch. You totally can and you most likely should since such a funny sign will add up not only to your Christmas porch décor but also to the mood of anyone who passes by it.
Rustic Sledge With Bells And Greenery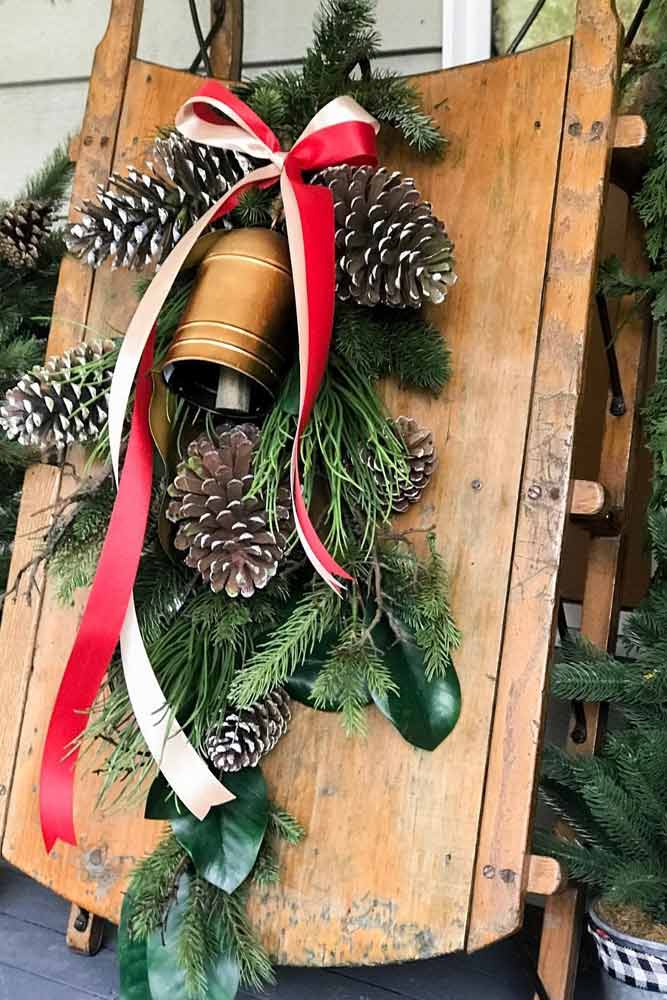 Credit photo: Instagram.com/joleeliepman
Believe it or not but there are cheap outdoor Christmas decorations. Very often, people spend tremendous amounts on Christmas decorations while all the free means are right in front of their noses. For instance, this old sled could have been in the trash but instead, it is used as a fancy rustic holiday decoration, and we must admit that it looks unique and authentic.
Holiday Set On The Step Ladder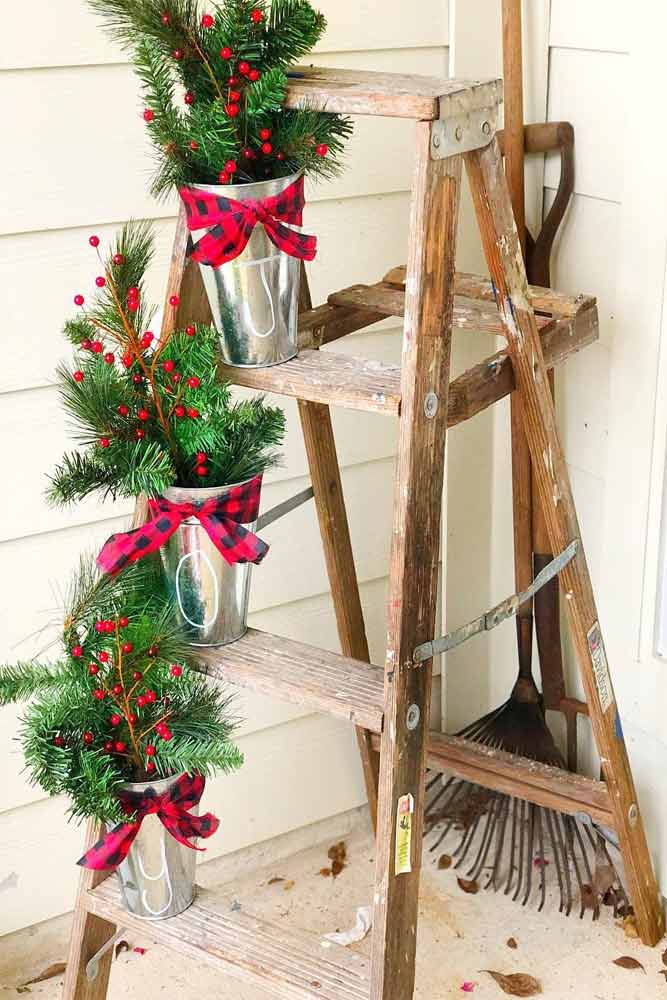 Credit photo: Instagram.com/thriftydecormama
If you spent all of your savings on holiday shopping and there is not enough left for the decoration part – do not worry. Take out your old stepladder, add a few buckets to the steps, fill the buckets out with pine and holly and the perfect decorative element for your porch is almost ready. Take out your marker, spell JOY on the buckets, and add some fancy plaid bows to them. As simple as that!
Vintage Skis With Holiday Decor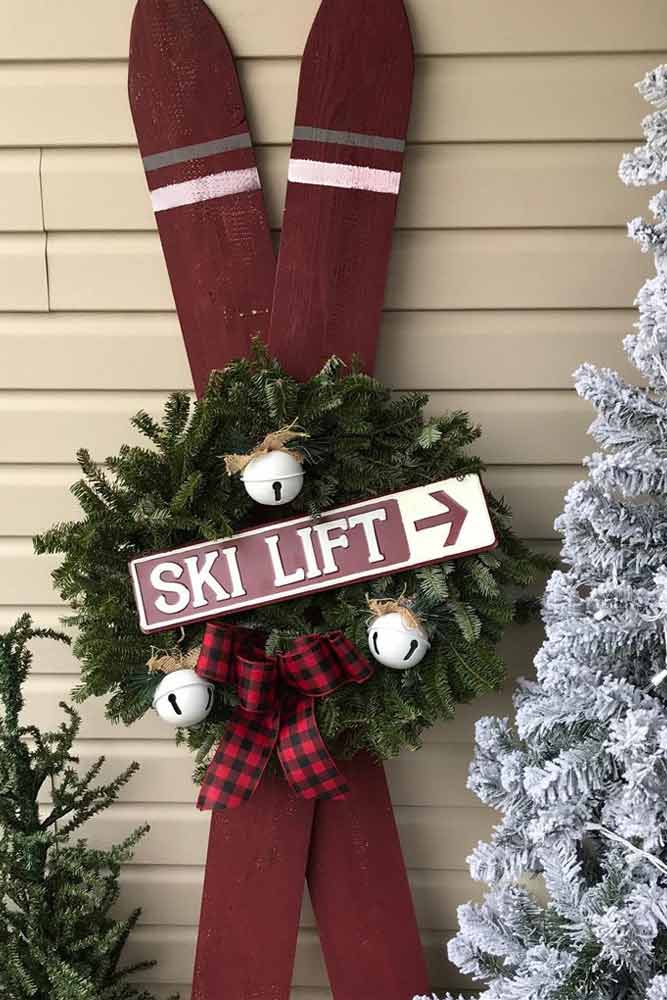 Credit photo: Instagram.com/coastaldreaming_
Diy outdoor Christmas decorations deserve special attention. The thing is that not only you transform all of your old belongings into something new and unique but also you switch on your creativity, and that is always great. A pair of old painted skis decorated with a pine wreath will beautifully add up to the rest of your porch décor. What is more, you can hang a funny sign on.
Outdoor Lantern With Candles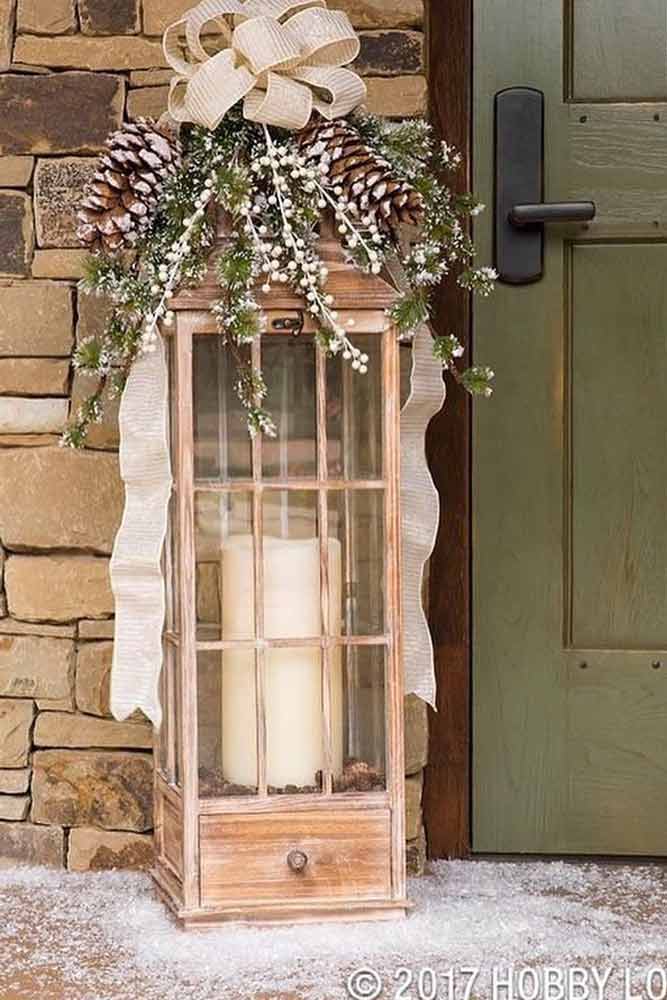 Credit photo: Instagram.com/hobbylobby
We all know that Christmas, as well as other holidays, are about the light that is why various lighting elements introduced into the decor are merely necessary. However, when Christmas lights may seem too much, candles fit in like nothing else. Besides, candles always have that unique one of the kind ability to create perfectly cozy and warm atmosphere. Place a few wooden lanterns with candles on your porch and enjoy the outcome.
Fairy Lanterns With Pine Baskets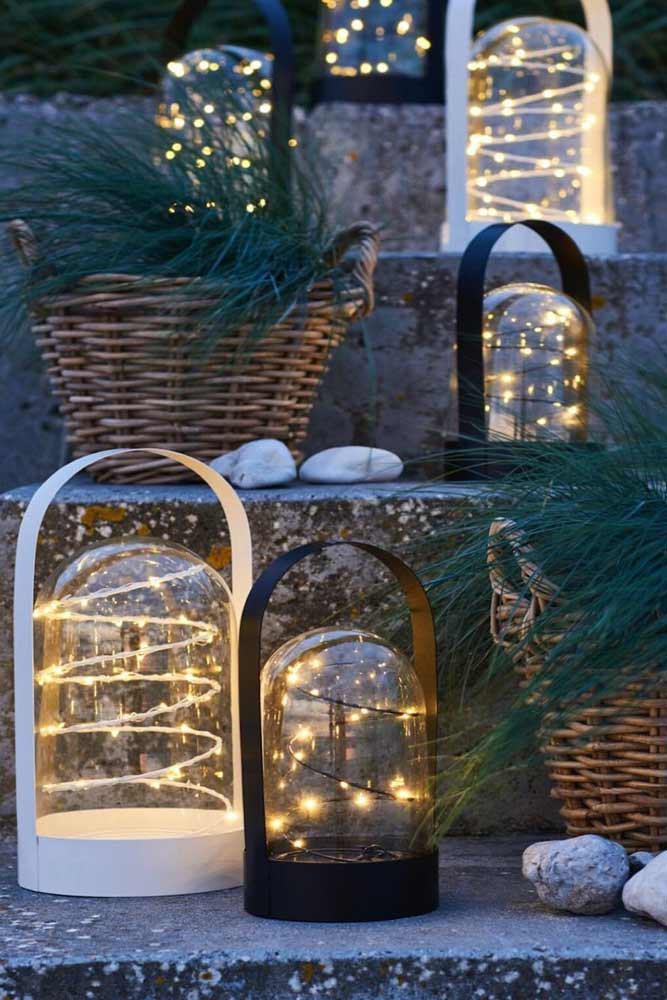 Credit photo: Instagram.com/aa.living
Truth be told that sometimes to come up with a perfect decorative element you need to spend some time and effort unless you are ready to waste lots of means on it instead of making it with your hands. We are sure that to create these fairy lanterns you are going to need some time, but the overall result will be totally worth it, you can see that for yourself! Besides, pine-filled baskets just add up to the fairy vibe!
Christmas Porch Decorations In White Color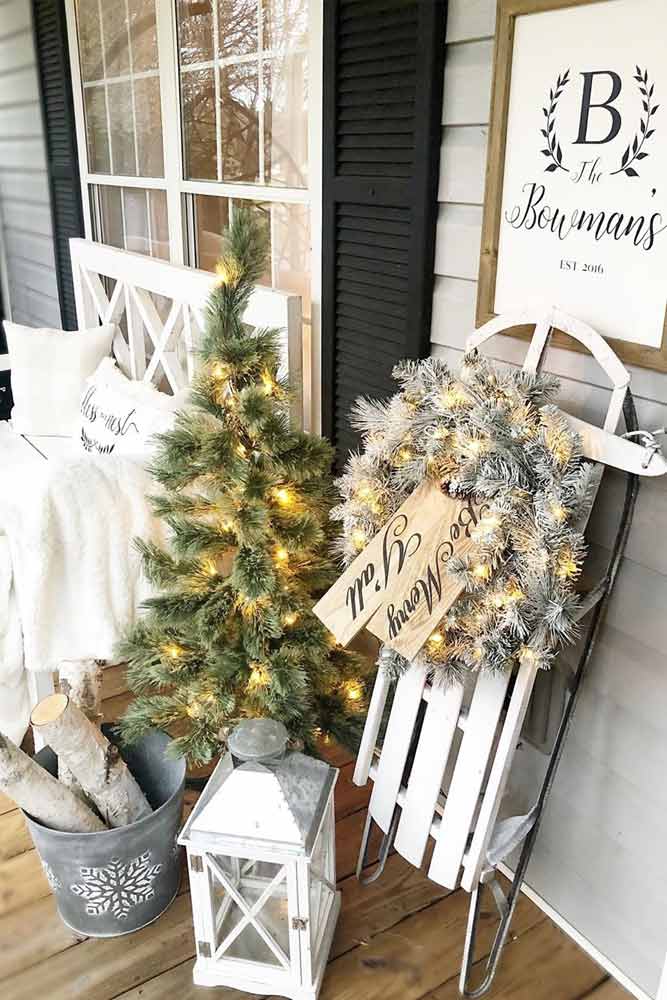 Credit photo: Instagram.com/interiors_by_danielle
If you want your front porch Christmas décor to look trendy and stylish, then try to make its color range unified. White is a perfect choice for a base color of your decorations, as it matches with all shades of the color spectrum.
Outdoor Christmas Decorations With Sledge In Red Color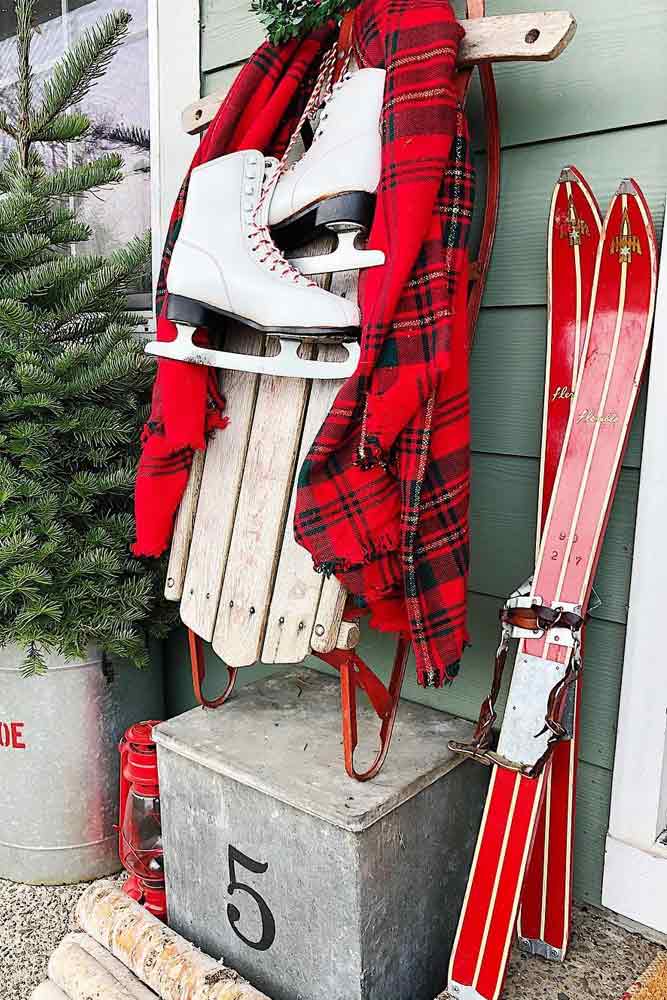 Credit photo: Instagram.com/nestingblissfullyinteriors
Opting for one of the traditional colors of Christmas is always a wise solution if you lack ideas for your holiday decorations shades. Put a red sled outside your house so that it looks striking against the color of its walls. A small Christmas tree will add contrast to your porch.
Those of you who are in search of fancy and unique outdoor Christmas decorations – you have come to the right place. We have gathered here all the best ideas that will please any exquisite taste!
FAQ: Outdoor Christmas Decorations
How to DIY Christmas wreaths?
Take a pool noodle and attach its ends with some duct tape.
Decorate to your liking, you can use some greenery, floral pieces, Christmas ornaments, etc. Use hot glue to secure them.
How to DIY lollipops?
Take a red pool noodle wrap some white duct tape around to make it look like a peppermint.
Roll it around use heat gun to glue it together.
Take any stick of a suitable size, paint it in white and thread it through the lollipop.
Take a clear cellophane and wrap it around the lollipop and use twine to tie it in place. Add bowtie and ribbons.
Was this article helpful?