The best front porch ideas can be found in this post. A front porch welcomes our guests, so picking some nice and creative design is essential. Your front porch should look lovely in order to make a good first impression on anyone who sees it. Also, depending on the design that you choose, it can be a place for relaxation and entertainment.
Let's discover décor ideas for your front porch that will reflect your exceptional taste and lure the approaching guests inside.
Fall Front Porch Décor With Pumpkins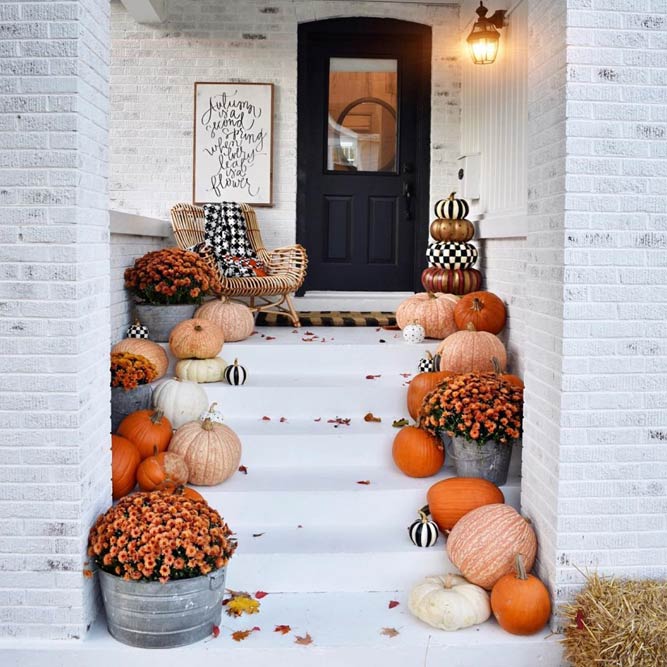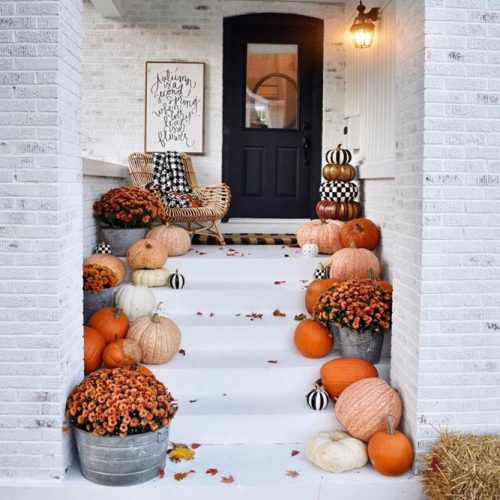 Source: kindredvintage via Instagram
The fall is officially here. And that is why it is the time to convey the new season vibes via your outdoor space decor. And a pumpkin is a timeless symbol of the fall. In this pic, orange, pastel, and patterned pumpkins serve as charming vivid accents against the white background.
Simple Fall Front Porch Décor With Flowers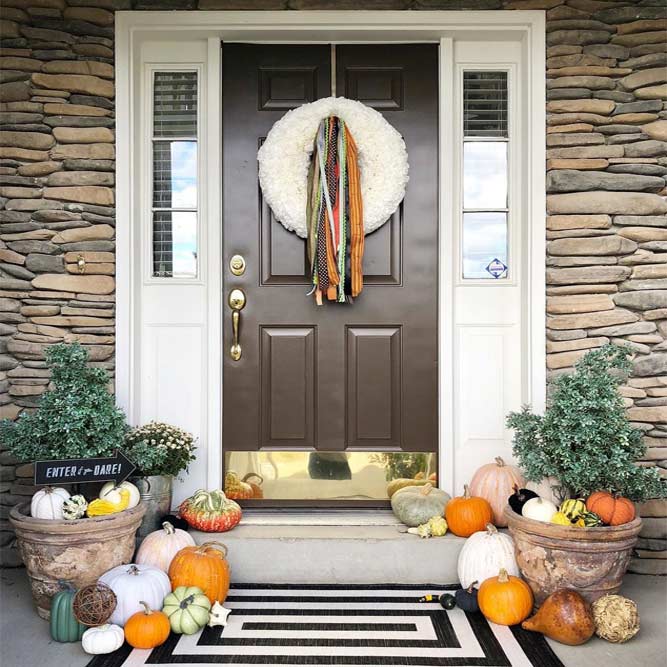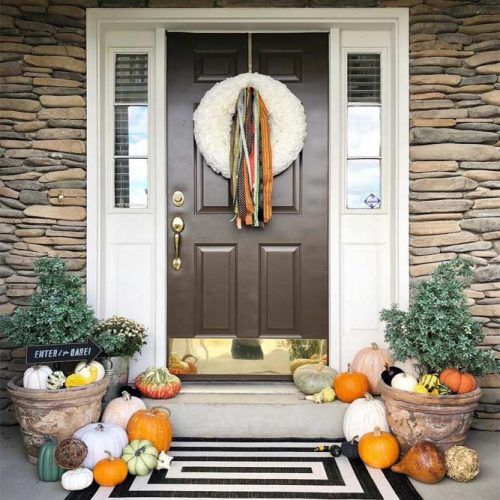 Source: amywilsondesigns Instagram
Are you searching for front porch ideas for a small space? Here is a simple option. Flowers are often used when embellishing spaces. Hang some floral wreaths on your front door and beside it. And maybe add several vases with more neutral flowers as shown in this picture.
Wild Flowers With Pumpkins And Wooden Mushroom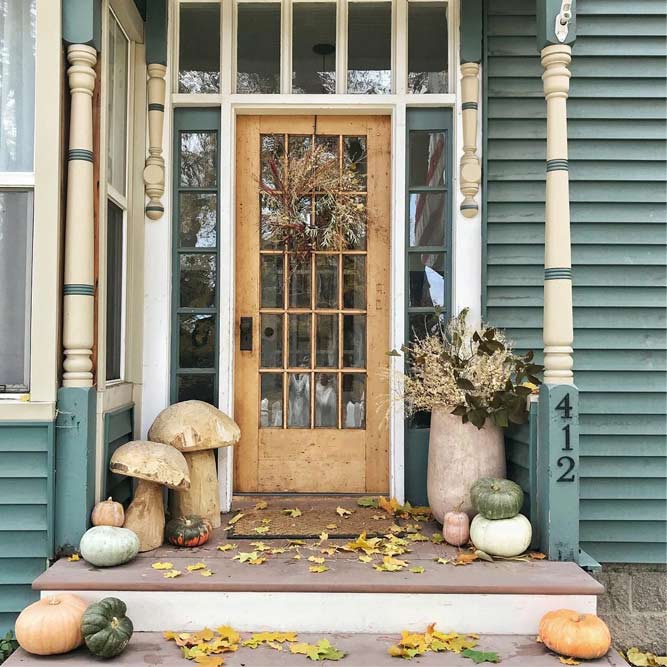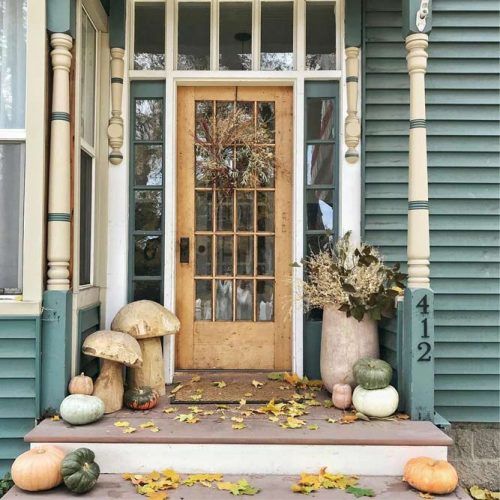 Source: paintedfoxhome via Instagram
When decorating your front porch for fall, it is impossible to place too many pumpkins there. In this picture, white-colored pumpkins complement the wild flowers. And this décor works great for the exterior in cool muted grey and blue tones. You can pick wild flowers like shown here or go for other favorite flowers.
Fall Wreath Design For Front Porch Decor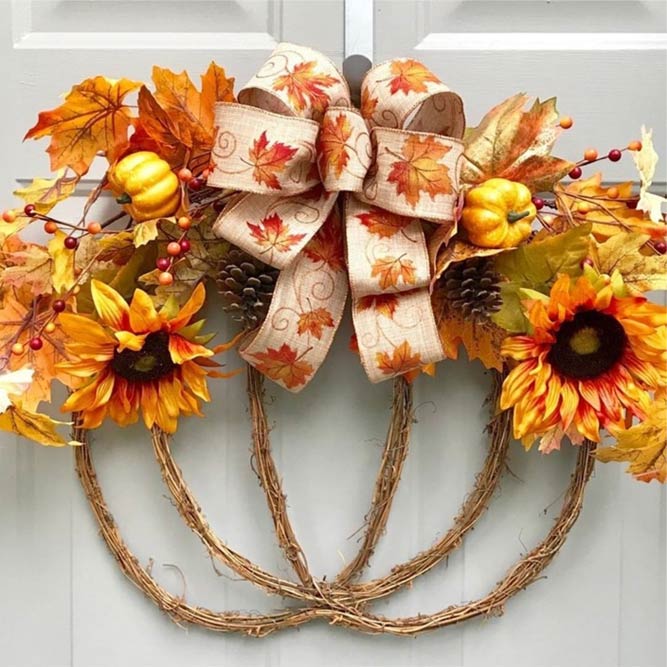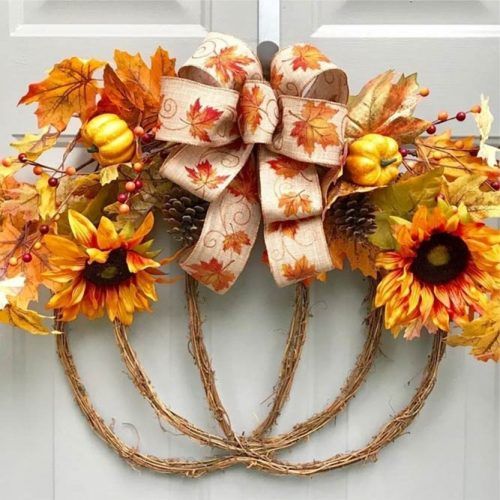 Source: beautifulmesh_wreaths via Instagram
When decorating your front porch, you can always go for the minimalism and let only one element do the talking. And that is exactly what you can see here. This wreath in a rustic style is so admirable and definitely fall-appropriate. And you can easily create such a piece of décor at home.
Rustic Pots With Mums For Front Porch Decor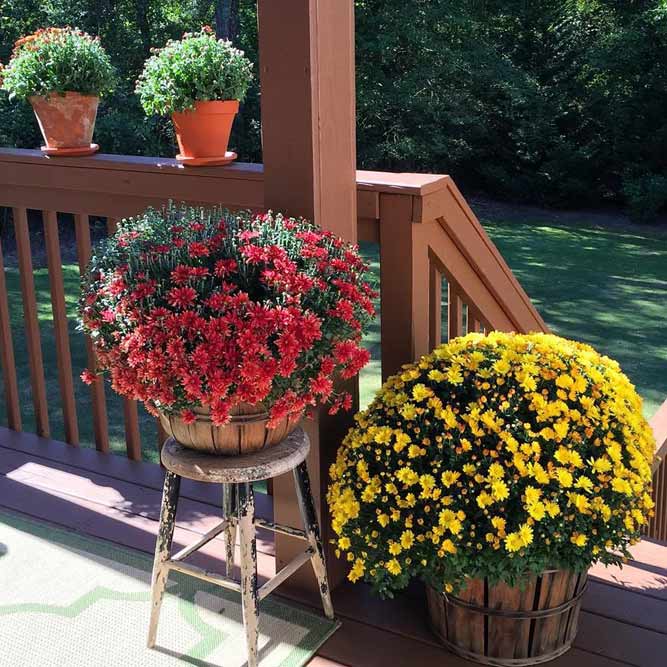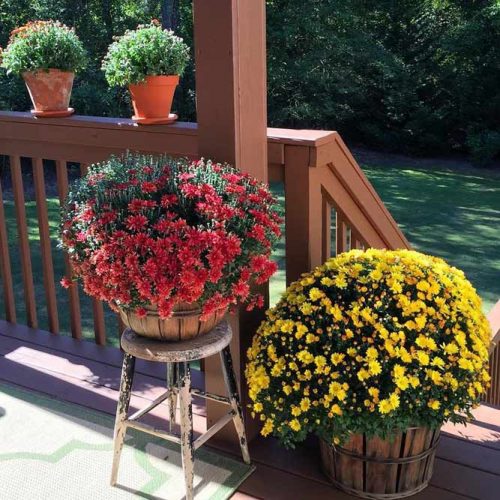 Source: savvysouthernstyle via Instagram
Are you into the rustic décor style? Then you will definitely love this idea. Yellow, red, and orange flowers are reminiscent of the fall season and also look awesome against the porch painted in a brown color. In this pic, the pots are a bit shabby, which only adds on to the rustic style.
Christmas Fall Porch Decor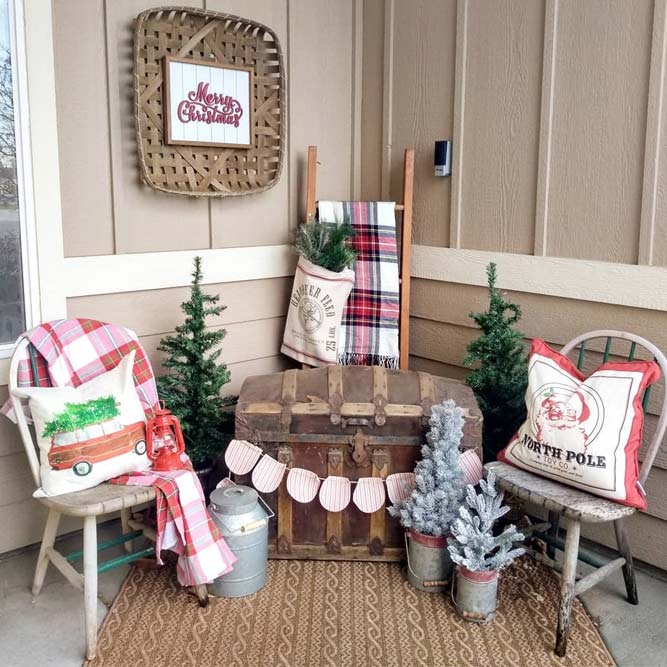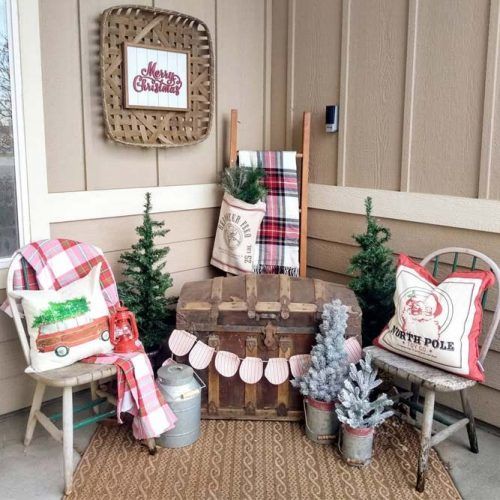 Source: whislerroaddesigns via Instagram
In the wintertime, porches decorated with garlands are a common view. In this picture, branches of various evergreen trees serve as the front porch decoration. They refresh the look of the entrance door. And green hues are a bit spiced up with red accents that add some Christmas vibes to this exterior view.
Winter Front Porch Décor With Lights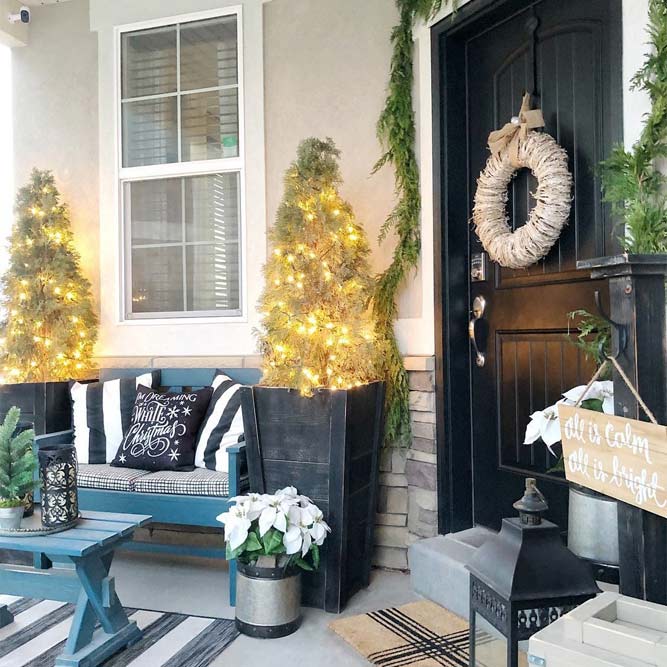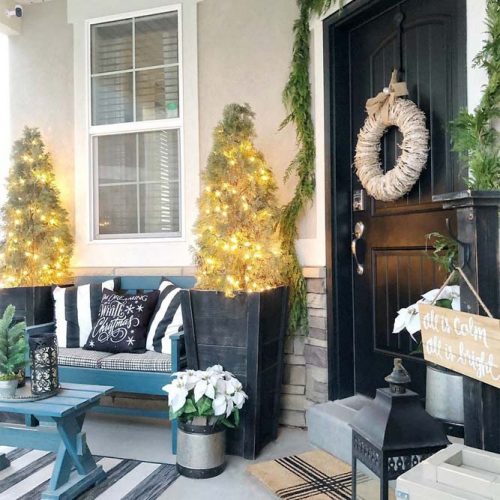 Source: greybirchdesigns via Instagram
Pick this décor idea for your front porch if the cozy atmosphere is exactly what you are looking for. This homely porch can bring you many warm memories. It would be so nice to grab a cup of tea or cocoa and spend your evening on a porch like this. The lights add on to the overall feeling of comfort and delight.
Rustic Winter Front Porch Decor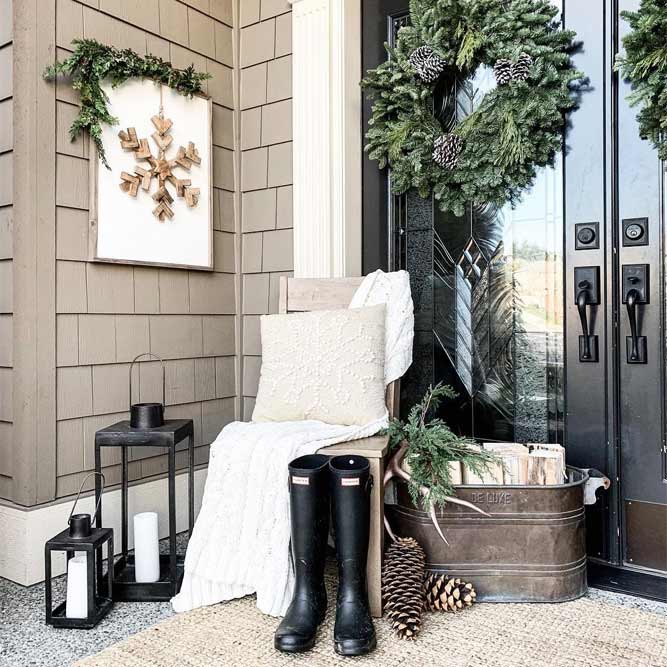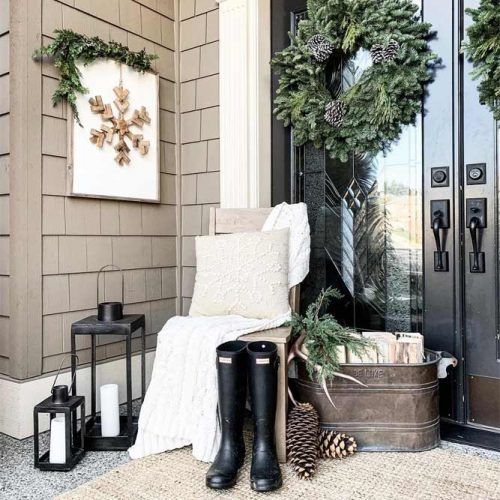 Source: sagelantern via Instagram
A front porch designed with rustic designs are among our favorites when it comes to the wintertime options. And the white theme is classy and super adorable. When Christmas is approaching, such a theme would be especially appropriate. We really love this evergreen wreath on the door.
Spring Front Porch Décor With Galvanized Metal Flowers Pots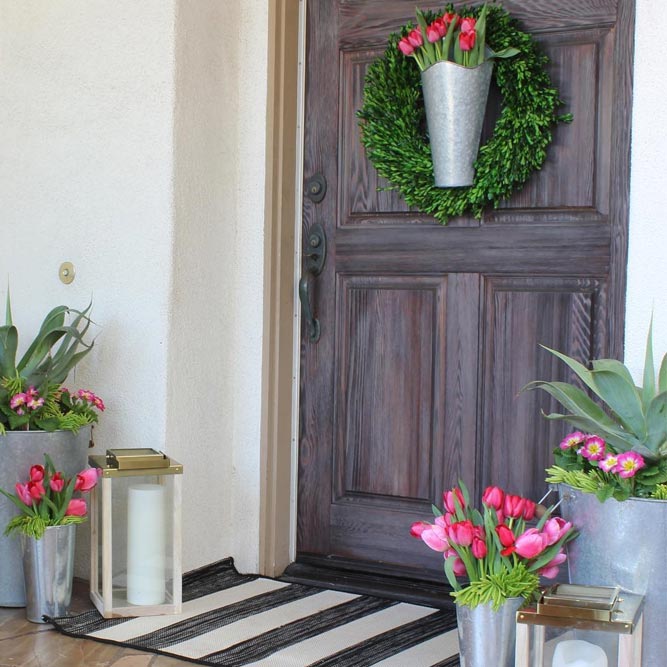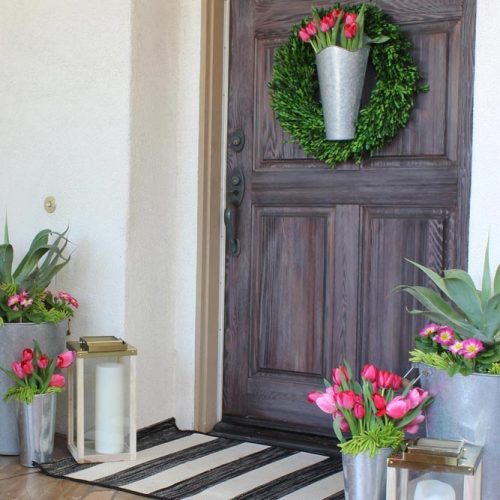 Source: meaningfulspaces via Instagram
Galvanized metal pots for flowers will help you to create a more formal style porch. Pick the pots of different sizes and shapes to spruce up your front door, as shown here. The best thing about picking such pots is that they are more long-lasting, comparing to other materials like wood or plastic.
Spring Front Porch With Easter Decor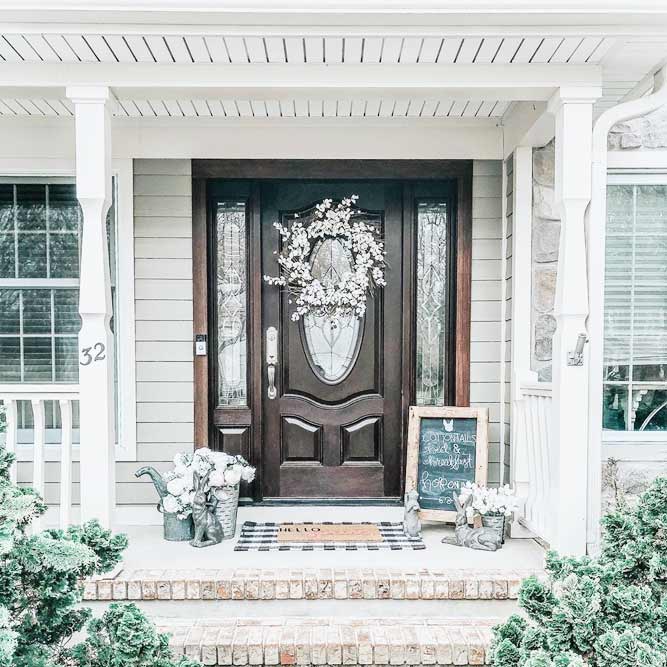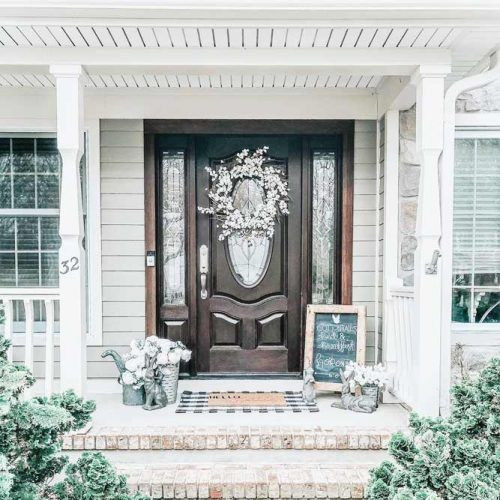 Source: a.little.love.designs via Instagram
We really adore this front porch designed for Easter. And the Easter color scheme looks so eye-pleasing. These greens and pastels do work wonders when paired together. And these white flowers look awesome against this dark door. Overall, it is one of the most elegant front porch ideas for Easter.
Rustic Front Porch Spring Decor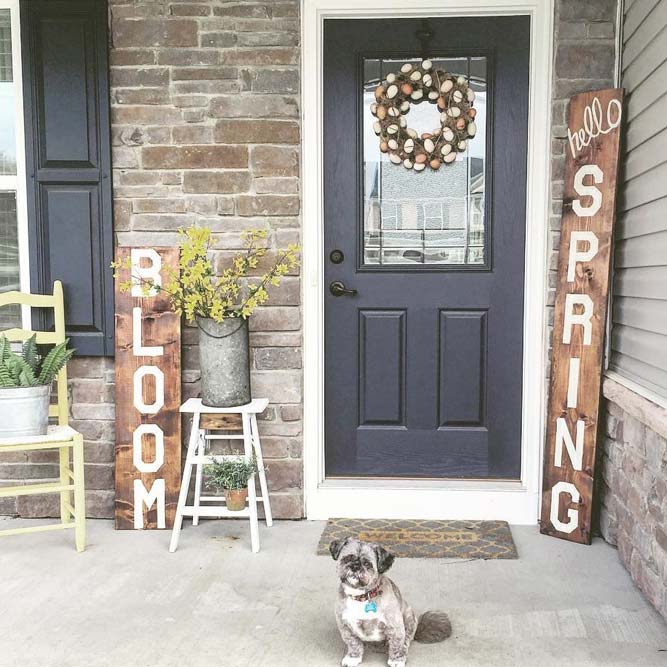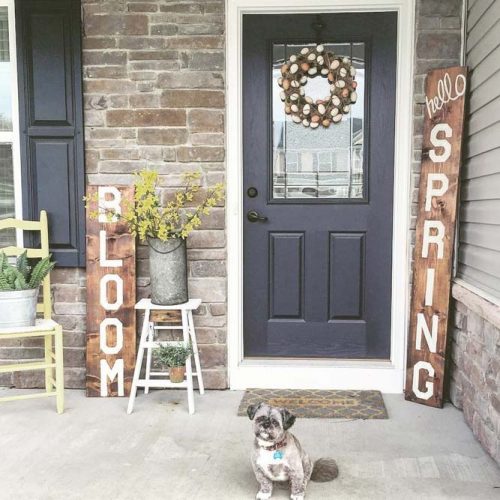 Source: oureverchangingfrontporch via Instagram
Rustic design ideas are here to stay when it comes to decorating your front porch. And this décor option will work awesome for the springtime. Notice these spring flowers beside the door and the wreath embedded with eggs, which reminds us of Easter. It's a simple and nice idea.
Spring Wreath For Front Porch Decor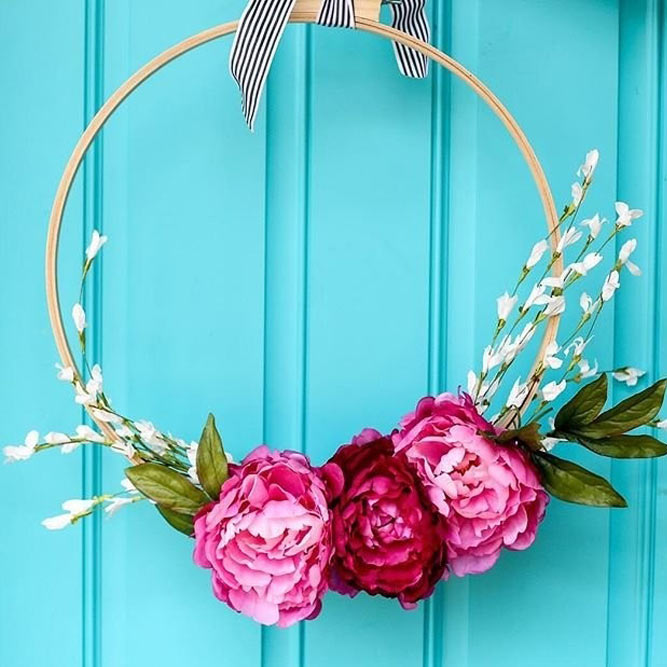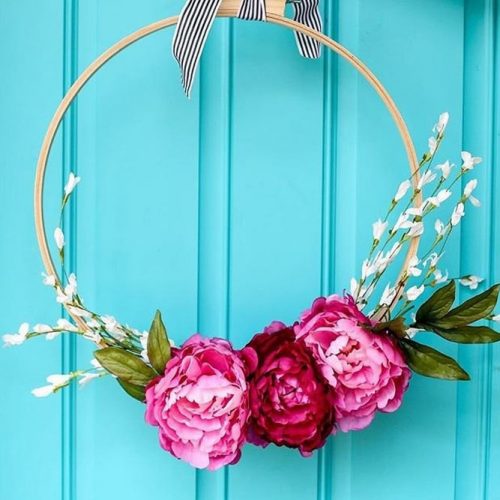 Source: sugarbeecrafts via Instagram
A wreath like the one in this pic will be a piece of décor that will stand out against your blue colored door. And the truth is that it can be created in less than half an hour even if you are an amateur in crafts. All you need is fantasy, a circle, some stripes, and bright flowers.
Eco-pots Designs For Front Porch Decor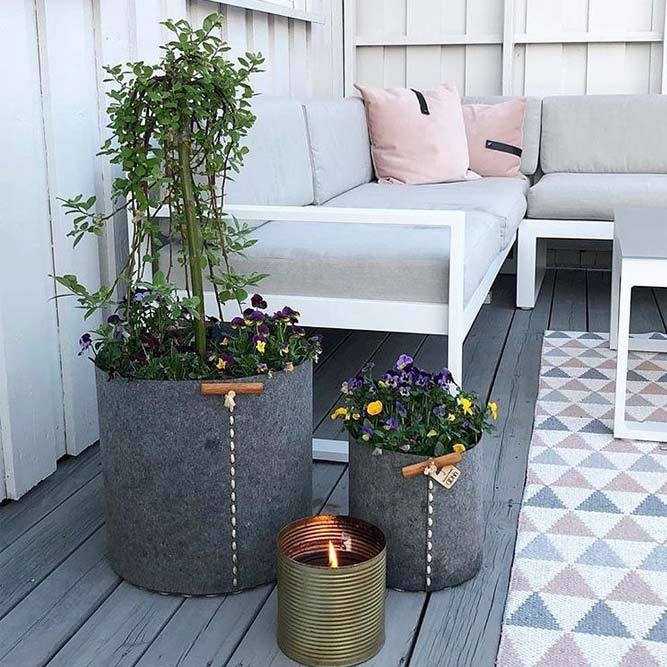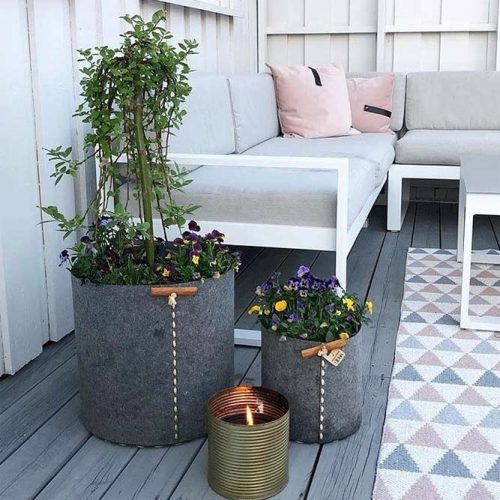 Source: oohh_collection via Instagram
This might be the coolest décor idea for the front porch for those people who are into the upcycling movement. Some things deserve to have one more chance, especially if it will help to save our planet. These pots were upcycled. And the result is quite stylish, how do you think?
Summer Front Porch Décor With Bike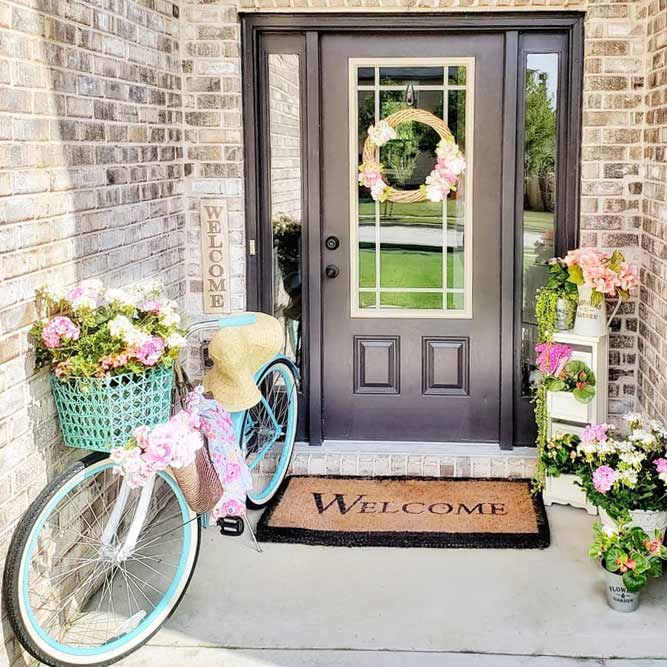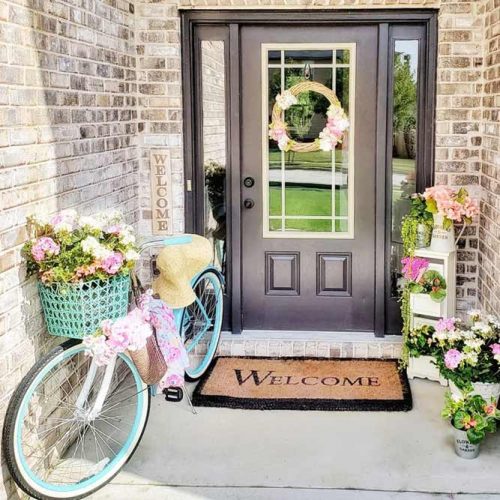 Source: atmeikasa via Instagram
There are so many ways how a front porch can be refreshed. And in case you are looking for front porch ideas for small houses, here is a fun option with a bike and flowers placed here and there. We really like how these colors appear in the sunlight.
Summer Front Porch Décor With 4th Of July Theme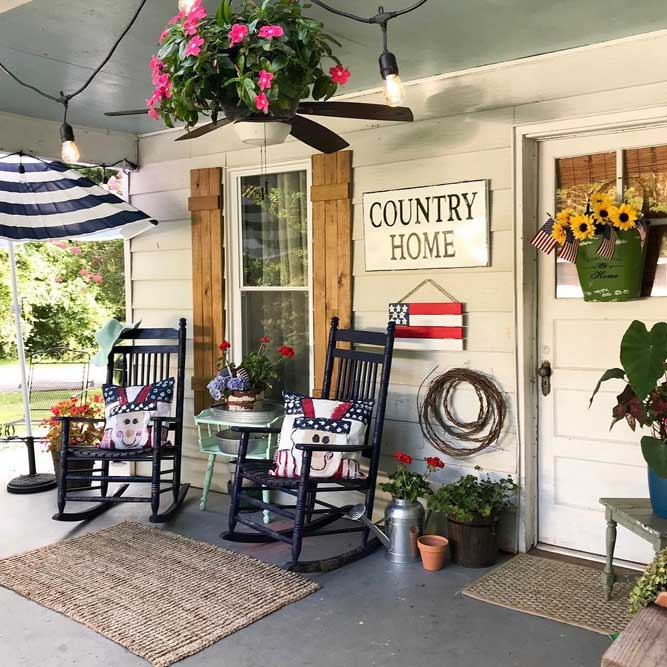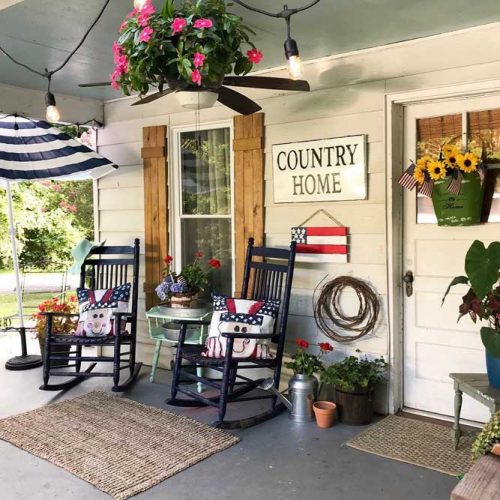 Source: littlehomebighearts via Instagram
What are your plans for the 4th of July? What about going to a party and then spending your evening on your front porch? Decorate it according to the theme, place some outdoor furniture on it. We think that rocking chairs will work perfectly. Enjoy your holiday!
Summer Front Porch Décor With Layered Rug And Simple Flowers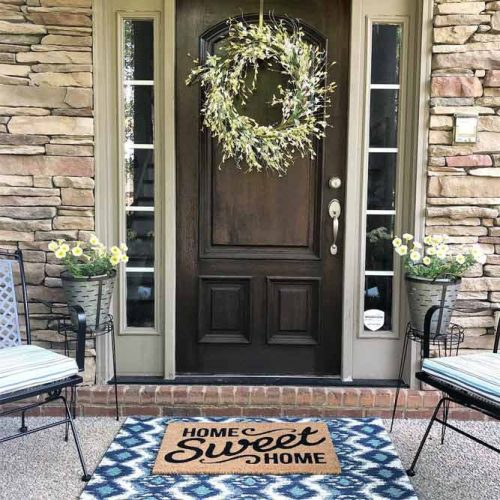 Source: wilshire_collections via Instagram
You will probably spend a lot of time on your front porch during the warmer months. So, make sure you feel comfortable there. Put some chairs on the porch. They will not only serve as a focal point but also let you enjoy warm summer evenings.
Summer DIY Wildflower Wreath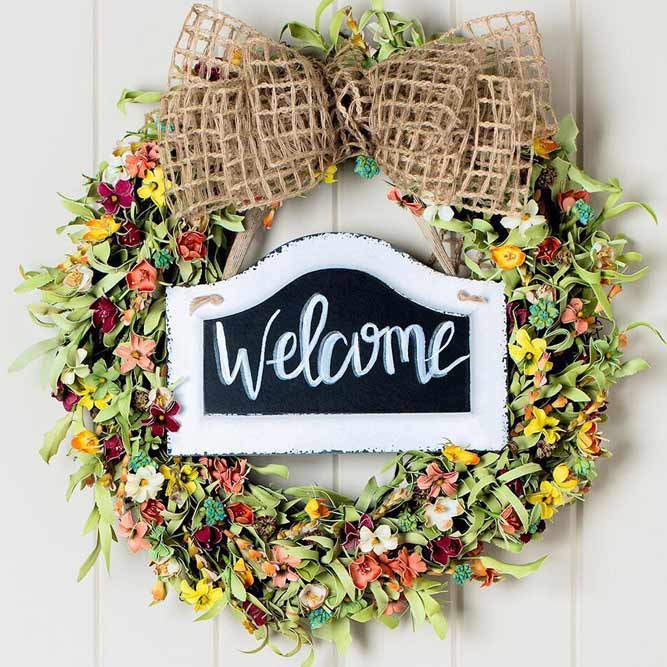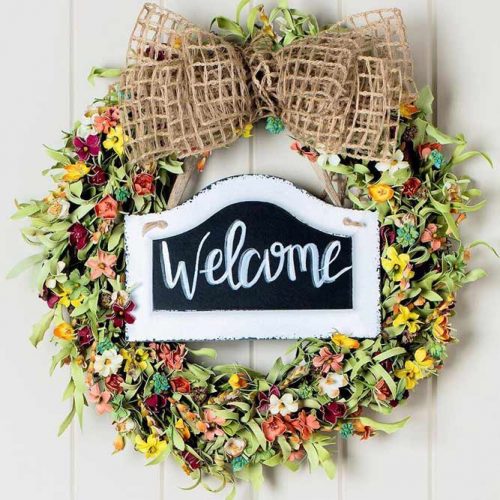 Source: hobbylobby via Instagram
In the summertime, you can easily gather wildflowers somewhere besides your house to create a cute wreath like this. Hang it on the nail or the metal hook on your door. Don't forget to add a welcome sign like shown in this pic.
Front Porch Organization With Flower Pots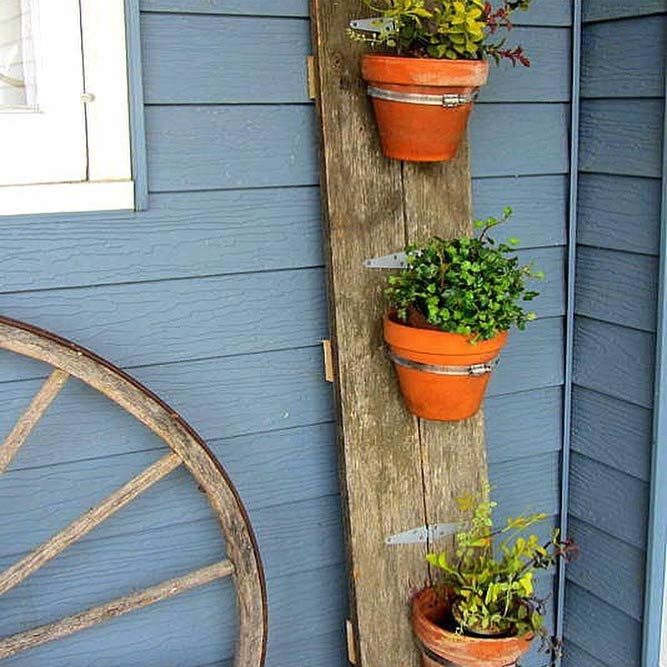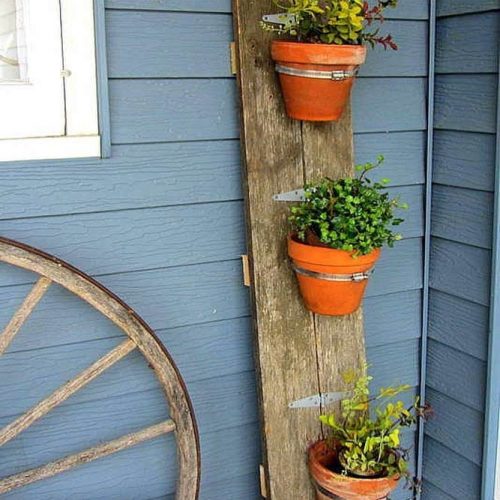 Source: organizedclutter via Instagram
Here you can see an interesting idea. Place the flower pots vertically rather than horizontally. The pro of such an organization is clearly the smart way of using your porch space. The wheel complements the overall rustic-looking décor.
Do you like these front porch ideas? Save this post, and you will have great ideas for every season. In the meantime, more inspo is waiting for you on our blog.