It does not matter whether large breasts or smaller ones you have the chances are that you dread that time when you are faced with the necessity of buying a new bra. Why is that? The fact is that the fitting bra is responsible for a list of things such as back support, posture, and even confidence. What is more, just as comfortable the bra that suits you is, so uncomfortable and, at times even damaging, the one that does not fit you is. The moment you get that one bra that fits you well, you cling to it for as long as possible, and we understand why. However, if you learn how to measure bra size correctly, shopping for new lingerie will become a mere pleasure, so read on to learn more!
Your Bra Size Guide/Calculator
For correct measurements, make sure to
Start with a non-padded bra
Stand in front of a mirror
Use a measuring tape
Get Started
How Do You Know That It Is Time To Get A New Bra?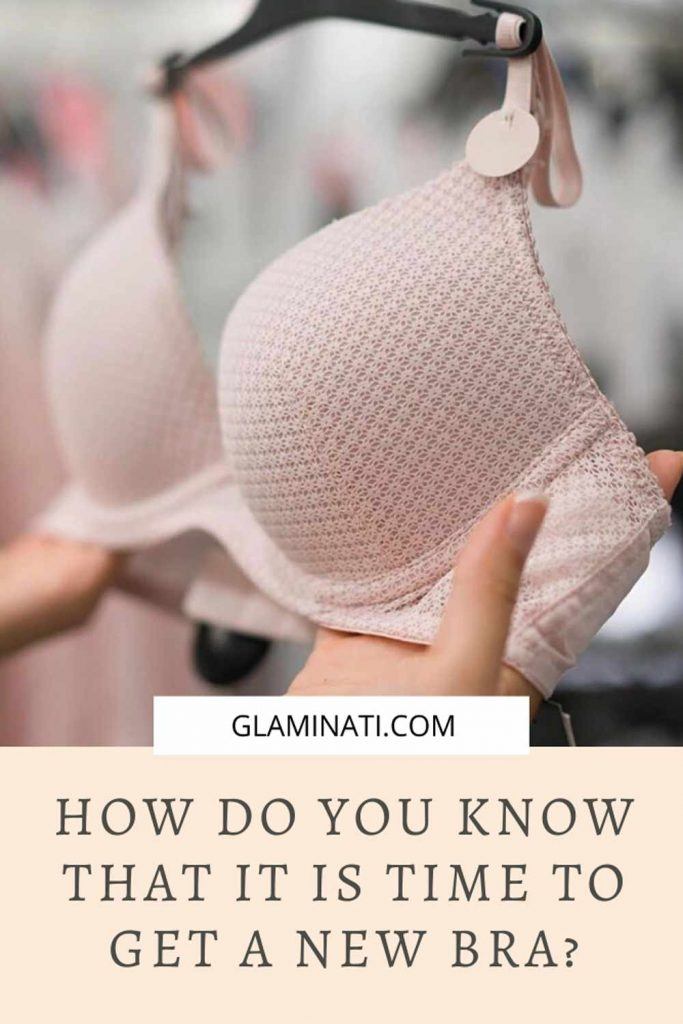 Source: Instagram/ciceroni_surat
Usually, this does not apply to the sexy lingerie since you wear it less often than the usual comfy bra. So how do you know that it is time to say good bye to that old friend of yours that has been supporting your boobs for so long? There are a few common signs that speak for themselves:
Do you find the band up on your back too often? Well, we have some bad news for you – your bra has stretched to the point of throwing it out.
Do you see a 'double boob' when putting a tight shirt on? It is time to shop for a new bra.
Does it feel like your breasts are getting lost in the cups? The chances are the cup size is too big for you, does not fit your boob shape, or got too loose and needs to be replaced.
Do your straps keep slipping? They have lost their elasticity, and the bra needs a new replacement.
Lastly, if you see the wires poking out or that the bra is too worn out to be seen by anyone else – it is time you get rid of it!
Is There A Way To Measure Your Bra Size At Home?
When it comes to the point when you start to wonder as to how to measure bra size at home, there are few main factors to be aware of. It matters not whether it is plus size lingerie or regular size one – the rules are the same, and we are going to share them with you.
How To Figure Out Your Band Size Correctly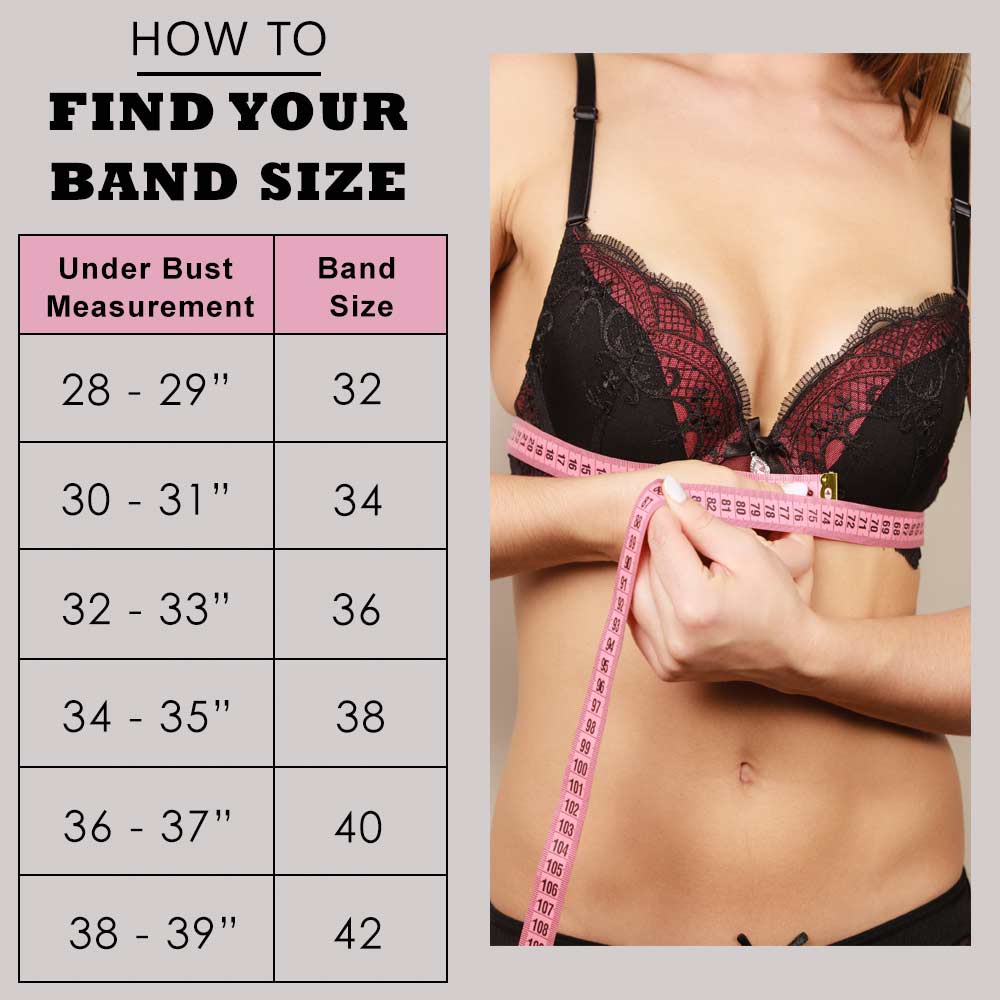 Is there a simple way you can learn how to measure bra band size at home? There sure is! All you need is an old bra of yours that fits you well and a measuring tape. Wrap the tape around your back right where the band of the bra sits and put down the number you get.
Keep it in mind that you should not let the tape dig into your body otherwise, you will come up with a band size that will be too tight for you, and the same refers to a loose tape wrapped around your back. In case you get an uneven number, let's say 29, ½ inches, then you round the number up to the whole number that is the nearest, in this case, it would be 30 inches. So, when you have 30 inches at hand, you can convert them into a fitting band size, according to the table below. If we are still talking about 30-inches measurement, then your bra size would be a 34.
How To Measure Bra Size - Find Your Cup Size?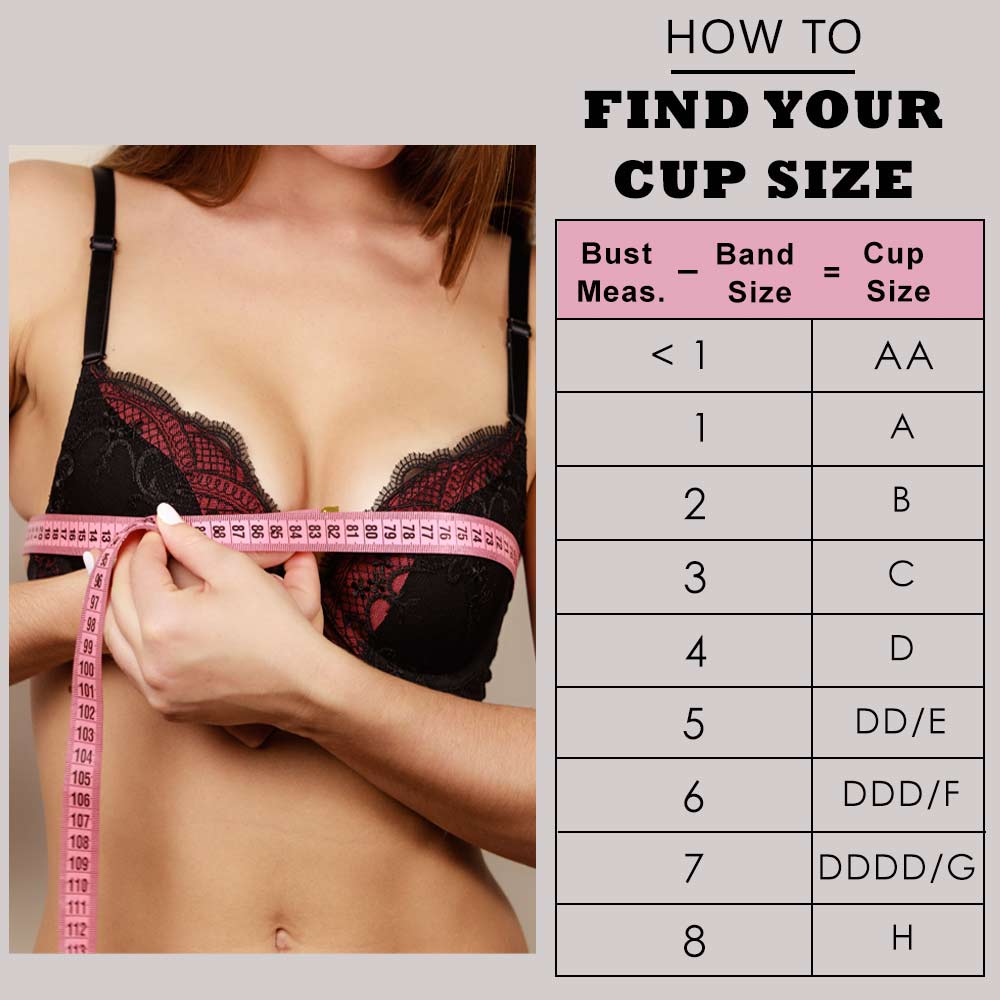 Now, when we start talking about how to measure bra cup size, things can get a little more complicated, that is why you need to be careful while doing the math. To begin with, you need to wrap a measuring tape around your back, right under the shoulder blades in the back, and over the fullest part of your breasts in the front. Put down the measurement that you get. Let's say that you have 36 inches measurement. Now it is time to subtract that band size that you have got earlier. In our case, the band size was 34, and the difference we get is 2. If you look in the table below, you will find that 2 stans for B size, thus what you get is a 34B bra size. As simple as that!
How To Measure Bra Size? - Vital Facts To Keep In Mind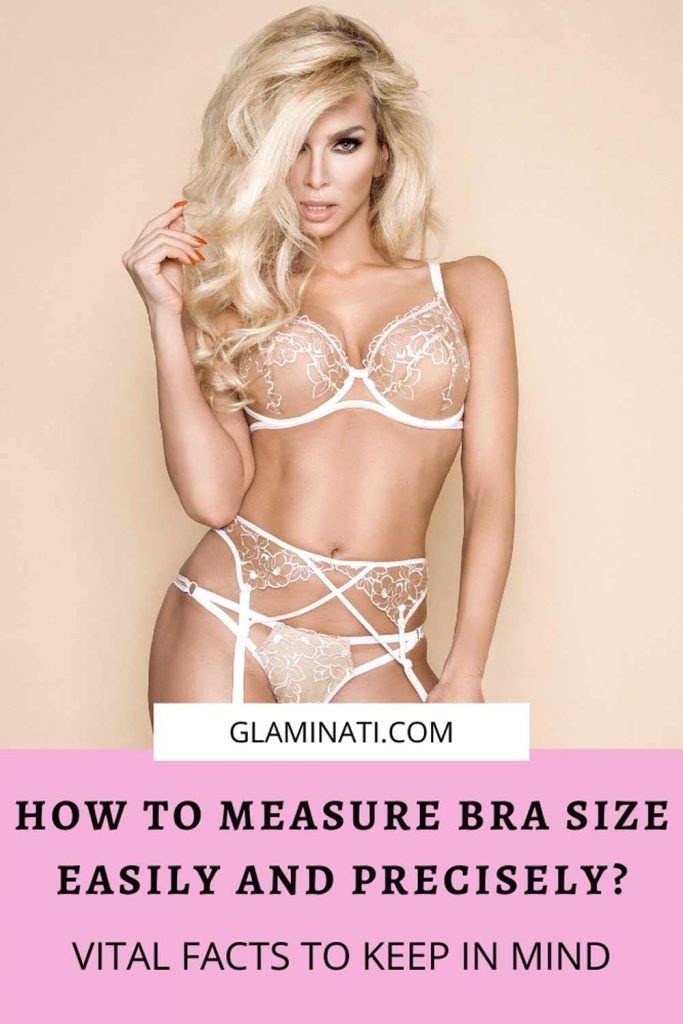 Now, when you know your precise bra size, it is time to consider some other important factors that concern a bra that fits perfectly:
It is best to take all the measurements without a bra or with a non-padded bra on.
Do not be too lazy to measure for a second time to be 100% sure.
A good bra should be neither too loose or too tight.
Let a professional take measurement of you at least once.
Start the measurements with band size.
Always remember about strap adjustment.
Think About Your Breast Shape When Choosing The Bra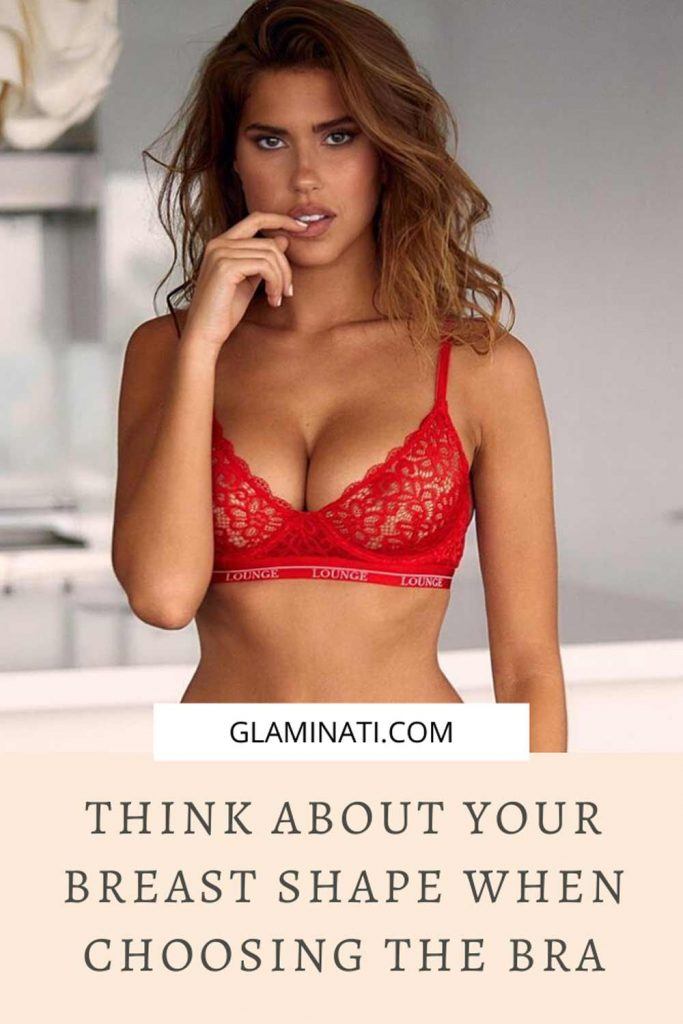 Source: Instagram/loungeunderwear
Not only your breast sizes matter when you are looking for an ideal bra but your breast shape as well. The fact is that you may do all the calculations right, but it still feels like it is not your perfect bra. The main reason for that may be your personal breast shape. We are going to bring to your attention the most common breast shapes along with bra types that fit them well:
Round breasts – triangle bras will hug that fullness of your breasts perfectly.
Teardrop breasts – sweetheart silhouettes are suggested for you.
Wide-set breasts – bras with well-spaced gores will suits you perfectly.
Compact breasts – contour-padded bras will help you deal with any discomfort that you may have ever experienced due to the breast shape.
Asymmetric breasts – if one boob is a bit larger than the other, then bras with removable padding would be perfect for you since you can even the asymmetry out by merely taking one padding out.
Will You Notice That Your Bra Fits You Well?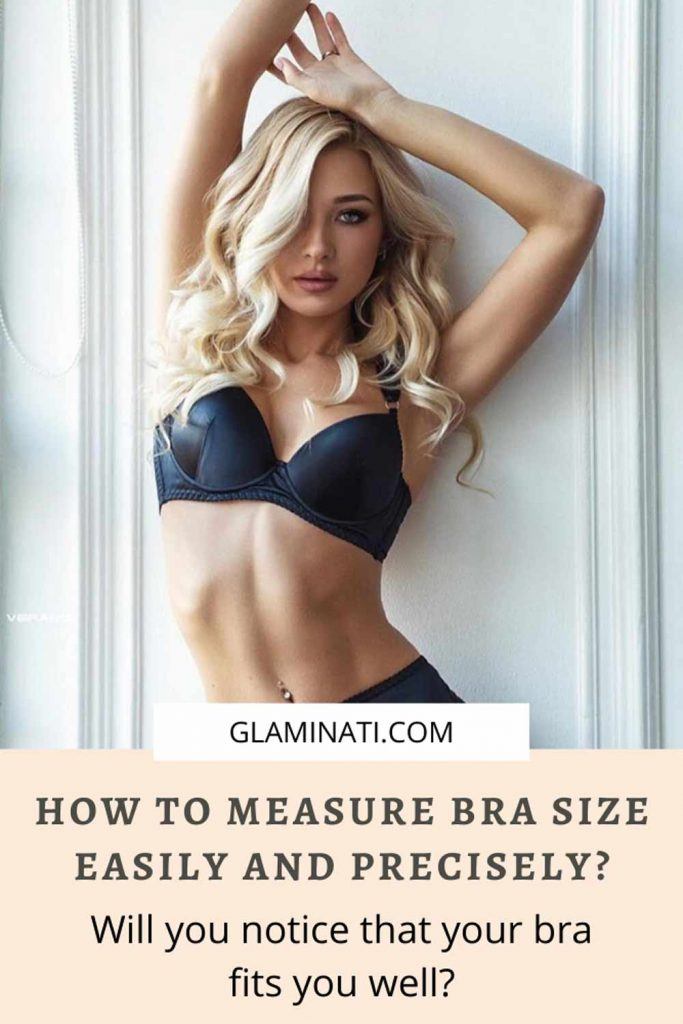 Source: Instagram/classlinge
So far, we have discussed how to measure for correct bra size. But the question as to you being able to tell that the bra fits remains open. That is why we have rounded up some few factors that indicate your new bra fitting you flawlessly:
The band does not squeeze you or rides up;
The bra center is pressed flat to the breastbone;
The straps do not slide off nor dig in;
The breasts are not spilling out of the cups;
The bra stays perfectly in place even after you raise your hands up;
An unfitting bra is a real disaster. There is nothing worse than having that beautiful-looking bra lying in your lingerie drawer untouched since it is too uncomfortable to wear. All of this will go away once you learn how to measure bra size correctly!
FAQ: Bra Size Calculator
Is 34 or 32 bra size bigger?
34 is larger than 32. In another example, the 34B and 36A cup sizes are the same. Band size is the only difference here.
What is ABCD in bra size?
Letters like A B C and D represent cup size. Numbers like 32 34 36 and 38 indicate the size of the band. This part of the bra "orbits" around the torso. 34A, for example, means that the chest is the size of an A cup and the bra is 34 inches.
Why do you add 4 inches to your band size?
When bra sizes were developed in the 1930s, the materials used for their production were a bit hard and inflexible, and most of women had just stopped wearing corsets, so manufacturers had to get the right band size, recommending to add 4 inches to the actual size.
Was this article helpful?