What thoughts come to your mind when you hear the phrase "yoga skin"? Most likely, you would associate it with a sweaty florid face without a touch of makeup. But what if the face expressed the inner state of the mind and body? How would your image change? We're almost sure you'd describe it as fresh, healthy and glowy. This is exactly what a yoga-skin trend is about. If you want to find out more about this brand-new makeup technique, more so, learn how to do it and get inspired by the best yoga makeup looks, we're here to talk you through.
What Is The Yoga Skin Trend?
Yoga skin makeup, even though sounds intriguing (or maybe even terrifying for someone), has nothing to do with mental and physical practices. It's a special technique in makeup when you mix several products together and work them into your skin for a lit-from-within look. The idea behind the trend is that your skin looks as radiant and dewy as if you've just flitted out of a yoga class.
It was first introduced by Sara Hill, a makeup artist who has created many celebrity looks. She posted a short tutorial on how to get the yoga skin look on one of her social media platforms, and it's become viral in a flicker. If you're striving to keep up with the current makeup trends, you should definitely try out the look yourself.
Source: sarahillmakeup via Instagram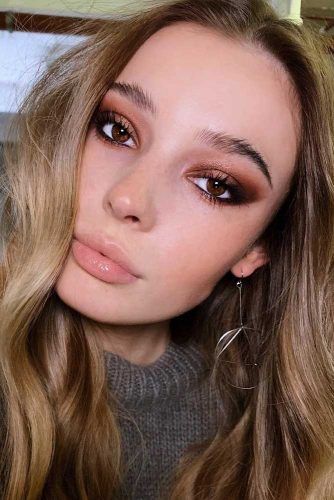 How To Achieve Yoga Skin?
To get this earth-shattering makeup look, you should follow the next steps:
Prepare your skin for makeup application with a cleanser and moisturizer. Wait until they're completely absorbed.
Apply a bead of a non-silicone primer as a skin base and let it sink into the skin.
In any container, your palm will work too, mix 3-4 pumps of your best water-based foundation with a light to medium coverage, a drop of face oil and another drop of a liquid highlighter or strobe cream, opting for golden shades.
Massage the blend into your skin with the hands, not a sponge or brush, until the coverage is even and settled. Use a small amount of concealer with the liquid formula on problem zones.
As a final touch, apply a cream blush and/or bronzer and secure everything with a little powder or alcohol-free setting spray.
Click Next Page to see different yoga makeup looks!
Yoga Skin Makeup Ideas
Although being a fairly new makeup trend, yoga skin has already set off many gorgeous makeup looks. Here are some of the most beaming ideas for your inspiration.
Neutral Makeup With Nude Soft Eyes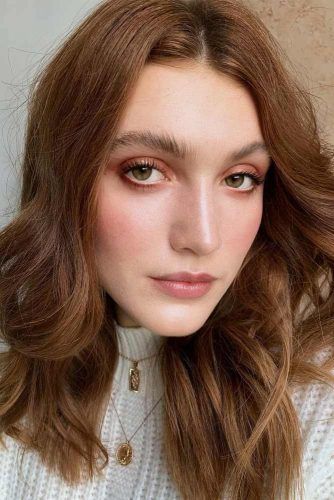 Source: sarahillmakeup via Instagram
If you have a full head of hazelnut or chestnut hair, yoga skin makeup in natural shades is a great way to accentuate its warmth and softness. Opt for a sheer glowy look on the eyes with a copper eyeshadow blended out around the edges. For added emphasis, apply a taupe eyeliner along the upper lash line and smudge it out. On the cheeks, use a peachy-toned creamy blusher. Finish off the makeup with a touch of a warm pink-tinted balm on the lips. To enhance the sweetness of the look, you can style your locks in free-flowing loose curls.
Simple Yoga Skin Makeup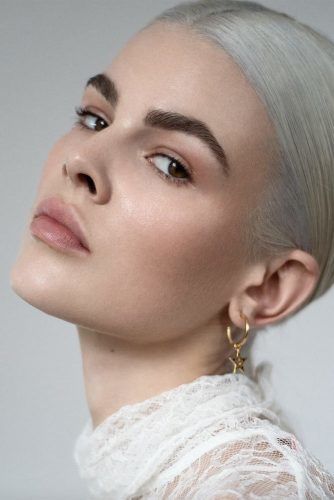 Source: sarahillmakeup via Instagram
Girls with a contrasty appearance, for instance, a combo of bleached hair, brown eyes, dark eyelashes and strong eyebrows, should go with a simple "no-makeup" yoga skin look. As you or genetics has already highlighted your key features, leave the rest as natural as possible. For the eyes, simply curl eyelashes and skip on mascara. For the lips, apply a transparent lip balm. And for the cheeks, add a touch of bronzer to warm up the look a bit.
Yoga Skin Makeup With Soft Eyeliner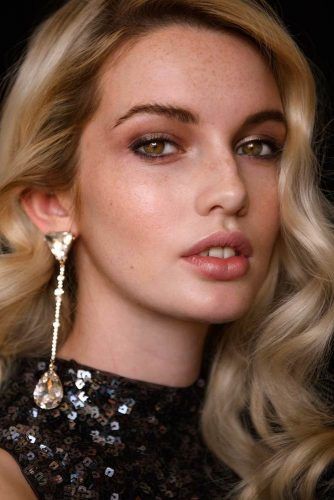 Source: sarahillmakeup via Instagram
Remember that yoga skin is all about real beauty. Thus, if nature blessed you with a smattering of freckles all around your face, don't you dare to cover them up with foundation. The coverage should be sheer and lightweight so that nobody would even notice that you were wearing makeup. By applying a sparkling yoga-skin cocktail to a freckled face, you make your skin not only look glowy and dewy but almost glittering. You may want though to accentuate your eyes a little with a blended eyeliner applied along upper and lower lashlines.
Yoga Skin With Shimmer Eyes Makeup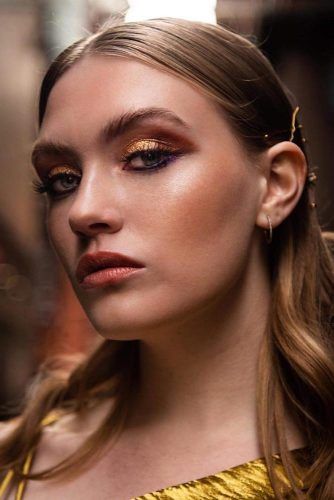 Source: karenwongmua via Instagram
Even though yoga skin entails minimal lip and eye makeup, it doesn't mean you can't go with a bolder look. For example, you can create quite a dramatic eye makeup with gold, brown and purple shimmery eyeshadows and apply a bronzer more intensively. On the lips, dab a golden-toned lipstick into your skin with a finger.
Natural Look With Soft Smudge Eyes Line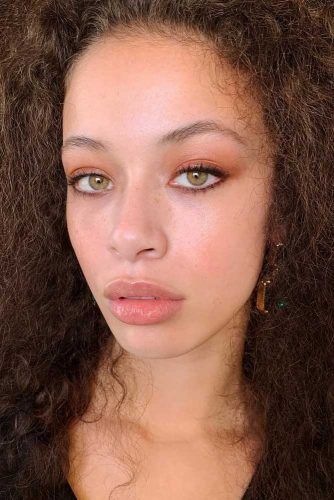 Source: sarahillmakeup via Instagram
Here's another yoga skin look that makes your eyes the focal point and enhances your natural beauty. Apply a neutral eyeshadow to the upper lid and blend it out toward the eyebrow. Draw quite a thick line with a pencil eyeliner along the upper lashline and smudge it out for a soft look. Finish off with one coat of mascara applied to both upper and lower eyelashes.
Yoga Skin Makeup With Bright Lips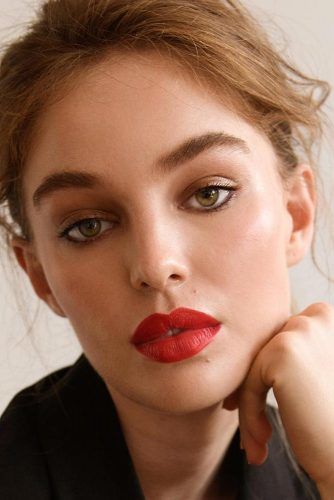 Source: sarahillmakeup via Instagram
If the lips are your favorite part of the face and you fancy showing them off, yoga skin makeup isn't the reason to deny yourself this pleasure. Pull out your trusty bright lipstick and go bold with your lips. However, don't forget about a lipliner to match, as the contour should be neat and precise.
We were very pleased to find out that to get a healthy-looking, glowing complexion, there's no need to spend hours doing yoga practices (it won't hurt though). By simply mixing some makeup products and applying them in the right way, you can attain beaming, dewy and radiant face thanks to the new yoga skin makeup technique. Hopefully, we inspired you on trying out this new trend yourself.
Was this article helpful?