If you ask us, what is bronzer buzz about, we'll give you an immediate answer that a bronzer is a must-have product in every makeup bag all year round. During cold months, when your skin is usually paler, bronzers help you warm it up a bit by giving a sun-kissed look. Throughout warmer seasons, when your face is naturally tanner, a bronzing product enhances your complexion making it healthy-looking and glowy.
However, with a sheer range of bronzers available on the market, it's hard to make the right decision. Besides, some of them can be really pricey, which adds to the fear of picking out the wrong product. So that you weren't drained dry by buying all the offers, we've put together the list of the best affordable bronzers and tips on how to apply the product.
*We may earn money from affiliate links on this page. Please check out our disclosure policy for more details.
NYX Professional Makeup Matte Bronzer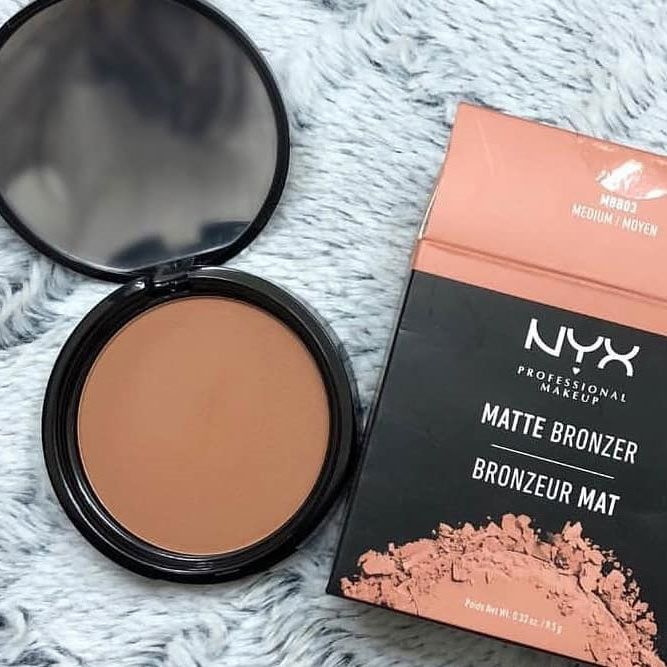 Credit photo: Instagram.com/leboudoircol
If you have normal to oily skin and gravitate to a matte finish rather than shimmery, this NYX bronzer will suit your taste. It comes in five different shades, so you won't have any troubles choosing the color to match your skin tone. Despite the matte formula, it brings warmth to your face without making it cakey or chalky.
Milani Baked Bronzer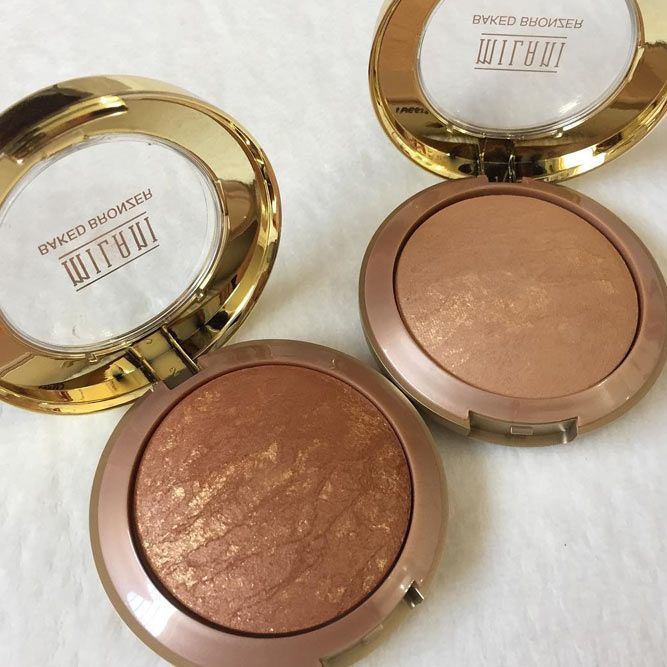 Credit photo: Instagram.com/moccamakeup.sv
This lightweight easy-blendable Baked Bronzer from Milani will complement your skin with a subtle shimmery touch. Even though the range includes only three shades, they're all extremely versatile. Also, the formula with micro-fine pigments works perfectly for almost any skin type, from dry to oily, thus making it one of the best low-cost bronzers.
L'Oreal Paris True Match Lumi Bronze It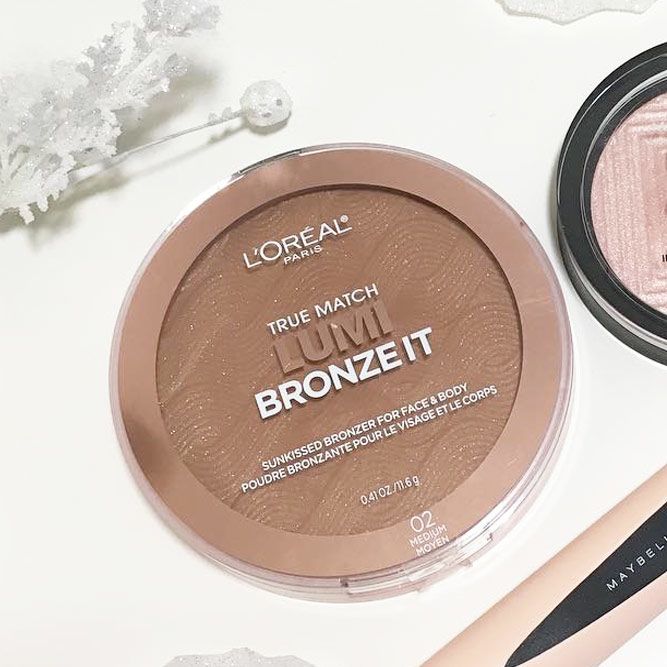 Credit photo: Instagram.com/mallorymoonbeauty
You've probably already heard of the ongoing makeup trend on the lit-from-within skin. With the True Match Lumi Bronze It Product from L'Oreal Paris, you can achieve this effect at one stroke. It also works for any skin type and comes in three shades. What's special about the Lumi Bronze It is that you can apply it not only to your skin but to the body as well.
Rimmel London Natural Bronzer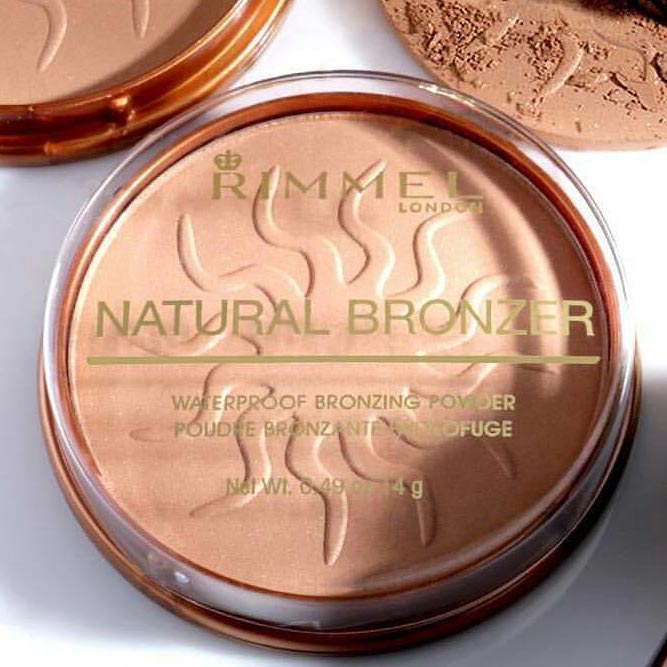 Credit photo: Instagram.com/smysbeauty
Rimmel is a makeup brand that's widely known for its high-end products at a low price. This Natural Bronzer is no exception. Having a divinely lightweight formula, it builds up and blends out easily, which makes it a perfect option for newbies. With four shades available, you can compliment your face with honey sheen no matter what your skin tone is. Moreover, this product is waterproof, thus you won't need to touch it up during a scorching summer day.
E.l.f. Studio Baked Bronzer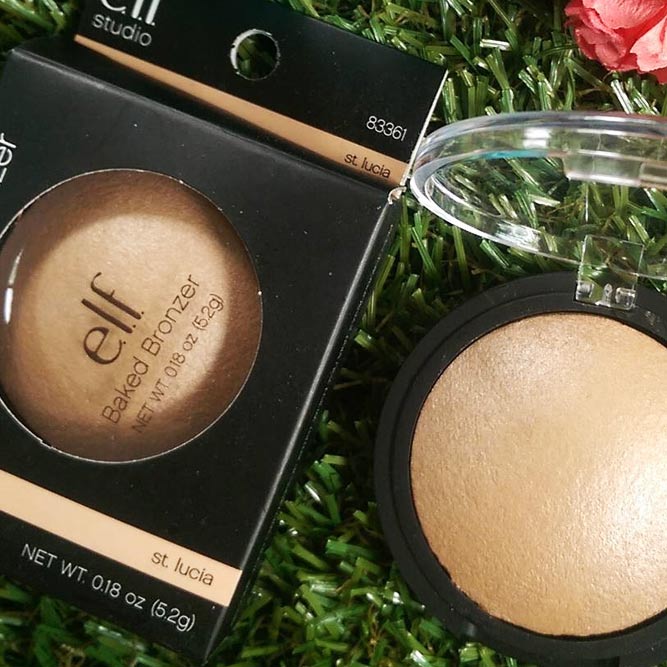 Credit photo: Instagram.com/mie.aimee
Buy on Amazon
If your skin is prone to clogging pores, the E.l.f. Studio Baked Bronzer won't cause any problems for you, as it's non-comedogenic. The E.l.f. Bronzer is one of those products that make your face healthy and radiant not only visually but also for real. It contains several essential oils that take care of your skin by keeping it hydrated.
Covergirl Trublend Bronzer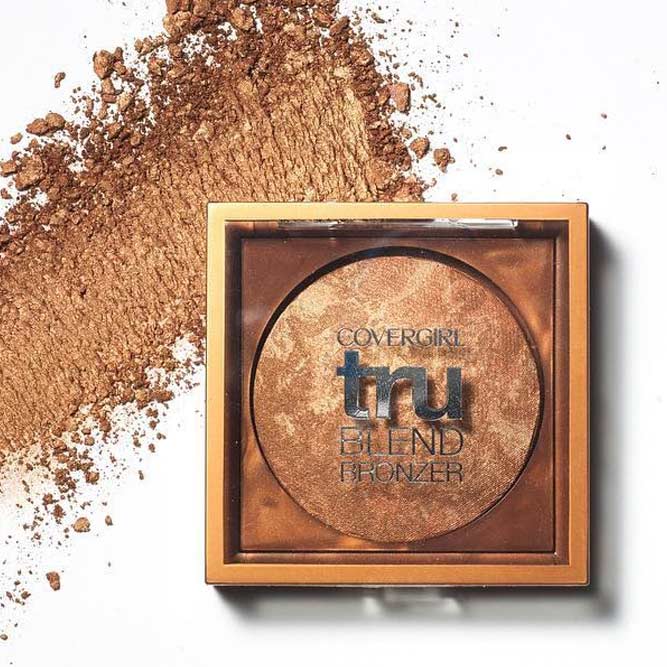 Credit photo: Instagram.com/covergirl
The Trublend Bronzer from Covergirl really lives up to its name. Its weightless baked formula blends out evenly without any effort. However, it's quite limited in skin-tone options as comes in a single shade that works only for lighter complexions. Though, the fact that the Trublend Bronzer is suitable for sensitive skin overweighs its downside with the absence of the color range.
Wet N' Wild Color Icon Bronzer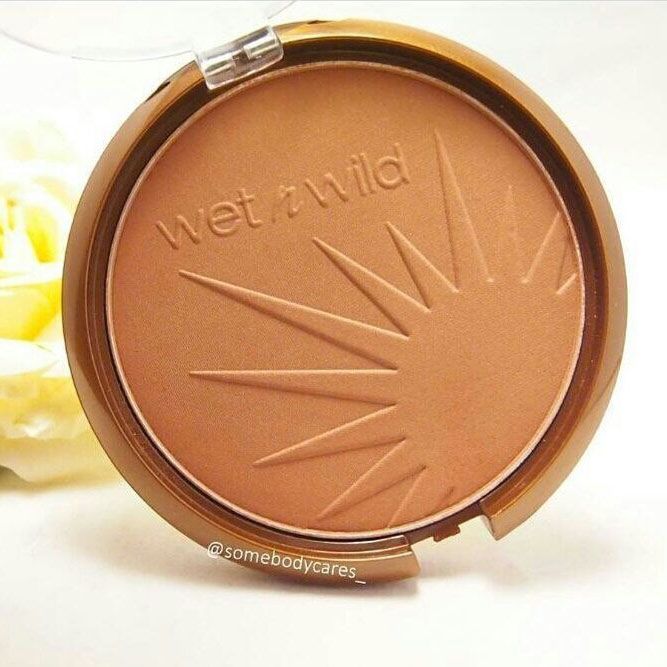 Credit photo: Instagram.com/cuckoo.cosmetics_vn
Even if nature blessed you with combination to oily skin, it doesn't mean that you can't go with a shimmery bronzer. The Color Icon Bronzer from Wet N' Wild will give your face a subtle glow and tropical tan. It's available in three shades, however, all of them are more suitable for lighter skin tones. It also has an oil-free formula that provides you with a UVB protection.
W3ll People Bio Bronzer Stick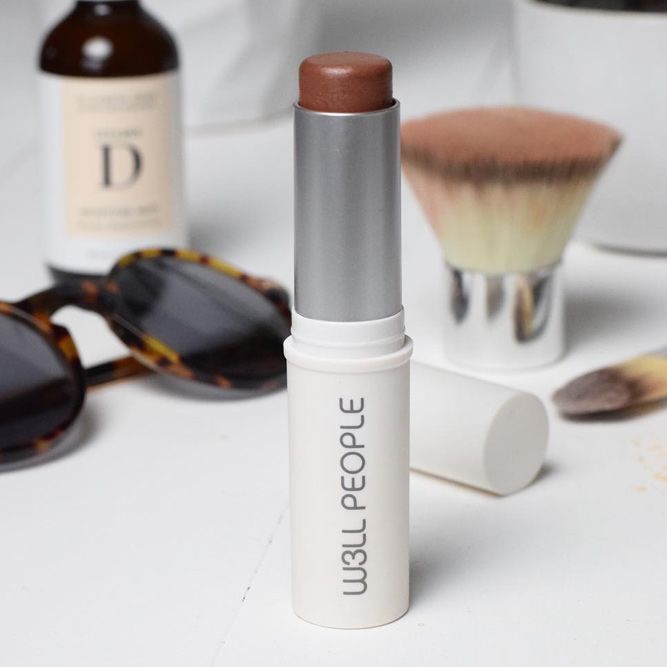 Credit photo: Instagram.com/w3llpeople
Buy on Amazon
The W3ll People Bio Bronzer Stick is one of the best bronzers in terms of formula and application. It includes biogenic nourishing ingredients only, which makes it hypoallergenic and appropriate for sensitive skin. Although the Bio product has a creamy formula, it's suitable for any skin type, including oily, thanks to the ability to absorb excess oil. Another good thing about this bronzer is that even though there's only one shade, it's universal and adaptable to any skin tone.
Physicians Formula Butter Bronzer
Credit photo: Instagram.com/physiciansformula
The Butter Bronzer from Physicians Formula, as the name implies, has a very easy applicable and blendable formula thanks to the nourishing butters it includes. It works best for dry to normal skin, as the rich formula also includes pro-vitamins that moisturize your face and give it a radiant glow. The color range offers four shades to choose from.
Essence Sun Club Matt Bronzing Powder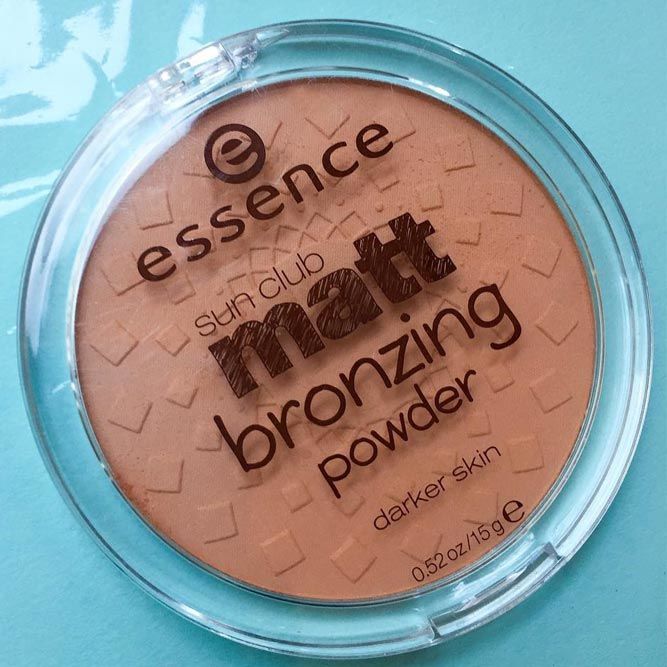 Credit photo: Instagram.com/essencemakeup
It's not hard to guess from the name that the Sun Club Matt Bronzing Powder from Essence will bring a true matte finish to your skin. As the Sun Club bronzer is able to absorb the excess oils and mattify the face, it's perfect for combination and oily types of skin. The only downside is that it's available only in two shades. Thus, if you like the effect but need a darker shade, go for the Hoola bronzer from Benefit.
Tips On How To Choose And Apply A Bronzer Like A Pro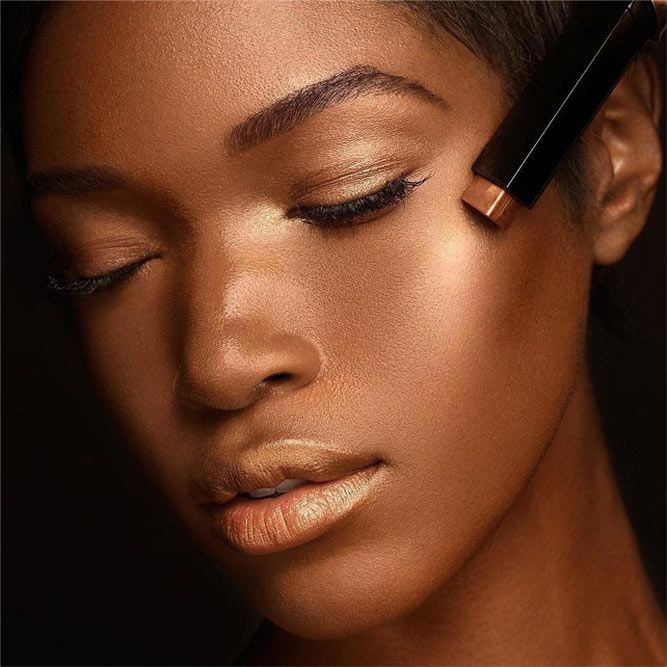 Credit photo: Instagram.com/hourglasscosmetics
Since now you know what bronzer options there are on the market, it's time to pick out the best drugstore bronzer to meet your preferences. Here's what you should consider when choosing and applying it:
Opt for a bronzer that's one-two shades darker than your complexion.
Match the formula and finish to your skin type: a matte bronzing powder for those with normal to oily skin and a liquid or cream shimmery bronzer for dry to normal skin.
For the application, use a mid-size fluffy bronzer brush for a bronzing powder and a sponge, synthetic brush or your fingers for a creamy and liquid formula.
Always tap off the excess product not to overdo it.
To achieve the best result, follow our step-by-step tutorial on how to apply bronzer:
Rub the brush over the bronzer.
Tap off the excess product.
Apply the bronzer to the contour of your face on both sides moving from the forehead to the jawline in the shape of the number 3.
Suck in the cheeks and apply the product to the cheekbones buffing it out in a circular motion.
Sweep the bronzer along the nose and jawline.
Finish off by blending everything out with a brush dipped into a translucent powder.
Choosing the best bronzer may be challenging, as you should consider a lot of factors, such as your skin type, shade, the desired finish and many more. If you succeed, the product gives you a soft natural tan with a subtle healthy glow. If not, well, you'll know by your reflection in the mirror and people staring on the street. To protect yourself from such a negative experience, stick to our comprehensive guide to the top wallet-friendly bronzers and look your best.
FAQ: Bronzer
What is the purpose of bronzer?
Because a bronzer's aim is to subtly darken the complexion, your choice should be determined by the color of your skin. It should be no more than 1 or 2 shades darker than your own skin tone. Test a small amount of bronzer on your wrist to ensure that it "browns" your skin tone without looking phony.
Do you apply bronzer before or after foundation?
Bronzer should be applied after face makeup (concealer, foundation and/or powder). Blush goes on after bronzing. You are free to use whichever brush you choose. For example, makeup specialists from the PLT Beauty Salon & Spa Miami salon prefer brushes with soft and short bristles.
Can I apply bronzer all over face?
Yes, bronzer is applied all over your face. However, a fine layer would be enough. You can master the bronzing technique with a huge fluffy brush. Just be sure to work your neck as well.
Was this article helpful?