It wouldn't be a shocker for you to hear that every lady wishes to look her absolute best from the minute she gets up. However, as we know, the reality is pretty much different, and every morning we require quite the amount of time to spend on putting makeup on, starting with the contouring and ending with lipstick application. That leads to the thought that it would be just perfect to get up already wearing makeup so that you do not need to spend so much time on your morning preparations. Wait a minute, but there is a way out! The thing is that modern permanent makeup is exactly what you need to make a dream come true! Yet, before you rush to the salon, we would like you to learn about the hidden dangers as well as about all the advantages and disadvantages of this type of makeup. So, read on!
How Long Does Permanent Makeup Last?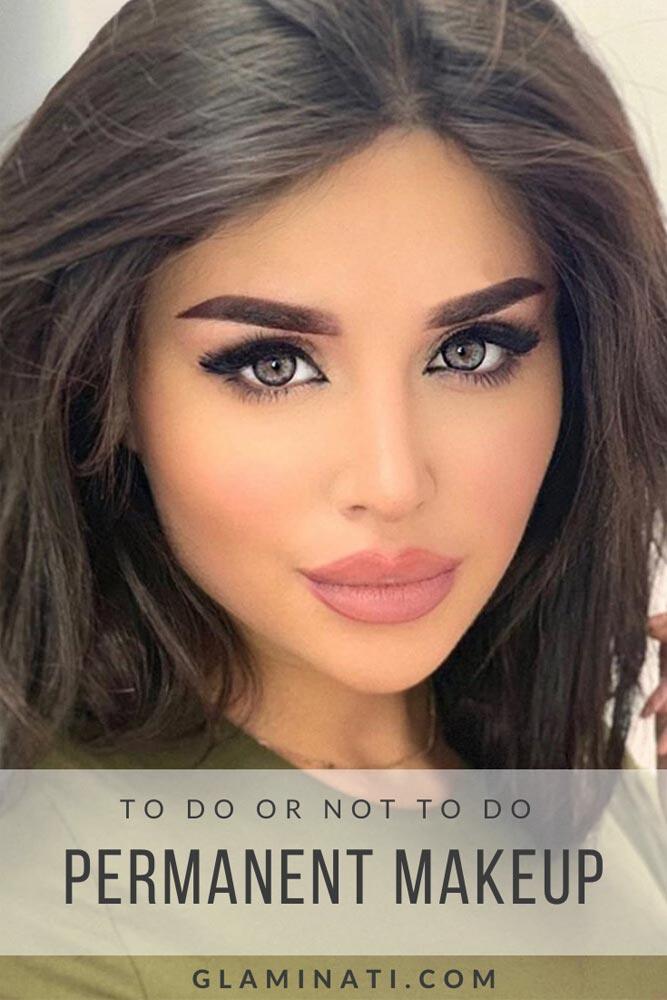 Credit: Instagram/099_di
Permanent makeup is a micro-pigmentation procedure, and that means that it is bound to fade over time. However, there is a list of factors that may affect the time that your permanent makeup is going to last. Firstly, the darker is the shade used, the longer it may remain visible and in good form. If we take an average period that permanent makeup lasts, it would be 3-5 years, but in some cases, it may last as long as 10 years.
Even though this type of makeup is supposed to last for a while, you need to keep it in mind that regular touch-ups are a must. Besides, when you grow tired of one shade, you can alter it while doing your scheduled touch-up. Nude lips can be transformed into the peachy shade, and brown liner can be substituted by black or navy blue.
How Much Does Permanent Makeup Cost?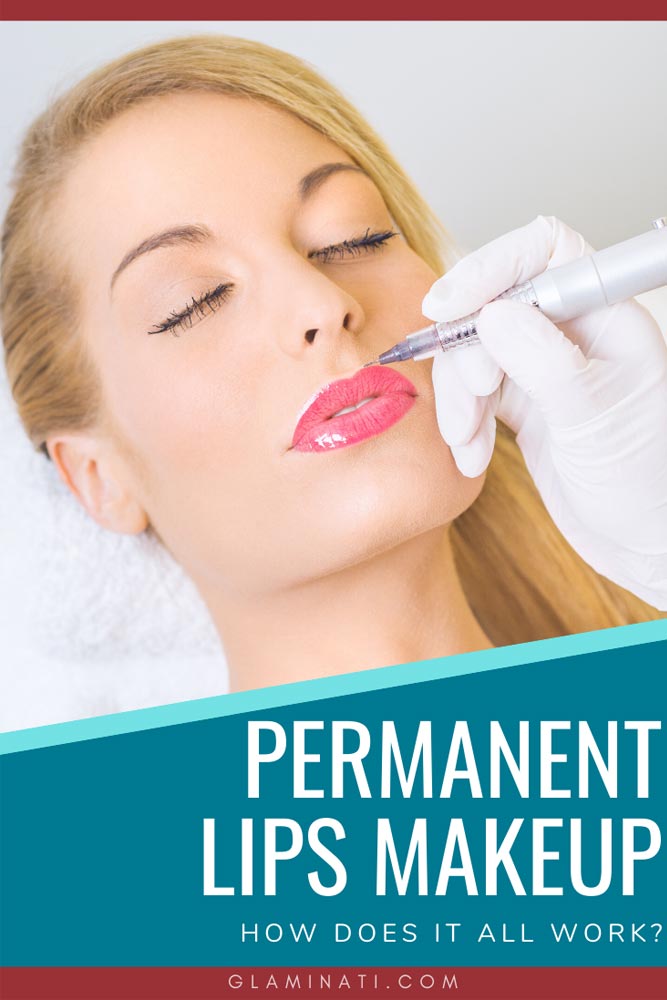 Of course, when you learn about the convenient side of the permanent makeup, the natural question arises – how much would it cost? There is no one set price for all the types of permanent makeup since every area requires a different amount of ink, time, and skill applied. Besides, different salons charge differently for the same service. We are going to bring the average prices to your attention here:
Beauty marks may cost you up to $150.
Permanent eyebrows vary from $400 to $600.
The permanent liner will start at $200 and end at $400 per upper or lower lid. If you are thinking about both lids done, then you should expect to pay up to $600 for one procedure.
Full lip color is the costliest procedure, and it takes up to three times to finish the procedure, each may cost up to $800.
To sum it all up, it is safe to say that permanent makeup procedures vary between $50 and $800 per procedure depending upon the type of makeup you choose.
Is Permanent Makeup Painful?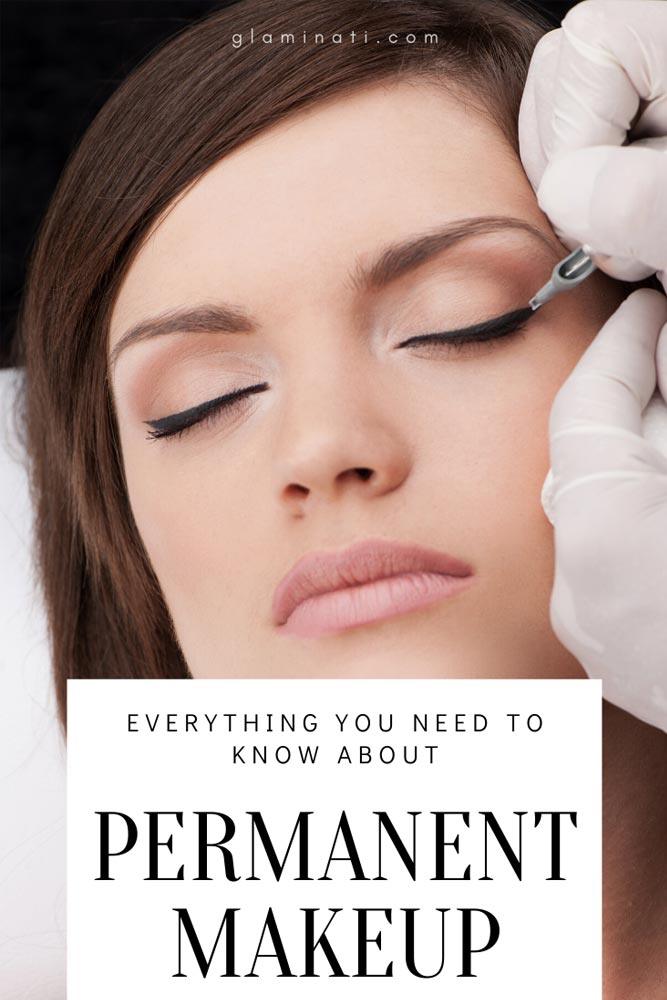 When you are ready to give permanent makeup a try and the cost suits you, there is something else that may bother you. Very often, when you think about permanent makeup, you think of tattoos, and in the majority of cases – tattoos hurt. The procedure of permanent makeup application is related to that of tattoos, so that it may hurt a little as well. However, in the beauty industry, most of the salons and the professionals use various anesthetics so that you will feel only mild discomfort.
It is easy to assume that lids are the most painful place to get done, but that is far from the truth. The fact is that the lips are the most painful area, but due to the available over the counter epinephrine products, which also reduce the swelling, it becomes less and less painful by the day.
To sum it up, it needs to be mentioned that before you allow the technician to start the procedure, no matter whether lips, brows, or lids you want to be done, you should ask her about the anesthetics that are going to be used. You shouldn't let anyone begin the process without a pre-procedure anesthetic.
Main Points You Should Know About Permanent Makeup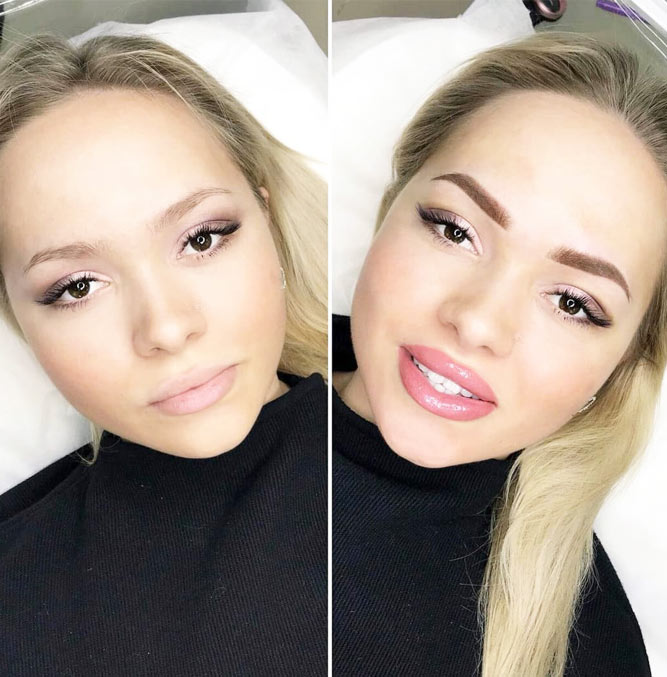 Credit: Instagram/tatuazhspb
Of course, before giving in to permanent makeup information should be gathered. We are going to start with the description of what it actually is. Permanent makeup is the procedure close to the traditional tattooing, but instead of your body, these are your eyebrows, eyelids, or lips. Usually, the procedure takes somewhere between half an hour, and two hours, it all depends upon the complexity of the process. Since as all the tattoos and permanent makeup are painful, the anesthetic numbs the area.
You should be aware of the fact that the area with the makeup tattooed on it will swell and remain that way for a couple of days. After that it will go away, and you will enjoy the result. However, you will have to renew it every year and a half or so since permanent makeup has a tendency to fade over time. In case this is something you are ready to try out, then you should read on about all the pros as well as the cons it brings all together.
Is permanent makeup safe? - Pros And Cons Of Wearing Permanent Makeup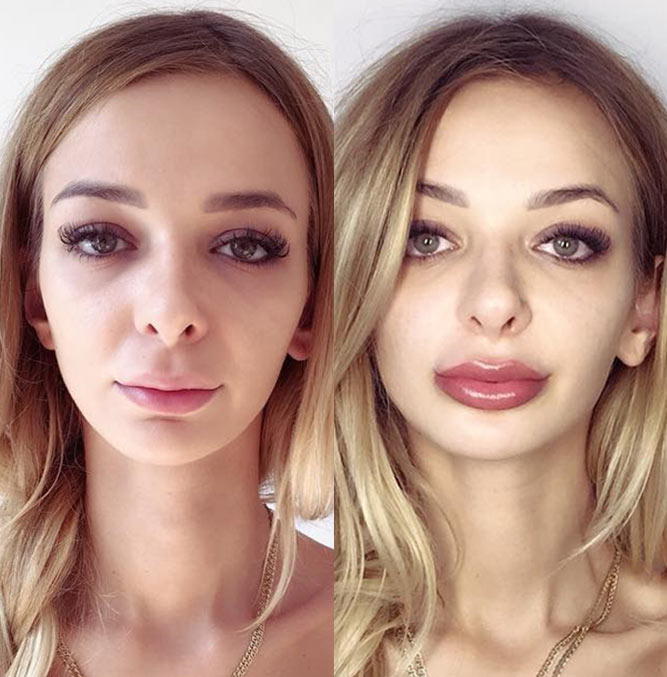 Credit: Instagram/anna_roszkowska_roshe
As any invasive process, permanent makeup has its pros and cons and we are going to list them right now:
Pros:
Waking up with your face on;
Taking part in the activities involving sweating and water with no fear about the makeup going off;
Scars can be hidden under this type of makeup;
If you have difficulties applying makeup permanent makeup would be a real savior for you;
Allergies to regular makeup can be left behind;
Cons:
There is always a chance of permanent makeup gone wrong, and the result is not the one you desired;
Removal problems are the same as when you decide to remove a tattoo;
You may have an allergic reaction to the ingredients;
There is a chance of infection if the place and the professional are poorly chosen;
If you are prone to scarring, there is a chance of getting one through permanent makeup.
Before The Appointment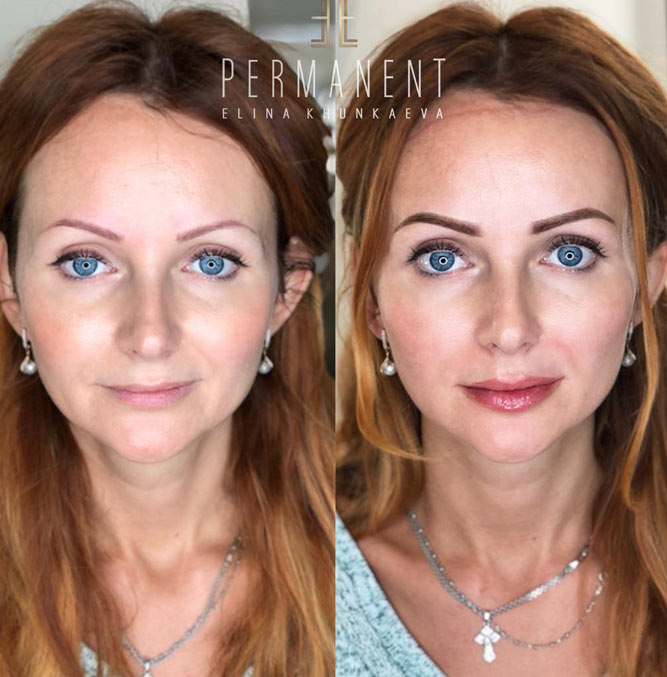 Credit: Instagram/elina_khunkaeva
In case after you have gone through all the pros and cons you are still willing to try it out – keep reading. There is another share of information on how you should seek out for the best place to get your permanent makeup done. First of all, you need to gather up all the information available on the places that deal with the process. Read the reviews, and browse through the examples of the work done. After you are settled with the place, make sure they use only one-use needles, which are pre-packed and haven't been used before. Also, you should pay attention to the ink, it has to be a particular kind of ink, not the one used for regular tattooing. When you are sure that all is good, you can go for it.
What Is Classic Permanent Eyeliner Makeup?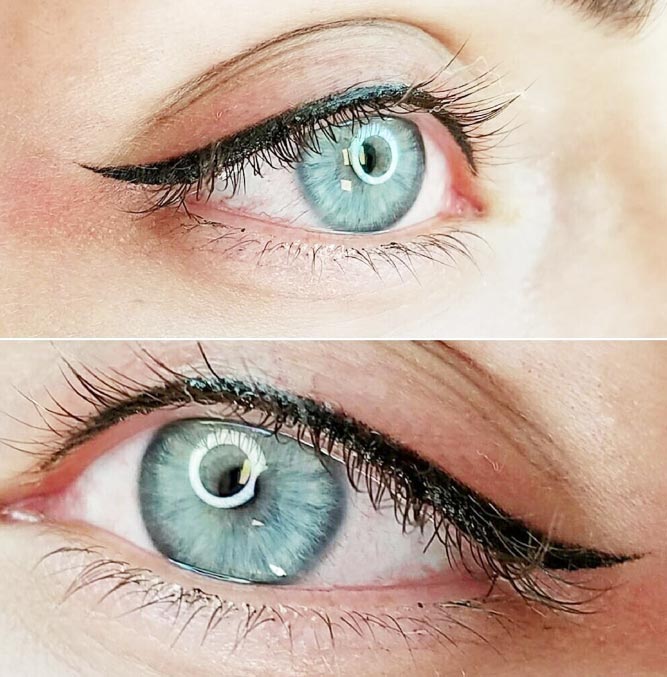 Credit: Instagram/vippermanent.by
Permanent eyeliner makeup is still a kind of an eyeliner tattoo, but it is still slightly different. The thing is that the special needle and mineral-based pigment are used, and the numbing lotion is used over the eyelid to numb the pain.
Different Styles Permanent Eyeliners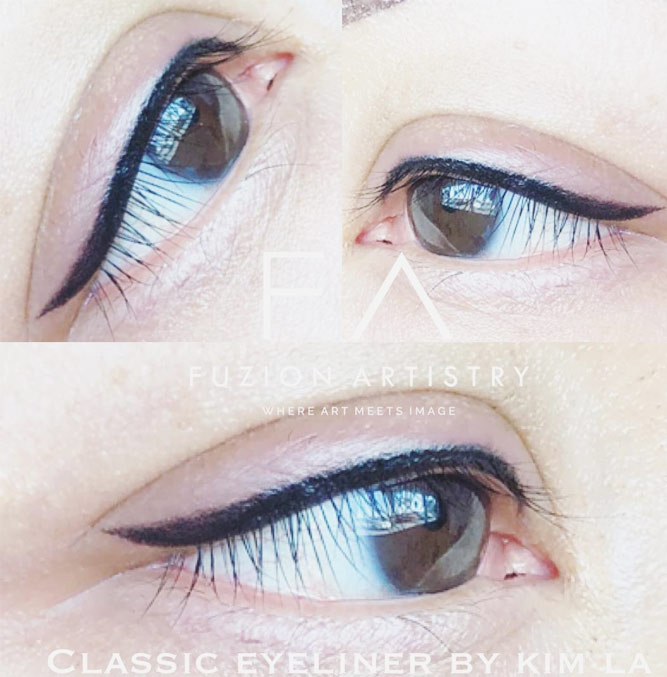 Credit: Instagram/fuzionartistry
Before proceeding with permanent pigmentation you need to be sure how far you want to go with it. That is why we are going to list the most common types of permanent eyeliner types:
Eyelash enhancement – is a thin line along the lash line, which isn't much like a regular liner look, but more like an enhancement to your lashes so that they appear thicker and darker.
Thin eyeliner – is what you need for a more natural but enhanced look. If you do not like wearing a lot of makeup, this would be an excellent option for you.
Medium-width eyeliner – is what you need if you are a day-to-day makeup wearer and look for something in-between bold and natural look.
Thick eyeliner – is a bold look and you have to take it into consideration whether you are ready to look like that on an everyday basis.
Can you get permanent eyeliner? - Risks Of The Eyeliner Permanent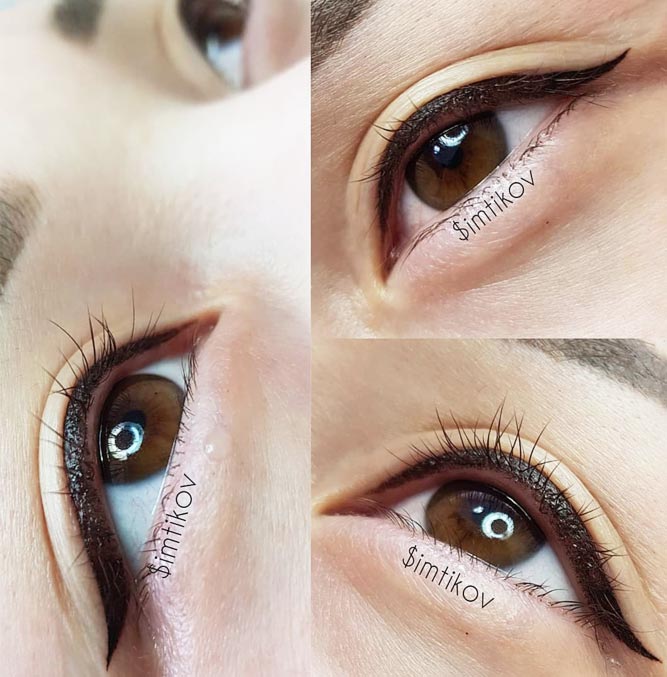 Credit: Instagram/courtney_stevens_pmu
To tell you the truth, there are not so many risks as for the permanent eyeliner makeup itself as about your body reaction to it. The thing is that there is a list of medical conditions that prohibit permanent makeup, pregnancy, and diabetes are on the list. Also, if you are taking some meds for a long period, you should either stop or consult your doctor whether it is possible for you to get permanent makeup done. You have to be serious about it. Some medications lead to blood thinning, and that may interfere with the healing process and result in a pretty bad outcome.
How Long Does It Take To Create A Crispy Winged Line?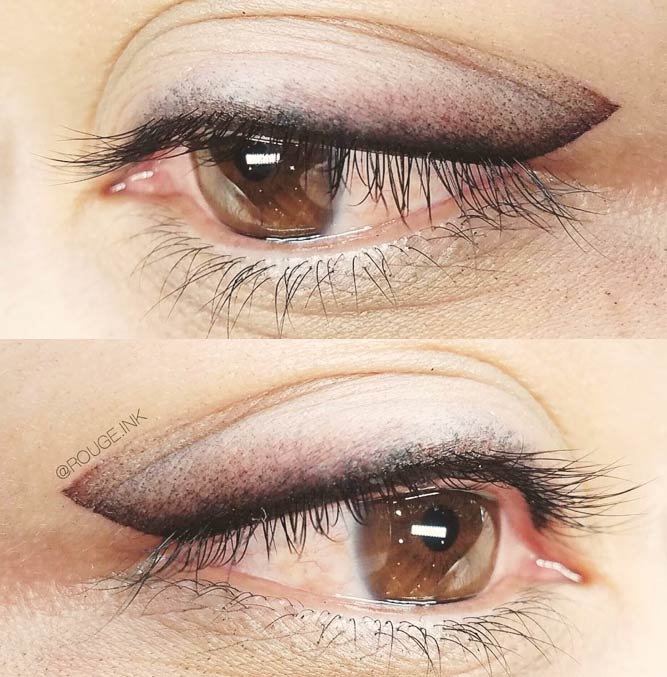 Credit: Instagram/rouge.ink
We need to mention that cosmetic tattooing depends significantly on the person it is done to. As well as on the experience of the makeup artist, not to mention the area to be covered. However, in general, a winged line takes up to an hour.
Some Points About Healing Processes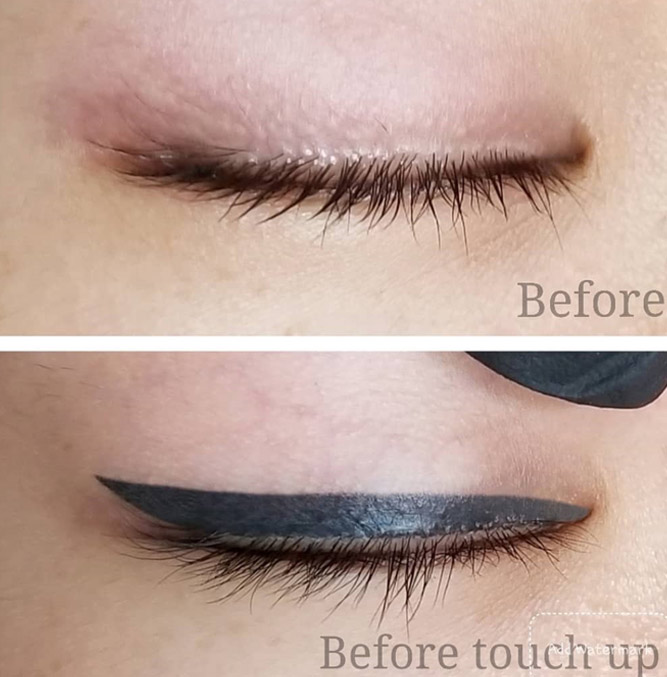 Credit: Instagram/mbrow_lee
As with any other procedure, permanent makeup takes time to heal since it is invasive no matter how small the invasion is. Permanent cosmetic professionals say that thin lash enhancement heals up to seven days while thicker one takes up to ten days.
However, there are precautions to be taken. You should in no case wear any makeup after the procedure or rub your eyes with your fingers. Not to mention picking the scabs because scabbing is inevitable, but you should let it go off on its own.
Basic Eyeliner Makeup Style And How Long It Last?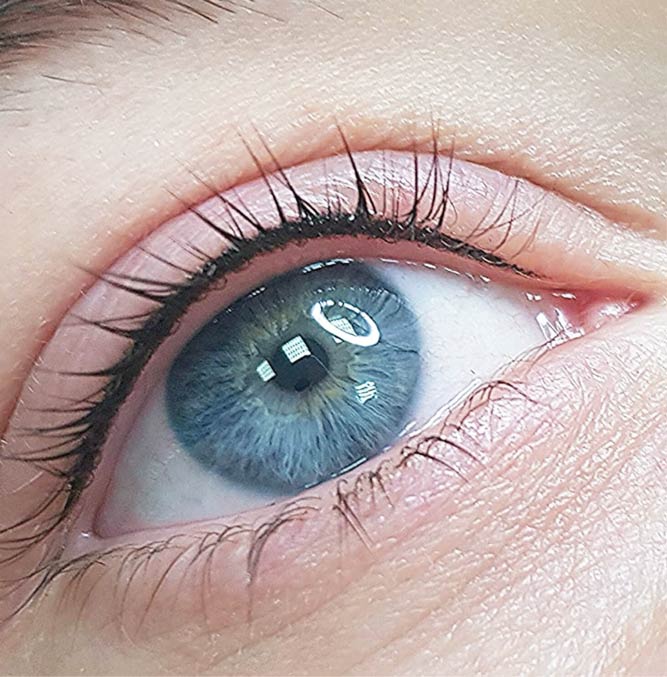 Credit: Instagram/evgeniya_shevela
Even though it is called permanent makeup, it is actually semi-permanent since it tends to fade over time. Usually, it takes a year for you to opt for an upgrade. If you wish it to fade away entirely, you may need to wait up to three years, but it is all personal, so the period may vary.
Permanent Eyebrow Makeup
Permanent eyebrow makeup is very similar to the regular Tattooing, as well as to the permanent eyeliner makeup. Its primary purpose is to mimic your natural eyebrows instead of creating just a brow-shaped drawing on your forehead. Special materials are used for the purpose. That is why if you hear that a professional is going to use good old tattoo ink – you better look for another one. Permanent eyebrow makeup lasts approximately a year, but you are going to need to do some retouching every now and then. You can efficiently deal with this type of makeup by merely letting it fade away.
Combination Eyebrows Permanent Makeup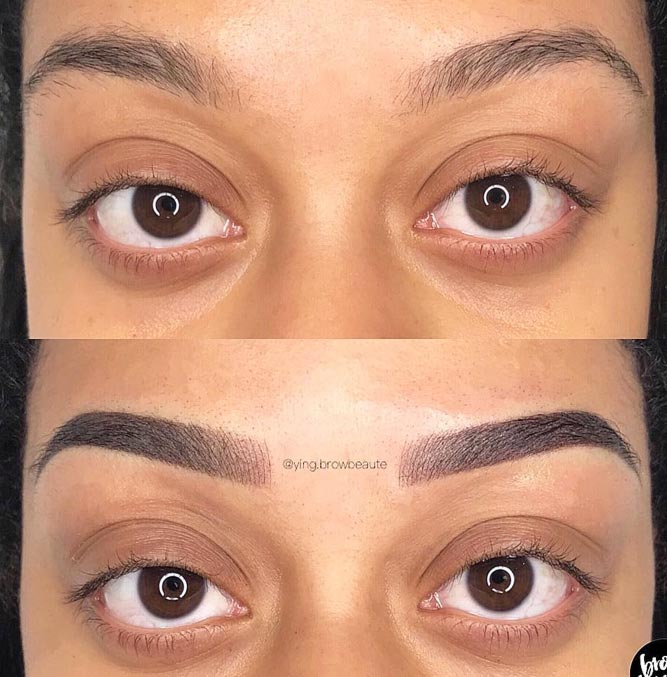 Credit: Instagram/browbeaute
There are different types of permanent makeup for eyebrows, and combination brows may be your absolute perfect choice. The thing is that combination brows are something in the middle between microblading and powder brows. The professional will fill out the inner brows with strokes while he or she will powder the tail for the best definition. This technique fits all colors and shapes so that there is nothing to worry about apart from the skills of the artist and the quality of products used.
Microblanding – Eyebrows Permanent Makeup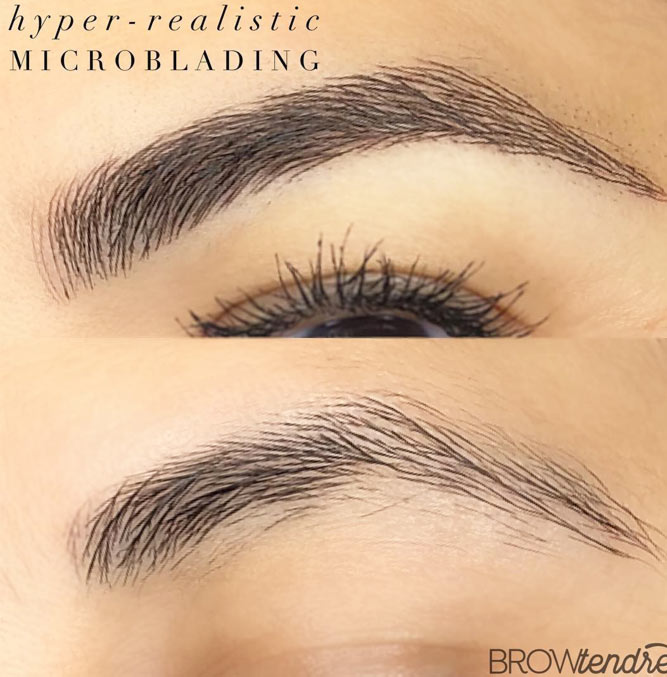 Credit: Instagram/browtendre
Microblading belongs to semi-permanent makeup type. This is the most natural permanent makeup eyebrows type there is. All it does is mimicking your natural hairs so that your brows look fuller and more defined. If you do not want your brows to stand out too much, this would be the perfect option for you.
Powder Ombre Eyebrows Permanent Makeup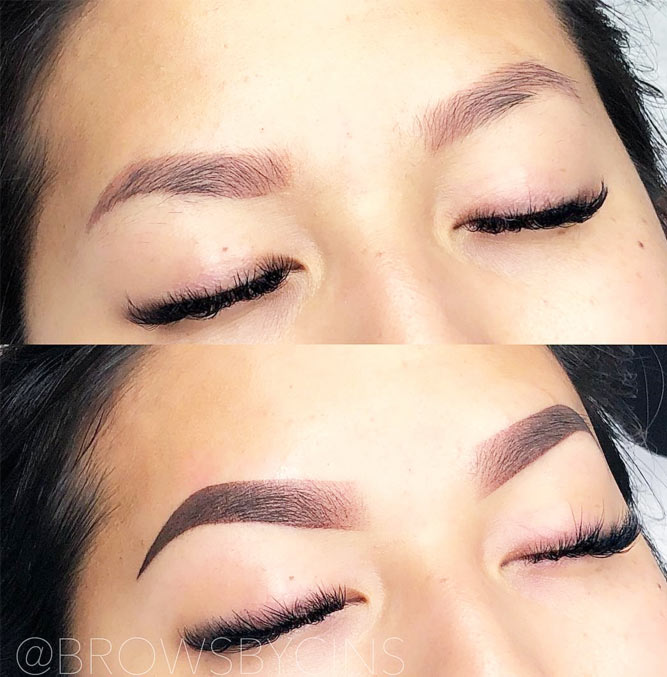 Credite: Instagram/browsbycins
The word ombre actually defines this type of permanent makeup perfectly. The thing is that this is a type of eyebrow tattooing that looks least natural but still gorgeous. If you are a fan of modern eyebrow makeup, you will surely appreciate this dark to light transition fitted to your natural eyebrow color.
Lips Permanent Makeup
Of course, the full lips trend makes many women do crazy things to make their lips appear fuller. However, there is no need to opt for painful injections or anything of the kind since there is something called permanent lip makeup. The truth is that lip makeup won't enlarge your lips. It will only enhance the shape and will make them appear fuller and better defined, it is vital that you realize the difference. Like any type of tattoo, it will not be totally pain-free so that you are bound to be ready for that. It is essential that you are confident in your doctor and in the products used so that there is no chance of allergy or infection, not to mention improper shaping.
Natural Full Lips Permanent Makeup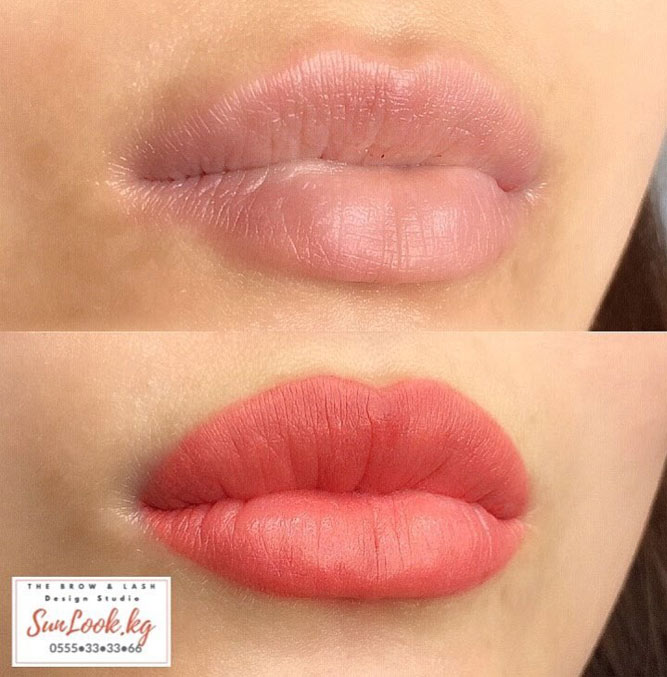 Credit: Instagram/sunlook.kg
When you are ready with the place to get the job done, it is essential that you come up with suitable lip color. The thing is that the closest is the tint to your natural lip shade. The sooner it will fade. That is why professionals suggest choosing the shade that is a little darker than your natural lips. It is also important that you are aware of the fact that permanent lip makeup is not similar to a regular lip liner look.
Correction Of The Contour Lips And Add More Color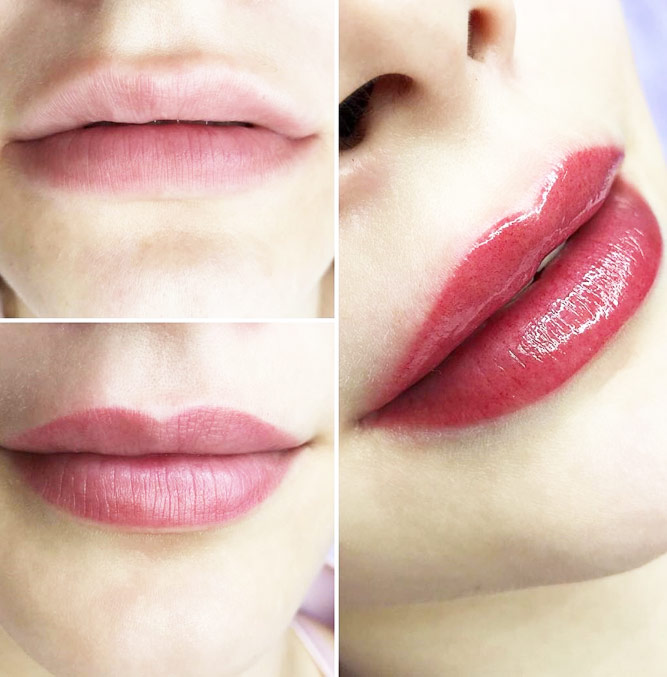 Credit: Instagram/pm_art_studio
It should be pointed out that permanent makeup for your lips is nothing more than the correction of the lip contour and enhancement of your natural lip shade. Depending on the skin tones, the professional comes up with proper tattoo pigments and outlines your lips. It is done so that the color does not cross the border of your lips while blending some color into the middle as well. As a result of a correctly done job, you get the perfectly defined natural lips.
Correction Of The Lips Shape – Create Full Lips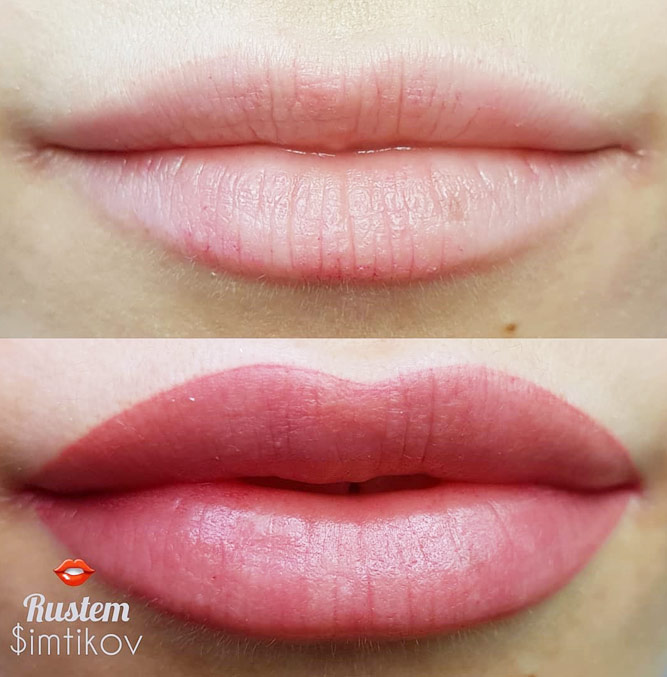 Credit: Instagram/simtikov_permanent
You need to be prepared that permanent makeup lips won't result in apparent full lip images. All that it does is the correction of the shape, which visually enhances it and creates the impression of fuller lips. In many cases, this is a better solution than the actual lip filler procedure. Think about it!
Scar Camouflage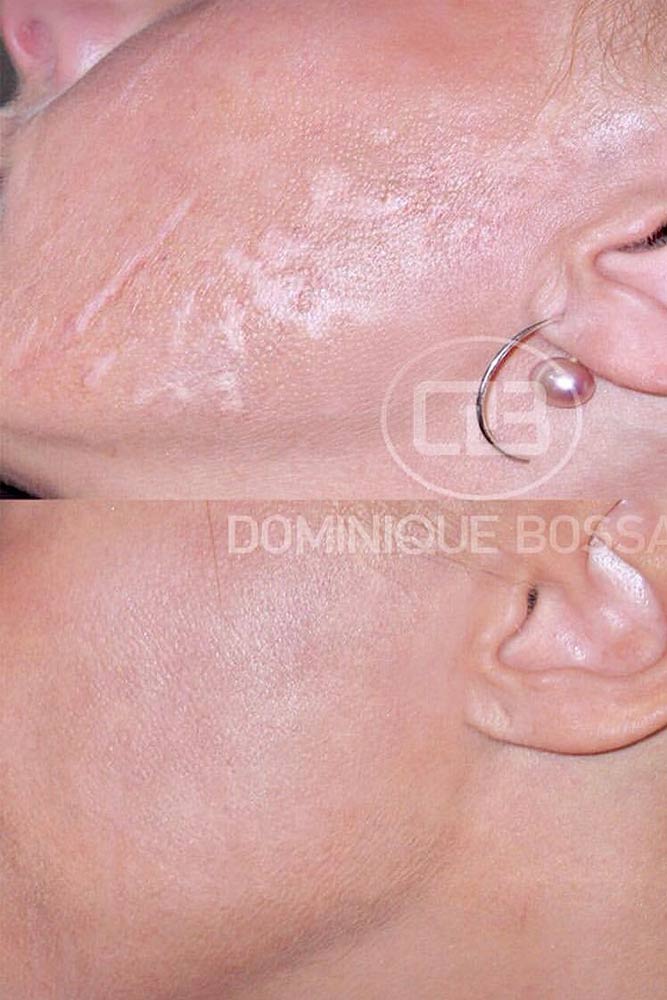 Credit: Instagram/dominiquebossavy
There is rarely anything worse than unwanted scars on your skin. However, these days they finally found a remedy for those too. Scar camouflage is the procedure that is gaining popularity rapidly, especially among women. If you wonder what the procedure is – it is what can be done to mask away your scars. It needs to be mentioned that this works on healed scars only, that is, if you have purplish or reddish ones, the procedure may fail.
Scar camouflage is a tattoo type when a technician blends the colors in such a way that they resemble your skin tone, implements it into the skin, and hides the scar beneath. When compared to regular permanent makeup, skin camouflage is destined to last longer if you look after it properly.
In the majority of case, the service is used to mask stretch marks and acne scars, but that does not mean that if you want to get rid of that old scar of yours, you won't be allowed to.
When it comes to the price, it needs to be pointed out that the price depends upon the size of the scar. However, we can say that it is costlier if you compare it to regular permanent makeup procedure cost.
Freckle Tattoos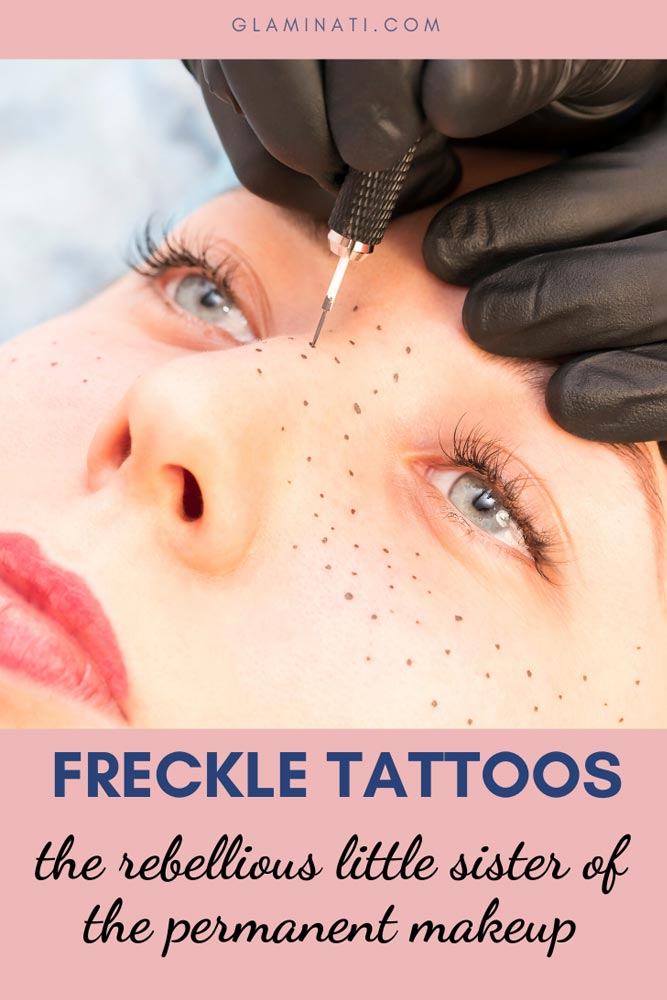 When you think about freckles being tattooed on one's face, it seems like a weird thing to do. The truth is that so many people are trying to get rid of the freckles. While others tend to pay for those to appear on their faces. Very often, those who decided to have some freckles tattooed on their faces used to have them as children.
It is hard to say whether simple or difficult the process is since it depends upon the skillfulness of the professional who does the job. The fact is that the most difficult part is to place the freckles in a natural-like order.
Once you get your freckles done, you need to remember that you are going to schedule the next meeting with a professional in a year or two.
There are not that many risks connected to the procedure, the only thing is to ask for light anesthesia and tend to your freckles with care regularly. As for the price, it shouldn't cost you more than $200 per procedure.
Permanent makeup is undoubtedly a thing these days. It considers enhancement of your eyebrows, lips, and eyelids together with eyelashes. Moreover, all the necessary information is gathered in this article!
FAQ: Permanent Makeup
What are the side effects of permanent makeup?
Swelling, peeling, scarring and blistering have all been recorded after permanent makeup sessions, as well as the growth of granulomas around the eyes and lips. The documented side effects in some cases also resulted in severe deformity, making eating and speaking difficult.
Is lip tattoo Safe?
Despite the fact that many people think lip tattoos are very safe, it's quite common practice to have a lot of pain and edema after the operation. Because the mouth is home to hundreds of different bacteria, there is a high danger of infection.
Why did my lip tattoo fade in a day?
The main factor that contributes to lip tattoos' limited lifespan is chemicals and acids present in the mouth. The acids break down the tattoo pigments and absorb them into the body, causing them to fade over time.
REFERENCES: