Ash blonde hair color is a growing trend that colorists from all around the globe bring to life every single day. Well, no wonder it's so popular: it's a mixture of an effortless blonde and amazing faded hue that is so in demand these days.
*We may earn money from affiliate links on this page. Please check out our disclosure policy for more details.
Blonde hair color has a countless number of options. Can you imagine how many enviable variations ash blonde can offer to you? Well, today you are going to face its variety with your own eyes.
Even though it's a light, a bit muted color, it makes heads turn and can be anything you want it to be. That means there are no restrictions about complexion: it can suit any girl! Have a look at a blonde hair color chart, and pick the shade you love the most. Then, add some cooler tone over it and embrace the trend that is on everyone's lips today! And before going for experiments, it's better to get inspired by some impressive ideas. The latest shades are waiting for you!
What Skin Tones Go With Ash Blonde?
Source: camouflageandbalayage via Instagram
i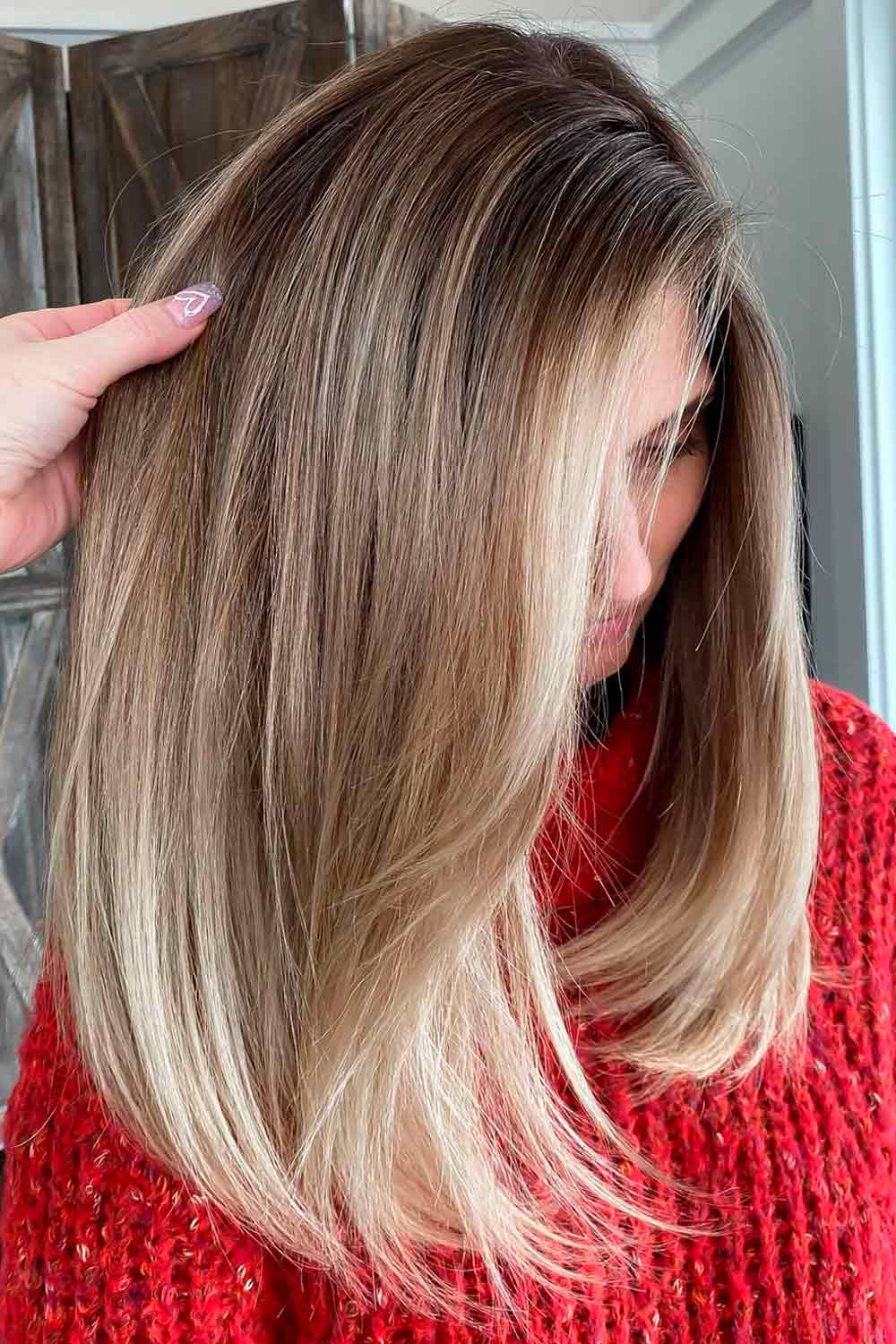 Source: curtiscolorshair via Instagram
i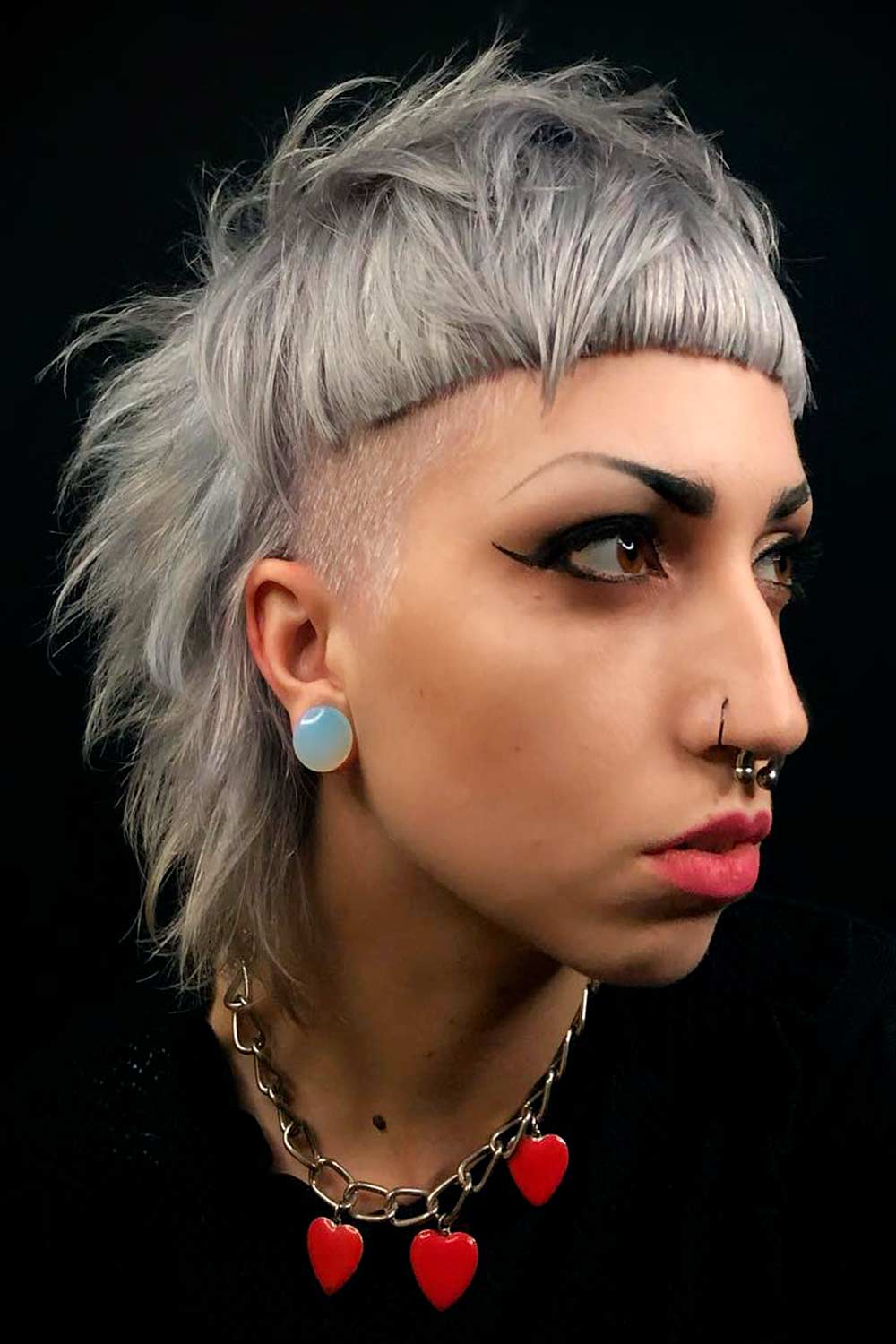 Source: curtiscolorshair via Instagram
i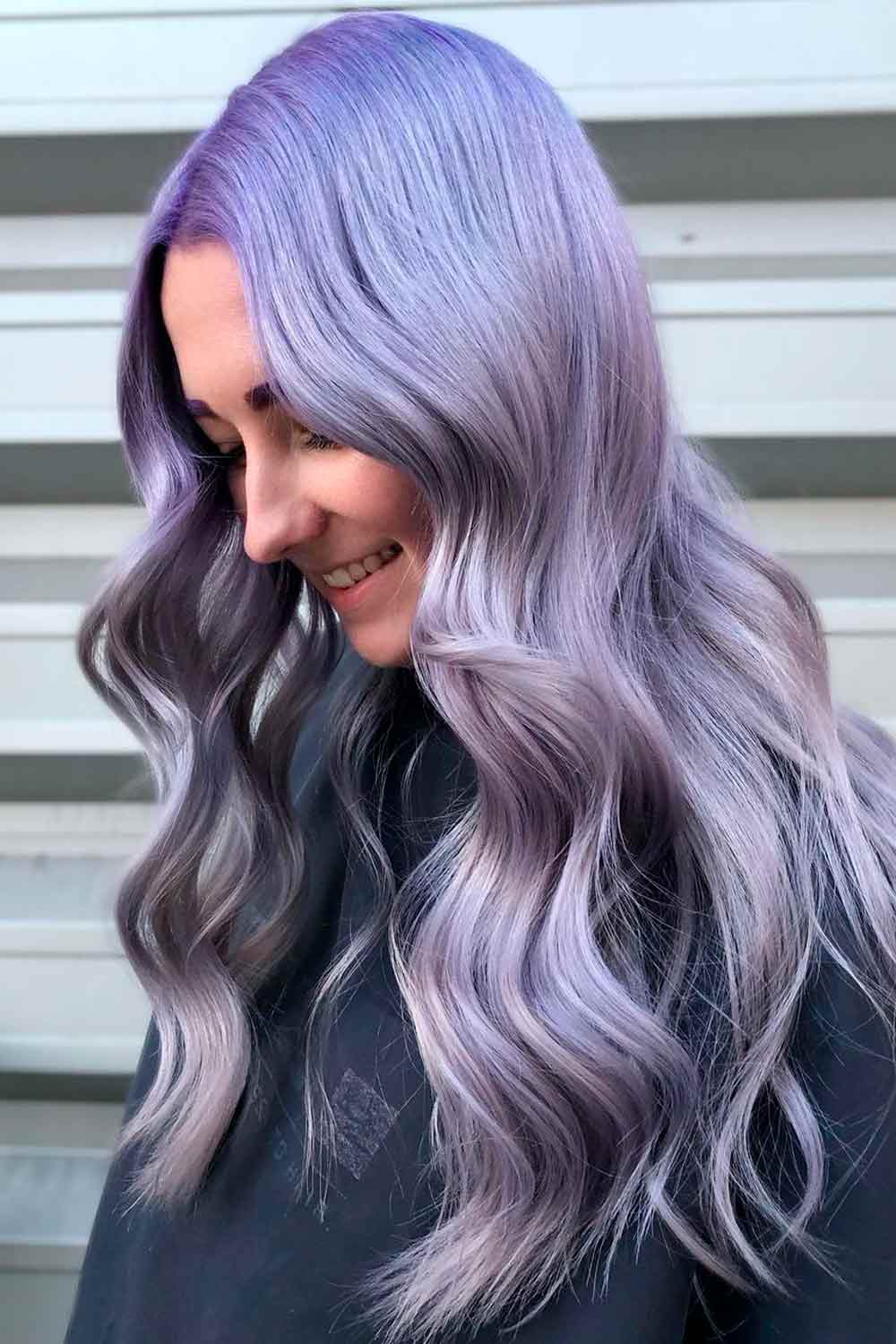 Source: beautiqueonbroadway via Instagram
i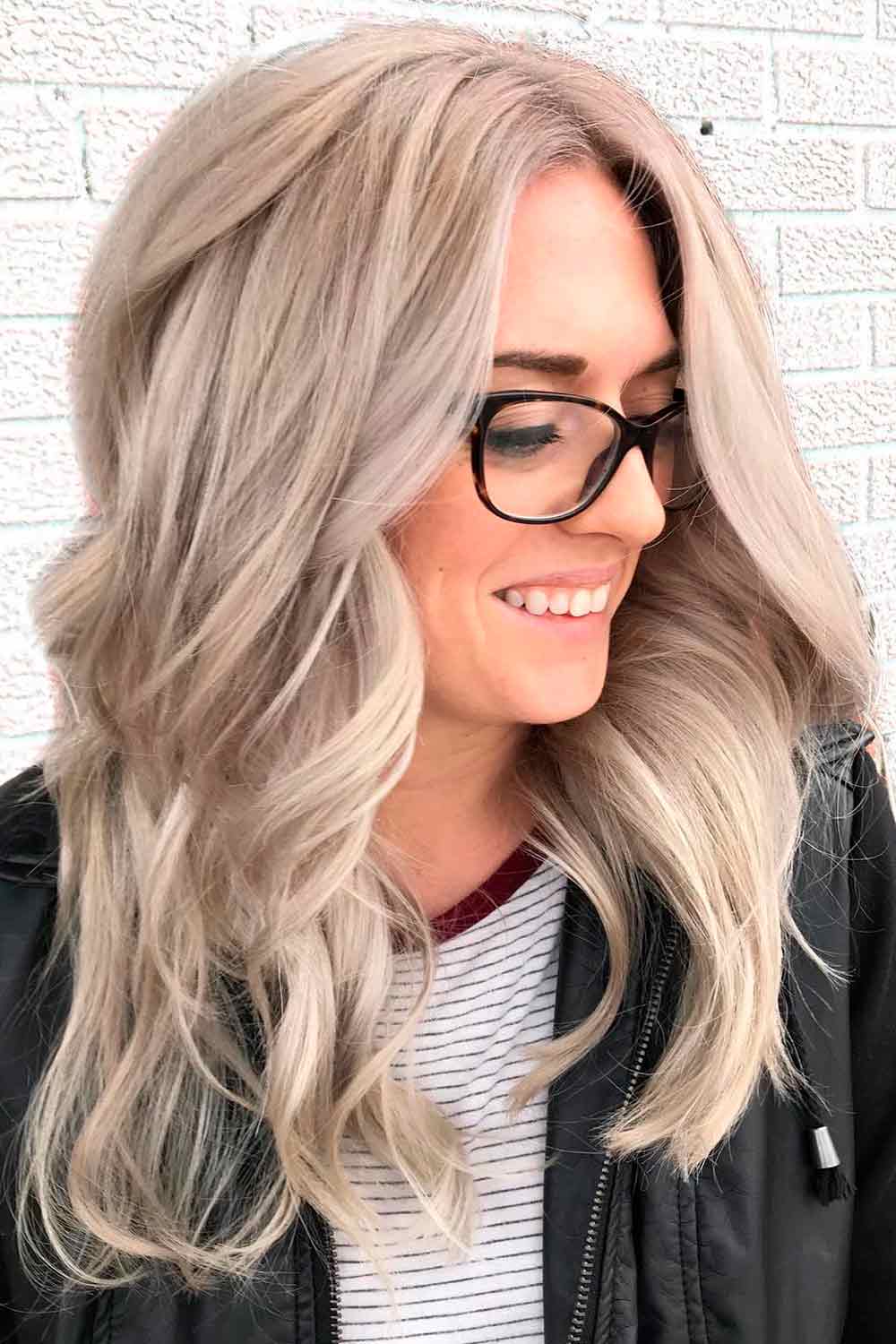 /
Most of you have been in a situation when you suddenly crave a hair color change. However, despite the availability of different dyeing options, you must realize that not all colors flatter every skin tone. Thus, you should brood upon a shade that complements your complexion. Generally, cool-tone hues, aka ash blonde hair, pair well with cooler undertones and fair complexions.
In case you are still unsure as to which skin tone you have, have a look at the veins on your arms. Blue or purple veins stand for a cool undertone, whereas greenish veins stand for a warm undertone.
Considering the presented information, we must stress the fact that ladies with cooler tones can rock almost any ash-blonde hue. However, to ensure you pick the best option, speak to your hair colorist before committing.
Hair Mistakes That Make Your Ash Blond Hair Look Older
Source: camouflageandbalayage via Instagram
i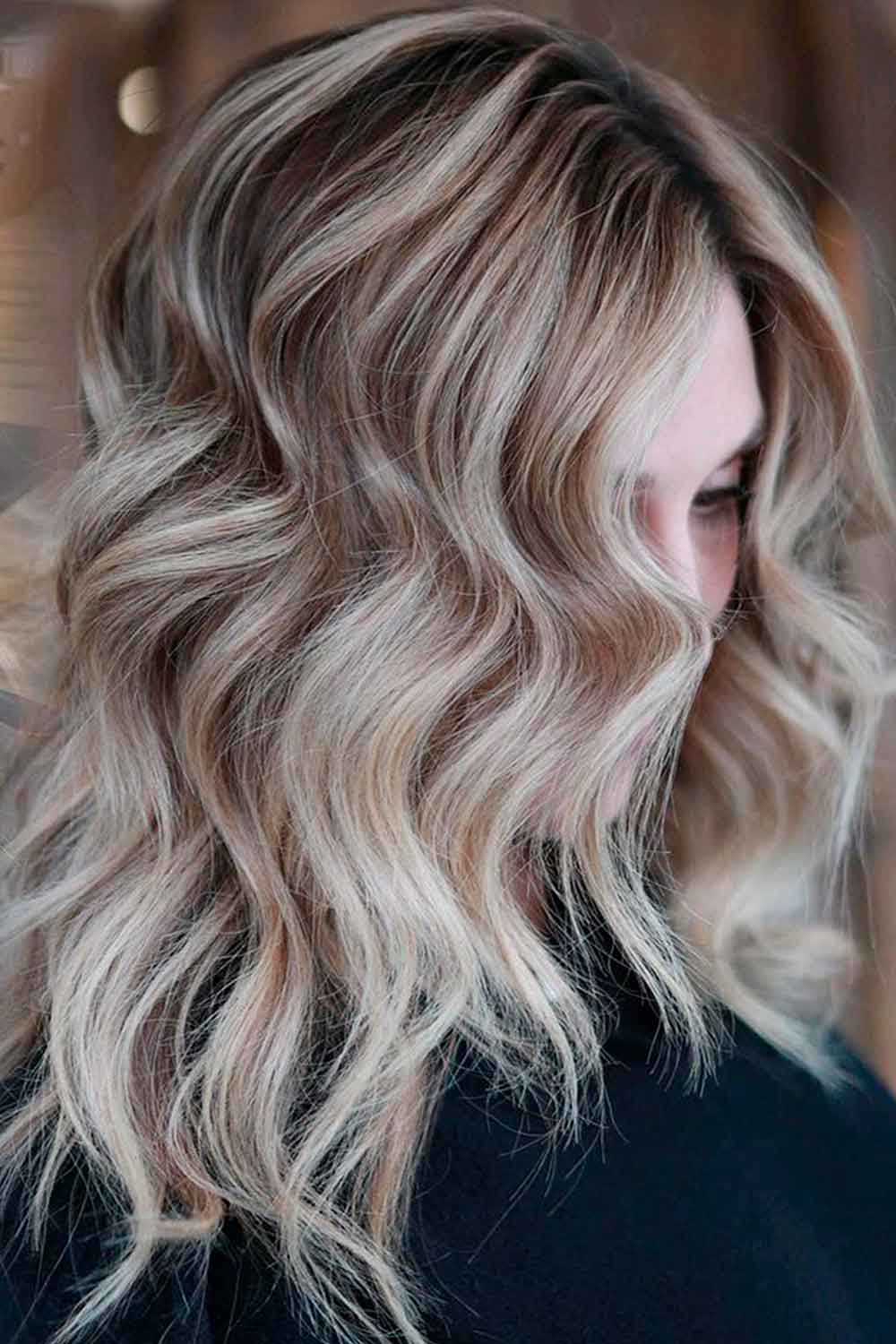 Source: camouflageandbalayage via Instagram
i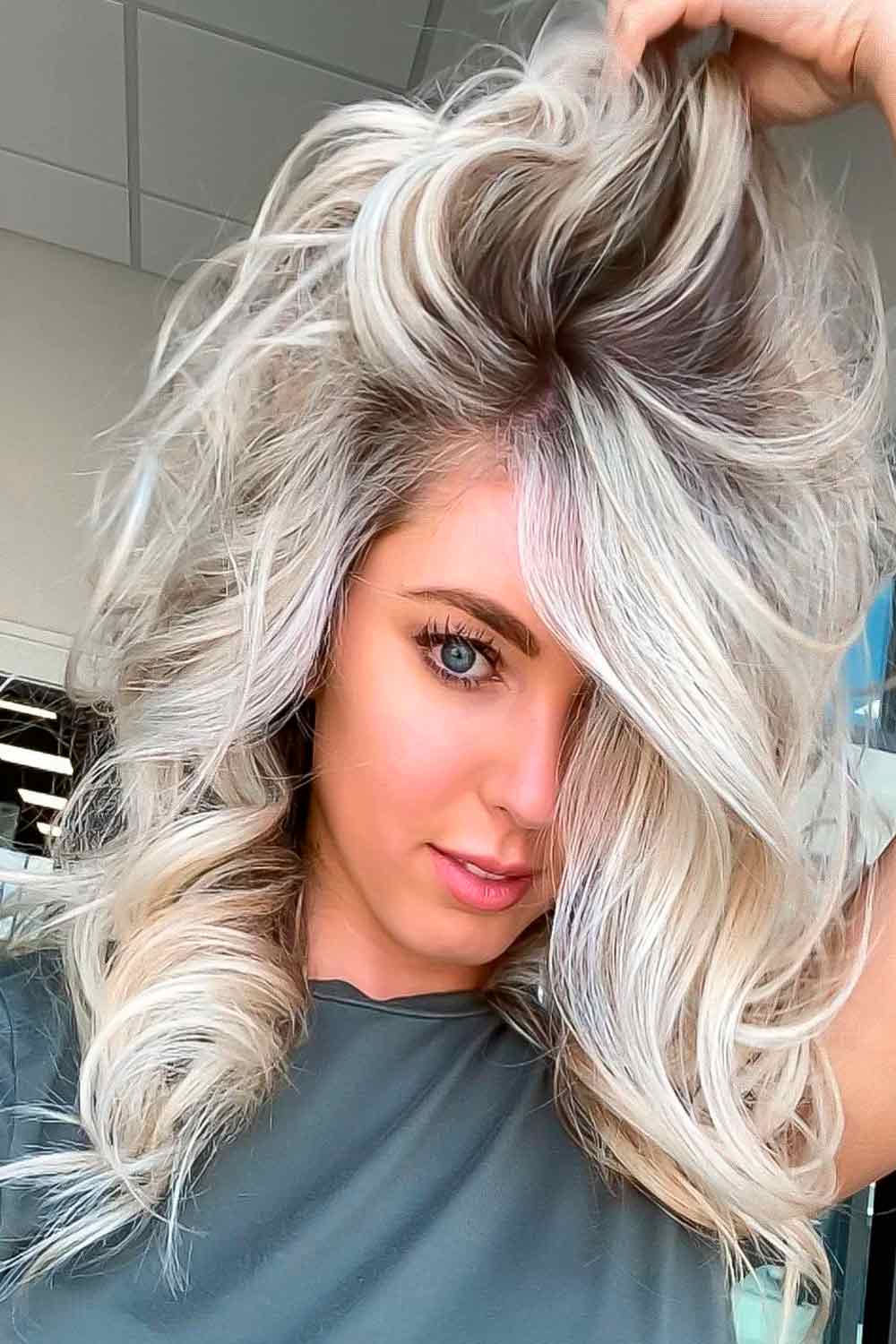 Source: curtiscolorshair via Instagram
i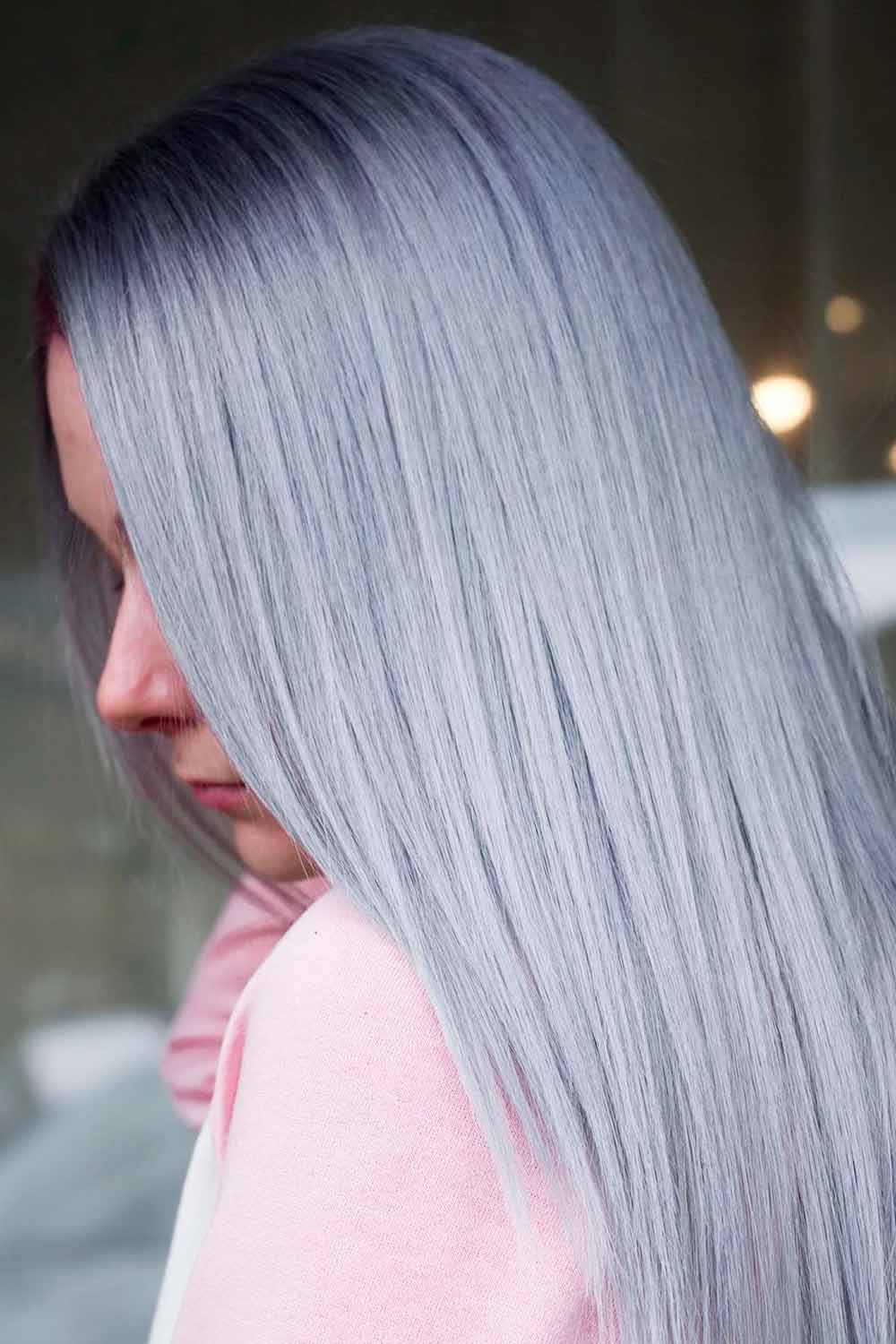 Source: deborah__darling via Instagram
i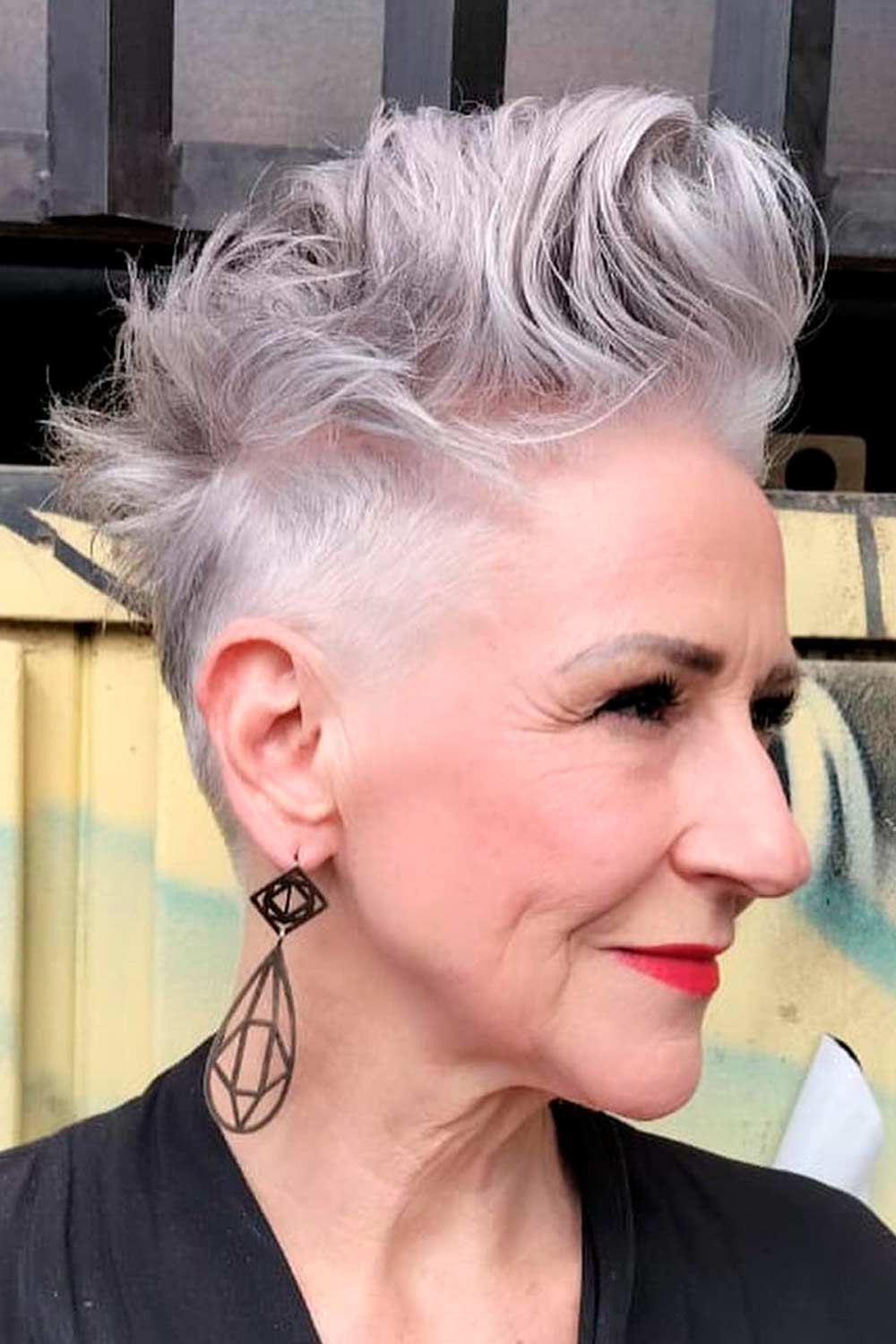 /
No matter how flattering ash-blonde hair is, you should keep a few things in mind so that you don't end up adding a few years on top of your actual age.
Don't go too short when you hit your 40s – for quite some time, ladies thought that after they reach their 40s, it's time to cut those luxurious locks off. Yet, that's not entirely true. Consider your lifestyle, face shape, and individual preferences before you choose to commit to a shorter cut, and don't forget that ultra-short ash-blonde hair may make you look slightly older.
Mind the ash tone – wrong ashy tones will add a ton to your age.
Keep the right product at hand – such hair products as masks, serums, and conditioners are designed to revive your hair and make it look shinier and healthier. If you cut on those, you will end up with a dull and lifeless mane, adding a few years over to your otherwise youthful appearance.
Tame that frizz – frizzy hair makes people look older. That's a fact. Keep that frizz at bay with a skillful blowout or a nice serum to avoid the mishap.
How To Get Ash Blonde Hair Out Of Yellow: Two Approaches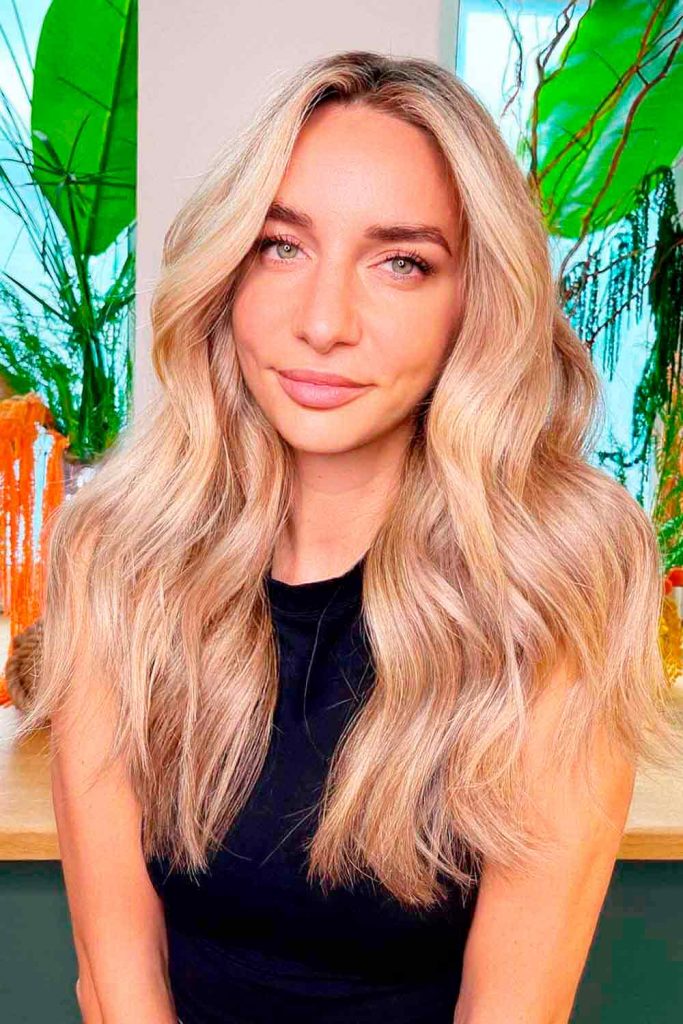 Credit photo: sheffpavelstylist via Instagram
You may already know that ash blonde hair color isn't the simplest hue to achieve, but there are a few ways to succeed with it. One of them involves a purple toner, and the other revolves around purple shampoo. While both options are pretty effective, there are certain risks and advantages to be aware of before you finalize your decision.
The former is fast-working, but it contains peroxide. The chemical can damage your exhausted locks in no time. So, you should judge the health of your strands in the first place. The latter does not contain any chemicals, but it takes a little longer for effect to show. To help you make up your mind, we will discuss how every option works and how to use it to succeed with the pre-set goal.
1.Setting Ash Blonde Hue In Fast With Purple Toner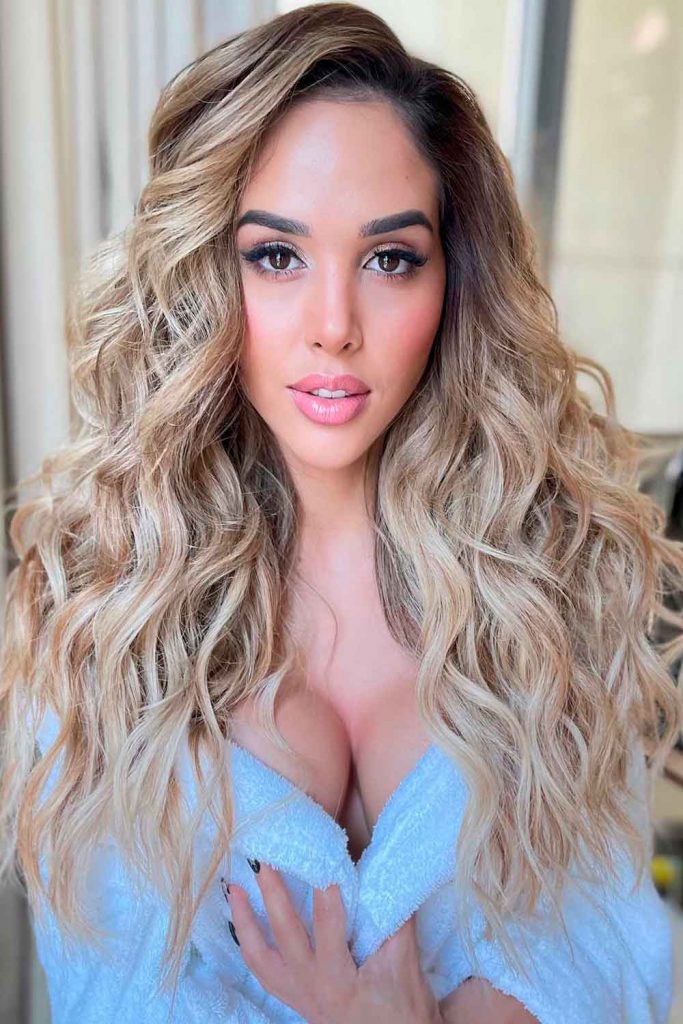 Credit photo: hair_by_zolotaya via Instagram
The hair styling industry is full of different effective tools, and the ash blonde hair dye isn't the only way to end up with a silvery tint in your tresses. After you have bleached your hair and you are in shock after seeing your locks turn yellow, experienced stylists turn for help to purple toner.
No matter how effective the toner is, you should be careful around it. Some experts suggest that if you have no previous experience with the solution, you should better keep clear of it. Yet, if you take general precautions critically, you may succeed with the shade you seek, even in the safety of your own home.
One of the primary warnings to bear in mind is that the toner works fast, and you should not leave it on and forget about it. If you do that – your hair will turn purple in no time. In case that is not the outcome you seek – you will keep a timer close.
The second precaution would be the state of your mane. If it is already damaged, you should forget about using purple toner on it, or you may ruin it to the point of cutting the length dramatically. Now, when you are properly warned yet ready to proceed, you should gather all the necessary appliances. These would be the following:
Toner
20-volume developer
Gloves
The process:
Start with brushing your mane thoroughly so that no tangles are left.
Combine the toner with the developer using a plastic or glass container.
Put the gloves on and spread the solution over your hair, making sure no spots are missed.
Leave the formula on for around 5-10 minutes. It is advised to check the tone every few minutes so that you can wash it off in time to end up with the perfect hue.
Rinse the toner off and wash your locks with your favorite shampoo.
Promise not to keep toner on your hair longer than 10 minutes. Ever!
2.How do you succeed with perfect ash blonde tint using purple shampoo?
Credit photo: balayageombre via Instagram
i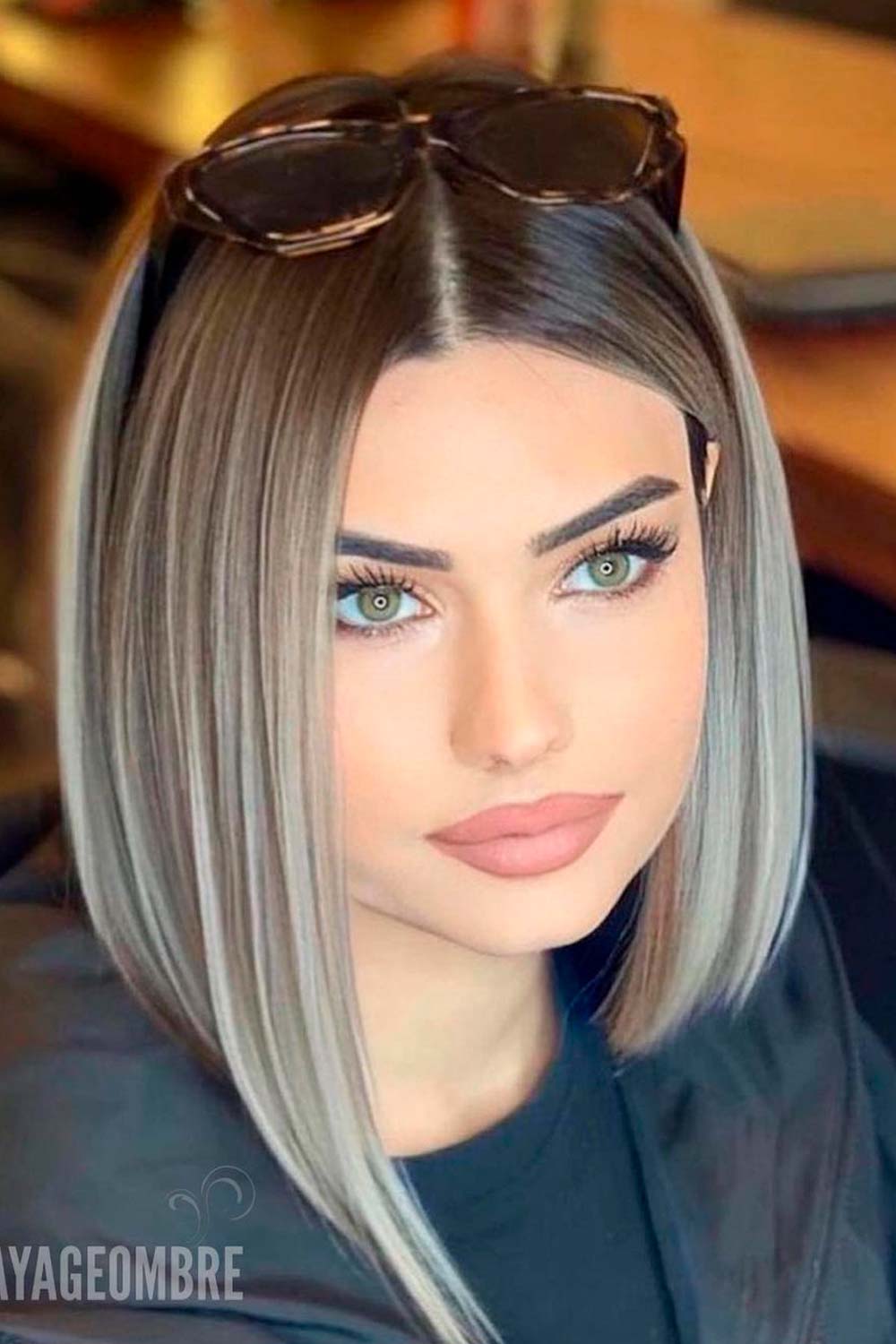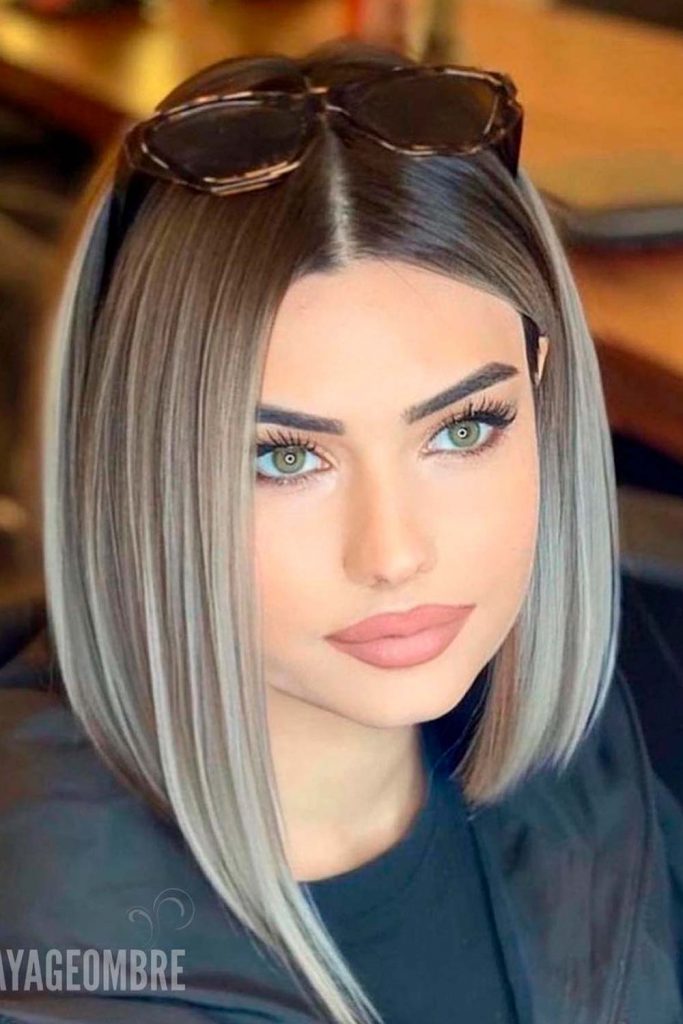 Credit photo: balayageombre via Instagram
i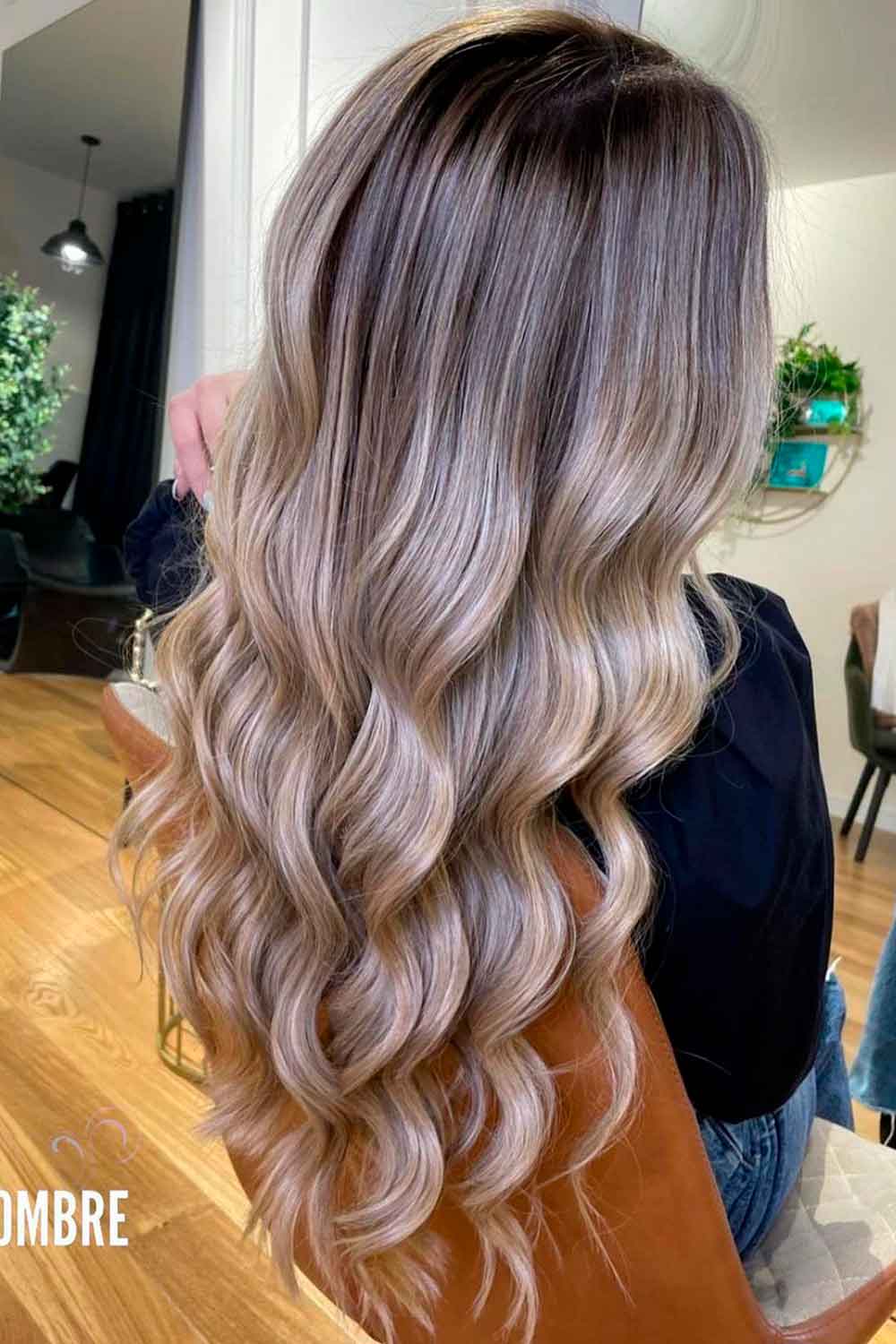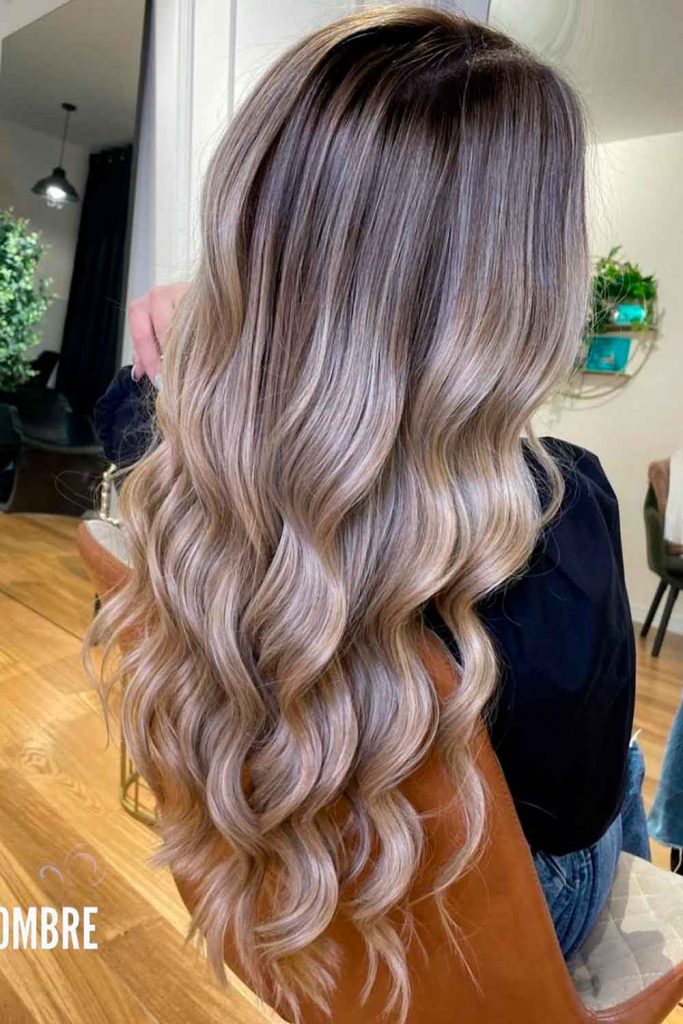 /
Another effective and safe way to get pretty silver ash blonde hair would be to get yourself a bottle of purple shampoo. As it's been mentioned, it takes a bit longer for the shampoo to present the precise effect you seek, but it does not contain any harmful elements so that your locks won't suffer any further damage. Since there are no harsh elements added to the shampoo formula, it does not affect the stand's structure and applies the color outside it instead of getting right in.
It takes around 3-4 washes to reach the shade you aim at. Thus, the change in color will be gradual rather than instant, and you shouldn't be discouraged by that.
How do you use purple shampoo? The answer is quite simple – how you use your regular shampoo with the sole difference that you should keep in on for about 10 minutes instead of washing it off instantly. Once you rinse the formula off, you can apply the conditioner of choice or invest in a special purple conditioner to intensify the effect.
One of the possible drawbacks of using purple shampoo is that you have to use it as long as you want the shade to stick. Once you stop using the shampoo, the color will wash out quickly.
Tips To Help You Maintain Your Ash Blonde Color
Source: suetyrrellstylist via Instagram
i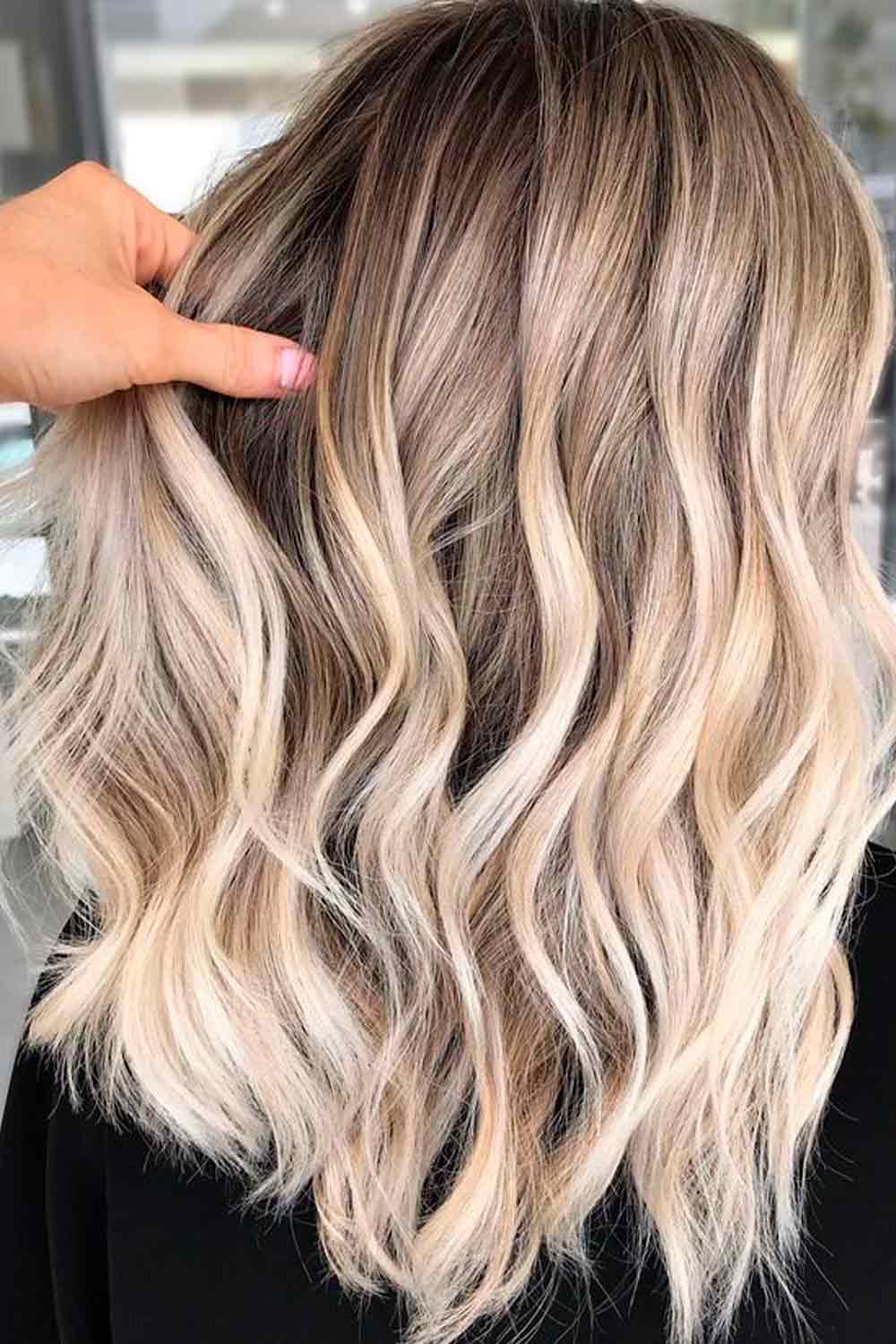 Source: cutyourhair via Instagram
i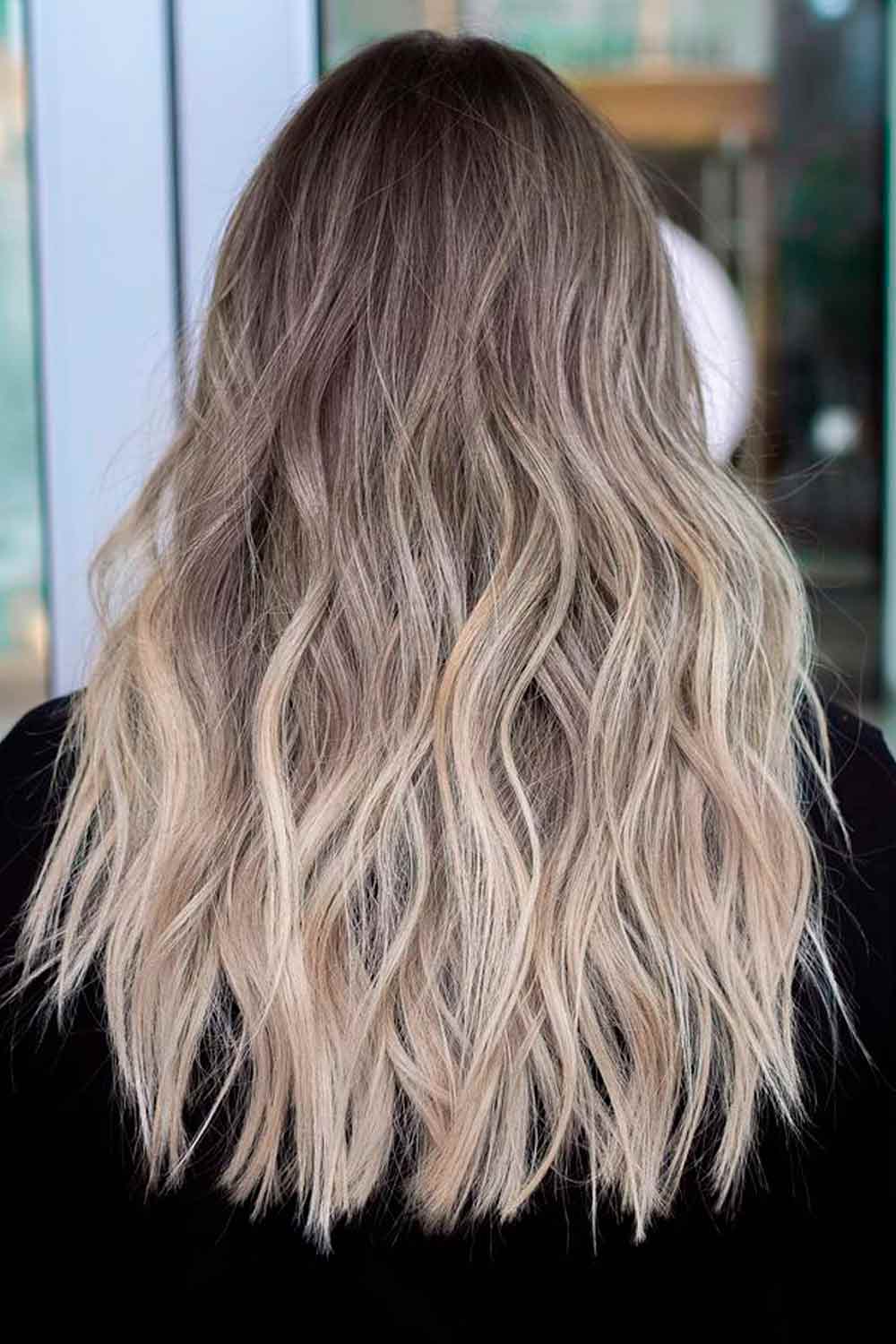 /
You don't have to master the whole ash blonde hair color chart to keep that vibrant hue permanently locked in your strands. All it takes are a few tips to stick to, and you will love your new shade to the moon and back:
Beware of the sun
Should you sport light ash blonde hair, you may want to keep your locks away from UV rays. The fact is that sunlight will get deep into your strands and make the color fade away. On top of that, the rays will further damage your tested locks, and that isn't a good thing. Thus, covering your head up with a hat every time you go in the sun would be a great idea. If that isn't possible, a high-quality protective spray should come of use.
Go for a glossing treatment
No matter how reliable the toner you have used is, it has a tendency to wash off. Even dark ash blonde hair will lose its tint over some time. To ensure that something like that does not happen to you, the experts advise that you go to the salon and inquire about a glossing treatment. The procedure will seal the color in the cuticle so it won't wash off easily.
Hydration is the key
Let's face it – your hair has been through a lot. It is damaged to an extent and dried out. Thus, it is your primary goal to provide it with proper hydration to moisturize it back to life. Washing your locks regularly is an excellent way to go, but there is something else. The reputable stylists suggest you switch to peculiar colored-hair products and dismiss your favorite shampoos and conditioners for a while. Moreover, a leave-in conditioner would be a great addition to the routine.
Gorgeous Ash Blonde Hues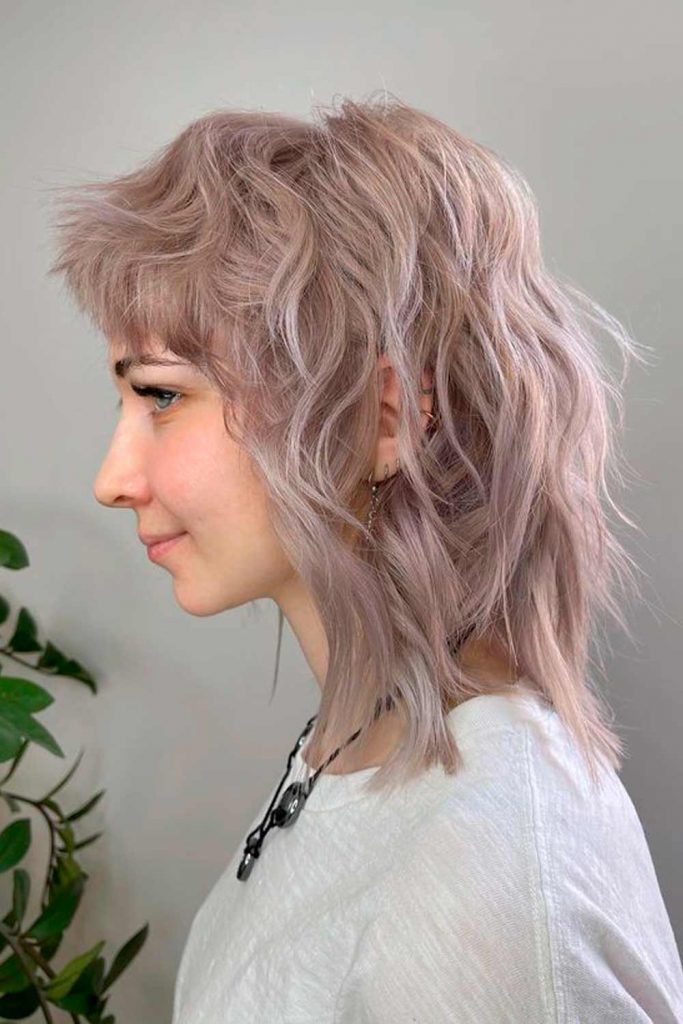 Credit photo: aliyousha via Instagram
Ash blonde hair has many faces. It can be a natural ash blonde, medium ash blonde, light ash blonde, dirty ash blonde and whatever your imagination pleases. The best thing is, besides a great variety of ashy options, it offers a manageable maintenance routine. Unlike blonde shades that require regular updates to keep up with a shiny look, this color doesn't condemn you to such a huge commitment. Since it's muted and faded, it doesn't require such frequent upkeep.
Whether you're a blonde who wants to change something in her look while sticking to the natural base or a brunette who needs to go in the opposite direction, these ideas will make you fall in love with the trend. Check out the iconic color decisions that have blown up the whole Internet!
Cool Ash Blonde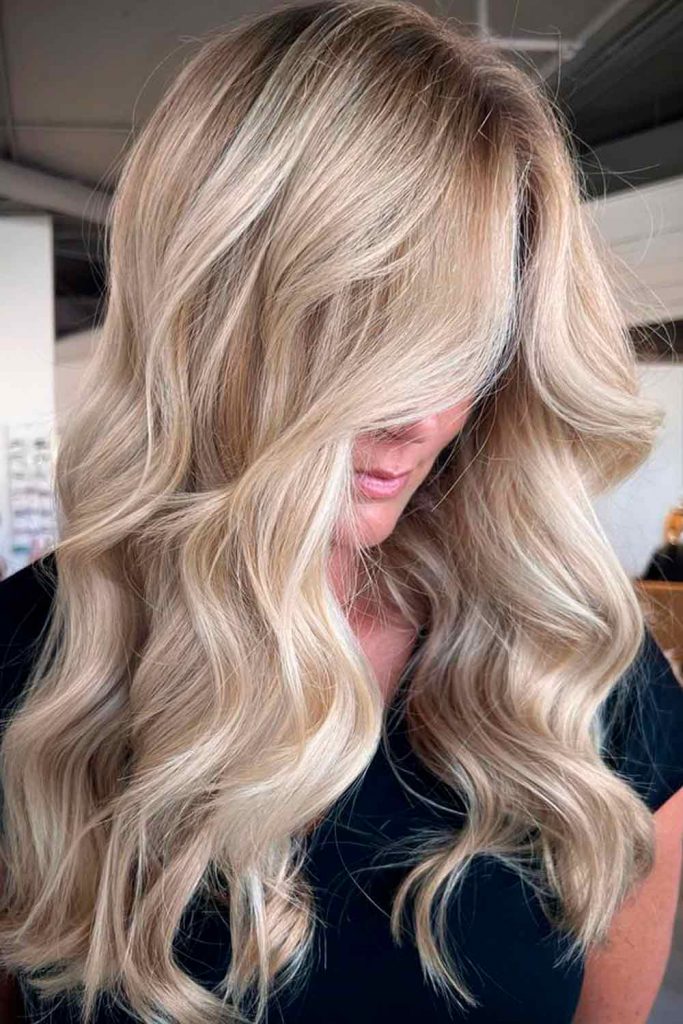 Credit photo: kellymassiashair via Instagram
Ladies with fair to medium complexions who'd like to emphasize their noble skin tones can go for a cooler option of ash blonde hair color. This idea was achieved with the help of smooth balayage that evenly blended a platinum blonde shade with a wheat blonde hue.
Ashy Pearl Blonde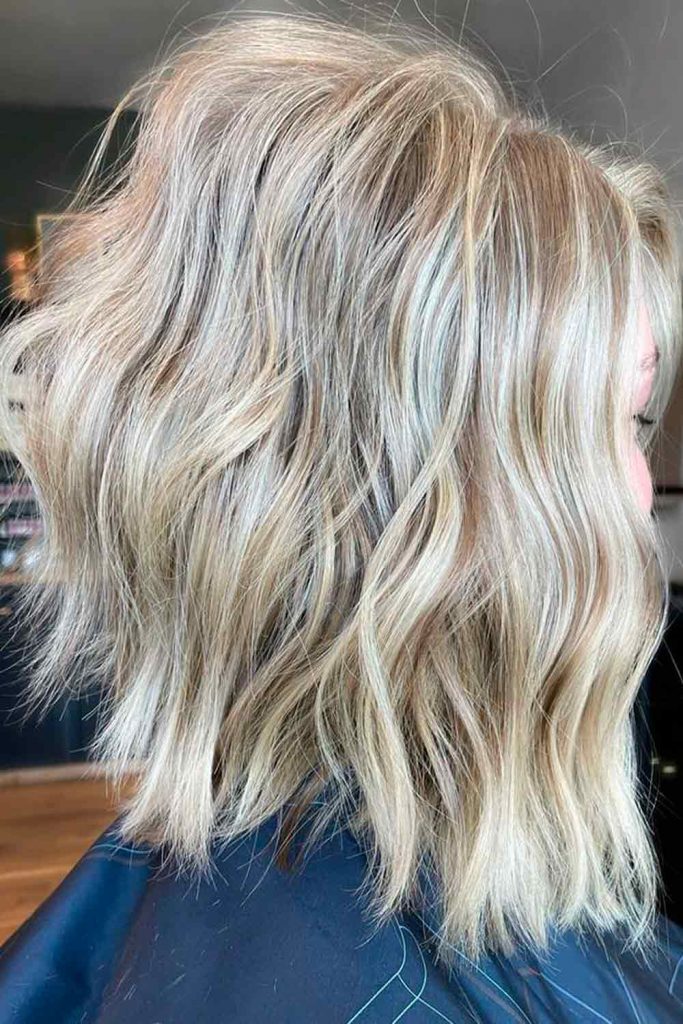 Credit photo: headrushdesigns via Instagram
This ashy pearl long inverted bob is a stunning example of a custom hair color. As you can see, this color job focuses on the shiny pearl shade that covers most of the hair. And so as not to make the color too drastic, the mid-length and roots are embellished with a subtle mix of greyish and ashy tones. Remember: you can always play around with color placement.
Ashy Ice Cream
This tasteful play of color leaves us no choice but to call it Ashy Ice Cream. Though the color is faded enough, it brings a ton of dimension. To create such a light and pleasant color, you need to ask your stylist to mix a subtle ash blonde shade with a cool-toned greyish hue over some strands.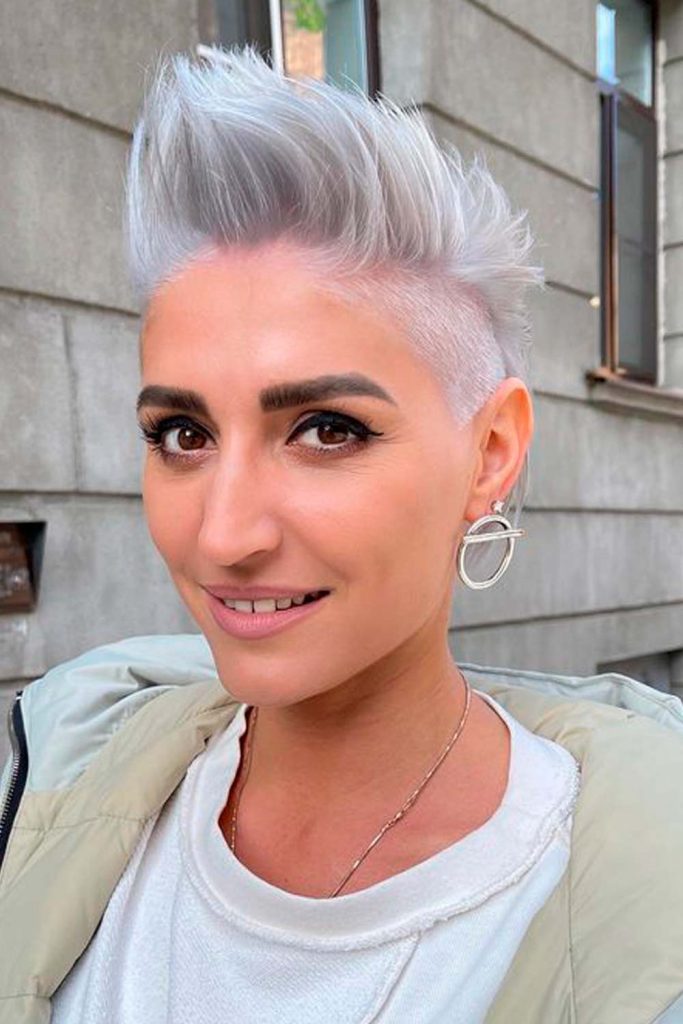 Credit photo: aliyousha via Instagram
This is how medium ash blonde looks like. Of course, there's no better ashy option for ladies with warm skin tones and dark bases. The color looks like wet sand on a rainy beach day, that's where it took its name. If you want to recreate this idea, make sure to ask a professional for ombre: it will stunningly connect your dark roots with the added color.
Ash Bronde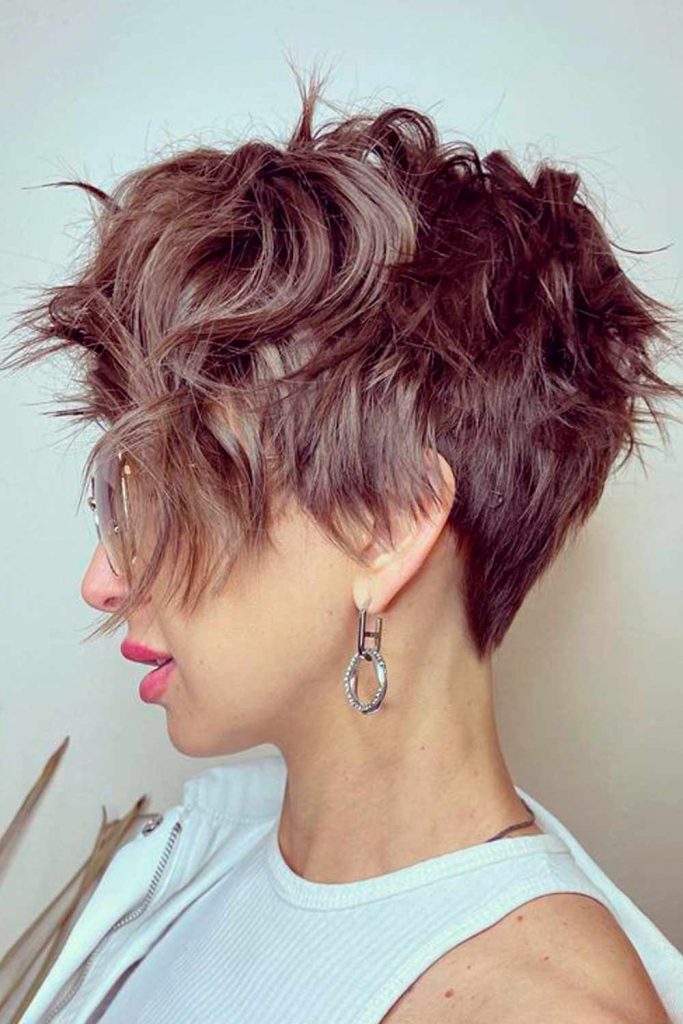 Credit photo: aliyousha via Instagram
When you can't decide between blonde and brunette because both are too tempting, choose bronde. One just can't go wrong with it as it's a combo of the two popular colors. This ash bronde features a natural light brown base that transits into a greyish light blonde. And you know what? The combo will flatter anyone!
Smokey Ash Blonde For Black Hair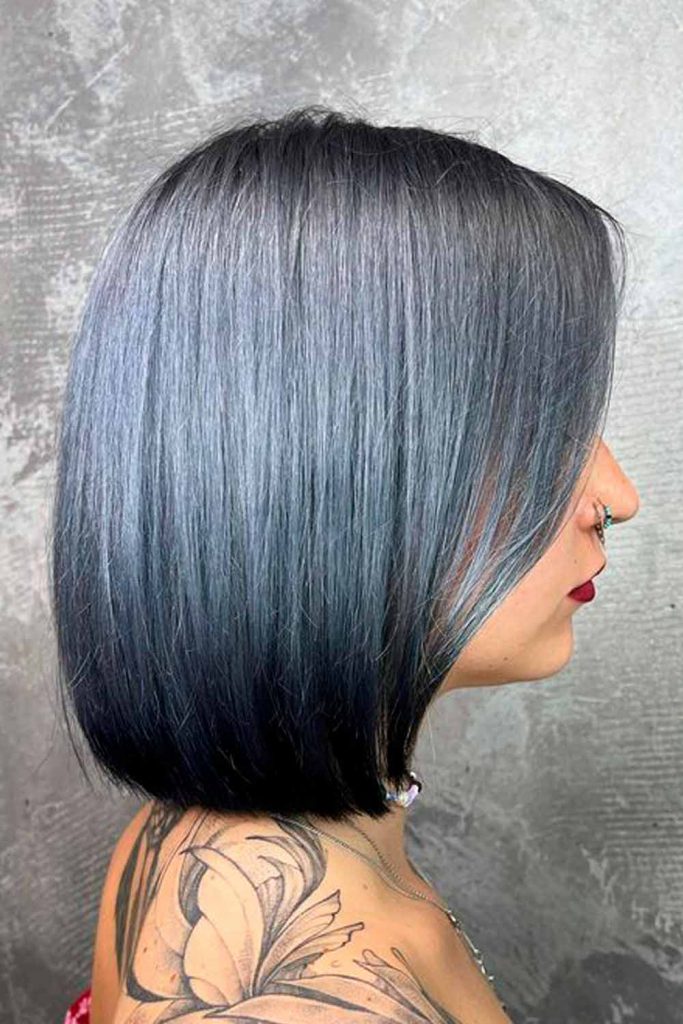 Credit photo: aliyousha via Instagram
If you can't live without dynamics, you need to pull off a color that will express it. And dark ash blonde is nothing but the best choice. For those who are into darker shades, it's a must try idea for two reasons: it will fit their preferences and blend with their previous color at the same time.
Beige Sand With Ash Blonde Highlights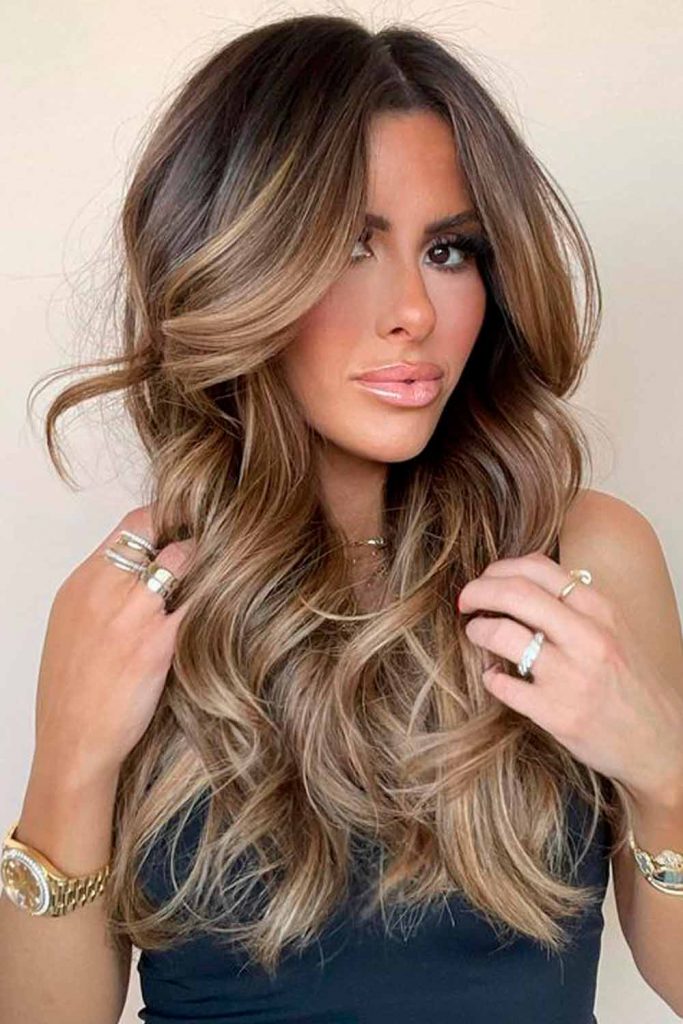 Credit photo: hairby_chrissy via Instagram
It's no secret that naturalness is the most desired value in all beauty spheres. So when it comes to natural hair color, beige and sandy shades are something you can't do without. Together with ashy blonde, they will give life to magnificent movement and dimension in your locks. To enhance the effect, it's better to get the look through balayage.
Pale Ash Blonde On Dark Brown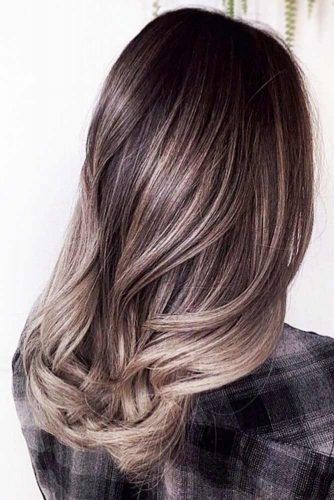 Credit photo: hairbynicoleg via Instagram
Here's another ashy idea for dark chevelures. This time, it's very calm and peaceful. The brownish roots slowly transit into a light greyish hue, ending as a soft pale blonde. To bring it to life, nothing will work better than balayage, notably if you aim to have a smooth blend from the roots.
Contrastive Ash Blonde Balayage + Babylights Combo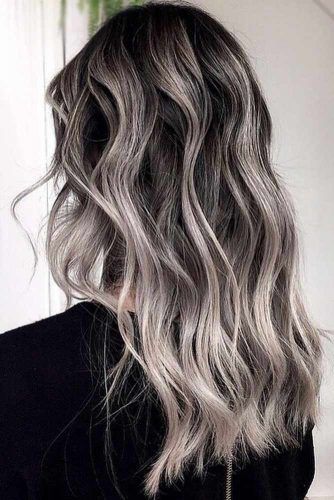 Credit photo: hairbynicoleg via Instagram
We are not going to leave you without some attention-grabbing ideas! Keep in mind that such an outstanding color requires a lot of time and dyes. Yet, the look is definitely worth all the efforts: ash blonde balayage creates a lovely color play and babylights give a bold finish, adding some dark shadows to this performance.
Dirty Ash Blonde + Pearl Balayage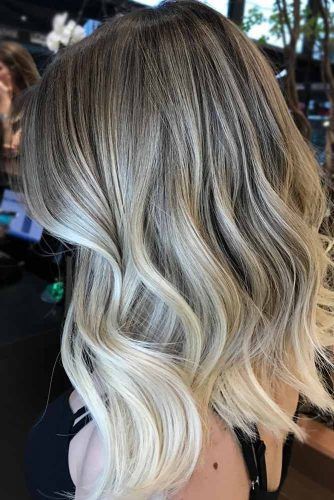 Credit photo: rafaelbertolucci1 via Instagram
The best thing about dirty blonde hair is that it comes as a balanced combo of the darkest and the lightest shades of blonde. In this way, it suits all girls. Here you can see how creatively you can sport this color: the ash blonde balayage that gently connect dirty blonde with light pearl ends is a mix to remember.
Dark Ash Blonde Ombre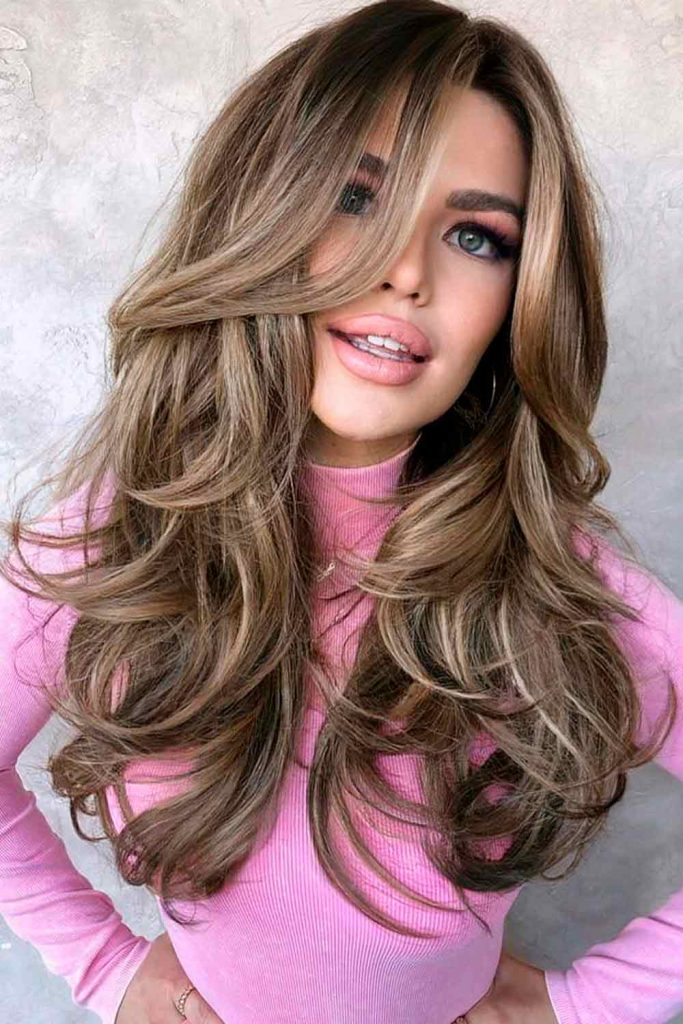 Credit photo: hairby_chrissy via Instagram
Meet the dark ash blonde hair color that stands out in the crowd. The darker base meets a pale, greyish blonde with ashy vibes and gets lighter to the ends. Who could ask for more? Such color combinations will look ravishing on girls with pale to medium complexions.
Silvery Ash Balayage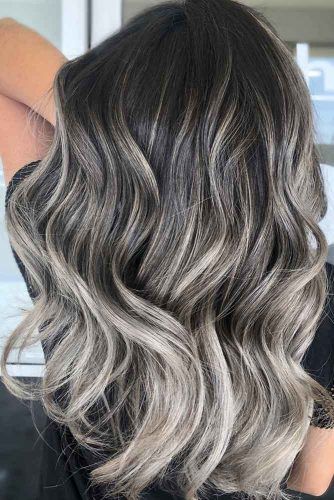 Credit photo: frances_hairartist via Instagram
Alongside the recently emerged gray color trend, silvery shades are also popular with the ladies. And you don't need to be a colorist to know that they get on well with deep and dark bases. This well-balanced, eye-catching balayage is living proof!
Super Light Ashy Blonde Ends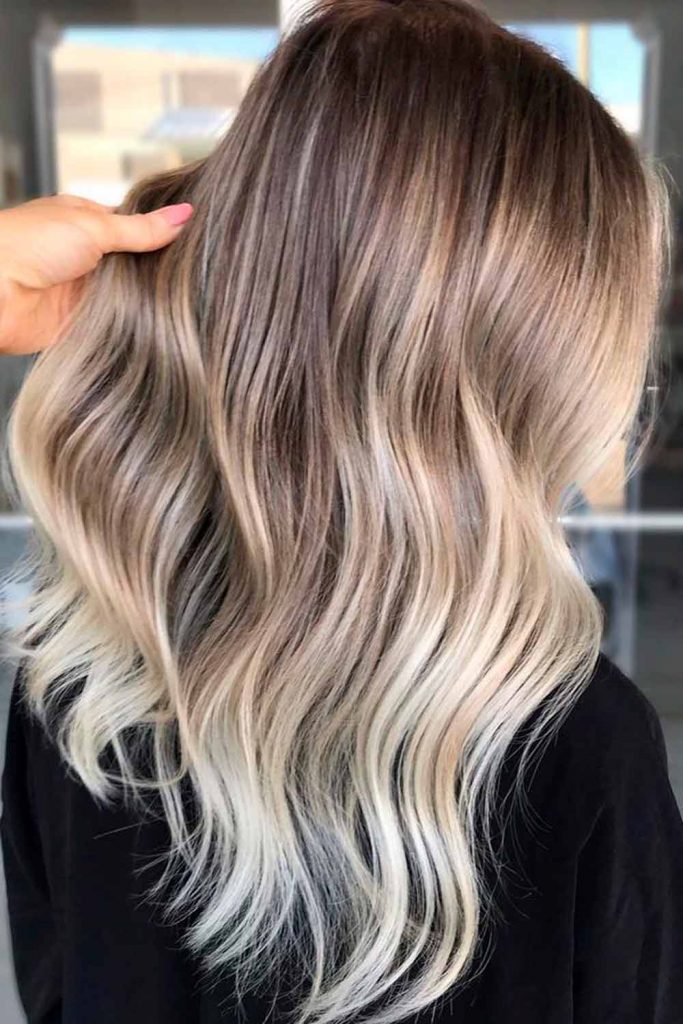 Credit photo: suetyrrellstylist via Instagram
Do you want to rock an airy silhouette? Apart from the right cutting technique, the right color technique is key to the desired look. These light ashy blonde ends with caramel hints look so soft and weightless that it seems like they've learned how to fly.
Ash Blonde With Icy Highlights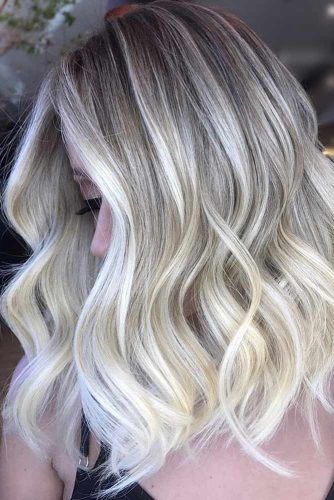 Credit photo: rafaelbertolucci1 via Instagram
If you want to enliven your color, making it more dimensional and harmonic, ash blonde highlights will help you out. This coloring technique is famous for its exceptional accentuating finish that creates very organic and flirty hair color.
Ash Blonde Highlights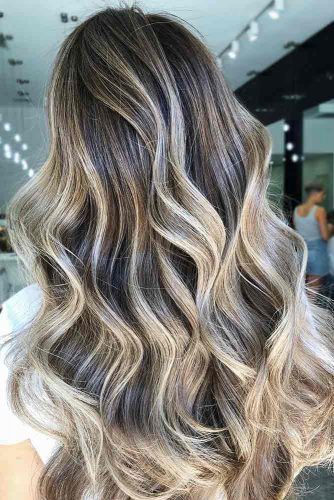 Credit photo: natalieannehair via Instagram
Don't want to betray your brown or dark locks but still need something to freshen them up? Light ash blonde hair color can come into your life in different ways. In this case, highlights are the best way. Just look at how impressively the lighter strands fall on the yummy ashy brunette base!
Grey To Ash Blonde Ombre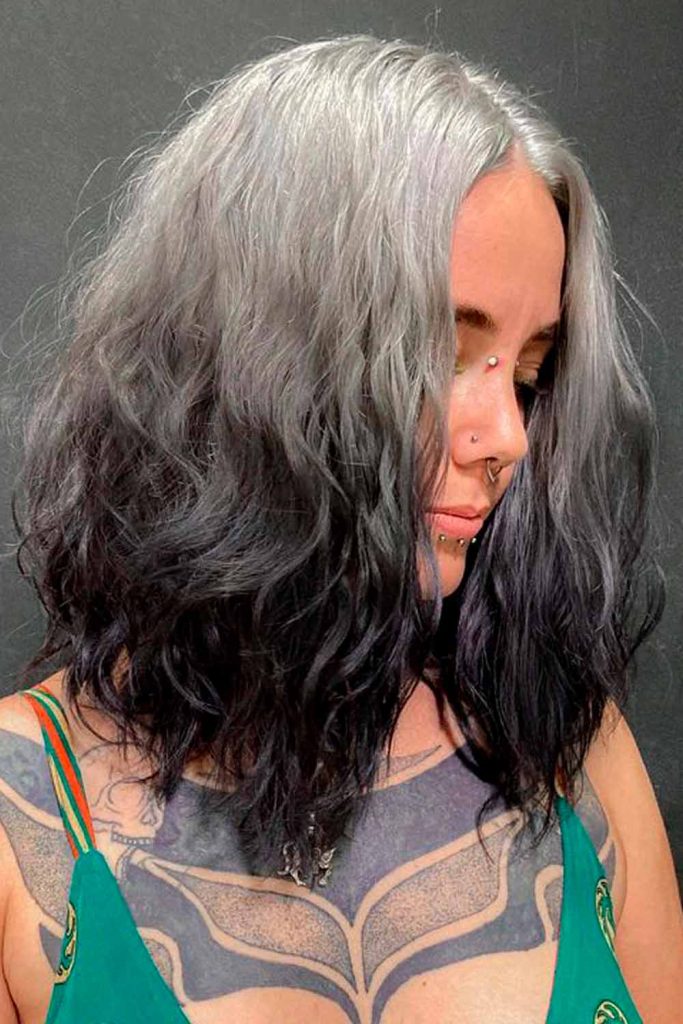 Credit photo: exotismos via Instagram
Now, it's time to mix the hottest trends of today! Grey to ash blonde ombre that seamlessly blends with the roots and gently flows from grey hues to ashy hints is an idea that can make modern trendsetters envy. Will you dare to try it out?
With the diversity of ash blonde shades, every girl can create a unique hair color that will perfectly flatter her appearance. Remember: your hair is a canvas to your imagination, and ashy blonde hues are tools that can give birth to your own hair masterpieces!
Dirty Blonde With Ash Highlights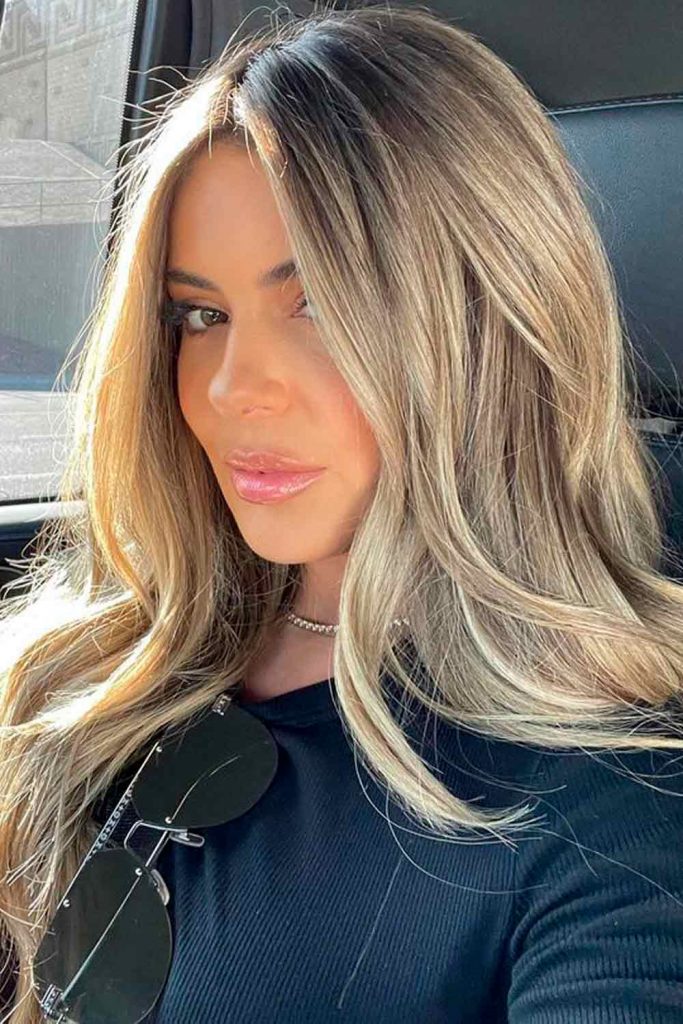 Credit photo: hairby_chrissy via Instagram
The fact is that dirty blonde is on the edge of glory these days. However, for some fashionistas among you, one trendy color may not be enough. That is why we suggest you mix the shade with ash highlights to achieve the desired effect.
Ash Blonde Hair With Layered Ends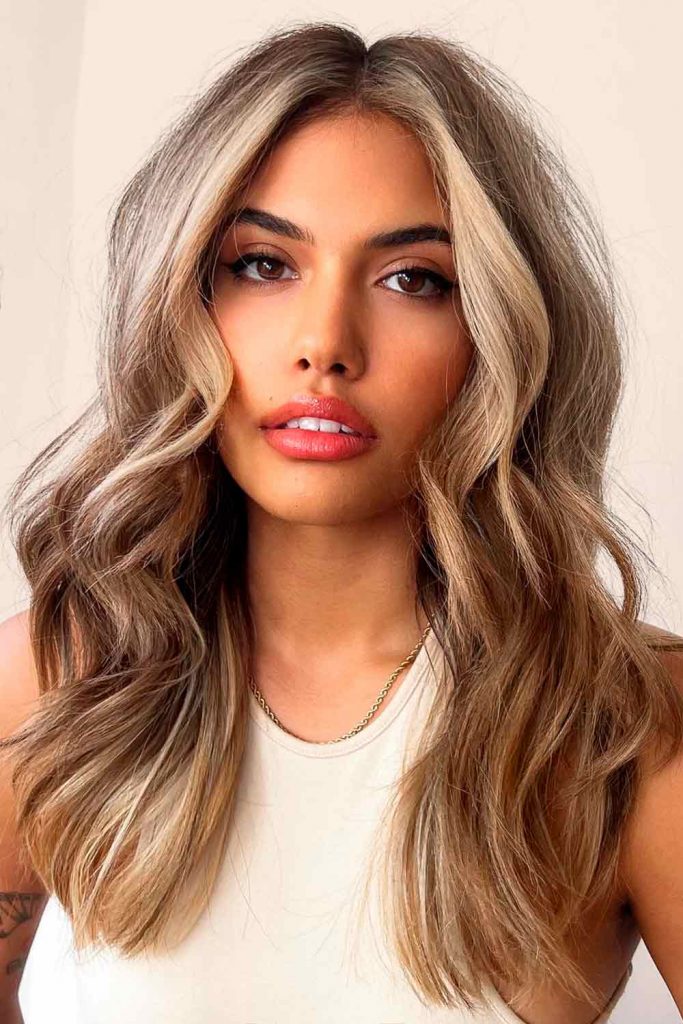 Credit photo: theniksters via Instagram
Not all of you may know that not only the color adds dimension to your hair, but the cut too. Layered ends combined with ash blonde hair is the flawless combo.
Сontrasting Balayage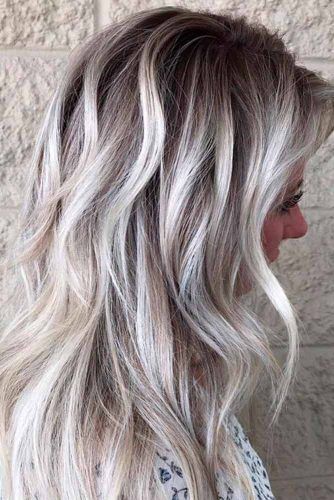 Credit photo: catherinelovescolor via Instagram
Often, when you heard about something contrasting, you imagine the combination of hues that are radically different. However, that is not always the case. One look at this contrasting balayage will prove the point.
Glossy Ash Blonde Hair With Bright Highlights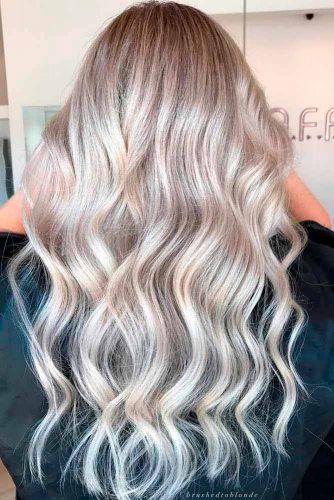 Credit photo: brushedtoblonde via Instagram
Adding highlights to perfectly ash white hair is possible. What is more, the result is usually astonishing. Yet, you should keep it in mind that the best way to bring up the hues is to add some light waves to your mane.
Soft Ash Blonde Ombre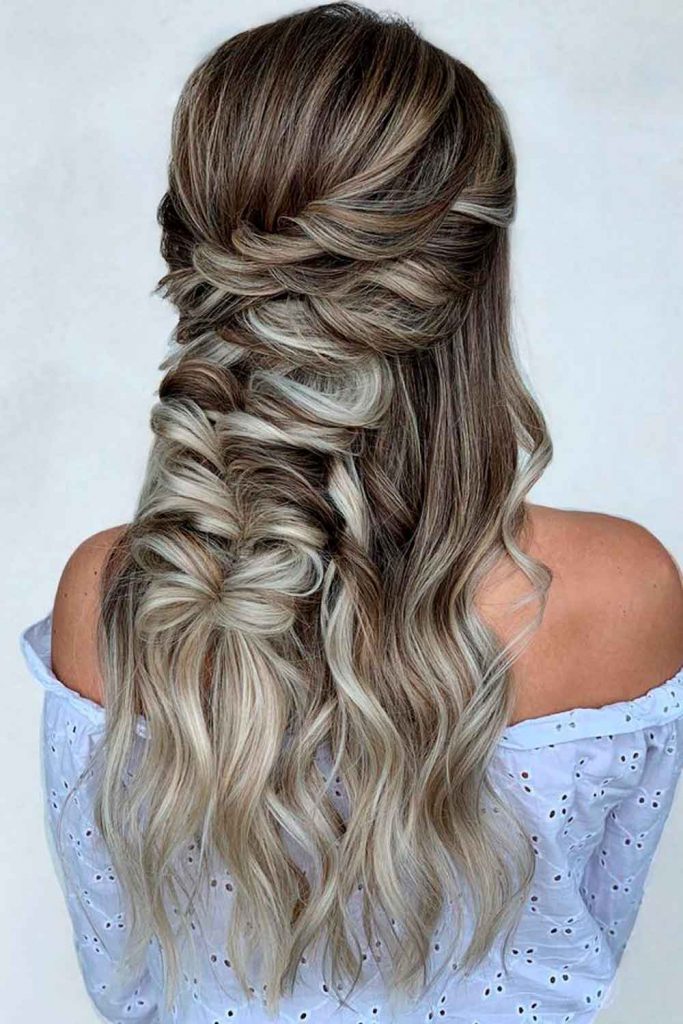 Credit photo: blushandmane via Instagram
Those of you who are looking for a spicy look, we have it covered for you too. The thing is that ash blonde ombre with lavender tints to it will make your locks look one of a kind.
Celebrities Who Will Make You Want to Go Ash Blonde
Naomi Watts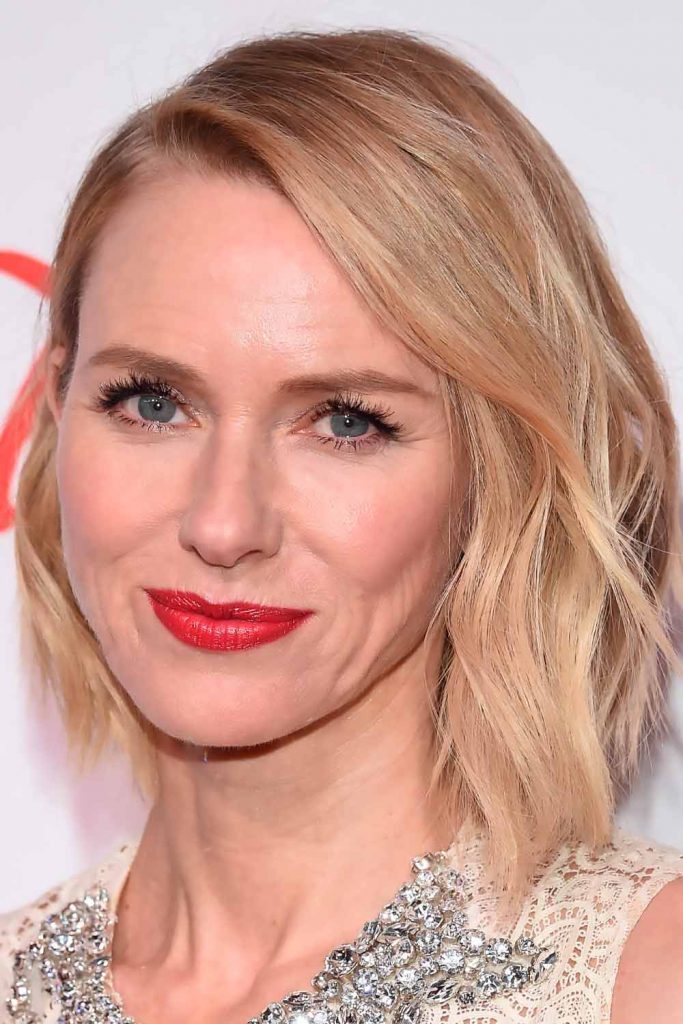 Credit photo: DFree/Shutterstock
Naomi Watts adds a few touches of ash-blonde to her overall natural-like blonde, and they bring in necessary depth and dimension without losing the all-natural and sun-kissed appeal.
Kate Hudson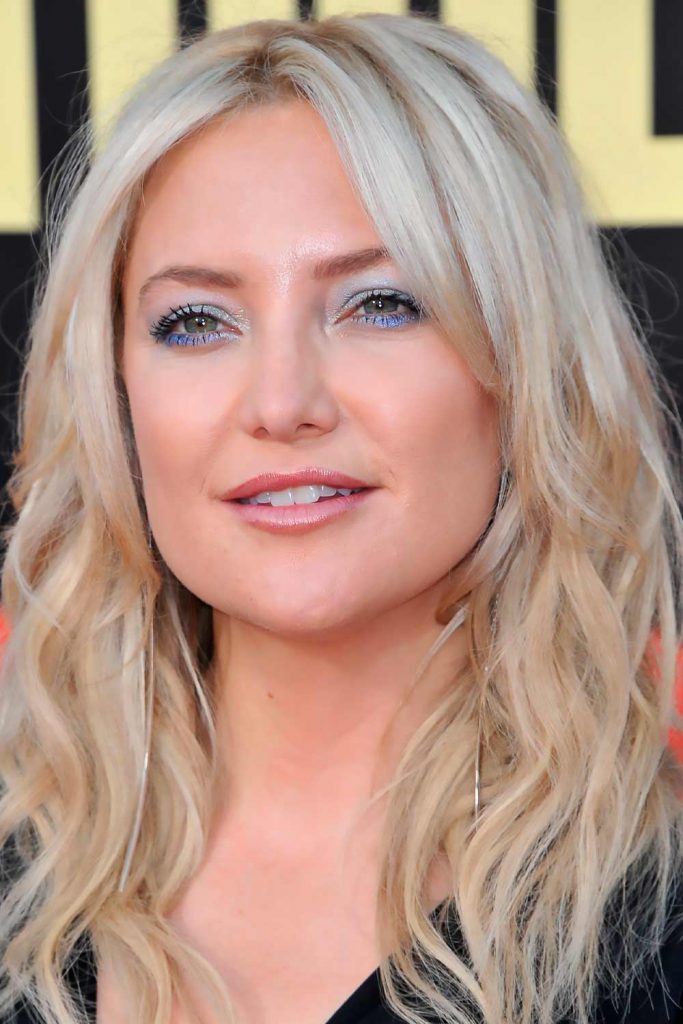 Credit photo: Tinseltown/Shutterstock
Kate Hudson is known for her love for blonde and hair experiments. This time she relies on deep ash-blonde to reflect the stylish haircut as all the layers get the attention they deserve.
Selena Gomez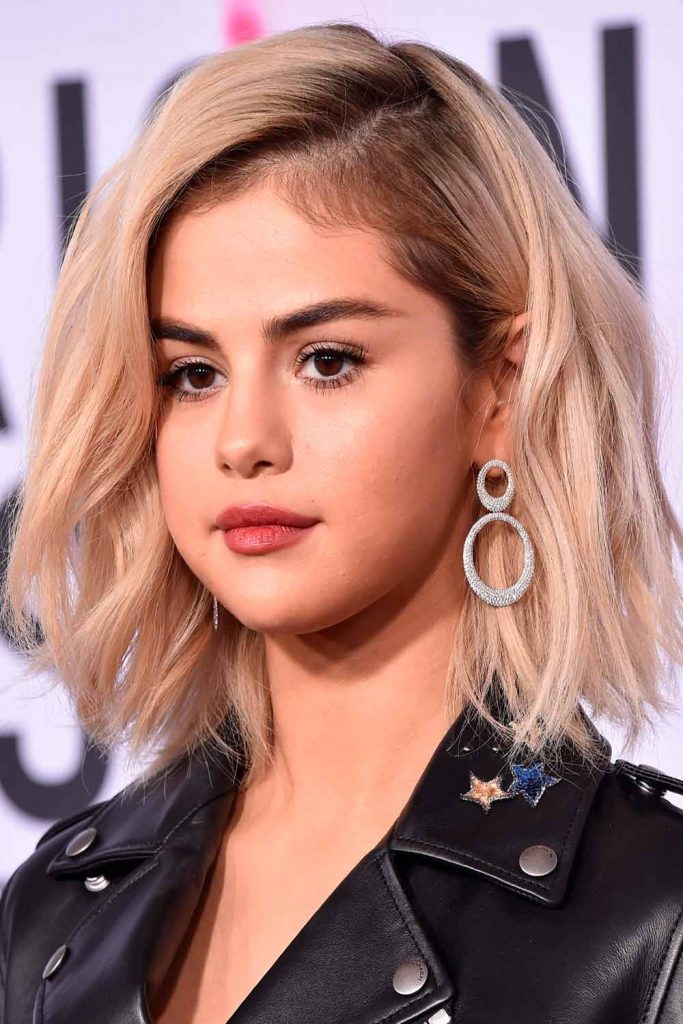 Credit photo: DFree/Shutterstock
Care to kill most present-day hair trends? Pair your ash-blonde mane with outgrown darker roots and go for a voluminous side-parted bob as Selena did.
Jennifer Lawrence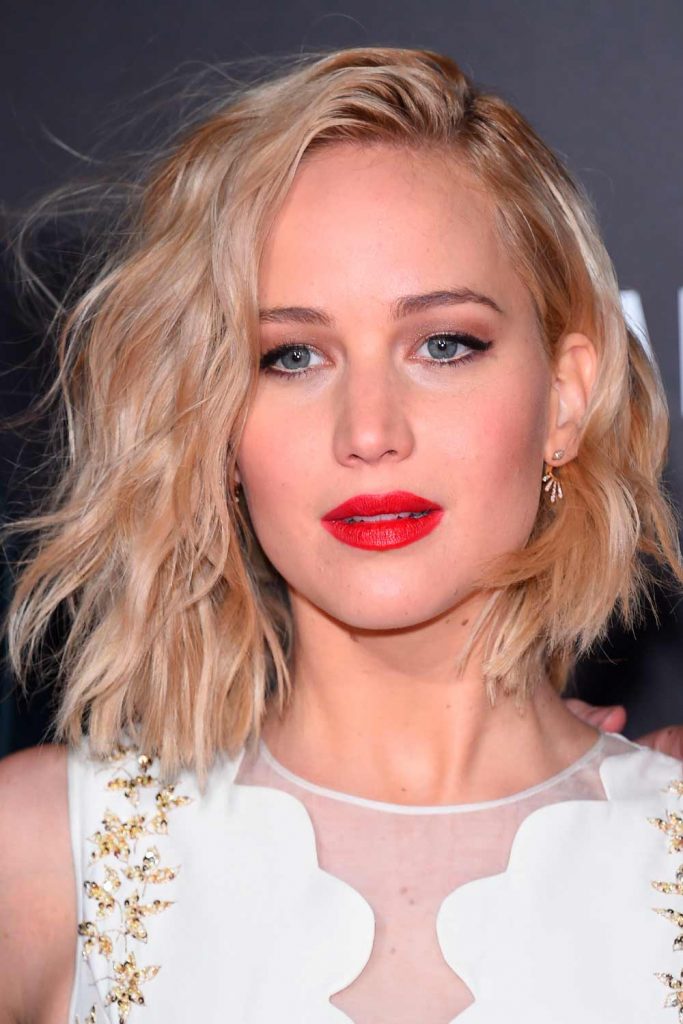 Credit photo: DFree/Shutterstock
What do you get if you start at platinum and stop halfway to gold blonde? The answer is – Jennifer Lawrence's sassy blonde look.
Kim Kardashian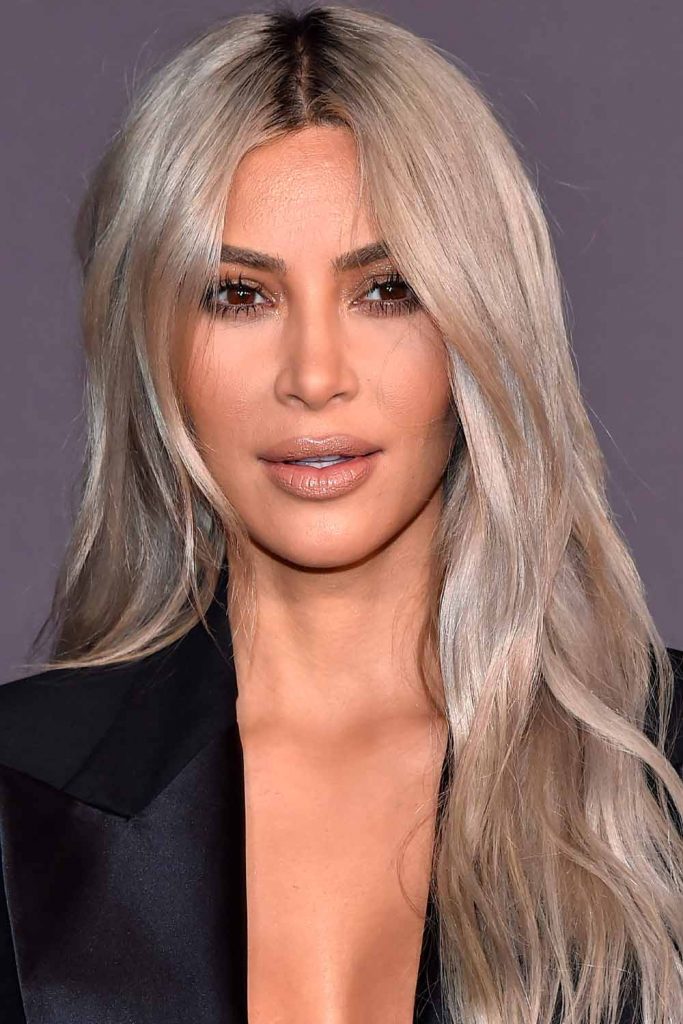 Credit photo: DFree/Shutterstock
Here's another iconic take on outgrown roots. The mixture of silver locks, carefree styling, and contrasting roots results in an aura of mysteriousness and an undeniable sense of style.
FAQ: Ash Blonde
What is ash blonde hair?
Ash blonde hair is a blond hair color with cool gray undertones. There are light ash blonde hair and dark one. Light ash blonde hair looks like platinum blonde hair with darker roots. Dark ash blonde hair is a dark base color with grey-ish undertones.
It is not a natural color and requires maintenance. Purple shampoo needs to become a part of a hair routine of those, who have ash blonde hair.
Who should use ash blonde hair color?
Ash blonde hair color is used to tone any colors from dark to light ones. This dye is used to neutralize warm hues and add smokey undertones to your hair. Ash blonde hues look great on both dark and blond hair colors.
Does ash blonde fade fast?
Whether it is ash blonde balayage on dark hair or full-cover ash blonde dyeing, you should be aware that the day-one effect won't remain with you forever. As time passes, the color will fade away. Thus regular touch-ups are required.
How do you wash ash blonde?
Both pale ash blonde hair and darker tints require the same washing routines. One of the primary factors to ensure is that you are extremely gentle on your locks. What is more, washing your tresses with hot water is off-limits. You can stick with your favorite clarifying shampoo, or you can opt for the colored-hair option to ensure the best care of your bleached strands.