Short curly hair is something considered to be very difficult to style. There is no wonder why, since many people hardly know the difference between curly and wavy. In fact, that is partly true, especially when it comes to curly hair that is more likely to be of the same ringlet texture throughout the length, while wavy hair is often wavy at the ends.
Yet, it does not mean that short haircut can't be extremely fun and sexy-looking. To prove you our point, we have gathered here a number of trendy and extraordinary ideas to try out, if your hair is short and curly. Are you ready to let something new into your life?
What Are The Different Types Of Curly Hair?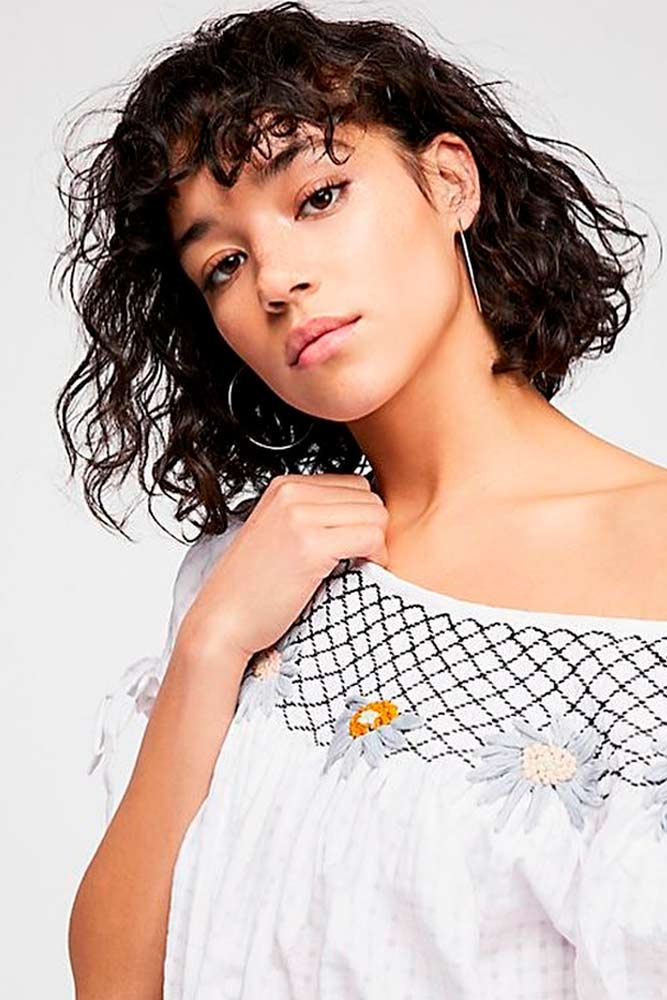 Credit photo: instagram.com/tashimrod
Those ladies who are not born with natural curls may not know that there are different types of curly hair too. Here is how you can distinguish and determine your curly hair type:
Wavy, type 2
Мery bendable waves that form a distinct S pattern, this type is also divided into 3 subcategories:
2a – is simple to straighten and has a lightly tousled texture, due to the lack of texture at the roots, it is advised to use a water-based mouse to grant some volume to your hair;
2b – is a little harder to straighten, the waves start somewhere in the middle of your head, so the crown tends to look slightly flat, using texture hair products will help you deal with the flatness;
2c – is the coarsest of all and highly likely to be frizzy, the S-waves are well defined and start at the roots.
Curly, type 3
Anything on the scale from loose loops to tight corkscrews belongs to the type and are divided into three subcategories:
3a – are loose and large curls that are pretty shiny but quite dry at the same time so that it is suggested to refresh your locks with curl refresher every now and then;
3b – are springy ringlets that turn out to be coarse and dry, that is why adding moisture to your stands and locking it in is a must;
3c – are as tight as corkscrews, naturally voluminous but prone to frizz the most.
Coily, type 4
The best definition would be a kinky or Afro-textured hair, tight curls that are dry, spongey, but dense describe the type the best. There are three main types to distinguish between:
4a – these are springy coils in the form of an S-pattern that require additional care when it comes to moisturizing. The circumference of such coils is usually that of a crochet needle;
4b – these coils are very dense and at times can bend like a Z-letter, in the majority of cases the coils can be shaped into anything, but you should not forget about proper moisturizing ;
4c – these coils are incredibly alike the 4b sub-type. However, they are a lot more fragile and form such a zigzag pattern that it is hard to notice with a naked eye.
What Hairstyles Go With Short Curly Hair?
If you are looking for short hairstyles for round faces. Or, if you want to opt for a short style for your curly locks, most women with wavy hair prefer cute pixie cuts and sleek short bobs. Both of these have options for layering, is beneficial for curly hair. However, the thicker your hair, the less layers should be added, unless you are opting for an excessively short hairstyle. Loose, large curls and waves look great with short styles. They can create the sexy and sassy "bedhead" effect with bouncy curls or messy waves. If you want to be bold, add some color accents to your short, trendy locks. You can add wispy strands of color throughout, add a bold color to a "chunk" of your hair, or add some color to your bangs. We advise to leave the fancy coloring jobs to the professionals. But some funky colors can really add life to your curls!
Does Curly Hair Look Good Short?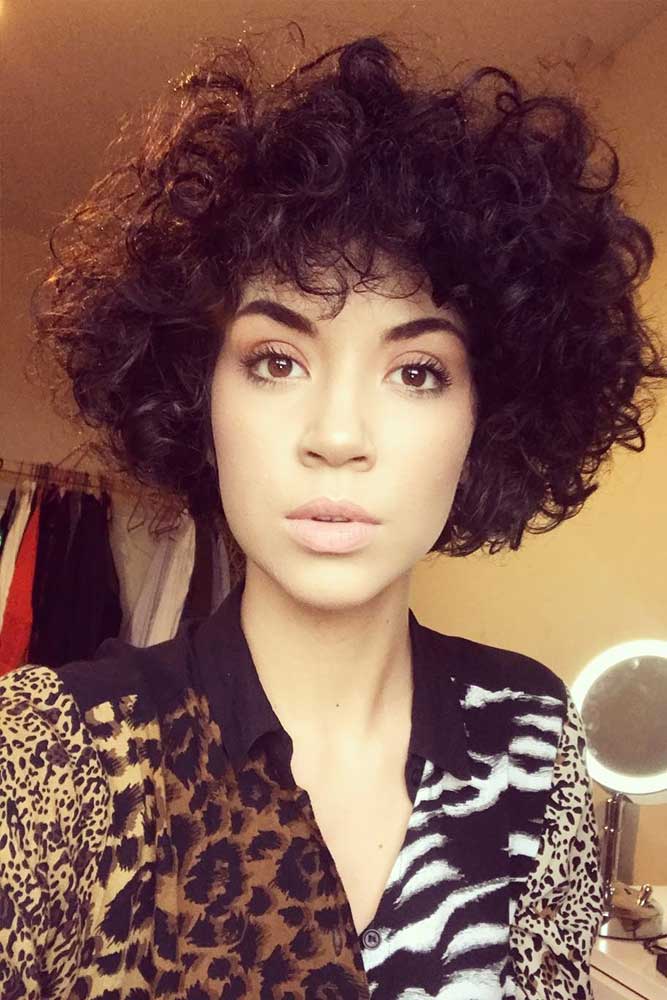 Credit photo: instagram.com/quirkycurly
There is no doubt about the fact that short cuts are well-fitted to curly locks. However, it is essential that you find the best cut for your curly hair type. At times it is even advised to grow your mane out so that it is less frizzy and poufy, but that is optional, and it is clearly a matter of preferences.
What Is The Best Haircut For Short Curly Hair?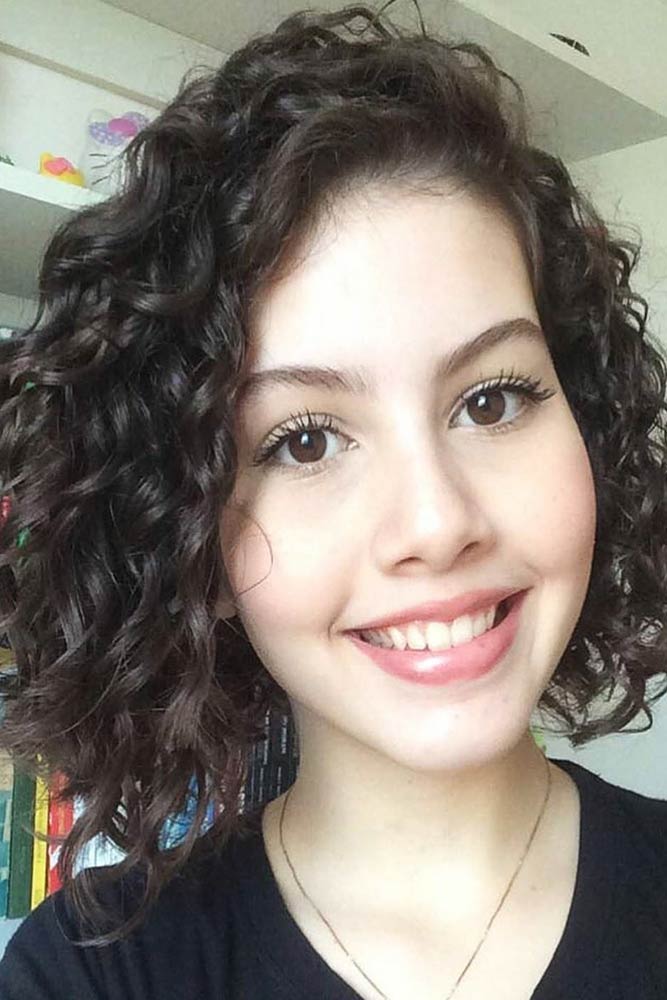 Credit photo: instagram.com/meucabelocurto
Just as there are many types and subtypes of curly hair, so there are many trendy cuts fit for each texture. The truth is that curly hair looks amazing when cut shorter as well as when grown out. However, you need a skilled hair professional to pick the best haircut for you personally. We are going to bring a list of cuts to your attention today, too, so that you can head in the right direction.
Tips For Short Curly Hairstyles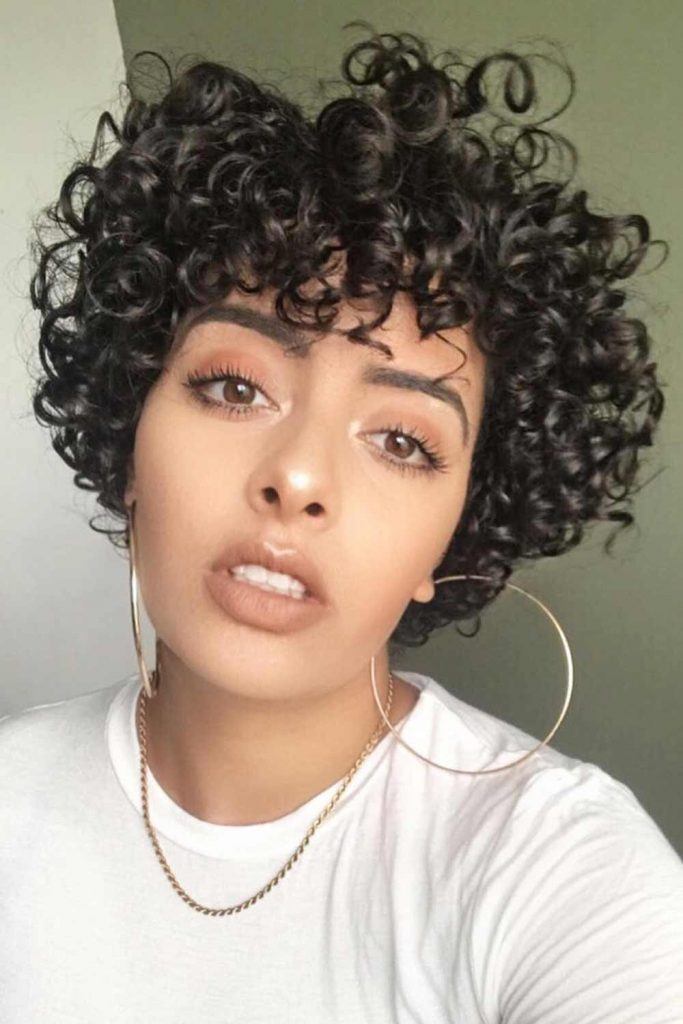 Credit photo: instagram.com/jilanshotya
Each hair type requires individual care routines. There is no use denying it. That is why we have gathered some practical tips for short curly hair that you can benefit from:
Use shampoos and other hair products designed for curly hair specifically. If you do that, you will provide your curly hair with necessary moisture and nourishment, not to mention that you will reduce the frizz too.
If you want your hairstyle to last longer, ensure that your hair is not exposed to heat or humidity.
When you are shopping for some hairspray or mousse, it is best to choose those that are designed for light hold. Otherwise, you will overweight your hair.
To enhance the natural shape of the curls, start with blowing them dry and then proceed to curling them with a curling iron.
For an easy-going effect, just wash your hair without additional styling.
When straightening your hair – use a smoothing balm on your damp hair and blow-dry it using a round brush. Only after that, it is advised to proceed with straightening.
Do not use flat iron too often since the heat will damage your hair.
Short Hairstyles For Wavy Hair (Type 2)
Pixie Haircuts For Wavy Hair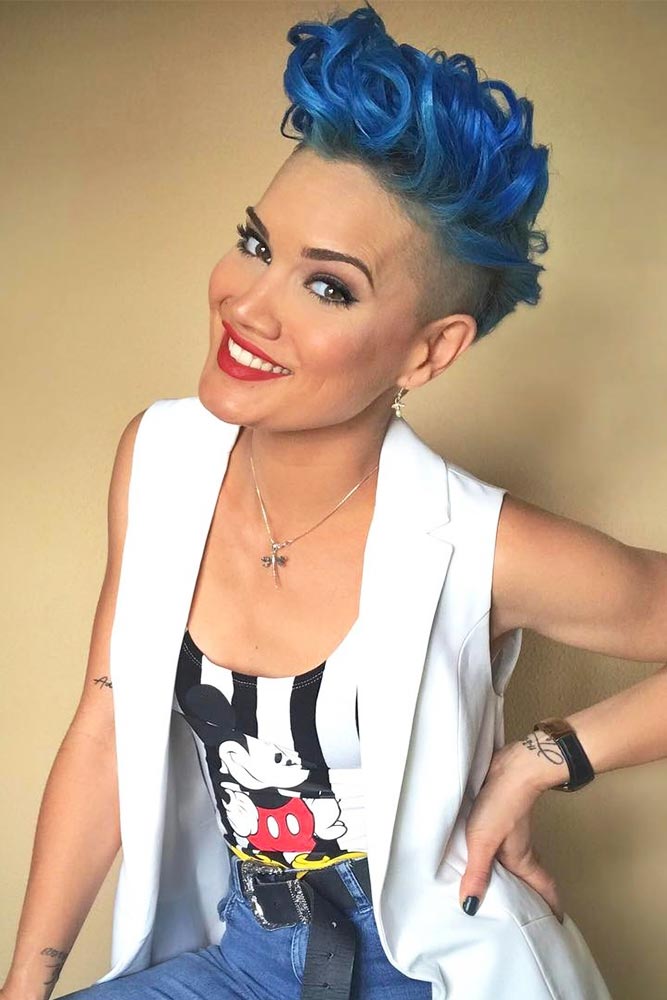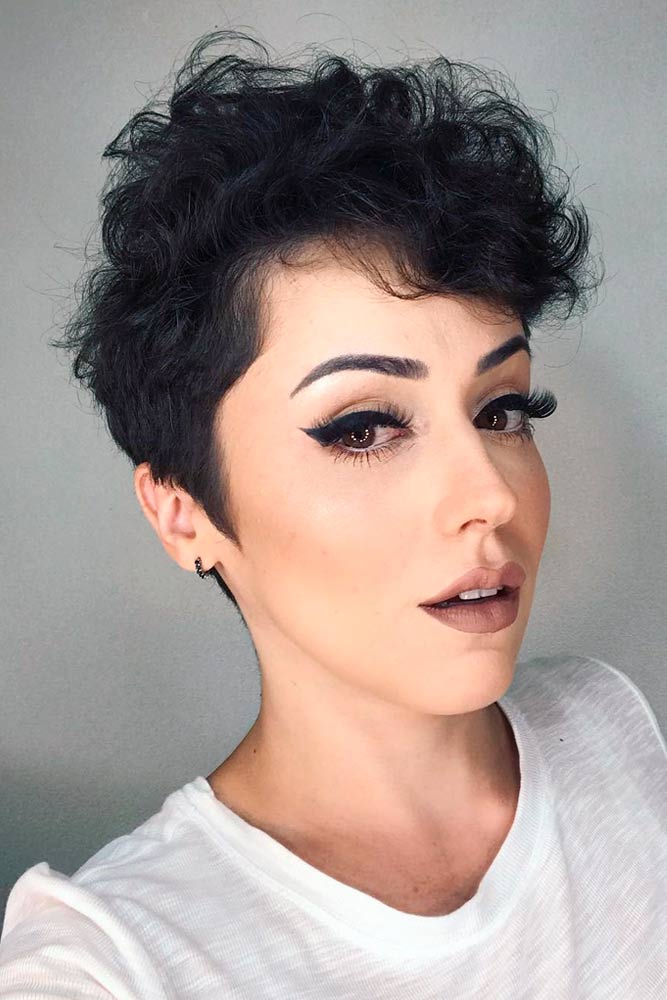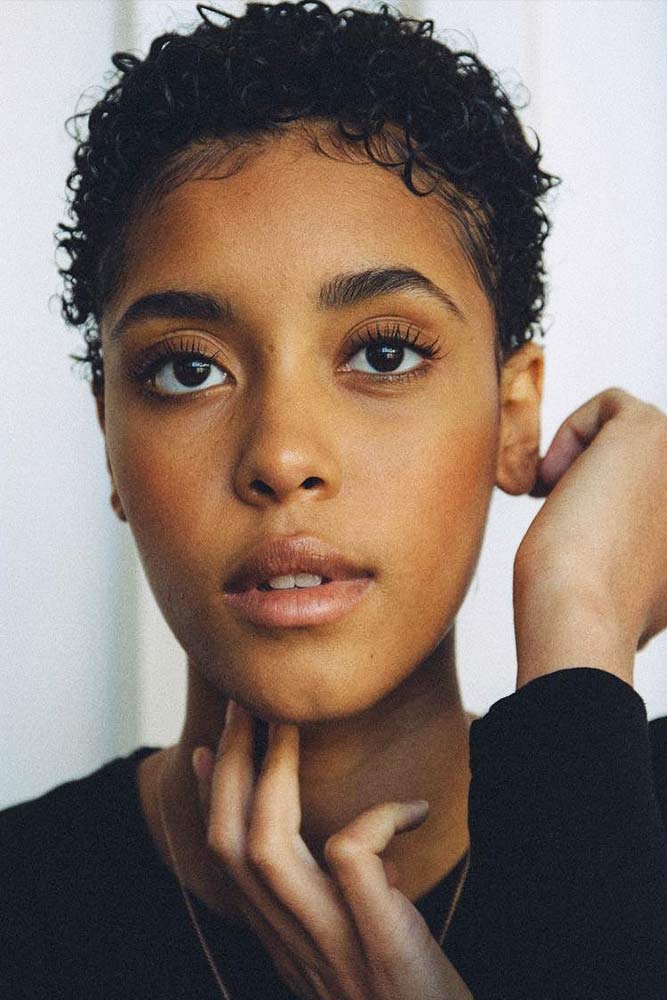 Credit photo: instagram.com/sandra_sinh, instagram.com/soucamaleoa, instagram.com/mussettee
The fact is that pixie cuts are extremely popular at the moment, and fresh looks appear at the speed of light. However, wavy pixies deserve special attention since there is not a chance that a wavy pixie wouldn't look gorgeous. Besides, with the combo of your wavy hair and fitting pixie, you will spend a lot less time on getting read no matter the style you choose to replicate.
Wavy Bob Hairstyles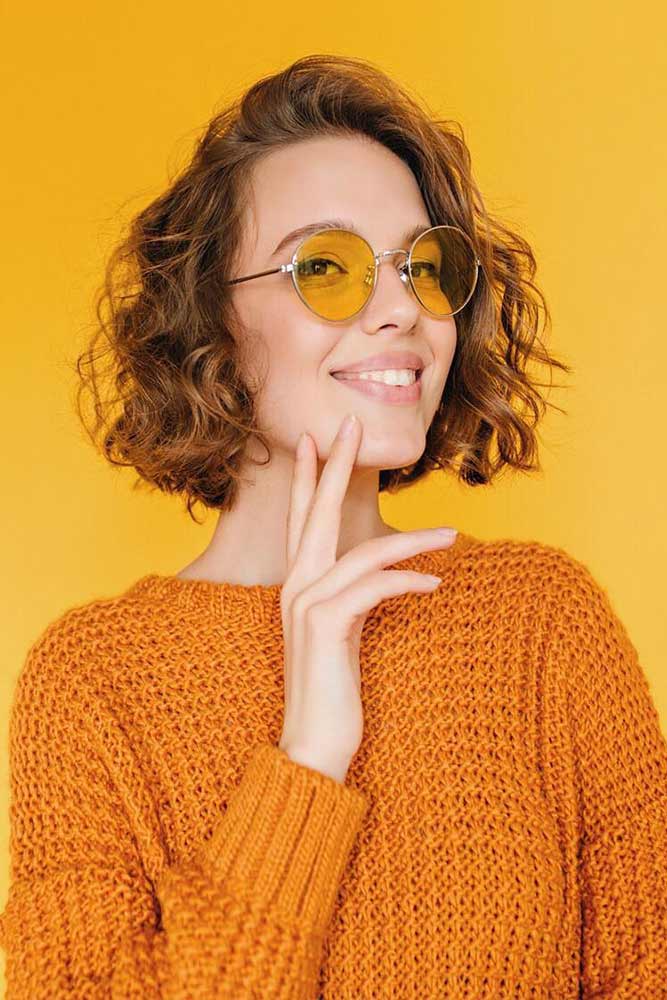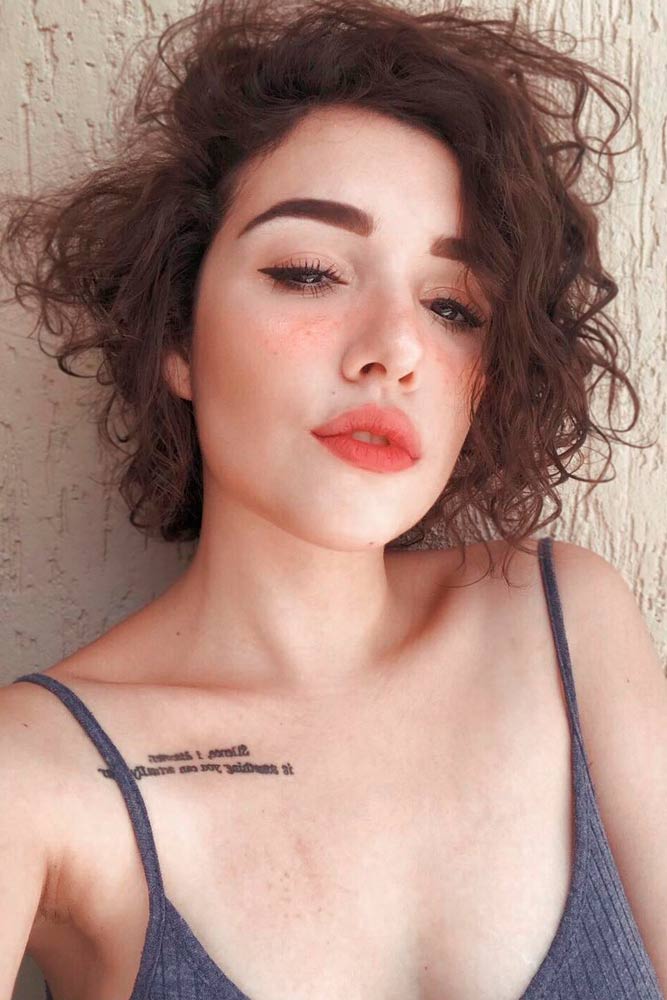 Credit photo: instagram.com/styleedithair , instagram.com/jcornachioni
If you are not ready to go pixie-short, then bob is what you need to consider. Wavy bobs are not only times and stylish but also very cute and feminine, not to mention easy-going.
Short Sassy Style for Thick and Curly Hair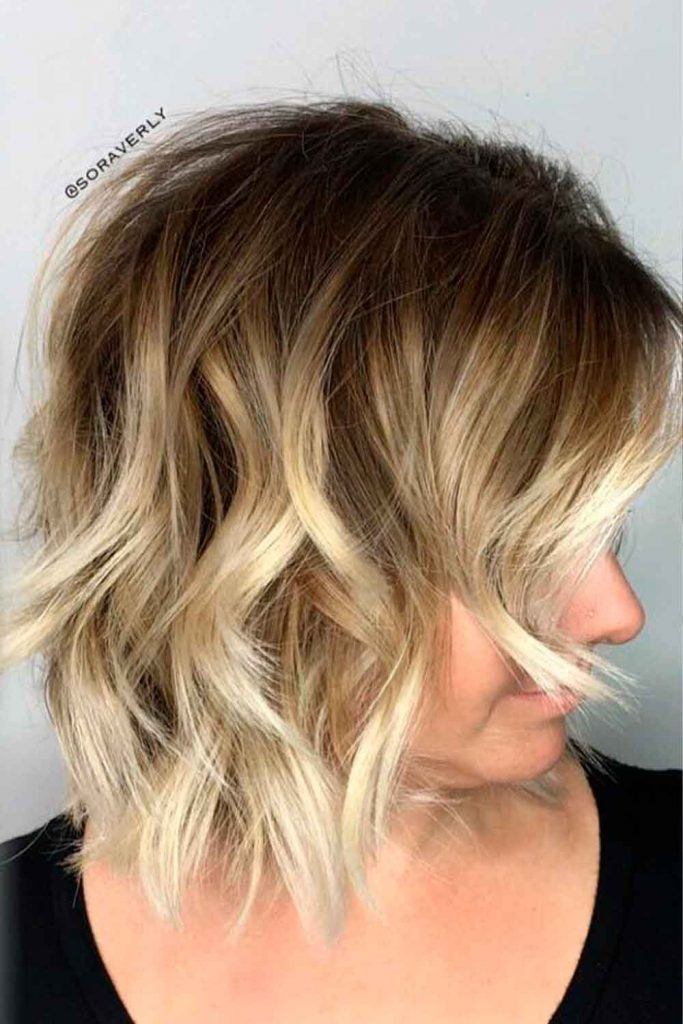 Credit photo: instagram.com/Soraverly
For those women who want to play up their natural curls and color, short hair is a great option. Make sure to treat and deep condition your curls to keep them from becoming dry and brittle. You can totally rock the messy look with this adorable short style!
Multicolored Spirals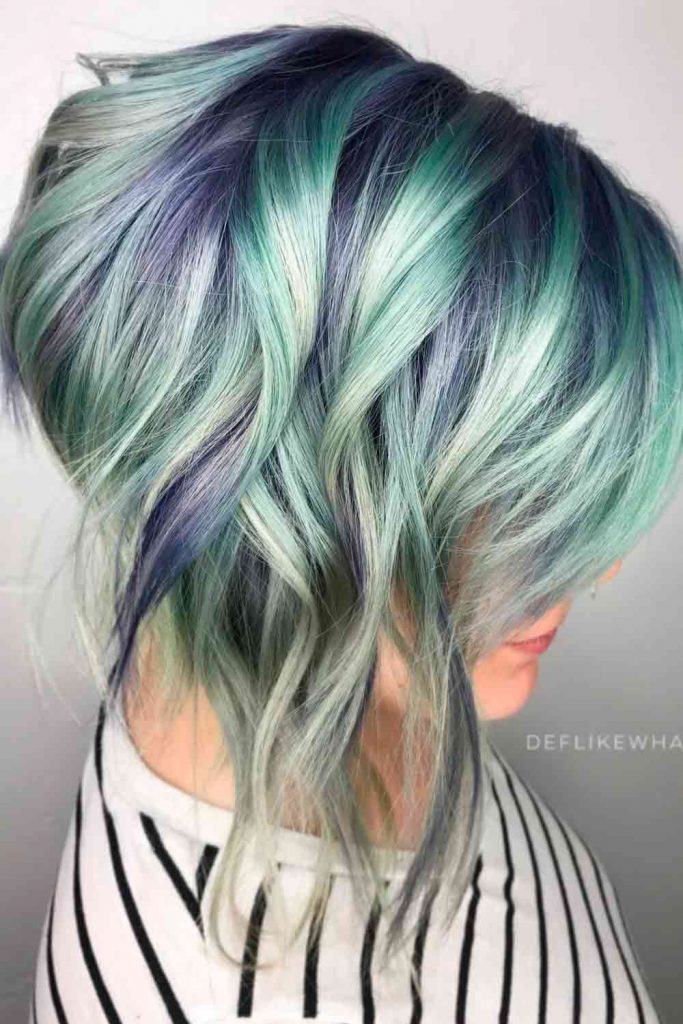 Credit photo: instagram.com/Glamiris
Embrace your inner punk rock chick with twisted curly locks. Adding some multi-colored streaks throughout your inverted bob can make you look and feel like a rock star. Keep the back short and add some colorful threats throughout using texturizing products to keep your spiral curls in place.
Rebellious Curls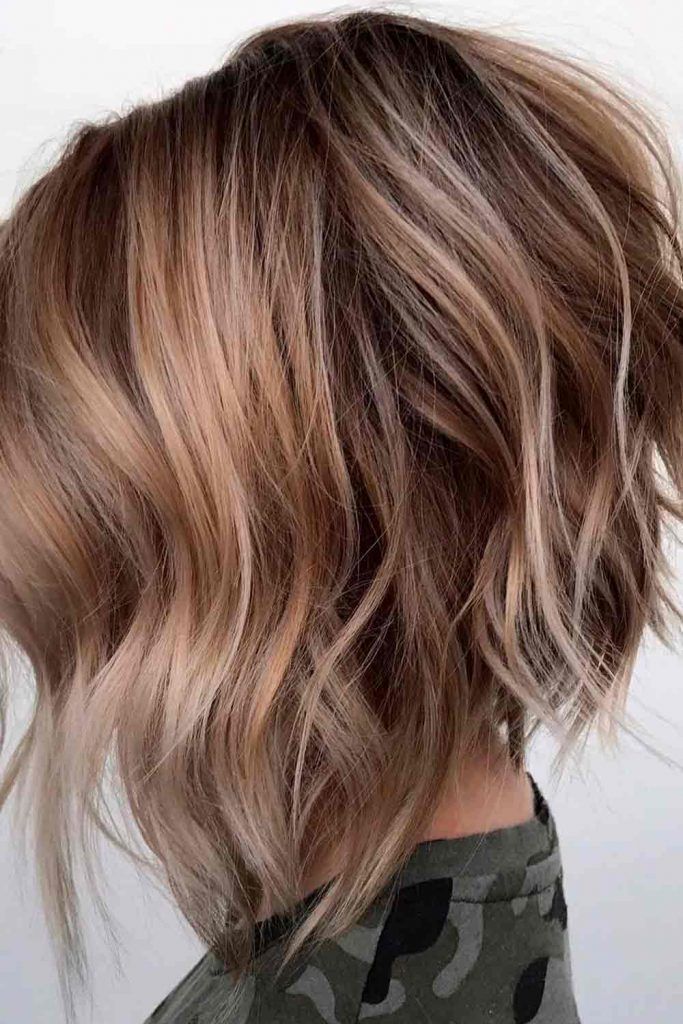 Credit photo: instagram.com/instagram.com/styled_by_carolynn
Wet, Sexy and Breezy, these sexy curls only obey the wind. These racy locks can brighten up your look and give you an added sense of confidence.
The Raven's Wing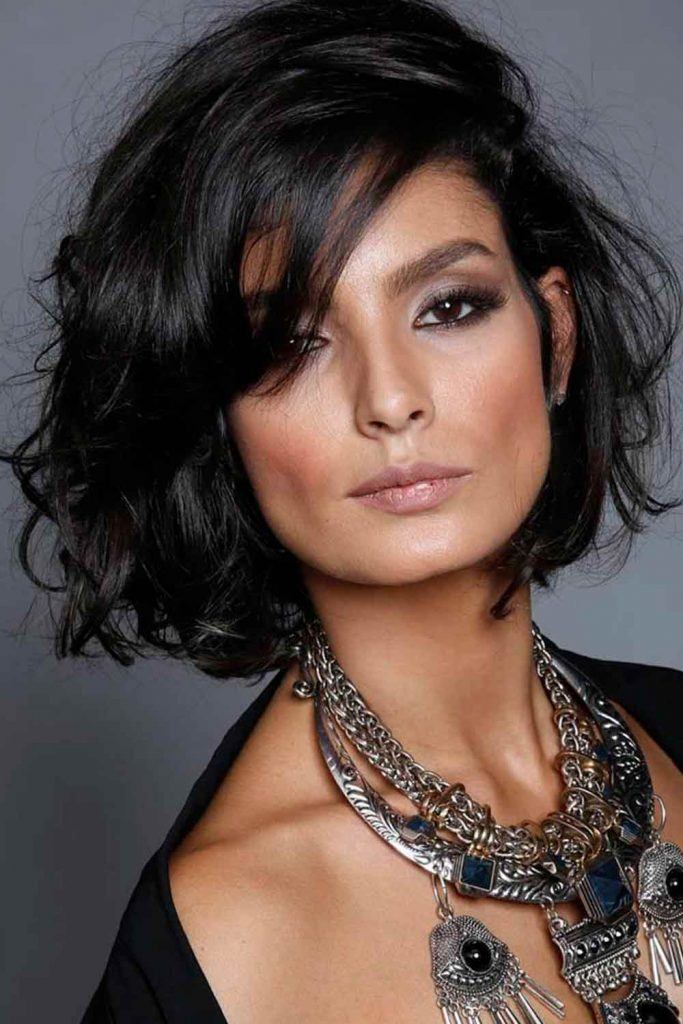 Credit photo: instagram.com/talita_andrade03
For those with darker hair, especially brunettes, these soft curls work great with fine hair as they flow freely and seductively, creating the raven's wing effect. If you want to try a bold new color, dye your hair dark and go for this daring look.
Short Hairstyles For Curly Hair (Type 3)
Bob Haircut For Curly Hair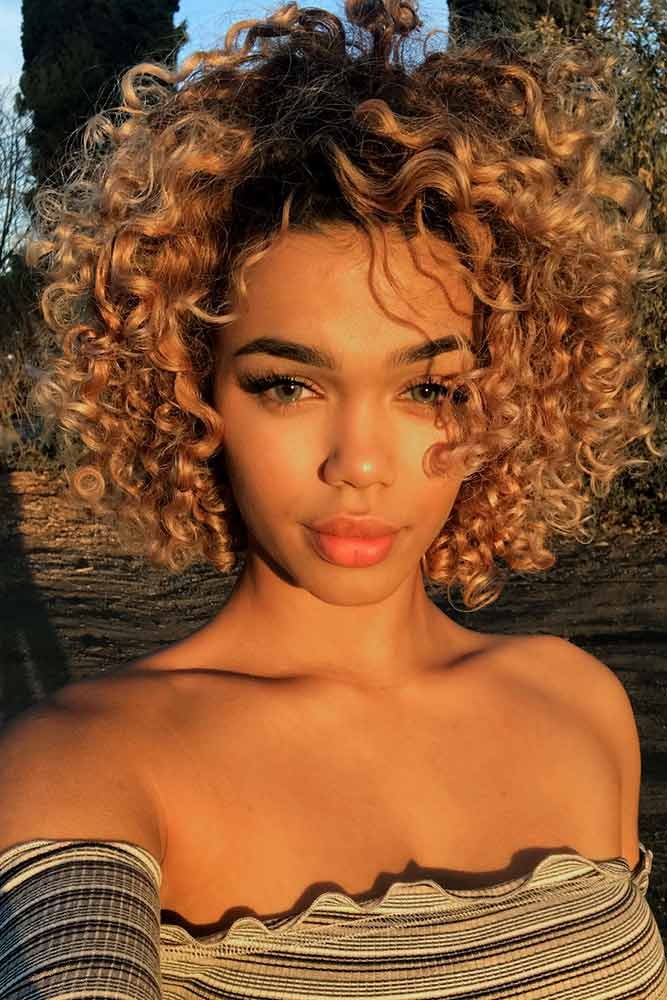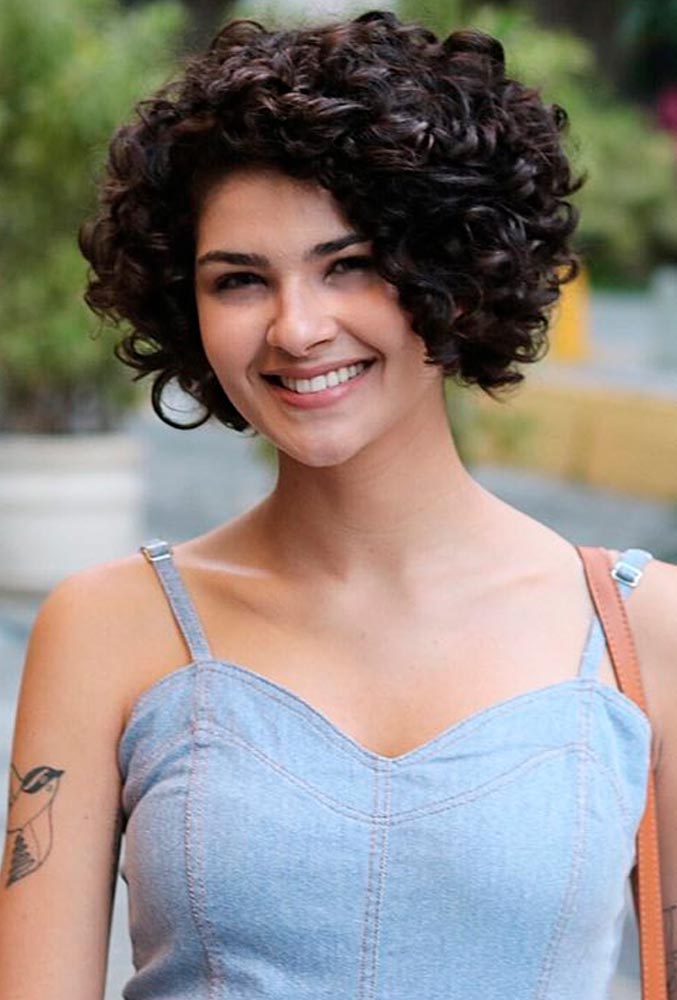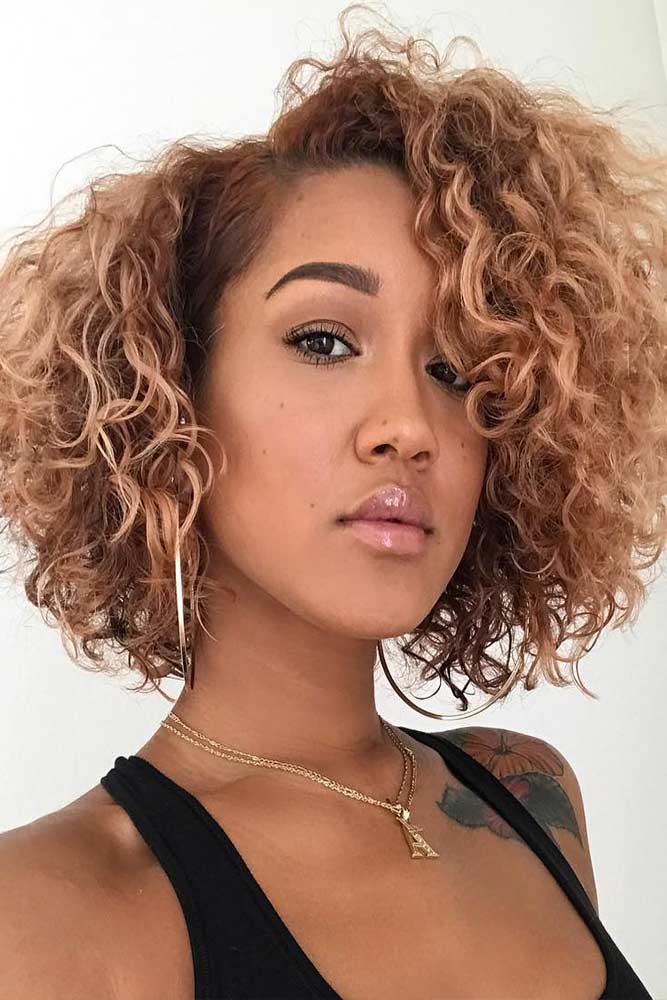 Credit photo: instagram.com/thereallialovee, instagram.com/gabivasconcellosv, instagram.com/ashleycoco_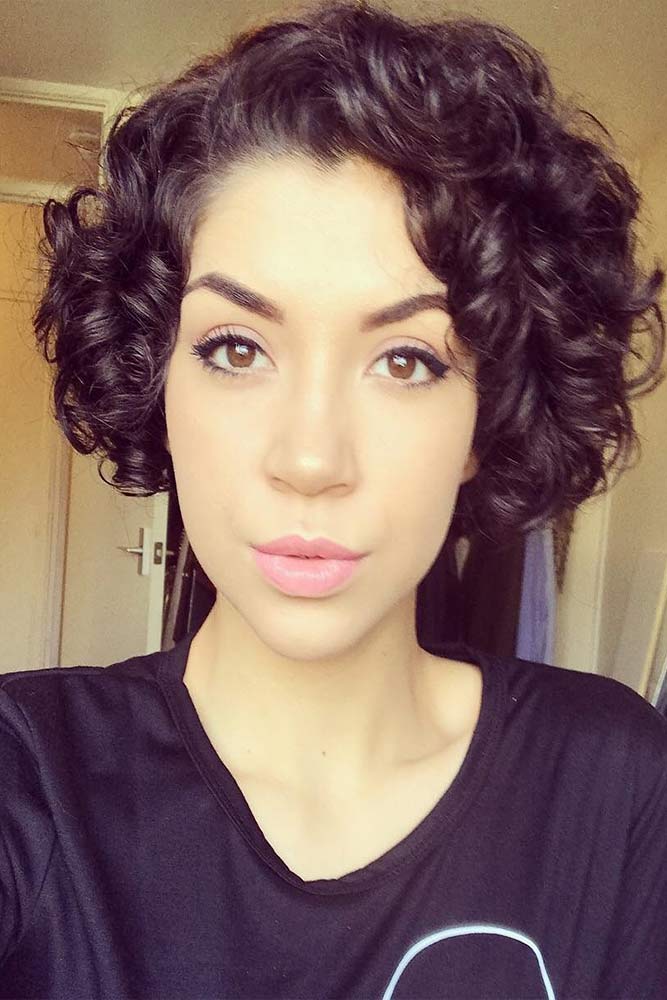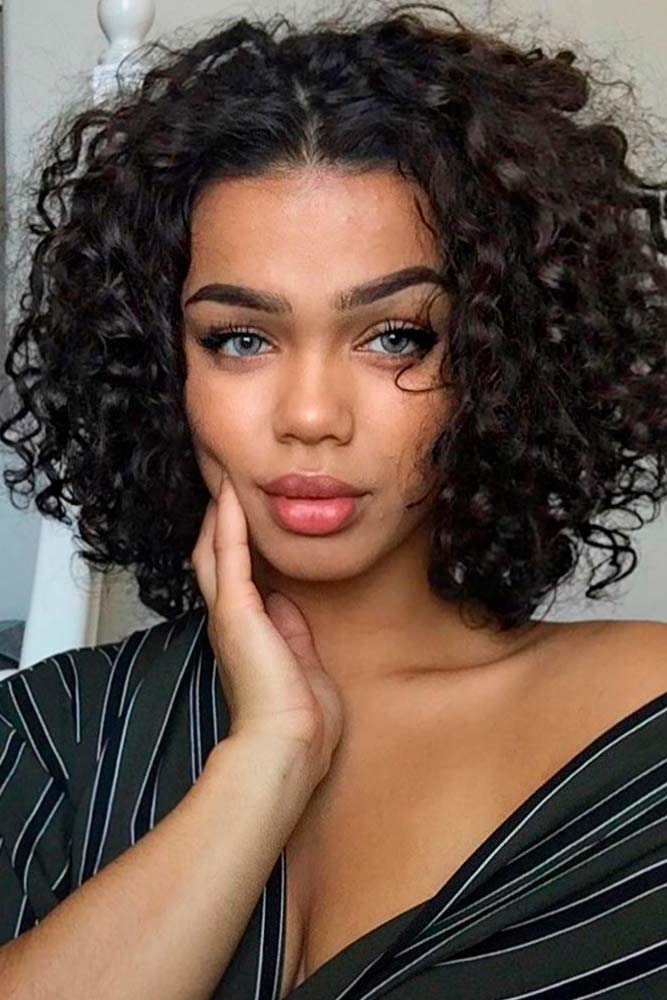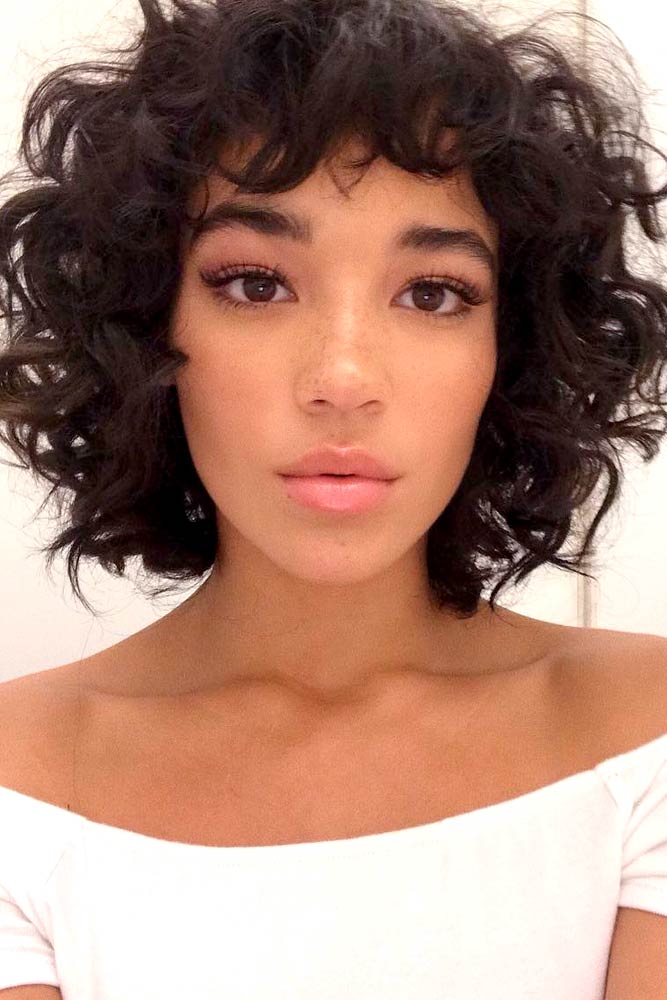 Credit photo: instagram.com/thereallialovee, instagram.com/tashimrod, instagram.com/quirkycurly_
It does not matter which bob-length you take, either chin-length or shoulder-length, all options look great with curly hair. You can introduce your personal spice into the look as easily as playing around with the part too. If you are in search of a no-fuss but fantastic cut for curly hair, you should start with a bobo, there is no doubt about it.
Vintage Curls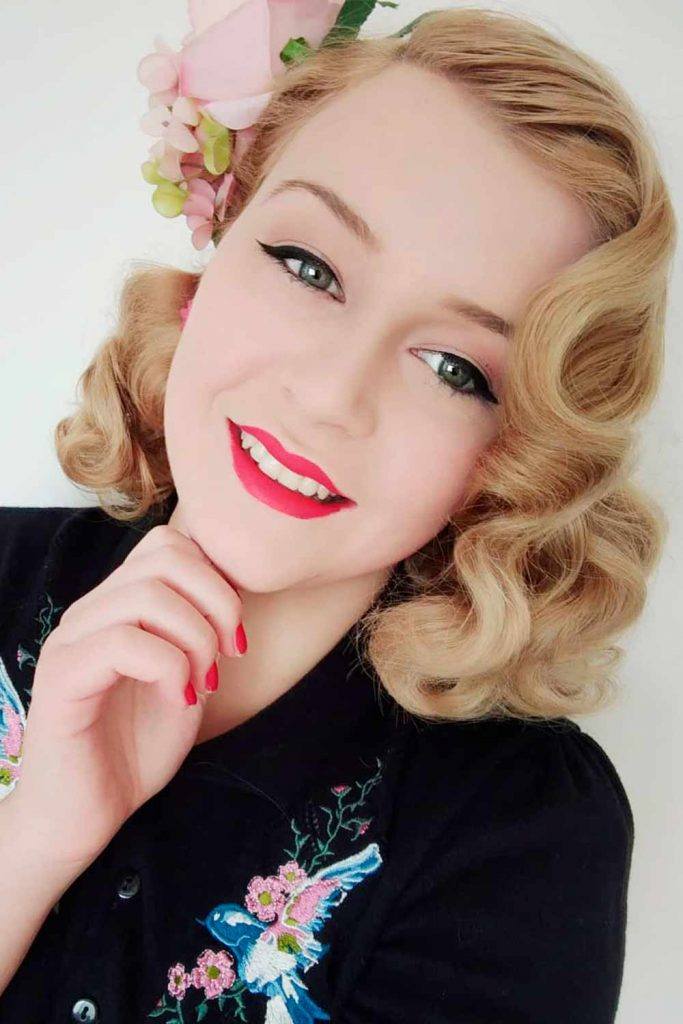 Credit photo: instagram.com/missrosierabbito
Rather than straightening your hair for long layered haircuts, try vintage curls. Vintage curls are all the rage right now. Celebrities are rocking the roaring twenties look. This look works best on those with natural waves and curls as it adds texture and volume to a shorter hairstyle. If you want to keep the vintage look, leave out the highlights and opt for a solid, but sexy shade.
Contemporary Wavy Short Bob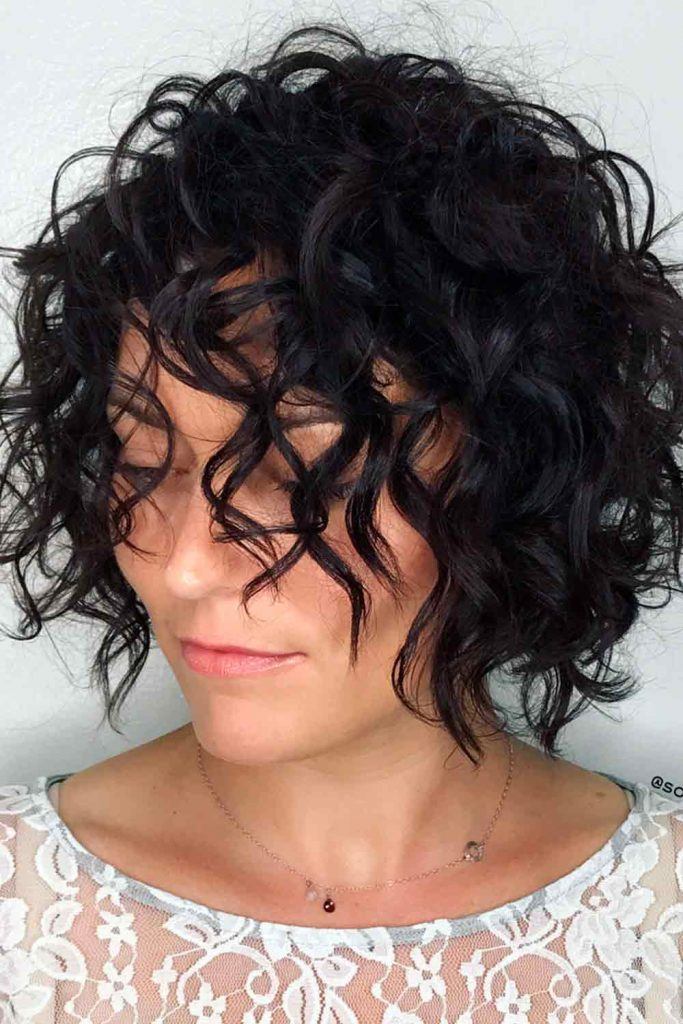 Credit photo: instagram.com/soraverly
This look is the epitome of all the contemporary trends. Use a deep side part to enhance your facial features, creating a veil on one side of your face. Keeping the waves down and away from your face on the longer side will help you rock this style with ease.
Edgy, Short Haircut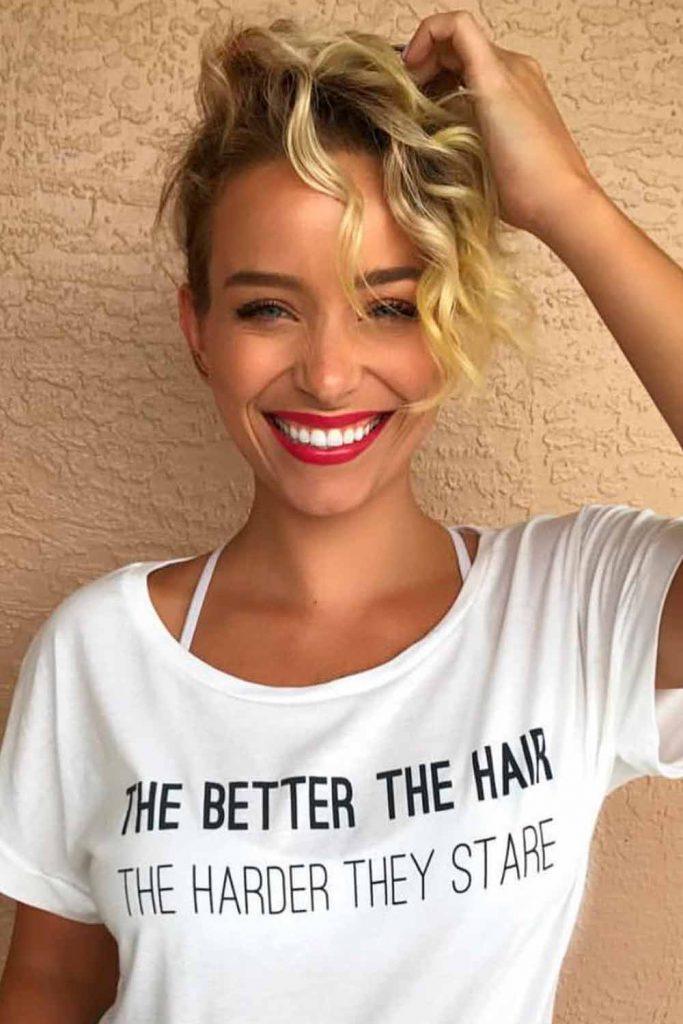 Credit photo: instagram.com/sarah_louwho
A classy pixie cut with pointy ends and elongated top locks will give you an edgy, trendy vibe. If you want to make your hair look even fuller, add a subtle ombre. To style, simply angle your hairdryer and lift up each lock for maximum volume. Then apply some wax to define the texture. Your locks should fall gracefully off your face to one side in a side part for a seductive look.
Teasing Locks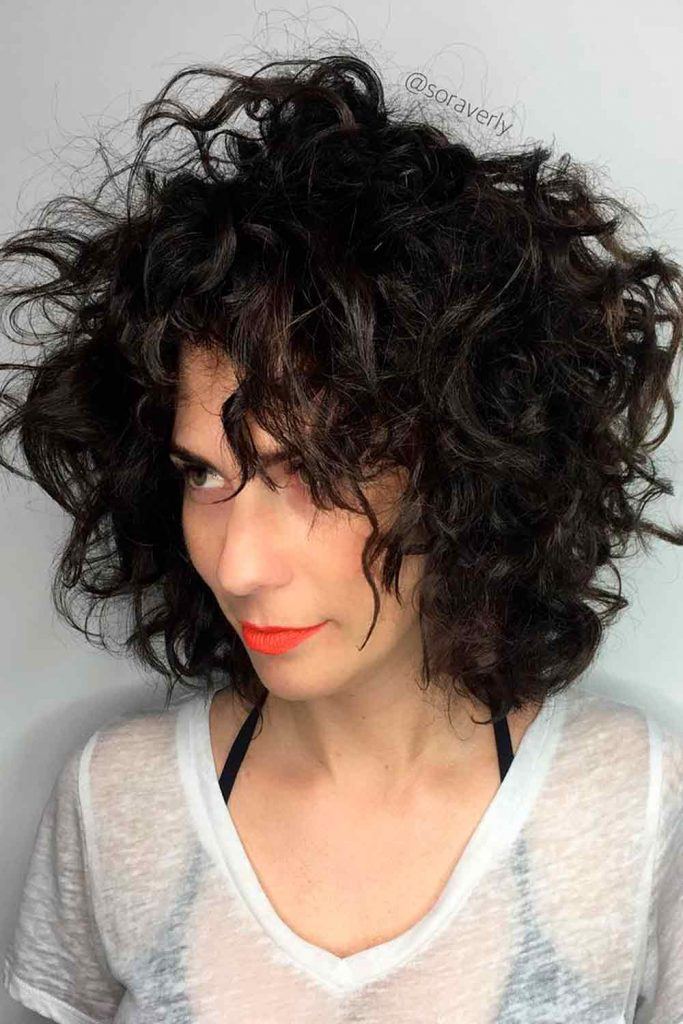 Credit photo: instagram.com/soraverly
For those with elongated faces, this style works best and shows little to no volume at the crown and features horizontal lines to accentuate your face. This fun, easy going style is perfect for those with a busy lifestyle who want a low maintenance but stylish cut.
Large, Bouncy Curls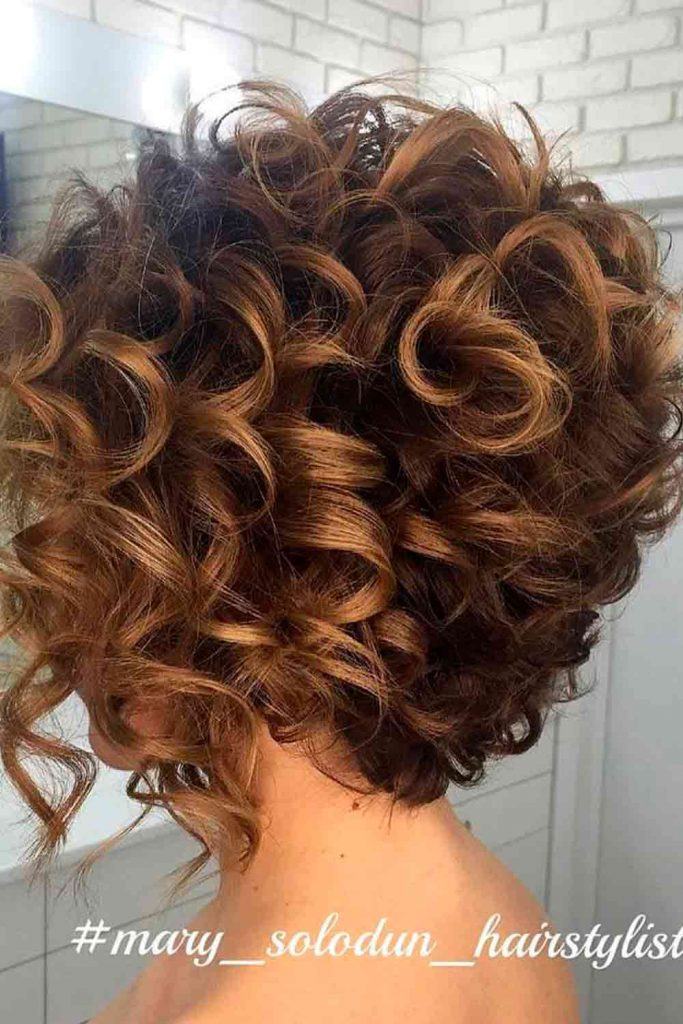 Credit photo: instagram.com/mary_solodun_hairstylist
This style will take your natural look to a new level. Leave one side open and free while letting long waves flirtatiously caress your face on the other side.
Short Hairstyles For Coily Hair (Type 4)
Chin Length Hair for Short Hair Lovers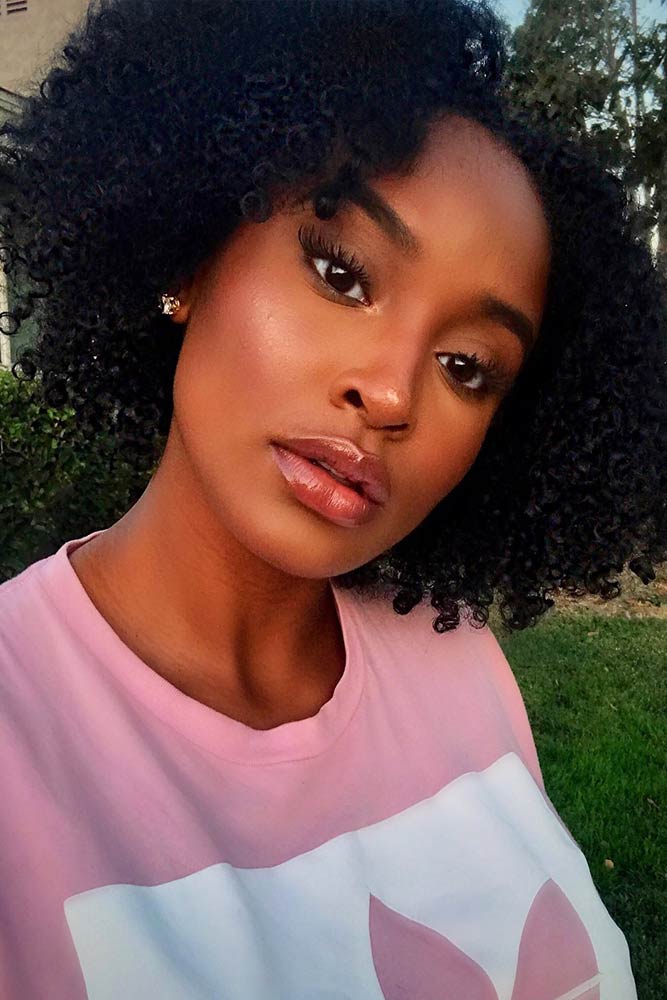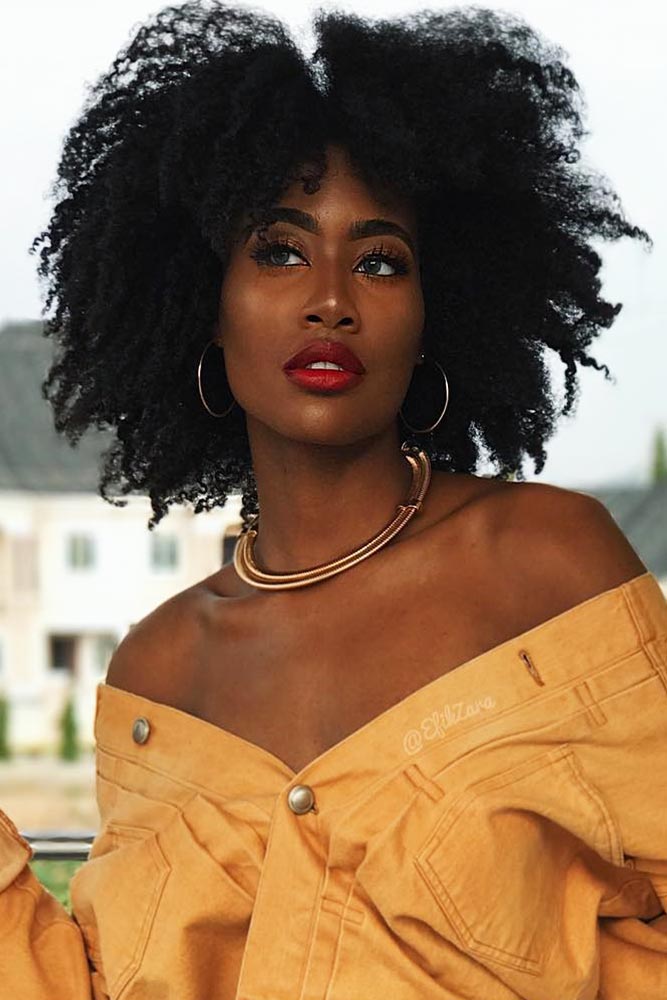 Credit photo: instagram.com/itsbethanydani, instagram.com/efikzara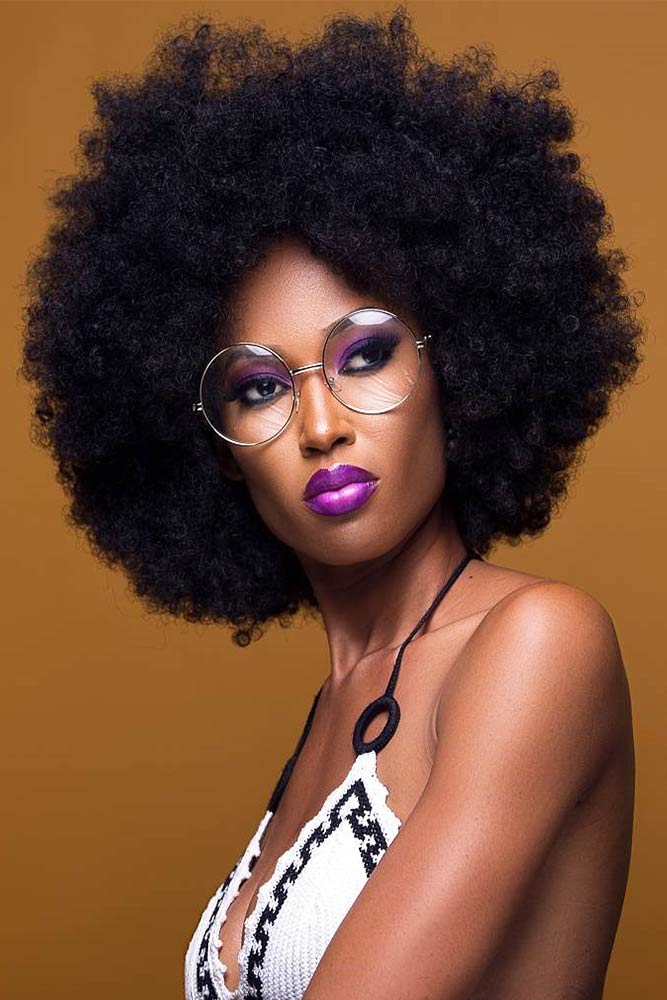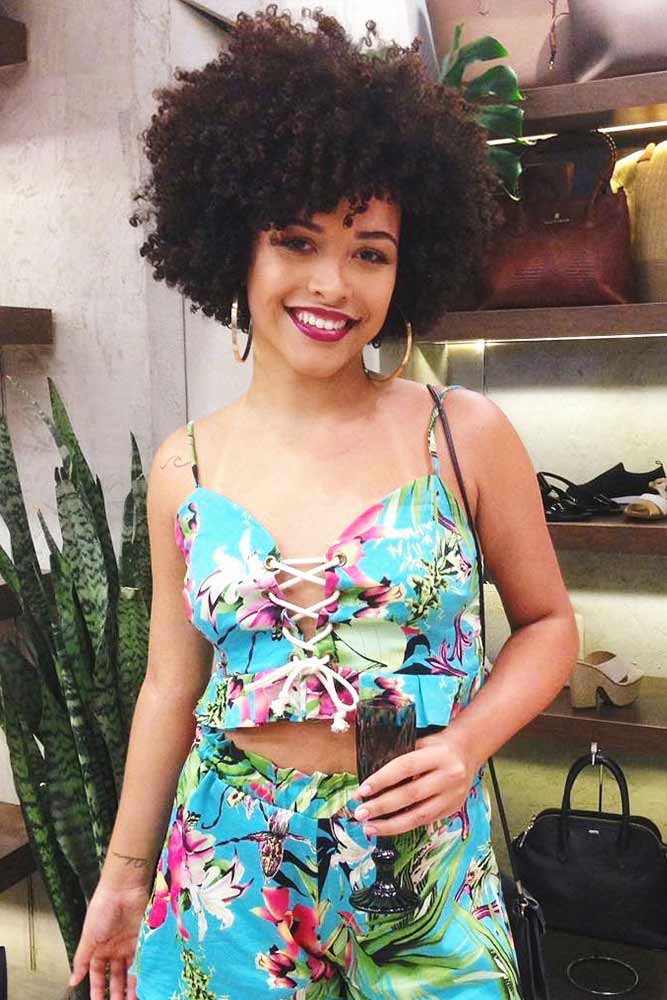 Credit photo: instagram.com/quirkycurly_, instagram.com/vitrodrigues
Taming your coily locks may not be the easiest thing to do, and we know that. However, you should not think that close-cut styles are the only ones to experiment with. We wish to prove to you that chin-length coily hair is no worse than any other hair type combined with the length. See for yourself!
Very Short Curly Hair Ideas For Coily Hair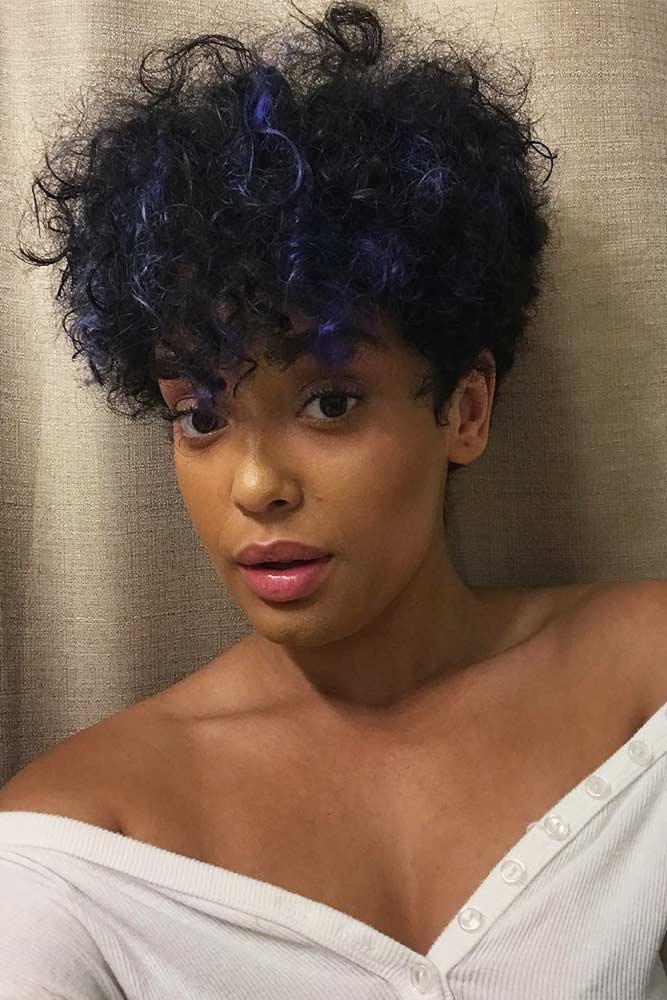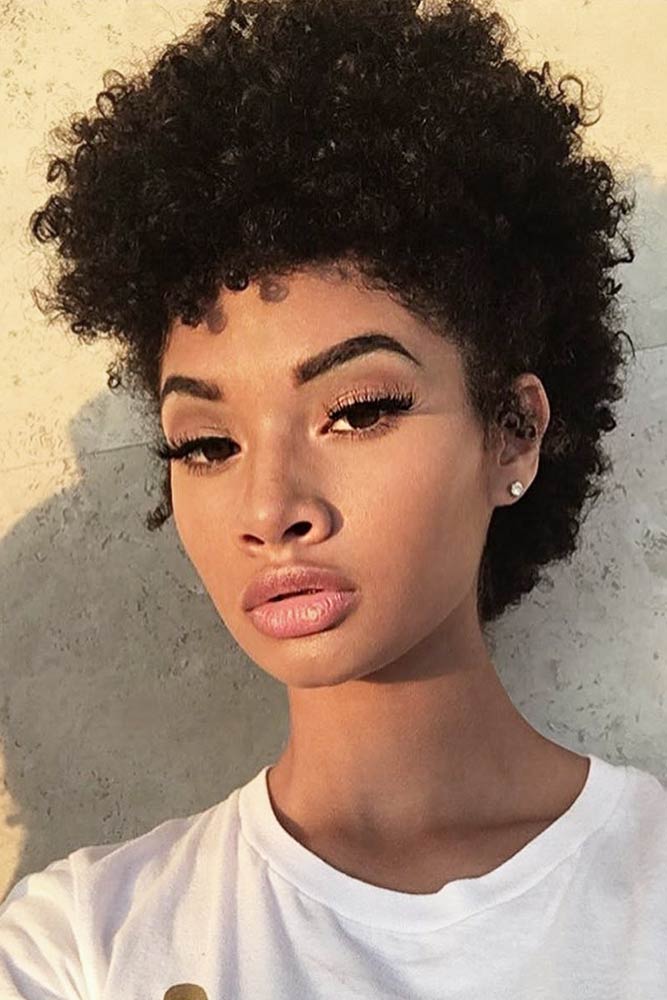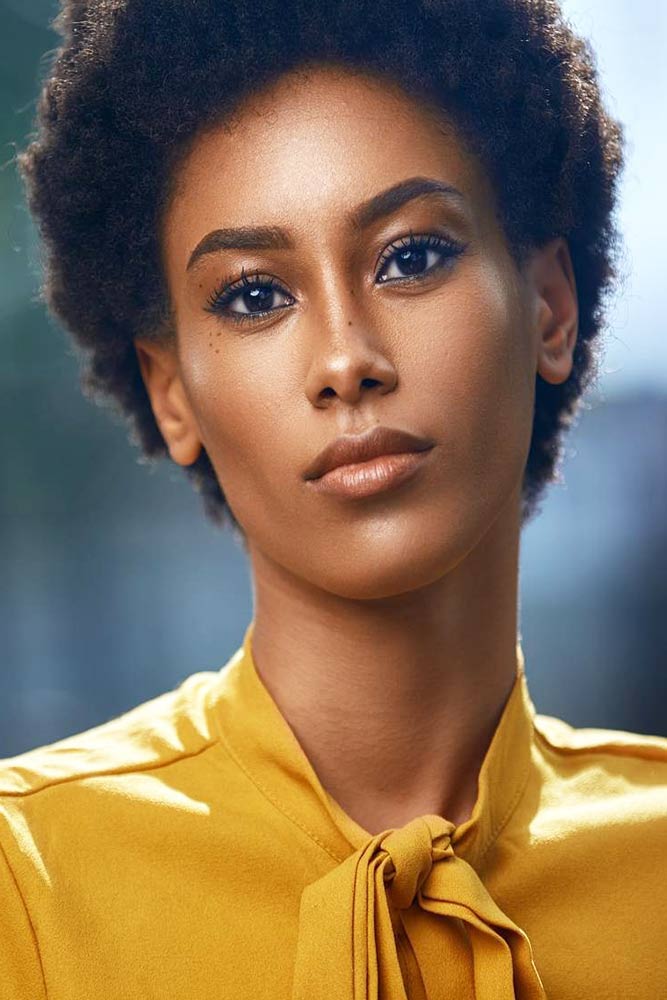 Credit photo: instagram.com/delvlba, instagram.com/monethuie, instagram.com/mussettee
If you are always on the run and you have no clue how to fit your coily mane to your active lifestyle, we may have an idea in mind. The solution is quite simple, all you need to do is to consider some very short hairstyles. They are not as scary-looking as they may sound!
Classic Afro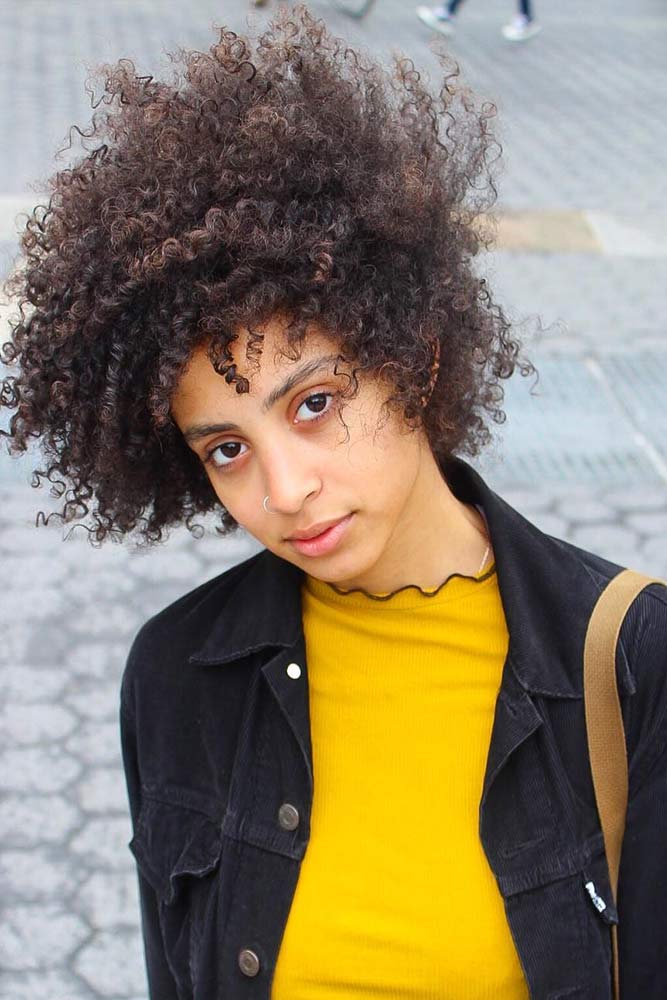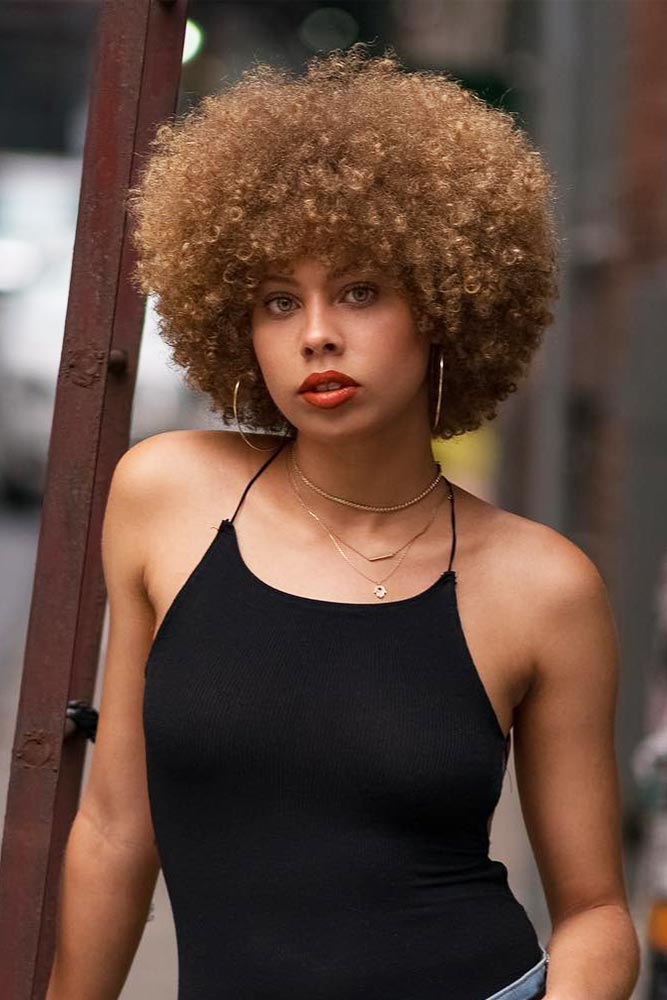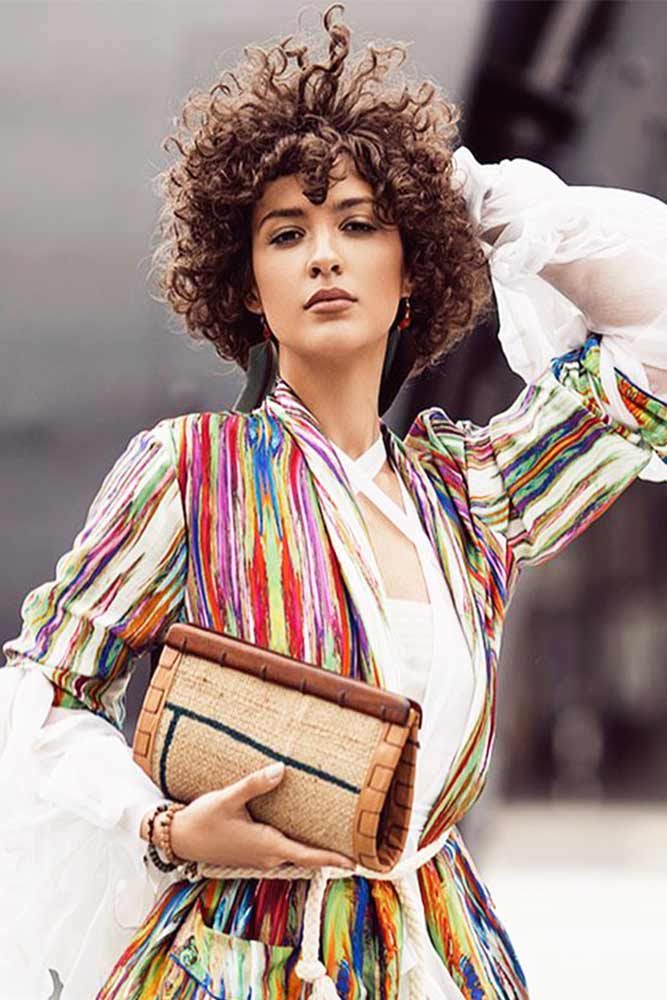 Credit photo: instagram.com/anastasialovera, instagram.com/mountainbikekeith, instagram.com/ninamasic
You may already know that another name for coily hair texture is an Afro-texture. That is why, the easiest way to embrace your mane is to style it naturally. Classic afro is precisely what we have in mind!
Controlled Chaos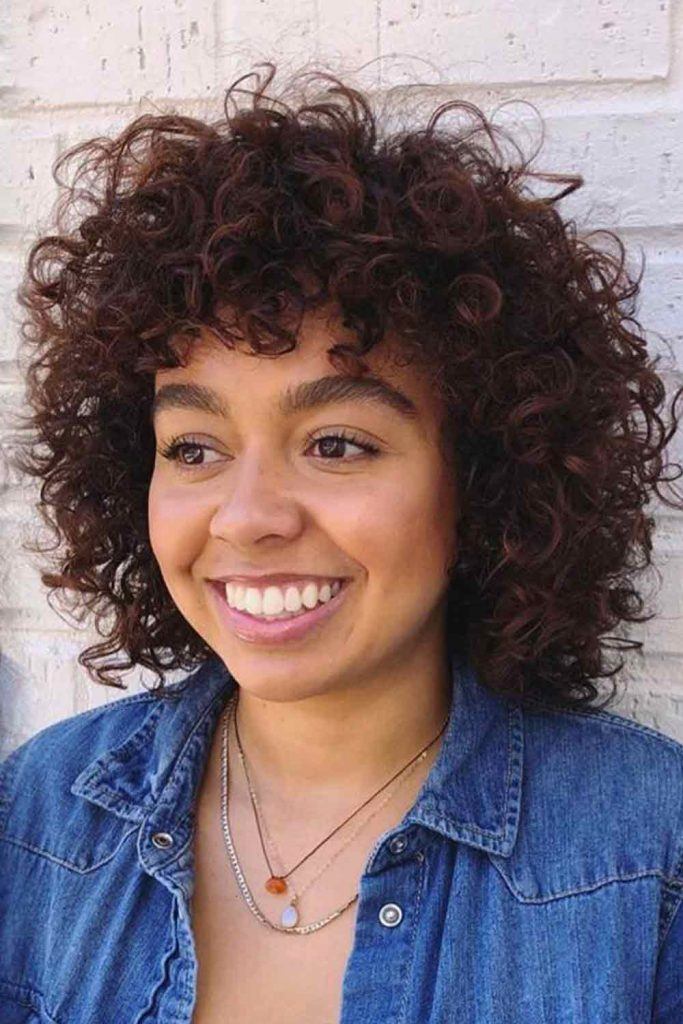 Credit photo: instagram.com/Soraverly
This adorable chin-length bob works great with larger curls and waves as it gives them the appearance of random curls. If you add bangs and a new and exciting color, you can rock this short and sassy look with style and ease.
FAQ: Short Curly Hair
Do bangs look good with curly hair?
Bangs complement each curly hairstyle (from 2c to 4c) giving your hair volume and movement. Surely, bangs on curly hair need maintenance. Consult your hairdresser on tips about choosing the right bangs for you and how to maintain this style.
Does curly hair need to be cut differently?
Curly hair should be cut dry or damp. It shouldn't be straightened before. Stylist needs to follow your natural curl pattern and create defined curls, often using angled cutting technique. This technique allows to remove excessive volume from the sides. Curls should look like they fit perfectly into each other. There is 6-8 weeks gap between trimming appointments or until they begin to knot easily.
Are protective styles really protective?
Protective styles prevent hair from frizzing, pulling, tugging. However, you shouldn't forget about your hair care routine, especially about moisturizing. Don't leave in your protective style for too long. Most protective styles incorporate extensions which can cause hair loss, if you wear them for too long.
REFERENCES:
Decoding your curl type can be confusing.Source
Determining your hair type will help you figure out how to handle, cut and style your hair more effectively. Source
Was this article helpful?