Easy long hairstyles are essential to keep in mind for any special occasion, and Valentine's Day is not an exception. And it does not matter what your plans are for this holiday. Some of us will have an unforgettable date with our partners, while others will have much fun and hit the town with best friends. Anyway, your task is to look like a queen this day. So, get some tips on how to style your hair and not become too tired to have fun at the same time.
Easy and Chic Braided Hairstyles
Credit photo: instagram.com/emilyrosehannon, instagram.com/hildeee, instagram.com/kirstenzellers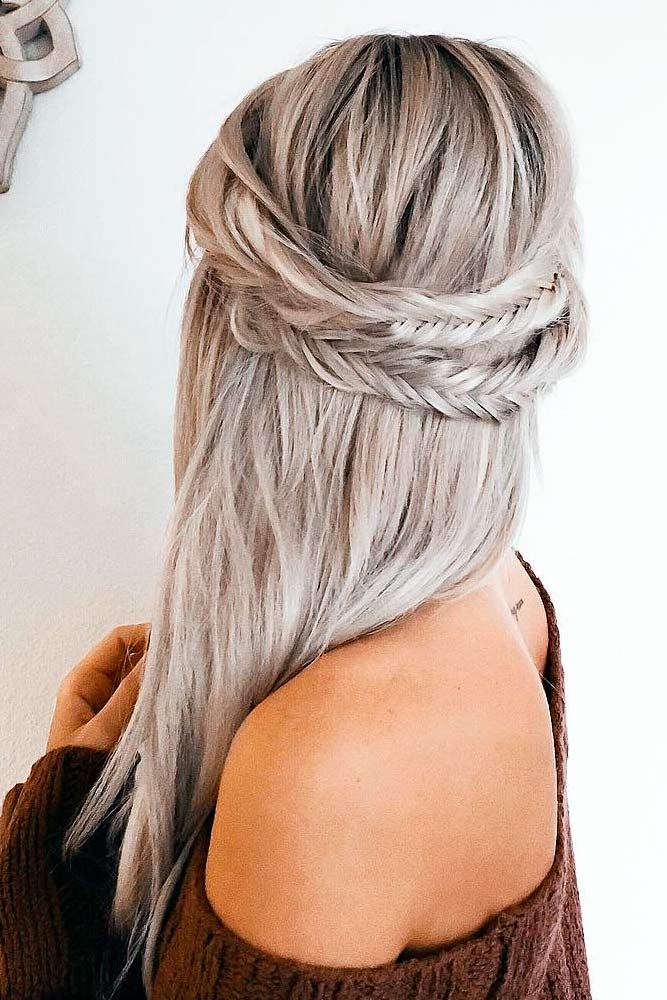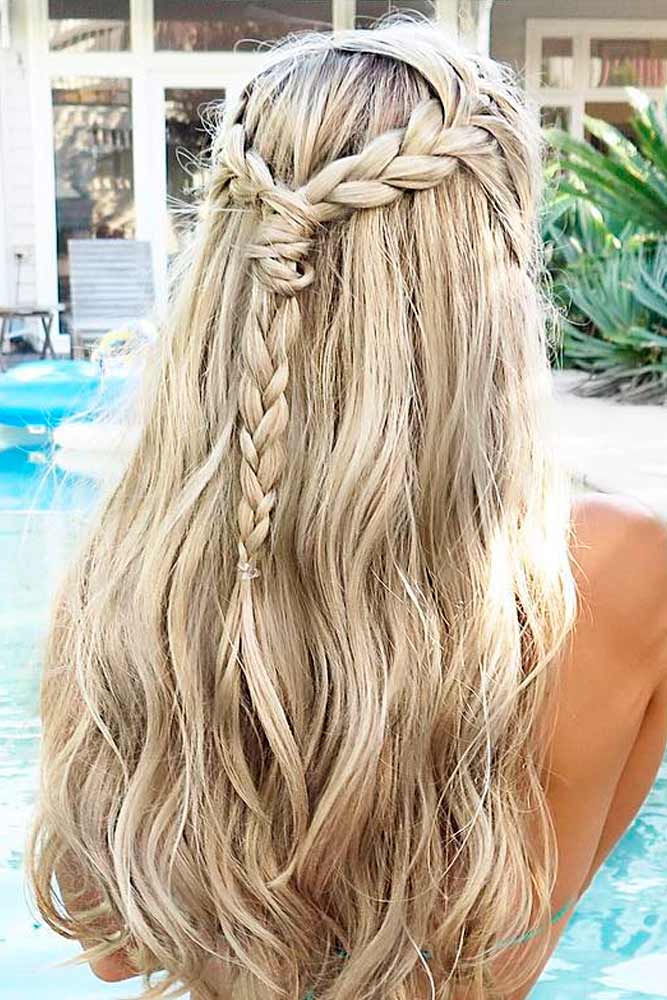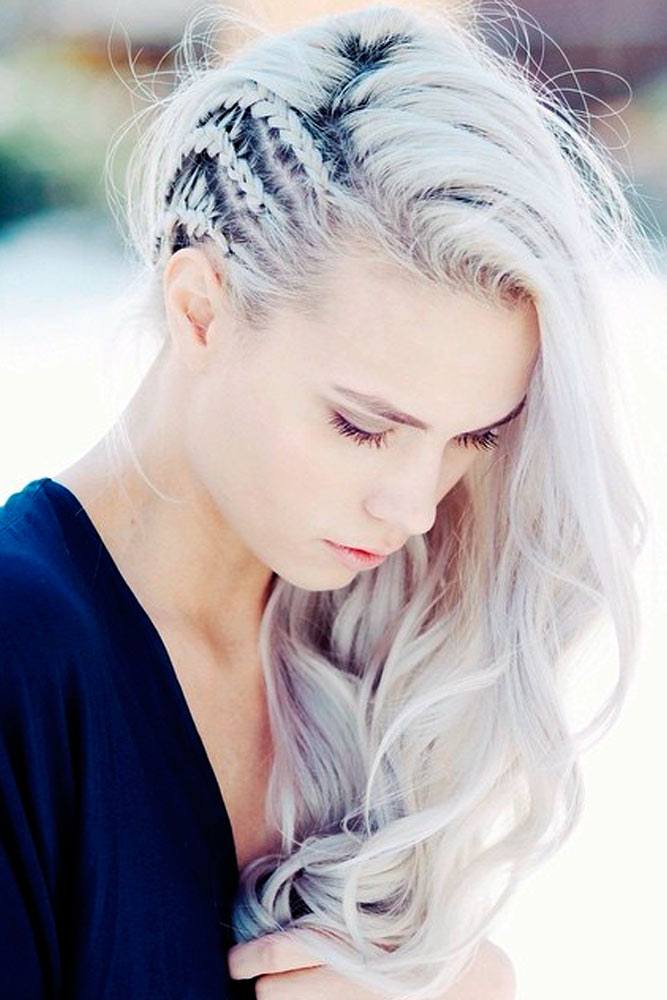 Credit photo: instagram.com/hairandmakeupbysteph, instagram.com/heidimariegarrett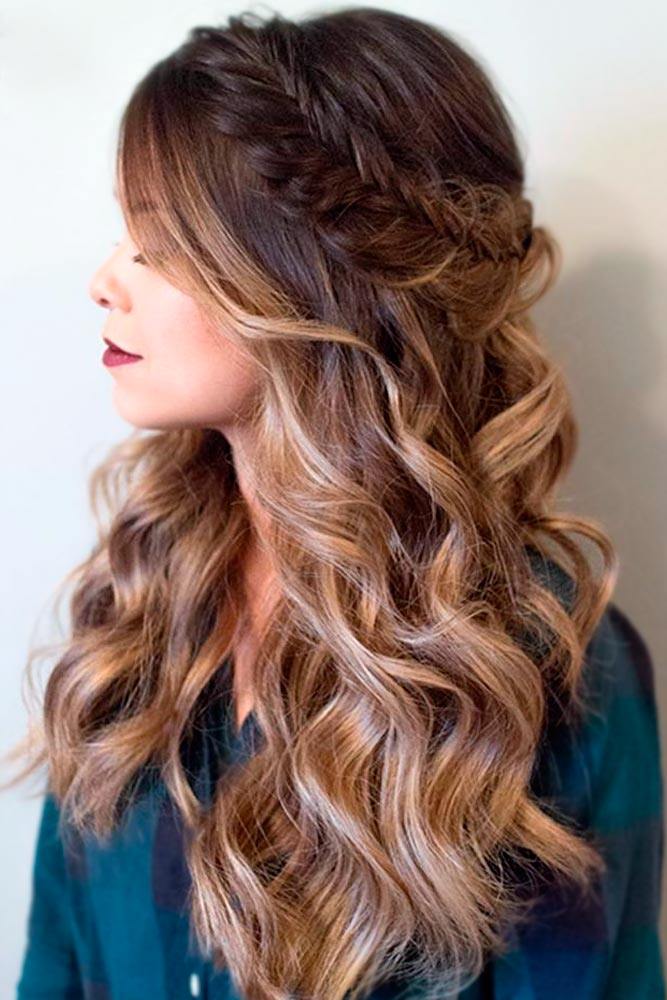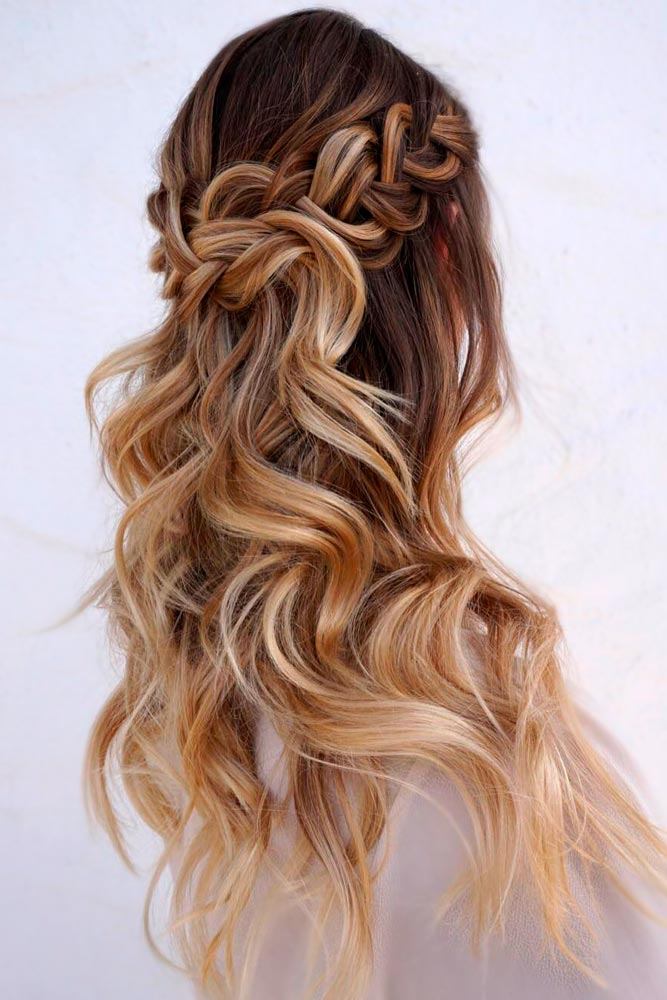 Long hair cuts offer you a big variety of styling options. But the simplest and fastest are braids, curls, and waves. Do not forget to apply some hair spray when the style is ready. Thus, you won't have to worry about your hair when celebrating.
Half Up Half Down Easy Long Hairstyles
Credit photo: instagram.com/whatlydialikes, instagram.com/kassinka, instagram.com/guy_tang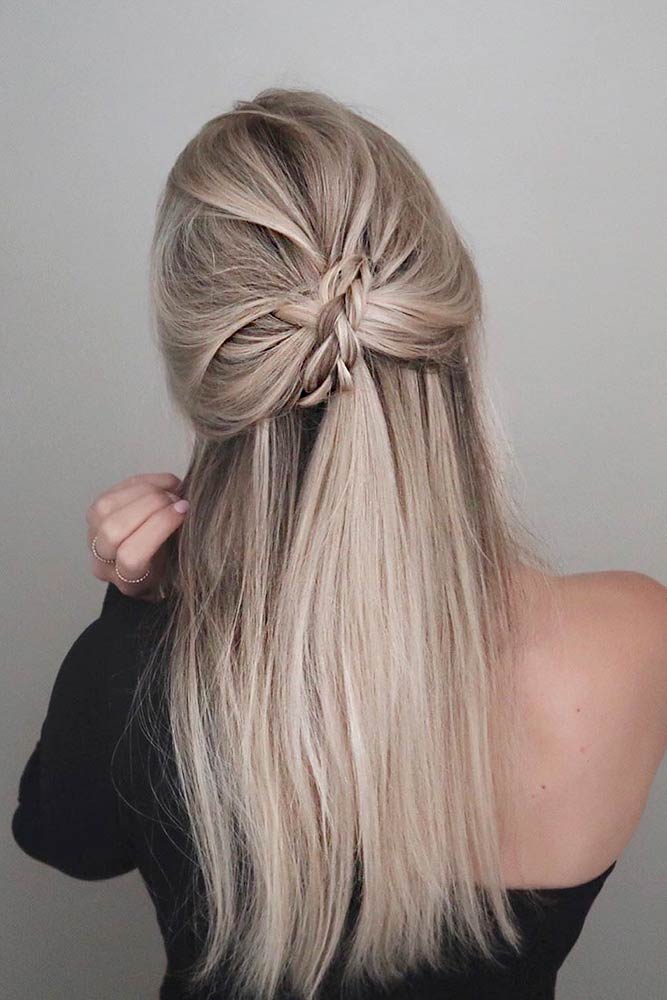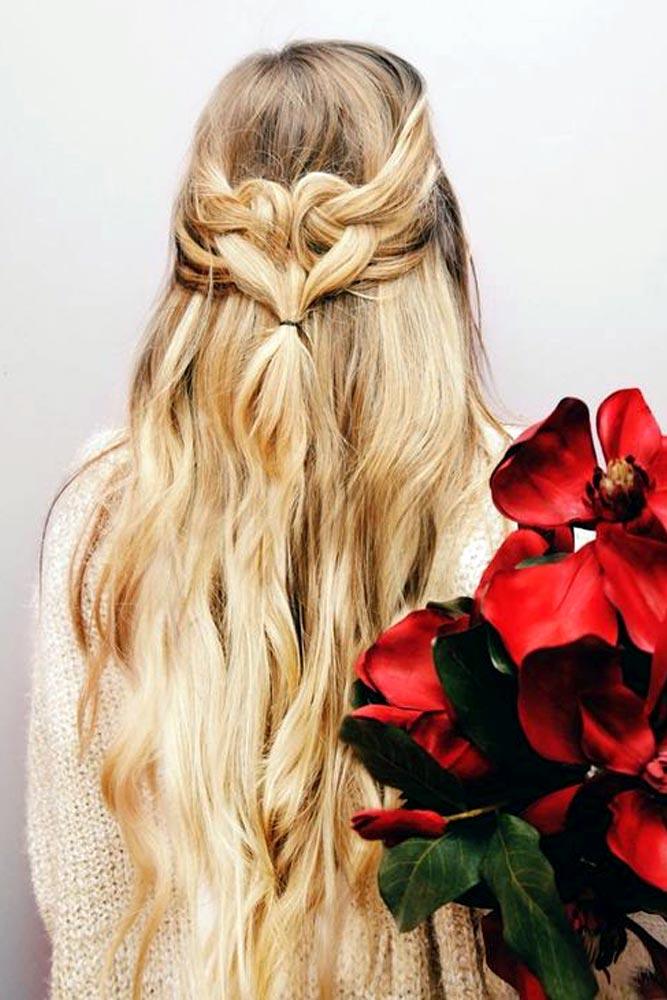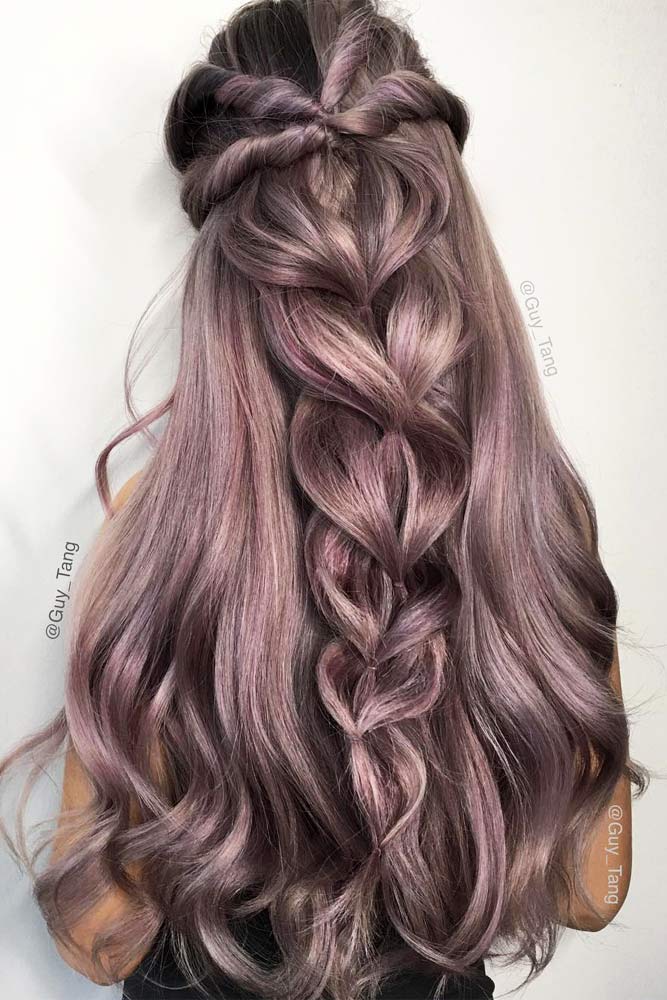 There are times when you cannot decide whether you want to flaunt your hair up or down. And that is when half up half down hairstyles come into play. They are also a great way to take the hair away from the face thus revealing your beautiful facial features while still showing off your gorgeous long locks.
Easy Hairstyles for Long Hair
Credit photo: instagram.com/lakenrosehair, instagram.com/haileymahonehair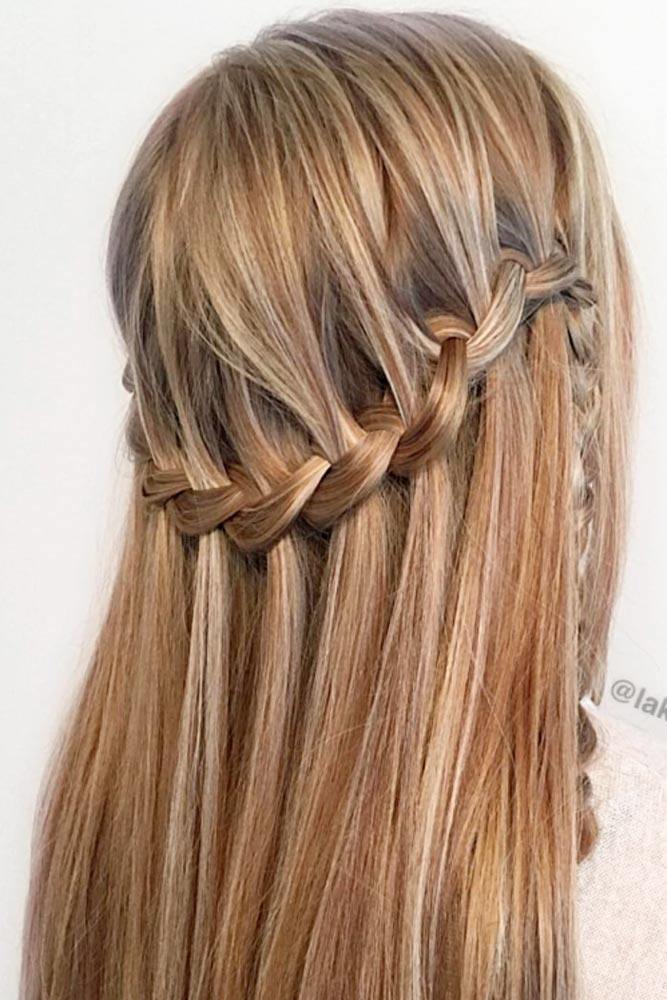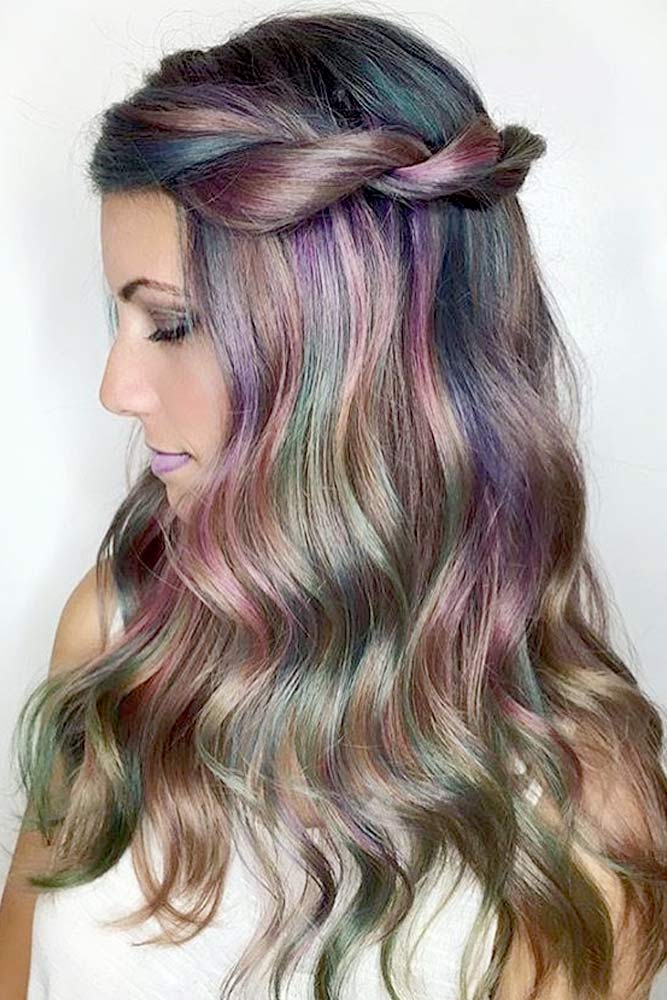 Hairstyles for long hair often involve some accessories like bobby pins, ribbons, or even a tiara. And yes, this is the occasion when a tiara won't be too much. Just pick the one that compliments your hair color and has some elements that suit your outfit.
Easy Long Hairstyles with Accessories
Credit photo: instagram.com/camillestyles, instagram.com/annette_updo_artist, instagram.com/hair_vera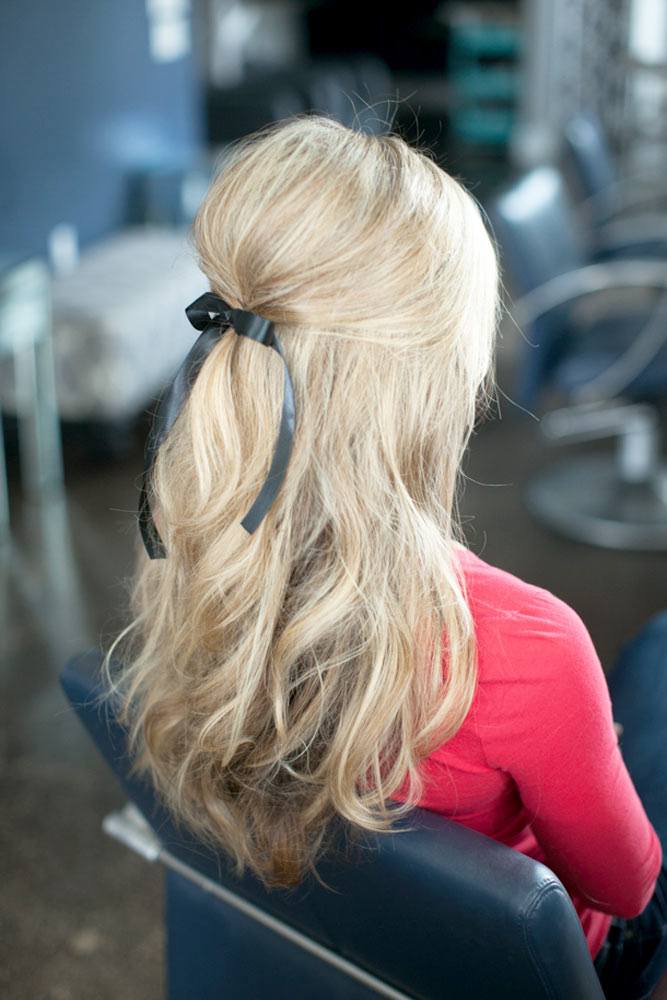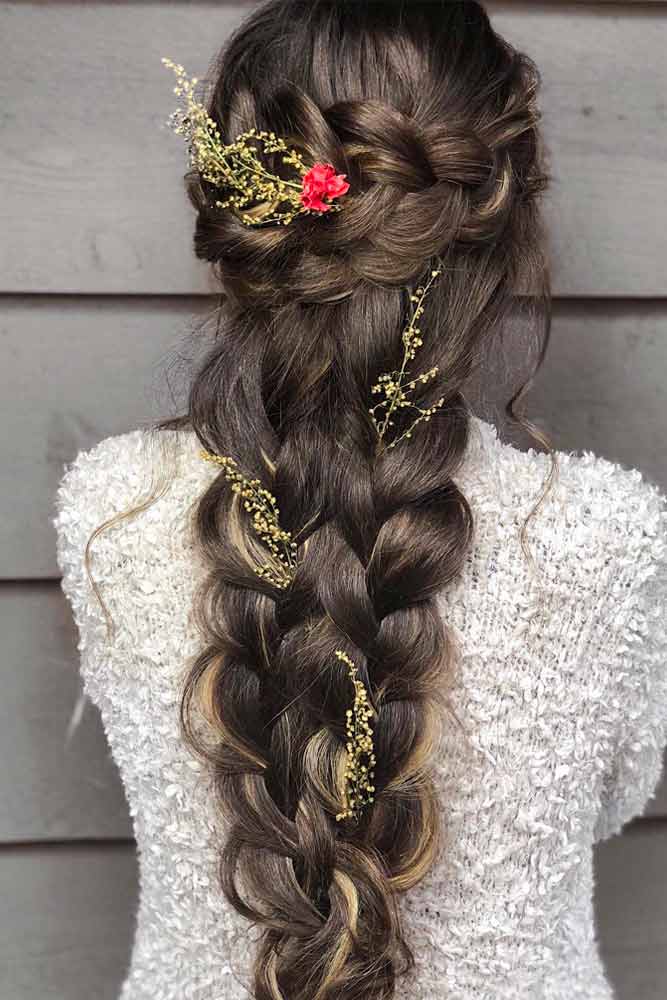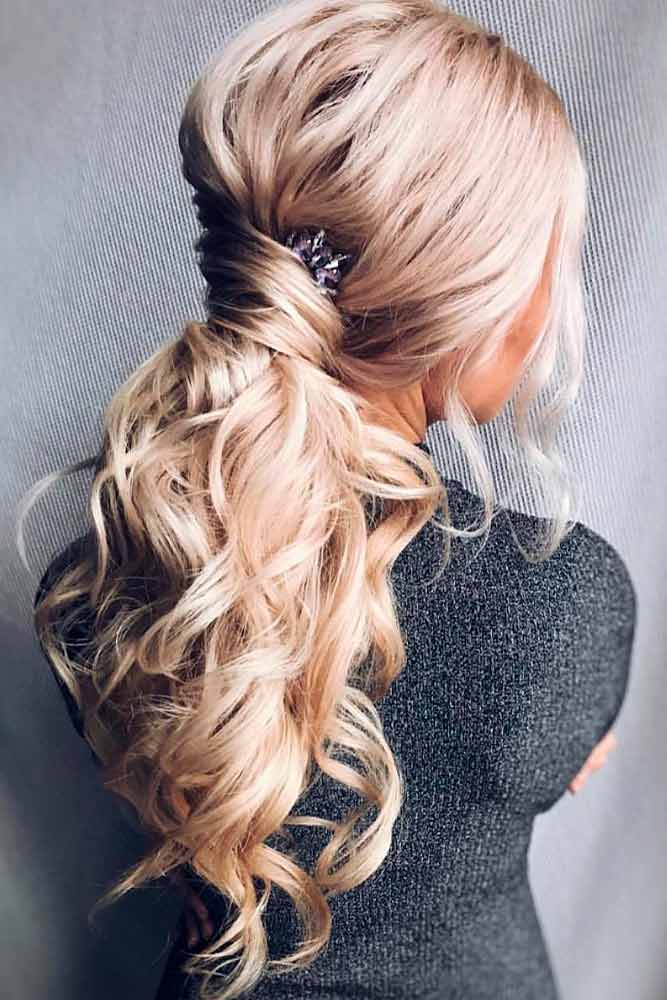 Credit photo: instagram.com/whatlydialikes, instagram.com/whatlydialikes, instagram.com/alexandralee1016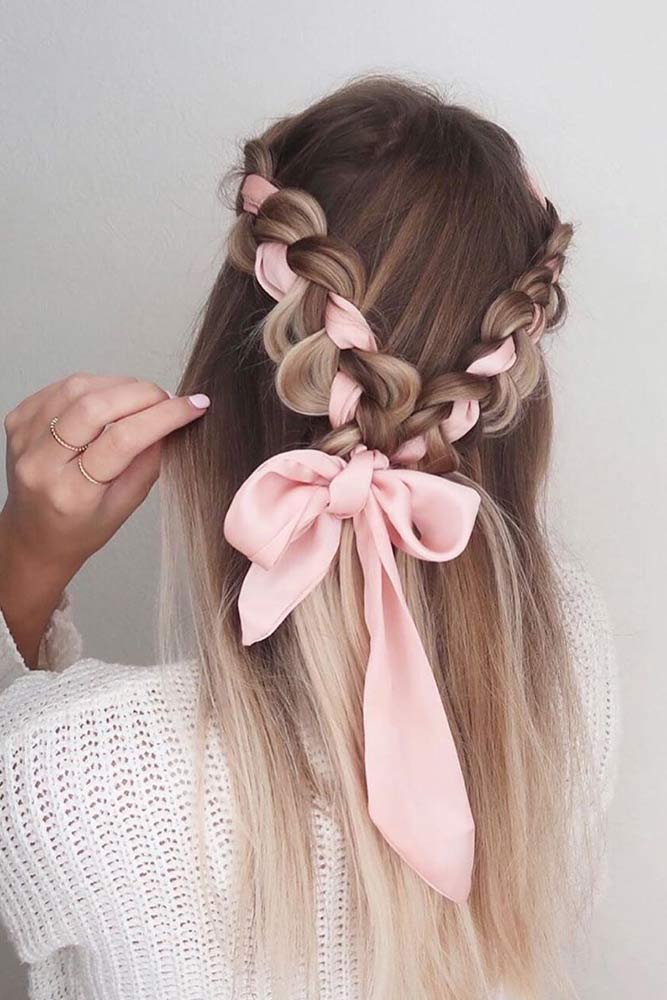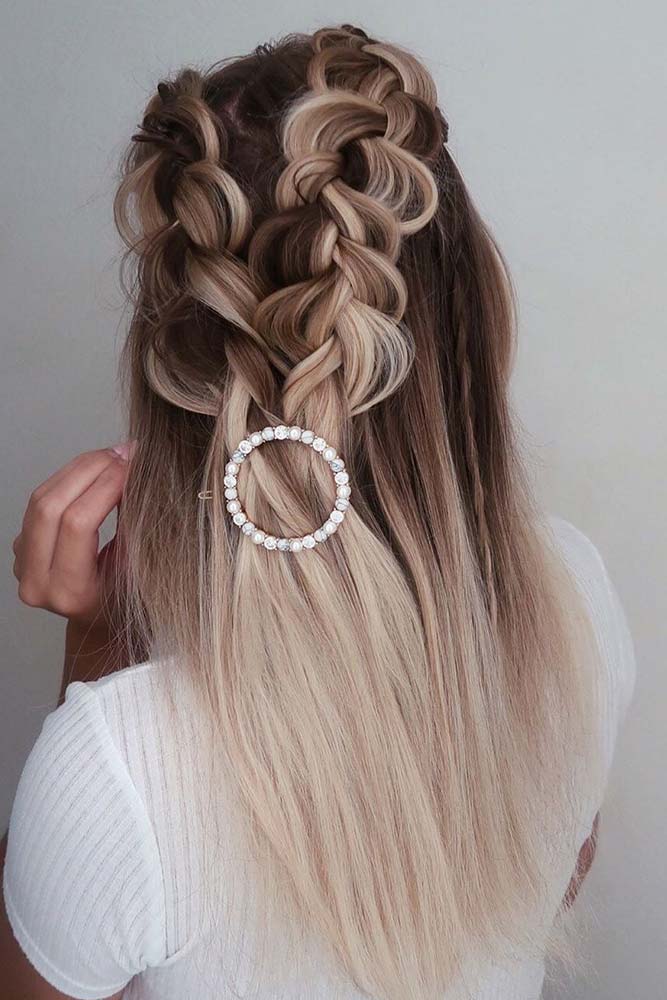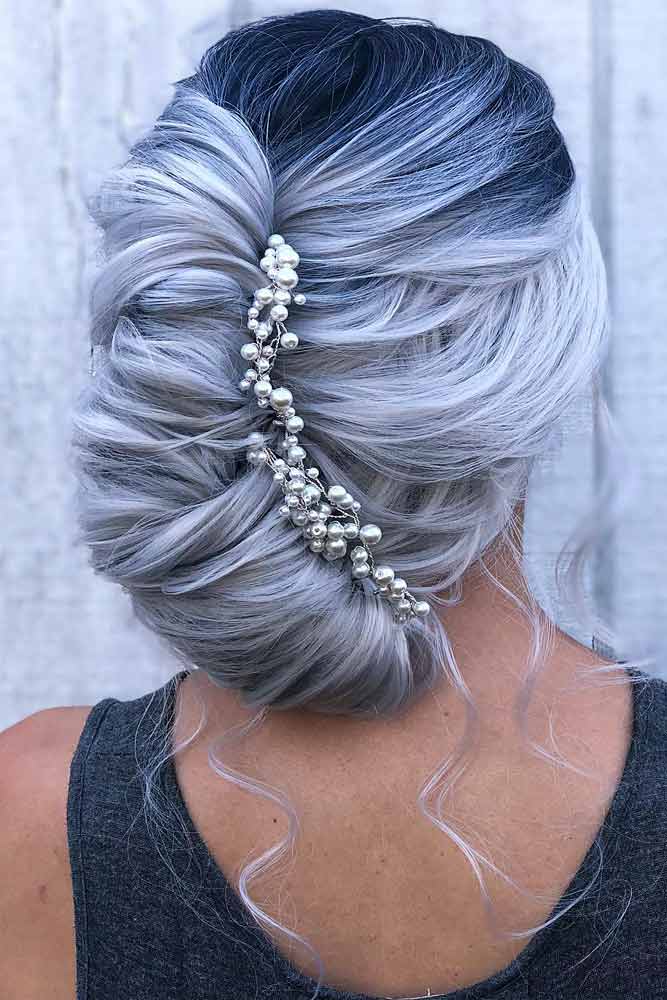 It is true that the easiest way to end up with a gorgeous-looking mane is to introduce some fancy accessories in. Be it a simple French twist or curly half-up pony, your hair will look magnificent with correctly chosen decoration. See for yourself!
Updo Hairstyles For Long Hair
Credit photo: instagram.com/tonyastylist, instagram.com/tonyastylist, instagram.com/annette_updo_artist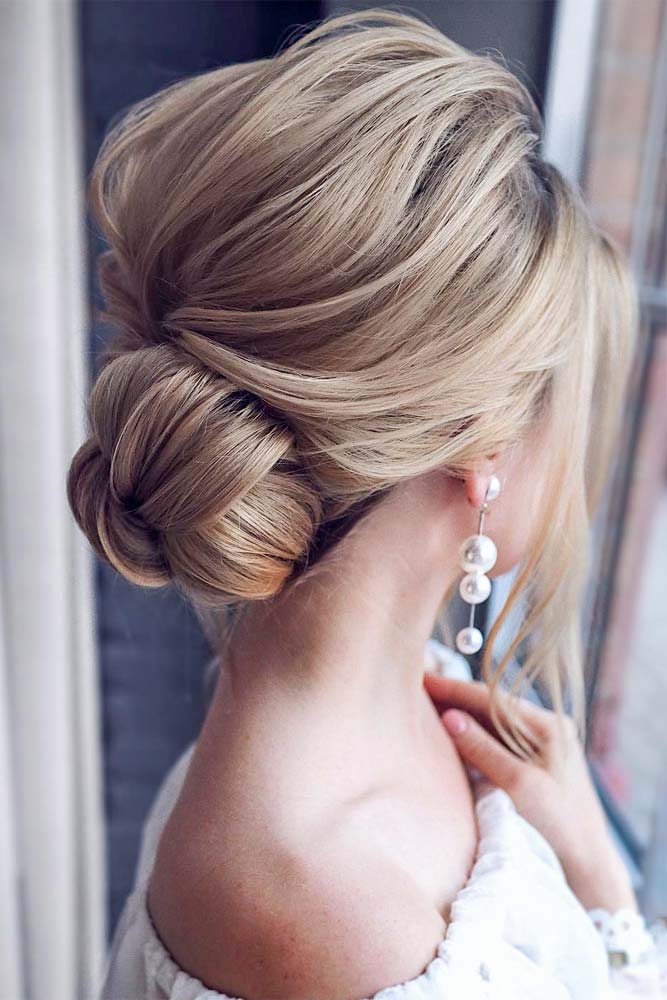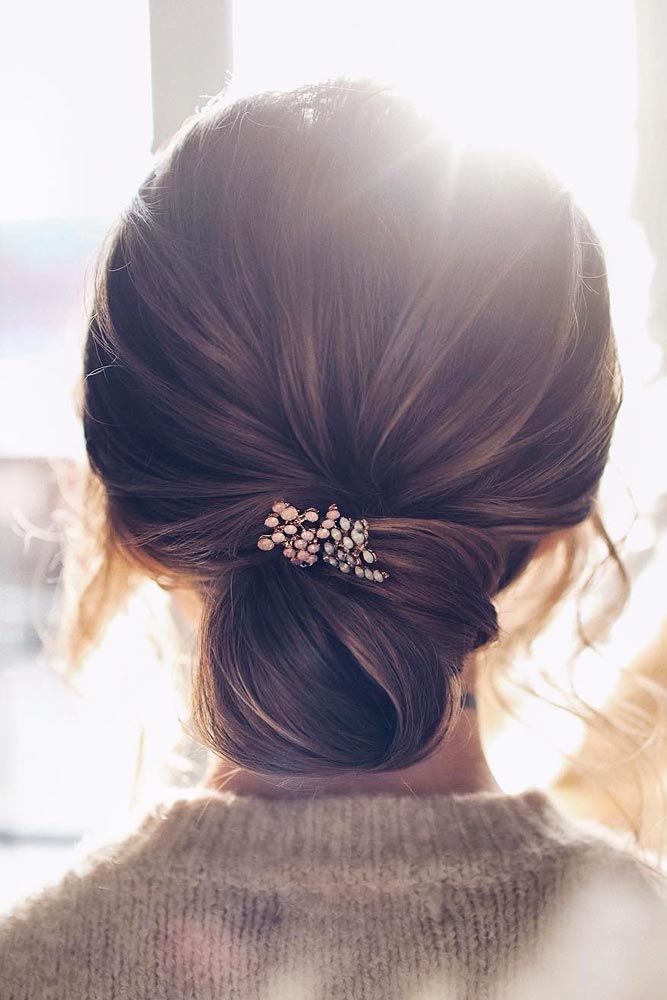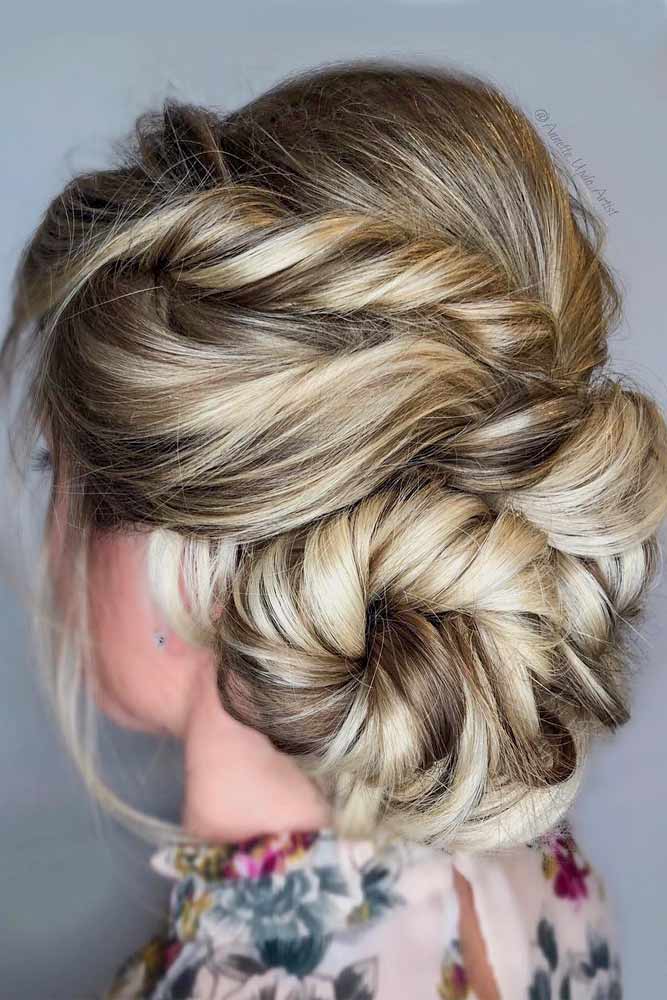 Credit photo: instagram.com/alexandralee1016б, instagram.com/alexandralee1016б, instagram.com/alexandralee1016б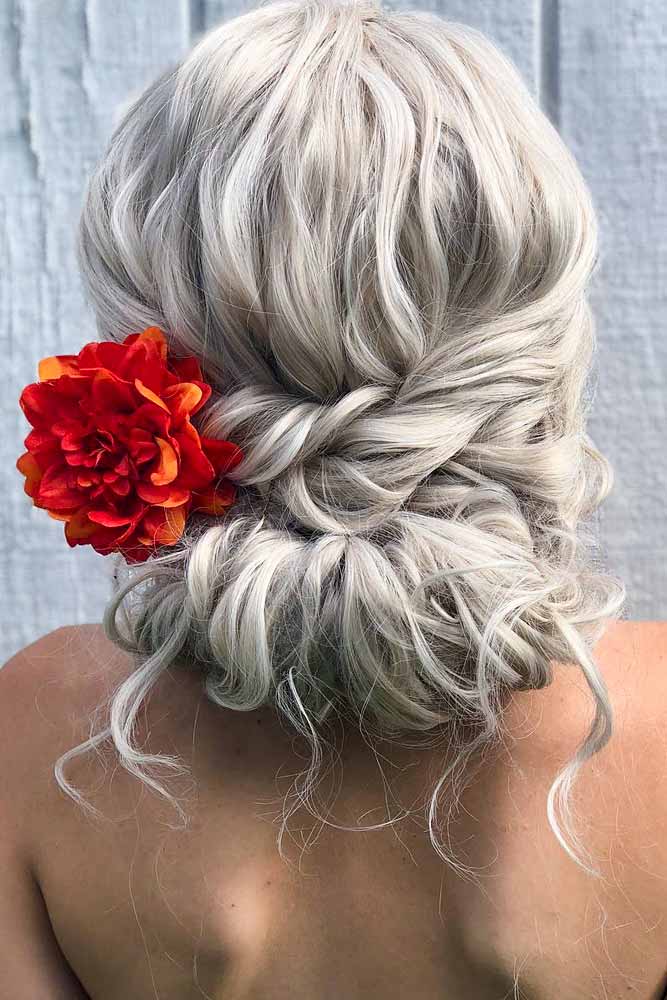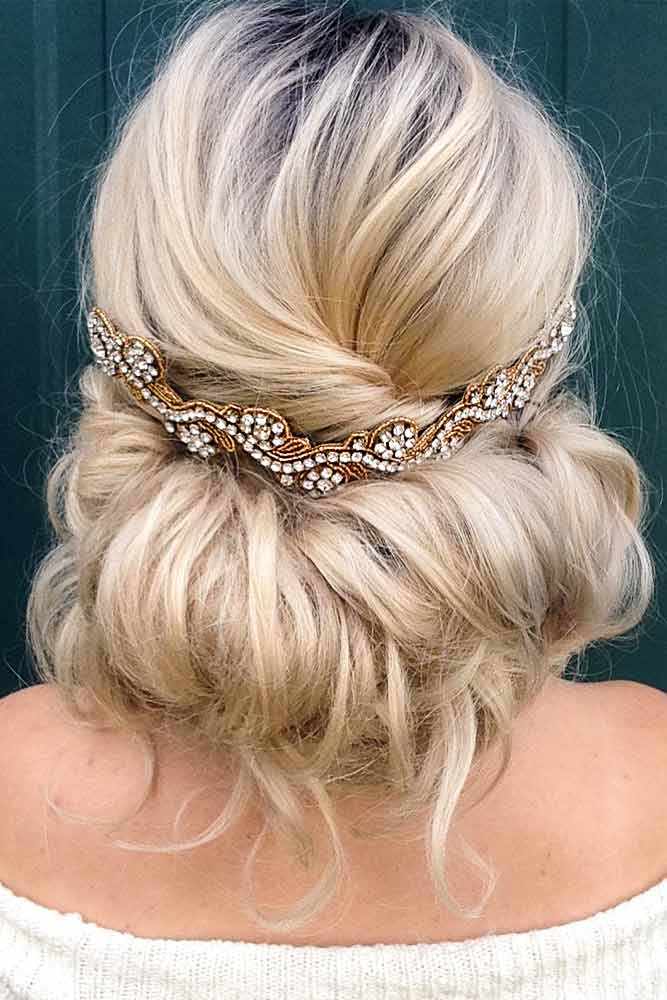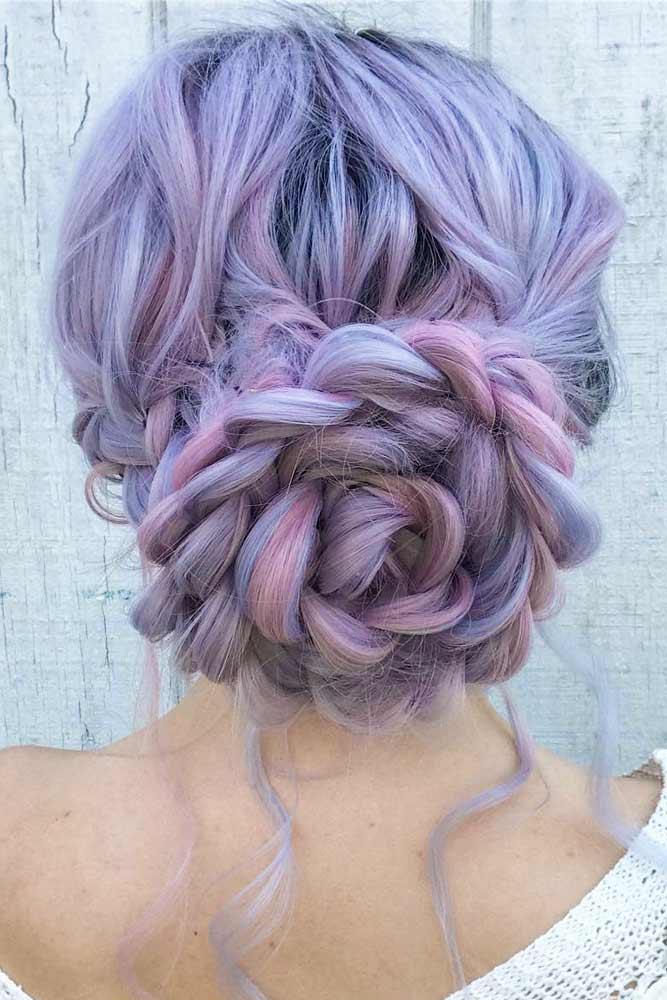 When you want to make your hair look shorter but still as fancy, there is a way out. Truth be told there are a couple of intricate updos to give a thought to. Pick your favorite one and let the holiday begin!
Voluminous Double Fishtail Braids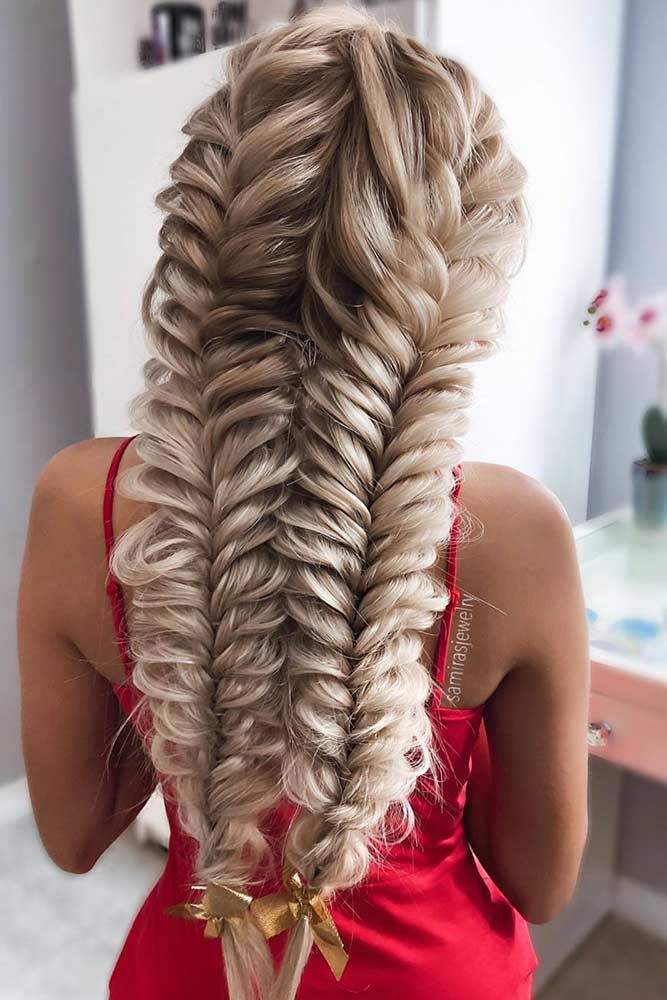 Credit photo: instagram.com/samirasjewelry
This is one of those easy long hairstyles that are perfect for ladies whose locks do not seem to have enough volume and body. Besides, double fishtail braids look unbelievably sweet and eye-catching while being pretty easy to weave. To achieve such an ample and dimensional hairstyle, you need to pull out each strand of the braid a little bit so that it looks looser thus fuller. And do not worry if some sections will stick out more than others. This messiness will give your hairstyle a dreamy and breezy flair.
Loose Twisted Ponytail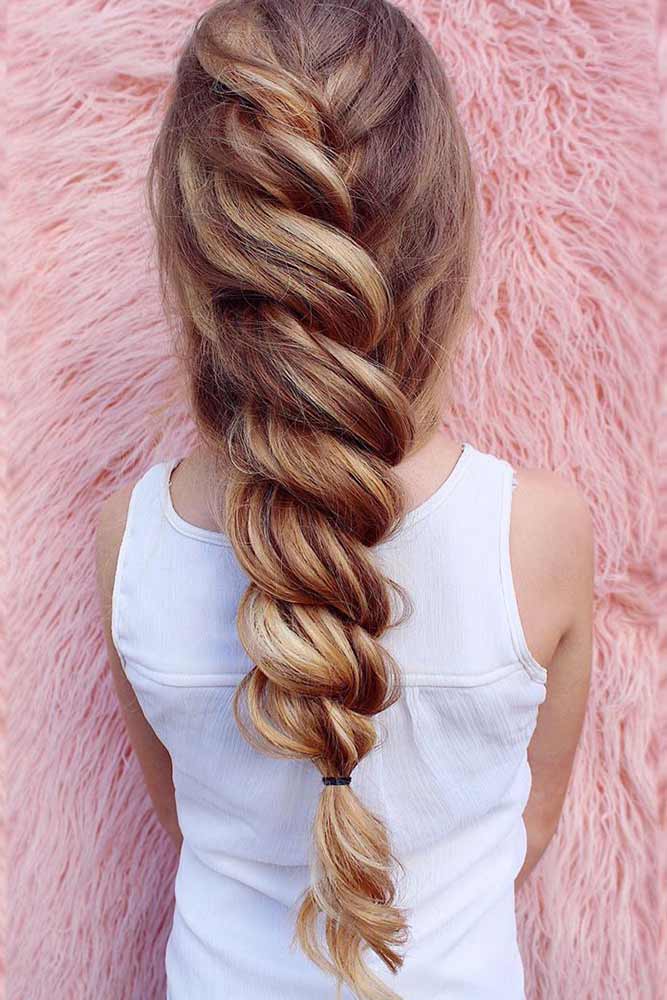 Credit photo: instagram.com/luxyhair
At first glance, this hairstyle looks incredibly intricate and complex. However, it does not require you much time or effort to create. So that your hair looks voluminous, you need to lightly tease it beforehand. Next, divide it into two equal sections and spin each of them separately first. Make sure they are not too tight though, as you want to retain volume. Finally, twist these two strands together all the way down and your unique loose twisted ponytail is ready to win hearts on Valentine's Day.
Braided Double Ponytails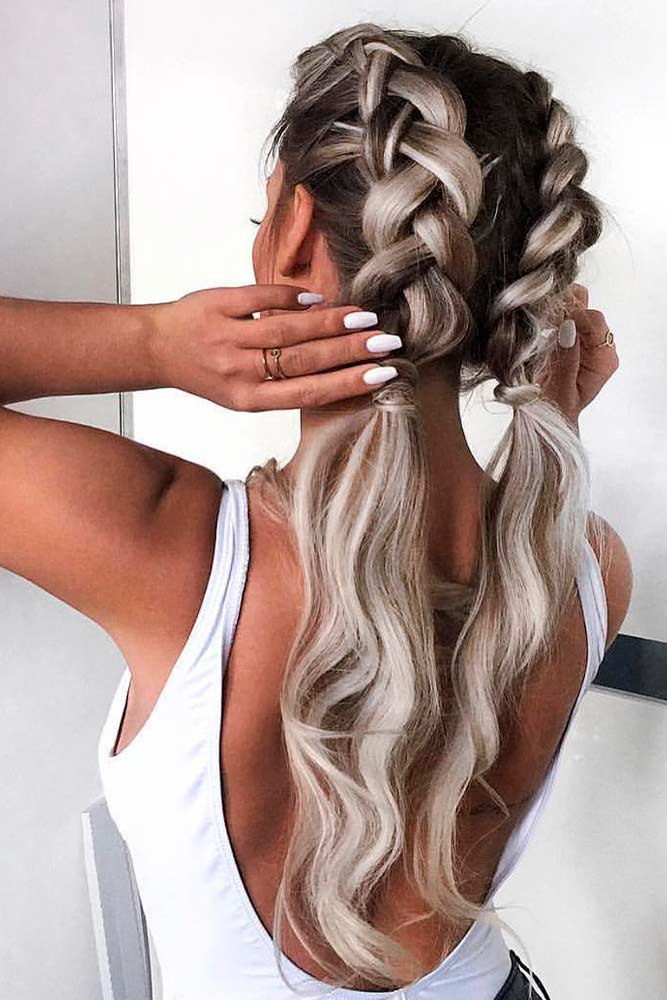 Credit photo: instagram.com/larinabeauty
There is something really cute and charming in double ponytails. They instantly give your appearance a girlie and playful appeal. Yet, you can lift them to the next level of sweetness by combining with Dutch braids. For such easy long hairstyles to look more defined and pronounced, it is a good idea to have platinum highlights painted in random strands.
Bubble Ponytail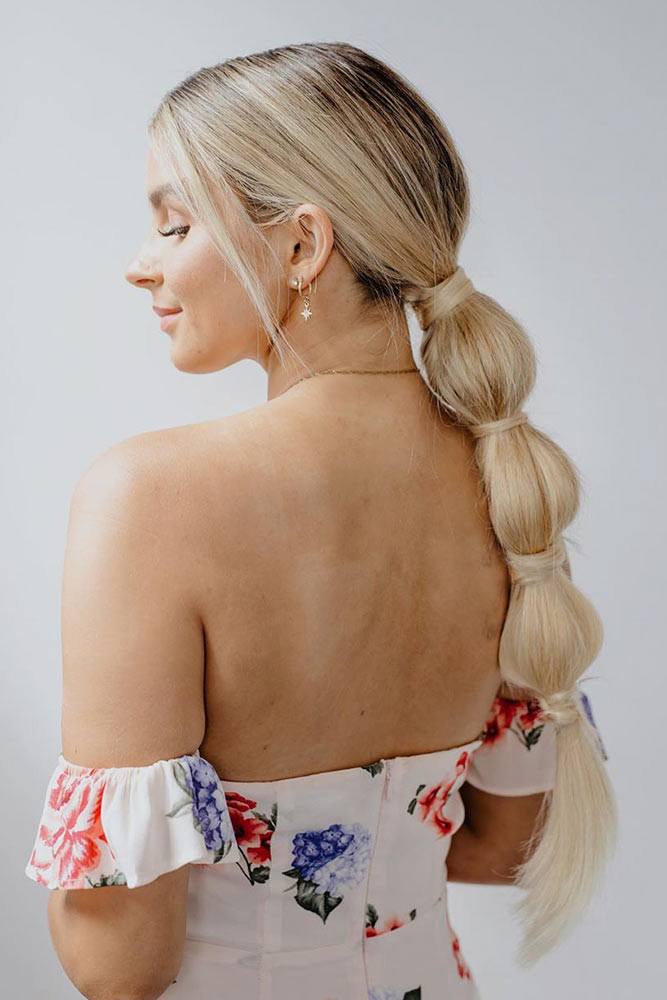 Credit photo: instagram.com/luxyhair
If you are not particularly skilled at braiding but still reluctant to wear your hair loose on your Valentine's Day date, then this bubble ponytail is your way. It is one of those sophisticated easy long hairstyles that you can get in the blink of an eye, yet the final result looks as if you have spent all day creating it.
Messy Side Fishtail Braid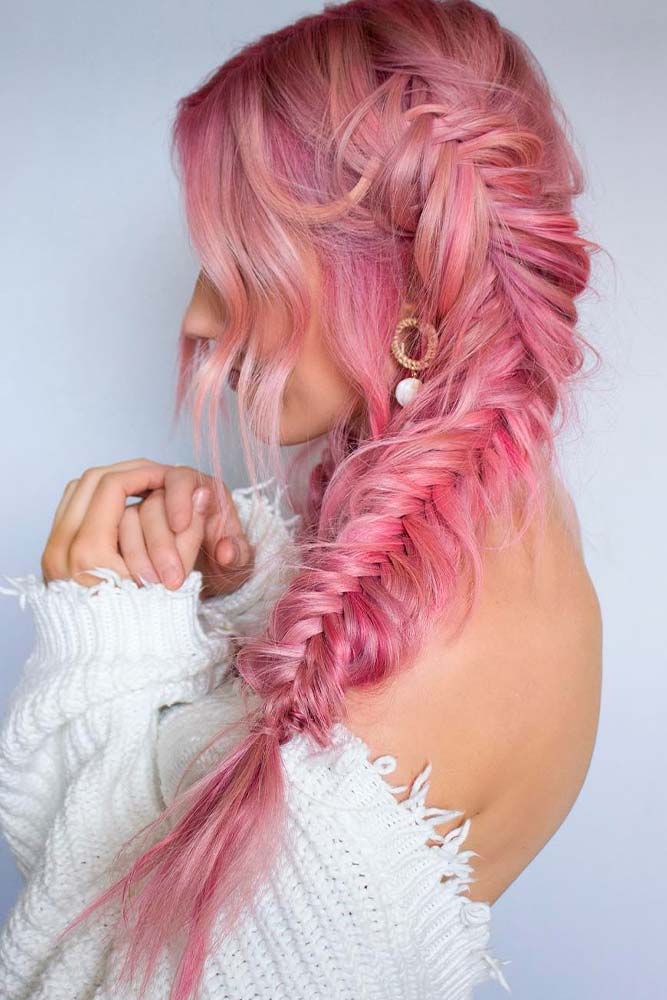 Credit photo: instagram.com/hairbymandielynn
If you don't have a naturally full head of hair, that's okay. You can create one. To accomplish this, it is just important to wear the right hairstyle. A messy side fishtail braid not only adds bulk and thickness but generally looks intricate and relaxed.
Simple Hairstyles With Hearts Clips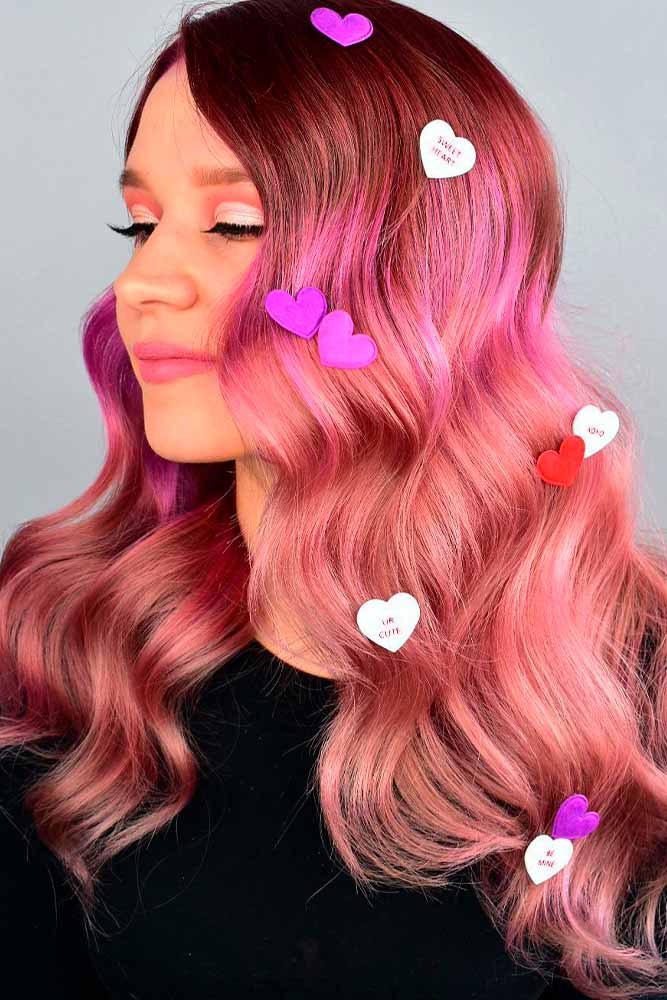 Credit photo: instagram.com/taylorrae_hair
You can never go wrong with smooth and shiny locks that are flowing freely over your shoulders. However, to make them suit the ambiance of the holiday, garnish your tresses with cute heart-shaped hair clips.
Pull-Through Braid Half-Up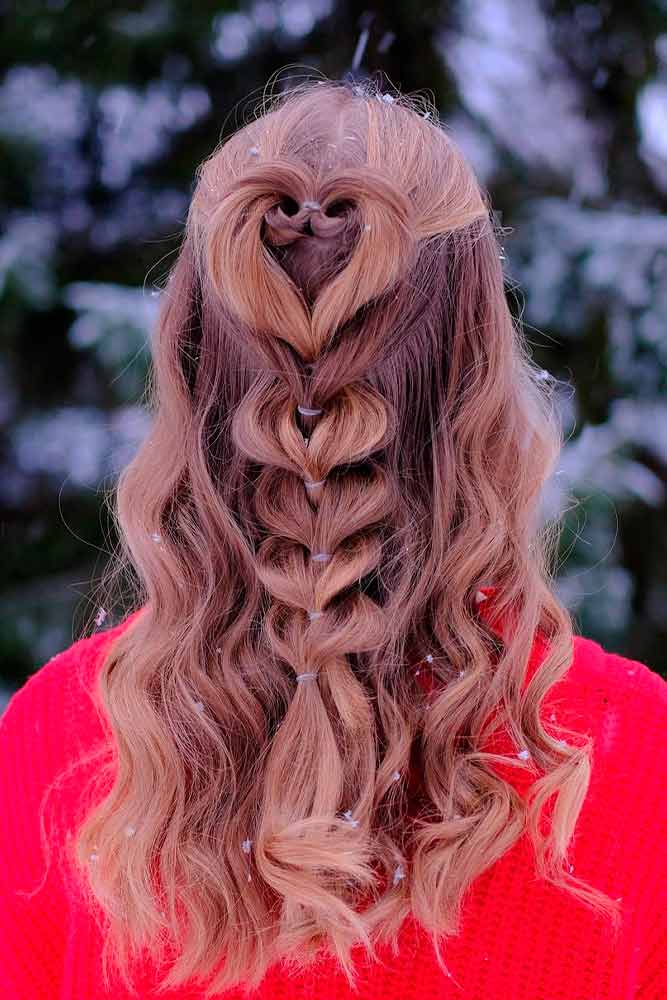 Credit photo: instagram.com/letitbraid
No matter how intricate this hairstyle looks, it actually will not take you much time or effort to create. To achieve such a breathtaking look, you need to divide the hair strand into two sections and pull the end through the gap between them. This hairstyle does not require extra embellishments, as it already comes out fancy and romantic.
Ponytail With Dutch Braids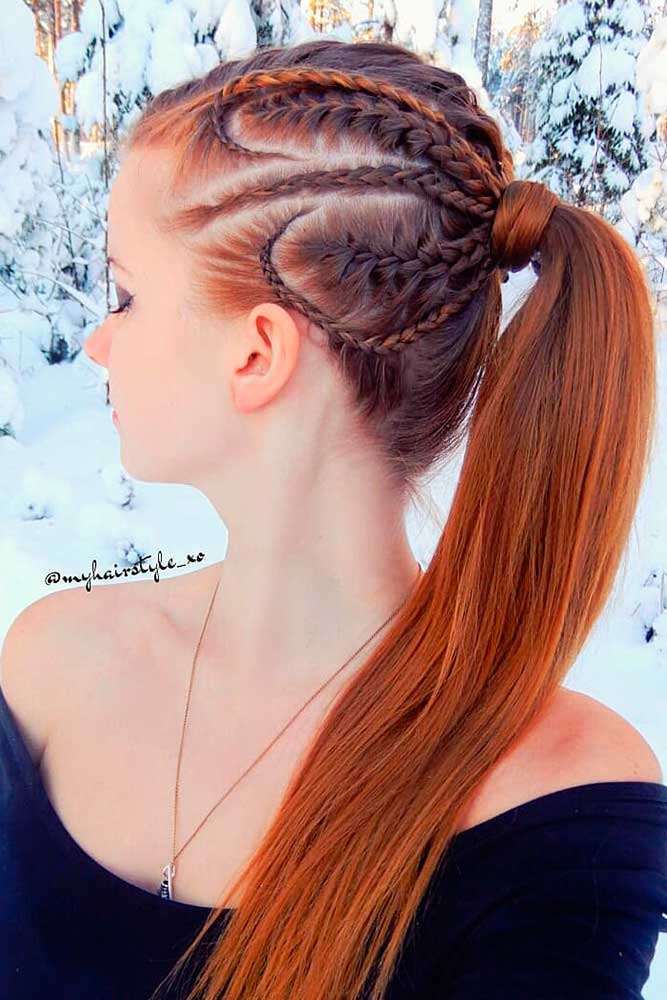 Credit photo: instagram.com/myhairstyle_xo
To create a quirky hair design you don't have to arrange an appointment with a hair stylist. You can do it on your own by weaving the hair in an intricate manner. How elaborate the design is going to be depends on your level of weaving skills and personal preferences.
Braided Mohawk For Long Hair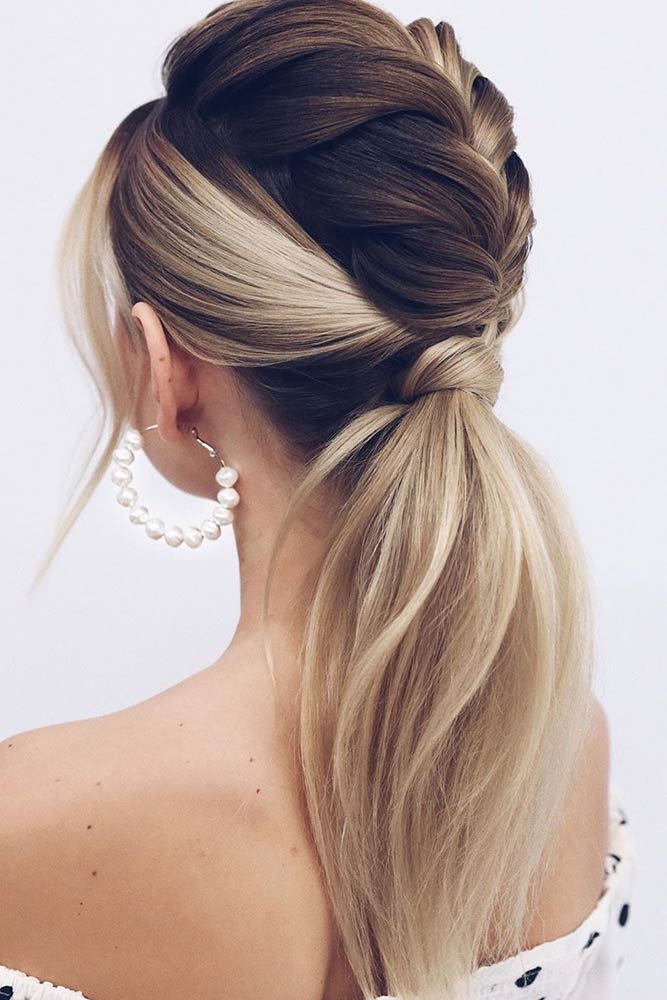 Credit photo: instagram.com/tonyastylist
Did you know that to channel a mohawk hairstyle, you should not necessarily shave off all the hair on the sides? You just need to make it look much shorter compared to that on the top. Simply tease the upper section of your hair and create a voluminous braid on top, while tacking the hair from the sides under the braid and tying the free end into a low ponytail.
FAQ: Romantic Hairstyles
How to do a simple half up hairstyle?
Grab a section of hair on the left side, add some texture spray. Divide a section into two equal pieces and begin wrapping them around one another at least 3 times. Start pulling on the bottom and tops of your twist. Secure with a bobby pin at the back of your head.
Repeat on another side.
How to do a romantic low ponytail?
Do a twisted half up hairstyle. Gather your hair into a low ponytail and secure it into place with an elastic.
Wrap a small piece of hair around your hair elastic to cover it and just bobby pin it out of the way.
Section of the top of your ponytail and apply some volumizing powder between top and bottom section to create additional volume.
REFERENCES: