Short bob haircuts, have you ever wondered why they are so popular? What is so special about this style, initially longer at the front and shorter at the back? It appears interesting but we are all used to that look already. Yet, we do not think that it is boring, and women all around the globe keep sporting bob haircuts. It is because besides being versatile, quite complimenting, and not difficult to maintain, a bob is a symbol of high style, individuality, and self-confidence. Subconsciously, we think that a woman who wears a bob breaks from tradition. It is our history, our legacy, and the style is too chic to deny.
But as it is timeless, a bob often needs upgrades. So, what exactly are short bob haircuts? A bob cut or bob is a short haircut for women (and occasionally men) in which the hair is typically cut straight around the head at about jaw-level, often with a fringe (or "bangs") at the front. The bob is cut at the level of ears, below the ears or above shoulders.
However, modern bobs are usually longer in the front and shorter in the back. Bobs can be worn with or without bangs. They are believed to have originated shortly after World War 1 when many women were starting to seek independence, break away from tradition and express their individuality. They didn't become popular, however, until the 1960s and since then have evolved and become quite stylish.
And the reason that short bob haircuts are still popular today is that modern bob haircuts are extremely versatile and somewhat edgy. They add a lot of texture to your tresses and are a great way to express your inner style! And if you don't like it, you can always grow it out. However, we are certain that you will love a trendy short bob cut as it will give you added confidence and attitude!
If you are looking for a new-look for your short layered hair, a bob is the way to go! You can sport a chic, sophisticated bob, a classy "girl next door" look, a daring punk rock look and many others.
Better yet, short bob hairstyles with bangs are all the rage this season. From blunt cut fringe to sexy, side-swept bangs, there are dozens of cute looks for short bob cuts with bangs so you will not be at a loss for a sassy new hairdo!
Another plus of bob haircuts is that they leave plenty of room for imagination! You can experiment with different color techniques from brilliant ombres to subtle highlights, lowlights, babylights and even soft balayage hues, the possibilities are endless for short bob hairstyles with bangs as well as without!
Still not convinced that short hair is the way to go?


20 Reasons to Get a Short Bob Hairstyle
You might be asking yourself why you should get a short bob haircut? Many women have had long hair most of their lives and are a little scared to cut it such a drastic length. However, short hair can be just as sexy as long hair! So many of today's celebs have opted for short bob hairstyles. Of course Pink can totally rock a short bob with her punk rock attitude but there are countless other female celebrities who made this shorter hairstyle quite popular. From Claire Danes to Jada Pinkett Smith to Jennifer Lopez, female celebs are taking the world by storm with their short and sassy bob haircuts!
Source: timm.morrison via Instagram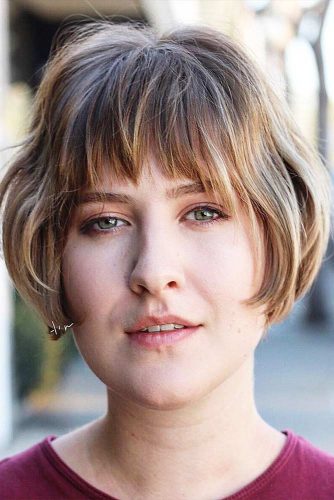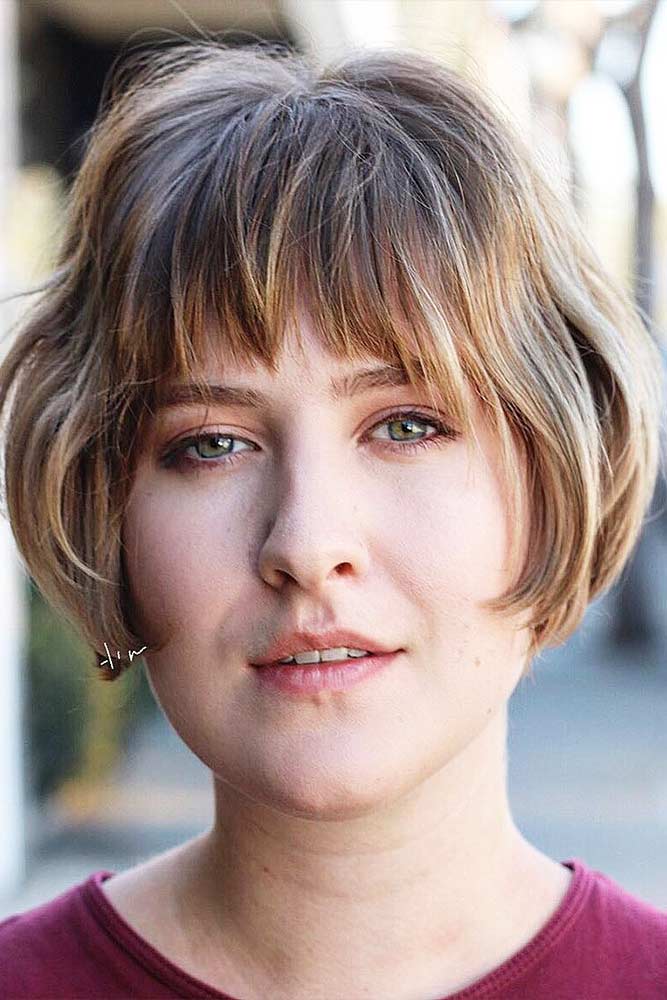 Short haircuts are a great way to add volume to thin or fine hair.
Your hair will look and feel healthier.
Short hair is easier to manage.
You will save a ton of money on styling products and tools.
You can save a lot of time. Many styles are "wash and go."
Short haircuts are a great way to add life to long hair that has become dull and lifeless.
Short hair gives you confidence
You can express your individuality.
Short hair is sexy.
You won't have split ends with a short bob.
It will grow back if you don't like it!
It will dry faster.
You won't have to wash your hair as often.
You will use way less product which is better for your hair.
You won't have knots or tangles
Short hair is less frizzy
Short hair won't blow in your face or get in your eyes.
You can experiment with different styles and colors.
You will receive a ton of compliments.
You will be a trendsetter!
Know Your Bob Style
One of the best things about a short bob haircut is that it is extremely versatile. When it comes to types of haircuts, the bob cut is probably the most diverse and widely popular haircut to date. Some popular styles for short bob cuts include the following:
Source: salsalhair via Instagram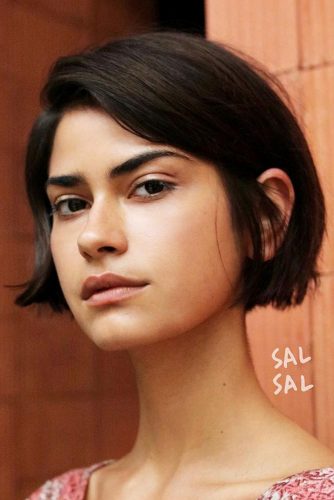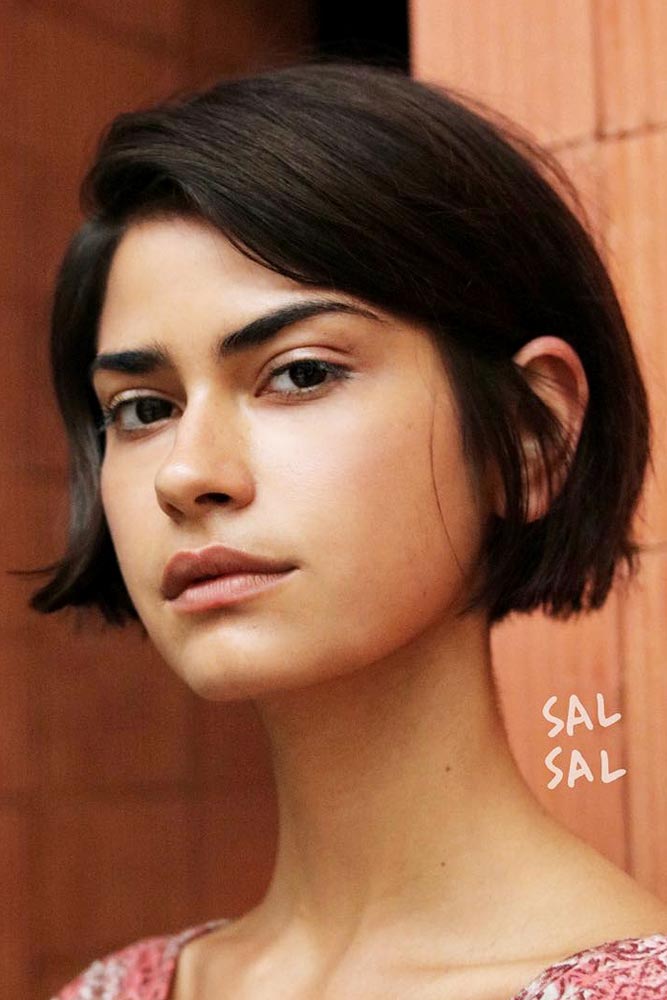 Blunt bob haircuts
Lob haircuts (longer bobs)
Short asymmetrical bobs
Inverted bobs
Traditional a-line bobs
Stacked bobs
Wedge Cuts
Shaggy Bobs
Choppy Bobs
Edgy Bobs
Pixie-Bob Cuts
Bobs are also the perfect choice for those who want to thin out their thicker hair or add volume to thin or fine hair with layered haircuts. Haircuts such as short shag haircuts, short choppy haircuts, and short wedge haircuts are perfect examples of edgy haircuts for those who are looking for popular choices for short layered haircuts.
Source: salsalhair via Instagram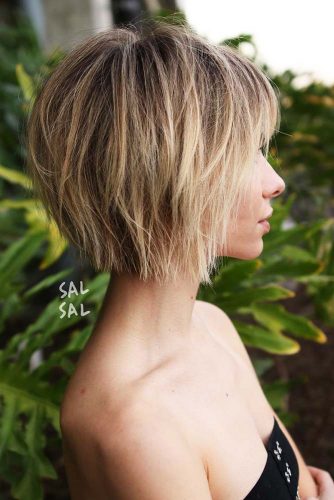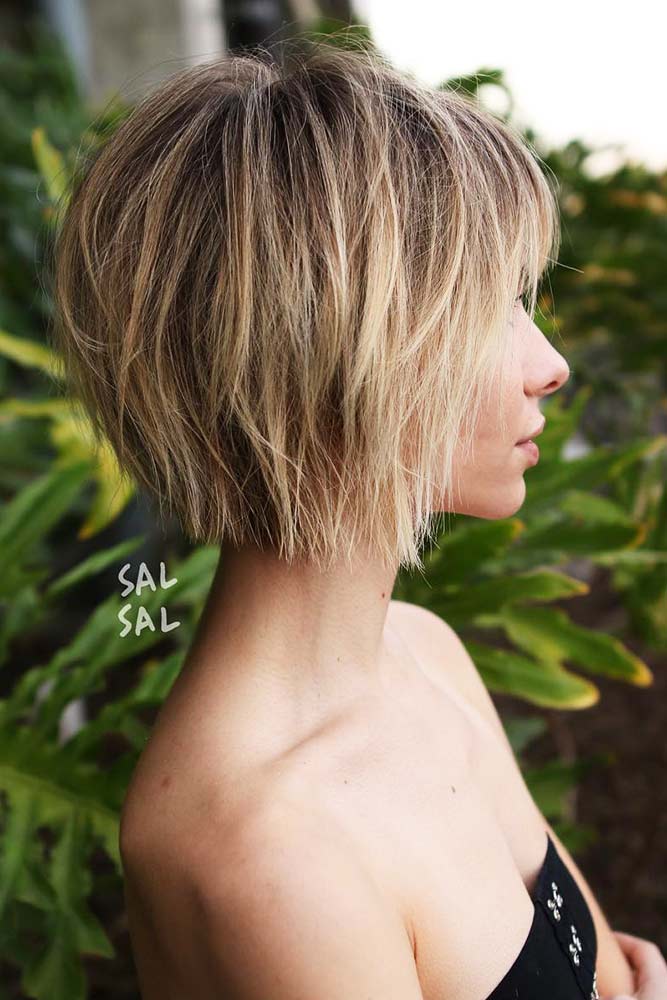 For those who do not prefer short edgy haircuts, you can opt for other styles such as a short bob or short blunt haircuts. There is a bit more refined if you are going for a more professional look and feel.
Of course, you will want to find a short bob haircut that will work with your hair type and texture, as there are plenty of ways to style different types of hair including the following:
Short haircuts for curly hair
Short haircuts for wavy hair
Source: everson_rocha_ via Instagram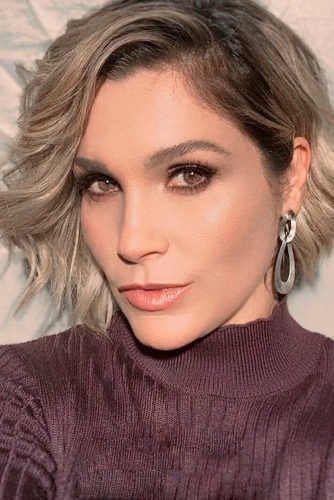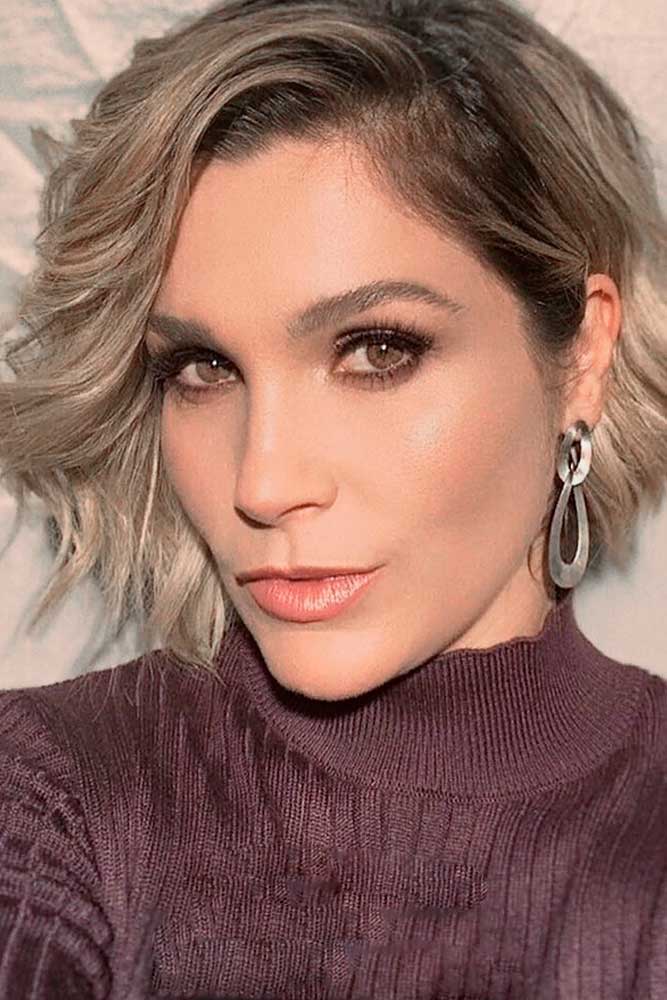 Curly and wavy hair can look especially stunning with the right short bob hairstyle. A short layered bob will add life to your curls. Most girls with curls can attest to the fact that longer hair only weighs down curls or waves and makes their flat and lifeless, not to mention frizzy. A short bob will bring your curly tresses back to life!
Short haircuts for straight hair
Source: bescene via Instagram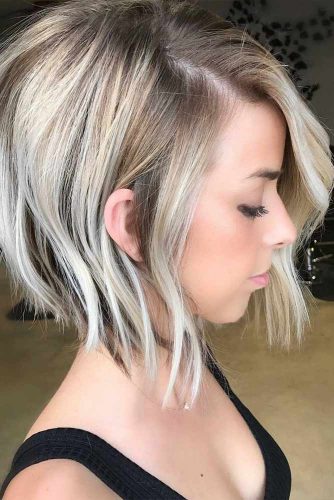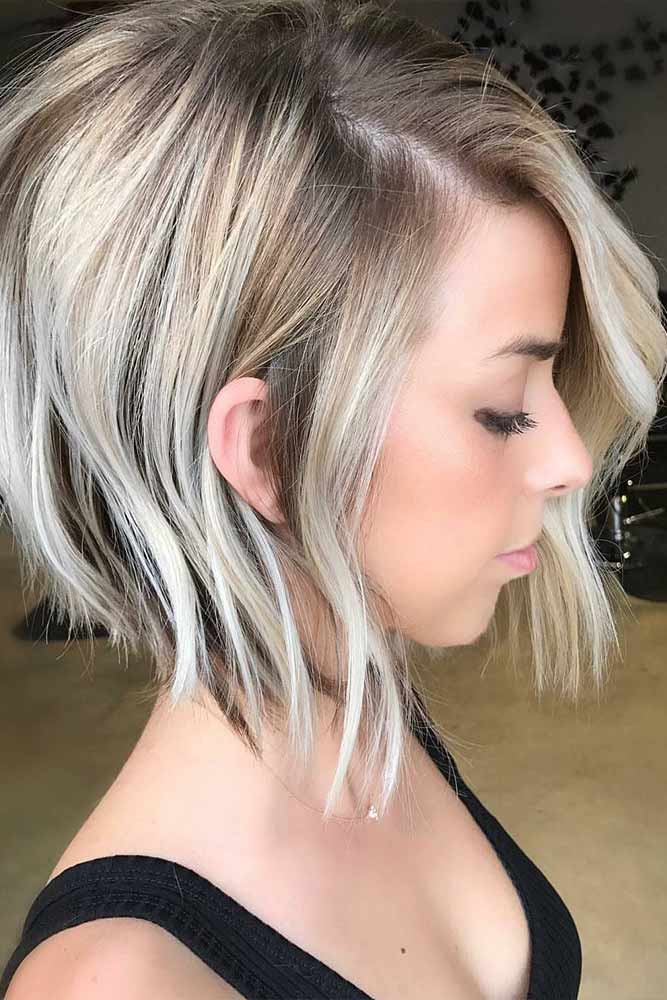 Quite often, straight hair can be difficult to style and as it grows longer, it tends to become rather dull. A short bob, such as a layered cut or a sleek chin-length bob can do wonders for poker straight hair!
Short haircuts for thick hair
Source: emilyandersonstyling via Instagram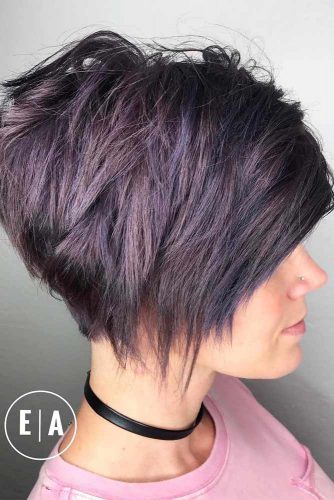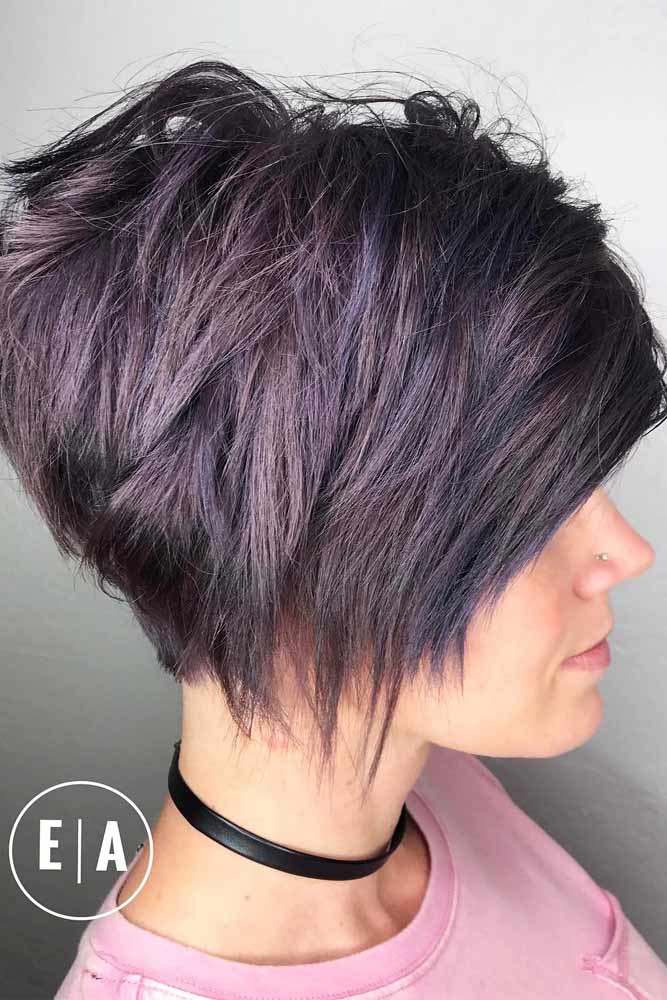 Thick hair can be both a blessing and a curse. The longer it gets, the more difficult it becomes to manage. A short bob cut will make your thicker tresses much easier to style and control! Imagine all of the weight you can remove from your hair and how healthy your hair will feel in a shorter style!
Short haircuts for thin hair
Source: emilyandersonstyling via Instagram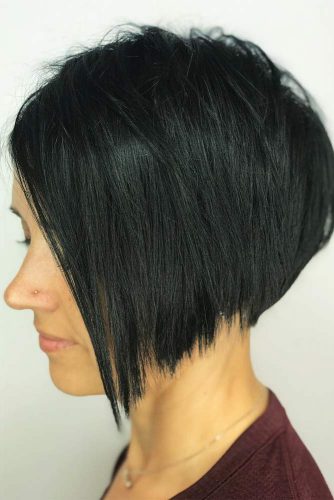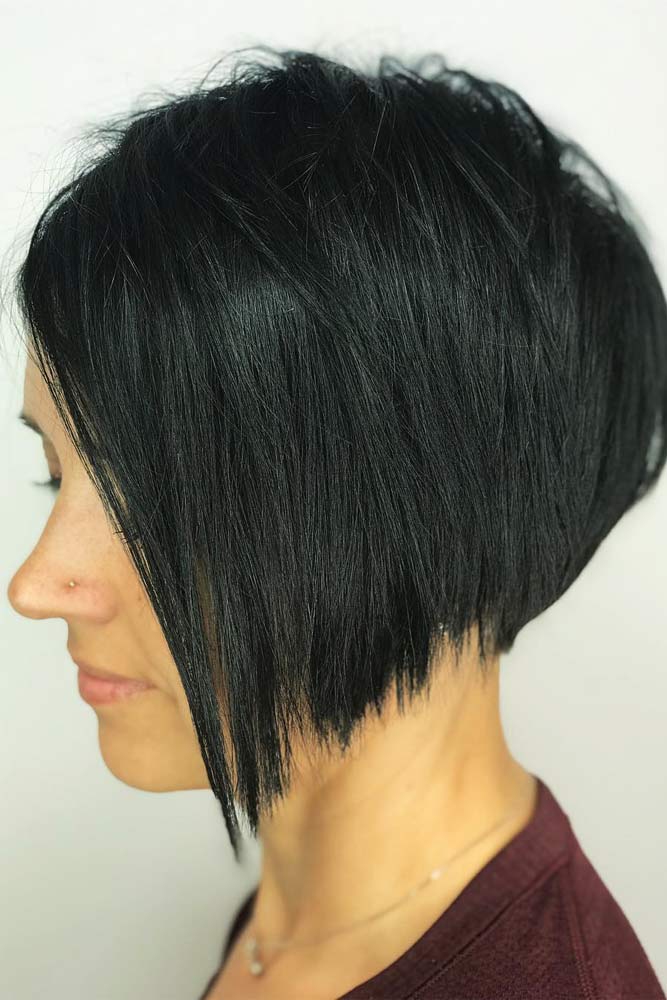 Short haircuts for fine hair
Source: salsalhair via Instagram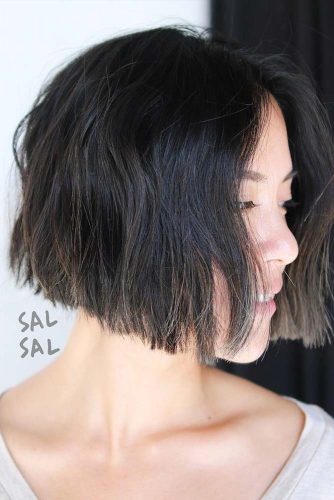 Fine and thin hair can often be difficult to style. A short layered bob can work miracles! Layers will add texture to your tresses and you will ask yourself why you didn't opt for such a style sooner!
As well, your hair texture should help determine what type of short bob cut will best suit you. Those with thick, curly hair will not want to have the same style as cut as those with poker straight fine hair. In addition, you can also use your short bob cut to express your personality! Want a sexy new look? A pixie cut might be just what you're looking for! Or are you going for a more timeless and sophisticated style? Then you should opt for a classic a-line bob. But don't worry, no matter what your style, there is a short bob haircut tailor-made just for you!
If you are unsure of what style will be the best for you, consult your stylist. And read ahead as we have included some photos of New hairstyles for short bobs by face shapes including flattering styles such as angled bob,
inverted bob
, layered bob and shoulder bob hairstyles.
Why Your Face Shape Matters
In addition to hair texture, you need to take your facial shape into consideration. The right haircut can enhance the shape of your face or change it if you wish to do so. For example, if you have a triangular face, you will want to narrow the area near your jawline. If you are unsure as to what style will best suit your face shape, read on for some helpful advice or speak to your stylist to find out what style will best flatter your face shape! Following is a list of the different face shapes. We will show you some cute styles for various face shape including hairstyles with bangs for face shapes and other trendy hairstyles for face shapes.
Source: rachienoe via Instagram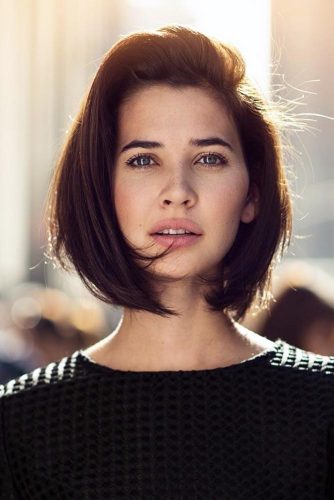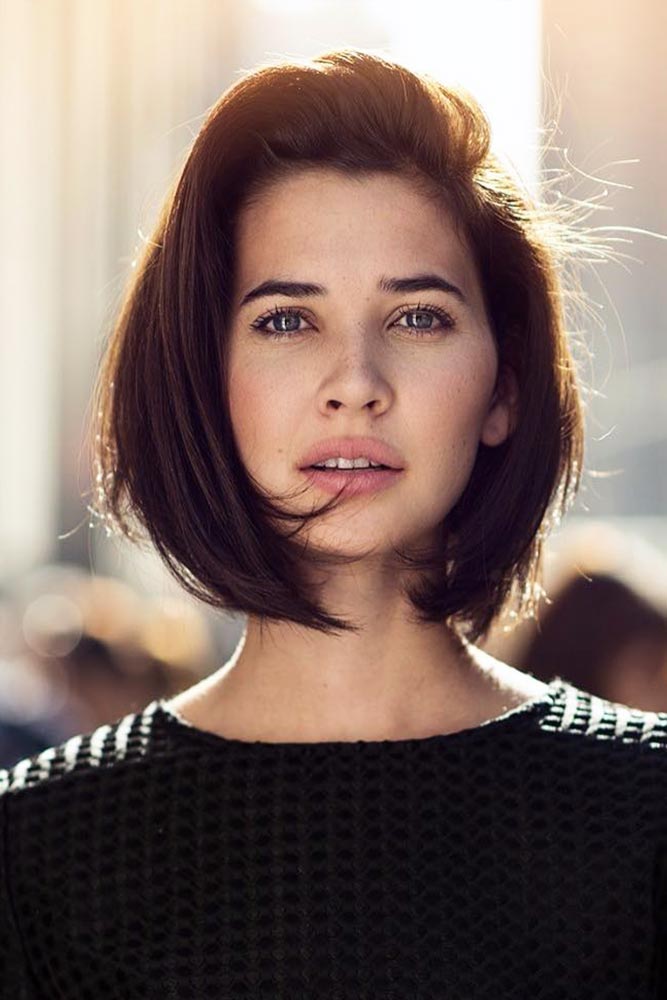 Oval Face Shape
Diamond Face Shape
Oblong Face Shape
Heart Face Shape
Square Face Shape
Round Face Shape
Triangle Face Shape
Inverted Triangle Face Shape
Rectangle Face Shape
Long Face Shape
And of course, we couldn't leave out without a few pro styling tips for short bob hairstyles!
Dry shampoo and leave in conditioners are your best friends!
Less is more when it comes to styling products
Only wash your hair once or twice a week.
Avoid blow-drying your hair and allow your hair to air dry as much as possible.
Ease up on the styling tools. Use curling irons and flat irons on only special occasions.
Get your short bob cut trimmed every four to six weeks.
Use your fingers to style your hair instead of a brush or comb.
Don't be afraid to experiment with color!
Of course, if you decided to take a chance and get a short bob haircut you need to choose one that will flatter your face shape. You might be wondering how your facial structure and shape can determine what type of hairstyle you should choose. There are some reasons that styles are not flattering for certain face shapes. While a certain haircut looks very flattering on a round or oval face it might not look very attractive on a longer face. As well, a look for a heart shaped or square shaped face may not look as flattering on a round face. We will discuss what hairstyles look the most flattering on each.
Source: timm.morrison via Instagram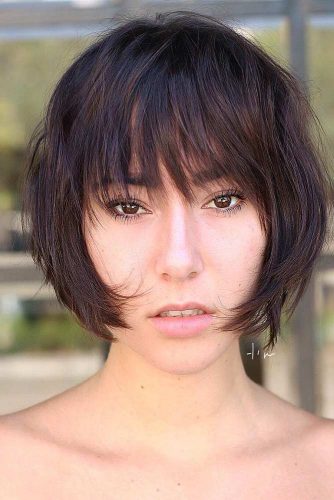 For example, a pixie cut will not necessarily be flattering on a rounder face. However, if you want to help elongate your face, you can opt for a short bob cut with bangs. But the good news is that most styles will work on every face shape, with a little bit of tweaking and creativity.
Now that we have given you some insight and tips about short bob haircuts, let's take a look at some popular short bobs for different face shapes, shall we? Get ready to pin your favorites to show your stylist.
Check out our favorite pictures of short bob hairstyles and you may be ready to call your stylist to book an appointment for a short bob cut! We promise that you won't be disappointed! And our picture gallery will show you some cute examples of the modern version of the bob.
Short Bob Haircuts For Round Faces
If you are looking for short bob haircuts faces, you have come to the right place! There are plenty of cute hairstyles for those with round faces!
Some of the recommended looks for round faces hairstyles include those styles which add height and elongate your face, as well as those that add length. As well, layered bangs are more suited for those with round faces as opposed to blunt, straight or heavy fringe. It is also advised to keep the sides of your hair shorter and closer to the face. For those with curly hair it is better to keep the curls around the crown, rather than near the cheekbones to add height.
And don't be afraid to experiment with color. You can keep it simple with soft, subtle highlights, or you can go bold and add a brilliant burst of color like the dark to auburn fade pictured here. Don't be afraid to express your style with a short bob cut to flatter your gorgeous round face!
Source: melfrr_ via Instagram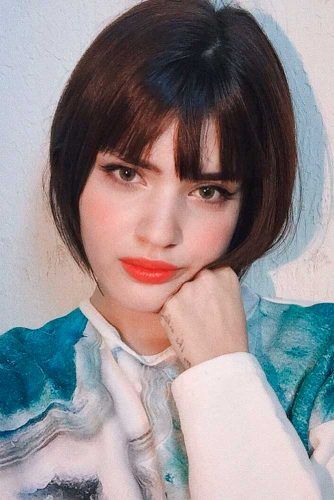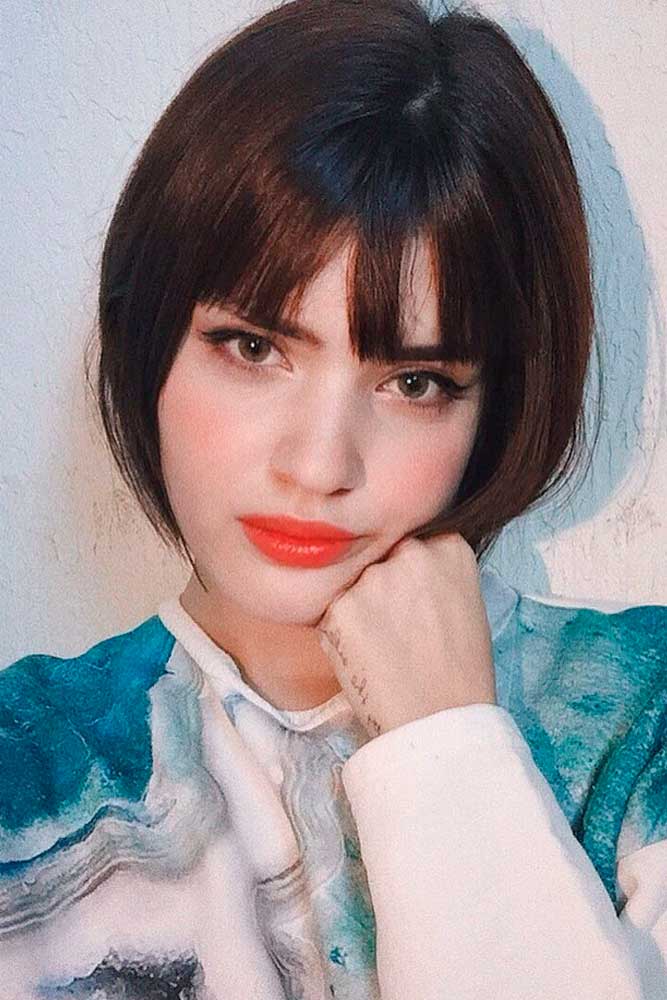 And short bob haircuts for round faces are super easy to style. As there is typically not a ton of volume, you won't have to spend hours blow-drying and styling hair. You can even use dry shampoo and leave in conditioner between washings to help maintain your sexy short hairdo! Less is more when it comes to styling products!
Actresses such as Drew Barrymore, Ginnifer Goodwin, Kate Hudson, and Selena Gomez have traded in their longer tresses for short bob cuts. If you have a round face, you are in good company!
Short Bob Haircut for Square Faces
If you have a square shaped face, you will want to find a short haircut for square faces that will add softness to your face. Famous celebs with square faces including Demi Moore and Angelina Jolie can inspire you on what haircut to get.
Ideally you will want to opt for a short layered bob hairstyle as it will help add a demure and soft look to your face. You can opt for layered bob hairstyles that will create movement with curls and smooth edges.
The ideal short bob hairstyle for those with square faces is something that hits just below or right at the jaw line, such as a graduated bob. Ask your stylist to cut your hair slightly shorter in the back than the front at a slight angle. Razored layers will add a ton of movement and texture.
Source: kesiafrade via Instagram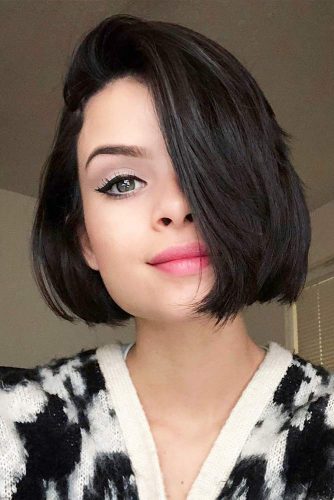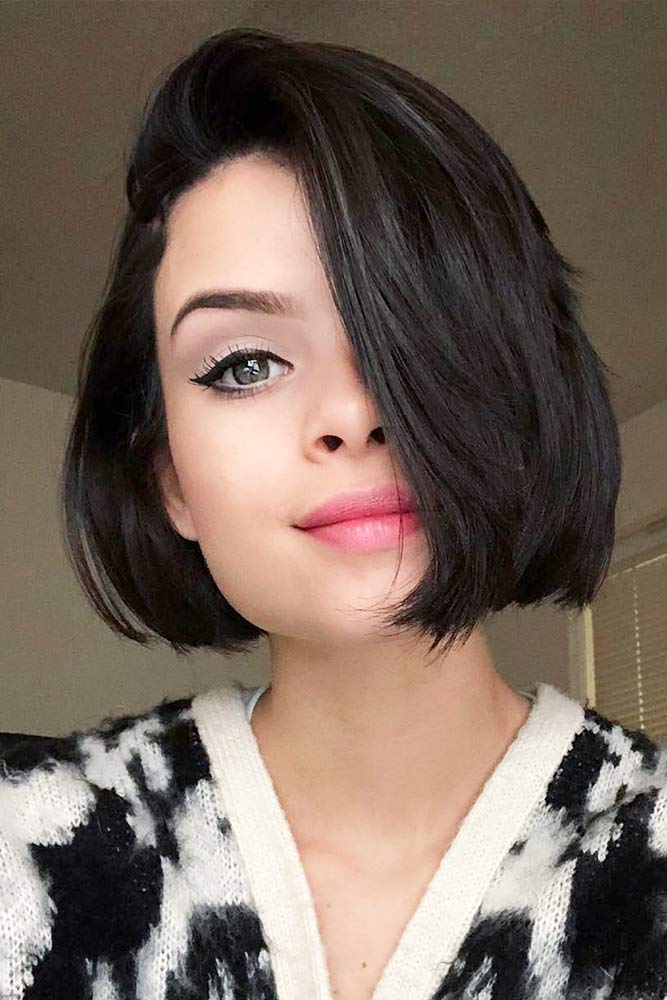 And such a look is very easy to maintain. Simply run moose or a texturizing product through your hair while damp and blow dry your hair with a round brush to create softness and volume. You can even style it to one side like the look shown above. Sexy waves or curls will add softness to your face to make it look more feminine and demure!
Short Bob Haircuts for Oval Faces
The great thing about having an oval face is that there are so many great looks that will compliment your face shape, including short bob haircuts for oval faces. As your face is pretty much naturally well-proportioned, you will have to focus on keeping that look balanced. And you are in great company because celebs such as Megan Fox and Emma Watson were bold enough to sport sassy short bob cuts.
The good thing about oval faces is that you can choose from a plethora of styles from short to medium layered bobs such as a short and shaggy a-line bob or longer pixies for medium bob hairstyles. For those with finer hair, it is recommended to have your stylist cut uneven layers close to your face to make your hair look voluminous.
Source: jadeseba via Instagram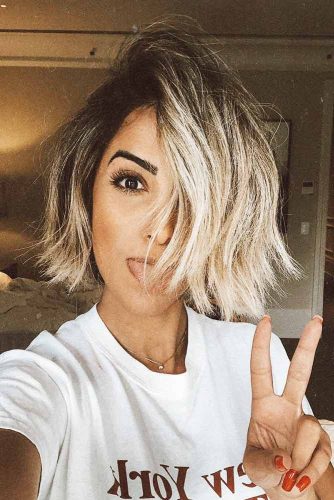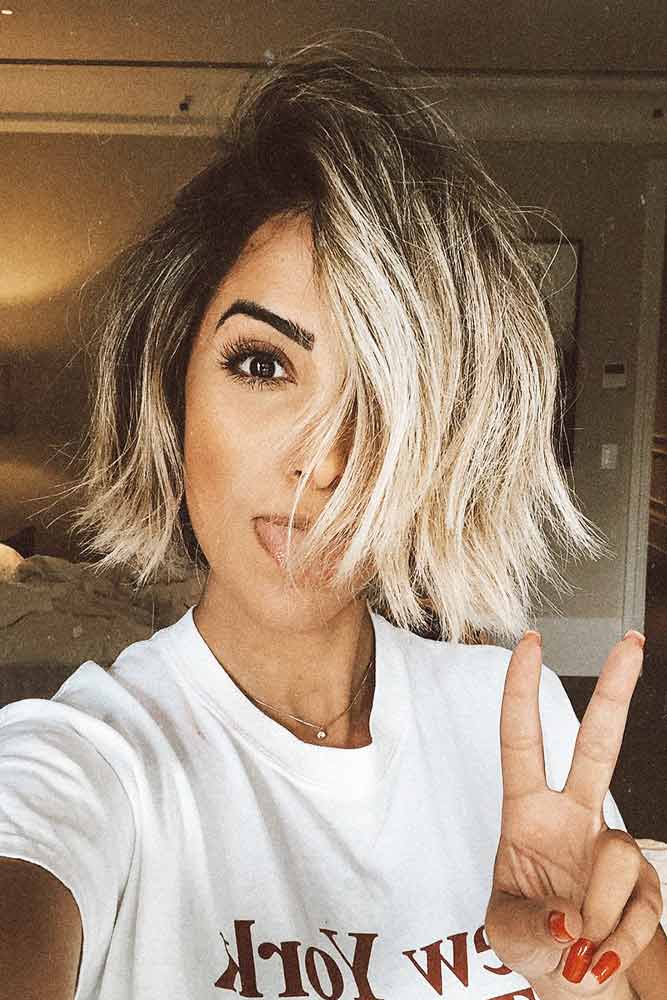 And you are in luck when it comes to styling as well. You can use a dry shampoo or texturizing spray to scrunch your hair to add a messy carefree short bob cut that will turn heads wherever you go! Don't be afraid to add some color to your tresses like the sexy blonde ombre fade pictured above!
Short Bob Haircuts For Long Faces
If you have a long face, you can opt for one of several short bob haircuts for long faces. Actresses such as Hilary Swank, Liv Taylor and Sarah Jessica Parker have long faces and know how to flatter their face with sexy short to medium length bob haircuts.
Often, women with long faces opt for styles that will make their face appear more oval. And such a haircut that will help achieve this look are chin length bob hairstyles. They are very chic and sophisticated and very trendy this season. From short and sassy curls to short and sleek cuts you won't be hard-pressed to find a sexy short haircut for long faces!
Source: thedappergirl via Instagram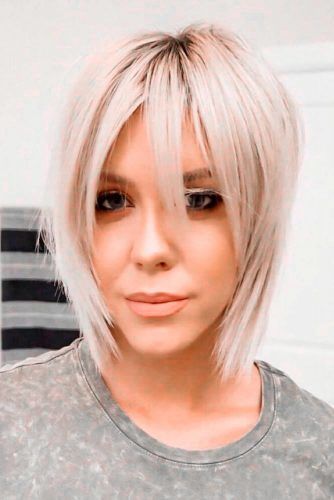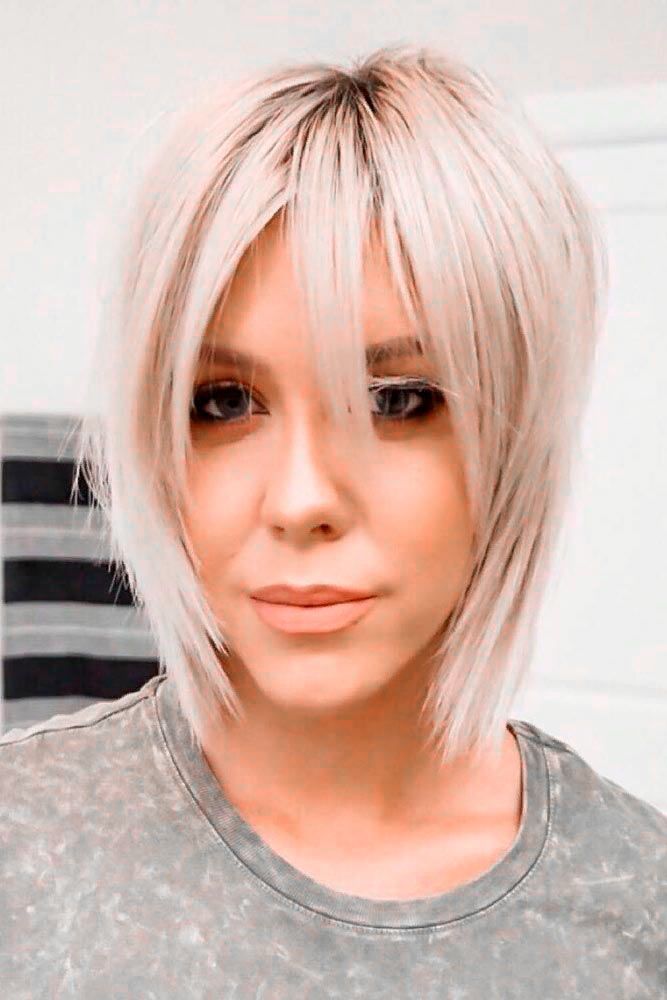 Cutting your hair in a short bob is a great way to make your longer face appear rounder. As such, it is also easy to style. Experts recommend side swept bangs to help even out the look while keeping it fun and flirty. And if you are feeling bold, you can opt for a stunning fuchsia shade such as the one shown here!
Short Bob Haircut For Oblong Face Shapes
An oblong face is one that is more long than wide with a dominant lower half. But don't fret, you are in a very good company. Celebs such as Iman, Courtney Cox, and Carrie Underwood have oblong faces.
Now what about short bob haircuts for oblong face shapes? No worries, there are many styles to choose from. Chin length bobs are very flattering for oblong faces as they create an illusion of added width and fullness. A longer bob will only elongate your face so you will want to opt for a shorter style such as wavy short hair.
Source: hairandbeautybyjen via Instagram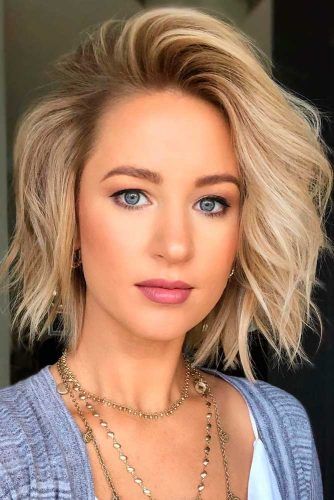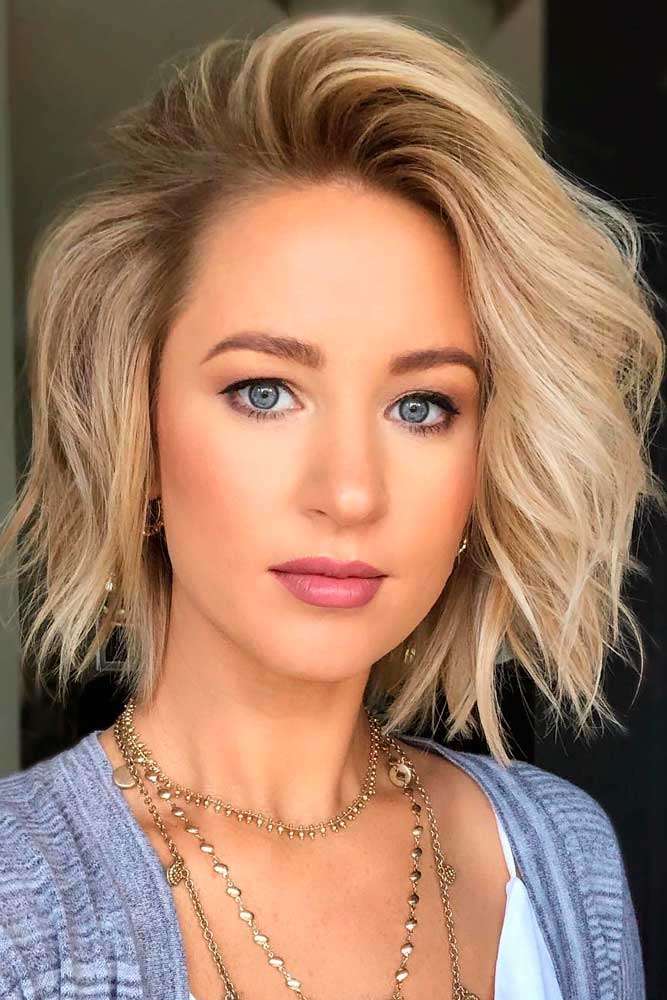 If you are going for a sexy wavy short bob you might be wondering how to style your short wavy hair. It's so simple you'll wish you'd done it sooner! Simply use a good set of hot rollers and wrap medium-sized pieces around each roller and let set for half an hour (be sure to carefully read the instructions on your hot rollers as they may vary by brand and type). Then gently unroll your hair, softly comb it through with your fingers set with a holding spray and go! It's that easy!
A short wavy bob with soft subtle highlights like the one pictured here is super sexy and perfect for those with oblong faces!
Short Bob Haircut for Pear Face Shapes
Those with pear-shaped faces are those whose jawline is wider than their hairline. But you are amongst popular celebs such as Minnie Driver and Kelly Osbourne! And short bob haircuts for pear-shaped faces are very flattering! A bit more length is recommended as it will create balance while making your jawline appear narrower. Plus, a lob is a low maintenance and super cute and stylish!
Additionally, you should opt for a bob that has a lot of volume on top. And bangs are a bonus as they will make your forehead appear larger thus balancing out your face shape. Another plus is that curls will help take attention away from your jawline.
Short lobs for pear faces are easy to style as volume and curls are especially flattering. Simply use a texturizing spray at the roots to give it more lift. Then curl the ends with your curling iron. Loose curls or tighter curls both look great with this style!
Source: anthonyvincenttt via Instagram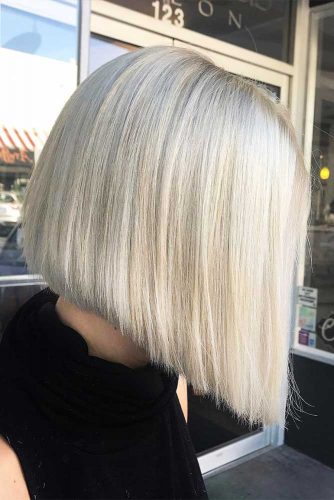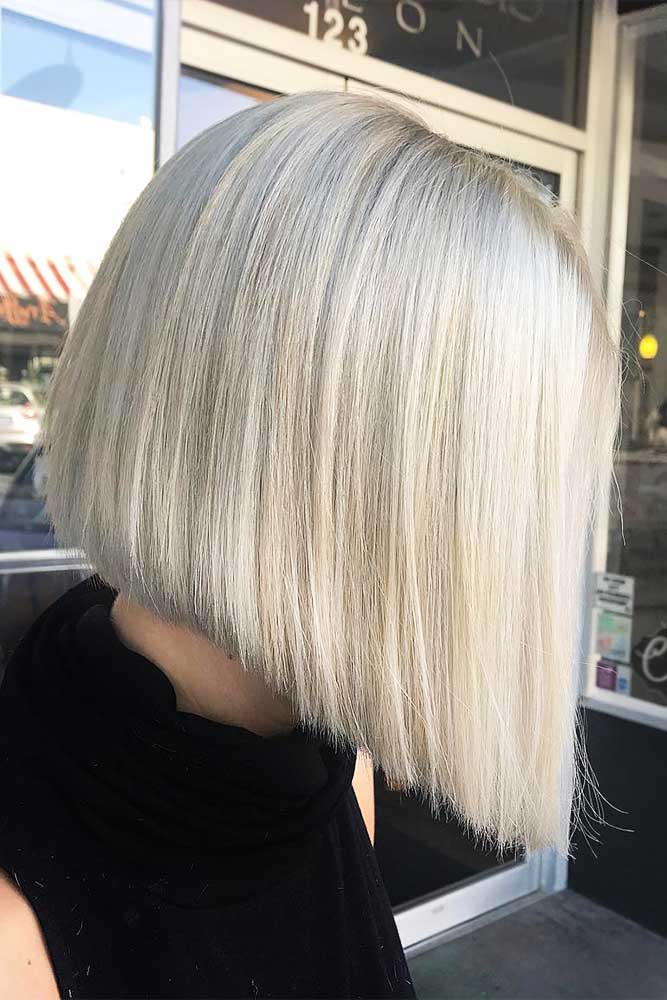 The look above is one of the most popular short bob haircuts for women over 50. The angled A-line bob is timeless and this one is very elegant with its stunning silver blonde hue!
Short Bob Haircut for Rectangle Face Shapes
Rectangle shaped faces are similar to square shaped faces in that they both have a square jaw and hairline but these are longer and more pronounced on a rectangular shaped face. Picture celebs such as Gwyneth Paltrow and Sandra Bullock to get an idea of a rectangle shaped face!
Gwyneth Paltrow has been known to sport short bob haircuts for rectangle shaped faces with style and grace! The best looks for such a face shape are medium bob cuts and bob haircuts with bangs with waves and layers to add volume. Super short bobs are not recommended as they will not flatter your face.
Source: ryabchik.moscow via Instagram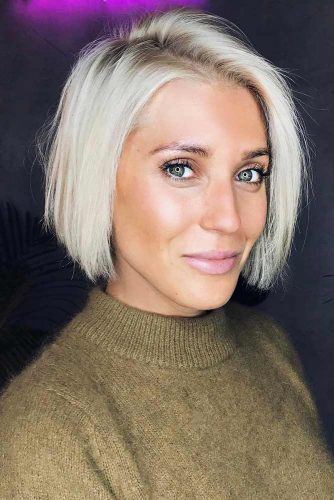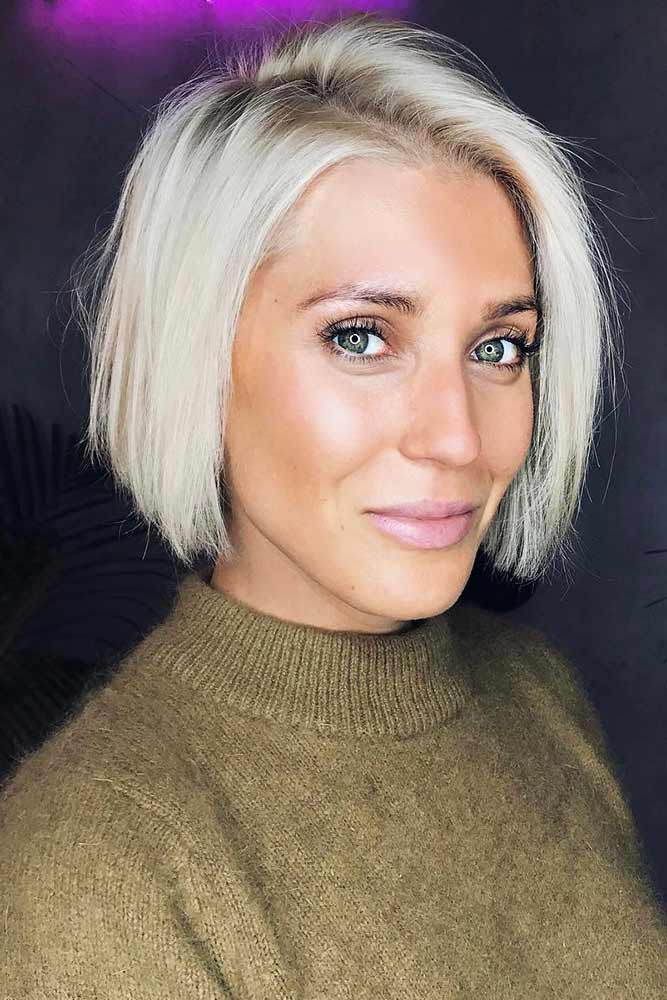 Short bobs for rectangular faces are easy to style. All you need to do is wash your hair and apply a quality smoothing cream. Next, blow dry with a round brush creating a curved effect. Then, curl the ends out with a curling iron to add volume and movement. See how easy it is! And you will feel younger and more confident with short and sassy waves and a fun ombre fade like the one featured here!
Short Bob Haircut For Triangle Face Shapes
Do you have a triangular shaped face? Then you are amongst the ranks of such celebs as Jennifer Aniston and Renee Zellweger. A triangle shaped face is one with a narrow jaw and wide forehead. So you will want to make your jaw appear softer while also narrowing the forehead. Short bob haircuts for triangle shaped faces can help achieve this and will draw attention to your eyes rather than your jawline.
Chin length hairstyles are recommended as well as a short layered bob as both of these are very soft and feminine. And you can wear your hair straight and sleek for a sophisticated vibe or soft and wavy for a more romantic flair. As well, side bangs are a great way to make your cheekbones stand out!
To style such a cut, all you need to do is apply a thermal product to your dampened hair, blow it dry completely and then use a flat iron to straighten. Then if you want to add curls, simply use the desired size curling iron and spray a medium holding spray! We think a chin length bob like the one pictured below is very chic and sexy!
FAQ: Short Bob Haircuts
What is a French bob haircut?
French bob or in other words a classic Parisian women's cut, is a type of a cropped bob that is cut at chin-length and paired with bangs sitting at the brow line. The French bob can have many variations including a blunt cut, heavy texture, and beachy wavy hair.
What can I do with a short bob?
There are many options to style a short bob: add waves or curls, slick straight back with a strong-hold gel, add baby braids or braid full length. Even parting can make a difference. Accessories help to enhance a short bob look, you can choose among hair pins, clips, slides, headscarves or headbands.
Was this article helpful?