What comes to your mind when you hear of a buzz cut? Virile military men with a fine stubble of hair on the head? Sorry, but it's long over. Today, the biggest trendsetters, which are celebrities, of course, sport this androgyne hairstyle on the screen, Red Carpet and in everyday life. If you want to keep up with them, choose the buz zcut woman hairstyle that will be the most flattering for you. And, to help you in your endeavors, we've picked out the most head-turning buzz cuts flaunted by celebs.
*We may earn money from affiliate links on this page. Please check out our disclosure policy for more details.
Who is Suited to a Women's Buzz Cut?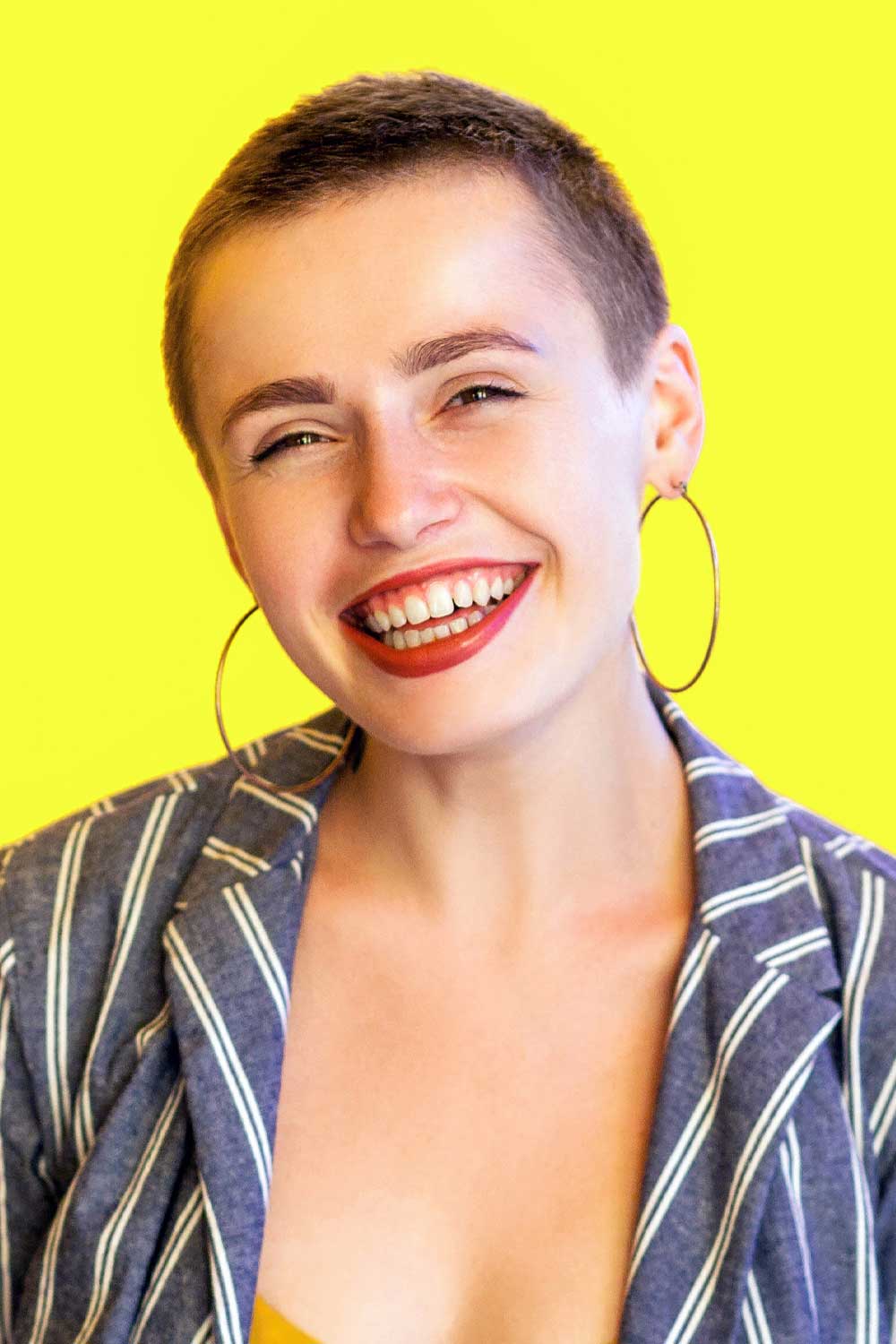 Source: Shutterstock
Short hairstyles are a choice for many ladies, but with a buzz cut women choose it a tad less often than regular pixies and bobs. It is not that a buzz cut is unappealing. On the contrary. However, the toll of doubt is there. Thus, if you worry if the style suits all, there are a few conditions to brood upon. First things first, the shape of your head will be there for everyone to observe. Besides, in case you have any scars you would like to cover up – a buzz cut isn't the fittest style to pick from. Moreover, there will be no comforting framing or longer locks to rely on when you decide on the cut. Yet, these are just minor disadvantages if you admire the hairstyle's bold statement and daring appeal.
Step-by-Step Guide on Styling Buzz Cut Woman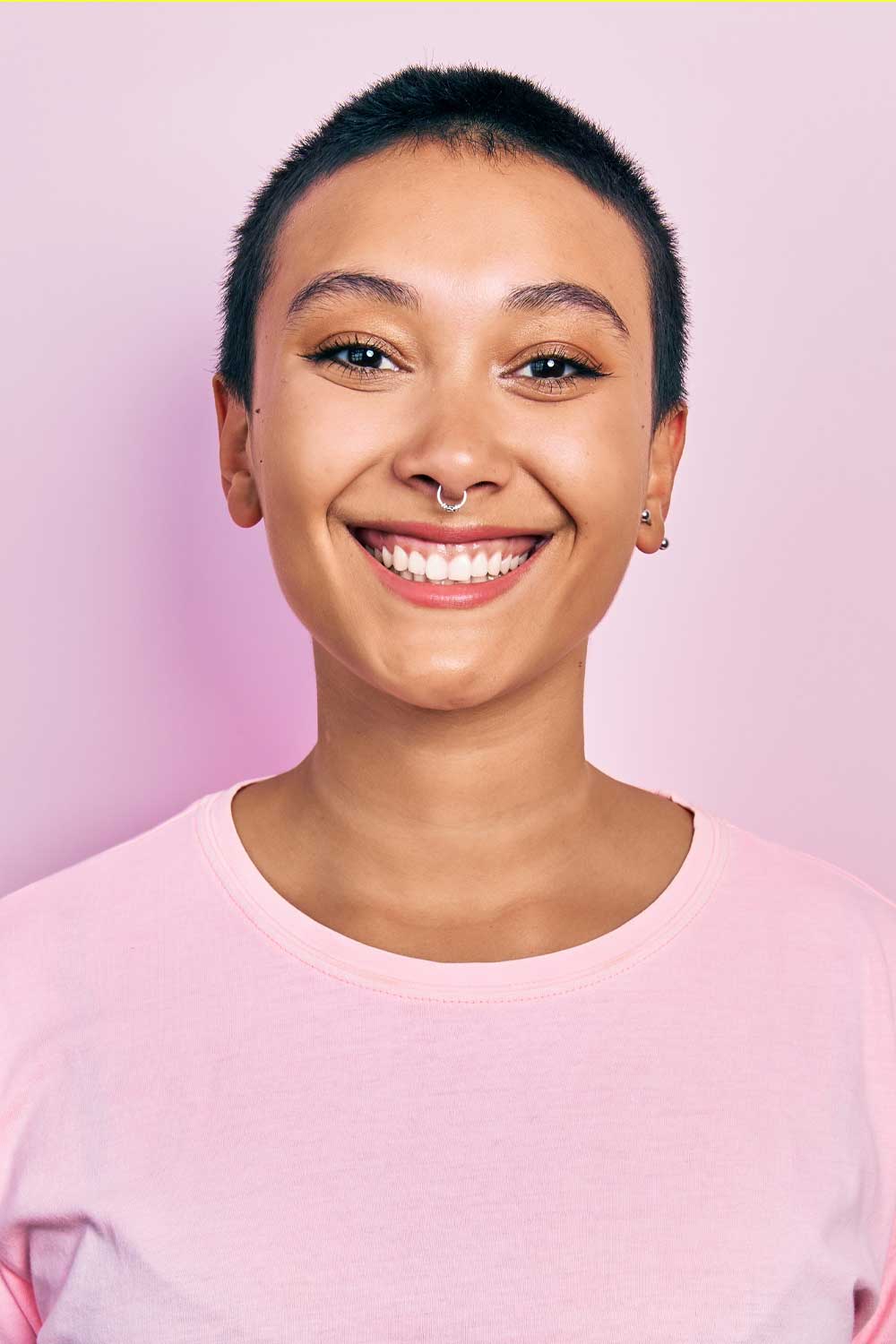 Source: Shutterstock
While the variety of buzz cut styles is quite impressive, you should realize that the maintenance approach is pretty much the same for each and every one of them. Whether it is a military buzz cut fade or any other stylish variation, it is advised to keep these styling tips in mind:
Always use shampoo in sync with a conditioner. Even the shortest strands require the gentle care that the combo can provide. It is advised to pay increased attention to moisturizing formulas since the style is prone to cause excessive dryness.

With a buzz cut, you expose your scalp to harmful sun rays, so proper sun protection is critical. Both reliable sunscreen and a cute hat will suffice for the purpose.

Hydration is critical. If you keep your body well hydrated from the inside, the outside will look its absolute best, and it is vital when it comes to a buzz cut.

A regular buzz cut requires little styling products, but you can enhance the look with a touch of wax or balm at hand.
How will a Girl Buzz Cut Affect Your Life and Personality?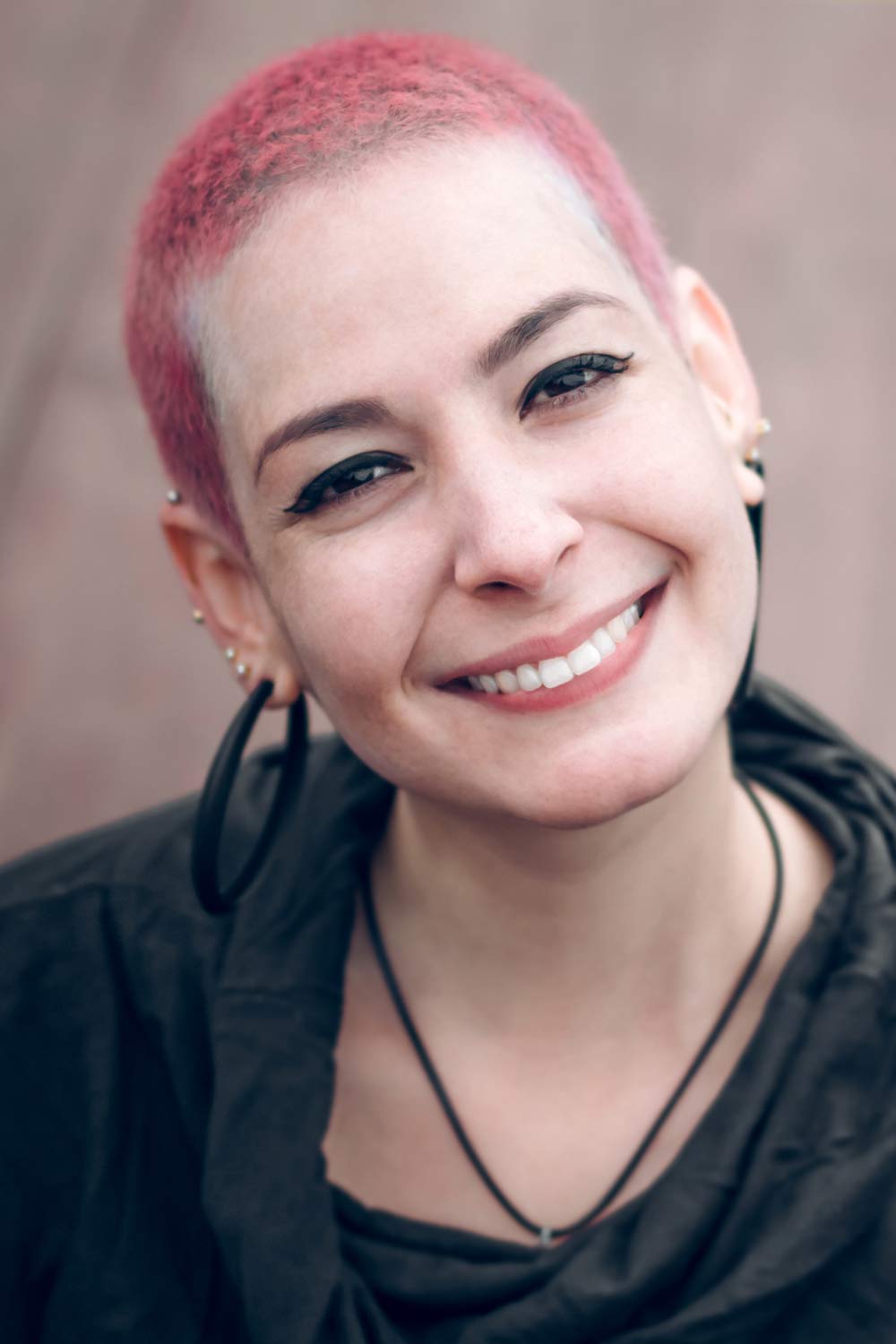 Source: Shutterstock
Before going for a trendy buzz cut haircut, you may want to weigh how others perceive you. While the style is quite radical, you can expect many curious or even adoring glances following everywhere you go. However, as long as you care for your hair well, you will spread an awesome and daring vibe for everyone to obsess about. Keep in mind that only the most confident women can wear the cut with the required charm and style.
Buzz Cut - The New Celeb-Reality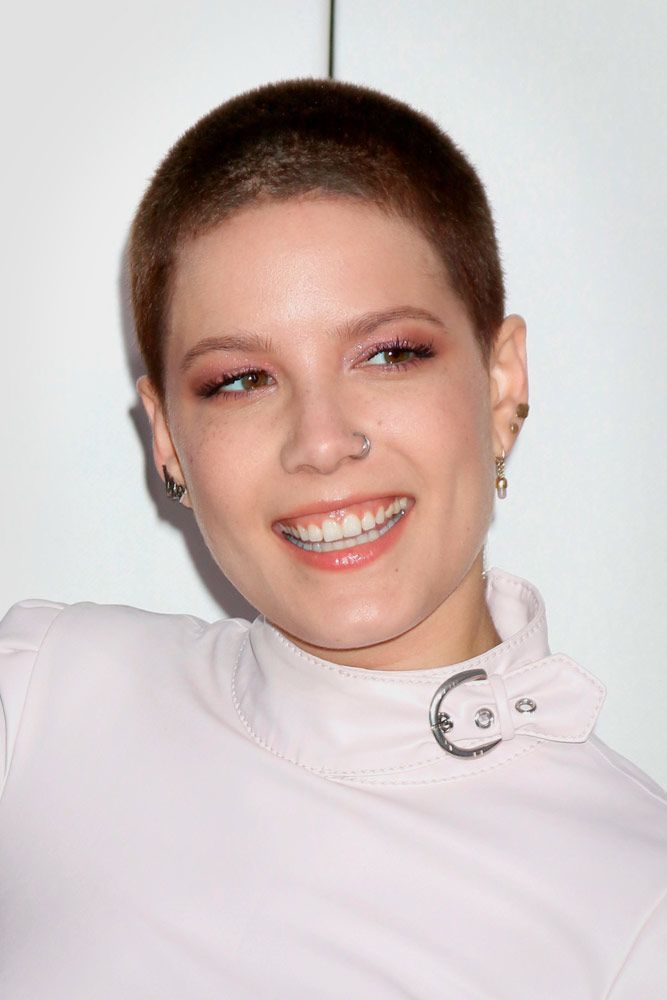 Credit photo: Shutterstock/Kathy Hutchins
But when you look at the matter closer, you realize that a female buzz cut isn't simply a fashion statement. It's the way women draw public attention to their human rights and gender equality. Women aren't supposed to look like society expects them to. There's no division into strictly men and women hairstyles. Both genders are allowed to do whatever style they gravitate to and whatever makes them feel comfortable and confident. There are many other reasons why women opt for shaving their hair off, such as health issues, charity, starting off with a clean slate or it's just a matter of personal taste. Whatever the intent is, one thing's for sure – the buzz cut women hair trend is definitely here to stay.
You may know Halsey as the singer who has dyed her hair in presumably every rainbow color existing. Though now, she decided to bring her hairstyle to a whole new level and chop all her hair off, which makes her angel face look even cuter.
If you've decided to join a women's buzz cut movement, here is the compilation of the trendiest buzz cut styles rocked by celebs for your inspiration.
Cynthia Erivo with Super Short Buzz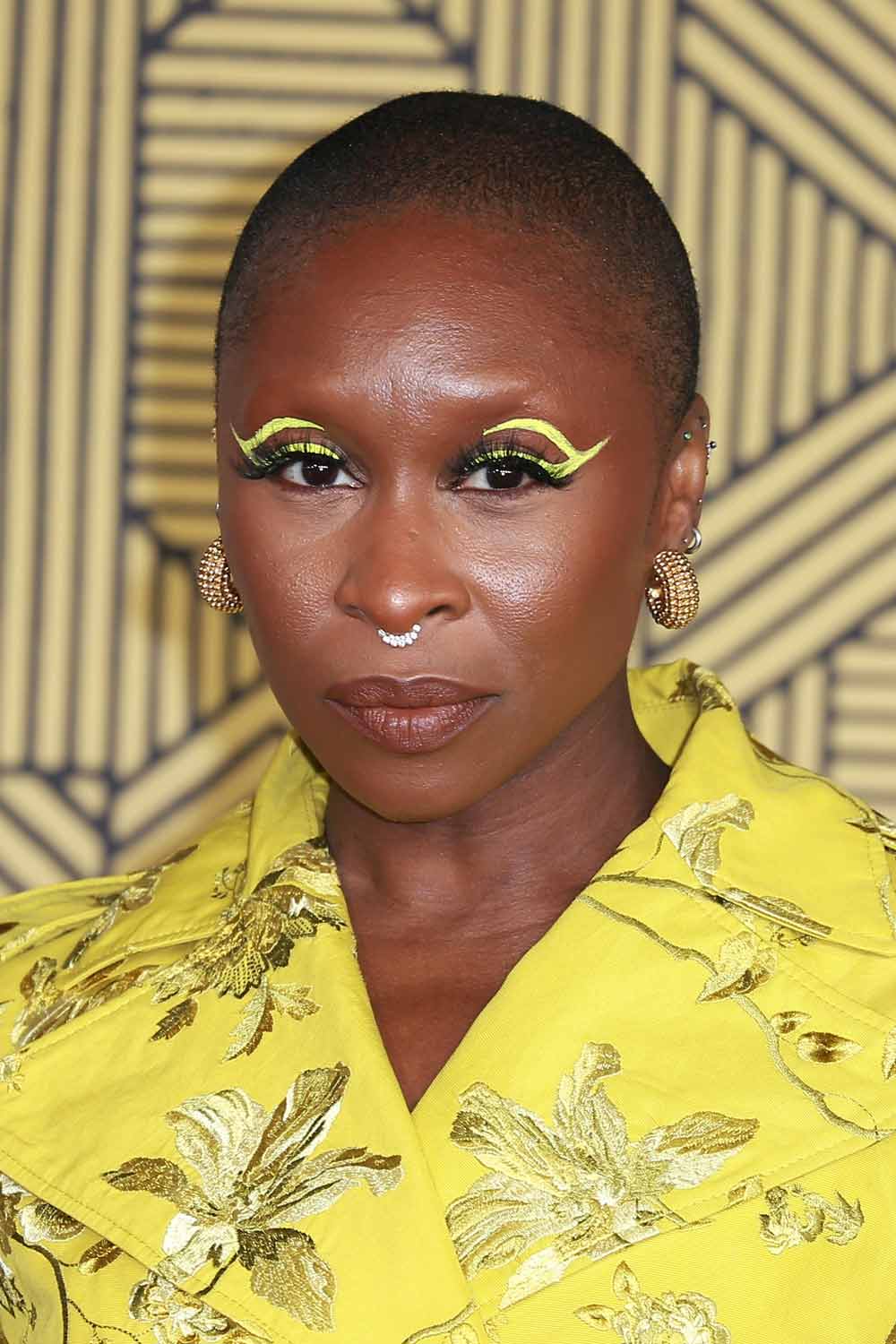 Credit photo: Shutterstock/Fred Duval
Some ladies often wonder how a female buzz cut will affect their preferred makeup styles. Cynthia Erivo shows that you can experiment with the boldest makeup solutions ever with a cut like that. Shave your brows off if you like, and the flair you will spread remains as admirable as ever!
Iris Law with Blonde Buzz Cut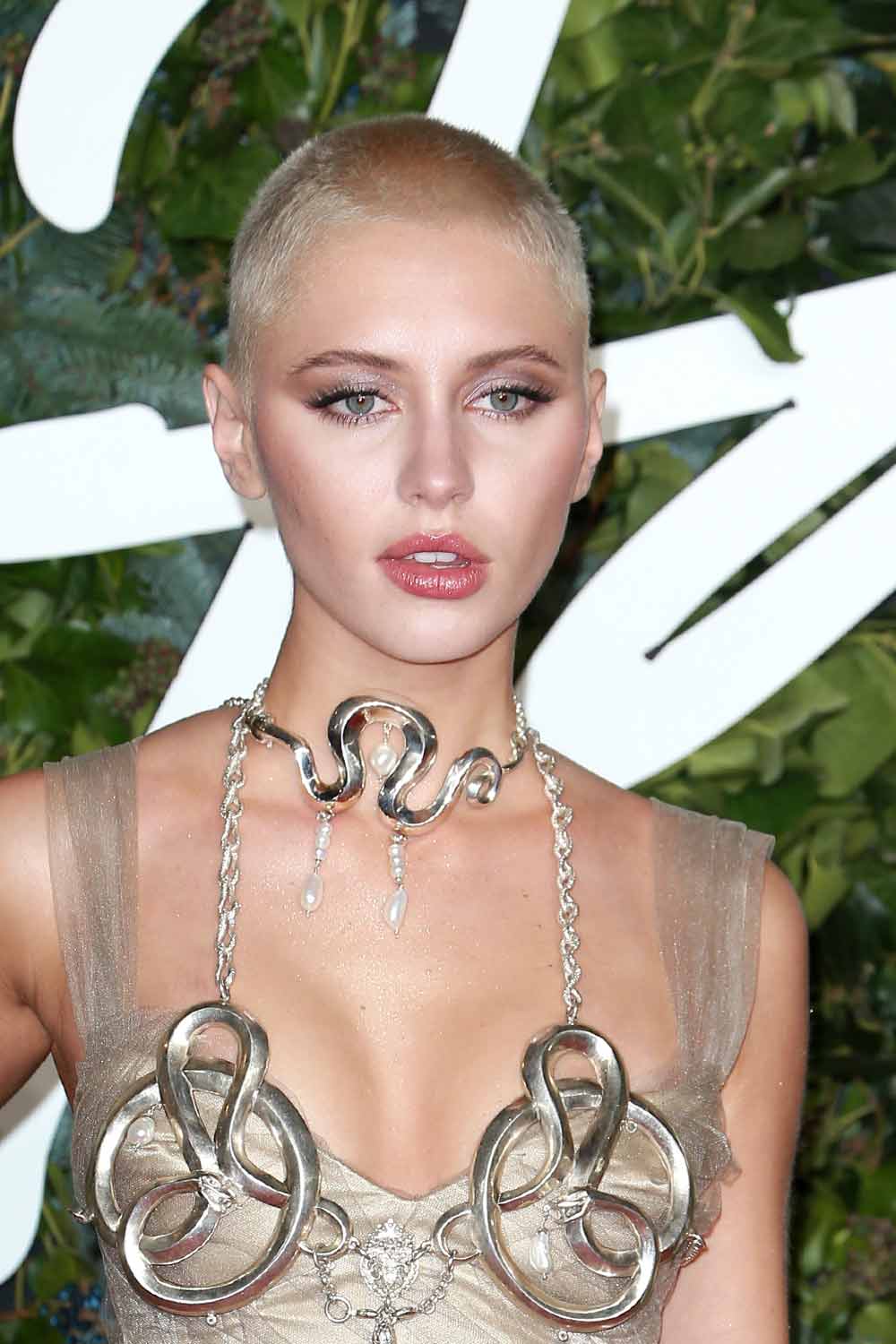 Credit photo: Shutterstock/Fred Duval
A blonde buzz cut is one of the most recognizable looks of Iris Law. There is a reason why this lady chooses the style. This blonde military buzz cut proves that a well-tended cut can substitute any fancy accessories and intricate makeup.
Jordan Alexander with Extremely Short Cut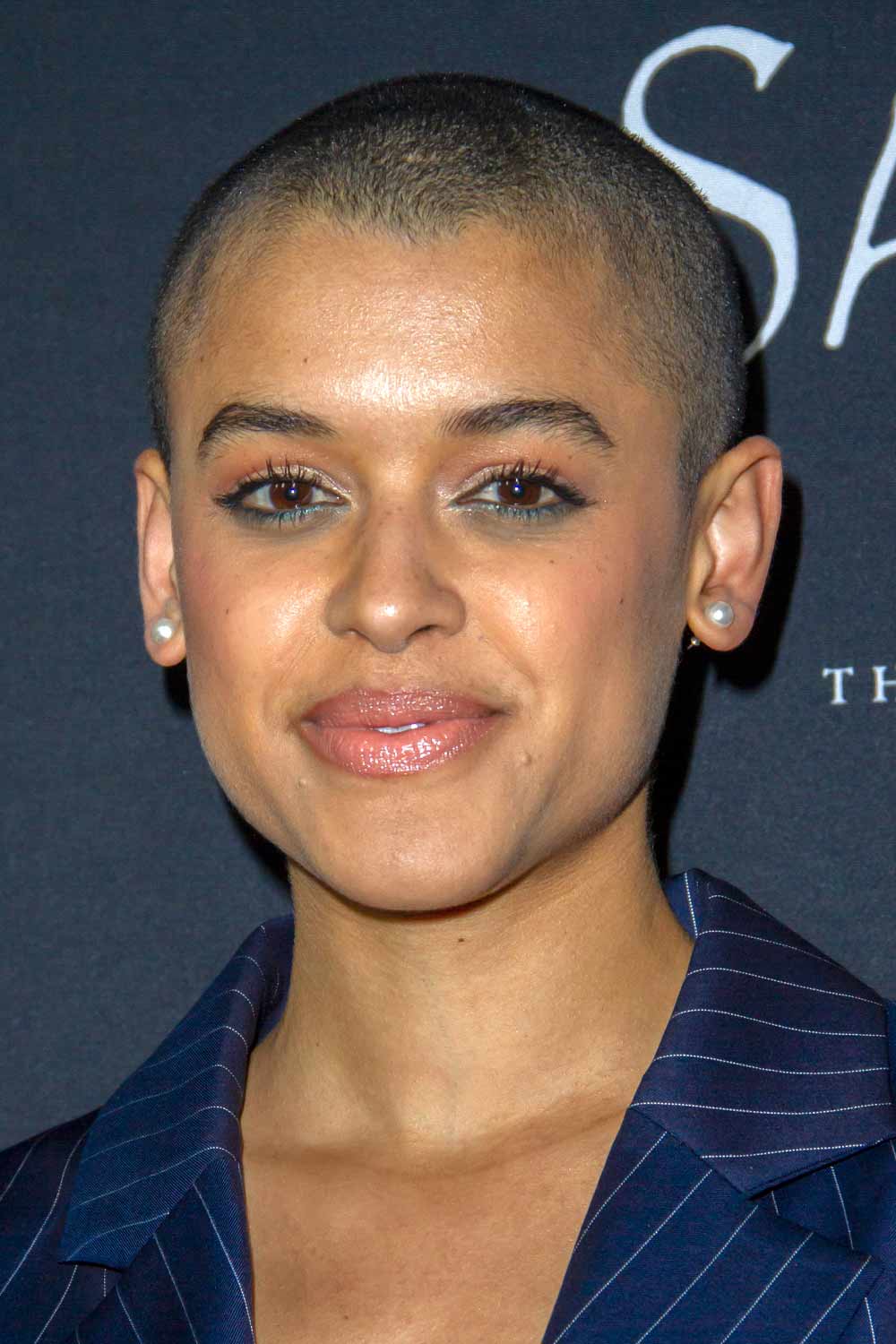 Credit photo: Shutterstock/CarlaVanWagoner
An extremely short buzz cut hair is often avoided by business ladies and such. However, Jordan Alexander showcases how you can synchronize the ultimately short hair with well-considered makeup. Even the most neutral of looks will amaze you.
Jada Pinkett-Smith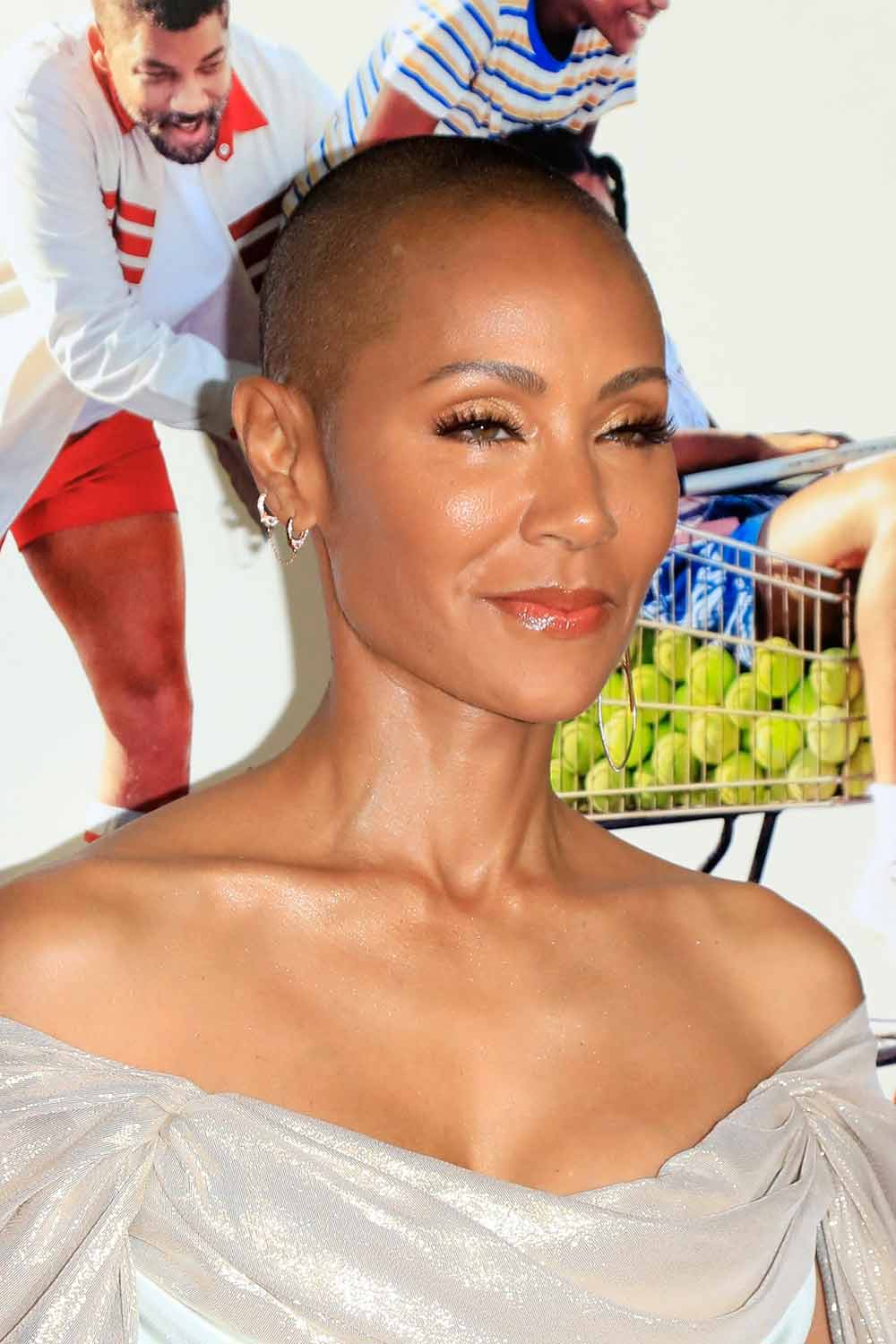 Credit photo: Shutterstock/Kathy Hutchins
Jada Pinkett-Smith seems to have become the foremother of buzz cut haircuts. Despite her medical condition, Jada has managed to turn the loss of hair into an iconic style that many only dreams about. It is all about her decisiveness, strength, and flawless sense of style.
Michaela Coel with a Red Buzz Cut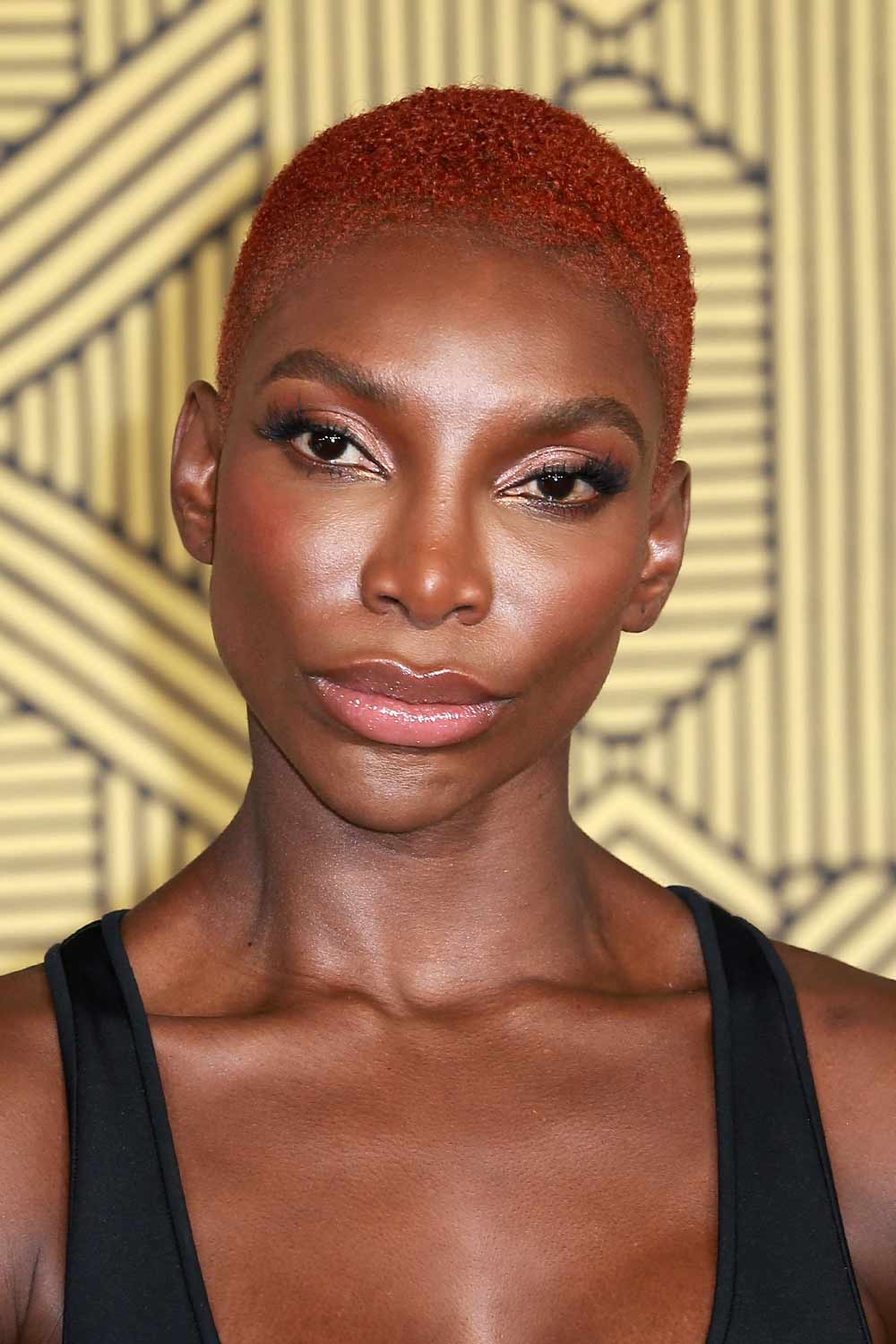 Credit photo: Shutterstock/Fred Duval
You may be surprised at how many fresh styling opportunities women buzz cut can open in front of you. For starters, you can experiment with the boldest color you can only think of. See how Michaela Coel sports her rusty red buzz? There is little limit to your imagination.
Female Short Buzz Cut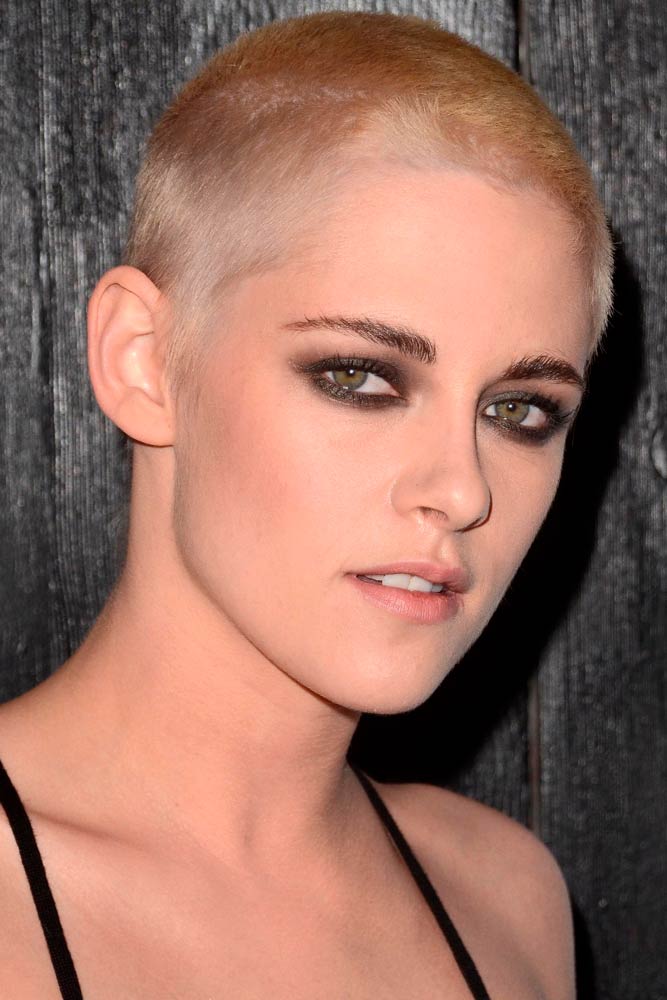 Source: Kathy Hutchins/Shutterstock
We suppose Kristen Stewart's character Bella in the Twilight Saga has something from the actress herself – her rebellious and ruffian spirit, don't you think? Although on the screen Stewart channeled a sweet and tender look with long soft brunette curls, in real life, the actress resorts to a rough and daring style. Her pixie buzz cut bleached into blonde comes out bold and edgy.
Long Buzz Cut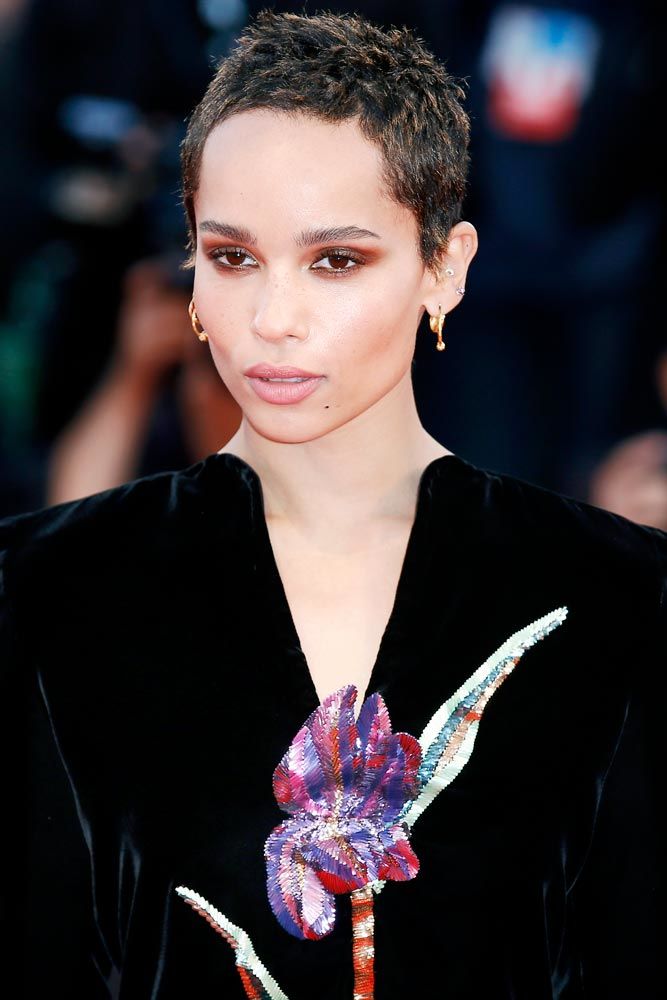 Source: Andrea Raffin/Shutterstock
If you're a bit afraid to go for too short haircut at once, consider a buzz cut harnessed by Zoe Kravitz. The actress and singer switched her breathtaking box braids to an elongated buzz cut with ease and without regrets. In this way, her sharp cheekbones become even more defined and the whole look gains a dose of elegance and exquisite style. Besides, such a length allows you to style your hair in a messy or sleek way to fit the ambiance you're headed to.
Mohawk Buzz Cut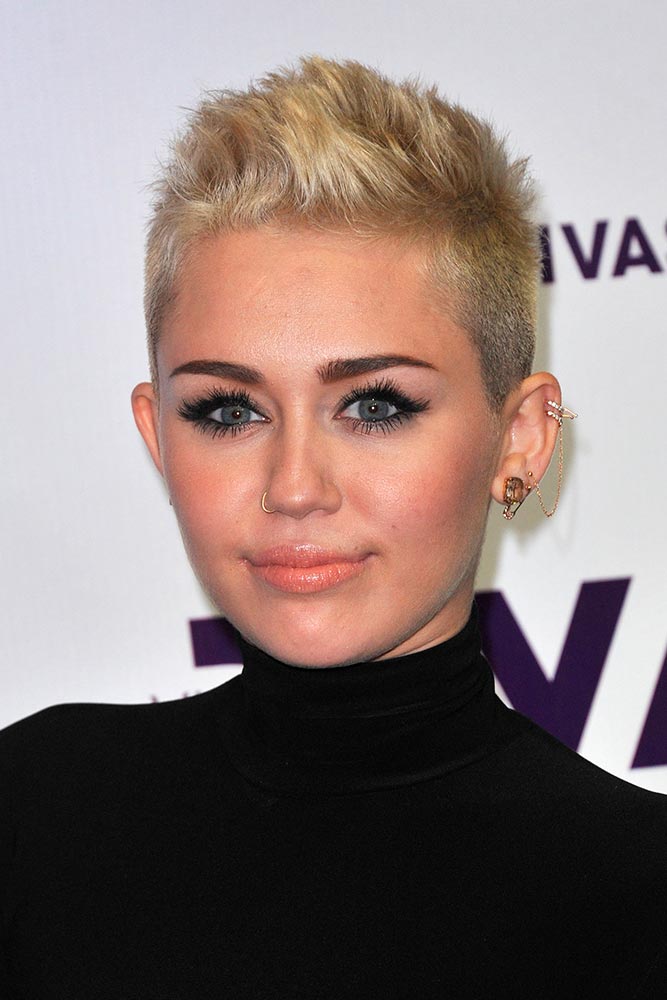 Source: DFree/Shutterstock
Here's another gorgeous woman whose famous character on the screen is so much different from the actress in real life. Miley Cyrus has come in our hearts as sweet-voiced cutie Hannah Montana, whose iconic hairstyle was long blonde locks with brow-length bangs. Although Miley had often flaunted long hairstyles too, her mohawk buzz cut came in like a wrecking ball. To get the cut, sides shouldn't necessarily be shaved to the skin. You can trim them short, thus achieving a faux hawk hairstyle. Though, the hair on top should be left distinctively longer and spiked up for an authentic look.
Shaved Buzz Cut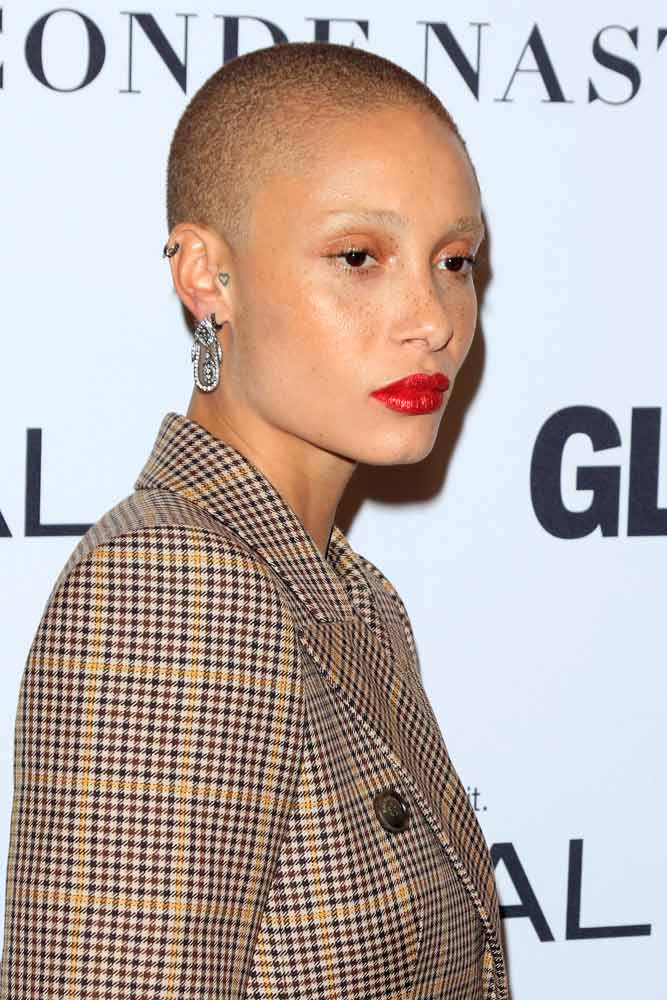 Source: Featureflash Photo Agency/Shutterstock
This women buzz cut is for really daring and confident ladies. It will allow you to learn to love your head shape and in the aftermath, to enhance your confidence greatly. Another cool thing about such a buzzcut is that it's basically zero-maintenance. Hence, it'll save you a good half an hour of sleep in the morning, which will result in a good mood, health and complexion. Even such supermodels as Adwoa Aboah readily chop off their long tresses for the sake of all these benefits.
Blended Buzz Cut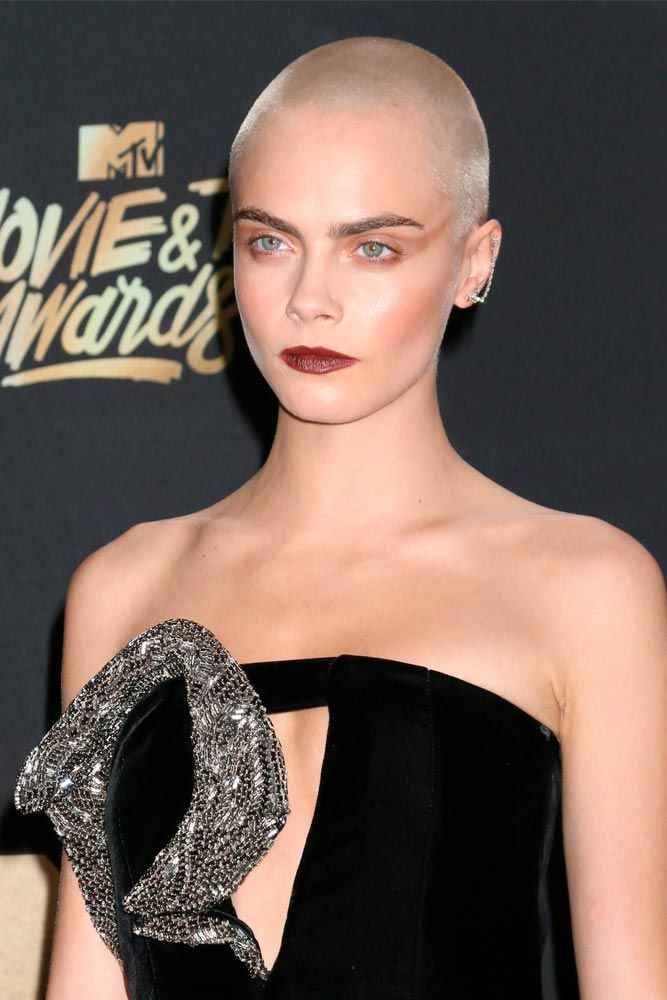 Source: Kathy Hutchins/Shutterstock
Cara Delevingne has been considered one of the most stylish people in the fashion industry for a good reason. The British model and actress inspires many famous fashion designers as well as girls all over the world. Cara's blended buzz cut proves that women can look gorgeous with any length and style of hair, and it's not your appearance that makes you a person.
Side Swept Buzz Cut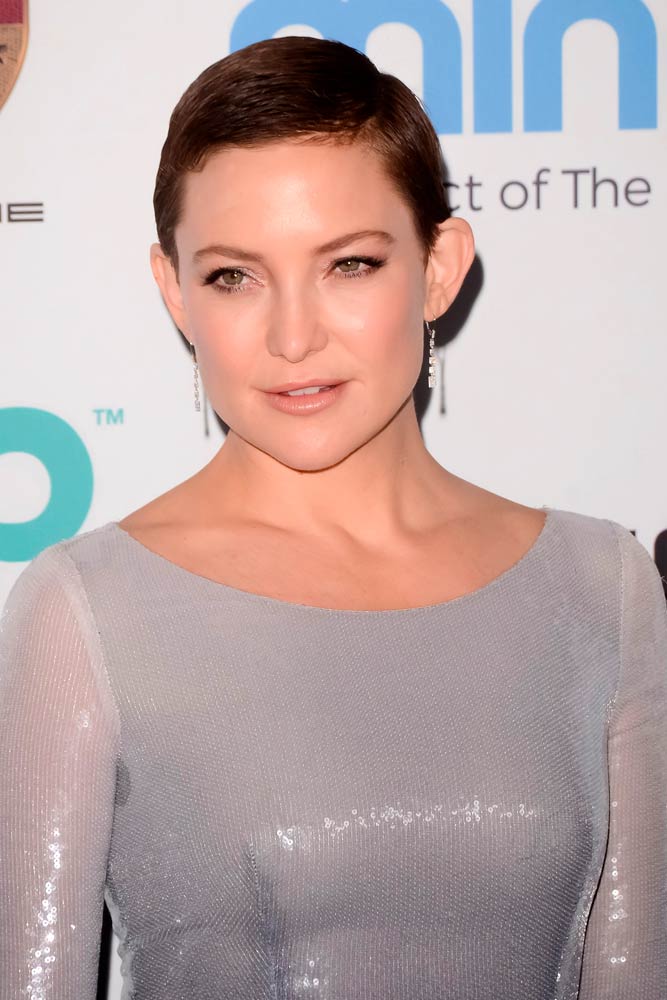 Source: Kathy Hutchins/Shutterstock
Buzz cut hairstyles can add not only intrepid but also an elegant touch to your look. Look at Kate Hudson's side swept buzz cut, which instantly makes the actress camera-ready. To achieve this look, first, you need to have your hair clipped at around one-inch length. For styling, scoop a generous amount of a hair gel and swipe the hair to one side as thoroughly as possible.
Brave Brunette Buzz Cut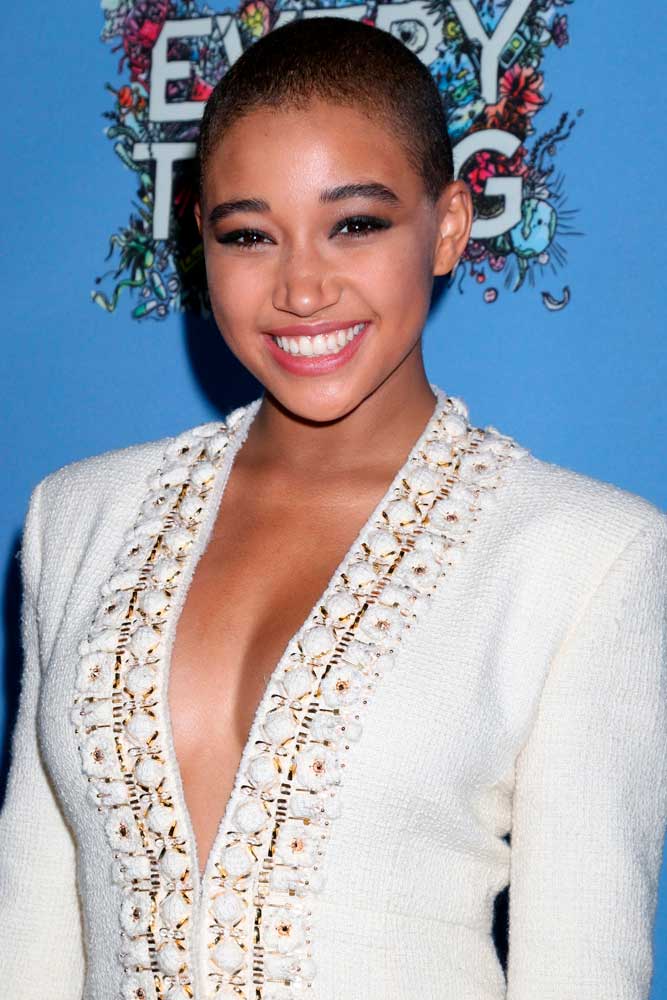 Source: Kathy Hutchins/Shutterstock
With a buzz cut girl takes the hair away from her face, thus making her facial features more prominent and attractive. Thus, Amandla Stenberg's natural buzz cut refuses to let you look away from the actress's charming smile and sparkling eyes.
Short Brown Buzz Cut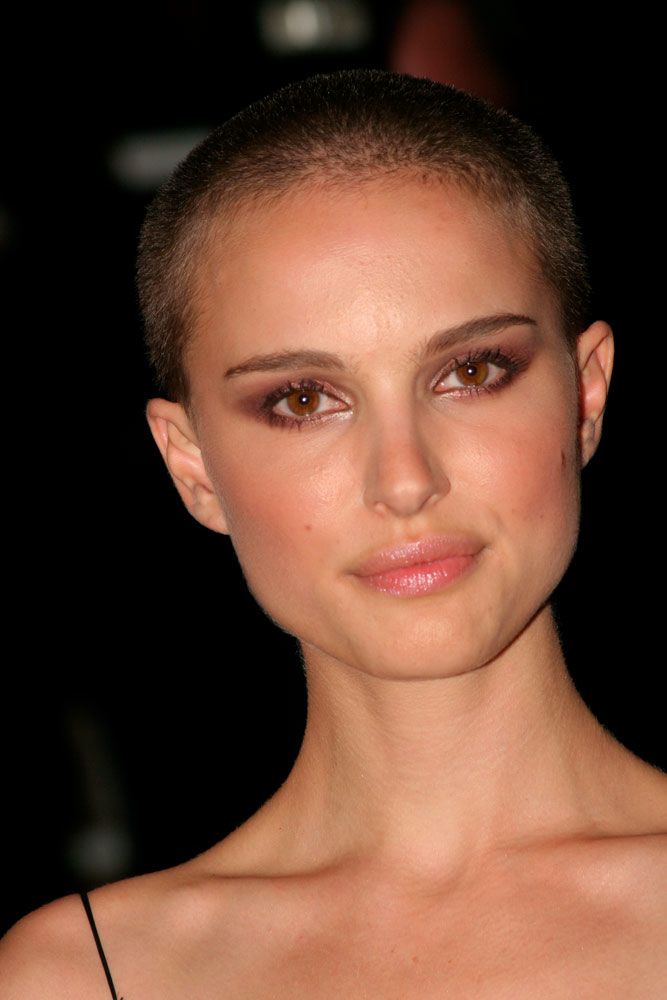 Source: Denis Makarenko/Shutterstock
Natalie Portman's razor-sharp cheekbones are what have always made us envy to no end. When the actress shaved all her hair off, it made them even more distinctive. But not only them. Lack of hair reveals how long and graceful her neck is. No wonder she got a leading role in the Black Swan movie. Thus, if you want to accentuate some of your physical traits, a buzz cut is a sure way to go.
Shaved Blonde Buzz Haircut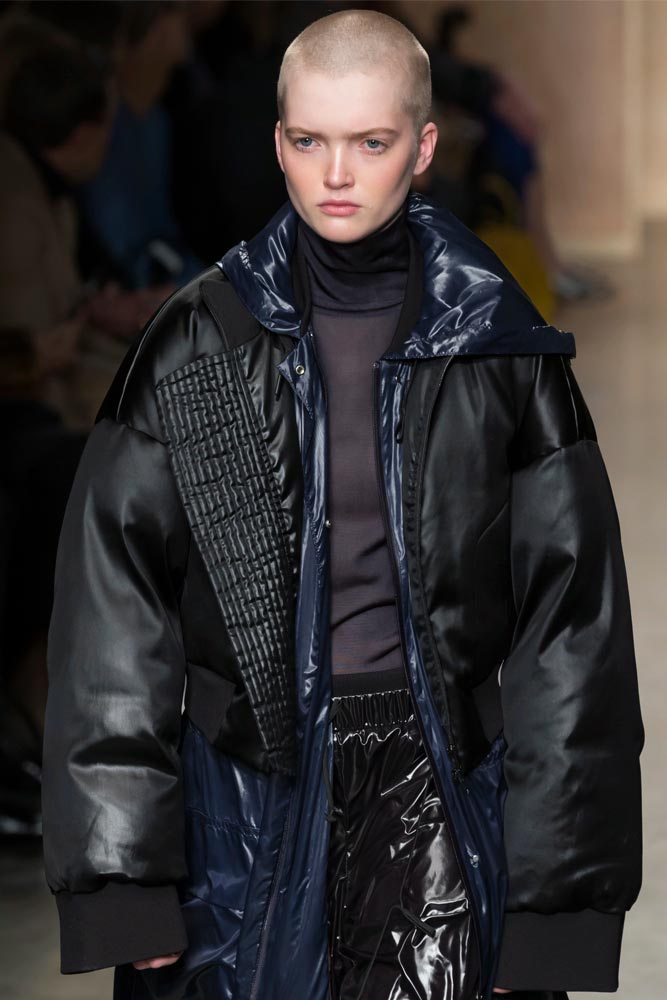 Source: Ovidiu Hrubaru/Shutterstock
As you can tell, there is a myriad of buzz cut female hairstyles to match any taste and preferences. They range in length, shape and color. Sometimes, blonde buzz cuts look a bit more eye-catching than brunette ones. So, if you naturally have blonde hair, you're bound to shave it off at least once. If not, it's a good reason to pay a visit to your hair colorist. In case you're not sure what to go for, show them a photo of Ruth Bell, who obviously knows how to pull off a blonde buzz cut.
FAQ: Buzz Cut Girl
Should I get a buzz cut if I have a big forehead?
Ask your stylist for number one or number two buzz cut, it is ideal to make a forehead look smaller as those types of haircuts blend out the hairline, there is no define line of where the hair begins.
How do you know if you will look good with a buzz cut?
Buzz cut looks best on oval, square and symmetrical diamond faces, it is ideal if you want to draw attention to your jawline and cheekbones. People with rounder face features need more creativity when choosing a buzz cut like going for a mohawk buzz cut or long buzz cut.
Was this article helpful?