Updos For Short Hair That Can Take Your Daily Look To The Next Level
Short hairstyles are always in fashion and never go out. Summer is the best time for that bold new look! If you are considering a sassy new short haircut, check out our gallery of 33 fun and simple updos for short hair. You'll find everything from buns to braids to tails and more! These short and sassy hairdos are simple and perfect for any occasion. Catch the inspiration!
These updos look so fabulous that they can even serve as prom hairstyles or wedding hairstyles.
Take a look at our complete photo gallery of short hairstyles. Have a happy pinning!
How Can You Style Your Short Hair?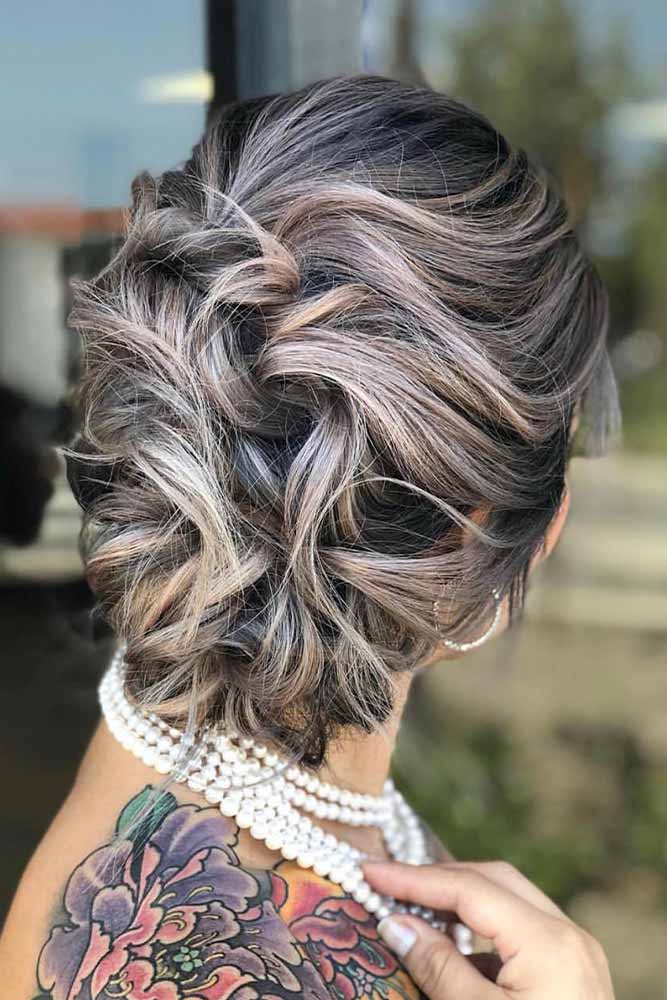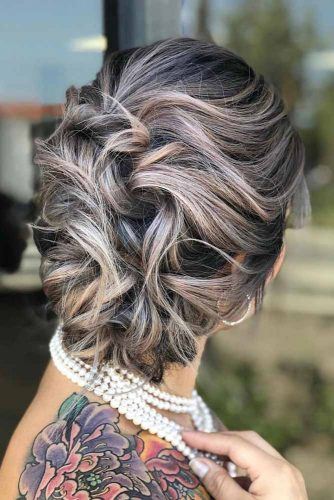 Credit photo: instagram.com/mirellamanelli
Very often, it happens so that if you opt for a bob or lob it turns out that you can't pull off anything by wearing your hair loose. The fact is that such an assumption is as far from the truth as possible. The thing is that the fact that you are sporting a shorter cut does not mean that you can't play around and experiment with all sorts of updos. It is true that some of them are a little too difficult to succeed with if your hair is shoulder-length, but the variety to choose from is still great.
How Do You Style Your Hair With Bobby Pins?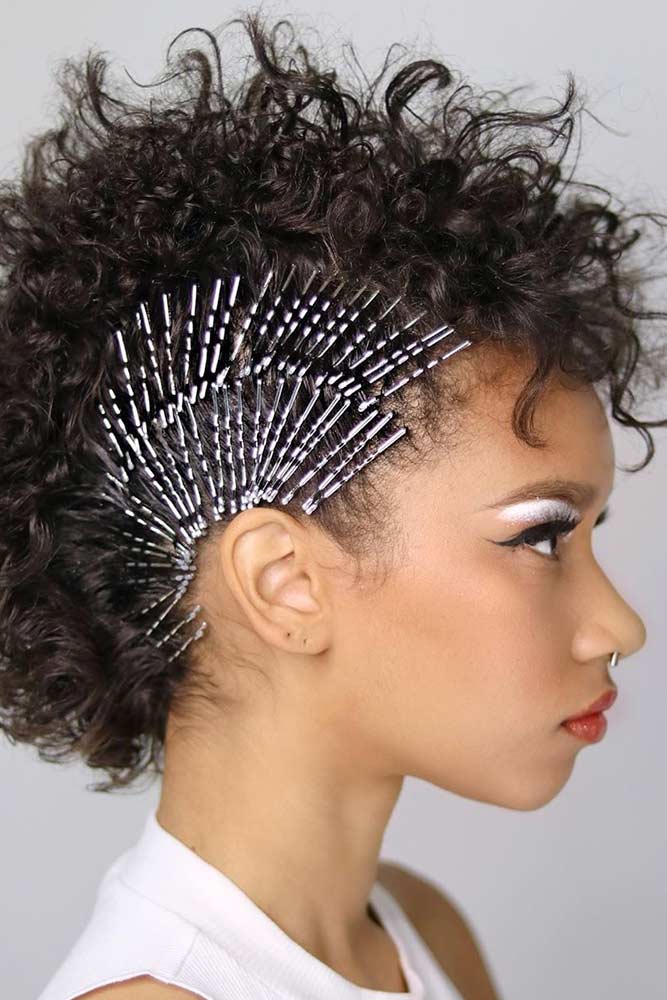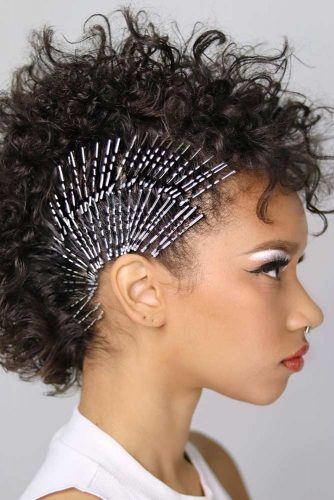 Credit photo: instagram.com/theconfessionsofahairstylist
Many women know that when it comes to the easiest 'dos, top knots and ponytails are on the top of the list. However, while they are simple to succeed with, they are looking the same way. If you wish for something more intricate-looking but as little time0consiming – there is a way out. All you need is a bunch of bobby pins. You may be surprised how many looks can be created with the help of those. Although the hairdos with hairpins are versatile and elegant, you need to keep a few rules in mind as to how to make the 'do last longer.
Firstly, professional pins are a little more expensive, but in the long run you will find it being advantageous rather than not. Professional pins are not coated with plastic, and that will ensure that they hold in place longer. In case you can't afford those, then you should better spray your regular ones with hair spray for a better grip.
Secondly, it is important that you memorize one simple rule: always insert the pins with the ridged side facing down. Such an approach will also add up to a better grip.
Lastly, you shouldn't open your pins wide while inserting since it will only loosen them, and they will merely slip out of your hair in no time.
How Do You Do A Chignon With Short Hair?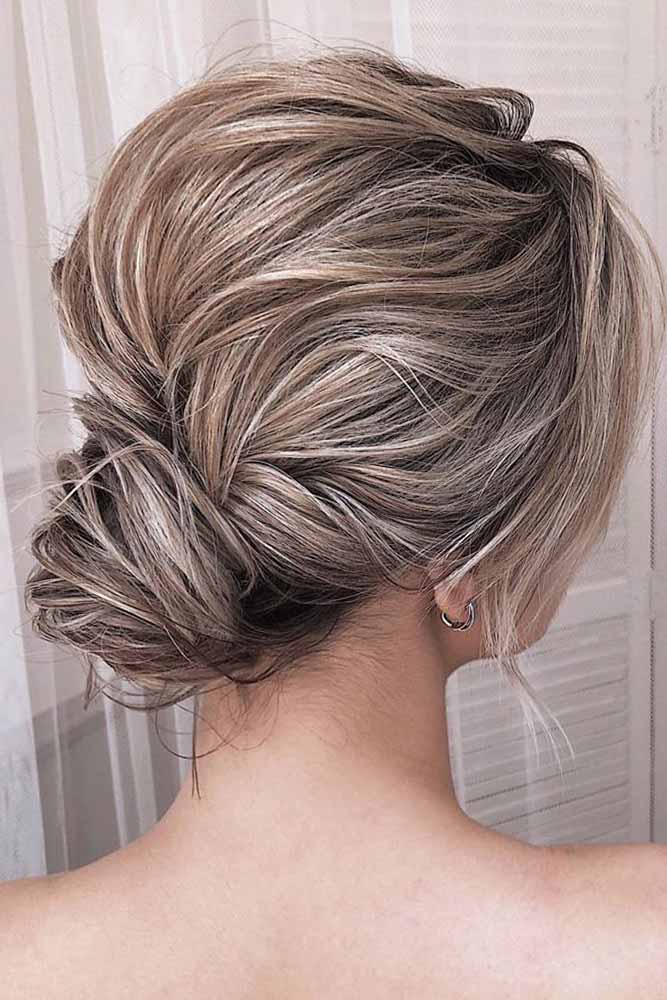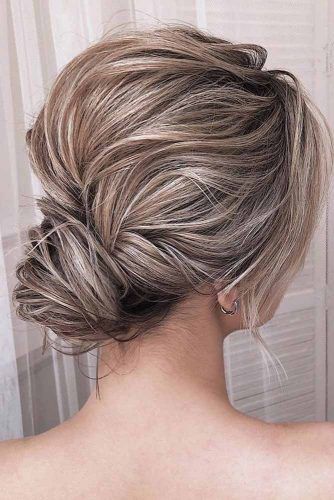 Credit photo: instagram.com/nastyanude
When you think of a chignon, the first thing that comes to mind – 'There is no way I can pull it off with my shoulder-length bob!' well, that is where you are wrong since this elegant 'do is not only beautiful but also simple and short-hair friendly. You can easily end up with a hairstyle like this if you have a proper amount of hairpins, a suitable chignon maker and good styling products at hand.
Easy Bun Updos For Short Hair
Credit photo: instagram/yet another beauty site, instagram/wb_upstyles, instagram.com/eksnagustenko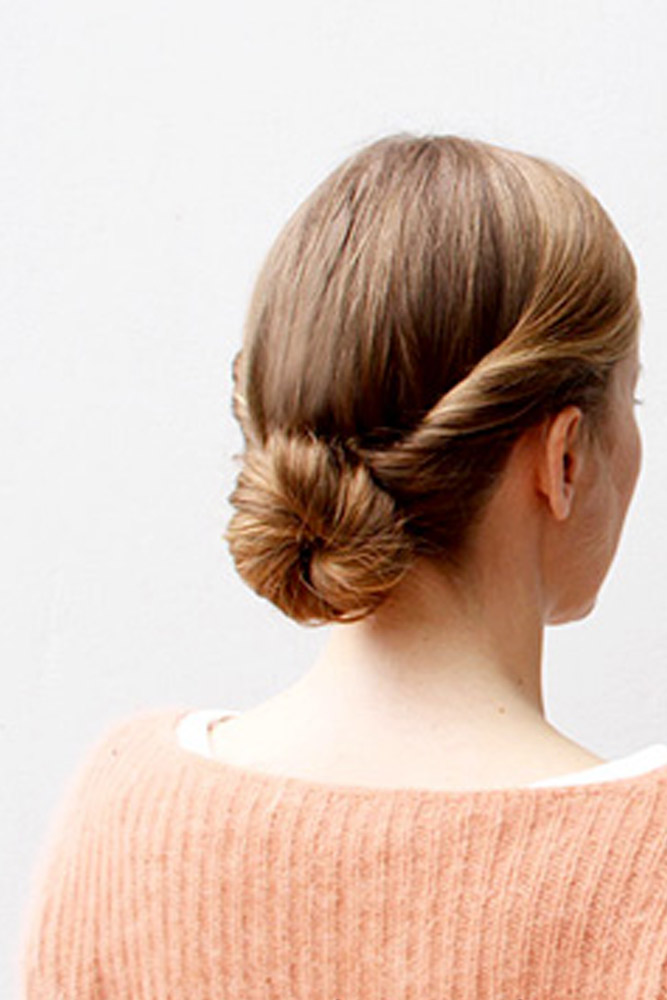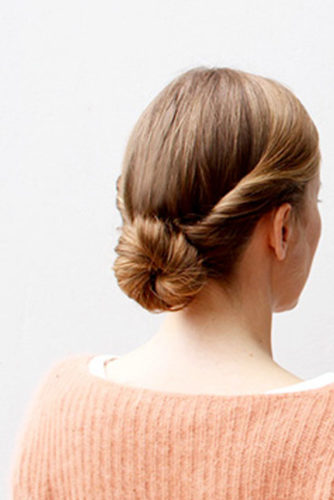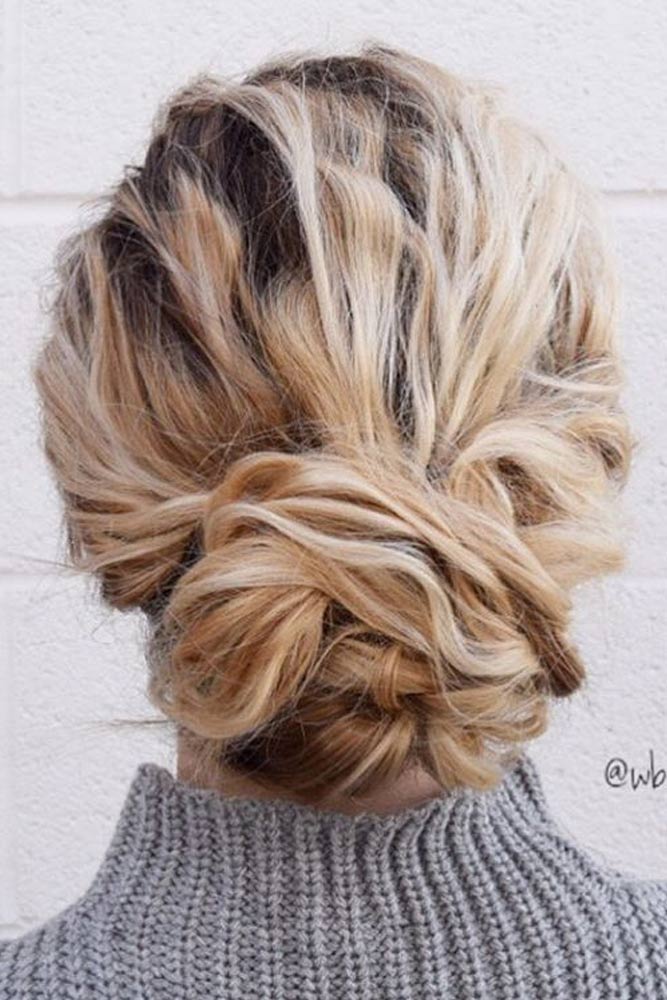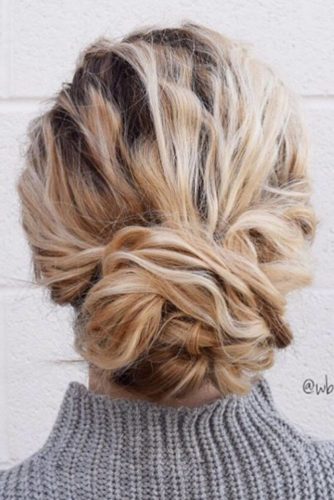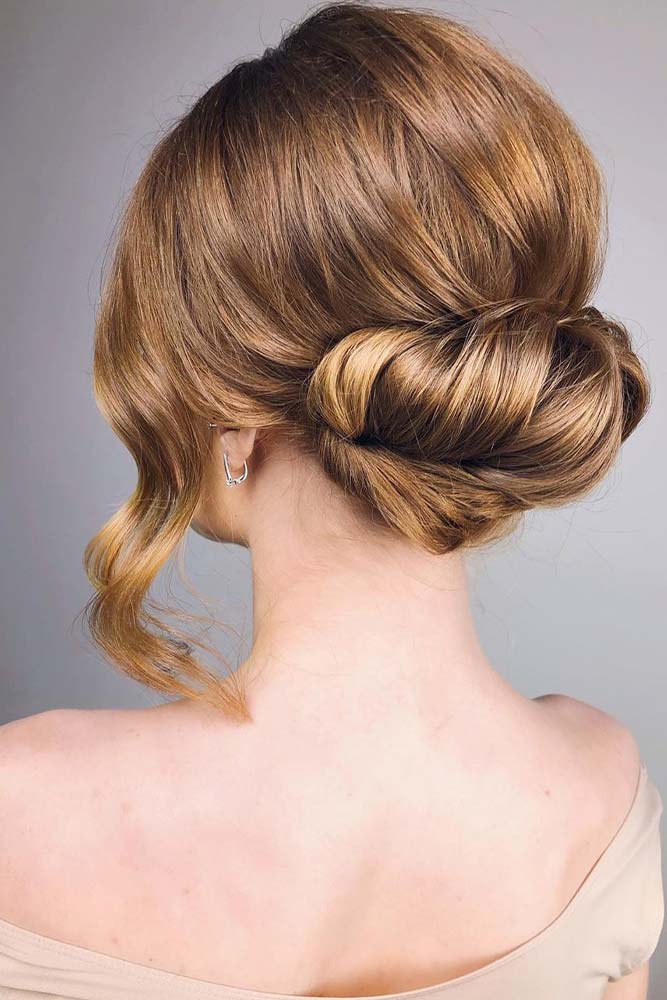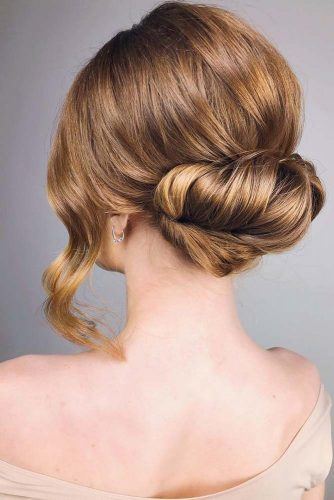 One of the easiest updos there is would be a lower bun. It is super easy to succeed with since there are no special skills required. However, with the proper approach you can end up with a different looking one on a daily basis. Do not be afraid of some strands hanging on the side, or some curls being incorporated into the look.
Braided Updo Hairstyles For Every Day
Credit photo: instagram/britthestylist, instagram/lenabogucharskaya via Instagram , instagram/instagram.com/rubypettit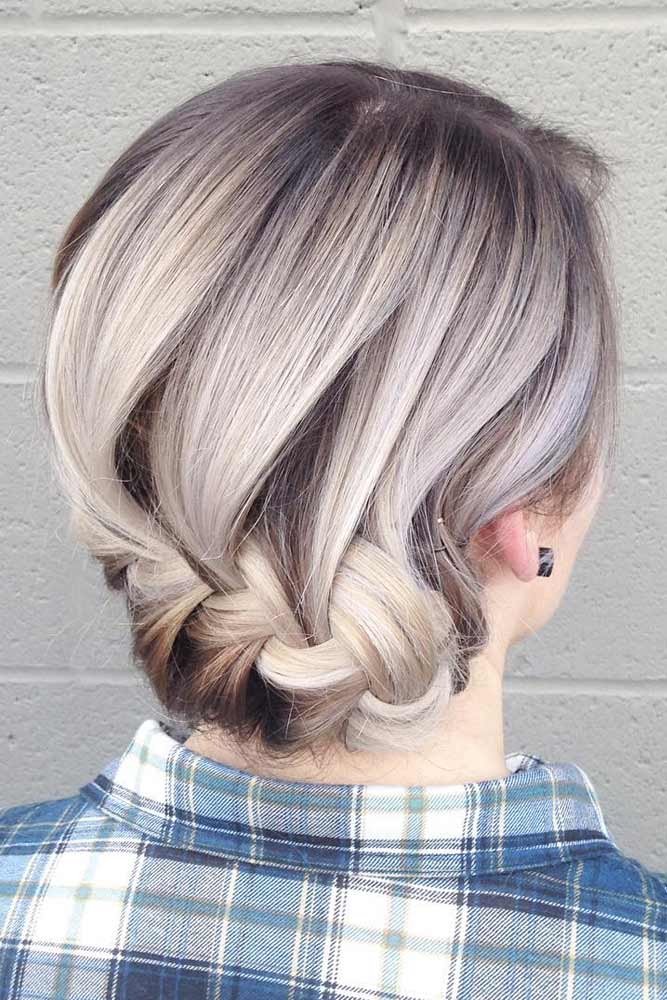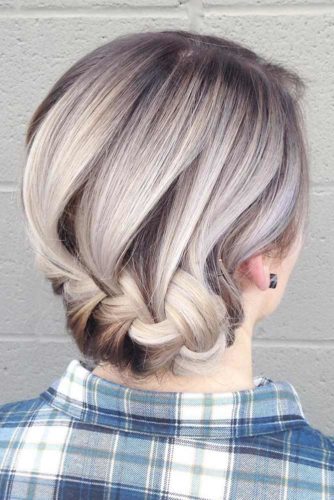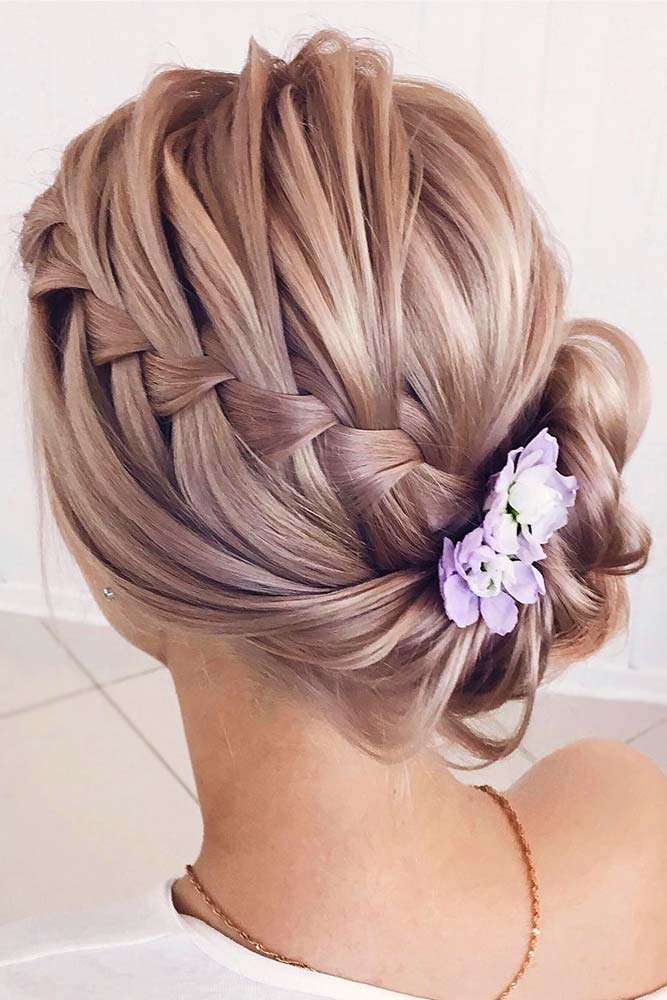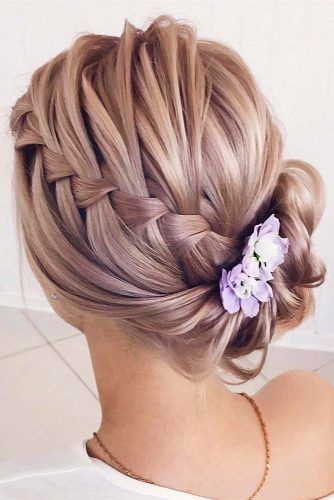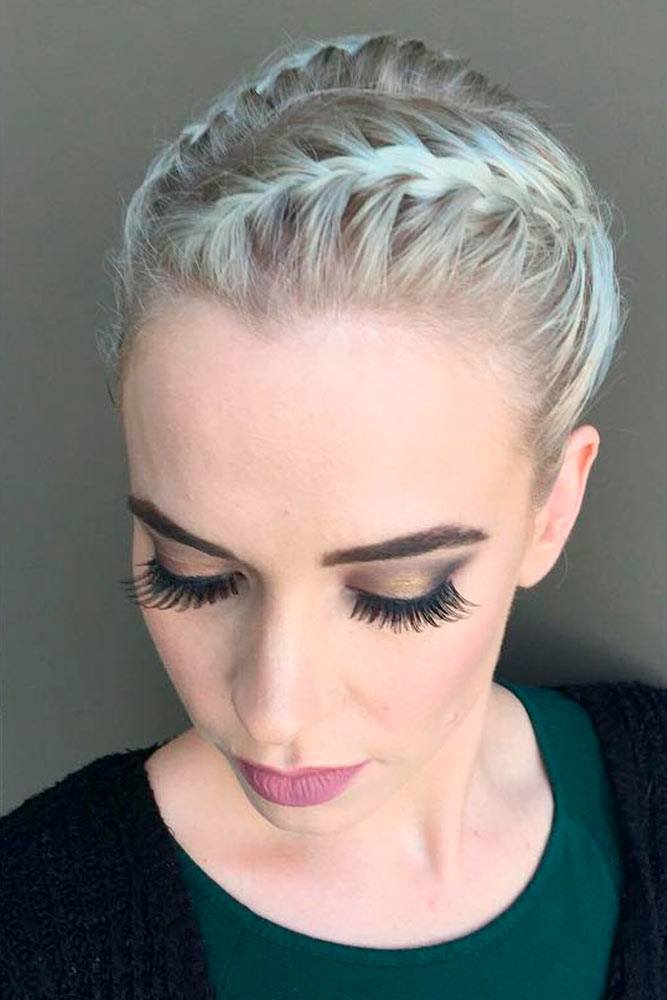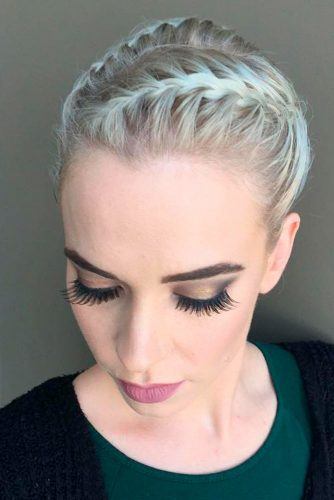 Braids are extremely versatile, and there is no use denying it. However, most braids are complex and not fit for short hair. Even though that is true, there is still a list of braids that are less complicated to come up with and not less charming. It may take a while to master those on short hair, but there is nothing you wouldn't achieve if you put enough will and effort into it. You can use these gorgeous looks like the source of inspiration to come up with something of your own.
Cute Space Buns
Credit photo: instagram/beckyflateaubeauty, instagram.com/hybridhollow, instagram.com/bella.ashlynn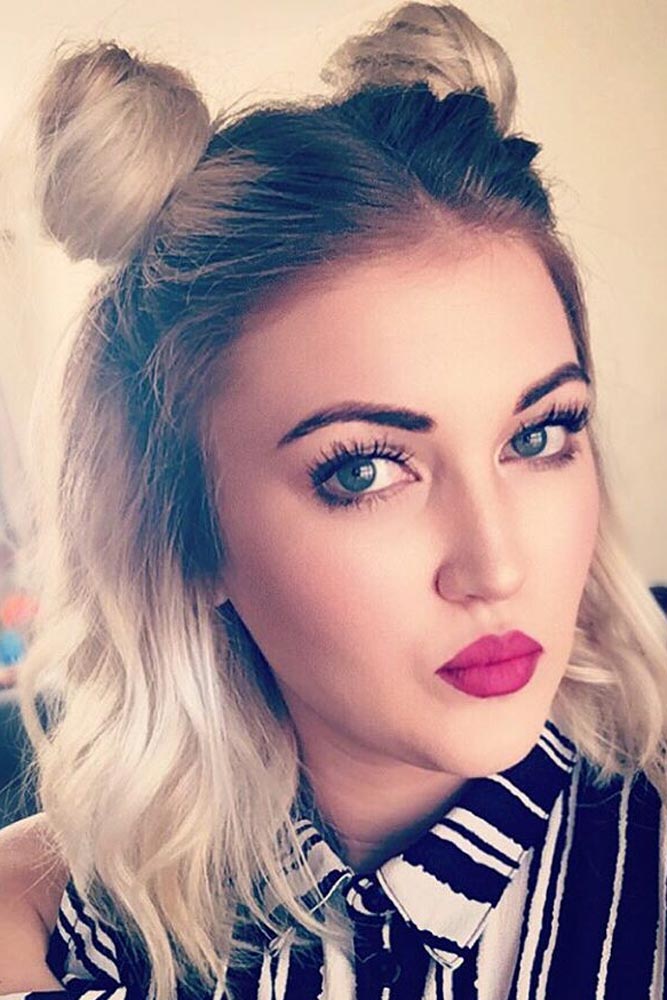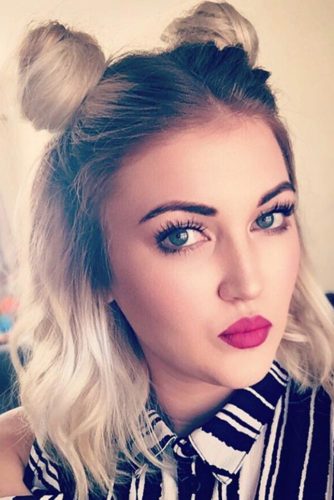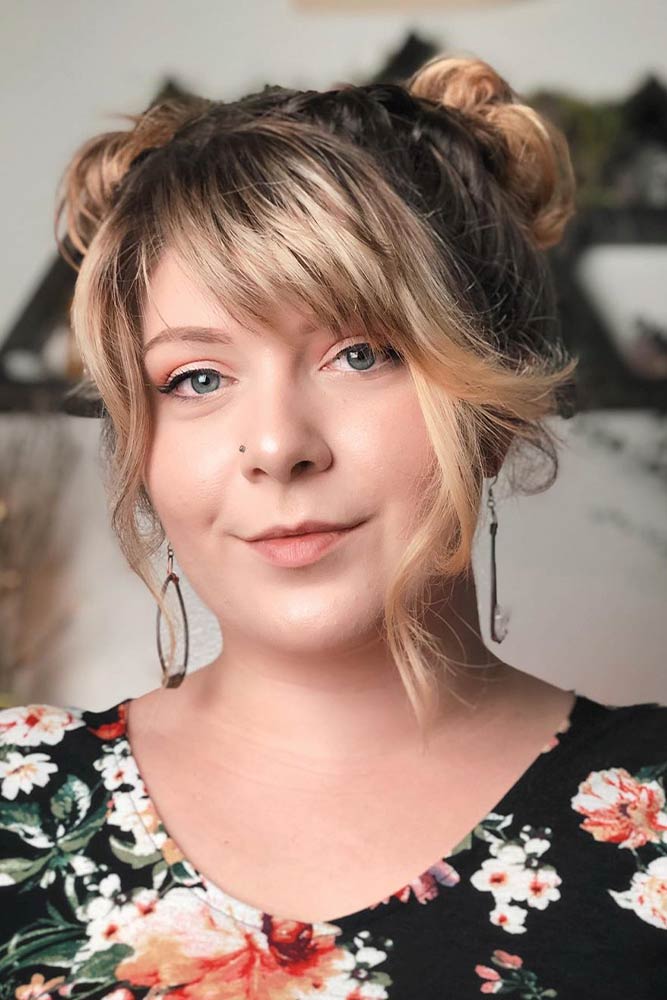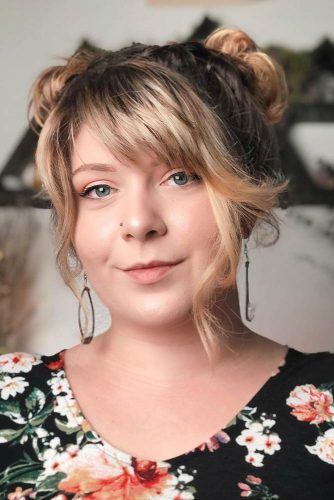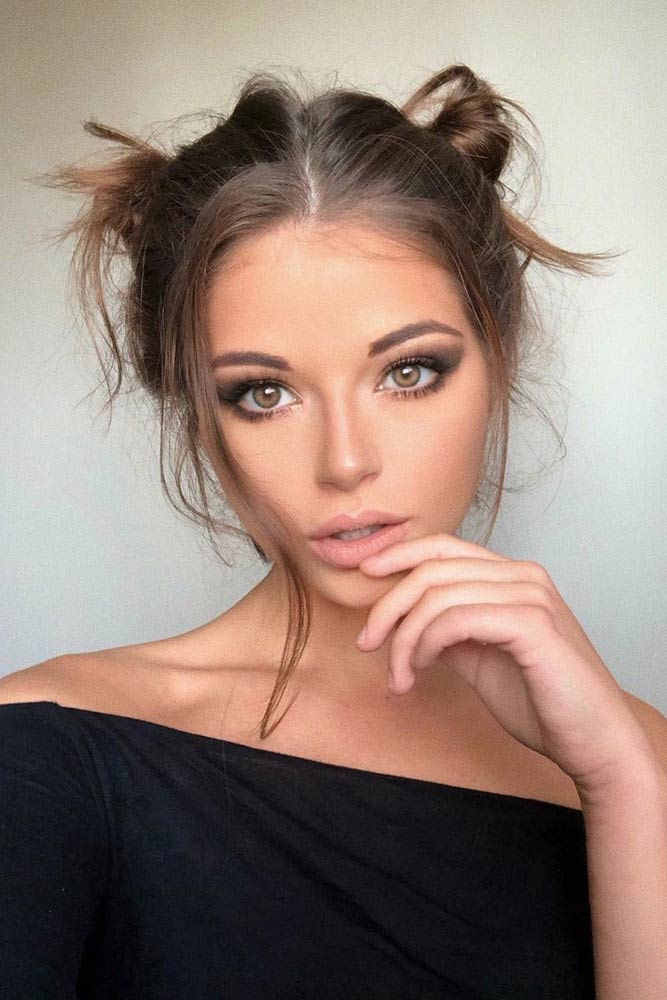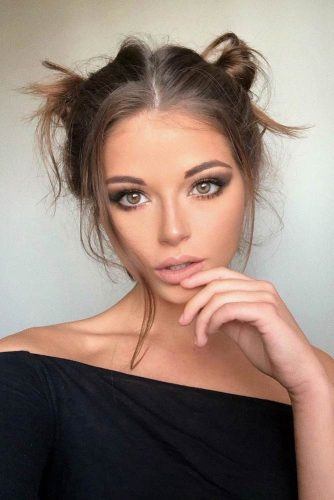 Space buns are the major trend at the moment. If you are looking for some casual ways to style your short hair in, space bun may be it. You can create those even on the shortest hair possible. Even if your buns turn out to look a little messy, there isn't something that you should worry about - messy is stylish and cute!
Casual Updos With Accessories
Credit photo: instagram.com/kellgrace, instagram.com/kykhair, instagram.com/samirasjewelry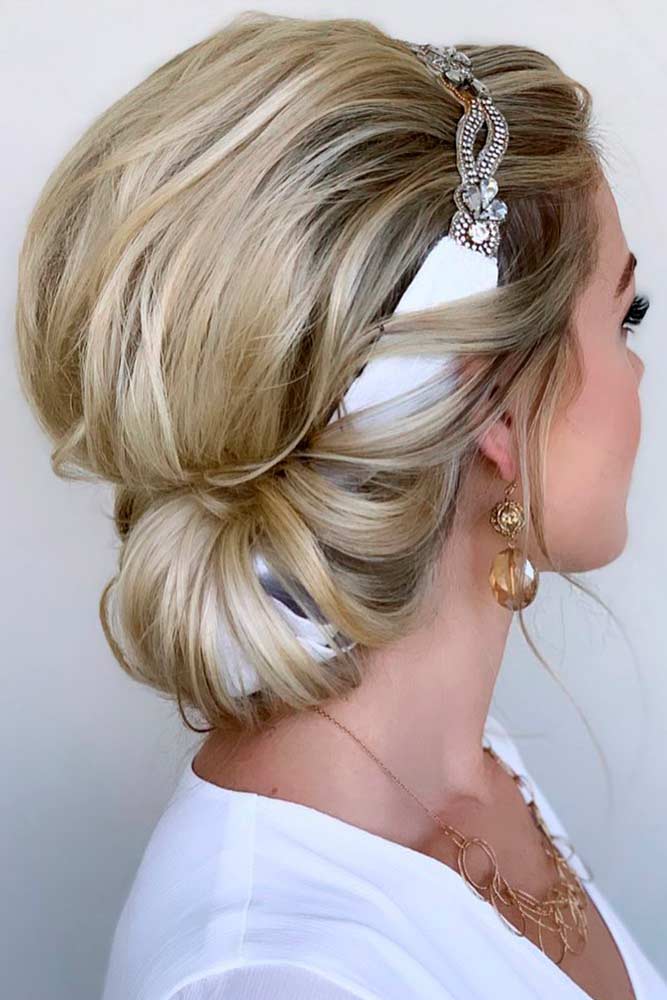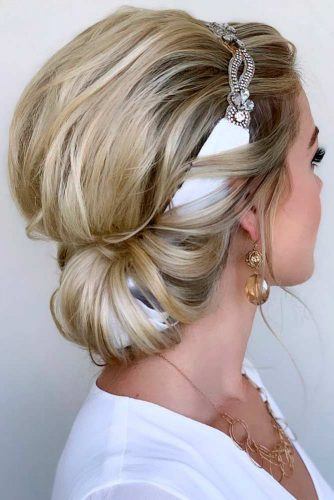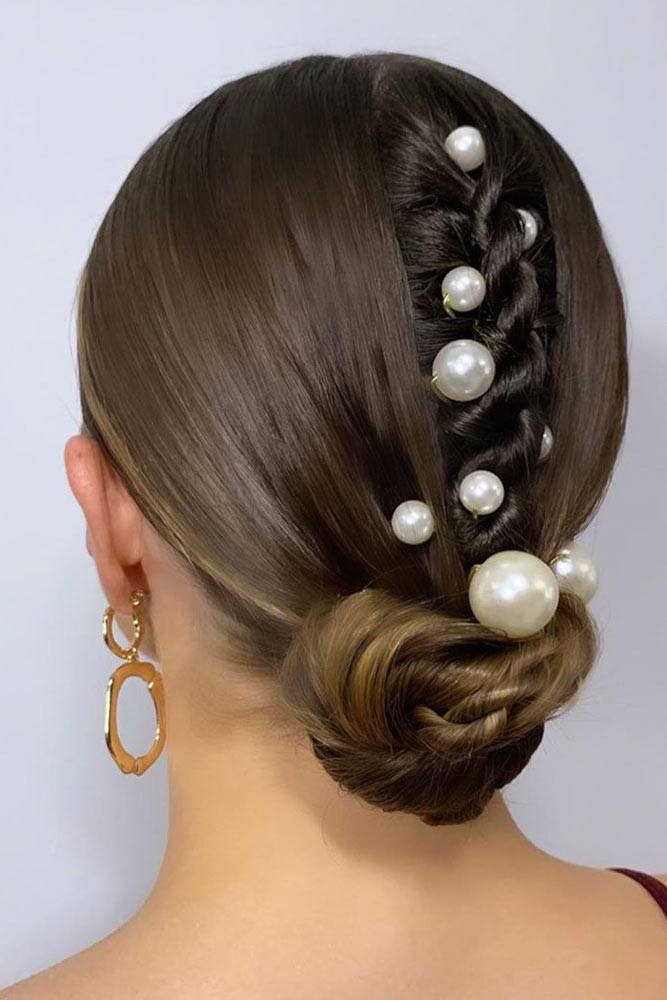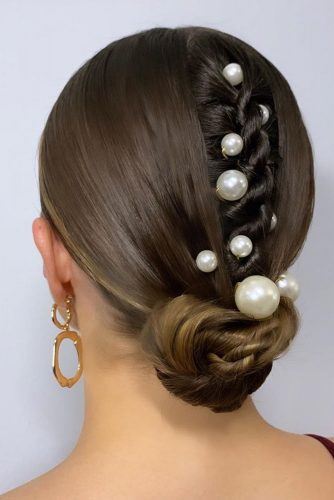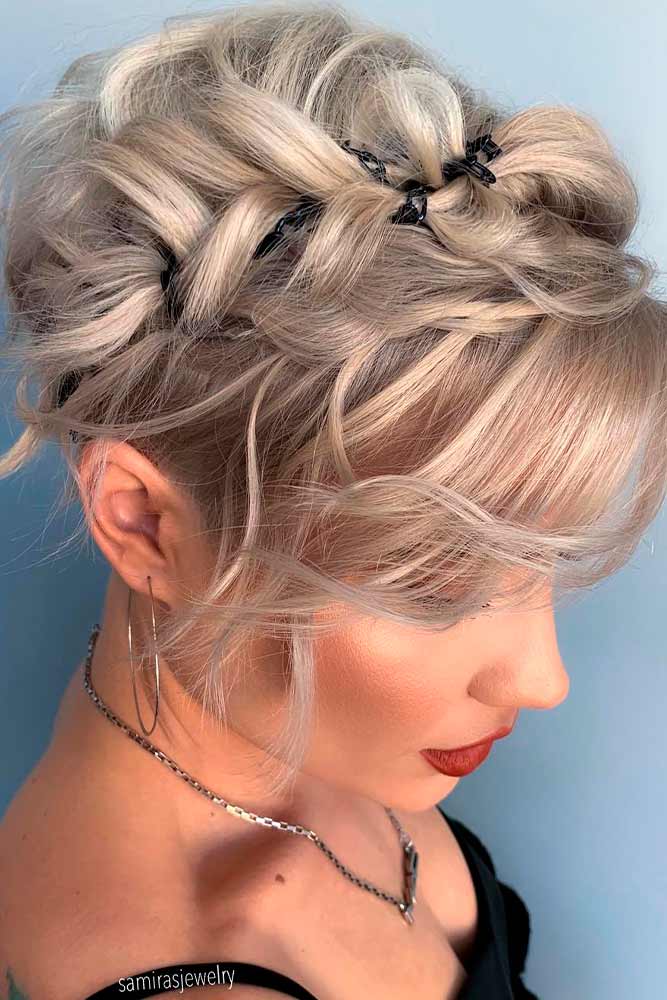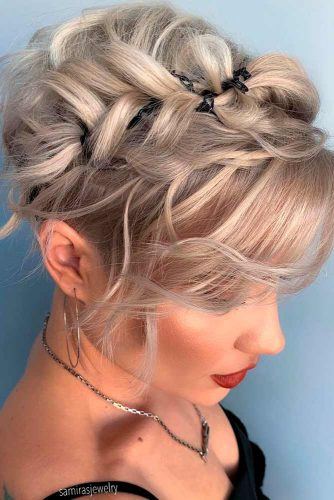 If you haven't happened to wear long hair yet, you may not know how incredibly versatile it is. There are so many intricate 'dos for long mane that they are impossible to list. However, when you go short, the room for experimentation gets a little limited unless you know the trick. The trick is simple and effective. All you need to do it to enrich your arsenal with proper accessories and incorporate them even in the simplest hairdos to take them to the next level of gorgeous.
Double Braids Updos
Credit photo: instagram.com/nathalie.ita, instagram.com/megs.beauty.project, instagram.com/samirasjewelry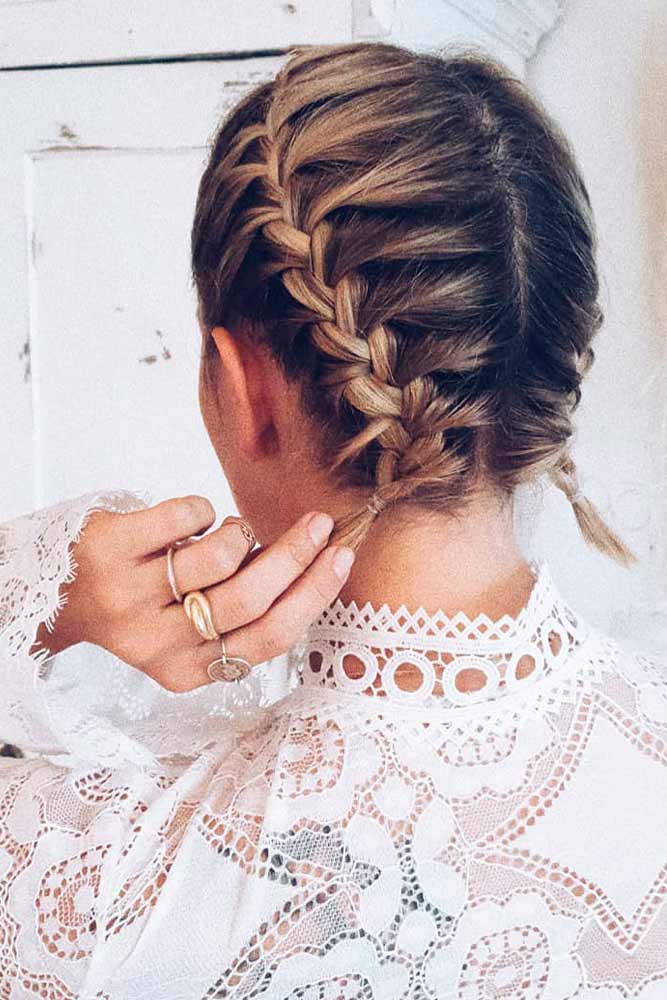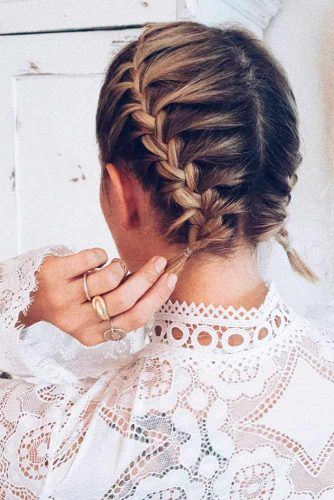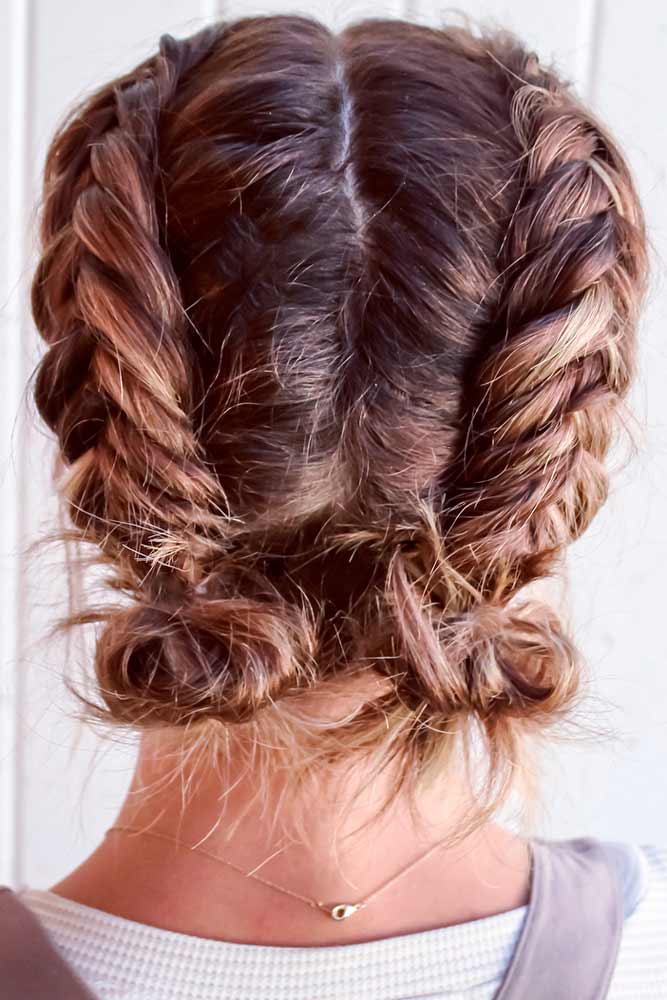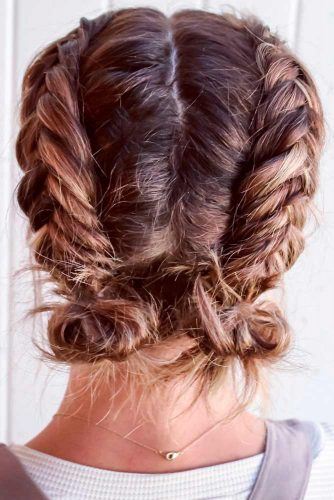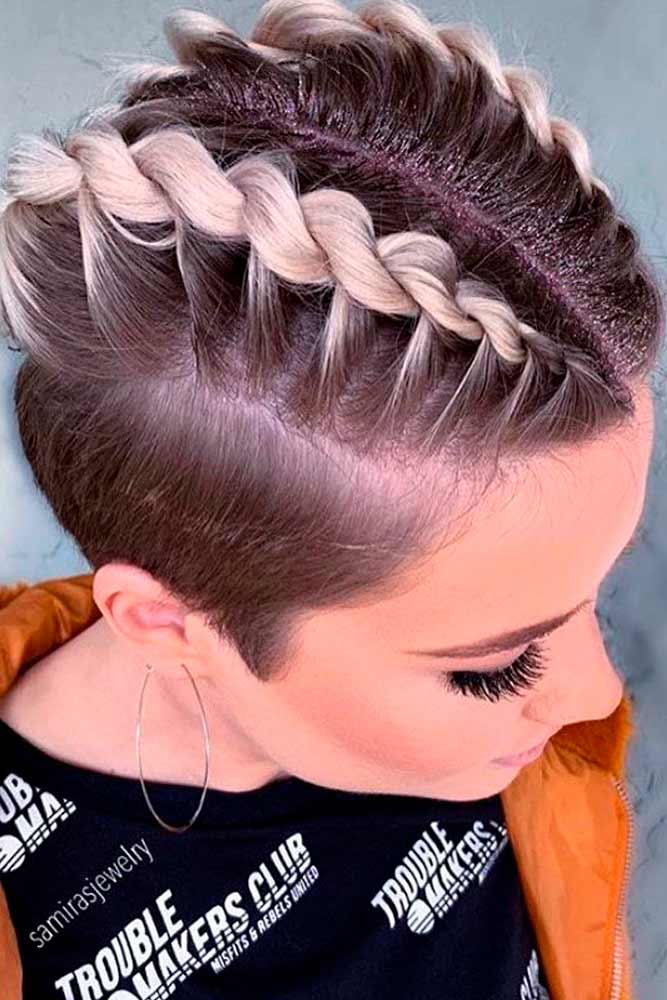 If you wonder what is sweeter than one braid – we say double braids. Surely, getting two even braids is twice as complicated, but the end result will totally be worth it. Besides, double braids are super sleek and elegant looking. Once you master those you won't regret it, we can promise you that!
Knotted Updos
Credit photo: instagram/kellgrace, instagram.com/kellg, instagram.com/kellg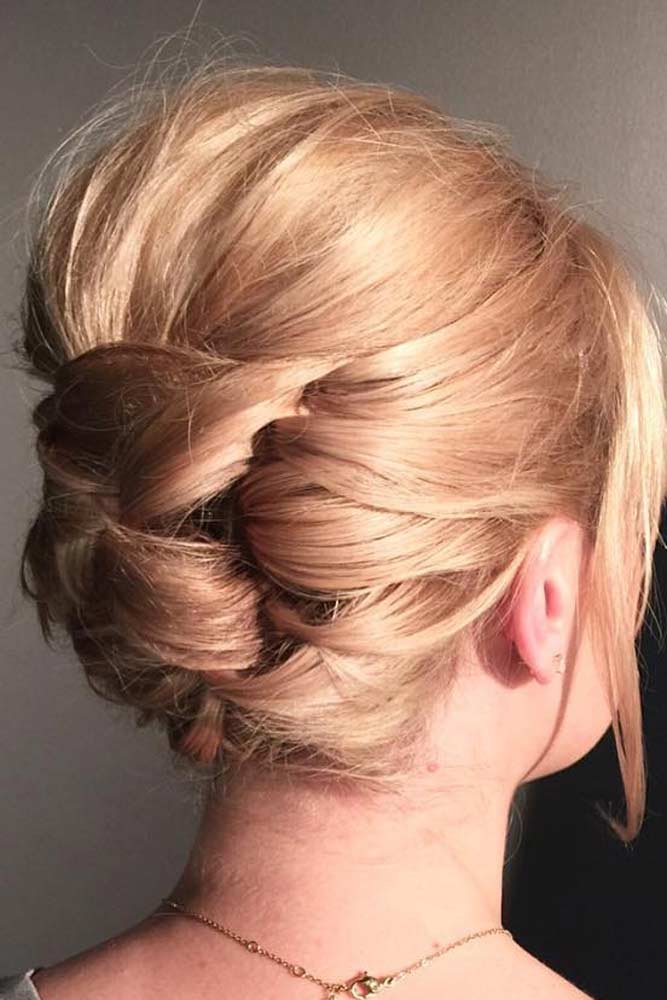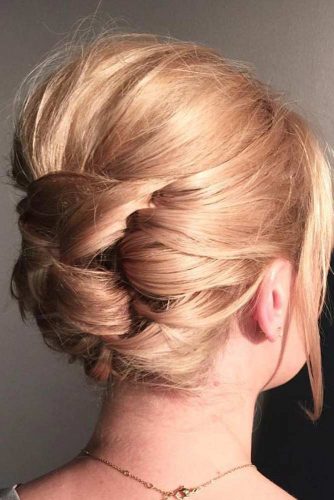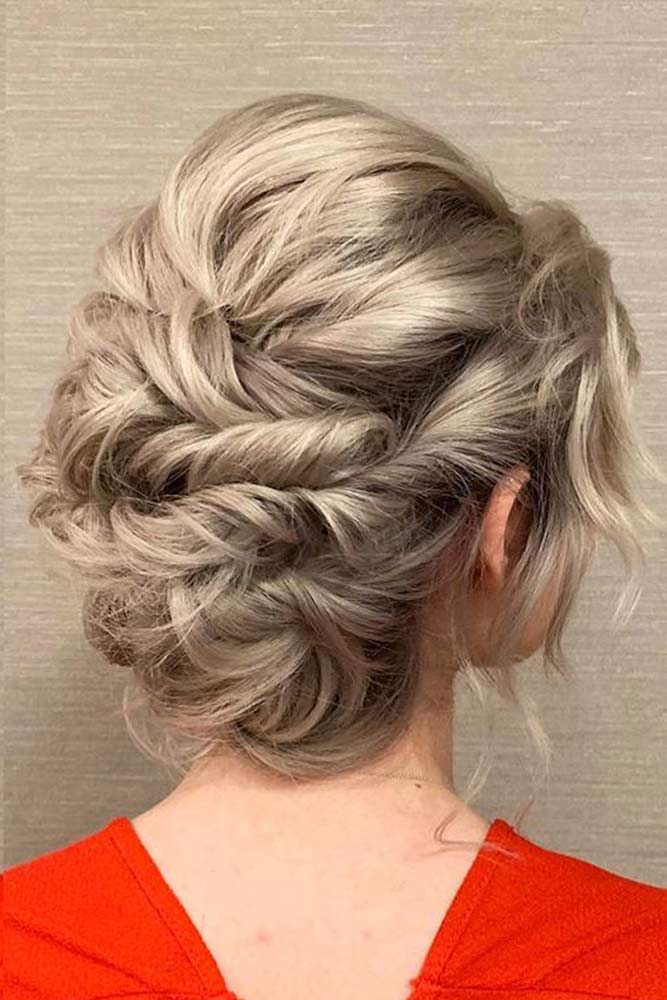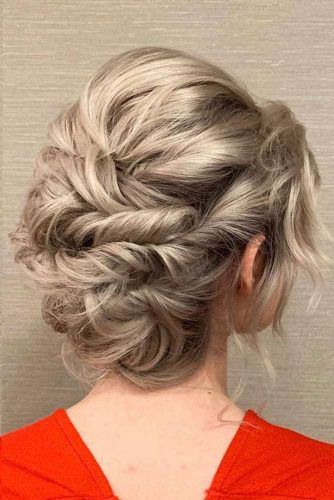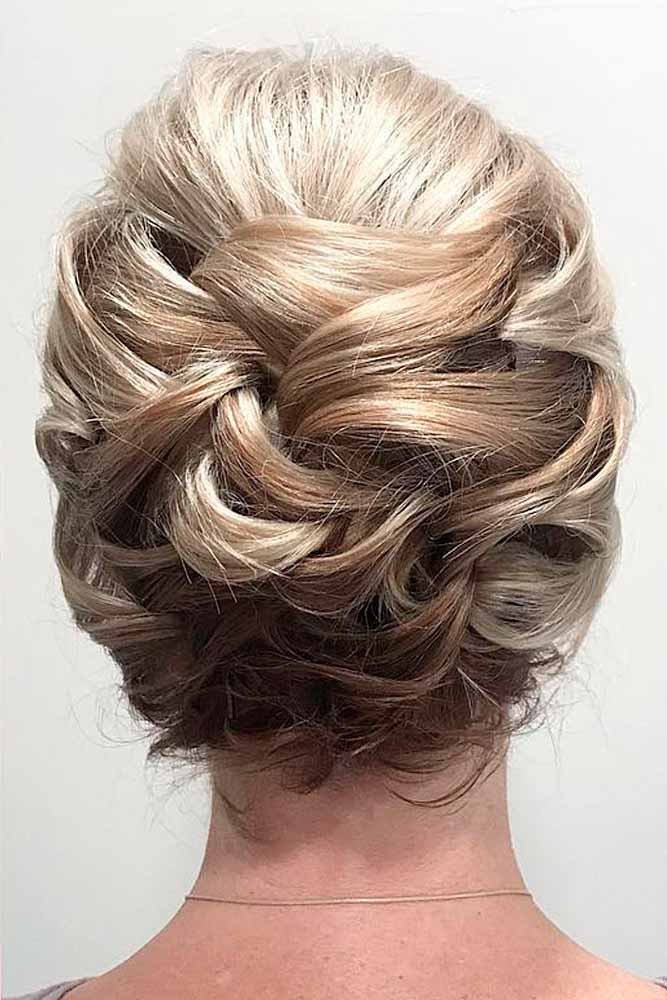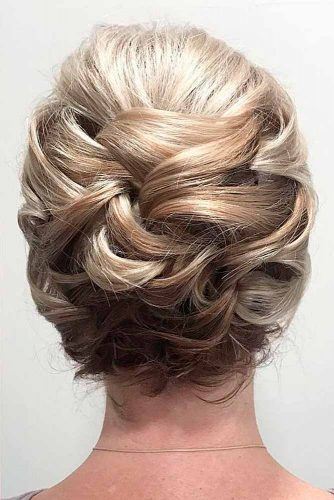 Sometimes there are occasions when something over the edge elegant is required. In times like this, you may regret that your hair is not that long enough to dive into experimentation, or you can choose another option. A knotted updo is precisely what we have it mind. All you need is a little bit of patience and a bunch of pins to come up with a fantastic and voluminous updo that will steal adoring glances from anyone.
Half-Updo Hairstyles
Credit photo: instagram/braidsofsweden, instagram/kellgrace, instagram/kristin_ess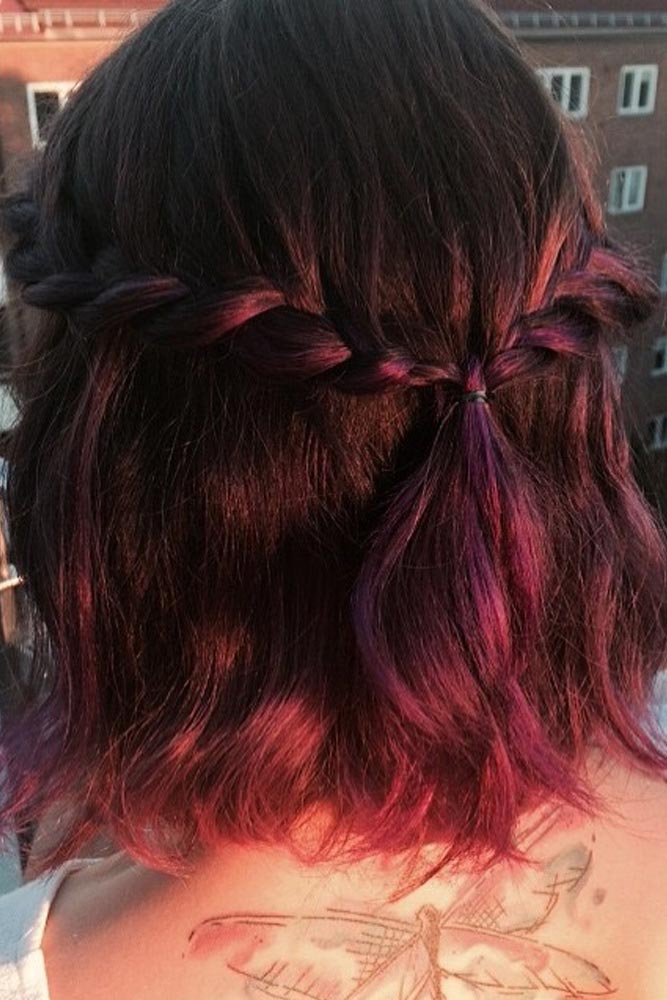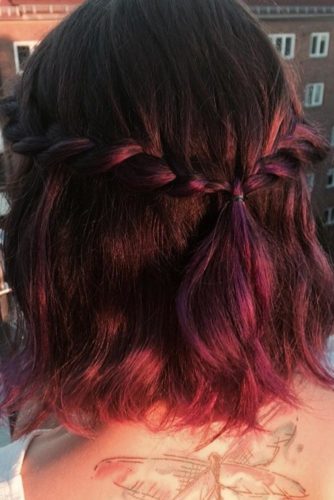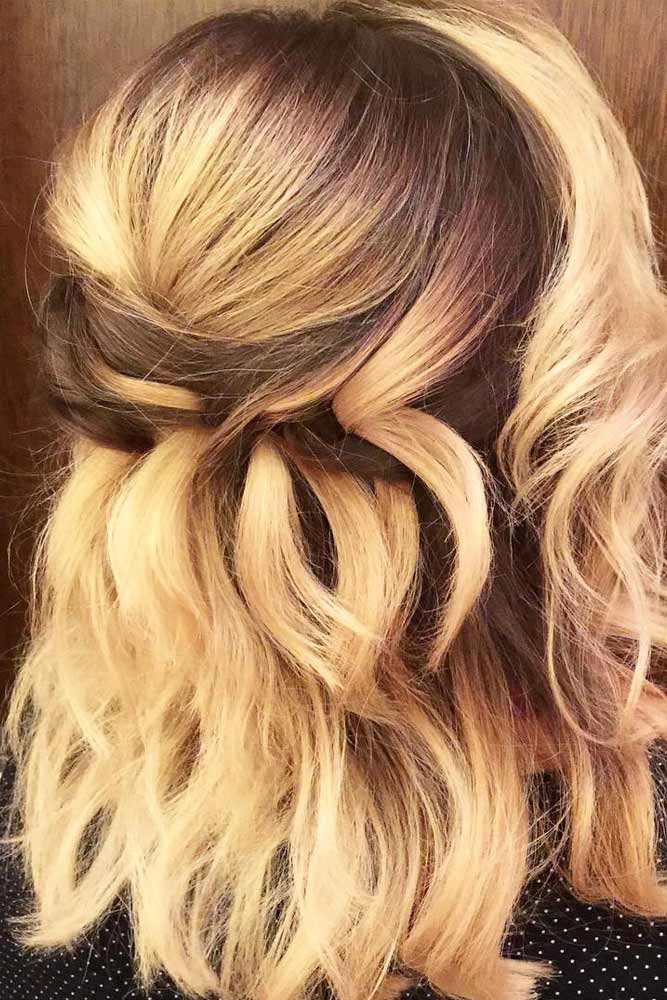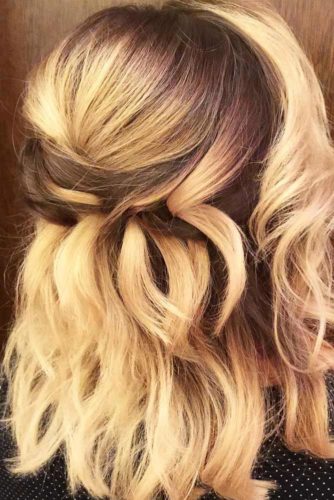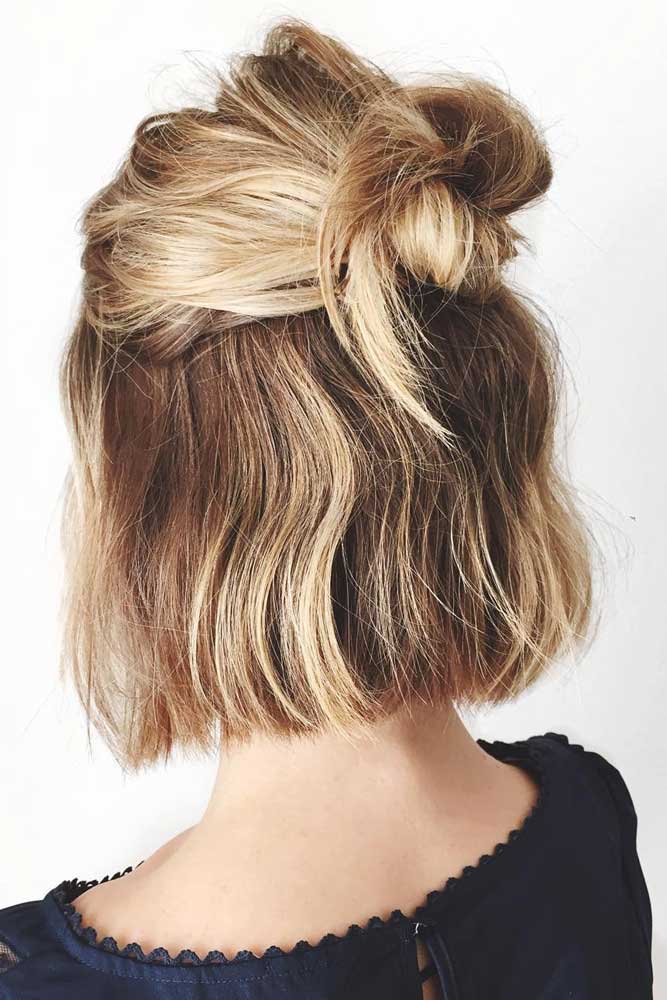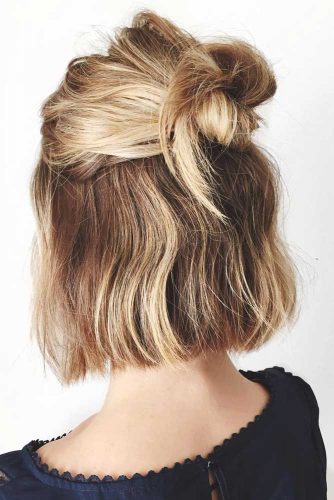 There are times when you can't decide whether up or down you want to wear your hair. We feel you, girl! However, there is a simple solution to situations like this, all that is required is a proper half-updo style. In their majority half-updos for short hair are very easy to succeed with and as versatile. A word of advice – such 'dos are merely irreplaceable when you are running out of time, and you can't wash your hair on time.
Easy Top Knots For Short Hair
Credit photo: instagram/hellofashionblog, instagram/hello.chantelle, instagram.com/chloenbrown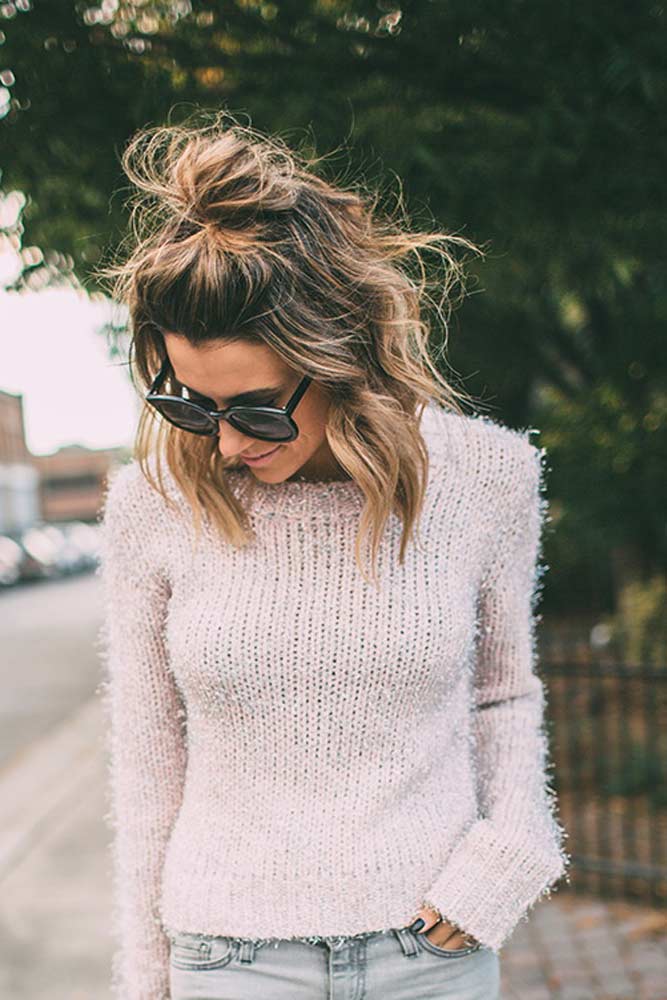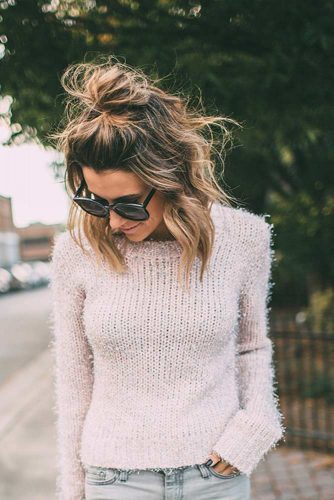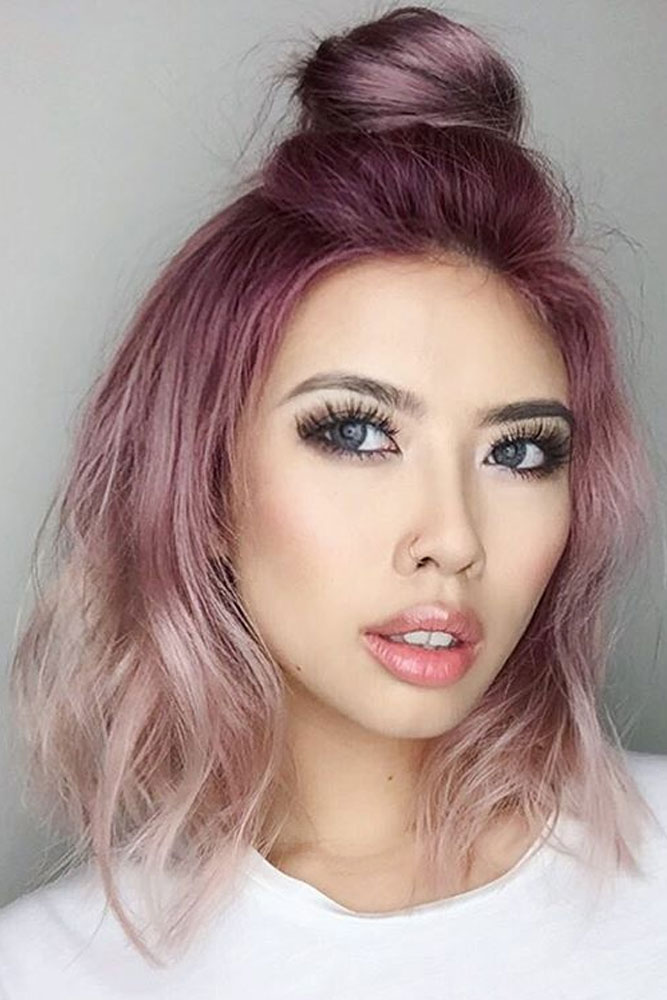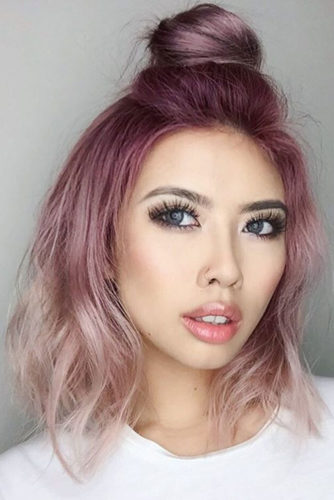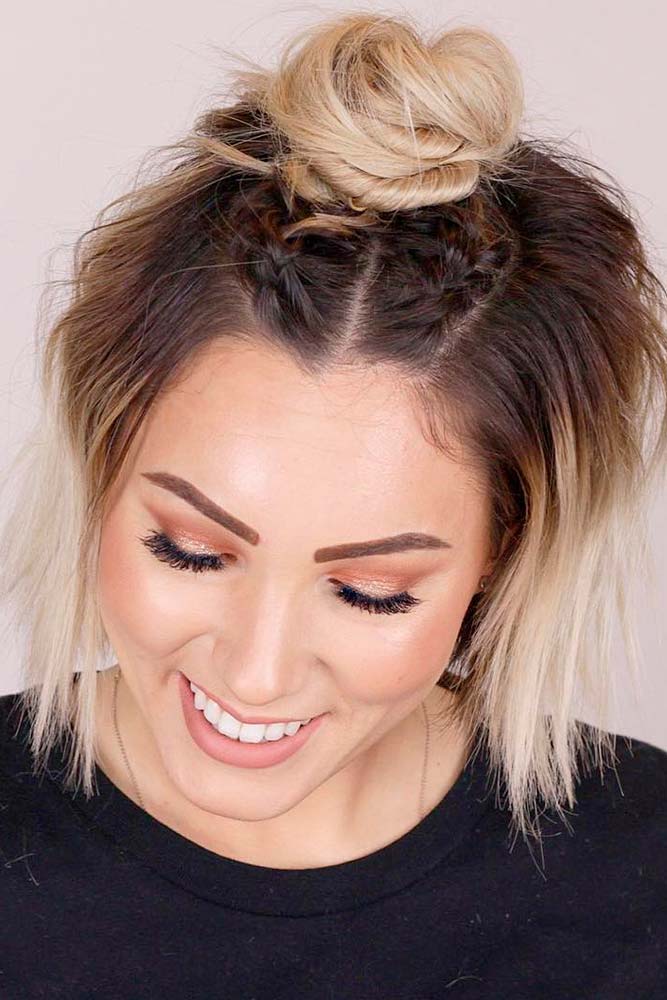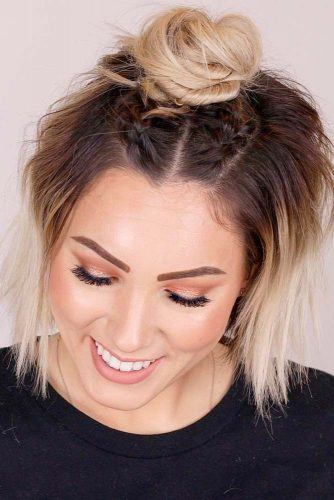 The shorter is your hair, the fewer options there are to play around with, but there is still a list of those to pick from. The easiest hairdo for very short hair would be a top knot. Wear it slick or messy – the result will be as outstandingly cute! It is perfect idea for inverted bob.
Half-Up Hairstyles With Side Braids
Credit photo: instagram/Lauren Conrad, instagram/hairbykristinamarie, instagram/krissafowles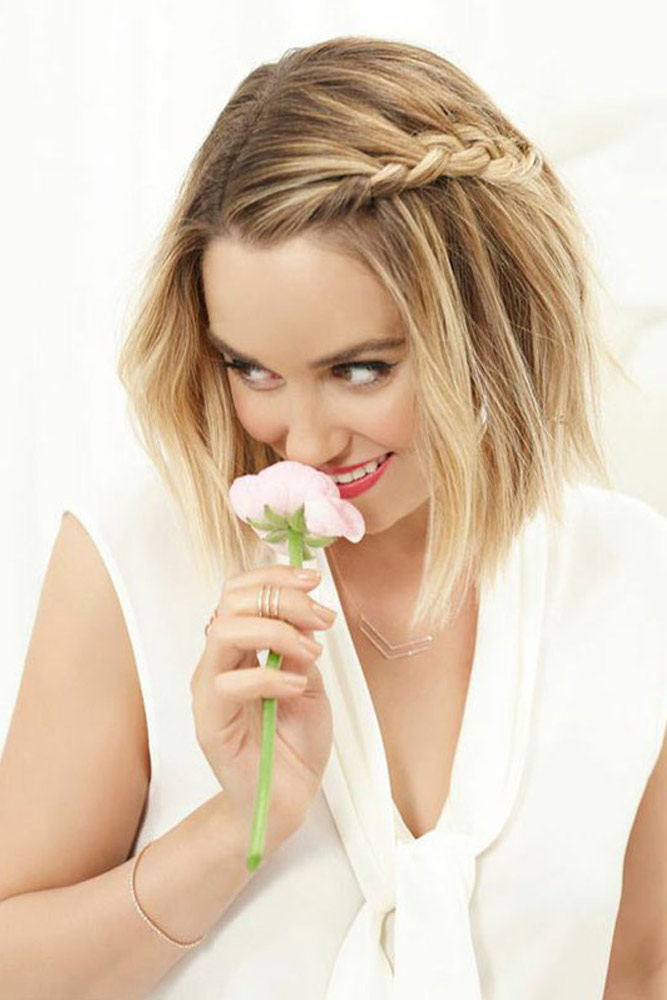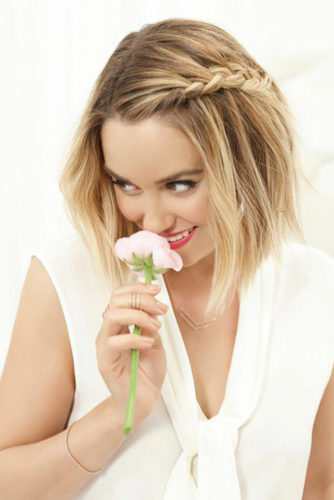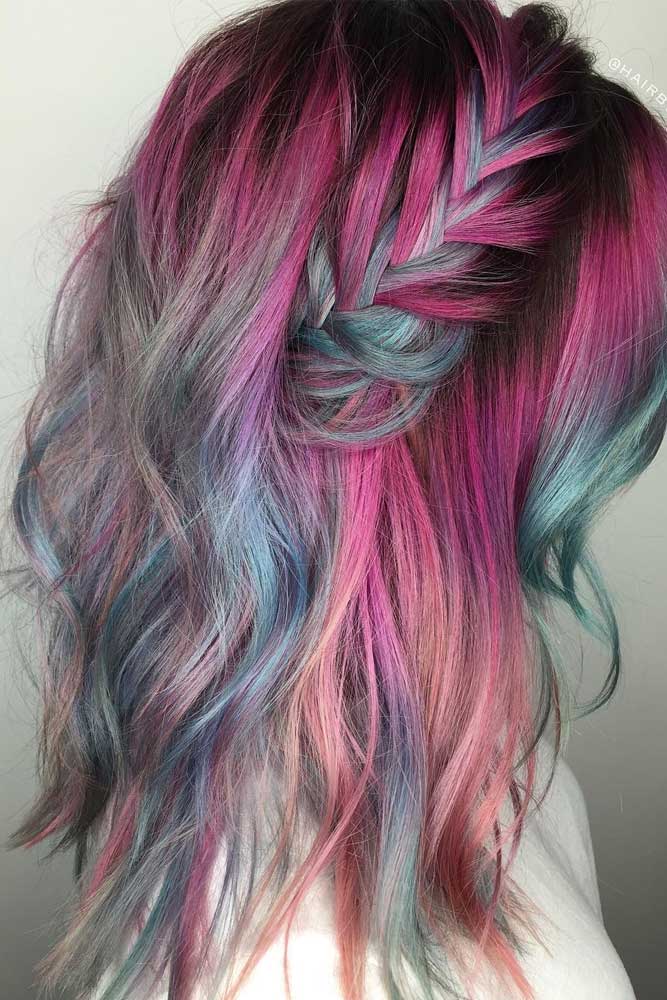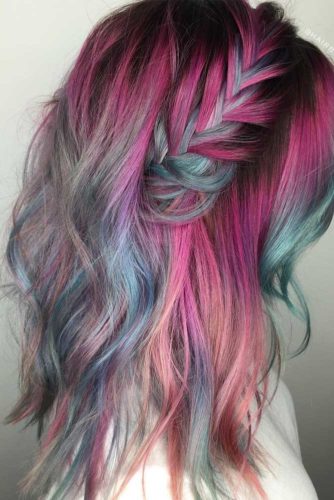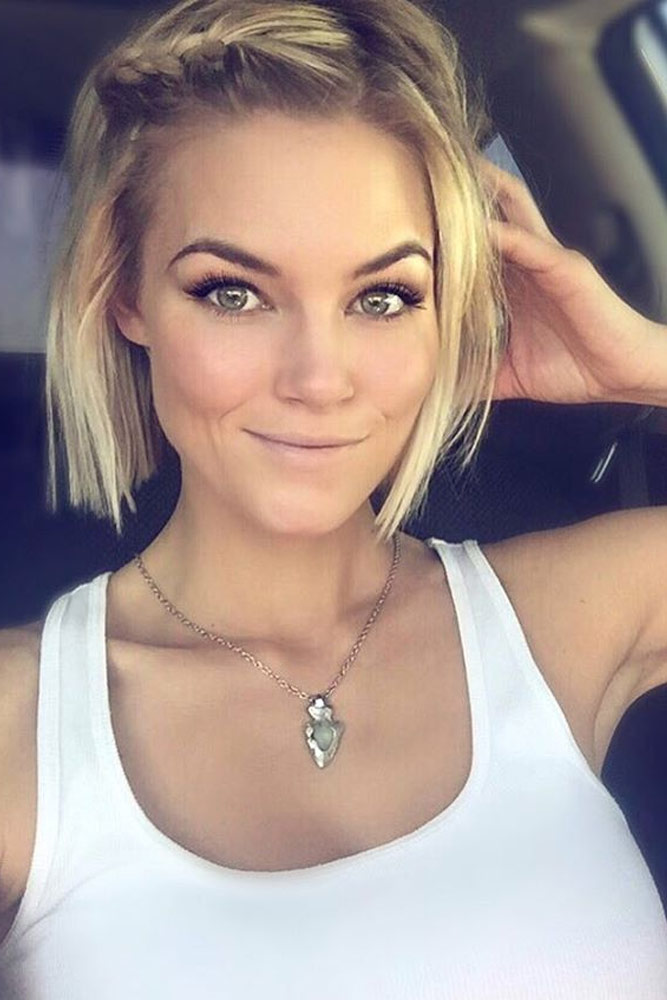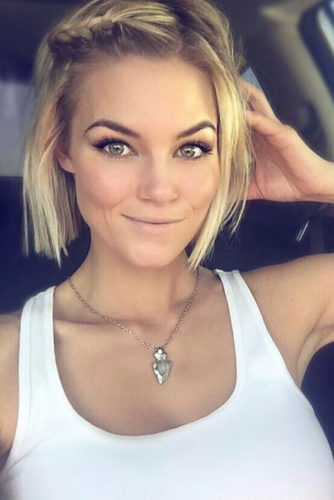 There is a bunch of advantages to side braids. Firstly, they are super effortless. Secondly they are immensely cute, and thirdly they are convenient when you wish your hair out of the way. No matter, what is your situation, we say you consider these lovely looks!
Twisted Half Updos For Short Hair
Credit photo: instagram/irrelephantblog, instagram.com/k8_smallthings, kristin_ess via Instagram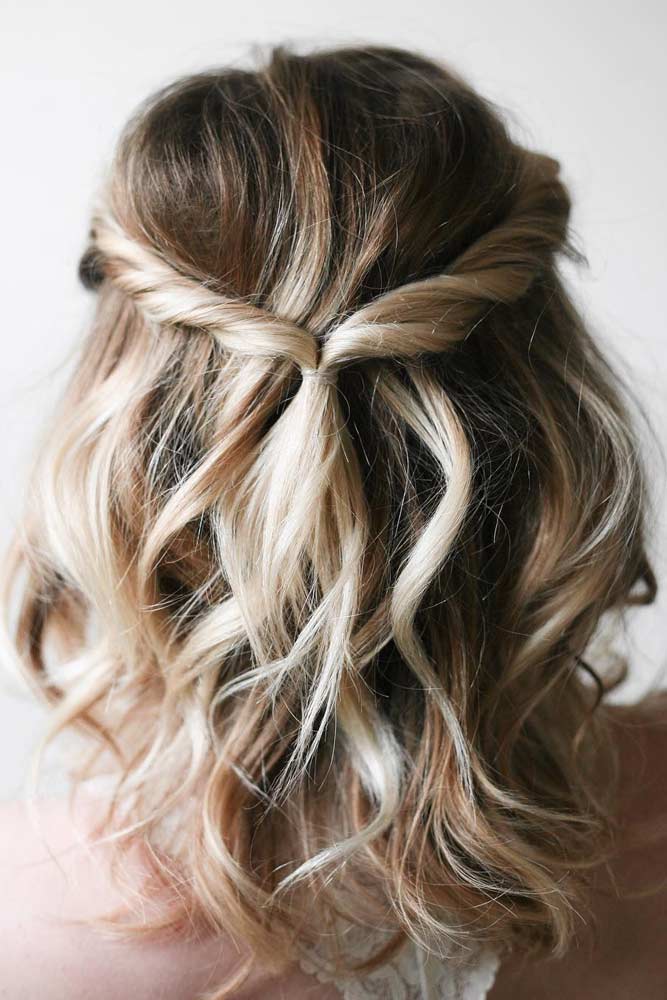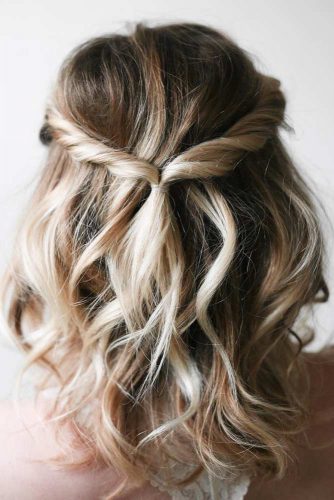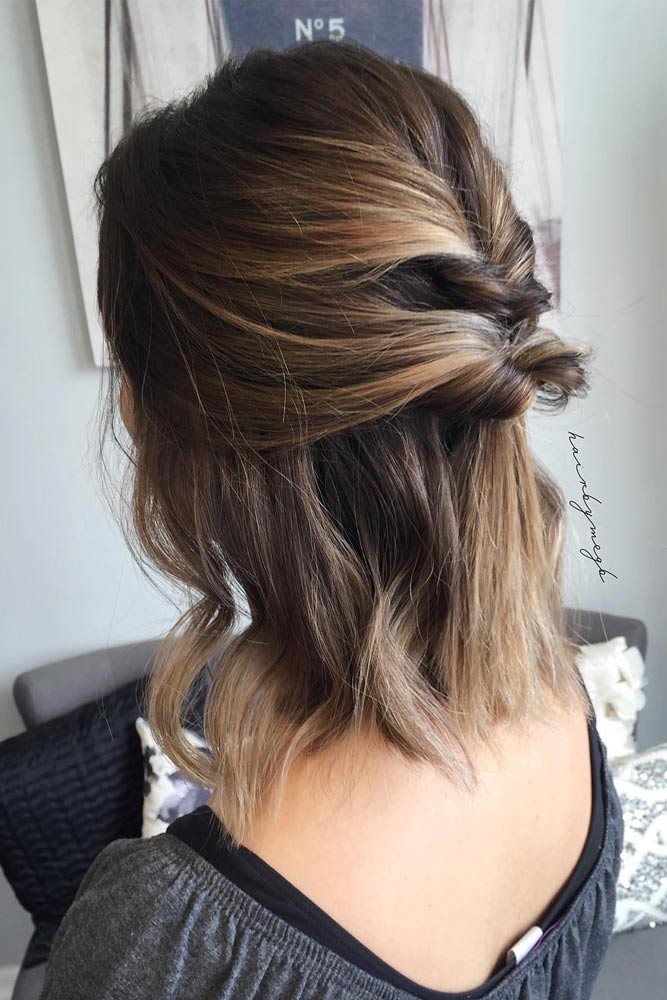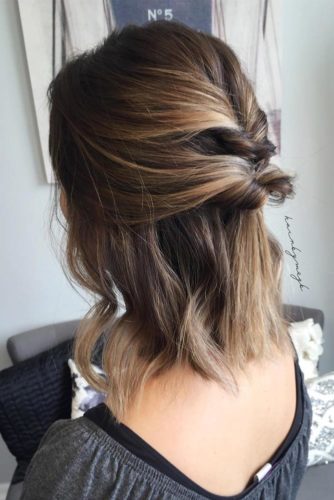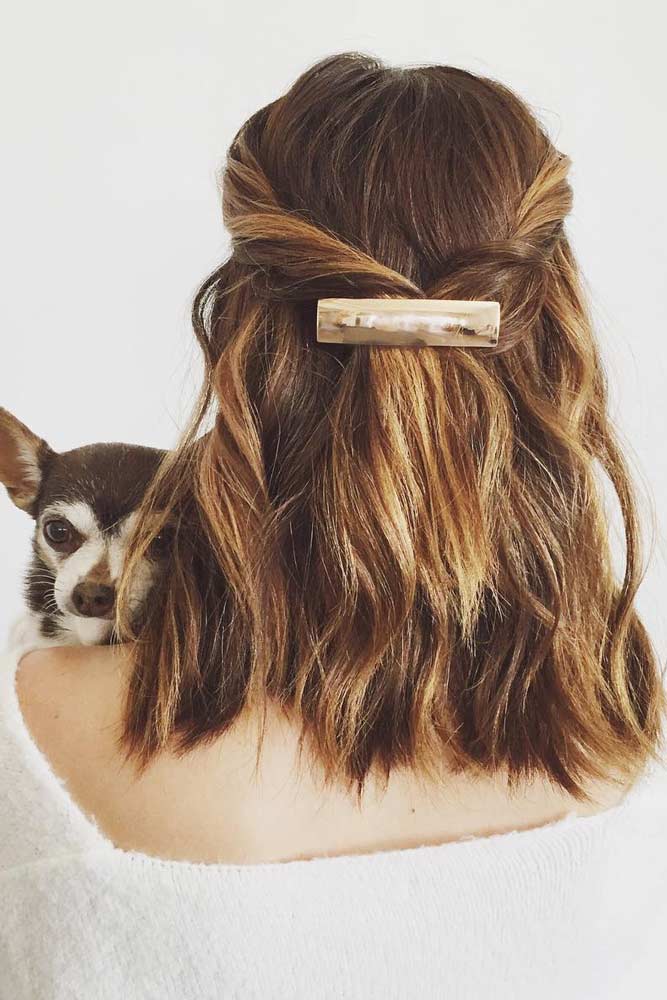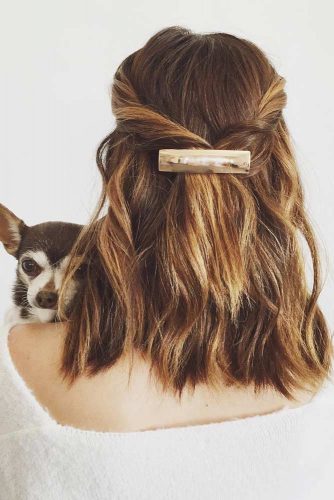 The fact is that some hairdos for short hair are both very simple and impressively elegant at the same time. If you ask us, we say that twisted half-up 'dos are on the list. It is amazing how easily you can create such a hairdo and how tremendously it will enhance your look.
Do you still think that updos for short hair are non-existent? It is time we change your mind! Once you browse through our compilation you will surely want to try at least one look out straight away!
FAQ: Updos For Short Hair
How to do an easy updo on short hair?
Prep your hair with a crimping iron.
Leave two front sections out.
Section the hair at the back in two parts.
Put the lower section in a ponytail that way you'll keep the shorter pieces in place, gently pull some hair down and put up a little bun securing with a pin.
Let the other section down. Separate the top section and do a French braid pulling some hair up to add volume.
Twist a tail of your braid up and then attach it onto the bun.
Curl the front pieces out of your face. Add some pieces into the braid.
Set with a hairspray.
How to do a simple updo on short hair?
Prep your hair with a crimping iron.
Separate your hair into two sections at the back. Clip the top section.
Put your lower section into a ponytail and then turn it into a bun, secure with pins.
Do a simple braid on your top section tugging on some hairs for more volume. Hide the tail of your braid under the low bun, secure with pins.
Leave some hairs out to frame your face.