It just so happens that, sooner or later, every girl comes up with the idea of spicing up her long hair with bangs. Changes are what help us to discover new angles of our personalities. And getting bangs is the change that can show your appearance in a new, more attractive light. How? This post is the answer.
We'd like to share with you the basic tips you should consider before going for a fringe. Today you will learn how to choose the right bangs based on your face shape, thus getting a flawless look. Of course, we won't leave without inspiration. Bang on, ladies!
How To Pick The Right Bangs For Your Long Hair
When choosing bangs, there are two essential things to keep in mind. Your hair type and, most importantly, your face shape plays a crucial role in your bang destiny. The truth is, you can't just pick a random idea, as everything in your look should be harmonic. Moreover, bangs have a beautifying power. They can frame your face, making it appear slimmer, add a bit of an edge or even conceal some facial feature you'd like to hide. Okay, enough with the theory. Let's see how bangs with long hair actually work!
Square Face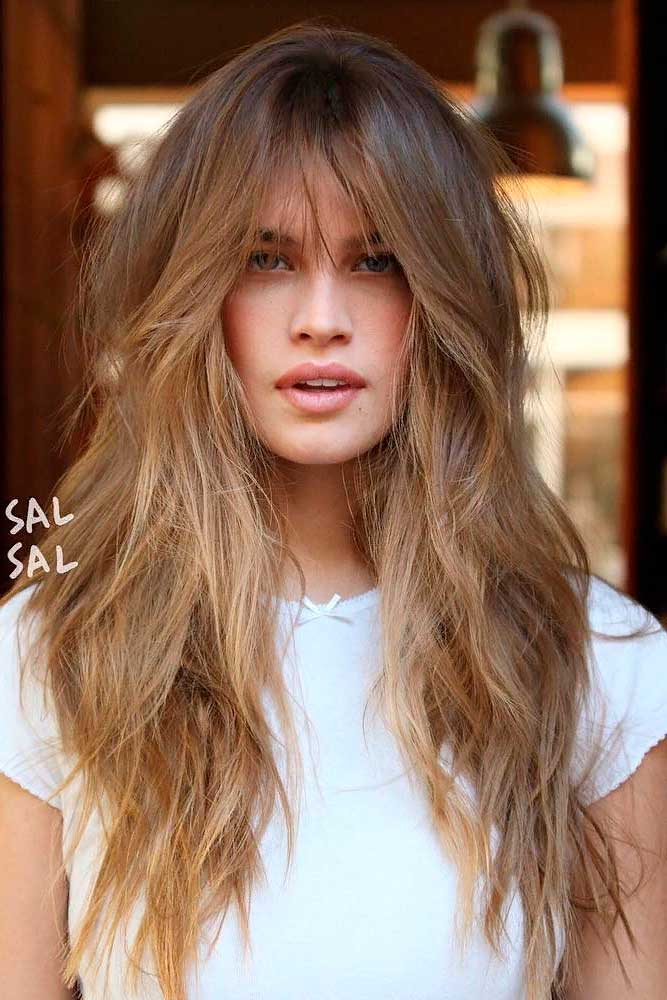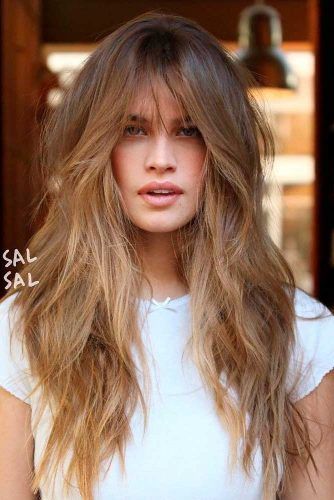 Source: salsalhair via Instagram
Square faces are known to have wide jawline that doesn't curve at the chin, forming a square-shaped silhouette. With a wrong haircut, such faces may appear too wide, which most girls find to be unpleasant. Straight, feathered bangs will be a nice balance-building complement for this face shape. It will even out your facial features, slightly framing the cheeks.
Round Face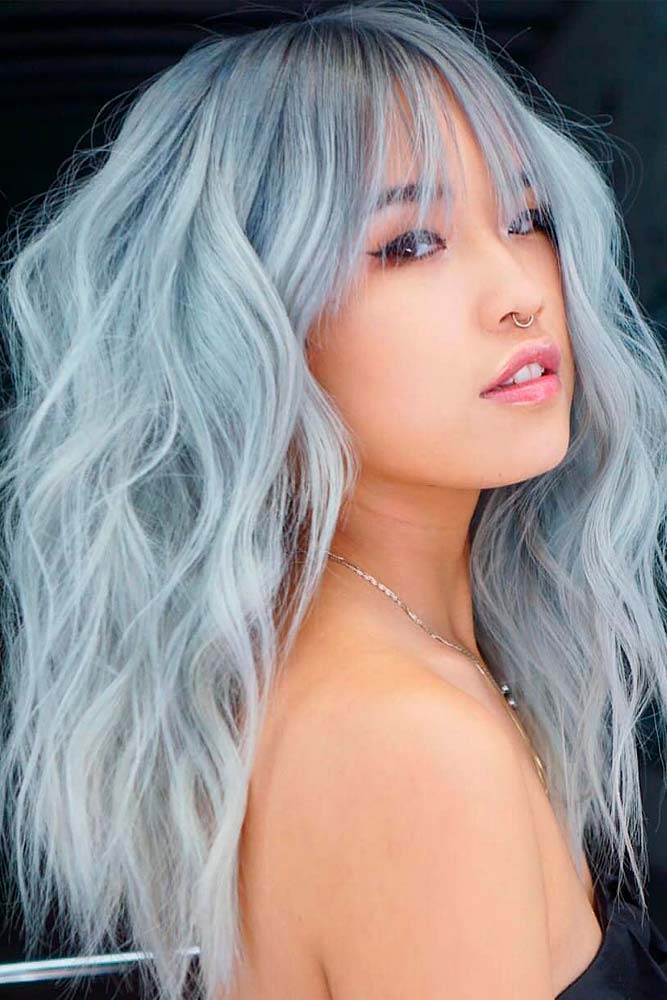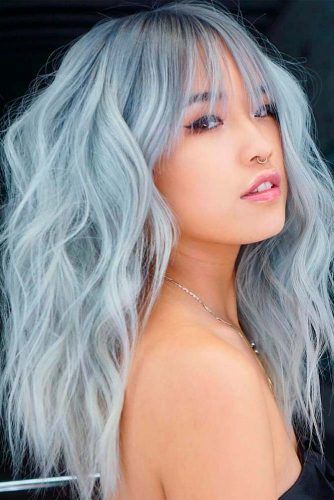 Source: bescene via Instagram
Most features of round faces are rounded and soft, even in the chin area. Cheeks are the most prominent part of such face shape, and that's what can make it look too round. Light, center-parted bangs can draw some angles and give an edgy touch to round face shape.
Heart Shaped Face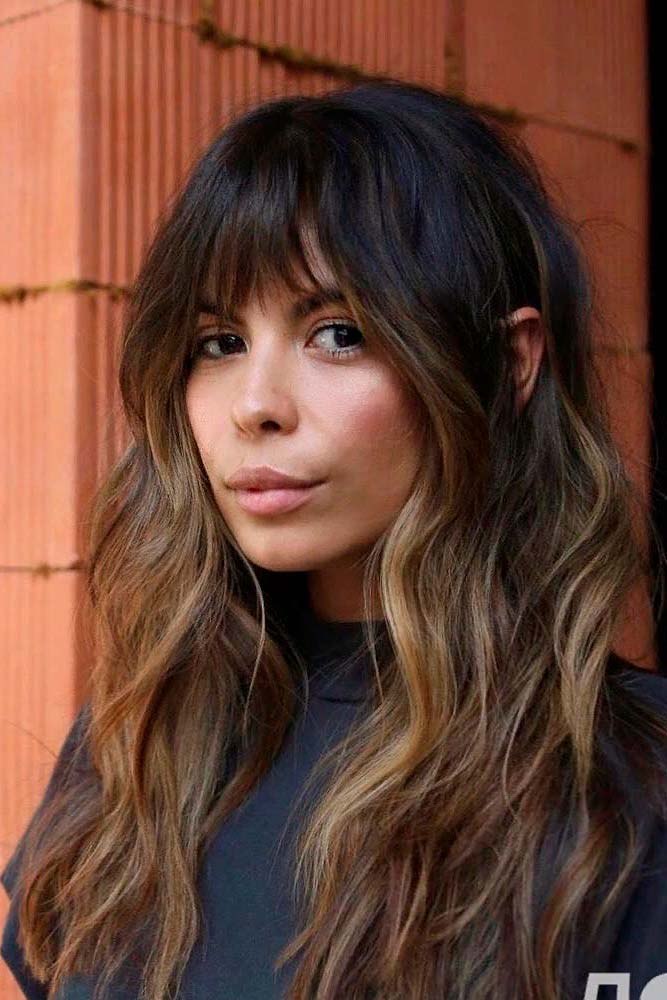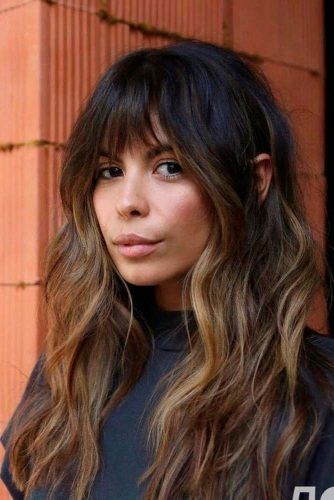 Source: salsalhair via Instagram
For heart-shaped faces, it's crucial to find the right haircut, as well as bangs. Otherwise, the forehead will look bigger than the other features, creating that weird 'alien' shaped silhouette. Arched, wispy, and side-swept bangs will nicely work on the top part, enhancing the beauty of the pointed chin.
Oval Face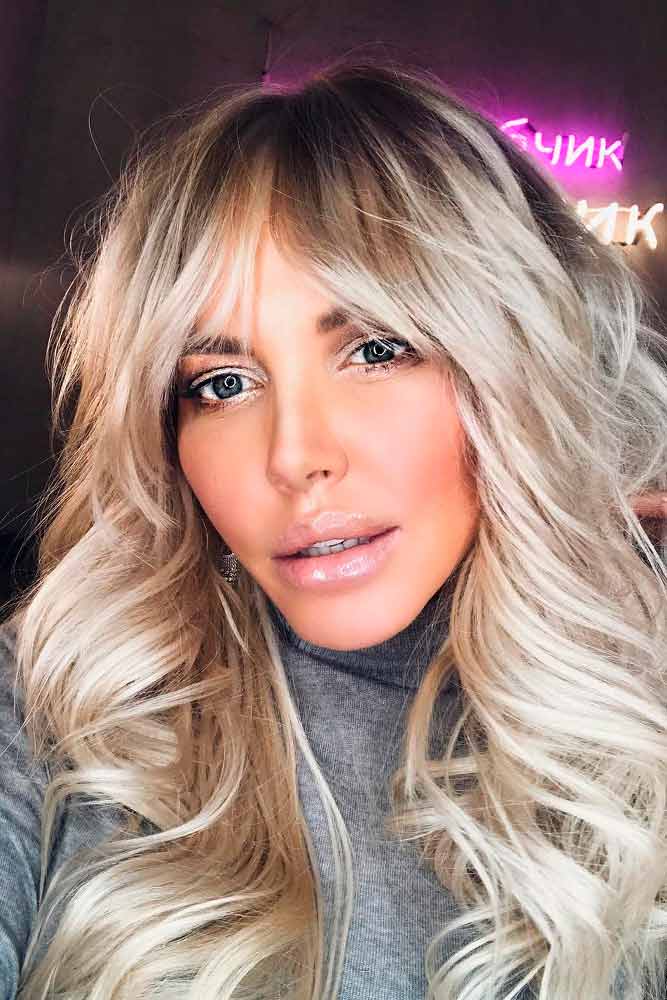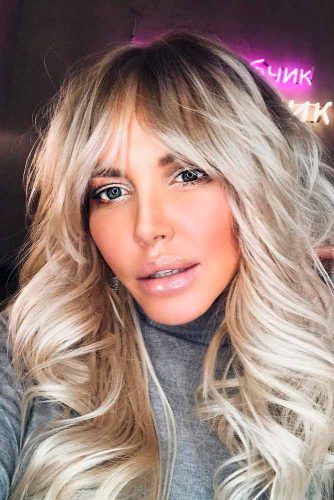 Source: ryabchik.moscow via Instagram
It's no secret that girls with oval faces have the most versatile and well-balanced face shape. In general, they can try out any hairstyles, cuts, and bangs they like. But, sometimes there's a misproportion caused by slightly longer forehead. In this case, feathered wispy bangs will be there to sort things out.
Long Face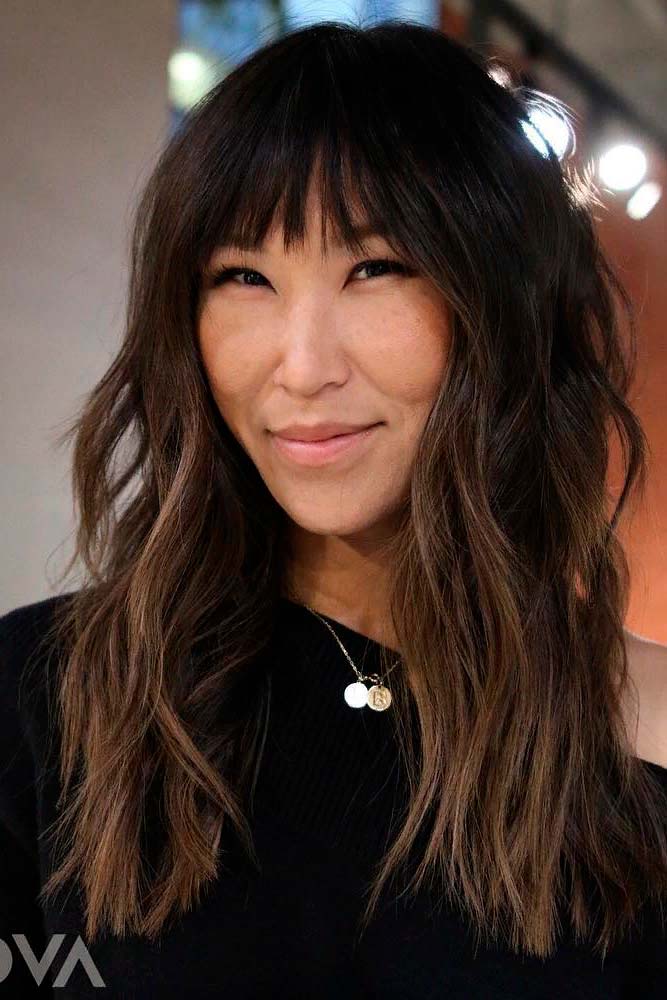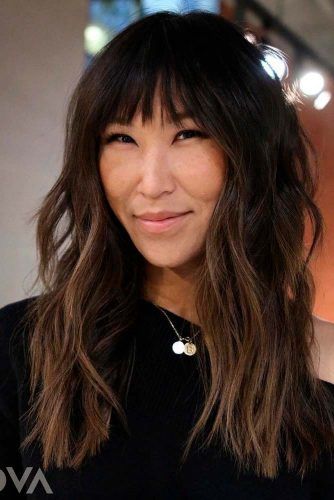 Source: salsalhair via Instagram
Oblong faces are graceful and noble, yet, they tend to draw attention to the forehead, thus making it look bigger. Luckily, for ladies with this face shape, the can play around with both curtain and side-swept bangs. With such ideas, you will not only rock the latest trends but also keep up with the ideal balance.
Short Forehead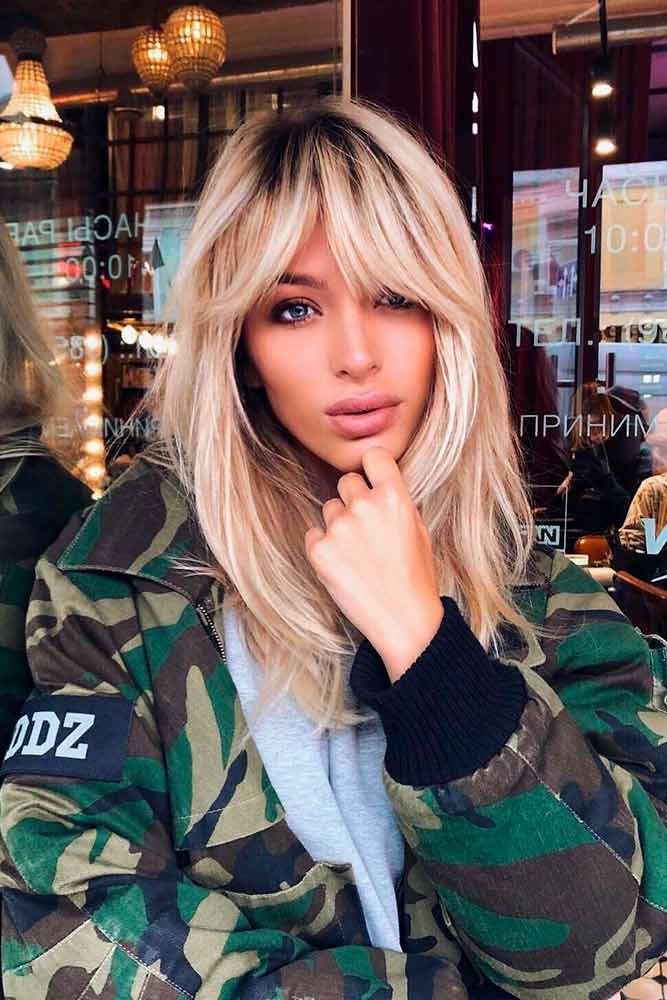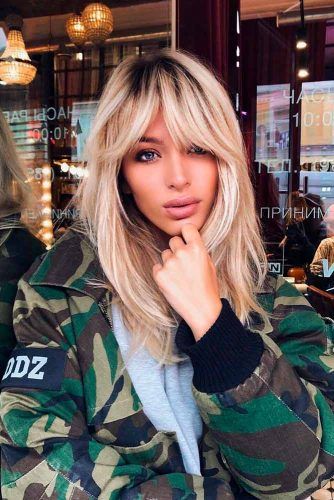 Source: ryabchik.moscow via Instagram
Short foreheads often lack prominent features that keep a woman's face shape defined. But don't worry, this little trouble is easy to fix with sloped or deep side-swept bangs that are longer on one side.
High Foreheads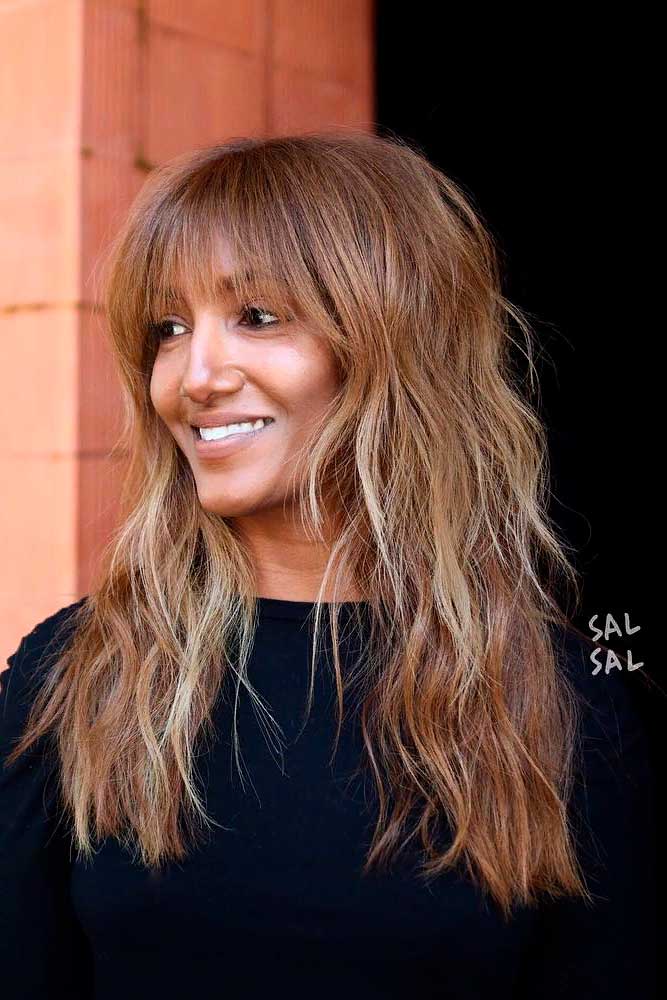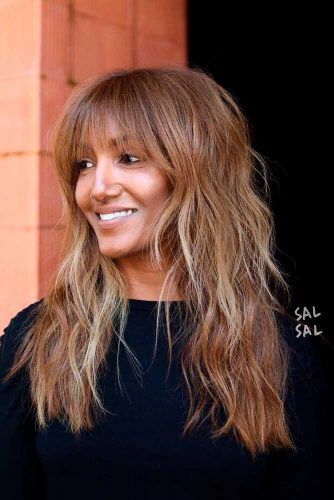 Source: salsalhair via Instagram
As for high foreheads, they also need a little framing hint that partly hits the face. This time, side-swept bangs will work perfectly too, but make sure they're thick and full. Of course, the good-old straight fringe with soft feathers on the edges can do the framing job as well.
How To Cut Your Bangs
If you can't wait to finally try out the awesome hairstyles with bangs you came across recently, this DIY part is for you.
What you will need:
Clips and elastics
A pair of scissors
A rat tail comb
Straight Bangs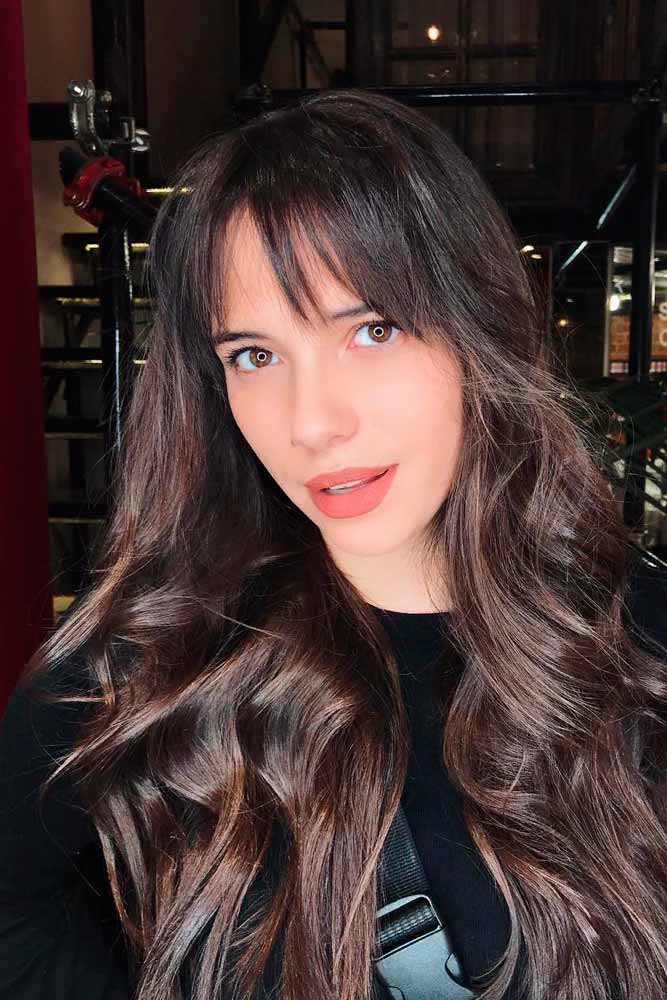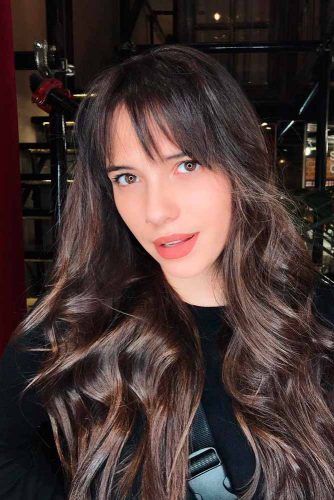 Source: ryabchik.moscow via Instagram
If you aim to create a classic center bang, take a rat tail comb and put the front portion of your hair forward so that it forms a triangle shape. Then, cut it evenly. By the way, it's pretty popular to taper the edges. To do so, cut the hair below your eyebrows, making it long as it hits your ears.
Side Bangs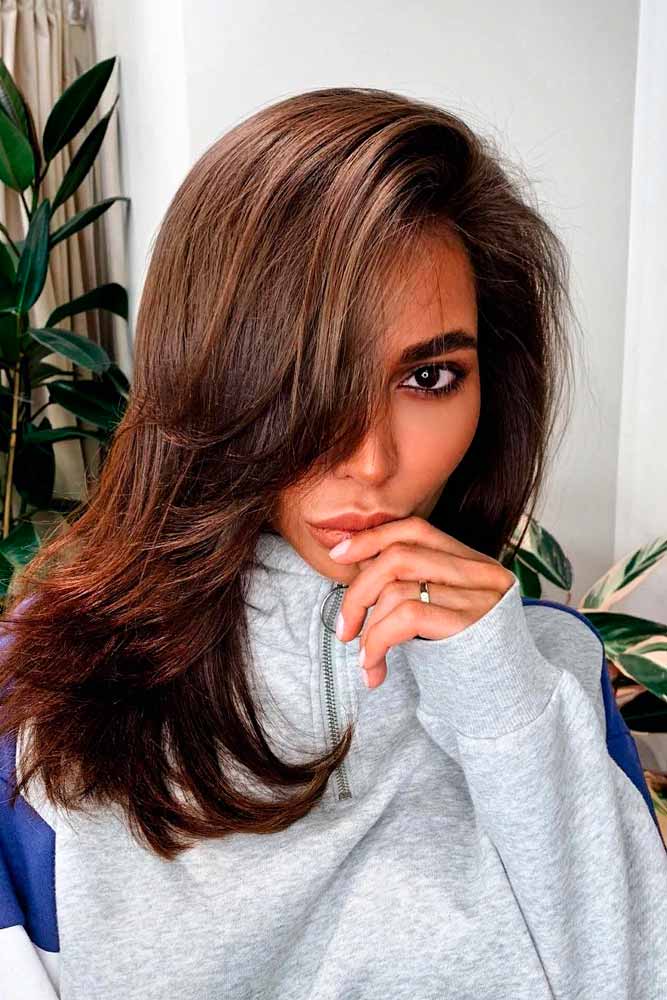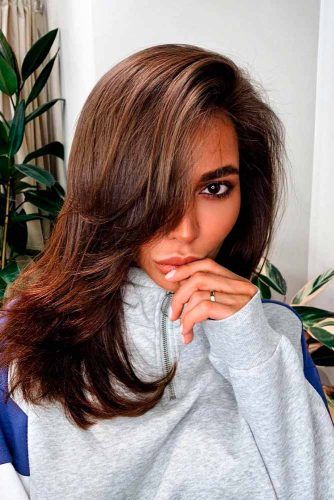 Source: ryabchik.moscow via Instagram
To rock side bangs with long hair, ensure that the side-parting is aligned with your brows. Do the first snip by holding the scissors at an angle. Then, go on cutting the hair a little longer, giving them a tapered texture in this way.
How To Maintain Your Bangs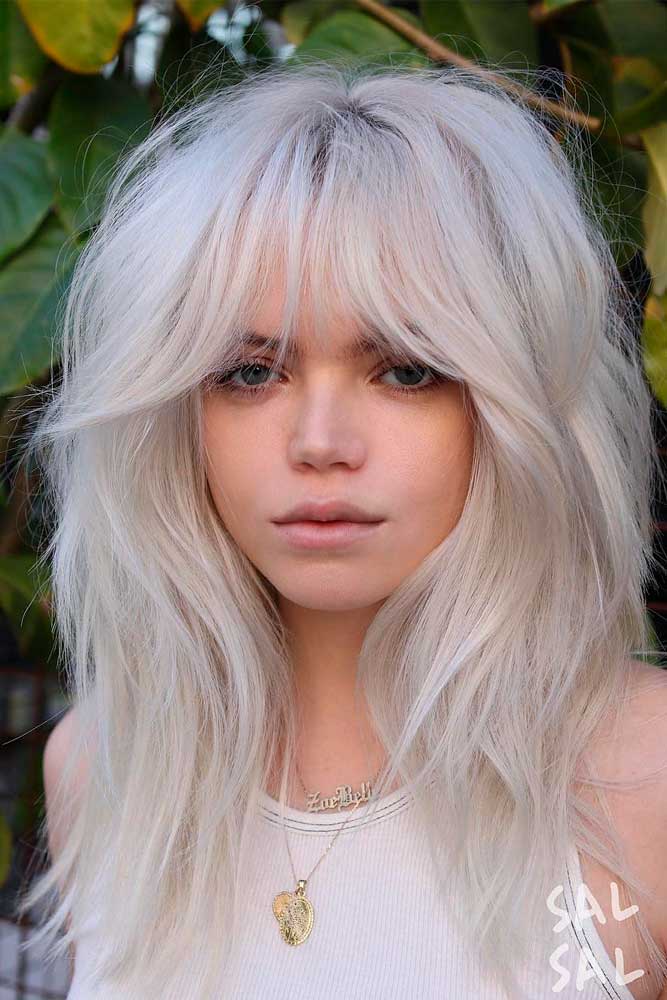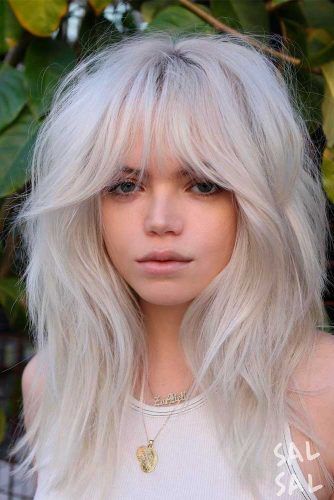 Source: salsalhair via Instagram
To keep up with your stunning bangs, follow the basics:
Wash them regularly, often independently of the rest of your hair. Bangs usually get greasy faster.
Trim your bangs every two or three weeks
Moisturize and nourish your fringe hair with oils or masks containing them to keep it healthy and fresh

The Hottest Variations Of Long Hair With Bangs

Here comes the inspiration part to fascinate you with the latest hairstyles and haircuts for long hair with bangs. See how to master wearing those cuties!

Bardot Hairstyle

Source: salsalhair via Instagram

Brigitte Bardot loved to wear long layered hair with bangs, and not for nothing! Whatever hair type or face shape you have, layers can give it a totally voluminous look, while the wispy bangs can do the framing.
Long & Curly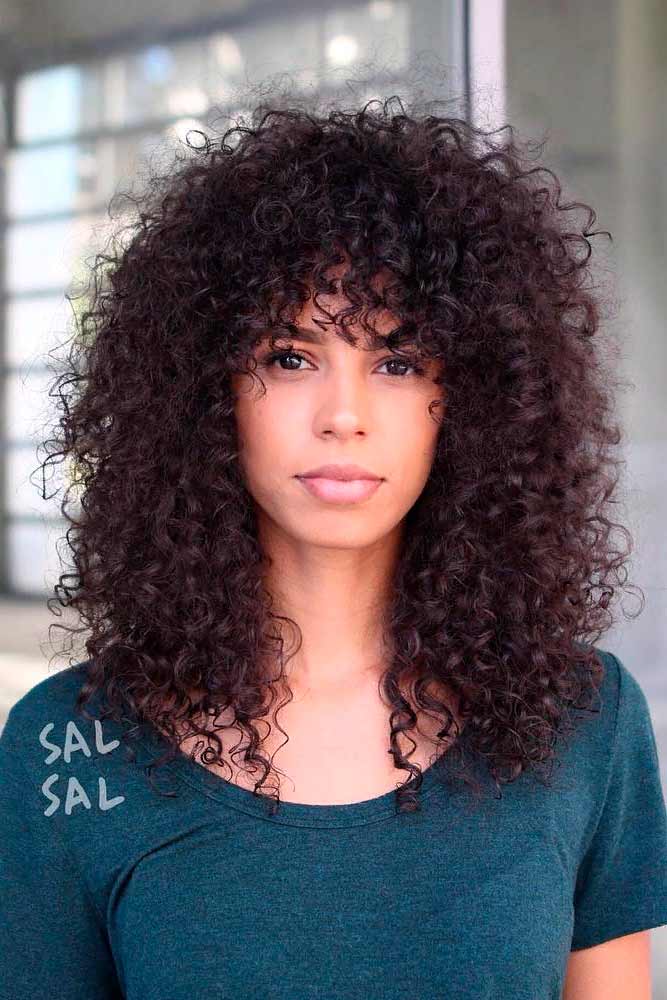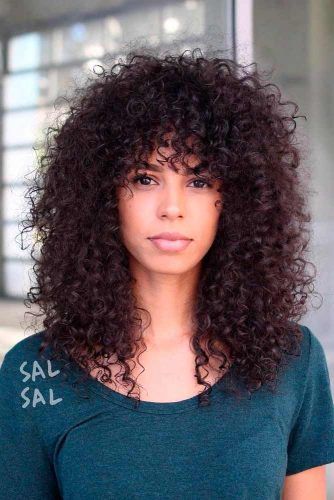 Source: salsalhair via Instagram
Bangs don't care about your hair texture; they simply make the most out of it. As you can see, the long curly hair with bangs that slightly hit the brows give a gorgeous, voluminous silhouette and evens out all facial features at once.
Long Shaggy Bang Style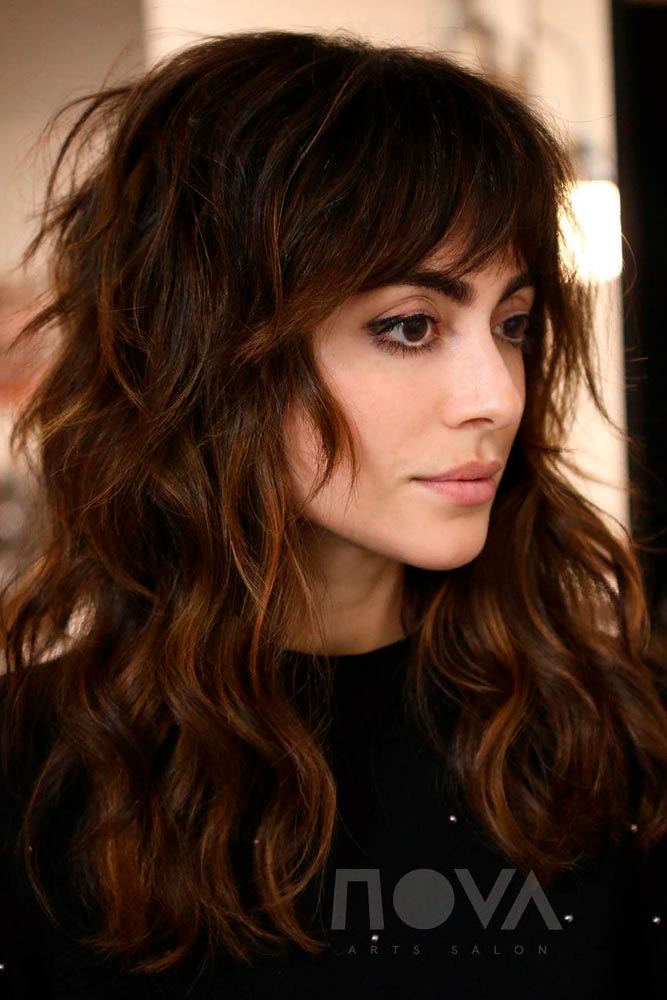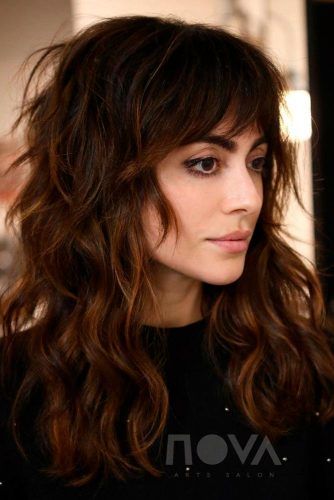 Source: salsalhair via Instagram
Getting long hair with bangs and layers is always a good idea for two reasons. First, layers give organic movement to the hair, enhancing its texture. Second, a long layered fringe is a fairy godmother for big foreheads.
Long Center-Parted Bang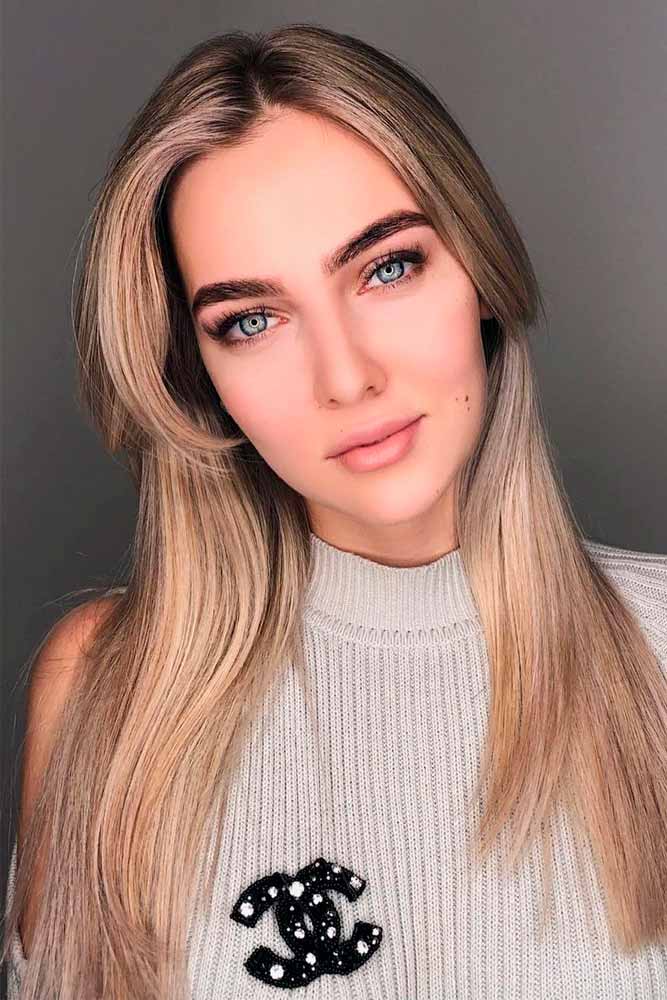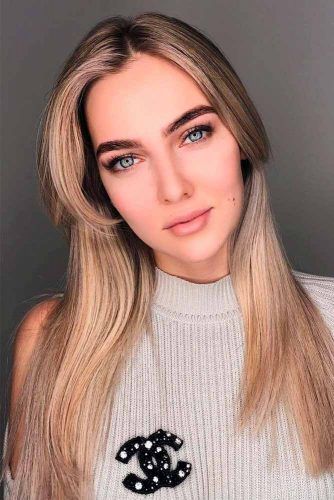 Source: ryabchik.moscow via Instagram
You can't go wrong if you embellish your long straight hair with bangs. The longer the fringe, the more room for face-framing styling there is, which is a win-win for all face shapes.
Messy Waves + Thin Fringe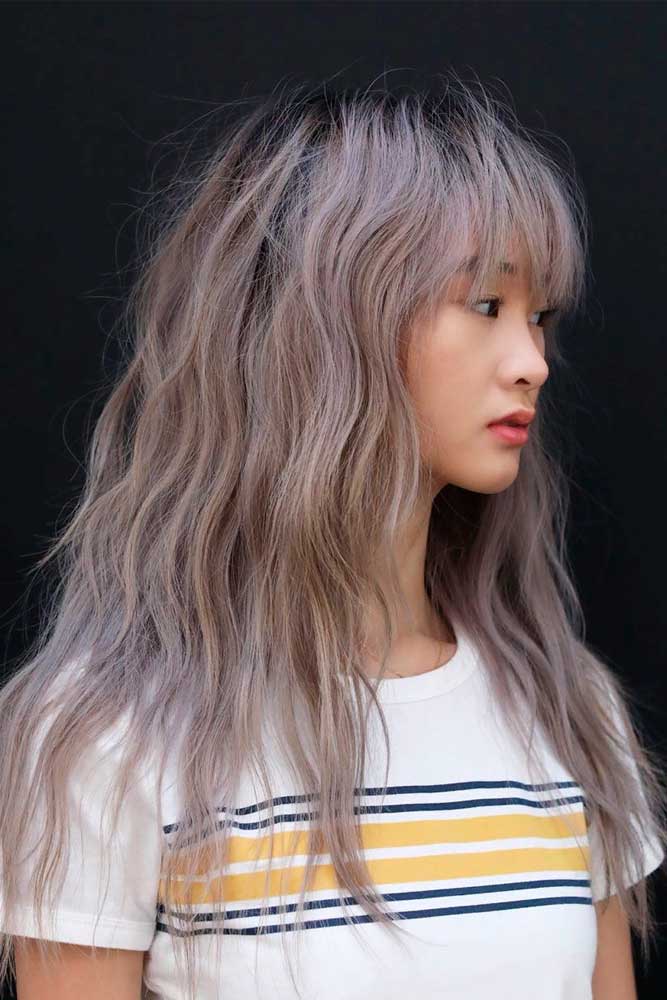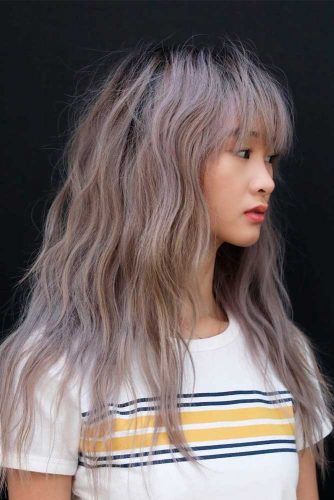 Source: anhcotran via Instagram
Long wavy hair with bangs is a stunning duo that seems never to go out of fashion. The point is to style the bangs in exact the same way you style your hair so that the look is effortless and authentic.
Long Side Layers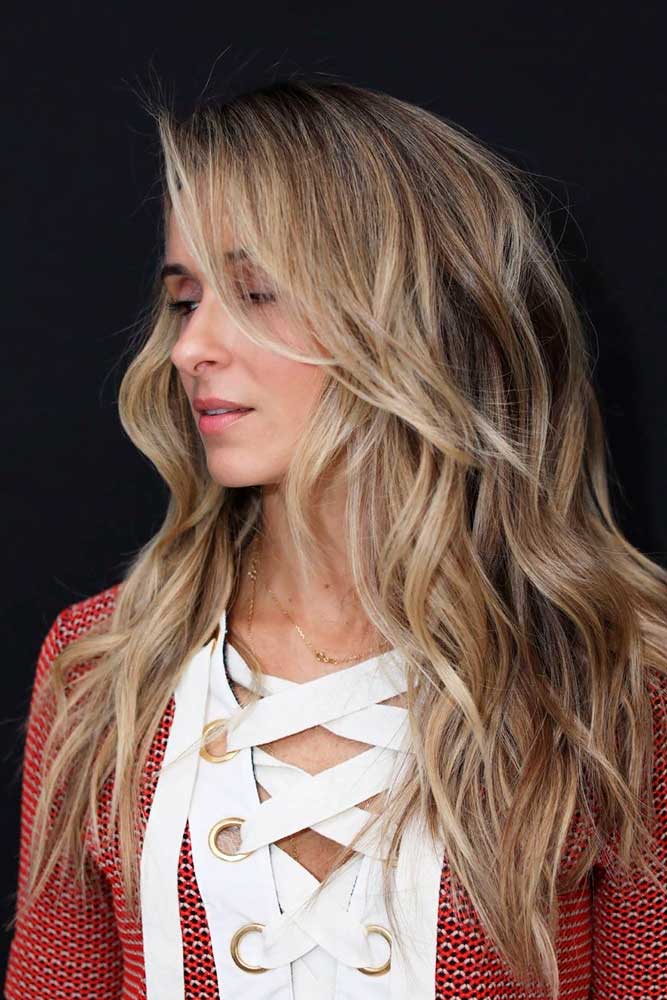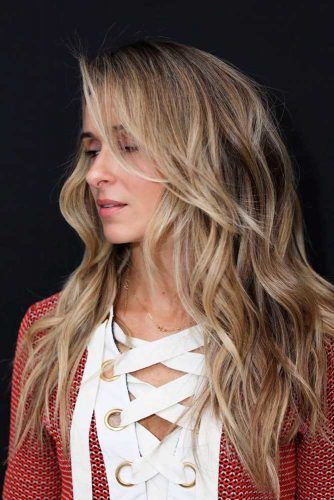 Source: anhcotran via Instagram
There are a plethora of creative looks featuring long hair with layers and bangs. They all are different and unique, but they still have one common trait: the edgy, angular body. If you ask your hairstylist for such a structure, you will take your look to the next level.
Long, Thin & Side-Swept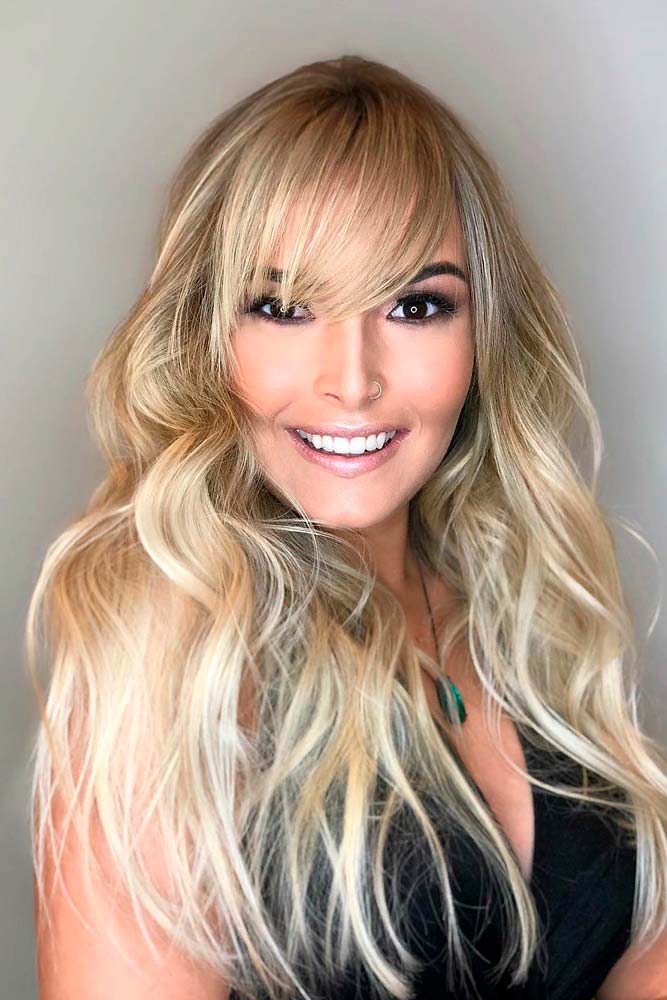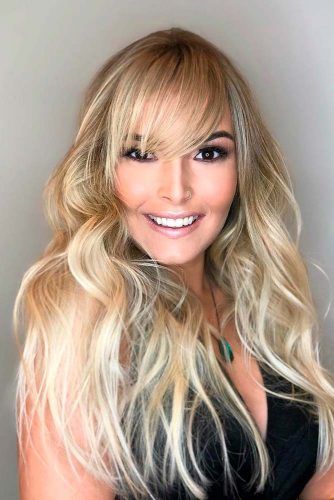 Source: rafaelbertolucci1 via Instagram
Thin bangs are another growing trend that ladies love to combine with hairstyles for long hair. And the reason for that is pretty simple: the airy texture allows to experiment with various styling and framing ideas.
Soft Arched Bang
Source: mr_colorist_2017 via Instagram
While long hair with side bangs balances out a silhouette by hiding a face partly, arched bangs take the easy way. This type of fringe works best for ladies with pointed facial features, adding a curvy touch with its rounded structure.
Before joining the club of bang lovers, every woman should set the hair goals. It doesn't matter if your goal is to work on your face shape or you simply want to change something in your look, as this post works for everyone. Now that you know how to diversify your favorite haircuts for long hair and make your face even more attractive, it's time to let experiments in your life!