Every woman wants to look her absolute best no matter what. Luckily, these days we have lots of means at our disposal to help us succeed with the goal. The limitless amount of makeup tips, as well as means, is truly the tremendous tribute to the world of beauty. However, despite this fact, there is something else to keep in mind. What we mean is the face shape. The truth is that most of us have different face shapes and that means that when it comes to a haircut, makeup, glasses, and anything that concerns the face should be individual. In case you ever wondered what is my face shape – you have come to the right place. Today we are going to help you not only determine your face type but also we are going to provide you with all the beauty hacks concerning given shape!
How To Determine The Shape Of Your Face?
Those of you who wonder what face shape do I have – you have come to the right place! It is true that there are different face shapes but here we are going to help you find yours. When it comes to all the types of face shapes there is the same list of details to take into consideration:
The width: What is The Widest Part Of Your Face?
In case your forehead is the widest part of your face this means that your face is of a heart shape.
If your cheekbones are the widest part – then diamond shape it is.
Jaws are the widest for those who have triangular face shape.
In case your face seems to be equal from the forehead to the jaws then you may have oval, or square or round face.
The Shape Of Jaws
Pointy jaws are peculiar for a heart-shaped face.
Square jaws are peculiar for the square-shaped face.
Round jaws are peculiar for oval or round face.
Face length
Short faces are almost always of a round shape.
Average faces can be of any shape, from oval to heart-shaped.
Long faces usually belong to the oblong category.
Round Face Shape
Kirsten Dunst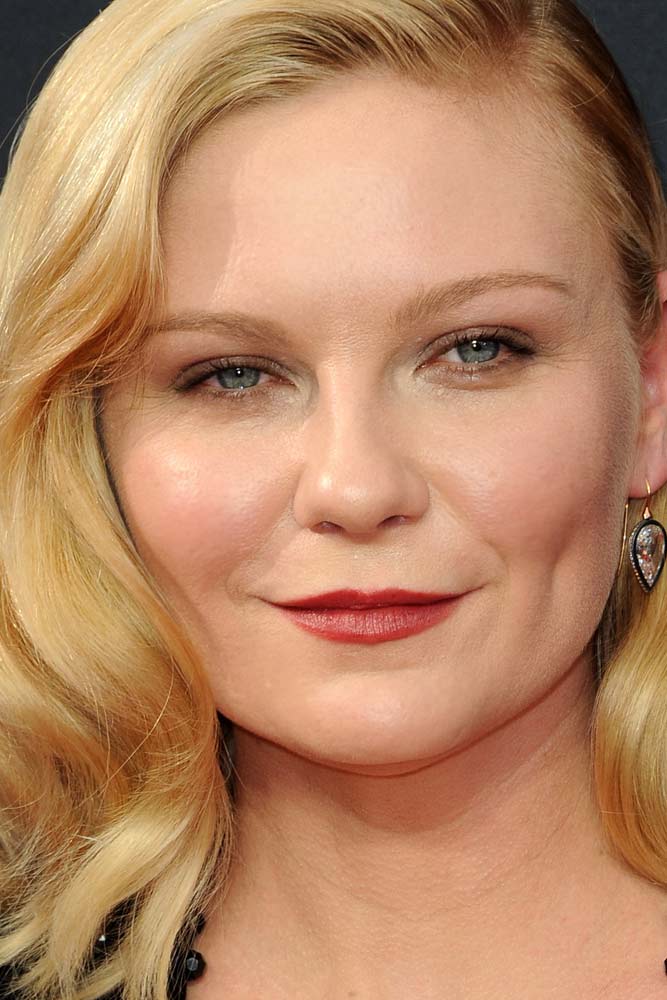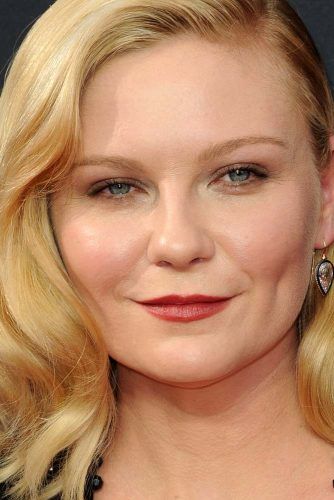 Source: Tinseltown/Shutterstock
A round face is rather peculiar. The thing is that when it comes to the vertical to horizontal ratio it is equal. The features are usually rounded and soft and this means that your chin is round as well. As for the widest part of your face – it is your cheeks. In case you wish to compare this face type to celebrity face shapes think Kirsten Dunst. When it comes to makeup, you need to keep it in mind that you need more lines and definition. This means that angled brows and contoured cheeks are your best bet. Also, it is essential that you add some shimmer to your cheeks as well, so that they are enhanced and glowing. As for the haircut, you should better opt for an asymmetrical lob if you like to wear your hair longer. In case short cuts are more preferred to make it tousled pixie.
Oval Shape
Jessica Alba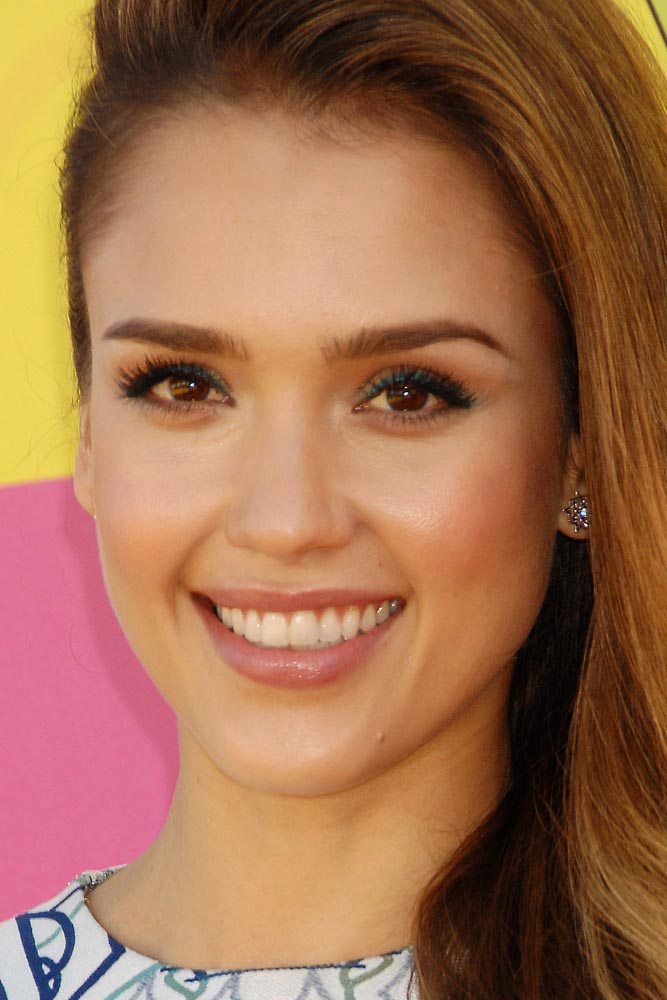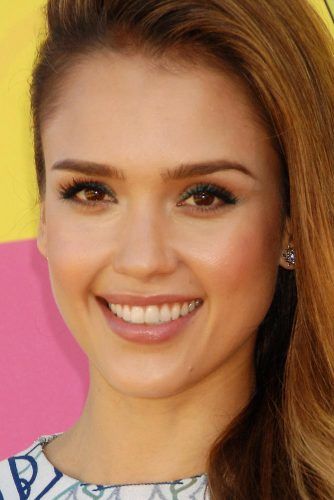 Source: Ga Fullner/Shutterstock
The truth is that oval face shape is, in fact, a longer version of a round one. This means that your face is a little longer than wider and your forehead is the widest part of the face instead of your cheekbones. However, the chin remains as rounded. When it comes to the makeup, you need to always remember that balance is your best friend. What does that mean? This means that when you go heavy on your eyes you leave the lips neutral and vice versa. As for the eyebrows – stay out of the drama. The best way out is to simply follow the natural shape of the brows without over plucking them. Besides, a little bit of highlighter along the nose bridge and forehead is never a waste. When you are about to head to the hairdresser's – tousled bob or side-swept pixie are the cuts to give a try to.
Oblong Face Shape
Liv Tyler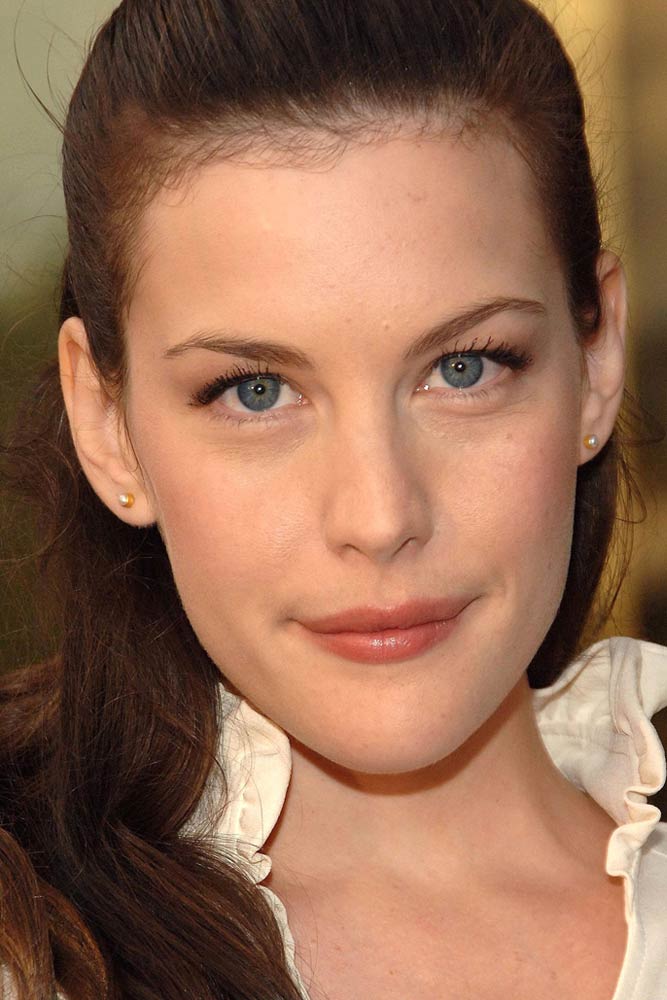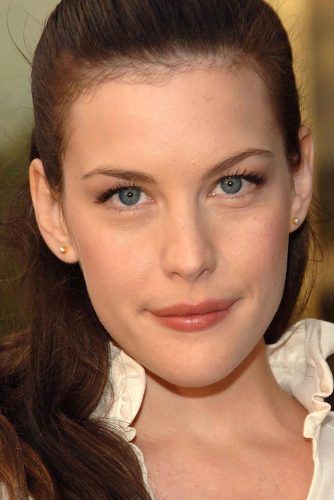 Source: Everett Collection/Shutterstock
Oblong shape defines the face that is a lot longer than wider and usually the width of the face is equal throughout it. Yet, it should be noted that the chin is little curved. Such a face shape belongs to Liv Tyler. It is essential that you know how to soften the angles when putting on the makeup. The fact is that oblong face type is slightly angular and it is best if you cover up the unnecessary angle professionally. With the help of bronzer, you can soften the temples and jawline. In most cases, that is more than enough. When it comes to the eye makeup – cat eyes are your best bet. The truth is that such a makeup will add that required width to your face. What is more, you need to learn to apply blush to the top of the cheeks. A long pixie or an average cut with bangs will complete your perfect look.
Square Face Shape
Emily Deschanel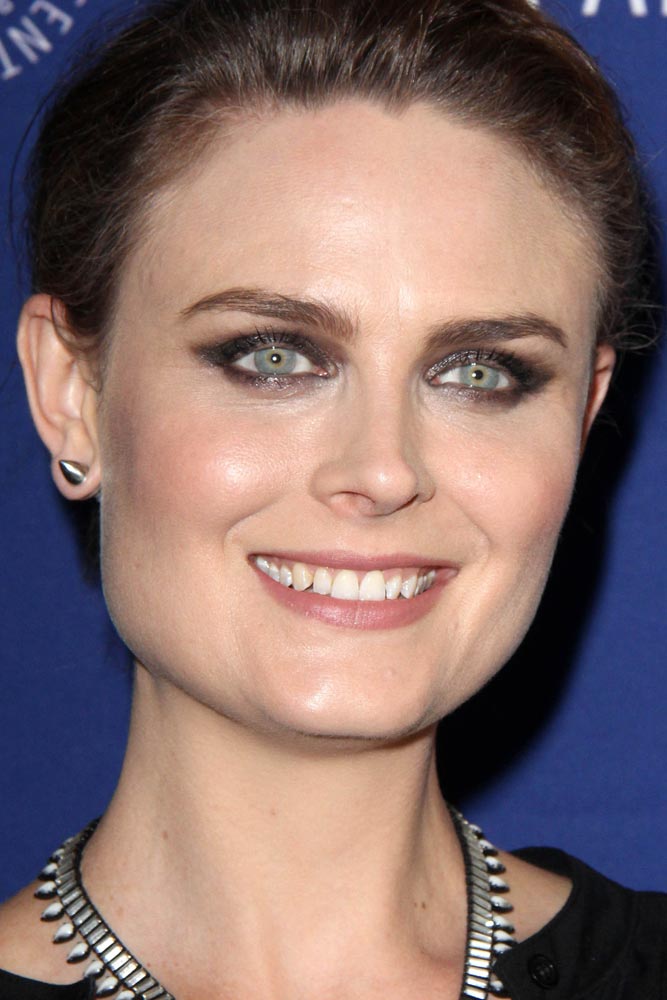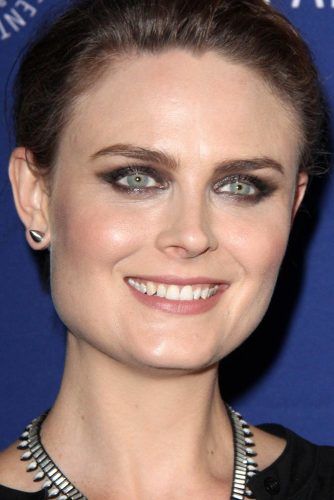 Source: Kathy Hutchins/Shutterstock
When it comes to the term – square face it is not that difficult to figure out how such face shape looks. The sides are usually straight but there may be a slightly curved chin. Such a face is well-proportioned and the jaws are the most angular. Think Emily Deschanel if you wish to imagine such a shape. It should be mentioned that women with such face shapes need to master contouring so that all the sharp angles are softened. Highlighter should not be neglected as well. As for the drama, it is best to add some to your lips so that the attention shifts from the angled jaws to bold lipstick instead. In case, you wonder what cuts suit such a shape best, we think that side-swept bangs and angled bob will hit the top of the list.
Heart Face Shape
Alyson Hannigan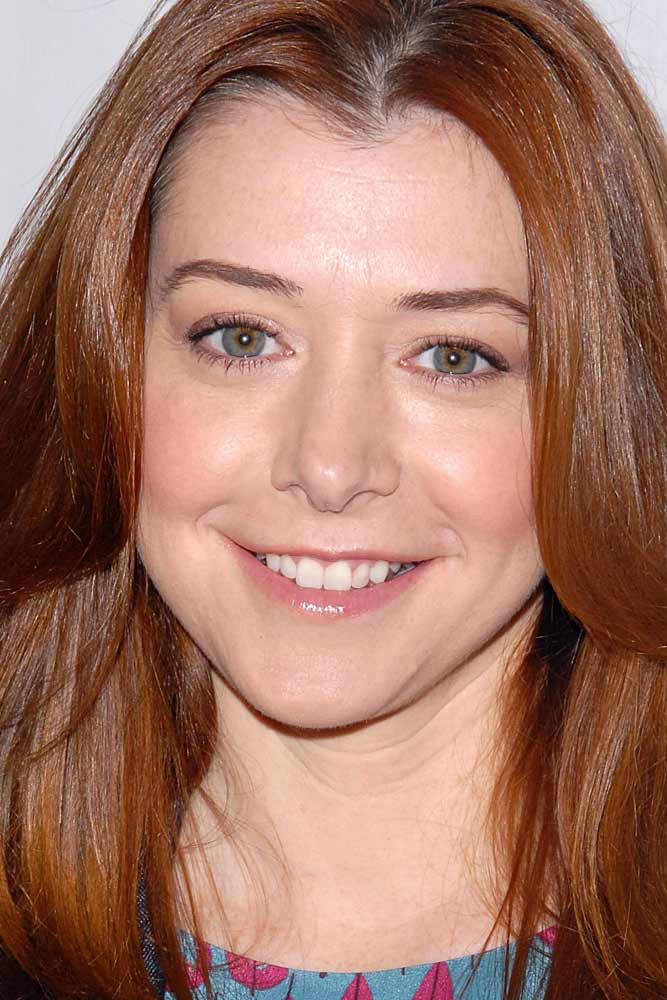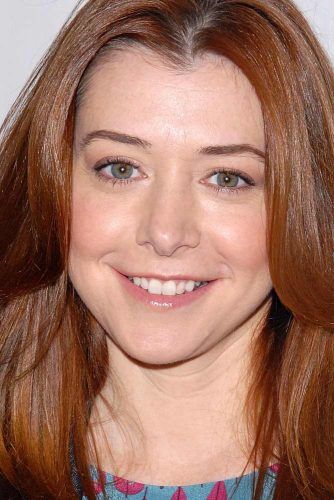 Source: Kathy Hutchins/Shutterstock
When you think about heart shaped face, it seems obvious enough that the main defining details about it are the wide forehead and pointed chin. There are some sources, which claims that women with such a face shape usually have a widow's peak but we say that it is not always the case. Alyson Hannigan is the well-known actress with the heart face shape, in case you wondered. The fact is that a heart-shaped face is already well defined that is why you need to go easy on the makeup. It is best to stick to soft smokey eyes and voluminous lashes. As for the contouring, it is best to use some bronzer for a softer look. Of course, many of you wonder – what about a haircut. The truth is that a lob with bangs or a cut with long layers will fit in just perfectly.
Diamond Face Shape
Ashley Greene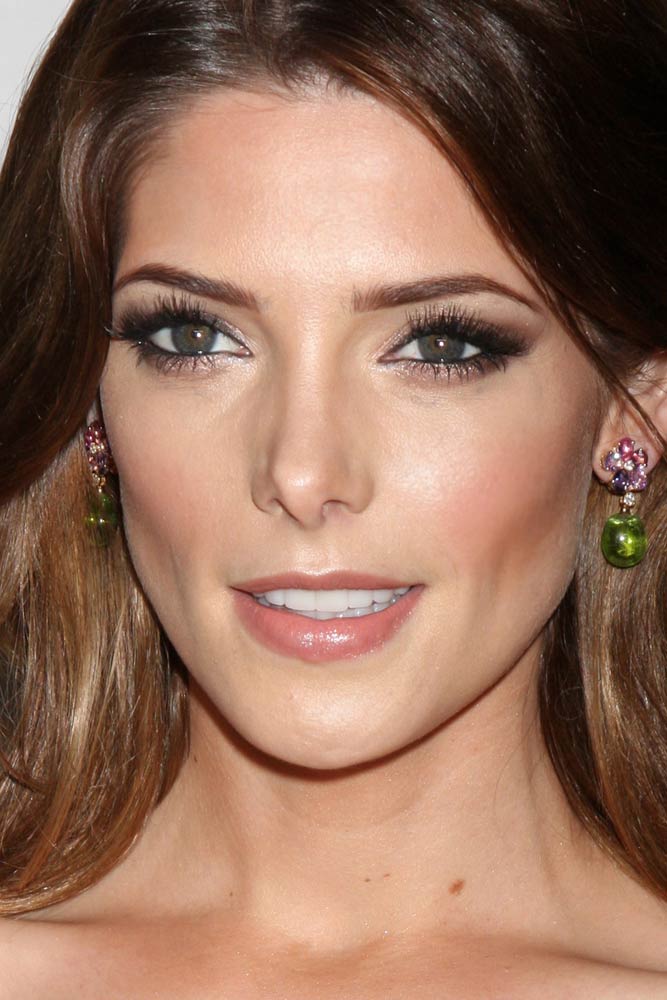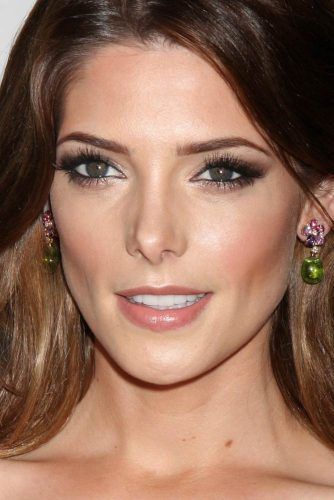 Source: Kathy Hutchins/Shutterstock
Very often it is super easy to mistake a diamond face shape for a heart-shaped one. However, the difference lies in the fact that in this case, the forehead is a little bit narrower. As for the prominent features, you need to pay attention to high cheekbones and pointed chin. Ashley Greene is one of the best celebrity representatives with such face shapes. The truth is that when it comes to makeup for such a face type it is safe to say that you can use anything you like most without any fear. Bold lips, contoured cheeks, highlighted forehead, cupids bow, chin and the bridge of the nose – all that has a green light when it comes to makeup. When it comes to the haircuts and styles you have a vast range of options to choose from as well, but we think that long waves with layers or chin-length bob are the best to give a try to.
The Inverted Triangle Face Shape
Scarlett Johansson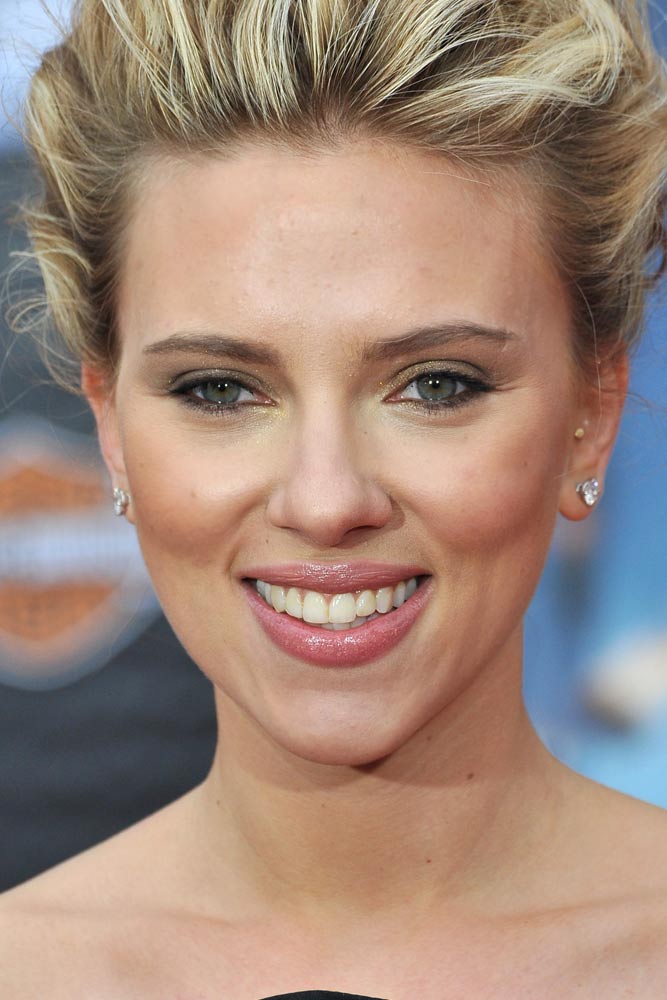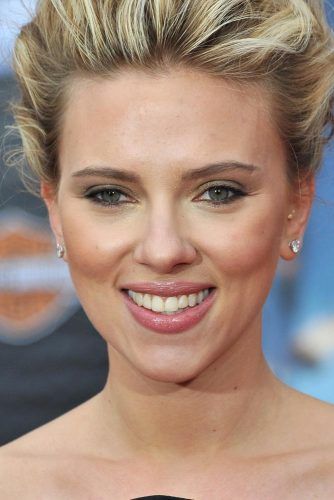 Source: Featureflash Photo Agency/Shutterstock
Truth be told it is even easier to mistake inverted triangle for the heart face shape. The thing is that they are almost identical. However, the absence of a widow's peak is said to define an inverted triangle face shape. Wide forehead and pointed chin are the most prominent details about such a face. Think Scarlett Johansson to imagine the face. Since this shape is pretty dramatic it is essential that you learn how to balance it. That is why you need such a makeup that will reduce the forehead width while will add some of it to the jaws. As for the haircuts, you can easily pull off the same ones that ladies with heart shape opt for.
We all know that there are different face shapes. However, do you know how to determine yours? What is more, it is not enough to define the shape, you also need to figure out which makeup looks suit you most, not to mention the haircuts. Worry not – we have all these details covered!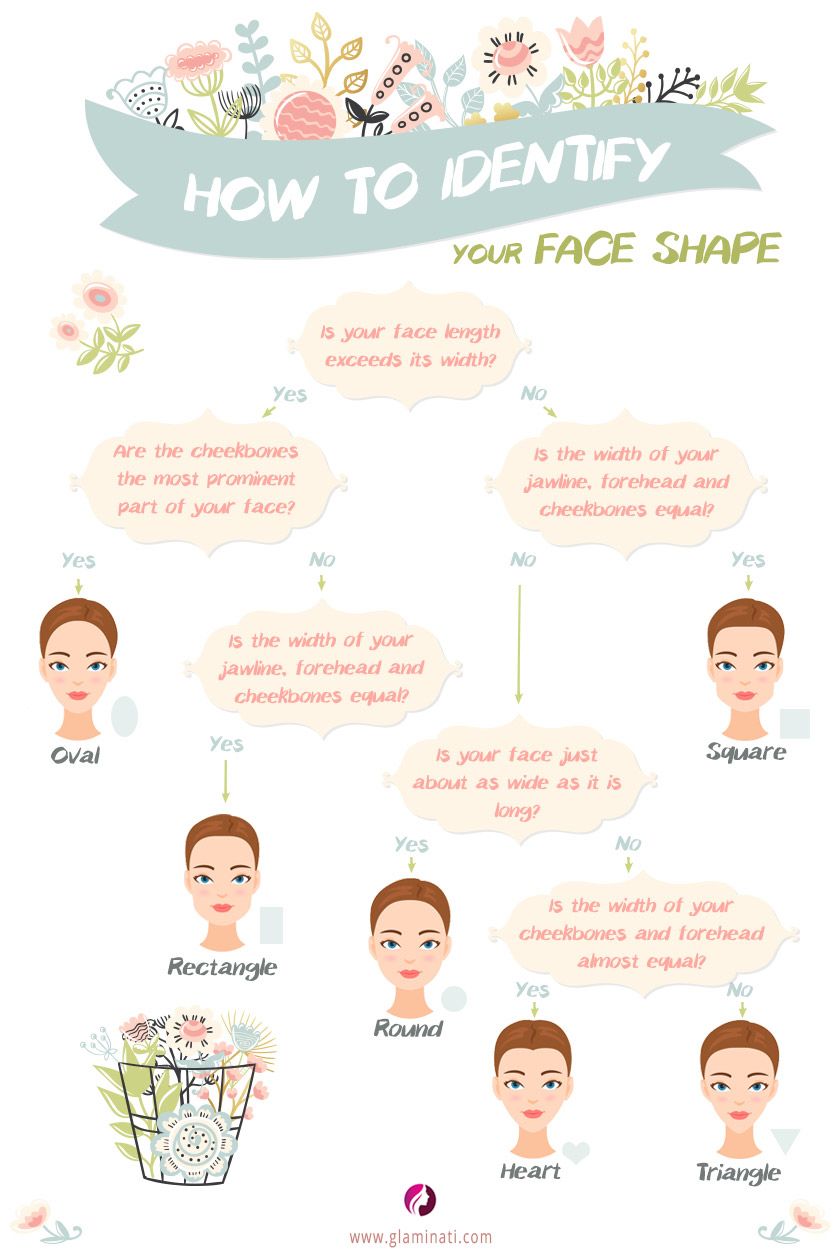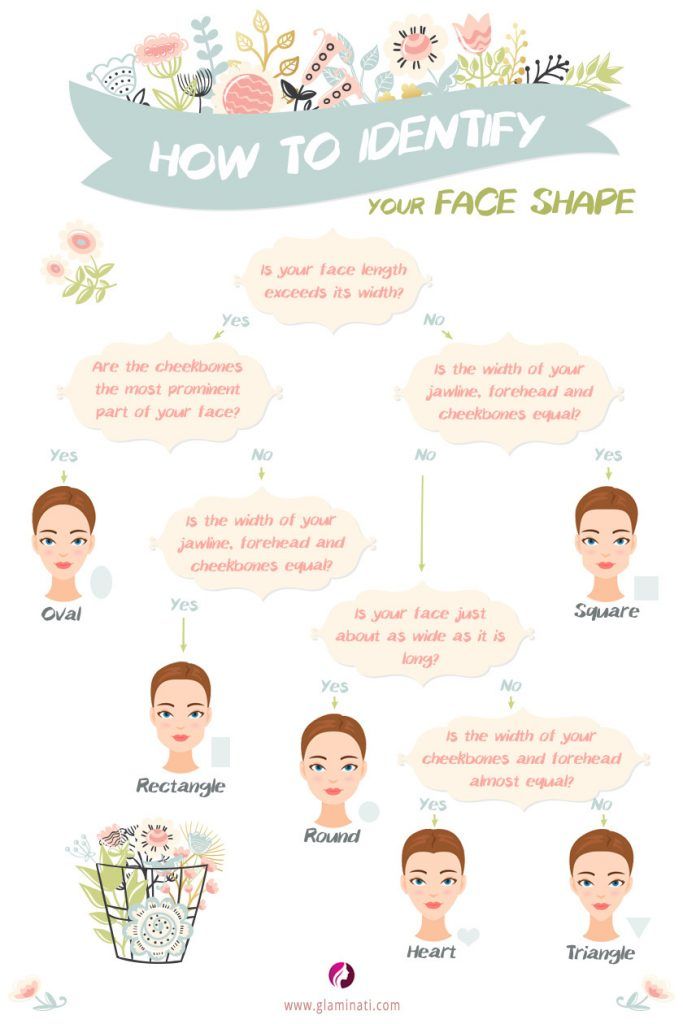 FAQ: Face Shapes
How can I change my face shape?
Return your gaze to the ceiling by tilting your head back.
Move your lower lip as far as you can across your top lip. It's important that you feel this in your jaw muscles near your ears.
Hold for a total of 10-15 seconds.
Make 10-15 sets.
What makes a female face attractive?
The size and arrangement of your facial features matter a lot. The distance between the centers of a woman's eyes, for example, has an impact on whether she is deemed attractive. When that distance is slightly under half the breadth of her face, people think her more appealing.
Why is my face getting fatter?
Weight growth is the general cause of facial fat. Excess facial fat is caused by a bad diet, a lack of activity, genetic disorders or aging. The jowls, cheeks, beneath the chin and neck are the areas of the body where fat is most noticeable. People with rounder, less-pronounced facial features tend to have more face fat.