A rose gold hair shade, in its essence, is metallic pinky that combines glowing blonde and coppery red hair. As a result, this hair shade looks more natural, comparing to pink hair.
Such hair colors would work great for blondes who wish to spice things up without committing to some darker shades. And brunettes can rock these hues, as well though they might need some patience to get the right hue.
You can sport rose gold on its own, or you can pair it with some other hair shades, for example, dark brown, ash, or auburn hair. Let's see how to pull off this hair shade to look gorgeous.
Rose Gold Hair: How Keep Up With Trends
Ready for a new hair look? If it's time for a glow-up, then rose gold is the color for you. This beautiful color comes in many shades, making it an ideal choice for women who want the ability to personalize their color. It flatters all skin tones, is a celebrity-coveted color rocked by celebrities like Katy Perry, and works on any hair color.
See how you can get rose gold hair with the tips below!
How to Choose the Perfect Rose Gold Hair Color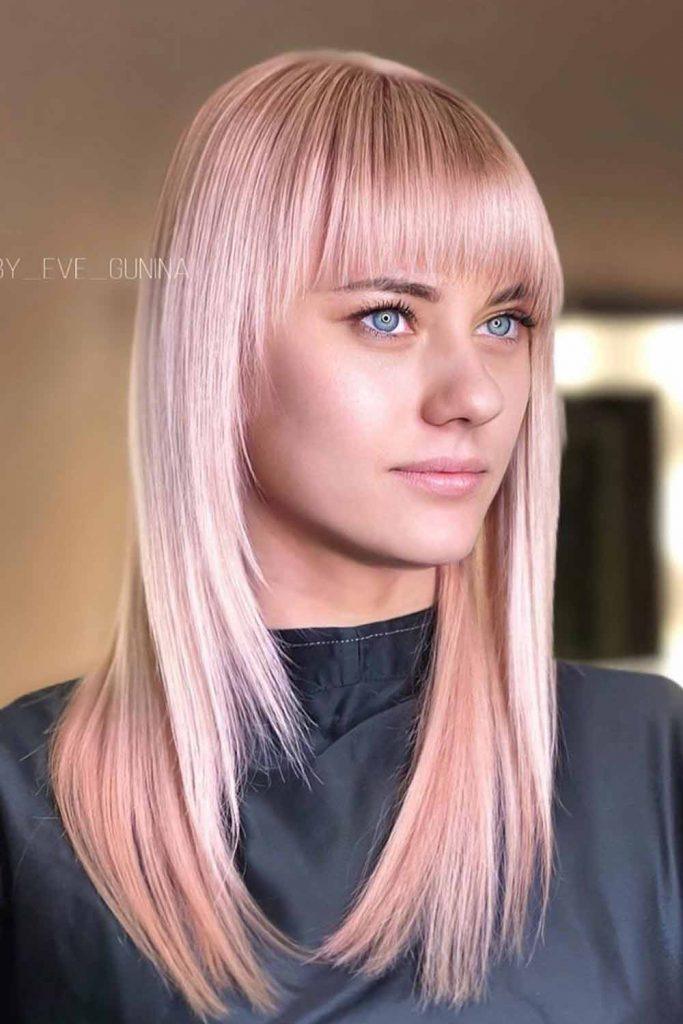 Credit photo: instagram.com/by_eve_gunina
Shades of rose gold hair color vary from dark to light and they are all beautiful, so the good news is you cannot go wrong with any choice. For truly beautiful hair style, choose rose gold hair dye the next time you are at the stylist. This color and its many shades naturally show up best on women with light-colored hair, such as blonde or light brown, but if you have darker color like black or dark brown, you can still achieve a beautiful result using overtone rose gold. Permanent hair color can last between 4-6 weeks, or as long as it takes for your hair to expose the roots; at this point, a touch-up will be needed to maintain your look. Semi-permanent (temporary) color will last between 4-5 weeks.
How Do You Get Rose Gold Hair?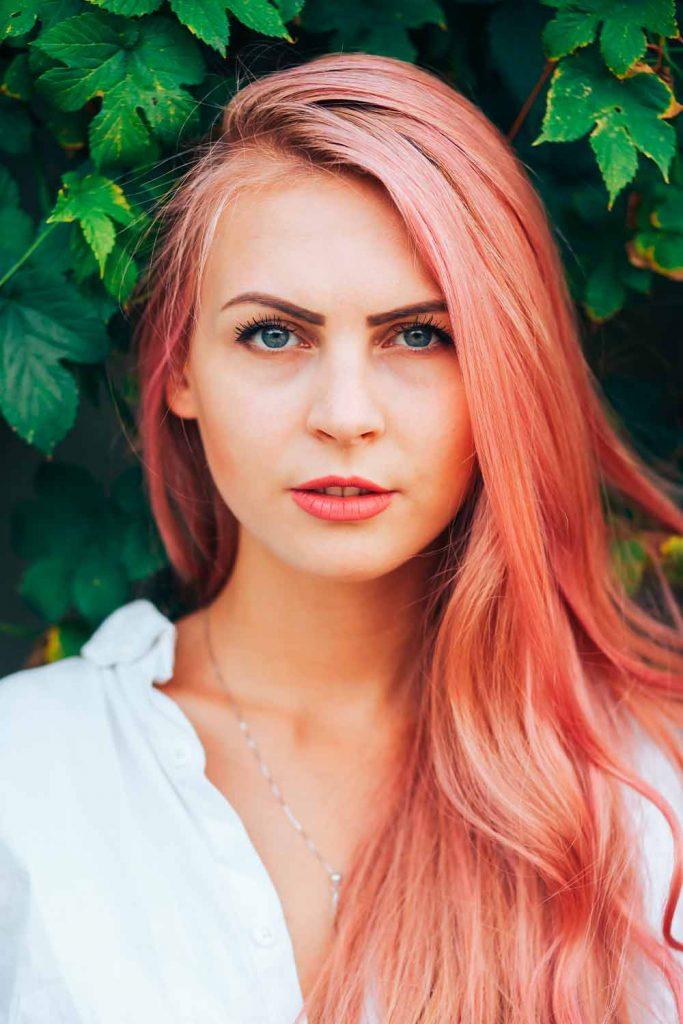 To avoid any serious discoloration, make an appointment with a professional hair stylist. At-home treatments of rose gold highlights or all-over color can be difficult to do solo. For women with light hair, the list of options for rose gold is longer. Having dark hair means you'll need to have several sessions at the salon to lighten the hair first. This process can be time-consuming and costly. If you have brunette hair, choose rose gold overtone – to get the best results, bleach the hair first, then apply color. Overtone on dark hair simply means there is more pigment.
Your stylist will mix gold, silver, and red, then paint this color on your hair in small sections, wrapping each in foil, and you'll sit under a dryer for 15-20 minutes, although the time may vary depending on the darkness of your hair.
Dyeing Your Hair Rose Gold at Home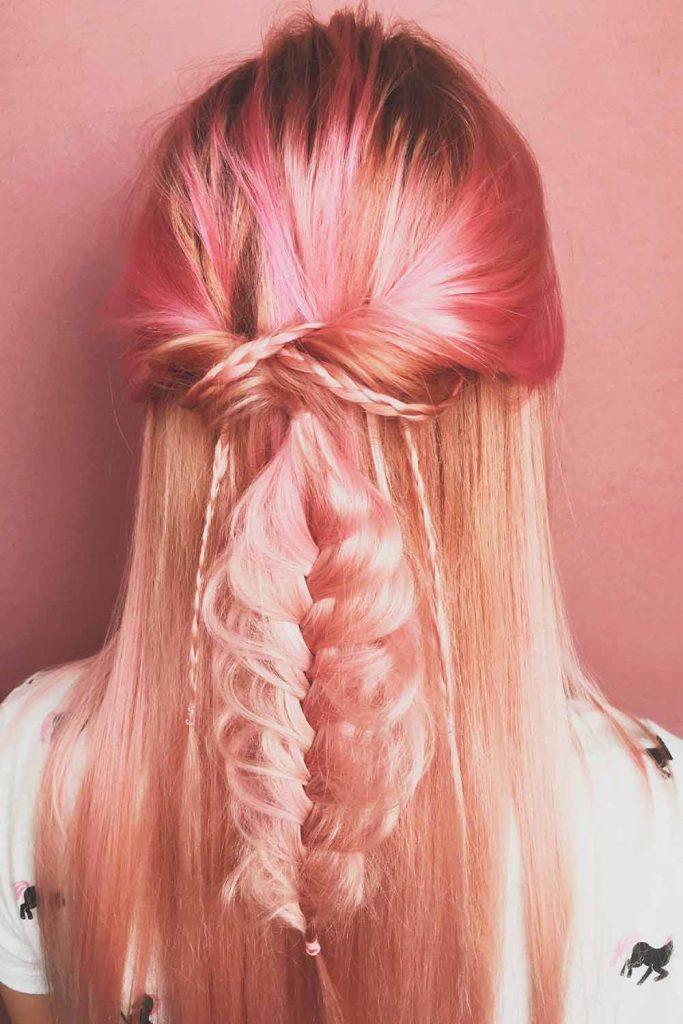 To try your hand at rose hair color solo, there are several options. Overtone is an easy color product you apply to wet or dry hair with hands, leave on for 10-15 minutes, then follow up with a rinse. Another option is ColorSmash Hair Shadow which you apply to dry hair with hands or a brush and seal with hairspray. Lastly, Garnier makes Color Styler; apply to dry hair, brush, and let the product dry completely. With these three products available to assist you, all of these will easily allow you to achieve rose gold hair.
How to Maintain Rose Gold Hair Color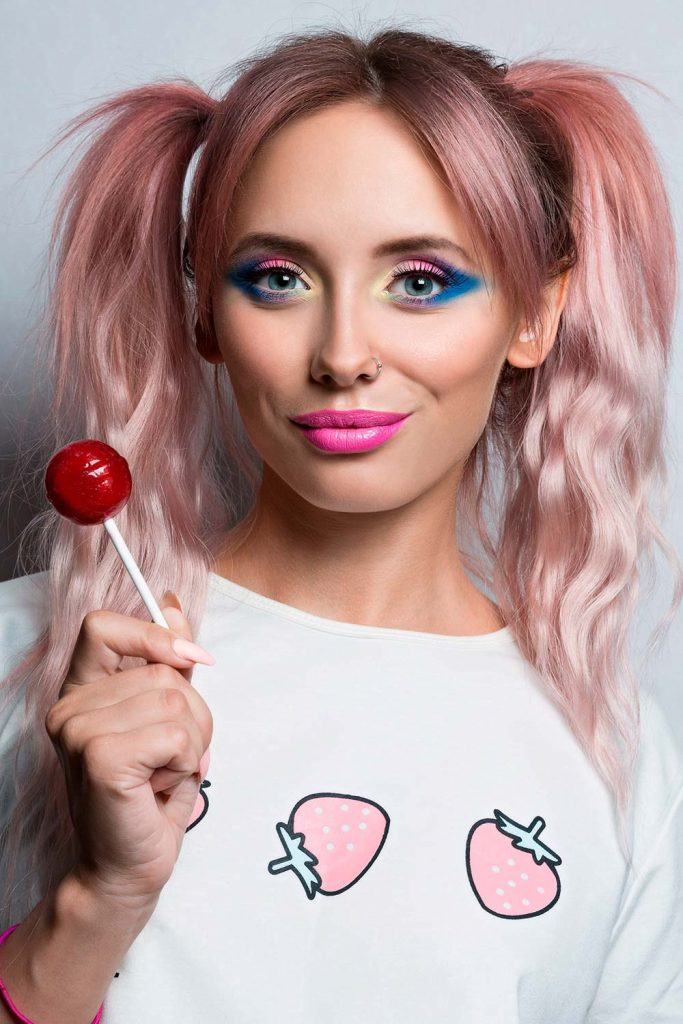 To make your hair color last, be sure to use a deep conditioner, avoid using really hot water when washing your hair, minimize use of hot tools, and air dry your hair as much as possible. Shampoos that are made for color-treated hair are the best. If you had to bleach your hair several times before adding in the rose gold color, using leave-in conditioners when styling your hair will also help retain moisture.
The Best Rose Gold Hair Ideas
Blonde And Rose Gold Color Combo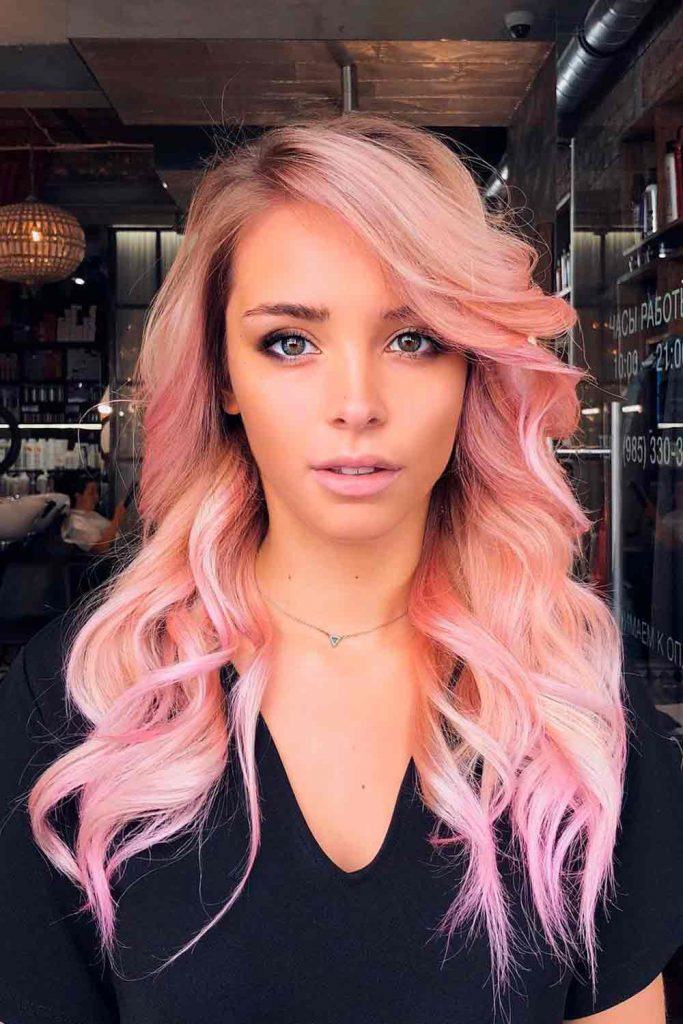 Credit photo: instagram.com/ryabchik.moscow
A beautiful medium length wavy hairstyle is stunning with rose gold color. Subtle highlights of light blonde blend perfectly with this shade; the color combination flatters a multitude of skin tones.
Pale Rose Gold Hair Color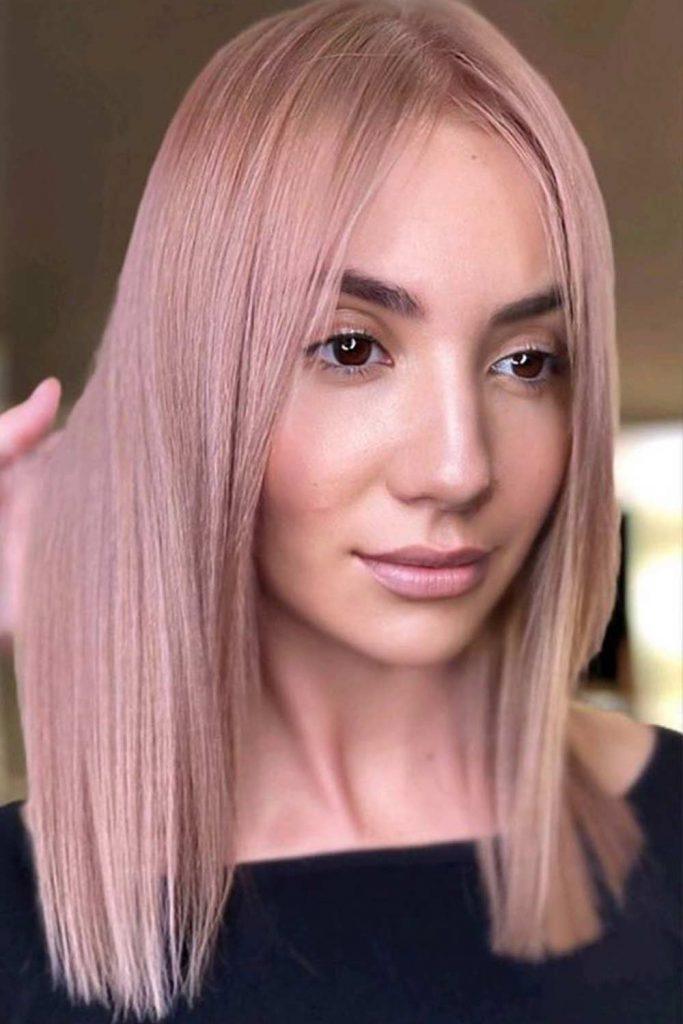 Credit photo: instagram.com/by_eve_gunina
Getting bored with being a blonde? Rose gold will give you a beautiful glow. Wear hair wavy or straight for both formal and informal occasions.
Rose Gold Ombre Hairstyle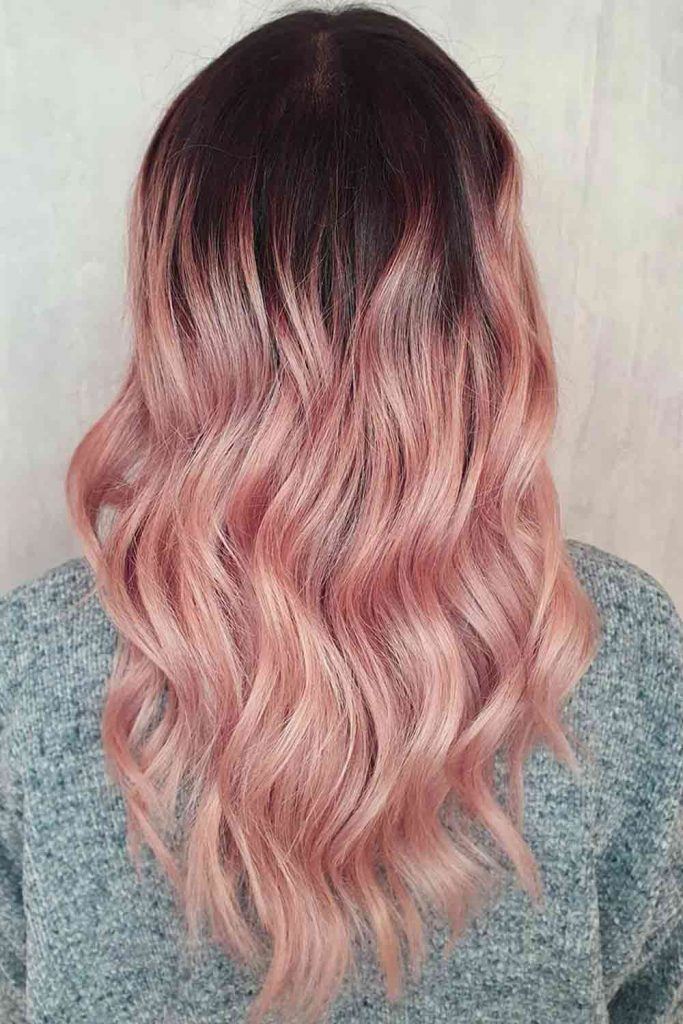 Credit photo: instagram.com/pelunini
Rose gold blonde hair is a gorgeous color on any woman. Aim for ombre for a subtle blend from your natural color to this shade.
Pink Blonde Hair Shade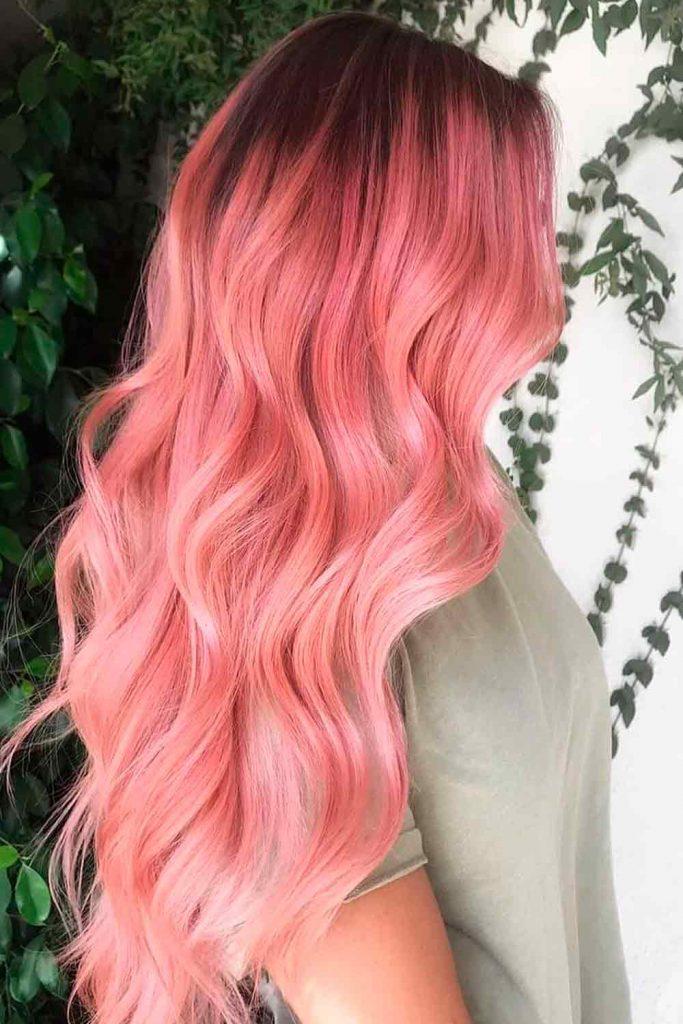 Credit photo: instagram.com/cabelos_coloridos_
Whether your hair is long or short, a rich rose blonde hair color will touch up your locks and give you that beautiful glam-up. Pink blonde is another popular shade of rose gold to choose; this color especially flatters women with very light or pale skin tones.
Washed-Out Rose Gold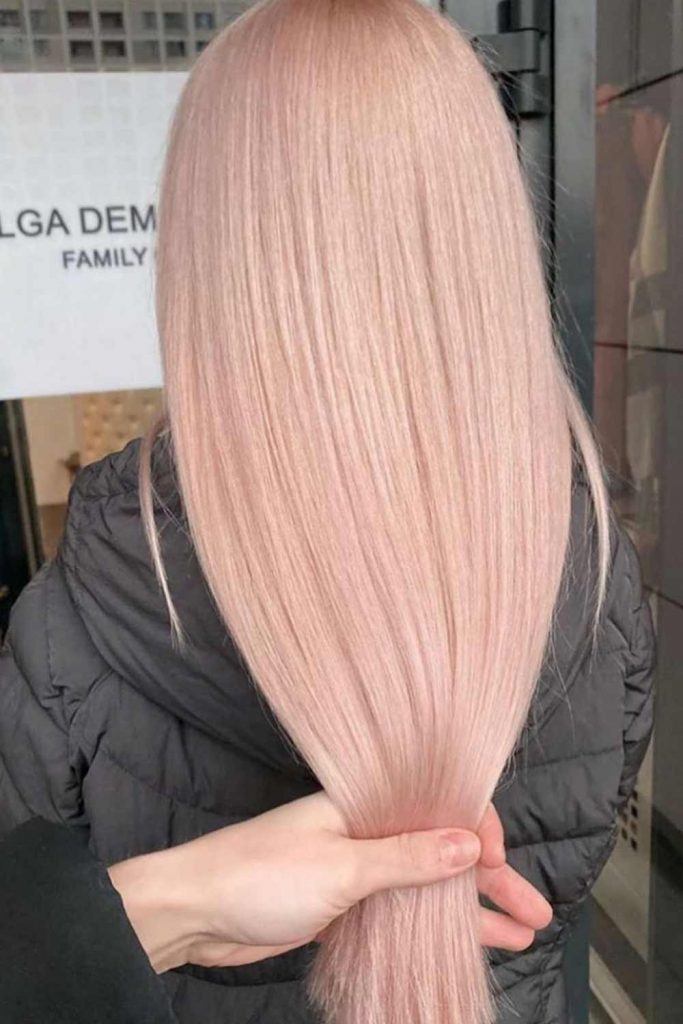 Credit photo: instagram.com/olajustdoit
One of the best shades of rose gold you can choose is washed-out rose gold. This is created by mixing pink and blonde hair for a result that is mostly blonde but with subtle notes of pink. This color and gold-rose hair is perfect for women who need to keep a professional hairstyle for work or who want to gradually ease into the rose gold look.
If you're not sure about jumping into the rose gold trend, try a muted shade first, like gold-rose hair. It will allow you to keep the light blonde hair you're used to but experiment with a small amount of color.
Rose Ombre On Brown Hair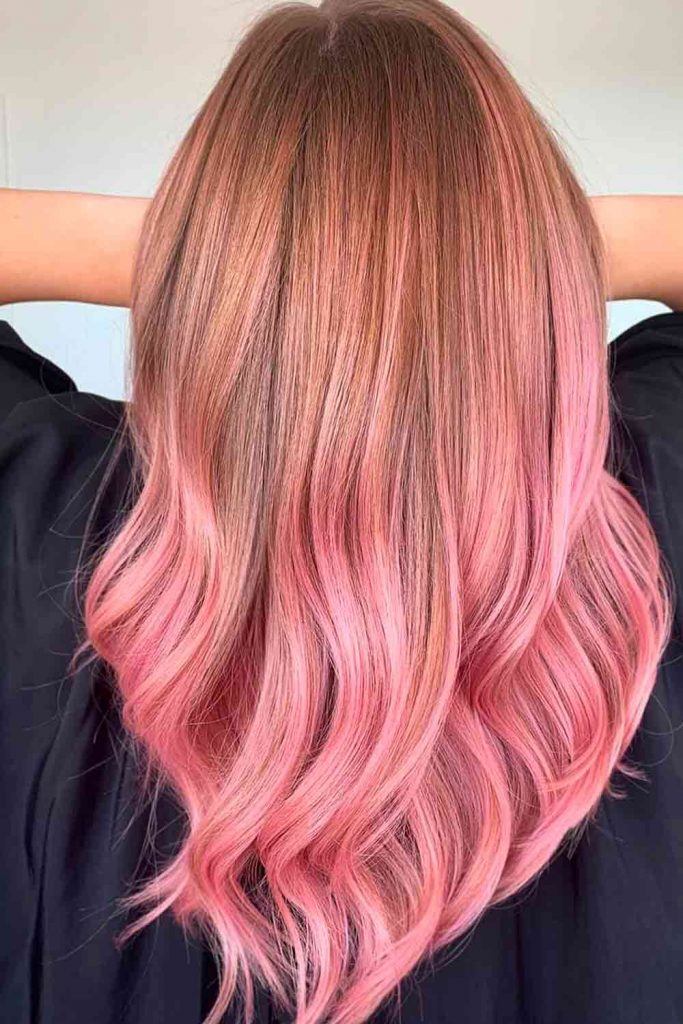 Credit photo:
Rose gold ombre is probably the most popular choice for a hairstyle and looks amazing on brown hair. When applying rose gold to brown hair, focus on the ends for a reverse ombre. The natural appearance of rose gold on any color hair is a tasteful and classic choice.
Rose gold toner is temporary and used to protect natural hair color, like blonde and brown. Once the rose gold color fades, you'll be left with a freshened-up version of your natural color.
Rose Gold Bob Hair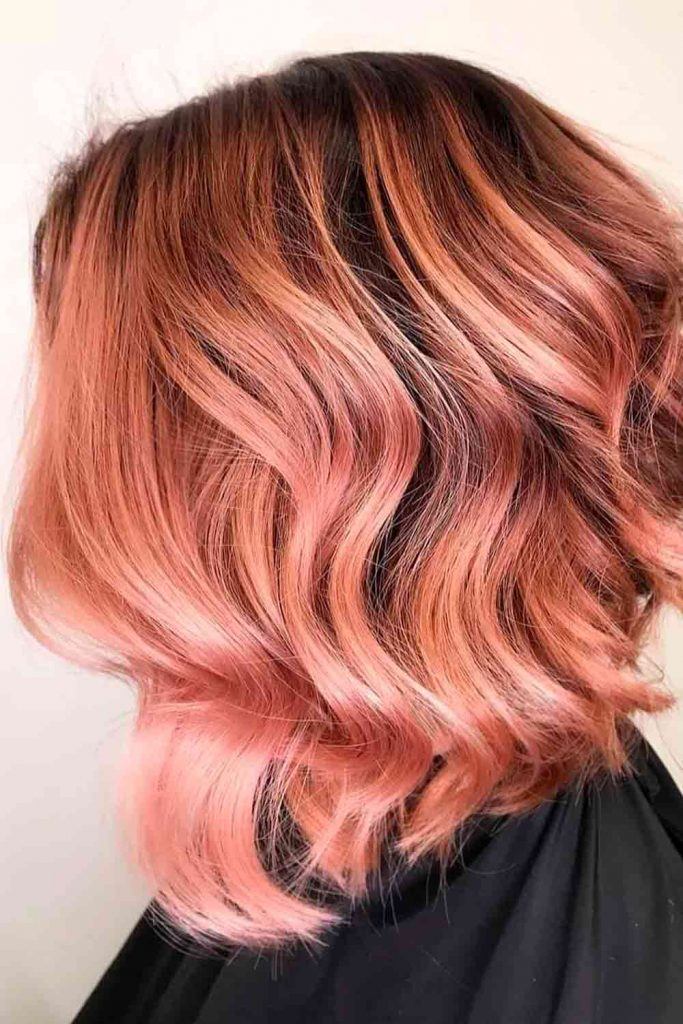 Credit photo: instagram.com/_beautymery
Prefer a low-maintenance short haircut that's still packed with style? Rose gold short hair cut into a bob is a chic, sophisticated look that will help you express your personality with color. Opt for choppy or blunt ends and wear wavy or straight.
This cute angled dark rose gold hair look is packed with detail. From the wavy body to the choppy ends and topped with beautiful color, you'll love it all.
Peachy Shades Of Rose Gold Hair
Credit photo: instagram.com/guy_tang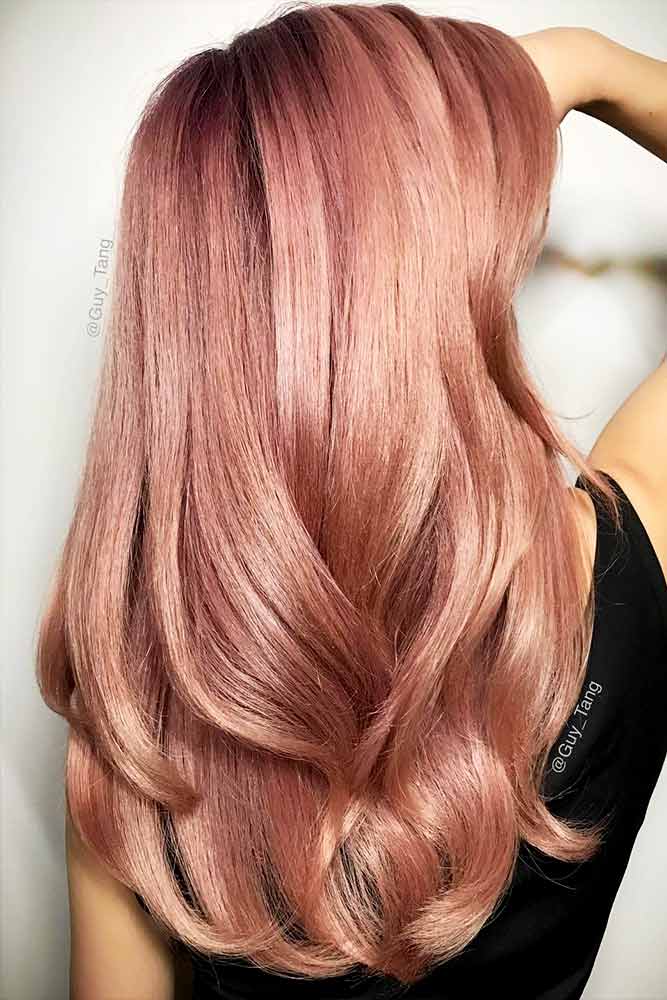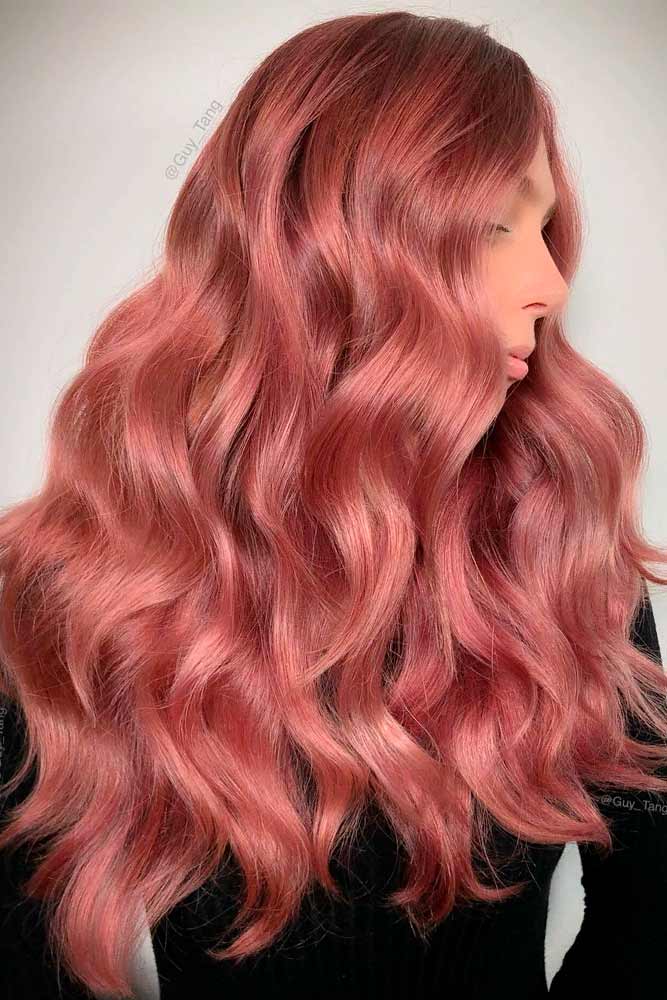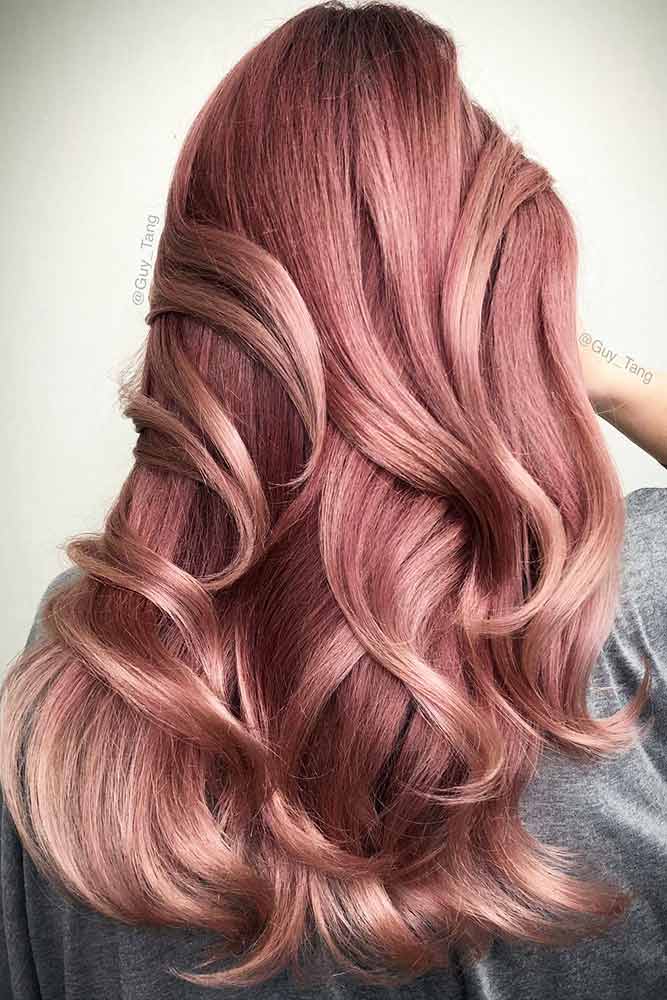 Credit photo: instagram.com/harttofcolor, instagram.com/kimwasabi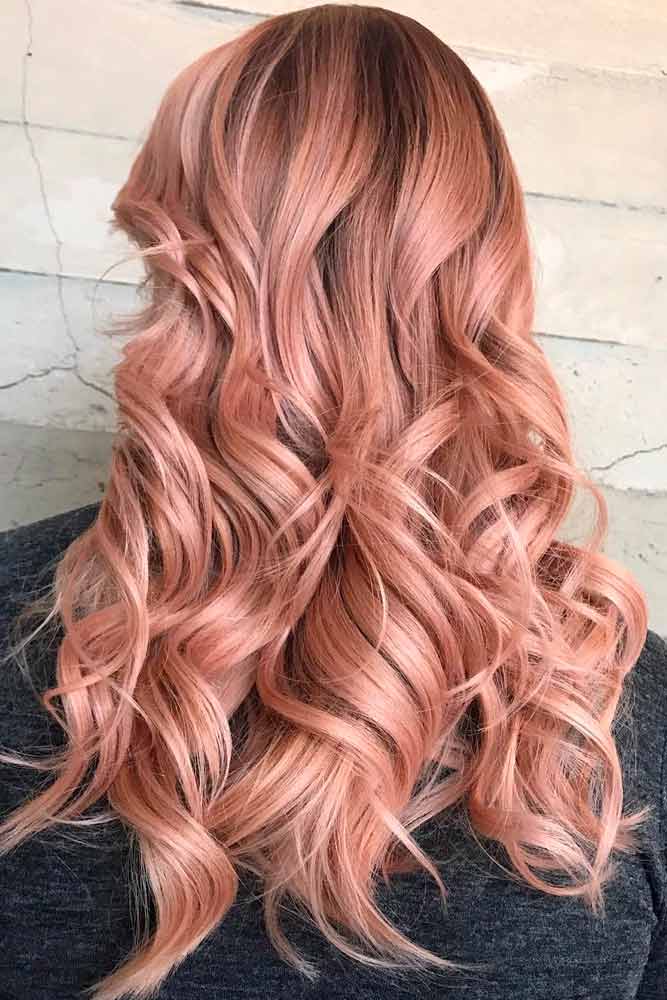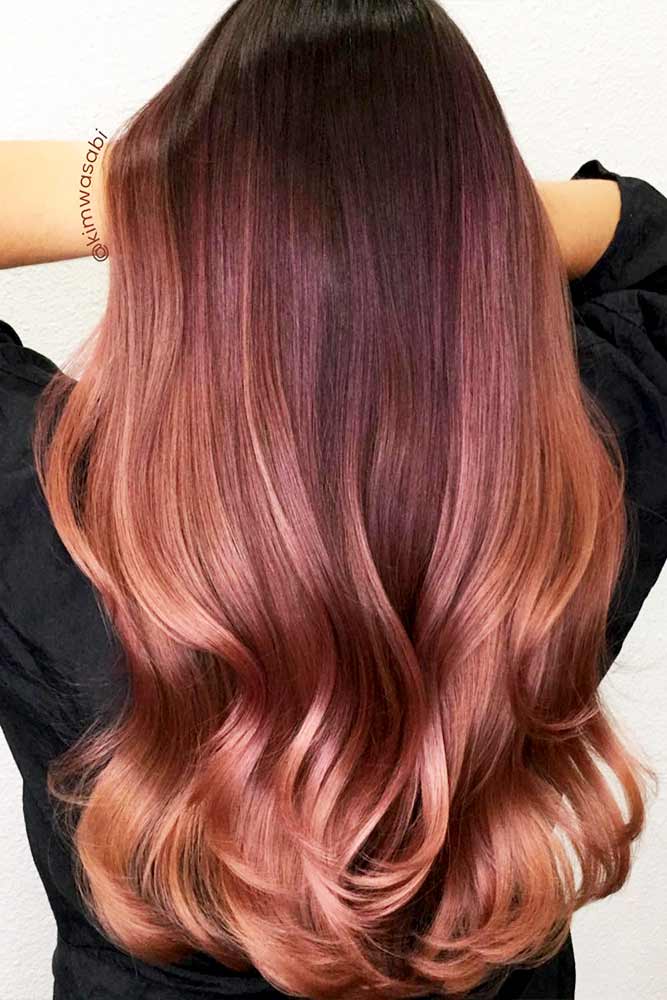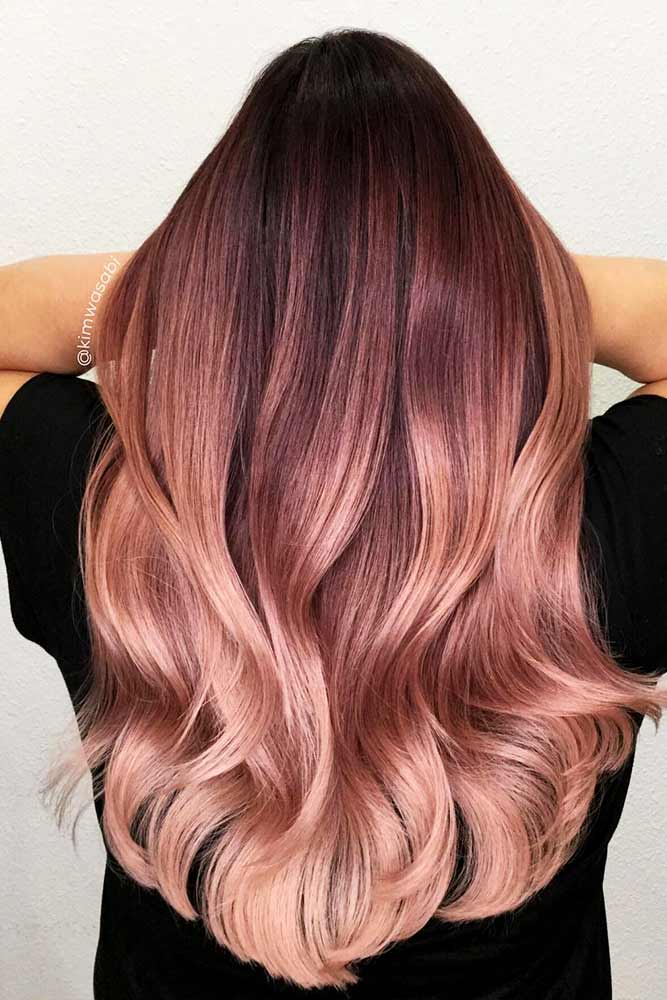 These rose gold shades lean a bit closer towards warmer peaches. These shades will best compliment women who have some warm undertones in their complexion.
Beautiful Pastel Rose Gold Hair Ideas
Credit photo: instagram.com/_sassafrass, instagram.com/guy_tang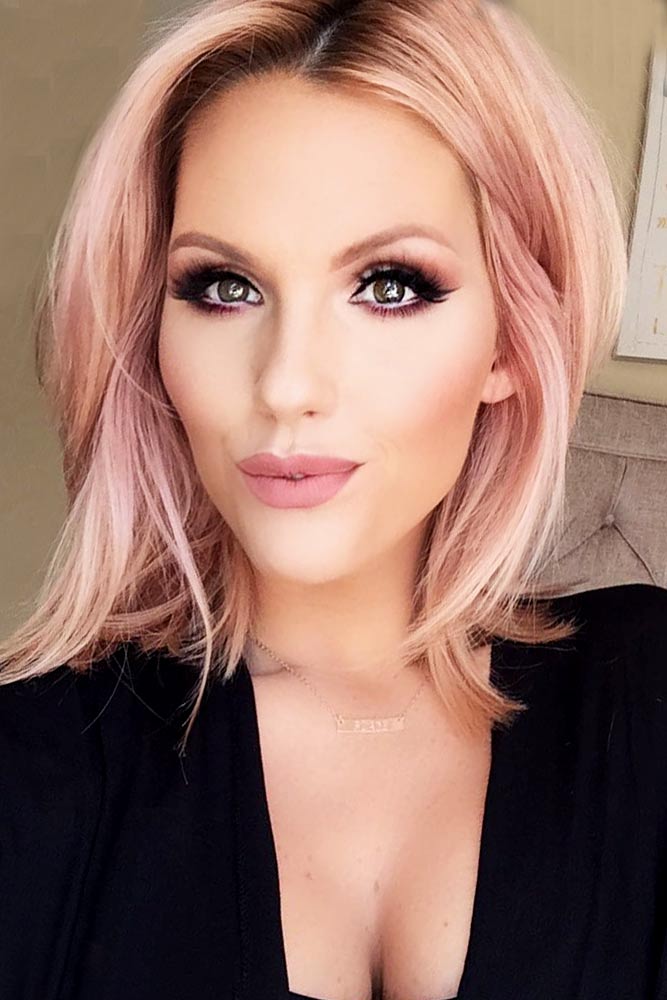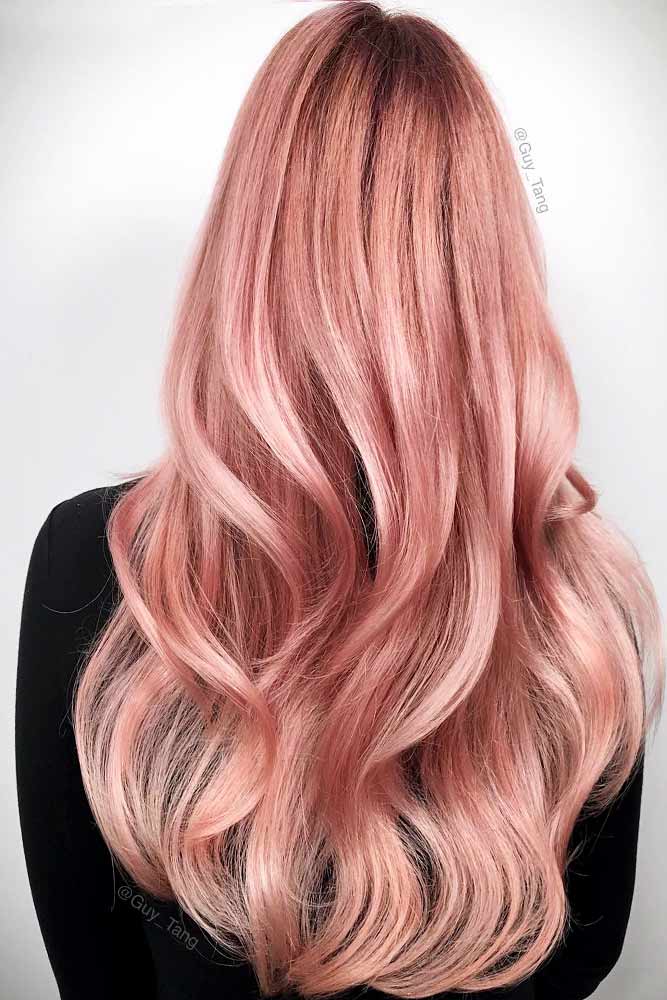 Credit photo: instagram.com/danielmbeauty, instagram.com/micahgianneli, instagram.com/guy_tang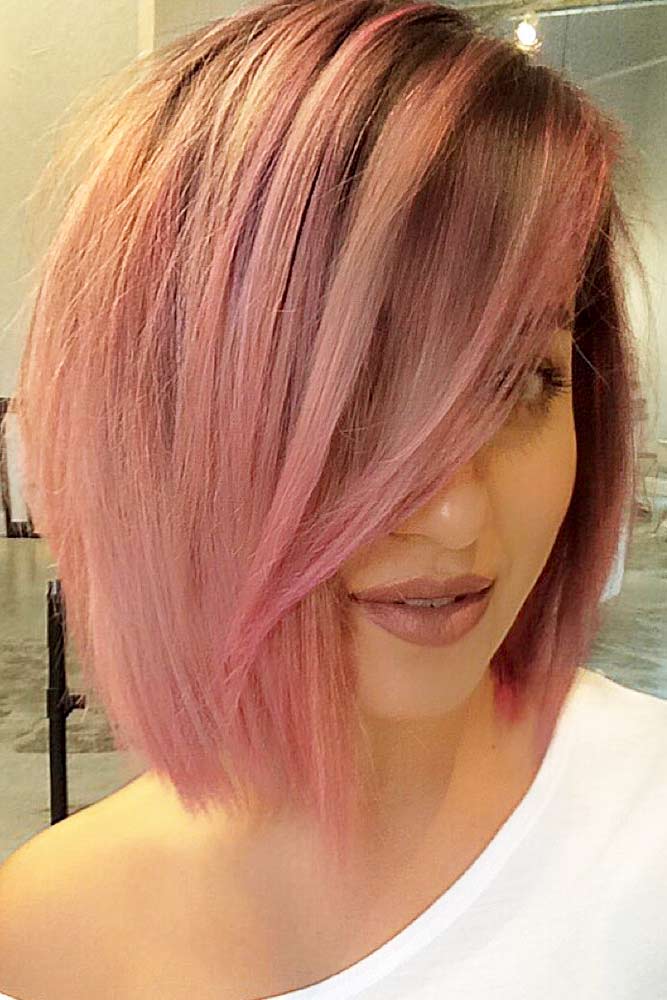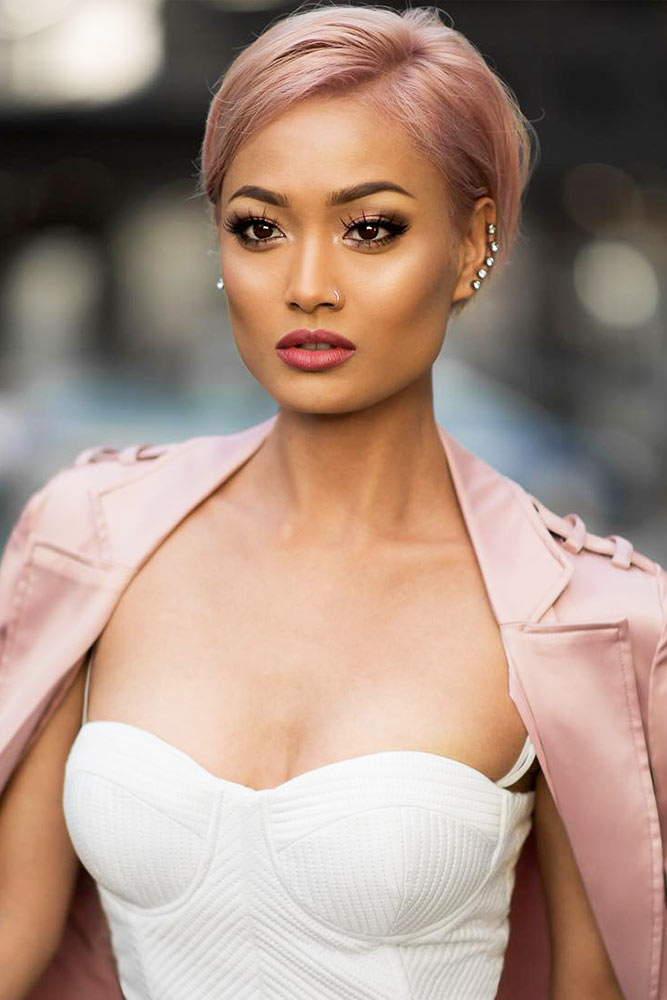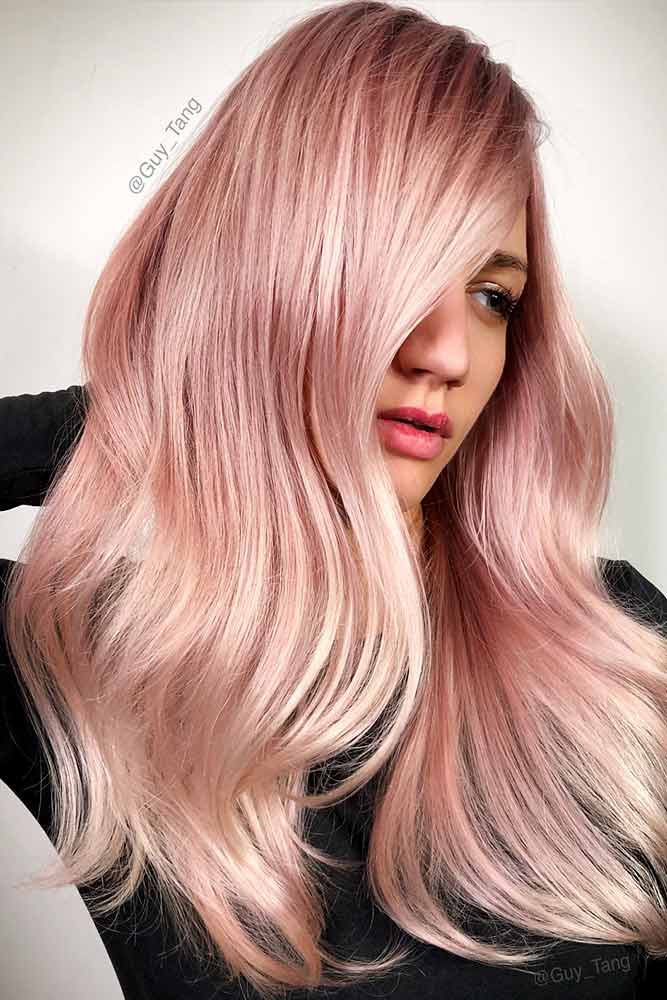 Would you like to add some life to that boring blonde you have? These shades will work great for you! It's an advantage that your tresses are already light. Now we just need a pop of color. It will be good with long or medium layered haircuts.
Saturated Rose Gold Hair Color
Credit photo: instagram.com/hairbykaseyoh, instagram.com/hairbykristinamarie, instagram.com/honeyhousehair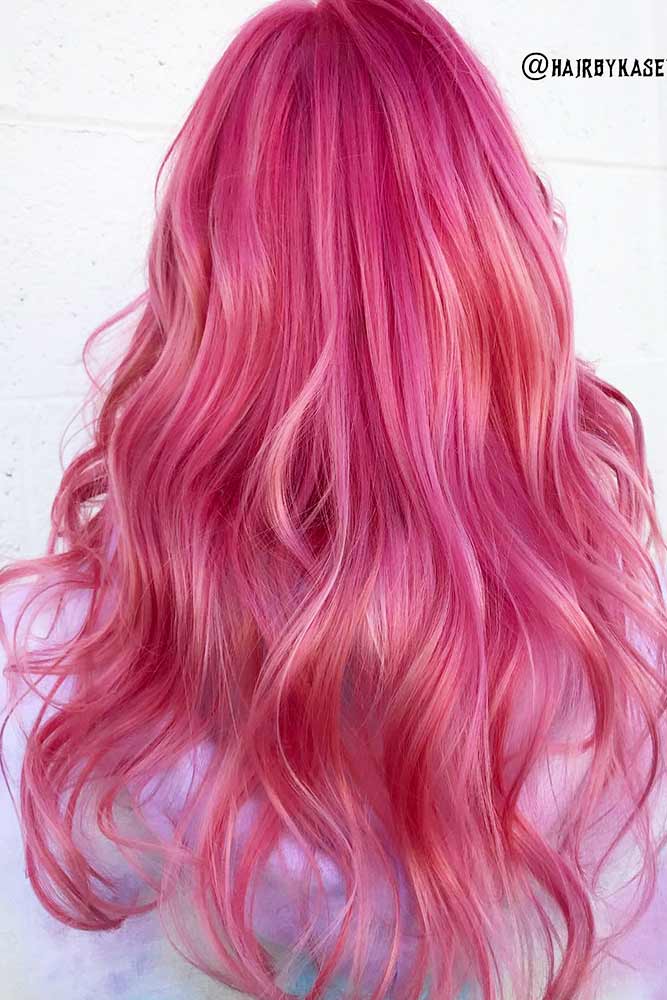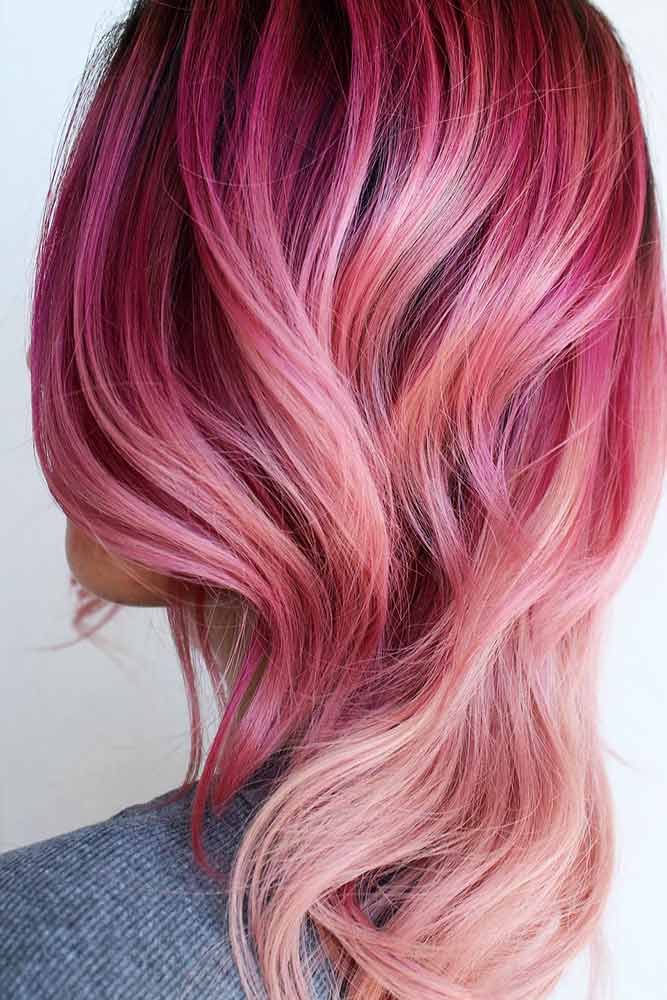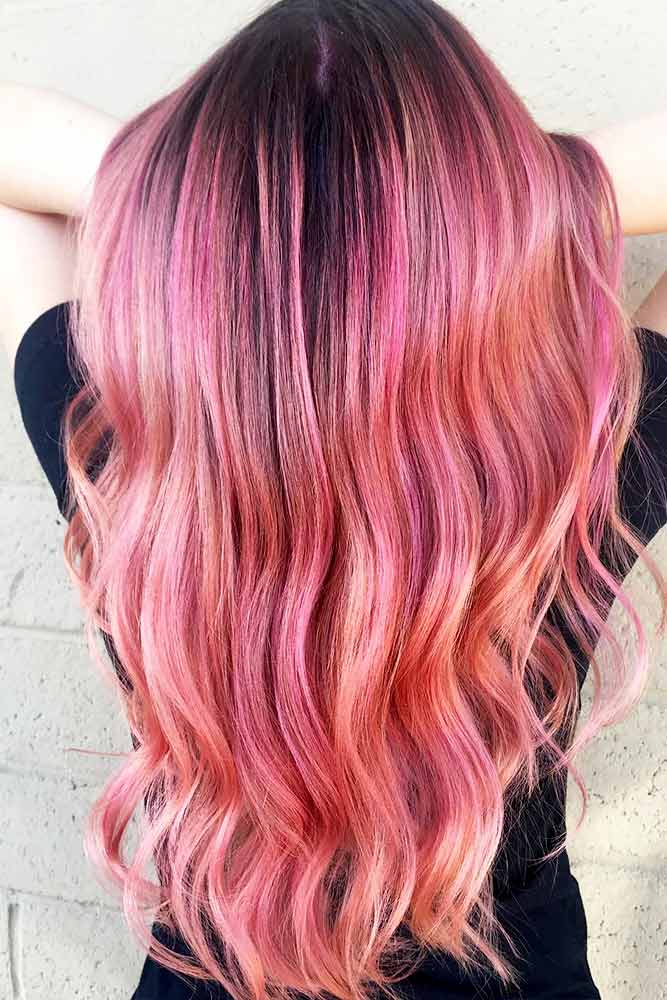 Credit photo: instagram.com/honeyhousehair, instagram.com/emelieaxelson, instagram.com/brittanytuthillhair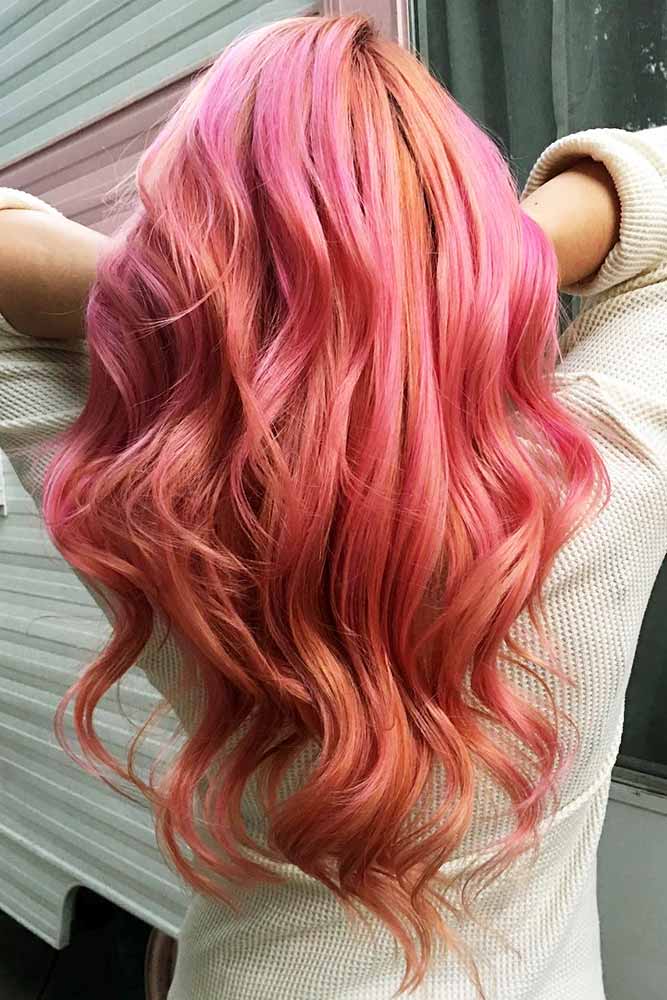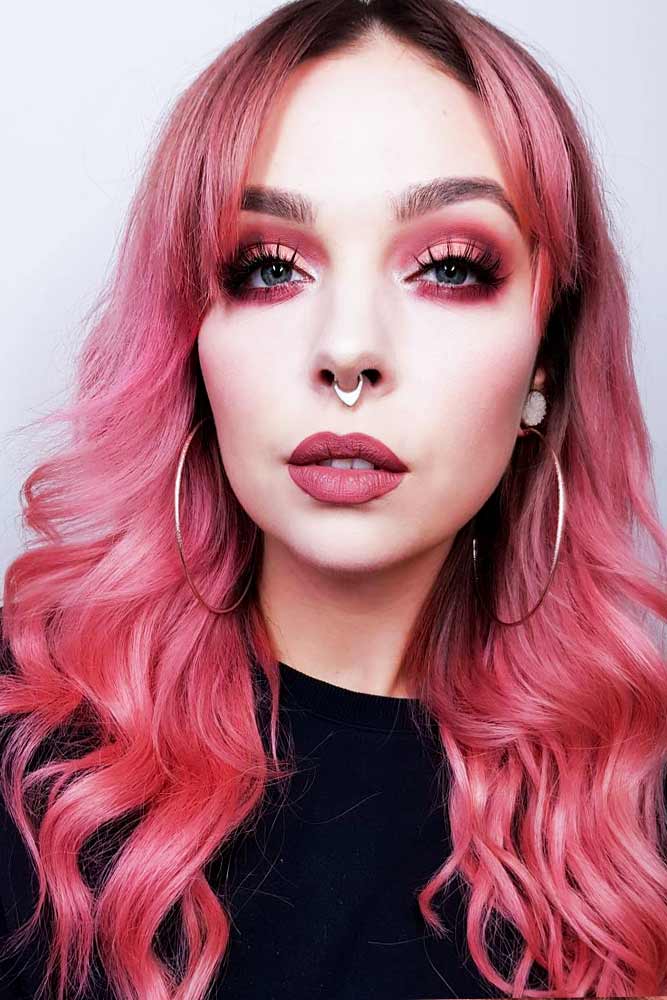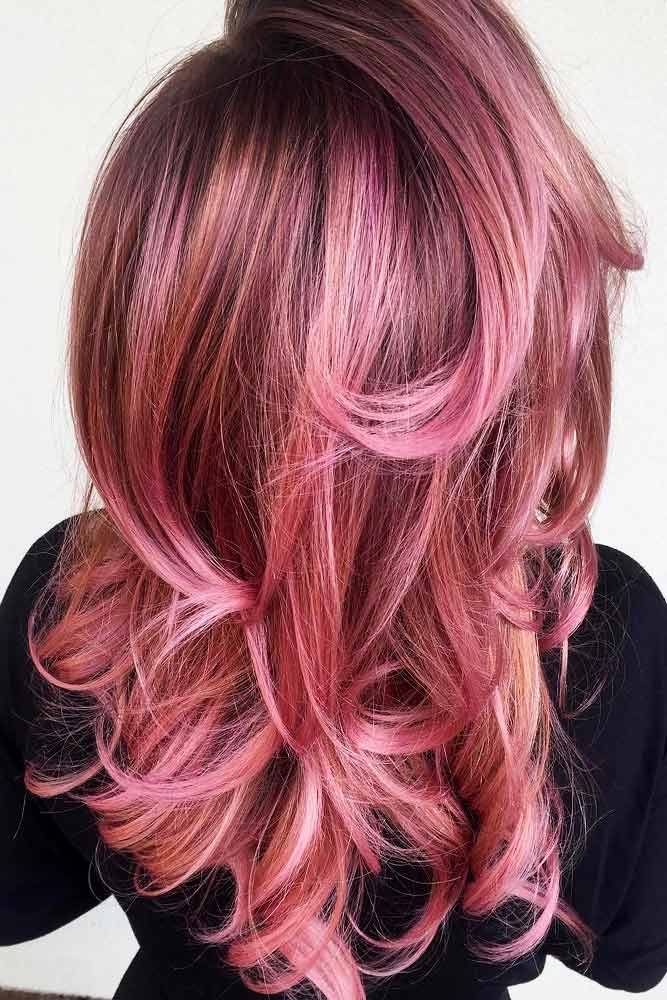 In case you would like to try something more daring, rose gold has something in store for you, too. Saturated rose golds will appear dazzling and add some dimension to locks.
Dark Shades Of Rose Gold Hair
Credit photo: instagram.com/guy_tang, instagram.com/makeupbyalinna, instagram.com/guy_tang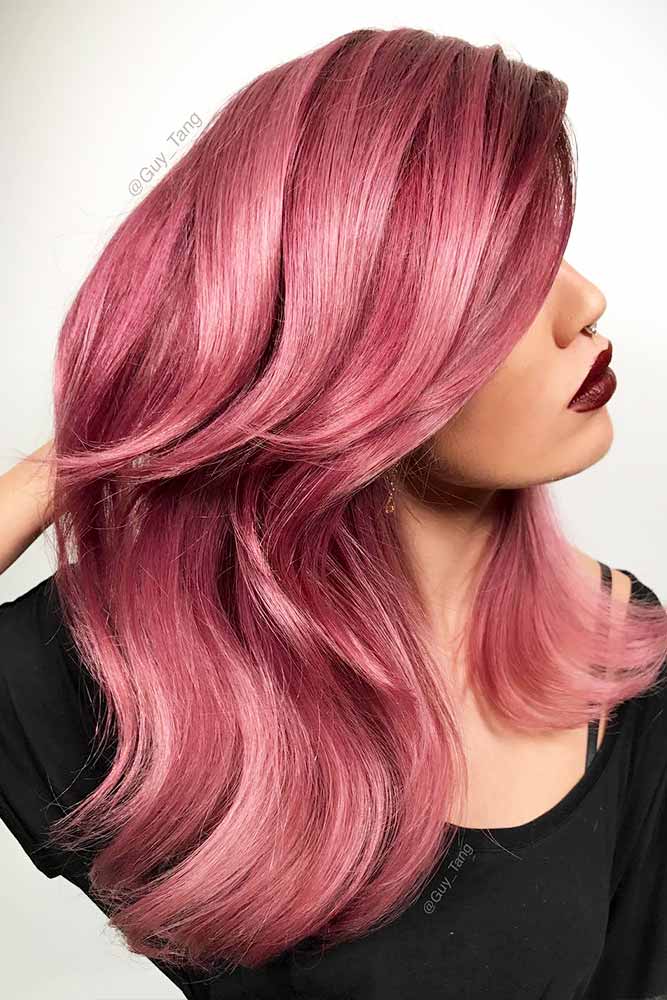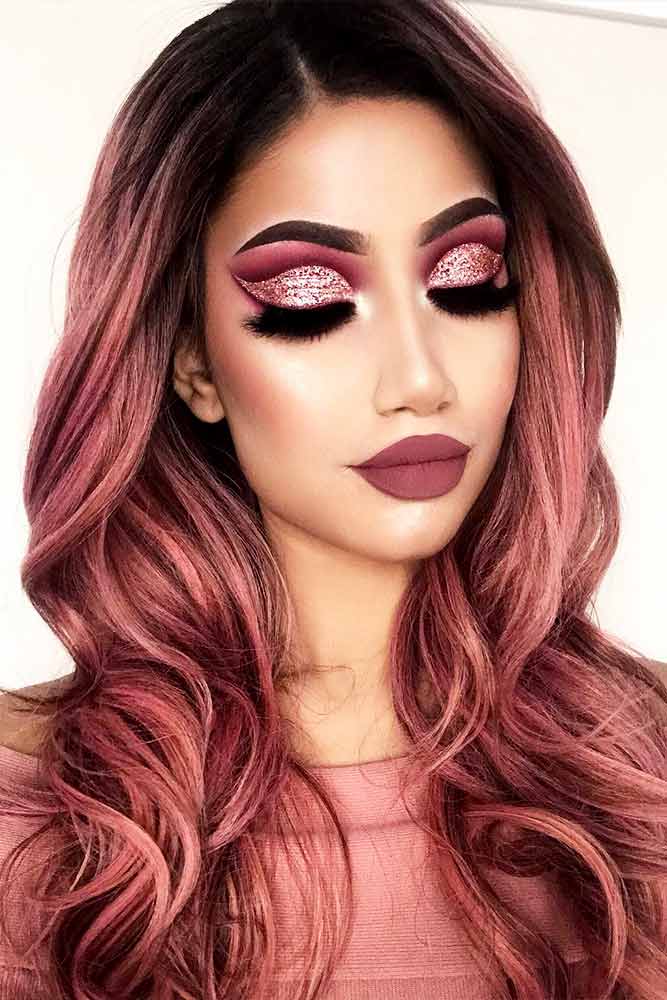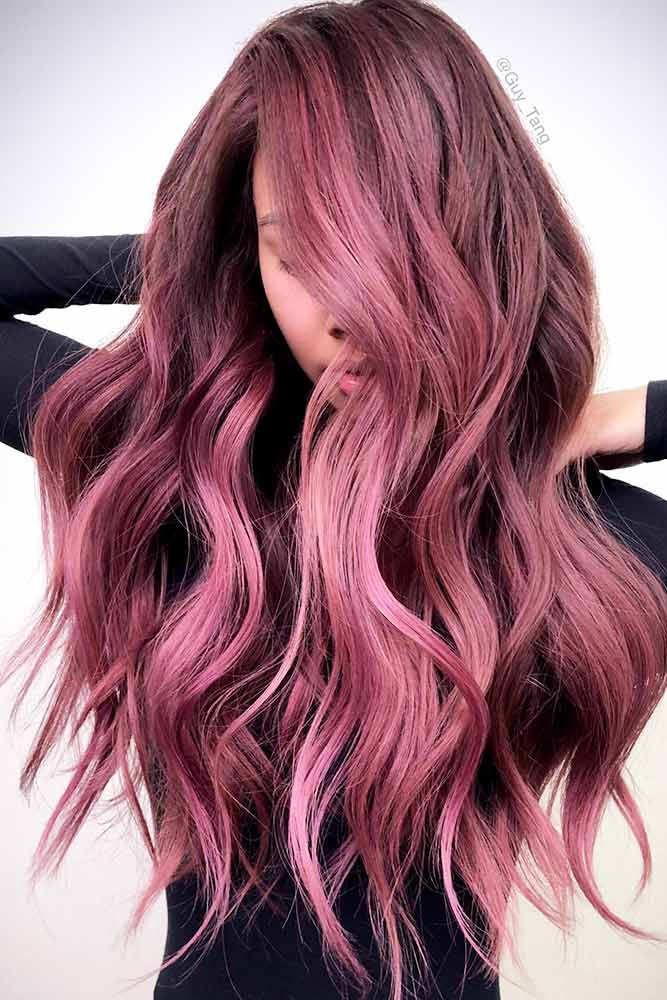 Credit photo: instagram.com/guy_tang, instagram.com/presleypoe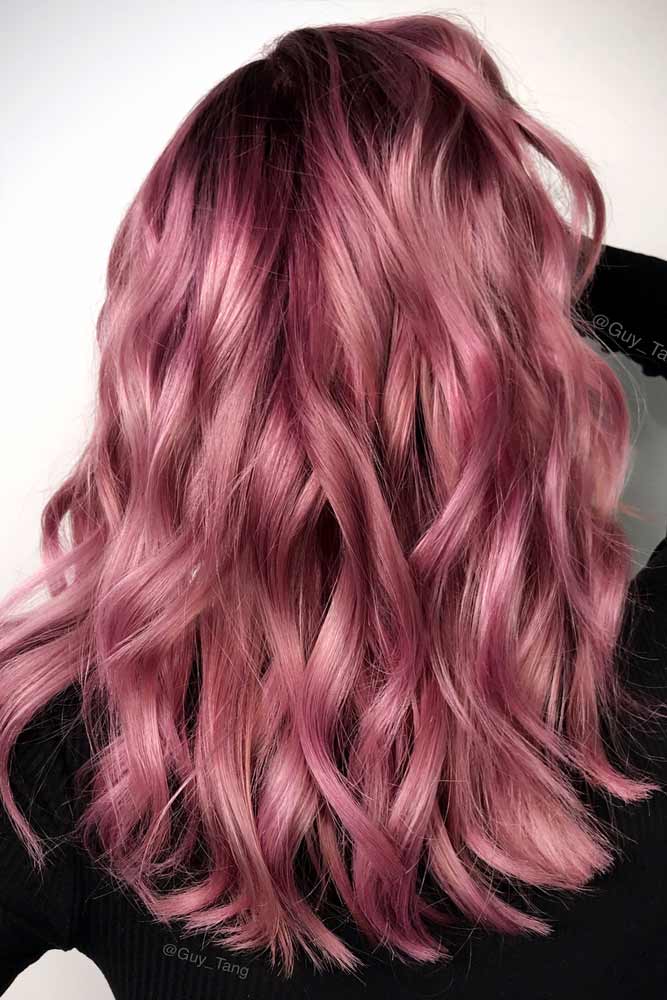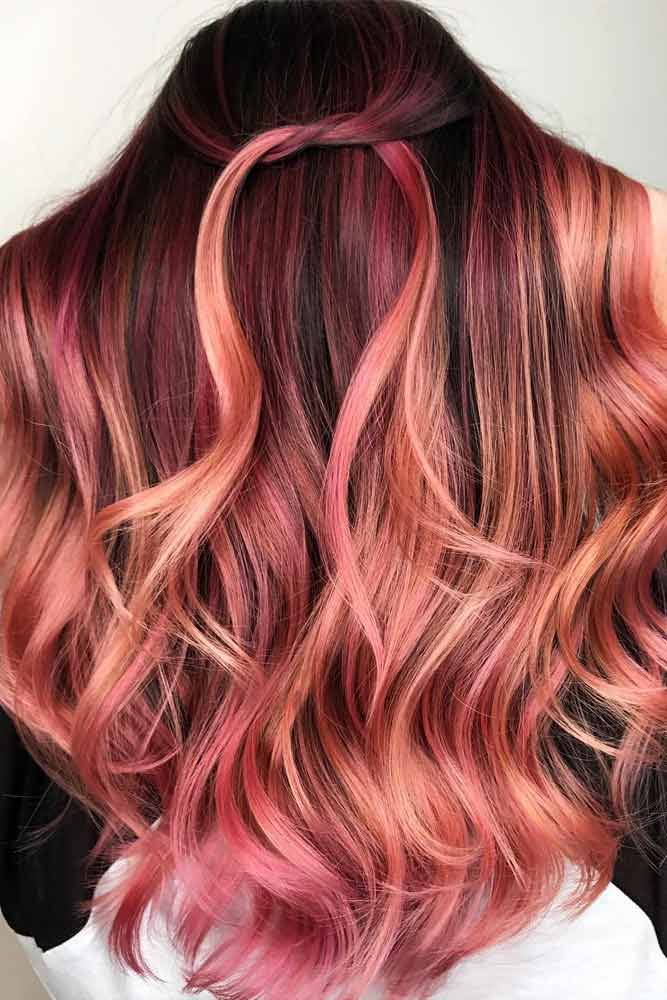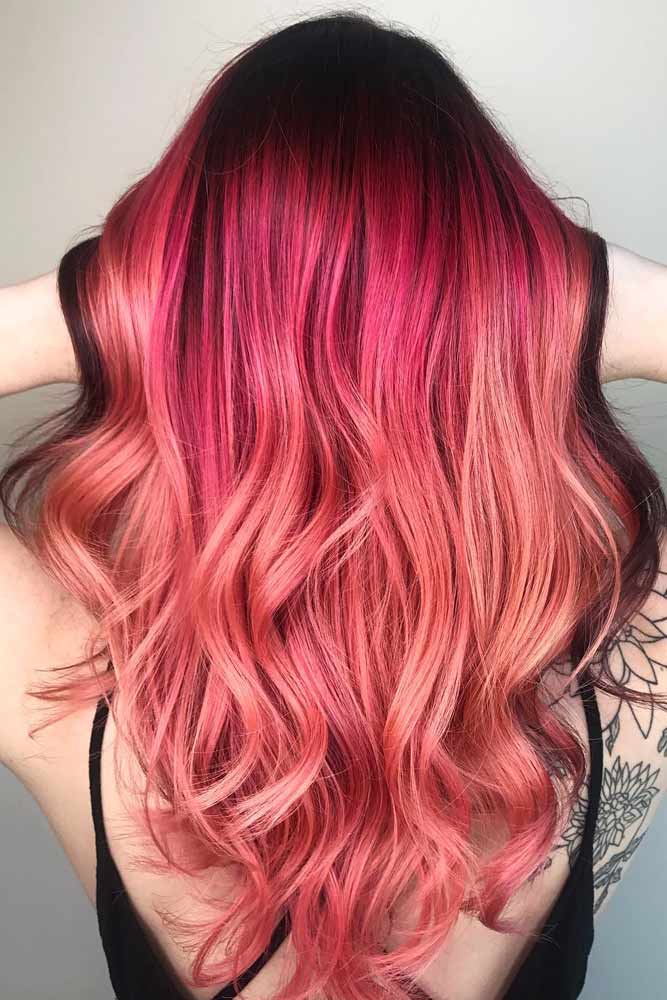 Here you can observe how deep rose gold can turn out. We think that darker rose golds can definitely bring your hairstyle to the next level. You will turn heads wherever you go.
Peach Shade Rose Gold Hair
Credit photo: instagram.com/presleypoe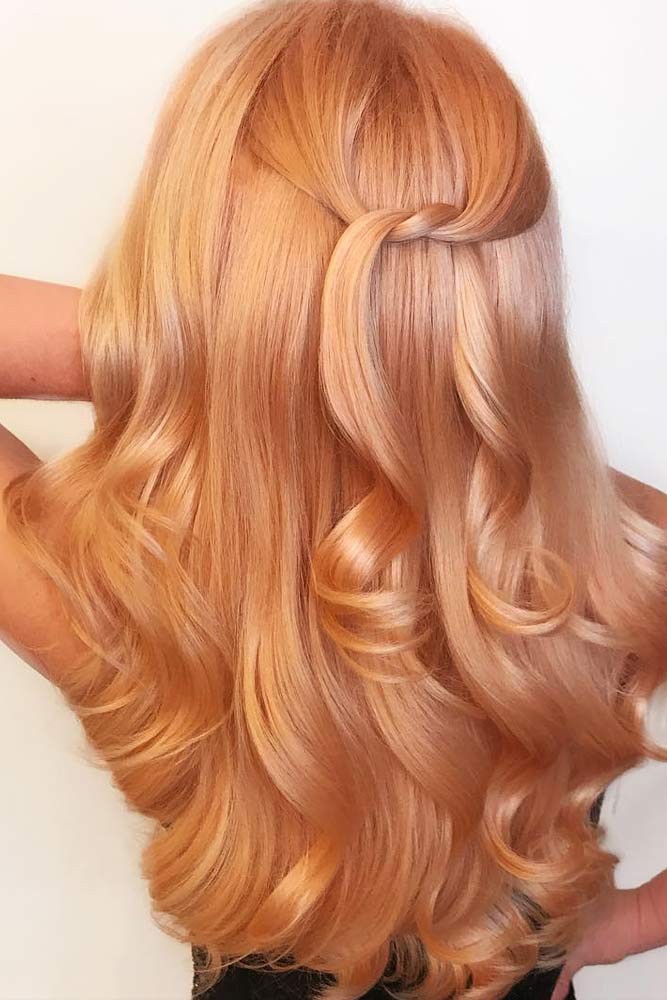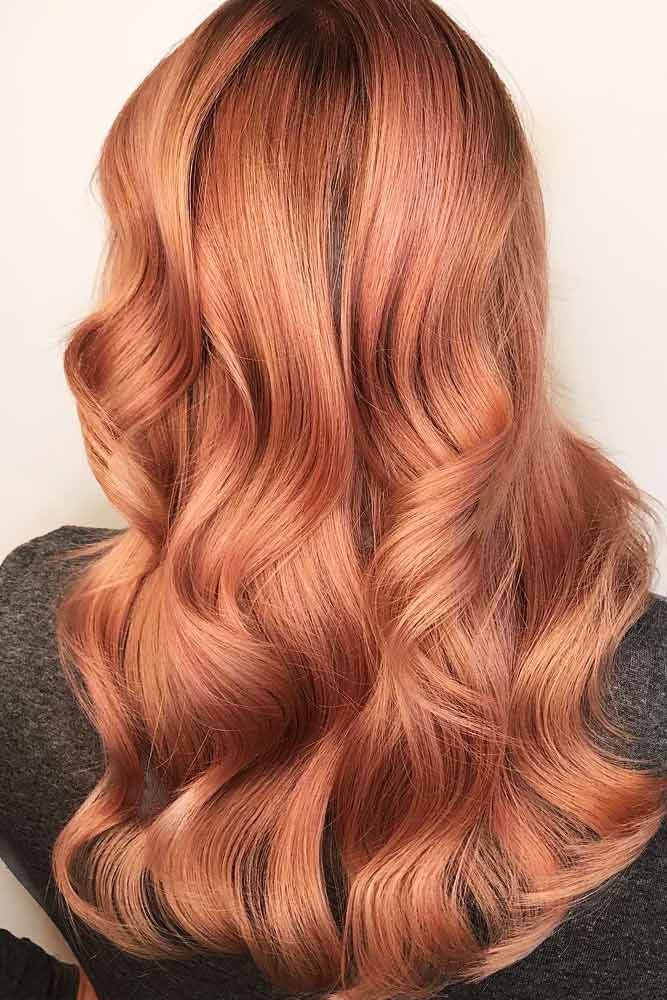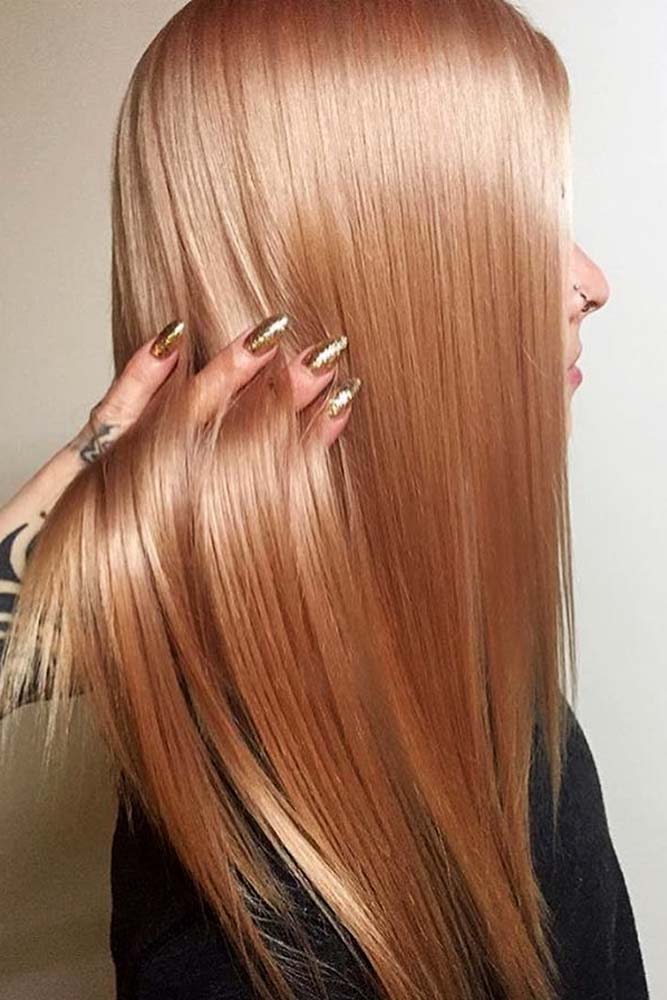 Peach shade is very soft and delicate color. If you want to express your femininity, this beautiful hair color is sure for you!
Stylish Ombre Rose Gold Hair
Credit photo: instagram.com/harttofcolor, instagram.com/jaymz.marsters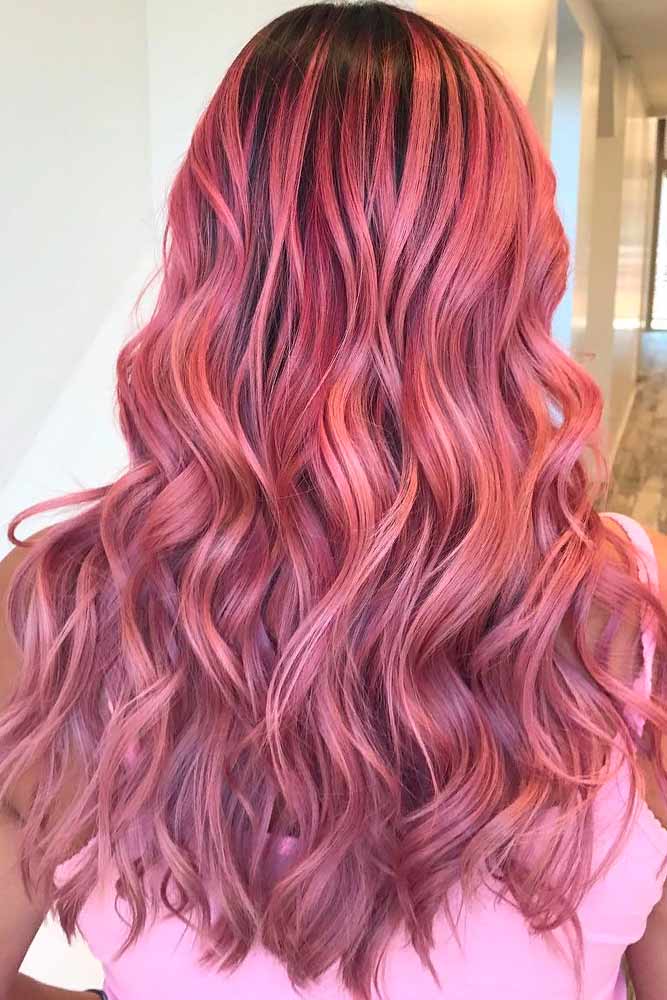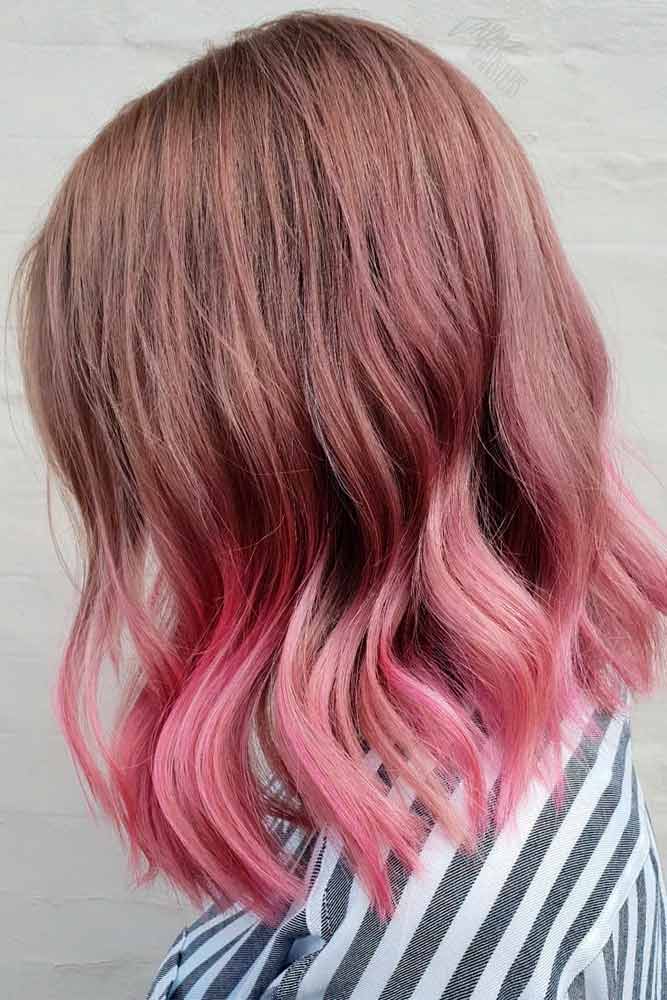 So much talk has been here about pink hair recently, and we understand the hype it gets. Just look at that light raspberry color that looks so bomb on the highlighted hair. It is fresh, soft and super stylish. We believe it is a great way to bring some creativity into the appearance in a stylish way.
Rose Gold Balayage For Brunettes
Credit photo: instagram.com/kimwasabi, instagram.com/guy_tang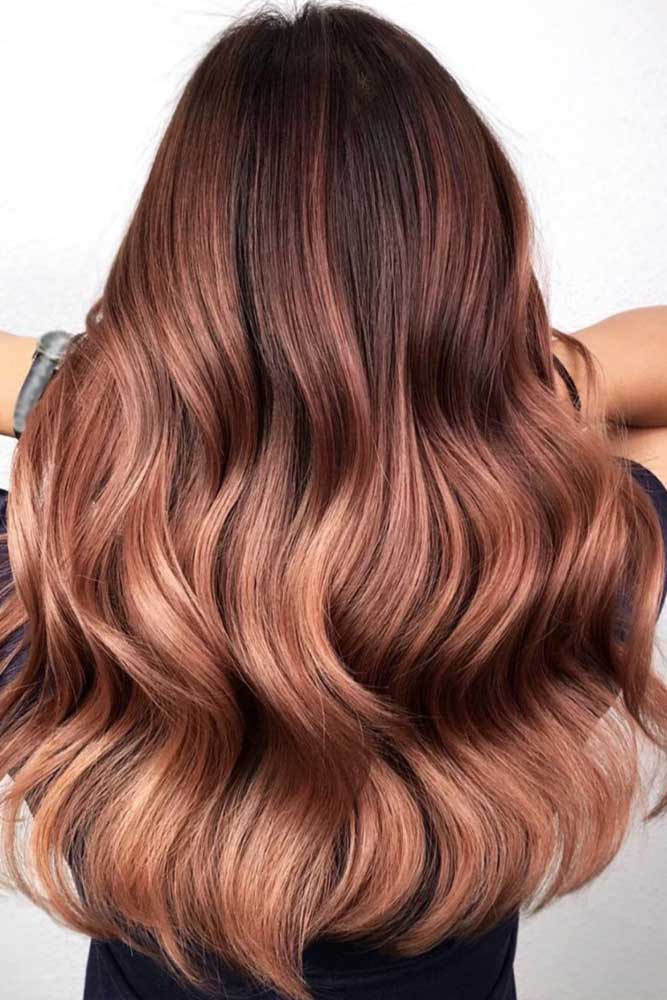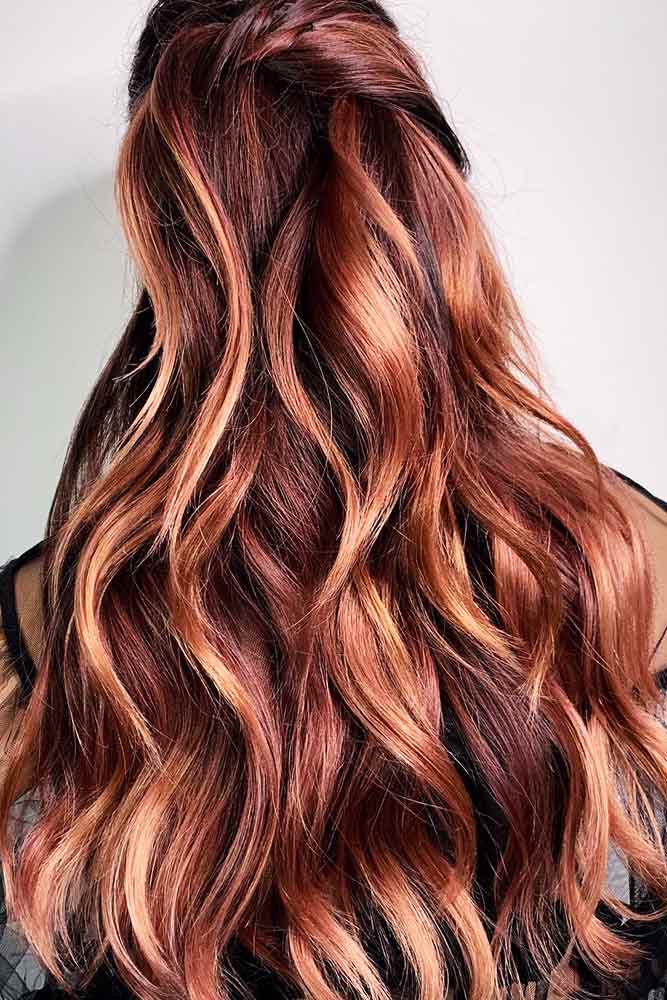 Very often, when you think about balayage for brown hair, you can think of many hues but not rose gold ones. However, when you look at these impressive combos you will come to the conclusion that rose gold balayage is indeed worth giving a try to!
Light Rose Gold
Credit photo: instagram.com/kimwasabi, instagram.com/chrisweberhair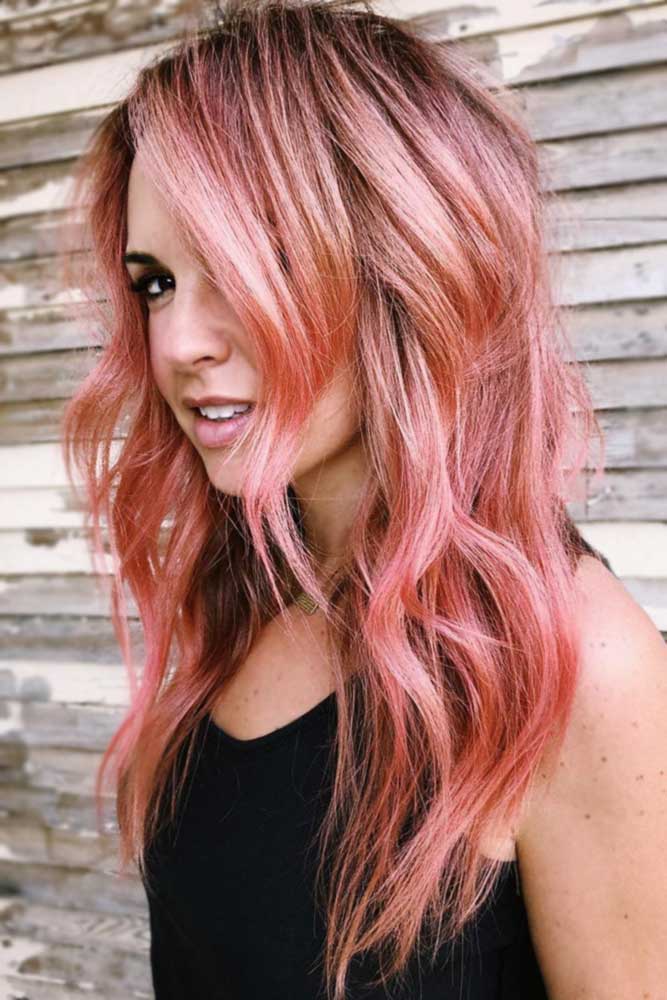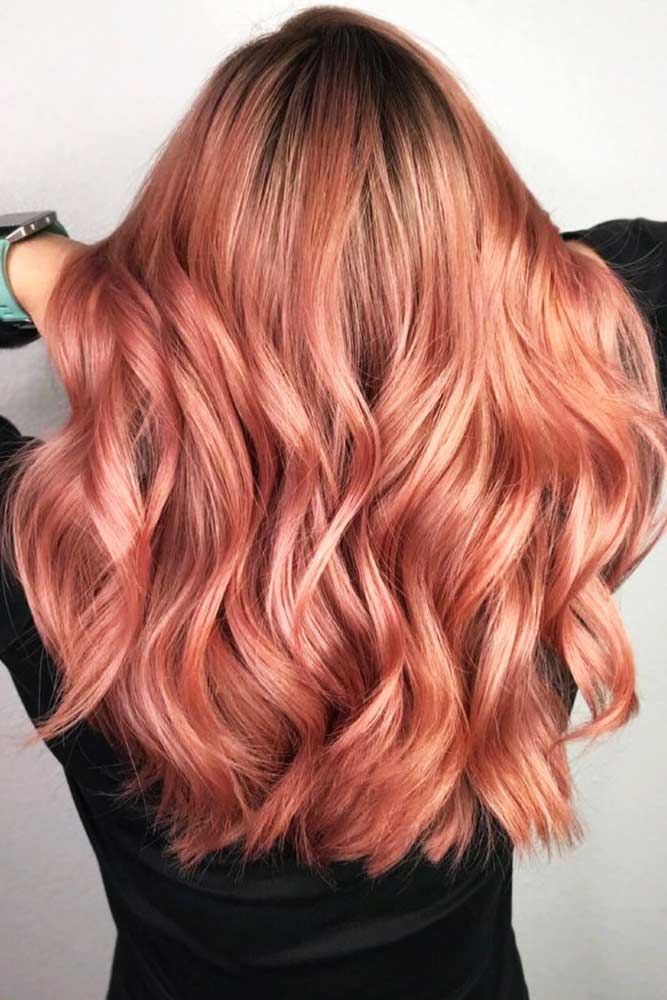 The beauty of rose gold hues lies it their extreme versatility. If you wish to try out something new when it comes to your hair color but you do not want to go over the edge – light gold may be your perfect choice.
Spend some time looking at the different shades of rose gold available to make sure you'll be happy with the final result. Because all shades of rose gold are gorgeous, you can't go wrong with whatever you end up with!
FAQ: Rose Gold Hair
Does Rose gold hair fade quickly?
Rose gold shade done with a semi-permanent hair dye is supposed to last 20 washes. Rose gold color normally lasts longer on pre-lightened hair; you can start with a darker shade than intended so it will stick around longer and you should use sulfate-free shampoo and conditioner.
What color is rose gold on hair?
What color is rose gold on hair?
Rose gold shade is a mix of red and pink with a golden blonde. The colorist can adjust the hues so they can complement your skin tone and eyes. It is a warm tone that brings out the blush tone of your skin.
REFERENCES:
Hair coloring, or hair dyeing, is the practice of changing the hair color. Source
Whether you're a brunette looking for a big change or a blonde looking just to add that rosy hue, you'll certainly turn heads with rose gold shade. Source
Was this article helpful?