Ombre hair is all the rage right now. It looks great in all colors and styles, but black ombre is especially striking. A naturally dark hair color looks great with black fades into shades of brown, red and even blonde. Ombre colors work best on longer hair, but ombre short hair is also very stylish. This style is very dramatic and works great for all hair colors, especially natural blonde hair. However, it is especially dramatic with black hair dyes.
If you have natural blonde hair you can really only opt for a few tones lighter. So if you want a more dramatic transition you could go for a reverse ombre or perhaps make your roots darker. Dark brown and black hair can easily transform into any ombre hair color, including bold bright colors and pastel hues. Ombre lasts much longer on dark hair and you won't have to worry about your roots, as you often do when you color your hair a solid color that is different from your natural hair color.
Short ombre hair styles flatter everyone so if you haven't tried them yet, you probably haven't found the style that works for you. The following styles look amazing on those with darker hair colors, but can work well with other colors too, including natural blonde hair, ombre short hair or longer hair styles.
1. Copper Ombre Tones for a Dramatic Effect
Source: briaaashanelle via Instagram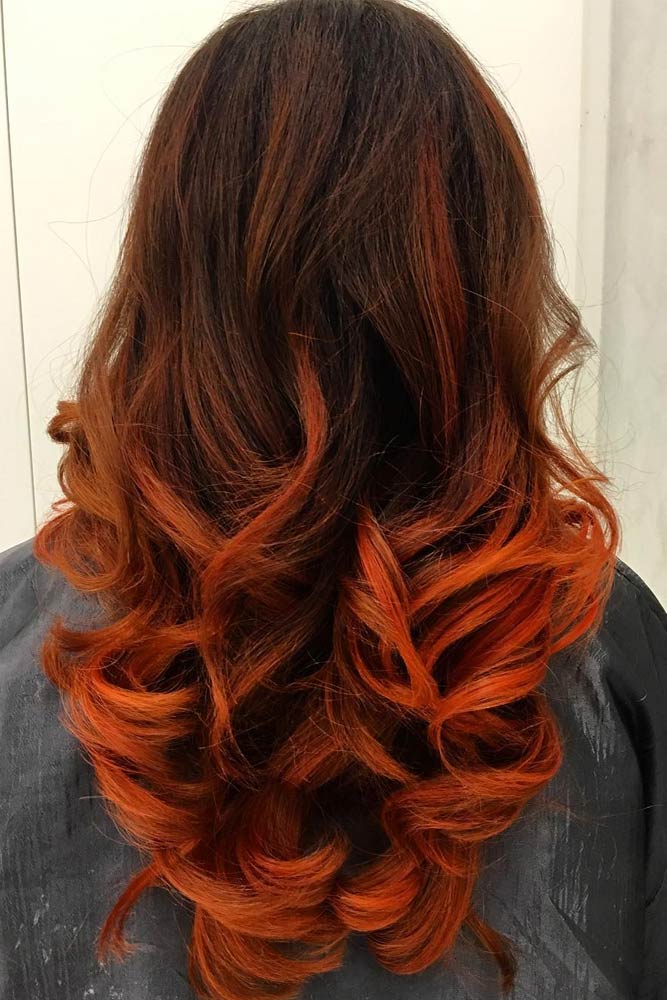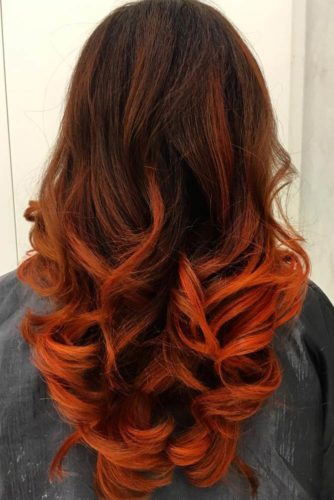 With gorgeous copper tones, you can add natural beauty and shine to darker ombre hair. With deeper shades of black and brown, copper can add a dramatic flair to your locks.
2. Dark Blonde and Black for a "Sunny" Style
Source: leahhofffhair via Instagram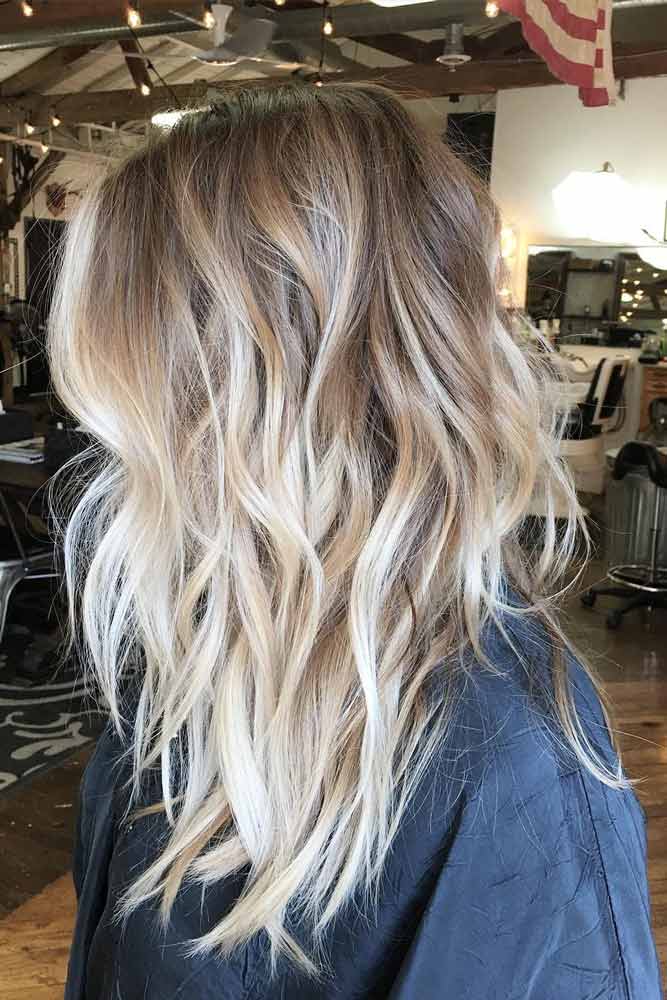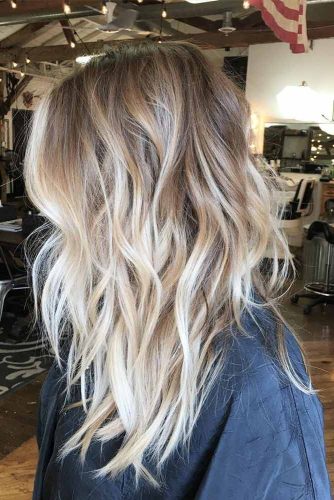 You usually see blonde and black at opposite ends on the color spectrum, but when they are mingled together, they beautifully complement each other. Add a stylish ombre twist for a warm and subtle effect.
3. Red and Black Ombre for a Dramatic Punk Style
Source: notanothersalon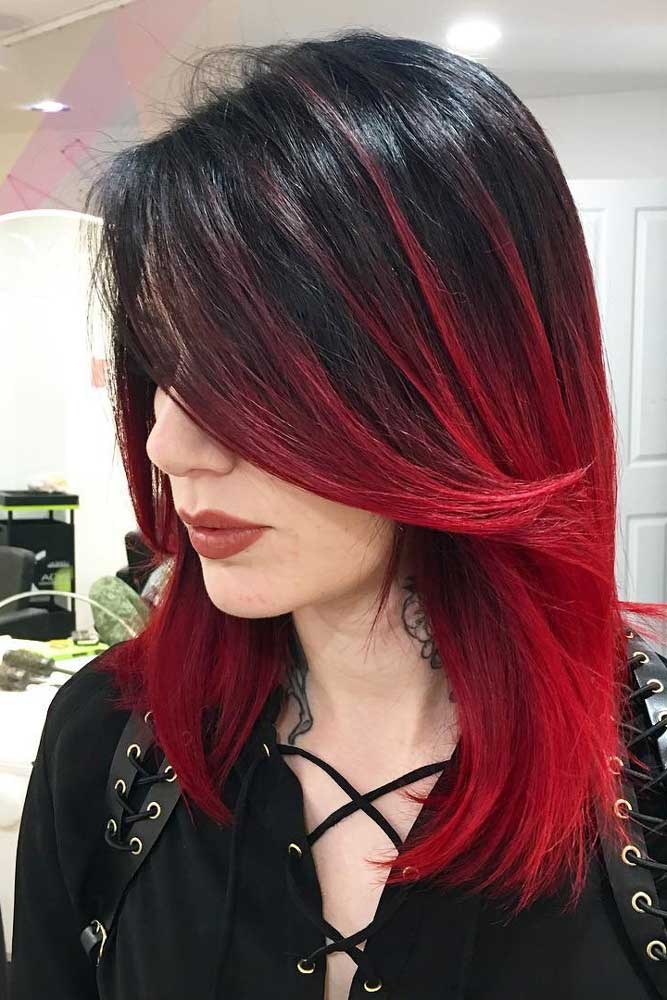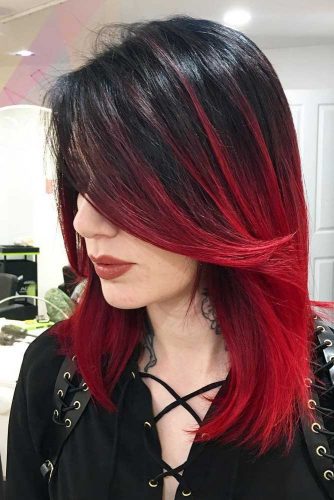 Red and black ombre works great for this "Punk-meets-pretty" combo style. Black ombre looks great with a bold and bright cherry red for a stylish, edgy effect.
4. Blue Hues for a Bold Look
Source: evalam_ via Instagram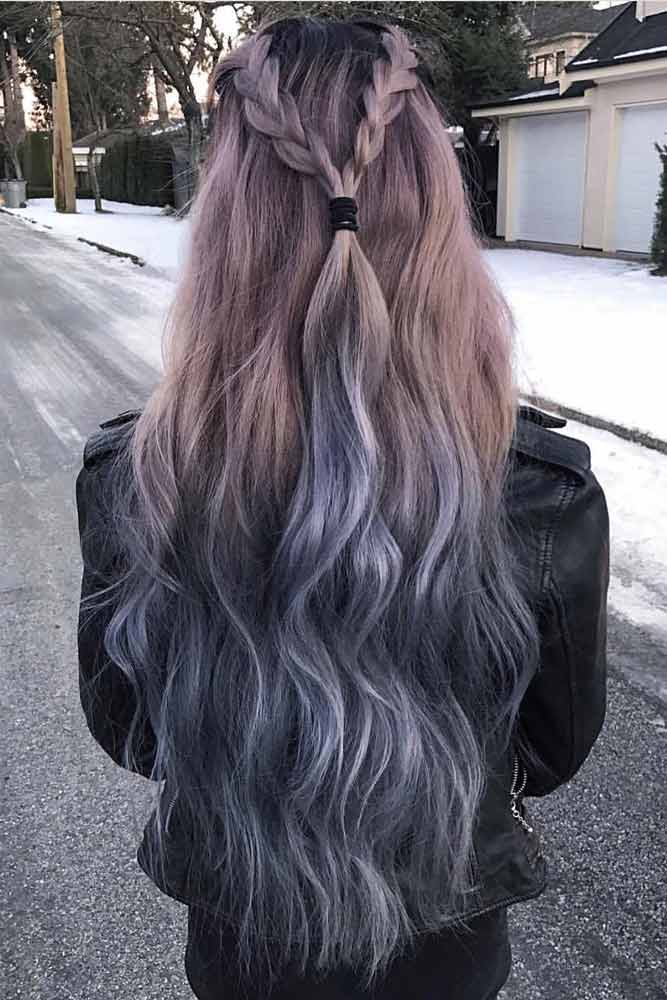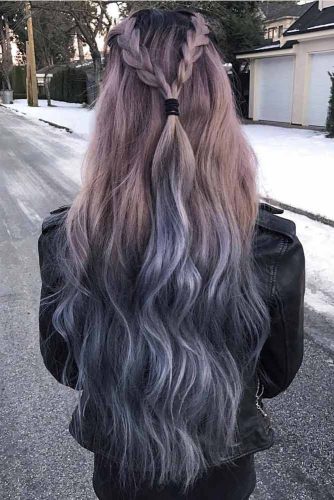 This style is not for the timid. This blue is best showcased against a dark black for a bold look that will have them stop in their tracks.
5. Purple and Black Ombre
Source: peypaintshair via Instagram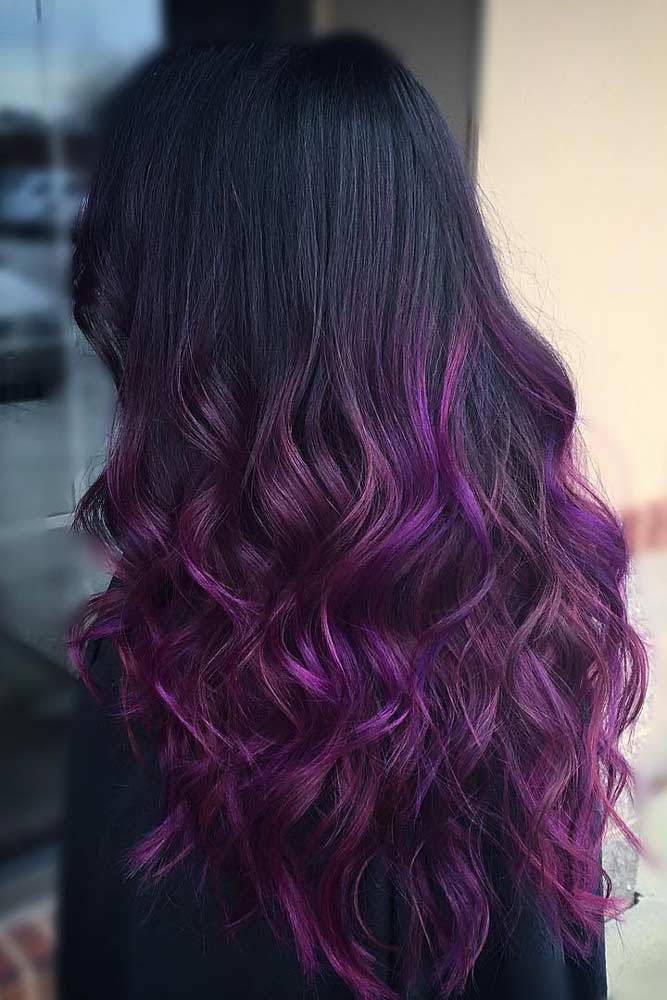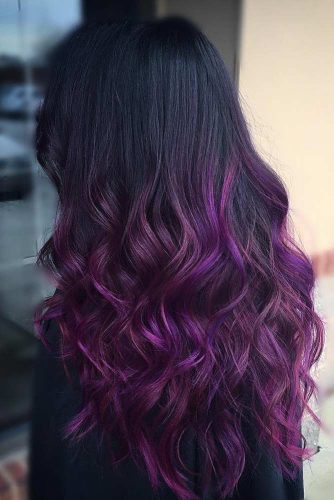 With just the right amount of intense color, this combination isn't too light, or too dark. One of the good things about an ombre hairstyle is that you can incorporate any color of your choice, which is a great way to create a gorgeous color combo for a special occasion. Purple goes well with yellow if you want a bold contrast as well as with pinks or grays for a more refined and romantic combination. Dark roots with lighter ends will make the purple color pop for a dramatic look.
6. Mid-Length Cut with Blue Ends on Black Haircolor
Source: mizzchoi via Instagram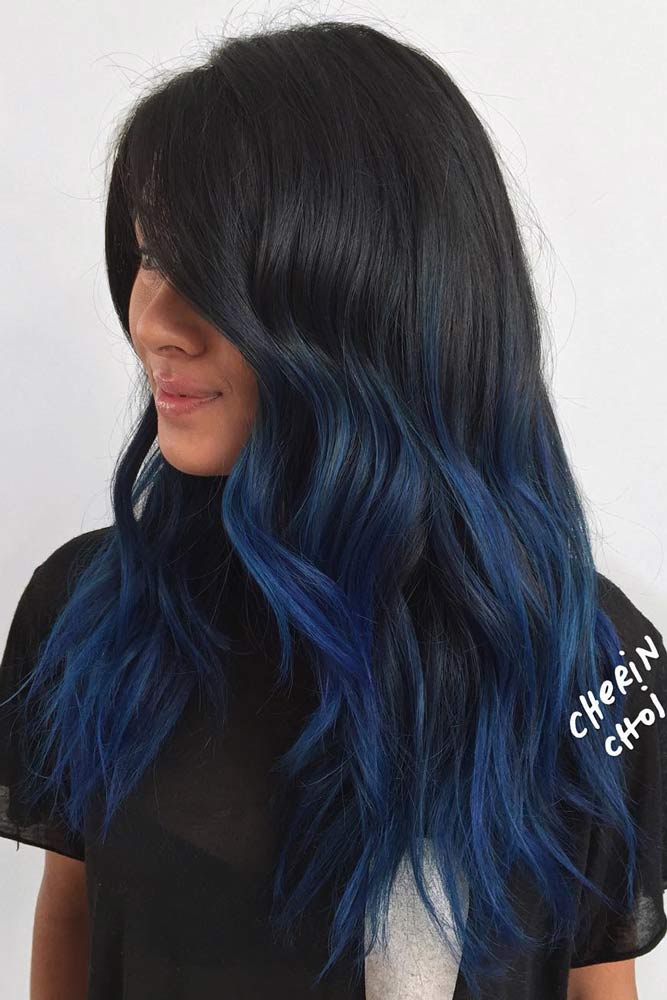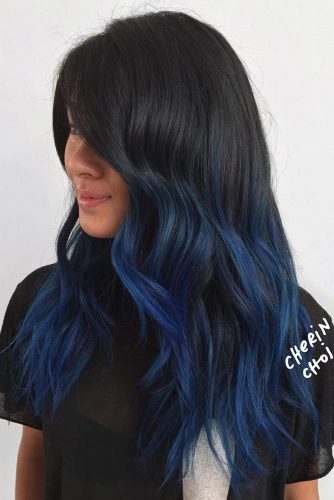 For those with short to mid-length styles, you can quickly go from drab to fab with the subtlest hint of color. Keep it simple as you can easily go overboard with too much color and not enough hair.
7. Black Into Honey Blonde Ombre
Source: blissfulbrii_ via Instagram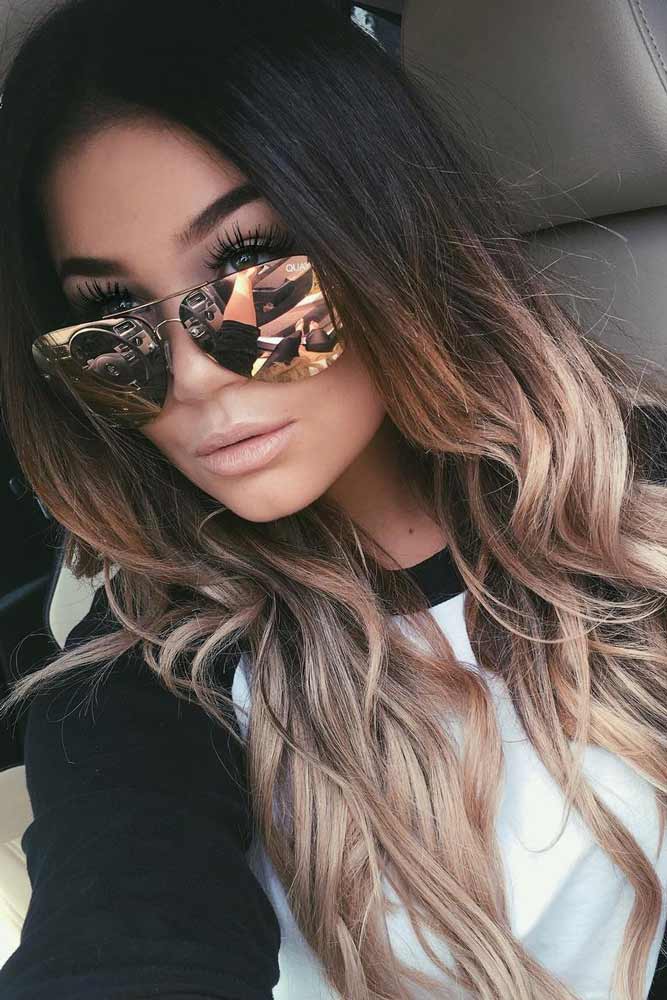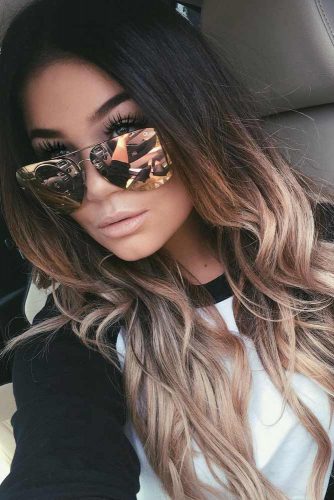 This is a very dramatic change that is very cute, but recommended only for those with longer hair. This V-edged cut has the ends lighted to highlight the contours. This ombre style works best on longer layered styles with a slightly messy look.
8. Black to Red Ombre Style
Source: _allurement_ via Instagram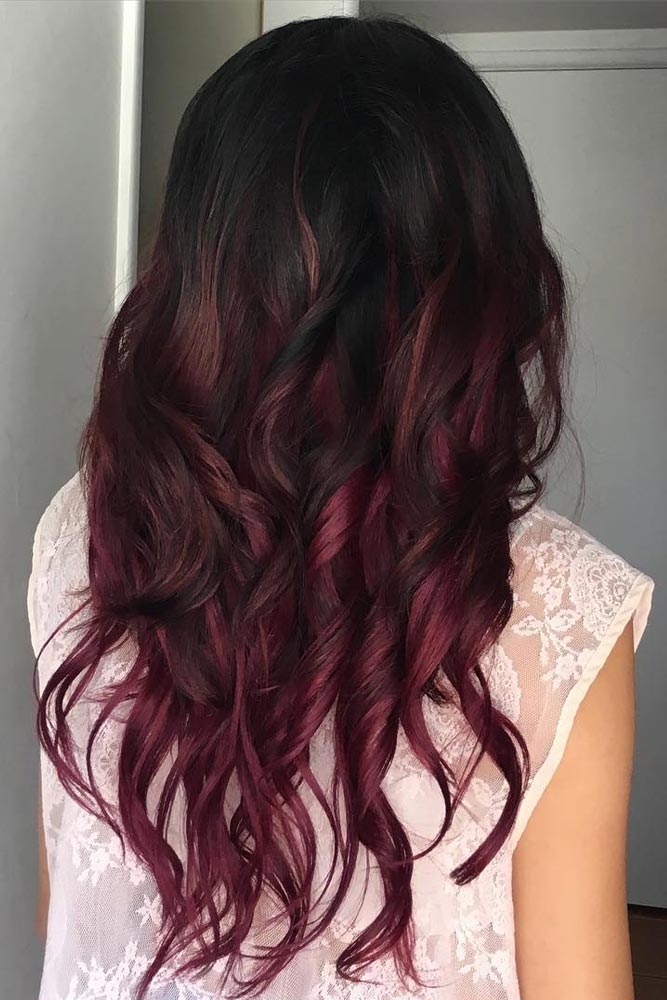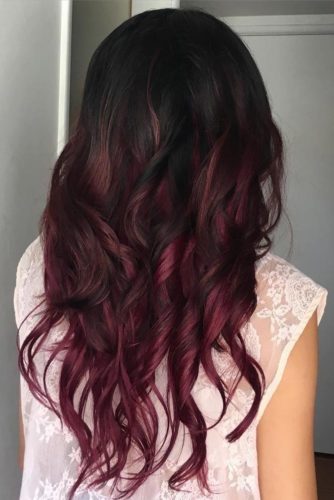 These gorgeous maroon curls in the ends are stunning, but with a dark black they are absolutely breathtaking.
9. Black into Deep Burgundy
Source: hairbynamrood via Instagram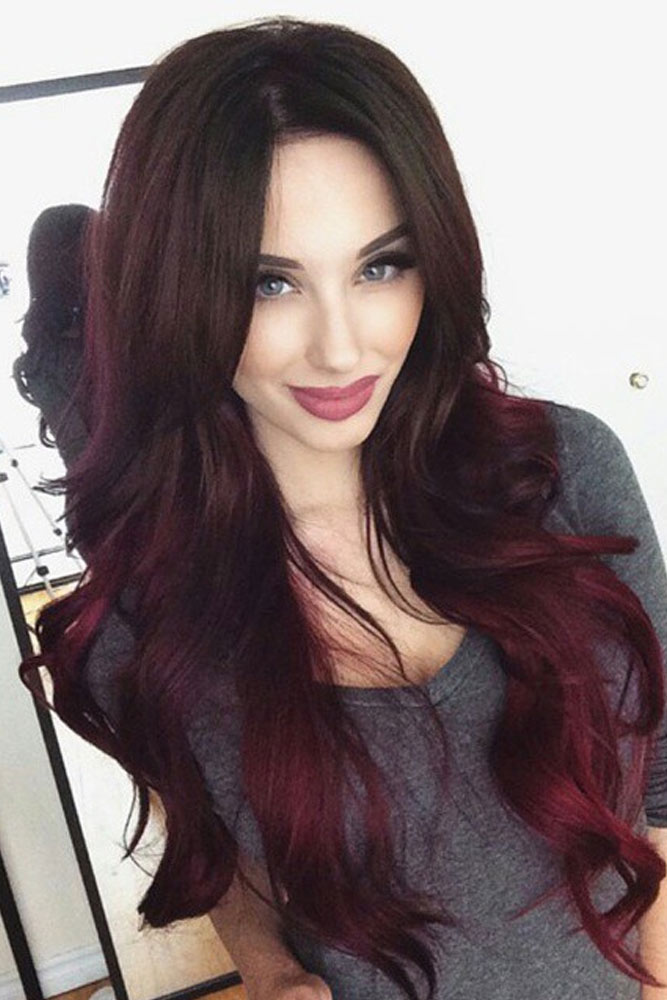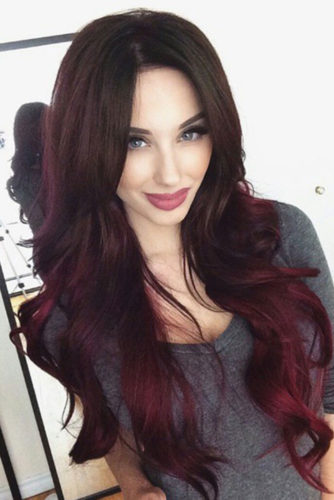 Burgundy is always an excellent choice for dark hair as with a noble pop of color it does not appear flashy or gaudy. You can rock this look with either straight or curly hair.
10. Black to Ombre Brown with Sun-Kissed Tips
Source: colorbymichael via Instagram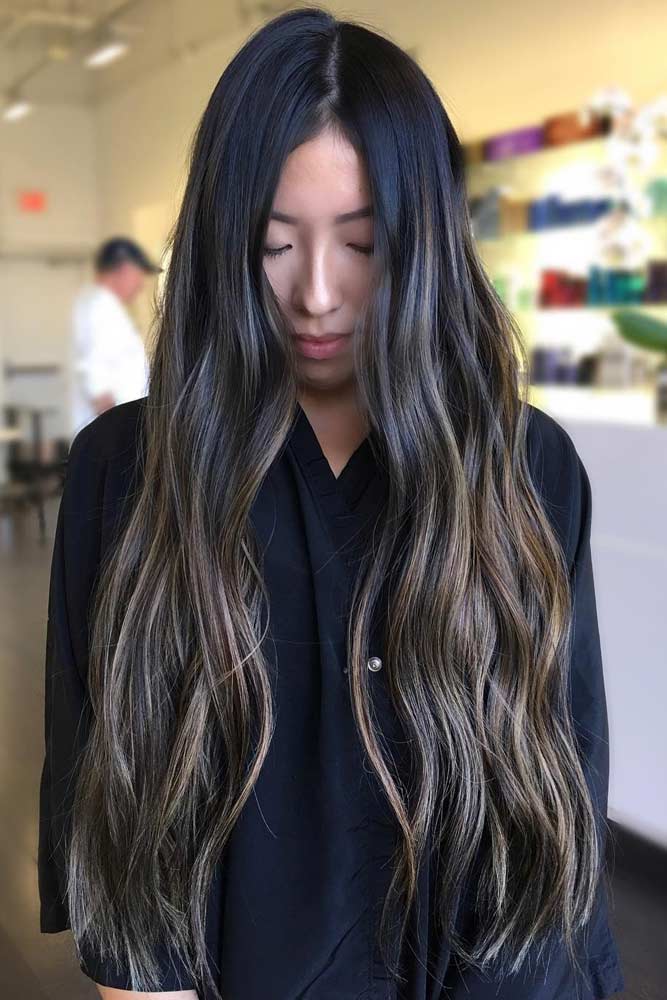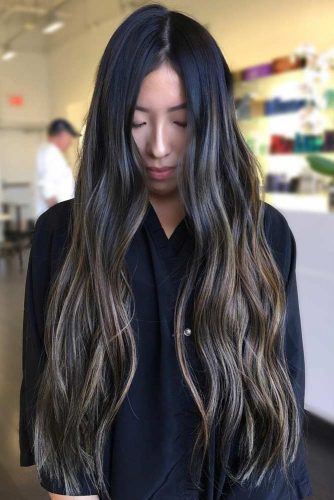 Long hair can be dramatic on its own so if you want a more subtle look, go from black to brown with soft and gradual color changes. A few natural shades will go far to keep your hair looking shiny and healthy.
11. Black Into Chocolate Dip
Source: colorbymichael via Instagram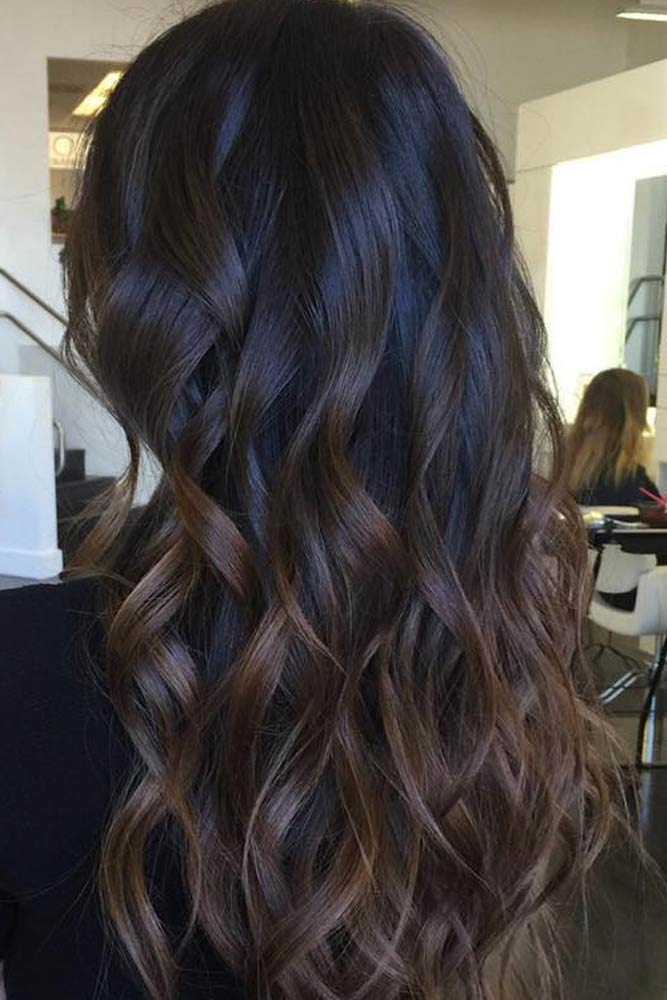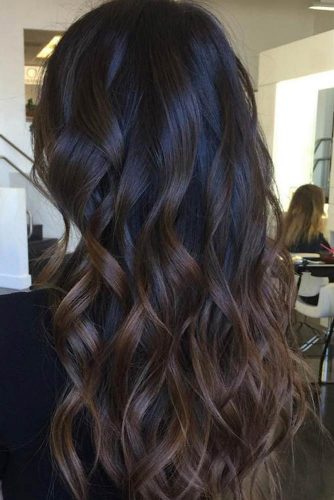 Chocolate ends on black hair are both sweet and classy. You won't have to style your hair as this look is naturally beautiful and chic. You can totally rock messy curls with your hair long and loose.
12. Black to Brown With Golden Highlights
Source: prettylittleombre via Instagram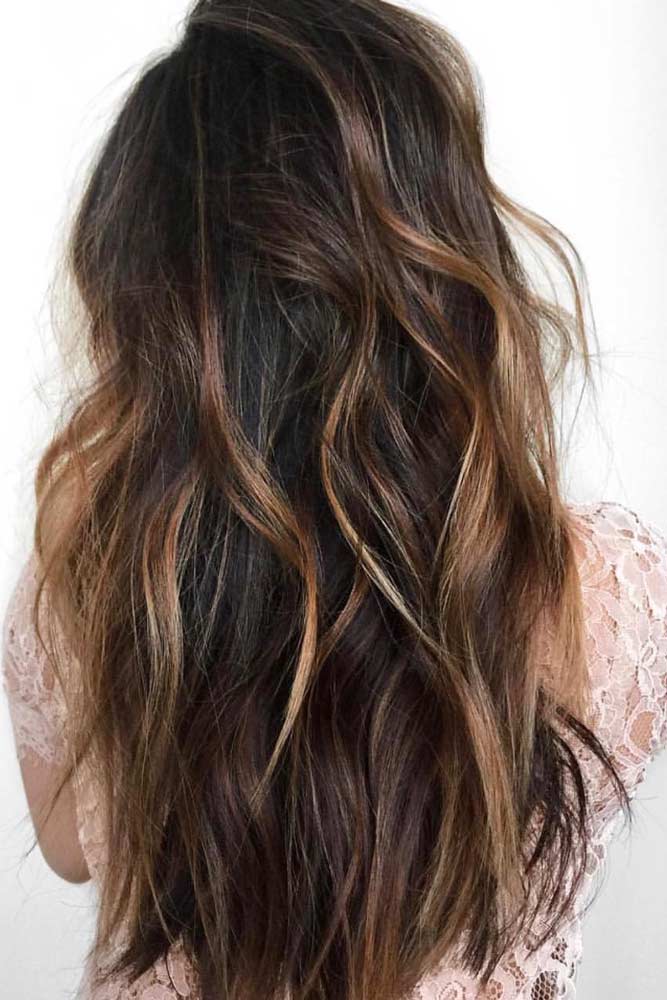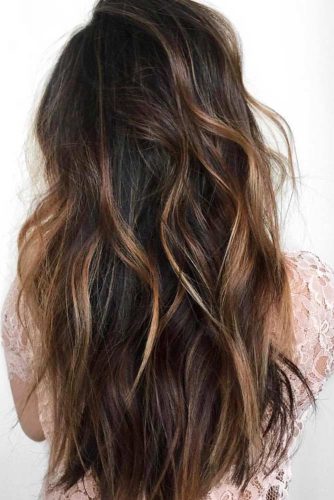 This gradual fade from black to dark chocolate blends perfectly with the softer medium brown shades. The golden highlights make this hairstyle stand out. You can rock this style with loose curls or straightened strands to show off your ombre hair.
13. Black to Gray Ombre Style
Source: marycake via Instagram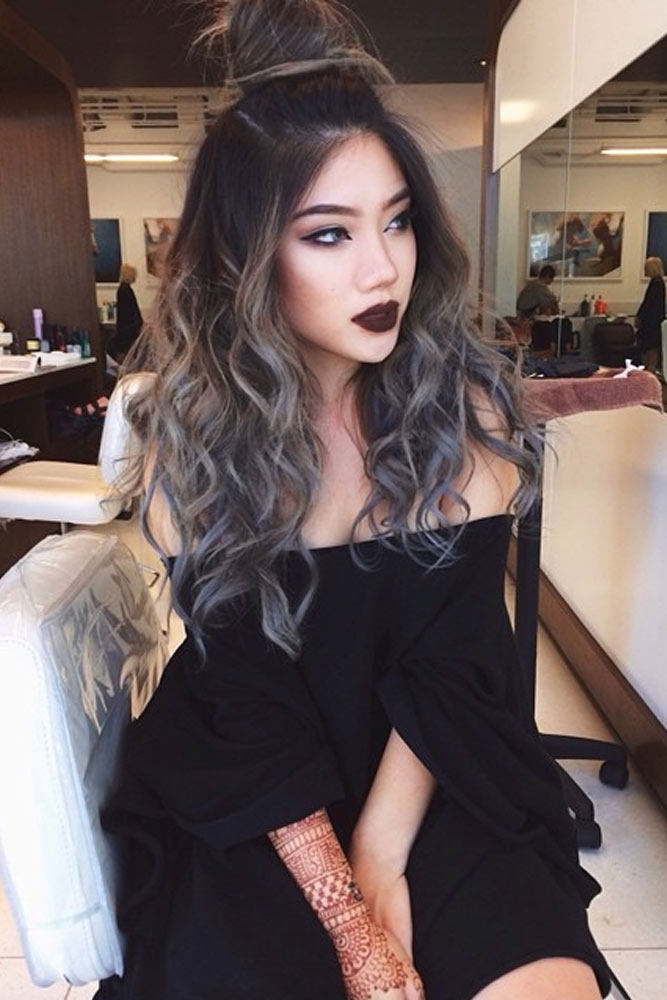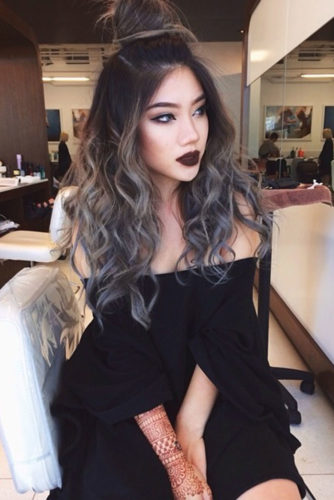 This style works great on extra-long hair as it gives you the chance to really stretch the ombre fade. If you keep the bulk of your hair a dark jet black with gray tips at the end it makes for a stunning effect. This look works beautifully on younger girls and women.
14. Emerald Green on Black Hair
Source: studio417salon via Instagram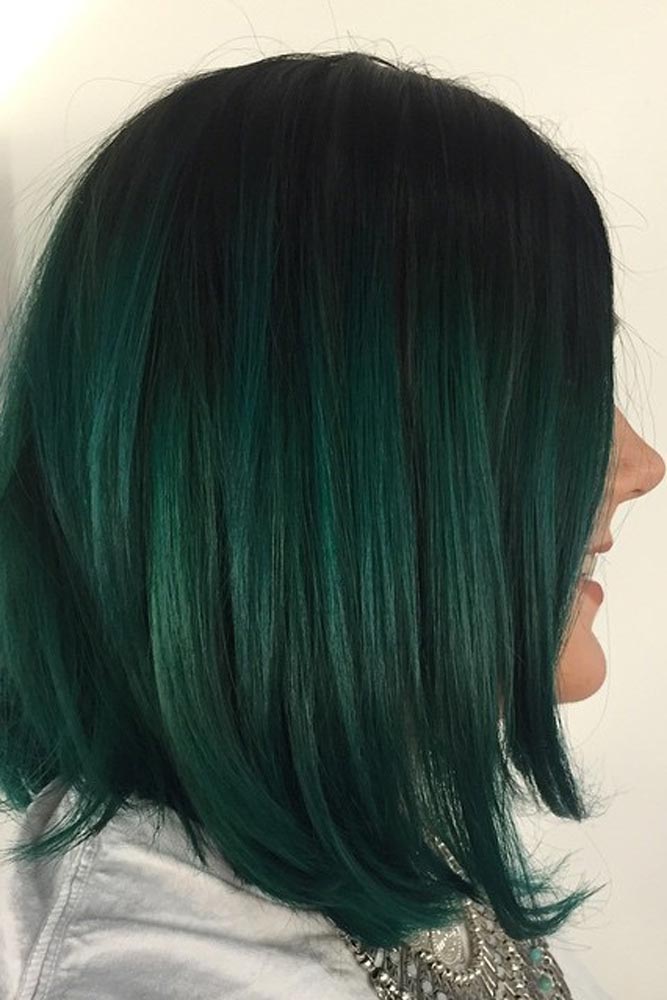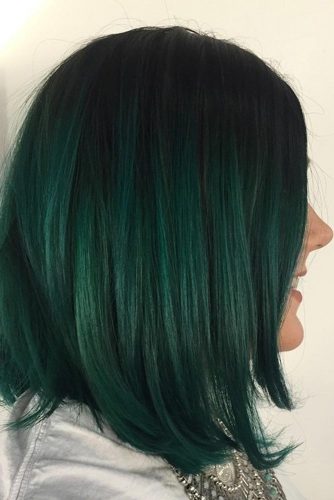 A dark black style with varying shades of green makes a great effect that will make everyone stop and stare at your daring ombre hairstyle.
15. Bluish Gray on Black
Source: loveisinthehair_byjanet via Instagram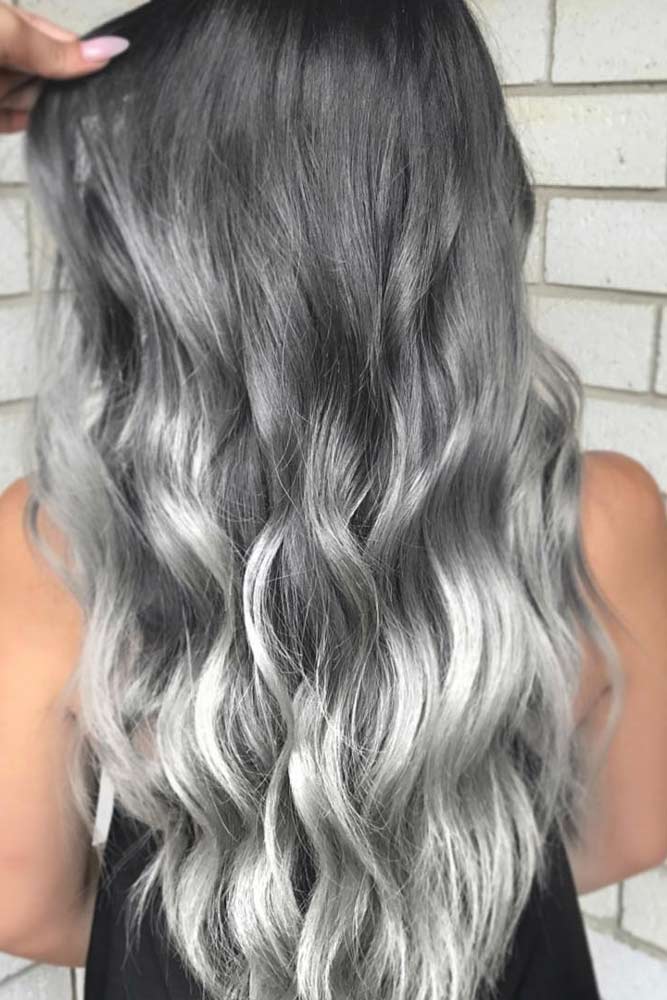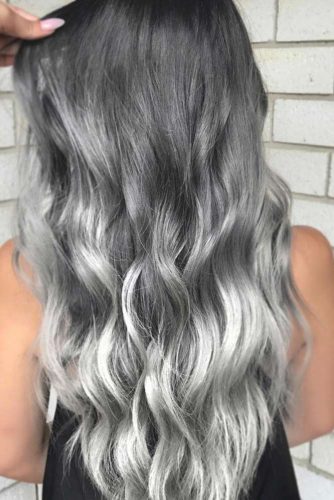 This look is so soft that you will want to touch it. Blue-tinged gray on black hair is all the rage now. The subtle hint of blue in the gray almost resembles a dainty paintbrush for a youthful and unique look that is more stylish and sophisticated than most shades of gray.
16. Reverse Rainbow Ombre Effect
Source: evalam_ via Instagram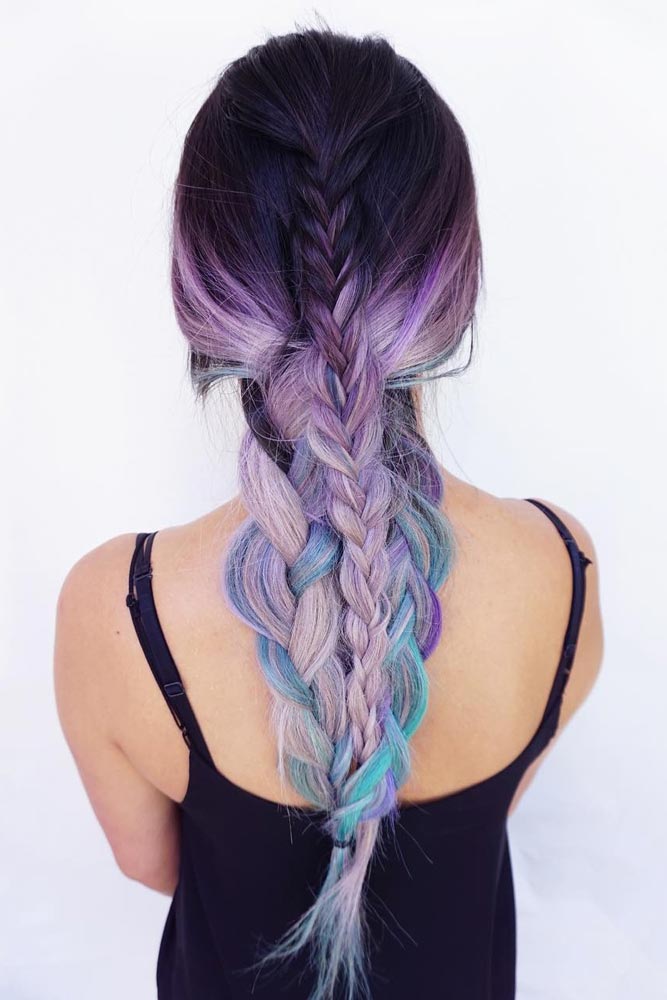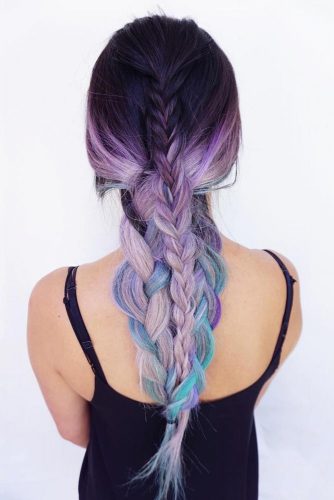 If you want a bold and dramatic ombre look, create a rainbow with every shade of color. Start with lighter colors on the top, reds in the middle and the darker colors at the ends for a gorgeous rainbow.
17. Smooth Black to Blonde Effect
Source: leahhofffhair via Instagram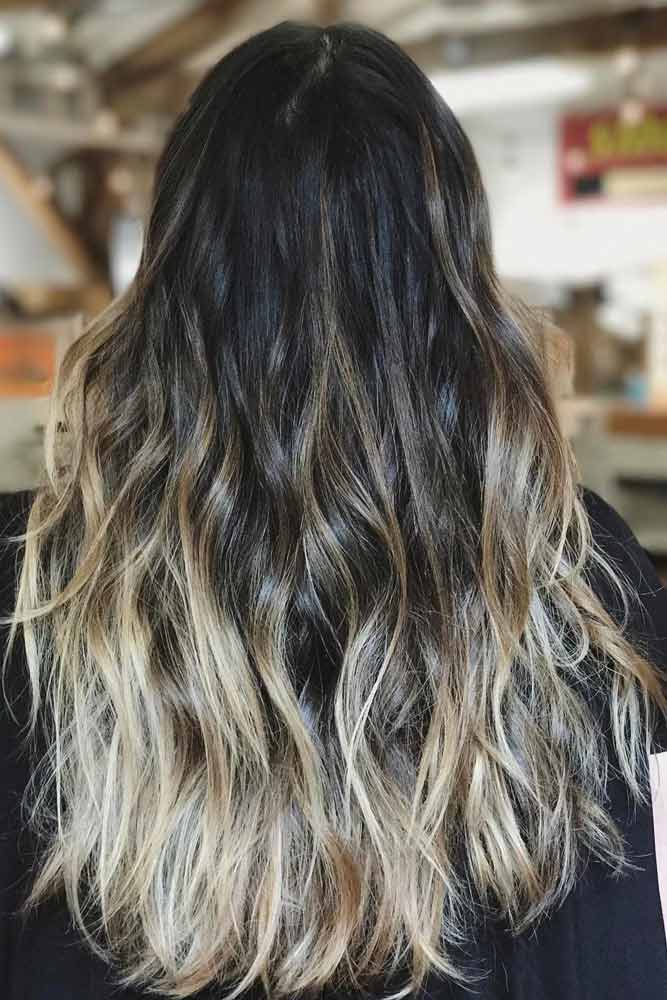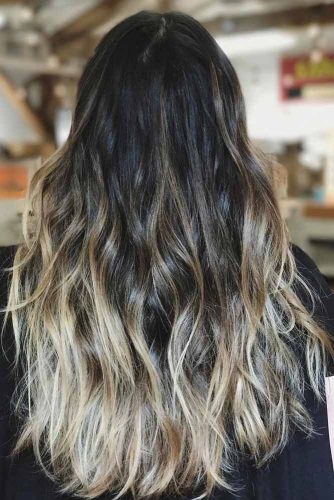 Black to blonde ombre works great on a variety of natural hair colors. It is especially great for those with super long hair as you are able to transition into several different hues. Start with dark black and fade into darker brown to lighter brown shades and gradually go lighter until your tips have a stunning burst of blonde color.
FAQ: Ombre Hair
Does ombre look good on straight hair?
Your ombre will look flat and one-toned if you have straight hair. To enhance hair complexity, try using different tones, similar to how you would for highlights. Feel free to choose from a variety of ombre styles if your hair is curly or wavy. Remember that deep reds, bronze ombre and coppers will look great on you if you have dark complexion.
Does ombre look good on long hair?
Ombre hair has become trendy and doesn't seem to be going away anytime soon. This hair coloring method begins darker at the roots and gradually lightens as it progresses to the ends. Ombre looks really stunning on longer hair.
Is ombre hair natural?
Ombre is a striking two-toned hair color style that is often lighter at the bottom and darker at the top of head. The darker top layer of your hair is usually your natural color, while the bottom section is bleached with a hair lightener.