Crochet braids have always been a fairy godmother to girls with natural textures. It just so happens that sooner or later you will run out of styling ideas for your kinky, twisty or curly locks. Needless to say, many natural-haired ladies find themselves helpless after countless experiments with heating tools. Got tired of complicated styling routine and want some fresh ideas to come into your life? Catch the lifeline!
Crochet hairstyles can not only diversify your сasual style but also give your natural mane a stylish break. They're synthetic hair looped through already braided, cornrowed hair. Simple, huh? Well, this simplicity has nothing to do with their variety, and today you are going to witness it with your own eyes. Dive in!
Curly Layered Bob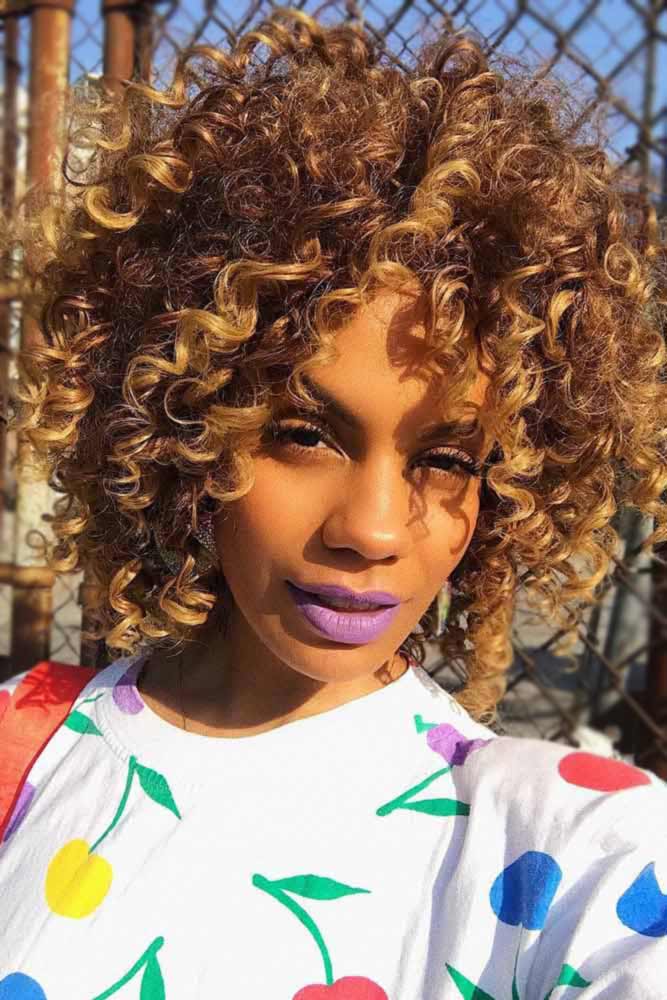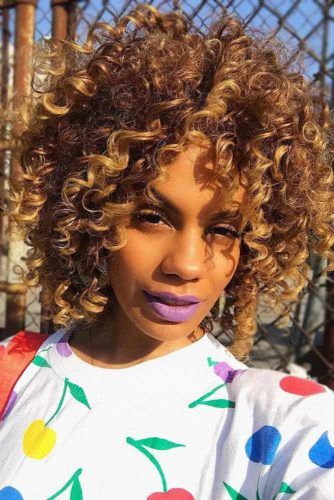 Source: magavilhas via Instagram
Who says that crochet styles are all about extremely long braids that hit your waist? Here's one thing you should always keep in mind, especially when going for such hairstyles: they're a canvas to your imagination. Want to go short and curly? Just do it: you can attach curly crochet braids and unravel them to achieve a playful, voluminous look like this.
Shoulder Length Ombre Crochets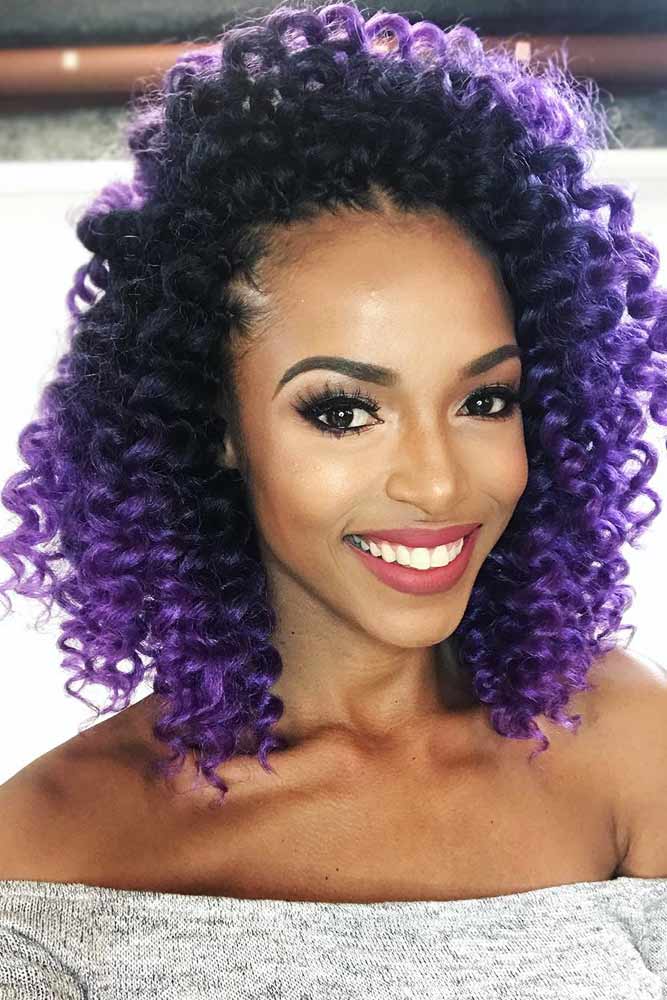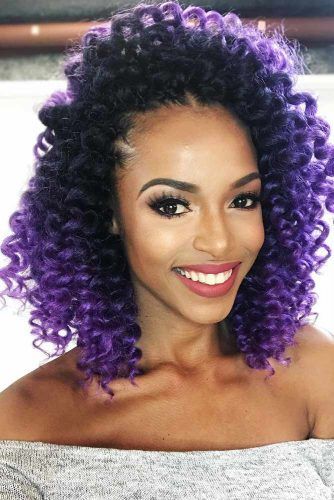 Source: kersti.pitre via Instagram
Damage is something that women of color can't stand like no one else. Natural hair is very fragile and, in most cases, it's very prone to damage. Fortunately, natural haired goddesses don't stay away from the idea of playing with colors as they have a possibility to do it without breakage and hair loss. You can either buy already dyed crochet braids hair or get yourself some fake tresses and experiment with colors yourself. It's fun and safe!
Curly Hairstyle With Bangs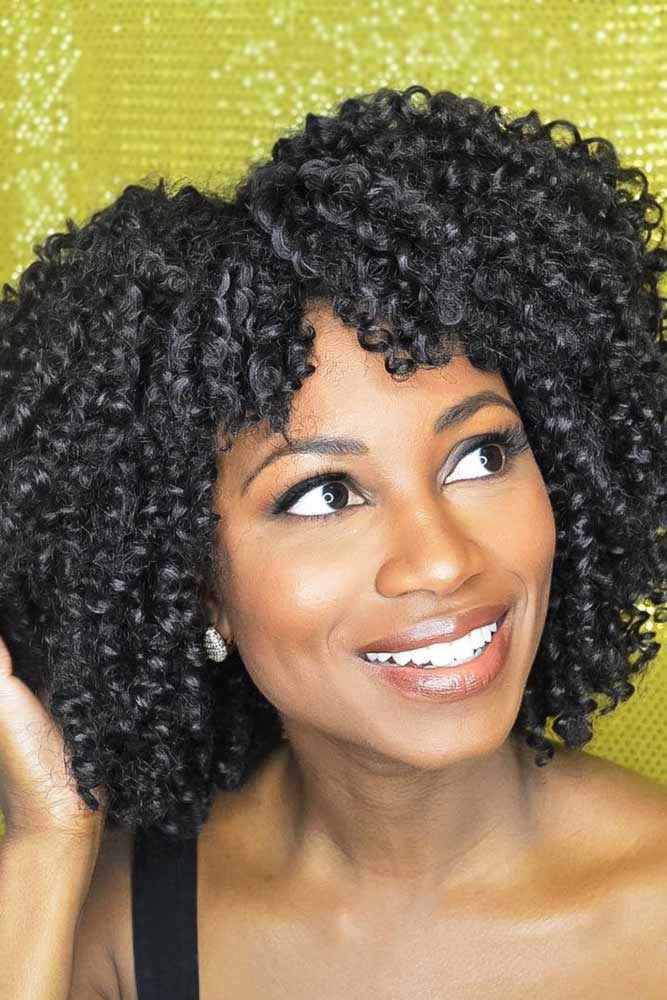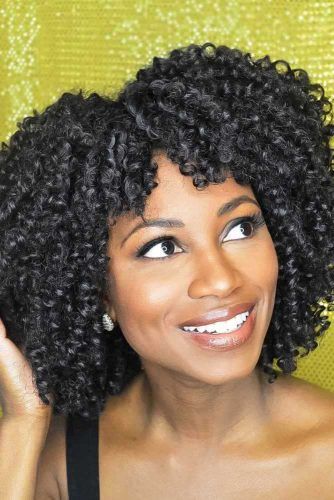 Source: beautybysheri via Instagram
Another advantage of wearing crochet hair is that you can try out many lengths and types of hairstyles to find a style that's really true to you. And bangs that many women find to be a huge commitment, aren't an exception! You can pull off a synthetic fringe and walk in new shoes before buying them.
Side-Swept Style For Long Hair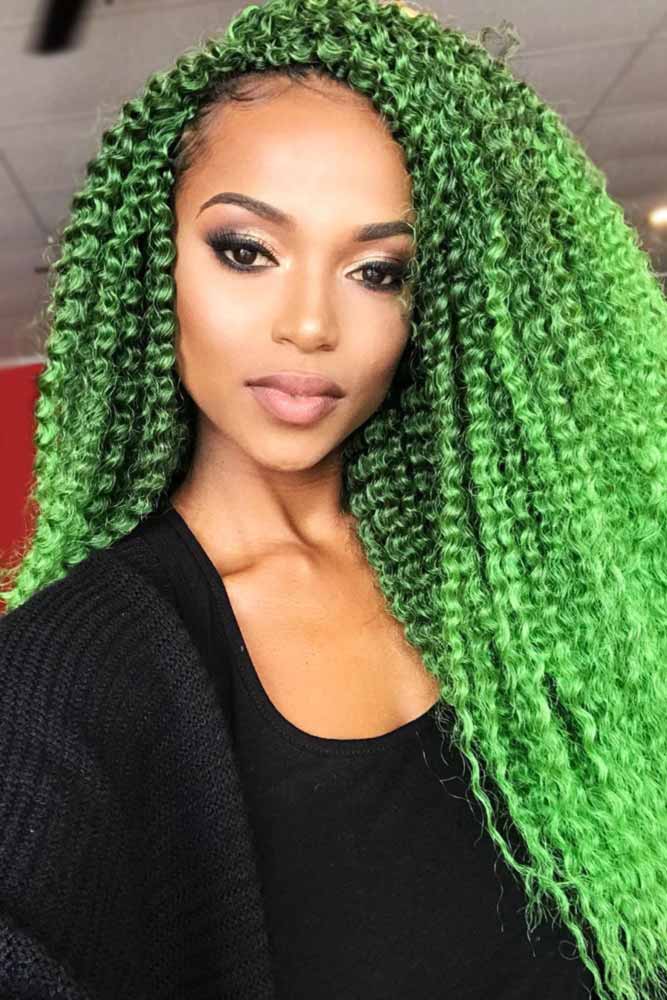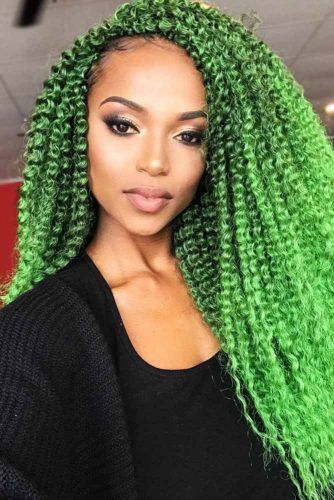 Source: kersti.pitre via Instagram
While keeping your hair safe from the environmental and styling harshness, you can flaunt with super voluminous, immense chevelure full of bouncy twists. Some people will call it magic, and you can call your braider and ask for a set of awesome crochet twists. People will literally lose their minds as such side-swept styles are styles to remember.
Mini Twists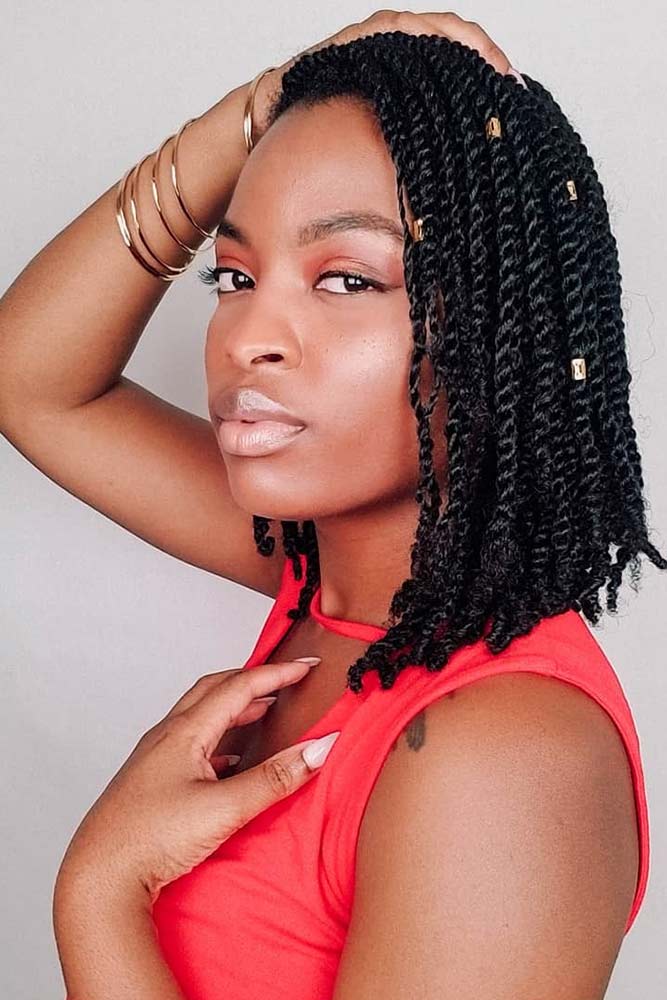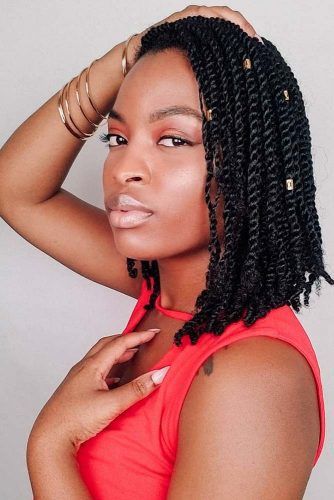 Source: naturallynella via Instagram
If you're more into simple and authentic styles, short crochet braids can veer towards your inner minimalist. Besides a classy, effortless appearance, such ideas offer very comfortable wear: shorter tresses won't outweigh your scalp, giving you a light feel.
Crochet Into Goddess Locs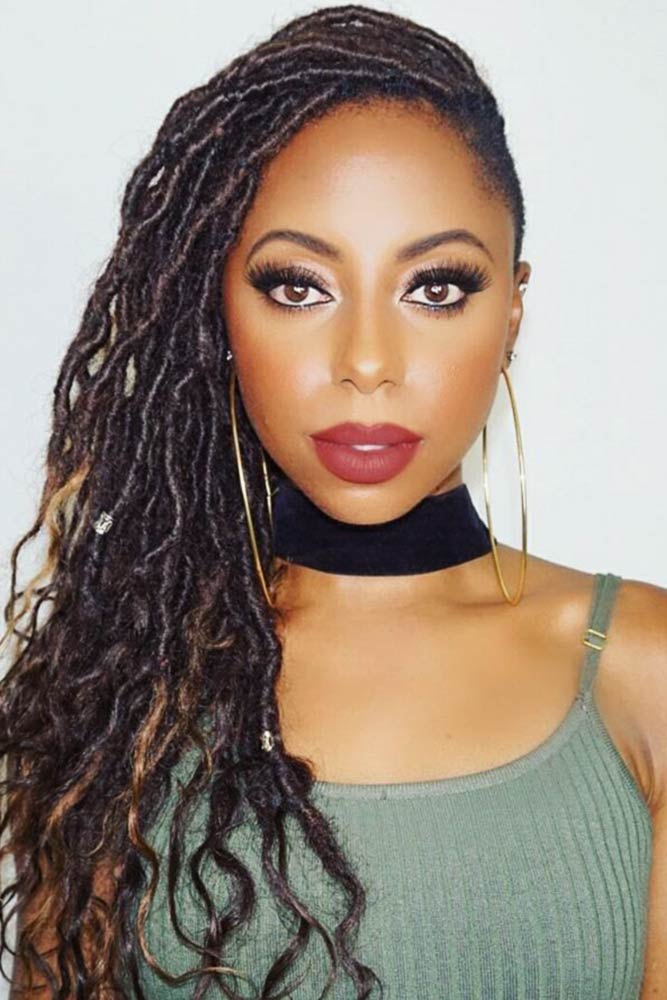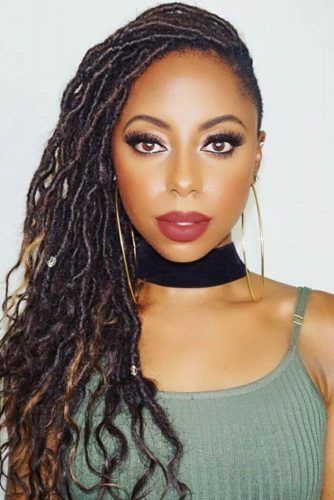 Source: jessicapettway via Instagram
Goddess braids are another classic way to beautify natural hair. The only thing that makes them different from crochet braiding is that goddess braids involve human hair instead of synthetic tresses. For a more natural appearance of your style, you can twist goddess locs over the crochet.
Crochet Braids With Center Parted Waves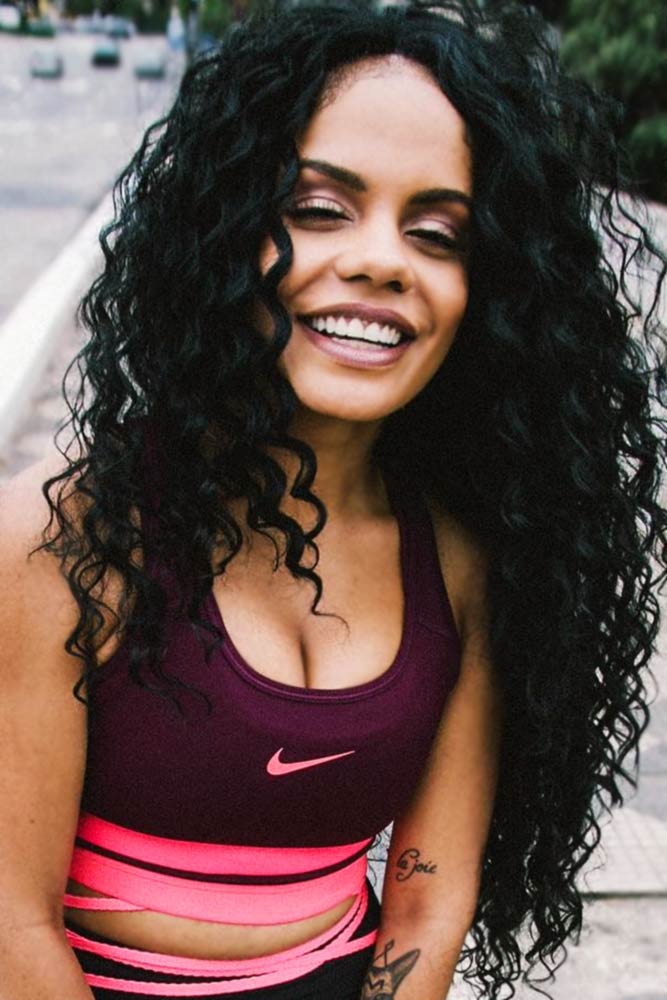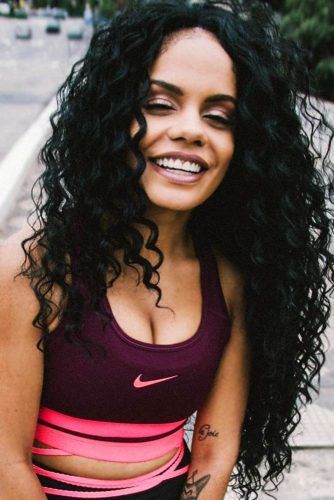 Source: magavilhas via Instagram
Here's how amazing unraveled crochet braids can look. Or, to save some time, you can buy synthetic tresses that are wavy by default. Nothing can compare to the beauty of long hair that falls on a girl's shoulder, especially when it looks that natural.
Crochets Senegalese Twists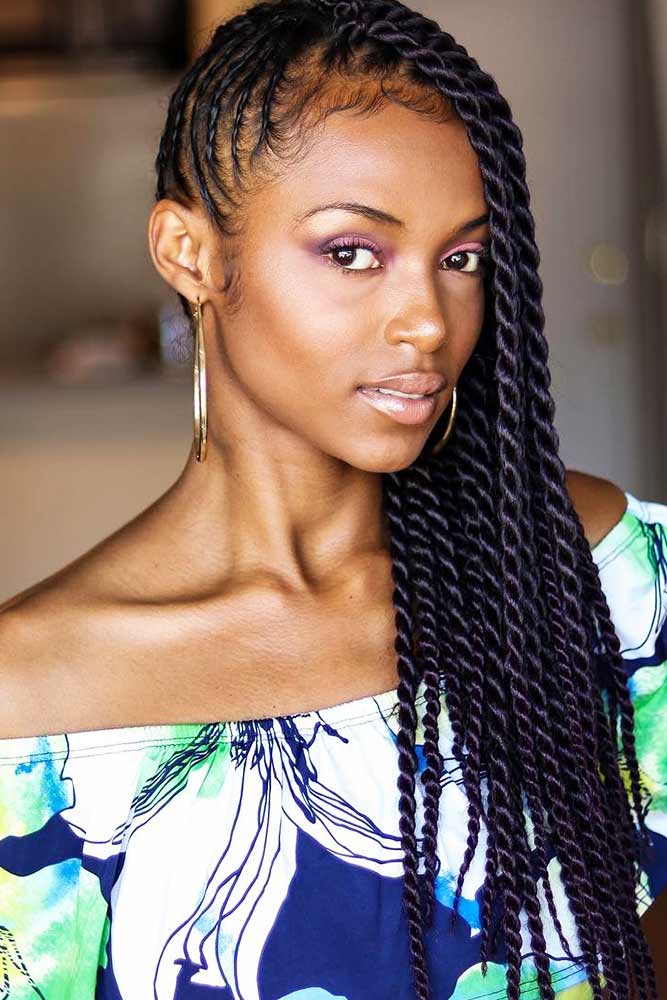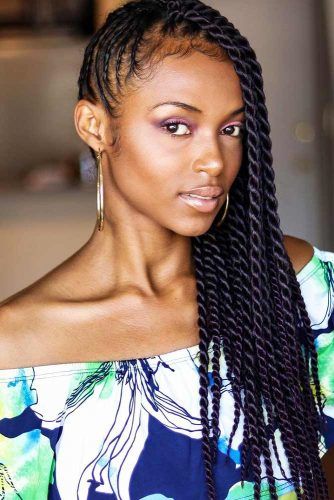 Source: kersti.pitre via Instagram
Senegalese twists can be achieved both with natural hair and with extensions. And since we're talking about protective hairstyles, we'd like to focus on the twists created with the crochet technique. The bold, distinctive twists are looped through just like cornrows, yet, they give a totally different look.
Crochet Braids With Faux Locs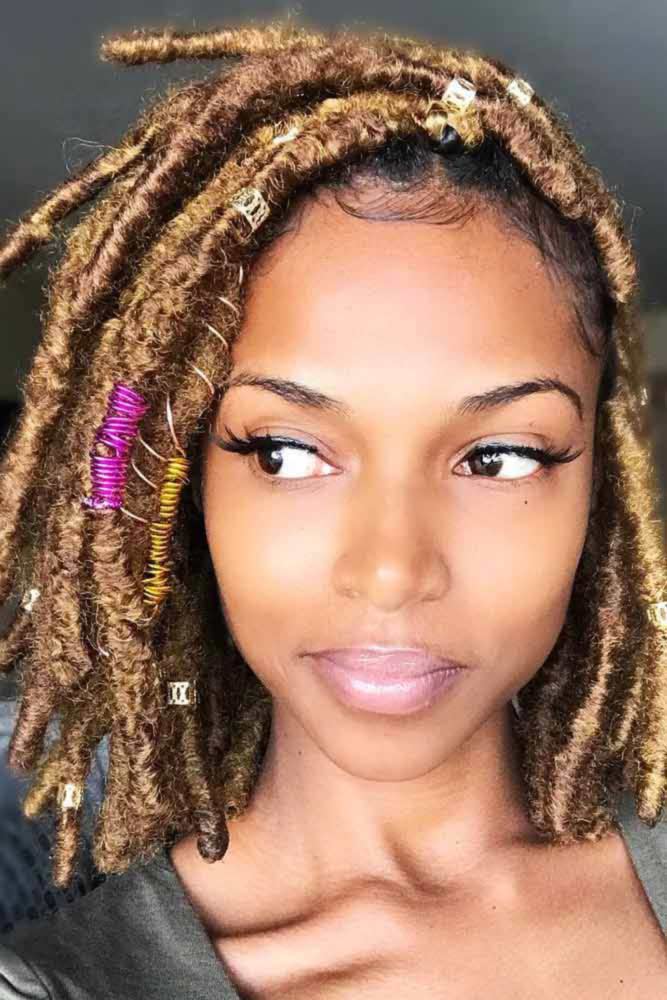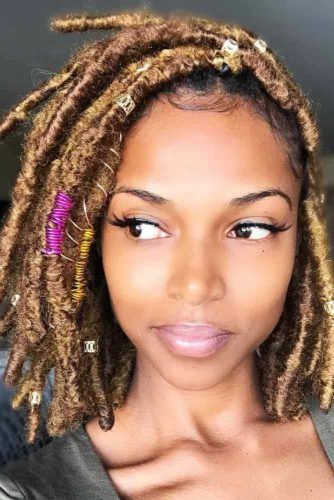 Source: kersti.pitre via Instagram
Faux locs are synthetic dreads designed for ladies who are afraid of commitment. They're usually installed over braided hair to keep a full dreads-like shape. Always wanted to try them but hesitated for some reason? This idea is here to wash away the hesitation to experiment.
Crochet Cornrows Into Low Buns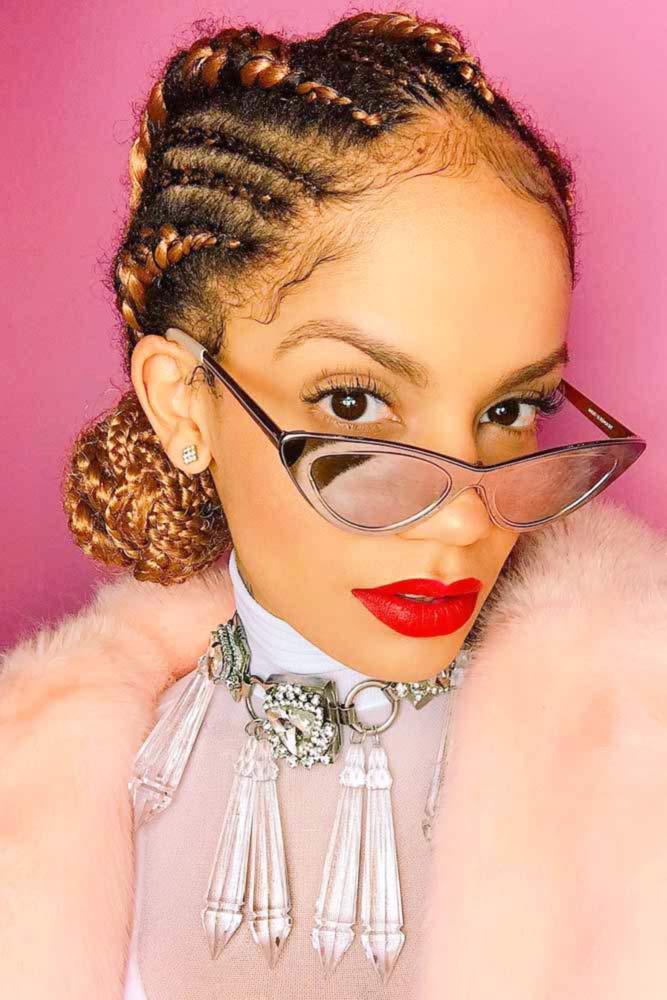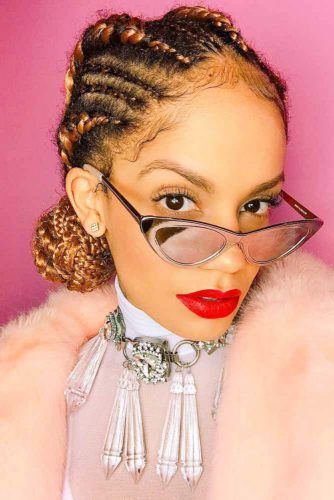 Source: magavilhas via Instagram
Why don't expose your cornrows? They're so popular, after all! You can loop attachments through your braided hair following the direction of cornrows just to extend their length. As a result, you can leave your place with a fashionable hairstyle that will make heads turn.
Fulani Braids Into High Pony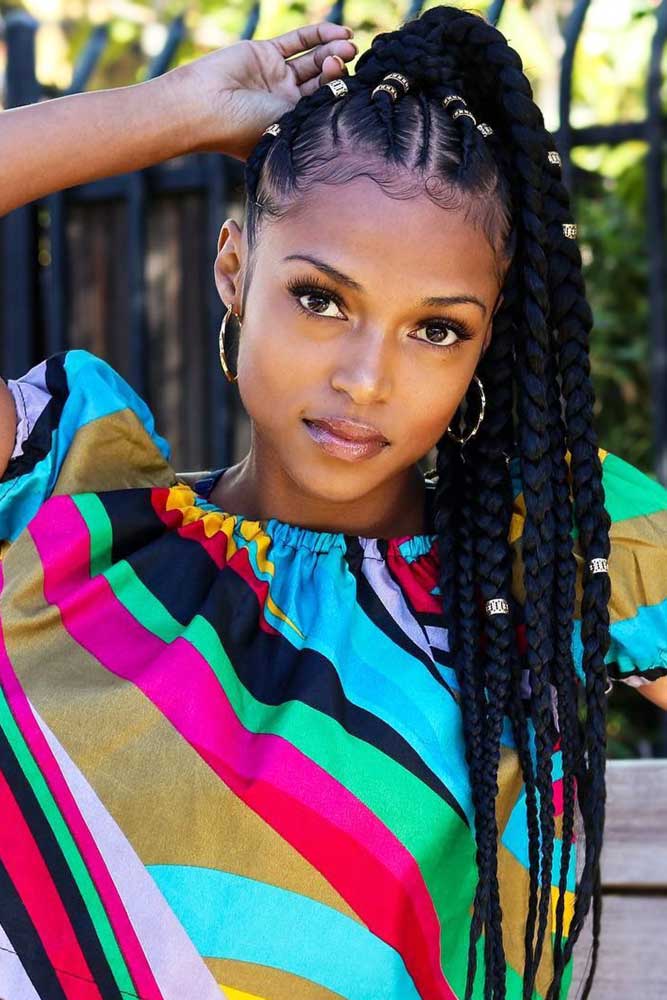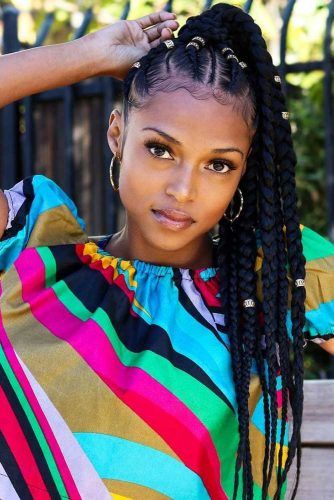 Source: kersti.pitre via Instagram
If you want to try something different, crochet braids styles with Fulani pattern is your must. Fulani braids are an ageless black hairstyle that was first worn by women from ethnic groups in West Africa. Now, it's a trend that gives a fresh take at cornrows: it features one cornrow in the middle and two on the sides. Just look how unique they look with a simple pony!
Bun With Kanekalon Hair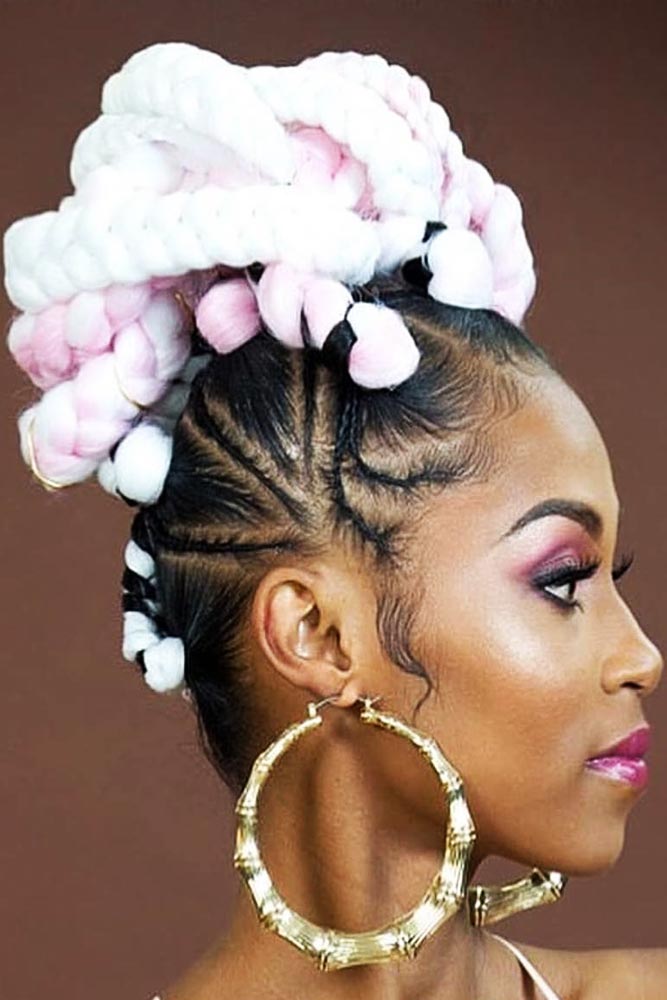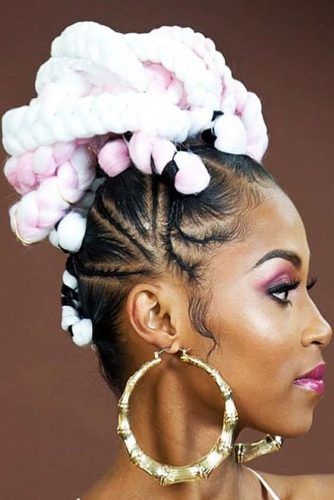 Source: kersti.pitre via Instagram
Kanekalon hair is a set of extensions meant for colorful looks that are not supposed to look natural. In other words, if you want a style that will stand out in the crowd with its thickness and brightness, that's it. It's also very cool to turn kanekalon tresses into updos: the contrast between a natural mane and colorful attachments is a thing.
Low Pony Crochets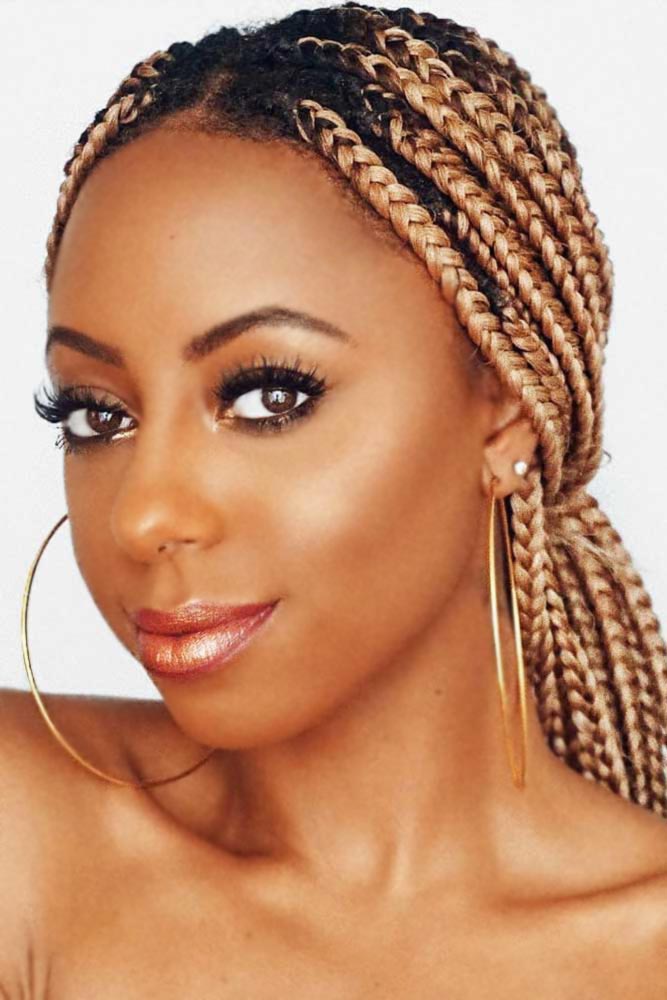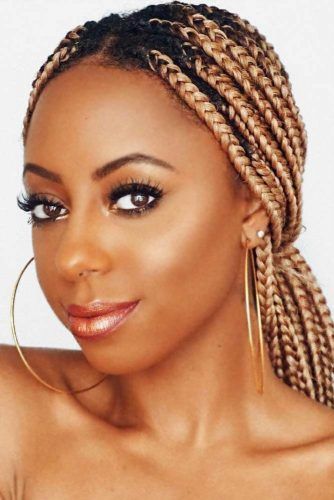 Source: jessicapettway via Instagram
Stop dreaming about ombre, put your locs together, spice them up with colored crochets and make it real! Yes, making dreams come true is way easier for those rocking natural hair. And you know what? It can be any ombre color you want. Let your creativity choose the color!
Half-Up High Bun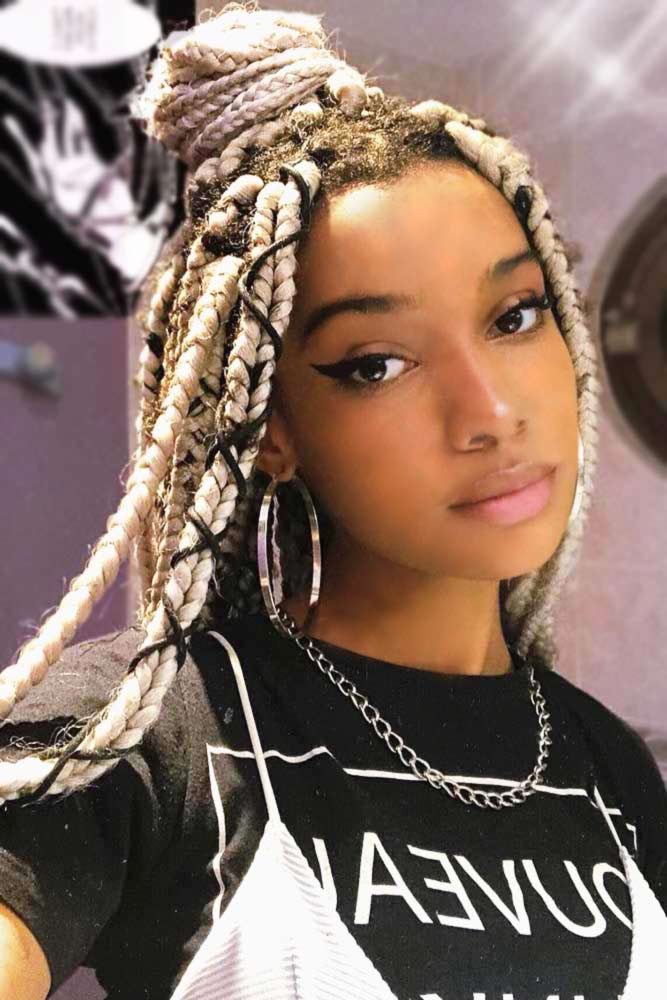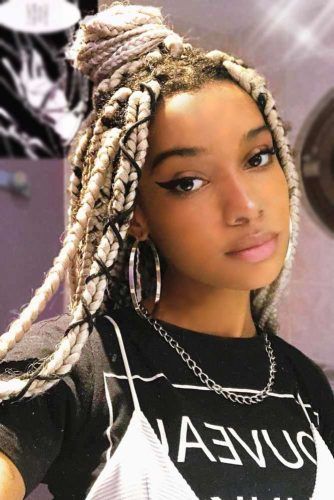 Source: canfrgu via Instagram
Short crochet braids hairstyles are comfy and practical, but let's be honest: long, colorful, and unique styles like this one are so tempting! This half-up gives a great visual impact without hitting the state of hair! Add some color, put some strands up, and finish the style with beads or ties to make it stand out.
Crochet Twists Into Pony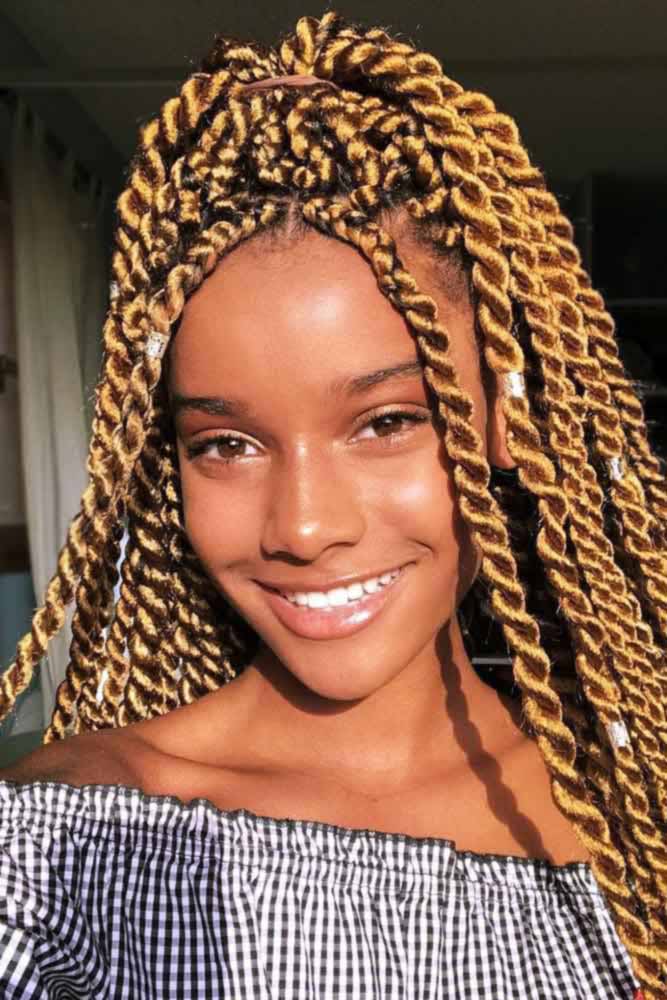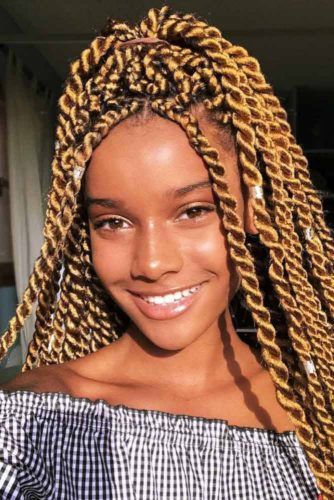 Source: canfrgu via Instagram
Crochet twists look less natural than braids; they're another hairstyle for ladies that want to be in the spotlight 24/7. If you have a closer look at this twisted masterpiece, you will get amazed when you realize that it's a simple ponytail. Who would've thought that a pony could be so gorgeous?
Voluminous High Bun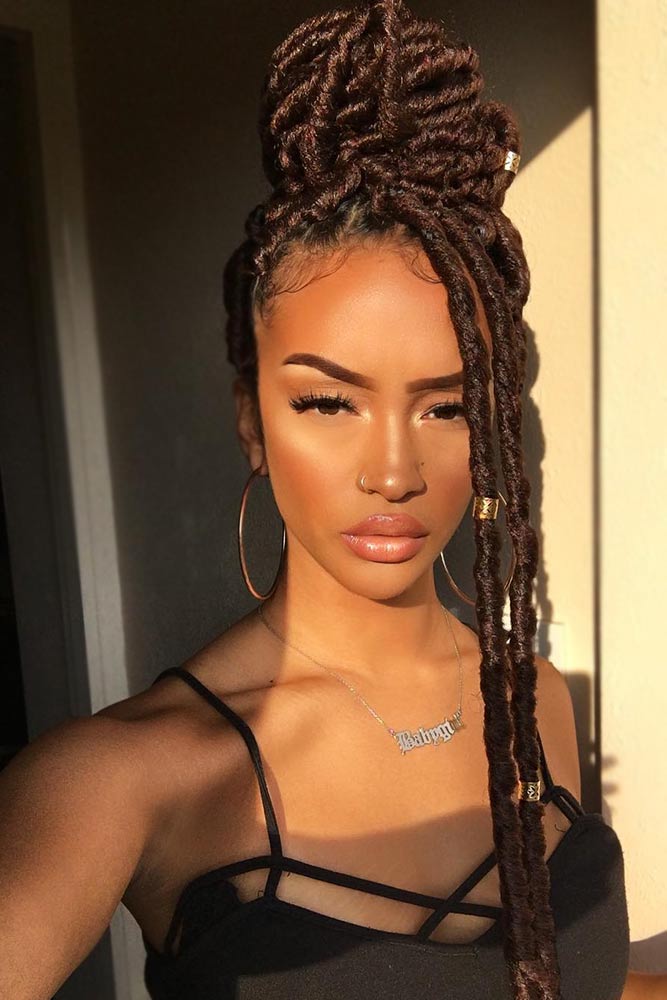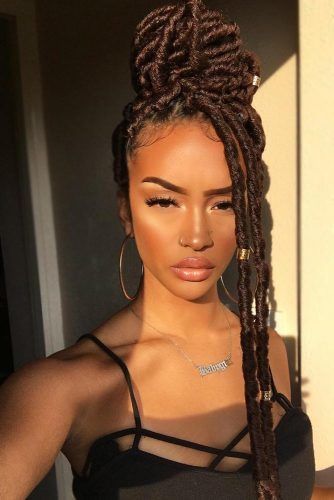 Source: becbecmc via Instagram
When all of your hair is turned to braids, every look that you get never lacks volume. So even if you simply gather your crochet twists or braids into a messy, uneven high bun, you will see a red-carpet hairstyle in the mirror. For a more dramatic look, consider leaving out some pieces.
Side Braid Hairstyle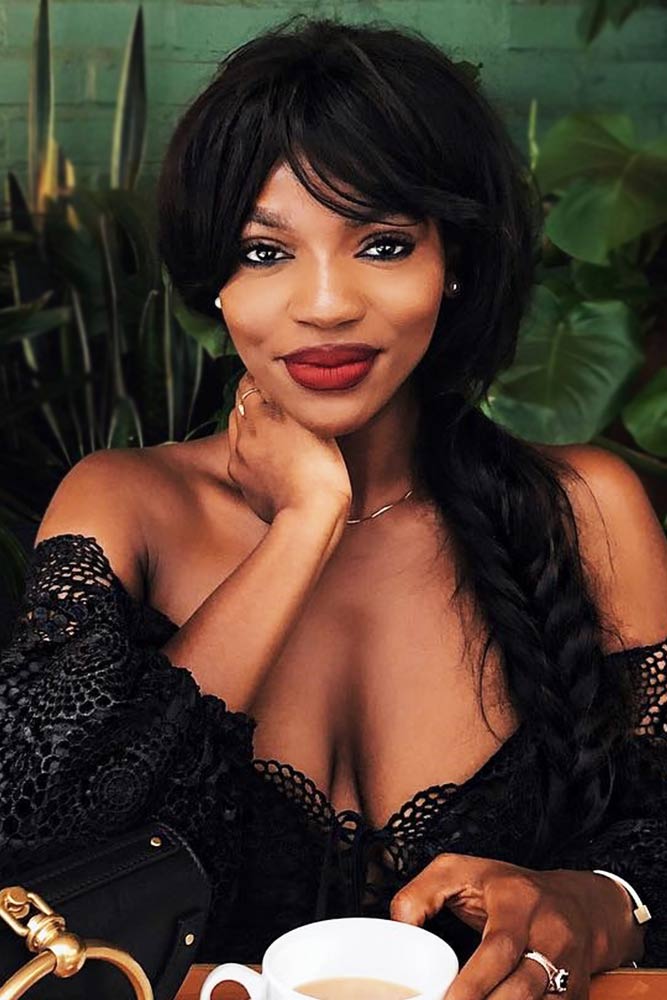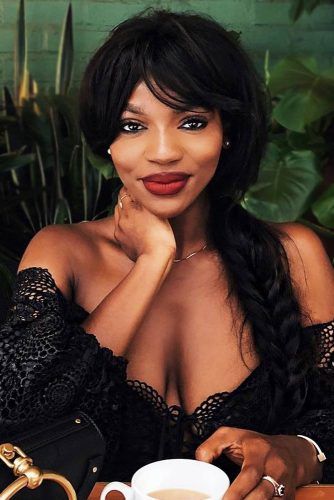 Source: asiyami_gold via Instagram
It's hard to believe that this effortless and feminine braid is done with the help of fake tresses. Well, that's the point: this is how perfectly installed goddess hair looks like. Instead of torturing your mane with countless passes of your flat iron, you can simply get straight goddess hair and then style it in any way you want. P.S This side braid is a nice idea to start with.
Half-Up With Twists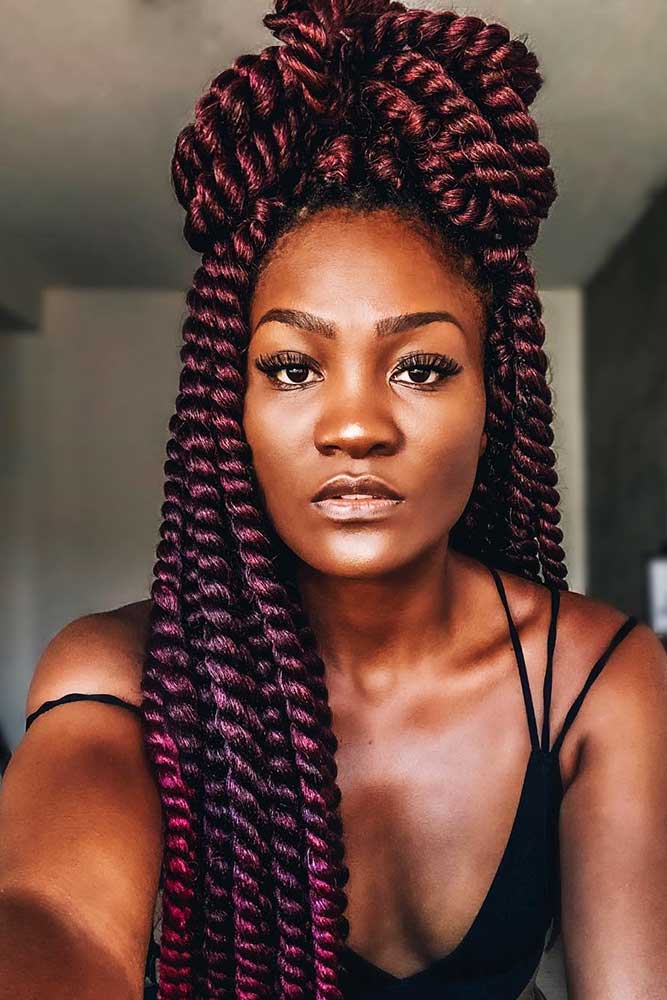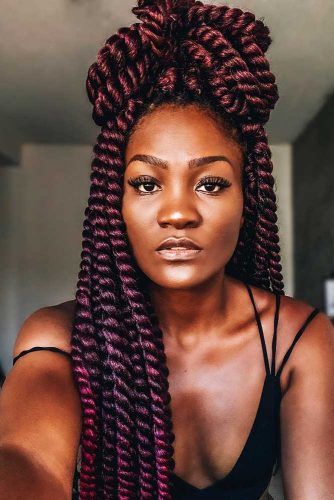 Source: jacyjuly via Instagram
Words are not enough to describe how glorious this style is. Full and thick twists that get wrapped on top and then fall down to show off their beauty, who could ask for more? Moreover, the way its colored strands blend with natural texture is to die for.
As you might have noticed, the diversity of crochet braids hairstyles has a beginning but has no end. Everything starts with cornrows, and then your creativity and imagination come in to give birth to truly unique hairstyles. The styles you've seen today are ageless, but the sooner you recreate them, the sooner you rock a head-turning look.