Non-natural-haired ladies think of cornrows as those enviable Instagram hairstyles taking over the fashion world. As for queens blessed with natural locks, they consider the braids a stylish salvation from the cruel thick hair care routine, as those styles are protective for the first place.
In fact, they all are right. But that's only the beginning of what cornrow styles actually are. And today you're going to find out why those braided hairstyles have been all the rage for centuries. Dive in to check out the latest braided masterpieces that make people's hearts skip a beat!
What Is The History Of Cornrows?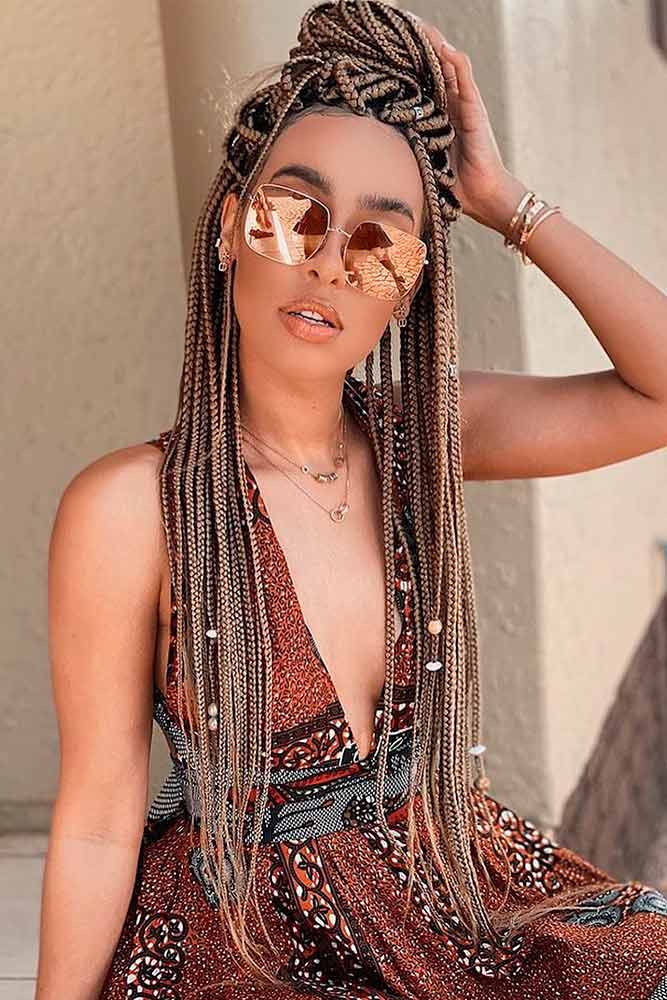 Credit photo: instagram.com/sarahlanga
It's no secret that cornrow braids are a holy grail of modern natural-haired community. We see this mesmerizing hairstyle everywhere, from the neighborhood to the runway shows. Sooner or later, you would like to discover the beginning of the endless variety of cornrow hairstyles. Well, the origin and history are just as rich and impressive as the styles you see today.
The origin of Cornrows
Just like most natural hairstyles, cornrows came from Africa. Their origin as women's hairstyle dates back to 3000 B.C. when variously cornrowed hair would indicate the tribe a woman belonged to. Africa, however, wasn't the only place that used cornrows as a tribe attribute; women from Sudan, Ethiopia, and West Africa would also wear cornrows hair.
Cornrows today
Then, with the rise of the Black Power movement in the '60s and '70s, cornrows grew in popularity. Famous African-American women and men went on to inspire their community for wearing hairstyles reflecting their heritage, thus popularizing cornrow braid hairstyles.
From that moment, cornrows have officially become a hairstyle to pass on through ages. The style has gained overwhelming popularity for its stylish, flexible, and experiments-friendly appearance that helped women of color add character to their looks.
Why Are Cornrows Called Cornrows?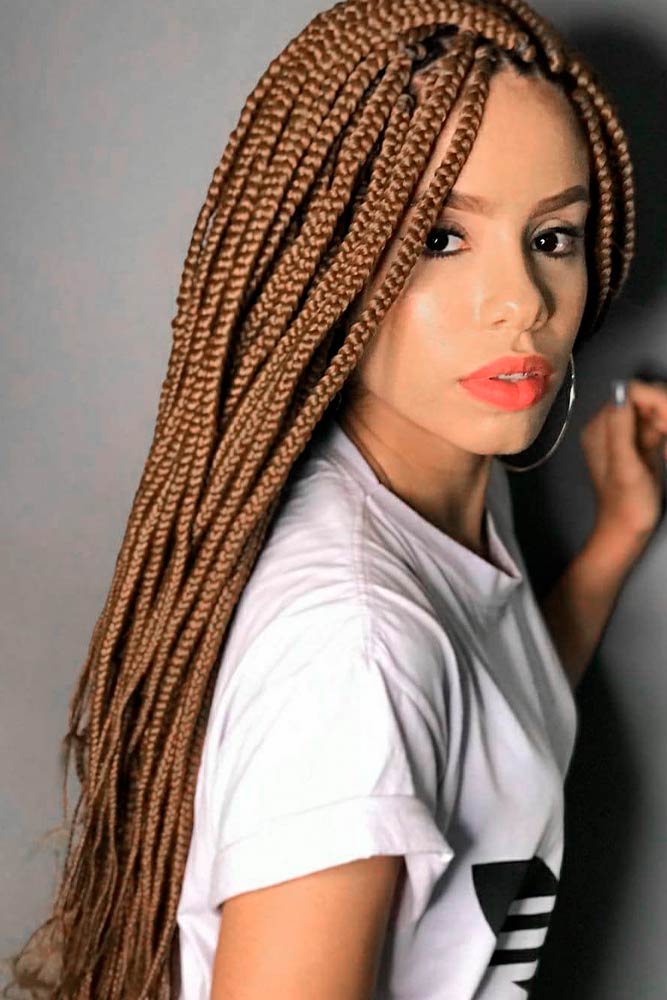 Credit photo: instagram.com/sarah_alvees_
In different regions, cornrows are called differently. But, basically, their appearance is the key that led to naming the style as we know it today. If you have a closer look, you will see corn rows, which will probably remind you of cornfields. When braiding your hair into a cornrow, a braider creates continuous raw of braids lying close to the scalp, working in an upward underhand motion. As a result, the defined braids look like corns standing in rows, and that's why this style is called like this.
What Are Different Types Of Cornrows?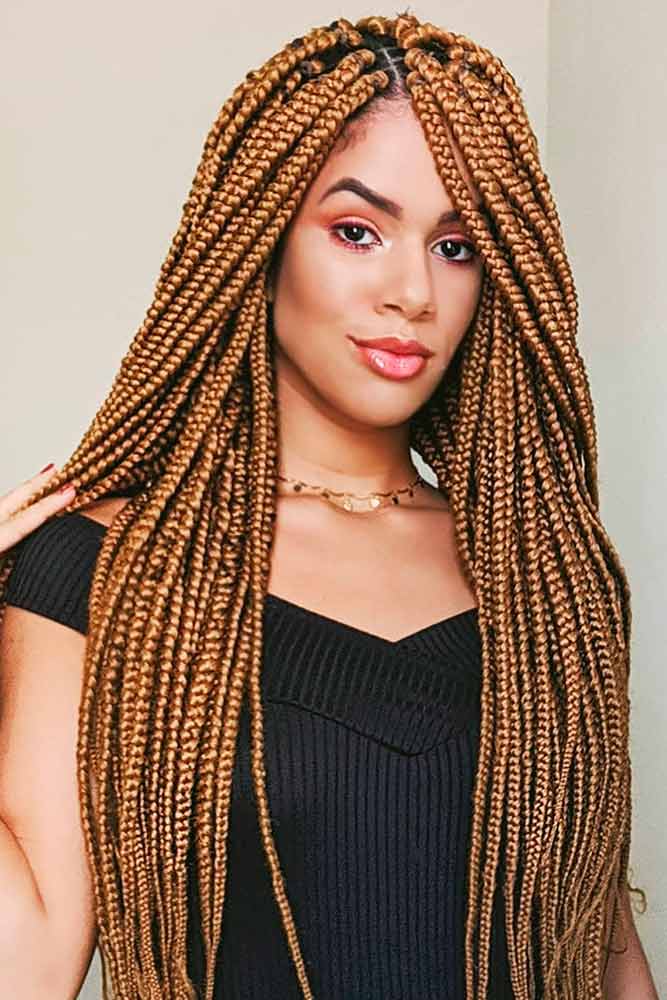 Credit photo: instagram.com/lidiamrr
Cornrows for women have traveled through many decades, so there's no wonder if you'd like to know how different they can be. While there is a huge variety of cornrow styles, there are two ways how to cornrow hair - using the overhand technique and the underhand technique. The first technique creates a rather raised look with braids sitting on top of the scalp, whereas the second technique gives an inverted look.
Before making an appointment, make sure to find out how these two cornrows braiding techniques look or ask your braider to show some examples to achieve exactly what you want.
How Long Should Hair Be For Cornrows?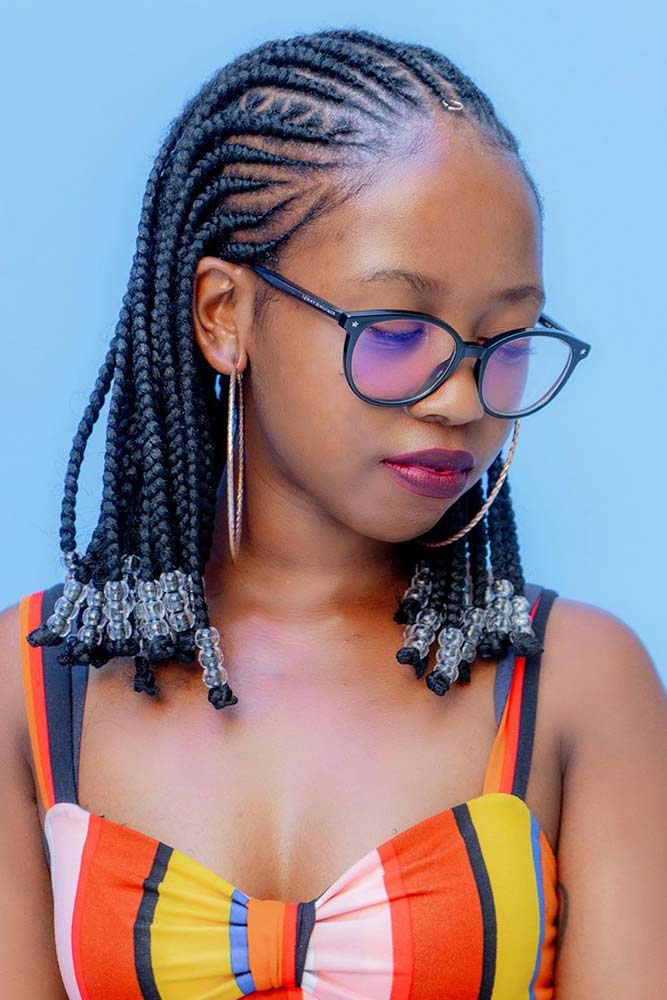 Credit photo: instagram.com/alchama_official
Of course, everything starts with a proper length. Wearing cornrows braids is a fantastic way to give your hair the needed brake from daily breakage and styling. However, your mane should reach a certain point to turn into a cornrows hairstyle. The required length depends on how you want the braids to get: by braiding your own hair or installing extensions. Let's have a look at the difference between these two processes.
Cornrowing Your Own Hair
Since your hair is thick and frizzy, its texture allows the strands to hold the style together. As told by braiders, the more texture your hair has, the smoother the braiding process may be. Unlike natural hair, straight textures have a slippery nature that makes it impossible for braids to hold. That's why this style is worn by natural-haired women now. As for the minimum length for getting cornrows naturally, they require at least 1.75 inches. Your hair should be long enough so that you can grip and combine strands without falling out of them.
Installing Extensions
If you want to go for long cornrows with the help of extensions, your hair should be at least 2 inches. Note that your hair should not only hold the cornrow style in place but also hold the weight of added locks. Keep in mind that if you have the minimum length, going for Rapunzel-long extensions would be harmful to your hair. You will outweigh your hair and scalp, thus causing damage in this way. Once your locks grow out to 4 inches, you are free to attach any extensions you like.
How Long Do Cornrows Typically Last?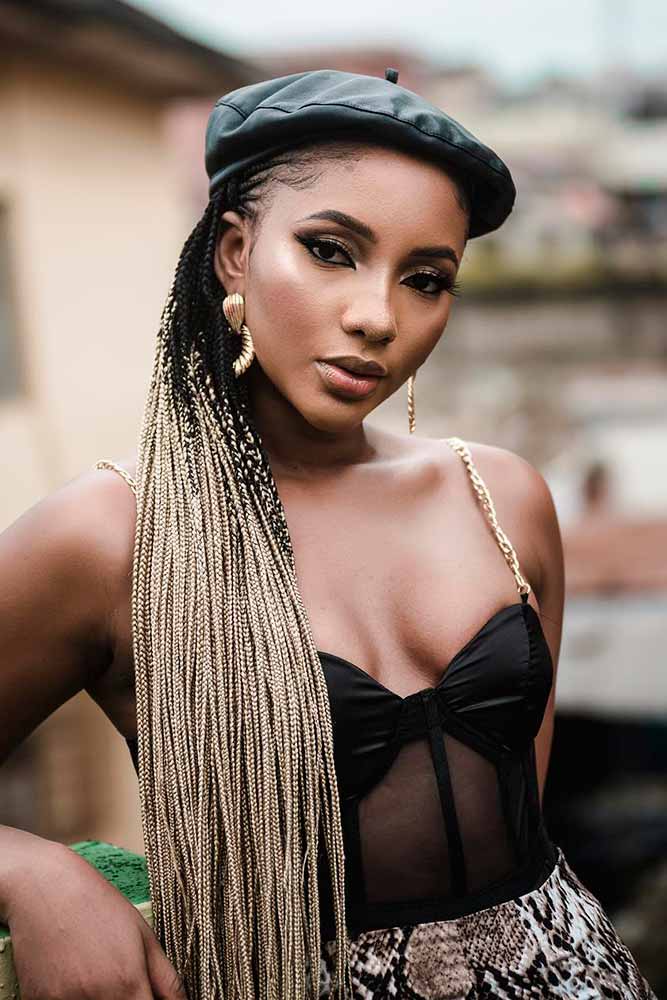 Credit photo: instagram.com/marycolette_
The lifespan of your braids depends on the purpose of getting them. In general, cornrows last from 6-8 weeks. If maintained well, your braids may serve you up to 12 weeks. Before calling your braider, it's better to think of why you want to wear cornrows. If it's all about style, you can go for the average wearing. And if you aim to protect your hair while giving it a break, hairstylists recommend wearing cornrows no longer than 2 weeks to keep up with healthy integrity in your hair.
Are Cornrows Bad For Your Hair?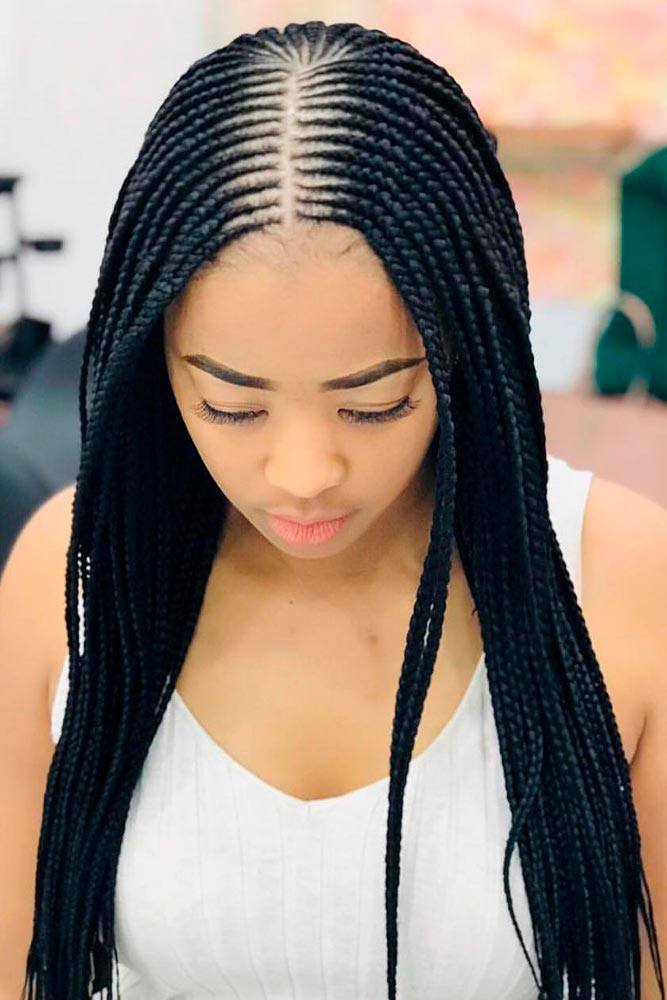 Credit photo: instagram.com/zumbahairbeauty
Despite being protective hairstyles, cornrows may be just the opposite in some scenarios. Here's what you should know to get the most of your braids and keep away from harm.
If you braid your hair too tightly, the extra tension may result in breakage and hair loss.
Don't over-wear your braids; they need to be relaxed in time to maintain healthy integrity.
If not moisturized regularly, cornrow braids can lead to dull, dry, and frizzy hair.
How To Take Care Of Cornrows On Your Hair?
Credit photo: emilly_258
At this point, we'd like to make things clear about cornrow braid styles. First off, you should be aware that it's not a cheap affair. Both the process and the upkeep require a good investment, especially when it comes to maintenance. Still, the gorgeous effect is worth it. Below, we are covering the most essential tips to take care of female cornrow styles.
Keep your scalp moisturized. Using leave-in conditioners for your braids at the scalp and spritzing them with water are the basic steps of taking care of them.
Include oils into your hair care. Oils keep the hair hydrated, so anything from castor to coconut oil will do just great for your routine.
Protect your braids when you sleep. Investing in a satin pillowcase will save you from the friction that causes frizz and dryness. Or, you can sleep with a satin scarf wrapped around your hair.
Don't wear styles that strain your hair. Keep away from very tight ponytails to keep your scalp free and relaxed.
Remove build-up regularly. Leave-ins don't come without flakes, so you should get rid of them so as not to have a dandruff-attacked look. A wet towel or cleansing shampoo are your best tools.
Unravel your braids in time. To keep your hair safe, you should stick to the timeline.
How Do You Do Cornrows?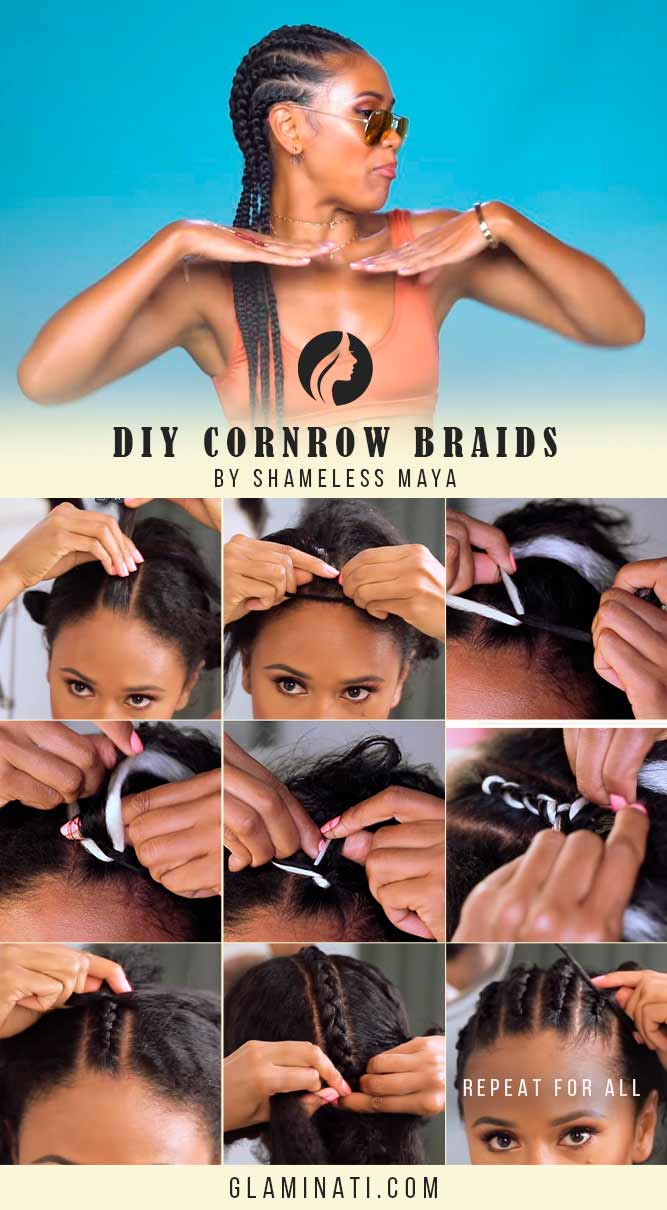 Credit photo: Shameless Maya via Youtube
We bet that we've got some DIY lovers among our amazing readers. For that reason, we've prepared a tutorial that will show you how to cornrow your own hair with extensions step by step. It's better to start with a basic front-to-back design, so here we go!
What you will need:
hair for braiding (any kind of extensions you like the most)
a rattail comb for sectioning (a regular one will work just fine)
two mirrors to see the back of your head
curl-control mousse
Easy Cornrows Tutrotial
A tip: To simplify the process, section off your extensions before you start braiding your hair.
How-to: Basic Front-to-Back Cornrows
Divide your clean hair into two sections down the middle.
You will need to create 8 (or 6) vertical sections parallel to your part: put one of the sides into a bun, and create a vertical section with the other side.
Once you section off the needed portion, apply some curl-control product to the hairline to keep it defined against the rest of the hair.
Adding extensions
Add your hair to the synthetic hair, picking up as you go along with your index finger and pulling up and around.
Go on braiding in until the tips, looking into another mirror once you reach the nape.
Then, do the same with the rest of the hair, creating vertical sections and braiding them into extensions.
Finishing Touch
Boil some water to seal the ends of the braids.
Soak the ends for a couple of minutes.
In the end, straighten the ends, and let the hair air dry.
Cornrow Hairstyles For Wild Modern Looks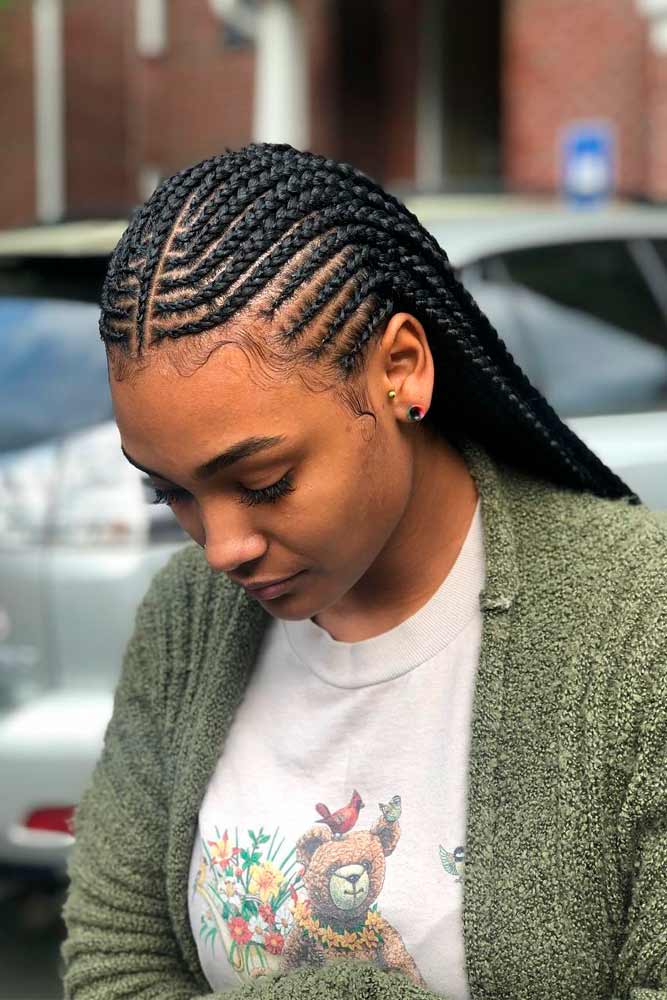 Credit photo: instagram.com/ghana.braids
Cornrow hairstyles are the musts for every African-American girl who deals with her natural hair every day for countless reasons. Let us put them in a nutshell here. With cornrows you can:
Protect your hair
Although natural hair is one of the most beautiful textures, it takes a thorough approach to keep up with the beauty. Most black hair types are prone to damage, so your hair tends to get tired of styling manipulations and products very fast. Once you turn your locks into cornrows, you will simply give it not only a healthy but also a stylish break for up to 8 weeks.
Forget about everyday styling
Since you've braided all your hair, you've got a wake-up-and-go hairstyle. Therefore, you can put an end to the time-consuming process of styling your naughty locks.
Tame those locks
It's no secret that the amazing natural texture has a very unruly an unmanageable behavior. And cornrow braids are the best way to show your hair who's boss.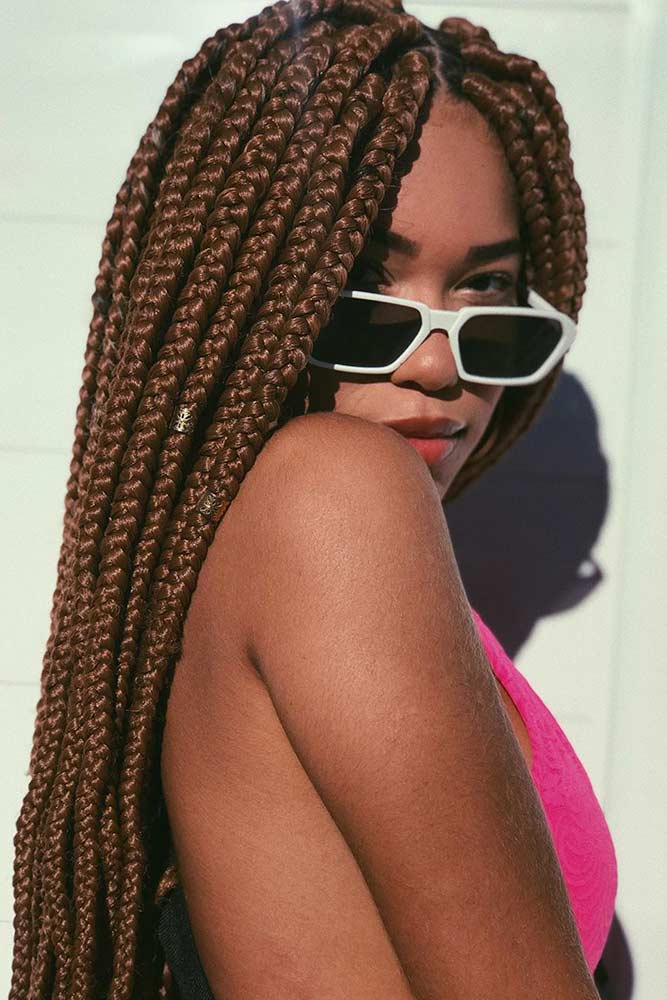 Credit photo: instagram.com/emilly_258
Be in style 24/7
Despite the long history of African cornrowing that dates back to 3,500 B.C., the styles are still the most popular black braided hairstyles. That means, you won't ever go wrong with any type of cornrows styles; it's a trend that will never go out of fashion.
Feel free to experiment
Probably the greatest thing about cornrows braids is that they are an eternal canvas to hair experiments. You're the one to decide how to do cornrows, customizing such features as the shape, direction, and design of your braids. Also, there are lots of colorful extensions and ethnic-inspired beads to make your unique look complete. And last but not least, your braids can be anything you want them to be: from fascinating side-swept looks to stunning updos.
Traditional Small Cornrows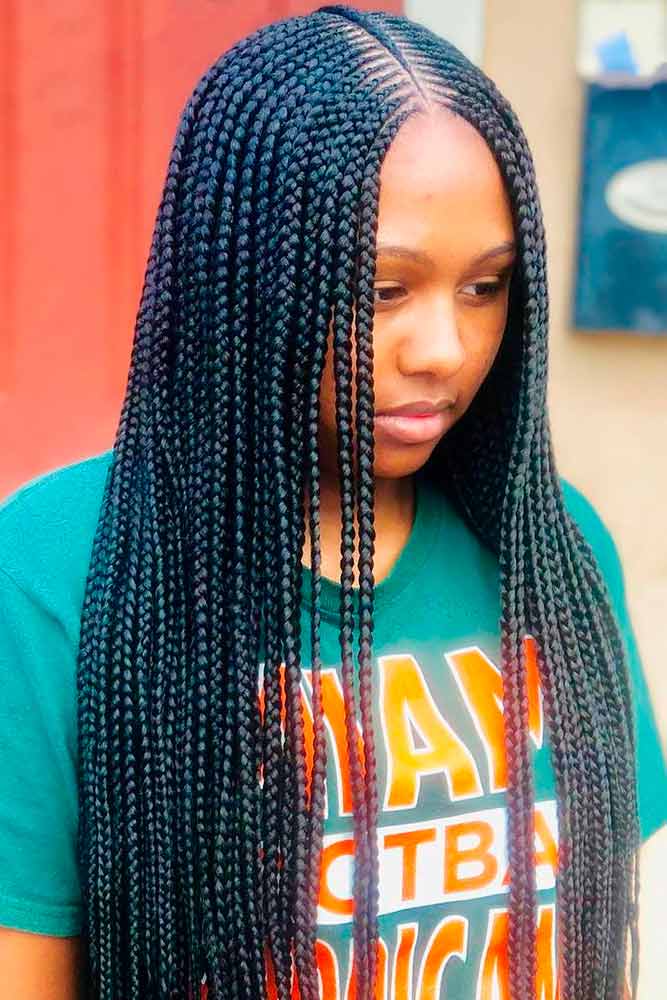 Credit photo: instagram.com/braids_by_antoinette
Let's start with classics that appeared years and years ago and is still the number one choice for many women of color. The traditional pattern of cornrows is all about pure simplicity. And even though those little cuties take hours to get them done, they give a chic, minimalist feel which will nicely complement every casual look.
Bold & Thick Cornrows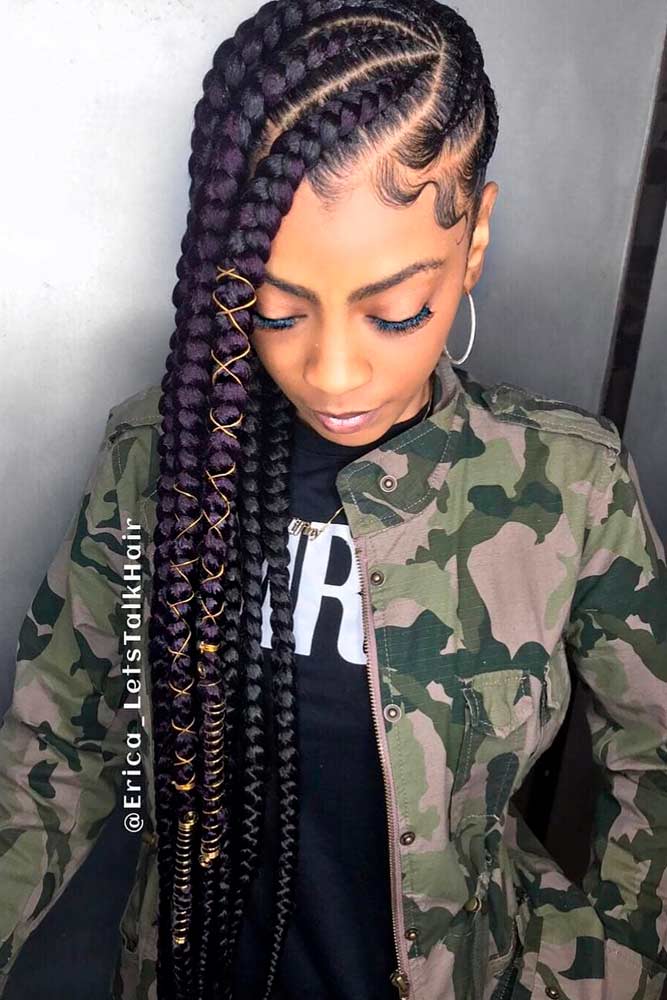 Credit photo: instagram.com/erica_letstalkhair
Now, it's time for a modern take! Not only do these thick, distinctive braids change the common image of the classic idea but also show how far you can go with your creativity. Besides, the side-swept silhouette is super versatile.
Thick & Thin Braided Combo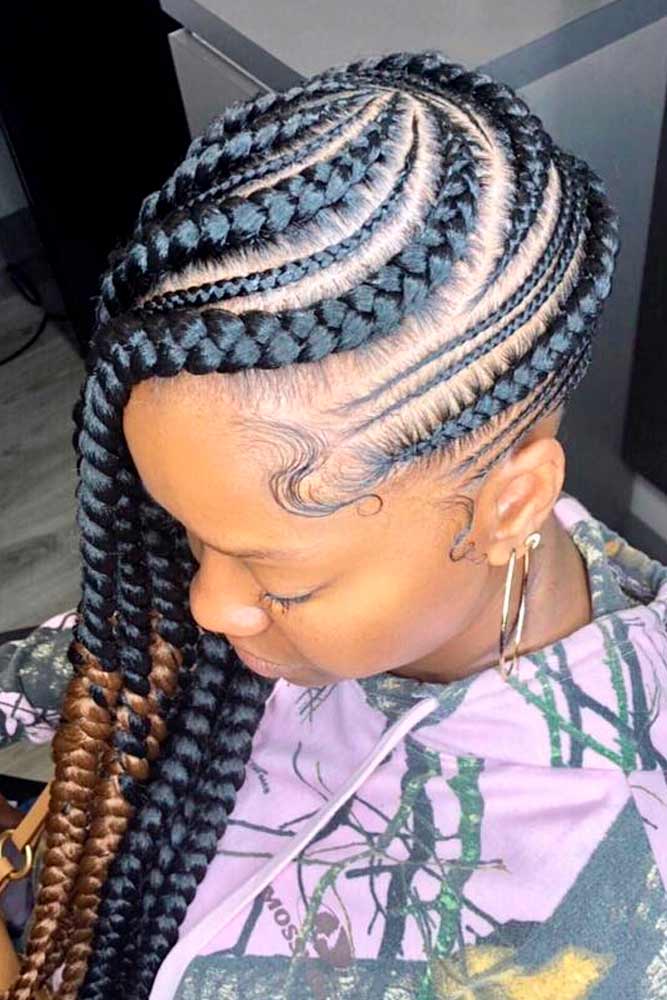 Credit photo: instagram.com/erica_letstalkhair
The Beyonce-inspired lemonade braids are just what the doctor ordered to stand out in the crowd. Cornrow braids are the base for all braided trends rocked by celebrities, so these are not just side cornrows. This style is the embodiment of pure creativity: the play of braid-density is to die for.
Simple Straight-Backs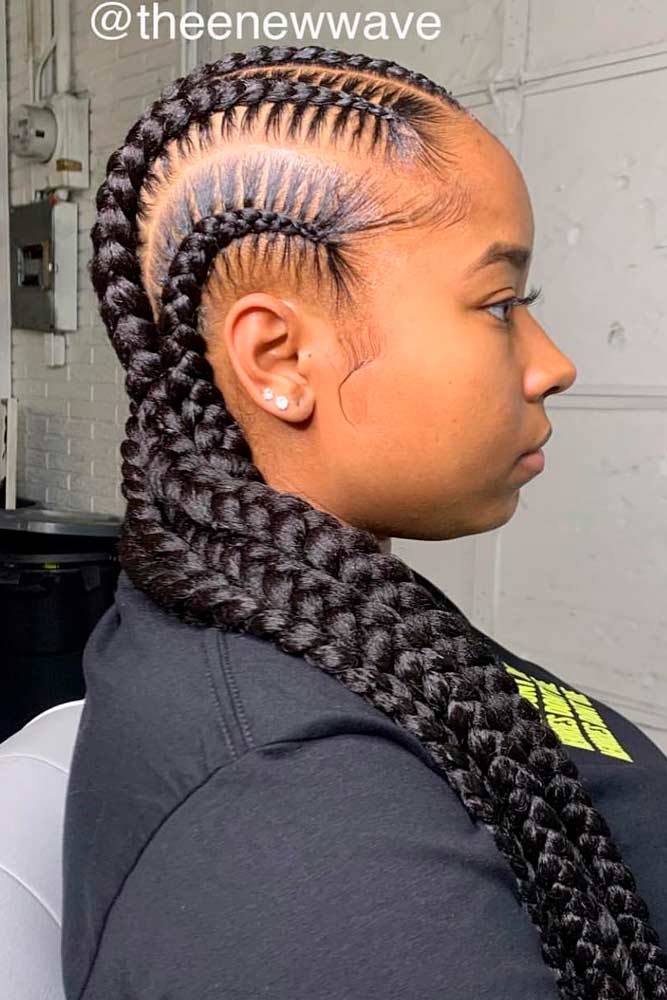 Credit photo: instagram.com/theenewwave
If you can't decide what braided idea to pick because of the endless variety of options, look no further than this look. Straight back braids give a simple but a very neat finish that can adapt to both casual and formal looks.
Side-Parted Loose Cornrows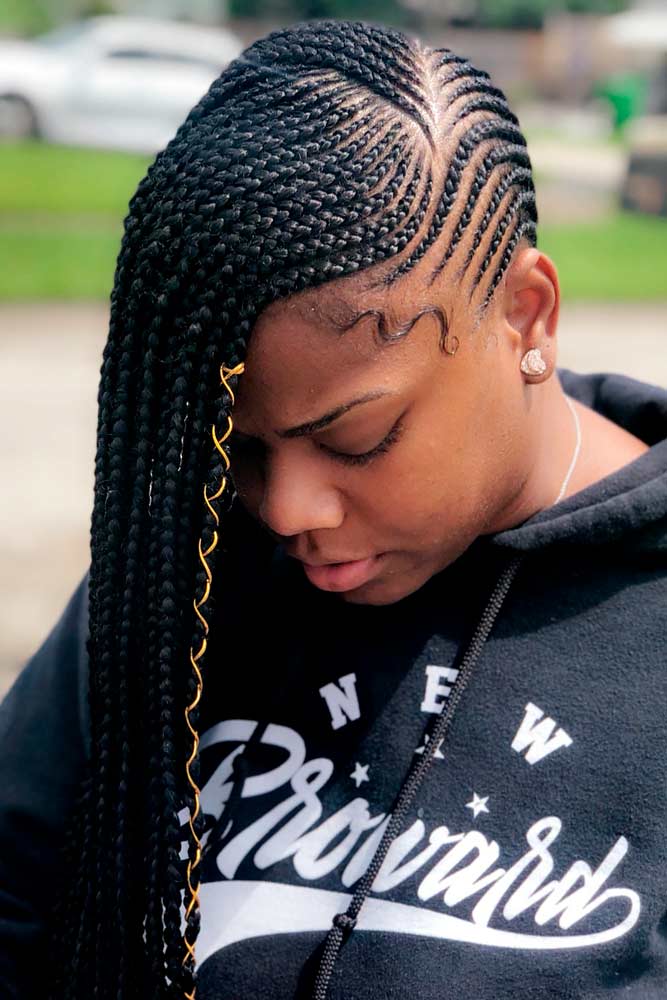 Credit photo: instagram.com/braids_by_djeph
How about braiding your hair in exactly the same way you style your hair to the side? Let one of the sides run towards the back, leaving the top to cascade on your face. Indeed, natural braids can take a familiar styling idea to a whole new level.
Zig-Zag Lemonade Braids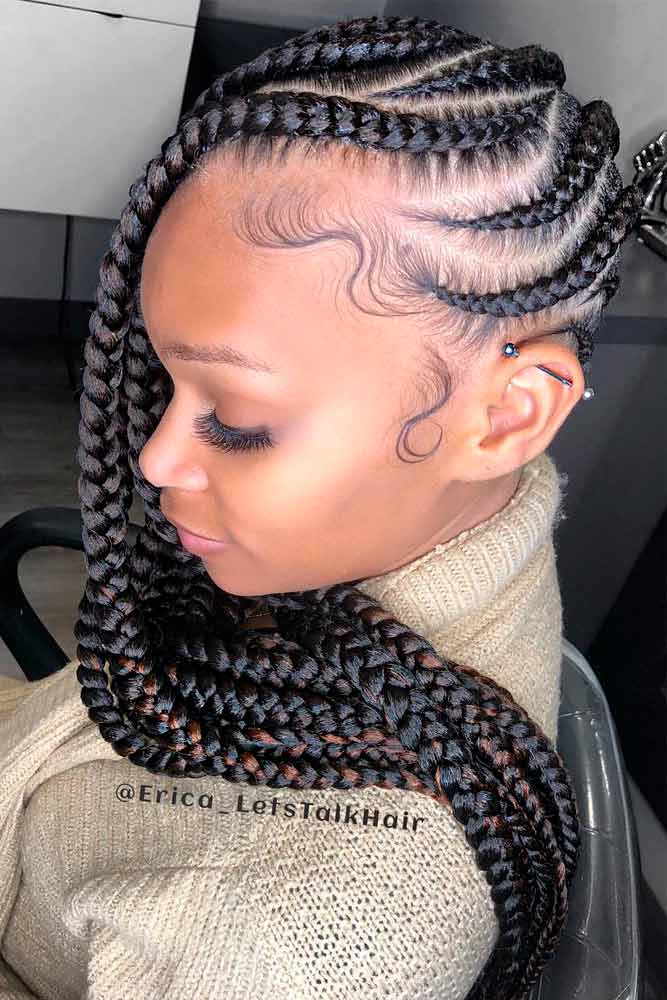 Credit photo: instagram.com/erica_letstalkhair
Another striking way to pull off lemonade braids: it's as refreshing as a glass of sweet lemonade in hot summer days. What makes this hairstyle so extraordinary and desirable is the way the braids are placed: the zig-zag pattern is doomed to catch eyes.
Rich Wheel-Patterned Braids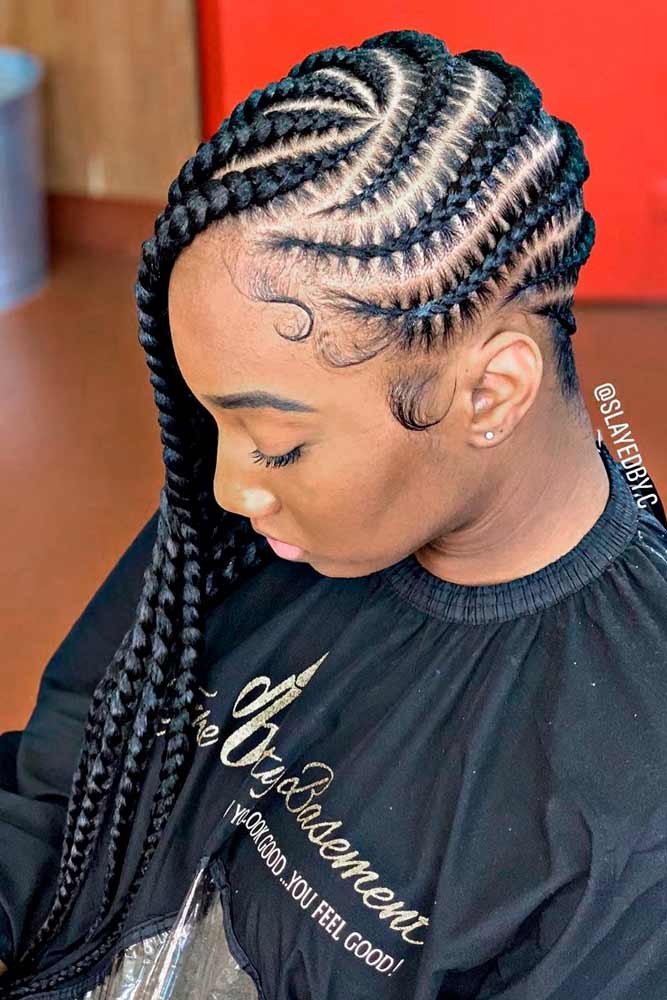 Credit photo: instagram.com/slayedby.c
When you are about to make people hallucinate, cornrows hair is a win-win weapon. These nicely outlined braids twist around the head, forming a wheel shape and thus creating an attention-grabbing silhouette. To make an even bigger visual impact, let the front braids do some framing.
Half-Braided Faux Hawk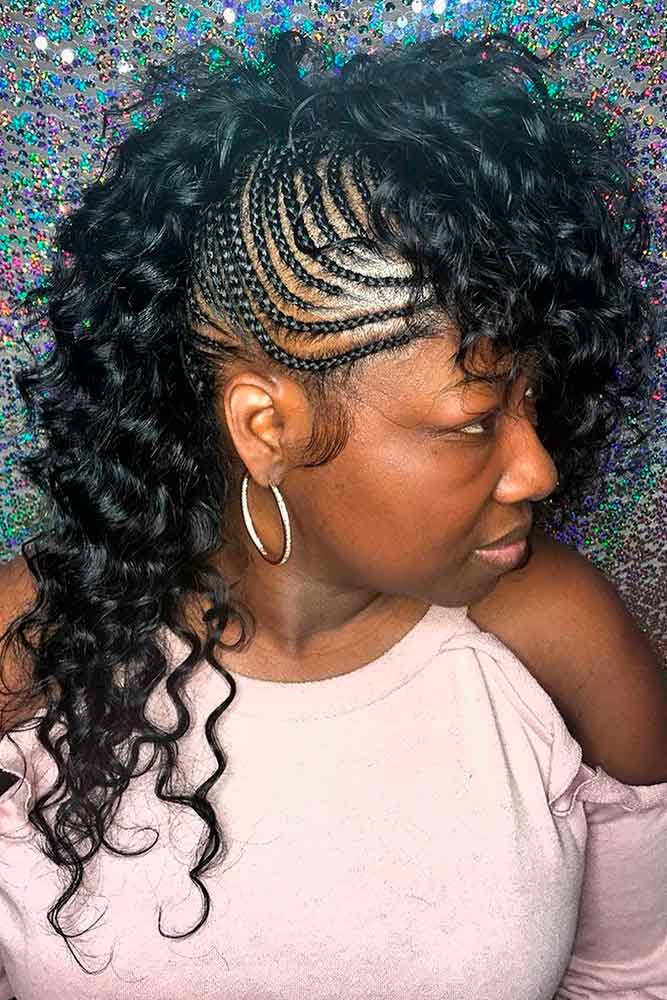 Credit photo: instagram.com/slayedby.c
A funky braided 'do that loosens up on the top and back portions, following the classic structure of a faux hawk. Who could ask for more? The braided sides put the voluminous top in the spotlight while the curly finish gives some nostalgic retro vibes.
Cornrows Into Loose Ponytail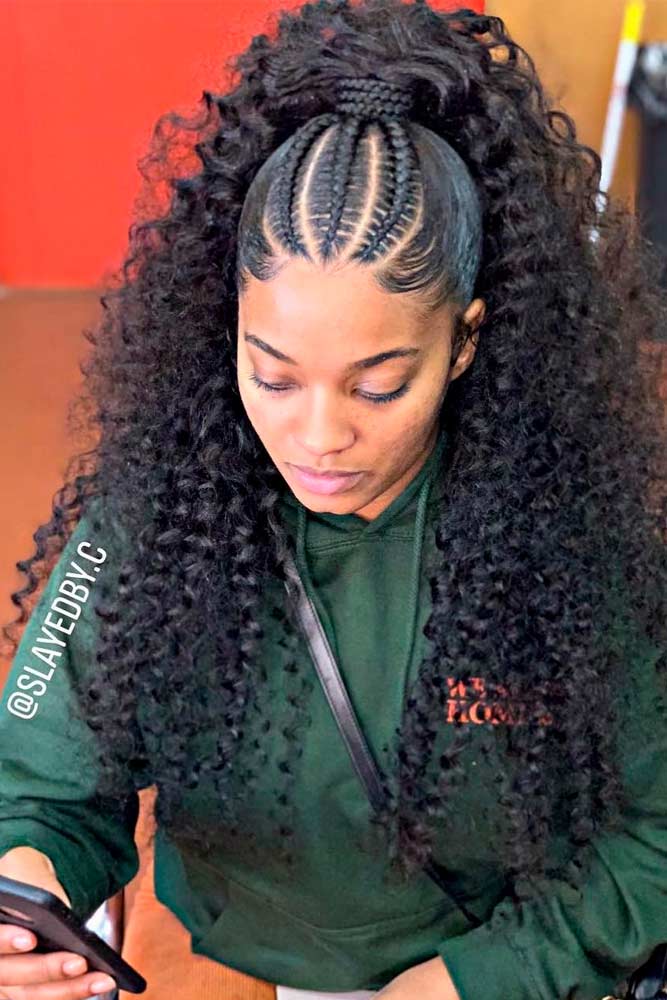 Credit photo: instagram.com/slayedby.c
Those who think that ponytail hairstyles are boring and have nothing to impress are going to change their minds. We weren't joking when we told you that braids can show all the familiar hairstyles in a totally new light. And this cornrowed mane that turns to a posh, breathtaking ponytail is proof.
Double Space Buns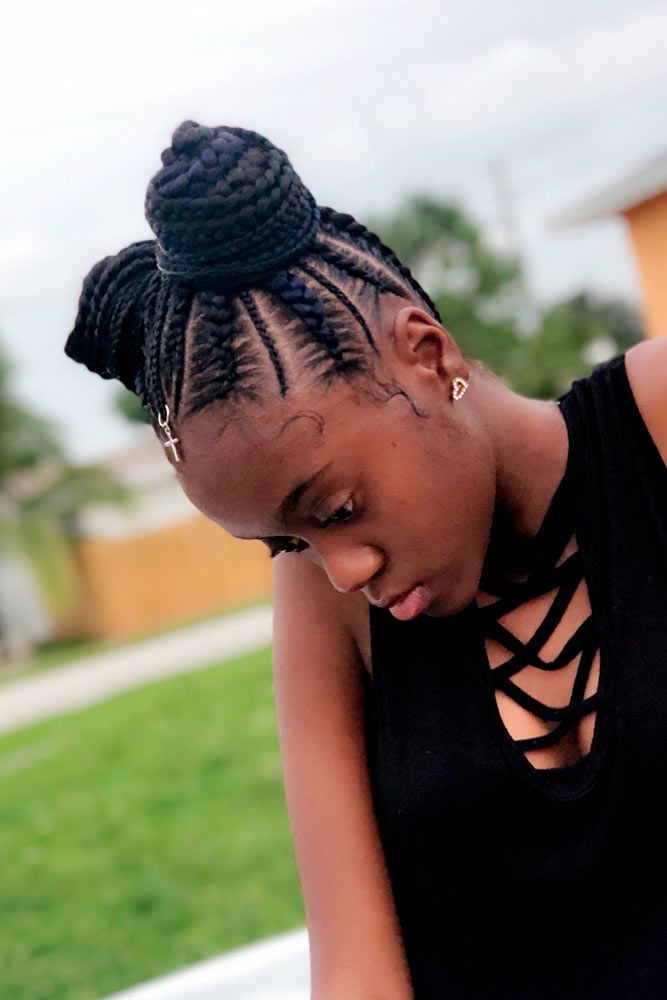 Credit photo: instagram.com/braids_by_djeph
Believe it or not, everyone's favorite double space buns can be even cuter. First of all, they appear very thick and well-defined when done on braided hair. Second, this hairdo is a splendid way to keep your long braids out of the way while still being on point.
Braided Half-Up Knot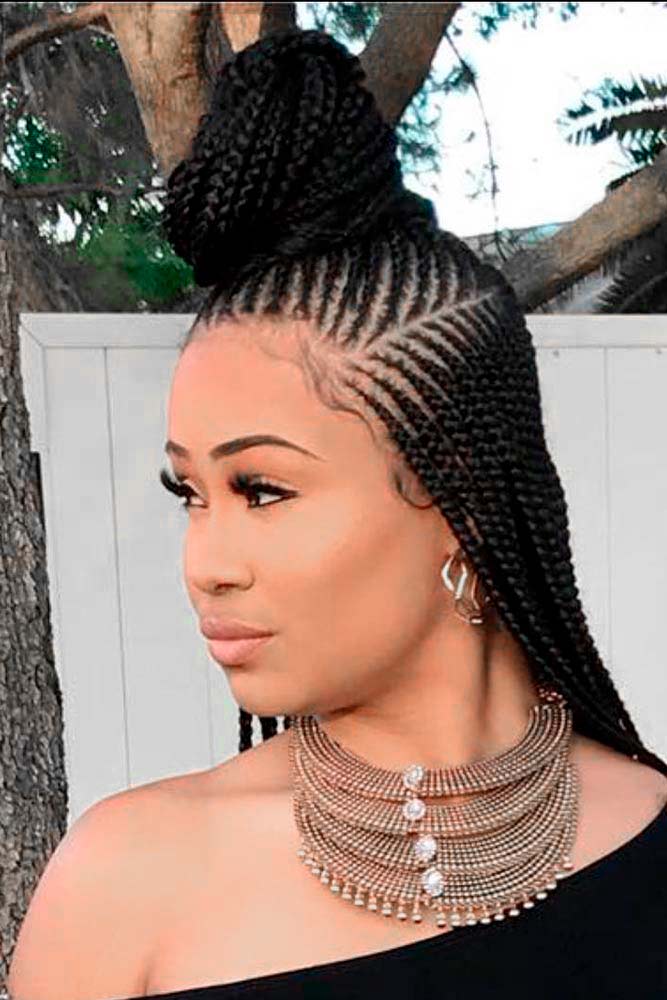 Credit photo: instagram.com/braids_by_antoinette
Today, they're simple lemonade braids for casual wear. Tomorrow, they're super-defined, sophisticated half-ups that can outshine even those professional red-carpet looks. Easy to do but not easy to resist, huh?
Cornrows Into High Bun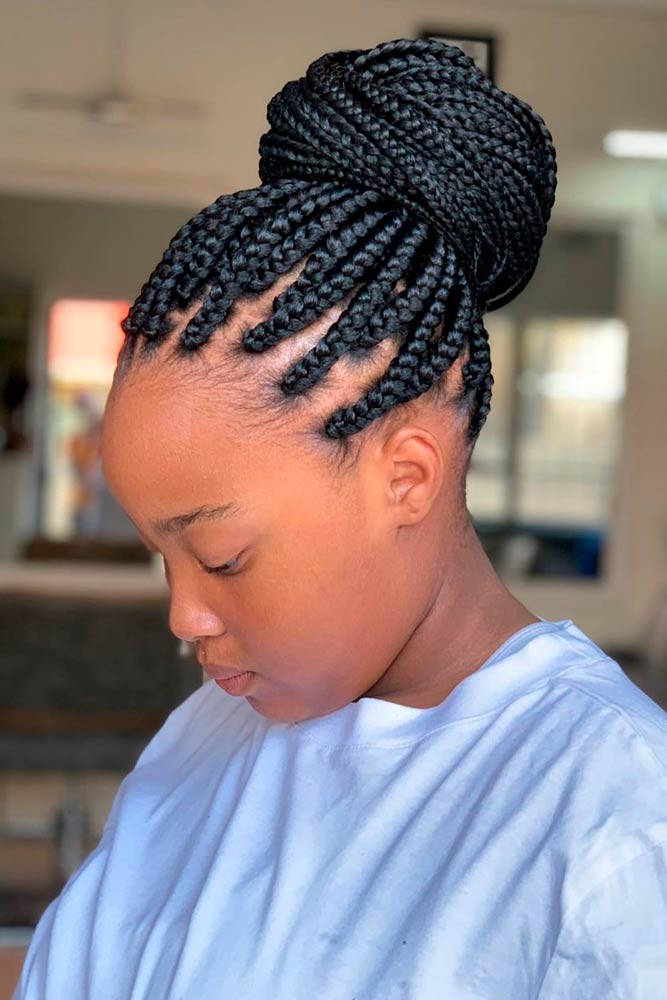 Credit photo: instagram.com/melforddivashair
Who would've thought that an easy twist we usually do to simply keep our hair away from the faces would look that chic? Thick cornrows know how to do the ravishing visual trick, no doubts.
High Pony Style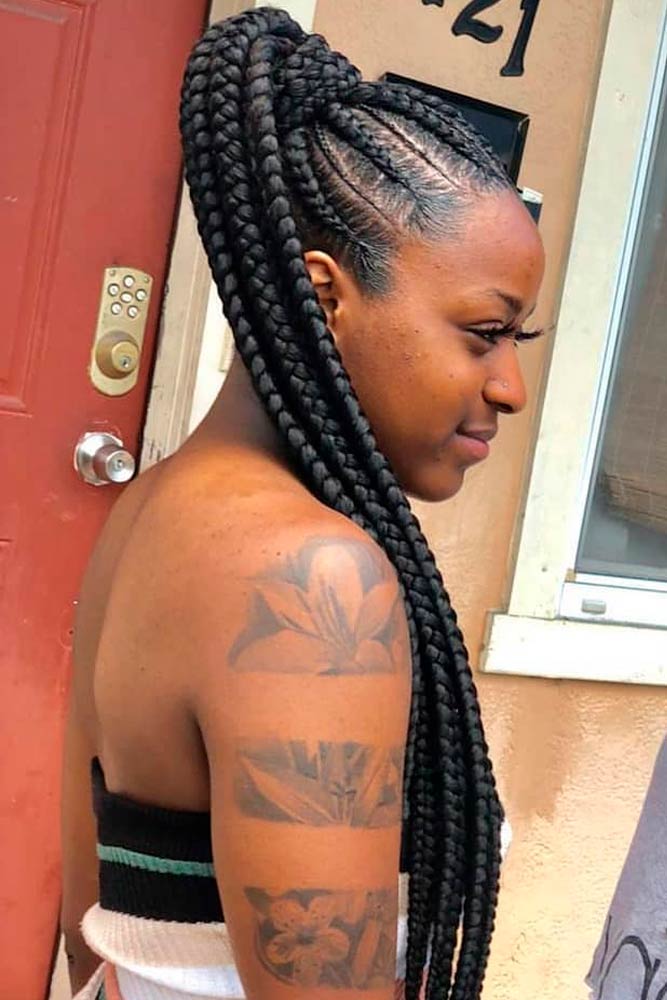 Credit photo: instagram.com/braids_by_antoinette
High ponytails seem to have always been an epitome of sexuality: they keep the face open and give a sassy look at the same time. Can you imagine what a seductive goddess you will become once you put your braids into a high pony? By the way, it will look more authentic if you cover the tie with a braid.
Lemonade Braids With Hair Rings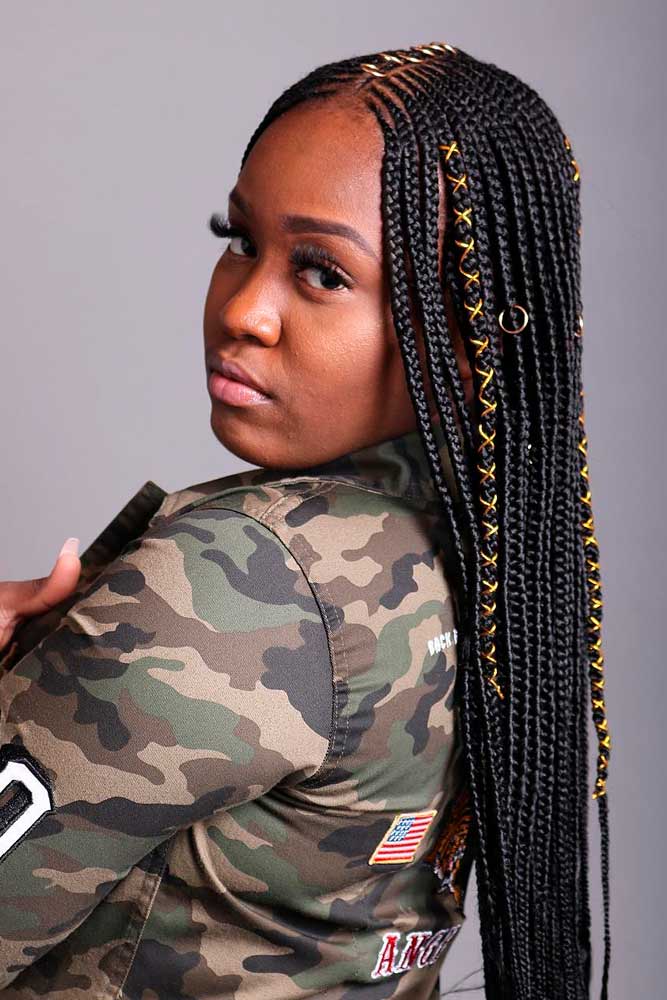 Credit photo: instagram.com/mslafitness
Though hair rings are popular not only with natural-haired ladies, they fit like a glove when attached to cornrow braids and twists. As a matter of fact, they can make a traditional cornrowed look work for your modern image; just make sure they're in the spotlight.
Beaded Cornrows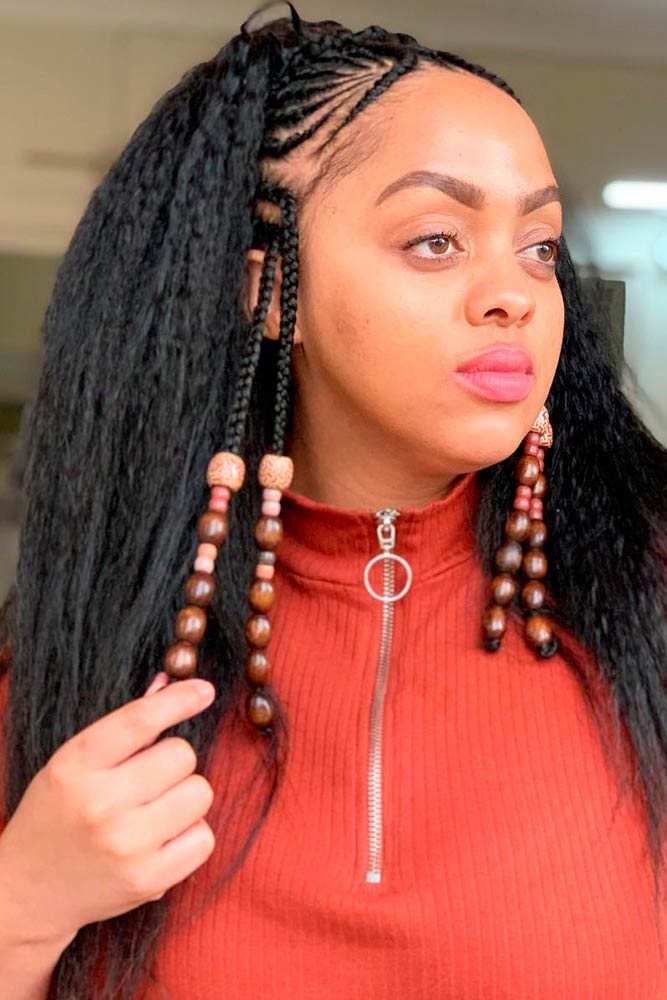 Credit photo: instagram.com/melforddivashair
As it turns out, dreadlocks are not the only style that looks hip with beads! In contrast to the previous idea, ethnic bead accessories are designed to step out of the modernity and dedicate your look to the pure African authenticity. Needless to say, with a classy floral or ethnic-inspired patterns throughout your look, you will nail wearing classic cornrow styles.
Braided Highlights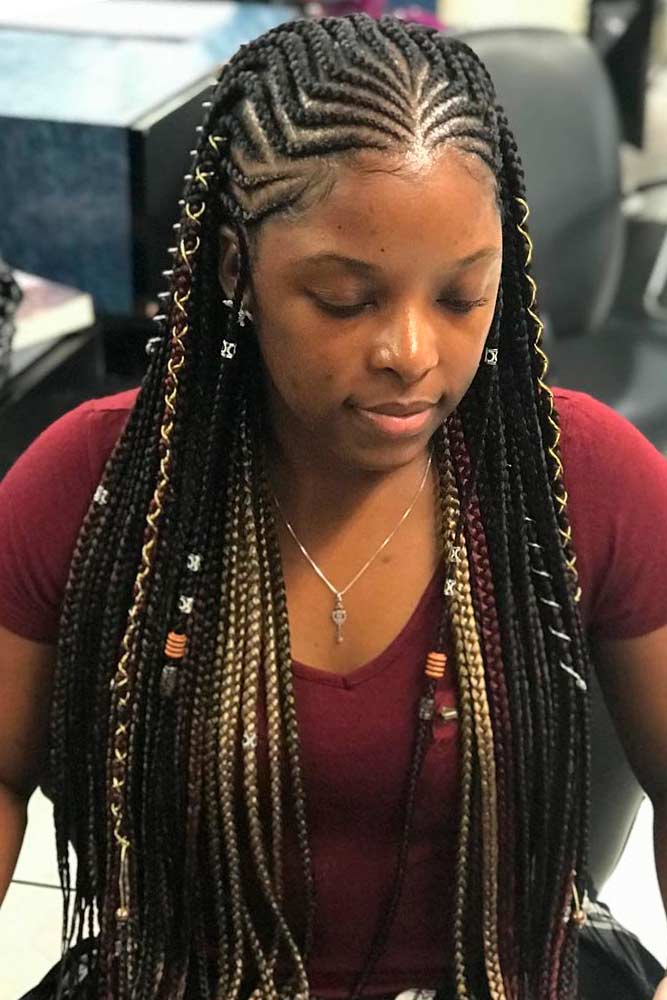 Credit photo: instagram.com/kiaharperbraids
Nothing can stop you from shining brightly when you're rocking natural braids. To be more exact, you can always spice up your locks with colorful tresses, creating ombre, highlights or even balayage looks. As you can see, even a couple of light extensions are enough to freshen things up.
Blonde Cornrows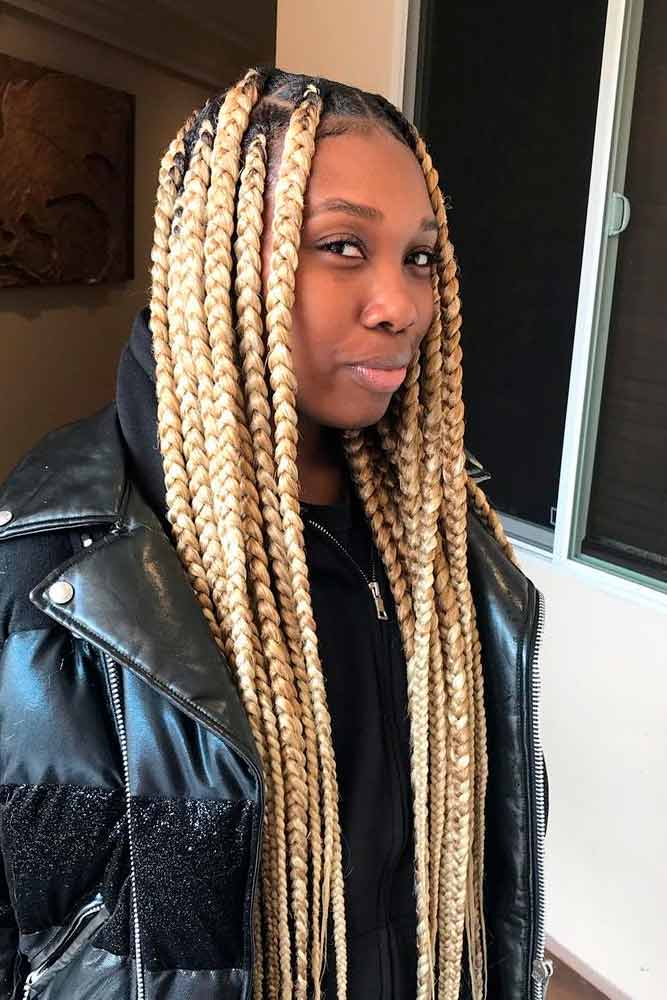 Credit photo: instagram.com/kiaharperbraids
Just a hint of color is not enough for your creative soul? Make the color play big, then! Since it has nothing to do with damage, you can switch to another, contrastive palette and start rocking blonde cornrow braids. Heads will turn, that's for sure.
Thin & Bright Lemonade Braids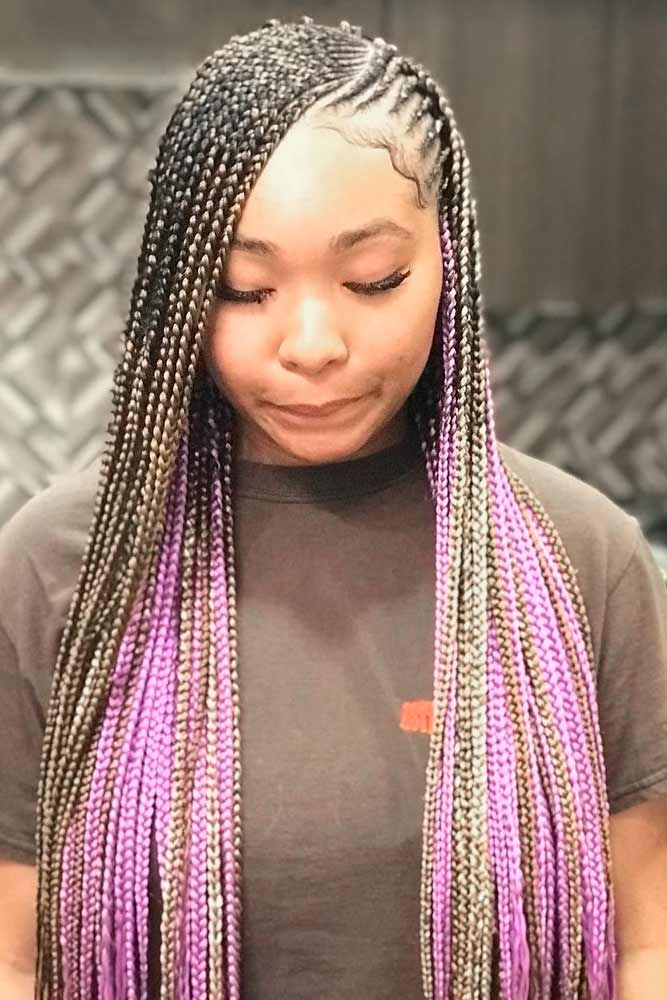 Credit photo: instagram.com/kiaharperbraids
The thinner the braids, the more textured your look is. What if we tell you that you can enhance the striking effect of the texture? The only thing you need is to diversify your lemonade recipe with some violets. Trust us, you will regret not giving it a try.
Medium Bob With Cornrows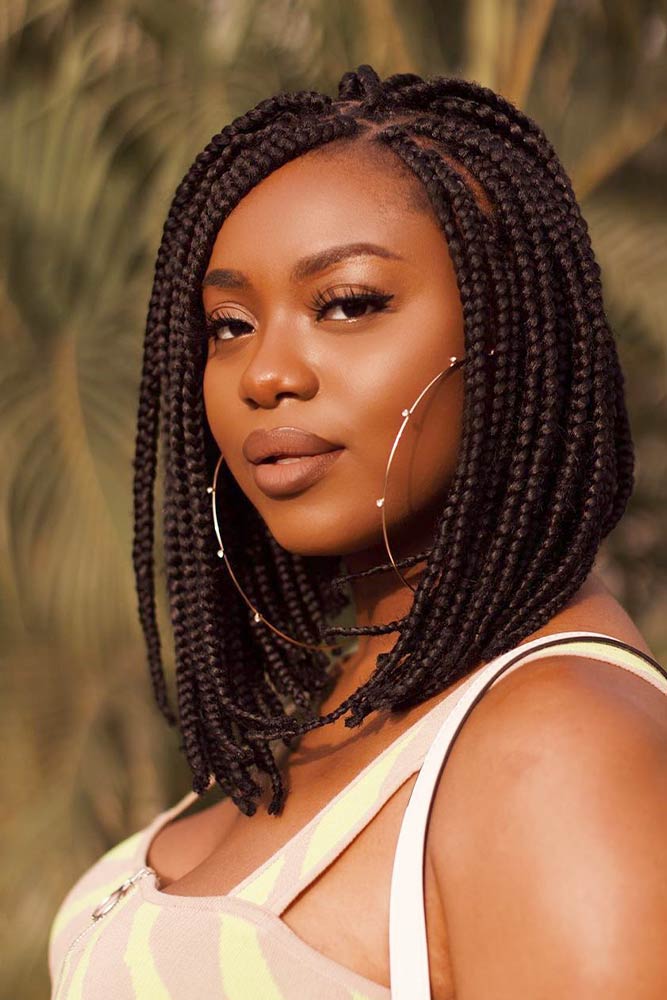 Credit photo: instagram.com/chiziduru
Another thing we love about cornrows styles is that they have no restrictions in terms of length. Here, you can see how the good old braids feed two birds with one scone. Besides allowing to wear a bob for natural texture, this hairstyle keeps it safe, balanced, and absolutely practical. All in all, if it wasn't for braids, you would spend a fortune and ages to wear a medium bob.
Side-Swept Ombre Cornrows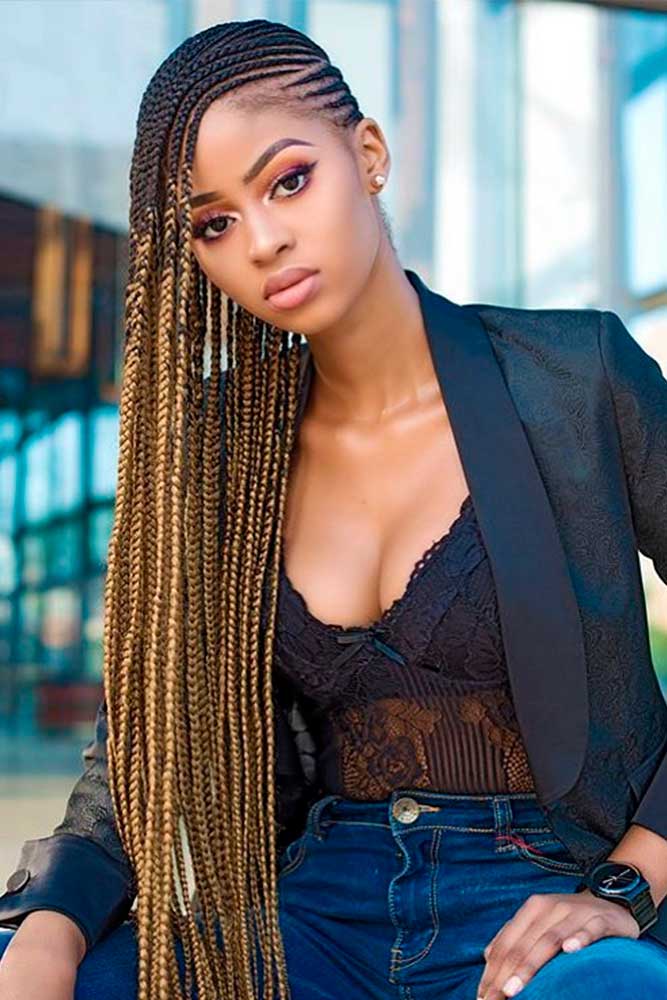 Credit photo: instagram.com/bee___khumalo
By wearing side cornrows, or the iconic lemonade braids, you simply add a piece of Beyonce to your everyday look. Let's be honest, you always wanted to spice things up with the I woke up like this vibes. Plus, you can make the lemonade vibe apparent with a touch of ombre. Of course, nothing will do better than ombre extensions.
"Look Like Cleopatra" – Cornrows With Decorated Bang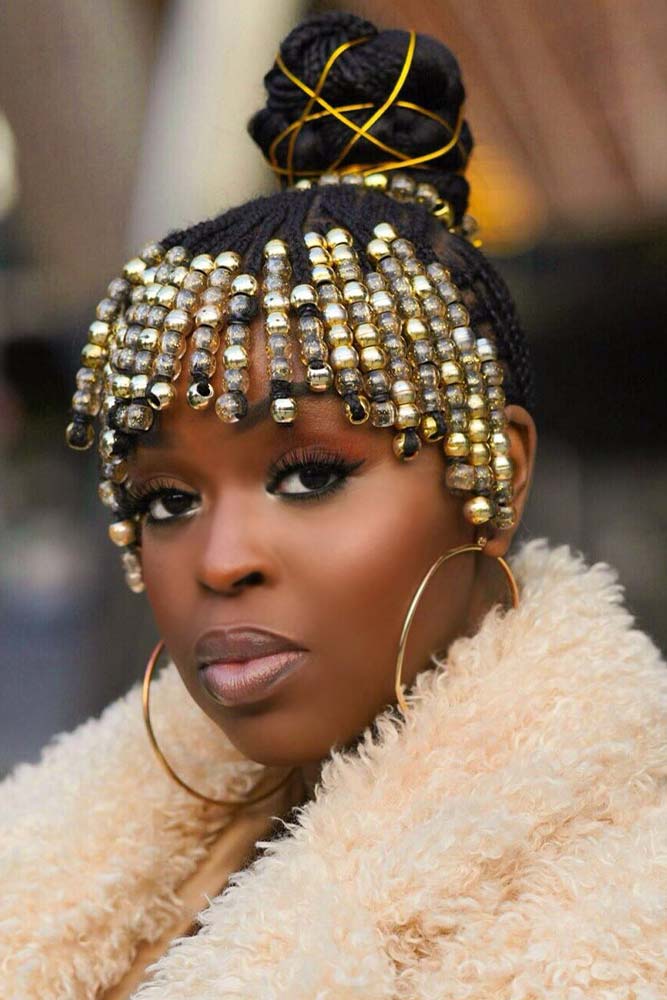 Credit photo: instagram.com/nnennab
Well, that's a mood, girl. We can't even imagine how to define the attitude of these jaw-dropping cornrow updo braids. What we can tell you for sure is that Cleopatra would give a standing ovation if she saw this artwork. Definitely, that's a new level of cornrows where you need to grab all your character, individuality, and embellishments together. That's a good idea for a prom, huh?
Super Long Cornrows Side Pony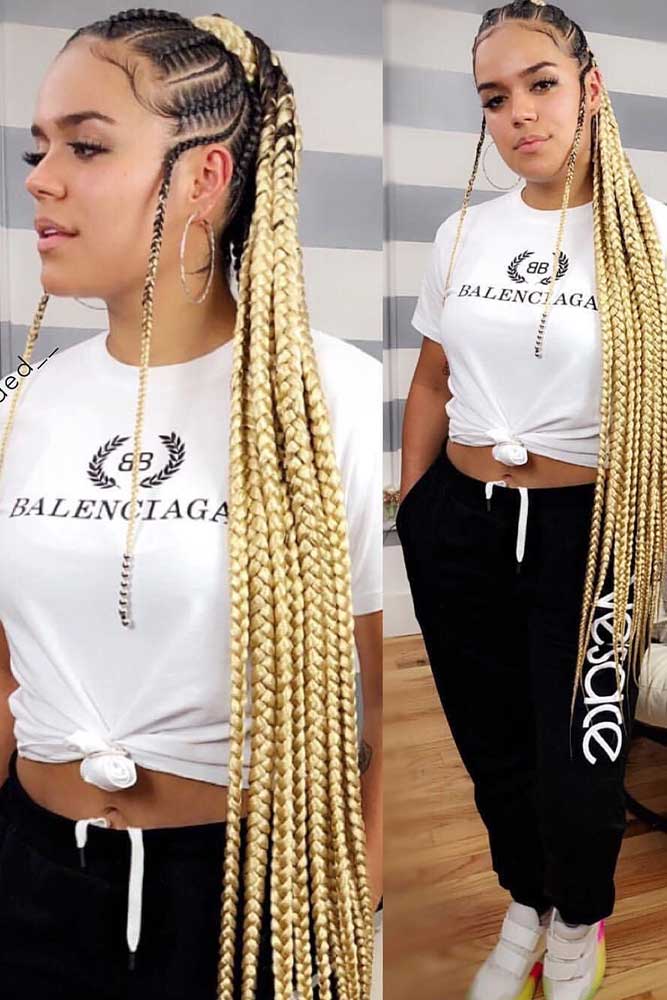 Credit photo: instagram.com/karolg
Bringing history back and adding modern touches to it is a real thing these days. Therefore, you're most likely to see lots of cornrow designs featuring two braids cascading from the sides. This feature came to us from Fulani braids - another tribal hairstyle of an African ethnic group. As it turns out, it's made a great comeback, and it can be a part of your hip ombre lemonade ponytail.
Every woman blessed with natural hair is no stranger to cornrows braided hairstyles. Still, this trend is always evolving, and sometimes it's hard to keep up with its lightspeed growth. Our gallery is here to be your cheat sheet to modern trends in natural hairstyles. Today, you've learned everything you should know to let cornrow braids into your life. We bet you're already calling your braider, either to make an appointment or to tell how much you love her.
FAQ: Cornrows
What are Goddess braids?
Goddess braids are actually a subtype of cornrows. In comparison to traditional cornrows, goddess braids are thicker braids, which are also bigger in size, braided closely to your scalp and raised higher.
How long do you keep cornrows in?
Depending on your hair and scalp condition you can leave cornrows in from 2 to 8 weeks.
If you leave it for longer, this will result in breakage because like any protective style, cornrows put a lot of pressure on your hair. Moreover, there will be fly-aways from the extensions or your own hair and noticeable amount of build-up. It is recommended to wait at least one week before getting another protective style.
SOURCES: *
Cornrows or braids, also called canerows in the Caribbean, are a style of hair braiding, in which the hair is braided very close to the scalp, using an underhand, upward motion to make a continuous, raised row.
*
Formerly referred to as side braids, lemonade braids have always been around in different cultures.
*
For basic front-to-back cornrows, follow a series of easy steps to get great braids.
Was this article helpful?