Tame Your Unruly Locks And Make Heads Turn With Cornrows!
Non-natural-haired ladies think of cornrows as those enviable Instagram hairstyles taking over the fashion world. As for queens blessed with natural locks, they consider the braids a stylish salvation from the cruel thick hair care routine, as those styles are protective for the first place.
In fact, they all are right. But that's only the beginning of what cornrow styles actually are. And today you're going to find out why those braided hairstyles have been all the rage for centuries. Dive in to check out the latest braided masterpieces that make people's hearts skip a beat!
Cornrow Hairstyles For Wild Modern Looks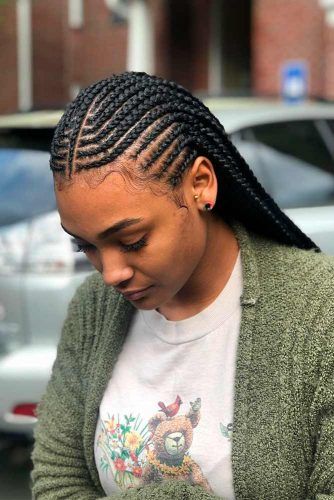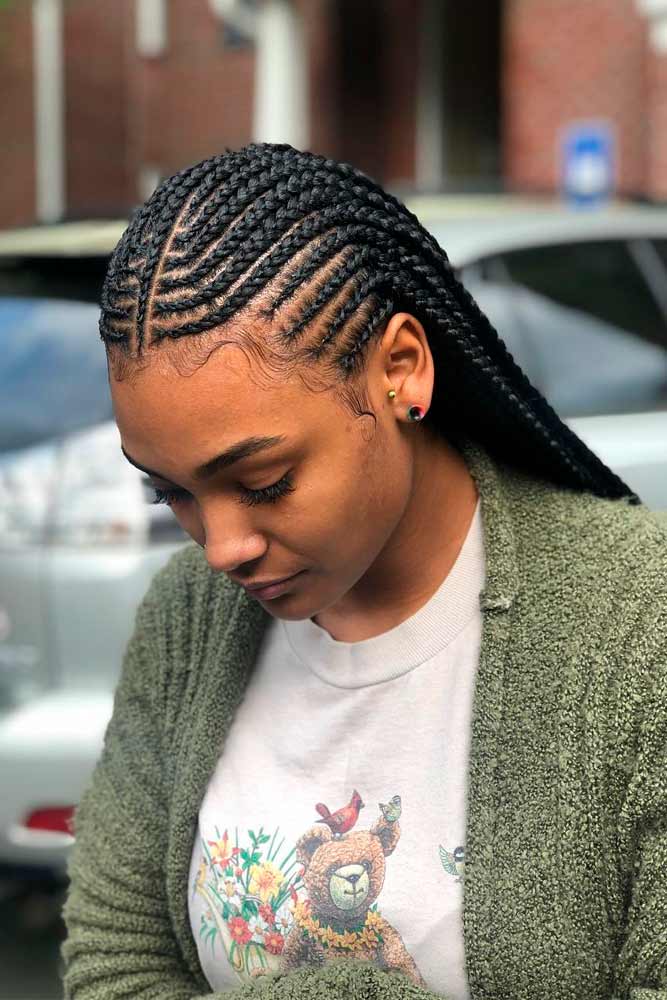 Source: ghana.braids via Instagram
Cornrow hairstyles are the musts for every African-American girl who deals with her natural hair every day for countless reasons. Let us put them in a nutshell here. With cornrows you can:
Protect your hair
Although natural hair is one of the most beautiful textures, it takes a thorough approach to keep up with the beauty. Most black hair types are prone to damage, so your hair tends to get tired of styling manipulations and products very fast. Once you turn your locks into cornrows, you will simply give it not only a healthy but also a stylish break for up to 8 weeks.
Forget about everyday styling
Since you've braided all your hair, you've got a wake-up-and-go hairstyle. Therefore, you can put an end to the time-consuming process of styling your naughty locks.
Tame those locks
It's no secret that the amazing natural texture has a very unruly an unmanageable behavior. And cornrow braids are the best way to show your hair who's boss.
Be in style 24/7
Despite the long history of African cornrowing that dates back to 3,500 B.C., the styles are still the most popular black braided hairstyles. That means, you won't ever go wrong with any type of cornrows styles; it's a trend that will never go out of fashion.
Feel free to experiment
Probably the greatest thing about cornrows braids is that they are an eternal canvas to hair experiments. You're the one to decide how to do cornrows, customizing such features as the shape, direction, and design of your braids. Also, there are lots of colorful extensions and ethnic-inspired beads to make your unique look complete. And last but not least, your braids can be anything you want them to be: from fascinating side-swept looks to stunning updos.
Traditional Small Cornrows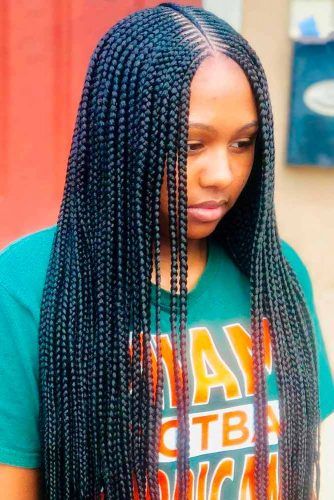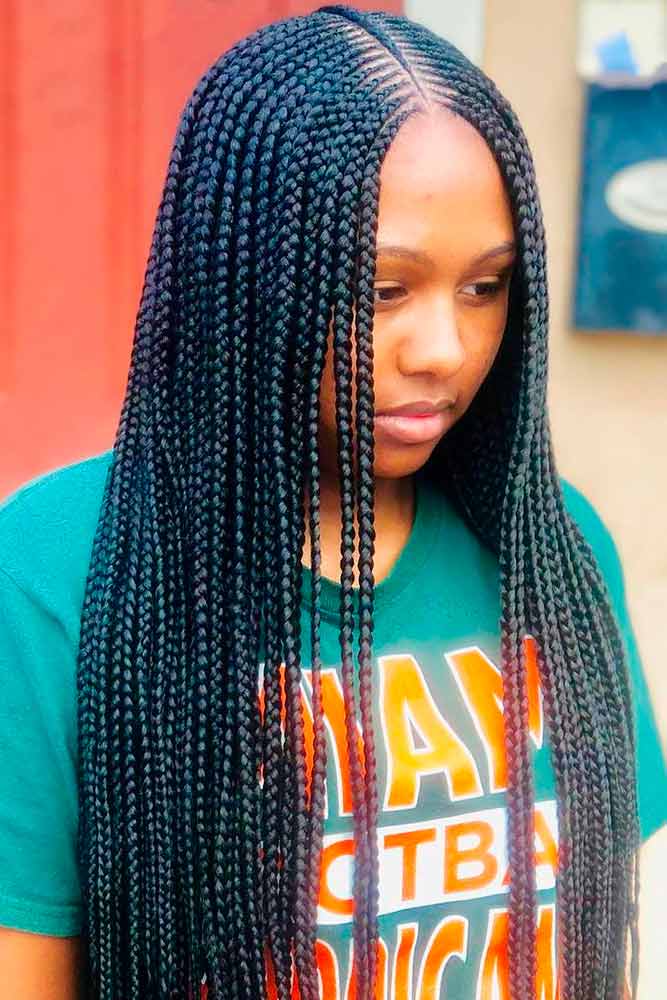 Source: braids_by_antoinette via Instagram
Let's start with classics that appeared years and years ago and is still the number one choice for many women of color. The traditional pattern of cornrows is all about pure simplicity. And even though those little cuties take hours to get them done, they give a chic, minimalist feel which will nicely complement every casual look.
Bold & Thick Cornrows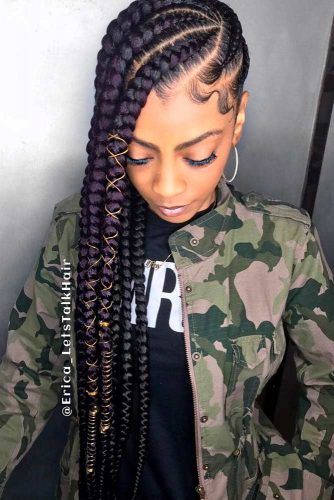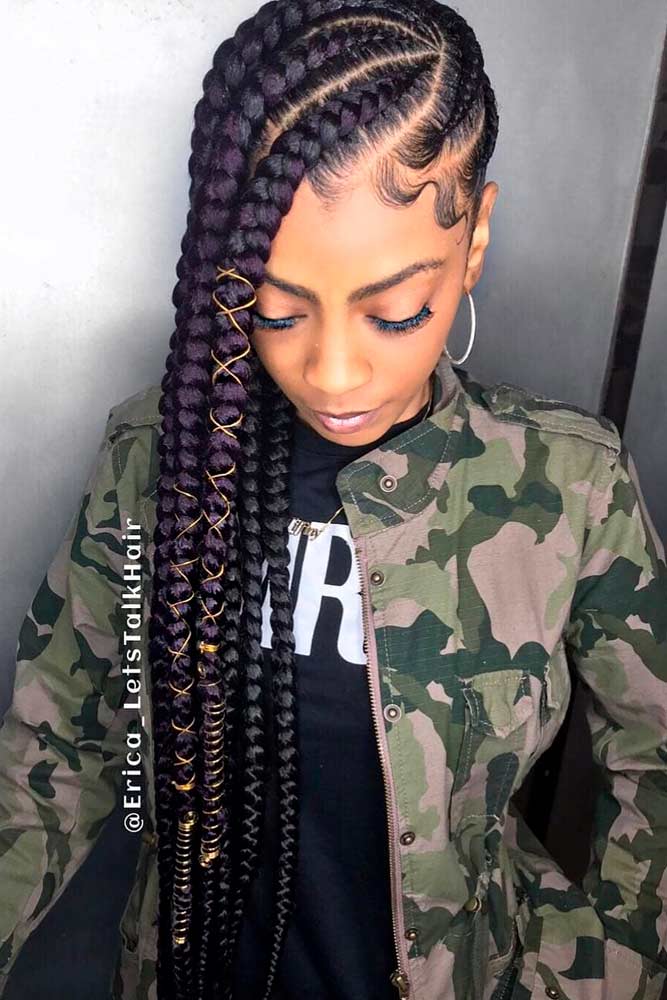 Source: erica_letstalkhair via Instagram
Now, it's time for a modern take! Not only do these thick, distinctive braids change the common image of the classic idea but also show how far you can go with your creativity. Besides, the side-swept silhouette is super versatile.
Thick & Thin Braided Combo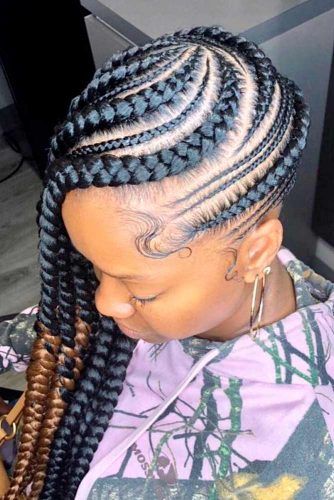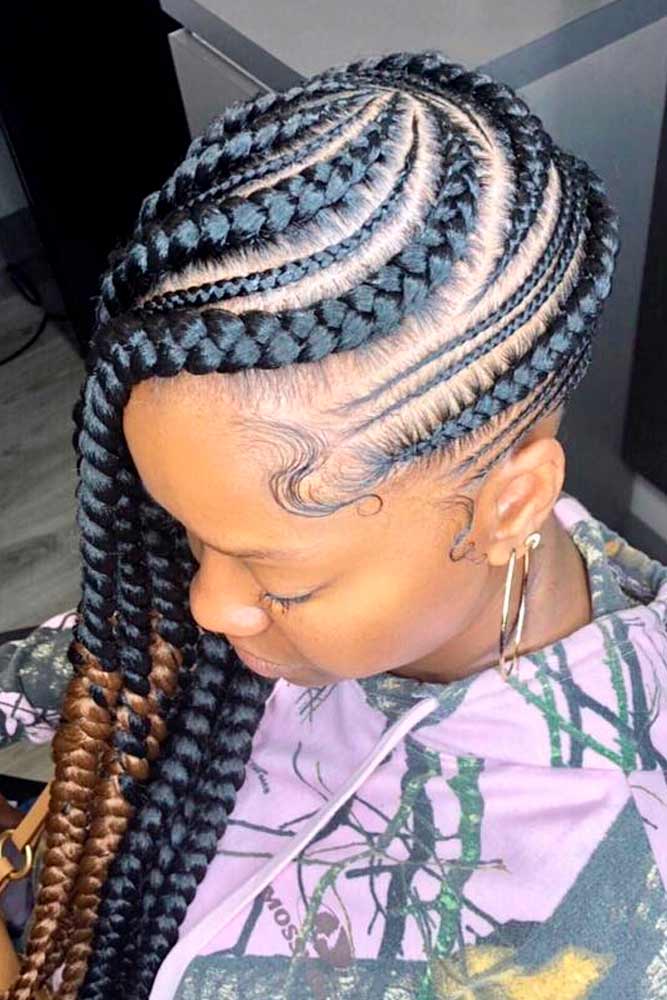 Source: erica_letstalkhair via Instagram
The Beyonce-inspired lemonade braids are just what the doctor ordered to stand out in the crowd. Cornrow braids are the base for all braided trends rocked by celebrities, so these are not just side cornrows. This style is the embodiment of pure creativity: the play of braid-density is to die for.
Simple Straight-Backs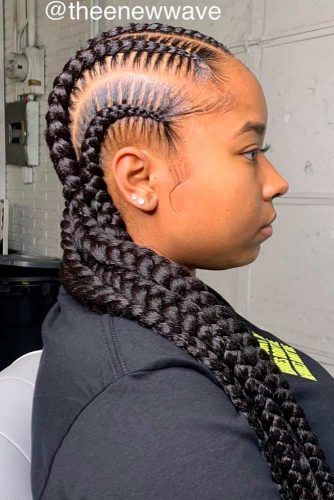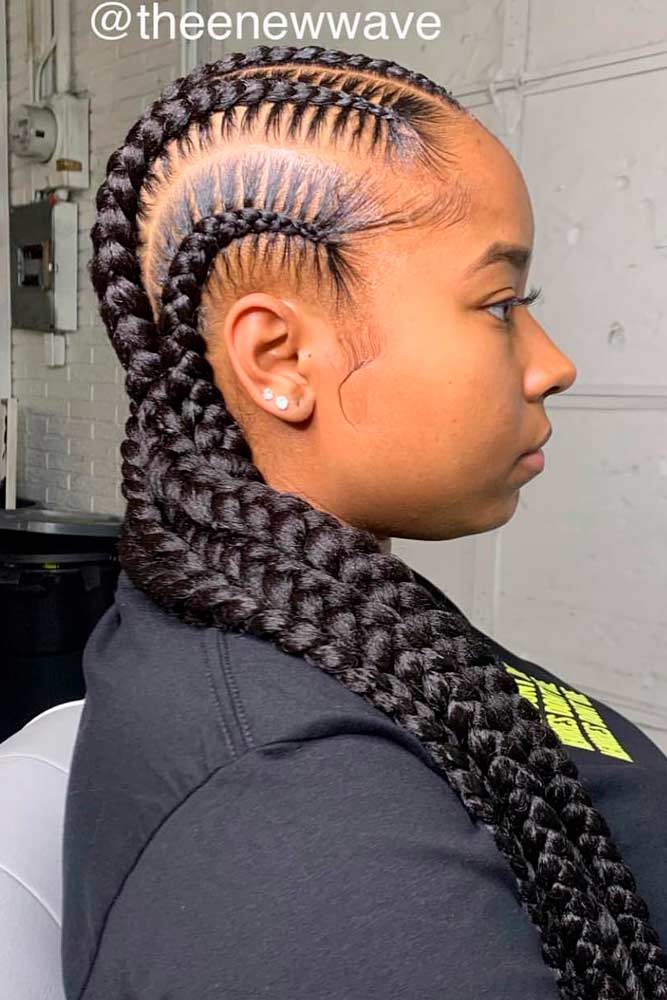 Source: theenewwave via Instagram
If you can't decide what braided idea to pick because of the endless variety of options, look no further than this look. Straight back braids give a simple but a very neat finish that can adapt to both casual and formal looks.
Side-Parted Loose Cornrows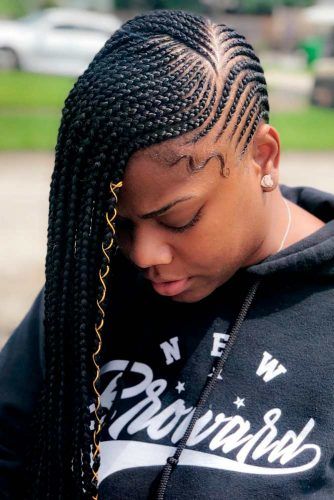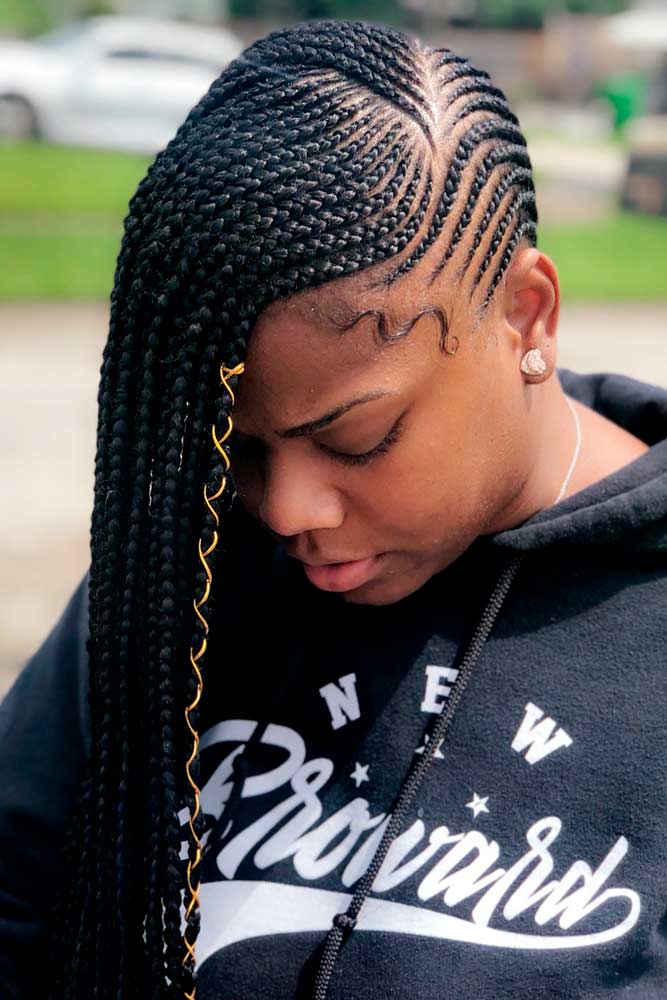 Source: braids_by_djeph via Instagram
How about braiding your hair in exactly the same way you style your hair to the side? Let one of the sides run towards the back, leaving the top to cascade on your face. Indeed, natural braids can take a familiar styling idea to a whole new level.
Zig-Zag Lemonade Braids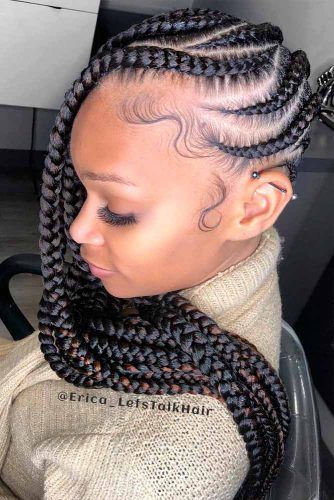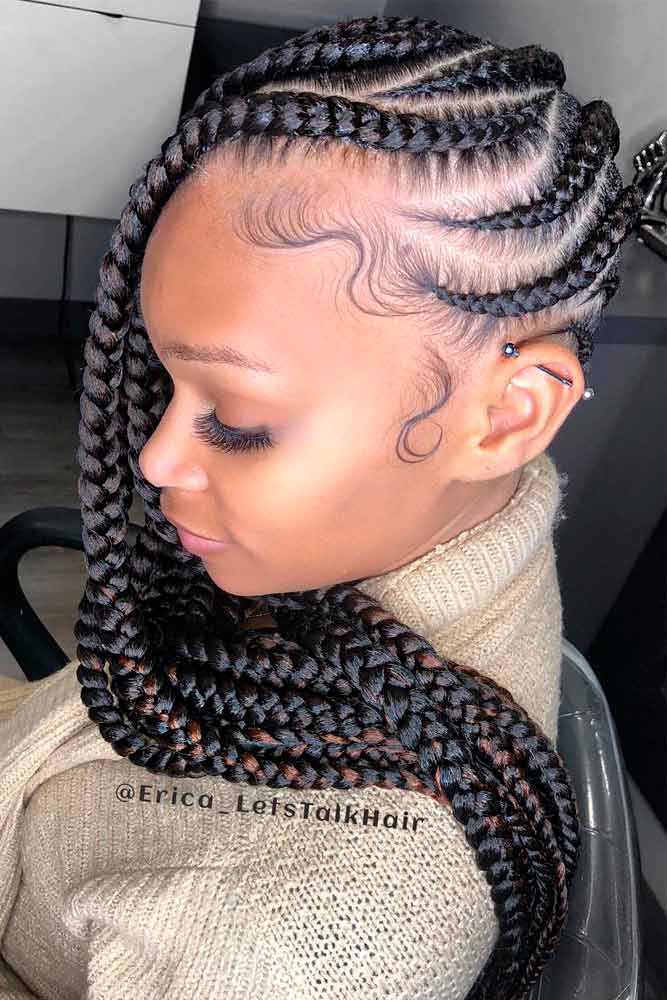 Source: erica_letstalkhair via Instagram
Another striking way to pull off lemonade braids: it's as refreshing as a glass of sweet lemonade in hot summer days. What makes this hairstyle so extraordinary and desirable is the way the braids are placed: the zig-zag pattern is doomed to catch eyes.
Rich Wheel-Patterned Braids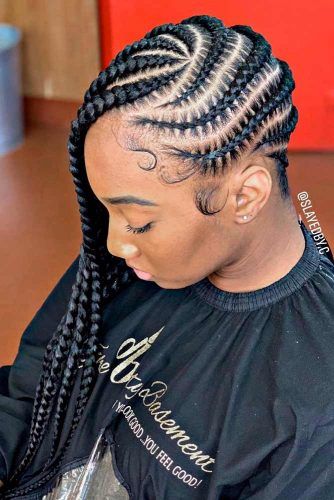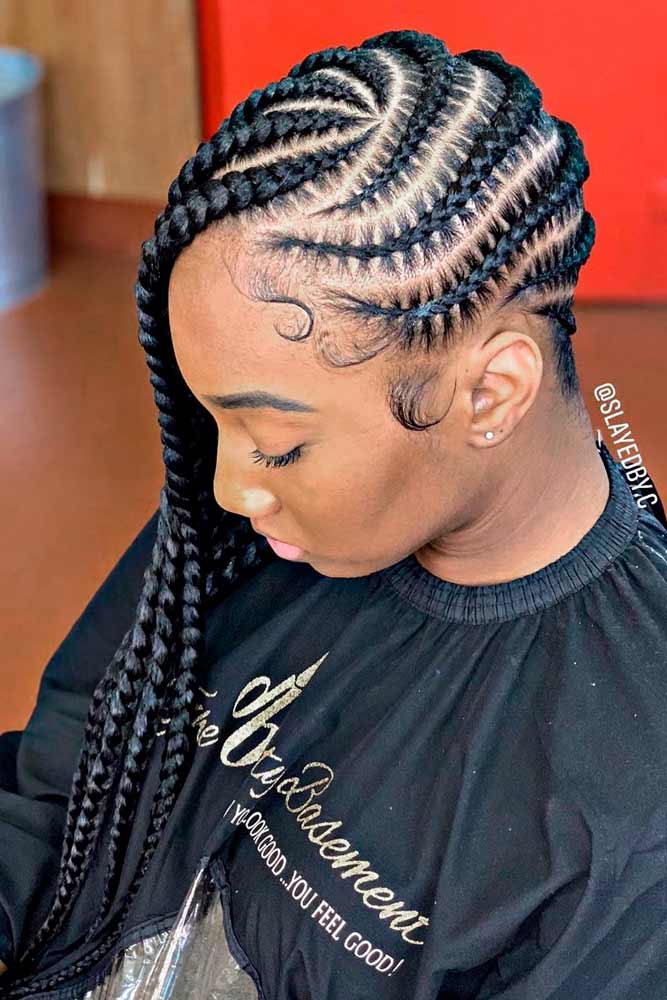 Source: slayedby.c via Instagram
When you are about to make people hallucinate, cornrows hair is a win-win weapon. These nicely outlined braids twist around the head, forming a wheel shape and thus creating an attention-grabbing silhouette. To make an even bigger visual impact, let the front braids do some framing.
Half-Braided Faux Hawk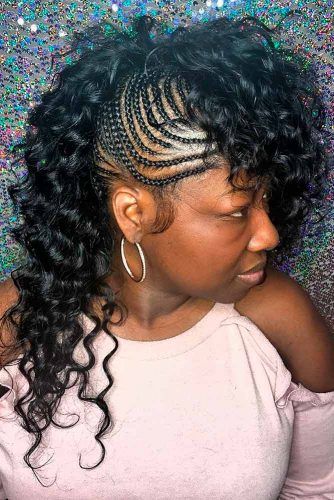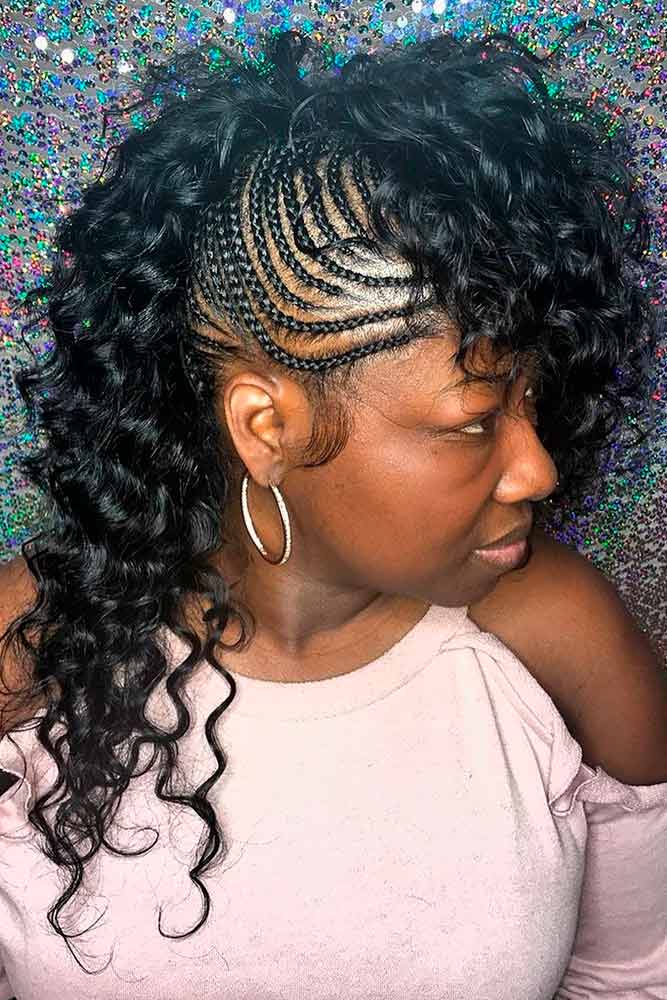 Source: slayedby.c via Instagram
A funky braided 'do that loosens up on the top and back portions, following the classic structure of a faux hawk. Who could ask for more? The braided sides put the voluminous top in the spotlight while the curly finish gives some nostalgic retro vibes.
Cornrows Into Loose Ponytail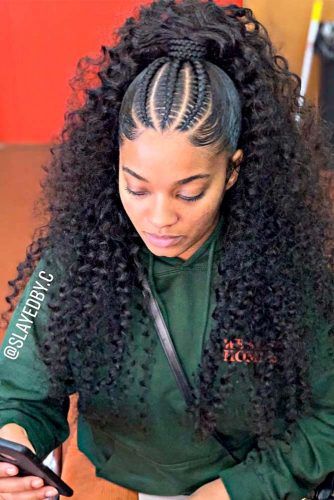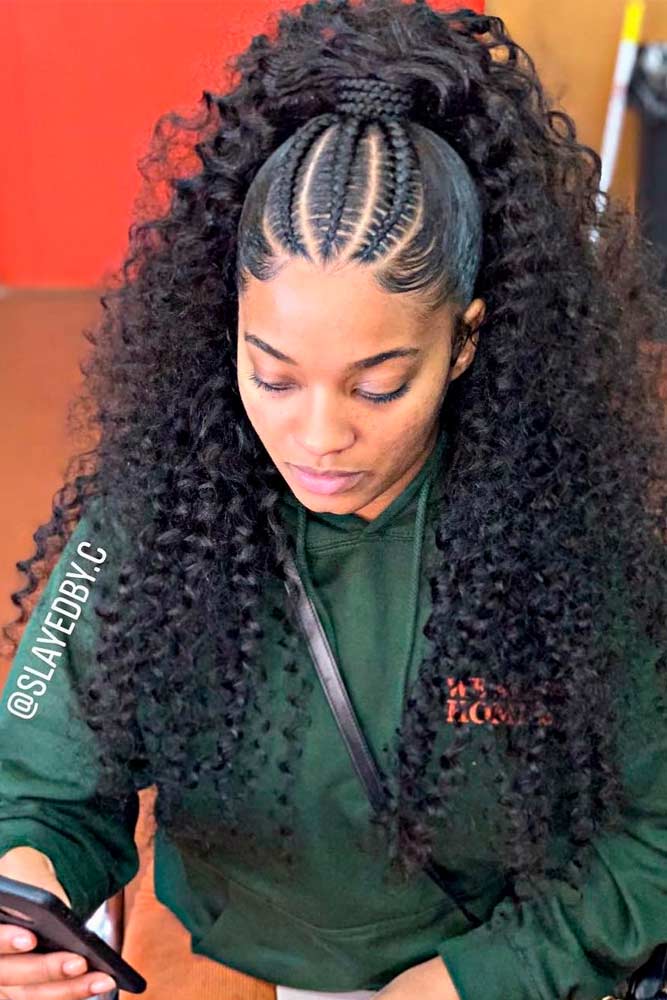 Source: slayedby.c via Instagram
Those who think that ponytail hairstyles are boring and have nothing to impress are going to change their minds. We weren't joking when we told you that braids can show all the familiar hairstyles in a totally new light. And this cornrowed mane that turns to a posh, breathtaking ponytail is proof.
Double Space Buns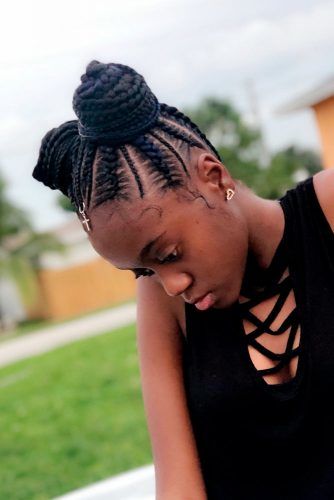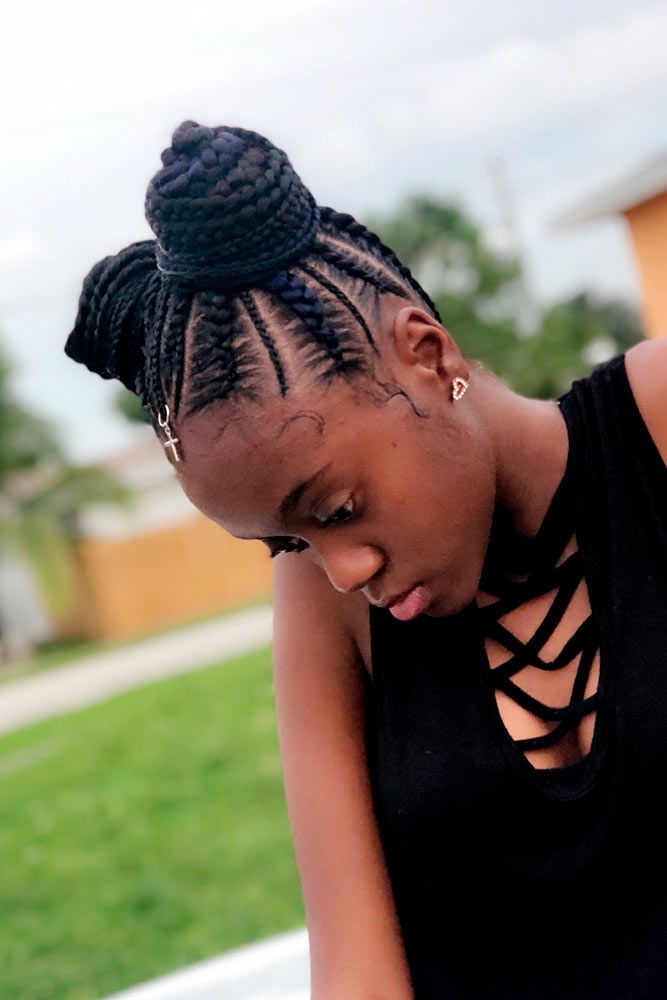 Source: braids_by_djeph via Instagram
Believe it or not, everyone's favorite double space buns can be even cuter. First of all, they appear very thick and well-defined when done on braided hair. Second, this hairdo is a splendid way to keep your long braids out of the way while still being on point.
Braided Half-Up Knot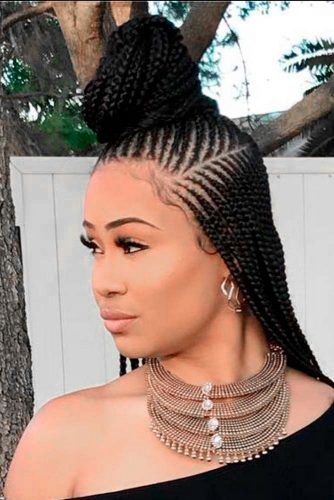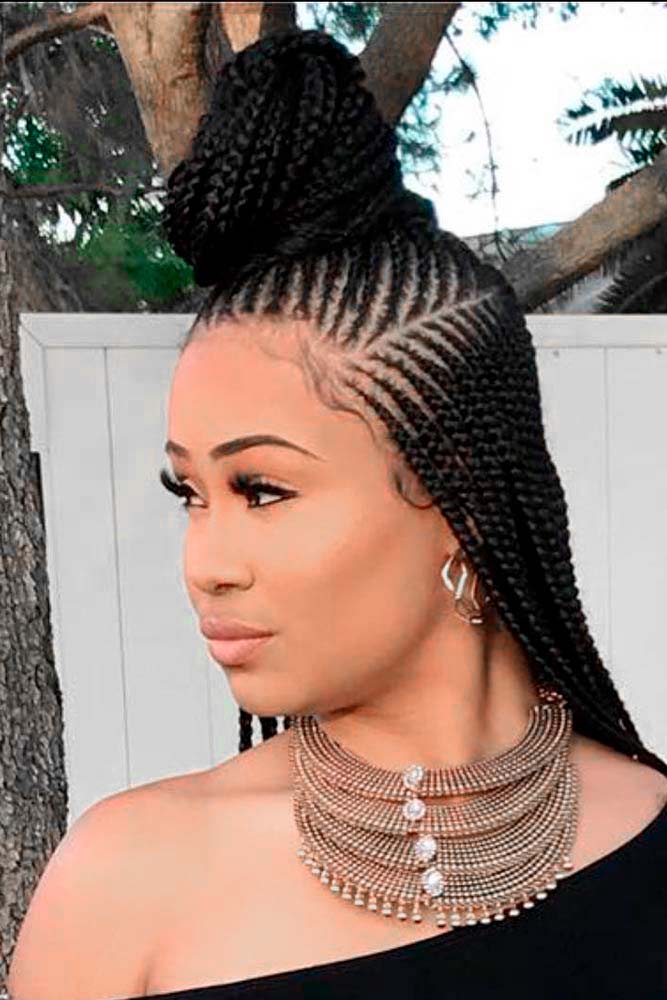 Source: braids_by_antoinette via Instagram
Today, they're simple lemonade braids for casual wear. Tomorrow, they're super-defined, sophisticated half-ups that can outshine even those professional red-carpet looks. Easy to do but not easy to resist, huh?
Cornrows Into High Bun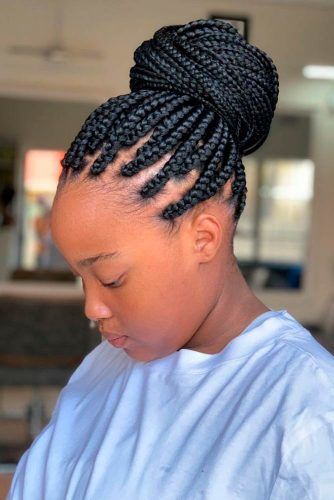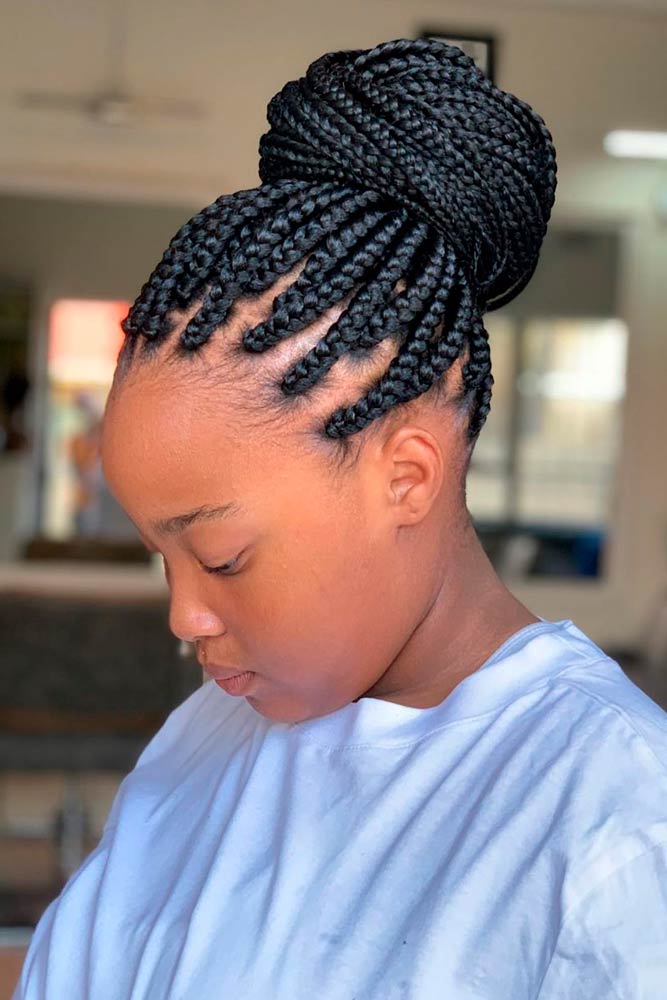 Source: melforddivashair via Instagram
Who would've thought that an easy twist we usually do to simply keep our hair away from the faces would look that chic? Thick cornrows know how to do the ravishing visual trick, no doubts.
High Pony Style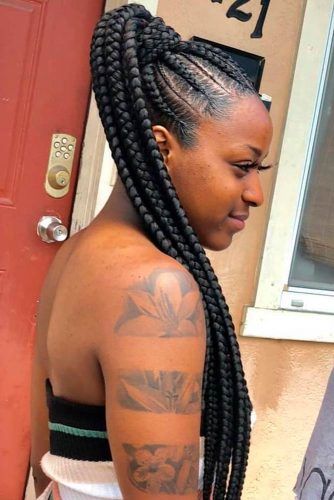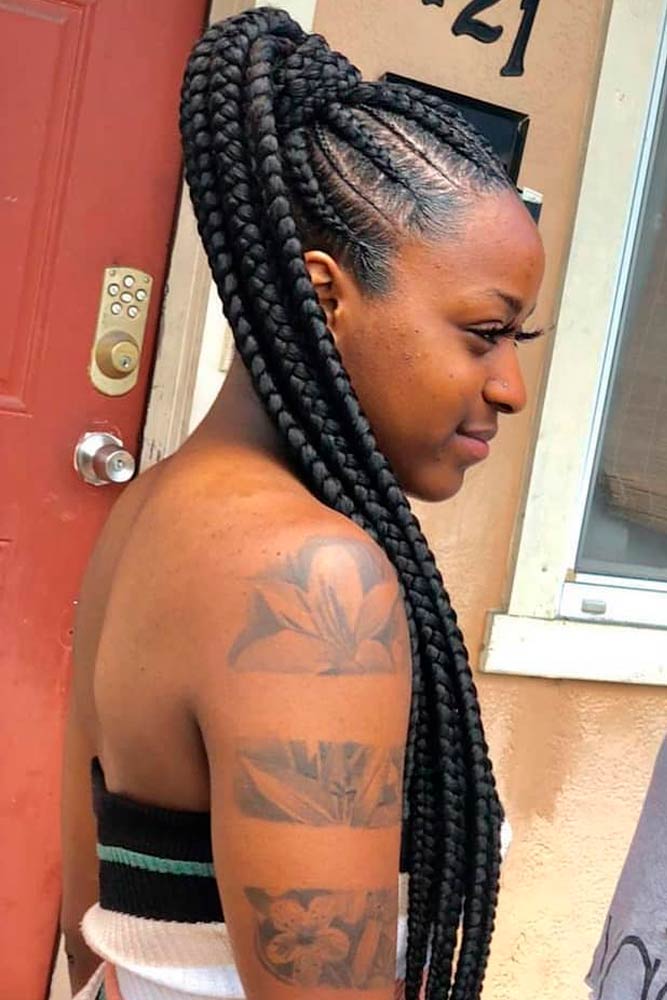 Source: braids_by_antoinette via Instagram
High ponytails seem to have always been an epitome of sexuality: they keep the face open and give a sassy look at the same time. Can you imagine what a seductive goddess you will become once you put your braids into a high pony? By the way, it will look more authentic if you cover the tie with a braid.
Lemonade Braids With Hair Rings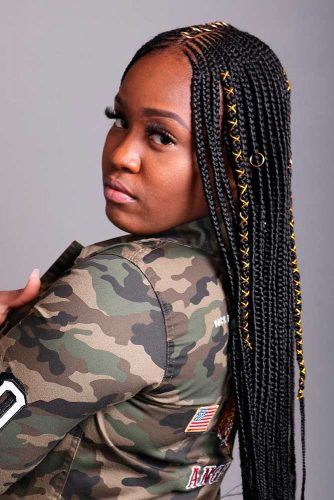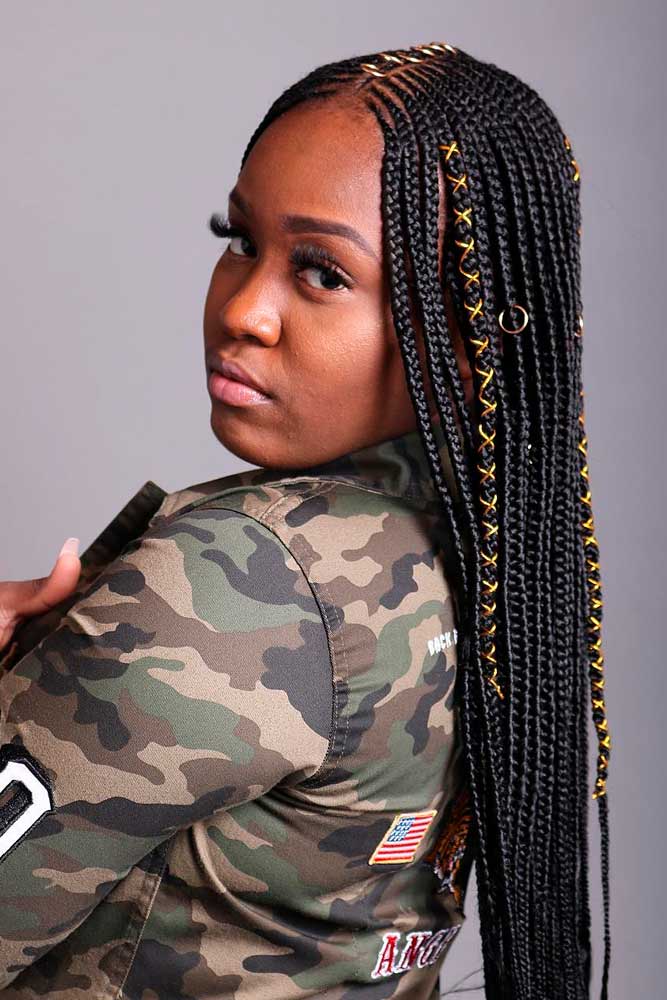 Source: mslafitness via Instagram
Though hair rings are popular not only with natural-haired ladies, they fit like a glove when attached to cornrow braids and twists. As a matter of fact, they can make a traditional cornrowed look work for your modern image; just make sure they're in the spotlight.
Beaded Cornrows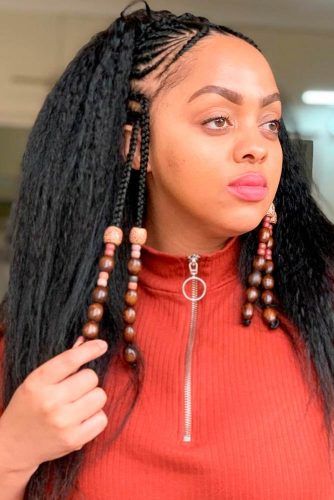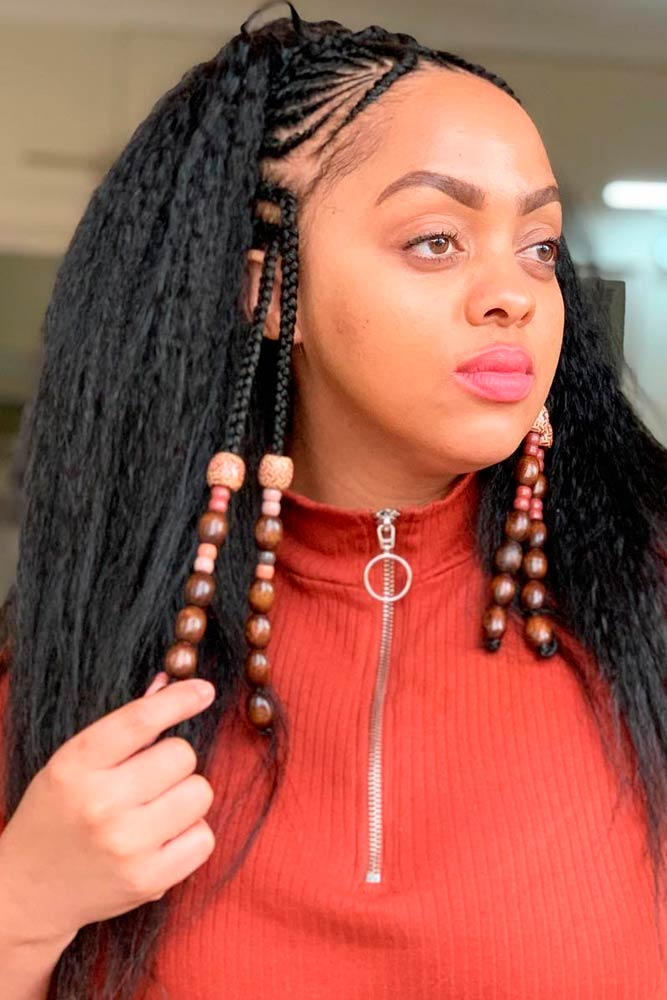 Source: melforddivashair via Instagram
In contrast to the previous idea, ethnic bead accessories are designed to step out of the modernity and dedicate your look to the pure African authenticity. Needless to say, with a classy floral or ethnic-inspired patterns throughout your look, you will nail wearing classic cornrow styles.
Braided Highlights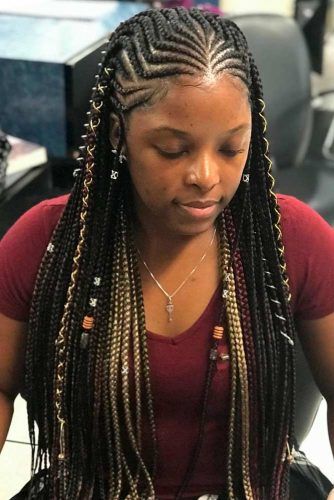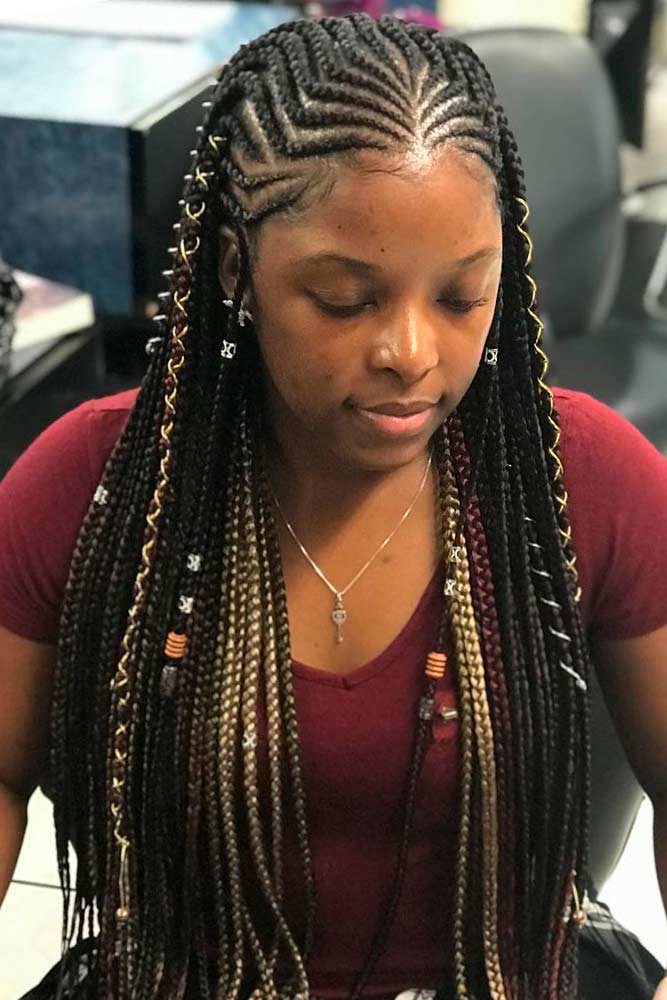 Source: kiaharperbraids via Instagram
Nothing can stop you from shining brightly when you're rocking natural braids. To be more exact, you can always spice up your locks with colorful tresses, creating ombre, highlights or even balayage looks. As you can see, even a couple of light extensions are enough to freshen things up.
Blonde Cornrows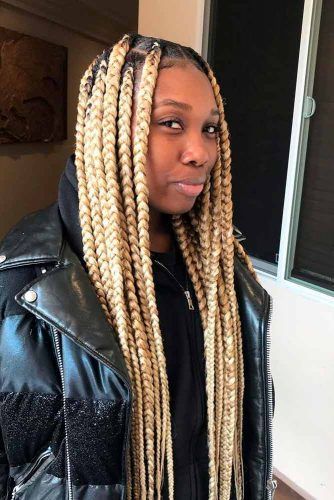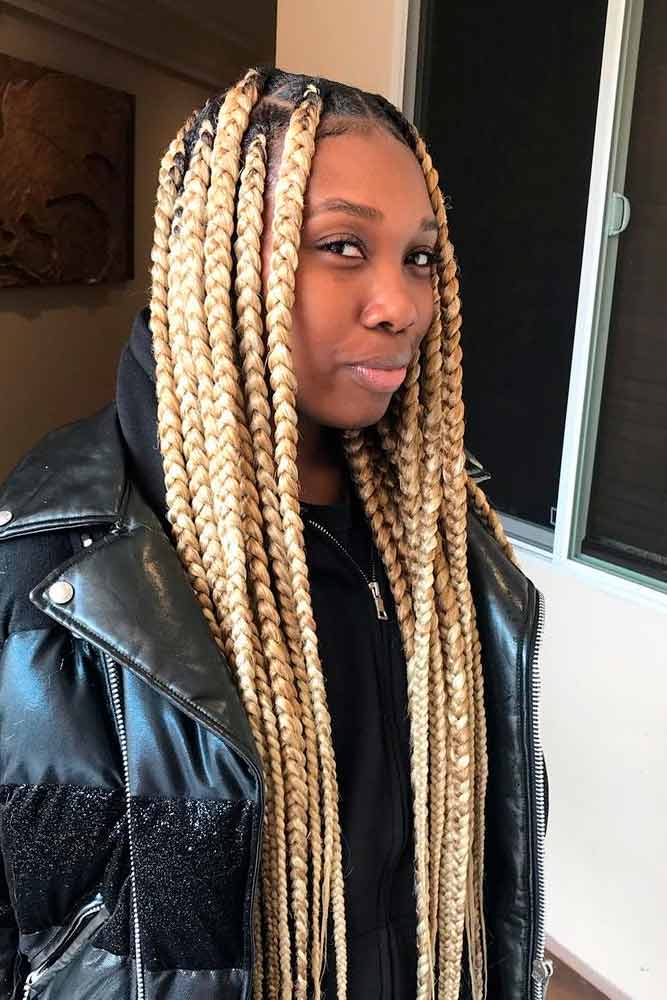 Source: kiaharperbraids via Instagram
Just a hint of color is not enough for your creative soul? Make the color play big, then! Since it has nothing to do with damage, you can switch to another, contrastive palette and start rocking blonde cornrow braids. Heads will turn, that's for sure.
Thin & Bright Lemonade Braids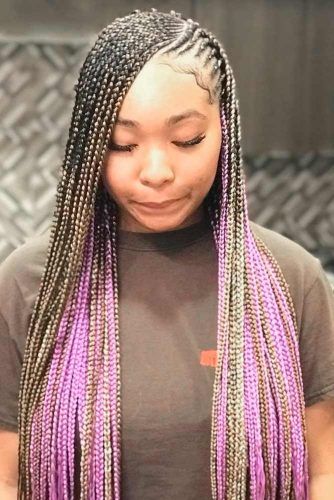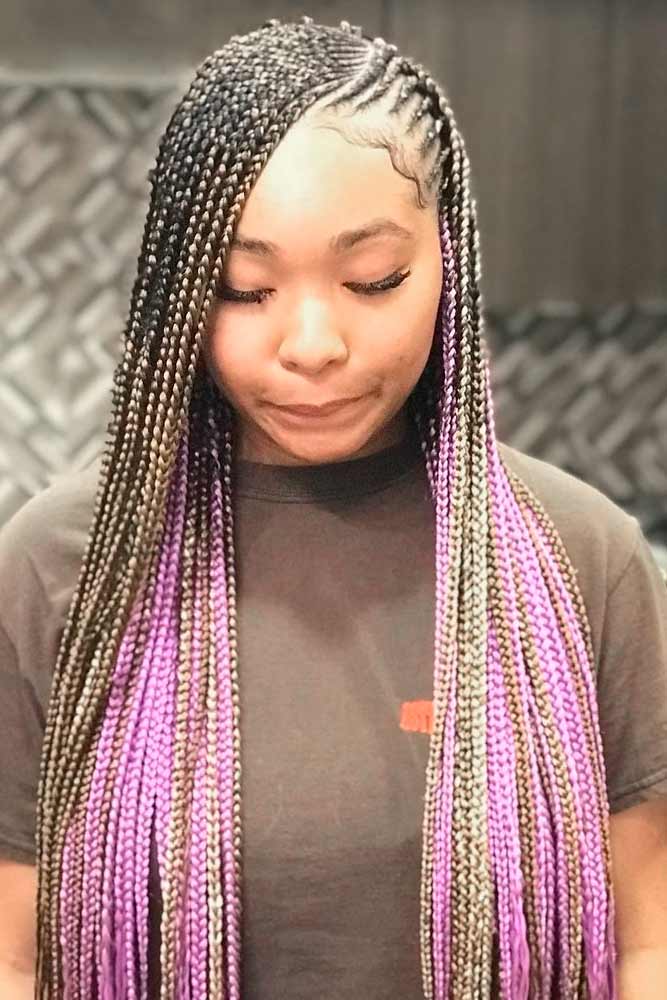 Source: kiaharperbraids via Instagram
The thinner the braids, the more textured your look is. What if we tell you that you can enhance the striking effect of the texture? The only thing you need is to diversify your lemonade recipe with some violets. Trust us, you will regret not giving it a try.
Cornrows for women with natural hair are like a little black dress for every self-respecting girl. Well, not for nothing! They allow all ladies to feel special, customizing their braids and creating totally unique looks. Now that you've become familiar with the magical power of those braided cuties, you know why they will never lose their popularity: their versatility has no end.