Everything You Need To Know About Box Braids!
The distinctive and eye-catching box braids have been a stylish calling card of women of color since the trendy 90's. Their popularization has taken over the African American world, so no wonder all the magazine covers of that time were all about tight and long braids. And while some women just got tired of seeing the style on every single black lady, the modern variety of the braids has made it a never-ending trend that will never become boring.
On top of the popularity of box hairstyles, they're one of the most convenient low-maintenance and protective option that can actually hold a candle to crochet braids. But before calling your stylist and asking for the style that can save you some time in the morning, there are some things you should consider.
Today you're going to get to know what exactly box braids are, learn how to get them, and see how variously you can style them. Alongside these points, you will find out how to choose the right version of the style to match the condition of your hair.
What Are Box Braids?
Source: avonbrasil via Instagram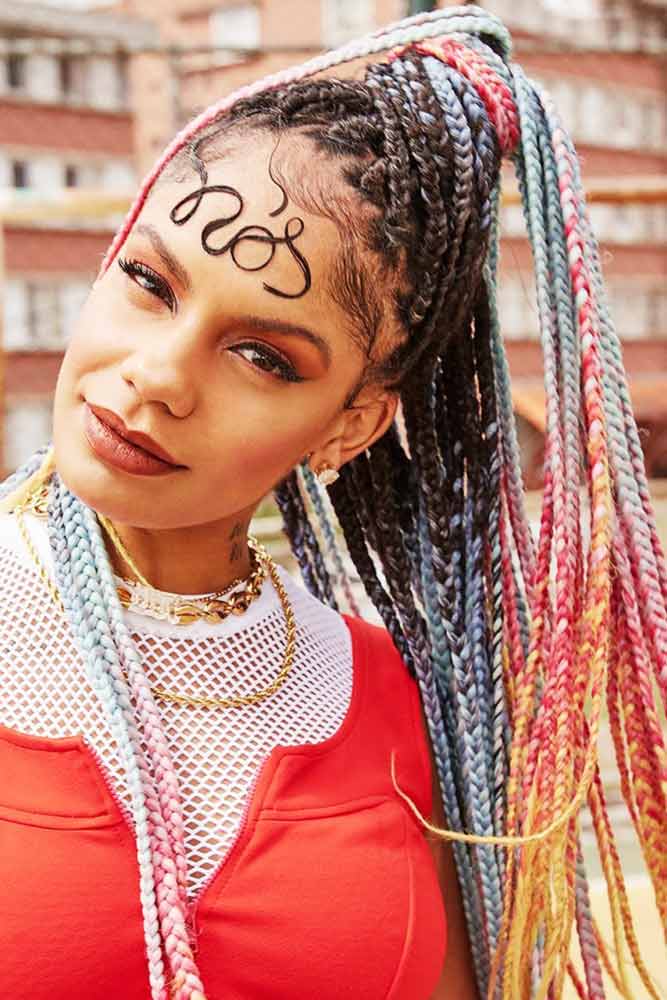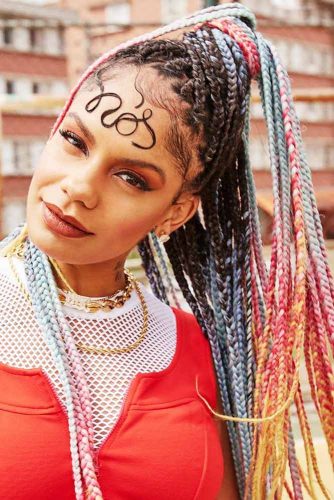 First off, let's get things straight and answer the main question of today's post: "what are box braids?". You surely can recognize them among many different protective styles without knowing their specific features. Anyway, they come as braided hairstyles that may vary in length and thickness and their main characteristic is the square-shaped hair divisions. The style can also be done with synthetic braiding hair added over the natural mane.
How To Do Box Braids
Source: 0690.16 via Instagram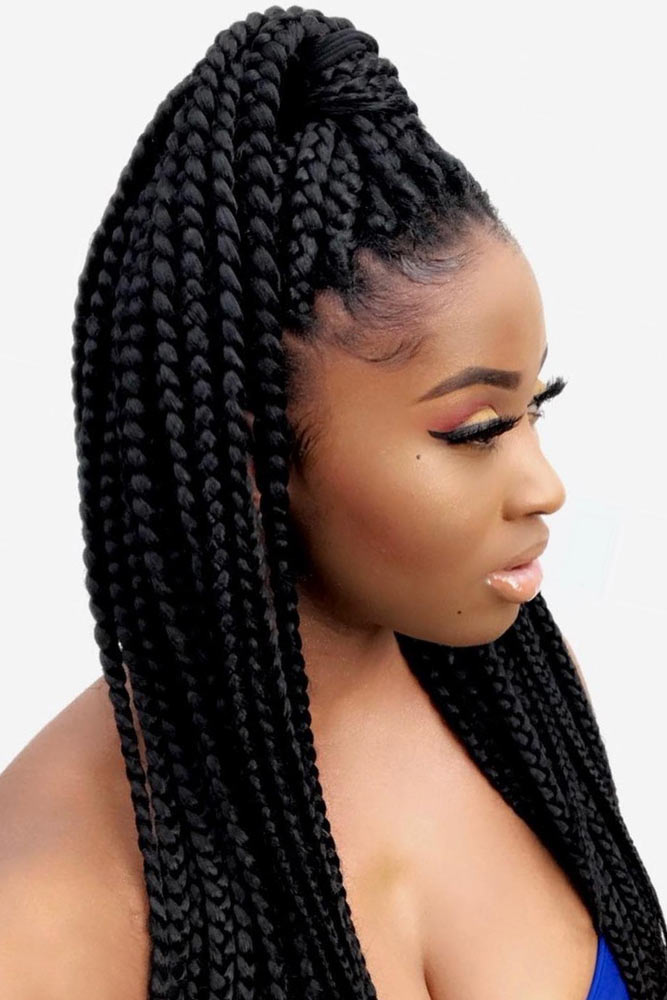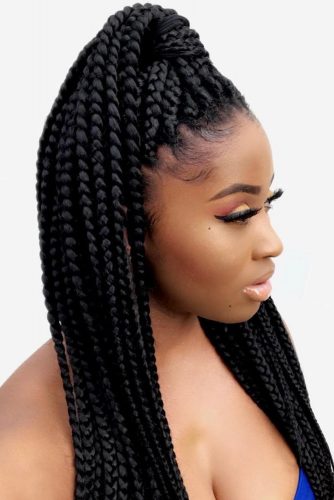 Whether you are going to get the style yourself or you're about to find a skilled braider, the basics on how to do box braids will be pretty useful for all newbies.
Tips To Know Before Braiding:
Before braiding your natural chevelure, it should be ready for manipulations. Make sure that your hair is super clean, well-conditioned, and detangled.
Don't forget that the process of braiding isn't for the faint of heart: it takes up to eight hours.
Sometimes the freshly braided hair hurts at the scalp. That's because your roots can't handle the tension of braids. If the pain doesn't pass in a couple of days, loosen up the braids.
Choose the size of your braids based on the condition of your hair. If it's damaged or color-treated, the thinner braids will be the best choice. If your mane is healthy, you can experiment with any thickness possible.
The regular maintenance for your style is crucial! Moisturize your roots with soft oils every other day, and if you want to braid your own hair, keep the braids hydrated, too.
How To:
Once you washed, conditioned, detangled, and blow-dried your hair, divide it into four square-shaped sections, using a wide-tooth comb.
Smoothen your hair with hydrating gel.
Take a rattail comb and section out a piece of hair with its pointed end. Regulate the size based on your preferences.
Do the same with the rest of your hair, following the square-shaped pattern.
How To Style Box Braids
Source: kersti.pitre via Instagram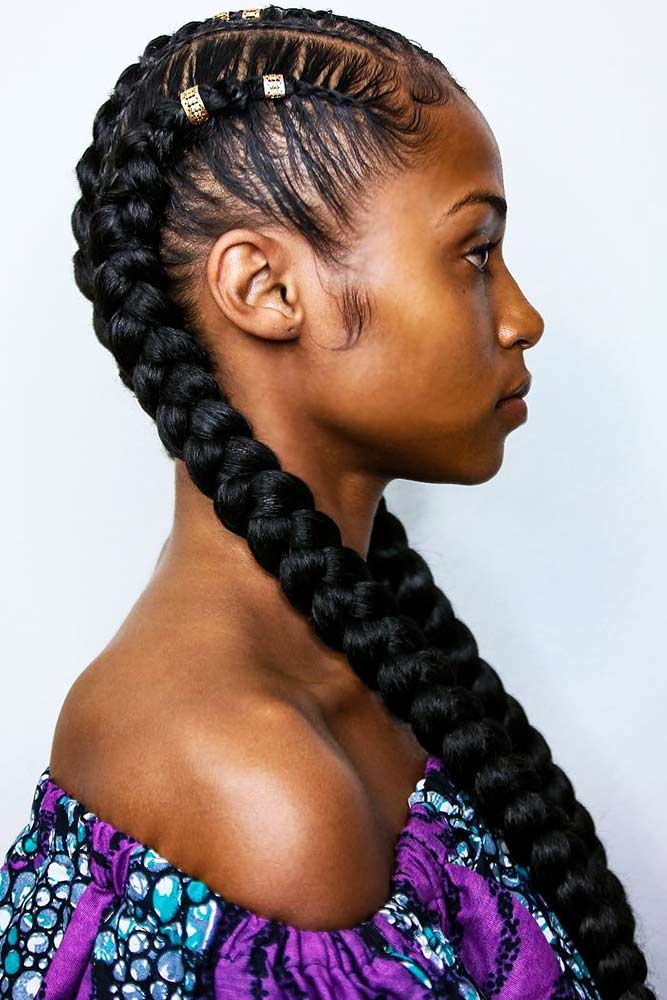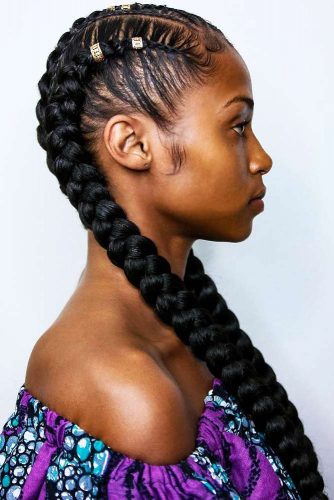 The variety of ways on how to style box braids is probably the reason for their revival. They can become a tight feminine bun if you want. Braided ponytails? With these cuties, you will see the simple do in the new light. Half-ups and twists made out of box braid are the styles that will let your creativity fly. And for last, you can try out lots of types of braids, taking the braided texture to the next level.
High Half-Up Bun With Box Braids
Source: ironyofashi via Instagram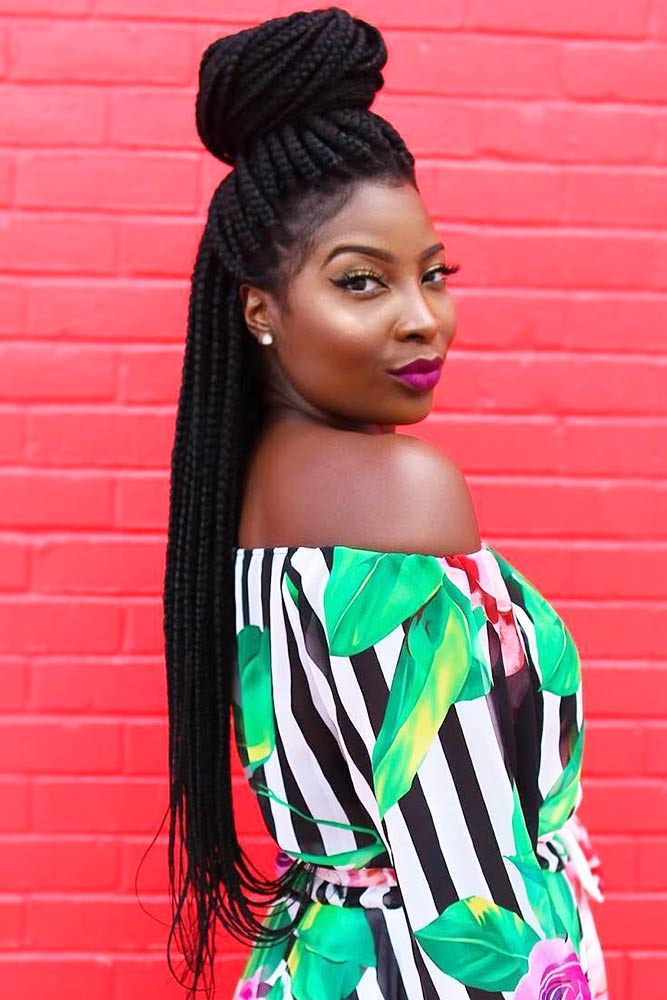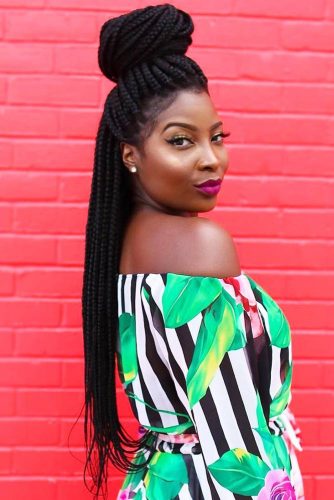 Look how braided hair can individualize the simple, familiar hairdo. These thick, medium sized box braids not only add some authentic vibes but also give a very feminine look. Just twist the top portion of braids into a bun and be ready to fascinate!
Box Braids Hair In A Low French Roll
Source: ironyofashi via Instagram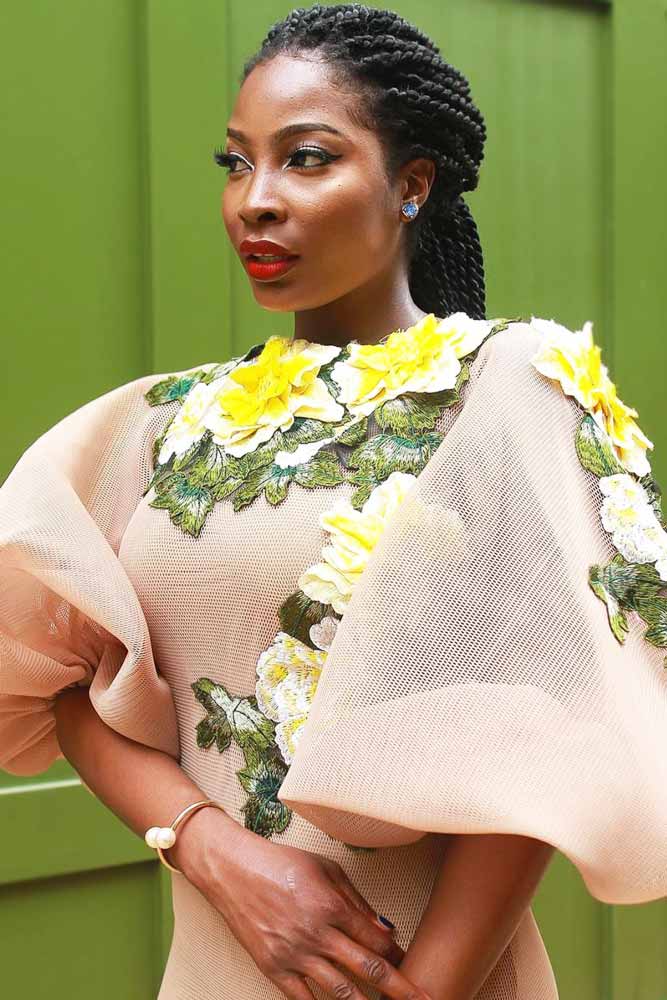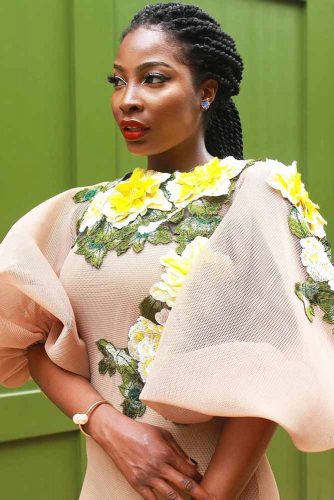 Box braids hairstyles can be anything you want: from a finishing touch for your daring tomboy look to an elegant part of your special-occasion style. Remember the straightforward and delicate French roll? With the box braids, it can be more distinctive.
Bob Box Braids Styles
Source: magicfingersstudio via Instagram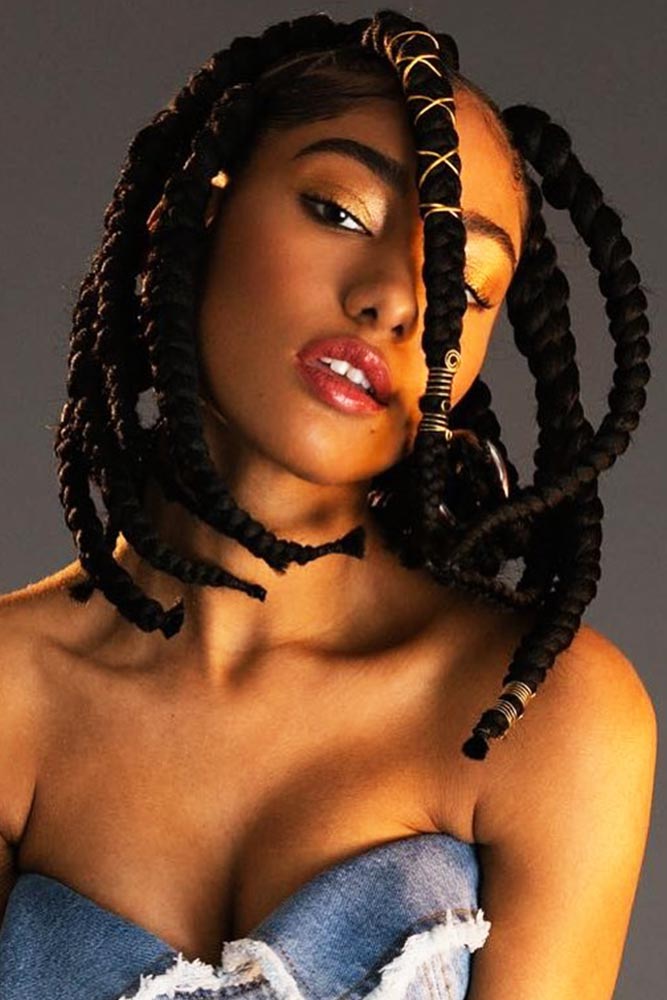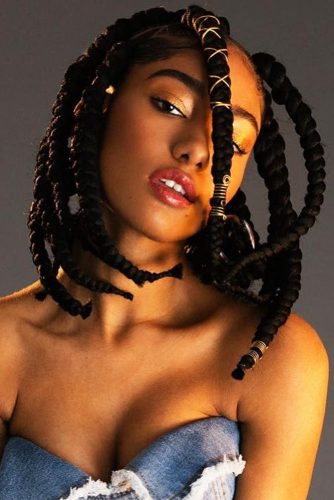 The box braids bob does exist! Most ladies go for box hairstyles to slay with the unbelievable shine of their long tresses. But who says that such styles can't be done on shorter lengths? You can turn your bob cut into a tight and attention-grabbing box bob. Its round silhouette is the thing!
Big And Thick Box Braids
Source: magicfingersstudio via Instagram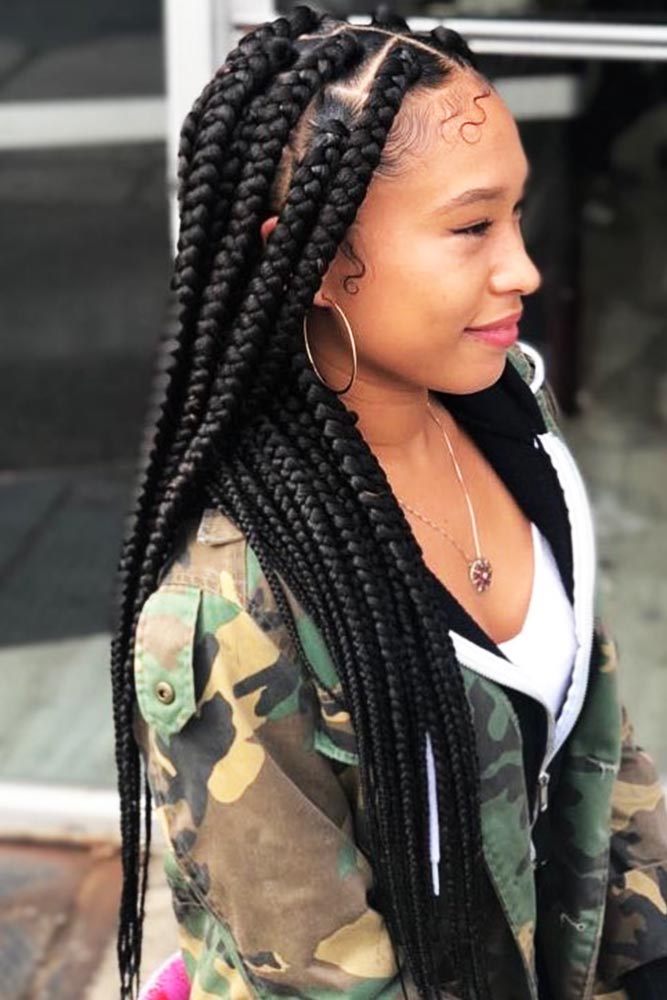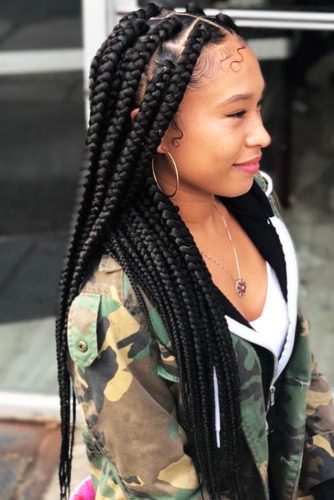 If you want to go for bigger braids but not sure if they will suit you or fit your lifestyle, you can try crochet box braids. The crochet technique implies adding extensions with a hook, putting them through the loops of your hair. As a result, you can get a style you can change at any time.
Box Braids Space Buns
Source: braided__ via Instagram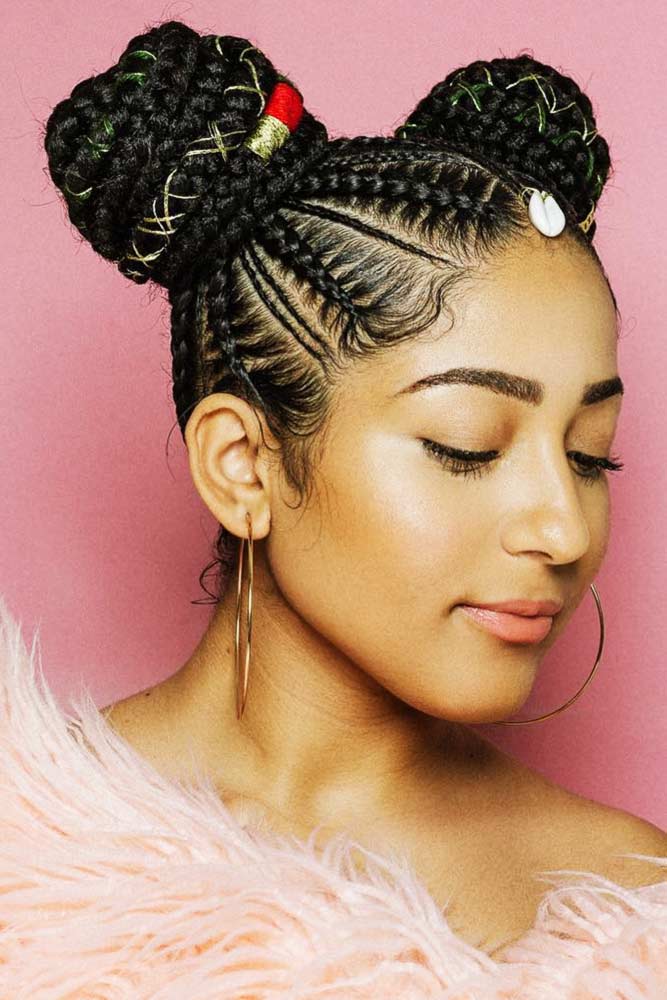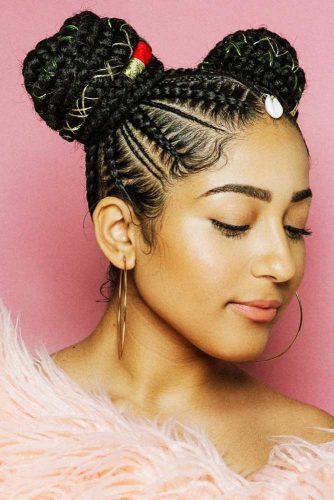 The space buns that have taken the whole Internet over have never looked that amazing. They're clean, tight, and well-structured, isn't that an awesome fresh take at the trend? Some colorful beads can enhance the joyful mood.
Chunky Braids In Half-Up Pigtails
Source: braided__ via Instagram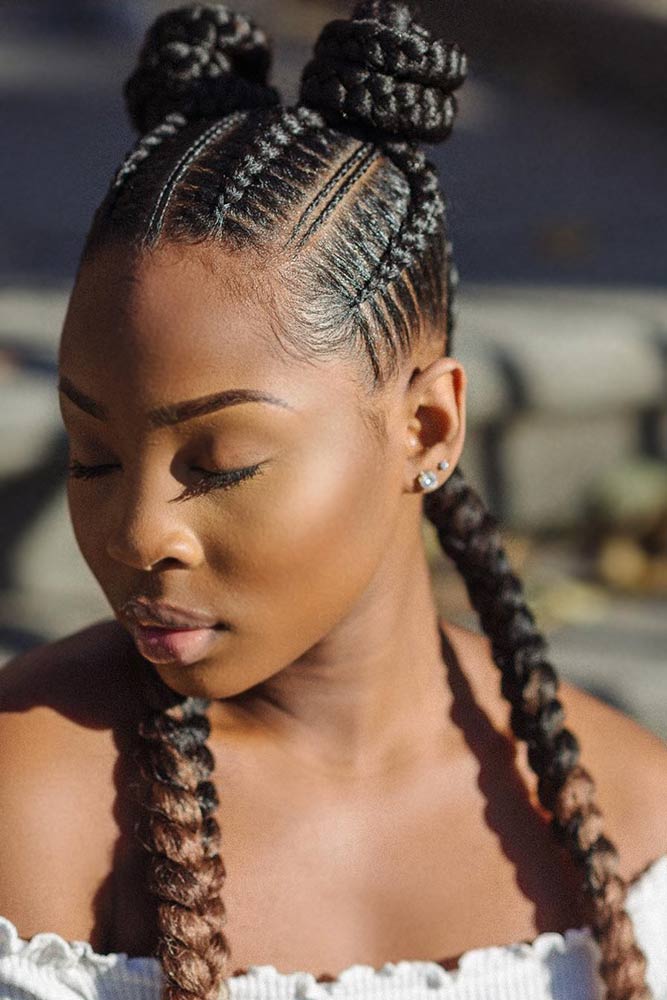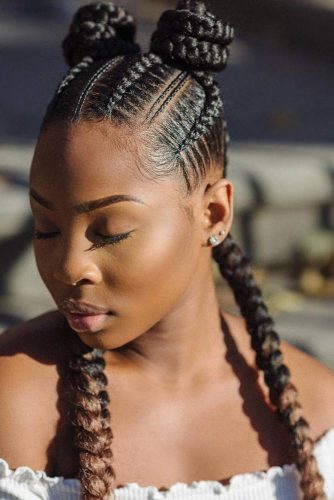 Once you look at the definition and precision of these half-up pigtails, you will never say that half-ups are too simple or plain. The magical neatness of the braided texture on both top and low layers make this style suitable for any occasion.
Box Braids Mohawk
Source: shellyafrikhair via Instagram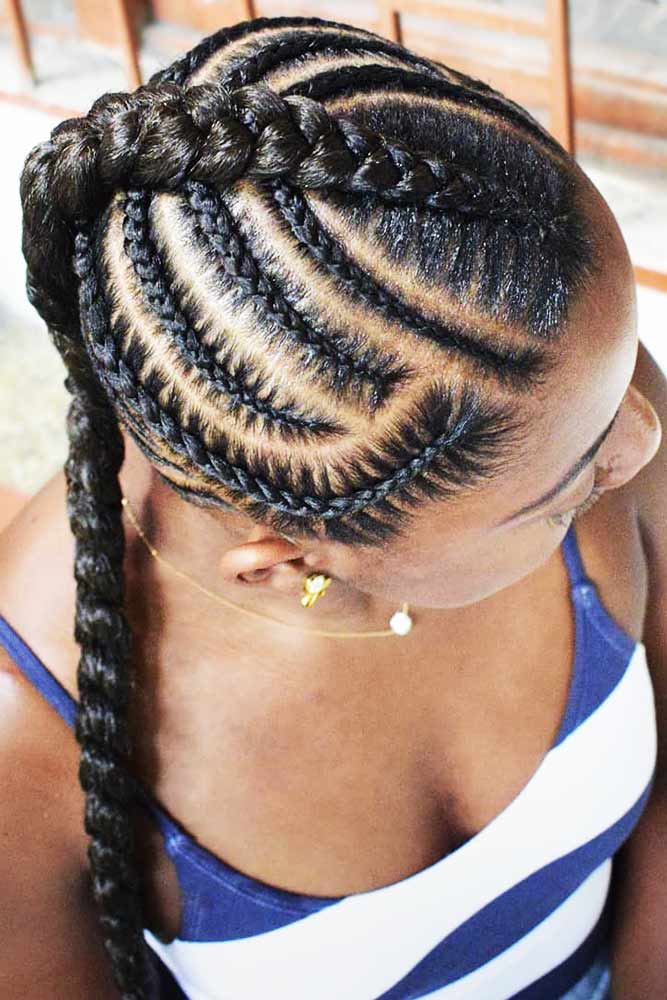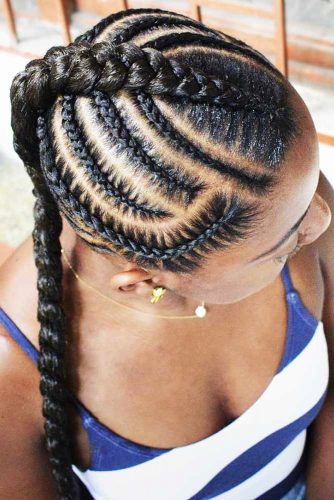 A braided Mohawk with a unique design, who could ask for more? Any Mohawk requires an outlined braid or lifted top that stretches along the back of the head while keeping the sides tight or clean. And this variation follows the main characteristics: in its own, creative way.
Side Parted Box Braids
Source: bririxx via Instagram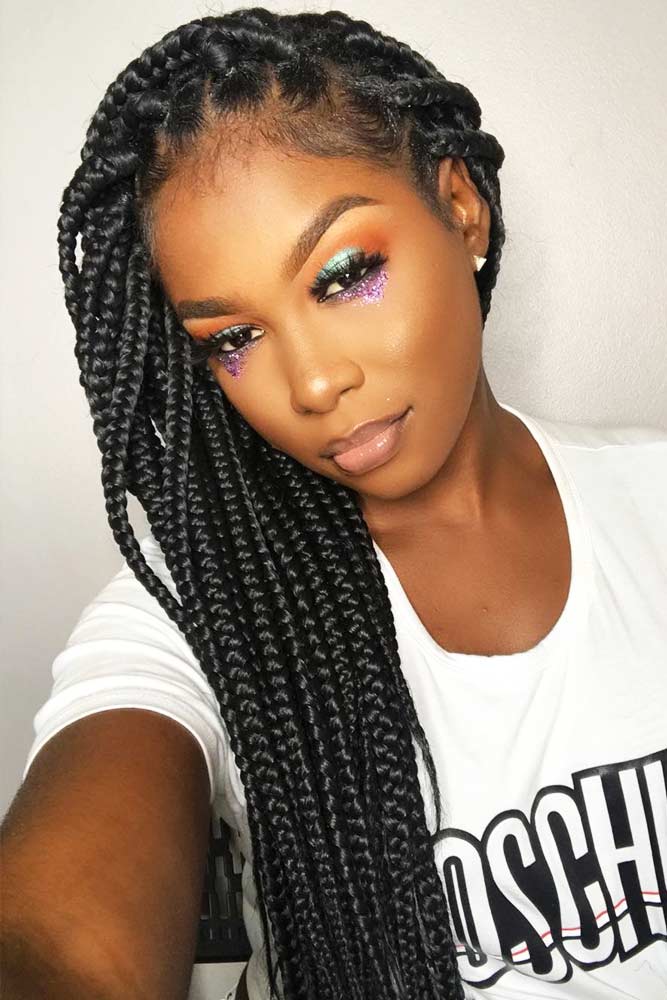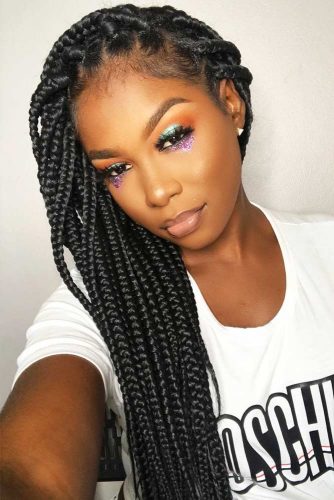 The way you part your hair always plays an important role in your look. If you sport a braided chevelure, the same goes to your braids! Ladies who rock long box braids will love the way their silhouette gets more attractive once they part the 'do to the side.
Thick Jumbo Box Braids
Source: indigo_dazzle via Instagram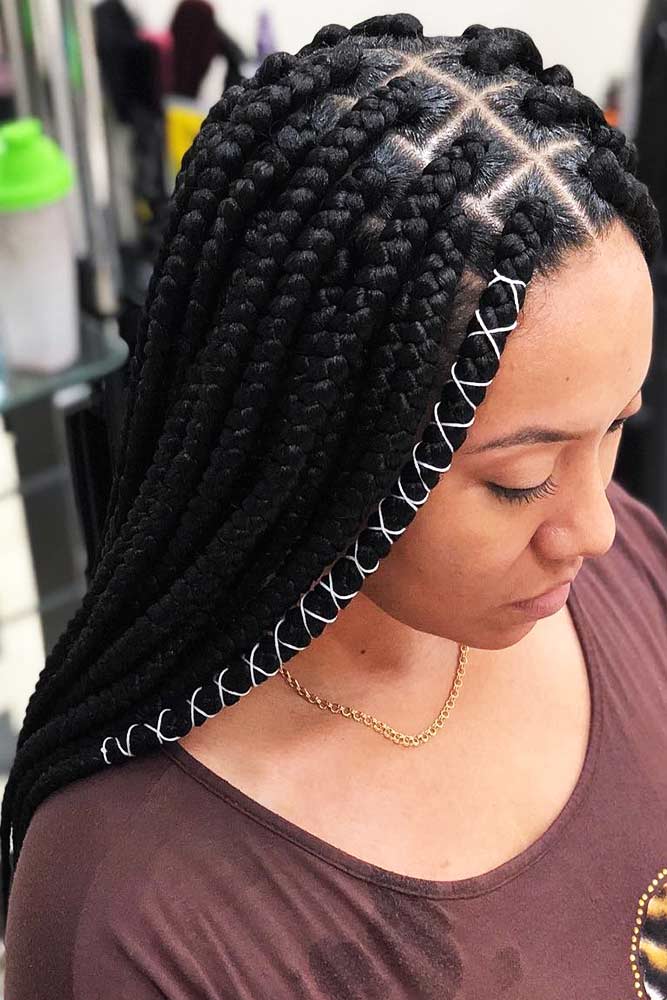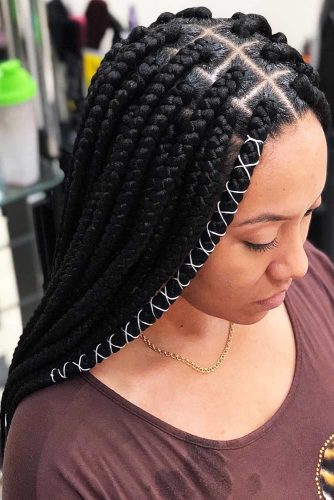 Jumbo box braids are famous for their full size and breathtaking thickness. Those who want their looks to be as distinctive as never before should look no further this type of braids: they will emphasize the beauty of their hair and create an enviably voluminous look at once.
Silver Gray Box Braids
Source: voiceofhair via Instagram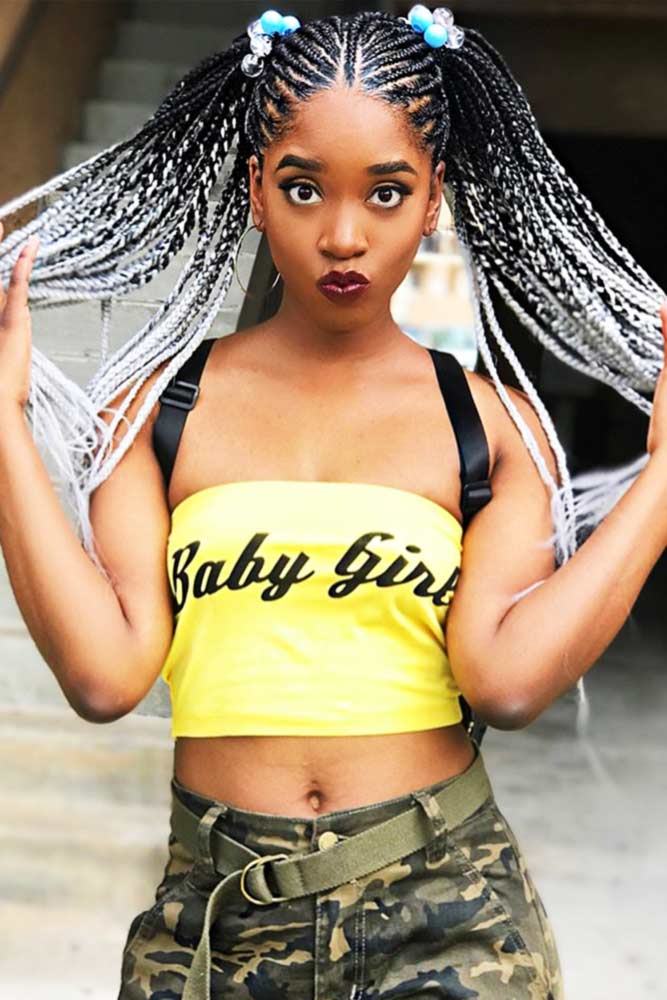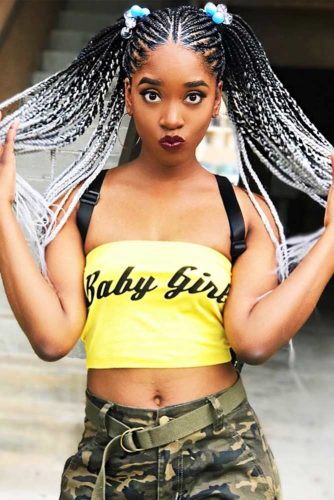 How about adding some colors? Admit it, on braided texture, colored strands reveal their charm at their best. And you know what? To get the blonde box braids like these, it's not necessary to bleach your hair: you can get some colorful extensions instead.
Gold Box Braids
Source: voiceofhair via Instagram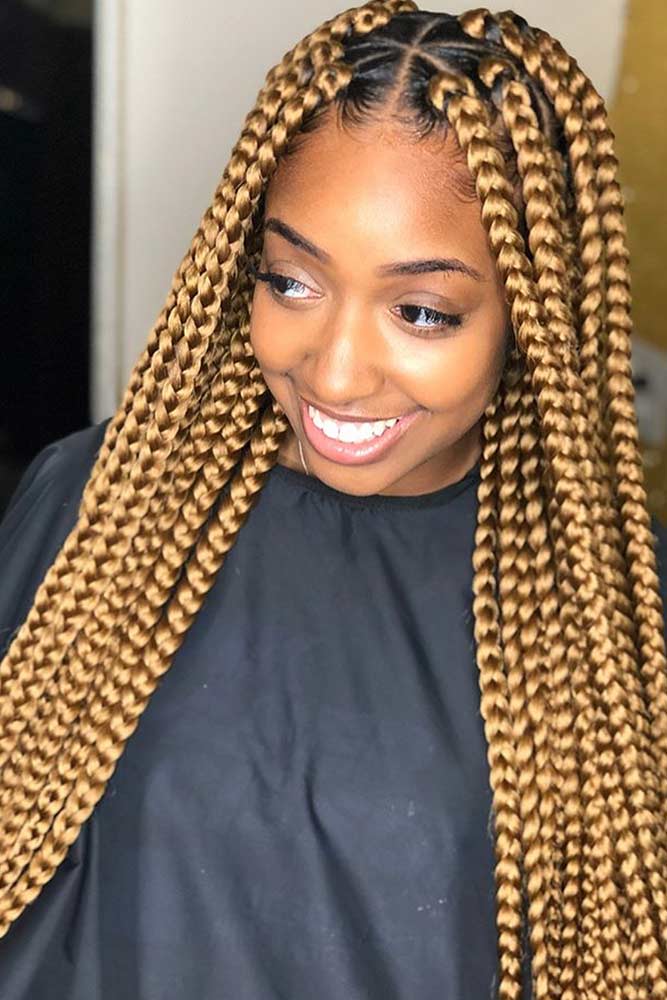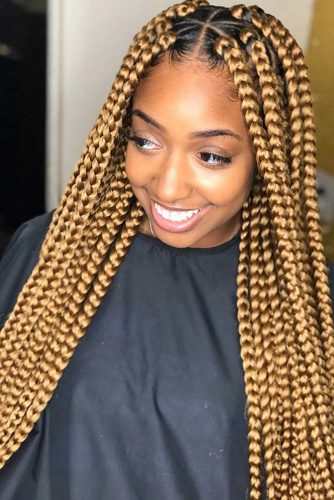 Here's another example of big box braids jumbo extensions finish awesomely. Of course, it doesn't look natural and effortless. Yet, the dramatic and outstanding golden braids have a great visual impact.
Goddess Box Braids
Source: elenitekeste via Instagram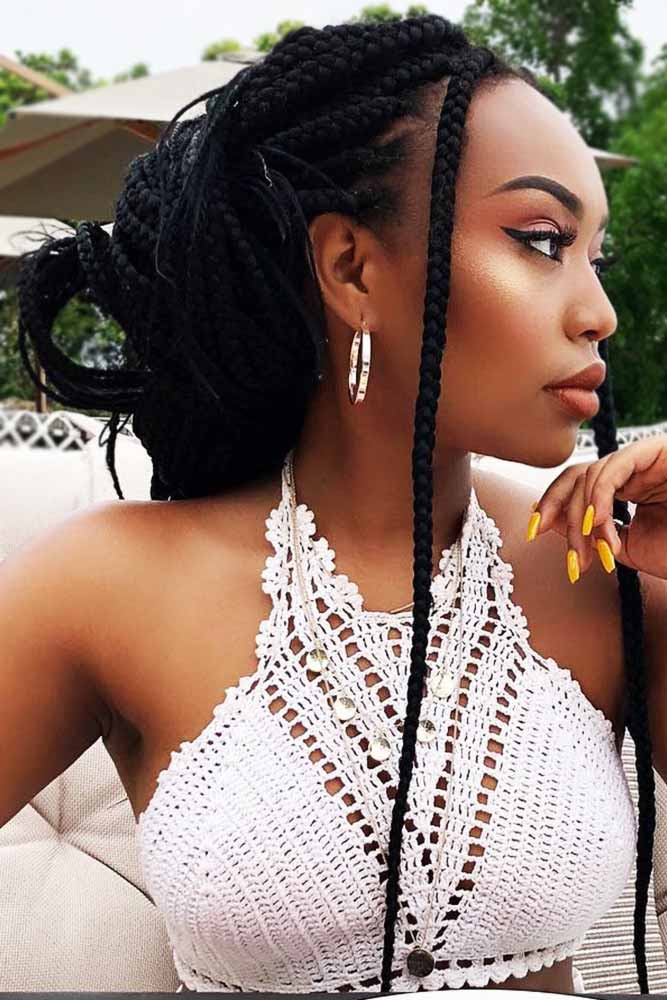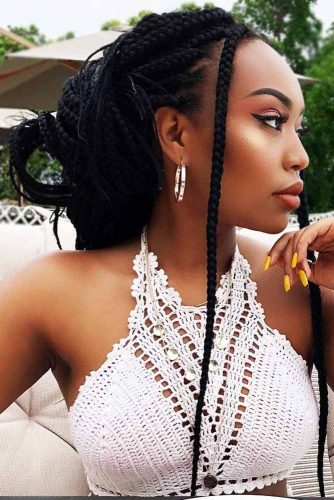 When you come across goddess box braids, you can be sure that the styles you see are done on natural hair, without any extensions involved. For more effortless, authentic looks, nothing works better than such ideas.
Long Thin Box Braids
Source: vanessamatsena via Instagram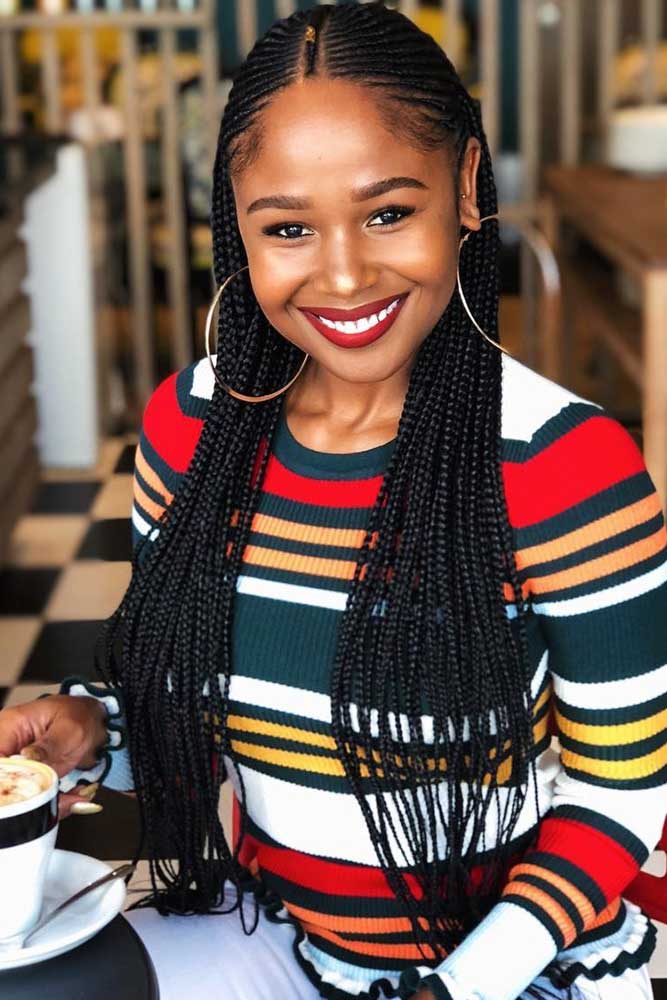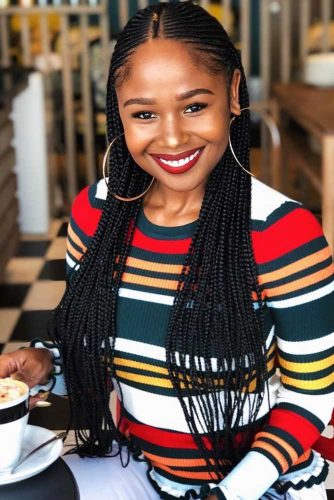 Whether your braider tells you that you can't go for heavy styles or you're just more into detailed ideas, small box braids will look stunning anyway. Not only do they give a lot of room for creativity but also provide girls with a lovely ethnic-inspired look.
Box Braids Into A Formal Bun
Source: elenitekeste via Instagram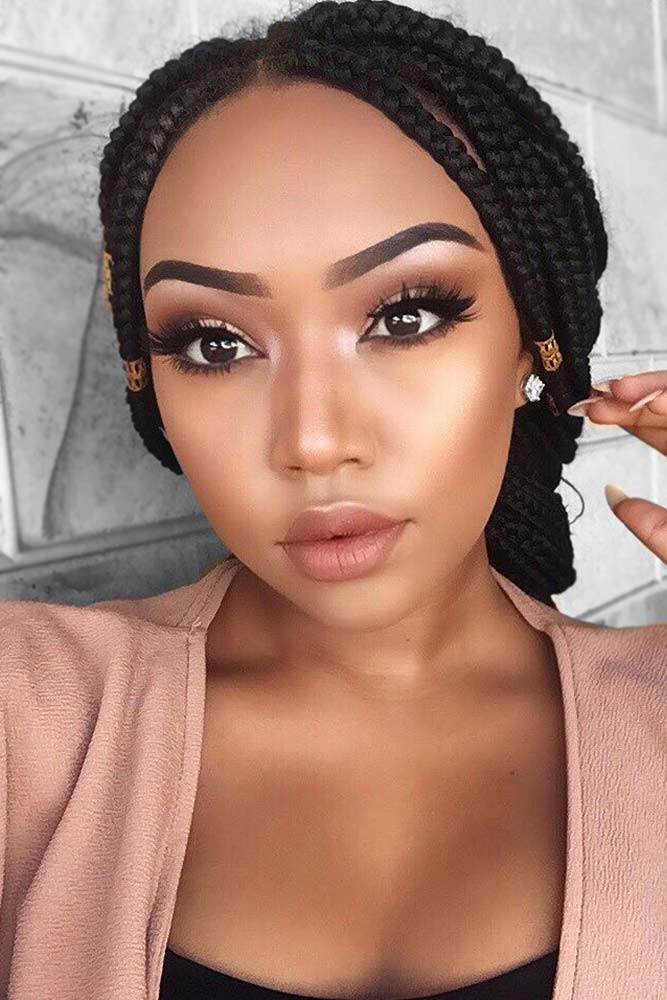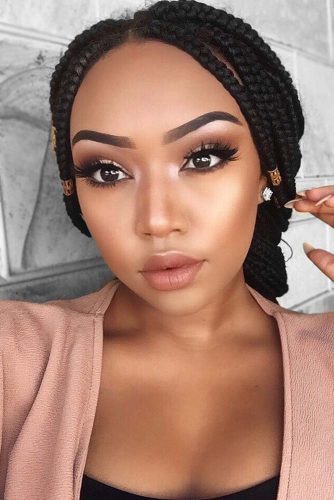 Your carefree box braids can show off their formal side if you please. A simple low bun is popular among all ladies, but you are the only one who can make it look different!
Protective Short Box Braids
Source: vanessamatsena via Instagram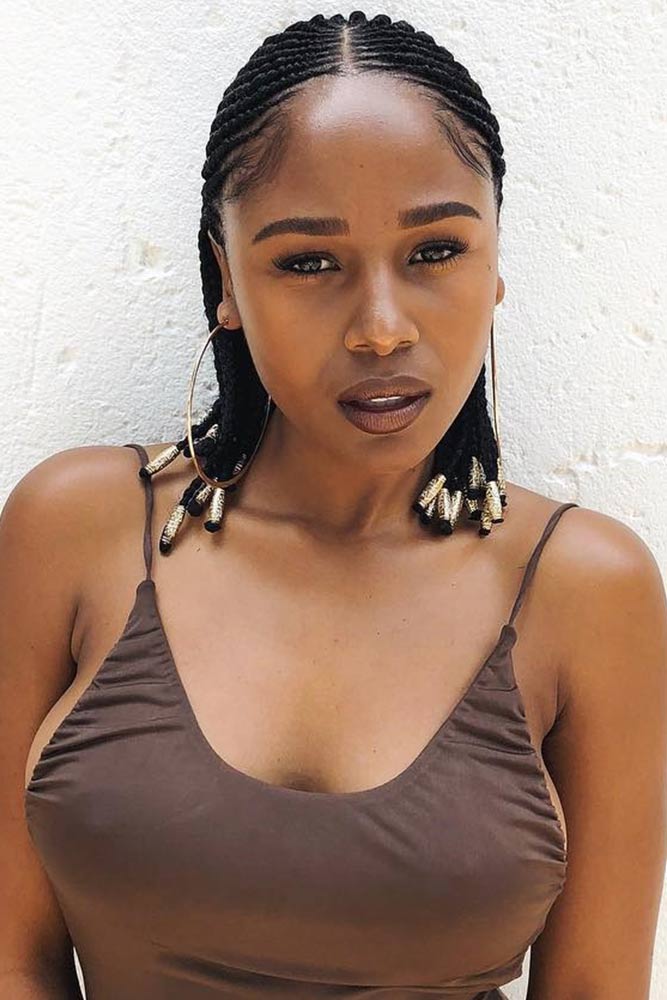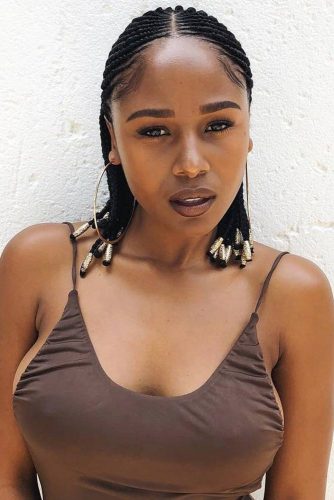 The less hair you have, the fewer damage you can get. Yes, when you wear long or medium box braids, there's still a chance to lose some hair: your braids are quite tight, and if they're long, they outweigh the scalp, resulting in slight hair loss. To make your box style really protective, consider going for its short version.
Now that you know all the basics about box braids, nothing stops you from rocking the on-trend braided hairstyle! Choose the idea that fits your hair condition, pick the style you like from our gallery, and start flaunting with the eye-catching and time-saving 'do!