The distinctive and eye-catching box braids have been a stylish calling card of women of color since the trendy 90's. Their popularization has taken over the African American world, so no wonder all the magazine covers of that time were all about tight and long braids. And while some women just got tired of seeing the style on every single black lady, the modern variety of the braids has made it a never-ending trend that will never become boring.
On top of the popularity of box hairstyles, they're one of the most convenient low-maintenance and protective option that can actually hold a candle to crochet braids. But before calling your stylist and asking for the style that can save you some time in the morning, there are some things you should consider.
Today you're going to get to know what exactly box braids are, learn how to get them, and see how variously you can style them. Alongside these points, you will find out how to choose the right version of the style to match the condition of your hair.
What Are Box Braids?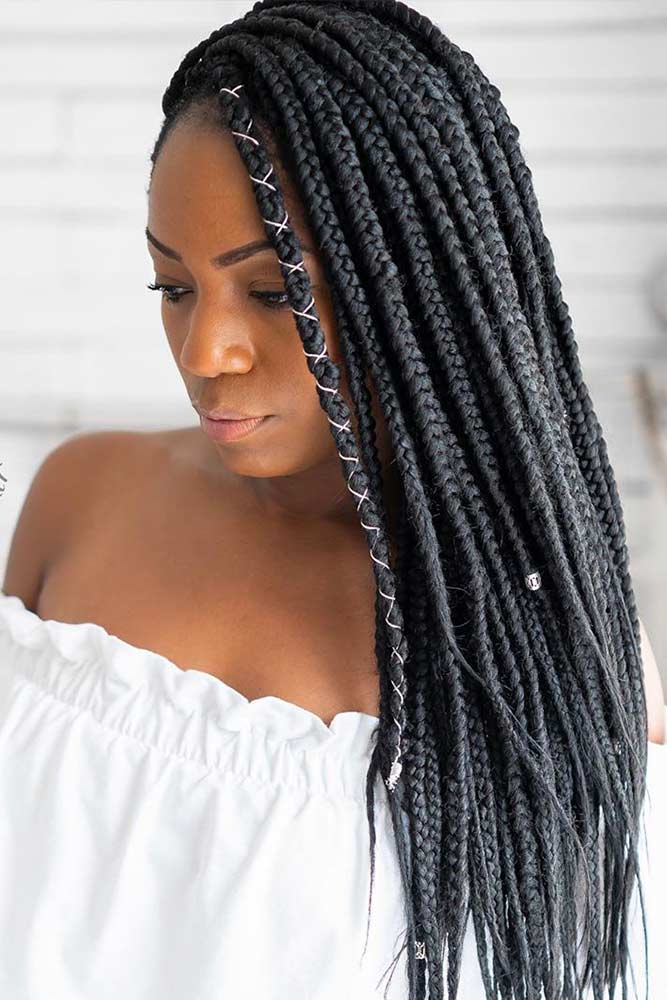 Credit photo: instagram.com/healthyafrohair
First off, let's get things straight and answer the main question of today's post: "what are box braids?". You surely can recognize them among many different protective styles without knowing their specific features. Anyway, they come as braided hairstyles that may vary in length and thickness and their main characteristic is the square-shaped hair divisions. The style can also be done with synthetic braiding hair added over the natural mane.
Useful Tips You Should Know Before Getting Box Braids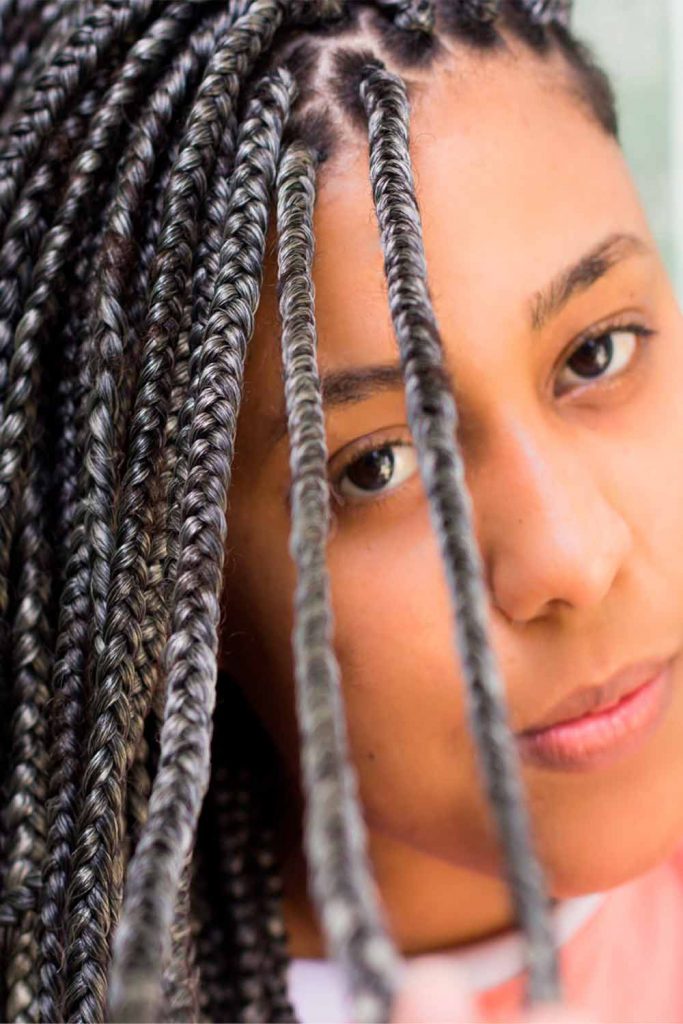 Credit photo: Shutterstock
The growing popularity of box braids hairstyles may lead you to consider adopting the style in the nearest future. However, a few things that make box braids styles stand out from the rest are the preparation and maintenance stages. Thus, we would like to share some advice with you before you rush to the salon. Anyway, the basics on how to do box braids will be pretty useful for all newbies.
1. Prep Your Hair First.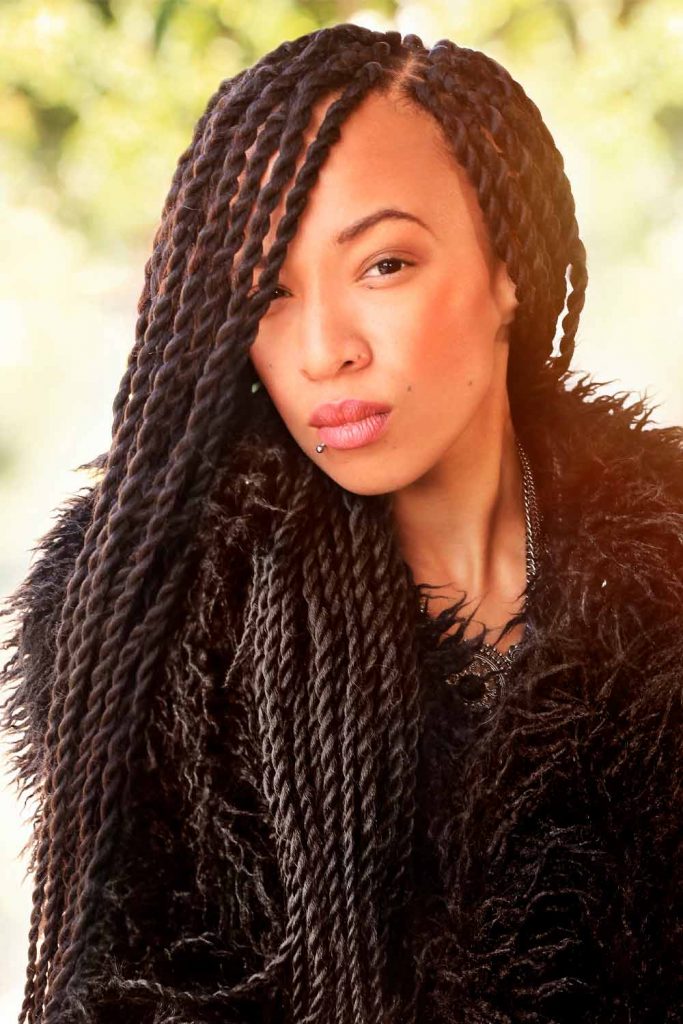 Credit photo: Shutterstock
Whether you are thinking about getting long box braids or sporting short box braids, you must prepare your hair for the task. Keep in mind that the braids will be with you for at least 2 months, so you should take the following preparation steps:
Detoxication

Deep conditioning

Moisturizing
2. Choose Among Many Box Braid Styles.
After you are 100% sure that your mane is ready for the style, you need to choose from the most trending options available. Whether these are bohemian box braids or any other style, it helps if you would weigh all the pros and cons before committing to the style. The web is filled with all sorts of looks you may want to inspire from and replicate. Take your time.
3. Buy Pre-Stretched Hair.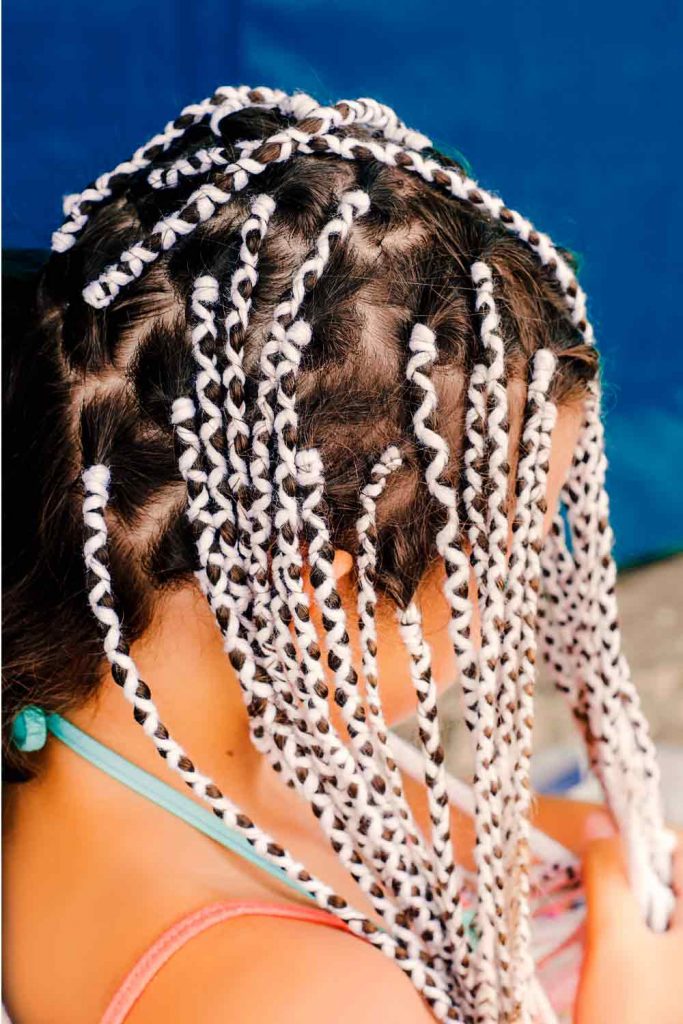 Credit photo: Shutterstock
Did you know that you can get blonde box braids even if you are a true-born brunette? All due to the versatility of braiding extensions available. However, despite your personal color preferences, the experts advise you to pay more attention to pre-stretched hair. It is claimed that such extensions blend with your natural mane better than the rest.
4. Neglecting Is a NO-NO!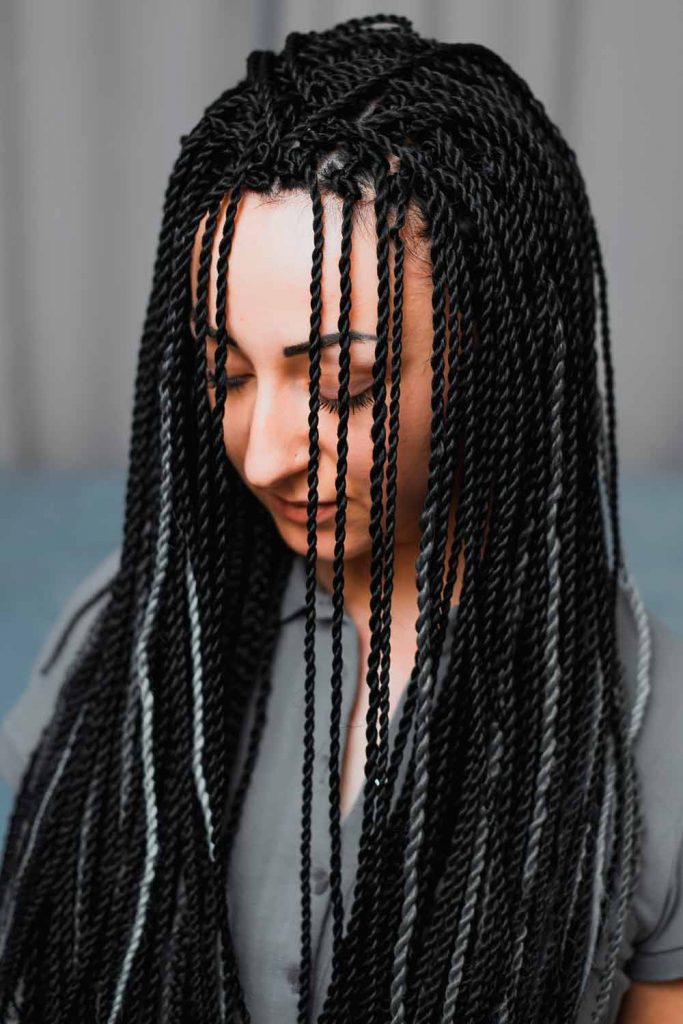 Credit photo: Shutterstock
It does not matter if these are short or medium box braids that you sport. You must take proper care of them. Accurate maintenance is critical. One of the main things that ladies with box braids tend to neglect most would be damage caused by the increased scalp and hair dryness. That is why regular oiling is the key.
How To Style Box Braids
How To:
Once you washed, conditioned, detangled, and blow-dried your hair, divide it into four square-shaped sections, using a wide-tooth comb.
Smoothen your hair with hydrating gel.
Take a rattail comb and section out a piece of hair with its pointed end. Regulate the size based on your preferences.
Do the same with the rest of your hair, following the square-shaped pattern.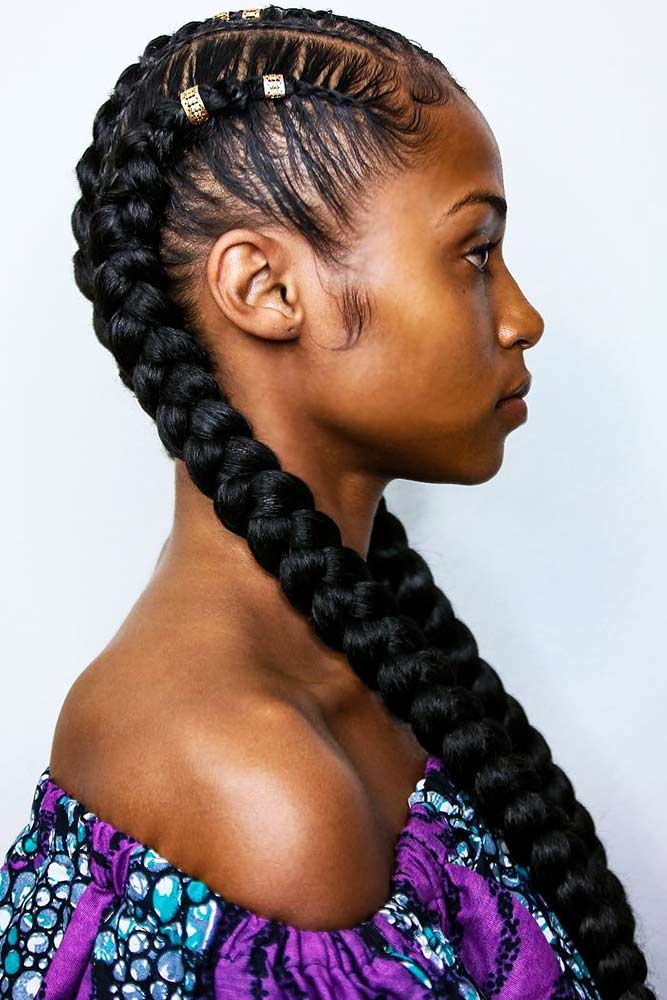 Credit photo: instagram.com/kersti.pitre
The variety of ways on how to style box braids is probably the reason for their revival. They can become a tight feminine bun if you want. Braided ponytails? With these cuties, you will see the simple do in the new light. Half-ups and twists made out of box braid are the styles that will let your creativity fly. And for last, you can try out lots of types of braids, taking the braided texture to the next level.
How to Maintain and Take Care of Box Braids?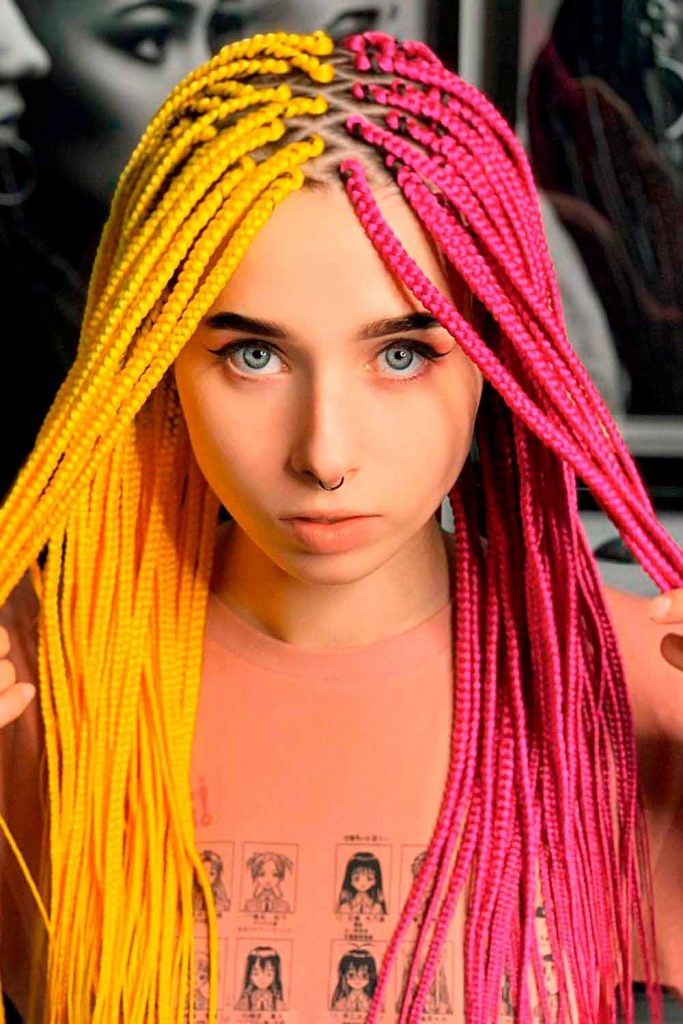 Credit photo: instagram.com/braidsvolna
Now that you know most underwater stones that even small box braids can introduce into your routine, it is time to figure out how to take proper care of the style. If you follow these simple tips, the braids will last you longer and look better.
1. Maintain Your Nighttime Hair Regimen.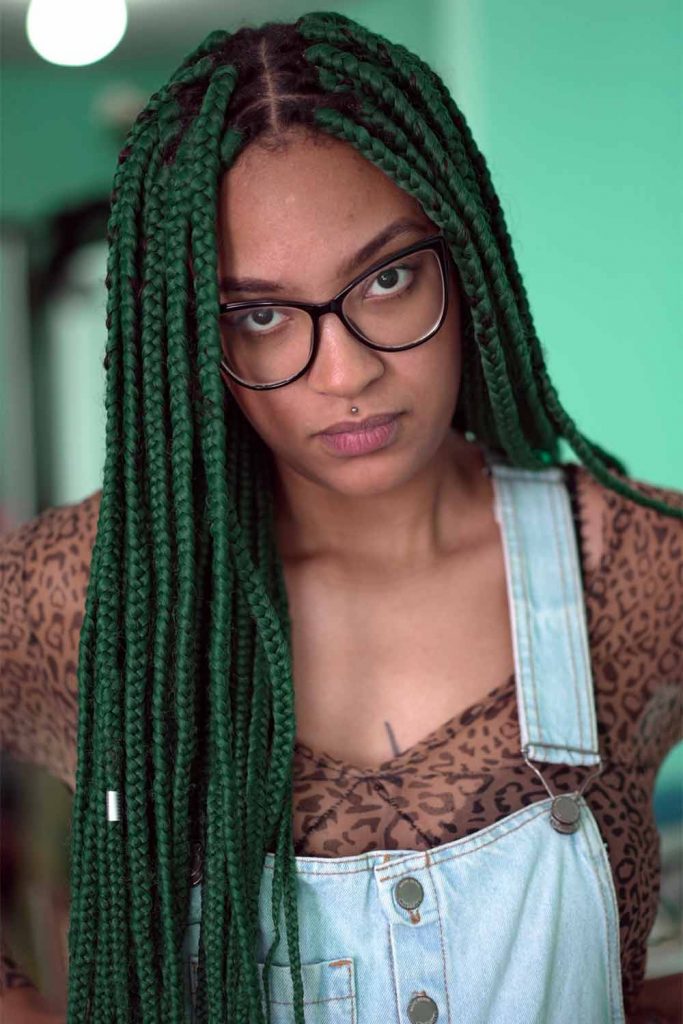 Credit photo: Shutterstock
It may initially seem that only the longest box braids require a dedicated nighttime regimen. Yet, that is not true. Despite the length, you should always wrap your braids with a silk scarf before calling it a day. Such a routine ensures that you protect the edges of your braids well and that the roots do not dry out.
2. Ensure That You Moisturize Your Scalp As Often As Necessary.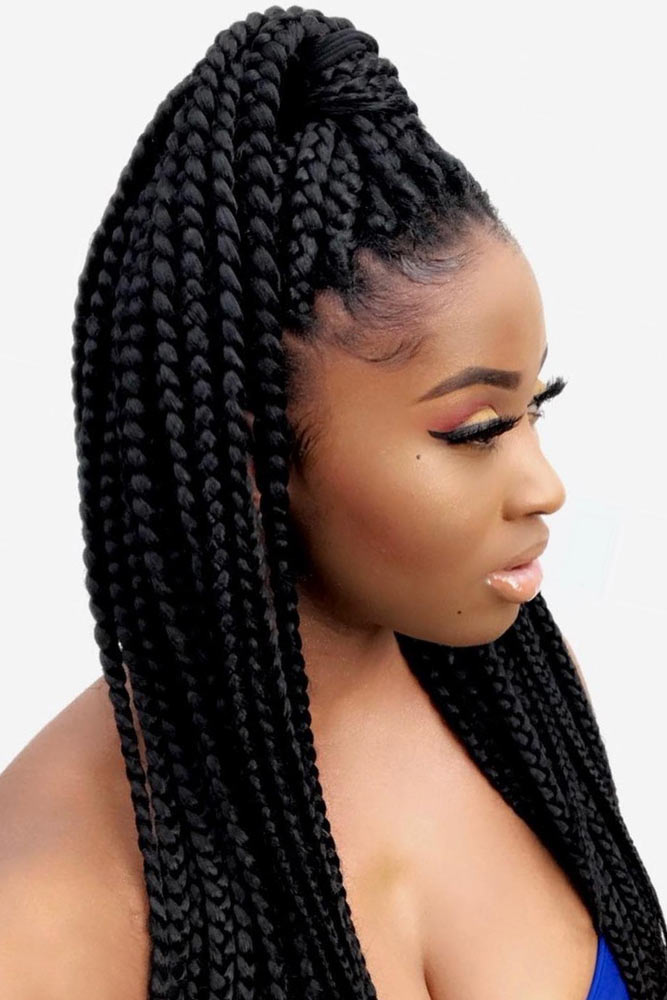 Credit photo: instagram.com/0690.16
Knotless box braids or not, they all beg for additional moisture. Just imagine the routine you go through from day to day, sprinkling your locks with hydrational products. The same should go for braided styles too. If you manage to hydrate your scalp and hair well, you will easily keep dryness and frizz at bay.
3. Wash Your Braids Once A Fortnight.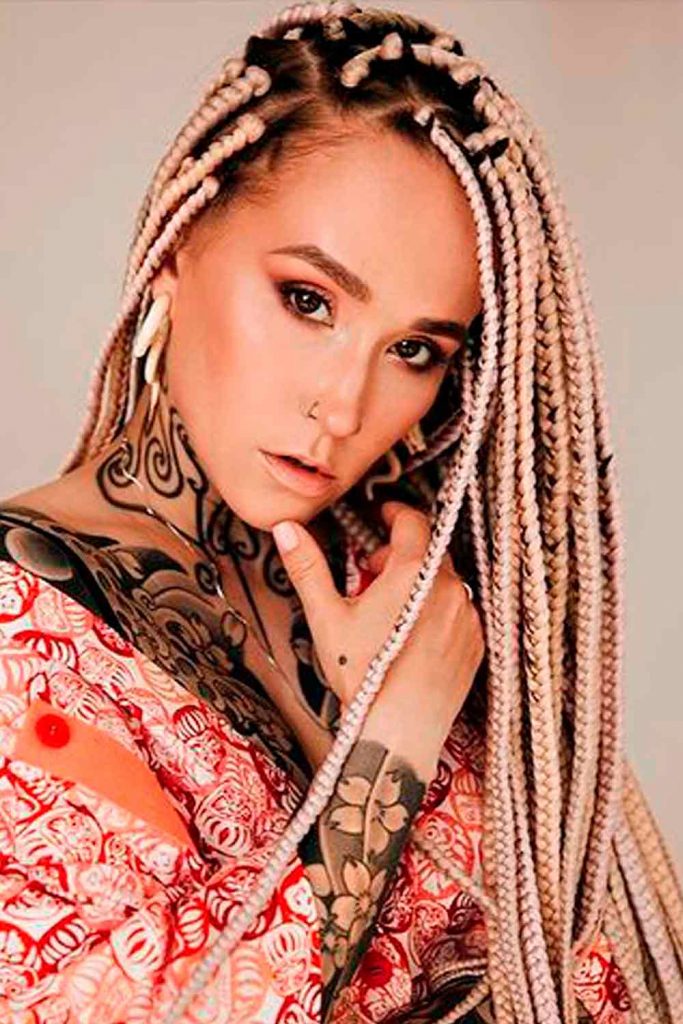 Credit photo: instagram.com/braidsvolna
Big box braids require the same washing approach as any other braided style would. It is best if you wash your braids once every two weeks. All the build-up and residue you expose your hair to will cause the braids to smell bad if you don't wash them regularly.
4. Avoid Tying Your Hair Up All The Time.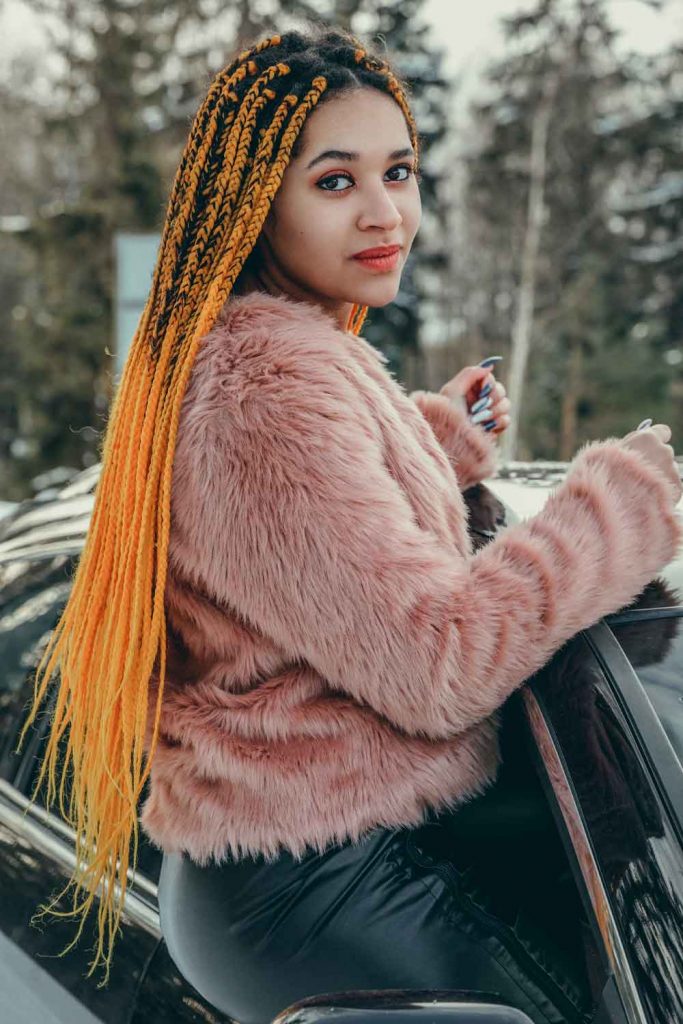 Credit photo: Shutterstock
Putting your large box braids in an intricate hairdo is something you should do to implement more versatility into your look. However, you should keep away from sporting too-tight styles all the time.
5. Never Wear Your Box Braids Beyond 8 Weeks.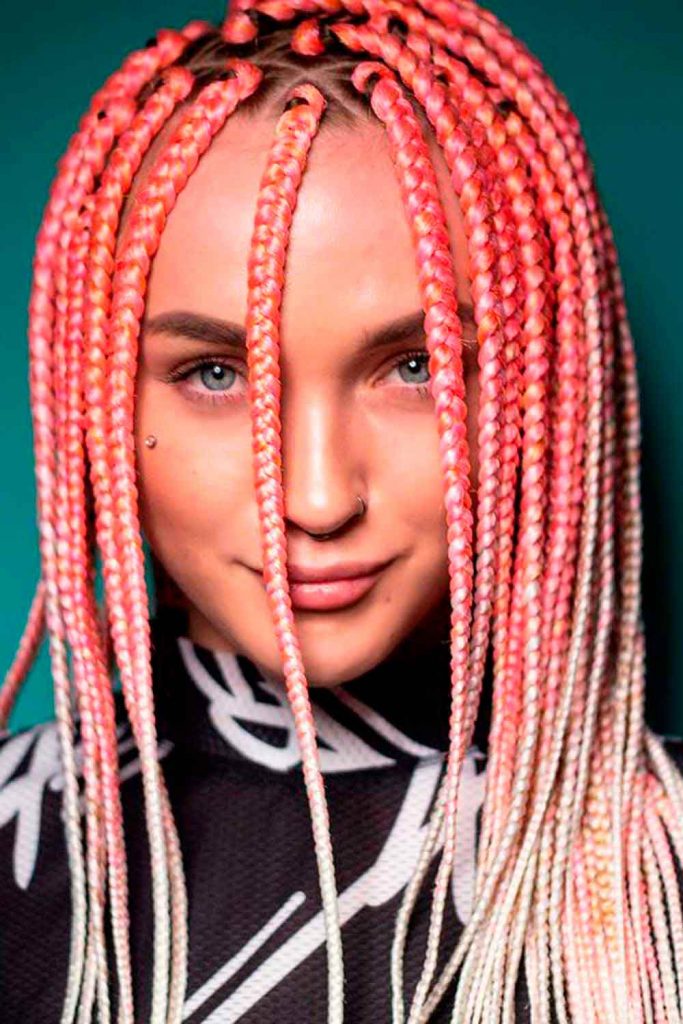 Credit photo: instagram.com/braidsvolna
The best goddess box braids are those that look fresh and well-cared for. If you want to sport a neat and elegant appearance, you shouldn't wear your braid longer than 2 months. Some ladies indeed wear braids for as long as a year, but you don't want to follow in their footsteps unless you want to lose all your hair.
How Much Does It Cost To Get Box Braids?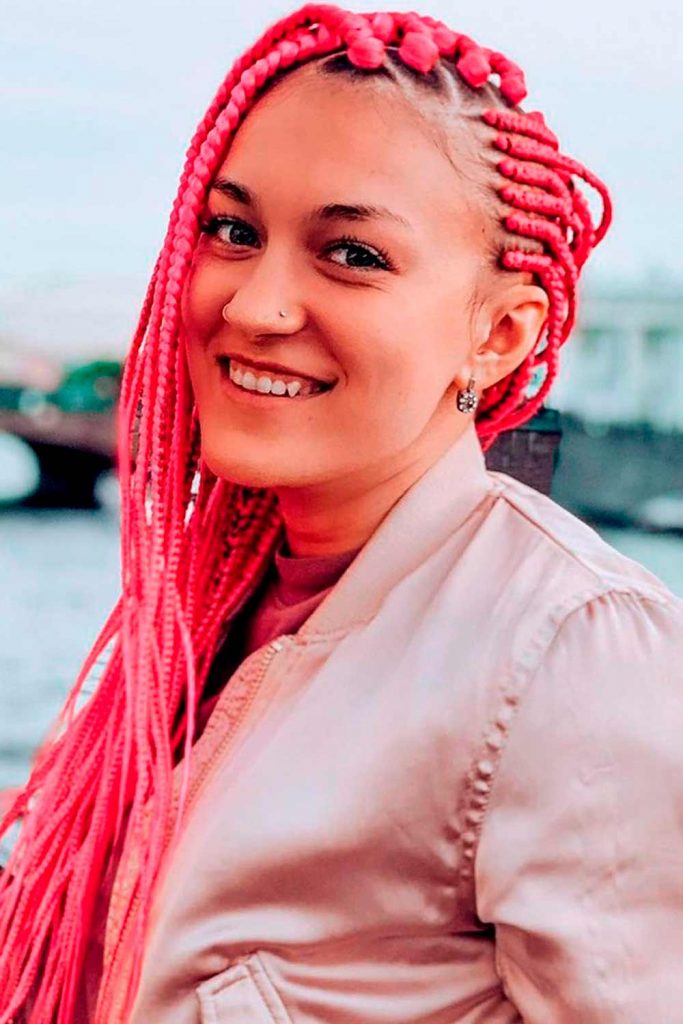 Credit photo: instagram.com/braidsvolna
It is challenging to point out a single price tag for box braids. There is a fair share of factors that affect the cost of the style. Your location, stylist, braid intricacy, and length will determine the price. Yet, it is safe to claim that you can count on spending around $75-$450 on the braids. Try not to get tempted by lower prices for the sake of your hair health.
Thick Jumbo Box Braids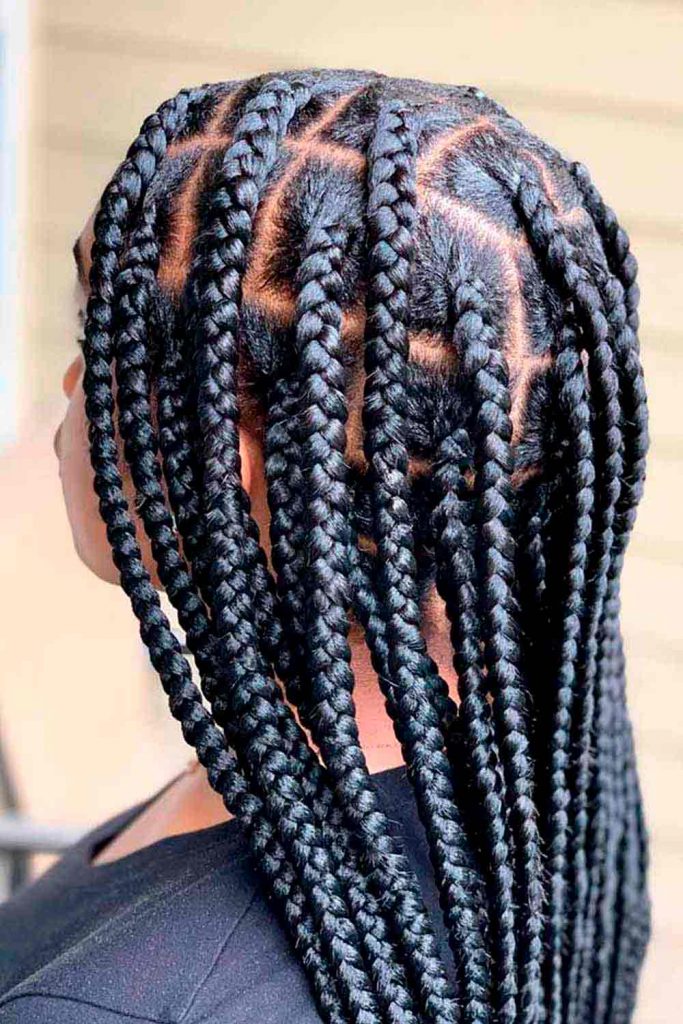 Credit photo: instagram.com/beautybyzi_
The neat appeal of thick jumbo box braids is challenging to resist. If you are looking for one of the shortest braiding processes that will result in such an excellent outcome – seek no more.
Bob Box Braids Styles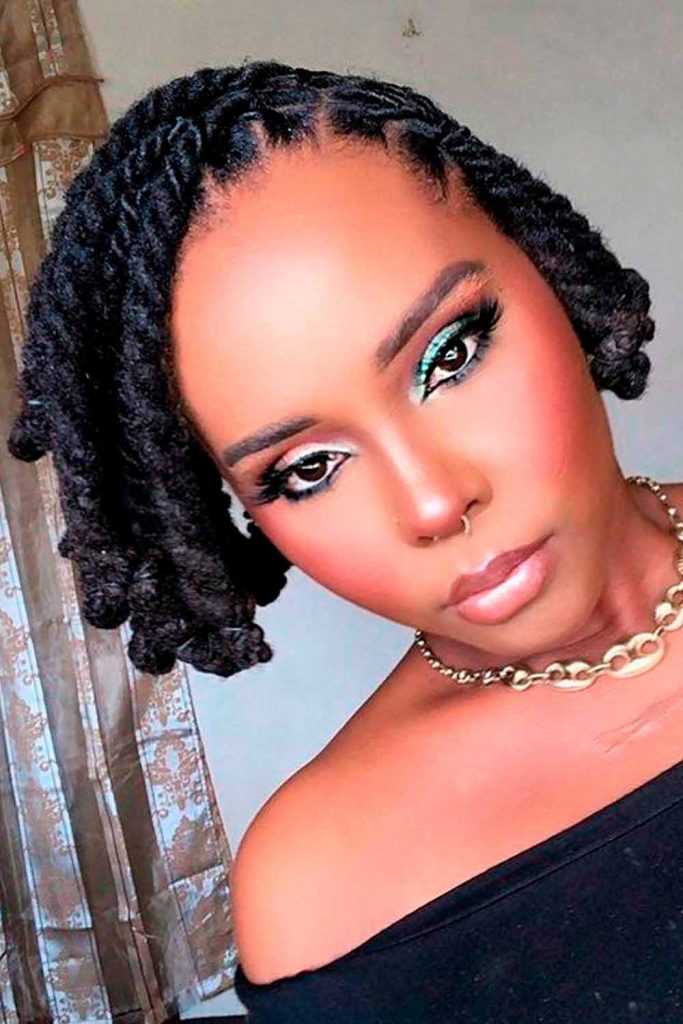 Credit photo: instagram.com/makeilaimstrong
Who says that box braids and bobs don't combine well? The mixture of the two styles is the best representation of when classy meets the casual.
Long Thin Box Braids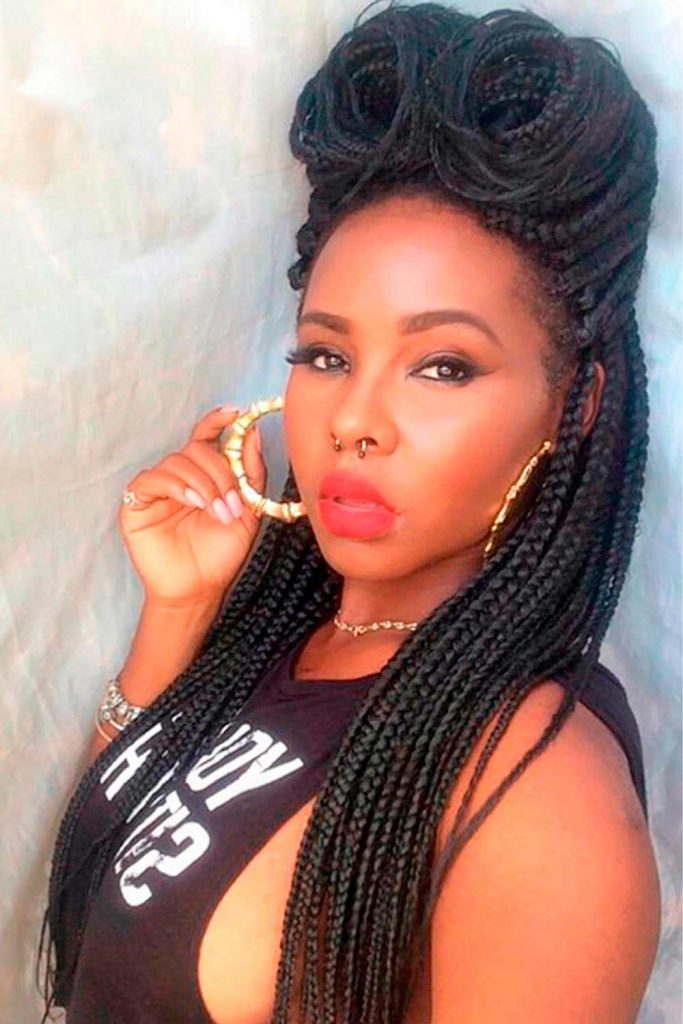 Credit photo: instagram.com/makeilaimstrong
Thin box braids will require a lot more work than larger ones. However, the seamless effect similar to your unbraided locks will conquer you with its versatility and open fresh styling horizons in front of you.
High Half-Up Bun With Box Braids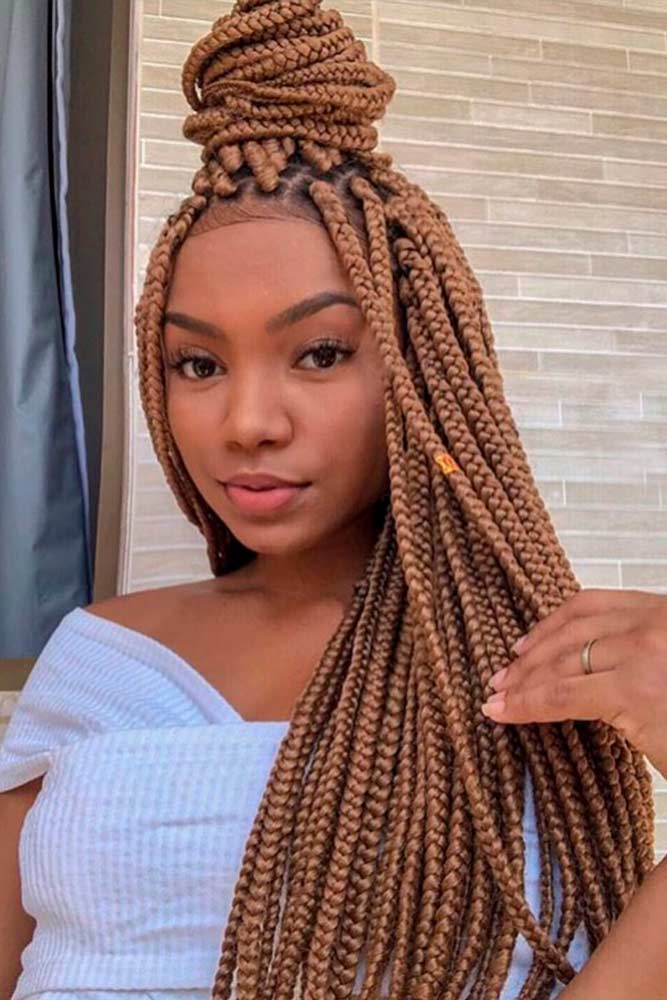 Credit photo: instagram.com/narahairbraiding
Look how braided hair can individualize the simple, familiar hairdo. These thick, medium sized box braids not only add some authentic vibes but also give a very feminine look. Just twist the top portion of braids into a bun and be ready to fascinate!
Box Braids Hair In A Low French Roll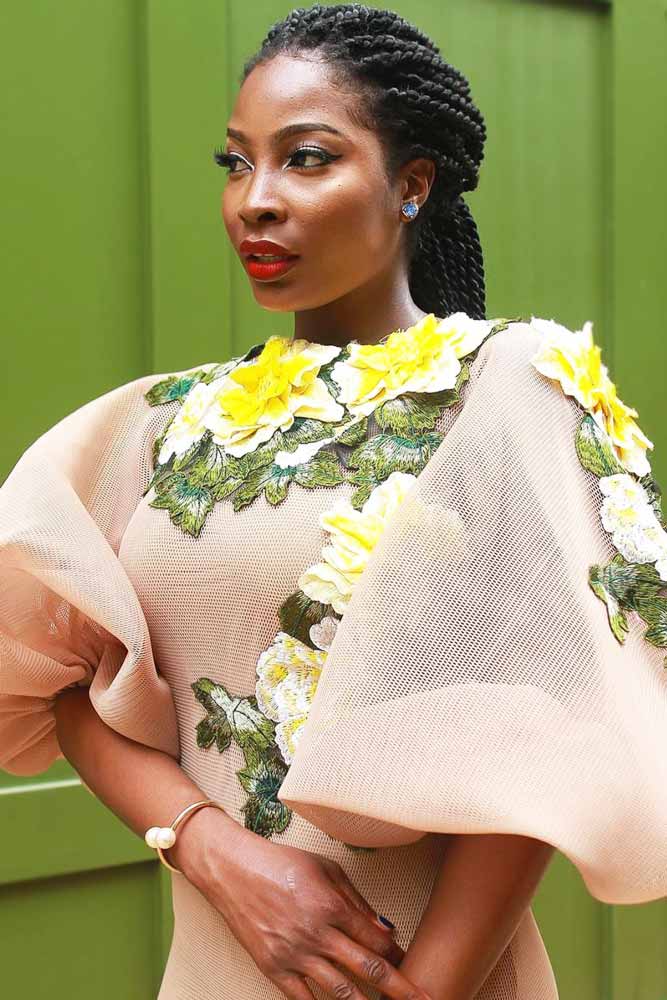 Credit photo: instagram.com/ironyofashi
Box braids hairstyles can be anything you want: from a finishing touch for your daring tomboy look to an elegant part of your special-occasion style. Remember the straightforward and delicate French roll? With the box braids, it can be more distinctive.
Bob Box Braids Styles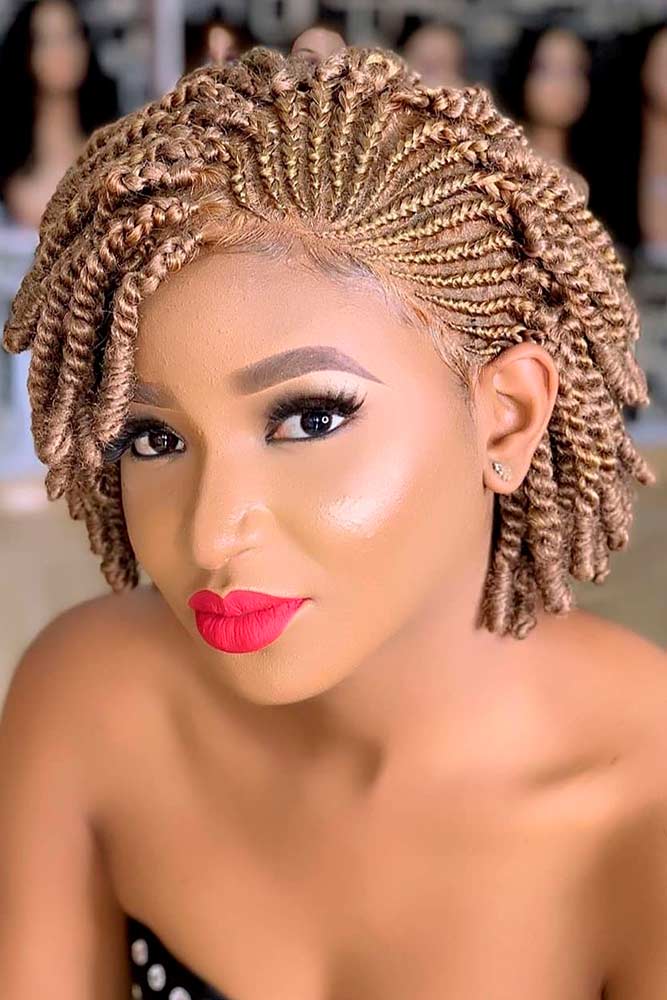 Credit photo: instagram.com/ghanaianhairstyles
The box braids bob does exist! Most ladies go for box hairstyles to slay with the unbelievable shine of their long tresses. But who says that such styles can't be done on shorter lengths? You can turn your bob cut into a tight and attention-grabbing box bob. Its round silhouette is the thing!
Big And Thick Box Braids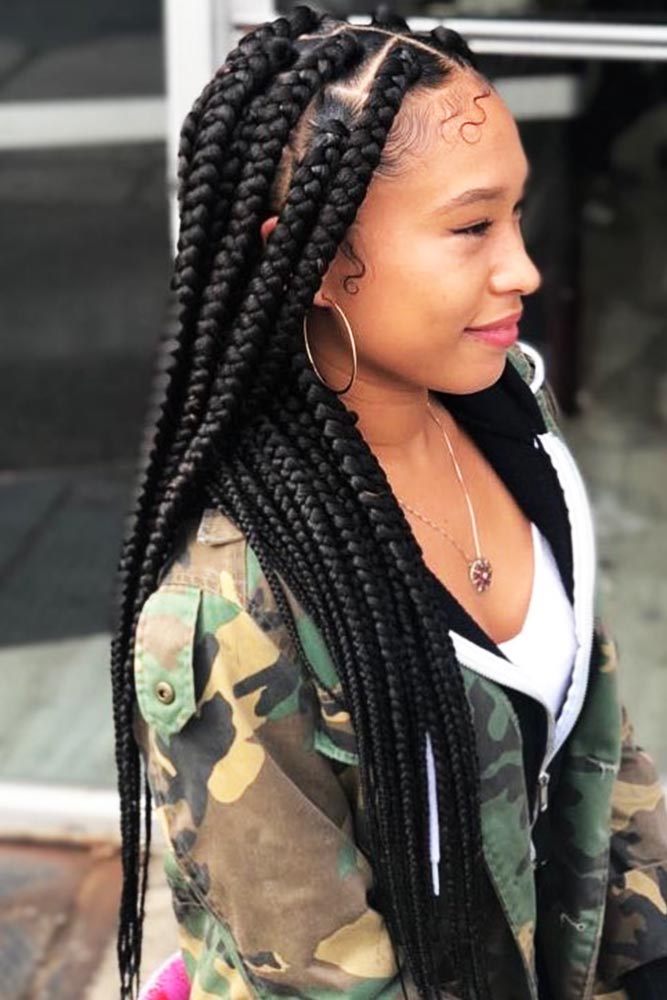 Credit photo: instagram.com/magicfingersstudio
If you want to go for bigger braids but not sure if they will suit you or fit your lifestyle, you can try crochet box braids. The crochet technique implies adding extensions with a hook, putting them through the loops of your hair. As a result, you can get a style you can change at any time.
Box Braids Space Buns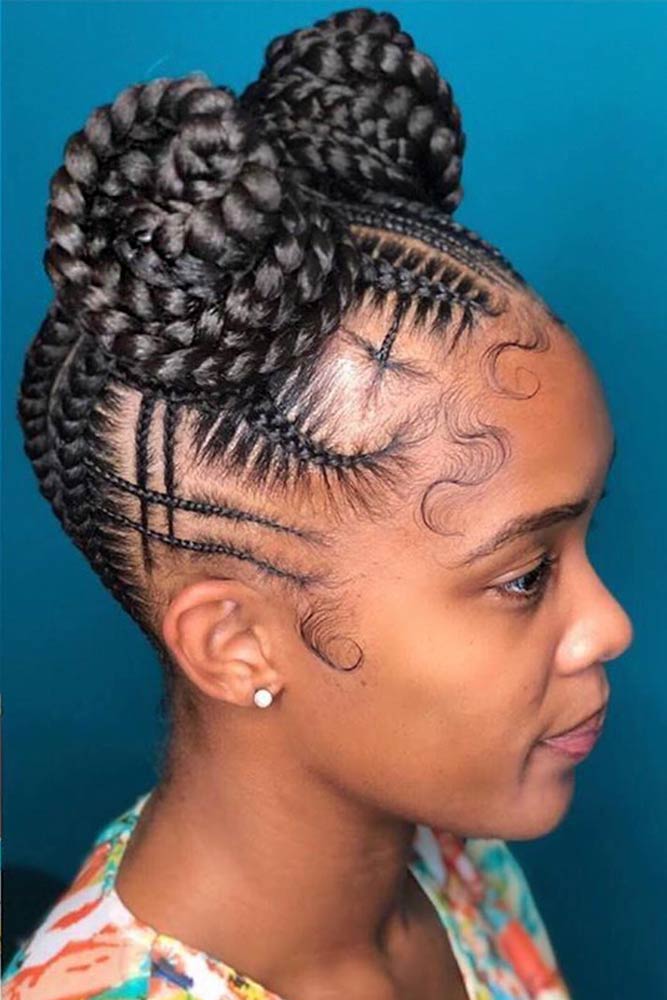 Credit photo: instagram.com/blackhairideas
The space buns that have taken the whole Internet over have never looked that amazing. They're clean, tight, and well-structured, isn't that an awesome fresh take at the trend? Some colorful beads can enhance the joyful mood for your cornrows hairstyle.
High Ponytail With A Scarf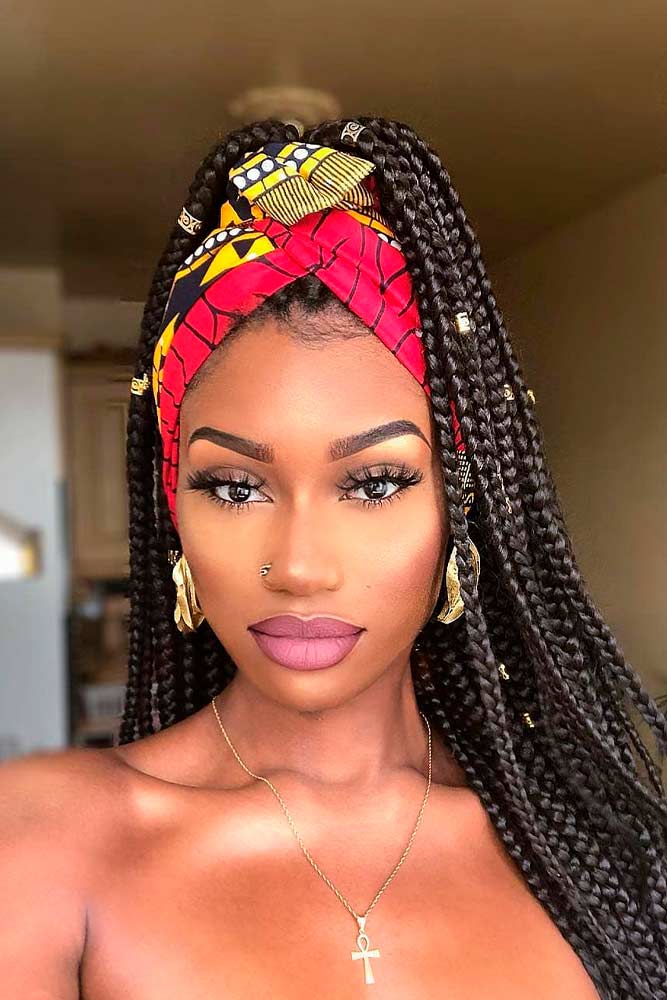 Credit photo: instagram.com/africansbraid
The beauty of box braids lies in their incredible versatility. The fact is that you can achieve almost any look if you know what you are opting for. A high pony is not only a possibility to give a try to, but it is also a magnificent way to both style your braids and show off your new scarf!
Box Braids Mohawk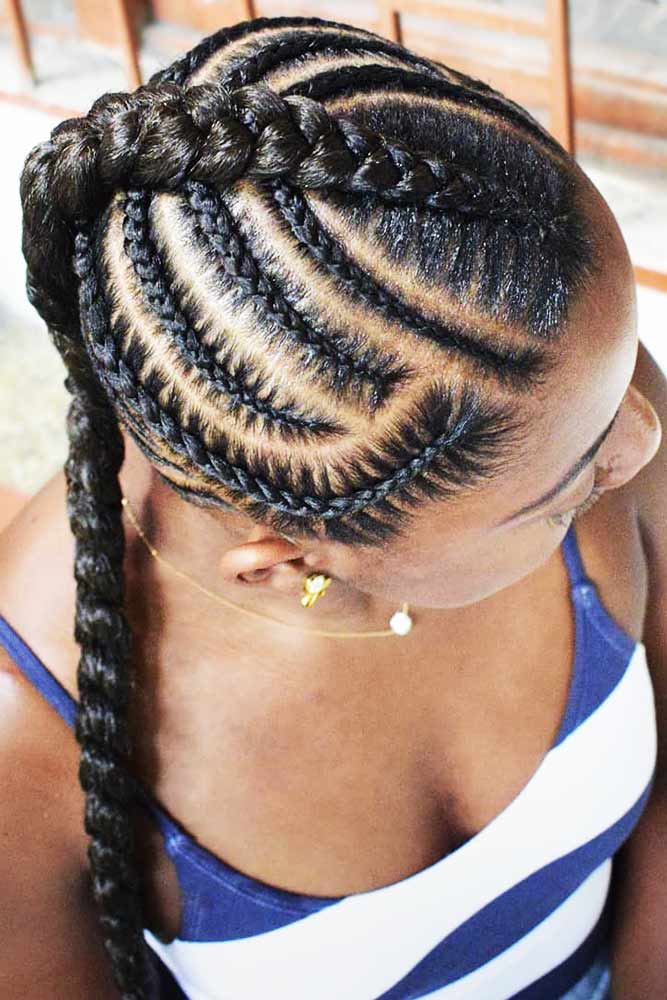 Credit photo: instagram.com/shellyafrikhair
A braided Mohawk with a unique design, who could ask for more? Any Mohawk requires an outlined braid or lifted top that stretches along the back of the head while keeping the sides tight or clean. And this variation follows the main characteristics: in its own, creative way.
Side Parted Box Braids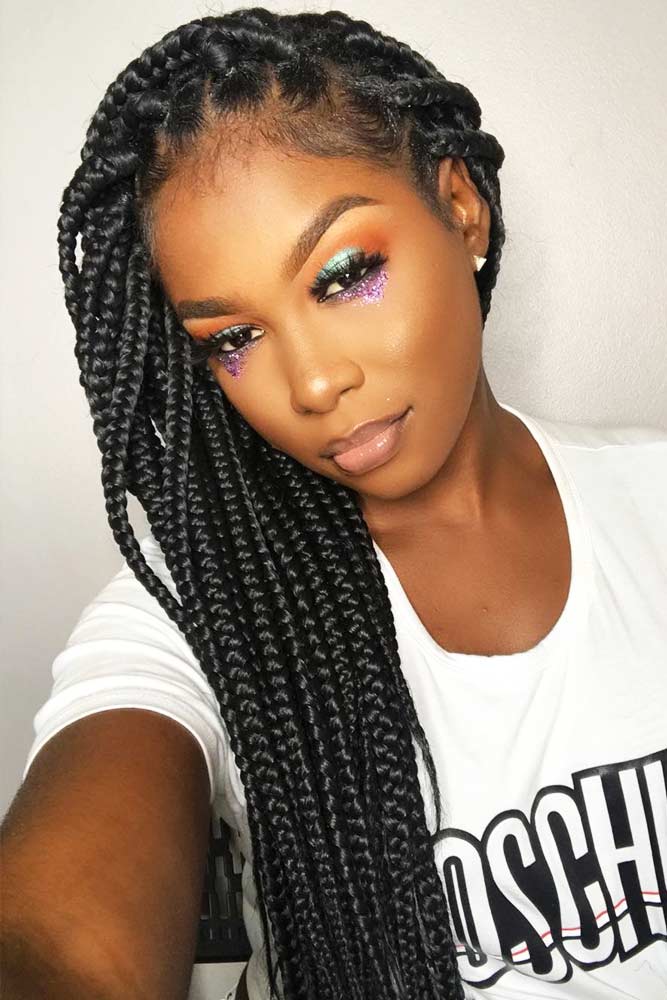 Credit photo: instagram.com/bririxx
The way you part your hair always plays an important role in your look. If you sport a braided chevelure, the same goes to your braids! Ladies who rock long box braids will love the way their silhouette gets more attractive once they part the 'do to the side.
Thick Jumbo Box Braids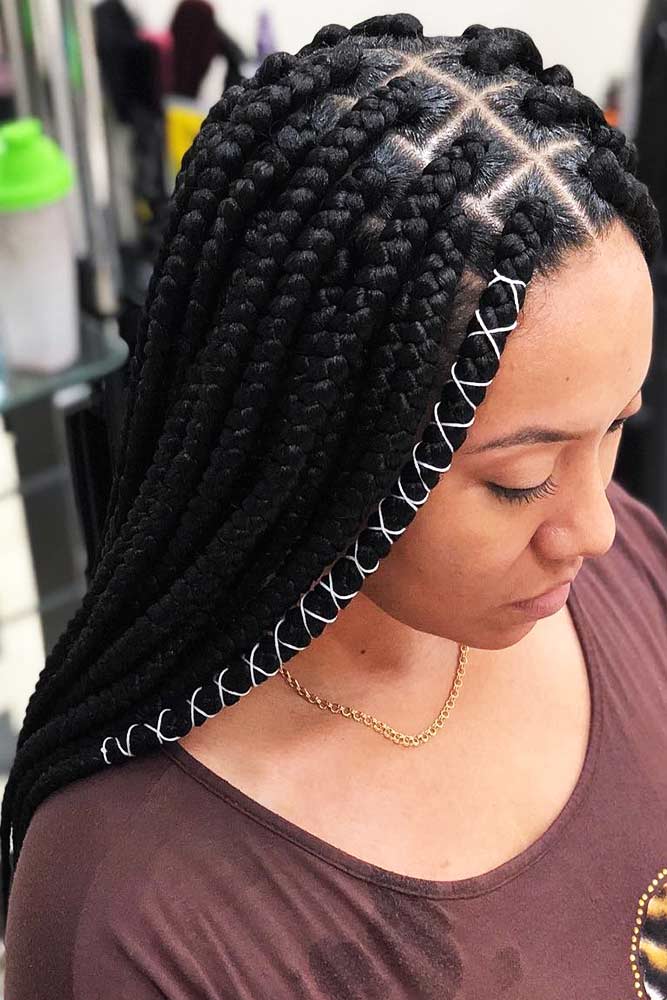 Credit photo: instagram.com/indigo_dazzle
Jumbo box braids are famous for their full size and breathtaking thickness. Those who want their looks to be as distinctive as never before should look no further this type of braids: they will emphasize the beauty of their hair and create an enviably voluminous look at once.
Silver Gray Box Braids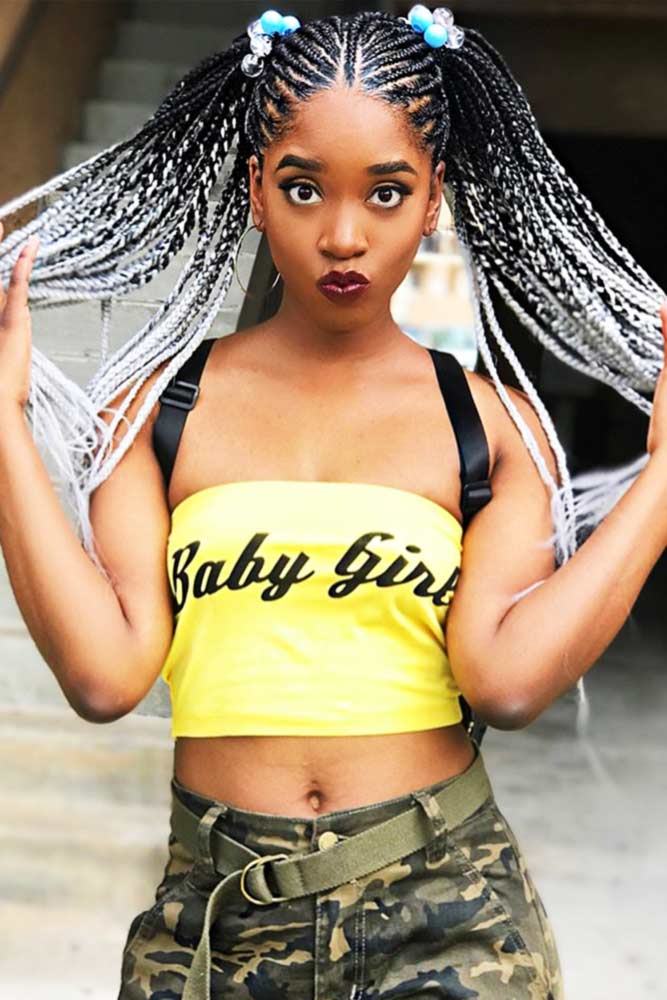 Credit photo: instagram.com/voiceofhair
How about adding some colors? Admit it, on braided texture, colored strands reveal their charm at their best. And you know what? To get the blonde box braids like these, it's not necessary to bleach your hair: you can get some colorful extensions instead.
Gold Box Braids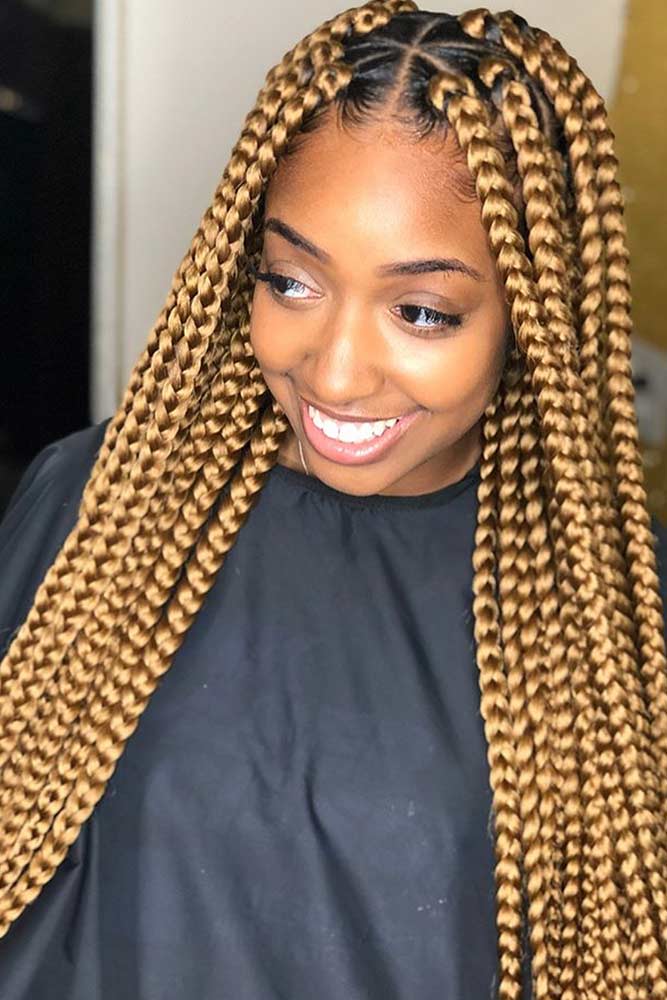 Credit photo: instagram.com/voiceofhair
Here's another example of big box braids jumbo extensions finish awesomely. Of course, it doesn't look natural and effortless. Yet, the dramatic and outstanding golden braids have a great visual impact.
Goddess Box Braids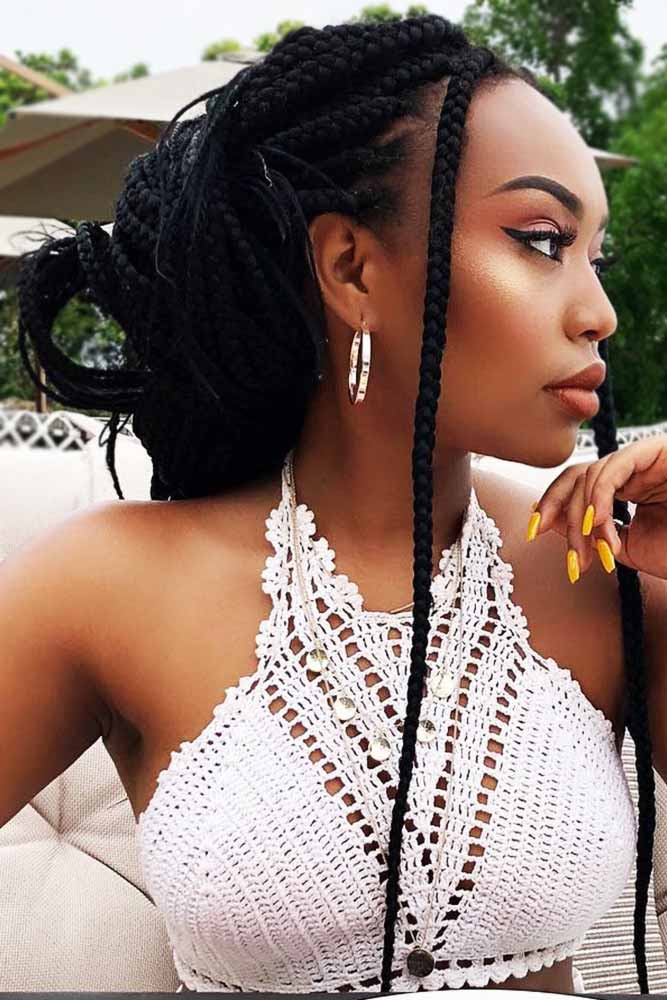 Credit photo: instagram.com/elenitekeste
When you come across goddess box braids, you can be sure that the styles you see are done on natural hair, without any extensions involved. For more effortless, authentic looks, nothing works better than such ideas.
Long Thin Box Braids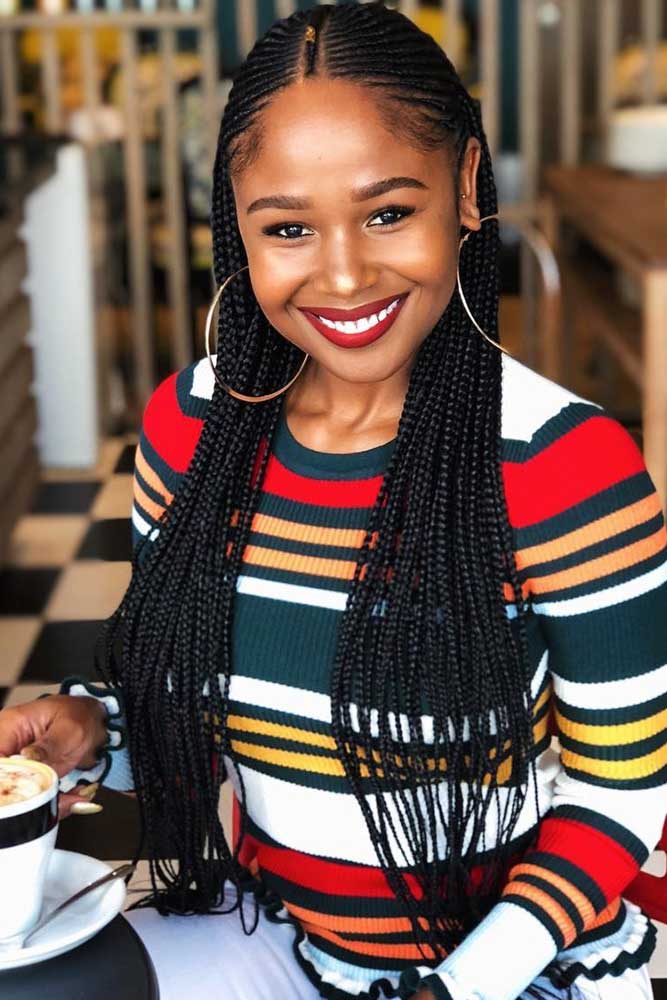 Credit photo: instagram.com/vanessamatsena
Whether your braider tells you that you can't go for heavy styles or you're just more into detailed ideas, small box braids will look stunning anyway. Not only do they give a lot of room for creativity but also provide girls with a lovely ethnic-inspired look.
Box Braids Into A Formal Bun
Credit photo: @queenbeehairsalon
i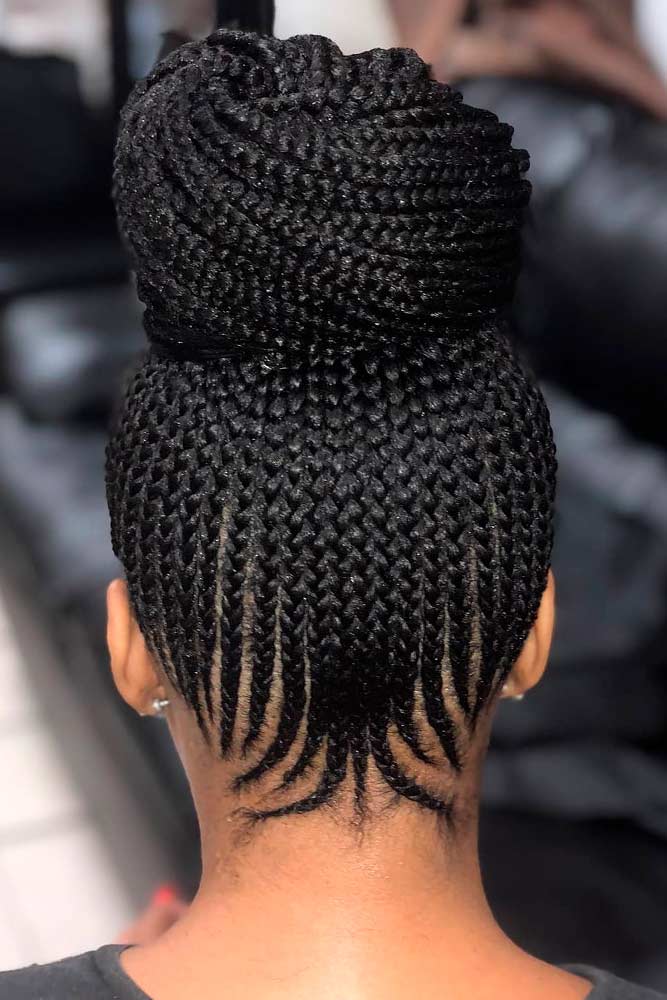 Credit photo: @kimreidstyles
i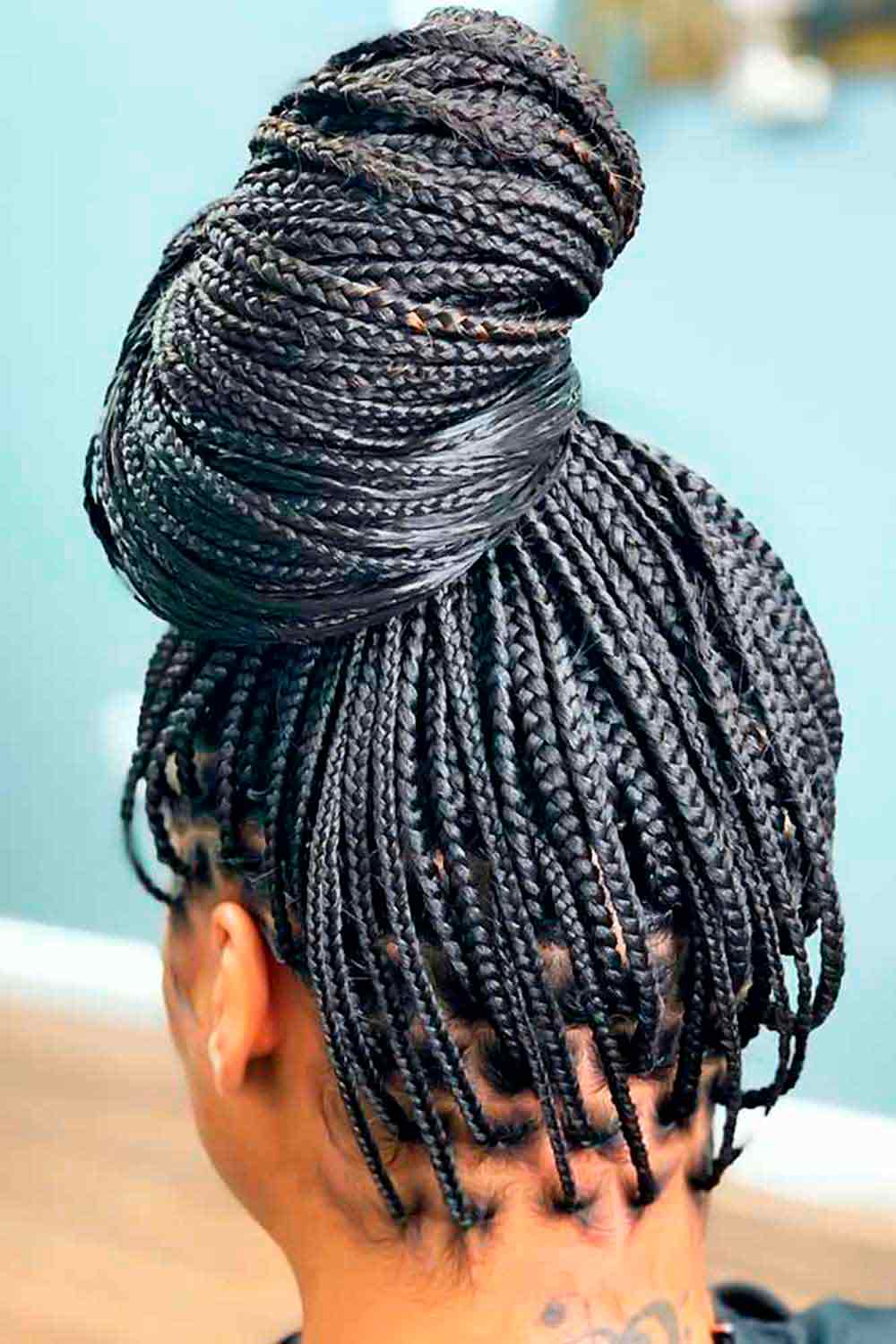 /
Your carefree box braids can show off their formal side if you please. A simple low bun is popular among all ladies, but you are the only one who can make it look different!
In case you still think that box braids are a more contemporary style than a classy one – we are here to prove you are wrong. No matter the official scale of the event you are headed for, such a formal bun won't make you look out of place. On the contrary.
Protective Short Box Braids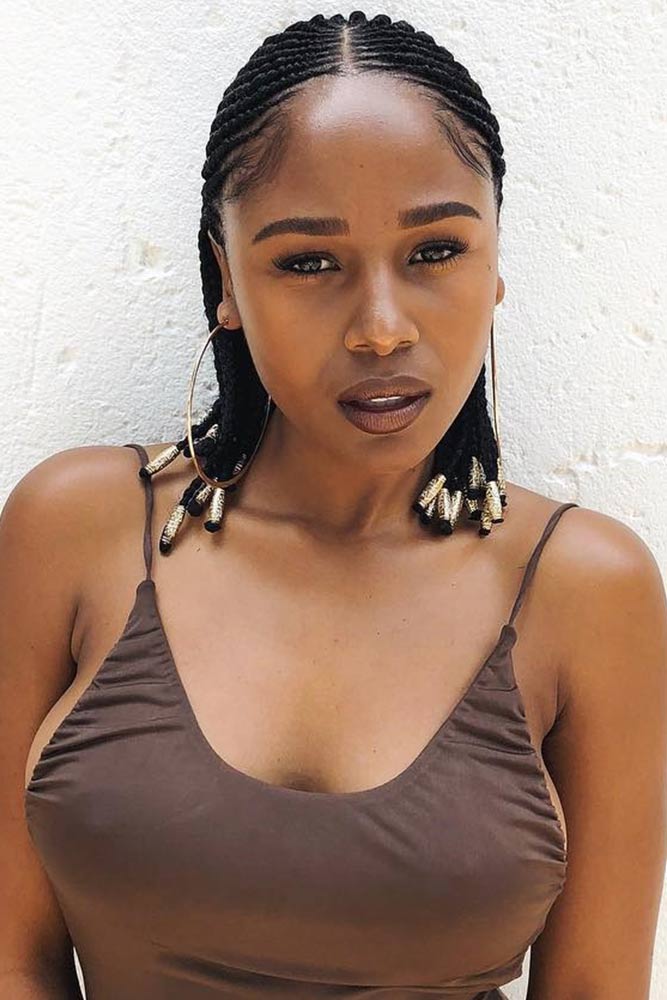 Credit photo: instagram.com/vanessamatsena
The less hair you have, the fewer damage you can get. Yes, when you wear long or medium box braids, there's still a chance to lose some hair: your braids are quite tight, and if they're long, they outweigh the scalp, resulting in slight hair loss. To make your box style really protective, consider going for its short version.
Now that you know all the basics about box braids, nothing stops you from rocking the on-trend braided hairstyle! Choose the idea that fits your hair condition, pick the style you like from our gallery, and start flaunting with the eye-catching and time-saving 'do!
FAQ: Box Braids
Do box braids damage Caucasian hair?
Box braids are style people with Caucasian hair need to get used to. The weight of the braids will cause breakage to your thin, weak hair, as well as hair loss. Secondly, you will have trouble sleeping first 4 days getting migraines. Also you should be ready to wash your hair least frequently (once a 2 weeks ideally). Advice to minimize the damage is not to keep your braids longer than two weeks and getting thicker braids so hair won't experience that much pressure.
What is the difference between box braids and regular braids?
Knotless braids look like they're growing out of the scalp. Knotless braids give you the instant flexibility to style and you can manipulate the hair, but with box braids it takes a few days for your scalp to get used to them before you can style.
Can I shower with box braids?
You can. However, whenever you get your braids wet, it is best to dry them out completely, so they don't start smelling bad.