Bun hairstyles are one of the most timeless hairdos that each of you has tried on at one time or another. However, the notion of space buns seems to have revolutionized the fashion world. This casual and utterly captivating hairstyle is both simple and complex at its core. While the basis of the style remains unchanged, intricate variations surface as we speak. Put aside your regular pony or fancy plait and focus on something ultimately fun and unique. We'll point you in the right direction.
*We may earn money from affiliate links on this page. Please check out our disclosure policy for more details.
What are Space Buns and Why It's Popular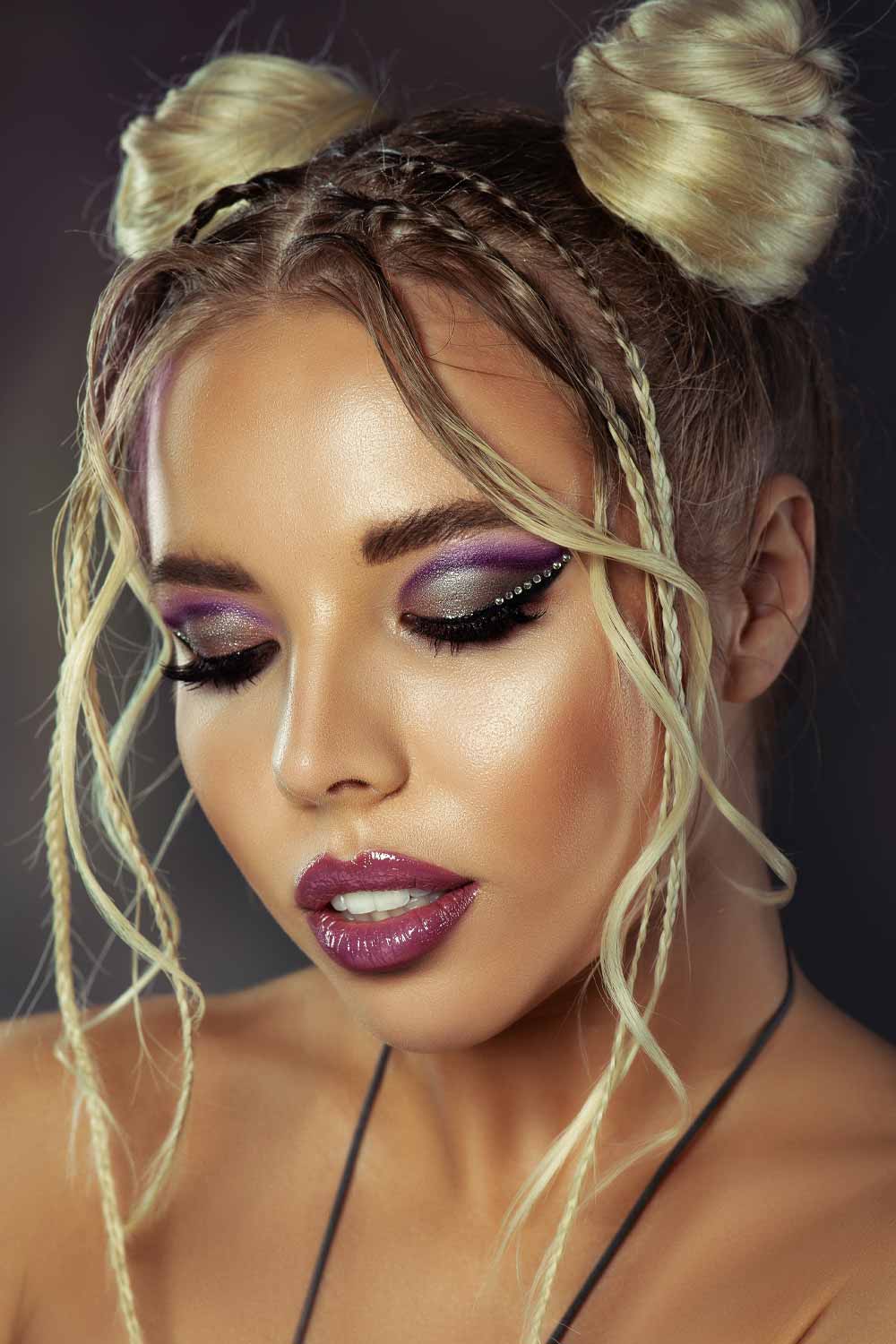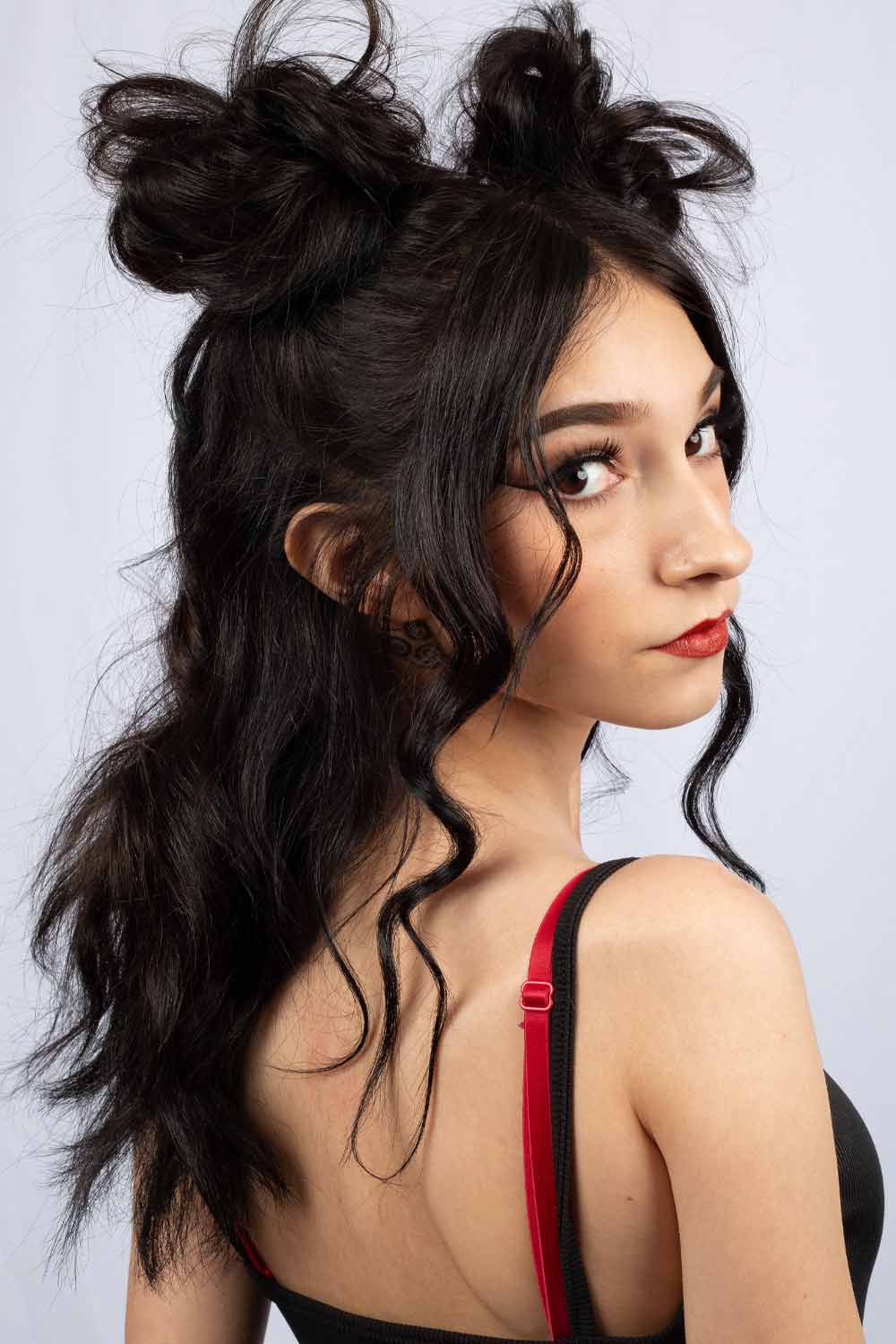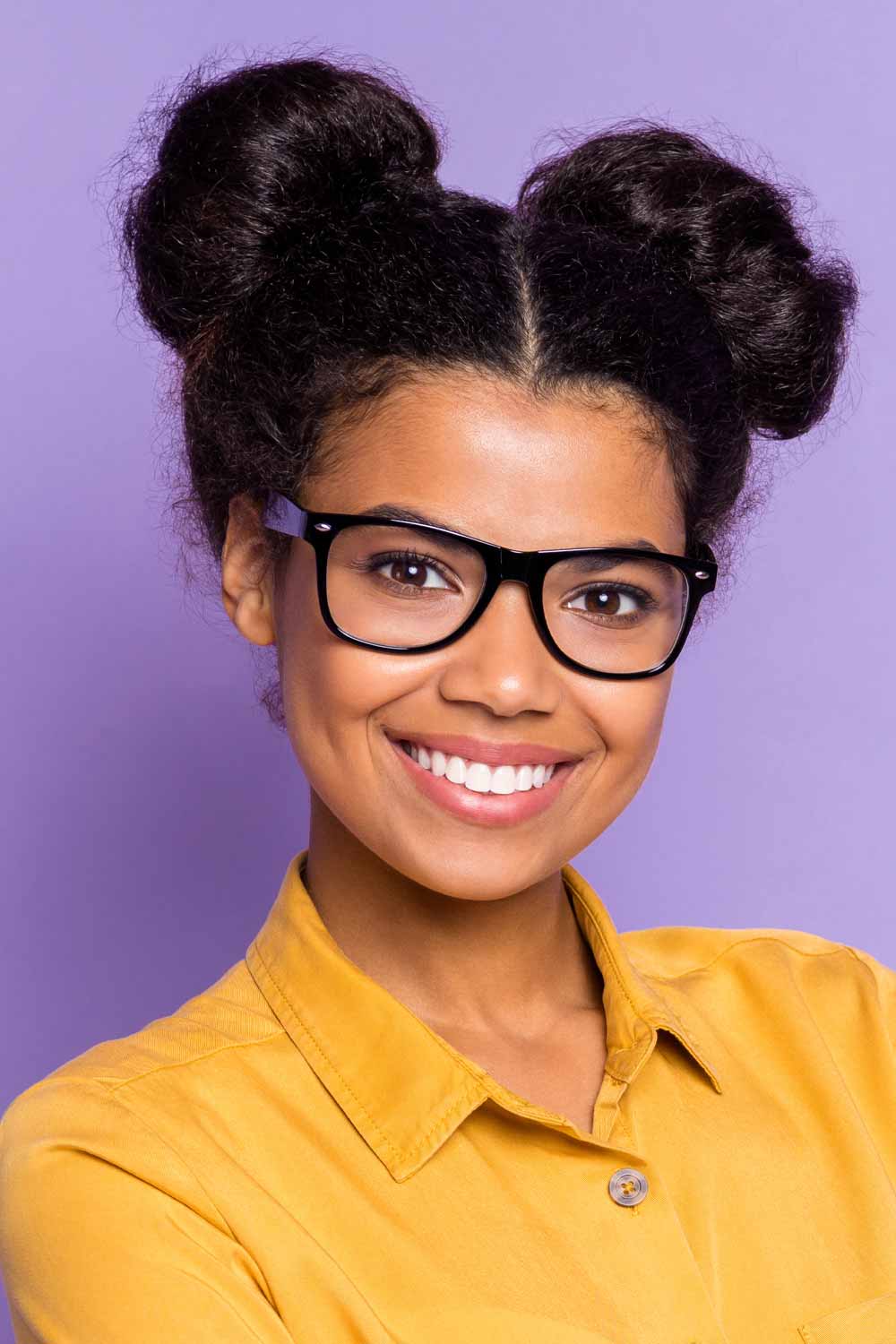 /
Before we proceed with effortless tutorials and unique style ideas, you must be fully aware of what space buns hair is. Although the style became especially popular in the past few years, it isn't a recent invention. The main feature of space buns is double buns at each side of your head.
Despite its obvious simplicity, the style can be easily taken to the next level in no time. It offers a lot of room for experimentation. You can wear your buns up, half-up, or down to suit the upcoming occasion. Besides, you can spice things up with a plethora of accessories and decorative elements.
Moreover, the style is incredibly customizable since it fits all lengths and textures. Don't forget that the 'do remains in style throughout the year and will suit most semi-formal and casual events.
Space Buns Tutorials
Instead of presenting a single space buns tutorial, we've decided to give you a chance to pick whichever idea comes to your taste.
Braided Space Buns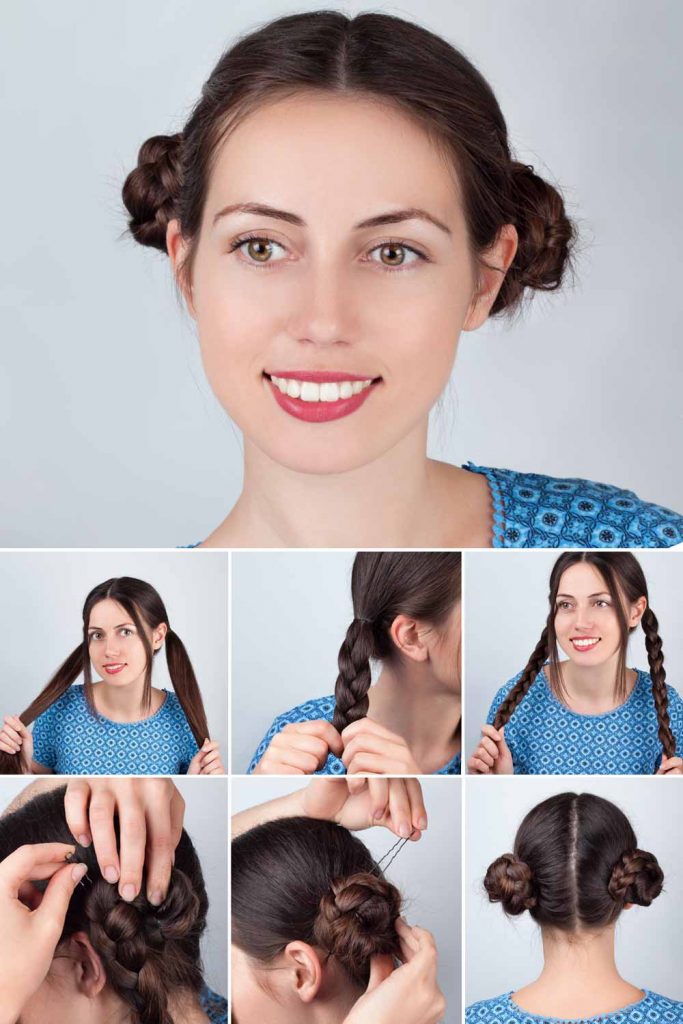 How to do space buns? The task is simpler than you think. Take these steps to succeed with amazing braided buns:
Brush your hair well and part it down the middle, from the forehead to the nape.
Form two pigtails on each side, right above your ears, and secure them with a hair tie.
Braid the pigtails on each side and secure the ends.
Wrap the braid around the base of it and secure it with hairpins.
Repeat the process on either side.
Spray some hair spray to hold the 'do in place.
Space Buns with Dutch Braids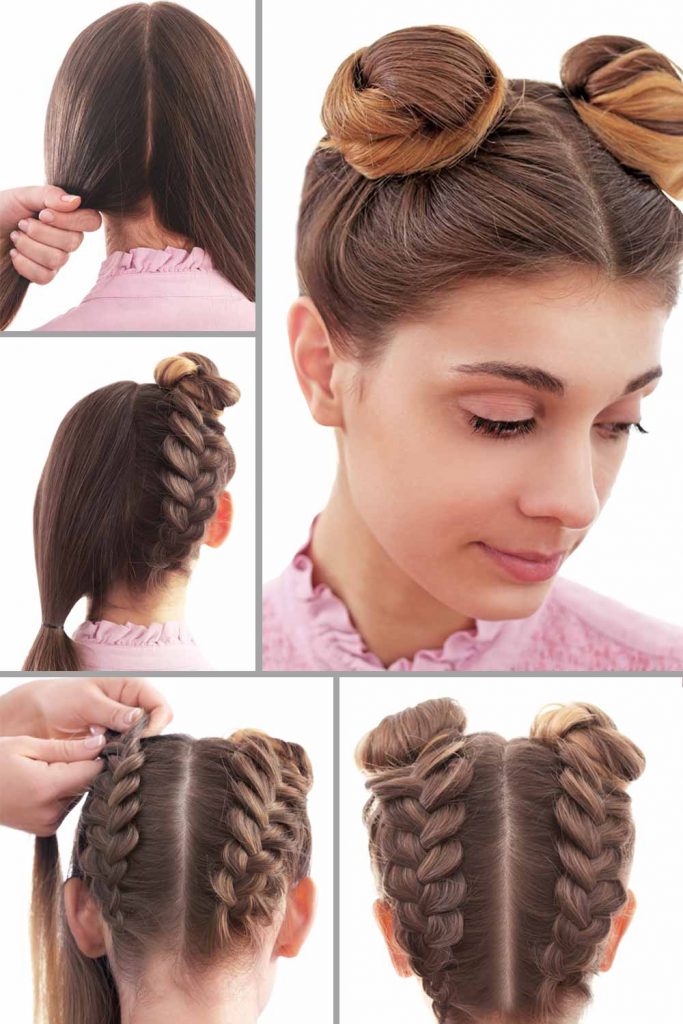 Another pretty way how to do space buns with long hair would be to implement Dutch braids into the design.
Start with sectioning your hair into even parts. Tilt your hair down and start sectioning from the bottom up.
Comb one section to the side and secure it with an elastic band.
Take a section of hair at the loose section and start braiding it like when creating a regular Dutch braid.
When you reach the top of your head, secure the braid with a hair tie.
Pull on the braid's sides gently to add more volume to the look.
Twist the ponytail and wrap it around the base to form a bun.
Secure the bun with a hairpin.
Repeat the process on the other side.
Lower Space Buns with Twists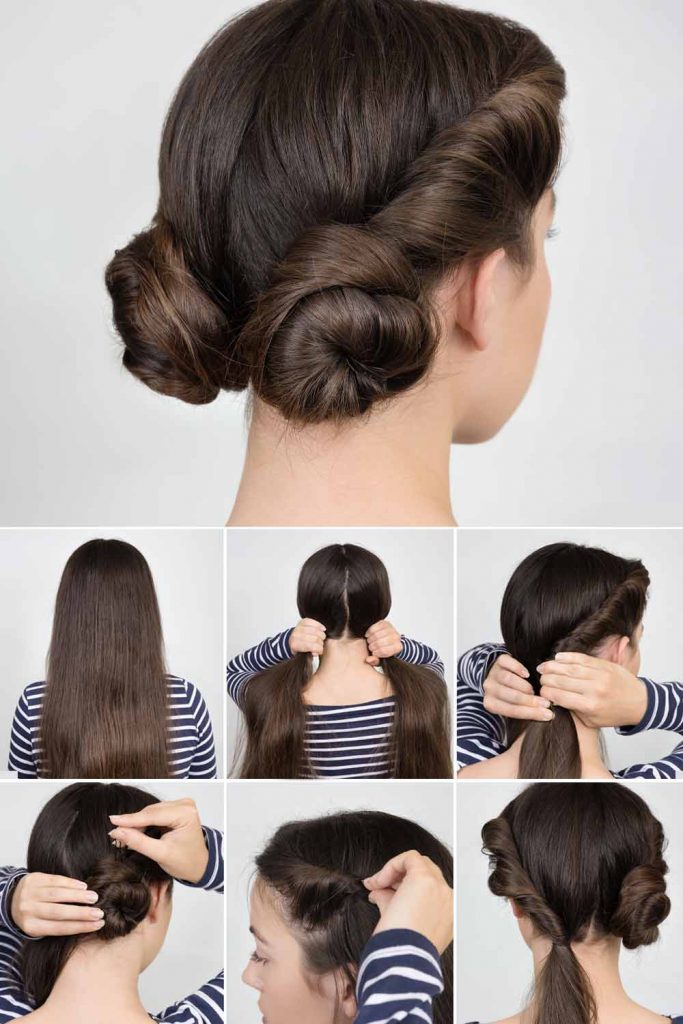 One more intricate way how to make space buns would be buns with a twist. This style comes in handy when you aim at low space buns.
Comb your hair well.
Split your hair down the middle.
Secure one side with a hair tie.
Twist the loose side until you reach the nape of your neck, and secure the twist with a hair tie.
Twist the remaining part of your hair and wrap it around to create a bun.
Secure the bun in place with a few pins.
Repeat the process on the other side.
Space Buns Hairstyle Ideas
Now that you know how to master three new space bun styles, it's time to expand your horizons even further. Thus, we'll share with you some breathtaking bun style ideas that will come in handy sooner or later.
Wavy Bob Easy Space Buns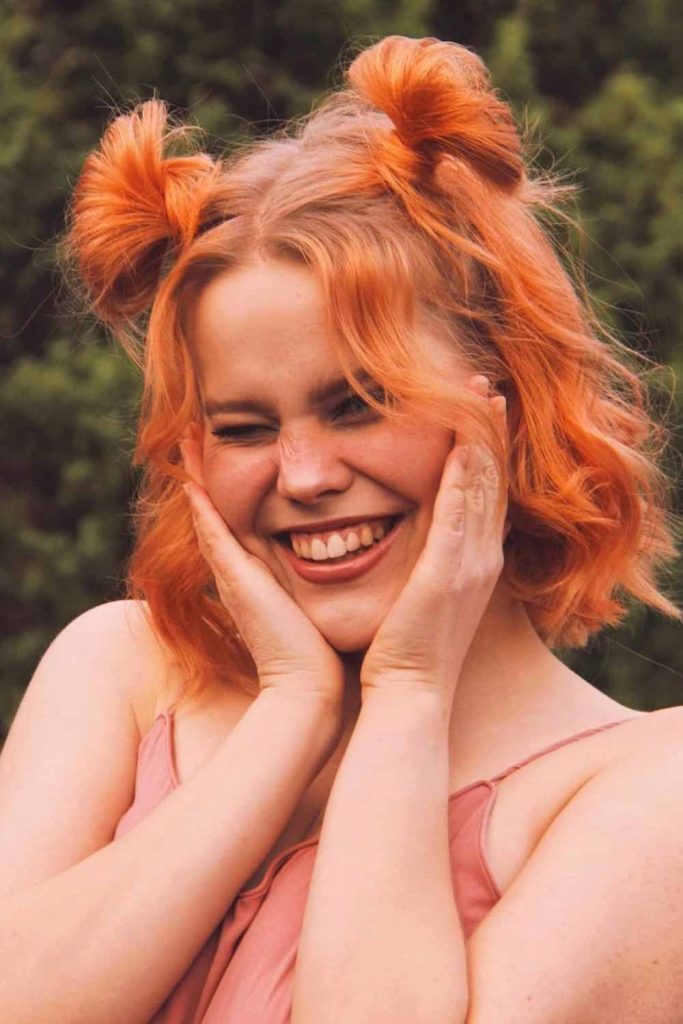 Credit photo: Instagram.com/moonlightbraids
Did you know that half up half down space buns exist? Well, now you do. Cut a little on full-style commitment and create small, cute buns at the top of your head, leaving the rest of your hair loose. Light waves will introduce some extra spice into the look.
Dutch Braids Buns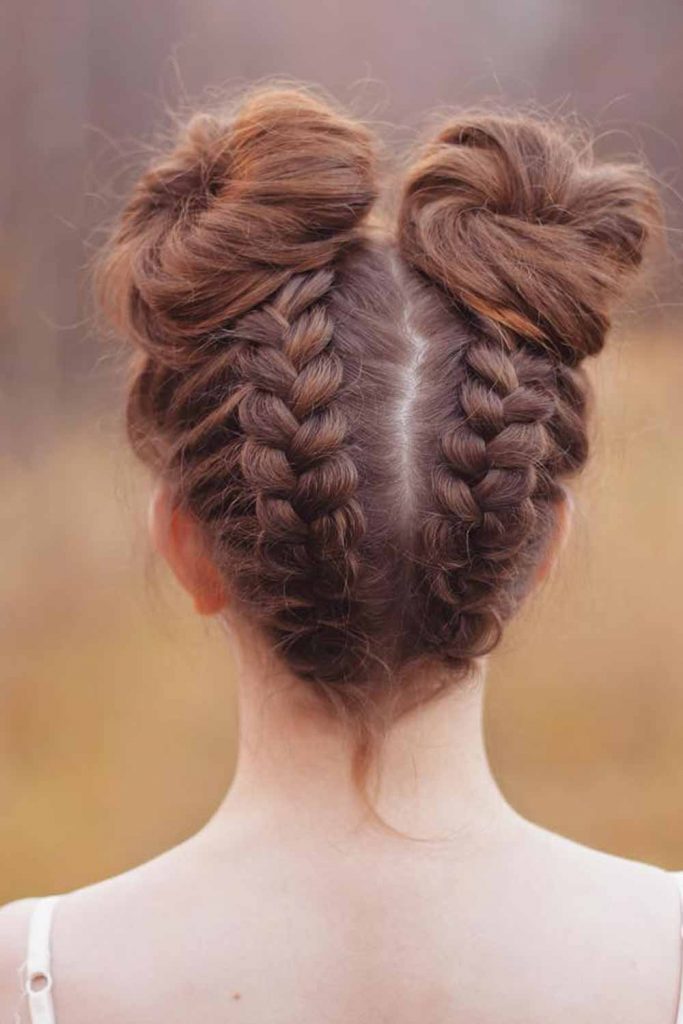 Credit photo: Instagram.com/aurorabraids
If you are interested in a more sophisticated space buns hairstyle, then Dutch braided ones are the option to give a try to. You can attune the look to the occasion and make it sleeker or messier with as many as a few tugs.
Long Hair Space Buns with Twists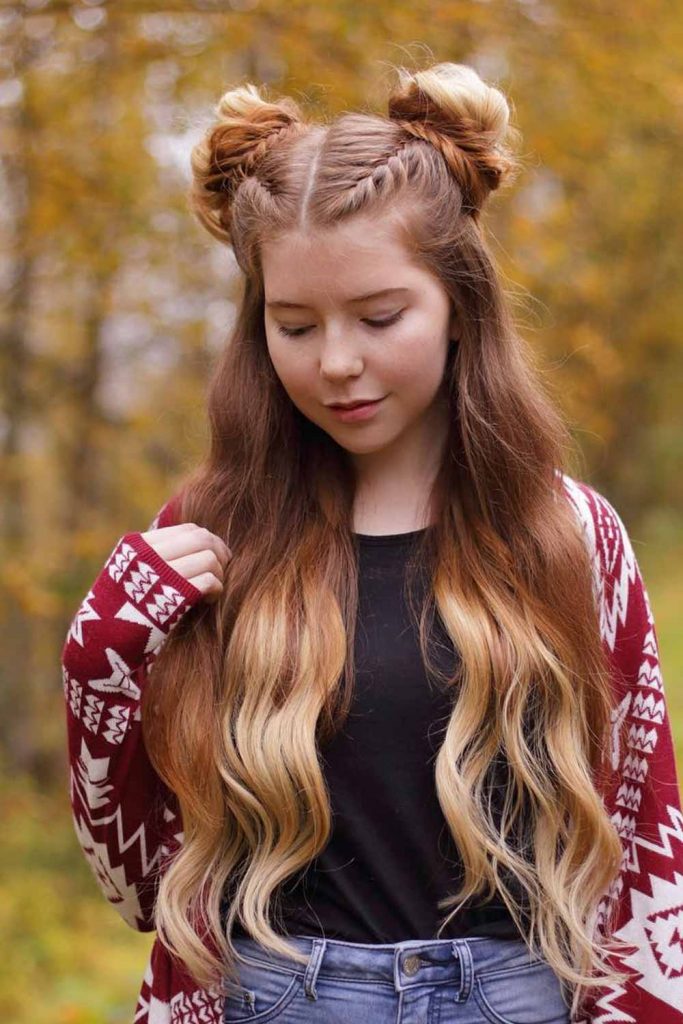 Credit photo: Instagram.com/aurorabraids
The versatility of present-day space buns half up half down knows no limits. Those who have long manes can benefit from it immensely. For instance, you can play with intricate front twists that gradually flow into half-up buns. Beach-wave the loose locks and enjoy the lovely contemporary flair.
Mermaid Space Buns with Hair Tattoo Design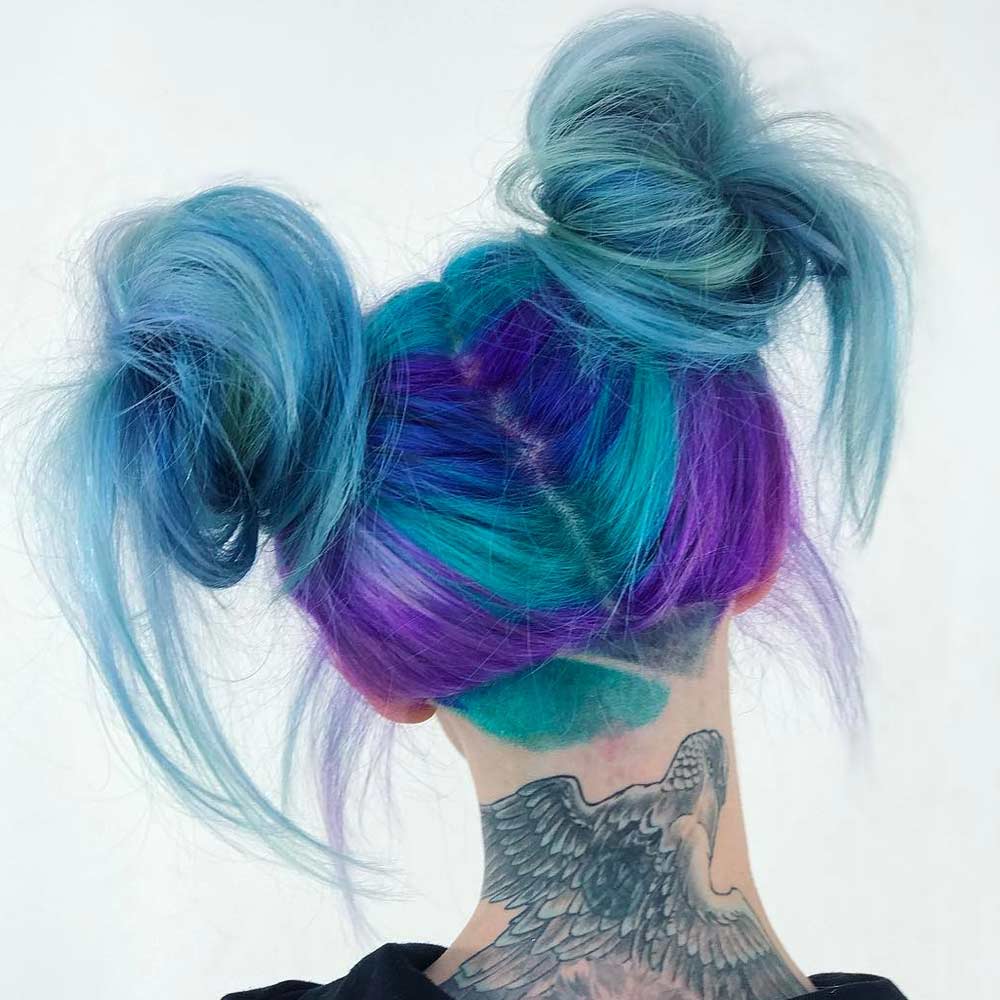 Credit photo: Instagram.com/hairgod_zito
Want to kill two birds with one stone? We have an idea in mind. Showcase your new bright hair tattoo design by bringing your tresses up. Space buns and mermaid's hair seem to be a match made in heaven in terms of vibrancy and individuality.
Short Red Bob Messy Buns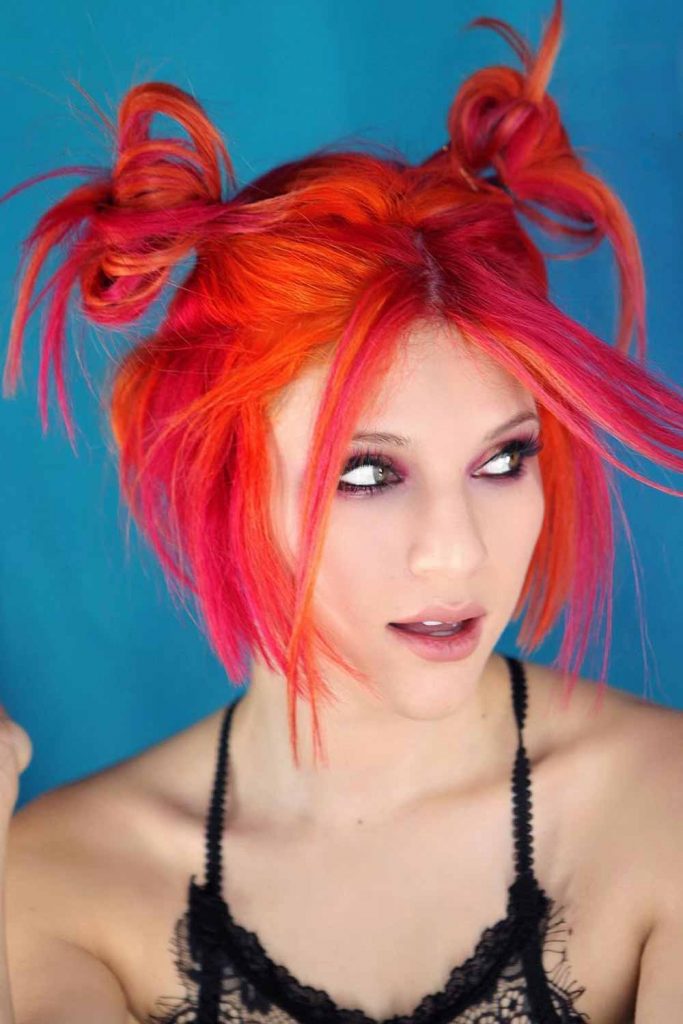 Credit photo: Instagram.com/hairgod_zito
Some of you may falsely assume that the space buns short hair combo is nonexistent. However, that's where you are wrong. You can take the hair from your face and secure it in messy half-up buns while projecting a fun and captivating vibe.
Straight Hair Rainbow Hair Buns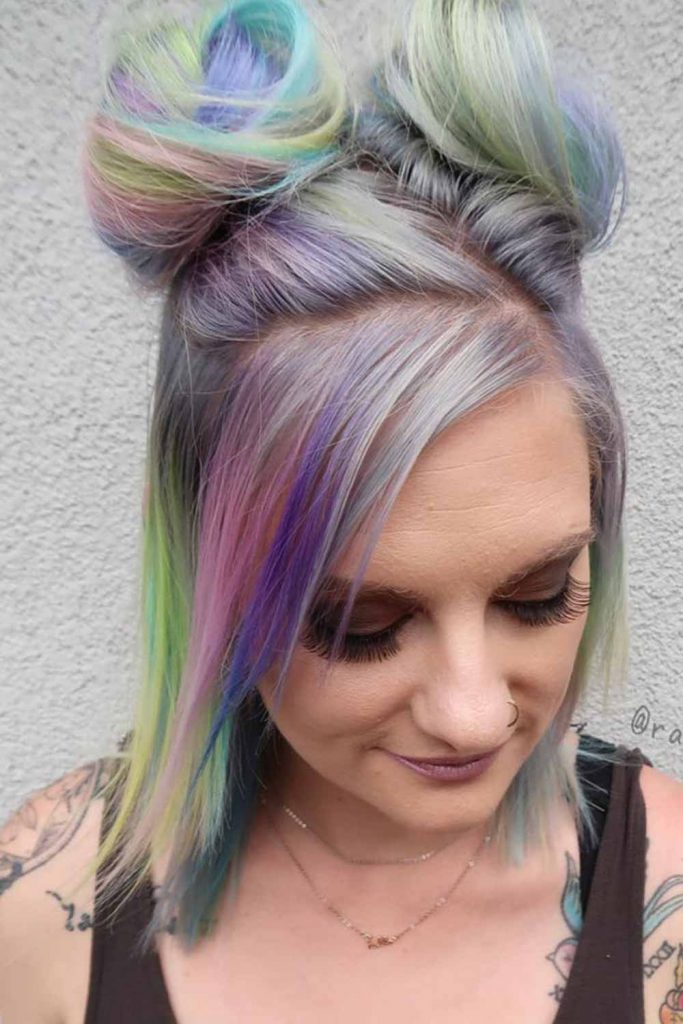 Credit photo: Instagram.com/rachelturleybeauty
One may say that rainbow hair can't look any better than it already does. However, we say there's a way to intensify the holographic flair and create an unforgettable impression. Voluminous half-up half-down space buns will highlight the colorful streaks in your hair like nothing else. Moreover, no party dress code would discard the look.
Half Up Half Down Purple Buns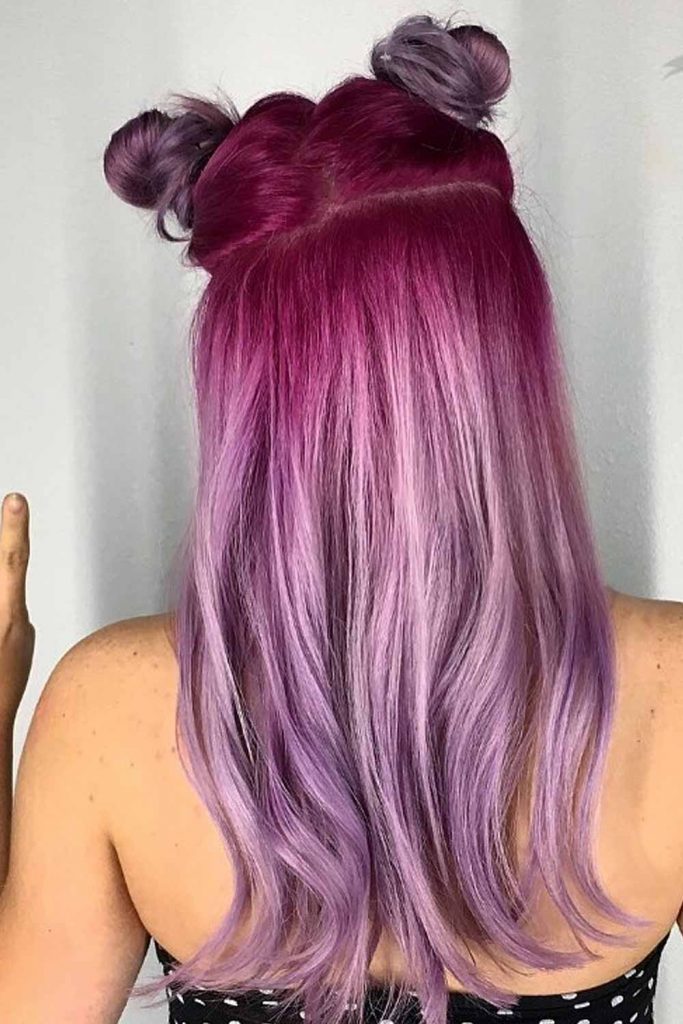 Credit photo: Instagram.com/hairgod_zito
We can't stress enough the versatility of half up space buns, especially when combined with bright hair color hues. Tired of wearing your magnificent purple hair down? Why not style it up into cute space buns? Complete the look with skillful makeup and a sassy dress, and a date-night look is ready.
Sequined Updo with Braids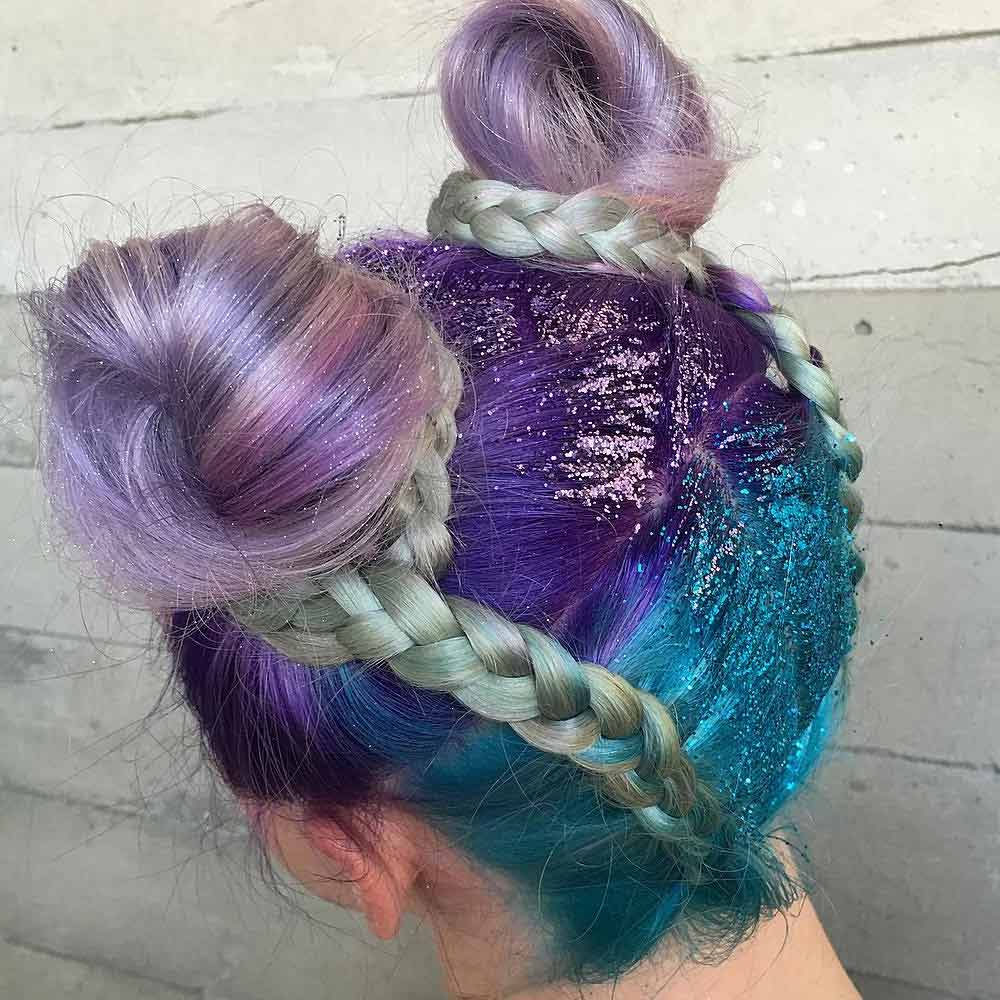 Credit photo: Instagram.com/caroline.anythingbutbasic
While braided space buns look exceptionally great on their own, we've mentioned a thing or two about stylish decorative elements you can use to take the hairdo to the next level. If your vibrant hair color comes in handy by default, we dare say that you haven't considered spicing your 'do up with sparkling sequins, have you?
Curly Hair Buns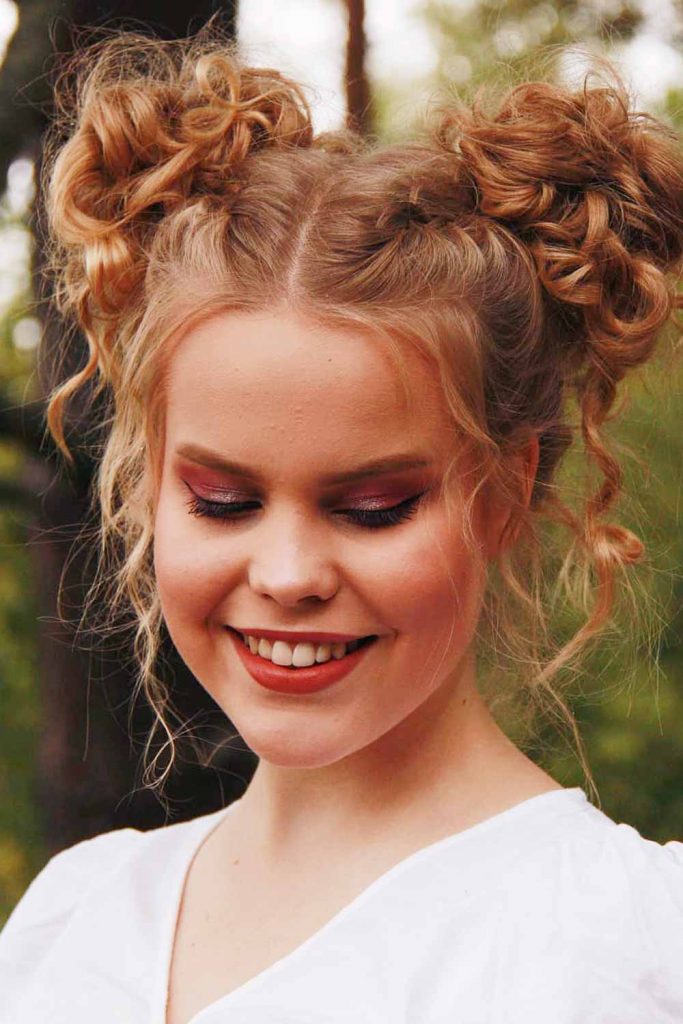 Credit photo: Instagram.com/moonlightbraids
The beauty of space buns lies in their total adaptability to all lengths and textures. If you want to succeed with perfectly messy space buns – we suggest you pair them with curly hair. A few simple twists and intricate hair texture will take care of the rest. Leave a few strands out to intensify your delicate and playful appeal.
Space Buns with Fringe Bang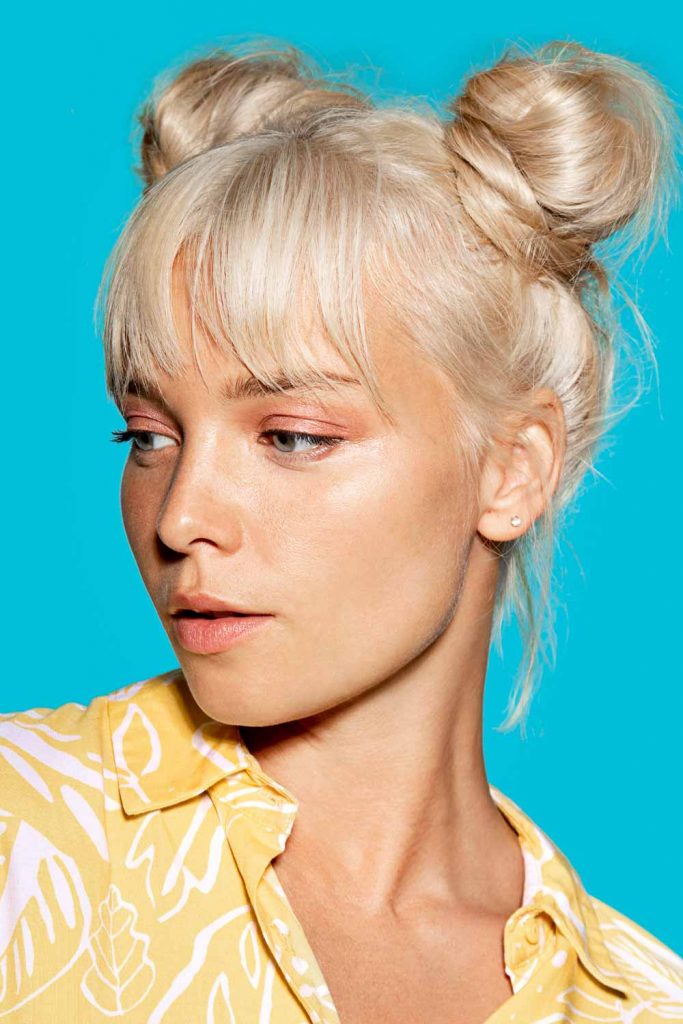 Credit photo: Shutterstock
Even easy space buns can look ultimately fancy when paired with other elements well. You may not want to invest in other components other than your platinum hair color and straight bangs. As you can see, the result is simply ravishing.
Tight Dutch Braided Messy Buns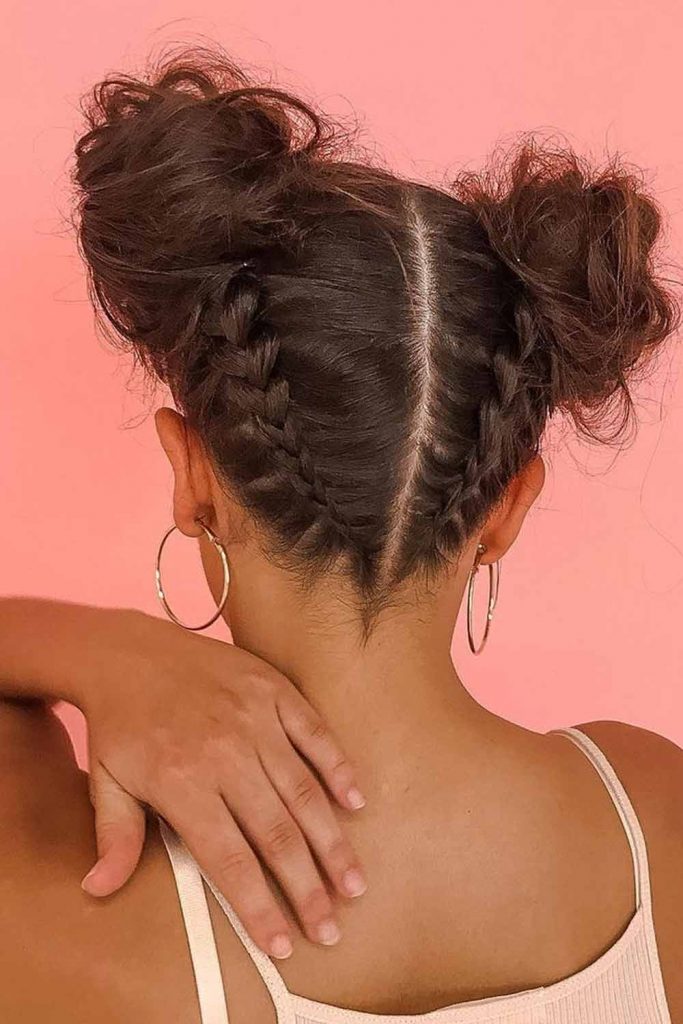 Credit photo: Instagram.com/sass.and.braids
Business in the back – party on the top, or an elegant but messy combo of space buns with braids. Sleek and tight Dutch braids fulfill the primary role, while messy buns answer for the rest. You can tease your hair a little before twisting it into buns to introduce some extra messy appeal. Don't forget to use some mid-hold spray to keep the 'do in place.
Mermaid Buns with Beachy Waves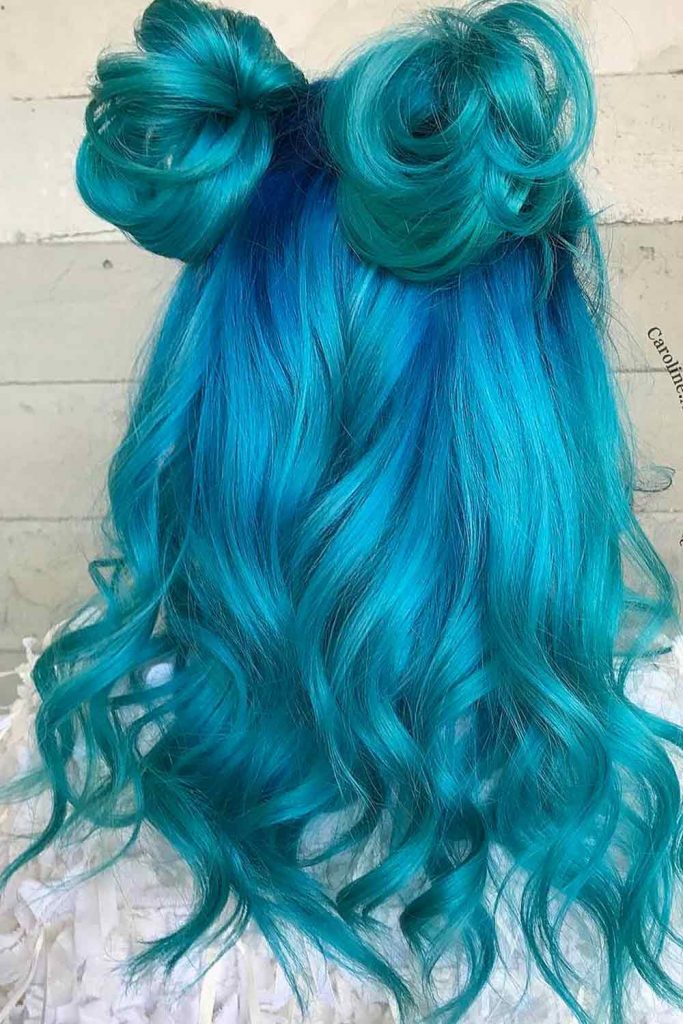 Credit photo: Instagram.com/caroline.anythingbutbasic
Who's up for a dose of cute space buns? You've come to the right place! Ocean-blue mermaid hair and double half-up buns make a killer combo. The deep blue roots introduce dimension, making you want to stare at the hair infinitely. Care to captivate someone's attention? Go for the style!
FAQ
Are space buns suitable for all hair types and lengths?
Whether these are space buns, long hair, short hair, curly mane, or straight locks – the style covers it all. Space buns are infinitely versatile and suit all textures, types, and lengths. If you have short hair, you can use extensions to experiment with volume and length or tease the tresses a little for a more voluminous look.
Can space buns be worn for different occasions?
Space buns are exceptionally versatile, so you can easily suit them for every occasion. They are especially popular and requested when it comes to music festivals, date nights, parties, and other celebrations.
How long do space buns typically last?
It primarily depends on your hair type and the securing method. If you use some bobby pins, hair ties, and hairspray, the look can last the whole day. Keep a bunch of pins and a travel-size hairspray in case the need for touch-ups arise and extend the style's longevity.
Was this article helpful?