Mermaid hair is a mesmerizing blend of vivid and pastel hues that is reminiscent of the mermaids depicted in movies and cartoons. Hence the name.
If you are going for such an unusual hair color, here are several things to consider. First of all, your task is to pick the shades that will be true to you. What looks cool may turn out not complimenting for you. Also, such colors typically require special maintenance. There's nothing scary about it, just get prepared.
Let's discuss this trend in detail. Read on to discover more and get inspired.
How To Get A Mermaid Hair Color
Source: samirasjewelry via Instagram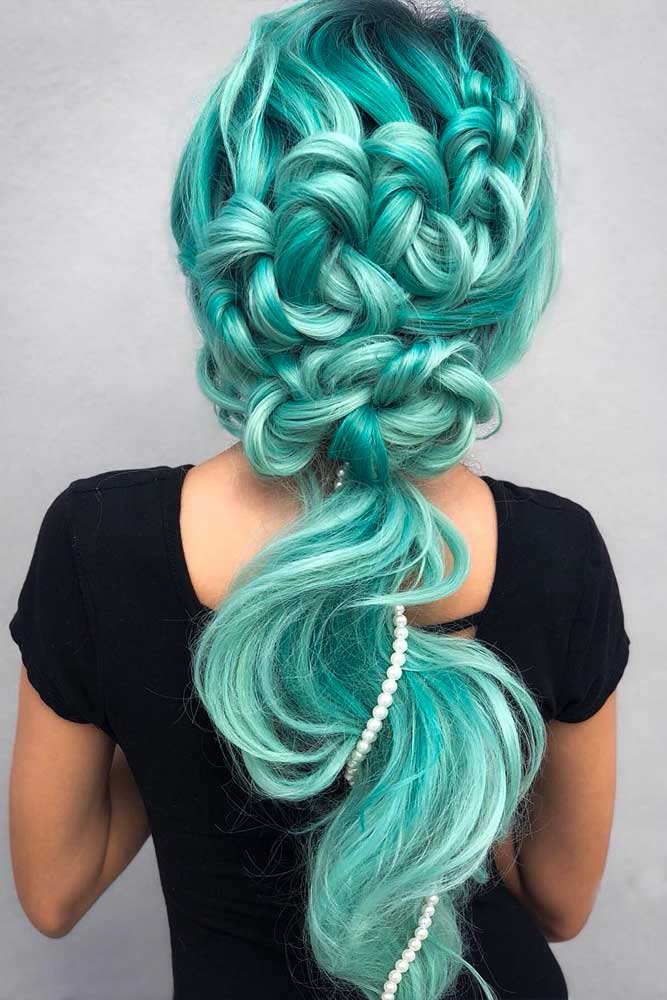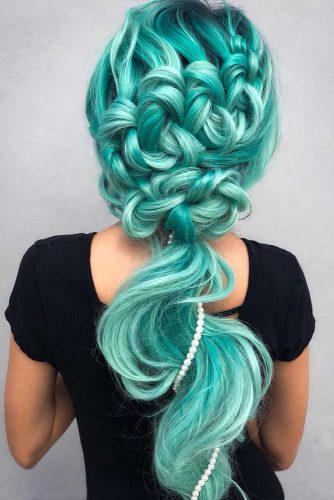 This aquamarine hair hue is truly exceptional, especially when paired with long tresses. Wonder how to get a color like this? Here is a mermaid hair dye technique.
You'll need hair dye, clips, gloves, plastic bowls, a kit for bleaching, a brush, shampoo, conditioner for protecting the color, petroleum jelly, and a hair brush.
Start with pre-lightening your tresses.
Wait for 2-3 days after shampooing.
Brush your tresses to get rid of knots, tangles.
Put on the gloves, apply petroleum jelly to your ears, forehead.
The bleach kit has instructions. Follow them and mix the bleach.
Clip away your crown. With a brush, apply the mixture to the loose tresses.
Undo the crown and apply the mixture to the top.
Leave it on for the time recommended in the instructions.
Shampoo, condition your tresses.
Wait for at least 2 weeks before you proceed with coloring your tresses.
Choose mermaid hues that will flatter you.
The dye is applied on freshly washed tresses.
Brush your tresses thoroughly, apply petroleum jelly to the forehead, ears.
Put the dye in bowls. Each color requires one bowl.
Apply the dye in sections.
Wait for about half an hour.
Wash your tresses with shampoo, conditioner. Voila!
Pastel Blue Long Hair
Source: samirasjewelry via Instagram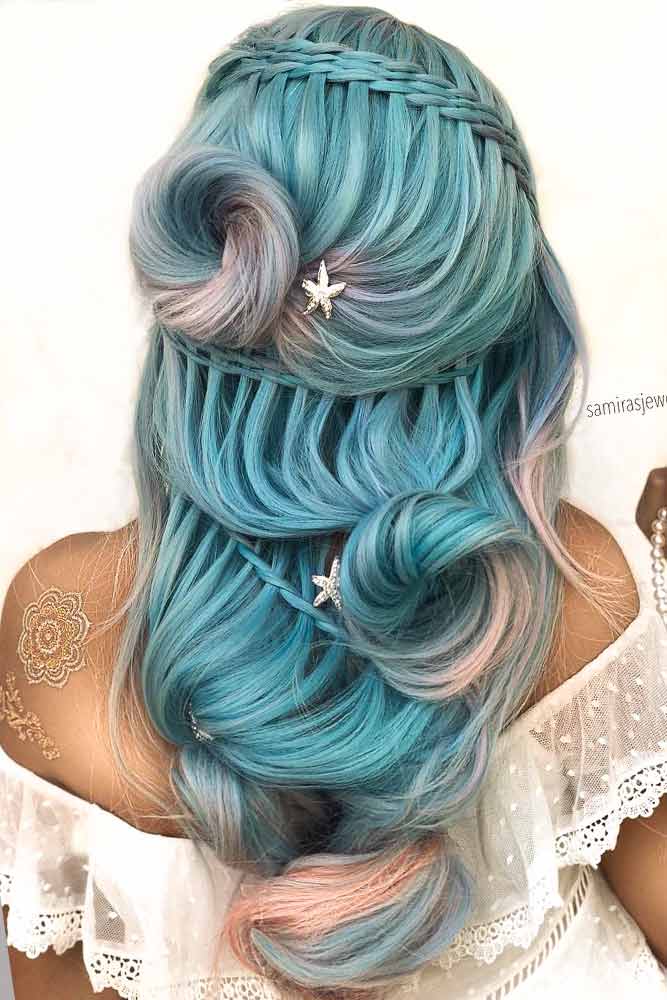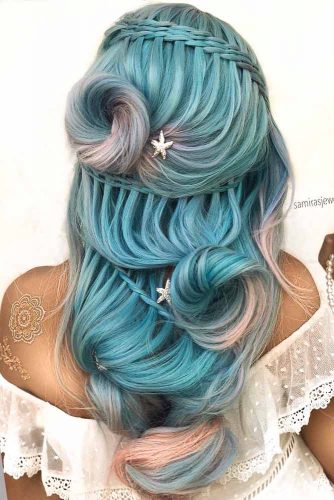 This model's mermaid hair blonde, blue, and peach color is not just a dye job but the real masterpiece. And her gorgeous long tresses make the color stand out even more.
Long Mermaid Hair With Purple Shades
Source: vividhairistry via Instagram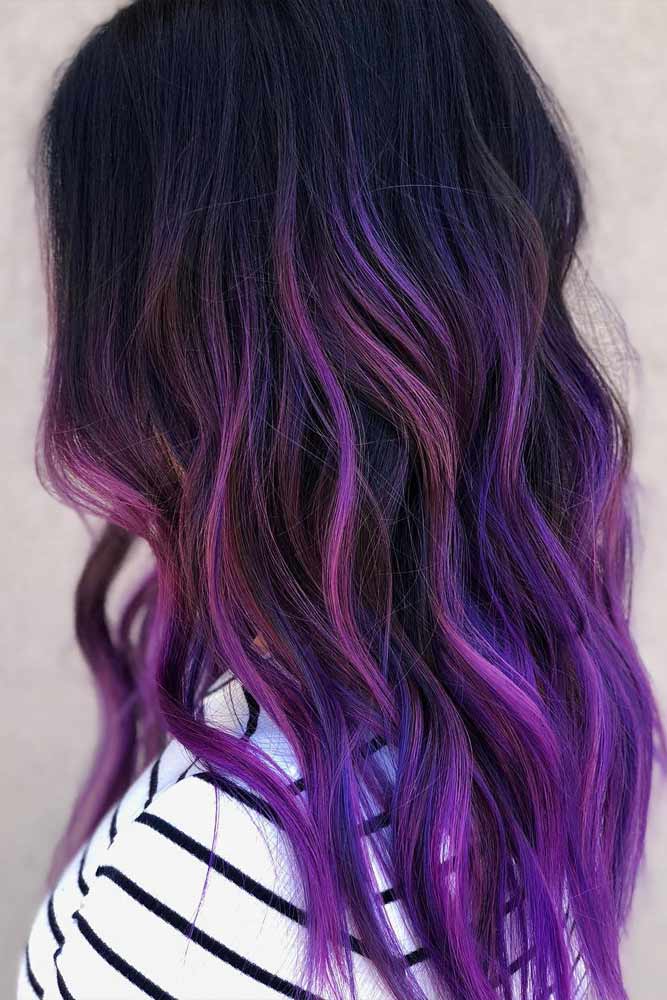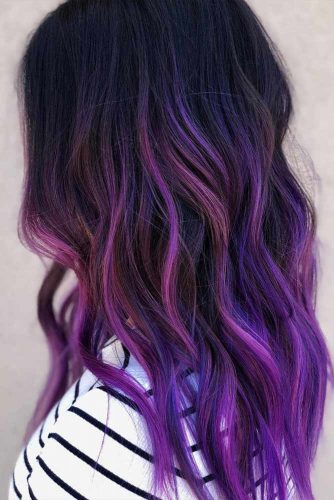 This mermaid hair brown and purple is bright and subtle at the same time. Probably it's because purple and brown complement each other. Isn't she the real mermaid?
Pastel Purple Long Hair Style
Source: roxybeautytouch via Instagram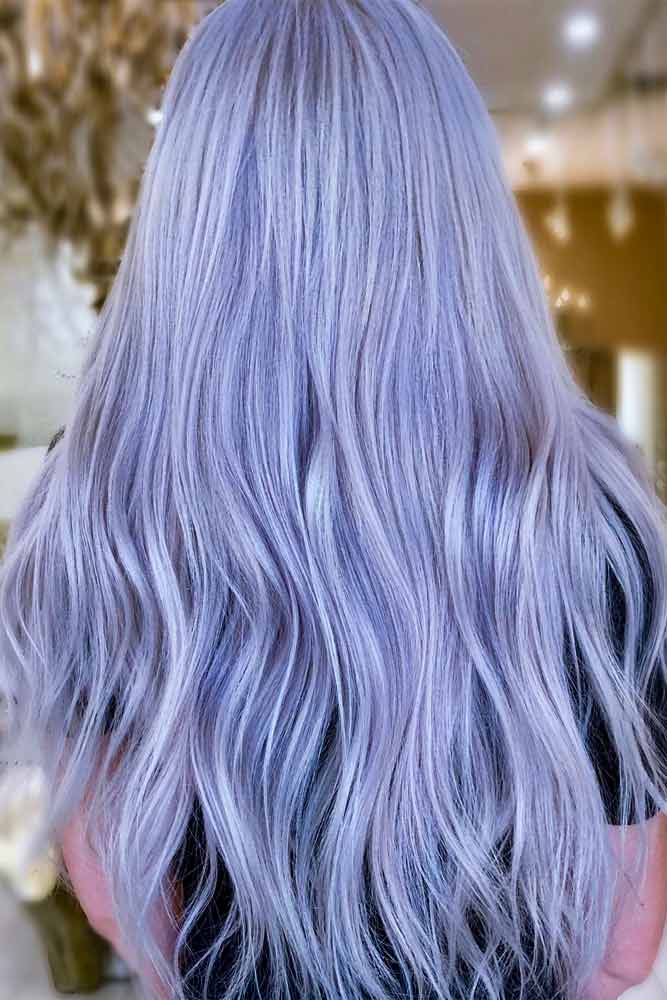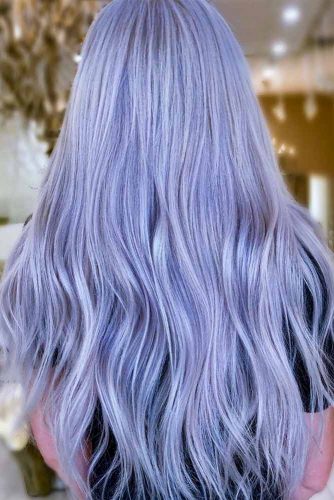 Sometimes when you don't want to change the color of your hair drastically, you can apply mermaid hair extensions. This model chose pastel purple hair extensions – awesome!
Purple Hair Color With Ombre
Source: ssooniestyle via Instagram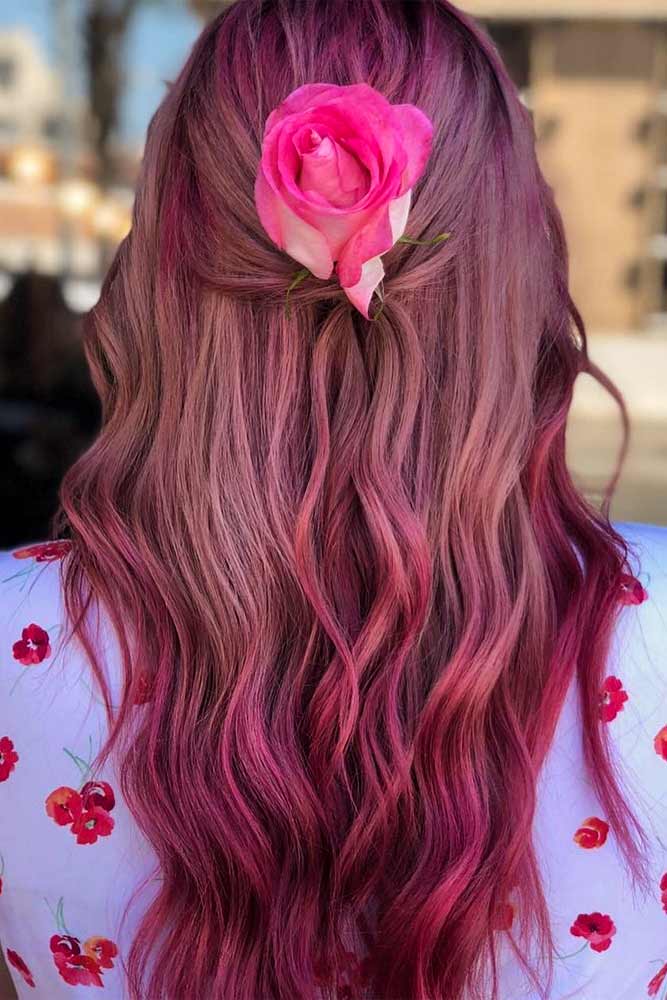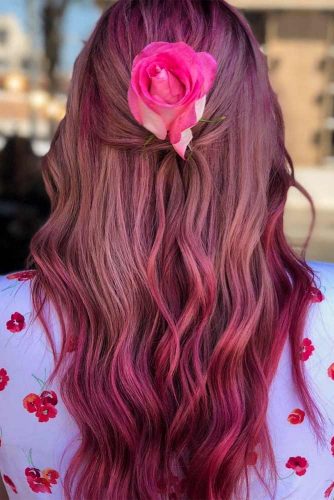 What we love best about this look is not only the amazing red hair color with ombre but also the hairstyle. Just two strands were taken away from her face and fixed with a floral accessory.
Medium Hair With A Sea Green Color
Source: ssooniestyle via Instagram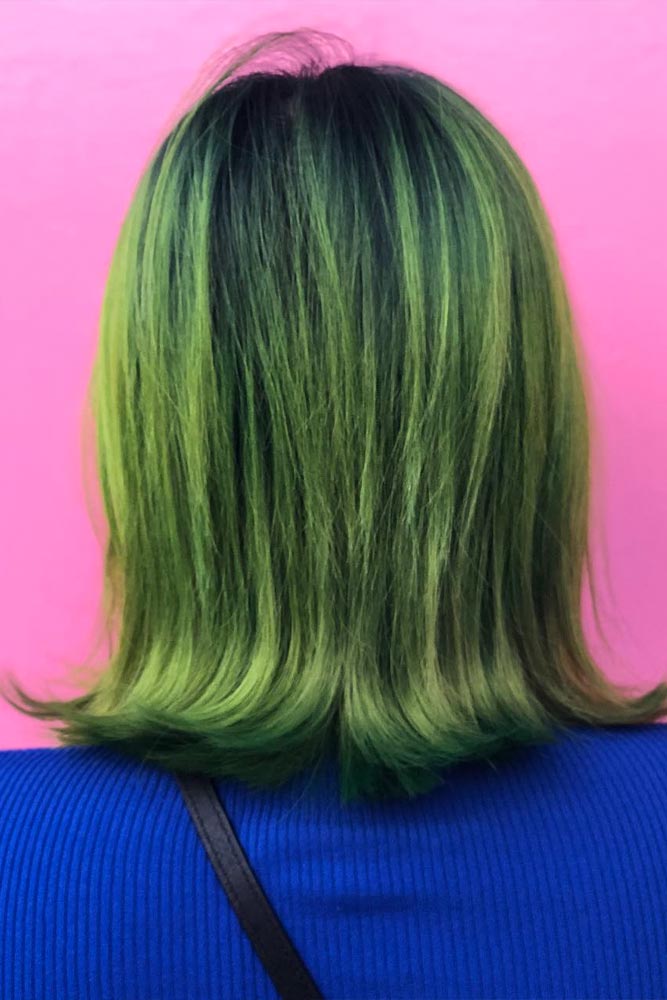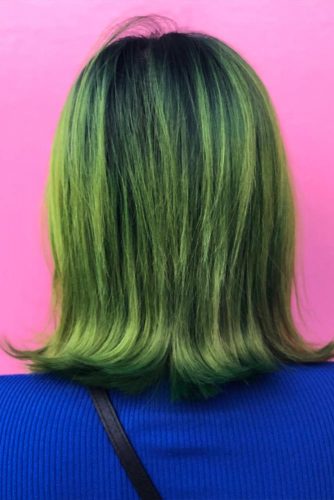 What is so exceptional about this permanent hair dye job is the sea green hue. We are used to seeing either bright greens or pastel greens. But this color is really unique. It will be look perfectly with long or medium length layered haircuts.
Purple Depths For Medium Hair
Source: rebeccataylorhair via Instagram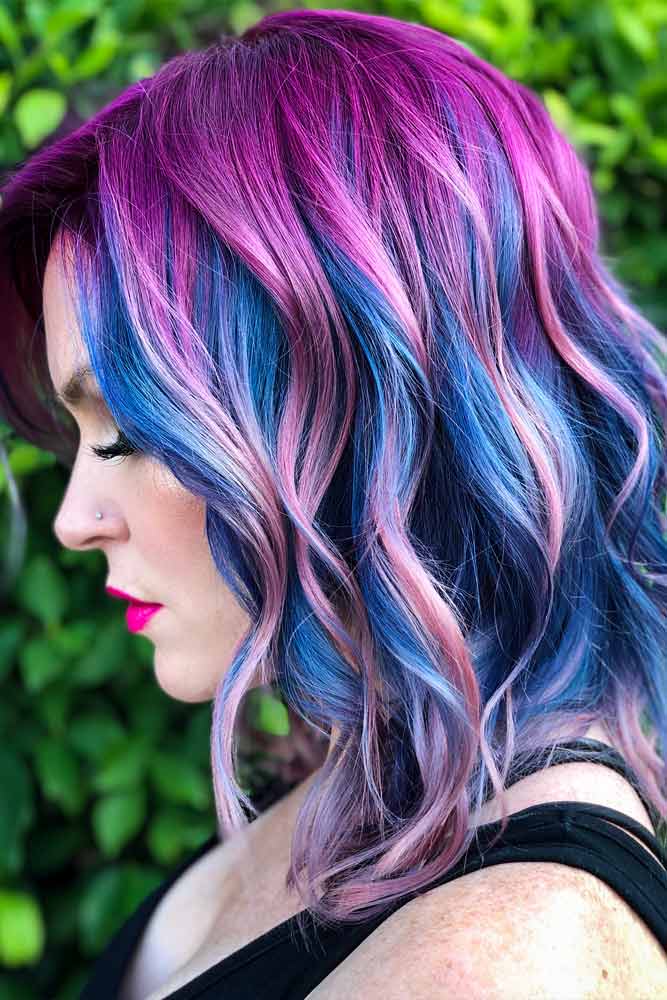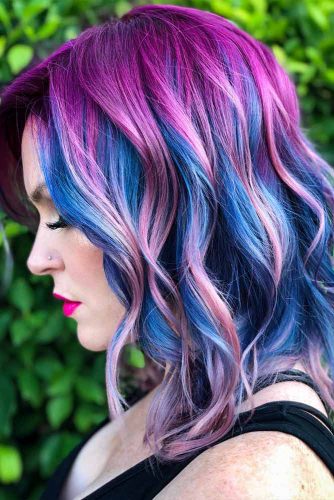 Just look at this model! Besides going for extravagant hues – magenta and blue, she also chose to get them lightened toward the ends. The result is so eye-catching!
Dream Blue Curls
Source: rebeccataylorhair via Instagram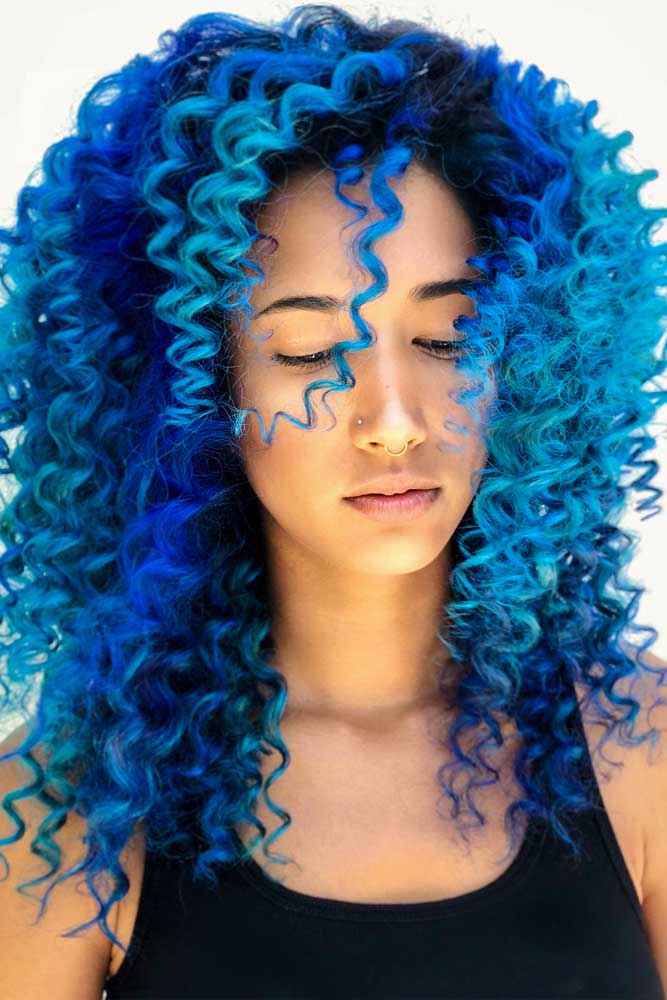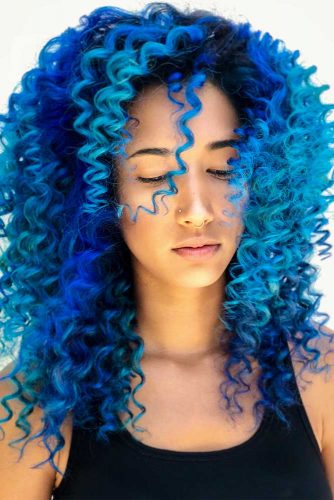 These natural curls are so adorable and carefree. And pairing the locks with such vibrant blue shades was such a daring move. We totally love it!
Mermaid Pastel Purple Shades
Source: shmeggsandbaconn via Instagram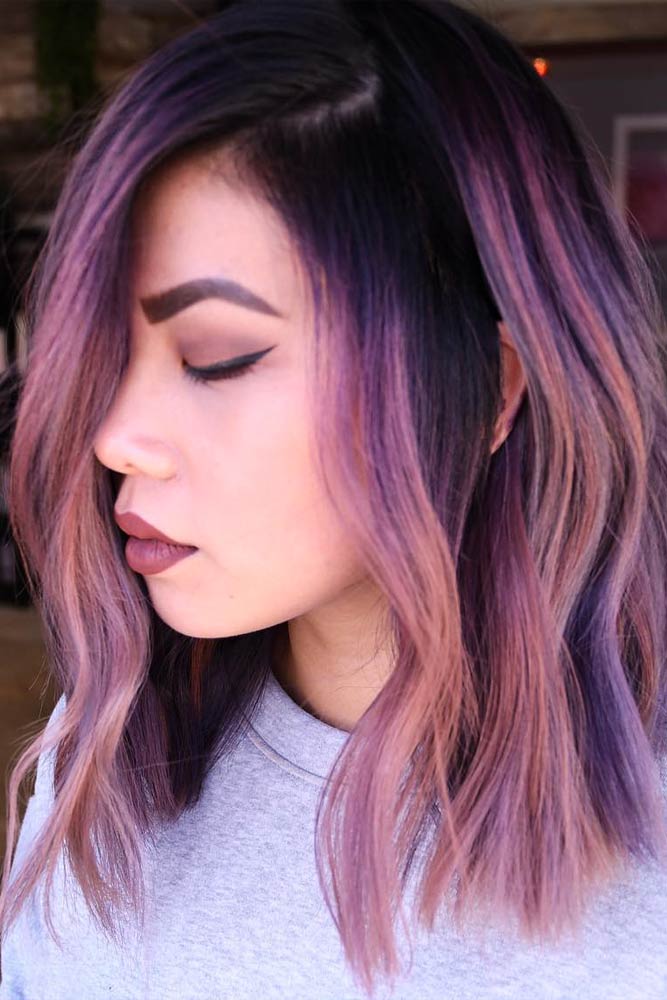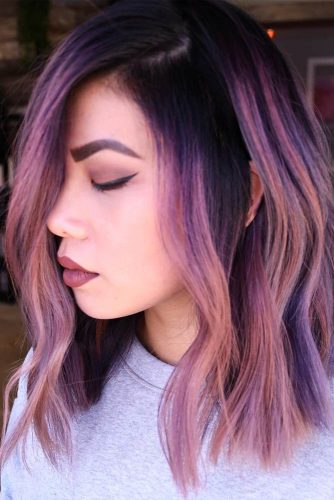 This semi permanent dye job is quite subtle and more appropriate for office workers, comparing to brighter mermaid hair looks. Would you go for a color like this?
Soft Pink Waves
Source: hairbykaseyoh via Instagram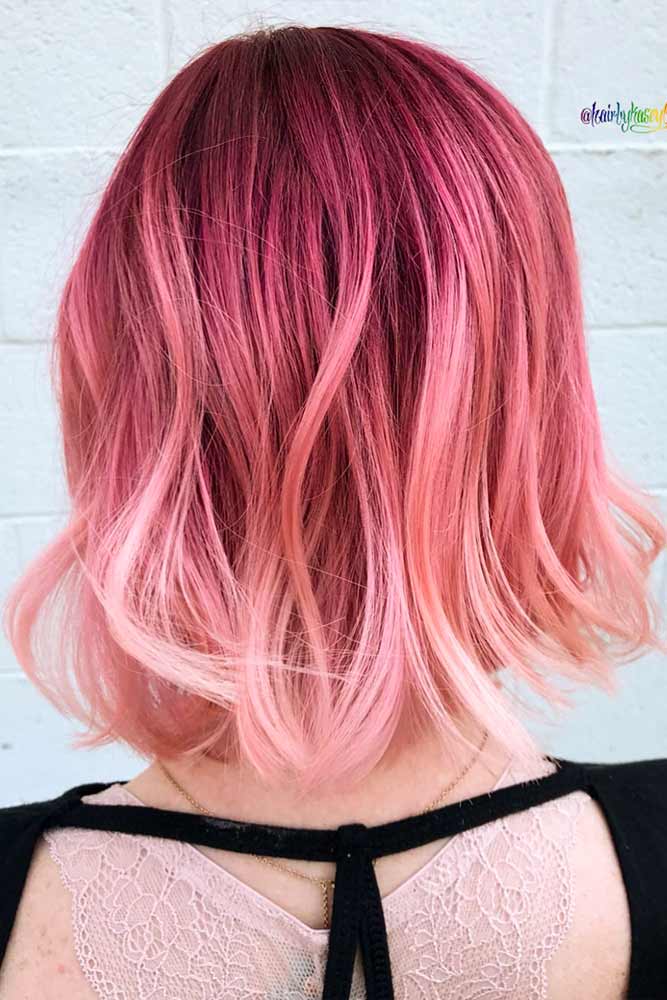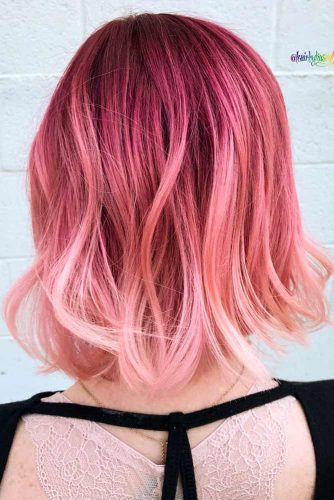 Here's a mermaid look for a shorter hairstyle. As it turns out, you can rock bright hues no matter what your hair length is. And this is great news because everyone can pull off this trend.
Cobalt Blue Mermaid Hair
Source: hairbykaseyoh via Instagram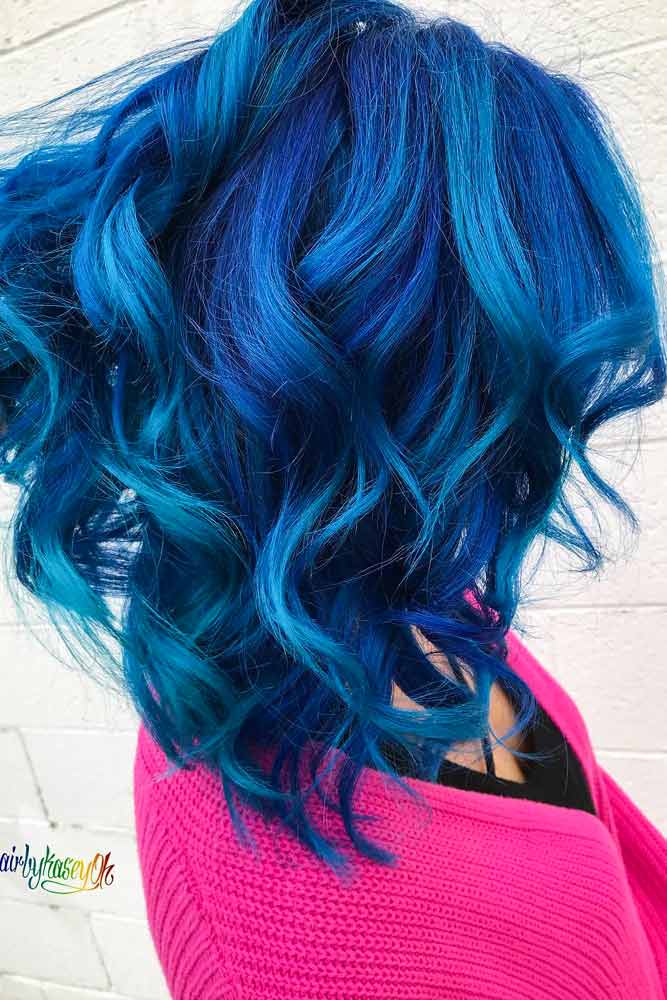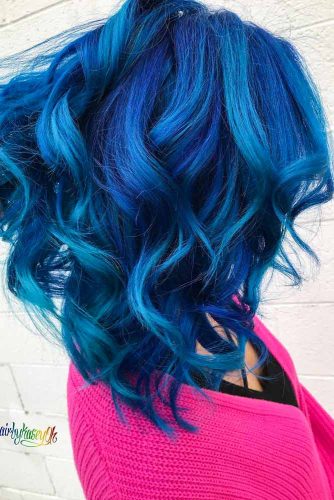 Oh my God, do you see this cobalt blue, too? Or are we having a dream full of miracles? Surely, the hair color is super bold. But it's so fabulous that we can't resist it.
Short Fairy Pink Mermaid Hair
Source: shmeggsandbaconn via Instagram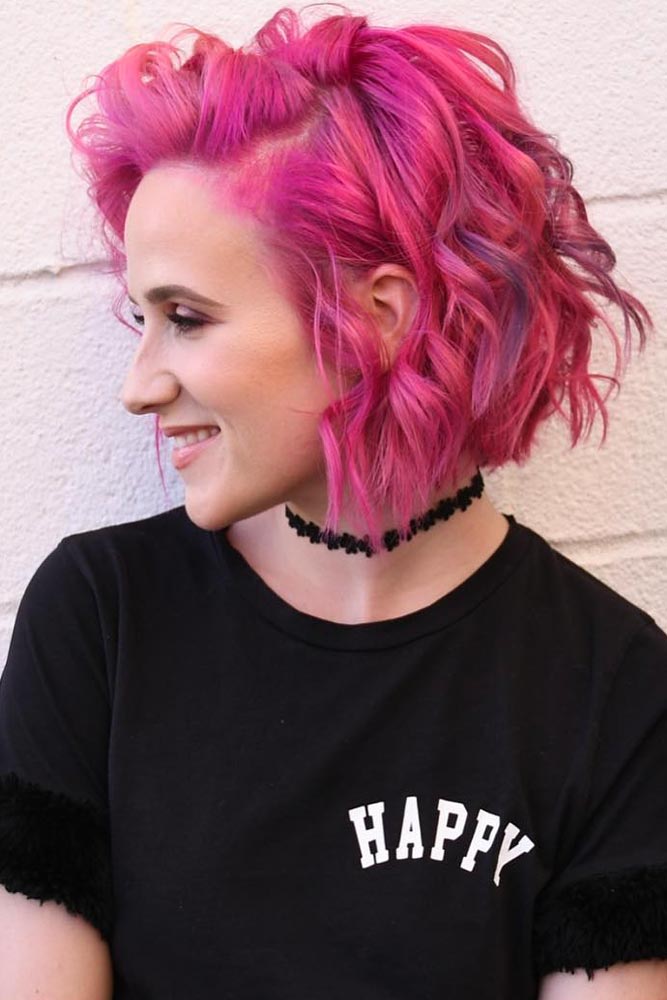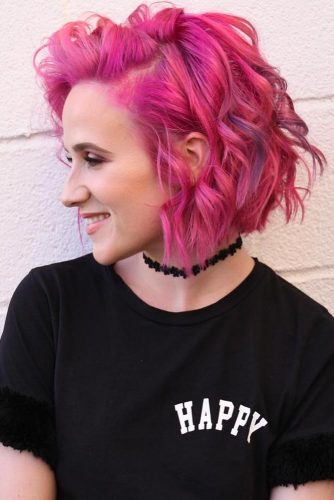 That's quite a wild mermaid hair color for short hair, don't you agree? But it's one of those instances when the word wild has a positive meaning only. Because this pink inverted bob is perfection!
Short Mermaid Hair With Rainbow Colors
Source: rebeccataylorhair via Instagram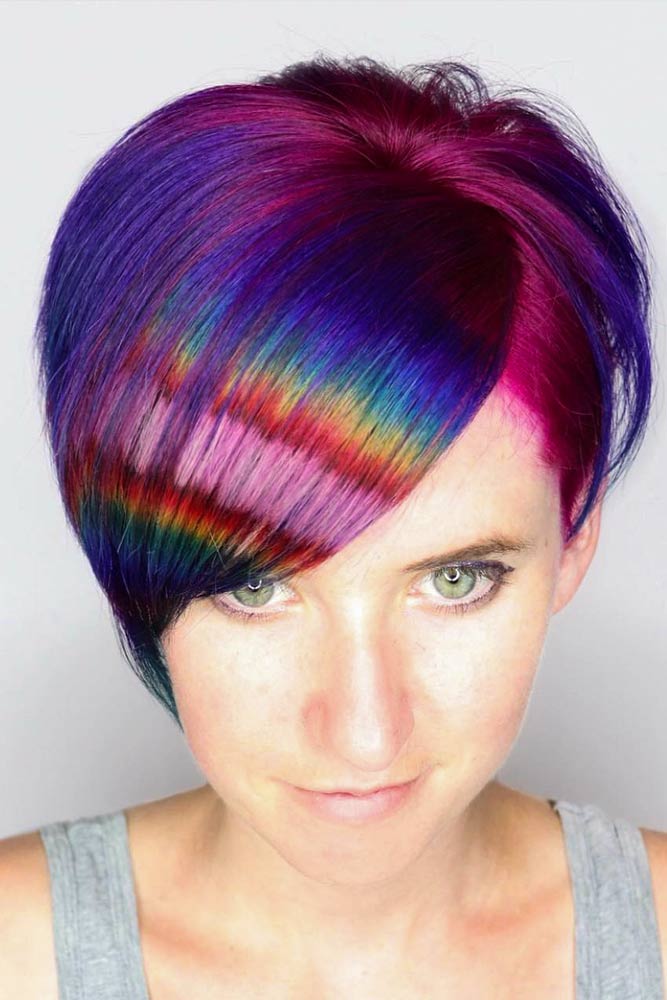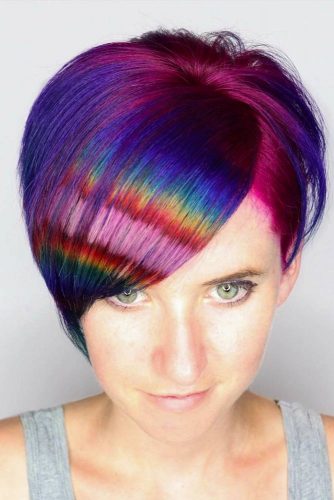 Do you know what we have been doing for these couple of days? Wondering how much time and effort it took to get the blend of colors like this. It is the real art! This short haircut looks amazing with such colorful hair!
Sea Waves Hair Color For Short Hair
Source: rebeccataylorhair via Instagram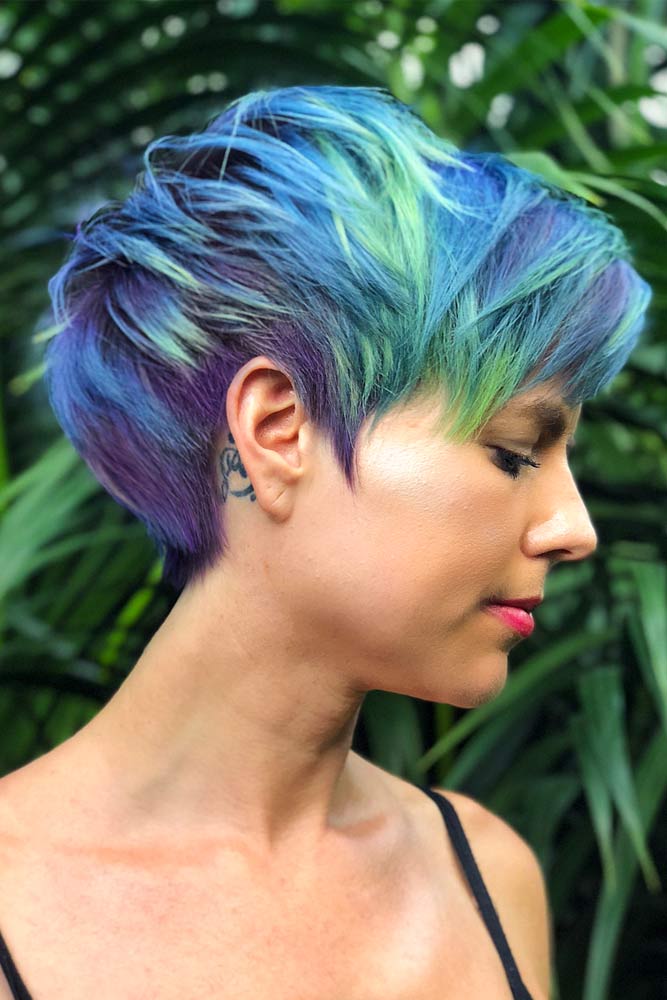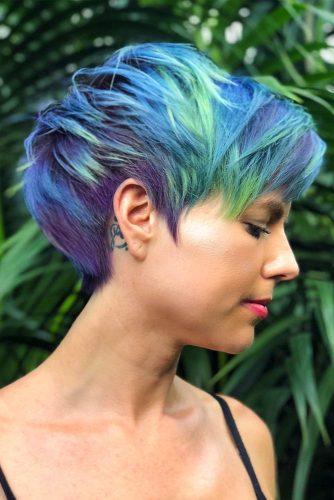 Here the mermaid hair colors are combined in a way so that they could resemble the real sea waves. What can we say, if you are searching for some inspo, here it is. This pixie cut looks perfect with such a colorful hair.
Pastel Teal Color Hair Style
Source: jaymz.marsters via Instagram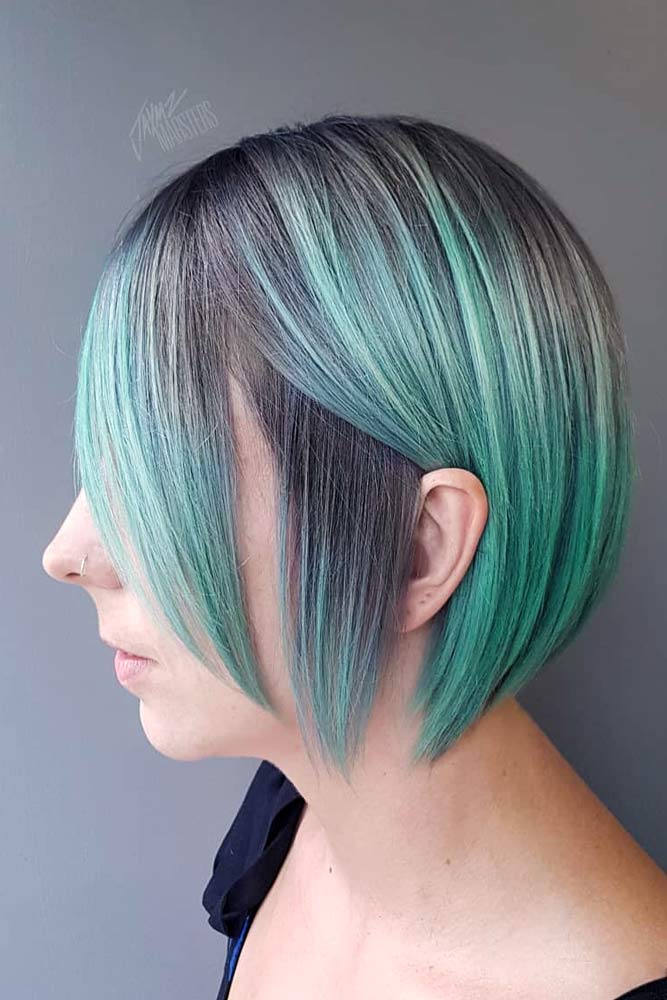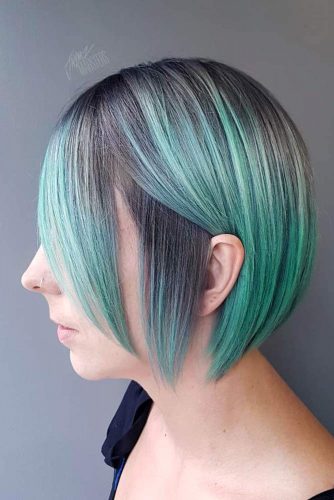 As you can see in this picture, grey and teal look awesome when paired together in a hairstyle. And we think that opting for sleek styling was an awesome choice here.
Saturated Green Short Hair
Source: jaymz.marsters via Instagram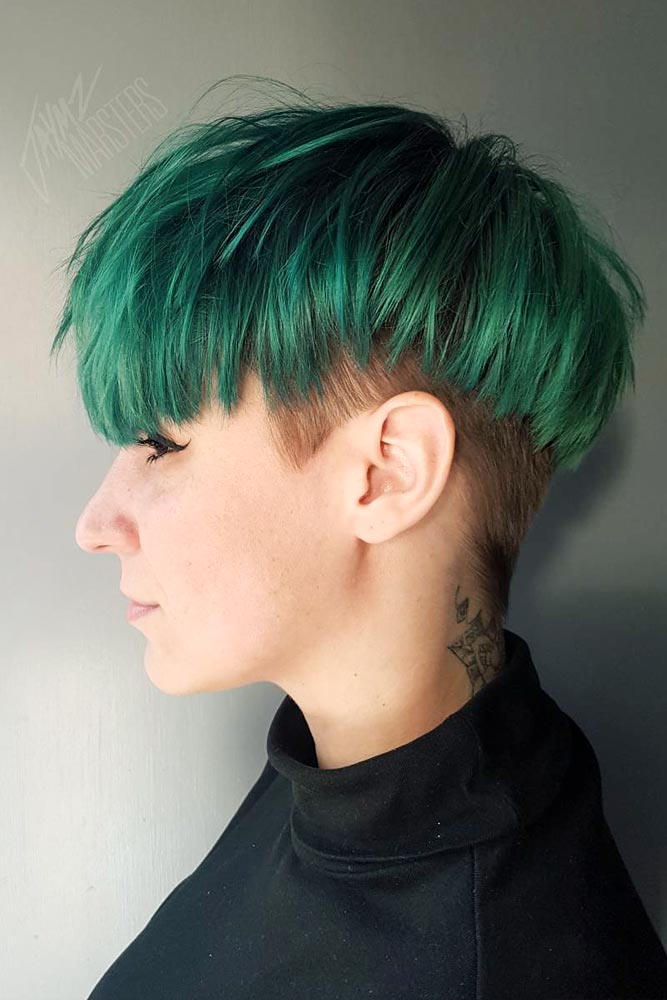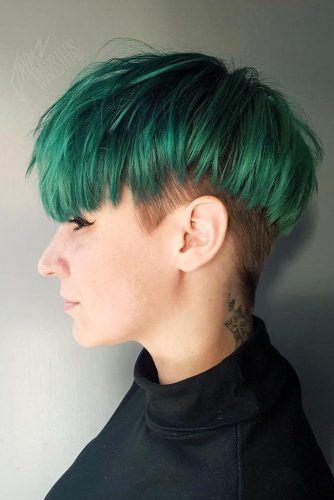 In this picture, the model took her already edgy short hairstyle to another level by picking this saturated green shade. Wherever she goes, all eyes are on her.
Pastel Aqua Waves
Source: bescene via Instagram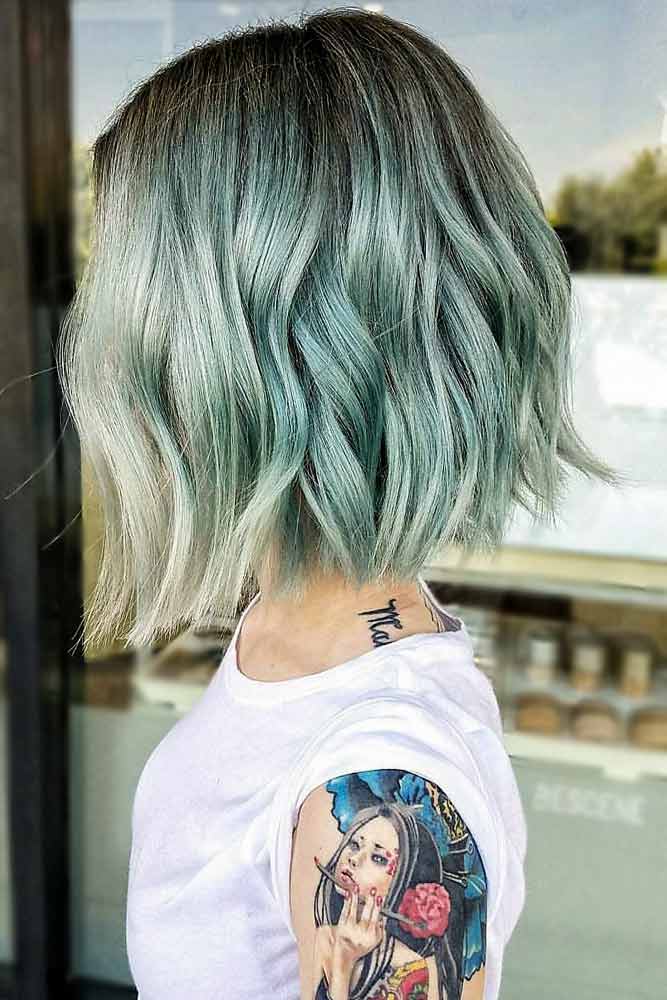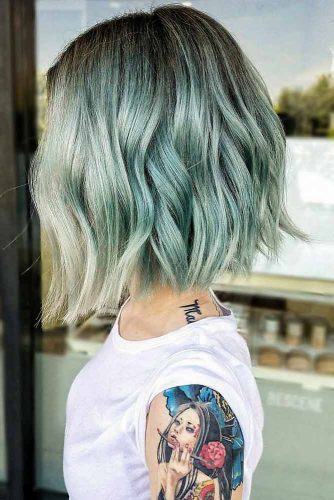 When rocking a grey and aqua combination, it's better to go for some soft waves. Thus, you will get the necessary movement and also volume boost.
We bet that you will save all these mermaid hair color ideas because they are too awesome not to. In the meantime, don't leave so soon. Check out what else we've got for you.
Long Mermaid Silver And Purple Hair Color
Source: samirasjewelry via Instagram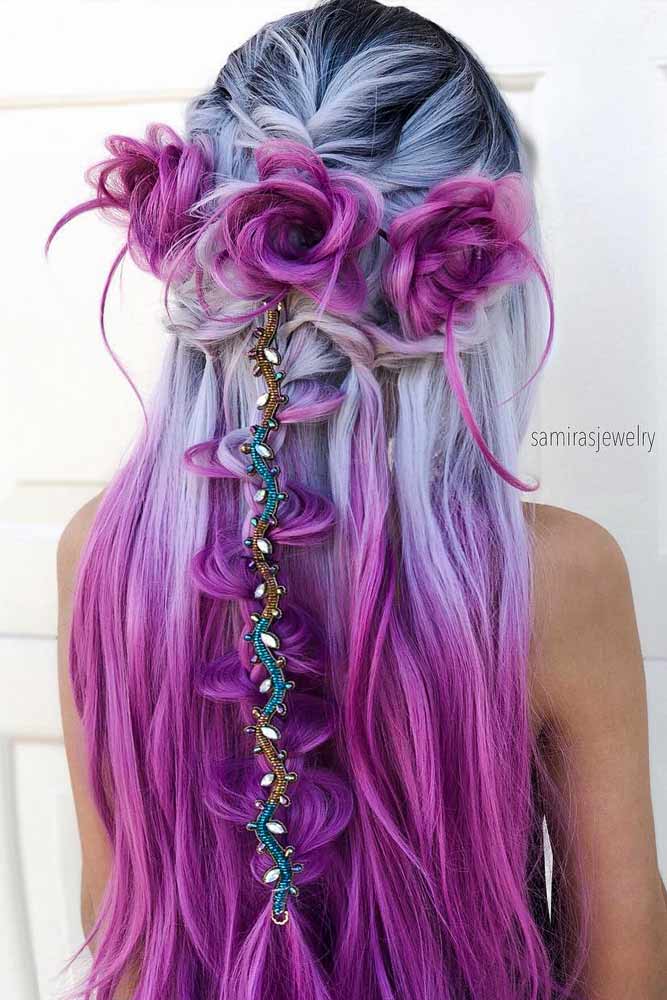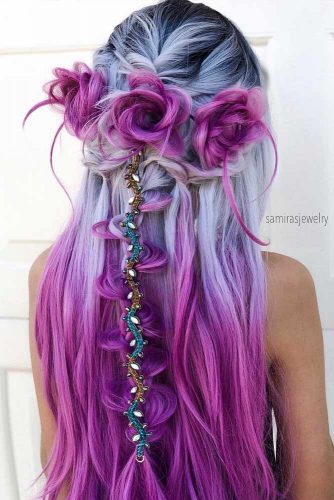 With a silver and purple hair hue like this, the model appears as if she were a fairy tale character. How does she manage to maintain such a vivid shade?
Here are several mermaid hair tips.
Use dry shampoo as often as you can.
Try to wait for at least 2 or 3 days in-between the regular washing.
Wash your tresses in lukewarm water.
It's better to use shampoo that is Sulfate-free.
Stay away from salt and Chlorine water.
Put on a hat when you are in the sun.
Limit the usage of heat when styling.