Are you in search of a protective hairstyle that would be fun, low maintenance and long lasting? Then knotless braids are right what you need. They provide you with everything you expect from a perfect box braided hairstyle and even more than that. In addition to being lightweight and pain free, they are also unbelievably versatile. To back up our words, we have put together the collection of the best knotless braid hairstyles below. So, all you need to do now is to pick out the style that resonates with you most and take it with you to the salon.
*We may earn money from affiliate links on this page. Please check out our disclosure policy for more details.
Pros and Cons
| Pros | Cons |
| --- | --- |
| Less Tension: Knotless braids are gentler on the scalp, reducing the risk of hair damage and breakage. | Time-Consuming: Knotless braids can take longer to install than traditional braids due to the gradual braiding technique. |
| Natural Look: They offer a more natural appearance, as there are no visible knots or bumps at the base of the braids. | Costly: They may be more expensive because of the extended installation time. |
| Lightweight: Knotless braids are lighter in weight, making them more comfortable for extended wear. | Skill-Dependent: Finding a skilled braider who can do knotless braids well can be challenging. |
| Versatile Styling: You can style knotless braids in various ways, including updos and ponytails. | Tighter Roots Over Time: While they start with less tension, knotless braids may tighten at the roots as they age, potentially causing discomfort. |
| Easy Removal: Removing knotless braids is typically quicker and less painful than traditional braids. | Maintenance Required: Regular upkeep is necessary to prevent frizz and maintain the neat appearance of knotless braids. |
What Are Knotless Braids?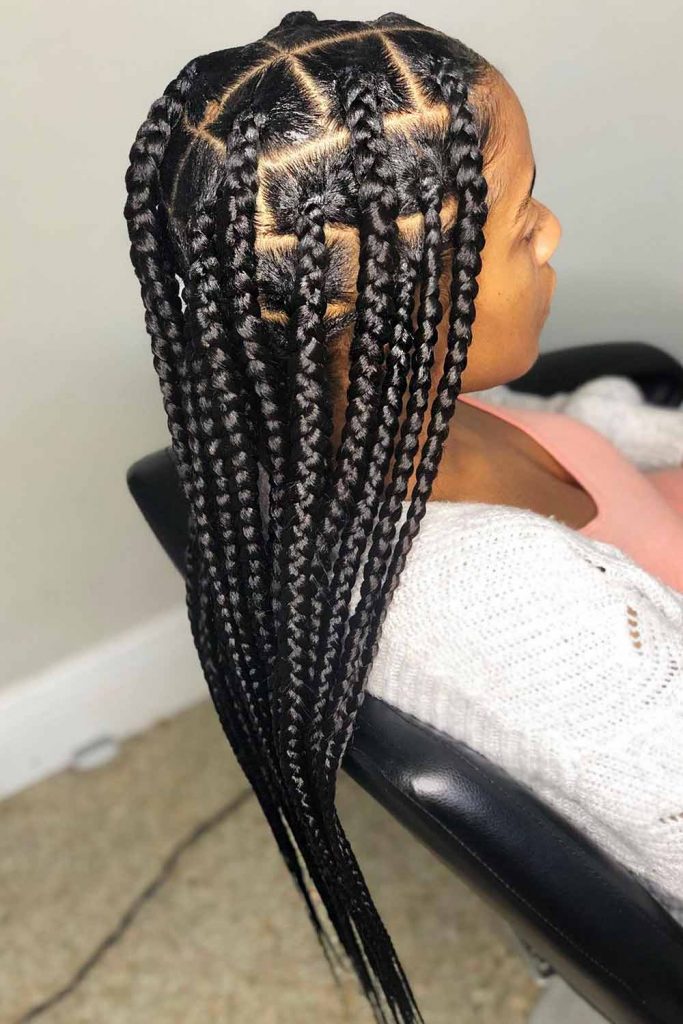 Credit photo: instagram.com/braids_by_djeph
But to make sure you know exactly what we are talking about, let's define first what are knotless braids. This is a variation of box braids that does not involve tying knots near the scalp. As simple as that. The braiding technique does not particularly differ from the original one. The only difference is that you start feeding in the faux strands once you have created several braid stitches. Because there are no knots near the base of the braids, it reduces the tension and weight put on your locks.
Knotless Or Traditional Box Braids – Which Is Better?
When we are talking about a traditional type of box braids, we usually refer to the one that begins with a tight knot tied near the scalp, which secures extension hair in your strands. Plus, these braids are quite heavy and bulky. As a result of the tension they create, you may experience a lot of discomfort and even pain. For a knotless braid, the extension hair is fed into your locks during braiding without tying the knot near the roots. The look turns out more natural, as the faux tresses are not noticeable. The correct installation of the braids may also guarantee that you will not suffer traction alopecia. As such, the time spent on the braiding process will fully pay you off with the health of your hair.
5 Reasons To Try Knotless Braids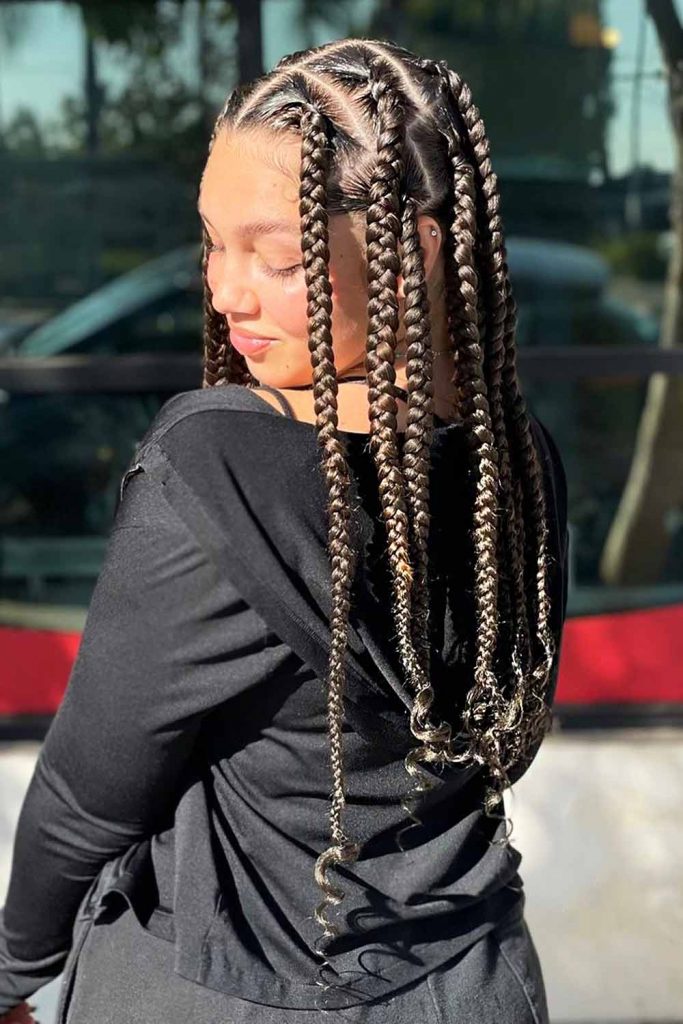 Credit photo: instagram.com/braidedroots
More and more women are opting for a knotless braided hairstyle these days for good reasons. Find the most essential of them below.
More gentle to your scalp. Since a knotless braid does not put as much strain on your scalp as a classic box braid, it is less painful. So, your skin will unlikely get irritated or red. Classic box braids tend to pull the hair out because of their weight and the tension they create, which may result in scarring. With a knotless braided hairstyle, you will not face these issues.

Flexible styling. When you get your hair braided using the knotless technique, you can then style it in a wide variety of ways – in an updo, in a ponytail, braided or just loose. And the best part? No need to allocate time for braids loosening.

Healthy hair. All of the benefits that you get with knotless braided hair contribute greatly to its health. So, you can expect it to improve noticeably after installing the braids.

Hair protection. It is a known fact that knotless hair braids belong to protective hairstyles. You do not use as much synthetic hair to create the look as with other braids. Besides, you incorporate faux strands not into the roots but into the body of the braid. So, it is a lighter and more convenient way to protect your natural hair than a regular box braid.

Fresh look. Social media helped to redefine a well known hairstyle, giving it a new trendy twist. It looks flattering and pretty while taking care of the health of your scalp.
How long do knotless braids take?
How Do I Care For Knotless Braids?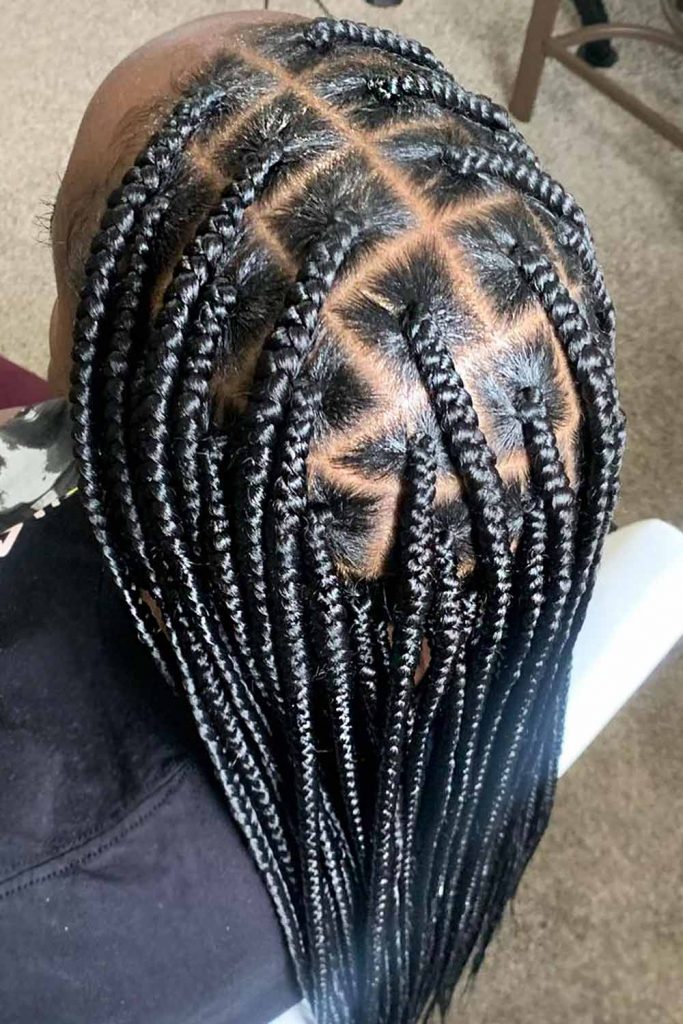 Credit photo: instagram.com/shexcrownedme
To make the most out of your knotless hair braids, you should take care of them properly. Here are some of the most important steps you should include in your hair care routine.
To ensure the braids remain fresh as long as possible while the scalp is hydrated, do not forget to use a leave in conditioner anywhere from two to three times weekly. Make sure it is free from sulfates and contains oils.

To prevent your braids from getting smelly, especially in case your scalp is oily, enlist the help of a dry shampoo. Apply several spritzes to your scalp and work it in with your fingers.

Not to damage your braids while sleeping, always wear a silk bonnet or scarf. This step is key to maintaining your box braids of a medium or long length properly.
Hairstyles for Girls with Braids Without Knots
With so many types of braids existing, it is easy to get overwhelmed when making the choice. To make things less stressful for you, we have picked out the most popular knotless braid ideas and put them together below. So now, you only need to explore our collection carefully and choose the style that wins your heart.
Knotless Box Braids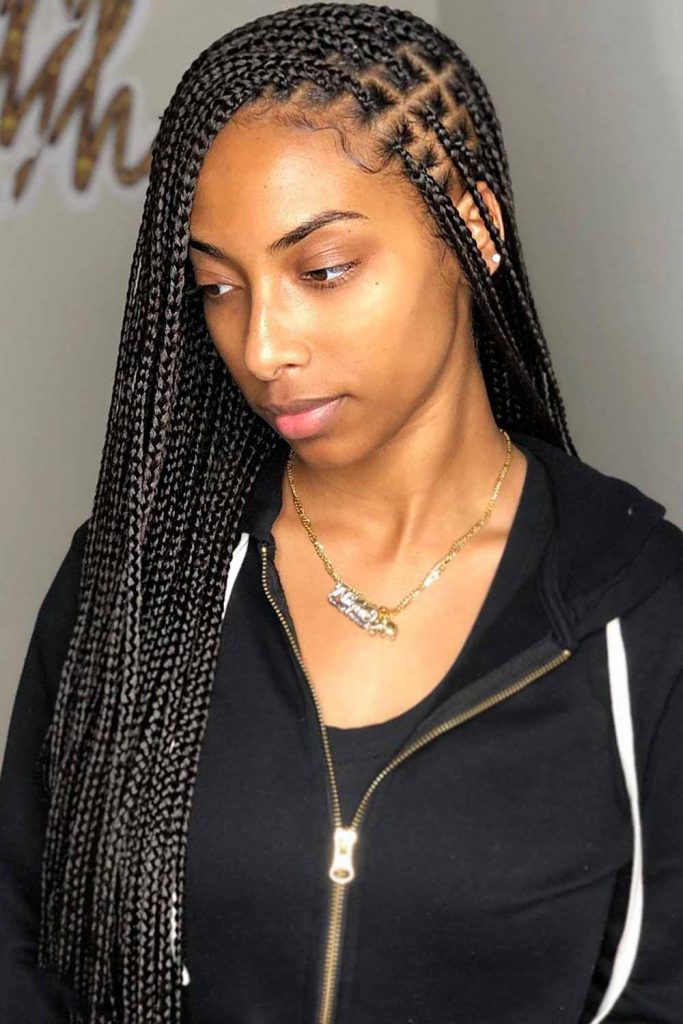 Credit photo: instagram.com/braids_by_djeph
If this is the first time you are getting braids and you are not sure what style to choose, you can never go wrong with classic knotless box braids. They have a very defined pattern that consists of a kind of "boxes" that are formed by crossed partings. The length of the braids can be just anything. It is all up to your preference.
Triangle Knotless Braids
Credit photo: instagram.com/xcellentxtensions
To bring a welcome change to traditional square knotless hair braids, you may play around with the pattern of the partings on the head. Rather than dividing your hair into square sections, make them triangular instead. The style turns out unusual and eye catching so you may want to keep the braids themselves quite reserved.
Butterfly Knotless Braids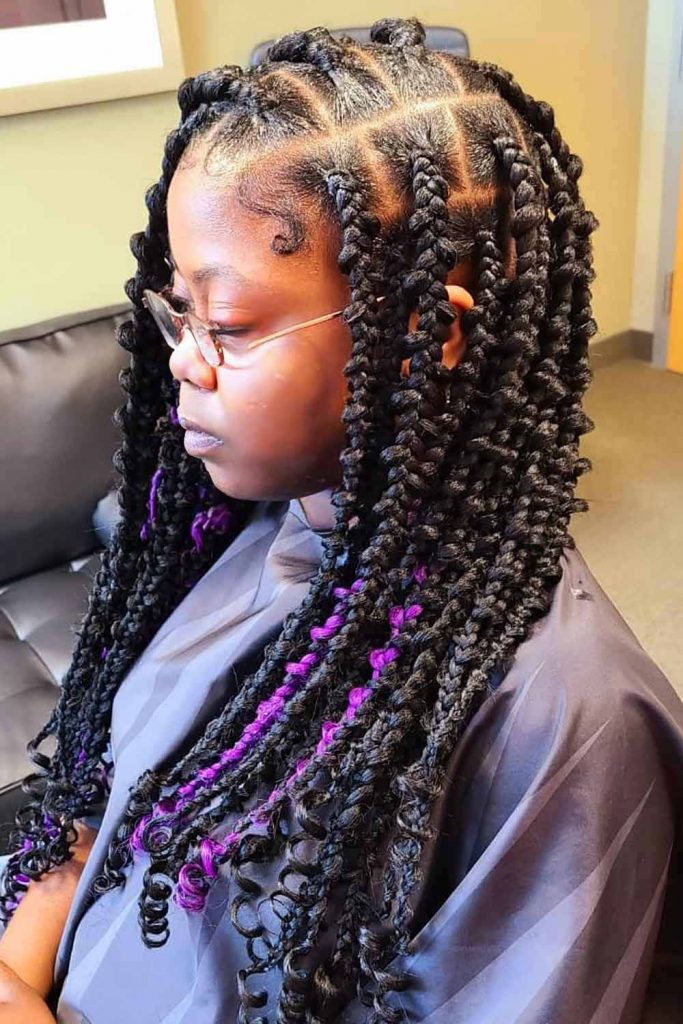 Credit photo: instagram.com/xcellentxtensions
Dreamy butterfly braids are made for women who love to accentuate their girliness. The style turns out very cute and charming with loops going down the braid and creating the butterfly wing effect. This is essentially a variation of crochet braids where you need to pull out random hair strands so that they resemble the wings of a butterfly.
Knotless Braids with Rubber Bands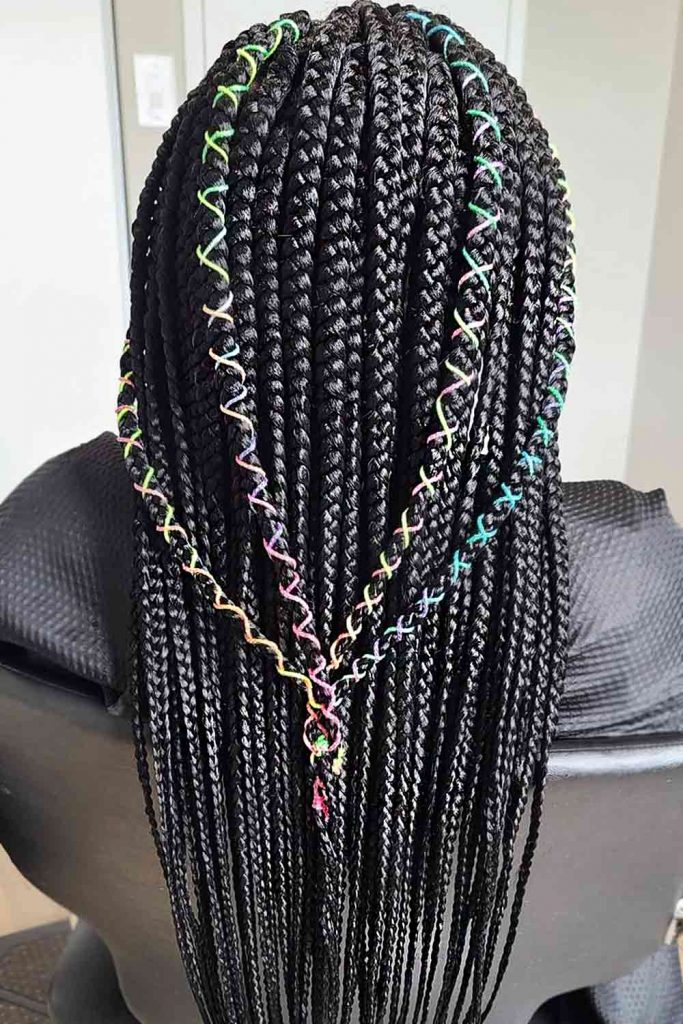 Credit photo: instagram.com/xcellentxtensions
One of the easiest ways to accentuate knotless braids with color is by incorporating rubber bands into your hairstyle. On the one hand, they will help your braids to remain sleek and neat. On the other hand, they add a colorful accent to your hairstyle. Feel free to choose a single color or throw the whole rainbow into your locks.
Peek a Boo Blue and Purple Knotless Braids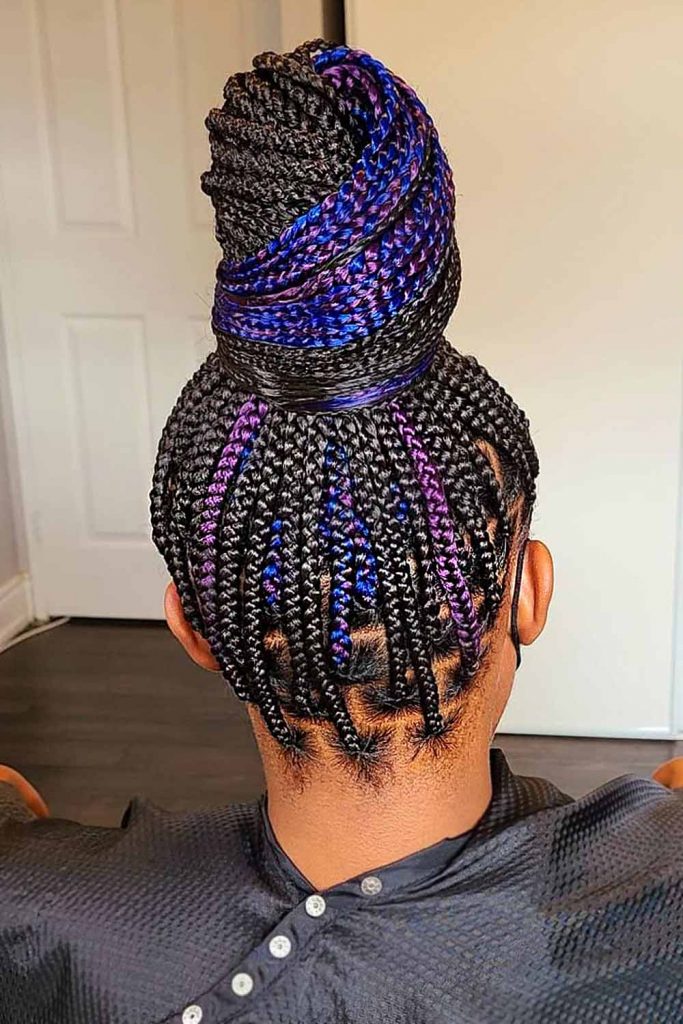 Credit photo: instagram.com/xcellentxtensions
We bet you did not know that peekaboo braids offer a lot of versatility to your hair look. When you want the color to show up, you may put your braids into a high bun or any other updo. But whenever you need to hide them, just allow your locks to fall loose and you are all set.
Half Updo Green Knotless Braids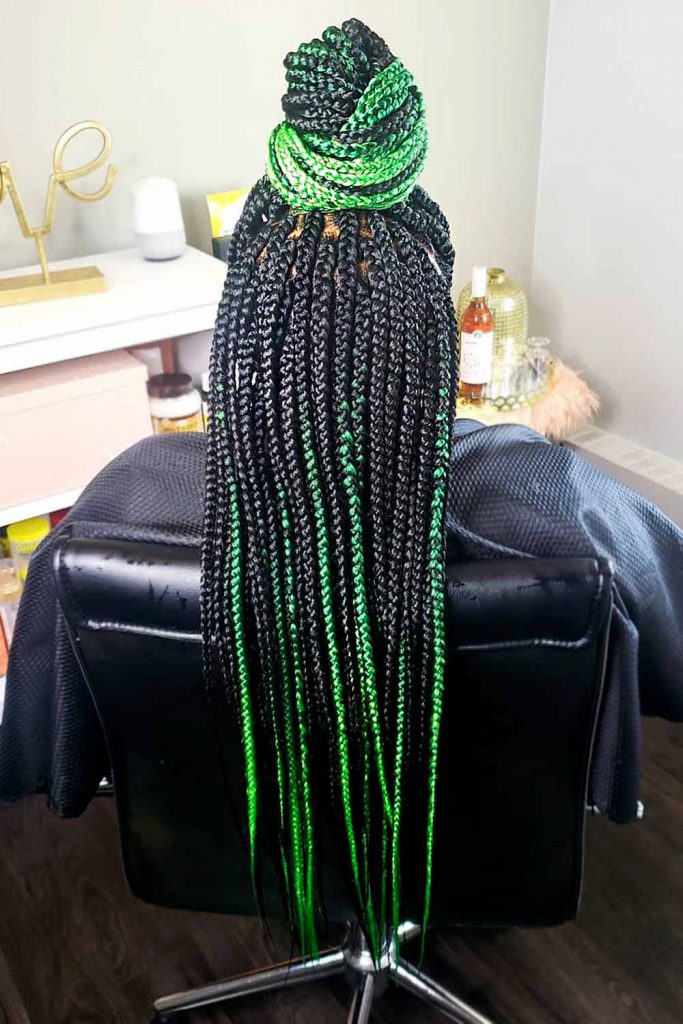 Credit photo: instagram.com/xcellentxtensions
Colored knotless braids can elevate any hairstyle. There is no need to go for all out colorful braids. You may only have several pieces of a different color that would look striking against your natural kinks, such as green. Then, either wear your color knotless braids loose or style them in a half updo.
Short Curly-Ended Knotless Braids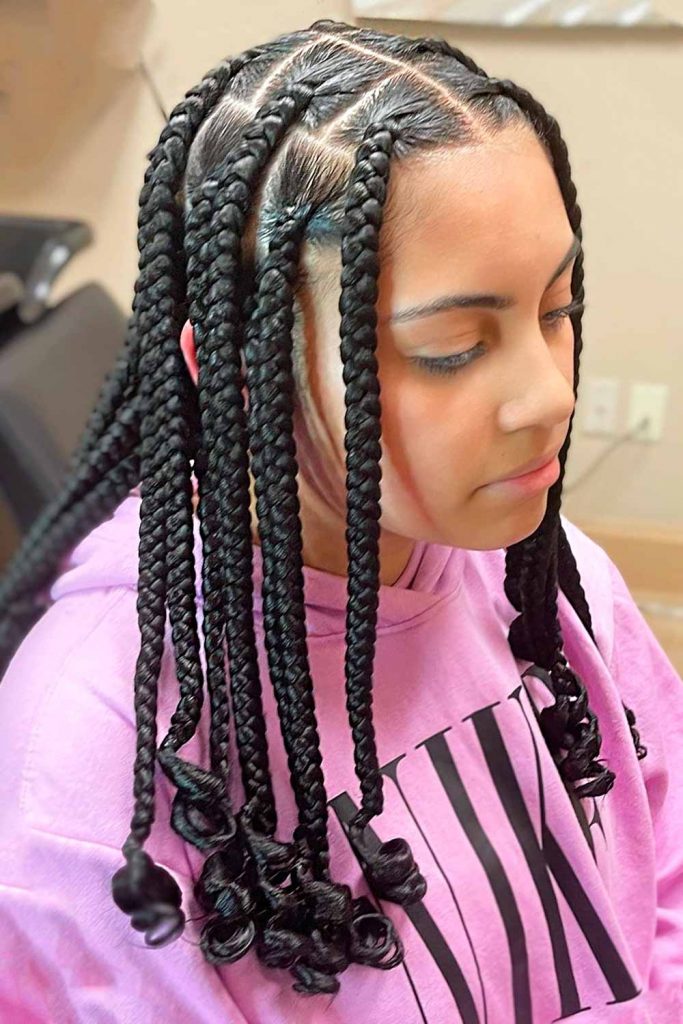 Credit photo: instagram.com/braids_by_msnelly
Girls with curly hair may find it difficult to tame and that is when braids come into play. However, if your locks are not particularly long and the idea of installing hair extensions does not appeal to you, short knotless braids with curls are your surefire way out.
Purple Knotless Braids Half Updo Style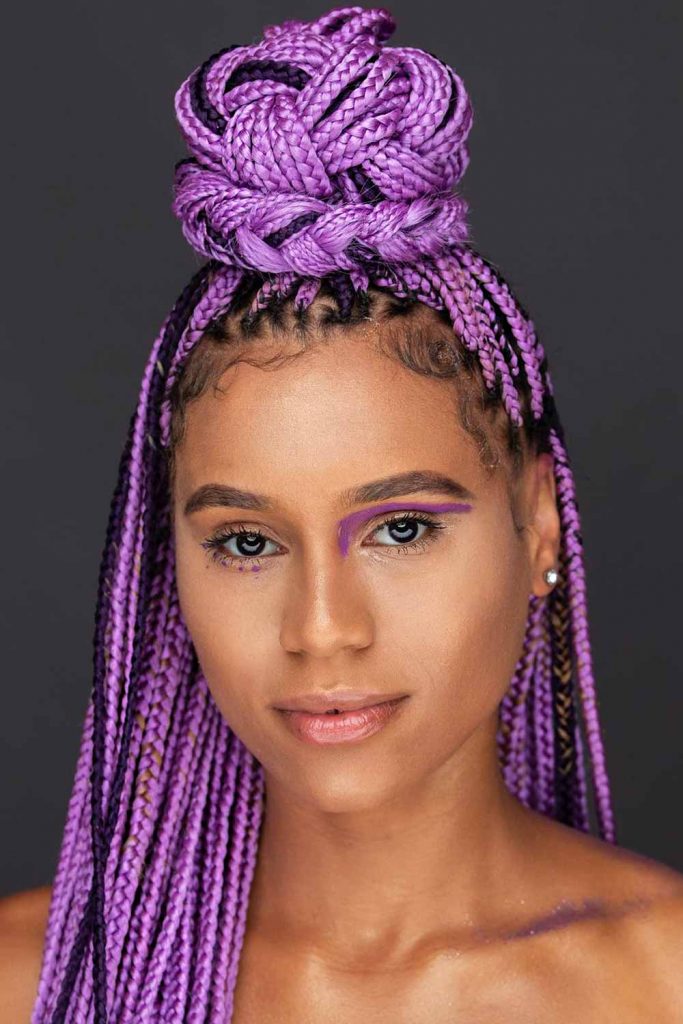 Credit photo: instagram.com/shexcrownedme
If you are not afraid to stand out in the crowd, then you will highly appreciate purple knotless hair braids. The color looks unusual and unique. Plus, it compliments any skin tone. So, you are sure to look amazing with this hairstyle. While you are welcome to style it whatever you want, we recommend a half updo.
Silver Knotless Braids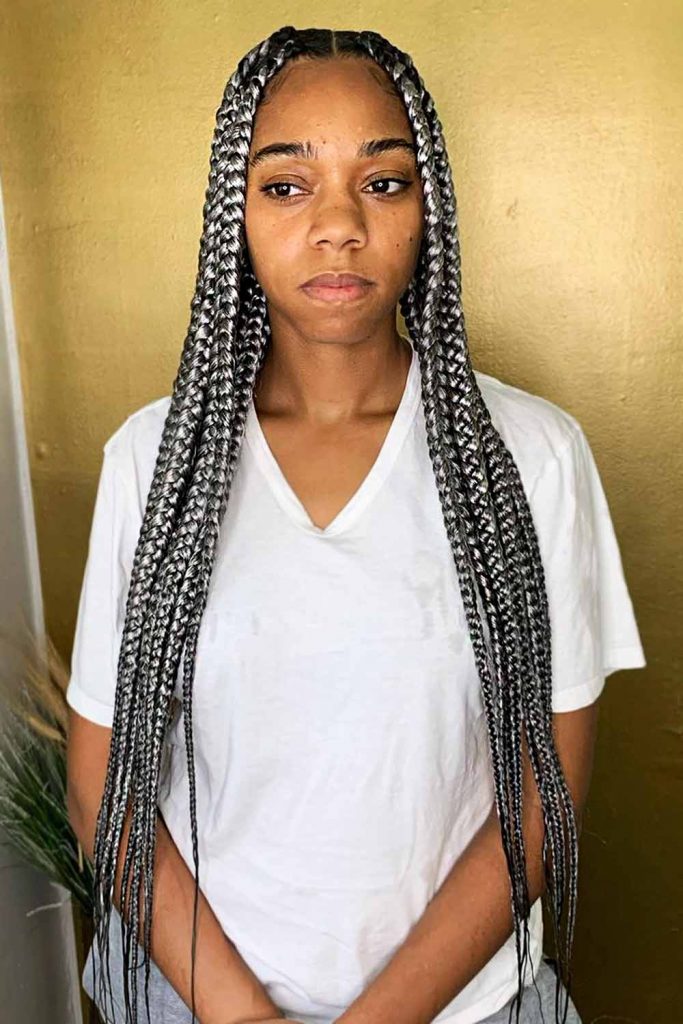 Credit photo: instagram.com/shexcrownedme
The silver hair trend may not be as popular as before, yet it does not mean that it is out of style. Choose this dapper color for your extension hair and you will not be disappointed. Knotless silver braids take your hairstyle to the spotlight with a unique look.
High Bun With Bandana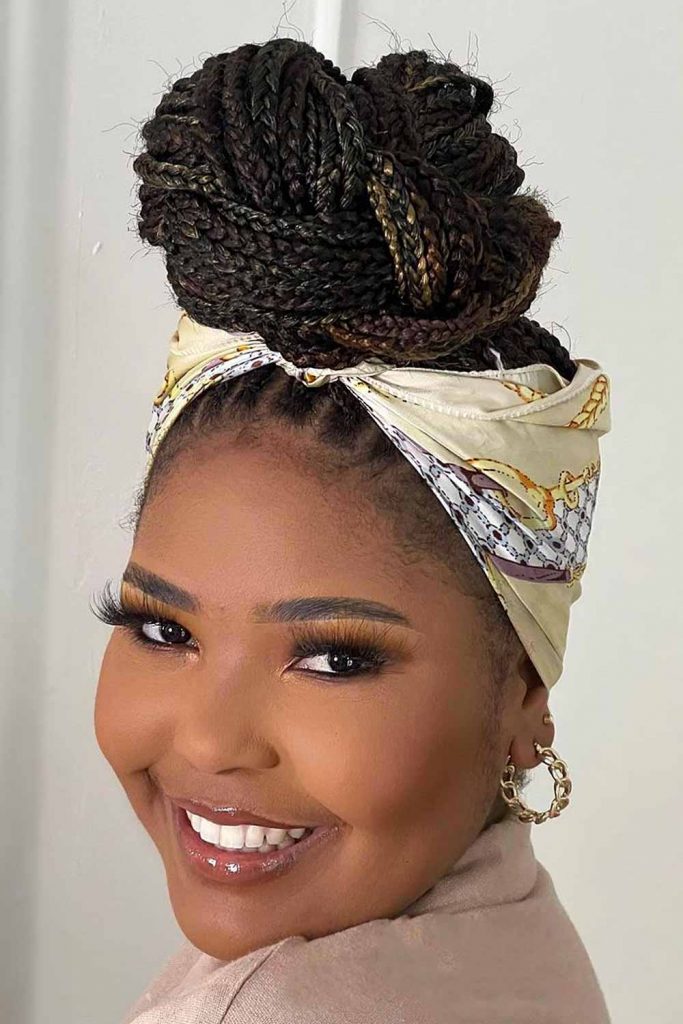 Credit photo: instagram.com/fancy_claws
Do not be afraid to complement your braided hairstyle with various hair accessories. Not a fan of hair pins and clips? Not a problem. You can always get away with your favorite bandana. Just fold it a couple of times and wrap it around the head, while tying the rest of the hair into a high bun.
Boho Knotless Braidsd Hair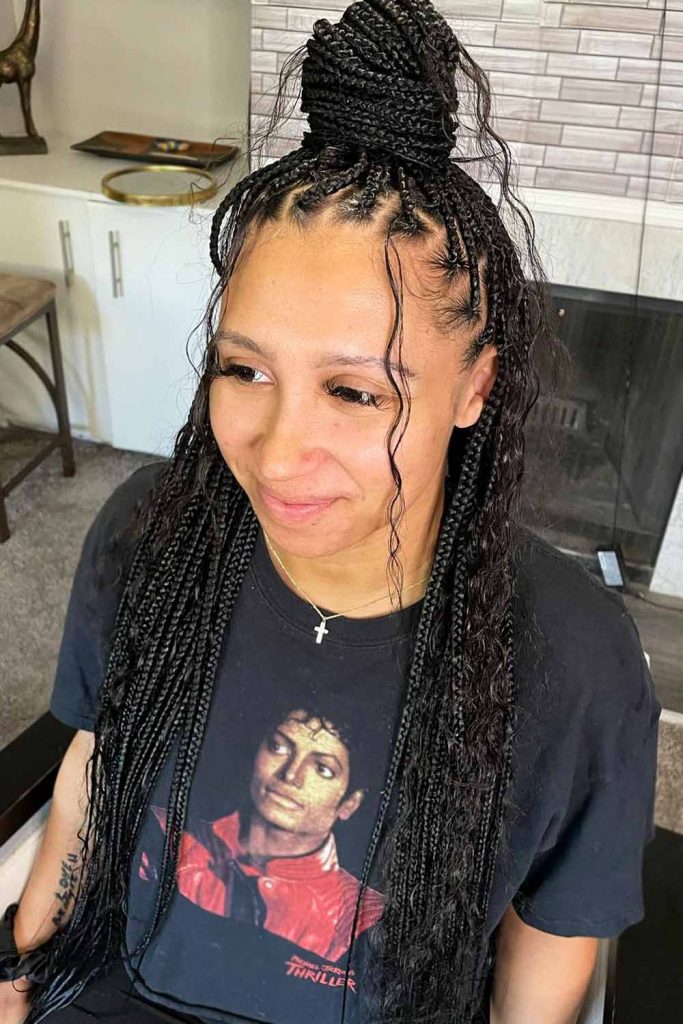 Credit photo: instagram.com/shexcrownedme
Who would mind adding a boho chic to their hairstyle? We do not know such people. If you are on the same page with us, then you are bound to fall in love with this bohemian inspired braided hairstyle. While your outfit may be just any clothes you feel comfortable in, it is a good idea to match your attire to the style of your hair.
Creative Medium Knotless Braids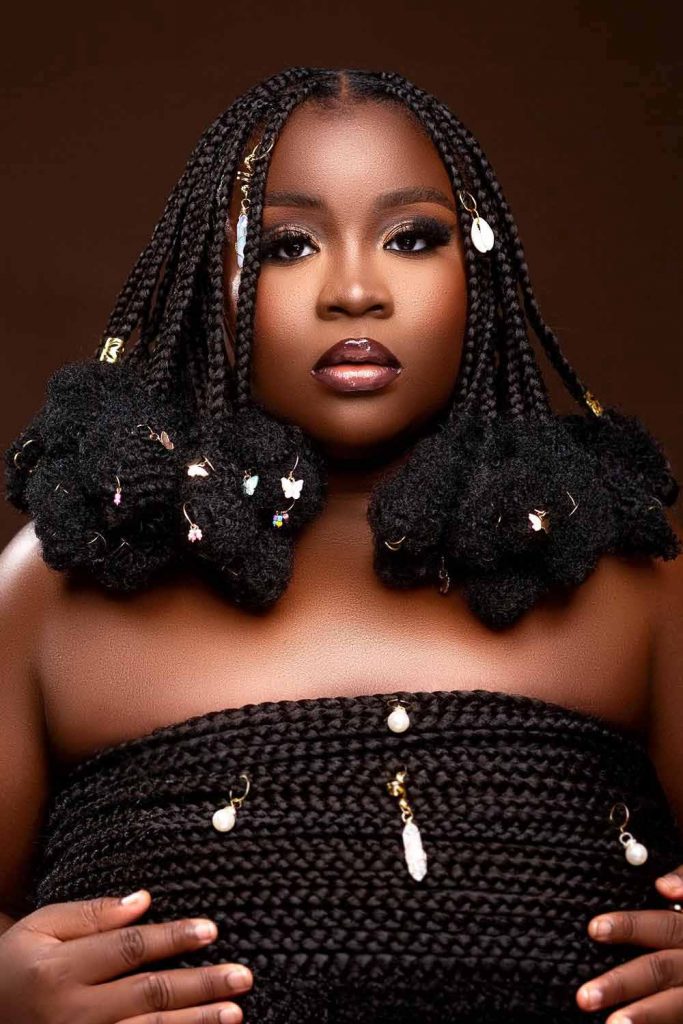 Credit photo: instagram.com/silverhairgh
Unleash your creativity with medium knotless box braids. Let your hairstyle speak for itself. In addition to intricate braiding, you can also adorn it with beads, rings and gems. Being a great way of self expression, it can easily become your go to hair look for events when you need to make a strong fashion statement.
Bohemian Knotless Perfect Spirals at the Ends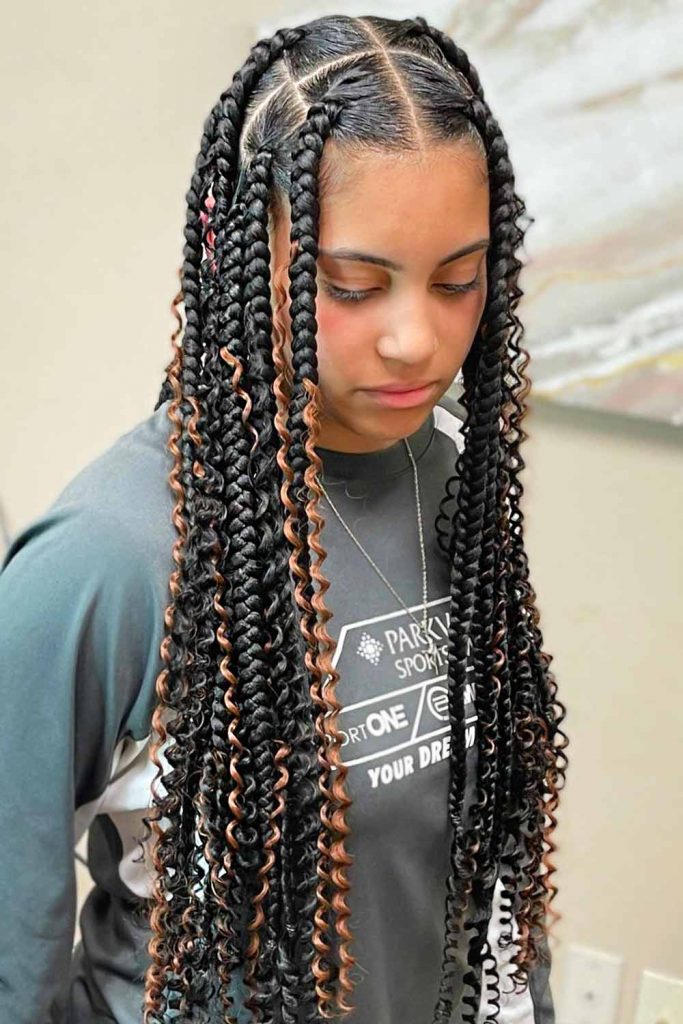 Credit photo: instagram.com/braids_by_msnelly
Knotless hair braids are often intertwined with the bohemian style and no wonder. Both have a magical flair that everyone finds so appealing. A wonderful take on a boho knotless braided hairstyle is the incorporation of spiral strands into your locks. They may start pretty high up on your head or closer to the ends.
Criss Cross Knotless Braids With Buns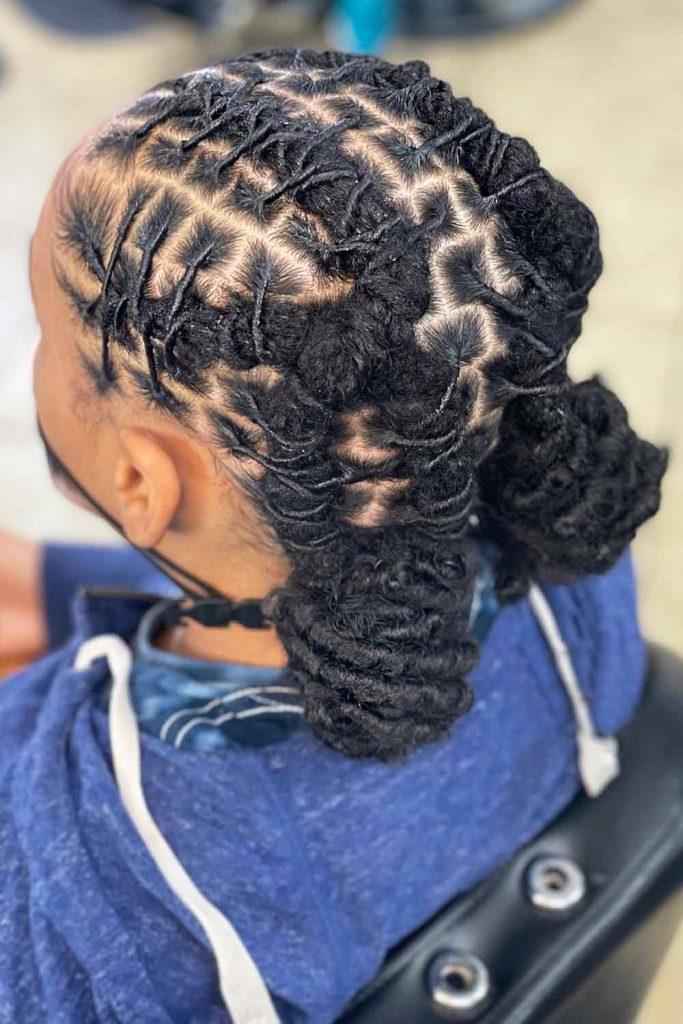 Credit photo: instagram.com/braidedroots
You can hardly call knotless crochet braids easy or effortless. You need to have quite a lot of skill to create this elaborate hair look. That is why it is better to enlist the help of a professional braider to get it. Pair the braids with buns and you are sure to collect compliments left, right and center.
Combination of 4 Colours Knot-less Braids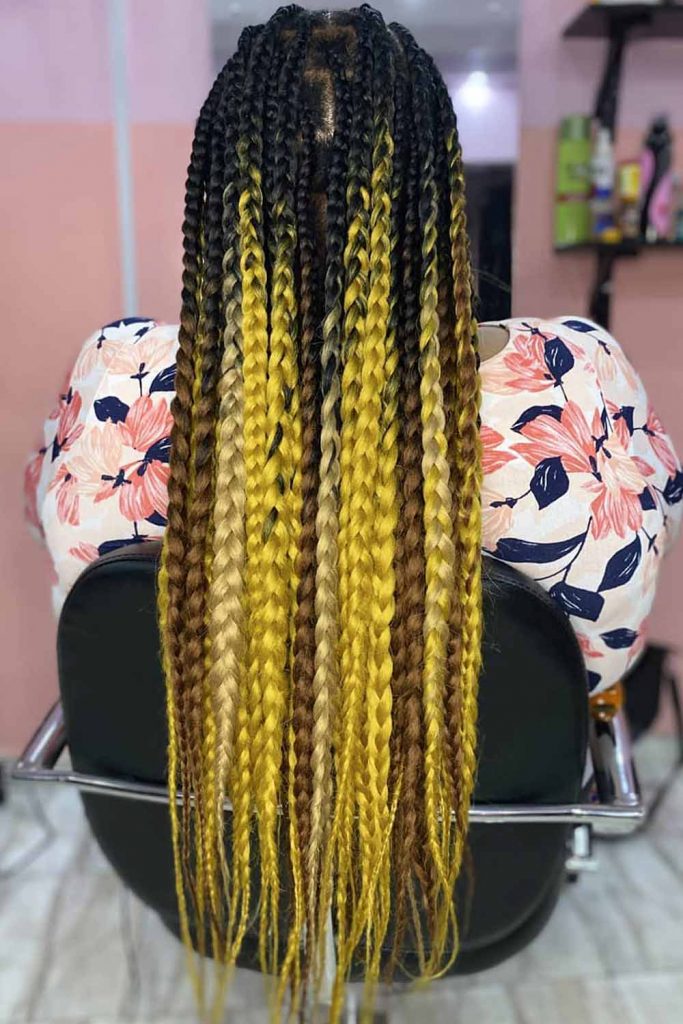 Credit photo: instagram.com/carlisbeautyhair
There is no such thing as too many colors for knotless hair braids. So, if you decide to combine several shades in one look, feel free to do so. The colors can be matching or complementary. It is up to you to decide. And while the number is not limited, we recommend opting for no more than a four color combo.
Brown Knotless Braided Style With Beads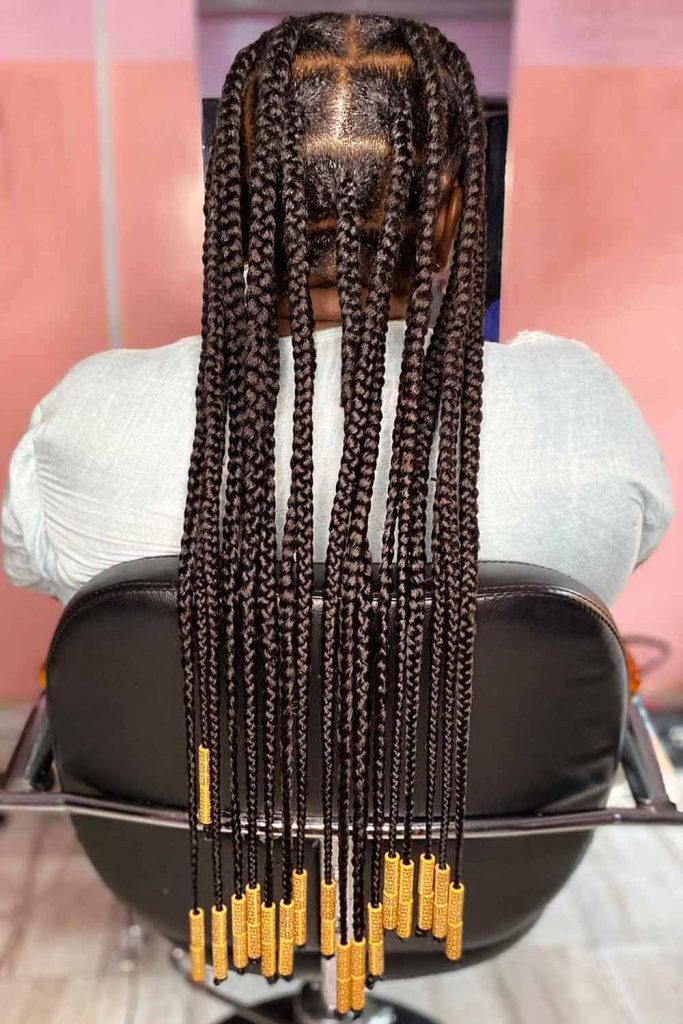 Credit photo: instagram.com/carlisbeautyhair
If you want to pay tribute to your cultural heritage, a hairstyle may be a great option. Brown or ginger knotless hairstyle embellished with beads are your sure bet. The size and length of the braids depend on your taste and preference. Yet, keep in mind that medium knotless braided hair are a failproof solution.
Blonde Knotless with Ombre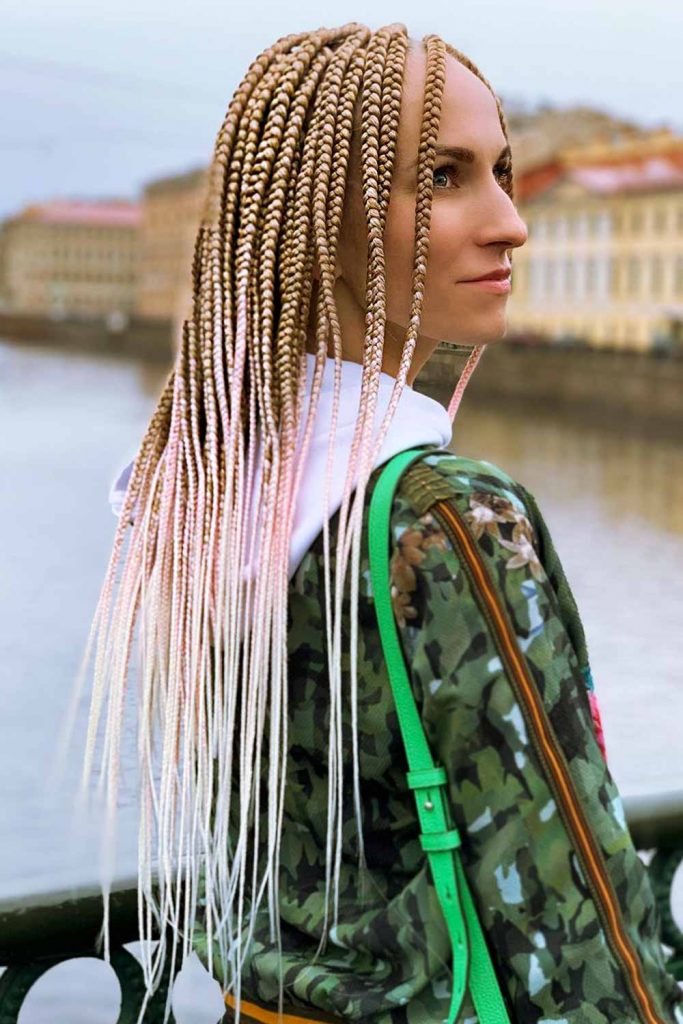 Credit photo: instagram.com/braidsvolna
If you got tired of your regular blonde ombre, then why don't you put it into knotless braids? This hairstyle works for absolutely any hair type and length. If you have short locks and would like a longer braid look, then just arm yourself with long blonde extension hair.
Blue Medium Knotless Braids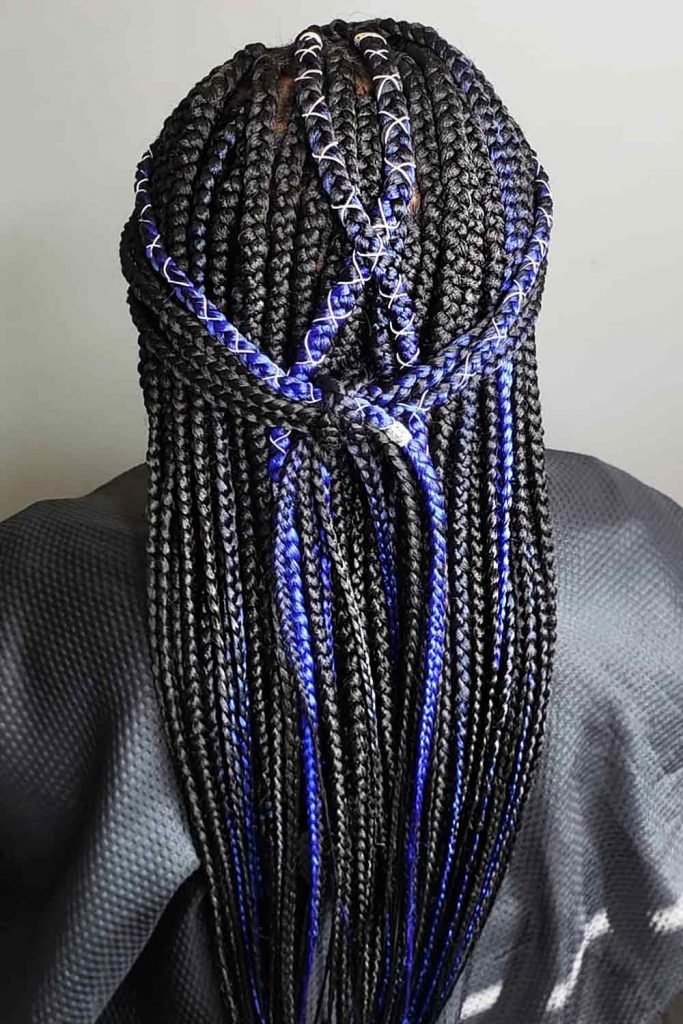 Credit photo: instagram.com/xcellentxtensions
Blue knotless braids are not that common. And we think that it is totally unfair, as this color looks gorgeous on braided hair. Plus, the great thing about it is that your hair color style is going to be one of a kind. What is more, there are numerous shades of blue to choose from.
Colored Mix of Braids Without Knots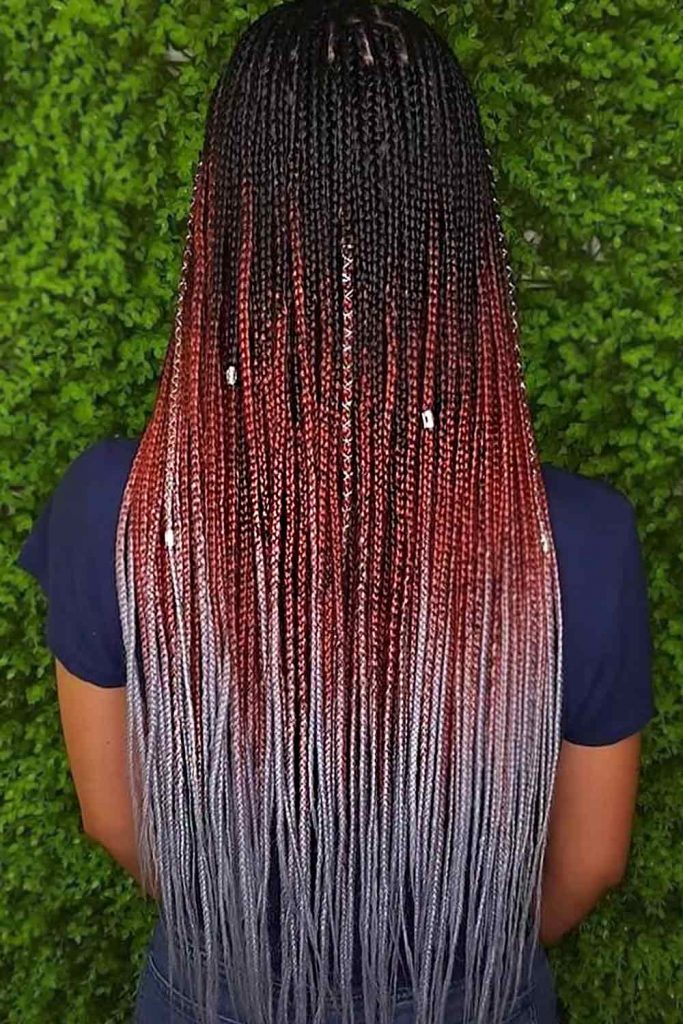 Credit photo: instagram.com/carlisbeautyhair
Mixed knotless style with color know no limits. You may create beautiful transitions from one shade to another using any color combinations you like. Try to pair bright colors with pastel or light with dark. This will allow you to achieve a high contrast and bold look.
Burgundy Knotless Braids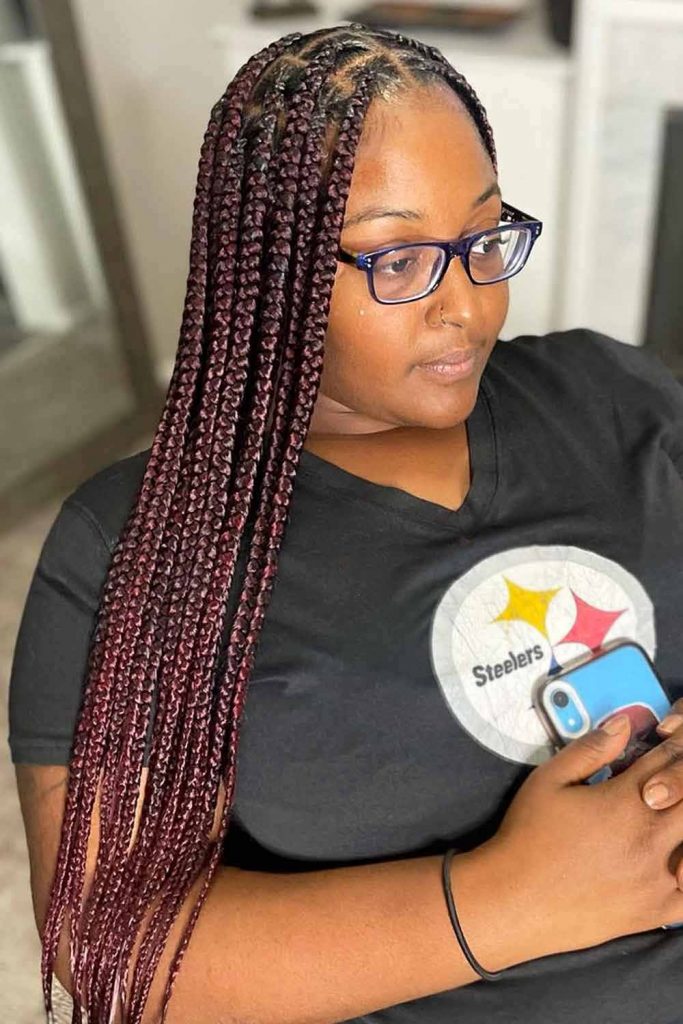 Credit photo: instagram.com/shexcrownedme
Burgundy knotless box braids are your way to give traditional black braids a colorful twist without overdoing it. This hair color is perfect for fall. Yet, you can wear it all year round if you like. Make sure to choose the shade that compliments your skin undertone better.
Cute Half Up Red Ombre Knotless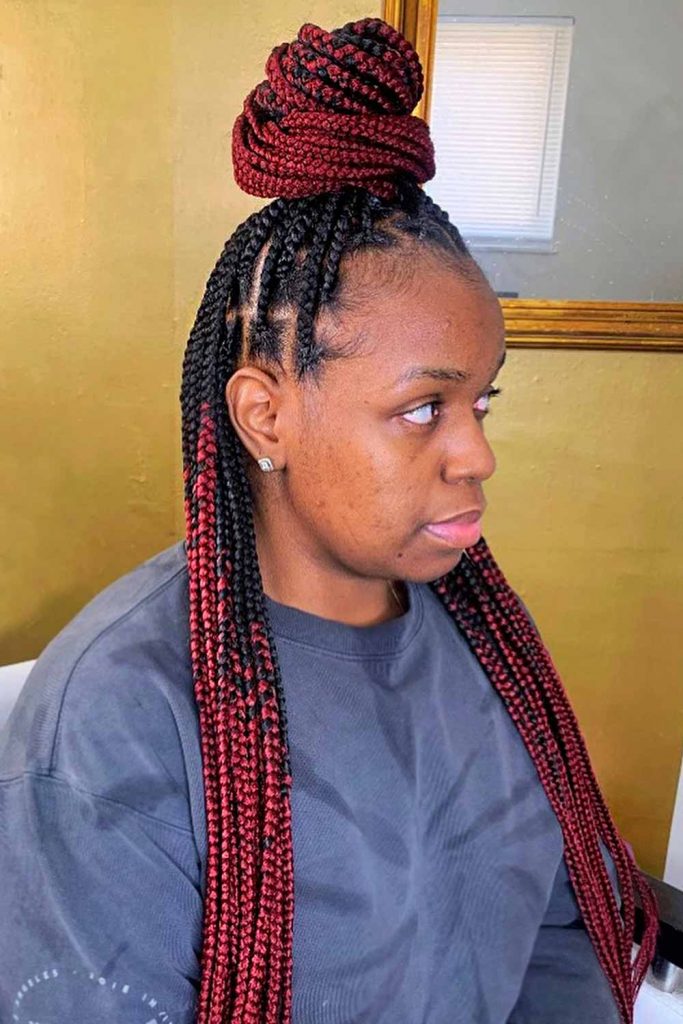 Credit photo: instagram.com/shexcrownedme
Red ombre on knotless braided hair turns out daring and impactful. So, do not hesitate to go for it if you like to be the center of attention. You can wear it loose, tied in a pony, braided or in an updo. Though, a half up hairstyle is often all you need.
Red Medium Knotless Braids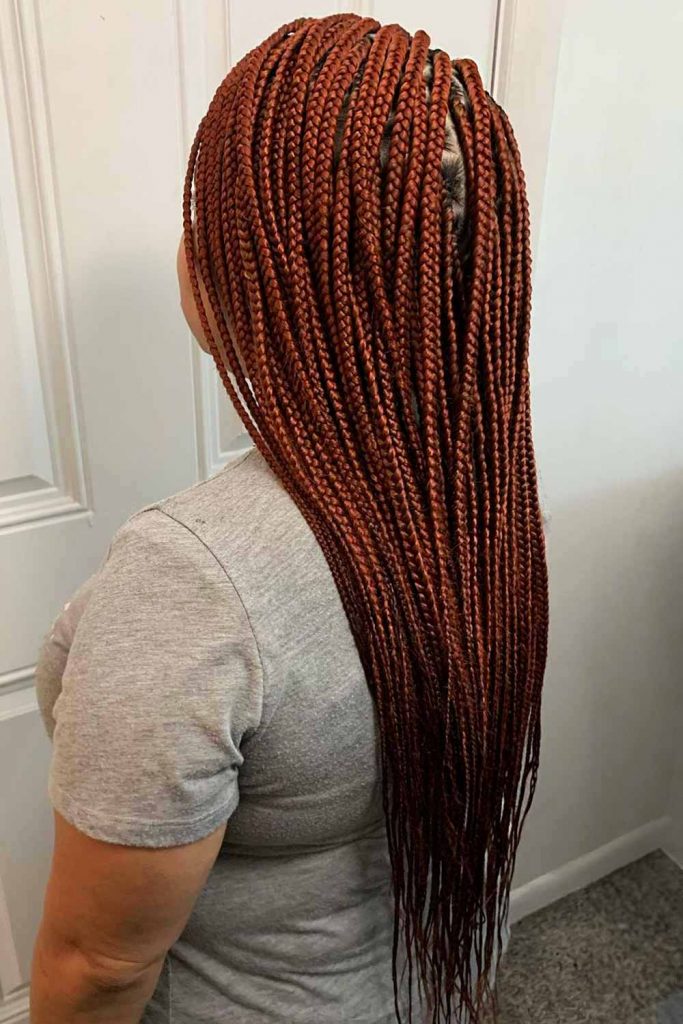 Credit photo: instagram.com/shexcrownedme
In case burgundy knotless braids seem too dark for you, you can always go with a more vivid color, such as red. One of the best parts about this hairstyle is that you do not have to dye your natural hair red. Well, you can, of course, but there is no need to, as red hair extensions will do the job for you.
Jumbo Knotless Braids With Purple Highlights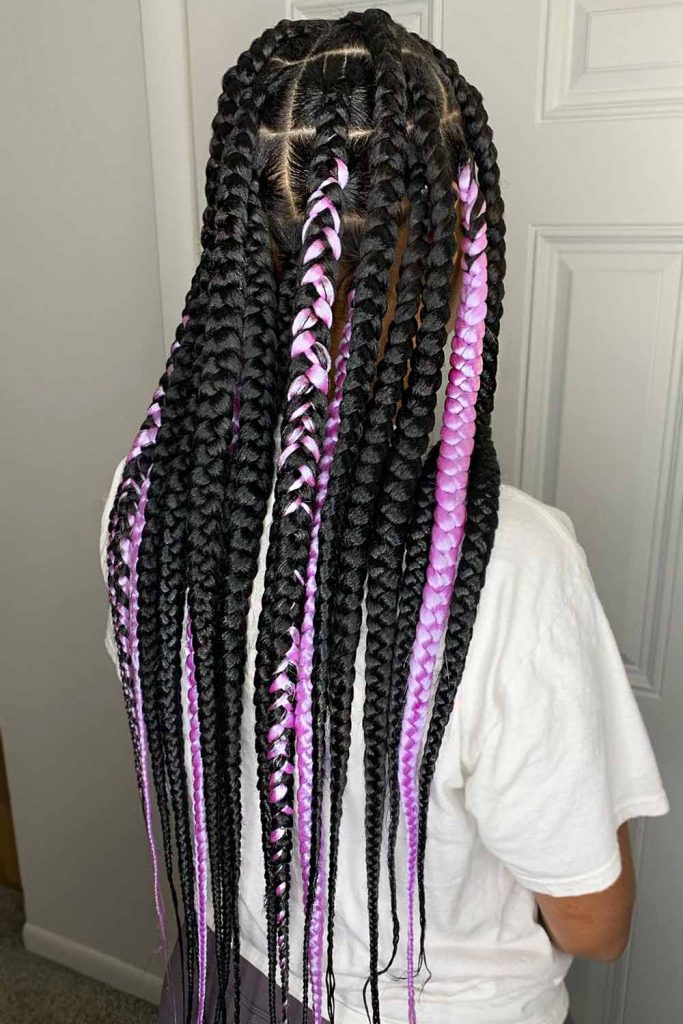 Credit photo: instagram.com/shexcrownedme
Jumbo knotless braids are known for their slightly chunky look. If you are worried that you will not be able to pull them off, then resort to colorful accents. For instance, you can add purple highlights to your braids with the help of extension hair.
Heart Knotless Braid Style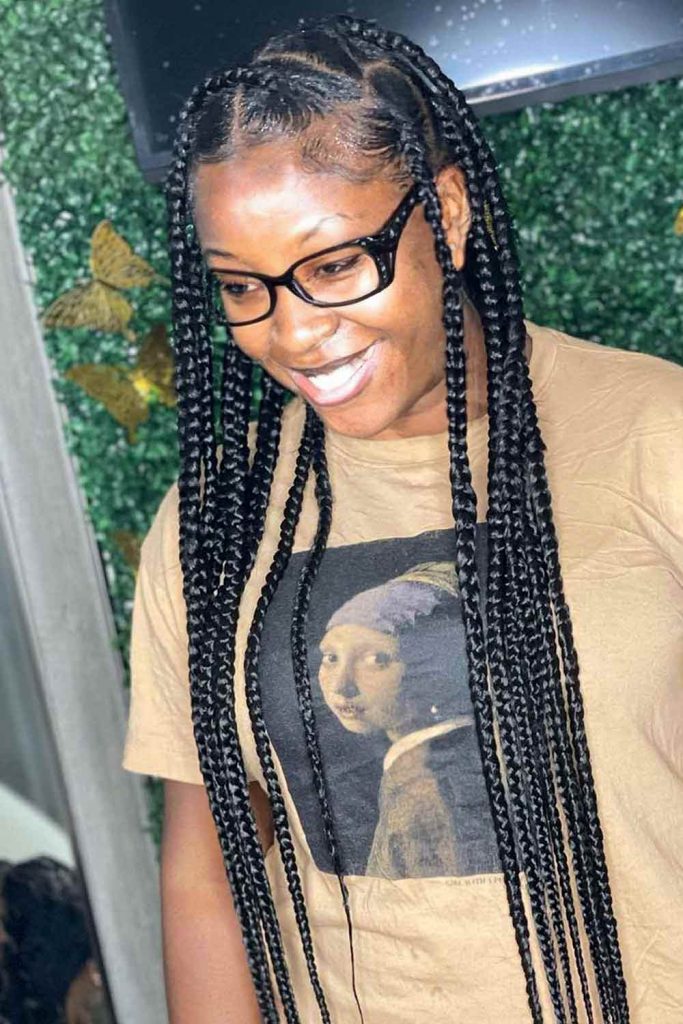 Credit photo: instagram.com/braids_by_djeph
If your braider is really good at creating sophisticated patterns on your head, then you should definitely ask them for knotless braids with heart design. While it is most likely that you will have to spend the whole day in the stylist's chair, it is totally worth the effort.
Small Pink Knotless Braids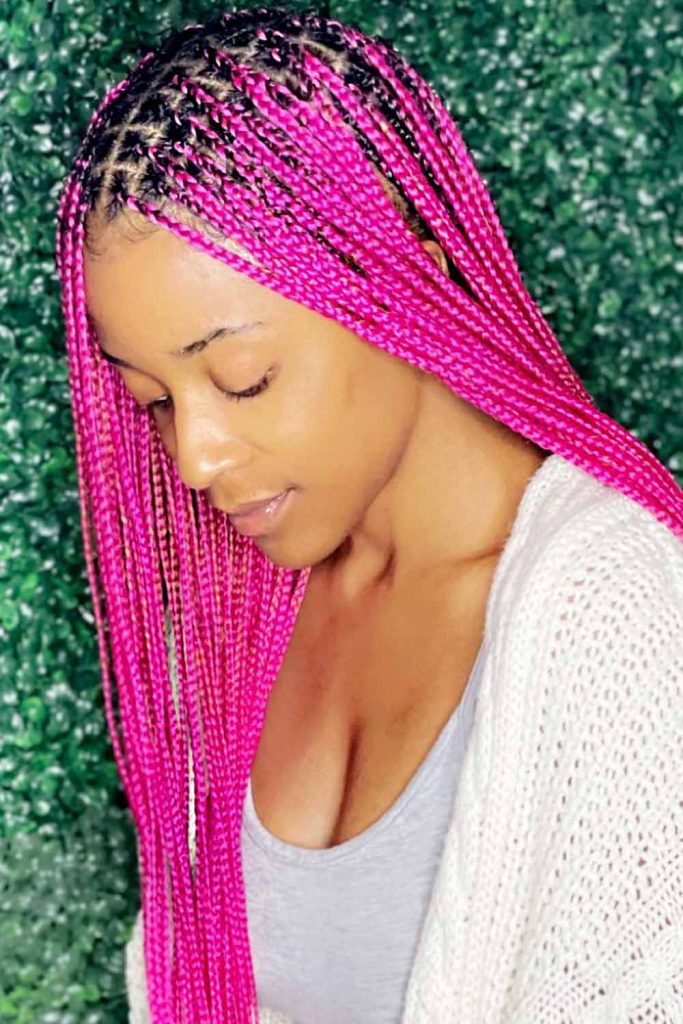 Credit photo: instagram.com/braids_by_djeph
With the rising popularity of the Barbiecore aesthetic, the pink hair trend has had a fresh turn. Yet, if you wish to hit two birds with one stone, why not combine the trending hair color with a knotless hairstyle? Together, they make up a stunning hair look, especially for girls with deeper skin tones.
Blonde and Brown Knotless Braids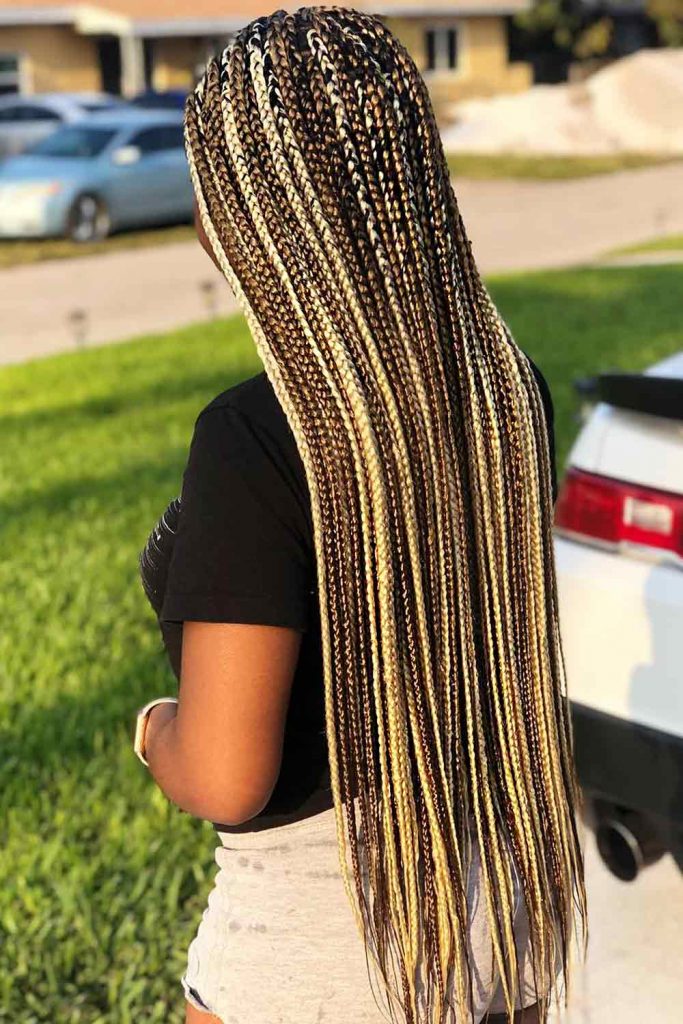 Credit photo: instagram.com/braids_by_djeph
Not sure how to wear blonde knotless braids on dark skin? No worries. We have a great idea for you. Team your blonde braids with brown ones to achieve a well balanced hair look. It is a great transitional hair color and helps you to get used to your new look. And once you feel comfy with it, you may go for all over honey blonde knotless braids or even platinum blonde braids.
Diamond Part Knotless Braids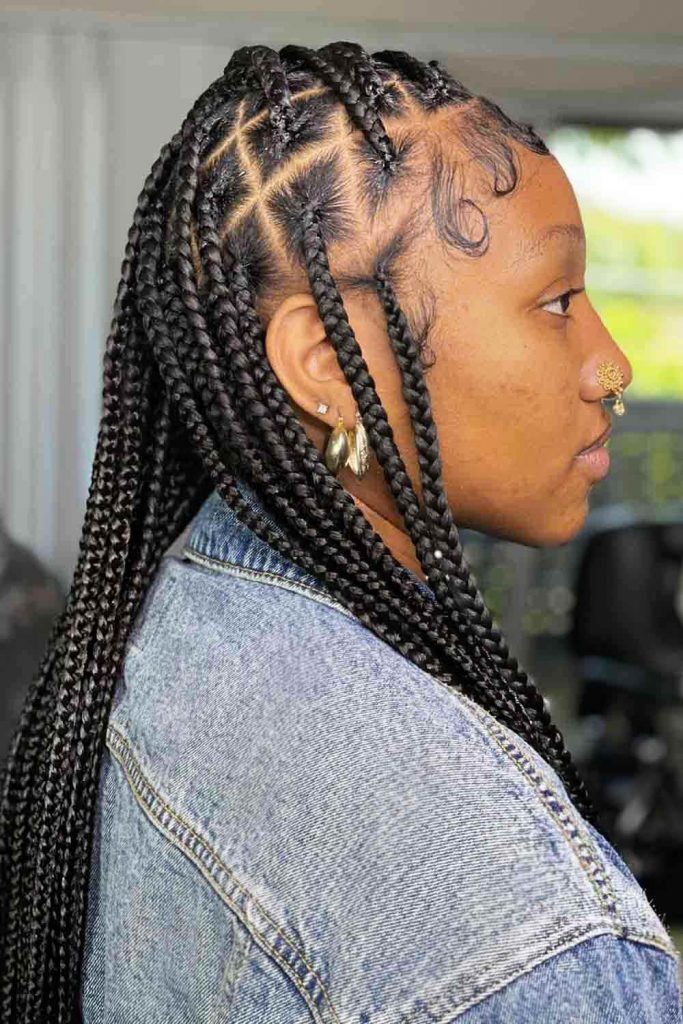 Credit photo: instagram.com/braidedroots
One more idea on how to section out your hair for a knotless braided style is to divide it into diamond shaped partings. While the technique is quite similar to knotless box braids, the outcome is rather different. The pattern turns out very distinct and ornate. So, your hairstyle will not need any embellishments.
Knotless Braided Hair with Blonde Highlights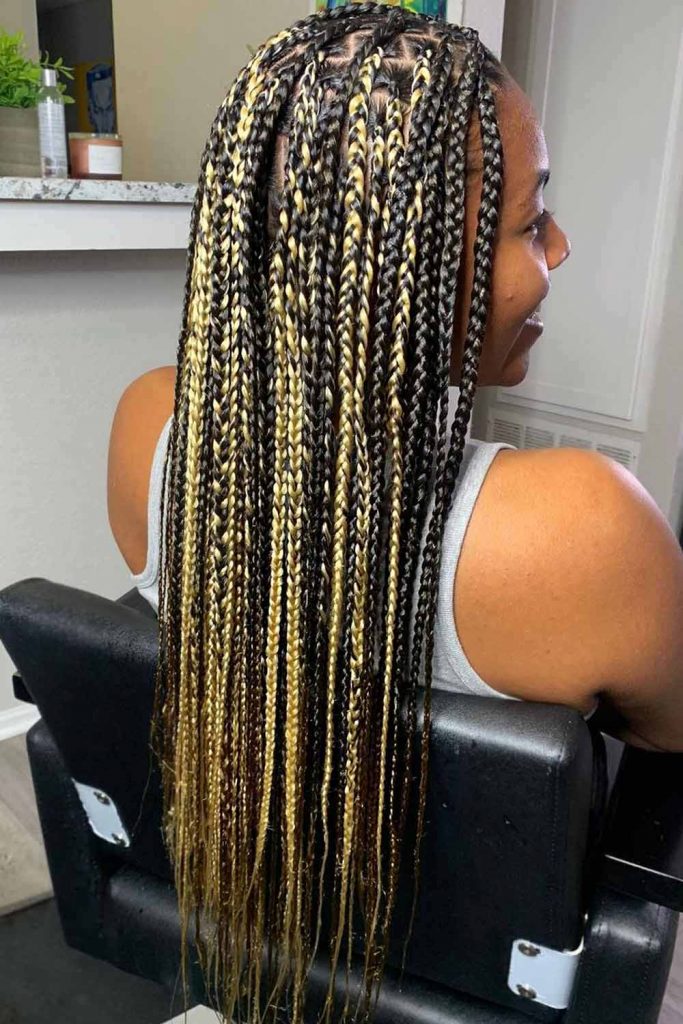 Credit photo: instagram.com/braidedroots
Blonde highlights can give any hairstyle more depth and definition and knots free braids are no exception. If you are feeling playful and would like to try on an extremely edgy and quirky hairstyle, then skunk stripe knotless braids are exactly what you are looking for.
Black and Brown Side Knotless Braids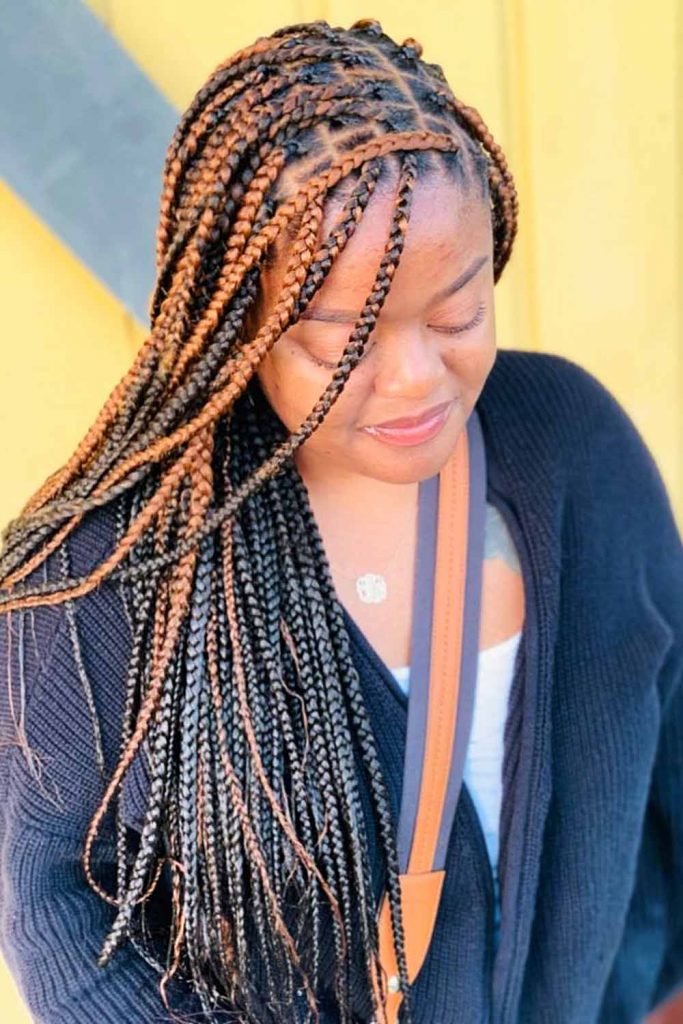 Credit photo: instagram.com/braidedroots
Put a twist onto your hairstyle by getting knotless vixen crochet braids. As they feature a pattern that will not leave anyone indifferent, they will take you to the limelight wherever you go. What is more, you can style them simply flipped to the side and end up with a very flattering and edgy hairstyle.
Knotless Braids High Ponytail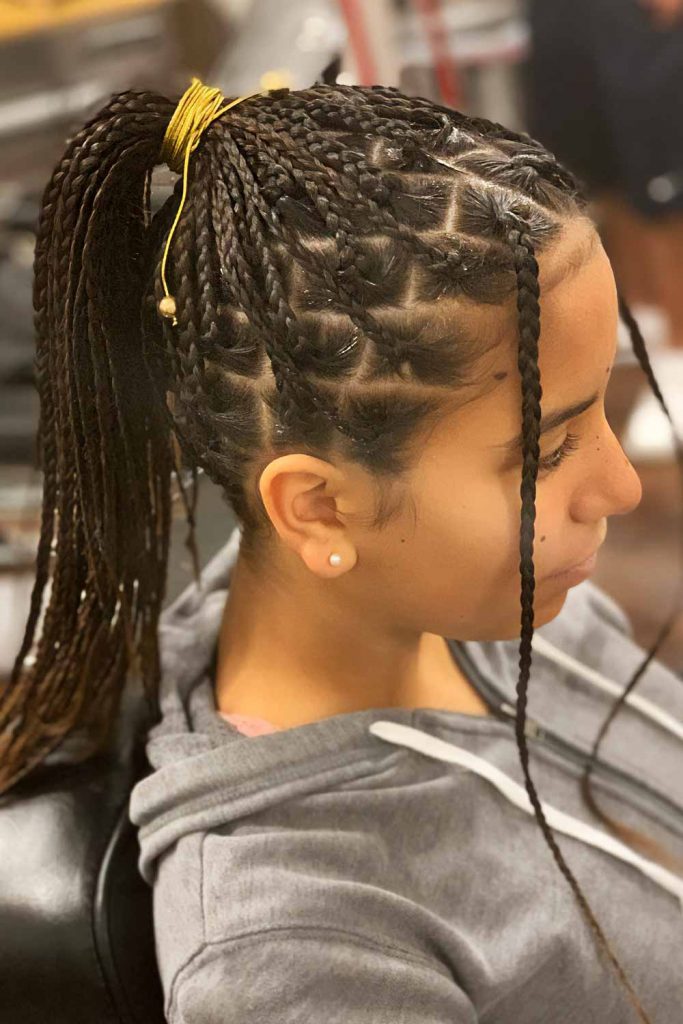 Credit photo: instagram.com/braidedroots
Whenever you feel bored with your peek a boo knotless braids, do not rush with undoing them. You can tie the braids into a high ponytail and forget about them for the whole day. Leave out a couple of braids in the front to frame your face and give the hairstyle an authentic feel.
Neon Green Knotless Braids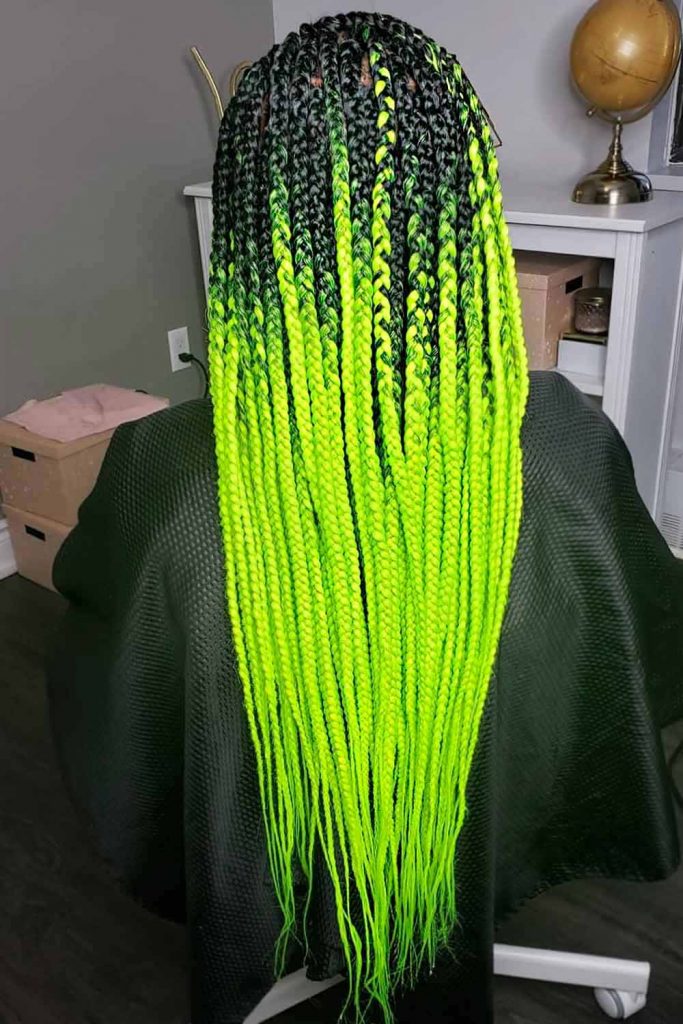 Credit photo: instagram.com/xcellentxtensions
We should be thankful for the popularity of the neon green and black hair color combo to the one and only Billie Eilish. When the What Was I Made For? singer first introduced this combination to the world, it instantly became viral. So, in case you try to follow fashion trends, you have to get this look.
Knotless Braid with Beads for Girls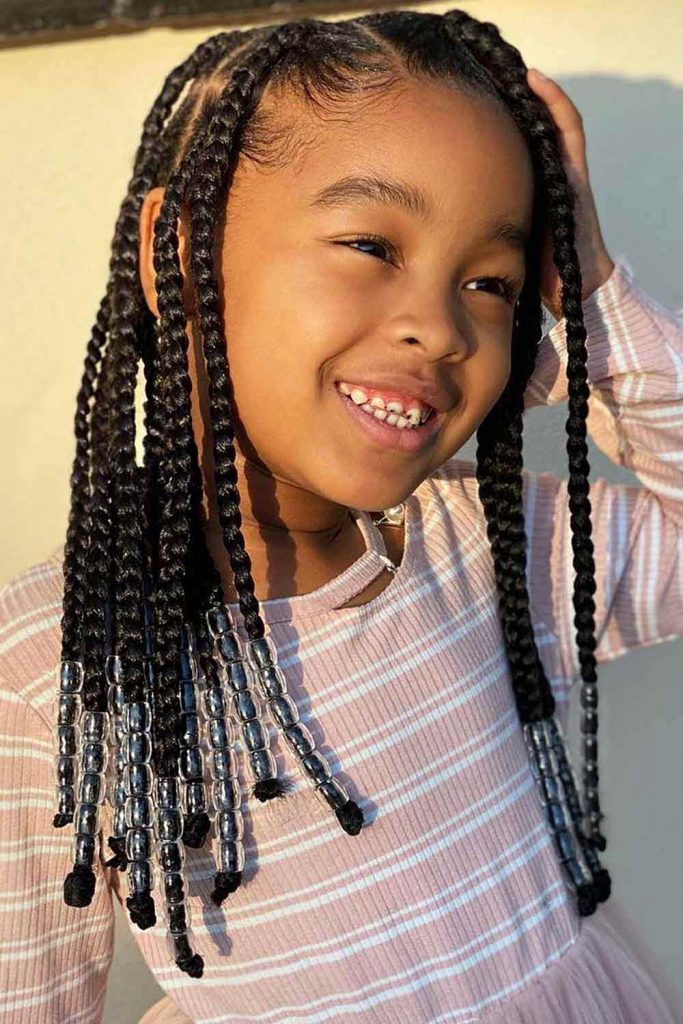 Credit photo: instagram.com/fancy_claws
Like we mentioned before, knotless braid hairstyle has no restrictions in terms of age. So, it may be a great option to keep your little one's unruly locks tamed. It goes without saying that girls love braids and even more so when these are knotless hair braids decorated with pretty beads, charms and clips.
Once you get knotless braids installed, you will not want to return to any other hairstyle. You can switch up the look every time you visit your braider and end up with a new knotless braid version. Hopefully, our guide has given you enough inspirational ideas so you already know what style you are going to ask your hairstylist for next. And once you feel like your heart is longing for a change, you are welcome to come back here for more ideas.
REFERENCES: