A faux hawk, also called fohawk, is a popular take on a Mohawk haircut, which originated a while ago. Native Americans introduced this short haircut and then it was spread around the globe.
Mohawks and fohawks are differentiated easily. A Mohawk has shaved sides with a strip of longer hair left on top. Surely, such a haircut may be extreme to some people. That's how fohawks entered the beauty scene. To create a fohawk, the sides are sleeked down. In a fohawk, the sides may or may not be cut shorter, that is, you have a choice. The central sections are raised with braids, ponytails, curls, accessories, or styling products. As a result, you get the edginess and structure of a Mohawk, but it is for you to decide whether you want to sacrifice the length or not.
Read on to explore trendy and bold fohawks for all hair lengths.
Faux Hawk Hairstyle For Straight Hair
Source: victor.nadolsky via Instagram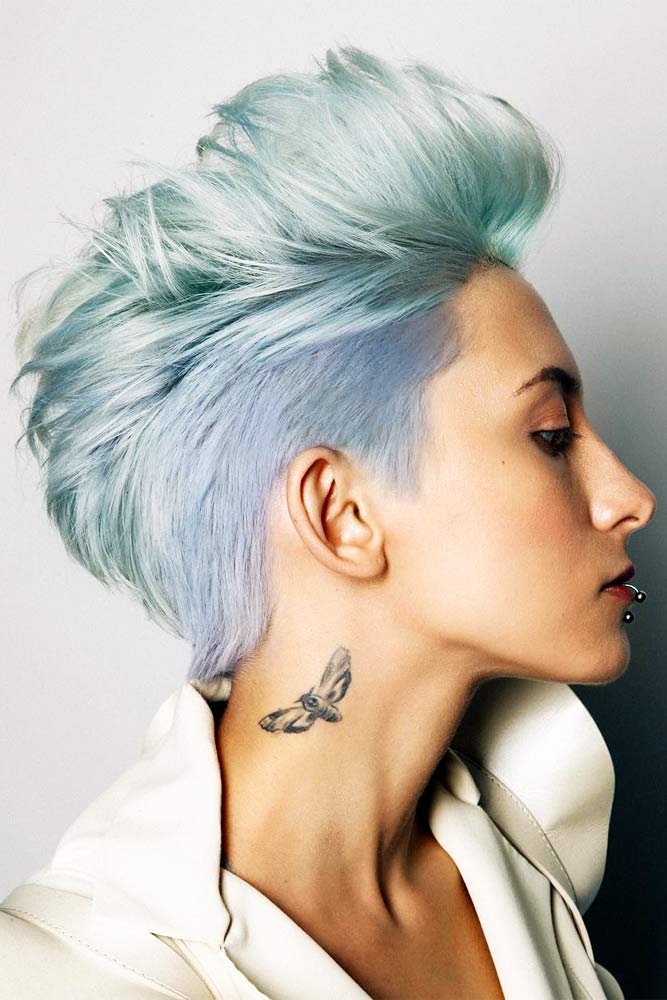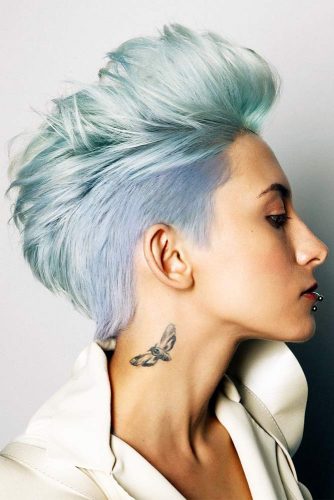 Looking for sexy hairstyles for women who have short hair? Why not sport an undercut faux hawk like the one depicted here? The daring greenish-greyish hue and the elevated top add so much pizzazz to this model's short hair style.
Wavy Hair Faux Hawk Style
Source: jacquelynmarieh via Instagram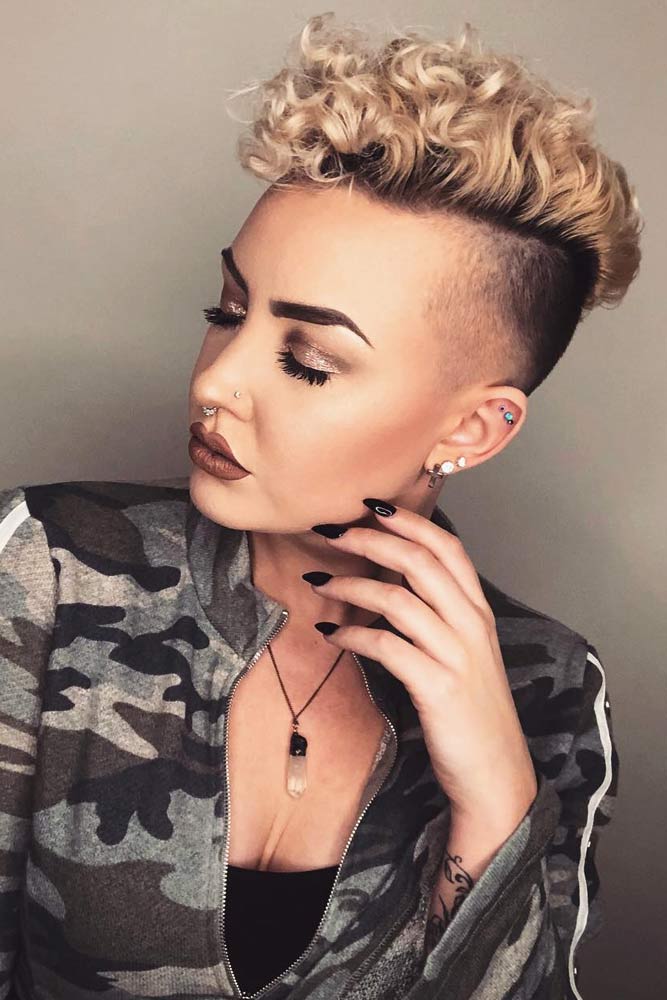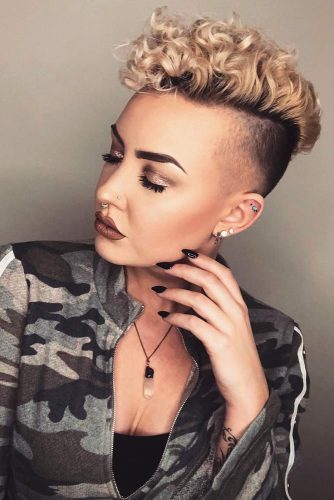 This wavy hair hawk hairstyle has extremely short sides, comparing to a longer top strip. And the pastel peach hue makes this hairstyle even more attention-grabbing. Do you know that you can cut a high fade faux hawk like this one at home?
Prepare scissors, elastic or rubber bands, several mirrors, hair mousse or gel, and hair clippers. Follow these simple steps.
How wide would you like the hair strip on top to be? It's often situated between the irises.
Wash your tresses thoroughly, dry them. Split the tresses into 3 sections with a comb. Fix the central section with elastic bands.
Trim your tresses a bit. The length is up to you.
When shaving off both sides, clippers will come in handy. Be careful not to take the length from the top section.
Remove the elastic bands from the central section. Apply hair gel or mousse. Using big hot rollers, wave the top. Voila! Your daredevil hairstyle is ready!
Natural Hair With Faux Hawk Hairstyle
Source: alex_haircraft via Instagram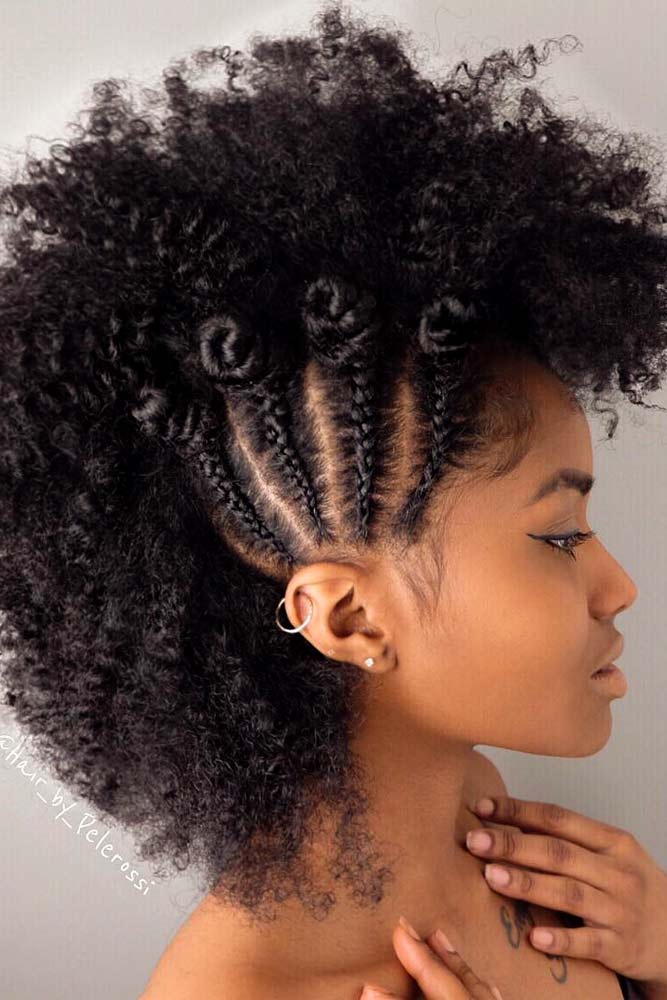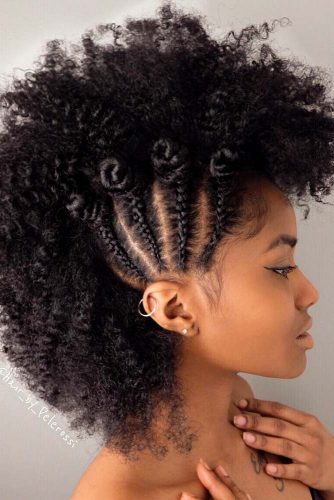 We know how tricky styling naturally curly hair is. This fohawk hairstyle can help you to take your unruly locks off your face. It's one of those instances when braids are not only super cute but are also functional.
Faux Hawk Hairstyle For Short Hair
Source: bottleblonde76 via Instagram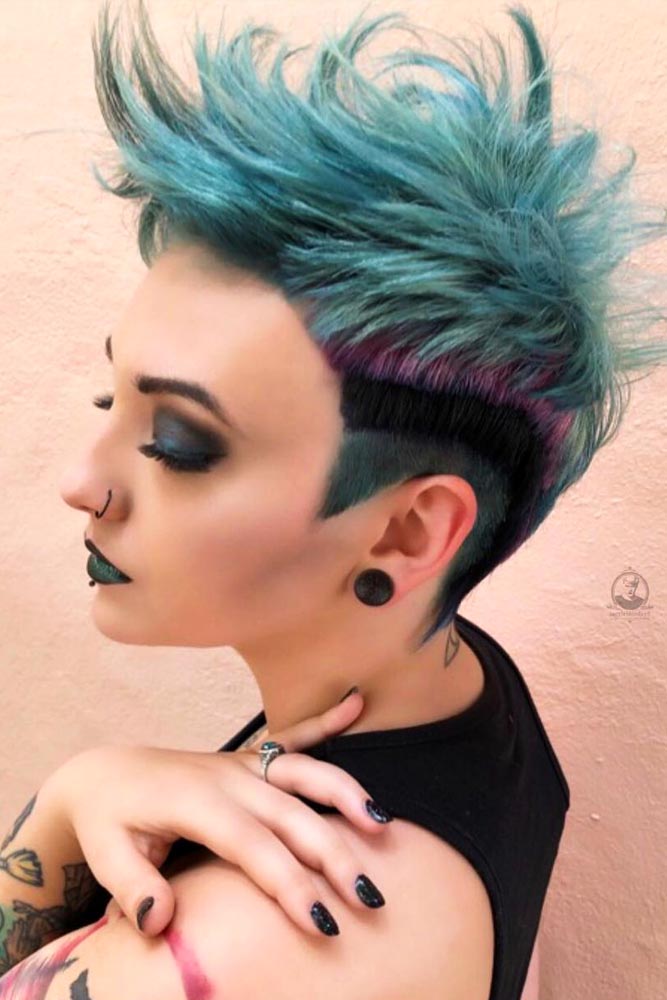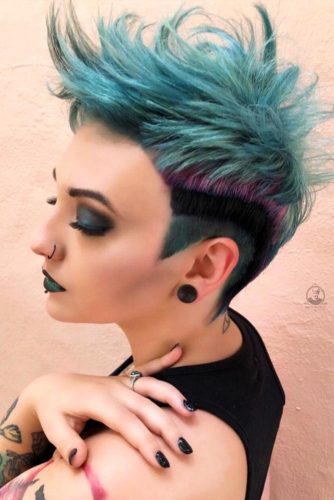 This short faux hawk strikes with its amazing transition of colors from green-blue to pinkish to black to grey-green-blue. We can tell you at once that such a dye job will take a lot of time and effort. But we think that the result is totally worth it.
Medium Length Hair With A Faux Hawk
Source: alex_haircraft via Instagram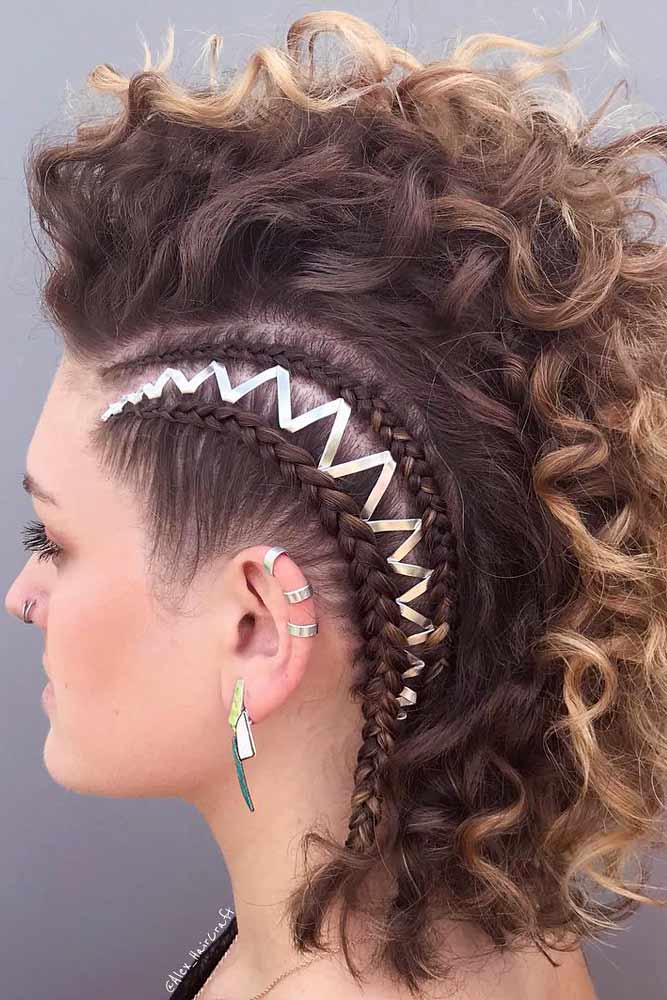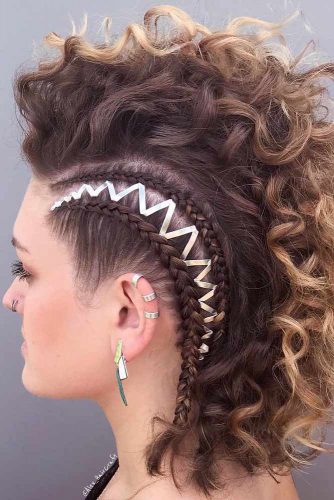 This model has medium length hair, and a curly faux hawk really compliments her. The sides are styled with braids and a white ribbon to accentuate the look even more. And the top is curled, using a curling iron and volumizing hair spray.
Fohawk Hairstyle For Long Hair
Source: theconfessionsofahairstylist via Instagram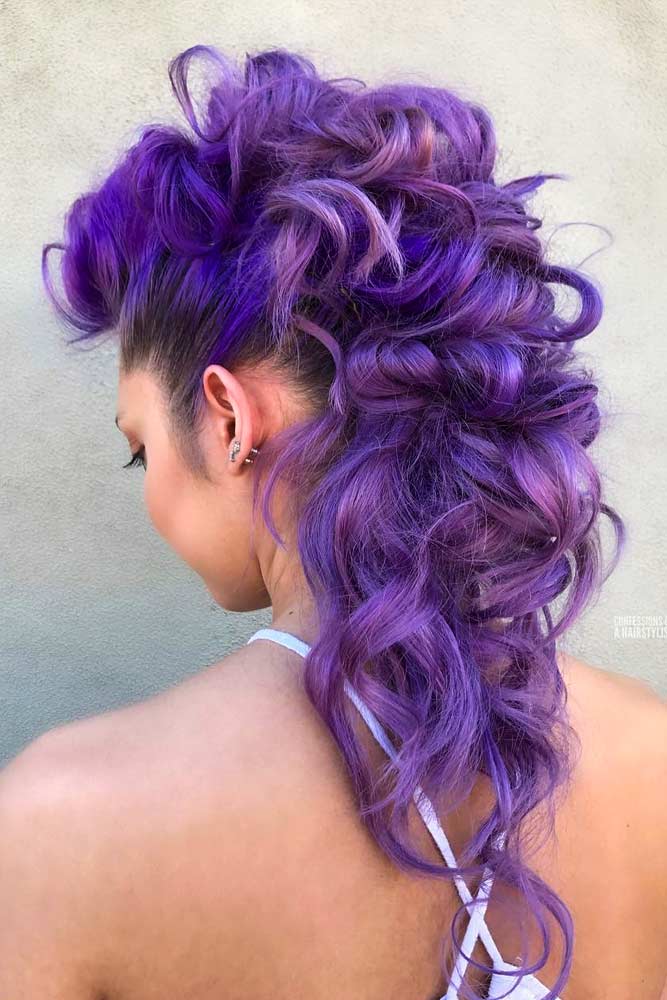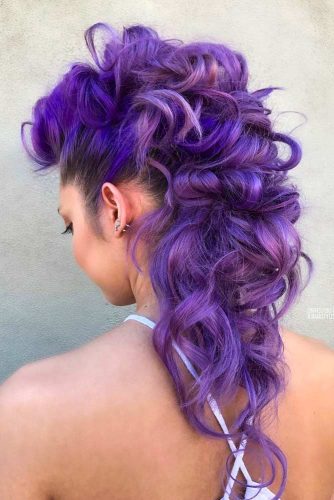 Just look at this gorgeous long faux hawk with its soft curls and fabulous lavender and purple hair shades. Are you a punk rock goddess? Then a hairstyle like this will reveal your rebellious nature. For the curls to be so soft, pick medium hold mousse.
Faux Hawk Hairstyle For Fine Hair
Source: sass.and.braids via Instagram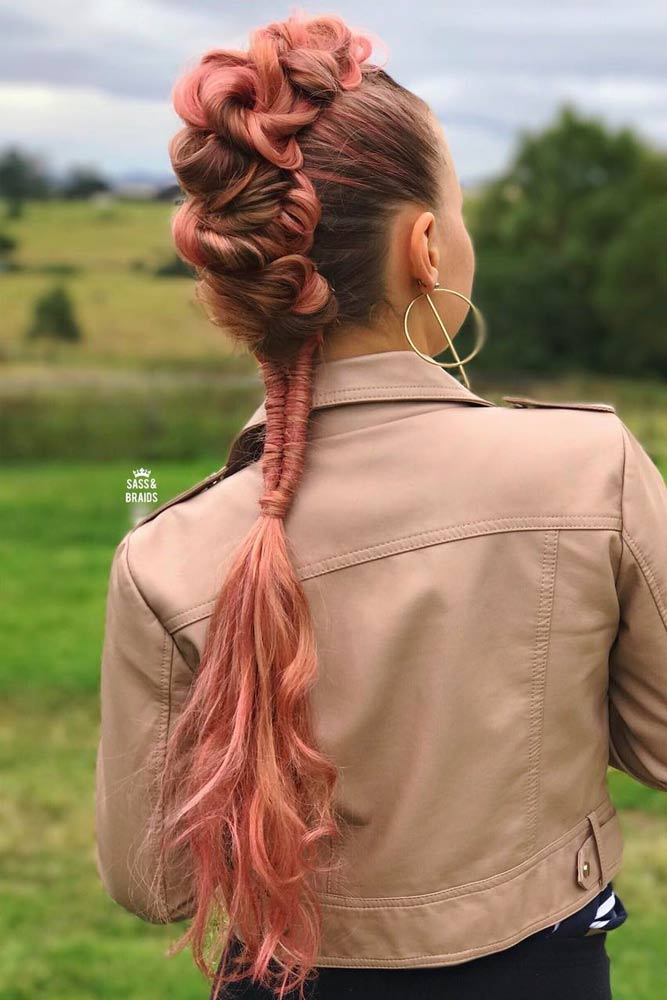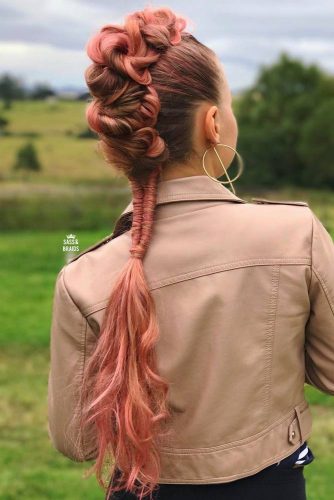 This faux hawk female for fine, long hair looks very extravagant because it involves many intricate elements. A hairstyle like this will add sophistication to your image.
If you worry that fohawk styling may damage your beautiful tresses, stop. As with any styling, as long as you use quality styling products, accessories, and appliances, your tresses are safe.
Faux Hawk Hairstyle For A Thin Hair Type
Source: bottleblonde76 via Instagram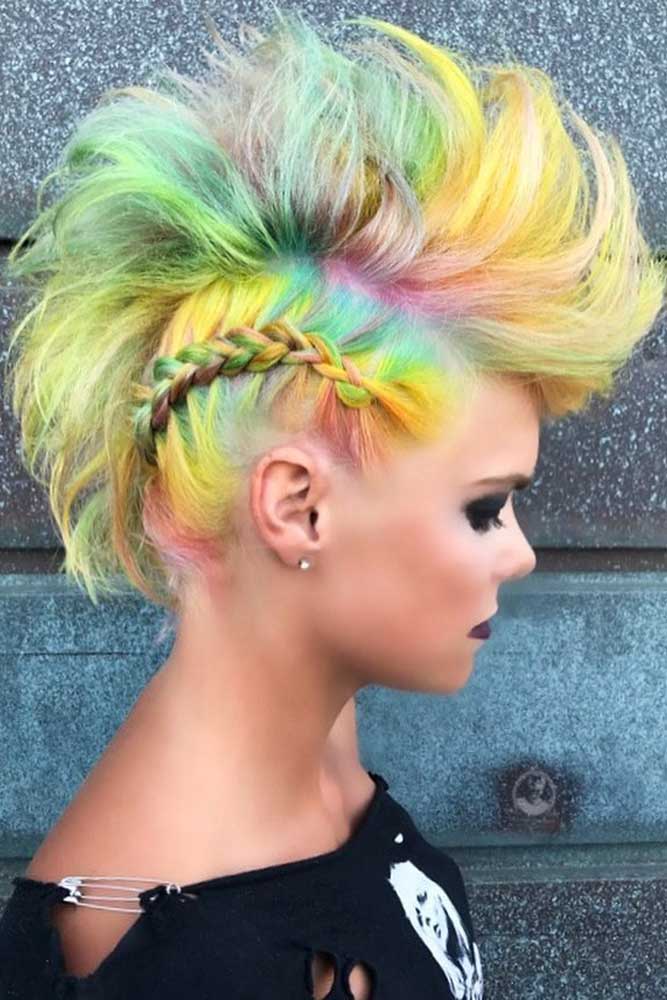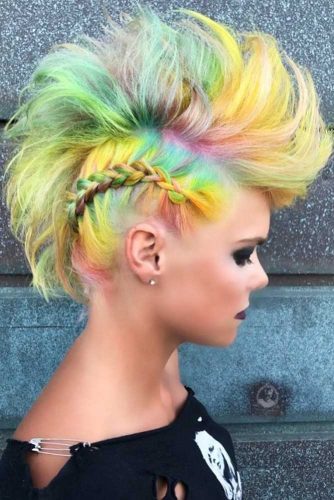 If your tresses are thin, it means that it is super easy to make them voluminous. The hairstyle in this picture can't be created on thicker tresses simply because you won't get as much volume. But thin hair allows for the extreme volume like this. And the color is stunning!
Fohawk Hairstyle On Thick Hair
Source: brittenelle via Instagram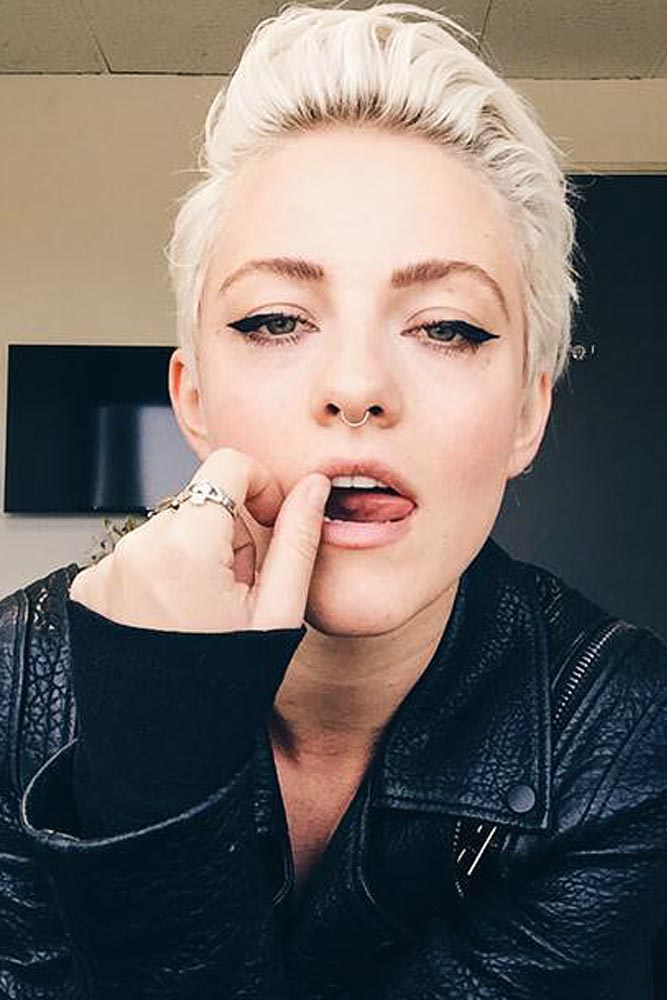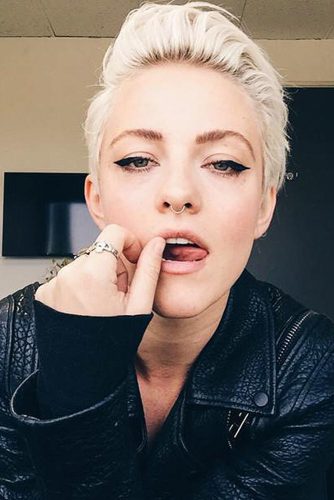 This badass fohawk hairstyle is done on short, thick tresses dyed in a stylish blonde color. Such a hairstyle can work for every day. Wear it when you are going to have much fun on the town with your besties. The sleeked back middle on top for pixie cut is so edgy!
Braided Faux Hawk With A Braided Ponytail
Source: theconfessionsofahairstylist via Instagram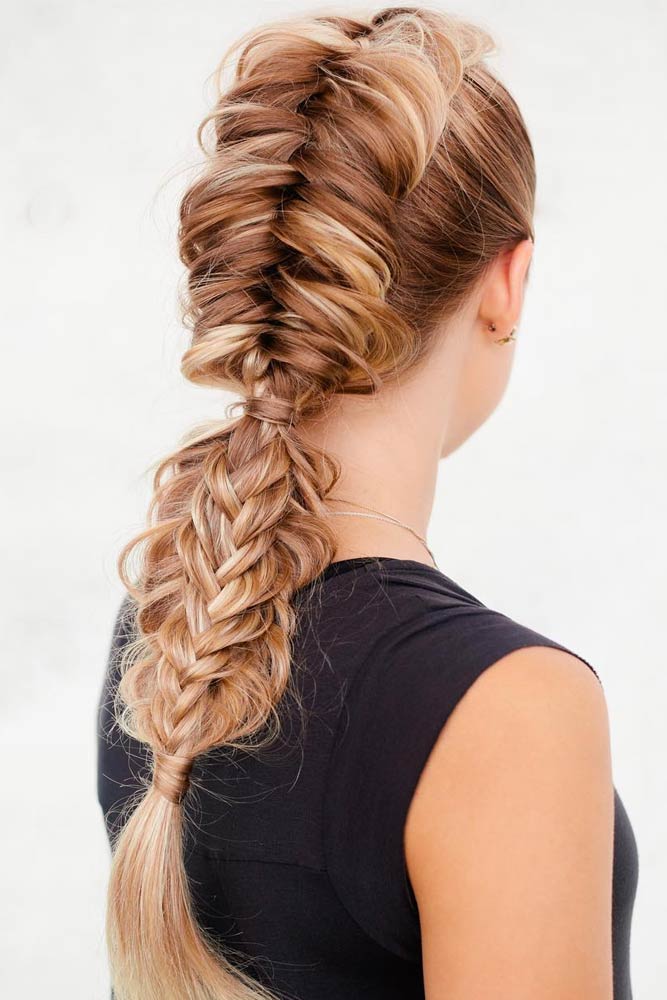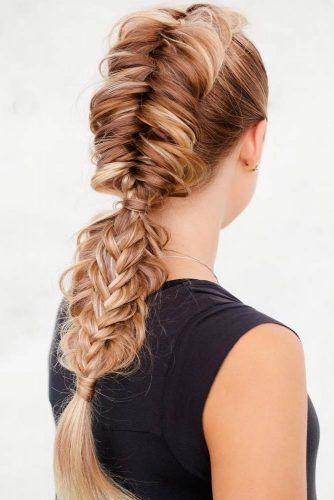 Are you excellent at braiding your long tresses? Try a faux hawk done with an intricately braided ponytail. Pull on the edges for the hairstyle to appear slightly messy. This style will work for a semi formal occasion.
Faux Hawk With A Fishtail Braid
Source: theconfessionsofahairstylist via Instagram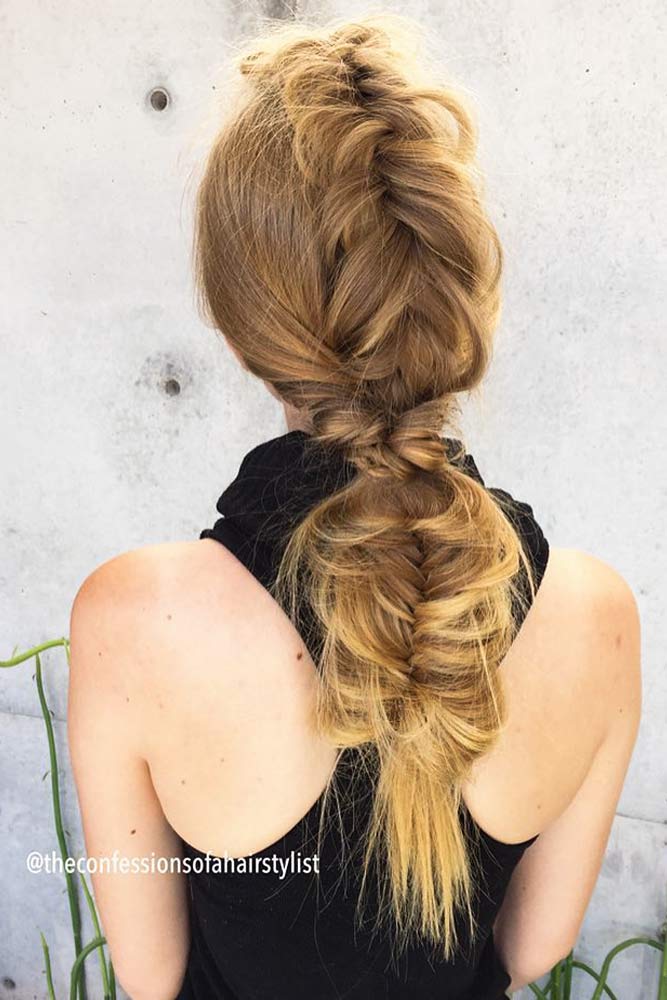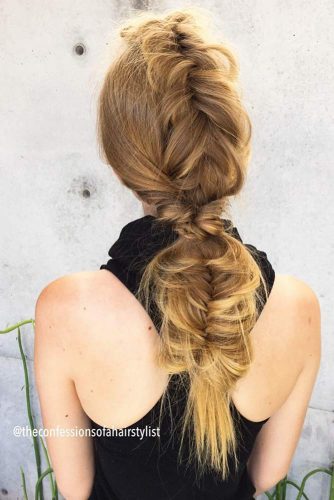 There are so many ways how to pull off a fohawk on longer hair, and the one with a fishtail braid is among our favorite options. This shaggy faux hawk is casual yet elegant and perfect for those times when you have lunch with your boyfriend's parents.
Fohawk With Dutch Braids
Source: sass.and.braids via Instagram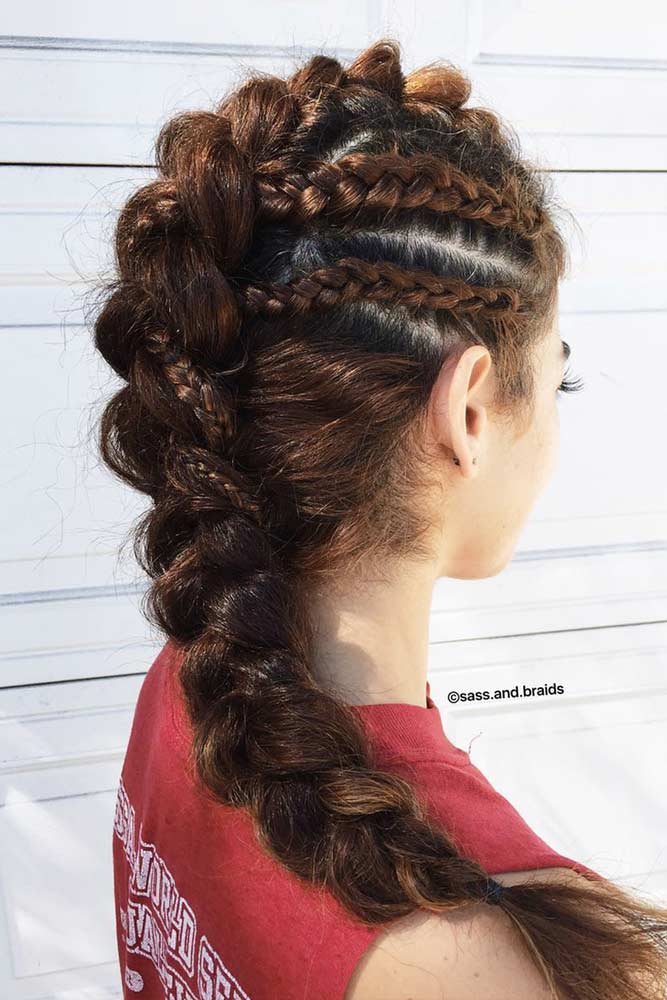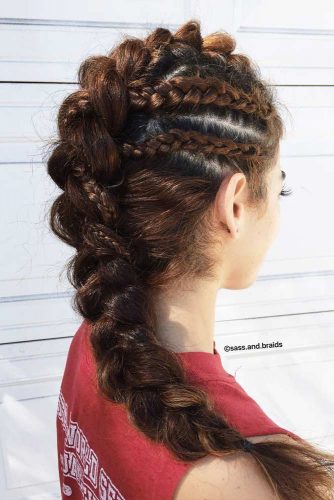 To mimic a skin fade, you can always go for little Dutch braids placed on the sides of your head. When looking at this hairstyle, we instantly think about princess warriors - so fabulous this model's image is. You should definitely try it!
Updo Fohawk With Bubbles
Source: theconfessionsofahairstylist via Instagram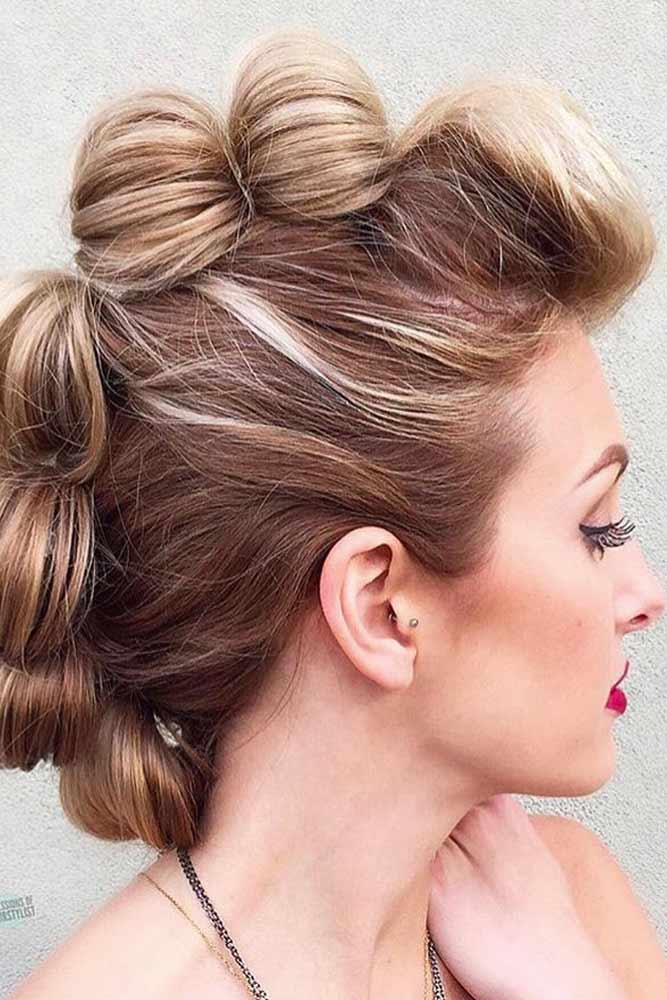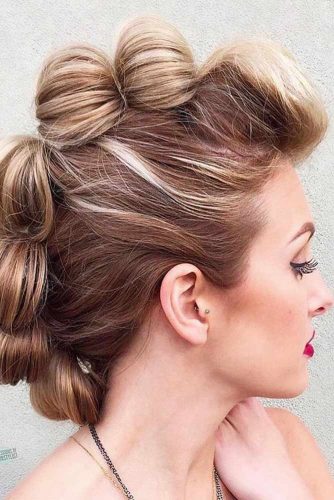 This faux hawk hairstyle is actually an updo with bubbles for medium hair. If you need a hairstyle that is totally refined, you can pick a hairstyle like this. Rock it on any formal occasion with confidence. Your image will be flawless!
Straight Silver Hair With A Faux Hawk Updo
Source: blushandmane via Instagram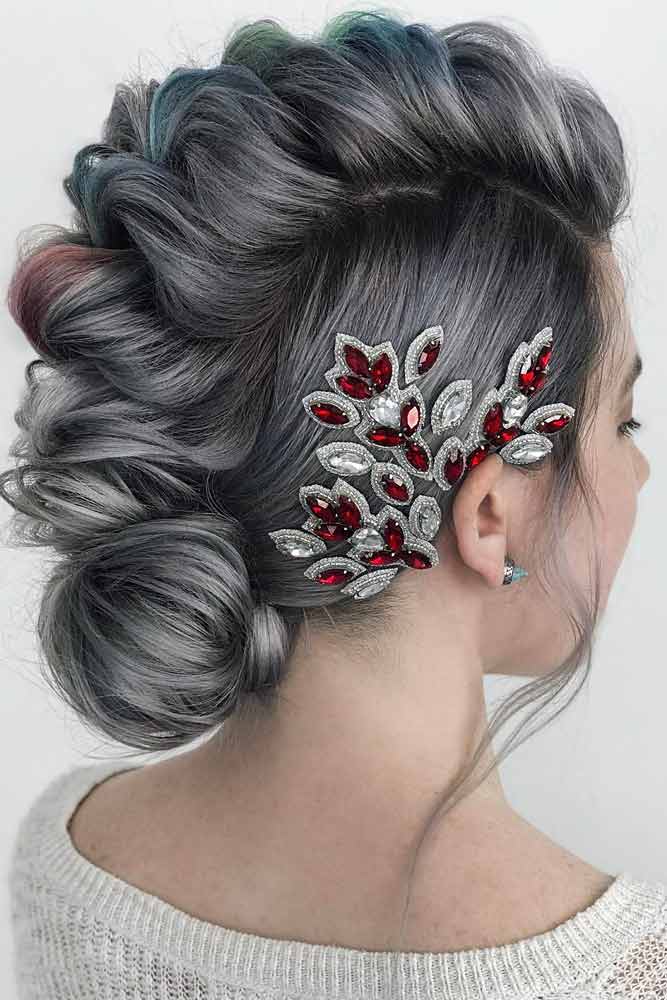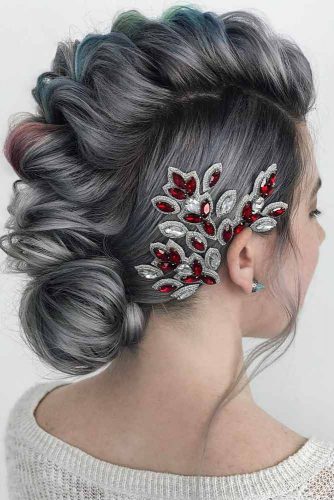 To imitate a fade haircut, there is a simple trick: play with the volume and slickness. In this picture, you can see that a stylist created contrast by adding extra volume on top and slicking the sides. The plain accessories add on to the slicked effect.
Colorful Updo Faux Hawk With A Braid
Source: blushandmane via Instagram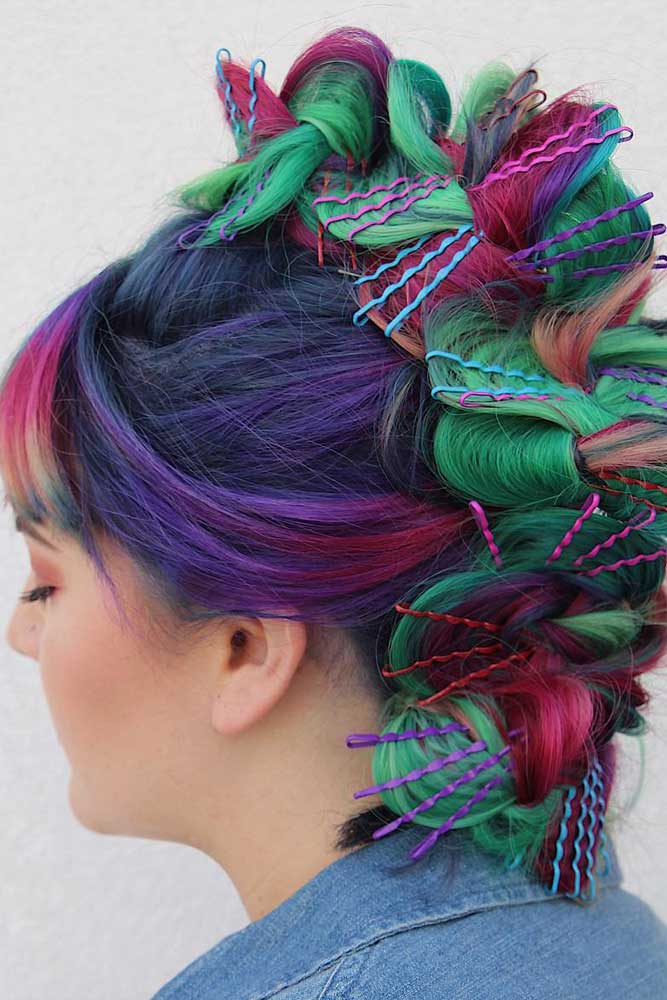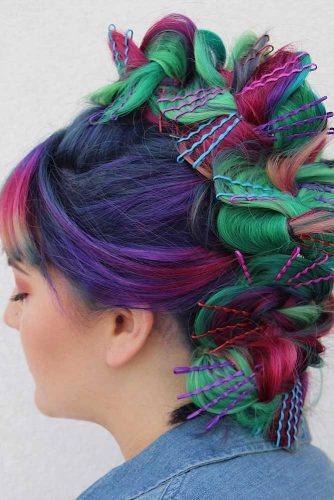 To recreate a fohawk like this, you will need much hair gel, that's what we are certain about. And this hairstyle will take a while. But once you finish it, you'll realize that every minute spent was not in vain. And look how interestingly it accentuates the hues of her hair.
Long Faux Hawk Hairstyle With A Ponytail
Source: theconfessionsofahairstylist via Instagram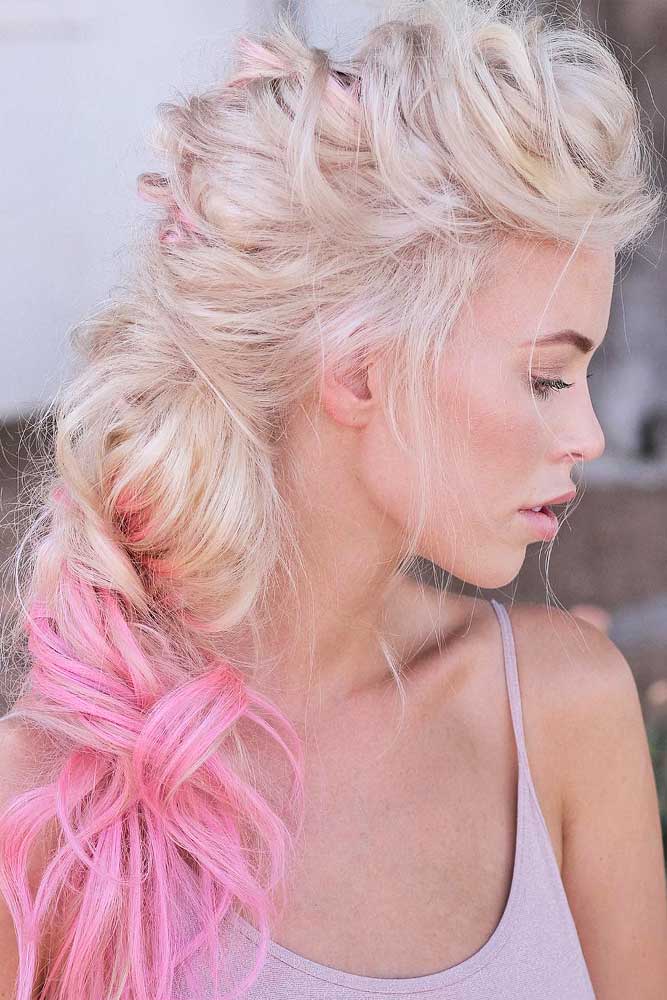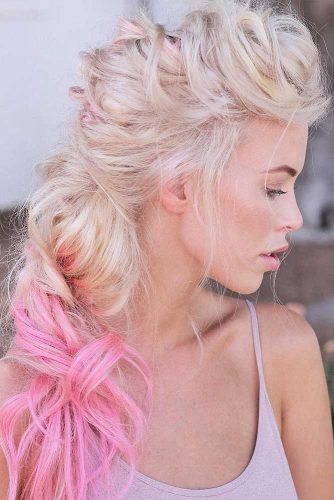 This messy hairstyle is so adorable, and it really plays up this model's blonde to pink hair color transition. You can wear it every day! To achieve the messy effect, you can apply sea salt spray to your wet tresses.
Fohawk Hair With A Bubble Ponytail
Source: thehairstylish via Instagram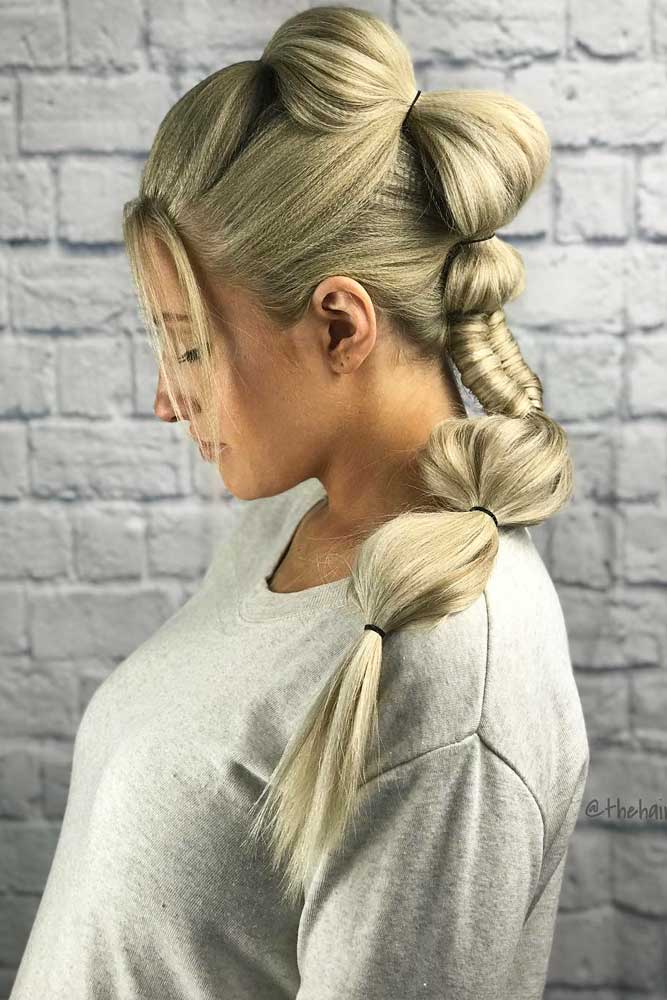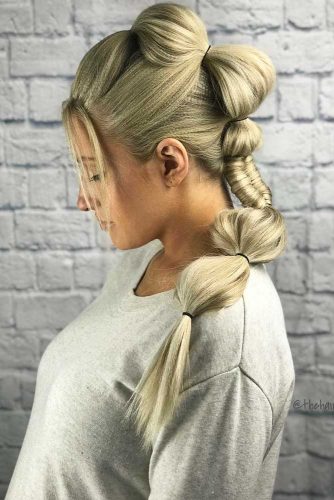 The fohawk you can see here is done with a bubble ponytail. This model's hair looks so healthy and super shiny. To achieve the effect like that, there is a trick: apply some hair wax to your clean, wet tresses before styling.
Ponytail Faux Hawk For Messy Hair
Source: theconfessionsofahairstylist via Instagram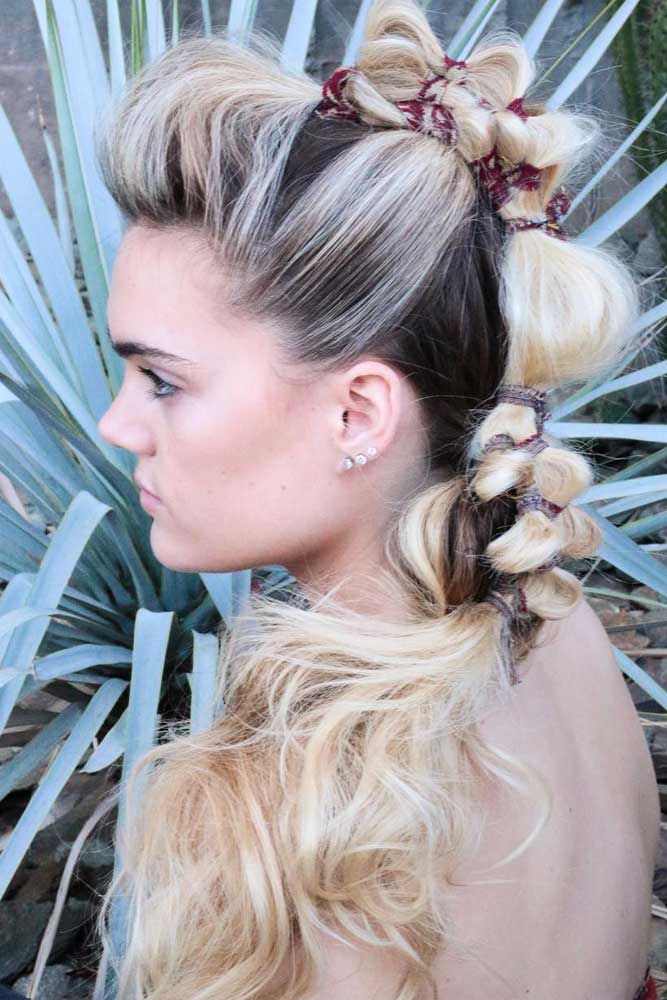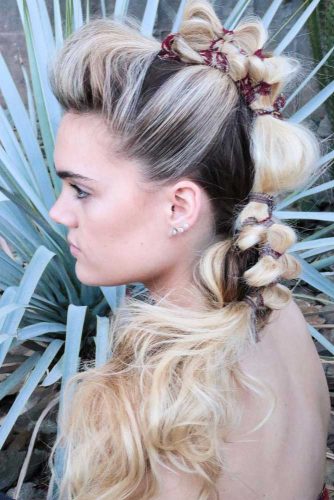 Do you have fine, messy, long hair? The hairstyle depicted here will work nicely for your hair type. And the fohawk effect will open your beautiful face. This hair style can be worn on practically any occasion.
Braided Side Faux Hawk
Source: hairandmakeupbysteph via Instagram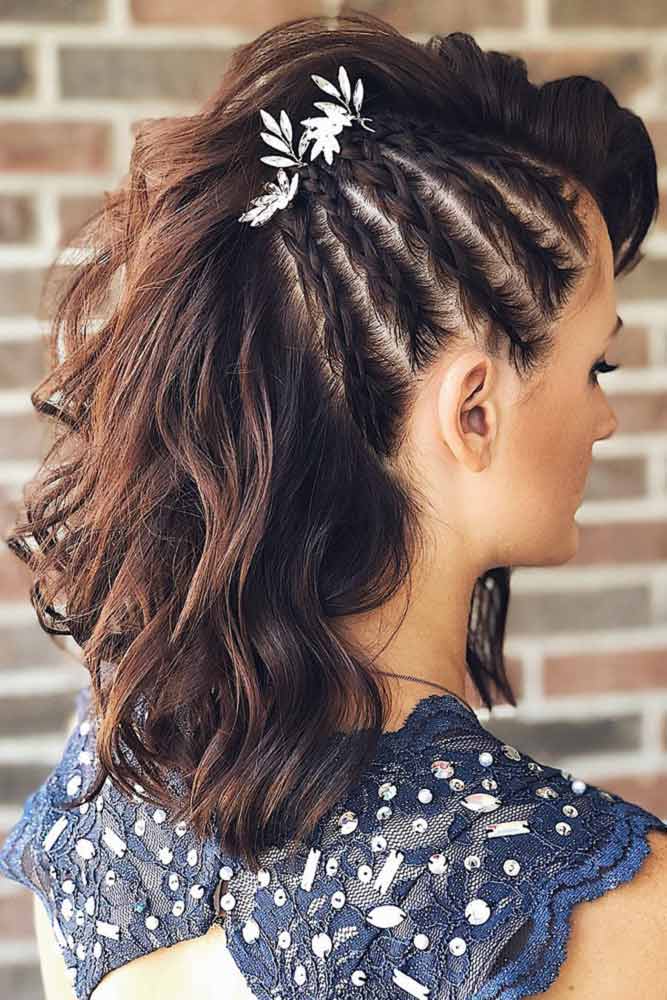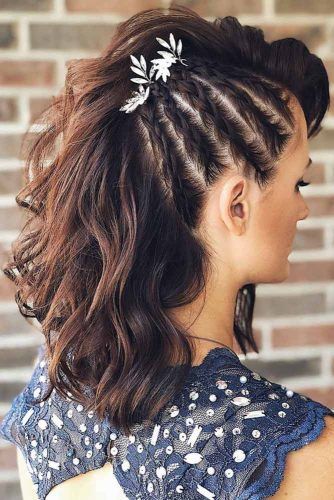 Side braids are a surefire way to create an amazing faux hawk hairstyle without resorting to cutting the locks. To recreate this look, start braiding your side hair at the hairline and move toward the center. Secure the braids with flower bobby pins at the crown and leave the rest of the hair loose. For added boldness, you can curl a couple of strands with a curling wand. It is perfect choice for girls with medium length layered haircuts.
Twisted Faux Hawk Styling Updo
Source: hairandmakeupbysteph via Instagram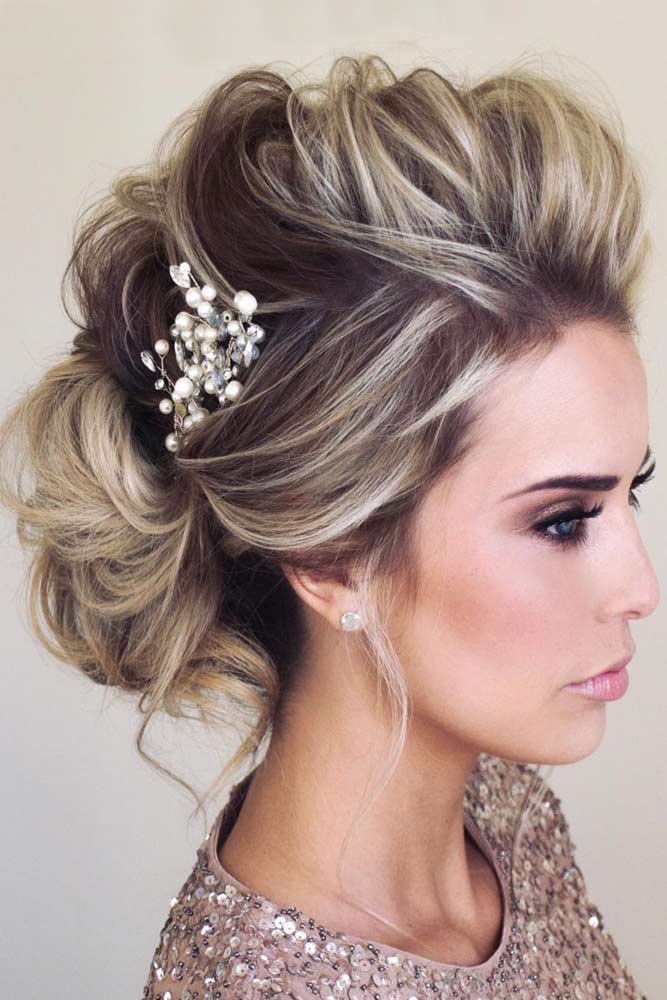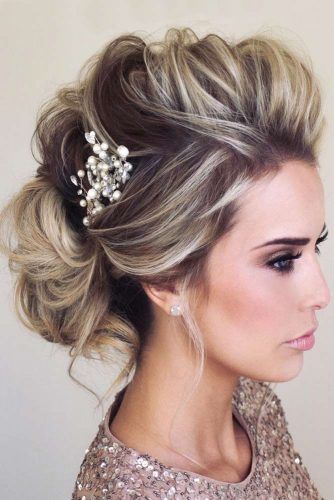 Although this faux hawk updo looks a bit disheveled, it's, in fact, quite elaborate. The hair on the sides is pulled up and twisted around the central section of the hair. At the nape, it's tied in a messy bun with a couple of loose strands. The final touch to add to this careless yet amazing hairstyle is a floral accessory.
Pull Through Faux Hawk
Source: alexandralee1016 via Instagram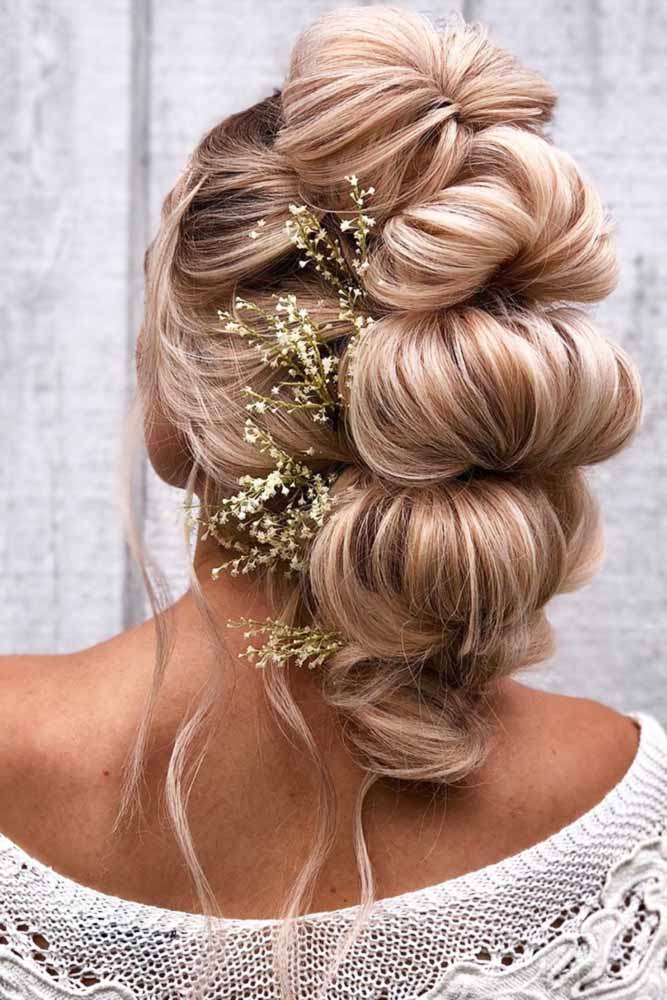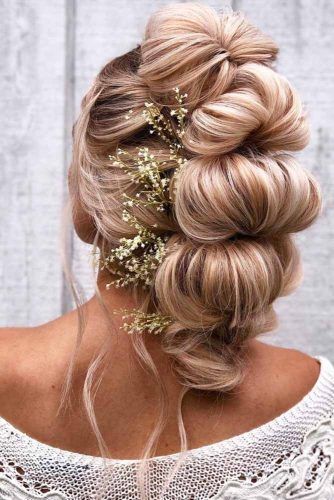 Does this awesome take on faux hawk hairstyles for women look complicated to you? You'll be surprised to find out how easy it is in reality. You simply need to tie a half ponytail at the top, then join it with the strand of hair below and tie another half ponytail. Continue until you get till the end. Adorn the 'do with hair accessories to your taste.
Faux Hawk With Braided Flowers
Source: alexandralee1016 via Instagram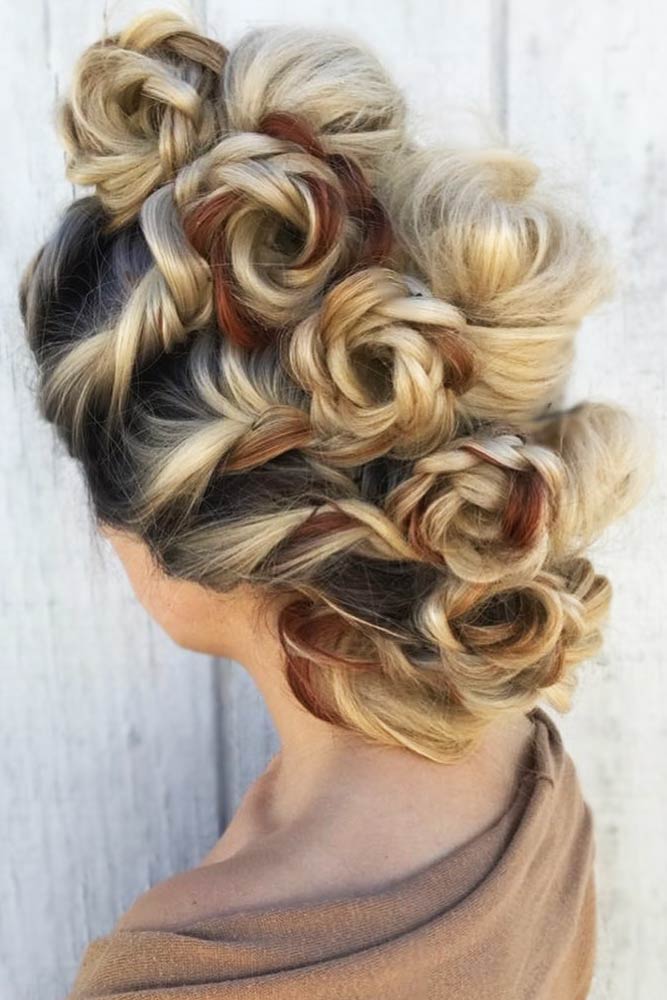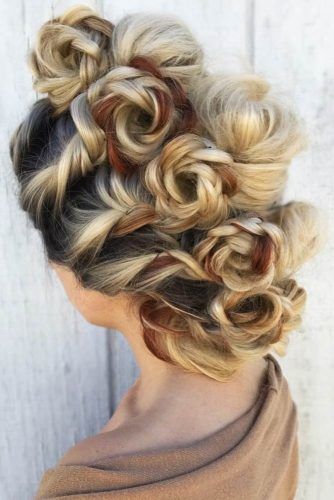 Notably, if you don't have or don't like accessories, you can easily get along without them by creating intricate elements with your hair. Try, for instance, this faux hawk with braided flowers. To nail it, you need to create braids starting from the hairline and moving to the central part of the head. When you hit the center, keep on braiding until you reach the end of the hair. Roll the braids into swirl buns and secure them at the roots with hairpins.
Rope Faux Hawk Braid
Source: annette_updo_artist via Instagram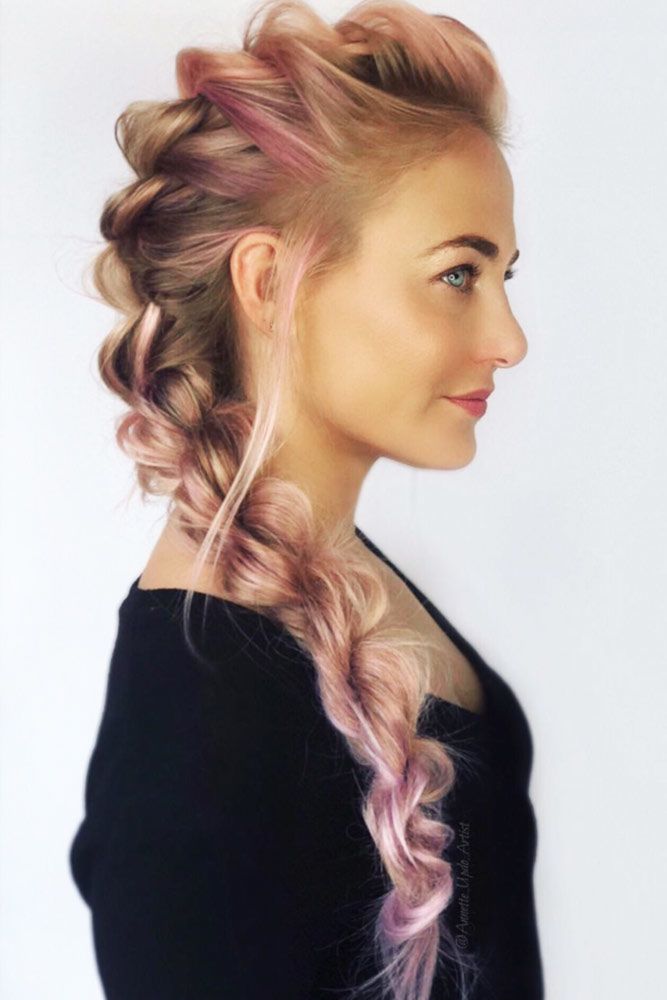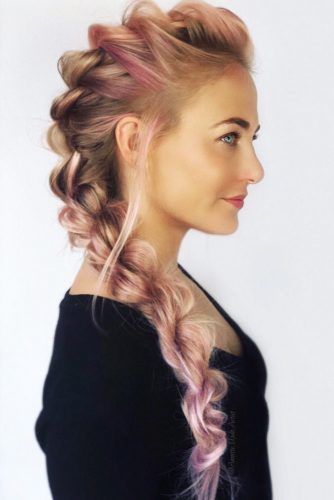 For this hairstyle, you'll need your hair to be quite long. Actually, the longer, the better. Start plaiting a French braid along your head and when you get to the hairline, switch it to a twist. Pull the hair out a little to make your rope faux hawk chunkier. If you add a touch of color to this hairstyle, it'll appear as if you've pulled a ribbon through your braid.
Twisted Pony Faux Hawk
Source: dvir_tvik via Instagram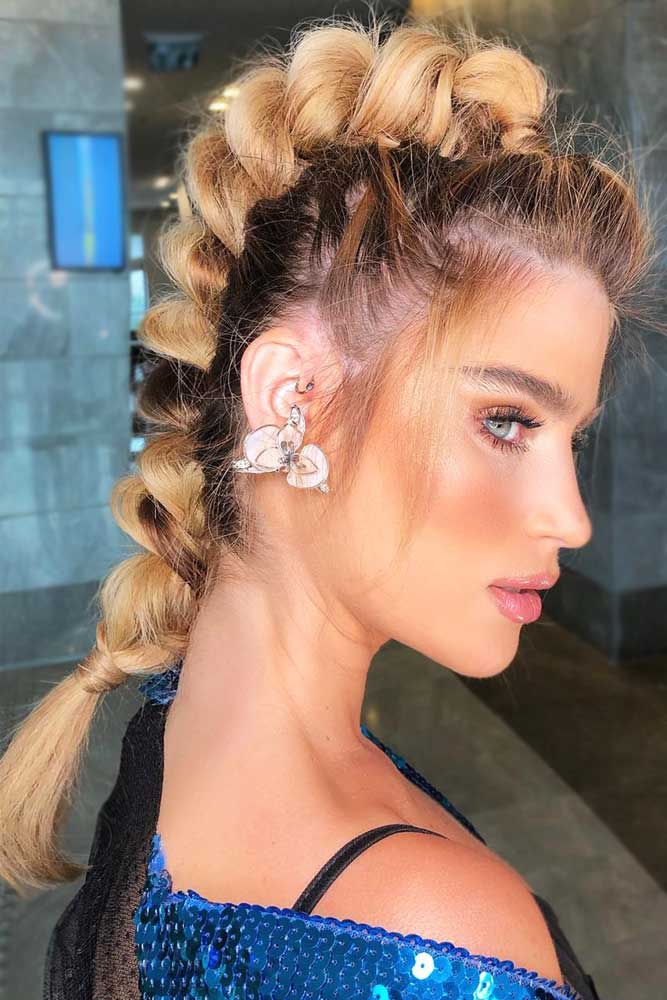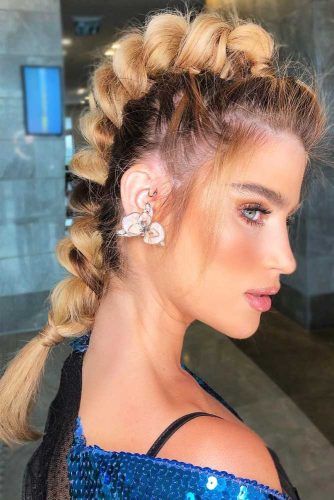 Believe it or not, but you can achieve this helix shaped twisted faux hawk in no time. It starts as a French braid with a ponytail tied at the front and goes down to the back of the neck along the center of the head. Then you simply twist your hair until you reach the end of it. This hairstyle is so bold that it doesn't require any accessories, thus leave it as it is.
Now you know many pretty ways of sporting fohawk hairstyles. Explore more inspirational ideas on our blog.