Find a New You with These Red Ombre Hair Ideas
Red ombre hair is the perfect way of attracting some additional attention. But there are few things to consider before going down that road. First of all, you need to pay attention to your natural color and then you can bring out all of your preferences.
Black To Hot Red Ombre Hairstyle
Source: notanothersalon via Instagram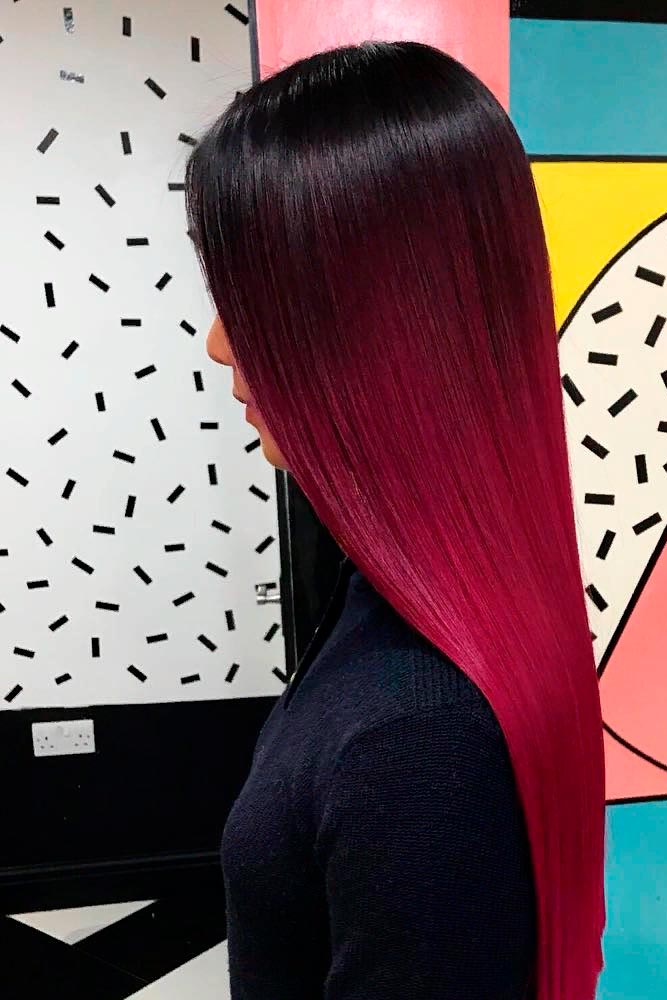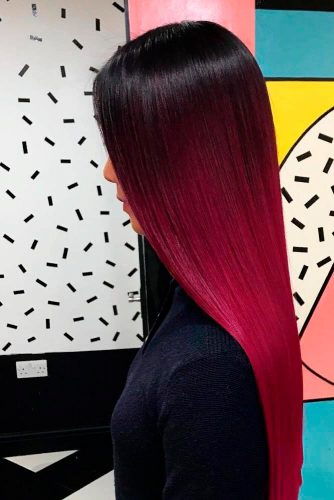 If you are blessed with jet black hair, you have a natural canvas for this bright magenta red ombre fade. Black and red ombre hair is a great look if you want something that's edgy and dramatic, yet still sexy.
Start with a jet black base and fade slowly to bright fiery red. The slow fade looks especially stunning on a straight hairstyle like the one pictured here. Ask for blunt edges to give this cut a sleek look. Blow dry your hair straight and then smooth it with a flat iron for a sexy polished look that will draw all eyes on you.
Beautiful Velvet Red Hair Ombre
Source: modernsalon via Instagram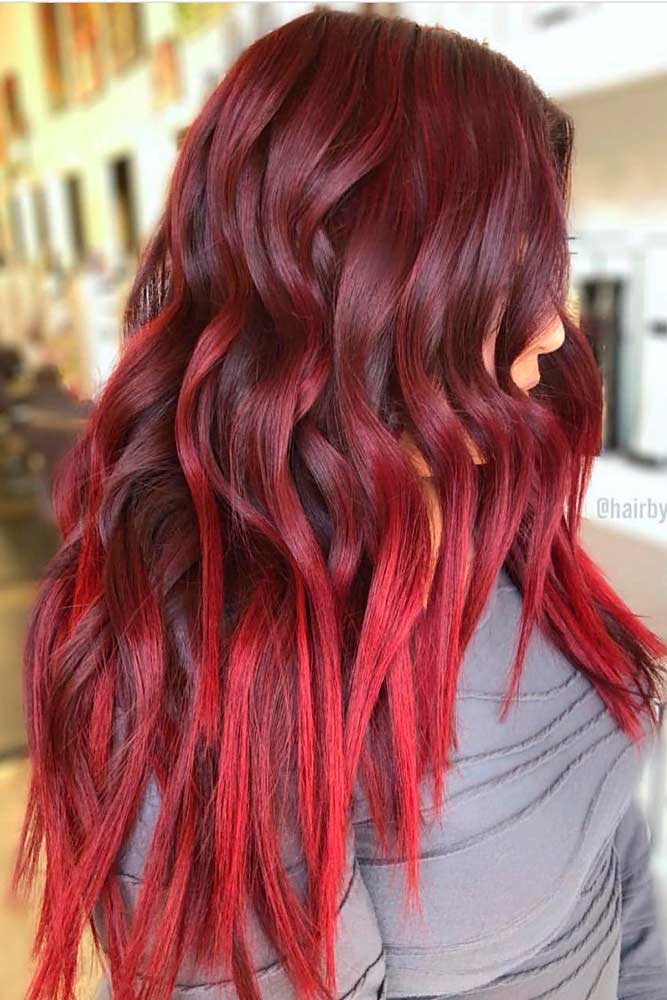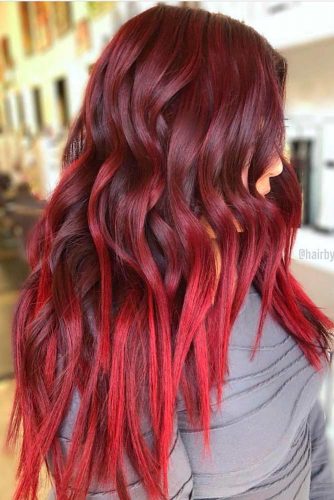 Red velvet ombre hair is just stunning. Dark red ombre hair is very chic and sexy. The darkest red and cherry red shades blend perfectly into a silky and smooth red velvet hue that will make you the center of attention in any crowd.
These gorgeous red hues are extra pretty if you have a long wavy hairstyle. The blend of warm and cool red tones gives it a multidimensional effect and a ton of texture. If you have naturally wavy or curly hair, you can totally rock this gorgeous look for red hair that is full of volume. You can even straighten the ends to copy the style pictured here.
Red And Purple Ombre Hair Style
Source: notanothersalon via Instagram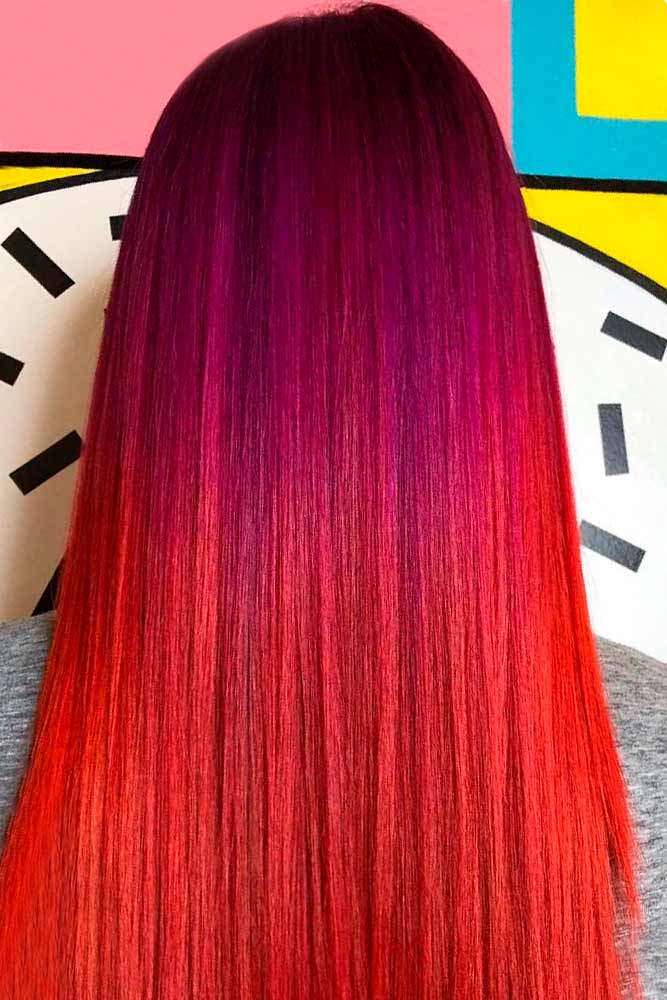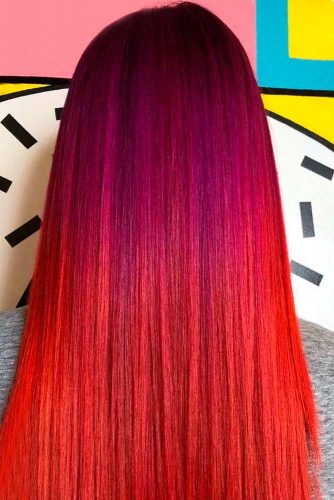 If you aren't afraid to go for bold colors that will make you stand out from the crowd, try this red and purple ombre fade. Use bright purple at the roots and then fade to bright red at the tips. These colors look as though they have been hand painted by an artist and add a ton of depth and dimension.
This look is especially striking on straight hair, so don't be hesitant to wear your hair hanging straight down your back for a sleek finish.
Red And Blonde Hair Ombre
Source: luanna via Instagram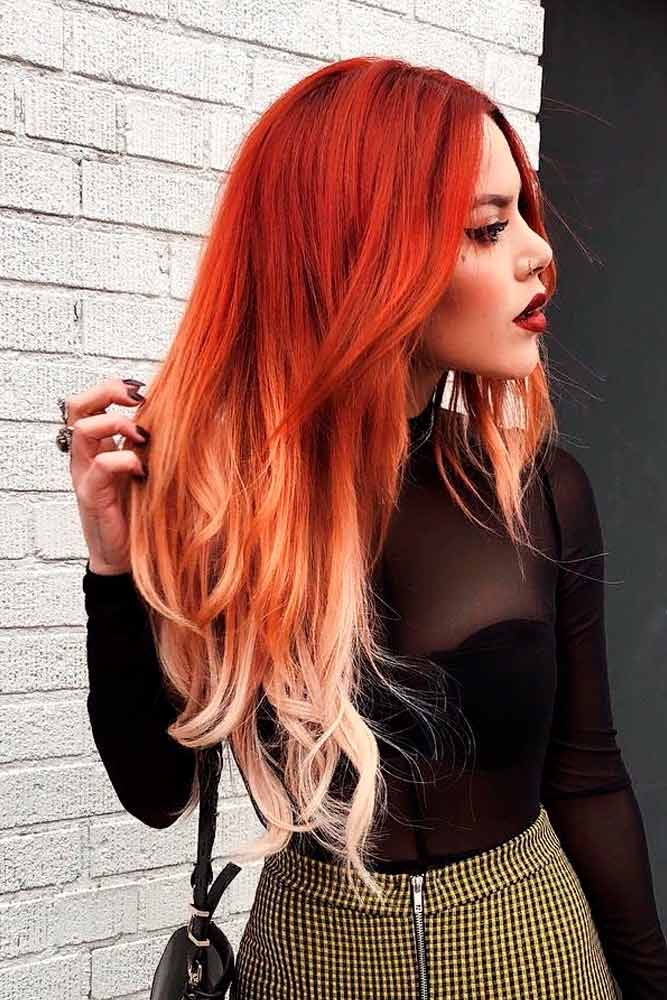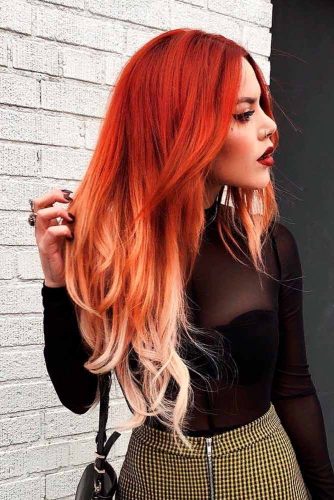 This brilliant blend of light auburn hair, apricot, and pale peach hues is just fabulous! Start with bright auburn and then fade to peachy blonde ombre at the tips. The reverse ombre effect will draw attention to the pretty waves at the ends.
This colorful ombre fade is perfect for any season but will look especially stylish in the summer or fall as it resembles a brilliant sunset. It also looks great on layered hair as the ombre fade will add texture and warmth to this trendsetting style.
From Natural Brown To Wine Red Ombre Hair
Source: modernsalon via Instagram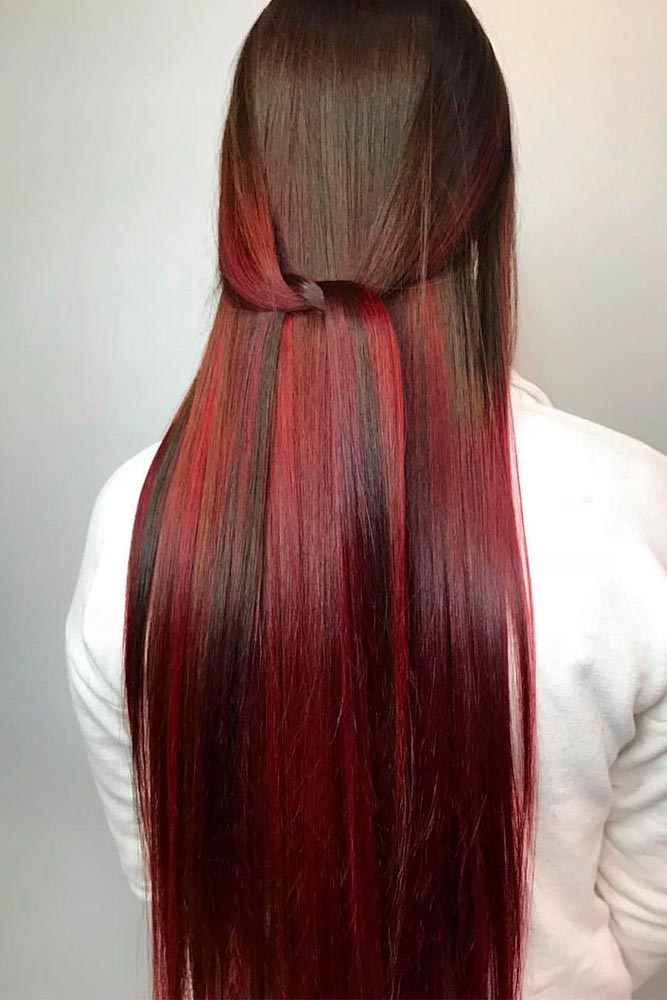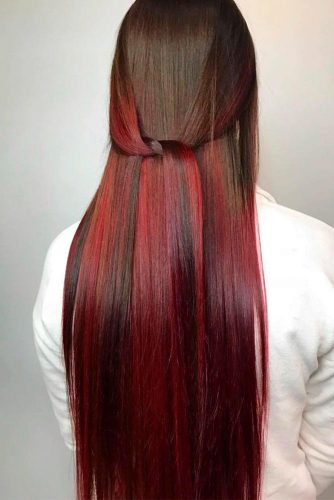 You don't always have to go for bold color choices when looking for an ombre hairstyle. This pretty blend of dark chocolate brown and wine colored red is very sophisticated, if you want a look that is a bit more refined.
Keep your roots deep chocolatey brown and ask your stylist to blend in some magenta red tones for a silky blend of brown and red ombre hair. This particular look has a ton of texture and will appear as smooth as silk if you straighten it. And the pretty low ponytail twist in the back adds even more depth.
Red Orange Ombre Hair
Source: ambercolorshair via Instagram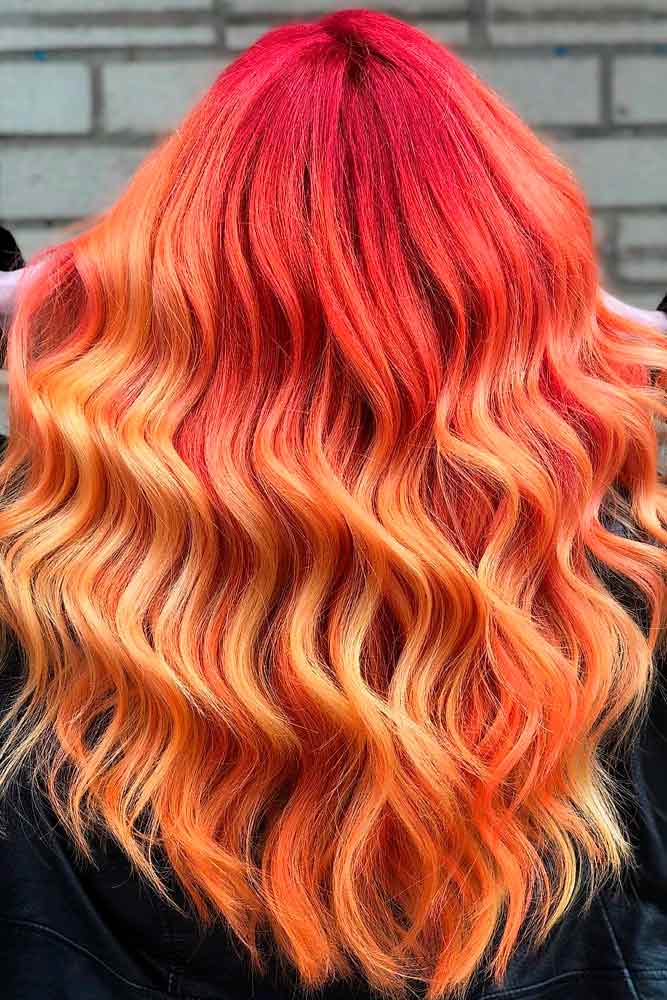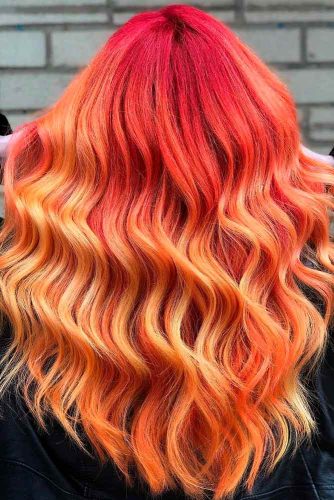 Red orange ombre hair is a great choice if you love bright shades. This bold and beautiful blend of bright red, orange and yellow hues looks like flames flickering on a summer night.
Start with a red base and then get a blend of orange and yellow balayage hair. Add some beachy waves for even more depth to this brilliant burst of sunny colors. If you have naturally curly or wavy hair, just use sea salt spray to get these silky beach waves. If not, create big loose curls with a wide barrel curling wand and spritz in sea salt spray to add volume and texture.
Beautiful Ombre Hairstyle With Burgundy Red And Pastel Pink Colors
Source: hairbykaseyoh via Instagram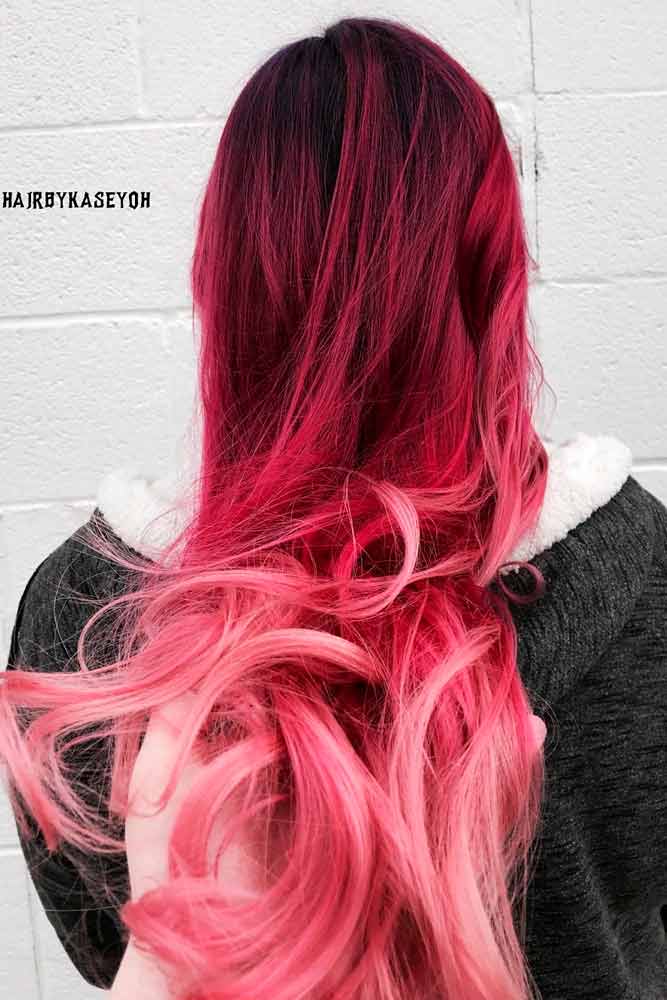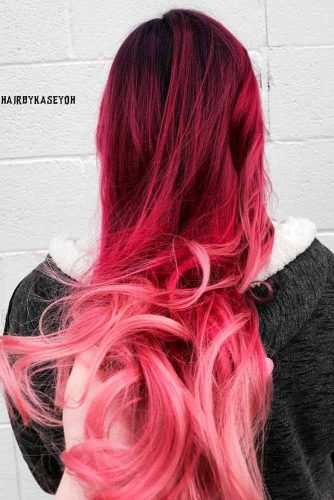 If you prefer pink for softer and flirty feel, try this look for red pink ombre hair. Just like red, there are so many pretty shades of a pink hair color available today. If you don't mind sporting a more edgy style, pink is the way to go as it is very popular right now.
Start with dark roots, then go for bright fuchsia, cotton candy pink and a pale soft pink blend of hues. This stunningly bright ombre fade works great for both curly and straight hairstyles. For the best of both worlds, blow dry your long hair straight, and then add big bouncy waves at the bottom for a ton of body and movement.
Hot Ombre Hairstyle With Red Shades
Source: guy_tang via Instagram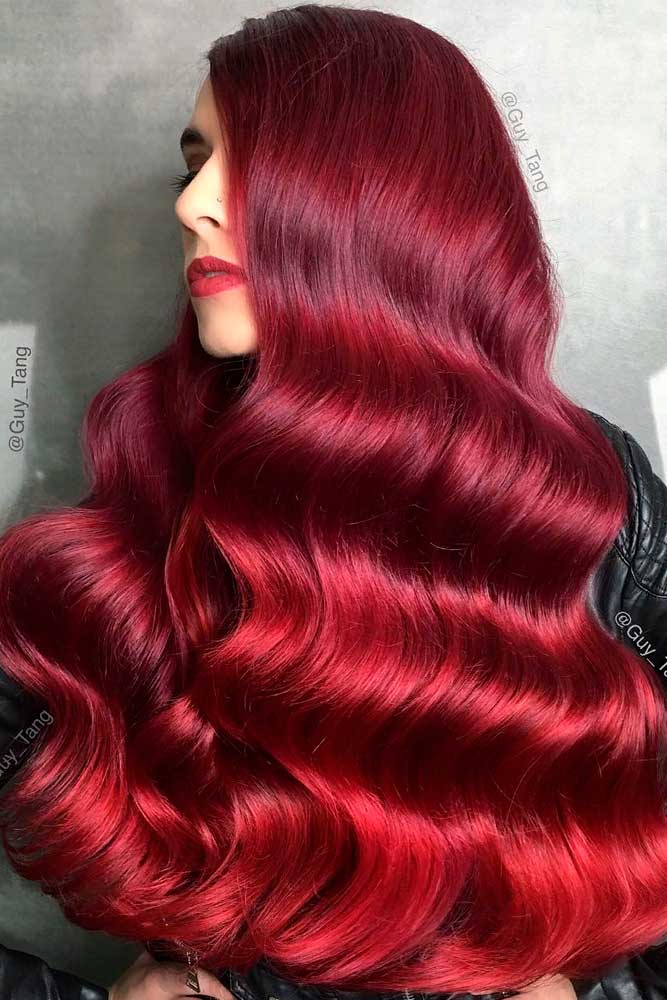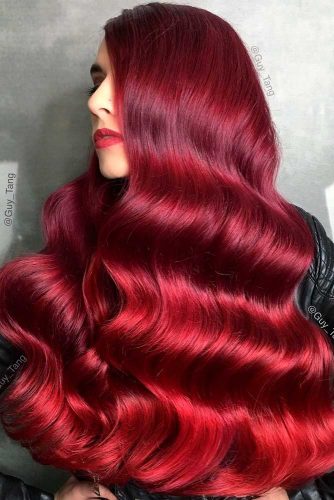 All the hot redheads know that red hair is the way to a man's heart. Redheads have just as much fun as blondes, if not more. This gorgeous ombre fade from dark mahogany to fiery cherry red is just breathtaking.
And what is prettier on a dazzling shade of red than luxurious finger waves? These pretty curls will add a ton of depth and volume to your long tresses. You'll be sure to stop traffic with this amazing red ombre hair style.
Red Ombre Hairstyle For Curly Hair
Source: parvinebeautysalon via Instagram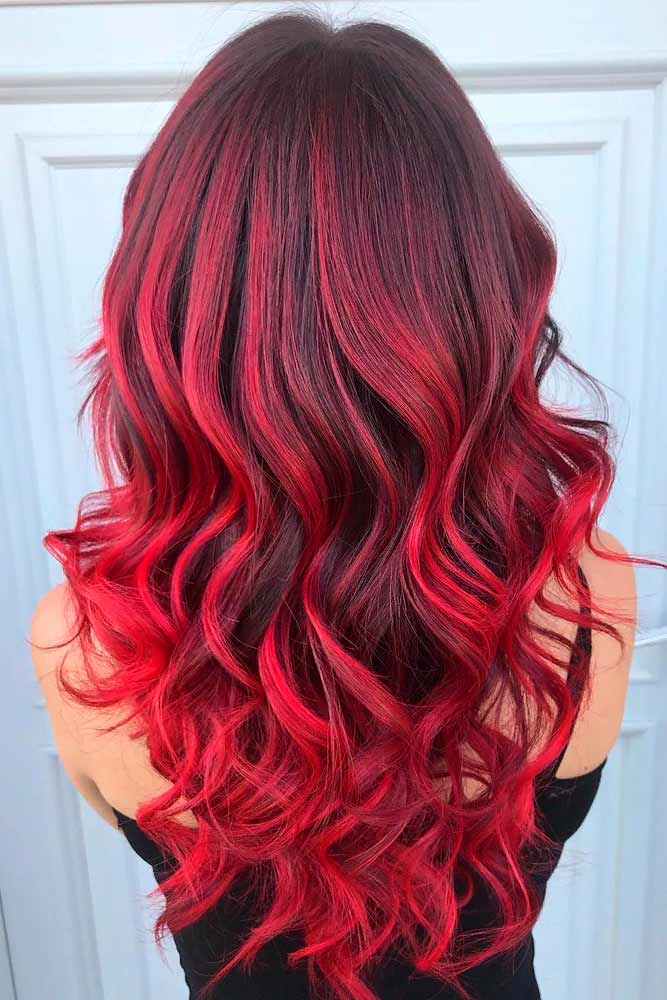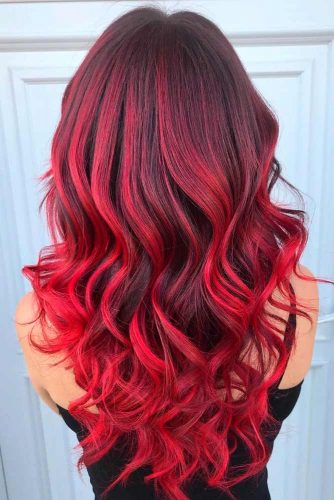 Curly hair was just made for this delightful red ombre hairstyle. This fetching blend of bright cherry red and dark brown goes perfectly with long luscious curls. Ask for a balayage ombre blend of dark chestnut brown and bright berry red for the perfect combo of warm and cool tones.
If you have naturally curly tresses, you can just add a volumizing or curling product and tousle your long hair. If you have straight hair, you can use a curling wand to curl your hair in medium sections to create smooth cascading waves that hang down your back.
Natural Dark Hair With Dark Red Ombre
Source: dropdeadbeaut via Instagram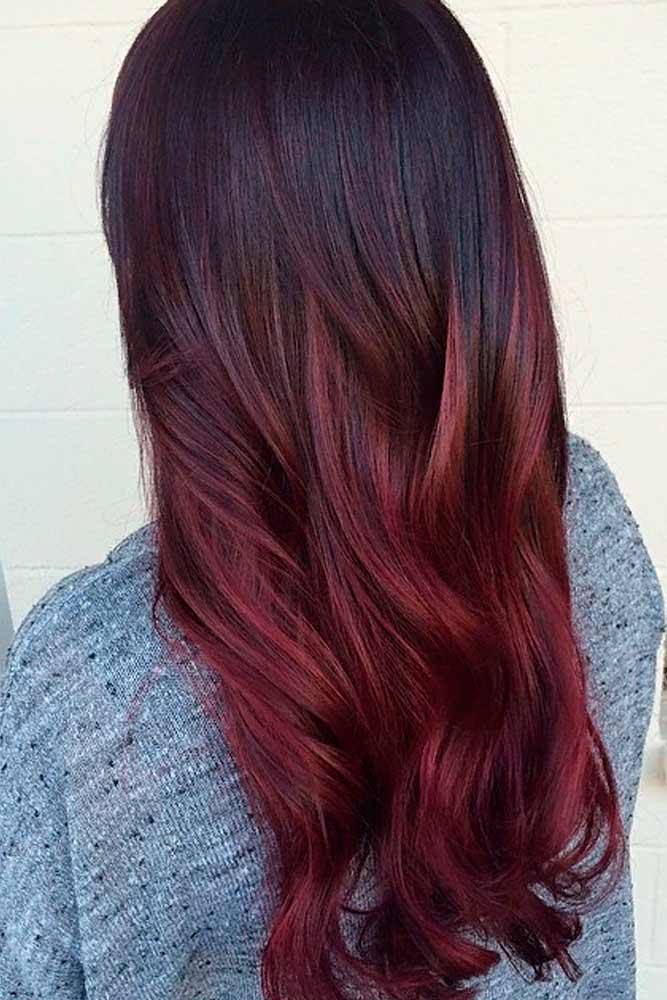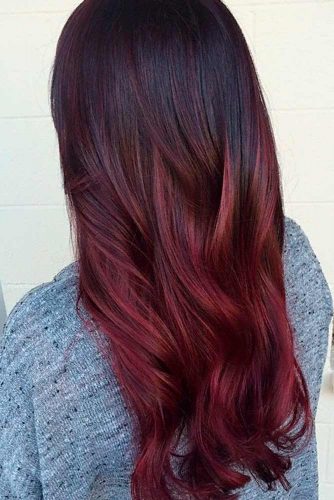 Dark brown hair with red ombre is so pretty on wavy hair. It is an ideal ombre fade if you want a more subtle ombre style. Start with a dark base and blend in dark mahogany red to compliment the dark tones. This look is perfect if you want to try ombre in your hair but don't want to commit to an edgier look, or you need to tone it down for a more professional vibe.
Create some waves in your long hair to add volume, depth, and movement to this elegant red ombre fade.
Stylish Red Ombre Hair Ideas
Source: Anastasia Zoi via Instagram, Guy Tang via Instagram, Jackie McRice via Instagram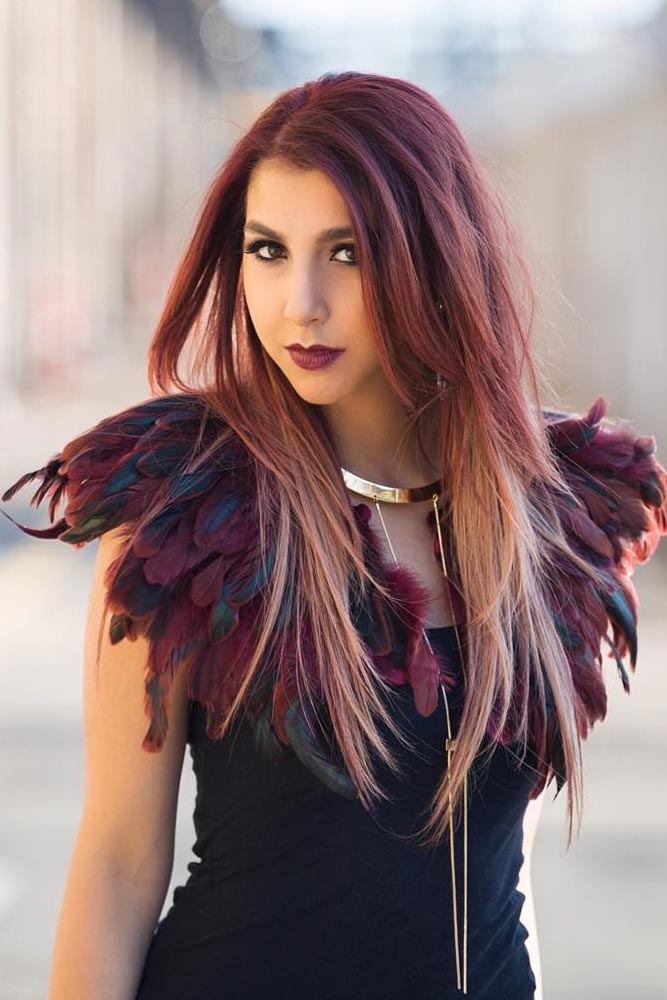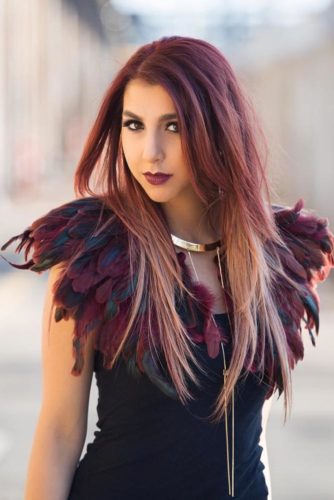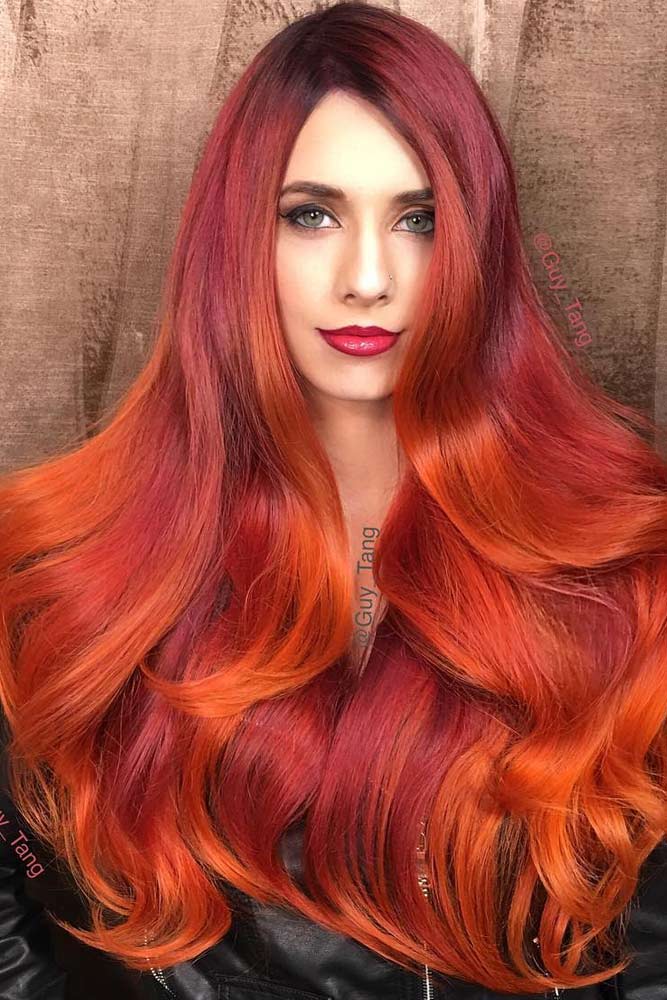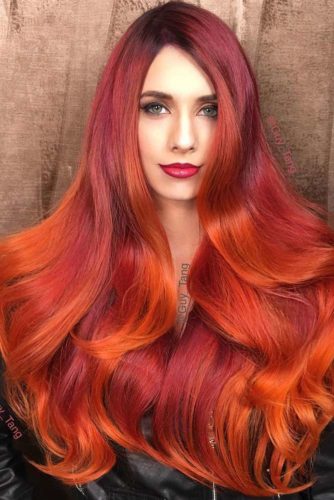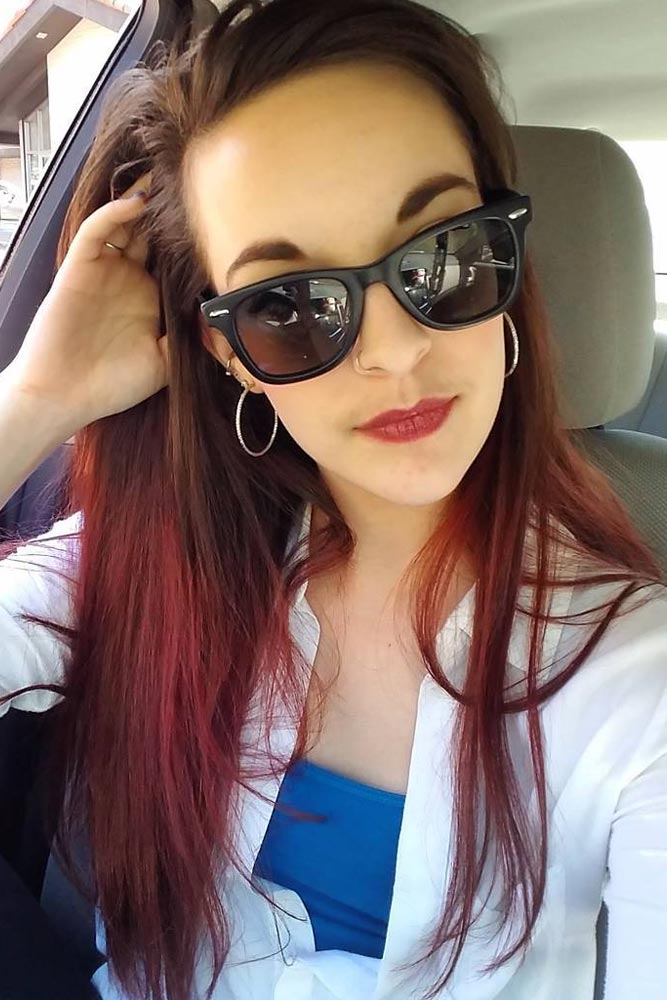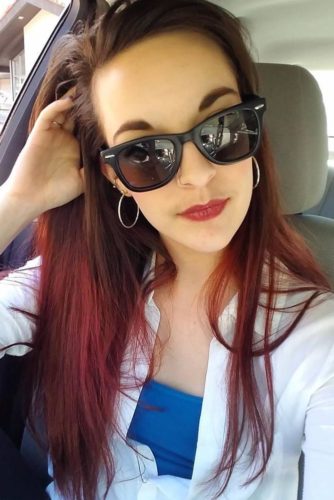 Ombre hair does not necessarily has to be bright and daring. If it is not your thing, then go for subtle red fading into gold. This stunning combination won't leave you indifferent!
Red Ombre For Straight Hair
Source: Emma Roxanne via Instagram, Hair Stylist via Instagram, Blush Salon and Spa via Instagram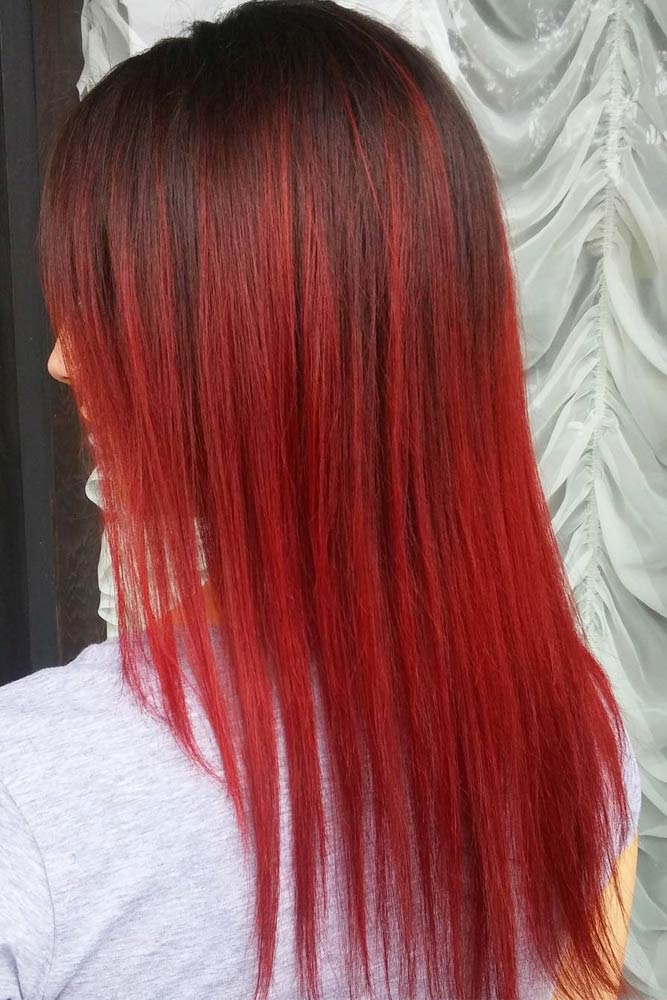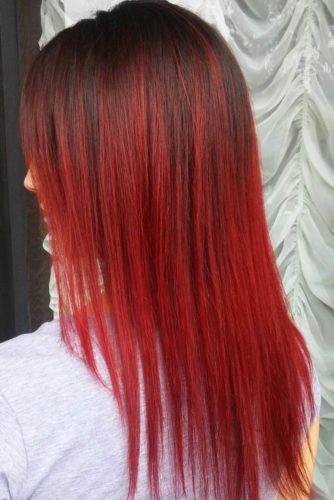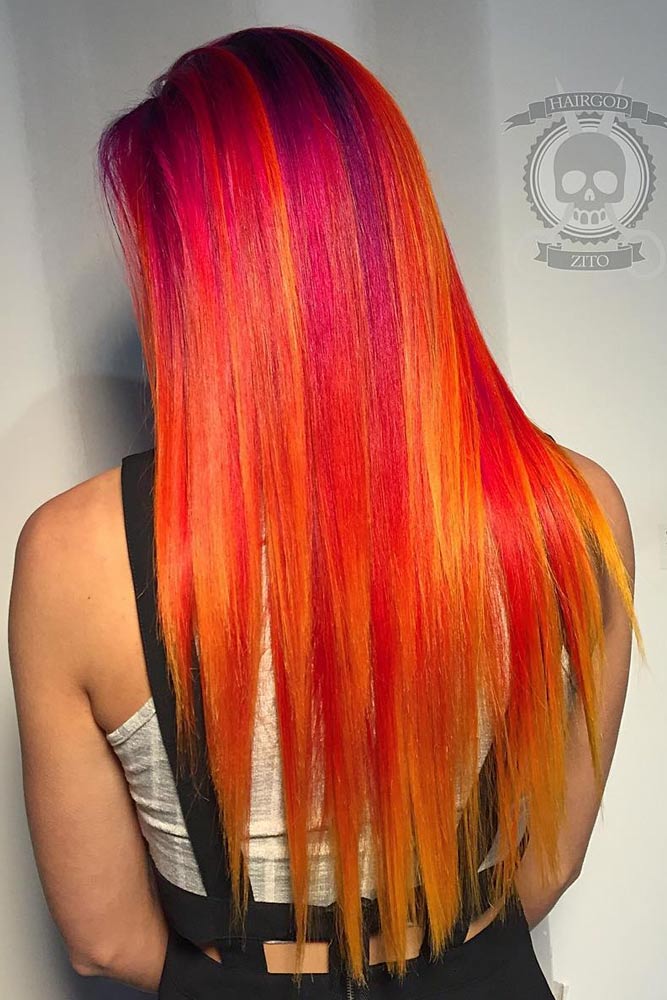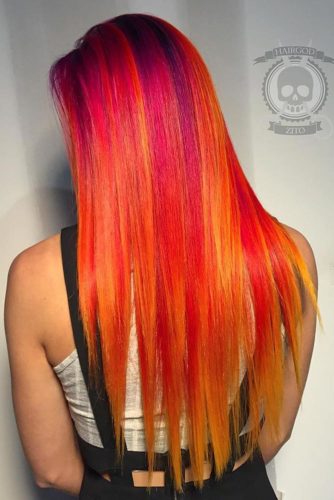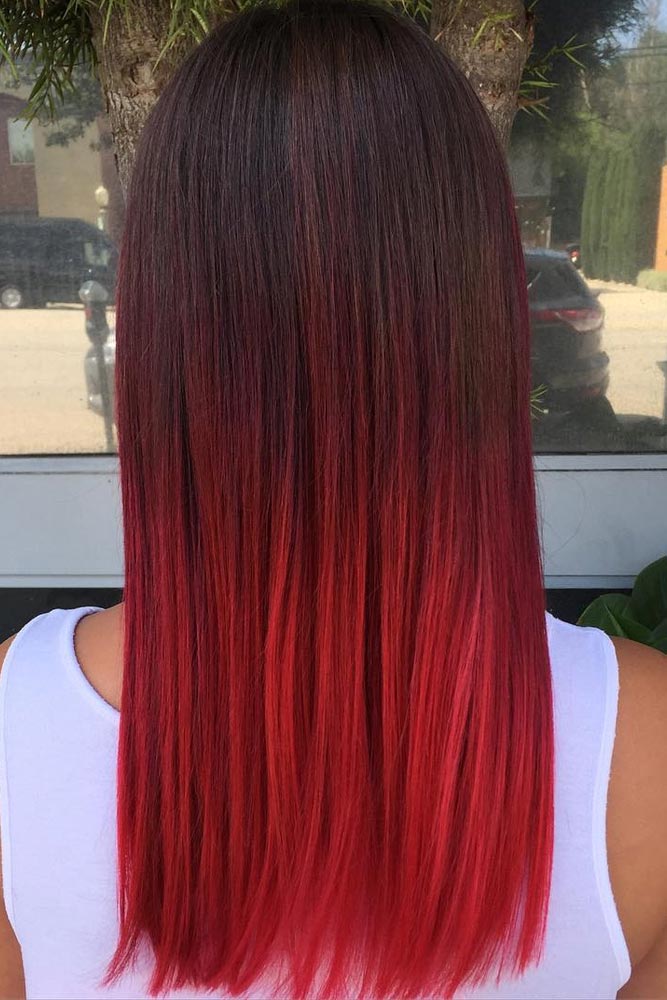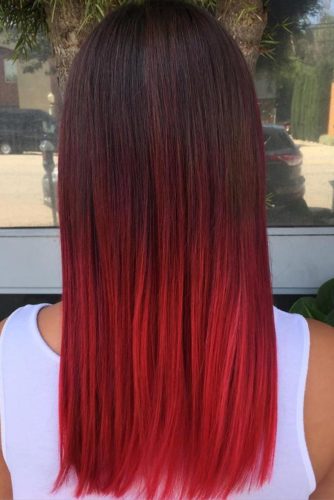 Source: Elodie_vnn via Instagram, rosalee via Instagram, Alicia Wolfe via Instagram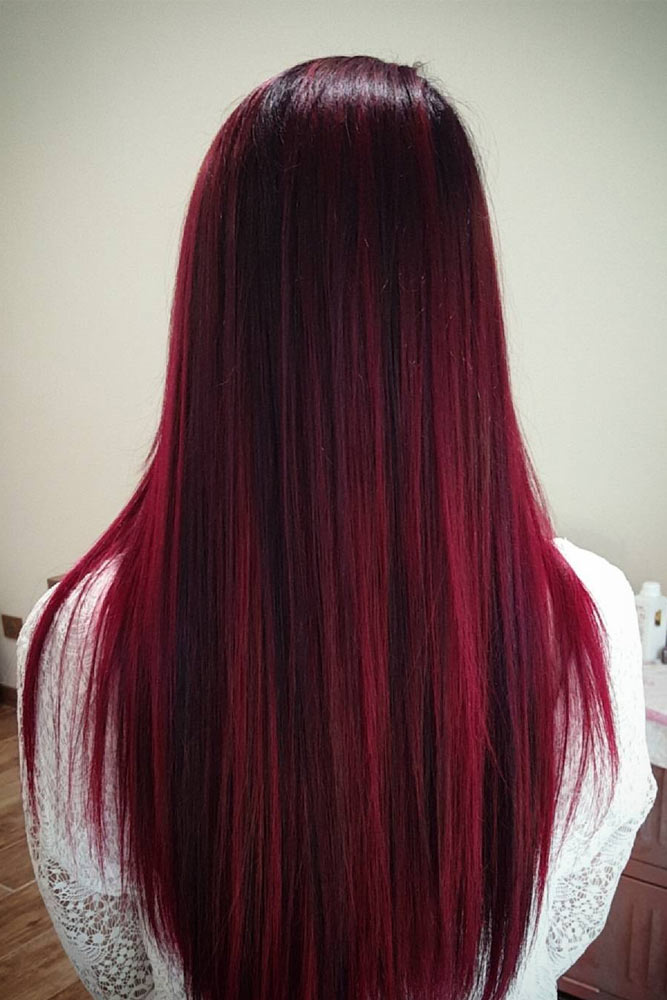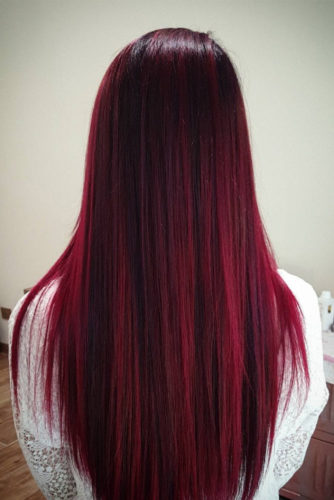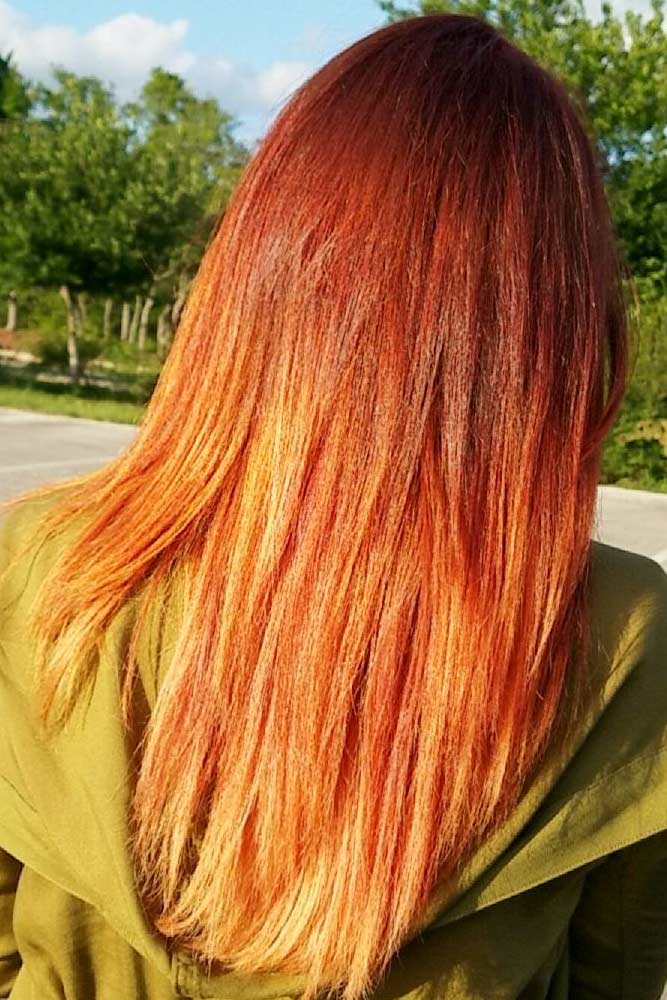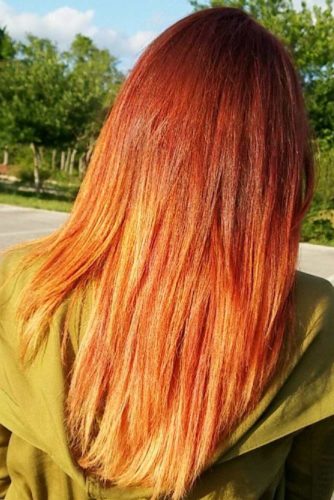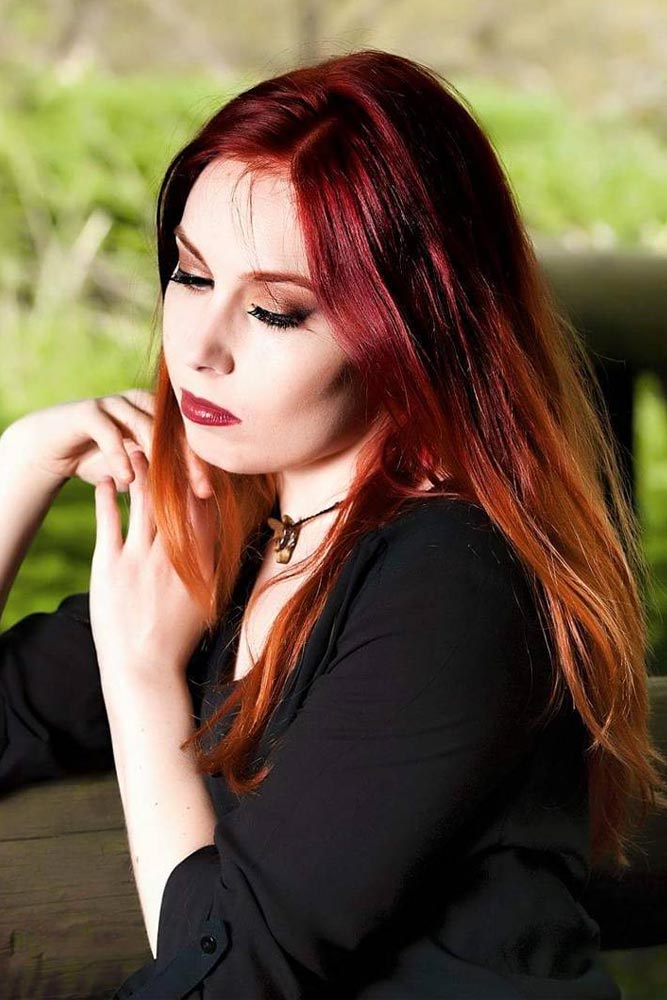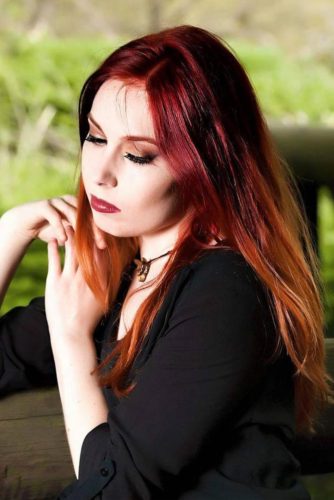 Your hair color can be the perfect representation of your mood as well as of your personality. Red fiery ombre will let everyone around you know how hot and spicy you are!
Curly Red Ombre Hair
Source: Emma Roxanne via Instagram, Hair By Josefine Lindholm via Instagram, vworden via Instagram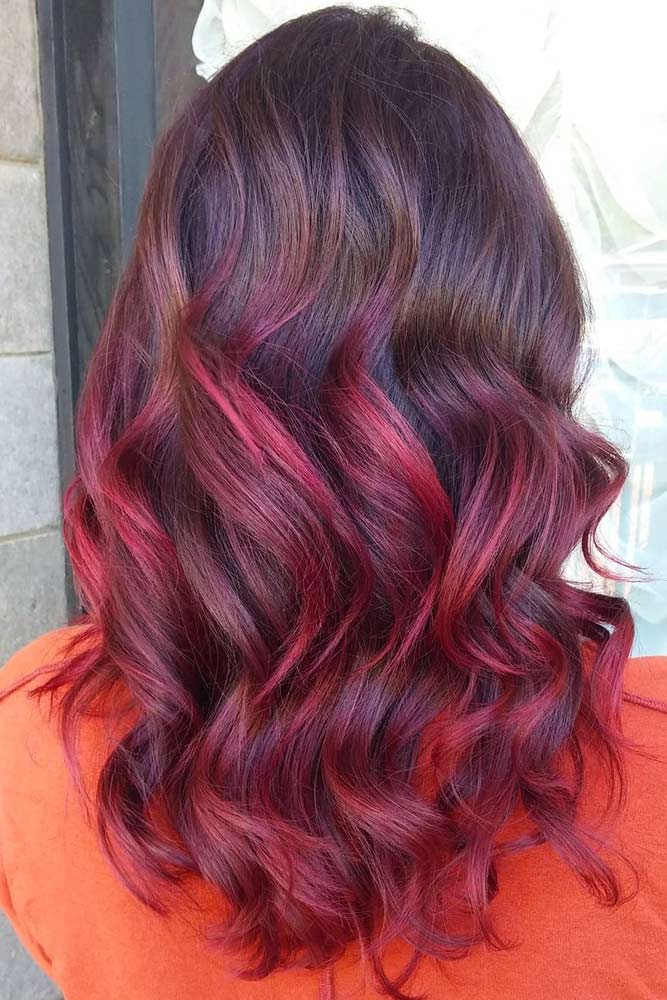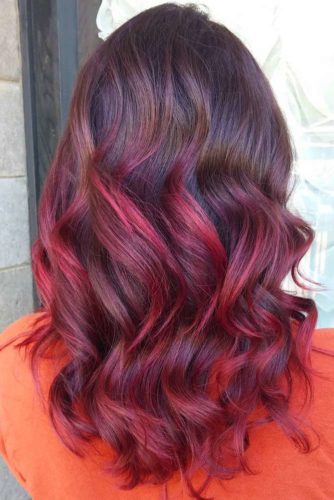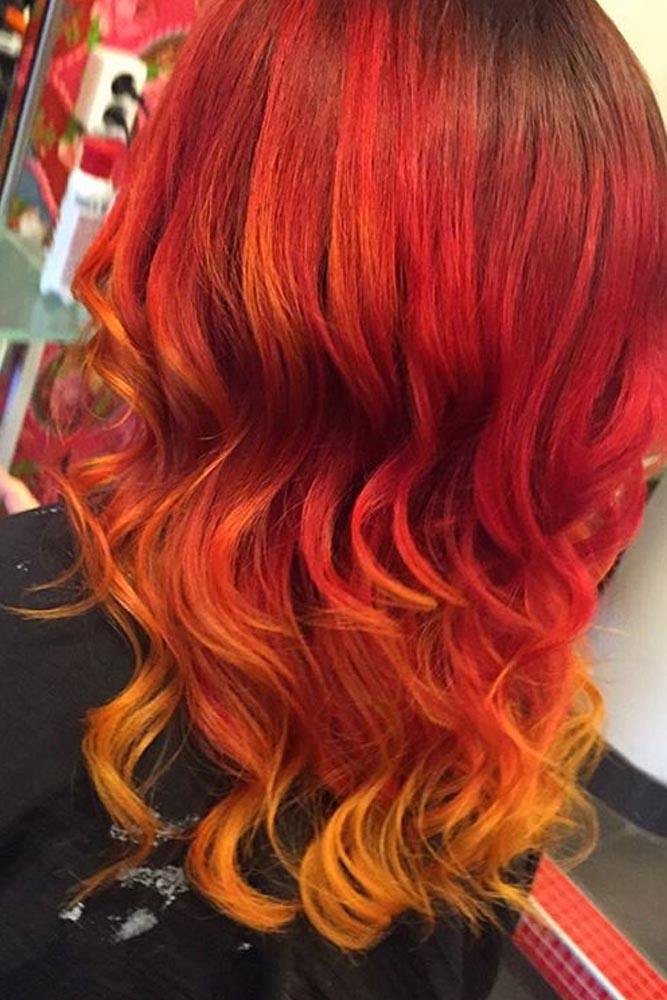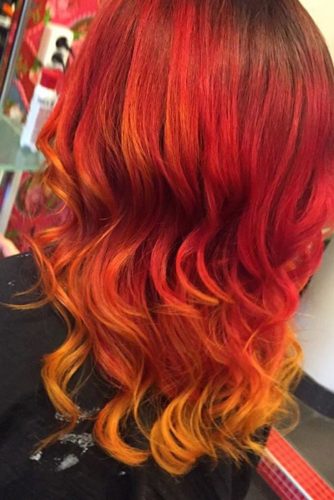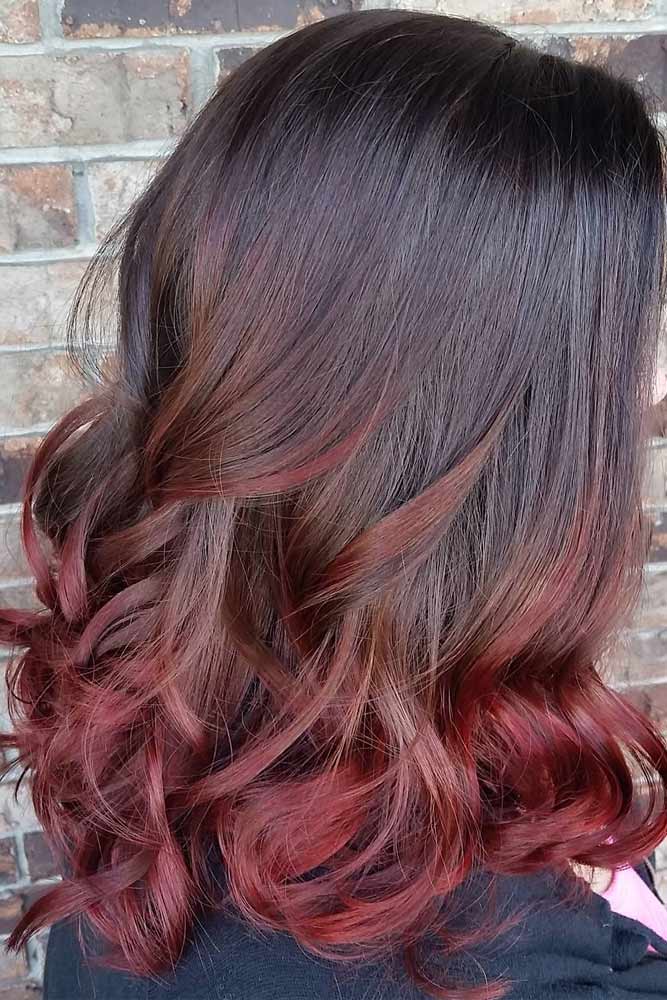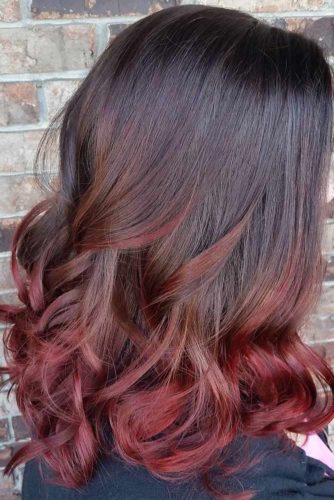 Source: Jillian Petersen via Instagram, Mirjana via Instagram, totalimagemapleviewmall via Instagram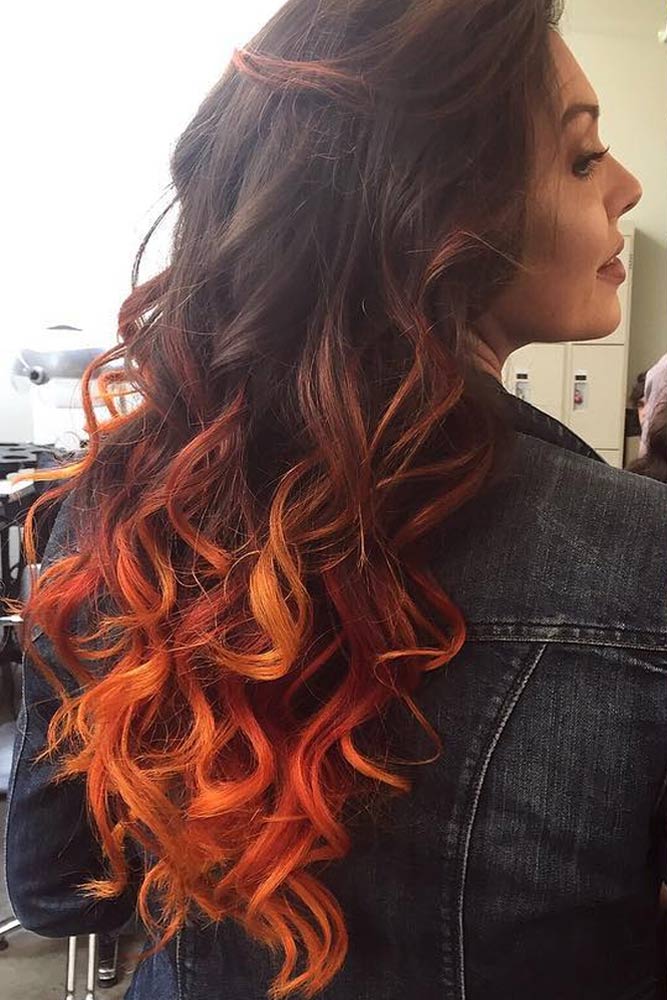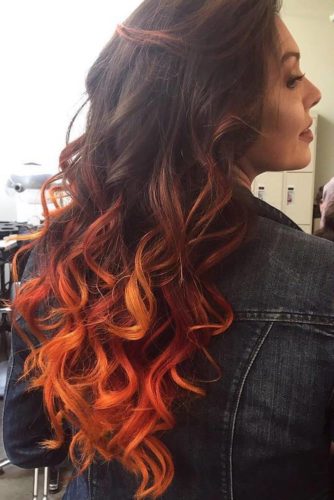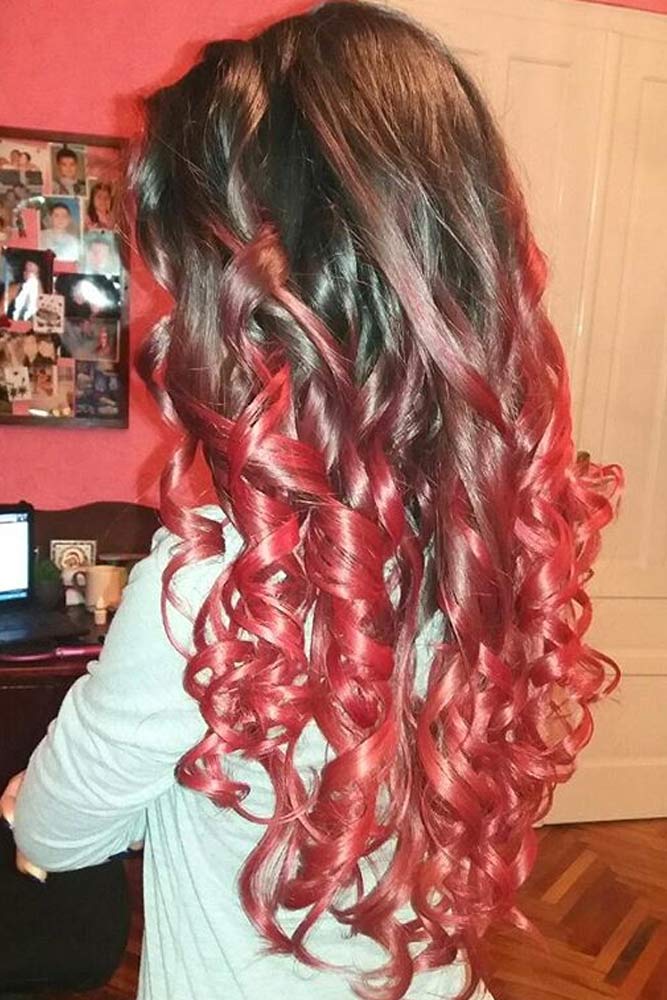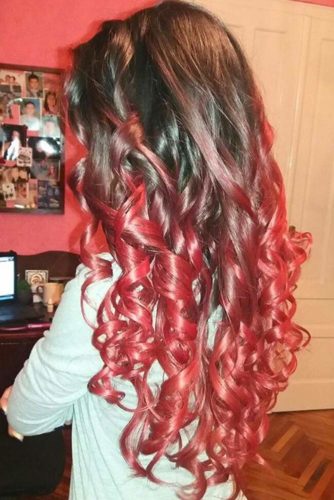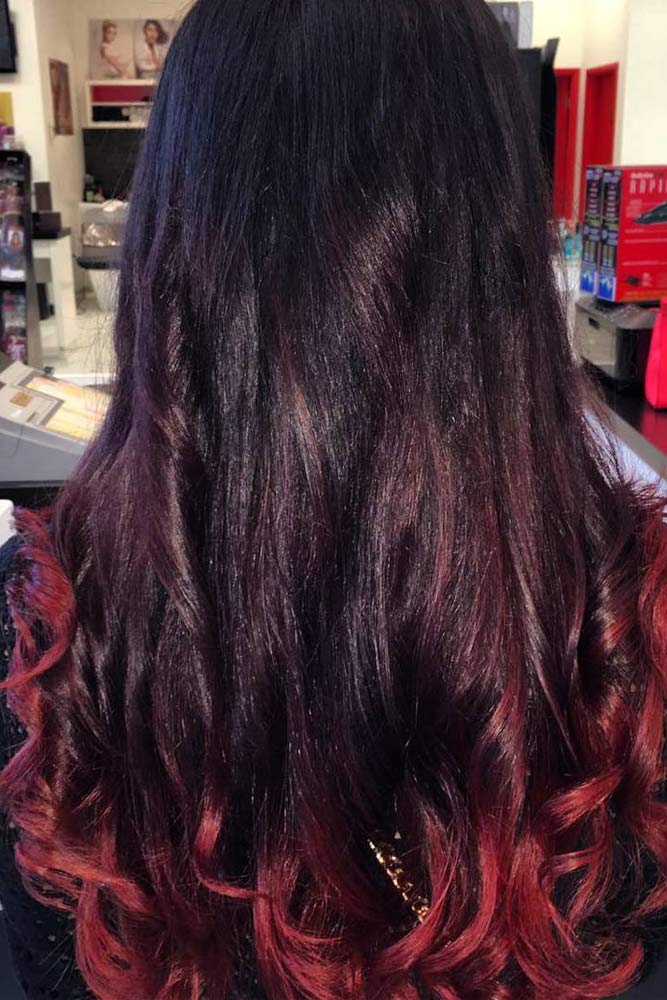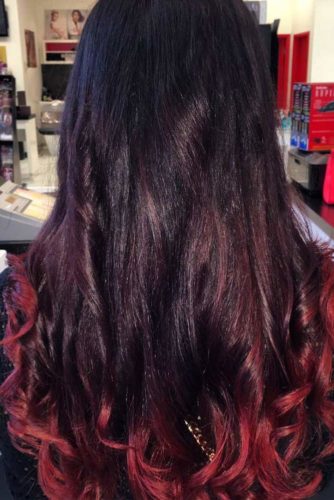 To create an impression, you do not need much, just a few bright cherry strands added to your dark hair and you will get there. How do you like this cute idea?
Red Ombre Hair For Your Fresh Styles
Source: Melia B via Instagram, katerinaa_taylor via Instagram, Brittany Graves via Instagram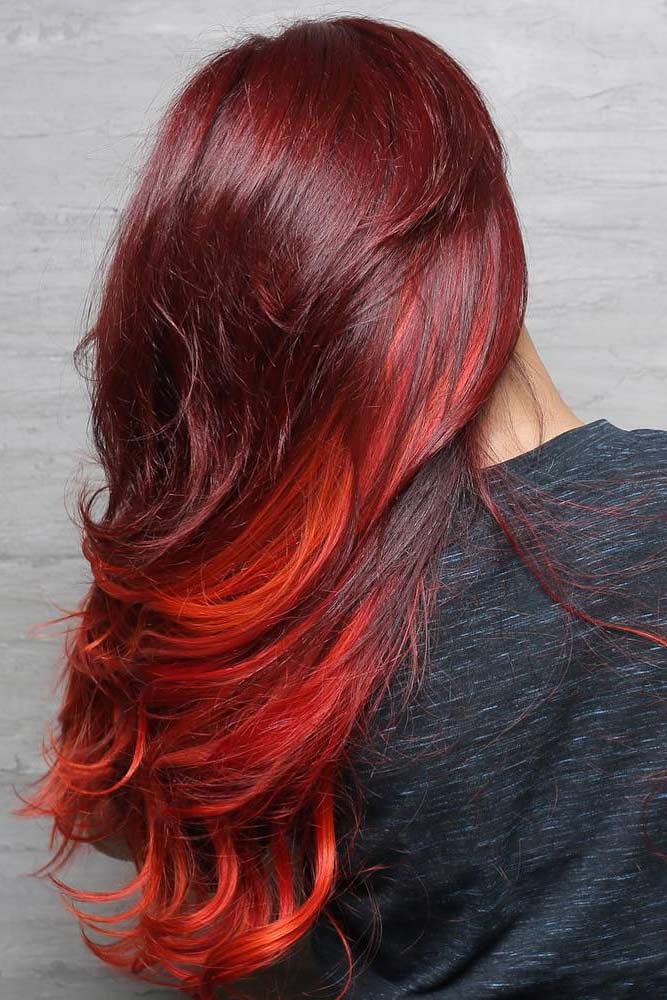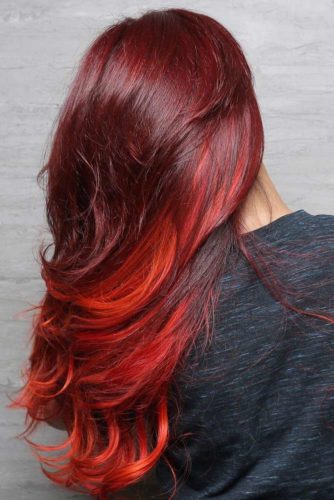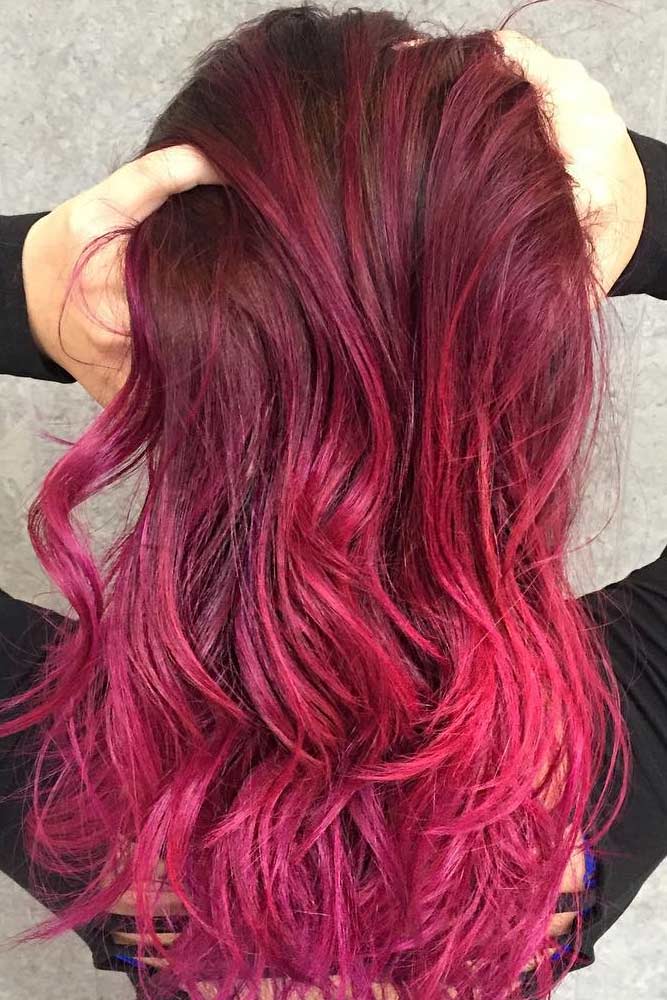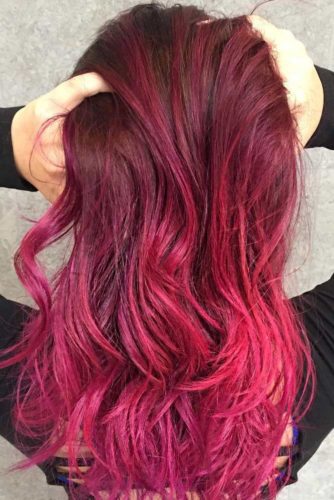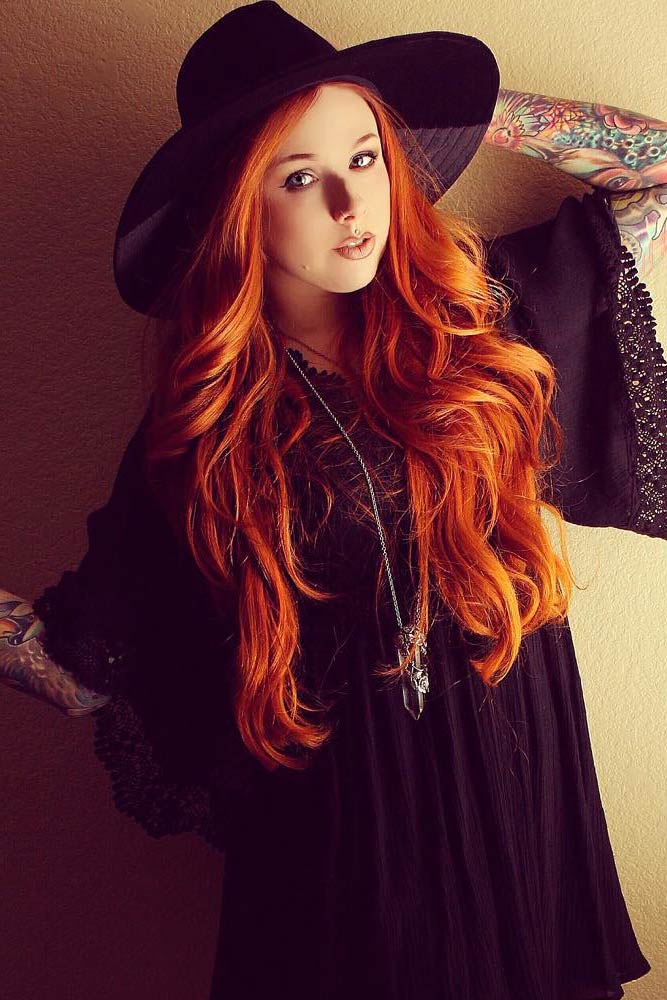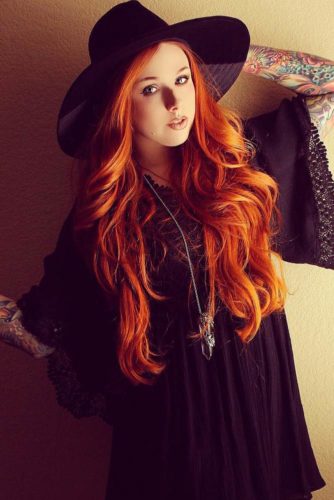 Source: Sadie Gray Hairstylist via Instagram, leslieanne via Instagram, MichelleNagel via Instagram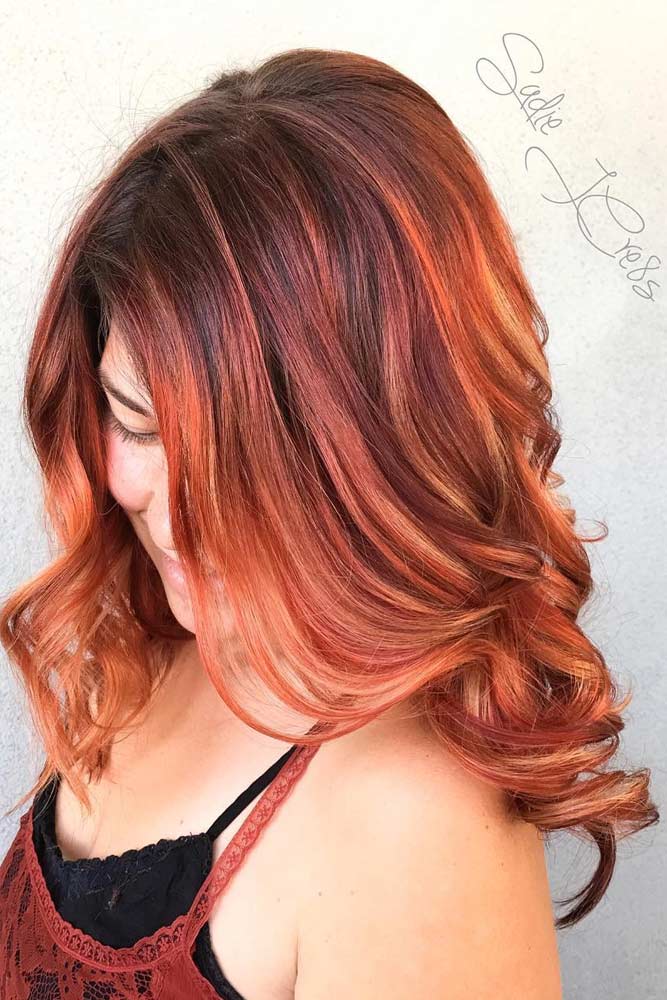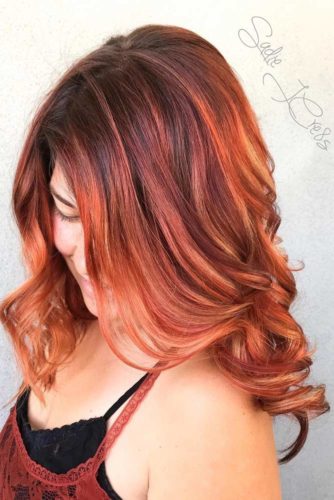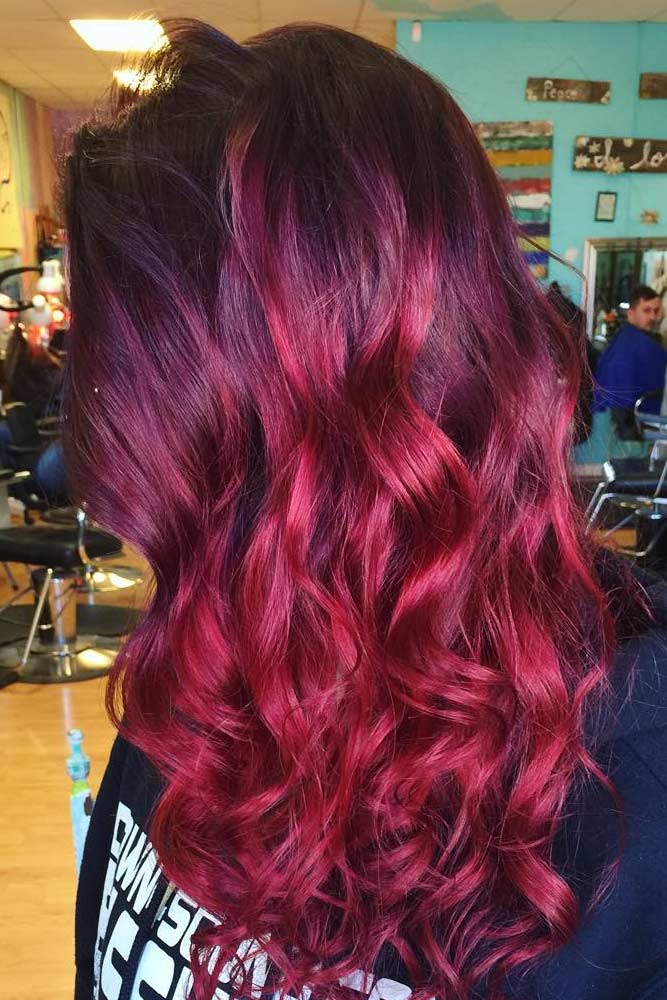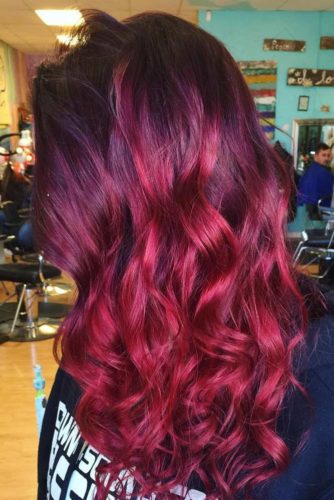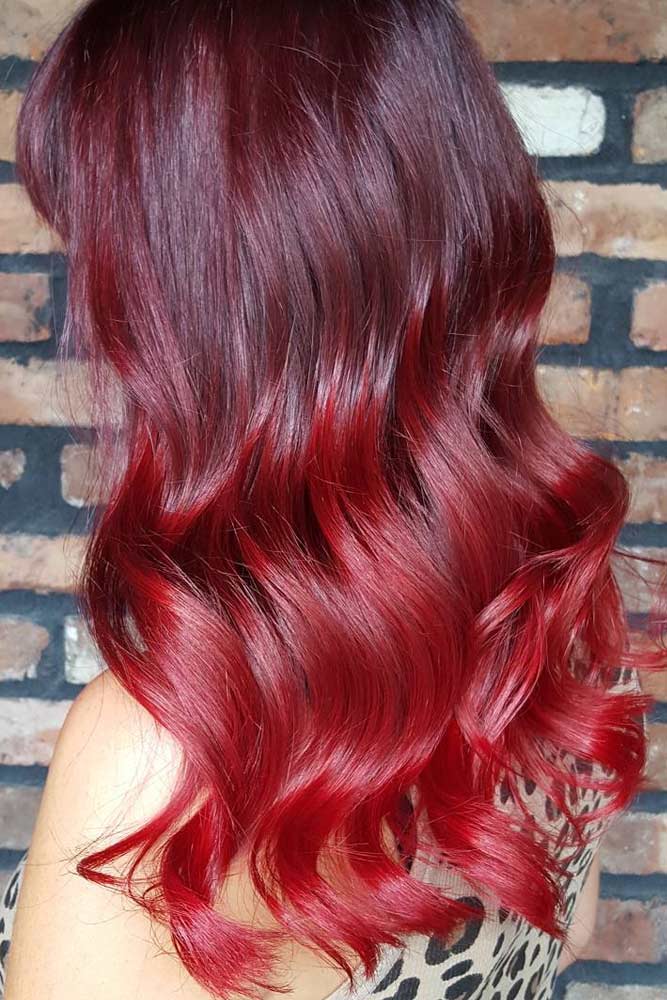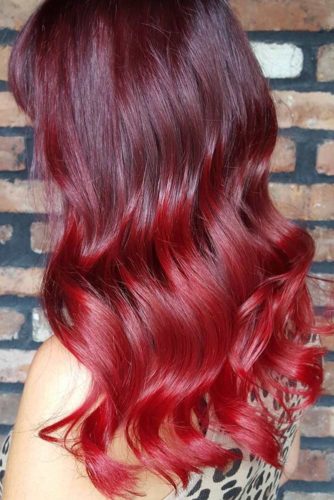 To create the illusion that your hair is fuller, go for the bright pink ombre combined with a dark base. It is so perfect that you can't take your eyes off! Really, try it, and you won't regret!
Red Ombre Hair Ideas for Summer
Source: reneelalondehair via Instagram, Kayla Mauceri via Instagram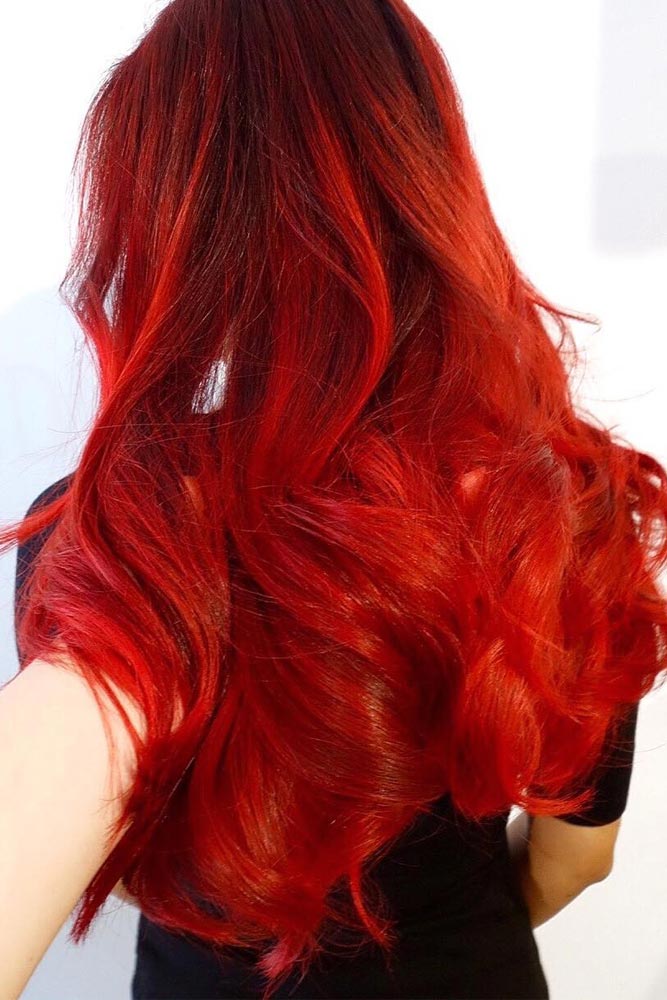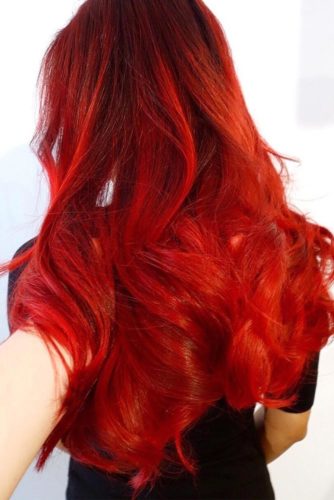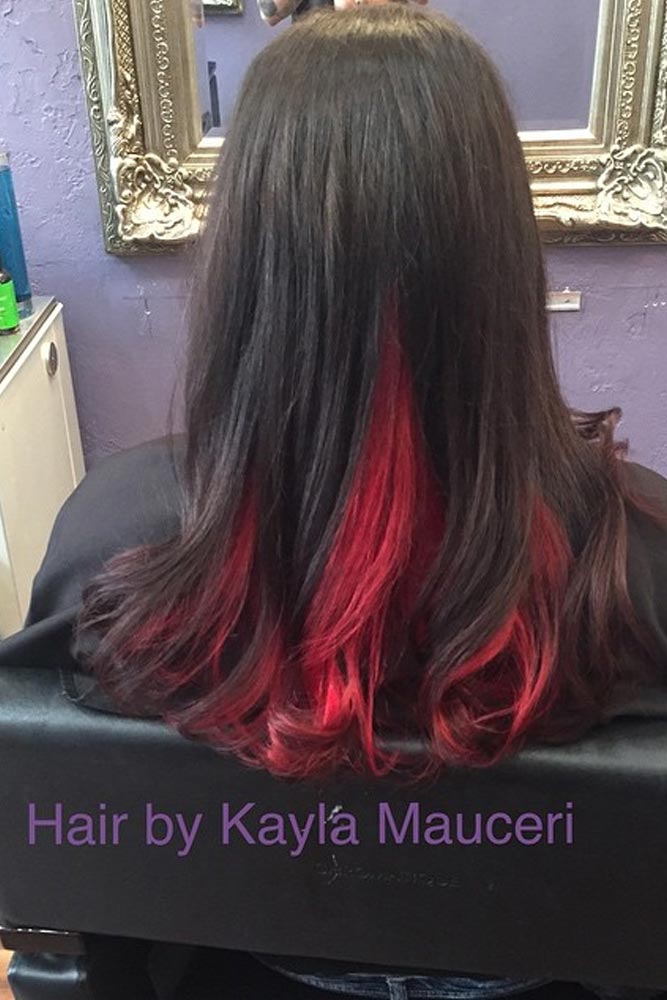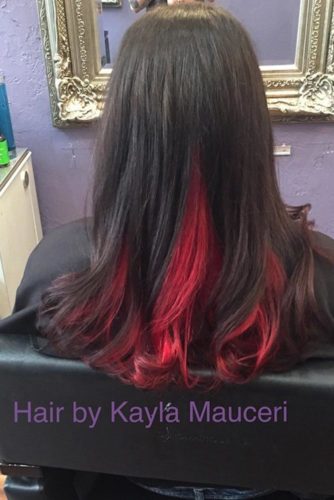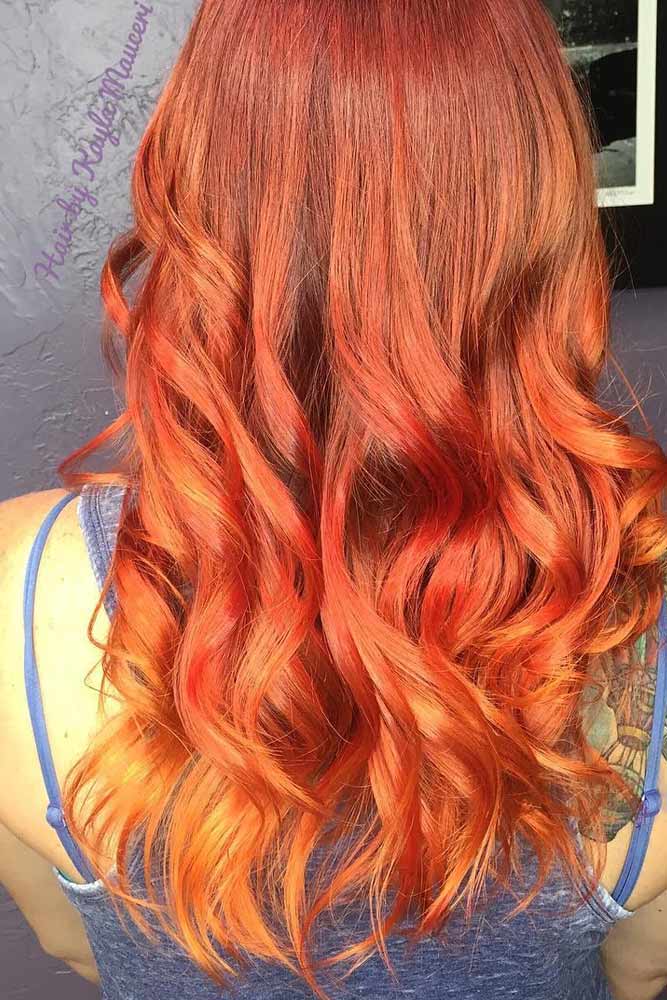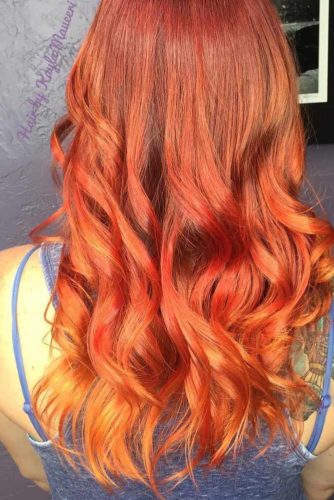 Source: Shalene via Instagram, Cherry Hill NJ Hairstylist via Instagram, LavishHairByLiz via Instagram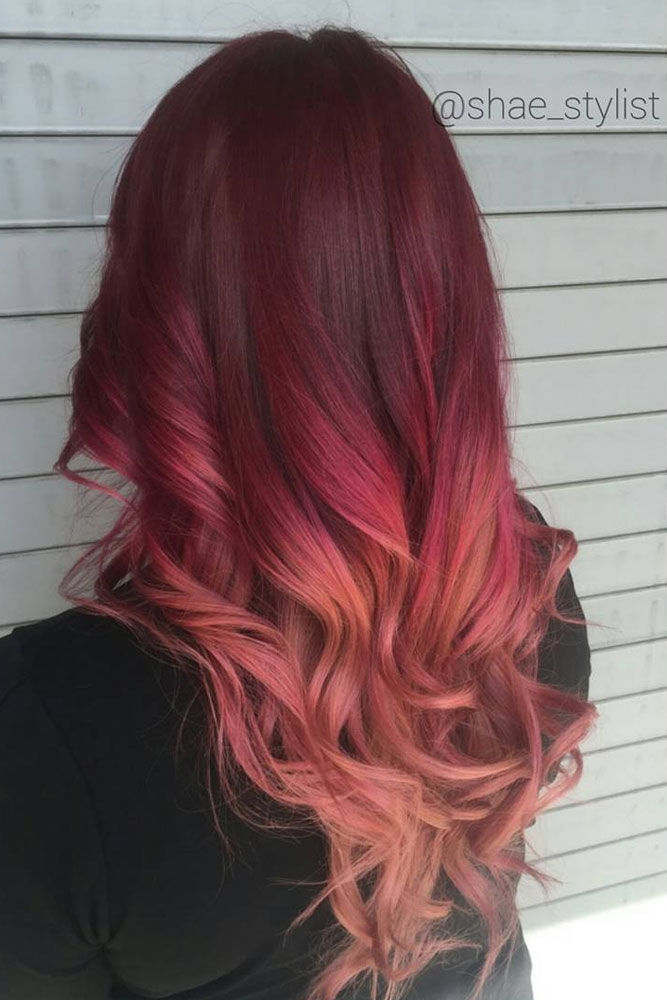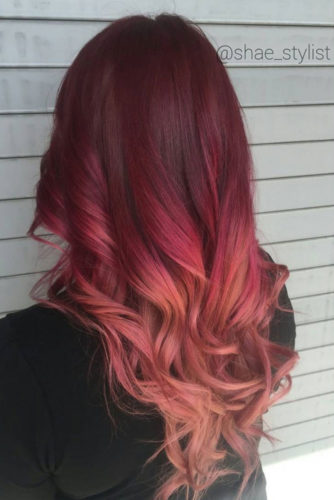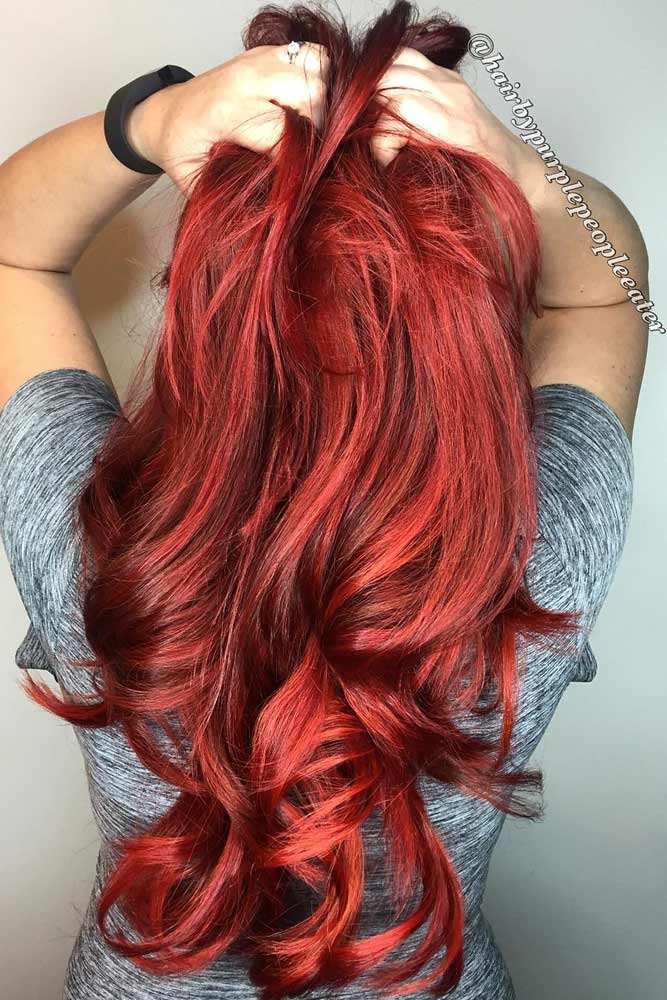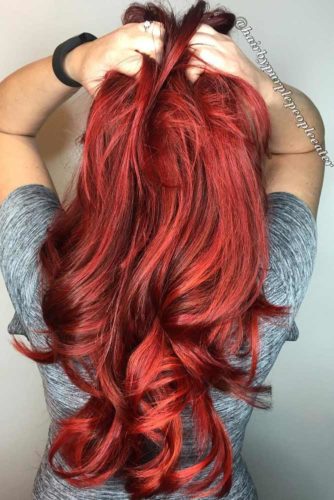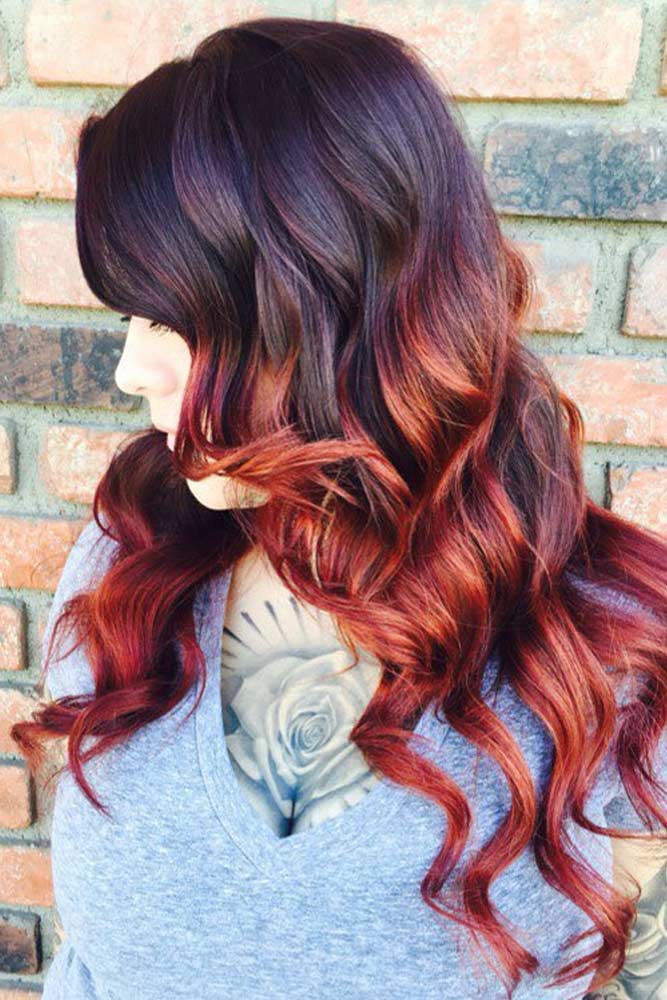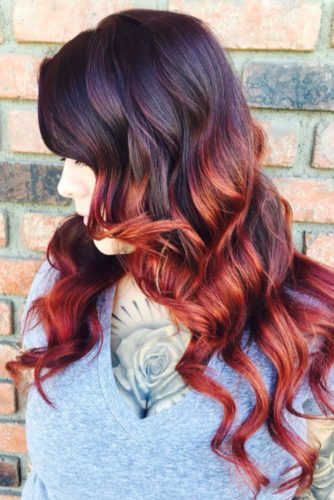 The beauty of red ombre is that it is very versatile. You can choose from pink to almost brown-red hues to create your stunning personal look. Add some ringlets to show off your perfect color!
Hairstyles for Red Ombre Hair
Source: Kyra Pfitzner via Instagram, Melia B via Instagram, mermaidhairs via Instagram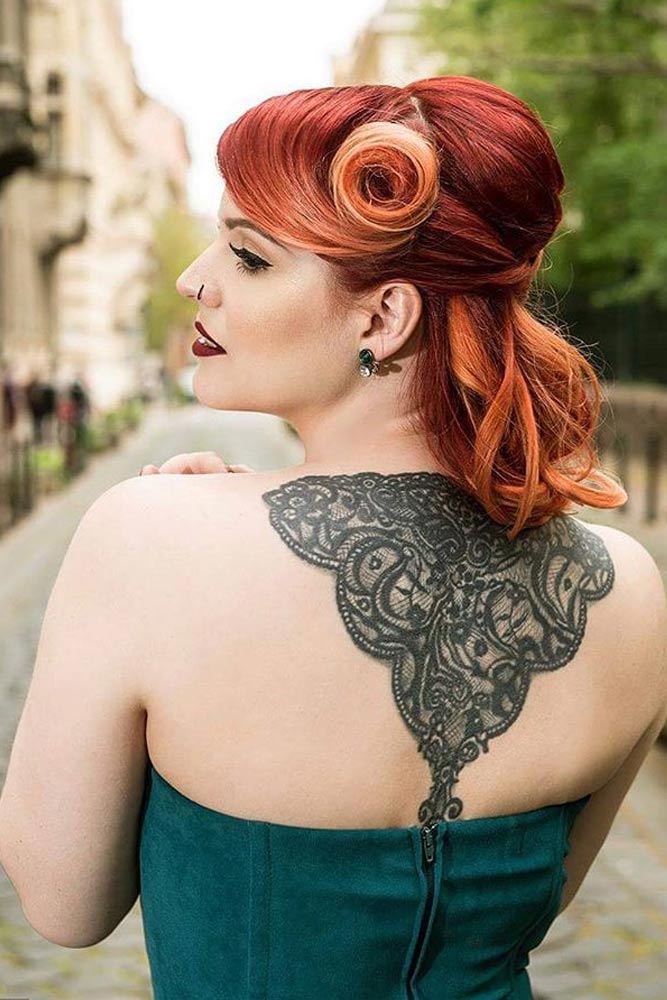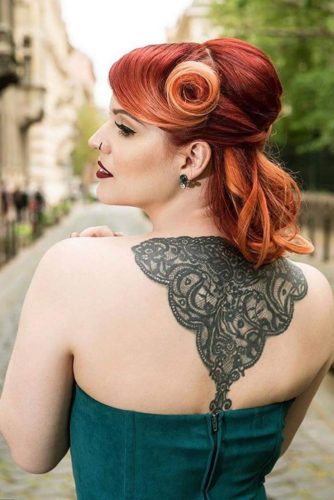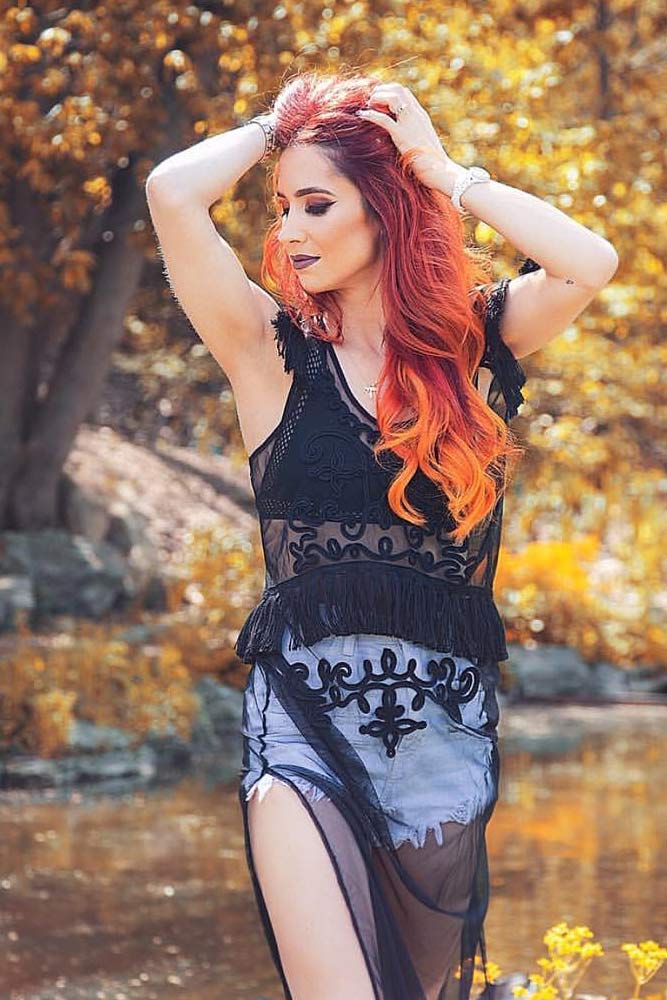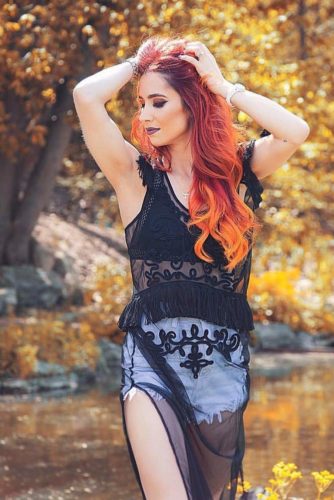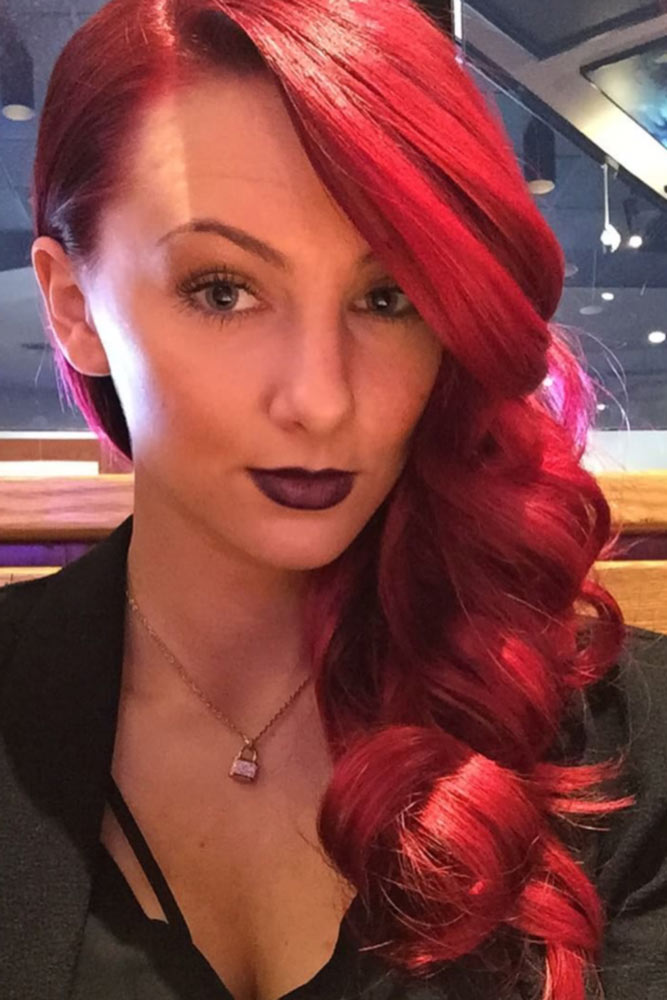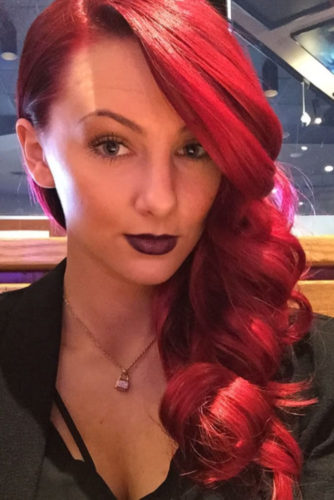 Hairstyles for Red Ombre Hair & Crowns
Source: Samantha via Instagram, Guy Tang via Instagram, salon_jrc via Instagram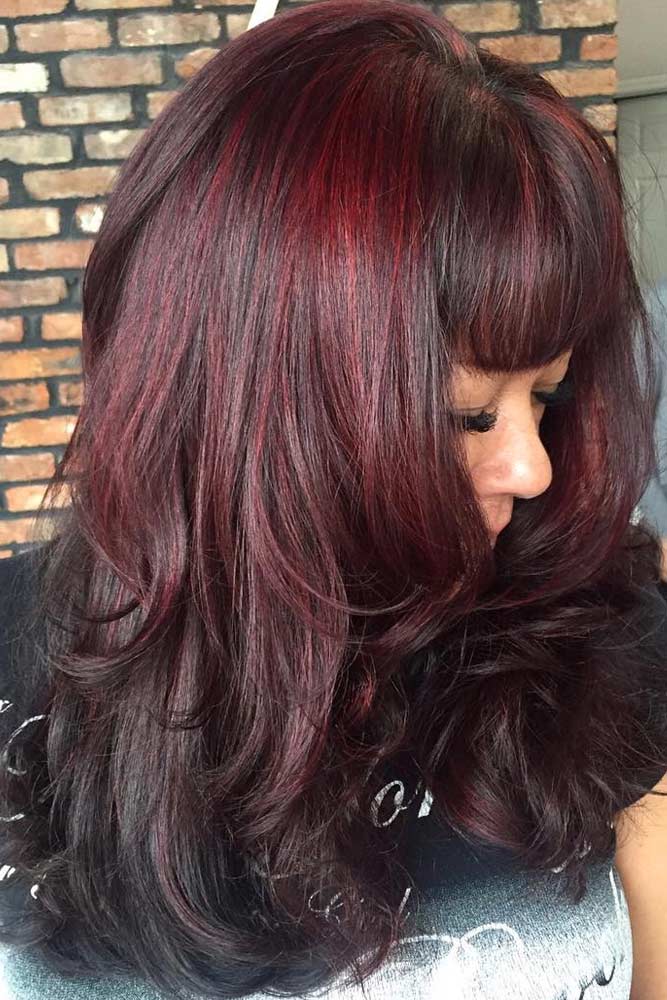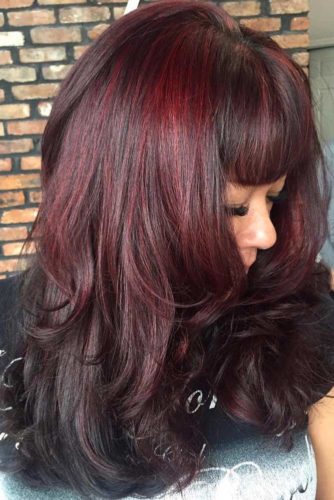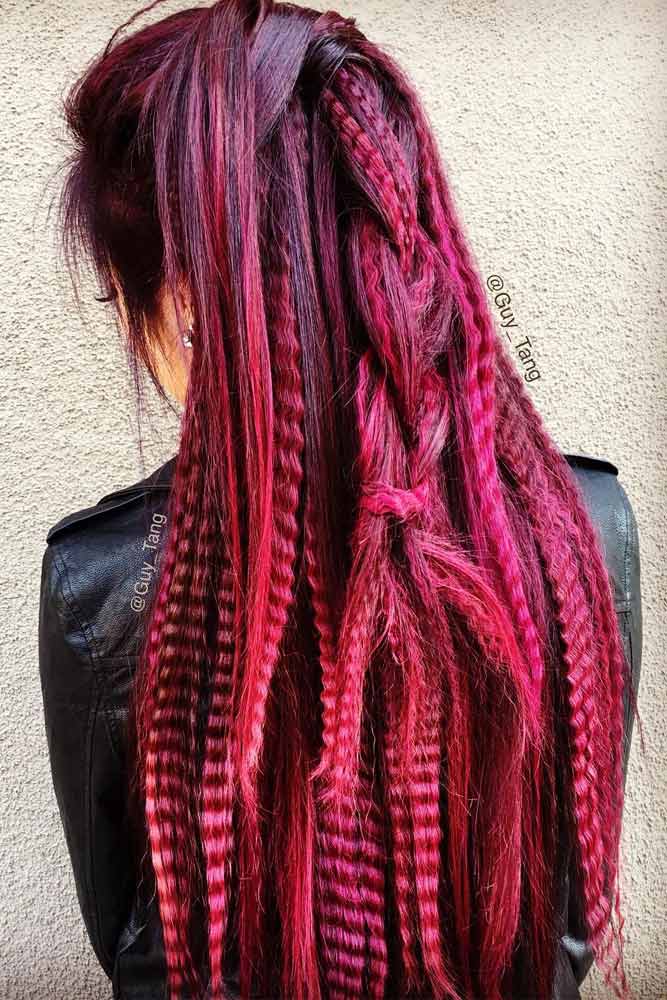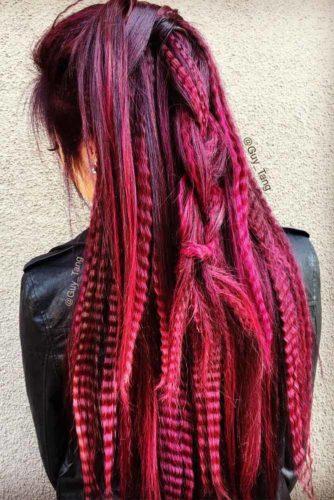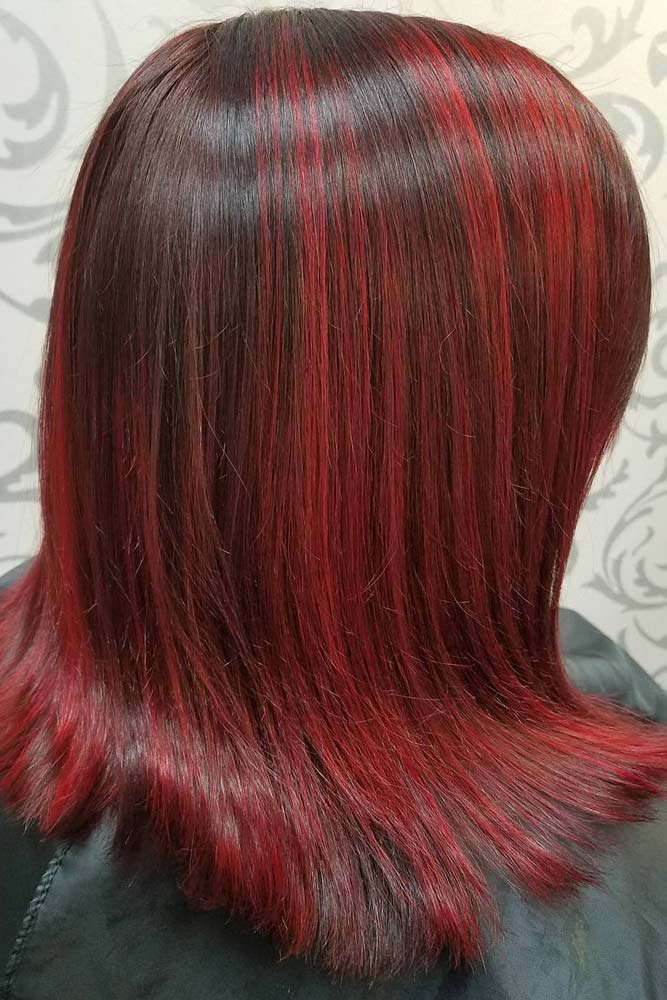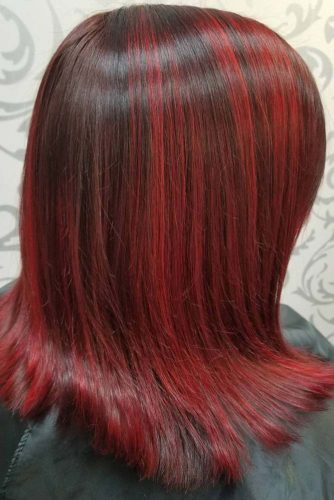 Source: Emma Indrunas via Instagram, Linh Phan via Instagram, Kasey O'Hara Skrobe via Instagram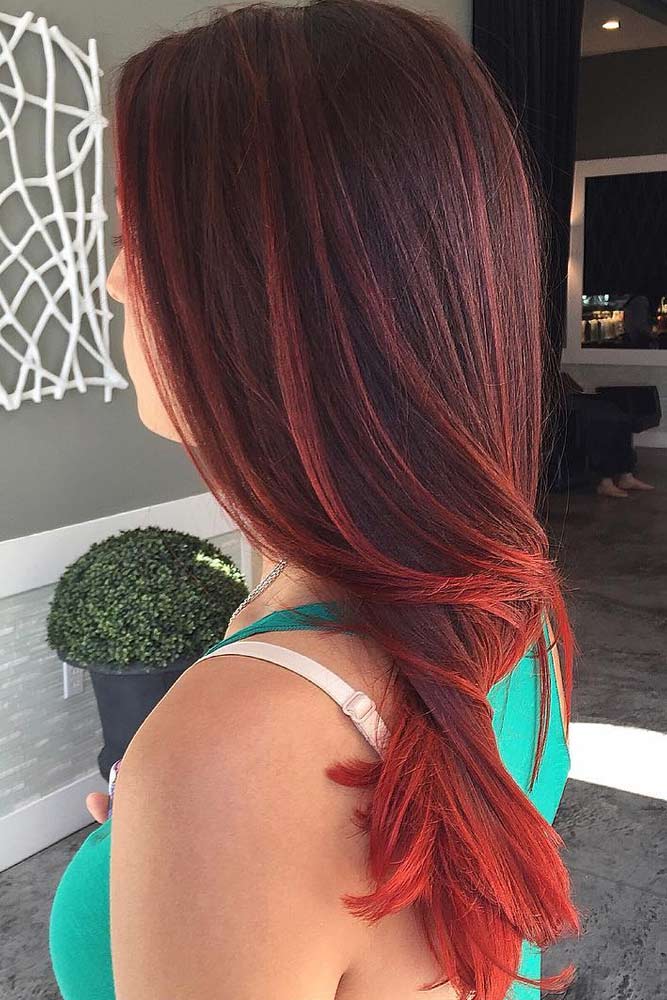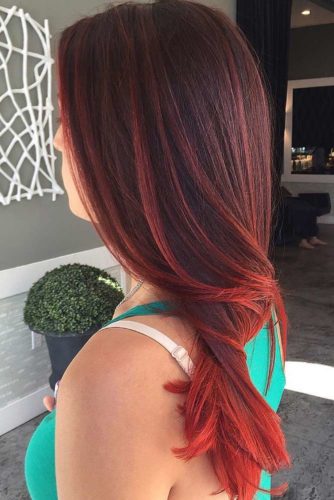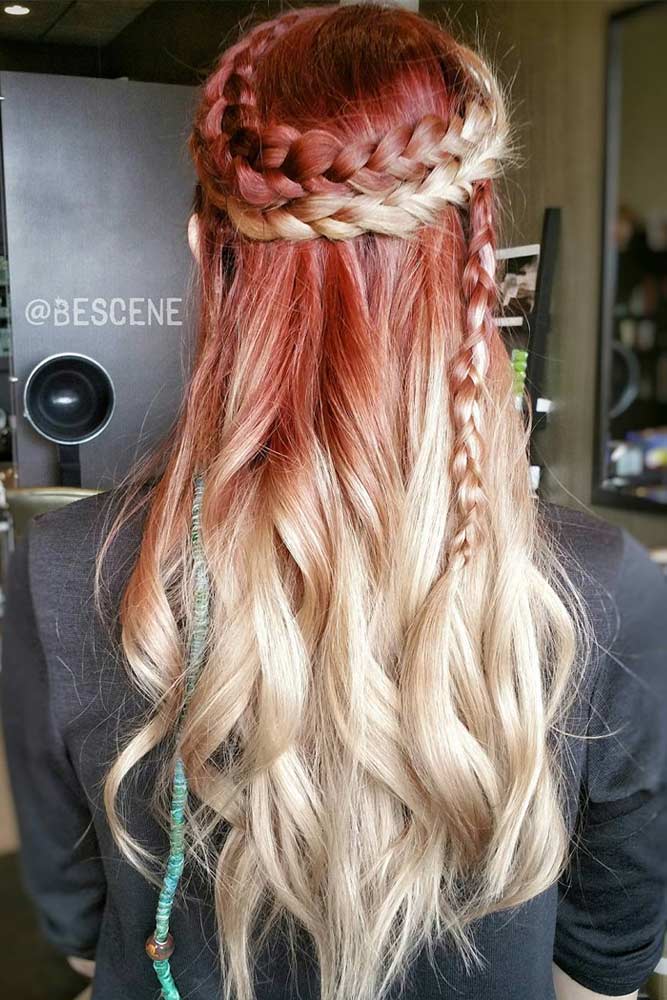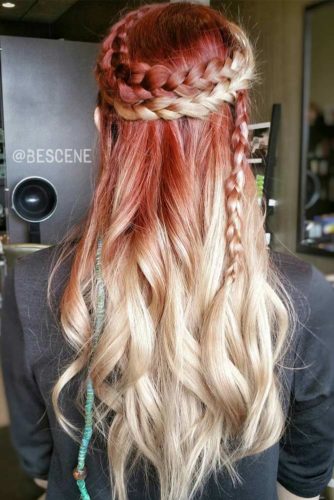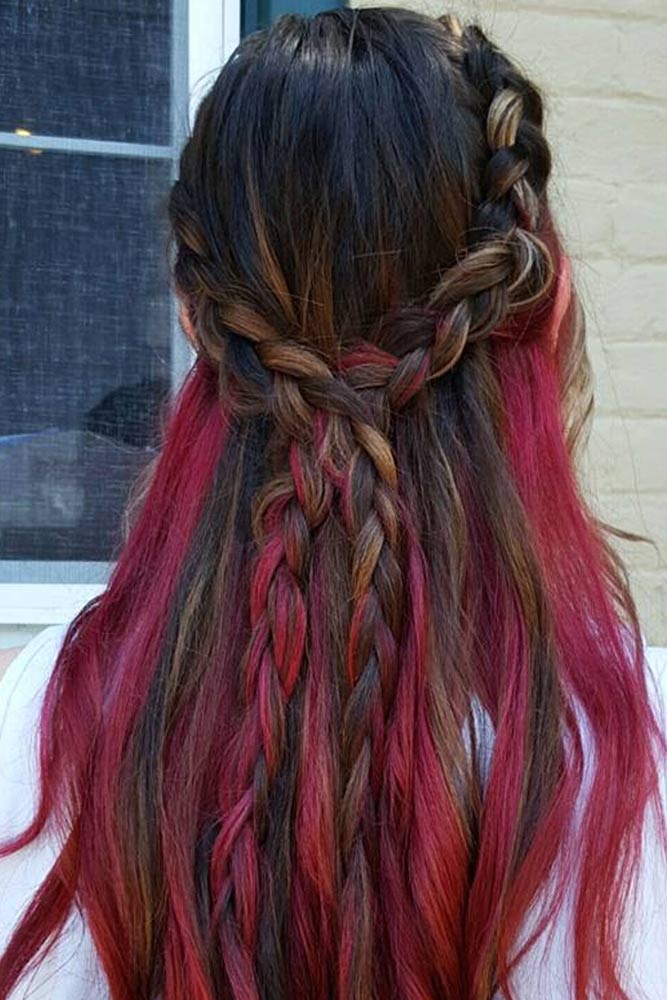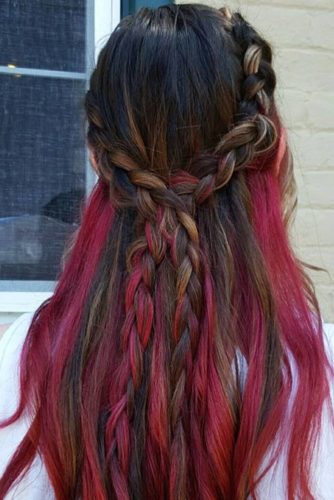 Curly and Braided Hairstyles for Red Ombre Hair
Source: Emma Roxanne via Instagram, S h a n n o n M u r p h y via Instagram, Bruxsa via Instagram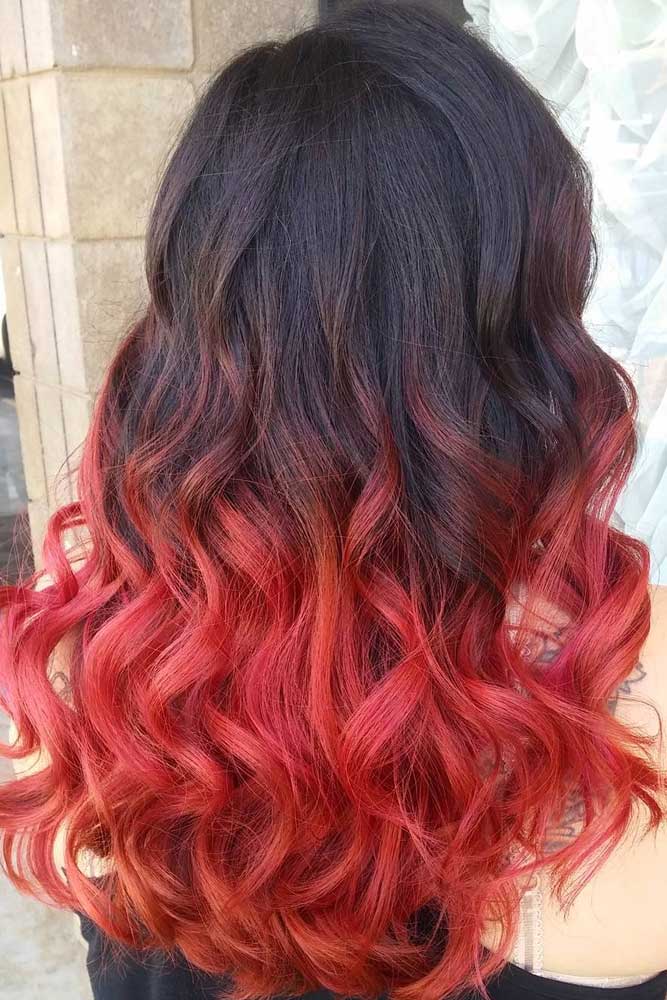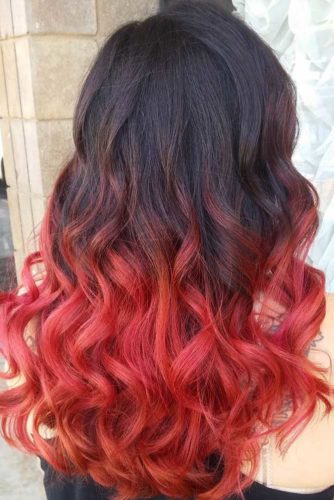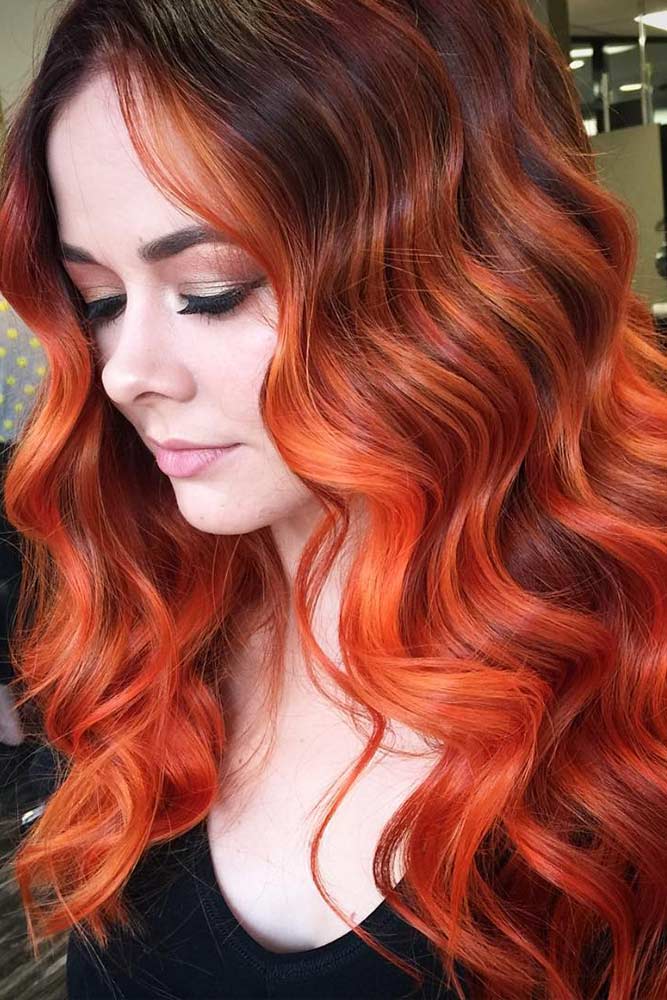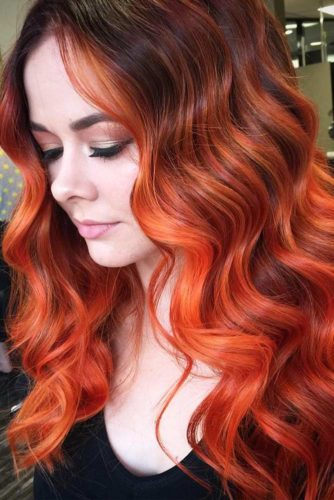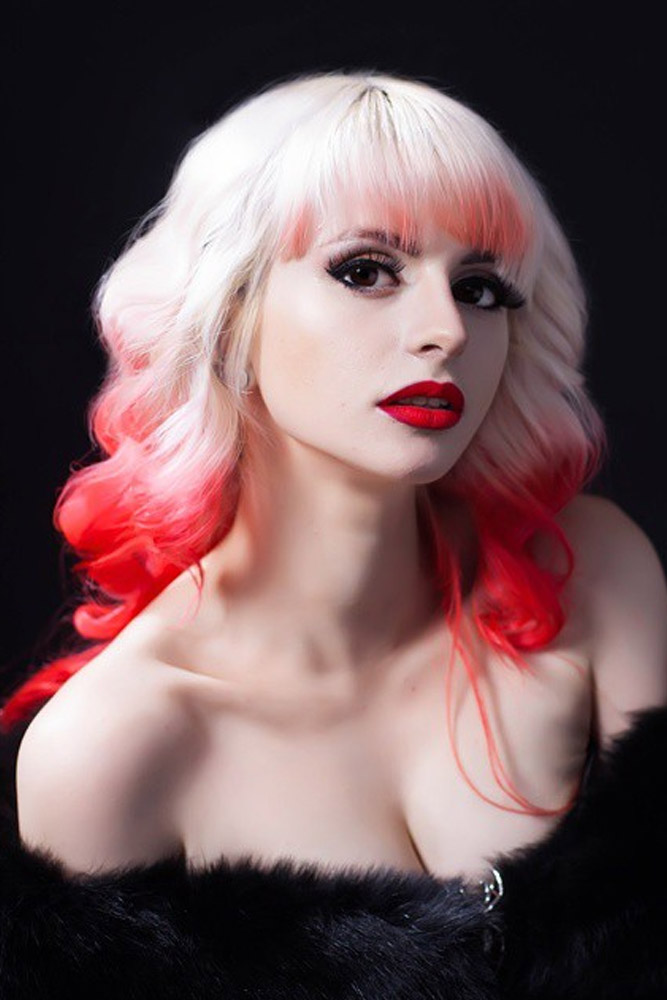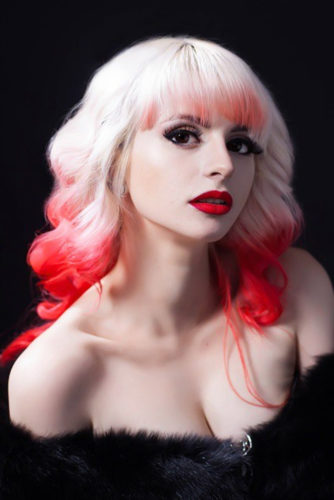 Source: theniksters via Instagram, theniksters via Instagram, Leysa-Lvbrides via Instagram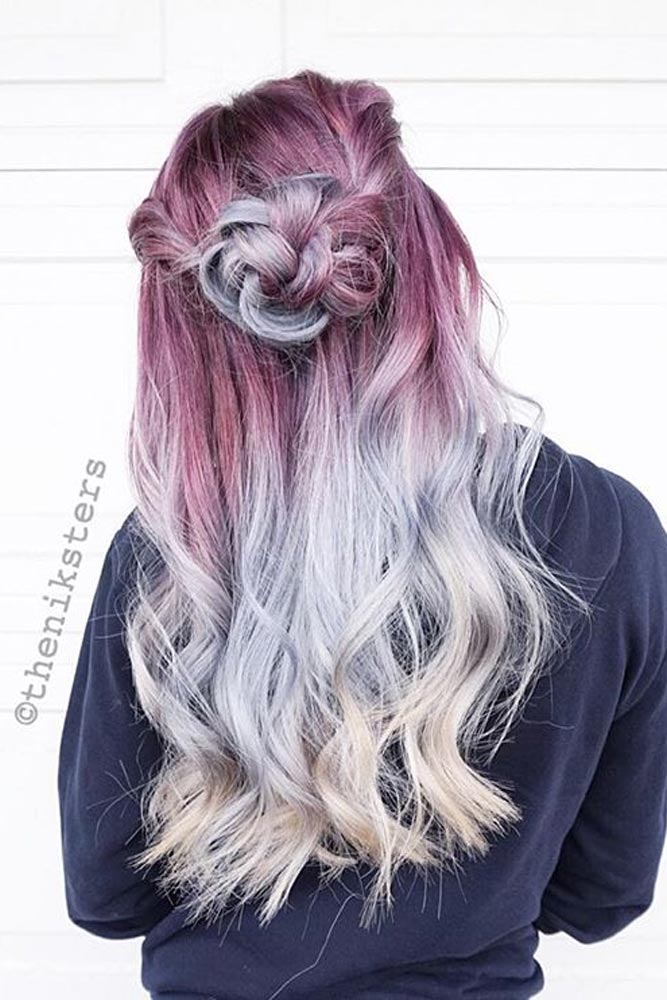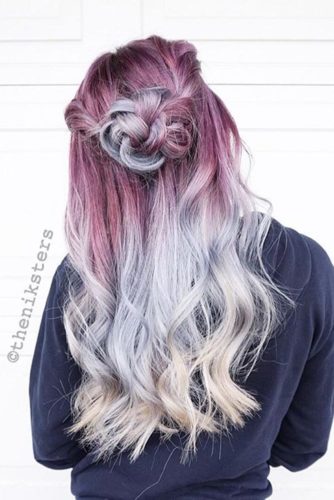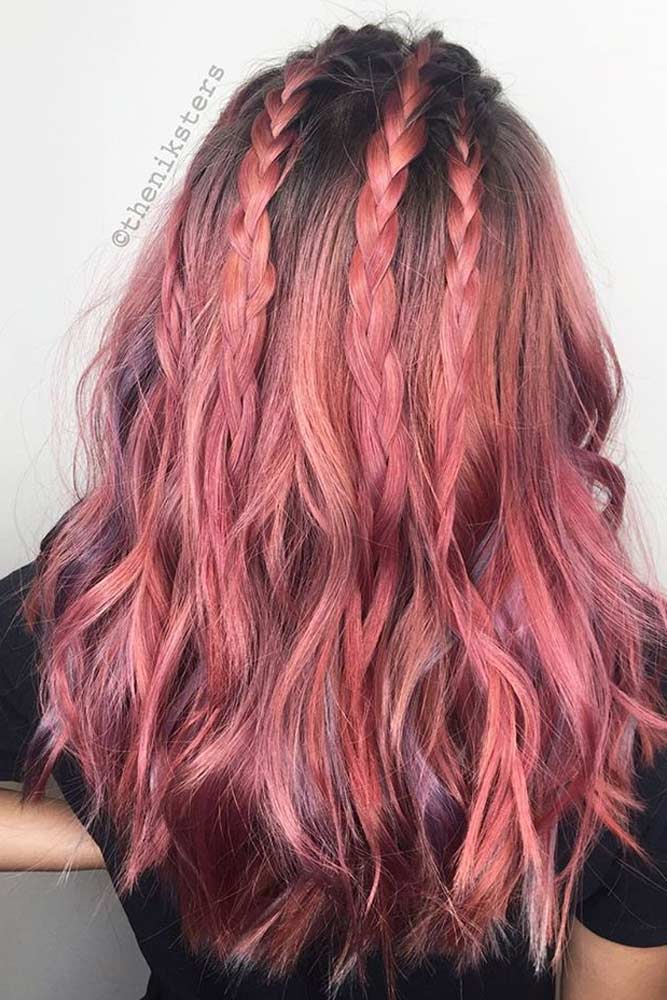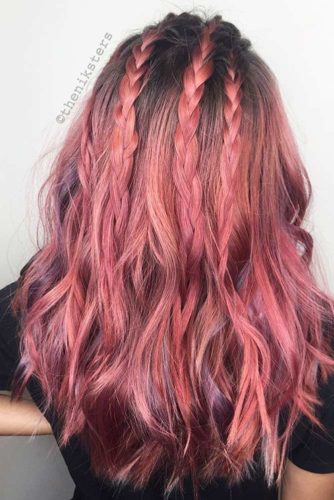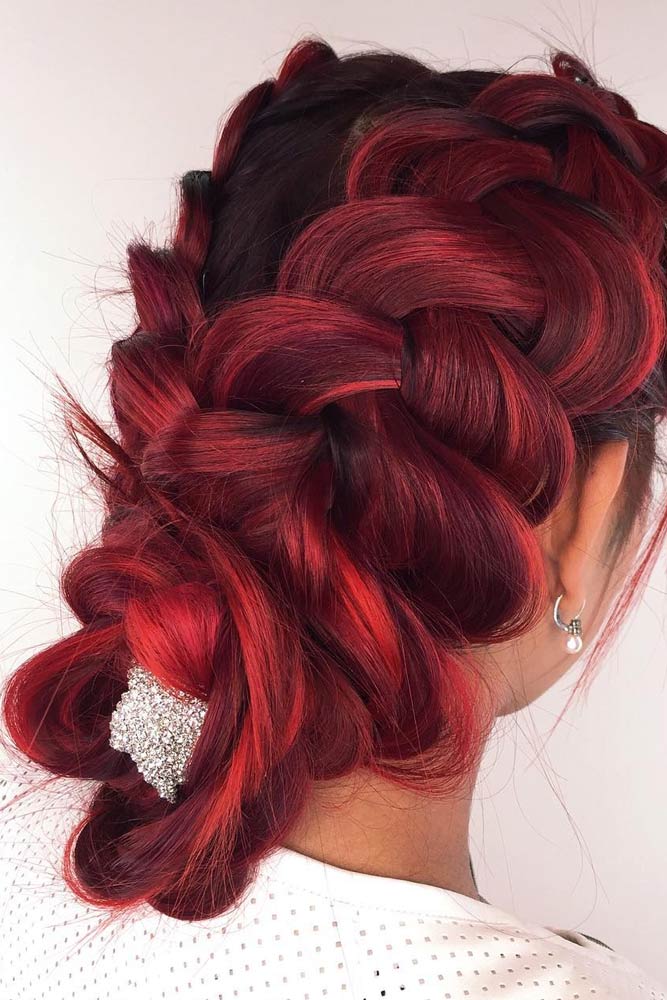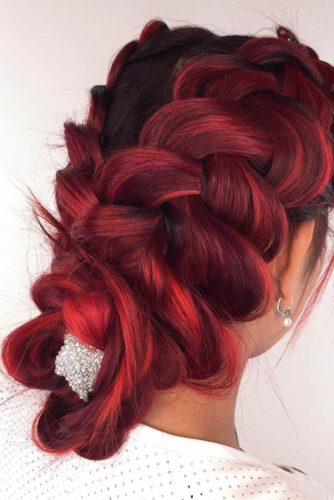 Red Ombre Hair - Braids
Source: Diemmi Le via Instagram, Sadie Gray via Instagram, Kasey O'Hara Skrobe via Instagram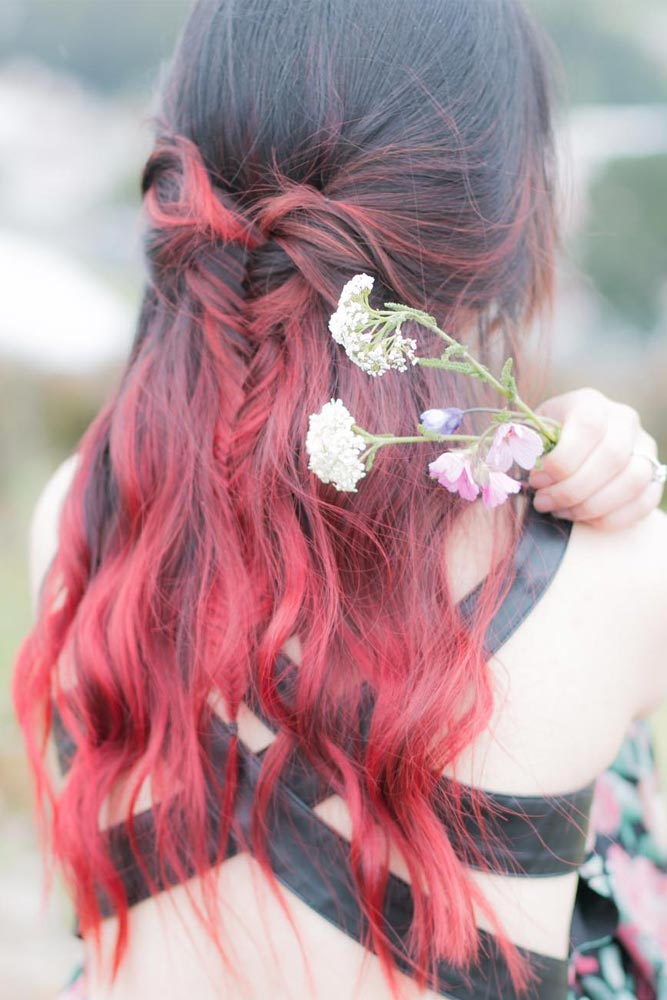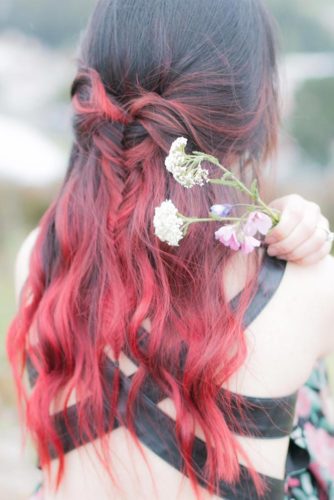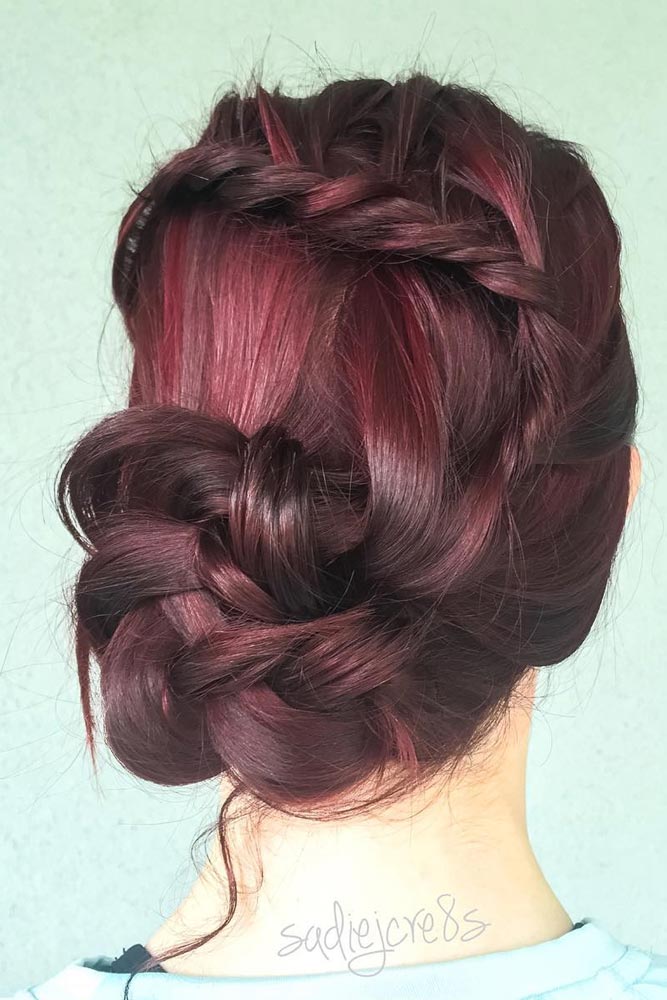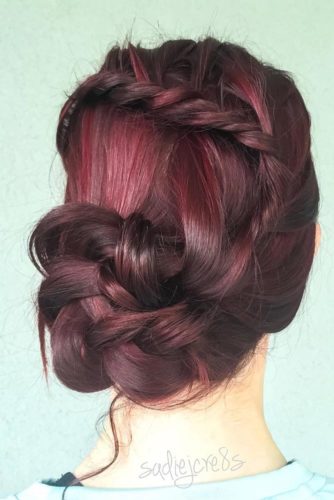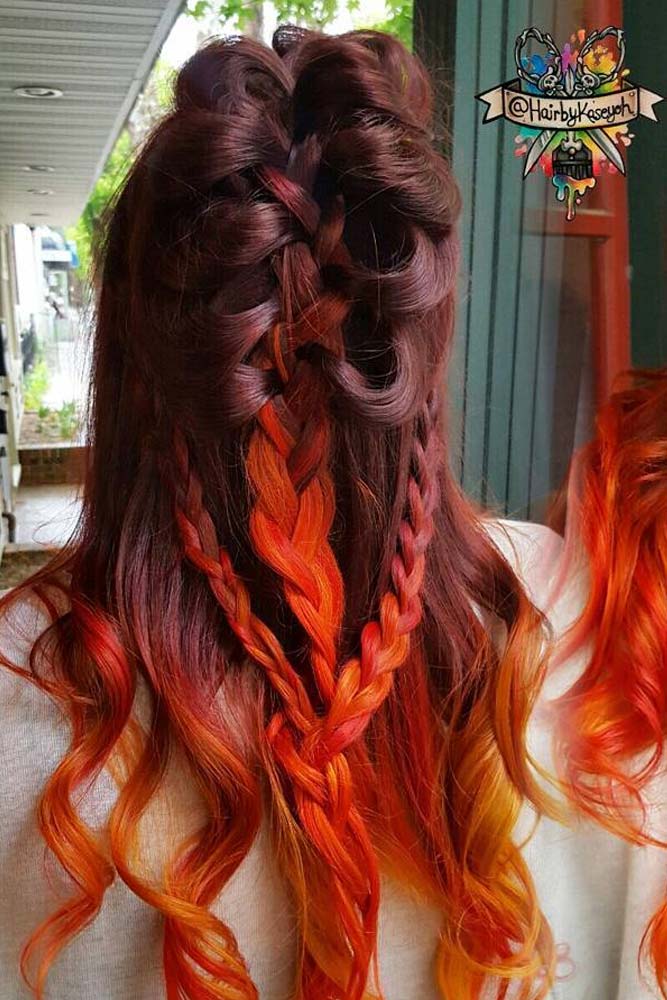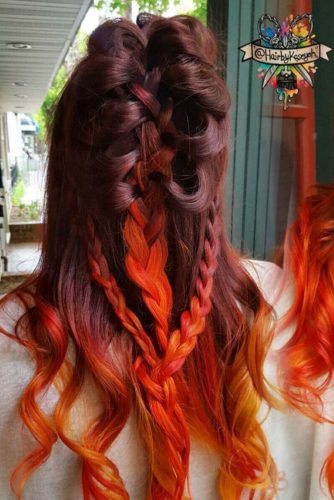 Source: Kristina Youssef via Instagram, Garrett Roach via Instagram, Gitty&Göff Hair via Instagram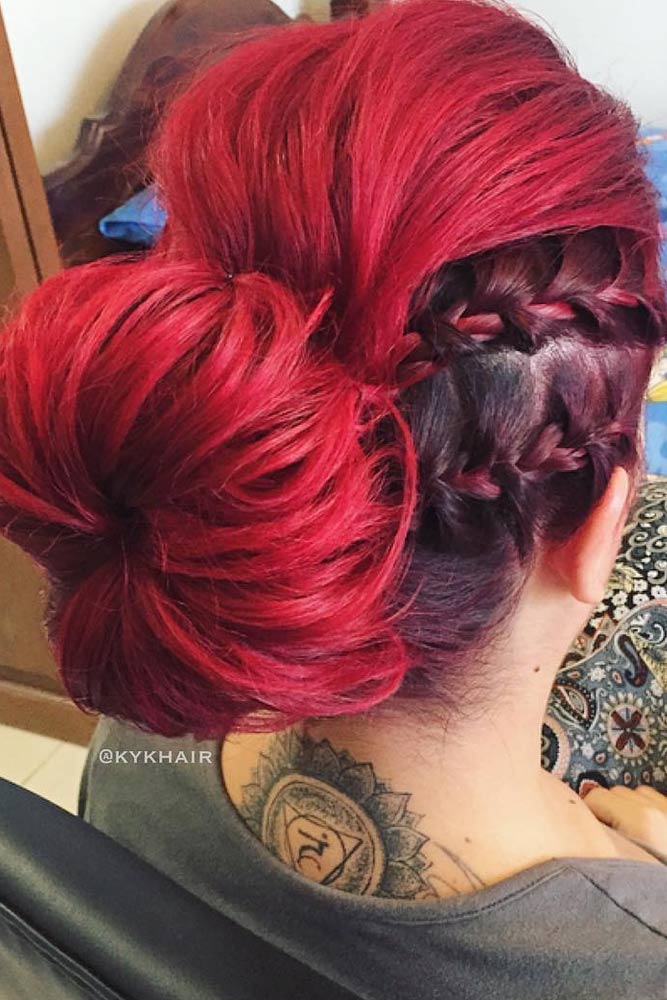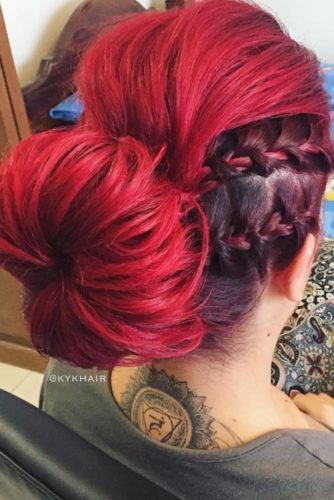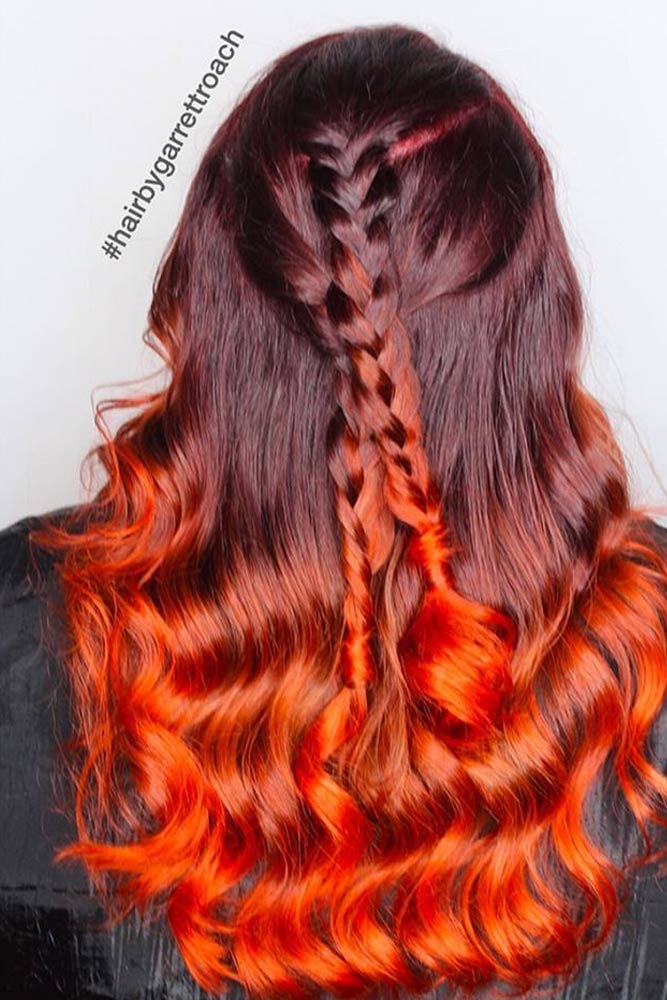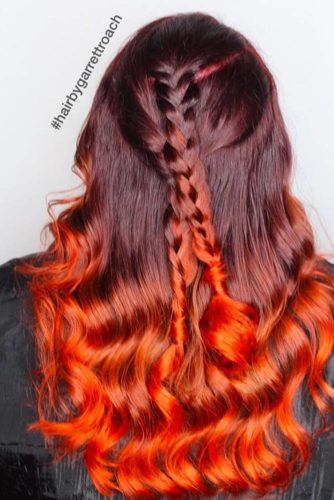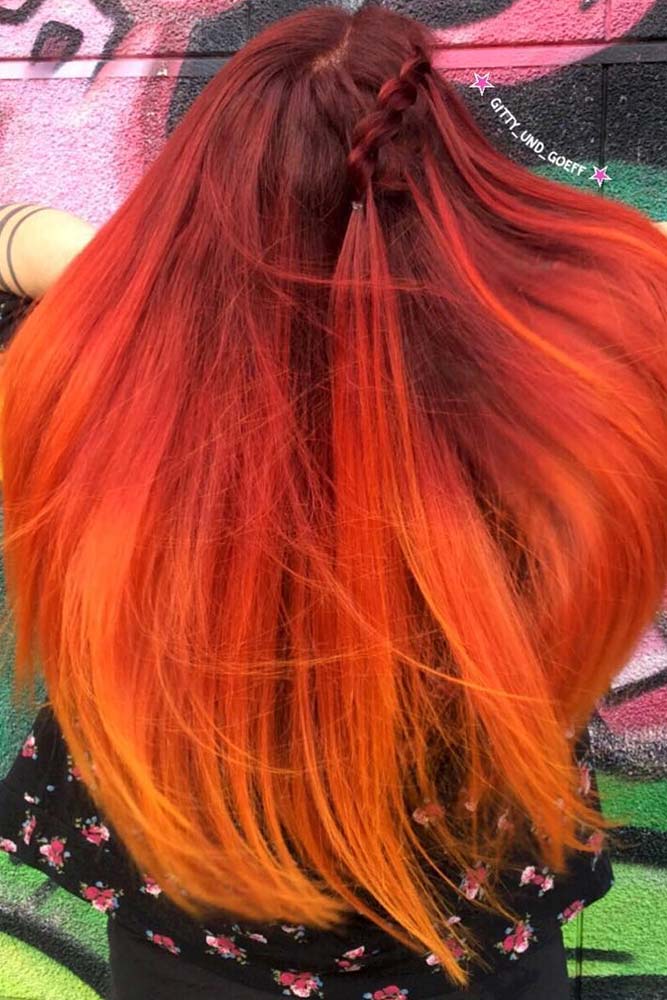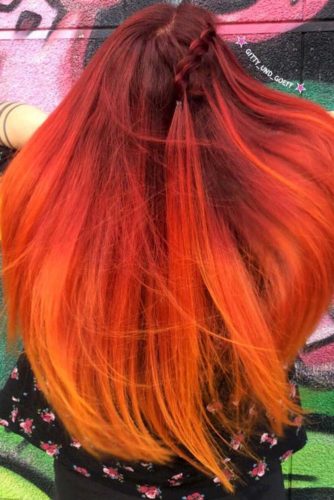 Hairstyles for Red Ombre Hair: Braid, Vintage Waves, Half-Updos
Source: Guy Tang via Instagram, vworden via Instagram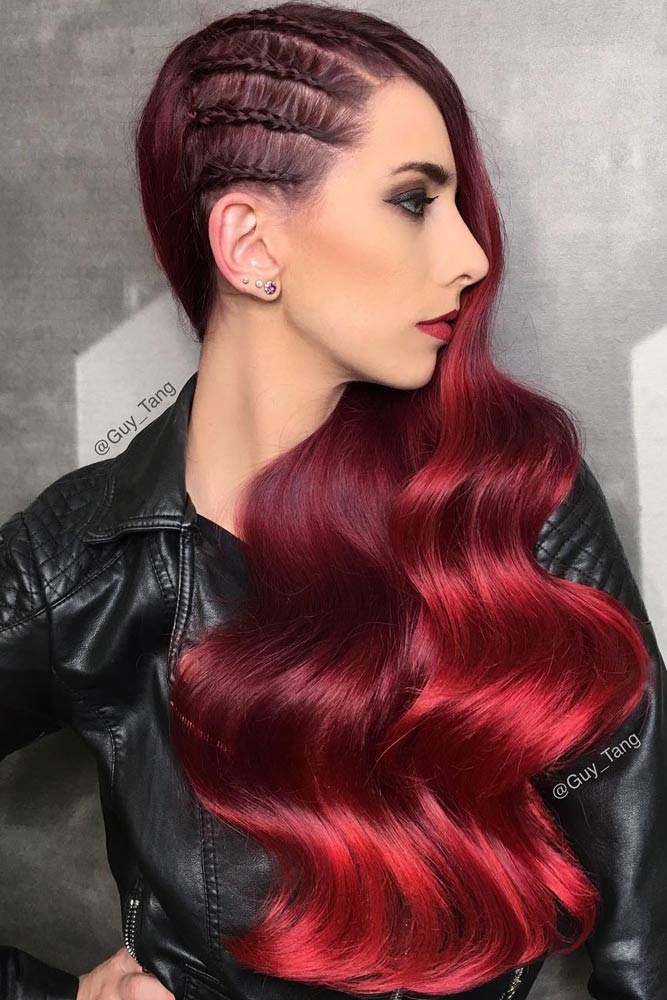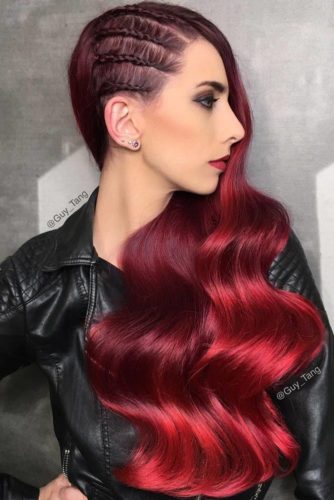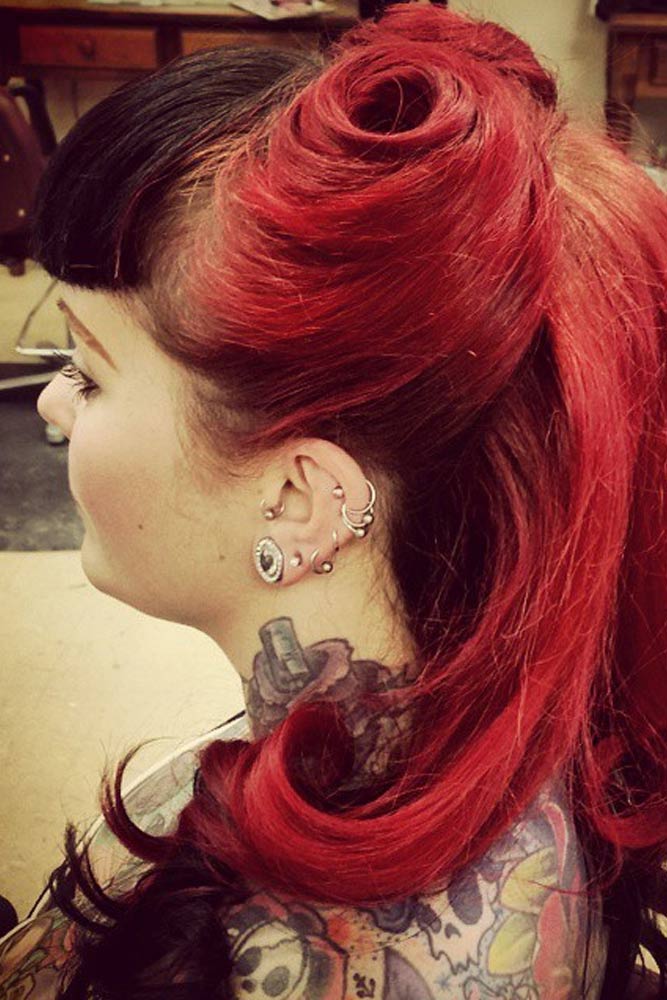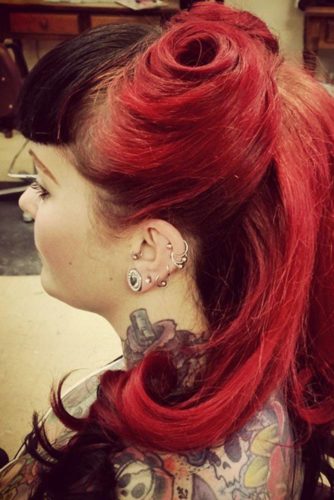 Source: Hair and Makeup by Steph via Instagram, Garrett Roach via Instagram, Stephany Huizing Smith via Instagram