Orange Hair Looks That Are Impossible To Resist
We are not going to hide it from you, there are countless hair trends to choose from, and at times it may get quite overwhelming. However, if you are tired of regular looks it is time you get a little more experimental. If blues and greens are not your cup of tea, then we say you at least consider orange hair. The truth is that this color is all the rage at the moment and it is super-versatile. There are countless shades and colors to choose from. All you need is the right direction. That is precisely what we are going to point you in!
Perfect Orange Hair Color For Your Skin Tone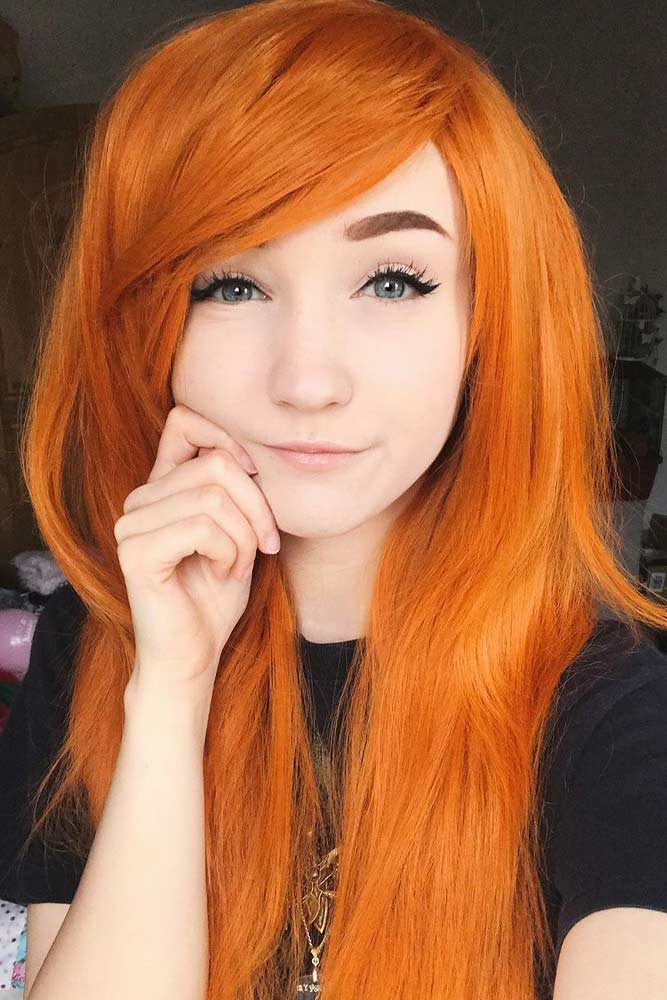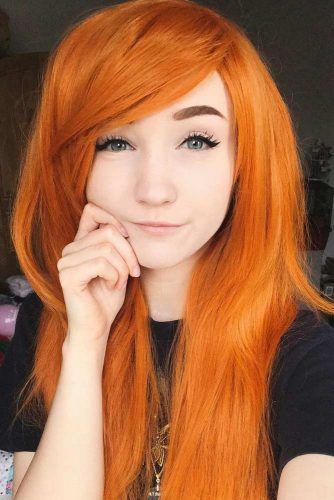 Credit photo: instagram.com/suezochan
To begin with we have to state it loud and clear – orange hair color is the warm one. However, that does not mean that some shades of it are not warmer when compared to others. The fact is that orange is the outcome of red and yellow union. If you think about it, it is safe to say that it suits everyone. Well, that is partially true. We say partially because your skin tone still matters. Different orange tins suit different skin tones, so we are going to start the discussion by stating which colors look best with particular skin tones. Read on!
Warm Skin Tone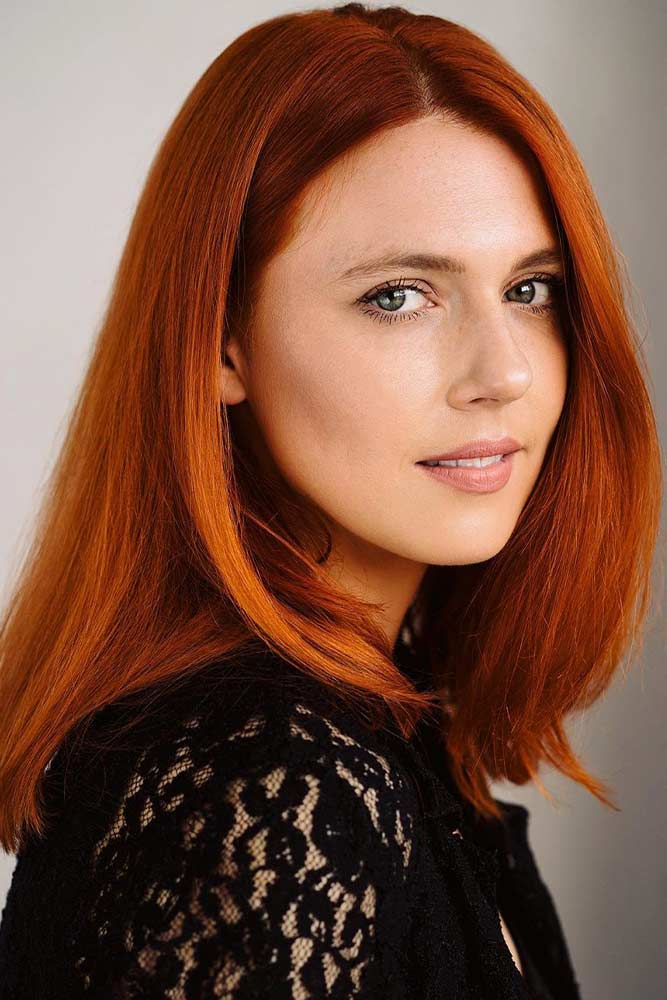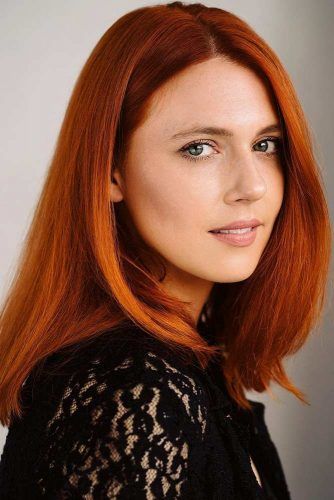 Credit photo: instagram.com/flossyfaluvia
If you are a warm-toned beauty, we have good news for you – almost any orange hair dye will suit you. Staring with the pale hues and ending with vibrant ones. However, it is best if you do not incline to the color that is extremely close to your skin tone. Otherwise, you will look too washed out.
How to determine your skin tone? Warm undertone looks like a yellow base with greenish veins to it. The main attention should be paid to the veins since they define the undertone for the most part.
Once you know that you have a warm undertone, you can start your research for the perfect orange color, and we assure you – the list is going to be extensive, so you should be patient.
Olive Skin Tone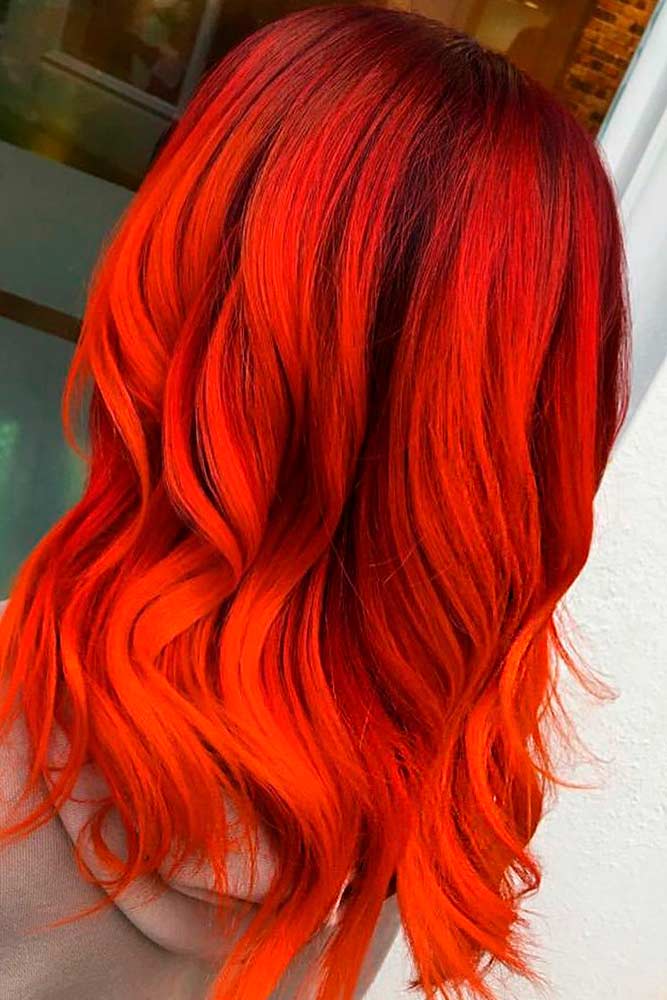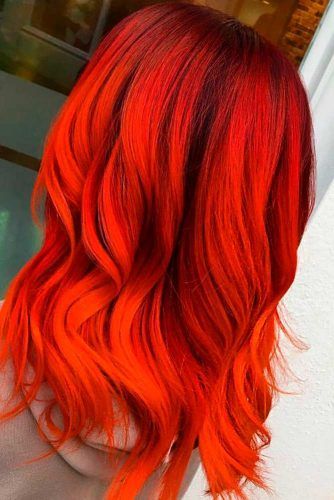 Credit photo: instagram.com/vikiscissorhands
Those of you with olive skin should welcome orange hair into your life since it is that particular element that will add that golden tone to your complexion. However, the key is to keep away from orange hues with a bit of red hair shades to them. Either pink-corals or blood orange should be excluded from your to-try list.
Cool Skin Tone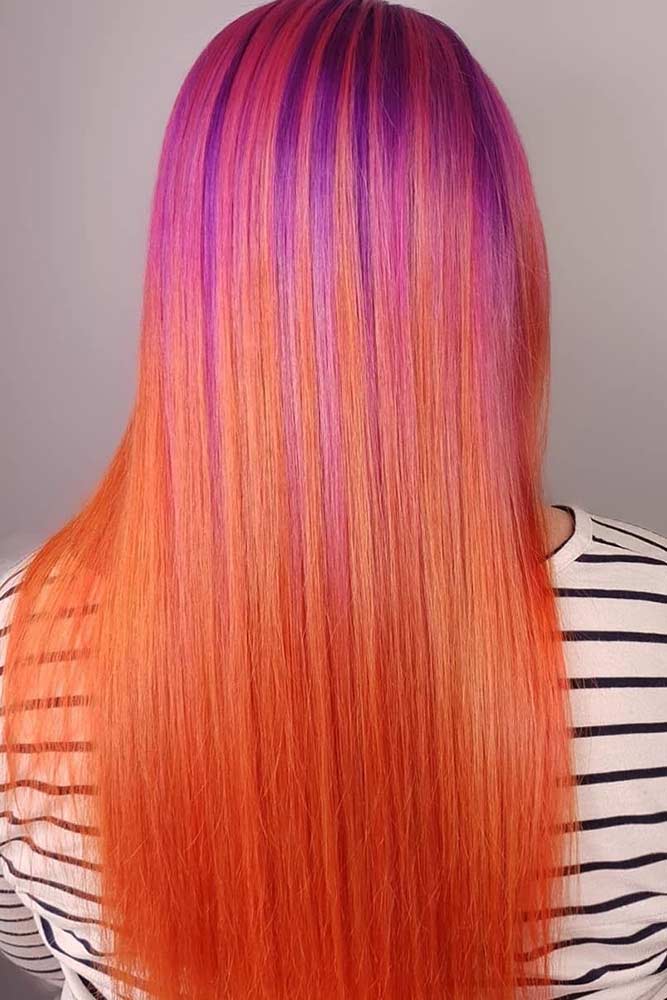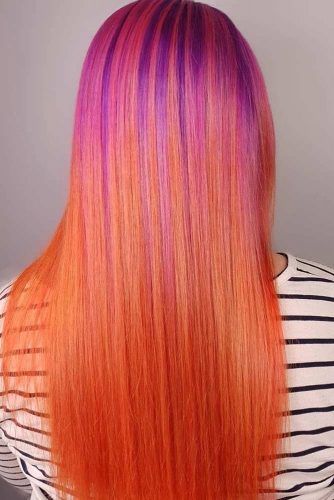 Credit photo: instagram.com/StevenAustinHairAritst
We have discussed the warm undertones, and it is time to talk about the cool ones. When compared to warmer undertones, those with cooler ones tend to have veins that tend to look blueish or purplish. Very often, people with cool undertones have fair or pale skin, that is why you need to be careful with vibrant hues.
When it comes to orange hair, it is best to pair light or pastel orange tones with your skin tone for the fairy-like look. You can also experiment with some bright balayage, think purple hair and orange. But it is best to keep way from golden-yellow.
If you have dark skin with a cool undertone to it, it may get even trickier to choose the right shade. However, luckily, we have already done it for you – all vivid hues are on your side!
Bright And Shiny: How To Keep Your Orange Hair?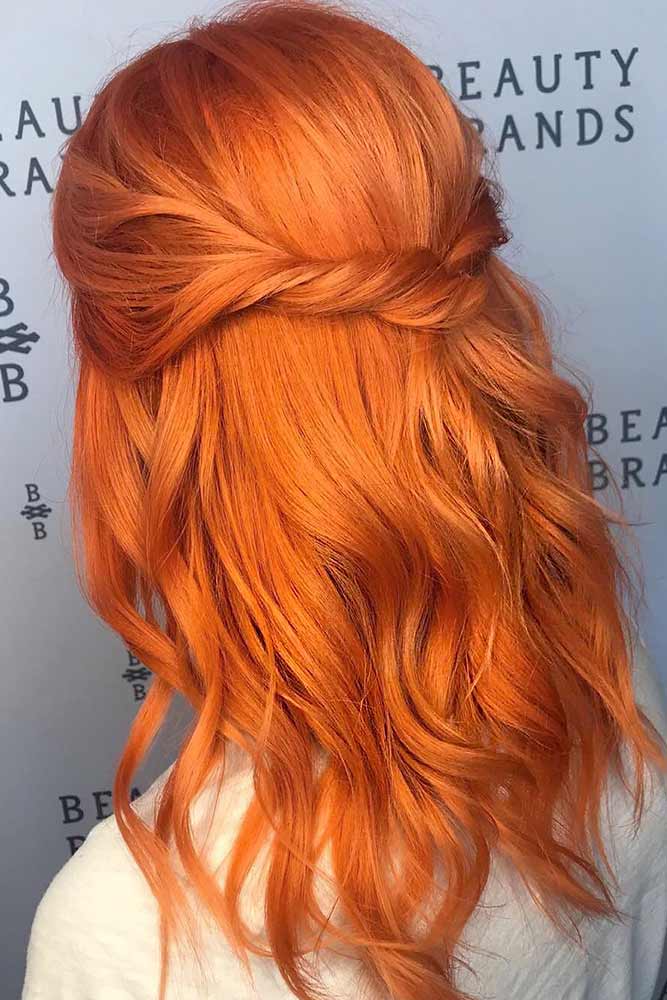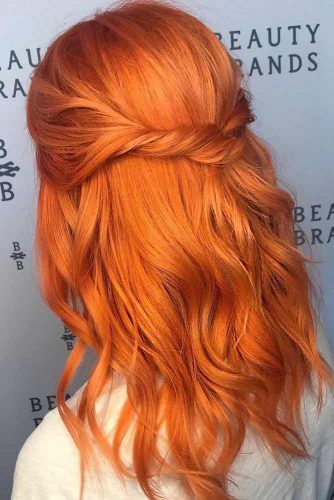 Credit photo: instagram.com/gabnormal
Just before we jump to all the amazing orange hair looks, you need to be aware of how to maintain the color. There would be no use of getting a super-stylish hair look if it fades away in no time, would there?
Do not wash your hair to often since the hair dye will wash away, and the color will get less vibrant.
Try not to dry our hair out too much, and use sulfate-free shampoo.
To avoid unnecessary damage to the color, wash your hair with cool water.
Freshen up your hair color the time you see it fade, semi-permanent hair dyes will come in more than helpful in this case.
Provide your hair with necessary protein, and a protein mask is a must.
Let your roots grow and transform a solid color into ombre or somber.
Keep away from stylish your hair using the heat. Forget about curling iron as well as about straightening one too.
Orange Hair Color Ideas to Try
Now, when you know how to choose the color according to your skin tone and how to look after it, it is time you choose the perfect orange hair color idea!
Bright Orange Hair Color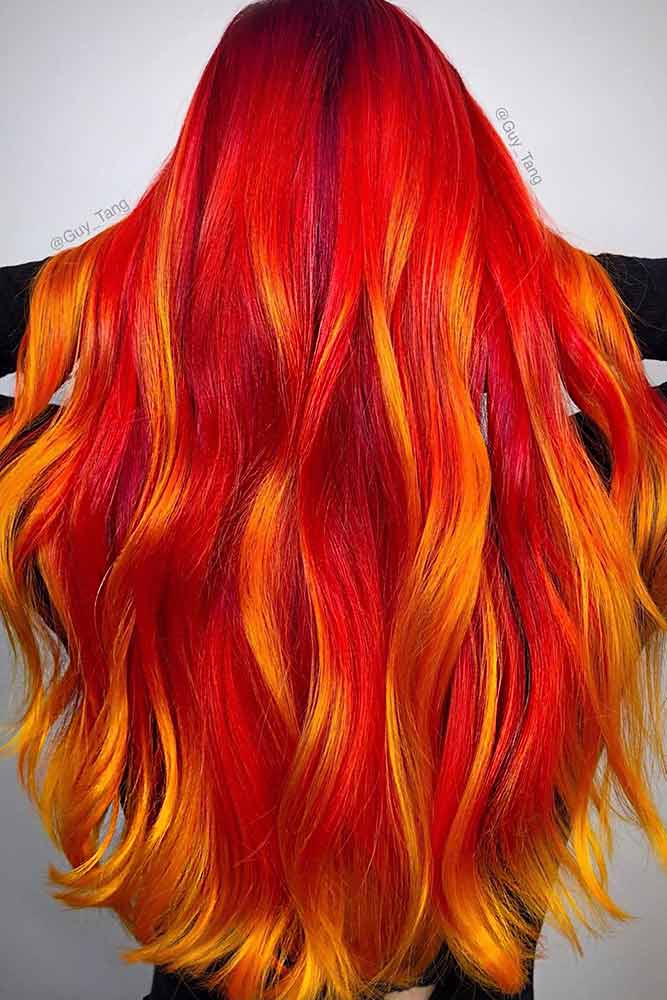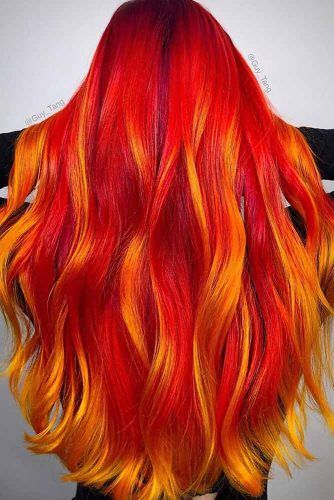 Credit photo: instagram.com/guy_tang
If you are looking for a superhero hair look, we may have an idea in mind. The fact is that this bright orange hair looks like the beautiful flames. The red and orange hues intertwine with each other so perfectly that it is hard to take the eyes off!
Tangerine Hair Shade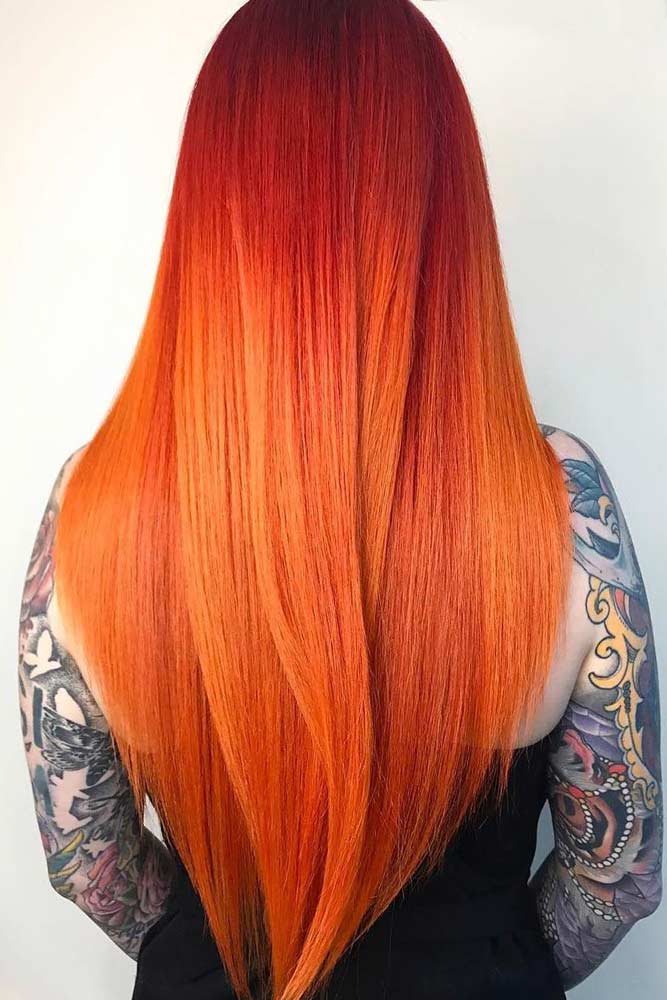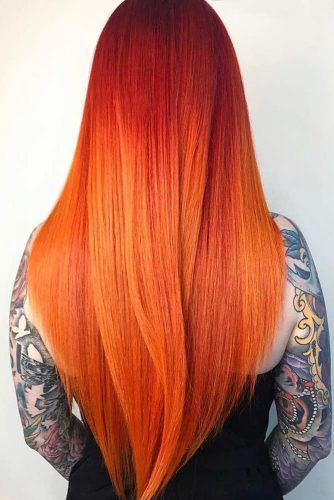 Credit photo: instagram.com/presleypoe
Tasty tangerines are often the source of inspiration when it comes to orange hair. However, this hairstyle is achieved due to the combination of both auburn as well as tangerine tones. The darker roots emphasize the transformation as well as the brightness of this shade. Such a dying technique would look especially gorgeous on longer hair so that the hue has the room to evolve.
Copper Orange Hair Color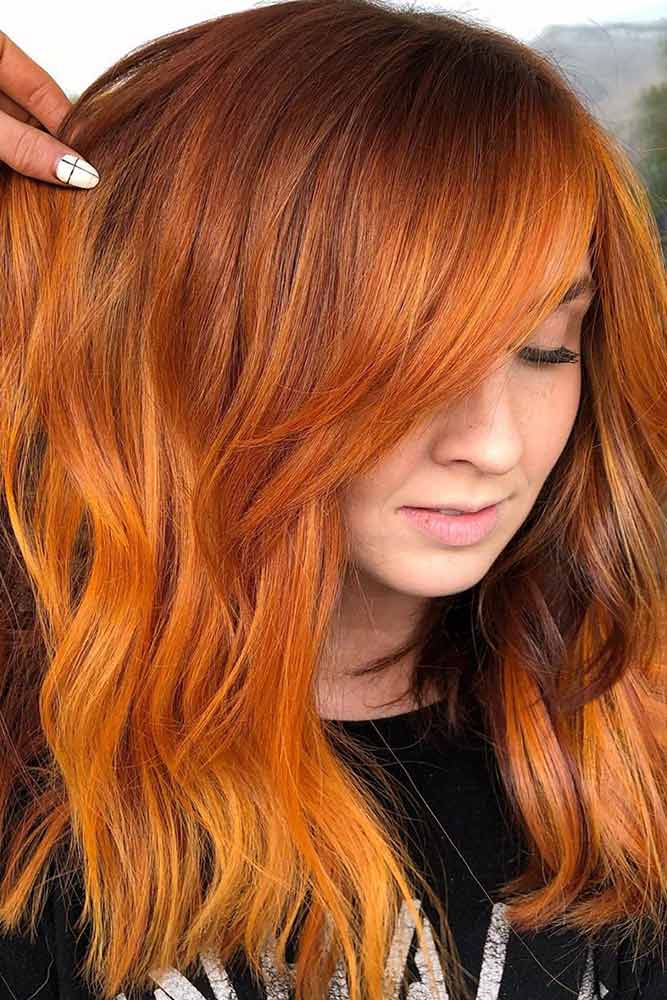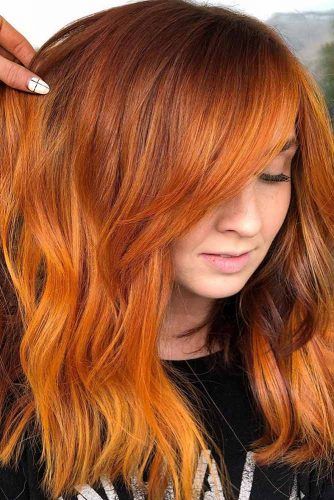 Credit photo: instagram.com/coloredbyliz
The fact is that orange hair does not necessarily need to be super intense to be catchy and beautiful. In the vast majority of cases, it is all about the interaction of the complementing colors. In this case we see a beautiful copper hue mixed with a bit of brown that creates that irresistible transition that captures the glances.
Orange Ombre Hairstyle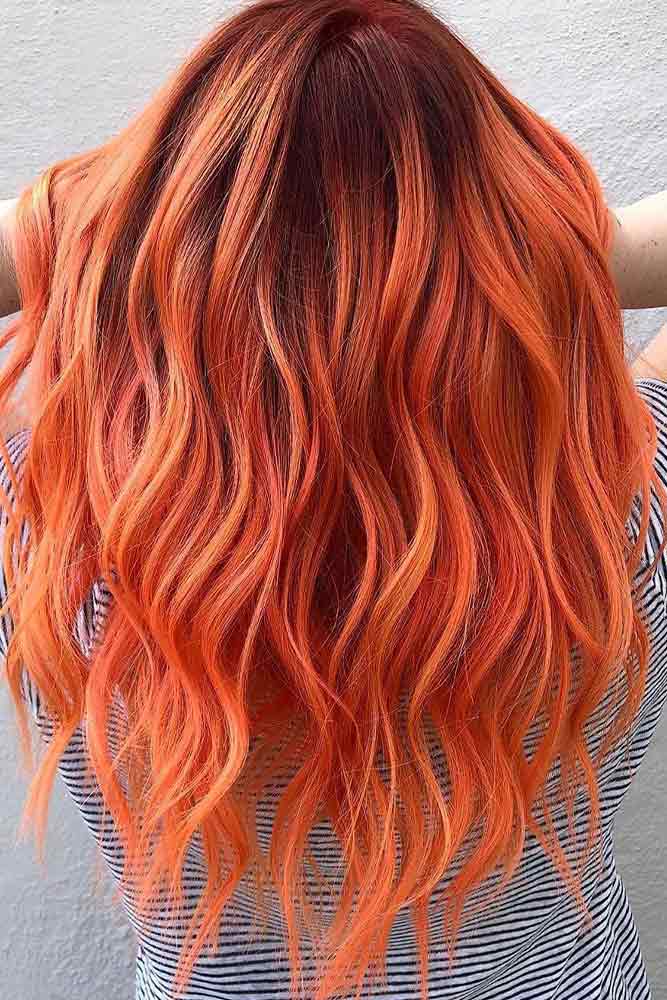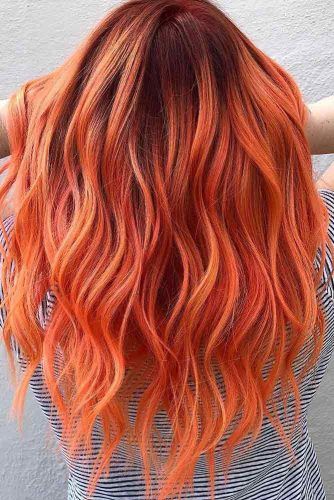 Credit photo: instagram.com/carrie.laffen
There are times when despite all the useful information you possess on the matter it is still quite scary to go full orange. In time when you are not feeling like devoting yourself fully to orange, it is time you give orange ombre hair a try. You can dye the roots the color you are used to and let it fade in fabulous orange hair. As simple as that!
Bright Rainbow Hair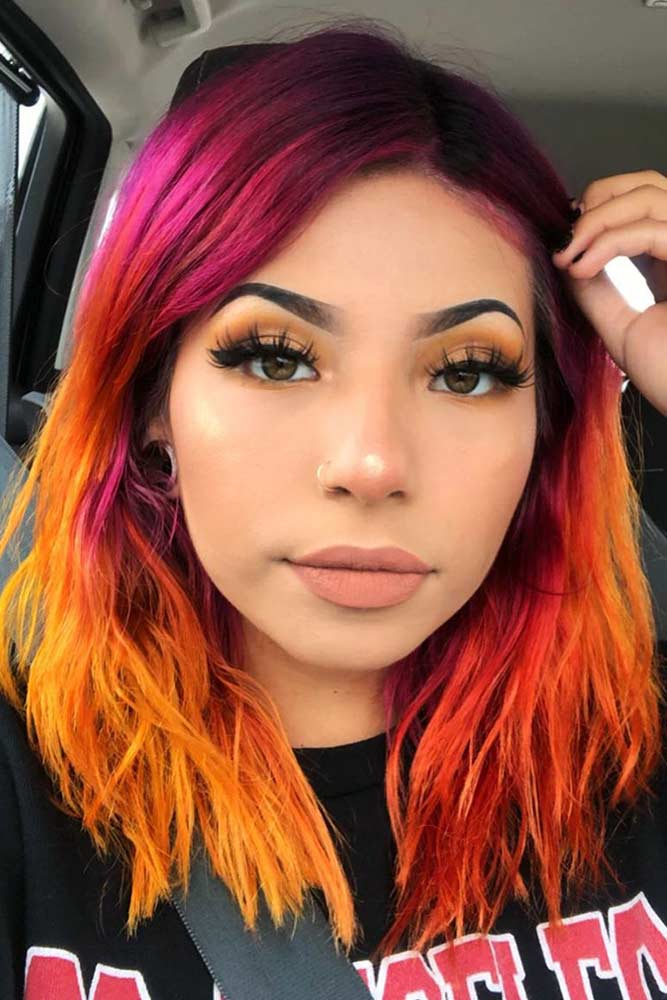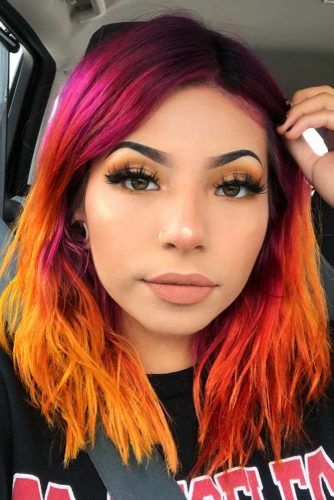 Credit photo: instagram.com/kreepyyy_
We are not going to lie to you – orange hair is not bound to go as a solid shade. There are many other colors that you can combine it with and come up with intricate as well as interesting result. In this case we see the other-worldly mixture of purple, yellow, and orange. The result is a unique rainbow effect that you won't see on a daily basis.
Neon Orange Hair Shade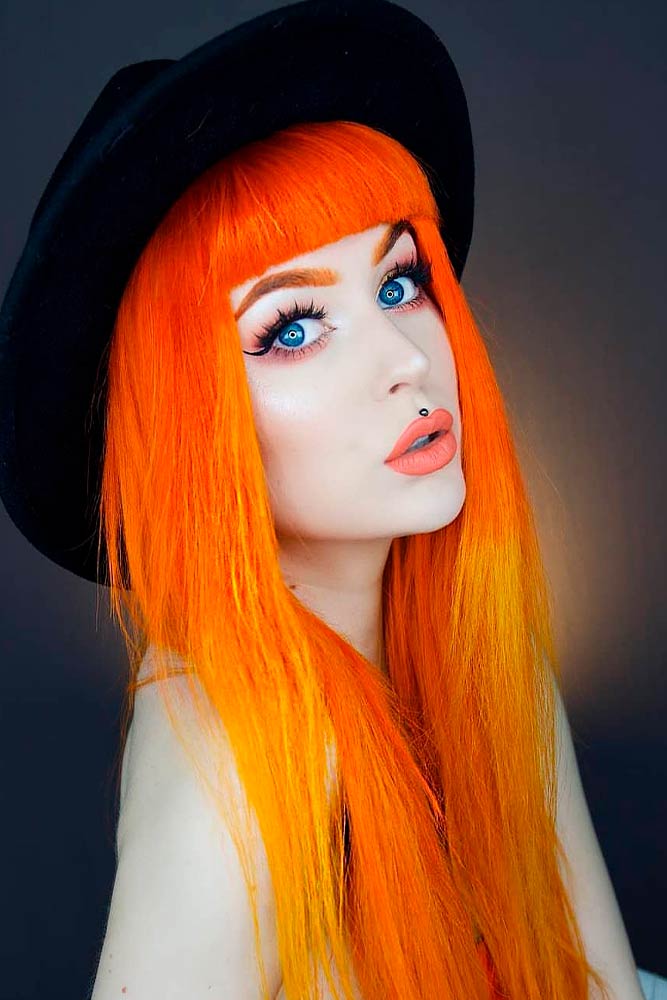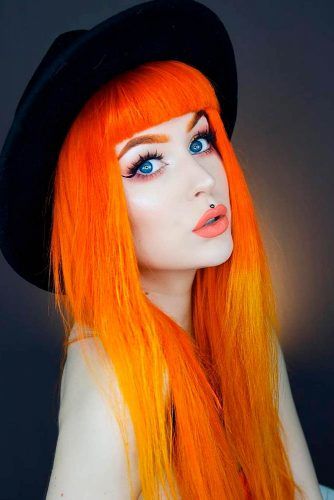 Credit photo: instagram.com/evelina.forsell
There are neons among orange shades too. If you are feeling daring these days, then this electric transition is the one to consider. The fact is that it starts off as a bright orange that fades a little into not less vibrant yellow. It is safe to say that this hair shade is a fiery perfection no one would be able to resist.
Burning Phoenix Hair Shade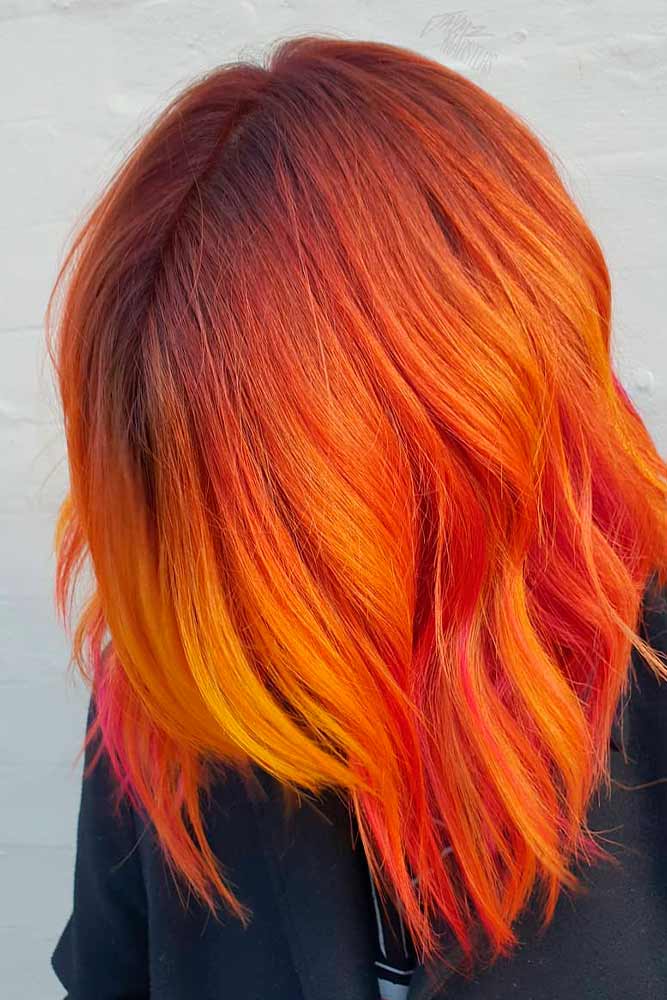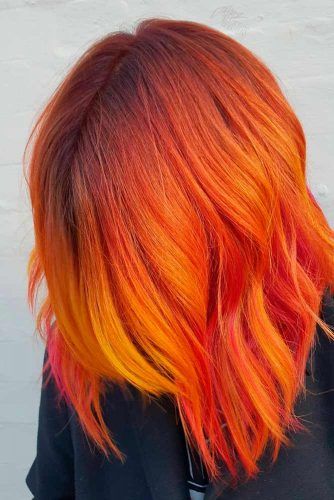 Credit photo: instagram.com/jaymz.marsters
We have mentioned it that red and orange hair go super well with each other. In fact, if you find a skilled master, he or she can turn the mere interaction into a real masterpiece. Have you ever heard about the mythical phoenix? This medium length layered haircut looks precisely like its flaming feathers! Look on this inverted bob. We think it's incredible!
Chocolate Orange Hair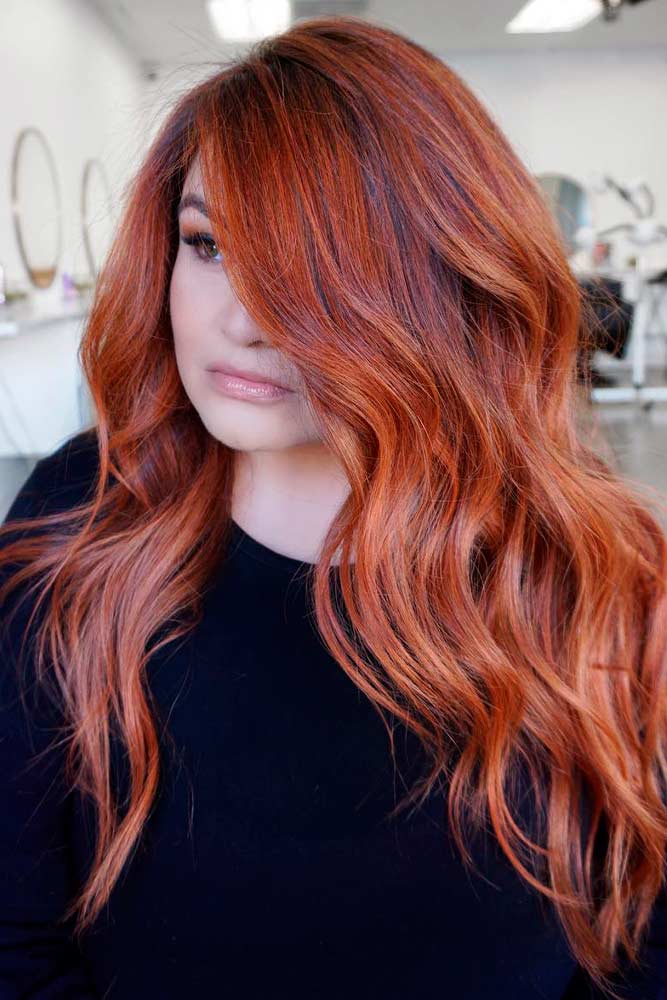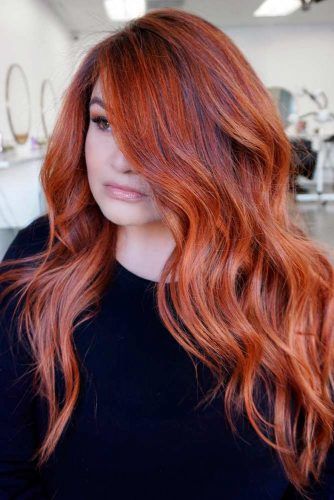 Credit photo: instagram.com/glamiris/
There are many dark orange hair ideas to think about too. Understandably, vivid orange colors are not for everyone. If you are in search of something more down-to-earth, then this chocolate orange mix is the one that will surely steal your breath away. There is no better muted orange look, in our mind.
Ginger Shades Of Orange Hair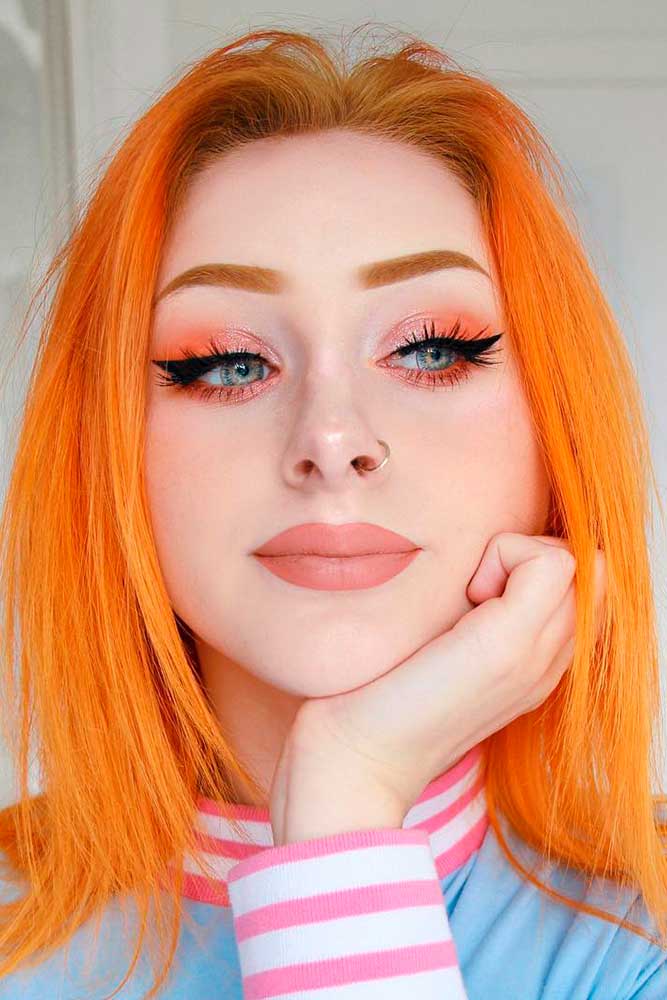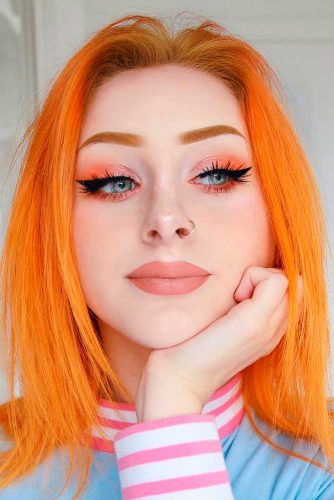 Credit photo: instagram.com/karolinekato
If you are a natural-born redhead and you are in search of hues that would enhance your beautiful look, we may have something in store. The truth is that this light orange hair with a bit of ginger tint to it look airy and fantastic. It is incredible how one color can look both so juicy and bright while soft and magnetic at the same time!
Bright Orange Melt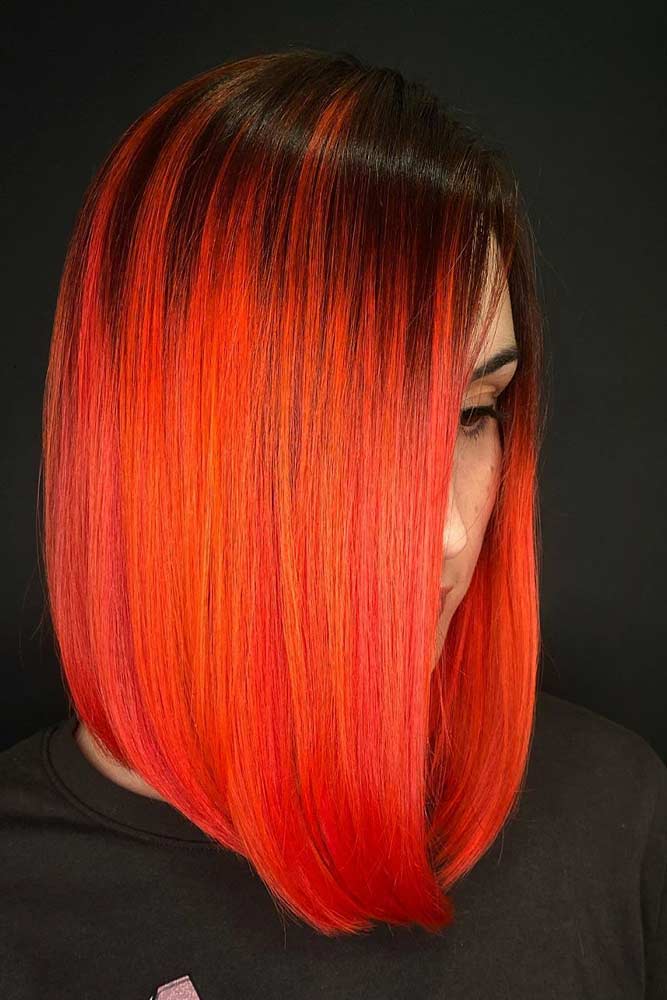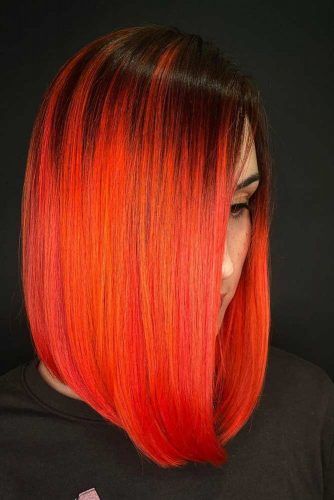 Credit photo: instagram.com/any__k
When you want dram, but you still want to keep your hair healthy and undamaged, then there are loopholes to look for. In times like this, orange red hair combo is always to the rescue. However, you should better leave the roots natural if you are dark-haired lady, while color the rest with a perfect blend of orange and red. Tell your hair-dresser that you want the colors to melt with each other, and a skillful one will get what you mean.
Pale Peach Hair Color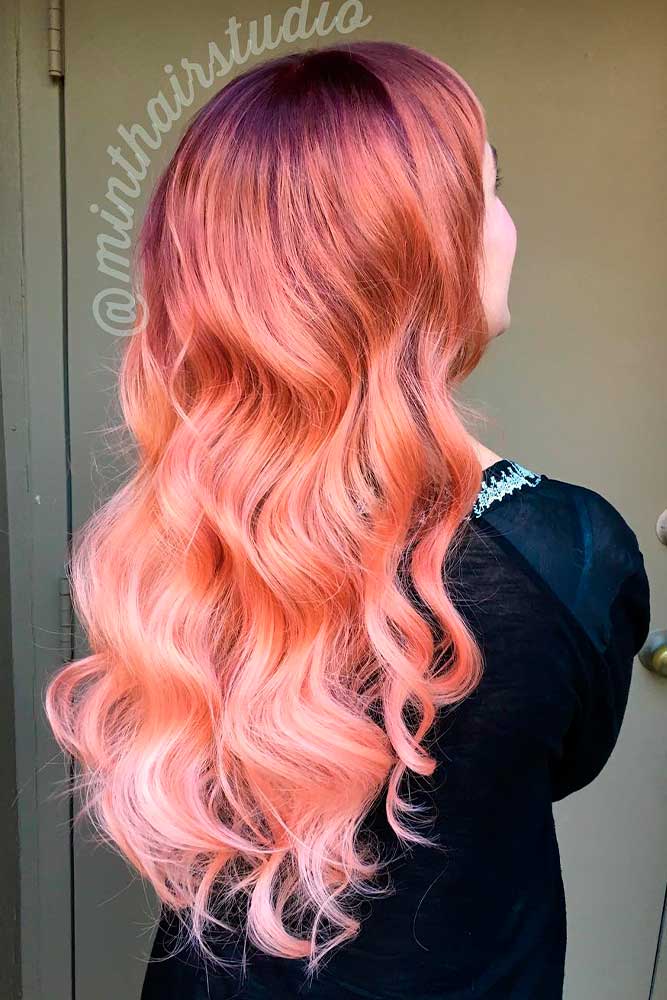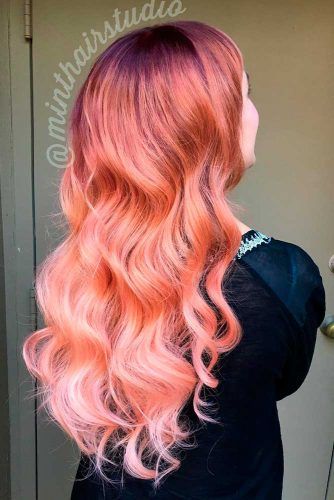 Credit photo: instagram.com/minthairstudio
It may happen so that no matter your desires your skin tone would not let you get too bright. However, you shouldn't fall into despair since pastel orange hair is just as magical looking. Besides, you can even play around with darker hues at the base that light up as they follow down. We are more than sure that you will not be disappointed!
Vibrant Red Orange Shade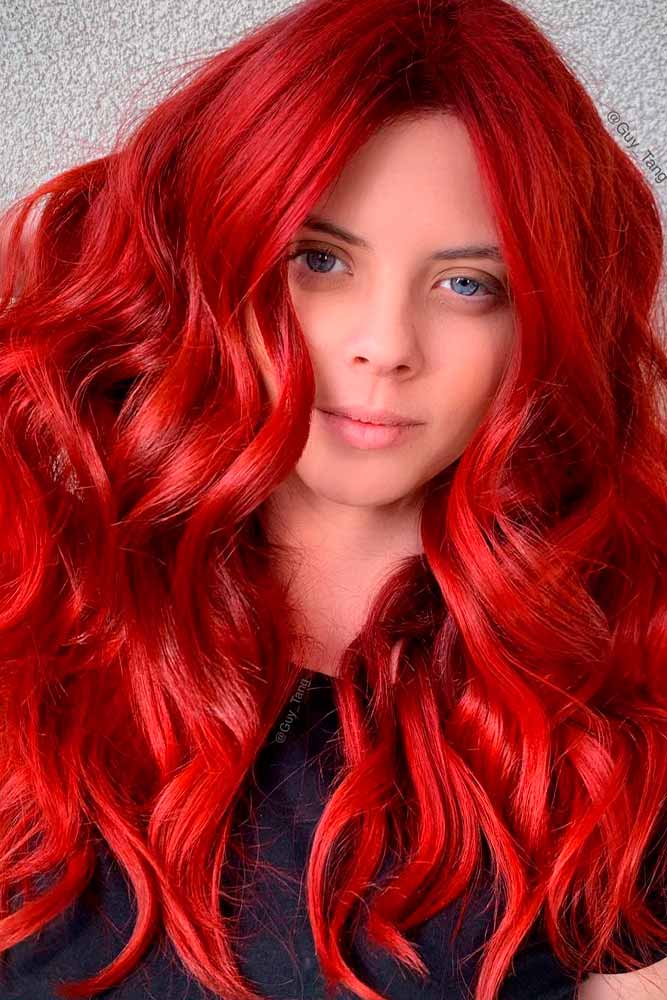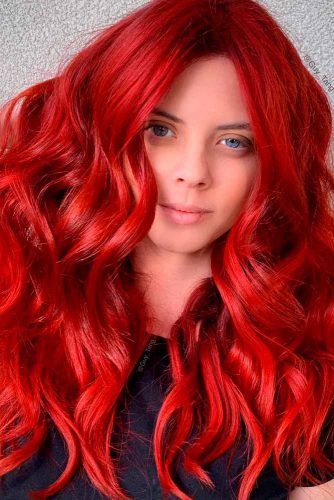 Credit photo: instagram.com/guy_tang
If you wonder what is the darkest that the bright red orange hair can get – this would be it. Some of you may say that the color is more on the red side than it is on orange one, but that fact that it is fascinating remains. Add some soft waves to the scene, and the vibrancy of color will drive people around you crazy with jealousy!
Pastel Orange Hair Shade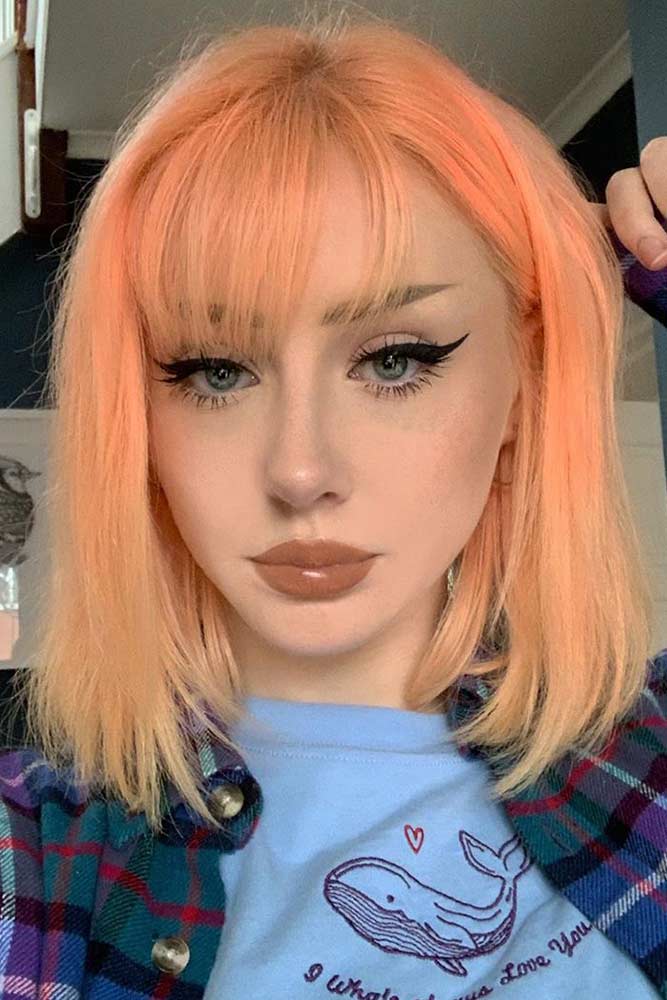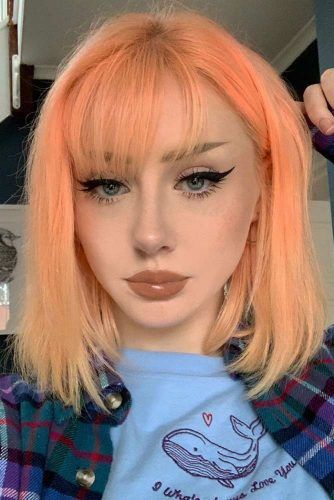 Credit photo: instagram.com/karolinekato
Those of you who are looking orange blonde hair – you may as well have found it! Peachy shades are highly required these days since they are neither too dark nor to vibrant and they fit most. It can be stated that the color is bright but also soft and light at the same time. With such pastel orange hair on your short haircut, you will look chic and elegant!
Orange hair is a new trend, but you shouldn't follow it blindly. Pick the shade carefully, and you will end up look gorgeous and irresistible. Besides, we have gathered all the necessary information for you here!
FAQ: Orange Hair
What hair color is burnt orange?
Burnt orange hair is exactly what you would imagine – the bright mane dyed in rusty or deep orange color. However, this shade is not all-purpose. If the dark orange isn't your color, choose a more dimensional and customizable version of it which is just as great as its other trendy hues.
How can I get natural orange hair?
If you are searching for some natural ways to turn your hair orange, try this:
Carrot juice.
Coffee.
Beet juice.
Henna.
Chamomile tea.
Sage.
Can I dye my black hair orange without bleach?
The traditional way to dye black hair without bleaching is to use a temporary hair color suitable for a dark base color. These hair dyes are specially designed to be alive and true without the need to previously bleach dark hair.