What is olive skin, how to differentiate this skin tone? This complexion involves a combination of green and brown tinges. Olive complexion ranges from pale to dark.
People with olive skin tones tend to have some brown hues in their skin tone. However, these complexions are neither cool nor warm-toned. Instead, they are neutral-toned.
But how to find flattering makeup for your olive skin tone? That's what we're going to discuss today. We will help you to pick the shades of foundation, blush, eyeshadow, and lipstick that are true to you. Let's go!
*We may earn money from affiliate links on this page. Please check out our disclosure policy for more details.
How Do You Know If You Have Olive Skin?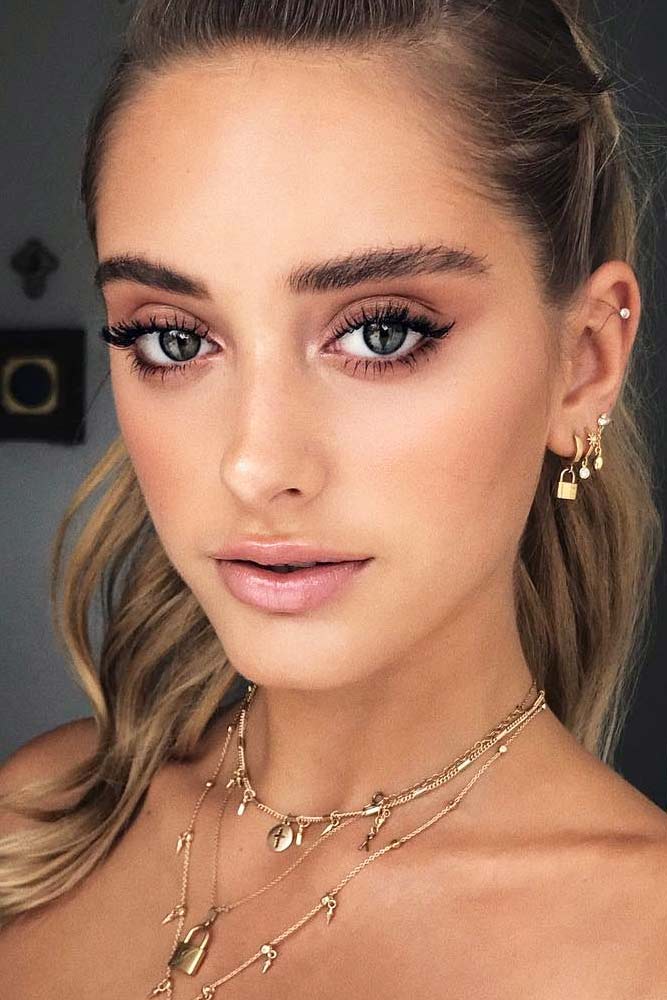 Credit photo: Instagram/ashleapenfold, Instagram/andreeacristina
If you have an olive skin tone, it is important to understand which types of makeup you should use. It is easy to confuse olive toned skin with golden tanned skin. The distinguishing difference is the green tinge that is present only in olive skin tones. A natural nude is a good place to start when determining which shade of makeup you should use. Below we will list 10 ways how you can determine what your skin tone is.
The vein color – Look at the underside of your wrist. If your veins are bluish-purple, you have a cool toned complexion. Veins tinged with green point out you have a warm skin tone. Bluish-green veins indicate a neutral complexion.
Do you take a tan or burn? – if you take a tan, you're warm toned; if you burn, you're cool.
Do you blush easily? – If you do, then you are cool toned.
What are your colors? – If you look great with any color on, you're neutral, but if red and orange are your colors, you are warm. On the other hand, if you look good with purple and green on, you are cool toned.
White paper test – Place a piece of white paper next to your clean, dry face. If your complexion appears dull, you are warm-toned. If your face looks good, you're cool toned, but if it looks the same, then you're neutral.
Gold or silver Jewelry? – Silver shines on cool toned skin and gold absolutely glows on warm skin tones. If you look great with two-toned jewelry on, then you're neutral.
Eye color – light brown, green and hazel eyes are typically warm-toned. Deep brown, black and steel blue eyes are cool toned.
Olive Skin Tone Makeup Tips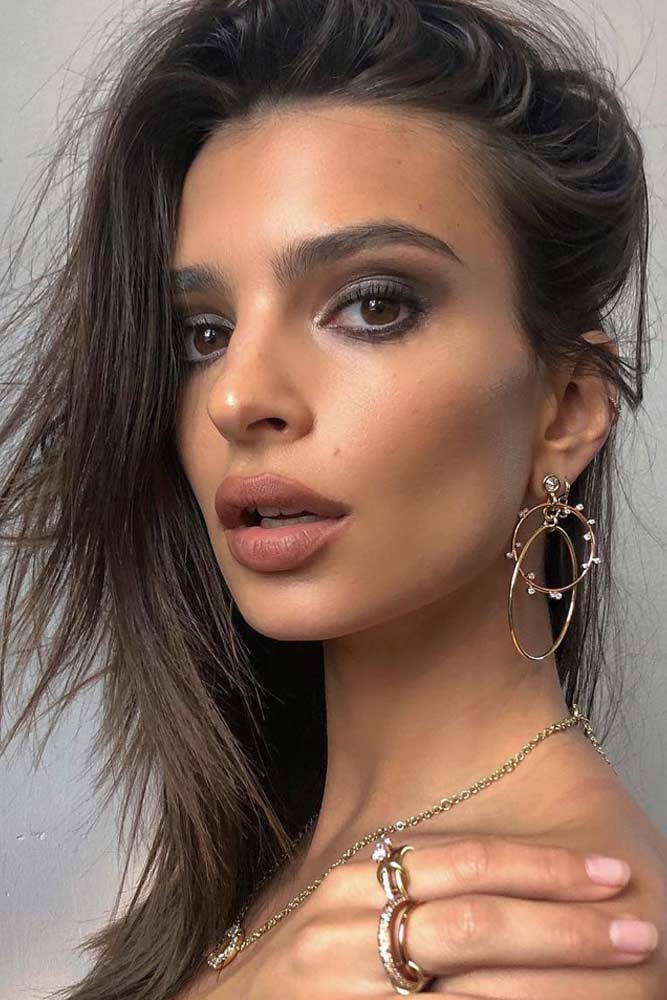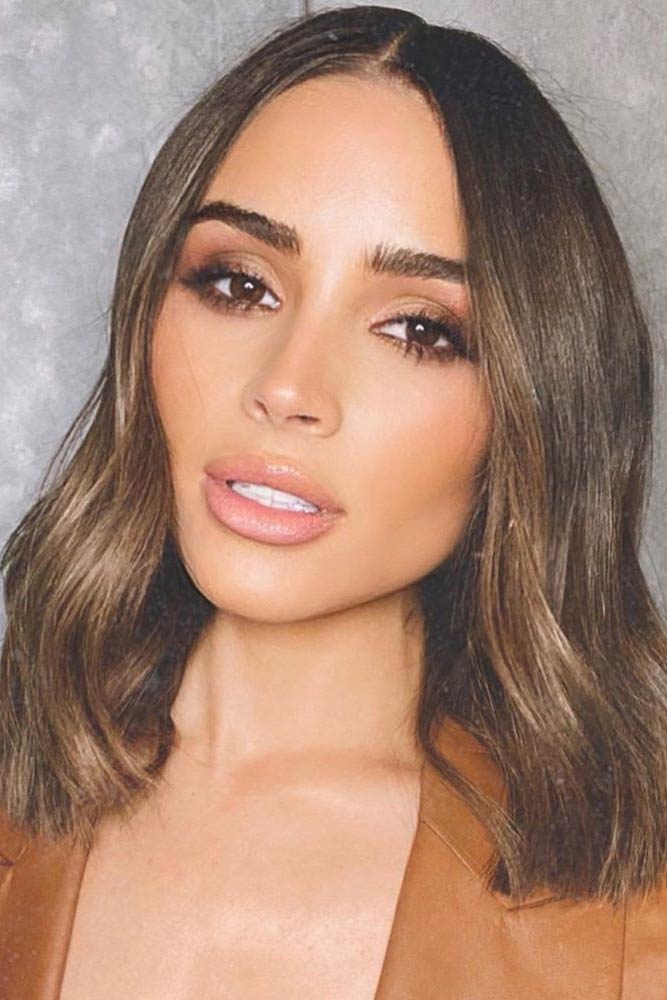 Credit photo: Instagram/makeupbyliz, Instagram/kiisbeauty
If you have olive toned skin, you will find yourself questioning which makeup is for olive skin? There are some cosmetic products that you should steer clear of if you have an olive skin tone. You have to determine if you have a warm or a cool skin tone before you can find the correct skin color palette that you should use. There are several makeup tips that you can help with your color choices.
Skin-Care Tips for Olive Skin Tone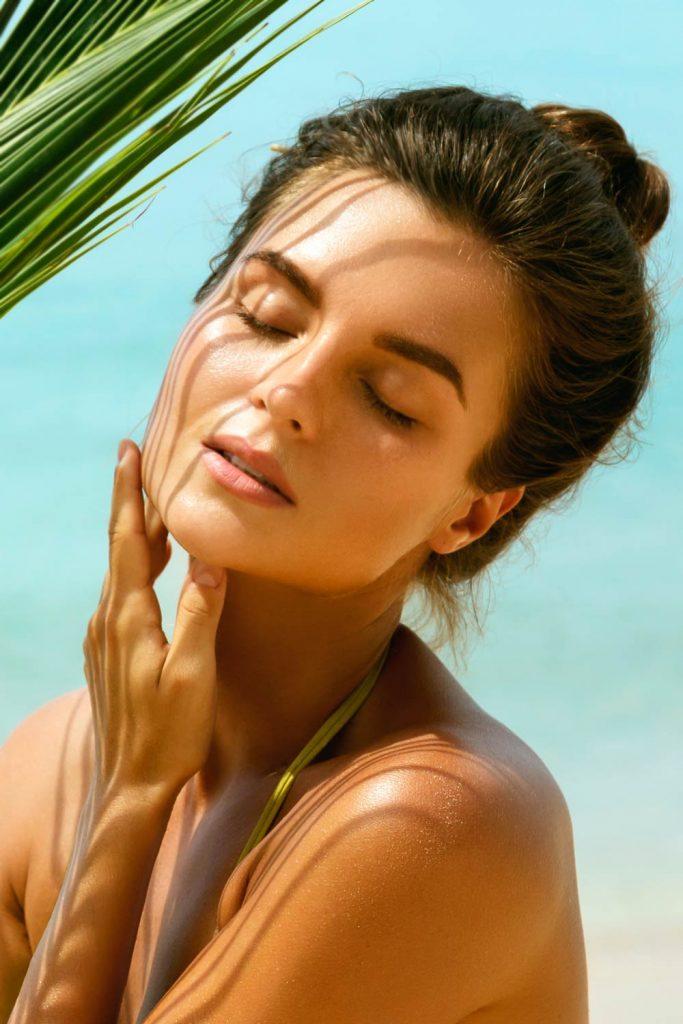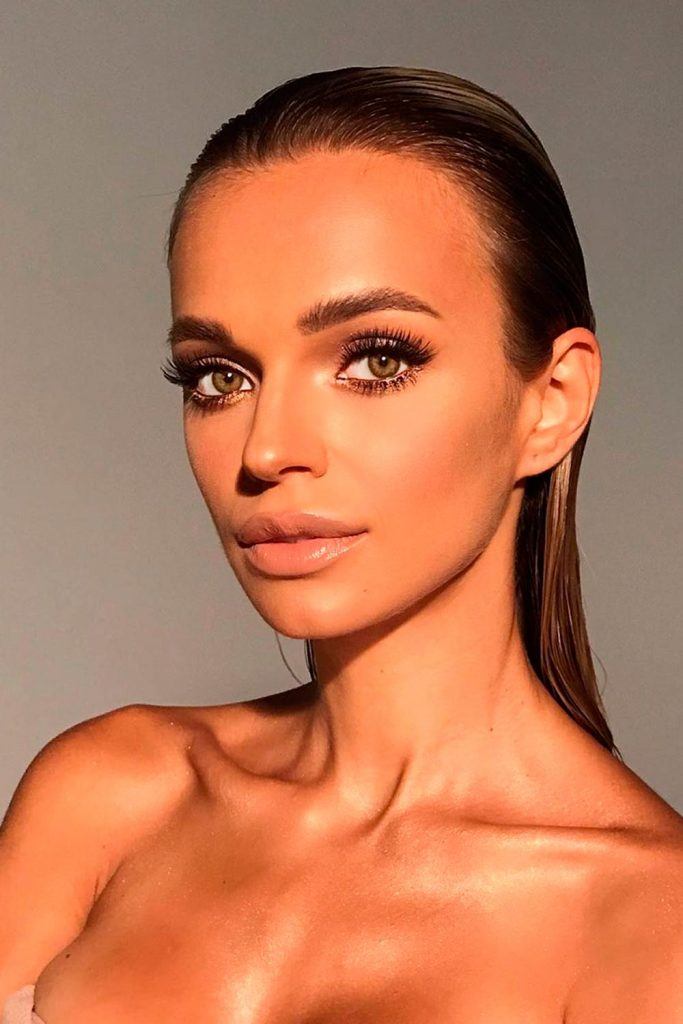 Credit photo: Instagram/elena_menshik
First off, let's not forget that the way your skin looks and feels directly depends on the way you take care of it. What is olive skin? It's a range of soft, medium brown complexions with yellow, green, or golden undertones. Although there are different undertones in olive skin tones, they all require the right approach to the skincare to be on point. Now, let's have a look at do's and don'ts for your olive complexion to keep it fresh, beautiful, and youthful with and without makeup.
Olive skin DO's:
Exfoliate your skin regularly, but ensure to use gentle products that won't be too harsh against your skin to protect it from darkening in some areas.
Moisturize your skin with an SPF to deal with dryness in the morning.
Use niacinamide and retinol-based moisturizing products at night to hydrate the skin and maintain the glow.
Some gentle depilatory will also be a plus, especially if you deal with unwanted facial hair while applying makeup.
Olive skin Don'ts:
Don't use harsh scrubs made of nut shells or fruit pits so as not to scratch and irritate your skin.
Such chemicals as glycolic acid and SLS are your worst enemies that can burn your skin and make it more sensitive. For that reason, consider opting for more natural alternatives for your skincare routine.
A tip for DIY products: Honey is a naturally nourishing and hydrating element that will preserve the shiny glow of your skin, making its tone more balanced, reducing redness, and improving elasticity.
Makeup Tips For Olive Skin: Everything You Need To Know
The Right Foundation For Your Olive Skin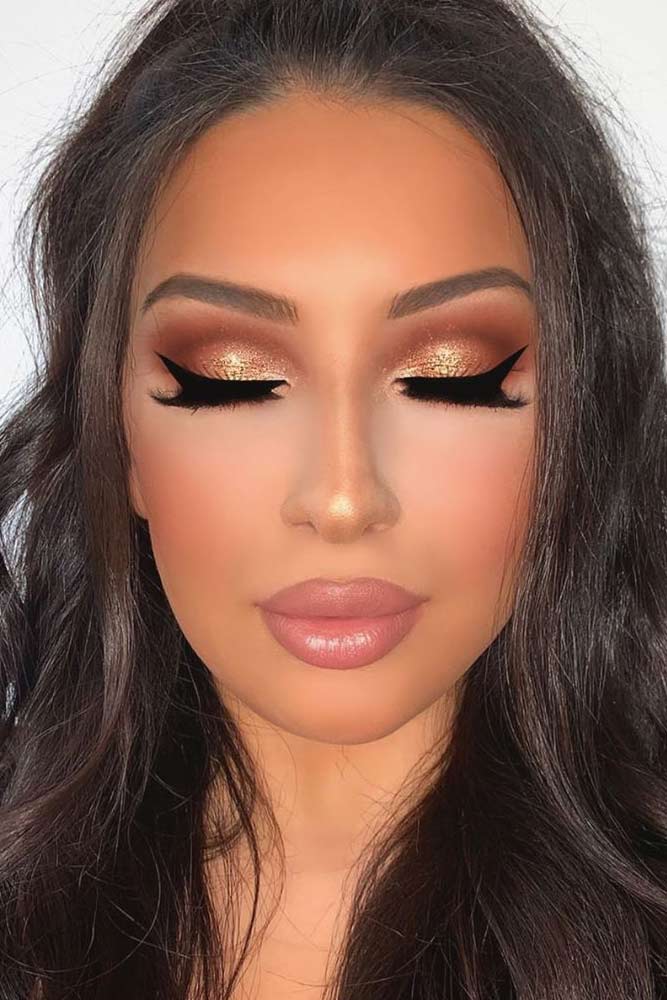 Credit photo: Instagram/kiisbeauty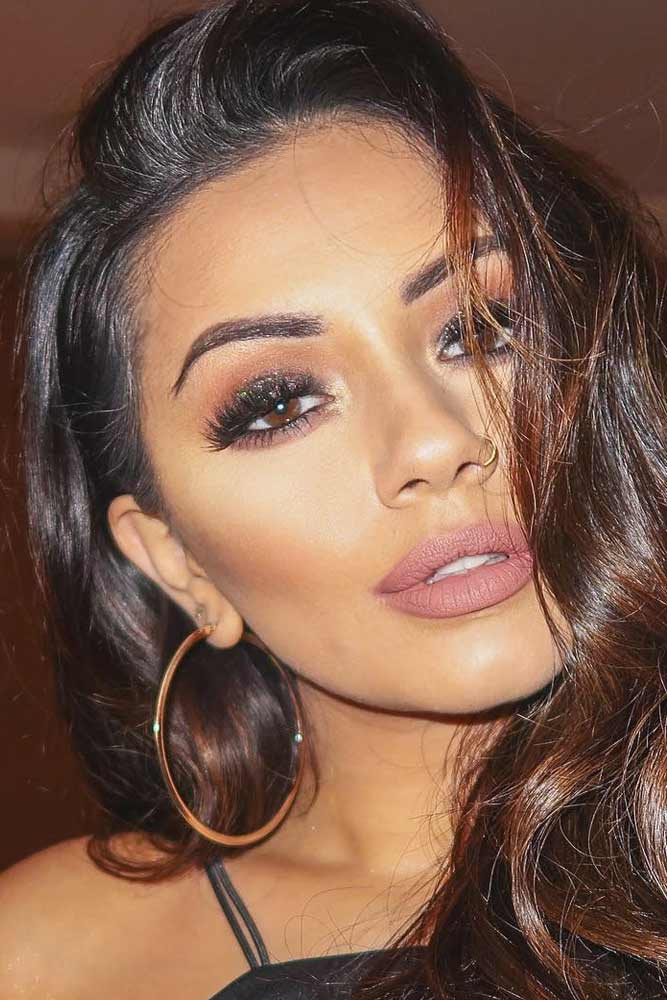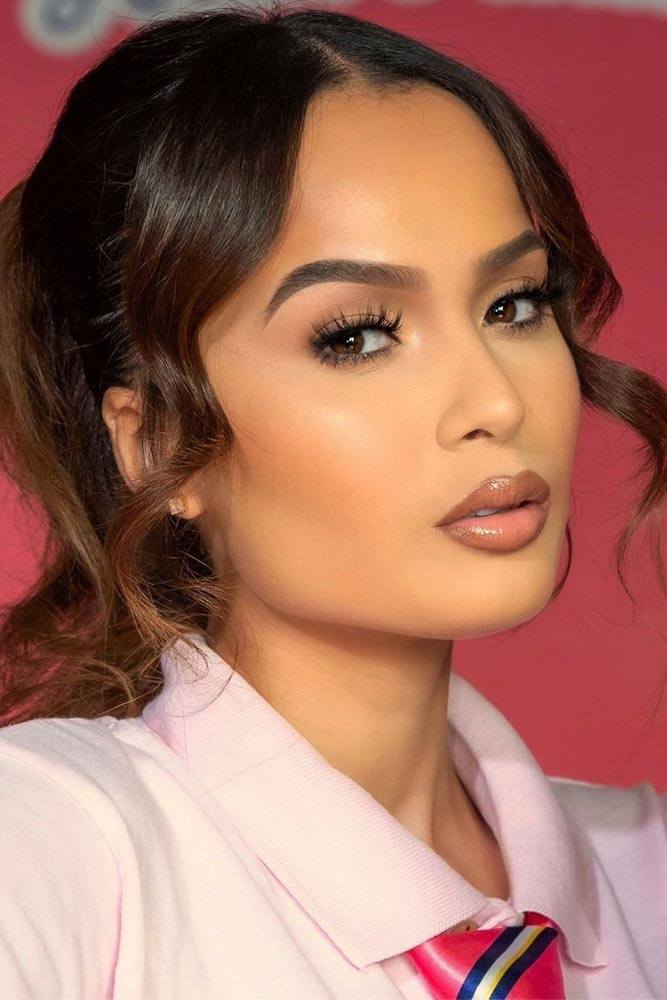 Credit photo: Instagram/kaushalbeauty, Instagram/makeupbylee
Although you're blessed with the skin that has minimal to no redness and imperfections are less visible on it, it's still hard to create flawless makeup for olive skin without the perfect base. Thus, choosing the right foundation for olive skin is essential. In most cases, neutral shades of foundation will work best for you. However, keep in mind that even olive skin can have cool and warm undertones. So, if the foundation looks too pink or too yellow on you, it's a telltale sign that you should consider going for the shade with the opposite undertone. After all, if you can't find the ideal olive skin tone foundation, maybe you should go for something less heavy, such as a BB or CC cream, for instance?
Choose The Right Concealer For Olive Skin Tone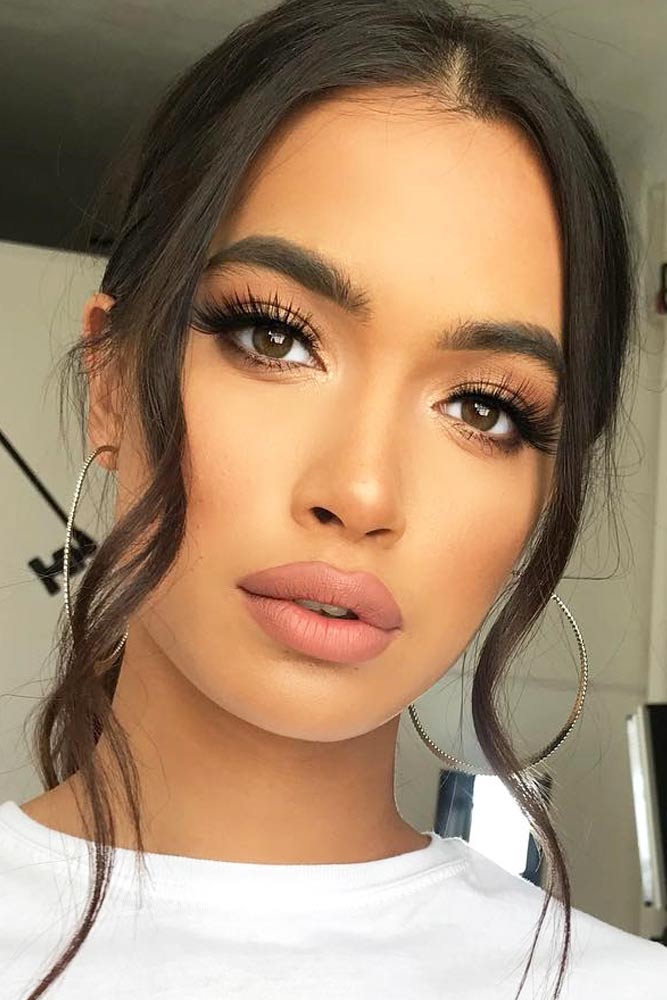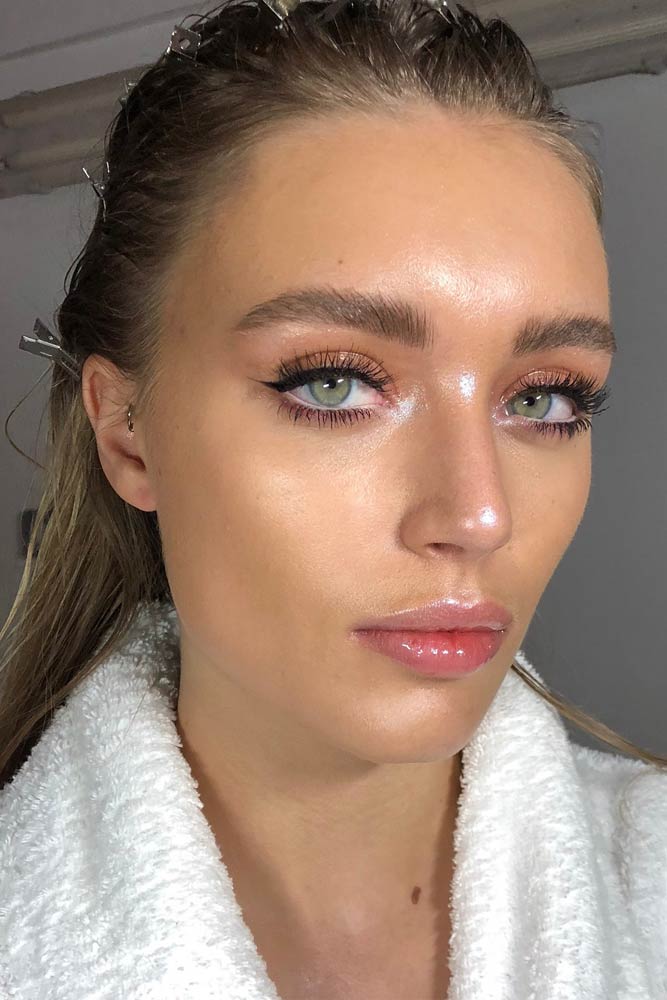 Credit photo: Instagram/linamourey, Instagram/rubinadyan
Although your skin isn't prone to redness, you can still face some imperfections, such as dark circles under the eyes, hyperpigmentation, post-acne and dark spots. To cover them up, it's important to use the concealer in the right shade. For acne marks, hyperpigmentation and dark spots, choose the concealer in the matching color to your light or dark olive skin. For dark circles, go with a tone that a couple of shades lighter than your natural skin color. On top of that, you can employ multi-concealing with several different shades depending on the location of the concern.
Blush For Olive Skin Tones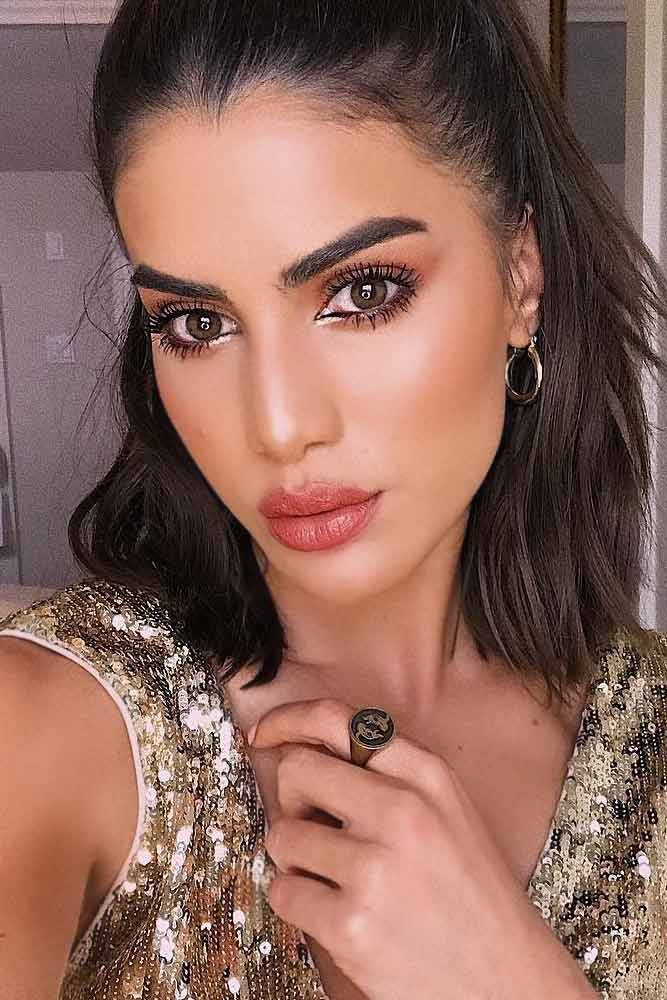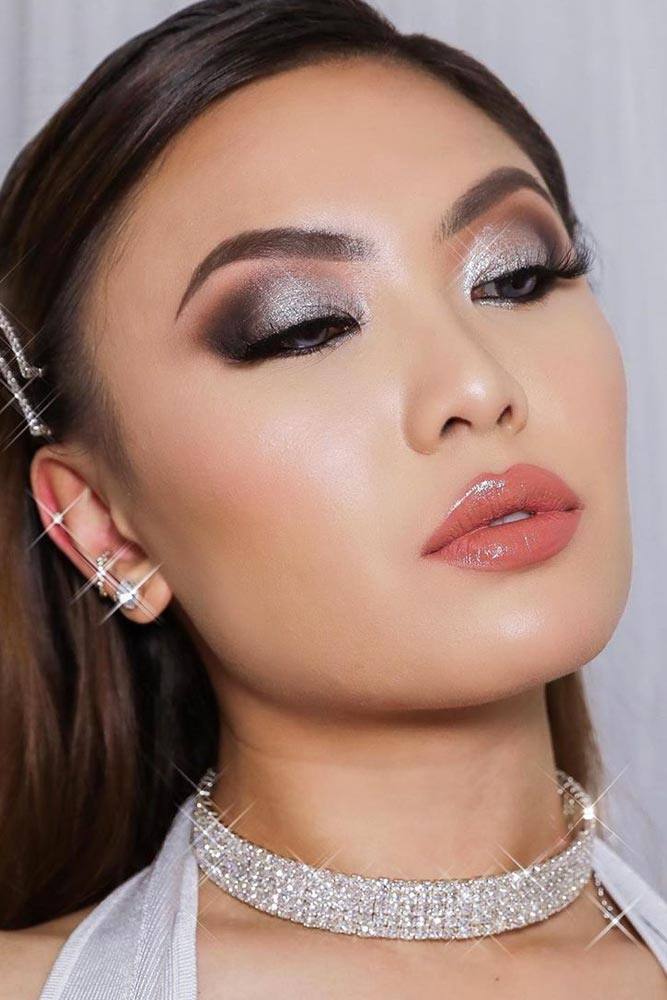 Credit photo: Instagram/camilacoelho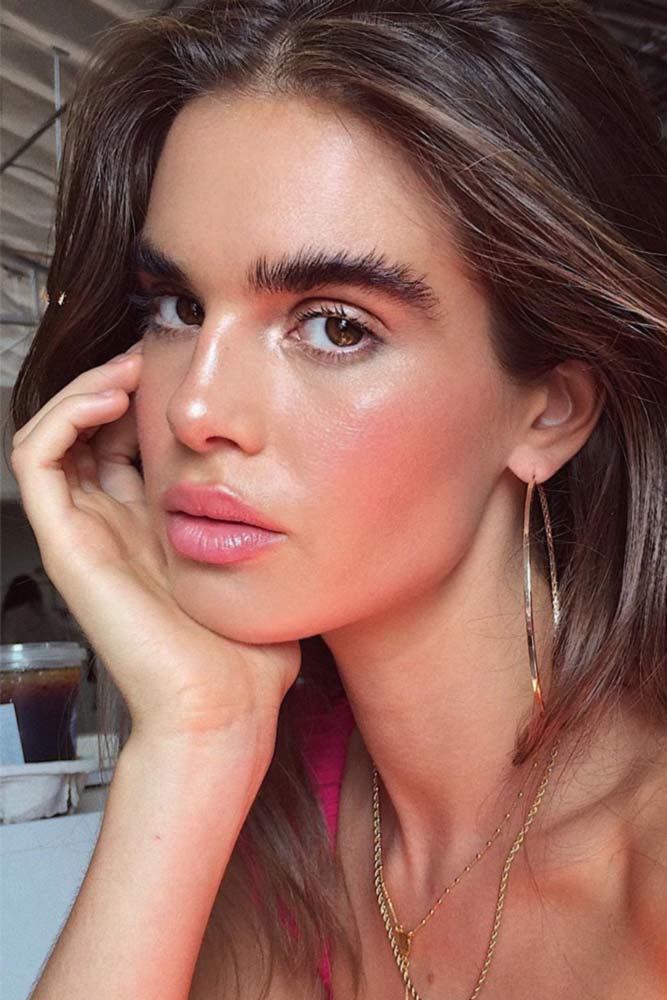 Credit photo: Instagram/brittsully
When it comes to best blush color for olive skin, it would definitely be something peach, rose, and mauve, because they look natural and can instantly improve your complexion. You might also want to try out bronzy shades, which amazingly enhance the warm undertones in your skin. The hues you should stay away from are bright pinks, browns, and oranges, as they often come out too obvious, muddy or warm on your olive skin color.
Best Highlighter For Olive Skin Tone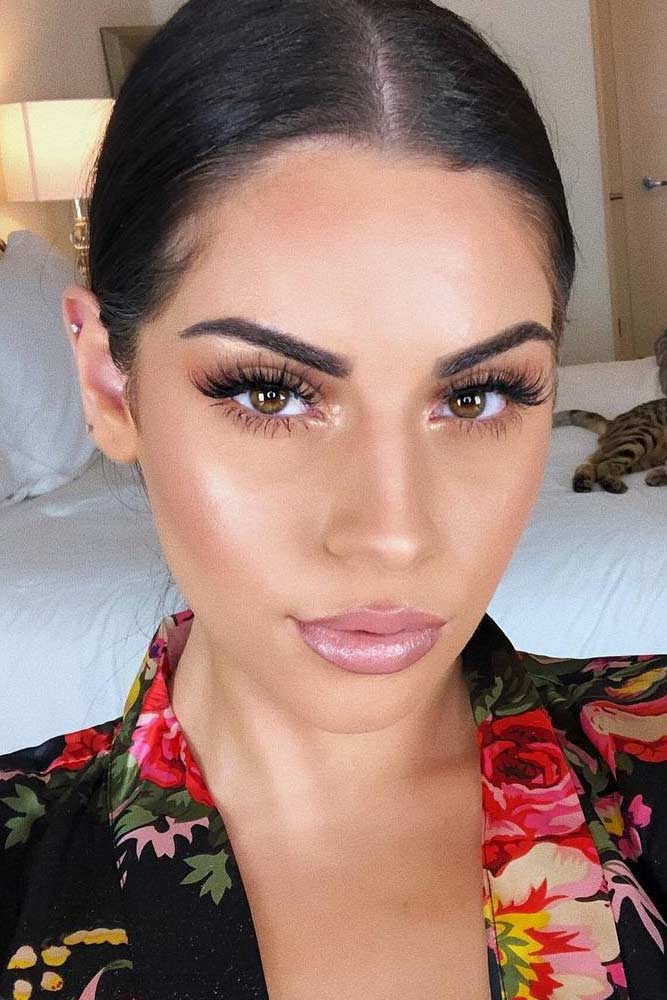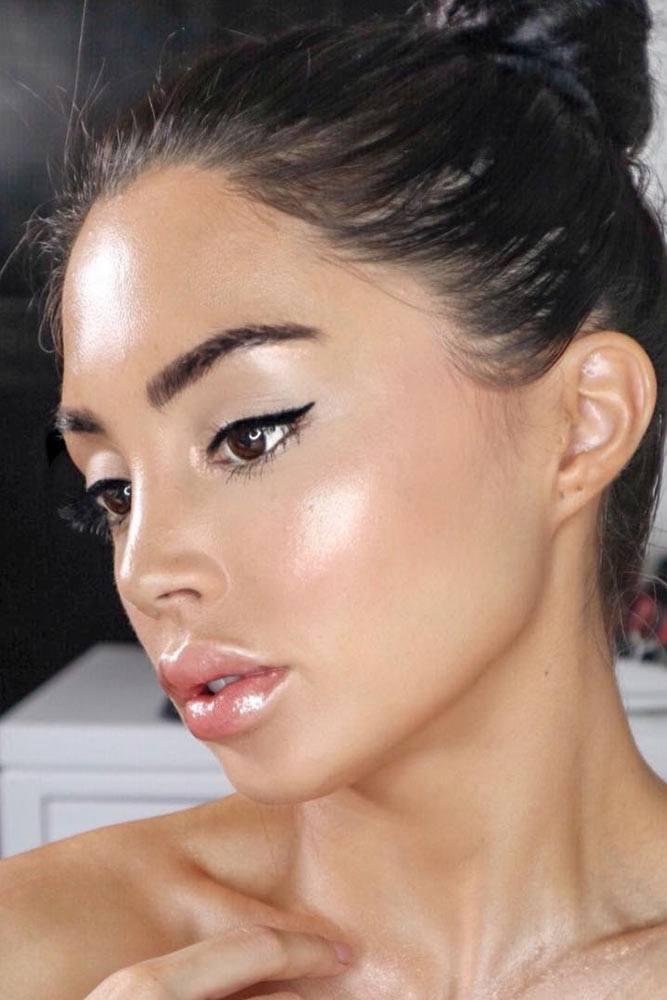 Credit photo: Instagram/nazaninkavari, Instagram/cinderella_merz
Believe it or not, but the best highlighter for olive skin is rosy-toned. This is the case because classic highlighters with gold tones will either not be distinctive on an olive skin girl or make you look washed out, which is not what we're aiming at, right? On the contrary, if you touch your brow bones, cheekbones and cupid's bow with a highlighter that has a rosy hint, it will enhance the warm undertones in your gorgeous olive skin.
Brows Makeup For Olive Skin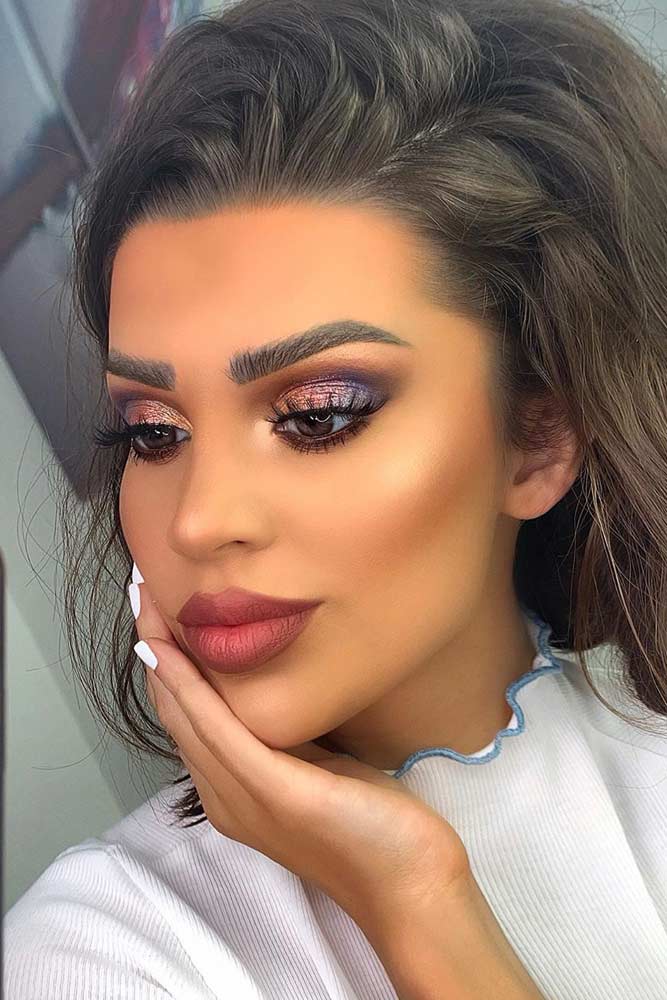 Credit photo: Instagram/makeupbyliz
Despite all the benefits, having golden olive skin has some drawbacks too. Such skin tones can make your brows look washed out. To prevent that, just don't skip filling them in with brow mascara, pencil or gel. The choice depends on the effect you want to achieve, so it's better to try all of the options to find out what suits you best.
Mascara For Olive Skin Tone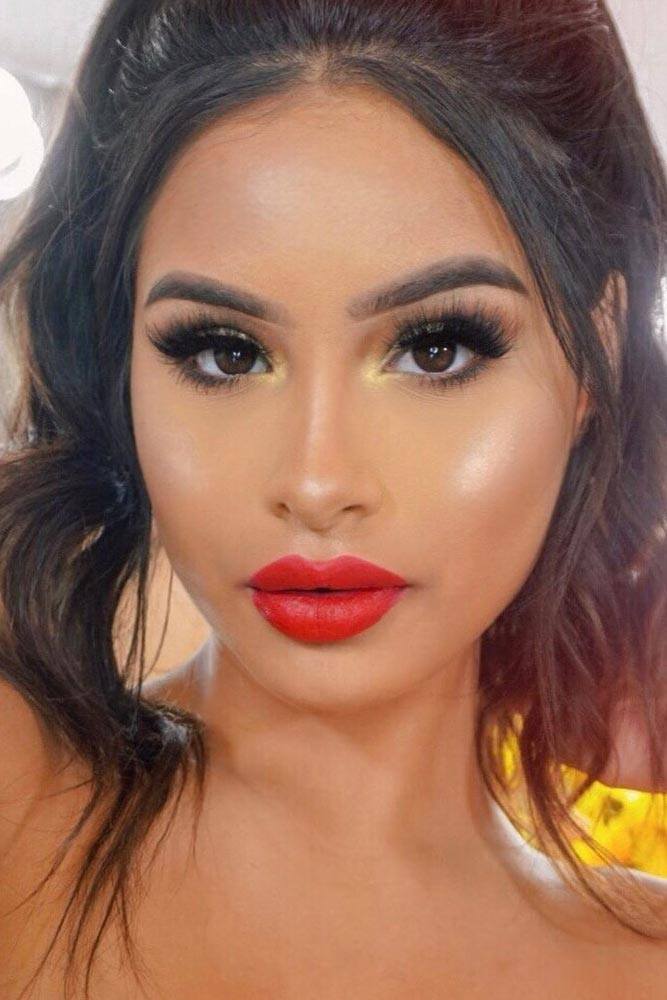 Credit photo: Instagram/tatianaviera
Well, it's not hard to guess that regardless of whether you have dark or light olive skin tone, your mascara should also make your eyes pop against it. Thus, there's no better choice than black or at least deep brown shade. To achieve the ultimate dramatic effect, you can even go for false lashes. Just make sure you have the right size and know how to apply them.
Eyeliner For Olive Skin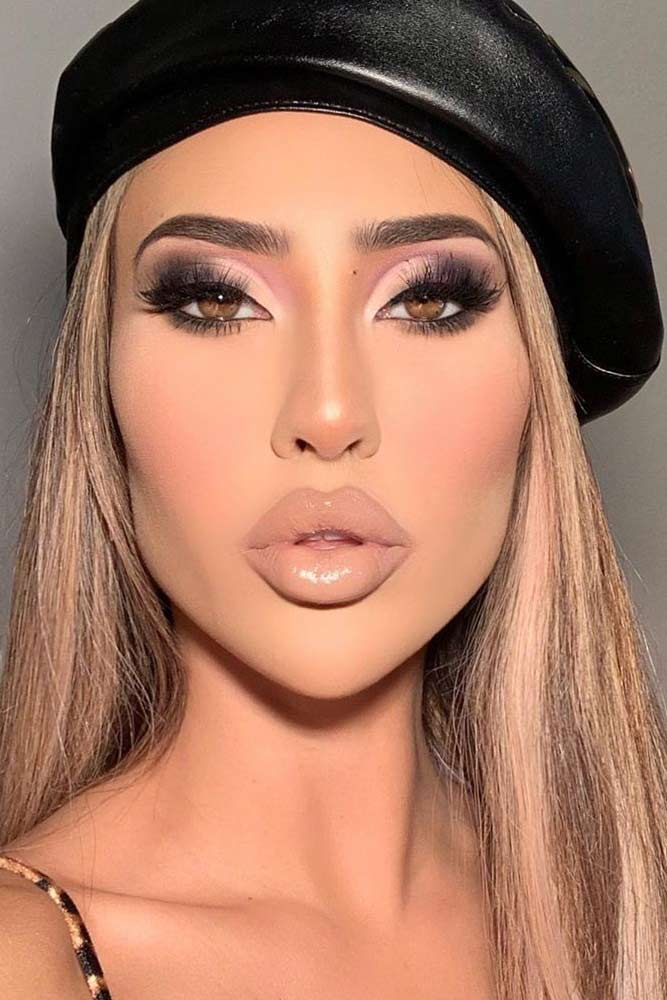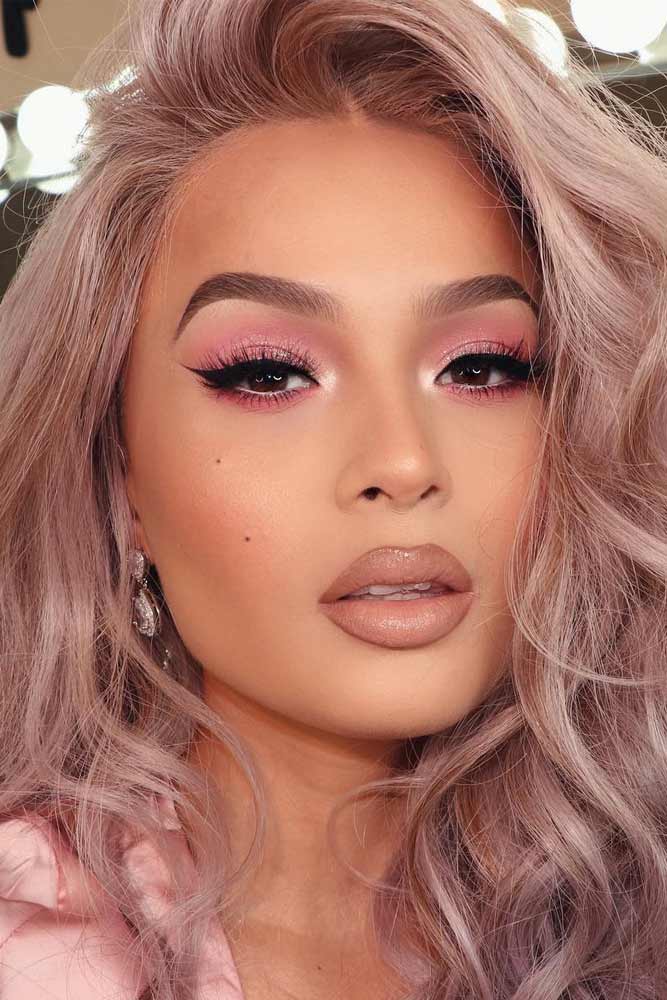 Credit photo: Instagram/brittanybearmakeup, Instagram/makeupbylee
What concerns the best eyeliner for olive colored skin, it's better to refrain from any shades apart from black. Save such bright hues as green, blue and purple for a special occasion. No matter whether you have light olive skin or dark, it's most likely that your eye color is brown or emerald green. Thus, to amp it up, there's no better option for olive skin than black eyeliner. Alternatively, you can go with brown if you wish, but ensure that it's really dark and deep.
Eyeshadow For Olive Skin Tone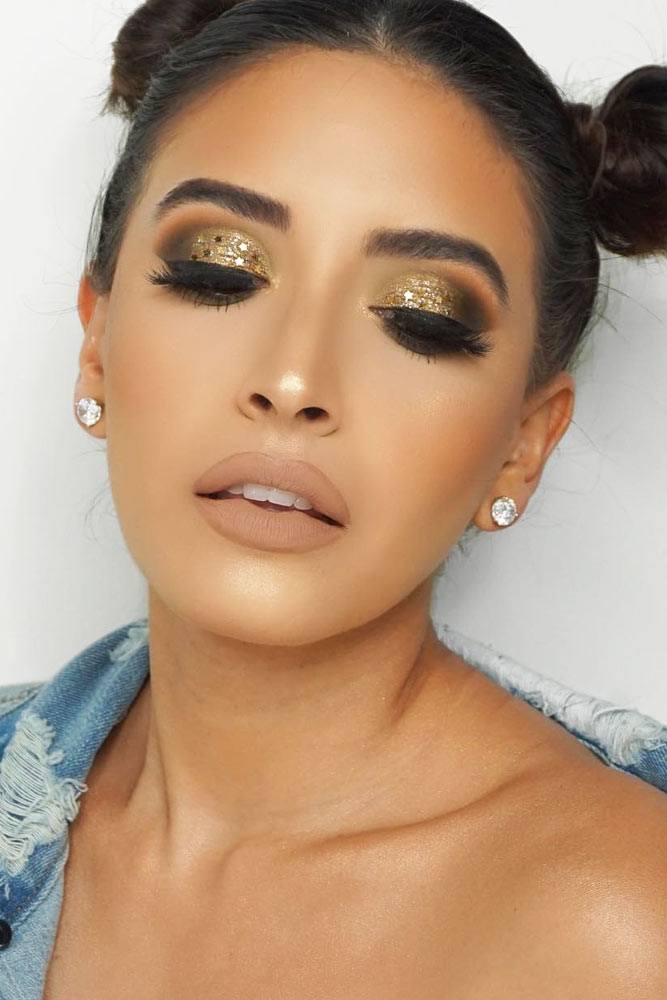 Credit photo: Instagram/miss_jae_elle
Do you find that bight and pastel eyeshadows do no good to your skin? The thing is when it comes to eye makeup, the best colors for olive skin range from nudes to shimmery copper or bronze and deep taupe. However, it doesn't mean that you should waive every colorful eyeshadow for olive skin. You just need to find the right match for your skin. Instead of bright blue, green and yellow, grab rich navy blue, forest green, teal and golden brown hues. Besides, mauve and dark plum shades are always a sure bet no matter whether you have light olive skin or dark.
Lipstick For Olive Skin - What color goes with olive skin?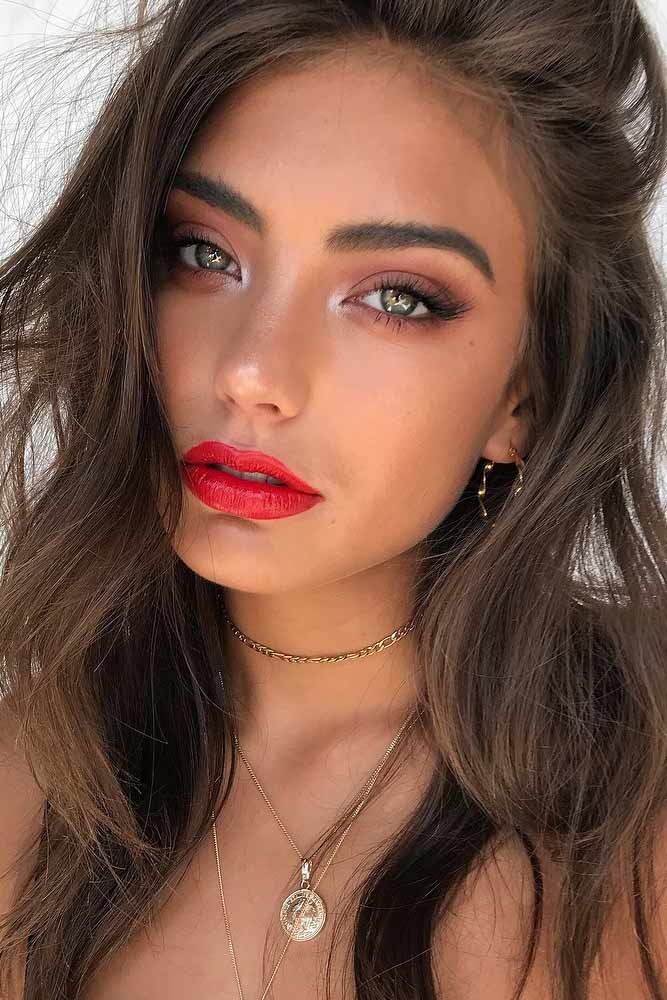 Credit photo: Instagram/emmachenartistry
When picking out the best lipsticks for olive skin, you should take into account your undertones too.
As a rule of thumb, remember to stick to the shades that make the green tones in your skin less prominent while enhancing the yellow ones. Thus, opt for the warm-toned lip colors.
As for the particular colors of lipstick for olive skin and brown eyes as well as green ones, you should turn to such shades as nude, brown, berry, red and generally bright hues. The perfect nude lipstick for olive skin shouldn't have pink undertones while gravitating to brown instead. If you decide to go for a darker color, you can choose any shade of brown, from caramel to coffee. Berry pink lipstick for olive skin features raspberry, plum and claret hues. Your ideal red lip color should have yellow and orange undertones instead of blue. In case you mostly prefer bright shades, here you have a lot of options as well – orange, peach, coral, rose and magenta shades will look the most complimentary for your skin tone.
Makeup Tutorial For Olive Skin Tone

Source: Teni Panosian via Youtube
For an everyday look, we should not use foundation due to its heaviness, we will instead use mask. Apply the primer and then apply the matte skin tint and stipple it onto your skin using a blender applicator.
Use concealer to cover up any dark areas that remain and blend these areas before proceeding. Use translucent setting powder to go over the areas where the concealer was applied. Lightly dust your desired color of blush onto your cheeks to add a splash of color.
Apply luminizer all over the face with a brush. For an added highlight, add a little luminizer to the brow bone, cheekbone, and nose for a bit of brightness.
Next, for the eyeshadow, apply a base color all over the lids before moving to the following shade to accentuate the color in the corners and crease of the eyelid. Concentrate most of this color on the outer corner of the lower eyelid. Proceed on to the eyeliner and apply to the corner of the eye for the cat eye effect and blend slightly with a brush.
When applying the mascara, apply more to the outer lashes and less to the inner lashes to prevent a caked-up look. Continue to the eyebrows and pencil in any areas that need to be filled in.
Finally, we will add light pink gloss to complete this everyday look. We don't want to overpower the everyday look by adding a bold color to the lips.
What Hair Color Looks Best With Olive Skin?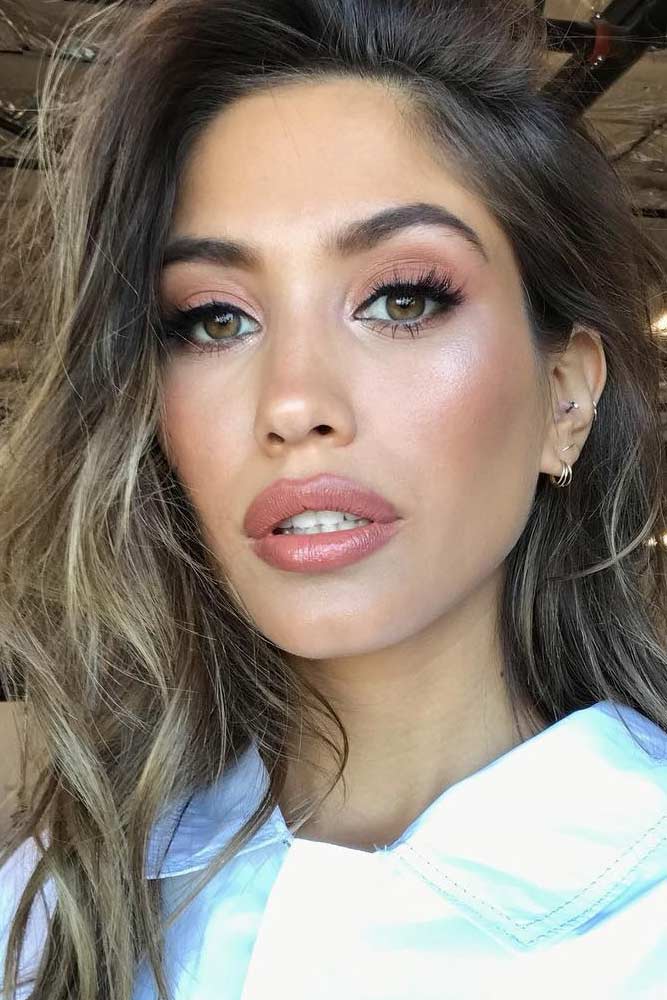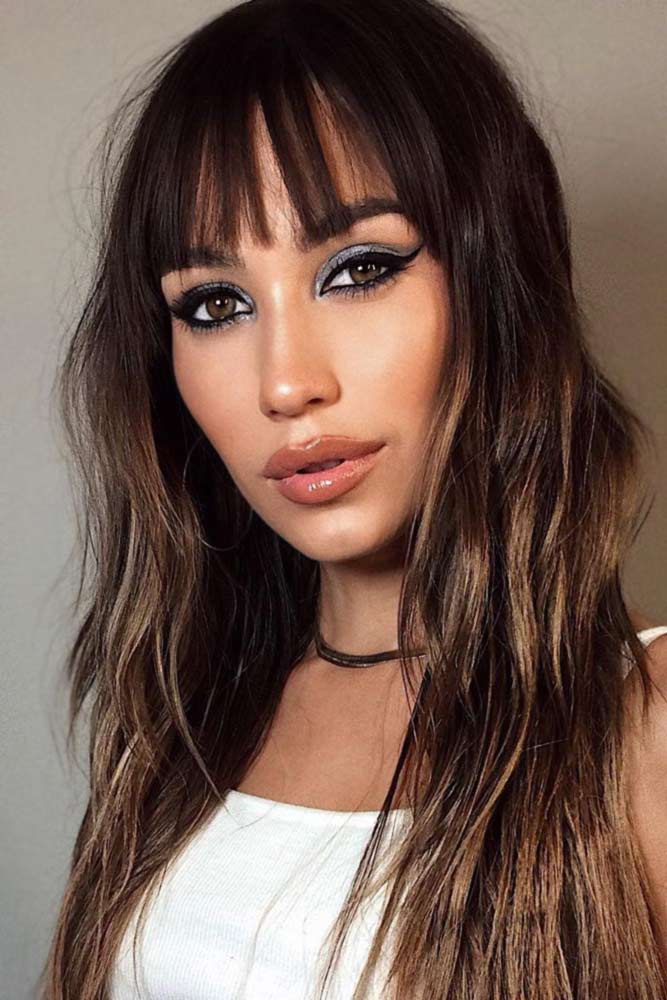 Credit photo: Instagram/cristalserranoo, Instagram/brittsully
The success of finding your best hair color for olive skin directly depends on your undertone. So, if you haven't identified it yet, it's high time to do it. Depending on that, you can choose from caramel, auburn, cinnamon, mocha, wine red, and even blonde hair colors. Going for caramel, don't forget to complement it with ashy highlights to add some definition. In case you fall for auburn, here you're free to choose from electric to natural shades. Cinnamon looks its best with an olive skin tone when used as highlights. Mocha is hugely complementary all year round but especially in winter. Should you decide to opt for wine red, any shade of it works wonders for an olive complexion. As for the blonde hair color, your go-to options are platinum and bronde, which is a mix of blonde and brown.
Makeup Looks For Olive Skin Tone
Natural Makeup Ideas For Olive Skin Tones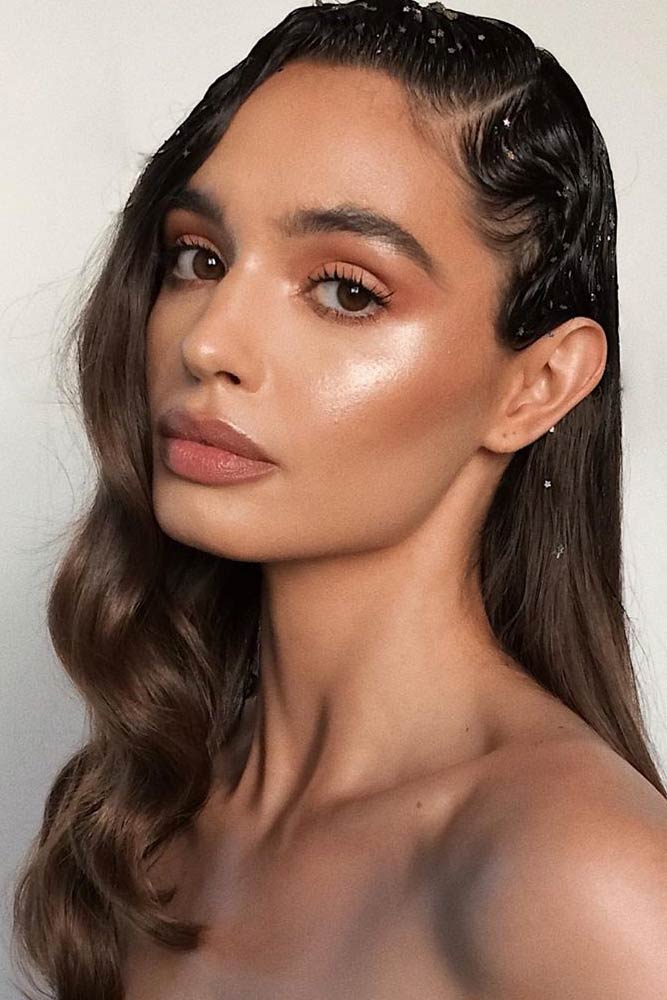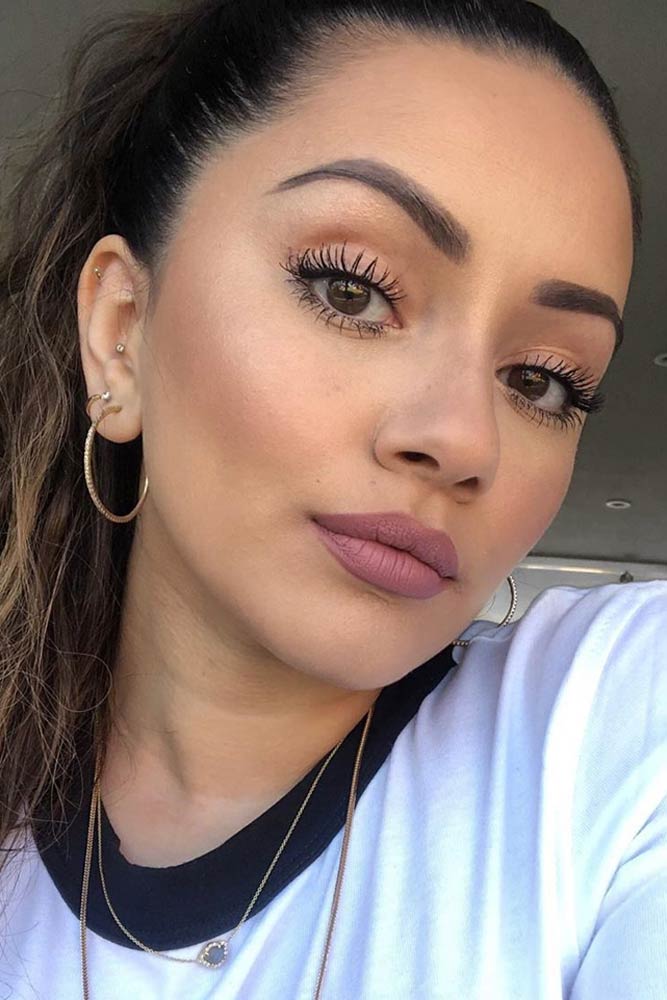 Source: Instagram/brittsully, Instagram/kaushal
It is a known fact that olive complexion is a beautiful one. At times it seems that you need just the least of makeup to emphasize that natural beauty. Truth be told, that is the right assumption. If you are running out of time or simply do not care for complex makeup, the best way to emphasize this beautiful tone is to wear some mascara and nude lipstick. To add some dewy look to your makeup, you can put just a bit of blush topped with highlighter on as well.
Everyday Makeup Ideas for Olive Skin Tone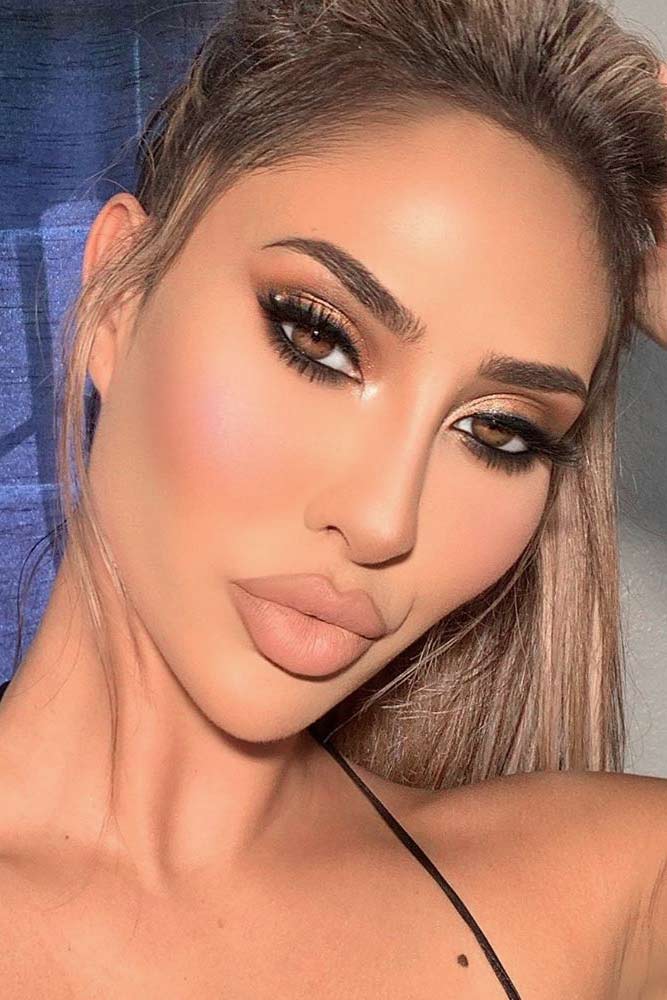 Credit photo: Instagram/brittanybearmakeup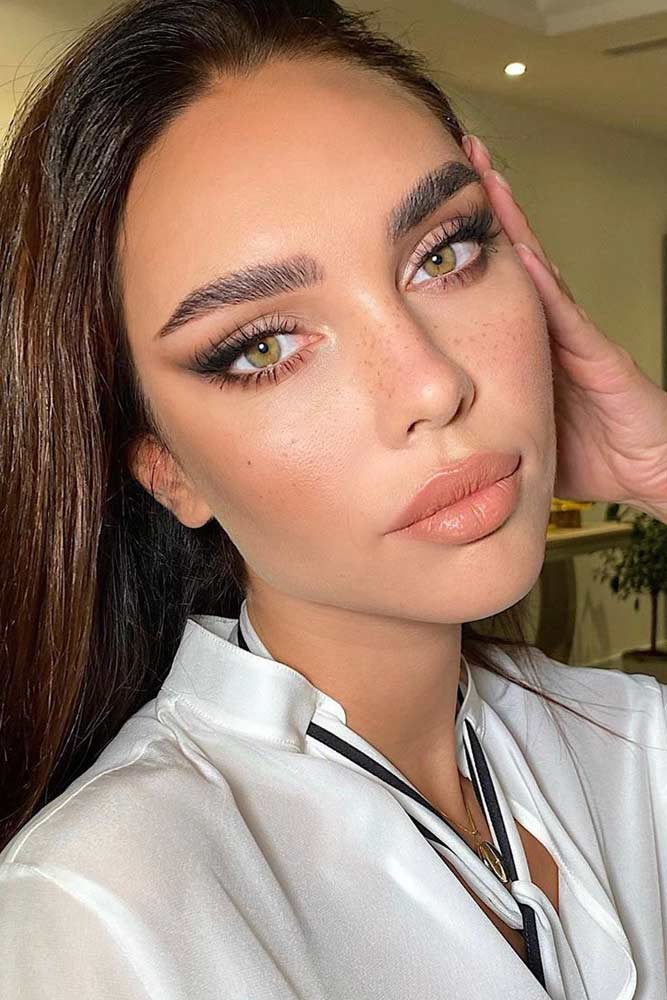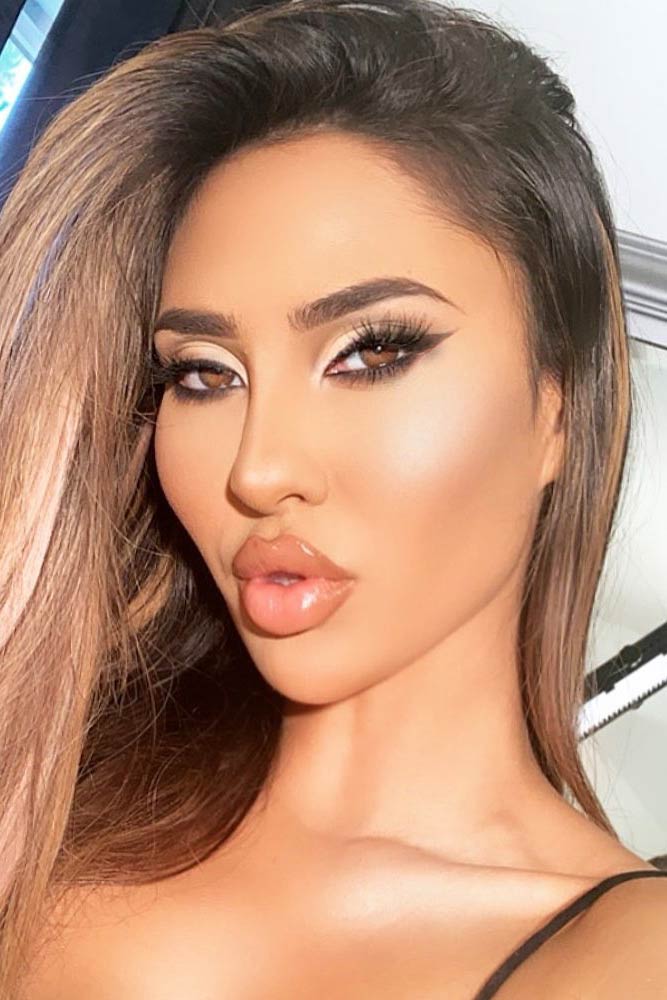 Source: Instagram/ksenia_tsaritsina, Instagram/brittanybearmakeup
In a few words, when it comes to the most flattering eyeshadow shades for olive skin for everyday look you can go neutral brown shades. Each choice will be quite complimenting.
Evening Makeup Looks for Olive Skin Tone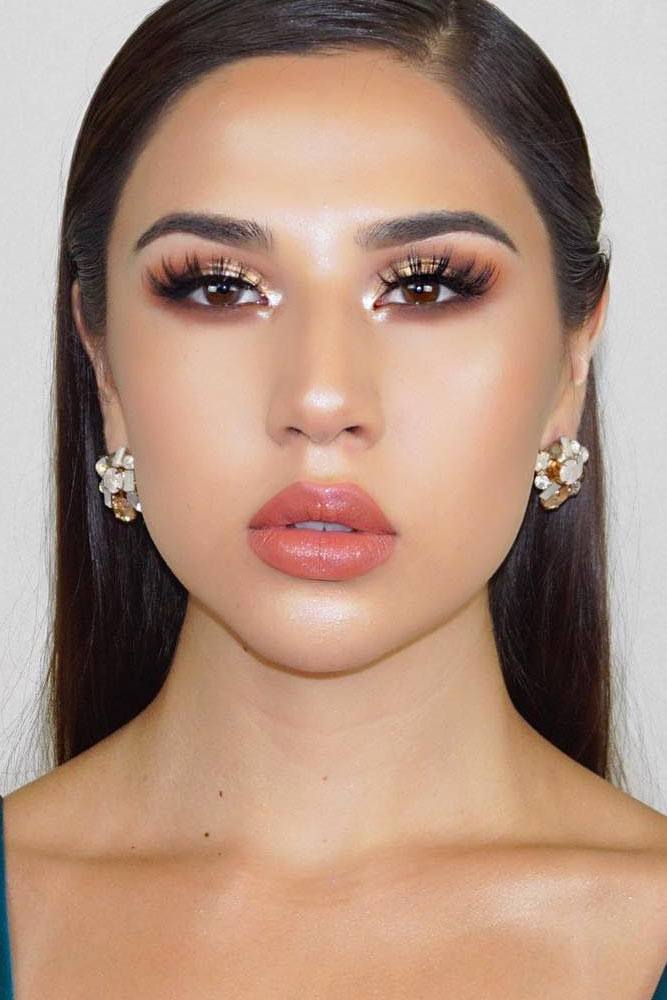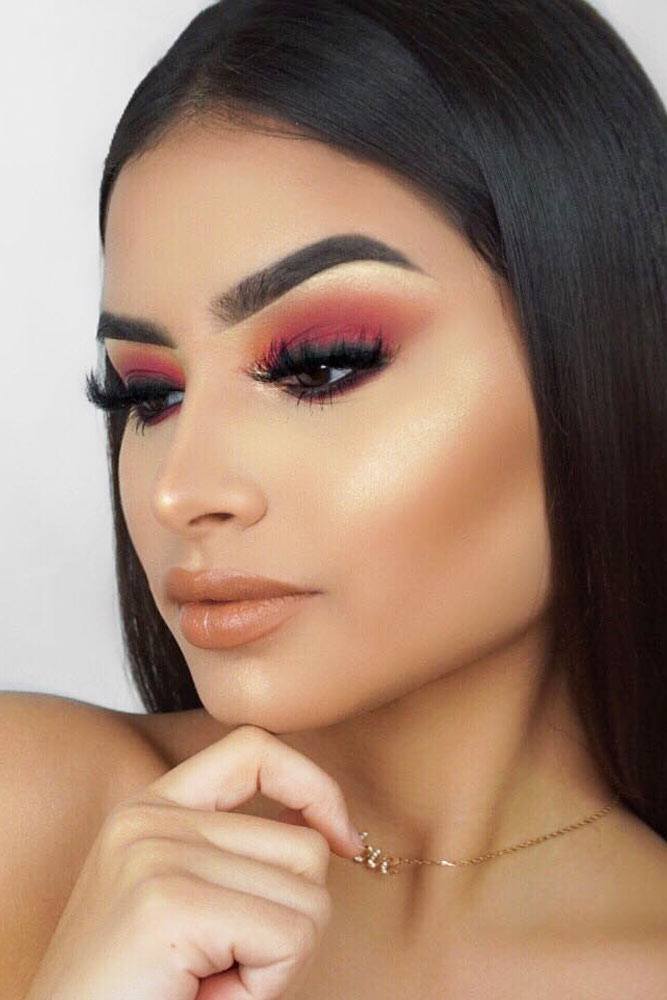 Credit photo: Instagram/dylanreybeauty, Instagram/tatianaviera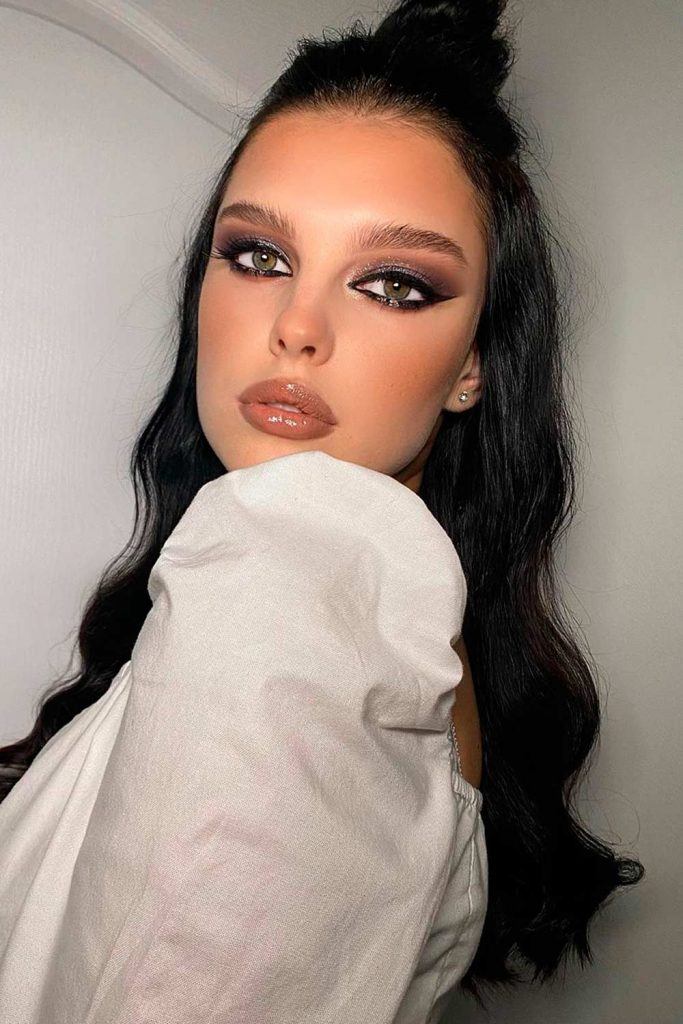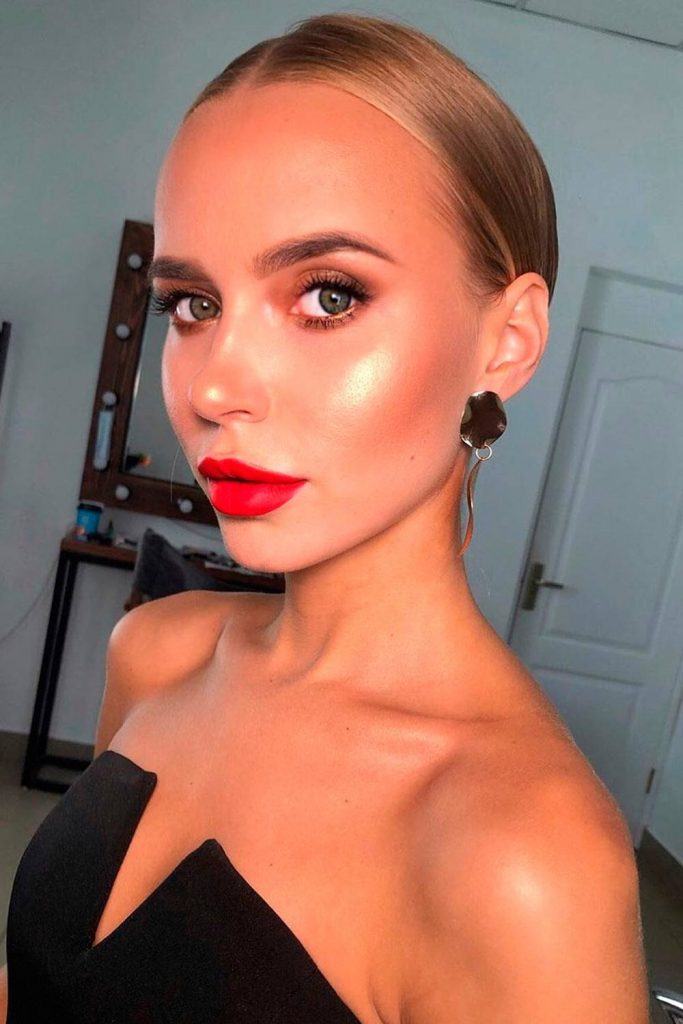 Credit photo: Instagram/anastaciaacmakeup
Even when you're about to stand out at a night-out party, you should be gentle with makeup colors. All in all, olive toned skin looks its best when accentuated with matching natural tones finished with a bright but complementing highlight. It can be a dramatic cat-eye or a sultry shade of lipstick: the point is to create a harmonic base with soft nude eyeshadow, lightweight bronze or pinkish blush, and a slight hint of highlighter.
If you'd like to add some warm accent to your medium olive skin tone, you can try some salmon or coral pink eyeshadow. As for cool olive skin, you will love the way your skin glows when enhanced with nude chocolate eyeshadow and glittery accents.
Celebrities With Olive Skin Tone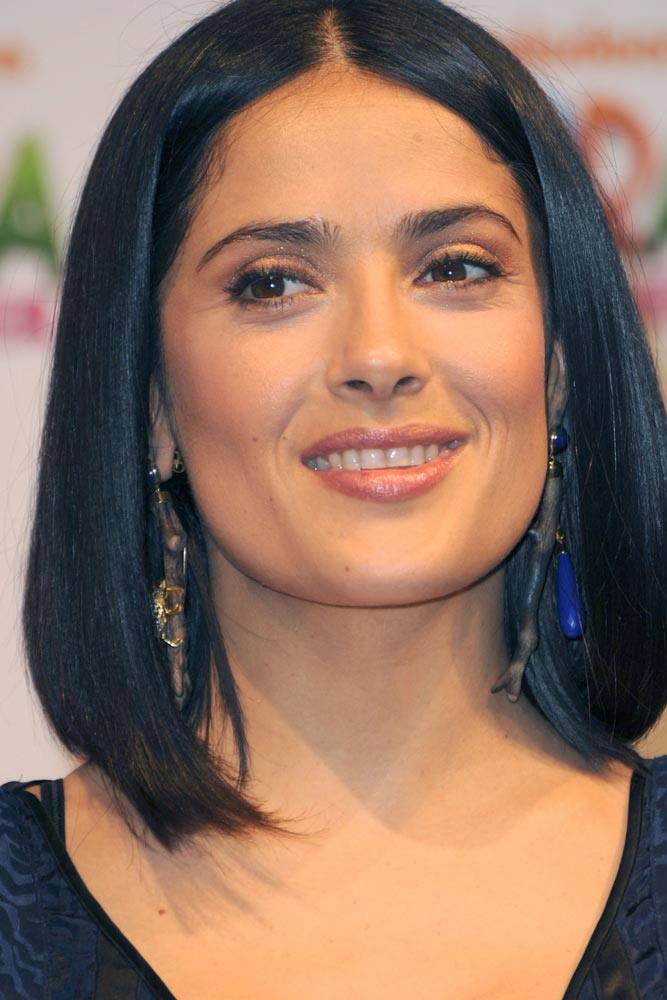 Source: s_bukley / Shutterstock.com
Salma Hayek is an outstanding and well-known actress. Her Mexican origin and olive skin tone add up greatly to her recognizable look. She proves that all natural makeup sometimes is the best to opt for.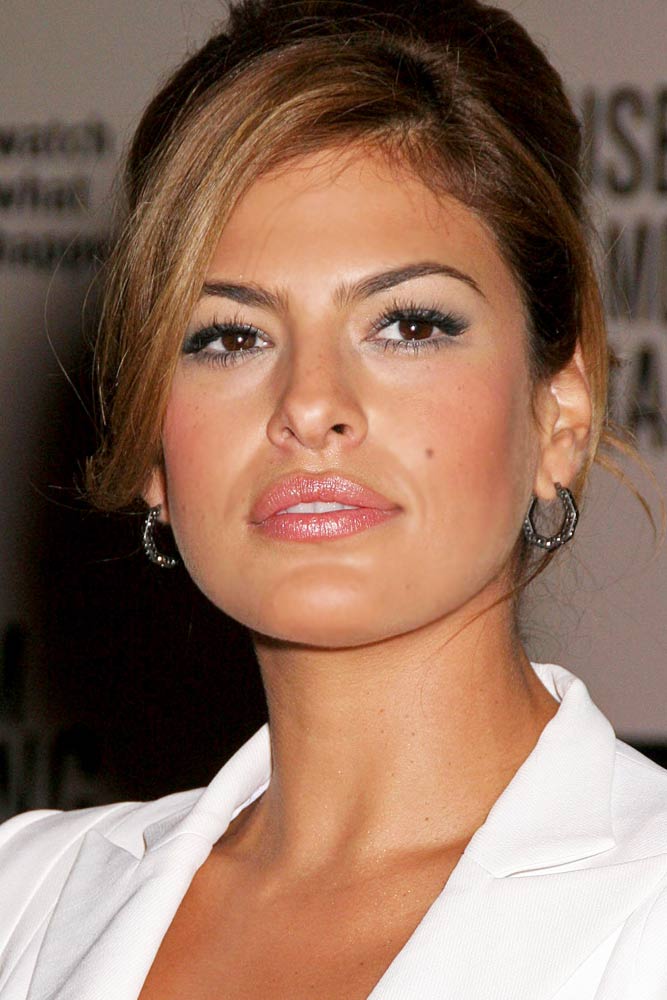 Source: Everett Collection / Shutterstock.com
Eva Mendes is a great singer and gorgeous model. When it comes to the makeup that she wears, she makes the most of her olive skin tone too. The bright blush together with well-defined eyes creates that mesmerizing impression that many fall for.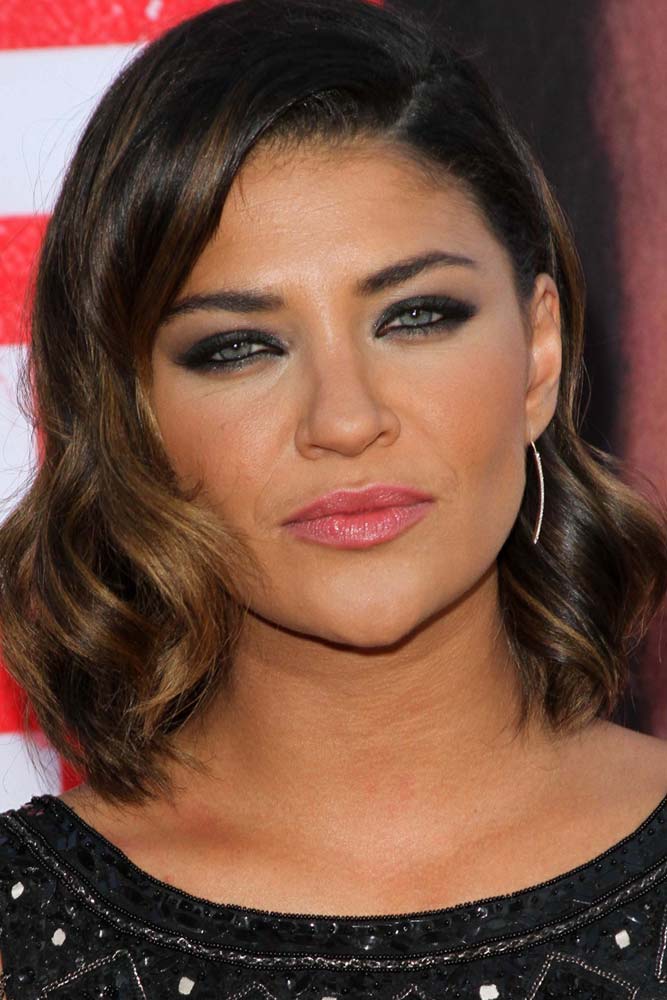 Source: s_bukley / Shutterstock.com
Another olive-skinned actress that gained impressive popularity is Jessica Szohr. She thinks that smokey eyes and nude-shaded lips accent her skin tone best, and we couldn't agree more.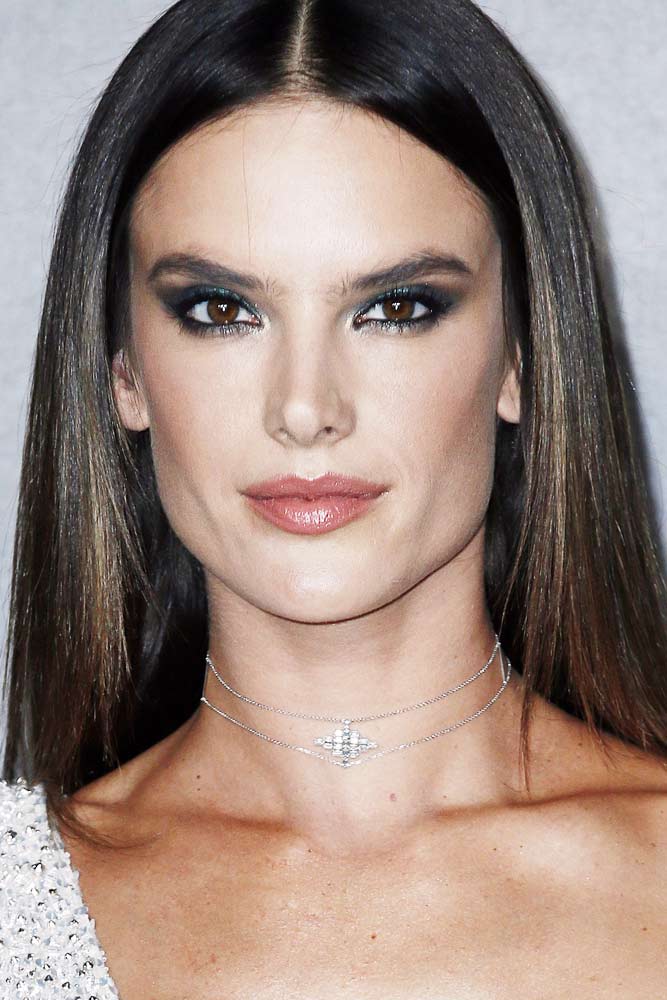 Source: Andrea Raffin / Shutterstock.com
Alessandra Ambrosio is a successful actress with Brazilian roots. Her olive skin tone is hard to underestimate since it grants her that well-recognized definition. Truth be told, she is well aware of her olive skin effect and she uses it to her advantage all the time.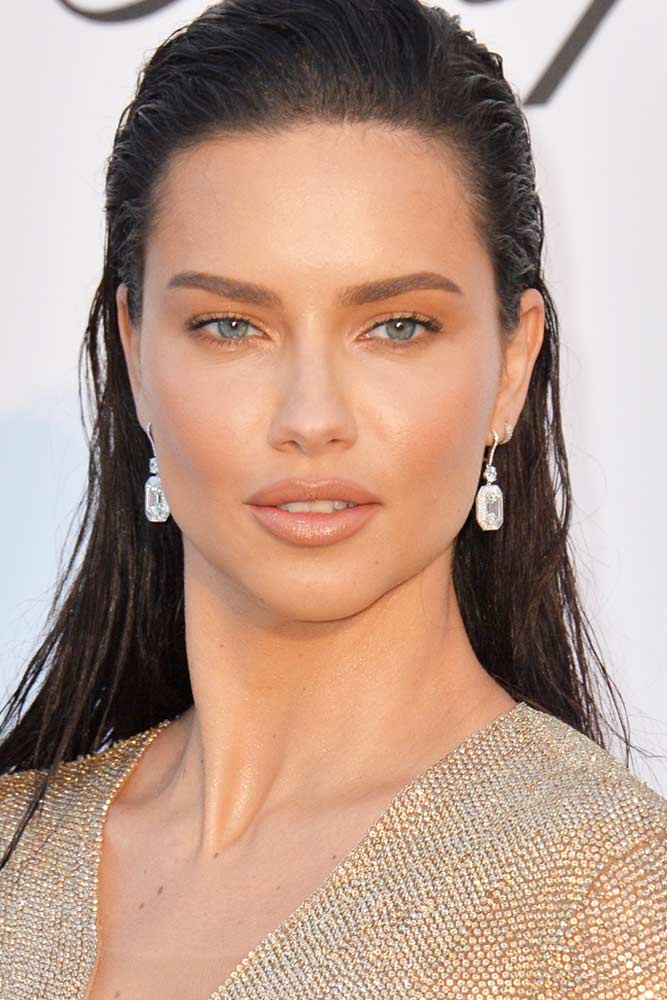 Source: Featureflash Photo Agency / Shutterstock.com
Not all the celebrities can show off crystal blue eyes and olive skin. However, Adriana Lima can. With natural beauty like that she does not need a lot of makeup to accent her personality. In most cases, she gives in to natural makeup and looks astonishing with it.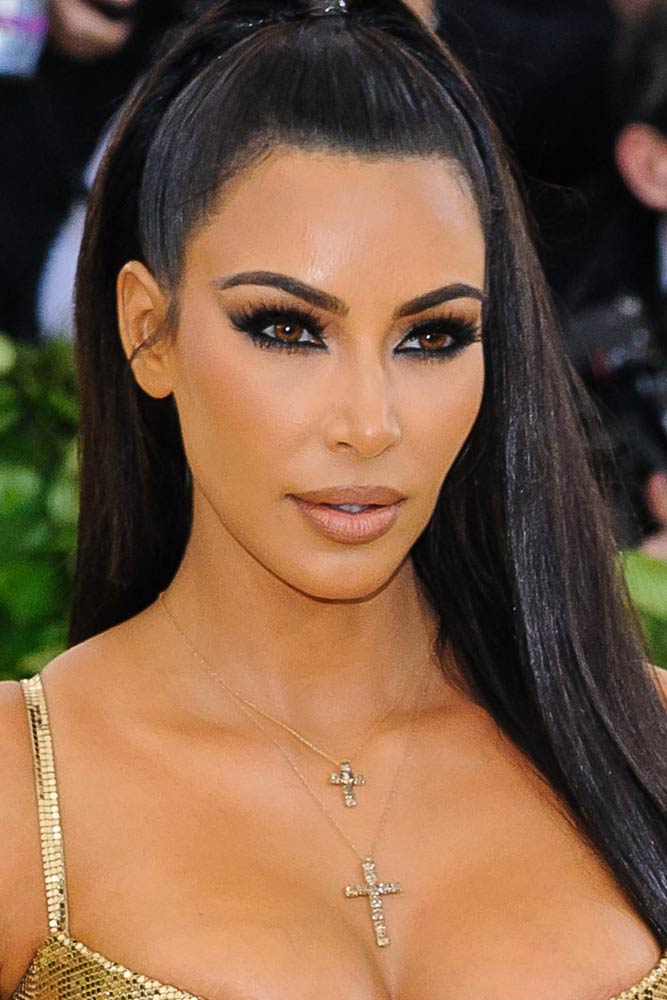 Source: Sky Cinema / Shutterstock.com
If you wonder who is the most desirable woman of this century – most men will answer that it is Kim Kardashian. It seems that there is not a single look that she wouldn't be able to pull off. In most cases, she opts for classy smokey eyes and matte nude lips.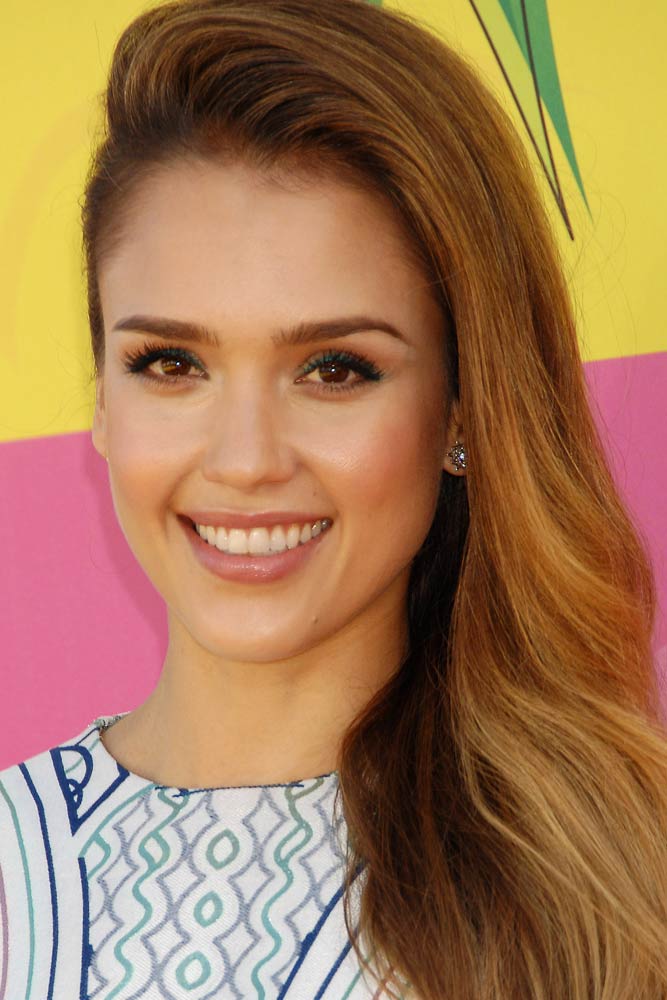 Source: Ga Fullner / Shutterstock.com
Jessica Alba is yet another amazing actress with olive skin. When it comes to the makeup, she sticks to the classics and looks marvelous.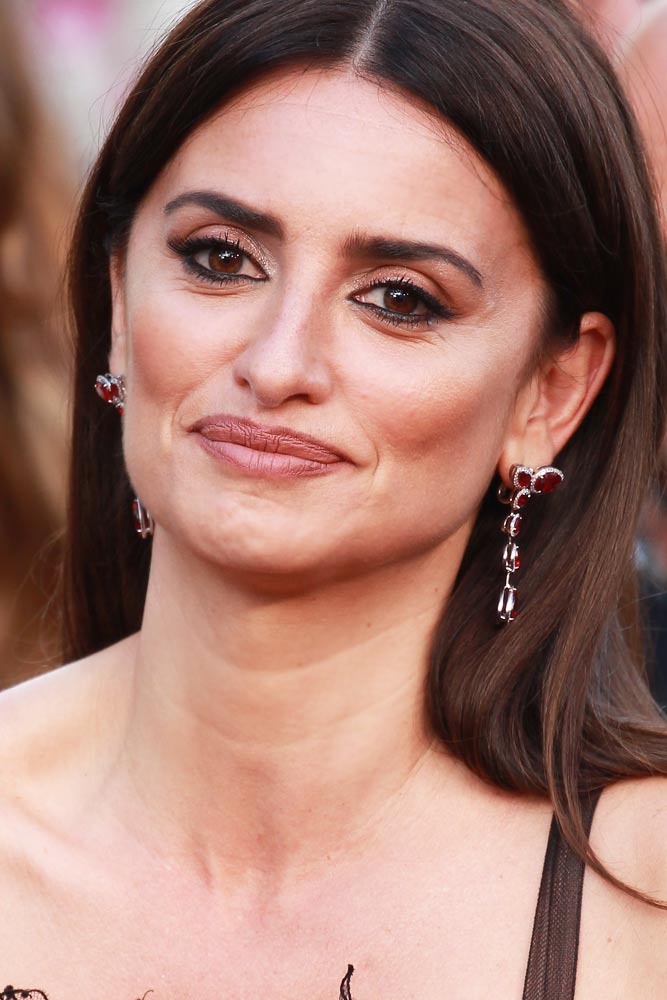 Source: antoniobarrosfr / Shutterstock.com
When you think olive skin and celebrities you can't simply go past charming Penelope Cruz. Classic liner and natural lips accent her beautiful skin just perfectly.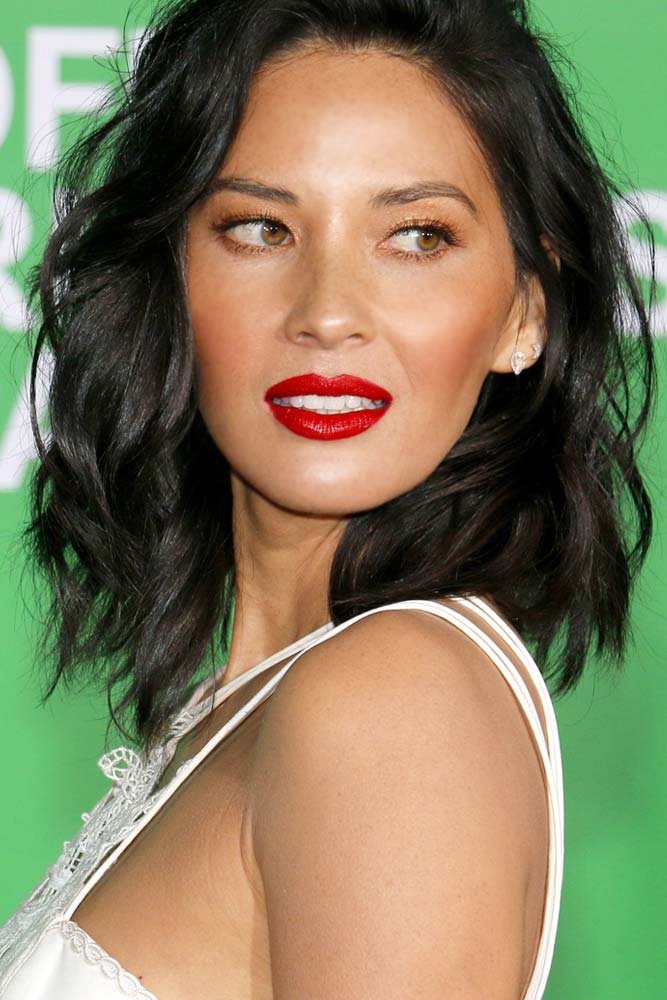 Tinseltown / Shutterstock.com
Olive skin is that defining feature of gorgeous Olivia Munn. While she prefers to sport natural eye makeup, when it comes to the lipstick – wine red it is! Perfect french makeup!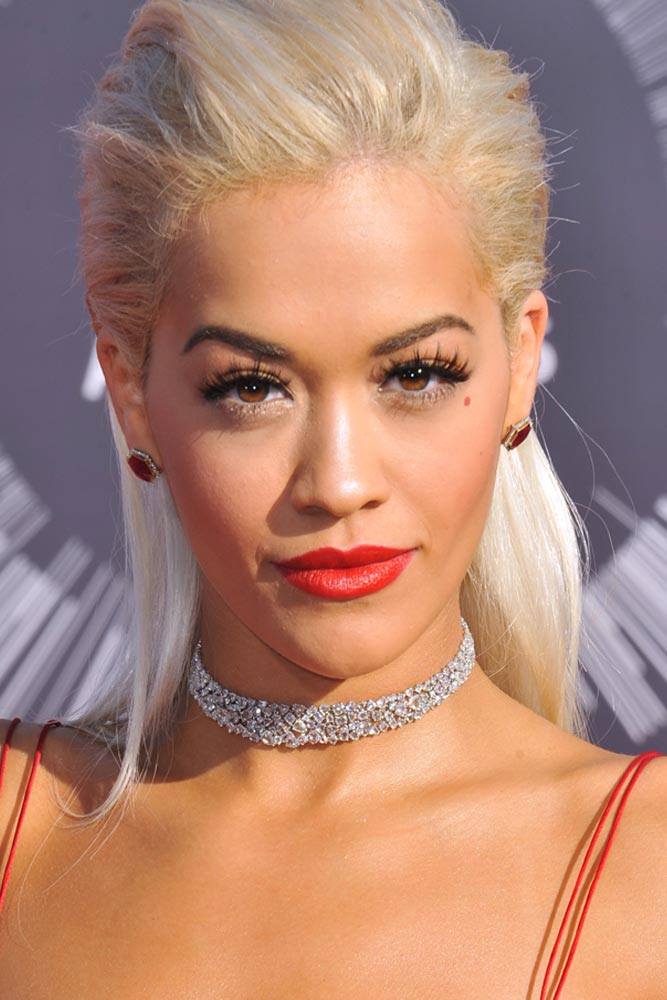 Source: Jaguar PS / Shutterstock.com
Unlike many other celebs with olive skin, Rita Ora does not fear to match bold red lips with her platinum blonde hair. Besides, classy black liner is what she uses to finish her bedazzling look.
FAQ: Olive Skin
Is olive skin rare?
Olive skin tone is a unique skin tone. It is a blend of undertones that are neutral in appearance. What really sets olive skin apart is a natural green pigment that gives a green tint to the skin. Sometimes these olive hues can give the skin an almost gray or ashen appearance. Such undertones truly make the skin more glowing and eye captivating.
What ethnicity has olive skin?
The olive skin tone is prevalent in the Mediterranean (Southern Europe, Western Asia, and Northern Africa) as well as some parts of Latin America.
Olive-toned skin is especially apparent among people from Egypt, Spain, Italy, Syria, Lebanon, and Jordan, Algeria, Turkey, Afghanistan. There are some olive skin tone examples among Romani people as well.
Can you be pale and have olive skin?
It's possible to have really pale, light olive skin.
Olive skin is primarily defined by a natural green pigment visible slightly beneath the skin's surface. Therefore, It's a misconception that olive skin has to be only dark or medium tan. You may have that type of complexion if:
you have trouble deciding whether your veins are blue or green;
you tan easier than your fair-skinned friends;
your skin looks ashen or gray – especially in winter.
What color blonde is best for olive skin?
Golden and honey blondes look amazing with warm olive skin tone. Choose ash or strawberry blondes for your cool olive complexion. Caramel tones also look flattering on olive skin.
Stick to your natural color. If you don't want to go full blonde, caramel highlights are a great alternative that adds dimension and balances out the green tones of the skin.
REFERENCES:
Olive skin is a human skin color spectrum. It is often associated with pigmentation in the Type III to Type IV and Type V ranges of the Fitzpatrick scale. Source
Your skin tone, also called undertone, is different from your complexion, which is the shade of your skin (light, medium, dark). Source
Understanding the undertone of your skin is the cornerstone of buying the right foundation shade to create a flawless makeup look. We have some fundamental information that we can pass on to help you master this skill. Source