Trendy Floral Dresses: Find The Design To Your Taste
Today floral dresses are present in every woman's wardrobe. The trend is so prevalent that we cannot imagine our lives without it already.
A floral pattern adds some lovely flair to a dress. And this quality is something that all of us find winning. Historically, flowers always held special symbolism and meaning. And people wished to link that positive analogy with their clothing. That is why a floral pattern appeared. And its origin is in Asian countries like Japan and China, where a flower is an integral and essential part of people's culture.
Do you already have any fashionable floral dresses? Grab some ideas for the next time you go shopping.
White Short Length Floral Dress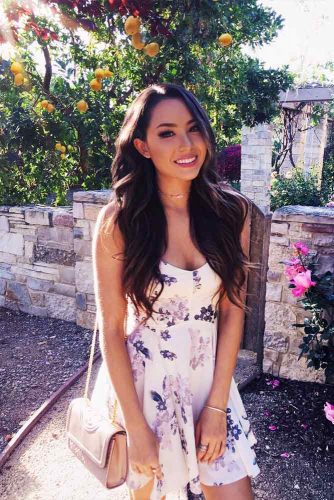 This white floral dress of a short length is not only in vogue, but it is also comfortable. The comfort is granted by a flowing silhouette. Also, when you choose a flowing dress over a fitted dress, you won't have to worry about any extra weight accentuated. As for the fabrics, go for something heavier yet summer-appropriate. It's because a loose short skirt like this can blow up easily when there is some breeze.
Source: hapatime via Instagram
Short Black Floral Dress With Long Butterfly Sleeves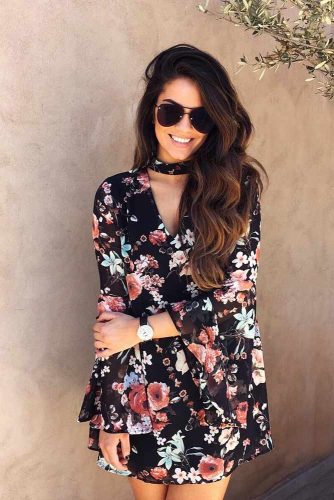 How to wear floral dresses short so that you do not appear slightly vulgar? The key is to create a proportion. As you can see in this pic, long butterfly sleeves make the look more balanced. As a result, the short length does not feel extra exposing.
Source: Stephsa via Instagram
Short Off-Shoulder Dress With A Floral Print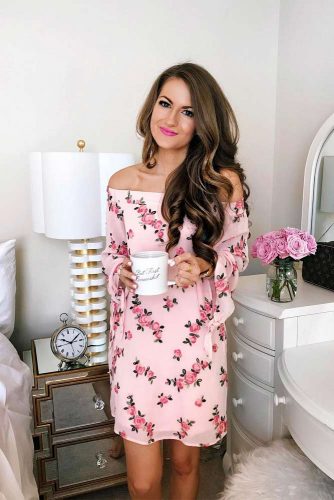 Just look at this amazing short off the shoulder dress in a pastel pink shade and a subtle floral print. When it comes to the best dresses for girls, dresses in pinks are definitely winning. Get one of floral dresses with sleeves like this, and you will appear playful and girly.
Source: cmcoving via Instagram
Black V-Neck Floral Dress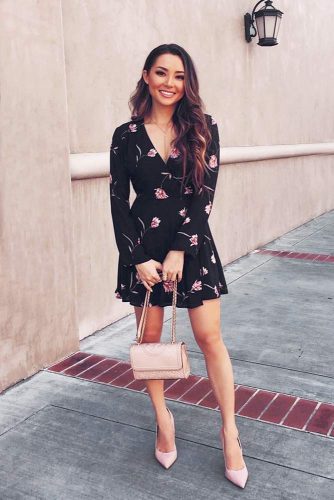 This black V-neck dress with pink flowers compliments this model's body shape so nicely. It's because the design was chosen wisely. If you go for a shorter dress like the one in this pic, we would recommend that you pick a dress design with a natural waistline. And the flared bottom of this dress helps to visually elongate this model's body.
Source: hapatime via Instagram
White Short Dress With Red Flowers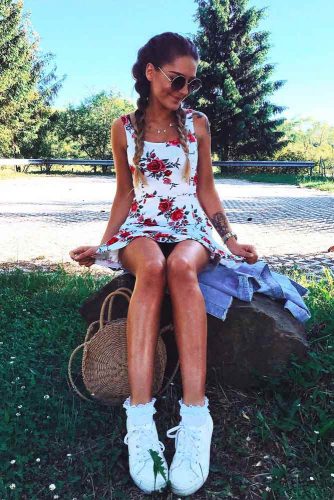 The combination of white and red in this dress design is truly sensational. Paired with sneakers, it creates a somewhat carefree image. Overall, when going short, it's better to wear sneakers or flats. It may sound surprising, but when we are talking about mini dresses, flats but not stilettos would make your legs appear longer. Socks will do the trick, as well.
Source: sstyleev via Instagram
White V-Neck Summer Dress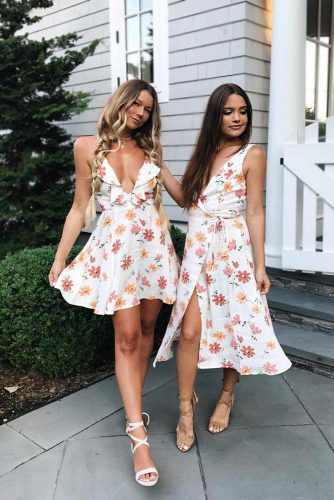 Floral dresses for women are in trend this summer. And as you can see in this picture, floral fabrics pair so well with various designs and dress lengths. Flowers look quite vivid against white
Source: alexcentomo via Instagram
Medium Length Off-Shoulder Dress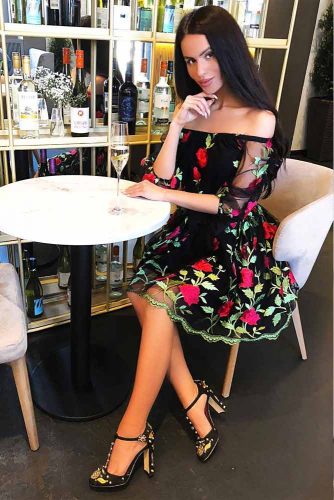 It is one of the most impressive floral dresses we have ever seen. When it is the summertime, a long sleeve will not always do. However, when the sleeves are made of chiffon like shown here, it is light enough to wear on a warm summer day.
Source: zolotoy_pesok via Instagram
Knee-Length Floral Dress With Long Sleeves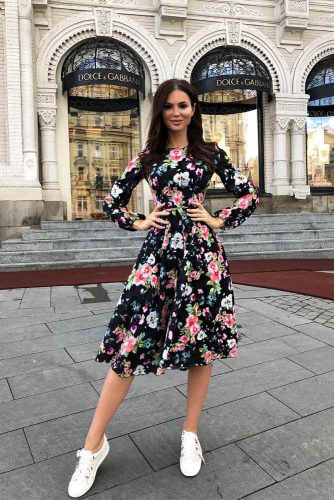 When floral print dresses are knee-length and have long sleeves like you see here, they appear a bit retro. And if this style is true to you, then go for it! Floral dresses in black are especially vibrant.
Source: zolotoy_pesok via Instagram
Medium Length Bodycon Dress With Flowers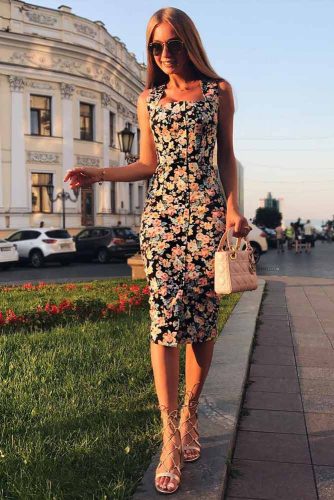 Put on a bodycon dress like this and you will appear sassy, dolled up and fierce. The heavy floral pattern depicted here is truly bewildering.
Being extra tight, a bodycon dress would hug each and every curve you've got. That is why a dress like this is often chosen for date nights and nights out on the town. Just pick the design that will compliment your body best.
Source: zolotoy_pesok via Instagram
V-Neck Dress With A Floral Print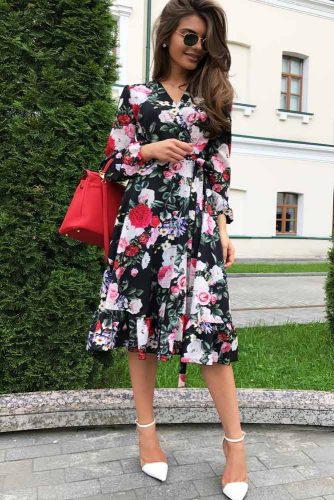 Floral dresses for summer with a V-neck are quite popular. Just look at this incredible black dress with a heavy floral pattern. It makes this model's image especially feminine.
Source: zolotoy_pesok via Instagram
Blue Floral Dress With Bishop Sleeves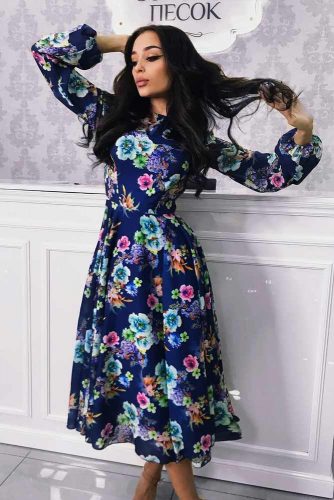 This dress in a dark blue shade with massive flowers appears quite feminine. And a bishop sleeve is the element that complements this dress design great. Go for a dress with such statement sleeves if you have a special occasion to attend. These sleeves give some boho, a bit relaxed aesthetic to the dress design.
Source: zolotoy_pesok_ekb via Instagram
Beautiful Bright Colored Floral Dress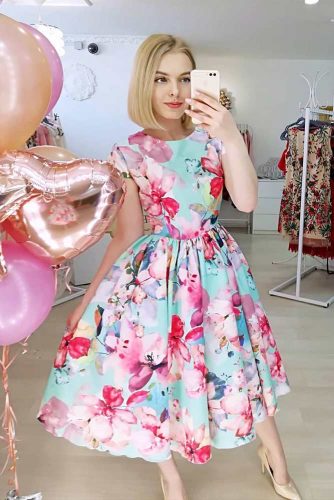 Floral dresses for juniors, like the one you can see in this picture tend to be vivid and colorful. Express your bright and outstanding personality by wearing a dress like this.
Source: zolotoy_pesok_ekb via Instagram
Long Pastel Blue Boho Dress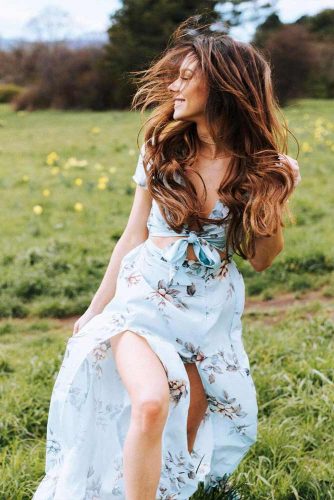 Floral dresses long come in various styles, and boho long dresses are quite wide-spread. This flowing boho long dress in a pastel blue hue with a delicate floral pattern will work great for your vacation.
Source: lululus via Instagram
V-Neck Maxi Dress With Flowers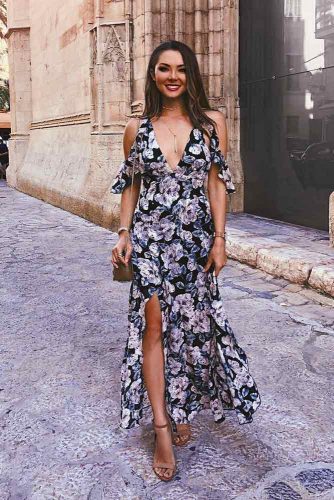 This maxi dress with a heavy floral pattern appears totally dazzling with a V-neck and a flowing silhouette. When trying to pull off a maxi dress, remember that your task is to find the ideal length for your body. In case your height is below average or average, we won't hide the fact that a dress like that might not work for you. You will be swimming, or it's better to say drowning, in the whole sea of fabrics.
Source: hapatime via Instagram
Blue Tea Length Summer Dress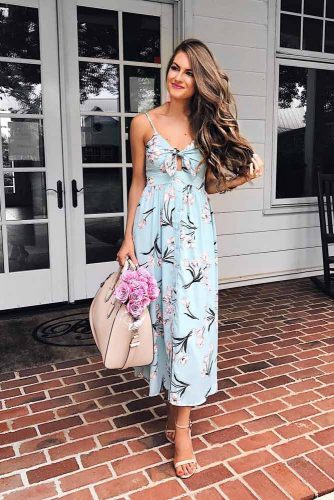 Tea length dresses for women are considered to be very elegant, and a pastel blue dress with flowers proves that. Which length is tea? It is below a knee but above an ankle. Such kinds of dresses are typically worn for a dressy event that takes place in the daytime. For example, receptions, fancy luncheons, tea parties, graduations, and weddings. In general, it will do for all formal to semi-formal events that are held outdoors.
Source: cmcoving via Instagram
White Off-Shoulder Bohemian Floral Dress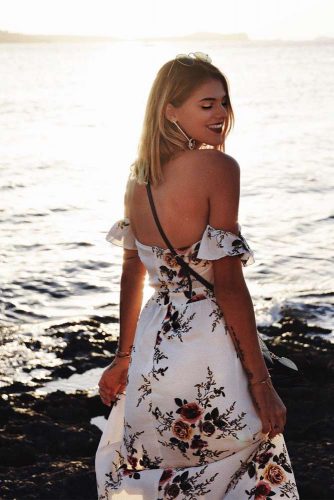 What can we say, when we are talking about a bohemian style, not everyone can pull it off. And the model shown here has definitely succeeded in it. Her boho image is phenomenal.
Source: aenymblaze via Instagram
Beautiful Off-Shoulder Maxi Dress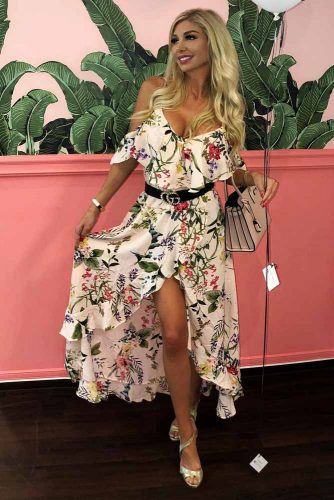 Floral dresses maxi are complemented wonderfully with off shoulder sleeves like shown in this picture. Such sleeves have been in for a while already. This sassy dress design gives a bold flash of skin, yet, quite delicate. Such dresses are ideal for days when you relax and sip cocktails poolside.
Source: sanyavictoria via Instagram
Tea Length Floral Dress With Long Sleeves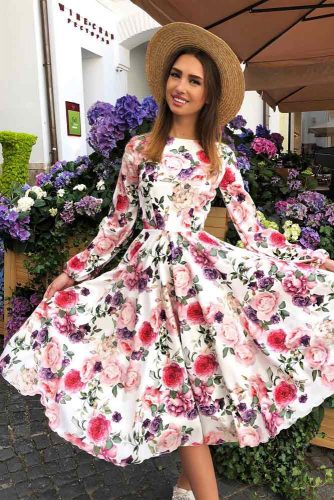 This white tea length dress with a heavy and bright floral pattern is the definition of innocence. Long sleeves that cover this model's hands only add on to the sinless impression.
Source: zolotoy_pesok via Instagram
Sexy Black Shoulder Off Floral Dress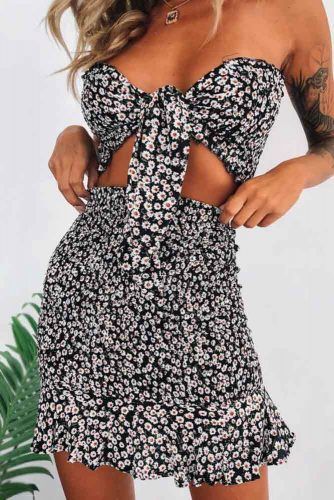 If you want to combine your femininity with sassiness, then there is nothing better than a shoulder off floral dress. Besides, such a dress will ensure that no summer heat will ruin your sexy vibe.
Source: beginningboutique via Instagram
Blue Cut-Out Mini Dress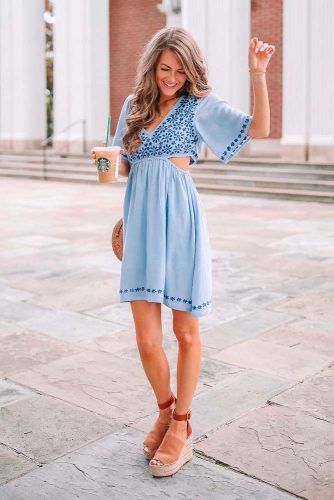 In case you are looking for a casual floral dress – we have something in store for you. It may seem that there is nothing extraordinary about this simple but lovely blue dress. However, the cut-out design together with tiny flowers are the details that make it stand out.
Source: cmcoving via Instagram
Pale Green Long Floral Dress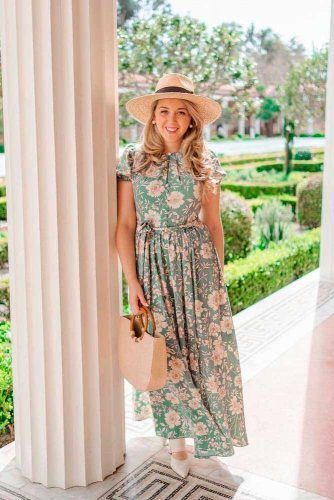 Some ladies prefer maxi length when it comes to their dresses even it is summer outside. If you are one of those, then this pale green floral dress will surely steal not only your attention but also your heart!
Source: deboradahl via Instagram
Asymmetrical Long Dress With Pink Flowers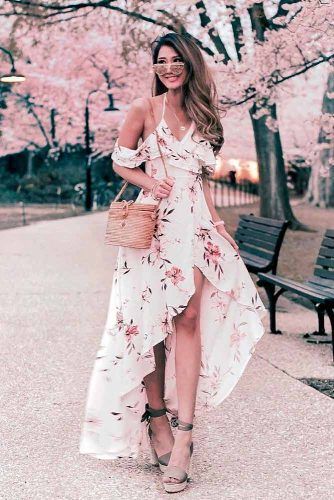 Asymmetry is very popular these days. That is why in case you are in search of something both stylish and gentle looking this may be your perfect choice. The thing is that such a dress can be easily worn to a beach party as well as to the trendy restaurant!
Source: mangorabbitrabbit via Instagram
Yellow Summer Boho Style Dress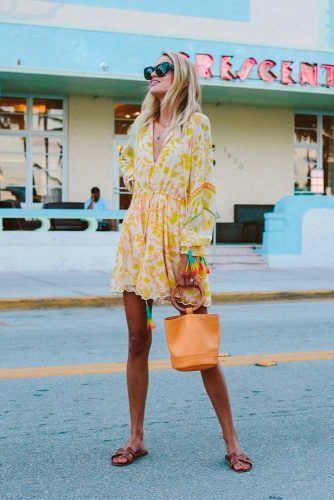 It is true that no other style involves so many floral motifs than boho. Those of you who like light dresses with lovely vibes and bright hues will certainly appreciate this one.
Source: littleblondebook via Instagram
Elegant Black And White Floral Dress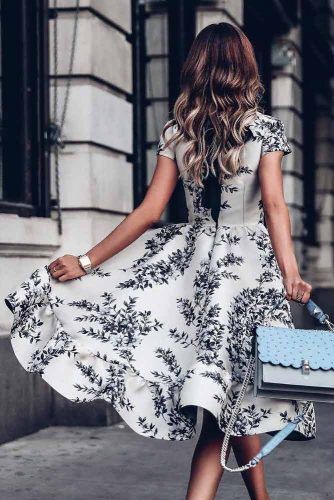 Floral dresses can fit in the category of formal wear as well. The thing is that an elegant black and white dress with tiny flowers all over it will only accent your reserved style while keeping it feminine at the same time.
Source: vivaluxuryblog via Instagram
Long Peach Dress With Flowers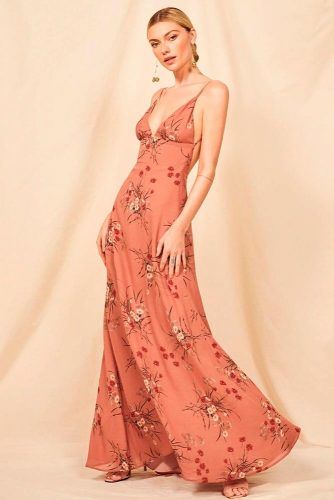 There is something magnetic about this peach dress with flowers all over it. The thing is that despite the quite simple design this dress gained its sophisticated touch all due to the mixture of pattern and the hue.
Source: reformation via Instagram
White Mini Dress With Lace Sleeves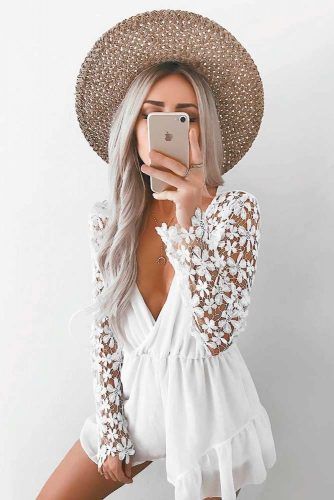 White is the color of purity and elegance. When you have a closer look at this light mini dress, you will understand why. Besides, the addition of lace sleeve with flowers all over make the dress look magical and somehow ethereal in its simplicity.
Source: emilyrosehannon via Instagram
Pale Mini Dress With Bishop Sleeves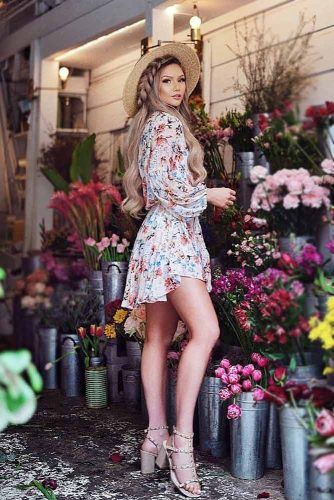 Some ladies value country style about all. If that is the category you belong to, then we are more than sure that this cute mini dress with flowers and bishop sleeves will be the next you buy!
Source: stephanie_danielle via Instagram
Ruffled Mini Dress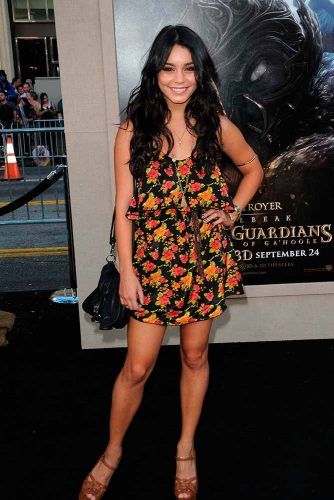 Vanessa Hudgens proves that floral dresses are extremely playful and fun. That is why she goes as far as to pull off a ruffled black dress with bright flowers all over it. Truth be told she looks magnificent in it!
Source: s_bukley via Shutterstock
Fifties Gold Dress With Floral Pattern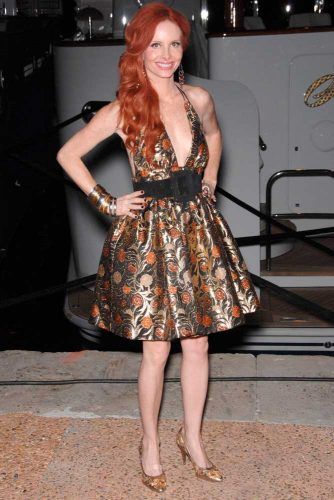 No matter what you may think but floral patterns can be quite glam too. All you need to is to look for a proper dress to fit in the description. Phoebe Price seems to has found the best possible example to present to your attention. Enjoy!
Source: Featureflash Photo Agency via Shutterstock
Flowers Dress With Asymmetric Sleeves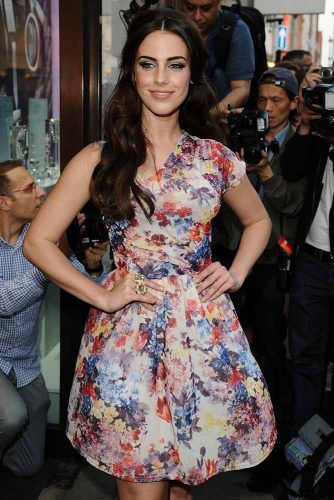 When you want to combine two trends in one, it may take you some time and effort to come up with a suitable look. However, Jessica Lowndes managed to deal with the task brilliantly. What she did was to opt for a floral dress with pastel flowers splashed all over it. Besides, the design itself only emphasizes her femininity and style.
Source: Featureflash Photo Agency via Shutterstock
Shoulder-Off Summer Floral Dress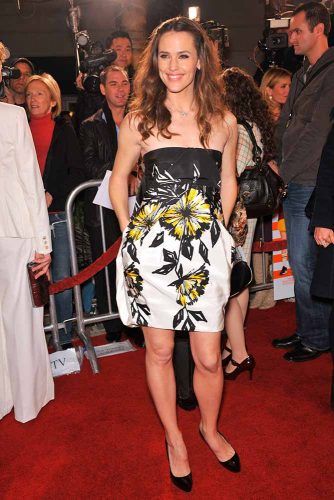 Jennifer Garner is one of those elegant celebrities who thinks hard when it comes to her next outfit. This time she chose a shoulder-off floral dress. However, she decided to stick to reserved hues involved. Just a contrasting black and white pattern with splashes of yellow every now and then.
Source: Featureflash Photo Agency via Shutterstock
Floral Dress With Choir Boy Sleeves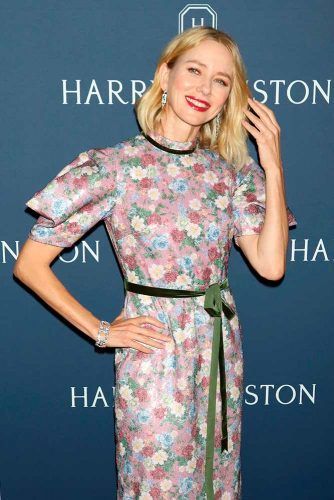 Naomi Watts knows what to select if you want to impress people with both your taste and elegance. A floral dress with choir boy sleeves and detailed pattern surely match each other. Besides, a thin belt is that one detail that takes a look to the whole new level.
Source: JStone via Shutterstock
High Low Wrap Midi Dress With Long Sleeves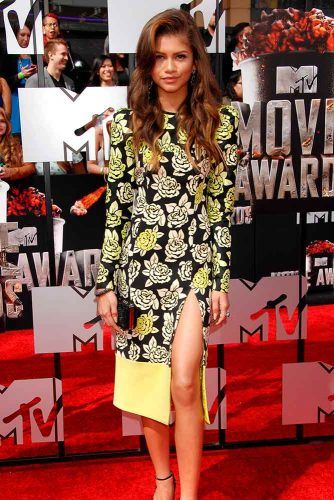 Zendaya Coleman is a celebrity that knows how to draw attention to even the strictest looks. High low wrap midi dress with yellow roses and long sleeves is precisely the choice that fits the definition of strict fashion and hot look.
Source: Ga Fullner via Shutterstock
Shoulder-Off Bodycon Dress With Sweetheart Neckline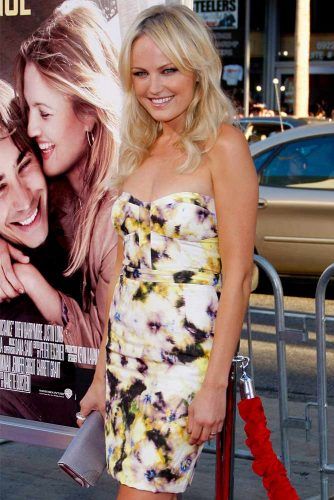 Bodycon dresses are all the rage these days, and Malin Akerman surely knows it. That is why she puts on this sleek bodycon dress with an abstract floral pattern. Sweetheart neckline only intensifies that trendy vibe of this outfit.
Source: Tinseltown via Shutterstock
Long Strapless Dress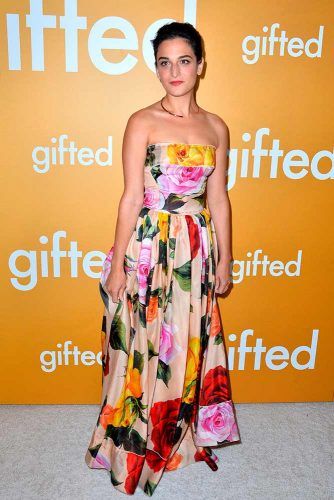 Jenny Slate decided to take the floral dress to the next level of formal wear. The thing is that such a long, flowing dress with bright flowers on it can fit in even the red carpet occasion. Don't you think?
Source: Featureflash Photo Agency via Shutterstock
Mermaid Floral Strapless Dress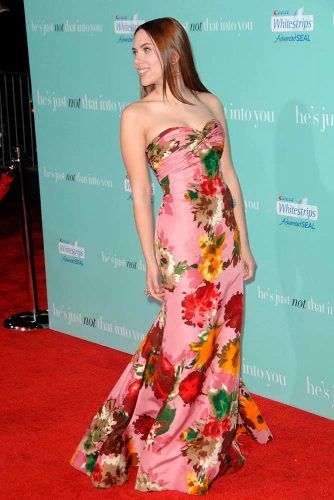 Scarlett Johansson knows how to thrill the audience. This time she chose a pink mermaid dress with flowers over it. The dress is also strapless, and this detail only adds up to the sassy vibe that the celebrity projects.
Source: s_bukley via Shutterstock
Halter Mini Dress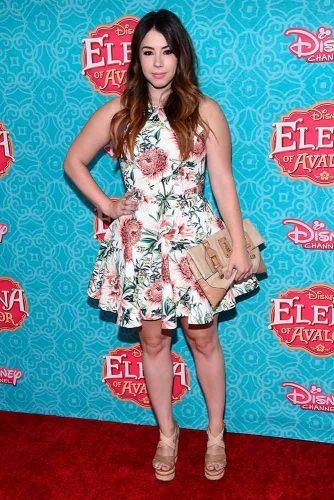 Jillian Rose Reed sports a simple and playful dress that can be presented as both formal and informal. One thing remains – it accents her feminine figure perfectly. Besides, platform shoes are the proper choice to fit in the look.
Source: DFree via Shutterstock
We are sure that you will make a fashionable statement if you put on one of floral dresses this summer. Explore more trendy suggestions on our blog.