The off the shoulder dress trend dates back to the Victorian era. During king Napoleon's reign, his empress and subjects wore dresses with bare shoulders.
Then in the 1960-s, the trend was revived by famous Brigitte Bardot. Such dresses are even often called Bardot dresses after the fashion icon who brought back the off the shoulder style.
Today such dress designs are experiencing a comeback again. And we are glad that they are! Read on to discover trendy and pretty off the shoulder pieces.
Formal Off The Shoulder Dress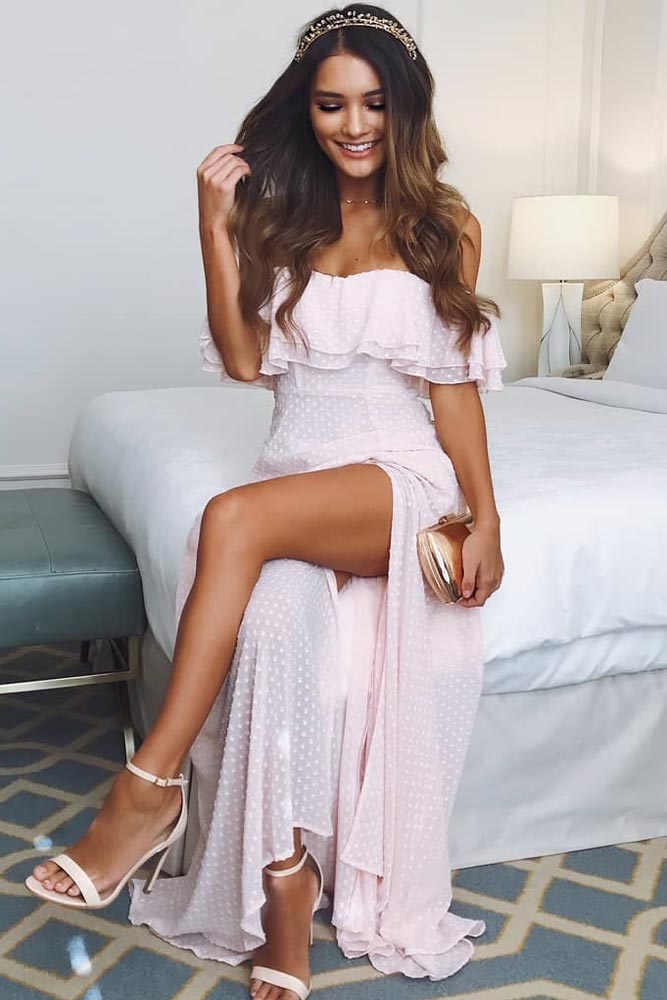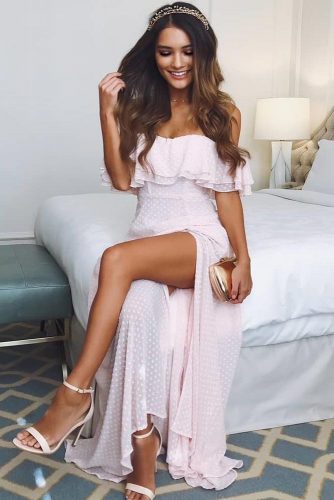 Source: Instagram/showpo
Where can you wear an off the shoulder dress formal like the one in this picture? You can pick such a dress for prom, homecoming, or a wedding ceremony. We really like the playful deep cut out in this dress design. It adds more sexiness and edge to the look. And the pastel color compliments this model's tan so wonderfully.
Matching Formal Dress And Earrings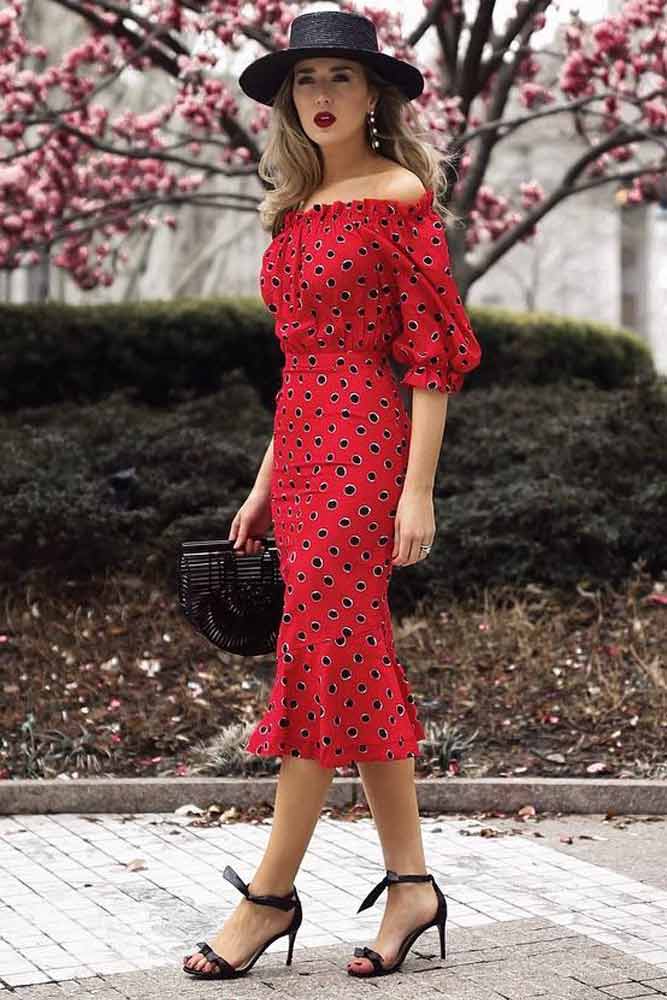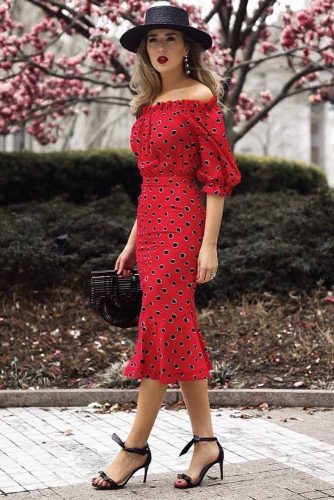 Source: Instagram/maryorton
Accessories are of great significance when wearing off the shoulder clothes. You need to know what kind of earrings to wear to match with your dress. It is so because this type of a dress will make the neck area pop. So, not to appear too bare, it's better to go for some heavy, long and sparkling earrings. This is a general rule. But choose the accessories that will flatter your face shape, as well.
Is your face shape round? Pair your off the shoulder clothes with quillings earrings and stay away from disc, hoop, button and circular shaped earrings.
Women whose face is narrow and long would better opt for danglers when rocking their off the shoulder clothes.
Do you have a square face shape? Any medium to long earrings will compliment your face shape as well as your dress amazingly.
In case your face is heart-shaped, we would recommend that you pair your shoulder-baring dress with extravagant chandeliers.
Women with an oval face shape can rock any eye-catching earrings with such types of dresses.
Make Your Formal Dress Look Expensive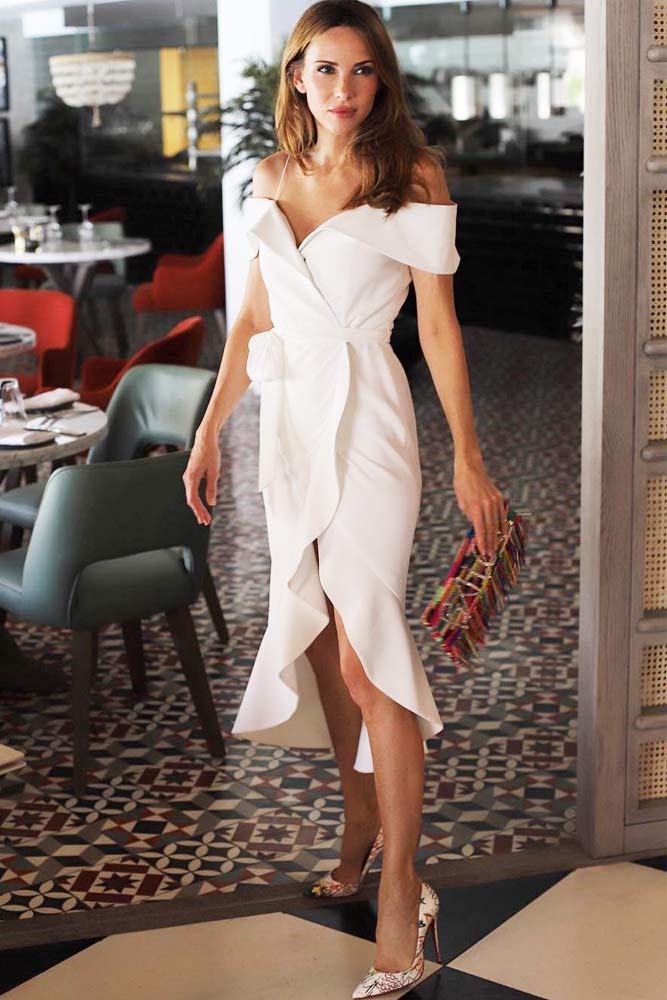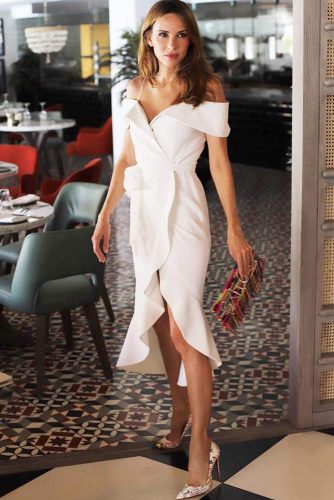 Source: Instagram/alexandralapp_
Look at this gorgeous, elegant white dress. How do you think, how much does it cost? The dress appears much more expensive than it actually is. Which leads us to the conclusion that off the shoulder clothes do not look cheap. They may, actually like any outfit, but not necessarily. One of the tricks that can make any outfit appear more expensive is to wear total colors, for example, all whites.
Sexy Red Off The Shoulder Dress With Sleeves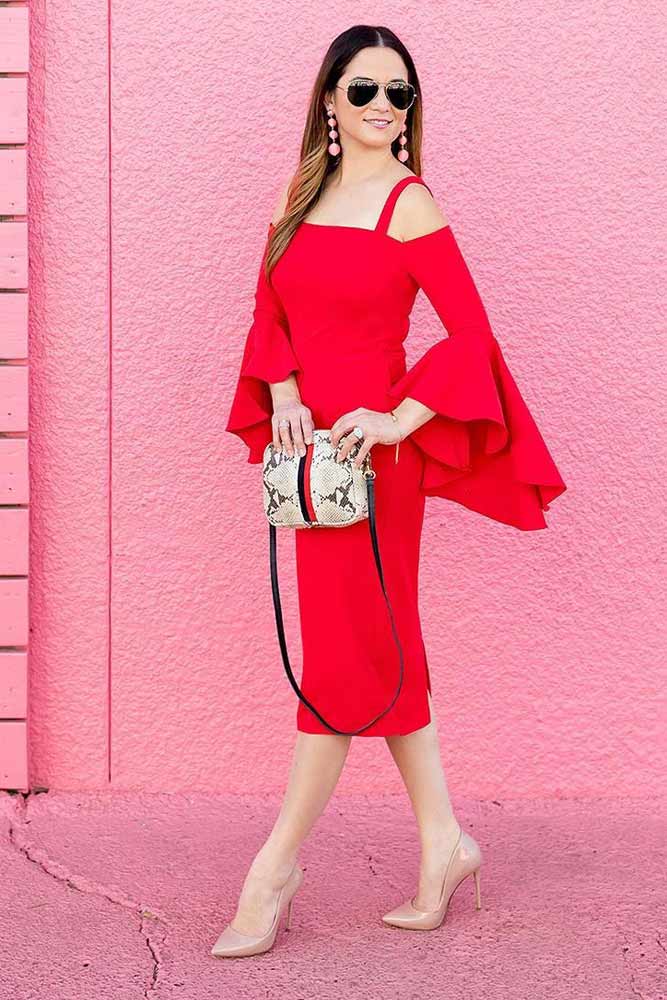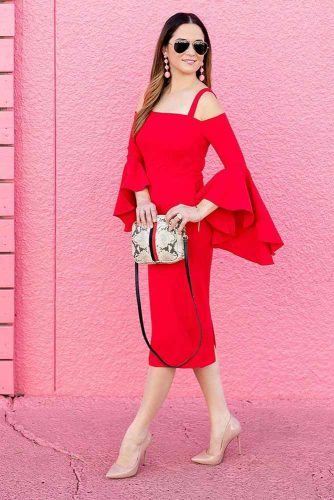 Source: Instagram/jenniferlake
This vivid red off the shoulder dress with sleeves can help you to turn heads wherever you go. Such a screaming color should be paired with more modest, preferably nude shoes like shown in this pic. And the accessories are kept not bright to balance out the look.
Say Hi To Boho Dress Design With Sleeves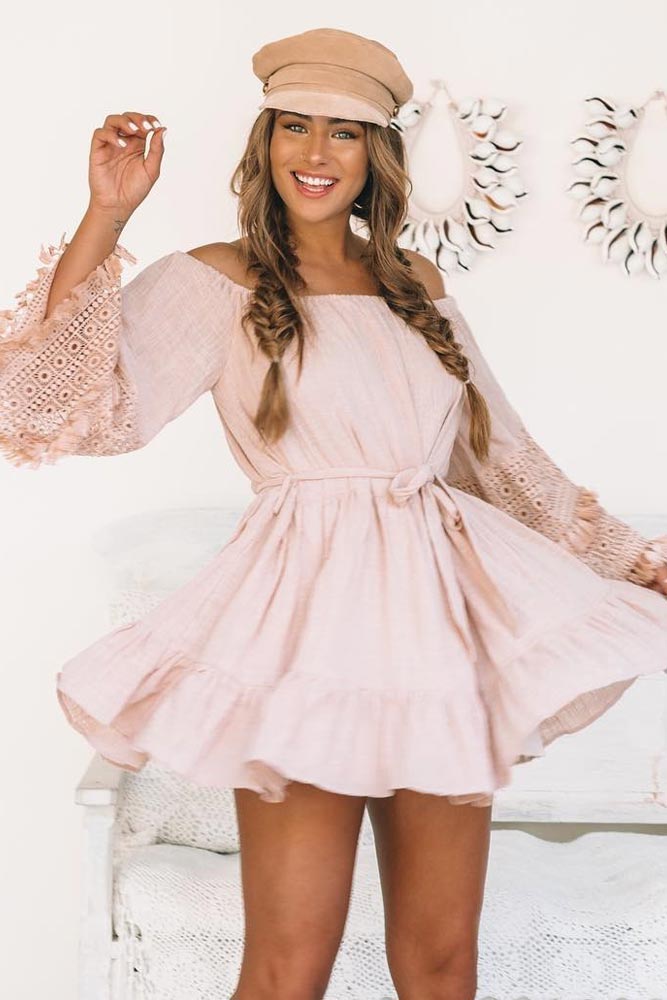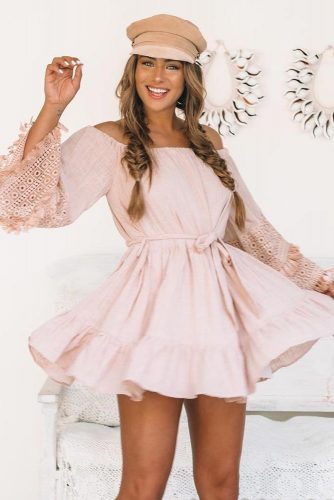 Source: Instagram/jamienkidd
Look how seamless this model's image is! The secret to looking like that is in her willingness to show off her nature via her clothing. Boho is in her heart, it's the part of who she is. If you wonder what dress is perfect, it's the one that is true to you.
Checked Pattern Is Always In - Cute Dress Design With Sleeves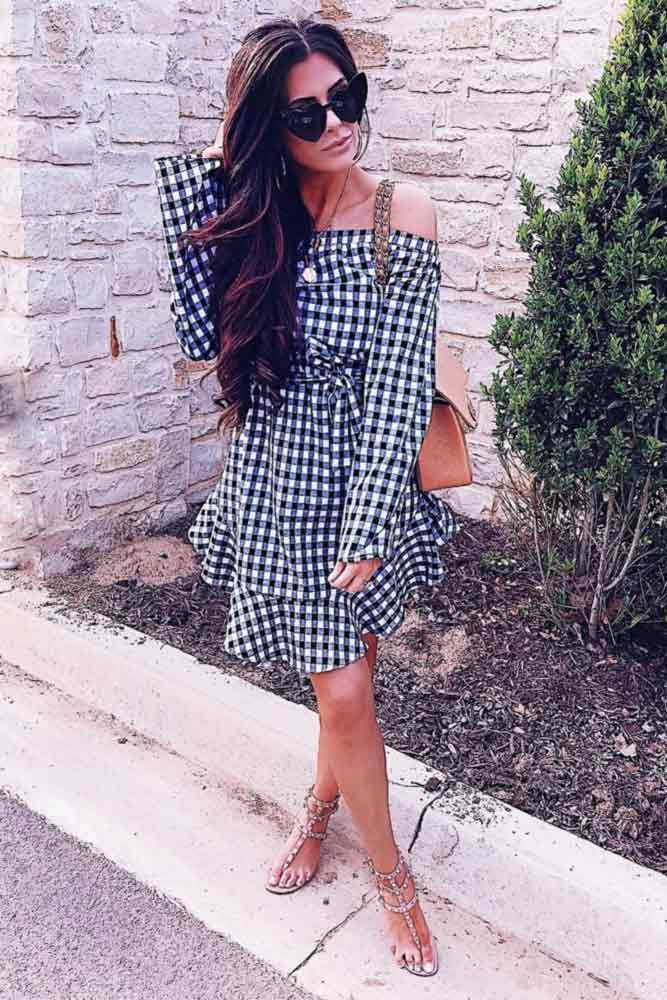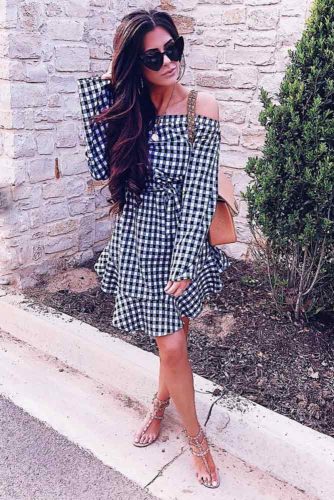 Source: Instagram/emilyanngemma
A checked pattern is something classy, something that will always be in style. This medium length off the shoulder dress is casual, perfect for a walk or meeting with friends. This girl next door image is impeccable.T
Off The Shoulder Dress For The Summertime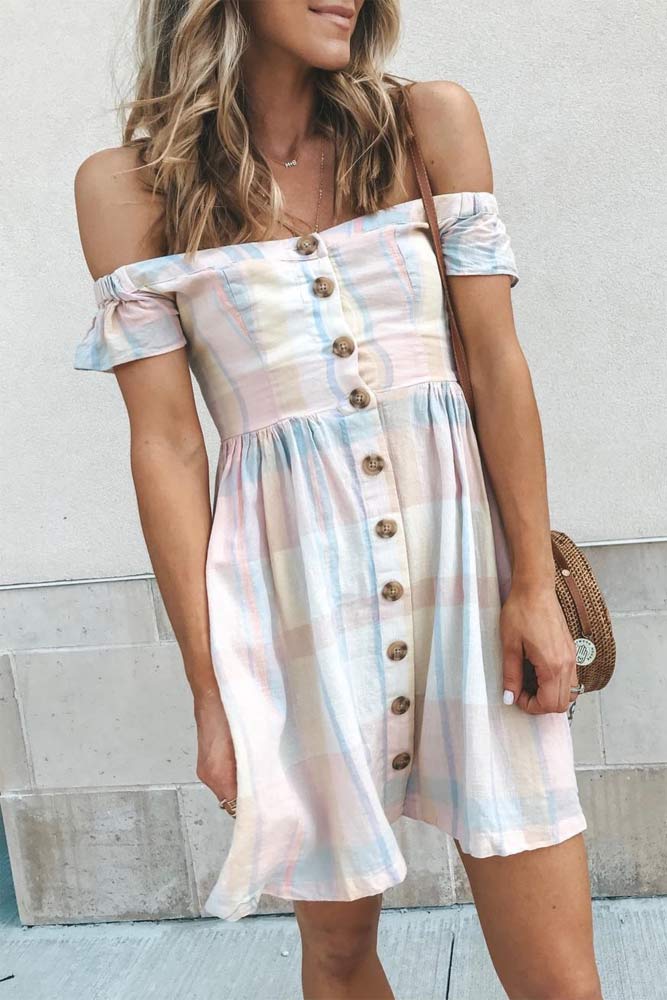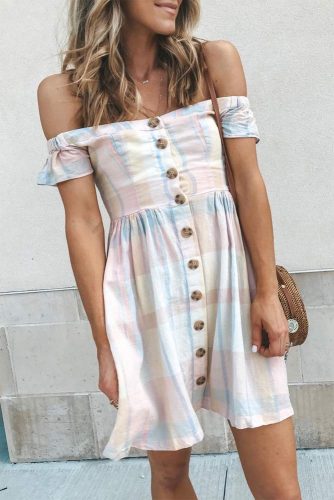 Source: Instagram/cellajaneblog
This off the shoulder summer dress is so lightweight that you won't even notice that it is on. The midi length is great for the hot summer weather. Plus, the length will allow you to show off your beautiful legs. Isn't it awesome?
Summer Maxi Dress With Timeless Pattern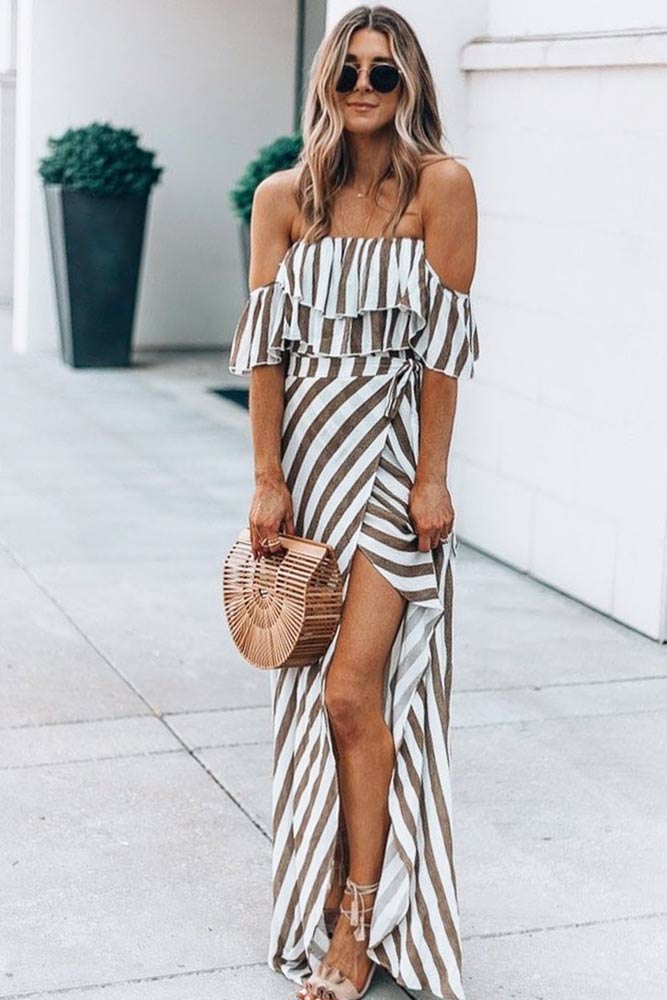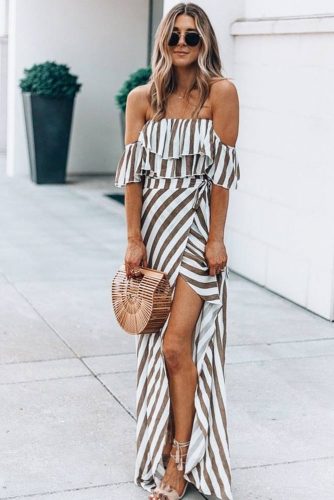 Source: Instagram/cellajaneblog
Stripes are so classy that we cannot imagine our lives without this pattern, right? This striped off the shoulder dress is long yet sassy with its daring cut out that shows off this model's long legs. The dress is paired with a cute handbag.
White And Red Summer Mini Dress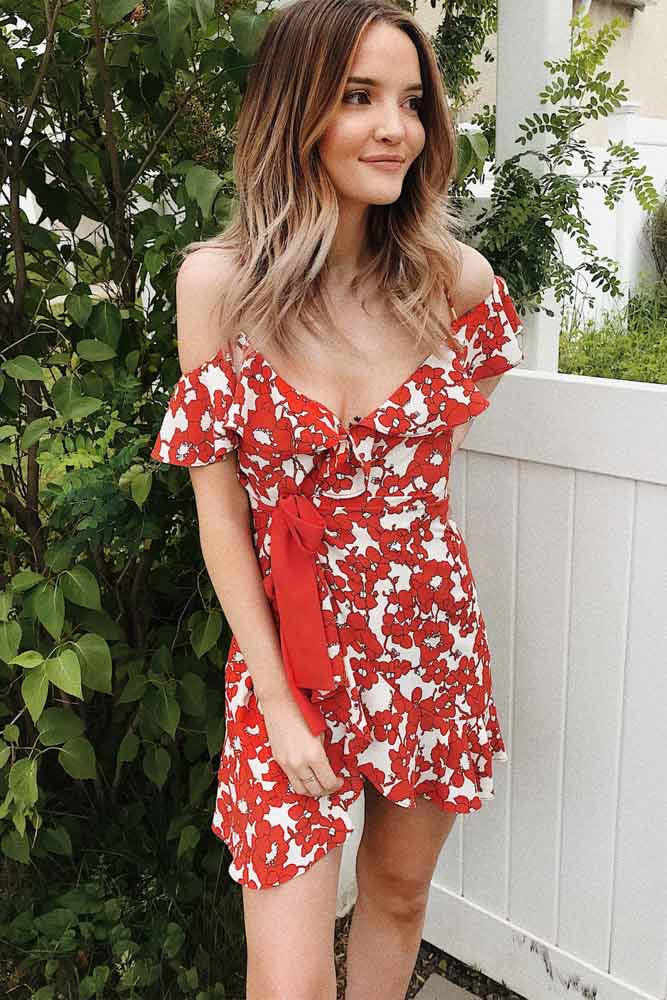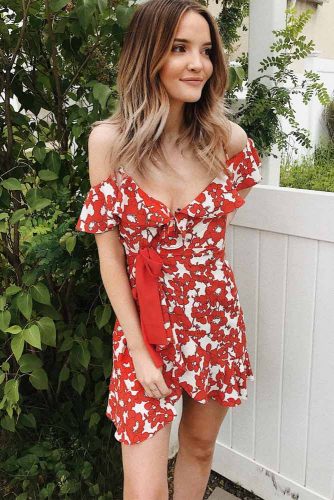 Source: Instagram/mmegankathleen
A floral pattern is something that never goes out, too. Trends come and go, but it stays. The white dress with red flowers you can see in this picture screams youth and fun. The design of the dress is quite revealing. But isn't that what you need in the summertime?
Off The Shoulder Dress For Everyday Wear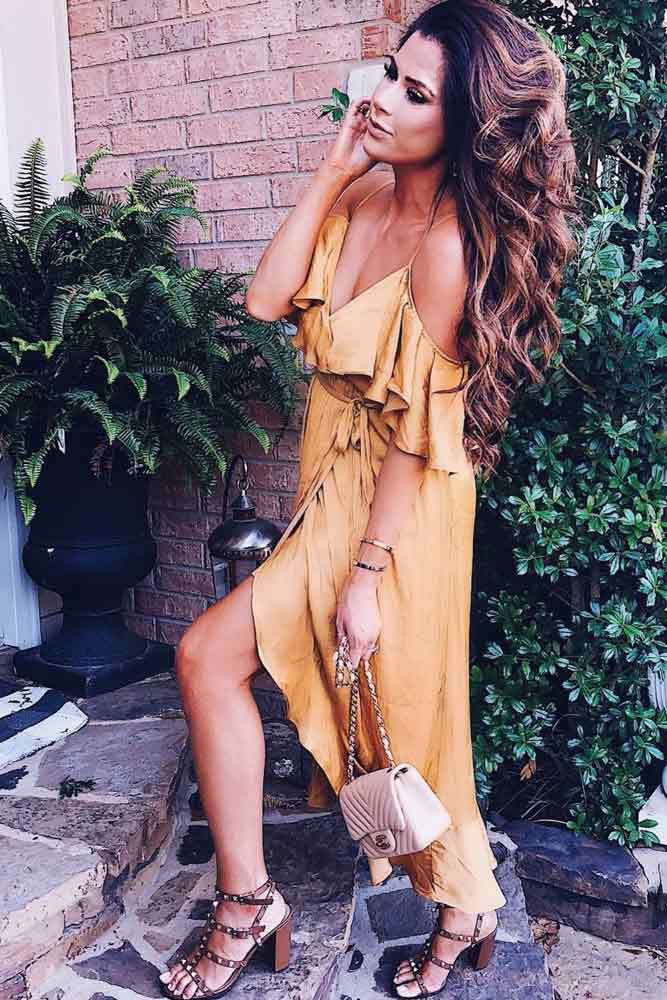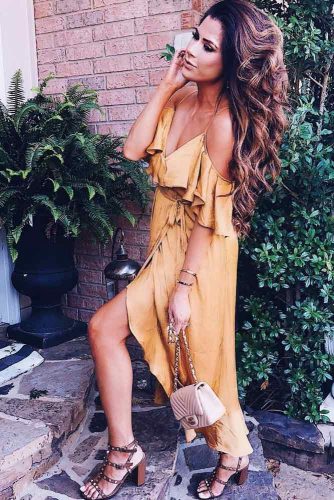 Source: Instagram/emilyanngemma
Ruffles instantly remind us of the 1980-s fashion. But it turns out that the dresses with such an element are experiencing a major comeback. This yellow off the shoulder dress casual can be worn to semi-formal as well as informal occasions.
Casual Light Blue Dress To Have Fun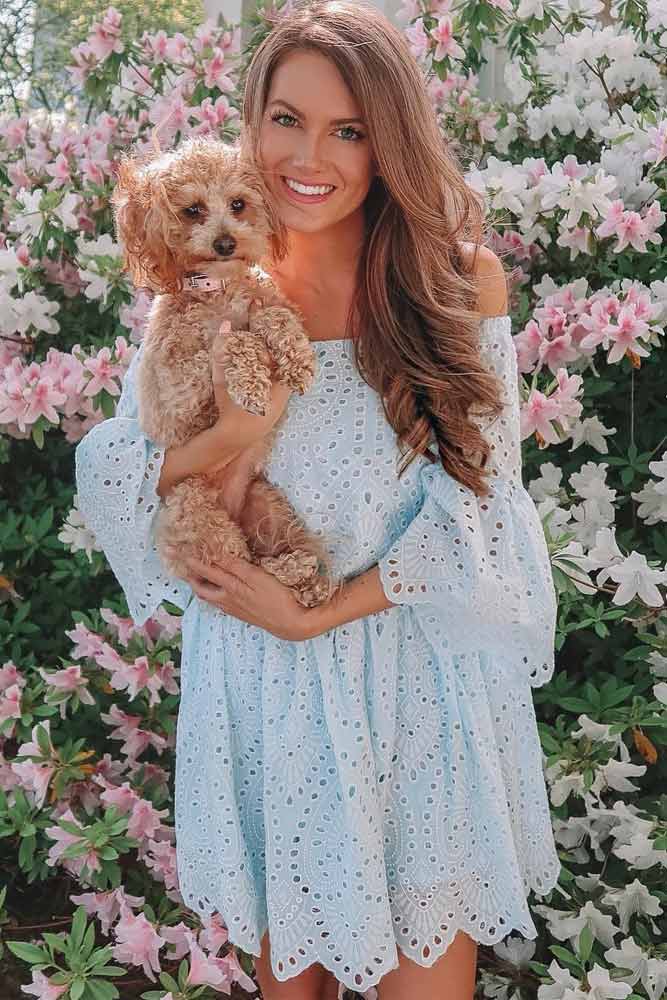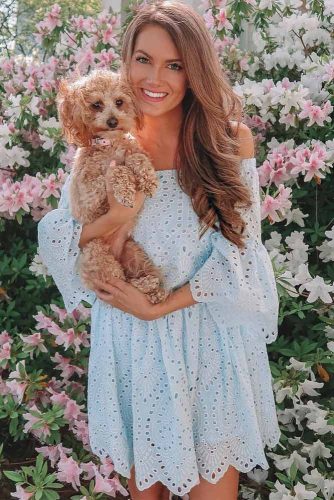 Source: Instagram/cmcoving
This light blue mini dress made of cotton is super breathable. So, a dress like that will work nicely for all possible summer activities. Whether you are going to the beach or having an entertaining night on the town with your friends, your image will be flawless.
Pink And Red Hues To Accentuate Your Tan - Comfy Casual Dress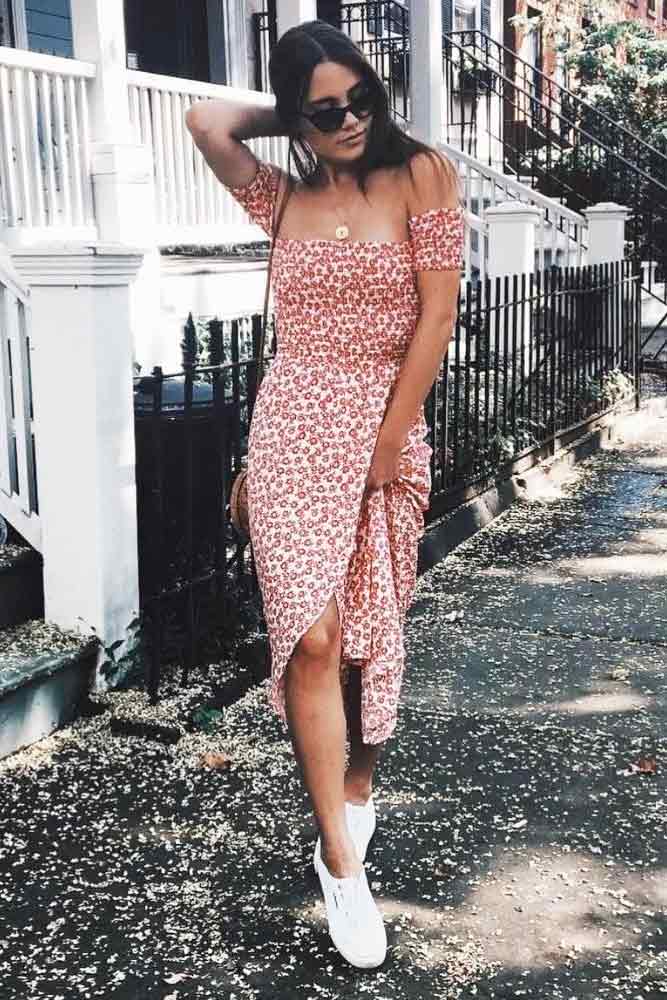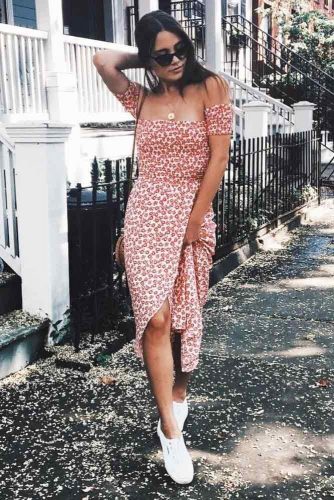 Source: Instagram/lucyloveclothing
As you can see in this picture, this dress can be paired with sneakers and look awesome. It is a great idea for everyday wear. Why not wear a dress like that
Black Plus Size Bodycon Dress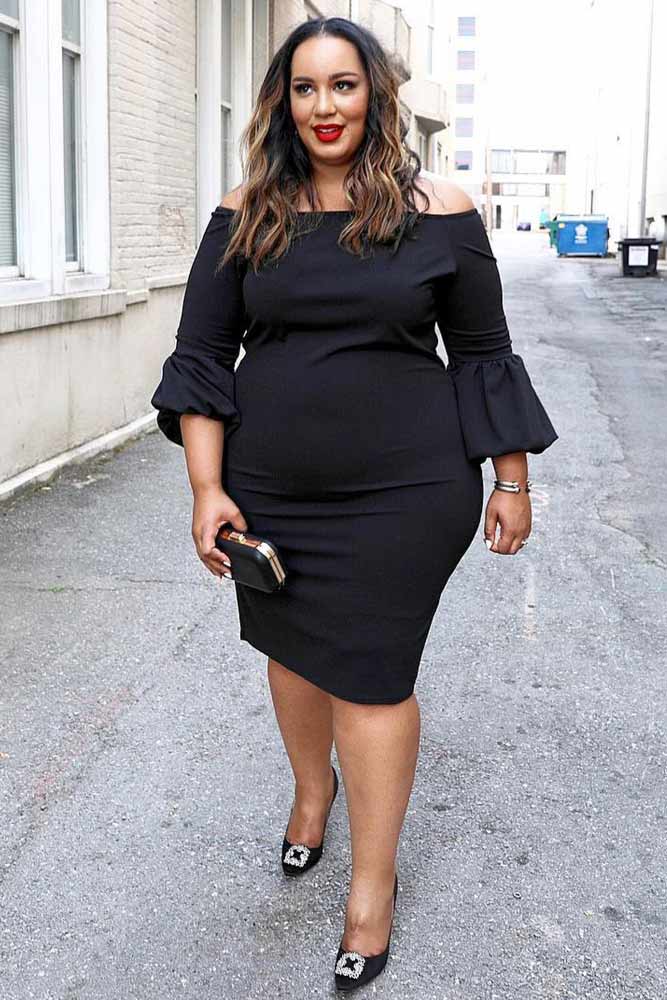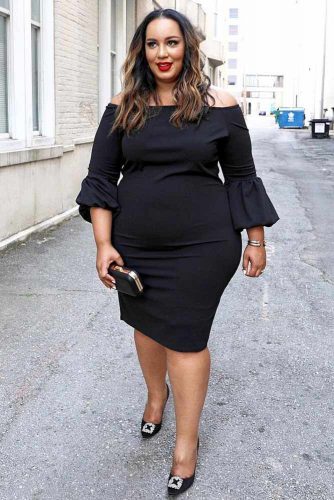 Source: Instagram/iambeauticurve
This off the shoulder dress bodycon compliments this model's body shape. And black always has a visually slimming effect. The ruffles on the sleeves steal the attention from this model's little tummy. The dress is paired with black heels and a black and gold clutch.
Plus Size Long Dress In A Polka Dot Pattern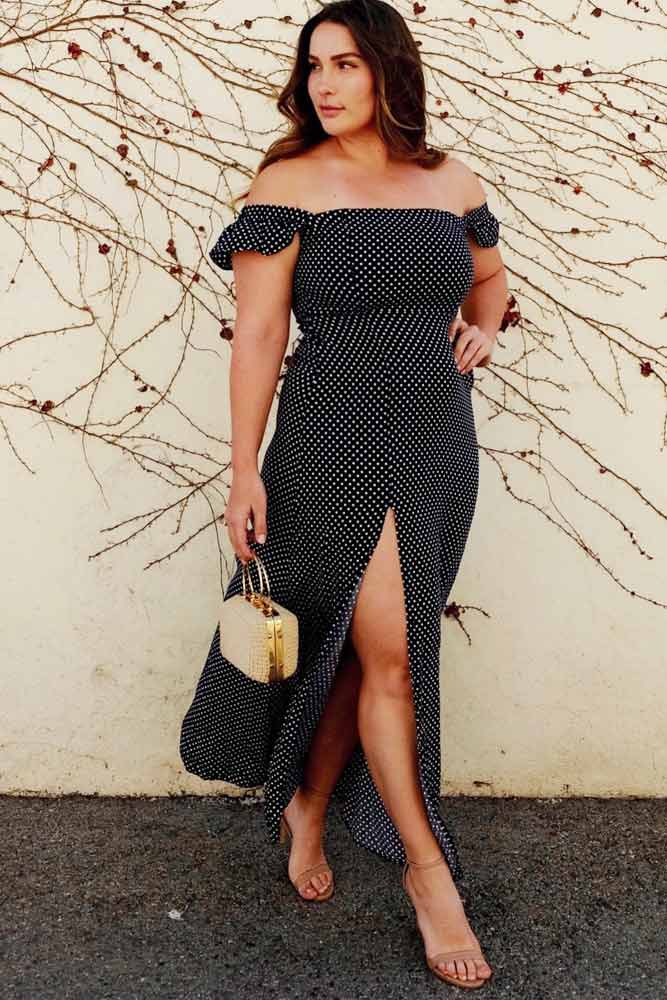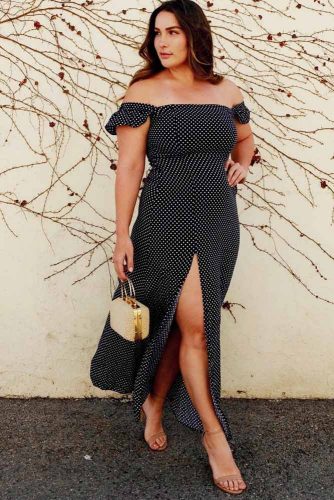 Source: Instagram/chelsea_millerxoxo
When talking about the most popular off the shoulder dress pattern, we cannot but mention polka dots. This long black dress with white polka dots makes this model's appearance very elegant. And neutral shoes and a handbag add on to her sophisticated image.
Shoulder-Baring Dress For Plus Size Women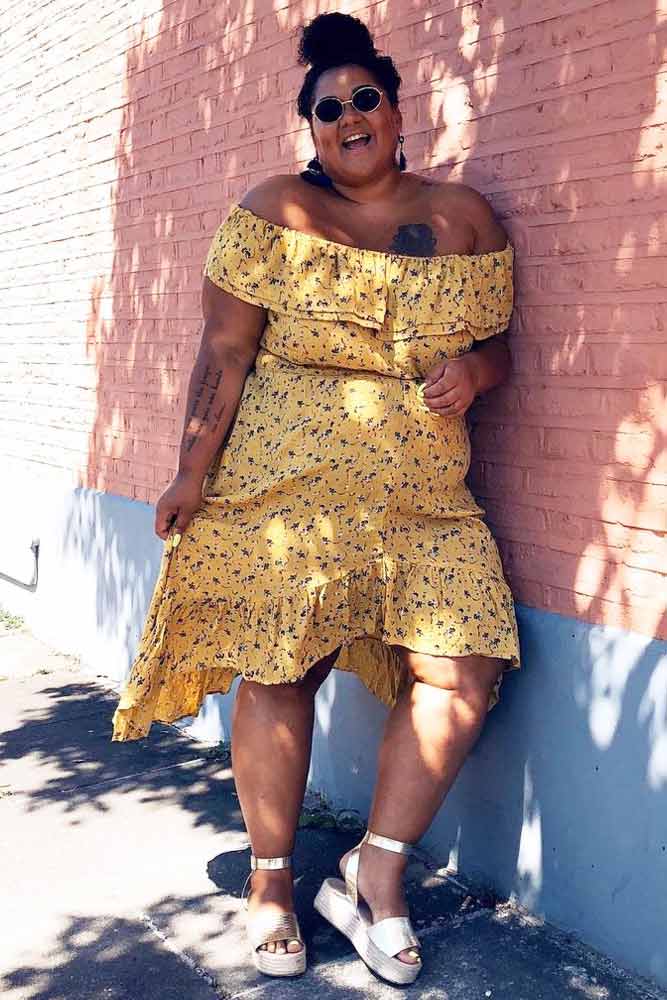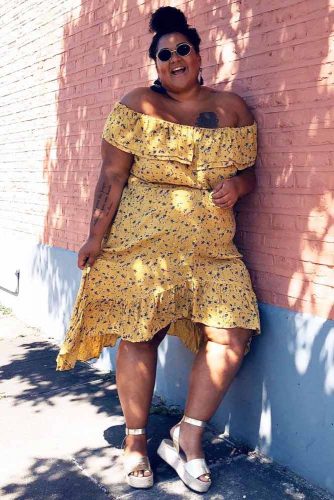 Source: Instagram/gracefvictory
This off the shoulder dress plus size is pretty and casual. It's advisable to wear a strapless bra with a dress like that. We really love the subtle yellow color of this dress as well as the adorable print.
White Dress To Enjoy The Summer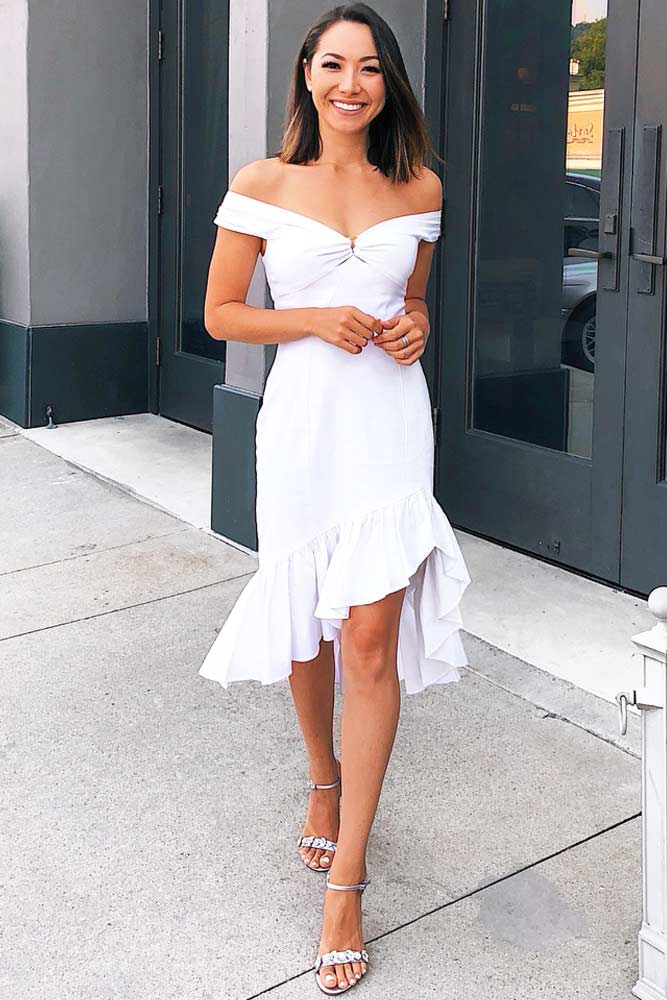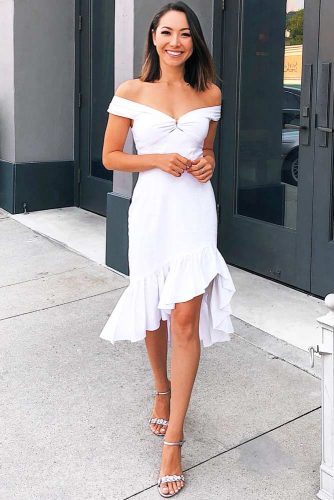 Source: Instagram/lifewithjazz
This off the shoulder dress white has an interesting silhouette. The dress is paired with silver heels, which is always a win-win when it comes to matching footwear with white outfits. You don't even have to accessorize this outfit heavily.
Bohemian White Dress For Your Beach Vacation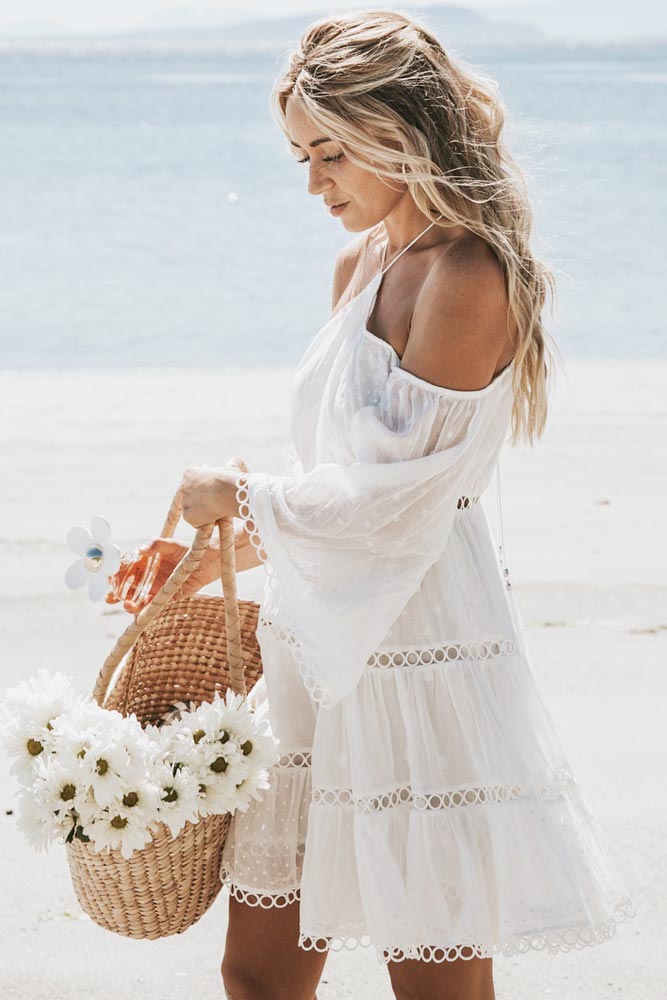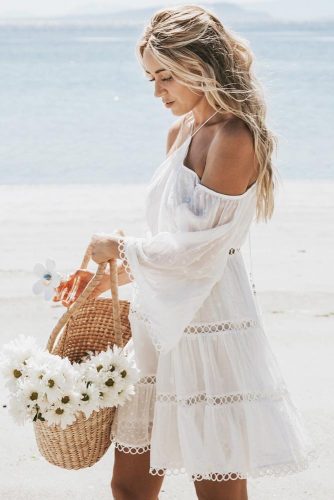 Source: Instagram/carajourdan
This white medium length dress in a bohemian style has an interesting neckline with the thin straps surrounding this model's neck. The dress is lightweight, made of chiffon and cotton. It will work great for a day on the beach.
Sassy White Mini Dress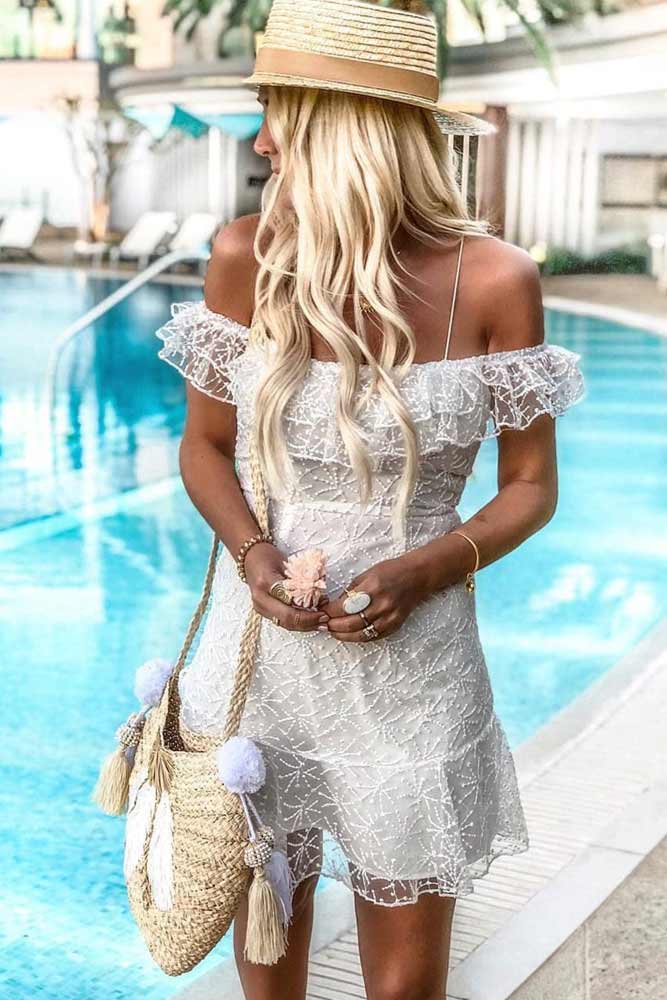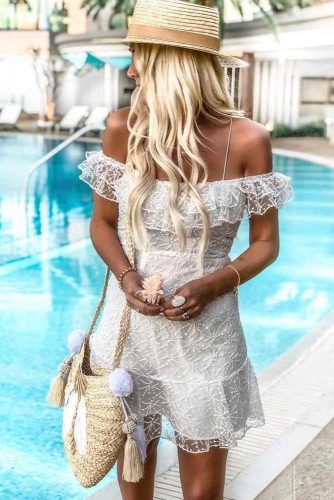 Source: Instagram/hellomolly
Are you going to party poolside? Then a dress like this is what you are looking for. The embroidery and ruffles spice up the design and make it more party-appropriate.
Now you know everything about off the shoulder dress trends. But do not go away. You will find much curious info on our blog.
White Layered Off The Shoulder Dress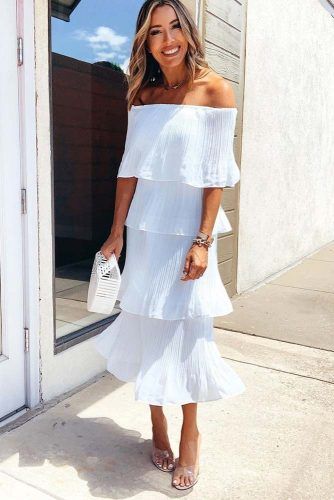 Source: Instagram/jaimeshrayber
Such a white and light layered dress will fit in the days when the sun is at its highest and warmest. Besides, the layered design will add that necessary definition to your figure.
Floral Asymmetric Dress For Boho Style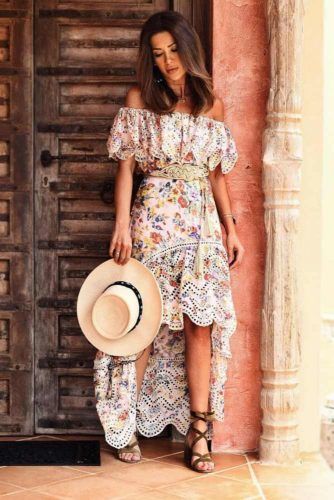 Source: Instagram/emilyjanejohnston
Boho style is more than popular at the moment. That is why if you are not afraid of experimentation with your style, this asymmetric floral dress with the shoulders off is the one to consider.
Maxi Yellow Off The Shoulder Dress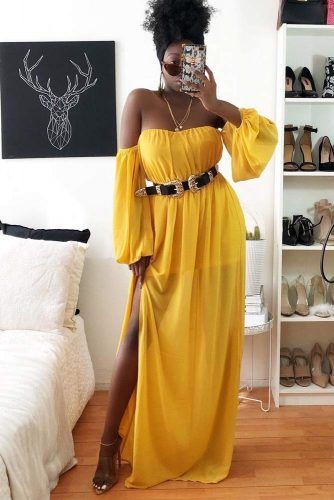 Source: Instagram/x._melody
If you are looking for something juicy and bright, not to mention trendy to add to your collection – we may have an idea in mind. The thing is that this flowing maxi dress in yellow is what you need to add special charm to your outlook.
Print Off The Shoulder Dress With Long Sleeves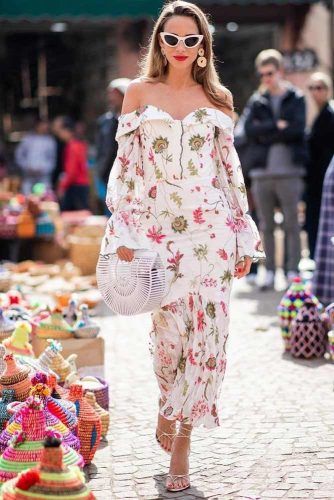 Source: Instagram/alexandralapp_
There may be a false opinion circling that off the shoulder dresses look great with short sleeves only. However, that is far from the truth. One look at this stylish floral dress with long sleeves will prove the point.
Plaid Off The Shoulder Short Dress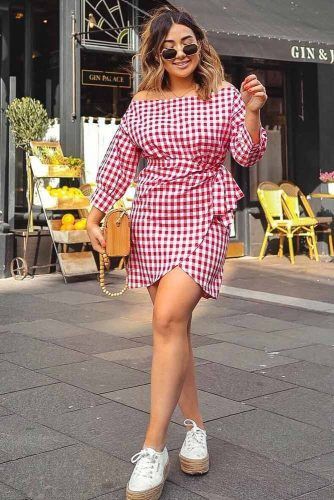 Source: Instagram/thekittyluxe
Plaid patterns are always popular, not to mention versatile. If you are looking for a fun and flirty dress to fit in a regular day off or even day at work – this may be the choice to consider.
Off The Shoulder Fruit Short Dress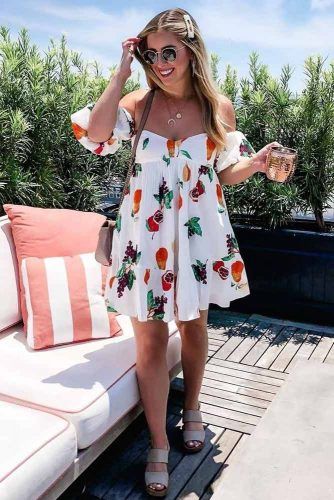 Source: Instagram/chloandtell
When the summer comes, you need something simple and light to put on. However, you should not forget about looking fashionable and flawless, that is when this marvelous fruit dress comes in!
FAQ: Off The Shoulder Dress
What do you call off the shoulder dresses?
Off the shoulder dresses are also called strapless or Bardot dresses. Those dresses are characterized by having a neckline that sweeps across the chest just above the bust and has no straps or other visible means of support. A neckline of such dresses is usually stretchy and is decorated with frills or ruffles.
What bra should I wear for off shoulder?
Strapless bras look best with an off the shoulder dresses. However, it may be difficult to find one that won't slip and provide the necessary support. Choose a bra of the right size for you with adhesive lines on the sides. Another option can be a stickie tap bras.
REFERENCES:
The off-the-shoulder trend dates back to the Regency and Victorian Era. They were the height of fashion in the early to mid-nineteenth century. Source
A dress (also known as a frock or a gown) is a garment traditionally worn by women or girls consisting of a skirt with an attached bodice (or a matching bodice giving the effect of a one-piece garment). Source