Emphasize Your Elegance and Femininity with a Tulle Skirt
It is a known fact that a skirt is that one item in your wardrobe that makes you look feminine, stylish, and elegant at the same time. That is why so many girls tend to pile up all sorts of skirts in their closets, fit for various occasions. However, there is one kind of skirt that remains somehow left out even these days. What we have in mind is a tulle skirt. The truth is that some ladies leave the item out since they do not know what it actually is and what to pair it with. Today, we are going to answer these questions so that you can update your wardrobe immediately.
What Is A Tulle Skirt?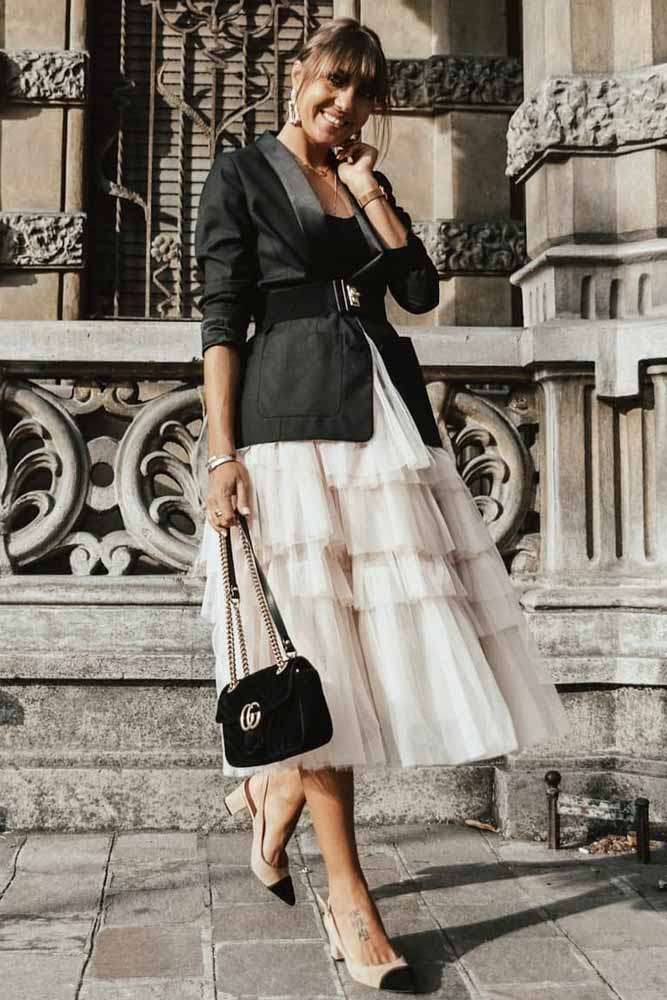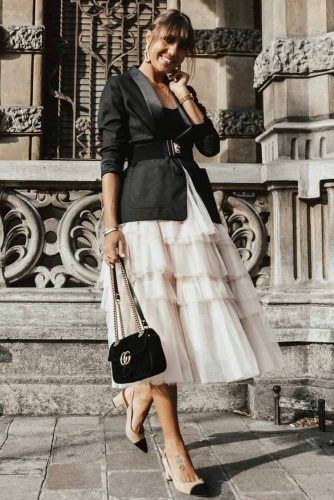 Source: Instagram/cristinasurdu
First things first, we need to figure out what a tulle material is. The truth is that this is the same material that usually brides' veils are made of. It is either polyester or nylon that the fabric is made of. It is light and usually transparent. When we are talking about a tulle skirt, it is safe to say that it always comes with layers, and that is that one feature that makes it stand out from the rest of the skirt kin. Those who choose to sport such a skirt must be aware of the fact that it is highly essential that you pair it with your outfit right so that it does not stand out, but blends in and creates a stylish and unique look. With a proper attitude, you can introduce this type of skirt into any formal or informal look without looking out of place. We are going to present a bunch of tulle skirt looks to support the idea.
What Do You Wear With A Tulle Skirt?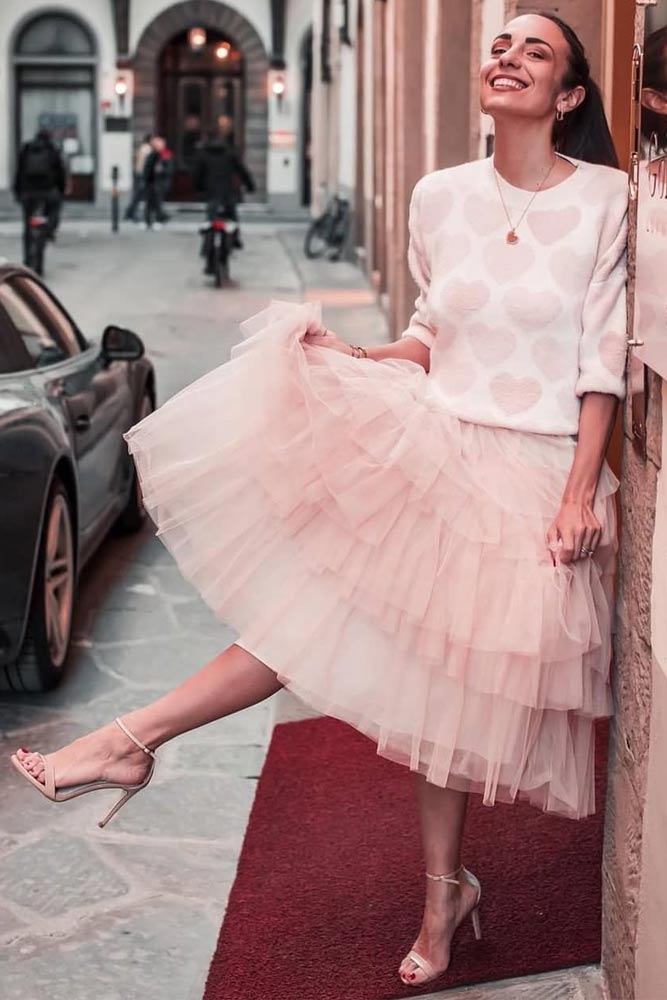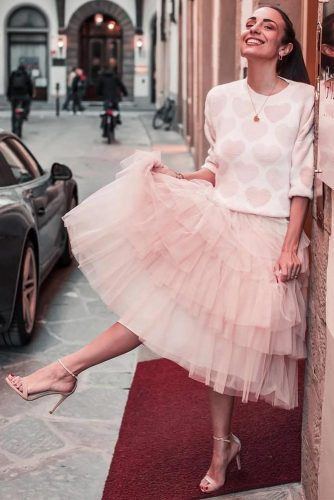 Source: Instagram/chicwish
There is a popular opinion circling that a tulle skirt is just another name for your childhood tutu, and there is no way you are putting on anything like this. However, that is a misleading assumption since this type of skirt has nothing to do with a funny and childish look. In fact, you can easily pull off almost anything with the right kind of skirt in your closet. You can wear it to a party, office, evening out with your friends and even family dinner. The key point is to learn to pair it right with other elements of your outfit. As you proceed with the article, you will see that the options are close to being unlimited!
Pink Glitter Tulle Skirt With T-shirt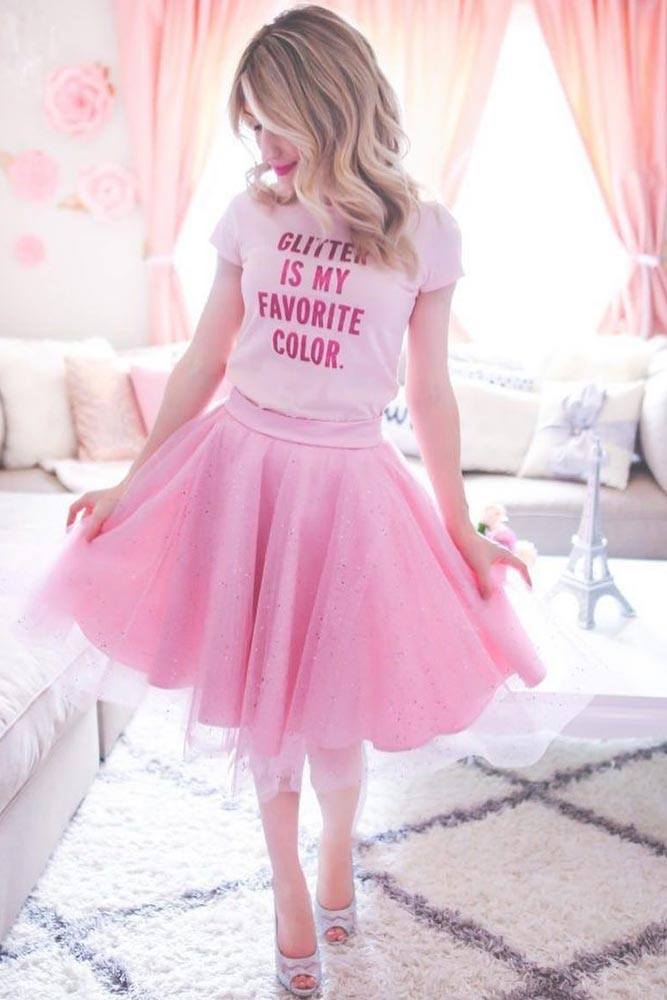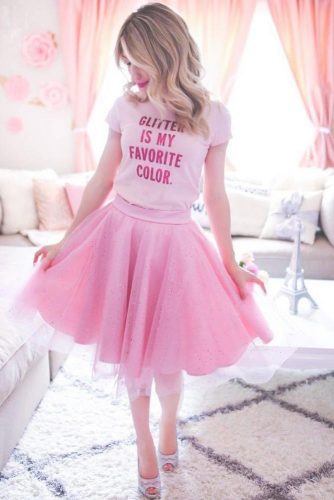 Source: Instagram/tulleonlace
When you think about a pink tulle skirt with glitter to it, it is hard to imagine that you can form anything but a Barbie doll party look with it. However, we say that if you add a corresponding T-shirt to it, you may end up with a semi-formal look that you can sport to your friend's birthday.
Skirt With Leather Jacket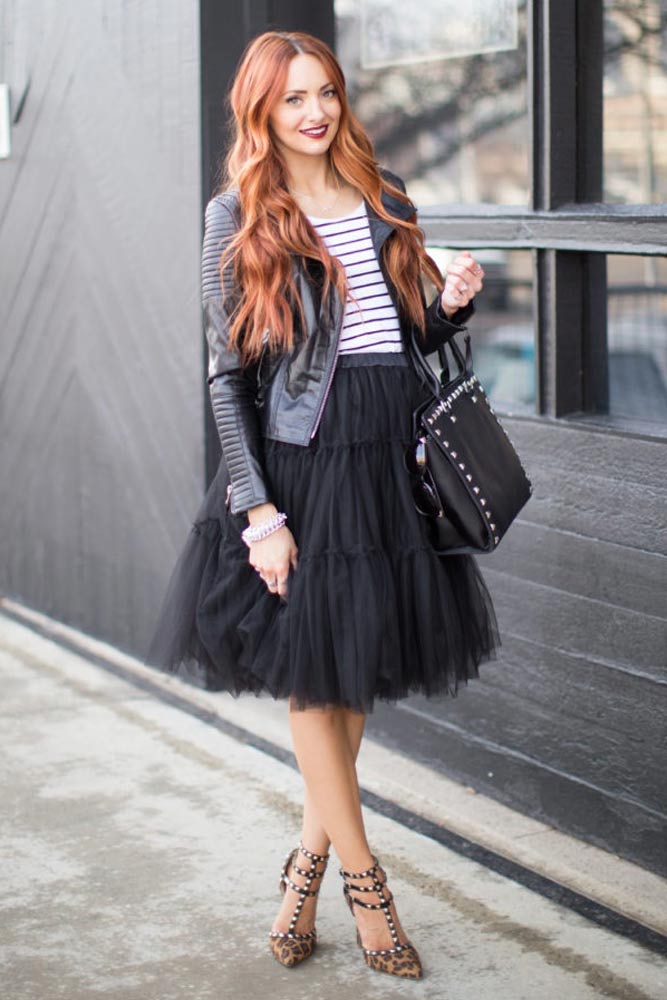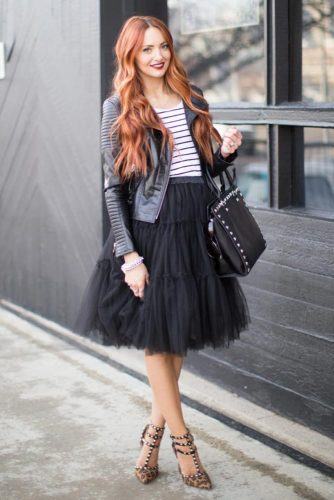 Source: Instagram/jackie_welling
When there is a leather jacket, there is an edgy look. However, there is a way to smooth out that rock vibe and introduce some femininity and gentleness into the look if you add a tulle skirt to it. Besides, heeled shoes with spikes all over and a matching purse would complete this gentle rock princess outlook flawlessly.
Layered Maxi Skirt With Top Outfit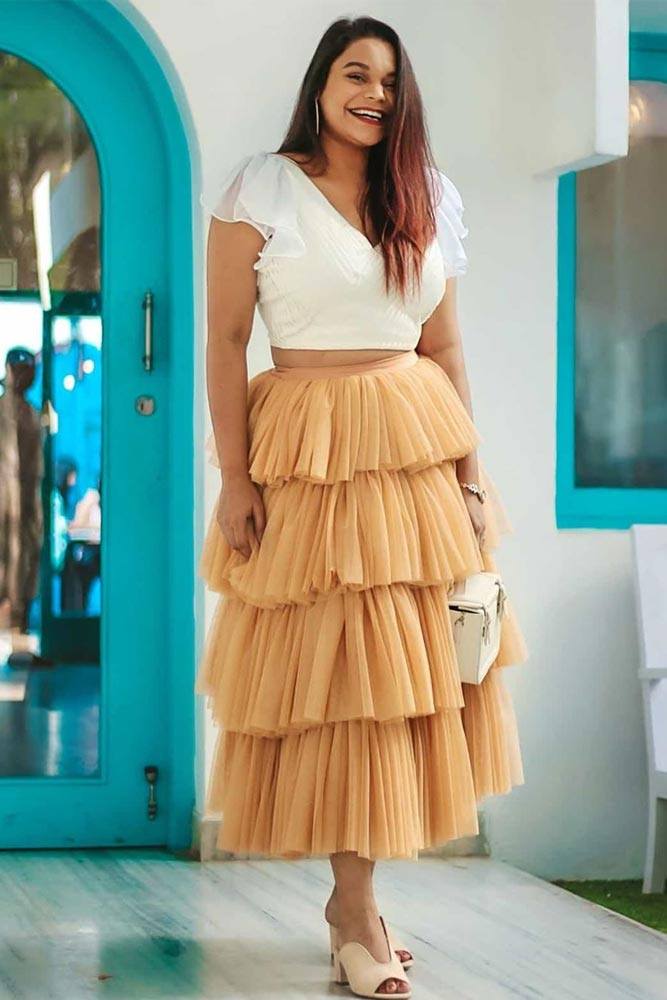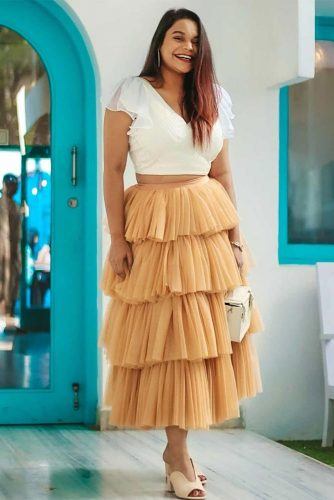 Source: Instagram/misspinkshoes26
If you are looking for a dressy way to pull a tulle skirt off, we may know one. The long layered tulle skirt combined with a fancy top is exactly the idea that you need to consider, at least.
Black Tulle Skirt With Lace Top Outfit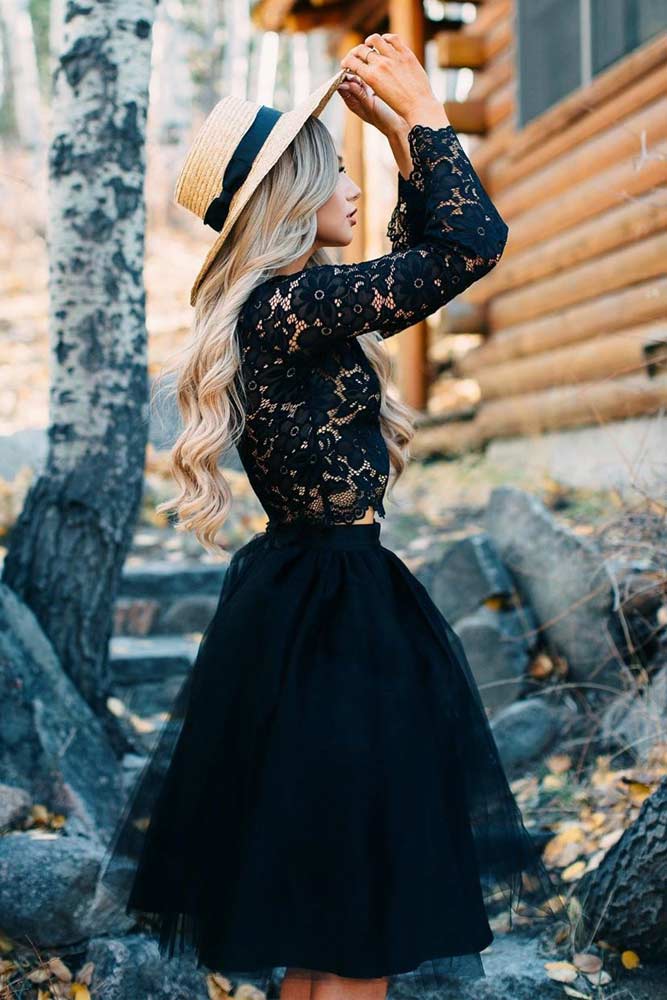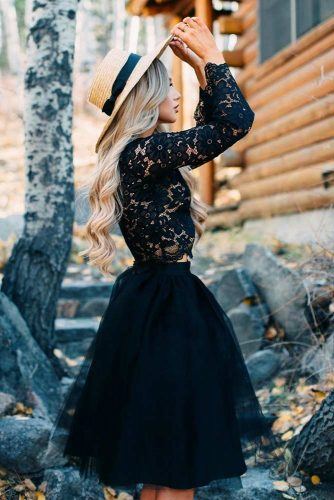 Source: Instagram/blisstulle
There is rarely anything more feminine than lace. If you think about it, it may seem that tulle and lace would look piled up, but that is not true. One look at this black tulle skirt paired with a gentle lace top will convince you that the two were made for each other.
Knitted Cardigan With Tulle Skirt Outfit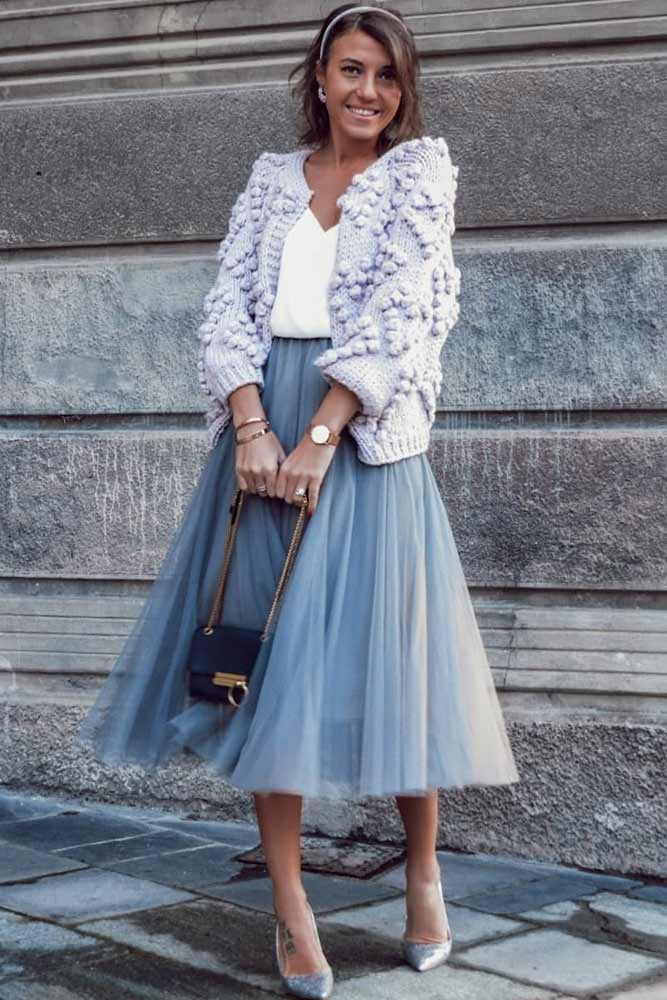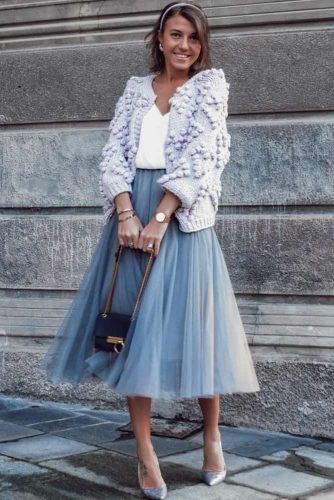 Source: Instagram/cristinasurdu
Some ladies think that tulle skirts are reserved for warmer seasons only since there is barely anything you can add on top when it is a little chilly outside. We beg to differ. The fact is that this blue tulle skirt looks marvelous with a same-shaded, knitted cardigan. Besides, even the heels do not look out of place. We think of this look as of a perfect modern Cinderella one.
Green Tulle Skirt With Black Top Outfit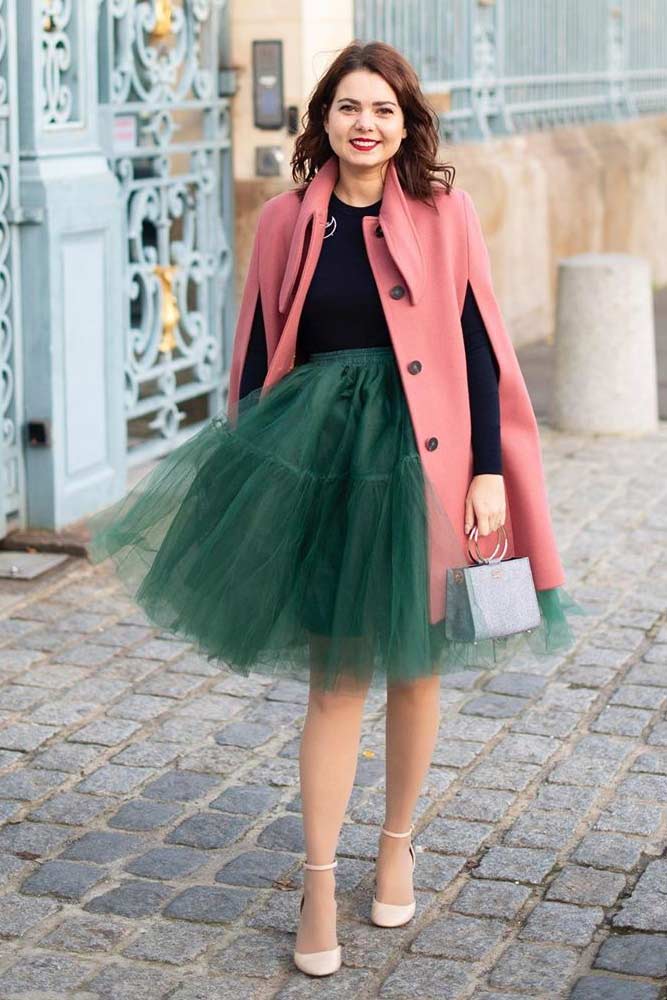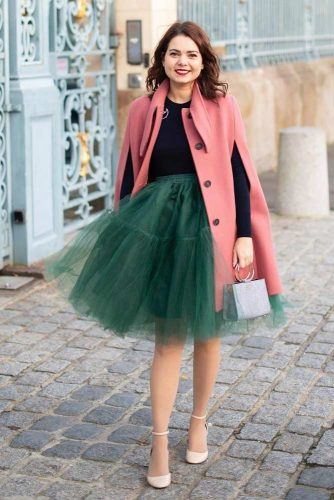 Source: Instagram/juliettekitsch
Very often, it is hard to find a tulle skirt in bold shades. They are mostly neutral. Nevertheless, that does not mean that it is impossible. If you are not afraid of wearing a tulle skirt outfit with a pinch of vibrancy to it, this green and pink mixture may be the one. Yet, you need to ensure that there is something to accent the brightness of the look. In this case, it is a black top.
Mix Printed Outfit Idea With Tulle Skirt
Source: Instagram/thepradainmysam
Vintage looks are all the rage these days, and you can easily recreate one with the help of a high waist tulle skirt. Although, this monochromatic look would be a little too boring if not the patterns. As you can see, polka dot and plaid patterns go well with one another. Add a retro purse and a pair of retro glasses to complete the look.
Plus Size Layered Skirt Outfit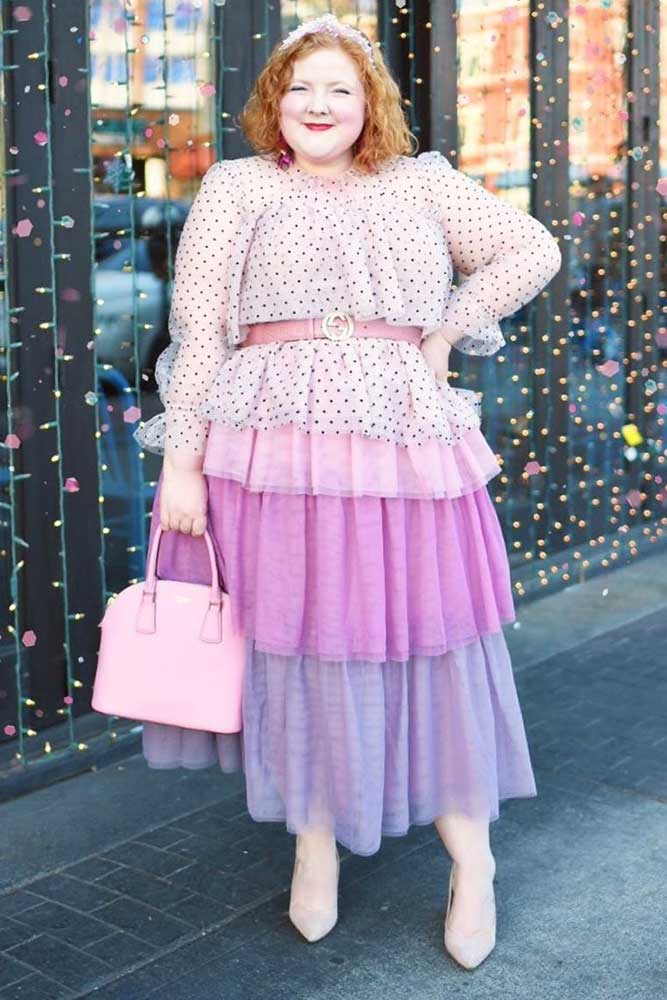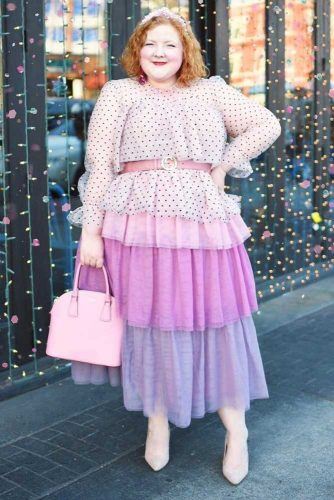 Source: Instagram/withwonderandwhimsy
There are times when it is easy to assume that plus size clothing is a little limited when it comes to all the trends. We say that it is anything but true. This gorgeous plus size tulle skirt combined with a light polka dot blouse looks perfectly gentle and stylish. Not to mention that it complements the model greatly.
Midi Black Skirt With Flannel Shirt Outfit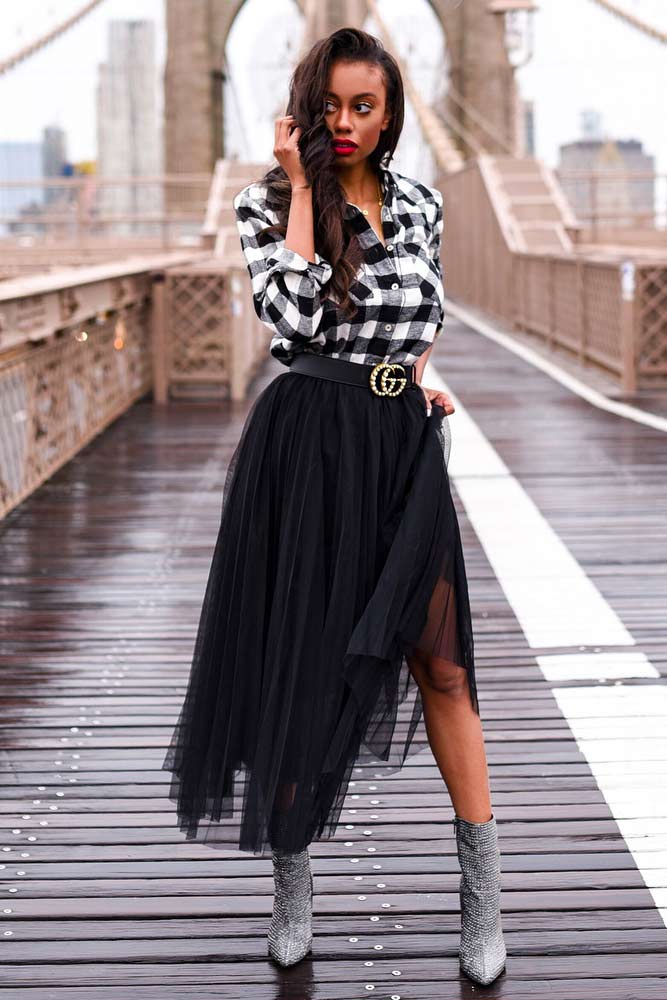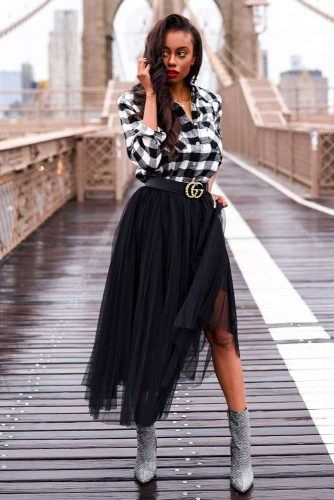 Source: Instagram/rorodeiso
Those of you who are looking for a casual look with a tulle skirt to it, we have just the perfect one in mind. The truth is that there is nothing better than a flannel shirt to represent the casual vibe. So, the moment you find one in your closet, add a midi tulle skirt to it, and the look is ready. Your footwear is optional, but we say that cowboy boots are the best to complete the look.
Tulle Skirt With Sweater Outfit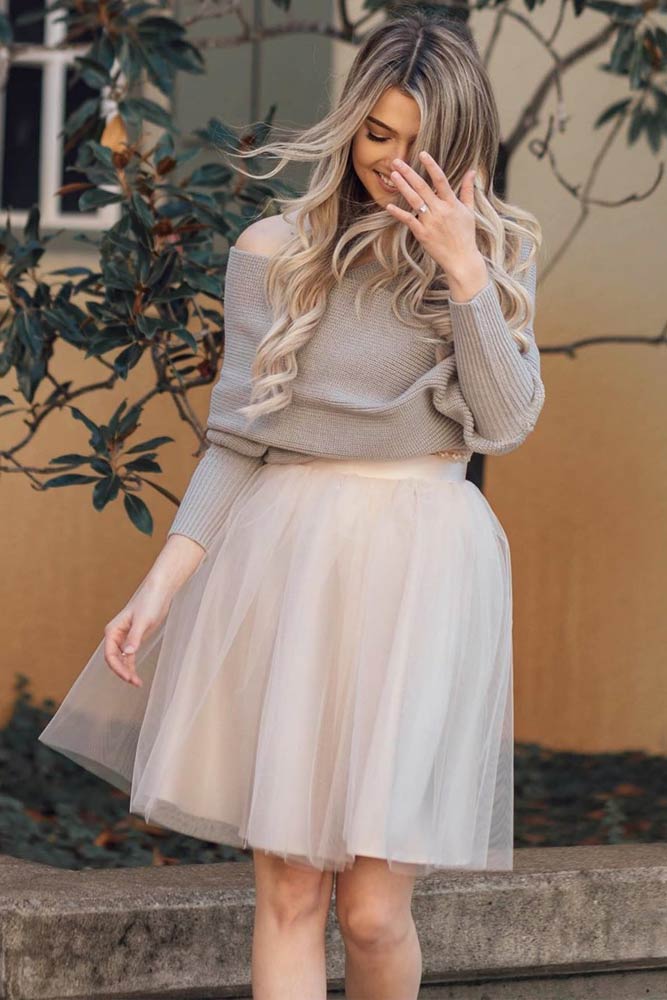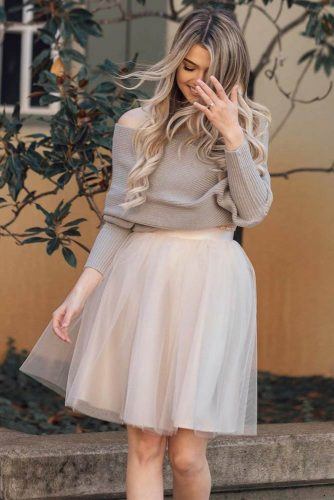 Source: Instagram/blisstulle
It is natural to assume that blouses go well with tulle skirts, and we are not going to contradict that. However, what if it is a little colder outside, but you still do not want to wear a jacket? There is a simple way out. All you need to do is to find a matching sweater with a touch of femininity to it. What we mean by femininity is a silhouette, shoulder-off design, or anything of the kind.
Maxi Tulle Skirt With A Cut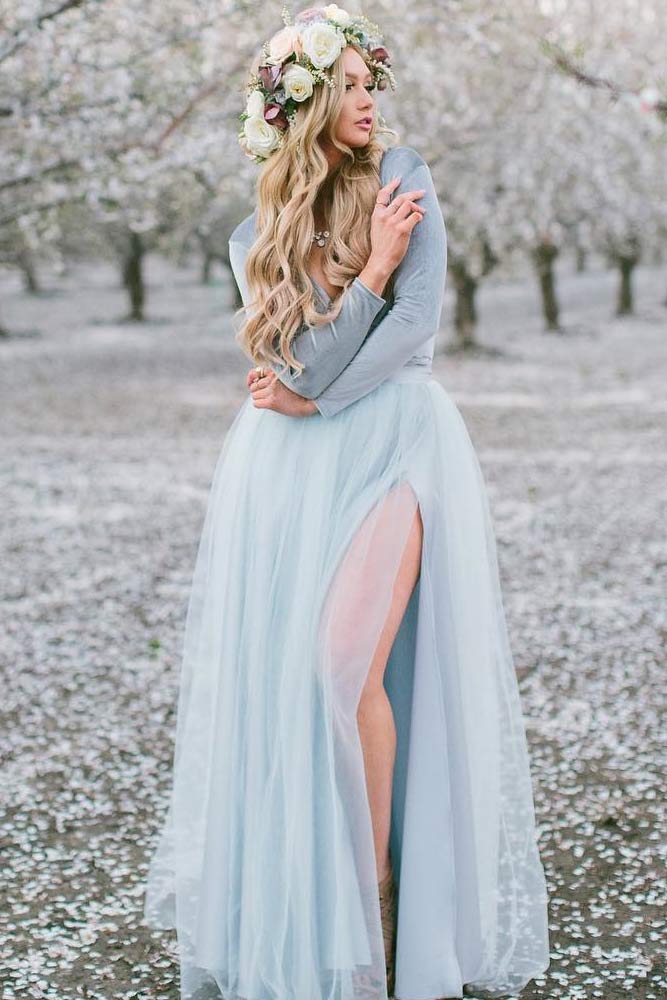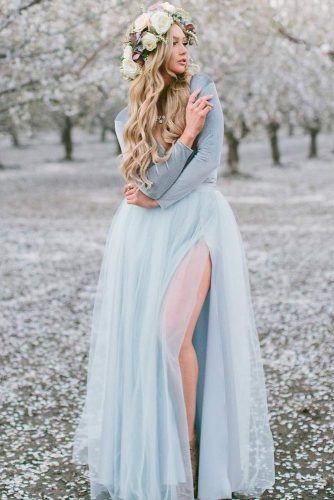 Source: Instagram/blisstulle
All women are princesses at heart, and sometimes it feels like you want to let it out. The way you dress is the best way to succeed. At times like this, a long tulle skirt with a cut is the best option to consider. Add a tight velvet top to it in matching shades, and you will look royally irresistible.
Holiday Look With Layered Skirt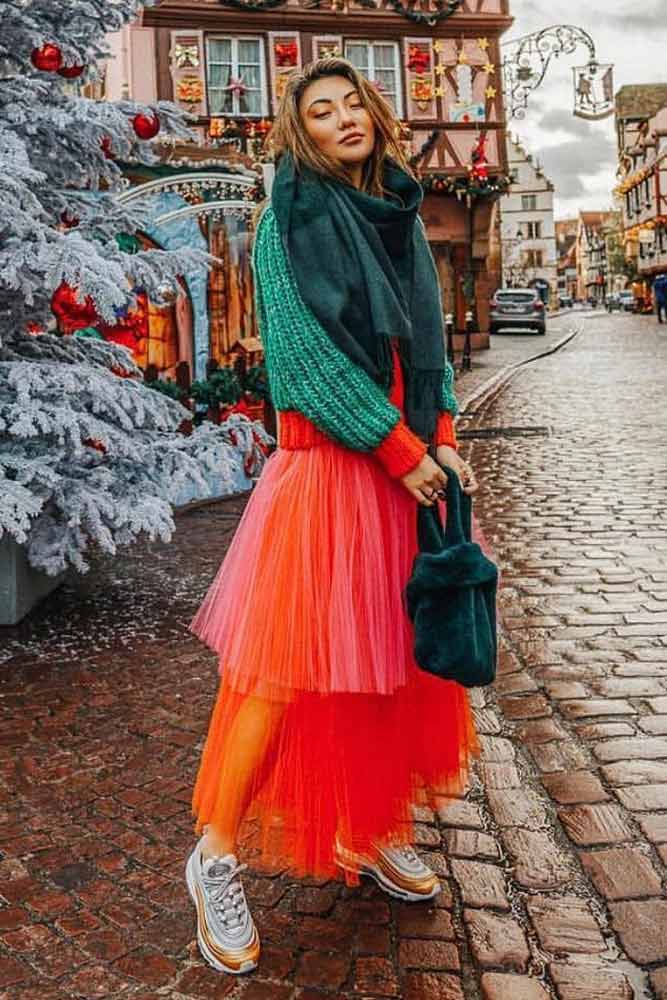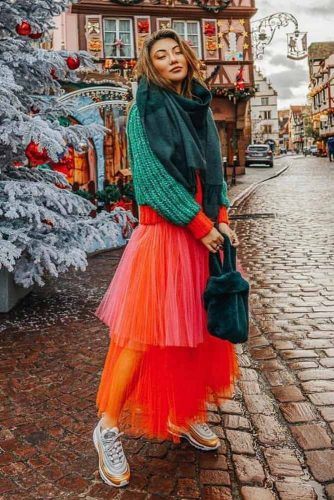 Source: Instagram/novisnyc
When the holiday season begins, you can't but plan all of your outfits in advance. If you are looking for something quite simple and festive-looking at the same time, then a red tulle skirt and a Christmassy sweater would make a perfect pair. Don't forget that it is winter out there and compete the look with a matching, voluminous scarf.
All Black Outfit With Tulle Skirt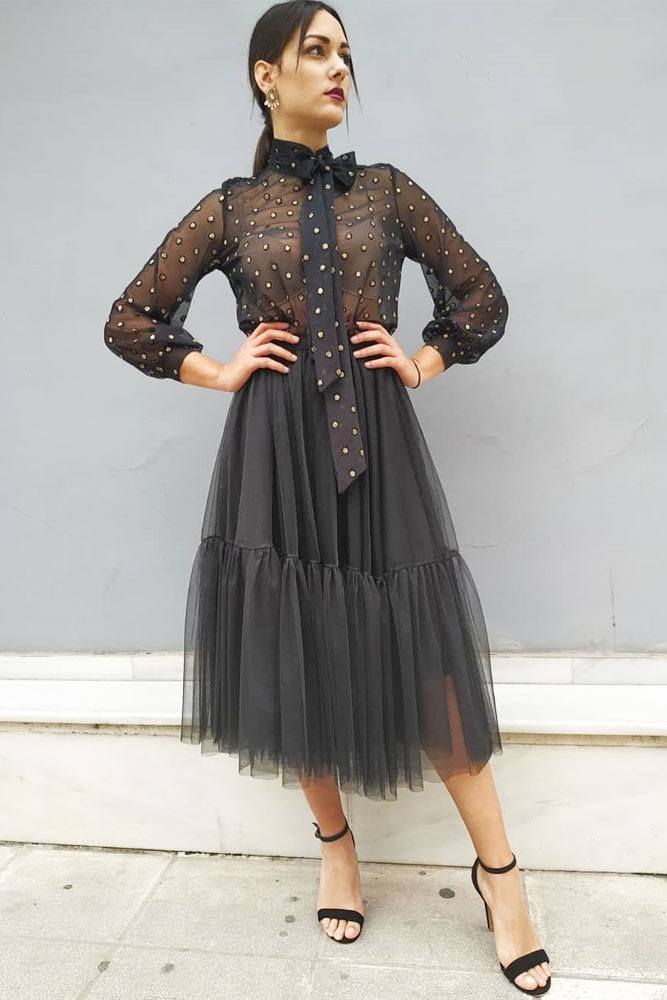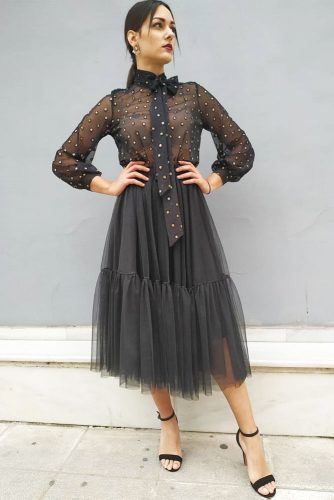 Source: Instagram/mauve_karditsa
When there is a formal party ahead, every lady starts to worry about what to put on in order not to look out of place. A total black look is a classy option however, the element that you combine in it may differ. A light polka dot black blouse and a midi tulle skirt is the combo to consider.
Striped Top With Layered Skirt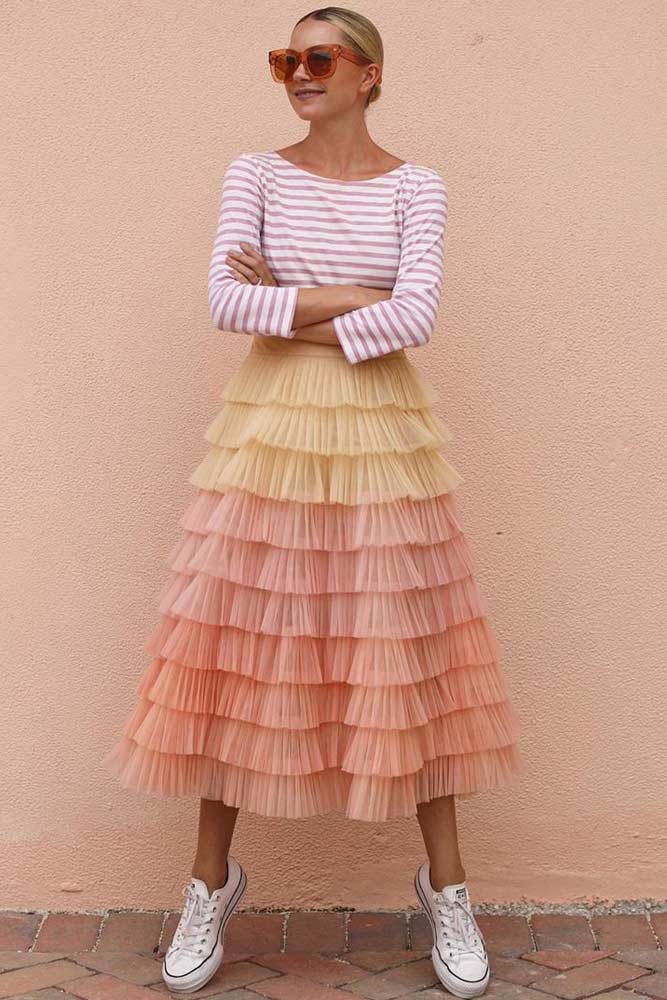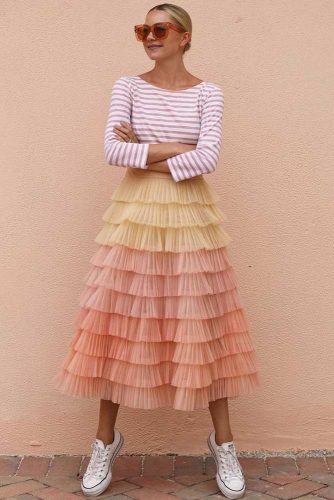 Source: Instagram/blaireadiebee
It is extremely fun to plan tulle skirts looks when it is spring outside. The variety of options to play around with is merely limitless. Besides, bright shades deserve to have a place in your look. A multi-colored tulle dress with lots of layers, a striped top, and a pair of comfy sneakers form a great mix.
Black Tulle Skirt With Plaid Jacket Outfit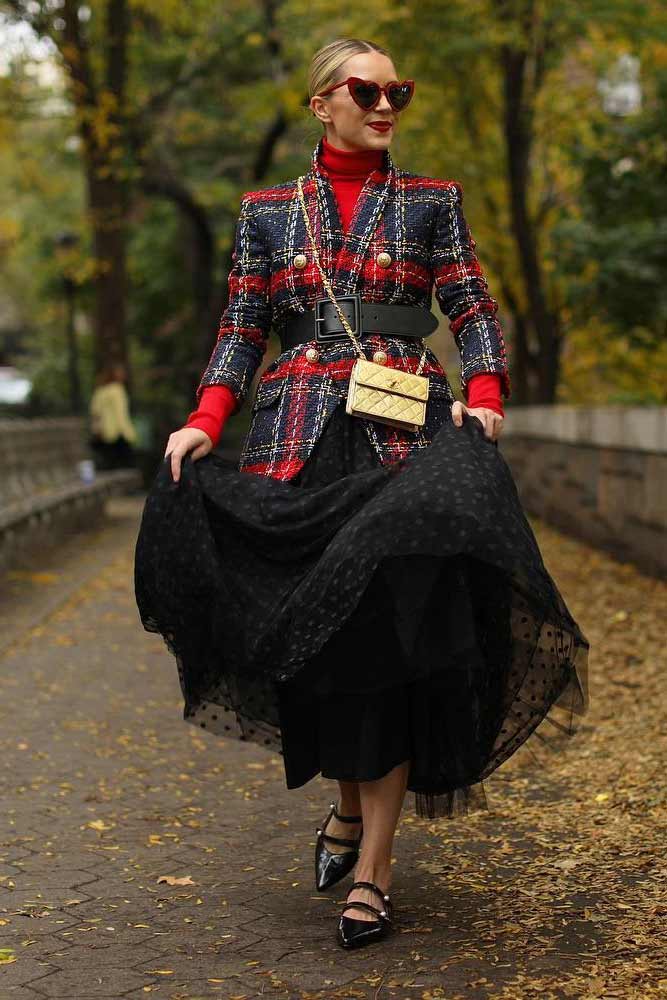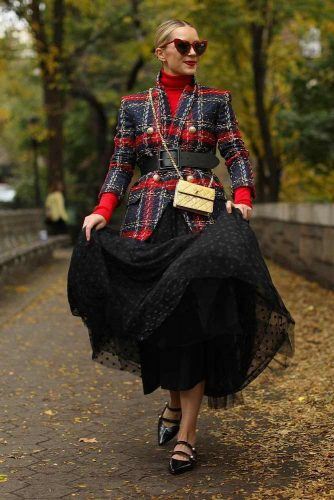 Source: Instagram/blaireadiebee
Who said that your professional style should be dull and predictable? A tulle maxi skirt will go well with a plaid jacket and a red top and will fit in an office environment seamlessly.
Tulle Skirt With Sweatshirt Outfit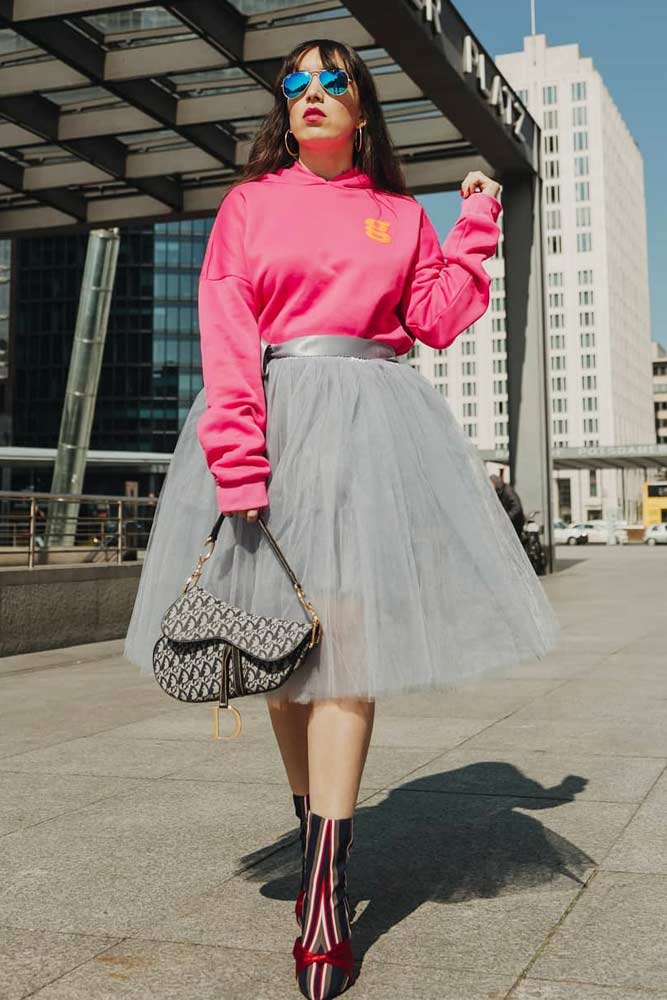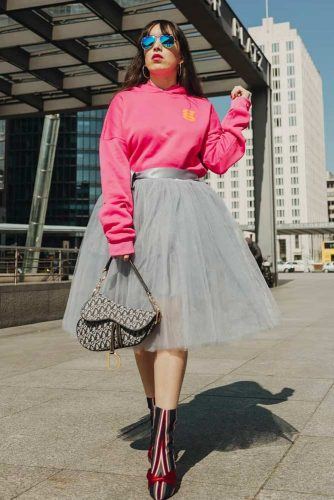 Source: Instagram/berlinluxstyling
There are times when it seems that sweatshirts and skirts are unmatchable. That is when you are mistaken. The truth is that a tulle skirt can go with anything as long as you sport it with your unique confidence and style. Even a pair of heeled boots do not look inappropriate here.
Don't leave the tulle skirt out of when planning your next outfit. With all the ideas that we gathered here, there is a great chance that you will find a source of inspiration among them!
SOURCES:
*
The tutu is a dress worn as a costume in a classical ballet performance, often with attached bodice.[1] It may be made of tarlatan, muslin, silk, tulle, gauze, or nylon.
*
We can thank Dior for the array of tulle skirts currently filling our feed. The house's first ever female creative director, Maria Grazia Chiuri, has conquered the catwalk and red carpet with her sheer balletic creations.