50s fashion was the time of innovations and new discoveries. It was bright and complex. No matter the preferences, everyone had a chance to stand out and wear the clothes they liked. It is safe to say that modern fashion contains lots of elements that root back to 1950s or are inspired by time. Today we are going to bring to your attention the most signature looks of the decade. We are sure that you will find them not only appealing but also familiar and inspiring. Who knows what you may put on the next time you go out!
Hourglasses Polka Dots Dress With Wide Brimmed Hat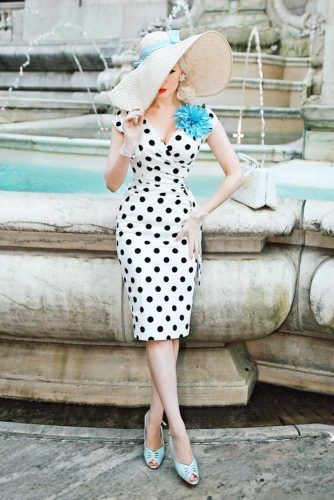 50s womens fashion was full of dresses and noticeable prints. Polka dots belong to the signature 50s pattern that all women were crazy about. However, when you have a closer look at the dress, it is safe to say that it has been bought in the modern store since it looks ultra-modern. Complete the look with a wide-brimmed hat, and you have a perfectly formal look to be sported to any event of the kind.
Source: rachelannjensen via Instagram
Plaid Dress In Pin Up Style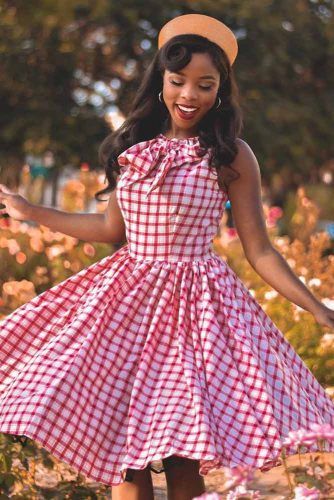 When it comes to 50s fashion for ladies, it should be added that it was mostly about the dresses. That is not a bad thing, in no case. You could have found your perfect pattern as well as dress shape during the 50s. It was easier than easy to sport a new dress on every day of the week if not two weeks in a row. We are not kidding here. One look at this fabulous plaid dress will prove the point that designers of that time knew no limits.
Source: the.pinup.doll via Instagram
Red Off The Shoulder Retro Dress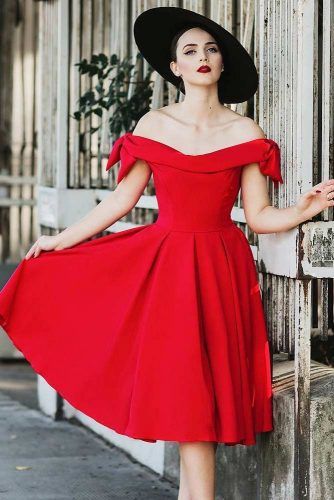 Very often, it is said that fashion in the 50s was mostly reserved. It is true to some extent, but that does not mean that there was no room for sensuality when it came to women wardrobe. Red was one of the signature colors during the decade. As you can see, this sassy red off the shoulder dress vibrates sassiness without taking it to the point of being vulgar. Simple perfect!
Source: iddavanmunster via Instagram
White Cocktail Dress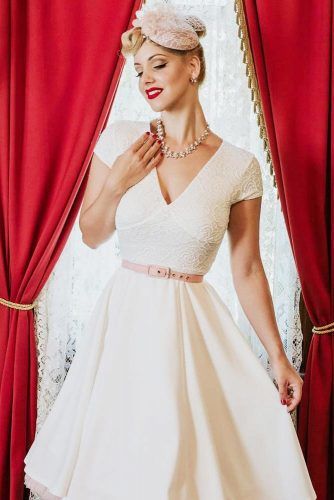 50s fashion dresses were simple but elegant. They do not need lots of accessories or additional elements to look lovely. For example, this white cocktail dress has a pink belt and the same skirt trim of all the possible elements. However, what makes it look formal and fantastic is the necklace and the same-shaded hat with some lace to it. The look proves that beauty comes in small details.
Source: missvictoryviolet via Instagram
Black Bodycon Dress With Sleeves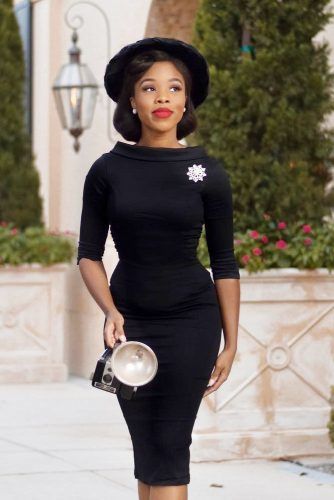 You may be already familiar with a bodycon dress since it is all the rage these days. You may not know that the silhouette dates as far as to the 50s fashion. The material may differ now but the basic remains. This is another proof of the fact that 50s fashion was very developed and versatile.
Source: the.pinup.doll via Instagram
Gingham Printed Dress Outfit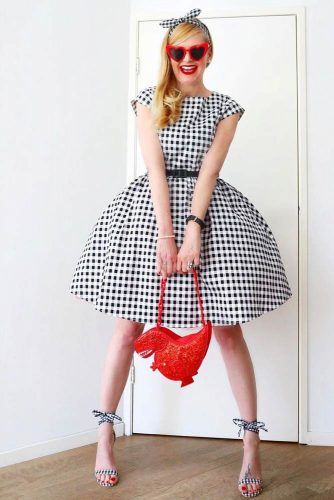 Just like polka dot, gingham pattern screams - fashion from the 50s! Even though the pattern looks pretty simple and classy, the dresses involving it look anything but ordinary. In case you decide to get yourself a dress like that, think about getting a pair of heart-shaped glasses as well. Such a combo will result in a playful and elegant look; there is no doubt about it.
Source: catoinamsterdam via Instagram
Striped Dress In Pin Up Style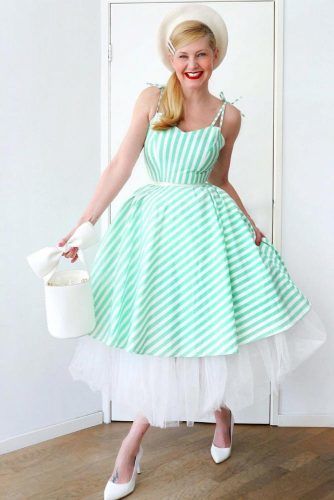 You can add stripes to the list of favorited patterns during the 50s. If you think that stripes are boring, then you need to have a closer look at this example. The thing is that bright colors were more than required at the time. Even though the dress is of midi-length, it looks gorgeous and feminine. Such maxi dresses gown can be easily worn to other formal event or a friend's party.
Source: catoinamsterdam via Instagram
Cropped Jeans Outfit With Turban Accent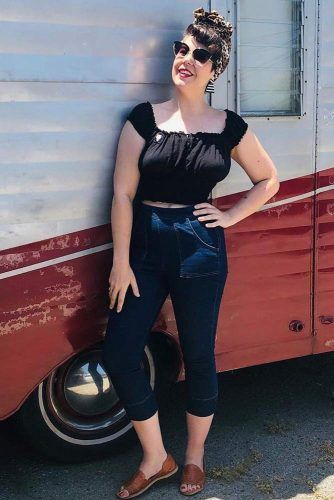 So far we have discussed mostly formal wear of the 50s. How about 50s casual fashion? You may be surprised, but it may be difficult to draw the line when the 50s end and the modern era begins. The fact is that cropped tops and cropped jeans were popular at that time as well. However, turban accent is what defines the decade. Definitely the 50s!
Source: bettiepagestore via Instagram
Denim Jumpsuit Outfit Idea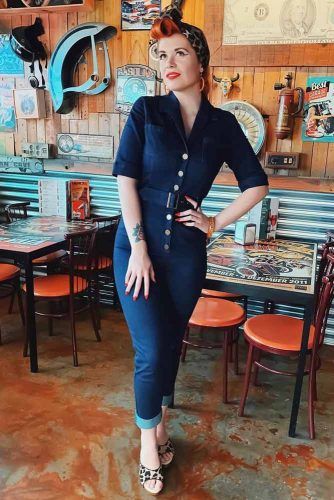 Is there such a thing as modern 50s fashion? Some of you may say – no, definitely isn't! Then, we are going to ask you – what you know about the jumpsuits? Of course, that sounds like a silly question since jumpsuits are on the edge of popularity these days. Well, surprise – jumpsuits date as back as to 50s! do not trust us? See for yourself!
Source: misssixtiestwist via Instagram
Denim Jeans With Detachable Braces 50s Fashion Outfit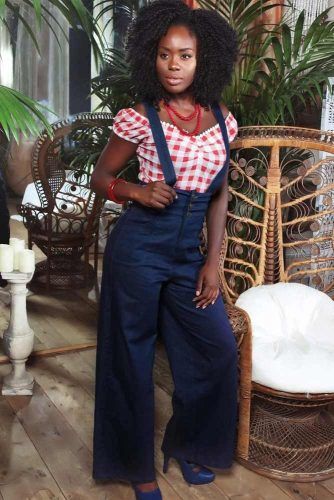 50s fashion jeans differ from the jeans that we are used to now. However, that does not mean that denim jeans with detachable braces will not make their way into modern fashion in the future. The truth is that even these days, such an outfit looks worthy of your consideration, don't you think?
Source: collectifclothing via Instagram
Yellow Ruffle Blouse With Cropped Pants 50s Fashion Outfit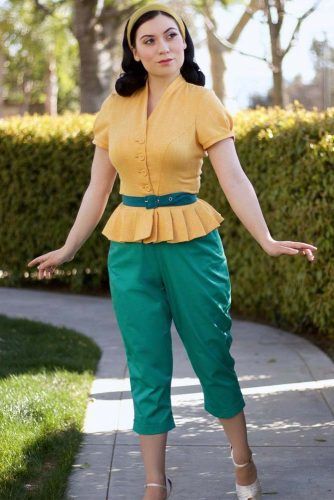 It has been already mentioned that 50s fashion for girls was extremely bright, and at times it seems that they matched the unmatchable. For instance, a yellow ruffle blouse and green cropped pans combined together sound weird. Nevertheless, when you look at the outcomes, it is safe to say that the outfit looks harmonic. Add some accessories, such as a headband and a belt and the 50s look is complete.
Source: missvintagelady via Instagram
Beige Blouse With High Waisted Pants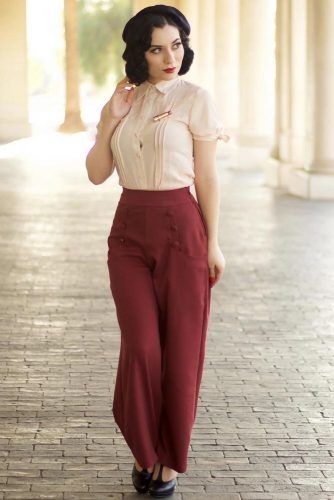 High waisted pants were a thing back in the 50s. They are a thing now, as well. So when you have a closer look at this flawless formal outfit, it is hard to say whether retro or modern vibe it has. The only two things that state the decade are the beret and the lipstick broche.
Source: missvintagelady via Instagram
Poodle Skirt 50s Fashion Outfit Idea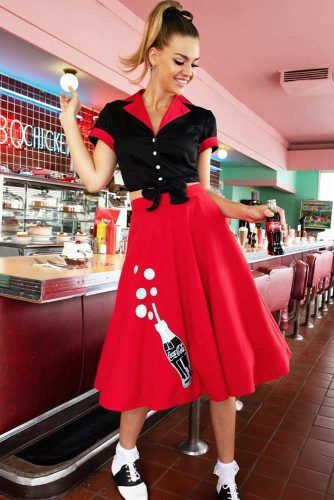 We can't go by such a notion as 50s fashion poodle skirts. If you do not know what they look like, think about a flaring midi skirt and a cute application on it. These days such skirts are quite popular too. You can leave the application out and enjoy the style that underlines your femininity and the sense of style.
Source: uniquevintage via Instagram
Retro Gloves With Hat Accents For 50s Fashion Outfit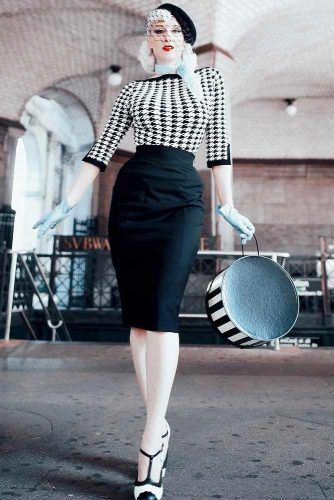 In case you are looking for a truly unique vintage representative of the 50s fashion, we have a couple in store. The fact is that gloves and hats were the main accessories of formal 50s outlooks. Also, the color palette was centered around contrasting colors, such as black and white. A black pencil skirt together with gingham pattern shirt vibrates elegance and style.
Source: rachelannjensen via Instagram
Striped Sweater With Fancy Slacks Idea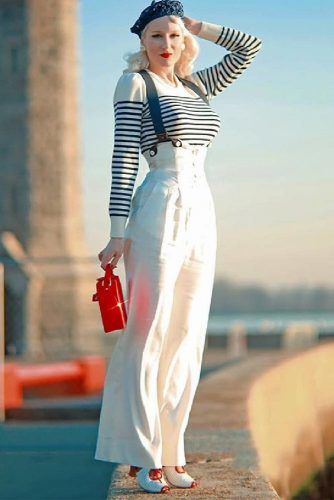 Another peculiar representative of the 50s vintage style is this combo of the striped sweater and white slacks with bracers. It may seem that there is nothing special about the idea; however, if you pay attention to the details you may change your mind. Even though the hat fit in the palette, the red purse and sandals are the main accents on the image. 50s fashion was full of fancy ideas, and that is yet another proof to the point!
Source: emmydesignsweden via Instagram
Red Gingham Top With Blue Pencil Skirt Outfit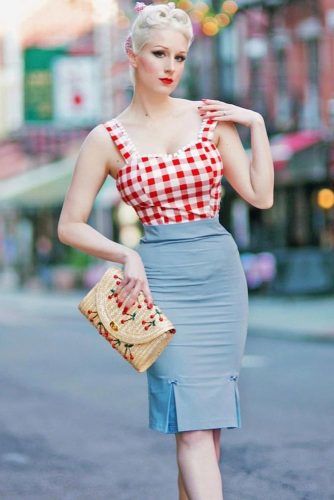 Another popular skirt type during the 50s were pencil skirts. They were usually high waisted since high waist was a thing back then. Such an approach adds more definition to the figure. However, due to the fact that there were not that many stretchy materials available at the time, such skirts looked lovely but weren't that comfortable to walk in. These days, things have changed, and you can easily sport such an elegant 50s skirt with not inconveniences to it.
Source: topvintage_boutique via Instagram
Pink Top With Printed Shorts 50s Fashion Outfit Idea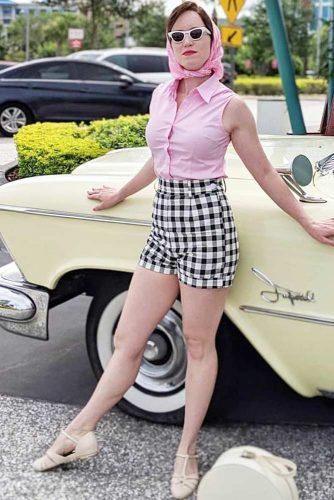 If you think that there was no room for shorts in 1950's fashion, you are mistaken! However, even shorts that women wore during the 50s were special! Of course, they were not over the edge revealing as well as they had a popular printed pattern on. Women usually combined the shorts with bright skirts and sometimes a light scarf wrapped around the head.
Source: katieemilyl via Instagram
50s fashion was anything but simple. It was innovative and bright. Many elements from the 50s traveled as back as to modern fashion. If you wish to learn more on the matter – read on!
FAQ: 50s Fashion
What did adults wear in the 1950s?
Matching hats and jackets were still common accessories for formal wear in the 1950s. Casual wear has become more and more popular, with blouses, striped blazers, light-colored tartans, plaids and paisleys. In the middle of the decade, casual men's clothing also became popular.
What hairstyle was popular in the 50's?
Poodle Cut.
Ponytails.
The Pixie.
Thick Fringe.
The Duck Tail.
Short & Curly hair.
How did they curl their hair in the 1940s?
Straight hair wasn't popular in the 1940s, so even brushed straight hairstyles were always set. Most women usually tied their hair at home with pin curls, barrel curls, or rags. Hair can be left under a needle lock or scarf, or snooded overnight while working.