These days there are just too many nail art ideas appearing, and sometimes it may be quite difficult to keep track of all of them. When it comes to gingham, you are surely familiar with the pattern though you may not know that it is actually called that. That is why today we are going to flash some light on the origin of his pattern as well as its use in the modern manicure world.
What Are Gingham Pattern Nails?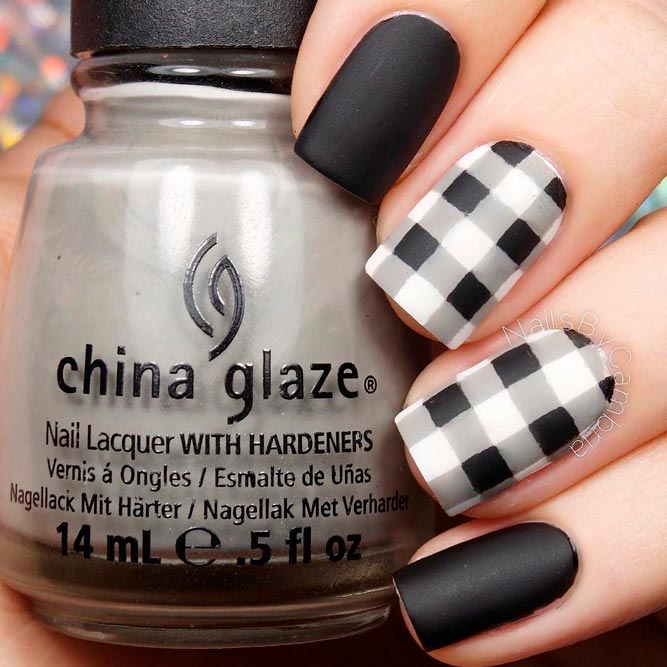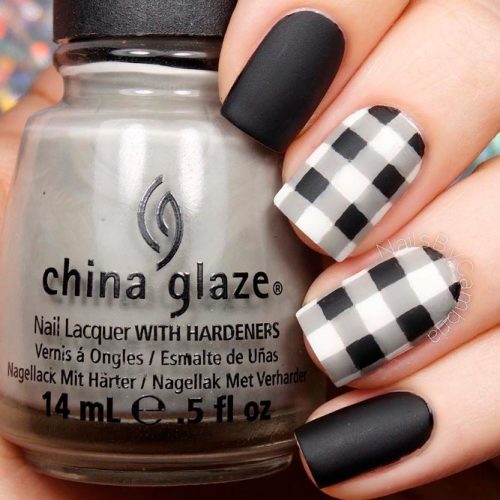 Source: nailsbycambria via Instagram
To begin with, we would like to clear it out what a gingham pattern actually is. The thing is that it originated as a particular cloth patterns a long time ago and many countries claim that they were the first ones to introduce it. However, these days it has made its way into the world of nail art, and there is no wonder why since while it looks spectacular it is actually easy to succeed with. All you need to do is to be more or less accurate with the vertical and horizontal stripes and make sure that the shading you use is quite the opposite or at least makes it possible for the colors to stand out. As we are going to proceed with the examples, you will get the whole point, so read on!
Gingham Or Plaid: What Is The Difference?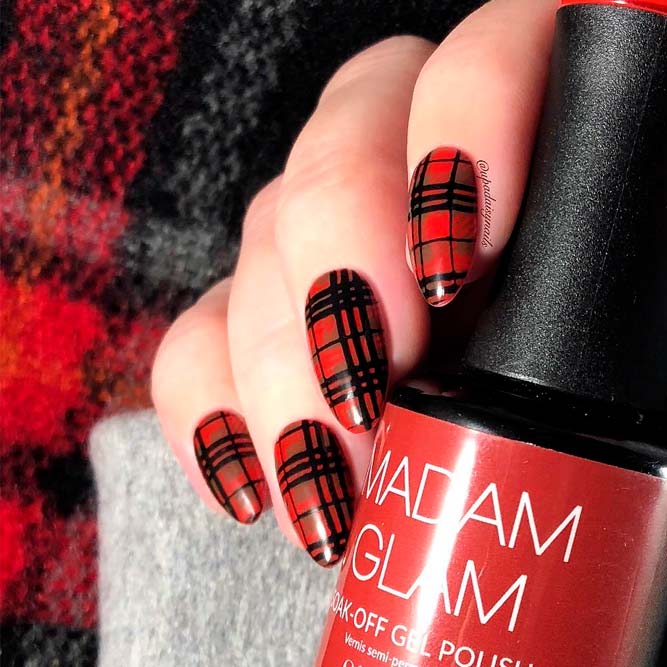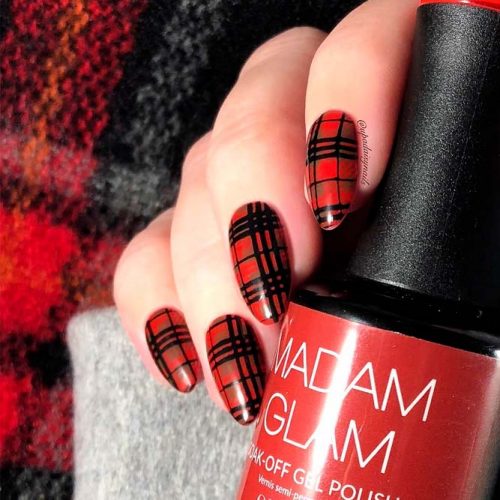 Source: upadaisynails via Instagram
If you are just the beginner into the world of nail art, it may seem that gingham and plaid are two exactly the same patterns, however they are different. The main difference lies in the coloring since gingham requires white base on the most of occasions yet exceptions are allowed, while with plaid patterns you can mix and match whichever colors you like. The other difference lies in the lines, with gingham all the lines are of equal width while plaid patterns have no restrictions. Now, when you are aware of main differences, it is time to get inspired with some trendy gingham acrylic nails
Cozy Black Striped Gingham Nail Art Design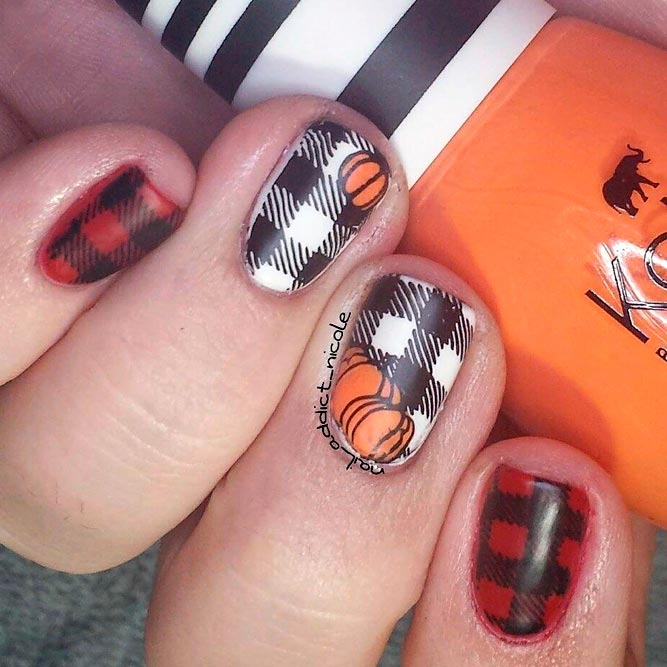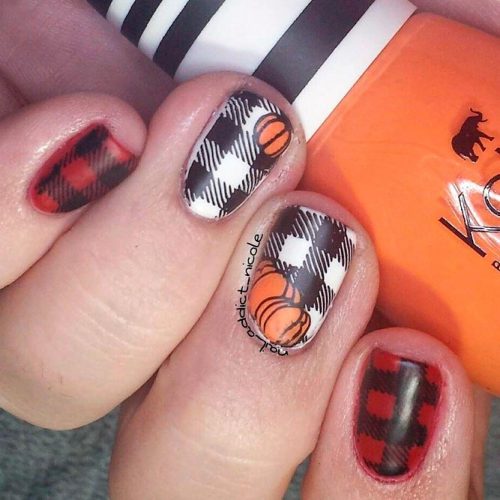 Source: nail_addict_nicole via Instagram
The combination of black and white is surely classic, and when it comes to gingham designs, you can clearly understand why. However, classic is not the limit when you are playing around with gingham, add some interesting accents, and you will take your mani to the whole new level.
Stunning Black Gingham Nails With Negative Space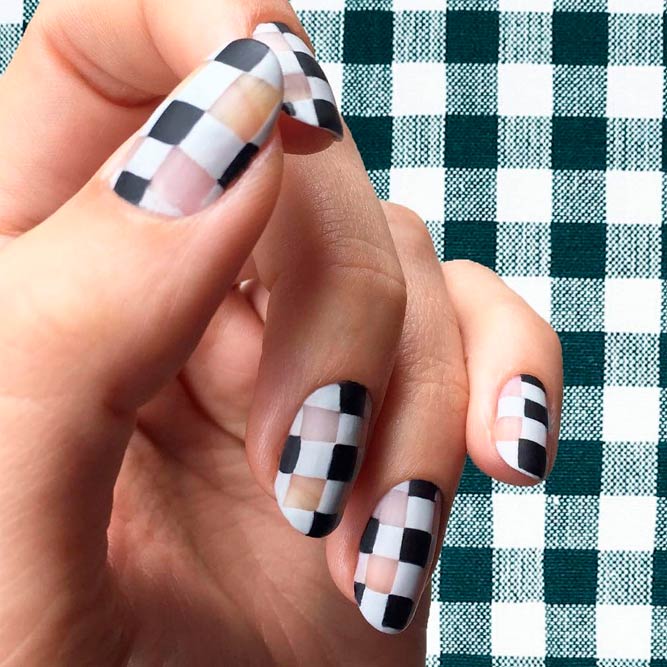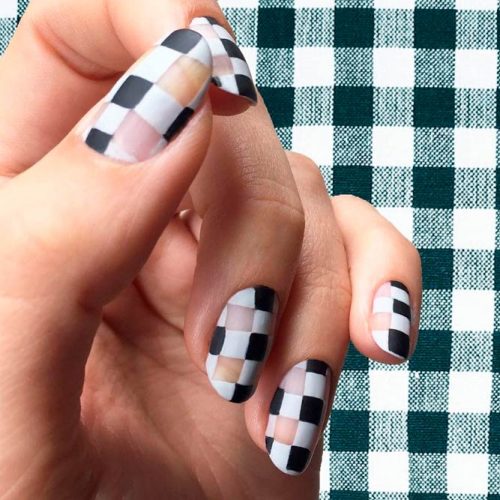 Source: jessicawashick via Instagram
Negative space is very required these days that is why when you want to kill two birds with one stone we suggest you pair it with some black and white gingham nail art.
Elegant Looking Gingham Nail Art Design In Nude Colors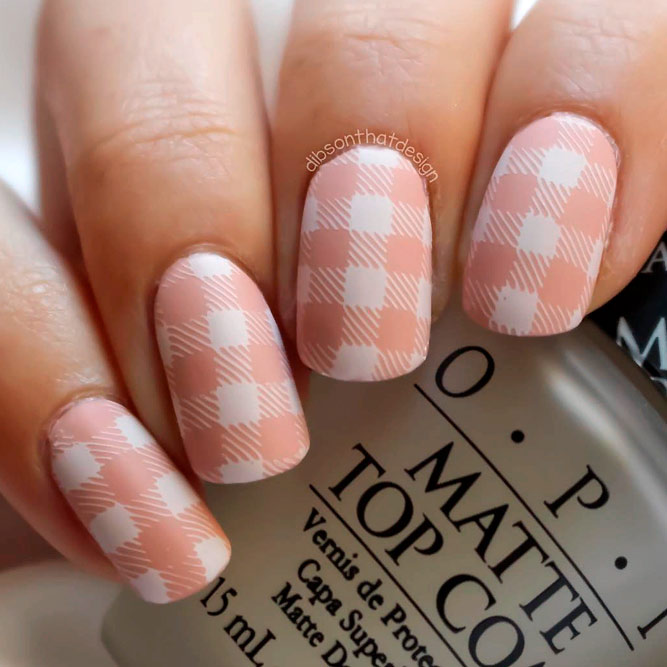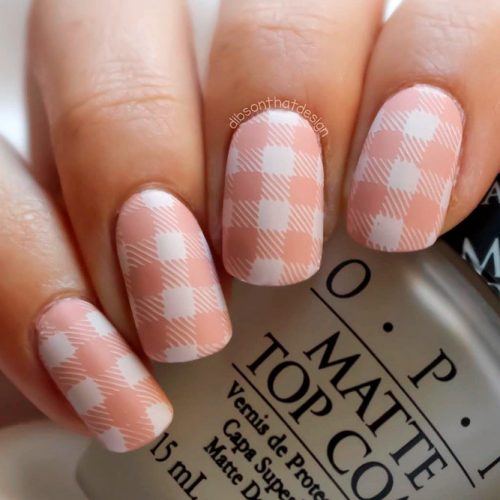 Source: dibsonthatdesign via Instagram
It is true that there are times when you simply can't experiment too much with your manicure. In times like these neutral gingham patterns come in more than handy. See for yourself!
Classy Looking Aqua Blue And White Color Combinations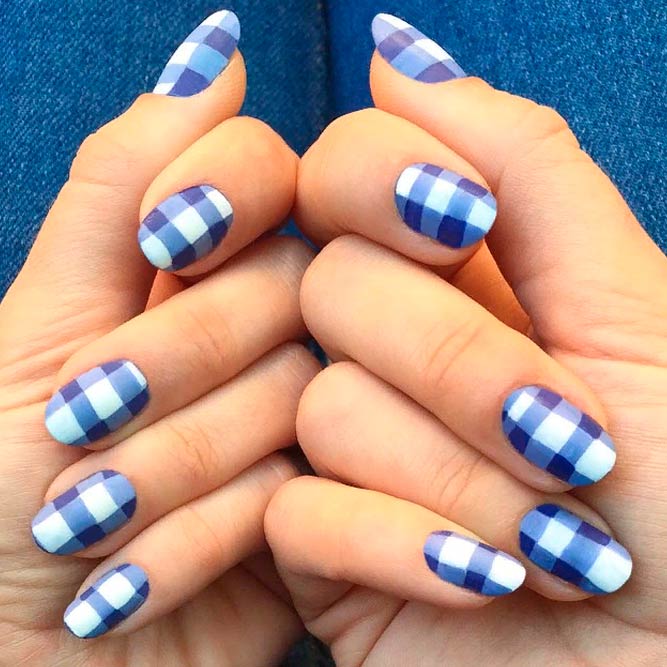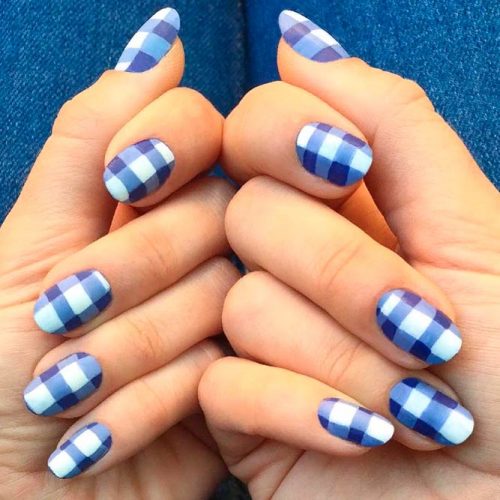 Source: jessicawashick via Instagram
Black and white is not the only Oldie but Goldie combo there is. When you combine the blue and white in one nail art the combination turns out to be not less classy and sassy, wouldn't you agree?
Deep Blue Gingham Tips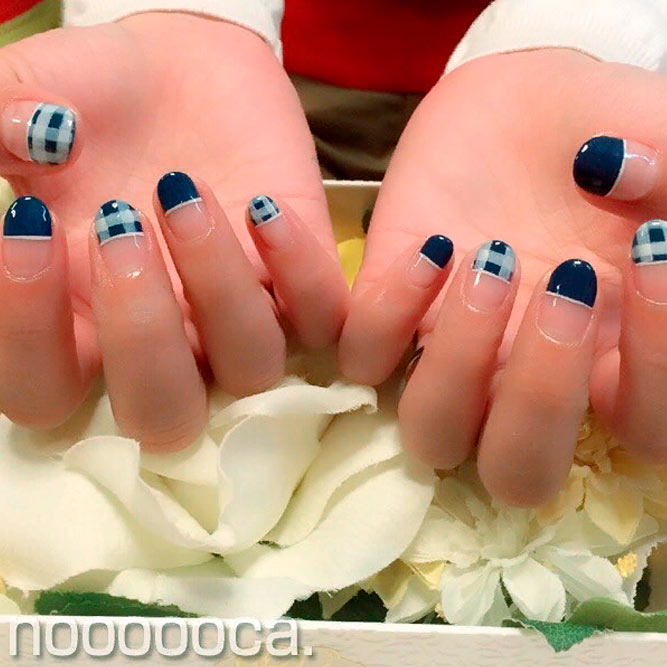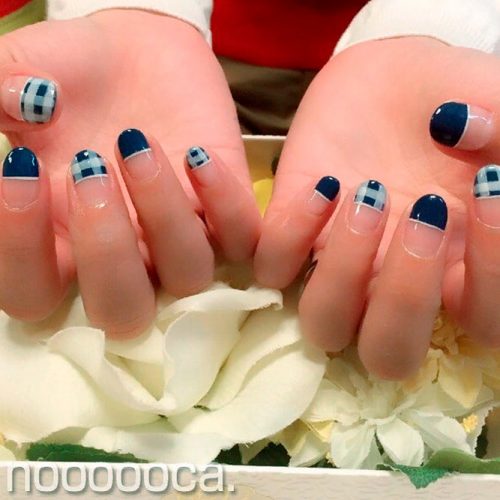 Source: nooooooca via Instagram
The mixture of blue gingham tips and some negative space will help you create a French tip that is interesting and unique-looking. What is more, such a manicure idea can be suited to almost any occasion you are going to.
Emerald Green Gingham Nail Art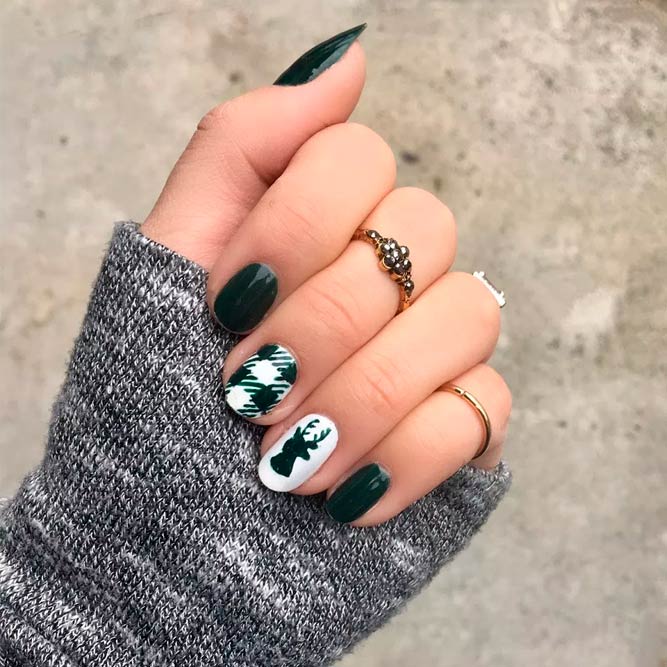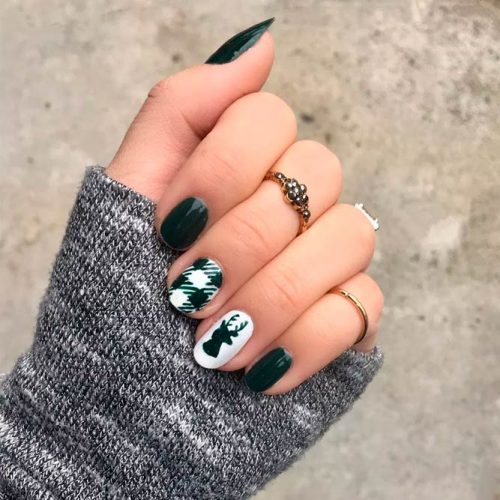 Source: rosegoldlining via Instagram
When you master the gingham nail art the creation of a masterpiece becomes easier than easy. For example, this emerald green gingham accent fits in with the rest just beautifully, not to mention that such a mani will suit any season.
Sweet Lilac Nail Art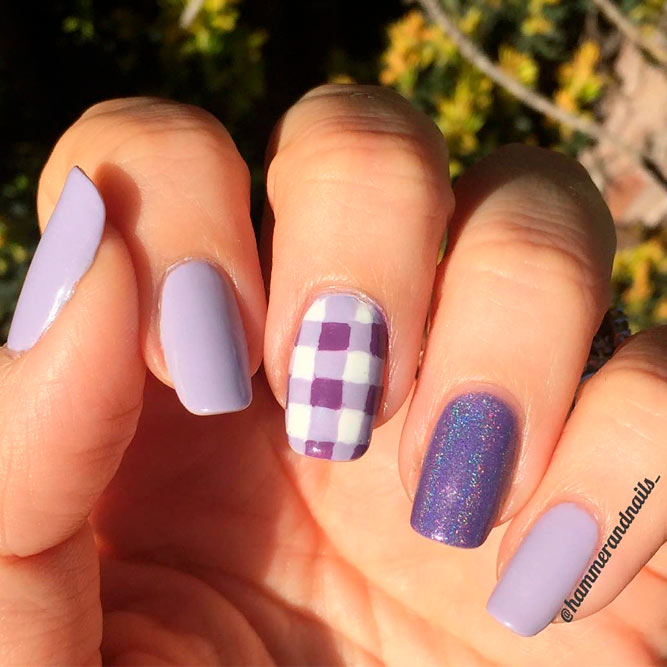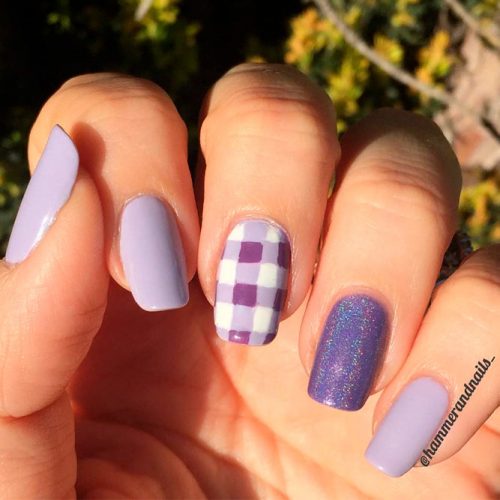 Source: hammerandnails_ via Instagram
Lilac hues have a major hit these days. However, when solid lilac is not your cup of tea, it is time to turn your imagination on. Spice up your lilac manicure with gingham pattern addition and add some glitter for the flawless outcome. There you go!
Absolute Girlish Pink Nail Design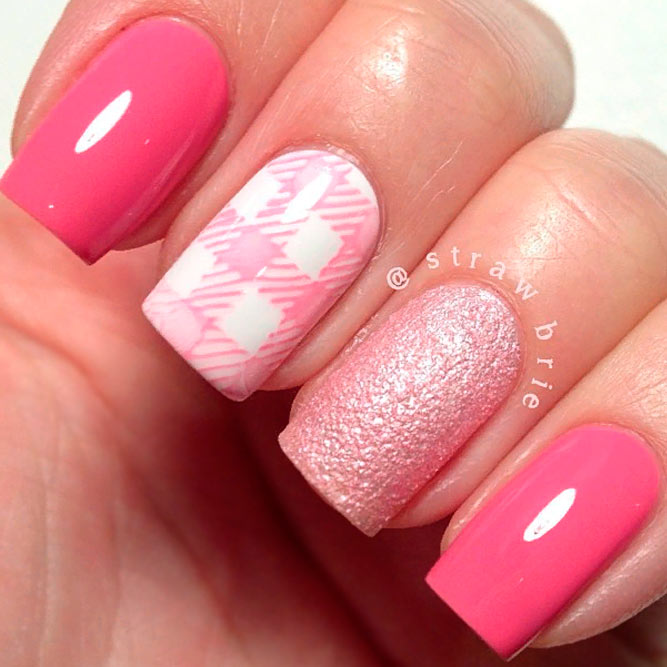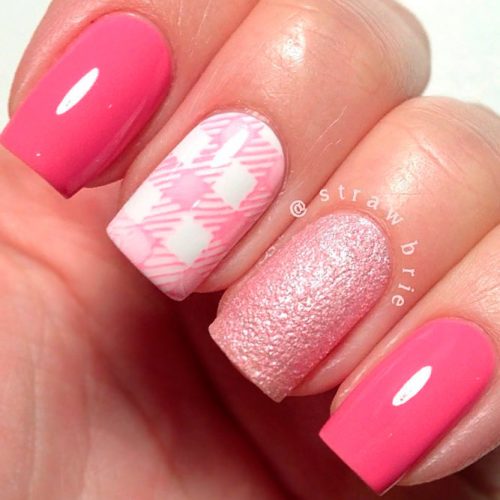 Source: strawbrie via Instagram
All the girly fashionistas here will simply fall in love with this pink gingham manicure idea. If there is anything cuter and more stylish looking out there, we are totally unfamiliar with it!
Bright Lemon Yellow Nails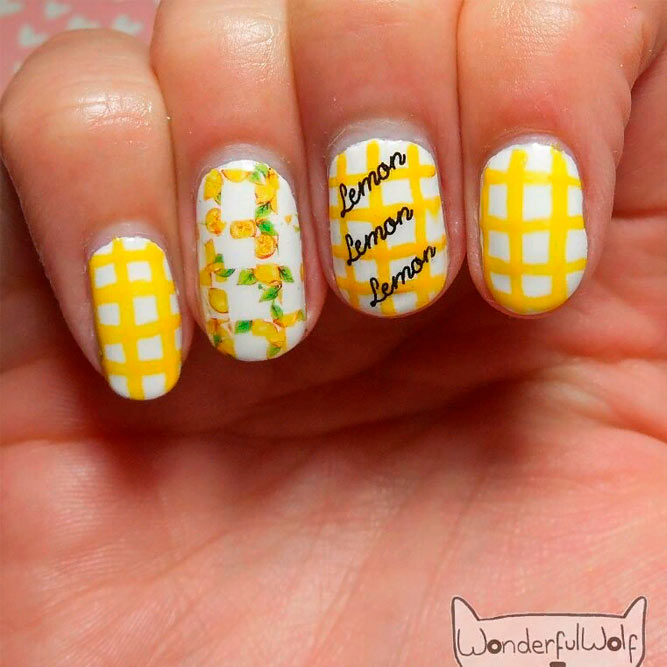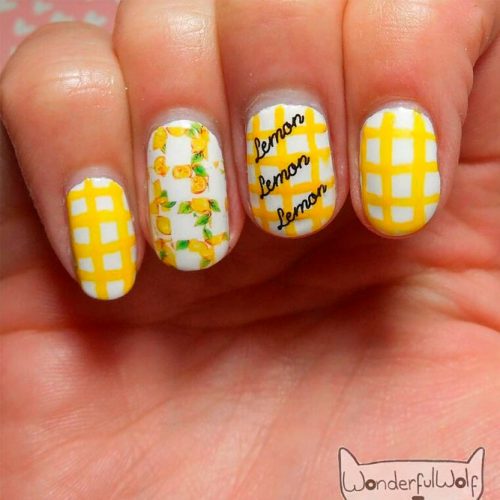 Source: wonderfulwolf via Instagram
If you are the ultimate fan of bright manicure ideas, then this juicy yellow gingham one will surely come to your liking. What is more, you can easily take things to the completely new level with the addition of lemon-filled sticker accent.
Pale Grey Gingham With Citrus Pattern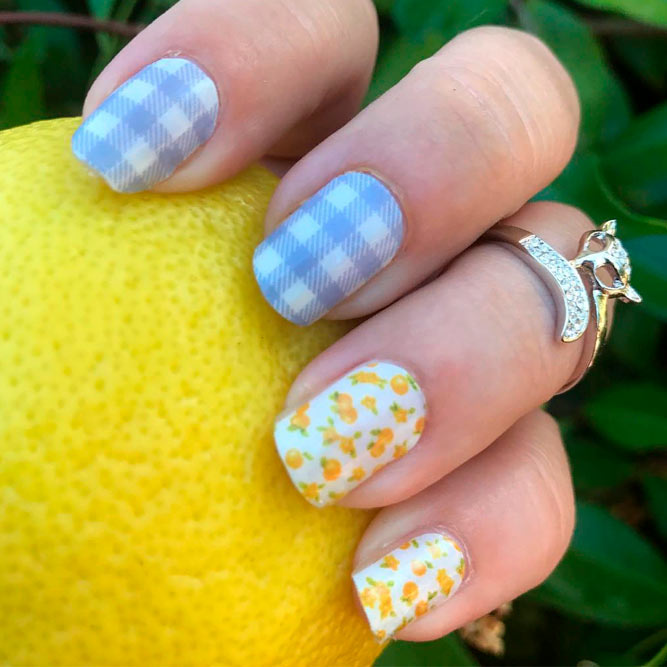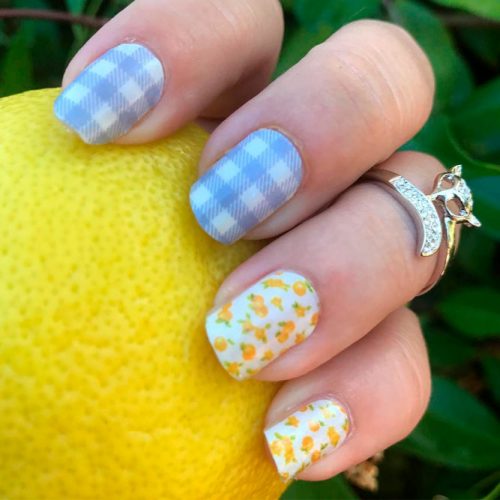 Source: orangefoxbyphoebe via Instagram
Grey shades are totally trending these days. However, we know the way to make your nails look even trendier than that. All that you need to do is to add some grey gingham design to your nails and pair it with citrus accents. Simply fabulous!
Simple But Stylish Red Gingham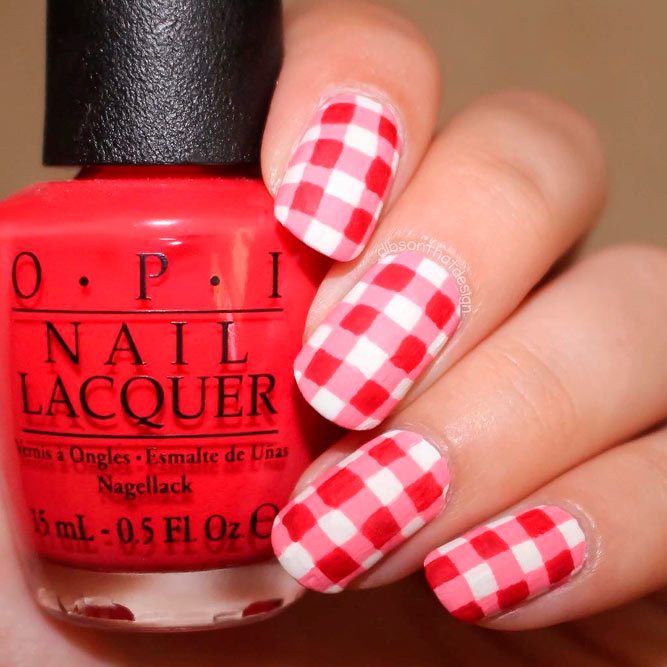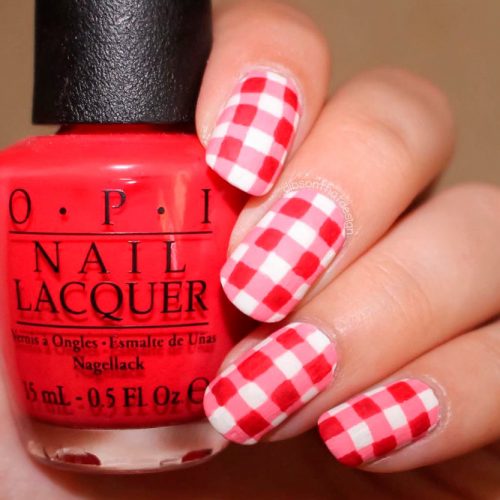 Source: dibsonthatdesign via Instagram
It may seem that red gingham is something too simple to be super stylish, but when you have a closer look, you will understand that it is not true. Of course, it is simple to replicate, but it is magnificent to look at!
Glossy Red Pattern With Nude Accents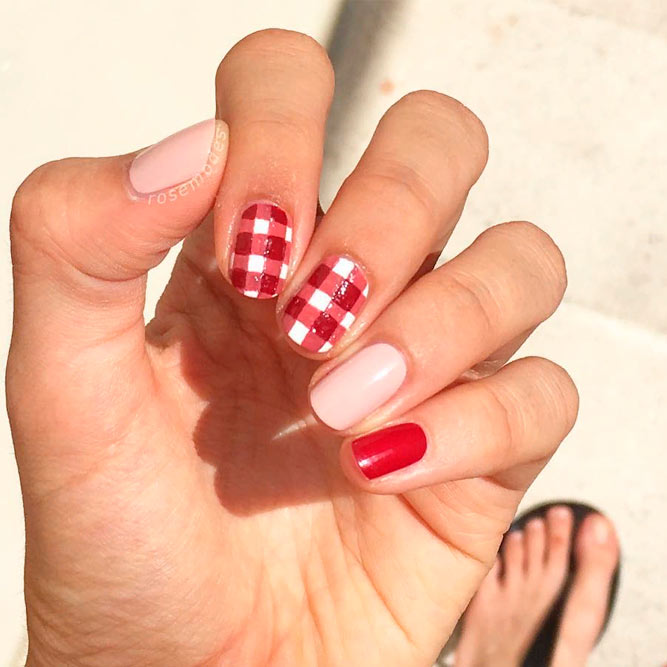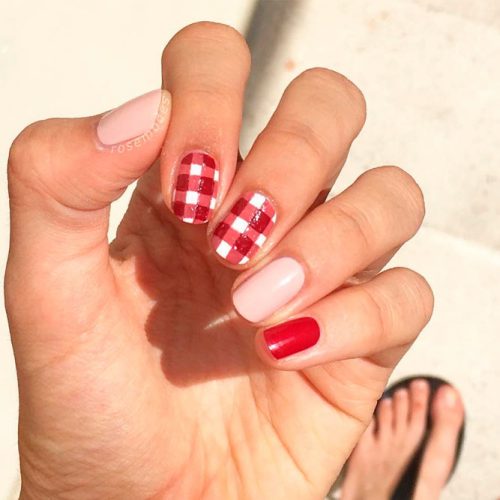 Source: rosemodes via Instagram
When simple red gingham becomes too easy to play around with it is time to mix and match things. For example, the mixture of red manicure and nude accents is precisely one of those ideas you are bound to try out if you are in love with red nails.
Cool Gingham And Stripes Combo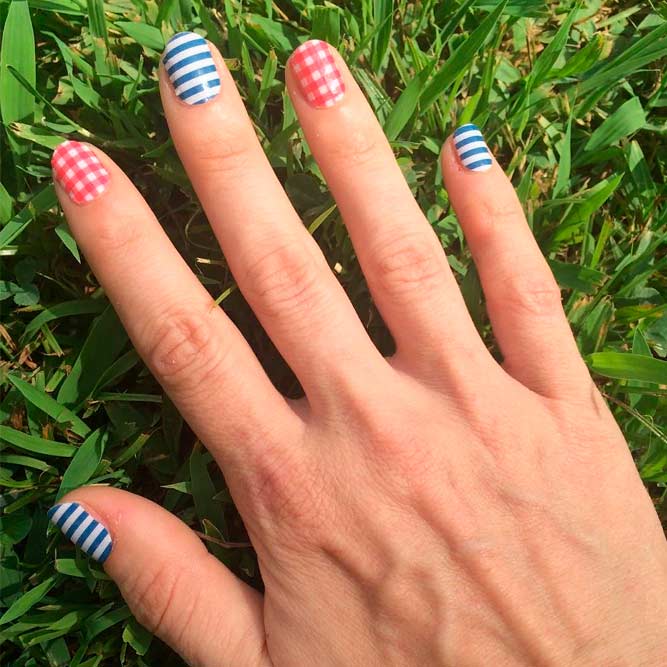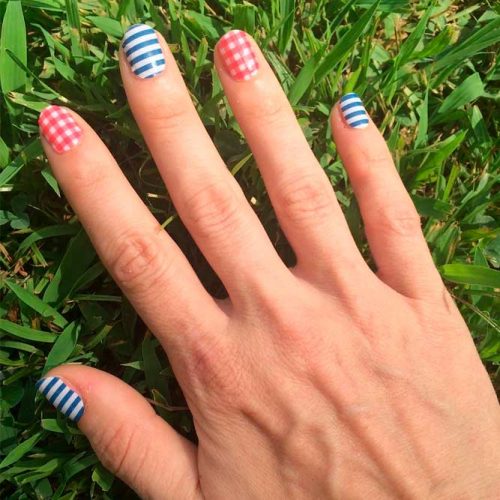 Source: dubbleh via Instagram
If the perfect combination of patterns exists, that would be the gingham and stripes one. Just look at how these two complete each other! Elegant and simple but gorgeous at the same time!
Colorful Gingham Nail Design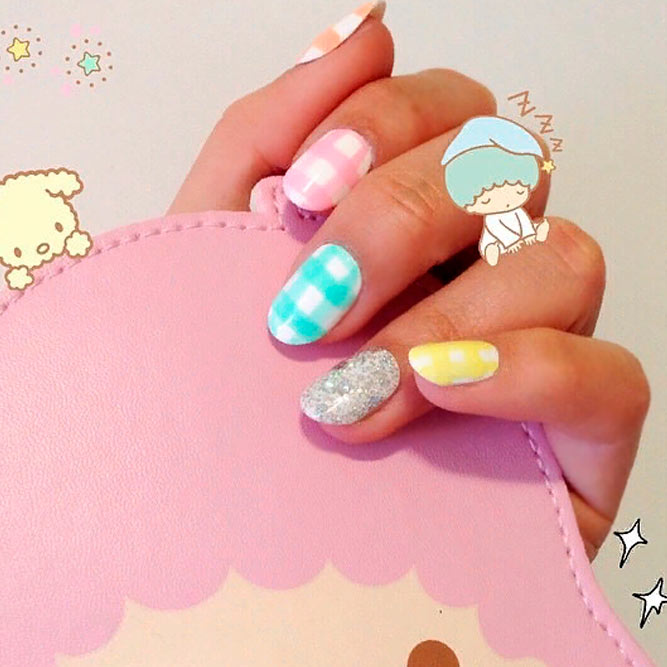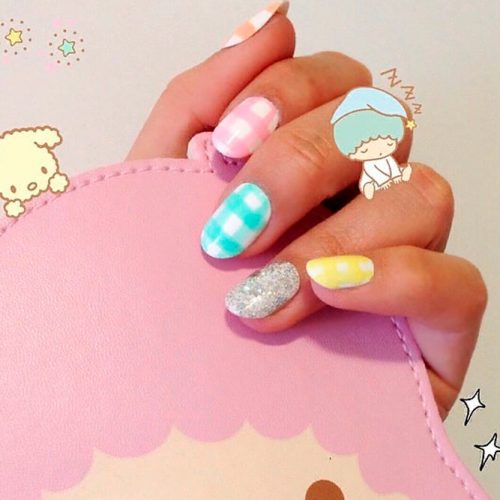 Source: jennahipp via Instagram
Very often when you can't decide between the shades to play around with you should better introduce all of them in one manicure idea. This colorful gingham and silver glitter accent manicure is the best proof to the point.
Multicolored Gingham Nails With Gradient Effect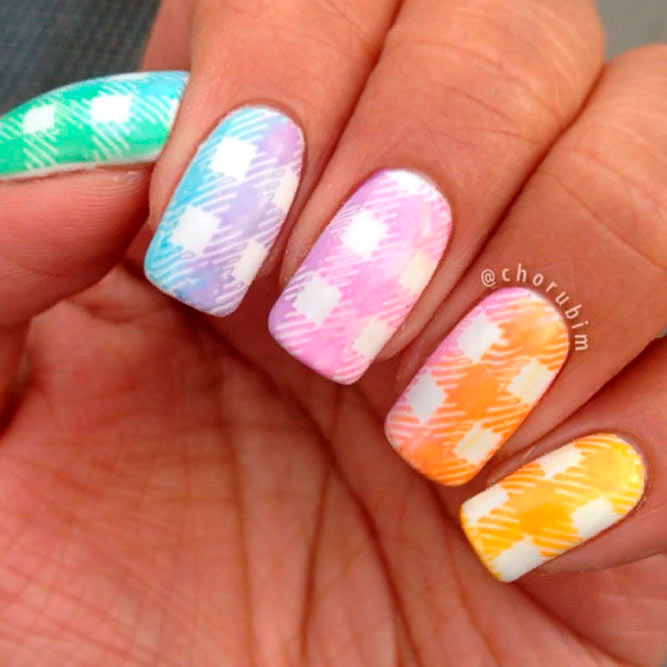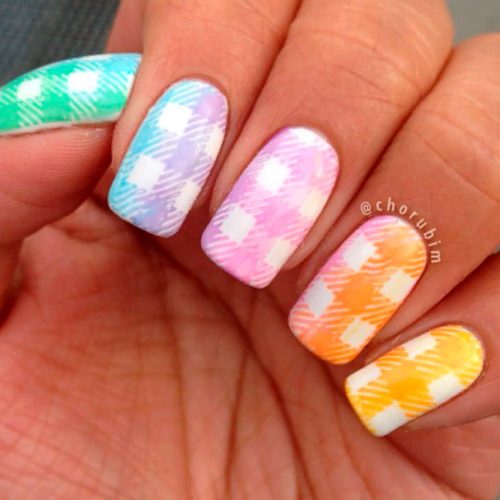 Source: chorubim via Instagram
It is true that these days gradient rules the world of fashion. But when mere ombre becomes a little too simple to pull off, we suggest you try this gingham gradient effect out!
Classical Gingham Print Nail Art Tutorial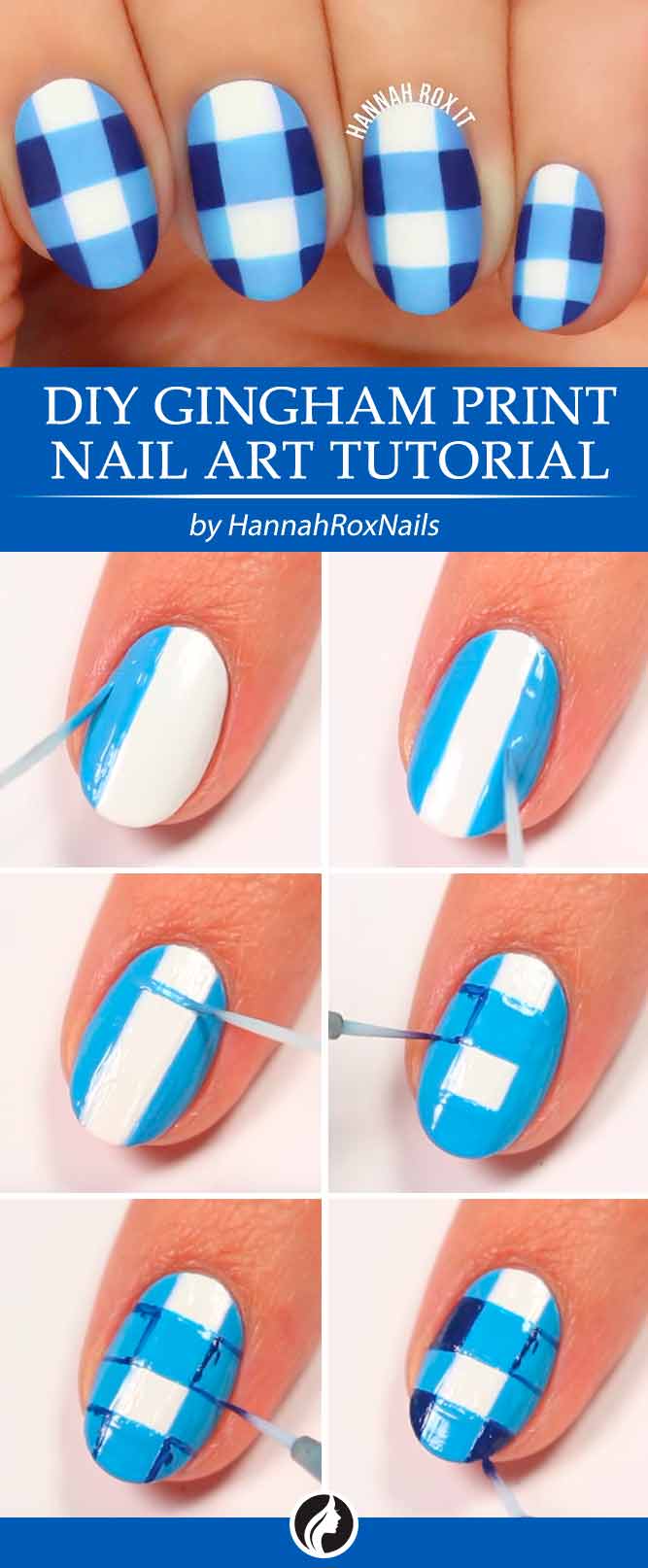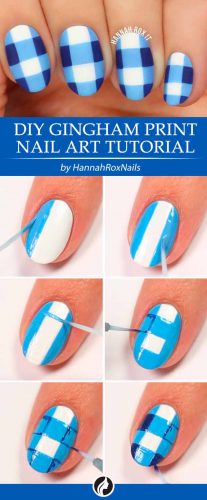 Source: HannahRoxNails via YouTube
We have browsed through a lot of interesting gingham ideas, and it means that it is time you finally learn how to succeed with this pattern on our own. This step-by-step tutorial will help you become a real gingham pro in no time!
Apply a base coat.
Apply white base coat.
Use light blue nail polish and a striping brush to add two equal lines to the sides of your nail.
Add two equal light blue squares to the white line in the middle of your nail.
Using dark blue nail polish and a striping brush add squares that connect with the corners of white ones.
Fill in the blue squares.
Apply a matte top coat.
Gingham patterns are not something entirely new. However, they gain a fresh twist in the sphere of nail art. Today, we are going to explain what gingham is, how it is different from plaid and of course, we are going to treat you with a fair share of exciting ideas to play around with!