Pretty Ways Of Sporting Your Oval Nails
Do you have oval nails? This nail shape is so popular that most of us do. This shape is comfy and it also appears quite natural.
The oval shape can be sported on any nail length. In its essence, this shape is feminine and clean. Plus, it works great for women with active lifestyles.
Let's discover fresh and inspiring nail art ideas that look wonderful on the oval nail shape. Our ideas will be appropriate for various occasions.
Oval Shaped Nails With A Bright Foil Design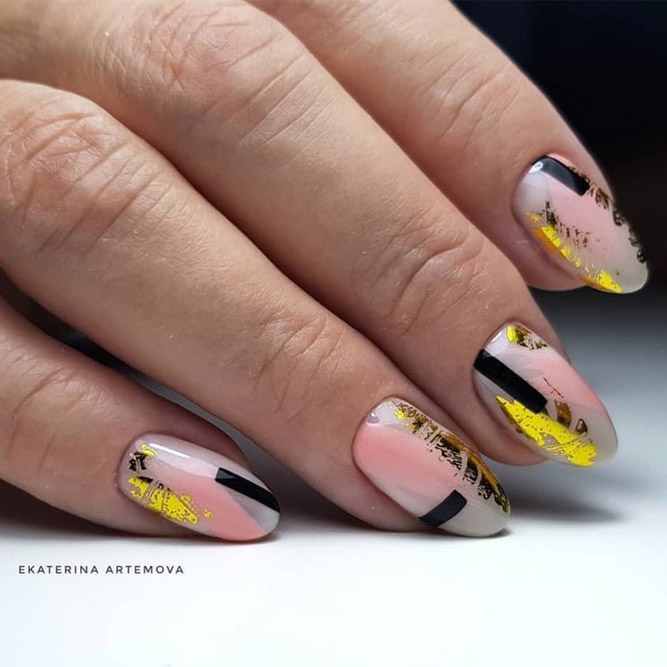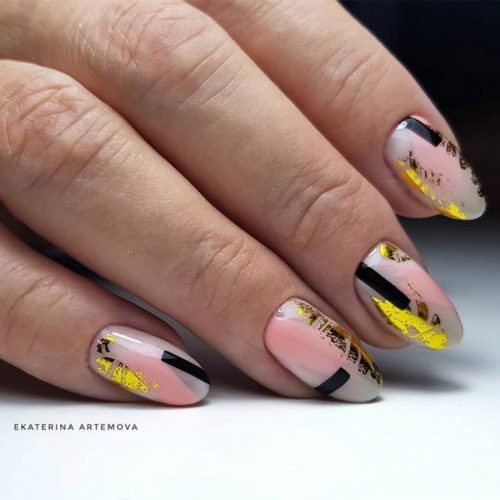 Source: artemova_art_nail via Instagram
When filing your oval nails, the key is to deal with all imperfections for the nails not to appear unbalanced. The sidewalls must be even and straight. Next, start filing the nail from its side towards its top with arching and smooth motions. Then work the angles and do it on both of the nail sides, around the edge. The result should be with smooth transitions.
Nude Oval Nail Shape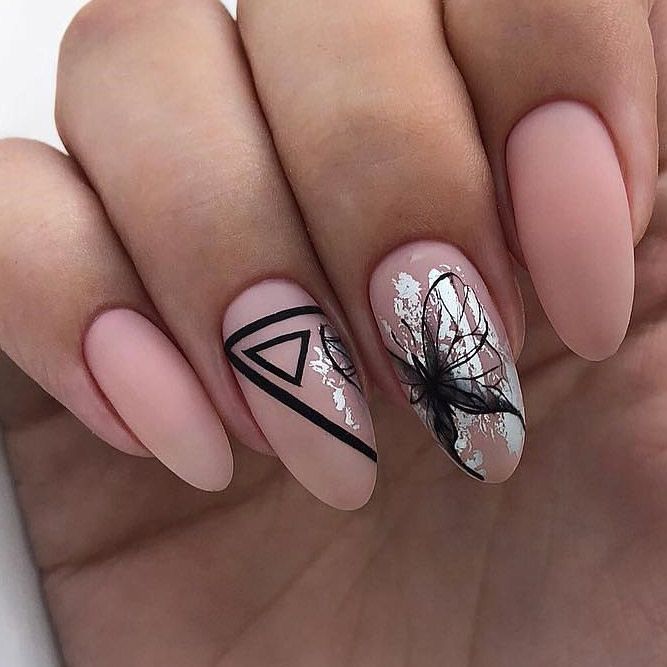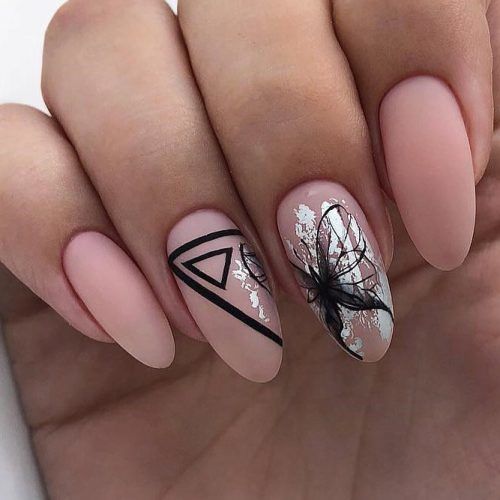 Source: nailartist_natali via Instagram
The oval shape is among the prettiest natural nail shapes. Why not try this black nail art idea with silver sprinkling? Paint all your nails nude and add two accents.
Elegant Oval Nail Shape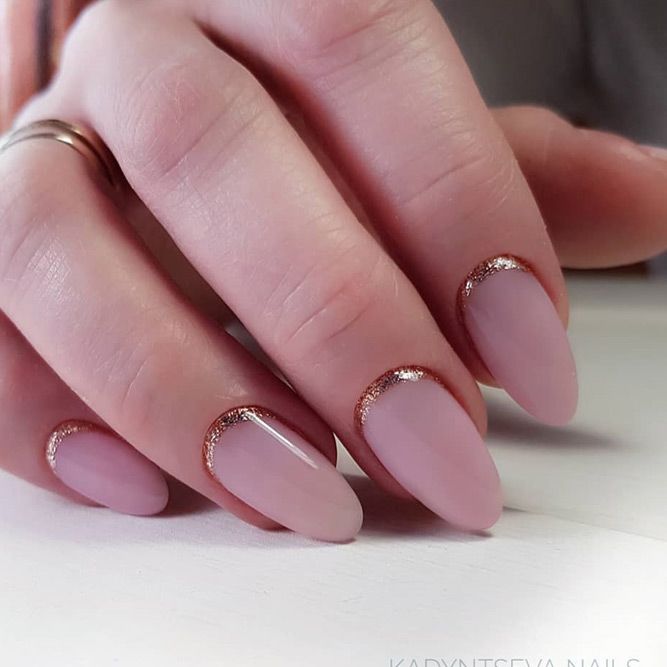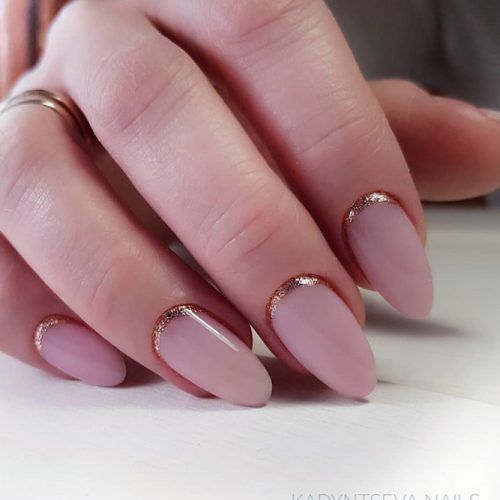 Source: kadyntseva_nails via Instagram
Look how elegant light hues appear on oval nail shapes. Bright gold glitter plays as a glamorous accent against modest pastel nail colors. Are you ready to try this nail art idea?
Glitter Nail Design For Oval Nails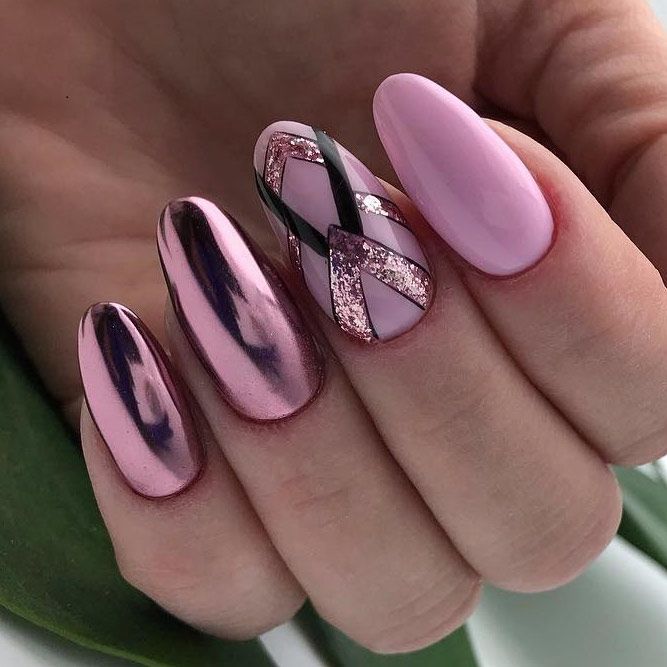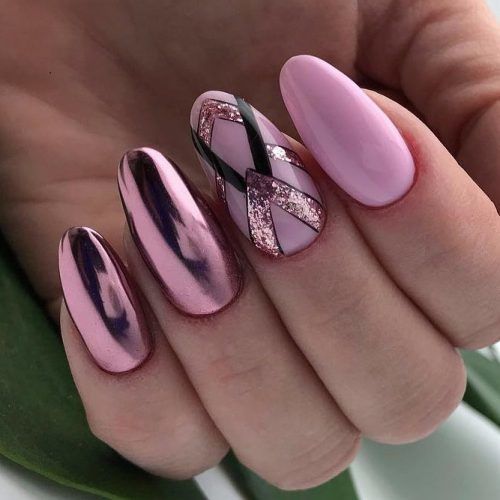 Source: Instagram.com/luxio_nailstudio
The oval nails shape is among the prettiest nail shapes for a woman's hands. This shape emphasizes gracefulness and femininity. Plus, it's rare that a nail shape works equally great for short as well as long nails. Also, this shape is less prone to breakage, comparing with other shapes.
Patterned Oval Nail Design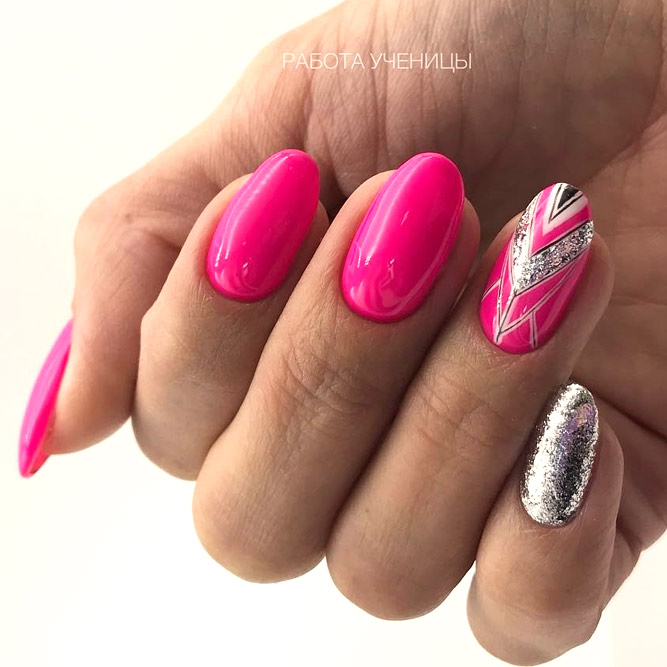 Source: kastalia_nails_studio via Instagram
If the oval shape of nails seems a bit plain for you, you can always spice it up with color and shine like shown here. Bright pink nail lacquer pairs so interestingly with silver sparkles.
Short Burgundy Oval Nails Design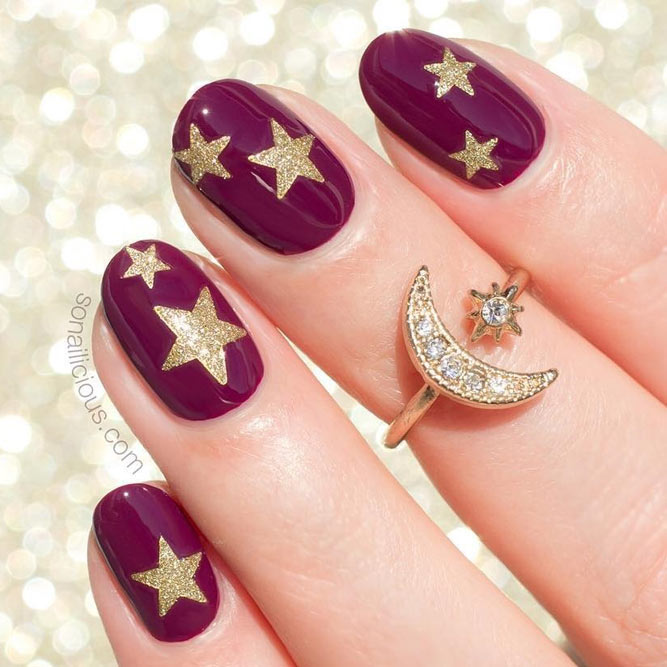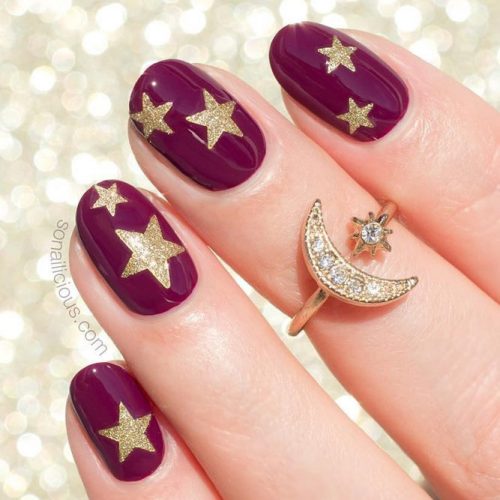 Source: so_nailicious via Instagram
It's a fun nail art idea for oval nails short. Paint your nail with raspberry nail lacquer and add some gold accents in the form of cute stars. Your nails can still rock it even if they are not long.
Oval Shaped Nails For A Formal Office Look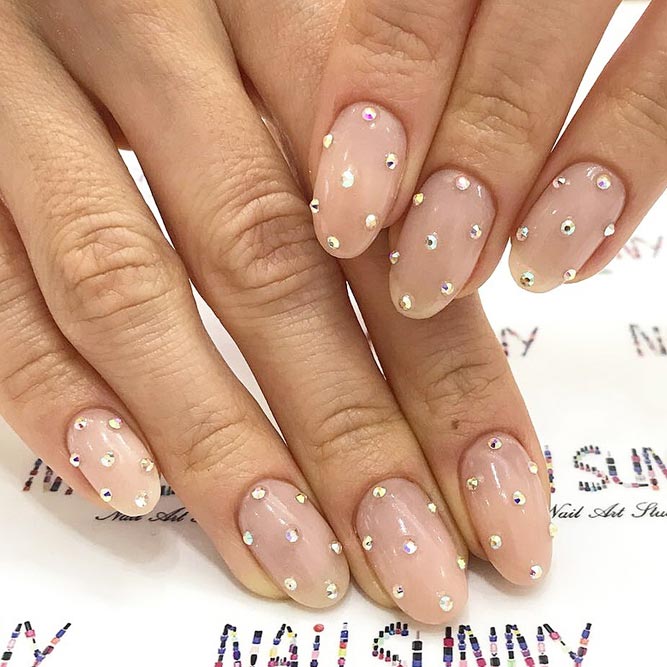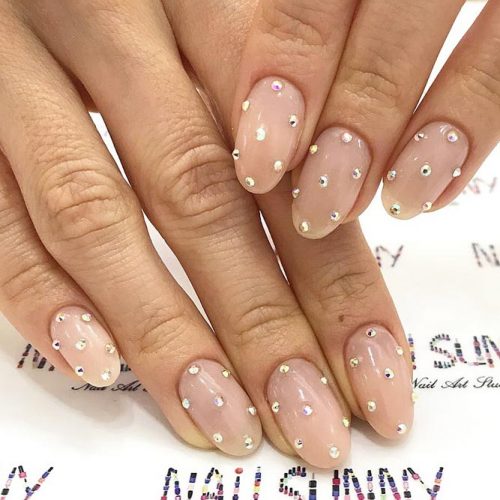 Source: nail_sunny via Instagram
When it comes to a formal office look, it's better to avoid bright colors and too many patterns. Pastel shades will work great. And a French manicure is a popular choice, too. But it doesn't mean that you can't have some fun with some rhinestones or gems like depicted here.
Simple Oval Nail Design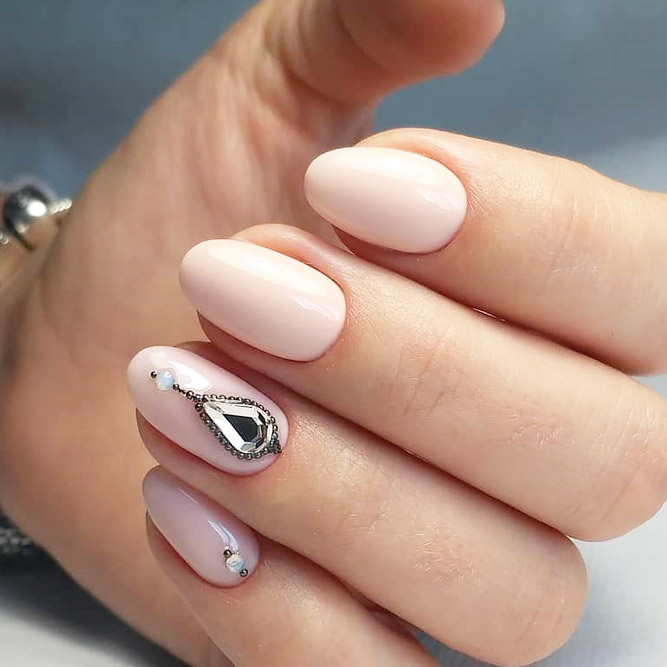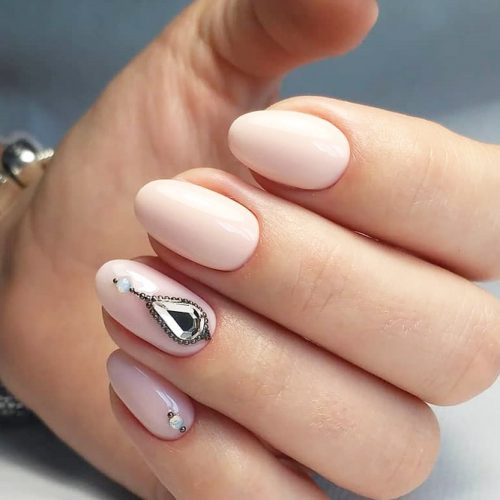 Source: sveta_liber_nail via Instagram
Even the simplest oval nail designs can be brought to a completely new level if you decide to incorporate some rhinestones or gems. Such accents can change your nail game completely. Once simple, this design becomes so glammed up with gems.
Long Oval Nail Design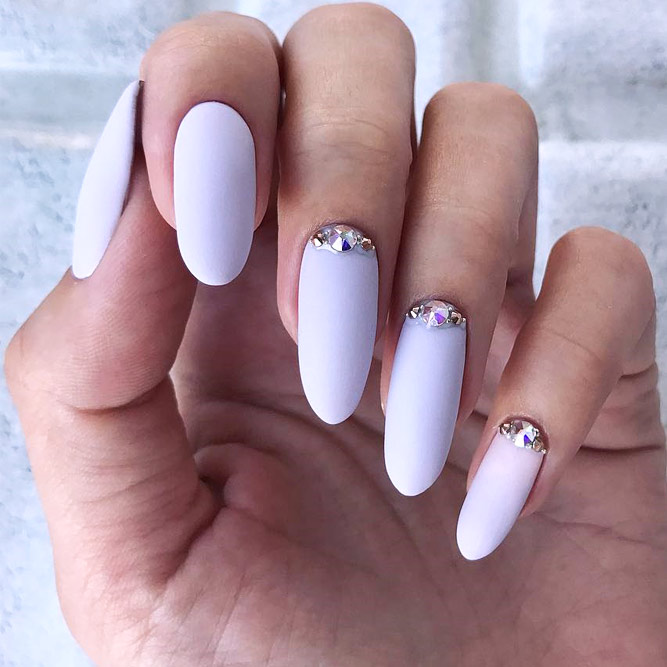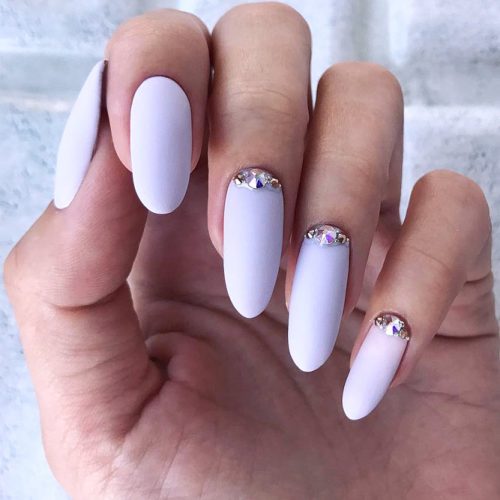 Source: kristina_nailspb via Instagram
Long oval nails can offer you much space for experiments. But a classy, a bit refreshed with sparkly crystals white classic manicure like shown here is always a win-win. Especially if you need your manicure design to pass a strict office dress code.
Hearts Designs For Short Oval Nails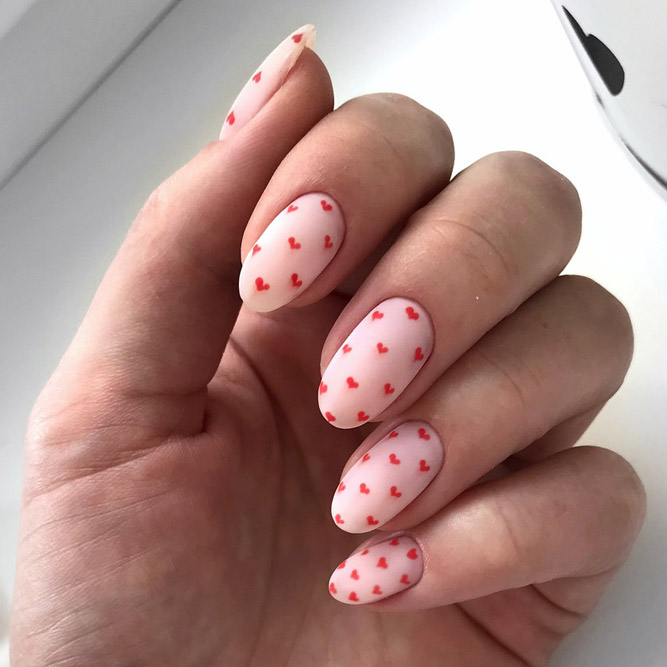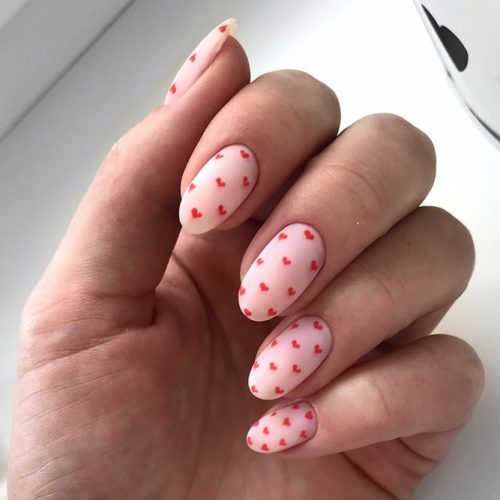 Source: Instagram.com/whiterabbit_beauty
This nail art idea is pretty and feminine. Simple nude base is accentuated with cute red hearts. And this design can be easily done at home.
Pastel Purple Short Oval Design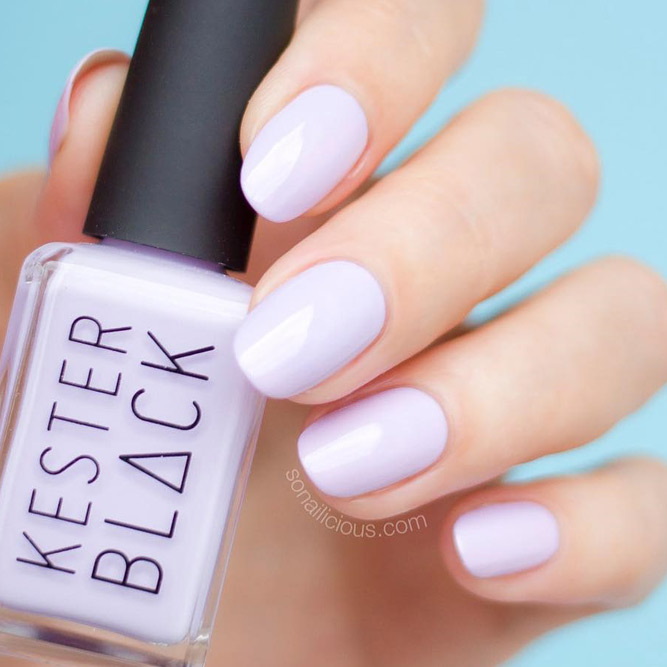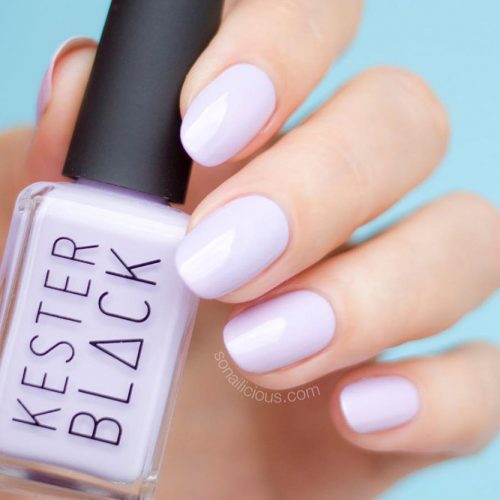 Source: so_nailicious via Instagram
Pastel purple nail lacquer appears very soft on its own, also if you want, you can add some silver glitter triangles, and the nail design instantly becomes more intriguing. This mani will work great for every day.
Deep Blue Oval Nail Design With Triangle Accent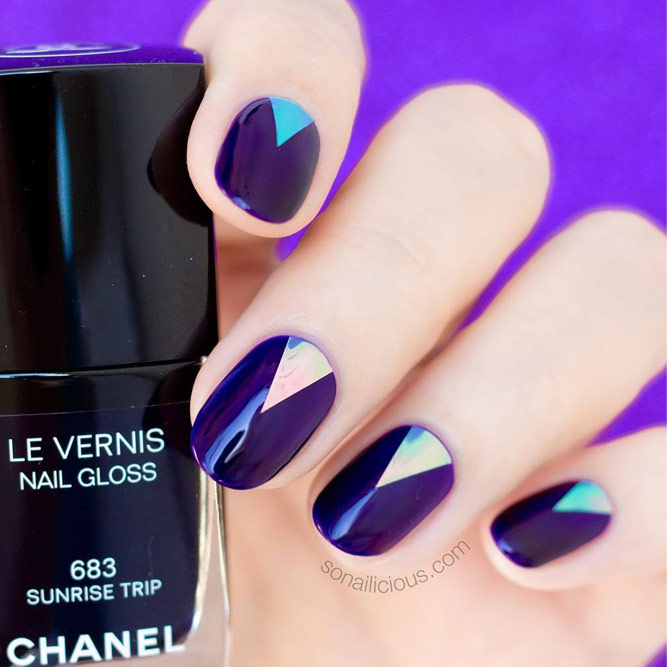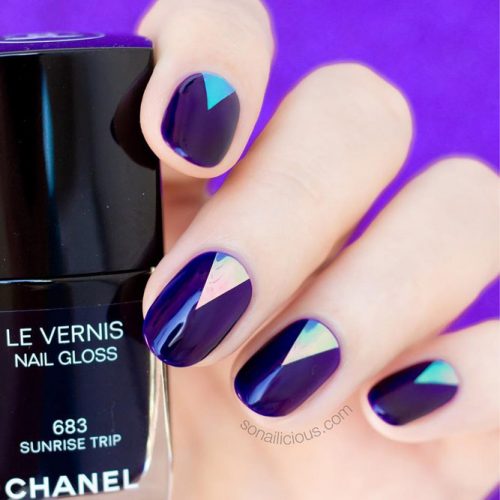 Source: so_nailicious via Instagram
The nail art idea in this picture is reminiscent of the 80-s disco with its rich plum base and fun triangular sprinklings. These triangles can be painted any shade you like.
Oval Nails With A Half Moon Design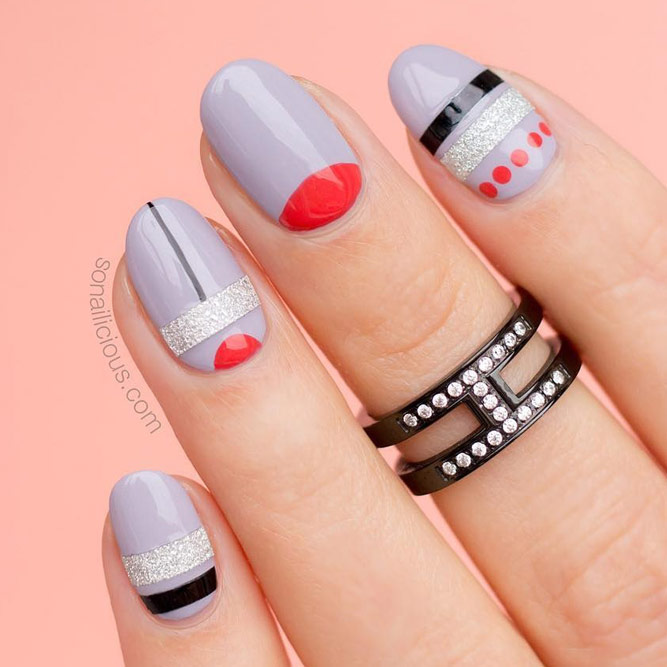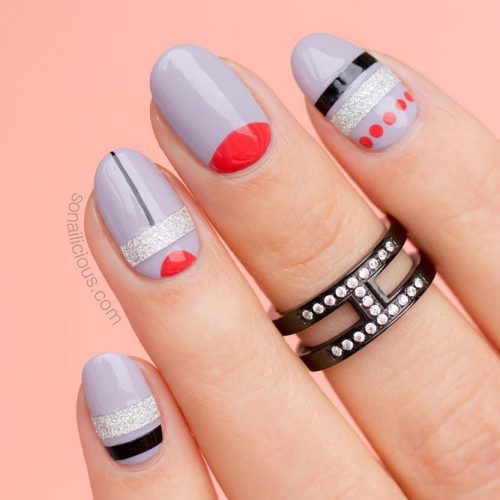 Source: so_nailicious via Instagram
Half moon nail designs have become increasingly popular lately. Look how prettily this simple grayish base is accentuated with colorful half moons, dots and stripes.
Oval Nail Design In Nude And Black Colors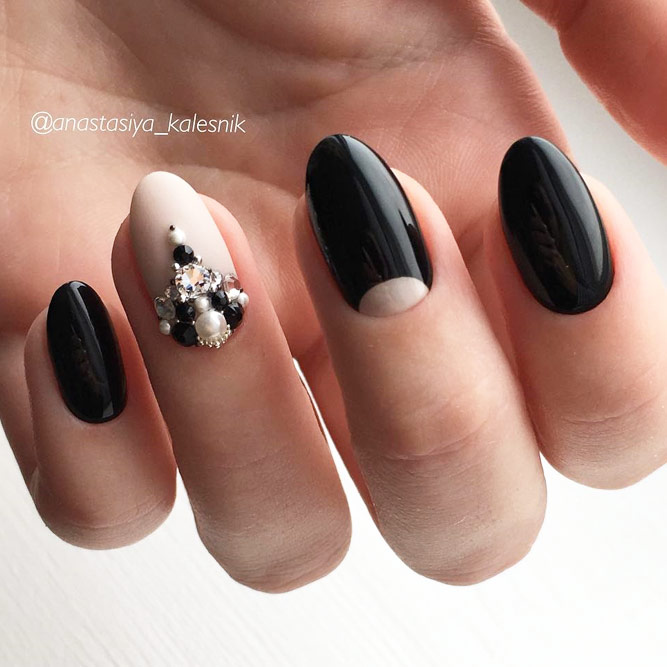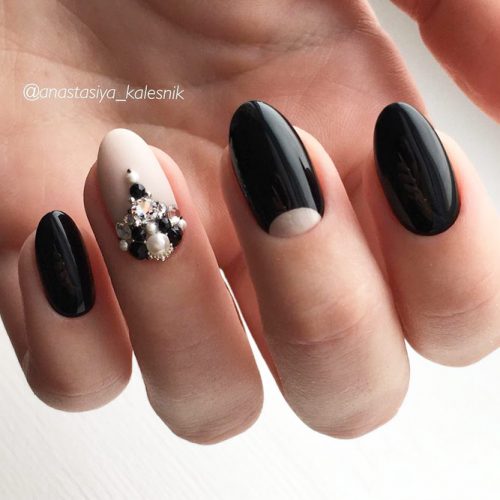 Source: anastasiya.kalesnik via Instagram
We think that this nail art idea looks very sophisticated with its black base and mocha accent nail. The added gems and a half moon on one of the nails makes this design even more stunning.
Simple Oval Nail Design With Half Moon Accent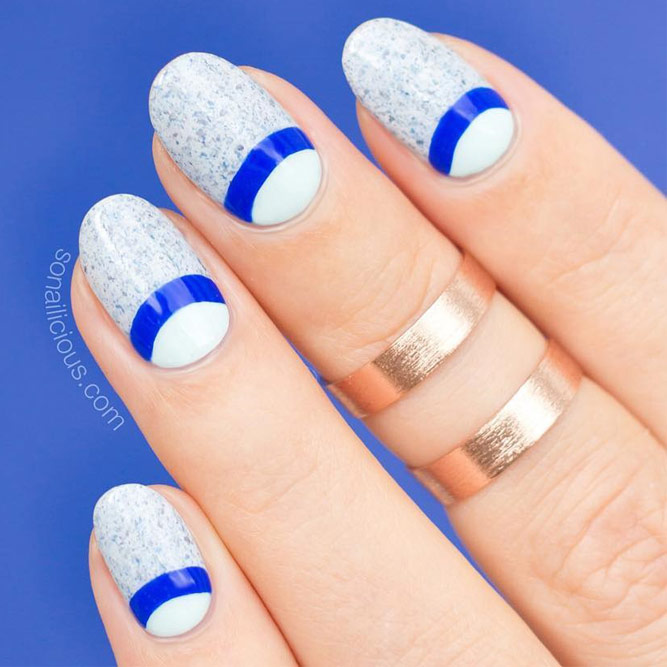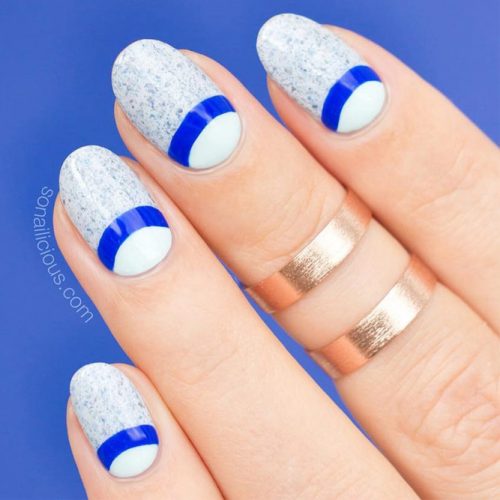 Source: so_nailicious via Instagram
White and blue is such a bright combo that it's a crime not to sport it at least once on your nails during the summertime. Though simple, blue stripes appear very cool against the white base.
Beautiful Floral Oval Nails Design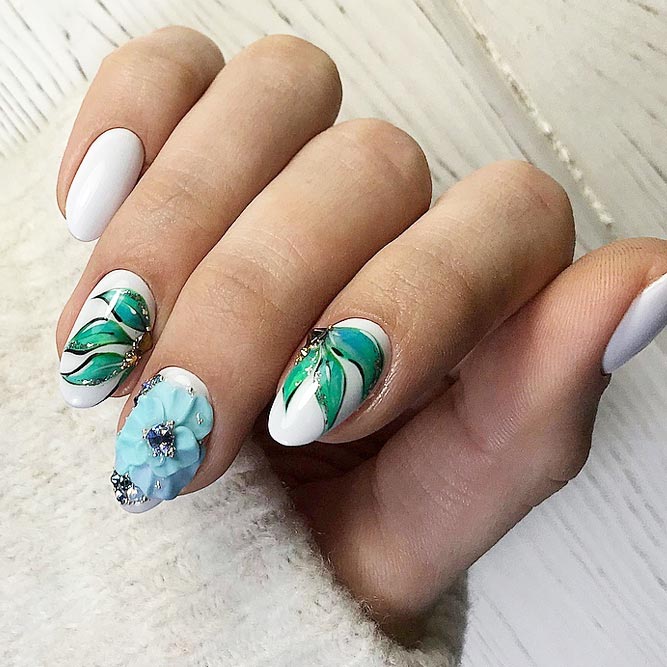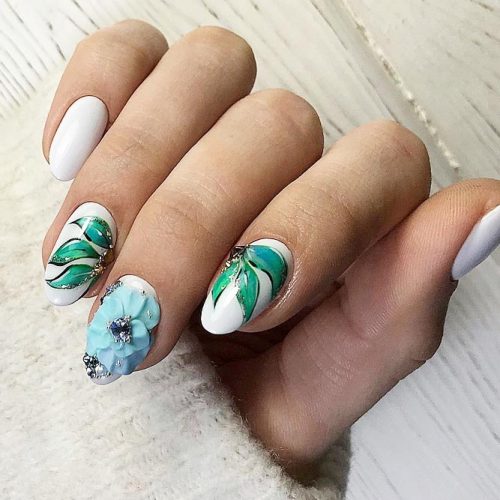 Source: amur_nails via Instagram
Floral nail designs are timeless and their popularity does not depend on any trends. Green and blue floral patterns appear spectacular against this sheer white base color.
Acrylic Oval Nail Design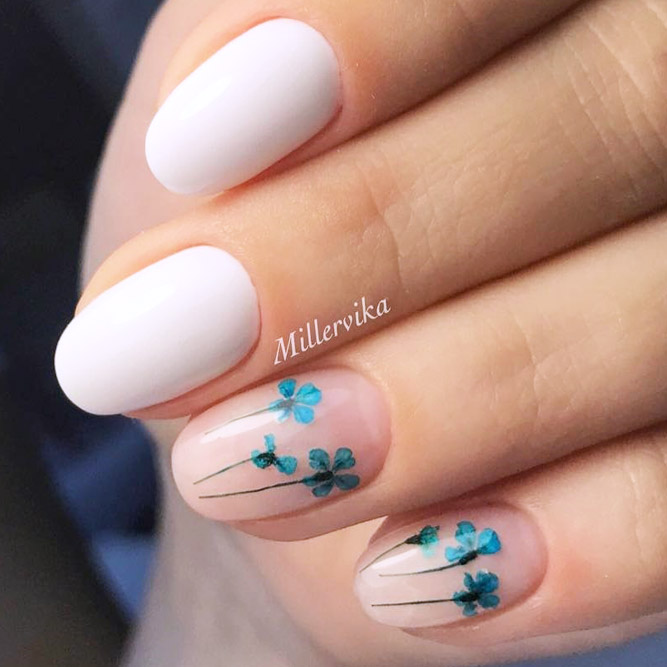 Source: millervika via Instagram
Whether you have oval nails acrylic or natural, floral patterns will always be an embellishment. The patterns can be big and screaming and they can be small and subtle like in this pic. What is to your taste?
Juicy Floral Nail Art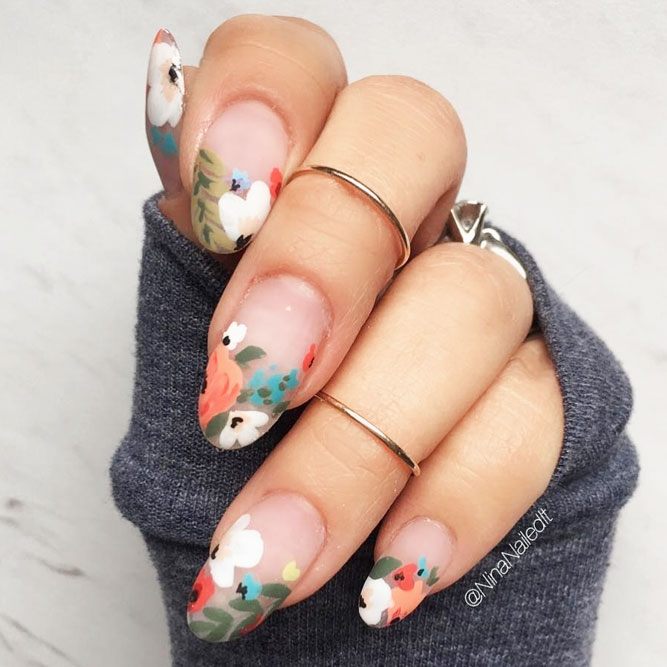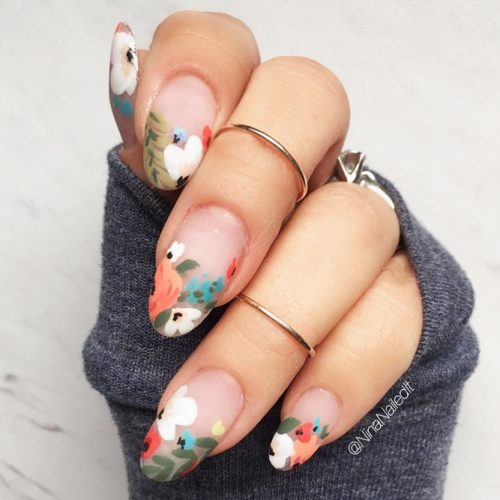 Source: ninanailedit via Instagram
Do you like this floral nail art? In this picture, flowers are concentrated on the top half of the nails with a transparent nail base. This nail design idea is simple yet juicy.
Oval Nails With Rhinestones
Source: julee62 via Instagram, womens_hands via Instagram, irina_nails_msk via Instagram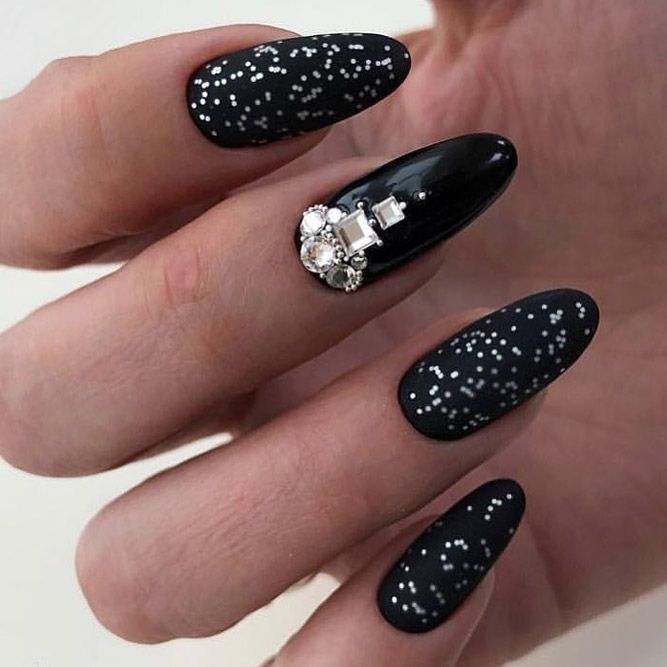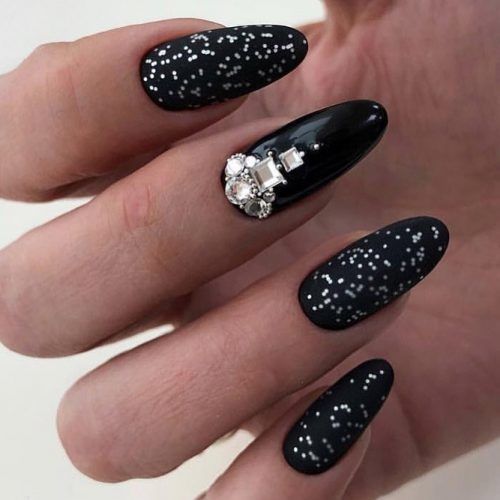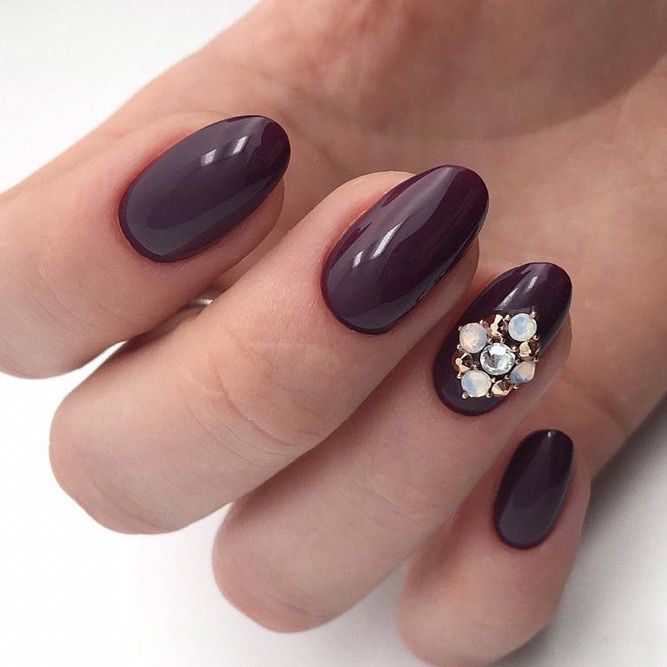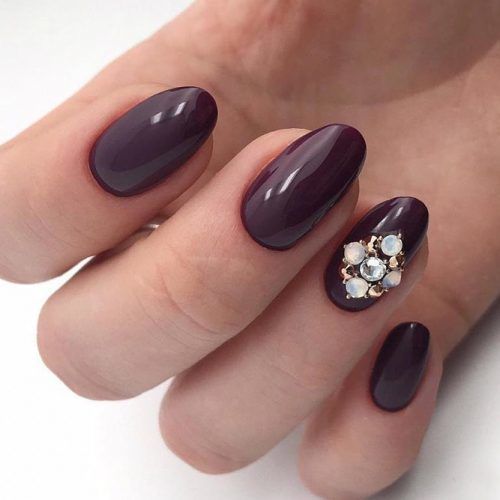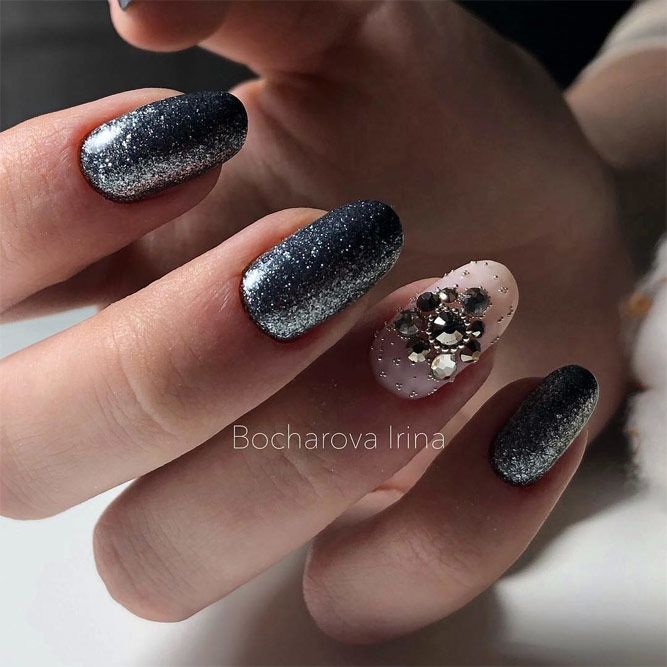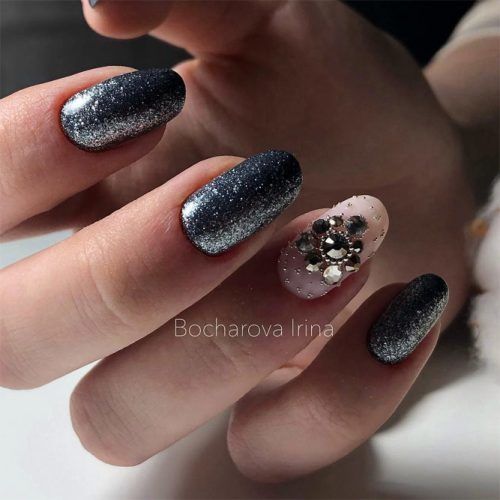 If you wish to grant your oval nails that exquisite and elegant touch then you need to consider rhinestone accents. The truth is that even one accent finger will take your manicure to the entirely new level of gorgeous!
Nude Oval Nails
Source: id_nails_space via Instagram, _idealnail_ via Instagram, vertoni_nails via Instagram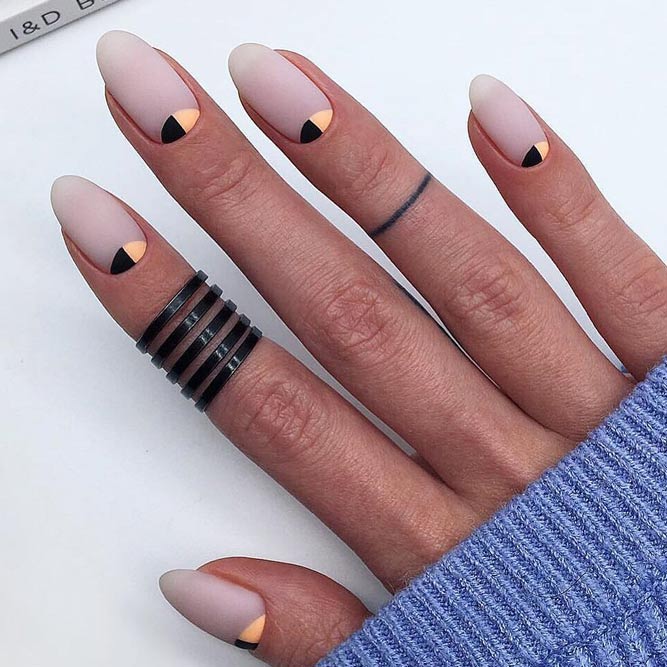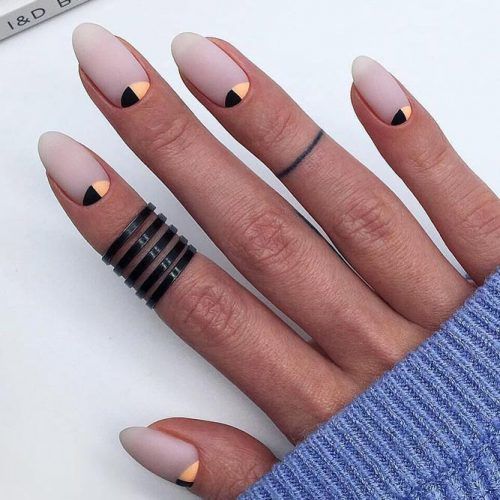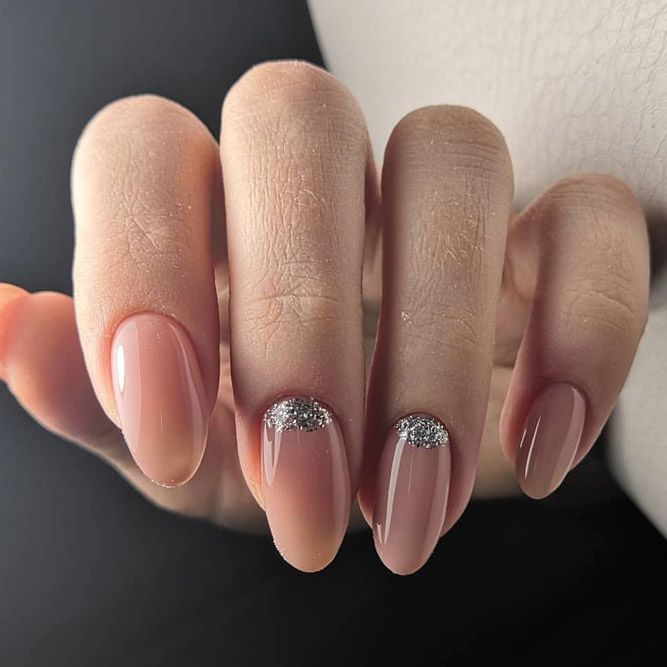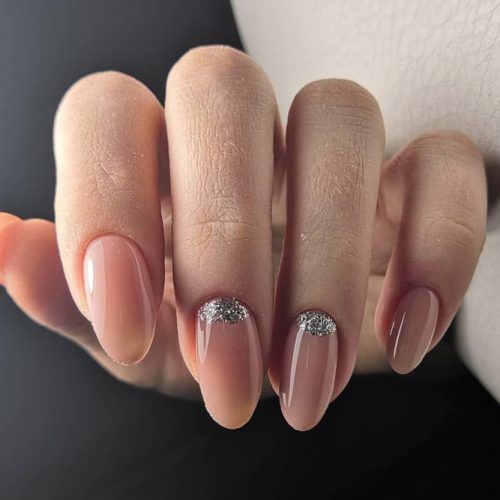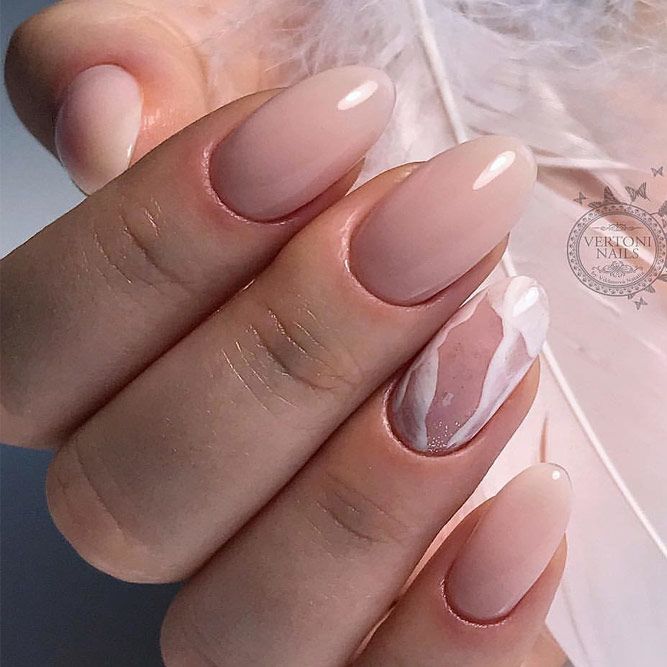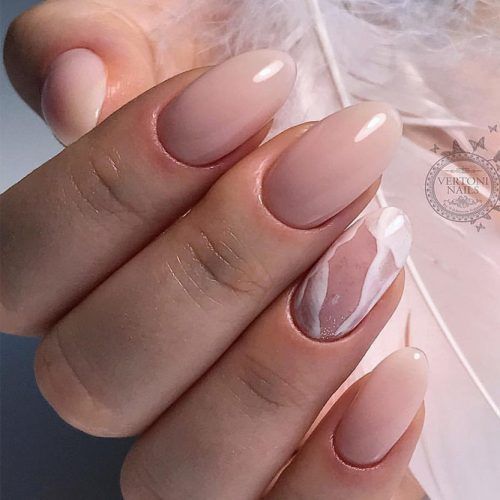 In case you are looking for some neutral ideas to adorn your oval nails with – we have a few options in mind. In times when solid nude manicure becomes a little too dull, perfect minimalistic accents will save the day!
Now you know how to embellish your oval nails to add some pizzazz to your image. More inspo is waiting for you on our blog.
FAQ: Oval Nails
What shape is strongest for nails?
Oval nails "stretch" the nails and are the most used shape for catwalks. They spread narrow nail plates, giving them a more uniform look. Moreover, oval nails are one of the strongest nail forms and are not easily damaged.
What is the classiest nail shape?
As previously mentioned, conical nail shapes such as almonds "extend" short or wide fingers.
People with wide nail plates should opt for rounded-shape nails.