Autumn is the time of pumpkins, cozy get-togethers, and unforgettable ambiance. It means you must spice your whole look up from head to toe and embrace fall trends. Fresh fall nails 2023 is about to bring will be all about bold jewel tones, earthy neutrals, unusual patterns, and intricate seasonal details. To walk into the season guns ablaze, you must investigate these ravishing fall nail designs that our experts have meticulously picked for you. We promise there's a perfect fall nail design for each and every one of you!
What is The Fall Trend for Nails?
Upcoming fall nail ideas will embrace an extensive variety of options and unique collaborations. Let's point out a few:
Rick jewel tones – emerald greens, burgundies, blues, and plums will make excellent shades for your seasonal manicure. Hues like that are filled with a sense of warmth and bring elegance to the look.
Earthy neutrals – those interested in a more sophisticated look may want to pay attention to nature-inspired colors like warm browns, creamy taupes, and muted grays to capture the cozy and rustic vibes that autumn is known for.
Matte finishes – we're not saying that glossy tops are out of the picture when the fall hits. It's just matte top coats that introduce that velvety feel that is hard to resist.
Metallic accents – gold, silver, copper, blue, you name it – all will result in cute fall nails that will complete your glamorous and chic image like nothing else.
Nail art – whether you prefer your fall nails simple or want to take things a little further down the unique line, nail art, in its versatility, will help you fulfill the goal. Let nothing restrict your creative vision!
When should you do fall nails?
Brooding upon fancy gel nail designs for fall brings us to the point of when we should start pulling those fall nail trends off? Well, the truth is that you can start playing around with fall themed nails from late August to late November. You can get more specific with your fall nail design ideas whenever you approach any particular event or holiday.
Paisley Nails Art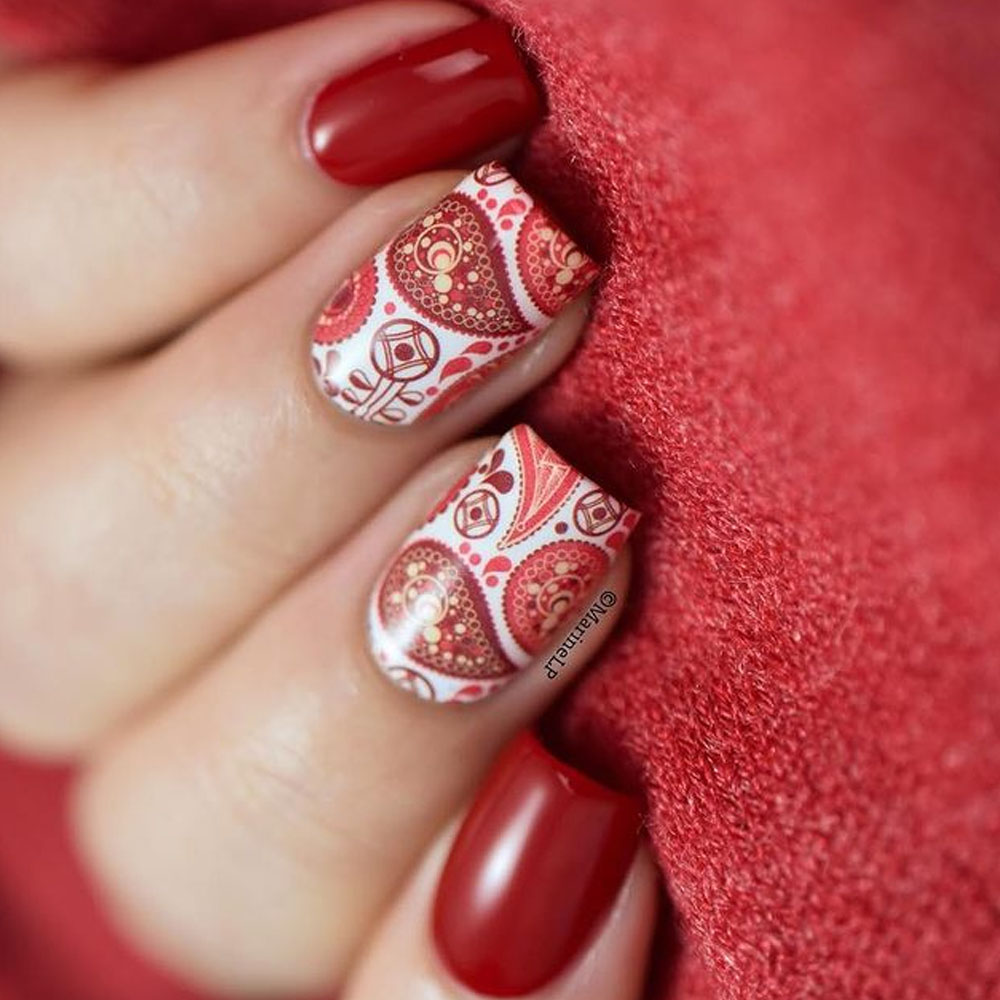 Credit photo: instagram.com/marinelp91
Paisley patterns are intricate and elegant, making them a great choice for fall nail art. You can create paisley designs using deep reds, oranges, browns, or even metallic shades on short fall nails. These patterns often feature teardrop-shaped motifs and intricate swirls. Use a fine nail brush or dotting tool to paint the paisley details for lovely fall gel nails results. Essie and OPI, known for their diverse nail polish collections, offer a range of shades and textures perfect for creating paisley-inspired designs.
What is the nail trend for fall?
Houndstooth Pattern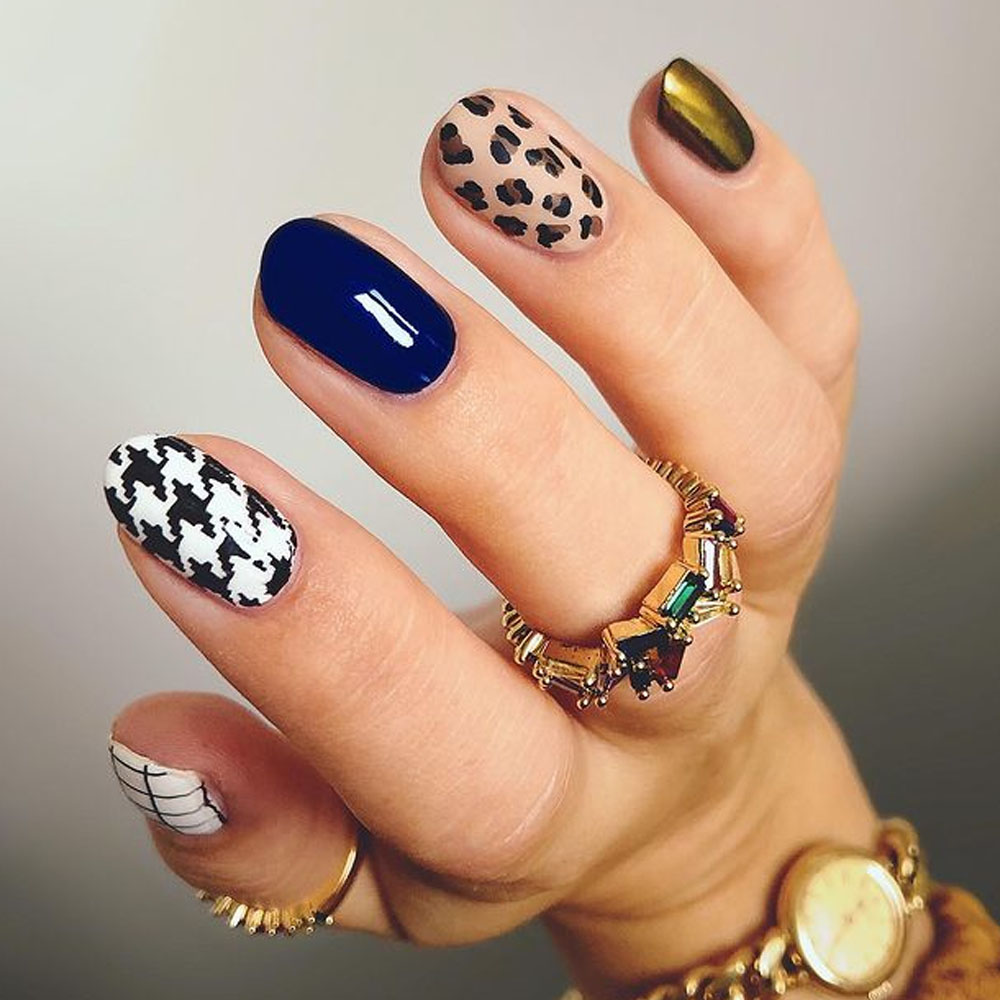 Credit photo: instagram.com/basecoatstories
For fall nail design ideas, the houndstooth pattern is a timeless classic, and it's making a stylish comeback in the realm of nail art this fall. Sally Hansen and China Glaze, renowned for their innovative nail products, offer a wide array of colors and textures to help you achieve the perfect acrylic fall nails. Creating houndstooth fall nail designs involves precision and patience. Start with a base color that contrasts well with black and white, or you can stick to these two colors.
Monochrome Nails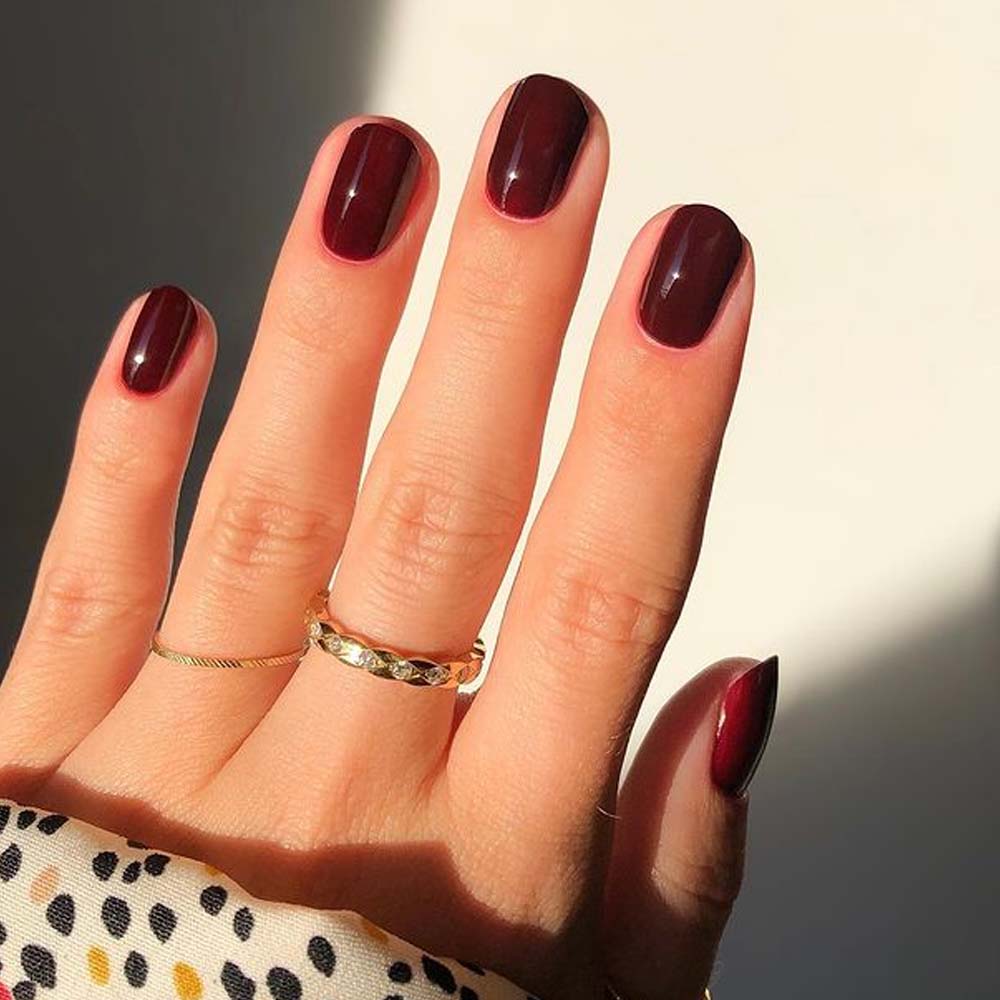 Credit photo: instagram.com/basecoatstories
If you prefer simple fall nails, and you're looking for fall nail designs for short nails monochrome nails offer a sleek and modern look, perfect for those who appreciate minimalist elegance. To achieve this fall nail inspo, pick a single color, preferably one that embodies the spirit of fall, such as deep burgundy or rich chocolate brown. Chanel and Beetles are known for their high-quality nail products and an extensive range of colors, making them ideal for achieving these monochrome fall nail ideas.
Sage Green With Flowers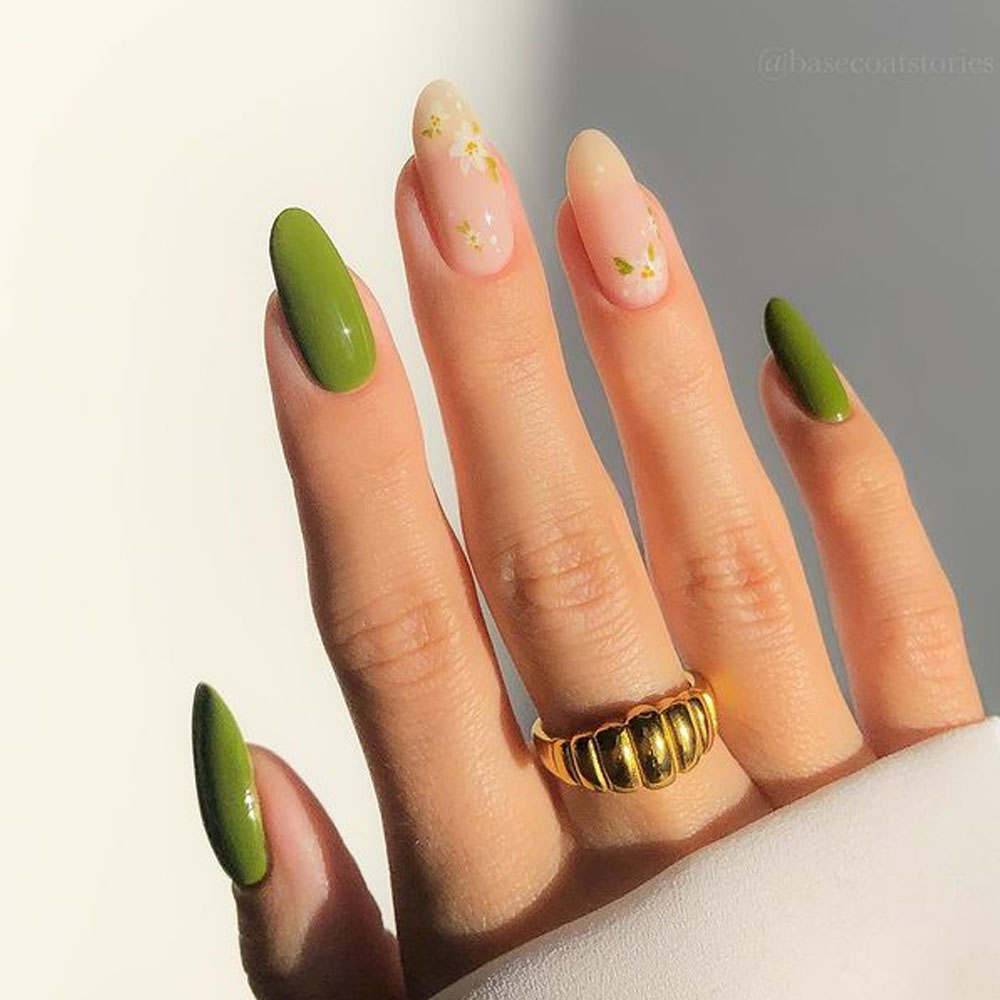 Credit photo: instagram.com/basecoatstories
Sage green with floral accents is a delightful and fresh choice for simple fall nail ideas. Start with a sage green base coat, a color reminiscent of autumn foliage on your fall almond nails. Then, use a fine nail art brush to delicately paint flowers in warm, complementary shades like burnt orange, deep plum, or mustard yellow. Finish with a clear top coat to protect your masterpiece and add shine. Your fall acrylic nails capture the essence of fall and add a touch of femininity to your look.
Abstract Black Nails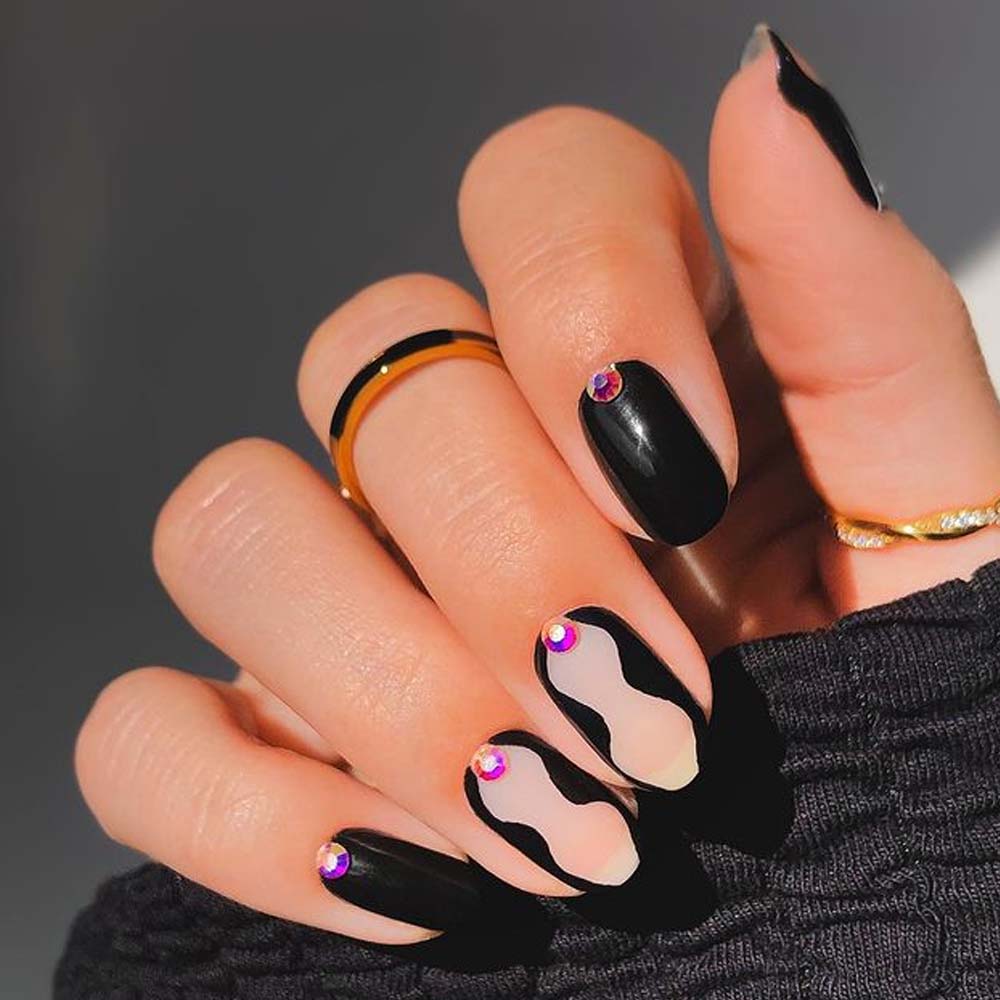 Credit photo: instagram.com/basecoatstories
Still on acrylic nail ideas for fall, abstract black nails are a bold and artistic choice for fall nail polish. JINSoon and Zoya have high-quality black nail polish collections perfect for achieving this edgy and avant-garde look. With your fall nails short, you can start with a black base coat and let your creativity run wild. Experiment with various brush strokes, shapes, and textures to create an abstract design that reflects your unique style. You can add small stones for extra drama.
Animal Print In Electric Blue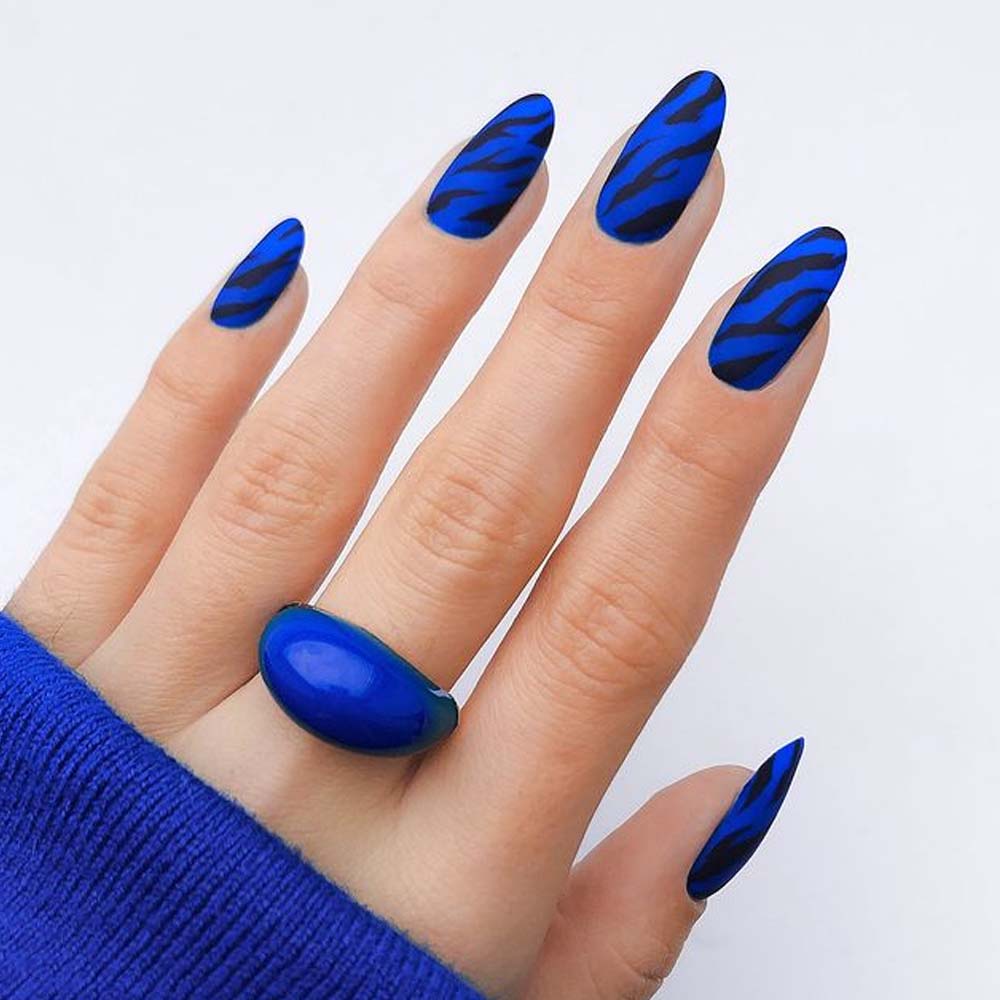 Credit photo: instagram.com/basecoatstories
While it's not common to see animal print designs using electric blue shade, we're incorporating blue gel nail designs for fall. Ladies searching specifically for fall short nails and want to touch of class can consider this blue and black animal pattern. All you need is a sense of style as creating this fall ideas for nails is a piece of cake! For the right electrifying blue shade, consider going through Essie and Bettles' blue polish collections.
Golden Ombre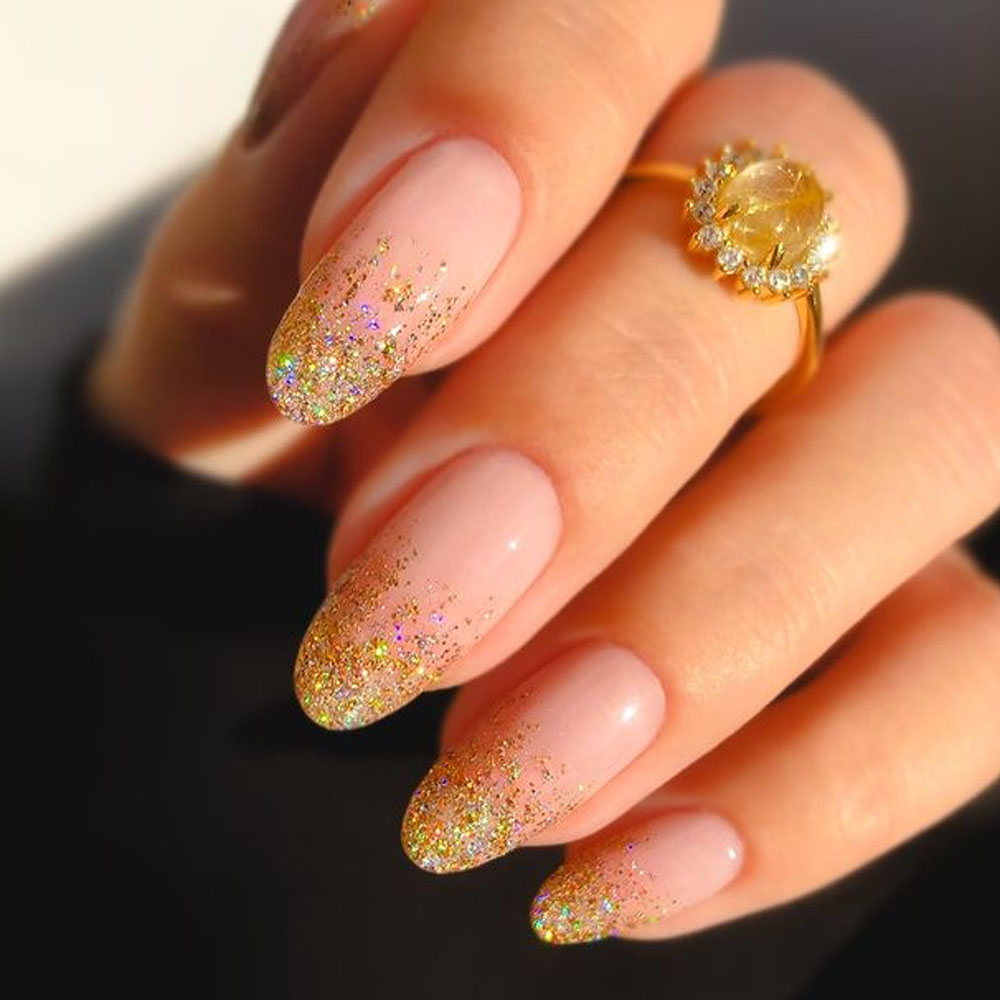 Credit photo: instagram.com/basecoatstories
The gold-inspired fall French tip nail design is a captivating and luxurious choice for the fall season. This fall nail design seamlessly blends the rich, warm hues reminiscent of autumn with a touch of opulence in the form of a glistening gold ombre effect. Orly and Butter London have both mastered this nail art trend, offering a range of gorgeous shades of glittery gold polish. The key to achieving these fall inspired nails is the gradient effect, which can be achieved by carefully layering the gold shades of polish.
Sweater Art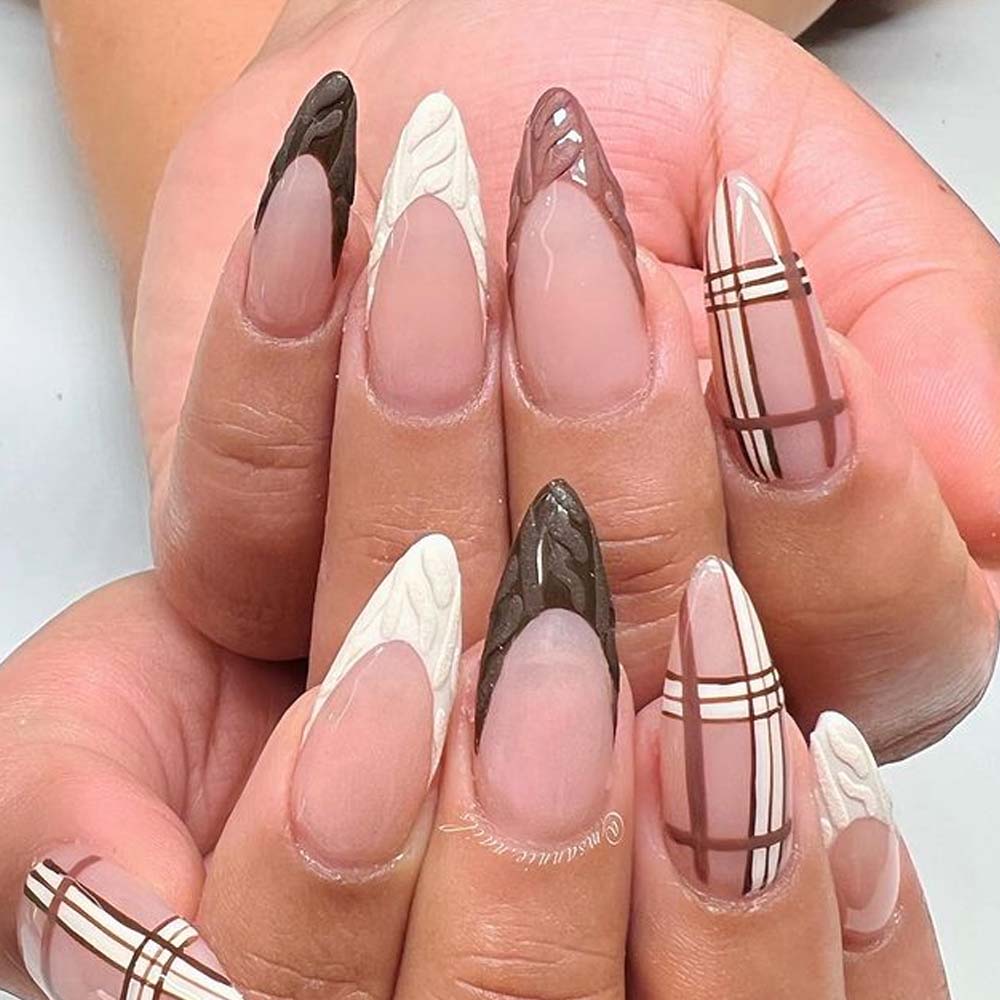 Credit photo: instagram.com/msannie.nails
When thinking of nails for fall, fall leaves aren't the only design available. Sweater Art involves cute fall nails that evoke the cozy, comforting feeling of wrapping yourself in your favorite fall sweater. To create these fall themed nails, you can also use nail art brushes to create sweater-inspired patterns, like cable-knit or argyle, with a contrasting color. Finish with a top coat for longevity and shine. CND and Chanel have elevated this nail trend to an art form with their luxurious textures and autumn-inspired colors.
Fall Leaves on Nails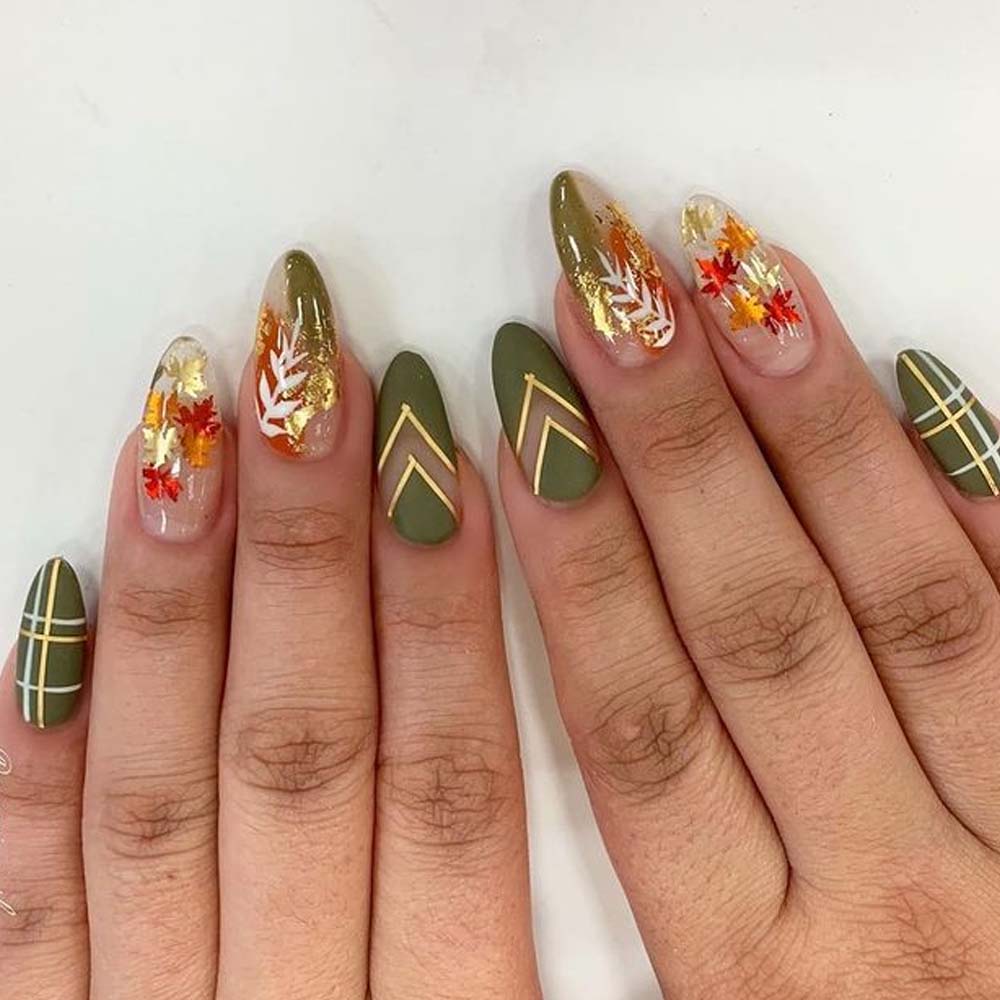 Credit photo: instagram.com/msannie.nails
What are fall nail trends without the inclusion of fall leaves? The first design that usually comes to mind when thinking of nail ideas for fall is no doubt the beautiful leaves that represent the season. So don't search too far for gel fall nail designs when you can simply design a few fall leaves on your manicure. Essie and Nails Inc. has curated stunning collections of nail polishes that embrace the hues of fall foliage.
Fall Boho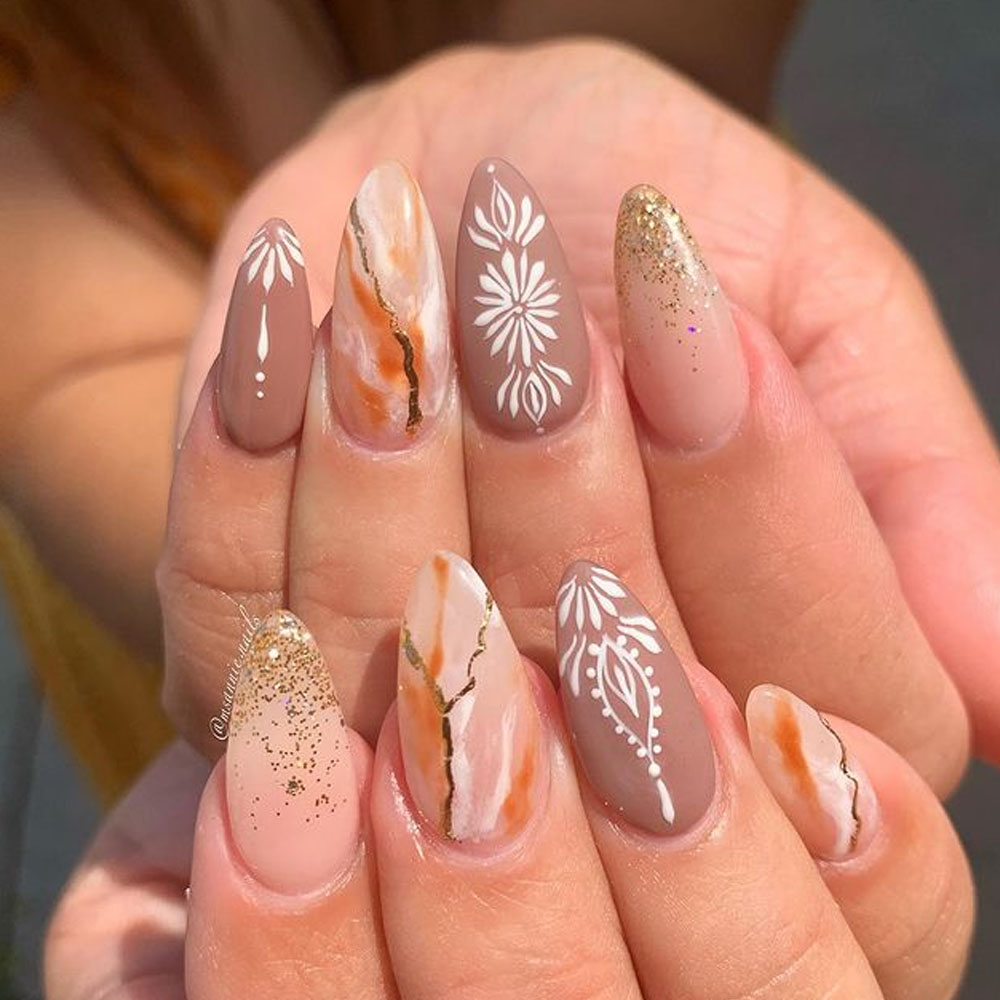 Credit photo: instagram.com/msannie.nails
On your almond fall nails embrace the free-spirited, eclectic style of bohemian fashion and incorporate the rich and earthy colors of autumn in this fall nails design. For the color palette, think about warm and earthy tones like nude, mustard yellow, orange or gold glitters. These shades capture the essence of the season and work beautifully together. Don't want your fall nails simple, then be ready to create unique and eclectic designs on each nail. For cute fall nail ideas draw inspiration from boho patterns like paisleys, florals, and abstract geometric shapes.
Chrome Fall Nails
Credit photo: Instagram.com/want_nail_studio
i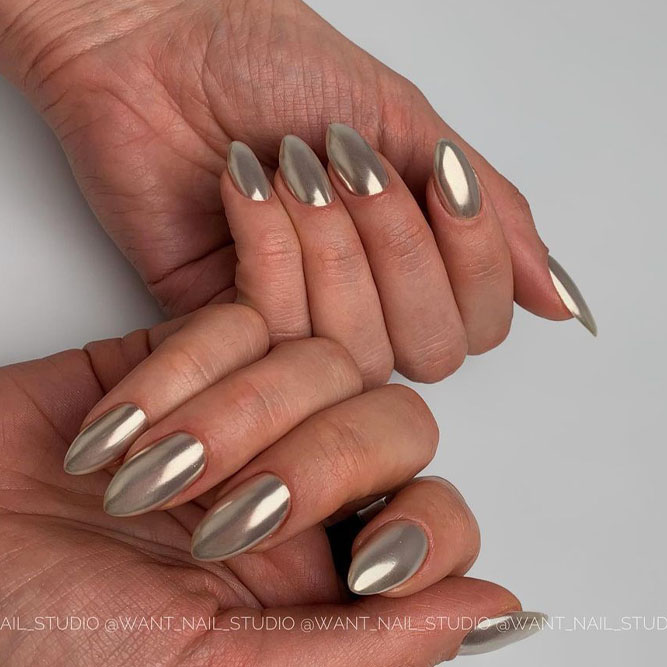 /
Chrome fall nails ideas possess that modern and eye-catching flair that only a few can keep away from, especially when the season hits. Fall gel nails coated in chrome finishes of gold, silver, and rustic shades will introduce a slightly futuristic touch to your persona. Moreover, you can mix and match chrome accents with negative space nail art or use them as delicate details that showcase your individuality and style. One more peculiarity of chrome coats is that they look equally ravishing on almond fall nails, incorporated into coffin fall nail designs, and even on fall short nails.
What's your favorite fall nail design?
Anonymous quiz
Warm and cozy sweater nails
Classic autumnal leaves and foliage
Pumpkin spice-inspired nails
Moody dark nails
Halloween-themed nail art
What's your favorite fall nail design?
Warm and cozy sweater nails
17.07
Classic autumnal leaves and foliage
32.93
Pumpkin spice-inspired nails
24.39
Halloween-themed nail art
4.88
Voted : 82
Plaid Fall Nail Designs
If there's a more autumn-spiced pattern than plaid, we know little about it. Thus, plaid fall ideas for nails are yet another direction to investigate when the season approaches.
You can use these variants to embrace the trend:
Classic plaid nails for fall in deep red, burnt orange, mustard yellow, green, or blue will reflect the warm fall vibe with a traditional incline.
Accent fall nail art with a plaid pattern involved can go with any hue. The utter beauty of the idea is that you can make the pattern stand out with as much as a single nail coated with plaid.
Plaid and glitter are a perfect combo to introduce some sparkle into your look. Play around with gradients and accents to succeed with the best seasonal outcome that makes you feel warm inside.
Leaves and Florals for Fall Nails
Credit photo: Instagram.com/galanea_marta
i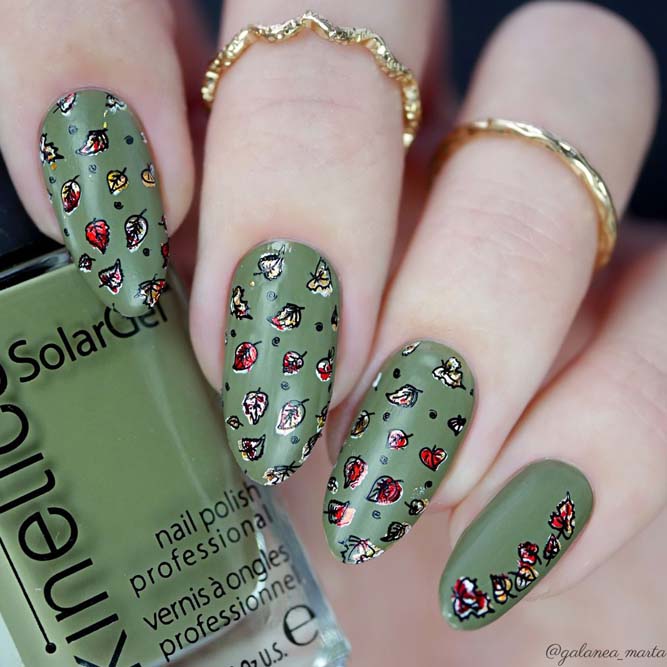 Credit photo: Instagram.com/thehangedit
i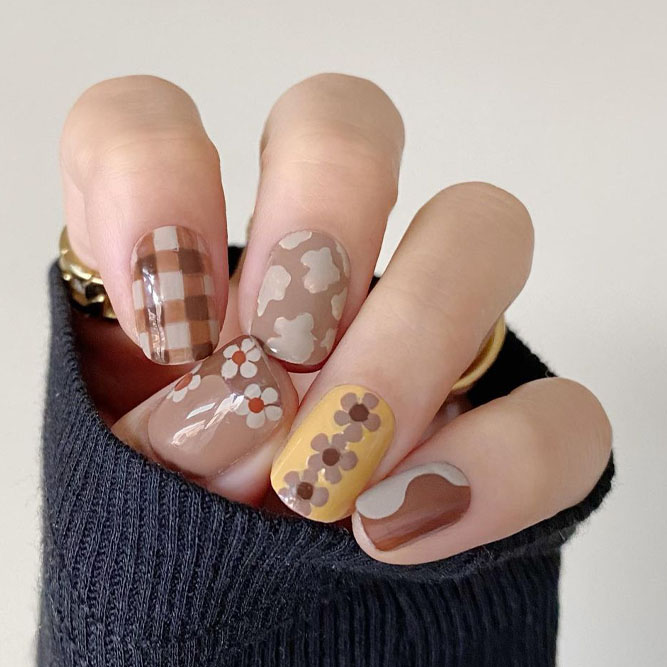 Credit photo: Instagram.com/puro.nails
i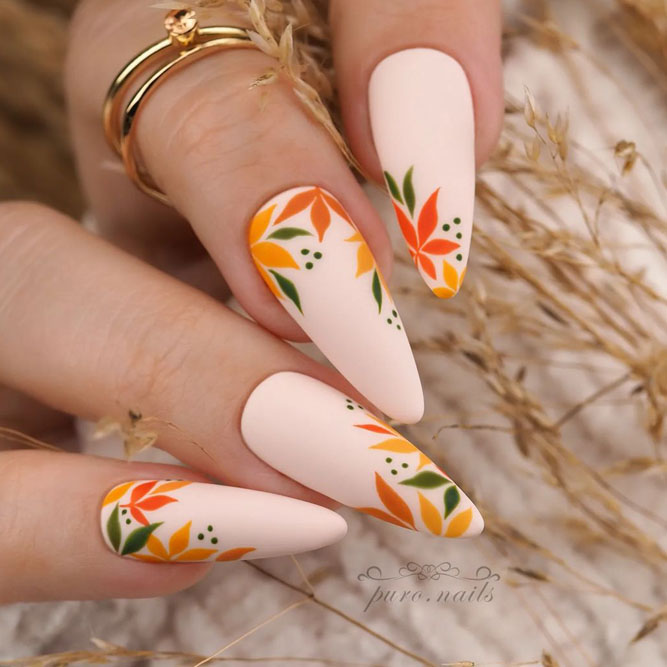 Source: Shutterstock
i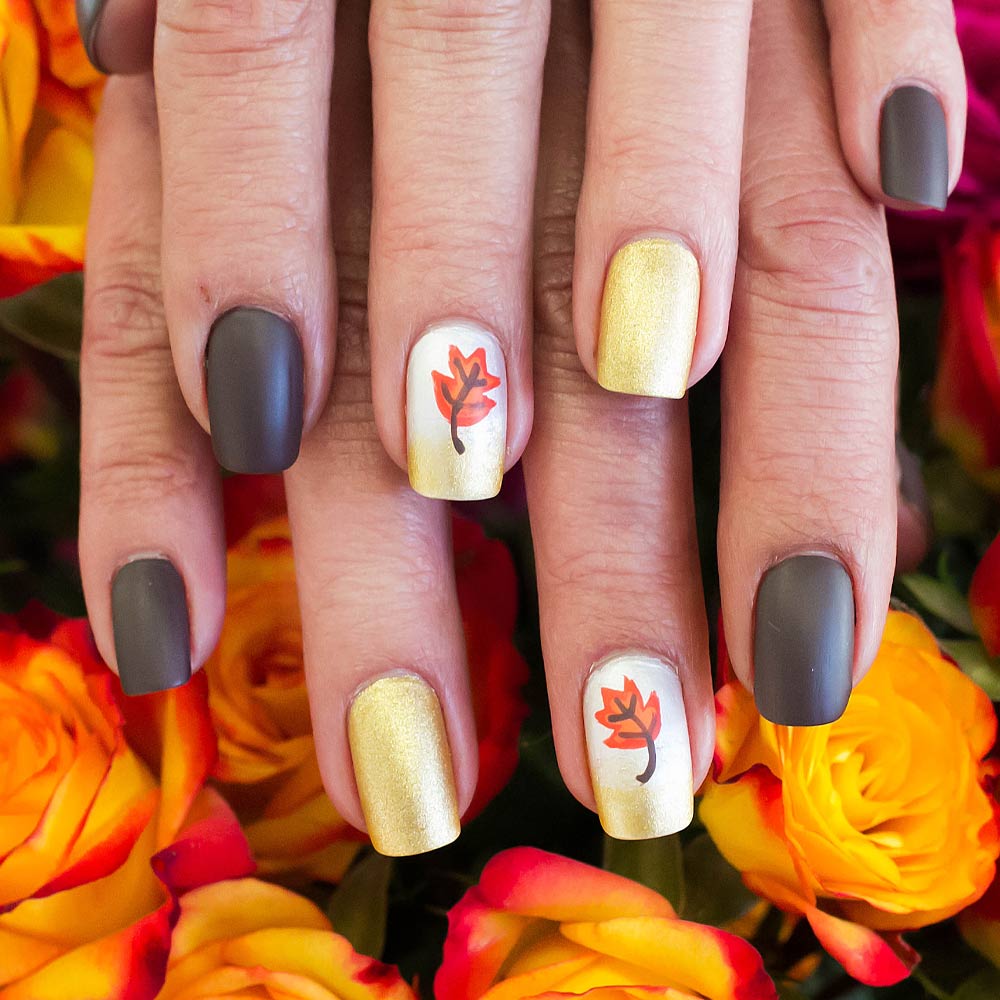 Credit photo: Instagram.com/so_nailicious
i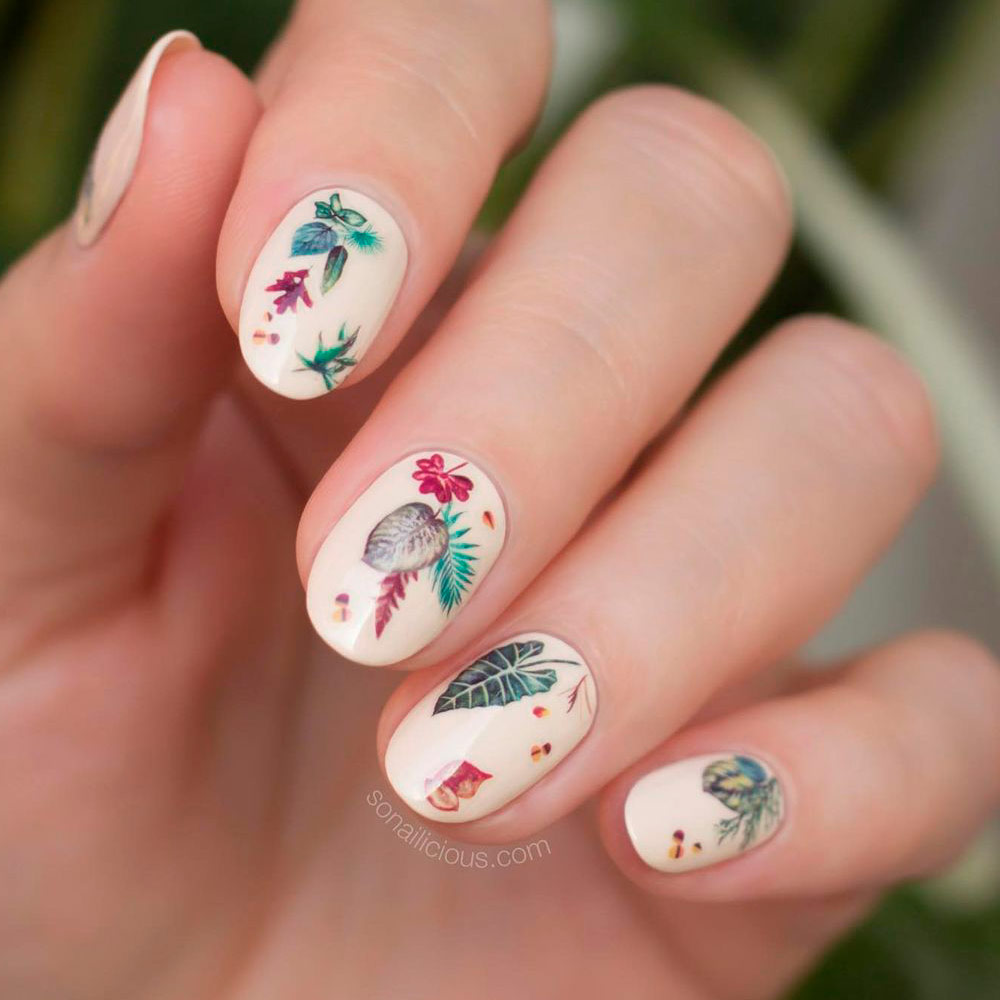 Source: Shutterstock
i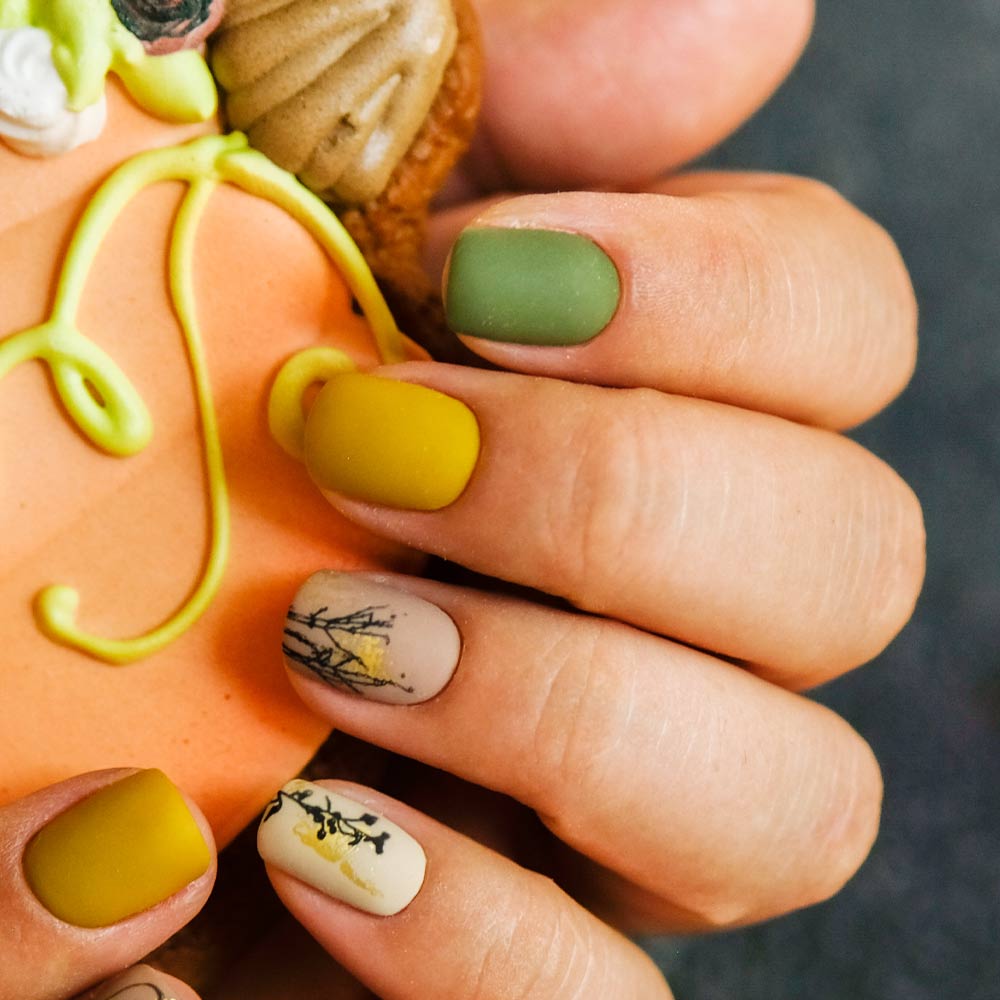 /
Nothing speaks 'autumn' nail designs louder than falling leaves. Embrace the trend and use it to your ultimate benefit.
Accent leaf nail –no need to go over the edge with the fall vibe. It takes a leafy accent nail to capture the flair. Leave the rest of your nails solid-coated and enjoy the adoring glances!
Seasonal base – coat your nails in some impressively fall-ish colors and adorn them with tiny falling leaves. While such fall nails design may be slightly louder than the rest, at least it fits the season ideally.
Floral accents – fall does not mean flower-less. It just means that instead of juicy and vibrant summer shades, you should stick to the seasonal tones we've discussed. Besides, you can pair your floral manicure with plaid accents and more.
Swirls Nail Art for Fall
Even simple fall nail designs can be exceptionally vibrant and thematic looking if you approach the matter correctly. Let's say you are a fan of fall almond nails but tired of classy French tips and traditional ombres. We have a perfect suggestion – coat your tips in colorful swirls so you don't break the dress code with overwhelming bling or bright colors.
Abstract Fall Nail Designs
Credit photo: Instagram.com/charsgelnails_
i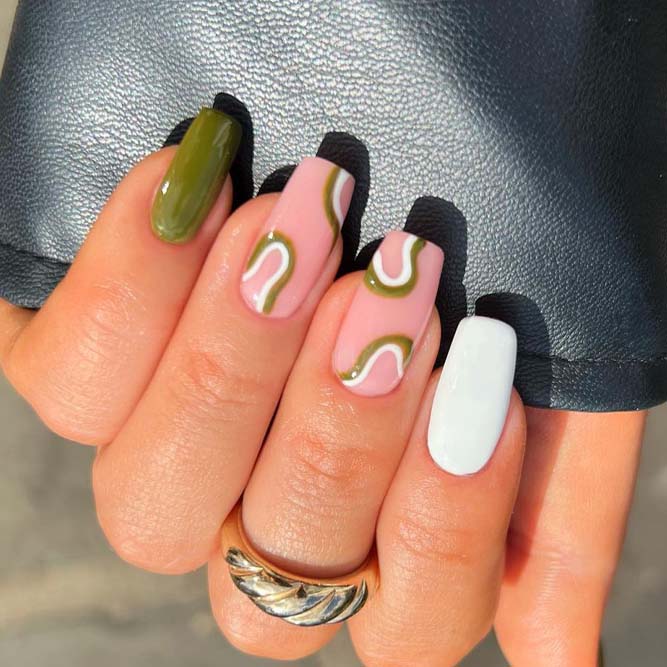 Source: Shutterstock
i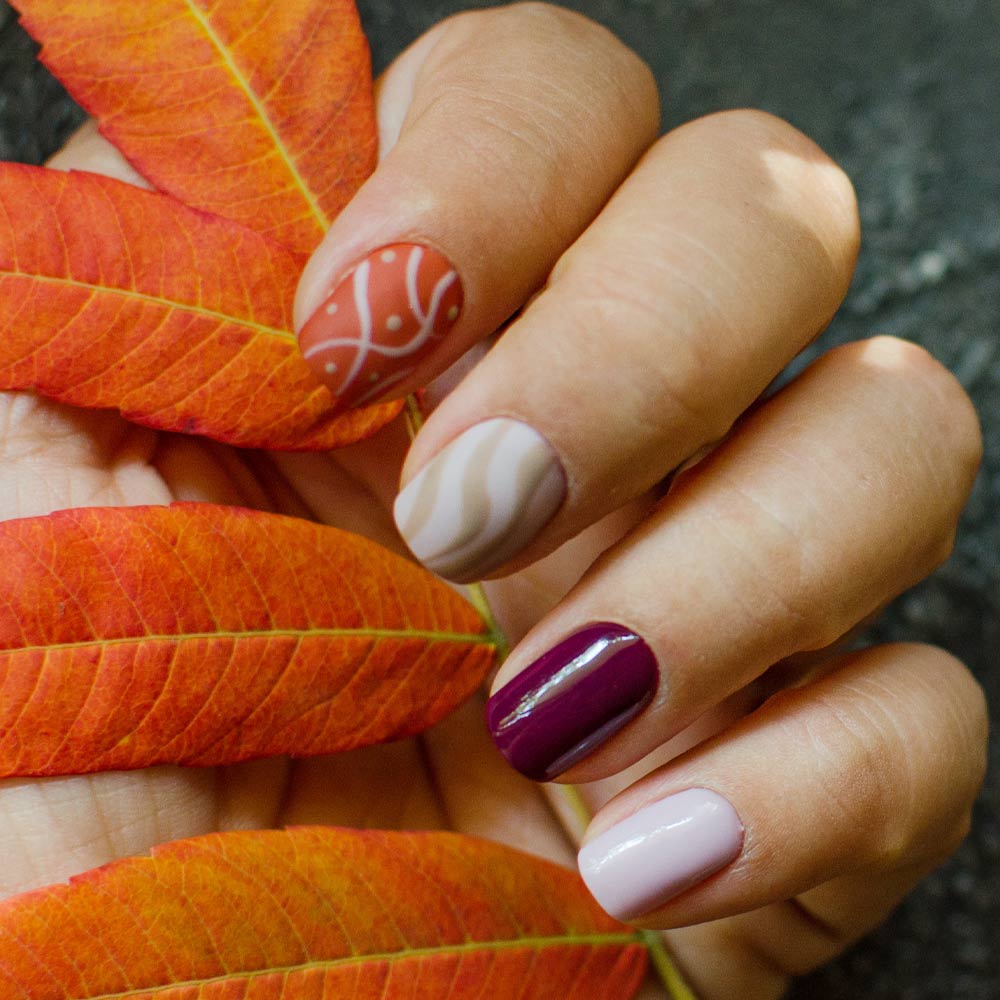 Source: Shutterstock
i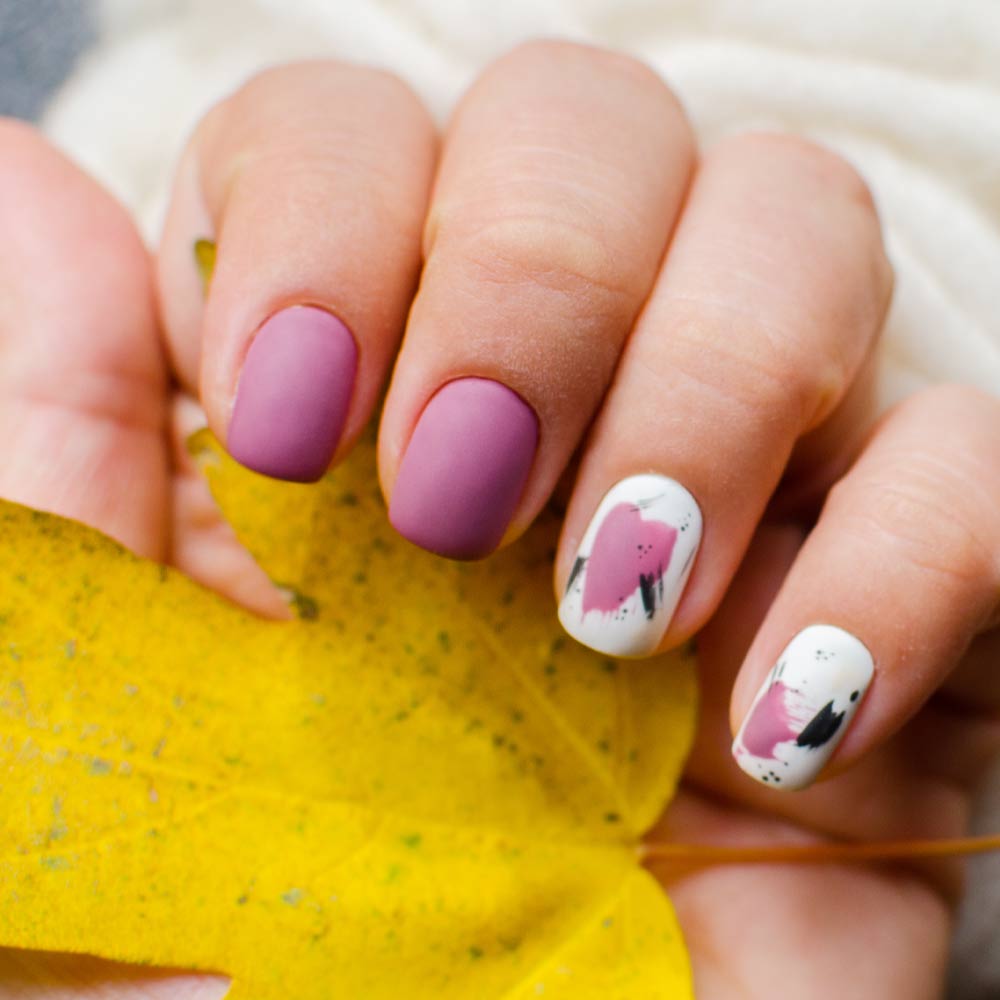 /
One can't fully dedicate abstract nail art to a season since it looks extraordinarily gorgeous all year round. However, you can spice your abstract fall nails designs with proper coloring to reflect the seasonal belonging. Whether these are mere accents or full-scale nails that you are aiming at, dusty greens, rusty shades, and faded blues would suffice the task perfectly. Bring in a little sparkle to make them truly shine.
Glittery Fall Nail Designs
Some of you may falsely believe that glittery nails are all reserved for winter and the holidays the season brings. However, there's plenty of room for glitter in nail trends fall 2023 will launch. In terms of designs, you can set your imagination free when it comes to glitter nail art. It is possible to pair accent nail art, geometrical mani, fall French tip nail designs, and gradient ideas with glitter and look your absolute fantastic. Yet, you must stick with the seasonal palette. Keep in mind warmer and earthier tones dim the shine of glitter so that it does not look out of place, no matter the event or occasion.
Fall Nails with Rhinestones
Credit photo: Instagram.com/nailsby_may
i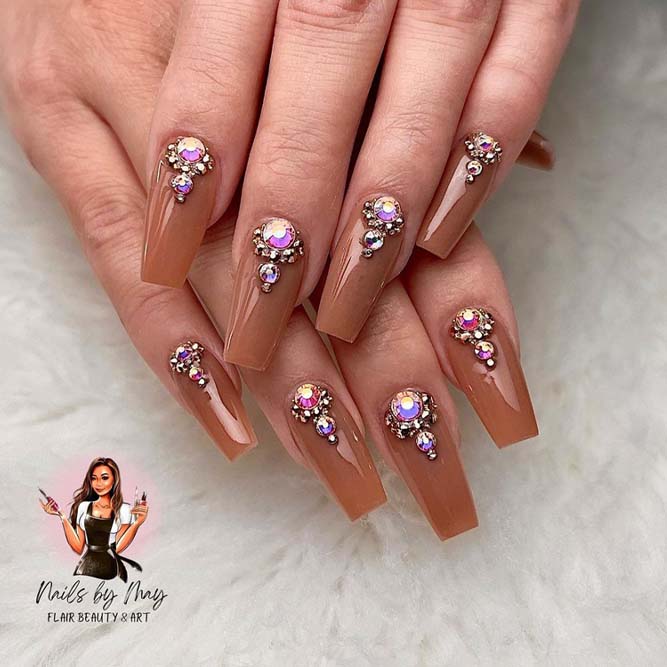 Credit photo: Instagram.com/nailsup_
i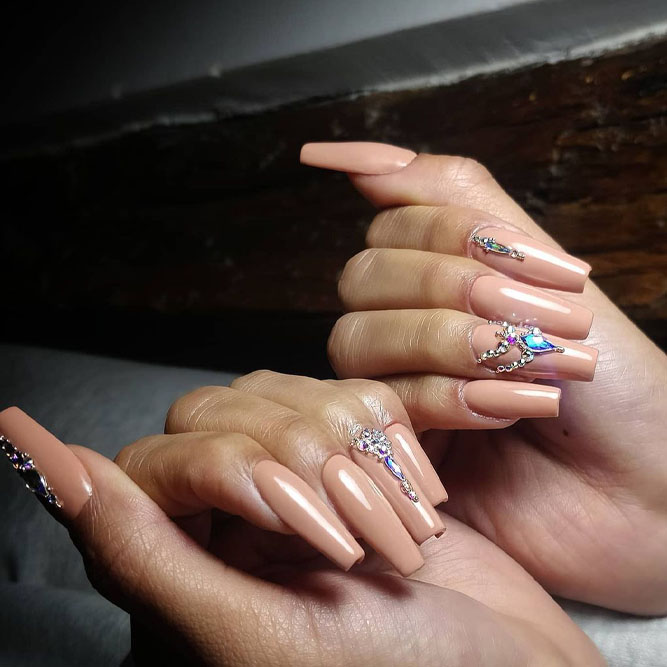 Credit photo: Instagram.com/nailsby_may
i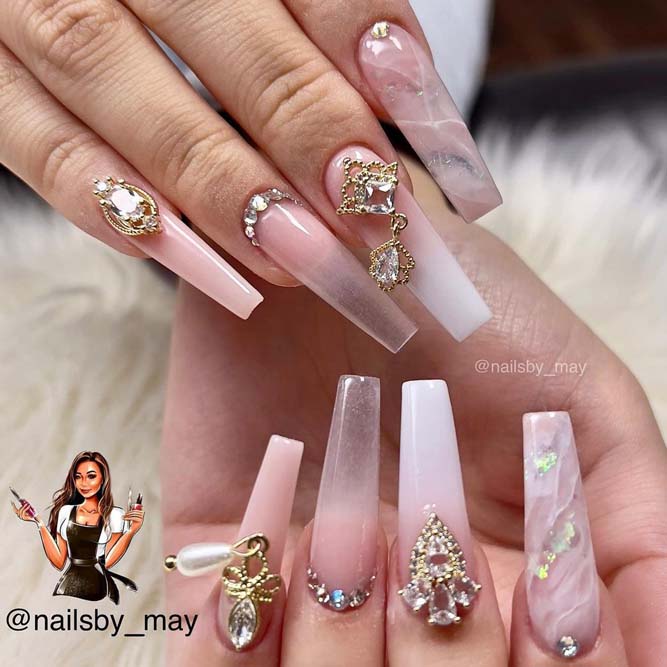 /
We'll be honest with you – fall acrylic nails are timeless. Thus, if you can't spend a week without glowing rhinestones attached to your tips, there's no need to restrict yourself. Pick your favorite rhinestone designs and patterns and pair them with neutral shades. No one says you can't go a tad more vibrant with the base, but you wouldn't want to replace the muted and ambient flair and replace it with a bright design when it's fall outside. Besides, most rhinestone designs, matched by coffin fall nails, are self-sufficient enough to upgrade them with other colors.
Multicolored Fall Nail Designs
Source: Shutterstock
i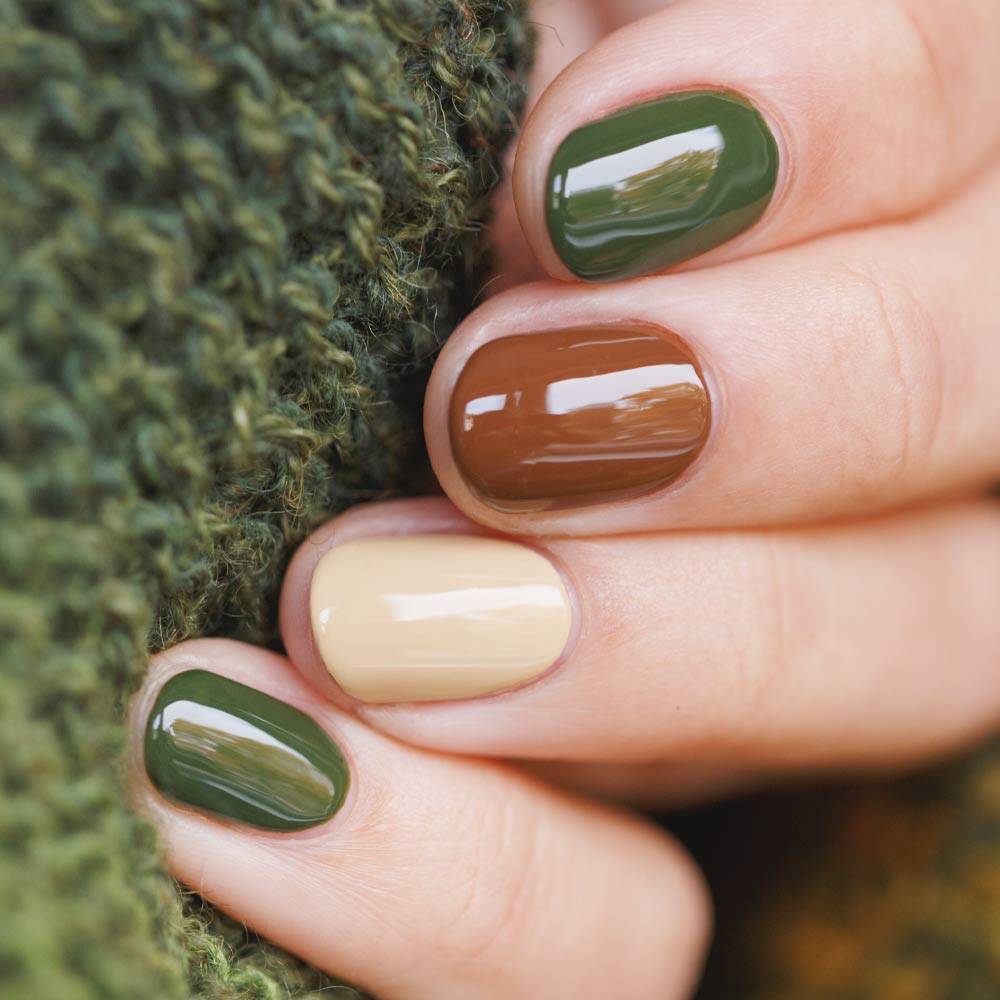 Source: Shutterstock
i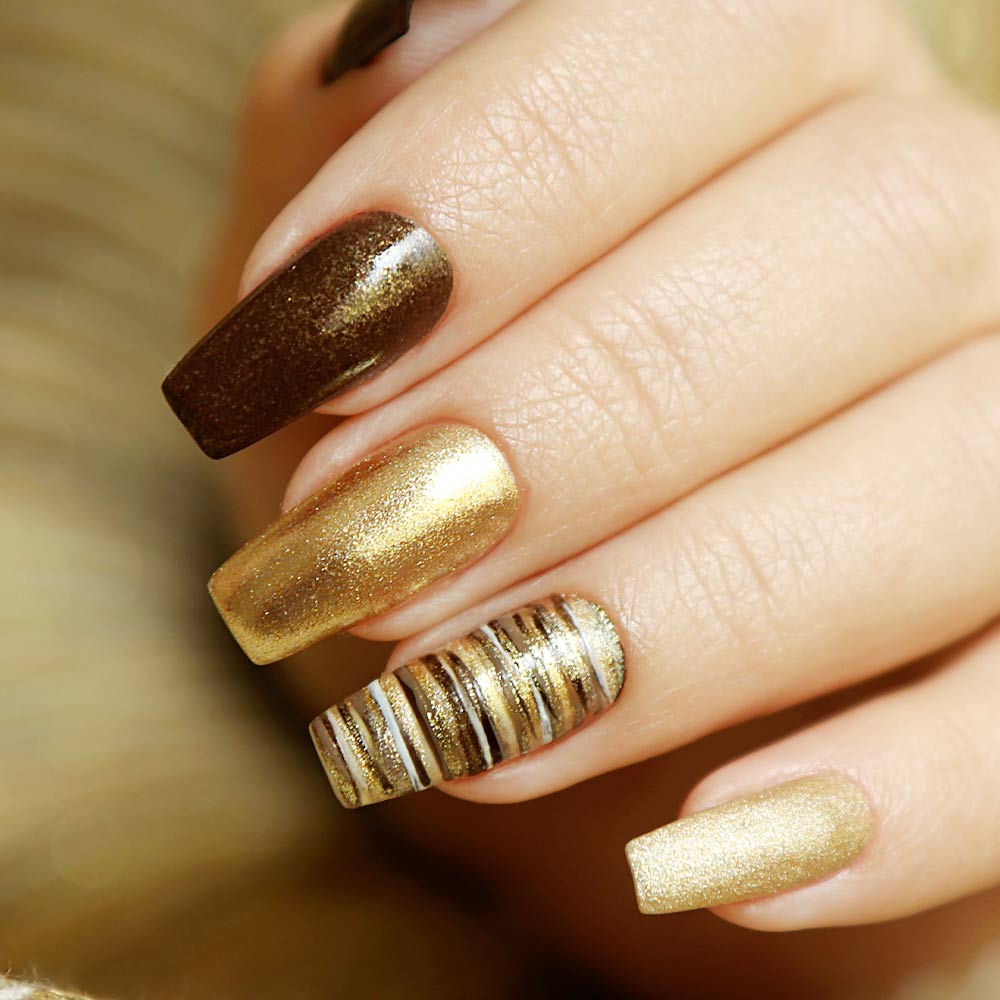 Source: Shutterstock
i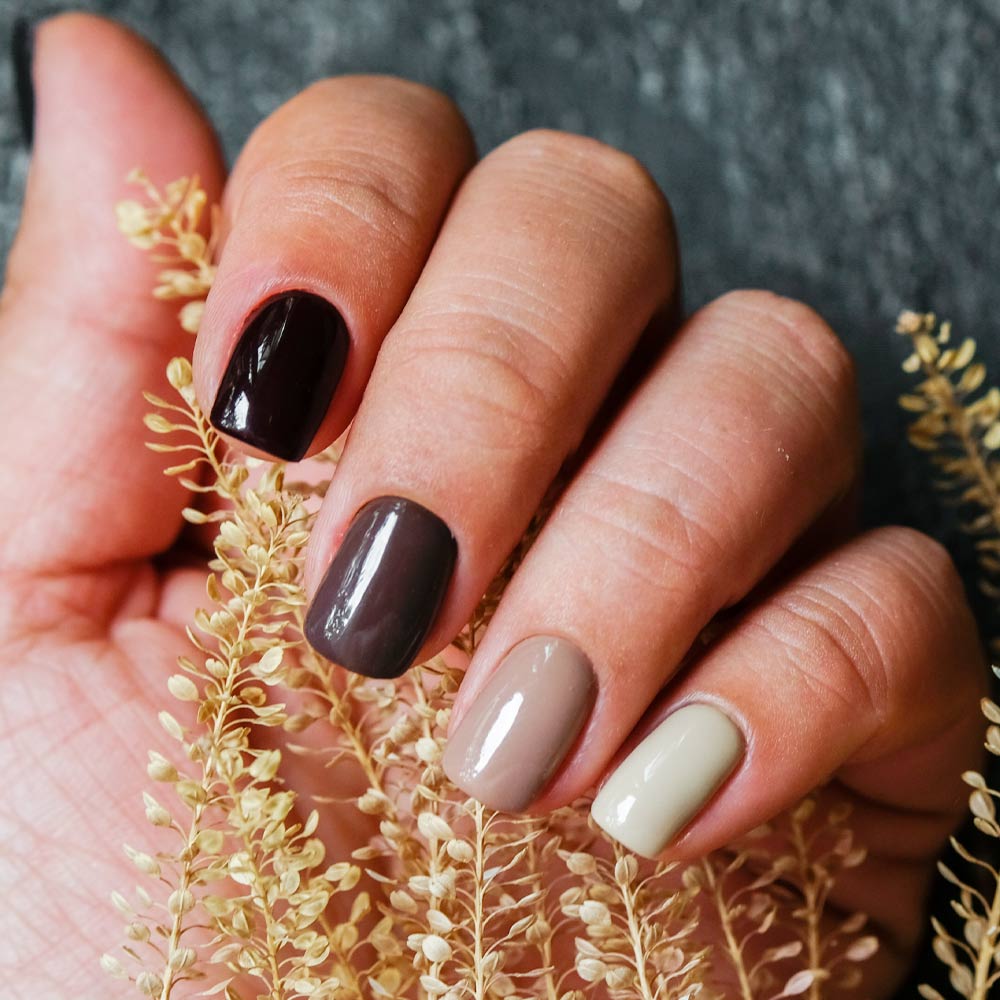 Source: Shutterstock
i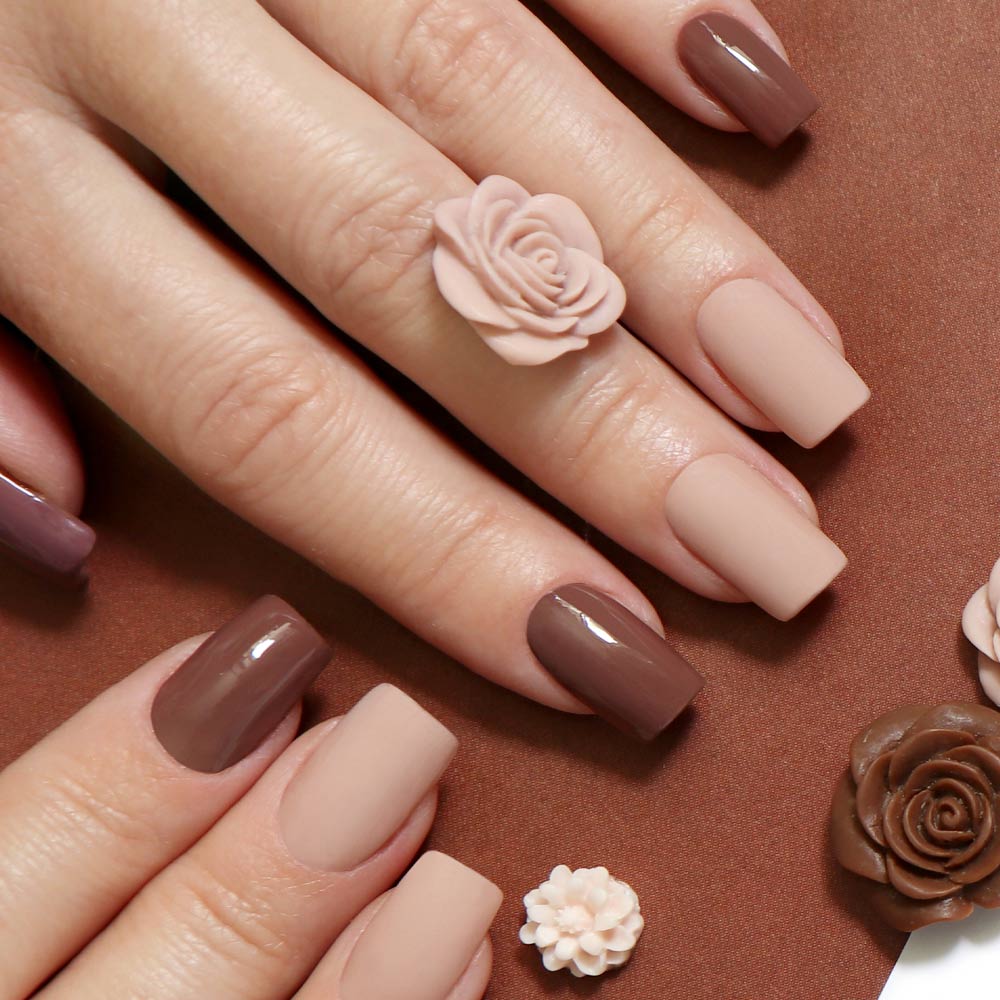 Credit photo: Instagram.com/so_nailicious
i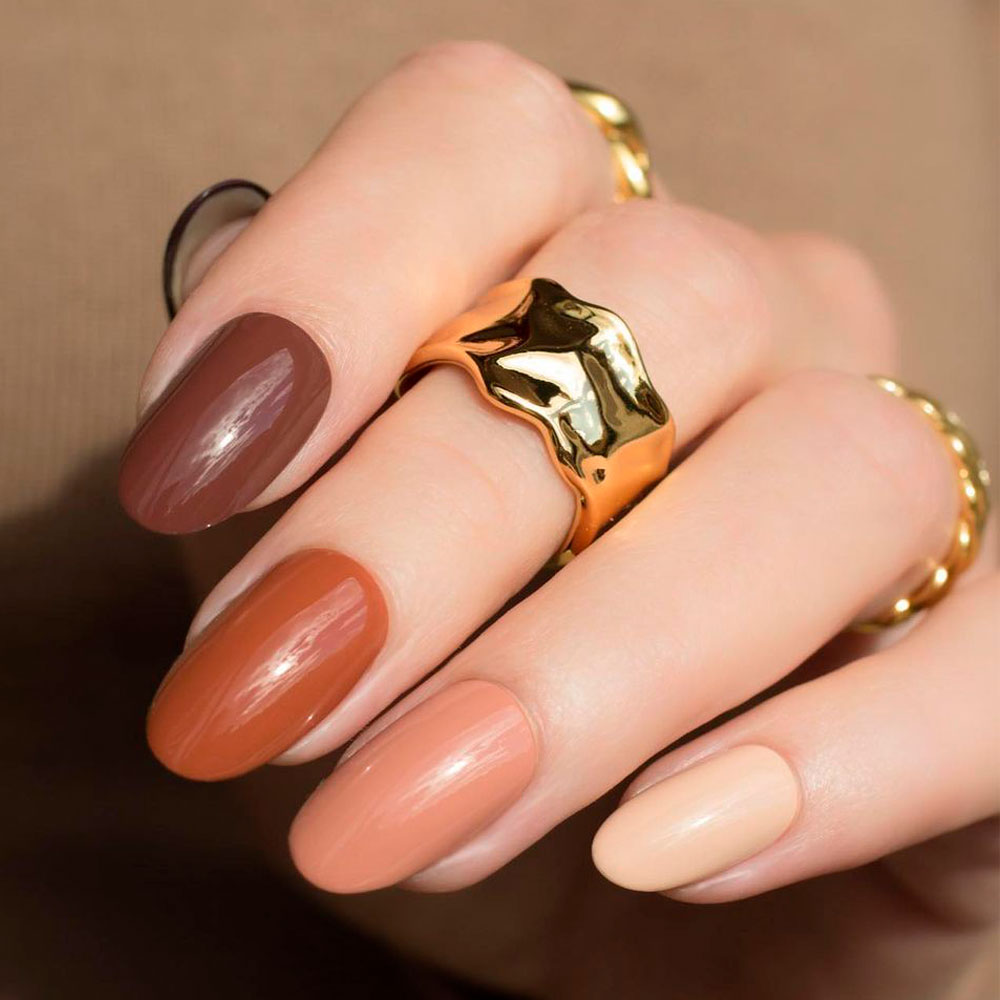 /
We've all been there – the colors we want to coat our fall inspired nails are just too many to pick one. If that's the case, you're safe – autumn is a perfect season to pull off the multicolored looks. As the colors fade from nature and streets, you may want to add them to your everyday image. Besides, such designs look delightful on both short and long nails. You have nothing to lose!
Pumpkin Nails Art For Fall
Credit photo: Instagram.com/estheticsbyjayde
i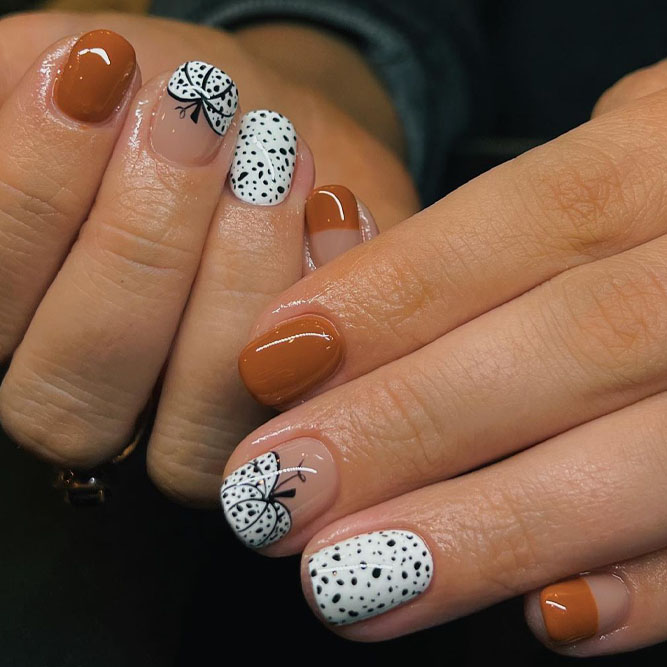 Source: Shutterstock
i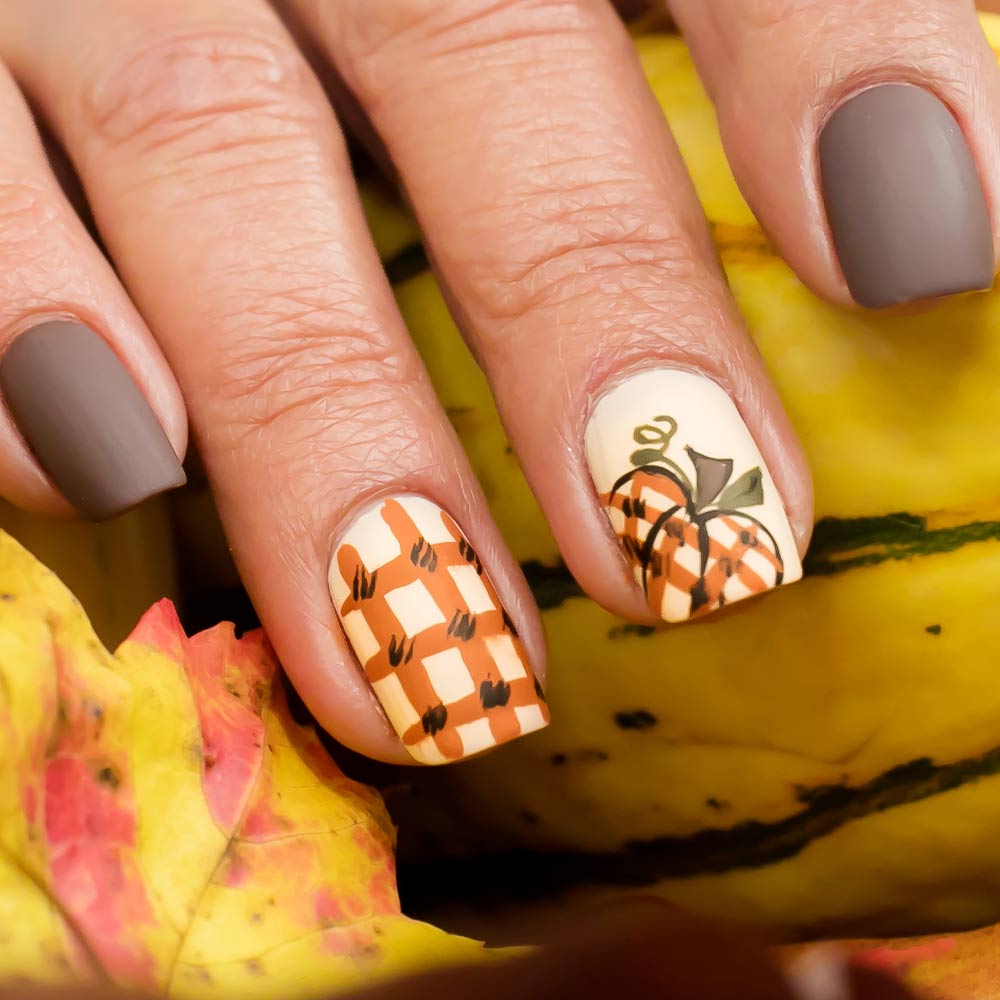 /
We must face it, pumpkins are the greatest fall nail inspo there can be for many, and there's little wonder why. However, you may not want to stick to traditional pumpkin stickers, drawn images, and such. You can take things a little further and land a more whimsical outcome. All it takes is to coat your tips with a pumpkin base and leave the top of the pumpkin hanging as an accent. Besides, you can get as creative and experimental as drawing abstract and entirely unique representations of pumpkin season, and no one will judge you.
Foxy Fall Nails
Credit photo: Instagram.com/kangannynails
i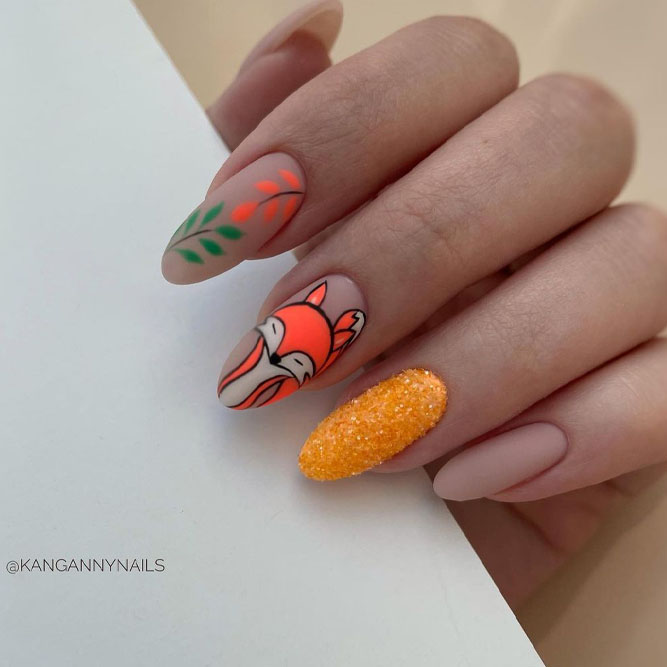 Source: Shutterstock
i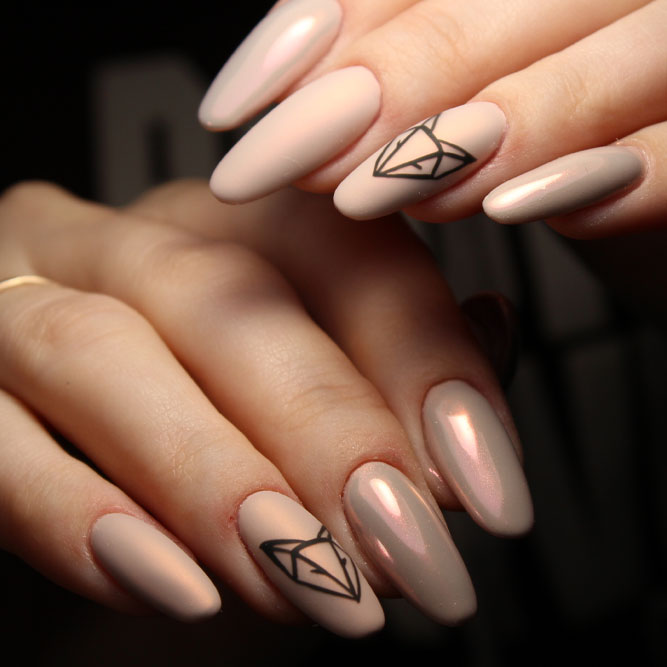 Credit photo: Instagram.com/freaky_fresh_phalanges
i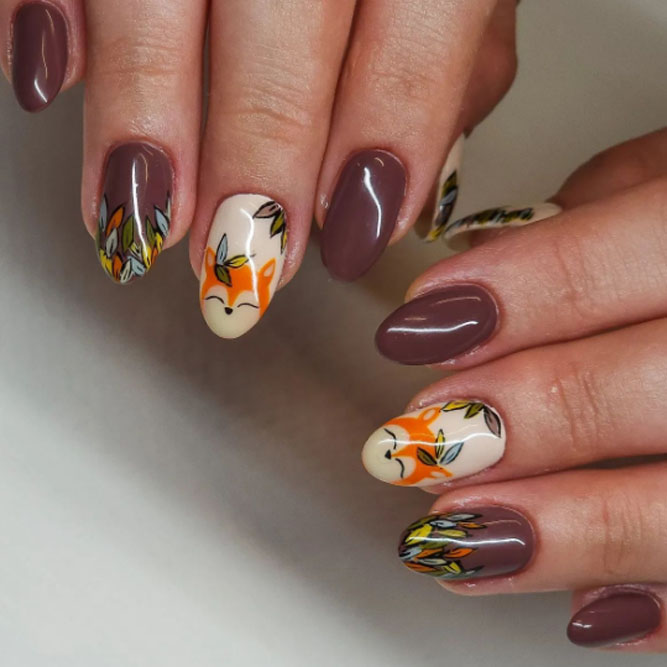 Source: Shutterstock
i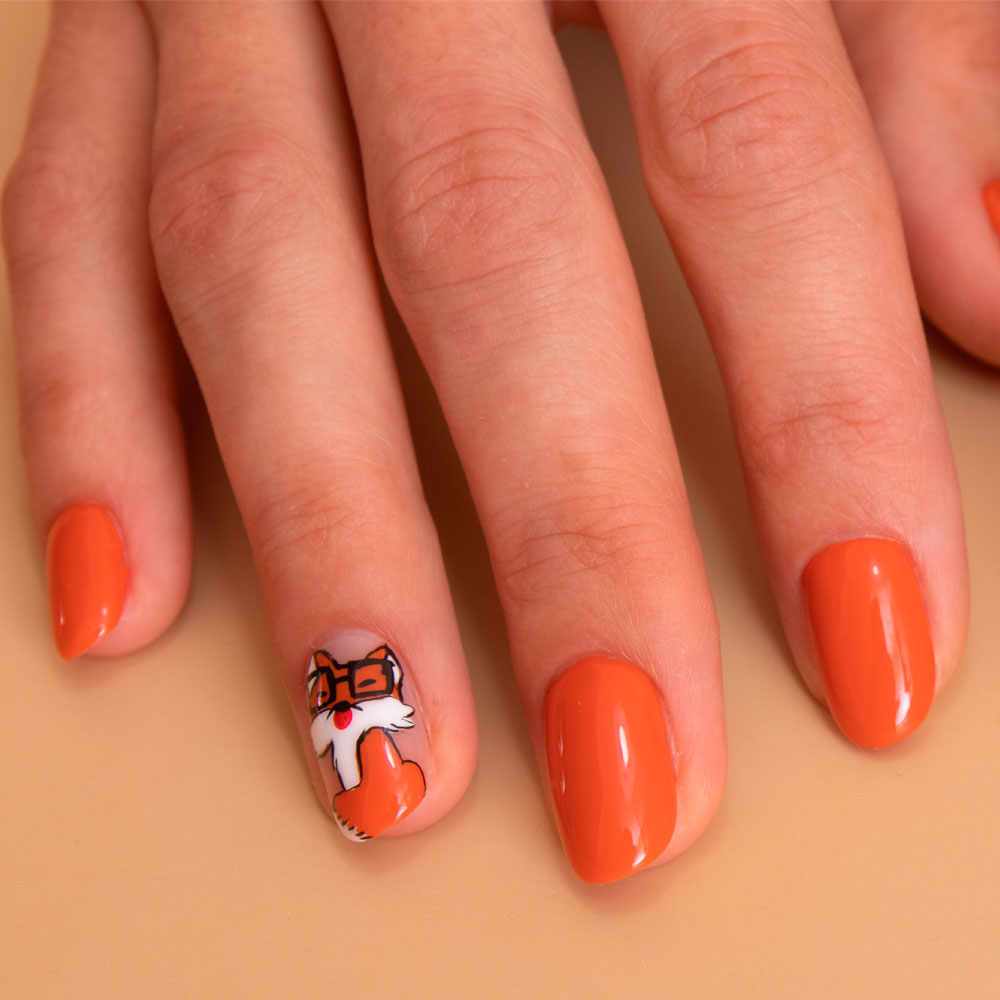 /
Animalistic nail designs for fall can be quite versatile, but foxy nail art is clearly one of the cutest on the horizon. However, you must be careful not to bring your manicure over the edge with excessive use of the image. We suggest you use foxy faces as perfect accents paired with a solid base or other slightly muted designs. Even if you seem not to possess ideal artistic skills to draw the image on your nail, present-day nail fashion presents an immense variety of foxy stickers to deal with the matter.
Stripes for Fall Nails
Credit photo: Instagram.com/kangannynails
i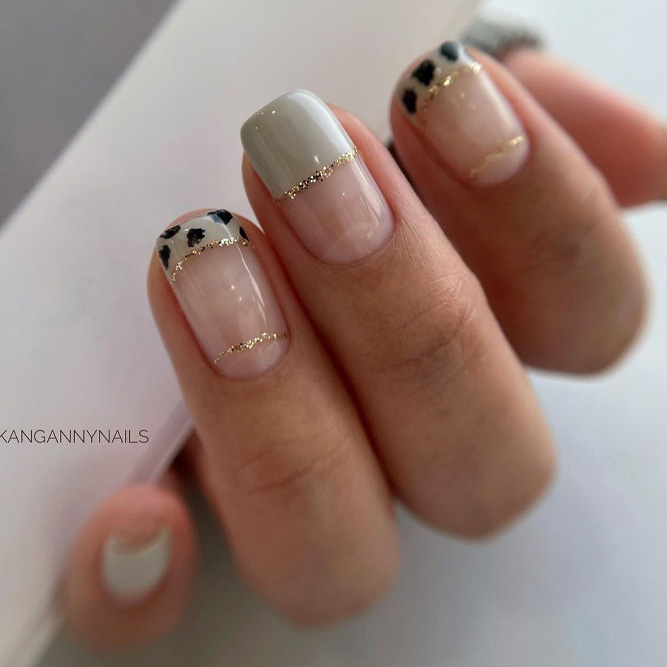 /
Some nail ideas for fall aren't as obvious as others, and thus stripped acrylic fall nails ideas are often left out. The truth is that a stripped accent nail paired with nude tones creates an aura of mystery, and fall is the season of secrecy and spookiness. Besides, even the classiest fall French tip nails will gain a fresh perspective with such classy embellishments. See for yourself!
Fall Nail Art with Animal Print
Credit photo: Instagram.com/want_nail_studio
i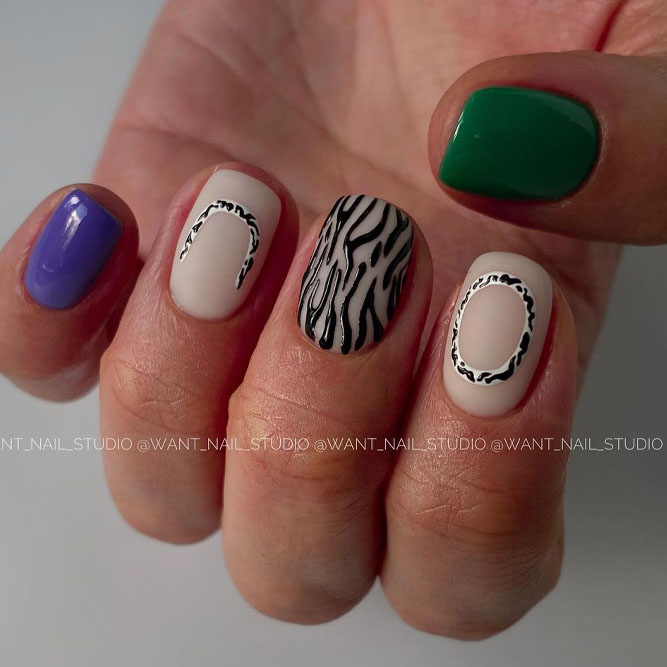 /
In case depicting cute animals on your fall coffin nails does not sound like a good idea, there's something else you should think about. Animalistic prints fit the season perfectly. Surely, you don't have to go catchy and bling with the design. A neat print combined with negative space and finished with a dark neutral base with a touch of gold is enough. Even short fall nails can benefit from the pattern. Look how amazing simple zebra stripes look, completed by a bright blue and green accent and ivory base coat.
Dotted Pattern Fall Nail Design
Credit photo: Instagram.com/thehangedit
i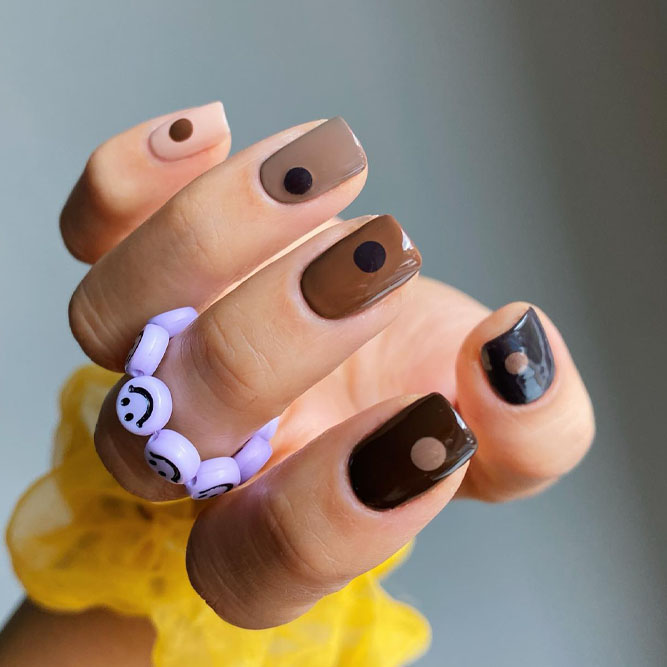 /
Dots belong to the most mesmerizing yet simple fall nail ideas that anyone can master. While seeking some cute fall nail designs, pay attention to how these minimalistic patterns can embrace the seasonal vibe. Whether you prefer to wear your fall nails short or grow out longer tips, there's a dotted pattern for each. Moreover, the number of ideas to pull off is unlimited. You can design your own art and showcase your creativity effortlessly.
Matte Fall Nails
Credit photo: Instagram.com/abbydoesnails
i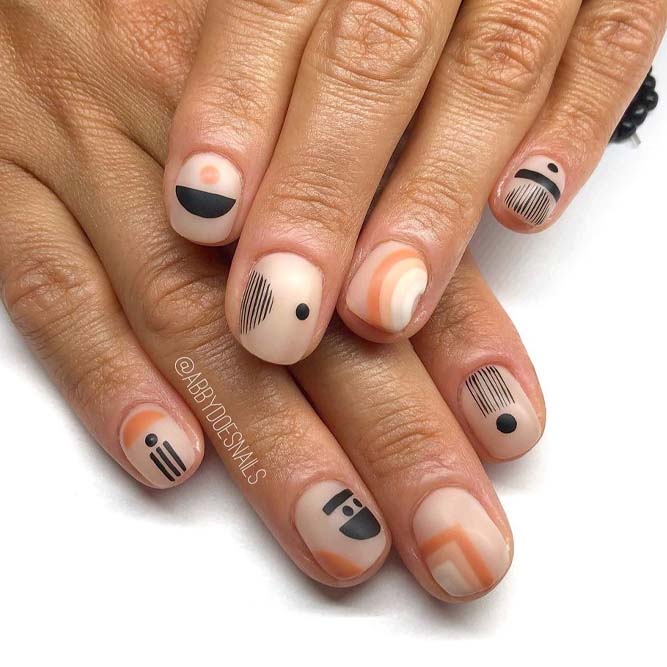 Credit photo: Instagram.com/denisova_studio
i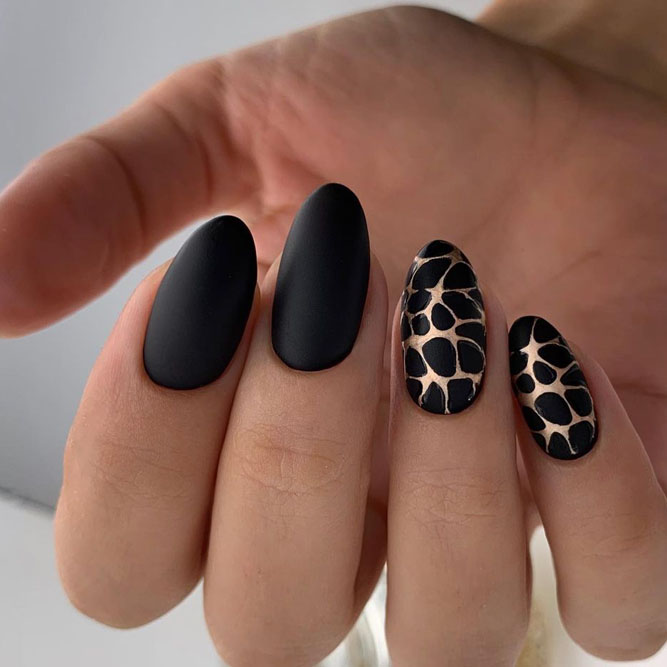 /
It is commonly believed that fall nail designs for short nails are somehow more limited as opposed to coffin autumn/fall nails. We're here to prove that matte fall nail polish suits shorter tips flawlessly. Not to mention the fact that you can go full artist on those tips should you be fond of abstract art and impressionism. The matte top coat switches on velvety vibes coming from your tips.
It does not matter if you prefer simple fall nails or seek some fresh acrylic fall nails ideas – we have your back. Our fall nails collection will guide you through the season with style and sass. All it takes is to make up your mind as to which nail art to pick first!
FAQ: Fall Nail Designs
What is color changing nail polish called?
Color changing nail polish are often referred to as mood-changing nail polishes. Such polishes are heat-sensitive and change color when exposed to high or low temperatures. Another type is photochromic nail polish that changes color when exposed to UV light and uses same technology as transition lenses.
How does cat's eye nail polish work?
There is a special kind of polish used to create cat eye effect, it contains iron powder fragments. Then you place a magnet over the nail, the iron particles rise towards the surface and form different patterns as the polish dries. To create it apply magnetic polish as you normally do, place the magnet over it and hold for five seconds.
Was this article helpful?