Trendy Nail Designs For Your Pointy Nails To Look Chic
Pointy nails will be ideal for women who are super daring. Such nails are often referred to as stiletto nails and they became popular because such celebs as Adele and Rihanna kept surprising us with the extreme of their designs for stiletto nails. But there are more reasons why women all around the globe adore sporting stiletto nails – they make our hands appear slender and long and thus more feminine.
How to get the stiletto shape? Alternate filing the sides towards the middle of your nail. In case you need it, mark the center of your nail not to get confused. And if you would like to have extra long stiletto nails, get the artificial nails.
Now let's discover all possible and impossible nail art ideas for the nail shape that offers so much space for creativity.
Pointy Nails With A Blue Marble Stone Design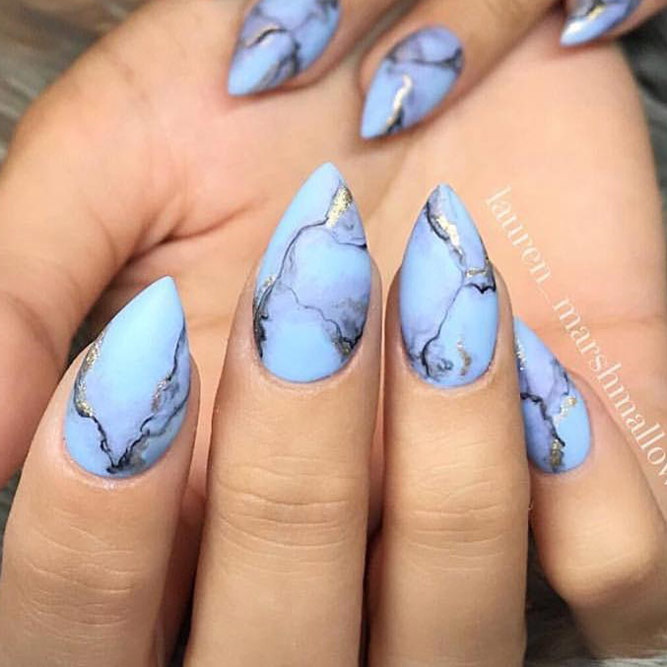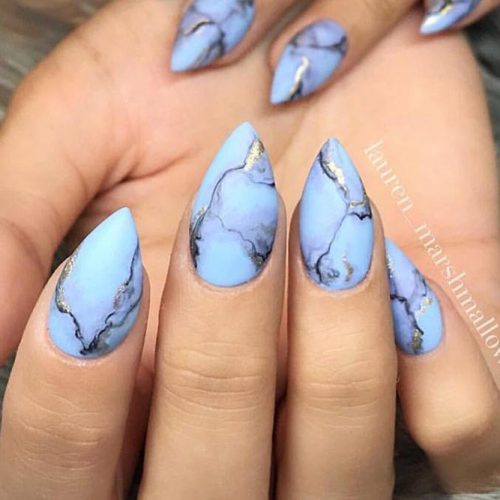 Source: lauren_marshmallow via Instagram
Not all pointy nail art designs have to be done on super long nails. These shorter nails still have pointy tips. And they are a bit more rounded than some of the other pointy nails, so they won't break as easily.
There are plenty of tutorials online on how to do marble art for nails. Or if you aren't quite skilled at nail design, you can easily go to your favorite nail salon for this really pretty marble stone nail art. It looks especially pretty on blue acrylic nails like the ones shown below. Also, it's an elegant look for both every day and formal events.
Pink And Red Glitter Pointy Nails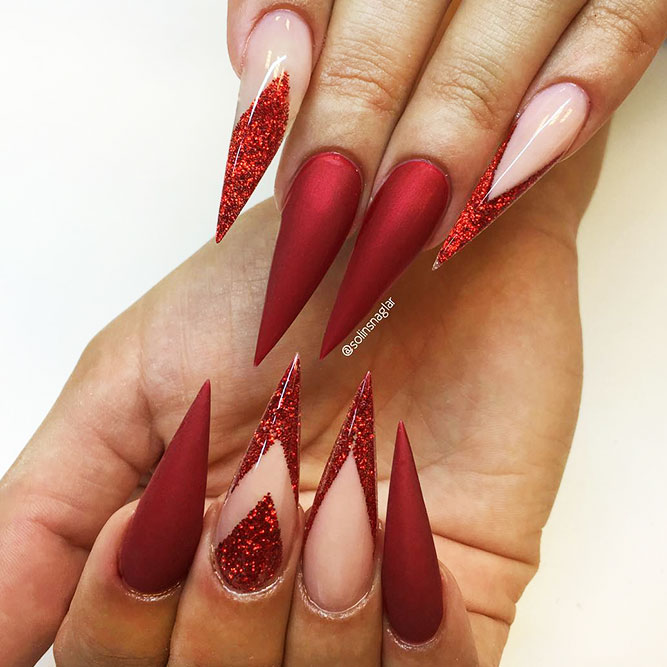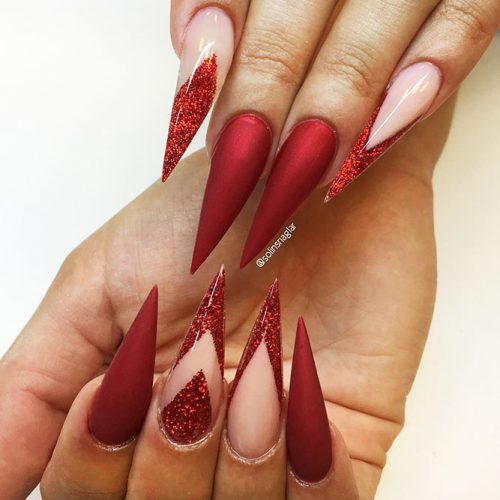 Source: solinsnaglar via Instagram
Glitter nails are always a fun and elegant choice. This pink and red sparkle nail art design is so pretty and perfect for any season. However, this mani is ideal for a date night.
This French manicure done on long pointy nails is something you could easily pull off at home if you are skilled at nail art. Paint a few of your nails with bright matte red and then create some fun geometric designs such as diamonds on triangles like the ones shown here with pale matte pink and red glitter nail polish. Just be careful, these nails are super pointy so you could hurt someone!
Black Pointy Nails Design With Gemstones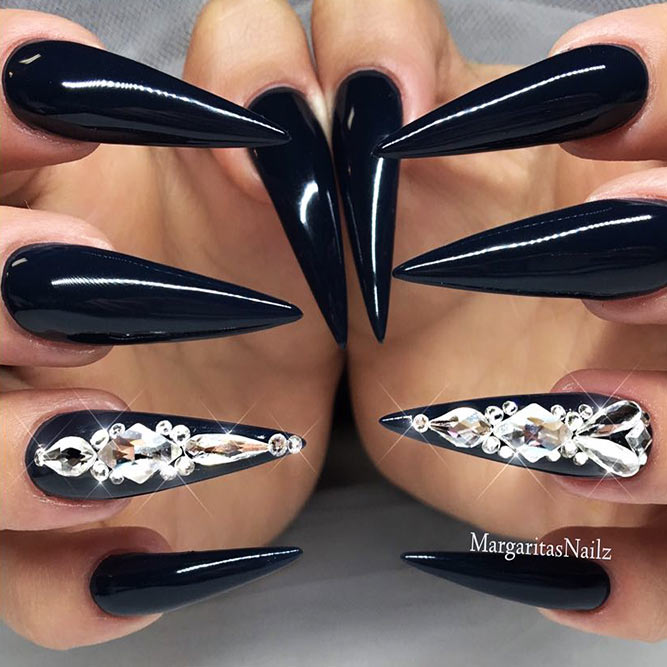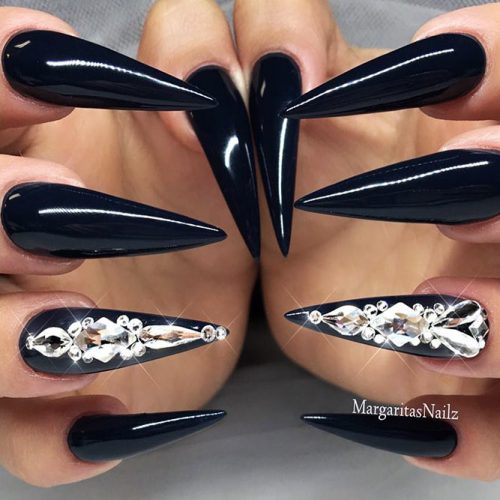 Source: margaritasnailz via Instagram
Of course, if you prefer black nails you can find a ton of pointy nail art designs. Black nail polish is perfect for any occasion and is very elegant when paired with pretty gemstones like the ones shown here.
This shiny black nail polish is super pretty on long nails but, of course, you can also sport black nail art designs with shorter nails. The best thing about this particular design is that it's easy for beginners. Simply paint your nails black and then apply gemstones and allow to dry. Don't forget the clear topcoat to make your black nails shimmer.
Nude Matte Pointy Nails With Gold Accents And Glitter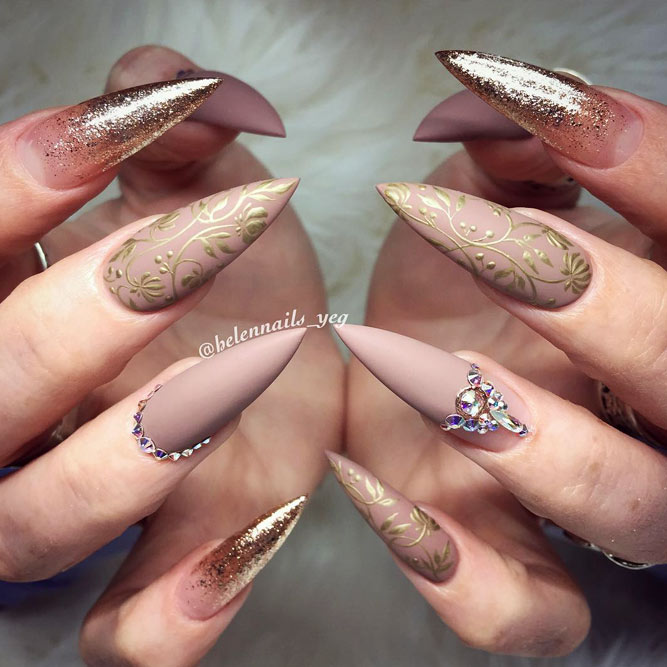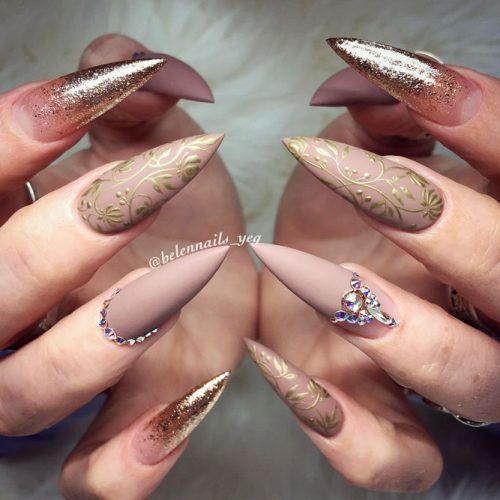 Source: helennails_yeg via Instagram
Matte nail polish is so elegant and classy if you are looking for a fancier nail design for your pointy nails. So are nude nails, as they are chic and sophisticated for a formal event.
This design is really pretty, but a bit more intricate so unless you have the proper nail art tools, you may want to get them done professionally. Paint your nails a matte nude and allow to dry. Use gold glitter on your pointer and pinky finger and then a gold stamp art design on your middle finger. Use pretty gemstones on your thumbs and ring fingers to finish this fabulous look for pointy style nails.
Pale Peach Long Pointy Nails With Glitter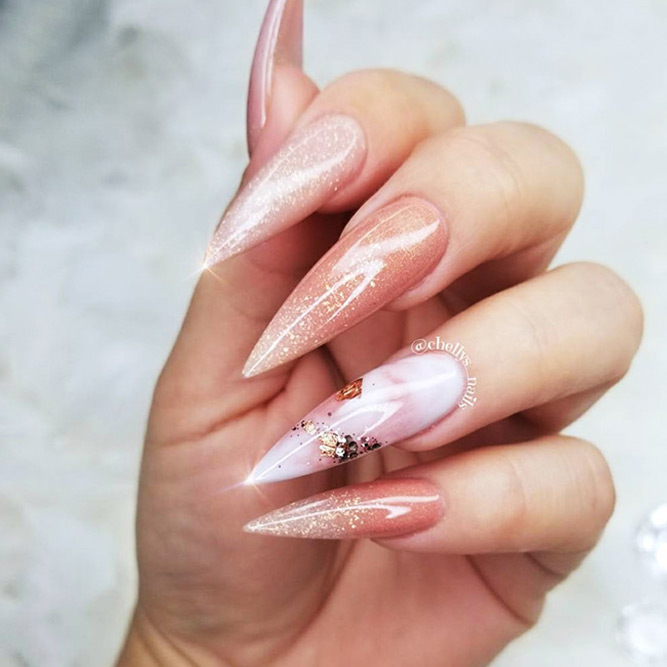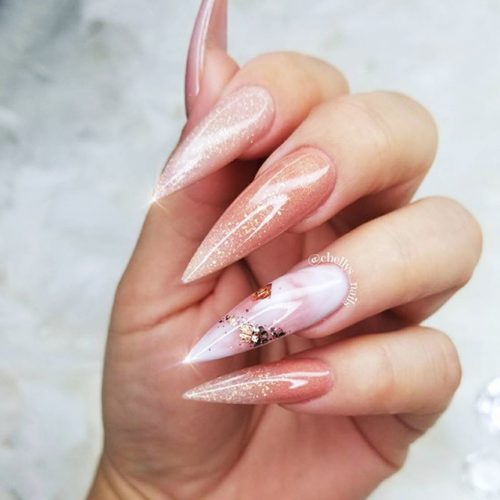 Source: chellys_nails via Instagram
If you love glitter nails but prefer a look that is more demure and girly, this pretty peach color is a great option. This mani is ideal for a wedding, prom or other formal event as it is very soft and delicate. It is also pretty for everyday wear for long nails.
Paint your pointy nails with a pale peach color. Allow to dry completely. Then apply clear glitter nail polish to all of your nails except your ring finger. Put some pretty gemstones on your accent finger and allow to dry. The finished look is so feminine and chic.
Pink Colored Pointy Nails With Glitter And Gemstones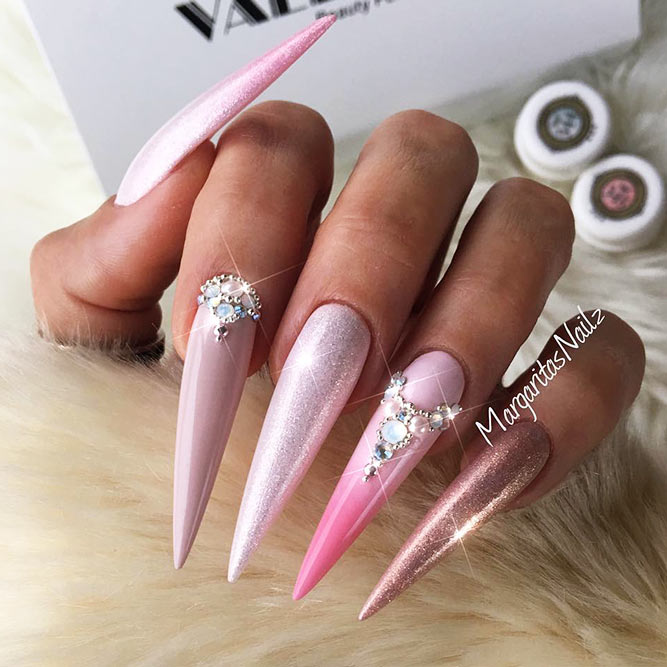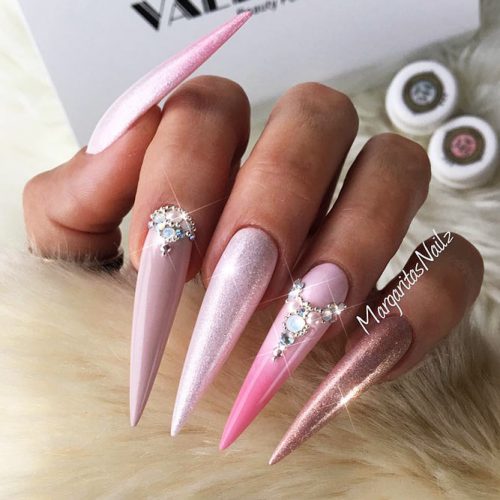 Source: margaritasnailz via Instagram
If you are a fan of both pink nails and glitter nails, then this look was made with you in mind! And it looks so glamorous and chic on really long pointy nails. You'll need to be extra careful with these daggers, but they are so pretty that you won't mind being a little more cautious.
Use a very pale pink glitter nail color on all of your nails except your pinky and ring finger. Paint your pinky finger with pretty glitter nail polish and then paint a pink ombre nail design on your accent finger. Allow to dry and then complete this look with some white and silver gemstones on your pointer and ring finger for a look that is tres chic!
Pointy Nails With Glitter Design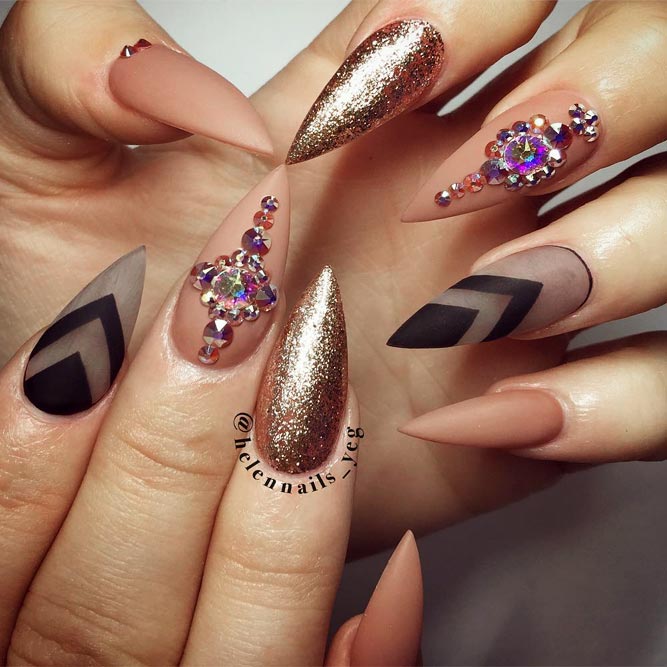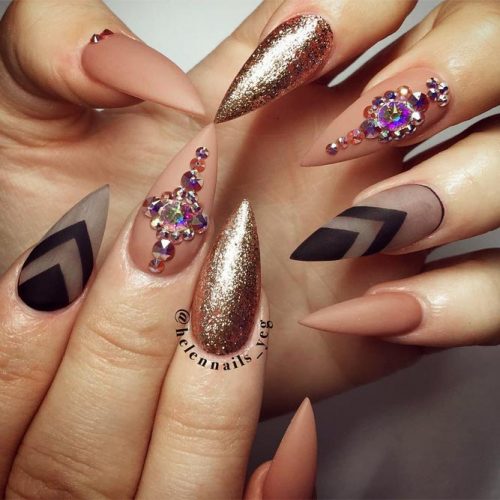 Source: helennails_yeg via Instagram
If you want a look for pointy style nails that is a bit more edgy, try combining several nail art designs. You don't have to stick to just one design to have pretty nails. Why not combine a look for both glitter nails and matte nails along with some fun accents? Check out this totally fun mani!
You can totally mix and match multiple designs. This look combines matte nude nails, gold glitter, gemstones and a black and clear matte chevron nail design for a mani that is totally hip and fun. Don't be afraid to mix it up a bit when it comes to nail art! You can get as creative as you want and have fun with it.
Black Pointy Nails Design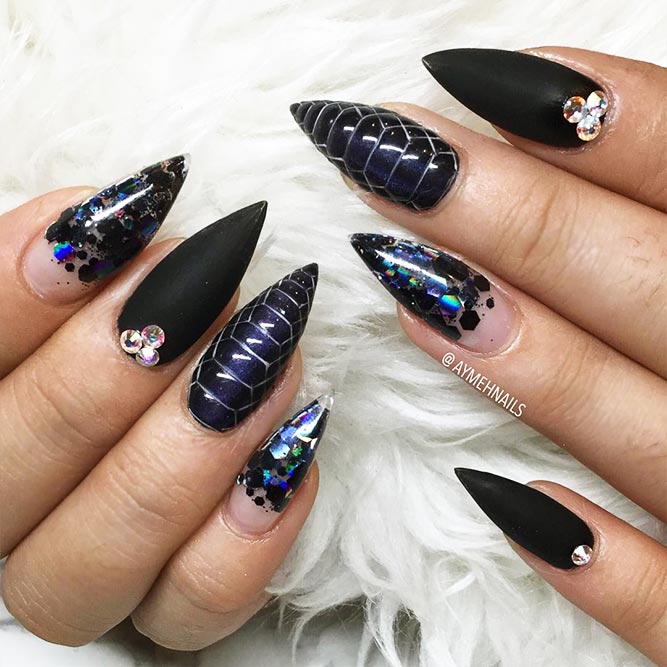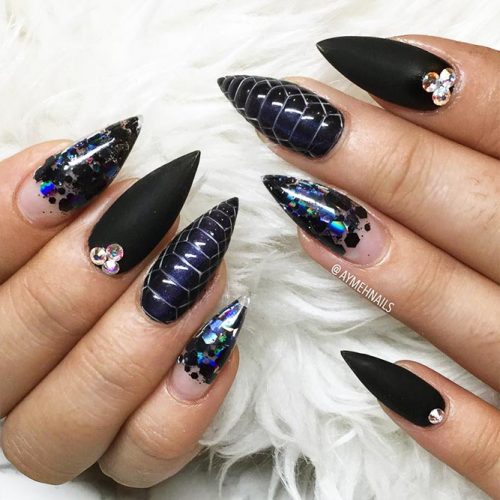 Source: aymehnails via Instagram
Another great look for black nails is this fun mix and match look that combines gemstones and glitter nail polish. Again, you can get creative with any style and color of nails and express your personal taste and flair.
Black matte nails are the best canvas for nail art. If you want, you can leave one nail clear or nude and use sparkling multi-colored glitter nail polish like the one shown here. Paint a cool geometric design on one nail and adorn another with a few gemstones for a unique look that is out of this world!
Sparkling Long Pointy Nails With Rhinestones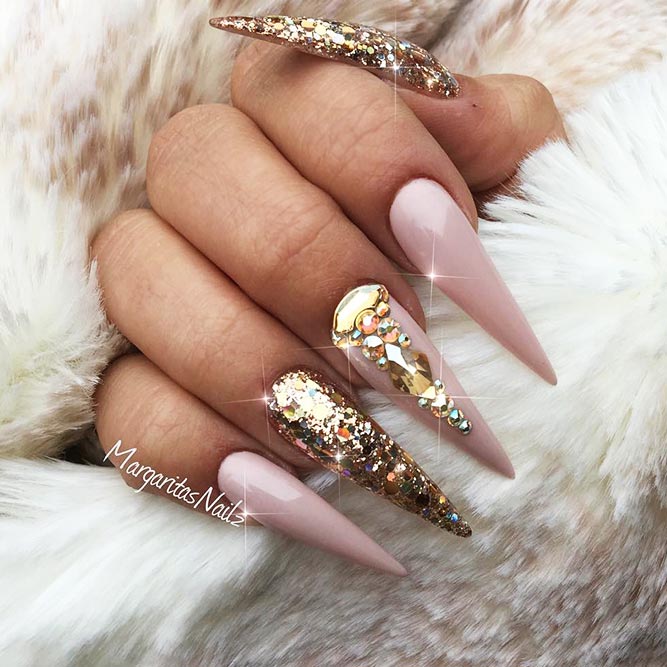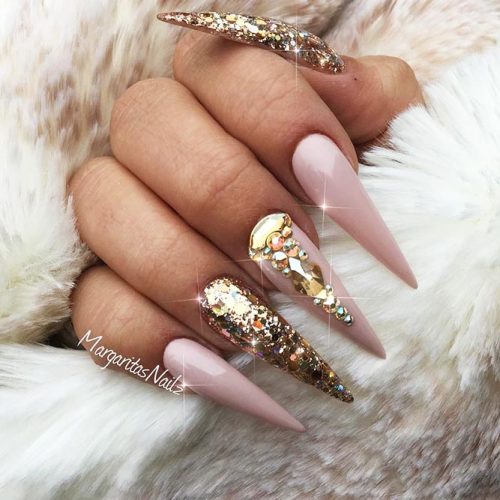 Source: margaritasnailz via Instagram
If you are looking for mani that is over the top glamorous, this nail art design for super long pointy nails is right up your alley! Gold glitter nails are always a great way to bring out the glam!
Paint your nails a delicate matte pink color, except your accent finger. Use sparkly gold glitter polish on your accent finger to really add a pop of style! Then, after your nails have dried, apply some gold and multicolored gemstones to one of your other fingers. You will totally feel like a diva with these eye-catching nails.
Pink And White Pointy Nails Fit For A Princess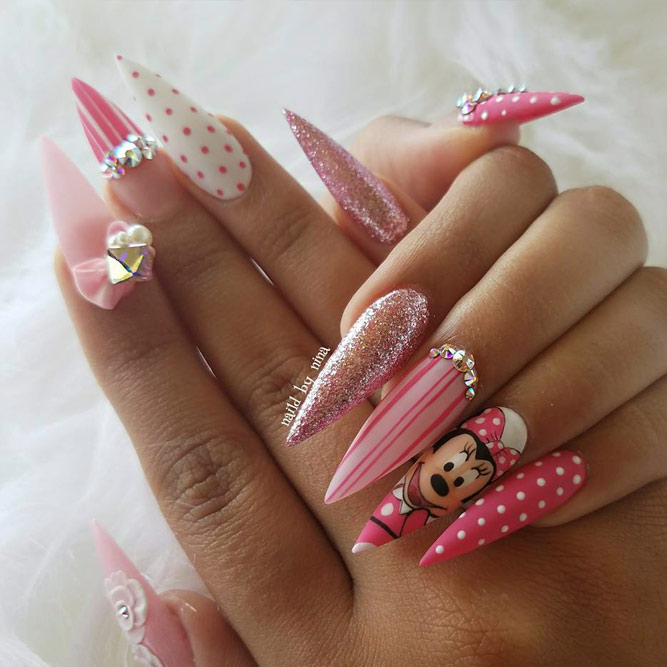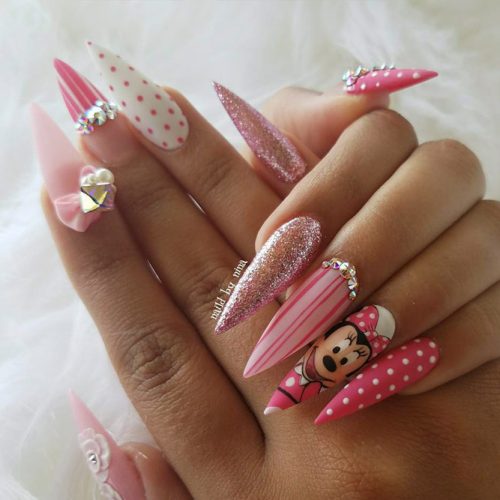 Source: naild_by_nina via Instagram
If you want to look like the royal princess, try this fun and elegant pink and white nails design. You will feel totally girly and chic with this super fun look for pointy style nails!
Start with matte pink on your pointer finger and thumb. Adorn them with gemstones, a lace design or a pretty 3D bow. Then apply a polka dot design to one of your other nails. You can even mix it up by reversing the colors of the polka dots. Paint one nail in a French manicure style with pink tips and gemstones. Finally, paint a cute Disney or Princess design on one finger, such as this adorable Minnie Mouse. You will be the envy of all your friends, and they will finally acknowledge that you are indeed a princess!
Pointy Nails With A Pink And White Ombre Design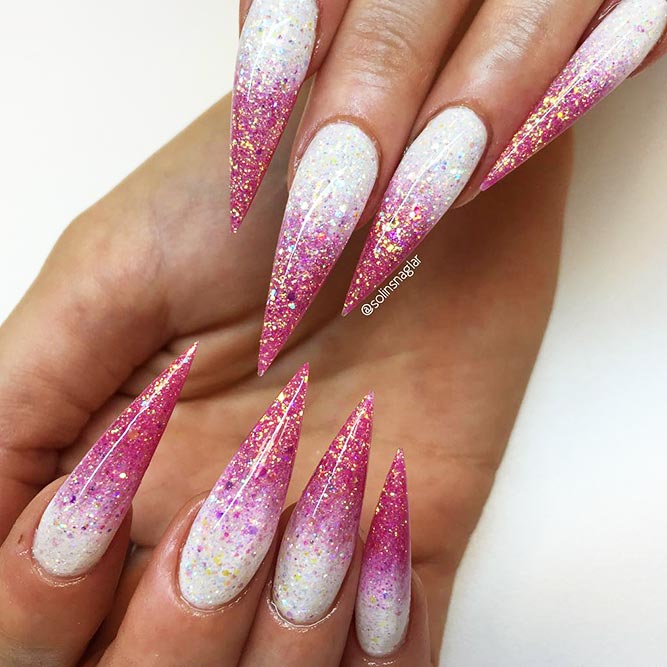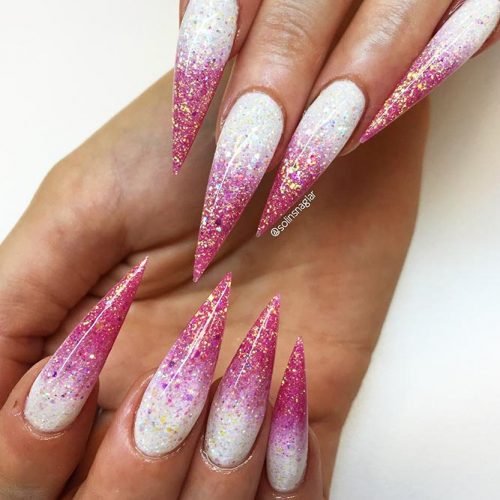 Source: solinsnaglar via Instagram
Ombre nails are still very much in vogue and what is prettier than white and pink ombre glitter nails? If you want to bling it up a bit and bring on the glam, this look is screaming your name!
Paint your nails white and allow to dry completely. Next, use pretty dusty rose pink to create an ombre fade. Again, allow to dry totally before finishing it with sparkly clear polish. This style looks pretty on all longer nails, but is especially chic on pointy nails. It is a great look both for work and play, as well as a formal event. So, break out that pretty pink polish and show off your stunning ombre nails.
Nude Pointy Nails With An Ombre Design and Rhinestones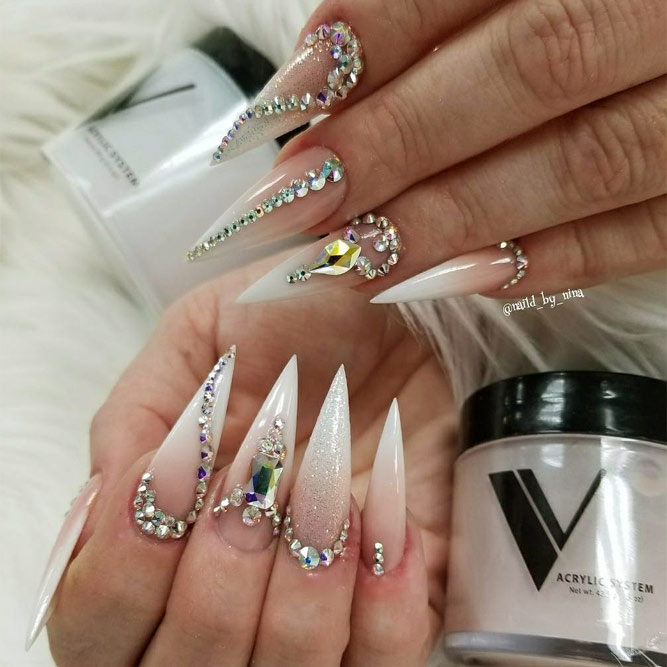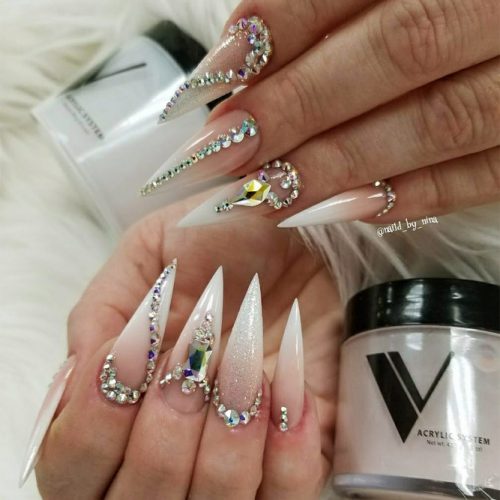 Source: naild_by_nina via Instagram
If you are a fan of rhinestones, and who isn't, you will love this pretty nude ombre design adorned with shimmery rhinestones! This look is very pretty with pale peach and white nails.
Paint your nails a very pale peach color for a nude look and allow to dry totally before applying a pale white ombre fade. Allow to dry once again and apply rhinestones in whatever pattern you wish. Don't be afraid to mix it up a bit and really bling it up! Add a few gemstones to complete this glamorous look and you are ready to go show off your inner diva!
More Ideas For Your Pointy Nails
Source: getbuffednails via Instagram, solinsnaglar via Instagram, nailsby_evon via Instagram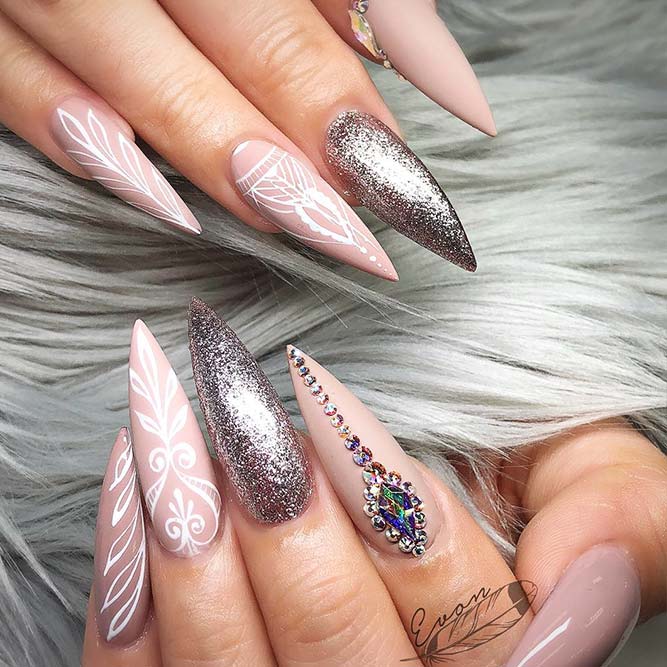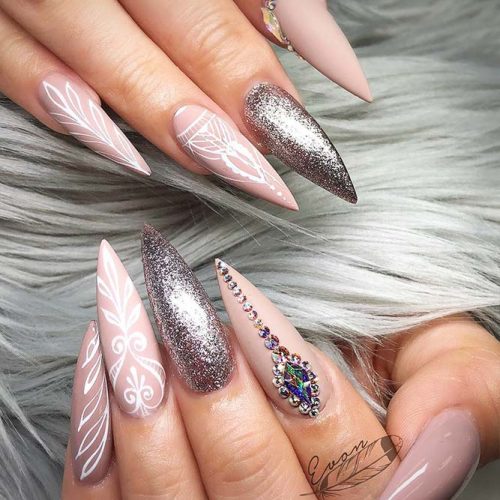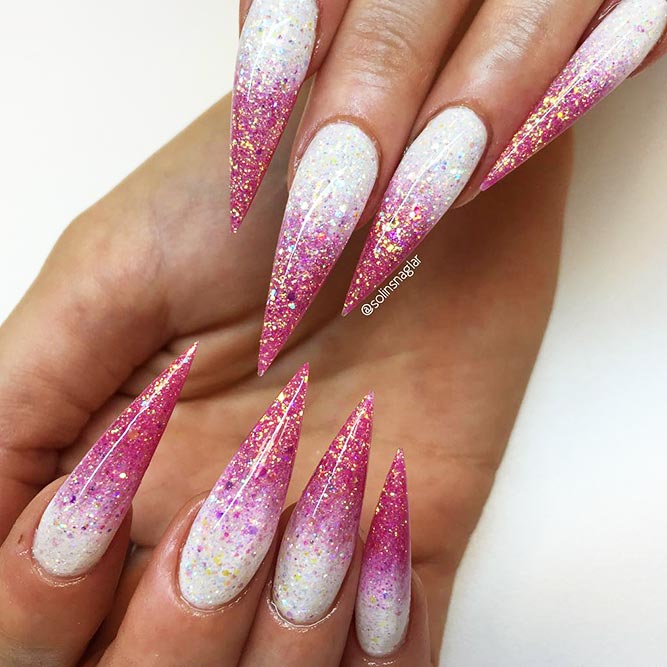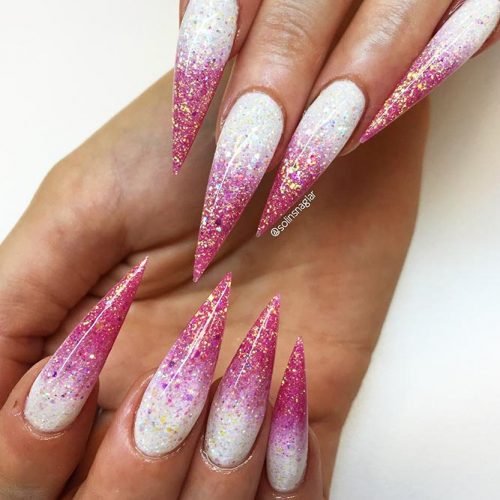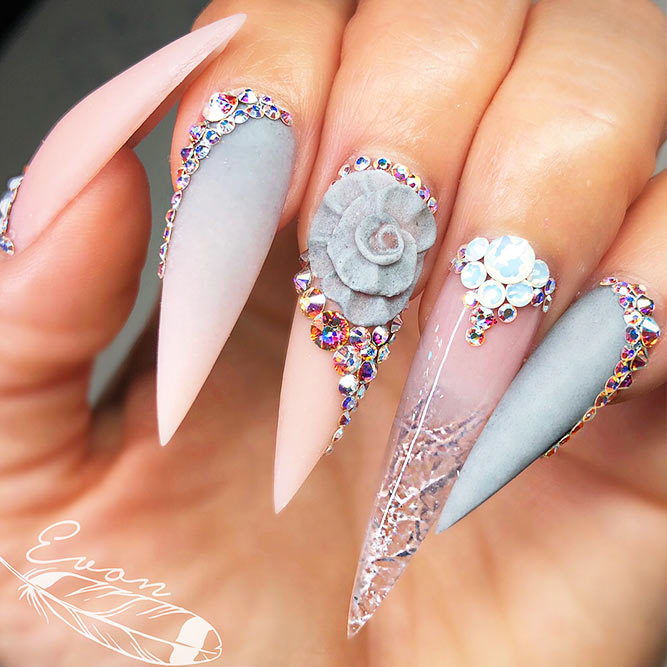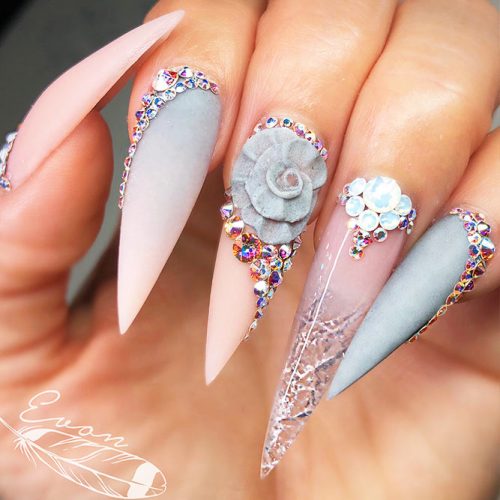 Source: naild_by_nina via Instagram, joannasnails via Instagram, naild_by_nina via Instagram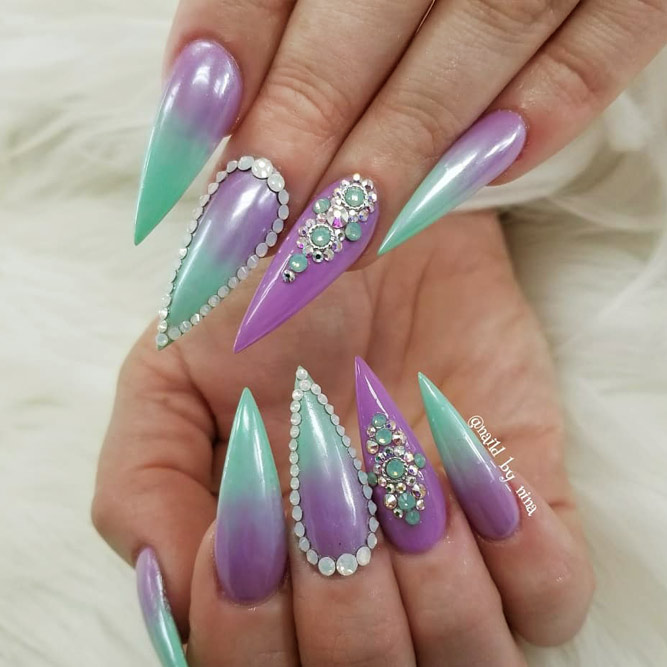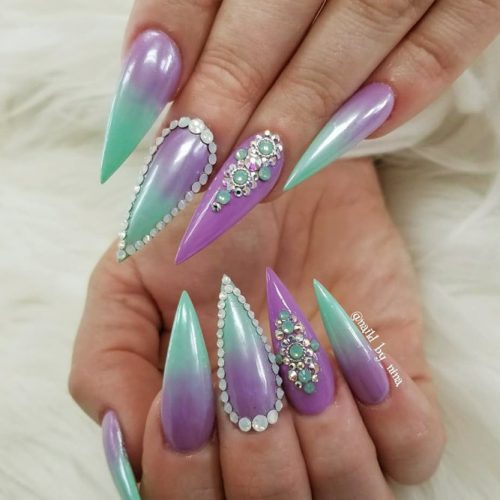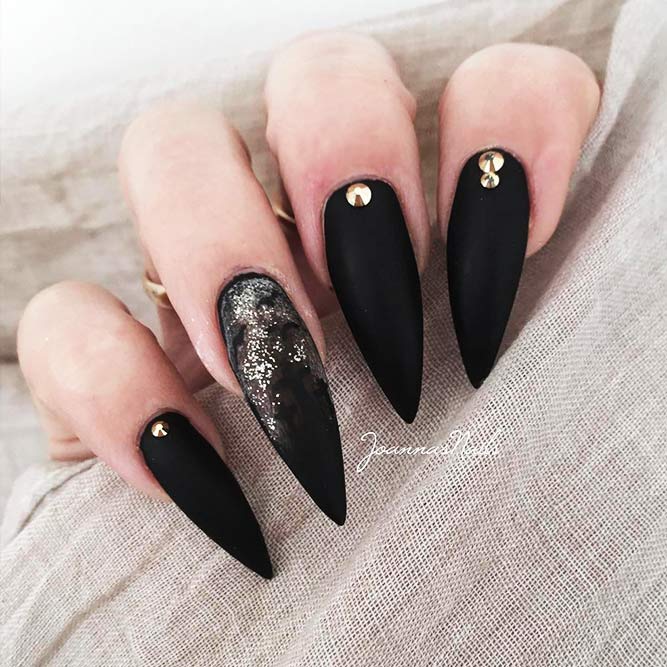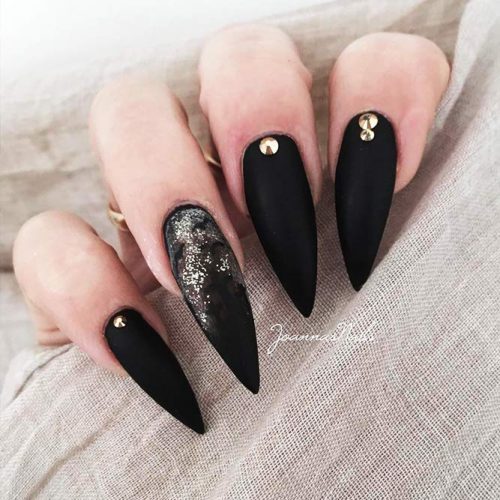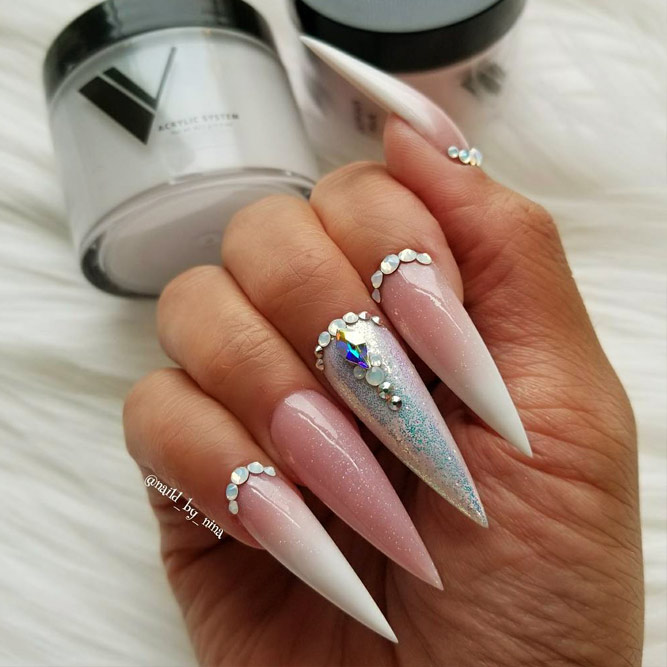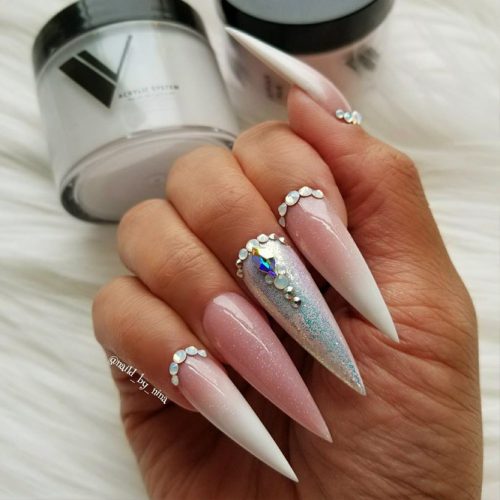 Awesome Pointy Nails Arts Inspired By Your Favorite Movies
Source: chellys_nails via Instagram, chellys_nails via Instagram, getbuffednails via Instagram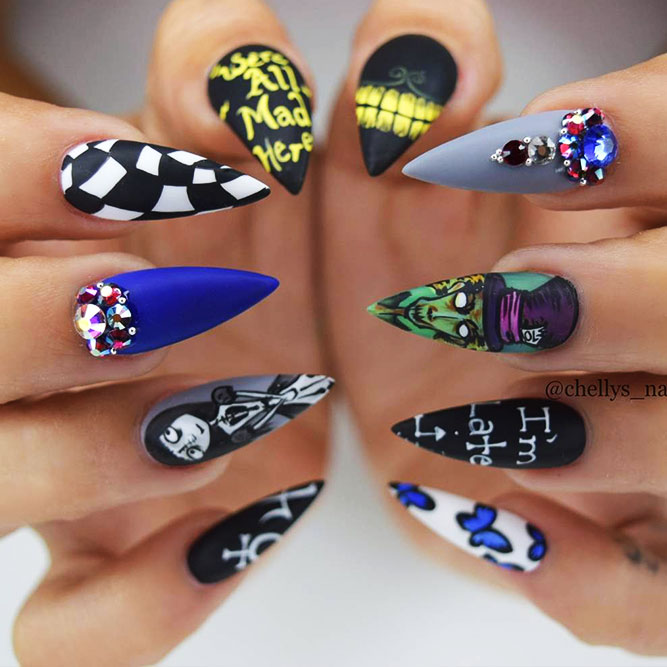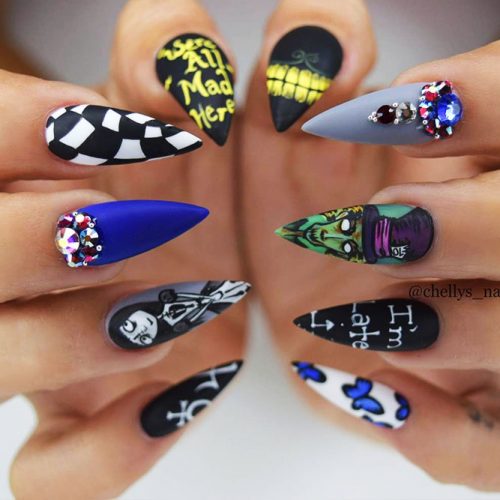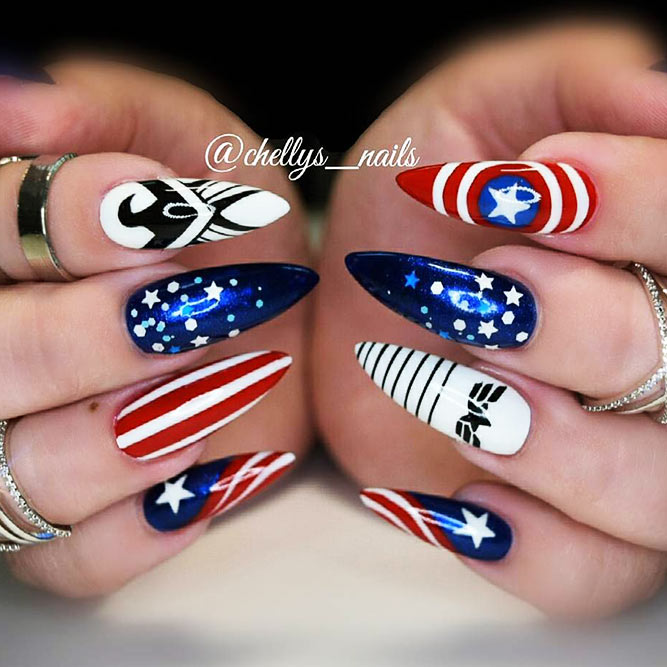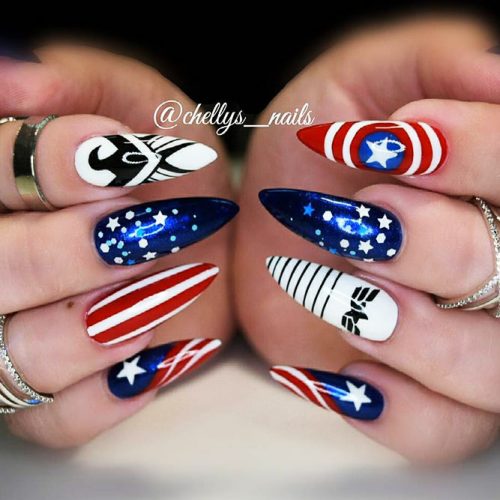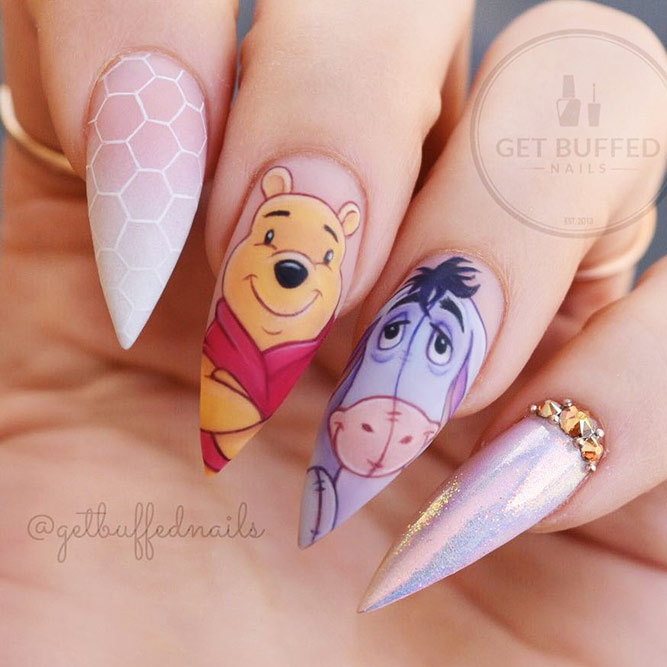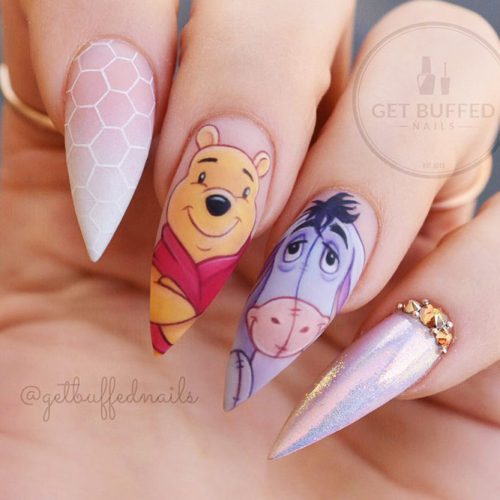 Source: home_of_deva via Instagram, leximartone via Instagram, getbuffednailsvia Instagram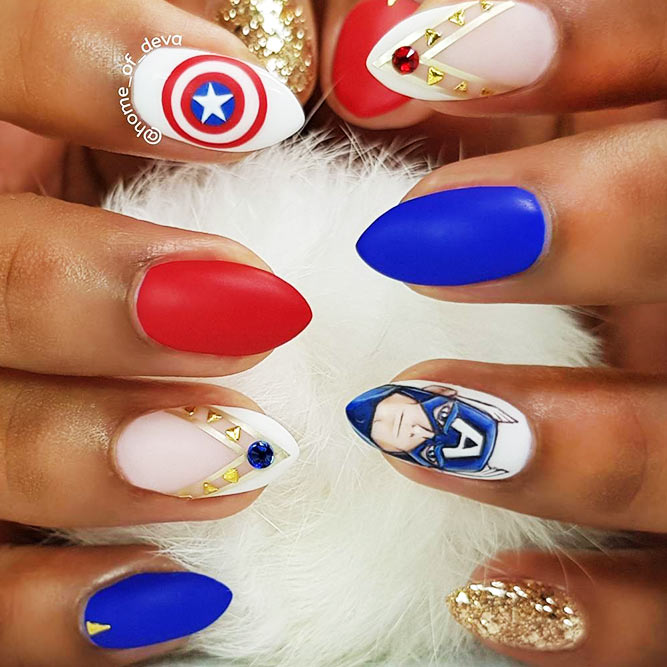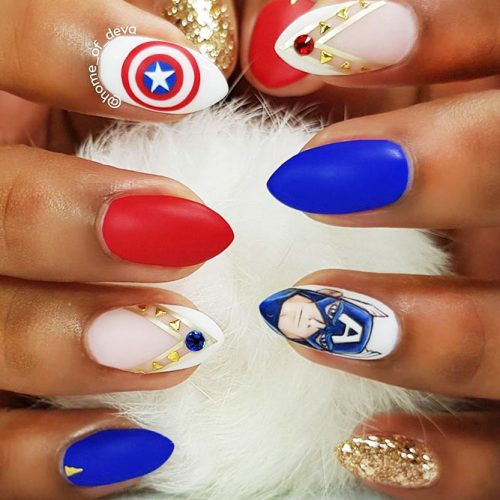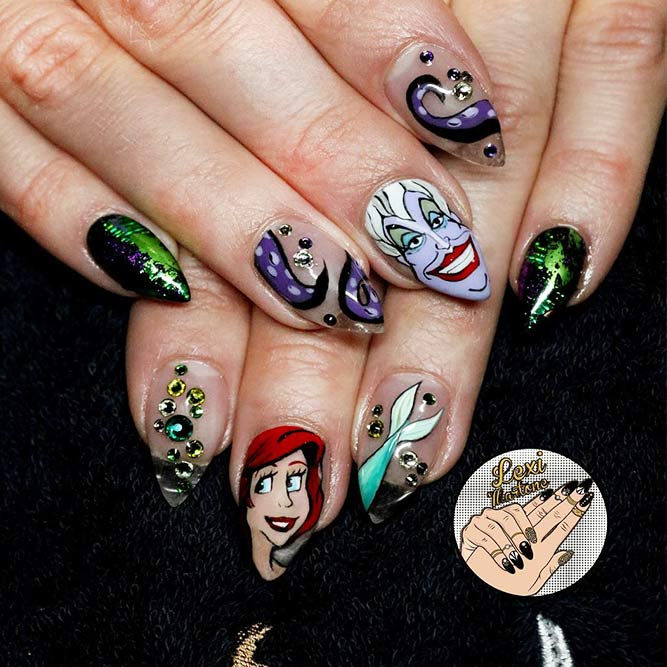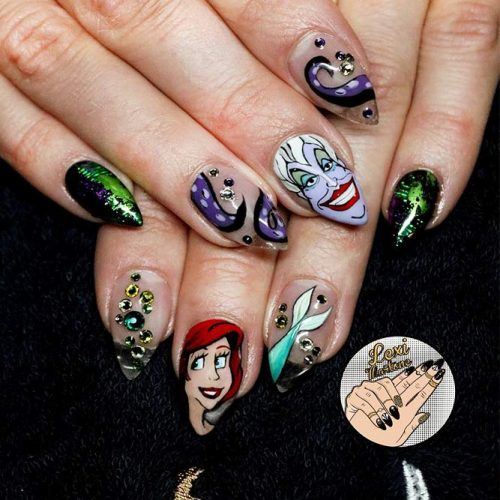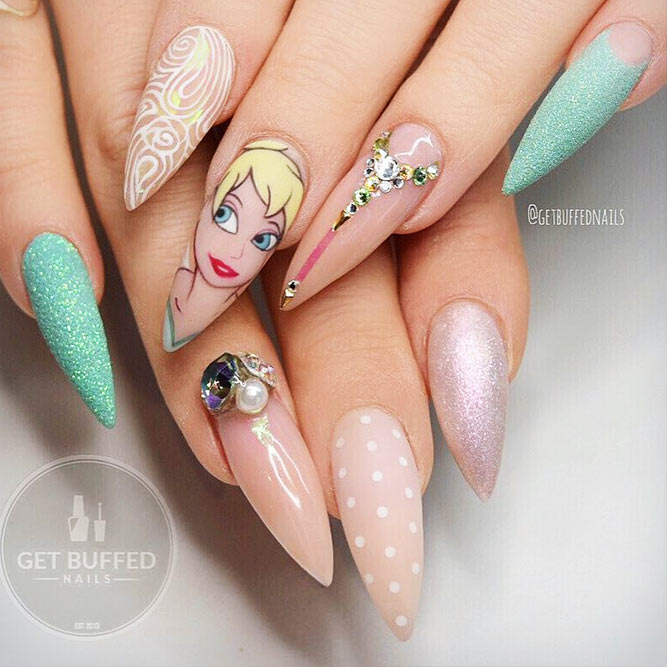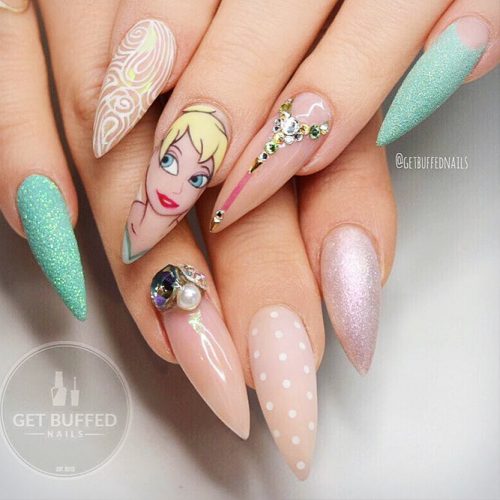 Short And Medium Pointy Nails Designs
Source: luminousnails via Instagram, getbuffednails via Instagram, margaritasnailz via Instagram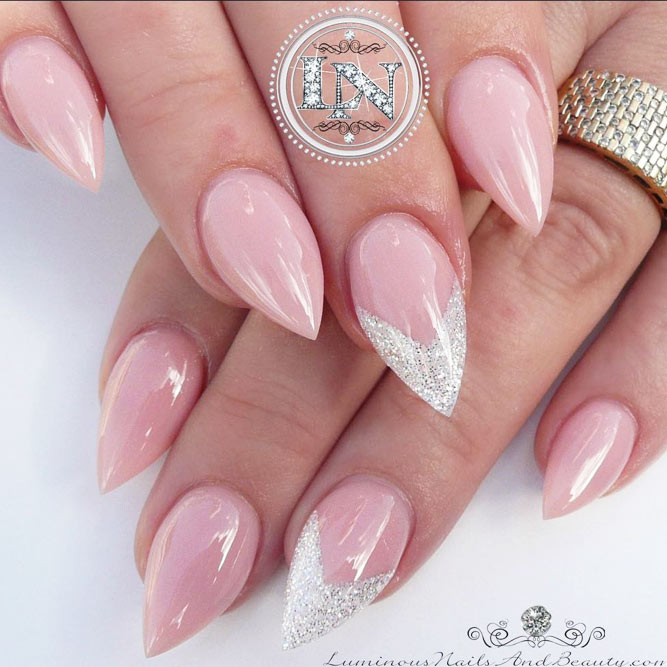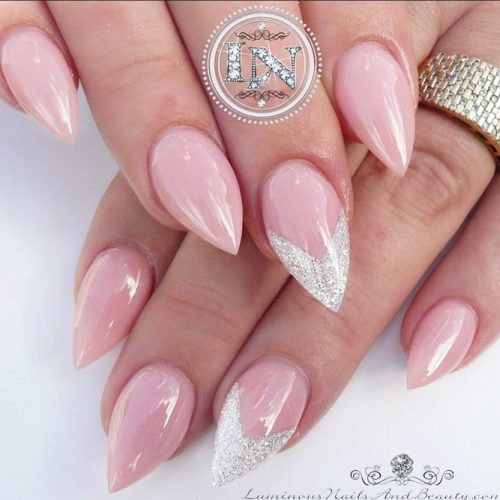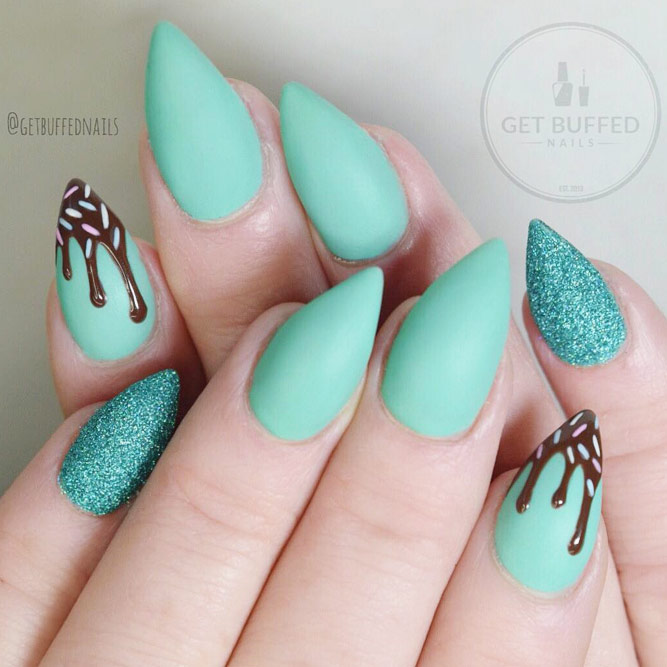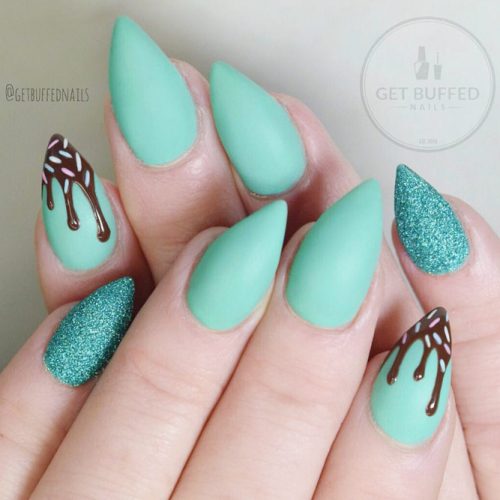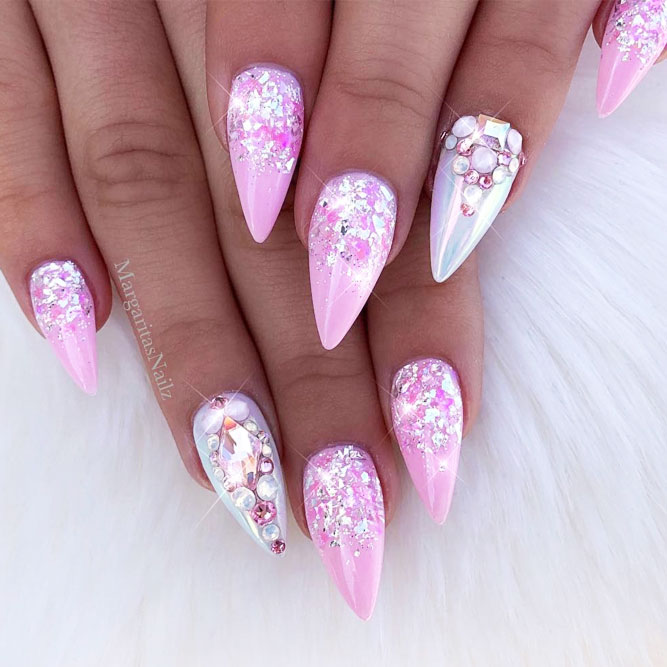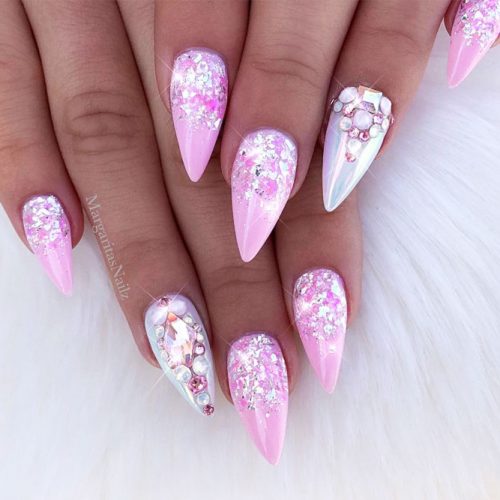 Source: glamour_chic_beauty via Instagram, home_of_deva via Instagram, solinsnaglar via Instagram