Nude nails designs never go out of style, and it is a rock-solid fact. And this fact makes nude color nail designs our little lives' saviors as following all those new trends often becomes exhausting, and sometimes we need something that will never fail us.
Nude nail ideas have many perks:
Your nails appear clean and neat
They makes your mani appear well-groomed and elegant;
Nude shades are excellent for hiding chipping;
Nudes pair well with all nail polish colors;
Manicure in nude shades will complete practically any image;
A dress code is not your enemy when your nails are nude.
But which nudes are best for you? Let's figure it out together.
Experts advise picking nail polish that is one shade lighter compared to your skin tone. If you stick to the advice, you will ensure that nude colour nails complement rather than mask your beautiful skin tone.
That being said, let's move on and get familiar with the latest trends in the world of nail art nude designs and stylish manicure ideas!
*We may earn money from affiliate links on this page. Please check out our disclosure policy for more details.
Beautiful Nude Nails With An Accent Design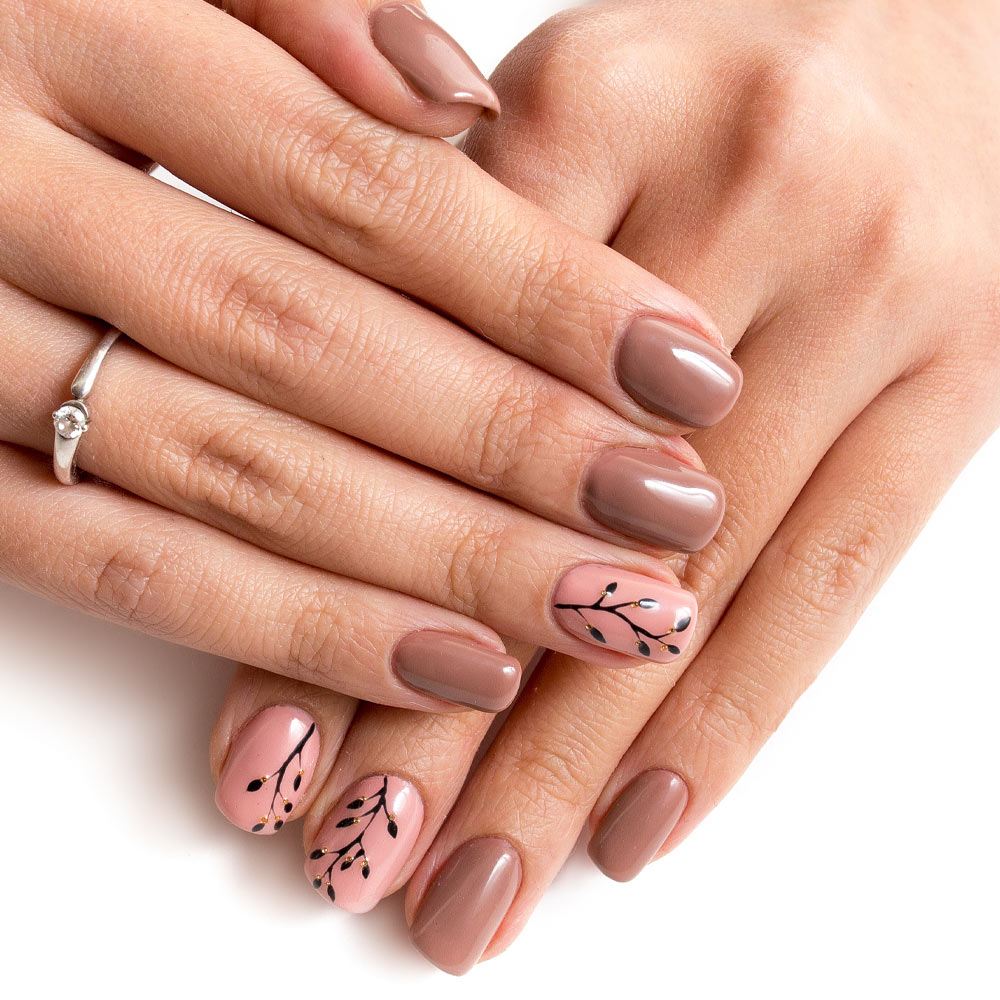 Credit: instagram.com/burlesque_school
Here we have a beautiful example of nude acrylic nails.The almond shape of these nails allows them to be maneuverable so that you can continue with your daily activities and tasks. You can play around with nude nails with design in a variety of fashionable ways. This example has matte nail designs added to the thumb and the ring finger to spice up something that could otherwise be a boring nail design.
Matte Nails Design With Marble Art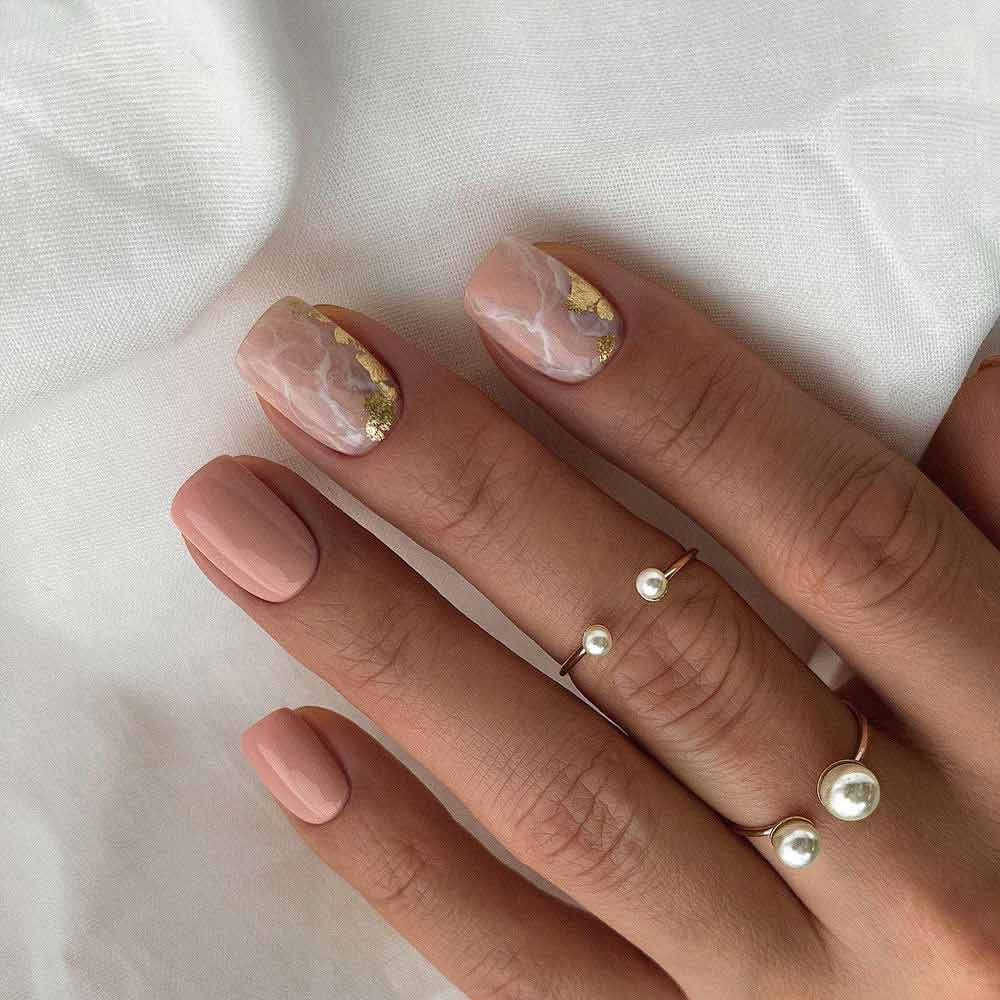 Credit: instagram.com/zhenya__borisova
Credit: instagram.com/ana0m
If you have become tired of solid nude matte nails design, then you have other options to pursue. These marble nude nail art designs are a few of the many options. For instance, gold and nude nails seem both classy and elegant but not a tiny bit mundane. The same can be said for every marble accent you choose to opt for. It is encoded in the nature of the decorative element to be gorgeous and utterly customizable. Not to mention that square nails are preferred by women who lead an active lifestyle and need their nails lasting and beautiful.
These square nails are preferred by women who have an active lifestyle and do not want to have an encumbering style of nails.
Different Colored French Tips on Nude Base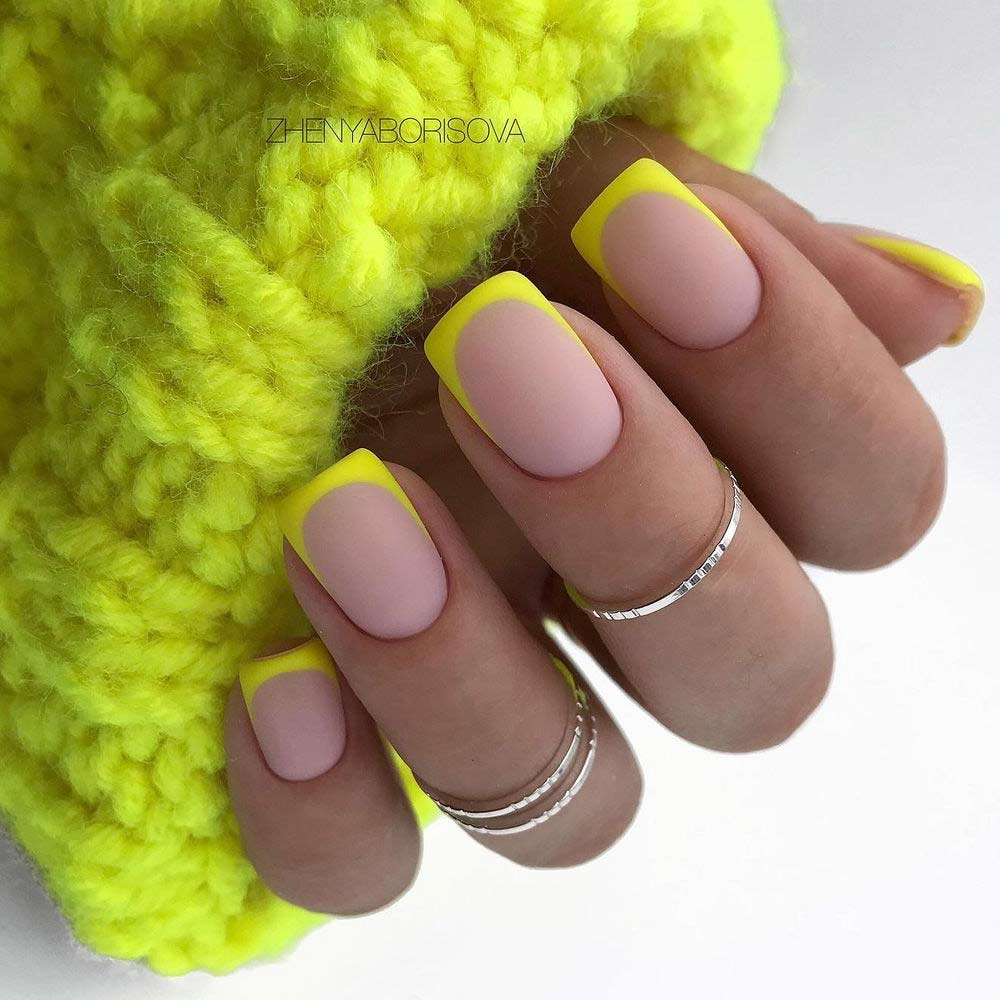 Credit: instagram.com/zhenya__borisova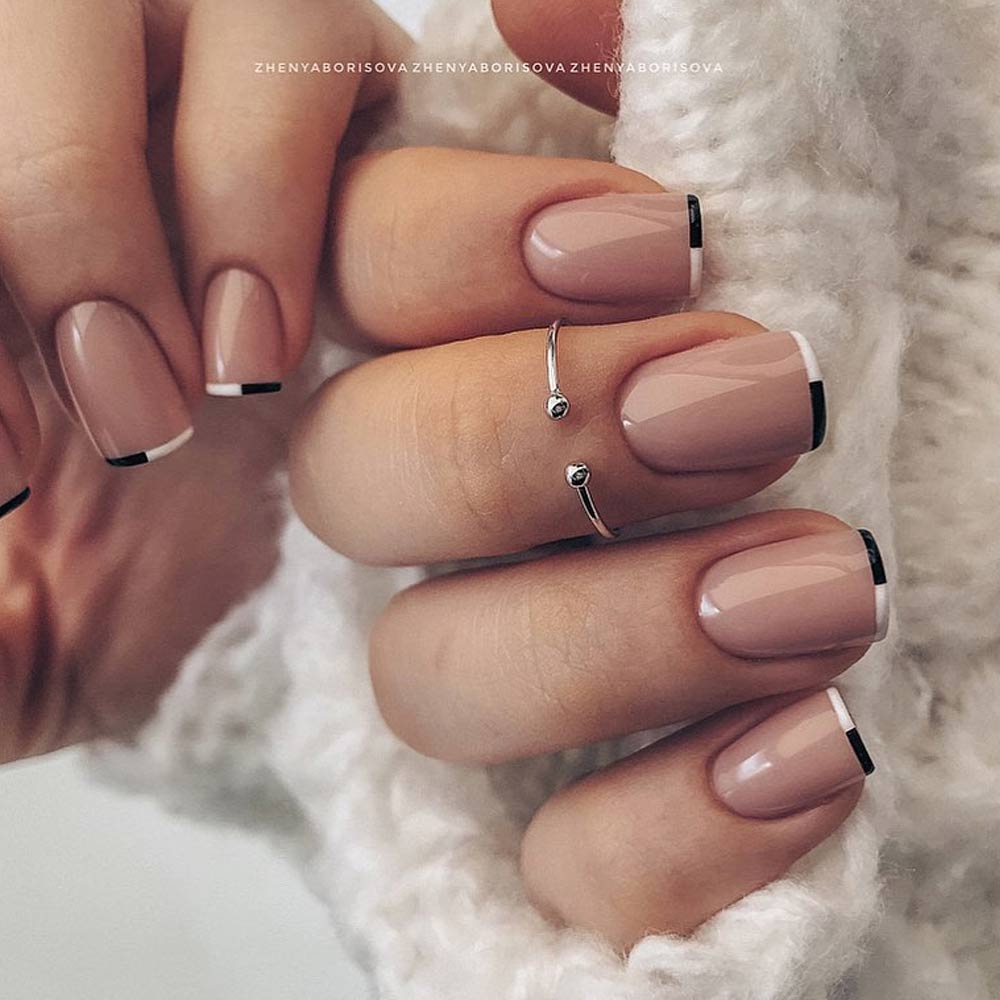 Credit: instagram.com/zhenya__borisova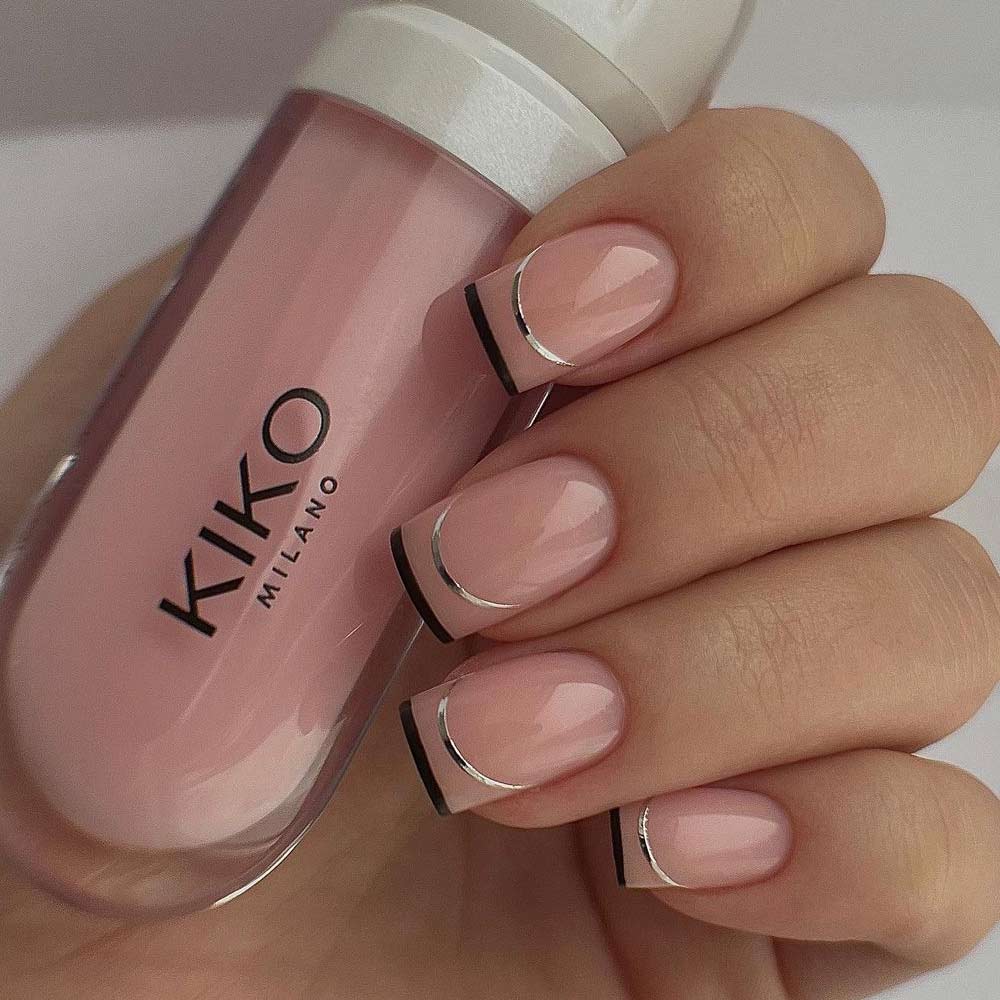 Credit: instagram.com/zhenya__borisova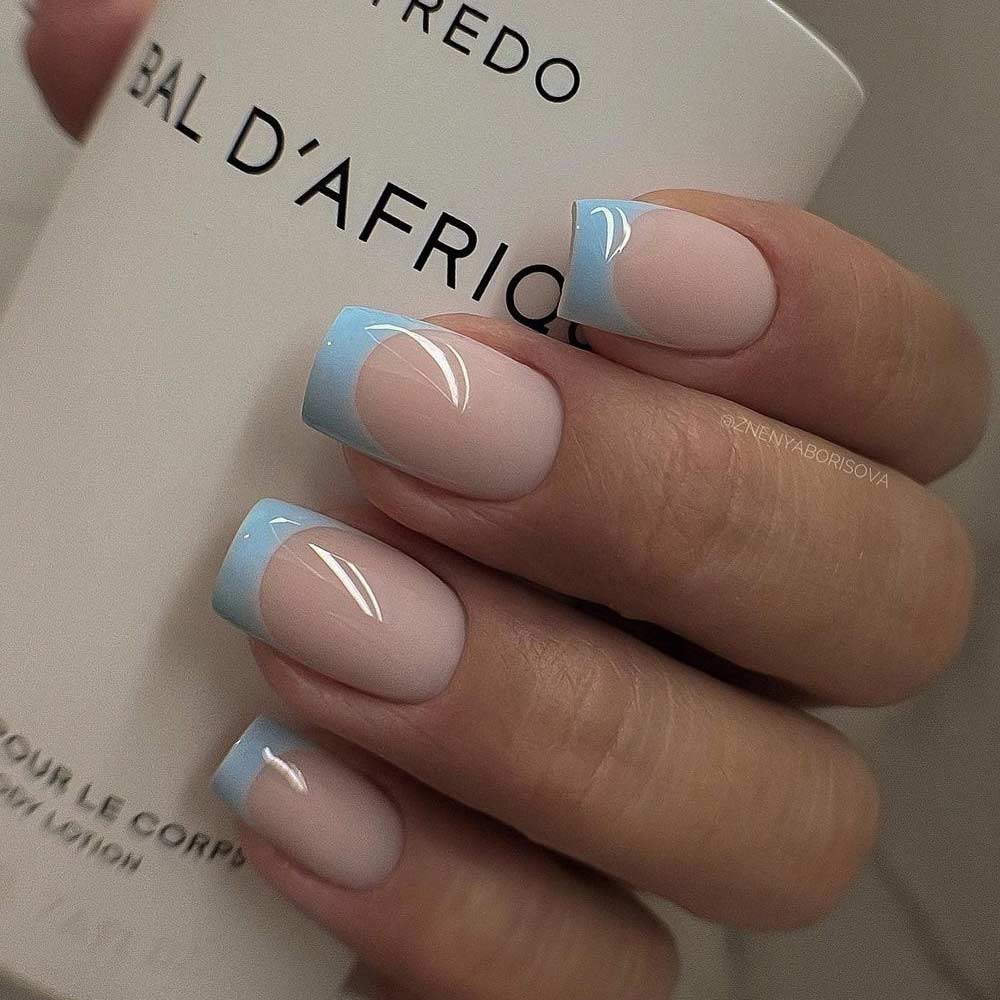 Credit: instagram.com/zhenya__borisova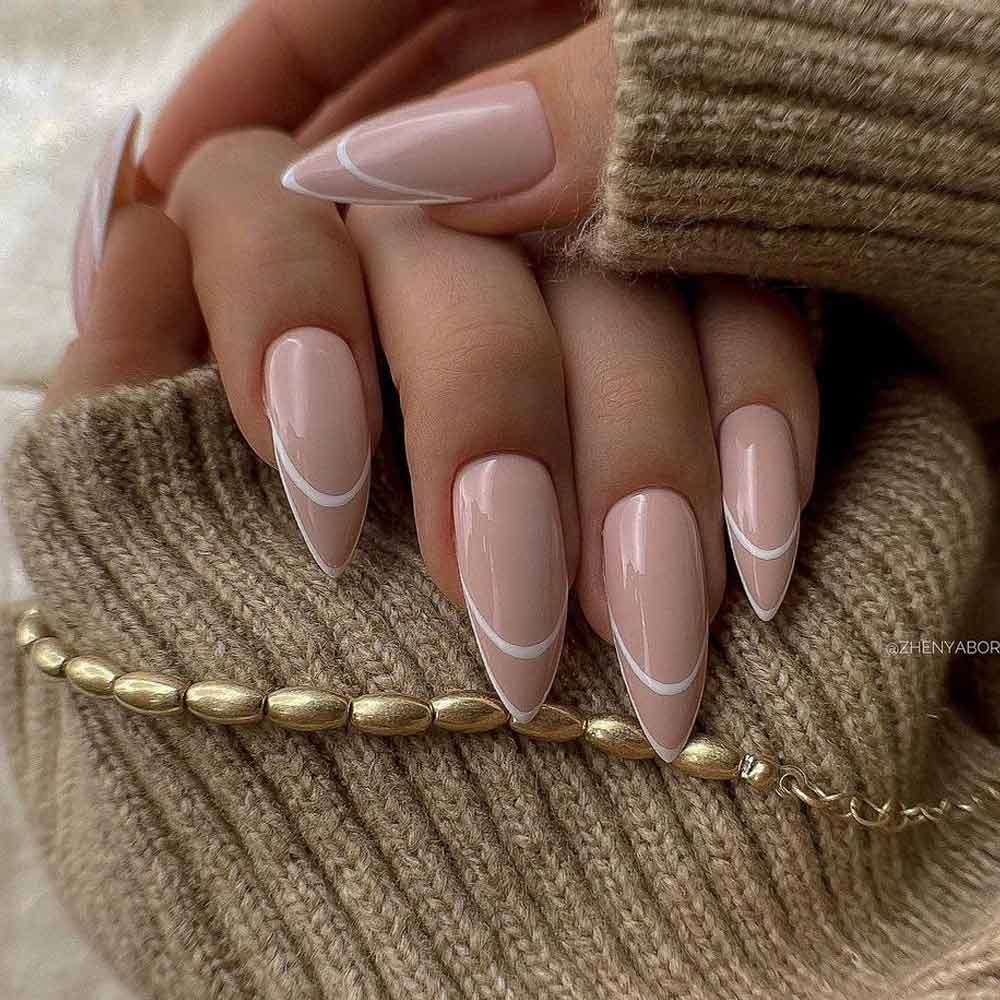 Credit: instagram.com/zhenya__borisova
Gone are the days when a classy nude manicure used to serve the most non-visual and barely-there purpose. These days you can pull off the look of a diva even with short nude nail designs. Mind you – you don't have to break any dress code rules. Colorful French tips over matte or glossy nude base will make sure of it.
Pink Nude Square Shaped Nails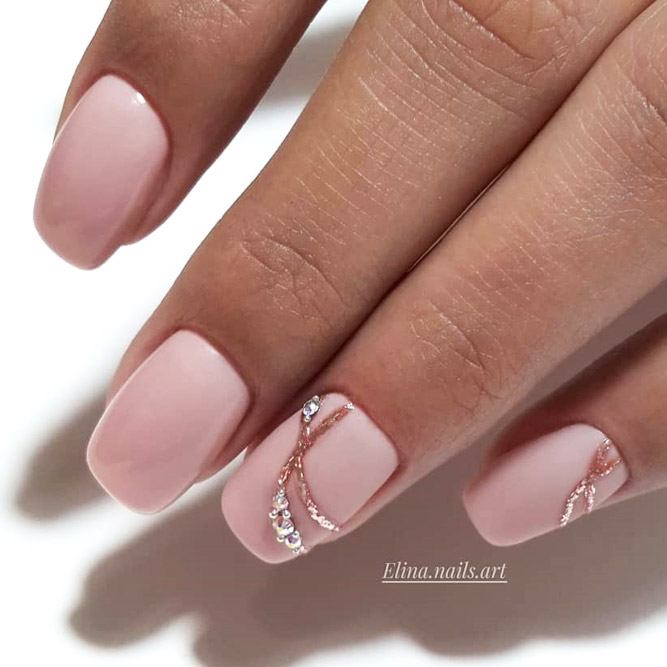 Credit: instagram.com/elina.nails.art
As previously stated, square nails are popular among women with a more active lifestyle. These nude pink nails would be a beautiful addition to your style. The gentle nail art on the ring and little finger add depth and dimension to this design. Something that could typically be considered a rather dull nude short nails goes to a new level with the addition of a couple of well-placed accents. This design also gets points for incorporating rhinestones.
Long Nude Stiletto Shaped Nails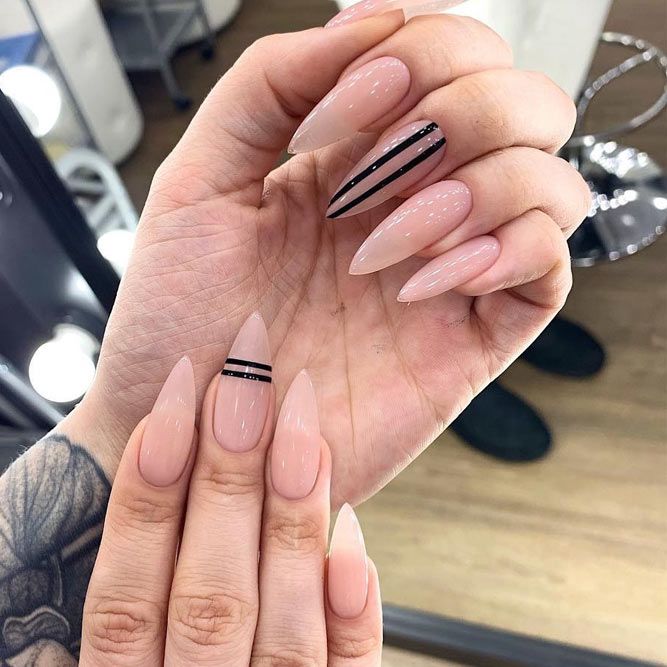 Credit: instagram.com/tg_nailboutique
If you're looking for a daring and outrageous design, then these nude stiletto nails are just what you're looking for. These long nude nails pop due to the black stripes on the middle finger, which breaks up the monotony of the design. These cat-like claws can be done in practically any shade you prefer but appear more classy and neutral when done in various pink shades.
Nude Nails Design For A Coffin Shape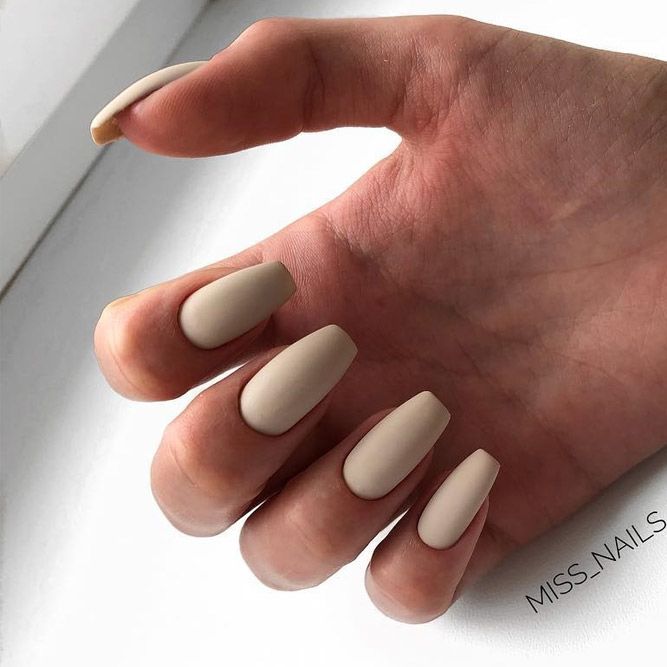 Credit: instagram.com/miss_nails_minsk
If you are looking for a different type of a design, then you should consider these nude coffin nails. The description of these nude long nails comes from the shape of these nails being similar to an old style coffin. These matte nails are in a gorgeous shade that will go well with most outfits.
Nude Almond Nails Design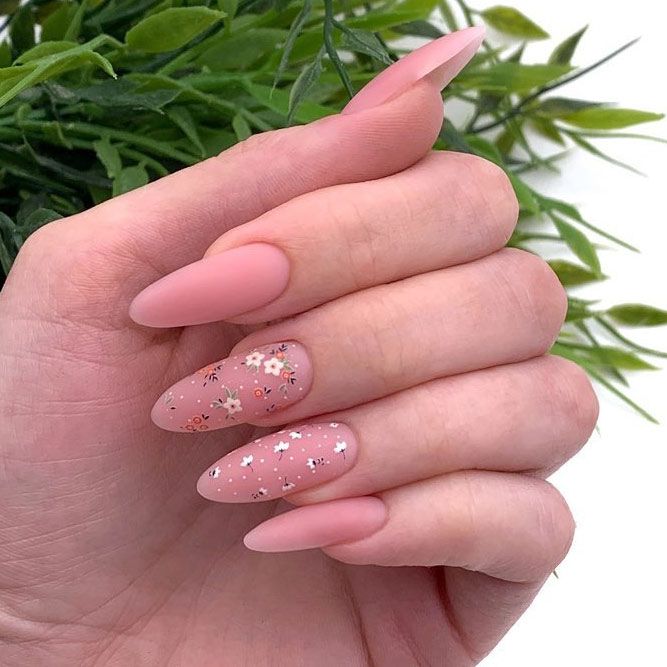 Credit: instagram.com/zarinanails
These pink nails have a gorgeous nude nail design one should consider. There are additional designs such as the floral art nails that are beautiful embellishments to almost any nail design you can come up with. The almond shape of these nails works for most daily activities.
Nude Nails With A Polka Dot Design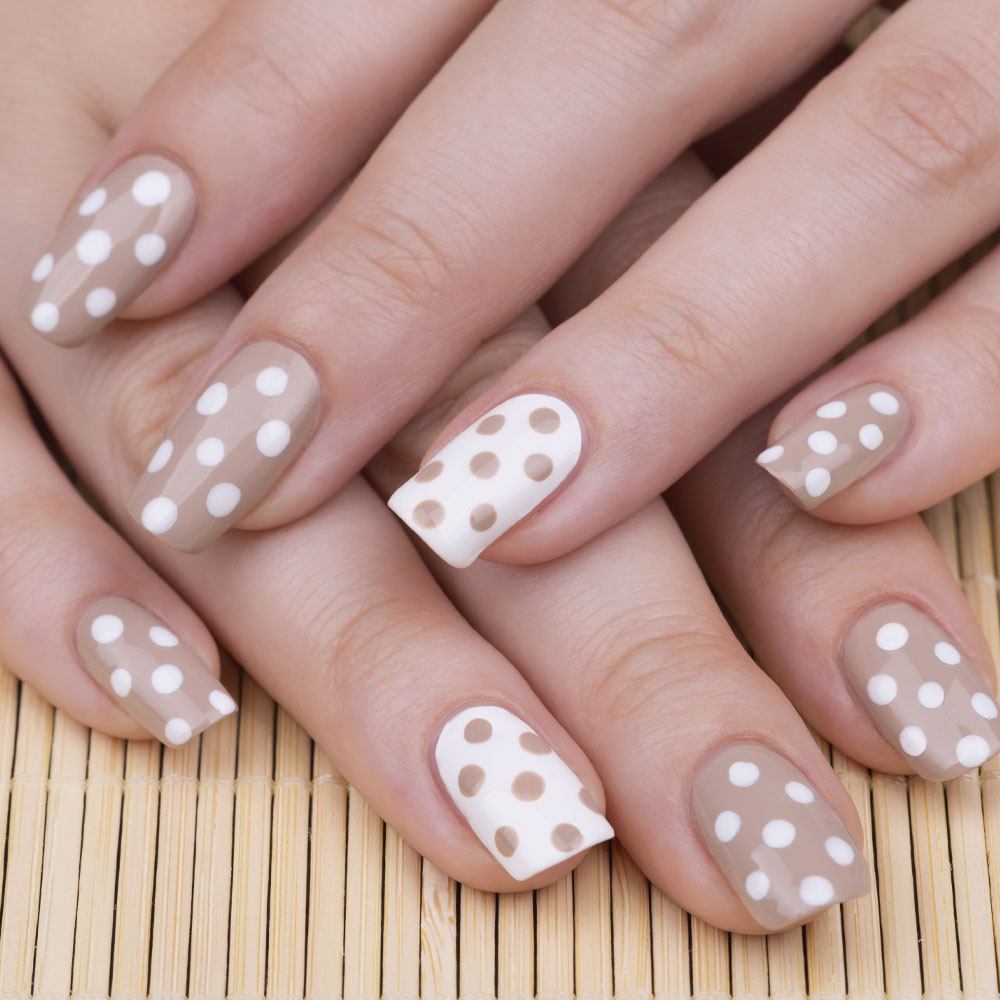 Credit: instagram.com/nailartist_natali
Here is a fabulous nude nail polish design that boasts neutral gel nails. The matte nail color option is a beautiful choice for almost any occasion. Its high-end gloss counterpart is high maintenance to keep its flawless sheen. The matte colors are easier to maintain. This adorable polka dot design is a fantastic choice for special occasions.
Nude Nails With An Ombre Design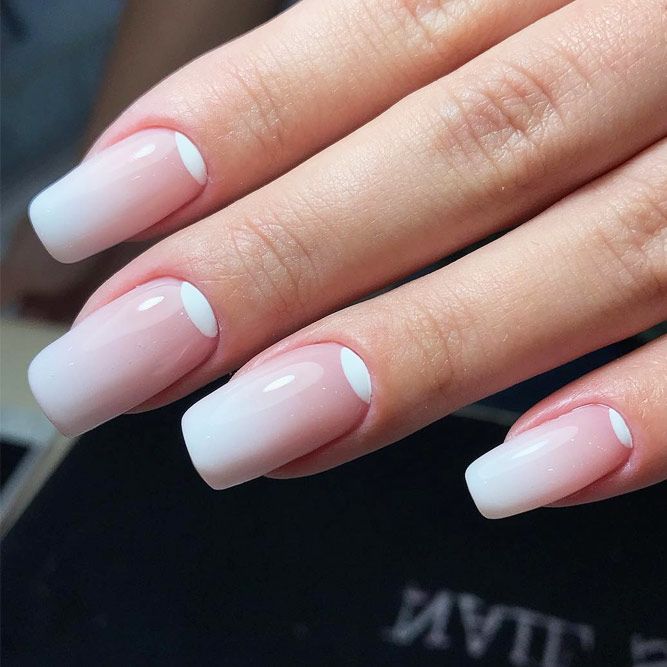 Credit: instagram.com/nail_sunny
This nail design boasts the French manicure that has been excessively popular for some time. The French design has always carried a look of ombre nails since the color blends, fading subtly from one shade into a complimenting shade.
Classy Nude Nails With Gold Glitter Ombre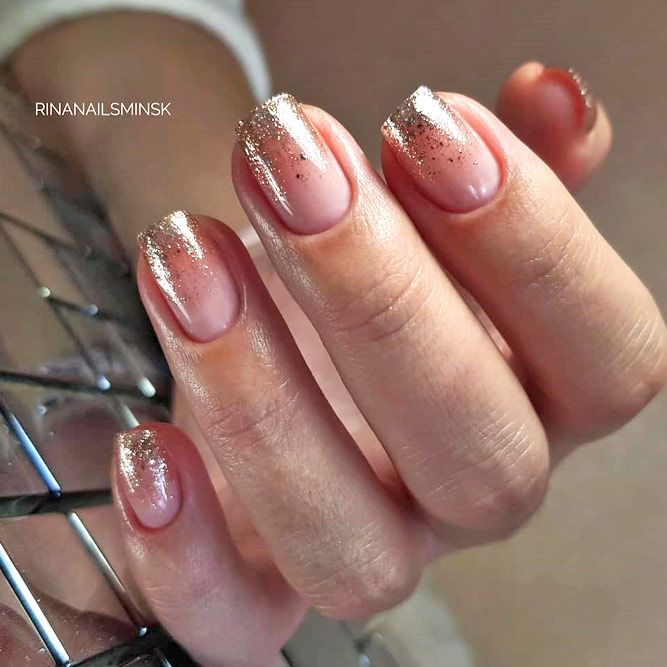 Credit: instagram.com/rina_nails_minsk
Our following example is this breathtaking nude and gold nails option that really grabs your attention. These glitter ombre nails are suitable for everyday wear, an evening, and a formal event. The nude nails with glitter introduce enough sparkle to be eye-catching while not being too overpowering in this design.
Short Nails with a Nude Glitter Design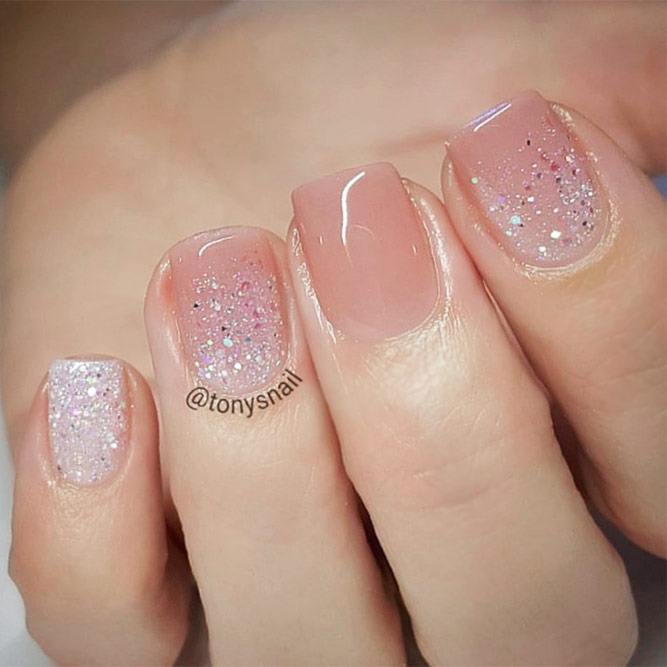 Credit: instagram.com/tonysnail
Women with very active lifestyles often choose to wear their nude nails short. Just because you don't desire to have long claws or flashy artwork applied doesn't mean that your nail design can't be just as beautiful as some of the more elaborate designs. These nude glitter nails are versatile and will fit almost any outfit you choose to wear. The varying glitter and solid ombre on the nails keep the design interesting as well as beautiful.
Long Nails With A Nude Brown Color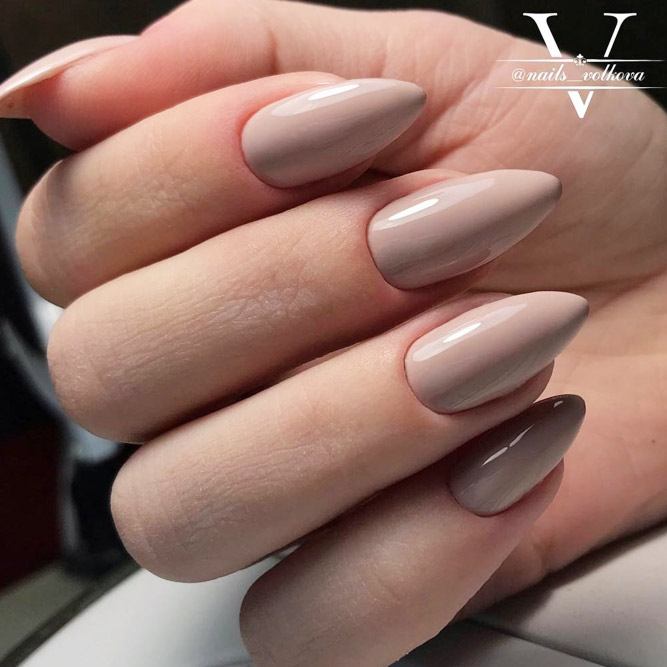 Credit: instagram.com/nails__volkova
If you're in search of a neutral color for your long nails, then pick these nude color nails. While they may be a little on the sharper side, these nails still fall into the shape category of almond nails. This is one of the most popular designs and length for nails. Although there are some cases in which you will see much longer nails, this does happen to be the most popular length when it pertains to long nails.
Matte Nails With Flowers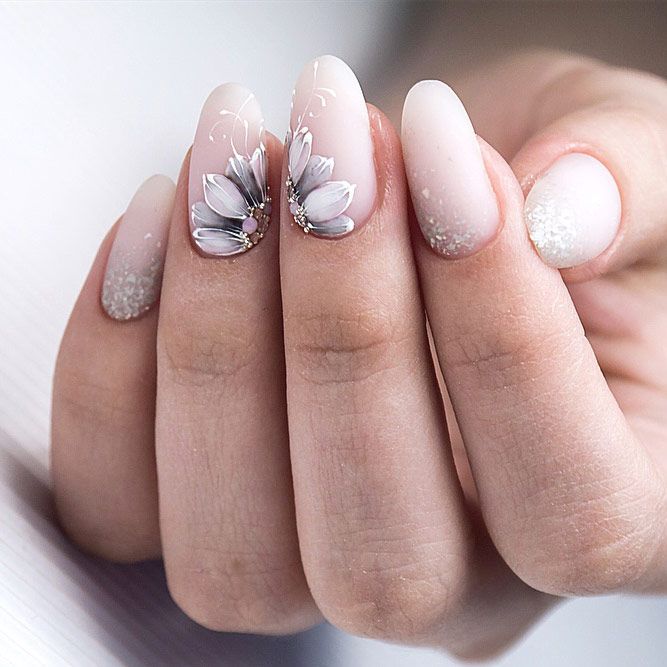 Credit: instagram.com/kolosova_natalia
Credit: instagram.com/just1nail
This happens to be one of our favorite nude nail designs. The milky-white matte color possesses a uniquely exciting feature that makes it look absolutely stunning. This particular design may be great for a wedding due to the floral design that has been incorporated into the artwork. All the fingers also have tiny embellishments, which add to the beauty of the nail design. The matte nail design has become increasingly popular, almost pushing the high gloss look completely out of circulation.
Beautiful Glitter Nude Nails Designs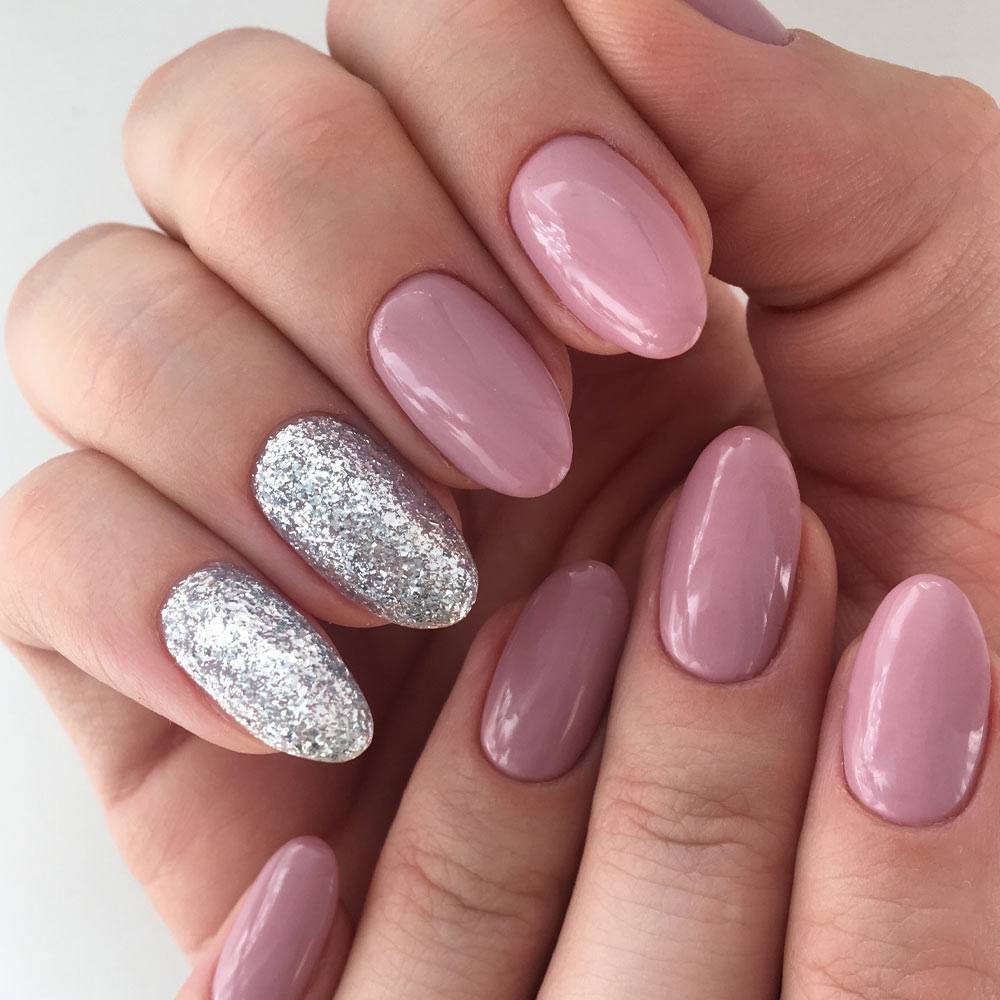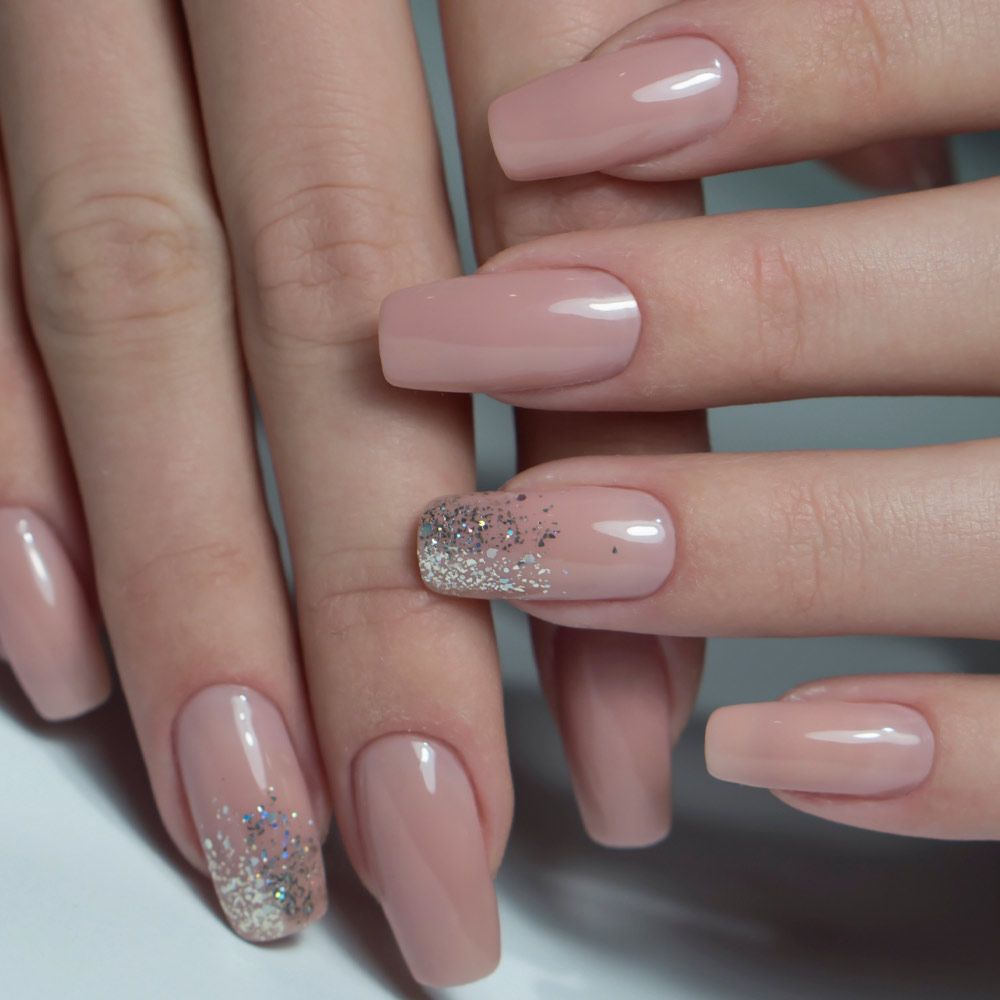 Credit: instagram.com/missdoolittles, instagram.com/solinsnaglar, instagram.com/nails.xmxnx_
There's no such thing as too much glitter when it comes to nude nail art. Whether you prefer short nude nails or enjoy the edginess of the coffin shape, there's always enough room for a glitter accent. The lengths you are willing to go are up to you to decide, but the fact stands.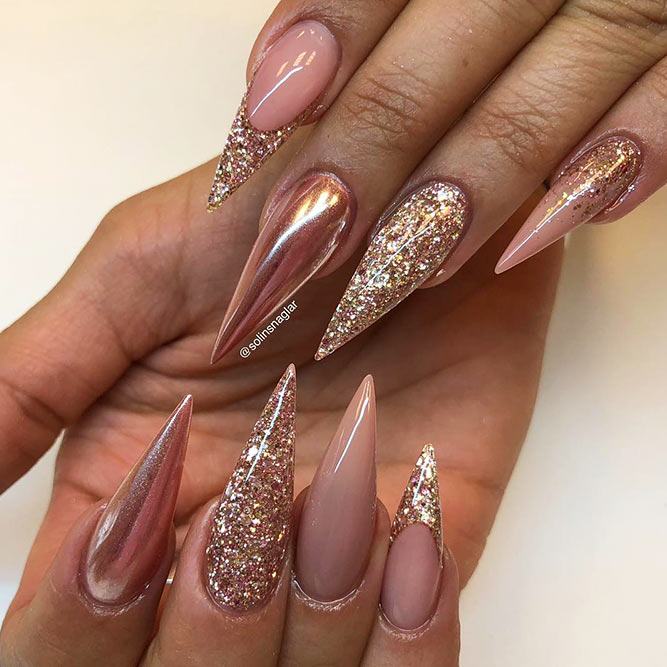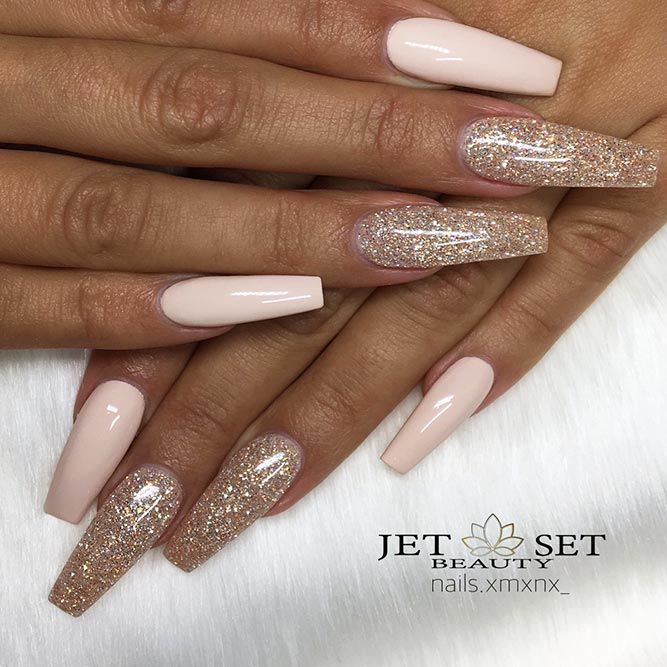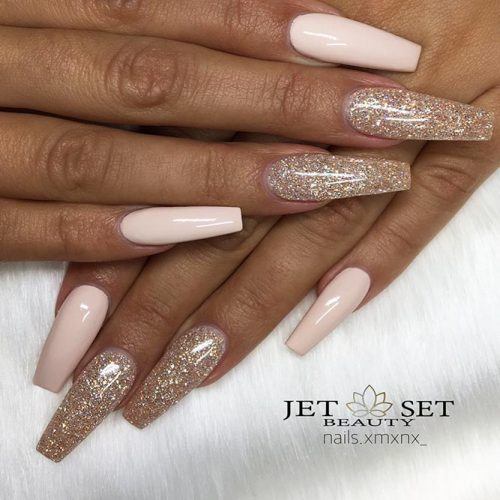 Credit: instagram.com/essielienchen, instagram.com/nailzbylizlv, instagram.com/chellys_nails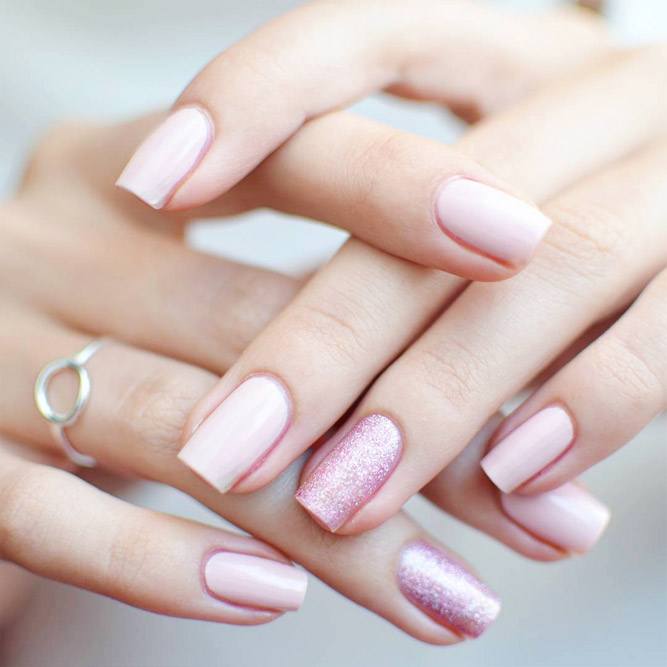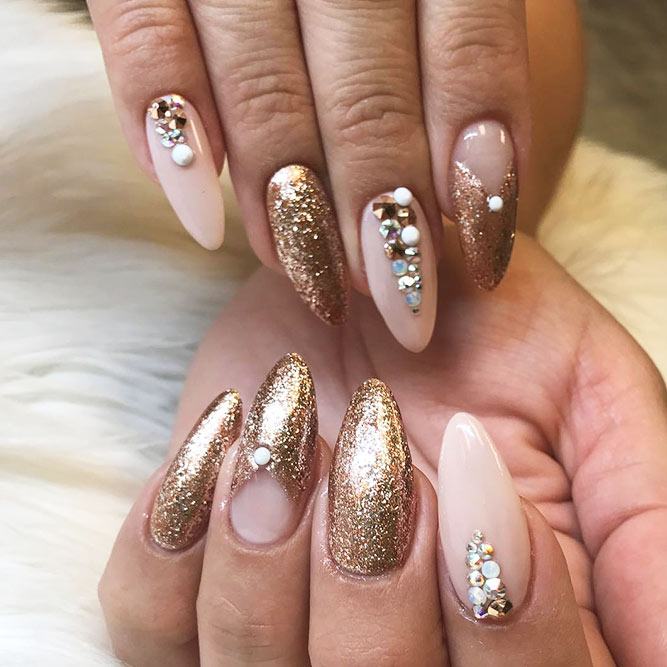 Credit: instagram.com/getbuffednails, instagram.com/baggesnaglar
Glitter nail lacquer is your best bet if you wish to spice things up a bit and make your manicure in nudes be a bit more fun. Glitter accents are perfect for this kind of job. Plus, your mani will appear more glammed up.
Nude Nails with Rhinestones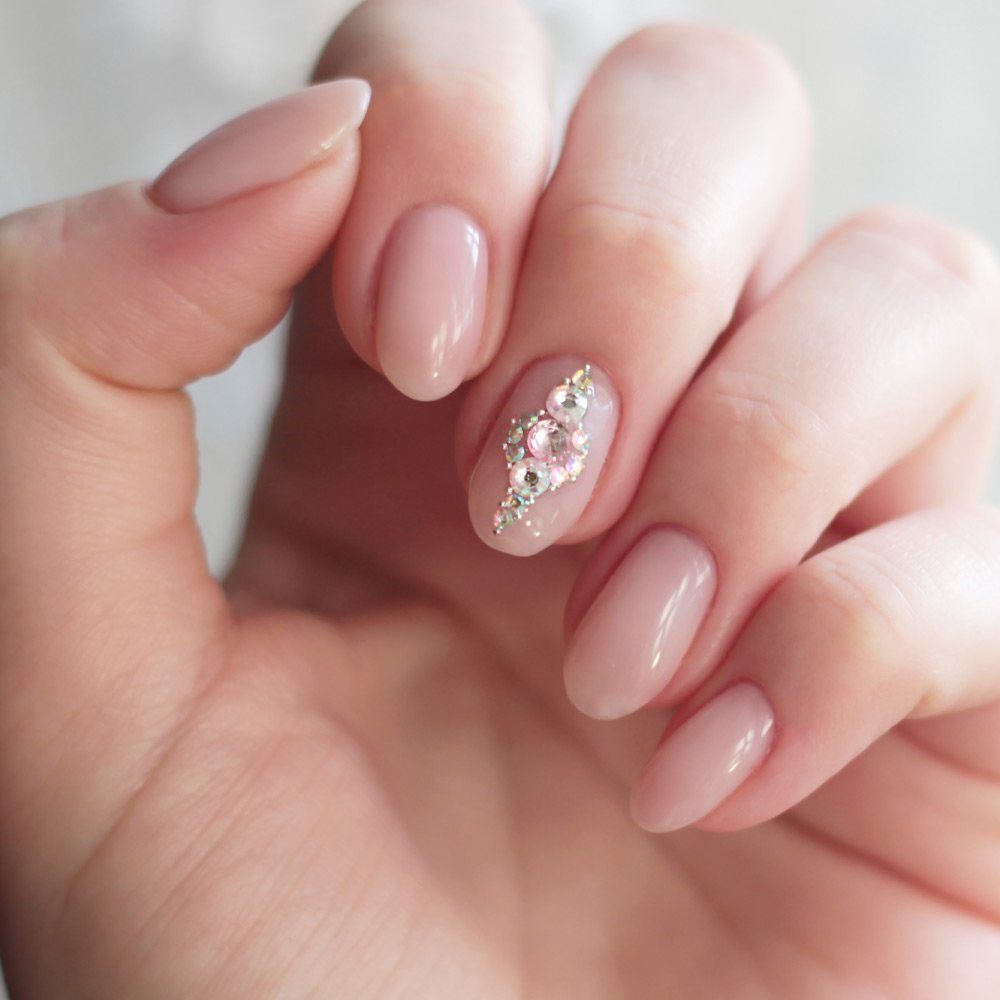 Credit: Shutterstock
Credit: instagram.com/zhenya__borisova
Credit: instagram.com/dani_molo
Credit: instagram.com/nail__master__russia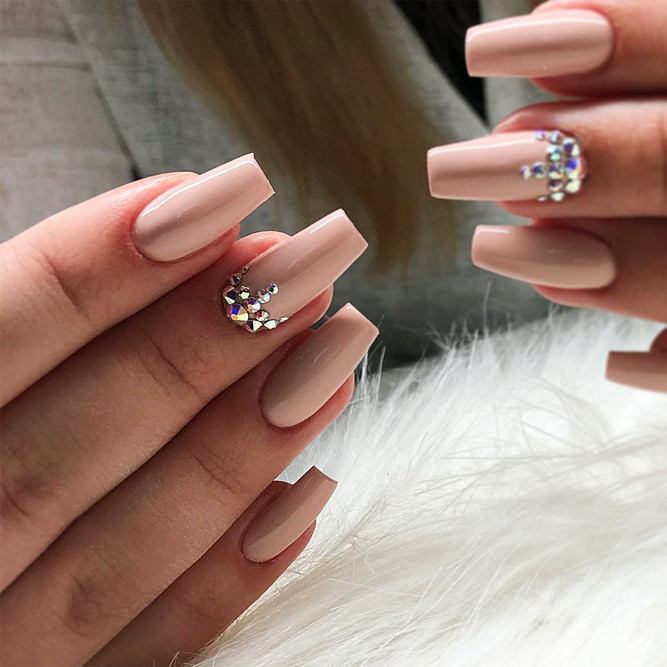 Credit: instagram.com/nailssbysaga
The perfect synchronization of nude and silver nails can't be underrated. At least, not after you've had a closer look at this gemstone collection. Even a single rhinestone accent makes the nail art crucially elaborate, and that's the detail no one dares to miss.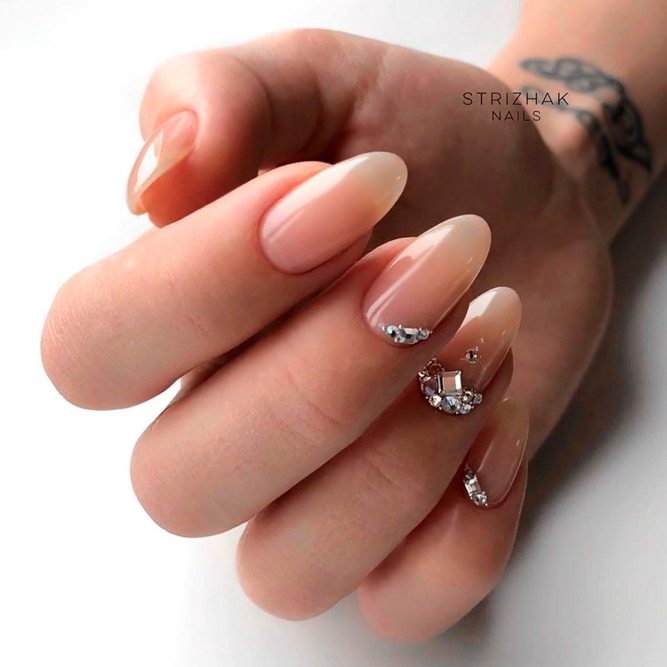 Credit: instagram.com/strizhaknails
Credit: instagram.com/galichaiaolga
Credit: instagram.com/fiina_naillounge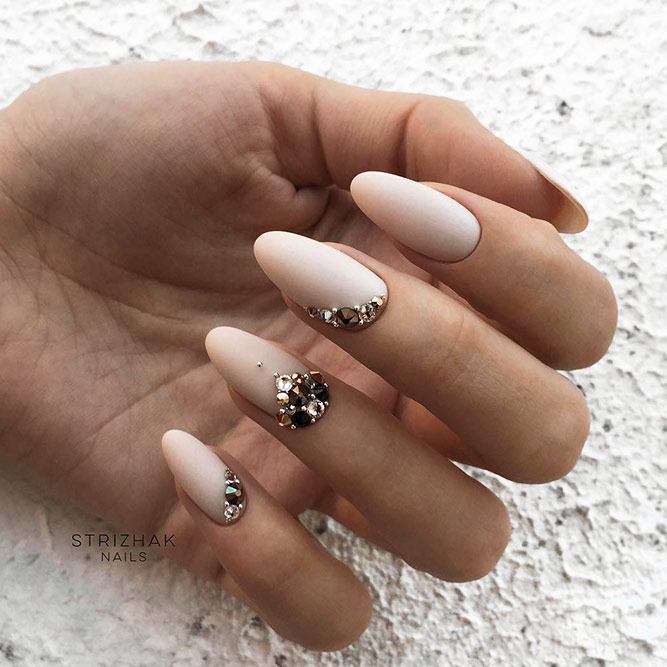 Credit: instagram.com/strizhaknails
Credit: instagram.com/acelyanin.makyaji
Rhinestones are capable of making your nude nail art sparkle with sophistication and taste. The less formal the occasion is, the more rhinestones and gems can be added for extra shine.
Incredible Matte Nude Nails Ideas
Credit: instagram.com/getbuffednails, instagram.com/misslaladoll, instagram.com/mariapro.nails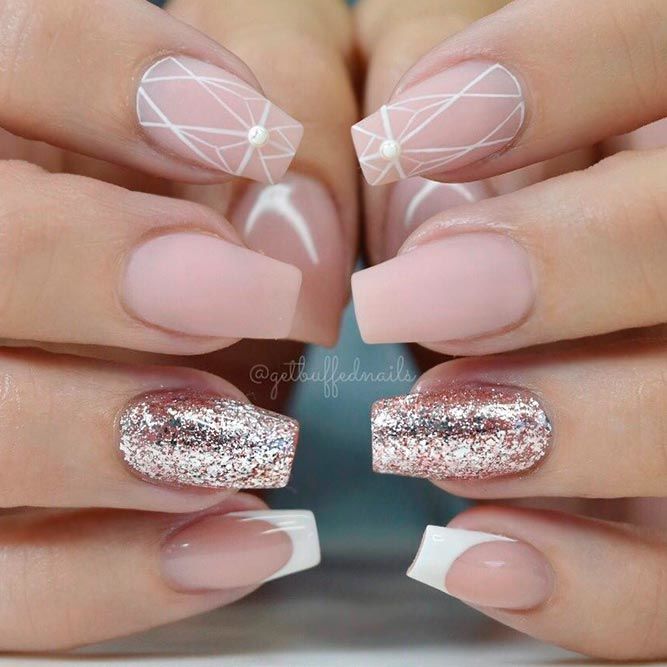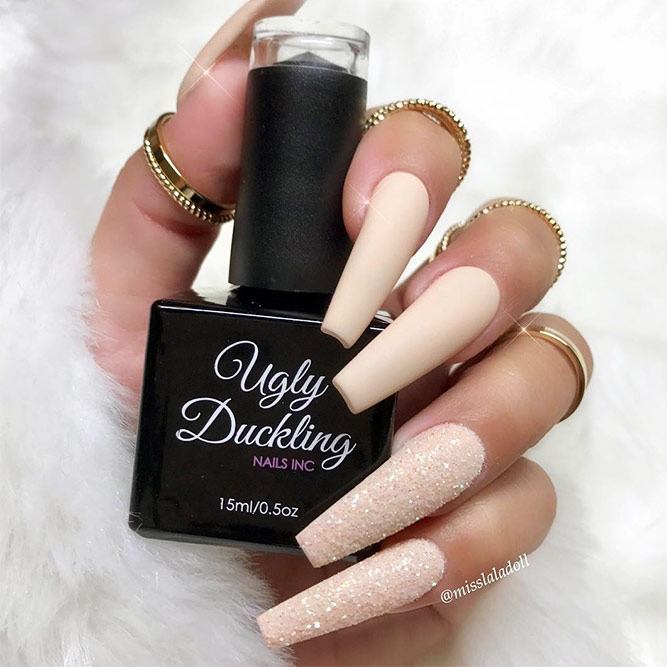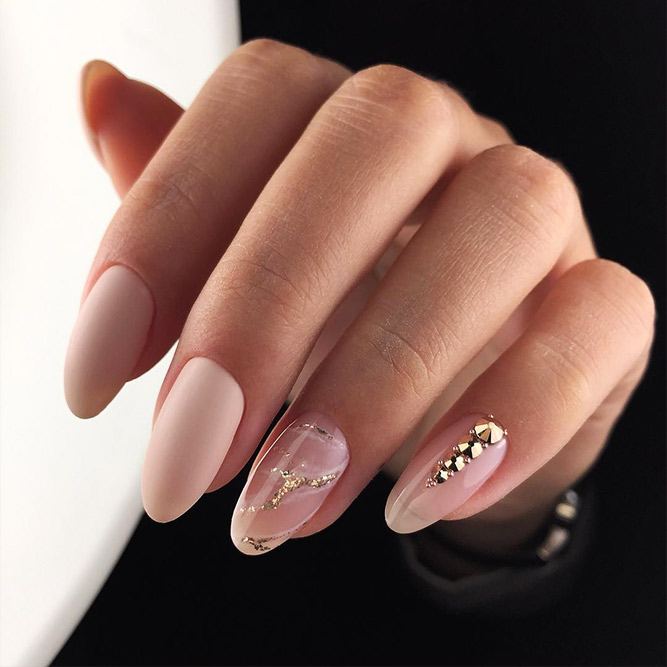 Credit: instagram.com/getbuffednails, instagram.com/getbuffednails, instagram.com/nailsbyjema
Nude gold nails indeed look exceptional, but have you tried pairing them with matte accents? No matter the shape you sport, if you stick to these gorgeous ideas, the outcome will be breathtaking!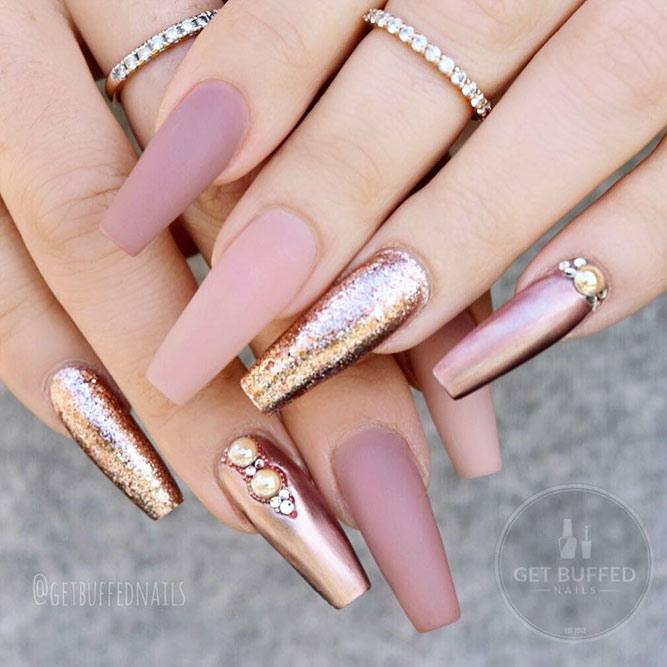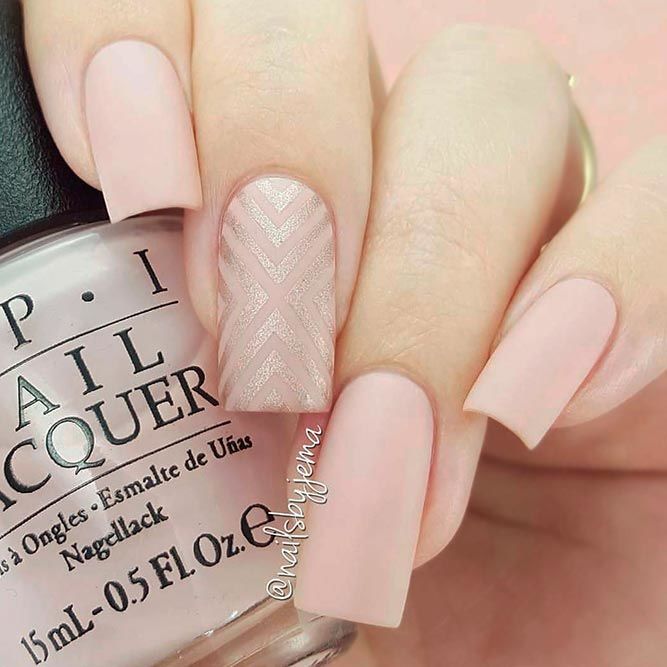 Matte nail lacquer is experiencing a major comeback, and if you love all things matte, that must be a super pleasant piece of news for you. Add some cute accents for your mani to stand out even more.
Nude Nails With Ombre Design
Credit: instagram.com/nailzbylizlv, instagram.com/getbuffednails, instagram.com/home_of_deva
The variety of nude gel nail designs grows bigger by the day. You must hurry and try them all. Don't worry about pulling off the daring vibe with magnetic stilettos or going slow with cute square tips. Whatever makes you tick at the moment!
Credit: instagram.com/nailsbysueuna, instagram.com/vanessa_nailz, instagram.com/chrystacle
Credit: instagram.com/strizhaknails
What can be more up-to-date than ombre nail designs in nudes? If you have not noticed, ombre is everywhere today when it comes to the elements of your image, and your manicure is not an exception.
Elegant And Easy Nude Nail Designs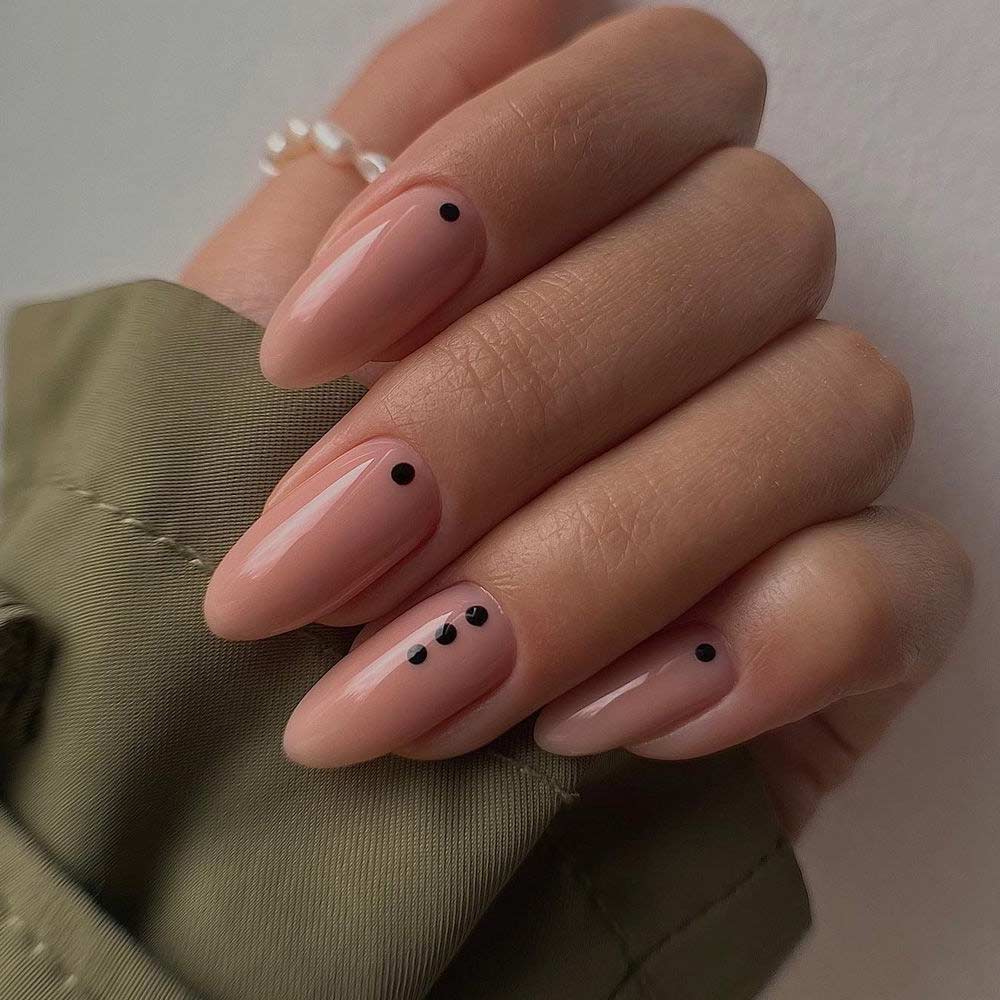 Credit: instagram.com/zhenya__borisova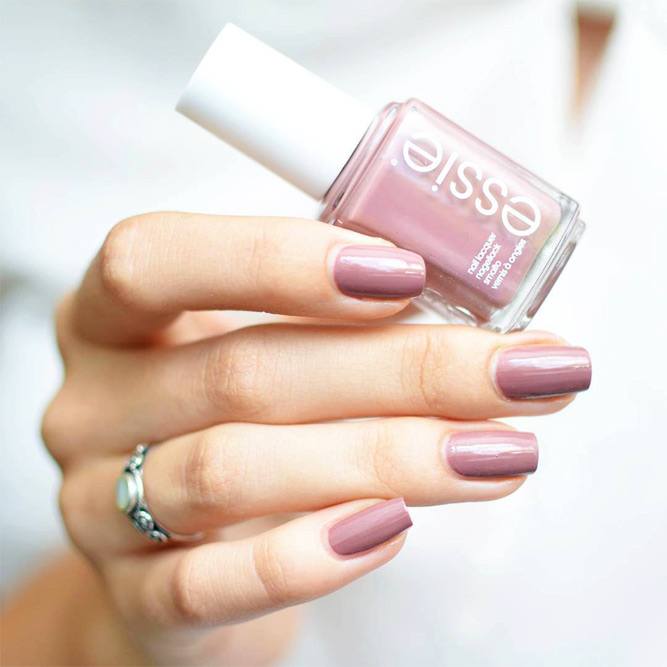 Credit: instagram.com/essielienchen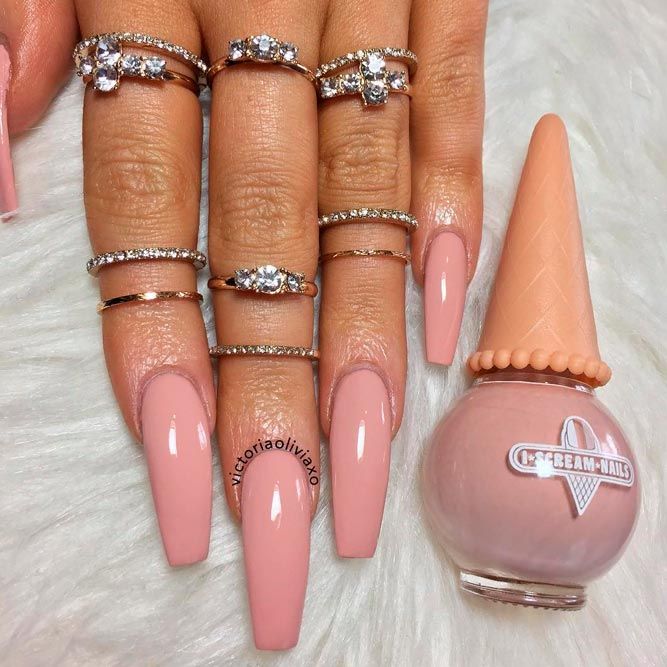 Credit: instagram.com/victoriaoliviaxo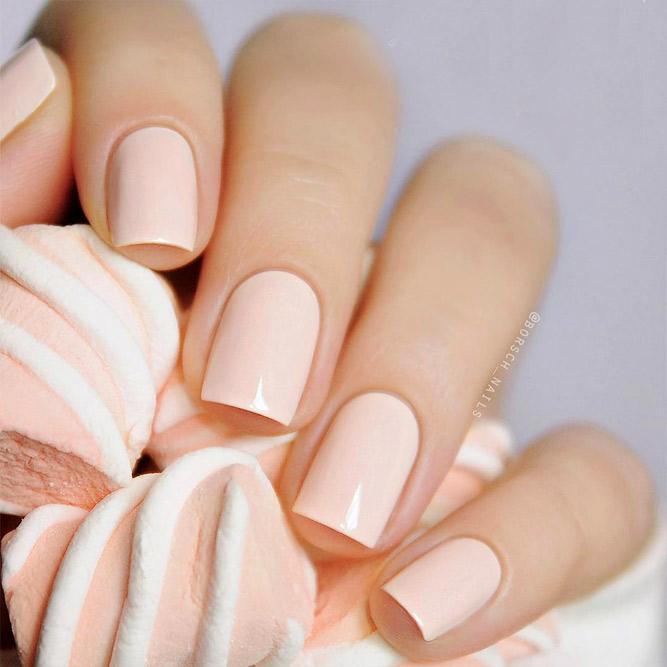 Credit: instagram.com/borsch_nails
Nude nails are very required these days, and we are not going to argue about that. However, it is time to point out that wearing your nail designs nude does not mean boring. When the solid coating is not your cup of tea, the introduction of glitter and rhinestones is not only acceptable but also necessary!
Nude Nails With Gold Foil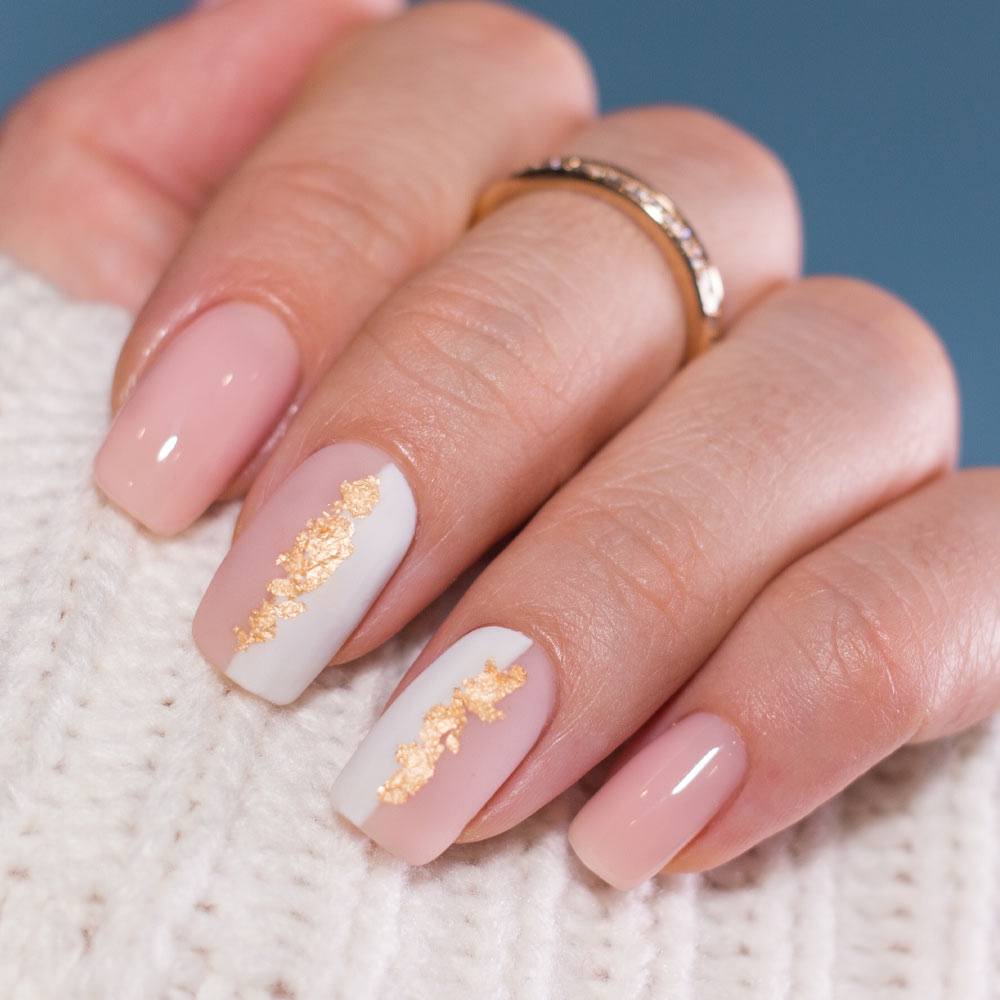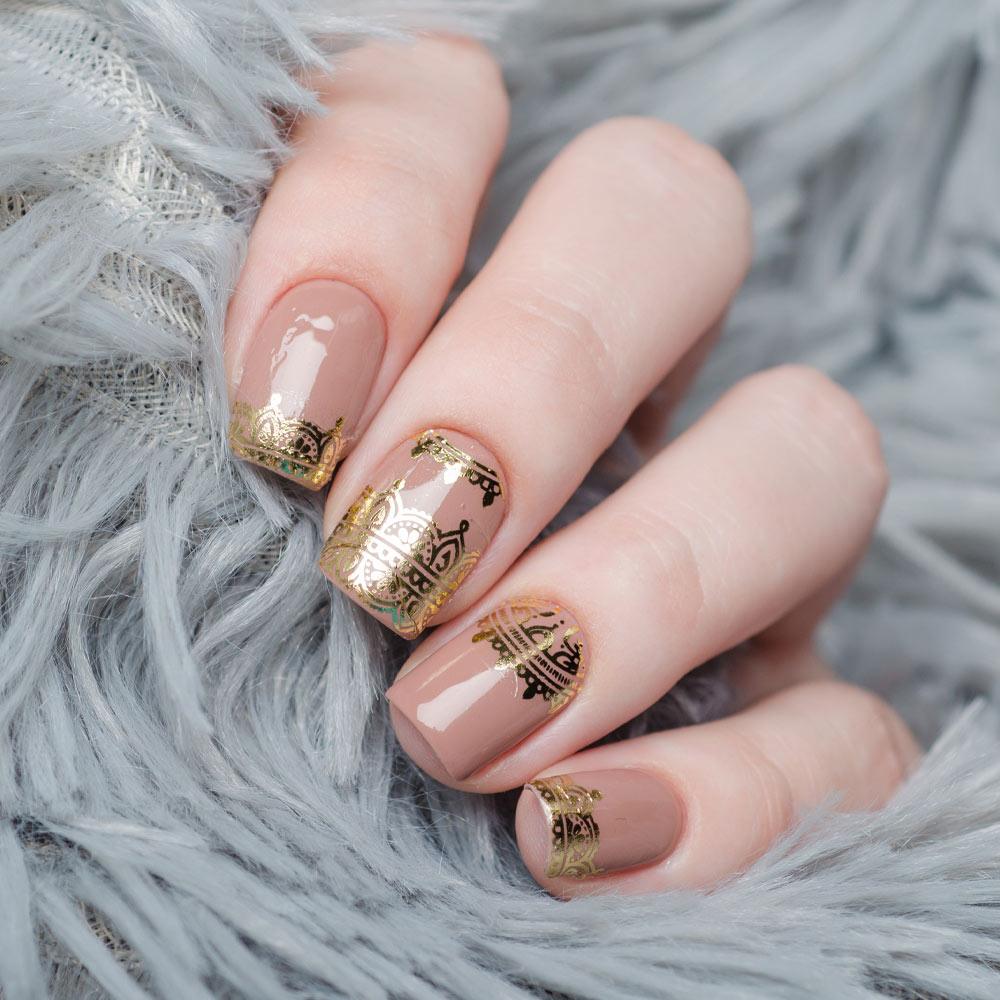 Gold accents come in more shapes and forms than one can count. For instance, you can spice your nude gold nails with a skillfully placed foil accent, or you can go as far as introducing a mandala-style pattern to each and every finger. Trust us, you won't take it over the edge with this design.
So, aren't these nail art ideas in nudes exceptional? Come back for more inspiration on stylish and fancy-looking nude nails! We always have something unique in store for you.
FAQ: Nude Nails
What is nude nail color?
Nude nail color is a color that is a few shades lighter or darker than your skin tone. Colors range from pale, beige to tan and brown. It is neutral and does not draw excessive attention to your fingernails.
How do I choose a nude nail color?
Finding a right shade of your nude nail color can elongate your fingers and create a sophisticated look. Here are some tips:
choose a shade that complements your natural skin tone while giving a slight hint of color;
go for a shade darker than your complexion;
choose which top coat to finish your look with: glossy or matte.