Winter is the chilly season of miracles and all sorts of festivities. Thus, it takes a full-scale approach to the preparation so that you look your absolute best when the snowy days hit. Winter nails are inseparable from every well-thought-of image, and the range of options to play around is immense.
Just like your fav knitted sweater or a tasty cup of hot cocoa, winter tips present a cozy and unique opportunity to play around with your individual style and showcase your creativity. We've gathered a stylish and trendy collection of winter manicures to last the whole season. No matter whether there are bold stilettos or neutral short nails – we've got you covered!
Glitter Triangle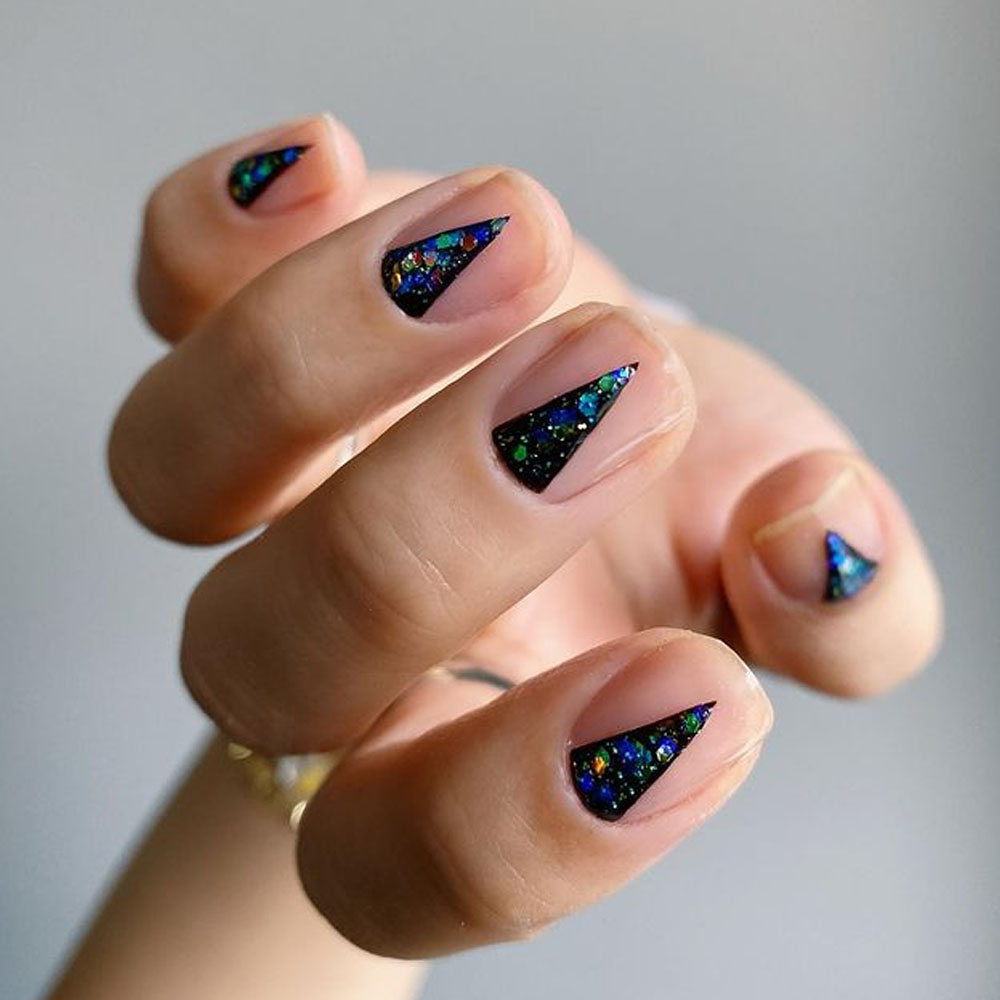 by @thehangedit
Are you ready to shine with winter nail ideas when the season strikes? Then, this glitter triangle mani is precisely what you need! The festive sparkles of glitter and relatively reserved negative space base topped with the allure of triangles create an unforgettable impression of sass and style. Sally Hansen happens to list a variety of great winter shades that come at a budget cost. Start your conquest with the "Pat on the Black" and move on. If the shade does not meet your unique taste and festive requirements, there's a perfect option for all.
What are the nail trends for winter 2023?
Winter nails tutorial
French Doodle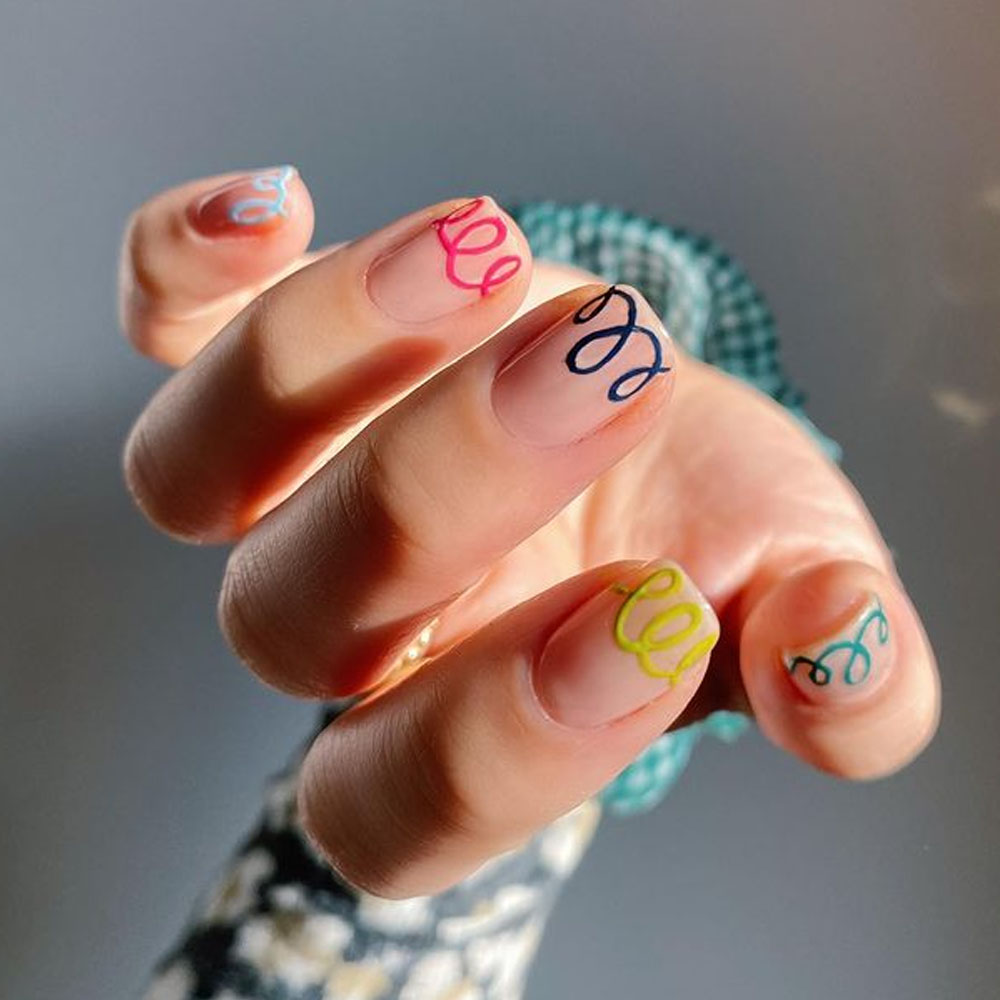 by @thehangedit
Winter nail art can't go without classy accents involved. However, we suggest you take a fresh take on a lovely French manicure and combine it with a playful twist in the form of colorful doodles. Celebrities like Jennifer Aniston are often noticed with neutral manicures, and the chances are that a French doodle would suffice for the actress as well. Care to feel like a Hollywood celebrity this season?
Colorful Stars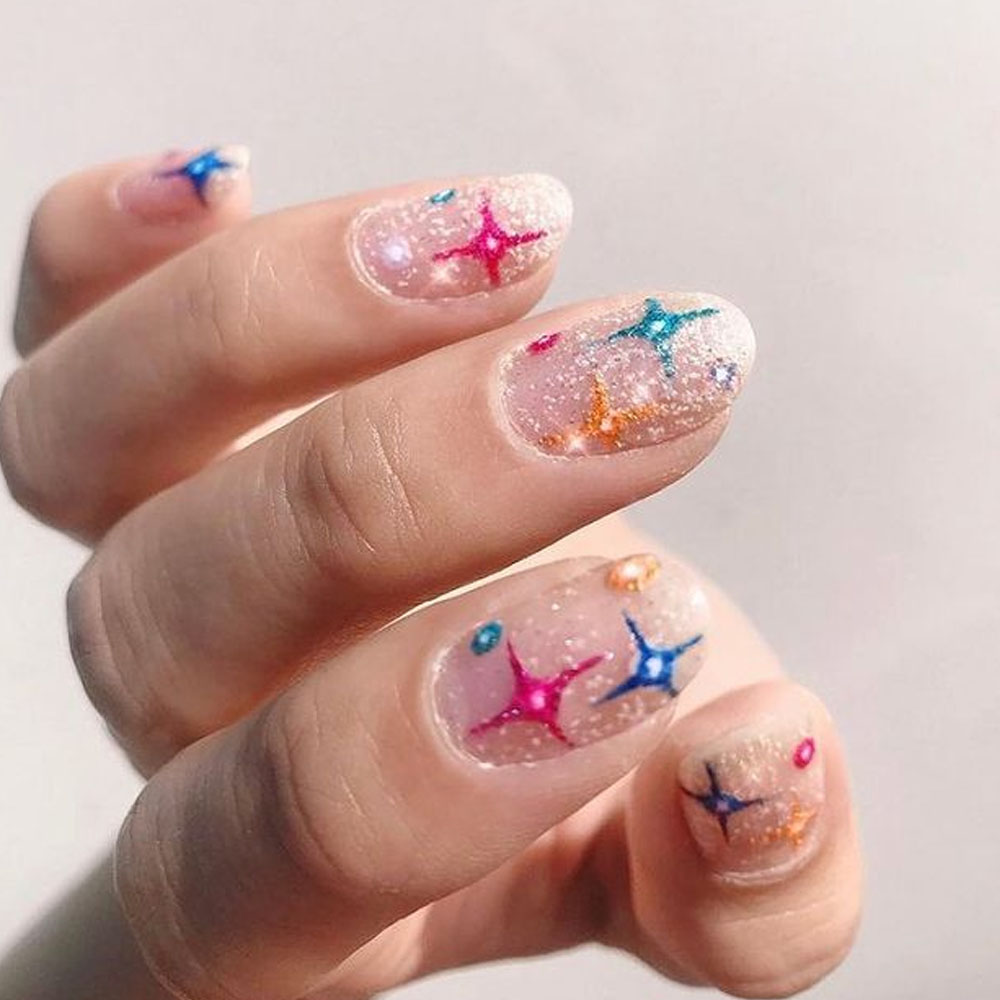 by @thehangedit
You can get a perfect winter nail inspo from celestial beauty. Colorful starts on nails in deep jewel tones are surely worth the attention of such celebrities as Zandaya. Why not incorporate this multicolored perfection into your casual winter look? Make your tips a dazzling winter accessory, and watch the adoring gazes follow you.
Snowflakes And Glitter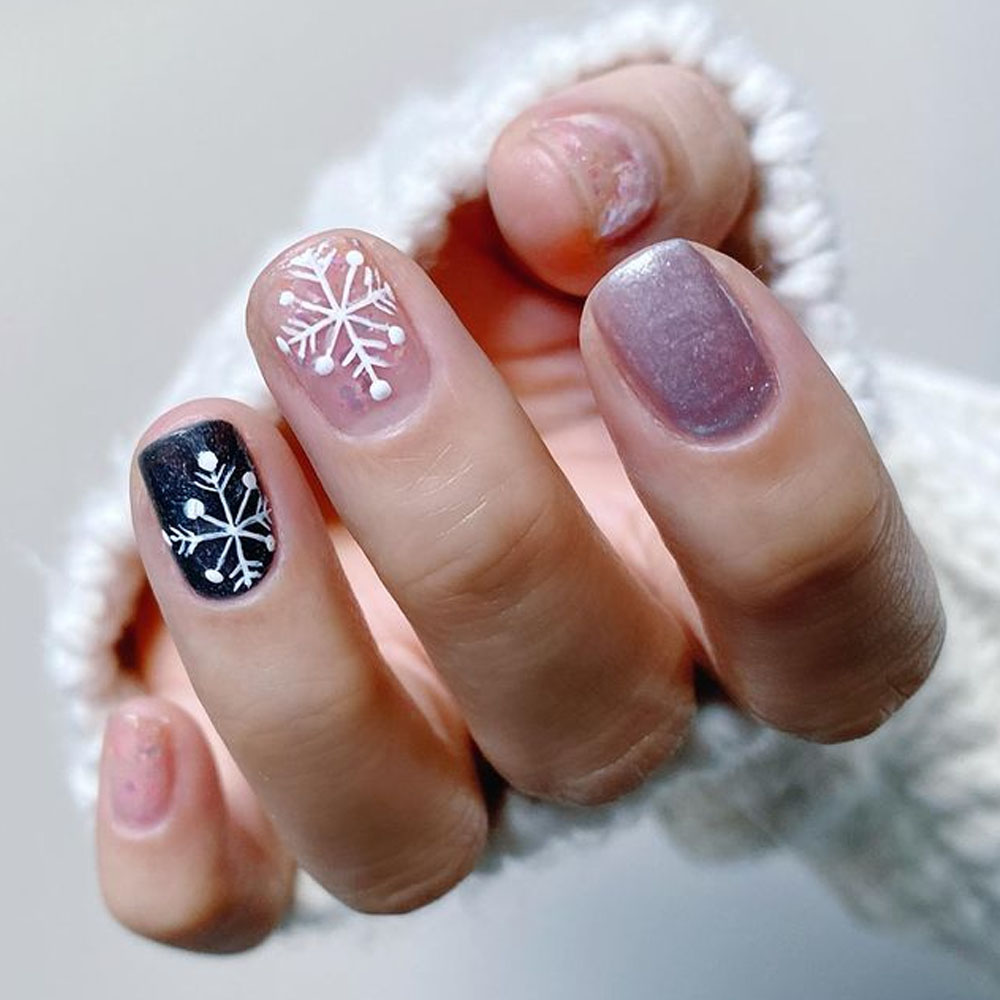 by @thehangedit
Countless winter nail trends center around snowflakes. We suggest you combine the timeless trend with the charm of sparkling glitter. You can experiment with different base colors to intensify the outcome. Neutral shades match well with such deep shades as navy blue. Hand-painted snowflakes on nails will help you capture the pure essence of winter in your fingertips.
Blue for Winter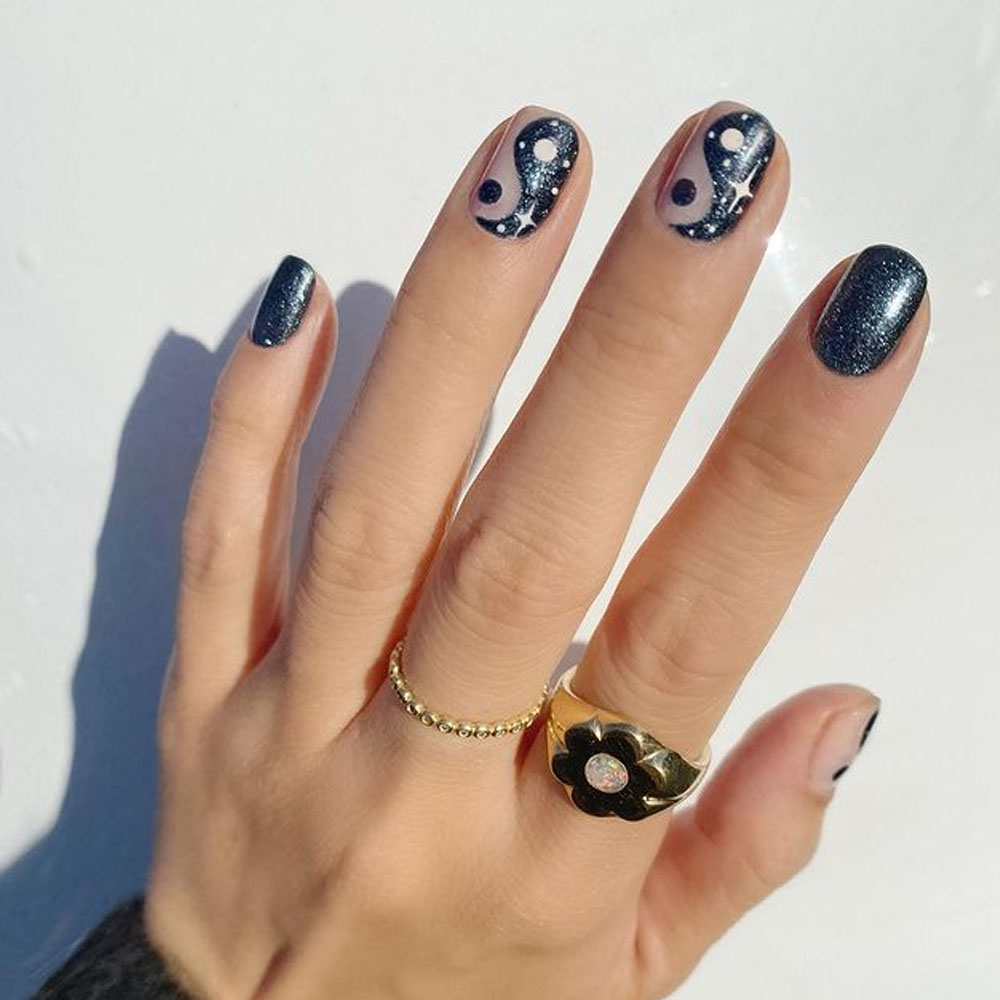 by @thehangedit
Blue winter nails are an option worth considering when the season hits, but we know a few ways of spicing things up a little. First things first, you may want to invest in a blue nail polish with a touch of sparkle to it – Chine Glaze may have just the collection to pick from. Coat a few nails with a solid base and add two accent nails with a mesmerizing yin and yang symbol depicted on them.
Hand Paint Art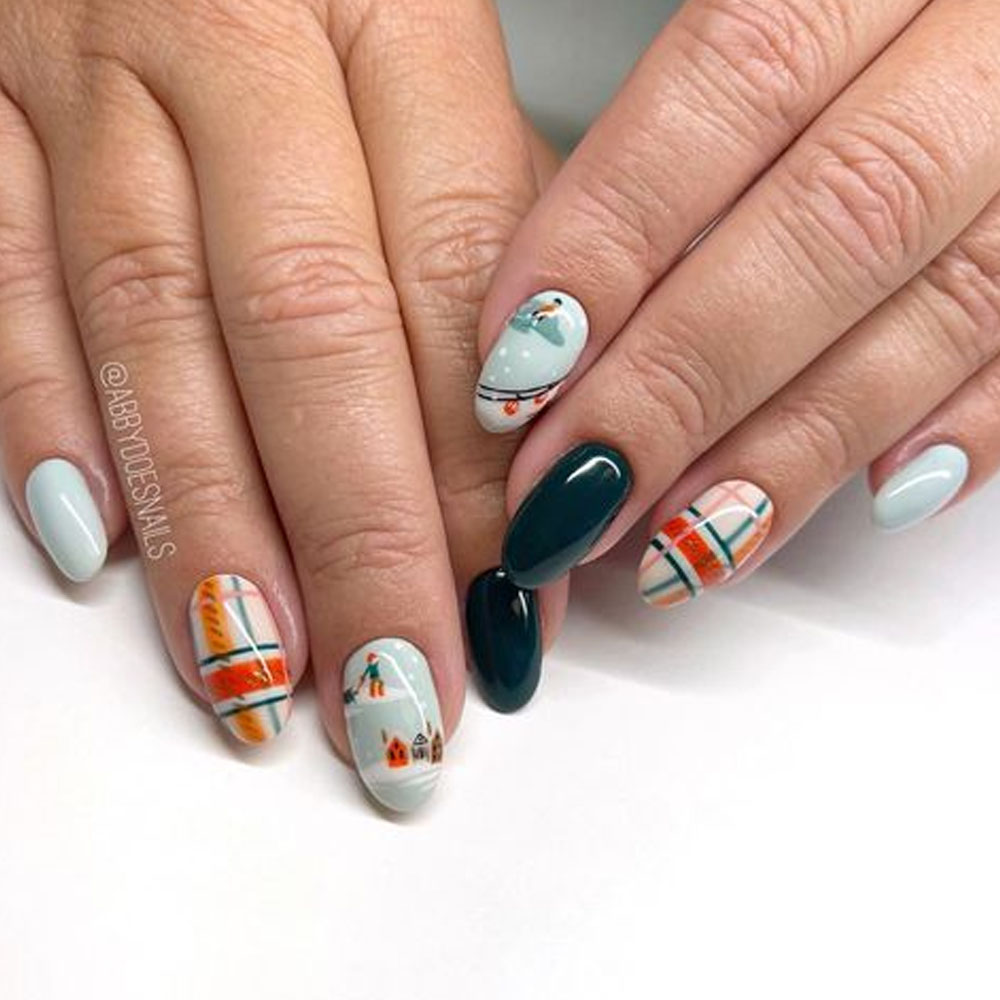 by @abbydoesnails
Embedding your short winter nails with unique hand-painted nail art is the best way to showcase them. Plait patterns and winter accents in the form of berries and wreaths are ideal to focus on. Embrace the season's charm with white, blue, red, and green shades with an occasional touch of glitter if needed.
Scandinavian Motifs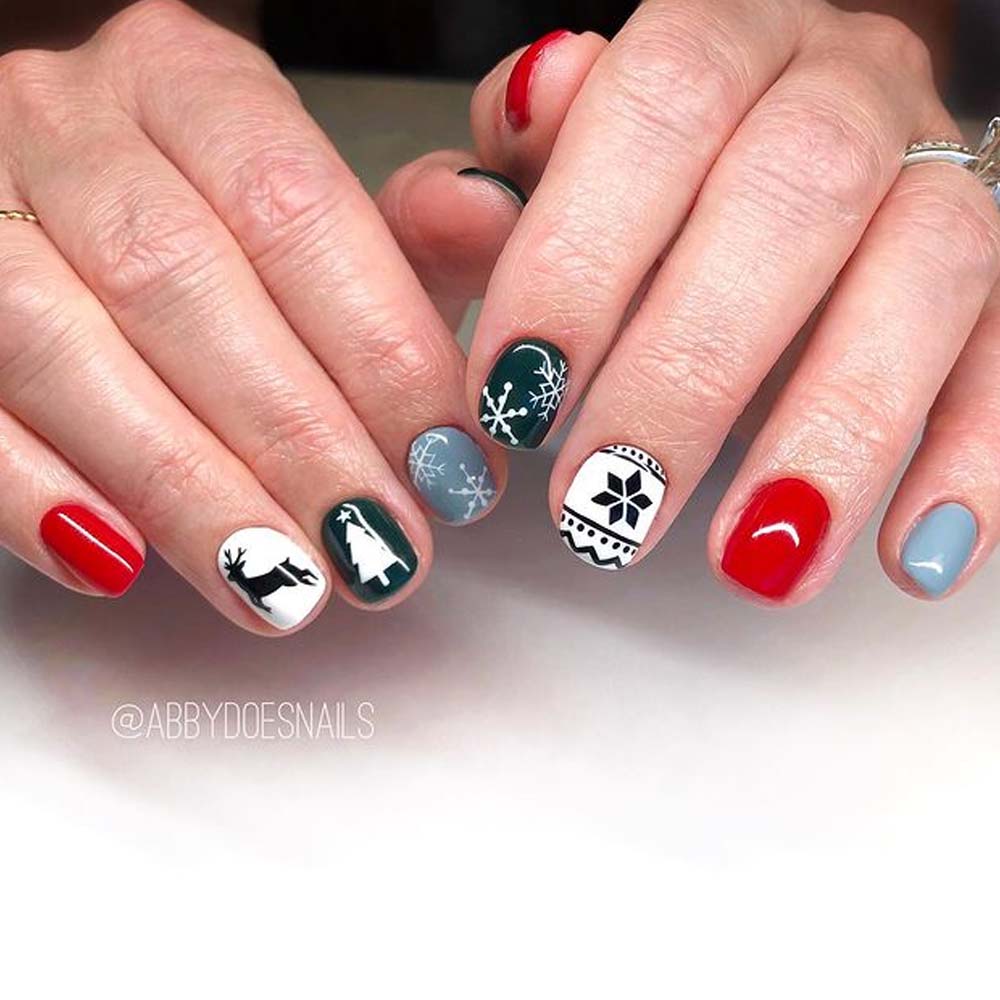 by @abbydoesnails
Scandinavian motifs can serve as the perfect inspiration for your winter sweater nails. The festive palette of whites, silvers, and reds, with striking accents shaped as snowflakes, Christmas trees, and reindeer, will easily compile into a holiday manicure that even Ariana Grande couldn't resist.
Christmas Trees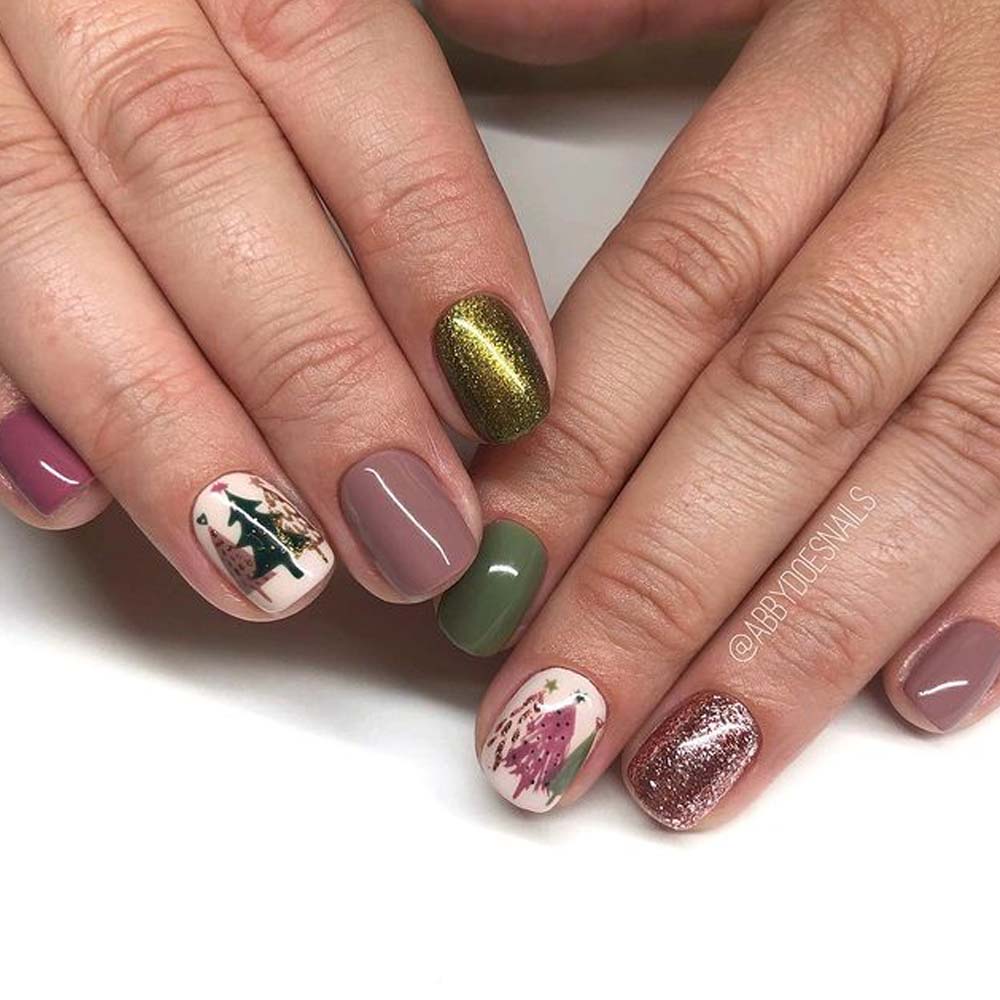 by @abbydoesnails
We can't discuss trendy winter nails ideas without bringing the notion of Christmas manicure with Christmas trees to the list. Such festive art will help you get into the holiday spirit without sacrificing your business look. All it takes is a few accents to fulfill the task. Besides, it is allowed to stray from the usual hues and play around with dusty pinks and faded greens.
Matte Abstract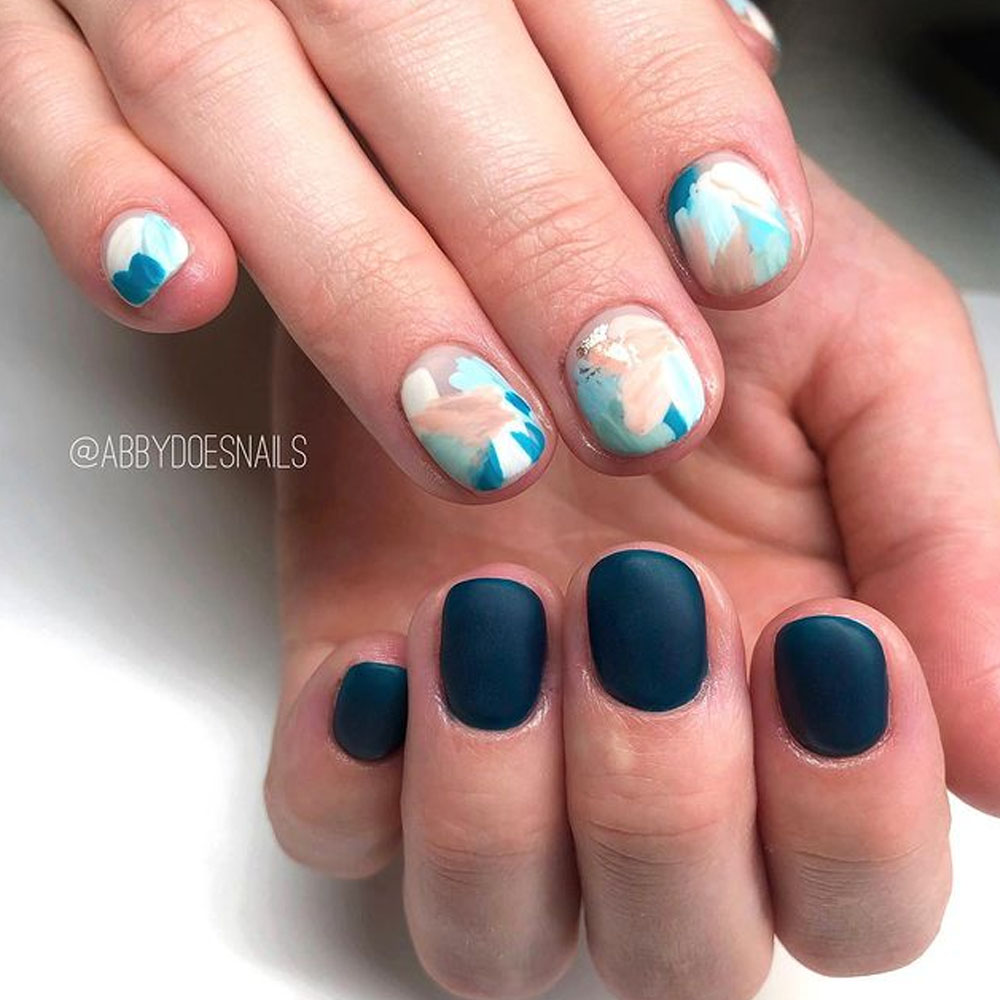 by @abbydoesnails
Muted tones like navy blue coated with a matte finish serve as a modernistic take on holiday nails. Combining those with abstract nail art will give you a sophisticated result worthy of Salena Gomez or Gigi Hadid. Not to mention that such a mani looks perfect on short tips.
Long Winter Nails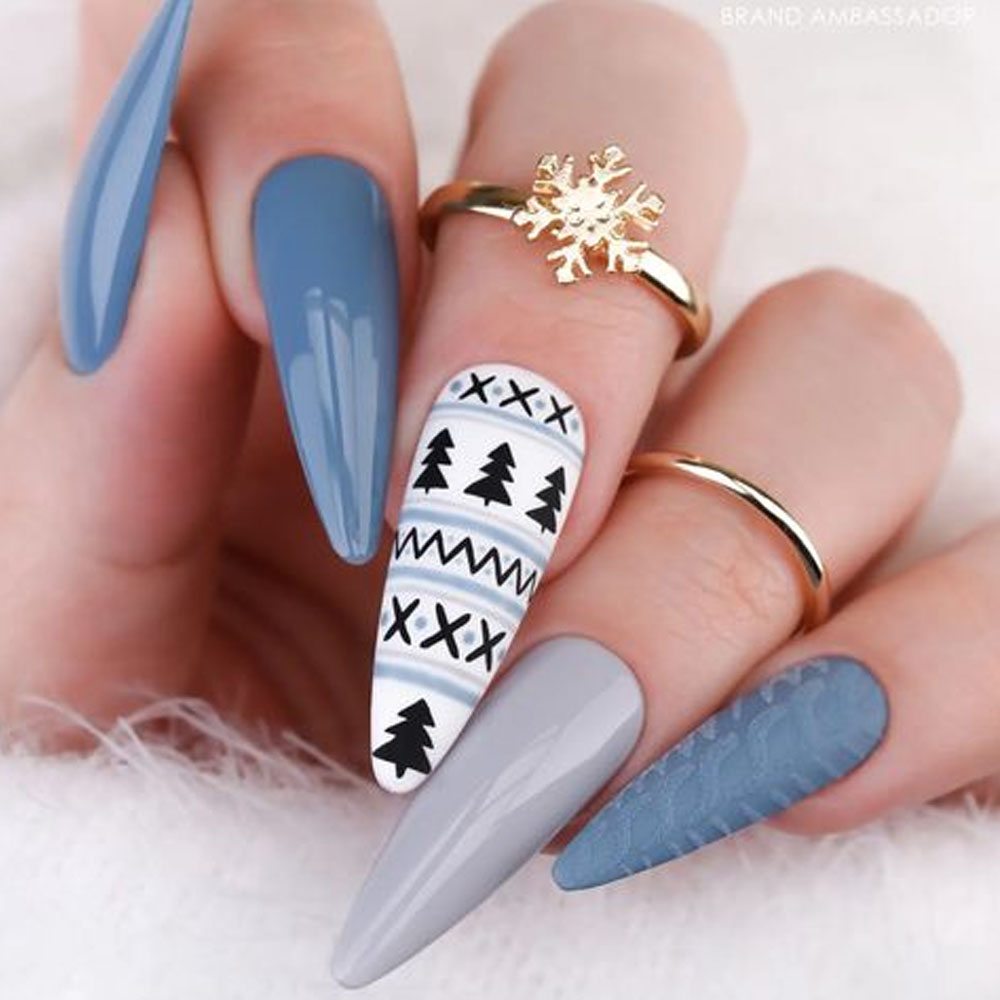 by @puro.nails
Long winter tips are the perfect canvas for festive creativity. You can play around with different shades, finishes, and accent details to achieve an ideal winter manicure. One of the possible variants is to coat your nails in dusty blue and adorn them with such details as knitted sweater patterns, Scandinavian motifs, and accent nails in neutral tones.
Winter in Pink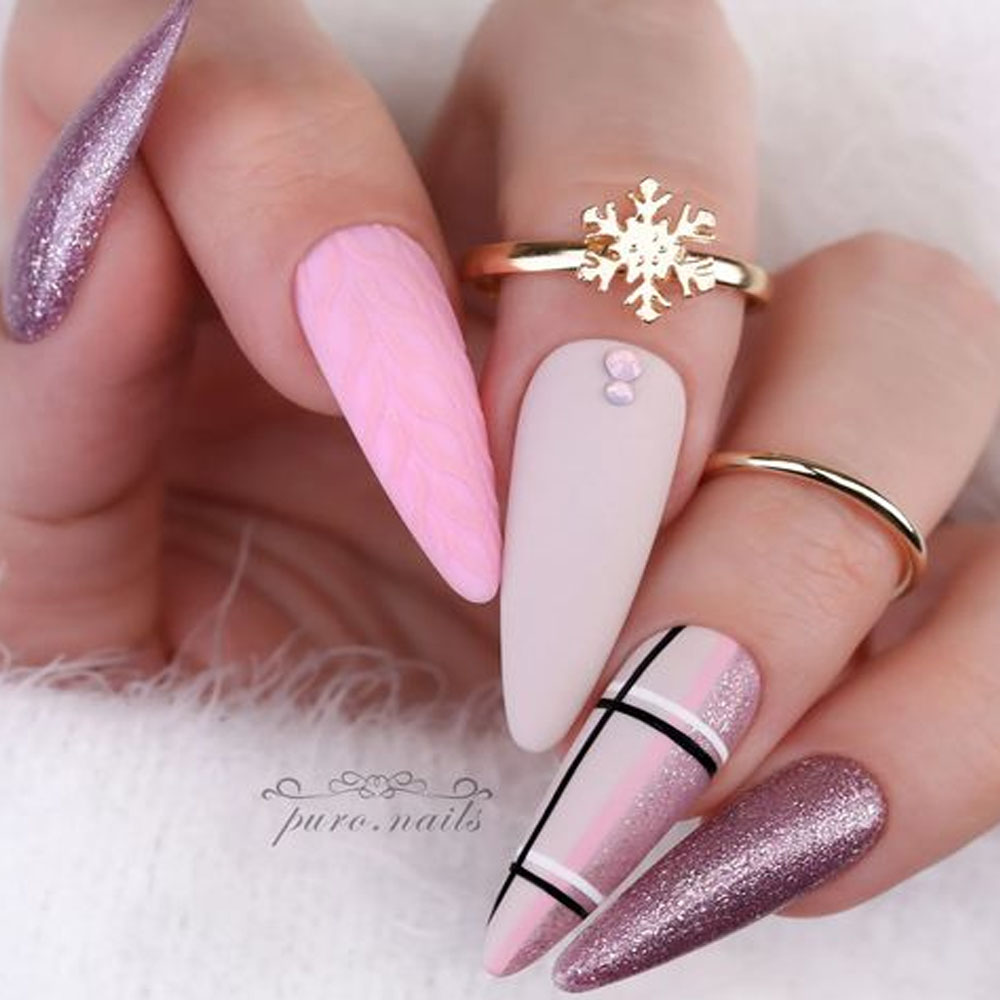 by @puro.nails
Pink hues are the epitome of delight and an unusual twist on traditional winter manicures. You can celebrate the charm and uniqueness of winter with soft pinks, glittery rose hues, and frosty pastels, all combined in a single manicure. Besides, a cozy plait pattern in pink tones will make your tips look elegant and whimsy at the same time.
White and Gold Winter Nails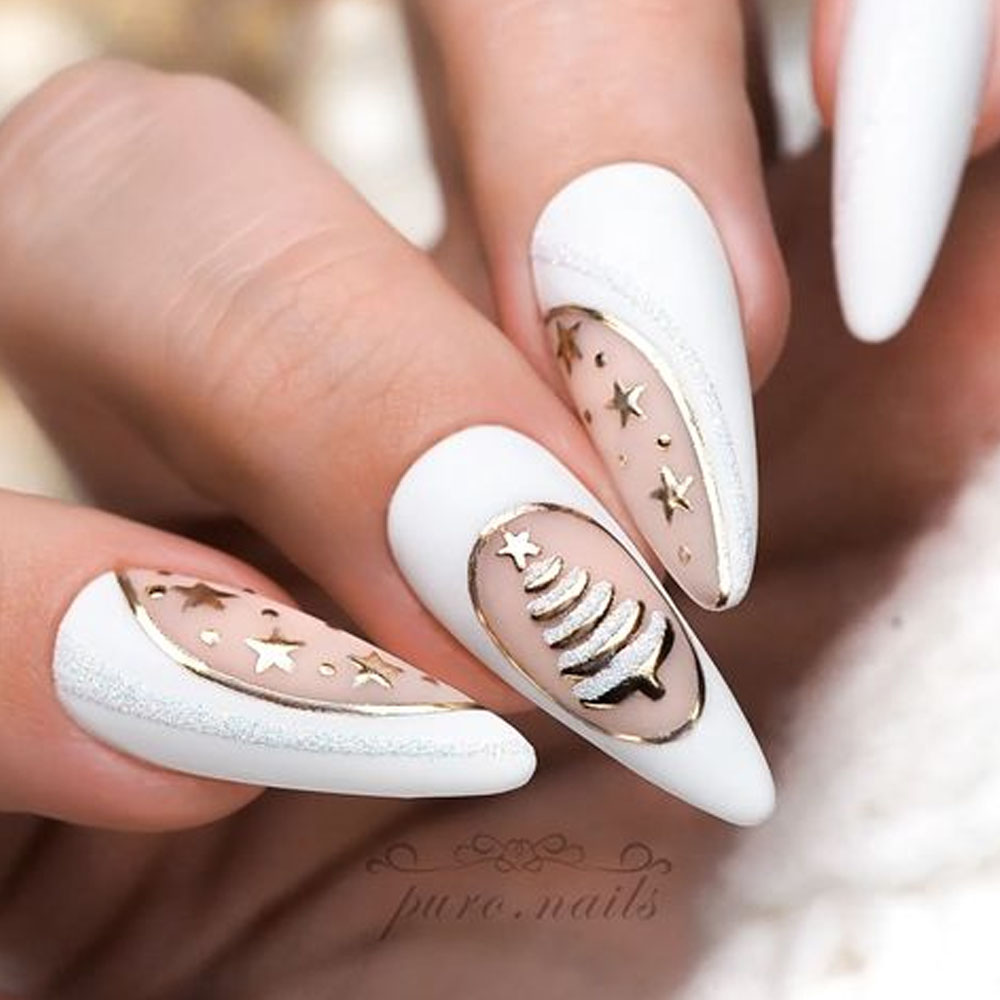 by @puro.nails
The mixture of white and gold is timeless. However, you can experiment with a chic combo of white base and gold 3D details such as moon, stars, and Christmas trees, resulting in classy and sophisticated winter almond nails. Add a touch of luxury to your seasonal look and transition the beauty of winter through your fingertips!
Holo French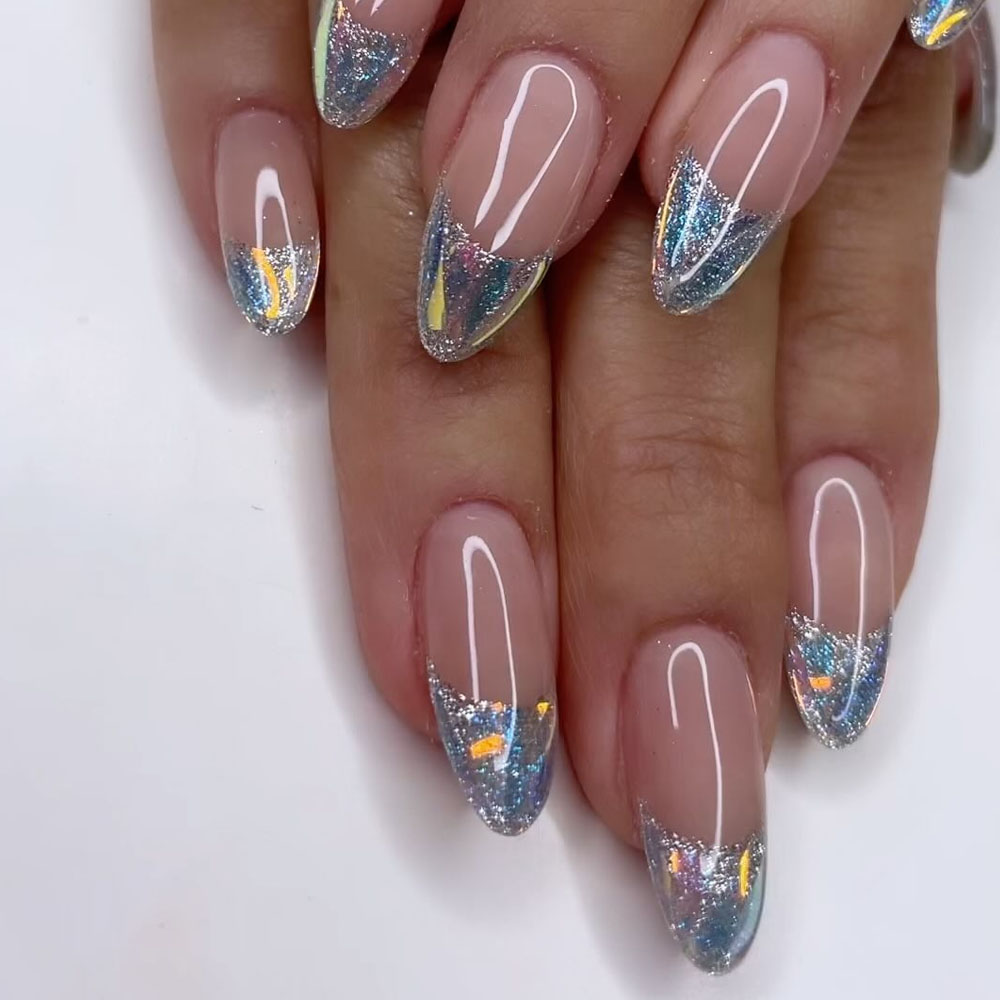 by @sohotrightnail
Winter French tip nails are classy and immensely requested when the season hits with full force. Yet, we suggest you spice things up a little this time and opt for a holographic French instead of a classy manicure. The iridescent glow of holo nail polish, such as Sascha from the Zoya collection, will grant your nails that frosty and slightly ethereal vibe that the winter is all about.
Glittery Coffin Nails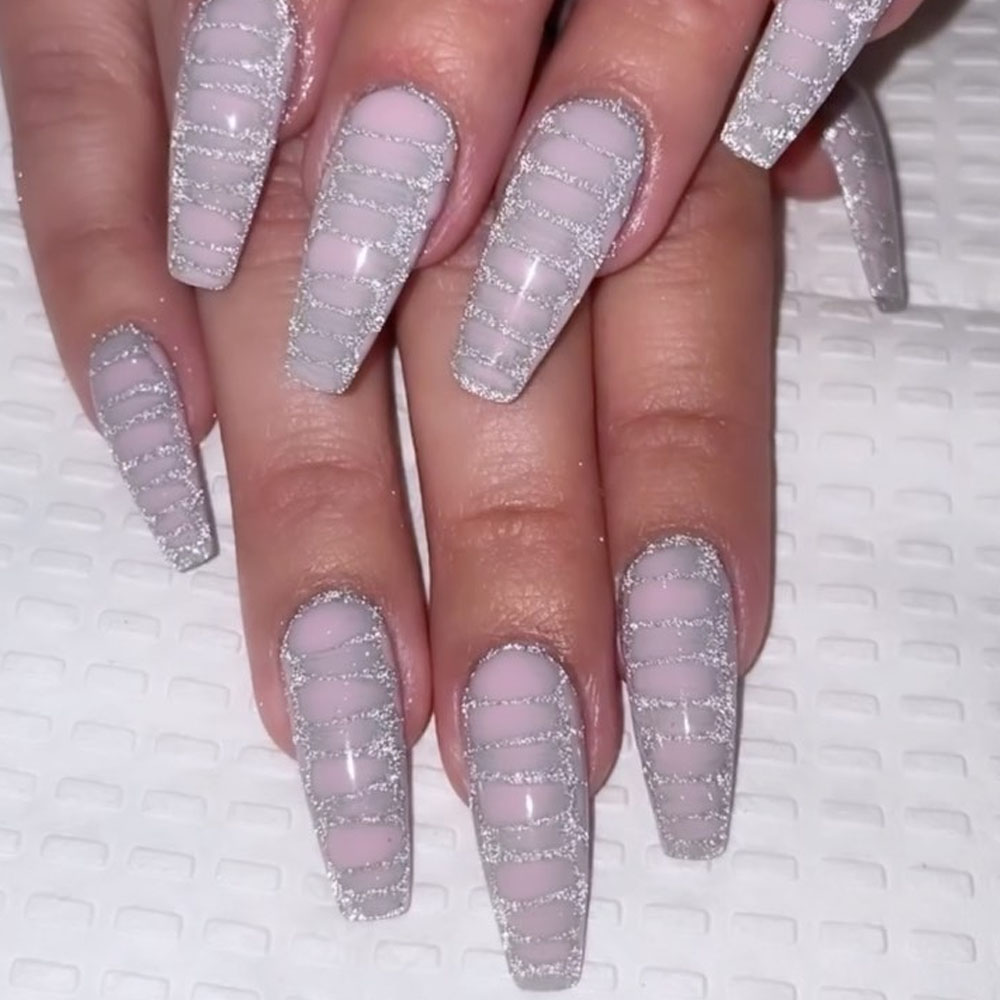 by @sohotrightnail
Winter coffin nails are a must-have when you want to bring some bold bling to your look. The deep, jewel-toned colors will introduce visible glamour, which suits such occasions as holiday parties and family gatherings well without taking it over the edge.
Classic Red Chrome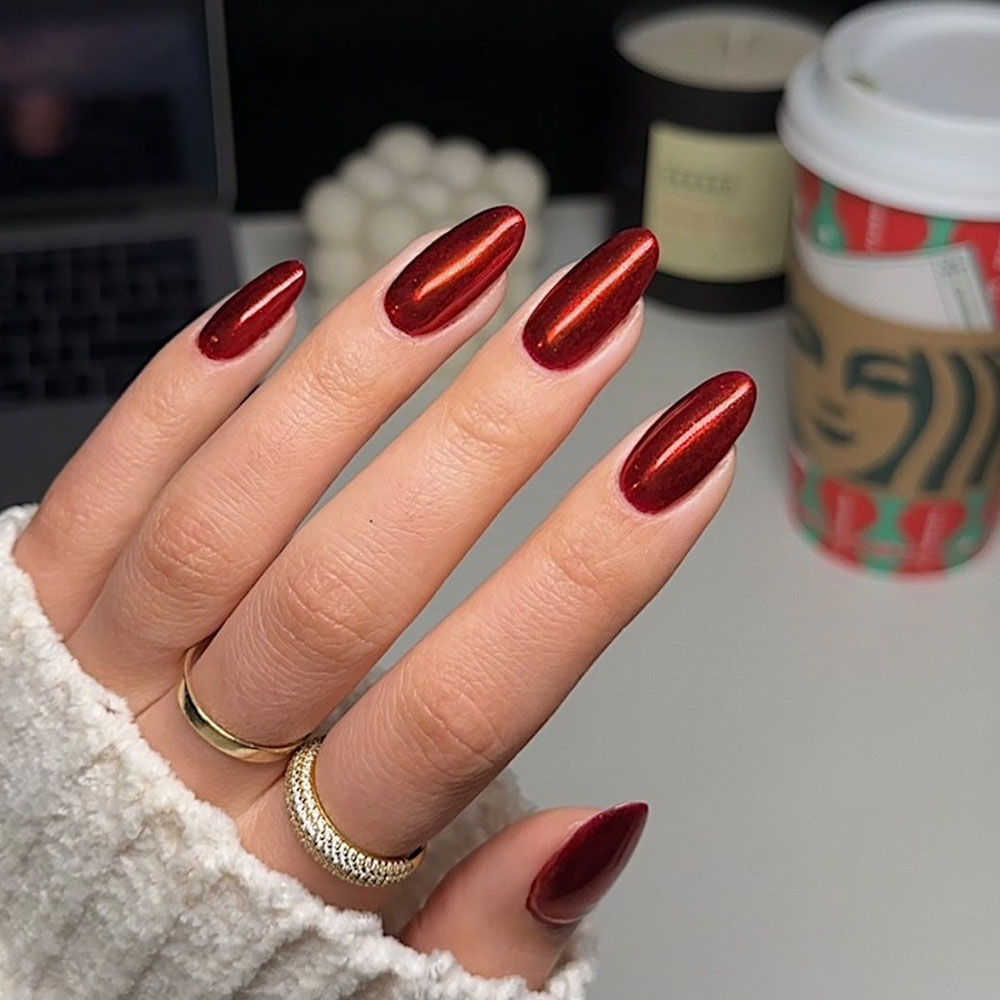 by @heluviee
Simple winter nails do not equal boring manicures. On the contrary, classy red chrome nails speak loudly of your sense of style and taste for the holiday vibe. Rihanna and Kylie Jenner, with their deep affection for darker and moody hues, would back us up on this. In case you require a deep red addition to your collection of nail polishes, we suggest you browse OPI's selection of rich reds.
Color Changing Blue Polish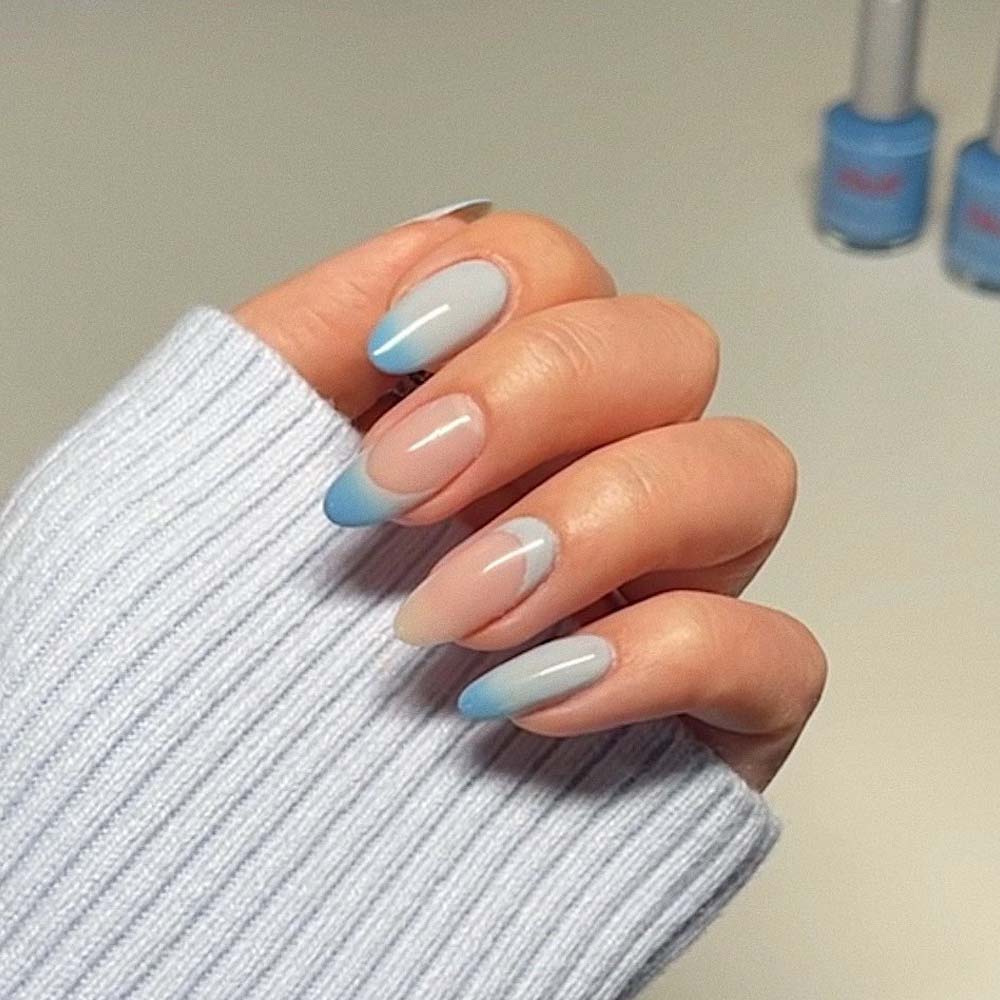 by @heluviee
What can be more intricate and unusual than a winter manicure that changes color? You can play around with clay French tip accents, inverted French, and a solid blue base to add more spice to your look. The special formula of the nail polish will make it change color as your tips warm-up or get colder. It is time to stand out from the crowd without taking drastic measures!
White and Green French Mix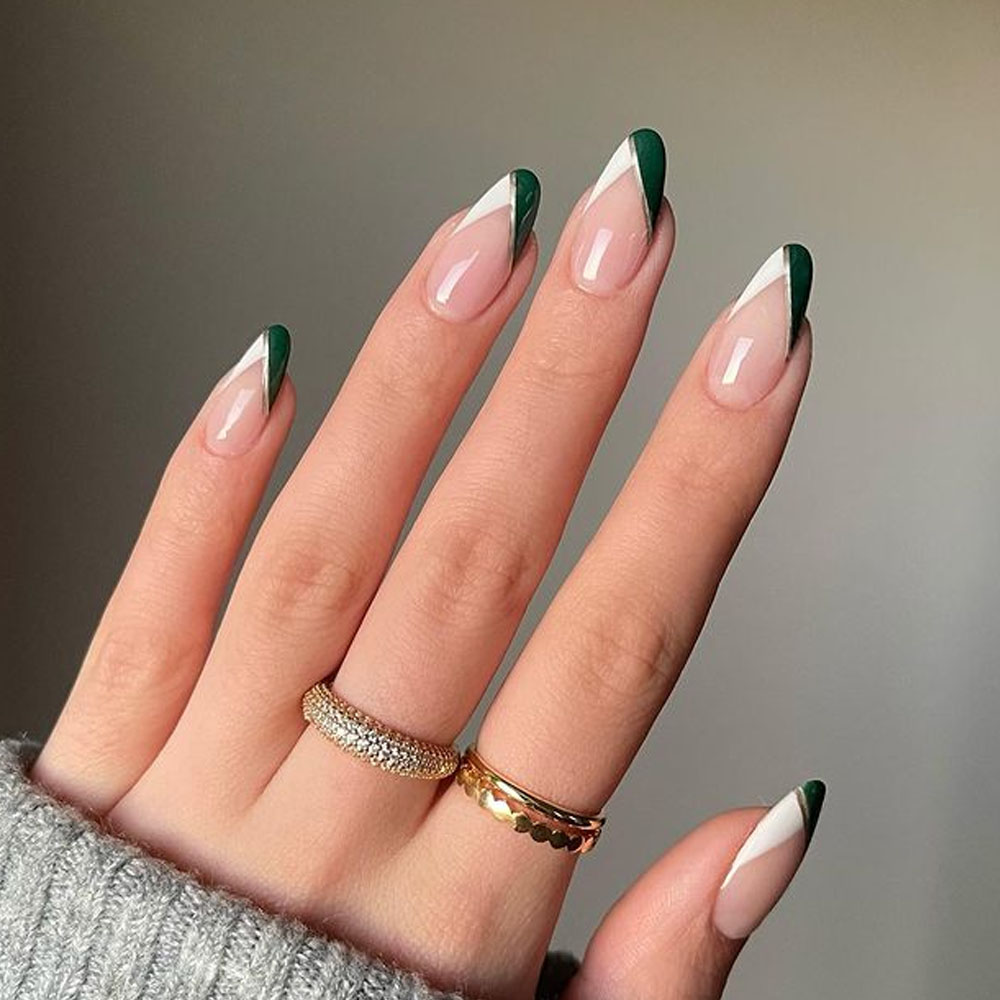 by @heluviee
Winter nails can be fresh and elegant at the same time. All it takes is to figure out the perfect color combo to succeed with the result. We say that the white and forest green mixture serves the purpose perfectly. A double-shaded French manicure is easy to incorporate into any holiday look. Not to mention that you'd pay your festive tribute to the wintry scenery of snowy hills and evergreen woods.
Green Velvet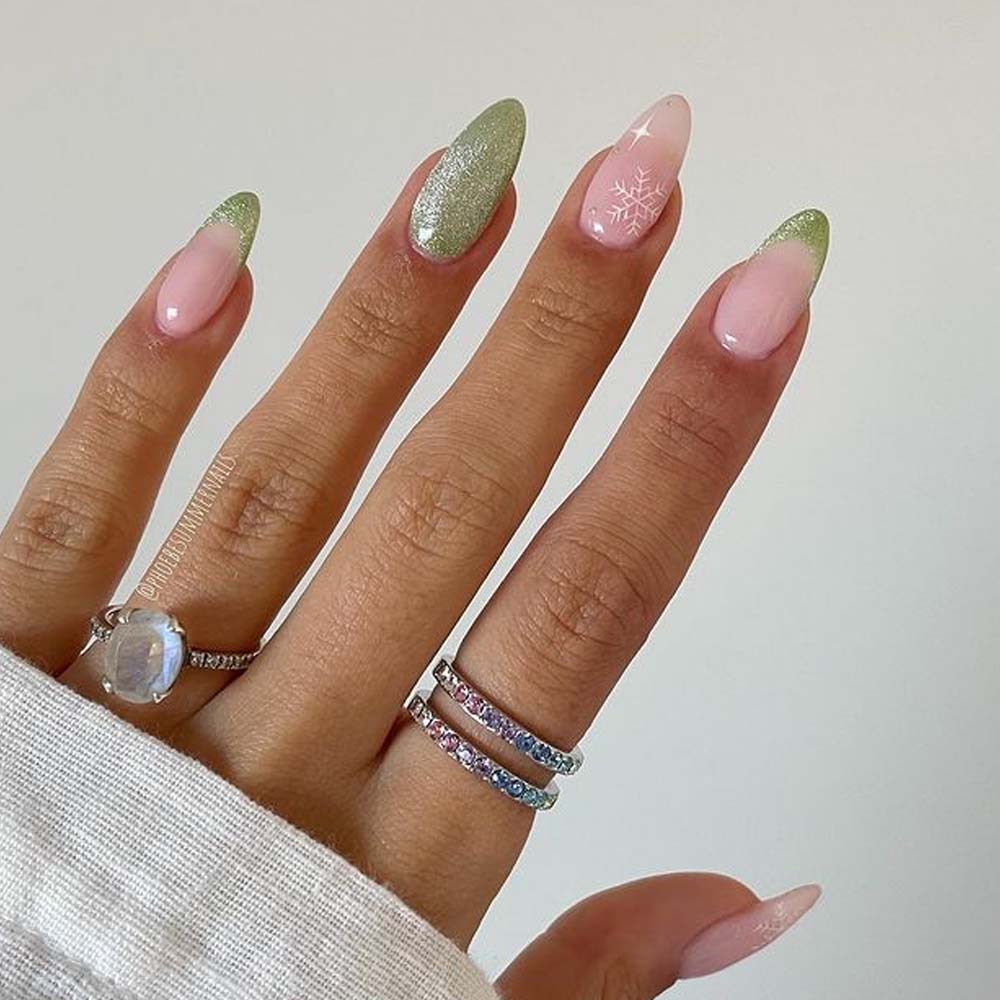 by @phoebesummernails
Winter themed nails are twice as simple to achieve with the velvet texture that is all over the fashion charts these days. Green velvet nails will introduce just enough sparkle and seasonal spirit into your look. You can use it as a complementary shade or a full-scale base color without sacrificing the wintry sass.
Silver Glitter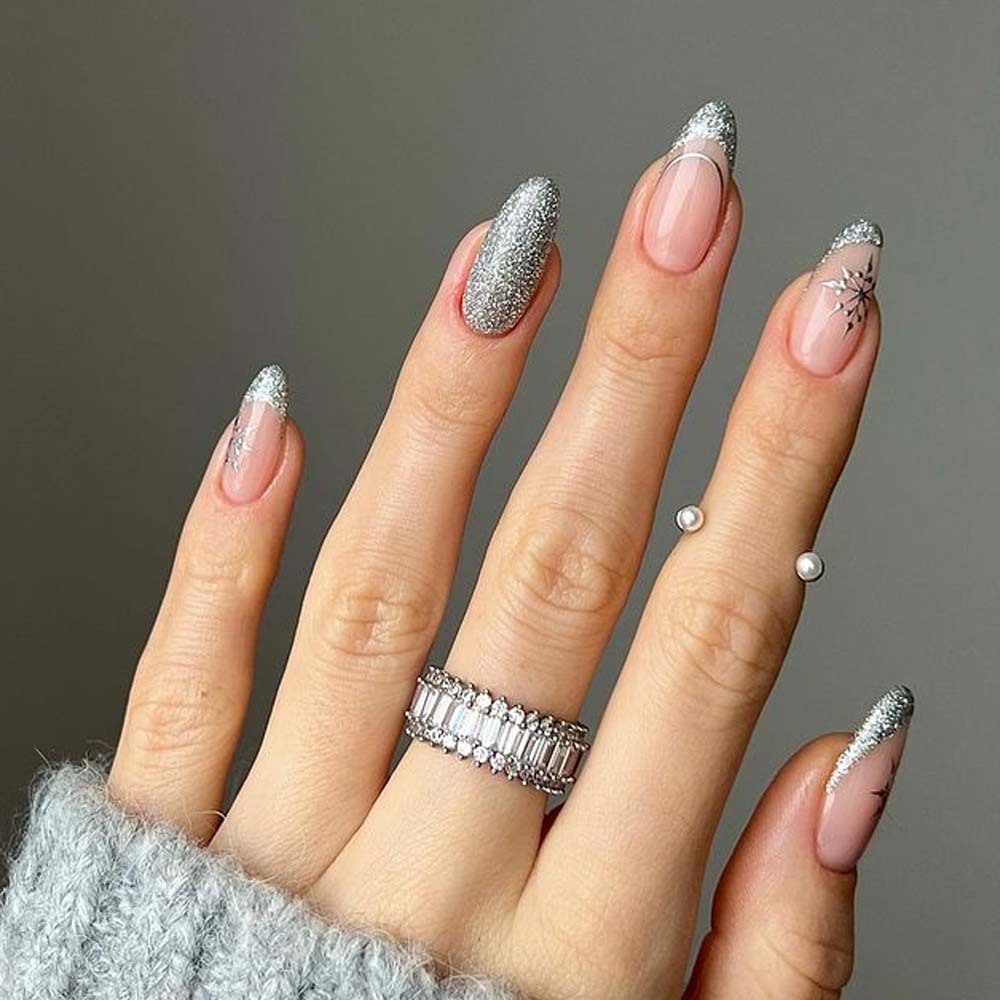 by @thehotblend
Glitter winter nails ideas are exceptionally festive and make a dazzling choice for the holiday season. You can pair silver glitter with a nude base to balance between business and celebrations. Both Beyonce and Lady Gaga often use silver glitter to compliment their haute couture looks. This makes silvery tips twice as desirable during the season – you can be your own star!
Simple Pastel Nails Design
Can't opt for something bright and wintery due to some reason? There is nothing that nice classy French with a slight update wouldn't solve! Add up a nice detailed snowflake, and there is no way you are going to be left out of all the winter joy and fuss.
Gradient Nails Design For Winter
Gold is one of the best options to go for your winter nails, as it is one of the traditional Christmas colors. Also, gold ombre mani with an elegant nail design looks effortlessly festive because this color is dressy and luxurious, like your favorite party dress. Thus, you will not have to bother with your Christmas outfit if you choose this manicure style.
Glitter Winter Nail Designs
A dimensional nail art design is what is all the rage now. If you want to pull it off for your winter nails, go for a contrasty manicure. For example, you can adorn a couple of nails with textured Christmas tree nail art while leaving the rest of the nails rather low-key.
Christmas Patterns For Winter Mani
One of our favorite things about winter is, obviously, Christmas. Thus, we get ready for it very thoroughly. Of course, you cannot leave your nails behind and should adorn them with a festive design. Just like for winter sweaters, Christmas patterns are one of the best ideas to go for your winter mani.
Let your manicure radiate holiday vibes by embellishing it with Christmas nail art designs. Ornaments, holly, winter berries, snowflakes – everything you associate Christmas with works perfectly for your festive mani.
Even though at first, he has an attitude about Christmas, by the end of the story, Grinch changes his mind completely. That is why we still love him greatly. Thus, why not garnish one of your nails with his image, which will make your manicure look festive this instant?
Glitter Ombre Nail Art
The first rule of winter nail care is moisturizing. Moisturized nails are more likely to remain strong. If you wear nail lacquer, the moisturizer should be rubbed on the fingertips and cuticles.
Ombre nails are still all the rage. So, if you want your winter manicure to look up-to-date with the latest trends, then it is a good idea to garnish your nails with this amazing nail design. To give it a festive, sparkly touch, you can try to pull off ombre nail art using glittery nail polish.
Cool Snowflakes Nail Designs
There is no winter without snowflakes, right? That is why your perfect seasonal manicure should involve some snowflake sin. Just pick your favorite base color and adorn it with cute snowflake stamping. As simple as that!
If you like the first part of the animated movie Frozen, then we highly recommend watching its sequel, Frozen II, which was released not so long ago. We also have two good news for you. First, you are about to have a wonderful time. Second, we already know what manicure you should get to go to the movies. It is no surprise that it should be Frozen-inspired. Decorate your nails with different kinds of rhinestones that remind pieces of ice and add snowflakes to a couple of nails. As the final touch, paint an image of the main character on one of the nails.
Christmas Tree Nail Designs
Every Christmas tree looks more charming with ornaments, and manicures are no exception in this case. As you see, each nail here is painted with a different Christmas tree ornament on it. The ornaments can be golden, orange, green, pink, or blue, and they all stand out against the base color, which makes this nail art even more festive.
Winter nails make the perfect canvas to emphasize your style and accent your creativity. Use the best designs that align with your vision of self-expression and embrace the magic of winter in every carefully planned look! The season's beauty comes in more shapes and forms than you could have anticipated!
FAQ: Winter Nail Designs
What color should you paint your nails in winter?
Winter is often associated with all shades of cold winter blues. Pastel colors are always a great bet. Shimmer shades are definitely festive, and if not retro red, glitter gold and deep green, what colors first come to mind thinking about winter holidays? All shades of pink, red are most Valentine's Day oriented. Lastly, a winter design is what truly makes a winter-themed manicure.
How to do a plastic wrap nail design on gel polish?
After you applied a base coat and cured. Apply a thick viscosity gel (can be clear or colored) and lay a piece of plastic wrap on it and lightly wrinkle it up and cure.
You can rub some chrome powder in.
Fil in your nail with some sculpting gel and cure it.
Remove the sticky layer and file it.
Apply a topcoat and cure.
Was this article helpful?