Try ombre nails - one of the most recent hot trends. And very fun, too! Achieve the desired effect by using several nail polish colors. The Glaminati.com team have collected 60+ photos of beautiful nails to help you look glamorous. Don't miss those pics! Read on to get inspo and explore how to do ombre mani with our simple tutorial.
*We may earn money from affiliate links on this page. Please check out our disclosure policy for more details.
Nude Ombre Nails Designs
Nude and White Vertical Ombre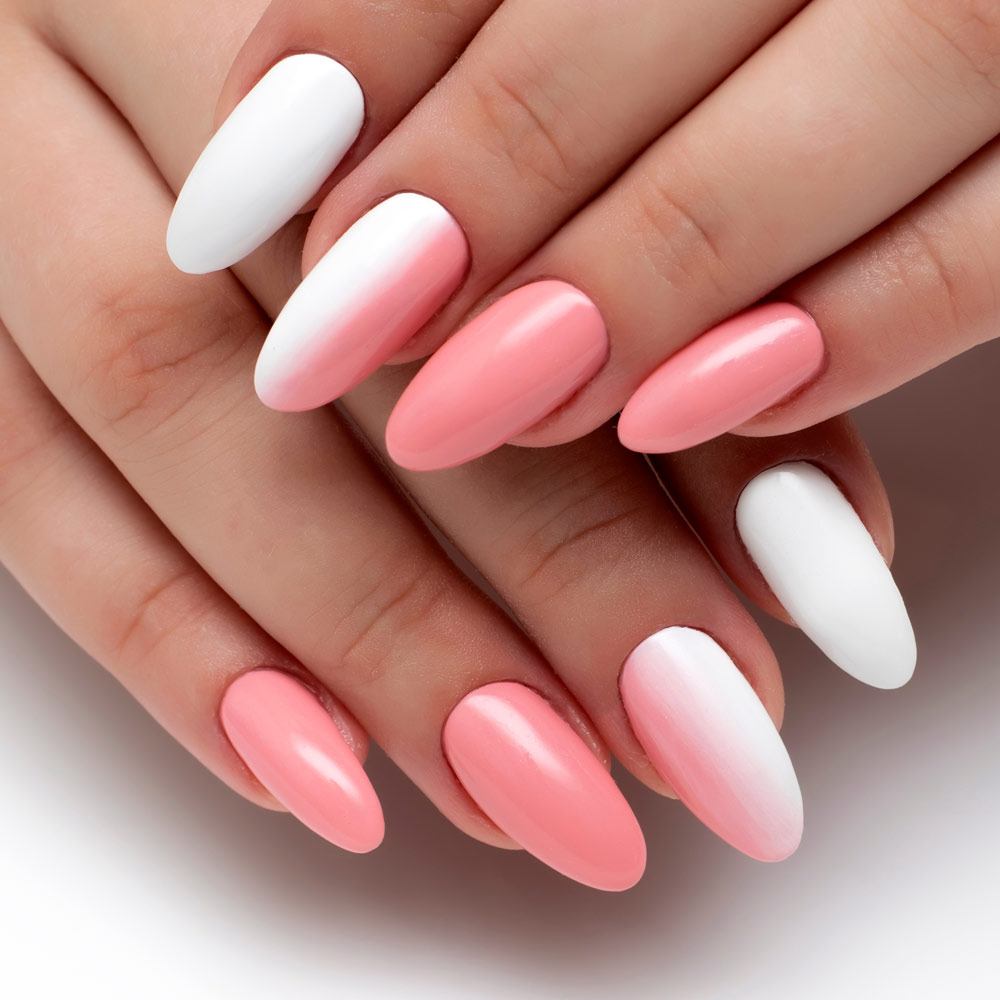 Do you think that nude ombre nails are somehow underrated? If you do – you are perfectly right! The fact is that these days the notion of a nude ombre has reached a new level. Instead of common top to bottom or side-to-side transition, we offer you a fresh way to experiment with your manicure. Treat your fingertip not as a separate canvas but as an important element that makes a masterpiece when combined. Surely, such a gradient is attention-worthy and impossible to miss. Yet, the whole palette remains utterly neutral and dress-code worthy.
Classy Ombre French Nails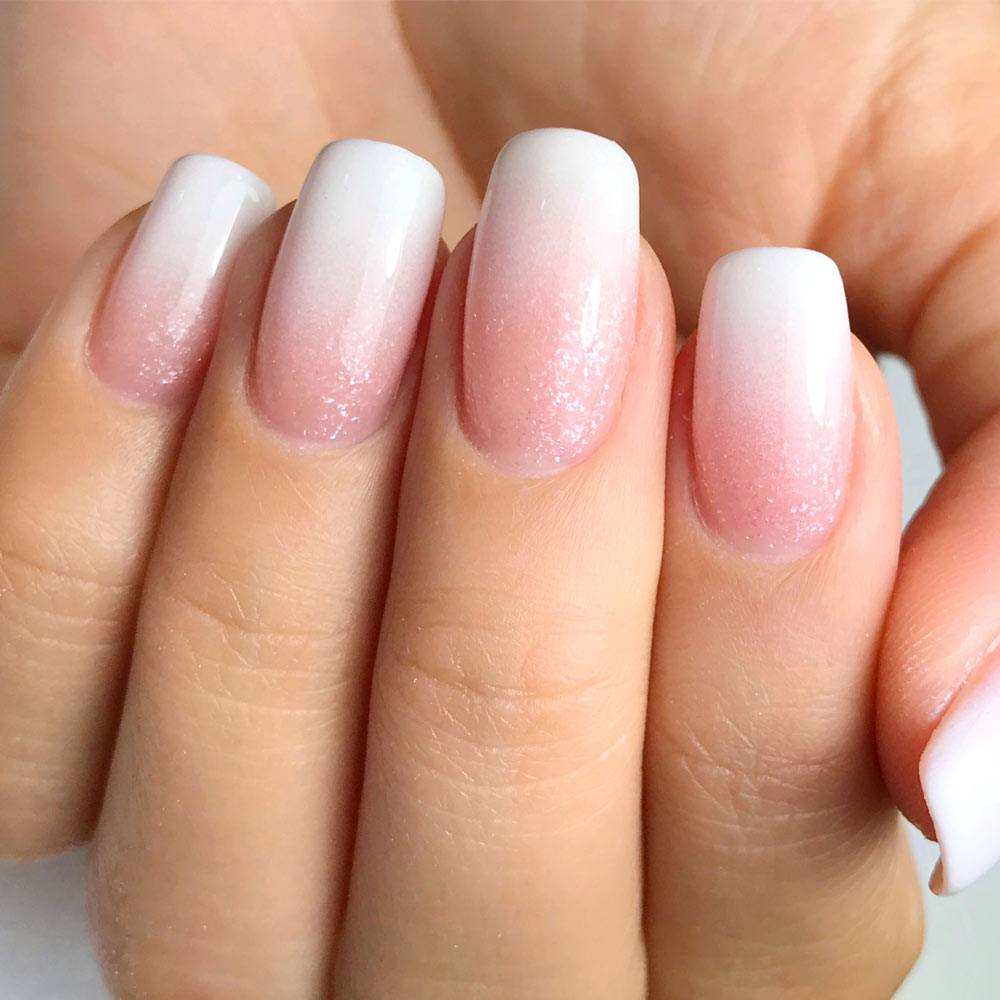 The impressive versatility of ombre nails colors can be overwhelming at times, so you wish there were something subtler yet elegant to pursue. In times like this, you should think about classics, but entitle it with a noticeable twist. Upon the primary glance, this classy French gradient is anything but one-of-the-kind. Yet, upon further investigation, you would notice the gentle and mesmerizing glow of the sparkly coating. It is amazing how a single detail can change the whole design dramatically!
Matte Ombre With 3D Flowers
Source: Instagram/nailstudiobytom
One of the greatest perks of ombre nails is that once mismatching colors can turn into a harmonic duo. That is to say, ombre has no limitations in terms of colors, as well as color graduations. That means only one thing: every idea of ombre nail designs is special and unique, just like a snowflake.
Who would've thought that pink and gray could ever look so delicate and refined together? Not only does this idea take the nude nail trend to a whole new level but it also gives a totally new take at pink ombre nails. The smooth, well-smudged grayish gradient nicely accentuates the subtle pink, making it appear dimensional. And matching floral embellishments with tiny rhinestones are just the icing on the cake!
Glitter Ombre Nails Design
Source: Instagram/karinakorn_nails
Our nails are nothing but the reflection of our bright personalities and exceptional taste! When choosing a new design, we usually depend on our mood, occasion, and season. But, the outcome can tell something more about us rather than just indicate our mood. Every design showcases the character and individuality of its wearer, and when you feel like showing off your bright personality, glitter nails come in.
We bet that even the hottest divas with long enviable nails would get envious about these shiny almonds. The gradient placement makes us step out of our comfort zones, letting our creativity fly! Needless to say, everything in these glitter ombre nails is super neat and harmonic: the base is neutral yet sweet while the ombre part is shiny yet not glaring.
Shimmer Milk And Pink Ombre Design
Source: Instagram/neanasta_nails
Although it's another pink ombre nails design, it's absolutely different than the previous idea. Here, the pink transits from a shimmering milky shade that reflects the light once the sun shines down on it. Besides creating a pleasant flow of shades, this color play gives a wonderful feminine vibe to these squoval cuties.
Glitter ombre nails can be as different as you want them to be. Still, whatever idea you pick, it will always be a stunning complement to any occasion and outfit. By the way, adding such noble milky colors to regular pinks is a good way to make pink appear regal rather than childish.
Nude And Neon Ombre Design
Source: Instagram/julit76_nails
Nude designs are meant for ladies who appreciate naturalness in every way. Neon nails, in their turn, appeal to bold women who want to have all eyes at their fingertips and the world's attention at their feet. Can you imagine what kind of woman would decide to mix these two? Well, we bet it's a creative person who is not afraid to be different!
This design is a perfect middle ground between a soft classic idea and a dramatic nail statement. Alongside two absolutely different styles, this idea fascinates with its play of textures, embracing matte nails and a glossy bright coat of neon lights at once. Well, that's not the white nails designs we're used to seeing; it's a brand new fusion that is doomed to catch people's eyes 24/7.
Pastel Ombre With Negative Space Art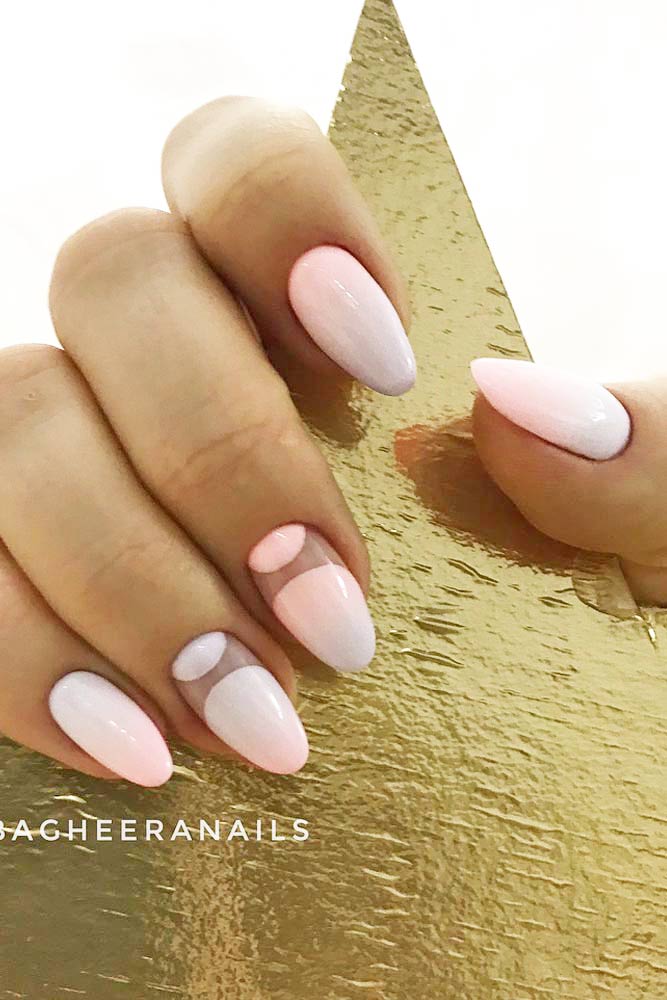 Source: Instagram.com/bagheeranails
Modern nail designs have become a form of art, not for nothing! Our nails are nothing but a canvas where we can experiment with any colors we want, as well as express ourselves with various creative designs. And when we look at these pastel nails featuring lightweight ombre graduation with negative space accents, we can't help but make another nail appointment: this idea should be recreated at all cost!
Make sure to find a professional who takes an artistic approach to nail designs so that you can leave a salon not with a mani but with a masterpiece.
Gold Dots Ombre Nails Design For A Special Occasion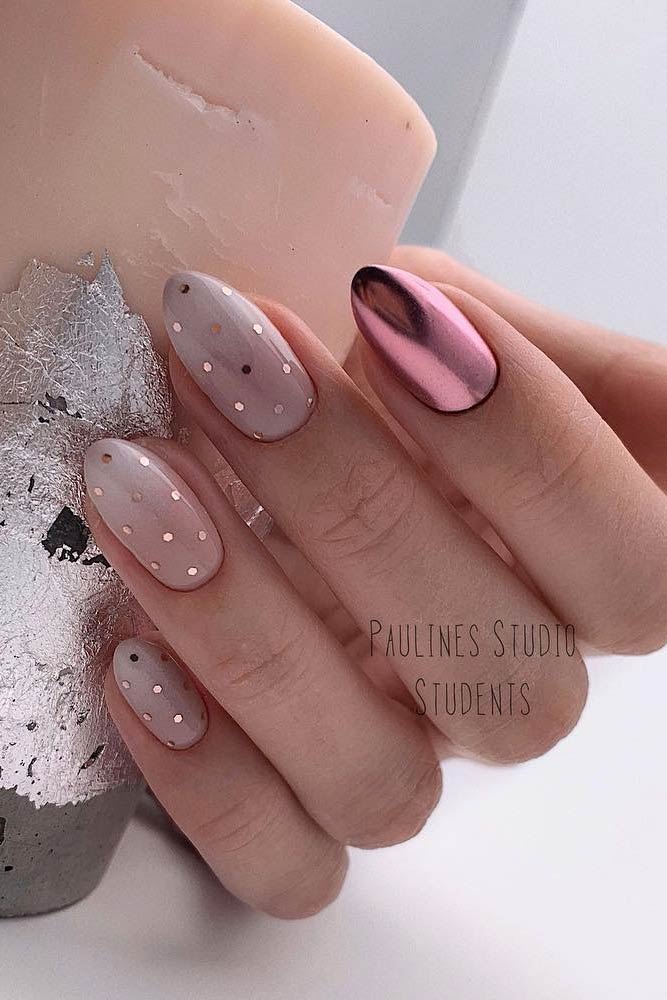 Source: Instagram/anastasiya.kalesnik
If you have a special occasion coming up, you may decide to choose oval nails to compliment your overall style choices for this event. The gold glitter dots adds a beautiful sparkle to this design allowing it to play well to the special occasion of the event. Also, the pink chrome against the nude nails base color is an elegant touch.
Nude Classy Ombre With Crystals
Source: Instagram/dollhousedubai
French ombre nails are a modern take on the classic nail design that has proven to be timeless.
Thanks to featuring nude colors, such as powdery pink and milky white, ombre French nails suit any occasion and outfit. Also, they look flattering no matter your skin tone and nail shape. To give your mani a gleaming touch, adorn each nail with a tiny crystal at the base.
Nude And Blue Matte Ombre
Source: Instagram/nailsbymztina
Nude ombre nails go with literally everything, but especially complementary they look when paired with a nude nail color, for instance, baby pink. Together these subtle pastel shades make up a sweet and lovely combo, giving your manicure a charming vibe. Matte finish is what pulls this nail design together and makes it look united and even.
Black Shades For Ombre Nails
Red and Black Ombre With a Glossy Twist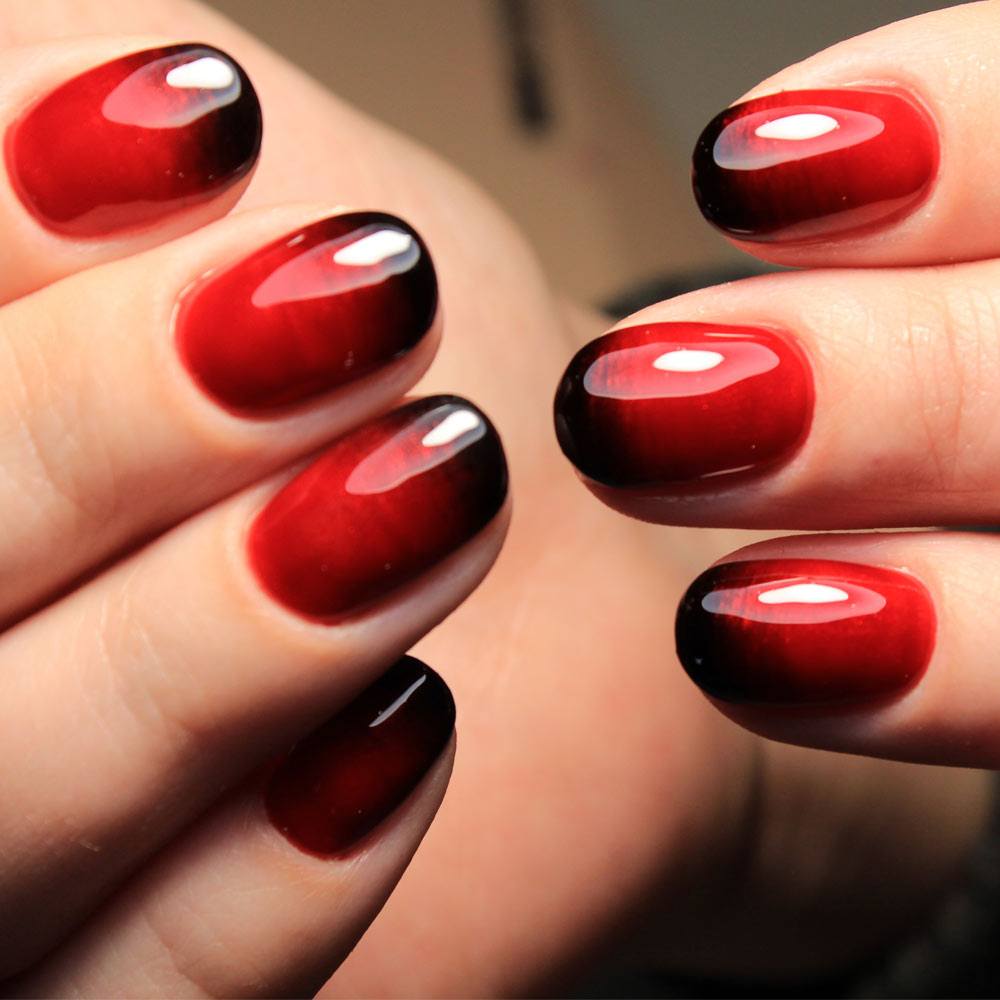 Red ombre nails are known for their elegance and magnetic pull. At the same time, some ladies consider black nail polish a bit too edgy and extravagant. Those of you who are willing to compromise may wonder if there is an idea to replicate without raising too much excitement. In fact, there is! The combo of black and red is a killer one. No matter if it is a matte or glossy route you are willing to take, the outcome will exceed all the expectations.
Ombre Nails With Gradient Art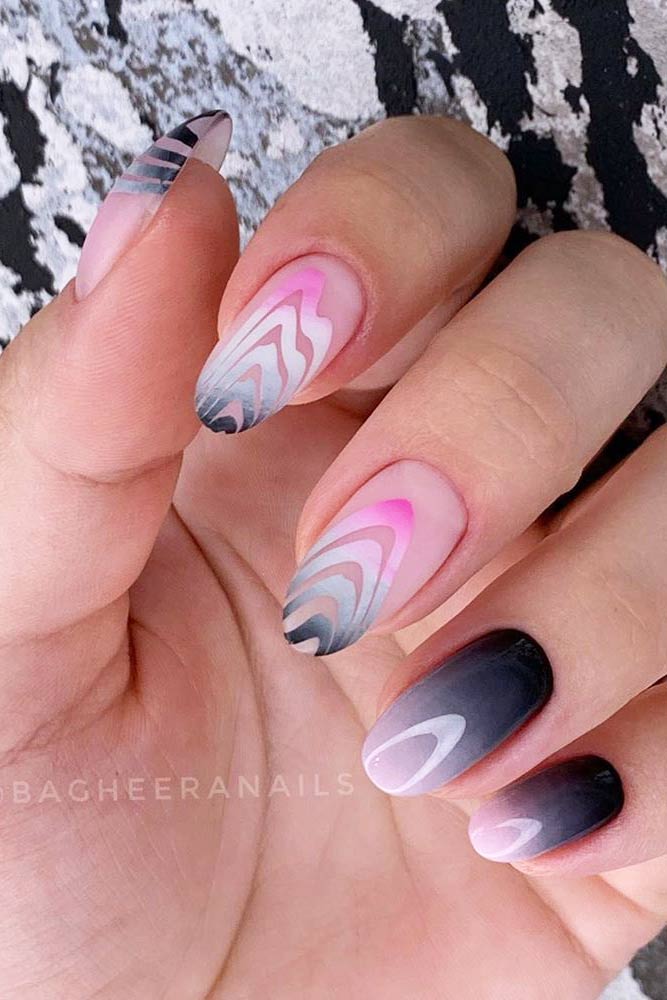 Source: Instagram/bagheeranails
How about some more inspiration for getting pink and black nail designs for the next appointment? This idea is here to help you leave your comfort zone by mixing the most unusual colors in the most creative way. What do you think: what may gray, black and light pink shades have in common? As we told you already, there are no unmatching colors when it comes to ombre nails.
We can't leave out the approach to details in this art! Even though it takes some time to create a gradient on such an extraordinary design, yet, the result is definitely worth all the time and effort.
Black Ombre With Gold Floral Art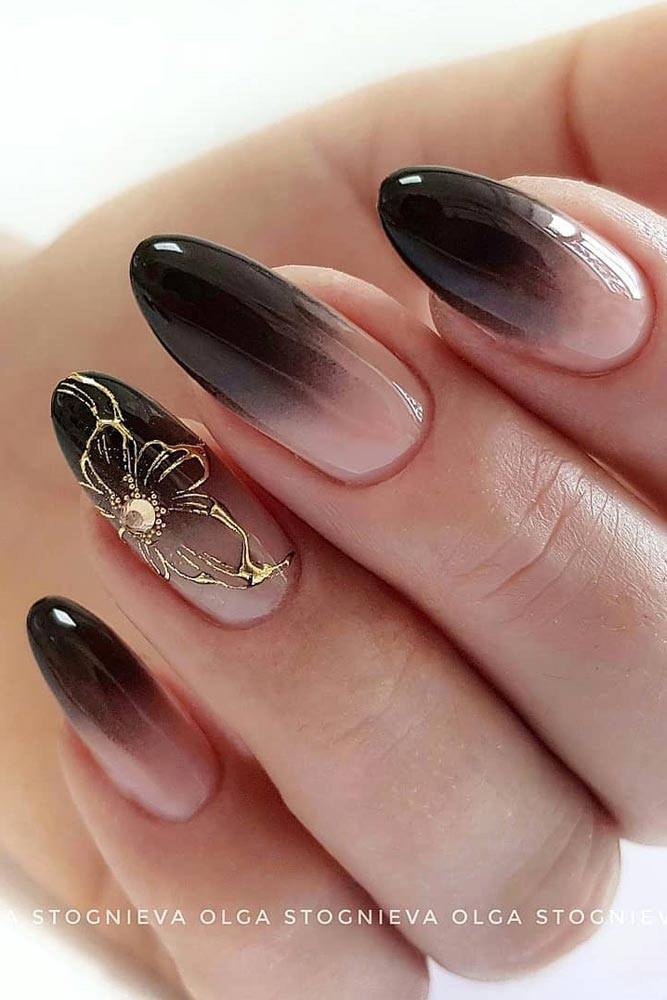 Source: Instagram/olgastognieva
Black and gold nails have been a trend for so long that they have simply turned to an ageless classic. In fact, it's all about the iconic, versatile combination of deep attractive color with a rich and shine-reflecting element enhancing the depth of the darker hue. While you can get one of the nails gold or glittery, you can also spice up every single nail with a gold element. As you might have guessed already, your imagination is the only limit to the variety of black and gold designs!
Today, we want you to consider this minimalist but striking design that cleans the line between dark ombre nails and french designs. There's nothing like a subtle dark gradient that begins as a nude shade and ends as a spectacular black shine with an exquisite floral charm.
Day And Night Ombre Nails
Source: Instagram/grosu_nadya
Every woman has a dark side, and, sooner or later, it will take over! However, the dark side may be so refined and sophisticated that you will never want to turn on the lights. So how about you to find a stylish compromise between two beautiful forces bursting inside you? Your nails will be your best weapon, of course.
When it comes to french ombre nails, going for a soft transition between pink and white ombre nails is something you can't go wrong with. On the other hand, literally, you can get a dark version of this ageless variation, asking your nail technician for a soft black gradient that gets darker as it moves to the edges. Contrasts never get old!
Pink And Black Painted Ombre Design
Source: Instagram/angik_shustik
As it turns out, pink and black can play a good team on your nails. Yes, gone are those days when these two saturated colors were associated with the emo culture! Now, you can get pink and black nails with smooth and soft graduation that builds balance out of contrasts.
Let the black go first and then gradually transit to light pink nails to make these colors show up from a totally new perspective. You can also accentuate this design with half-moon inspired elements, coating some nails with light pink first, and then going for the gradient.
Black And White Glitter Ombre Design
Source: Instagram/martini__nails
When a woman goes for black nails, she wants to make a statement while appreciating the beauty of classics. All in all, black nail polish is like a little black dress that every woman should have in her life. As for black ombre nails, things are getting a little bit more different, and therefore more creative.
If you want to diversify the idea of black nails, you can spice up a couple of fingers with a transition from dark to light, using white or grayish hue for the lighter part. A bit of gloss or shimmery details will also be a fantastic way to individualize your design. In case you're going for your first ombre acrylic nails, this will be a nice idea to recreate: it's versatile, creative, and not drastic at all.
Pink Ombre Nails Designs
Pink Gradient Design With Black Stripes Accent
Source: Instagram/sukhova_alena
Now, it's time to forget everything you know about nude nails and open your heart for game-changing ombre nail designs! First, it was a gentle nude shade with a soft rose coat. Then, the charm of the dark gradient came in, putting black stripes as an exclamation point of the whole design!
If you wonder what makes this idea so dimensional, just have a closer look at the way the shades are applied. As you can see, the nude color doesn't start right at the cuticle, allowing the stripe to fully cover the nail. Coupled with an amazing blend of ombre colors, this trick gives that dimensional visual effect. Plus, it looks unbelievably stylish!
Pink Ombre Design With Crystals
Source: Instagram/kudryavtseva_nails
Pink is officially the new black! A decade ago, this color was considered pretty childish. And today, this color is everywhere from runway shows to magazine covers. Now that women have discovered such shades as baby pink, millennial pink, and pastel versions of this color, they can embrace its girliness while having an elegant, sophisticated look.
Since there's no better compliment for pink nail designs than whitish accents, going for pink and white nails will be the best way to follow trends. Some embellishments like minimalist rhinestones will also be a nice detail, especially if some special occasion is about to come.
Marble Ombre Nails Design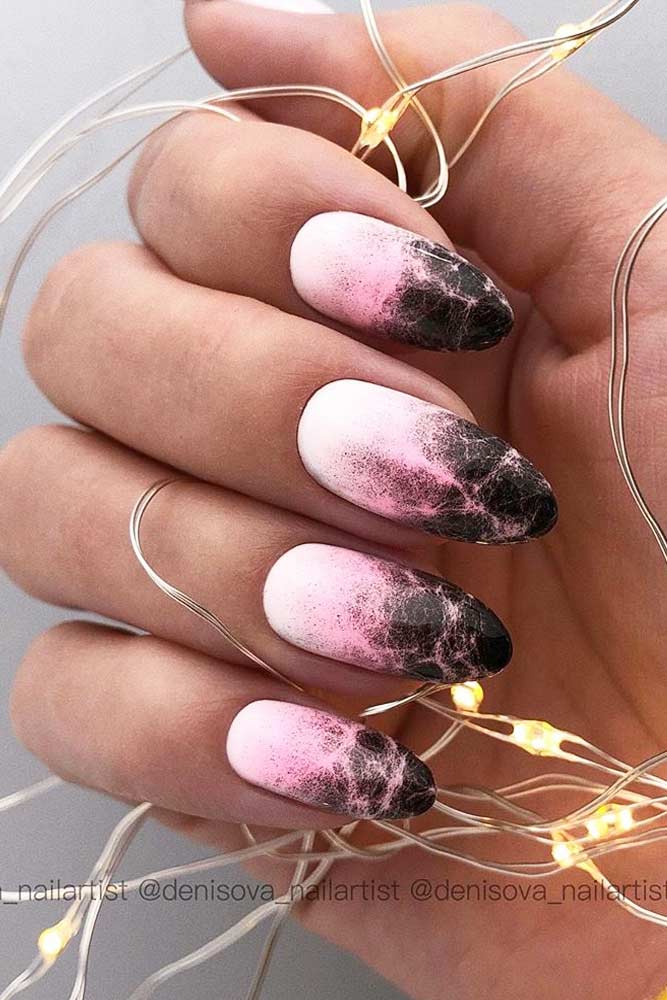 Source: Instagram/denisova_nailartist
When you think of marble nails, what comes to your mind first? Whatever idea you've come up with is real, as this design can be anything you want it to be. And now, we'd like to introduce an idea that goes beyond any expectations - ombre marble design with a sultry mix of whitish pink and classic black polish at the tips.
Again, if it wasn't for the transition from whitish to pinky color, these black nails wouldn't look that dimensional. And while these colors look unbearably stunning together, you can always replace pink with something to your taste. This idea will also work perfectly for special occasions, so you can choose the colors based on your outfit as well.
Pink And White Ombre Design For Round Shaped Nails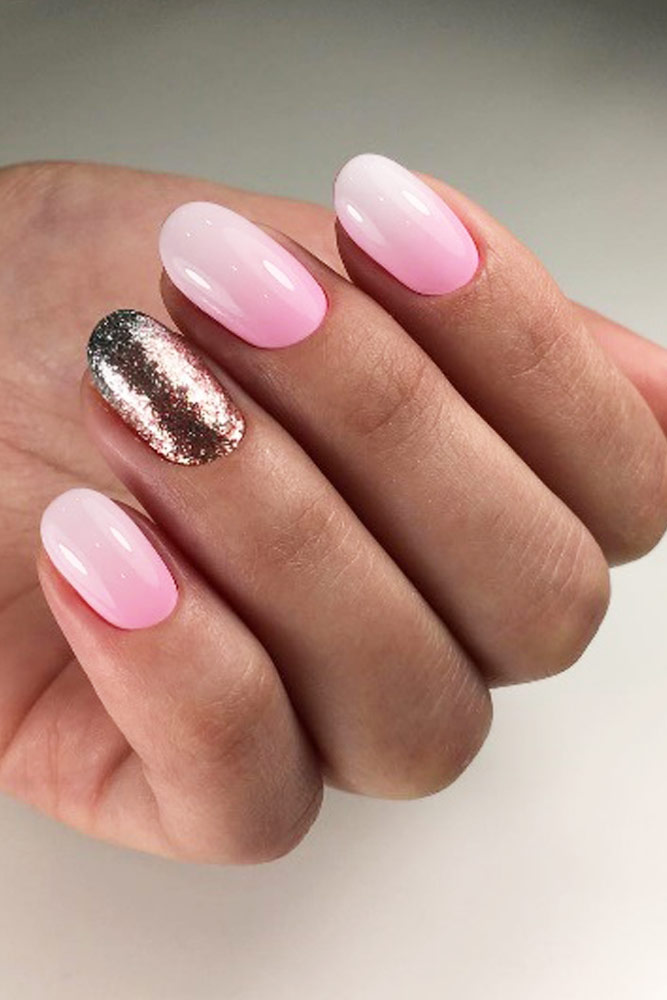 Source: Instagram/anastasiya.kalesnik
This is a cute design for round nail shapes that incorporates ombre nails pink and white color combination. The length of these nails is cut to fit an active lifestyle since they aren't excessively long. The glitter accent on the fourth finger at first was somewhat confusing to us. And in our opinion, a different shade of glitter may have been a better choice. While opinions vary, it still accomplishes its purpose of being an attention getter. The round shape of the nail, in our opinion, is more of a natural shape, and this makes it one of our preferred nail designs.
Drops Pink With Blue Ombre Manicure Design
Source: Instagram/yuliya_frolovanails
These almond nails have an interesting ombre nail art design. It blends two colors that one may not typically consider blending together. But as you can see, this choice is stunning once it is applied correctly. On these almond shaped nails, this design is show-stopping and would be a very complimenting look for various occasions.
Blue Ombre Nails Designs
Blue And White Ombre Nails with Glitter Accent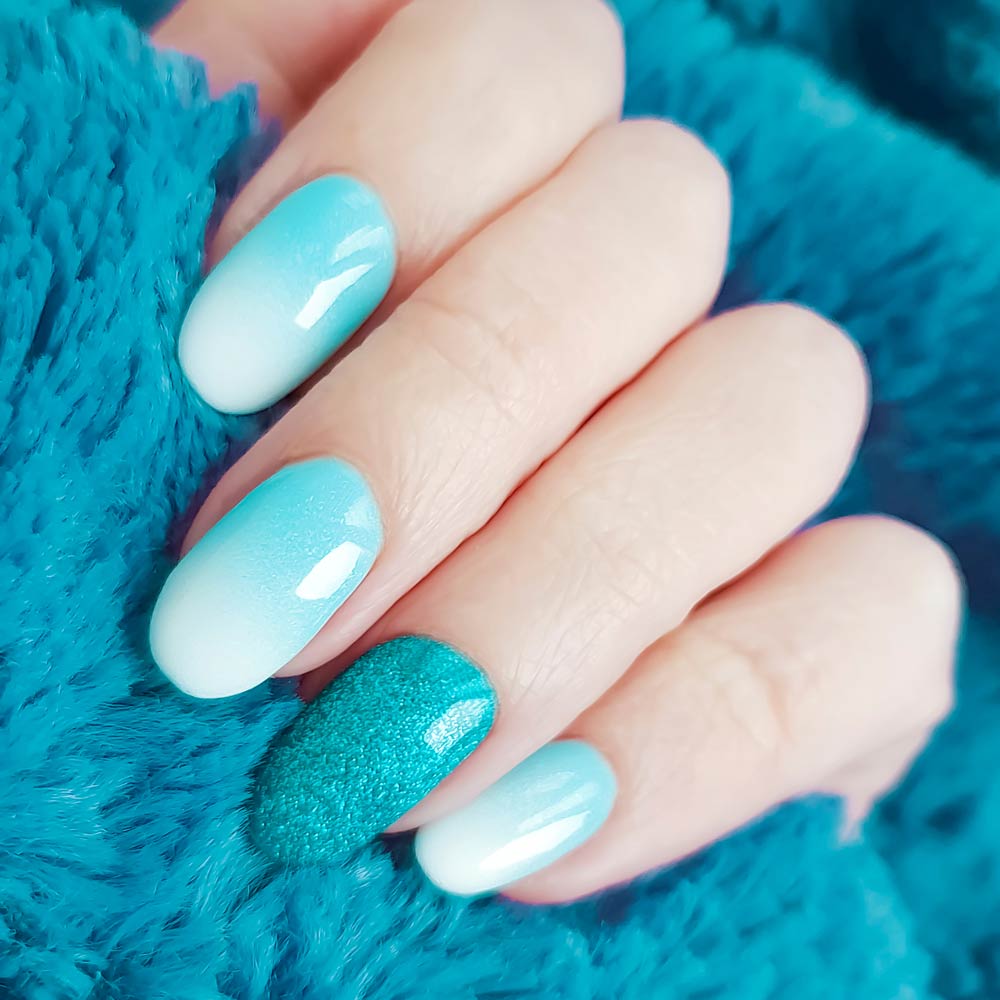 There is no doubt that long acrylic ombre nails are a great canvas to work with. However, your short nails are as fit a canvas for an ombre masterpiece as the longer tips. All it takes is a bit of skill and a gorgeous idea to replicate. This marvelous blue and white transition with a glittery accent seems to fit the description quite well, don't you think?
White and Blue Ombre Nails with Accent Nail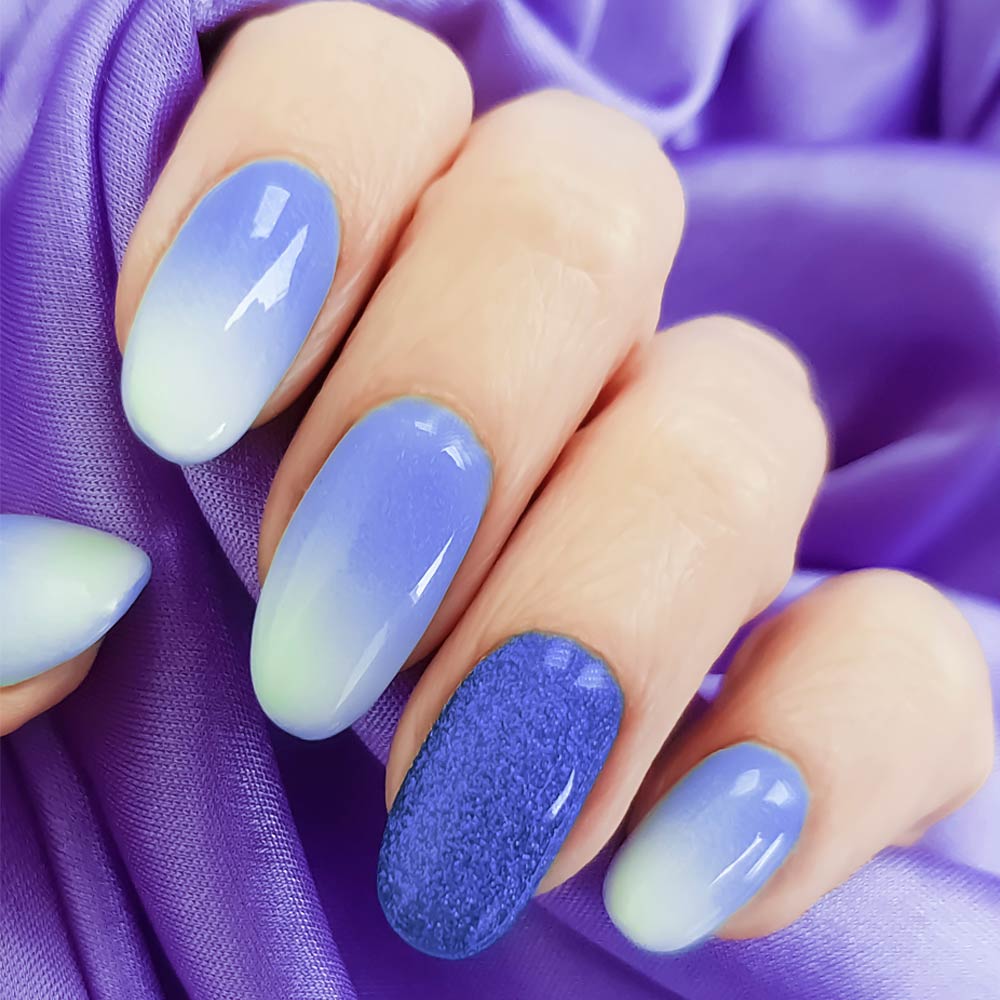 If you think that white ombre nails are losing their touch on the world of nail art, it is time to prove you wrong and introduce a new potential addition to your to-get collection. There is a circling assumption that the combo of blue and white is the best fit for the winter season, yet you can play it out whenever you feel like it. What is more, when blue to white or the reversed mixture seems to be utterly too simple, it is time to throw some accent in. Should this be the holiday season that we are talking about, a glittery accent nail is a way to go. Besides, in case blue glare isn't festive enough for you, you can continually expand the horizons and test other colors out!
Blue And White Round Gradient Art
Source: Instagram/nastroenie.nails
A round gradient where the lighter shade is surrounded by a deep blend of a darker coat and placed in the middle of the plate is the latest trend of 2020. Well, no wonder! It's hard to take eyes off this artwork: the transition of light and dark blue colors is so effortless and well-balanced that these nails remind us of some deathless ocean. Indeed, some blue nail designs are something more than just mani; they're a piece of art.
Even if you're not into bright colors and usually ask for something nude or transparent, you won't be able to resist this bluish touch of depth once you see it in real life. For that reason, it's better to see it on your own nails! Besides, your nail tech will be beyond happy to give you such beautiful nails: smudging ombre colors is better than any anti-stress pills.
Bright Blue Ombre Nails Design With Crystals
Source: Instagram/amur_nails
These beautiful bright blue ombre nails have a very classy oval shape. While this design has been done in gloss, we prefer the matte nails finish. The gorgeous blue ombre that fades to icy white at the tips is a stunning color pattern that gives this design a gorgeous appearance. This design could be carried out on an acrylic nail but puts forth its best attributes when applied to gel nails.
Blue And Black Ombre Nails Design
Source: Instagram/tatiana_vishinskaya
If you have a oval shaped nail, this blue ombre design is a great choice. The black painted accent on the fourth finger grabs your attention and sets this design apart. The black and blue ombre is somewhat reminiscent of the French manicure with the exception that the blue seems to fade into a reverse direction – into the black, making for a unique look. These acrylic nails are a great addition to your style statement.
Blue And Nude Glitter Ombre Nails Design
Source: Instagram/margaritasnailz
Glitter nail designs are a surefire way to add a bling to your mani. Thus, no matter what color you are going to choose, you can rest assured that your nails will not go unnoticed. However, so that it will not look kitschy, we recommend opting for subdued and low-key shades, like blue and nude.
Blue And Purple Ombre Nails Design
Source: Instagram/modnails
If you are not afraid to stand out in the crowd, then you are bound to try this ombre nails design in blue and purple colors. Not only do they complement each other perfectly but they also allow for a multitude of nail art options. Yet, should you want to keep it at minimal, just accentuate one of the nails with micro beads that match the color of the gradient nails.
Blue Ombre Nails Design With Silver Swirls
Source: Instagram/indian_ocean_polish
Even a simple manicure design can give your blue ombre nails a unique twist, let alone this intricate nail style that features silver swirls. Despite looking elaborate, it is actually pretty easy to get. You just need to apply silver nail polish to a nail plate with the desired pattern, pick up the design with a stamp and press it onto your blue ombre nails.
Nude And Blue Ombre With Crystals And Art
Source: Instagram/lieve91
When you are unsure of the color to pair with blue for your ombre nails, you can never go wrong with nude. Thanks to its neutral undertone, it complements any color flawlessly and blue is no exception. Instead, it helps to bring out the cool finish in the blue ombre even more. For an added dose of elegance, embellish one of the nails with mandala pattern and add a couple of crystals.
Blue And Black Ombre For Short Nails
Source: Instagram/nailsbycambria
If you think that you will not be able to pull off ombre on short nails, we are here to prove you wrong. When it comes to ombre nail designs, there are no restrictions in terms of length. On the contrary, such color solutions as black and blue nail designs may look exceptionally flattering on short mani. So it is a good idea to take advantage of it when you don't feel like flaunting claws.
Purple Shades For Ombre Designs
Purple and Green Ombre Almond Nails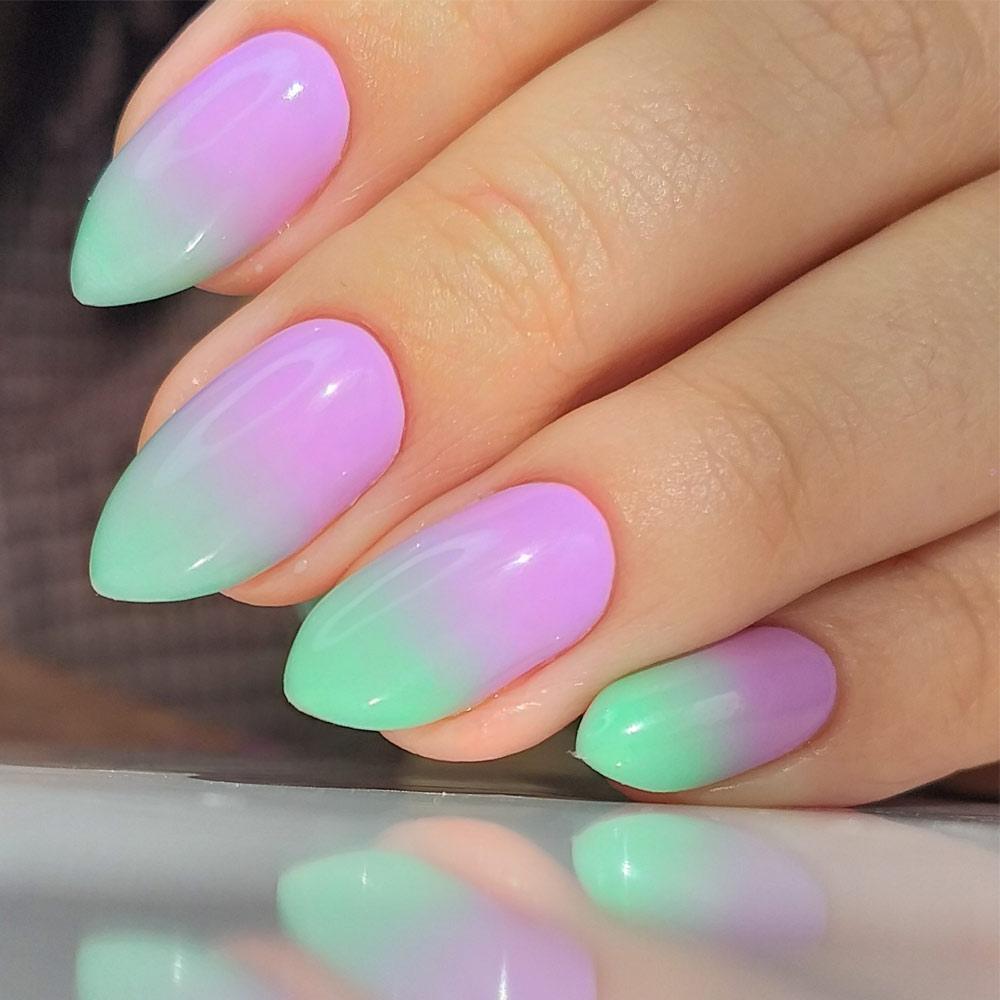 There are cases when you think that two shades are incompatible. Yet, when the bold shades seem to be outrageously in opposition to one another, their lighter tones may pleasantly surprise you. The gentle combo of purple and green servers as the best example in the situation. The seamless transition will suit your casual look no matter where you are headed. Keep in mind that the mentioned ombre almond nails will look stunning on other nails shapes too. There are no limits when it comes to pastel variation. Besides, the pool that the mentioned ombre glows with will keep people mesmerized when you are around.
Galaxy Ombre Nails Design
Source: Instagram/sukhova_alena
If you think that nothing can express the mesmerizing beauty of outer space, these cosmic blue nails are here to prove you otherwise. The magical effect of ombre nails with its gently flowing shades that melt with one another looks like a portal to the endless space. All you need to do is to pick nail colors that match the palette of space: some deep blue, light violet, and baby pink will do just great.
When recreating space-inspired nail designs, don't limit yourself with ombre only! Some galactic pattern would be a perfect finish for your mysterious, eye-catching design.
Ombre Nails Design With Purple Shades
Source: Instagram/amur_nails
This gorgeous purple colored ombre design looks fabulous on the almond nails. The black to purple ombre nails have a fantastic look for a fun night on the town. This style definitively shows off that this model is an easy-going type of person who isn't afraid of slightly bold nail design. This design doesn't have rhinestones but does have the ombre effect. But it is still considered one of the easiest nail designs due to the blending of two colors being the only requirement to achieve this look.
Source: Instagram/nina_d83
If you are fond of nail art, you will definitely like rainbow nails. And these pictures will inspire you for sure. Look at these amazing orange, pink and purple nails. And if you wish to look gorgeous tonight, that is how you should paint the nails.
Silver And Purple Ombre Nails Design
Source: Instagram/thesammersaurus
There is a big chance that this silver and purple ombre will become a go-to mani choice for those who are no stranger to quirky nail designs. You will be pleasantly surprised by how well these two nail shades look together, especially thanks to the difference in finishes, which will make your ombre nails look one-of-a-kind to the core.
Colorful Ombre Ideas
Bright Yellow-Orange Ombre Nails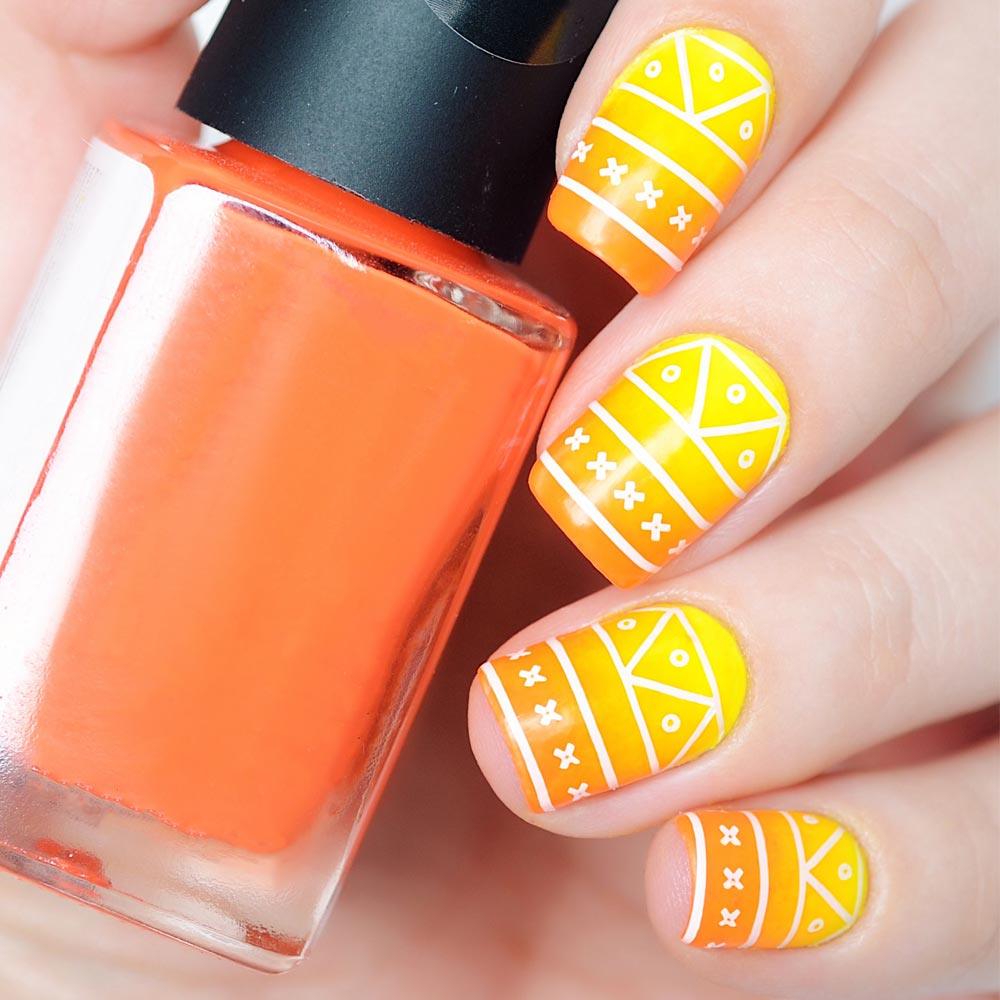 You can't underestimate the power of a well-planned look, and an elegant manicure makes a vital part of it. However, it would help if you realized that summer ombre nails could differ significantly from those fit for other seasons. If we take yellow ombre nails, for instance, the citrus vibe can't be dismissed rather admired. Besides, a pretty geometric pattern spices the effect up like nothing else. Should you search for a suitable and juicy enhancement to complete your sunny image, you can stop right here and experiment with the shades of yellow!
Summer Yellow and White Nails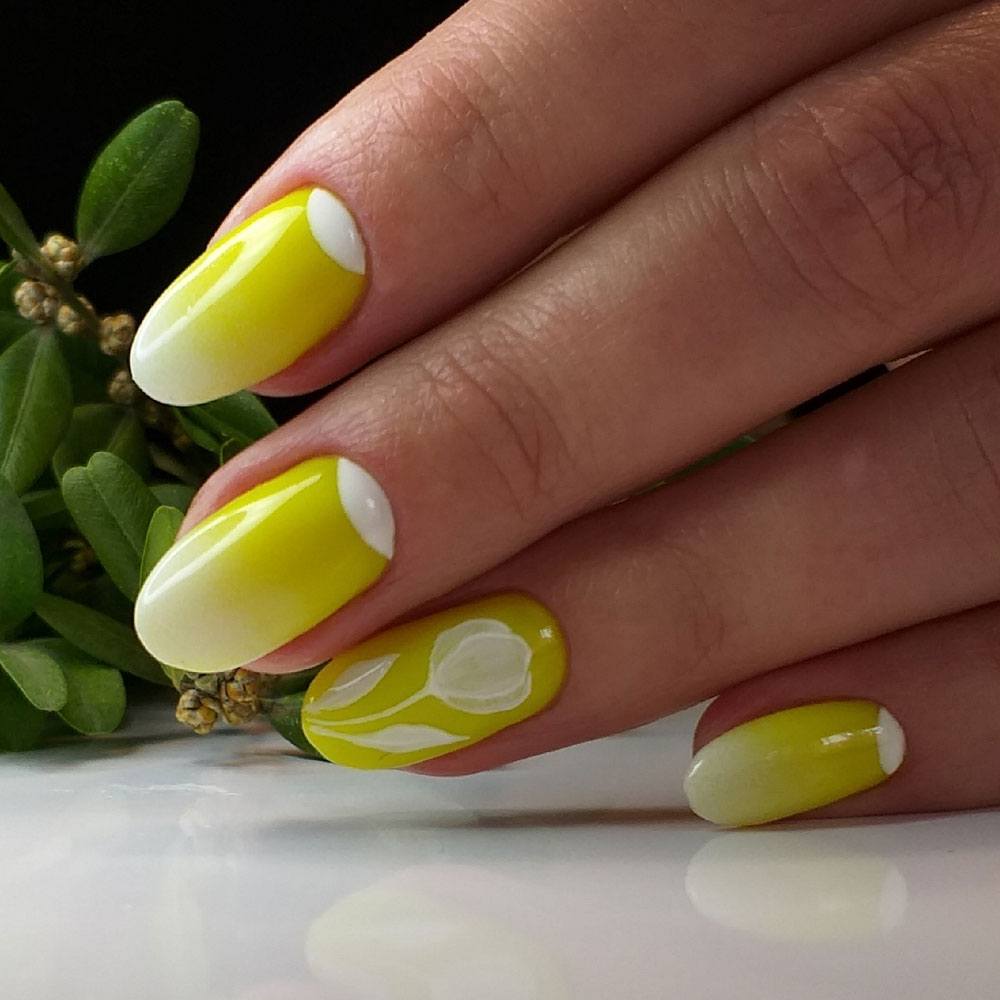 The versatility of modern nails ombre can't be treated lightly. There are shades, tones, and designs that can suit any type of personality and lifestyle. Yet, should you be seeking an idea with a neutral vibe to it – French ombre nails come to the rescue. While classy ombre is a little bit too common, there is always a possibility to add some trending hue. If these are summer nails, lemon shades will fit the situation perfectly. You can even ask the artist to draw you a gentle flower as a potent symbol of womanly nature to emphasize your elegance and femininity!
Rainbow Ombre Design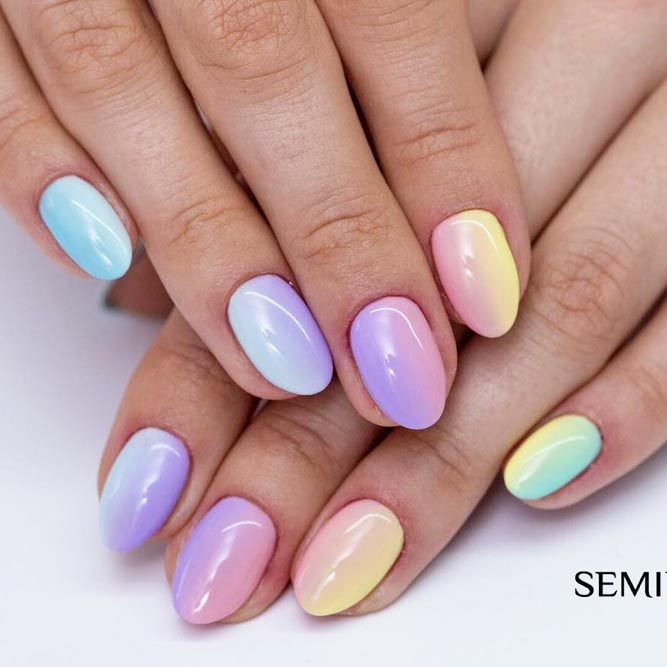 Source: Instagram/semilac
If you want to throw a colorful twist into your nail design, then why don't you employ the whole rainbow? It always pays to draw inspiration from nature, as it obviously has a strong sense of color. A rainbow-faded ombre nail design not only looks awe-inspiring, but it also brings positive vibes to your everyday mani.
Purple And Plue Vertical Ombre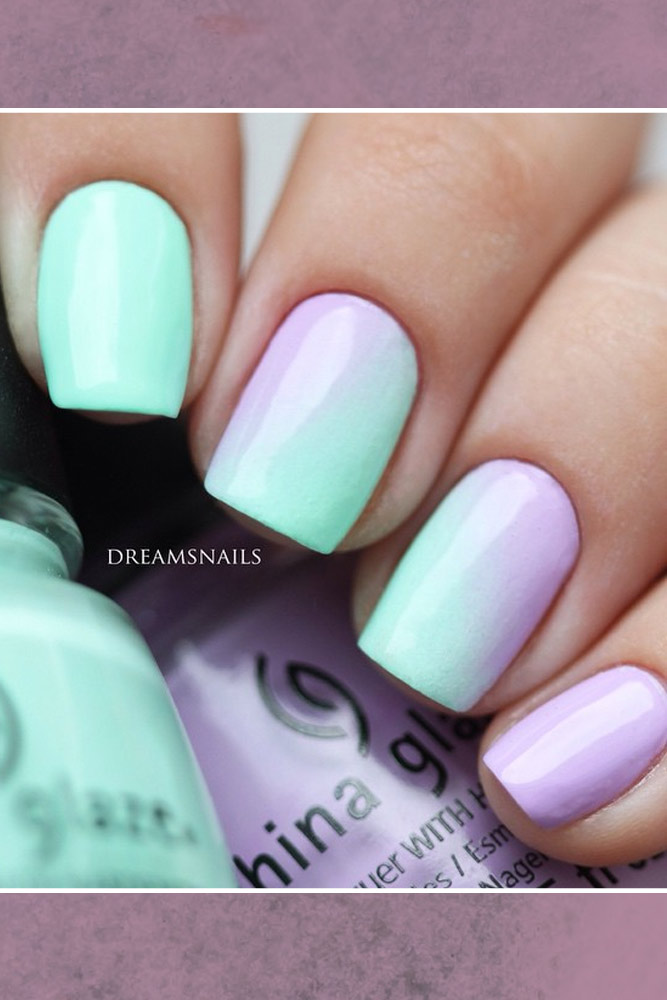 Source: Instagram/dreamsnails
Unusual color choices are not the only way to make your manicure look out of the lot. You can also play around with the nail polish application. Instead of a classic horizontal gradient, apply light purple and mint blue to the sponge so that they create a vertical ombre effect. Moreover, you can either go with the same pattern for a single nail or for a really quirky result, opt for an all-out ombre design that fades across each nail.
Mint Matte Ombre With Crystals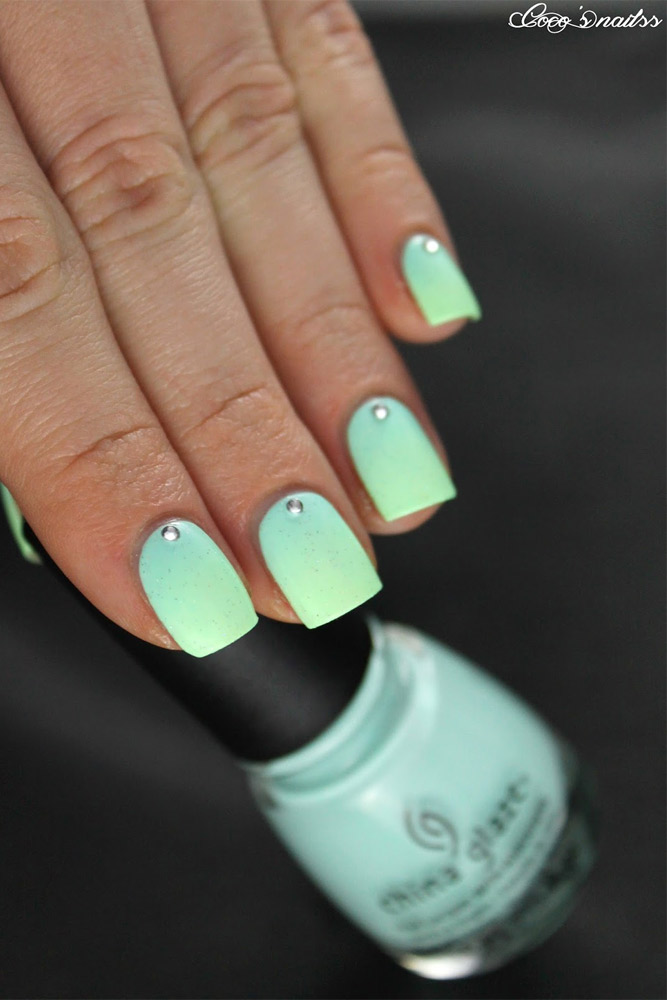 Source: Instagram/cocosnailss
Do not forget to protect the hands after the manicure is done. Additionally, if you are fond of gardening, you should use gloves. Thus, the polish will not lift or chip; and the cuticles will not dry out because of moisture and soil. And cuticle oil should be applied every night.
Hot Red Ombre Nails For A Romantic Evening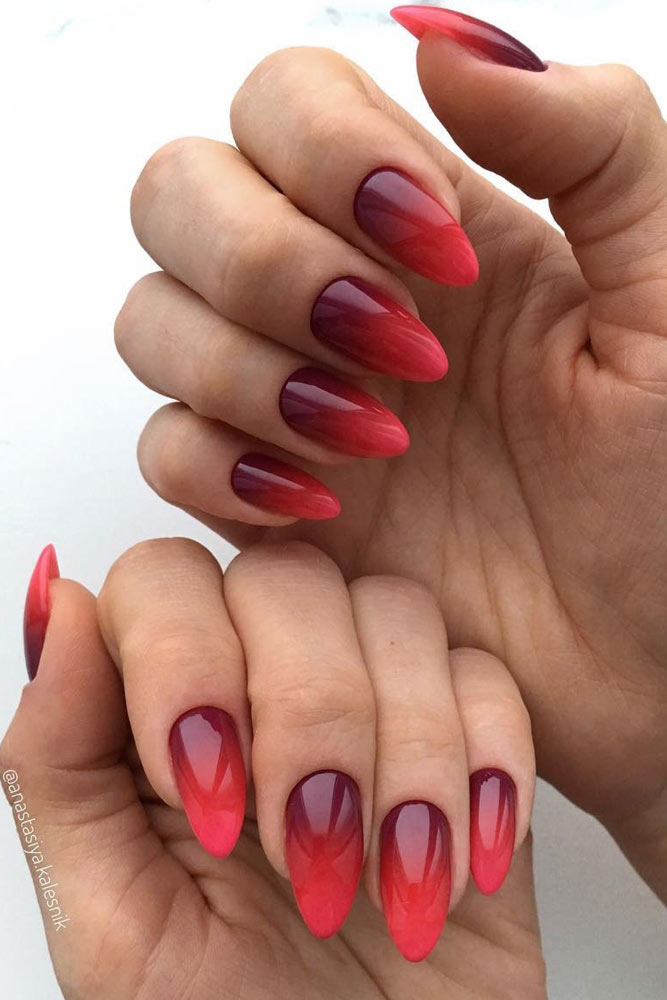 Source: Instagram/anastasiya.kalesnik
If you have an upcoming evening of romance planned in the nearest future, you may want to get these almond shaped nails. These gradient nail applications create a gorgeous effect that has your nails almost drip with sexiness. The color of love applied allows these red nails to make a statement without her ever uttering a word.
Gray Ombre Nails Ideas
Gray Ombre Striped Art
Source: Instagram/kaori_nails
Your subtle gray ombre will get a huge boost in style from this sophisticated striped nail art. Even though it looks as if it may require some special skills on your part, layering is the answer to how you can get this fantastic mani design. Just build in layers by applying gray translucent nail polish to the nail covered with tape at different spreads.
Elegant Gray Ombre Design For Square Shaped Nails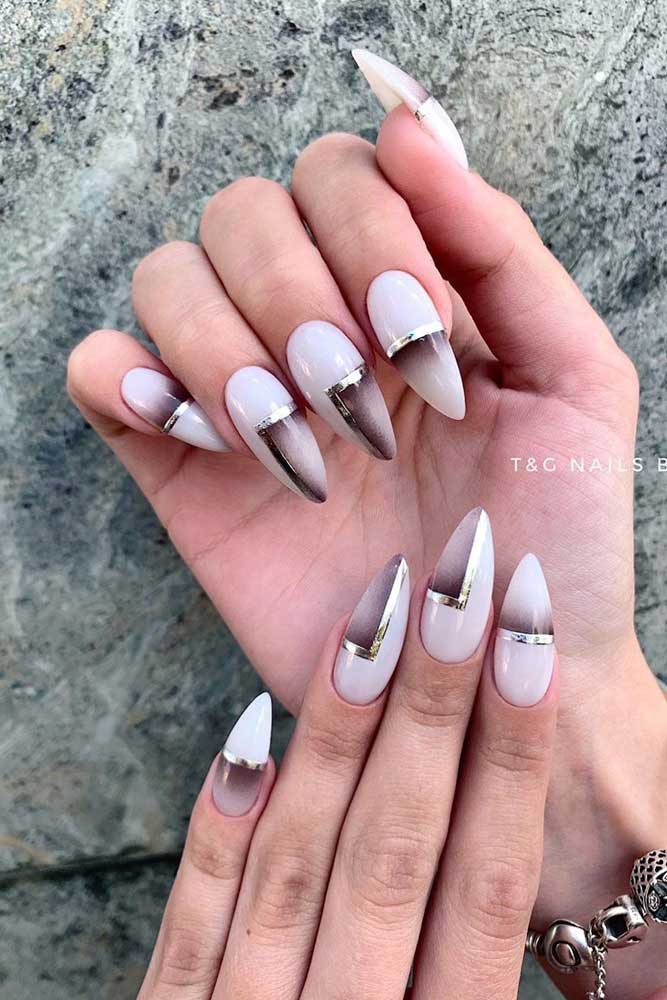 Source: Instagram/tg_nailboutique
If you're looking for elegance while not appearing too uptight, try these short nails. The accent design on the ring finger really makes this nail art pop and draws your eyes to it. The gradient/ombre look on the first and second finger blends well with the overall design. The rhinestone design adds enough flash to the design to make it interesting without its becoming too overpowering and gawdy.
Matte Gray Ombre Design For Square Shaped Nails
Source: Instagram/willothewisp16
There are situations in life when you want to look your absolute best so that you do not have to regret later. At these moments, every detail matters and your manicure is not the exception, especially if you have square nails. That is why among all the nail polish shades, we would suggest paying attention to a gray ombre nail design with a matte finish. Such a mani will not go unnoticed but also will not attract unnecessary attention. Simple perfection!
White And Gray Ombre Design
Source: Instagram/didoline
These monochrome gray and white ombre nails are a perfect way to show off your inclination to the minimalist side. Although this manicure design does not involve a lot of colors, the end result comes out bold and intense. Do not try to be particularly neat with the application. Roughly pat the sponge with gray nail polish onto the white nail base for extra texture and grainy finish.
Pink And Gray Ombre Nails Designs
Source: Instagram/ywetten
There is something particularly enchanting in gray and pink ombre nails. This is one of those color combos that will never go out of fashion. What makes us so sure is that it looks girlie and delicate while still giving your mani a pronounced and eye-catching impression.
How To Do Ombre Nails Step By Step

Source: cutepolish via Youtube
For beginners, you should clean up your fingernails very well. Be sure to remove all nail polish and trim and shape your nails to your desired length. File and shape to assure that any loose ends and fragments are done away with. Pushing back your cuticles is also a good idea due to the fact that it helps to elongate the nail beds. Next, you should apply a base coat of clear polish to each nail in order to protect it from being stained by the polish. This process also helps extend the life of your manicure by decreasing the chances of your polish chipping.
Now it is time to move on to your lightest color or white polish to begin your ombre project. The white color will help the colors appear much brighter. If you choose to simply use the lightest color of your ombre color palette, then your effect will have a much softer appearance. Apply the background color to all of your fingernails. If you are shooting for an opaque base, you should paint two coats of your base color allowing each coat to dry before applying the second coat. It is also important to use two thin coats rather than one heavy thick coat to accelerate the drying process.
Next, on a makeup sponge, paint the additional colors for your ombre effect in horizontal lines right next to each other. Assure that you apply two to three coats to the sponge in an area as wide as your fingernail so that the entire nail will be covered. Then you simply stamp your nail two to three times until the ombre effect suits your desired look. Be sure to roll the sponge down to cover the sides of the fingernail, as well. Repeat this process on all fingernails and allow ample time for them to dry completely.
Lastly, you will apply a top coat of clear polish to your nails, two coats are better than one to assure you end up with a smooth surface to cover the sponging from earlier. Using a Q-tip, clean up the area around your nails to create a clean, professional-looking job.
Peach Shades For Summer Nails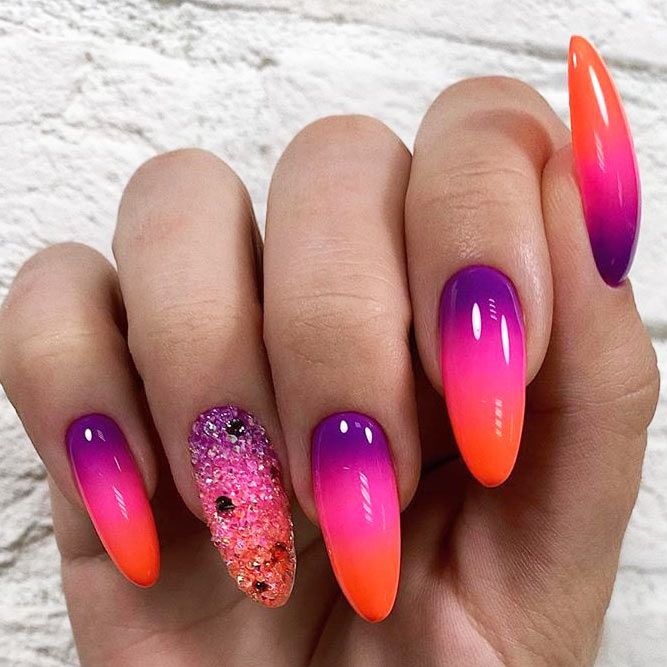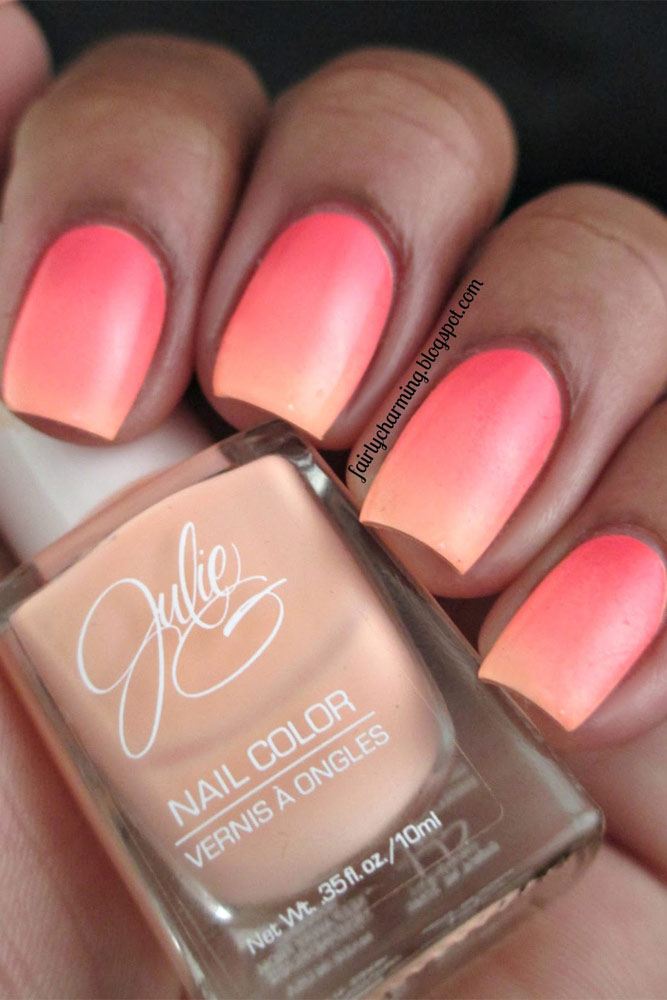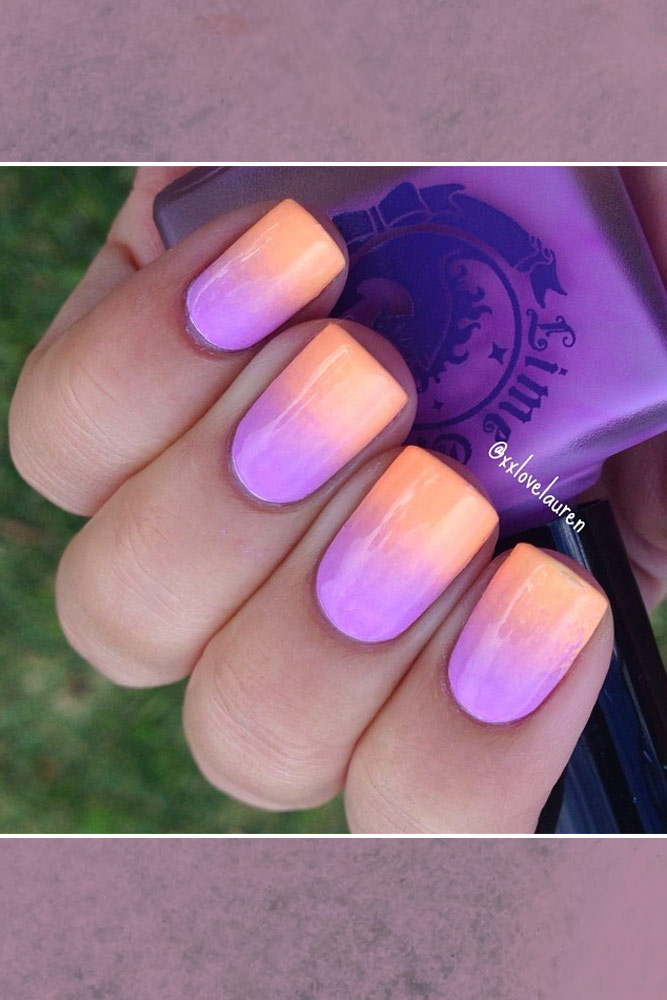 Source: Instagram/kaori_nails, Instagram/fairlycharming, Instagram/xxlovelauren
Summer nail designs are so bright. And there are certain tips that can help you to keep the nails healthy during summer days. It is not advisable to soak them because if you soak the nails in water, they can expand. The polish can chip soon if applied while the nails are still a little wet.
Ombre Nails With Painted Arts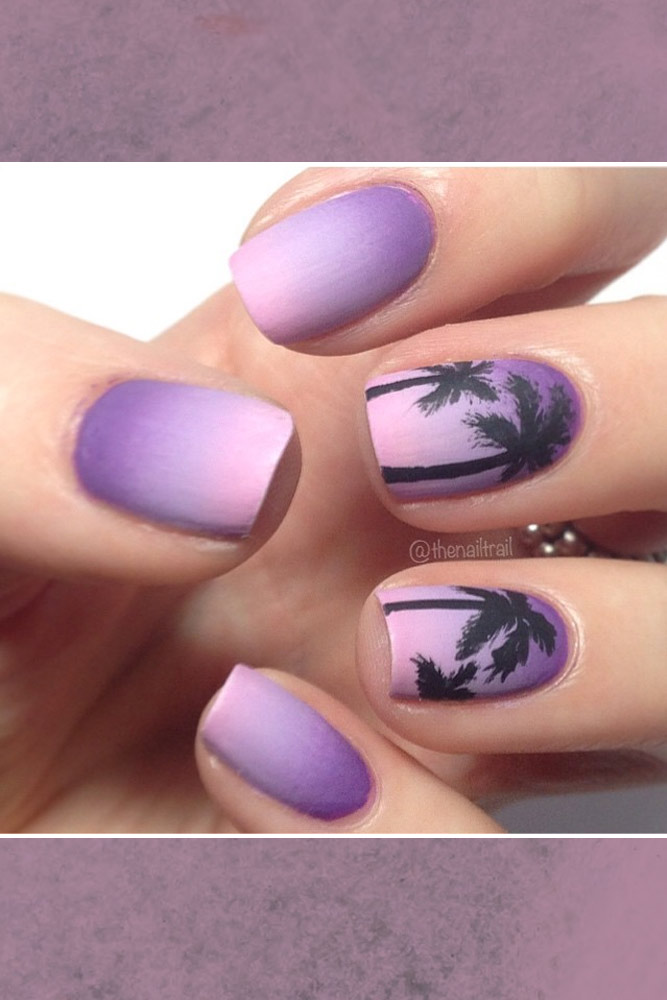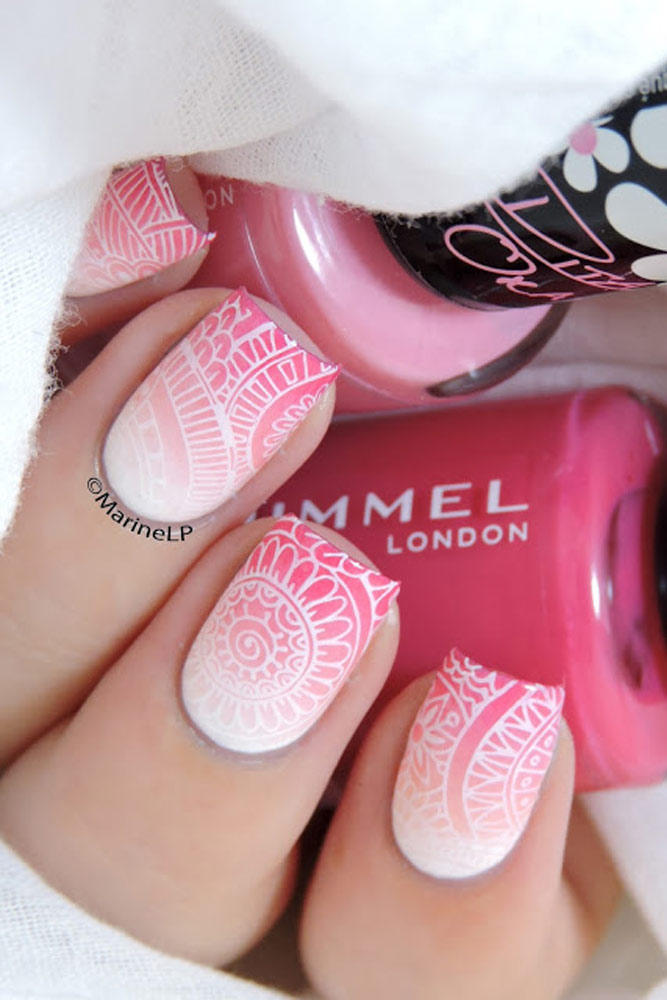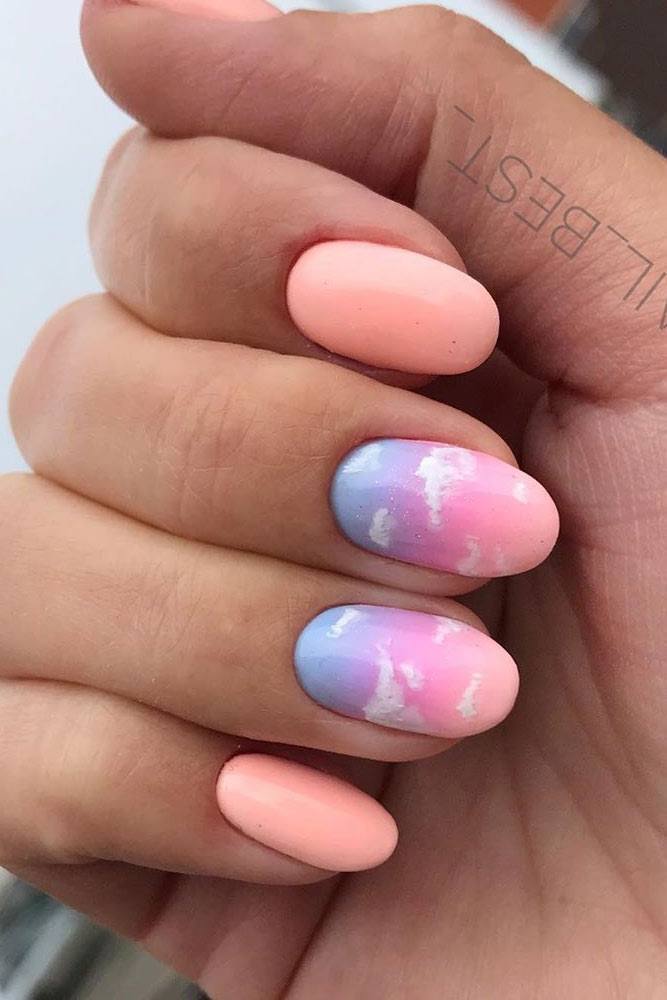 Source: Instagram/thenailtrail, Instagram/marinelp_home, Instagram/nail_best_
Accentuate your nails with nail stickers with some images that are perfect for the summertime. Make a sunset design. Your nails will look really cute. Besides, a sunset design can be created even without nail stickers – just use the right colors.
French Ombre For Different Nails Shapes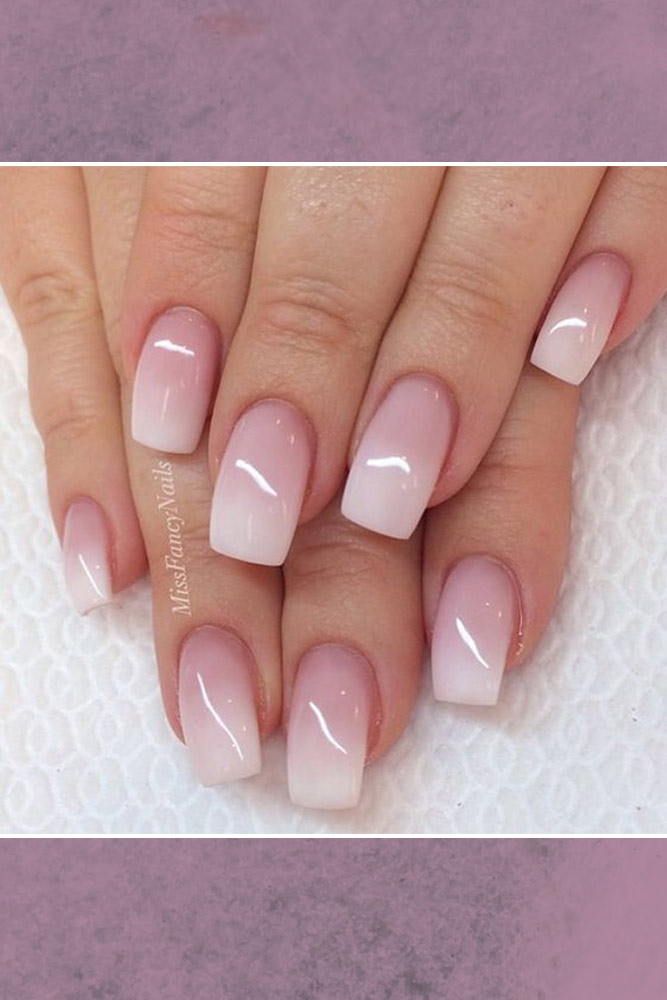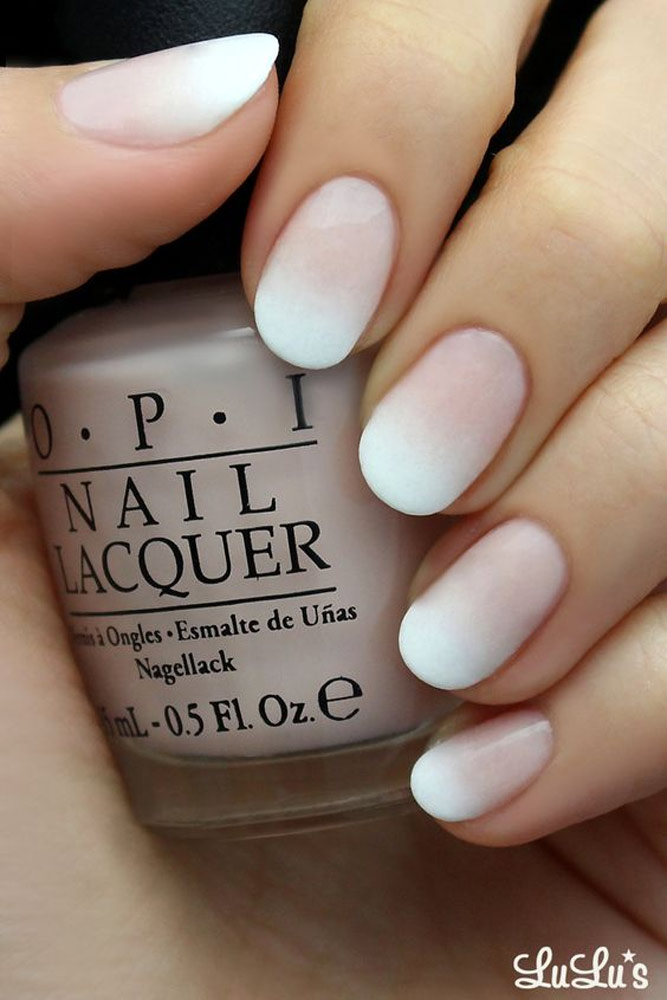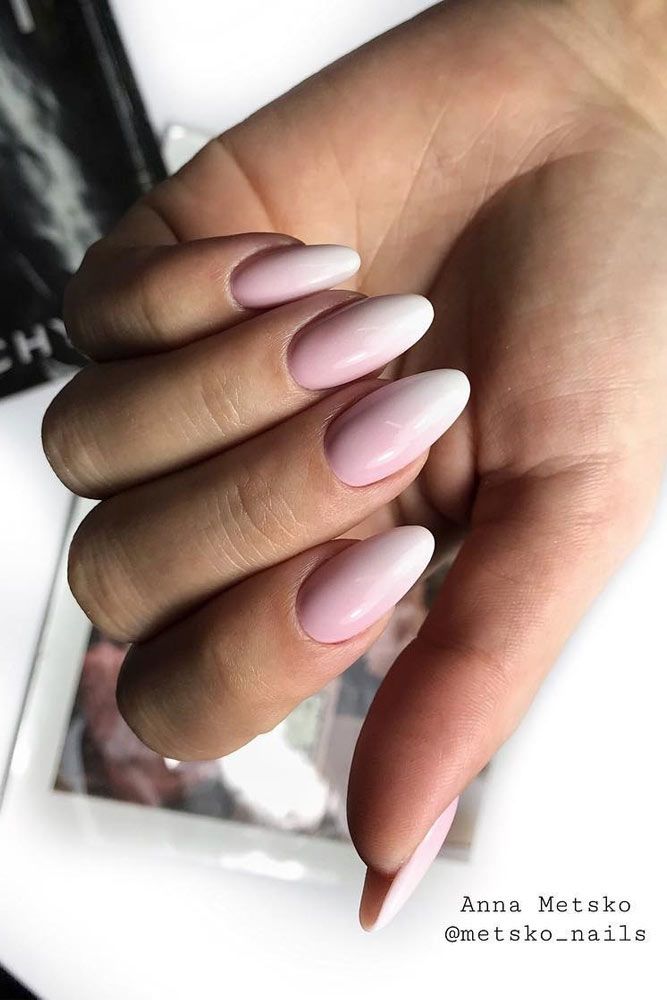 Source: Instagram/thenaillife_, Instagram/lulus, Instagram/metsko_nails
If you're looking for a style for everyday wear, then these French ombre are the perfect solution. The basic design of a French manicure has become somewhat overlooked with all of the recent nail art and designs that have been created. These very natural looking ombre nails blend beautifully with a natural finish at the tips with some artwork added to set this nail job apart from a simple French manicure.
Unicorn Rainbow Ombre Nails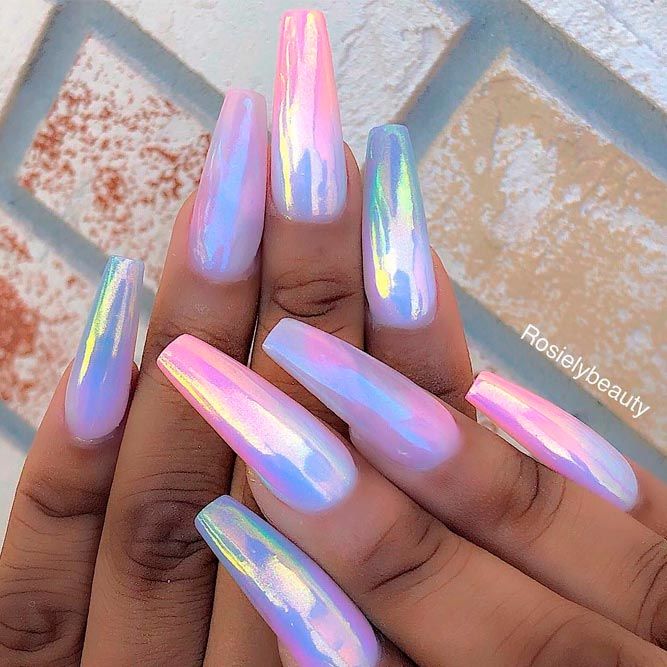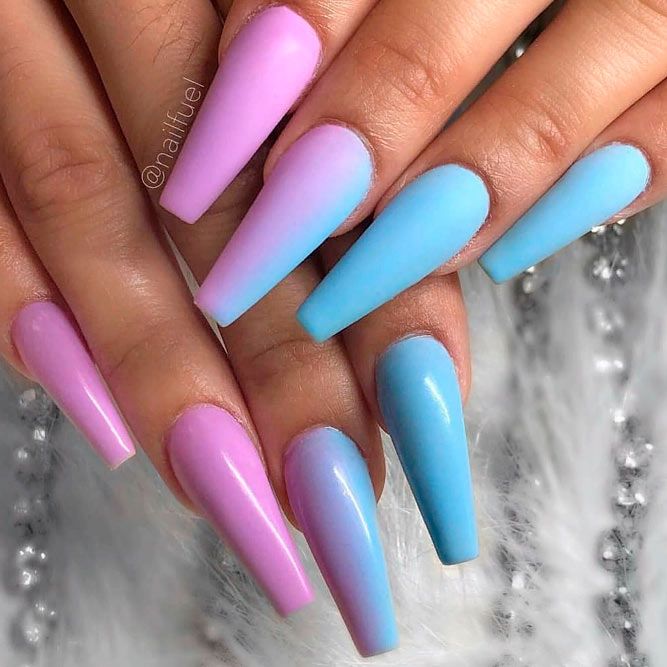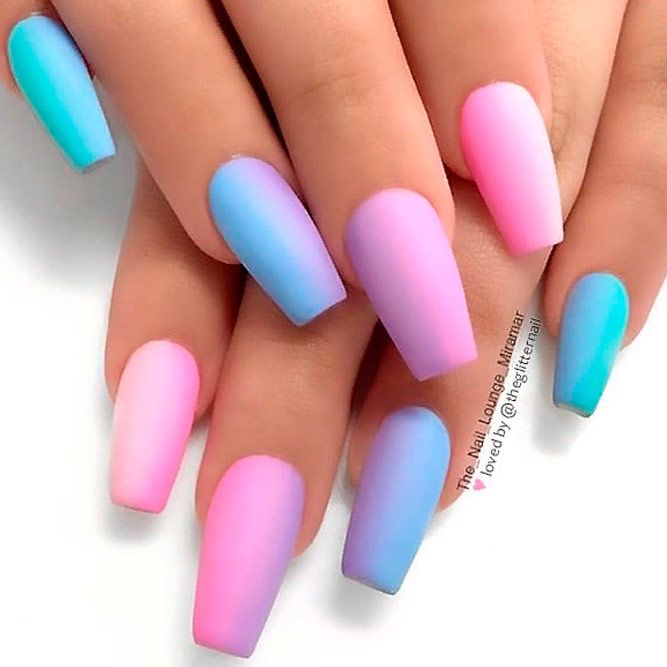 Source: Instagram/rosielybeauty, Instagram/nailfuel, Instagram/theglitternail
Unicorn-shaded nails are always bright-looking. Ombre technique adds up the additional charm to such a manicure. You can take things even further if you experiment with the coating. Whether matte, glossy or metallic such nails will complete any stylish look.
Glitter Ombre Nails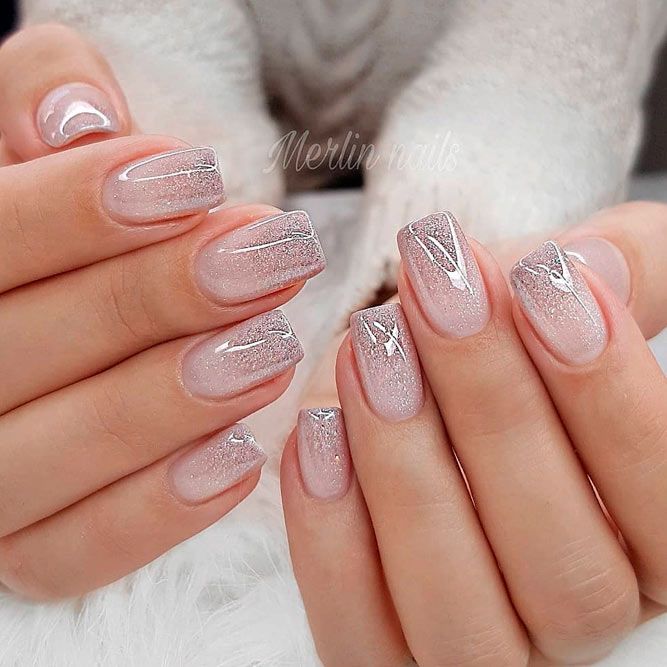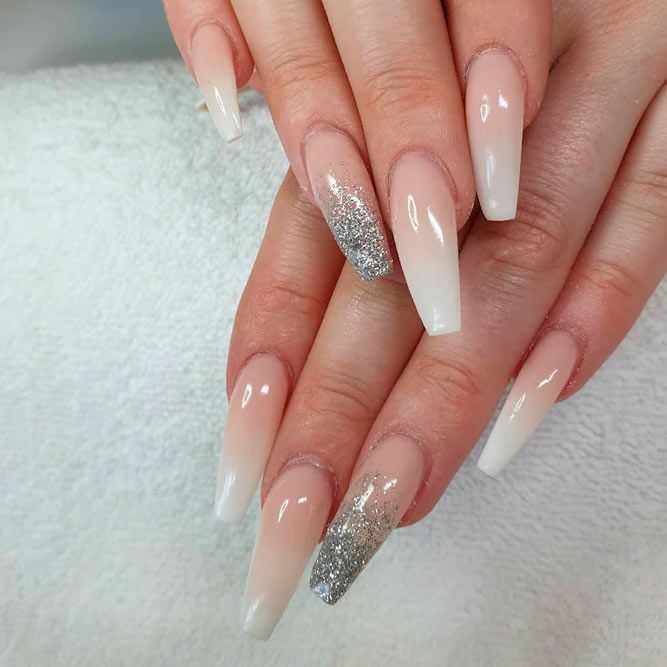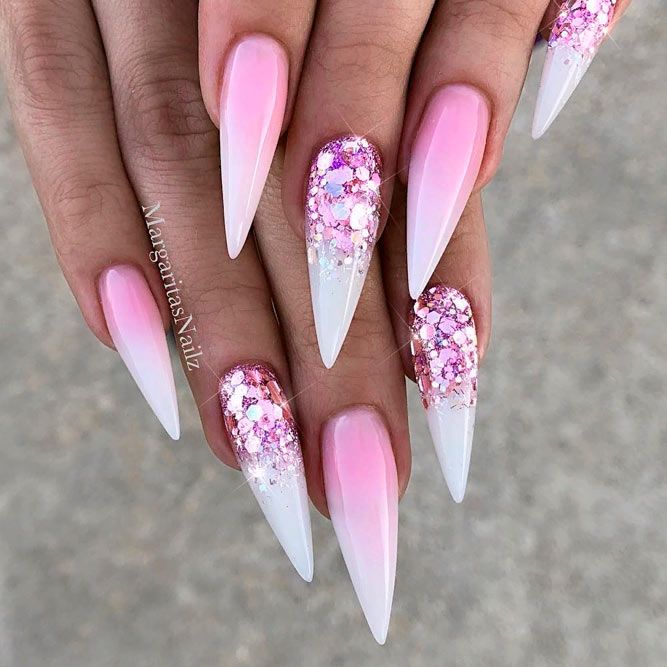 Source: Instagram/shuey_cortez, Instagram/kleidys_nails, Instagram/mjnailz
Add some glitter to the nail design. One or two glittered nails will look chic! If you are going to spend the day at the pool, use top-coat to strengthen your nails. Chlorine and water can dry out and weaken the cuticles and nails.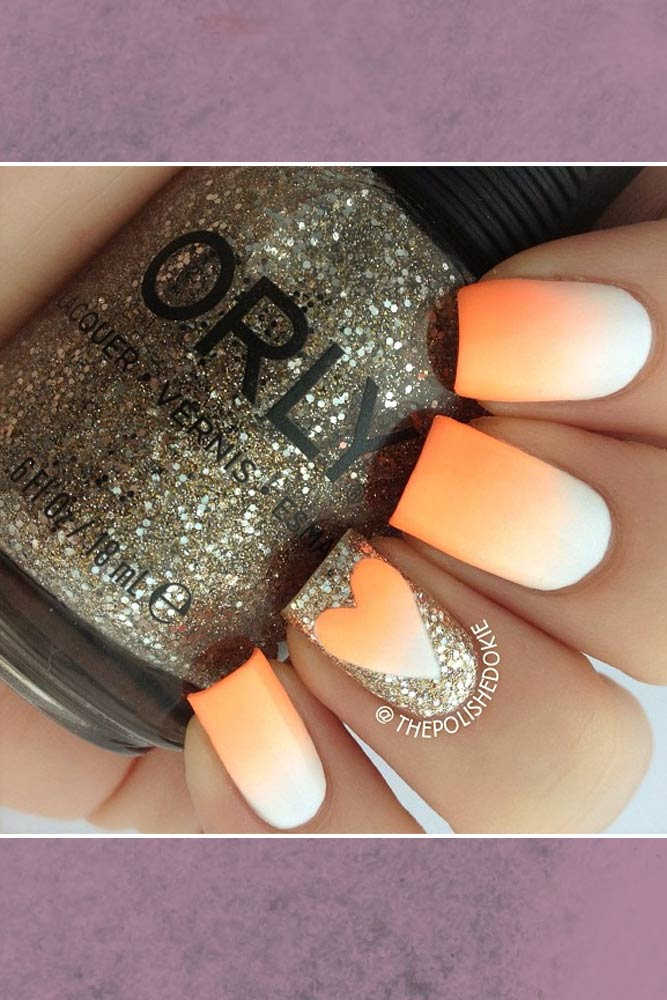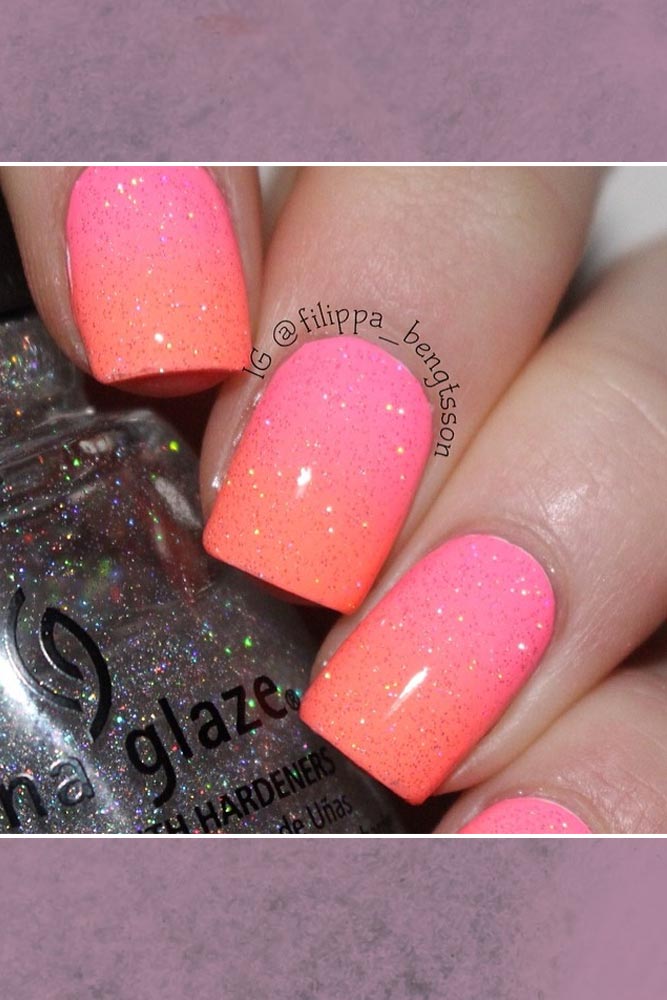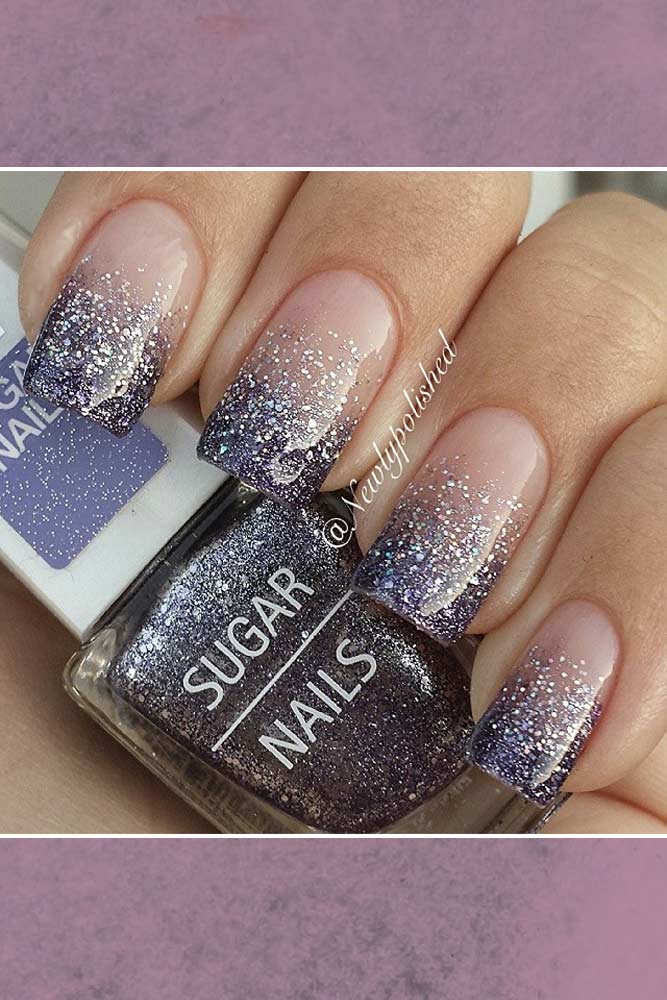 Source: Instagram/thepolishedokie, Instagram/filippa_bengtsson, Instagram/newlypolished
It is true that the best word that describes ombre manicure is – versatile. The fact is that if you play around with glitter ombre, you can create both neutral as well as bright mani. One look at this compilation and you will get our point.
Vertical Gradient Nail Designs For Coffin Nails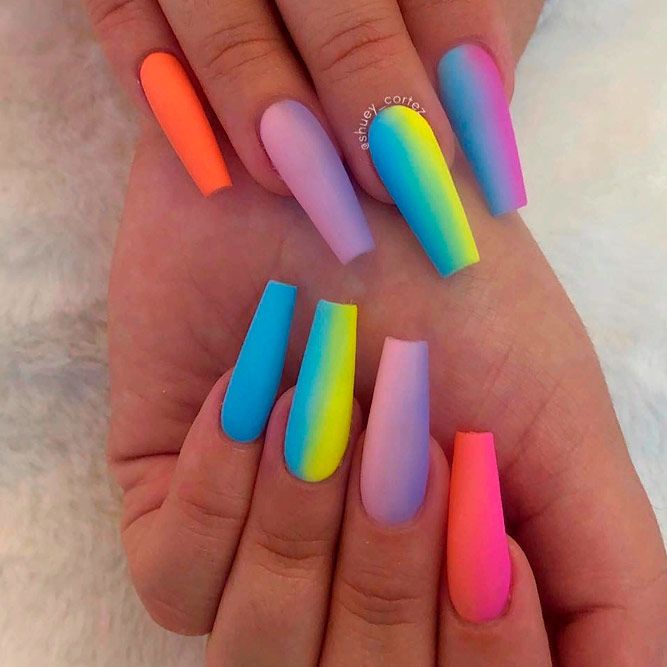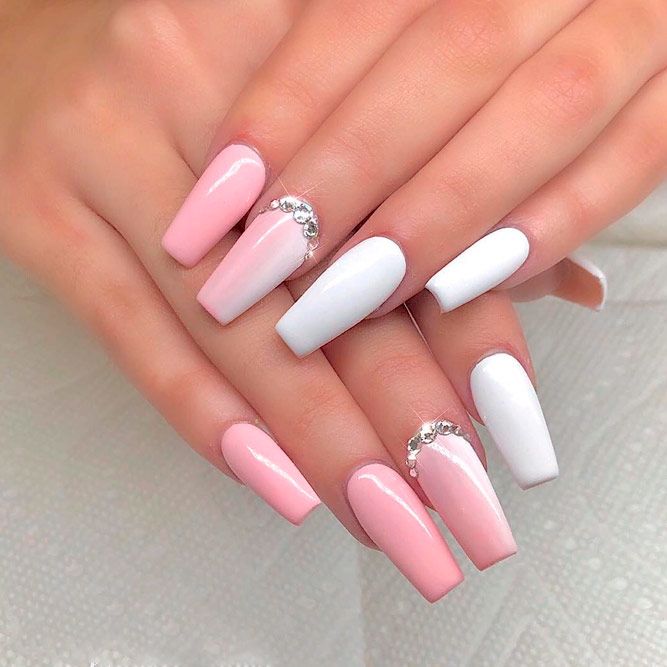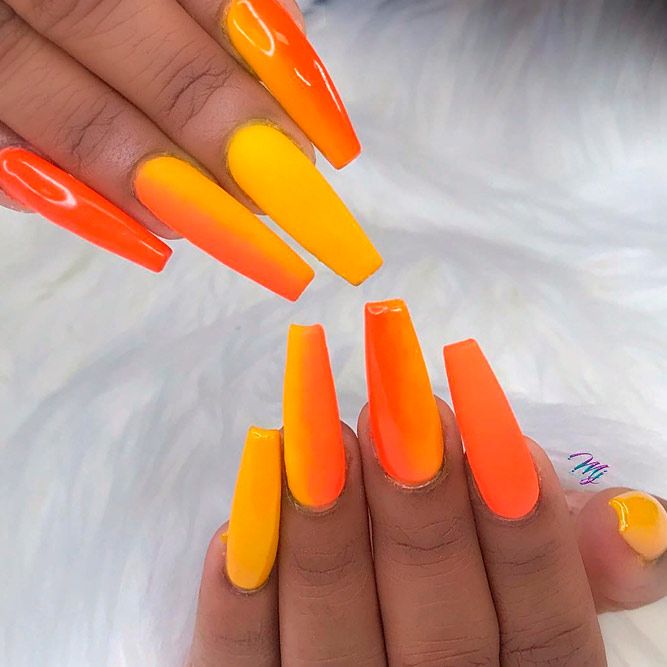 Source: Instagram/shuey_cortez, Instagram/kleidys_nails, Instagram/mjnailz
In case you think that only horizontal ombre exists, you are wrong. The truth is that vertical ombre looks even fancier and more unique. No matter which colors you prefer the effect will always be outstanding!
FAQ: Ombre Nails
How much does ombre nails usually cost?
Ombre Nails typically cost between $45-$75 at a nail salon. However, the average total cost can increase up to $55-$80 for more creative designs. At the high end salons, consumers end up paying up to $120. The factors that influence the total price include the location, quality of the salon, nail technician skill, quality of products used and the colors & design you select.
How long do ombre acrylic nails last?
Acrylic nails are exceptionally strong and with the right care will last 2-3 weeks, after which they will begin to naturally grow out. Without the maintenance, your acrylics can chip, lift, or peel sooner than the 2-3 week mark. You can make them last longer while wearing gloves doing housework, moisturizing your hands and cuticles regularly.
Can you refill ombre nails?
If the designs are encapsulated within the acrylic or your tech used gel polish, then they will have to file the nail down, remove the design, then do a refill. If the designs are on top of your nail, it's possible to remove the polish and then the new polish on top.
REFERENCES:
Ombré nails are a great option for when you want to feature multiple colors in your manicure. Try these 25 ombré designs and inspo pics to copy right now. Source
How to Do Ombre Nails. Ombré nails (just like ombré hair) are a type of manicure in which a color gradient is created. A light color on the top of the nail gradually blends into a darker color toward the tip. Source
Ombré /ˈɒmbreɪ/ (literally "shaded" in French) is the blending of one color hue to another, usually moving tints and shades from light to dark. Source