Almond nails remind the shape of an actual almond, and that is where this shape got its name. This shape has a softer point, comparing to stiletto nails, but it is more acute, comparing to the round shape. So, the almond shape is in-between.
To get this shape, it is advisable to grow out your fingernails a bit longer. When transforming your fingernails into this shape, some of the length will be sacrificed. This shape requires some weekly touch-ups, but it all depends on your natural nail shape.
Now let's explore some trendy nail designs for the almond nail shape.
Glamorous White Nails Design With A Half Moon Accent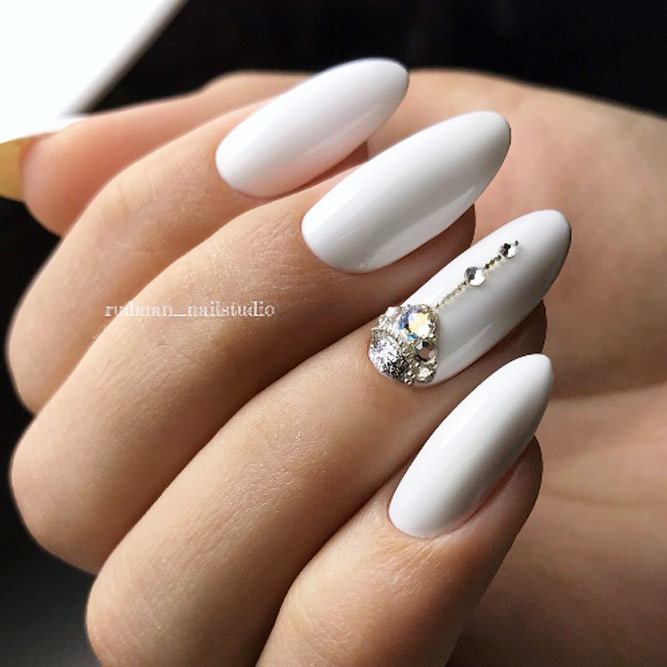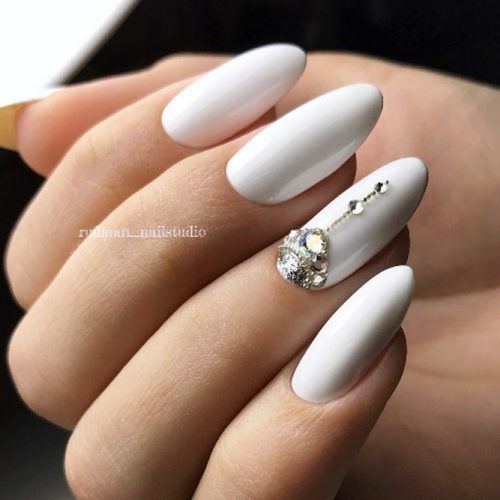 Credit: Instagram/rudman_nailstudio_nsk
If you are ready to obtain the ultimate in glamorous nail styles, check out these white almond nails. The almond shape is a more common shape than some of the other nail styles. The rhinestones in this nail design are strategically placed to create a specific design. The half moon accent created with the rhinestones adds a beautiful embellishment for this nail design.
Easy Almond Nails Design For The Perfect Everyday Look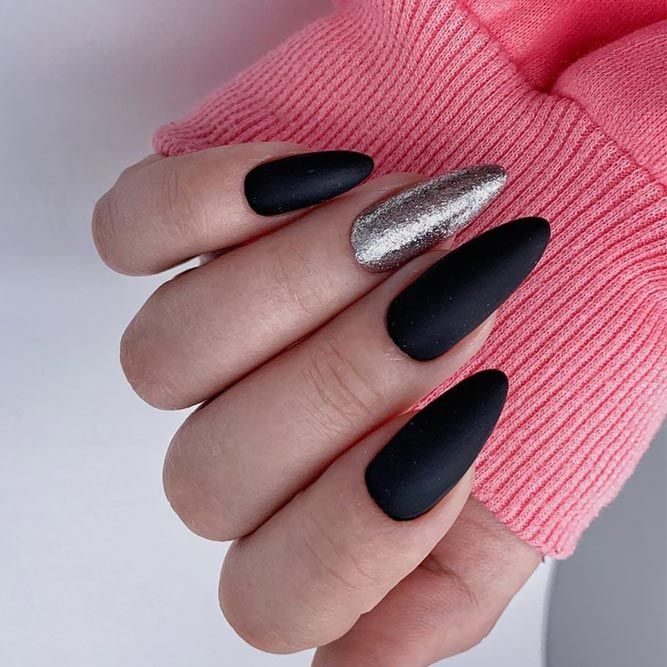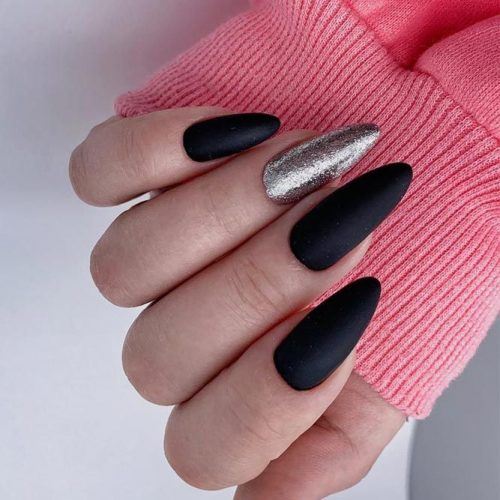 Credit: Instagram/deville_nails
A nice, simple look for everyday nails – black almond nails. Some polish has glitter incorporated into it, but this glitter design appears to be applied as a top coat. This is considered to be one of the simple nail designs since there are no extravagant embellishments.
Beautiful Ombre Design For Almond Nails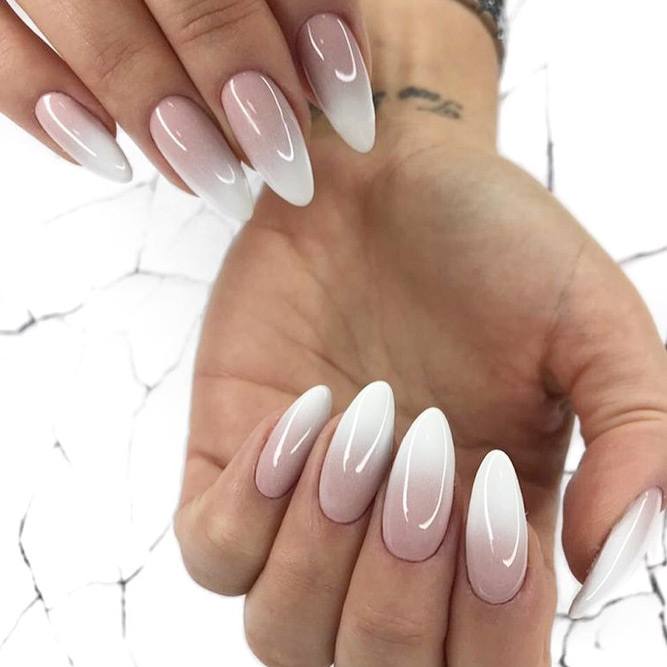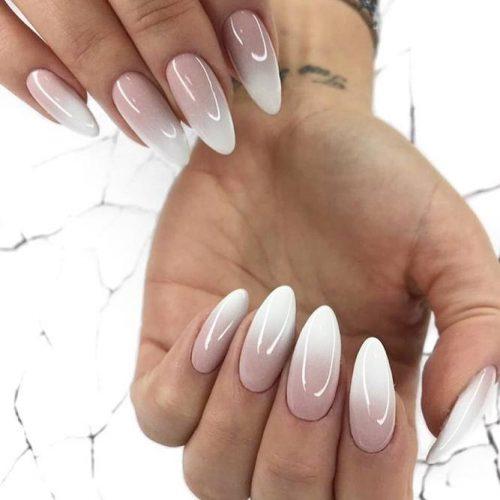 Credit: Instagram/sunplaza72
Almond shaped nails are one of the most popular nail shapes that women request when getting their manicures. One reason for that is the ability to continue daily activities with this type of nails as opposed to some difficulty performing certain tasks with other nail shapes. Glitter ombre is incorporated into this nail design, as well. If you look closely, this nail job has cute nail designs of butterflies and moon designs at the tips.
Nude Almond Nails With A Glitter Stripe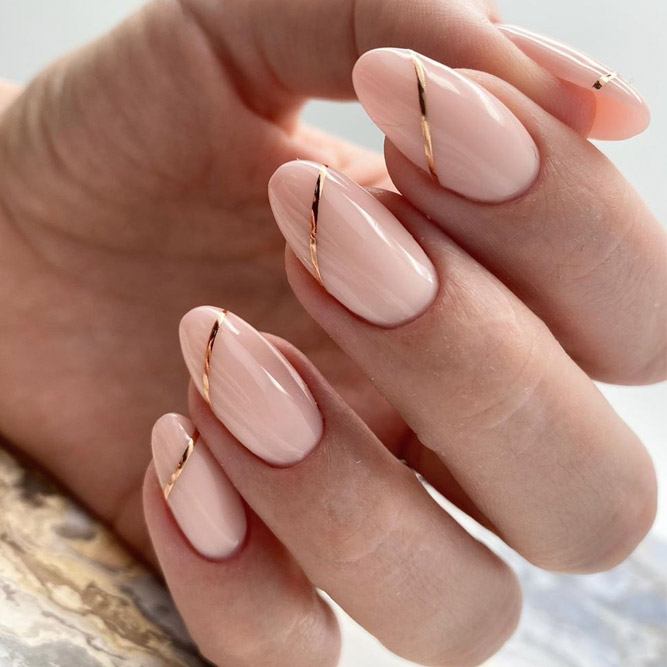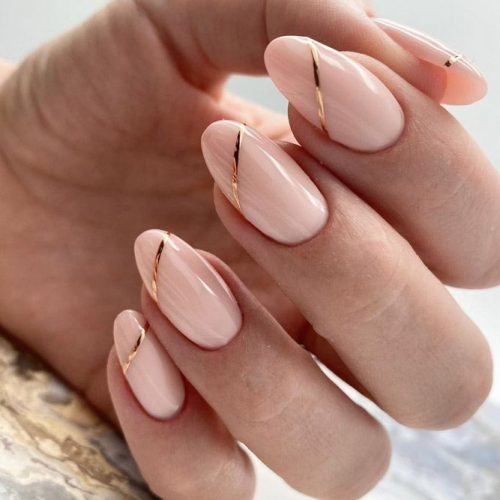 Credit: Instagram/deville_nails
The next nail design we are going to discuss is the nude long almond nails represented in this photo. The nude color is often chosen for formal events and special occasions. This color has become popular, and women from all walks of life are obtaining nude nails. This particular example has an accent design that is subtle and barely noticeable at first glance. However, when you look more attentively, there is a fine silver glitter line as the centerpiece of each ring finger nail. There are, of course, more types of accents – some are just as inconspicuous and others are more noticeable.
Simple Short Nails Design To Make Your Daily Routine Brighter
Credit: Instagram/nails_harbor
Our next example is the short almond nails. This design has a manageable length that hardly interferes with daily activities, which makes them very popular among active women. This white color on the nails in the photo is very clean and provides a very neat appearance. There are so many designs that can be added to nails – it is simple to mix and match them to make your nails unique. Cool nail designs such as appliques, rhinestones, accents and even custom phrases make each mani customer specific.
Red Acrylic Almond Nails Design For A Special Occasion
Credit: Instagram/nails_harbor
These show-stopping red almond nails are stunning with their deep rich red color. While these nails aren't considered short, they are still of a manageable length as to not impede activities too greatly. There are several types of accents that could be chosen to go with this design, but the shimmer accent works beautifully with this color choice. There are gel and acrylic options with the acrylic nail being the more affordable option.
Beautiful French Manicure Design
Credit: Instagram/kastalia_nails_studio
This classic look of the French almond nails is fit for absolutely any occasion. The natural finish with the white tips is a timeless look that is very popular. It is suitable for office, daily and even formal occasions. The classy look of this style appears well on the CEO of a corporation as well as a stay-at-home mom and knows no bias toward either class of woman. Typically, the soft pink color is customary for this design due to the natural look of a nail bed.
Pink Nails For Real Princesses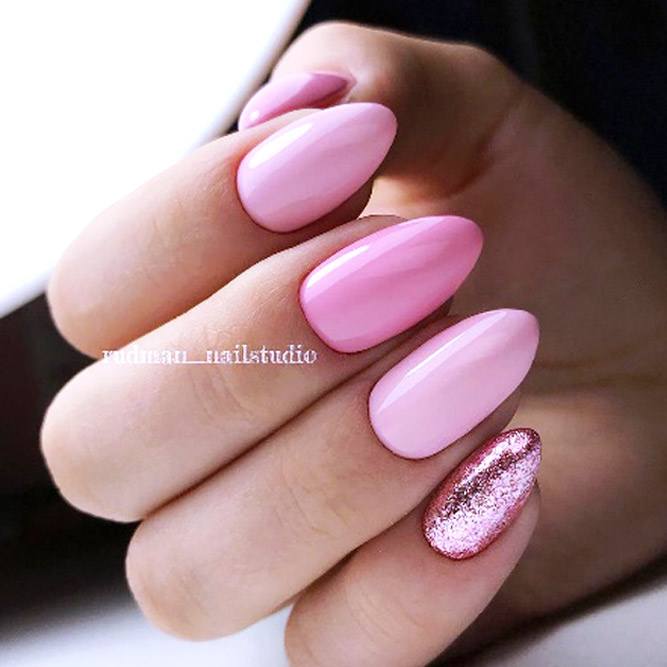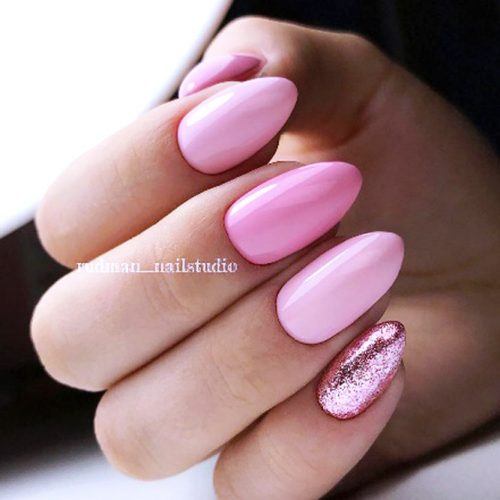 Credit: Instagram/rudman_nailstudio_nsk
If you have a modern-day princess in your household, these pink almond nails may be exactly what she desires. The subtle pink color is a perfect color for her to show her girliness without seeming too overpowering. This model has had a glitter accent applied to the pinky fingernail, and the flash of this accent really pops. There are various shades of pink, from pastel pink like in the above photo to dark or hot pink, that would also look great on this nail design.
Black Matte Design For Almond Nails
Credit: Instagram/rudman_nailstudio_nsk
Matte black almond nails are super cool. The matte black color gives your acrylic nails an edgy appearance. The most popular features of nail designs today are the accent designs that can be added to any nail job. This unique accent has a marbled look with a silver line, adding a great contrast and blend with the main nail design. Marble nails become very popular as a design all on their own. Their chic style screams class and fashion.
Bright Glitter Ombre Nails For A Party
Credit: Instagram/nails_harbor
The next almond nails design we are going to discuss is this glitter ombre. The sparkle in this design is festive and ready for a party. The neat design of glitter spots fading into glitter tips accompanied by solid glitter nails is a gorgeous look. With just enough of the red ombre to keep the option open for a blood red and other various shades of red, this color is perfect for any party scene or everyday wear.
Cute Nails Design To Express Your Feelings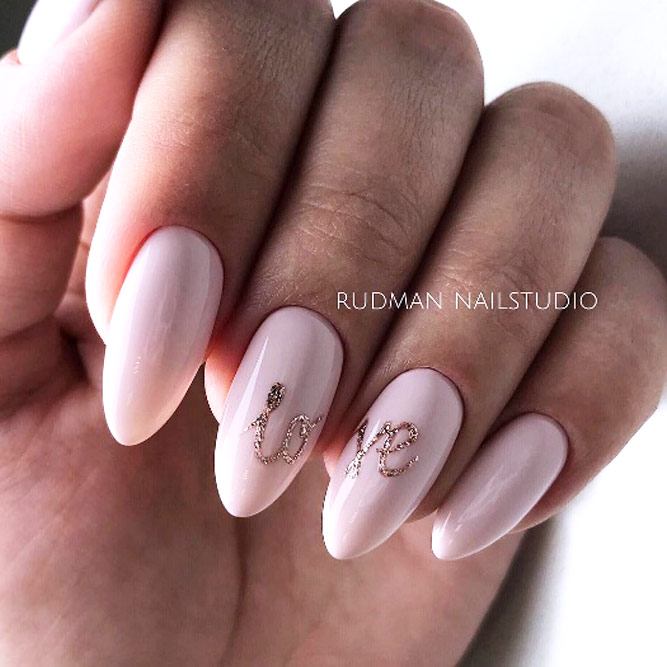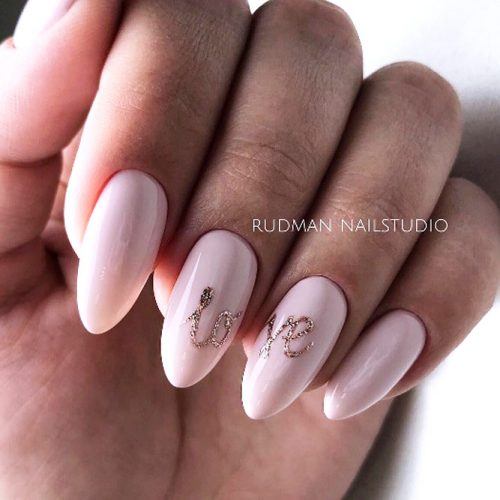 Credit: Instagram/rudman_nailstudio_nsk
One of the hottest new trends in the nail industry is the cute almond nails. This style of nails will probably be around for a while due to their wild popularity. If you desire to bring fashion all the way to the tips of your fingers, there are ways to use your nail design to accessorize your overall look with chic nail designs. The nude color on these nails is a look that is suitable for a woman who wants to add style while not being too flashy. The custom glitter accent in this design is also a feature that we adore. The aesthetician has used glitter polish to spell the word love on two neighboring fingers. Since the design is topped with a couple of coats of clear lacquer, this design will last for a long time without worrying about damage.
Navy Blue Almond Nails For Dark Colors Lovers
Credit: Instagram/nails_harbor
This gorgeous navy-blue color is a perfect choice for those who love dark colors but want to do something other than the typical black. The gorgeous half moon design on the ring finger is subtle yet glamorous. This type of an accent design is sometimes not as popular due to the rigidity of the design. Other accents are covered with clear lacquer.
Nude Matte Nails With Crystals
Credit: Instagram/zhenya__borisova
It is always a good idea to play around with different finishes and effects for your mani. If you want to spruce up your nude matte almond nails, decorate them with multisized crystals. In this way, they will still retain their elegant flair while gaining a glamorous twist.
Bright Matte Nails Design With Crystals Accent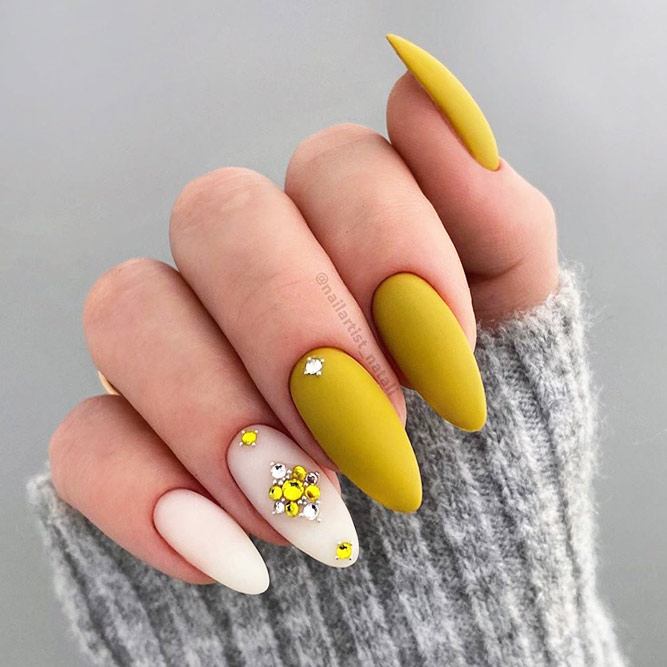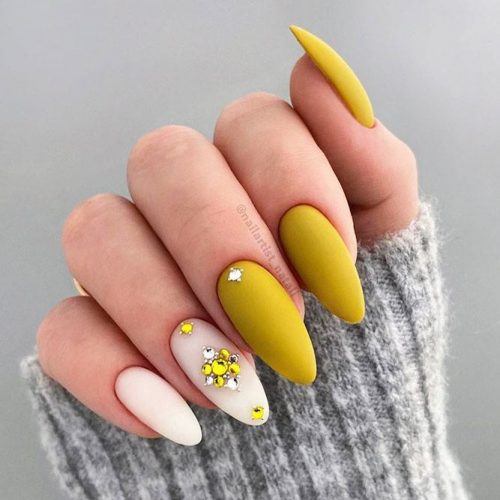 Credit: Instagram/nailartist_natali
To give your manicure a luxurious air, you can cover it with a matte top coat. This will add a velvety finish and a posh feel to your nails. If you are looking for an unusual color solution, opt for a chartreuse nail shade, which is all the rage now. Accentuate a couple of nails with crystals for a finishing snazzy touch.
Nude Nails With Crystals
Credit: Instagram/nail_sunny
Even such a low key manicure as nude may gain a glaring turn when adorned with crystals. Do not choose too big ones though, as they may look a bit flashy. Opt for petite gems instead, which seem elegant and tasteful yet quite prominent against your nude almond nails.
Almond Nails With Flowers
Credit: Instagram/kgrdnr, Instagram/kgrdnr, Instagram/xtinemayyy
Magic Galaxy Nails Designs for Almond Nails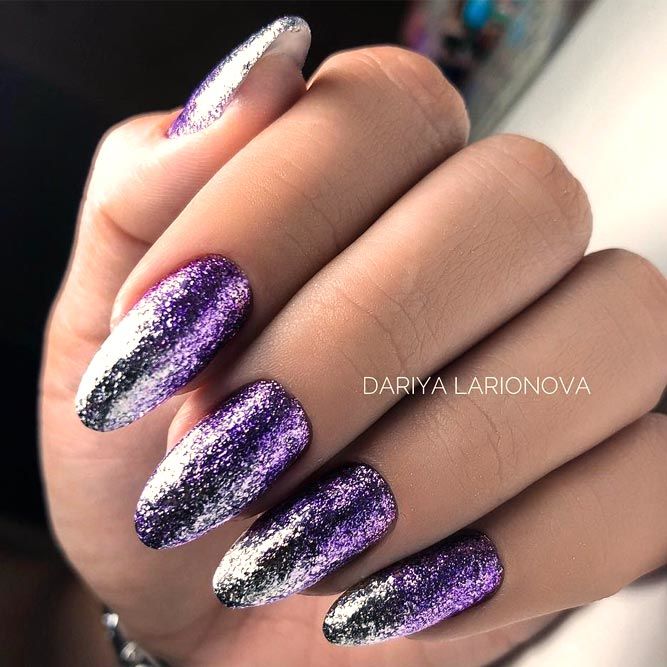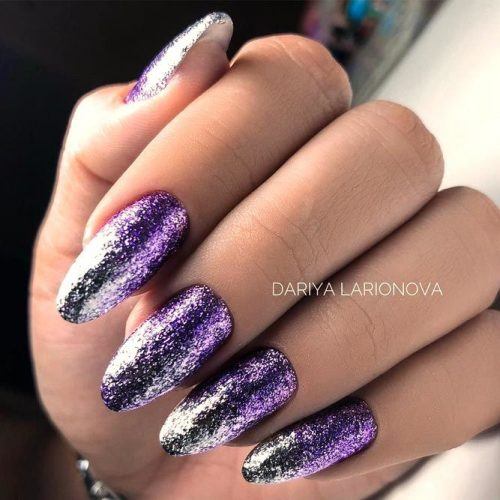 Credit: Instagram/dariya_larionova_nails, Instagram/nailartbyfrida, Instagram/jadetangtheartist
These dazzling, trendy, desirable, futuristic nail art ideas appear alluring and will complement any image you prefer. Let cosmos be closer to you.
Cool Almond Nails To Inspire You
Credit: Instagram/nail_sunny, Instagram/merlin_nails, Instagram/nailcocktail
Credit: Instagram/alena_sonina_nail, Instagram/nailartist_natali, Instagram/zhenya__borisova
These cute popular nail art ideas are so attractive that we cannot take our eyes off them. Pick the one that fits your personality, mood, and occasion.
Colorful Eye-Catchy Almond Nails to Make Your Look Bright
Credit: Instagram/irina_nails_msk, Instagram/crazynails_studio, Instagram/we_nail_you1
Credit: Instagram/boskietwice, Instagram/id_nails_space, Instagram/boskietwice
These saturated and vivid colors are really fancy, how do you think? When it comes to the bright manicure, all the limits blur. Try various combinations and adornments for a totally hot look.
Glamorous Nude Almond Nails for Any Outfit
Credit: Instagram/indigolune, Instagram/flossgloss, Instagram/indigolune
Nude nail art ideas are totally in nowadays, like everything nude. It's because nudes will work for any outfit, either elegant or more casual.
Pink Nails for the Real Princesses
Credit: Instagram/naild_by_nina, Instagram/boskietwice, Instagram/nail_sunny
Nail art ideas in pinks will be ideal for babes who are into a girly look. These nail designs are trendy and will let you show off the attitude for pink you share.
FAQ: Almond Nails
Do almond nails look good on everyone?
Almond nails are definitely attractive nail shape that looks good on everyone. It is a classic and elegant shape that can be as long as your nails permit. This shape elongates the fingers and makes them look skinnier, so extremely long almond nails aren't advised for people with already thin and long finders. Moreover, long almond is more prone to breakage.
What do almond shaped nails say about you?
You are elegant and feminine; you are always ready to try new things out although you like giving them some consideration first. You like facts and details, you are professional and good at making a nice first impression. Basically, you have your life together and have no idea why your co-workers don't like the clicking sound your nails make when you type.