Exquisite Luxury Nails Ideas To Try Out
Nail art fashion is always changing since these days there is not a day without something new to hit the spotlight. That is why it is quite understandable that it is hard for average and busy ladies to keep track of all the newsflashes available. However, a special occasion can come right out of the blue, and you are bound to be prepared, right? For times like that, we have compiled an exclusive collection of luxury nails ideas that will fit in any occasion and will make you the center of attention no matter where you are headed to! Let's have a closer look, shall we?
Luxury Nails With Dazzling Crystals And Studs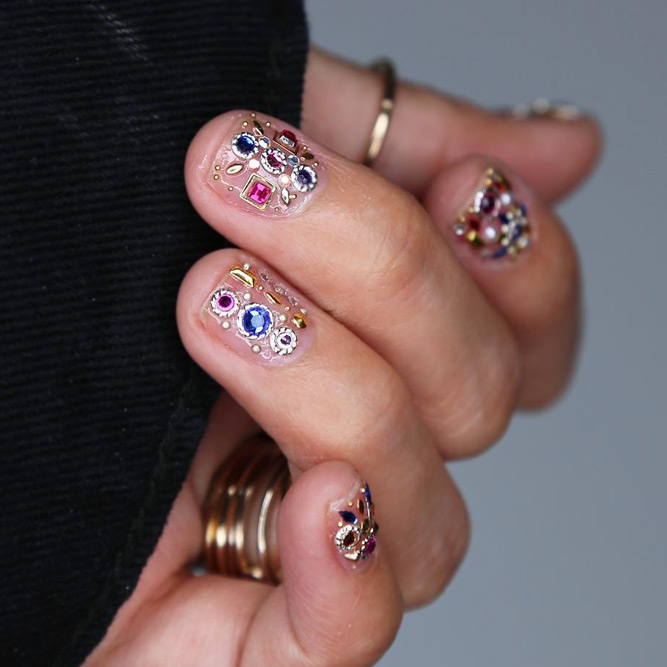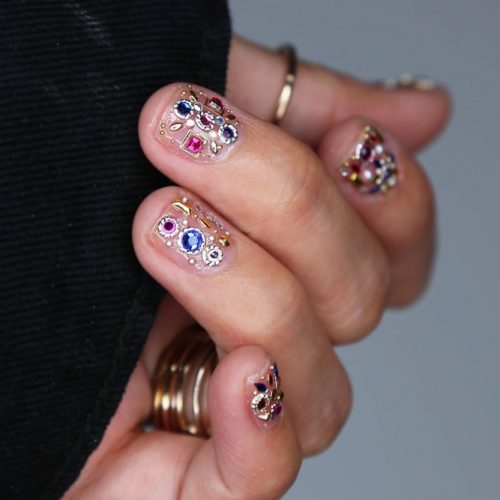 Source: nail_unistella via Instagram
It is true that not everyone can show off long nails, but the fact that your nails are short does not mean that the can't look fabulous. Add some sparkly gems to your nails as shown in the example and you will surely shine bright like a diamond.
Delicate Piercing Accent For Unusual Mani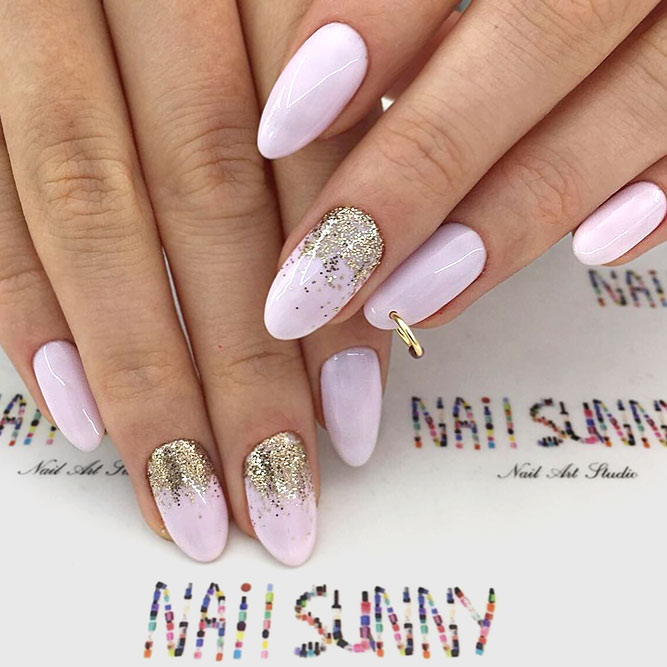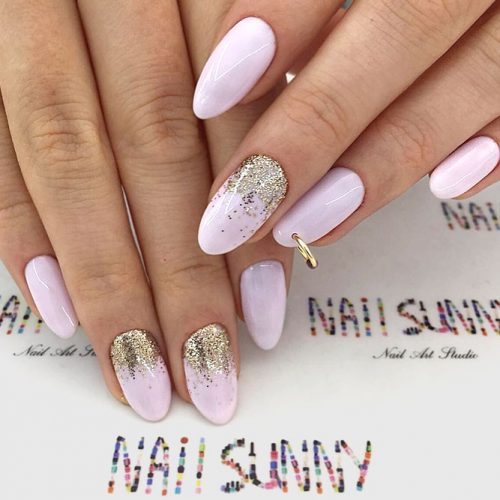 Source: nail_sunny via Instagram
To look unique, you do not need to go over the edge with your manicure. Sometimes all that you need is the pale pink base adorned with gold glitter ombre and with one particular detail that will add your nail art that unique vibe – cute piercing!
Gorgeous Gold For Rich Nails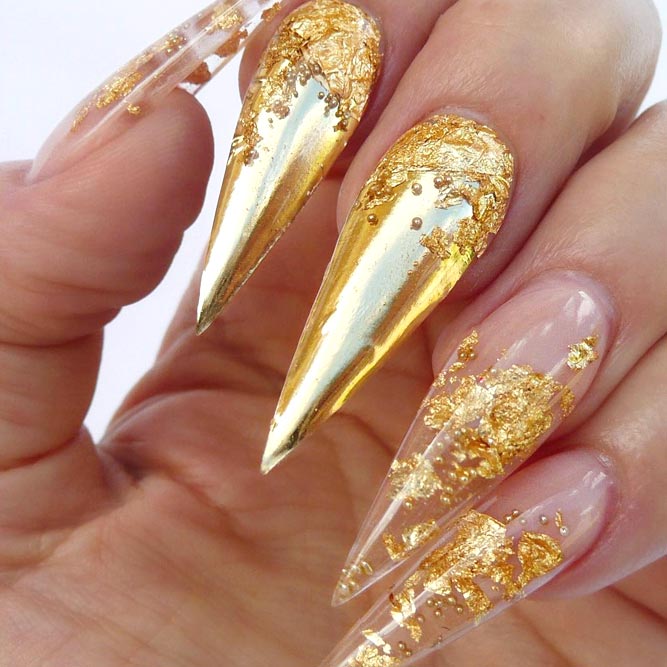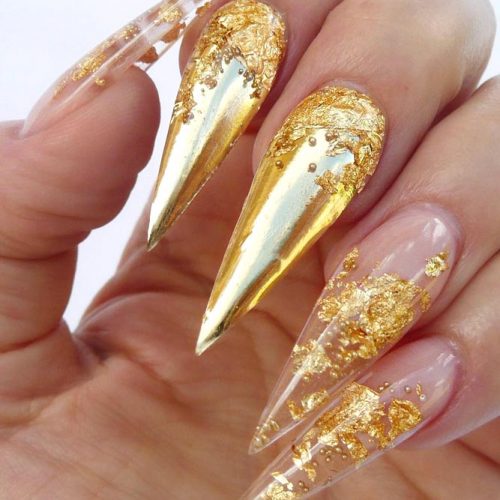 Source: luminousnails via Instagram
If there is a need to go full-in – do not resist it! Gold metallic nails look lovely especially when combined with the stiletto shape. With acrylic nails like these, there is not a chance that you will go unnoticed no matter where you go!
Luxury Nails Decorated With Tender Pearls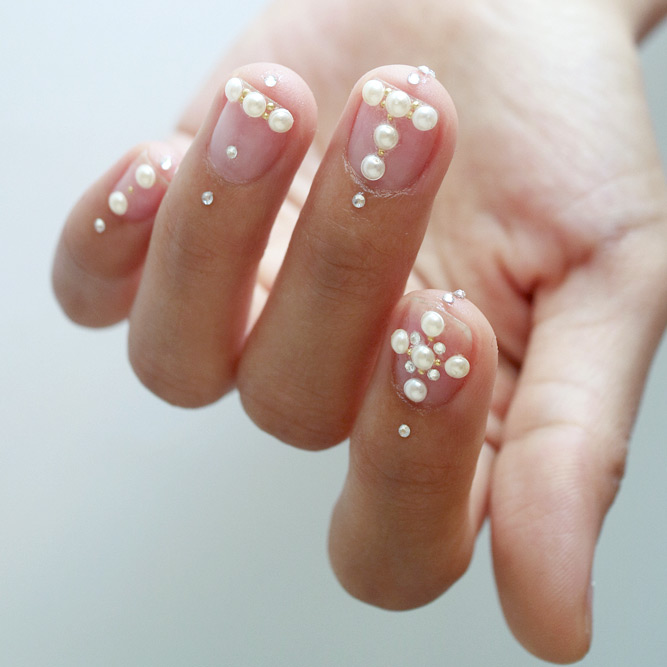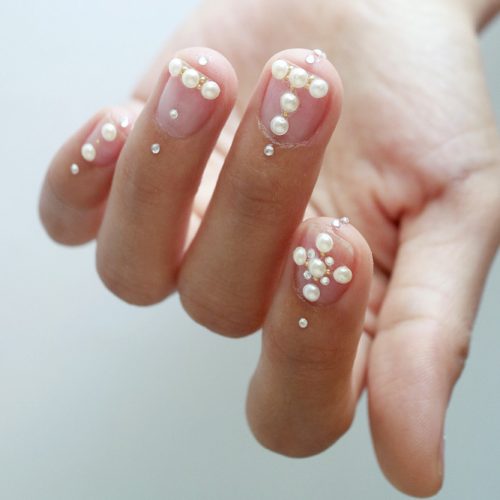 Source: nail_unistella via Instagram
The truth is that luxurious nails can look gentle and ender at the same time. All you need to do is to decorate your nails with beautiful pears, and the result will be mind-blowing!
Incredible Half Moon Mani With Blinking Rhinestones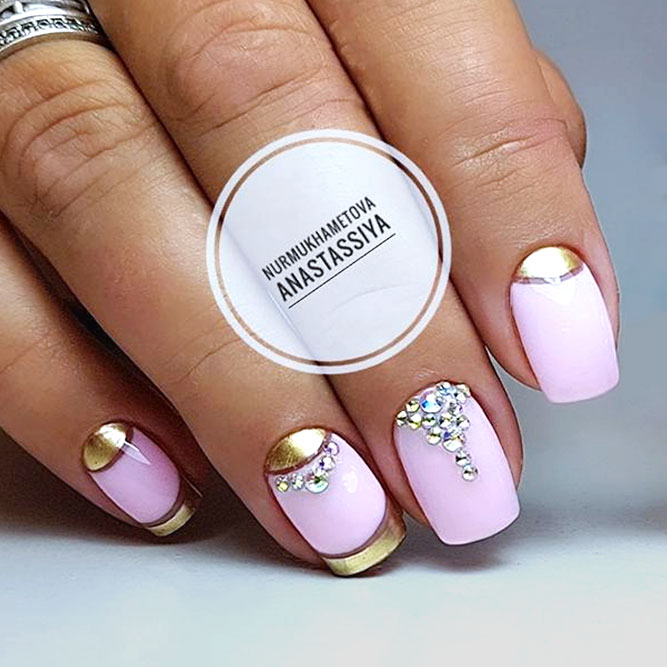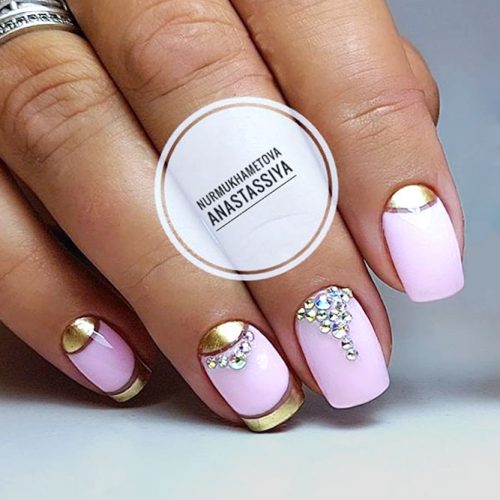 Source: nurmukhametova_anastassiya_ via Instagram
Classic nails can fit the special occasion as well, all you need to do is to come up with a suitable design, which is something we have already covered for you. The thing is that pale pink nails with gold half-moon design adorned with the intricate rhinestone pattern.
Gold Glitter Fade To Complete Your Trendy Look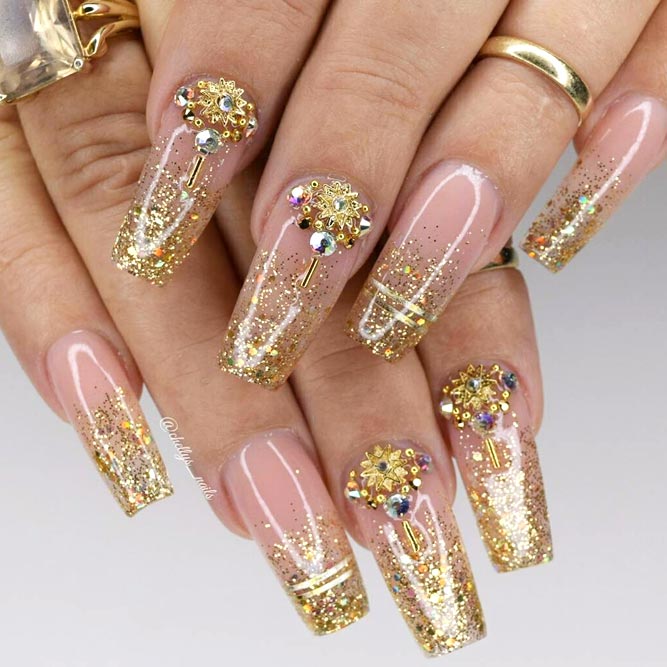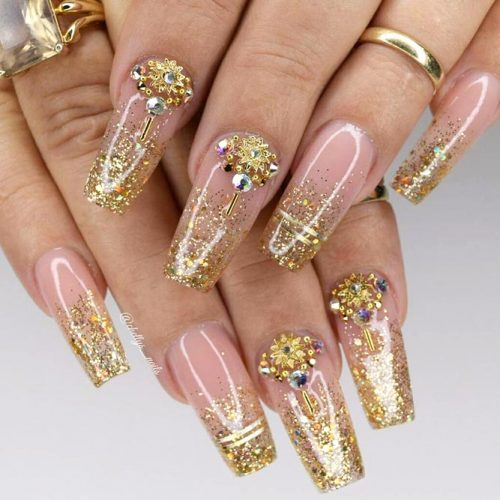 Source: chellys_nails via Instagram
Gold glitter is undoubtedly one of best things to play around with when it comes to the creation of luxury nails. However, glitter is not the only thing that makes this design as awesome-looking as it is, a few studs and some negative space count too.
Matte Red vs. Silver Shine - Simple Yet Elegant Idea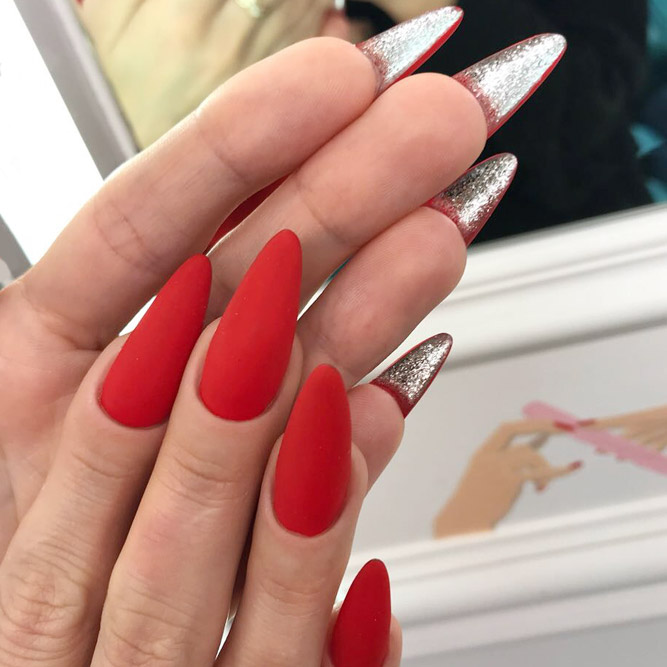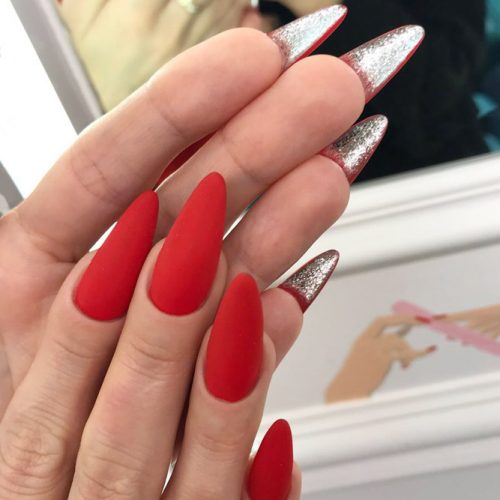 Source: nail_sunny via Instagram
There are times when you just do not feel like stepping away from the tradition, and that is when you opt for classy red nails. Yet, to add some elegance and trendiness to the design, we suggest you choose a matte finish and silver shine as well.
All Foiled Luxury Nails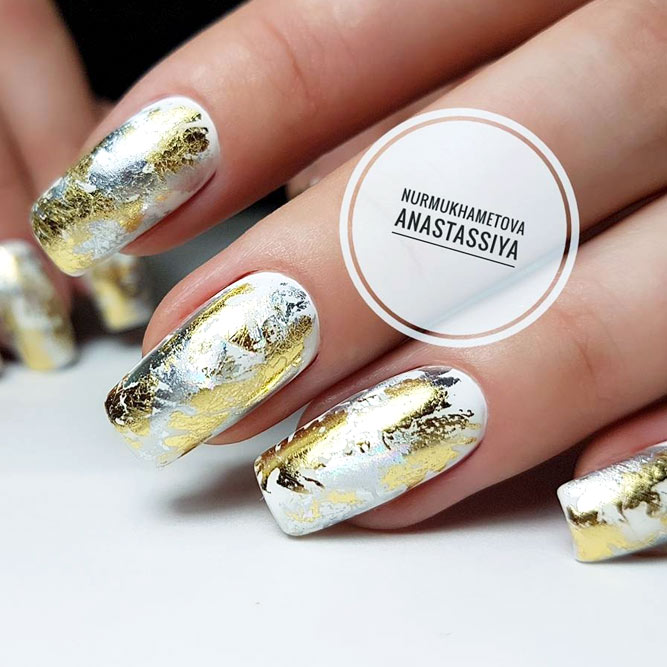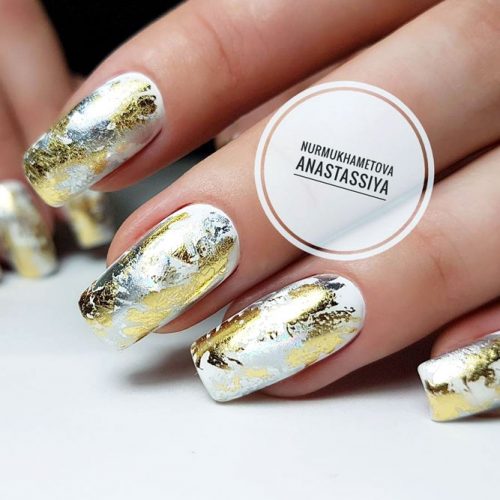 Source: nurmukhametova_anastassiya_ via Instagram
Transfer foil truly deserves a special place in the world of modern nail fashion. The truth is that it is extraordinarily easy to use and the outcoming designs are always breath-taking!
Beautiful Nails With Royal Rhinestones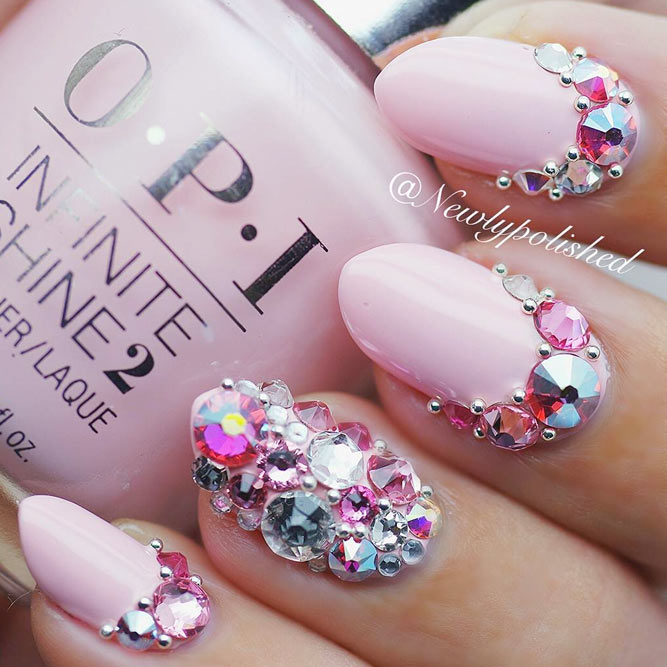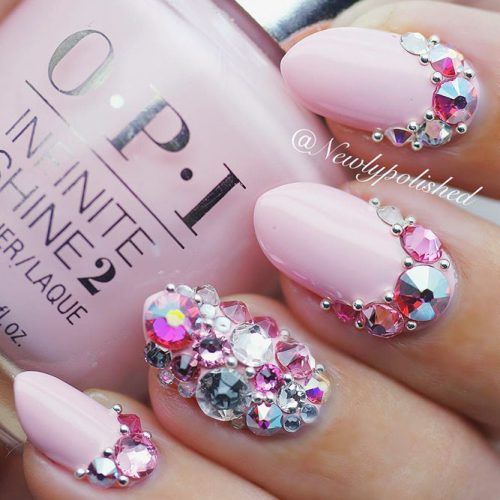 Source: newlypolished via Instagram
There are so many things that you can achieve with the help of rhinestones that it is hard to list all the options. However, if you are looking for something both quite reserved and gorgeous, we may have a perfect idea in mind. The thing that the combo of the baby pink base and intricate rhinestone patterns is precisely the best way out.
Luxury Nails Decorated With Intricate Gold Pattern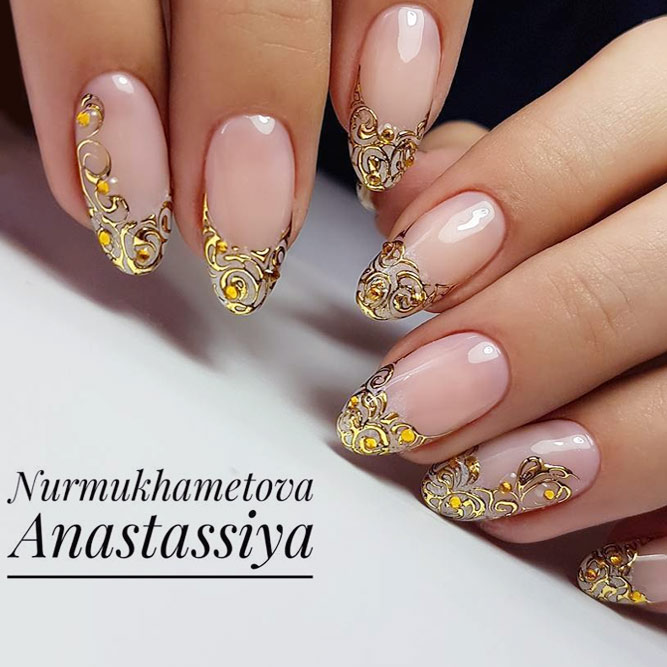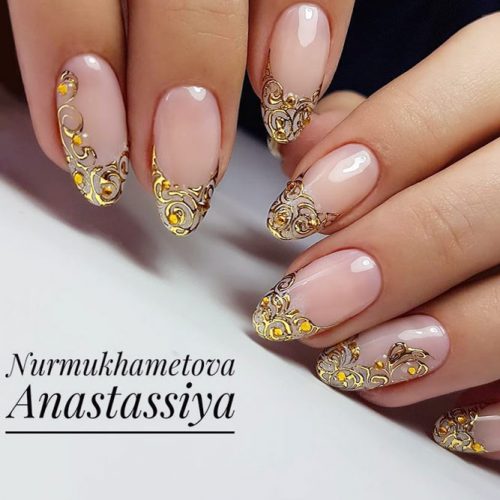 Source: nurmukhametova_anastassiya_ via Instagram
Details matter when it comes to your nail art. That is why this exquisite gold pattern looks so marvelous even though there is nothing more added to the manicure. Beauty comes in simplicity.
Bold Combination Of Chrome Nails And Crystal Accents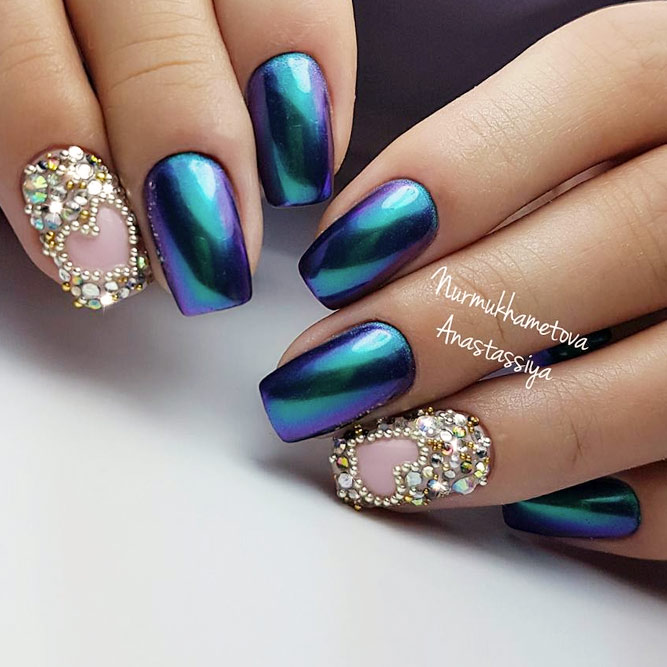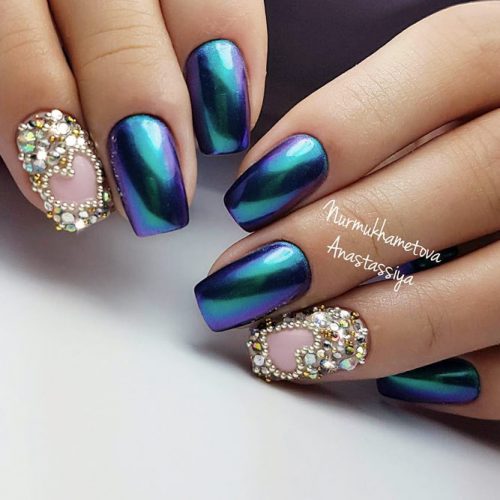 Source: nurmukhametova_anastassiya_ via Instagram
The truth is that chrome nails are on the edge of popularity and if you wish to stand out then you are bound to try the royal blue chrome effect. Nevertheless, that is not just it, what makes this design so special is the crystal accent. See for yourself!
Fantastic Manicure In Rich Gold Shades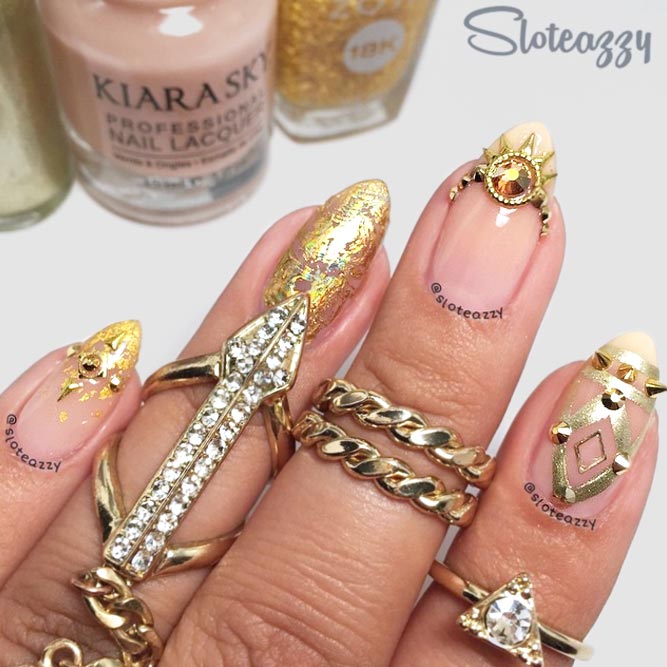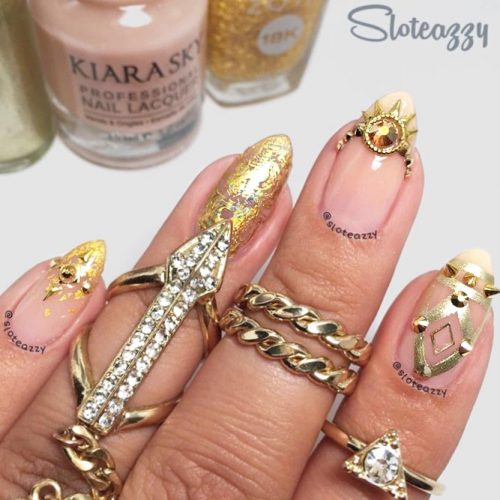 Source: sloteazzy via Instagram
If you are willing to go all the way in to achieve the most beautiful luxury nails, then this is the most excellent idea to replicate. Even though there are many gold details to this design, none of them seems to be out of place, don't you think?
Framed By Pearls Luxury Nails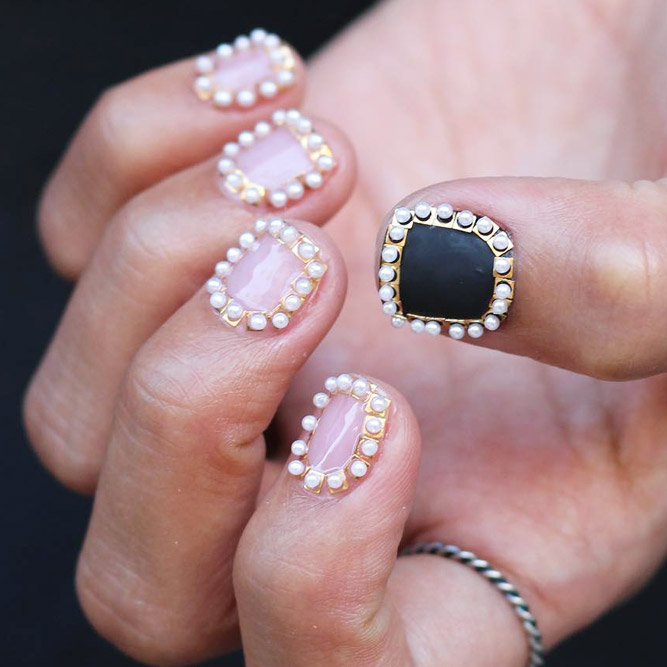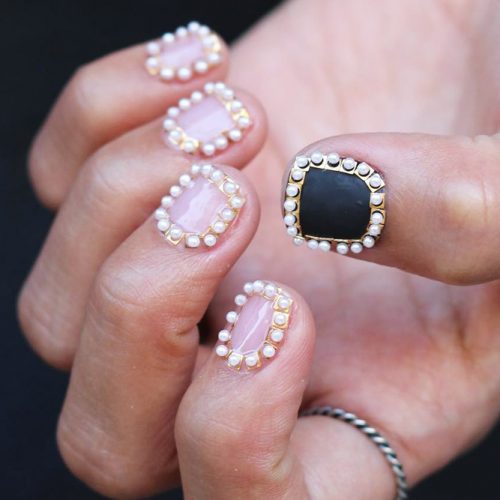 Source: nail_unistella via Instagram
Framing nails is the freshest trend out there. However, we suggest your something entirely different. The thing is that you can outline your nails not only with the nail polish but with pearly studs as well, and we must say the result is anything but ordinary!
Money Nails: Crazy Idea For Really Daring Ladies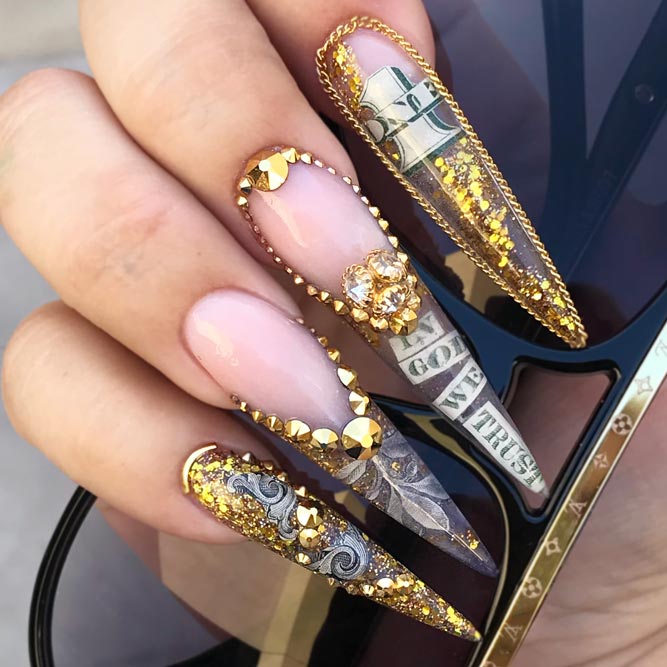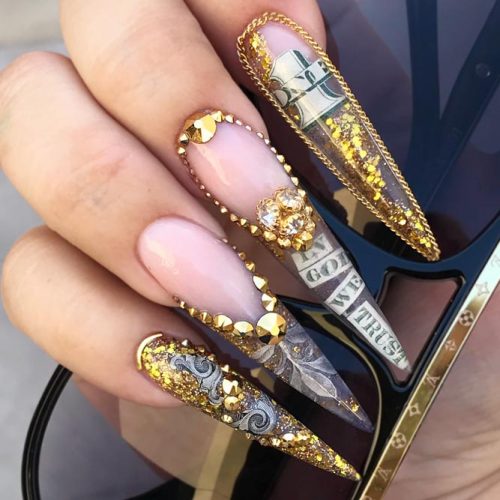 Source: thalyanails via Instagram
If you are one of those daring ladies who are ready to try out any crazy idea out there, then we have something special for you up to our sleep! The thing is that there is nothing simple about this design but the result is definitely luxurious and mesmerizing!
Magnificent Gold French Nails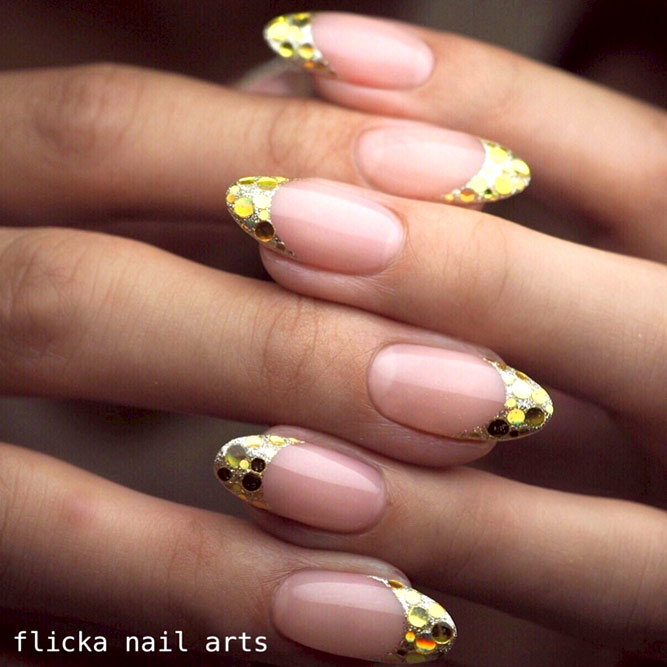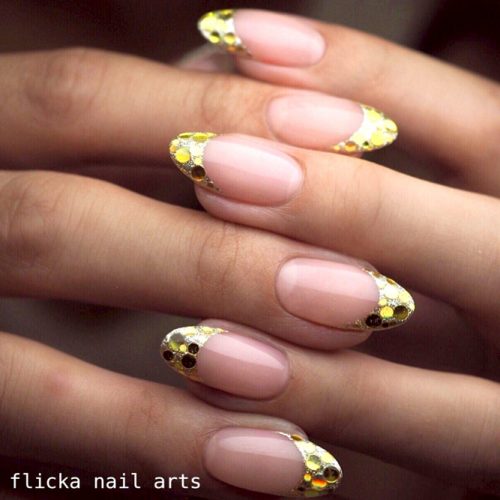 Source: flickanail via Instagram
Sticking to the basics is never a bad idea especially if you know the ways to upgrade it. The fact is that simple and classy French tip nail art can be easily modernized with gold studded tip instead of the usual white one.
Chanel Nails For Fashionable Girls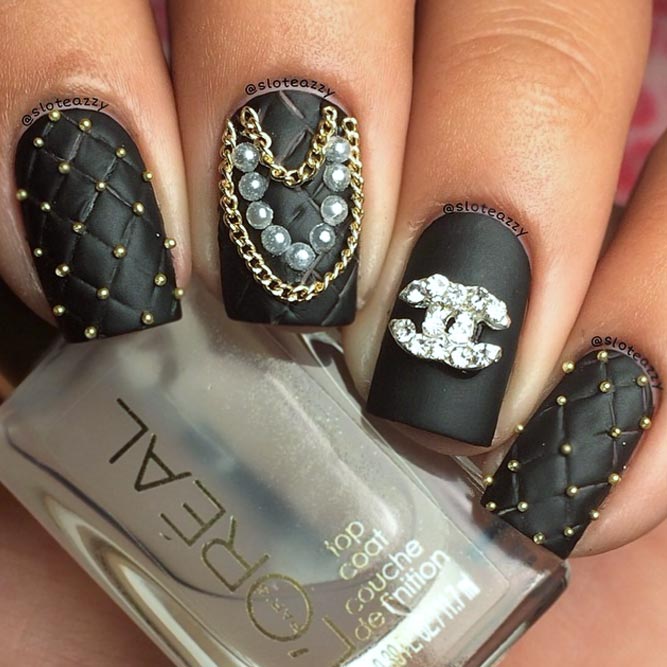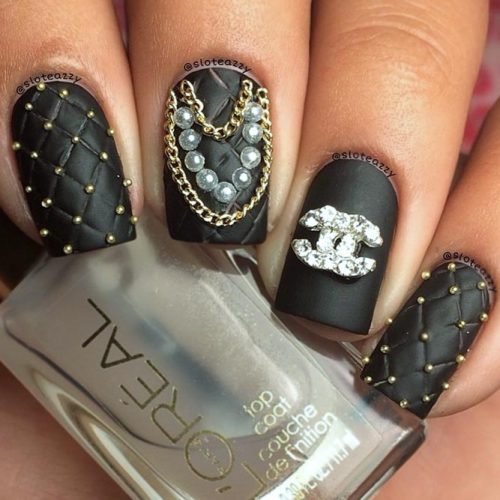 Source: sloteazzy via Instagram
If you are in love with Chanel – why not to let everyone know about it? Introduce some brand attributes to your manicure, and everyone will surely love it!
Innocent Nude Nails With Luxurious Rhinestones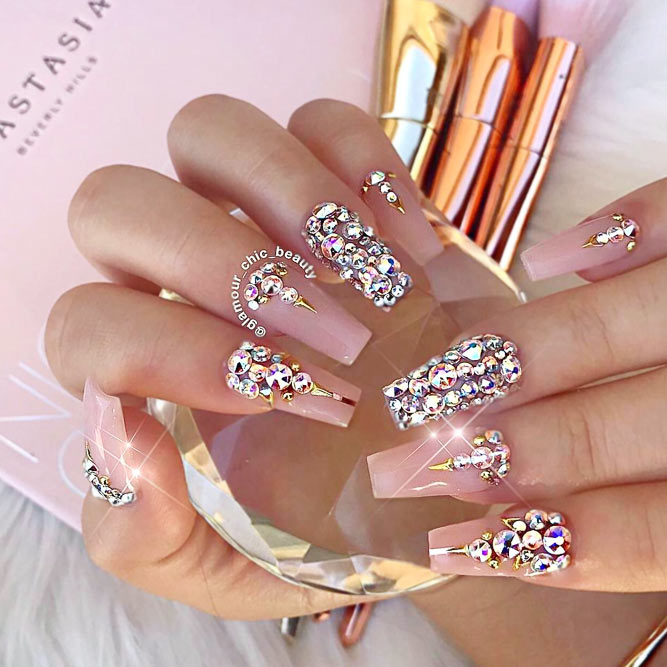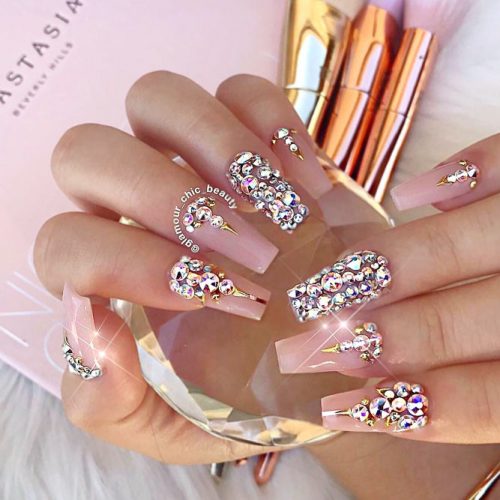 Source: glamour_chic_beauty via Instagram
Nude shades are on the edge of popularity these days yet when there is a special event in sight; you are going to need something more than just that. That is why we suggest you upgrade your nude coffin nails with adorable rhinestone patterns. The effect will be more than fantastic!
Unbreakable Golden Chains For Cheeky Manicure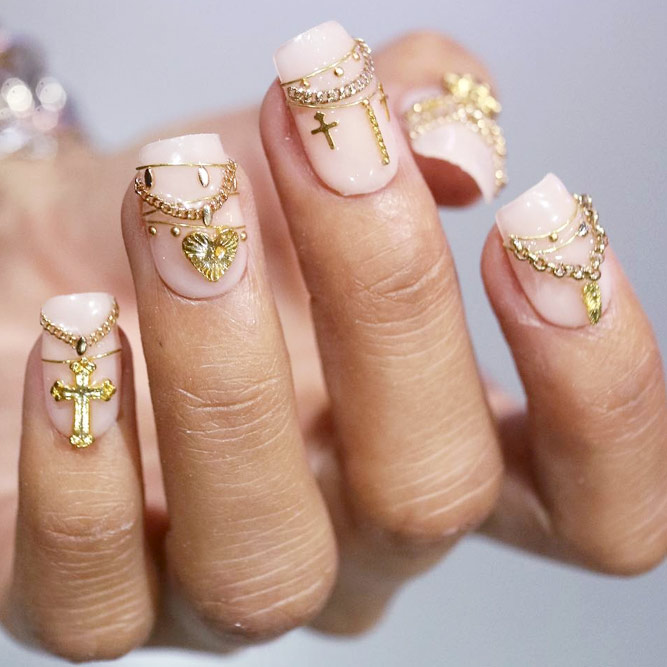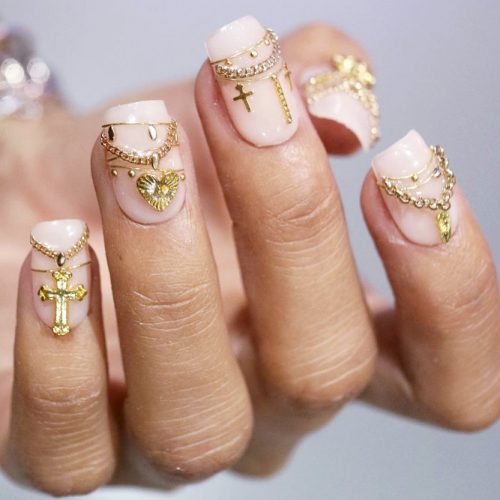 Source: nail_unistella via Instagram
There are times when the need for luxury nails look is urgent, but there is not that much time at your disposal. In times like these, all you need to do is to opt for magical 3D stickers and save the day!
Fab Transparent Nails Art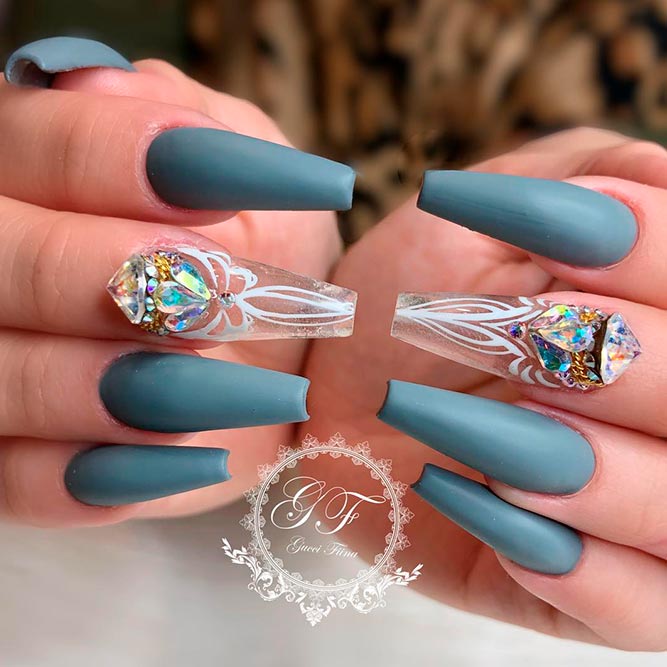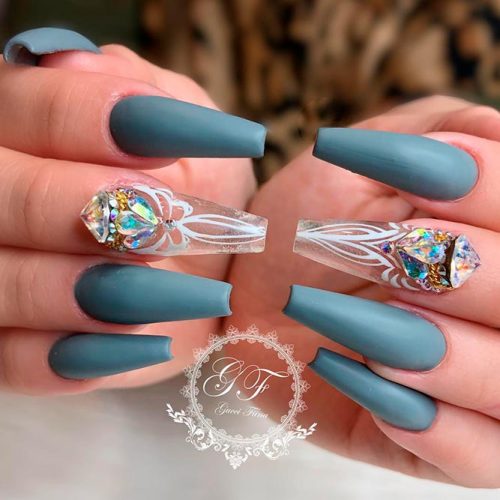 Source: fiina_naillounge via Instagram
Transparent nails can surely look like a piece of art if you know what to decorate them with suitably. Perfect rhinestone pattern stands out magnificently while the rest of your nails are painted subtle grey and a matte top coat is used.
Luxury Rhinestones Decoration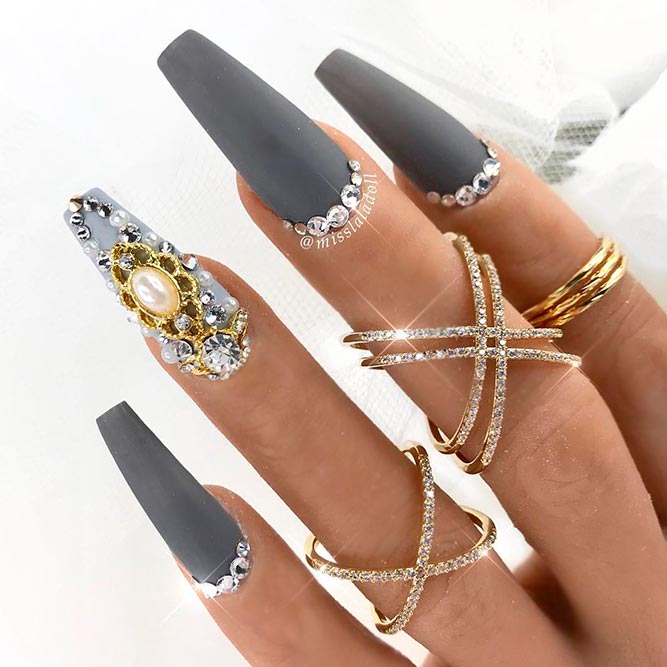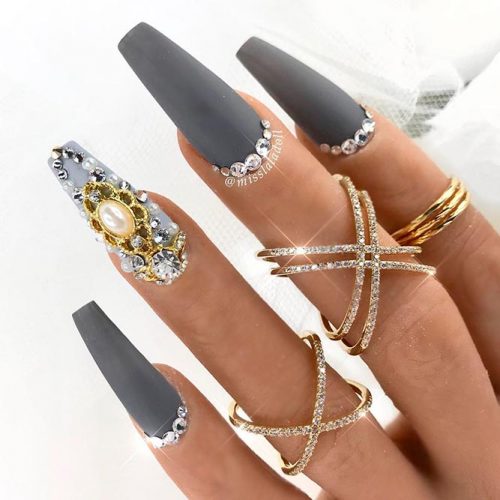 Source: misslaladoll via Instagram
When luxurious accent nail is not enough, there is always a way to spice things up. The thing is that a mesmerizing bottom line created with the help of rhinestones looks simply terrific!
Glitter Gradient Nail Art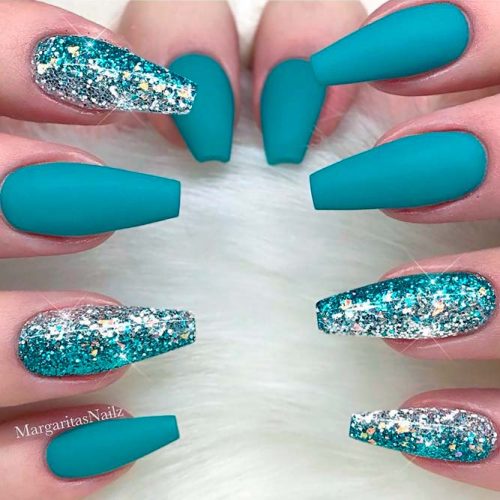 Source: margaritasnailz via Instagram
There are so many things to be created with the help glitter that it is difficult to count them all. However, when you are looking for a perfect gradients accent for your blue-shaded manicure – this may be the one!
Stunning Nails With 3-D Flowers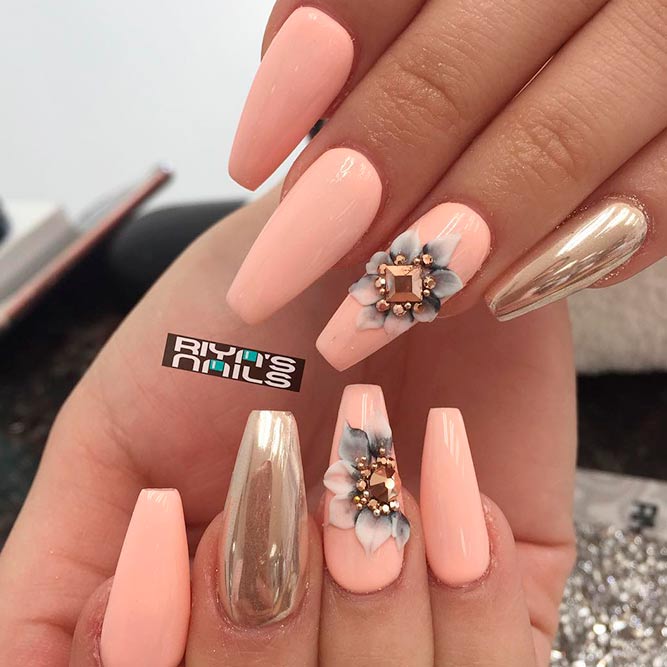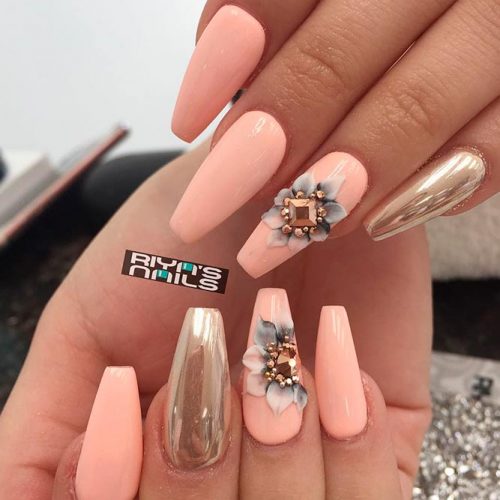 Source: riyathai87 via Instagram
Nude nail art in peach hues is quite required these days. Yet, if you are looking for an intricate and unique idea – we may have something stored for you. Beautiful 3-D floral pattern fits the design like bread and butter.
Trendy Matte Nails With Ombre Effect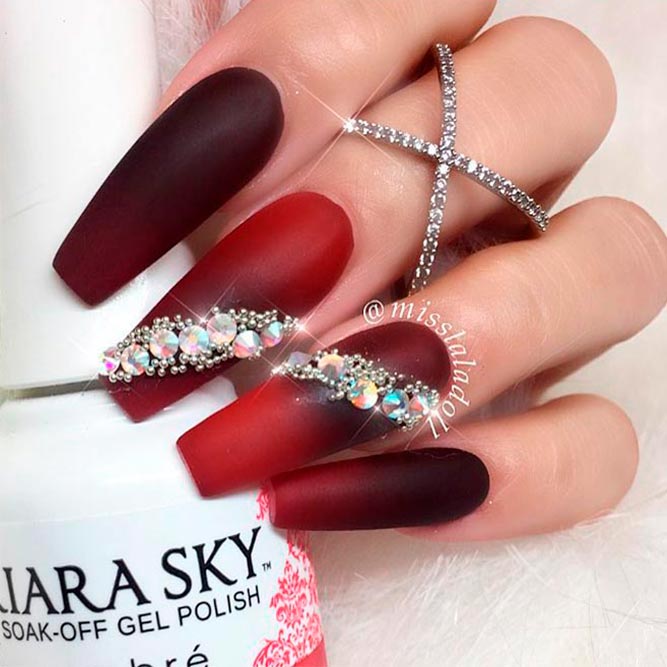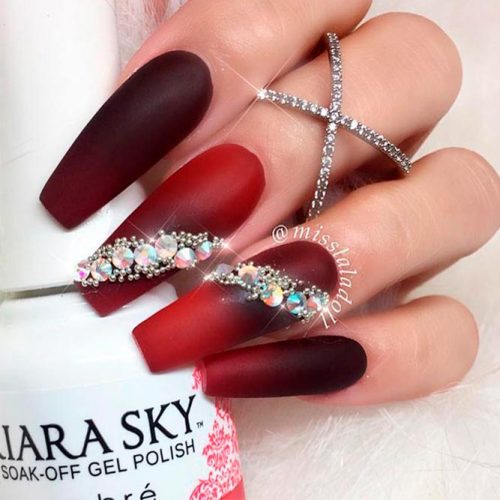 Source: misslaladoll via Instagram
Reverse ombre is undoubtedly worthy to give a thought to. However, as you can see this nail art is far more interesting due to the colors involved not to mention outstanding rhinestone pattern.
Scattering Of Rhinestones On Accented Finger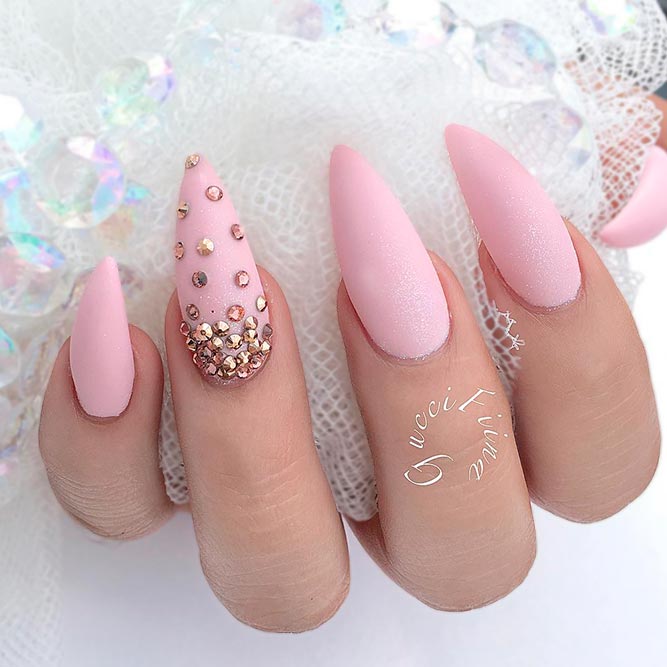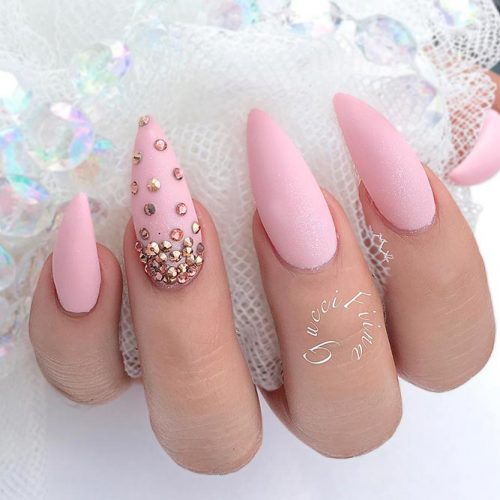 Source: via Instagram
The best way to accent your baby pink manicure would be with rhinestones. When some over the edge complex patterns are not your cup of tea all you need is a bunch of rhinestones scattered over the accent finger.
We hope these ideas come to your liking and you will share them with your friends! Do not forget to check for updates!