As the fall is approaching, it is time to choose fall nail colors. You may be leaning toward something cozier and warmer, opting for earthy and deep shades, such as mustard, navy blue, burgundy, etc. Yet, it does not mean that your manicure is going to be as gloomy and dim as the weather outside. There are plenty of bright and bold fall nails colors to choose from.
So that you do not have to look for ideas elsewhere, we have picked out the crème de la crème of them and compiled this guide. It contains an option for any taste and preferences, from dark and elaborate to simple and carefree nail colors. Your task now is to select the option that speaks to you most.
Yellow Mustard Nails For Fall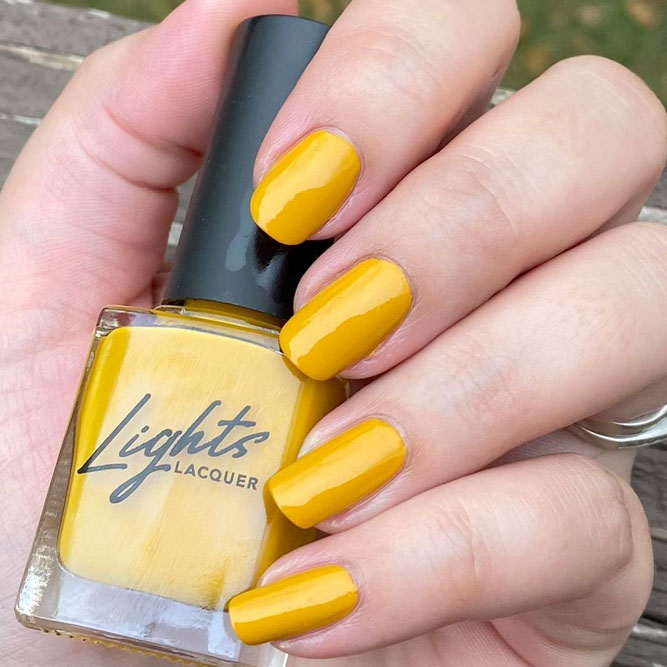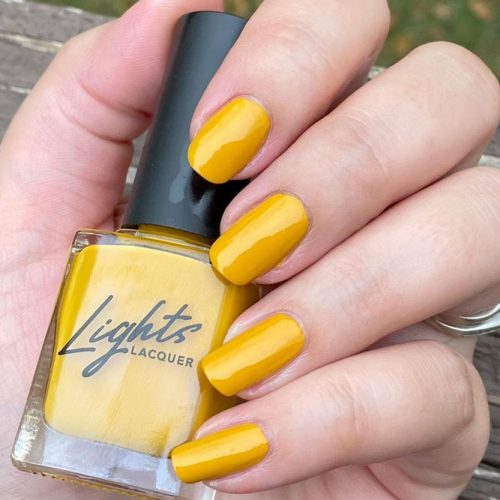 Credit photo: instagram.com/nails.ksjolund
In case you are not ready to say goodbye to the vivid green and yellow manicure yet, we have good news for you. You do not have to. Simply adjust the shades so that they match the fall mood better. To do this, you may choose a yellow mustard fall nail color. The best options can be found in OPI, which offers one of the finest nail colors for the fall, as well as Essie and China Glaze.
Mustard Nails For Fall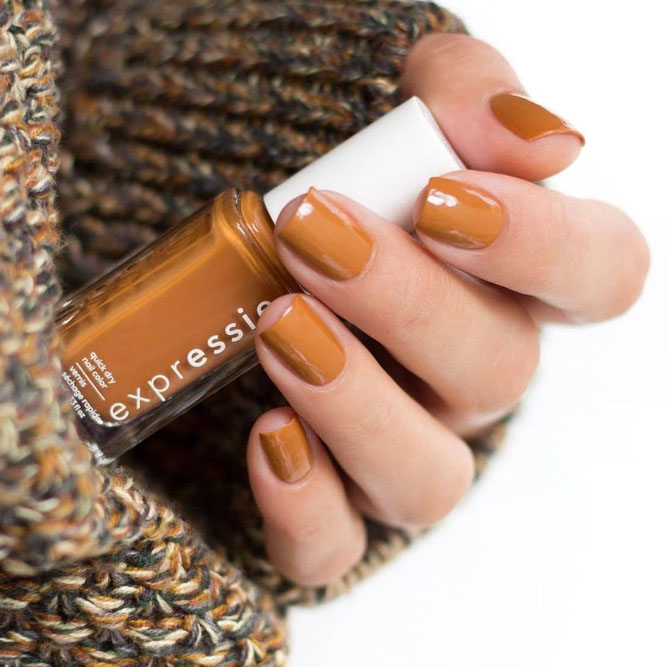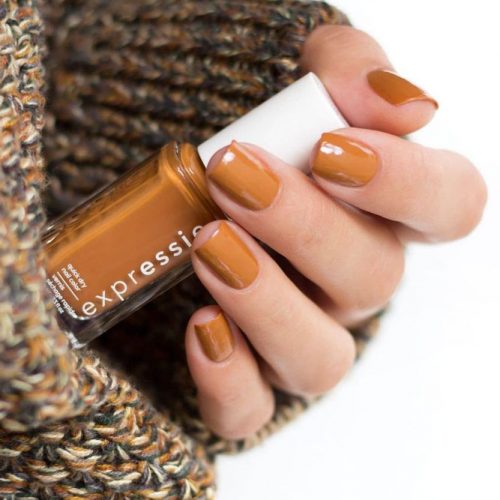 Credit photo: instagram.com/lackschaft
Mustard is one of the most popular fall color nails and not for nothing. It very much resonates with the general color story of the season, matching the shade of fallen and withered leaves. As such, in case you want to tune into the fall mood, you can hardly think of a better option than a mustard mani. Such brands as Essie, Whats Up Nails and Bluesky nail polish have the most fantastic mustard shades.
Peach Fall Nail Color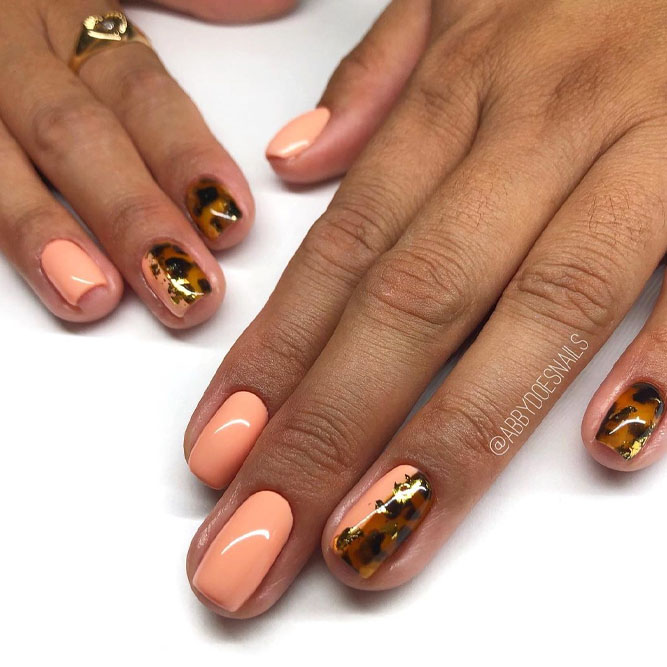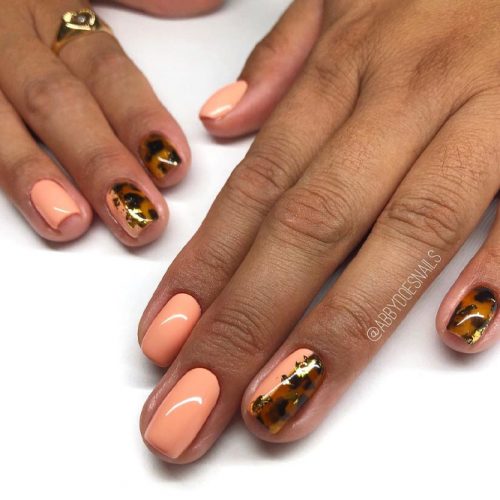 Credit photo: instagram.com/abbydoesnails
Some people believe that summer shades do not work for fall and we are here to prove them wrong. Of course, there are nail colors that you would not wear during moody fall days but this does not apply to a peachy manicure. The color is so universal that you can actually wear it all year round. Best to look for it in OPI and Essie.
Glazed Donut Nail Trend For Fall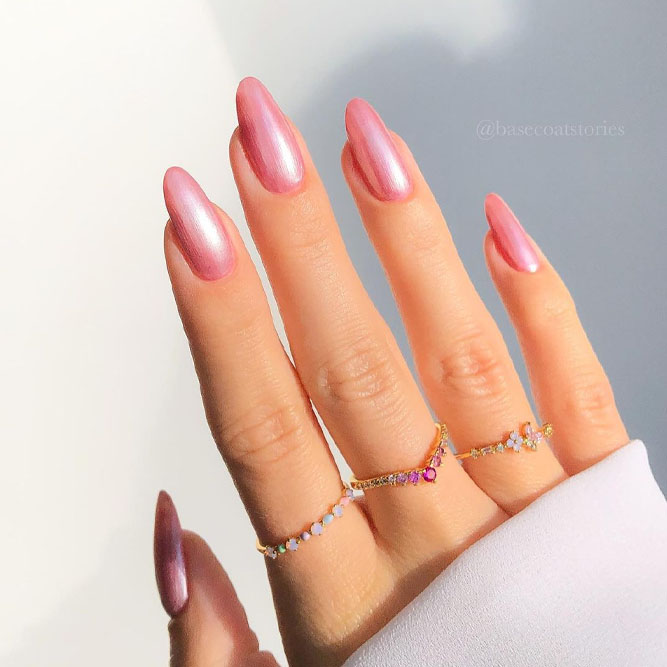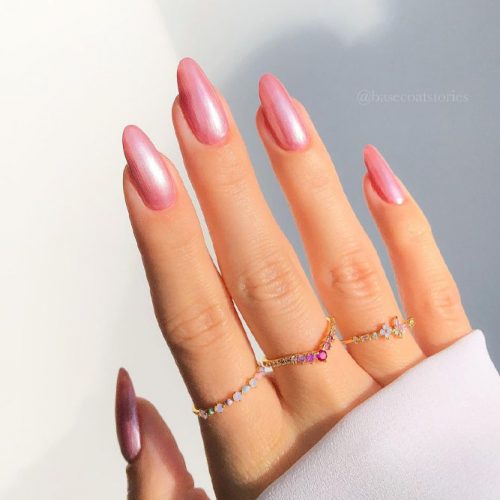 Credit photo: instagram.com/basecoatstories
Hailey Bieber's glazed donut manicure has come in very handy for fall. It is very flattering and captivating, so you are sure to fall in love with it and may even want to make it your signature mani. However, to get this trendy nail look, you do not have to visit a nail salon. You can find suitable shades in OPI nail polish and China Glaze.
Light Denim Blue Fall Manicure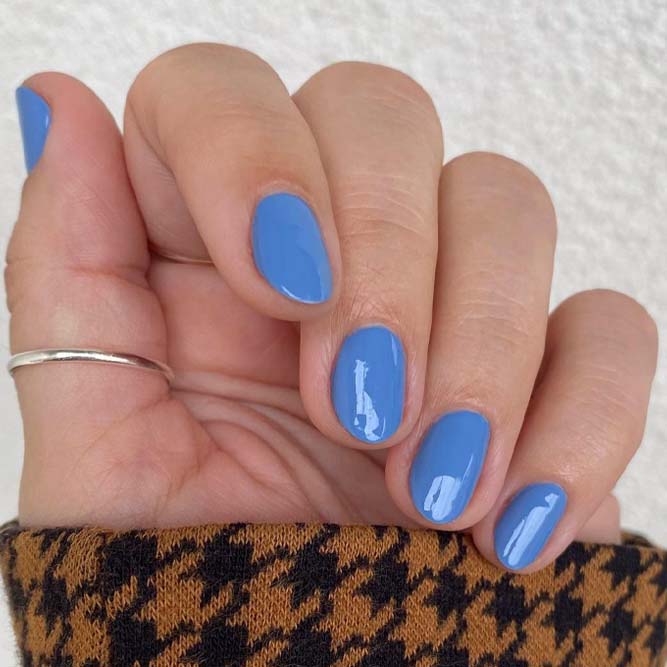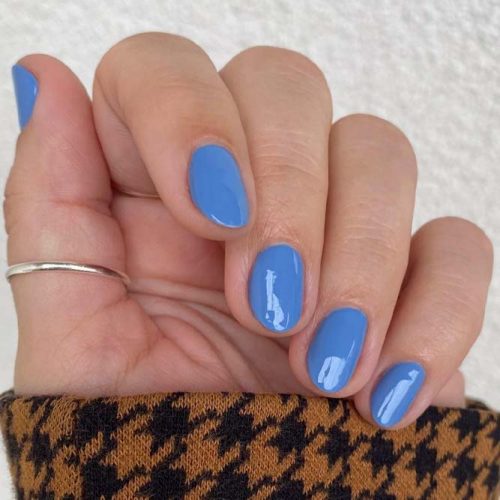 Credit photo: instagram.com/ruthsnailart
Denim blue is also very much on trend for fall nails. It is a perfect color to make a transition from a breezy summer mani to more complex winter shades. And the best part? You can wear it with any outfit, from your favorite pair of jeans and a cozy cardigan to a cashmere coat and high heel boots. Our top picks include Dior nail polish, Essie and CND VINYLUX if you prefer nail fall colors.
Dark Grey Blue Crème Fall Nail Color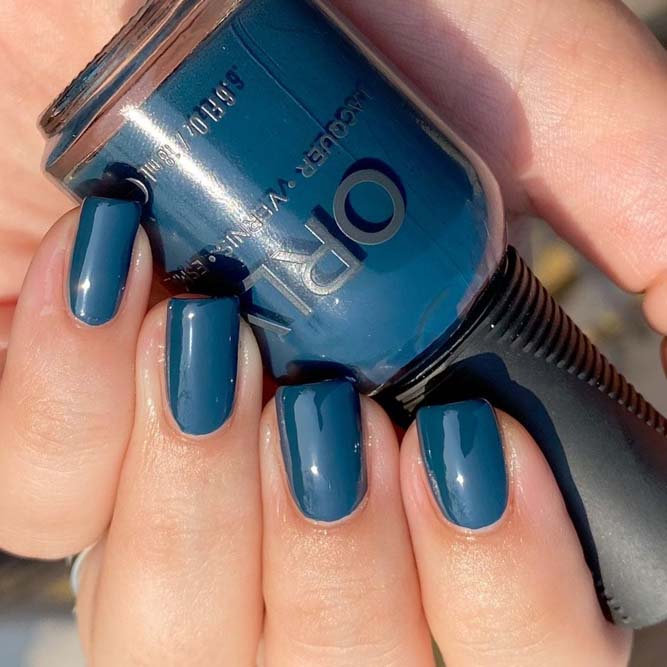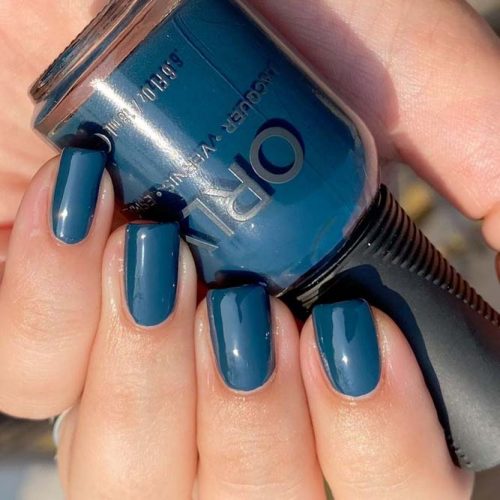 Credit photo: instagram.com/nails.ksjolund
The fall is the golden time for cream formula nail polishes. You no longer want to wear lollipop shades while it may be a little too early for shimmers and glitters. One of the best creme nail polishes may be found in ORLY polish, DeBelle, Venalisa and Essie nail polish. When deciding on the color, look for something moody, like dark gray blue.
Navy Blue Fall Nails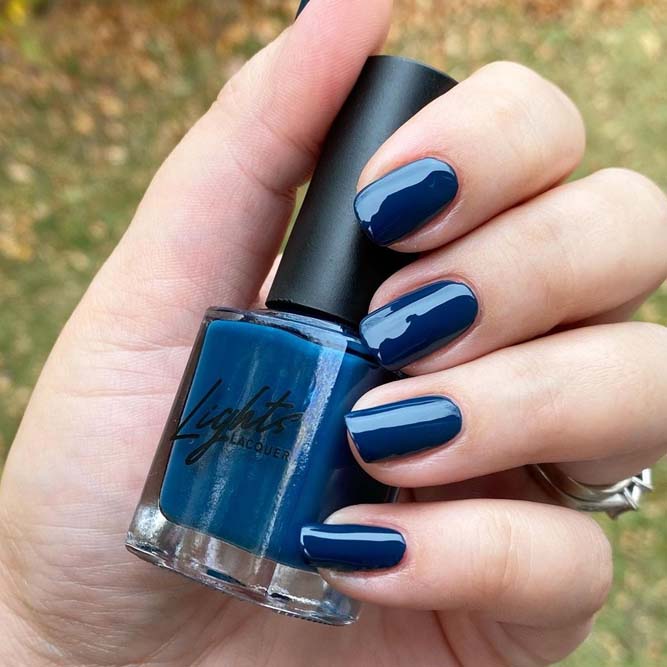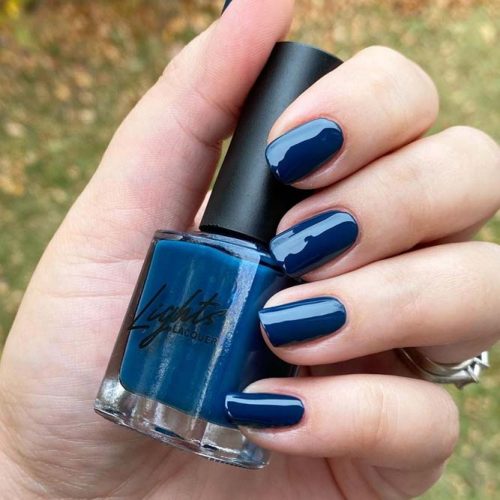 Credit photo: instagram.com/nails.ksjolund
Though, not all your fall nail polish colors should be dim or gloomy. A navy blue manicure is just as amazing for fall as any other. Plus, you will not need to repaint your nails depending on your outfit, as this shade matches absolutely any attire. Check out such brands as Zoya, OPI, Lights Lacquer and Essie gel polish for some of the best options.
Silver Chrome Fall Nail Trend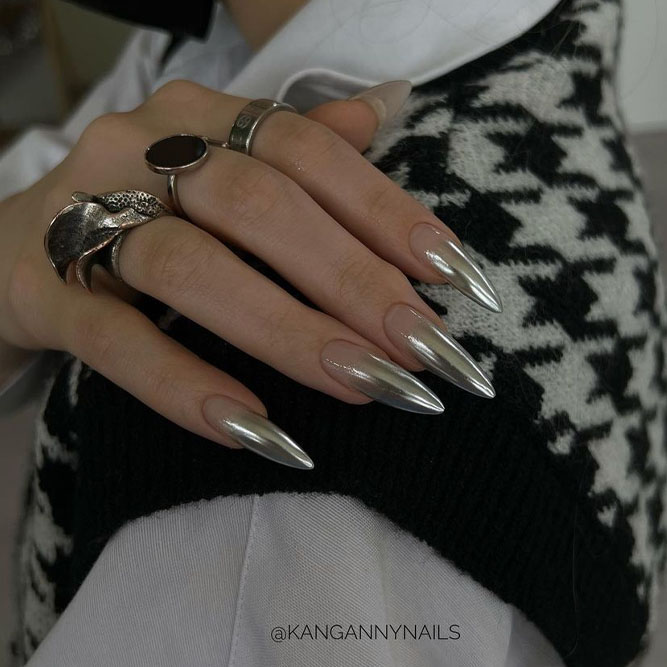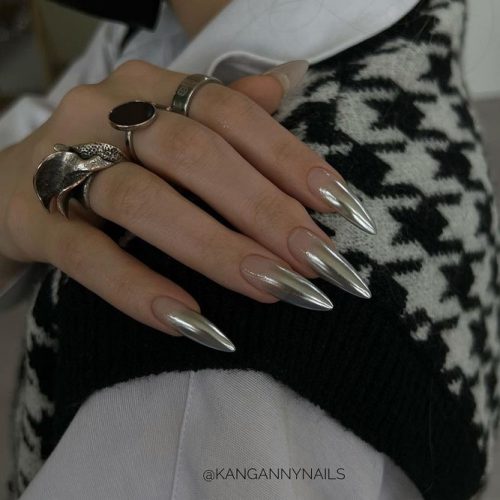 Credit photo: instagram.com/kangannynails
Silver chrome mani is one of the trendiest fall color nail designs this season. No wonder every reputable brand offers this shade, including Sally Hansen, Zoya, Olive & June nail polish and DeBelle. While you can get the desired effect with the help of a nail polish, for more impact, you can go for chrome dip powder nails fall colors. The powder should be applied over a light base or even a silver chrome one.
Dark Grey Fall Manicure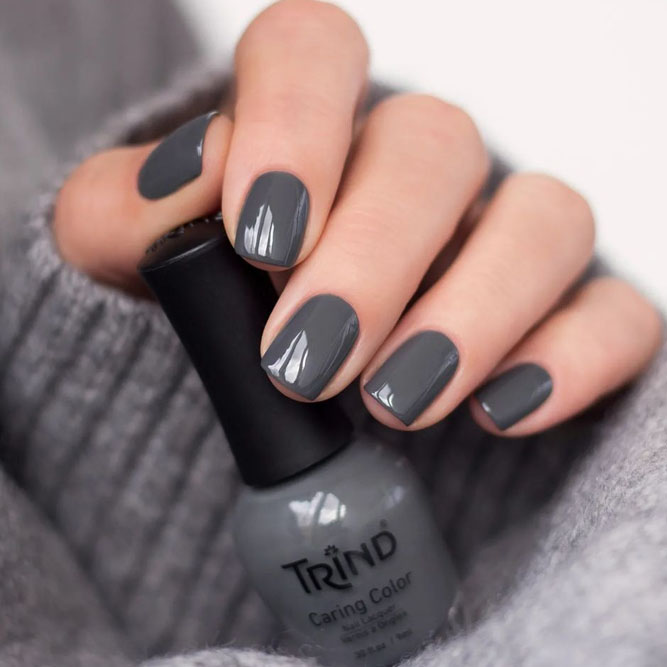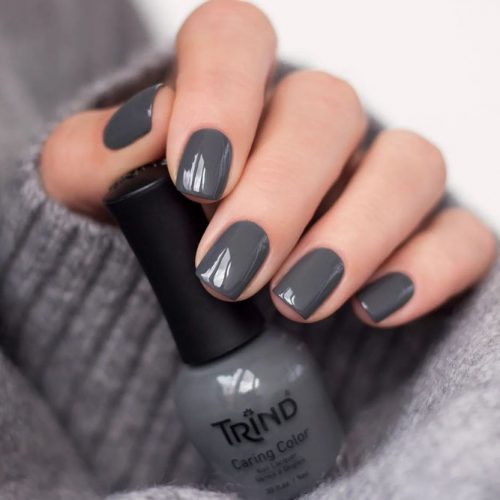 Credit photo: instagram.com/lackschaft
Among all dark fall nail colors, gray is arguably the most popular. Yet, you should not think of it as boring and inexplicit. Just check out the shades from Trind, OPI and Essie gel nail polish and you will not be disappointed. They will look amazingly well with all your favorite sweaters, wool dresses and coats.
Coffee Nails For Fall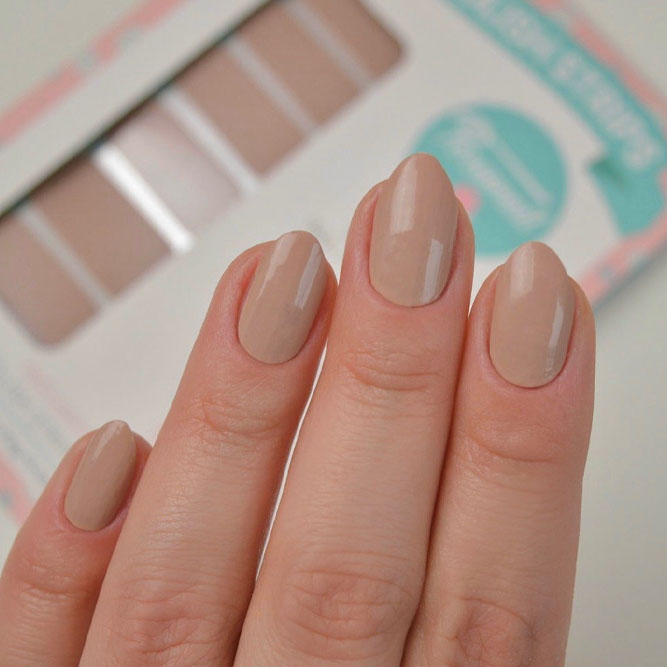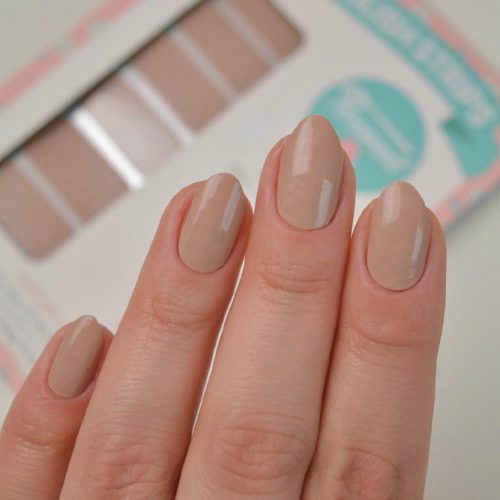 Credit photo: instagram.com/beautyaddictedd
What can be better than a cup of coffee on a chilly fall evening? You got it – coffee fall gel nail colors. This shade is so flattering that you will certainly love it on your mani. Yet, if you do not want to commit to gel nails yet, you can get a perfect nail polish from Chanel or OPI nail polish.
Light Taupe Creamy Fall Nail Shade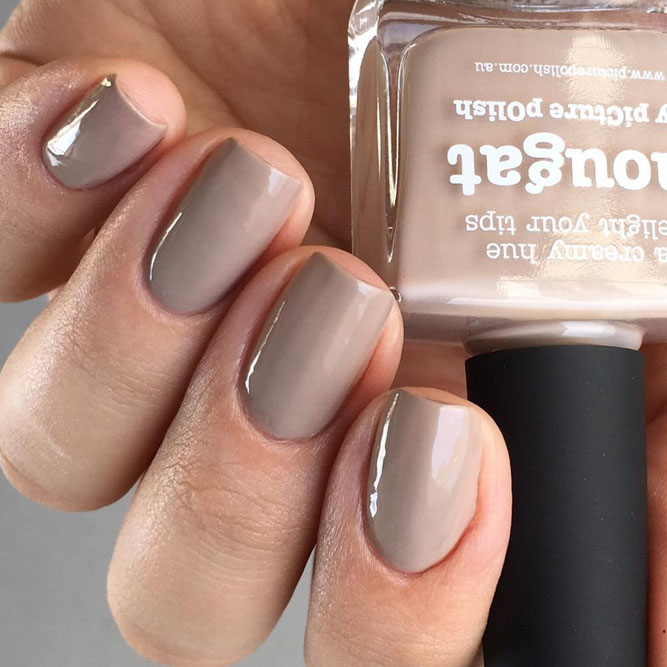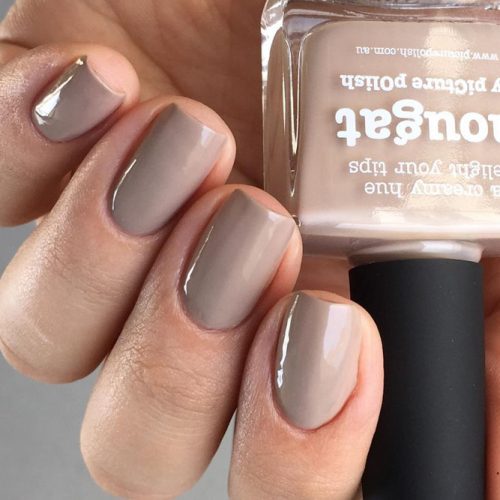 Credit photo: instagram.com/nargisjonik
Taupe colors are always in demand for fall. They give you a very calm and cozy vibe without much effort. Besides, almost every brand has this shade as part of their permanent color palette. Picture Polish, Chanel, Sally Hansen and Olive & June polish have the light taupe fall nails color polishes you are looking for. You can get them all and wear them in turns so that you will not get bored with the same shade every time.
Cherry Red Fall Nail Shade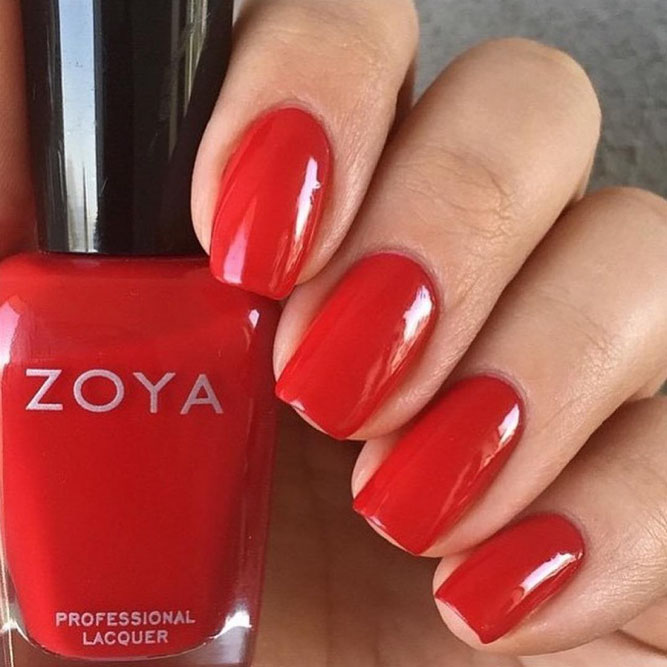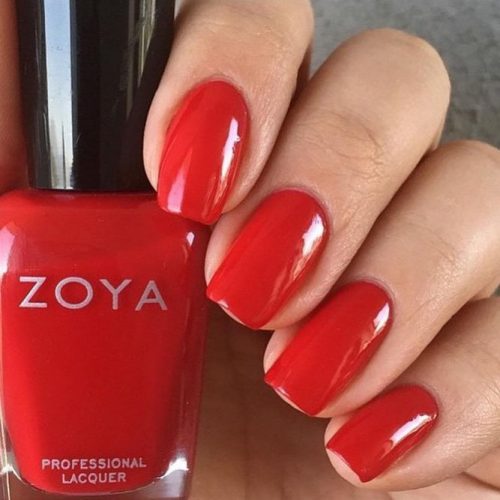 Credit photo: instagram.com/nargisjonik
You do not have to ditch your favorite red nail polish for fall. Instead, it can give your outfit a fun and bold touch. So, grab a cherry red shade from OPI, Essie or Zoya nail polish and spice up your fall mani. One of the coolest things about it is that no matter how simple your outfit is, with cherry red nails, it will never look boring.
Vampy Dark Red Nail Polish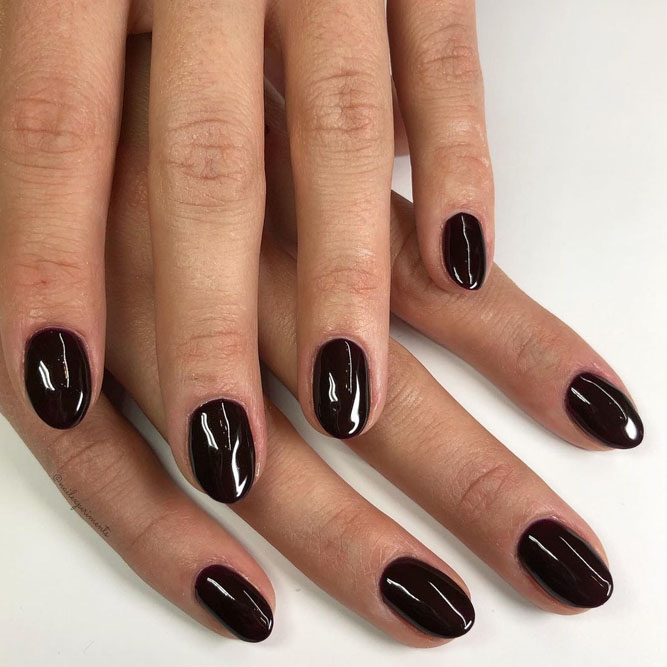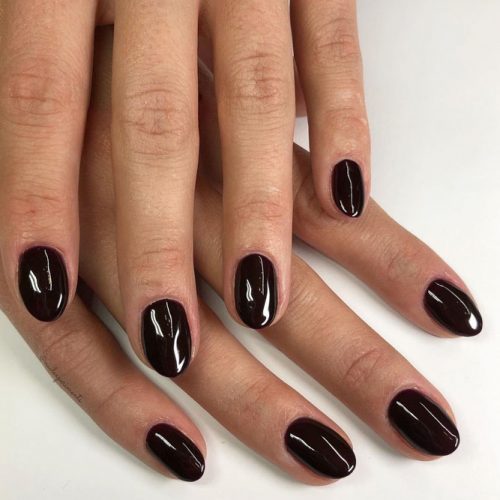 Credit photo: instagram.com/nailexperiments
Do you like deeper and more dramatic shades on your nails in the fall? We hear you! Chanel and Dior offer one of the best dark vampy red nail polishes on the market. Apart from giving your look a mysterious touch, they also make your nails visually longer. That is why they are often worn on a short manicure.
Wine Color for Fall Nails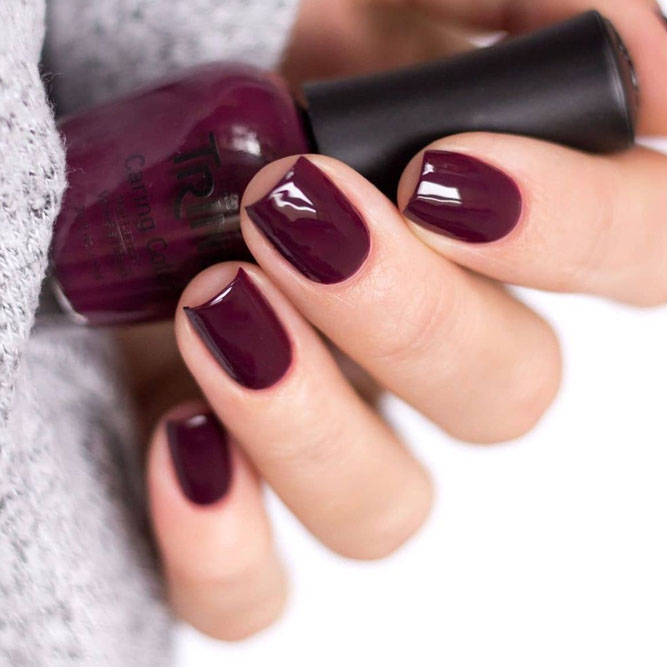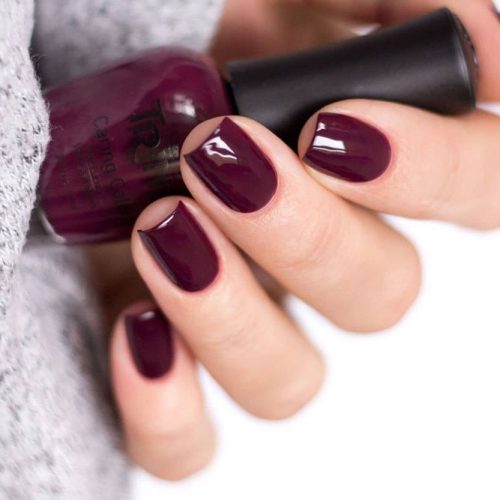 Credit photo: instagram.com/lackschaft
They say a glass of wine is not only harmless but also good for you. But do you know what is even better than that? A wine nail color for fall. Such rich red nail polishes as Trind, OPI or Manucurist cannot leave anyone indifferent. You will want to paint your mani with them every time you do your nails.
Classic French Manicure For Fall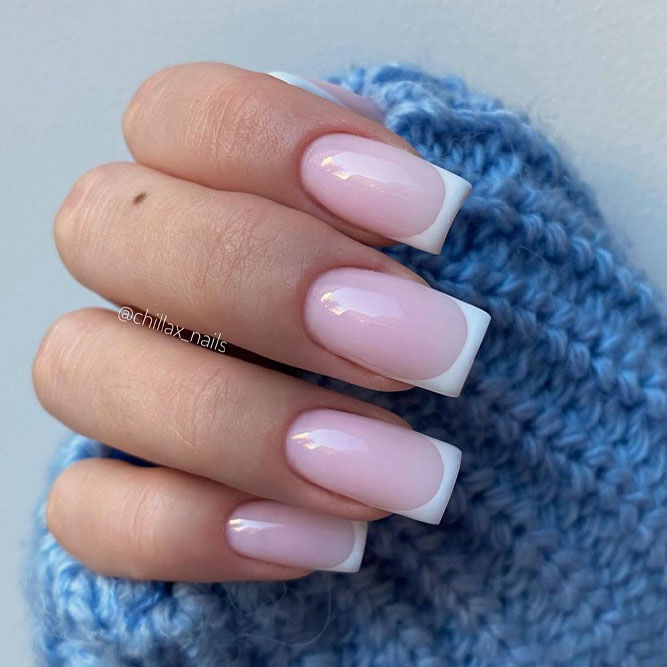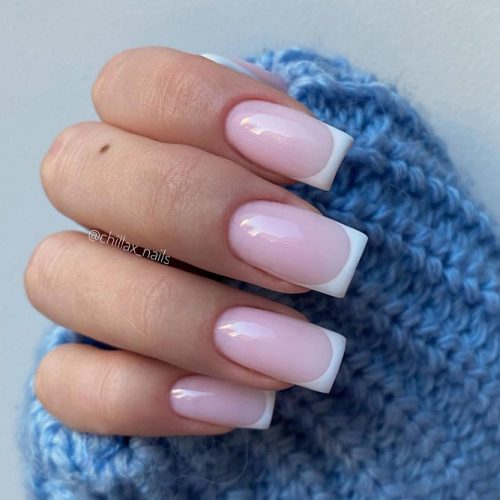 Credit photo: instagram.com/chillax_nails
Classic is always in style. And by classic we mean a French manicure, thank you very much. This timeless nail style can beautify any look, giving it an elegant and tasteful flair. What is more, there is a great number of nail shapes to wear with your French tip nails, from short square nails to extra long stilettos.
Black Nails For Fall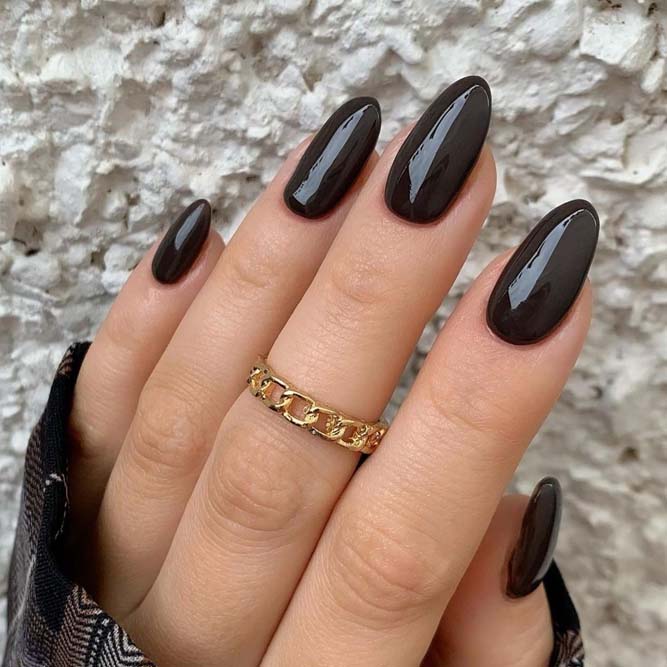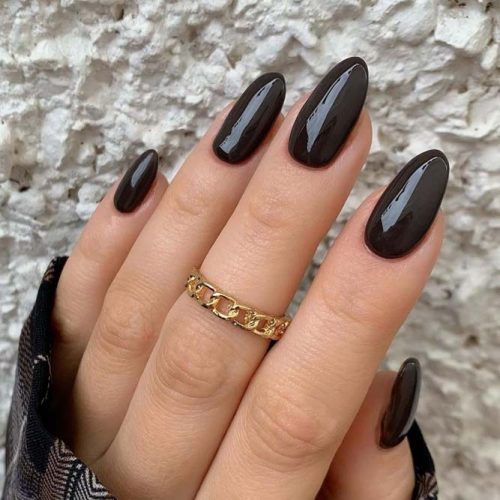 Credit photo: instagram.com/charsgelnails_
You can never go wrong with a pure black nail polish for fall. It is bold and daring, so of course, not everyone will be able to pull off a monochrome black mani. If you feel like that is too much for you, try to incorporate black into your manicure as an accent color or create beautiful fall color nail designs with it. Chanel, Essie, OPI and Gucci will help you to create your perfect baddie mani.
Smokey Lilac Fall Nail Color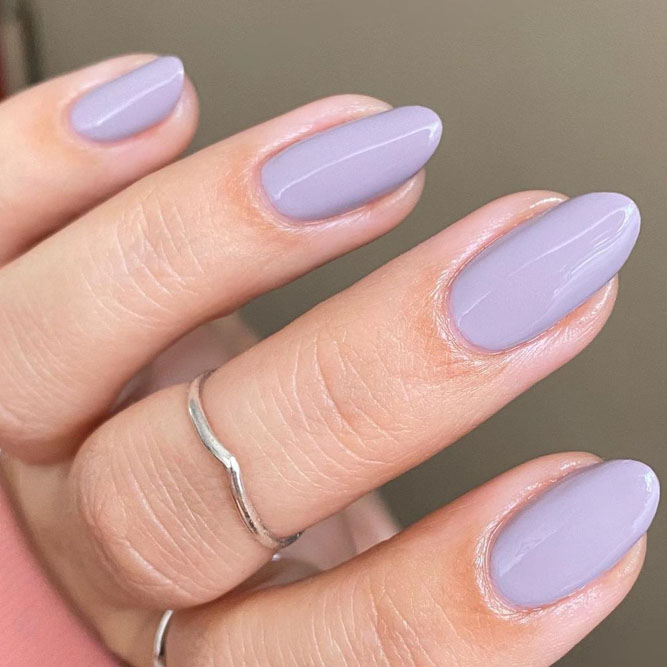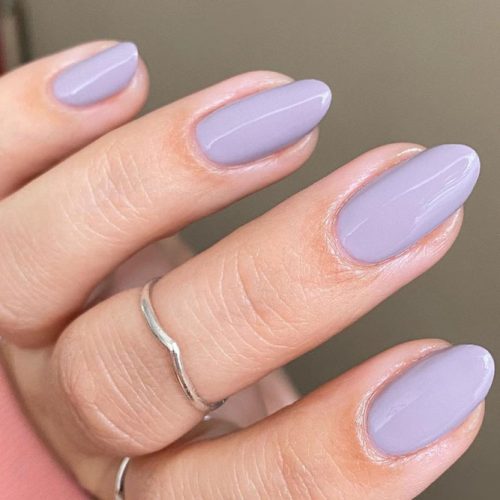 Credit photo: instagram.com/ruthsnailart
Who does not love lilac on their nails? We do not know these people. Yet, for cooler months, you may want something even more subdued. So, look for nail polishes with a slightly smokey hint. You may find those in Essie, OPI or Chanel nail polish. A smokey lilac manicure looks carefree and romantic. A failsafe option for early fall.
Plum Fall Nail Polish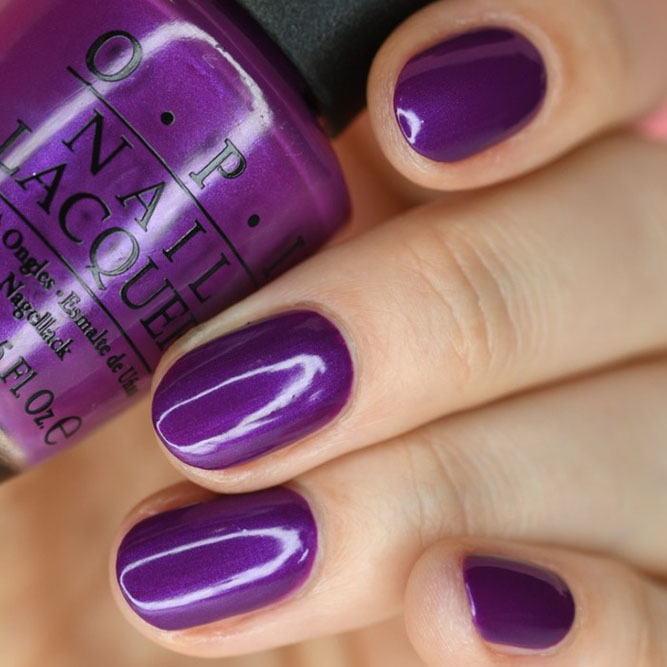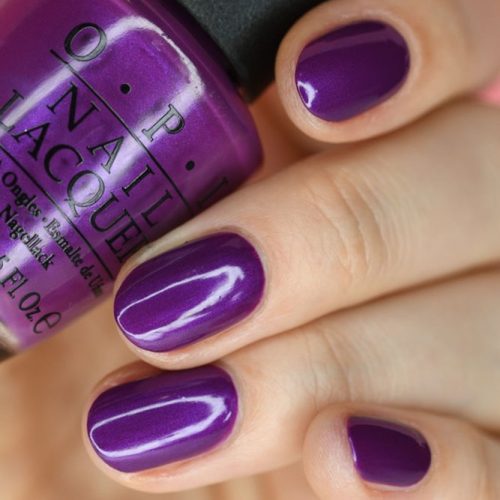 Credit photo: instagram.com/naillacqueruk
Not that plum is an utterly unusual nail color, yet it is not as common as, say, burgundy. That is why it may be an awesome idea to get your nails painted with OPI, Chanel or Semilac plum nail colors. Regardless of your nail shape and length, you may rest assured that it is going to look drop dead gorgeous.
Blush Nails For Fall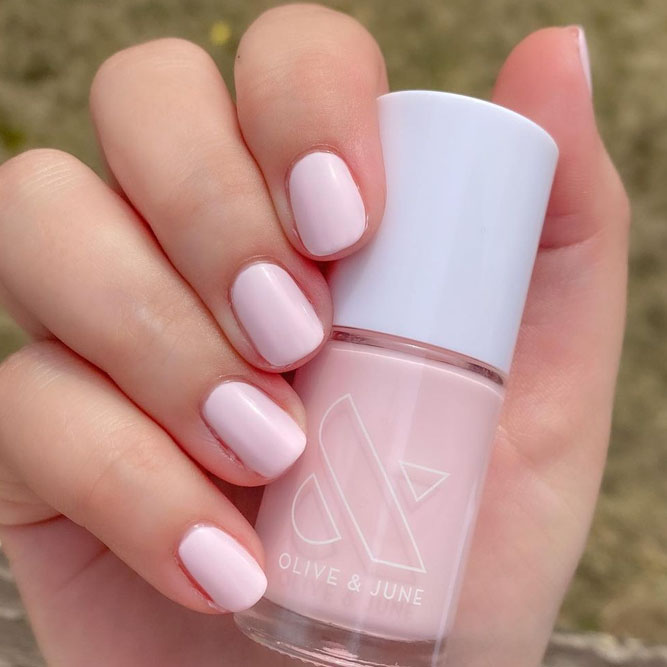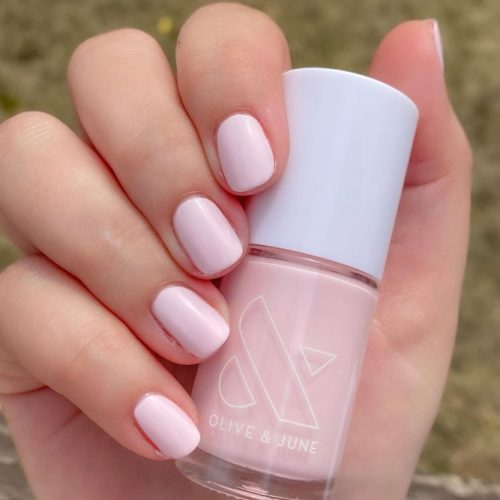 Credit photo: instagram.com/nails.ksjolund
If you prefer light fall colored nails, you may want to pay attention to blush pink nail polishes. Sally Hansen and Olive & June nail polishes have plenty of those. It is one of those cute fall nail colors that suit every situation and ambiance. You may wear it to a casual weekend with friends or a fancy wedding celebration. Either way, your nails are sure to look their best.
Mauve Pink Fall Nail Color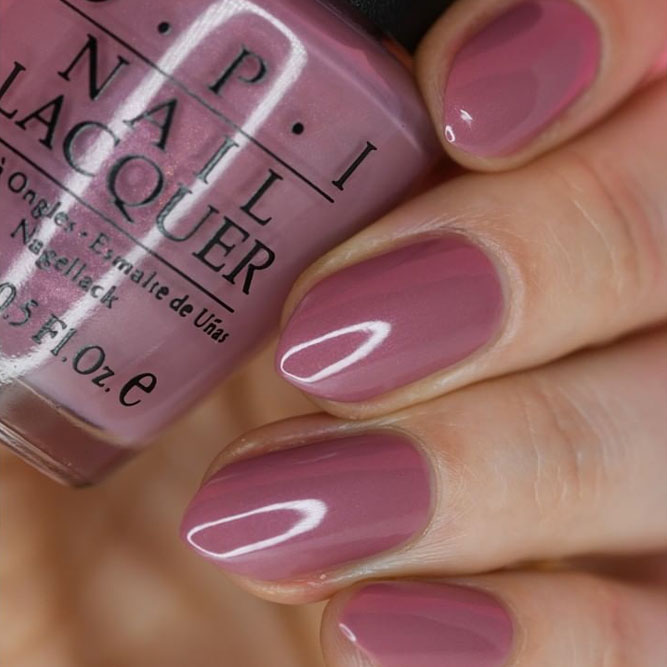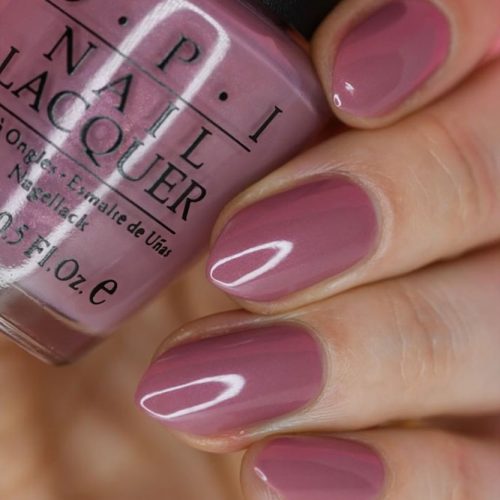 Credit photo: instagram.com/naillacqueruk
Mauve nails are great for fall for many reasons. They are not too bright, so pretty much in tune with the environment. But they are not overly muted or dark too. Whether you are switching from bright summer shades or just trying to get ready for more complex colors, a mauve pink manicure is something you will not regret, especially when it is one of OPI nail polish or IDUN Minerals.
Berry Pink Nail Polish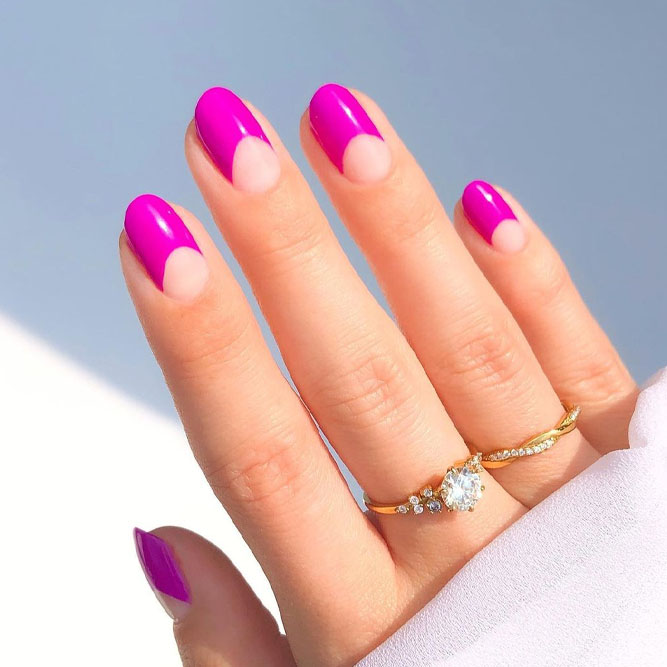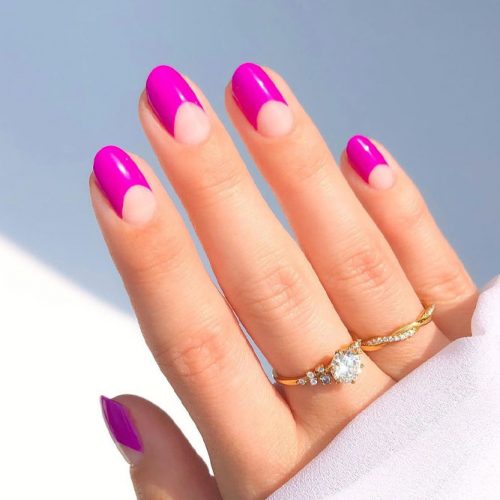 Credit photo: instagram.com/basecoatstories
Cannot say goodbye to summer nail polishes yet? No need to. Berry shades are quite universal, so they fit any season. Think Dior, Chanel or Essie gel polish. Plus, it is not necessary to go for an all out berry color on your nails. Get a colorful French or accentuate only one nail with it – it is up to you. Yet, take note that berry pink fall nail colors for dark skin are a match made in heaven.
Ghostly White Fall Manicure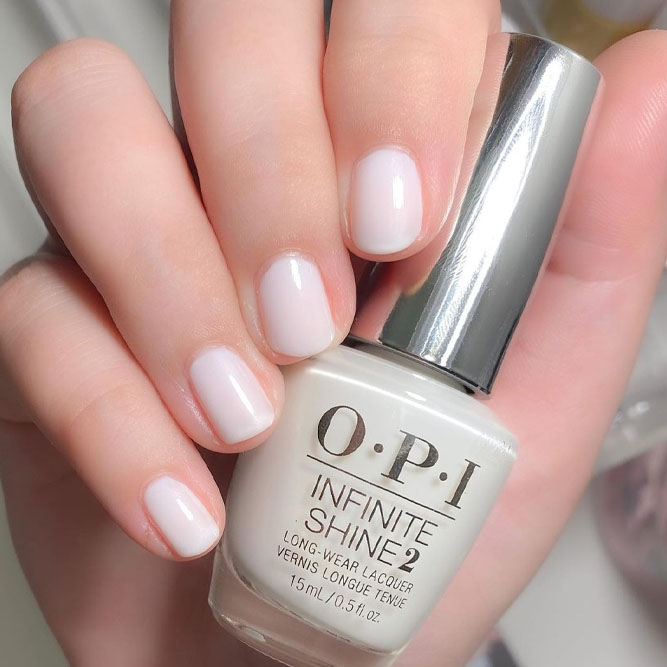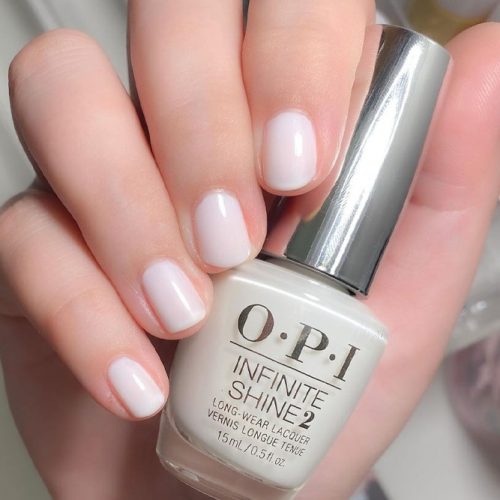 Credit photo: instagram.com/nails.ksjolund
Leave white cream nail polishes for your summer tan. You want something airy and lightweight for the fall. A ghostly white manicure is exactly what you need, like the one you can get with OPI or Manucurist. This shade is very complimentary on both short and long nails of any shape. Your mani is sure to gain an elegant feel with it.
Denim Blue Fall Nail Polish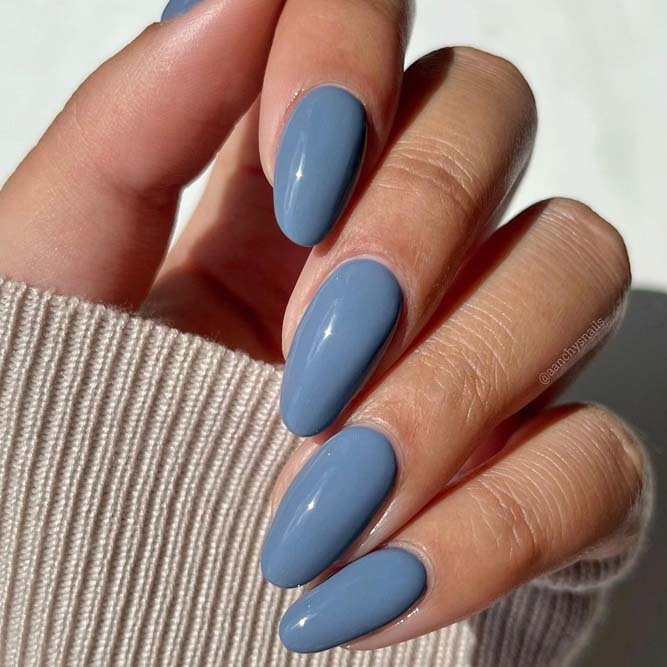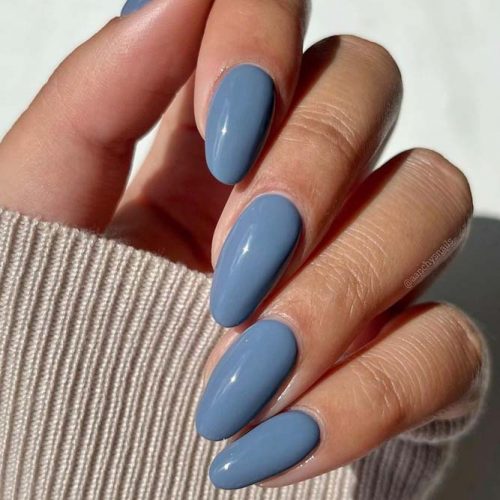 Credit photo: instagram.com/aanchysnails
Denim blue nails may be your first step into the fall. Next, you will want to pull your jeans and sweater out of the clothes and complete the look with a pair of loafers. The shade is not quite gloomy yet, but it sets the mood for fall like no other. Essie and Gucci denim blue nail polishes are made to adorn your mani this fall.
Bohemian Blue Fall Nail Polish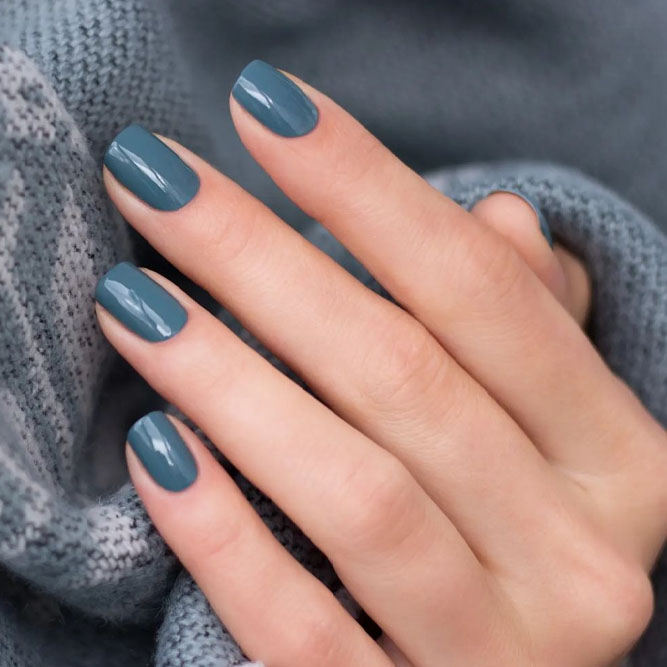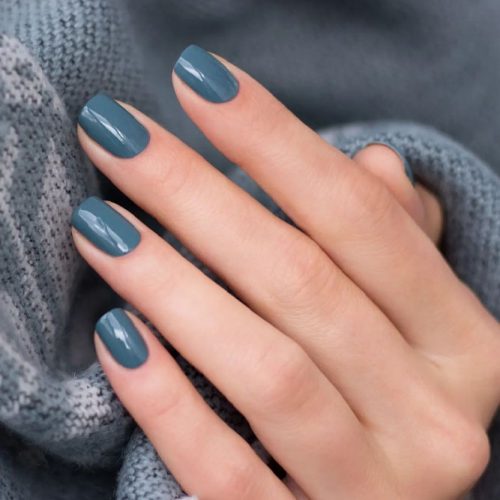 Credit photo: instagram.com/lackschaft
Feeling like adding a pinch of boho chic to your look? With blue nail polishes from Essie or OPI, you are sure to get the right vibe. The soft undertone the polish has gives it interest and charm. You can also feel free to use it as one of your fall toe nail colors, as even if we wear closed toe shoes, it does not mean we do not do our pedicure, right?
Pine Green Nail Polish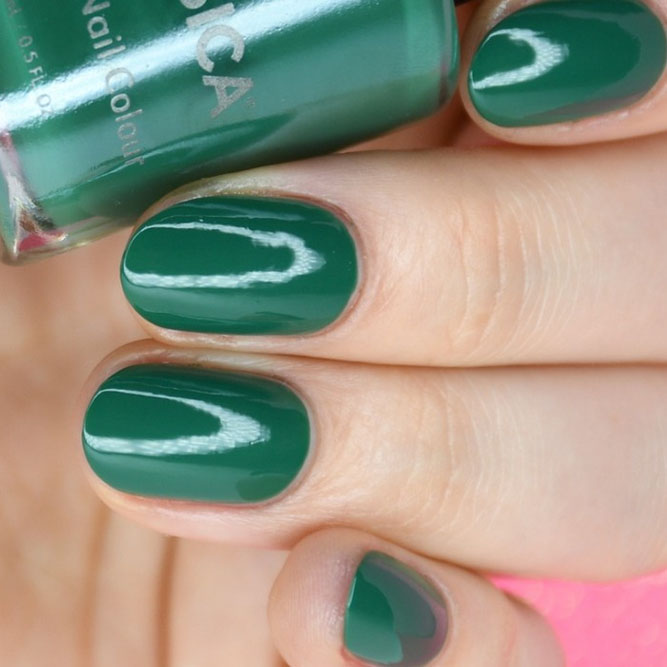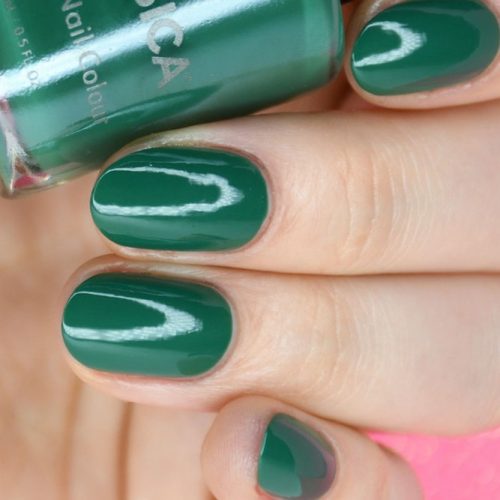 Credit photo: instagram.com/naillacqueruk
For some, the fall is the preparation time for the Christmas holidays. If you are one of those people, then a pine green nail polish is your way to go. You may actually like it so much that it becomes your staple manicure color for both fall and winter. For Christmas, you can add some intricate nail designs to it, while for fall, you should wear it as it is. ORLY, Hermes and Revel Nail have one of the best offers for you.
Sage Green Autumn Nail Color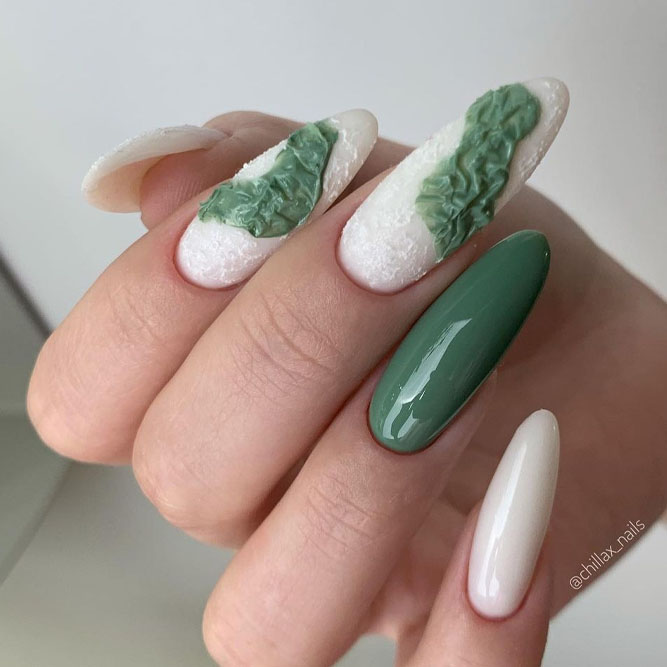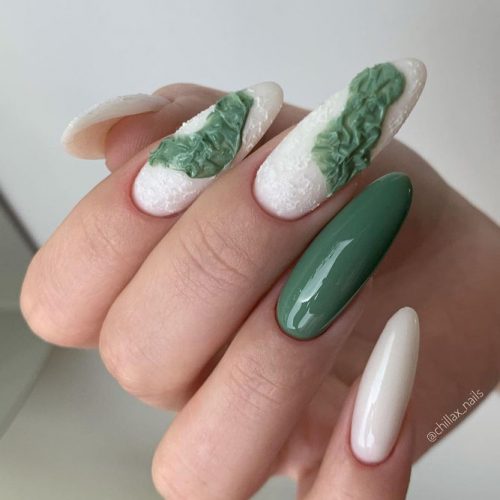 Credit photo: instagram.com/chillax_nails
It is always a good idea to get inspired by herbs and spices for your fall nail colors and designs. A sage green nail polish is all the rage now, so you do not miss such a hot trend this fall. Many brands have this shade, including Essie, Chanel and Zoya. No matter which one you choose, you will not be disappointed for sure.
Cactus Green Nail Polish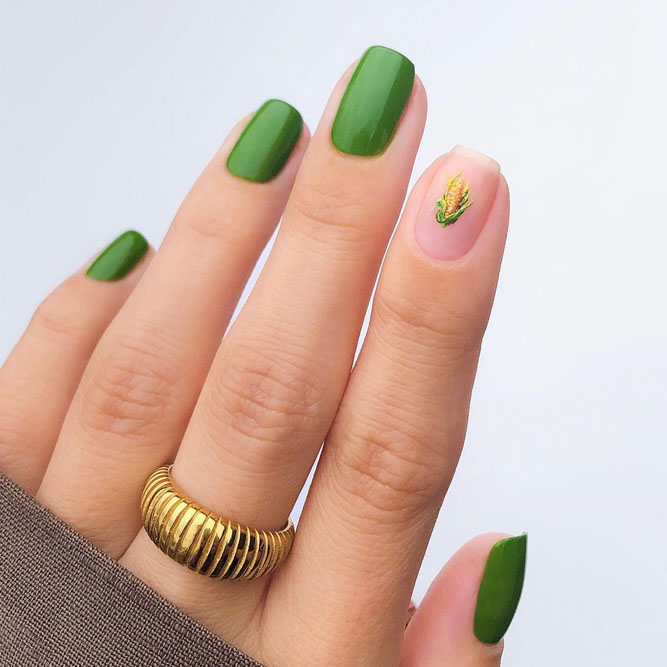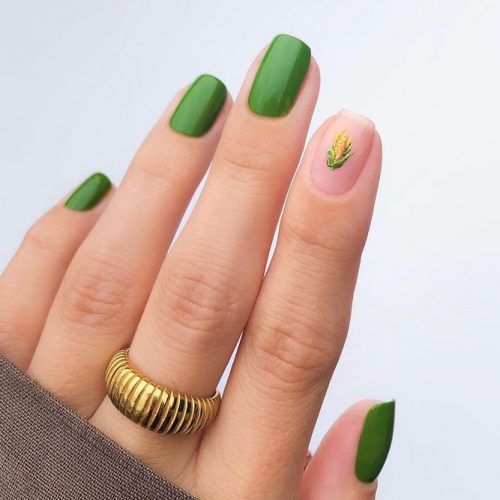 Credit photo: instagram.com/basecoatstories
Juicy and eye catching, a cactus green nail polish is no joke to you. Painting nails with it means your mani will always be the center of attention. Not ready for such a commitment yet? No worries. Start with an accent or nail art and once you feel comfortable with it, you may want to wear it on your every nail. Essie, Kure Bazaar and Sally Hansen will back you up with the most gorgeous cactus green nail polishes.
Forest Green Fall Nail Color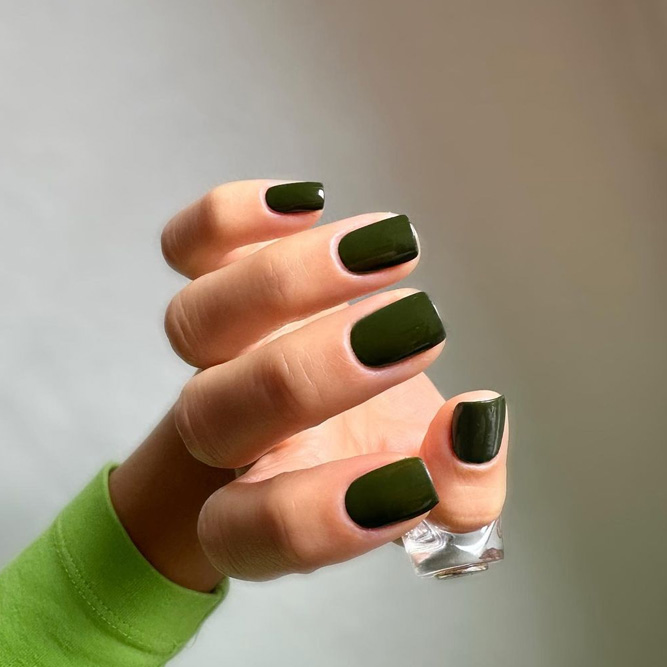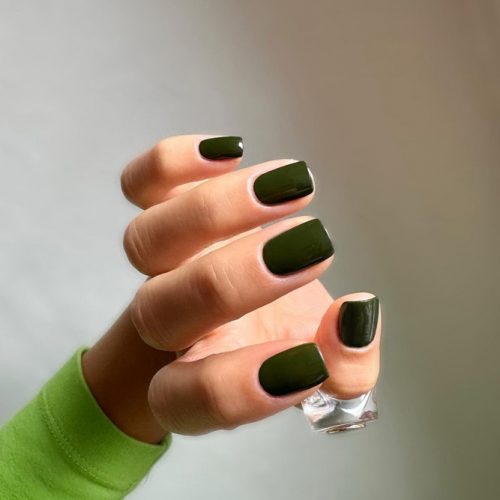 Credit photo: instagram.com/thehangedit
Earthy colors are incredibly in demand at the moment, especially for fall. And what can be better than a forest green manicure? It allows you to establish a connection with nature and show your love for it. If you would like to add a velvety finish to your mani, opt for matte fall nail colors in forest green, like those in LCI and OPI nail polishes.
Brown Crème Polish For Fall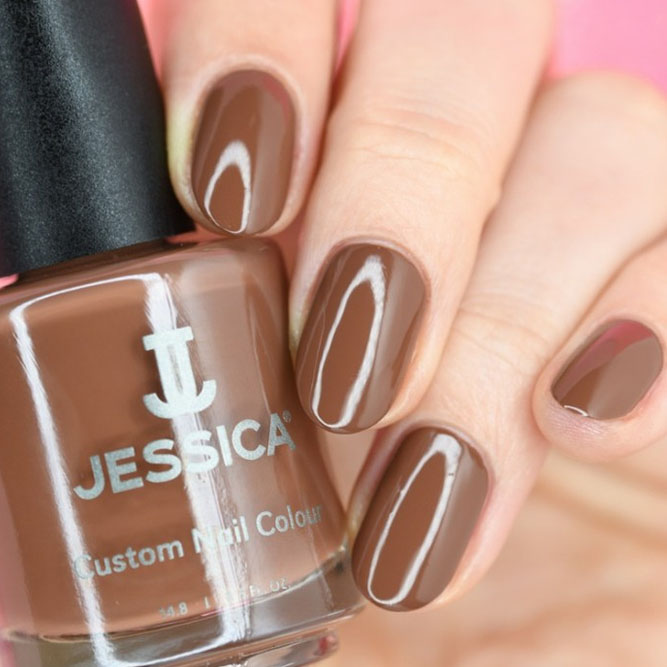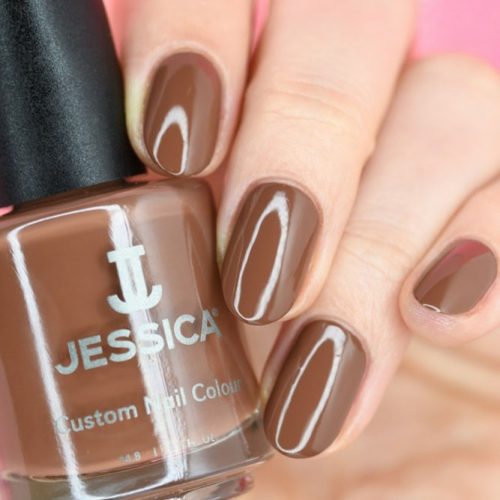 Credit photo: instagram.com/naillacqueruk
It comes as no surprise that brown is one of the top fall nail colors. It gives your manicure a toasty and cozy air, which we sometimes lack so much in the fall. While the formula is for you to decide, we recommend going for a cream brown. With its help, you will achieve the desired effect without overdoing it. Sienna Brown Vegan, Jessica Nails or Whats Up Nails have one of the best brown polishes.
Terracotta Fall Nails Polish Color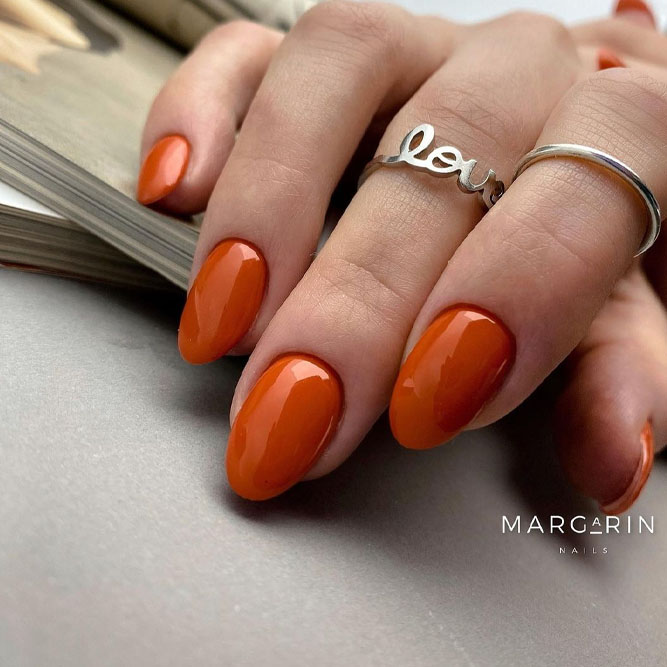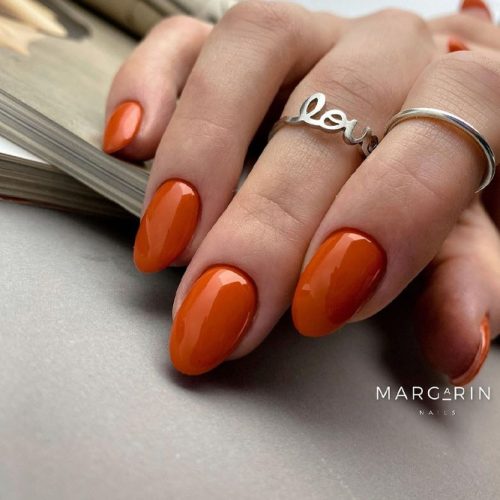 Credit photo: instagram.com/margarin_nails
A terracotta manicure is what we all need in the fall. The color is so hot and spicy that it makes you feel warm just by looking at it. It can be matte or glossy, cream or shimmery, everything looks great in this shade. To take it to another level, get terracotta fall dip nail colors, which have a metallic gleam to teem. Our all time favorites are ORLY, Sienna and Essie.
Pumpkin Orange Nail Color For Fall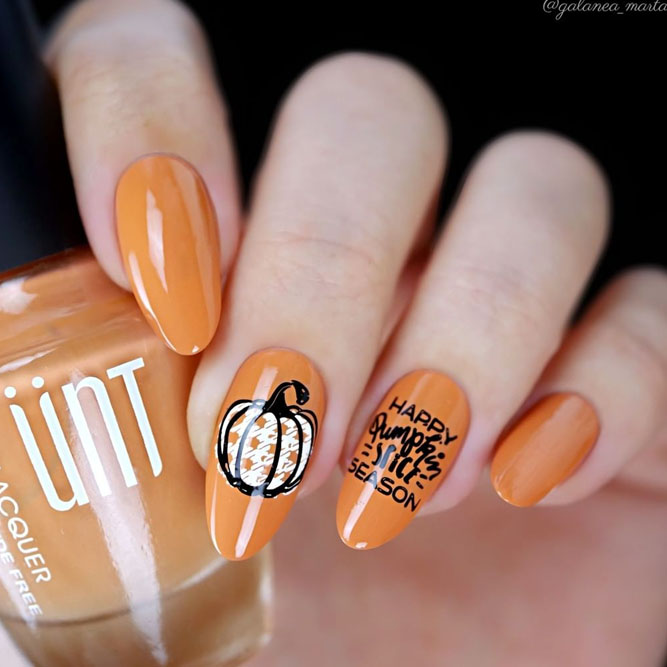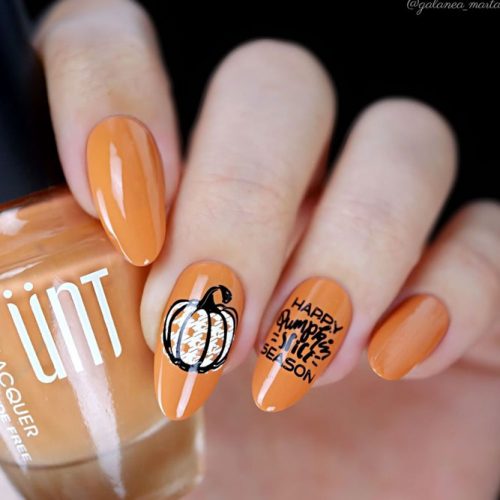 Credit photo: instagram.com/galanea_marta
Can you imagine the fall without a pumpkin manicure? We neither. No wonder this color is so popular and can be found in Essie, DND and Madam Glam. A pumpkin manicure is one of the best fall nail color ideas not only for Halloween nails but throughout the whole season. Stamping and nail art are highly welcome on such a nail color, so do not hesitate to add them.
With any of these fall nail colors, you will get the best manicure experience this season. As you can tell, there is a multitude of options to choose from, ranging not only in shade but also in finish and formula. Whenever you need a new dose of inspiration, do not hesitate to check out some fresh ideas here.
FAQs
What nail colors are trending for fall?
Among the best fall nail colors are marigold, dusty orange, pumpkin, nude pink, gold shimmer, mauve, milk chocolate, marsala, etc.
What are fall nail colors for 2023?
The trendiest fall nail colors 2023 include pastel shades, 3D nail designs, "your nails but better" manicure, blush pink, fashionable French, glazed donut nails and many others.
What is the nail color of the month in September?
In September, the most popular fall colors for nails are mustard yellow, caramel, denim blue, navy, chrome, bright red and a French mani.
What color nails for November?
November nail colors for fall feature deeper and richer shades, such as royal gold, hot orange, dark wine and pine green. Bright summer shades should wait for the next year.
What color nails are in October?
Emerald green, navy blue, chocolate brown, intense red, saturated purple and rich burgundy are one of the best October fall colors nails.