Get ready to embrace the spooktacular spirit of Halloween with nail art that is as bewitching as it is stylish. Whether you're attending a costume party or simply want to showcase your festive flair, Halloween nail designs offer a creative way to celebrate the season of tricks and treats. From eerie cobwebs and haunting ghosts to playful pumpkins and sinister skulls, these celebrity-inspired nail art ideas will help you enchant everyone with your chilling manicure. Let's dive right into the collection of spine-tingling Halloween nails that will leave you mesmerized and ready to haunt the night with your dazzling fingertips!
Goth Web Art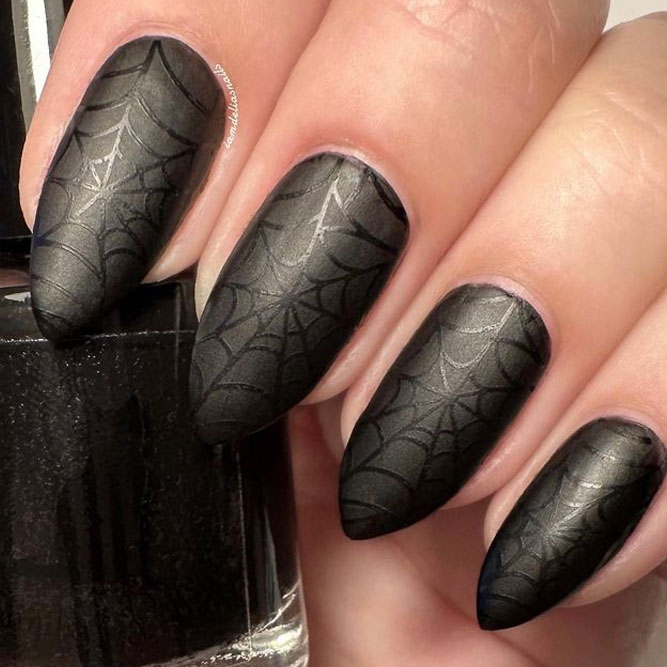 Credit photo: instagram.com/iamdeliasnails
Channel your inner dark elegance through black Halloween nail designs. Many present-day celebrities embrace a mystic and edgy vibe perfect for making a bold statement. How about becoming a Marylin Manson for a day? If not, Billie Eilish is known for her distinctive style and well-developed passion for dark nail art. There's something irresistibly complementary about goth web art, which will spice every look with dark charm and elegance.
How to do Disney nails easy?
How to do Halloween designs on nails?
What color is best for Halloween?
What are the 4 Halloween colors?
Corpse Bride Halloween Nail Designs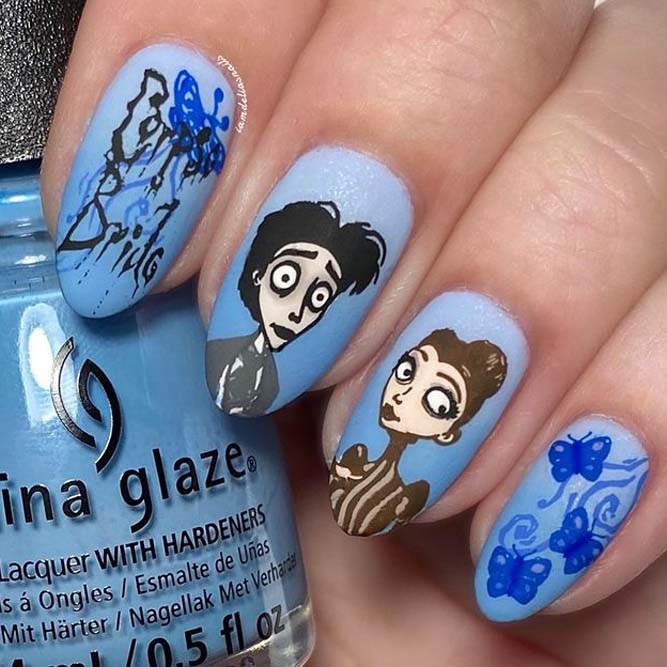 Credit photo: instagram.com/iamdeliasnails
Creating nail art inspired by the "Corpse Bride" can be a fun and unique way to pay homage to Tim Burton's beautiful and eerie aesthetics. China Glaze seems to have a perfect blue base to showcase the film's primary characters and outstanding themed elements.
Amazing Witches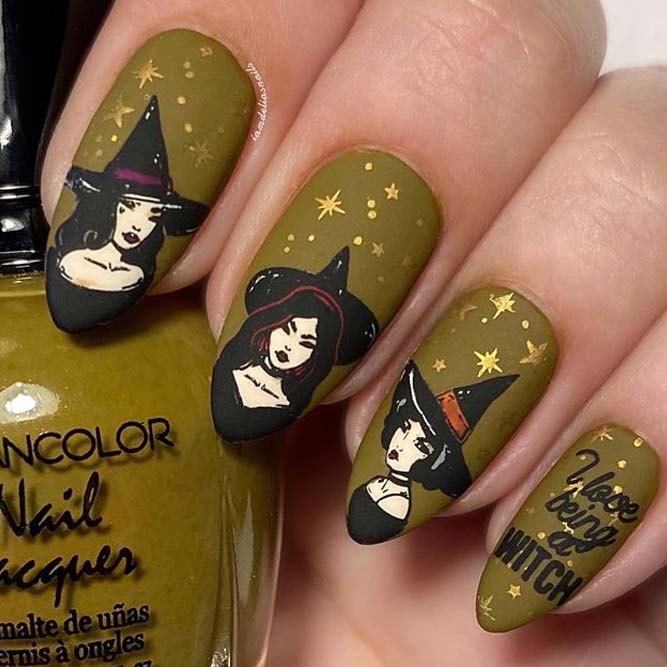 Credit photo: instagram.com/iamdeliasnails
If you are looking for a fantastic way to channel the mystical and enchanting vibes of the season, witches-themed nail designs Halloween should definitely be on your refer-to list. We think KleanColor's 'Fashionista' looks like a perfect base color for the case. What about you?
Eye Halloween Nail Art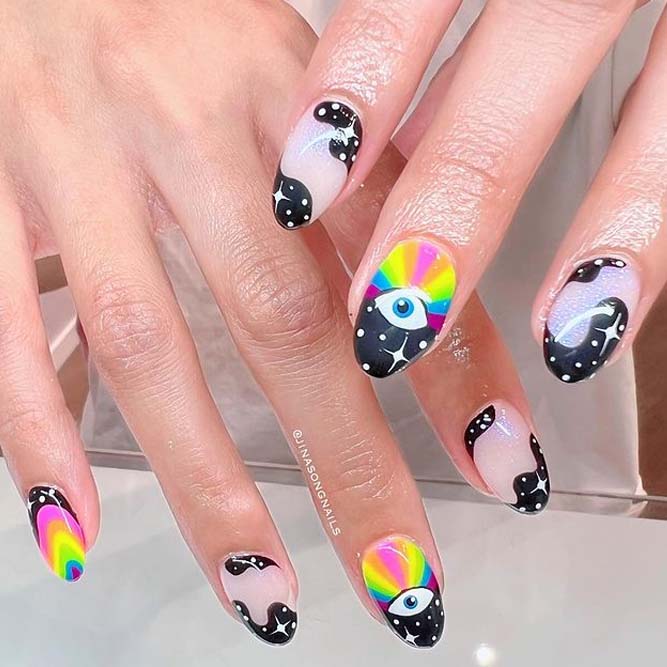 Credit photo: instagram.com/jinasongnails
Katy Perry knows how to take a spooky nail game to the next level. Creating eye Halloween nail art designs is what you need to capture the creepy and mythical spirit of the season. Moreover, you can sport the manicure even when the holiday is due because of its stylish and unusual appeal.
Cute Short Nails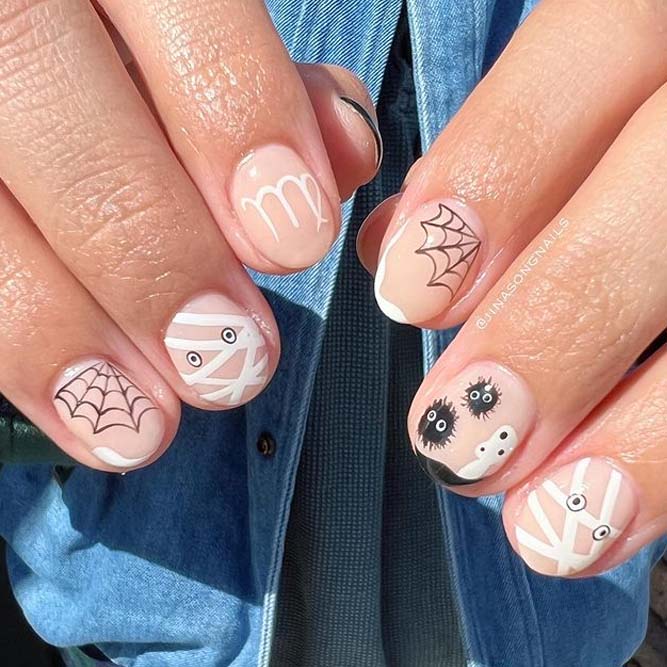 Credit photo: instagram.com/jinasongnails
Who says you need long talons to rock festive and adorable designs? With the right colors, motifs, and a touch of imagination, you can transform your short nails into cute Halloween nail designs that are sure to draw attention and smiles. Use OPI's gentle nude base and adorn it with black and white spiderwebs, mummies, ghosts, and horoscope signs and watch the heads turn for another glance at your spirited manicure.
Wicca Nails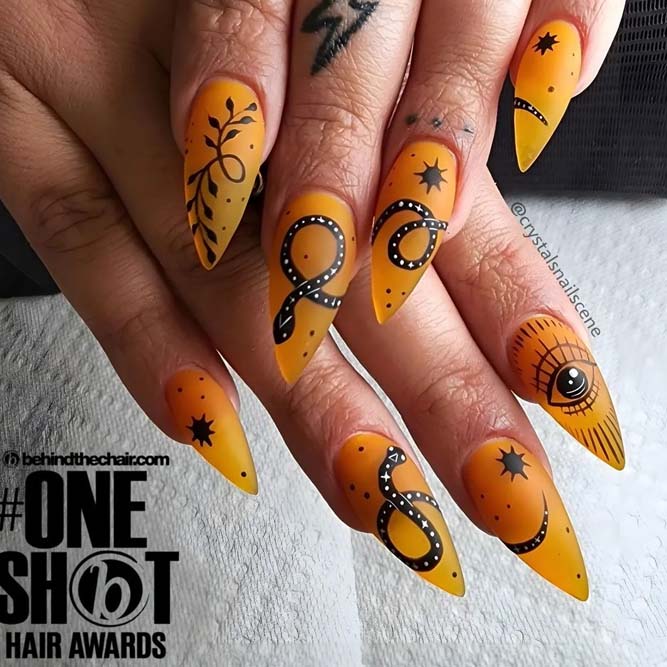 Credit photo: instagram.com/crystalsnailscene
As the air becomes crisper and the moon casts its eerie glow, the time for all things magical is upon us. What better way to celebrate the season than by adorning your nails with enchanting Wicca-inspired designs that echo the secrets of ancient traditions? Embrace the world of Wicca with matte orange nail art that channels this age-old spiritual practice's mysticism, energy, and wonder!
Mix and Match Art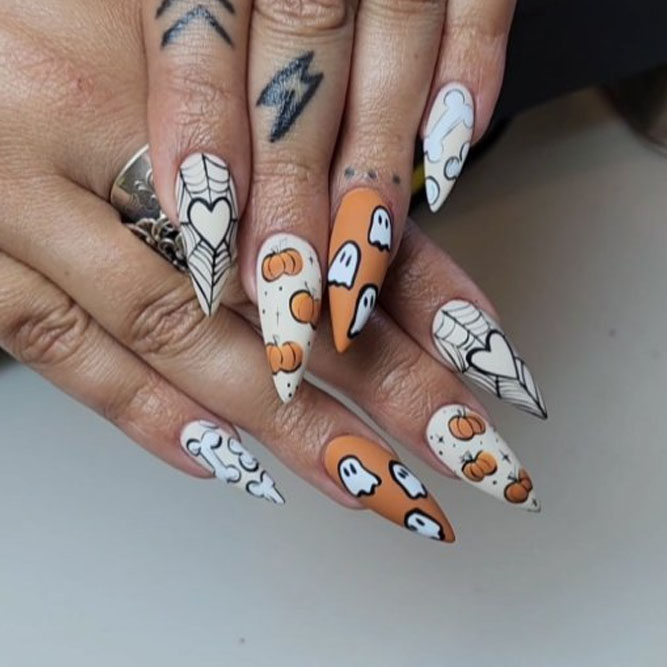 Credit photo: instagram.com/crystalsnailscene
Halloween nail designs 2023 will be praised for their ultimate versatility and balance between tradition and modernism. Juicy pumpkins and cartoon ghosts sound like they wouldn't match one another. Yet, with a single glance at this mix-and-match nail design, you'll want to push the boundaries!
Funky Halloween Nails Set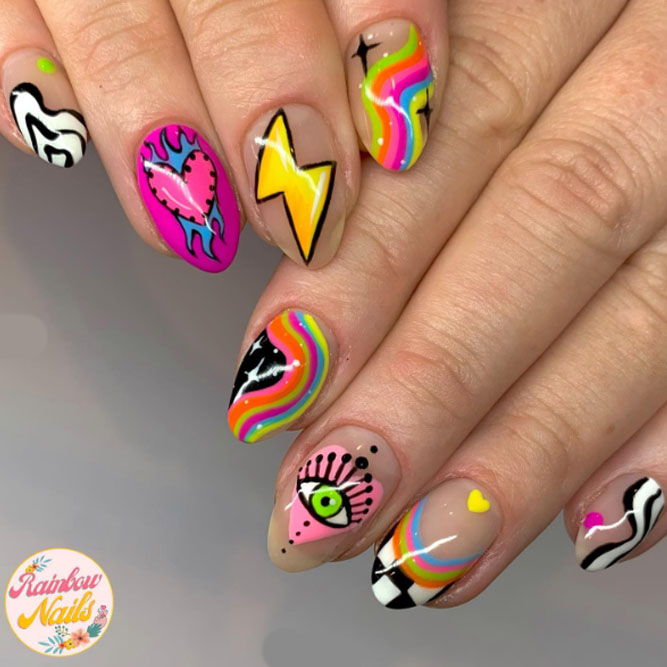 Credit photo: instagram.com/sophrainbownails
We've mentioned classy colors associated with the spooky holiday. Still, you should be ready to turn up the volume on your Halloween style this year with a nail art transformation that's far from ordinary. If you want to break away from traditional spooky aesthetics and infuse a burst of personality into your Halloween look, a funky set of nails is the way to go. Embrace the spirit of the season while letting your unique vibe shine through with creative and vibrant nail designs that are anything but ordinary!
Pumpkins and Flowers Halloween Nail Designs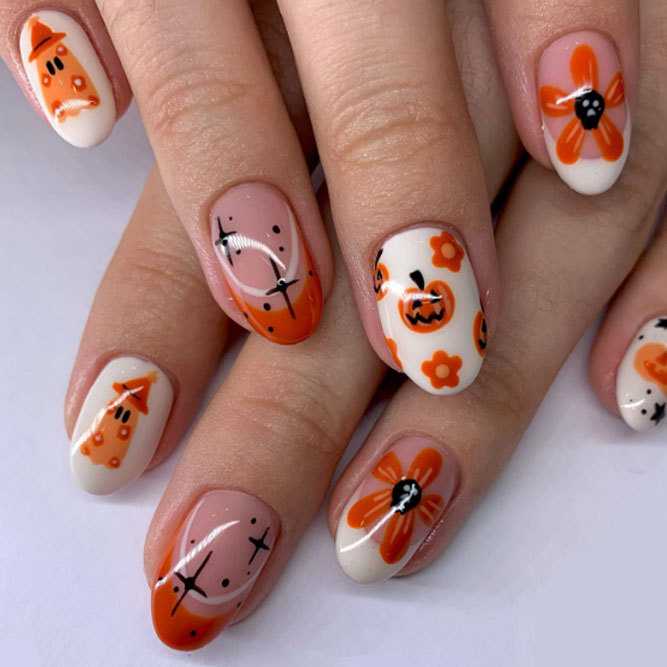 Credit photo: instagram.com/sophrainbownails
Why not take a departure from the usual spooky motifs and infuse your nail designs for Halloween with a touch of autumnal elegance? Enter the world of pumpkins and flowers — a stunning combination that captures the season's essence in the most enchanting way. Bella Voste Luxe Neon Shades may be precisely the orange to use for this design.
Witchy Moonlight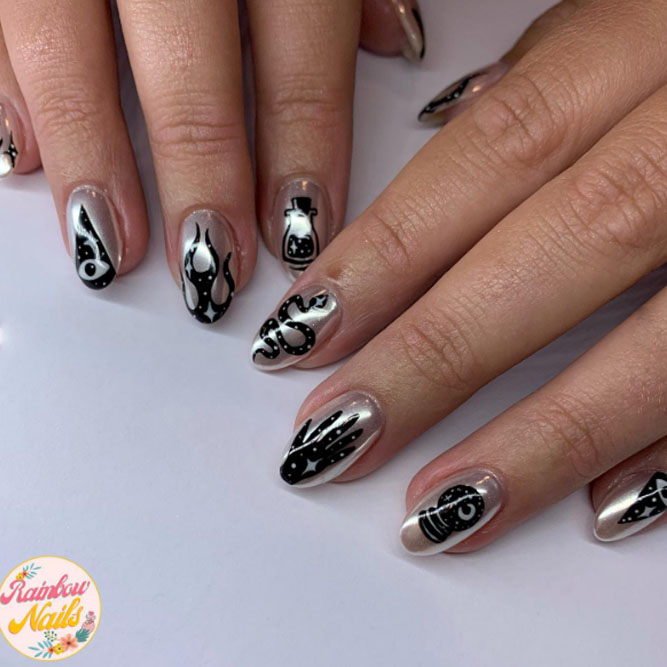 Credit photo: instagram.com/sophrainbownails
The allure of Halloween takes on a mysterious and magical charm this year. Channel the energies of the night and embrace your inner enchantress with nail art that captures the essence of witchy moonlit nights. From celestial crescents to mystical symbols, get ready to embark on a journey into the world of witchcraft-inspired nail designs that are perfect for the season! OPI's Kyoto Pearl line may serve as an ideal base for the design.
Stars and Moon Halloween Nail Designs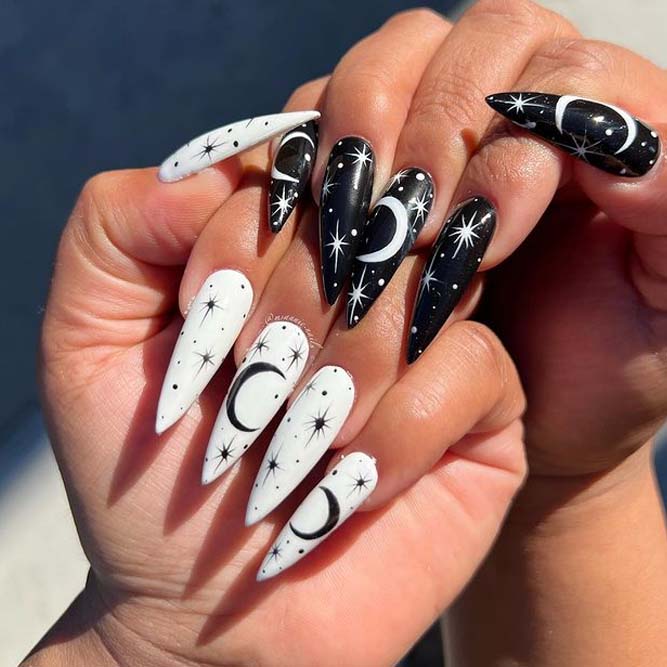 Credit photo: instagram.com/msannie.nails
Halloween gel nail designs offer the perfect opportunity to capture the magic of the cosmos on your fingertips. This year, elevate your Halloween style with nail art that pays homage to the celestial realm—stars and moons that hold a timeless fascination for dreamers and stargazers alike. Use contrasting shades to stress your uniqueness and creativity.
Disney Halloween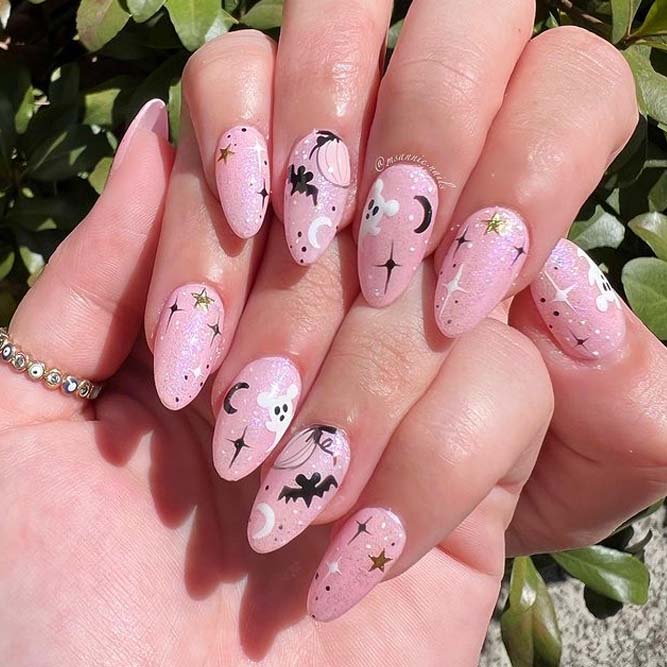 Credit photo: instagram.com/msannie.nails
Disney Halloween nails! This bewitching season is the perfect time for Disney enthusiasts to embrace their inner ghouls, vampires and ghosts and create enchanting nail designs inspired by beloved Disney characters and iconic Halloween themes. Has it ever occurred to you that Mickey Mouse would look absolutely cute, depicted as a little snow-white ghost? A NY Bae's Lavander You pink base will intensify the glamorous vibe of your look, that's for sure.
Ghost Face Halloween Nail Designs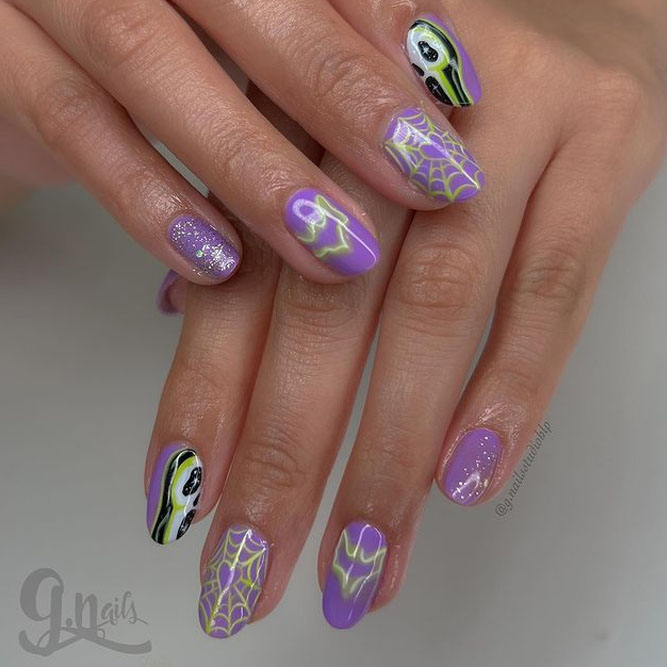 Credit photo: instagram.com/gocaranzanails
Get ready to give your nails a hauntingly adorable makeover with the latest trend in nail art: ghost-face nails! These whimsical, vibrant, unusual, and spirited nail designs are the perfect way to celebrate Halloween without the fright factor. Whether you're a nail art novice or a seasoned pro, these designs are a playful way to embrace the Halloween spirit.
Red Moon Halloween Nail Designs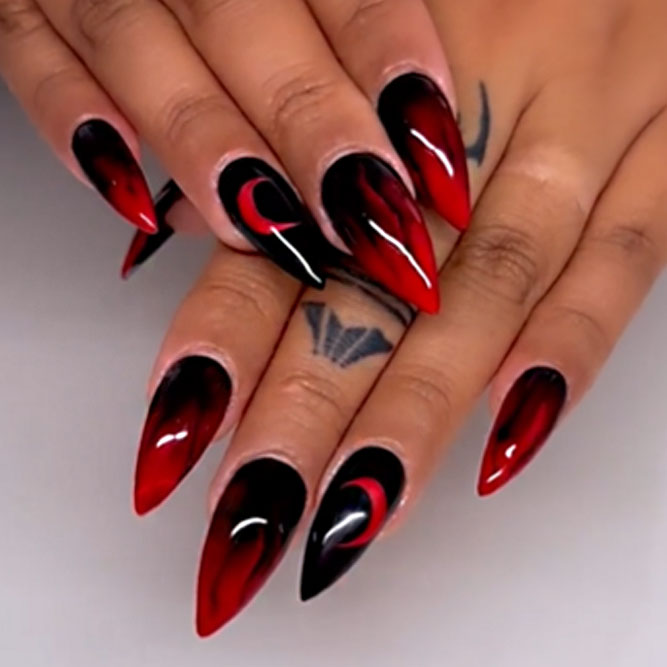 Credit photo: instagram.com/gocaranzanails
Halloween French tip nail designs will drastically differ from what you are used to. We suggest you step into the mysterious allure of the night sky with a nail trend that's as captivating as a lunar eclipse – Red Moon nails. Inspired by the enigmatic beauty of a blood moon and the rich shades of twilight, Red Moon nails are taking the world of nail art by storm. This trend infuses deep and passionate red hues with cosmic and celestial elements, creating alluring and daring manicures.
Barbie Nails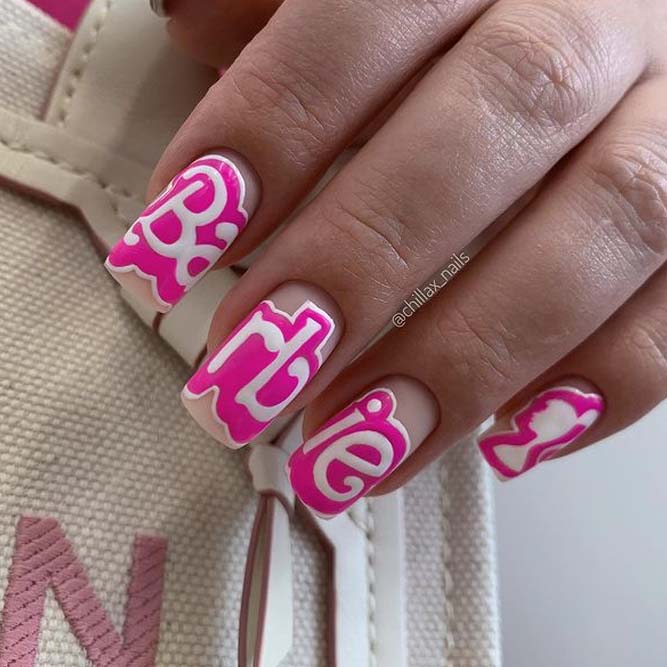 Credit photo: instagram.com/chillax_nails
Would you like to embrace a touch of nostalgia and a whole lot of glamour with the latest trend in nail art? Welcome to the Barbie nails collection! Inspired by the iconic fashion doll that has captured hearts for generations, Barbie nails offer a playful and stylish way to express your love for all things pink, chic, and fabulous. From classic Barbie motifs to modern interpretations of her signature style, this nail art trend allows you to channel your inner fashionista and create manicures that are both fun and fashionable.
Disney Villain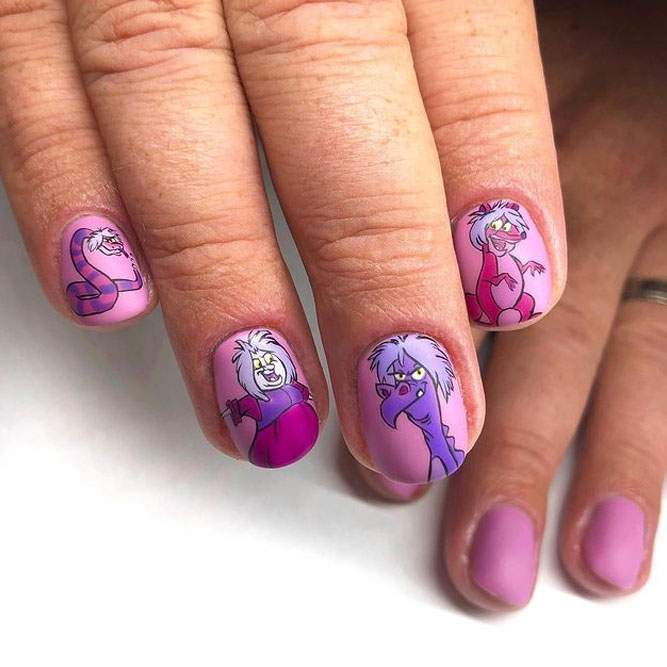 Credit photo: instagram.com/abbydoesnails
Disney Halloween nail designs will help you unleash your inner wickedness and indulge in a spellbinding journey. As the darker side of enchantment takes center stage, turn your manicure into a work of art that pays homage to the iconic and captivating Disney villains we love to hate. There are no rules and limits to abide by!
Cool Nail Art Designs
Source: hannahroxit via Instagram, banicured_ via Instagram, justagirlandhernails via Instagram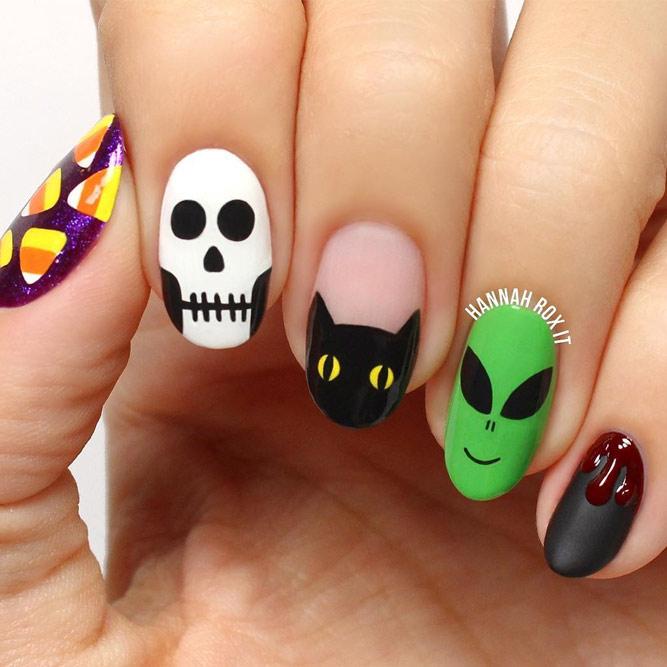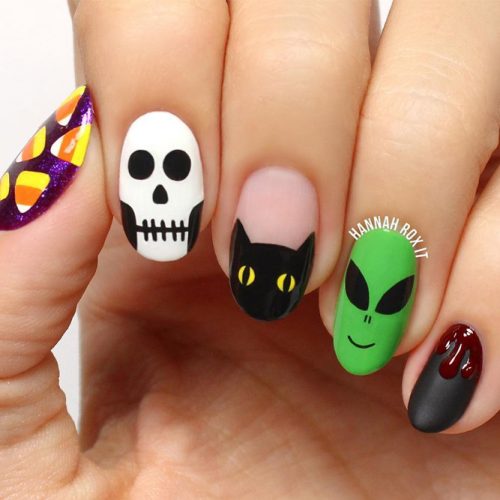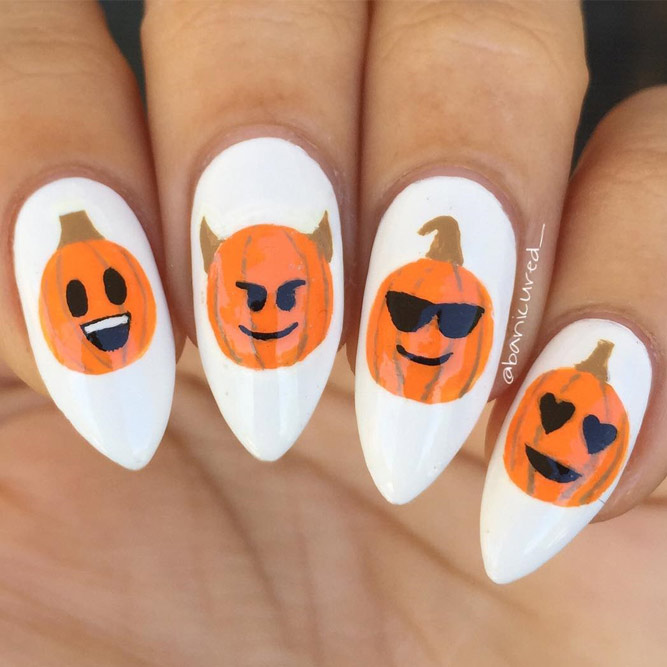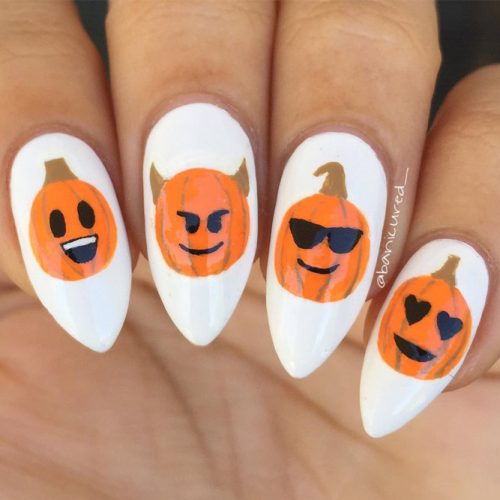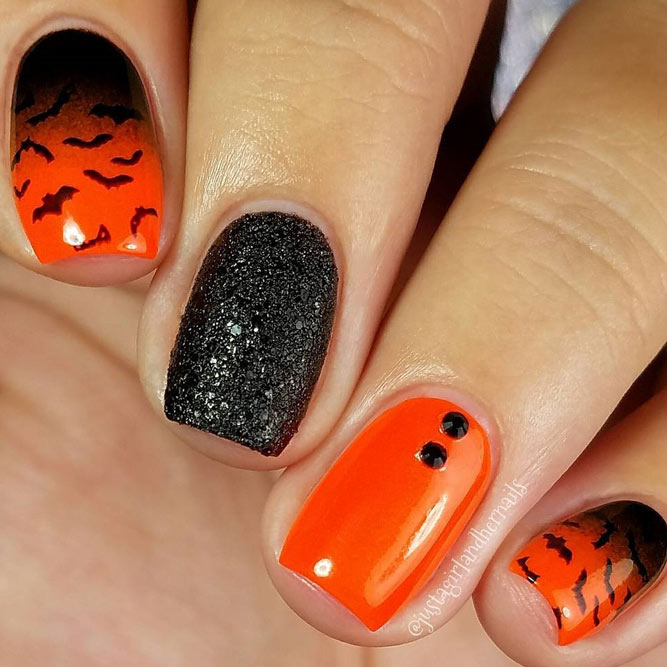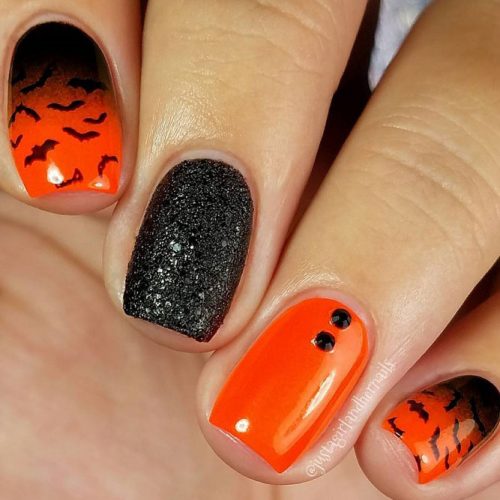 Source: banicured_ via Instagram, nailsbycambria via Instagram, 4ubyu via Instagram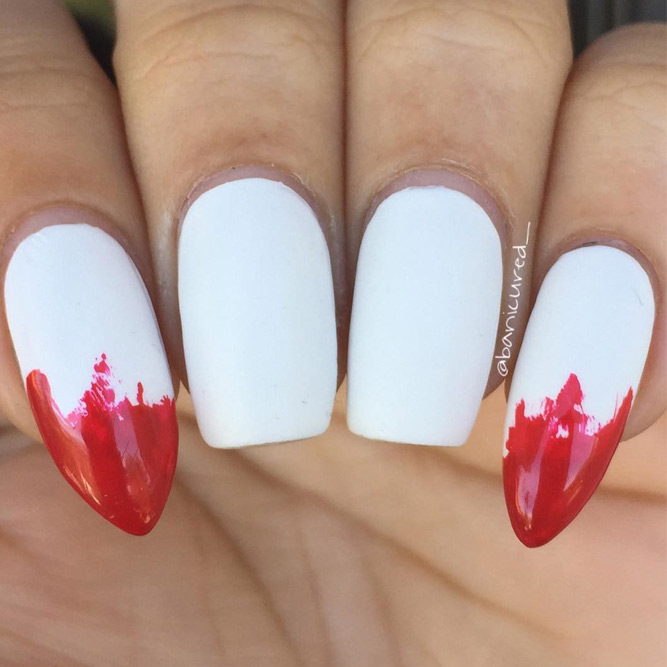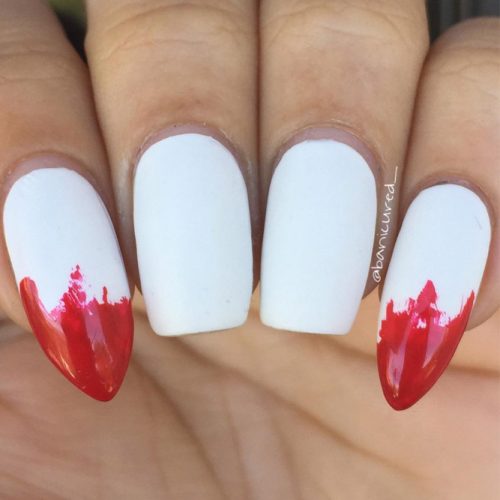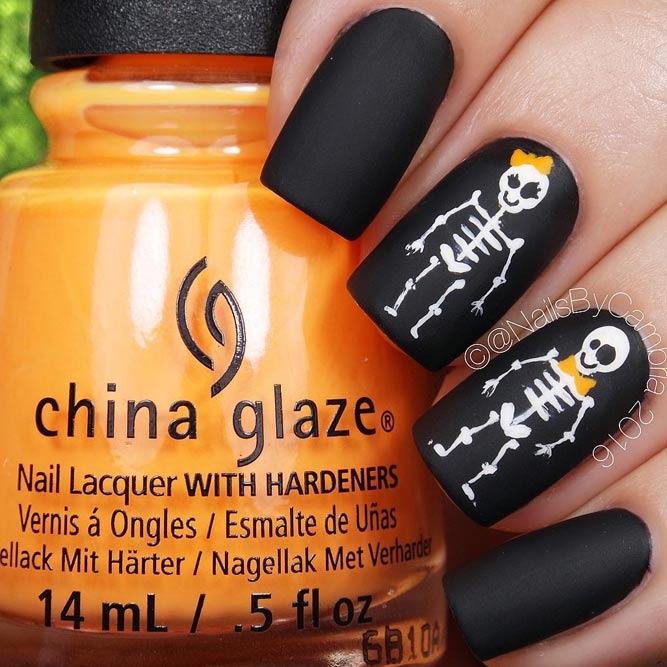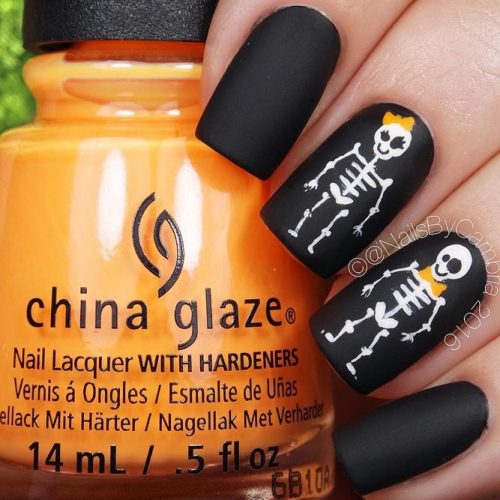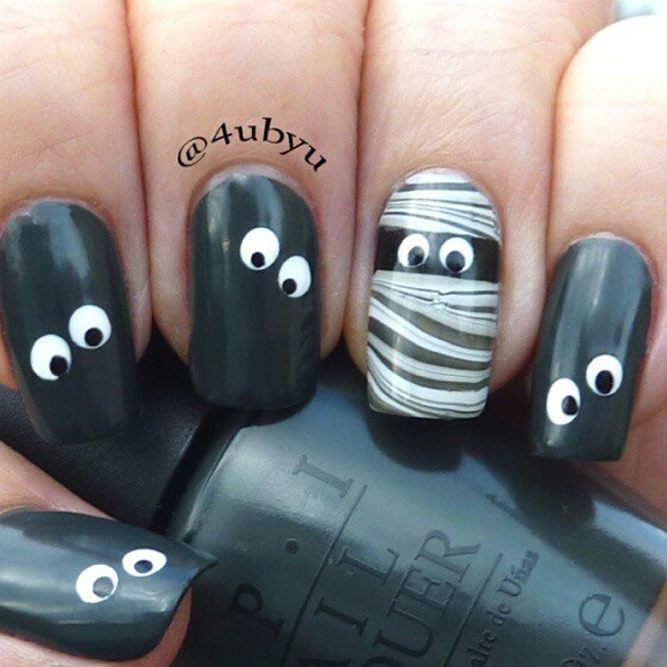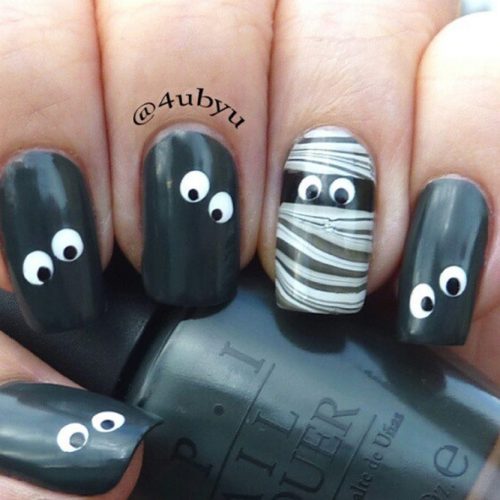 Halloween nail art, considering the theme, tends to involve some creepy elements like blood, scary faces, ghost silhouettes, skeletons, coffins, and other attributes peculiar to the holiday.
Scarily Easy Nails Designs
Source: armstrongnails via Instagram, nailsbycolette via Instagram, thedotcouture via Instagram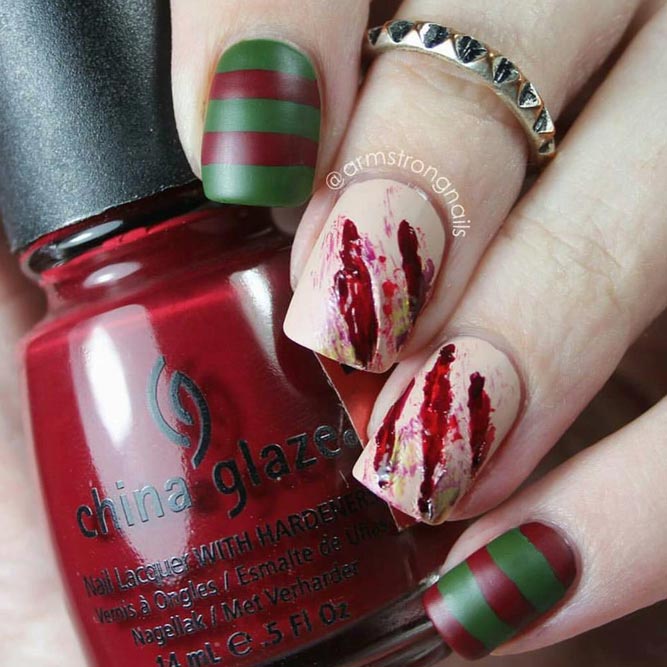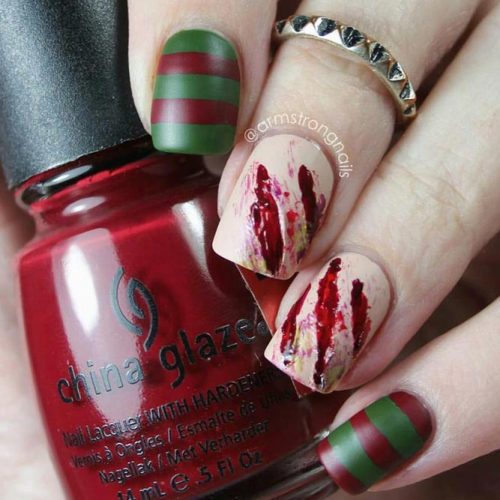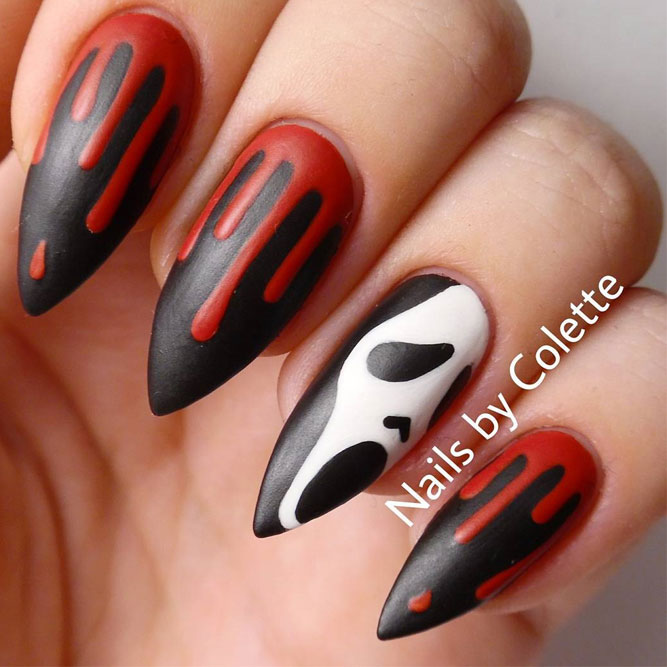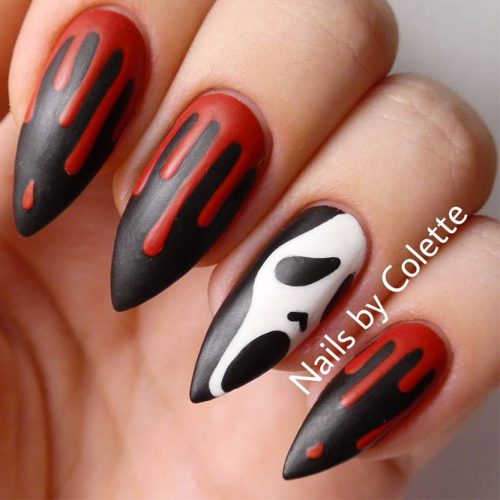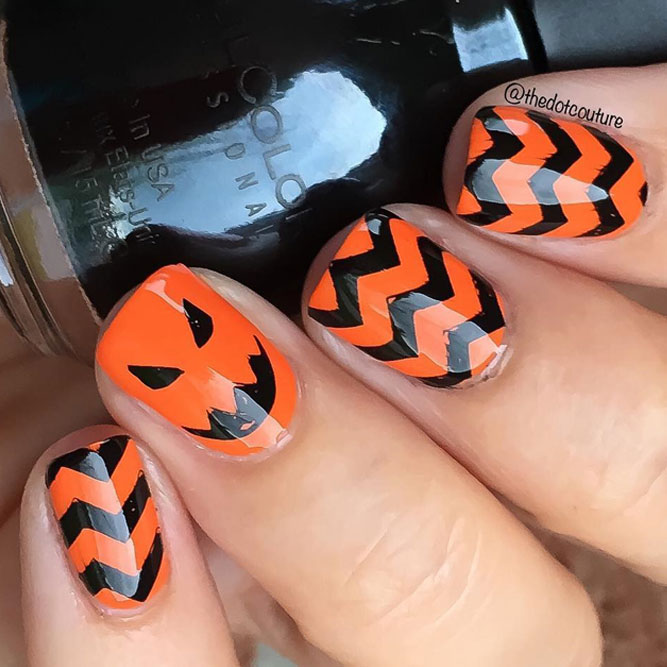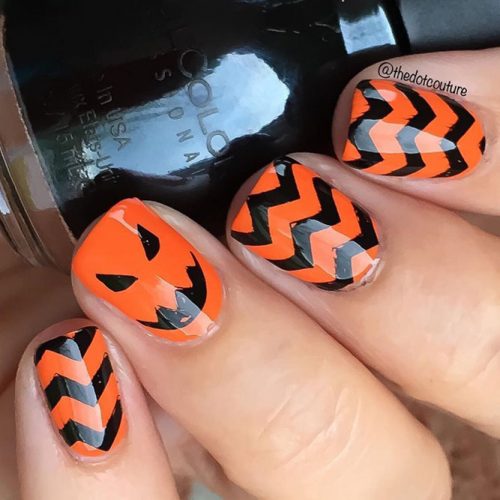 Source: ScratchNailSpa via Instagram, naileditnz via Instagram, malishka702_nails via Instagram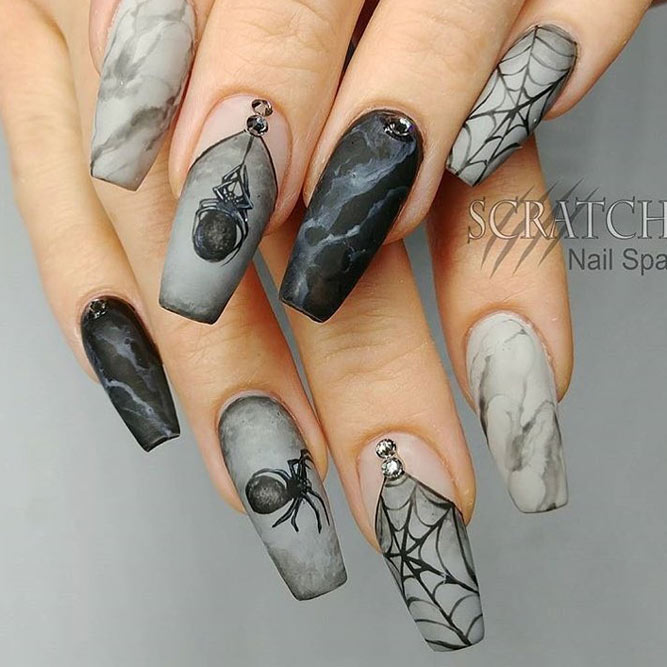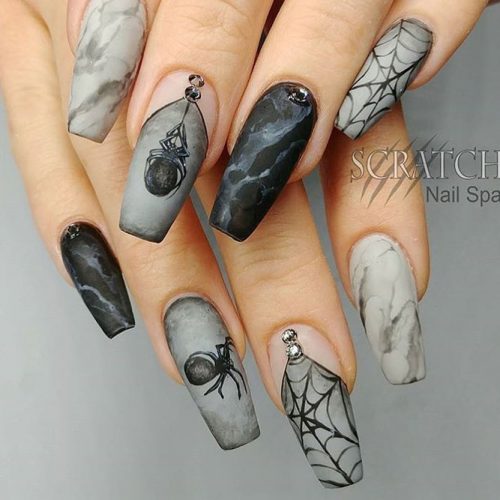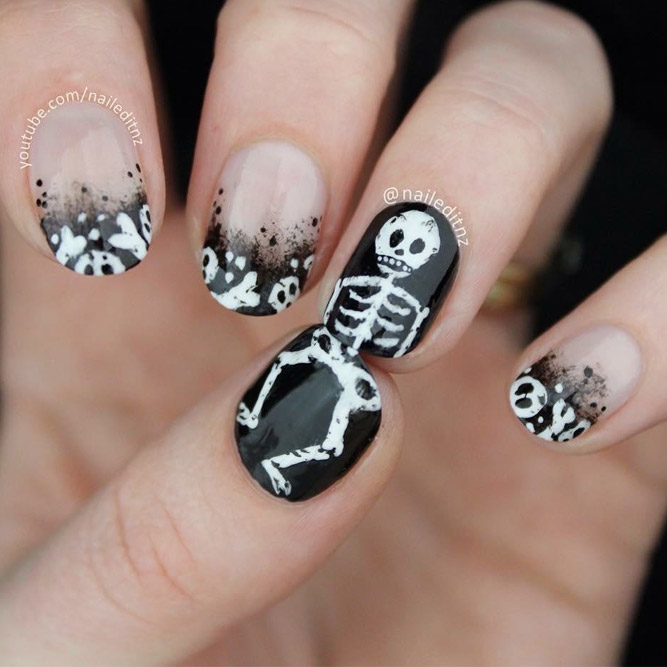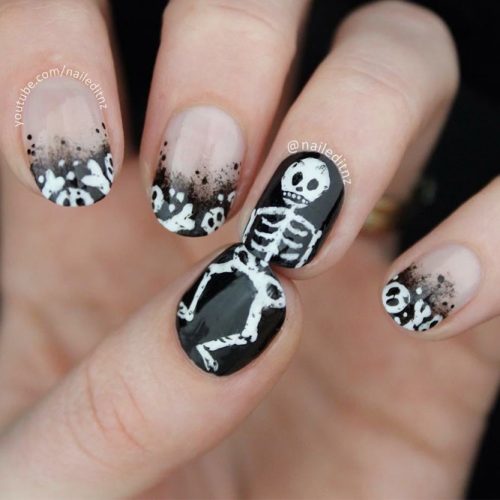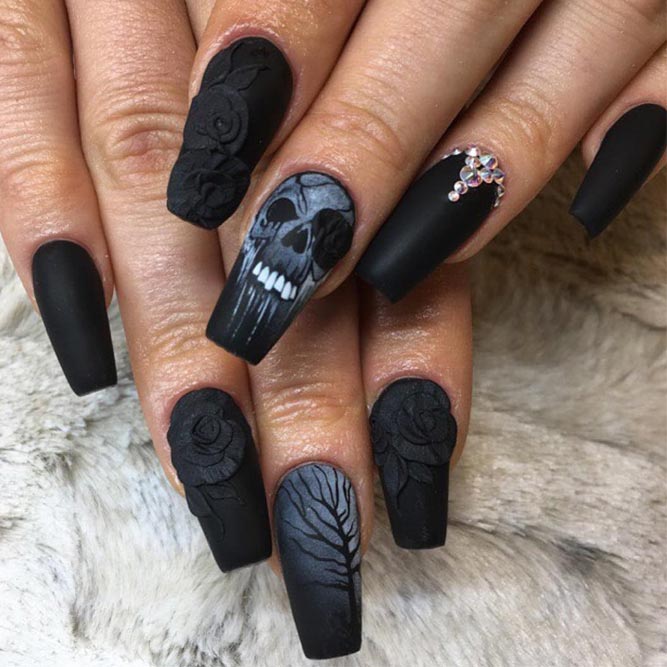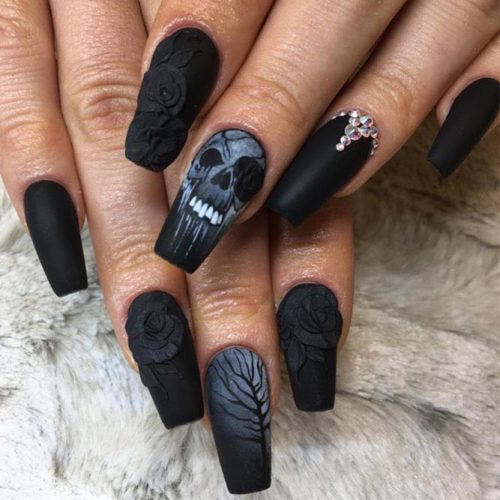 There are literally no restrictions and no limits when it comes to Halloween nails. So, remember that the spooky is not a must for this holiday. Your nail art can be lovely, too.
Best Halloween Nail Designs You Should Try
Source: laquenailbar via Instagram, hannahroxit via Instagram, laquenailbar via Instagram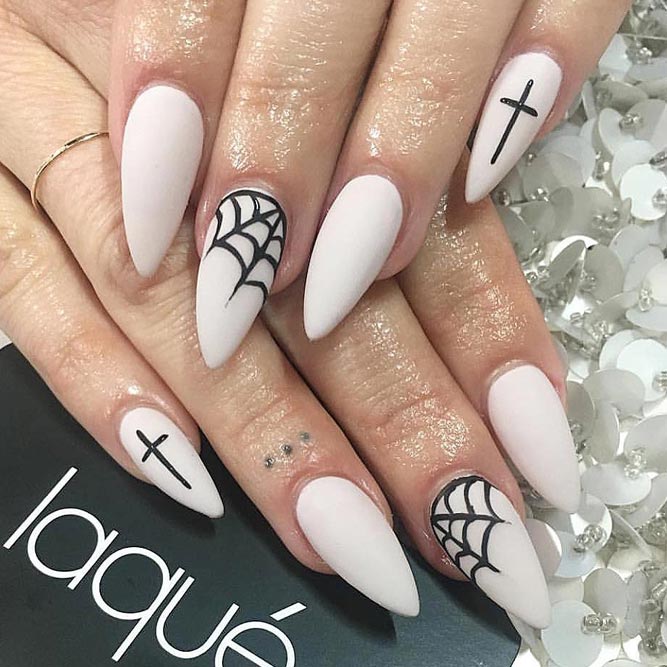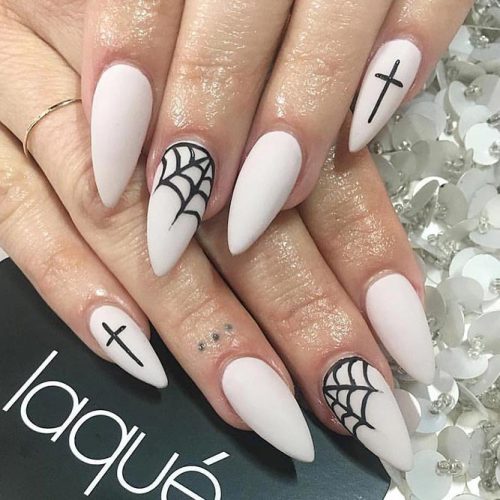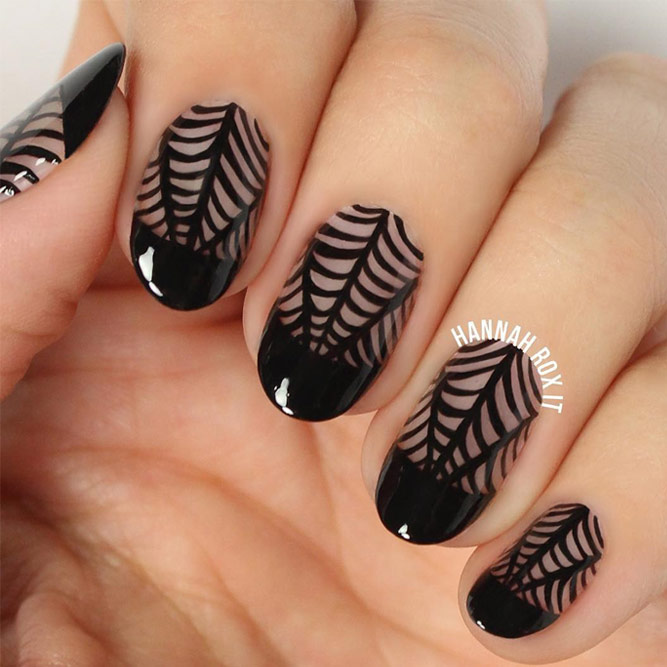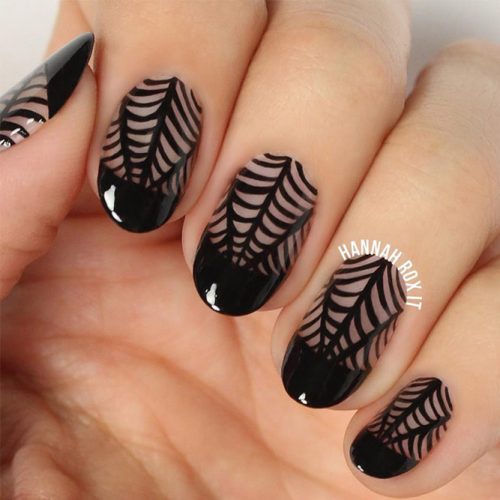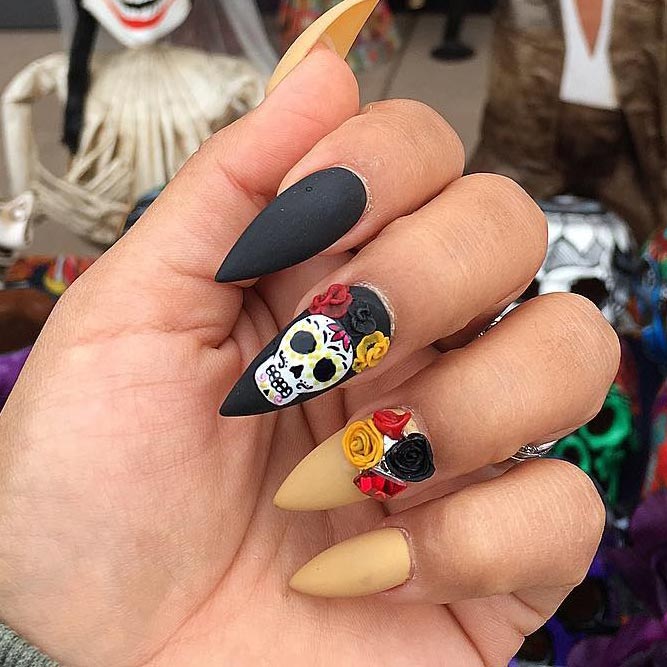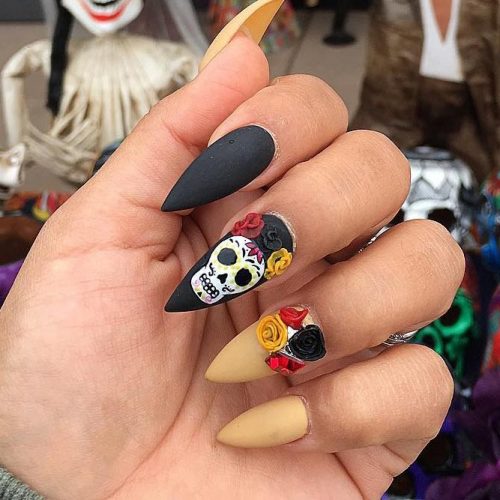 Source: smaltefy via Instagram, mindynailsdecor via Instagram, love_studio_nails via Instagram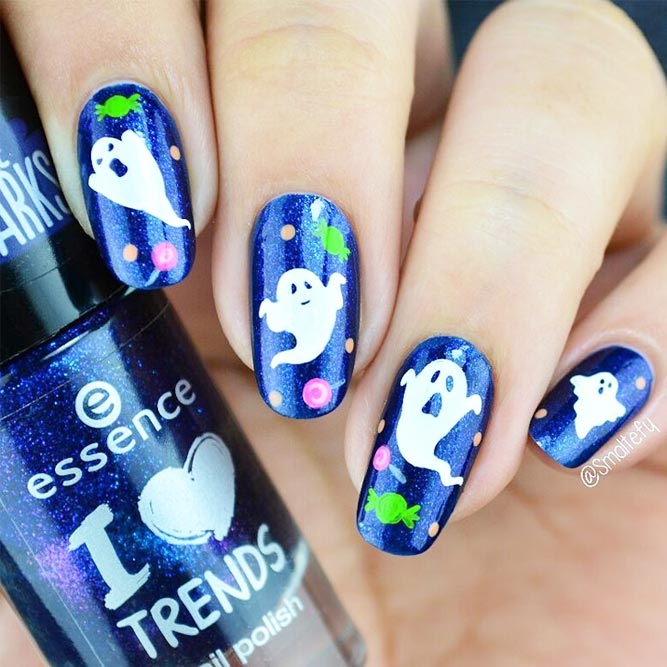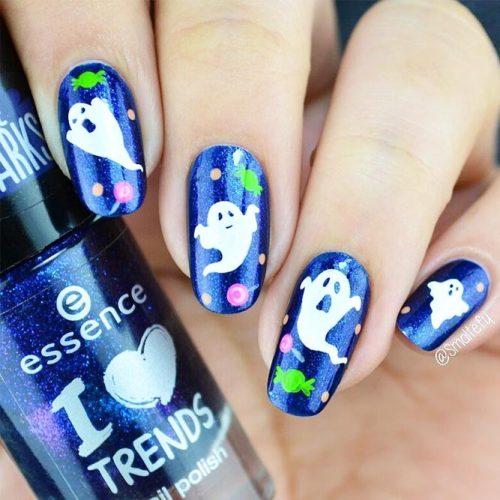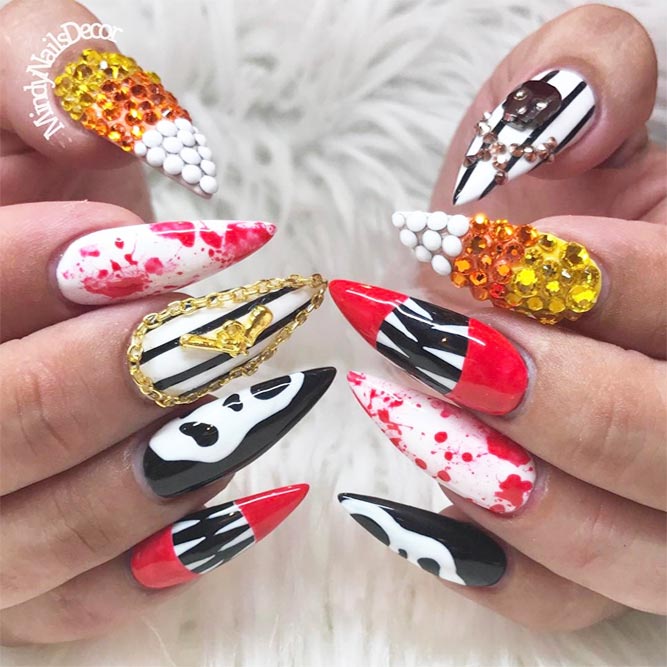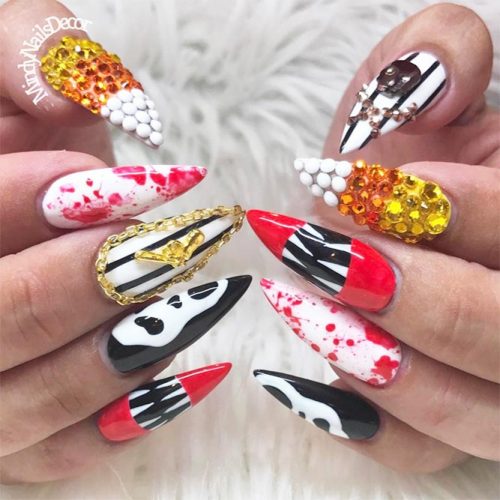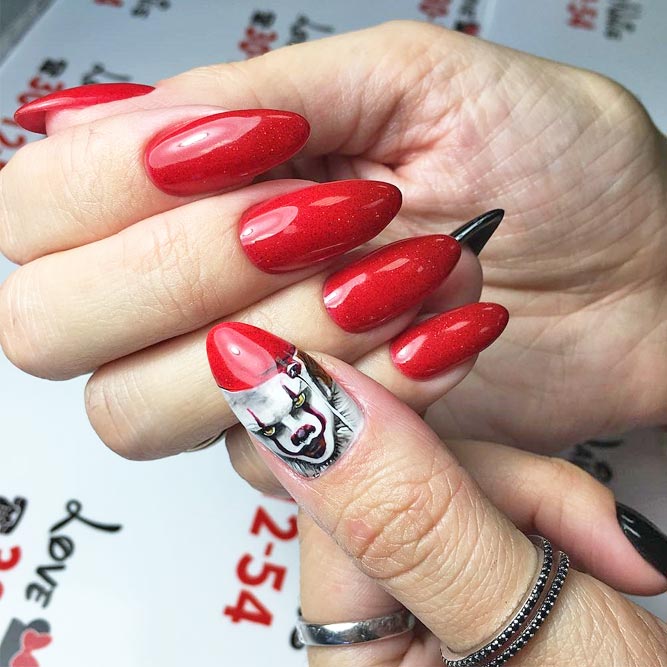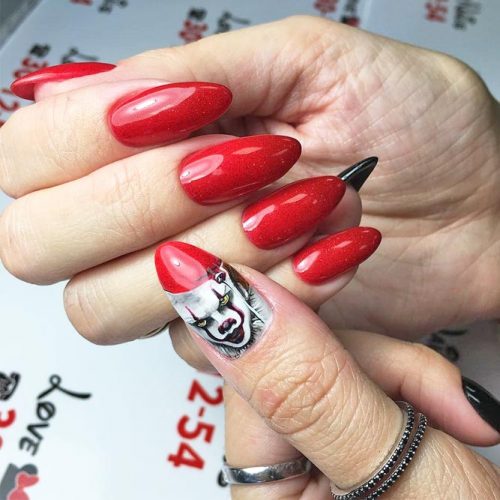 There is probably only one thing to keep in mind when it comes to your holiday nails. Match your nail designs with your costume. Then your image will be wholesome and super cool!
Killing Nail Designs to Try This Year
Source: nailsbycambria via Instagram, clairelofthouse via Instagram, armstrongnails via Instagram
How will you emphasize the theme of Halloween? Try spooky ghosts, funny pumpkins, or witches.
Creepy Nails Designs For Long Nails
Source: ekablenails via Instagram, vo.tino via Instagram, vo.tino via Instagram
Source: kleidys_nails via Instagram, nailsbymontse via Instagram, vo.tino via Instagram
If you are a lucky owner of ultra-long nails, there are no limits as for what to opt for when Halloween is around the corner. However, if you are looking for something extra creepy – we have you covered!
Halloween Nails Designs For Short Nails
Source: betina_goldstein via Instagram, raechelsnails via Instagram, betina_goldstein via Instagram
Short nails do not mean that you cannot pull off awesome Halloween manicure when the time comes. There are many cute and thematic ideas to decorate your nails with when the time comes. We have listed here only the best ones to consider.
Pretty Jack Skellington Nail Art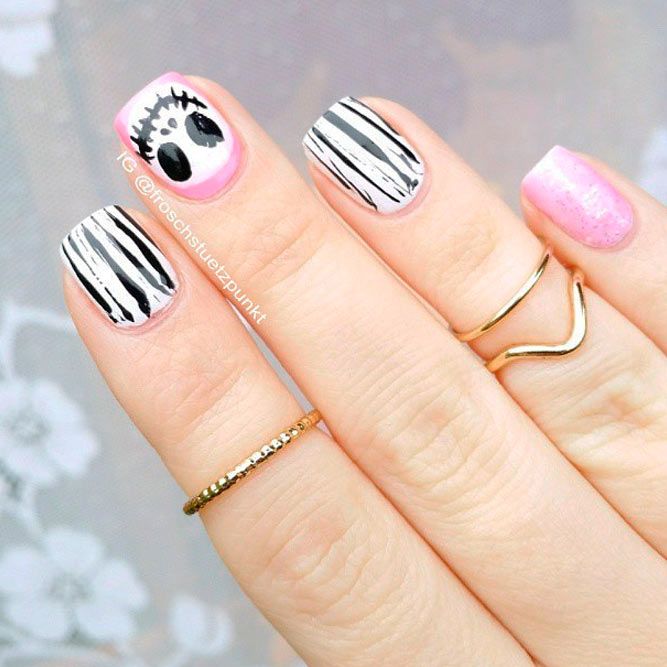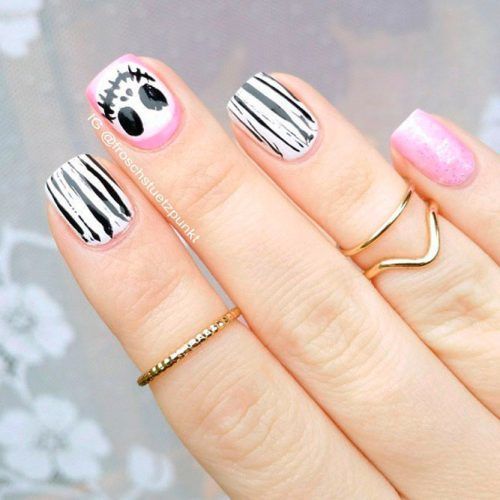 Source: froschstuetzpunkt via Instagram
Among all the skeleton nail art ideas, those with Jack Skellington are the prettiest. Despite the scary vibe and concept, the manicure will look incredibly cute if you combine it with pink nail polish.
Fear Has Many Eyes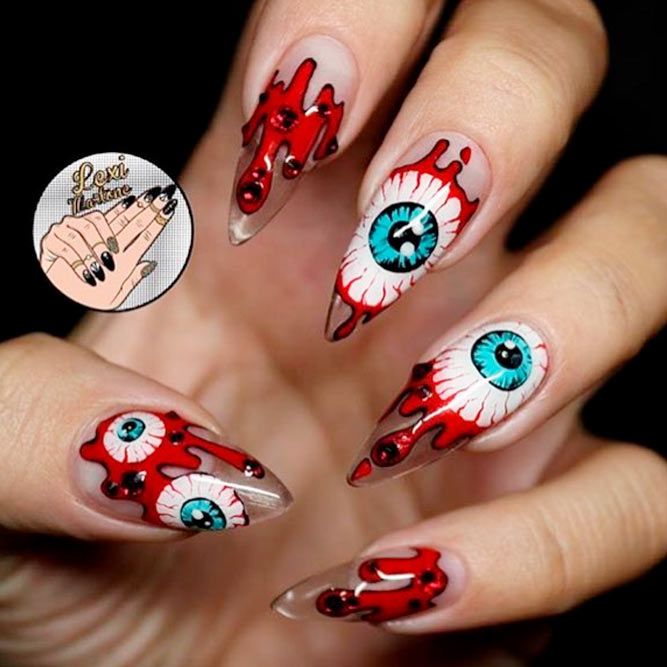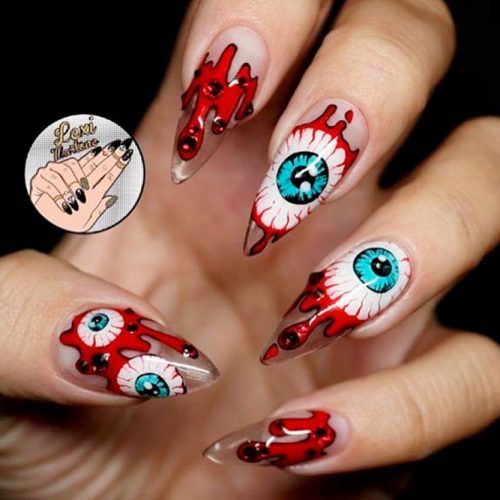 Source: leximartone via Instagram
There is rarely anything creepier than having eyes in the places they shouldn't have been. With such an eye manicure all the eyes will be set on you, there is no doubt about it.
Alien Nail Design For Halloween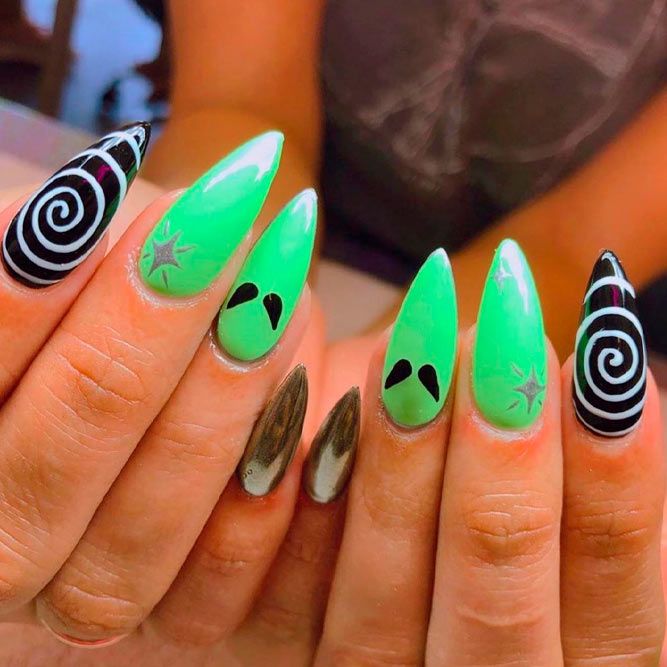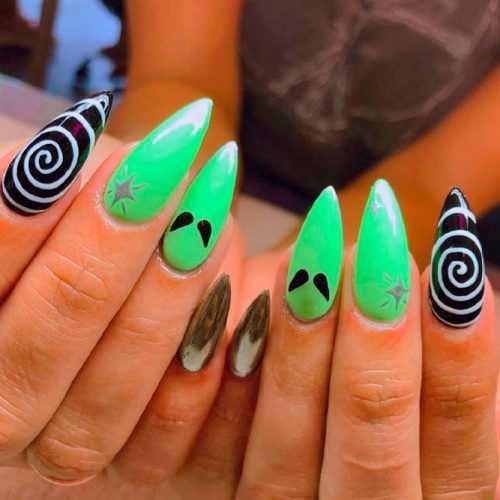 Source: txmanimuse via Instagram
If you think that you can't go for alien makeup because it is always too complex – we have a pleasant surprise in store. The fact is that such a nail design is not only holiday-fit and easy to replicate, but it is also up-to-date.
Sparkly Spider Web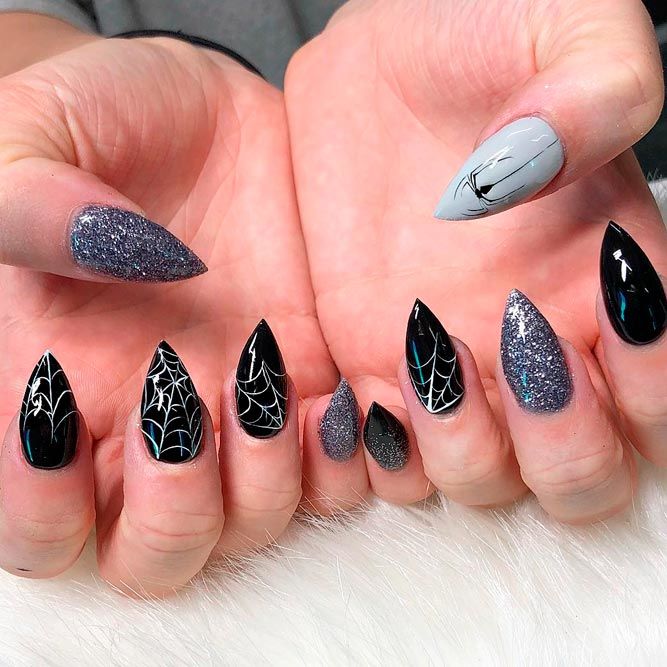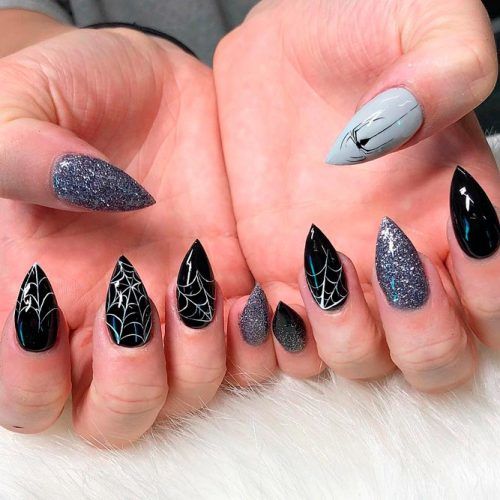 Source: nessasnails9 via Instagram
Those of you who want to embrace the Halloween vibe but look glam and trendy at the same time, we know a way. Spiders and spider webs will add up to the holiday while the sparkles will carry out the stylish part.
From spine-chilling spiders to whimsical witches, you've transformed your fingertips into a canvas of Halloween magic. Whether you choose a playful or eerie theme, your Halloween nail designs will showcase your festive spirit in every brushstroke!
FAQ: Halloween Nail Designs
Can you paint your nails with blood?
Due to the slightly eerie spin of blood claws, you can paint the base and blood in any color you like. Note that even the deep, shimmering purples are useful for Halloween-inspired, less noticeable moments.
Is it OK to paint a bruised toenail?
Once your doctor has diagnosed and treated the bruised or inflamed nail, it's then secure to paintings on that client, provided there is no signal of infection, bleeding, pain, or hypersensitivity to acrylic.
How do you make spider web nails?
Use an antique silver color to polish your nails.
As the cobweb base, make a crow's foot.
Create a web.
Make a spider on each of your pinky fingers.
Draw a line from the spider's head to your nail's tip.
Make a "X" in the larger dot.
Make some legs for your spider.
Don't forget to apply a protective clear coat at the end.