French manicure designs are always in trend! We all ladies love them, but the traditional design becomes a bit boring in a while. As the real fashionistas, we like experiments and change, and this concerns our French mani, too. So, as usual, we read your thoughts and we are here to satisfy your urge to get something new.
*We may earn money from affiliate links on this page. Please check out our disclosure policy for more details.
Pros and Cons of a French Manicure
| Pros | Cons |
| --- | --- |
| Timeless Elegance: French manicures are known for their classic and elegant appearance. They are suitable for various occasions, from casual to formal, and can complement a wide range of outfits. | Difficulty in DIY: Achieving a perfect French manicure can be challenging, especially when attempting to create symmetrical white tips. This might require practice and a steady hand. |
| Versatility: French manicures can be customized to suit your preferences. You can choose different nail shapes, nail lengths, and color combinations for the base and tips, allowing for a personalized look. | Prone to Chipping: The white tips of a French manicure are more prone to chipping and wear than a solid color nail polish, which could require frequent touch-ups to maintain the polished look. |
| Nail Length Enhancement: The white tips of a French manicure can visually elongate the appearance of the nails, making your fingers look more slender and graceful. | Maintenance: Keeping the white tips looking crisp and the overall manicure looking fresh can require regular upkeep, which could be time-consuming for individuals with busy schedules. |
| Suits All Skin Tones: The neutral color palette of a French manicure means that it complements a wide range of skin tones, making it a versatile choice for many individuals. | Professional Cost: Getting a French manicure done at a salon might be more expensive than a regular nail polish application due to the extra effort required for creating the white tips. |
Classic French Manicure
Source:charsgelnails_
i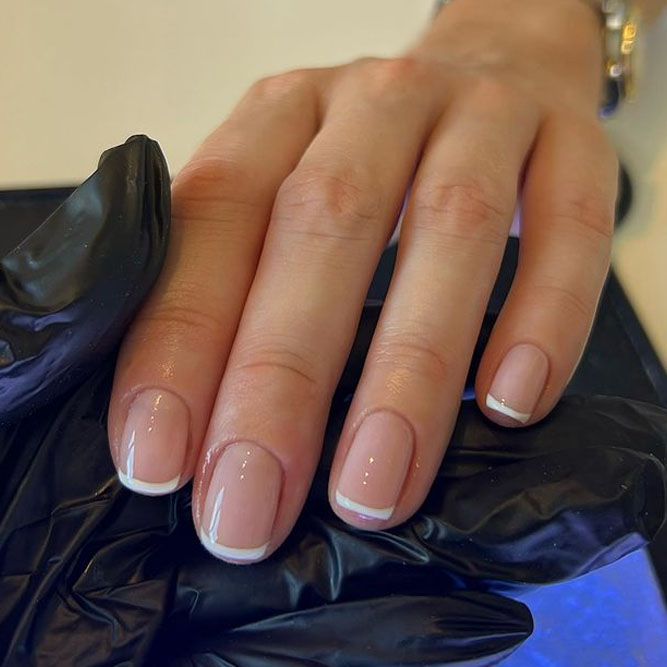 Source:charsgelnails_
i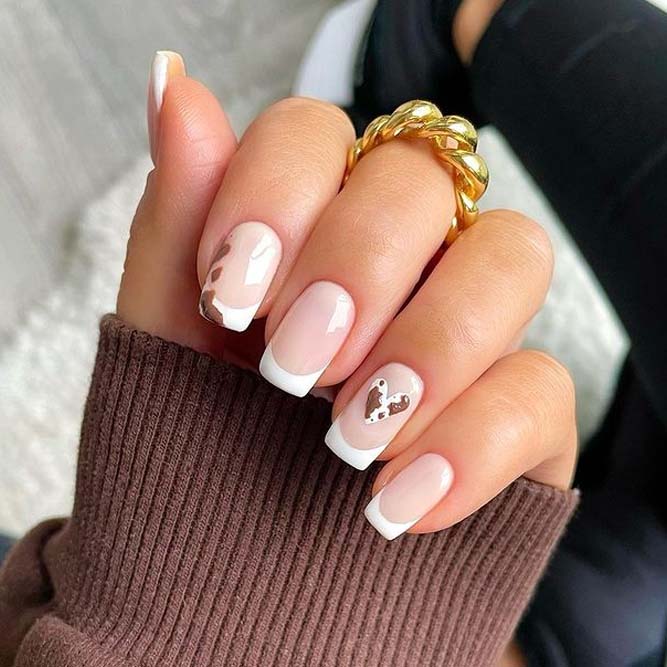 /
You can never go wrong with French nails, as they look appropriate in any situation and work for all nail shapes. But even if a French manicure stays in all whites, you are unlikely to see a lonely even white stripe on each nail – this initial variant of the design is so in the past right now. However, if you decide to go for a classic version of the nail style, no one can stop you.
What Should A French Manicure Look Like?
Is French manicure Out Of Style? Are French nails still in style 2023?
Are French Manicures Tacky?
What Are The Different Types Of French manicures?
What is the best shape for a French manicure?
What is American manicure vs French manicure?
Metallic Cuivre French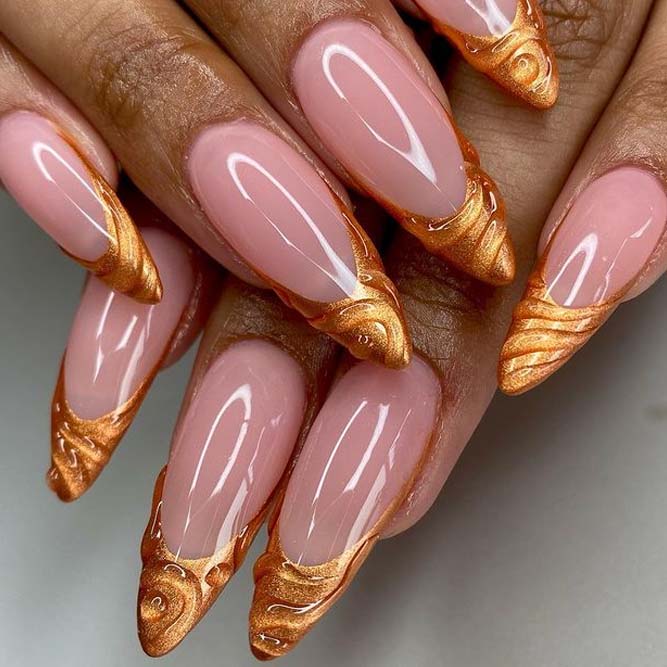 Credit photo: instagram.com/lenavitch.nailz
If you are tired of traditional white French tip nails, then you may want to try this bold and stylish design idea. Instead of a white nail color, use a nail polish with a metallic finish. To take it to another level, choose shades other than white, like copper or rose gold. Check OPI Sweet Carmel Sunday and Orly Rage for these shades.
Double French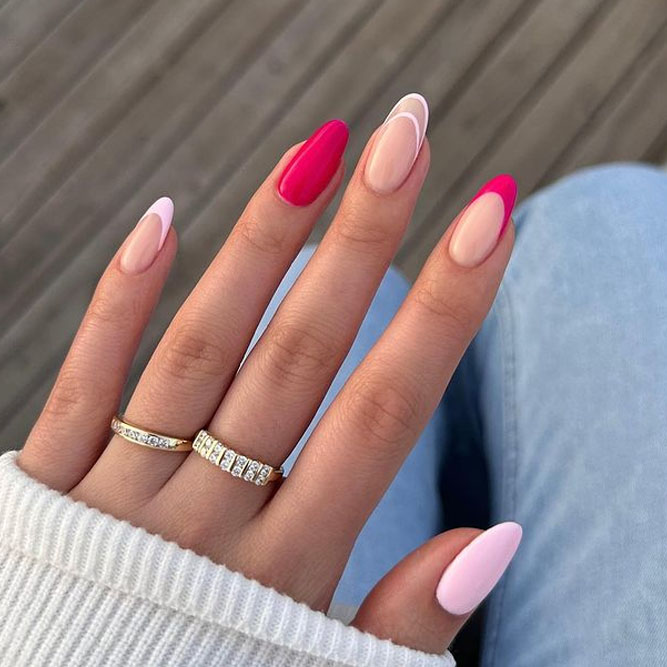 Credit photo: instagram.com/heluviee
When single French does not seem enough for you, why don't you take it to another level with a double French manicure? Looks familiar? And no wonder. You could spot it on such trend setters as Bella Hadid, Hailey Bieber and Kylie Jenner. To create this manicure design, you just need to draw a thin curved line underneath the white tips. As simple as that.
Yellow French Chrome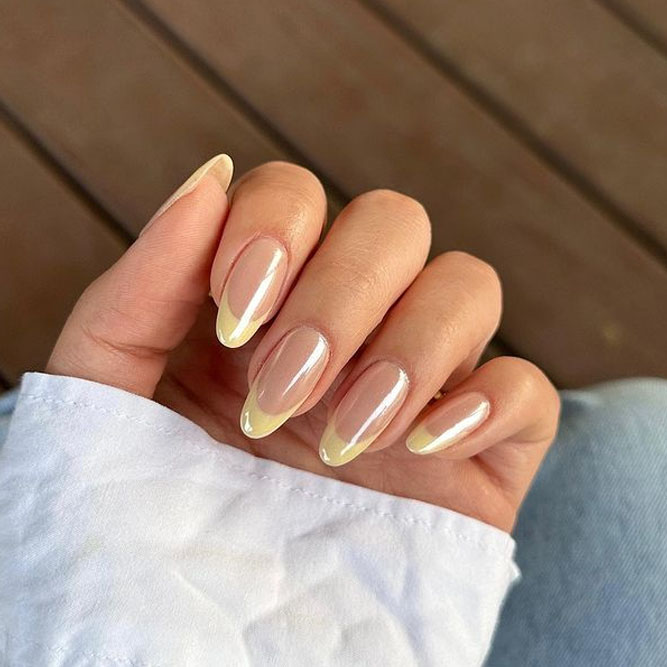 Credit photo: instagram.com/heluviee
Looking for some really unique French manicure ideas? You have come to the right place. How do you like these yellow French nails with a chrome sheen? They will undoubtedly make you stand out in the crowd, so get ready to be the center of attention. Sunset Yellow Applique from Morgan Taylor will help you to achieve the desired effect.
Two Color French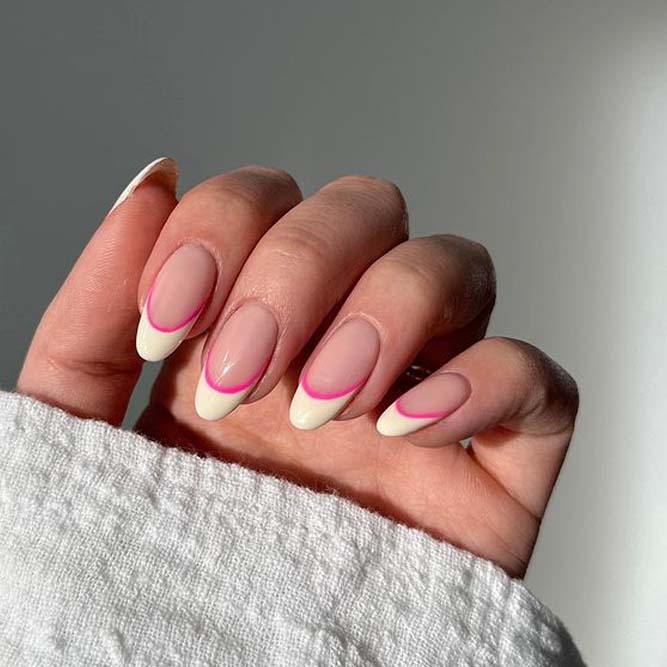 Credit photo: instagram.com/heluviee
There are plenty of ways to pull off colorful French tip nails. Of course, you can just paint each nail tip a different color, like Adele, and be good to go. Yet, in case you want something even more unusual, then you should use several colors on a single nail. Start with a two color French by defining the base of your tip with a high contrast color. And whenever you would like to take it up a notch, you can simply add more colors.
French For Short Nails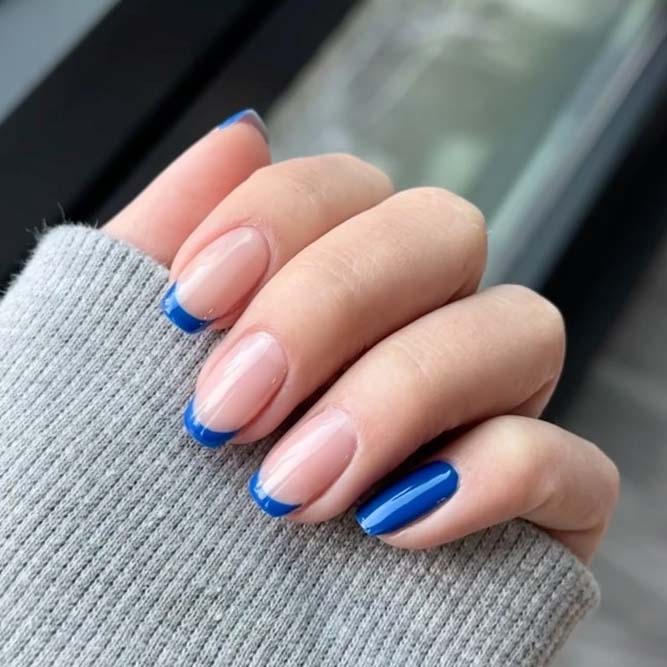 Credit photo: instagram.com/heluviee
In case you have decided to take off your long French tip acrylic nails and sport a short length, it does not mean you have to ditch your favorite manicure style. French may be adjusted to suit any nail length. Just do not make the white tip too thick. Paint a barely there curved line right on the edge of your nail.
Mermaid Wavy French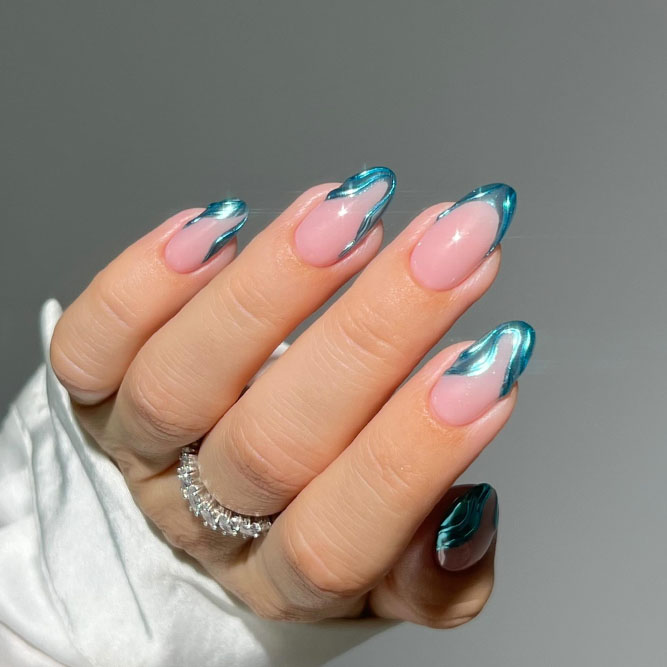 Credit photo: instagram.com/heygreatnails
Apart from different French manicure ideas with color, you can also play around with the shape of the tips. Instead of an even curved line, paint an unusually shaped design, such as a wavy French. If you choose it in blue color, it will become a perfect manicure style for your summer vacation.
French Nails with Glitter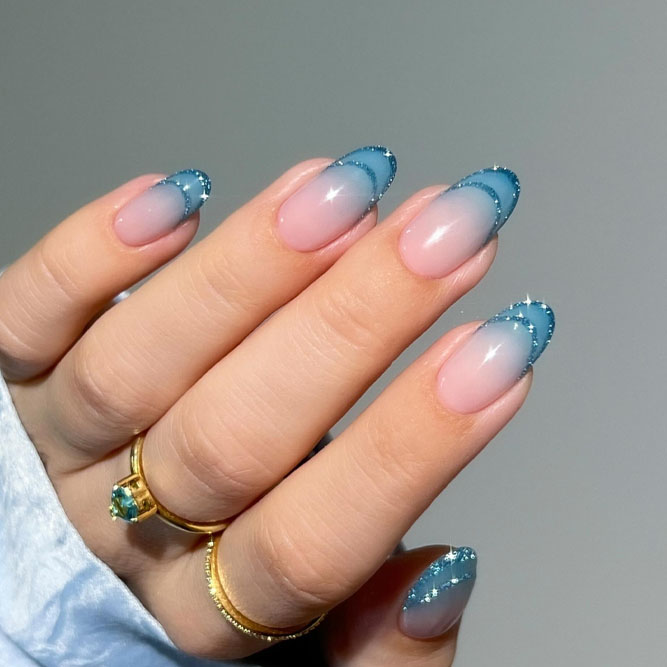 Credit photo: instagram.com/heygreatnails
Not sure how to spruce up your manicure for Christmas? Glitter French tip nails are always a great idea. The color, size and shape of the glitter depend on your preferences and the outfit you are planning to wear during the holidays. For something universal, consider classic winter colors, like blue or white. You can find those in Orly, Zoya and OPI.
Dotted Half Moons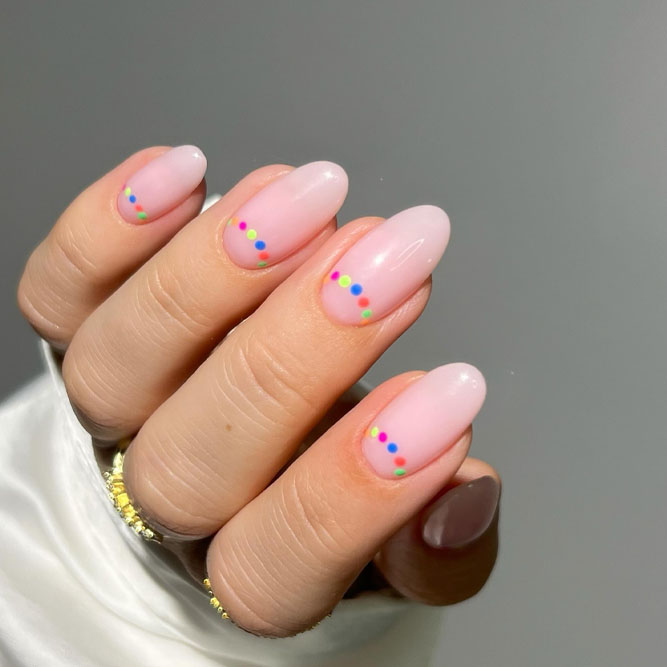 Credit photo: instagram.com/heygreatnails
Create really cute French tip nails with this dotted half moon design. As it resembles confetti, it is a wonderful option for birthdays nails. To get it, you will need a dotting tool and several nail polishes in different colors. Pick up the color with the dotting tool and apply it to the base of the nail. Place dots so that they create a crest.
French Tip Florals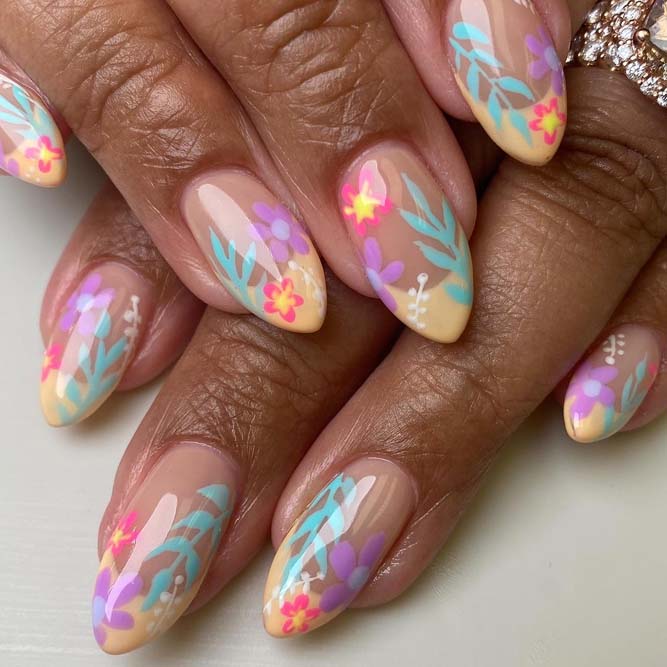 Credit photo: instagram.com/superflynails
French manicure designs are highly popular for good reason. They give your nails a feminine and romantic touch. This mani style is good for any occasion and season. But you may find it most suitable during spring. The type of flowers and print depends on many factors, like your preferences and how much space you have. As such, short almond French tip nails cannot accommodate a very elaborate design, so opt for something simple. Long coffin French tip nails, on the contrary, allow more room for creativity.
Duochrome French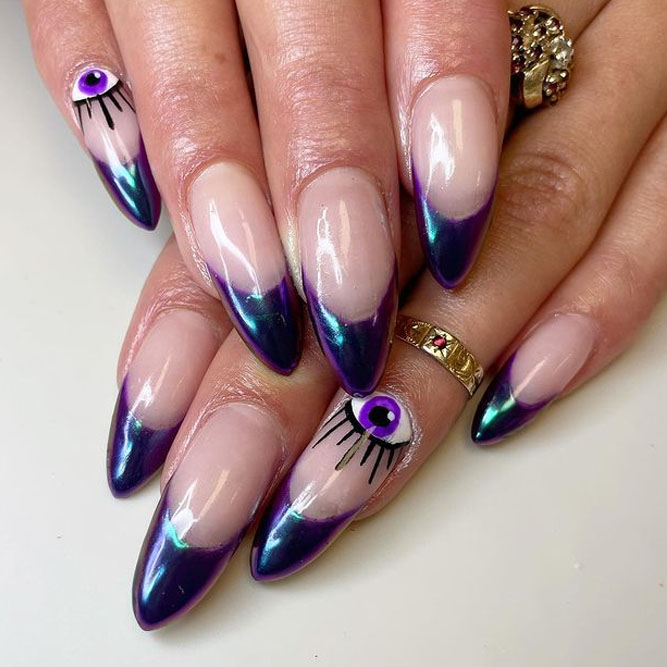 Credit photo: instagram.com/superflynails
Those who are not very good at painting should take a closer look at different nail polish formulas and finishes. Duochromes are very popular these days, as they offer you an out of this world shift of color. You can go with something really bold and eye catching for your gel French manicure, such as pink to purple duochrome, or choose a softer transition, like green to blue.
Golden French Tips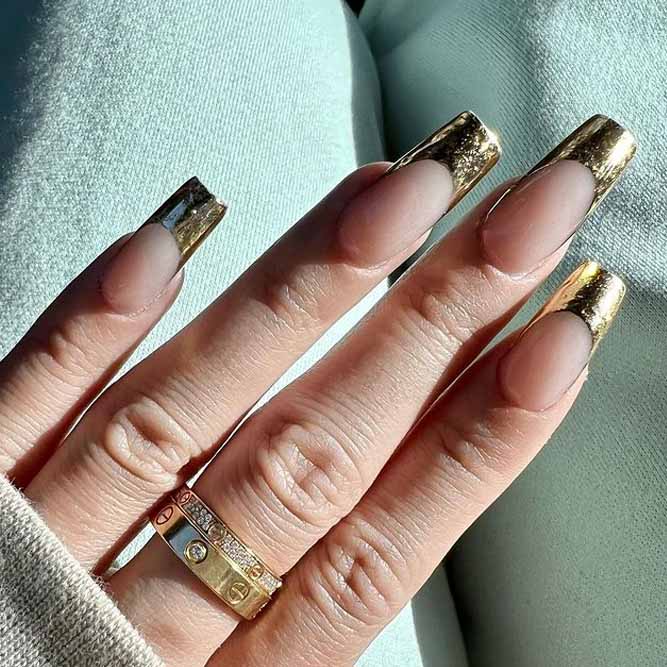 Credit photo: instagram.com/malishka702_nails
Add a luxurious feel to your French manicure with golden tips. This nail style looks stunning at any event, be it a Christmas party or a wedding celebration. For the best result, use only top notch gold nail polishes, such as Chanel in Phenix or Essie in Good As Gold. You can draw inspiration for this nail design from Kim Kardashian and Rihanna.
Thin French Nails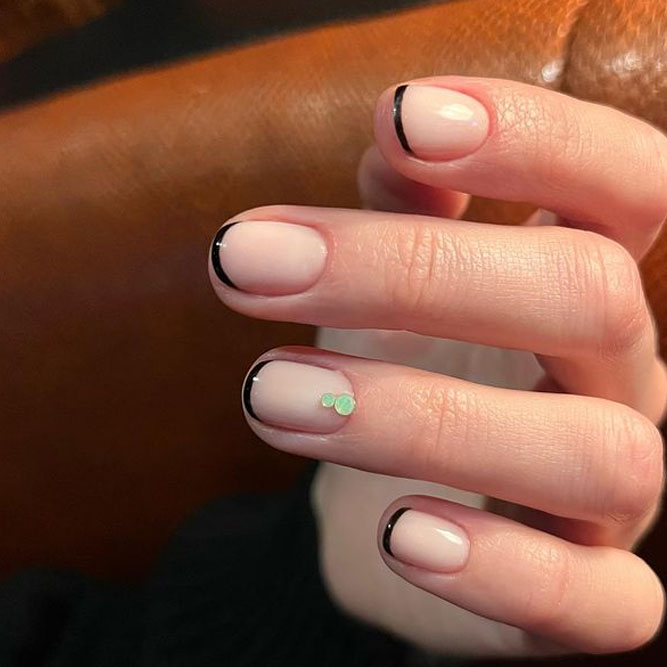 Credit photo: instagram.com/malishka702_nails
Selena Gomes is also one of those celebrities who we should blame for the comeback of French nails. Not that we complain about it. Yet, the Rare Beauty founder keeps her French very minimalistic choosing thin tips over traditional thick ones. Another way to elevate your nail look is to switch up the white tips for black French tip nails.
Green Gradient Tips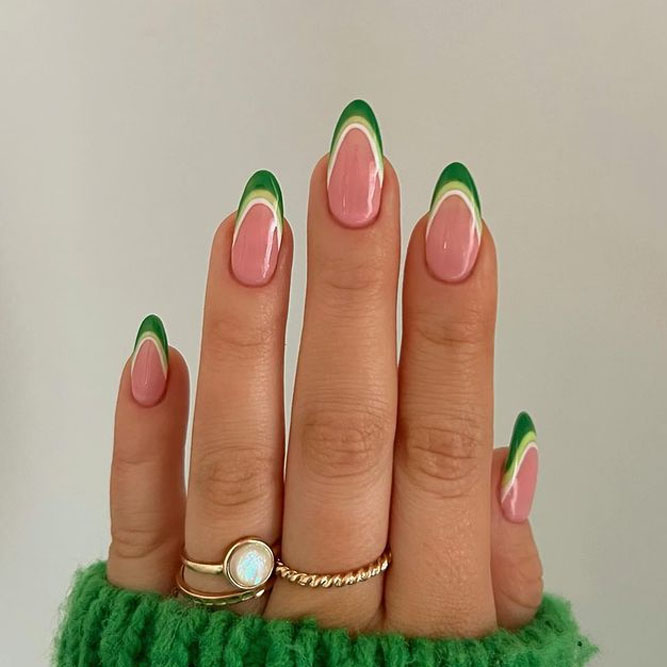 Credit photo: instagram.com/charsgelnails_
You can combine a French manicure with other popular techniques to create personalized designs. In this way, ombre French nails turn out so bold and impactful that you can make them your signature mani style. Pick out unconventional colors, such as green, which result in an amazing St Patrick's Day nail idea.
V French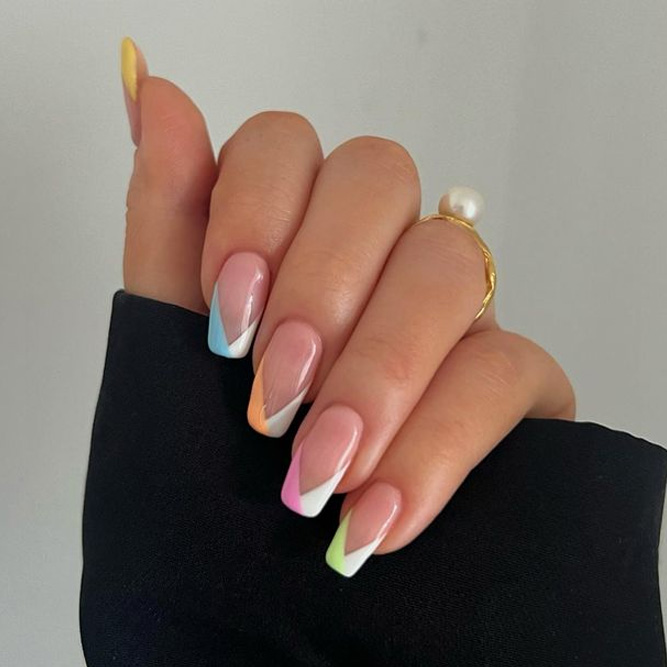 Credit photo: instagram.com/charsgelnails_
To give your manicure a retro vibe, why not customize the shape of the tips a bit? Kylie Jenner goes with a V French manicure and we are absolutely obsessed with it. To make the shape crisp and neat, you can enlist the help of stencils or create one using scotch tape.
Gold Glitter French Mani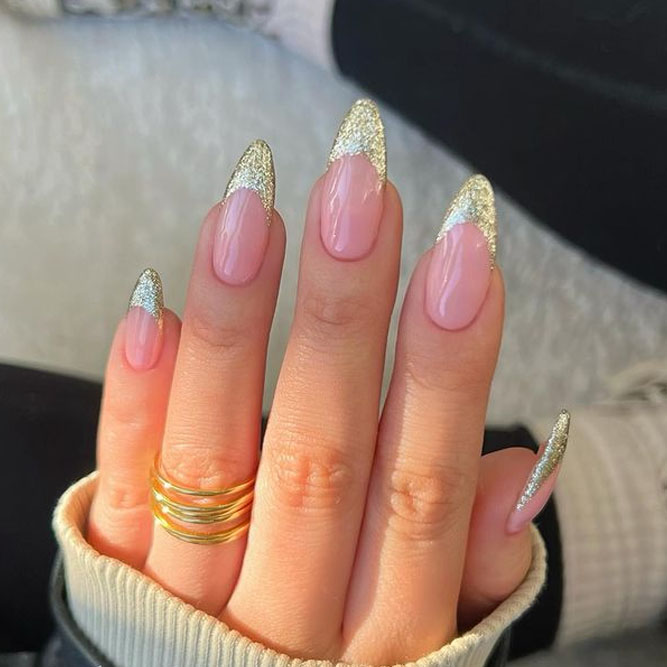 Credit photo: instagram.com/charsgelnails_
If you find classic white and pink French tip nails too plain, then we suggest you select a different color for tips or base or both. Gold is a failsafe option in any case, especially when it is a glitter formula. OPI in This Changes Everything and Essie in Summit Of Style are what you need to get this manicure design. Apply it solo or on top of the white tips for the glitter to better show up.
Cute French Fade For Perfect Mani
Credit photo: instagram.com/didoline
Keeping things sweet and simple is not a sin that is something we are sure about. Simple but gentle French fade is what you need to embrace your femininity and to glow gentleness wherever you go.
Black And White French Fade
Credit photo: instagram.com/nailpromagazine
Are you feeling like a black French fade or white one today? There is no need to decide since you can easily pull off both combine in one mani. Besides, a stylish moon accent will introduce that exquisite charm to your nails.
Dark Diva
Credit photo: instagram.com/nails_pro_nails
If you prefer darker shades of polish, try this deep midnight black base with delicate blue tips for a dramatic look and feel. Also you can accent your ring finger.
French Nail Art For Short Nails
Source: emotionsssss
i
Source: dazanails
i
Source: nails_irinamarten
i
/
And sometimes the color division in a French mani disappears entirely and offers something new. Shades blend or become gradient, which looks super glamorous and just awesome.
Simple But Stylish French Nail Art Designs
Source: nailsbyarelisp
i
Source: newlypolished
i
Source: whiterabbit_beauty
i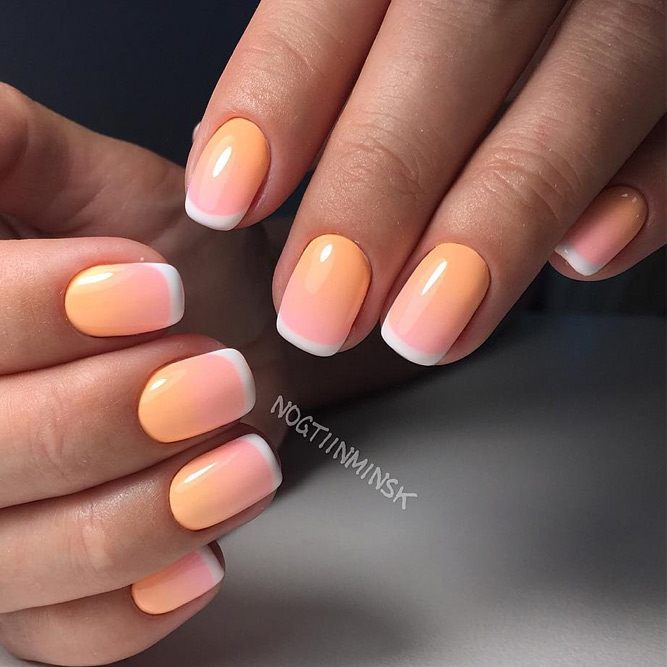 /
There are many more gel french manicure ideas than the white-tip one. You can easily experiment with metallic hues and also ombre techniques to come up with an irresistible result. Use these ideas to your advantage.
Midnight Mani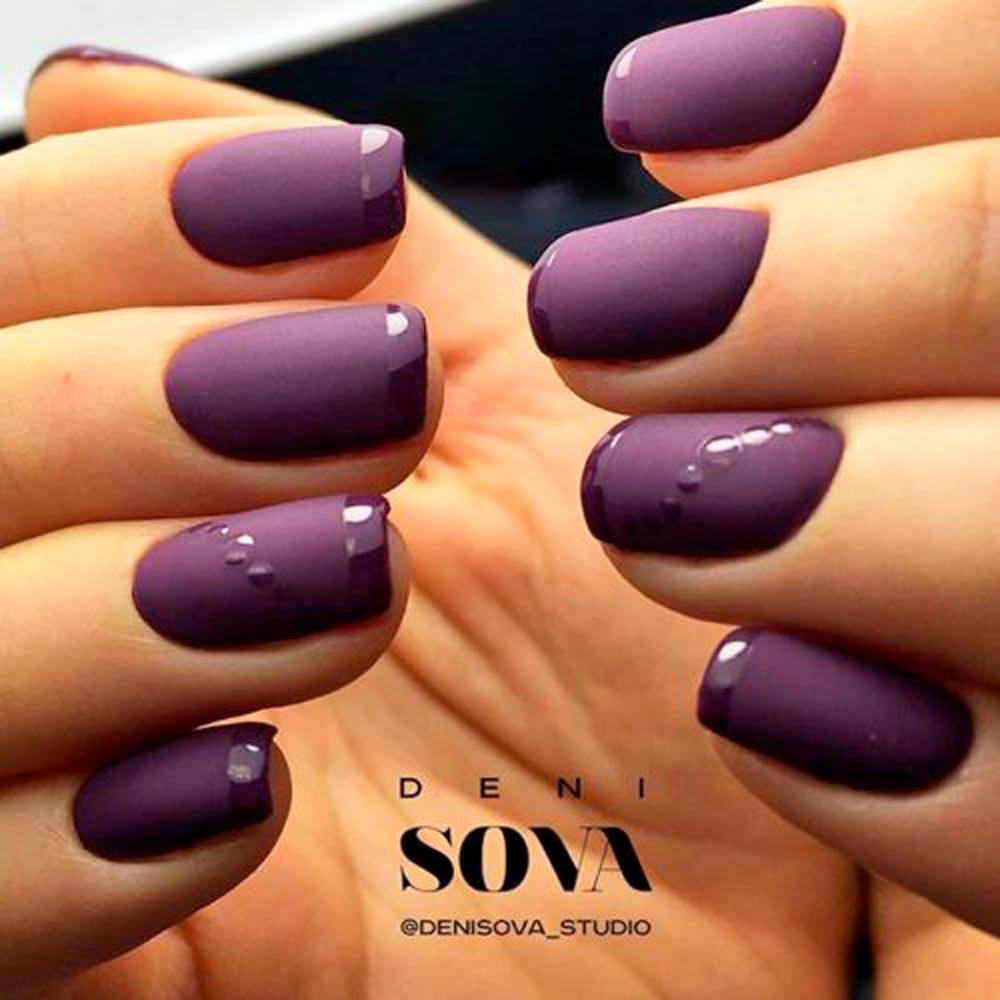 Credit photo: instagram.com/denisova_studio
This look is daring yet still sophisticated with shiny deep purple tips on a matte purple base. Ideal if you want to show off your darker side.
Purple Passion
Credit photo: instagram.com/yagala
Purple is such a pretty color, but we especially love this light purple base with white tips. If you feel so inclined, you can paint a purple flower on your accent fingers to make this already elegant manicure stand out.
Black and White Mod Mani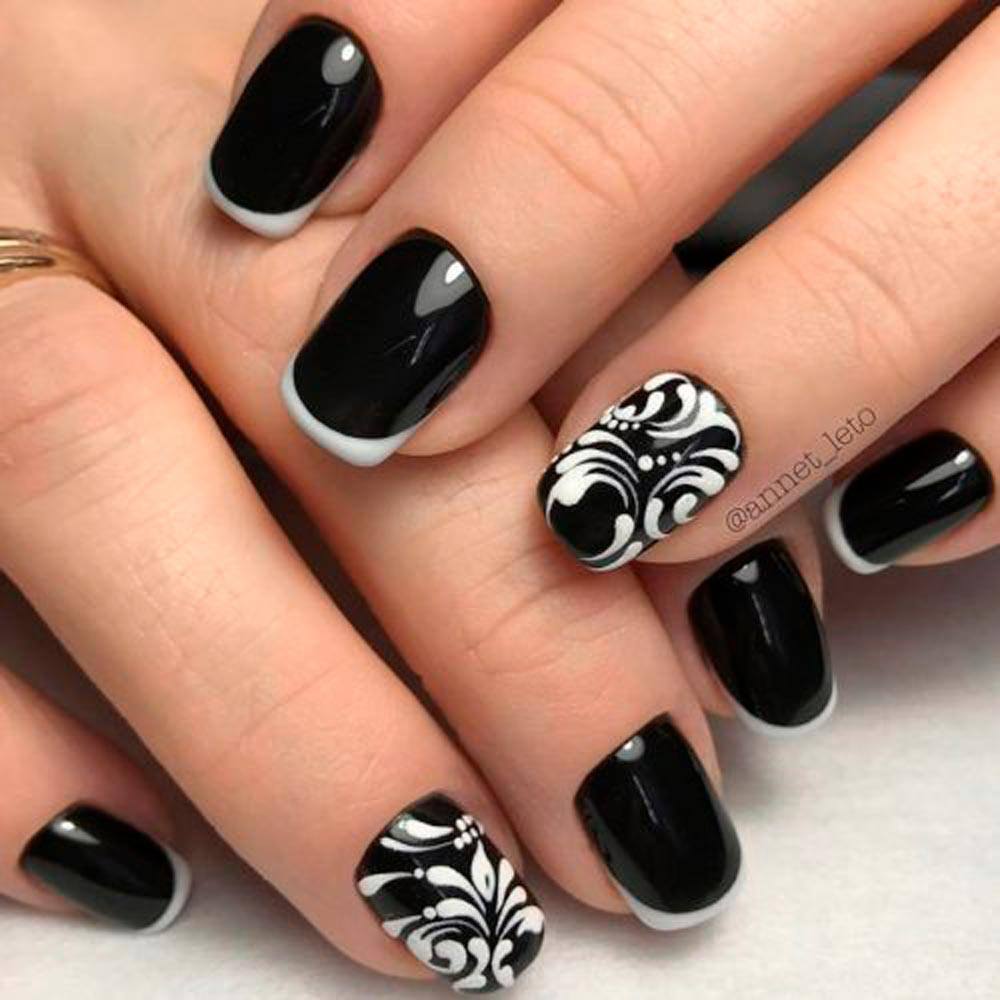 Credit photo: instagram.com/annet_leto
This look is perfect for an evening out. With a shiny black base and delicate white swirls on the one finger, your nails will look polished and sophisticated for any occasion.
Classical French Manicure With Tiny Rhinestones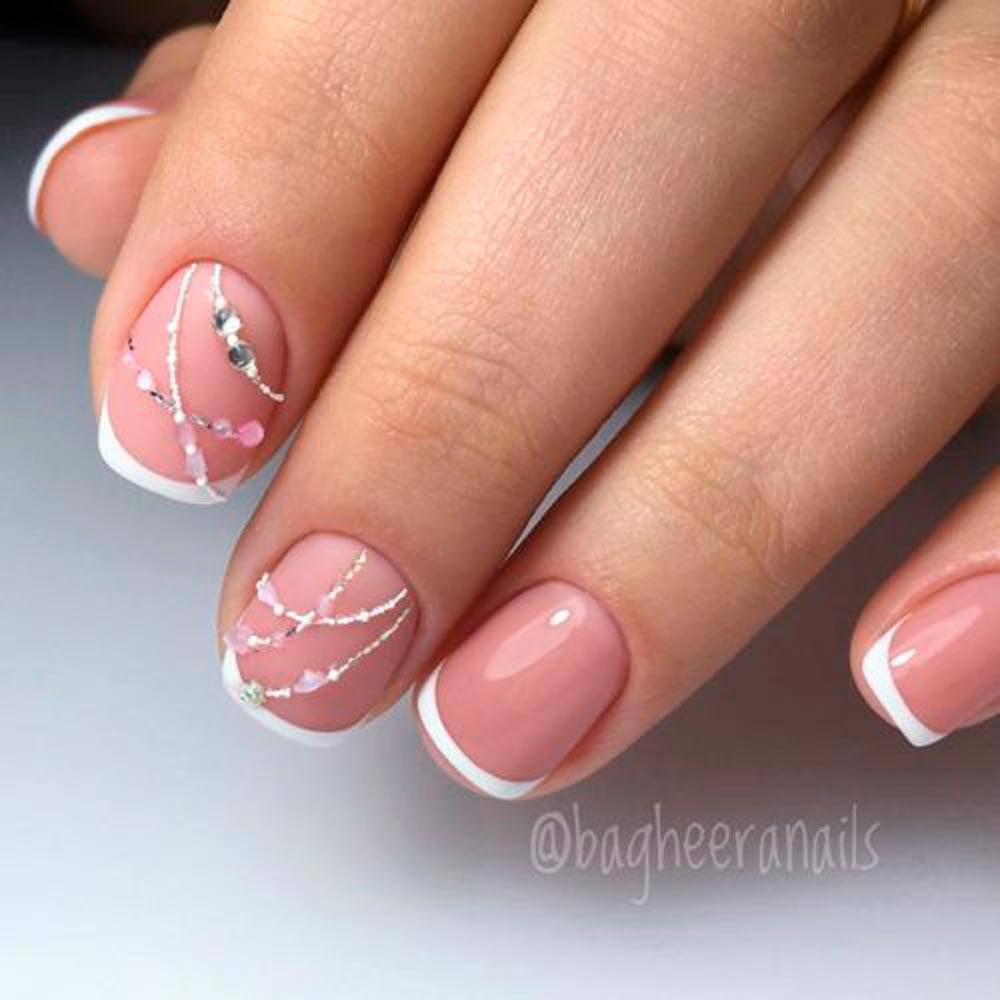 Credit photo: instagram.com/bagheeranails
A true classical French nails design is what you can rock any time. However, if you would like to decorate them a bit more, we have an idea for you. Add little rhinestones in any form you prefer. These accurate thin lines are a true example of how beautiful and minimalistic at the same time a design can be.
Classy Bling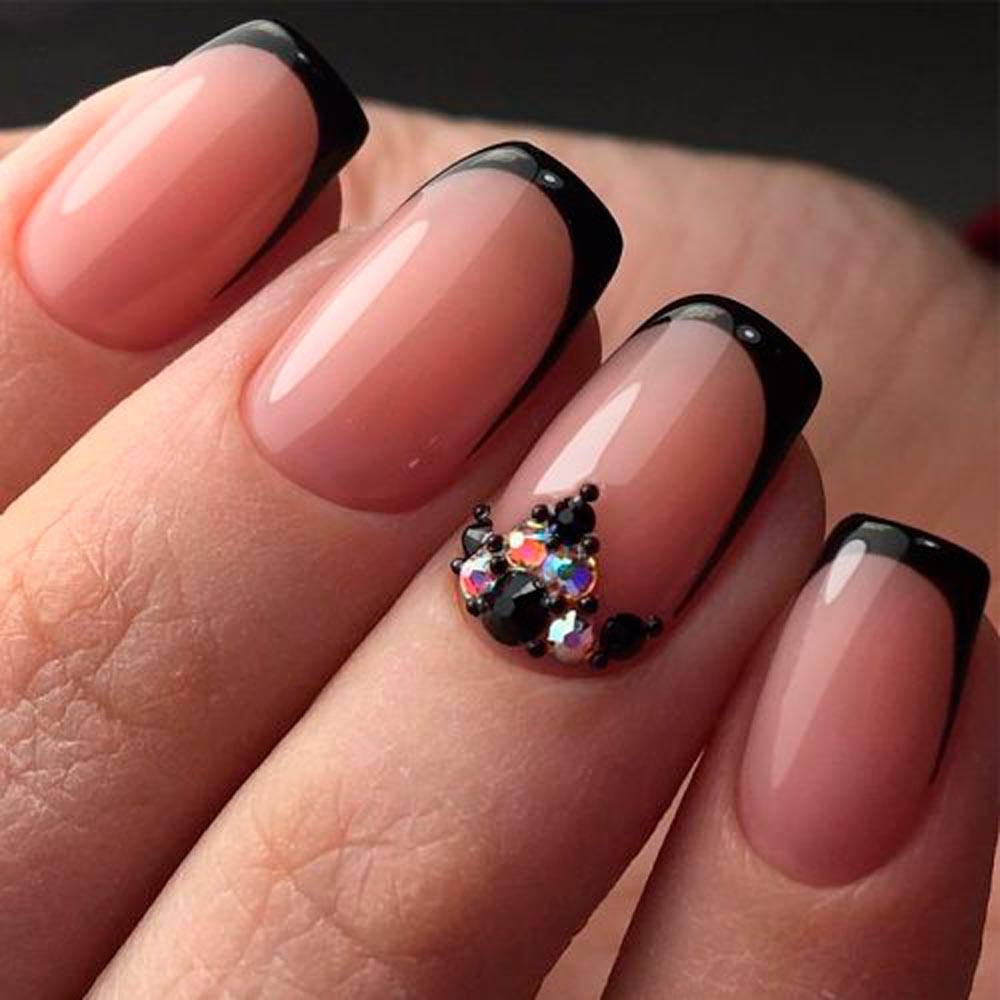 Credit photo: instagram.com/madina_nails
The nude base manicure with black tips is very sleek and stylish, but the addition of sparkly gemstones on the ring finger will really set this look apart from all the rest.
Classical French Nails With Dazzling Crystals
Credit photo: instagram.com/amur_nails
As we have already suggested, adding crystals and rhinestones is a gorgeous option. Why don`t you put on some little crystals that will add some spiciness to the whole design? Get creative with different forms and colors of crystals and do anything your heart desires.
Thick French Tips With Rhinestones
Credit photo: instagram.com/_glitzandnails
You can make a statement with a classy nail design too. All you need is an appropriate idea to get inspired from. What we suggest are bold, thick tips upgraded with rhinestones. As you can see such a nail art looks simply marvelous!
Golden Glam
Credit photo: instagram.com/amur_nails
If you want to shine like a rock star but don't know what color to choose, simply add glittery golden tips to a nude or light colored base, and you're ready to rock!
Glorious Glitter
Credit photo: instagram.com/frenchmanic
This style is perfection with a nude base and bright blue tips adorned with golden gemstones.
Rose And Gold Mani
Credit photo: instagram.com/novosadova_nail_ekb
If you prefer pink for a feminine look but want a bit of glam as well, try this pretty pale pink base with golden glitter tips for a sexy and shimmery look!
Elegant French Nails With Glitter For Every Day
Credit photo: instagram.com/svetlana_stanovaya
French nails have become a truly classy manicure design, don`t you agree? However, sometimes we would like to freshen it up a bit. These glitter French nails with a milky shade are the option that will bring something new to your nails.
Snowy French Tips
Credit photo: instagram.com/anna_baklanova_nails
This look is perfect for wintertime with its natural base and smoky black tips adorned with chunks of glitter that resemble clusters of snow on a cold winter's day!
French Nails With Holo Sequins Accent Nail
Credit photo: instagram.com/1masternails
Another creative option is to make an accent on the ring finger. Adding holo sequins is a cool idea, don`t you think? A great combination with French nails. A gorgeous idea for natural short nails.
Flowers on White French Manicure
Credit photo: instagram.com/amur_nails
Decorating a ring finger is a great idea that will freshen up such a classical variation of nails design. Putting on some floral pictures will add some charm, making your manicure look soft and interesting with a combination of French nails.
French Manicure With A Lace Accent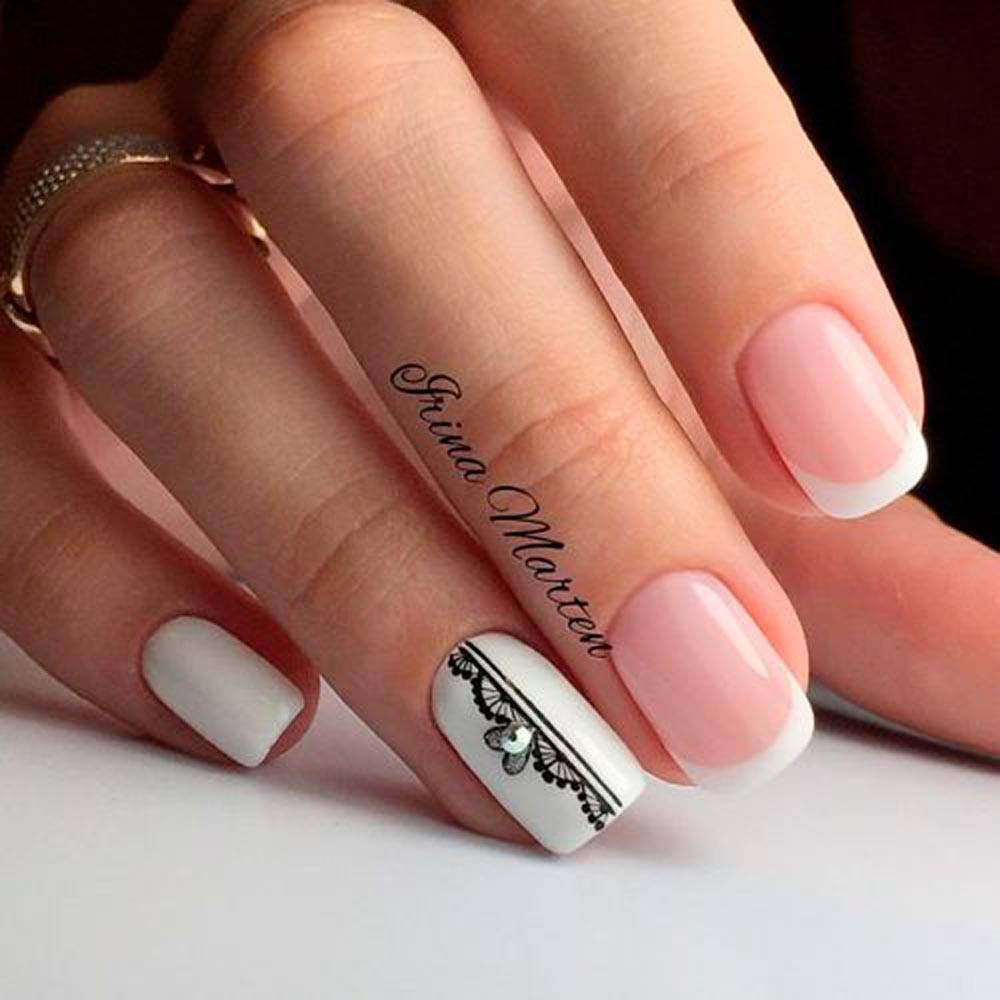 Credit photo: instagram.com/nails_irinamarten
Lace is a fabric that is associated with femininity and tenderness, and we believe these words are also the ones that can be referred to the French nails. Put on some white color before adding a lace detail to any finger where you would like to place it and enjoy the beautiful results!
Gentle Dandelion Nail Art
Credit photo: instagram.com/antoninatitkova
Stepping away from the tradition is not always a suitable option, however, there is still a way to upgrade the classy look with something. What we have in mind is this perfectly gentle and sweet dandelion accent added to the regular French tip manicure.
Colorful French Tips To Refresh Your Classic Mani
Source: solinsnaglar
i
Source: svetlana___nails
i
Source: nails_bychels
i
/
Very often, women think that French manicure can come in reserved hues only. That is not true! The fact is that you can choose any color for your French tip. What is more, you can even introduce ombre French manicure tip into the look, isn't this amazing?
Source: hannahroxit
i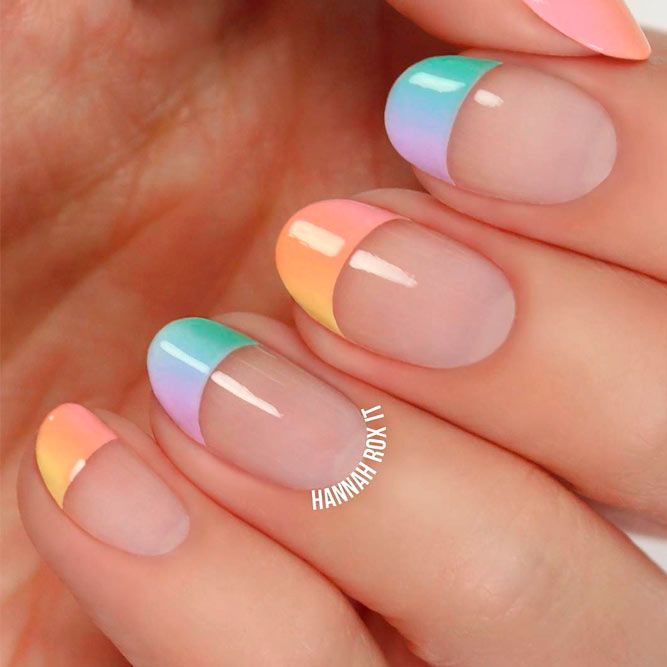 Source: nailsbyjema
i
Source: svetlana___nails
i
/
Do you want to look elegant and stylish at the same time? We have a couple of ideas in mind! How about a vibrant pink french manicure or light pastel ombre? No matter the option, your manicure will attract adoring glances no matter where you go!
Source: narinanails
i
Source: marcipazur

i
/
There is a false assumption that french acrylic nails deserve glossy coating only. We think otherwise. The thing is that this yellow double mani looks ravishing with the matte top on.
Source: aliciatnails
i
Source: panibratova
i
/
Are you looking for fancy and unusual french manicure nails? Then you have come to the right place. We know exactly what you will like! French manicure with abstract and bright tips can steal away all the attention when you need it!
Pastel Rainbow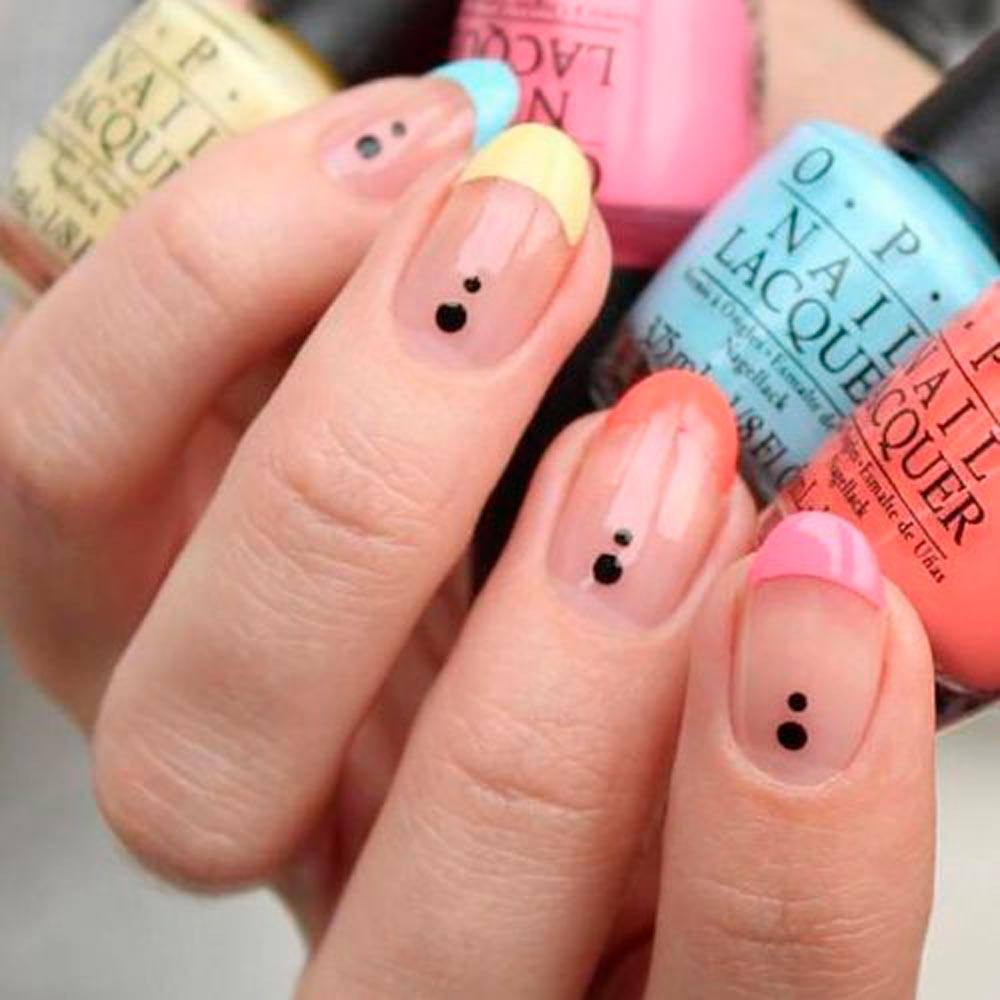 Credit photo: instagram.com/opi_products
If you love pastels, these pretty alternating pastel tips are the perfect choice for a simple yet colorful manicure.
Sparkly Black French Tips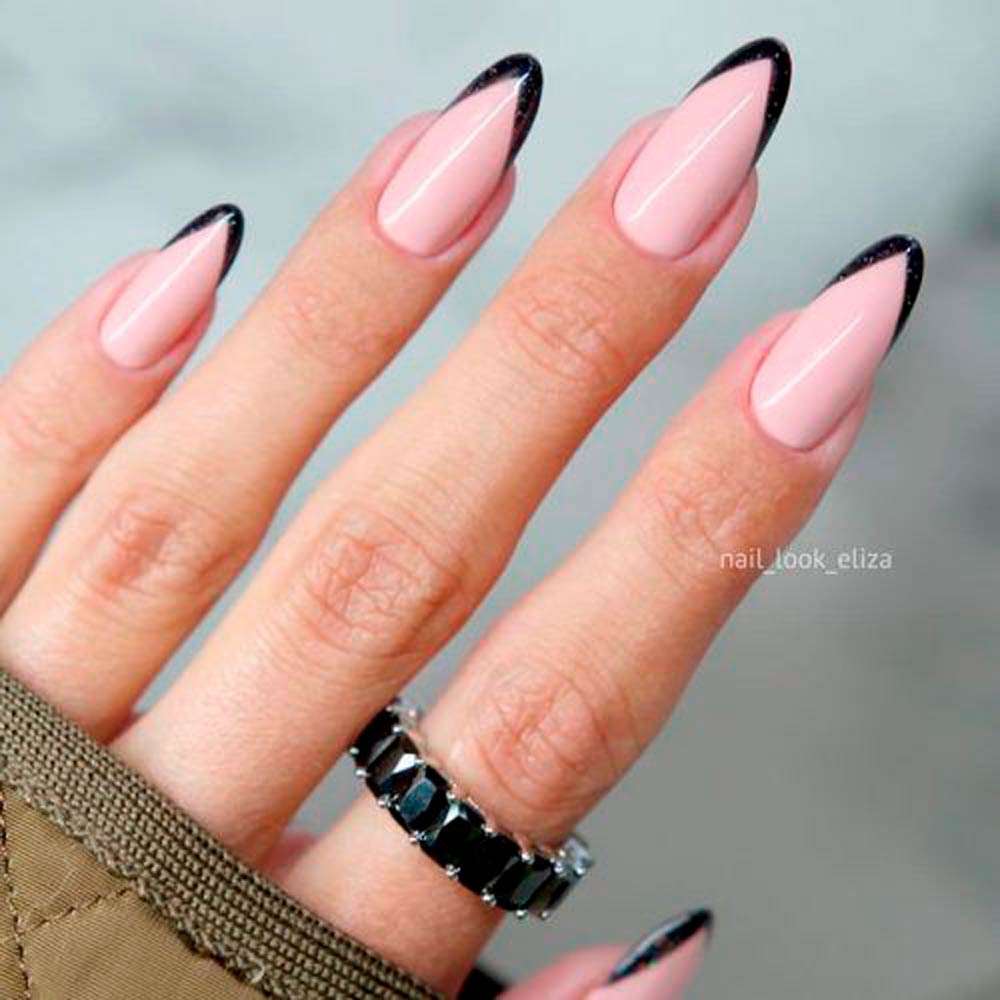 Credit photo: instagram.com/nail_look_eliza
If you still think that white is the only color for the French tip – you are deeply mistaken. In case light hues are not your cup of tea, you can merely go for dark ones without the loss of style or elegant. Just look at this perfect black sparkly tip to get the point!
Spectrum Of Color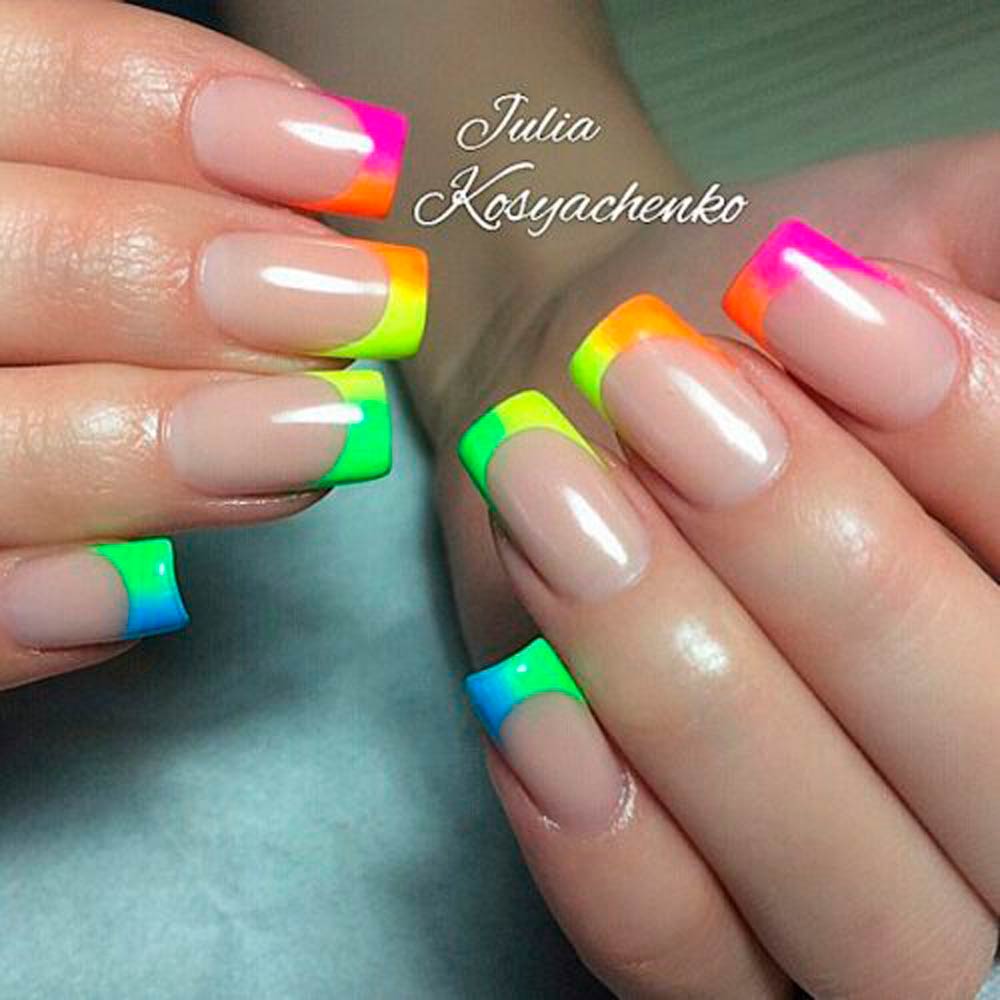 Credit photo: instagram.com/julia1885
Can't decide on just two colors for your manicure? Why not copy this fun look with two-toned rainbows? Use the entire spectrum of colors for a truly inspiring look!
Messy Mani
Credit photo: instagram.com/sarahlounails
This look is perfect for those who don't have a steady hand. Simply apply your favorite shade as a base and then paint the tips a messy blend of either one color or several colors for a look that's intentionally messy but still cute!
Half and Half Modern French Tips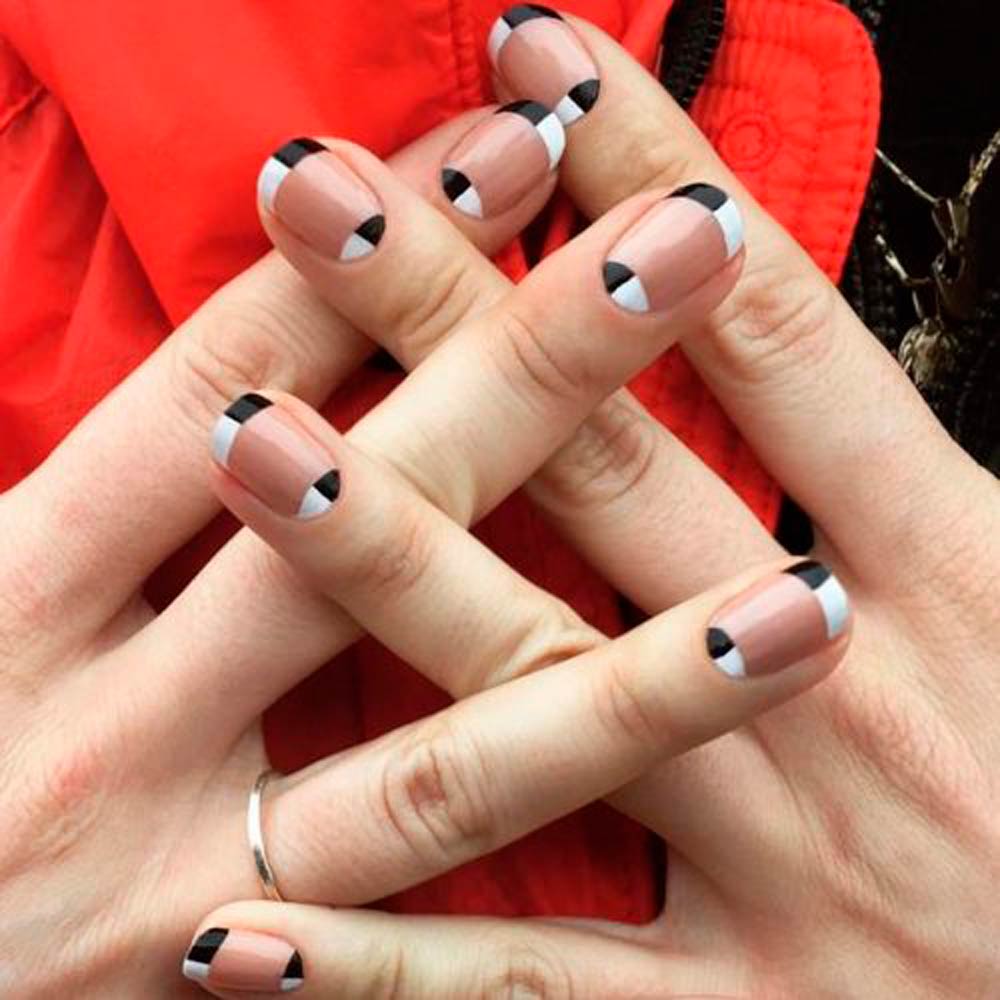 Credit photo: jessicawashick
The most trendy idea of this season is a must for you to try! A combination of black and white is the one that will never die, so imagine it together in a French nails design. Instead of white lines we are all used to, let`s get creative and add a great combo to your manicure.
Rainbow French Nails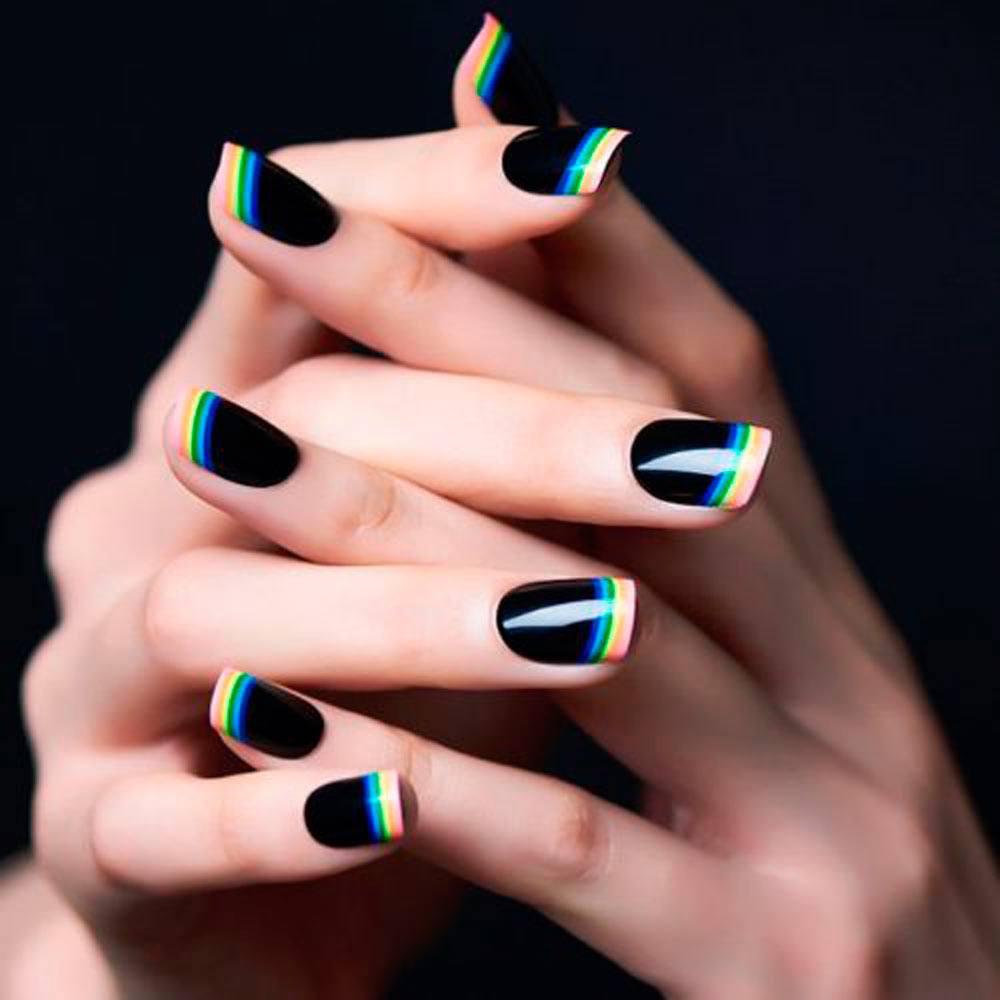 Credit photo: instagram.com/nail_unistella
This year is a year of creativity and color. More and more trends come in different colorful variations and French nails are not an exception. Dark black nails with rainbow tips will make your manicure look unforgettable. So, get ready to get as many compliments as possible.
Red and White Mani
Credit photo: instagram.com/kate_tetereva
Red and white nails are timeless, and this modern take with short red nails with a thin white tip is super!
Yellow French Tip Nails
Credit photo: instagram.com/murievamadina
A great summer nails idea to bring in a sunny mood. Colorful yellow tips will not only look delicate, they will also be classy for every day and appropriate for any occasion you will have.
Bold Matte Neon Tips To Rock The Summer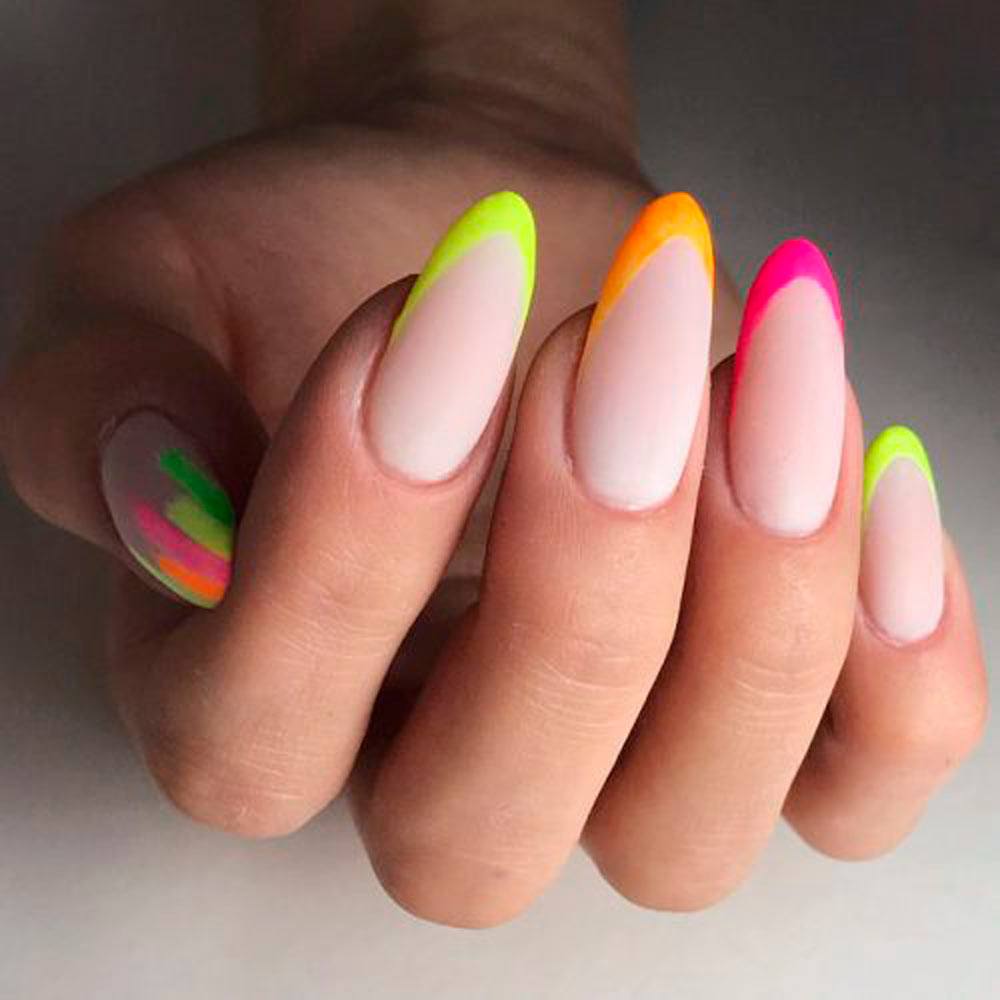 Credit photo: instagram.com/murievamadina
What if you choose neon shades for colorful tips of your French nails? A creative and bright idea for the summer. A matte effect will make them look appropriate for any occasion you will have. Pick this design idea to match your great summer mood.
Bright Neon
Credit photo: instagram.com/stefany_nails_
We love a classic French manicure but in the summer it's great to funk it up a little bit and create something brightly. Choose your favorite neon color, some fingers you can also accent with sparkly charms or pattern nail art.
Metallic Tips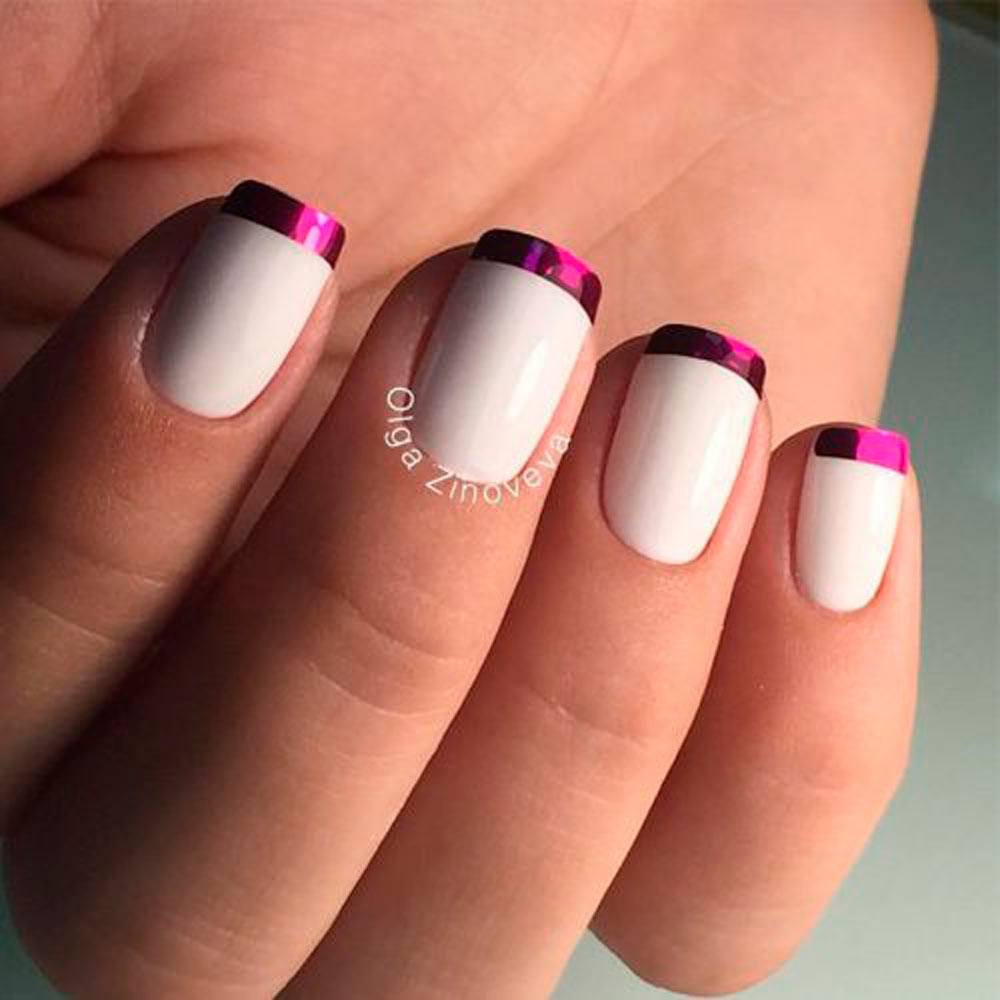 Credit photo: instagram.com/budda_nails
Play with more metallic colors with your French tip manicure. Start off with a plain white polish as your base. Then thinly tip your nails with metallic purple polish to complete the elegant look.
Half Moon Flowers
Credit photo: instagram.com/nune_khalachyan
Half-moon nail art is actually much easier than it looks if you know the tricks of the trade! If you use sticky hole reinforcers to create your half-moons. And your mani will be look perfect every time.
Trendy Colors Of French Tips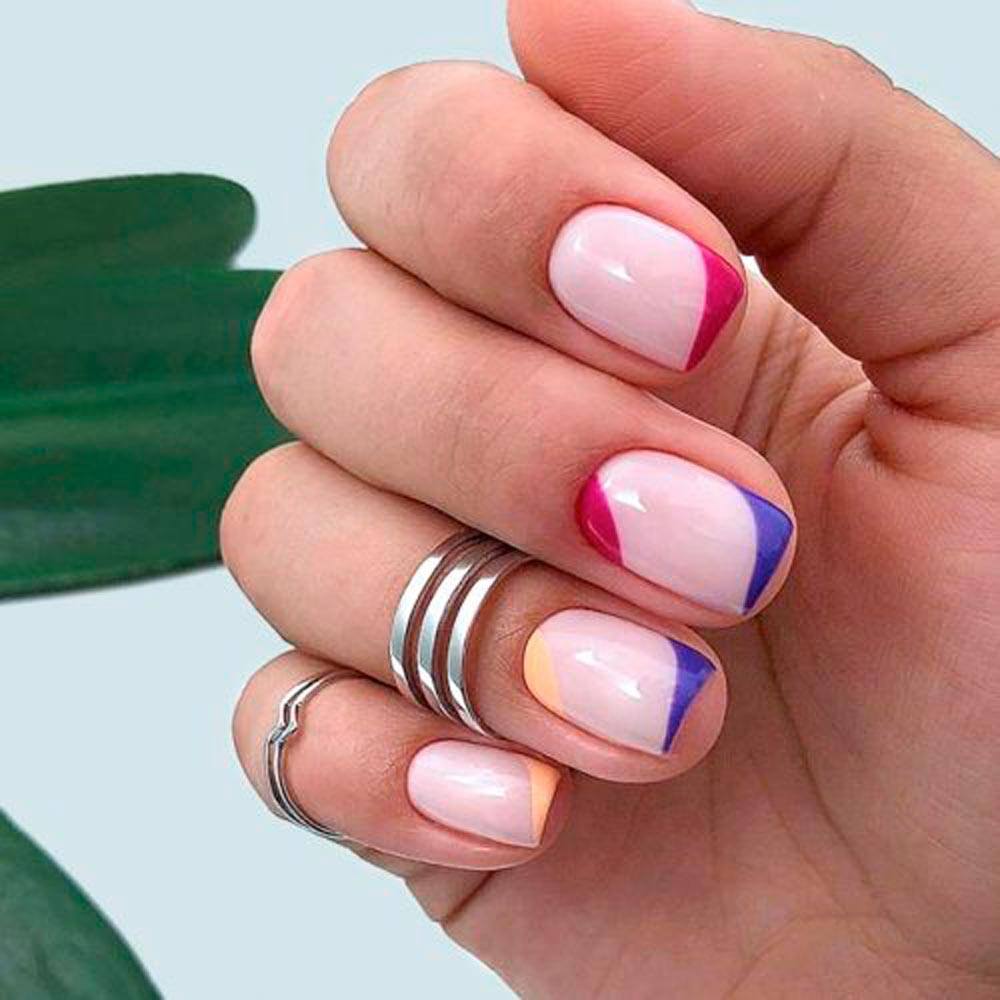 Credit photo: instagram.com/amur_nails
Who has said that white is the only option for French tips? Different colors will look super trendy and gorgeous, whether you have long or short nails. Pick your favorite ones and do a stylish summer manicure.
Trendy Triangles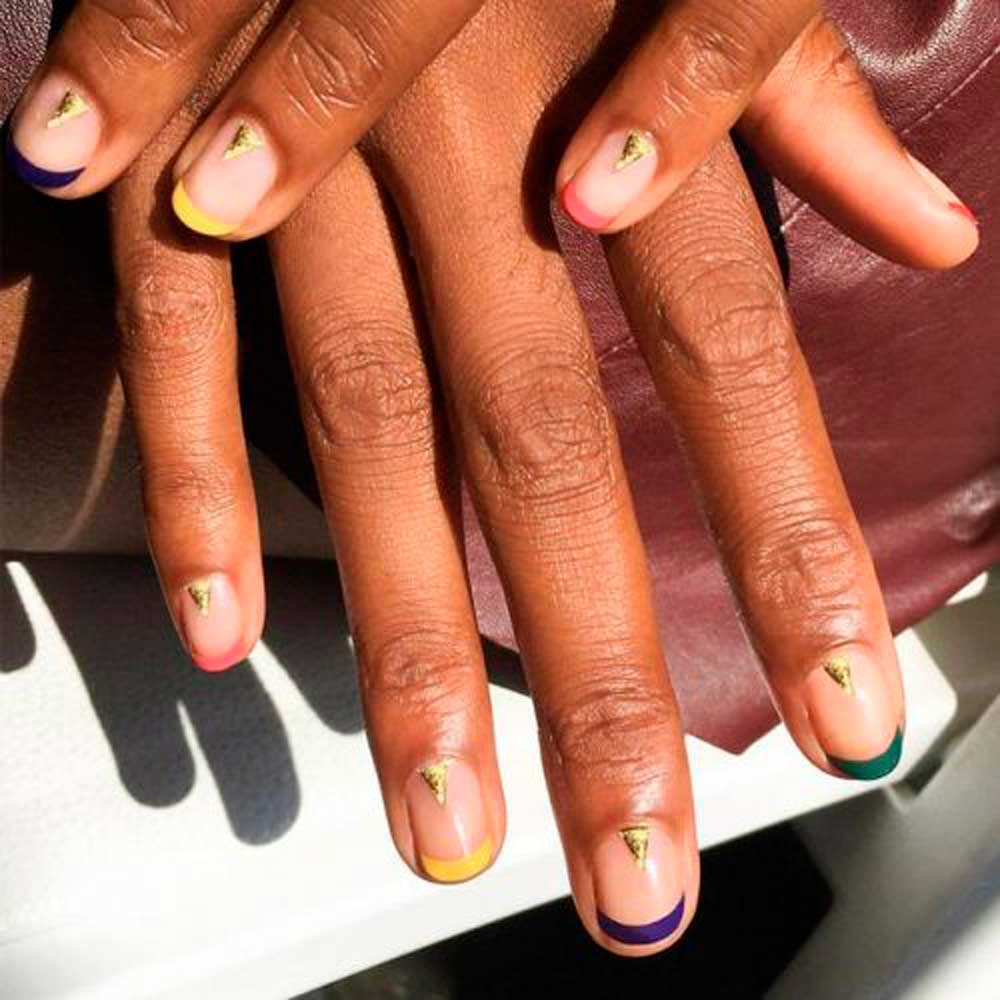 Credit photo: instagram.com/aliciatnails
Geometric nail art is all the rage. We think these pretty rainbow tips are a fun twist on the classic French manicure. But what really catches the eye is the gold triangle at the nail bed.
Neon Pink Tips You'll Want To Try
Credit photo: instagram.com/murievamadina
Do you like our neon French tips idea? Then why don`t you consider trying pink as the color for them? Bright and soft at the same time, this neon pink will become your favorite option for creative nails.
New Shapes For Stylish Mani Look
Source: doobysnails
i
Source: doobysnails
i
/
We know that there are limitless french manicure nail designs to choose from these days. However, what if we told you that we know of something entirely fresh and new? That is the new shape of the French tip! The triangular tip is all the rage this season so that you are bound to try it out as soon as possible!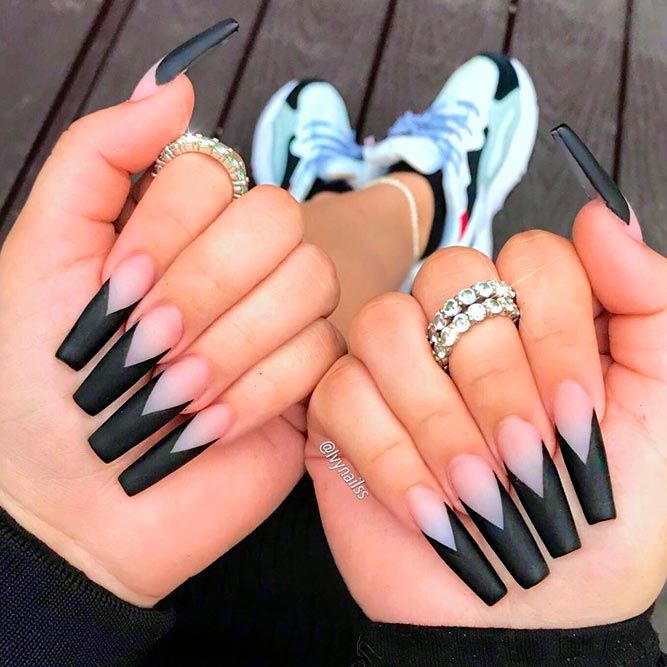 Source: ivynailss
Those of you who are looking for the trendiest French tip nails we have a design in mind. When compared to regular French tip, this outline one is the updated version that all the fashionistas around the globe tend to pull off.
Fantastic Holo Gold French Nails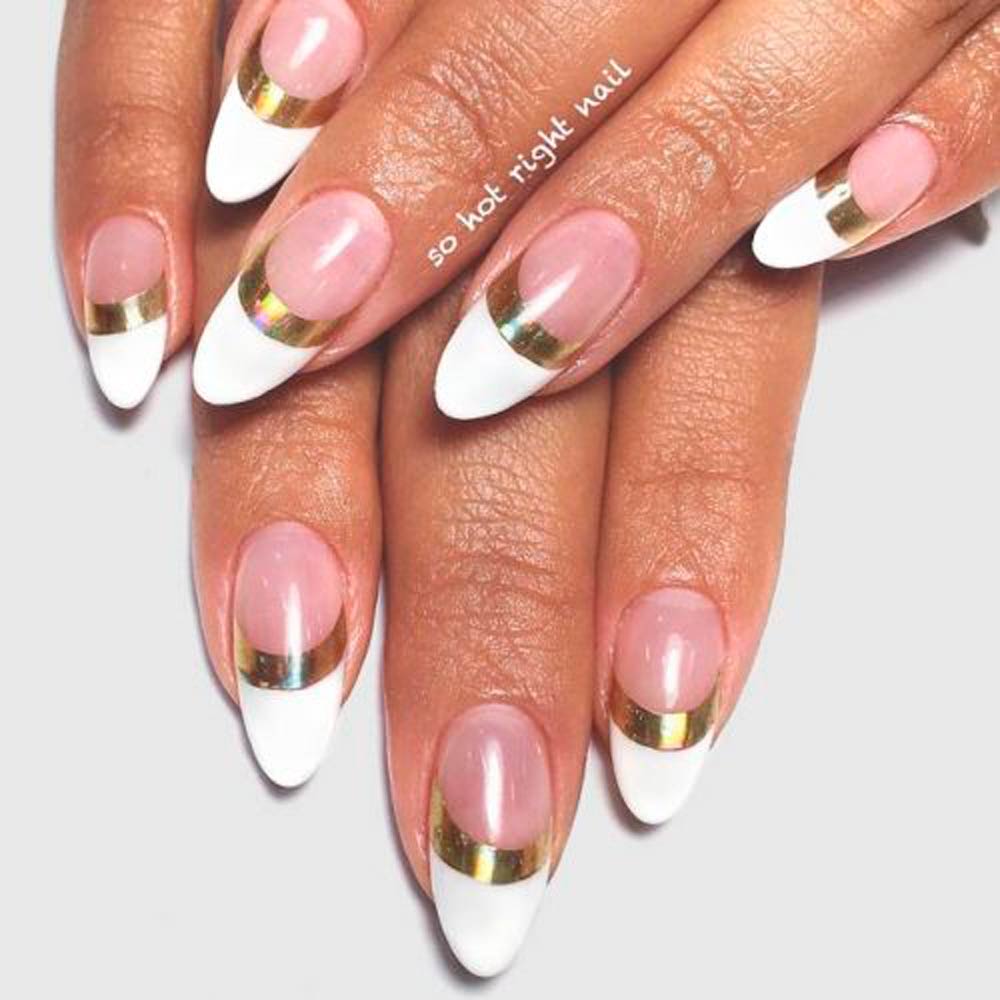 Credit photo: instagram.com/sohotrightnail
If you have an almond shape of nails, we think this idea is the one for you! Shining holo gold lines can be the details that will spice up your manicure design! Make them thick or thin and place close to the white lines of your French nails design.
Lined French Manicure On Nude Nails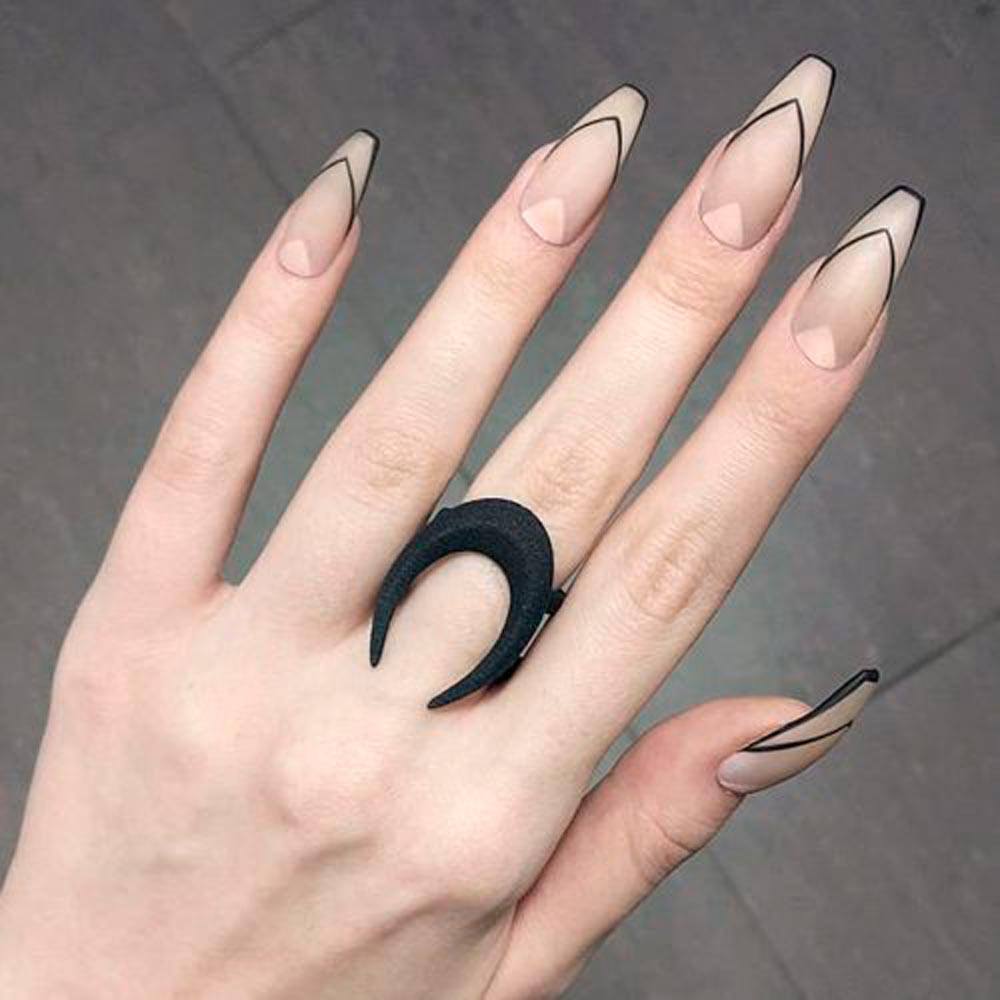 Credit photo: instagram.com/myblackempire
Are you a bit bored with a classical variant of French nails? Would you like to try something really different? Then this black lined French manicure idea is for you. Thin and neat black lines will make your nails appear longer, while a combination of nude and black will make the design pop.
Lovely French Nails: Acrylic Transparent Tips
Credit photo: instagram.com/nail_sunny
Are you looking for a French design idea for acrylic nails? A pink color all over the nails with a combo of transparent thin lines will look super unusual and creative, don`t you think? Elegant, delicate and gorgeous, it will bring out tenderness to your nail design.
Matte French Nails With Gold Foil For A Glamorous Look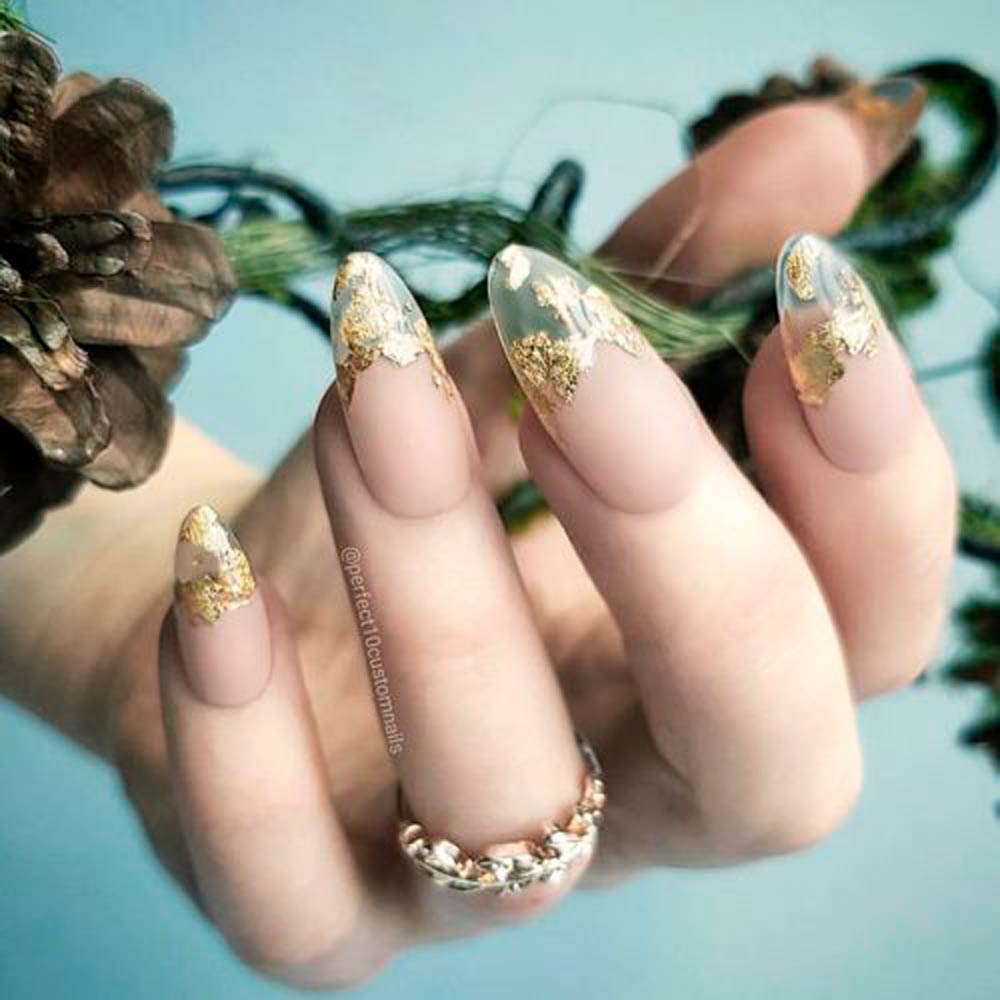 Credit photo: instagram.com/perfect10customnails
Gold foil is an interesting décor idea for any nails design. So why don`t you try adding it to your French nails? Creative and beautiful, it will look gorgeous in pieces with a matte nude color and transparent tips.
Scalloped Hearts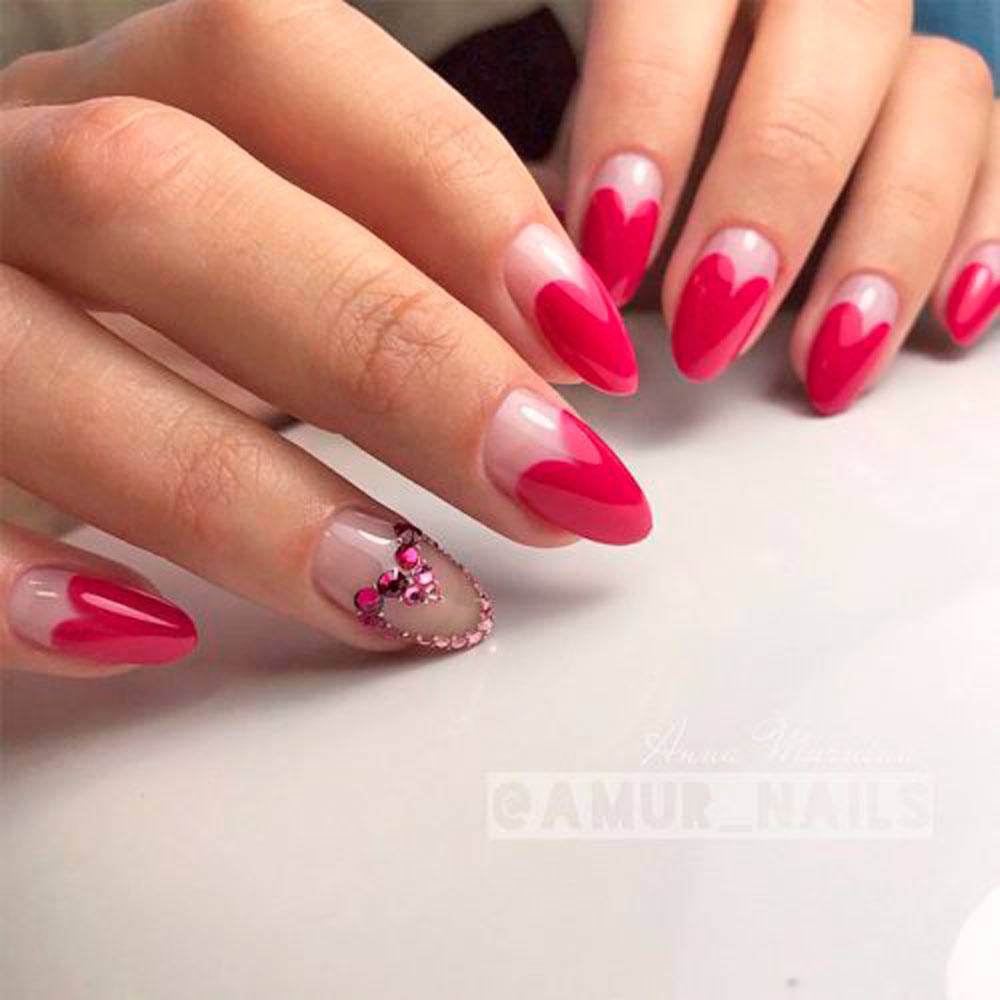 Credit photo: instagram.com/frenchmanic
Pink scalloped heart tips are so dainty and demure. But if you add some sparkly design on the one tip, you'll feel extra girly and chic!
Half Moon Tips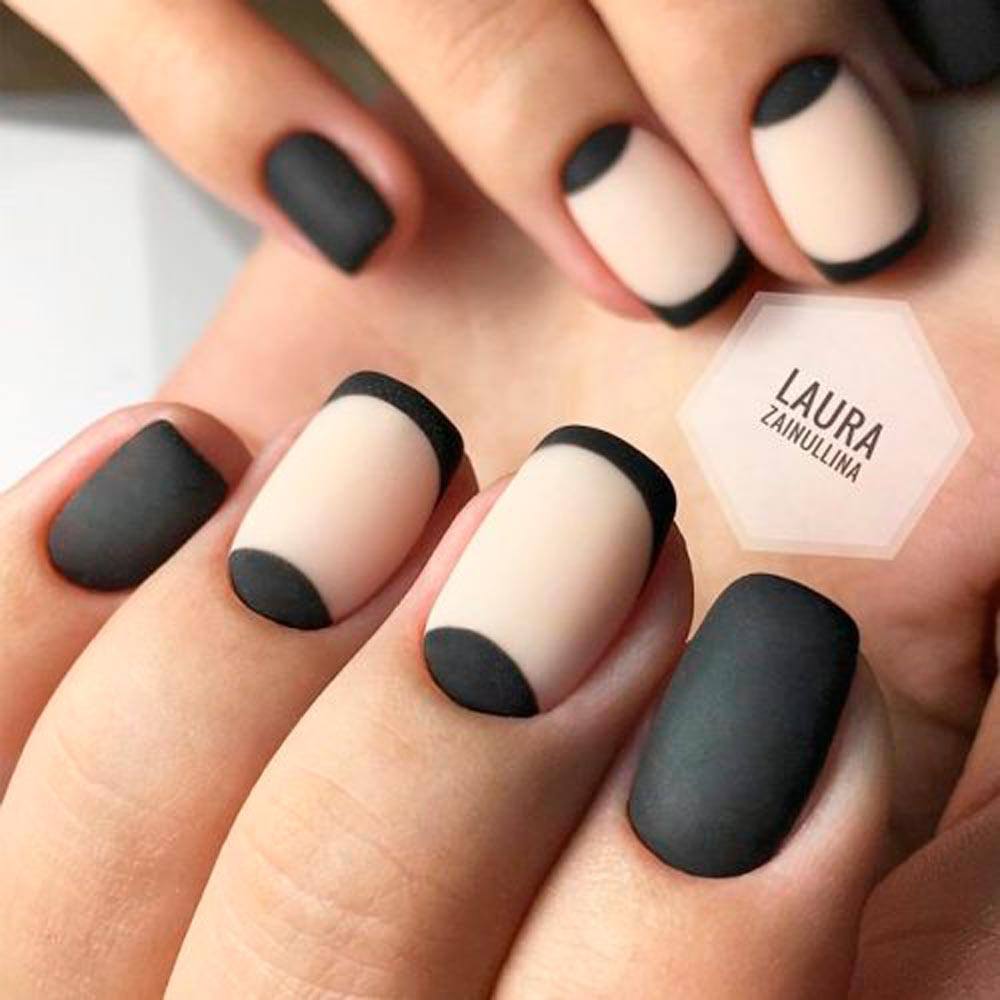 Credit photo: instagram.com/laura_nails_studio
If you want a simple look, try these black half moon tips on a nude base for a look that's simple yet ultra-modern.
Minimalistic Lines French Nails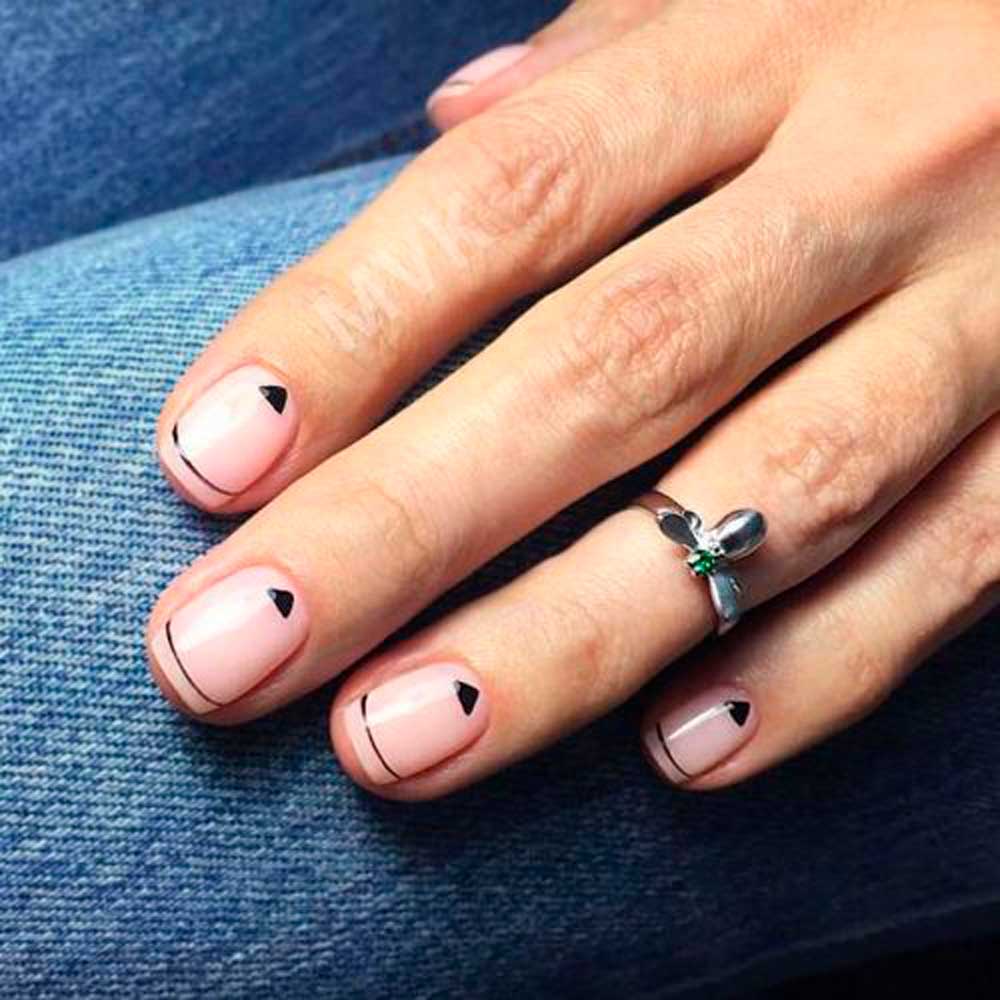 Credit photo: instagram.com/mvk.ua
If you prefer minimalistic designs but still adore the French nails ideas, we would like to suggest you try this one! Thin lines on nude nails will not only look interesting but will also accentuate your nail form and length.
Silver And Black Moons French Nails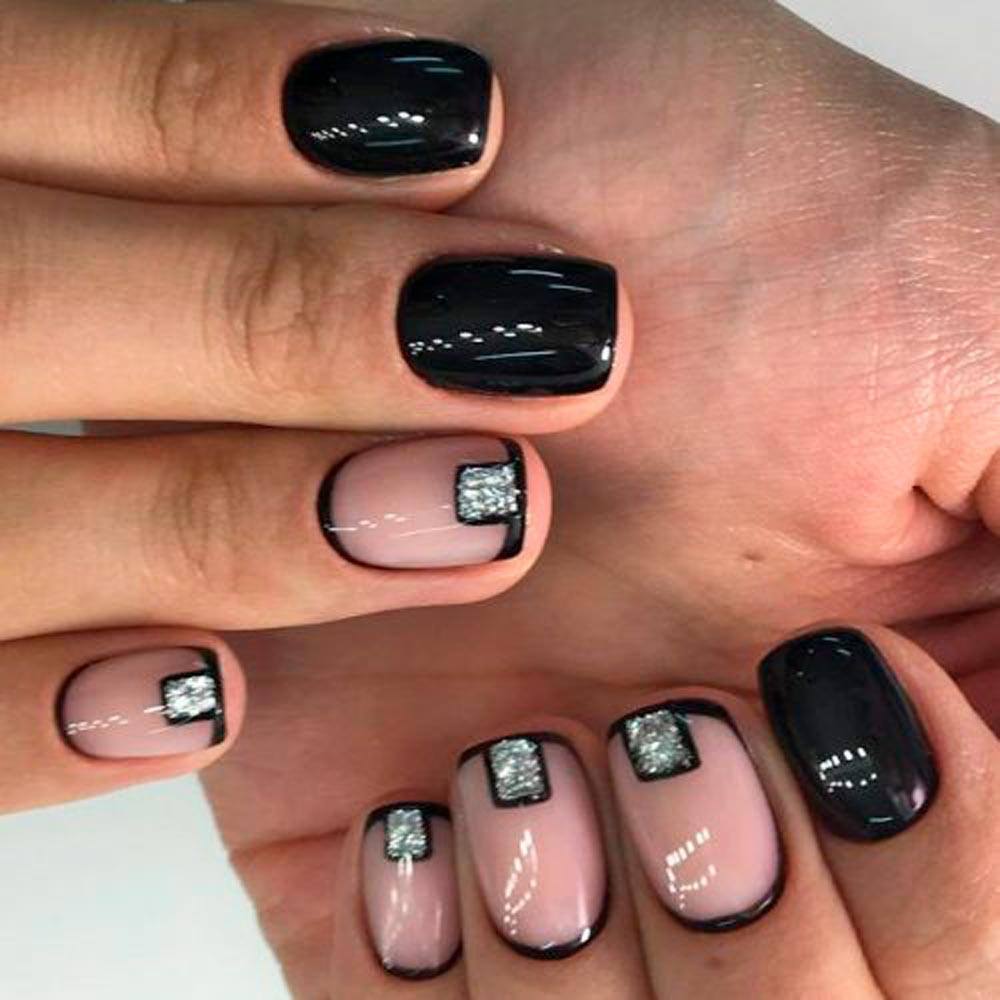 Credit photo: instagram.com/luck_nail_studio_khv
This look is pure elegance with a natural base and silver designs at the tips with thin black moons at the nail bed.
Marble French Nails Art
Credit photo: instagram.com/yagala
Splatter or marble art nail designs are ultra-trendy at the moment. This twist on the French mani is about marble painted tips on a clear base for a totally funky look that's hip and girly at the same time!
Fresh French Tip Nails
Credit photo: instagram.com/christabellnails
In case you a fan of juicy colors and fruits at that point you will surely appreciate this watermelon French tip nail art. Just one look at it makes you crave watermelon, is that correct?
Spotted French Mani
Credit photo: instagram.com/badgirlnails
This manicure is so simple yet so striking. Apply a pretty nude base and use a dotting tool to make white dots on the tips. You can use pretty any color combination to fit any occasion or match your current mood.
Reverse French Nails
Credit photo: instagram.com/lenareitz
Tired of regular French nail art? It is time you experiment with both the shading and the position. Bright green reversed French tip can be your perfect start!
Fresh Square French
Credit photo: instagram.com/chaunlegend
You may already know by this time that bold nail shape requires fitting manicure. However, it is easier than easy to go over the edge here, and you certainly wouldn't want that. Here is what we offer – spice your coffin shape with two-shaded French mani, but make sure the hues are of the same color palette.
Blocked-Off French Nails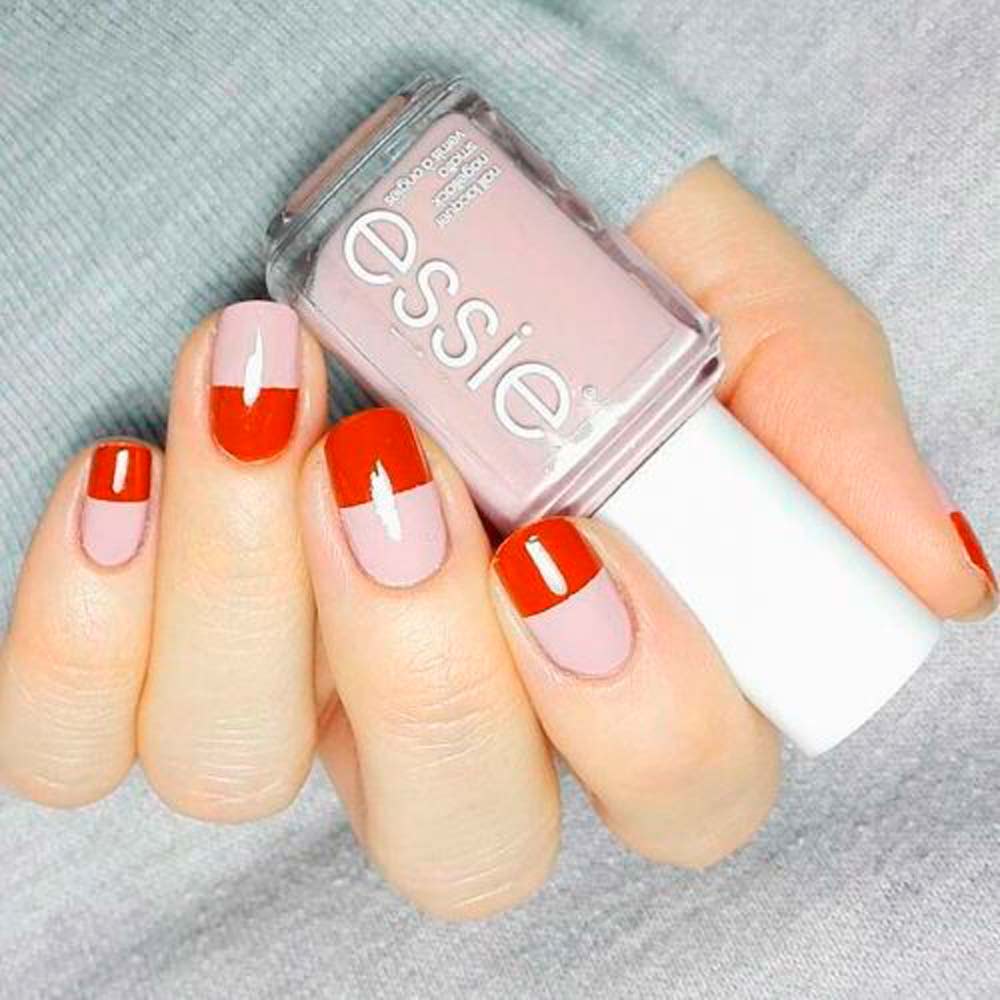 Credit photo: instagram.com/lenareitz
French manicure does not mean that you shouldn't use your imagination. How about fun and alternative red and pink blocked-off nails? We think that you look beautiful and rebellious at the same time.
FAQ: French Manicure Designs
Why is it called French tip nails?
It is believed that Max Factor, the father of modern cosmetics, have invented the look in the 1930s for fashionistas in Paris, thus the name. Jeff Pink, founder of the nail polish company Orly coining the term "French manicure/pedicure" in 1978. French manicure quickly became a hit after Pink created the first DIY French manicure kit for Hollywood actresses in the 70s.
Is French tip considered nail art?
French tip is considered nail art. It is a classic look that will never go out of style due to its versatility. This nail art form is not limited strictly to white tips with clear or beige base. There are various forms, colors and adornments that never seize to amaze manicure lovers.
Can I get a French manicure with short nails?
Yes, you can do a French manicure on any length. The white tip would be a small curved line that still looks lovely. Another option is the French manicure gradient that works well on shorter nails as it gives the illusion that the nail tips are longer as the white tip gradient fades.
REFERENCES: