Amped Up French Manicure Designs
French manicure designs are always in trend! We all ladies love them, but the traditional design becomes a bit boring in a while. As the real fashionistas, we like experiments and change, and this concerns our French mani, too. So, as usual, we read your thoughts and we are here to satisfy your urge to get something new.
Classic French Manicure
Source: carlysisoka via Instagram, akademia.semilac via Instagram, tominova_anastasia via Instagram
But even if a French manicure stays in all whites, you are unlikely to see a lonely even white stripe on each nail – this initial variant of the design is so in the past right now.
French Mani For Everyday
Source: kosmetycznahedonistka via Instagram, kira_sweet_nails via Instagram, manicure_by_irina_bashkirova via Instagram
We know how difficult it may be to come up with a manicure that can suit both regular activities as well as festive ones. This is when trendy and upgraded french manicure ideas may come in more than helpful. Choose the one that appeals to you most, and you will not regret it!
Ombre French Nails Designs
Source: sveta_sanders via Instagram, nail_sunny via Instagram, nailsbyeffi via Instagram
Pretty French Nails Art
Source: asnail72 via Instagram, nailsbymztina via Instagram, nailsbyarelisp via Instagram
Rather, you will see a variety of colors, like black tips on pink nails or some colorful floral accents on one of the nails. Also, fishnets in a variety of colors often embellish the mani.
Cute French Nail Art
Source: emotionsssss via Instagram, nails_irinamarten via Instagram, allure_nail_studio via Instagram
And sometimes the color division in a French mani disappears entirely and offers something new. Shades blend or become gradient, which looks super glamorous and just awesome.
Elegant French Nail Art
Source: nogtiinminsk via Instagram, newlypolished via Instagram, nailsbyarelisp via Instagram
There are many more gel french manicure ideas than the white-tip one. You can easily experiment with metallic hues and also ombre techniques to come up with an irresistible result. Use these ideas to your advantage.
Trending French Nail Designs
Source: dazanails via Instagram, ib_nails via Instagram, ania_palagina via Instagram
Choose different colors, not only white and nude. Upgrade your mani with new designs or bright colors.
Unique Bright French Nail Art
Source: aliciatnails via Instagram, panibratova via Instagram, bulaevanails via Instagram
Are you looking for fancy and unusual french manicure nails? Then you have come to the right place. We know exactly what you will like! French manicure with abstract and bright tips can steal away all the attention when you need it!
Stylish French Mani With Rhinestones
Source: allure_nail_studio via Instagram, galichaiaolga via Instagram, nail_sunny via Instagram
Very often it is considered that rhinestones are used only to grant your nails some extra bling. However, when you combine reserved rhinestone patters with classy French tip, the outcome will be much more elegant. See for yourself.
Chic Sparkly Glitter French Tips
Source: nail_sunny via Instagram, misslaladoll via Instagram, solinsnaglar via Instagram
Adding some glitter is always an excellent way to spice things up when it comes to your manicure. Even a classy French manicure will look all different and magnificent with some glitter added, no matter short or long nails.
Classic French Mani With Accented Finger
Source: nailartdaily_vac via Instagram, nagydia_nails via Instagram, nurmukhametova_anastassiya_ via Instagram
The beauty of classic manicure lies in its timeless charm. However, even classics can be modernized a little. That is why when regular classy French becomes a bit too dull, it is time to introduce an accent finger!
Easy Nail Art With French Tips
Source: svetlana___nails via Instagram, alexlarossa.art via Instagram
French tip manicure is the most requested nail art no matter the season. However, in times when good old French seems a little too dull, it is time to spice things up a little. How can you do that? The answer is quite simple – experiment with accents!
Colorful French Tips To Refresh Your Classic Mani
Source: solinsnaglar via Instagram, nails_bychels via Instagram, svetlana___nails
Very often, women think that French manicure can come in reserved hues only. That is not true! The fact is that you can choose any color for your French tip. What is more, you can even introduce ombre french manicure tip into the look, isn't this amazing?
Bright French Nail Design
Source: svetlana___nails via Instagram, nailsbyjema via Instagram, hannahroxit via Instagram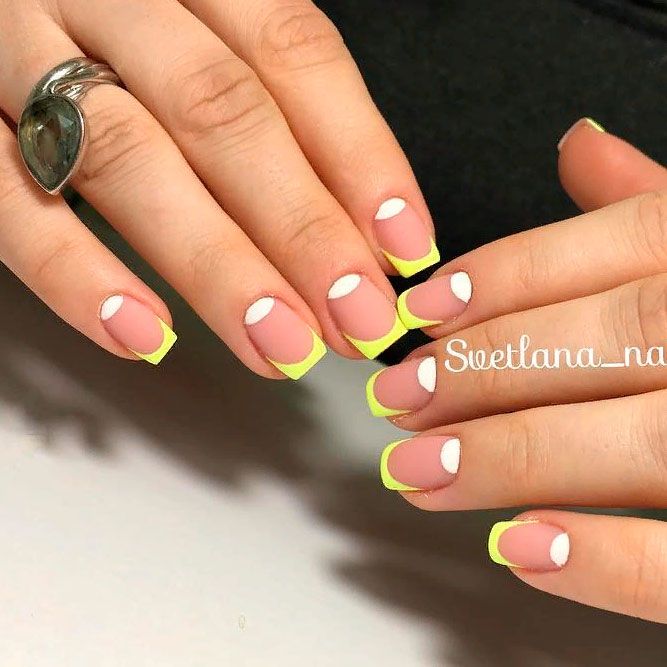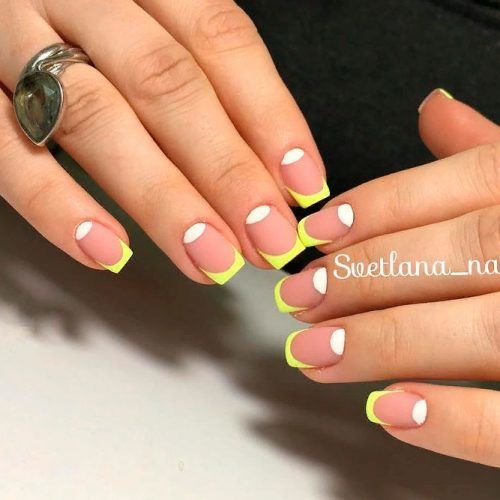 Do you want to look elegant and stylish at the same time? We have a couple of ideas in mind! How about a vibrant pink french manicure or light pastel ombre? No matter the option, your manicure will attract adoring glances no matter where you go!
New Shapes For Stylish Mani Look
Source: doobysnails via Instagram
We know that there are limitless french manicure nail designs to choose from these days. However, what if we told you that we know of something entirely fresh and new? That is the new shape of the French tip! The triangular tip is all the rage this season so that you are bound to try it out as soon as possible!
Thick Triangular Nail Tips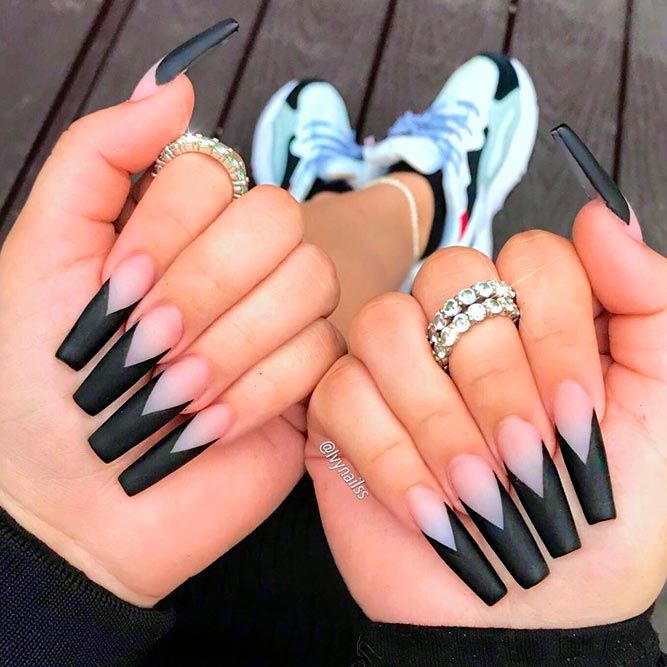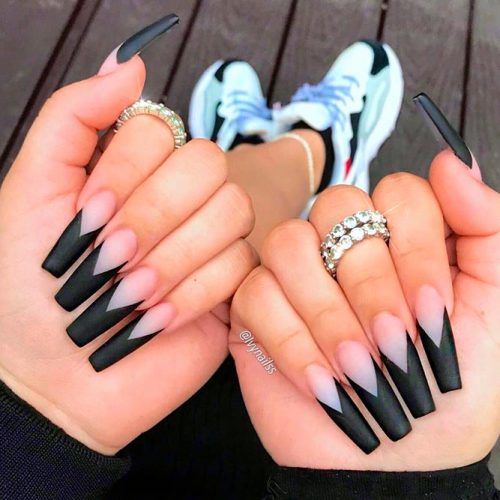 Source: ivynailss via Instagram
It happens so that many ladies want their nails to look both chic and edgy at the same time. If you think that it is impossible to combine the two, then you haven't seen black french manicure yet. What makes this nail art so special is the thickness of the tip as well as its unusual shape.
Trendy Square French Tips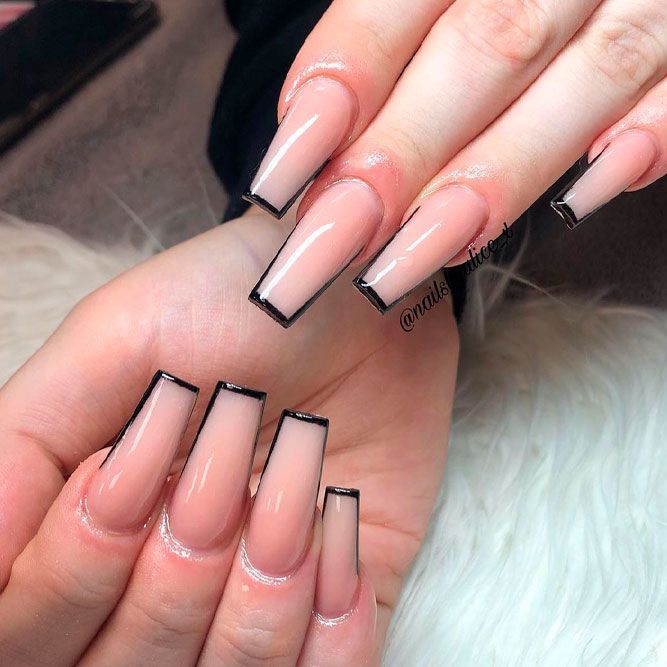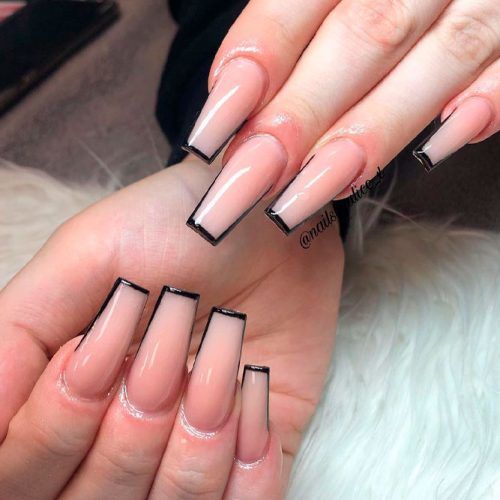 Source: nailsbyalice_x via Instagram
Those of you who are looking for the trendiest french tip nails we have a design in mind. When compared to regular French tip, this outline one is the updated version that all the fashionistas around the globe tend to pull off.
Unique Asymmetric French Nails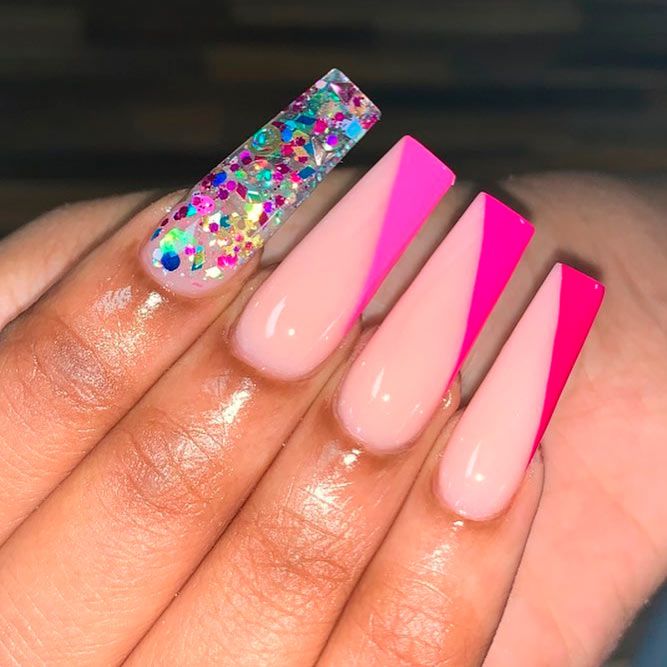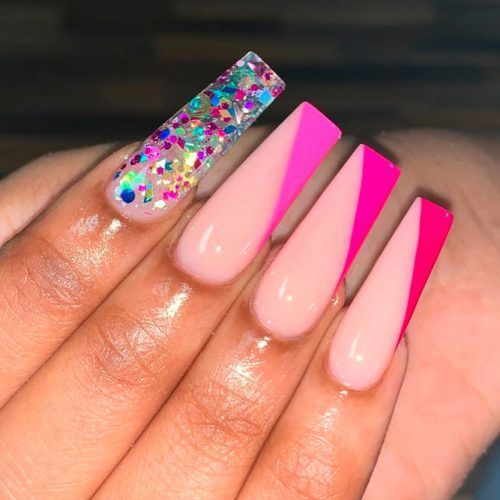 Source: jhohannails via Instagram
The beauty of french nails lies in the versatility of options to play around with. In times when you are in search of something bright and unusual, this vibrant asymmetric manicure can come of help.
Bright Matte Double French Mani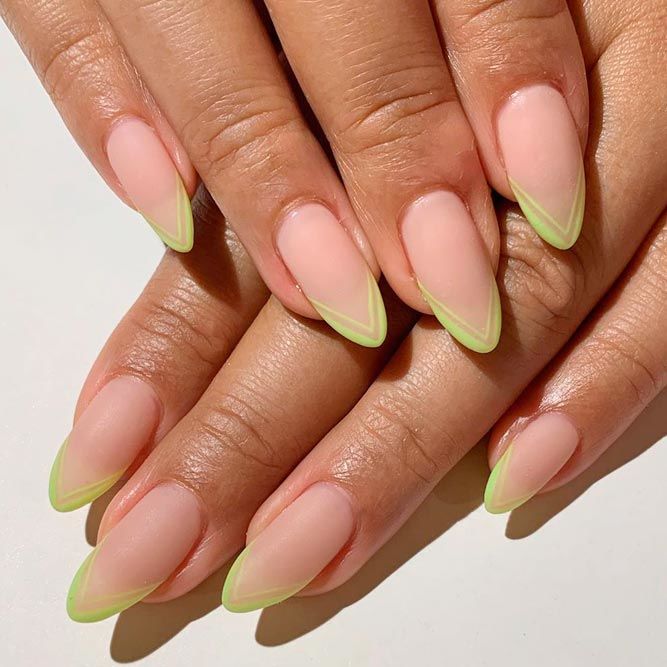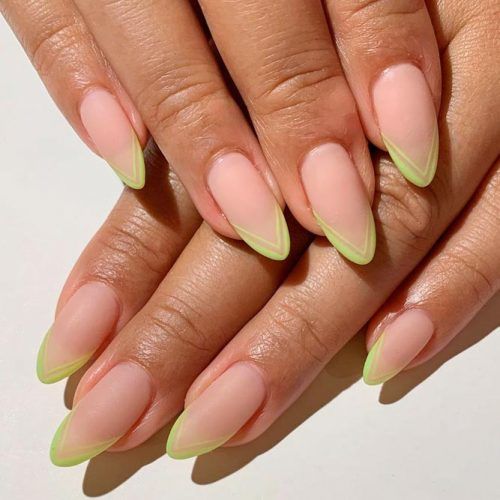 Source: narinanails via Instagram
There is a false assumption that french acrylic nails deserve glossy coating only. We think otherwise. The thing is that this yellow double mani looks ravishing with the matte top on.
French Tips As Accent
Source: n_adanails via Instagram
Very often we see a French manicure with accent details, there is nothing wrong with it, but there is also another alternative. What we have in mind are french tips gel nails where French tip is the accent itself. It is unique looking, there is no doubt about it, but it is also elegant and trendy.