There is barely any lady who is not in love with modern nail art. Truth be told there is so much to love and the fact is that there is always something special for everyone despite the taste and preferences. That is why today we decided to add up a new compilation to your collection. We have looked through many ideas and came up with the best elegant nails. There were so that you looked like a real lady from day to day. Enjoy!
Elegant Peach Nails With Marble Design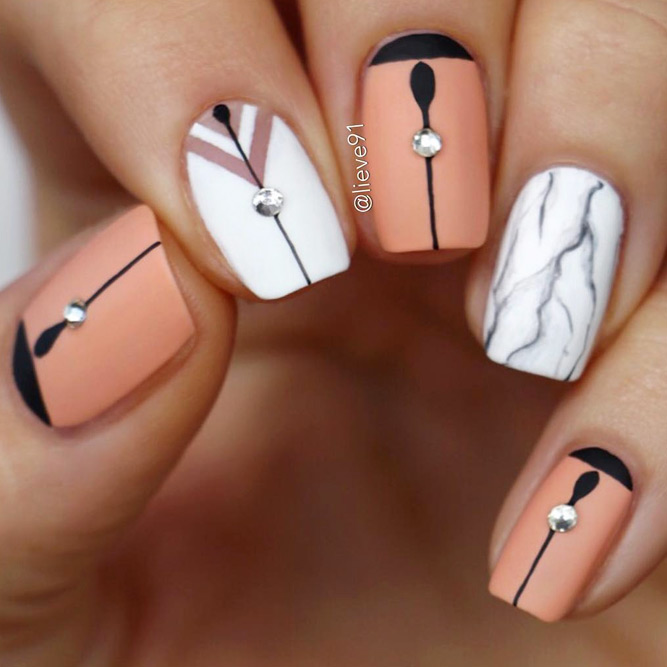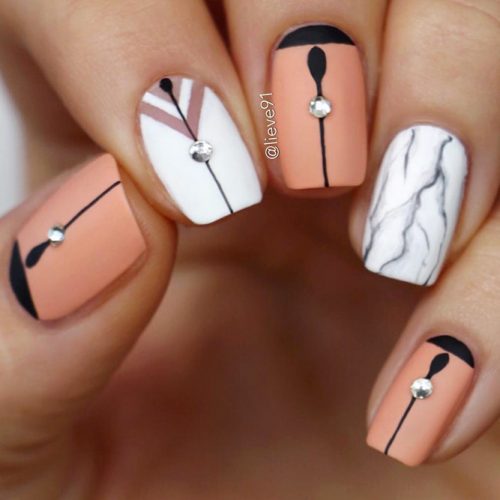 Source: lieve91 via Instagram
Neutral nail art is in favor of many women. That is why it is time you combine your obsession with the trend. The thing is that marble stone patterns are all in right now, that is why adding such an accent to your peach-shaded manicure is a wise suggestion.
Simple Yet Pretty Geometric Nails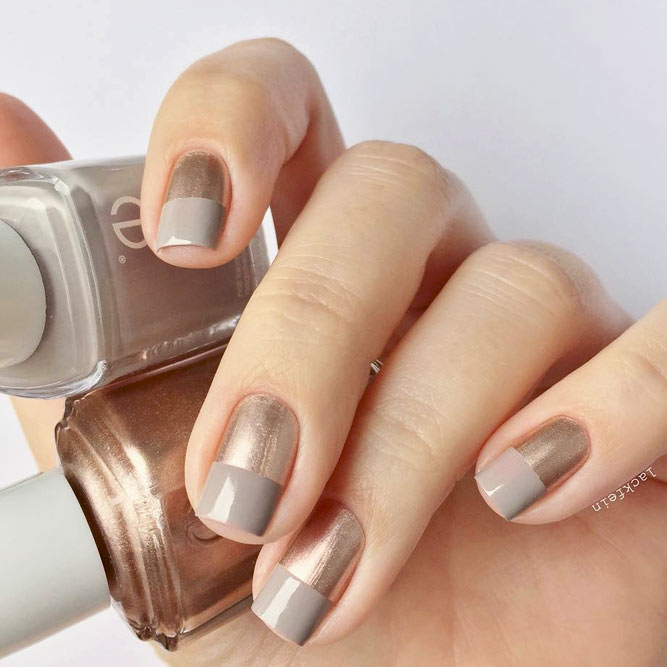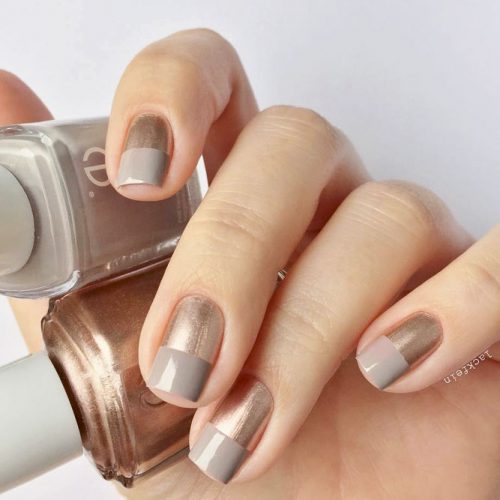 Source: lackfein via Instagram
Geometric patterns are on the edge of popularity these days, but not all of them are equally simple when it comes to the technique of creation. If you are just the beginner to nail art this simple yet magnetic gold and crème nail design will steal your heart!
Classical Half Moon Design For Elegant Nails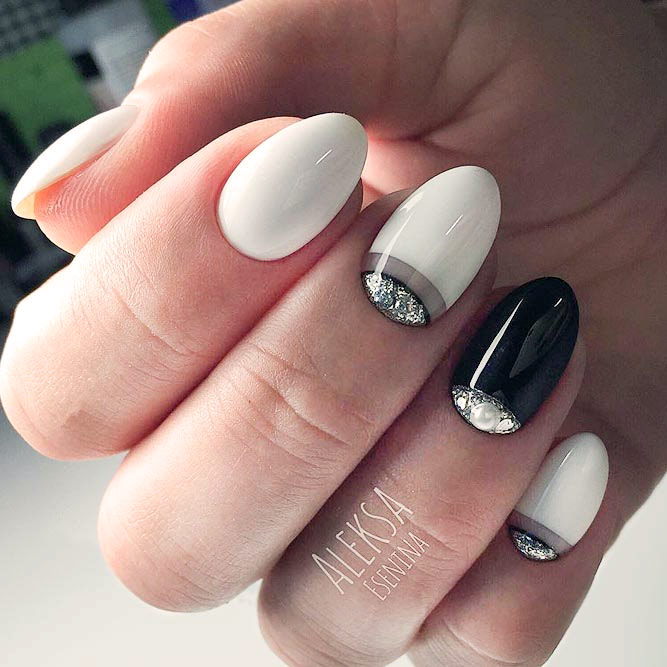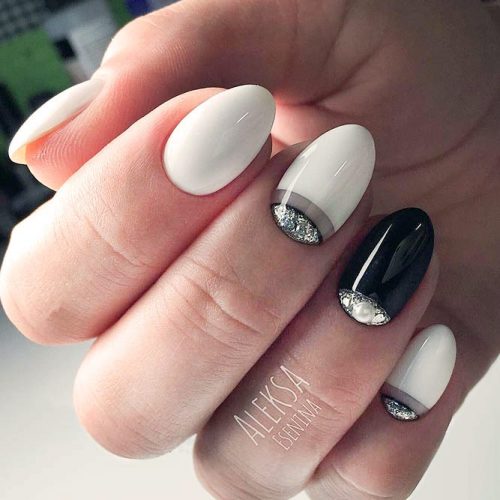 Source: aleksa.nail.art via Instagram
It is true that the classier is the nail design, the more elegant it is. That is why the classic combo of black and white combined with half-moon pattern is always a winning situation not to mention the charm added with the help of a glitter.
Pink Marble Nails For Dreamy Girls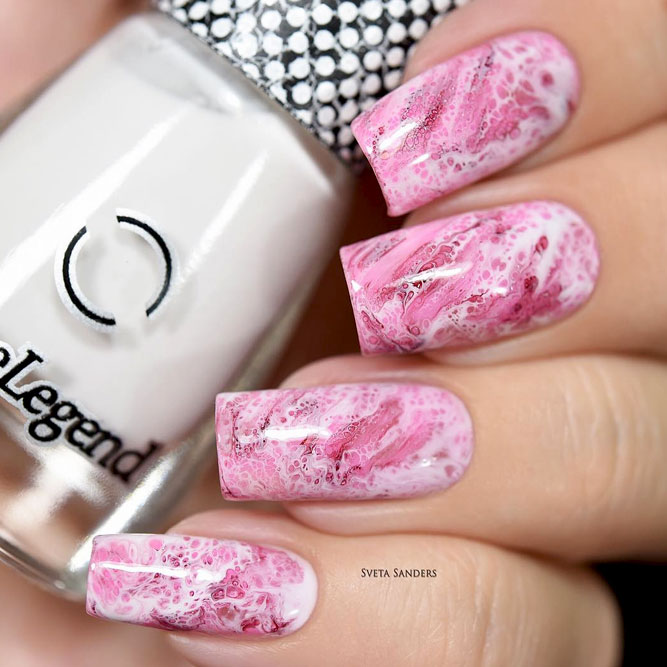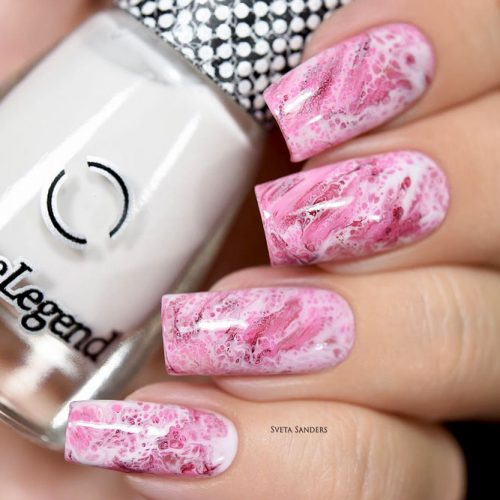 Source: sveta_sanders via Instagram
If you are in love with all possible girly nail art ideas we have something special for you. Very often pink hues are underestimated when it comes to elegant nail art. The truth I sit is very easy to create a gentle masterpiece with the help of pink hues, all you need to do is to opt for a proper design. Marble stone pattern in pink hues looks breathtakingly elegant!
Strict Geometry In Shades Of Grey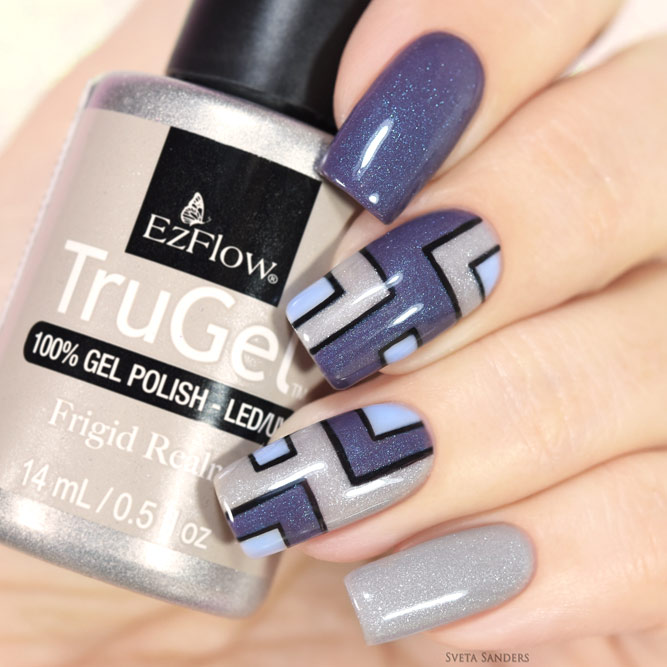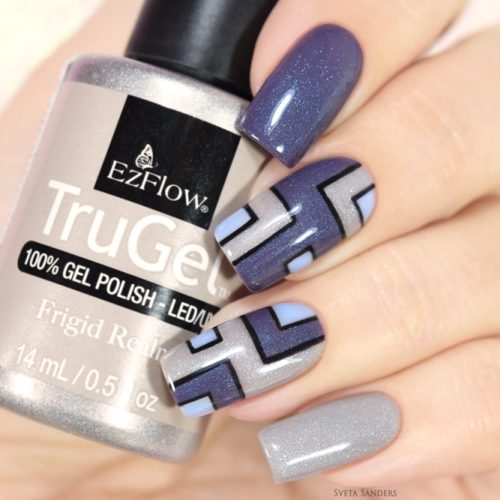 Source: sveta_sanders via Instagram
The thing is that a strict pattern can also be elegant. All you need to do is to mix and match the colors and the pattern. The combo of this geometric pattern and steel blue and silver hues is surely the killer one.
Choose Burgundy V-Design And Look Irresistible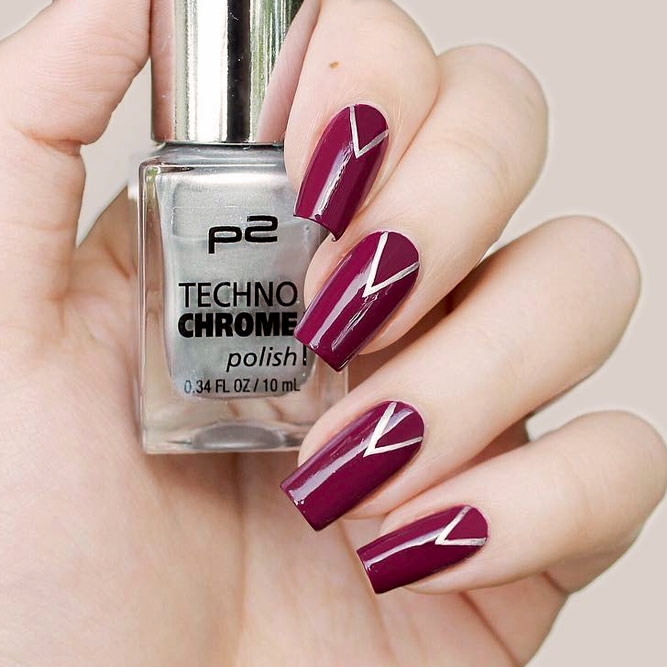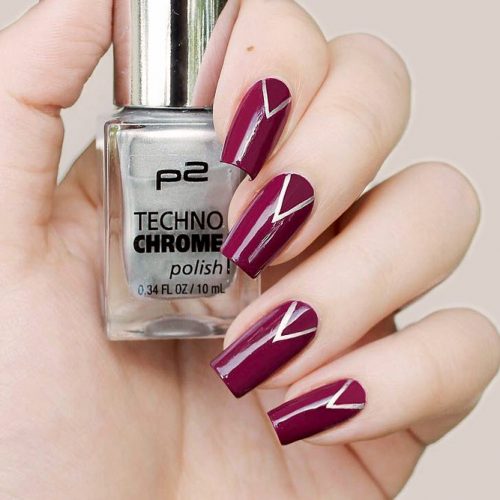 Source: jauntyjuli via Instagram
Sometimes all you need to look super elegant is a properly chosen pattern. In many cases, women think that the more intricate is the pattern – the better. However, we are here to prove otherwise. Just look at this V-design combined with burgundy nail polish – doesn't it look elegant and outstanding in its simplicity?
Marvelous White Nails With Tribal Accent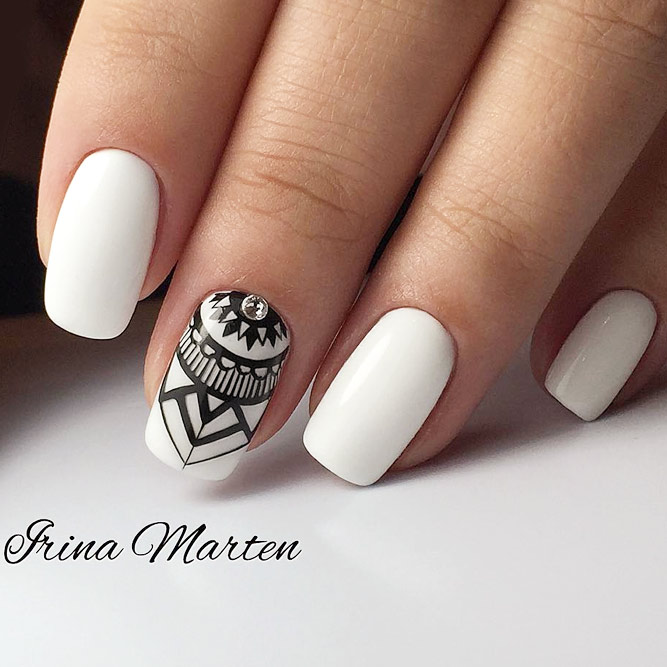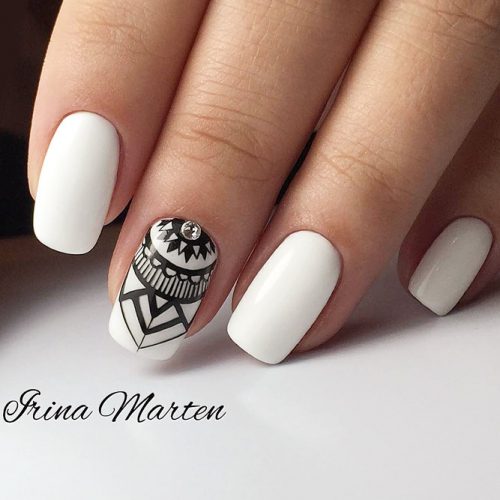 Source: nails_irinamarten via Instagram
Tribal patterns are trending these days like nothing else. That is why we decided to present to your attention this magical white nail art adorned with a tribal accent. Black and white combination is a match made in heaven, and no one can argue with that!
Gorgeous Crescent Nails Using Sequins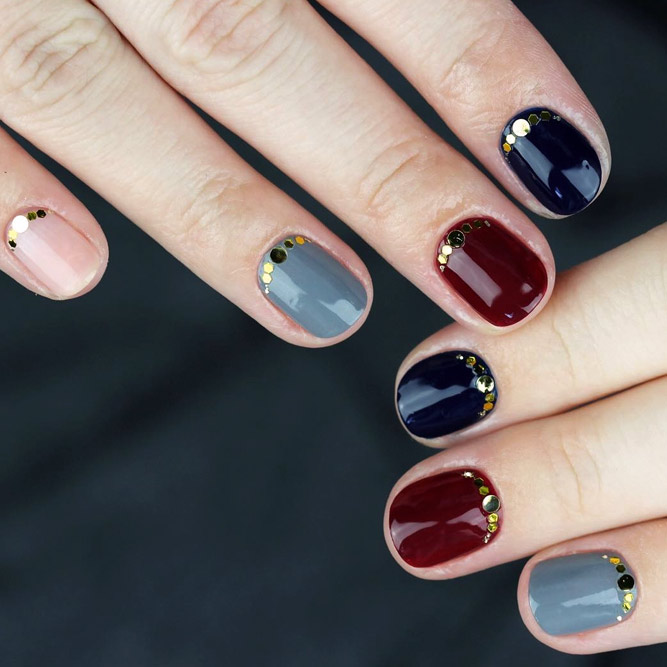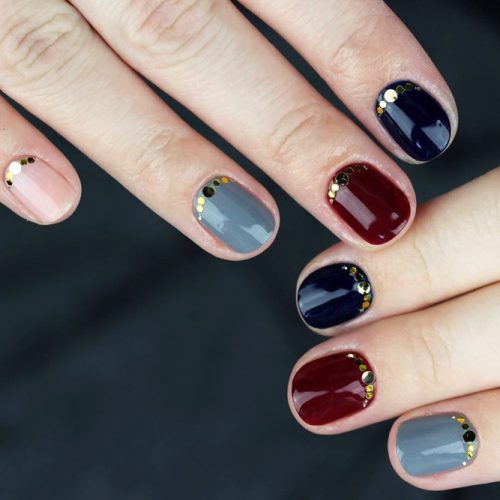 Source: chelseaqueen via Instagram
Reverse French manicure is one of the most requested nail art designs. That is why we couldn't simply pass by this exquisite nail art. As you can see even short nails can look extremely elegant if you know what to opt for.
Classy French Nails With Rhinestones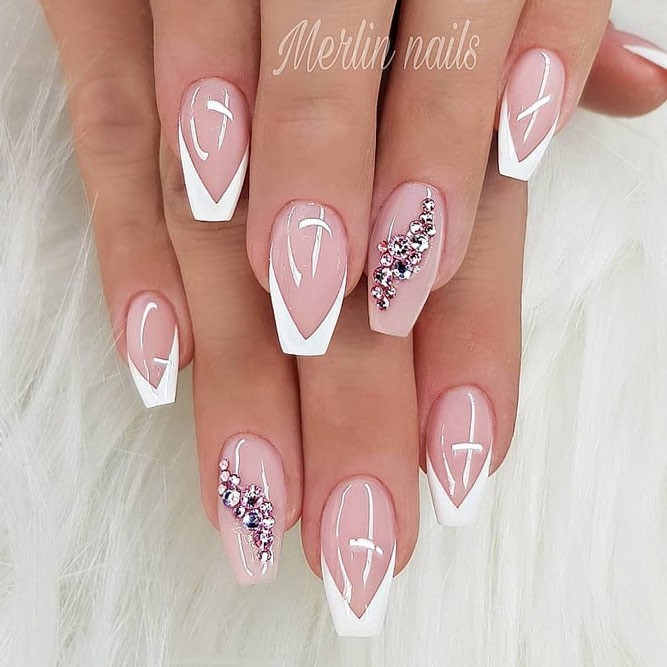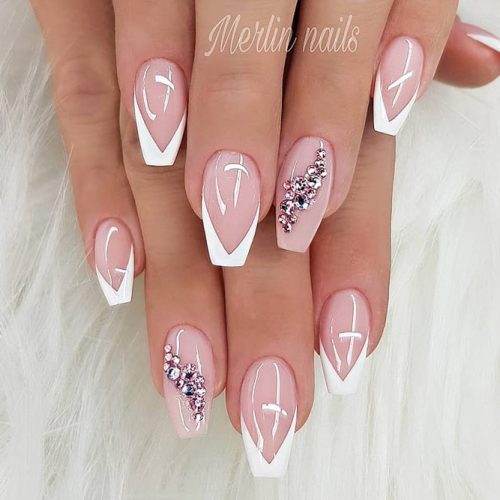 Source: merlin_nails via Instagram
It would be unfair if we miss out the classic French manicure, wouldn't it? That is why we suggest you try this upgraded French tip design out. The addition of rhinestone accent is that one special thing that makes this acrylic nails design simple unforgettable.
Lilac Marble For Short Office Mani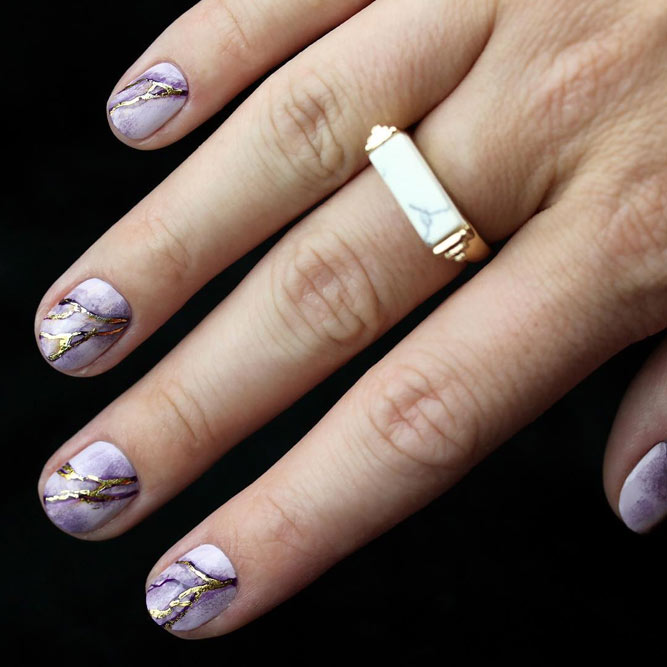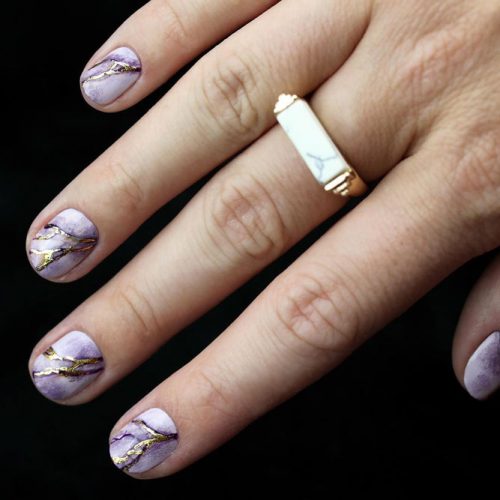 Source: chelseaqueen via Instagram
It is not a secret to anyone that purple hues are on the top this year. That is why we suggest you combine two trends in one to come up with perfectly elegant nails. All you need to do is to opt for marble stone pattern and introduce some lilac hues in. You can add a touch of gold to your manicure to make it look even more charming.
Fabulous Emerald Nails With Sparkly Crescents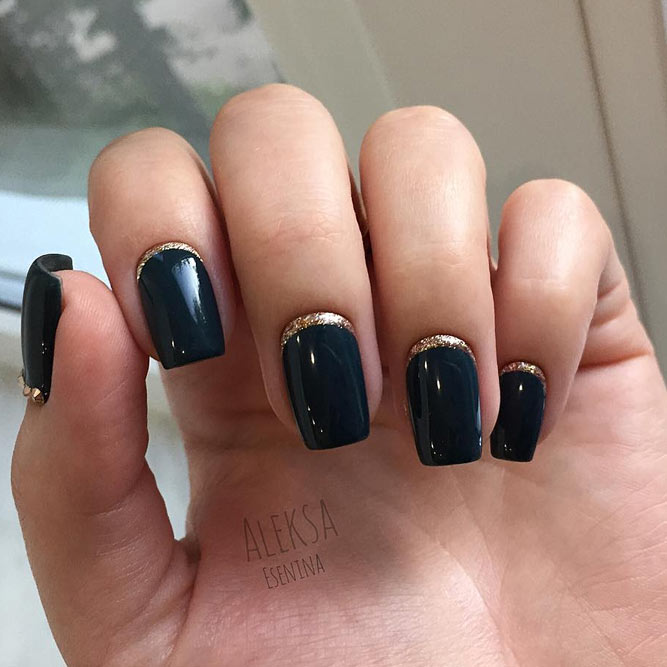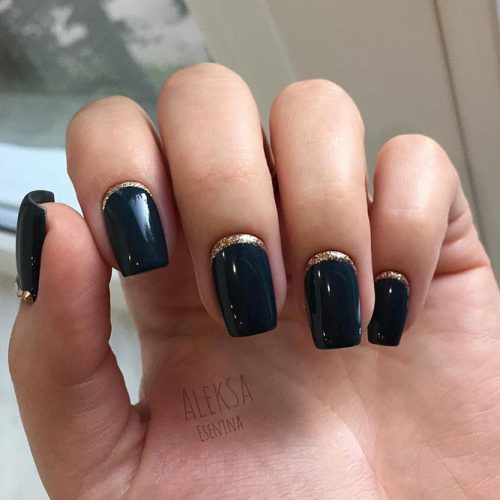 Source: aleksa.nail.art via Instagram
It is easy to come to a conclusion that only lighter hues can be used for elegant manicure creating. However, even dark colors can result in elegant manicure. Just one look at this dark emerald nail art adorned with gold reversed French accent will prove our point.
Delicate Pastel Ombre Decorated With Stamping Technique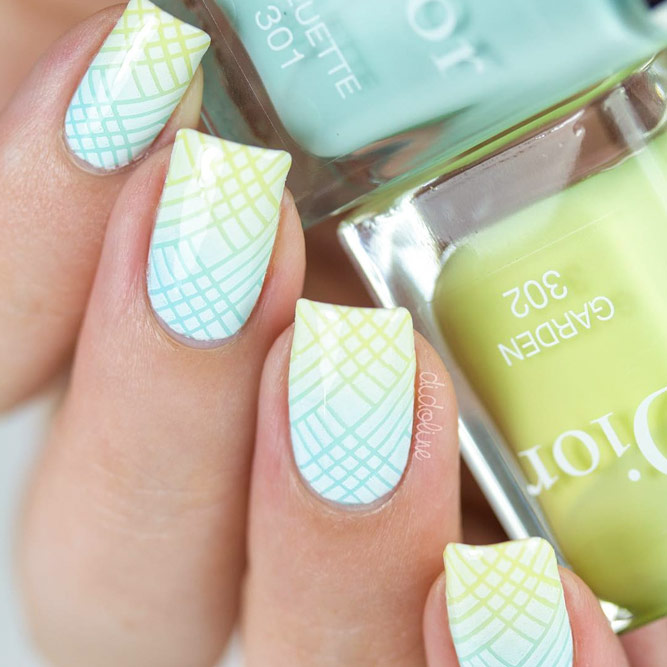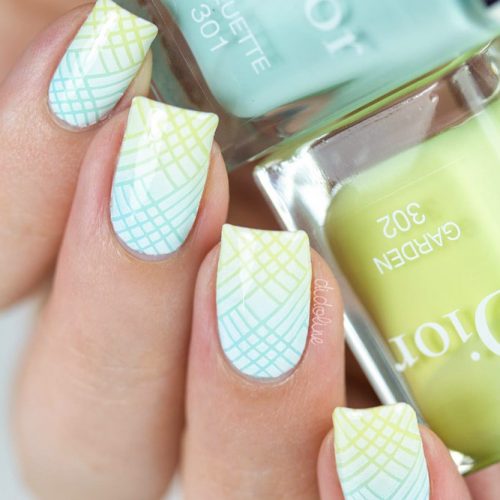 Source: didoline via Instagram
Ombre has been in for a while now, and it does not seem to go anywhere any time soon. All that is changing are the ways nail artists use it in manicure. For example, this pastel ombre base adorned with colorful stamping is perfectly gentle and unique.
Triangular Nail Design In Noble Shades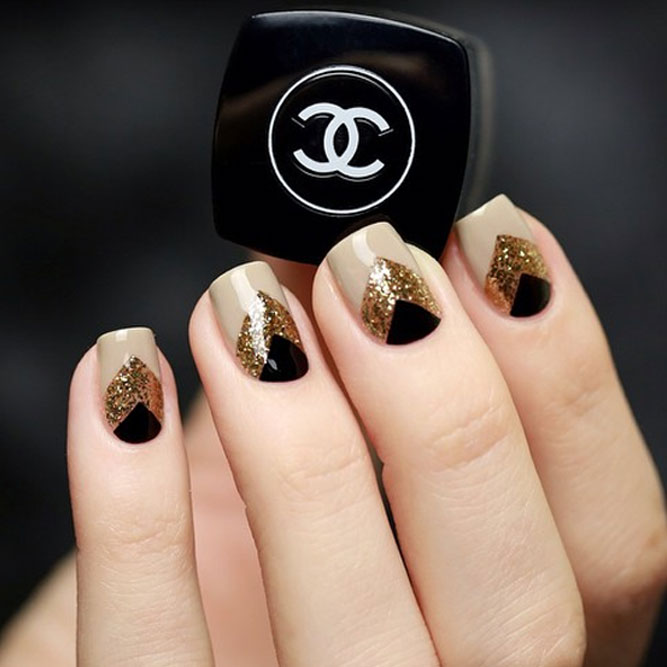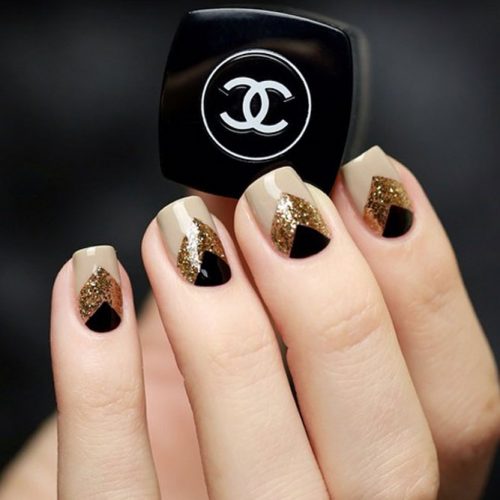 Source: u_nona via Instagram
There are some shades that are considered to be noble. Crème, gold and black are the ones that fit the name. That is why mixing them together in the strict triangular pattern is one of the ways to make your nails look elegant and trendy at the same time.
Beautiful Nude Almond Nails With Rhinestones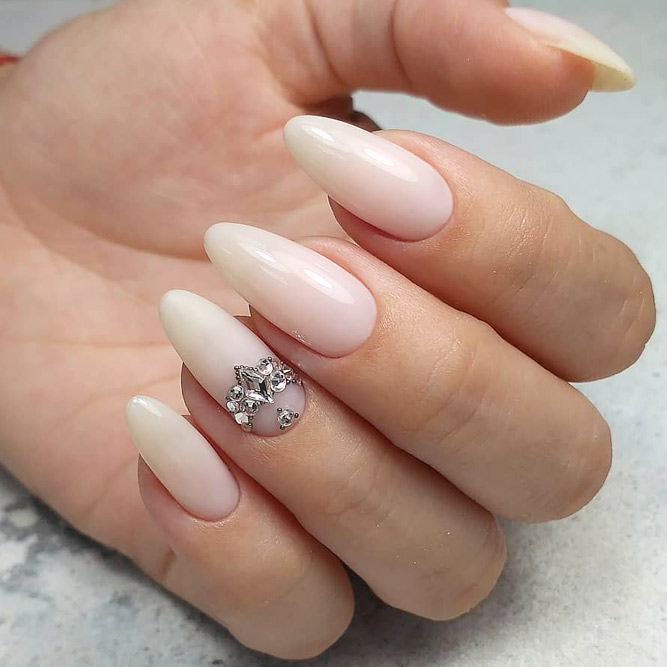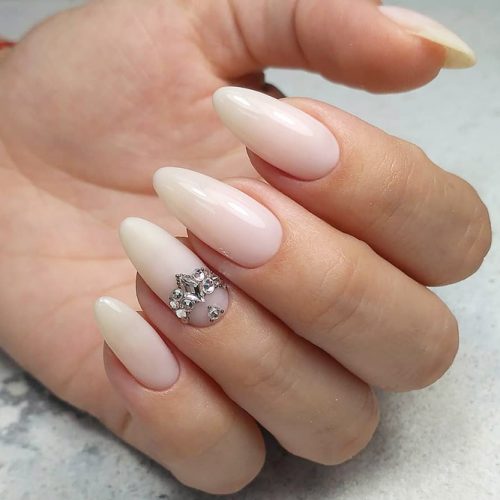 Source: sveta_liber_nail via Instagram
Very often all that you need to do to come up with elegant nails is the shape, shade, and accent. For example, these almond-shaped nails, in nude shade accented with exquisite rhinestone pattern fit the description just perfectly. By the way, soft ivory graduation with rhinestones as the highlight would be a wonderful idea for wedding nails, as they're simple and restrained at once.
Lovely Monochromatic Nail Design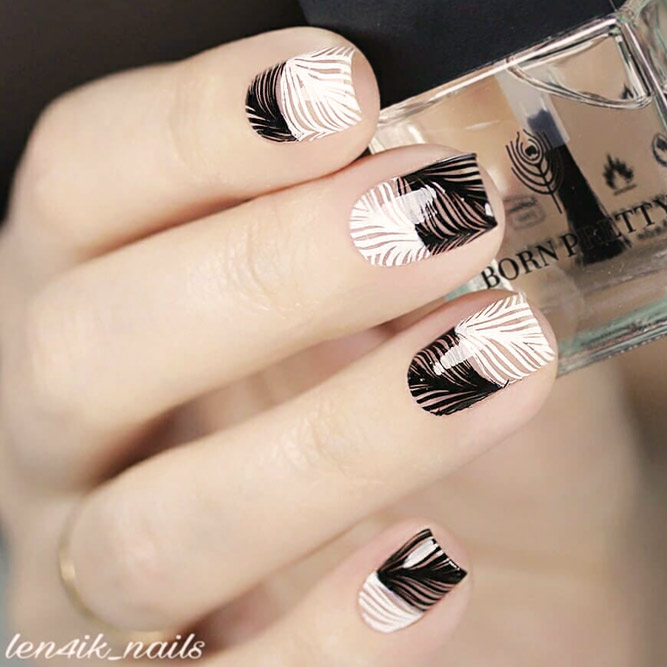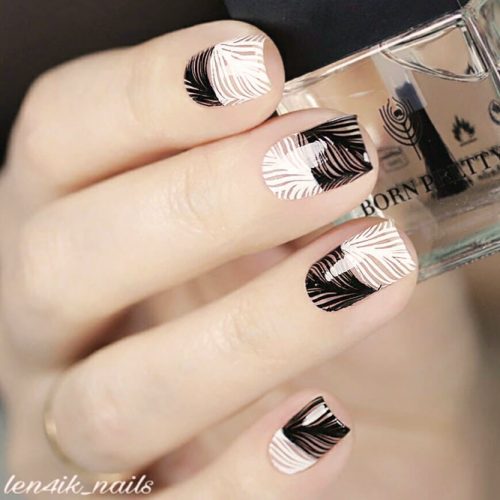 Source: len4ik_nails via Instagram
It is true that not all of you are equally fond of bright shades and intricate patterns. That is why we suggest to your attention this simple yet elegant monochromatic nail art. Negative space addition makes this design look even more fascinating don't you think?
Reverse French Manicure – Simple Elegance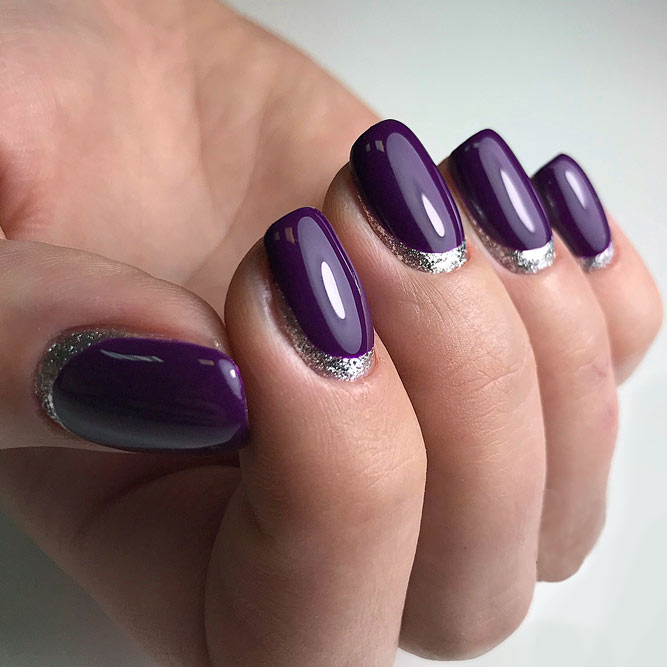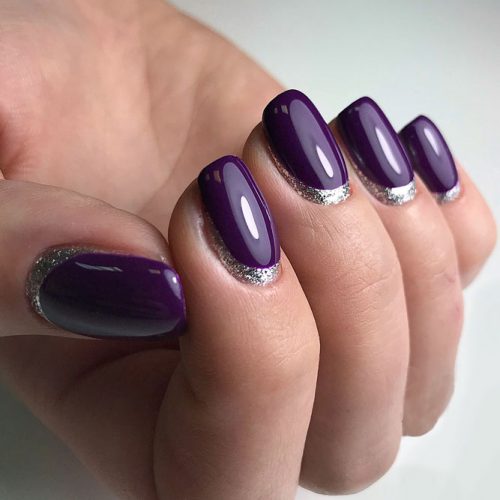 Source: laura_nails_studio via Instagram
There are many of you who are devoted to reverse French nail art. However, using the same old shading may be boring at times. That is why we advise you try something new out for a change. This dark purple nail polish accented with silver reverse French is one of the trendiest ideas to at least give a try once.
Simple Nail Designs In Pastel Shades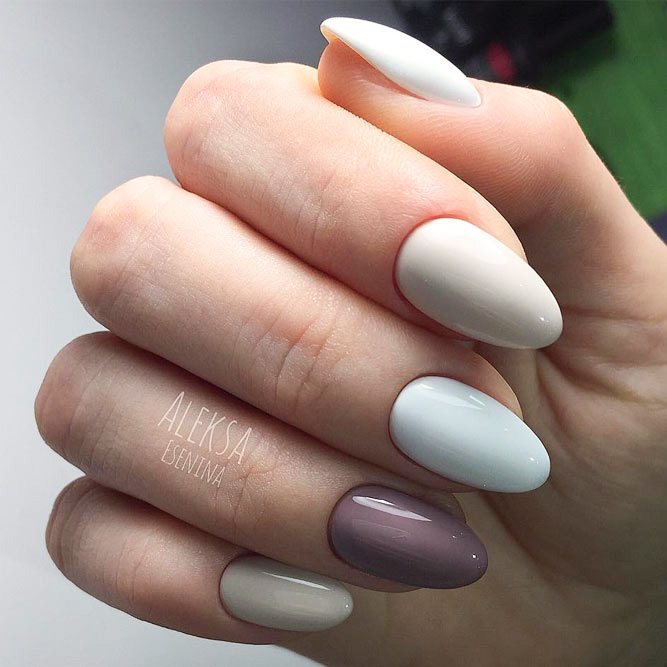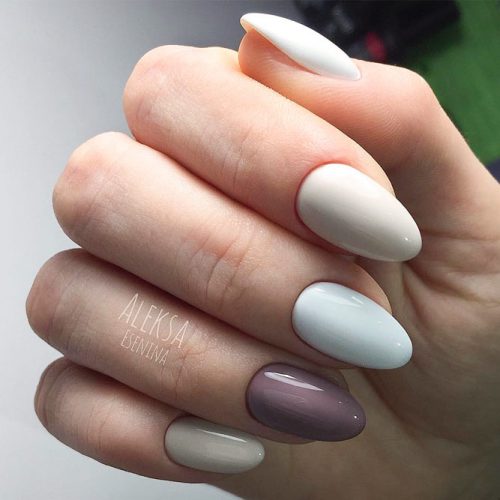 Source: aleksa.nail.art via Instagram
Pastel hues are very required these days, and there is no wonder why. The thing is that with the help of these hues it is so easy to create the masterpiece without much time and effort spent, all you need to do is to come up with a proper range of shades that complement each other. There you go!
Elegant Triangular Nails In Dark Hues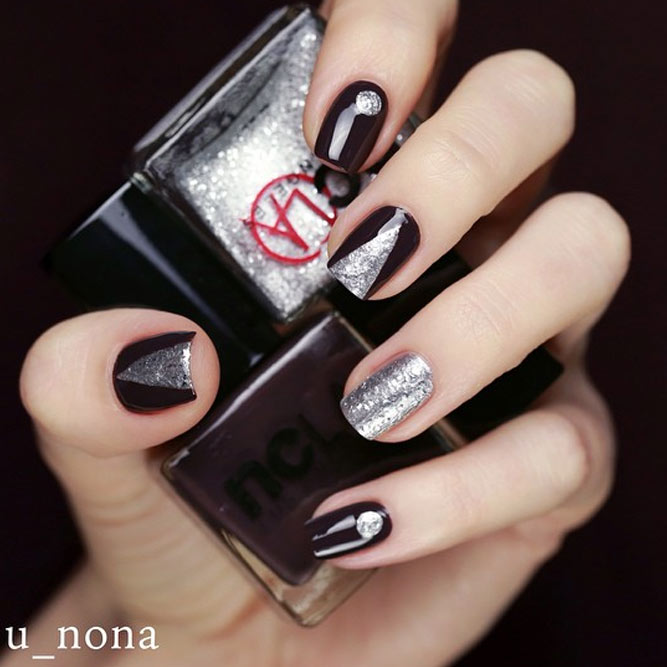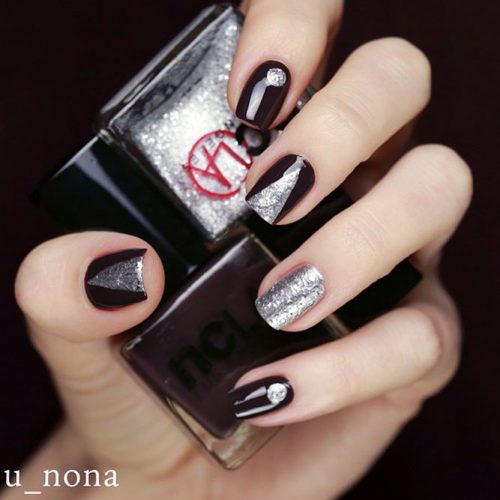 Source: u_nona via Instagram
The lovers of dark shades will surely appreciate these elegant nails idea. There are only two colors required, and a pinch of your imagination will direct you in the right way!
Lovely Matte Nails With Rhinestones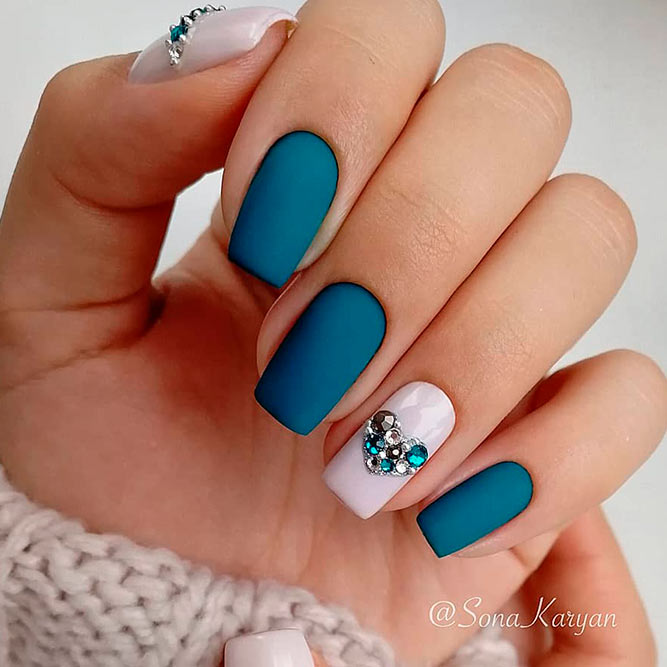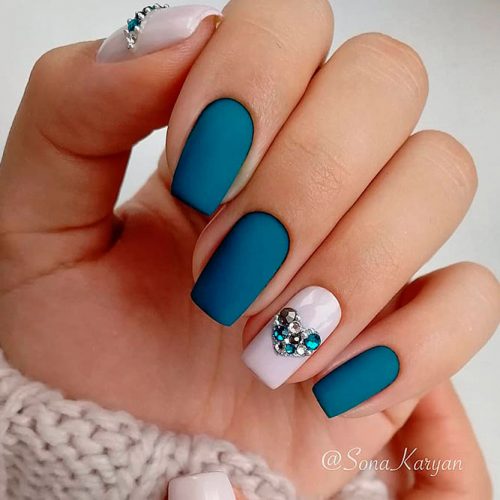 Source: sonakaryan via Instagram
Very often, in order to come up with a masterpiece, you need to choose not only the suitable shades but top coats as well. The thing is that the combination of matte top coat and a glossy one looks stylish and exquisite together.
Perfect Easy Chevron Nail Design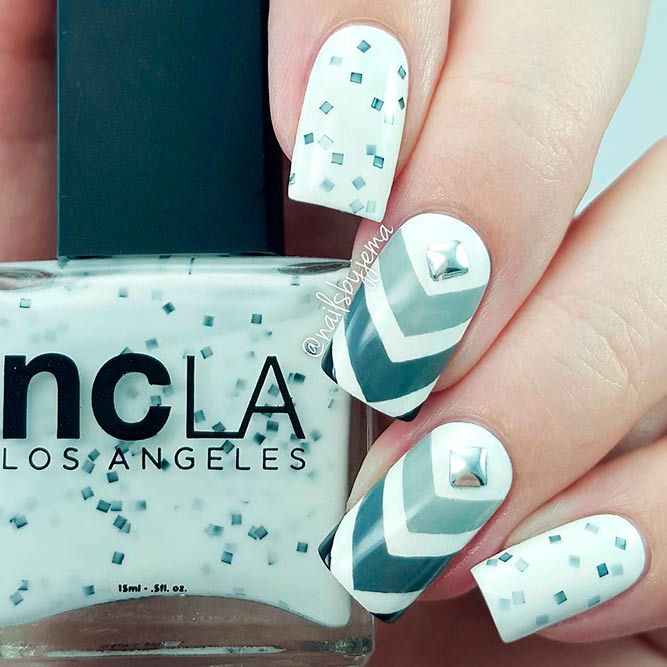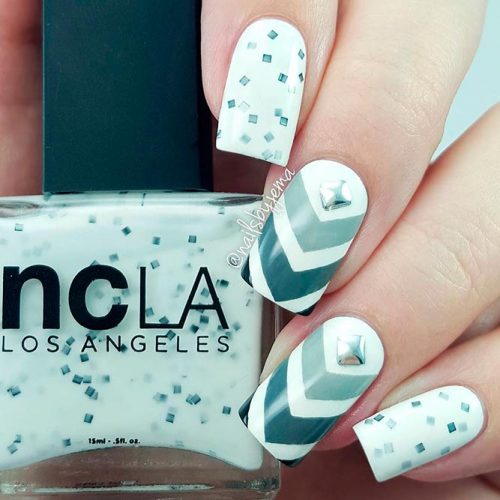 Source: nailsbyjema via Instagram
Who says that interesting patterns need to be super complex? We think that this chevron nail art is not only easy to replicate but also pretty to look at.
Fab Sandy 3-D Pattern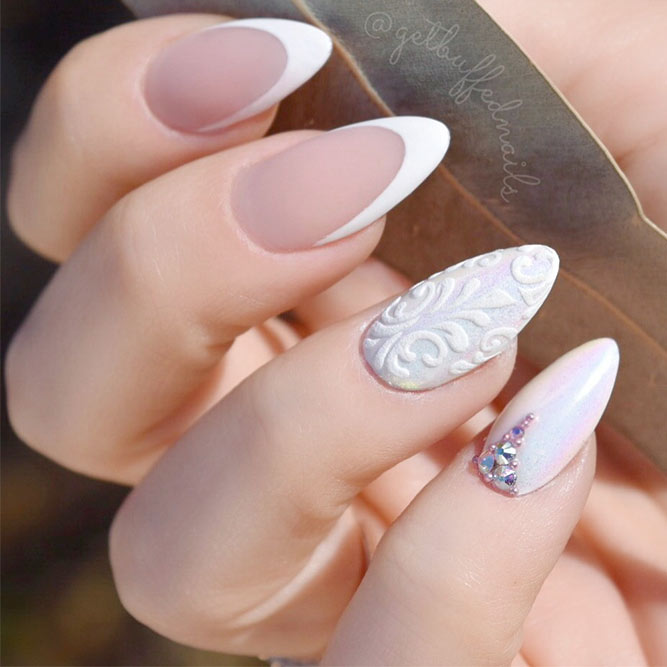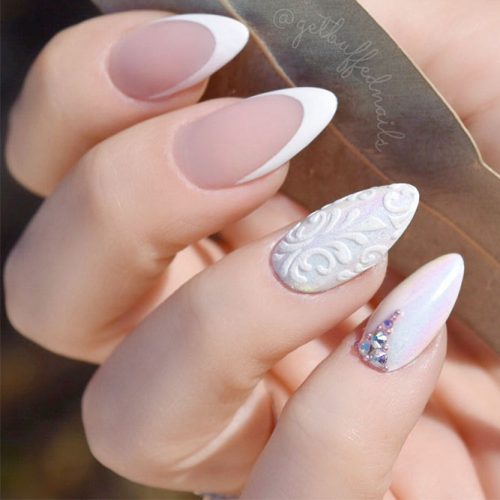 Source: getbuffednails via Instagram
3-D patterns do not need to stand too much to look gorgeous. This French manicure with the sandy pattern is the best proof to the point. Such a mani fits everyday use as well as rare festive occasion.
Impressive Liquid Foil Pattern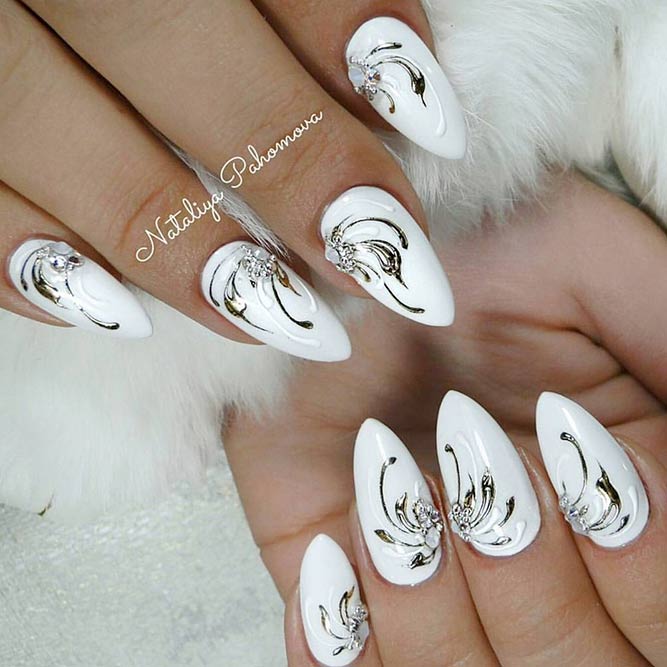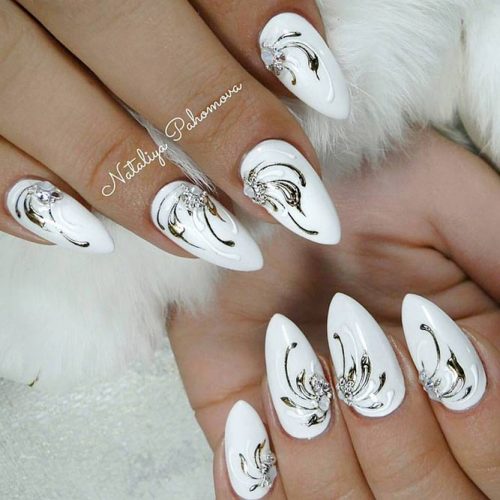 Source: pahomova_nogti via Instagram
Sometimes simple manicure is a lot more impressive than the over the edge complex one. In case you do not trust the thought – see for yourself!
Pearly Nails With Flitter Accented Finger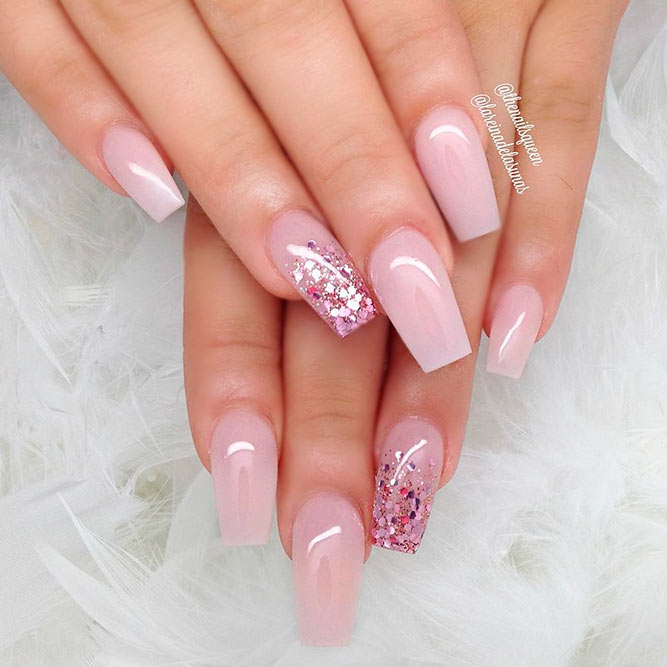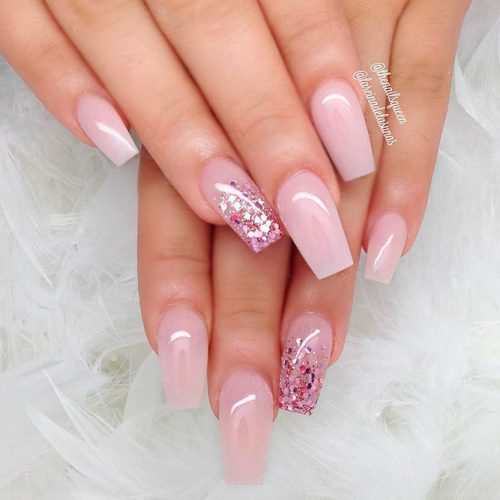 Source: lareinadelasunas via Instagram
Those of you who are in need of pretty and simple nude nail design – we have something special for you. Glitter accent is always a great idea to spice neutral pearly manicure up.
Elegant Stilettos With Turquoise Accents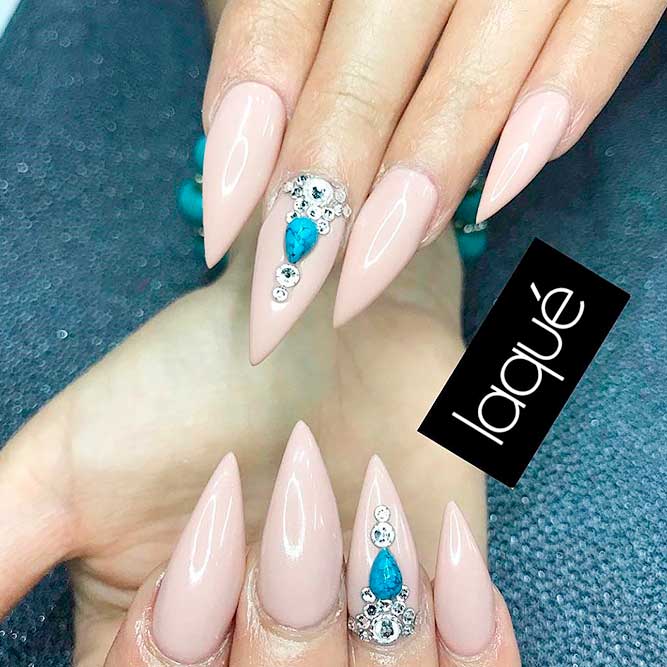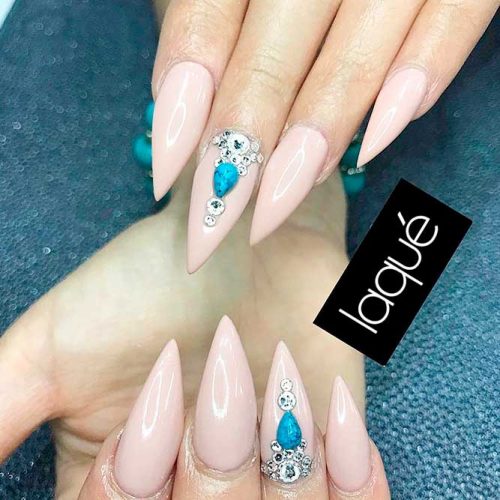 Source: laquenailbar via Instagram
There is a false opinion that stiletto nails are bound to be bold-shaded to look impressive. We think otherwise. The thing is that this perfectly nude manicure looks over the edge gorgeous due to the tiny turquoise accent.
Elegant nails are what all the fashionable ladies look for. This is the time we gather all of them in one place. We hope you enjoy this compilation and find something entirely new for yourself!