A chevron pattern is often used to design nails because it is pretty, simple, and works for any occasion. In its essence, a chevron print is a sequence of V shape stripes in an inverted form. This print resembles a zigzag print. And actually, it is its variation. But unlike zigzag prints, chevron prints have segments that mark the end and beginning of every color.
We already used to nail art designs with chevron prints. But do you know that this print appeared in about 1800 BC, supposedly in ancient Greece? Yes, it is ACTUALLY timeless.
Now when the basics are clear let's discover some trendy nail art ideas with chevron prints.
How To Prepare Your Nails For A Chevron Design
Source: lifeisnails via Instagram, kt_tk1 via Instagram, kt_tk1 via Instagram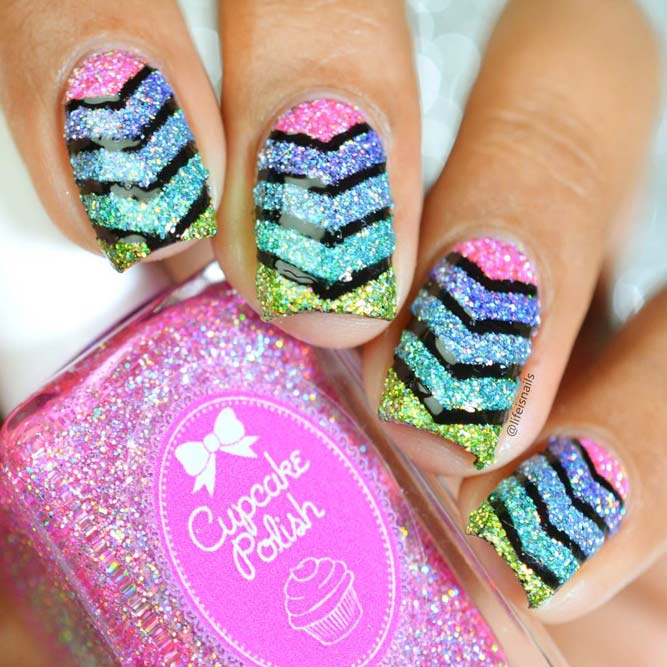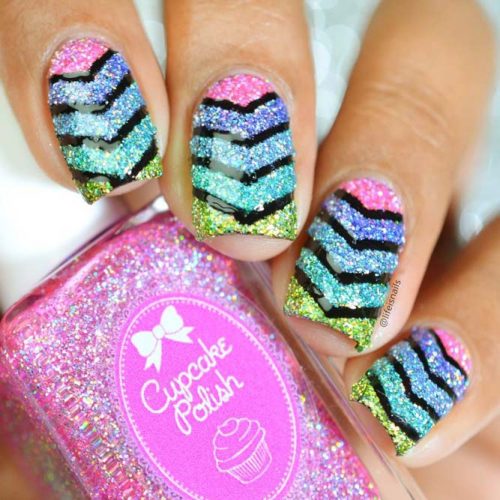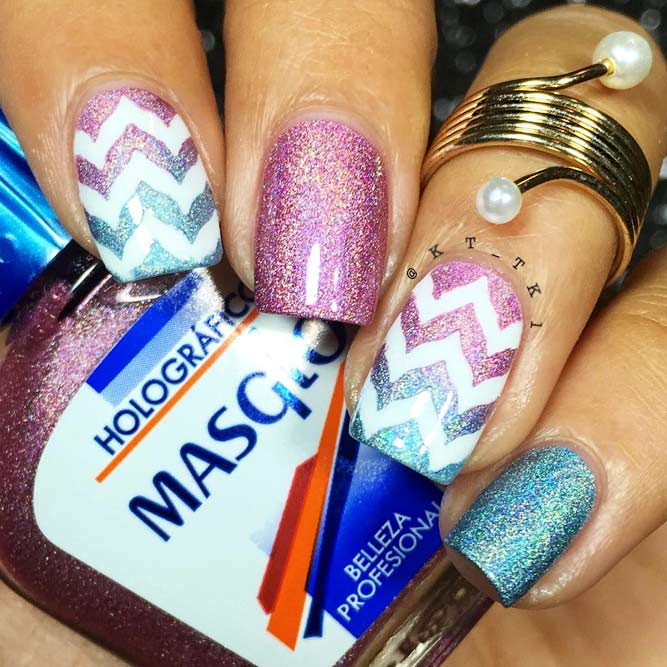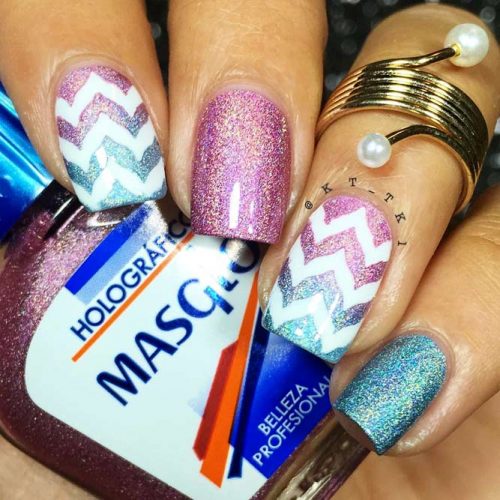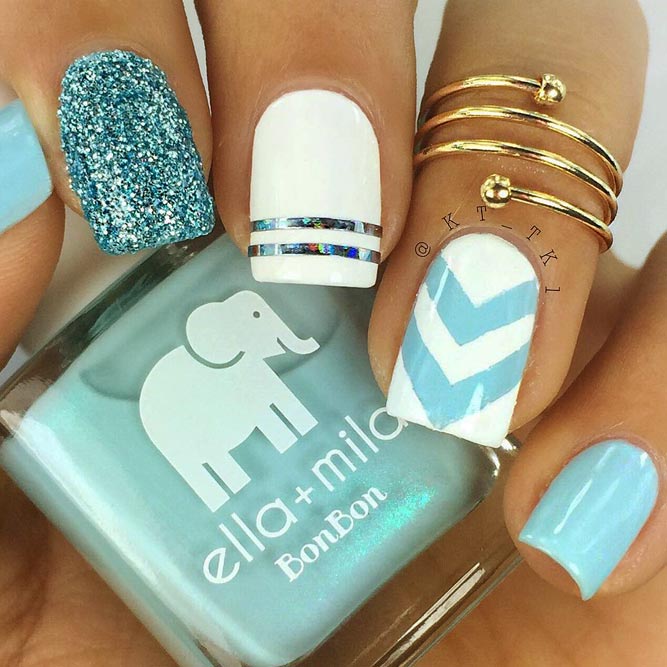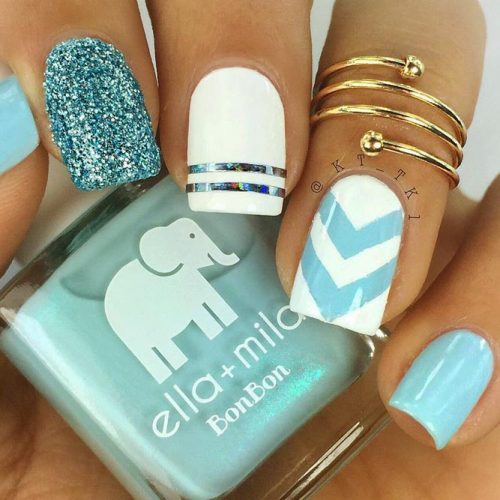 Chevron nail art requires some preparation. Or else it is unlikely to turn out great and please your eyes for a long time. Keep in mind that if you over-hydrate your nails, it affects the natural balance and causes nail polish lifting. So, in case your skin is extra dry, it is better to use one primer coat even if the nail art needs 2 primer coats.
When preparing for your manicure, do not forget about sanitizing your hands. Also, remove the old nail lacquer and all of its leftover.
Source: nailsbyjema via Instagram, jewsie__nails via Instagram, nailsbyjema via Instagram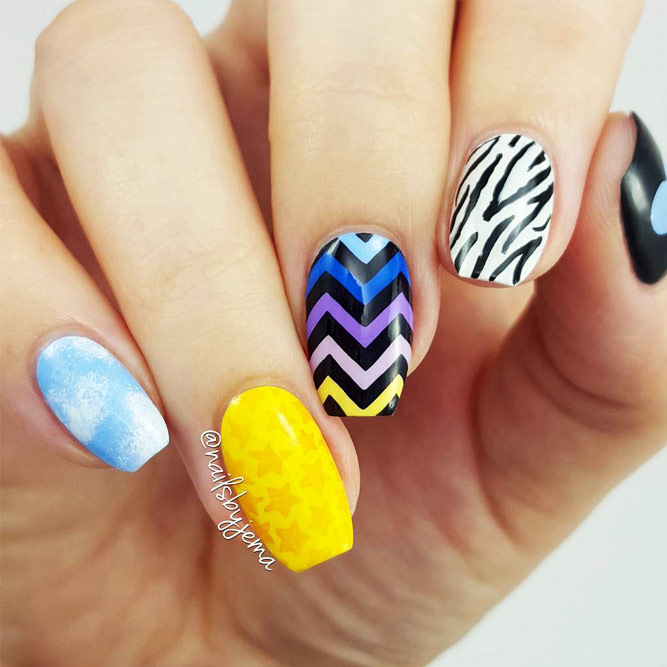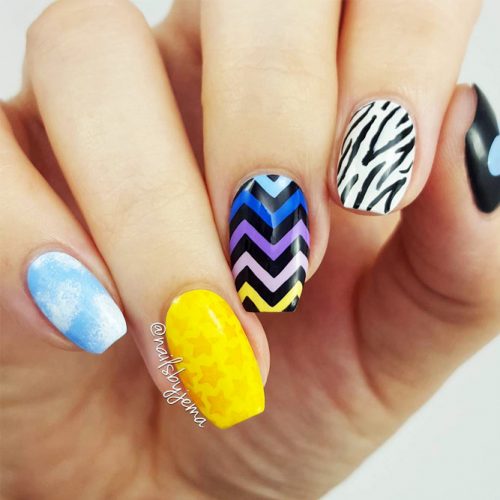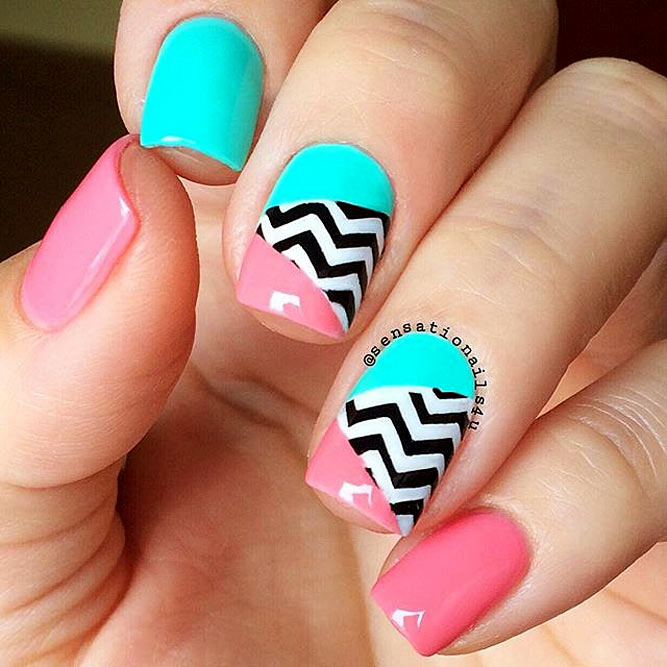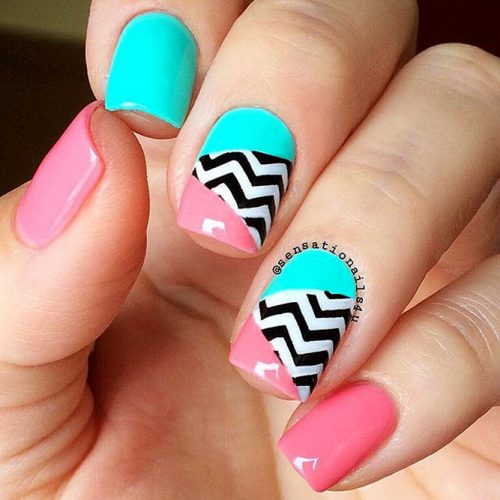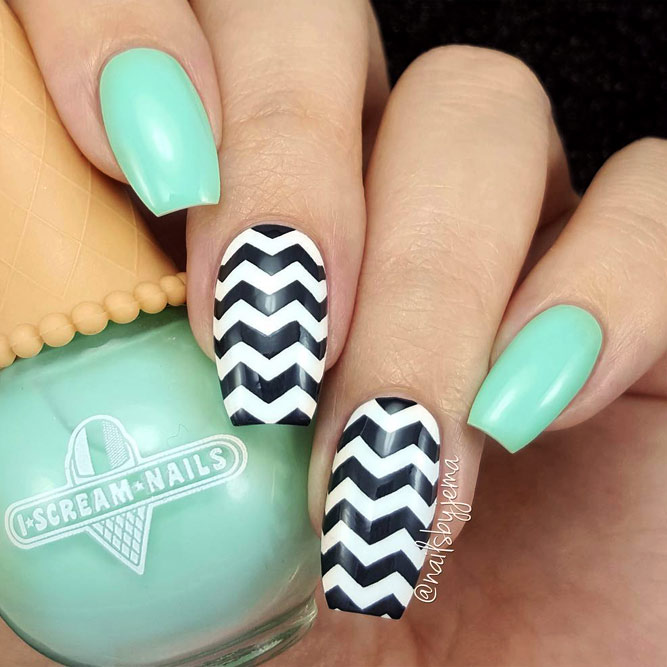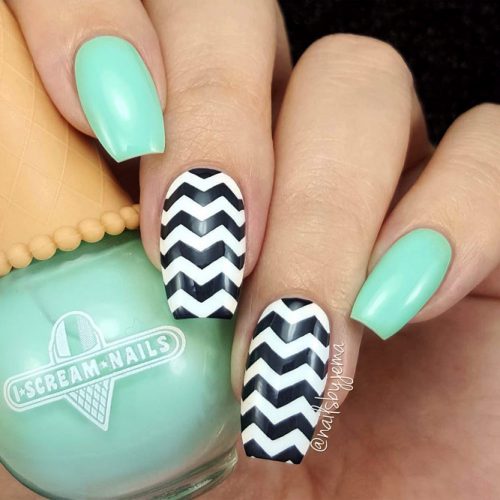 Apply cuticle exfoliant to push back your cuticles. Then wipe it off with antiseptic and cotton.
Now it's time for the chemical preparation. You need to dehydrate your nail plates, cleanse them properly. How does it work? The cleanser draws out moisture, oil from the nail plate when it contacts with it. So, it acts like some sponge. As a result, it leaves a white chalky finish. Then the primer will not have to deal with extra moisture, oils.
Chevron Design For Nails: Fun And Easy
Source: lifeisnails via Instagram, hanninator via Instagram, nailsbyjema via Instagram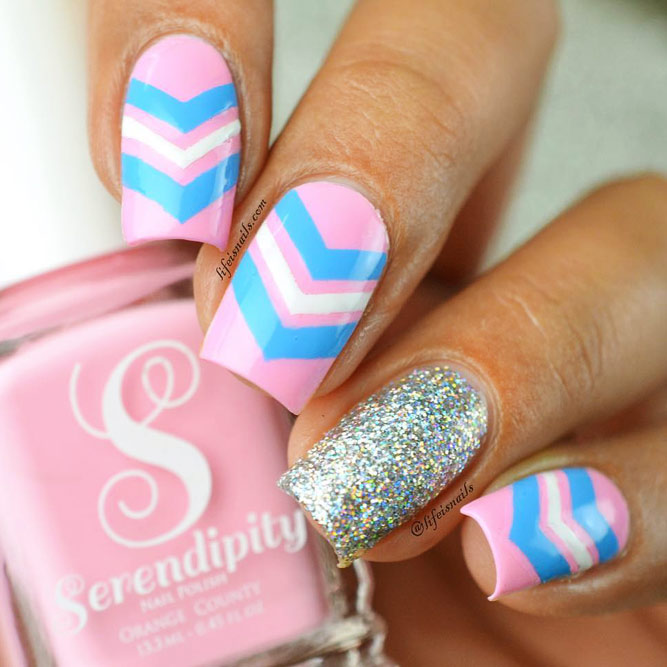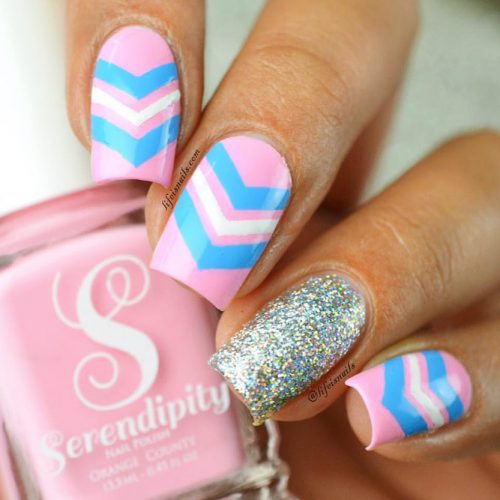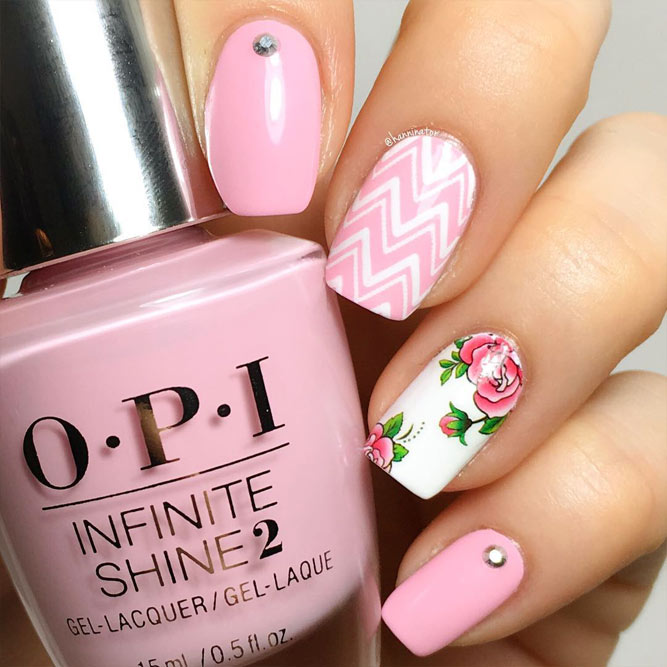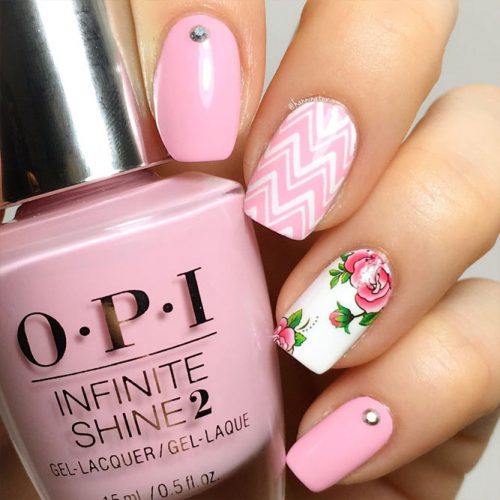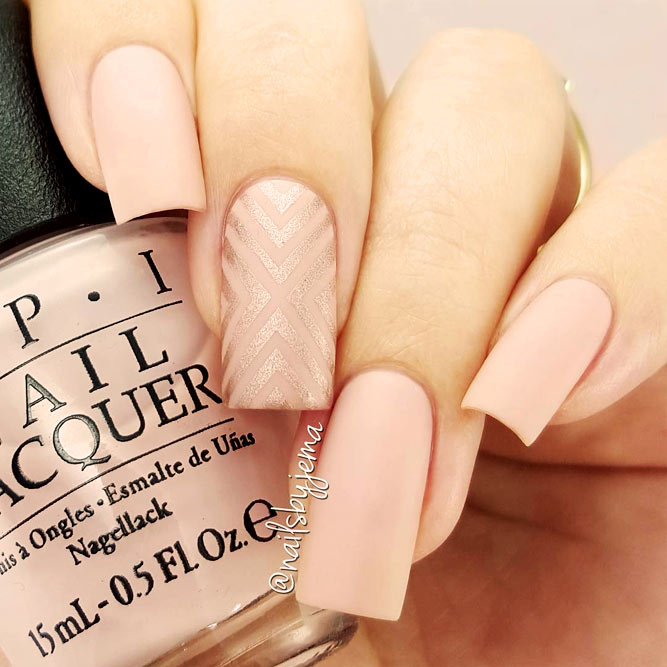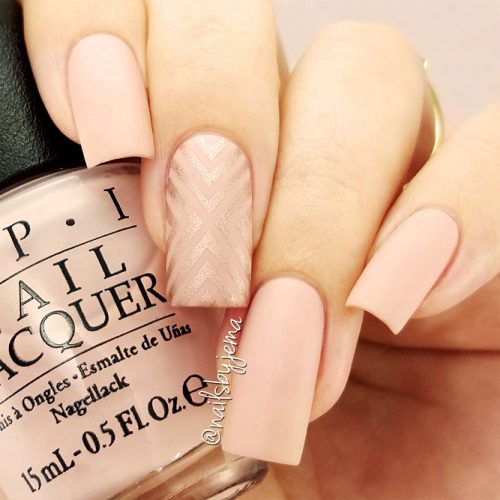 When showing you the hottest chevron pattern nails ideas, we cannot but mention how to design nails with it. It is not complicated at all! Let's discuss the basic variation that can be altered and complemented however you wish.
Pick 2 different shades of nail lacquer. One will act as a base, another as a design.
Apply base coat, leave it to dry for about 10 minutes or a bit more if needed.
On top of the base coat, place a chevron sticker.
Source: badgirlnails via Instagram, badgirlnails via Instagram, jewsie__nails via Instagram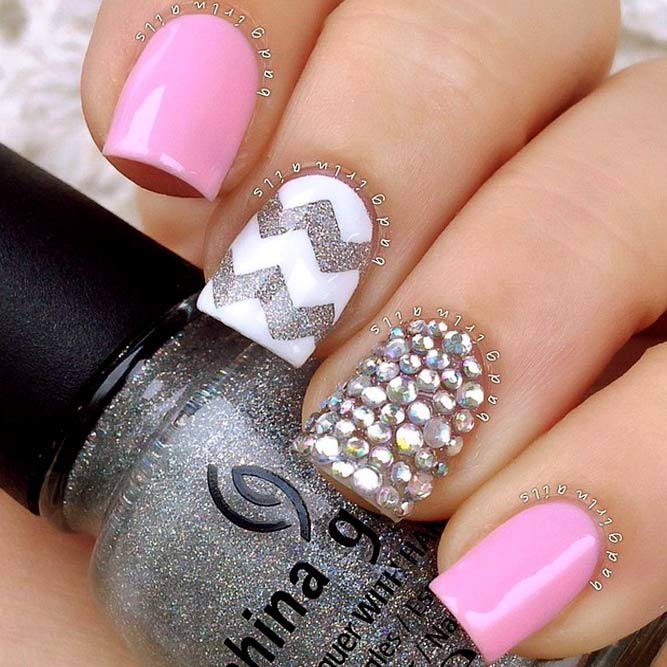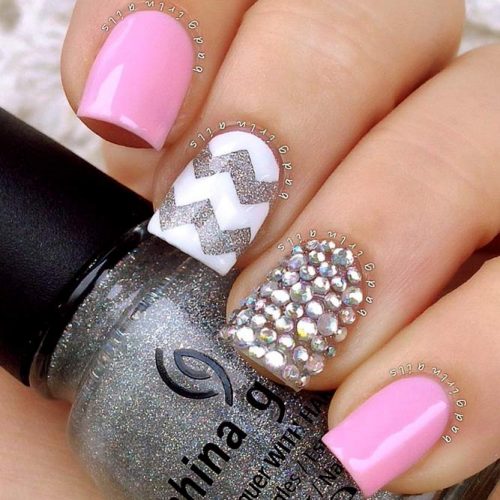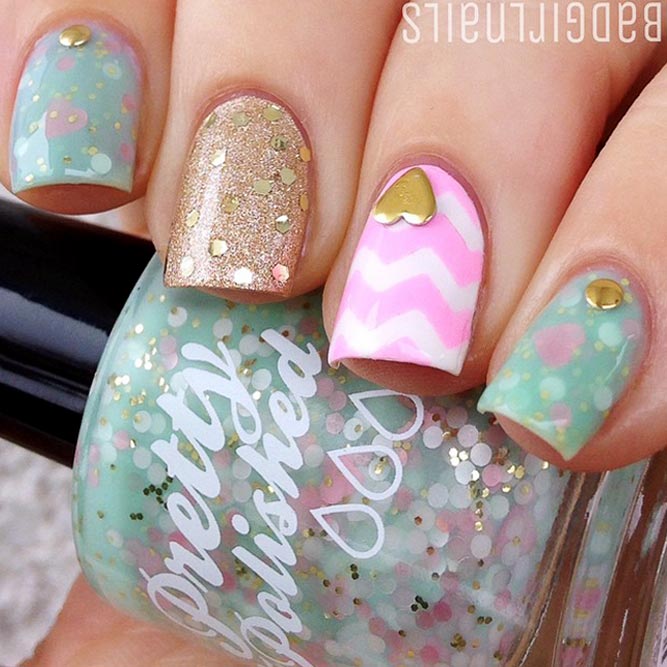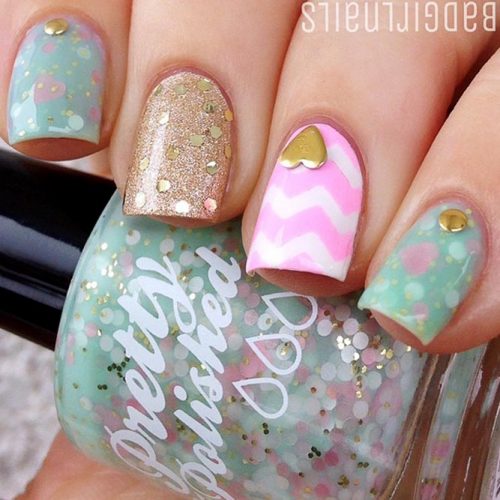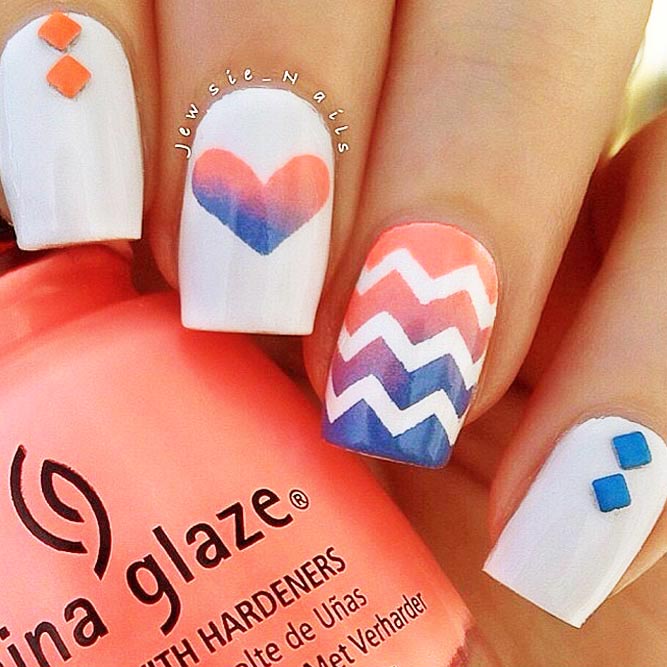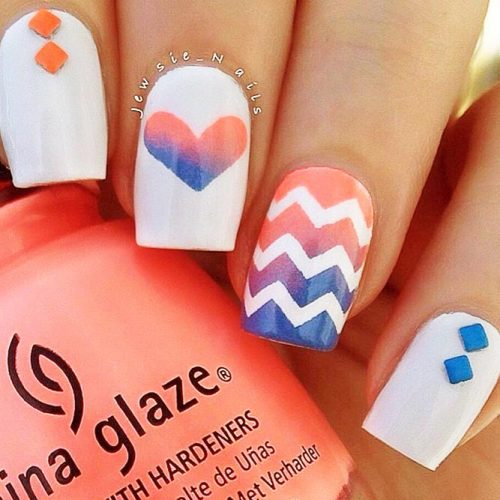 Paint the second shade over the sticker. Leave it on for about 2 minutes.
Remove this sticker. But do it carefully and not in a hurry. Or you could blur the chevron nail design.
Repeat all these steps with every nail on which you want to see the pattern.
Finish with top coat.
Some Useful Tips For Your Chevron Nails
Source: lifeisnails via Instagram, nata3110nata via Instagram, xnailsbymiri via Instagram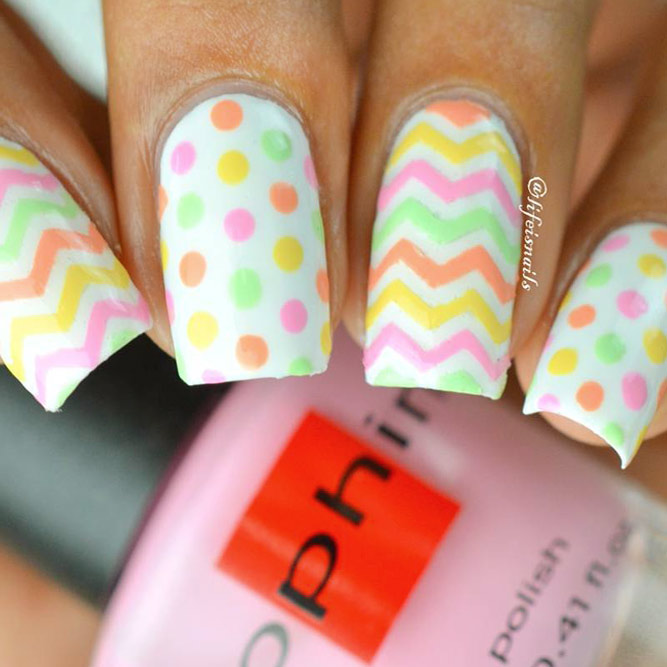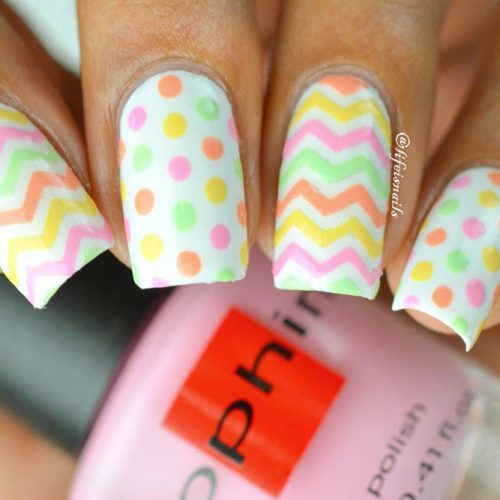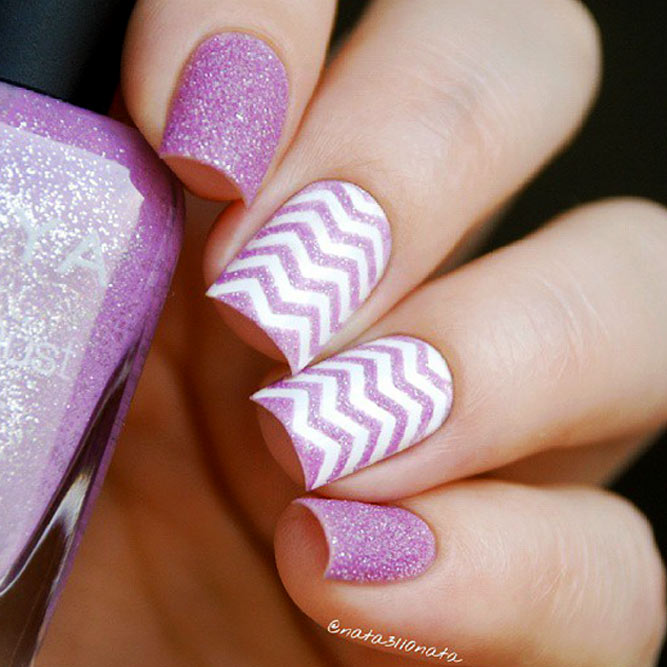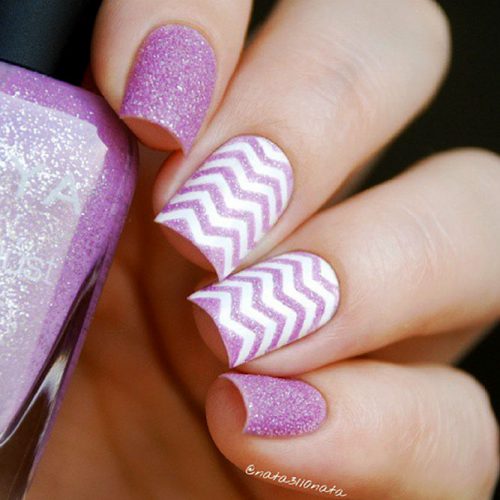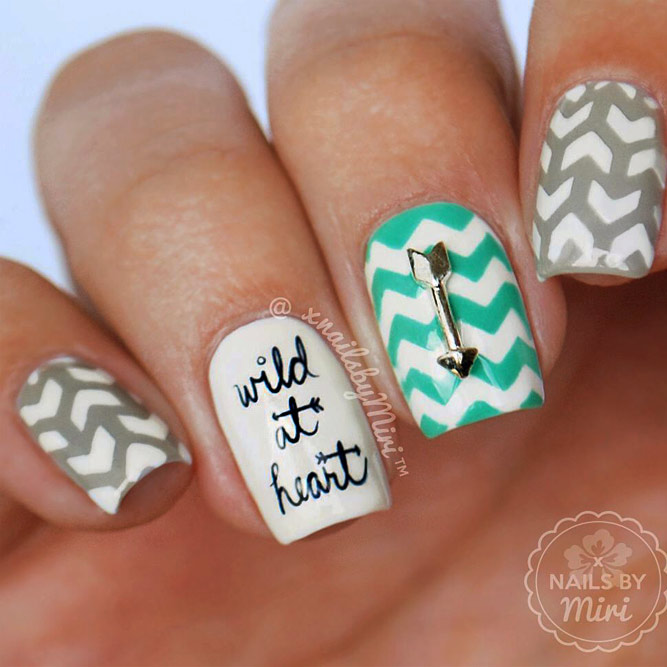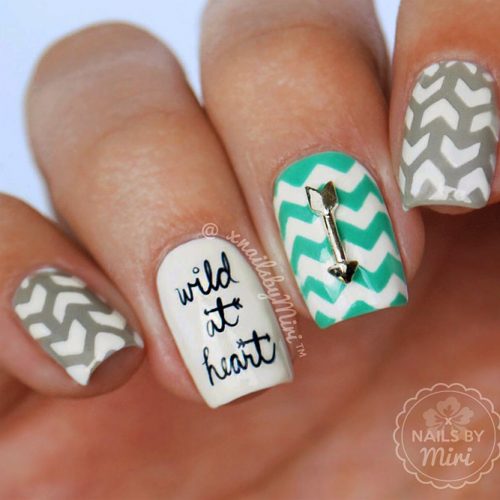 Whenever you design nails, you expect the result to be long-lasting. And it's not surprising: you spend time and effort, and you are too busy to do it every couple of days. These tips will help you make sure that the nail lacquer won't chip easily.
Pass the soaking. Usually, before a mani, you soak your nails in water. But it will make the nails expand. Then when they get dry, they will shrink, causing the lacquer to crack. So, skip the water bath right before doing a mani. You can do it some other time.
Roll a bottle of nail lacquer. When you shake it to mix the color, it infuses the polish with tiny air bubbles. Then it leads to chipping. When you need to mix the lacquer, hold the bottle upright, roll it in the hands.
Source: xnailsbymiri via Instagram, hanninator via Instagram, nailsbyjema via Instagram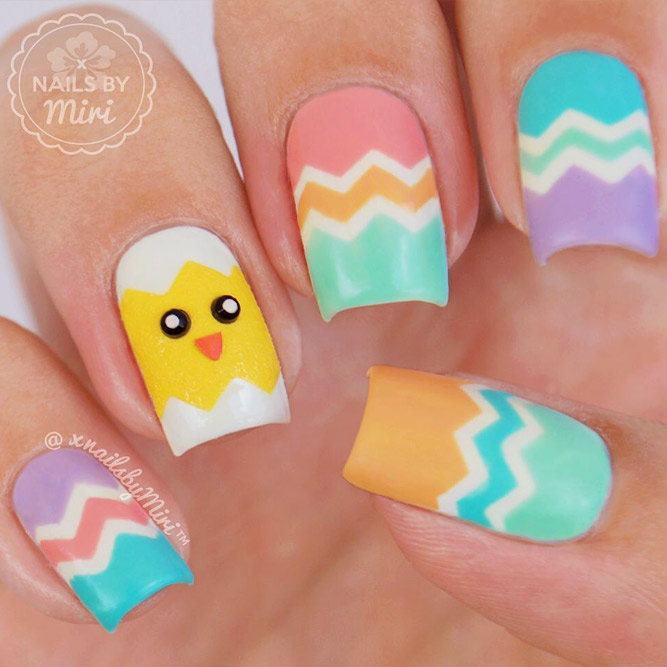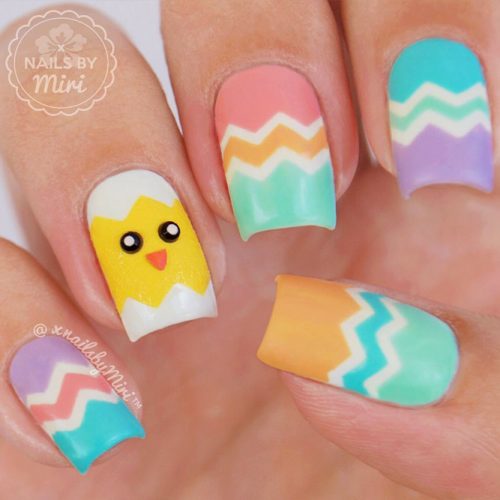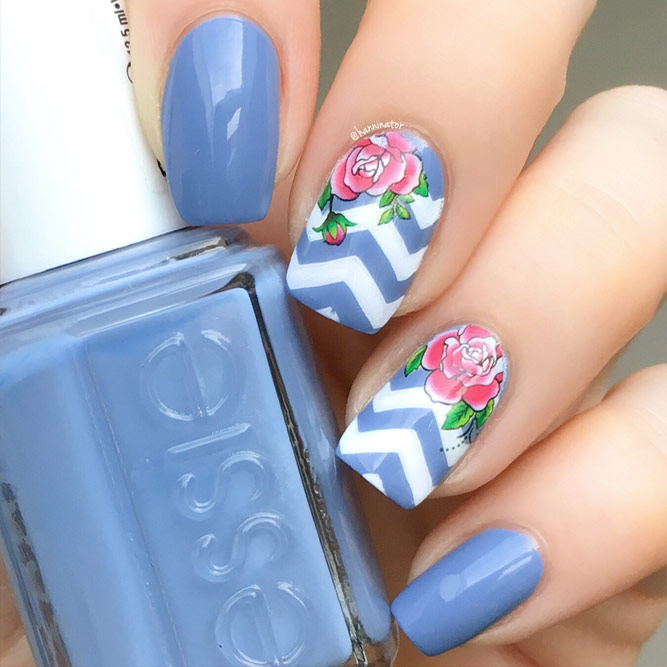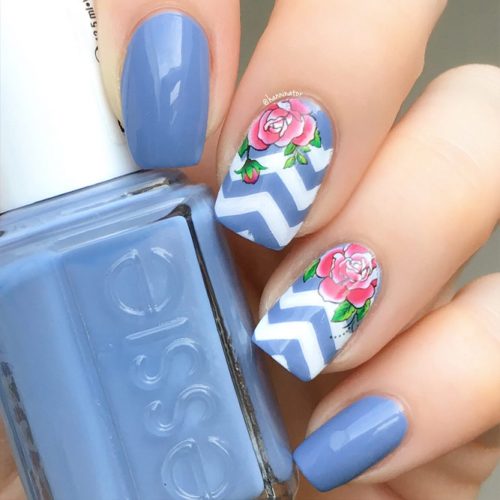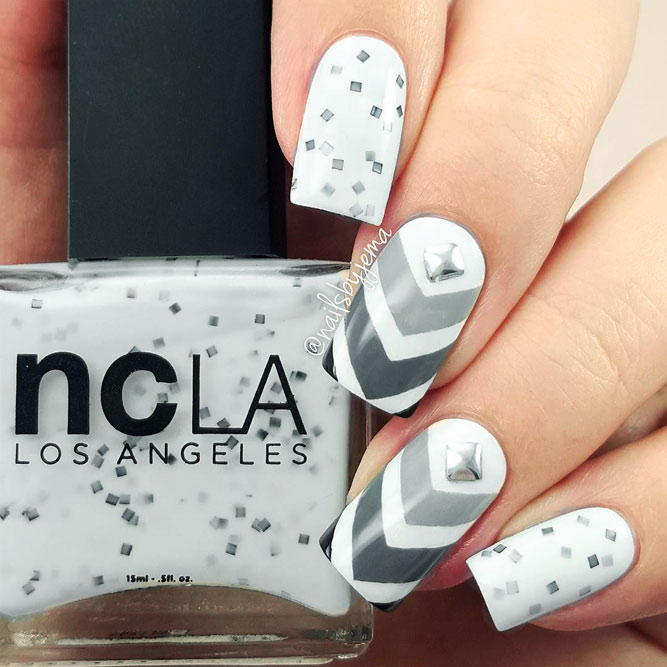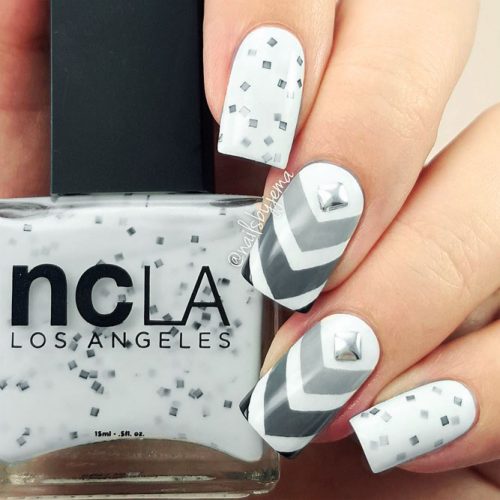 Avoid cuticles. If the lacquer touches cuticles, it will peel away faster, taking the lacquer from nails along with it.
Polish edges. When painting, move the brush forward so that it goes around the nail edges for complete coating. It will add some more protection to the nail tips.
Apply thin coats. Thinner coats dry faster and are stronger than thicker coats. Apply thin lacquer in very thin strokes. You can simply add more coats for smoother and fuller coverage.
Wait between the coats. If you apply another coat on the still wet lacquer, it will peel off easily. Wait for at least 2 minutes before you apply the next coat.
More Ideas For Your Chevron Nails
Source: badgirlnails via Instagram, jewsie__nails via Instagram, kt_tk1 via Instagram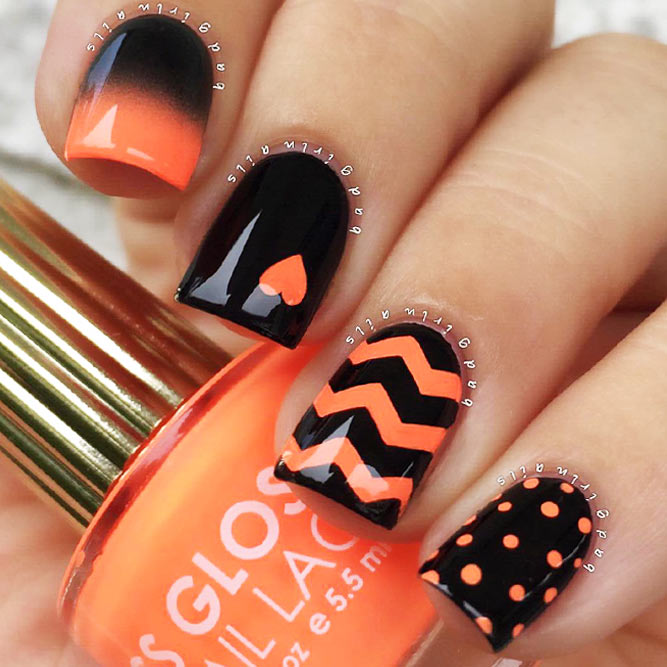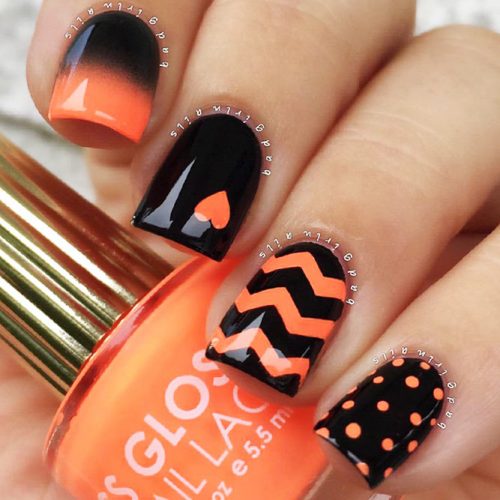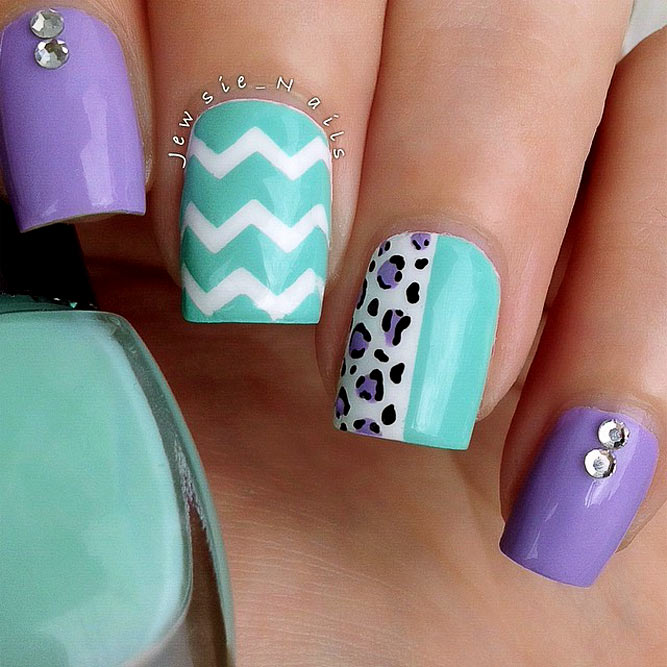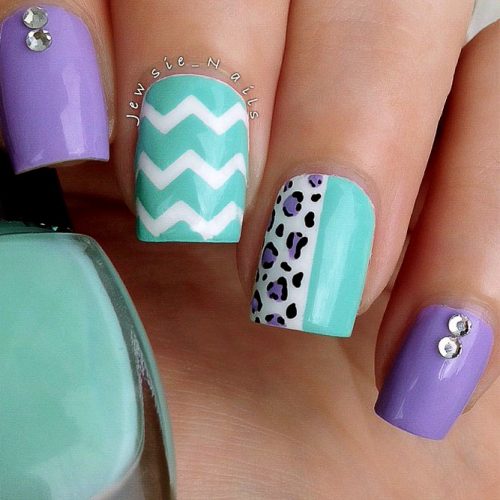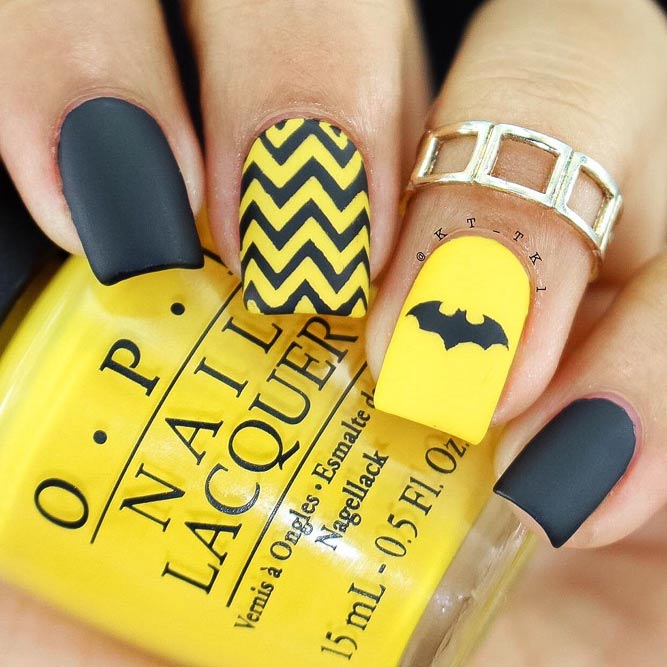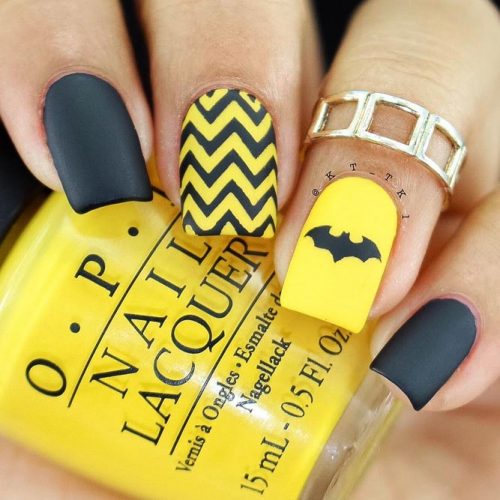 Source: melcisme via Instagram, olganaildesign via Instagram, bundlemonster via Instagram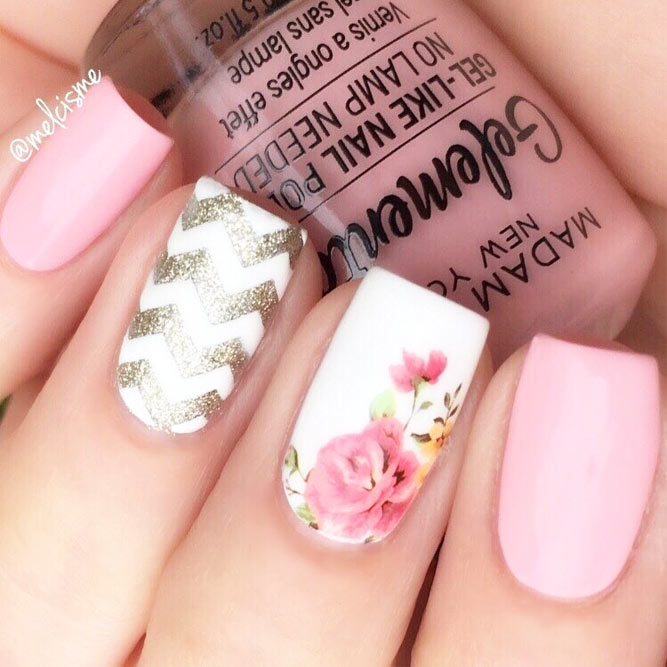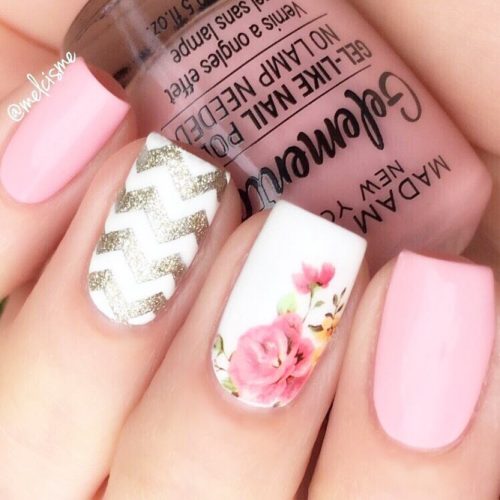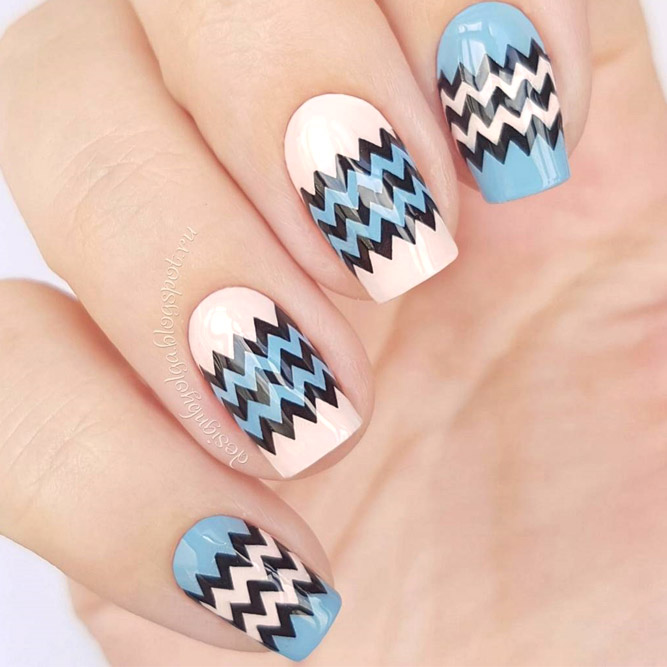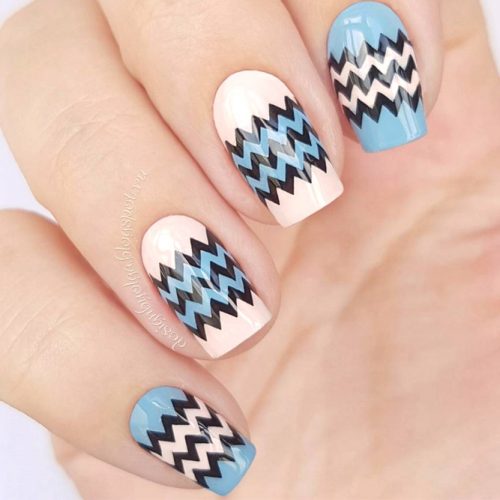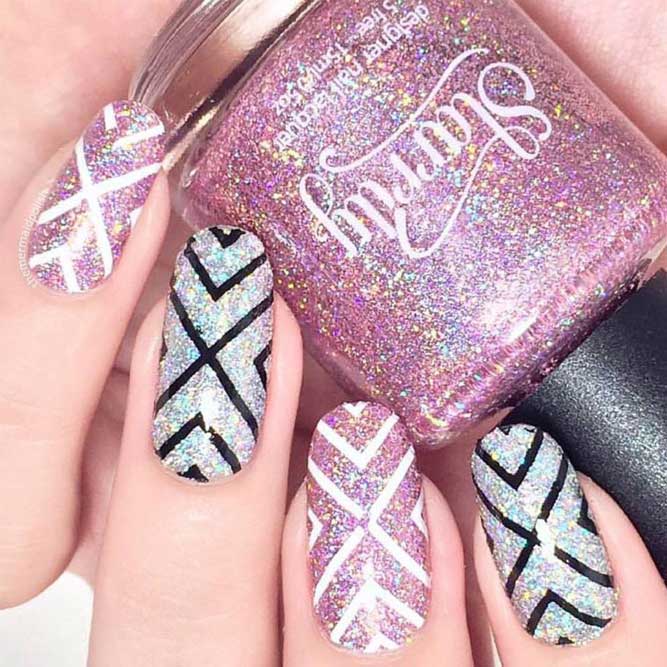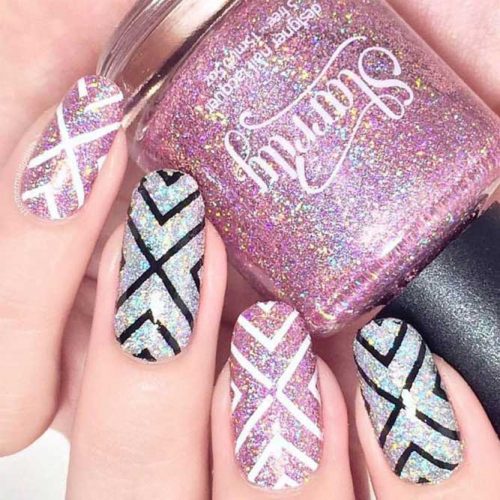 There are so many chevron nail designs out there for you to try. And it means that you can go for something new every time and never get bored. As you can see here, you can choose chevron for an accent acrylic nails and let the imagination go wild when painting other nails. Chevron looks awesome with any elements besides it: polka dots, ombre, rhinestones, animal patterns, and hearts. Experiments with a matte texture and neon colors are also win-win.
Cute Chevron Nails Designs
Source: shannasnailadventures via Instagram, lalalovenailart via Instagram, ohlerin via Instagram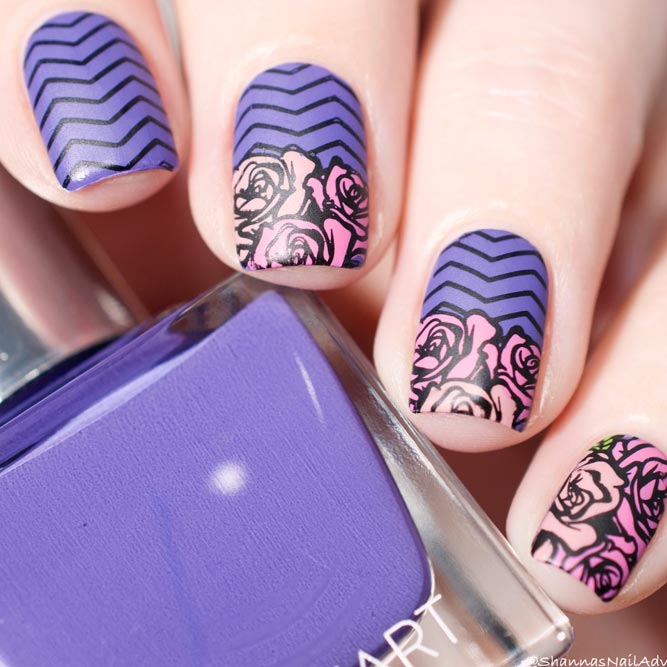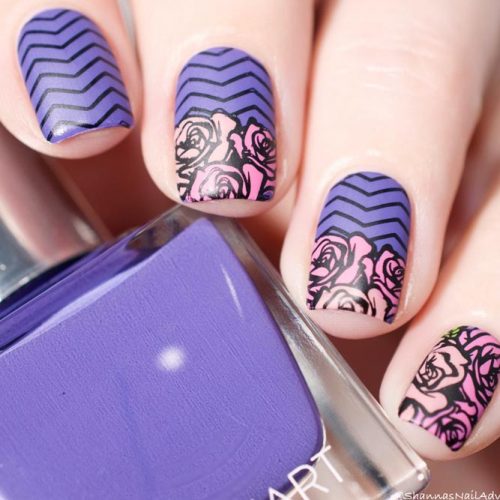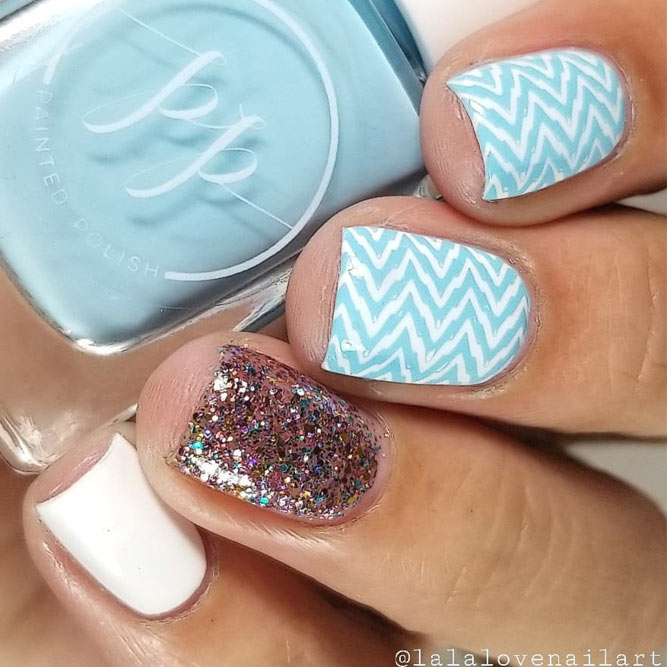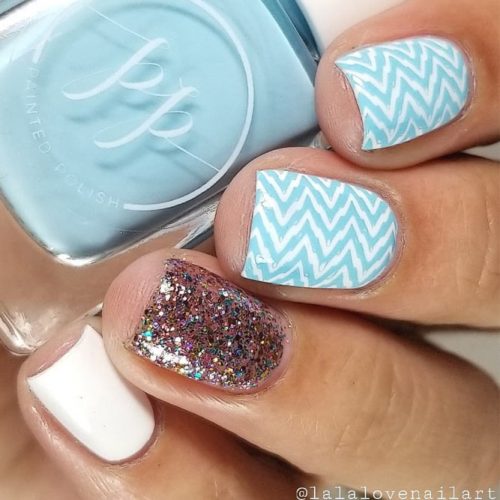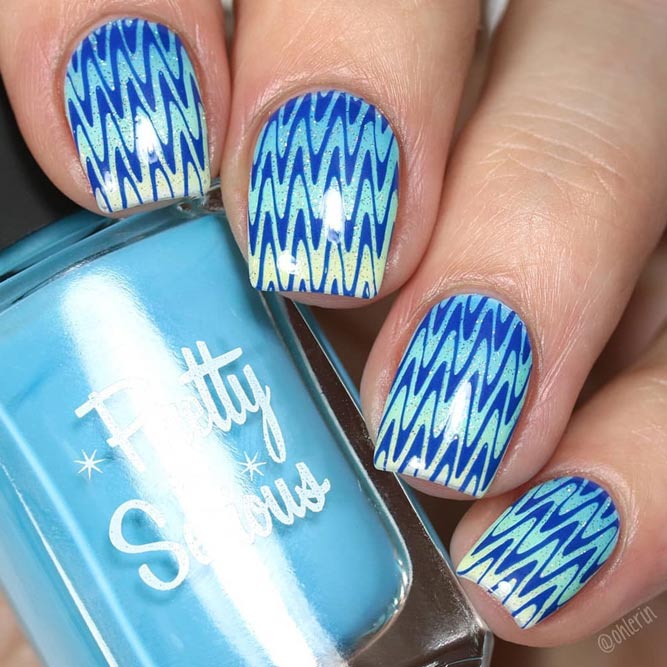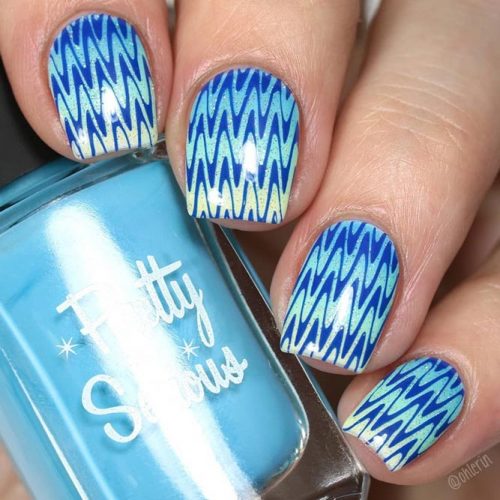 Now you know how to design nails, using the chevron pattern. More inspo is waiting for you on our blog. Ready?
FAQ: Chevron Pattern
What is the lazy girl method?
The term "lazy" means lack of filing in this technique. The difference between these two techniques is that instead of using dual forms, the lazy girl technique implies using regular false nail tips as the polygel container without removing them after curing.
What are negative space nails?
Negative space manis, in which your natural nail is incorporated into the nail art, are fantastic because they can last for up to a week. You can wear the same manicure for up to 30 days if its design is done in gel and is only on the upper half of your nails.