The cutest nail designs for short nails can be found here. Longer nails are always in style, but with more and more women in careers where long nails are not always practical or feasible, short nails are making a huge comeback.
Have no fear, ladies as you can still have pretty nails with these trendy nail designs! You no longer have to feel unfashionable due to shorter nails.
With all of the new styles for short nails, you have a ton of options for an adorable and stylish nails design. Flaunt your short nails and be the envy of your friends with these fabulous designs for shorter nails.
Following are some of our favorite DIY nail designs for short nails. If you don't have the time, patience, or artistic ability to do these designs, you can simply show the pictures at your favorite nail salon and they can easily duplicate them.
However, if you are skilled and have a steady hand, you can easily do these designs on your own. And if you're not that talented yet, you can always practice or ask your best friend for help. Nothing says girl's night in like a movie night with wine and snacks, hair, makeup and nail art. We are sure that with some time and practice, you will soon be creating your own nail art!
Glittery Short Nail Art
This is a design that even an amateur can pull off easily. Glitter nail polish is always fun, especially for a party or fun night out on the town! There are many different options for glittery nails.
Golden Glitter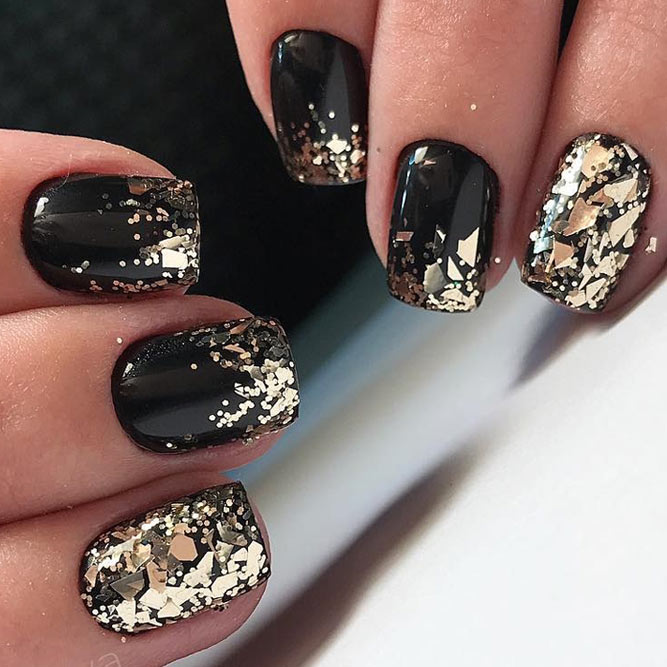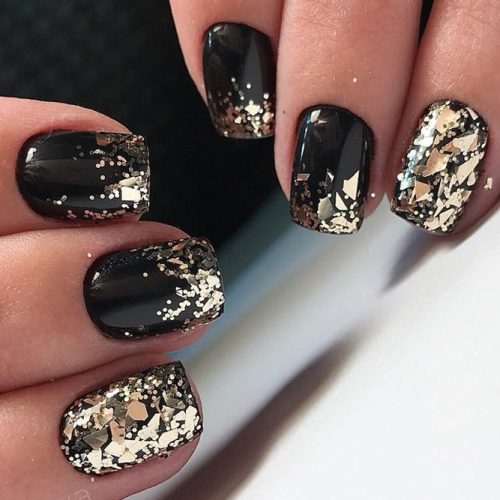 Source: ira_deleeva via Instagram
Paint all of your nails a dark glossy color, like this sleek black polish, and then paint your fingers with a stunning gold glitter polish.
Glittery Mani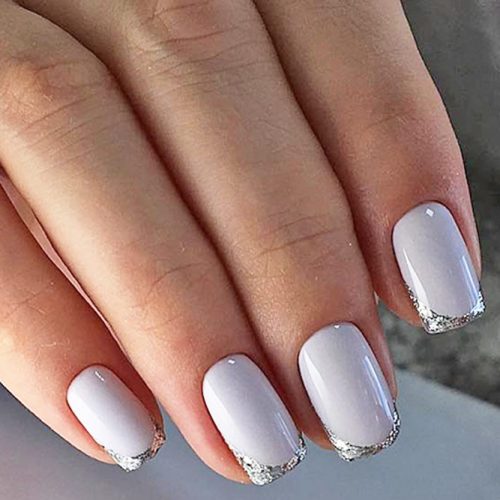 Source: naturelle_nails via Instagram
This gorgeous lilac French mani with glitter tips is simple, yet elegant!
Floral Designs For Short Nails
Flowers are pretty any time of year, but especially in the summer or spring. You can paint any flower design you wish from sunflowers to daisies to poinsettias for the holidays! If you want to accentuate your nails even more, you can even add some rhinestones or other jewels to your flowers to make them pop!
Sunflowers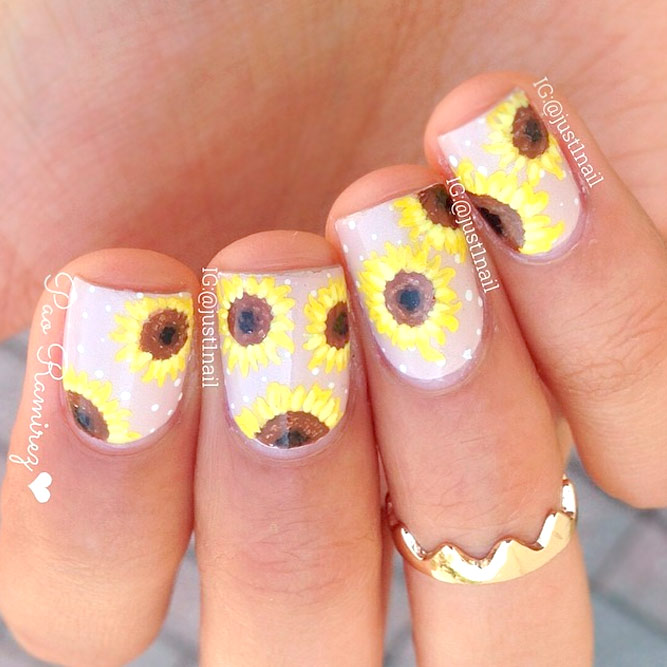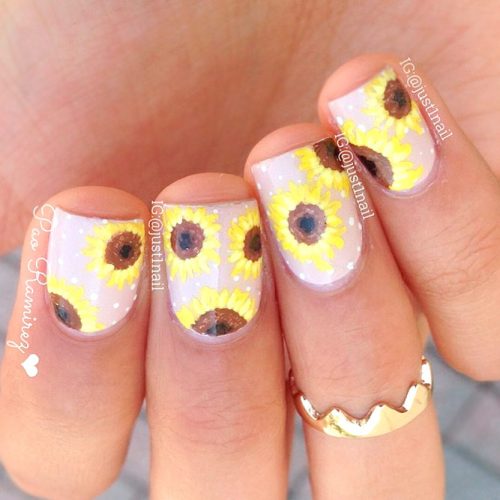 Source: Just1nail via Instagram
These pretty yellow sunflowers on a pastel base are fun and playful for the summer months.
Japanese Cherry Blossoms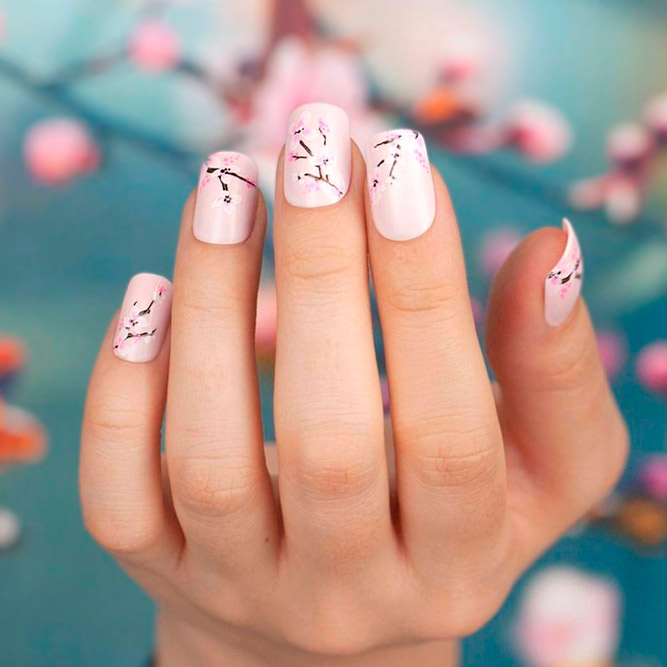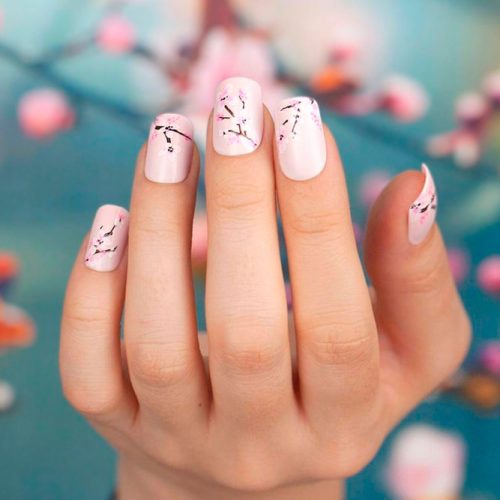 Source: Kimiko7878 via Instagram
This design, with its beautiful pink and black cherry blooms on a neutral base, is simpler than it looks.
Mix And Match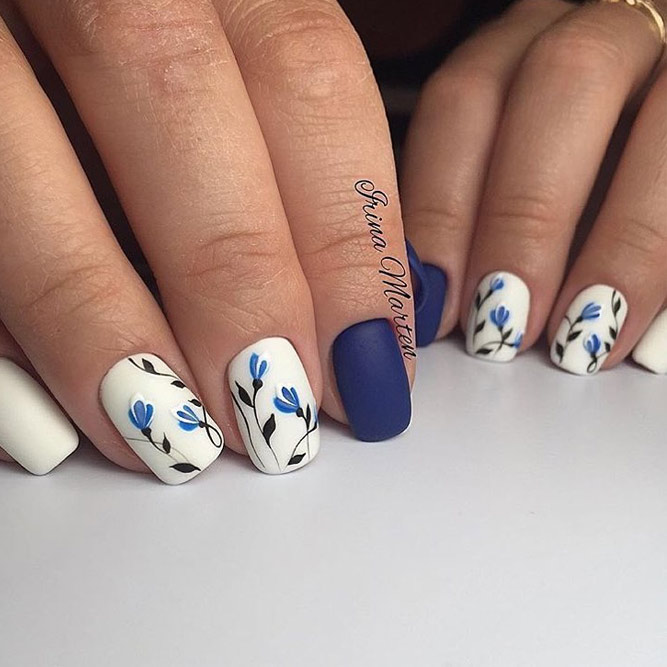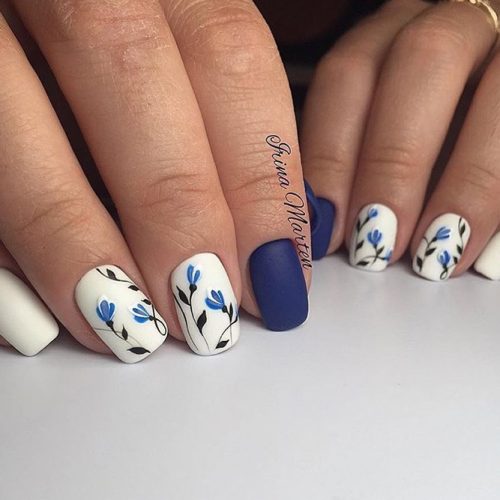 Source: nails_irinamarten via Instagram
This look is really cute with its fun floral design on two fingernails. Paint two nails dark-blue and three fingers white. Use blue and dark-blue to paint a pretty flower on your white nails.
Beachy Designs For Short Nails
These nail designs for short nails are perfect for those summer days on the beach!
Anchors Away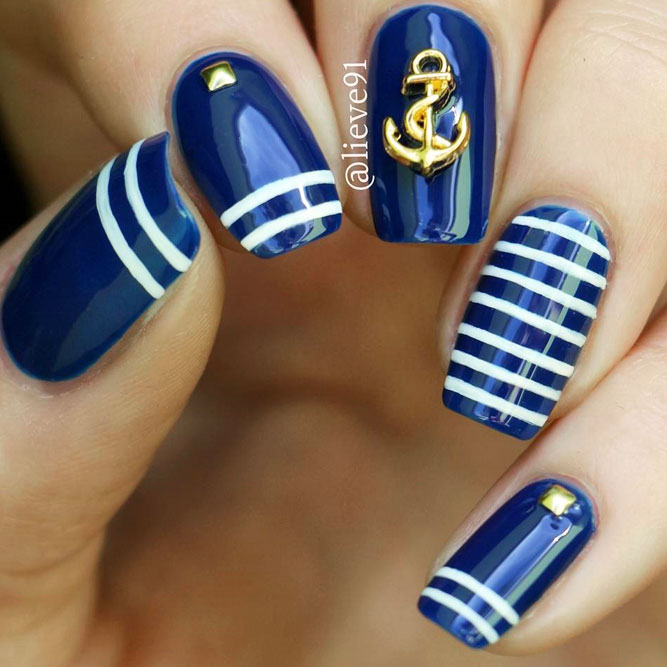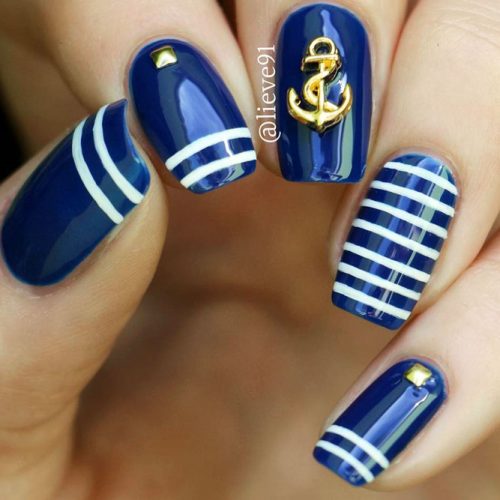 Source: lieve91 via Instagram
These navy-blue nails with white strips are summer cute on their own, but if you leave one finger painted white and paint on a navy-blue anchor, you will be ready for the summer fun!
Sunny Starfish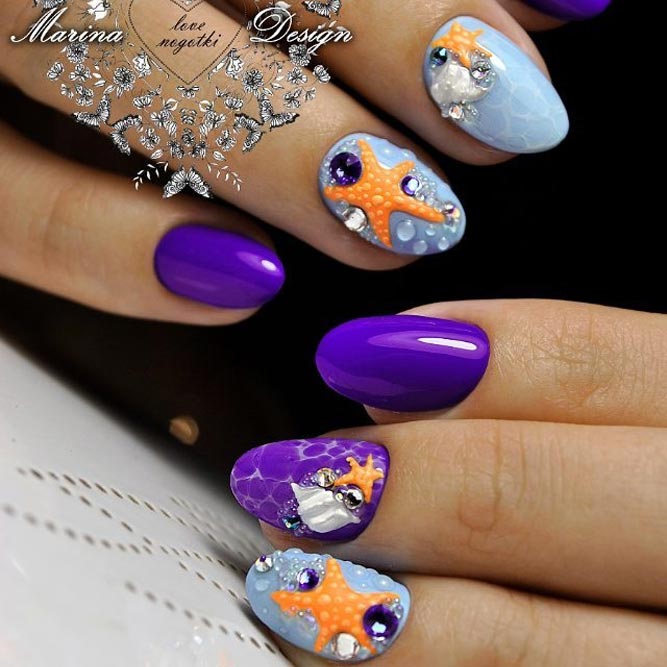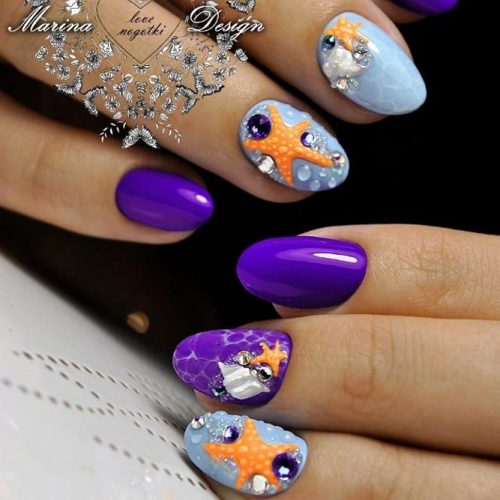 Source: nail_marina_disign via Instagram
This bright orange starfish design on sunny yellow nails screams fun in the sun!
Tropical Paradise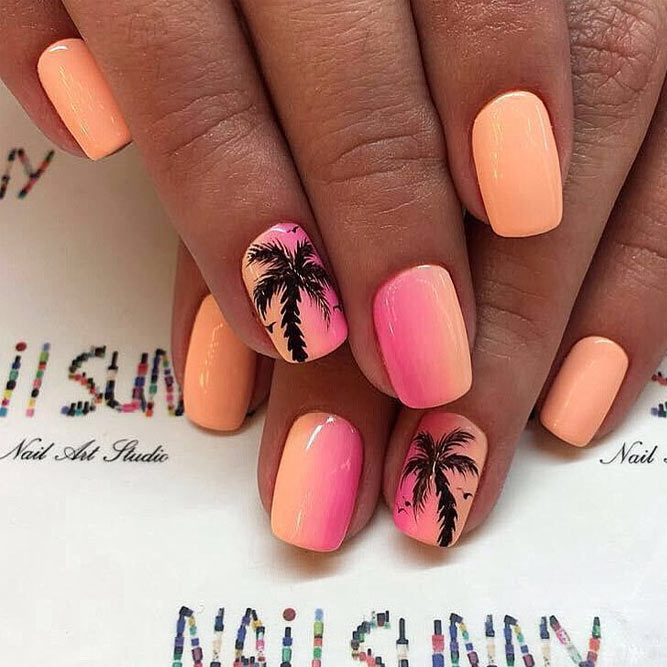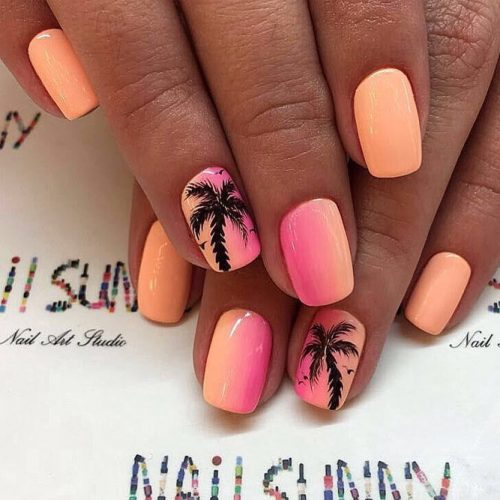 Source: Thesammersaurus via Instagram
This pretty ombre of tropical pink and violet is quite stunning, but the black palm tree on two nails and a pretty lady's face on the ring finger really makes this look stand out!
Marble Nail Art For Short Nails
Marble nail art is especially stunning on shorter nails. It is quite easy to do on your own and the possibilities are endless.
Pretty Purples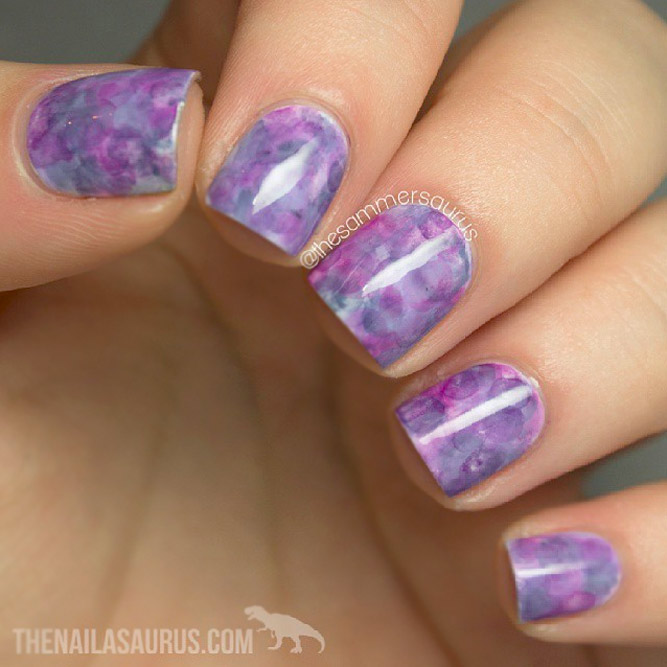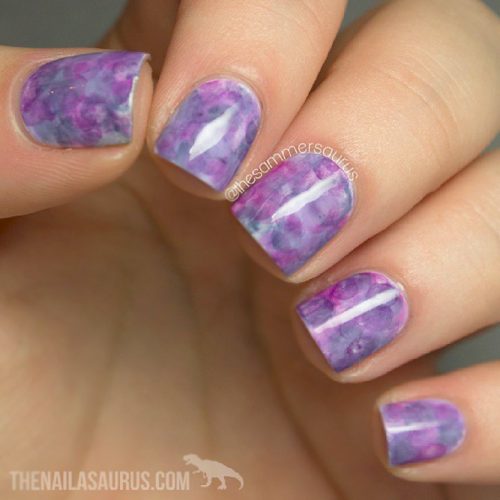 Source: Thesammersaurus via Instagram
This deep purple and soft lilac marble look is just gorgeous!
Red And White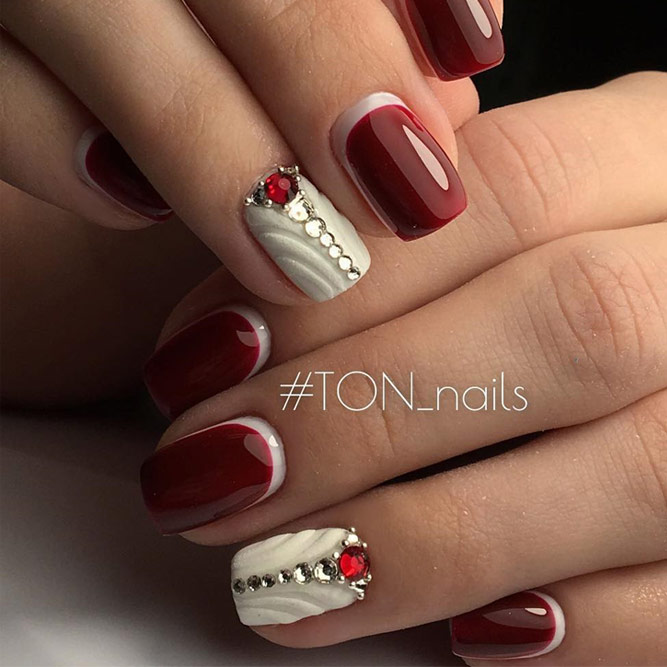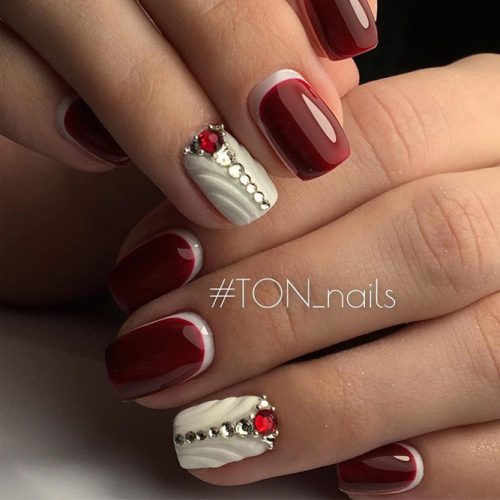 Source: ton_nails via Instagram
This look is totally romantic and ideal for any occasion from Christmas to Valentine's Day!
Striped Nail Art For Short Nails
Striped nail art is becoming quite trendy and is actually much easier to pull off than you would expect. Thanks to the plethora of nail tools from nail tape to toothpicks, you can create a variety of striped designs!
Stars And Stripes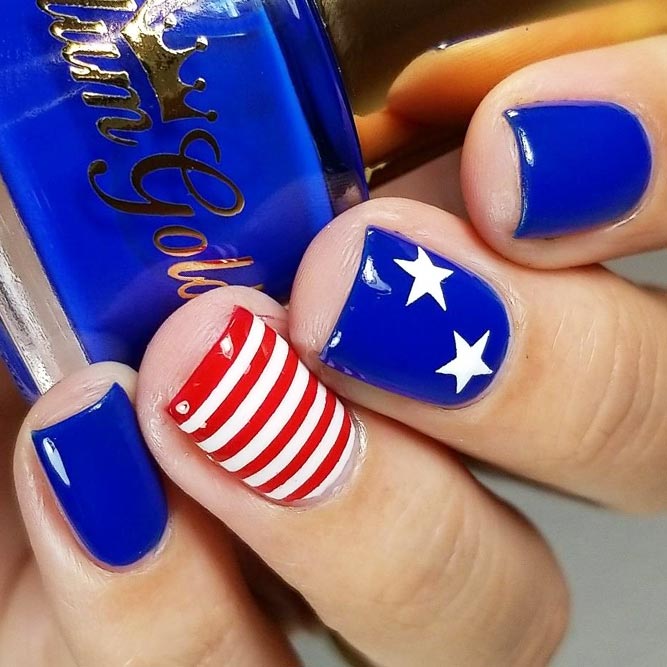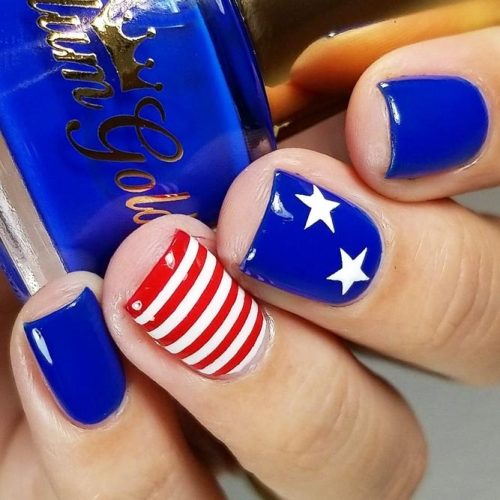 Source: lalalovenailart via Instagram
Show off your patriotism with this red and white and blue striped look. Paint your ring finger glittery blue and adorn it with cute tiny silver stars.
Chevron Nail Design For Short Nails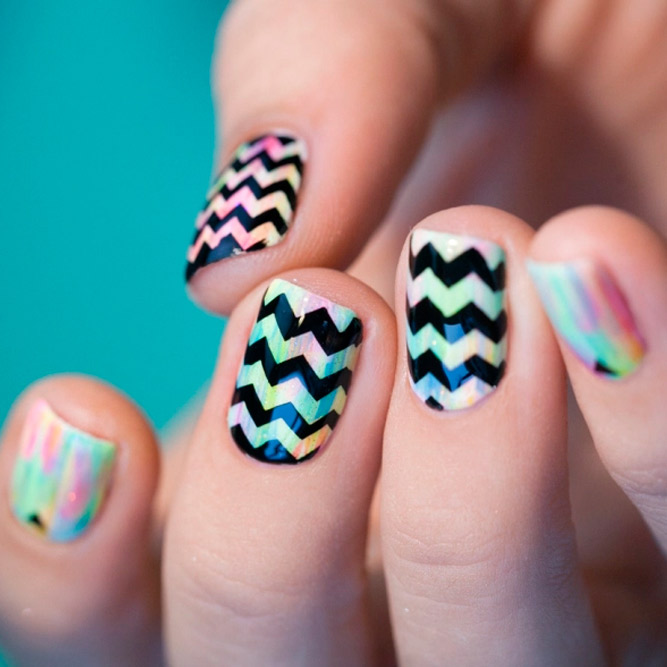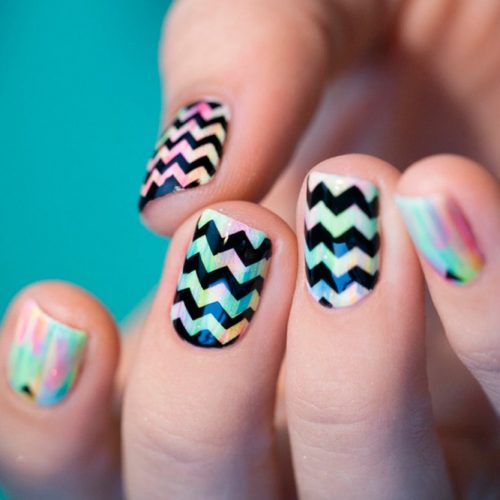 Source: Pshiiit
You can pull off this chevron effect with nail tape. Go for bold colors like green and black.
Striped Mani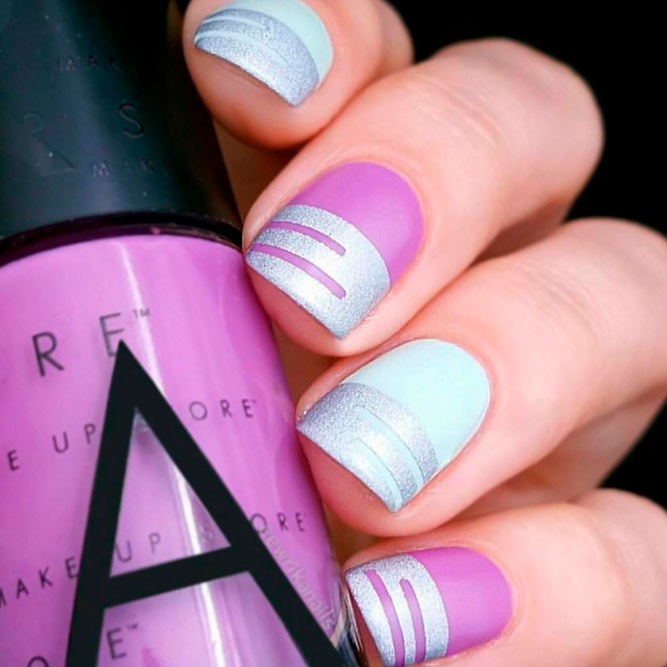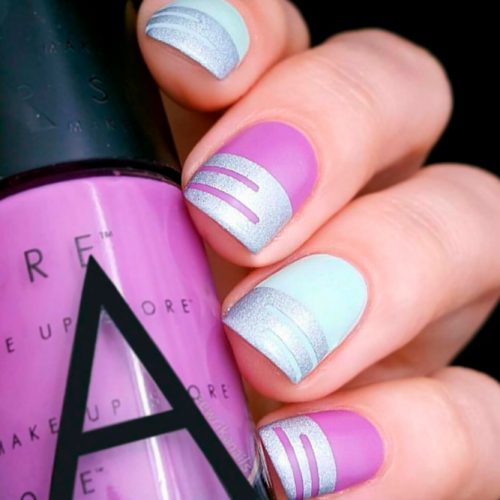 Source: Makeupstorebahrain via Instagram
Another look you can easily pull off with nail tape. This gorgeous mani with lavender, silver, and baby blue stripes is absolutely stunning!
Grid Nails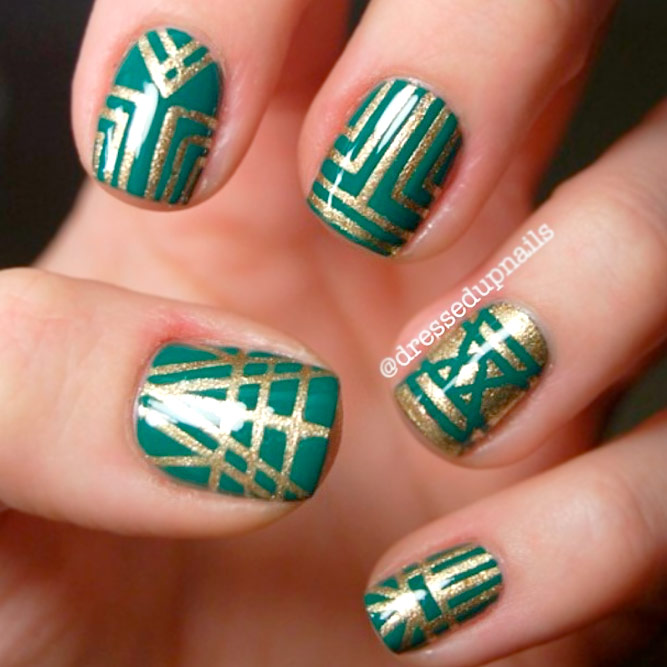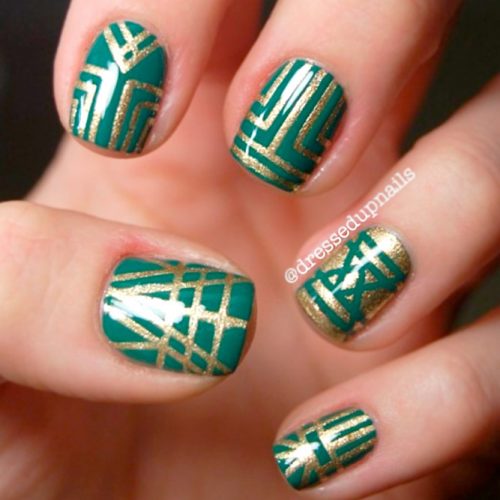 Source: Dressedupnails via Instagram
This look is fun with its emerald green base and golden grid pattern.
Black And White Nail Art For Short Nails
Black and white nail art is sophisticated and stylish, and there are so many fun or classic options.
Music Notes
These black notes on a white base are quite whimsical.
Polka Dots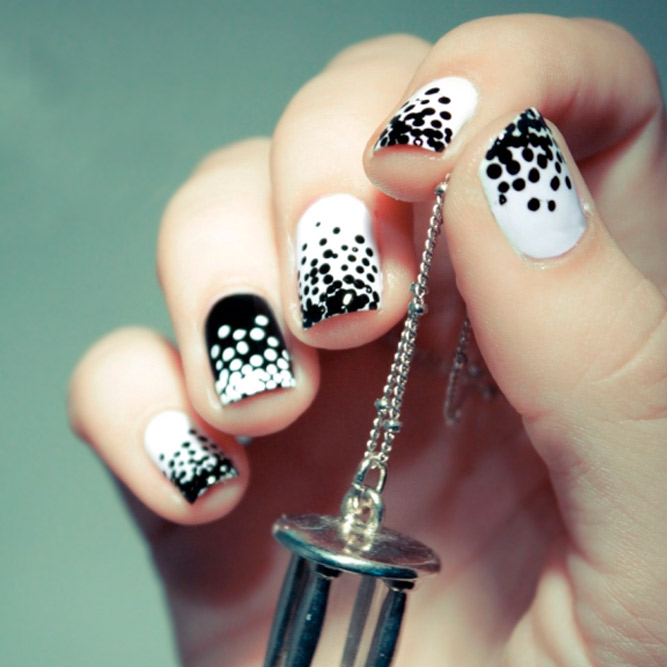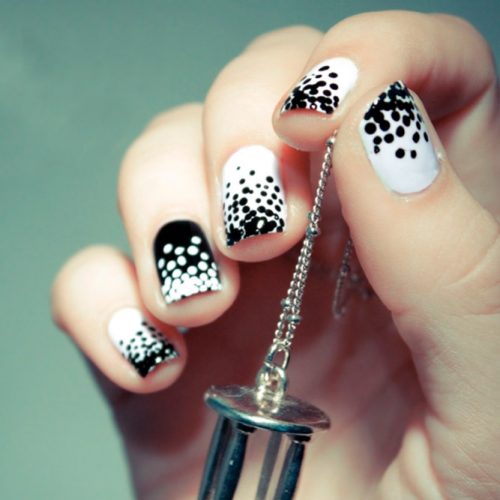 Source: Pshiiit
This alternating pattern of black and white polka dots on opposite nails is really chic.
Skull And Crossbones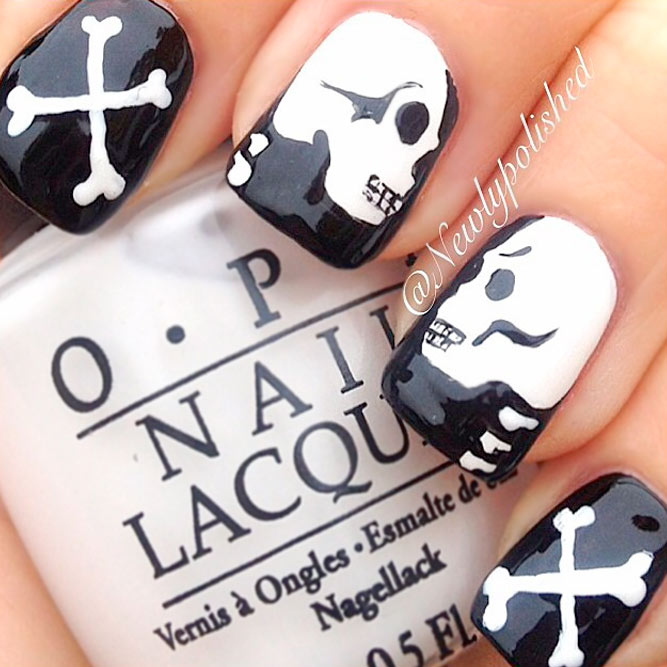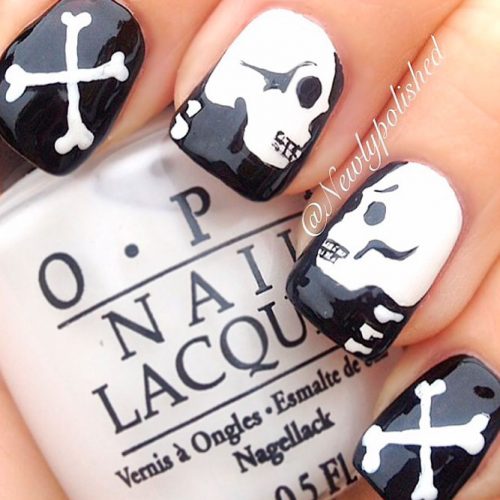 Source: Newlypolished via Instagram
If you want to embrace your inner goth girl, this skull and crossbones will show off your emo side!
Tribal Art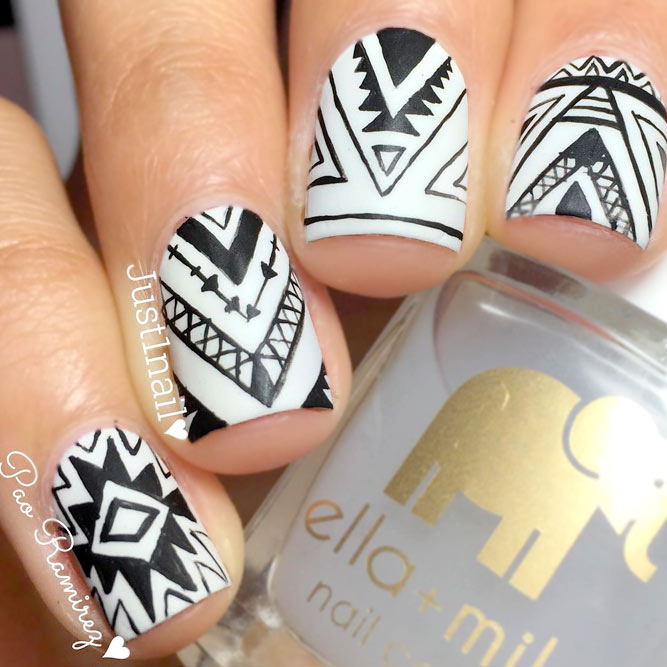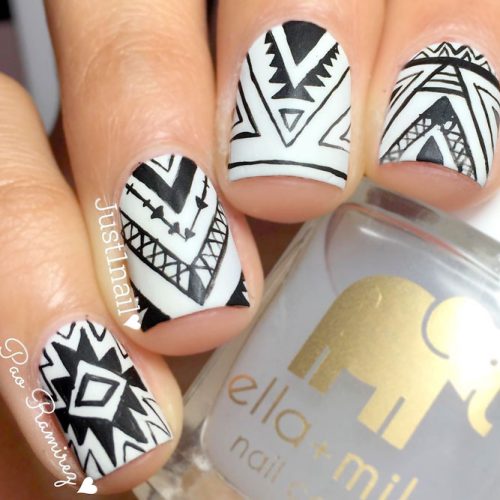 Source: Just1nail via Instagram
If you want to embrace your inner goth girl, this skull and crossbones will show off your emo side!
As you can see, these are just a few ideas for short nail designs! You can play around with colors and nail art to make each look your own. And we bet in no time, you'll be creating your own nail art and getting compliments from all your friends!
Fruit Nails
Fruit nail designs are very popular in the summer. You can either paint them, or simply use stickers. It is trendy to have fruits on each fingernail, but you can just accentuate several nails with your favorite fruits.
Raspberry Nails Design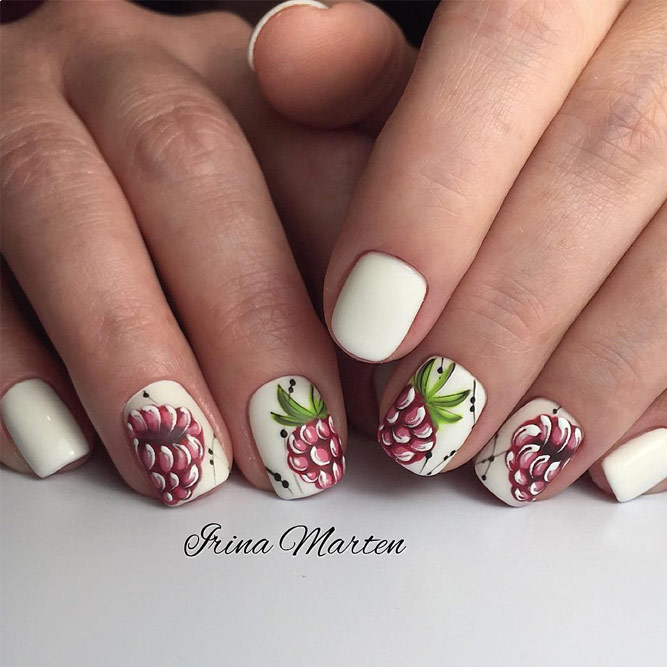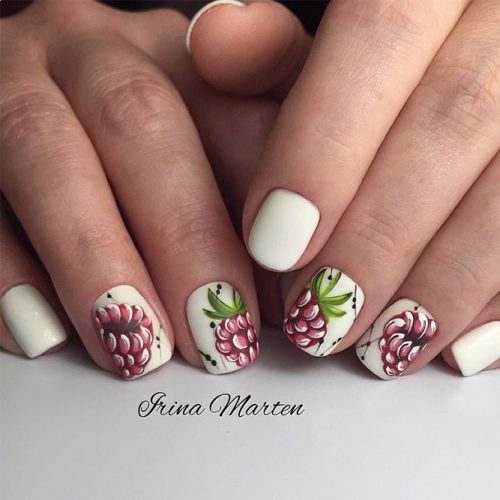 Source: nails_irinamarten via Instagram
These juicy raspberries on a white matte base look so yummy! Add raspberries as accents on two fingernails.
Funny Lemon Nail Art Idea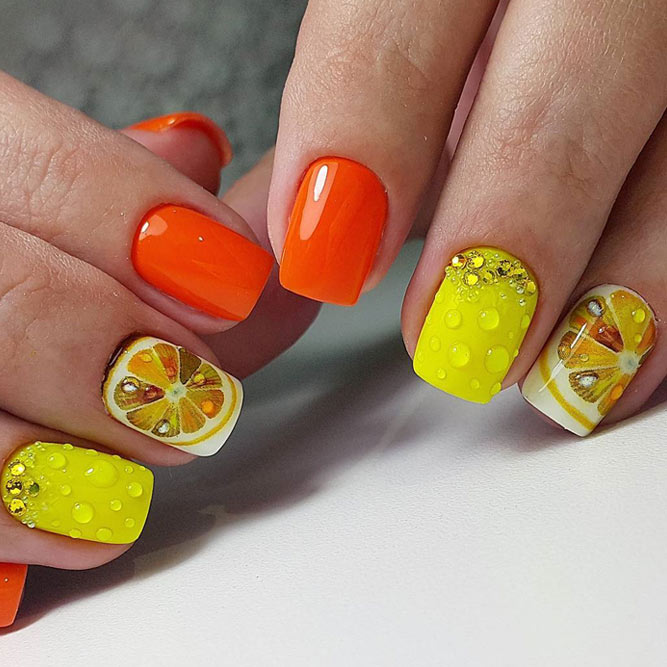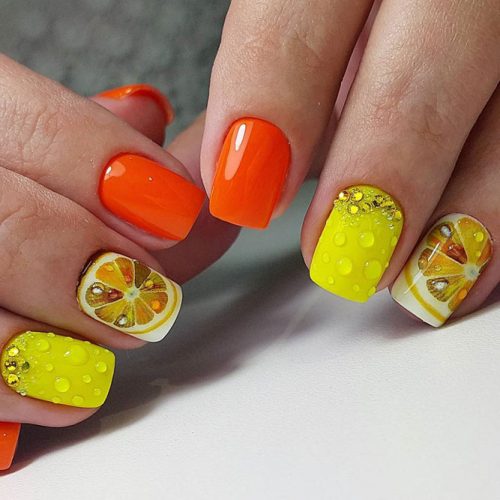 Source: creative_nails_studio via Instagram
This bright manicure is just ideal for the summer! Paint your nails orange and yellow and adorn your ring finger with a piece of ripe lemon on a white base.
Summer Nail Design With Kiwifruit Pattern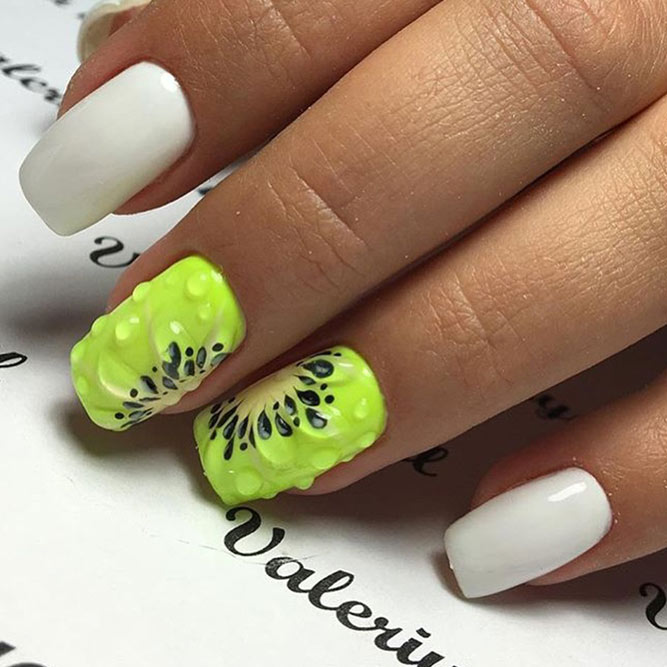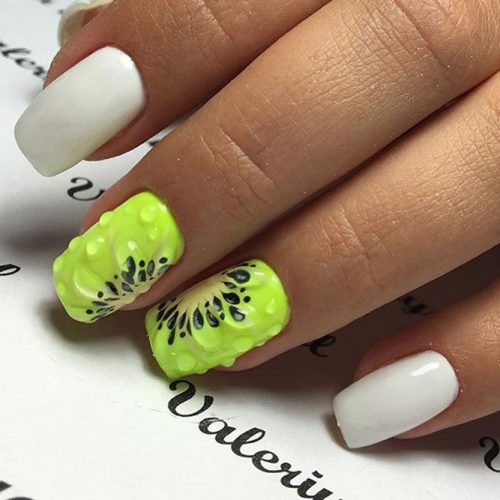 Source: valeriyanail via Instagram
Paint all your fingernails white and add kiwifruit as accents on several nails. This manicure is cute and so summery!
Minimalistic Nail Art Ideas
When you don't have enough time for a manicure, you might be interested in some minimalistic designs. They are not only easy to do but also pretty to show off on any occasion.
Marble Accent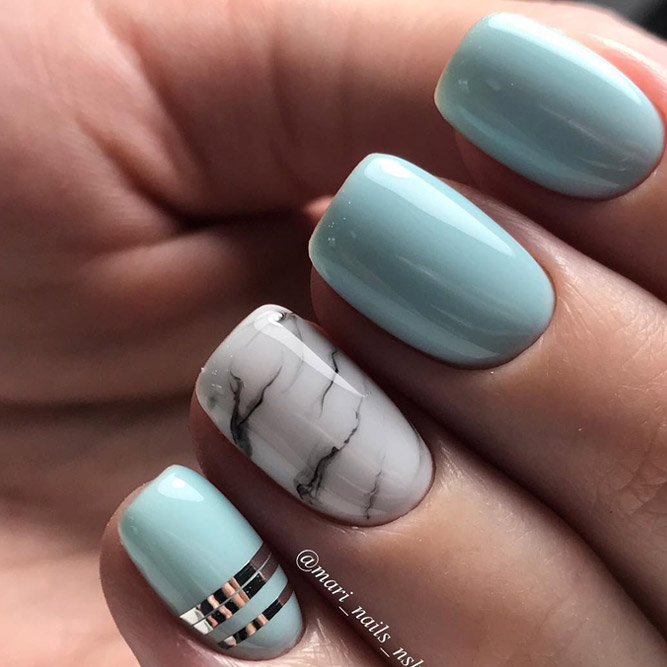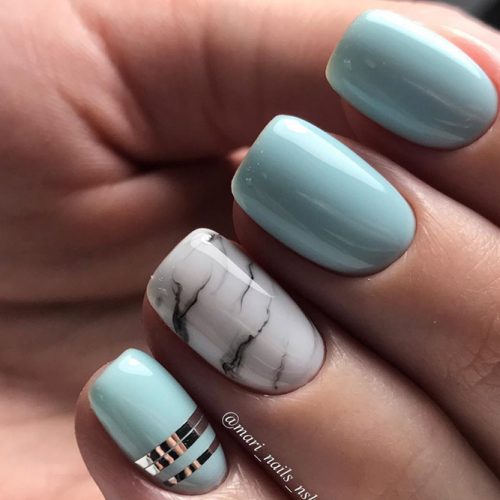 Source: mari_nails_nsk via Instagram
Marble is all the rage now! To do this simple nail art, you need only one thin brush to paint lines on your nail. Feel free to opt for a different color combination to find your perfect style.
Sparkly Crystals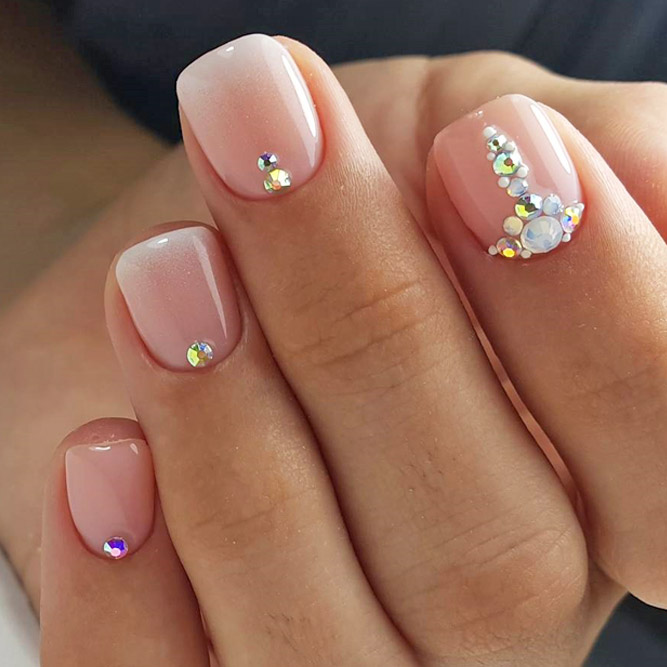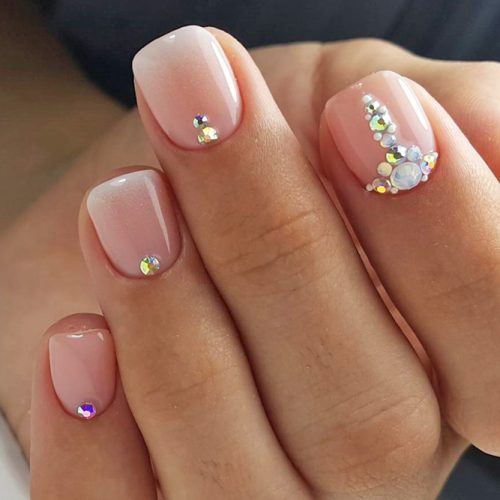 Source: doilid_art_nailstudio via Instagram
Any nude nails can become better if you add just a few rhinestones. Play with forms and designs to find your style. It can be a half-moon design or pretty summer gems in pineapple shapes.
Simple Flowers Pattern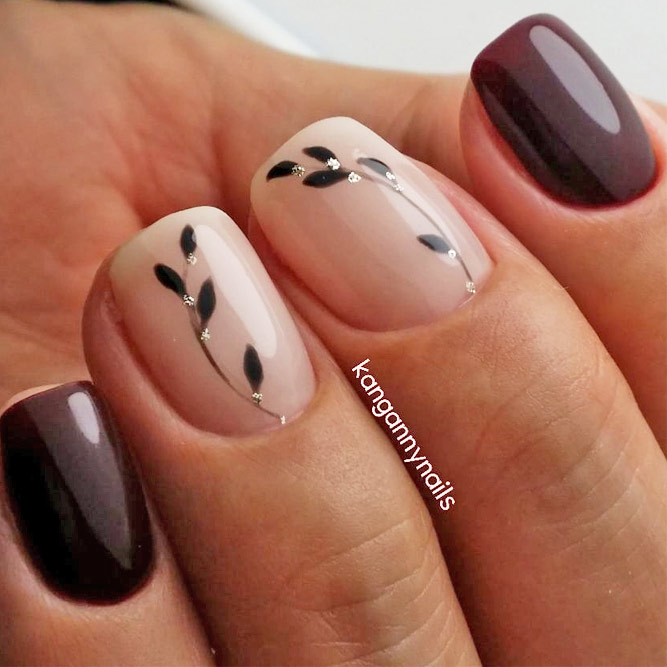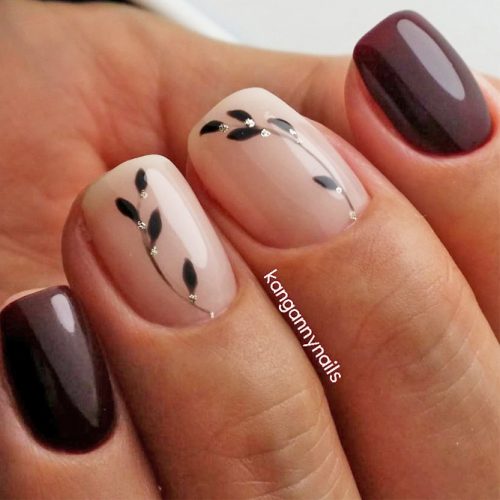 Source: kangannynails via Instagram
This style is so feminine! Make some flowers or leaves to achieve this design, and don't forget to add some crystals to your accent fingers.
FAQ: Nail Designs For Short Nails
How do you fix damaged short nails?
File your nail to a rounded shape, which is the best shape for strong and healthy nails.
Apply a cuticle oil followed by a hand cream to nourish and moisture your nails as well as stimulate their growth.
Push cuticles back using an orange stick instead of cutting them.
Use a base top coat to protect them.
Do not bite your nails.
Consume foods rich in protein and drink enough water.
Can nails be too short for gel?
Gel polish can be applied to any nail length, there is no minimum nail length requirement.
So if your gel nails are done correctly, you can get a flattering manicure no matter your length. Sometimes nail technicians make a mistake of adding to much product on short nails making them look too thick, so you should pay attention to that.