It's time to check out the latest spring nail designs as spring is on the way. Nail art is just as trendy as ever, and this year is no exception. There are plenty of hot new nail designs for the spring season.
Whether you want sophisticated, funky or cute nail designs, you won't be disappointed. And don't worry if you aren't an expert at painting your nails.
Luckily, there are plenty of easy nail designs. Nail designs for spring range from pretty pastels to florals, there is something for everyone!
Every girl loves to look especially feminine in the spring, and florals, polka dots, pastels and neon colors are everywhere you look. Choose your favorite spring nail design, put on your favorite spring outfit, and have a picnic in the park with your friends or significant other!
Marble-Effect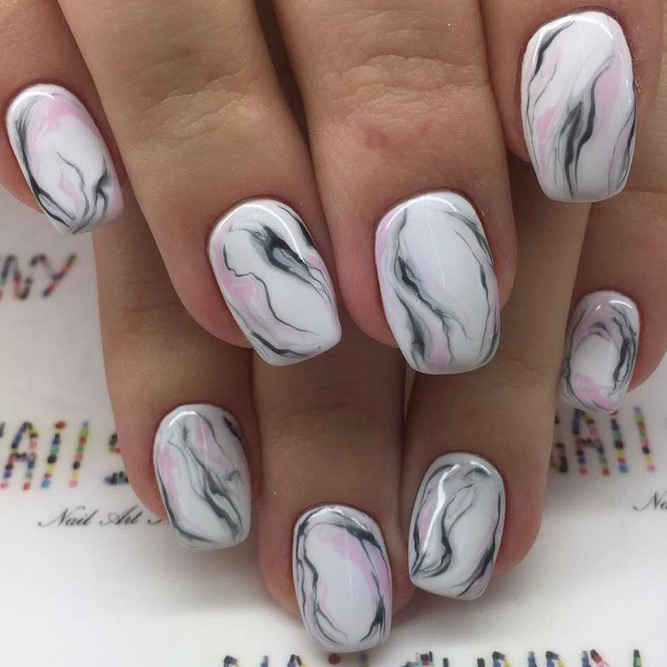 Credit photo: instagram.com/nail_sunny
You might think marble nail art is extremely difficult, but it's really quite simple if you have the right tools. You just need two colors of your choice, a dotting tool, and some patience. This look works great with a darker color and fun pastel for spring time!
Chic Geometric Finger Accent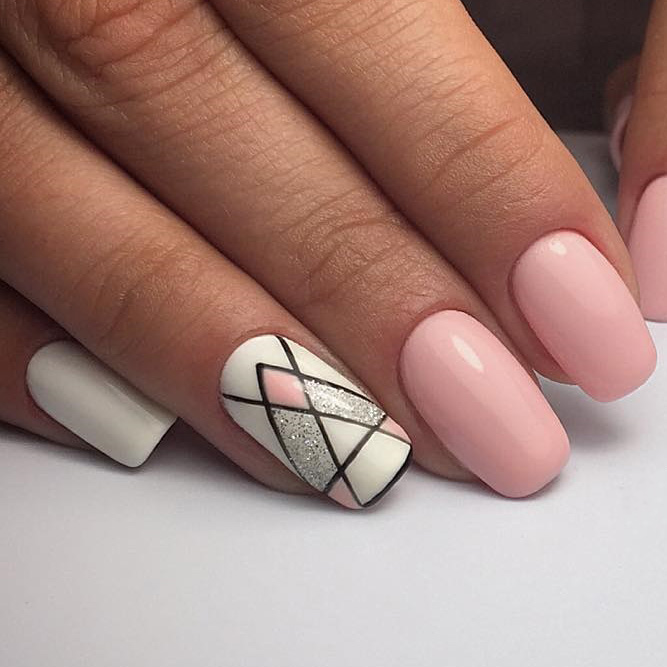 Credit photo: instagram.com/nails_irinamarten
This style is classic and stylish and works best with a simple black-and-white design with a playful bright splash of color. In case you are looking for cute nail ideas for spring, this may be the one to give a thought to.
Captivating Color Blocking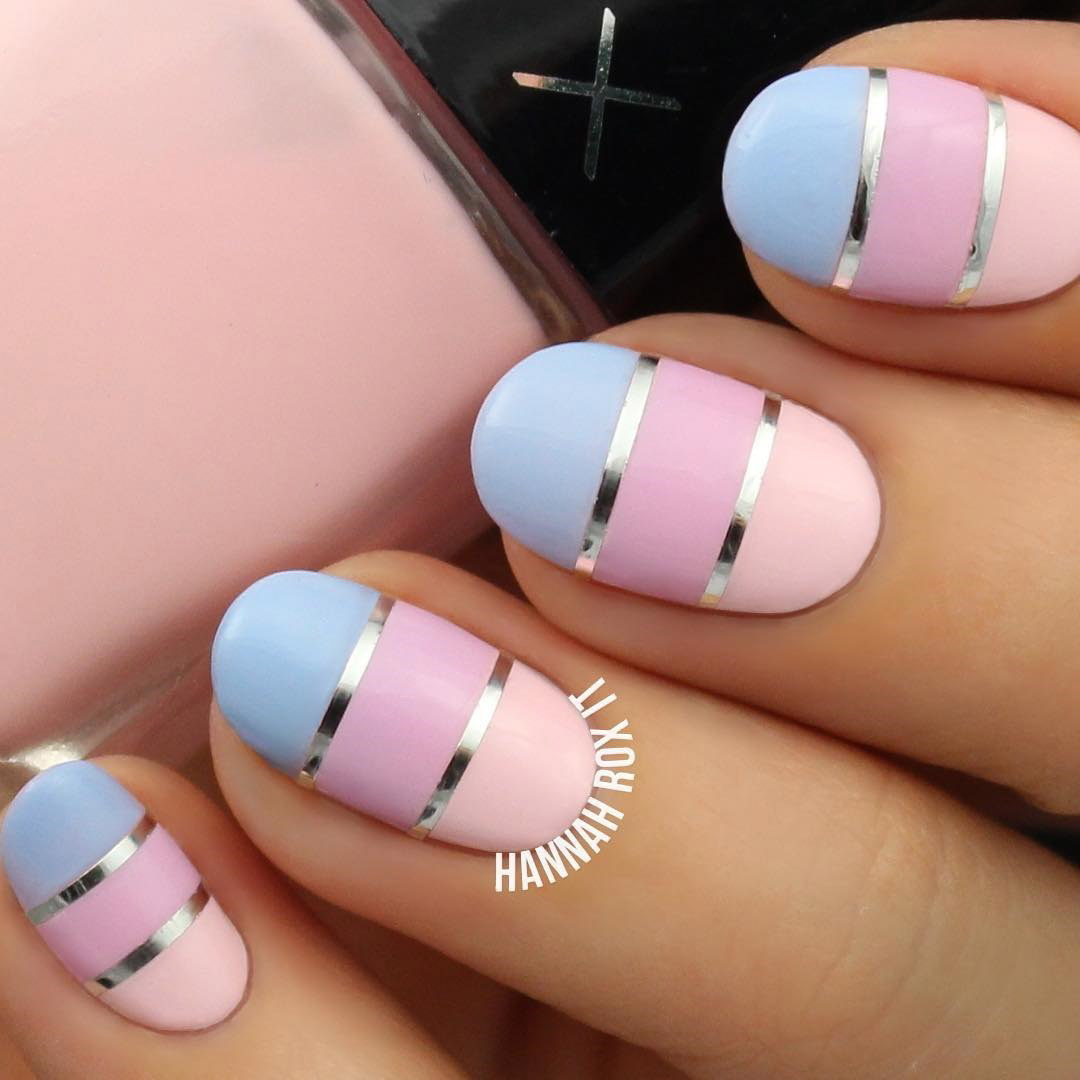 Credit photo: instagram.com/hannahroxit
This simple manicure shows off an air of elegance and grace. All you have to do is apply 1 piece of stripping paper to each nail, then paint coats of a pretty spring shade on top. After it dries, remove the tape, and you have a glamorous nail design for spring!
Delightful Diamond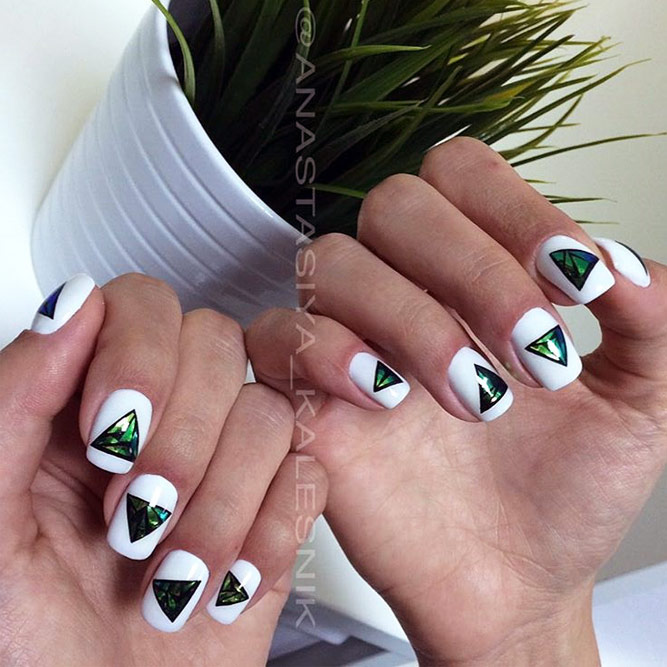 Credit photo: instagram.com/anastasiya_kalesnik
This simple geometric design will make you feel fabulous with its classy diamondesque shape. You can choose two of your favorite spring colors and flaunt this sophisticated design!
Diagonal Lines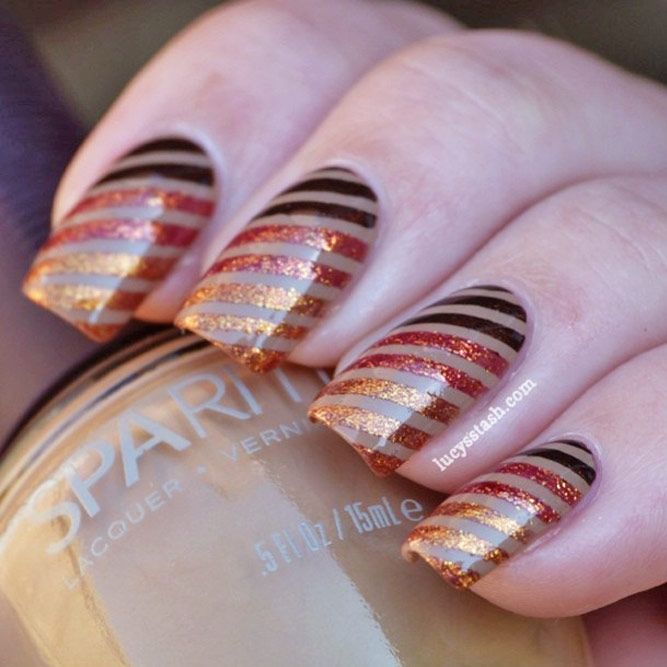 Credit photo: instagram.com/lucysstash
If you prefer a less flashy nail design, simply strip a few different bold colors diagonally across your nails, starting at one corner and ending at the other.
Gilded Moons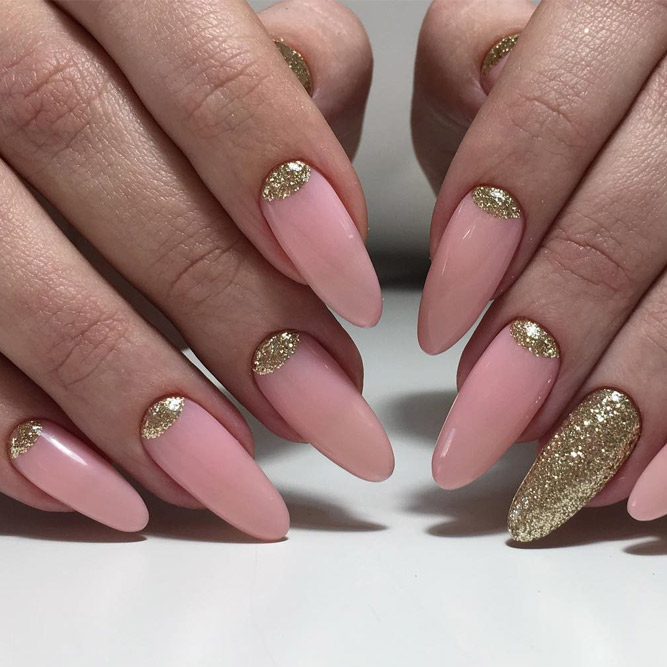 Credit photo: instagram.com/podsolnuh.nails
If you want the Midas touch for your nails, simply apply a thin line of shiny, metallic polish to the base of your nails, highlight the natural shape. Then add a soft pastel shade following the same pattern just a bit higher. This sleek look works best on longer nails, as it does tend to make your nail beds seem a bit shorter.
Naughty Neon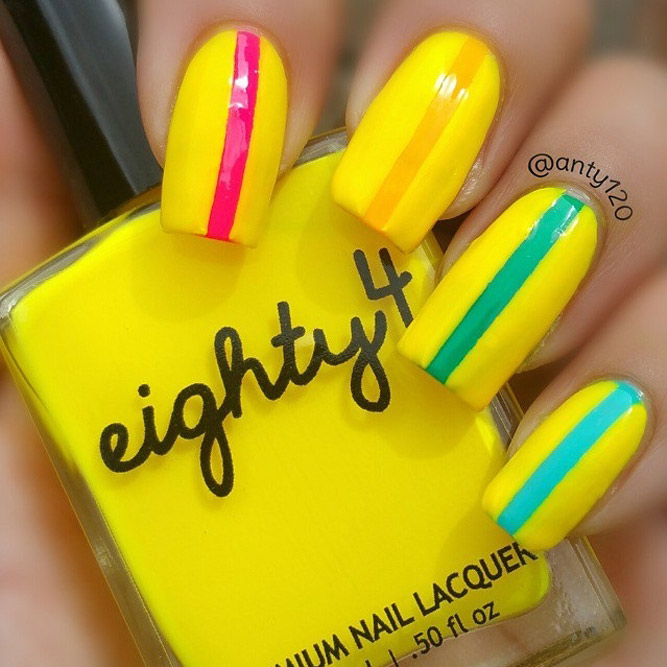 Credit photo: instagram.com/anty120
Normally when you think of neon, the words "delicate" and "feminine" don't necessarily come to mind. However, simply choose two shades of neon that are close together, and this simple geometric design in the middle is subtle and elegant. Neon nails are perfect for those who want to try bold new colors for spring.
Seafoam Leaves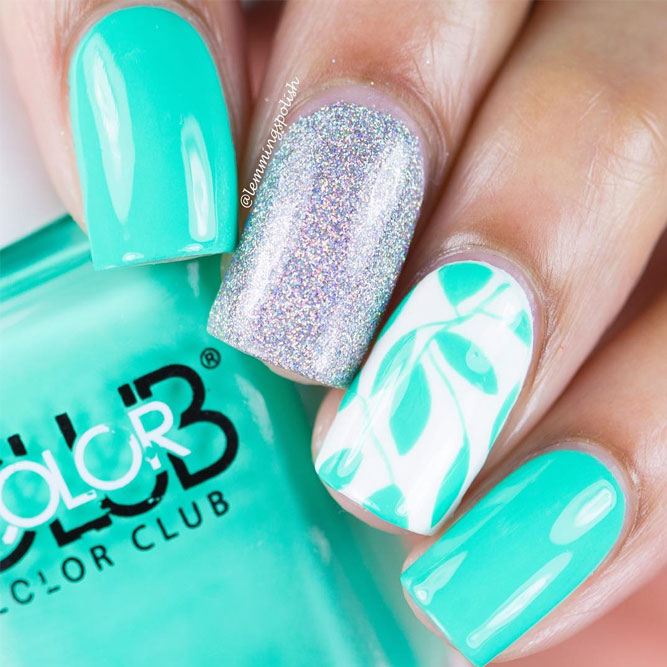 Credit photo: instagram.com/lemmingspolish
To add a bit of pop to your stunning neon manicure, add a lovely leaf accent to one nail on each hand along with a swirl or swipe of metallic polish.
Marble Accents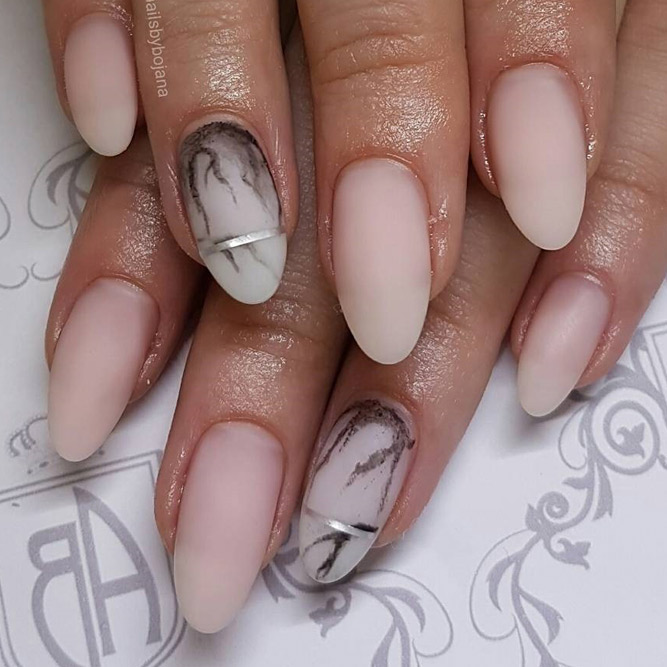 Credit photo: instagram.com/b.a.nailsbybojana
You can easily dress up your standard pastel mani with a fun marbled accent. If you prefer a more subtle look, use neutral shades, but if you want to be bold, add a burst of color.
Fluorescent Glow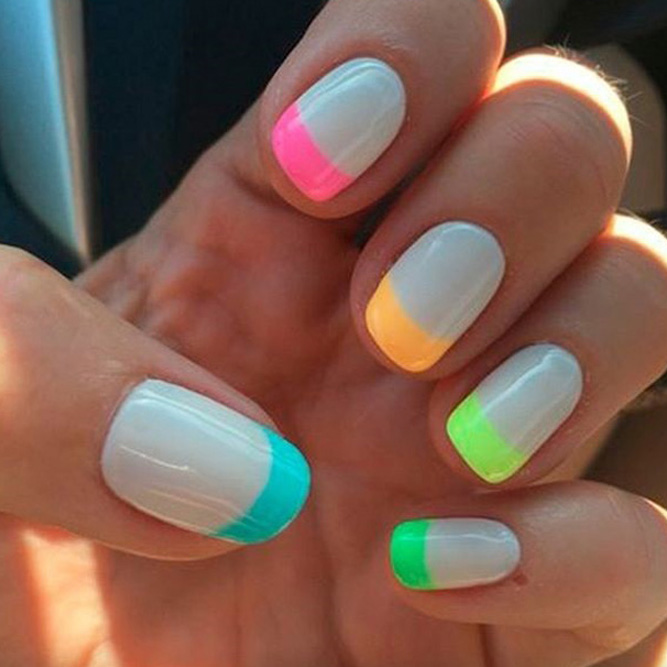 Credit photo: instagram.com/esmellmiami
This style with neon French tips will help you achieve a fresh, bold new look for spring. Simply apply a delicate, thin stroke of a fun fluorescent color to the tip of your French mani.
Strawberries & Cream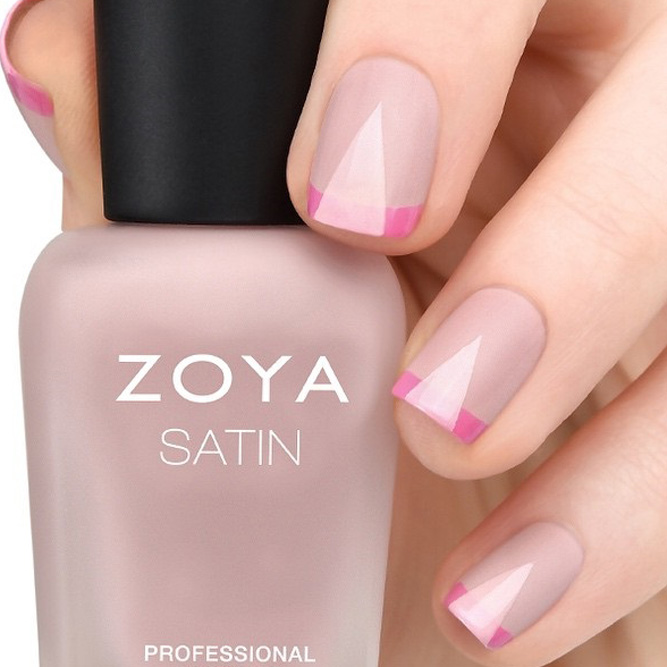 Credit photo: instagram.com/zoyanailpolish
This soft combination of pretty pastel pink and cream tones are a fun and feminine style for spring nail designs, and the funky geometric design gives it a contemporary flair.
Beautiful Spring Blossoms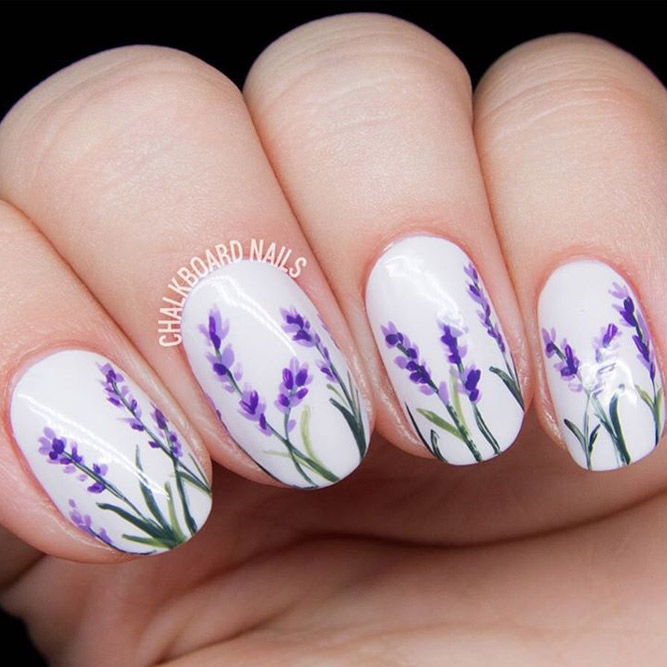 Credit photo: instagram.com/chalkboardnails
Nothing screams spring more than floral designs. This simple lavender floral design will make your nails look artsy and chic.
Playful Polka Dots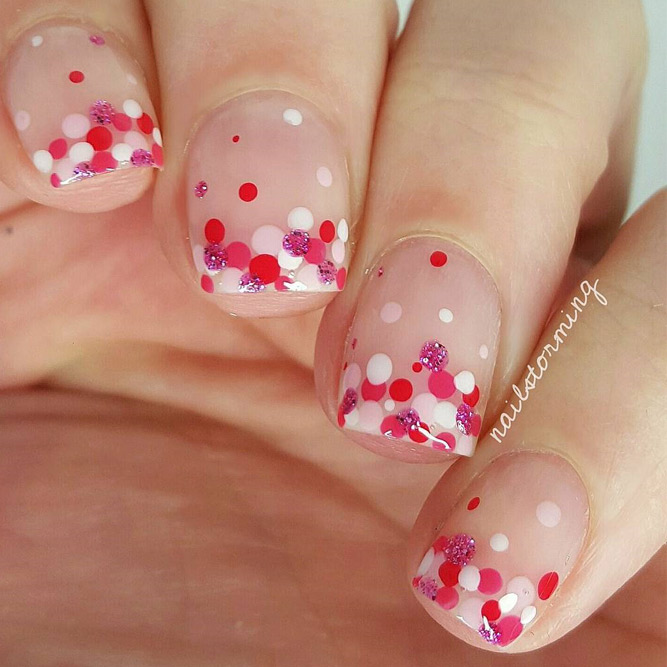 Credit photo: instagram.com/nailstorming
Polka dots are always in trend during the spring. And these cute easy nail designs for spring with varying shades of purple and layers of dots will add a cheery, bubbly effect to your fashionable look.
Minimalistic Spring Nail Art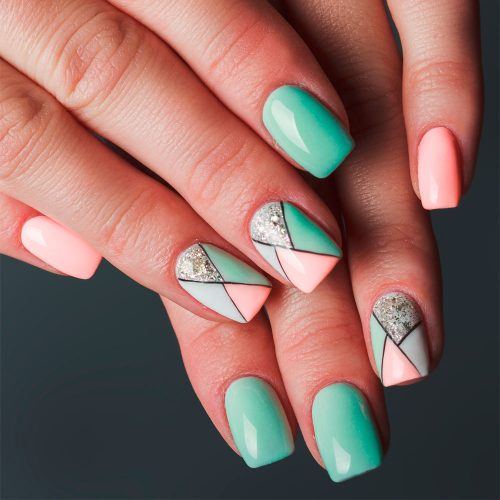 There are many nail design ideas for spring however if you are in search of something simple but trendy – we have an idea in mind. Minty base with contrasting nude or glitter patterns on it is precisely what you should undoubtedly consider when the spring hits.
Sweet Nails Art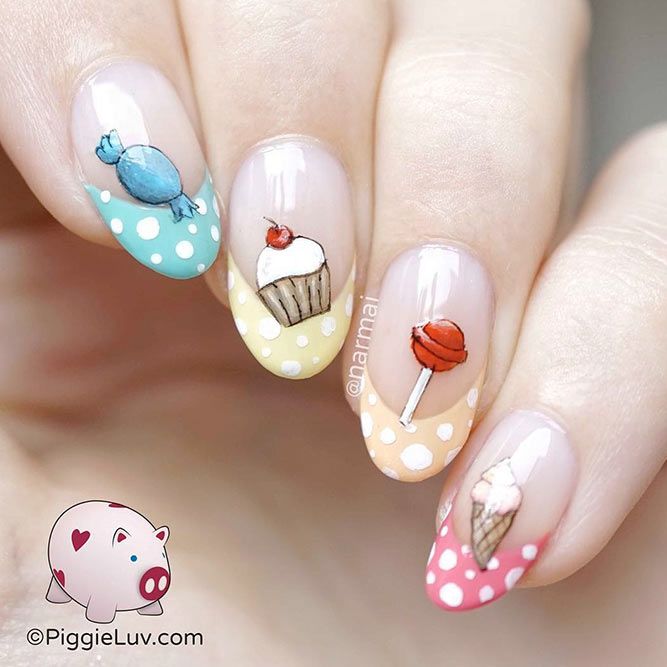 Credit photo: instagram.com/narmai
If you are looking for fun spring nails – you have come to the right place. The truth is that among all the spring nail design ideas, the ones with sweets involved deserve special attention. Decorate your nails with candy and lollipops and let everyone drool over your manicure.
Sea Themes For Spring Nails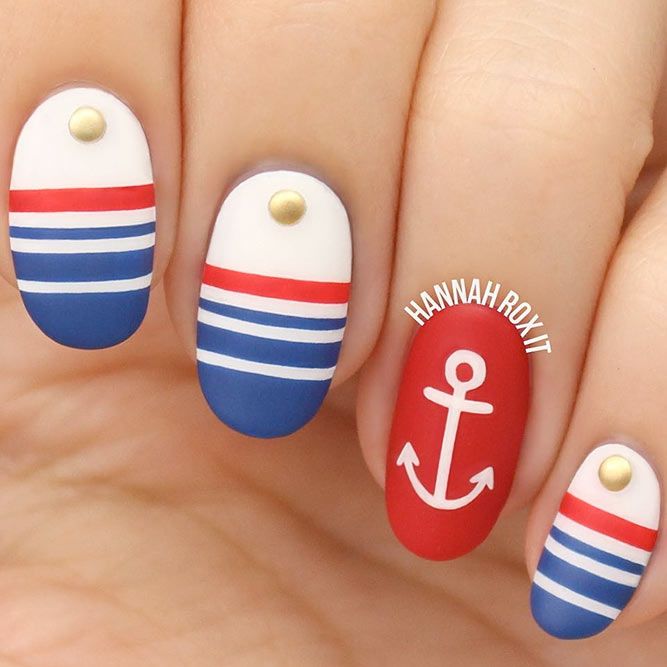 Credit photo: instagram.com/hannahroxit
Those of you who are in need of some fresh and easy spring nail designs there is something for you too. The fact is that a sea the theme is never out of date, no matter the season outside. Add a matte top coat to your marine nail art to keep up with the trends.
Spring Flowers For Spring Nails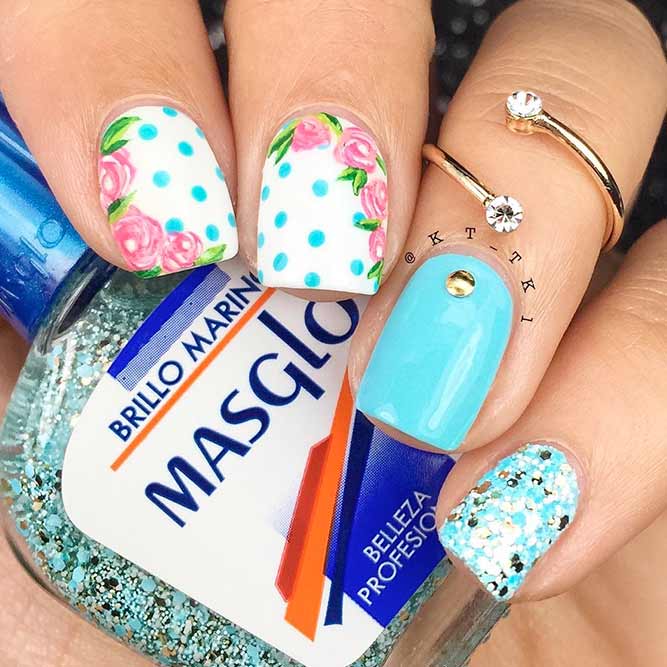 Credit photo: instagram.com/kt_tk1
There are many pretty spring nail designs, but those with flowers can melt the heart of anyone. Bright blue base accents the gorgeous floral pattern like nothing else.
Unicorn Rainbow Nail Art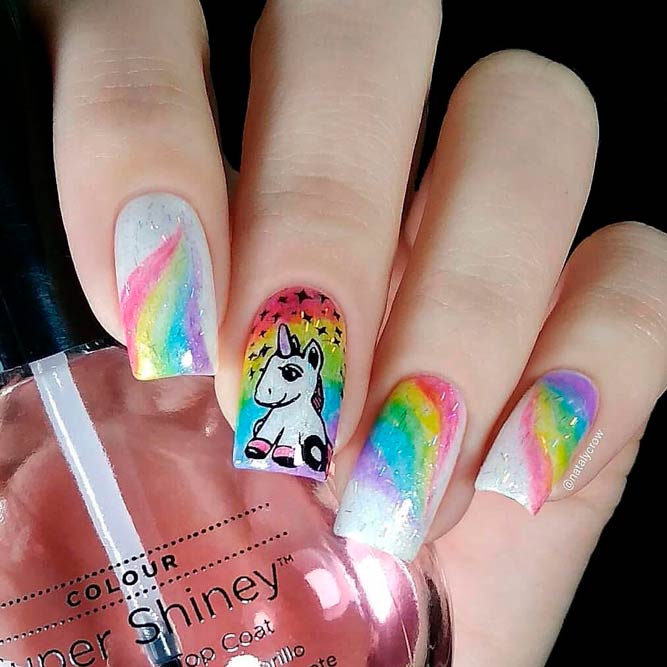 Credit photo: instagram.com/natalycrow
In case you are in need of a bright and fantastic spring nail design – we have it covered. There is nothing better to cover your nails with during the spring than sparkly rainbows and cute unicorns!
Floral French Mani For Spring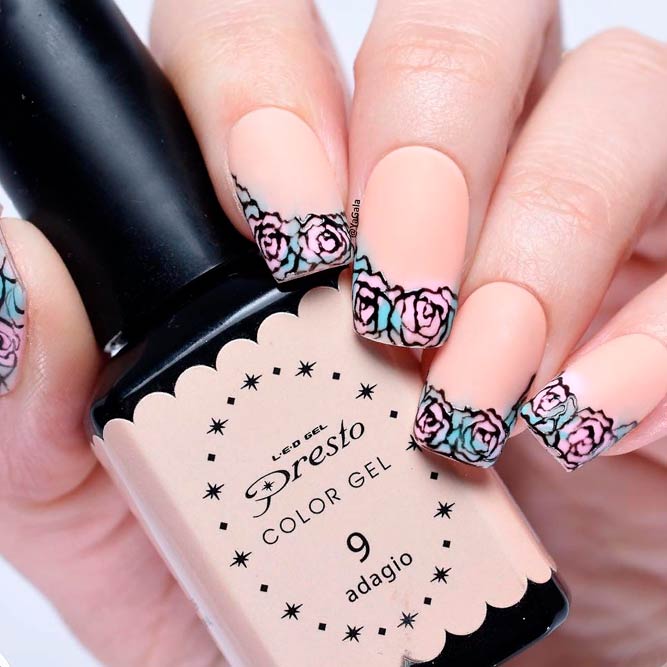 Credit photo: instagram.com/podsolnuh.nails
When it comes to cute nail designs for spring we can't forget about the flowers. However, if you wish to grant your nails that classy touch we suggest you combine the flowers with a nice French tip and neutral base. We are sure the outcome will mesmerize many of you!
Bright Spring Nail Art Ideas to Refresh Your Mani
Credit photo: instagram.com/irina_kapshuk.nails, instagram.com/romawe4ka_life, instagram.com/nails_by_aliya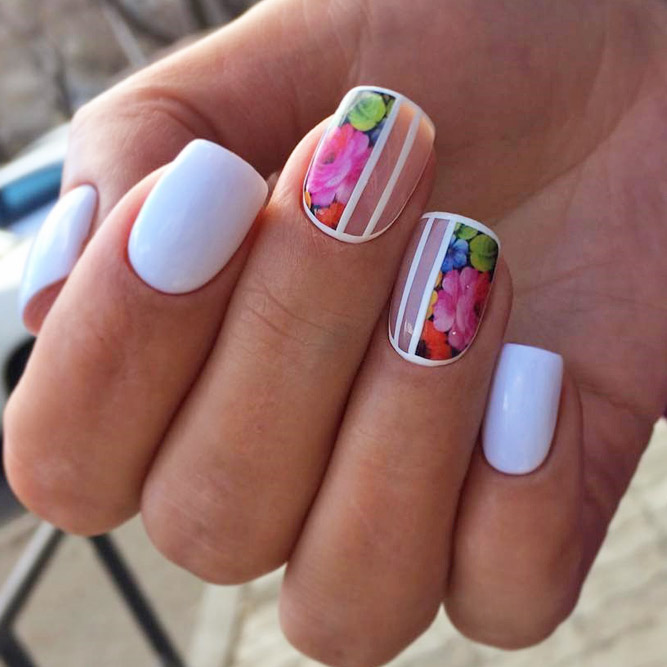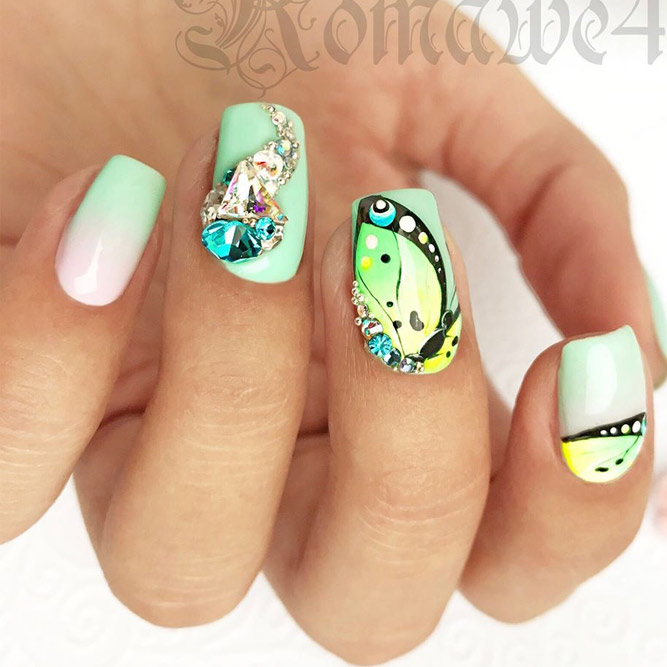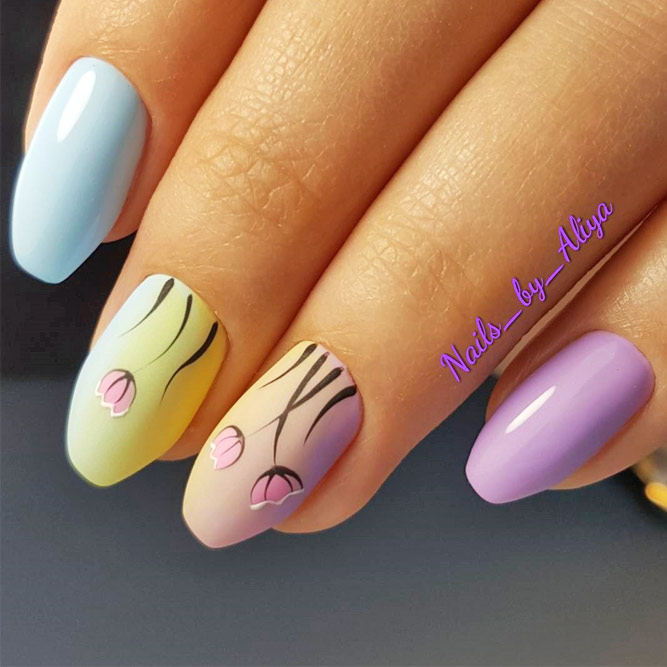 Credit photo: instagram.com/followthatway, instagram.com/nailsbyjema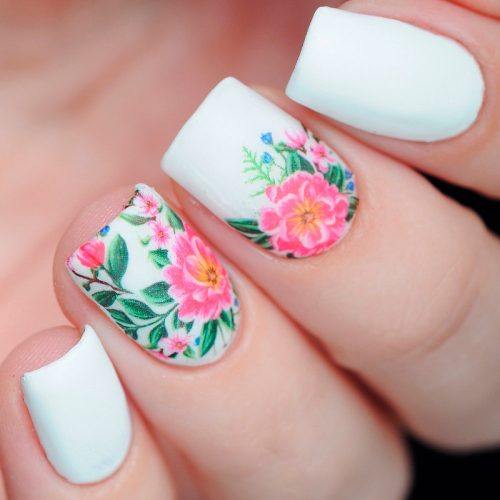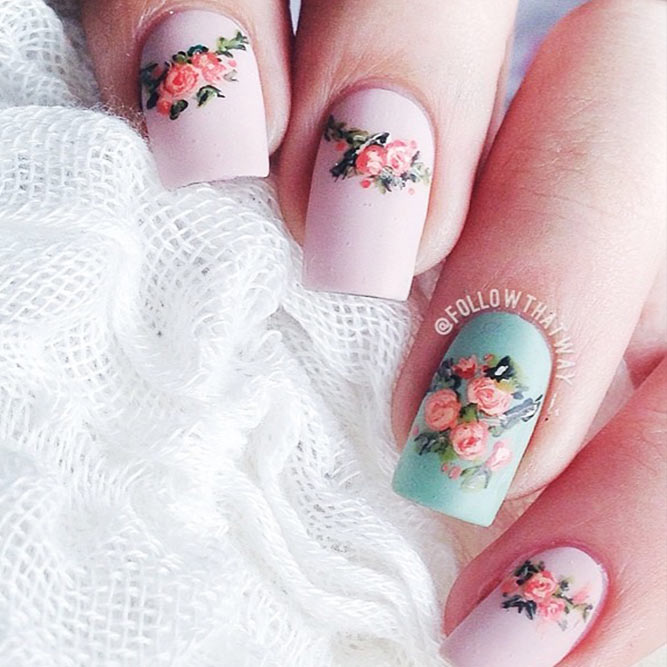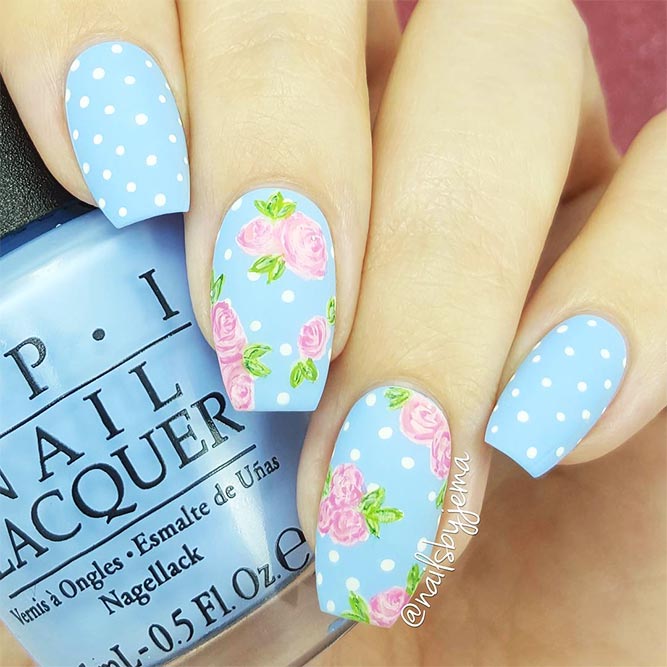 What can be better than a floral nail design for the spring season? Add some flowers, leaves, dots and pink, blue or mint colors or any other you like the most, and the softest design is ready.
Spring Bloom As A Perfect Accent
Credit photo: instagram.com/olganaildesign, instagram.com/ohmygoshpolish, instagram.com/marinelp91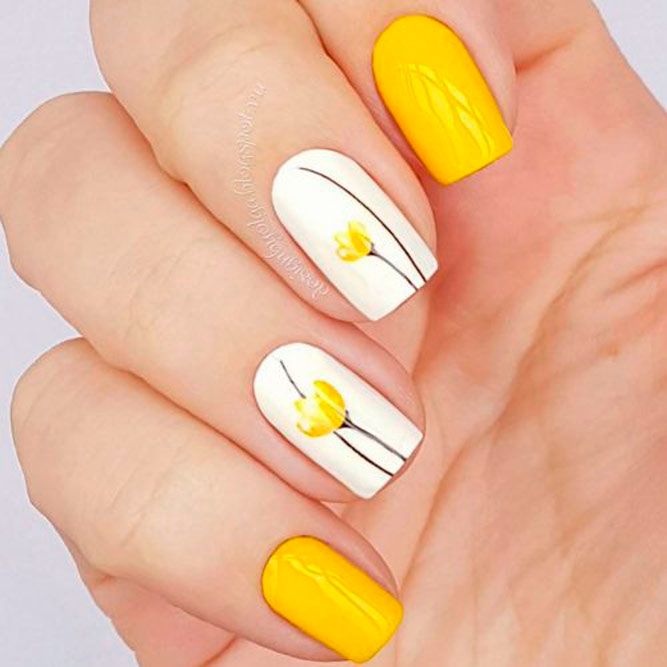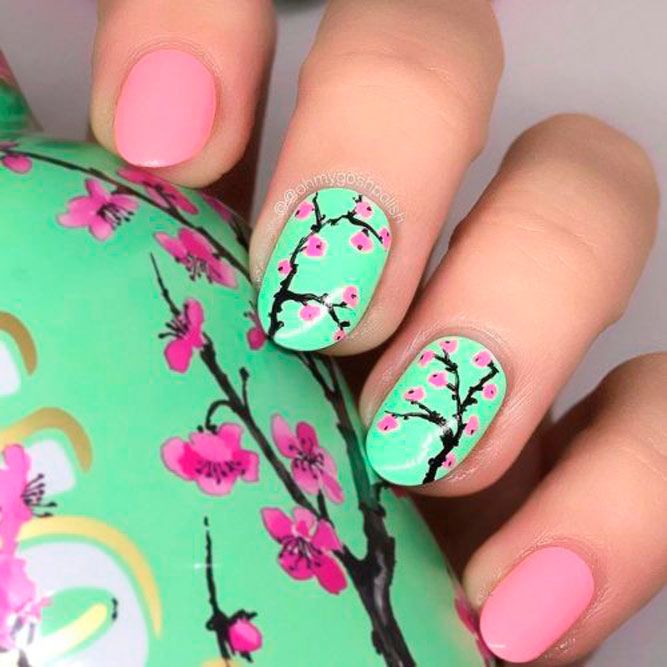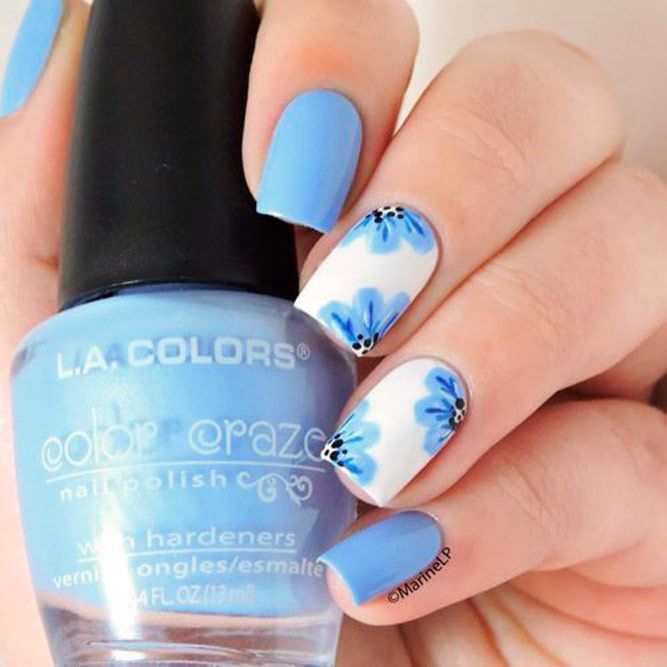 Do you like these nail designs pictures? We do, as they are not only pretty but they also involve blooms – the definition of spring. Plus, they are created with colors that scream Spring.
Fancy Daisies To Cheer Up Your Mood
Credit photo: instagram.com/jessijaybeauty, instagram.com/nataliepavloskinails, instagram.com/hannahroxit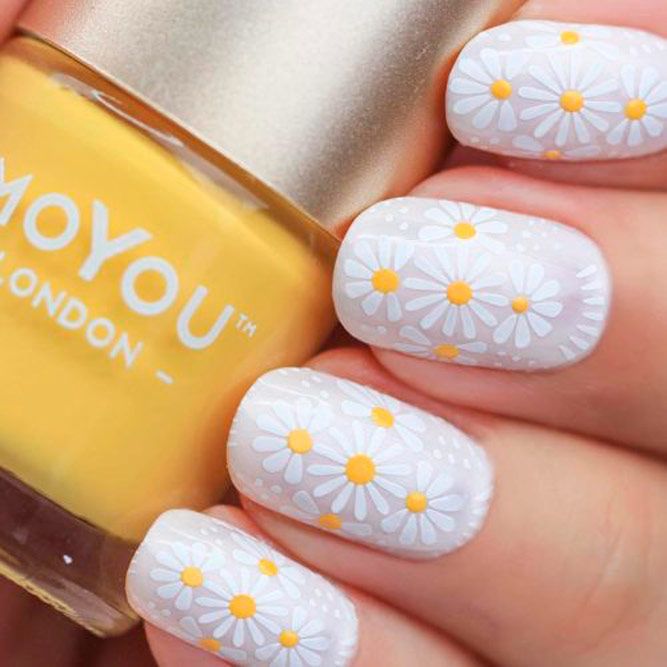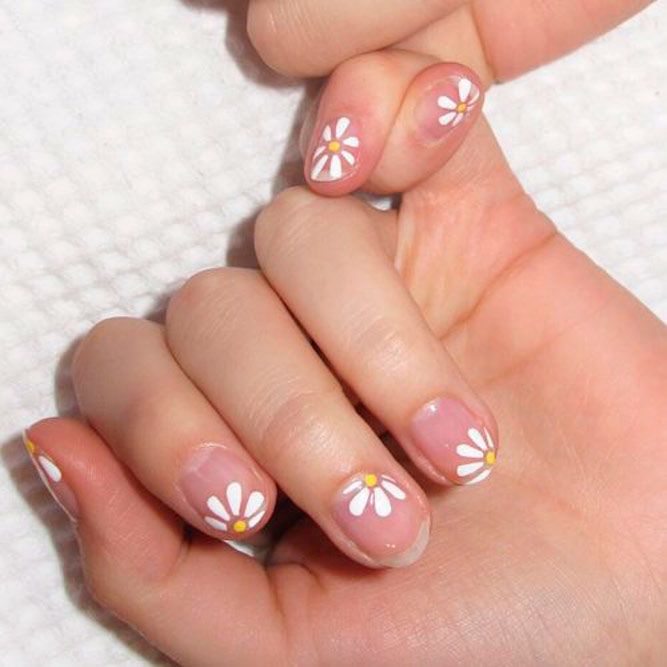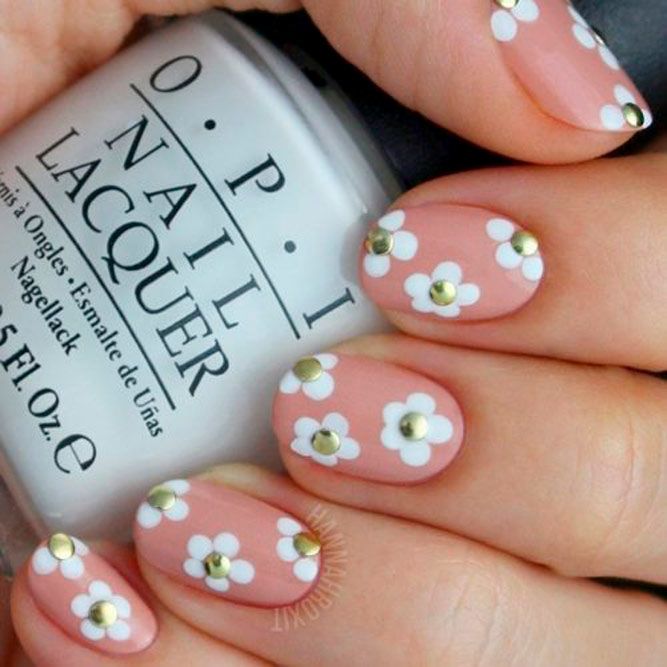 This season spring nail designs with daisies are especially popular. Daisies grow practically everywhere. They look simple, and they are also easy to paint. That's why many enthusiasts add daisies to nail designs.
Soft Pinky Chevrons For Real Ladies
Credit photo: instagram.com/melcisme, instagram.com/nailsbycambria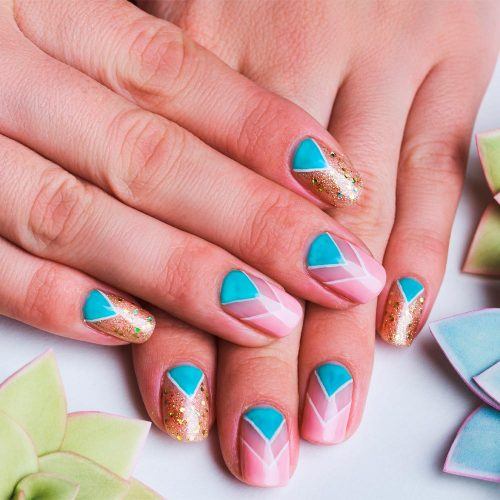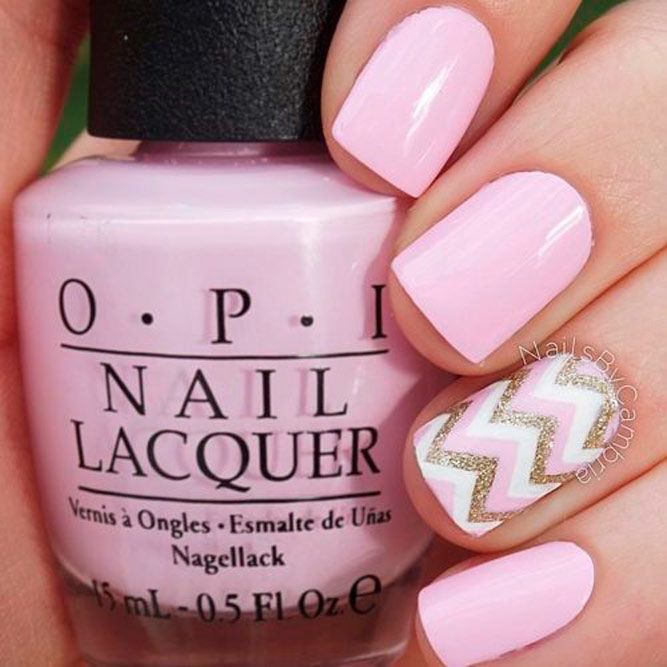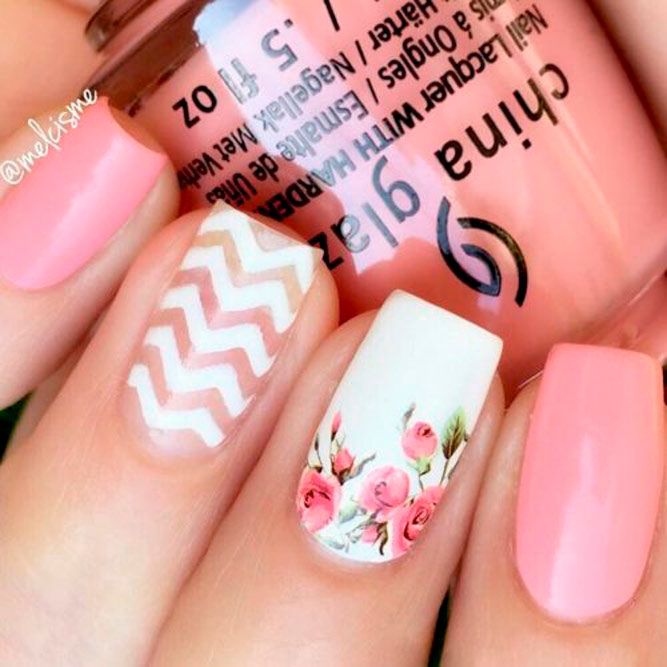 When talking about spring nail designs and colors, we cannot but mention soft pink nail lacquer. All pastel shades work great for springtime mani, but pink is probably on top of this list. Besides being so suitable for spring, soft pinks also make your manicure appear sweet and girly. In case this is the exact effect you expect to get, go for pastel pinks with blue or golden accents and experiment with zigzag patterns.
Floral Nail Art For Short Nails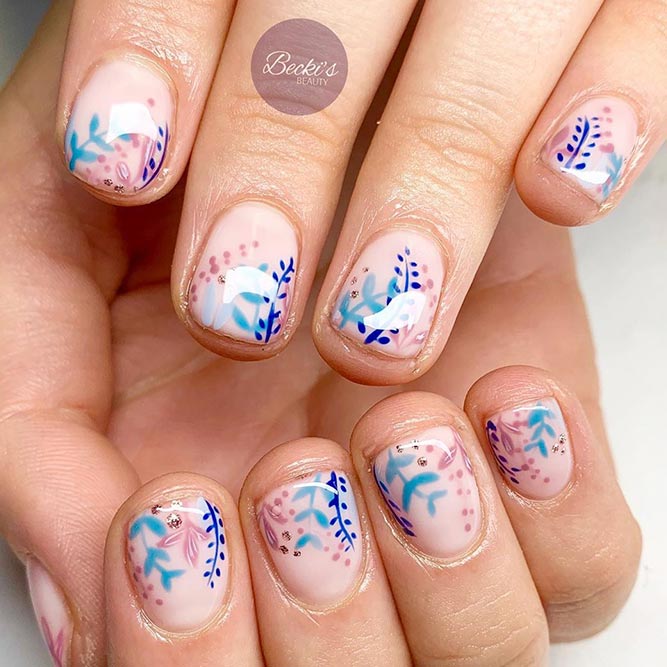 Credit photo:
Many ladies think their short nails to be left out nail-art wise. We say that is not true. With such a gorgeous floral manicure, your hands will look cared for and stylish. Besides, there is almost no artist who wouldn't replicate it!
Floral French Tips For Short Nails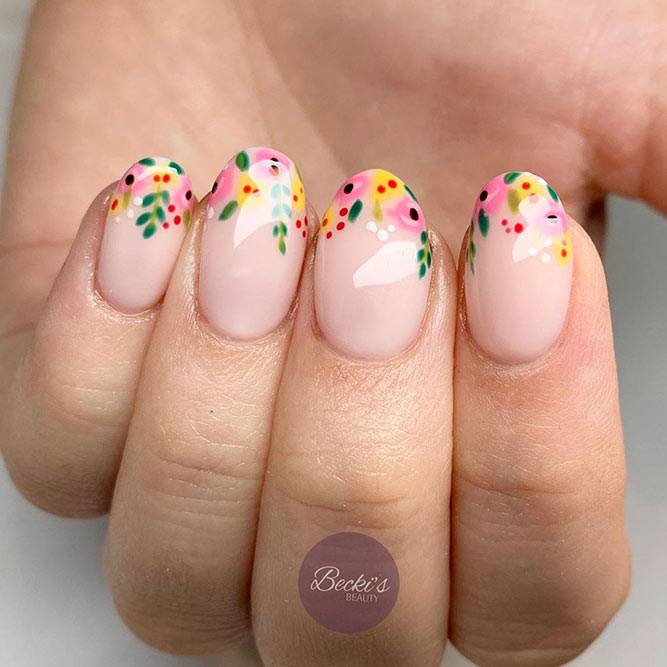 Credit photo: https://www.instagram.com/beckis.beauty/
We know that the French tip is timeless and classy, but when the spring hits, your heart desires something more colorful and springier. We offer you a perfect mix of class and style, combined with an incredibly sweet floral tip!
Foil Nail Art Design For Spring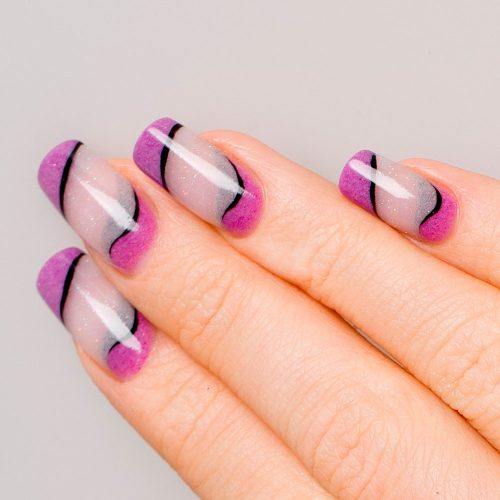 It has been mentioned over and over again that squarely rounded nails, as well as coffin nails are the best canvas for a bright imagination. Since lilac is the color of spring and the would be no spring without lilac flowers and maybe some light breezes of warm wind, we say you can combine all the elements of this incredible season in one. You can see how magnificent the outcome can be!
Spring Rainbow Nail Design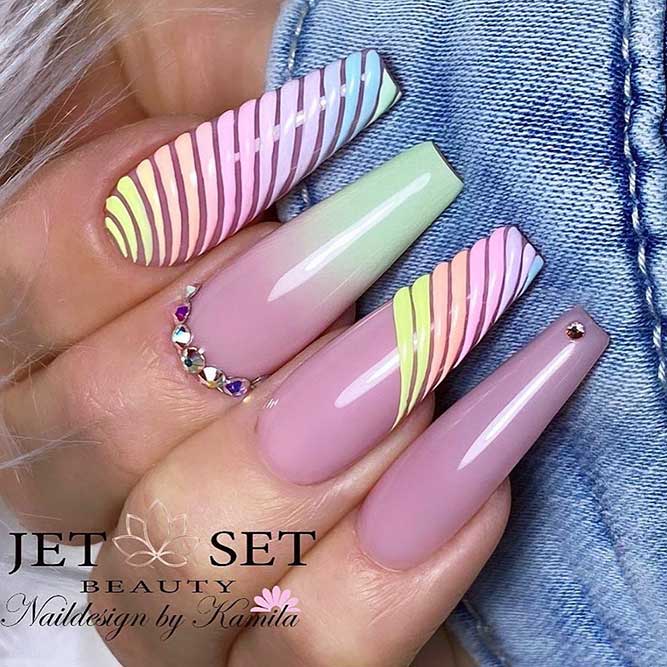 Credit photo: instagram.com/jet_set_beauty_nails
Rainbows are miraculous, and there is no use denying it. However, no rainbow lasts too long for us to observe it. The only way to hold the miracle captured is to depict in on your nails. Would you dare to try to capture the spring rainbow?
Spring Nails With Cute Bunny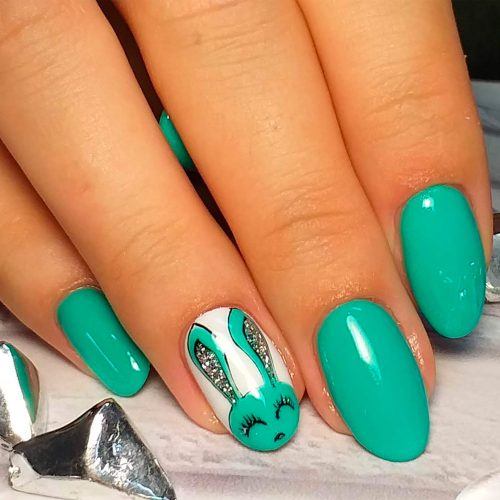 Spring is the season when all the nature wakes up from sleep. These are not only the flowers that define the season, these are cutesy animals as well. Why not embrace them in a lovely and quite classy mani?
Dotticure Daisies Nail Art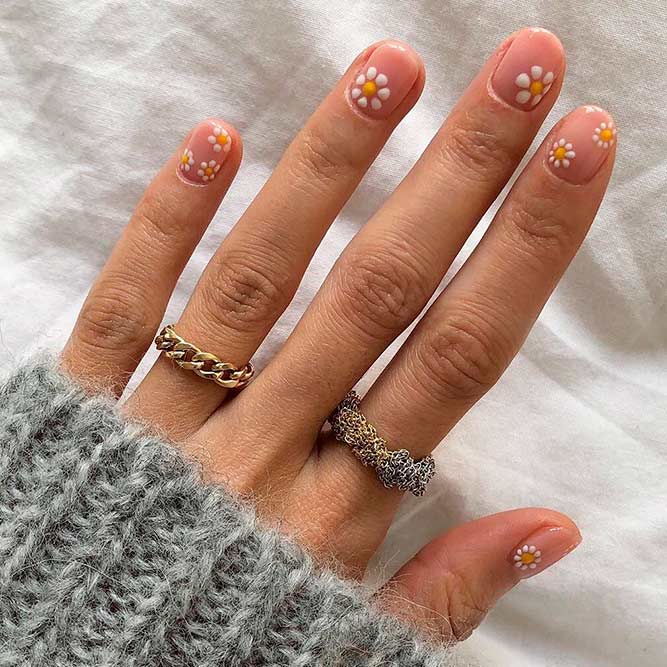 Credit photo: instagram.com/mdnailsparis
So very often we run out of time to take proper care of our nails and visit a saloon. We say that you can create fascinating manicure on your own even if your nails are short. Just replicate these simple but fantastic dotted daisies, and your adorable minimalistic manicure is ready!
Spring Nail Art With Dried Flowers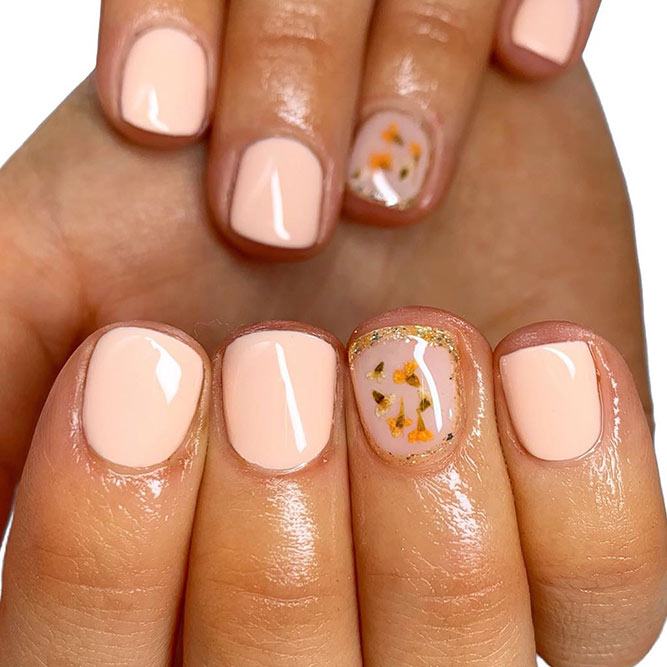 Credit photo: instagram.com/charsgelnails_
Peach hues are on the top of all the trends these days. If you are looking for a way to introduce the color into your spring manicure – we know a way. Spice up your peachy nail art with an accent nail decorated with dried flowers and gold glitter, and you are ready to rock!
Matte Nude Nails With 3D Flowers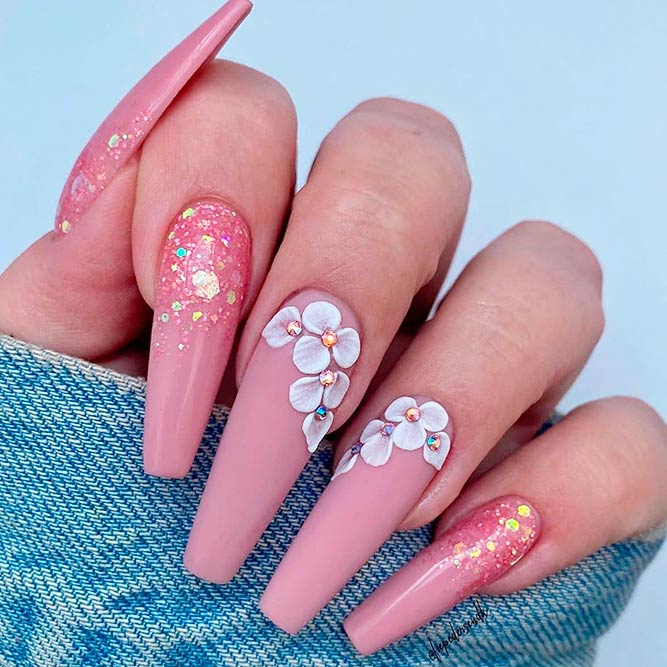 Credit photo: instagram.com/fiepedersendk
If you think that 3D flowers are a trend that is out of fashion – you are incredibly mistaken. There is no better season to decorate your coffin nails with gorgeous flowers than spring. Add a matte pink base to the mix, and ravishing nail design is ready!
Short Nails With Spring Floral Accents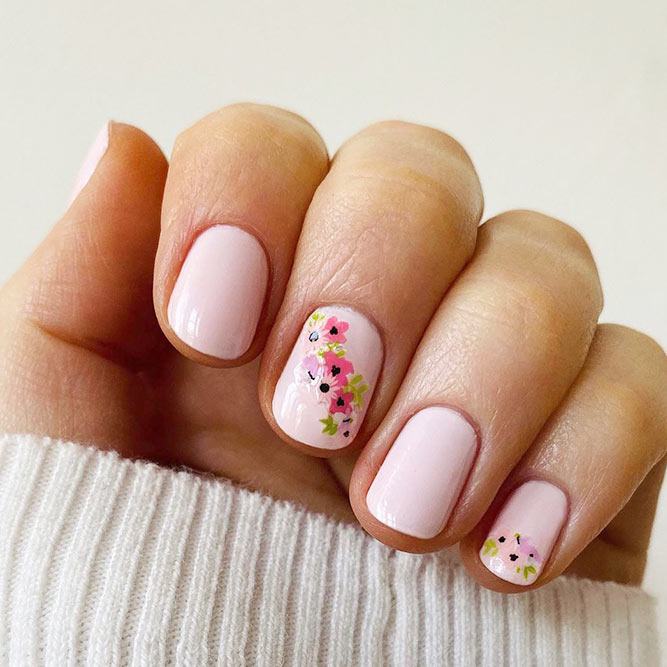 Credit photo: instagram.com/laurelgallucci
There is a reason why beautiful floral accents look irresistibly gorgeous with short nails. We may not know what the reason is, but what we do know is that this other-worldly mani will conquer your heart!
Minimalistic Spring Nail Art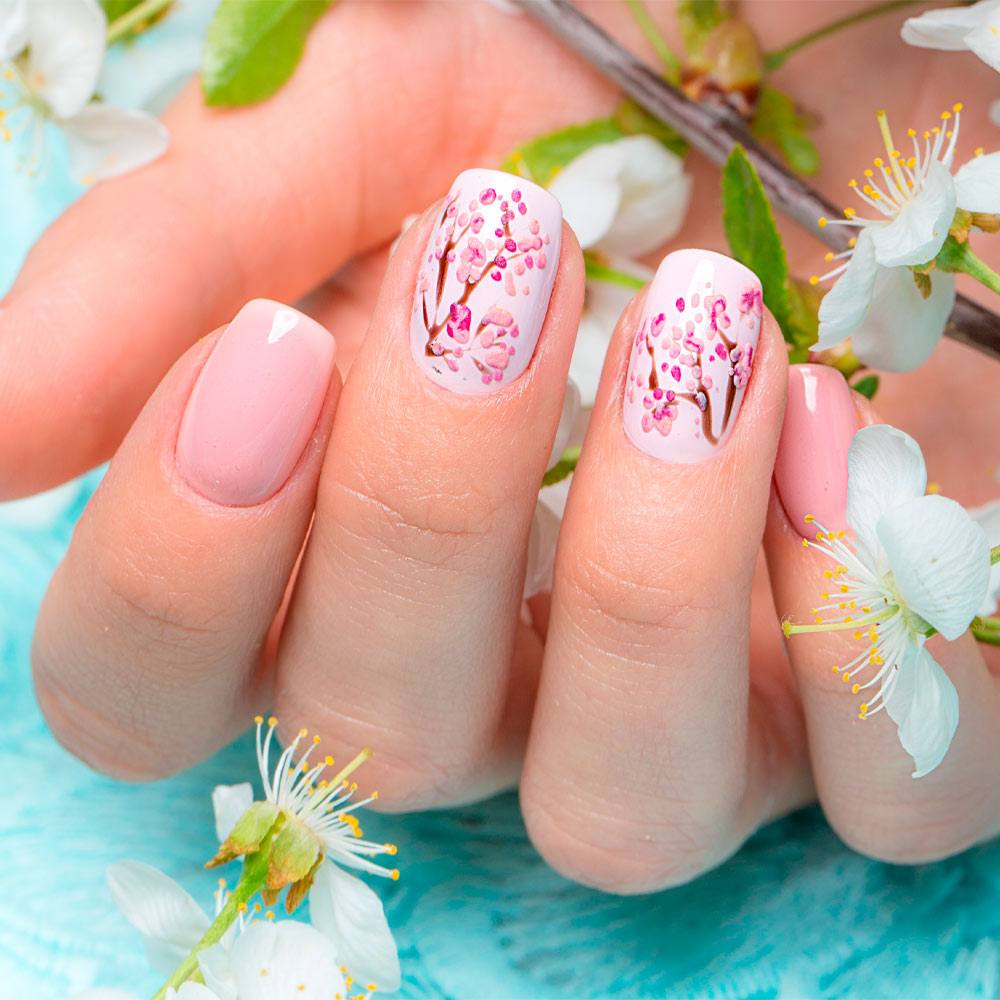 Care for another upgraded version of a regular French manicure? We have one in mind! This time it is not that much of a whole tip, but half of it made with a beautiful pink ornament in the form of tree branches and flowers. Surely, such nail art is the one to be adored!
We hope you enjoyed our list of fun spring nail designs. You can tweak each look and experiment with different spring shades to make it your own. And remember, practice makes perfect, so have fun trying out these fun nail designs this coming spring!
FAQ: Spring Nail Designs
What nail style is trendy this year?
Although all of the nail art is entertaining, plain pink and nude manicures are still highly popular this year. What is more, they're a lot less difficult to perform on your own. Similarly, for summer, a splash of neon is never a bad idea.
What colors look best on toenails?
When it comes to pedicure colors, vibrant hues like scarlet, pink, and coral will never go out of style in the summer. However, vivid yellow, frosty blue and pastel lilac are also popular this year.
What color nail polish makes your hands look younger?
Orange or peach-based colors are a great option for younger-looking hands. Reds and corals with orange undertones will divert attention away from any symptoms of aging.
REFERENCES:
Nail art is a creative way to paint, decorate, enhance, and embellish the nails. It is a type of artwork that can be done on fingernails and toenails, usually after manicures or pedicures. Source
Whether it's spring outside or just spring in your heart, there's no wrong time for flower nail art. Source
Was this article helpful?